New Age Islam News Bureau
17 Oct 2017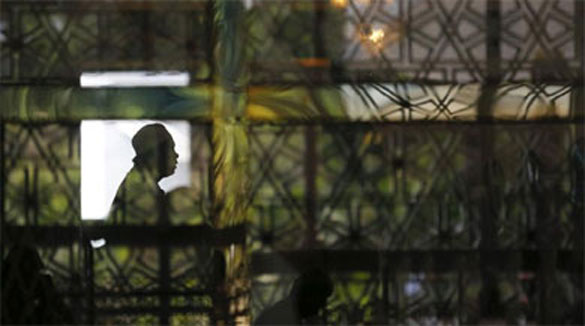 The Selangor sultan decreed that the broadcast of religious talks and lectures over the PA system of all mosques and suraus in the state be limited to the compound. — Reuters pic
-----
• Pakistan Succumbs To another Round of Ahmaddiya-Bashing
• Muslim Rule in India "Barbaric and a Period of Incomparable Intolerance": BJP
• Selangor Mosques Uphold Royal Decree, Say Some Sermons Insult Non-Muslims
• US Strikes Kill 'Dozens' At ISIS Training Camps In Yemen
• Christian Anti-Balaka Militants Kill 25 Worshippers in Mosque in CAR
Pakistan
• Pakistan Succumbs To another Round of Ahmaddiya-Bashing
• Membership of 261 Lawmakers, Including Capt Safdar, Ayesha Gulalai, Suspended
• 'Sir Syed Pioneer of Muslim Cause, Renaissance in South Asia'
• Four nations meet to resume stalled Afghan peace talks in Oman
• Pakistan wins UN Human Rights Council seat after two years
• Pakistan playing pivotal role in war against terrorism: Asif
--------
India
• Muslim Rule in India "Barbaric and a Period of Incomparable Intolerance": BJP
• Wisdom from BJP's Riot-Accused MLA Sangeet Som: Taj Mahal Part of Which History? Will Erase Blot
• Ex-sarpanch killed in Shopian, militant dead in scuffle
--------
Southeast Asia
• Selangor Mosques Uphold Royal Decree, Say Some Sermons Insult Non-Muslims
• Philippines: Last Leaders of ISIS-Tied Siege Killed In Marawi
• Zamihan hailed as 'warrior of Islam' by fans on Facebook
• Minister: Cooperation of the people needed to contain extremism threat
• Malaysian Health Ministry doctors to staff Rohingya hospital in Bangladesh
• Malaysian Mahmud Ahmad may be IS emir for Southeast Asia
--------
Mideast
• US Strikes Kill 'Dozens' At ISIS Training Camps In Yemen
• Turkey to Extend State Of Emergency by 3 More Months for Fifth Time
• Turkey ready to cooperate with Iraq to eradicate PKK from Kirkuk
• Israel Approves Hebron Settlement Plans for First Time Since 2002
• Turkey 'ready to cooperate with Iraq' against Kurdish militants
• Coalition: Four Houthi field commanders killed opposite Najran
• Documentary reveals Houthi masterplan to recruit Yemeni prisoners
• Israeli settlers steal olive pickings of Palestinian farmers in West Bank
• Israeli authorities approve permits for 31 settler units in West Bank city of al-Khalil
--------
Africa
• Christian Anti-Balaka Militants Kill 25 Worshippers in Mosque in CAR
• At Least 20 Killed In Communal Violence in Central Nigeria
• Funerals begin as Somalia truck bombing toll reaches over 300
• Somalia: Opinion - Horrific Somalia Bombing Is Sign of Government's Powerlessness
--------
North America
• A Divided Iraq Tests U.S. Influence as Fight against Islamic State Wanes
• US Judge Questions Government on Trump's Latest Travel Ban
• US 'not taking sides' between Iraqi forces, Kurds: Trump
• Trump: 'Total termination' of Iran nuclear deal possible
• Total termination of Iran nuclear deal 'a real possibility': Trump
• U.S. takes aim at Yemeni Islamic State for first time
--------
South Asia
• Deadly US Airstrikes Target Haqqani Network Compound In Pakistan's Kurram Agency
• IPU Assembly Includes Rohingya Issue as 'Emergency Item'
• Rohingya Crisis: Bangladesh for Greater Indian Role, Says 'Fire May Engulf Entire Region'
• Eight dead, dozens missing as Rohingya boat sinks in Bangladesh
• Unite world community to repatriate Rohingyas
• Explosion leaves driver a vehicle dead in Kabul city
• Another deadly car bombing plot foiled in Kabul city
• Russia massively funding Taliban to fight NATO forces: Report
• Taliban attacks kill 10 policemen in Afghanistan
--------
Arab World
• ISIS Fighters Stage Last Stand as Raqa Capture Nears
• US-Backed Fighters Seize Infamous Raqqa Roundabout From ISIS
• Iraqi-backed Yazidi group takes over Sinjar after Kurdish pullout -residents
• Saudi Arabia 'committed' to promoting, protecting human rights
• Bahraini officials bar rights activist from leaving country
• Syria intercepts Israeli warplanes near Lebanese border: Army
• Baghdad warns Kurds not to cut oil flow after KRG halts crude production
• Iraqi forces seize territory from Kurds in independence dispute
--------
Europe
• Dutch Rabbi to Leave Centrist Party over Leader's 'Muslim Exclusion'
• UK Labour repeats calls for Saudi arms embargo over Yemen war
• Another Far-Right Party Has Won Voters' Hearts In Europe With Anti-Islam Message
• Morocco offers to train imams to preach in for European mosques
Compiled by New Age Islam News Bureau
URL: https://www.newageislam.com/islamic-world-news/pakistan-succumbs-another-round-ahmaddiya/d/112917
--------
Pakistan succumbs to another round of Ahmaddiya-bashing
By F.M. SHAKIL
OCTOBER 16, 2017
When the son-in-law of the recently-disqualified Prime Minister Nawaz Sharif launched into a venomous diatribe against Pakistan's Ahmadiyya community – the country's most persecuted faith group – last week, dissent in the National Assembly was conspicuous by its absence.
In fact, lawmakers burst into thunderous applause as the retired Captain Muhammad Safdar Awan denounced Ahmadis as a threat to the existence of the country, its constitution, ideology and interests. And they thumped their desks to endorse Sadfar's demand for a ban on the recruitment of Ahmadis to the armed forces, Pakistan's Atomic Energy Commission, and other strategic state institutions, including the judiciary.
He did not stop there, exhorting Jamaat-e-Islami (JI) leaders to move a resolution to have the name of Quaid-i-Azam University's (QAU) physics center changed. The Professor Dr. Abdus Salam Center for Physics was named for the country's first Nobel prize-winner last year, under the approval of Safdar's father-in-law. Abdus Salam happened to be an Ahmadi.
At the same time as Safdar was engaged in parliamentary hatemongering, meanwhile, a judge was busy awarding death sentences to three members of the Ahmadiyya community in Sheikhupura, Punjab province, for committing alleged blasphemy against the Prophet Muhammad.
Four accused – Muhammad Ehsan, Ghulam Ahmed, Mubashir Ahmad and Khalil Ahmad – had in fact been booked under the Pakistan Penal Code's draconian blasphemy laws in 2014. Khalil Ahmad was shot and killed – by a teenaged member of the public – while in police custody, on the day the arrests were made.
Captain Safdar's plea for a change of name at the physics center does not sit well with QUA students and alumni. One post on the QAU's Facebook page characterized his demand as "obtuse" and "brainless." Meanwhile, the Vice Chancellor of the university, Dr Javed Ashraf, said in a statement: "I feel every Pakistani should honor the top intellectuals for their achievements regardless of their caste, color, and creed."
In terms of Safdar's demands vis a vis military recruitment, Maj-Gen Asif Ghafoor – who is Director General of Inter-Services Public Relations (ISPR) – said in a television interview that the army's recruitment process already requires every Muslim officer to file a declaration to the effect that he or she is not an Ahmadi and, furthermore, that he or she believes in the "finality of prophethood." Other than that, he stressed, the army does not practice discrimination on the basis of religion, ethnicity or sect.
Ahmadi Muslims differ somewhat from mainstream Muslims in their interpretation of Muhammad's prophethood. They are seen as heretics by elements within Islam and have faced persecution throughout their history. In 1974, Pakistan's parliament declared the Ahmadiyya a non-Muslim minority.
The head of the Ahmadiyya Community – reacting from London, where he lives in exile – said that politicians and religious scholars in Pakistan tend to speak out against his people every so often as a way of diverting attention from "impending difficulties and threats" and to gain popularity. In his Friday sermon, telecast live on Muslim Television Ahmadiyya (MTA), Mirza Masroor Ahmed said: "We do not require a certificate from any government or National Assembly to be a Muslim. We are Muslims and believe in all pillars of faith and consider the Holy Prophet (saw) to be Khatam an-Nabiyyin (last in line of the prophets)."
Safdar's outburst comes hard on the heels of scathing attacks by religiopolitical parties over an alteration to the wording on electoral nomination papers in relation to "Khatm-e-Nabuwwat" (the finality of Muhammad's prophethood). The government hurriedly passed an Election Amendment Bill earlier this month and the change of wording, from "oath" to "declaration," made a fuss in the country. The law makes it mandatory for every Muslim member of parliament to declare on oath that they believe in Khatm-e-Nabuwwat.
http://www.atimes.com/article/pakistan-succumbs-another-round-ahmaddiya-bashing/
--------
Muslim Rule In India "Barbaric And A Period Of Incomparable Intolerance": BJP
Oct 17, 2017
NEW DELHI: BJP weighed in on the Taj Mahal controversy on Monday, describing the period of Muslim rule in India as "barbaric and a period of incomparable intolerance", while asserting that party members could hold any opinion they wanted on specific monuments.
BJP spokesperson GVL Narasimha Rao's reaction came after controversial party MLA from Uttar Pradesh, Sangeet Som, questioned the Taj Mahal's place in history and said the episode of Mughals in India's history was "unfortunate".
Som's comments came in the wake of criticism of the UP government for excluding the Taj from a booklet promoting its new tourism initiatives. The heated discussion led to UP chief minister Yogi Adityanath clarifying that the Taj remained an integral part of India's heritage - an apparent shift from his earlier position.
But this did not deter Som from lashing out at the Taj and the party has also virtually backed him.
Asked about BJP's stand on Som's comments on the Taj Mahal, Rao said the party did not have any view on specific monuments and its members could hold whatever opinion they had. "But as far as Muslim, Mughal rule in this country is concerned, that period can only be described as exploitative, barbaric and a period of incomparable intolerance which harmed Indian civilisation and traditions immensely," he said.
Rao also slammed All India Majlis-e-Ittehadul Muslimeen leader and Lok Sabha MP Asaduddin Owaisi after the latter attacked BJP over Som's comments.
Owaisi had asked if tourists would be advised not to visit the world famous monument. "Even in the present times, Muslim leaders such as Owaisi exhibit the same level of intolerance as Muslim rulers once displayed," Rao said.
https://timesofindia.indiatimes.com/india/muslim-rule-in-india-barbaric-bjp/articleshow/61110523.cms
--------
Selangor Mosques Uphold Royal Decree, Say Some Sermons Insult Non-Muslims
October 17, 2017
KUALA LUMPUR, Oct 17 ― Selangor mosque and surau committees are in support of a royal decree to stop broadcasting sermons, saying that some lectures tend to disparage non-Muslims.
Mohd Arif Saring, chairman of the Masjid As Syarif in Telok Datok, told Sinar Harian that he has been to a few "majlis ilmu" at a few mosques and found preachers who insulted non-Muslims in their sermons.
"Having said that, there are some rational preachers who behave as if non-Muslims are also at the function," he was quoted saying.
Masjid As Salam Bukit Sentosa in Hulu Selangor reportedly said they have stopped broadcasting sermons since early this year and only used loudspeakers for the "azan" (call to prayer) and Quranic recitations at certain times.
"This mosque has, since early this year, practised this method except for large programmes, where we use the loudspeaker so that Muslims or visitors on the outside can hear clearly.
"We obey [the royal decree] for the good of everyone," mosque officer Muhamad Firdaus Zulkipli was quoted saying.
Selangor ruler Sultan Sharafuddin Idris Shah yesterday ordered the withdrawal of Zamihan Mat Zin's accreditation as a preacher, after the latter criticised the Johor sultan's stand against Muslim-only laundromats and insulted the Chinese as unhygienic people.
The Selangor sultan also decreed that the broadcast of religious talks and lectures over the PA system of all mosques and suraus in the state be limited to the compound, with the exception of the azan and Quranic readings.
http://www.themalaymailonline.com/malaysia/article/selangor-mosques-uphold-royal-decree-say-some-sermons-insult-non-muslims#LdBwwglq3714EGZo.97
--------
US strikes kill 'dozens' at ISIS training camps in Yemen
16 October 2017
The US military said Monday it killed dozens of ISIS fighters at the group's training camps in central Yemen, in the first such strikes in the country's conflict. Witnesses said villagers were prevented by tribal leaders from approaching the area and retrieving the dead and wounded for fear of additional strikes.
Locals said the camps, both in Bayda province, were named after prominent ISIS figures: Yemen chief Abu Bilal al-Harbi and former global spokesman Abu Mohamed al-Adnani, killed last summer in a US air strike.
"US forces killed dozens of ISIS members in a strike on two ISIS training camps... in Al-Bayda Governorate, Yemen, disrupting the organization's attempts to train new fighters," US Central Command, which oversees US forces in the region, said in a statement.
Also read: Four Houthi field commanders killed near Najran
"ISIS used the camps to train militants to conduct terror attacks using AK-47s, machine guns, rocket-propelled grenade launchers and endurance training."
"Strikes against ISIS targets disrupt and destroy militants' attack-plotting efforts, leadership networks and freedom of maneuver within the region," the CENTCOM statement read.
"ISIS has used the ungoverned spaces of Yemen to plot, direct, instigate, resource and recruit for attacks against America and its allies around the world," the CENTCOM statement said. "For years, Yemen has been a hub for terrorist recruiting, training and transit."
Earlier reports
It was earlier reported that unmanned aerial drones struck two ISIS training camps in central Yemen for the first time in the country's conflict, leaving an unknown number of dead, security sources told AFP Monday.
Witnesses said villagers were prevented by tribal leaders from approaching the area and retrieving the dead and wounded for fear of additional strikes.
Locals said the camps, both in Bayda province, were named after prominent ISIS figures: Yemen chief Abu Bilal al-Harbi and former global spokesman Abu Mohamed al-Adnani, killed last summer in a US air strike.
It entered the war in March 2015 with a series of attacks on Shiite mosques in the capital, leaving more than 140 people dead.The group's last major attack was a suicide bombing in the government stronghold of Aden last December, which killed 48 soldiers. Al-Qaeda has distanced itself from ISIS attacks, claiming that it seeks to avoid "the shedding of any Muslim blood" while focusing on fighting the "Americans and their allies."
https://english.alarabiya.net/en/News/gulf/2017/10/16/Drone-strikes-target-ISIS-training-camps-in-Yemen-.html
--------
Christian Anti-Balaka Militants Kill 25 Worshippers in Mosque in CAR
October 14, 2017
Mainly Christian anti-Balaka rebels killed at least 25 Muslims inside a mosque in the town of Kembe in south-central Central African Republic.
The rebels surrounded and attacked the Djimbi Mosque in the early hours of Wednesday morning, Abdouraman Bornou, president of the council of elders of Kembe, said on Friday.
During the attack, the imam and his deputy were executed, Bornou said.
Ousman Mahamat, a Muslim community leader, said he was outraged at the behavior of some of his countrymen who promote inter-communal hatred.
"We have to double our vigilance. We have killed each other. And in this war there is neither a victor nor vanquished," he said.
"What has just happened in Djimbi is devastating,'' he said.
Local authorities ordered three days of mourning in the town.
The diamond-rich but poverty-stricken nation has been in crisis since late 2012, when violence broke out between Muslim and Christian rebel groups.
After a period of relative calm in 2016, fighting erupted again in early 2017 in various towns across the country.
Since 2013 thousands of people have been killed in sectarian conflict in the country, and thousands have fled their homes to seek refuge in neighboring countries, including Cameroon and Chad.
In a report, Amnesty International has estimated that more than 5,000 people, most of them civilians, have died in sectarian violence in the Central African Republic despite the presence of international forces.
Violence erupted in the central African state in 2013, when Muslim Seleka rebels ousted then-President Francois Bozize, a Christian leader, who had come to power in a 2003 coup.
Fierce fighting has continued between Muslim Seleka and Christian anti-Balaka rebels.
https://www.dailysabah.com/africa/2017/10/14/christian-anti-balaka-militants-kill-25-worshippers-in-mosque-in-central-african-republic
--------
Pakistan
Membership of 261 lawmakers, including Capt Safdar, Ayesha Gulalai, suspended
Oct 17, 2017
ISLAMABAD: The membership of 261 lawmakers of the national and provincial assemblies and Senate on Monday was suspended by the Election Commission of Pakistan (ECP) for not submitting statements of assets and liabilities
The suspended parliamentarians include Pakistan Muslim League Nawaz's (PML-N) Captain Safdar, estranged Pakistan Tehreek-e-Insaf (PTI) MNA Ayesha Gulalai, Talal Chaudhry, Religious Affairs Minister Sardar Yousaf and former National Assembly speaker Fehmida Mirza.
The ECP's notification shows that seven senators, 71 MNAs, 84 Punjab Assembly MPAs, 50 Sindh Assembly MPAs, 38 Khyber-Pakhtunkhwa MPAs, and 11 Balochistan MPAs have been suspended.
Captain Safdar—son-in-law of ousted premier Nawaz Sharif—has also been named in the corruption reference prepared by the National Accountability Bureau (NAB) as per Supreme Court's verdict on July 28 in Panama Papers case.
Recently, the lawmaker was in news because of his anti-Ahmediyya speech in the National Assembly, in which he sought bar on their recruitment in the Pakistan Army.
Meanwhile, disgruntled PTI member Ayesha Gulalai has been appearing before the ECP in connection with the reference filed by party chief Imran Khan for defying party orders.
Gulalai had also accused Imran Khan of harassment and condoning corruption.
https://www.pakistantoday.com.pk/2017/10/16/membership-of-261-lawmakers-including-capt-safdar-ayesha-gulalai-suspended/
--------
'Sir Syed Pioneer of Muslim Cause, Renaissance in South Asia'
Oct 17, 2017
LAHORE: The History and Pakistan Studies Department at Forman Christian College University (FCCU) held a national conference to commemorate the bicentennial of Sir Syed Ahmed Khan on Monday.
The main focus of the conference was to reconsider, analyse and bring forth the blurred contours of history of the nineteenth century India, in order to contextualise Sir Syed's vision and efforts in providing a direction to the despairing Muslims.
The participating speakers were Dr Tariq Rehman, Dr Rasul Bakhsh Rais, Dr Muhammad Iqbal Chawla, Dr Javed Haider Syed, Dr Farooq Ahmad Dar, Dr Amjad Abbas Magsi, Dr Robina Yasmin, Raza Naeem and Fauzia Farooq. The session chairs were Dr Noel Khokar, Dr Saeed Shafqat and Dr Arfa Sayeda Zehra.
An overarching selection of the aspects of Sir Syed's vision and contributions were addressed with intellectual depth and philosophical dimensions. The focus ranged from education for Muslim men and women, religious thoughts, comparative religion, social constructs, political power, modernity and modernisation and its relevance to contemporary concerns and challenges.
The speakers lamented that Sir Syed had not received the kind of attention that he deserves as the pioneer of Muslim cause, culture and renaissance of the Muslims of South Asia. Sir Syed still remains to be understood in the right perspective. He stands out among others for his acceptance of modernity and all that it entailed politically, socially and culturally, to let the Muslims come out of their slumber, harness their identity and prepare themselves for the threats and opportunities ahead in British India, a colonial India.
In the first Session, Dr Rasul Bukhsh Rais spoke on Sir Syed Ahmed Khan and Muslim modernism. Raza Naeem spoke on: 'A modern Muslim in Pre-modern Age' and Dr Ajmal Abbas Magsi on Sir Syed Ahmed Khan and his pluralistic vision.
In the second session, Dr Tariq Rehman spoke on Sir Syed's interpretation of jihad while Dr Muhammad Iqbal Chawala highlighted Sir Syed's religious thoughts at its legacy.
The third session started off with Dr Javed Haider Syed's speech: 'The Most Misunderstood Muslim Leader' followed by Dr Farooq Ahmed Dar who spoke on 'The Politics of Sir Syed Ahmed Khan and its impact on the Muslim Community in South Asia'. It ended with Dr Rubina Yasmin's talk on 'Sir Syed Ahmed Khan and Women Education'.
The conference was well attended with faculty and students not only from FCCU but also from other universities in the area.
Full report at:
https://www.pakistantoday.com.pk/2017/10/16/sir-syed-pioneer-of-muslim-cause-renaissance-in-south-asia/
--------
Four nations meet to resume stalled Afghan peace talks in Oman
Oct 17, 2017
ISLAMABAD: Afghanistan, China, Pakistan and the United States met in Oman on Monday to try to find ways of reviving peace talks with Afghan Taliban militants, two officials in Pakistan's foreign ministry said.
It was not clear whether any Afghan Taliban had joined the talks, which have so far failed to restart a tentative process that collapsed in 2015.
Taliban sources had previously said they would stay away from the discussions in Muscat, casting doubt on prospects for reviving the long-stalled negotiations.
The Pakistani officials, who spoke on condition of anonymity because they were not authorized to disclose the information, said the talks had resumed on Pakistan´s initiative. The Pakistani team was led by Foreign Secretary Tehmina Janjua.
In Washington, a State Department official, speaking on condition of anonymity, confirmed the meeting took place, but declined to provide any details.
There was no immediate comment from China or Afghanistan about the talks resuming. The four-nation Quadrilateral Coordination Group (QGC), which last met in Islamabad early last year, has been trying to ease the path to direct talks between the Afghan government and the Taliban, with little success.
Amin Waqad, a close aide to Afghan President Ashraf Ghani and a senior member of the High Peace Council (HPC), said last week his country would participate in the Muscat meeting, and that the Taliban representatives would also be there.
The Taliban denied that they had received any invitation. Efforts to kick-start negotiations have failed due to the Taliban´s refusal to attend after their last leader Mullah Akhtar Mansur was killed in a U. S. drone strike in Pakistan last year.
Full report at:
https://www.pakistantoday.com.pk/2017/10/17/four-nations-meet-to-resume-stalled-afghan-peace-talks-in-oman/
--------
Pakistan wins UN Human Rights Council seat after two years
Jawad Zulfiqar
OCTOBER 16, 2017
LAHORE: After a two-year hiatus, Pakistan has once again secured a seat at the United Nations Human Rights Council (UNHRC) among countries representing the Asia-Pacific region.
Activists on the social media have however criticised the government for what they say is its failure to match words with actions on its commitment to fundamental rights of Pakistani citizens.
The election took place during the 72nd session of UN General Assembly (UNGA) in New York on Monday morning.
Besides Pakistan, four vacant seats in the Asia-Pacific region were contested by five states including Afghanistan, Qatar and Malaysia. Previously, Pakistan has been a member of UNHRC from 2006-2011 and 2013-2015. It lost its membership in 2015 on failing to get enough votes.
In the statement through which Pakistan announced its candidature to the UN General Assembly, it maintained that being a democratic and progressive state, Pakistan had always been committed to safeguarding and promoting fundamental freedoms for all. Pakistan also highlighted its struggle with terrorism and said that despite the challenges the country had been facing for years, it had always stood by the commitment to protect human rights.
Among its pledges, Pakistan has assured the General Assembly of its commitment towards the promotion and protection of human rights worldwide. It has said that it will work for spreading awareness regarding human rights through the national media and will continue its existing commitment to provide justice to victims of rights violations in the country.
Pakistan has said that it will set up more crisis centres for women subjected to violence and has also promised to protect the rights of minorities in the country. For strengthening the rights of the children, the country will set up and strengthen the National Commission for Rights of Children.
It has told the UN body that it will integrate human rights concerns into development planning by including cross-cutting issues of healthcare, education and social services in the Vision 2025 plan. Alongside, it has said, it will allocate resources for gender mainstreaming through the Public Sector Development Programmes.
On the international level, Pakistan has pledged to work on making the HRC a platform for cooperation on the basis of non-discrimination as mentioned in the Institution Building Package of the HRC Resolution 5/1. It has further said that it will play an active role in the Council and will work to promote dialogue and cooperation among member states.
Pakistan has pledged that it will submit all periodic reports to the treaty bodies in a timely manner.
However, these pledges were met with criticism on the social media where many rights activists highlighted what they felt was the government's hypocrisy. They said instances of persecution of minorities were widespread in the country and the government had failed to uphold freedom of speech of the citizens.
Activist Muhammad Ali Talpur tweeted, "Words are easy to form and need nothing in action. The #BalochMissingPersons and now also #SindhiMissingPersons should not be #Forsaken."
Full report at:
https://dailytimes.com.pk/126139/pakistan-wins-un-human-rights-council-seat-two-years/
--------
Pakistan playing pivotal role in war against terrorism: Asif
October 17, 2017
Foreign Minister Khawaja Muhammad Asif says Pakistan wants to have good relations with the United States on mutual respect, reported Radio Pakistan.
In an interview, he said Pakistan played a vital role in war against terrorism and Pakistan Armed Forces will take action against the terrorist elements on providing credible intelligence sharing.
http://nation.com.pk/national/17-Oct-2017/pakistan-playing-pivotal-role-in-war-against-terrorism-asif
--------
India
Wisdom from BJP's Riot-Accused MLA Sangeet Som: Taj Mahal Part of Which History? Will Erase Blot
by Lalmani Verma
October 17, 2017
Days after the Uttar Pradesh government omitted Taj Mahal from a tourism department booklet, BJP MLA Sangeet Som on Sunday questioned the monument's place in history, distorting historical facts to say that it was built by an emperor who imprisoned his father and targeted Hindus. Som also said that his party's government at the Centre and state were working to erase the "blot" (kalank katha) of Akbar, Aurangzeb and Babur from history books.
Speaking at an event in Sisauli area of Meerut, Som said: "Bahut logon ko bada dard hua ki Agra ka Taj Mahal aitihasik sthalon se nikaal diya gaya… kaisa itihaas… kahan ka itihaas… kaun sa itihaas… kya woh itihaas… ki Taj Mahal ko banane wale ne apne baap ko qaid kiya tha… kya woh itihaas ki Taj Mahal banane wale ne Uttar Pradesh aur Hindustan se sabhi Hinduon ka sarvanash karne ka kaam kiya tha… aise logon ko agar aaj bhi itihaas mein naam hoga to yeh durbhagya ki baat hai… aur main guarantee ke saath aapse kehta hun ki itihaas badla jayega."
("Many people were pained to see that the Taj Mahal had been removed from the list of historical places… what history… which history… the person who made Taj Mahal imprisoned his father… he targeted the Hindus of Uttar Pradesh and India… if these people still find place in history, then it is very unfortunate… and I guarantee that history will be changed.")
In fact, Mughal Emperor Shah Jahan, who built the Taj Mahal in memory of his wife Mumtaz Mahal, was the one who was imprisoned till the end of his days by his son Aurangzeb. OPINION: The Yogi, Sangeet Som and the missing Taj Mahal
A video of Som's speech is doing the rounds of social media.
BJP's Sangeet Som Says,'Many Were Sad When Taj Mahal Was Removed From Historical Places. What History? Its Creator Wanted To Wipe Out Hindus'
"Pichhle bahut salon mein Hindustan aur Uttar Pradesh mein itihaas bigaadne ka kaam kiya gaya hai… aaj Hindustan aur UP ke sarkar us itihaas ko sahi raaste par le jaane ka kaam kar rahi hai… Bhagwan Ramchandra se le kar, Krishna se le kar, Maharana Pratap ka itihaas, Shivaji Rao ka itihaas, aaj kitabon me laane ka kaam kar rahi hai… aur kalank katha jo kitabon me likhi gai hai… chahe Akbar ho, chahe Aurangzeb ho, ya Babur ho… unke itihaas ko nikalne ka kaam kar rahi hai sarkar," said Som.
("In the past few years, there have been attempts to distort history in India and Uttar Pradesh… today, the governments of India and UP are working to bring that history on the correct path… from the history of Ram to Krishna, Maharana Pratap to Shivaji Rao, they are trying to incorporate them in the books… and the blots which are in our books, be it of Akbar, Aurangzeb, Babur… the government is working to remove them from history.")
Som was not available for comment.
While BJP national spokesperson G V L Rao disagreed with the MLA, he said nobody could gloss over the fact that Islamic rule in the country was a period of extreme exploitation and intolerance. "As a party, we do not have a view on any individual monuments. But, broadly speaking, the period of Islamic rule — around 800 years — was a period of extreme exploitation, insane barbarism and unprecedented intolerance to the other faith. If anyone tries to gloss over these facts, it will be actually distorting history. It is well documented by historians of world stature that Muslim invasion and its rule represented the most oppressive and regressive world over," he told The Indian Express.
Asked about the impact of such a remark, Rao said: "Taj Mahal's significance as a heritage monument would not be undermined by any individual's view against it. But it would be a travesty that we forget and distort our history which is well documented."
When contacted, state BJP spokesperson Chandra Mohan said: "It is his personal remark. BJP disagrees with his comment. The BJP government in Uttar Pradesh is committed to the development of historical heritage monuments, including the Taj Mahal, and work has already started in this direction."
A two-time MLA from Sardhana, Som was earlier named in a case related to the 2013 Muzaffarnagar riots, after he allegedly shared a video on Facebook showing two persons being beaten to death by a mob. He was also accused of giving a provocative speech at a mahapanchayat a week before riots broke out in the district.
In 2009, Som contested the Lok Sabha elections from Muzaffarnagar as a Samajwadi Party candidate, but lost. He later joined the BJP in December 2011, a few days before the announcement of assembly elections in the state. He got the BJP ticket from Sardhana, which he won. Soon after the BJP won the 2014 Lok Sabha elections, Som was provided Z-category security.
http://indianexpress.com/article/india/sangeet-som-taj-mahal-blot-remark-bjp-up-govt-tourism-booklet-taj-part-of-which-history-4894098/
--------
Ex-sarpanch killed in Shopian, militant dead in scuffle
October 17, 2017
Militants on Monday evening shot dead a former sarpanch of the PDP in south Kashmir's Shopian district. In the scuffle with villagers, one militant was reported killed after he was hit by his own bullet.
The police and the Army have cordoned the area to trace the other militants involved in the killing.
According to Director General of Police S P Vaid, three militants attacked former sarpanch Mohammad Ramzan Sheikh at Chack Harmona village in Shopian. Sheikh died on the spot.
The militant who died was identified as Showkat Ahmad Kumar — from of Trenz village of the district.
The PDP has condemned Sheikh's killing.
Full report at:
http://indianexpress.com/article/india/ex-sarpanch-killed-in-shopian-militant-dead-in-scuffle-4894092/
--------
Southeast Asia
Philippines: Last leaders of ISIS-tied siege killed in Marawi
16 October 2017
The last two surviving leaders of a deadly siege in the southern Philippines, including a top Asian terror suspect, were killed Monday in a push by thousands of troops to retake the last pocket of Marawi city still held by pro-ISIS militants, top security officials said.
Four military and police officials told The Associated Press that Isnilon Hapilon, who is listed among the FBI's most-wanted terror suspects, and Omarkhayam Maute were killed in a gunbattle and their bodies were found Monday in Marawi.
The officials spoke on condition of anonymity because they were not allowed to make a public announcement of the latest developments in Marawi, a mosque-studded center of Islamic faith in the south of the predominantly Roman Catholic nation. Defense Secretary Lorenzana later confirmed the militant deaths.
"Yes, they are confirmed dead," Lorenzana said, adding DNA tests would be done on the remains of the two militant leaders to pave the way for the payment of huge U.S. and Philippine bounties offered for the two.
A top Malaysian militant, Mahmud bin Ahmad, who uses the nom de guerre Abu Handzalah and is a close associate of Hapilon, has not been found and was among the remaining militants being hunted by troops, he said.
The US State Department has offered a reward of up to $5 million for Hapilon, whom Washington blames for ransom kidnappings of several Americans, one of whom was beheaded in 2001 in southern Basilan province. Hapilon had been indicted in the District of Columbia for his alleged involvement in terrorist acts against U.S. nationals and other foreigners.
Military leaders had said last month that three leaders of the militants who began the siege of the lakeside city on May 23 were killed in the months of fighting but the two still alive were leading a final stand.
More than 1,000 people have been killed in the Marawi violence, including more than 800 militants. Army Col. Romeo Brawner said Sunday about 40 militants were still fighting in a small hilly residential area by Lanao Lake, including 100 relatives of the gunmen and civilian hostages.
On Saturday, troops attempted to rescue several hostages but only snatched a 16-year-old female captive because of intense militant fire, which wounded an army battalion commander and more than 20 other soldiers, Brawner said. The rescued hostage provided the crucial information that allowed troops to locate Hapilon and Maute in one building, Lorenzana said.
Among the last batch of surviving fighters were about 10 foreigners, mostly Malaysians and Indonesians, but there were no immediate word about their condition, the military said.
At least 17 hostages, including an infant and women, were rescued by troops in the scene of the battle, which the officials said may finally end this week. U.S.-trained army and police commandos crawled toward militant positions overnight and launched an assault.
Several gunmen holed up in low-slung buildings and houses remained fighting and were holding hostages, delaying military efforts to finally end the siege. President Rodrigo Duterte declared martial law in the south, scene of decades-old Muslim separatist uprising, to deal with the siege, the worst crisis he has faced since rising to power in June last year.
Duterte has gone to the battle area a number of times to rally the troops, once firing a sniper rifle toward militant position. He has vowed to have the militants killed to the last man because of the deaths and destruction wrought by the violence in Marawi. The Islamic city's 200,000 people, along with tens of thousands of others in nearby towns, abandoned their homes and businesses as the fighting began to rage and crammed evacuation shelters outside Marawi, sparking a humanitarian crisis.
The siege has sparked fears that the ISIS may gain a foothold in Southeast Asia by influencing and providing funds to local militants as it suffers battle defeats in Syria and Iraq.
The United States and Australia have deployed surveillance aircraft to help Filipino troops battling the Marawi attackers.
https://english.alarabiya.net/en/News/world/2017/10/16/Philippines-Last-leaders-of-ISIS-tied-siege-killed-in-Marawi.html
--------
Zamihan hailed as 'warrior of Islam' by fans on Facebook
October 16, 2017
PETALING JAYA: The Johor Sultan called him "arrogant" and an "empty tin can without any brains" for his controversial religious views, but Zamihan Mat Zin remains defiant by posting his protest over a beer festival in Johor while being hailed as a "warrior of Islam" by his followers.
The Malaysian Islamic Development Department (Jakim) officer, who was detained for allegedly criticising Sultan Ibrahim Sultan Iskandar of Johor, posted a series of messages of his "struggle" soon after his release on Saturday.
He lashed out at the followers of Ahmadiah, a sect ruled as deviant by the National Fatwa Council.
He posted an image of a poster supposedly of the Jemaah Ahmadiah Muslim Malaysia annual assembly, and urged the public to circulate their protests against the event.
The LGBT (lesbian, gay, bisexual, and transgender) community was the target of another of his posts on Facebook.
He also referred to objections by a group known as Majlis Ayahanda Johor to a beer festival held at a hotel in Johor Bahru last weekend.
"We unite to defend Islam. This is a big issue, we are duty-bound to oppose, salute to the Islamic organisation that upholds the truth," said his post.
Zamihan, 41, who leads the Pertubuhan Ahli Sunnah Wal Jamaah Malaysia (Aswaja) NGO, was picked up by police in connection with a talk he gave in a Shah Alam mosque on Oct 7 that appeared to criticise Sultan Ibrahim for rebuking a "Muslim-only" laundrette owner in Muar, Johor.
The state ruler, who described the laundrette's policy as extremist, ordered the owner to open his shop to all races or be shut down.
Zamihan was also criticised for suggesting non-Muslims were "unclean" and whose clothes should not be mixed with those belonging to Muslims.
After a video clip of his talk went viral on social media, Zamihan apologised to the Johor Sultan but was detained by police for investigation under the Sedition Act.
Zamihan's supporters, however, appeared unfazed by the criticism against him, flooding his Facebook page with messages hailing him as a "warrior of Islam".
They welcomed his release in their comments, including some that appeared to question the Johor Sultan's stand on the "Muslim-only" laundrette.
"Beer festival is OK because it is for unity… 'Muslim-only' laundrette is not because it damages unity… Muslims should understand and digest this thoroughly," wrote Facebook user Mohd Noor Bin Idris.
Full report at:
http://www.freemalaysiatoday.com/category/nation/2017/10/16/zamihan-hailed-as-warrior-of-islam-by-fans-on-facebook/
--------
Minister: Cooperation of the people needed to contain extremism threat
October 17, 2017
KUALA LUMPUR, Oct 17 ― The support and cooperation of the people are needed to contain the threat of extremism in the country, said Communications and Multimedia Minister Datuk Seri Salleh Said Keruak.
He said the phenomenon was dangerous because it allowed the enemies of Islam to slander against the religion of Allah as a religion of terrorists.
"The attitude shown by such groups does not reflect the true religion of Islam because of the fact that Islam does not disturb its followers, tolerant and moderate but there are a certain group that is extreme in its actions.
"This group is not interested in politics. For them politics is nonsensical.What is important for them is to develop an Islamic state according to their preferences," Salleh said in his latest blog posting.
He said extremism is an extreme attitude that does not recognise the opinions of others, rejects tolerance, abusive in speech, hard hitting in 'dakwah' preachings and defames others who do not accept their views.
Salleh said so far the country has managed to contain the extremism group.
"John Dauth in his article in The Telegraph stated Malaysia is a successful model state, creating communal harmony and a moderate attitude among its people.
Full report at:
http://www.themalaymailonline.com/malaysia/article/minister-cooperation-of-the-people-needed-to-contain-extremism-threat#p2jFi5r6UP51ytCg.97
--------
Malaysian Health Ministry doctors to staff Rohingya hospital in Bangladesh
October 17, 2017
KUALA LUMPUR, Oct 17 — Malaysia will not only be building a field hospital in Bangladesh to treat Rohingya refugees fleeing Myanmar but will also send doctors there, Datuk Seri Dr S. Subramaniam said.
The health minister said Malaysia is ready to provide medical personnel and aid in Cox's Bazar where many of the refugees fled to, but is currently awaiting approval from the Bangladesh government, national news agency Bernama reported.
"A field hospital will be built there and Health Ministry personnel will help provide treatment," he was quoted telling reporters in Melaka yesterday.
"A complete list of expert and medical personnel involved in the mission have been obtained and the ministry is only waiting for an appropriate time to depart to the country," he reportedly added.
Deputy Prime Minister Datuk Seri Ahmad Zahid Hamidi announced that Malaysia will be building a 50-bed hospital for the Rohingya, at a cost of RM3.5 million during a visit to the Kutupalong refugee camp in Bangladesh yesterday.
Full report at:
http://www.themalaymailonline.com/malaysia/article/malaysian-health-ministry-doctors-to-staff-rohingya-hospital-in-bangladesh#aMxM21HklBcRs5dq.97
--------
Malaysian Mahmud Ahmad may be IS emir for Southeast Asia
Zam Yusa
October 16, 2017
KOTA KINABALU: Malaysia's most wanted terrorist Mahmud Ahmad appears to have become a key figure to watch in the region as he may be installed as the Islamic State's (IS) new emir for Southeast Asia, a security expert said.
This comes in the wake of a leadership vacuum left by the death of the last emir, Isnilon Hapilon, who was also a leader in the Abu Sayyaf terror group based in southern Philippines, today.
Another top militant leader, Omar Maute, the co-founder of the Maute group which launched deadly attacks on Marawi City in Mindanao together with the Abu Sayyaf in May, has also been killed in a protracted conflict with the Philippine army.
His brothers, including fellow Maute group founder Abdullah, was also killed in earlier clashes.
"With the deaths of Isnilon Hapilon and the Maute brothers, it's hard to see anyone else in a leadership position," said Zachary Abuza, a professor at the US-based National War College.
"The four top Southeast Asians in Syria were all killed. That leaves Dr Mahmud, if he did indeed escape from Marawi," Abuza, whose research focuses on Southeast Asian security issues, told FMT.
Mahmud, who has a PhD in Islamic studies from a Malaysian university, is a respected figure among the militant network where he is called "doctor".
He was reportedly trained at an al-Qaeda camp in Afghanistan.
A former hostage of the militants had told FMT earlier that he was the "ustaz" or religious teacher who would lecture about jihad (religious battles) to hostages within the mosque stronghold after congregational prayers.
"If Mahmud is alive, he is really someone to watch. He has connections to IS central or what's left of it, likely played a role in getting the IS media productions in Marawi, and has religious or theological training," Abuza said.
He added that a new regional leader may also be selected from the ranks of the Ansar al-Khalifah Philippines (AKP), another group that has pledged allegiance to IS.
Before the Mautes burst onto the scene, the AKP was said to be the group to watch because of its connections to militants in Indonesia.
"The AKP has been relatively unscathed in the recent fighting and has more established ties to Indonesian jihadist networks," Abuza said. "They may be waiting to pick up the pieces."
He also warned that the Maute loyalists may regroup elsewhere as they were getting squeezed by the Philippine army's heavy offensive.
"What's left of the Mautes will be able to regroup because they have a significant degree of sanctuary around that area.
"At the least they are passively protected by MILF's (Moro Islamic Liberation Front) Abdullah Macapagar who deters the military's intervention, or at the most gives them active sanctuary," said Abuza.
The MILF, a former insurgent group, has of late had improved ties with the Philippine government.
Concern about Philippine military complacency
There is also a concern that someone could step up to be the new emir.
"My real concern is on the government's obsession with decapitating the leadership," Abuza said. "Someone will step up. They always do. Some are more charismatic and better leaders than others."
He said at the rate groups were defecting from the MILF, there was no shortage of candidates emerging for the leadership post.
Abuza said the biggest worry is the government's complacency that led to the Marawi conflict.
"There is a real concern that the Philippine armed forces are going to declare IS defeated and drop the ball," he said.
"I understand that the troops have fought over a long four to five months, but we really need to be concerned about Philippine complacency. That's what led to this in the first place."
Full report at:
http://www.freemalaysiatoday.com/category/nation/2017/10/16/malaysian-mahmud-ahmad-may-be-is-emir-for-southeast-asia/
--------
Mideast
Turkey to extend state of emergency by 3 more months for fifth time
Oct 16, 2017
The Turkish government has endorsed a recommendation by the National Security Council (MGK) to extend the state of emergency that has been in place in the country since the failed coup in the summer of 2016.
Deputy Prime Minister Bekir Bozdag said Monday the state of emergency was extended for a fifth consecutive three-month period to allow the government to press ahead with its fight against terror organizations.
The announcement came after a cabinet meeting in Ankara.
Bozdag said the measure, which has sparked massive criticism both inside and outside Turkey, would guarantee "democracy, rule of law and rights and freedoms of our citizens."
As part of the state of emergency, Turkey has arrested more than 50,000 people on suspicion of links to Fethulleah Gulen, the US-based cleric who has been blamed by Ankara as the mastermind of the July 15, 2016 coup attempt. Gulen has denied any involvement in the coup attempt and said the crackdown is part of a bigger plot to muzzle dissent.
Since the launch of the crackdown, some 150,000 people have been fired or suspended from their jobs in the military, the judiciary and civil services.
The government has also used post-coup suppression to launch a military crackdown on suspected Kurdish militants.
Turkey imposed for the first time the state of emergency a week after the coup attempt.
The state of emergency has been extended four times, in October 2016, in January, April and July this year. All the extensions have come in three-month intervals and the previous extension is set to expire on Thursday.
The new extension should get the parliament approval before it can be implemented.
http://www.presstv.com/Detail/2017/10/16/538837/Turkey-state-of-emergency
--------
Turkey ready to cooperate with Iraq to eradicate PKK from Kirkuk
Oct 16, 2017
The Turkish government says it is ready to cooperate with the central Iraqi government against militants from the Kurdistan Workers' Party (PKK) in the country's oil-rich northern province of Kirkuk, amid reports that the Kurdistan Regional Government (KRG) is allowing PKK terrorists to penetrate the city.
"We once again emphasize the importance we attach to the protection of Iraq's political unity and territorial integrity. We also underline our readiness for any kind of cooperation with the Iraqi government on the termination of the PKK presence in Iraqi territories," the Turkish Foreign Ministry said in a statement on Monday.
The statement also warned KRG not to add another calamitous mistake to the ones they have already made by allowing the PKK presence in the region, vowing that Kurdish authorities "will be held responsible if it lets the PKK find shelter."
"We welcome the Iraqi government's statement that no tolerance will be shown to PKK members in Kirkuk and that the mobilization of these groups will be considered an act of war," it added.
The Turkish Foreign Ministry further underlined that it is closely monitoring the Iraqi government's moves for the "establishment of constitutional order in Kirkuk."
"Turkey will stand with the Iraqi government in its steps that aim to establish lasting peace and stability in the country," it pointed out.
Turkish cabinet agrees to close air space to Kurdistan
Meanwhile, Turkey's cabinet has agreed to close its air space to Iraqi's semi-autonomous Kurdistan region, and said work had started to hand over the main land border crossing into the Kurdish territory to Baghdad government.
On Monday afternoon, Iraqi Prime Minister Haider al-Abadi ordered the hoisting of the Iraqi national flag in the country's oil-rich northern province of Kirkuk as well as other areas under the control of KRG.
The development came shortly after a convoy of Counter-Terrorism Service (CTS) forces took control of the governorate building in the central part of Kirkuk, located 250 kilometers (155 miles) north of Baghdad, facing no resistance from Kurdish Peshmerga forces in the city.
Additionally, a Kurdish official said at least 10 Kurdish fighters were killed and 27 wounded during fighting overnight with pro-government fighters from Popular Mobilization Units (PMU) – better known by their Arabic name as Hashd al-Sha'abi – in Kirkuk province.
Sherzad Hassan, deputy director of health in the Chamchamal region, said the toll covered only those shifted to hospitals.
Kurdish officials, requesting anonymity, said dozens more Peshmerga fighters are missing after Iraqi military forces launched operations against the Kurdish forces.
The referendum on secession of the Iraqi Kurdistan region was held on September 25 despite strong opposition from the central government in Baghdad, the international community, and Iraq's neighboring countries, especially Turkey and Iran.
Following the vote, Baghdad imposed a ban on direct international flights to the Kurdish region and called for a halt to its independent crude oil sales.
On October 12, an Iraqi government spokesman said Baghdad had set a series of conditions that the KRG needed to meet before any talks on the resolution of the referendum crisis could start.
"The KRG must first commit to Iraq's unity. The local authorities in the [Kurdistan] region … must accept the sovereign authority of the federal government on … oil exports, [as well as] security and border protection, including land and air entry points," the unnamed Iraqi official added.
The remarks came in response to an offer for dialogue made earlier by Kurdish authorities.
Full report at:
http://www.presstv.com/Detail/2017/10/16/538821/Turkey-ready-to-cooperate-with-Iraq-on-PKK-presence-in-Kirkuk
--------
Israel approves Hebron settlement plans for first time since 2002
16 October 2017
Israeli authorities on Monday approved permits for 31 settler homes in Hebron in the occupied West Bank, the first such approvals for the flashpoint city since 2002, the Peace Now NGO said.
An Israeli committee approved construction permits for the 31 units, Anat Ben Nun of Peace Now told AFP. Several hundred Israeli settlers live in the heart of Hebron under heavy military guard among some 200,000 Palestinians.
The approvals are among some 4,000 settler home plans to be advanced as part of a push to greatly boost settlement growth, an Israeli official has said.
Peace Now, which closely monitors settlement construction, said a planning council meeting on Tuesday and Wednesday is expected to have more than 2,000 units on the agenda.
Settlement building in the occupied West Bank and annexed east Jerusalem is considered illegal under international law.
It is also seen as a major obstacle to peace as the settlements are built on land the Palestinians see as part of their future state.
Israeli Prime Minister Benjamin Netanyahu's right-wing coalition government leans heavily on settlers and their supporters to maintain its thin parliamentary majority.
Full report at:
https://english.alarabiya.net/en/News/middle-east/2017/10/16/Israel-approves-Hebron-settlement-plans-for-first-time-since-2002.html
--------
Turkey 'ready to cooperate with Iraq' against Kurdish militants
16 October 2017
Turkey is ready to cooperate fully with the central Iraqi government to end the presence of the outlawed Kurdish militant group PKK in Iraq, the foreign ministry said on Monday.
In a statement, the ministry also said Ankara would stand by Baghdad to provide peace and stability in the country, as Iraqi forces captured several positions near Kirkuk from Kurdish fighters, following Kurdish northern Iraq's independence referendum last month.
The Iraqi government accused Kurdish authorities on Sunday of bringing fighters from Turkey's separatist Kurdistan Workers Party (PKK) to the disputed oil-rich city of Kirkuk and said it considered the move a "declaration of war".
Full report at:
https://english.alarabiya.net/en/News/middle-east/2017/10/16/Turkey-ready-to-cooperate-with-Iraq-against-Kurdish-militants.html
--------
Coalition: Four Houthi field commanders killed opposite Najran
16 October 2017
Military sources revealed on Monday the death of four Houthi militia field commanders during air raids by the Arab Alliance coalition to support the legitimacy in Yemen.
The coalition targeted militia sites opposite the border city of Najran region, Saudi Arabia.
The sources said that among the dead militia leaders included Mukhtar Saleh Suwaid, Omar Mohammed al-Khulani, Ahmad Ahmad al-Shaafali and Ghaddan Mutahar al-Zamanani.
This comes after Saudi forces also targeted last week Houthi militias positions and those belonging to the ousted guard of Ali Abdullah Saleh near Najran.
Saudi forces, through the use of tanks and artillery, as well as military vehicles with heavy weapons also targeted militia positions who attempted to trespass onto Saudi military posts near the border regions.
Full report at:
https://english.alarabiya.net/en/News/gulf/2017/10/16/Coalition-Four-Houthi-field-commanders-killed-opposite-Najran.html
--------
Documentary reveals Houthi masterplan to recruit Yemeni prisoners
16 October 2017
In an exclusive documentary produced by Al Arabiya, interviews with Yemeni captives in Saudi Arabia have disclosed that Iran and the Hezbollah militia have been training and recruiting the prisoners to join the Houthis.
This short documentary sheds light on the status of hundreds of prisoners captured by Saudi forces on Yemeni borders.
"Victims of a Partnership" reflects the partnership been former President Ali Abdullah Saleh, Houthi militias and Iran.
The film is set to air on Al Arabiya News Channel at 4.15 p.m. GMT on Wednesday.
The detainees explain how they were recruited. They also talk about the methods used to mislead them into fighting battles without knowing the reason behind them, and not knowing how these battles would end.
Full report at:
https://english.alarabiya.net/en/features/2017/10/16/Documentary-reveals-the-Houthi-masterplan-to-recruit-Yemeni-prisoners.html
--------
Israeli settlers steal olive pickings of Palestinian farmers in West Bank
Oct 16, 2017
Israeli settlers have stolen the olive harvest of dozens of trees belonging to a number of Palestinian farmers from the occupied West Bank districts of Ramallah and Nablus.
The incident occurred on Sunday, when scores of Israeli settlers stormed Palestinian lands in Ramallah and Nablus under the protection of Israeli military and stole olive pickings of 65 olive trees, Maan news agency quoted Ghassan Daghlas, an official who monitors settlements activity in the northern West Bank, as saying on Monday.
He added that the looting occurred in al-Sawiyeh village of Nablus and al-Janiyeh village of Ramallah.
In another incident in Nablus on Sunday, Israeli settlers attacked Palestinian farmers of Qaryut village. Most of the attacks carried out by Israeli settlers against Palestinians are met with impunity, with Israelis rarely facing consequences for such raids.
More than half a million Israelis live in over 230 settlements built since the 1967 Israeli occupation of the West Bank and East Jerusalem al-Quds. Built on occupied land, the settlements are internationally condemned as illegal.
Full report at:
http://www.presstv.com/Detail/2017/10/16/538851/Palestine-Israel-olive-tree-settlers-farmers-Ramallah-Nablus
--------
Israeli authorities approve permits for 31 settler units in West Bank city of al-Khalil
Oct 16, 2017
Israeli authorities have approved permits for 31 settler units in the West Bank city of al-Khalil (Hebron) as the Tel Aviv regime continues to defy the international community by building more settlements in the occupied Palestinian territories.
Anat Ben Nun of Peace Now, an Israeli NGO which closely monitors settlement construction, said on Monday that an Israeli committee had approved construction permits for 31 units in the flashpoint city.
Peace Now added that a planning council meeting on Tuesday and Wednesday is expected to have over 2,000 units on the agenda.
Meanwhile, an Israeli official has confirmed that the approvals are among some 4,000 settler unit plans to be advanced as part of a push to greatly boost settlement growth.
Settlement building in the occupied West Bank and annexed east Jerusalem al-Quds is considered illegal under international law.
Since the inauguration of US President Donald Trump in January 2017, the regime in Tel Aviv has stepped up construction of settler units on the occupied Palestinian land in a blatant violation of international law.
Less than a month before Trump took office, the United Nations Security Council adopted Resolution 2334, which called on Israel to "immediately and completely cease all settlement activities in the occupied Palestinian territories, including East Jerusalem" al-Quds.
The US is a staunch supporter of the Israeli regime.
In May, the Israeli Foreign Ministry appealed to the US to nullify Resolution 2334.
About 600,000 Israelis live in over 230 illegal settlements built since the 1967 Israeli occupation of the Palestinian territories of the West Bank and East Jerusalem al-Quds.
Palestinians want the West Bank as part of a future independent Palestinian state, with East Jerusalem al-Quds as its capital.
The continued expansion of Israeli settlements is one of the major obstacles to the establishment of peace in the Middle East.
Full report at:
http://www.presstv.com/Detail/2017/10/16/538833/Israel-West-Bank--Peace-Now-NGO-UNSC-Trump
--------
Africa
At least 20 killed in communal violence in central Nigeria
October 17, 2017
Nigeria's president demanded that police and the army "stop the madness" in central Plateau state after more than 20 people were killed a new flare-up of violence. Fulani herdsmen are suspected of killing at least 20 people last weekend with guns and explosives in the latest round of clashes in a long-running battle over grazing rights in central Nigeria.
"President Muhammadu Buhari has received with deep sadness and regret news of the recent killings of at least 20 people in Plateau state, during what has been described as a reprisal attack by some herdsmen," according to an official statement.
"This madness has gone too far. (Buhari) has instructed the military and the police to not only bring the violence to an instant end, but to draw up a plan to ensure that there are no further attacks and reprisal attacks by one group against the other," the statement added.
Nomadic Muslim Fulani herdsmen allegedly launched a series of attacks against Christian farmers, defying a curfew put in late Friday by the state's governor after a rise in tensions between the two communities.
"Some unknown group attacked some villages in Barikin Ladi early on Saturday and killed a lot of people," according to the spokesperson of the Special Task Force in the state, Salisu Mustapha.
"The attackers came in large group and for the first time not only shot their victims but also used explosives," he added.
Plateau state falls on the dividing line between Nigeria's mainly Christian south and mostly Muslim north and has witnessed sporadic ethnic and religious tensions for decades.
The largely agrarian Christian communities in the state maintain the Muslim Fulani herdsmen are engaged in a prolonged battle to gobble up land from the areas of so-called indigenous people.
Fulani leaders counter their people face discrimination as "foreigners" in Plateau and are deprived of basic rights, including access to land, education and political office, despite having lived in the area for generations.
Tensions frequently boil over, with more than 10,000 people killed in the state since the turn of the century, according to groups tracking the violence.
http://indianexpress.com/article/world/at-least-20-killed-in-communal-violence-in-central-nigeria-4894294/
--------
Funerals begin as Somalia truck bombing toll reaches over 300
16 October 2017
More than 300 people are dead after the truck bombing in Somalia's capital and scores of others remain missing, authorities said Monday, as the fragile Horn of Africa nation reeled from one of the world's worst attacks in years.
As funerals continued, the government said the death toll is expected to rise.
Another nearly 400 people are injured, many badly burned, after Saturday's bombing targeted a crowded street in Mogadishu. Somalia's government has blamed the al-Qaida-linked al-Shabab, Africa's deadliest extremist group, which has not commented.
As hospitals and families continued to count the dead, nearly 70 people remained missing, based on accounts from relatives, said police Capt. Mohamed Hussein. He said many bodies were burned to ashes in the attack.
More than 70 critically injured people were airlifted to Turkey for treatment as international aid began to arrive, officials said. Nervous relatives stood on the tarmac at the airport, praying for the recovery of their loved ones.
Overwhelmed hospitals in Mogadishu have struggled to assist other badly wounded victims, many burned beyond recognition. Exhausted doctors struggled to keep their eyes open as the screams from victims or newly bereaved families echoed in the halls.
The attack is one of the deadliest attacks in sub-Saharan Africa, larger than the Garissa University attack in Kenya in 2015, in which 148 died, and the US Embassy bombings in Kenya and Tanzania in 1998, in which about 219 were killed.
Countries including Kenya and Ethiopia have offered to send medical aid in response to what Somali's government has called a "national disaster," said Information Minister Abdirahman Osman.
A plane carrying a medical team from Djibouti arrived to evacuate others wounded, said Mohamed Ahmed, an official with Somalia's health ministry. It was the second team of foreign doctors to arrive in Mogadishu.
Al-Shabab, which for more than a decade has waged war in Somalia, often targets high-profile areas of the capital. Earlier this year, it vowed to step up attacks after both the Trump administration and Somalia's recently elected president announced new military efforts against the group.
The country's Somali-American leader, President Mohamed Abdullahi Mohamed, has declared three days of mourning and joined thousands of people who responded to a desperate plea by hospitals to donate blood.
Mogadishu, a city long accustomed to deadly bombings by al-Shabab, was stunned by the force of Saturday's blast. The explosion shattered hopes of recovery in an impoverished country left fragile by decades of conflict, and it again raised doubts over the government's ability to secure the seaside city of more than 2 million people.
The United States has condemned the bombing, saying "such cowardly attacks reinvigorate the commitment of the United States to assist our Somali and African Union partners to combat the scourge of terrorism." It tweeted a photo of its charge d'affaires in Somalia donating blood. But the US Africa Command said US forces had not been asked to provide aid.
The US military has stepped up drone strikes and other efforts this year against al-Shabab, which is also fighting the Somali military and over 20,000 African Union forces in the country.
Saturday's blast occurred two days after the head of the US Africa Command was in Mogadishu to meet with Somalia's president, and two days after the country's defense minister and army chief resigned for undisclosed reasons.
Full report at:
https://english.alarabiya.net/en/News/middle-east/2017/10/16/Somalia-truck-bombing-toll-over-300-as-scores-missing.html
--------
Somalia: Opinion - Horrific Somalia Bombing Is Sign of Government's Powerlessness
16 OCTOBER 2017
By Ludger Schadomsky
Somalia is in such a dire mess that the newly elected government has no chance of stopping al-Shabab, thought to be behind Saturday's lethal truck bombing in Mogadishu.
The timing of Saturday's attack was, once again, extremely strategic. The blast occurred just two days after the head of the United States Africa Command led a delegation to meet Somalia's president, Mohamed Abdullahi Mohamed. Afterwards, both Mohamed and the US commander reaffirmed the commitments of their countries to fighting the Islamist militant group, al-Shabab.
On the same day, Somalia's defense minister and army chief both resigned in an apparently coordinated action. Although no official reasons were given for the resignations, it seems they didn't think the government of Mohamed, who was elected in February, had consulted them enough on defense issues.
All in all, it was the perfect time to send a reminder of the powerlessness of the Somali government and its allies by detonating a truck packed with several hundred kilos of explosives in the center of the capital, Mogadishu.
Assumed to be al-Shabab
No one has yet claimed responsibility for the attack. However, many inside and outside of Somalia believe it's the work of the al-Shabab terrorist group.
The extremist group has a history of launching bomb attacks against civilian targets. And since the Trump administration announced plans to expand its counterterrorism drone strikes, al-Shabab has stepped up its violence, including in neighboring Kenya.
This latest bombing, at an intersection in Mogadishu's lively Hodan district, a commercial area filled with shops, hotels and businesses, guaranteed a large number of victims - and thus maximum attention.
Somalis took to the streets of Mogadishu on Sunday, primarily to protest against al-Shabab and terrorism. But as soon as they have counted and buried their dead, people's attention is bound to turn to Mohamed Abdullahi Mohamed and his government.
Broken state
As is so often the case in Somalia, the government has managed to lose the confidence of the population within just a few months.
A former Somali prime minister, Mohamed was elected president in February 2017 in an indirect ballot by traditional elders. There was great hope for his presidency but as yet, Mohamed hasn't succeeded in denting Somalia's complex clan-based politics, let alone cracking down on the country's endemic corruption. And the so-called road map developed by Somalia's government, together with the United Nations and other partners, isn't going anywhere either.
Speaking after the blast, Mogadishu's mayor said Somalia need to "stand united" against al-Shabab. That is easier said than done in a country where alliances are to the clan, not to the state, and where politicians have passionately adopted the colonial model of "divide and conquer".
Somalia is traditionally home to a moderate form of Islam and attempts by Saudi Arabia to export a strict form of Wahhabism haven't shown much success.
As such, religious fundamentalism doesn't explain the rise of al-Shabab. Rather, the group developed in the power vacuum of a state that has been falling apart since the military regime of President Siad Barre was overthrown in 1991. Being essentially a failed state for more than two decades, Somali governments - even the new one - are helpless to stop it.
Despite its pledges to international terrorism networks, Al-Shabab is at its core a successful business model, earning its adherents millions in endeavors such as the illegal export of charcoal, and piracy.
Lack of options
Al-Shabab defectors reveal that the group isn't necessarily filled with religious fanatics. Rather, it's young men who simply can't imagine a dignified future in their own country. The incompetence of Somali politicians, coupled with endemic corruption on par with the most notorious countries on the continent, leaves more and more young people with only two choices: pack their suitcases and flee to Europe - or be enlisted by silver-tongued al-Shabab recruiters.
Those youngsters have given up any hope of the international community showing a real interest in stabilizing this strategic country - apart, of course, from the monumentally unsuccessful war on terror. Rightly so - as the realpolitik of the British and Americans, and more recently Gulf sheikhs, shows.
Full report at:
http://allafrica.com/stories/201710170001.html
--------
North America
A divided Iraq tests U.S. influence as fight against Islamic State wanes
Oct 17, 2017
After years of focusing divided Iraq on a shared fight against the Islamic State group, the United States is now straining to leverage its limited influence to avoid a full-blown conflict between the Iraqi and Kurdish forces it has armed and trained.
Experts say that a path toward reconciliation, in some form, exists. But it will be a long, arduous test of nerves that could expose the U.S.-backed war effort in Iraq to risks from insurgents and from militia backed by neighboring Iran.
U.S. President Donald Trump declared on Monday that the United States was not taking sides in the internal conflict between Baghdad and independence-seeking Kurds, as Iraqi government forces captured the Kurdish-held oil city of Kirkuk.
"We don't like the fact that they're clashing. We're not taking sides," Trump told reporters at the White House.
"We've had for many years a very good relationship with the Kurds as you know and we've also been on the side of Iraq," he said.
That neutral approach met a cool reception from the Kurdish government representative in Washington, Bayan Sami Abdul Rahman. In particular, she said the United States had already helped isolate the Kurds by publicly calling for them to postpone the Sept. 25 referendum on independence that triggered the dispute with Baghdad.
"With every step (Washington) emboldened Baghdad, Iran and Turkey ... each one of them thinking: 'Well, so the Kurds are on their own, we can do whatever we like'," she told Reuters.
The Iraqi government's capture of Kirkuk was the most decisive step yet by Baghdad to block the Kurd's independence bid. It also put Washington in the awkward position of recognizing the Iraqi government's authority while maintaining ties with its close Kurdish allies.
Kurdish Peshmerga forces said Baghdad would be made to pay a heavy price for triggering "war on the Kurdistan people."
"SOME LEVERAGE"
U.S.-led coalition military support for Iraqi and Kurdish forces was decisive during the most critical phases of the war against Islamic State. However, Washington's leverage has yet to be fully tested after the recapture of major cities from the militant group.
It is unclear, in particular, how much influence the United States has with Kurdish leader Masoud Barzani after already failing to delay the independence referendum, in which the Kurds voted to secede.
Paul Salem, from the Middle East Institute think tank in Washington, said Barzani was learning that he had "very few friends and he is a much weaker player" than he thought before the Sept. 25 vote.
"(The U.S.) has some leverage," Salem said.
Michael Knights, an expert at the Washington Institute for Near East Policy, said the United States needed to take steps to avoid alienating the Kurds in the region. Those steps included sending a U.S.-led military coalition officer to a key military base there and pressing for an interim Kurdish governor of Kirkuk.
"This would maintain the basic power-sharing compact negotiated by Kirkuk community leaders in 2007," Knights said.
The Pentagon confirmed that U.S. forces had a presence in the vicinity of Kirkuk but declined to say where. Such a presence could help deter further conflict, a tactic it used in Syria to keep Kurds and Turks from fighting each other.
The U.S. State Department urged all sides to "restore calm" and warned that the dispute was distracting from the battle against Islamic State, which swept through Iraq in 2014 by exploiting the country's vast ethnic and political divisions.
"We strongly urge all parties to avoid provocations that can be exploited by Iraq's enemies who are interested in fueling ethnic and sectarian conflict," it said in a statement.
COUNTERING IRAN'S INFLUENCE
Former U.S. ambassador to Iraq, James Jeffrey, said he believed Iran - which backs Shi'ite Iraqi militia - was positioned to gain influence because of the Iraqi-Kurdish conflict.
He said the United States needed to make certain that Iranian-backed forces don't "surge forward" into the Kirkuk area to challenge Kurdish Peshmerga fighters.
"The United States has to make it very clear: We are not going to defend Kirkuk ... but if the Iranian militias move forward, then we will help the Peshmerga," if necessary, Jeffrey said.
Trump unveiled last week a more aggressive U.S. approach to Iran, whose elite Islamic Revolutionary Guard Corps backs the militias in Iraq.
Abdul Rahman was wary of Iran's role in the unfolding crisis and criticized the U.S. military's characterization of an exchange of fire early on Monday as a "misunderstanding," downplaying the loss of life.
"I think the U.S. needs to be very, very aware of the statements that it makes and the statements that it doesn't make," she said.
The threat of Iraqi and Kurdish forces turning U.S.-supplied weapons against each other has raised alarms in Congress.
Senator John McCain, the chairman of the Senate Armed Services Committee, warned Iraq's government of "severe consequences" over any further misuse of U.S.-provided weaponry against Kurdish forces.
"The United States provided equipment and training to the government of Iraq to fight (Islamic State) and secure itself from external threats - not to attack elements of one of its own regional governments," McCain said.
http://nation.com.pk/international/17-Oct-2017/a-divided-iraq-tests-us-influence-as-fight-against-islamic-state-wanes
--------
US judge questions government on Trump's latest travel ban
Oct 17, 2017
A U.S. judge on Monday questioned attorneys defending the Trump administration about a classified report the government is using to justify its latest ban on citizens of some countries from entering the United States.
U.S. District Court Judge Theodore Chuang in Maryland heard arguments for and against President Donald Trump's new travel ban, set to take effect on Wednesday. It indefinitely limits travel from Iran, Libya, Syria, Yemen, Somalia, Chad and North Korea. Certain government officials from Venezuela were also barred.
All those countries except Chad, North Korea and Venezuela were included in two earlier temporary versions of the travel ban, which Trump's opponents called thinly veiled attempts to fulfill his campaign pledge of a "total and complete shutdown of Muslims entering the United States."
Lawyers for advocacy groups including the International Refugee Assistance Project, Iranian Alliances Across Borders and the Council on American-Islamic Relations urged Chuang to block implementation of what critics call Trump's "Muslim ban."
Opponents say the ban violates the U.S. Constitution because it discriminates against Muslims while overstepping the bounds of U.S. immigration law by discriminating by nationality. Trump has said the restrictions are needed to tighten security and prevent terrorist attacks.
The third ban came in a Sept. 24 presidential proclamation that Trump issued after acting Homeland Security Secretary Elaine Duke provided him with a classified report recommending the travel restrictions.
Chuang asked Hashim Mooppan, the attorney representing the government, if there were inconsistencies between the homeland security report and Trump's proclamation. Mooppan declined to discuss details of the classified report, and said the government does not have to explain whether Trump's advisers disagreed about the ban.
"We stand by the factual representations in the proclamation," Mooppan said.
On Friday, in a separate case against the ban in Hawaii, the government said the judge can review the classified report only in a secure setting.
Chuang struck down an earlier iteration of the ban, which was only partially restored by the U.S. Supreme Court in June.
An attorney from the American Civil Liberties Union, Omar Jadwat, argued that the new version is a "a bigger, tougher version of the same ban" that Trump originally wanted.
Trump could have achieved the same national security goals with "far more targeted measures" similar to the restrictions on Venezuelan government officials, rather than broad bans against certain nationalities, argued Justin Cox, an attorney at the National Immigration Law Center.
Mooppan argued that because the new version of the ban went in place after a thorough review, it does not constitute a "Muslim ban." The third version of the ban omitted Iraq, which was included in the first ban and Sudan, which was in the second version. "The proclamation dropped multiple Muslim countries and exempted multiple types of non-immigrant visas even from the Muslim countries," he said. "That is strong evidence that this is not some kind of Muslim ban in disguise."
Full report at:
http://nation.com.pk/international/17-Oct-2017/us-judge-questions-government-on-trump-s-latest-travel-ban
--------
US 'not taking sides' between Iraqi forces, Kurds: Trump
17 October 2017
Washington is "not taking sides" following clashes between Iraqi forces and the country's Kurds, US President Donald Trump said Monday, as tensions escalate following the autonomous Kurdish region's independence referendum.
"We're not taking sides, but we don't like the fact that they're clashing," Trump told journalists. "We've had for many years a very good relationship with the Kurds."
"We've also been on the side of Iraq," he said, "but we're not taking sides in that battle."
US 'very concerned' by violence around Kirkuk
The US State Department said on Monday Washington was "very concerned" by reports of violence around the Iraqi oil city of Kirkuk, which was seized by Baghdad's forces from Kurds.
Full report at:
https://english.alarabiya.net/en/News/middle-east/2017/10/17/US-not-taking-sides-between-Iraqi-forces-Kurds-Trump.html
--------
Trump: 'Total termination' of Iran nuclear deal possible
16 October 2017
United States President Donald Trump said Monday that a "total termination" of the Iran nuclear deal remains possible, after refusing to certify the 2015 accord and leaving its fate to Congress.
Speaking to reporters ahead of a cabinet meeting, he said: "I feel strongly about what I did I'm tired of being taken advantage of.
"It might be total termination, that's a real possibility, some would say that's a greater possibility."
https://english.alarabiya.net/en/News/middle-east/2017/10/16/Trump-Total-termination-of-Iran-nuclear-deal-possible.html
--------
Total termination of Iran nuclear deal 'a real possibility': Trump
Oct 16, 2017
US President Donald Trump says the total termination of the 2015 nuclear agreement with Iran is "a very real possibility."
Speaking to reporters ahead of meeting with his cabinet on Monday, Trump said, "I feel strongly about what I did. I'm tired of being taken advantage of."
"It might be total termination, that's a real possibility, some would say that's a greater possibility," he added.
The comment came days after Trump announced he would not re-certify the international accord, officially known as the Joint Comprehensive Plan of Action.
Under US law, the president is required to certify Iran's compliance with the nuclear agreement every 90 days. Trump has done so twice since taking office, albeit reluctantly.
In refusing to certify the accord for a third time, Trump has passed the buck to Congress to decide whether to restore sanctions on Iran, which were lifted in exchange for Iran agreeing to limit its nuclear program.
At his White House speech on Friday, Trump also threatened that he would terminate the JCPOA if Congress and American allies failed to change the deal in significant ways.
Congress has a 60-day review window to decide the next move.
Trump's new strategy has riled up US allies in Europe who have reiterated their firm commitment to the Iran deal.
EU ministers have warned that canceling the nuclear accord when Iran's commitment has repeatedly been certified would send a signal to North Korea that negotiating over its nuclear program is a waste of time.
Many administration officials scrambled to defend Trump's Iran strategy in Sunday news shows, saying the US would stay in the nuclear accord at least for now.
Trump has been desperately trying to undo the agreement, which restricts his ability to pursue harsher policies against the Islamic Republic.
Full report at:
http://www.presstv.com/Detail/2017/10/16/538838/Termination-of-Iran-deal-a-real-possibility-Trump
--------
U.S. takes aim at Yemeni Islamic State for first time
OCTOBER 17, 2017
DUBAI (Reuters) - The United States said it launched its first attack on Islamic State's deadly Yemen branch on Monday with a series of nighttime airstrikes that residents said targeted two villages and killed several people.
Unmanned U.S. drones launched around 12 missiles at militant positions in Yakla and al-Abl in southern al-Bayda province, according to local people living nearby, who declined to be named due to safety concerns.
They said the number of casualties caused by the attack was not immediately clear because locals were too afraid to approach the site as U.S. aircraft hovered over the area for hours.
The Pentagon said in a statement that U.S. forces had killed dozens of Islamic State members in a strike on two camps where fighters trained in using machine guns and grenade launchers.
Residents disputed that account, saying the fighters targeted actually hailed from a powerful al Qaeda affiliate who deployed in the area to fight Iran-aligned Houthi militiamen as part of Yemen's civil war, which began in 2015.
The complex conflict pits a kaleidoscope of tribes, military units and political factions against each other in chaotic rivalries that have allowed hardline Sunni Muslim militant groups like al Qaeda and Islamic State to thrive.
The United States provides arms and logistical support to a Saudi-led military coalition that has launched almost daily air strikes against the Houthis to try to restore Yemen's internationally recognized government.
Al Qaeda in Yemen, one of the fiercest branches of the global network, has plotted to down U.S. airliners and claimed responsibility for the 2015 attacks on the office of Charlie Hebdo magazine in Paris.
It has been targeted by U.S. air strikes for a decade.
Islamic State, which only launched its first bombing in Yemen as it careered toward civil war in March 2015, has claimed responsibility for a series of spectacular attacks on military and civilian targets which have killed hundreds of people. (reut.rs/2ghdNRx)
Full report at:
https://www.reuters.com/article/us-philippines-militants/philippine-president-declares-marawi-liberated-as-battle-goes-on-idUSKBN1CM0H9
--------
South Asia
Deadly US airstrikes target Haqqani network compound in Pakistan's Kurram Agency
Oct 17 2017
A series of deadly airstrikes targeted a compound of the Haqqani terrorist network in the Kurram Agency located in the tribal regions of Pakistan close to Durand Line with Afghanistan.
According to the local security and intelligence officials, the airstrikes were carried out late on Monday night.
The officials further added that several missiles were fired on a compound of the terror network, leaving at least twenty of them dead.
According to the officials, the missiles were apparently fired from the unmanned aerial vehicles belonging to the US forces with the initial reports indicating at least five were killed.
However, the officials said the dead bodies of at least fifteen more were recovered in the aftermath of the airstrikes.
The target of the airstrikes was believed to be a commander of the Haqqani terrorist network identified as Abu Bakar.
In the meantime, certain Pakistani officials are saying that the airstrikes were carried out on the side of the line in the Afghan soil.
This was the second airstrike carried out by the US forces in the vicinity of the tribal regions of Pakistan since the announcement of the new US strategy for South Asia.
The US forces carried out an airstrike in Kurram Agency last month targeting the Taliban insurgents that left at least three members of the group dead.
http://www.khaama.com/deadly-us-airstrikes-target-haqqani-network-compound-in-pakistans-kurram-agency-03660
--------
IPU assembly includes Rohingya issue as 'emergency item'
October 16, 2017
The Inter-Parliamentary Union (IPU) overnight included as the top "emergency item" the Rohingya issue as proposed by Bangladesh while its 137th assembly is underway in Russia's St. Petersburg, officials said today.
"The IPU adopted three resolutions as 'emergency items' for discussions in the assembly and of them the Bangladesh proposal on Rohingya issue was accepted receiving the highest 1027 votes," a Bangladesh embassy official in Moscow told BSS by phone.
He said Bangladesh's delegation leader and parliamentary deputy speaker Fazle Rabbi tabled the resolution titled "Stop atrocities and forced displacement of Rohingyas and ensure their return to their homeland in the Rakhine State of Myanmar immediately and unconditionally".
Myanmar, he said, on the other hand, brought on its own a resolution for discussing rights situation in its Rakhine state visibly in an effort to negate the global condemnation about the atrocities there and it was accepted with only 47 votes.
The third resolution was brought by Japan on North Korea's nuclear programme to be accepted with 427 votes.
The IPU, meanwhile, in a separate development denounced Myanmar expressing "grave" concern about the continuing violence, intimidation and forced displacement of the Rohingya Muslim minority from its Rakhine State.
"Reports of documented widespread cruelty against Rohingya children, women and men and the ensuing massive exodus into neighbouring Bangladesh are very disconcerting," the IPU said quoting a joint statement by its President Saber Chowdhury and Secretary General Martin Chungong.
It said the IPU "condemn these human rights violations and stress the Myanmar State authorities' responsibility to protect all the people living in the country".
The statement asked being an IPU member the Myanmar parliament to make every effort to help bring this crisis to an end.
Full report at:
http://www.thedailystar.net/rohingya-crisis/inter-parliamentary-union-ipu-assembly-includes-myanmar-rohingya-issue-emergency-item-1477219
--------
Rohingya crisis: Bangladesh for greater Indian role, says 'fire may engulf entire region'
Oct 16, 2017
NEW DELHI: Bangladesh on Monday pitched for a greater Indian role in containing the influx of Rohingya Muslims escaping violence in Myanmar, saying the issue may not be directly affecting India now, but it may have an impact in future.
Bangladesh's high commissioner to India Syed Muazzem Ali said the "fire in the neighbourhood" has the potential to engulf the entire region and it would be prudent for India to act in "mutual interest".
"It is a fire in our neighbourhood and before it engulfs in the entire region it needs to be put out. They (the refugees) are vulnerable to all sorts of radicalisation and it is in our mutual advantage to work together," Ali told reporters at the Foreign Correspondents' Club here.
Responding to a question, he said New Delhi and Dhaka may not appear on the same page on the issue as Myanmar's Rakhine State, the epicentre of the refugee exodus, does not have a common border with India.
"You are safe for now but how long will that be? It is in our common interest to act together. It may burn my house today, but it may surely have an impact in your house tomorrow," he said, while applauding India's role in sending relief for the refugees housed in a number of camps in Bangladesh's Cox's Bazar area.
He refused to comment on India's proposal to deport around 40,000 Rohingya refugees who are settled in camps across the country, saying it was a "matter of your country".
However, he reminded that "60 per cent" of the refugees who have crossed over to Bangladesh were women, children and elderly and living in "unacceptable conditions".
He called the Rakhine State a breeding ground of radicalisation owing to alleged atrocities on the Rohingya community and their festering anger.
He suggested that reports of bodies of Hindu Rohingya people found in mass graves were an attempt by the Myanmar administration to "intentionally" drive a wedge between communities.
"It is the inability of the Myanmarese authorities to recognise them (the Rohingya) as their own which is creating issues. The problem originated in Myanmar and needs to be resolved there," he said.
Referring to external affairs minister Sushma Swaraj's upcoming visit to Dhaka, Ali said water sharing is one of the very few areas of common interest between the two countries which remains contentious.
"The sooner we resolve the issue the better," he said.
Full report at:
https://timesofindia.indiatimes.com/india/rohingya-crisis-bangladesh-for-greater-indian-role-says-neighbourhood-fire-may-engulf-entire-region/articleshow/61107466.cms
--------
Eight dead, dozens missing as Rohingya boat sinks in Bangladesh
Oct 17, 2017
At least eight people drowned and dozens more are missing after a boat packed with Rohingya fleeing to Bangladesh sank today, the latest victims of a half a million strong exodus sparked by an army crackdown in Myanmar.
The boat was carrying an estimated 50 people when it went down in the estuary of the Naf river that divides the two countries, Border Guard Bangladesh (BGB) area commander Lieutenant Colonel S M Ariful Islam told AFP.
Nearly 200 Rohingya have drowned over the last six weeks making the perilous crossing into Bangladesh, many in small wooden fishing boats that are dangerously overloaded. They are fleeing violence in Myanmar's sectarian-plagued Rakhine state where the United Nations has accused troops of waging an ethnic cleansing campaign against the Rohingya Muslim minority.
Islam said that the bodies of the eight confirmed victims had washed up on the river banks, while 21 survivors had swum to safety. "Eight people were killed. The majority were children," he said, adding the small fishing trawler was overloaded with refugees desperate to escape.
"Coast and border guards were conducting a search and rescue operation in the Naf river," he said.
More than half a million Rohingya have arrived in Bangladesh over the last seven weeks to escape a military crackdown that the the UN has said amounts to ethnic cleansing. The stateless Muslim minority has faced decades of persecution in mainly Buddhist Myanmar. The latest influx began in late August after attacks by Rohingya militants on police posts in Myanmar.
Another border guard told AFP the boat sank was just 200 yards (metres) from the Bangladesh coast when it sank in rough waters. Fazlul Haq, a local official, said the boat was owned by a Bangladeshi villager who had made large amounts of money ferrying Rohingya into the country. He said the small fishing trawlers were highly vulnerable to accidents as they approached the shore, where they are often battered by large waves. Refugees are often charged exorbitant fees for the trip.
Full report at:
http://www.thehindubusinessline.com/news/world/five-dead-dozens-missing-as-rohingya-boat-sinks-in-bangladesh/article9907056.ece
--------
Unite world community to repatriate Rohingyas
October 16, 2017
The parliamentary delegation of Bangladesh at Inter-Parliamentary Union (IPU) has urged it to help unite international community for a dignified and safe repatriation of the Rohingyas who fled atrocities in Myanmar to Bangladesh.
Terming the eviction of the Rohingyas from Myanmar's Rakhine State a planned killing and ethnic cleansing, Jatiya Sangsad Deputy Speaker Fazle Rabbi Miah said the act is a gross violation of human rights.
The deputy speaker, who is leading the 10-member parliamentary delegation to the IPU meet in Saint Petersburg, Russia, made the urgent call at the Asia Pacific Group's meeting of the IPU, according to a press release of Jatiya Sangsad Secretariat.
In his call, Fazle Rabbi made several proposals including putting an immediate end to atrocities in Myanmar, repatriating all the Rohingyas who are taking shelter in Bangladesh, establishing a safe zone in Myanmar for the Rohingyas under UN supervision and fully implementing the recommendations made by the Kofi Annan Advisory Commission on Rakhine.
While attending a meeting of the Organization of Islamic Conference there, Rabbi Mia also urged Muslim countries to come forward and mobilise global support against the ethnic cleansing of the Rohingya Muslims.
Other members of the Bangladesh parliamentary delegation are Jatiya Sangsad Chief Whip ASM Firoze, Whip Atiqur Rahman, and members of parliament Abul Kalam Azad, Noor-e-Alam Chowdhury, ABM Fazle Karim Chowdhury, Kazi Firoze Rashid, Fazle Hossain Badsha, Pankaj Debnath and Mamunur Rashid.
According to a UN statement, around 2,000 IPU delegates, gathered at Saint Petersburg, will focus on overcoming intolerance, xenophobia and extremism.
"As the world becomes increasingly interconnected, new technologies and migration are breaking down old barriers and bringing people together in different ways," IPU said in the opening press conference.
Full report at:
http://www.thedailystar.net/city/unite-world-community-repatriate-rohingyas-1477018
--------
Explosion leaves driver a vehicle dead in Kabul city
Oct 17 2017
An explosion took place in Kabul city earlier today leaving the driver of a vehicle dead, the security officials said.
The incident took place around 7 am local time in the vicinity of the 8th police district of the city, targeting a civilian vehicle.
The Ministry of Interior (MoI) spokesman Najib Danish said a magnetic bomb planted in a Toyota Fielder type vehicle was detonated in Bani Esar area of the city.
He said the driver of the vehicle was killed in the explosion but no one else was killed or wounded.
No individual or group has so far claimed responsibility behind the incident.
This comes as the anti-government armed militant groups have stepped up their efforts to carry out attacks in the key provinces and cities of the country, including capital Kabul.
The Afghan intelligence, national directorate of security, said late on Monday that two suicide bombers were arrested before they manage to carry out a car bomb attack in the city.
Meanwhile, the security forces confiscated a mini-truck packed with explosives from the vicinity of the 5th police district of the city a day earlier.
Full report at:
http://www.khaama.com/explosion-leaves-driver-a-vehicle-dead-in-kabul-city-03659
--------
Another deadly car bombing plot foiled in Kabul city
Oct 17 2017
The Afghan security forces have foiled another deadly car bombing plot in Kabul city, a day after the security forces discovered a mini-truck packed with explosives from the city.
The Afghan Intelligence, National Directorate of Security (NDS), said two suicide bombers were arrested a hatchback type vehicle packed with explosives was confiscated before the militants mange to use it for a deadly attack in capital Kabul.
A statement by NDS said the suicide bombers were arrested during an operation in Surbo district, located not far from the city.
The statement further added that Taliban's Peshawar Council during their last meeting has decided to carry out a series of deadly attacks in the city.
The attacks were due to take place under the command of Qari Baryal, the shadow governor of the group for northeastern Kapisa province, NDS said.
In the meantime, NDS said the two detained suicide bombers have been identified as Sami ul haq and Wahidullah who were deployed by a key Taliban leader Hakimullah to carry out the attack in Kabul city.
The anti-government armed militant groups including the Taliban insurgents have not commented regarding the report so far.
Full report at:
http://www.khaama.com/another-deadly-car-bombing-plot-foiled-in-kabul-city-03657
--------
Russia massively funding Taliban to fight NATO forces: Report
Oct 16 2017
The Russian intelligence agencies have stepped up aid to the Taliban insurgents to fight the NATO-led coalition forces in Afghanistan, it has been reported.
Certain Taliban sources have told a British newspaper, The Times, that the group mainly receives the funding in a covert way, involving large quantities of fuel deals.
The sources have further added that the monthly funding of the Taliban by the Russian intelligence amounts to nearly 2.5 million US Dollars.
A Taliban leader in southeastern Ghazni province has told the paper "We sell the fuel on and distribute the money directly to our commanders."
The Taliban leader further added "Accepting money from the Russians is not something we like doing. but it is necessary at this stage of our jihad."
According to the Taliban leader whose identity has not been disclosed, the intelligence services of Russia are sending fleets of fuel tankers into Afghanistan through the Hairatan border crossing with Uzbekistan to companies operating on behalf of the Taliban.
This is not the first time reports have emerged regarding the alleged support of Russia to Taliban group but numerous such reports have emerged in the past as well.
Full report at:
http://www.khaama.com/russia-massively-funding-taliban-to-fight-nato-forces-report-03656
--------
Taliban attacks kill 10 policemen in Afghanistan
17 October 2017
Afghan officials say Taliban attacks in the country's south, west and east have killed at least 10 policemen.
In southern Ghazni province, the insurgents stormed a security compound, using a suicide car, and killed at least seven policemen.
Provincial chief police, Mohammad Zaman, says the attack in Andar district early on Tuesday morning triggered several hours of heavy fighting until the attackers were repelled.
Zaman says the district compound has been destroyed. In western Farah province, police chief Abdul Maruf Fulad says the Taliban attacked a government compound in Shibkho district, killing three policemen.
Full report at:
https://english.alarabiya.net/en/News/world/2017/10/17/Suicide-bombers-gunmen-attack-Afghan-police-training-center.html
--------
Arab World
ISIS Fighters Stage Last Stand as Raqa Capture Nears
Oct 17, 2017
RAQA - US-backed fighters battled hundreds of Islamic State group militants holed up in the last pockets of Syria's Raqa, as the former extremist stronghold stood on the verge of capture.
Intermittent artillery fire could be heard Monday and thick columns of smoke rose above the devastated city as US-led coalition air strikes targeted remaining militants. "The Syrian Democratic Forces (SDF) are currently waging their toughest battles yet," Jihan Sheikh Ahmed, spokeswoman for the operation to capture the city, told AFP.
The latest fighting "will bring an end to Daesh's presence", she added, using the Arabic acronym for IS. "They can choose between surrendering and dying."
Only around 300 IS fighters are believed to remain in the devastated city, once the de facto Syrian capital of the militant group's self-styled "caliphate" straddling Syria and Iraq. "The IS elements that are still there are resisting," Sheikh Ahmed said, adding that the fighting was centred on "fortified and heavily mined areas".
The SDF, an alliance of Kurdish and Arab fighters, broke into Raqa in June and captured around 90 percent of it before local officials brokered a deal over the weekend to evacuate remaining civilians.
Overnight, SDF fighters captured the northern Al-Barid neighbourhood, and on Monday they announced they had secured two more adjacent districts.
Inside the city, an AFP reporter saw heavy destruction around the national hospital, one of IS's key remaining positions, though the complex's observation tower was still standing.
'Final phase'
"Our forces are clearing the area, we haven't entered the hospital yet," 22-year-old SDF fighter Shoresh Halab said. "After the evacuation of civilians, the operation has become easier for us. Daesh was taking the civilians and putting them in front so the planes wouldn't hit them."
On Sunday, the SDF announced the "final phase" of the battle for the city, with a resumption of fighting after a pause to negotiate the safe exit of civilians and the surrender of some IS fighters.
In a statement, the militia said the last phase of the fighting would "end the presence of the terrorist mercenaries inside the city". "The battle... will continue until the entire city is cleared of terrorists who refuse to surrender, including foreign terrorists."
SDF spokesman Talal Sello told AFP on Sunday that the city was virtually empty of civilians after 3,000 left Saturday as part of a deal agreed between local officials and Syrian IS fighters.
"Only 250 to 300 foreign terrorists who refused the deal and decided to stay and fight until the end remain in the city, and relatives of some members are with them," he said, without specifying the number of civilians.
Under the deal, a total of 275 Syrian IS fighters and relatives surrendered to the SDF, though it was unclear whether they would be given safe passage elsewhere.
In a gutted seven-story building overlooking the city's stadium, a fighter called out for civilians to approach on Monday.
A child's cry could be heard, but it was unclear where the sound was coming from and no one emerged.
Muthanna Shahin, a civilian SDF member, reminisced about childhood football games played at the stadium. "When I see it now, I'm so sad I can't even cry," he said.
A spokesman for the US-led coalition said Monday its strikes had been on hold during talks on the deal to evacuate civilians but the attacks would now resume. "Now that that arrangement is complete and the SDF are going to resume their offensive into the city I certainly expect that strikes will increase," Colonel Ryan Dillon told AFP. But he declined to speculate how quickly the city could now fall.
"We still expect that the fight in this final piece is going to be difficult," he said. "We're not putting a timeline on it."
IS captured Raqa in 2014. Under its rule, the city become synonymous with the militant group's worst abuses and was transformed into a planning centre for attacks abroad.
The city's recapture would be only the latest blow for IS, which has suffered a string of defeats in recent months.
It was driven from its largest Iraqi stronghold Mosul in July and now only controls a fraction of the self-styled "caliphate" it proclaimed more than three years ago, an area which was once about the size of Britain.
In Syria, its presence is largely confined to the eastern province of Deir Ezzor, where it is under attack by both the SDF and a Russia-backed Syrian government campaign.
http://nation.com.pk/international/17-Oct-2017/is-fighters-stage-last-stand-as-raqa-capture-nears
--------
US-backed fighters seize infamous Raqqa roundabout from ISIS
17 October 2017
US-backed Syrian fighters on Monday said they gained complete control of an infamous Raqqa roundabout used by ISIS extremists for public beheadings and crucifixions.
The Syrian Democratic Forces said they had "totally liberated" the northern city's Al-Naim roundabout, dubbed "Roundabout of Hell" by residents under ISIS's three-year rule.
The capture followed fighting since Sunday near the roundabout, east of the municipal stadium still held by the extremists, the Arab-Kurdish alliance said in a statement.
The Syrian Observatory for Human Rights, a Britain-based monitor, said ISIS withdrew two weeks ago from the area but the SDF could not immediately take control because of land mines.
On Sunday, SDF fighter Hazem Kobane told AFP: "Our forces were combing Al-Naim... today. There was no one there."
The SDF, backed by a US-led coalition, are on the verge of seizing Raqqa after having taken around 90 percent of ISIS's former de facto Syrian capital.
Fighting late Monday continued near the city's stadium and hospital, where 25 extremists surrendered and two suicide attacks failed, the SDF said.
Full report at:
https://english.alarabiya.net/en/News/middle-east/2017/10/17/US-backed-fighters-seize-infamous-Raqqa-roundabout-from-ISIS.html
--------
Iraqi-backed Yazidi group takes over Sinjar after Kurdish pullout -residents
17 October 2017
BAGHDAD: An Iraqi Yazidi group affiliated with a Shiite-led armed faction took control on Tuesday of Sinjar, said residents of the northwestern city that is claimed by both Kurdish and central Iraqi authorities.
The Yazidi group, called Lalesh, extended control over all of Sinjar after the withdrawal late on Monday of Kurdish Peshmerga fighters who were deployed there, the residents said.
"There was no violence, the Lalesh group moved after the Peshmerga pulled out," said a resident by phone.
Responding to a Kurdish referendum on independence held last month, Iraqi government forces on Monday captured the Kurdish-held oil city of Kirkuk, transforming the country's balance of power.
That was part of lightning strike ordered by Minister Haider al-Abadi to retake all disputed areas, including Sinjar, occupied by the Kurdistan Regional Government's Peshmerga force in the course of the war on Daesh.
Full report at:
http://www.arabnews.com/node/1178846/middle-east
--------
Saudi Arabia 'committed' to promoting, protecting human rights
Oct 17, 2017
NEW YORK: Saudi Arabia is fully committed to its efforts in promoting and protecting human rights, said Abdul Aziz Al-Assem, the first secretary of the Kingdom's permanent mission to the UN, reported Arab News.
"We must emphasize the importance of cooperation between countries and international organizations to promote human rights principles while taking into account cultural and religious diversity across countries," Al-Assem said in his statement at the UN.
He added: "Saudi Arabia was keen on strengthening and maintaining its cooperation with the Office of the UN High Commissioner for Human Rights (OHCHR) through a memorandum of understanding (MoU) and the specialized human rights programs. The Kingdom has also signed a memorandum with the UN to train experts and build Saudi capacities in the field of international human rights law, especially with regard to the UN's mechanisms."
"The Kingdom has guaranteed women full rights under Islamic law and has given them the opportunity to contribute to human, economic and cultural development … Saudi women have achieved a lot lately, such as increased job opportunities, better education, an expanded participation in the economy, being allowed to engage in all business activities, playing an important role in national dialogue events, and participating in the media and medicine," he said.
Moreover, he pointed out that there is a 20 percent quota for women in the Shoura Council (30 members), and women have the right to run for and vote in municipal elections, and are now allowed driving licenses.
"Saudi Arabia gives great attention to families and children, which are the most important axes of sustainable development. We have dedicated a hotline through which women and children can report domestic violence and have established the National Family Safety Program, which aims to protect families and children," he added.
Full report at:
http://nation.com.pk/international/16-Oct-2017/saudi-arabia-committed-to-promoting-protecting-human-rights
--------
Bahraini officials bar rights activist from leaving country
Oct 16, 2017
Bahraini authorities have prevented a human rights activist from traveling abroad in the latest restrictions imposed by the ruling Al Khalifah regime on pro-democracy campaigners and political dissidents in the tiny Persian Gulf kingdom.
Zainab al-Khamees, a member of the Bahrain Human Rights Society, was stopped at Bahrain International Airport on Monday. The authorities did not provide any reason for the restrictive measure, Arabic-language Lualua television network reported.
This is the fourth time that Bahraini officials have not allowed Khamees to leave the country.
On September 6, the human rights advocate was interrogated at the General Prosecution in Manama.
She was denied the right to have her attorney present during the session and accused of attending an anti-regime protest. Khamees and her attorney were also denied a case number for legal reference.
On November 9, 2016, the deputy secretary general of the European-Bahraini Organization for Human Rights, Fatima al-Halwaji, was barred from leaving Bahrain.
Officials informed her that she could not travel abroad based on an order issued by the Public Prosecutor's Office, Lualua reported.
The order read that Halwaji had been slapped with a travel ban on charges of "spreading false news through social media networks."
Halwaji's case happened only four days after Bahrain's Unitary National Democratic Assemblage said in a statement that officials had prevented human rights activist Dr. Monzer al-Khor from leaving the country through the King Fahd Causeway, which connects Bahrain to Saudi Arabia.
On August 22 last year, Enas Oun, who is the head of the Monitoring and Documentation Department at the Bahrain Center for Human Rights (BCHR), was also prevented from travelling to a human rights workshop in Tunisia.
The Bahrain Observatory for Human Rights (BOHR) reported on July 8 that lawyer Mohammad al-Tajer, President of the Bahraini Transparency Association Sharaf Al-Moussawi, and Khamees were barred from leaving Bahrain despite the fact that no official travel ban had been issued against them.
Thousands of anti-regime protesters have held demonstrations in Bahrain on an almost daily basis ever since a popular uprising began in the country in mid-February 2011.
They are demanding that the Al Khalifah dynasty relinquish power and allow a just system representing all Bahrainis to be established.
Manama has gone to great lengths to clamp down on any trace of dissent. On March 14, 2011, troops from Saudi Arabia and the United Arab Emirates were deployed to assist Bahrain in its crackdown.
Scores of people have lost their lives and hundreds of others sustained injuries or got arrested as a result of the Al Khalifah regime's crackdown.
On March 5, Bahrain's parliament approved the trial of civilians at military tribunals in a measure blasted by human rights campaigners as being tantamount to imposition of an undeclared martial law countrywide.
Full report at:
http://www.presstv.com/Detail/2017/10/16/538845/Bahraini-officials-bar-rights-activist-from-leaving-country
--------
Syria intercepts Israeli warplanes near Lebanese border: Army
Oct 16, 2017
The Syrian army says its air defense has responded to an Israeli aerial violation of the Arab country's territory in the vicinity of the Lebanese border, hitting an intruding warplane and forcing the fighter jets to retreat.
According to a statement released by Syria's General Command of the Army and Armed Forces, carried by the country's official news agency, SANA, an undeclared number of Israeli warplanes violated Syria's airspace on the border with Lebanon in Baalbek area at 08:51 a.m. local time on Monday.
An anti-aircraft battery of the Syrian army, located some 50 kilometers from the capital Damascus, then "responded and directly hit one of the jets, forcing [the enemy] to flee," the statement further read, adding that the Israeli jets returned fire at 11:38 a.m. local time by firing multiple missiles from inside the occupied territories that hit a Syrian army position in the countryside of the capital, resulting in material damage.
The army further threatened Israel with "dangerous repercussions" for the airstrikes and its repeated aerial aggression attempts, stressing Syria's determination to continue its war against the terrorist groups, "Israel's arm in the region."
The Israeli military, for its part, issued a statement later in the day, saying that the fleet in fact consisted of Israeli reconnaissance planes, which "were in the skies over Lebanon, and not in Syria." It added that neither of the Israeli warplanes sustained damage in the process and returned home "safely."
During the past few years, Israel has frequently attacked military targets in Syria in what is considered as an attempt to prop up terrorist groups that have been suffering heavy defeats in their fight against Syrian government forces.
Back in April 2015, Israeli Prime Minister Benjamin Netanyahu officially admitted for the first time that the regime's military had conducted strikes in Syrian territory.
Damascus says Israel and its Western and regional allies are aiding Takfiri terrorist groups operating inside the Arab country, while the Tel Aviv regime's military carries out such sporadic strikes against Syrian government forces. The Israeli regime has even set up field hospitals to treat wounded militants evacuated from Syria.
Full report at:
http://www.presstv.com/Detail/2017/10/16/538840/Syria-Israel-warplanes-violation-Baalbek-Lebanon
--------
Baghdad warns Kurds not to cut oil flow after KRG halts crude production
Oct 16, 2017
The Iraqi government has warned the Kurdistan Regional Government (KRG) not to take any measure that would cause a crude oil flow disruption from Kirkuk oil fields as Kurdish authorities reportedly shut down some 350,000 barrels per day (bpd) of production from two major fields in northern Iraq.
Earlier on Monday, reports said that the KRG had halted oil production from major fields, Bai Hassan and Avana, due to security concerns after a rise in tensions with the central government, prompting Baghdad to issue a stern warning to the Kurdish leaders to stop disrupting the oil flow from the oil fields.
Shortly after Baghdad's warning, Ashti Hawrami, the KRG's minister of natural resources, ordered oil production to be resumed at the pair of oil fields following the brief interruption.
Meanwhile, a spokesman for Iraq's North Oil Company said, "We received signals from them (Kurdish officials) that they will shut down production operations in Kirkuk oil fields for security reasons, but we understand that this is only a pretext to put pressure on Baghdad."
The developments came as the Iraqi forces took control of the oil-rich city of Kirkuk on Monday, removed Kurdish flags from top of the government buildings and replaced them with the Iraqi flag.
A senior Baghdad oil official said, "We've got confirmation from military commanders that it's a matter of a very short time. Our brave forces will regain control of all Kirkuk oil fields and then we will restart production immediately."
Meanwhile, Iraq's Joint Operations Command said that Iraqi forces had managed to seize the Baba Gargar oil field, one of six major oil fields in the disputed Kirkuk region, from the Kurdish fighters.
Kurdish leaders have coveted Kirkuk with some 10 percent of Iraq's oil reserves for long and described it as part of their territory even as roughly two-thirds of the city's population is non-Kurd.
Kirkuk is not one of the three provinces that have made up the semi-autonomous Iraqi Kurdistan Region since 2003. However, Kurdish militants used a vacuum created when government troops were fighting against Daesh terrorists to overtake city of Kirkuk.
Tensions flared up between Iraq's semi-autonomous Kurdish region and the central government in Baghdad after the KRG held a highly controversial plebiscite on independence. The referendum was held on September 25 despite strong opposition from the central government in Baghdad, the international community, and Iraq's neighboring countries, especially Turkey and Iran.
Full report at:
http://www.presstv.com/Detail/2017/10/16/538813/Iraq-Kurdistan-KRG-oil-production-referendum-Kirkuk
--------
Iraqi forces seize territory from Kurds in independence dispute
Oct 17, 2017
Iraqi forces seized a key military base, an airport and an oil field from Kurdish fighters on Monday in disputed Kirkuk province in a major operation sparked by a controversial independence referendum.
The offensive, which follows weeks of soaring tensions between two US allies in the battle against the militant Islamic State (IS) group, aims to retake oil and military sites that Kurdish forces took over during the fightback against the fighters .
Thousands of residents were seen fleeing Kurdish-controlled Kirkuk city, according to an AFP journalist.
Iraqi and Kurdish peshmerga forces exchanged artillery fire early Monday south of the capital of the oil-rich province, after the launch of the operation overnight which triggered a spike in oil prices on world markets.
But after the initial clashes Iraqi forces made rapid progress, suggesting Kurdish fighters were withdrawing with little or no resistance.
Iraq's Joint Operations Command said its forces had retaken the K1 military base northwest of Kirkuk, the military airport east of the city and the Baba Gargar oil field, one of six in the disputed region.
The operation follows an armed standoff between Kurdish forces and the Iraqi army prompted by the September 25 non-binding referendum that produced a resounding "yes" for independence for the autonomous Kurdish region of northern Iraq.
Baghdad has declared the vote ─ held despite international opposition ─ illegal.
Crisis talks on Sunday had made little headway in resolving the standoff, which has raised fears of fresh chaos just as IS jihadists are on the verge of losing their last strongholds in the country.
Iraqi Prime Minister Haider al-Abadi said the operation was necessary to "protect the unity of the country, which was in danger of partition" because of the referendum.
"We call upon all citizens to cooperate with our heroic armed forces, which are committed to our strict directives to protect civilians in the first place, and to impose security and order, and to protect state installations and institutions," he said.
An AFP photographer saw columns of Iraqi troops heading towards Kirkuk from the south.
Multiple peshmerga fighters were injured in the initial clashes and hospitalised in Kirkuk, a local security source said.
But peshmerga forces loyal to the Patriotic Union of Kurdistan (PUK), a political party linked to Iraqi President Fuad Masum, who is himself a Kurd, were later reported to be withdrawing from areas under their control.
Pro-PUK forces were deployed south of the city, including at oil fields, while fighters loyal to the rival Kurdistan Democratic Party (KDP), linked to Iraqi Kurd leader Massud Barzani who initiated the referendum, were deployed to the north.
Two people were killed in artillery exchanges at Tuz Khurmatu, 75 kilometres south of Kirkuk, a doctor at a city hospital said.
'Declaration of war'
On Sunday, Iraq's National Security Council said it viewed as a "declaration of war" the presence of "fighters not belonging to the regular security forces in Kirkuk", including fighters from Turkey's outlawed Kurdistan Workers' Party (PKK).
For their part, the Iraqi forces have said that they have no wish to enter Kirkuk but that they wish to retake military positions and infrastructure which were under their control before their troops withdrew in the face of hostility from the militants.
On the fringes of the town, they used loudspeakers to call on the peshmerga to give up their positions, local sources said.
Long claimed by the Kurds as part of their historic territory, the province has emerged as the main flashpoint in the dispute.
Polling during the referendum was held not only in the three provinces of the autonomous Kurdish region but also in adjacent Kurdish-held areas, including Kirkuk, that are claimed by both Baghdad and Iraqi Kurdistan.
The Kurds have been in control of six fields in the Kirkuk region providing some 340,000 of the 550,000 barrels per day exported by the regional administration.
The fields would provide crucial revenue to Baghdad, which has been left cash-strapped from the global fall in oil prices and three years of battle against IS.
US calls for dialogue
As Iraqi forces launched their operation to reclaim part os Kirkuk, the US-led coalition battling IS urged Baghdad and Iraq's Kurds to "avoid escalation actions".
"We continue to advocate dialogue between Iraqi and Kurdish authorities. All parties must remain focused on the defeat of our common enemy, ISIS, in Iraq," Major General Robert White, a commanding general in the coalition, said in a statement.
The coalition said it was monitoring movements of military vehicles and personnel in the vicinity of Kirkuk and denied that a wide-scale offensive was underway.
"These movements of military vehicles, so far, have been coordinated movements, not attacks," the statement said.
It said coalition forces were not supporting activities by the Iraqi or Kurdish governments around Kirkuk.
Full report at:
http://nation.com.pk/international/16-Oct-2017/iraqi-forces-seize-territory-from-kurds-in-independence-dispute
--------
Europe
Dutch Rabbi to leave centrist party over leader's 'Muslim exclusion'
Oct 17, 2017
A renowned rabbi from the Netherlands said he would leave the political party he has been a part of since 20 years as an act of protest against its leader's praise for "Judeo-Christian society", which he says excludes Muslims.
Lody van de Kamp, a left-leaning activist for Jewish-Muslim dialogue, expressed his intention to leave the Christian-Democratic Appeal (CDA) while giving an interview to the Het Parool daily.
Earlier that day, the CDA had inked a power-sharing deal with three other coalition partners on the formation of a cabinet which would work towards making illegal immigrants leave the country.
The deal in the Netherlands, which is one of Israel's staunchest allies in Western Europe, also mentioned for the first time in such a document about the need to create an 'independent' Palestinian state.
"Suddenly we're talking about our 'Judeo-Christian society'," said van de Kamp, referring to a speech that CDA leader Sybrand Buma last month delivered at a school. "It obscures a hidden thought, that we don't want the Muslims here, and that makes me uncomfortable," van de Kamp said.
A leftwing outlier of CDA, van de Kamp angered many Jews and non-Jews in 2015, when he partially dismissed some apprehensions over the increasing hatred of Jews in the Netherlands, saying "for many Dutch Jews, anti-Semitism has become a hobby."
https://www.pakistantoday.com.pk/2017/10/16/dutch-rabbi-to-leave-centrist-party-over-leaders-muslim-exclusion/
--------
UK Labour repeats calls for Saudi arms embargo over Yemen war
Oct 16, 2017
The UK's Labour Party has renewed calls for a ban on all arms sales to Saudi Arabia, as the kingdom's brutal military aggression against poverty-stricken Yemen continues.
Fabian Hamilton, the shadow minister for peace, said Sunday that unlike the ruling Tory government, a Labour administration would only provide weapons to countries that use them for defensive purposes.
"We should not be selling weapons to any state that uses, or could potentially use, weapons we supply for internal repression or for foreign wars," Hamilton told the Middle East Eye, noting that the ban should include all the Saudi allies, who have been participating in the deadly war since it began in March 2015.
More than 12,000 people have been killed ever since, and much of the country's infrastructure, including hospitals, schools and factories, has been ravaged.
The Saudi-led war has also triggered a deadly cholera epidemic across Yemen and has dragged the impoverished nation to the brink of a widespread famine.
When asked if Labour Leader Jeremy Corbyn would push for UK arms embargoes against the United Arab Emirates, Bahrain, Kuwait, and Egypt, Hamilton responded, "Absolutely."
The government of Prime Minister Theresa May has remained defiant in the face of growing pressure to stop arms exports to Saudi Arabia, defending the sales amid evidence of war crimes and civilian deaths in Yemen.
British Defense Secretary Michael Fallon went to Riyadh last month to discuss military cooperation with Crown Prince Mohammed bin Salman, who serves as the kingdom's defense minister and deputy prime minister.
UK, Saudi Arabia sign military cooperation deal
May seeks to build on the traditionally strong ties with the Arab states of the Persian Gulf region before the UK's planned departure from the European Union. She said last year that Britain would invest over three billion pounds in military forces of the oil rich countries over the next decade.
The Middle East has been a key market for the UK's arms industry, which has sold more than six billion pounds of arms to Saudi Arabia since it began its bombing campaign in Yemen.
Full report at:
http://www.presstv.com/Detail/2017/10/16/538780/UK-Labour-Hamilton-Corbyn-May-Saudi-arms-ban
--------
Another Far-Right Party Has Won Voters' Hearts In Europe With Anti-Islam Message
BY JOSH LOWE
10/16/17
The far-right Freedom Party—an ally of Marine Le Pen's National Front in France and one of the emboldened cluster of populist right-wing parties making big gains across the Continent—took as much as 26 percent of the vote in Austria's elections this weekend.
The result could see the Freedom Party enter into a coalition with the right-wing Austrian People's Party, led by Sebastian Kurz, 31, who is set to become the world's youngest sitting head of government.
But what is the Freedom Party? And what will the result mean for the future?
Long-Established Outsiders
The Freedom Party is one of Europe's older surviving right-wing populist parties. Founded in 1955, it has even had one spell as a partner in a coalition government. It joined the center-right People's Party in power in 2000, which led to Austria briefly facing European Union sanctions.
Like many other European populist parties, the Freedom Party is strongly anti-immigration. "Austria is not a country of immigration," the party says in its program statement. "This is why we pursue a family policy centered around births." Its policies include freezing migrants out of welfare payments. Unlike some extreme-right groups, however, it does not campaign for legal immigrants already in the country to be repatriated.
The Freedom Party is strongly anti-Islam. It has long campaigned for a ban on face veils—and this year it got its way, with a ban going into force in Austria on October 1. In the European Parliament, the party is aligned with two fellow anti-Islam parties, the National Front in France and Alternative for Germany, which also made significant gains in the recent German elections.
The Freedom Party has been able to capitalize on the European refugee crisis and topped opinion polls throughout much of 2015 and 2016 as it picked up protest voters unhappy with an influx of asylum seekers from the Middle East and Africa.
Also a factor in the group's recent strength has been its promotion of clean-cut, superficially charming figureheads adept at making its positions seem reasonable. In the country's presidential election last year, the party came in a close second (the winner was an independent Green politician) with its candidate Norbert Hofer, a man one critic described as a "wolf in sheep's clothing."
Current party leader Heinz-Christian Strache, blue-eyed and inoffensively handsome, dismissed reports from Süddeutsche Zeitung about his past ties to the neo-Nazi scene as youthful folly, saying he now condemns all extremism. "I was a seeker, I saw a lot of things," he said.
Growing Influence on Government
What the party would do in a coalition would partly depend on what it is able to extract during negotiations. Aside from pushing for a crackdown on immigration and Islam, the party has strong views on Austria's policy toward the EU. It is strongly Euroskeptic and is opposed to deeper EU integration.
It would also like Austria to align itself more closely with the Visegrad Group—an alliance of central European countries whose intolerant line on refugees sets it apart from some more liberal Western European states.
Alternatively, Kurz could choose to reignite his party's previous coalition with the center-left Social Democrats, albeit with a shift in the balance of power. (Before the election, the Social Democrats were the largest party.)
Even if that's the case, the Freedom Party will wield influence and will be listened to some of the time when it shouts from the sidelines.
It has already helped to shift the debate in Austria on immigration and integration firmly to the right. Kurz achieved electoral success partly by adopting some of the Freedom Party's positioning on the issue, and his proposals include new funding and rules designed to regulate mosques.
Full report at:
http://www.newsweek.com/freedom-party-austria-far-right-marine-le-pen-685567
--------
Morocco offers to train imams to preach in for European mosques
Oct, 17 2017
Morocco is offering to train imams who preach in mosques across Europe in an effort to encourage the spread of its moderate Malki doctrine and pre-empt the radicalisation of Muslim minorities living on the continent.
Young Moroccans who grew up in Europe have been at the centre of some of the most high-profile atrocities claimed by Isis, including the Paris attacks in November 2015 and the Brussels airport bombings four months later.
Moroccan youths believed to have been radicalised by Abdelbaki al Satti, a hard line Moroccan imam in Spain, were behind the killing in August of 16 people in Barcelona's Las Ramblas boulevard when one of them drove a van into a crowd of pedestrians.
"We have realised the absence of a religious formation according to the tolerant Moroccan Malki school," said Abdelhak Khiame, Morocco's counter terrorism chief. He suggested training "the imams in western countries according to the Malki doctrine. We have imams here . . . who will be in charge of training these imams regardless of their nationalities".
Mr Khiame, whose agency, the Central Bureau of Judicial Investigations, has been responsible for the dismantling of some 42 Isis-linked cells in the country in the past two years, told the Financial Times that without an "institutionalised process" to vet the discourse and credentials of imams in Europe "terrorist organisations will exploit the vacuum".
"The practice of religion should be institutionalised in all countries and by this I meant there should be institutions which take an interest in monitoring religious discourse in mosques," said Mr Khiame. "Here in Morocco there is a religious scholars council tasked with supervising sermons and unifying fatwas [religious rulings]. It is not possible for any imam to preach his sermon without it being reviewed by the council to see if it conforms to tolerant Islamic precepts and is not hard line."
Speaking in his headquarters in Sale near Rabat, the Moroccan capital, Mr Khiame said Moroccan intelligence shared with European countries had already prevented terrorist attacks in France, Spain, Italy, Holland and Denmark.
Mr Khiame said his bureau was launching a new strategy to monitor individuals of Moroccan origin living in Europe who have been radicalised.
"What happened in Spain and in other European countries has made us change our strategy even for those who are of Moroccan origins but were born in the west," he said. "To further confront this new phenomenon we have to try to follow those people. The kingdom and all other countries which have subjects in western countries have to develop new strategies and new measures to follow their people."
Despite the involvement of Moroccans in jihadi violence in the west, and the large number of Moroccans who became foreign fighters in Syria and Iraq — 1,664 according to Mr Khiame — there have been no significant attacks in the kingdom since before the rise of Isis. The last was the bombing of a tourist restaurant in Marrakesh in 2011 that killed 17 people.
Many of the cells uncovered by the security services were primarily involved in recruiting fighters for Isis. But Mr Khiame says some had amassed weapons and were plotting violence against domestic and foreign targets in the kingdom.
Analysts say jihadis have found it hard to operate in Morocco as a result of beefed up security since 2003 when 12 suicide bombers blew themselves up at multiple locations in Casablanca, the economic hub of the kingdom, killing 33 people.
Full report at:
https://www.ft.com/content/23cfc9c0-af3a-11e7-aab9-abaa44b1e130
--------
URL: https://www.newageislam.com/islamic-world-news/pakistan-succumbs-another-round-ahmaddiya/d/112917
New Age Islam, Islam Online, Islamic Website, African Muslim News, Arab World News, South Asia News, Indian Muslim News, World Muslim News, Women in Islam, Islamic Feminism, Arab Women, Women In Arab, Islamophobia in America, Muslim Women in West, Islam Women and Feminism