New Age Islam News Bureau
12 March 2021
Justice Qazi Faez Isa has regretted that Quranic injunctions in the Islamic Republic of Pakistan have at times been relegated in favour of retrogressive practices. — SC website/File
-----
• UAE Announces $10 Billion Investment Fund for Israel across Multiple Sectors
• Muslims in Varanasi Shower Petals on Shiva Devotees, Hail Ganga-Jamuni Tehzeeb
• 'US Will Directly Raise With China Issue of Genocide against Uighur Muslims'
• Nigeria Says No Negotiations with Boko Haram Terrorists
• ISI, Pak-Army Chiefs Hold Talks on Afghan Peace Process in Bahrain
• Ayatollah Khamenei Blasts US for Lies about Opposition to N. Weapons
• More Work Needed For Yemen Ceasefire, Houthis Must Halt Saudi Arabia Attacks: US
• No Secret That Turkey Plays Extremely Destabilizing Role In Our Region: Armenia FM
Pakistan
• Pakistan SC Judge, Justice Qazi Faez Isa, Deplores Relegation of Quranic Injunctions In Favour Of Retrogressive Practices
• No Place for Terrorism in Islam: Chancellor of the Jamia Darul Uloom Haqqania
• Pakistan Ready to Host SAARC Summit: Foreign Office Spokesperson
• Pakistani Christian, Convicted Of Sending Text Messages Defaming Prophet Muhammad Gets Death Sentence
--------
Arab World
• UAE Announces $10 Billion Investment Fund for Israel across Multiple Sectors
• Islamic Coalition Holds Forum on Guerrilla Warfare
• Turkey restarts diplomatic contacts With Egypt, says foreign minister
• US says Syria's al-Assad has 'done nothing' to restore his legitimacy
• France's Le Drian says Lebanon's politicians show no sign of saving their country
• Five ISIS suspects given death sentence in Saudi Arabia
• European Parliament passes resolution blasting Bahrain for flagrant rights abuses
• Roadside bomb attacks target US-led coalition convoys across Iraq
• Russian jets bombard Daesh positions in Syria's southeastern desert: Monitoring group
--------
India
• Muslims in Varanasi Shower Petals on Shiva Devotees, Hail Ganga-Jamuni Tehzeeb
• Plea Filed In SC Seeks Release of Rohingyas Detained In Jammu Jail
• Beyond Ceasefire along LoC: Pakistan Signals Statehood in J&K Key to Movement Forward
• No Rise in Militancy, Number of Anti-Terrorist Operations Rising: J-K Police
• For Hyderabadi Students, Turkey Emerges As New Study Destination
• BJP Fields 4 Muslim Nominees in Lower Assam
• Azam Khan Makes His Presence Felt In Sunni Board Poll?
• Ganga-Jamuni Tehzeeb: Muslims Shower Petals on Shiva Devotees in Kashi
• Two JeM terrorists killed in J&K encounter
--------
Southeast Asia
• 'US Will Directly Raise With China Issue of Genocide against Uighur Muslims'
• Islamic finance players' crucial role in the digital economy
• Uighur, Hong Kong issues to make for 'difficult' US-China talks
• Iran says any form of foreign interference undermines stability of Hong Kong
• Singapore arrests would-be terrorist planning to kill Jews for Hamas
• 'Allah' ruling affirms true meaning of word for Sarawakian Bumis, says Yayasan Perpaduan Sarawak
--------
Africa
• Nigeria Says No Negotiations with Boko Haram Terrorists
• Boko Haram Allegedly Kills 30 Nigerian Soldiers In Borno
• Somalia's security situation in crisis amid political uncertainty
• Foreign ministers of France, Germany, Egypt, Jordan hail unity govt in Libya
• Gunmen in northwest Nigeria kidnap college students, exact number unknown: Police
• Ethiopia: Sporadic fighting displacing people in Tigray
• Names of Libya's new Cabinet released to public
• Turkey plays important role in election crisis-rocked Somalia
• Ethiopia: Tigray's deserted Mekele city greets envoys
• Libya: Al-Sarraj ready to hand over power to new gov't
--------
South Asia
• ISI, Pak-Army Chiefs Hold Talks on Afghan Peace Process in Bahrain
• The Resilience of Secularism in Bangladesh
• MoD rejects the fall of Almar district to Taliban: Faryab
• Security will remain crucial with or without peace: SIGAR
--------
Mideast
• Ayatollah Khamenei Blasts US for Lies about Opposition to N. Weapons
• Iran Asks KRG to Correct Mistake of Publishing Controversial Stamp
• Israel says joint naval exercise with Greece, Cyprus completed
• Three Gaza fishermen killed by Israeli drone caught in nets, says Hamas
• US, Israel discuss Iran threats during first strategic group meeting
• Heavy clashes break out between Yemeni army, Iran-backed Houthis in Hodeidah
• Houthis target civilians with missile in Marib as Yemeni army advances
• Sanctions lead to devastating repercussions like those of terrorism, war crimes: Iran's UN envoy
--------
North America
• More Work Needed For Yemen Ceasefire, Houthis Must Halt Saudi Arabia Attacks: US
• US Senate resolution calls to hold Assad regime accountable for war crimes
• Saudi, US ground forces set to launch joint military exercise
• US says won't incentivize Iran to join JCPOA talks
• US Far-Right Extremists Making Millions Via Social Media And Cryptocurrency
• Turkey blasts US court's parole ruling for diplomat's killer
--------
Europe
• No Secret That Turkey Plays Extremely Destabilizing Role In Our Region: Armenia FM
• Russia, Turkey, Qatar jointly making attempt to seek political resolution to Syria's conflict
• Kyrgyzstan parliament approves referendum on new constitution
• UN ready to support Turkey's 'Human Rights Action Plan'
• US' Khashoggi report 'surprising' but disappoints many: Award-winning journalist
• UN: Pursuit of justice should step up in Syria
• European, Arab top diplomats discuss Middle East
Compiled by New Age Islam News Bureau
URL: https://www.newageislam.com/islamic-world-news/pakistan-sc-judge-justice-qazi/d/124525
--------
Pakistan SC Judge, Justice Qazi Faez Isa, Deplores Relegation of Quranic Injunctions In Favour Of Retrogressive Practices
Justice Qazi Faez Isa has regretted that Quranic injunctions in the Islamic Republic of Pakistan have at times been relegated in favour of retrogressive practices. — SC website/File
-----
Nasir Iqbal
March 12, 2021
ISLAMABAD: Justice Qazi Faez Isa has regretted that Quranic injunctions in the Islamic Republic of Pakistan have at times been relegated in favour of retrogressive practices.
In a 12-page judgement, Justice Isa, who was part of the two-judge Supreme Court bench along with Justice Yahya Afridi, observed that radical awakening was brought about by the Holy Quran as unfamiliar women's rights were established for the first time in the scripture.
The observations came on an appeal against the Jan 11, 2016 Lahore High Court order, which was moved by Sheikh Mohammad Muneer.
The case revolves around filing of a suit on March 8, 1999 by the petitioner seeking specific performance of Aug 3, 1998 agreement through which he had agreed to buy Ms Feezan's (respondent) house for which certain amount had already been paid in advance. But the respondent refused to receive the balance sale following which the suit was filed.
Justice Isa rules women enjoy right to retain their income, property
The agreement showed to be witnessed by three persons namely Mohammad Ali, the husband of the respondent, Allah Ditta and Mohammad Nawaz.
"A woman has the right to own and dispose of her property and she enjoys the right to retain, both before and after her marriage, her income and property, her ability to do business without permission of her father or husband and keep and spend what she earns," observed Justice Isa.
"Men shall have the benefit of what they earn and women shall have the benefit of what they earn," Justice Isa said while citing verse 32 of Surah An-Nisa. He observed that her entitlement to inherit from her parents and husband was also precisely ordained in the fourth chapter of An-Nisa of the Holy Quran.
A woman also does not need permission to acquire or dispose of property. What she inherits is hers and hers alone and neither her husband, father, brother nor her son has any entitlement to it.
Justice Isa then quoted verse 29 of Surah An-Nisa which ordains, do not eat up (consume) one another's property and explained that the bridal gifts given at the time of the marriage were the wife's property and remained hers.
Her right to enter into contracts and to witness contracts, the Holy Quran mentions in great detail, Justice Isa said.
In this case the respondent woman denied having entered into the agreement which the petitioner, an attesting witness and the scribe testified that she had. However, her solitary testimony was to be accepted because this is what the law and the injunctions of the Holy Quran mandate, Justice Isa observed.
A chasm existed between a woman's position in Islam to that which prevailed till a century ago in Europe and America where upon marriage a wife stood deprived of her property, which became that of her husband to do with it as he pleased.
Justice Isa also cited certain observations from a case titled Fawad Ishaq versus Mehreen Mansoor in which it was stated that discrimination against women pervaded in other areas too. It was only in 1960 that women in America could open bank accounts without their husbands' permission and this right was acquired by women in the United Kingdom as late as 1975.
Professions were also barred to women, the judgement said, adding that Myra Colby Bradwell had passed the bar examinations but was not allowed to practice law; she asserted her right to practice but in 1873 the United States Supreme Court held that denying Mrs Bradwell the right to practice law violated no provision of the federal constitution.
The court added: "That God designed the sexes to occupy different spheres of action, and that it belonged to men to make, apply and execute the laws, was regarded as an almost axiomatic truth."
The Supreme Court in the end, however, declined the leave to appeal to the petitioner with an observation that the high court and judges of the subordinate court correctly dismissed the suit as the petitioner had failed to establish that the agreement had been executed by the respondent or that she had agreed to sell her house to the petitioner.
https://www.dawn.com/news/1612037/sc-judge-deplores-relegation-of-quranic-injunctions
--------
UAE Announces $10 Billion Investment Fund For Israel Across Multiple Sectors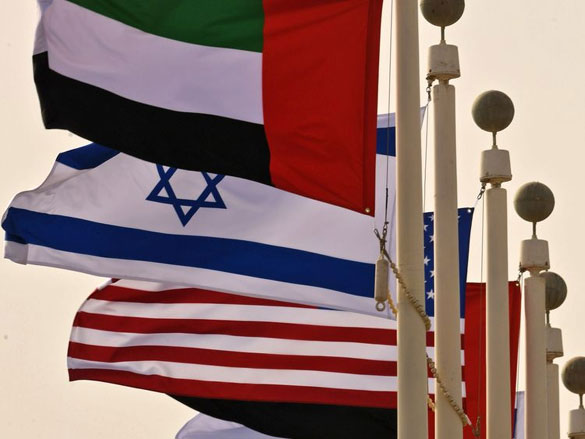 The UAE, Israeli and US flags sway in the wind at the Abu Dhabi airport at the arrival of the first-ever commercial flight from Israel to the UAE, on August 31, 2020.
Image Credit: AFP
-----
Ismaeel Naar
12 March ,2021
The United Arab Emirates on Thursday announced it was setting up a $10 billion investment fund across multiple sectors in Israel, with whom it normalized ties last year.
The announcement was made following a call between Abu Dhabi Crown Prince Sheikh Mohamed bin Zayed and Israeli Prime Minister Benjamin Netanyahu on Thursday after the latter had postponed a visit to the UAE because Jordan has delayed granting overflight rights.
"Through this fund, the UAE will invest in and alongside Israel across sectors including energy, manufacturing, water, space, healthcare and agri-tech. The investment fund will support development initiatives to promote regional economic cooperation between the two countries. Fund allocations will derive from government and private sector institutions," the UAE said in a statement published on the state-run Emirates News Agency (WAM).
"The fund builds on the historic Abraham Accord and aims to bolster economic ties between two of the region's thriving economies, unlocking investments and partnership opportunities to drive socio-economic progress," the statement added.
Israel and the United Arab Emirates reached a historic peace deal on August 13 last year that led to a full normalization of diplomatic and trade relations between the two Middle Eastern nations in an agreement that former US President Donald Trump helped broker.
Israeli Intelligence Minister Eli Cohen has previously expected that annual trade between Israel and the UAE is expected to reach $4 billion in just three to five years.
https://english.alarabiya.net/News/gulf/2021/03/12/Israel-relations-UAE-announces-10-billion-investment-fund-for-Israel-across-multiple-sectors
--------
Muslims in Varanasi Shower Petals on Shiva Devotees, Hail Ganga-Jamuni Tehzeeb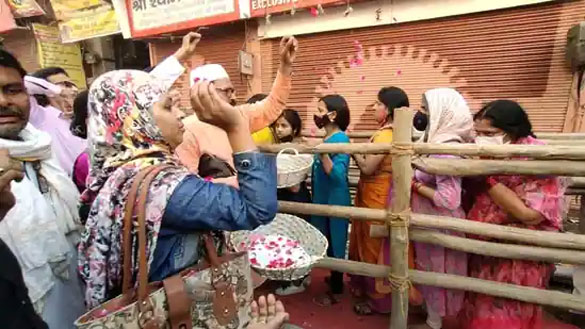 Muslims in Varanasi were seen showering flower petals on Hindu devotees on Mahashivratri (HT Photo)
-----
Edited by Abhinav Sahay
MAR 11, 2021
A group of Muslims in Kashi showered flower petals on devotees of Lord Shiva in Godowlia area of Varanasi on the occasion of Mahashivratri, a Hindu festival on Thursday. They said they wanted to give out the message of brotherhood in line with the Ganga-Jamuni tehzeeb (Ganges–Yamuna Culture).
The devotees were in a long queue leading to the famous Kashi Vishwanath Temple. "This is Kashi… the abode of Lord Shiva. The 'Ganga-Jamuni tehzeeb' has been thriving here for ages and we showered petals on the devotees," said one Mohammad Asif, who was among those who felicitated the devotees.
He said, "I want to give a message that there is no casteism and communalism in Kashi. We celebrate Eid, Diwali and Holi together. From Kashi, I want to send the message of brotherhood to the whole world."
The Ganga-Jamni Tehzeeb, refers to the fusion Hindu and Muslim cultures found in the central plains of northern India, especially the region that falls between the banks of Ganges and Yamuna rivers.
Maha Shivratri is considered auspicious for spiritual growth. The festival, also known as 'the great night of Shiva', celebrates the overcoming of darkness and ignorance.
It also celebrates the grand marriage of the lord of destruction, Shiva -- with the goddess of fertility, love, and beauty -- Parvati, who is also known as 'Shakti' (power).
https://www.hindustantimes.com/cities/lucknow-news/muslims-in-varanasi-shower-petals-on-shiva-devotees-hail-ganga-jamuni-tehzeeb-101615469023659.html
--------
'US will directly raise with China issue of genocide against Uighur Muslims'
March 12, 2021
The United States will directly raise with China the issue of genocide against Uighur Muslims, the Biden Administration said on Thursday. It added that a range of global issues is expected to part of the conversation of the Quad's leadership summit.
"Addressing the genocide against Uighur Muslims is something that will be a topic of discussion with the Chinese directly next week but certainly this conversation [Quad summit] tomorrow... I have invited National Security Advisor Jake Sullivan to come and give you a readout of that meeting."
"I know there's a lot of interest in the Quad summit tomorrow, but we expect the conversation to be about a range of global issues," White House Press Secretary Jen Psaki told reporters at her daily news conference.
The Quad summit, she reiterated, is not focused on China.
"Of course, China is a topic on the minds of many leaders and countries, but we expect they will talk about the climate crisis, about economic cooperation, about addressing COVID, a range of issues and discussions and you know certainly the position of the United States is that what is happening is genocide and we will look for opportunities to work with other partners on putting additional pressure on the Chinese, but we also raise it directly, and it will be a topic of discussion next week," she said.
Days after the Quad summit, US Secretary of State and the National Security Advisor are scheduled to meet their Chinese counterparts in Anchorage, Alaska on March 18.
"This meeting next week, we felt it was important to have it on US soil, we certainly anticipate that National Security Adviser Jake Sullivan and Secretary of State Tony Blinken will be discussing both the challenges we've had, and not holding back on issues and concerns we have with the behaviour of Chinese leadership, whether it's on Taiwan or recent, you know, efforts to push back democracy in Hong Kong or on concerns we have about the economic relationship," Psaki said in response to another question.
"So they will certainly raise those issues and the lack of transparency as it relates to COVID, human rights abuses as well. But they'll also talk about areas of opportunity and ways we can work together. They will not be holding back in the conversation. But they wanted to, you know, it's an important moment next week to engage directly and in person. I know they're looking forward to it. We'll have a robust readout, I'm sure, when that meeting concludes," Psaki said.
At a separate news conference, State Department spokesperson Ned Price told reporters that the US will engage China from a position of strength. "There will be some difficult conversations, I would expect. We will certainly not pull any punches in discussing our areas of disagreement," he said.
"But as Secretary [of State Tony] Blinken has said, our relationship with Beijing is a multifaceted one. It is fundamentally competitive. It is adversarial, in some ways. And there also are potential areas for collaboration. And so I suspect all of those elements will come up during these discussions on March 18," he said.
The United States, he said, expects Beijing to demonstrate seriousness regarding its own often stated desire to change the tone of the bilateral relationship.
"This will be a difficult conversation. We'll be frank and explain how Beijing's actions and behaviour challenge the security, the prosperity, the values of not only the United States, but also our partners and allies," he said.
"Now, on the flip side of that coin, we also will explore avenues that, for cooperation, that are in our interest. When Secretary Blinken first spoke with Director Young, when Secretary—when President Biden first spoke with President Xi, they made very clear that there will be areas for collaboration, or at least there will be the potential for areas of collaboration. But there has to be one common denominator, when it is in our national interests," he said.
"Of course, climate change, I think, is one of those that we can tangibly point to is undeniably in our own national interests for the world's largest and the world's second largest emitters to be able to work productively and constructively together when it comes to climate change. But the point remains that we're not looking to engage in talks for the sake of talks, Price said.
The US is looking for Beijing to demonstrate that seriousness of purpose, to demonstrate that it seeks to live up to its own oft stated desire to change the tone of the bilateral relationship.
The relationship between US and China, he said is multifaceted. "It is primarily and fundamentally a relationship that is predicated on competition. Our goal, when it comes to our relationship with Beijing, our approach to Beijing is to compete and ultimately to out compete with Beijing, in the areas that are competitive. We have talked about them, the economic realms, the security realms are primarily competitive," he said.
"There are, of course, areas in this relationship that are adversarial. And there are areas for potential collaboration. So I wouldn't want to attach one label to it, because it truly is multifaceted. We are going to discuss those more difficult areas with the Chinese," he said.
He said there was every expectation that when it comes to more difficult issues—Hong Kong, Xinjiang, Tibet, pressure on Taiwan, broader human rights abuses, the South China Sea, the Mekong, economic pressure arbitrary detentions, the origins of COVID-19—they would come up.
https://www.theweek.in/news/world/2021/03/12/us-will-directly-raise-with-china-issue-of-genocide-against-uighur-muslims.html
--------
Nigeria says no negotiations with Boko Haram terrorists
Adam Abu-bashal
12.03.2021
Nigeria announced Thursday that it would not negotiate with the Boko Haram terrorist group.
Speaking at a press conference, National Security Adviser Babagana Monguno said the Nigerian government does not see negotiations as a means to deal with the worsening security conditions in the country.
"Negotiating would mean weakness. Instead, we will mobilize all our power to eradicate the violence in the country," he noted.
Earlier this month, President Muhammadu Buhari said that armed groups had been given two months to lay down their arms and surrender.
Boko Haram launched a bloody insurgency in 2009 in northeastern Nigeria but later spread its atrocities to neighboring Niger, Chad and Cameroon, prompting a military response.
More than 30,000 people have been killed and nearly 3 million displaced in a decade of Boko Haram's terrorist activities in Nigeria, according to the UN Office for the Coordination of Humanitarian Affairs.
Violence committed by Boko Haram has affected some 26 million people in the Lake Chad region and displaced 2.6 million others, according to the UN Refugee Agency.
https://www.aa.com.tr/en/africa/nigeria-says-no-negotiations-with-boko-haram-terrorists/2173243
--------
ISI, Pak-Army Chiefs hold talks on Afghan peace process in Bahrain
11 Mar 2021
Pakistan military's spy wing participated in a regional consultation event on the extremely slow Afghan peace process.
Pakistani chief of the army staff Qamar Bajwa and Lt. Gen Faiz Hameed Director General of Inter-Services Intelligence (ISI) have attended a session in Bahrain, Pakistan's Inter-Services Public Relations reported on Wednesday.
"Current developments in the Afghan peace process, border security, and necessary steps to facilitate an Afghan-led and Afghan-owned peace process were discussed," ISPR reported.
The meeting was reportedly part of US-led international efforts to speed up the Afghan peace process with the key regional players.
Bahrain's National Guard Commander Field Marshal Mohammed Bin Isa Al Khalifa and National Security Adviser Maj Gen Shaikh Nasser bin Hamad Al Khalifa also met with Bajwa.
Both parties discussed security issues and common national interests.
This comes at a time when UN efforts are ongoing to establish a summit in Turkey in the matter of the Afghan peace process, the summit will also host special envoys from India, Russia, Pakistan, China, and Iran.
https://www.khaama.com/isi-pak-army-chiefs-hold-talks-on-afghan-peace-process-in-bahrain-654333/
--------
Ayatollah Khamenei Blasts US for Lies about Opposition to N. Weapons
2021-March-11
"America is the only government that has used nuclear bombs, but raises its voice to say that 'we are against the development of nuclear arms.' They claim to be against weapons of mass destruction, while they possess the worst and the most dangerous such weapons," Ayatollah Khamenei said on Thursday, on the occasion of Eid al-Mab'ath, which marks the appointment of MOhammad ibn Abdullah (PBUH) as the prophet of Islam in the seventh century.
Ayatollah Khamenei also said Iran's 1979 Islamic Revolution, inspired by the path of Islam's Prophet Muhammad, countered arrogance and tyranny in support of oppressed people, prompting the world's villains and criminals to mobilize and try, albeit in vain, to confront the movement.
"It (Revolution) was against oppression, tyranny and arrogance…in support of the oppressed people of any faith or religion. It stood for the deprived and the downtrodden [people] from any nation, religion or faith. Under all circumstances, this Revolution invited the entire humanity to [follow] the straight path of Islam," the Leader said.
Following the Revolution, which brought about the Islamic establishment in Iran, the world's villains and criminals joined forces and lined up to confront the Revolution, similar to what happened to Islam's Prophet Mohammad (PBUH) when he began his divine mission.
"That was, of course, not contrary to our expectations. It was crystal-clear from the start that…the likes of America and the then Soviet Union would confront [Iran]," he added.
'Insight, patience plus perseverance key to foiling enemy plots'
Elsewhere in his remarks, the Leader elaborated on ways that the nation can thwart the conspiracies of the US and other enemies against the Islamic Republic.
Ayatollah Khamenei named "insight" in addition to "patience and perseverance" as the two important factors required to face the enemies' plots, saying "if these two elements are there, the enemies will not be able…to do any harm [to the country] and will not achieve any success."
Ayatollah Khamenei further renewed the warning against the soft war being waged by the enemies against Iran, who have targeted the nation's patience and perseverance and resorted to the distortion of realities about the Islamic Republic in pursuit of their hostile goals.
In the face of the war, Iran's youth have a task to fulfill, the Leader said, praising them as the "officers of the soft war."
Ayatollah Khamenei said the youth should use cyber space as an opportunity to promote perseverance and insight among the people and prevent them from losing hope.
As a case in point, Ayatollah Khamenei referred to the Saudi regime's US-backed campaign of military aggression against Yemen.
"It has been six years that America's Arab partner has been bombarding the oppressed Yemeni people in homes, hospitals and schools. It has imposed an economic siege on [the people,] blocking their access to food and medicine. This has been going on for six years with America's green light," the Leader said.
Ayatollah Khamenei said the "talented" Yemeni people have succeeded in developing the required defense equipment to retaliate against the Saudi attacks, but as soon as they began to respond, the United States, and even the United Nations, raised an outcry against Yemen's campaign of self-defense.
The Leader also pointed to the state-sponsored murder of Saudi dissident journalist Jamal Khashoggi, who was brutally killed and dismembered in 2018 at Riyadh's consulate in Turkey at the hands of the agents of Saudi Crown Prince Mohammed bin Salman.
Ayatollah Khamenei slammed the United States for turning a blind eye to the gruesome assassination and keeping up its support for the Saudi regime and still claiming to be a supporter of human rights.
In another case, the Leader pointed to Washington's destructive role in the Middle East region, where it has been using the Takfiri ISIL terror group to advance its personal agenda.
"The US created ISIL and they (the Americans) themselves admitted to it...Then, they create a military base under the pretext of the existence of ISIL …. They provide ISIL with modern media facilities and money and allow them to destroy and sell Syrian oil, then they say 'we are fighting ISIL'," Ayatollah Khamenei said.
"They (the Americans) refer to Iran's presence in the region with hatred and resentment. While we do not have a military presence…Wherever we are present, we are there to defend legitimate governments at their own request. But they (Americans) themselves attack a country without permission and establish a military base," he added.
He also stressed the need for the US to withdraw its forces from Iraq and Syria quickly, adding the US itself has created ISIL.
Ayatollah Khamenei has on many occasions said the Islamic Republic considers the pursuit and possession of nuclear weapons "a grave sin" from every logical, religious and theoretical standpoint. On April 17, 2010 Ayatollah Khamenei issued a fatwa declaring that the production, stockpiling, and use of nuclear weapons are all haram (religiously banned).
"Iran is not after a nuclear bomb. Why would Iran want a nuclear bomb? Moreover, when an atomic bomb is detonated, it does not just kill enemies. Rather, it kills innocent people as well, and this goes against Islamic beliefs and the principles of the Islamic Republic of Iran. An atomic bomb does not discriminate between good and bad people, and it is not something that the Islamic Republic would use. The Islamic Republic is relying on something that is not affected by bombs, foreign invasions and other such things. Such things only strengthen what the Islamic republic is relying on. The Islamic republic is relying on the people," a part of the fatwa said.
Analysts believe that the fatwa of the Leader of the Islamic Revolution can well serve as a beacon of light for Washington in order to find its way out of darkness and ignorance.
https://www.farsnews.ir/en/news/13991221000355/Ayallah-Khamenei-Blass-US-fr-Lies-ab-Oppsiin-N-Weapns
--------
More work needed for Yemen ceasefire, Houthis must halt Saudi Arabia attacks: US
Joseph Haboush
11 March ,2021
The US Thursday announced "some hopeful progress" toward reaching a ceasefire in Yemen but said more work was needed and called on the Iran-backed Houthis to halt their attacks on Saudi Arabia.
Special Envoy for Yemen Tim Lenderking returned to Washington after making his second trip to the region since being tapped for the role by President Joe Biden.
During his trip, which lasted for almost three weeks, Lenderking met with officials from Saudi Arabia, Yemen, Qatar and other regional countries.
"Special Envoy Lenderking devoted extra time in Riyadh and Muscat in an effort to push the parties closer to a ceasefire," the State Department said.
The statement made no mention of Lenderking's meetings with Houthi officials.
Lenderking is working in tandem with UN Special Envoy Martin Griffiths to ultimately end the yearslong war in Yemen.
Despite "some hopeful progress," the State Department said that more commitment was needed from all sides.
The State Department also condemned the daily Houthi attacks on Saudi Arabia. "To that end, the Houthis should end their offensive on Marib and their continued cross-border attacks against Saudi Arabia," the statement read.
Since the Biden administration lifted the terrorist designation off the Houthis, its leader and two other senior officials, the group has upped its offensive on Marib, one of the government's last strongholds in the northern part of Yemen.
https://english.alarabiya.net/News/gulf/2021/03/12/More-work-needed-for-Yemen-ceasefire-Houthis-must-halt-Saudi-Arabia-attacks-US
--------
No secret that Turkey plays extremely destabilizing role in our region: Armenia FM
Ismaeel Naar
12 March ,2021
Armenia's Foreign Minister Ara Aivazian heavily criticized Turkey on Thursday, saying it was no secret that Ankara plays a destabilizing role in the region.
"Well, it's not a secret that Turkey played and continues to play extremely destabilizing role in our region. That role was vividly exposed during the recent 44 days of aggression unleased by Azerbaijan," Aivazian told Al Arabiya in an interview.
"That country not only merely supported Azerbaijan but was directly involved in all military actions and phases of this aggression starting from planning to ground operations," he added.
After six weeks of fighting late last year, Azerbaijan and Armenia signed a Russia-brokered ceasefire for the enclave, which is internationally recognized as part of Azerbaijan but mainly populated by ethnic Armenians.
Turkey backs Azerbaijan over Nagorno-Karabakh, and has criticized the co-chairs of the Organization for Security and Co-operation in Europe (OSCE)'s so-called Minsk Group for not resolving the long-running conflict in decades of mediation. The Minsk Group is led by the United States, France and Russia.
"Turkey, I would like to recall together with Azerbaijan on the threshold of the war, conducted a large-scale military drill with the involvement of Turkish Air Force. That country resorted to the now usual toolkit, if the expert of foreign terrorist fighters to our region for its power projection," Aivazian said.
Aivazian warned that lessons must be learned from its experience of the Armenian genocide, which Turkey still refuses to acknowledge fully.
"160 years have passed since the Armenian genocide, yet Turkey continues to spearhead new atrocities against Armenia now in our region. And yet the South Caucasus is not the only target of Turkey," he said.
https://english.alarabiya.net/News/world/2021/03/12/No-secret-that-Turkey-plays-extremely-destabilizing-role-in-our-region-Armenia-FM
--------
Pakistan
No Place For Terrorism In Islam: Chancellor Of The Jamia Darul Uloom Haqqania
March 12, 2021
NOWSHERA: Maulana Anwarul Haq, chancellor of the Jamia Darul Uloom Haqqanai, on Thursday said that Pakistan had come into existence in the name of Islam and no one would be allowed to use its soil for liberal the secular purposes at the behest of US and West countries.
"Only Sharia is the key to the solution of all issues in the country," the Maulana said while addressing a programme held in connection with the annual Dastarbandi and Khatm-e-Bukhari Sharif at Jamia Darul Uloom Haqqanai in Akora Khattak.
Over 1,500 religious scholars who graduated from Jamia Darul Uloom Haqqanai were donned turbans and they were administered an oath of allegiance to Islam, Pakistan and the religious institution Jamia Haqqania at the ceremony.
Maulana Anwarul Haq said that there was no space for terrorism in Islam, adding that Islamic identity of Muslims was alive owing to madaris. Other religious scholars, including Maulana Hamidul Haq, Maulana Maghfoorullah Babaji, Maulana Abdul Halim Dir Babaji, Maulana Mufti Saifullah, Maulana Muhammad Idrees and Maulana Abdul Qayyum Haqqani and others also spoke on the occasion.
They shed light on the role of Jamia Darul Uloom Haqqanai and other Islamic seminaries in promoting the religious education in the country.
https://www.thenews.com.pk/print/802888-no-place-for-terrorism-in-islam-religious-scholar
--------
Pakistan ready to host SAARC summit: Foreign Office spokesperson
Mar 11, 2021
ISLAMABAD: Pakistan said on Thursday that it was ready to host the long delayed summit of the South Asian Association for Regional Cooperation (SAARC), which is an important organisation for regional cooperation.
"Pakistan is committed to its process and to hold the SAARC summit...It believes that all artificial obstacles in the way of long overdue SAARC summit should be removed," Foreign Office spokesperson Zahid Hafeez Chaudhri told reporters during his weekly media briefing here.
The last SAARC summit was held in Kathmandu in 2014.
The 2016 SAARC summit was to be held in Islamabad. But after the terrorist attack on an Indian Army camp in Uri in Jammu and Kashmir on September 18 that year, India expressed its inability to participate in the summit due to "prevailing circumstances".
The summit was called off after Bangladesh, Bhutan and Afghanistan also declined to participate in the Islamabad meet.
SAARC summits are usually held biennially and hosted by member states in alphabetical order. The member state hosting the summit assumes the Chair of the Association.
In his message on the occasion of the 36th charter day of SAARC on December 8 last year, Prime Minister Narendra Modi said the full potential of the eight-member bloc can only be realised in an atmosphere free of terror and violence.
On December 8, 1985 at the first SAARC Summit in Dhaka, the leaders of the seven South Asian states - the Maldives, India, Bhutan, Pakistan, Nepal, Bangladesh and Sri Lanka signed a charter to establish the bloc. Afghanistan became the eight SAARC member in 2007.
During Thursday's foreign office media briefing, Chaudhri also rejected the reports that Pakistan is importing Covid-19 vaccine from India.
"Pakistan has not entered into any bilateral procurement agreement for Covid-19 vaccine from India," he said in response to a question.
The spokesman said that Gavi, the international vaccine alliance - offered to provide vaccine dozes to several countries, including Pakistan under its COVAX facility and the procurement was responsibility of the Gavi and not the recipient countries.
Responding to another question about dialogue with India, the spokesman said Pakistan has never shied away from talks and has always called for peaceful resolution of all outstanding disputes, including Kashmir.
When asked about the inclusion of India in an upcoming conference on Afghanistan, he said Pakistan supported the regional approach. "As for India's inclusion in the Afghan peace process, Pakistan supports regional approaches to solving the conflict in Afghanistan," he said.
However, he alleged that India "has not been a constructive partner for peace in Afghanistan."
To another question about the grant of provisional status to Gilgit-Baltistan (GB), Chaudhri said Pakistan has repeatedly maintained that these reforms are an ongoing process that includes political, administrative and economic reforms.
"It has been a long-standing demand of the people of GB. These reforms, aimed at further empowering the people of GB, will continue in line with their needs and demands," he said.
India has previously slammed Pakistan's attempt to accord provincial status to the "so-called Gilgit-Baltistan", saying it is intended to camouflage the "illegal" occupation of the region by Islamabad.
Responding to a question on the Afghanistan issue, the foreign office spokesperson said it was important for Afghan parties to continue negotiations and pursue an Afghan-led and Afghan-owned peace process.
"Pakistan welcomes the US efforts to re-energise the peace process and expedite the final political settlement," he said.
https://timesofindia.indiatimes.com/world/pakistan/pakistan-ready-to-host-saarc-summit-foreign-office-spokesperson/articleshow/81454207.cms
--------
Pakistani Christian, Convicted Of Sending Text Messages Defaming Prophet Muhammad Gets Death Sentence
Kamran Chaudhry
March 12, 2021
A Pakistani court has given the death sentence to a Christian previously jailed for life after being convicted of sending text messages defaming Prophet Muhammad.
Lahore High Court on March 10 sent the appeal of hearing of Sajjad Masih Gill, a member of the Seventh-day Adventist Church, to the division bench after admitting the criminal revision.
In July 2013, a trial court sentenced Gill, from Gojra town in Punjab province, to life imprisonment for sending a controversial text message to a Muslim man in December 2011. The verdict included a fine of 314,500 rupees (US$2,000).
He had been arrested by police who traced his mobile phone number through a cellphone tower.
In 2015, his brother and nephew reported being attacked and threatened by unknown persons while returning home after visiting Gill in Central Jail Sahiwal, the largest prison in Asia spanning 283,280 square meters.
In 2016, two lawyers of the Legal Evangelical Association and Development reported similar threats by armed men on the road between Kasur and Lahore. Both had defended Gill and appealed to the Lahore High Court.
The news of Gill's death sentence was praised by a Muslim lawyer in a Facebook post.
Zeeshan Ahmed Awan, who was among the prosecuting lawyers in court, said the court had accepted the prosecution's argument that capital punishment was the only possible sentence for blasphemy and that life imprisonment was "repugnant" to the injunctions of Islam.
Pakistan's blasphemy laws envisage death as the maximum punishment for insulting Prophet Muhammad. Rights activists say laws have been used against the followers of other religions and minority Muslims such as Shias.
Last month Lahore High Court adjourned without hearing a much-awaited appeal from Shagufta Kausar and her husband Shafqat Emmanuel, a Christian couple facing the death penalty for the last seven years after being convicted of blasphemy.
According to the Lahore-based Centre for Social Justice, the highest number of blasphemy accused (200) was reported last year. Since 1987, Punjab province experienced the highest ratio of abuse of law and religion (76 percent) followed by 19 percent in Sindh province.
https://www.ucanews.com/news/pakistani-christian-serving-life-for-blasphemy-gets-death-sentence/91732
--------
Arab World
Islamic coalition holds forum on guerrilla warfare
March 12, 2021
RIYADH: The Islamic Military Counter Terrorism Coalition (IMCTC) on Thursday held a symposium to discuss guerrilla warfare and its relation to terrorism.
Among those speaking at the event was Brig. Gen. Yahya Assiri from the Saudi delegation to the coalition, and Zaki Al-Ruwahi, Oman's representative, in the presence of IMCTC secretary-general, Mohammed Al-Moghedi, representatives of members states, and other coalition officials.
Assiri said guerrilla warfare was an irregular form of conflict that had become an international phenomenon with its dimensions and manifestations, and he highlighted its links to terrorist funding, intelligence, and information. Al-Ruwahi pointed out that guerrilla groups were a threat to local, regional, and international security, peace, and stability.
The Saudi-led IMCTC includes 41 member states collaborating to coordinate and intensify international efforts to combat extremism and terrorism and preserve global peace and security.
https://www.arabnews.com/node/1824041/saudi-arabia
--------
Turkey restarts diplomatic contacts With Egypt, says foreign minister
12 March ,2021
Turkey has restarted diplomatic contacts with Egypt, state-run Anadolu Agency cites Foreign Minister Mevlut Cavusoglu as saying on Friday.
The contacts are at the "intelligence and foreign ministry levels, he said.
Cavusoglu said neither Egyptians nor Turks have sought pre-conditions for the talks. "But it's not that easy to move on as if nothing has happened after years of broken ties, he said.
"There is no reason to not fix ties with Saudi Arabia. If they take a positive step, so would we, Cavusoglu said, according to Anadolu. "The same thing applies to the United Arab Emirates as well.
Relations between Turkey and Egypt soured after Egyptian President Abdel-Fattah el-Sisi toppled the country's extremist leader, Mohamed Morsi, in 2013.
Since then Egypt and Turkey have also clashed over issues including maritime claims, Libya and Iraq.
https://english.alarabiya.net/News/middle-east/2021/03/12/Turkey-restarts-diplomatic-contacts-With-Egypt-says-foreign-minister
--------
US says Syria's al-Assad has 'done nothing' to restore his legitimacy
Joseph Haboush
11 March ,2021
Syrian President Bashar al-Assad has "done nothing" to restore his legitimacy and the United States will not normalize relations with the regime "any time soon," the State Department said Thursday.
"Bashar al-Assad has done absolutely nothing to regain the legitimacy that he has lost through the brutal treatment of his own people," State Department Spokesman Ned Price told reporters.
Assad has been propped up by Russia and Iran despite ten years of fighting after the Syrian uprising.
"There is no question of the US normalizing relations with his government, anytime soon," Price said, adding that the US would continue to look to support the humanitarian plight of the Syrian people.
Asked if al-Assad "had to go" as previously stated by the last Democratic presidency under Barack Obama, Price said a political settlement was needed in Syria.
"We must do more, we know, to aid vulnerable Syrians, including many displaced within Syria, as well as the refugees who have had to flee their homes," the State Department official said.
Price also said the US was reviewing "what we might do to advance the prospects for that political settlement" in Syria, but did not elaborate.
https://english.alarabiya.net/News/middle-east/2021/03/11/Syria-crisis-US-says-Syria-s-al-Assad-has-done-nothing-to-restore-his-legitimacy
--------
France's Le Drian says Lebanon's politicians show no sign of saving their country
11 March ,2021
France's foreign minister said on Thursday time was running out to prevent Lebanon collapsing and that he could see no sign that the country's politicians were doing what they could to save it.
France has spearheaded international efforts to rescue the former French protectorate from its deepest crisis since the 1975-1990 civil war by trying to use Paris' historical influence to persuade squabbling politicians to adopt a reform roadmap and form a new government to unlock international aid.
"I would be tempted to qualify Lebanese politicians as guilty of not helping a country in danger," Jean-Yves le Drian told a news conference in Paris.
"They all committed to act to create an inclusive government and committed to implementing indispensable reforms. That was seven months ago and nothing is moving. I think it's not too late, but the delays are very small before collapse.
Prime minister-designate Saad al-Hariri is at loggerheads with President Michel Aoun and has been unable to form a new government since October.
Groups of protesters have been burning tires daily to block roads since the Lebanese currency tumbled to a new lows, deepening popular anger over Lebanon's financial collapse.
"It's up to the Lebanese authorities to take their destiny in hand knowing that the international community is looking with concern," Le Drian said. "There is still time to act today, but tomorrow will be too late."
https://english.alarabiya.net/News/middle-east/2021/03/11/France-s-Le-Drian-says-Lebanon-s-politicians-show-no-sign-of-saving-their-country
--------
Five ISIS suspects given death sentence in Saudi Arabia
11 March ,2021
A preliminary death sentence was issued against five ISIS suspects in Saudi Arabia on Thursday, according to an Al Arabiya correspondent.
The correspondent said that those sentenced to death were linked to terrorist incidents in the Kingdom.
The five susepcts are among 45 others who are members of an ISIS terrorist cell, the correspondent added.
The terrorist cell carried out criminal activities that took place in Saudi Arabia, including the assassination of security men, and a mosque bombing in Abha. The cell was also involved in the bombings of al-Mashhad Mosque in Najran and al-Rida Mosque in al-Ahsa in Saudi Arabia.
https://english.alarabiya.net/News/gulf/2021/03/11/Terrorism-Five-ISIS-suspects-given-death-sentence-in-Saudi-Arabia
--------
European Parliament passes resolution blasting Bahrain for flagrant rights abuses
12 March 2021
The European Parliament has overwhelmingly adopted a resolution, urging Bahrain to stop its blatant and deadly violations of the country's human rights campaigners and prisoners of conscience.
The legislative body passed the resolution on Thursday, with 633 votes in favor, 11 against, and 45 abstentions.
It noted how the overall human rights situation "continues to worsen" in Bahrain since the kingdom came face to face with a popular uprising against its suppressive policies.
The MEPs lent special significance to the situation of death row inmates in the country and found serious fault with the mistrials that had led to their convictions.
They noted how Manama had lifted a de facto moratorium on the death penalty and kept railroading people into facing the punishment.
"Arbitrary arrests continue, the death penalty is still being applied, human rights defenders are prosecuted and harassed, and civil and political rights and freedoms of association, assembly, and expression continue to be denied," the adopted resolution read.
"MEPs demand that all human rights defenders and prisoners of conscience in the country be immediately and unconditionally released," it noted.
"The Bahraini government must stop harassing human rights defenders and immediately lift the travel ban on them."
The uprising erupted in the Persian Gulf island in 2011 in protest at its drawn-out discriminatory policies against its Shia Muslim population. The ruling Al Khalifah regime came down hard on the peaceful rallies, killing scores of people and jailing hundreds others.
In its rush to muffle all dissenting voices, the island has also outlawed its main opposition Al Wefaq group, and stripped many of the country's oppositionists of their citizenship.
https://www.presstv.com/Detail/2021/03/12/647119/Bahrain-European-Parliament-resolution-human-rights-violations
--------
Roadside bomb attacks target US-led coalition convoys across Iraq
11 March 2021
Four roadside bombs have exploded separately near convoys of trucks carrying logistical equipment belonging to the US-led coalition forces in Iraq's western province of Anbar, southern province of Muthanna bordering Saudi Arabia and Kuwait, the central province of Babil, as well as the southern province of Basra.
The Arabic-language al-Sumaria television network, citing an unnamed police source, reported that the first attack took place when a roadside bomb went off as a convoy of vehicles was traveling along the international highway leading to Anbar province on Thursday.
The blast wounded a woman who happened to be crossing the road at the moment of the incident.
Sabereen News, a news channel associated with Iraqi anti-terror Popular Mobilization Units, later reported that another explosion had occurred near the southern city of Samawah when a roadside bomb went off near a convoy of trucks carrying equipment belonging to the US-led coalition forces.
There were no immediate reports of casualties and damage.
Hours later, another explosion took place when a convoy of vehicles belonging to the US-led coalition forces was moving close to Hillah city, located 100 kilometers (62 miles) south of the capital Baghdad.
No groups or individuals have claimed responsibility for the attacks yet.
Later on Thursday, a roadside bomb went off near another convoy belonging to the US-led coalition's trucks on a highway linking the southern Iraqi city of Basra to the city of Nasiriyah, located about 360 kilometers (225 miles) southeast of Baghdad.
Saraya Awliya al-Dam group, part of the Iraqi Popular Mobilization Units, claimed responsibility for the last attack in a brief statement.
The latest roadside bomb attacks are the latest in a series of explosions and rocket attacks that have targeted US occupation forces over the past few months.
On March 3, a barrage of rockets struck the Ain al-Assad air base hosting American forces in the western Iraqi province of Anbar.
The Security Media Cell, affiliated with the Iraqi prime minister's office, announced in a statement at the time that 10 Grad rockets had struck the base, located about 160 kilometers (100 miles) west of Baghdad.
The statement added that security forces had found the launch pad for the projectiles.
There has been a spike in attacks on US military bases and diplomatic missions amid anti-US sentiment over the assassination of top Iranian anti-terror commander, Lieutenant General Qassem Soleimani, and his companions in Baghdad early last year.
General Soleimani, the commander of the Quds Force of Iran's Islamic Revolution Guards Corps (IRGC), and his Iraqi trenchmate Abu Mahdi al-Muhandis, the deputy head of the Popular Mobilization Units, were targeted along with their companions on January 3, 2020 in a drone strike authorized by former US President Donald Trump near Baghdad International Airport.
Iraqi lawmakers approved a bill two days later, demanding the withdrawal of all foreign military forces led by the United States from the country.
On January 8, 2020, the IRGC launched a missile attack on the US-run Ain al-Assad air base in retaliation. Washington put a lid on the true number of casualties as well as the extent of material damage caused to the base, which was reported to be immense.
According to the Pentagon, more than 100 American forces suffered "traumatic brain injuries" during the counterstrike on the base.
Iran has described the missile attack on Ain al-Assad air base as a "first slap" in its "harsh revenge."
https://www.presstv.com/Detail/2021/03/11/647098/Roadside-bomb-attacks-target-US-led-coalition-convoys-across-Iraq
--------
Russian jets bombard Daesh positions in Syria's southeastern desert: Monitoring group
11 March 2021
A UK-based war monitoring group says Russian fighter jets have carried out a new wave of airstrikes against the positions of Daesh Takfiri terrorist group deep inside a desert region in southeastern Syria.
The so-called Syrian Observatory for Human Rights, citing local sources, reported on Thursday that Russian military aircraft had launched some 25 air raids against Daesh strongholds across the Syrian Desert, also known as the Syrian steppe, since early hours of the day.
The sources added that scores of militants were killed and wounded as a result, without providing an exact number.
The development came a day after Russian warplanes conducted 55 air raids against Daesh positions in the same region, killing a dozen terrorists and destroying their vehicles.
On Tuesday, nearly 40 Russian jets conducted more than 130 airstrikes in the Syrian Desert, killing and wounding tens of Daesh Takfiris.
Turkey establishing new military base in northern Syria: Report
Meanwhile, the Turkish military is reportedly constructing a military base on the outskirts of Ayn Issa town in Syria's northern Raqqah province.
Hawar news agency reported that the base is situated one kilometer north of the M4 international road, and lies near the village of Huoshan.
The military base is said to have a control tower, equipped with radars and heavy weapons, and is surrounded by high dirt mounds.
The report added that the base is the fourth of its kind built by Turkish forces on the outskirts of Ayn Issa town.
The other three bases have reportedly been established on the northern, eastern and western flanks of the town over the past 3 months, and are only two kilometers away from its center.
Local sources, requesting anonymity, have been quoted as saying that radar and air defense systems against armed drones or low-flying missiles have been installed in two Turkish-built bases.
The sources added that artillery shelling and missile strikes by Turkish military forces and their mercenaries against a number of villages on the fringes of Ayn Issa town over the past few weeks have resulted in the death of 6 civilians and injury of 16 others.
The Turkish government has been supporting Takfiri militants since they were deployed to northeastern Syria in October 2019, when the Turkish military launched a cross-border invasion in a declared attempt to push militants of the Kurdish People's Protection Units (YPG) away from border areas.
Ankara views the US-backed YPG as a terrorist organization tied to the homegrown Kurdistan Workers' Party (PKK), which has been seeking an autonomous Kurdish region in Turkey since 1984.
https://www.presstv.com/Detail/2021/03/11/647081/Russian-jets-bombard-Daesh-positions-in-Syria-vast-southeastern-desert
--------
India
Plea filed in SC seeks release of Rohingyas detained in Jammu jail
By Abraham Thomas
MAR 11, 2021
An application has been moved in the Supreme Court to seek the release of over 150 Rohingya refugees detained in a Jammu sub-jail and stall their deportation by the Centre.
The application was filed by two Rohingya Muslim refugees, Mohammad Salimullah and Mohammad Shaqir as part of a petition that has been pending the consideration of the top court since 2017.
According to the application, nearly 150 to 170 Rohingya refugees in Jammu were detained in a sub-jail on or around March 7 after verification by their embassy, and face the threat of being deported.
"Disturbing reports from the Rohingya families have come in that subsequent to a biometric verification of Rohingya refugees undertaken by the Jammu and Kashmir administration, some people never returned to the camps from the verification but were detained and jailed by the police," stated the application filed on behalf of the two men by advocate Prashant Bhushan.
The jail where they have been detained has been converted into a holding centre and the Inspector General of Police (Jammu) has indicated that the detained refugees could be deported back to Myanmar, the application said.
On March 7 (Saturday), HT had reported that at least 155 illegal Rohingya immigrants who escaped persecution in Myanmar and were living in Jammu and Kashmir were on Saturday sent to a "holding centre", under Section 3(2)e of the Foreigners Act. The immigrants were not holding valid travel documents required under Section (3) of the Passports Act, said officials. Inspector general of police (Jammu zone) Mukesh Singh had said on Saturday , "155 illegal immigrant Rohingyas staying in J&K were today sent to the holding centre established vide home department notification dated March 5, 2021," adding, "This was done under section 3(2)e of the Foreigners Act. Due process of law was followed in this exercise. These immigrants were not holding valid travel documents required in terms of section (3) of the Passports Act."
Bhushan asked the court to consider issuing directions to immediately release the refugees detained illegally and direct the government to grant them refugee identification cards through the Foreigners Regional Registration Office (FRRO). The application also included a request that the government not proceed with the deportation of the detained refugees, and instead, allow United National High Commission for Refugees (UNHCR) to intervene and determine the protection needs of the Rohingya refugees not just in Jammu but in camps across the country.
According to information provided in the application, there are close to 6,523 Rohingyas in Jammu who have escaped from Myanmar fearing persecution. Some of them have cards issued by UNHCR acknowledging their status as refugees. India does not have any legislation recognising refugees, but the country adheres to the principle of non-refoulement (not sending refugees to a place where they face danger) as part of the customary international law.
On March 10, HT had reported that the verification of illegal Rohingya immigrants in Jammu had halted for the third consecutive day, but 18 more immigrants were shifted overnight to the Hiranagar sub jail — a temporary holding centre in Kathua district — taking the total number of inmates to 197 on Tuesday. "The number of inmates at the holding centre is now 197. The figure had gone up to 199, but a couple was let off," said an official, who didn't wish to be quoted. The detentions have been made under Section 3(2) e of the Foreigners Act since the immigrants were not found with valid travel documents required in terms of Section (3) of the Passports Act, said a police official.
The original petition was filed by Mohammad Salimullah and Mohammad Shaqir in the Supreme Court, and the matter was last taken up in 2017. During those proceedings, the Centre had filed a scathing affidavit, accusing Rohingya Muslims in India of having links with Pakistan's Inter-Services Intelligence and terror organisation Islamic State and thus posing a serious threat to national security.
But the petitioners, who represented the large population of Rohingya Muslims spread across India, told the court that military operations against Rohingyas led to a lot of bloodshed and violence, forcing a lot of them to seek safe haven in India. They opposed the government's response and claimed it was wrong to label all Rohingya refugees as having links with terror outfits without any criminal case being lodged against them in this regard.
By an order dated October 13, 2017, the Supreme Court had allowed the two petitioners to move the court in case of any contingency. The present application was filed in light of this permission granted by the court.
https://www.hindustantimes.com/india-news/plea-filed-in-sc-seeks-release-of-rohingyas-detained-in-jammu-jail-101615461934016.html
--------
Beyond ceasefire along LoC: Pakistan signals statehood in J&K key to movement forward
by Nirupama Subramanian
March 12, 2021
Pakistan has conveyed to India that the February 25 renewal of the 2003 ceasefire along the Line of Control can lead to a wider engagement only if and when Delhi restores statehood to Jammu & Kashmir as a "starting point" for a discussion on the resolution of the Kashmir issue, The Indian Express has learnt.
The joint statement issued by the Directors General of Military Operations does not reflect any change in the Pakistani position that Kashmir is a "dispute" and that its resolution is anchored by the United Nations Security Council resolutions, said authoritative sources in Pakistan who did not wish to be identified.
Moreover, they added, the statement in no way implies the acceptance of the Indian "narrative" of a "deal" on Kashmir.
In a first indication of how Pakistan views relations with India after the ceasefire, and the gap in positions between the two sides, these sources indicated that for any wider engagement, India must create an "enabling environment" by restoring statehood to J&K.
This, they said, would then facilitate "a conversation" that would include "Kashmiri voices front and centre" on the way forward and open up space potentially for discussions on other bilateral issues.
The sources rejected what they called the "narrative" in India that the DGMO agreement was a sign of Pakistan's "desperation" and "weakness", or the notion that it could be used by India to signal to the world that "Pakistan and India are talking and everything is fine, or to tell people in (Kashmir) that there is some underhand deal and that Kashmir is done and dusted".
For its part, Delhi has signalled that if the ceasefire holds and no terrorist incidents occur that could be traced back to Pakistan, wider normalisation of ties could follow.
At the same time, it has stressed that restoration of J&K statehood is an assurance underlined several times in the Lok Sabha by Union Home Minister Amit Shah and there is little to discuss beyond that.
In Pakistan's view, the ceasefire was something it had "talked about publicly" for nearly two years. It had been on the table, and for "whatever reasons", India was reluctant all this time, and for "whatever reasons", it had agreed now, the sources in Pakistan said.
They also stressed that the agreement was purely for tactical reasons because of the situation at the LoC — "at the end of the day, only innocent people were dying, and it was not going to change anything on the ground" — and to link it to some "grand plan" in which this was the first step was "incorrect".
The "entire Pakistan system" – the Prime Minister, the Army chief, the Foreign ministry, the Special Representative on National Security – was on board the idea that if the agreement opened up spaces for wider engagement, Pakistan would be "willing to engage", because it views peace with India as a pre-requisite for its own economic stability now at the core of its idea of national security, the sources said.
https://indianexpress.com/article/india/beyond-ceasefire-along-loc-pakistan-signals-statehood-in-jk-key-to-movement-forward-7224498/
--------
No Rise in Militancy, Number of Anti-Terrorist Operations Rising: J-K Police
MAR 11, 2021
Assuring that there is no rise in militancy, Kashmir Inspector General of Police Vijay Kumar on Thursday said that the security forces have increased the number of anti-terrorist operations.
"Two terrorists were killed in an encounter in Kadipura village in Anantnag. They looked like local terrorists. Militancy isn't rising, the number of anti-terrorist operations is rising," said IGP Kashmir.
He further said that information was received yesterday afternoon that Jaish-e-Mohammed terrorists were hiding in the Kadipura village.
"Police, Indian Army and CRPF jointly started the initial firing yesterday and the operation was halted in the night. We again resumed the firing today in the early morning in which two terrorists were eliminated," he added.
On Tuesday, Al-Badr chief Ganie Khwaja was neutralised while two terrorists managed to escape during an encounter in Sopore.
https://www.hindustantimes.com/india-news/no-rise-in-militancy-number-of-anti-terrorist-operations-rising-j-k-police-101615457805779.html
--------
For Hyderabadi students, Turkey emerges as new study destination
By Usama Hazari
11th March 2021
Hyderabad: For a long time, the status quo for a section of Hyderabadi students was to migrate to western or Gulf countries, for either higher studies or career opportunities. However, a new trend has now started, with many now preferring to go to Turkey instead.
"I wanted to study in a Gulf country, but it has become very expensive in recent years. So Turkey is the best option now as the cost of living and education is cheap and the opportunities there are limitless," said Adnan, who is a civil engineering student from Hyderabad.
Adnan also said that Turkey is very safe for foreign students, especially those from Hyderabad, as there are some cultural similarities between Hyderabad and Turkey, given that the former had a Muslim (until 1948) monarchy which was in fact married to the last Ottoman empire's two princesses.
Another Engineering student Safiullah Habib said, "There are many big projects that are going to start there and it's a golden opportunity for engineers who want to make money." He added said that Turkey right now is what the United Arab Emirates (UAE) was 15 years ago.
"Those who went to UAE at that time years ago are now minting money. A similar opportunity has arrived after 15 years, but in Turkey now," Habib added.
Increase in industrialization and R&D attracts youth
Abdul Samad (name changed), who is studying biotechnology said that one of the main reasons for preferring Turkey is also the measures taken by the counry's government to increase industrialization and investment in research and development.
"This looks very promising for someone who's a biotechnology student" he noted. Sami also pointed out that current Turkish President Erdogan also commands respect from many as he is seen as a leading Muslim voice in the world.
"In the current global situation, where everyone is targeting Muslims and Muslim leaders are giving awards to our oppressors, it was Tayyip Erdogan who stood up and became our voice," Sami added.
Moreover, there is also the issue of settling down as an immigrant, after the completion of one's studies.
Ali (name changed), a commerce student, told siasat.com that many students want to go to Turkey because it's easier to get citizenship there compared to gulf countries or western countries. "There are also many opportunities there and we hope that Turkey becomes like USA or China in the upcoming years."
Leaving India permanently?
Many Muslim students who go abroad for studies cited that they will likely settle down there, and will never come back to India citing socio-economic and political reasons. Most of them said that the rise of Hindutva and the constant attacks on the community has left them worried.
Arbaaz (name changed), a media student, said "A a Muslim, I don't feel safe anymore in India. I fear for my family, and I've seen how Islamophobic the media is, how biased the judiciary is, and how hypocritical people have become in general."
The youngster said that many of his peers sit and hang out with him, but then vote for right-wing extremists "behind his back". "They also openly support them on social media and I just want to leave here as soon as possible," he said, pointing out a trend that India has seen develop after Prime Minister Narendra Modi came to power in 2014.
Another graduate student, Amaar (name changed), said that the ruling BJP and its supporters have "killed" his patriotism. "Now I have no reason to stay here. When I can get a much better education, job opportunities and most importantly, safety, why would I remain here?" he ased.
Many students who go to Turkey more or less do what every person who studies abroad does: work part-time jobs while studying, and then join . Once they are hired, it is a matter of years that they settle in Turkey.
Moreover, the Turkish government is also able to attract many Muslim students from Hyderabad due to the scholarship programmes (like the Burslari) that it offers.
Hyderabad-Turkey connection
Though Turkey may be the new study destination, it however has a much older connection with Hyderabad. Mir Osman Ali Khan, the last Nizam of the erstwhile Hyderabad state got two of his sons married to princesses Durru Shevar and Niloufer.
Durru Shevar was the daughter of the last Abdulmejid II, who was the last caliph of the Ottoman empire, which ended after World War-1. Princess Niloufer was her cousin. The former was married to Azam Jah, and her cousin to Moazzam Jah.
https://www.siasat.com/for-hyderabadi-students-turkey-emerges-as-new-study-destination-2108070/
--------
BJP fields 4 Muslim nominees in lower Assam
Mar 12, 2021
GUWAHATI: NDA will fight 12 Muslim majority seats in lower Assam, where migrant Muslims form the biggest group. Out of these, BJP will field four candidates from the minority community—in Jania, Jaleswar, Baghbar and Salmara South seats.
These seats have always been a stronghold of Congress or AIUDF and BJP faced a massive defeat in all in the 2016 assembly polls. While Jania has about 60% Muslim population, the percentage is 90% in Jaleswar, 95% in Baghbar and 60% in Salmara South.
However, BJP leaders believe that migrant Muslims will lean towards the party in this election as they have benefited from government schemes in the state.
https://timesofindia.indiatimes.com/bjp-fields-4-muslim-nominees-in-lower-assam/articleshow/81458251.cms
--------
Azam Khan makes his presence felt in Sunni board poll?
Mar 12, 2021
LUCKNOW: In jail for over a year now in connection with over a 100 FIRs lodged against him, Samajwadi Party veteran Azam Khan may be out of sight but certainly not off the political stage. So, it was no surprise when the SP's Muslim face made his presence felt during the election of Sunni Waqf Board chairman held on Tuesday.
The election saw SP-backed Imran Mabood lose the contest by one vote after a known Azam associate, Abrar Ahmed, cross-voted. Had Abrar voted on party lines, Mabood's victory would have come as a major morale-booster for the SP cadre and the leadership.
Though Abrar Ahmad claimed that initially Zufar Farooqui was the unanimous choice, but at the eleventh hour, ST Hasan and Nafees Ahmad changed their mind and asked him to vote for Mabood and he refused to change his stance, Samajwadi Party issued a show-cause notice to him seeking an explanation for his conduct.
A section of SP leaders is of the view that Abrar's cross-voting only reflected his mentor Azam Khan's disenchantment with the SP cadre and middle-rung leaders most of whom had maintained a distance from the party veteran ever since FIRs were heaped on him eventually landing him in jail along with his MLA wife Tazeen Fatima and son Abdullah. The three had surrendered before a Rampur court on February 26, 2020. Tazeen Fatima was released on bail on December 22 while Azam and Abdullah are still lodged in Sitapur jail. "Maybe it is his way of say that he may be down but certainly not out," said one of the senior functionaries
While Akhilesh not only drove down to Sitapur jail to meet Azam Khan within 24 hours of him being sent to judicial custody, he also made sure that other senior leaders visited the party MP from Rampur in jail. Barely a fortnight later, SP veteran and leader of the opposition (LoP) in the Legislative council Ahmed Hasan along with former assembly speaker Mata Prasad Pandey called on Azam at Sitapur prison, followed by LoP in the state assembly Ram Govind Chaudhary a couple of weeks later.
However, Azam's displeasure was noticed when his brother-in-law Zameer Ahmed Khan, while talking to the media said that the senior leader was disturbed by the manner in which some people stayed away when the state government started targeting him soon after BJP came to power.
https://timesofindia.indiatimes.com/city/lucknow/azam-makes-his-presence-felt-in-sunni-board-poll/articleshow/81457146.cms
--------
Ganga-Jamuni Tehzeeb: Muslims Shower Petals on Shiva Devotees in Kashi
MAR 11, 2021
VARANASI Giving a message of brotherhood and 'Ganga-Jamuni tehzeeb', a group of Muslims in Kashi showered flower petals on devotees of Lord Shiva in Godowlia area of Varanasi on the occasion of Mahashivratri on Thursday.
The devotees were in a long queue leading to the Kashi Vishwanath Temple.
"This is Kashi… the abode of Lord Shiva. The 'Ganga-Jamuni tehzeeb' has been thriving here for ages and we showered petals on the devotees," said one Mohammad Asif, who was among those who showered petals on the devotees.
He said, "I want to give a message that there is no casteism and communalism in Kashi. We celebrate Eid, Diwali and Holi together. From Kashi, I want to send the message of brotherhood to the whole world."
https://www.hindustantimes.com/cities/others/gangajamuni-tehzeeb-muslims-shower-petals-on-shiva-devotees-in-kashi-101615466673325.html
--------
Two JeM terrorists killed in J&K encounter
Mar 12, 2021
SRINAGAR: Two militants were killed in an encounter at Kandipora in Bijbehara area of South Anantnag district, Kashmir Zone Police said on Thursday.
The duo has been identified as Adil Ahmad Bhatt and Zahir Ameen Rather, both affiliated with terrorist outfit Jaish-e-Muhammad. An AK47 rifle and a pistol was recovered from the spot.
SSP Anantnag Sandeep Chaudhary said that police acted on specific inputs about the presence of militants in Kandipora. A joint team comprising personnel from the Kashmir Zone Police, Army and CRPF cordoned off a large area on Wednesday evening. As soon as the joint team rushed towards the suspected spot, the hiding militants opened fire, triggering an encounter. The exchange of fire was suspended on Wednesday night due to darkness. The gun-fight resumed on Thursday morning and ended with the death of the two terrorists.
https://timesofindia.indiatimes.com/india/two-jem-terrorists-killed-in-jk-encounter/articleshow/81458848.cms
--------
Southeast Asia
Islamic finance players' crucial role in the digital economy
11 Mar 2021
PETALING JAYA: The Islamic finance industry can play a more significant role in the global digital economy by experimenting and employing new technology solutions, said Bank Islam Malaysia Bhd CEO Mohd Muazzam Mohamed.
Noting that the pandemic had accelerated digital shifts, he urged industry players to take charge of the digital economy.
Mohd Muazzam (pic) said Bank Islam, being the first Islamic bank in the country, had taken charge to establish the Centre of Digital Experience (CDX) and was now working to lay a foundation to set up a sub-brand digital banking window to help harness the growing digital economy.
He said the CDX would innovate and push new boundaries.
He said this during a session on "Global Update on Islamic Digital Banking and Islamic Fintech" at the 16th Kuala Lumpur Islamic Finance Forum held virtually yesterday. ─ Bernama
https://www.thestar.com.my/business/business-news/2021/03/11/islamic-finance-players-crucial-role-in-the-digital-economy
--------
Uighur, Hong Kong issues to make for 'difficult' US-China talks
11 Mar 2021
In advance of what the United States is forecasting will be "difficult" talks with Chinese diplomats next week, the White House said Thursday that US officials will address the "genocide" of China's Muslim Uighur minority.
Secretary of State Antony Blinken and Defense Secretary Lloyd Austin will meet their Chinese counterparts on March 18 and 19 after their first overseas trip to Japan and South Korea.
"Addressing the genocide against Uighur Muslims is something that will be a topic of discussion with the Chinese directly next week," White House press secretary Jen Psaki said Thursday.
UN experts and rights groups have said China has detained more than a million Uighurs and other minorities there, actions the US has deemed a genocide. Beijing has denied abuses, saying facilities in the region are for vocational training to counter the threat of terrorism.
Meanwhile, the US condemned China's moves to change Hong Kong's electoral system, calling it a continuing assault on democracy in the territory and predicted "difficult" talks with China's top diplomats next week.
"The changes approved by the National People's Congress today on March 11 are a direct attack on Hong Kong's autonomy, its freedoms and democratic processes, limiting political participation, reducing democratic representation and stifling political debate," State Department spokesman Ned Price told a news briefing.
China's parliament on Thursday approved a draft decision to change Hong Kong's electoral system, further reducing democratic representation in the city's institutions and introducing a mechanism to vet politicians' loyalty to Beijing.
Price said the US would be frank in telling China how its actions challenge US values when Secretary of State Antony Blinken meets with top Chinese officials on March 18 in Alaska, the first high-level in-person contacts between the two sparring countries under the Biden administration.
"There will be some difficult conversations I would expect," he said. "We will certainly not pull any punches in discussing our areas of disagreement," Price said, urging Beijing to play its part in improving the frayed relationship.
"We are looking for Beijing … to demonstrate that seriousness of purpose, to demonstrate that it seeks to live up to its own oft-stated desire to change the tone of the bilateral relationship."
President Joe Biden's administration has committed to reviewing elements of US policies towards China, as the world's two largest economies navigate relations that sank to their lowest depths in decades during Donald Trump's presidency.
Biden and his Chinese counterpart, Xi Jinping, held their first phone call as leaders last month and appeared at odds on most issues, even as Xi warned that confrontation would be a "disaster" for both nations.
Price mentioned a long list of "difficult issues" with Beijing that he said would come up in talks, including Hong Kong, China's treatment of Uighurs in Xinjiang, its position on Taiwan and the South China Sea. He added that Washington would explore areas for cooperation with China where it was in the US interest, including climate change.
"The point remains that we're not looking to engage in talks for the sake of talks," he said.
Chinese Premier Li Keqiang said on Thursday that China and the US had common interests and many areas for cooperation and that Beijing hoped ties could develop in a healthy way based on respecting each other's core interests, win-win cooperation and non-interference in internal affairs.
https://www.aljazeera.com/news/2021/3/11/uighur-hong-kong-issues-to-make-for-difficult-us-china-talks
--------
Iran says any form of foreign interference undermines stability of Hong Kong
Thursday, 11 March 2021
Iran's Foreign Ministry spokesman has dismissed any form of foreign interference in Hong Kong's internal affairs, saying that such measures will undermine the stability of the Chinese territory.
Saeed Khatibzadeh's remarks came on Thursday after the National People's Congress (NPC), China's most powerful state body, adopted a decision on improving the electoral system of the Hong Kong Special Administrative Region (HKSAR).
The decision was passed by an overwhelming majority vote at the fourth session of the 13th NPC and is seen as another major step taken to improve the HKSAR's legal and political systems since the Law on Safeguarding National Security in the HKSAR was adopted in June 2020.
"We respect China's sovereign decision. The Hong Kong Special Administrative Region is part of China's territorial integrity. Therefore, all its affairs are related to China, which has shown in the past years that it is committed to "one country, two systems" principle," the Iranian spokesman said.
He added that the law passed by China's National People's Congress is in line with the powers invested in this institution, adding, "Therefore, any foreign interference in China's internal affairs will naturally undermine stability in Hong Kong and should be rejected."
On Monday, Beijing lambasted any interference in the internal affairs of Hong Kong, emphasizing the "one country, two systems" principle.
"Hong Kong is China's Special Administrative Region and its affairs are an integral part of China's internal affairs, which allow no interference by any country, organization, or individual," Chinese Foreign Ministry spokesman Zhao Lijian said at a press conference at the time.
Last month, Belarus, as a representative of 70 countries at 46th session of the United Nations Human Rights Council (UNHRC) delivered a joint statement reiterating support for China's implementation of the "one country, two systems" principle.
In June 2019, unprecedented anti-government protests began in Hong Kong over a proposed extradition bill. It was shelved under pressure from rallies later on, but the turbulent demonstrations continued the next several months and became more violent, endangering the lives and property of citizens.
The protesters have been demanding Hong Kong's full secession since then. Beijing says the US and the UK have been fanning the flames of the unrest in the semi-autonomous hub by supporting the separatist protesters.
In May last year, Hong Kong's legislature debated and passed a Beijing-proposed bill, criminalizing sedition, secession, and subversion against the mainland. The law drew harsh criticism from some Western governments, particularly the US and the UK, which claim that the law threatens the semi-autonomous stance of the city.
Beijing, however, insists that the new law does not pose a threat to Hong Kong's autonomy and the interests of foreign investors, noting that it is merely meant to prevent terrorism and foreign interference there, which were evident in the violent riots in 2019.
In response to the imposition of the new security law, former US president Donald Trump last year signed an executive order to end the preferential economic treatment of the semi-autonomous city to punish China for what he called "oppressive actions" against the former British colony.
It marked a new low in relations between the two countries, which have worsened in recent years over a range of issues, including trade, the South China Sea, arms sales to Taiwan, and the coronavirus pandemic.
https://www.presstv.com/Detail/2021/03/11/647093/Iran-China-Hong-Kong-stability-protests-foreign-interference
--------
Singapore arrests would-be terrorist planning to kill Jews for Hamas
MARCH 10, 2021
A 20-year-old Singaporean man was detained on Wednesday under the Internal Security Act for his plan to stab local Jewish community members after their prayer service at Maghain Aboth Synagogue in the city-state, The Straits Time reported.
The man, Amirull Ali, was serving as a national serviceman in the Singapore Armed Forces at the time of his arrest and is believed to have been self-radicalized since at least the age of 14, when he became interested in the Palestinian-Israeli conflict.
He seemed to have operated under the assumption that any Jewish worshipers he would be able to kill would have been involved in Israel's actions in the Gaza Strip.
Home Affairs and Law Minister K. Shanmugam said that many Jewish people in Singapore are local citizens and would have served in that country's defense forces and not the IDF.
"It's perfectly okay to support the Palestinian cause," the minister said, "but it's not okay to go around killing people."
He added that no matter how many people would have been killed or hurt, the planned attack would have had serious implications for social relations in Singapore itself.
Ali seemed to have acted on his own, without links to Hamas or other Islamic groups, and had been angered by news reports of how Israeli security forces allegedly mistreat Palestinians.
The latest example was the death of 32-year-old Iyad Halak last year.
Ali was alleged to be under the impression that, should he die while striking a blow for Hamas, he would reach heaven.
He planned several attacks, going as far as to practice stabbing movements with a practice-knife, learning about the human body to carry out an effective attack, and visiting the synagogue to familiarize himself with it.
He was careful not to take pictures of the site when he visited it and instead studied photographs of it to make his plans.
His reasons for putting off the attack were that he was concerned he would be arrested, not killed, and so would not reach heaven and never be able to join Hamas in the Gaza Strip.
The Internal Security Department (ISD) was notified about the case by the Ministry of Defense.
The ISD said it would act against anyone in Singapore who would resort to violent means regardless of how they rationalize such an attack.
It also informed the public that it is vital to remain vigilant "to signs that someone around us may have become radicalized."
https://www.jpost.com/international/singapore-arrests-would-be-terrorist-planning-to-kill-jews-for-hamas-661568?utm_source=iterable&utm_medium=email&utm_campaign=2089826_
--------
'Allah' ruling affirms true meaning of word for Sarawakian Bumis, says Yayasan Perpaduan Sarawak
12 Mar 2021
KUCHING, March 12 ― The Kuala Lumpur High Court's ruling allowing non-Muslims to use the word "Allah" has affirmed the feelings, sentiments, and appreciation of the true meaning of the word for all, especially among Sarawakian Bumiputera, said Yayasan Perpaduan Sarawak (YPS) chief executive Datuk Aloysius J. Dris.
"Salute to our judicial system and process in determining the meaning of the word 'Allah'. There is no winning or losing in this issue. It just affirms perceptions and sentiments, especially of the people here in Sarawak regardless of their religion.
"To begin with, the usage of the word 'Allah' used by Christians has never been an issue in Sarawak as many native people in both Sarawak and Sabah have been using Bahasa Malaysia in church and during worship," he said in a statement yesterday.
Aloysius said the High Court's decision has affirmed that all Malaysians are free to practise their respective religions and that freedom of religion is very much respected.
"Let us move on and strengthen our understanding amongst each other's differences as we continue to learn how to appreciate each other's way of worship," he added.
The ruling yesterday by Court of Appeal Justice Datuk Nor Bee Ariffin, who sat as the High Court judge, quashed the Malaysian government's directive issued in 1986 for a total ban on the use of the word "Allah" in Christian publications.
Nor Bee ruled the directive was unconstitutional and invalid, and also declared orders to affirm Melanau Christian Jill Ireland Lawrence Bill's right to not be discriminated against and practise her faith. ― Borneo Post
https://www.malaymail.com/news/malaysia/2021/03/12/allah-ruling-affirms-true-meaning-of-word-for-sarawakian-bumis-says-yayasan/1957132
--------
Africa
Boko Haram Allegedly Kills 30 Nigerian Soldiers In Borno
MAR 10, 2021
Militants from the Islamic State backed faction of Boko Haram, the Islamic State West Africa Province (ISWAP), formerly known as Jamā'at Ahl as-Sunnah lid-Da'wah wa'l-Jihād, have allegedly killed 30 Nigerian soldiers in Borno state.
According to ISWAP in a statement released on Tuesday, the soldiers were killed when two explosive-laden vehicles rammed into a military convoy in Wulgo.
The suicide bombers were identified as Abu Bakr al-Siddiq and Bana Jundullah.
The group also claimed four military vehicles were destroyed.
The claim by ISWAP comes few hours after troops of the Special Forces Brigade engaged the insurgents in a gun battle at Chikingudu, a community in Marte Local Government Area.
According to a military signal seen by SaharaReporters, seven soldiers also sustained injuries during the clash.
About 25 AK-47 rifles, three anti-aircraft guns, three general purpose machine guns, two automatic grenade launchers (AGL), and two gun trucks, among other ammunition, were also recovered by troops.
ISWAP, which split from the mainstream Boko Haram in 2016, has become a dominant group, focusing on military targets and high-profile attacks, including against aid workers.
The Nigerian army has repeatedly claimed that the insurgency has been largely defeated and frequently underplays any losses.
The terror group has caused over 40,000 deaths and displaced millions of individuals mainly in Adamawa, Borno, and Yobe states.
http://saharareporters.com/2021/03/10/boko-haram-allegedly-kills-30-nigerian-soldiers-borno?utm_source=iterable&utm_medium=email&utm_campaign=2089826_
--------
Somalia's security situation in crisis amid political uncertainty
10.03.2021
Chrispin Mwakideu
In Somalia's capital Mogadishu, no one seems to know where the next terror attack will come from. On Friday, 25 people were killed and many others injured when al-Shabaab militants targeted a popular restaurant. Before that, suspected al-Shabaab insurgents stormed the central prison in Bosaso city in Somalia's semi-autonomous Puntland region. At least eight soldiers were killed, and more than 400 inmates were released from captivity.
Puntland's military officials later said they had recaptured 87 of the hundreds of inmates that the armed Islamist extremists had freed.
"When you look at the atrocities perpetrated by terrorist groups in Mogadishu, it is very obvious al-Shabaab is taking advantage of the political unrest and the election impasse, Abdullahi Hashi, a Somali security expert, told DW.
"If this is not addressed urgently, jihadists will continue to launch deadly attacks"
Political standoff continues
Tensions are still running high among the central federal government, two federal member states, and various opposition groups. Somalian President Mohamed Abdullahi Mohamed's mandate ended on February 8.
The need for a fresh elections and new leadership is urgent, opposition presidential candidate Omar Abdulkadir said: "The mandate of government institutions, both the executive and the legislative, have expired. What we are witnessing now is uncertainty," Abdulkadir told DW.
"We all need to know how long the outgoing administration will be in power and when the election will take place."
No more US drone strikes?
On Monday, the United States military announced that US President Joe Biden had suspended drone strikes in Somalia, stopping military offences in countries where the US is not militarily engaged. Consequently, any such operation outside Afganistan, Iraq, or Syria would now have to get approval from the White House.
Former US President Donald Trump had largely left the decision on drone attacks to commanders on the ground. According to the New America Foundation, during Trump's four-year-tenure, the US unleashed a total of 208 drone strikes in Somalia. Trump's predecessor, President Barack Obama, had ordered only 43 airstrikes against al-Shabaab.
Human rights organizations have frequently criticized the US, saying the drone attacks had killed many innocent lives in the process.
Searching for solutions
Somali civil society groups and the country's international partners, including the US and UN, are now pushing for renewed talks between Somalia's warring clans. "The people of Somalia desperately need peace, prosperity, and development," Abdi Dahir, a civil society activist, told DW.
"The opposition groups and the government should come together at the soonest and resolve the issues surrounding the national elections through dialogue," Dahir added.
Since Somalia's former dictator Siad Barre was overthrown in January 1991, Somali leaders have been warring with various clans in the countryfor more than three decades now. The main issues between the governments and the clans are the distribution of resources, military and political power.
The UN, AU, and other international partners have been seeking to bring stability to the war-torn nation for years -- with little success.
https://www.dw.com/en/somalias-security-situation-in-crisis-amid-political-uncertainty/a-56828825?utm_source=iterable&utm_medium=email&utm_campaign=2089826_
--------
Foreign ministers of France, Germany, Egypt, Jordan hail unity govt in Libya
11 March ,2021
The foreign ministers of France, Germany, Egypt, and Jordan on Thursday hailed a vote by Libya's parliament to approve a unity government to lead the war-ravaged North African nation to December elections.
Speaking at a joint press conference by the four ministers, France's Jean-Yves Le Drian called it a "major advance" while his German counterpart Heiko Maas said it was an "excellent development."
Egypt's Foreign Minister Sameh Shoukry called the development "good news."
"The fact that yesterday there was a vote of confidence concerning the political process that has been started... that's an important point," he said.
"It's a step towards stability, security and the sovereignty of Libya."
After two days of intense debate under heavy security in the central city of Sirte, Libya's parliament on Wednesday approved the cabinet of interim prime minister Abdul Hamid Dbeibah.
The United Nations mission to the country praised leaders for the "patriotic efforts that led to this landmark moment in the history of Libya."
Libya has been split between the UN-recognized Government of National Accord, based in the capital Tripoli, and the Libyan National Army (LNA) in the east led by Khalifa Haftar.
Dbeibah said on Wednesday that it was time "to turn the page on wars and divisions," but the country faces a series of daunting challenges including soaring unemployment, inflation, and poor or non-existent public services.
https://english.alarabiya.net/News/north-africa/2021/03/11/Foreign-ministers-of-France-Germany-Egypt-Jordan-hail-unity-govt-in-Libya-
--------
Gunmen in northwest Nigeria kidnap college students, exact number unknown: Police
12 March ,2021
Gunmen in northwest Nigeria kidnapped around 30 students overnight from a forestry college near a military academy, three students said on Friday, in the fourth mass school abduction since December.
The Federal College of Forestry Mechanization sits on the outskirts of Kaduna city, capital of Kaduna state, in a region roamed by armed gangs, who often travel on motorcycles.
Kaduna state's security commissioner, Samuel Aruwan, confirmed the attack but did not say how many students had been taken.
Sani Danjuma, a student at the college, said those abducted were all female students, but authorities were unable to confirm this. Other students said some of the young women had managed to escape during the attack.
Local resident Haruna Salisu, speaking by phone, said he had heard sporadic gunshots at around 11:30 pm.
"We were not panicking, thinking that it was a normal military exercise being conducted at the Nigerian Defense Academy," he said.
"We came out for dawn prayers, at 5:20 am, and saw some of the students, teachers and security personnel all over the school premises. They told us that gunmen raided the school and abducted some of the students."
Salisu said he had seen military personnel taking the remaining students into the academy.
On Friday morning, relatives of students gathered at the gates of the college, which was surrounded by around 20 army trucks.
Lawless region
Banditry has festered for years in northwest Nigeria, rendering large swathes of the region lawless.
The trend of abduction from boarding schools was started by the jihadist group Boko Haram, which seized 270 schoolgirls from a school at Chibok in the northeast in 2014, around 100 of whom have never been found.
It has since been taken up by armed criminal gangs seeking ransom.
Within the last few weeks, 279 schoolgirls were freed after being abducted from their boarding school at Jangebe in northwest Nigeria's Zamfara state, and 27 teenage boys were released after being kidnapped from their school in the north-central state of Niger, along with three staff and 12 family members. One student was shot dead in that attack.
Military and police attempts to tackle the gangs have had little success, while many worry that state authorities are making the situation worse by letting kidnappers go unpunished, paying them off or, as in Zamfara, giving them amenities.
In late February, the presidency said President Muhammadu Buhari had urged state governments to "review their policy of rewarding bandits with money and vehicles, warning that the policy might boomerang disastrously".
The unrest has become a political problem for Buhari, a retired general and former military ruler who has faced mounting criticism over the rise in violent crime, and replaced his long-standing military chiefs in February.
https://english.alarabiya.net/News/world/2021/03/12/Gunmen-in-northwest-Nigeria-kidnap-college-students-exact-number-unknown-Police
--------
Ethiopia: Sporadic fighting displacing people in Tigray
Addis Getachew
12.03.2021
Even four months after the cessation of military operations, Ethiopia's northern Tigray region bears telltale signs of war, with military vehicles zooming past, endless checking on the roads, and displaced people still pouring in to take shelter in Mekele, the regional capital.
Bordered by Eritrea to the north, Sudan to the west, Ethiopia's Amhara province to the south, and the Afar region to the southeast, the semi-arid Tigray region on the edge of the northern portion of Jurassic limestone plateau is still witnessing sporadic fighting.
With commandoes and military personnel guarding every corner of the city, checking vehicles and people, fighting looks far from over.
There is continuous arrival of displaced people to Mekele, due to tensions in the interior regions between Amhara and Tigray ethnic groups.
"Around 80,000 internally displaced people have entered the city of Mekele just last week," Etenesh Nigussie, communication head of regional Tigray interim administration told visiting journalists.
She said the total population in Tigray has now stood at 5.5 million, of whom 700,000 got internally displaced by the current crisis.
The conflict in the region was triggered after Tigray People's Liberation Front (TPLF) fighters attacked an army base on Nov. 4 last year, killing soldiers and taking away sizable arms and ammunition.
Responding to the attack, Prime Minister Abiy Ahmed declared full-scale military operations that led to the seizure of the area by the federal forces.
Just two weeks ago, fearing for their lives 577,000 people were uprooted from their habitats in the western part of Tigray. Out of these 270,000 are living in makeshift camps in Shirre town, while others are languishing in Axum and Adwa towns.
As many as 11,455 displaced persons have been camped in eight schools in Mekele.
Separated from families
Sheltered at the Hawelti Secondary School among other 2,000 displaced people Solomon Haileselassie, 30, said he has been separated from his wife and an eight-month-old baby. He arrived in the city along with his two daughters of eight and five years of age from the Mai-Kadra in western Tigray.
Speaking to Anadolu Agency, he said after the Amhara forces took over the place, there was fighting that resulted in killings based on the ethnic background of people.
"After we came to the city of Mekele, the government has not helped us. It is the residents of the city of Mekele who have been providing us with food and clothing. Ever since we came, we have received only 15 kilograms of wheat per person and edible oil and lentils. Nothing else from the government," he said.
Metkel Tesfay, 40, was uprooted from the Humera region bordering Sudan last November to avoid fighting.
"My 68-year-old father, who is just a farmer, was imprisoned. I came with my mother, sisters, and my three children, "he said.
He also complained that over four months, his family has received the aid of just 15 kgs of wheat, lentils, and edible oil only once.
"We sold the grains to cover our other expenses. We suspect that the food aid coming in our name is being misappropriated. We are not getting any medical support while 50-60 people are living crammed in a single classroom. The people of Tigray from Humera are being dumped at Tekezze River," he alleged.
Mai-Kadra was one of the major battlegrounds as the area is being contested by the Amhara and Tigray regions. Ahead of the Ethiopian army clearing the area from the TPLF fighters, more than 1,000 ethnic Amhara people were killed by a group called Samre, allegedly financed by the TPLF, according to the Ethiopian Human Rights Commission.
But now people from Mai Kadra like Solomon are accusing the Amhara forces of taking revenge of this massacre from the hapless Tigrayans.
Give us peace
Ashebir Agezo from Mai-Kadra has taken shelter with his two children and wife. For him, security is more important than food.
"I do not care if the government gives us food or not. That is not my priority. I call on the government to stop Tigray people from being killed," he said.
The Communication Officer Etenesh said the government has so far distributed emergency aid to 4.2 million people in the region.
More than 825,123 quintals of food (wheat) have been distributed out to the needy, most of whom have been affected by the recent armed confrontations, she said.
She said there was no shortage of supplies, but admitted that there could be irregularities in the distribution of relief.
A statement from the prime minister's office stated in March that the international humanitarian organizations including UN specialized agencies such as the World Food Program have been participating in the relief operations in the Tigray province. The statement further said the government was providing 70% of humanitarian assistance, while the remaining 30% was coming from the aid agencies.
On Tuesday, a Cargo Plane belonging to Samaritan's Purse an international relief group landed at the Mekele Airport with 2,000 emergency shelters for displaced families.
Speaking to Anadolu Agency, Nick Bechert, Samaritan's Purse official said that 35,000 metric tons of nutritional package, which is enough for 18,000 children for one month have also arrived. He added that his organization has distributed the aid to people in Mekele, Adigrat, and Shirre towns.
https://www.aa.com.tr/en/africa/ethiopia-sporadic-fighting-displacing-people-in-tigray/2173381
--------
Names of Libya's new Cabinet released to public
Aydogan Kalabalik
11.03.2021
TRIPOLI
The names of ministers in the interim Libyan government formed by Prime Minister Abdul Hamid Dbeibeh were publicly released on Thursday.
The ministers in the National Unity Government were determined by the population density of Libya's three main regions; Tripolitania in the west, Barqa in the east, and Fezzan in the south, according to the list published by the House of Representatives.
Najla El Mangoush from the east was appointed the country's first female foreign minister.
El Mangoush, with nearly 15 years of experience, has worked in different international organizations. She has been living in the US since 2012.
Dbeibeh would act as defense minister in the new Cabinet, while Khaled Tijani Mazen was nominated as interior minister to represent the southern region.
Mazen had held the post of deputy interior minister in the former government.
Dbeibeh named Khaled Al-Mabrouk Abdullah from the south as finance minister, while Muhammad Ahmad Muhammad Aoun was appointed oil and gas minister to represent the west.
Five women were appointed among 33 government posts, including ministers of justice, culture, social affairs and state for women affairs.
In a majority vote, Libya's parliament granted a vote of confidence to Dbeibeh's new unity government on Wednesday with 132 votes of the 133 lawmakers who attended the session.
Dbeibeh proposed a unity government of 27 members on Saturday, promising that it would prioritize "improving services, unifying state institutions and ending the transitional period by holding elections."
Dbeibeh described the vote of confidence as a "historical moment" and pledged to end the war in Libya.
On Feb. 5, rival political groups agreed in UN-mediated talks to form an interim unity government to lead Libya to elections in December, where Dbeibeh was designated as prime minister and tasked with forming a new government.
Libyans hope it will end years of civil war that have engulfed the country since the ouster and killing of strongman Muammar al-Qaddafi in 2011.
The war was exacerbated when warlord Khalifa Haftar, supported by several countries including the United Arab Emirates, Egypt, Russia, and France, carried out a military onslaught to topple the Tripoli-based internationally recognized government for control of the North African country.
https://www.aa.com.tr/en/africa/names-of-libya-s-new-cabinet-released-to-public/2173075
--------
Turkey plays important role in election crisis-rocked Somalia
Handan Kazancı
11.03.2021
Turkey is playing a key role in Somalia even amid a political stalemate in the Horn of Africa country due to delays in national elections, according to a Turkish analyst.
"As a donor country, Turkey has been playing an important role in Somalia since 2011," Serhat Orakci, a researcher at the Istanbul-based Humanitarian and Social Research Center (INSAMER), which is part of the Humanitarian Relief Foundation (IHH), told Anadolu Agency.
"And because of that, the political instability in the country has been watched carefully by Turkish officials," said Orakci, also the author of a 2018 book on Turkish-African relations.
According to Orakci, some candidates for the presidential polls have histories of close ties with Turkey, for instance, former presidents Sheikh Sharif and Hassan Sheikh Mohamud, who both worked with Turkey.
"However, Turkey's policy in Somalia seems to focus on the country's development rather than particular figures," he explained.
"I think Turkey has the ability to work with any candidate who will be the country's next president when the election dispute ends."
A decade ago, Somalia's 2011 drought killed over a quarter-million people, and Turkey played a key role in overcoming the ensuing famine by initiating many projects, such as a 200-bed training and research hospital that opened in 2015.
During the 2011 famine, when then-Prime Minister and current Turkish President Recep Tayyip Erdogan visited the country, he went to camps where internally displaced people were staying instead of rushing straight to the presidential palace, a move which inspired Somalis' feelings of love and solidarity towards the Turkish people.
Mukhtar M, Sayid, the head of Somalia's Peace Justice and Development Party and a presidential candidate contender, also fondly recalls Erdogan's visit.
"When the Turkish government in 2011 went to Somalia to save dying children dying of famine," Sayid told Anadolu Agency, "the rest of the world was watching Somalia die and perish."
Sayid, who also has Australian citizenship, added that he divides his time between Somalia, Turkey, and Australia.
"At that time, there was not a single embassy in Somalia except for the Ethiopian Embassy," he explained.
But the years that followed saw the Turkish government forge strong bonds with Somalia and send considerable aid to the country.
It helped "stop the famine, support the building of hospitals, build the roads, support the Somali community," said Sayid.
Later, he added, an "influx of embassies and foreign diplomats came to Somalia."
Election dispute remains
According to Orakci, the election dispute in Somalia remained unresolved.
"The COVID-19 pandemic, financial deficits, and disputes between regional states with the federal government under Somalia's federal system have all caused delays in the election calendar," Orakci said.
"Recently, federal authorities sat down with regional governors but the conference did not bring any result," he added.
The Horn of Africa country hit a political stalemate after presidential and parliamentary elections were delayed and the president's constitutional mandate expired on Feb. 8.
Recent clashes between government forces and opposition protesters have claimed the lives of at least four people, including soldiers.
President Mohamed Abdullah Mohamed has called on regional leaders to hold talks to end the political deadlock.
"The election process in Somalia is an indirect system, since some parts of the country still remain under the control of Al-Shabaab," said Orakci, referring to an al-Qaeda-linked terrorist group that has committed scores of deadly attacks in Somalia, including ones directly targeting Turkish projects in the country.
"Somalia's election was supposed to take place last year by direct voting, but for security reasons and center-periphery disputes there have been delays until today," he added.
"In the indirect system, a number of elders choose MPs for parliament, and the MPs are supposed to choose a new president. However, this system is open to corruption and it is very doubtful whether it reflects the real opinion of the people or not," Orakci explained.
Last month Turkey expressed concern over unrest in Somalia as tension rose due to the delayed polls.
"We are concerned about the recent negative developments arising from the dispute over the election process in Somalia," the Foreign Ministry said in a statement.
"It is important that all parties act with common sense by avoiding steps that may lead to violence, and that the Federal Government and Federal Member States' Leaders come together and try to resolve disputes with an inclusive and constructive dialogue on the basis of the agreement reached on 17 September 2020," the statement added.
"We believe that the friendly and brotherly people of Somalia have the will and political maturity to determine their own future," the ministry said.
"In this context, we hope that a consensus will be reached on the election process, on the basis of mutual understanding without further delay," it added.
https://www.aa.com.tr/en/africa/turkey-plays-important-role-in-election-crisis-rocked-somalia/2172048
--------
Ethiopia: Tigray's deserted Mekele city greets envoys
Addis Getachew Tadesse
11.03.2021
MEKELE, Ethiopia
Residents of the city of Mekele, capital of the restive Tigray regional state, observed a "stay-at-home protest" as ambassadors to Ethiopia and the African Union paid a visit on Wednesday.
Mekele, home to more than half a million people, suddenly appeared as a ghost city as people remained at home, with businesses shut leaving the streets largely deserted.
"We have been told to shut our businesses by a group of youths who went door-to-door while a circular was also distributed to the same effect," a restaurateur told Anadolu Agency on anonymity.
A crew of Anadolu Agency has been in the city of Mekele since last Friday, observing normal activities of life with people moving about, businesses open, electricity and telephone operational; but no internet services.
At around 1 p.m., more than 50 resident ambassadors arrived at the Mekele airport and were escorted to the famous Planet Hotel. Accompanying the ambassadors were Redwan Hussein, the deputy foreign minister, and Dina Mufti, the spokesperson for the Foreign Ministry.
President of the interim administration for Tigray region, Mulu Nega, briefed the ambassadors on, what he described, major progress achieved by his administration since assuming office three months ago – restoring peace and security, resuming emergency relief supply and instating the administrative structures across the region.
"We have organized our administrative structures covering 72% of the Tigray region," he said, adding the western zone of Tigray and areas in Southern Tigray have been occupied by Amhara forces.
"That is an internal problem and we hope to solve it soon," he said. "Basic services have been restored in all the six zones of the regional states such as electricity, transportation and telephone."
Humanitarian access has improved significantly with aid agencies such as USAID, OCHA (Office for the Coordination of Humanitarian Affairs), and WFP, among others, visibly operating.
On Nov. 4, 2020, the Ethiopian government launched a massive law-enforcement operation against the Tigray People's Liberation Front whose forces attacked the Northern Command of the National Defense Forces. On Nov. 8, Ethiopian Prime Minister Abiy Ahmed declared the military confrontations over.
According to Nega, sporadic fighting continued while the 10,000 convicted criminals who were set free by TPLF as its forces retreated to the bushes were involved in looting, robbery and other crimes.
https://www.aa.com.tr/en/africa/ethiopia-tigrays-deserted-mekele-city-greets-envoys/2171879
--------
Libya: Al-Sarraj ready to hand over power to new gov't
Walid Abdullah and Mohamed Ertima
10.03.2021
TRIPOLI, Libya
Libya's Presidential Council head Fayez al-Sarraj said Wednesday that he is ready to step down and pass his tasks and responsibilities to the new government to consolidate the principle of peaceful transition of power.
Al-Sarraj's remarks came following the country's House of Representatives' vote of confidence to the new Cabinet led by Abdul Hamid Dbeibeh.
"I congratulate the government of national unity for the vote of confidence and I wish the new Cabinet success in accomplishing its tasks," al-Sarraj said.
"What happened today is an important step to end the conflict and division," he noted, calling on all parties to intensify "cooperation, unity, and tolerance for the sake of the renaissance of Libya."
Meanwhile, the government loyal to the Libyan warlord Khalifa Haftar expressed on Facebook its "full readiness to hand over tasks, ministries, directorates, and institutions to the national unity government."
Earlier Wednesday, in a majority vote, Libya's parliament granted confidence to Dbeibeh's new unity government.
Dbeibeh described the parliament's vote of confidence to his interim government as a "historical moment" and pledged to end the war in his country.
He proposed a unity government of 27 members on Saturday, promising that the government will prioritize "improving services, unifying state institutions, and ending the transitional period by holding elections."
On Feb. 5, Libya's rival political groups agreed in UN-mediated talks to form an interim unity government to lead the country to elections this December, where Dbeibeh was designated as the prime minister and tasked with forming a new government.
Libyans hope that this will end years of civil war that have engulfed the country since the ouster and killing of strongman Muammar al-Qaddafi in 2011.
The war was exacerbated when Haftar, supported by the United Arab Emirates, Egypt, Russia, and France, among others, carried out a military onslaught to topple the Tripoli-based internationally recognized government for control of the North African country.
https://www.aa.com.tr/en/africa/libya-al-sarraj-ready-to-hand-over-power-to-new-govt/2171755
--------
South Asia
The resilience of secularism in Bangladesh
Vaishali Basu Sharma
March 12, 2021
With a spiritual commitment to Islam and a cultural affiliation to being Bangalee, Bangladesh is a nation where the two concepts are not mutually exclusive. Founded on secular principles, Bangladesh has been heralded by the western world as an example of a model Muslim country, whose people have taken great pride in its unique syncretic nature. In fact, ethno-nationalism conflicting with Islamic religious nationalism was the very embodiment of the creation of Bangladesh.
Although there have been occasional drifts towards religious extremism, the secular character has never been threatened seriously. The original constitution was secular. But after Bangladesh's Father of the Nation Bangabandhu Sheikh Mujibur Rahman was assassinated in 1975, successive governments chipped away the secular edifice. Secularism was removed from the constitution in 1977 by the 5th amendment of the constitution by Ziaur Rahman and Islam was declared as the state religion in 1988 by HM Ershad. However, the concept was reinstated when in its 2010 landmark decision the Supreme Court of Bangladesh scrapped the bulk of the 5th amendment which had allowed religion-based politics to flourish in Bangladesh. By making religion-based political activities a punishable offence, Bangladesh's Supreme Court ensured that secularism remained the cornerstone of the constitution. The Election Commission of Bangladesh demanded the religion-based parties in the country to amend their charters as they conflicted with the supreme law of the land.
While there has been criticism for it retaining "Bismillah-Ar-Rahman-Ar-Rahim" and the provision for Islam as the state religion, the fact is that the amended constitution has endeavoured to give non-Islamic people a sense of belonging by rephrasing the Islamic provisions of the constitution: second translation of "Bismillah-Ar-Rahman-Ar-Rahim" was added that reads: "In the name of the Creator, the Merciful" . In place of the Article 2A that reads: "The state religion of the Republic is Islam, but other religions may be practiced in peace and harmony in the Republic", the amended constitution reads: "The state religion of the Republic is Islam, but the State shall ensure equal status and equal right in the practice of the Hindu, Buddhist, Christian and other religions."
While the Islamisation of certain section of Bangladeshi society has dominated the headlines, secularism as a sustainable common platform has always withstood these challenges. Bangladesh has a highly sophisticated civil society, a population that strongly believes in capitalism (and thinks highly of the United States – according to a 2014 poll, 76 percent viewed the US favourably) and a strong religio-cultural tradition grounded in a secular political platform.
The world's third largest Muslim country marks a crucial departure with the trend amongst some other Muslim countries in South and Southeast Asia where an Islamist agenda has become more apparent or prominent. In the case of Bangladesh, not only has Islamist militancy failed to take root, but indeed the country's secular state and civil society have retained its strength and resilience. Muslim nationalism, which was the basis for the establishment of Pakistan, tried to rear its head in Bangladesh during the turbulent years from 1999 to 2005. During this period Bangladesh was swept by a wave of Islamist militancy that triggered considerable media and academic concern that the country would fall prey to extremism. The Islamist extremism that it experienced during those years was largely the result of an ideology and tactics brought back to Bangladesh by returnees of the Afghan war against the Soviet occupation in the 1980s. Those returnees believed that the radical Islamist ideology they encountered (and imbibed) in Afghanistan could be transplanted to the Muslim community of Bangladesh. They tried to radicalise contemporary Bangladeshi society and politics, competing against Bangalee ethnicity, language, culture, and secularism ('Bangalee nationalism'). This was a serious miscalculation. The relative ease by which the Bangladesh government's anti-terrorism campaign crushed this outbreak of Islamist militancy demonstrated how seriously the militants had misunderstood Islam in the Bangladesh context, a context in which Islam is intimately interwoven with deeper traditions of tolerance and secularism in that culture.
Coinciding with the rise of the Islamic State in the Middle East, Bangladesh also witnessed an escalation of deadly attacks on secular activists. Throughout this period, members of Bangladesh's vibrant civil society, including publishers, bloggers, and media personnel, continued to receive death threats. Like in other theatres, violence as a political tactic is used by Islamist parties and groups in Bangladesh to silence dissent. The Bangladesh Nationalist Party (BNP) and Islamist Jamaat-e-Islami encouraged the forces responsible for the radicalisation, legitimising violence as a political tactic to silences critics and opponents. The new Islamic identity took hold in at least some segments of society, evident in the effectiveness of the Islamists casting Shahbagh protesters in 2013 as "atheists" and their agenda being "anti-Islam," successfully conflating three concepts: secularism, atheism, and anti-Islamism. Islamists try to disperse a discourse in which the rallying call is that "Islam is under attack" or "secularism equals atheism equals anti-Islamism" and within this they try to delegitimise and dehumanise outspoken secularists. This discourse is completely distinct from the traditional understandings of Islam in Bangladesh and appeals to a very narrow audience. Consequently, the vast majority of Bangladeshis are held hostage by a small number of domestic violent networks, some of whom have linked up to global dynamics of transnational Islamist activism.
The current administration has taken some serious measures against Islamist militant outfits, especially in response to the recent targeting of the blogger community. It has taken laudable measures in countering militancy and pushed for the War Crimes Tribunal where the defendants come from the Islamist ranks.
Bangladesh is a paradox that Pakistan failed to understand during the 24 years that the country formed its eastern wing. Bangladeshis from all sections of society fast during Ramadan but also celebrate Puja; they pray at the mosque and also sing Rabindra sangeet, seeing no contradiction between the two activities, and indeed, there need not be any. Addressing a function during her visit to the Durga Puja Mandap at Ramkrishna Mission in Dhaka in 2019, PM Sheikh Hasina said, "Bangladesh is a secular state and we all irrespective of religion, caste and creed are moving together along the same road. We all are celebrating festivals including religious ones together which is the best achievement for us." This embodies the essentially secular spirit of Bangladesh as a nation.
The Bangladesh Awami League government's slogan, "Dhormo Jaar Jaar, Utshab Shobar (religion as per one's own, but festivals common to all)", portrays the nation's secular face. The sentiment is being implemented on the ground, with Hindu community people taking the charge of security of Eidgahs during the Eid congregations and Muslim youths guarding the Puja Mandaps during prayers.
Pahela Baishakh, which marks the first day of the new year according to the Bengali calendar, is observed by Bangalees in Bangladesh irrespective of their religion. Celebrated across Bangladesh with splendor and revelry, the festivities on the occasion are an affirmation of Bangalee culture that transcends religion, and a fitting reply to radical Islamists and their designs.
Thus, in any political rhetoric and history, it can never be forgotten that the war in 1971 was formally articulated in terms of a struggle for a secular state based on the existence of a unified Bangalee cultural identity that superseded religious identity. A competitive democratic system of politics which accommodates aspects of secularism, language, Muslim identity and Islamic ethical–moral codes continue to be retained in the political discourse for forming and consolidating the country's multi-racial, multi-religious national identity as a sovereign state.
The author is an international security studies analyst, and former consultant at National Security Council Secretariat (NSCS) of India.
https://www.thedailystar.net/opinion/online-exclusive/news/the-resilience-secularism-bangladesh-2059297
--------
MoD rejects the fall of Almar district to Taliban: Faryab
11 Mar 2021
The Taliban took control of the center of Almar district in Faryab province on Thursday afternoon at about 1 pm, according to local security sources.
Local sources on Thursday said that the central Almar district of Faryab province has fallen to the Taliban.
Provincial governor, Naqibullah Fayeq told media the Afghan security forces had a tactical retreat from the area to prevent civilian casualties.
According to reports, 40 local security force members were surrounded by the Taliban but they managed to escape to a 4 Km away security base called Khwaja Osman.
The Taliban is said to have captured both the district governor's office and the district police headquarters.
Tahir Rahmani, a provincial council member also confirmed the news and said that eight Afghan defense forces were killed and eight others are injured following the clashes with the Taliban.
The head of the Faryab provincial council says security officials have not been able to prevent the fall of the district.
Defense Ministry on the other hand denied the fall of the district to Taliban.
MoD on Thursday stated that the published news about the fall of the Almar district is incorrect instead ANDSF had conducted operations and cleared the majority of the area from Taliban influence.
According to Mod, the district is currently under the control of Afghan national defense and security forces.
The reports emerged as Mohammad Amin Patang, acting district police chief joined the Taliban on Wednesday afternoon.
Abdul Karim Yourish, a spokesman for the provincial chief told the media that Patang was appointed as the acting police chief for the area three months ago.
He was appointed as acting police chief of Almar three months ago, Yourish said.
Patang joined the Taliban due to security forces were surrounded and were under the pressure of the Taliban sources told media
So far, Taliban has not commented on the Almar district incidents.
https://www.khaama.com/mod-rejects-the-fall-of-almar-district-to-taliban-faryab-535366/
--------
Security will remain crucial with or without peace: SIGAR
11 Mar 2021
Special Inspector General on Wednesday warned that security remains crucial and at high risk, with or without sustainable peace and ceasefire the country will be threatened by many other extremist organizations.
In the SIGAR's 2021 High-Risk report, John F. Sopko Special inspector general said "with or without a sustainable peace agreement and nationwide ceasefire, Afghanistan will likely continue to be threatened by multiple violent-extremist organizations".
The report added that the security situation remains crucial and at high risk in the country because the Taliban have not changed their battle tactics, and extreme violence, political objectives, terrorist groups like Islamic State Khorasan (Daesh) and Al Qaeda still remains in the country.
According to the report "Any political agreement risks subordinate groups going rogue, possibly manifesting as another insurgency or insecurity from criminal gangs or networks.
"These issues could become even more pronounced if US forces are no longer in country to provide counterterrorism support and to train, advise, and assist Afghanistan's security institutions".
Sopko indicated, that any political agreement risks subordinate groups going roque possibly
Presenting SIGAR's 2021 High-Risk List to US Congress, John F. Sopko, Special Inspector General for Afghanistan Reconstruction, said any political agreement risks subordinate groups going rogue, possibly manifesting as another insurgency or insecurity from criminal gangs or networks.
Following the withdrawal of troops if the US will not facilitate Afghanistan in counterterrorism, support train, assist and advise the Afghan security, such issues will become even more pronounced, the report added.
Inspector General Sopko iterated that keeping with SIGAR's statutory mandate to promote economy, effectiveness, and efficiency, the High-Risk List identifies serious risks to the United States' $143 billion reconstruction effort in Afghanistan.
According to Sopko, stalled negotiations and continuing high levels of violence are putting the reconstruction efforts in the country at great risk than ever before.
Sopko said, "As we note in this report, whether or not the United States continues to withdraw its troops from Afghanistan pursuant to last year's withdrawal agreement with the Taliban, the new Administration and Congress will have to decide whether and to what extent reconstruction will continue.
"Although Afghanistan's leadership have often stated that their goal is self-reliance, Afghanistan today is nowhere near to being self-reliant – especially in funding its government operations, including military and police – from its own resources.
"And, as highlighted in our report, reconstruction aid helps keep Afghanistan from reverting to a terrorist safe haven,".
"Today the gains from our nation's investment in Afghanistan's reconstruction face multiple threats: continued insecurity, uncertain post-peace settlement funding, the challenge of reintegrating fighters, endemic corruption, lagging economic growth and social development, threats to women's rights, the illicit narcotics trade, and inadequate oversight by donors" Sopko stated.
He also pointed that level of the violence has intensified, including not only the attacks on Afghan security forces but also bomb attacks and targeted assassinations on civilians, mid-level officials, prominent women, and journalists.
Adding to his statement he said that the coronavirus pandemic is overwhelming Afghanistan's health sector and has severely impacted its economy and people.
This report is "intended to provide an independent and sober assessment of the various risks now facing the Administration and Congress as they seek to make decisions about the future of the U.S. mission in Afghanistan." Sopko said.
By focusing on elements of US reconstruction efforts in Afghanistan that are essential to success; at risk of failure due to waste, fraud, or abuse; and subject to the control or influence of the US government, the High-Risk List was prepared.
The key factors using these criteria, SIGAR findings show eight areas at high risks, which are increasing insecurity, uncertain funding for a post-peace settlement, the need to reintegrate ex-combatants, endemic corruption, lagging economic growth and social development, illicit narcotics trade, threats to women's right, inadequate oversight.
The report indicated that the failure of Afghan peace negotiations will be plunging the country into worse long-term danger and violence against women, "Women and girls suffer not only loss of life, injury, disability, and mental trauma, but also the loss of male breadwinners, increasingly desperate poverty, the social stigma and discrimination that accompany widowhood and permanent disability, and reduced access to basic services."
SIGAR report hinted that there are between 55,000 and 85,000 Taliban fighters in the country some of who will be integrated into Afghan National Defense and Security Forces depending on terms of the peace agreement and some will need to change to productive noncombatants status in the civil society.
It is reported that Afghanistan still remains reliant on foreign aid with donors granting at least $8.6 billion annually which covers 80% of the country's $11 billion public expenditures.
"Afghanistan remains exceptionally reliant upon foreign assistance, creating both an opportunity for donors to influence events there as foreign troops depart and risks to a potential peace if they reduce assistance too much, too fast, or insist on conditions that cannot be achieved by the parties to the conflict," according to the report
SIGAR warned that Afghanistan's limited fiscal capacity is inadequate to sustain infrastructures such as roads, power generation, and economic supply chains.
"The Afghan government's lack of financial sustainability is an issue affecting all high-risk areas identified by SIGAR," the report indicated.
SIGAR also noted that the detrimental effects of the illegal drug trade in Afghanistan do not only affect the health system but also help fund insurgents, foster corruption, and provoke criminal violence.
SIGAR denoted that illegal drugs do not only affect the health system but also fund insurgents, terrorists, foster corruption and provokes criminal violence.
"Even in the midst of the COVID-19 pandemic, Afghanistan's opium economy has remained resilient. The United Nations Office on Drugs and Crime reported that Afghanistan's 2020 opium-poppy harvest was largely uninterrupted by COVID-19," read the report.
Another key risk factor was the government's failure to effectively address the systemic corruption in Afghanistan.
The report also found that the Afghan government has failed to effectively address systemic corruption, and has taken limited steps to restrict and curb systemic corruption and that more practical action is required in this regard.
"The Afghan government often makes "paper" reforms, such as drafting regulations or holding meetings, rather than taking concrete actions that would reduce corruption, like arresting or enforcing penalties on powerful Afghans", the report added.
Sopko also reminded the U.S congress that SIGAR is the only authority that remains the best US defense against waste, fraud, and abuse of US taxpayer funds in Afghanistan.
https://www.khaama.com/security-remains-crucial-with-or-without-peace-sigar-4324248/
--------
Mideast
Iran Asks KRG to Correct Mistake of Publishing Controversial Stamp
2021-March-11
Iranian Foreign Ministry Spokesman Saeed Khatibzadeh made the remarks on Wednesday, stressing that it is clear that what is published in public runs contrary to the principles and rules of the international law.
He added that while protesting to the Iraqi government over this issue, the Islamic Republic of Iran calls for immediate collection of stamps and correction of this unfriendly act.
The Ministry of Transportation of Iraqi Kurdistan Regional Government (KRG) published a number of commemorative stamps on the occasion of Pope Francis' visit to the Northern provinces of the country. Fake maps have been used in the stamp design.
In reaction to the move, Iraqi Turkmen Front issued a statement and condemned the move which undermines Iraqi unity and a direct threat to the region.
Iraqi Turkmen Front pointed out that interests of Iraqi ethnic groups could only be achieved through the unity and amity of the country.
https://www.farsnews.ir/en/news/13991221000245/Iran-Asks-KRG-Crrec-Misake-f-Pblishing-Cnrversial-Samp
--------
Israel says joint naval exercise with Greece, Cyprus completed
12 March ,2021
The Israeli military said Friday that it has conducted a joint naval exercise with Greece and Cyprus, in the latest sign of increased cooperation among three countries that increasingly view Turkey as a rival in the Mediterranean Sea.
It said the "Noble Dina" exercise, which was led by Israel and also included France, covered "anti-submarine procedures, search and rescue scenarios, and a scenario simulating battle between ships."
The exercise was concluded on Thursday.
"Over the past week, the Navy led a large-scale exercise in which it implemented capabilities in underwater warfare, search and rescue, convoy escort and surface combat," Rear Admiral Eyal Harel, the head of Israeli naval operations, said.
"These exercises are of paramount importance in strengthening the Navy's connection with foreign fleets who share common interests," he added.
Israel, Greece and Cyprus have taken a number of steps in recent months to cement ties, including advancing plans to build a 2,000 megawatt undersea electricity cable and a 1,900-kilometer (1,300-mile) undersea gas pipeline. The three countries' defense ministers met in November and agreed to increase military cooperation.
Greece and Cyprus are embroiled in a dispute with Turkey, which has sent gas prospecting vessels into waters claimed by Greece and drilling ships into an area where Cyprus claims exclusive rights.
The tension brought NATO allies Greece and Turkey close to open conflict last year, but tensions have eased since then.
https://english.alarabiya.net/News/middle-east/2021/03/12/Israel-says-joint-naval-exercise-with-Greece-Cyprus-completed-
--------
Three Gaza fishermen killed by Israeli drone caught in nets, says Hamas
11 March ,2021
Three Palestinian fishermen who died in an offshore blast on Sunday had encountered an explosive-laden Israeli drone that had fallen into the sea and blew up in their nets, the Hamas-run Interior Ministry in Gaza said on Thursday.
An Israeli military spokeswoman had no immediate comment. At the time of the blast, the Israeli military had denied it had any involvement in the incident.
The incident came at a time when Palestinian militants have been test-firing rockets into the sea, and a Gaza-based human rights group, the Palestinian Center for Human Rights, said on Sunday the fishing boat may have been hit by accident.
But Eyad Al-Bozom, the Gaza Interior Ministry's spokesman, said no Palestinian rocket had hit the fishing boat, and that parts of an Israeli quadcopter drone that carried explosives were discovered in its nets. The drone had blown up as the fishermen were lifting their nets, killing all three.
Bozom said the drone had probably been in the water since an Israeli attack on a Palestinian naval craft on February 22 off Gaza.
The Israeli military said at the time its forces noticed suspicious naval activity off Gaza's shore and thwarted a "potential threat to Israeli naval vessels," without elaborating on the weapons used.
The Israeli military rarely comments publicly on the use of explosives-carrying drones.
The Hamas militant group, took control of Gaza in 2007, and the seaside strip, home to 2 million Palestinians, has since been under a blockade imposed by Israel and Egypt, which cite security concerns for the measure.
https://english.alarabiya.net/News/middle-east/2021/03/11/Three-Gaza-fishermen-killed-by-Israeli-drone-caught-in-nets-says-Hamas
--------
US, Israel discuss Iran threats during first strategic group meeting
Joseph Haboush
11 March ,2021
The US and Israel held their first Strategic Consultative Group meeting Thursday, which involved discussions on threats from Iran, the White House said.
From Washington, National Security Advisor Jake Sullivan led the US delegation while his counterpart, Meir Ben-Shabbat, headed Israel's participation in the virtual meeting.
"During the discussion, the two sides shared perspectives on regional security issues of mutual interest and concern, including Iran, and expressed their common determination to confront the challenges and threats facing the region," NSC Spokesperson Emily Horne said.
Both sides agreed on the importance of the talks and pledged to continue such dialogue.
"This meeting is part of the broader ongoing dialogue between the United States and Israel on the full range of issues of importance to the bilateral relationship," Horne said.
Israel has been kept at arm's length by the Biden administration as Prime Minister Benjamin Netanyahu is up for re-election later this month.
Biden waited for weeks before he held his first call with the Israeli PM. The White House denied that Biden was "snubbing" the Israeli official.
Israel has also reportedly been skeptical of the Biden administration's approach to Iran. Biden has made no secret of his hope for Iran to sit down with the US for direct talks on a nuclear deal.
So far, Tehran has not accepted Washington's invitation - via the European Union - to sit down.
https://english.alarabiya.net/News/middle-east/2021/03/11/US-Israel-discuss-Iran-threats-during-first-strategic-group-meeting
--------
Heavy clashes break out between Yemeni army, Iran-backed Houthis in Hodeidah
Tamara Abueish
12 March ,2021
Heavy clashes between the internationally-recognized Yemeni army and the Iran-backed Houthi militia broke out in Hodeidah on Friday, a source from the Yemeni army told Al Arabiya.
The army has been making great advancements in the area and in their last northern stronghold Marib in recent days, the source added.
The Houthis, who currently control Hodeidah, have often used the city as a launching point for its terrorist operations and attacks.
Until the Yemeni army gains control of Hodeidah, weapons will continue to be smuggled to the Houthis, the source told Al Arabiya.
Iran has backed the Houthis in their war against the Yemeni government, supplying the group with weapons, such as drones and missiles often used to target civilians.
The battles have intensified in recent days as the Houthis face "unprecedented" losses, an unnamed source told Al Arabiya on Thursday.
The Iran-backed militia fired a ballistic missile towards civilians in Yemen's Marib on Thursday, the source said.
The British ambassador to Yemen Michael Aron on Friday condemned the Houthis' treatment of migrants in a camp in Sanaa.
"Appalled by fire at Houthi-controlled migrant centre in Sana'a. OHCHR & humanitarian agencies need immediate, unrestricted access to site & those injured. A credible, transparent, independent investigation must be carried out, including a full account of those killed & injured."
"It is the Houthis inhumane treatment of migrants - including the creation of overcrowded conditions at the centre - that led to this terrible loss in human life. It is imperative that the Houthis change their policies towards migrants & provide them the basic dignity they deserve," Aron said.
https://english.alarabiya.net/News/gulf/2021/03/12/Heavy-clashes-break-out-between-Yemeni-army-Iran-backed-Houthis-in-Hodeidah
--------
Houthis target civilians with missile in Marib as Yemeni army advances
Tamara Abueish
11 March ,2021
The Iran-backed Houthi militia fired a ballistic missile towards civilians in Yemen's Marib, the Yemeni army told Al Arabiya on Thursday.
The Yemeni army has made great advancements in Marib against the Houthis, Al Arabiya cited an official from the army as saying.
Fighters from the Iran-backed Houthi militia fled to areas bordering Marib, leaving their weapons behind, the source said.
The Iran-backed group has faced 'unprecedented' losses in Marib, according to the Yemeni army.
Clashes between the forces belonging to Yemen's internationally-recognized government and the Iran-backed Houthi militia have intensified in Marib in recent weeks.
Iran has backed the Houthis in their war against the Yemeni government, supplying the group with weapons, such as drones and missiles often used to target civilians.
Marib is the last major northern stronghold for pro-government forces and is home to one of Yemen's largest oil infrastructures.
The offensive in the area would put hundreds of gas and oil fields at risk of falling under the Iran-backed group's control.
The governorate has also been a refuge for hundreds of thousands of displaced people who, for years, have taken shelter there away from the war that was once brewing elsewhere in Yemen.
https://english.alarabiya.net/News/gulf/2021/03/11/Houthi-militia-targets-civilians-with-ballistic-missile-in-Yemen-s-Marib
--------
Sanctions lead to devastating repercussions like those of terrorism, war crimes: Iran's UN envoy
12 March 2021
Iran's Ambassador to the United Nations Majid Takht-Ravanchi has denounced sanctions as inhumane, immoral and illegal, saying their far-reaching, devastating and long-term consequences are as brutal and vicious as terrorism, war crimes and crimes against humanity.
"In order to combat food insecurity in the world, it is necessary to lift siege and sanctions and foster international cooperation," Takht-Ravanchi said via videoconference to a meeting of the UN Security Council on Thursday that discussed how conflict and food security are interlinked.
"The current number of people at risk of hunger and food insecurity in the world are alarming, which has made it essential and urgent to deal with this challenge," he added.
Takht-Ravanchi then highlighted the right to food is the fundamental right of everyone to be free from hunger and malnutrition under any circumstances, whether in peace or war.
The senior Iranian diplomat stressed that full realization of such a right requires a comprehensive approach and effective measures, both at national and international levels, which would particularly address all root causes of food insecurity and ensure secure international cooperation.
Takht-Ravanchi also underlined the need for closer cooperation among the General Assembly, the United Nations Economic and Social Council (ECOSOC), as well as the relevant institutions and agencies of the world body to that goal.
"To combat the acute food insecurity caused by conflicts, the Security Council needs to oblige all parties to adhere to these principles, and at the same time the Council itself must not, under any circumstances, boycott humanitarian trade, especially food and medicine," the Iranian ambassador to the UN said.
"Nothing is more urgent than the immediate lifting of the inhumane siege against the Yemeni people, and removal of the illegal blockade of Gaza," Takht-Ravanchi stated.
He also referred to sanctions as a main reason behind food insecurity, noting that the US anti-Iran bans have prevented Tehran from gaining access to food, medicine as well as medical equipment, and undermined the Islamic Republic's ability to effectively deal with the coronavirus pandemic.
"Countries should not use economic and political coercive tools to put pressure on other governments; and immediate removal of sanctions should be taken into consideration as a key step in tackling food insecurity," Takht-Ravanchi said.
Last October, Iran's High Council for Human Rights said despite US claims that humanitarian affairs are not covered by sanctions, blocking financial transactions between Iran and the world has practically obstructed importation of humanitarian articles and drugs used to treat people with serious diseases.
"As attested to by the American officials' remarks, measures taken by the lawbreaking regime of America have clearly taken aim at the health and lives of [the Iranian] people and are considered 'crime against humanity'," the council said in a statement at the time.
The head of the Iranian Judiciary's High Council for Human Rights also said on October 5 that the body is planning to prosecute 46 American natural and legal persons involved in the imposition of unjust sanctions on the Islamic Republic, which among other things, have prevented the country from importing medications necessary to treat patients with serious diseases.
"We are using all legal means, at domestic and international levels, to counteract these crimes and today, I announce that the names of 46 American natural and legal persons, who have been one way or another involved in imposing unjust and inhumane sanctions on the Iranian nation, have been given to Tehran prosecutor's office" to prosecute them in accordance with a law on countering terrorist measures of the United States, said Ali Baqeri-Kani.
https://www.presstv.com/Detail/2021/03/12/647129/Sanctions-have-repercussions-similar-to-those-from-terrorism-war-crimes-Iran-UN-envoy
--------
North America
US Senate resolution calls to hold Assad regime accountable for war crimes
Joseph Haboush
11 March ,2021
A bipartisan resolution has been submitted by a group of high-ranking senators, calling for a permanent US policy to maintain humanitarian support for the Syrian people while holding the Assad regime accountable for war crimes.
The resolution comes ten years after the Syrian uprising in which thousands of demonstrators took to the streets to demand democratic reforms in a country ruled by the Assad family for decades.
But Syrian President Bashar al-Assad, backed by Russia and Iran, successfully crushed the protests and killed thousands of civilians along the way.
Millions of Syrians have fled, and it is estimated that there are millions more internally displaced.
The US has remained adamant on a political solution based on UN Security Council Resolution 2254, which calls for free and fair elections and a political transition.
So far, Assad, Russia and Iran have not complied with international resolutions. As a result, the US imposed Caesar Act sanctions last year preventing the international community from dealing with the regime and choking off potential reconstruction funds.
The resolution put forth by Senators Bob Menendez and Jim Risch would ensure a US policy would be to support international humanitarian efforts to help civilians, "through support for displaced populations and the promotion of accountability for perpetrators of human rights abuses."
This includes a commitment to "continuing efforts to hold the Assad regime and its Russian and Iranian backers accountable for war crimes and crimes against humanity."
While some countries, including the United Arab Emirates, have criticized the Caesar Act for "making it difficult" to re-engage with Syria, the resolution would support continuing implementing the sanctions regime.
The senators also called for the US to "reinvigorate diplomatic efforts to resolve the conflict" while expanding humanitarian aid to the Syrian.
"For a decade, the world has borne witness to Assad's brazen willingness to kill, torture, gas, and starve his own people in order to maintain his grip on power. The Syrian people have suffered for far too long at the hands of a butcher whose relentless reign of terror continues to be sponsored by his patrons in Tehran and Moscow," Menendez said.
https://english.alarabiya.net/News/middle-east/2021/03/11/Syria-crisis-US-Senate-resolution-calls-to-hold-Assad-regime-accountable-for-war-crimes
--------
Saudi, US ground forces set to launch joint military exercise
Tala Michel Issa
12 March ,2021
The Royal Saudi Land Forces completed all preparations for the launch of a joint exercise with the US ground forces, the country's Ministry of Defense said in a statement on Thursday.
The military exercise – Falcon Claws 3 – is set to begin next week in the northwestern region of Saudi Arabia. Saudi Arabian and US ground forces previously carried out Falcon Claws 2 in December 2020.
The exercise "comes as an extension of the joint exercises between the two friendly countries with the aim of strengthening the harmony of joint military work and cooperation between them," the defense ministry said.
The ministry added that the initiative is aimed at facilitating the exchange of ideas and expertise and building up the Kingdom's combat readiness to face any regional challenges that may arise.
The exercise comes at a time of heightened tensions in the region, with Iran-backed militias increasing their attacks on Saudi Arabia.
https://english.alarabiya.net/News/gulf/2021/03/12/Saudi-US-ground-forces-set-to-launch-joint-military-exercise
--------
US says won't incentivize Iran to join JCPOA talks
12 March 2021
The US once again asserts that it will not offer any "incentives" to prompt Iran to rejoin talks with Washington on "mutual compliance" with a 2015 nuclear agreement it unilaterally left later, insisting that it is Tehran that has to take the first step.
"We will not offer any unilateral gestures or incentives to induce the Iranians to come to the table," State Department spokesman Ned Price told reporters on Thursday, Reuters said.
"If the Iranians are under the impression that, absent any movement on their part to resume full compliance with the [nuclear deal], …we will offer favors or unilateral gestures, well that's a misimpression," he added.
Under his signature "maximum pressure" policy against Iran, former American president Donald Trump withdrew Washington from a landmark nuclear accord between Iran and the P5+1 group of states – the US, the UK, France, Russia, and China plus Germany.
He then restored the economic sanctions that the deal had lifted. The US also began threatening third countries with "secondary sanctions" if they did business with Iran in defiance of the bans.
This is while the deal, officially known as the Joint Comprehensive Plan of Action (JCPOA), has been ratified as a United Nations Security Council resolution, making both the US's departure from the accord and its snapping the sanctions back into place unilateral and illegal.
Iran, in turn, began confronting the sanctions under Leader of the Islamic Revolution Ayatollah Khamenei's Resistive Economy directive.
It also started a number of nuclear countermeasures on the first anniversary of the US's withdrawal in line with its rights under the deal to retaliate for the other side's non-commitment. The Islamic Republic gradually increased its counteractions as Washington and its allies in the deal would continue to violate their JCPOA obligations.
Price suggested that Washington could consider step-by-step resumption of each party's nuclear commitments only after Tehran returned to the negotiation table.
"If and only if Tehran comes to the negotiating table, would we be in a position, would we be prepared to discuss proposals that would help push both sides back on that path of mutual compliance to the deal," he said. "Ultimately, that is where we seek to go: compliance for compliance," the spokesman added.
Iran has, on the one hand, underscored that, unlike the US, it was never the party to leave the talks in the first place. On the other, it notes that the JCPOA is a done deal and does not need any renegotiation.
As its definitive stance on the issue, the Islamic Republic also emphasizes that it will only resume its full compliance with the deal once the US lifted all the sanctions, noting that the sanction relief process is Washington's contractual duty and should take place without any preconditions.
https://www.presstv.com/Detail/2021/03/12/647116/Iran-United-States-talks-nuclear
--------
US Far-Right Extremists Making Millions Via Social Media And Cryptocurrency
10 Mar 2021
Dozens of extremist groups and individuals, including some involved in the Capitol attack, have used social media platforms, cryptocurrencies, tax-exempt status and other fundraising tools to rake in about $1.5m in the last year, according to experts.
Two recent studies by groups that track extremist financing, the Global Disinformation Index (GDI) and the Southern Poverty Law Center (SPLC), underscore the growing threat posed by far-right extremists, including those who attacked Congress to stop the certification of the 2020 election results.
The recent studies and testimony delivered to a House committee by representatives from the SPLC and GDI in late February showed that the Oath Keepers, Proud Boys and others with white supremacist and anti-immigrant bias, reaped windfalls via the streaming platform DLive, cryptocurrencies and other fundraising methods.
Megan Squire, a computer science professor at Elon University and a senior fellow at the SPLC, found that from 15 April to early February, 55 extremist individuals and groups used the video streaming platform DLive, which allows cryptocurrency-based donations for content, to pull in just under $866,700.
"The idea that multiple hate groups could raise tens of thousands of dollars a month from bleeding-edge technology and a tiny donor pool should be terrifying, not ho-hum," Squire said in an interview. "This is the canary in the coalmine, and we ignore it at our peril."
In a statement, DLive noted its guidelines prohibit hate speech and inciting violence, and that after the Capitol attack it "indefinitely suspended the accounts of the individuals who used DLive to livestream from the riots," and their access to any "tokens given to them by community members".
According to GDI co-founder Daniel Rogers, 44% of the 73 hate groups he has studied have benefited by securing tax exempt status from the Internal Revenue Service.
In testimony to the House financial services subcommittee on 25 February, Rogers revealed that the Oath Keepers founder Stewart Rhodes last year used a podcast hosted by Mike Adams of Natural News, a conspiracy theorist outlet, to raise funds for a tax-exempt affiliate dubbed Oath Keepers Educational Foundation.
In an interview, Rogers said so many groups that "are trying to overthrow the government" receive tax-exempt status by registering as charitable or social welfare organizations. "There has been a degradation of enforcement at the IRS," he said.
An IRS spokesperson declined to comment based on federal disclosure law, which prohibits discussion of individual cases.
Avenues that extremists have exploited to raise funds are expected to face growing scrutiny with the widening federal investigations of the 6 January attack that so far have resulted in charges against over 300 individuals.
Squire noted in an interview that Nick Fuentes, a leader of the so- called Groyper Army, used DLive to raise almost $94,000 from last April to January (when he was barred from the platform after the attack on the Capitol), and received about $250,000 in bitcoin last December from a mysterious French donor with far-right ties.
Rogers said that at least 24 people charged by the justice department for their roles in the Capitol attack, including eight Proud Boys, have used the Christian crowdfunding site GiveSendGo to raise nearly a quarter of a million dollars to help with legal, medical and travel costs.
Jacob Wells, the chief financial officer of GiveSendGo, noted in a statement that there have been "no campaigns on GiveSendGo raising funds for illegal activities". But Wells said he didn't see any reason "to prohibit people from fundraising for their own legal defense".
More broadly, Rogers said in his House testimony that the tax-exempt status enjoyed by so many extremist groups provides them with "automatic access to a whole spectrum of charity fundraising tools, from Facebook Donations to Amazon Smile". Rogers found that the most common fundraising platform these groups used was Charity Navigator's "Giving Basket" function.
Some former DoJ prosecutors also voice strong concerns that numerous extremist groups have been able to garner tax exempt status from the IRS for years, and said that under Donald Trump's administration the IRS was especially lax.
"Many of the enforcement mechanisms of the IRS have been actively dismantled or simply allowed to wither," said Phillip Halpern, who stepped down last fall as a federal prosecutor after 36 years handling corruption cases in California.
"This has created a dangerous gap in our law enforcement safety network where extremist groups can find shelter," Halpern added. The IRS "which has been largely sidelined due to political interference – will have to play catch-up in any fight against domestic terrorism."
Notwithstanding their fundraising success, experts stress that in recent months and following the Capitol attack, extremists have scrambled to adjust their fundraising given the accelerating investigations.
When a clandestine group or individual "is operating under duress they tend to change their strategies", including fundraising tactics, Squire said in an interview. "They're facing greater scrutiny from both law enforcement and social media platforms."
Squire noted that some extremist groups such as the neo-Nazi Daily Stormer website has recently moved from seeking bitcoin donations to requesting Monero, a cryptocurrency that is extremely hard to trace.
Historically, the growth of extremist activity has been well documented: the SPLC in 2019 reported that the number of avowed white supremacist groups doubled from 2017 to 2019.
Pressures to curb extremist financing are likely to grow as the FBI and DoJ have cast a wide net: on top of the 300-plus individuals from at least 42 states charged thus far for their roles in the Capitol attack, DoJ officials have opened files on some 540 people overall according to CBS news.
The FBI director, Chris Wray, told a Senate committee last week that the FBI viewed the 6 January Capitol attack as "domestic terrorism" and that white supremacists make up the "biggest chunk".
The attorney general nominee Merrick Garland pledged at his confirmation hearings to do "everything in the power of the justice department" to stop domestic terrorism, a project that is likely to involve investigating how extremist groups are bankrolled, say former DoJ prosecutors.
Paul Pelletier, a former acting chief of the DoJ fraud section, suggested in an interview that new legislation will be needed to mount a serious attack on domestic terrorists.
"Curbing the money flows that are used to support domestic terrorism by these extremist groups will require legislation banning material support similar to the laws used with respect to foreign terrorist organizations."
https://www.theguardian.com/world/2021/mar/10/us-far-right-extremists-millions-social-cryptocurrency?utm_source=iterable&utm_medium=email&utm_campaign=2089826_
--------
Turkey blasts US court's parole ruling for diplomat's killer
Merve Aydogan
11.03.2021
Turkey on Thursday "strongly condemned" a US court's decision to release on parole an Armenian national who assassinated a Turkish diplomat in Los Angeles in 1982.
The Los Angeles County Superior Court recently ruled in favor of release of Hampig Sassounian. California Governor Gavin Newsom has said he will not appeal against the decision.
"We strongly condemn this approach that deeply hurts the conscience of the Turkish nation," a Turkish Foreign Ministry statement said.
Despite all the attempts made by the US administration, this "grave decision" was given which is "incompatible with the universal principles of law and the understanding of justice."
Noting that at least 58 Turkish citizens, including 31 diplomats, were martyred by Armenian terror groups, the ministry said: "At a time when hate crimes are on the rise and international solidarity is needed the most, the release of a brutal murderer with political motives harms the spirit of cooperation in the fight against terrorism."
"This murder, which the terrorist Sassounian committed in despicable manner and showed no sign of remorse during his 38-year sentence, will never be forgotten as a crime that represents a sick and distorted ideology," it added.
"On this occasion, we pay tribute to our fallen diplomat Kemal Arikan and all the martyrs who lost their lives in the attacks of Armenian terrorist organizations," the ministry said.
Separately, the Foreign Ministry of Azerbaijan on Twitter paid tribute to assassinated Turkish diplomat Arikan. It said "releasing admitted and unreformed terrorist Sassounian convicted of murdering a diplomat would send a very wrong message and surely harm interests of diplomacy, especially in a state w/one of the world's largest diplomatic corps."
Arikan, Turkey's Consul General in Los Angeles, was martyred on Jan. 28, 1982, by Sassounian and his accomplice Krikor Saliba on behalf of an Armenian terror group. Sassounian was arrested and sentenced to life in prison.
Fugitive terrorist Saliba was claimed to be killed in the Lebanese civil war in 1982.
The vast majority of the attacks on Turkish diplomats and citizens were conducted by ASALA and JCAG terrorist groups.
The assassinations took place in the US, Austria, France, Italy, Spain, Lebanon, Greece, Switzerland, the Netherlands, Canada, Portugal, Iran, and the UK.
https://www.aa.com.tr/en/americas/turkey-blasts-us-court-s-parole-ruling-for-diplomats-killer/2173016
--------
Europe
Russia, Turkey, Qatar jointly making attempt to seek political resolution to Syria's conflict
11 March 2021
Russia, Turkey, and Qatar are making a joint attempt to help find a lasting, political solution to Syria's decade-long conflict, the Turkish foreign minister says.
"Today we launched a new trilateral consultation process," said Turkish Foreign Minister Mevlut Cavusoglu on Thursday, following trilateral talks he had with his Russian and Qatari counterparts Sergei Lavrov and Mohammed bin Abdulrahman Al Thani, respectively.
"Our goal is to discuss how we can contribute to efforts towards a lasting political solution in Syria," Cavusoglu added.
According to Turkey's top diplomat, the three foreign ministers were in full agreement that Syria's conflict, which has killed hundreds of thousands of people and displaced millions more, can only be resolved through diplomacy in accordance with UN resolutions.
The latest agreement between the three countries and their emphasis on a political solution as the only way to end the conflict came as Turkey and Qatar have supported militants seeking the removal of Syrian President Bashar al-Assad from power.
This is while Russia fully supports Assad and has since 2015 significantly helped Damascus, mostly through airstrikes, to seize back territories from foreign-backed militants and Takfiri terrorists.
"I can only welcome Qatar's desire to make its contribution to creating the conditions for overcoming the current tragic situation in Syria," said Lavrov, for his part.
However, he stressed that the three countries were not seeking to replace efforts which Turkey, Russia, and Iran had jointly been making since 2017 to curb fighting and violence in Syria and discuss a political solution.
Lavrov was pointing to the Astana format, which was initiated by Iran, Russia and Turkey to bring the warring sides in Syria together to find a permanent solution to the conflict in the Arab country. The peace process is known as the Astana process because Kazakhstan's capital, Nur-Sultan, formerly called Astana, originally hosted the meetings.
Qatar's top diplomat, for his part, said that they had also discussed mechanisms for distributing humanitarian aid across the entire war-torn Arab country.
"There is a crucial need to lessen the suffering of the Syrians," added Mohammed bin Abdulrahman Al Thani.
However, he defended the reasons that led to the suspension of Syria from the Arab League in 2011, when the foreign-backed militancy broke out in the Arab country.
The Arab League suspended Syria's membership in November 2011, citing alleged crackdown by Damascus on opposition protests. Syria has denounced the move as "illegal and a violation of the organization's charter."
Syria was one of the six founding members of the Arab League in 1945.
In a joint statement released after the conclusion of their talks, the three top diplomats also called on the UN agencies and the World Health Organization to prioritize COVID-19 vaccinations inside the Arab country and urged the United Nations to "enhance" efforts for delivering humanitarian aid.
https://www.presstv.com/Detail/2021/03/11/647090/Syria-Russia-Turkey-Qatar-political-solution-Cavusoglu-Lavrov
--------
Kyrgyzstan parliament approves referendum on new constitution
11 March 2021
Kyrgyzstan's parliament has approved a referendum on a draft constitution that would empower the presidency and allow the country's incumbent leaders to re-run for office.
The parliament voted on Thursday to put the constitutional changes to a referendum on April 11. Only six out of the 100 Kyrgyz lawmakers present voted against it.
The proposed constitutional amendments discard the single presidential term limit introduced in 2010 and would return cabinet-forming powers to the president.
Kyrgyzstan's President Sadyr Japarov on January 10 won a landslide victory in Kyrgyzstan's snap presidential election, which had been triggered by the collapse of the previous government.
Violent anti-government protests that erupted last October had sprung Japarov from jail to the prime minister's chair and culminated in him assuming the interim presidency before he ran for the full role.
Japarov has been pushing for a switch to a presidential form of government, which would grant the president more legislative and executive powers.
The president is widely viewed as the architect behind the changes and is expected to sign off on the referendum law.
Critics have, however, likened the reforms to a power grab and said fresh parliamentary elections should have been held instead of extending the mandate of the old legislature.
Japarov has said he expects parliamentary elections to be held this autumn, a year behind schedule.
Kyrgyzstan is a landlocked country of 6.5 million people with a history of political instability. Over the past years, it has seen the violent overthrow of two presidents, one in 2005 and the other in 2010.
https://www.presstv.com/Detail/2021/03/11/647060/Kyrgyzstan-parliament-approves-referendum-on-new-constitution
--------
UN ready to support Turkey's 'Human Rights Action Plan'
Bayram Altug
12.03.2021
GENEVA
The UN Human Rights Office declared Friday that it is ready to assist Turkey in implementing its recent Human Rights Action Plan.
"We are aware of the adoption of a Human Rights Action Plan earlier this month in Turkey, which channels the renewed commitment of the government to improve the human rights situation in the country," UN High Commissioner for Human Rights (OHCHR) spokeswoman Liz Throssell told Anadolu Agency.
Noting that the OHCHR was not involved in the drafting process of the plan, Throssell underlined that the document should be "read and acted upon in conformity with Turkey's commitments to and obligations under international human rights law."
"We reiterate our continued availability to assist Turkey to uphold international standards, including through an effective implementation of this Action Plan and other judicial reforms," she added.
Turkish President Recep Tayyip Erdogan announced the plan on March 2, unveiling 11 main principles set to be carried out over the course of two years.
It was designed as a "broad-based" plan to strengthen rights protections, individual freedoms, and security, judicial independence, personal privacy, transparency, property rights, as well as protect vulnerable groups and enhance administrative and social awareness on human rights.
https://www.aa.com.tr/en/europe/un-ready-to-support-turkeys-human-rights-action-plan/2173639
--------
US' Khashoggi report 'surprising' but disappoints many: Award-winning journalist
Ahmet Gurhan Kartal
12.03.2021
LONDON
A recently declassified US intelligence report on the 2018 murder of Washington Post journalist Jamal Khashoggi at the Saudi Consulate in Istanbul is "surprising," according to British journalist Jonathan Rugman.
Rugman, a foreign affairs correspondent for Channel 4 and the author of The Killing in the Consulate, a minute-by-minute analysis of the brutal killing, thinks that the report's naming Crown Prince Mohammed bin Salman as the person who ordered the operation ending in Khashoggi's death was unexpected.
"We knew from leaks of CIA findings in 2018 that the Americans believed the crown prince was behind the operation to capture or kill Jamal Khashoggi, but it's still very shocking to see it in black and white," Rugman told Anadolu Agency.
The US intelligence community on Feb. 26 formally blamed the crown prince, also known as MBS, for the grisly murder.
The Director of National Intelligence's (DNI) long-sought unclassified report concluded that the kingdom's de facto ruler "approved" the operation in Istanbul to "capture or kill" Khashoggi.
"The significance of the report is that the Biden administration has taken a very different stance to the Trump administration. The Trump administration said maybe he maybe he wasn't involved," Rugman said.
Then-President Donald Trump downplayed the idea of Saudi involvement and refused to make public the findings of government intelligence analysts, findings only released last month.
"The Biden administration has tried to keep to its election campaign promise to hold the Saudis accountable and specifically the Saudi crown prince," said Rugman.
"Now the Saudi Crown Prince has been held accountable by their report in the sense that it came out and it shames him and embarrasses him and it names him."
While Rugman said the crown prince is not "being properly held accountable in a court of law," he added that he was also "surprised" that "the Americans have gone as far as they have."
"I know a lot of people will be disappointed Americans didn't go further but they have sanctioned 21 individuals, leading members of the hit squad, but they haven't a sanctioned the crown prince himself," he said.
"The calculation is clearly being made that the crown prince is too important to be individually sanctioned, but he's not welcome in America. He's not likely to be welcomed in America for a long time to come."
Rugman also described the report as a disappointment to Agnes Callamard, the UN rapporteur on summary executions, as well as Khashoggi's fiancée Hatice Cengiz, adding that he believes that the US tried to strike a balance in the report, as they may need to do business with the crown prince in the future as he is in line for the Saudi throne.
Rugman's book
Rugman, a BAFTA-winning journalist who worked in Turkey in the 1990s, compiled the findings of his coverage of the Khashoggi murder in a book published in October 2019, the first anniversary of the killing.
Rugman's book gives detailed background of the "heinous" crime and looks at the deep, longstanding links of US administrations with the Saudi Kingdom.
On Oct, 2, 2018, Khashoggi, a Saudi national and legal resident of the US, was killed and dismembered by a group of Saudi operatives shortly after he entered the consulate in Istanbul to get a marriage certificate.
After weeks of denying involvement, Saudi Arabia admitted that Khashoggi had been killed at the consulate but claimed that the royal family had no prior knowledge of a plot to murder him.
According to reports by the United Nations and other independent organizations, he was murdered and dismembered. Saudi Crown Prince Mohammed bin Salman accepted responsibility for the killing but denied ordering it.
Looking back, Rugman said there was quite a lot of clear evidence of what happened behind closed doors "because the Turkish government leaked some details of the transcripts, what happened in the Saudi Consulate."
"They also leaked to the press the photos and the pictures, the images of the hit squad arriving at the consulate and walking through Istanbul Airport," he added, detailing Turkish government information on the killing released in the days after the grisly murder.
He said that despite seeing pictures of bags being carried by Saudis into the consul's residence, it is not easy to say with certainly what exactly the bags contained.
"Those bags, we have believed to contain the body but it was difficult," he explained.
Overreach by split prince
The British journalist also evaluated the two sides of MBS, who the US report named as the top person behind the murder of Khashoggi, the authority who ordered the killing.
"I think there's something rough and uneducated about the crown prince … He has this big, bearded, charismatic look. He looks like a sort of throwback to the tribal chieftains of the old Saudi Kingdom.
"But he also has this modernizing streak," he said, referring to such moves as opening movie theaters in the Gulf country and granting women the right to drive.
"He's granted women the right to drive but put in prison those who campaigned for that right, so there's a strange split there."
Pointing out that Saudi Arabia is still an absolute monarchy, Rugman warned that this means privileges given to people could also be taken away.
"So you give women the right to drive but you imprison those who campaign for it. Because that comes from the prince, from the king, doesn't come from the people," he said, adding that the country has "no political parties, no trade unions."
Speaking of the crown prince, he said: "In his hurry to transform Saudi Arabia, he has overreached himself."
"He has taken on too much power. He has stifled rivals. He has arrested them. They've been accused of treason. We had that incident where hundreds of princes were rounded up in the Ritz-Carlton Hotel," he said, referring to a November 2017 political purge.
"We have the [November 2017] alleged kidnapping of the Lebanese prime minister. We have the [March 2015] launching of the war in Yemen, which was supposed to last few months and it's been going on for years.
"So there's a pattern of reckless behavior accompanied by a desire to change, but almost an inability to be able to do both."
https://www.aa.com.tr/en/europe/us-khashoggi-report-surprising-but-disappoints-many-award-winning-journalist/2173502
--------
UN: Pursuit of justice should step up in Syria
Peter Kenny
11.03.2021
GENEVA
Repeated attempts to refer Syria to the International Criminal Court have stalled, but it is vital that national courts continue to conduct fair, public and transparent trials, the UN human rights chief said Thursday.
In a report to the UN Human Rights Council, Michelle Bachelet said that trials for serious crimes should be complemented by initiatives that further realize victims' rights.
These included the "rights to truth and reparation."
Bachelet noted that Syria is about to enter its 11th year of violence and conflict, and the pursuit of truth, justice, and reparations for victims must not only continue but be stepped up.
"The violence that spiraled into an armed conflict has left hundreds of thousands of Syrians dead, millions displaced both within and outside the country, and many Syrian families struggling to establish the truth of what happened to their loved ones," said Bachelet.
She said the recent conviction of a former Syrian intelligence officer by a German trial court for aiding and abetting crimes against humanity was "an important step forward" on the path to justice.
That decision follows a series of criminal judgments in recent years in national courts outside Syria, addressing severe criminality cases committed over the last decade of conflict.
The International, Impartial and Independent Mechanism established by the General Assembly and the Commission of Inquiry on Syria launched by the Human Rights Council have also played a key role in bolstering such proceedings.
"There have been repeated attempts to refer the situation in Syria to the International Criminal Court, but with such efforts stalled, it remains vital that national courts continue to conduct fair, public, and transparent trials and reduce the accountability gap for such serious crimes," said Bachelet.
Missing persons
She went on to say that missing and disappeared people, already a severe concern in Syria before 2011, must be addressed.
Given the UN Human Rights Office's lack of access to Syria, she said it is difficult to establish with any precision the number of missing men, women, and children, but the figure is estimated to be in the tens of thousands.
The missing include those forcibly disappeared and detained in official and makeshift facilities run by government forces across Syria and victims of detention and enforced disappearances by non-state armed groups.
"Enforced disappearance is a continuous crime that has an appalling impact on the individual whose fate is unknown and on their family, causing continuing trauma for them and severely curtailing the enjoyment of their human rights," the UN human rights chief said.
Bachelet joined the call to create an independent mechanism with an international mandate to clarify the fate and whereabouts of missing people, identify human remains, and provide support to their families.
The rights chief further called on the Syrian regime to disclose all places of detention, official and unofficial, provide complete lists of names and ensure formal registration of all those held in these facilities.
Those detained should be allowed to communicate with their families.
"If an individual has died, then their body or remains should be returned to their family, in accordance with international law and in full respect of the deceased and their loved ones," she said.
https://www.aa.com.tr/en/europe/un-pursuit-of-justice-should-step-up-in-syria-/2173183
--------
European, Arab top diplomats discuss Middle East
Busra Nur Cakmak
11.03.2021
Top diplomats from France, Germany, Egypt and Jordan on Thursday discussed possible peace efforts for Palestine and Israel ahead of the elections.
In a joint news conference in Paris, French Foreign Minister Jean-Yves Le Drian said they will meet with Israeli and Palestinian officials to discuss trust-building efforts.
"We have a very special timetable ahead of us. Because there are elections planned in Israel and also in Palestine," said Le Drian.
For his part, German Foreign Minister Heiko Mass said that the new US administration's support for a two-state solution is a positive step.
"The new US administration has also stated that it is in favor of a two-state solution. It has also stated that it will stand against anything that prevents a two-state solution from existing and this is, again, a very positive message and signal that we have been getting there," said Mass.
"It is important to restore trust. We have to take steps and measures to achieve this," he added.
Egyptian top diplomat Sameh Hassan Shoukry said it is important to resume peace talks especially for Palestinian people "who deserve to have the rights restored or have been cruelly deprived of these rights."
Jordan's Foreign Minister Ayman Safadi also said: "Positive signals from the new administration in the United States, show us that we will have good relations with the US administration as well, and work in this direction."
"Peace will not be possible, unless the illegal steps taken by Israel are not corrected. This is particularly the question of building of new settlements or confiscation of land and destruction of existing structures," he added.
https://www.aa.com.tr/en/europe/european-arab-top-diplomats-discuss-middle-east/2173155
--------
URL: https://www.newageislam.com/islamic-world-news/pakistan-sc-judge-justice-qazi/d/124525
New Age Islam, Islam Online, Islamic Website, African Muslim News, Arab World News, South Asia News, Indian Muslim News, World Muslim News, Women in Islam, Islamic Feminism, Arab Women, Women In Arab, Islamophobia in America, Muslim Women in West,Islam Women and Feminism