New Age Islam News Bureau
2 Sept 2015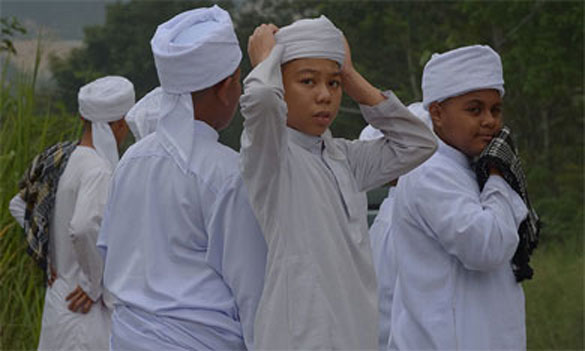 AIUMB chief Kichhowchhawi said Modi is a ruler 'who got the seat without our votes and is still listening to us'
------
Pakistan
• Pakistan Says 'Almost All' Uighur Militants Eliminated
• Fifteen 'Terrorists' Killed In Tirah Airstrikes
• Taliban Suicide Strike Kills Four In Khyber
• Three policemen killed in Peshawar ambush
• Rangers arrested top SSGC official for funding militants, committee told
• Rangers conducting covert ops in Punjab
• PM orders backdoor talks with PPP after Zardari's outburst
• Sufi musical night mesmerises audience
----------
South Asia
• 2 Taliban Militants Kill 14 of Their Comrades in Kunduz Province
• Taliban Execute Three Civilians on Espionage Charges in Helmand
• Bangladesh Charges Five Islamists over Blogger's Murder
• Second clash reported within Taliban over selection of new Supreme Leader
• Austrian police rescue 24 Afghan migrants locked inside a truck
• Taslima: Hasina govt works hand in hand with fanatics
• Bangladesh, Myanmar agree to work on reducing tension at border
----------
Arab World
• Iraqi Air Strikes Kill Dozens of ISIL Terrorists
• Syrian Rebels Say Kill Foreign ISIS Fighters in Undercover Strike
• Army Destroys Takfiri Terrorists' Hideouts in Hama
• Syrian Army, Hezbollah Free Zabadani
• Saudi forum smoothes way for US investors in Kingdom
• Kuwait charges 26 suspects over weapons cache, alleges Iran link
• Eighteen Turks kidnapped in Baghdad 'by masked men'
• UAE embraces a tolerant view of the world
• Six new MERS cases in Saudi Arabia, two deaths in 48 hours
• Eleven migrants drown heading to Greek island as govt holds talks
----------
India
• Modi Does Not Look at Everything with an Eye on Votes, Says ALL Indian Ulema and Mashaikh Board
• How the Father of Indian N-Bomb Stalled Strike on Pak Nuclear Sites
• Mohammad Naved Yakub, Three Other Terrorists Were Seen Off By Top Let Men at LoC
• 'Why the Indian state must listen carefully to Vice President Hamid Ansari'
• In Pak, Naved earned 10k a month before turning Jihadi
• India, Pakistan must use dialogue to stop bloodshed, says NCP
----------
Africa
• Libya Bans Yemenis, Iranians and Pakistanis from Entry
• Benghazi Homemade Bomb Kills Libyan Special Forces
• Nigeria army recaptures north-eastern town from Boko Haram
• Militants attack African Union base in Somalia
-----------
North America
• 9/11 Used as Pretext to Wage War against Muslims – US Scholar
• More Than Half of Republican Voters Think Obama Is a Muslim
• Muslims Gather in Chicago for ISNA Convention
• Interfaith leaders call on Scott Walker to address his comments on Muslims
• Living Islam in the West: Is it Easy?
-----------
Mideast
• Iran: Bashar Assad Part of Political Solution to Syrian Crisis
• Gaza Could Be 'Uninhabitable' By 2020: UN
• Turkish Police Raid Conglomerate with Close Links to Cleric Gulen
• Saudi-led strikes target Houthis at air base in Sanaa
• Commander: Iran Continues Military Enhancement until Collapse of Israel
• British Speaker Calls for Transferring Technology from Iran
• Syria parliament speaker lauds Iran's backing
----------
Southeast Asia
• YouTube Removes Alleged ISIS Video Threatening To Kill Maldives President and VP
• A nation's battle for a distinct Islamic identity – Gwenael Njoto-Feillard
• Main Suspect in Bangkok Bombing Arrested, Thai Prime Minister Says
-----------
Europe
• Belgium Gets First Islamic Secondary School
• Austrians Help Desperate Syrian Refugees
• Muslim graves attacked in Denmark
• "Russia has begun intervention in Syria," says Israeli site
• Russian Muslims suffer from shortage of mosques
Compiled by New Age Islam News Bureau
URL: https://www.newageislam.com/islamic-world-news/new-age-islam-news-bureau/pakistan-says-'almost-all'-uighur-militants-eliminated/d/104455
-----------
Pakistan
Pakistan says "almost all" Uighur militants eliminated
Sep 2, 2015
BEIJING: Almost all members of the Uighur militant group the East Turkestan Islamic Movement (ETIM) have been eliminated from Pakistan, President Mamnoon Hussain said on Wednesday during a visit to Beijing.
China blames violent unrest in its far western region of Xinjiang on separatist groups like ETIM, who it says want to set up an independent state called East Turkestan and have bases in countries like Pakistan and Afghanistan.
Many foreign experts, however, have questioned whether ETIM exists as the coherent group China claims it is.
Also read: China asks US to help fight Muslim militants in Xinjiang region
Meeting Chinese President Xi Jinping in the Great Hall of the People, President Mamnoon said Operation Zarb-i-Azb "has been successful in eradicating the terrorism from our country".
"It has also been very helpful in eliminating the ETIM element from our country and I think almost all the ETIM people in our country have been eliminated. Maybe, if they are there, there should be very few," Hussain said.
Pakistan and China reiterated their commitment to the completion of China-Pakistan Economic Corridor projects in a timely manner.
President Mamnoon said special measures have been taken for the security of Chinese nationals in Pakistan, Radio Pakistan reported.
China and Pakistan are "iron brothers" and always help each other "with great zeal", he added. The president is in China to attend a military parade marking the 70th end of World War Two in Asia.
Also read: President Mamnoon leaves for China to attend military parade
Hundreds have died in violence in Xinjiang in the past few years, blamed by Beijing on the militants. Rights groups say the real cause of the unrest is Chinese restrictions on the Islamic faith and culture of the Uighur people who call the region home.
China says ETIM recruits Uighurs who have gone to Turkey and trains them with extremist groups in Syria and Iraq, with the intent of returning to Xinjiang to wage holy war.
During President Xi's visit to Pakistan in April, Pakistani and Chinese officials signed a series of more than 50 accords to inaugurate the China-Pakistan Economic Corridor, which will create a network of roads, railways and pipelines linking China's restive west to the Arabian Sea through Pakistan.
The project is part of Beijing's "Belt and Road" plan to expand its trade and transport footprint across Central and South Asia. It will give China easier access to Middle Eastern oil via the deepwater port of Gwadar.
Then there have been security concerns over much of the plan, which relies on developing Gwadar — control of which was passed to a Chinese company in 2013.
Take a look: Security fears for China-Pakistan corridor as Xi ends visit
The port lies near the mouth of the Gulf of Oman, east of the Strait of Hormuz through which much of the Middle East's crude production passes.
But linking Gwadar to the rest of Pakistan and on to the western Chinese city of Kashgar, 3,000 kilometres away, would involve major infrastructure work in Balochistan. This is one of Pakistan's most unstable provinces and has been dogged for over a decade by a bloody separatist insurgency.
Ethnic Baloch rebels, who oppose Gwadar's development while the province is not independent, have in the past blown up numerous gas pipelines and trains and attacked Chinese engineers.
Earlier in April, the army formally announced the creation of a 10,000-man strong special force for protecting the development projects to be carried out under CPEC and the Chinese workers associated with them.
http://www.dawn.com/news/1204443/pakistan-says-almost-all-uighur-militants-eliminated
----------
Fifteen 'terrorists' killed in Tirah airstrikes
ALI AKBAR
Sep 2, 2015
PESHAWAR: At least fifteen suspected terrorists were killed and eight others injured in Khyber Agency airstrikes on Wednesday.
Security sources say Pakistan Air Force (PAF) jets targeted the suspected hideouts of 'militants' in the Tirah Valley area of Khyber Tribal Agency. Two 'militant hideouts' were destroyed in the aerial operation.
The details could not be independently verified as the access of media personnel is severely restricted in the region.
Earlier this week, an attempted suicide attack on the Political Agent office in Khyber Agency's Jamrud area left four people ─ including two Khasadar Levies men ─ dead and 56 others injured.
Tirah Valley lies astride the Pak-Afghan border sandwiched between the famous Tora Bora mountains and the plains of Bara which connects with the provincial capital, thus giving it a unique strategic position. Militant strongholds in Tirah Valley were targeted by Operation Khyber-II which concluded earlier in June.
However, officials have said questions remained whether the military gains in the plains of Bara and upper reaches of Tirah valley could be sustained over a long period in the absence of administrative and auxiliary support systems.
http://www.dawn.com/news/1204455/fifteen-terrorists-killed-in-tirah-airstrikes
----------
Taliban suicide strike kills four in Khyber
September 02, 2015
PESHAWAR - A suicide bomber killed at least four people, including a lawman, and wounded dozens on Tuesday in northwest tribal belt of the country, officials said.
Each of two allied militant groups, the Pakistani Taliban and Lashkar-e-Islam, claimed responsibility for the attack in the Khyber Agency near the Afghan border, where the military has been battling them since last October.
The attack targeted a paramilitary vehicle outside a government compound in the Jamrud area of the region, official Shaukatullah Afridi told Reuters, a foreign news agency.
"I had just entered the office and sat on my chair when I heard a huge blast," said Afridi who was metres away from the blast,
"It seemed as if the whole building had collapsed."
Afridi's office is on the road leading from the city of Peshawar, through the Khyber Pass, to the Afghan border.
The security men were on way to perform their duties to escort anti-polio teams working in Wazirdand area of Jamrud when the blast took place, another official said on anonymity.
Pakistan is one of only three countries where polio remains endemic. Attempts to eradicate it have been badly hit by militant attacks on immunisation teams that have claimed dozens of lives so far. The militants claim the polio vaccination drive is a front for espionage or a conspiracy to "sterilise Muslims".
At least 42 wounded people were taken to hospital in Peshawar, about 20 km (12 miles) to the east, hospital doctor Noor Wazir said, adding the death toll could rise.
Three of the deceased were named as Khasadar Imran, Zer Akbar from Koki Khel tribe and Rahat Shah. Casualty figures could not be verified indecently as access to the area has been strictly controlled.
The Pakistani Taliban are allied with the Afghan Taliban and fighting Pakistani government forces for establishing strict 'Islamist' rule. Representatives of both the Pakistani Taliban and Lashkar-e-Islam claimed to have carried out the attack.
Pakistani Taliban spokesman Muhammad Khorasani said in a telephone call the attack was revenge for government operations against them.
Lashkar-e-Islam spokesman Salahuddin Ayubi also telephoned Reuters, claiming that his group had carried out the attack.
Following the Tuesday terror strike, security in Peshawar city and adjacent areas was augmented.
Police were directed to keep vigilant watch at all entry points leading to the city from Khyber Agency.
Personnel of security forces and police are jointly patrolling important checkpoints around Khyber Agency.
Meanwhile, the KP governor sought a detail report on the blast and directed political administration to speed up the investigation. He condemned the attack and expressed the resolve to continue with war on terrorism. He also expressed heartfelt sympathies with bereaved families and directed hospital authorities to ensure best possible treatment for the injured. He also visited the hospital and enquired after the wounded.
Hundreds of militants have been killed in ground fighting and air strikes, the military says. Some soldiers have also been killed.
Hundreds of militants are said to have taken refuge in Khyber after fleeing a military offensive against their stronghold of North Waziristan, along the Afghan border to the south, that began in June last year. At their height, the Pakistani Taliban controlled swathes of territory in the northwest, but they have been beaten back by repeated military operations since 2009.
They now operate in smaller pockets in ethnic Pashtun areas near the Afghan border, from where they launch bombings and other attacks on Pakistani forces and other targets.
The attack came a couple of days after a top official of US acknowledged Pakistan's sacrifices in war against terrorism and promising it an enduring relationship during her visit to Pakistan. US National Security Adviser Dr Susan Rice led a delegation to Islamabad and held meetings with Prime Minister Nawaz Sharif, Army Chief General Raheel Sharif and her Pakistani counterpart Sartaj Aziz.
http://nation.com.pk/national/02-Sep-2015/taliban-suicide-strike-kills-four-in-khyber
----------
Three policemen killed in Peshawar ambush
ALI AKBAR
Sep 2, 2015
PESHAWAR: At least three policemen were shot dead and six others were injured in an attack by suspected militants on a police vehicle in Peshawar's Urmarh area on Wednesday.
Senior Superintendent of Police (SSP) Operations Mian Saeed told DawnNews that a contingent of police was carrying out a search operation in Urmarh when militants suddenly opened fire at their van.
Saeed confirmed that three cops were killed and six others sustained injuries in the ambush.
The policemen responded with firing, and the cross-fire lasted for some time, police sources said.
According to SSP Saeed, police have cordoned off the area and a search and strike operation is being carried out.
The SSP said the assailants in the attack were wanted militants.
http://www.dawn.com/news/1204441/three-policemen-killed-in-peshawar-ambush
----------
Rangers arrested top SSGC official for funding militants, committee told
KALBE ALI
Sep 2, 2015
ISLAMABAD: The National Assembly's Standing Committee on Petroleum and Natural Resources was informed on Tuesday that the Rangers had arrested the deputy managing director of the Sui Southern Gas Company in Karachi for his alleged involvement in funding militant groups.
A meeting presided over by the committee's chairman, Bilal Ahmed Virk, was told that three other officials of the company, including the chief financial officer, senior general manger and general manger (projects) were also under Rangers' custody.
Also read: COO of Sui Southern Gas Company in Rangers custody for 90 days
"I have talked to the Rangers director general and assured him of full cooperation in the investigation against SSGC officials. I was told that Shoaib Warsi is accused of financing militant groups," Mr Virk said.
SSGC Managing Director Khalid Rehman informed the committee that Shoaib Warsi was detained by Rangers personnel on August 26 when he was leaving his office.
"Fearing action by the Rangers, another eight senior officials have gone underground and now I am the only senior manager left in the company," Mr Rehman said.
He declined to name the militant group or share with members of the committee details of alleged links of Shoaib Warsi with the group.
Petroleum Minister Shahid Khaqan Abbasi informed the committee that a ban was imposed on new commercial and industrial gas connections in 2011 because there was a severe gas shortage in Punjab.
"But now we are planning to move the Council of Common Interests to get the ban lifted because thousands of applications for gas connections are pending with the Sui Northern Gas Pipelines Limited. It is a constitutional right of every Pakistani to have access to gas," he said.
The minister said the previous government had agreed that the province producing the natural resource had the first right over it, but there were certain fallouts.
The committee was informed that domestic consumers were not getting gas in Punjab, but a large number of industrial units were using gas for power generation because it was cheaper than electricity produced by furnace oil.
The committee discussed the issue of massive gas theft in Karak area and SNGPL officials said that there was an illegal network of 1,600km pipeline in the area.
The DIG Police, Khyber Pakhtunkhwa, said 139 cases had been registered in Kohat and Karak on complaints of SNGPL, but the court dismissed 22 of them because the company did not pursue them.
The meeting was informed that 1,800 new applications had been received in the Karak area, but no-one was ready to deposit the required fee.
Member of the committee and former chief minister of KP, Akram Durrani, said the provincial government had collected Rs27 billion from Kohat, Karak and Hangu as gas royalty, but it did not want to invest Rs3bn to lay pipelines in the areas.
The chairman of the committee decided that the matter would be taken up with the KP chief minister in the next meeting.
http://www.dawn.com/news/1204375/rangers-arrested-top-ssgc-official-for-funding-militants-committee-told
----------
Rangers conducting covert ops in Punjab
September 02, 2015
ISLAMABAD - Punjab Rangers have started covert operations against banned organisations in Punjab, the army chief informed the prime minister Tuesday in meeting where they also agreed to continue Karachi operation against criminals and their financers.
Army Chief General Raheel Sharif called on Prime Minister Nawaz Sharif at PM House and they also discussed Indian aggression at Kashmir and Sialkot de facto borders. The army chief also informed the PM on status of military operation in north-western tribal areas.
"As part of internal security measures, the ongoing phase of Karachi operation, 'Pur Amn Balochistan' and law and order situation in Punjab following the killing of provincial home minister Shuja Khanzada came under discussion between the two," the website of a local newspaper quoted sources as saying.
While the premier and army chief agreed that the modus operandi of sectarian outfits operating in Punjab is different from Taliban, General Raheel said Punjab Rangers have started undercover operations in Punjab against terrorists under the national action plan (NAP), the source added.
Situation in Punjab has been much better in last few years. The security in the province has particularly improved after Zarb-e-Azb operation against terrorists in North Waziristan and Khyber Agencies. However, experts believe there are hundreds of sleeping cells of terrorist and sectarian organisations that could only be neutralised through a proactive approach. The army chief has said a number of times that no terrorist of any kind and brand will be spared anywhere in the country.
Though there was no official word on the meeting from prime minister's media section but sources in the government confirmed to The Nation that the two Sharifs discussed the Rangers' operation in Karachi and the arrest of some political figures in connection with their alleged linkage with terrorism.
Sources further said that the two leaders agreed to continue the operation till the elimination of the last criminal in the city and not to accept any pressure in this regard. They agreed that the financial base of miscreants would be destroyed to free the country's economic hub from the clutches of terrorists and supporters of anti-state elements.
They regretted casting doubts on the impartiality of the authorities by certain elements, noting that the operation in port city was launched with the support and approval of all the stakeholders. Prime Minister Nawaz Sharif however said his government was ready to address the concerns of any political stakeholder provided they come up with something concrete to substantiate their point.
The army chief also apprised the premier of the progress in operation Zarb-i-Azb in North Waziristan tribal region, which has entered its decisive phase. He informed the Premier that the ground offensive in Shawal Valley would be completed in a month or so and before the coming winter things would be normal there.
They agreed that the resettlement and rehabilitation of the Waziristan's displaced people would be completed before coming winter.
As for the unprovoked firing on LoC and Working Boundary, the meeting decided that Islamabad would raise the issue at all available forums and expose real face of India.
The army chief also apprised the PM about his recent meetings with foreign dignitaries, especially US NSA Susan Rice and Special Assistant to President Obama for South Asian Affairs Dr Peter Lavoy.
Although Rice met both PM and army chief, the delegation led by Lavoy held a meeting with only General Raheel. "During the meeting, the Afghan reconciliation process was discussed comprehensively," the sources said. "General Raheel informed PM Nawaz about the roadmap for the resumption of (Afghan) reconciliation process which was agreed at the meeting between army chief and US delegation."
http://nation.com.pk/national/02-Sep-2015/rangers-conducting-covert-ops-in-punjab
----------
PM orders backdoor talks with PPP after Zardari's outburst
September 01, 2015,
Islamabad: A day after former President Asif Ali Zardari's outburst against the ruling Pakistan Muslim League-Nawaz (PML-N) government, Prime Minister Nawaz Sharif today directed his senior party leaders to hold backdoor talks with the PPP.
According to well-placed sources, Prime Minister Sharif is concerned about Zardari's tirade following arrest of Dr. Asim Hussain and the issuance of arrest warrant against former Prime Minister Yousuf Raza Gilani and former federal minister Amin Fahim.
Reacting to the new political development, the prime minister has assigned the task of placating the former president to his most trusted men, Finance Minister Ishaq Dar and Information Minister Pervaiz Rashid.
Full report at:
http://nation.com.pk/national/01-Sep-2015/pm-orders-backdoor-talks-with-ppp-after-zardari-s-outburst
----------
Sufi musical night mesmerises audience
September 02, 2015
Rawalpindi - A Sufi musical night mesmerised the audience of twin cities at Rawalpindi Arts Council yesterday. The Sufi musical night was arranged by Rafi Peer Theatre Workshop in collaboration with Rawalpindi Arts Council (RAC) in connection with National Action Plan. Renowned singers, who performed included Wahdat Rameez, Saeen Muhammad Ali, Shaukat Dholia and Mian Miri Qawwal.
The evening commenced with Wahdat Rameez's performance. He mesmerised the audience through well-known pieces 'Meda Ishq vi Tun', 'Sanwal mor moharan' and Chhap talak sab.' This followed Saeen Muhammad Ali's performance on his 'Ektara' who brought alive the magic of the traditional pieces of music with 'Key Jana mae kaon', Ni Mae Kamli Yar Di Kamli', 'Allah Ho, Allah Ho' and 'Mast Qalandar.'
Full report at:
http://nation.com.pk/islamabad/02-Sep-2015/sufi-musical-night-mesmerises-audience
----------
South Asia
2 Taliban militants kill 14 of their comrades in Kunduz province
Sep 02 2015
In an apparent insider attack, two Taliban militants have shot dead fourteen of their comrades in northern Kunduz province of Afghanistan.
According to local government officials, the incident took place late on Monday night in Imam Sahib district.
Provincial police spokesman Syed Sarwar Husaini said the two Taliban militants surrendered to the security forces after killing their comrades.
Hussaini further added that the gunmen also handed over weapons belonging to the slian militants.
The main motive behind the incident has not been ascertained so far with the Taliban group yet to comment regarding the incident.
Kunduz is among the relatively volatile provinces in northern Afghanistan where anti-government armed militant groups are actively operting and frequently carry out insurgency activities.
This is the first of its kind attack carried out by the Taliban militants on their comrades which comes amid growing rift among the Taliban leadership regarding the appointment of Mullah Akhtar Mansoor as the new Taliban group leader.
Full report at:
http://www.khaama.com/2-taliban-militants-kill-14-of-their-comrades-in-kunduz-province-9613
----------
Taliban execute three civilians on espionage charges in Helmand
Sep 02 2015
Taliban militants executed three civilians in restive Hemand province after accusing them of spying for the government on Tuesday morning.
Shah Mahmood, spokesman for the police headquarters of Helmand province said that Taliban have shot dead three villagers in Mirmandab area of Girishk District.
He said Taliban first shot dead these people and later hanged their bodies.
According the police spokesman, Taliban accused these villagers of providing information to government about the two vehicles which were targeted in an airstrike.
Full report at:
http://www.khaama.com/taliban-execute-three-civilians-in-helmand-3858
----------
Bangladesh charges five Islamists over blogger's murder
Sep 2, 2015
DHAKA: Bangladesh police Tuesday charged five suspected Islamist militants for the murder of an atheist blogger, one of four secular writers hacked to death this year for writing against fundamentalists.
Police brought the charges ─ the first in any of the four murders this year ─ in a Dhaka magistrates court, which will now decide whether to open a trial or order further investigations.
"We've submitted a charge sheet against five people for the murder of blogger Washiqur Rahman. The five were charged with murder," Dhaka police spokesman Muntashirul Islam told AFP.
"They include an organiser of the Ansarullah Bangla Team (ABT) and four others who are its supporters," he said, referring to a banned local Islamist militant group which police have blamed in all four murders.
Washiqur Rahman, 27, an atheist blogger who wrote under a pen name on Facebook against religious fundamentalism ─ especially Islam and Islamist radicals ─ was killed near his home in Dhaka in March.
Know more: Another blogger hacked to death in Bangladesh: police
Two of the suspects, students of a madrasa, were tackled by local transgenders ─ known as "hijras" in the sub-continent ─ as they tried to flee the scene. They held them until police made arrests.
Full report at:
http://www.dawn.com/news/1204241/bangladesh-charges-five-islamists-over-bloggers-murder
----------
Second clash reported within Taliban over selection of new Supreme Leader
Sep 02 2015
A heavy clash between two groups Taliban has left five killed in western Herat province, a local Taliban commander told BBC.
Haidari who identifies himself as a Taliban commander in Shindand District say that he opposes Mullah Akhtar Mohammad Mansour as his leader.
He said armed men loyal to Mullah Mansour have fought with his men leaving five fighters killed from both sides. Haidari further said that three of those killed were his men and the two others were from the opposite side.
This is the second incident of infighting within the Taliban group this week. The infighting among Taliban started in the aftermath of the the announcement of new Supreme Leader Mullah Akhtar Mohammad Mansour. He was announced at the end of July after Mullah Mohammad Omar's death was confirmed.
The first clash in this week took place in southern Zabul province that also left five militants killed from both sides.
Full report at:
http://www.khaama.com/second-clash-reported-within-taliban-over-selection-of-new-supreme-leader-3859
----------
Austrian police rescue 24 Afghan migrants locked inside a truck
By ZABIHULLAH MOOSAKHAIL
Sep 02 2015
Police in Vienna, capital of Austria, have rescued 24 Afghan migrants who were locked in a truck. Austrian officials said on Tuesday the men aged 16 to 20 were hiding in an air-tight compartment and risked suffocation.
Police told reporters that the sliding of the door was welded shut and the tailgate had been locked leaving the men in a very dangerous situation.
"It was like a rolling prison cell … they were crammed in, sitting and standing on top of each other
"They would not have made it too much further." Thomas Keiblinger, a Vienna police spokesman told Reuters news agency.
Police also said that the driver of the truck fled as police officers approached but he was later arrested. Initial investigation reveals that the truck had come from Hungary.
This comes days after 71 migrants were found dead inside an abandoned truck. Forensic team believed the Syrian migrants had died of suffocation.
Full report at:
http://www.khaama.com/austrian-police-rescue-24-afghan-migrants-locked-inside-a-truck-3857
----------
Taslima: Hasina govt works hand in hand with fanatics
september 2, 2015
Bangladeshi writer-in-exile Taslima Nasreen has criticised the Sheikh Hasina led Awami League government for its "inactivity and failure to bring to book" the murderers of four bloggers.
Vented their frustration over the recent slaying of four Bangladeshi bloggers, Taslima said: "The Sheikh Hasina government was silent and the prime minister has not taken any action against the killers."
"In fact, they work hand in hand with the extremists."
In an interview to IANS, Taslima, who was forced to leave Bangladesh in 1994 when extremists threatened to kill her for criticising Islam, predicted that Bangladesh was soon going to be another Pakistan as many ruling party leaders are religious extremists.
Referring to the killings of four Bangladeshi bloggers this year, she said:"The secular bloggers Avijit, Ananta, Babu and Neel were killed in Bangladesh because they spoke against religion and they were atheists."
She said: "The freethinkers and atheists are already fleeing the country. There is no democracy and there are many Islamic fundamentalists in the government and in the ruling party."
Maintaining that Islamic fundamentalism was a bigger threat, Nasrin blamed Islam for the violence. "Islam tells people to kill non-believers. However, Hindu religious texts like the (Bhagwad) Gita call for peace," she said.
Read more: Taslima: Don't call me Muslim, I am an atheist
The author, who created much controversy by her writings, has also observed that Indian fanatics are taking a cue from Bangladeshi extremists.
Drawing parallels between the brutal killings of a number of bloggers in Bangladesh and the murder of Karnataka writer and rationalist MM Kalburgi, she said: "Bangladeshi extremists kill writers who criticise religion. Indian extremists do the same."
She questioned that whether the "Indian extremists are learning from Bangladeshi extremists?"
Full report at:
http://www.dhakatribune.com/bangladesh/2015/sep/02/taslima-hasina-govt-works-hand-hand-extremists
----------
Bangladesh, Myanmar agree to work on reducing tension at border
Sheikh Shahariar Zaman
september 2, 2015
Myanmar has agreed to work with Bangladesh in managing the frontier to reduce border tension between the countries.
The neighbouring country is also likely to enhance security cooperation at the policy level to combat drugs and human trafficking and increase defence cooperation.
"Bangladesh proposed Myanmar to sign an instrument on security dialogue and cooperation and Myanmar has agreed to it," said a senior official of the Foreign Ministry.
Dhaka sent a draft of the MoU on the security dialogue last September, but Myanmar responded positively just a few days back, he added.
Bangladesh has recently helped Myanmar in its flood relief operations and conducted operations against separatists.
"These activities and prudent diplomacy helped melting the ice, and trust between the two countries are building," he said.
Myanmar will hold a parliamentary election in November. It is expected that the instrument will be signed during any ministerial visit.
The security dialogue deal has wide areas of cooperation including defence cooperation, border security management, terrorism financing, unauthorised crossing, human trafficking, prevention of smuggling, armed robbery and theft on ships, and unintentional maritime boundary crossing by fishermen.
Under the deal, a dialogue can be held at any level determined and agreed by both the parties. It will be held once in a year and if necessary it can be held more than one in a year.
When asked about border conflict, another senior Foreign Ministry official said the incidents occurr because of faulty border management.
"It does not mean that Bangladesh and Myanmar have negative policies towards each other," he said.
Full report at:
http://www.dhakatribune.com/bangladesh/2015/sep/02/bangladesh-myanmar-agree-work-reducing-tension-border
----------
Arab World
Iraqi Air Strikes Kill Dozens of ISIL Terrorists
Sep 02, 2015
The Iraqi warplanes bombed an ISIL position in Southern Mosul, killing 22 Takfiri militants.
The ISIL Takfiri terrorists currently control shrinking swathes of Syria and Iraq. They have threatened all communities, including Shiites, Sunnis, Kurds, Christians, Ezadi Kurds and others, as they continue their atrocities in Iraq.
Senior Iraqi and Syrian officials have blamed Saudi Arabia, Qatar, and some Persian Gulf Arab states for the growing terrorism in their country.
Full report at:
http://english.farsnews.com/newstext.aspx?nn=13940611000610
----------
Syrian rebels say kill foreign ISIS fighters in undercover strike
2 September 2015
A group of Western-backed Syrian insurgents said on Tuesday they had killed three foreign fighters - two Saudis and a Tunisian - with ISIS in an undercover raid into an area under the control of the ultra-radical militants.
An alliance of rebel groups known as Jabhat al-Shamiya (Levant Front) operating in the northern Aleppo countryside near the border with Turkey said the operation was conducted by their clandestine security unit and was the first of its kind.
They pledged further commando strikes in the future.
"We promise Baghdadi (ISIS leader) more of these security operations in the heart of areas under the control of his fighters," a statement by the Levant Front said.
The region has witnessed intensified fighting in Syria's civil war between Western-backed rebels and Islamist insurgents who have gained further ground, threatening the fall of most of the northern countryside of Aleppo into their hands.
ISIS has now encircled the rebel-held town of Marea, 20 km (12 miles) from the Turkish border, an area that also falls within a "safe zone" Turkey said last month it would set up in northern Syria to help keep ISIS at bay.
The militants have since May made advances that threaten a major supply route used by rival rebels into the city of Aleppo.
Full report at:
https://english.alarabiya.net/en/News/middle-east/2015/09/02/Syrian-rebels-say-kill-foreign-ISIS-fighters-in-undercover-strike-.html
----------
Army Destroys Takfiri Terrorists' Hideouts in Hama
Sep 02, 2015
The ISIL terrorists were killed in the Syrian warplanes airstrikes in Qleidin, Daqman and al-Zaqoum areas in the countryside of Hama province.
Tens of terrorists were killed and dozens more injured in the Syrian airstrikes on their positions in Northwestern Hama.
Also in the past 24 hours, the Syrian army strongly rejected media reports that the Southeastern parts of the town of Fuaa have fallen to the hand of the Takfiri terrorists.
The army's rejection came after some pro-West media outlets claimed that the foreign-backed militants had captured key areas in Southeastern Fuaa.
The Syrian military sources said that fierce clashes are going on between the Syrian forces and the terrorist groups in the outskirts of Fuaa and Kafraya towns in Idlib province, but the militants have failed to capture any part of Fuaa.
The militants have pushed popular forces back from a village in Northeast of Fuaa, but heavy clashes are still underway in areas 3km to the East of the city.
Some 3,000 rockets, mortar and artillery shells have been fired at Fuaa and Kafraya in the last 48 hours.
Since July, the Syrian popular defense forces have repeatedly repelled the Takfiri terrorists' attacks on two Fuaa and Kafraya towns, and inflicted heavy damage and casualties on the militants.
The militants of the Jeish al-Fath terrorist group, an alliance of Al-Nusra Front and Ahrar al-Sham militant groups, have repeatedly attempted to sneak into the towns of Kafraya and Fuaa, but the popular forces foiled their attack.
It is now five months that the Jeish al-Fath terrorist group has besieged Kafraya and Fuaa.
The two Shiite-populated towns were part of a ceasefire deal between the Syrian and Hezbollah forces and the militant groups.
Also, at least 64 terrorists of the so-called "Jeish al-Fath" were killed in the Idlib.
On Tuesday, the Syrian air strikes hit positions of terrorists in the towns of al-Sawaghiyeh, Binnish, Kelli, Zardana and in the vicinity of al-Fuaa town in the Northeastern countryside of Idlib.
Full report at:
http://english.farsnews.com/newstext.aspx?nn=13940611000532
----------
Syrian Army, Hezbollah Free Zabadani
Sep 02, 2015
The border city was purged of the terrorists Wednesday midnight after two months of intense clashes, FNA dispatches said.
Hezbollah and the Syrian army gained full victory after the remaining gangs of Ahrar al-Sham and al-Nusra Front terrorists were forced to withdraw from the Southern parts of Zabadani towards al-Mazaya region.
Although the Syrian army and Hezbollah have not yet officially confirmed the freedom of Zabadani, their forces are now fully cleansing the region and disposing the bombs planted in the houses and streets.
Zabadani was freed after a ceasefire plan went into effect three times and the two sides accepted to hold fire in the border region.
According to the ceasefire plan, the two sides would provide safe passage for enemy troops to withdraw from those regions. But the plan failed after one of the main militant groups violated the ceasefire terms last week.
Mohammad Abolqasem, representative of the militant groups in the ceasefire negotiations with the Syrian army in Zabadani, blamed the Ahrar al-Sham Takfiri terrorist group for the failure of ceasefire talks in the Southwestern Syrian city.
"The negotiations were about the safe pullout of the militants from Zabadani in the Western countryside of Damascus in lieu of transfer of civilians from the towns of Kafarya and Fuaa in Idlib to Damascus countryside," Abolqasem told FNA.
He reiterated that Ahrar al-Sham insisted that none of the militants of other terrorist groups fighting against the Damascus government, except Ahrar al-Sham, should be given a safe passage from Zabadani.
"Then the militants of Zabadani, who have appointed me as their spokesman in talks with the Syrian government to finalize the truce agreement, left the negotiations," Abolqasem said.
Hours later, other Arabic-language media also said that the violation of the ceasefire in the countryside of Damascus and Idlib province had been orchestrated by the Turkish government.
Full report at:
http://english.farsnews.com/newstext.aspx?nn=13940611000276
----------
Saudi forum smooths way for US investors in Kingdom
2 September 2015
RIYADH: The Saudi Arabian General Investment Authority (SAGIA) in collaboration with the Council of Saudi Chambers (CSC) and the US-Saudi Business Council will host the high-profile US-Saudi Investment Forum in Washington on Friday to highlight the diverse and exciting investment opportunities in the Kingdom.
The forum will be held on the sidelines of the visit of Custodian of The Two Holy Mosques King Salman to the US beginning Thursday.
"This forum comes well in time after the Saudi government recently announced strategic spending and development initiatives worth hundreds of billions of dollars over the next 10 years," said SAGIA Gov. Abdullatif Al-Othman, here Tuesday.
This business forum, he said, will go a long way in boosting commercial and investment links between the Kingdom and the US.
Al-Othman said that the forum would run alongside an "Invest Saudi" exhibition, featuring a number of Saudi public and private sector organization to showcase opportunities in the health, transport, ICT and mining sectors.
The SAGIA governor himself will lead a series of panels and bilateral meetings between the American and Saudi governmental and business communities to discuss the promising investment opportunities and investment climate the Kingdom has to offer, as well as initiatives to increase the volume of business between the two nations.
The Saudi-US forum will highlight the most important investment opportunities for the two countries and ways of development of relations and cooperation in economic and investment fields. The event will also seek to increase the volume of trade exchange in proportion with the size and potential of the Kingdom and US economies, and demonstrate areas of investments that thrive in the Kingdom in promising sectors.
A SAGIA statement released on this occasion said that these investments opportunities are a chance for the US companies to expand and increase the size of foreign investments in the light of the attractive investment environment in the Kingdom that offers numerous incentives and advantages to the foreign investor.
Full report at:
http://www.arabnews.com/featured/news/800496
----------
Kuwait charges 26 suspects over weapons cache, alleges Iran link
2 September 2015
KUWAIT: Kuwait has charged 26 people with possessing weapons and having contacts with Iran and the Lebanese Hezbollah group in order to plot attacks against the Gulf state.
The case relates to the seizure of an arms cache in Kuwait last month, which local newspapers have reported was smuggled in from Iran.
State news agency KUNA, quoting a statement from the public prosecutor's office, said that 25 of the suspects were Kuwaiti citizens and one was Iranian. Three of the suspects were at large and the others were ordered detained indefinitely.
Ties between Iran and its Gulf Arab neighbors are strained by suspicions that Tehran is trying to extend its influence into Arab countries including Syria, Iraq and Yemen.
Kuwait has been on alert since a suicide bomber killed 27 people in an attack on a Shiite mosque in the capital, Kuwait City, on June 26.
The statement said 24 of the suspects were accused of committing acts likely to affect Kuwait's unity and security.
Full report at:
http://www.arabnews.com/middle-east/news/800266
----------
Eighteen Turks kidnapped in Baghdad 'by masked men'
2 September 2015
Turkey on Wednesday confirmed that 18 Turkish construction workers have been kidnapped by unknown individuals in the Iraqi capital Baghdad.
"Eighteen Turkish citizens working for a construction company in Baghdad have been kidnapped," Deputy Prime Minister Numan Kurtulmus told reporters. "We are in close contact with the Iraqi (interior) ministry and hope the incident will end positively."
Iraqi interior ministry spokesman Brigadier General Saad Maan told Reuters news agency that the workers were taken in the northeastern district of Habibiya early in the day. He had put the number of those kidnapped at 16, however a police colonel later said that 17 Turks were kidnapped.
Full report at:
https://english.alarabiya.net/en/News/middle-east/2015/09/02/Sixteen-Turkish-workers-kidnapped-in-Baghdad-by-masked-men-.html
----------
UAE embraces a tolerant view of the world
August 30, 2015
The UAE is a proud Arab and Muslim country, and as part of that identity it embraces a tolerant view of the world that includes a recognition that people of different faiths and races should be able to live together with mutual respect. Standing up for these values has been an essential part of articulating the response for the vast majority of mainstream Arabs to the vicious violence of the increasingly extreme fanatics who have murdered their way to dominate the politics of far too many Arab states.
The UAE has taken a lead in speaking out against doctrines of hatred, and both the government and its leading intellectuals and scholars are active in contributing to a variety of forums including religious ones that seek to re-affirm Islam's principles and reject the violence of small groups of fanatics that has dominated the headlines. The fact that the UAE has taken this lead is based on its own history of tolerance. The UAE population and leaders are well aware of the many religions that are practised in the country, with a Hindu temple which is over 100 years old, and a Sikh temple, and many Christian churches for different sects in many of the emirates.
Full report at:
http://gulfnews.com/opinion/editorials/uae-embraces-a-tolerant-view-of-the-world-1.1575435
----------
Six new MERS cases in Saudi Arabia, two deaths in 48 hours
2 September 2015
Six new confirmed cases of the Middle East Respiratory Syndrome Coronavirus (MERS-CoV) and two deaths were registered during the past 48 hours, the Health Ministry announced.
It said the new cases and the two deaths were registered in Riyadh which has the highest number of the coronavirus cases.
The ministry said two patients have recovered and were discharged from a government hospital in Riyadh.
According to the ministry, a suspected case of coronavirus was reported at Prince Muhammad Bin Abdulaziz Hospital in Madinah and was immediately transferred to a government hospital in Riyadh.
The hospital's department of information and public relations said it was not a confirmed MERS case but was transferred to Riyadh as a precautionary measure.
The ministry, meanwhile, said out of 1,655 samples tested last week, 34 were found to be confirmed coronavirus cases including 33 in Riyadh and one in Najran.
It said 15 of these cases are being treated in government hospitals while the 19 others are being treated in a number of private hospitals.
The ministry said since the virus was first discovered in the Kingdom in September 2012, a total of 1,175 people have contracted it of whom 606 have recovered with a ratio of 51.6 percent.
Full report at:
https://english.alarabiya.net/en/News/middle-east/2015/09/02/Six-fresh-MERS-cases-two-deaths-in-48-hours.html
----------
Eleven migrants drown heading to Greek island as govt holds talks
2 September 2015
At least 11 migrants believed to be Syrians drowned as two boats sank after leaving southwest Turkey for the Greek island of Kos, Turkey's Dogan news agency reported on Wednesday.
It said a boat carrying 16 Syrian migrants had sunk after leaving the Akyarlar area of the Bodrum peninsula, and seven people had died. Four people were rescued and the coastguard was continuing its search for five people still missing.
Separately, a boat carrying six Syrians sank after leaving Akyarlar on the same route. Three children and one woman drowned and two people survived after reaching the shore in life jackets.
Tens of thousands of Syrians fleeing the conflict in their homeland have descended on Turkey's Aegean coast this summer to board boats to Greece, their gateway to the European Union.
Full report at:
https://english.alarabiya.net/en/News/middle-east/2015/09/02/Eleven-migrants-drown-heading-from-Turkey-to-Greek-island-.html
----------
India
Modi Does Not Look at Everything with an Eye on Votes, Says ALL Indian Ulema and Mashaikh Board
By Mohd Faisal Fareed
Lucknow
Sep 2, 2015
THE ALL Indian Ulema and Mashaikh Board (AIUMB), an organisation of Sufi Muslims, has reaffirmed its commitment to work with the Narendra Modi government for countering terrorism and fundamentalist ideology in the country. It has also assured all help in setting up education centres to control fundamentalist ideology. "The AIUMB will help prepare the syllabus for such open education centres in Muslim areas where peaceful religious courses are taught. We (Sufi Muslims) are against terrorism and consider it against Islam. We cannot support anything that is un-Islamic," Syed Mohammad Ashraf Kichhowchhawi, founder and president of AIUMB, told The Indian Express. "Sufism is a way of life and is above religion. It stands for peace. Wherever Sufi ideology got weakened, terrorism grew. The example is Kashmir," he added. On August 27, Kichhowchhawi had led a team of about 40 Sufi clerics, who interacted with Prime Minister Narendra Modi. The PM had told the delegation that ideology propounded by Sufi saints was integral to Indian ethos but forces of extremism are trying to weaken it. He had asked them to counter such forces through various avenues including on social media, so that the ideology of extremism does not take root in India. Praising Modi, Kichhowchhawi claimed that past rulers did not care for Sufi Muslims. "Those who ruled the country and for whom we voted traditionally, never cared for our issues. This is a ruler who got the seat without our votes and is still listening to us. He does not need us. He does not look at everything with an eye on the votes," the Sufi cleric said. Kichhowchhawi, however, parried questions on whether Sufi Muslims will support BJP. "We did not discuss politics and vote bank. So, let us not raise it here," Kichhowchhawi said. Earlier, after meeting Modi, the Sufi clerics had said that the divisive politics of votebank has resulted in the Muslim community interacting with the government only through intermediaries.
Full report at:
http://indianexpress.com/article/cities/lucknow/he-modi-does-not-look-at-everything-with-an-eye-on-votes-says-sufi-cleric/
----------
How the Father of Indian N-Bomb Stalled Strike on Pak Nuclear Sites
Srinivas Laxman
Sep 2, 2015
MUMBAI: In a strange twist of irony, the person who was responsible for stalling India's plan to bomb Pakistan's nuclear weapons facilities in 1983 was none other than the father of the Indian nuclear bomb, Raja Ramanna. Ramanna himself had confirmed this to TOI on two occasions in private conversations after his retirement as chairman of the Atomic Energy Commission in 1987. He passed away in Mumbai on September 24, 2004.
TOI had carried a report on Tuesday, quoting a CIA document declassified in June, stating that former PM Indira Gandhi may have considered destroying Pakistan's nuclear weapons programme when she returned to office in 1980. Though Ramanna had declined to go into specifics, he had recalled to TOI that in 1983, when he was in Vienna to attend an International Atomic Energy Agency meet, he was "warned" by ex-chairman of the Pakistan Atomic Energy Commission Munir Ahmed Khan that if India hit its nuclear facilities, Pakistan would launch a retaliatory strike at BARC, Trombay, in Mumbai, the heart of India's nuclear weapons programme. Ramanna immediately informed Indira about the dangerous consequences of bombing Pakistan's nuclear establishment and the operation was stopped.
The story goes that when Khan was attending the IAEA meet, he received a classified coded message about India's plans through the Pakistani ex-ambassador to Vienna, Abdul Sattar. That night, Khan invited Ramanna for dinner at the Imperial Hotel and the two arch rivals talked for a while. Then the moment arrived when Khan decided to say why he had suddenly called for the dinner meeting: it was not to exchange pleasantries but to deliver a stiff warning about the retaliatory strike on BARC.
Full report at:
http://timesofindia.indiatimes.com/india/How-the-father-of-Indian-N-bomb-stalled-strike-on-Pak-nuclear-sites/articleshow/48765997.cms
----------
Mohammad Naved Yakub, three other terrorists were seen off by top LeT men at LoC
Aman Sharma
Sep 2, 2015
NEW DELHI: The Lashkar-e-Toiba (LeT) commanders for North and South Kashmir arrived in a car from Islamabad on May 25 at a mosque in PoK to see off Naveed and three other LeT terrorists before they came to India.
Such explosive details figure in a 39-page dossier prepared on Naveed by India which was to be handed over at the NSA-level talks that were subsequently cancelled.
"On May 25, Sajid, aged about 45 years, LeT operations commander for South Kashmir, and Hanzla Asnan, the LeT commander for North Kashmir along with Noman, a resident of Bahawalpur (terrorist killed in Udhampur attack) arrived in a car from Islamabad at Halen Det Mosque, Forward Kathua, PoK," the dossier says.
It adds that Noman was the "leader of the group" of terrorists who sneaked into India.
It adds that Naveed had arrived at this mosque in a LeT supply vehicle along with 4 other terrorists — Mohammad Bhai, Mouvaz, Abu Ali and Ahmed on May 21 straight after completing their 'Daura-e-Lashkar' training of four months at Aksa Maskar camp in Muzzafarabad.
The LeT commanders handed over the following equipment each to the four terrorists, as per the dossier — an E-Trax GPS device, a wireless set, a compass, a printed map on flex sheet, an AK-47 with six magazines, two hand grenades, a digital watch, a black-coloured track suit, a pair of shoes and Rs 50,000.
Full report at:
http://timesofindia.indiatimes.com/india/Mohammad-Naved-Yakub-three-other-terrorists-were-seen-off-by-top-LeT-men-at-LoC/articleshow/48769418.cms
----------
'Why the Indian state must listen carefully to Vice President Hamid Ansari'
Sep 1,2015
Amidst the din of rabble-rousers and propagandists, masquerading as opinion makers, undoubtedly the Vice President of India Hamid Ansari would be one among the select, few voices that carry credibility, logic, civility and a sense of clarity in our country. So his recent submissions at the golden jubilee session of the All India Muslim Majlis-e-Mushawarat in New Delhi ought to be taken very seriously by the government.
The most important point that was made by VP Ansari was that the slogan of "Sabka Saath, Sabka Vikas" coined by the Narendra Modi government, was indeed laudable, but the "default by the State or its agents" in terms of deprivation, exclusion and discrimination, including failure to provide security needed to be corrected by the State. He floated the need for "affirmative action" to ensure a common starting point for Muslims too. Let us examine what prompted him to make those statements in the first place, purely through the spectrum of hard facts, that evidence the overwhelming discrimination faced by Indian Muslims.
In every sphere of life, the Indian Muslim faces an uphill challenge, the extent of which is borne out by several independent reports. Take education for example. Today, just four out of 100 Muslims above the age of 20 are graduates. With literacy levels below the national average and dropout rates higher (A Jamia Milia Islamia report suggests that it has shot up to 50% in class 8 and 9) than the national average, limited access to schools and skill development, the Indian Muslim is hardly equipped to be viable in the job market.
Consequently, that is hampering his or her chances in the employment market. A study shows that in the secondary and tertiary sector, the share of Muslims between 16 and 64 years of age in regular and casual employment is lower than that of SCs and STs. In the public sector, the situation is equally dismal, with Muslims having a share of just 2.5 per cent in the civil services. As per the Kundu report, synopsis of which is available online there is a whopping 18% joblessness among educated urban Muslim youth!
Most Muslims are therefore forced to start their own small ventures and business and become entrepreneurs but without adequate capital and resources, these can hardly grow into big, sustainable enterprises. Data with respect to access to banking facilities and loans, particularly in public sector banks, also shows how Indian Muslims face difficulty in accessing much needed capital to make their ventures thrive.
The impact of this on the economic situation of the community is quite obvious. Among various religious groups, Muslims have the lowest living standard with an average per capita expenditure of just Rs. 32.66 per day as per a NSSO study. The Sikh community with an average per capita spending of Rs. 55.30 per day, Hindus with Rs. 37.50 and Christians with Rs. 51.43 per day are in a relatively much better position. The Kundu report has also added that poverty amongst Muslim in urban areas was twice the national average in 2011-12 and four times more than among upper caste Hindus.
Full report at:
http://www.ibnlive.com/news/politics/why-the-indian-state-must-listen-carefully-to-vice-president-hamid-ansari-1063919.html
----------
In Pak, Naved earned 10k a month before turning jihadi
Bharti Jain
Sep 2, 2015
NEW DELHI: Lashkar-e-Taiba terrorist Mohammad Naved, captured after an August 5 strike on a BSF convoy in Udhampur, was earning Rs 10,000 a month doing intermittent stitching jobs at a hosiery firm in Faisalabad, Pakistan, when he decided to undergo his first level of terror training.
According to a 39-page dossier based on Naved's interrogation by the J&K Police and NIA, Naved, who studied up to Class 4 at a government school back home, worked at Tauseef Enterprises intermittently between 2011 and 2014. Starting at barely 16 years of age, Naved was employed on a contract basis.
Even though he made Rs 10,000 a month from the stitching jobs, Naveed was consumed by his gambling habit. He admitted to have lost Rs 30,000, stolen from his brother Nadeem, in a single day.
READ ALSO: Naved nails Pakistan's role as terror sponsor in statement before magistrate
Naved had just started working for Tauseef Enterprises when he was spotted by Maulvi Bashir, his prime motivator into jihad. Bashir, who owns a cloth printing workshop in Faisalabad, would meet Naved at Bilal Mosque where they prayed together. In the latter half of 2011, Bashir convinced Naved to undergo the LeT-sponsored Daura-e-Aam training course at Manshera camp in Khyber Pakhtunkhwa. He was driven to the camp from Markaz-e-Khyber, Nishatabad, and from there to Manshera along with a dozen other young boys.
He went through Daura-e-Aam, an LeT training capsule focused on religious indoctrination and physical fitness, along with 180 trainees at 'Kulahri' camp in late 2011. It was here that he was given the alias 'Usman'. The training was based on a strict regimen, requiring Naved to wake up at 3.30 am, followed by prayers, physical exercises, class in 'Hadith', lessons and lectures, Zuhr namaz, rest, sports, Maghrib namaz and dinner. The day would end at 10 pm with Isha namaz.
He later went through Daura-e-Khas over August-December 2014 at Muzaffarabad, PoK, in a jungle near Shawai Nallah. This involved 40 trainees and included physical endurance training, weapons handling, night marches, GPS handling, compass handling and lectures on jihad. During firing practice, each trainee could fire 100 rounds each from an AK-47 rifle, five rounds each from an LMG and 20 rounds each from a pistol.
READ ALSO: Naved Yakub to make confessional statement before court
The third and last level of training, or Daura-e-Lashkar, was between February and May this year.
According to a 39-page dossier based on Naveed's interrogation by the J&K Police and NIA, Naveed, who studied up to Class 4 at a government school back home, worked at Tauseef Enterprises intermittently between 2011 and 2014. Starting at barely 16 years of age, Naveed was employed on a contract basis.
Even though he made Rs 10,000 a month from the stitching jobs, Naveed was consumed by his gambling habit. He admitted to have lost Rs 30,000, stolen from his brother Nadeem, in a single day.
Full report at:
http://timesofindia.indiatimes.com/india/In-Pak-Naved-earned-10k-a-month-before-turning-jihadi/articleshow/48766847.cms?
----------
India, Pakistan must use dialogue to stop bloodshed, says NCP
September 2, 2015
Nationalist Congress Party (NCP) leader Majeed Memon on Wednesday said India and Pakistan must use the medium of dialogue to stop bloodshed.
I am sure both sides must resort to some dialogue, whereby this bloodshed can be avoided, Memon told ANI.
It is very sad that the atmosphere on the border in Kashmir is going out of control. The Government of Pakistan, or the Pakistani soldiers are intruding into our territories, killing our jawans, and even civilians are not spared, which needs to be retaliated to very effectively, he added.
Full report at:
http://www.siasat.com/news/india-pakistan-must-use-dialogue-stop-bloodshed-says-ncp-827724/
----------
Africa
Libya bans Yemenis, Iranians and Pakistanis from entry
2 September 2015
Libya's internationally recognized administration based in the east has banned Yemenis, Iranians and Pakistanis from entering the divided country, a military statement said on Tuesday.
The move widens a visa ban already applied to Sudanese, Bangladeshis, Palestinians and Syrians.
Prime Minister Abdullah al-Thinni runs only a rump state in eastern Libya after a rival group seized Tripoli a year ago, setting ups its own parliament and a government not recognized by world powers.
Thinni's government and allied security forces would therefore only be able to enforce the ban at the eastern airports of Tobruk and Labraq and the land crossing with Egypt.
Accusations
Top army commander Khalifa Haftar, allied to Thinni, signed the latest ban which cited the overall security situation and a need to preserve "the nation's security and stability".
The decision, a copy of which was received by Reuters and confirmed by a senior military official, also said that Sudanese and Bangladeshi were not allowed to come to Libya, as mentioned in previous government statements.
Full report at:
https://english.alarabiya.net/en/News/middle-east/2015/09/02/Libya-s-official-government-bans-Yemenis-Iranians-Pakistanis-from-entry.html
----------
Benghazi homemade bomb kills Libyan special forces
2 September 2015
A homemade bomb killed five members of Libya's special forces Tuesday in the eastern city of Benghazi, according to Lana, the news agency linked to the internationally recognized government.
"Two commanders... and three soldiers were killed today," army spokesman Miloud Zouai was quoted as saying, adding that they had been advancing in a southern district of the city when the explosion occurred.
On Monday, Zouai had said an officer had been killed by a mine in Benghazi, and three other people wounded.
Full report at:
https://english.alarabiya.net/en/News/middle-east/2015/09/02/Benghazi-homemade-bomb-kills-Libyan-special-forces.html
----------
Nigeria army recaptures northeastern town from Boko Haram
Sep 1, 2015
Nigerian army troops have recaptured a key town from the Boko Haram Takfiri militant group in the country's crisis-stricken northeastern state of Borno, military sources say.
Colonel Sani Kukasheka Usman, a Nigerian military spokesman said in a statement that the troops retook control of the strategic town of Gamboru Ngala on the border with neighboring Cameroon on Tuesday.
"The Nigerian army has retaken the economic and strategic town of Gamboru Ngala, Borno State, from the Boko Haram terrorist group today," the statement read.
The military official also noted that the "triumphant" soldiers are now busy clearing and mopping up patrols in the border town.
On the night of 5-6 May 2014, Boko Haram militants attacked Gamboru Ngala and killed hundreds of people after surrounding and spraying the area with automatic gunfire. Local residents and witnesses said that at least 300 people had been killed in the 12-hour attack.
In August last year, Boko Haram attacked an army barracks in Gamboru Ngala and then captured the entire town.
The photo shows houses burnt by Boko Haram militants in Zabarmari, a fishing and farming village, near Maiduguri, northeast Nigeria, July 4, 2015. (AFP photo)
Meanwhile, a member of youth vigilante forces in northern Nigeria said on Monday that the militant group had shot dead nearly 80 people after storming three villages in the same troubled state since Friday.
According to an AFP count, bombings as well as a wave of raids and attacks have left at least 1,000 people dead in Nigeria alone in less than three months.
The file photo shows Boko Haram Takfiri militants in Nigeria.
Full report at:
http://www.presstv.ir/Detail/2015/09/01/427332/Nigeria-Borno-Gamboru-Ngala-Colonel-Sani-Kukasheka-Usman--
-----------
Militants attack African Union base in Somalia
Sep 2, 2015
MOGADISHU: Somalia's Al Qaeda-affiliated Shebab militants rammed a suicide car bomb into an African Union base on Tuesday before storming the compound, with witnesses reporting many dead, although the AU insisted it had fought off the attack.
Eyewitnesses said the Shebab had taken over the camp and were looting the weapons stores, but the AU force in Somalia (Amisom) insisted it was in control of the base.
Witnesses spoke of more than 20 bodies at the site, while the Shebab claimed to have killed 50. Amisom was unable to confirm any casualty figures.
"The base is still under Amisom control; reports that the base has been taken over and our weapons captured are false," an Amisom statement said without giving further details.
The Shebab said the attack in Janale district, 80km southwest of Mogadishu in the Lower Shabelle region, was revenge for the killing of seven civilians by Ugandan troops at a wedding in the town of Merka in July.
Full report at:
http://www.dawn.com/news/1204367/militants-attack-african-union-base-in-somalia
----------
North America
9/11 Used as Pretext to Wage War against Muslims – US Scholar
20:41 01.09.2015
In response to the paper by Bradford, Dr. Kevin Barrett, founding member of the Muslim-Jewish-Christian Alliance, said that William Bradford has a philosophy similar to the ISIL terrorist group.
"He is using the same 'kill everybody who doesn't agree with me' value system as these lunatic ISIL people," Barrett said.
He went on to say that people like Bradford are "misrepresenting the current so-called war on terror as some kind of terrible war of aggression by Muslims against the West," Press TV reported.
"This kind of hallucination is a good example of how the West has gone into absolute fear mode post-9/11," he noted. "In Bradford's paper, he makes a lot out of 9/11. He uses 9/11 as his one and only piece of evidence that there is some kind of offensive threat coming from the Islamic world."
Focusing only on 9/11, Barrett said that it was obviously an inside job. US officials proclaim that the attacks were carried out by al-Qaeda terrorists. However, many experts have raised questions about the official account.
Full report at:
http://sputniknews.com/us/20150901/1026458772.html
----------
More Than Half of Republican Voters Think Obama Is a Muslim
Sep 2, 2015
He says prayers with Christian pastors. He sang, quite convincingly, the Christian hymn "Amazing Grace" during the funeral for state Sen. and Rev. Clementa Pinckney, a victim of the church shooting in Charleston in June. He saw his presidential ambitions nearly derailed because of his longtime affiliation with the Christian pastor Rev. Jeremiah Wright.
And yet, as reported by MSNBC, 54 percent of Republican voters think he's a Muslim, according to a survey conducted by the left-leaning Public Policy Polling. Among Donald Trump supporters the number is even higher, with two-thirds saying he's a Muslim.
Meanwhile, 32 percent of respondent said they weren't sure of President Obama's religious affiliation, while 14 percent said he's a Christian. Public Policy Polling surveyed 572 usual Republican primary voters nationwide from Aug. 28 to Aug. 30.
(Some, including The Washington Post's Chris Cillizza, note the findings could be overstated. Other polls, like one from Pew Research last year, put the number at 30 percent, though that poll offered respondents a choice of eight different religious affiliations. Also, 30 percent is still a lot.)
The misperception that President Obama is a Muslim is not new, of course. But it's one that's followed him throughout his presidency. Last year, a survey of Republicans found that 54 percent believe he's a Muslim "deep down."
Full report at:
http://www.esquire.com/news-politics/news/a37560/republican-voters-still-think-obama-is-muslim/
----------
Muslims Gather in Chicago for ISNA Convention
02 September 2015
CHICAGO – Thousands of Muslims from across the US will gather in Chicago this weekend to attend the Islamic Society of North America (ISNA) 52nd Annual Convention, a four-day event at which they will discuss ways of strengthening the Muslim presence in America.
"This year's theme is 'Stories of Resilience: Strengthening the American Muslim Narrative' and will showcase stories of unsung heroes in our community as well as success stories of families, masjids and community initiatives," said ISNA in a statement.
Kicking off on Friday at Chicago's Donald E. Stephens Convention Center, the convention is one of the biggest Islamic gatherings in North America.
Government and interfaith leaders, as well as heads of organizations will address the convention's inaugural session on Friday.
A highlight on the opening day will be the launch of a campaign calling for inclusive, women-friendly mosques across North America.
"The campaign's goal is to realize the Prophetic model and calls upon all masajid to ensure women are welcomed as an integral part of the masjid and encouraged to attend," reads the statement prepared by ISNA's Task Force for Women-Friendly Masjids.
The campaign will also call for "Women to have a prayer space in the main musalla (prayer hall) which is behind the lines of men but not behind a full barrier that disconnects women from the main musalla and prevents them from seeing the imam."
The statement recommends women to, "actively participate in the decision-making process of the masjid, best realized by having women on the governing bodies of masajid."
The convention is packed with plenary sessions to be addressed by prominent Muslim speakers and includes workshops on a variety of topics.
An Islamic Film Festival, an Art and Photography Exhibit, a National Qira'at Competition, a Matrimonial Banquet, a women's Fashion Show, Meet the Author sessions and Health Fair will be held. There will also be a bazaar and trade show with 500 vendors.
Parallel Events
Parallel conferences will also be held by the ISNA affiliated organizations - the Islamic Medical Association of North America (IMANA), Association of Muslim Scientists, Engineers and Technology Professionals (AMSET), Muslim Students Association (MSA) and Muslim Youth of North America (MYNA).
A new initiative added at this year's convention is the introduction of community roundtable discussions.
"There will be 6 different Roundtable Discussions ranging in topics which are relevant to the Muslim community," noted the convention organizers.
"Each session will be moderated by a professional facilitator, including experts and local authorities."
Full report at:
http://www.onislam.net/english/news/americas/493013-muslims-gather-in-chicago-for-isna-convention.html
----------
Interfaith leaders call on Scott Walker to address his comments on Muslims
Sep 2, 2015
A coalition of interfaith leaders is calling on Gov. Scott Walker to clarify his recent remarks implying most Muslims are extremists, saying such incendiary rhetoric endangers American Muslims in Wisconsin and across the country.
About 30 religious leaders — Muslims, Christians, Jews and others — have signed onto an open letter sent Friday by the president of Wisconsin's largest Islamic organization to the governor and presidential candidate.
In it, Ahmed Quereshi, who heads the Islamic Society of Milwaukee, cites FBI intelligence suggesting that homegrown "militia extremists are expanding their target sets to include Muslims and Islamic religious institutions in the United States."
Quereshi said Walker's failure to personally clarify his statement effectively fuels "a new kind of McCarthyism" that singles out followers of Islam.
"As you know, there is an 'Islamophobia industry' in this country that seeks to vilify all Muslims and their faith, Islam," said Quereshi.
"Allowing your statement to stand 'on the record' without a personal and direct correction by you poses a safety risk to the lives and property of American Muslims, including residents of the State of Wisconsin and their places of worship," he said.
Walker drew criticism last month when he asserted during a campaign stop in New Hampshire that there are a "handful of reasonable and moderate followers of Islam."
In an email to the Milwaukee Journal Sentinel over the weekend, Walker's campaign staff reiterated spokeswoman AshLee Strong's August comments clarifying the candidate's remarks.
"The Governor knows that the majority of ISIS's victims are Muslims," Strong said at the time. "Muslims who want to live in peace — the majority of Muslims — are the first target of radical Islamic terrorists. Under the Obama-Clinton foreign policy doctrine, we've been abandoning our traditional Muslim allies in the Middle East and allowing ISIS, al Qaeda, and Iran to fill the void," she went on to say.
Walker's campaign staff did not say whether he intended to apologize or to address the issue himself.
Quereshi said the campaign's assertion that the "majority of Muslims" want to live in peace is inadequate because it could still be construed that large numbers of Muslims — as many as 49% — are extremists.
"It is only a relative handful of the world's 1.6 billion Muslims who support terrorism," he says in the letter. "The vast majority of Muslims are reasonable, moderate and peaceful."
The Islamic Society of Milwaukee, he notes, has repeatedly condemned Muslim terrorists, including last year when he and its religious director joined Muslim leaders around the world in denouncing the Islamic State as un-Islamic.
Signing in support of Quereshi's letter are Islamic organizations around the state, numerous clergy, two bishops and the local heads of the Presbyterian USA and United Methodist churches.
Full report at:
http://www.jsonline.com/news/statepolitics/interfaith-leaders-call-on-walker-to-address-his-comments-on-muslims-b99566640z1-323724351.html
----------
Living Islam in the West: Is it Easy?
02 September 2015
What's it like, being a Muslim in a Non-Muslim majority country? Is it hard?
Can you actually practice Islam and grow in faith and deeds?
Is it distracting, with temptations constantly pulling you away from remembrance of Allah?
Are you hated, mistreated?
I'm a third generation American. America is my home and although I've had some daydreams of living in a Muslim society, I could not see myself leaving my homeland except under extreme circumstances.
Not only do I feel comfortable and truly at home here, where I understand the culture, language and systems, I also feel a care and responsibility towards my fellow Americans.
My life serves as an example of the practice of Islam within the American cultural construct. I believe it is important for Americans to know that a familiar, American girl-next-door can also be a devout Muslim.
Through this survey I was able to test whether or not other Muslims living in Non-Muslim majority countries feel as I do.
The results were very intriguing and enlightening. Through these results we can better understand the benefits and challenges of living amongst non-Muslims and gauge the effects on one's Islam.
To better understand the results, here's a breakdown of the sample demographics:
- 115 Muslims responded to my survey: Living as a Muslim in a Non-Muslim Majority Country.
- 71% of the respondents were women.
- Nearly half of all respondents were converts to Islam.
- Nearly 40% of respondents grew up practicing Islam, while the remaining 10% were born to Muslim families, but began practicing later in life.
- 25% of respondents immigrated to their current countries, while the remaining 75% were born in their respective non-Muslim majority countries.
- More than 91% of the respondents reported that they are visibly recognizable as Muslims.
- 47% have been practicing Islam for more than 10 years, 17% between 5-10 years and about 36% have been practicing Islam for 5 years or less.
Results & Analysis
This survey revealed that a multitude of Muslims who live in Non-Muslim majority countries feel comfortable in their respective lands.
When asked to rate their experience living as a Muslim in a Non-Muslim majority country, the top answer was "fairly good" at 34%, followed by "very good" at 29%, followed by the more negative "mildly good" at 19%. 13% felt they have had "excellent experiences" and 5% said that their experience has been "not good at all".
When respondents were asked, "If you were able, would you prefer to live in a majority Muslim country?" The results varied greatly depending on whether or not the respondents were immigrants. Out of the entire group, 51% said they would not prefer to move to a Muslim majority country, but when I filtered the responses according to whether or not the respondents had immigrated to the non-Muslim majority country, I found that more immigrants would prefer to move to a Muslim majority country than Muslims who were born in non-Muslim majority countries.
The following graphs demonstrate this disparity.
The most common reasons stated for wanting to move to a Muslim majority country were, in order of prevalence:
1. To live in an environment more conducive to faith and practice
2. Ease of living, finding halal foods etc.
3. To raise children in a more wholesome environment
4. To not feel labeled or under scrutiny; to fit in.
The fact that more immigrants would prefer to move than non-immigrants may indicate that most people prefer to live in their familiar surroundings and feel most at home wherever they are born and raised.
Most of the non-immigrants who desired to move abroad to a Muslim majority country expressed hopes that they would feel accepted and be surrounded by Islamic values and brotherhood if they were to live in a Muslim land.
Although few, some have had negative experiences such as this American convert who explained her reason for not wanting to stay in the US:
"I am treated completely different than I was before I converted. The Muslims in America don't want you to be a Muslim and seem to make every effort to out you. Your own family and friends feel alienated by your new lifestyle and your own people hate you since they are taught to hate Islam. You have to live as if you are on an island and who can endure that? I have found the most accepting Muslims are Muslims from the Middle East."
The most common reasons given, for not wanting to move to Muslim majority countries are as follows:
Muslim countries have their own problems: too much oppression/ do not follow Islam correctly and impose restrictions accordingly/ feel more freedom to practice Islam in my own country
I feel at home and love where I am
There is work to be done in my country (dawah) and I feel I am a stronger Muslim by overcoming the challenges that come with living amongst non-Muslims.
One respondent, echoing the sentiments of many others, stated, "There are more restrictions (in Muslim majority countries), not following the Quran and Sunnah. The US provides opportunity to follow the deen correctly."
Full report at:
http://www.onislam.net/english/reading-islam/research-studies/492985-living-islam-in-the-west-is-it-easy.html
-----------
Mideast
Iran: Bashar Assad Part of Political Solution to Syrian Crisis
Sep 02, 2015
"Political solution is the only way to put an end to the Syrian crisis and Bashar Assad is part of that solution," Amir Abdollahian said.
The Iranian deputy foreign minister, meantime, pointed to his negotiations with UN Special Envoy for Syria Staffan de Mistura, and said that during his meeting with de Mistura he has underlined that the Syrian president should be part of a political solution to the crisis in the Arab country.
Amir Abdollahian pointed to the regional crises, and said, "These incidents are against the interests of all regional countries."
The Iranian deputy foreign minister underlined that Iran's strategy is based on the spread of peace and stability in the region, and expressed the hope that Iran's efforts for distancing countries from war would bear fruit.
The Lebanese foreign minister, for his part, welcomed Iran's regional policies, and said that the visit of senior Iranian officials to Lebanon shows Iran's resolute support for Lebanon in its ongoing campaign against the terrorism.
He, meantime, pointed to the recent nuclear agreement between Iran and the six world powers (the US, Russia, China, France, Britain and Germany), and said, "The patience and resistance of the Iranian nation was the main cause of its recent success and achievements in the nuclear talks."
Full report at:
http://english.farsnews.com/newstext.aspx?nn=13940611000821
----------
Gaza could be 'uninhabitable' by 2020: UN
1 September 2015
GENEVA: The Gaza Strip, ravaged by wars and nearly a decade of a grueling Israeli blockade, could become uninhabitable for residents within just five years, the United Nations development agency said Tuesday.
"The social, health and security-related ramifications of the high population density and overcrowding are among the factors that may render Gaza unliveable by 2020," the UN Conference on Trade and Development (UNCTAD) wrote in its annual report.
Gaza, a tiny enclave of just 362 square kilometers (about 225 square miles) squeezed between Israel, Egypt and the Mediterranean Sea that is home to some 1.8 million Palestinians, counts one of the highest population densities in the world.
"Gaza could become uninhabitable by 2020 if current economic trends persist," the report said.
While the high density is not new, the situation has been exacerbated by three Israeli military operations in the past six years and nearly a decade-long economic blockade.
The blockade had "ravaged the already debilitated infrastructure of Gaza, shattered its productive base, left no time for meaningful reconstruction or economic recovery and impoverished the Palestinian population in Gaza," the report said.
"Short of ending the blockade, donor aid... will not reverse the ongoing de-development and impoverishment in Gaza," it said.
Socio-economic conditions in Gaza today are currently "at their lowest point since 1967," when Israel seized the territory from Egypt in its Six-Day War, according to the report.
The report estimated that the three military operations, including last year's devastating war that killed some 2,200 Palestinians and displaced half a million more, had caused economic losses close to three times the size of Gaza's local gross domestic product.
The 2014 war, which also left 73 Israelis dead, destroyed or severely damaged more than 20,000 Palestinian homes, 148 schools, 15 hospitals and 45 primary health care centers, UNCTAD said.
As many as 247 factories and 300 commercial centers were fully or partially destroyed, and Gaza's only power station sustained severe damage, it said.
Infighting
Even before last year's conflict, Gaza's electricity supply was not even enough to cover 40 percent of demand, UNCTAD said, adding that 95 percent of water from coastal aquifers — Gazans main source of freshwater — was considered unsafe to drink.
Unemployment in Gaza meanwhile soared last year to 44 percent — the highest level on record — hitting young women especially hard, leaving more than eight out of 10 women out of work.
A full 72 percent of all households in Gaza are meanwhile struggling with food insecurity, and the number of Palestinian refugees who rely entirely on food distribution from UN agency has ballooned from 72,000 in 2000 to 868,000 by last May.
Full report at:
http://www.arabnews.com/middle-east/news/800131
----------
Turkish Police Raid Conglomerate With Close Links to Cleric Gulen
Sep 2, 2015
Istanbul. Turkish police raided the offices of a conglomerate with close links to US-based Muslim cleric Fethullah Gulen, an ally-turned-foe of President Tayyip Erdogan, company officials said on Tuesday.
Erdogan, who wants to win back a majority for the ruling AK Party in a snap Nov. 1 election, accuses Gulen of seeking to overthrow him by means of a "parallel structure" of supporters in the judiciary, police, the media and other institutions.
The state-run Anadolu Agency said 23 companies within the mining-to-media Koza Ipek group were being searched on suspicion of providing financial support for the "Gulenist Terrorist Group".
There was no immediate comment from the police. Interior ministry officials declined comment.
Erkan Akkus, news editor at Kanalturk and Bugun TV which are part of Koza Ipek's media business, said the holding company's headquarters and the chairman's home were being searched.
"The aim here is to silence the opposition media ahead of an election," Akkus told Reuters.
"It is wrong to see this as aimed just at our group. They are starting with us to test the waters, and if it doesn't spark an outcry, it could then spread to other media groups."
Koza Ipek Chairman Akin Ipek said in a written statement published by his media outlets that his group was not guilty of any wrongdoing and that the state had already thoroughly investigated "slanders" targeting his companies.
Shares in Koza Ipek companies, including energy firm Ipek Dogal Enerji and miner Koza Madencilik, fell 10 percent. Shares in other media firms not affiliated with Gulen also declined.
Anadolu Agency said the raids did not target the group's media companies. Bugun newspaper editor Erhan Basyurt said media firms appeared on the list of companies covered by the search warrant but that their premises had not yet been searched.
Opposition party leaders voiced concern about the police raids, while Turkey's new European Union Minister Ali Haydar Konca warned against any raids targeting the media.
"I am worried that operations targeting the media will create great concern across the world about whether Turkey is a democratic country," the pro-Kurdish HDP's Konca, part of the new power-sharing interim cabinet, told a news conference.
Investor concerns
The operation came after a whistleblower account named "Fuat Avni", which has previously correctly forecast police raids, said last week that Erdogan planned a crackdown on media critical of the government ahead of the November election.
Last week mainstream newspaper Milliyet dismissed five prominent journalists, in a move described by the Turkish Journalists' Association as "unacceptable at a time when the country is tense with war and elections."
Late last year, police detained dozens of people in raids on media outlets with ties to Gulen. Some of those journalists have been charged with terrorism-related crimes.
The operation against the Koza-Ipek group added to the worries of investors already rattled by political uncertainty and a surge in fighting between Turkish security forces and Kurdish militants.
"There is a risk that this sort of thing can intensify into the election and it really is underscoring the weak investment climate within Turkey," said Manik Narain, EM strategist at UBS.
Full report at:
http://jakartaglobe.beritasatu.com/international/turkish-police-raid-conglomerate-close-links-cleric-gulen/
----------
Saudi-led strikes target Houthis at air base in Sanaa
2 September 2015
The Saudi-led coalition has targeted the al-Dailami air base and destroyed its arms warehouses on Wednesday north of the Yemeni capital and close to Sanaa's airport.
Eye witnesses said explosions rocked Sanaa at dawn as smoke billowed, indicating that the arms warehouse seized by Houthi militias had been targeted.
This strike comes after dozens of Houthi militias were killed on Tuesday after a Scud missile went off while it was being launched from the air base.
Full report at:
https://english.alarabiya.net/en/News/middle-east/2015/09/02/Saudi-led-coalition-strike-Houthis-at-Al-Dailami-air-base.html
----------
Commander: Iran Continues Military Enhancement Until Collapse of Israel
Sep 02, 2015
"...they (the US and the Zionists) should know that the Islamic Revolution will continue enhancing its preparedness until it overthrows Israel and liberates Palestine," IRGC's top commander in Tehran province, Brigadier General Mohsen Kazzemeini, told operating units in Tharallah Drills in the Iranian capital on Wednesday.
"And we will continue defending not just our own country, but also all the oppressed people of the world, specially those countries that are standing on the forefront of confrontation with the Zionists," continued the General.
Sum 250,000 Iranian Basiji (volunteer) forces in the form of 250 battalions started massive drills in Tehran on Wednesday and Thursday to practice fighting against security threats.
In relevant remarks in 2014, Supreme Leader of the Islamic Revolution Ayatollah Seyed Ali Khamenei noted that criminal acts of the wolfish and child-killer Zionist regime in Gaza had revealed its true nature, and said, "Only way to solve this problem is full annihilation and destruction of the Zionist regime."
Full report at:
http://english.farsnews.com/newstext.aspx?nn=13940611000630
----------
British Speaker Calls for Transferring Technology from Iran
Sep 02, 2015
During the meeting which was held on the sidelines of the Fourth World Conference of Speakers of Parliament at the UN headquarters in New York on Tuesday, D'Souza also welcomed reopening of the British embassy in Tehran as a step towards easing tensions and starting a new chapter in the relations between the two countries.
She also said that Britain is eager to expand its parliamentary relations with Iran.
Larijani, for his part, referred to the presence of terrorist groups in Iraq and Syria, and said, "The terrorist and extremist stream is not limited to the region and can be dangerous to all."
He also pointed to the 40-fold increase in the production of drugs in Afghanistan in the past 10 years and after the US and Britain attacked the country, and said, "Illicit drugs are a source of income for the terrorists and there is no international resolve to fight this phenomenon."
Afghanistan produces some 90 percent of the world's illicit opiates. The UN Office on Drugs and Crime (UNODC) estimates that in 2014 the drug production levels climbed 17 percent compared to the previous year.
The Russian Federal Drug Control Service (FDCS) chief said in May that illegal drug production in Afghanistan has increased by a factor of 50 and continues to rise since a US-led operation was launched in the country in 2001.
Full report at:
http://english.farsnews.com/newstext.aspx?nn=13940611000640
----------
Syria parliament speaker lauds Iran's backing
Sep 2, 2015
Speaker of the Syrian People's Assembly Mohammad Jihad al-Laham has praised Iran's support for the Syrian nation and government in the face of militancy in the country.
Al-Laham made the remarks in a Tuesday meeting with Iran's Parliament (Majlis) Speaker Ali Larijani on the sidelines of the Fourth World Conference of Parliament Speakers convened by the Inter-Parliamentary Union (IPU) in cooperation with the United Nations (UN) in New York.
About 180 parliamentary leaders, including more than 35 deputy speakers, from nearly 140 countries are taking part in the conference to examine ways to effectively tackle global challenges to peace and democracy. The conference kicked off on August 31 and will run until September 2.
The Syrian official said that the resistance movement will emerge victorious because it is based on ethical principles.
He further expressed regret that the UN special envoys to Syria and international mediators have not observed impartiality to help reach a political solution to the conflict in the Arab country.
Syria has been the scene of a deadly turmoil since March 2011. Reports say the violence fueled by Takfiri groups has so far claimed the lives of over 240,000 people.
Since the beginning of the conflict, Iran has emphasized that the only sustainable solution to the crisis in Syria is through an inclusive and Syrian-led political process that meets the legitimate demands of the Syrian people.
Larijani, for his part, underlined the need for a political settlement of the crisis in Syria, reiterating the Islamic Republic's support for Syria until the crisis is resolved in the country.
"The Islamic Republic of Iran feels duty-bound to back the Syrian government and nation until the ground is prepared for dialog and peace in Syria," said Larijani.
Full report at:
http://www.presstv.ir/Detail/2015/09/02/427379/Syria-parliament-speaker-Jihad-alLaham--Iran-Ali-Larijani--Sheikh-Khalid-bin-Hilal-alMawali-
----------
Southeast Asia
YouTube Removes Alleged ISIS Video Threatening To Kill Maldives President and VP
Fazeena Ahmed, Haveeru Online
Sep 01, 2015
The video uploaded to YouTube on Monday; threatening to kill Maldives President Abdulla Yameen and his deputy Ahmed Adeeb if they fail to comply with terms put forth on the video, has been removed.
The video was removed by YouTube, as it violated YouTube's terms and conditions.
A Police Media Official said they are investigating the video, which had threatened deadly attacks on the Maldives' economy if President Yameen and VP Adeeb failed to comply with their conditions. The Police has not disclosed further details.
In the 3.16 minute video carrying the Sunni Muslim extremist group Islamic State logo, one of the three masked and armed men had spoken in the local language "Dhivehi" subtitled in English.
Full report at:
http://www.haveeru.com.mv/news/61937
-----------
A nation's battle for a distinct Islamic identity – Gwenael Njoto-Feillard
2 September 2015
With the rise of the Islamic State and the chaos and violence engulfing parts of the Middle East, Indonesia's Islamic leaders have embarked on a process of self-definition and soul searching.
Worried about the possible importation of similar conflicts into the country, the leaders have started to promote more vigorously their own vision of a peaceful and tolerant religion.
This started in early 2014 when it became clear that the Islamic State was actively recruiting in the archipelago.
In March 2015, alarm bells went off when a video emerged of what appeared to be South-east Asian Malay-speaking children being trained in an Islamic State military camp.
While authorities have put in place repressive measures against the terrorist organisation, it is becoming evident that the real battleground is ideological, cultural and educational.
This is why the current debate about Indonesian Islam's cultural distinctiveness, known as Islam Nusantara (Nusantara refers to the Indonesian Archipelago), versus a more Middle-Eastern type of Islam has taken centre stage.
While the debates on the so-called "Arabisation" versus "Indigenisation" of Islam in Indonesia are old and recurring ones, the Islamic State threat combined with new political alliances since Joko Widodo came to power have given it new urgency.
The president and religion
The election of Widodo to the presidency in 2014 promised a brighter future for religious tolerance and pluralism in Indonesia. After all, he had declared during the campaign that he would defend the country's tradition of moderation and inclusiveness against expanding radical elements.
So far, however, it is unclear if much on the ground has changed.
In early July, a group called the "Islamic Jihad Front" broke up a Christian youth camp near Yogyakarta. The local police were present and did not interfere, later stating that the organisers did not have the proper authorisation.
Once again, the main challenge for the central government is in applying its new policy on a local level, where some officials have been tolerating, sometimes even condoning, violations of the rights of religious minorities.
Nor are the targets limited to non-Muslims or, for that matter, Muslim minority groups considered "deviants".
This year, after inflammatory messages were reportedly issued by the Evangelical Church of Indonesia, hundreds of native Papuans were said to have attacked non-native Papuans of Muslim faith at the end of Ramadan, and burnt down a mosque in the Tolikara regency in Papua.
Evidently, conservative forces in parliament will not make it easy for the Widodo administration to push its agenda on pluralism.
A point of contention was the recent declarations of Religious Affairs Minister Lukman Hakim Saifuddin, a known progressive figure from the traditionalist Islamic organisation Nahdlatul Ulama (NU).
During Ramadan, Saifuddin had called for those who fast to respect those who do not fast – referring to the actions of radical vigilantes such as the FPI (Islamic Defenders Front) who often force food stalls to close during the fasting period.
Another recent event illustrated well the growing tensions between these two opposing poles.
On a remembrance day event at the state palace to mark Prophet Muhammad's ascension – attended by Widodo and representatives of Muslim countries - a Quranic passage was for the first time recited in Javanese and not Arabic, a move criticised by hardliners as a "liberalisation" of the religion.
To be sure, a Javanese recitation of the Quran would have been unimaginable under the previous administration, Susilo Bambang Yudhoyono, whose political alliances tied him to more conservative Islamic interests.
Widodo is clearly not in such a position. Since the start of the presidential campaign, he has enjoyed support from the National Awakening Party, which is closely linked to NU.
Boasting 40 million members and sympathisers in Indonesia, NU is not only the largest independent Islamic organisation in the world, it is also a proponent of Islam Nusantara and the re-localisation of Indonesian Islam against transnational puritanical movements.
A homegrown 'Islam nusantara'
The most notable recent initiative by the NU-Widodo alliance centres around the idea of an Indonesian Islam possessing a distinct identity.
"Islam Nusantara" is understood as the product of a dynamic interaction between jurisprudence of social relations, the understanding of Islam's core texts, Islamic law, customs and culture of the Indonesian archipelago.
But critics of Islam Nusantara say that "Islam is One" and cannot be divided into "boxes". Just as there is no Arabic Islam, therefore there is no Indonesian Islam.
Habib Rizieq, the leader of the FPI, has been the most vocal in criticising the Islam Nusantara movement: he sees it as a cultural and nationalistic "trick" to impose indigenous cultural values on an innately universal Islam.
Full report at:
http://www.themalaysianinsider.com/sideviews/article/a-nations-battle-for-a-distinct-islamic-identity-gwenael-njoto-feillard
----------
Main Suspect in Bangkok Bombing Arrested, Thai Prime Minister Says
Sept. 1, 2015
BANGKOK—Thai authorities arrested a second foreign suspect in the bombing of a shrine in central Bangkok two weeks ago that killed 20 people, bringing investigators closer to determining who orchestrated the attack and why.
Prime Minister Prayuth Chan-ocha told reporters Tuesday that a foreign man, whom he described as the main figure behind the country's worst-ever terrorist attack, was detained as he was trying to cross Thailand's eastern border into Cambodia. Gen. Prayuth didn't say if he was the same man as the one caught on security cameras placing a pipe bomb beneath a bench at the Erawan Shrine during the evening rush hour on Aug. 17, but other officials in the ruling junta said he could be. (Latest News: Police Say Main Suspect Believed to Be Uighur)
Tuesday's arrest came after a breakthrough Saturday, when police arrested another foreign man at a Bangkok apartment building. Police said they found bomb-making equipment and fake passports in the rented room, prompting Gen. Prayuth to say for the first time Monday that the suspects might be involved with ethnic Uighurs attempting to flee repression in China and reach Turkey, where members of the Muslim-Turkic group have tried to resettle.
The investigation, however, is a sensitive matter for Thailand's leaders, who have worked to build strong ties with China after seizing power in a coup d'état last year.
China's embassy in Bangkok issued a statement shortly after the bombing criticizing media for speculating that the blast might have been retaliation for Thailand's decision to deport more than 100 Uighurs back to China in July. The deportations were met with violent protests outside a Thai consulate in Turkey. The bomb itself was planted at a site known to be popular with visitors from China.
Seven of the dead came from China, along with other visitors from Malaysia, Singapore Indonesia, in addition to local Thais.
Leading figures in Thailand's ruling junta insisted for days following the bombing that it wasn't the work of international terrorists, saying it was linked instead to political conflicts in Thailand.
In recent years Thailand has seen riots, shootings and marathon street protests, culminating in last year's military coup. Predominantly Buddhist Thailand is also home to an long-running insurgency in the Muslim-dominated southern provinces that has killed more than 6,000 people in the past decade.
But as the investigation unfolds, police are uncovering more evidence that appears to point to Uighurs or their sympathizers.
The man arrested Saturday had a fake Turkish passport and a stack of empty Turkish passport books. The Thai woman who rented the apartment where the man was apprehended Saturday is married to a Turkish man.
Full report at:
http://www.wsj.com/articles/main-suspect-in-bangkok-bombing-arrested-thai-prime-minister-says-1441098157
----------
Europe
Belgium Gets First Islamic Secondary School
01 September 2015
BRUSSELS – Amid growing demand for Islamic education, Belgium's first Islamic secondary school will open next Thursday, accommodating scores of students who have been waiting for a place to pursue their studies.
"There is a strong demand for Islamic education among the Muslim community in Belgium but our schools regretfully cannot accommodate all the pupils and this year we have about 200 pupils who are waiting to find a place," Mohammad Allaf, secretary general of the six-member committee of Islamic education in Belgium, told KUNA news agency on Tuesday, September 1.
The new school will offer places for 144 boys and girls, who have already registered. Nevertheless, there is still a shortage of 40 places.
According to the official education system in Belgium, Muslims are allowed to establish schools with the same Belgian curriculum and under the supervision of Belgian authorities.
These authorities also offer the salaries of the teachers in the Muslims schools.
"But the philosophy of the education in our schools is our responsibility in order to teach Islamic religion and Arab culture to the pupils," Allaf said, noting that pupils in the Islamic schools celebrate all the Islamic holidays.
Two hours of special classes in Arabic language are held after the normal school hours in the Islamic schools, but participation is voluntary.
The normal education in the Islamic schools is given in the French language, due to the large population of Moroccan and Tunisian pupils in these schools.
Currently, there are three primary Islamic schools in Brussels.
The first called Al Ghazali was established in 1989, the second called the Pen (al Qalam) in 2011 and the third called Al Fadilah (Virtue) in 2013. The three schools have around 800 pupils.
Full report at:
http://www.onislam.net/english/news/europe/493003-belgium-gets-first-islamic-secondary-school.html
----------
Austrians Help Desperate Syrian Refugees
01 September 2015
VIENNA – Hundreds of Austrian citizens flocked to Vienna's Westbahnhof train station on Monday night to offer water and food to Syrian refugees, helping them before boarding trains to Salzburg or to Munich in southern Germany.
Rallying at the train station, demonstrators held up large banners reading "Refugees welcome" and "I don't want Europe to be a mass grave."
They also marched while chanting songs about love and solidarity, Agence France Presse (AFP) reported on Tuesday, September 1.
Offering beverages, water and food, the cry for helping refugees has echoed across Europe after 71 refugees were found dead last week in an abandoned lorry on an Austrian Highway.
The tragedy highlighted the dangers faced by migrants at the hands of traffickers when they finally reach Europe.
Five suspected people smugglers, four Bulgarians and an Afghan, have been arrested in Hungary over the deaths of the migrants, all thought to be Syrian.
Bystanders erupted into applause as the demonstrators, among them parents carrying children on their shoulders, headed down a major shopping thoroughfare watched by police officers with their helmets under their arms.
Not far away from the train station, about 20,000 people took to the streets of Vienna on Monday evening to protest refugees' ill-treatment.
Meanwhile senior government officials attended a church service for the victims of the truck tragedy.
Full report at:
http://www.onislam.net/english/news/europe/492989-austrians-help-desperate-syrian-refugees.html
----------
Muslim graves attacked in Denmark
September 2nd, 2015
More than 50 Muslim graves have been desecrated in the Danish city of Odense, just three months after a similar incident in the country, police sources and Danish media reported Tuesday.
At a time when Islamophobic sentiments and attacks were raging all across Europe, the latest attack in Denmark, according to Danish media, is believed to have been carried out with ax by unknown number of attackers over the weekend.
According to the Danish daily Berlingske, police were yet to make an arrest in the incident that left dozens of gravestones destroyed or damaged.
Bosnian Mirna Ugljen told DR television Tuesday that she was shocked to see the cemetery vandalized where her father had been resting since 17 years. "When we came to visit my father, we were shocked. They are dead and cannot hurt anyone. Leave them alone," Ugljen said.
Danish Minister of Justice Soren Pind condemned the incident on Twitter. "Stop this. As Denmark, we do not want to walk on such a path," he tweeted in Danish language.
In a similar incident, about 50 Muslim graves were desecrated in the western Copenhagen suburb of Brondby. Gravestones destroyed or damaged.
Full report at:
http://www.albawaba.com/news/muslim-graves-attacked-denmark-738404
----------
"Russia has begun intervention in Syria," says Israeli site
1.09.2015
I have little regard for Assad, but much less for so-called IS. Just as the US is standing aside while Russia has a go at IS from Damascus, it might be good if Turkey could come to a truce with the PKK so that they can both be free to continue their attacks on the evil so-called IS.
To any Islamic (I will for once out of politeness use the capital letter) who takes his or her religion seriously, I would suggest that for the honour of the religion, the destruction of the evil so-called IS should be taken as a Jihad obligation on all Muslims (capital letter again).
IS is NOT Islam. It is not even Islamic.
Once that evil organisation is destroyed (the best thing for it) the world will be a better place.
Full report at:
http://www.b92.net/eng/comments.php?nav_id=95286
----------
Russian Muslims suffer from shortage of mosques
September 1, 2015
The Russian capital Moscow is growing increasingly Islamic, as the number of Muslims in the city has increased to over 1.5 million over the past decade, according to Russia's chief of imams.
There are hundreds of mosques in Moscow, but not enough to accommodate the huge number of worshippers, forcing many to pray on the streets.
According to experts, the number of Muslims in the city has grown dramatically in the past two decades due to increased migration from predominantly Muslim Central Asia, Azerbaijan and Russia's North Caucasus.
"The real number is definitely higher," said Alexei Malashenko, an expert at the Carnegie Endowment. "This includes both Muslims who live here as well as registered migrants. We simply do not have exact statistics."
In 2015, more than 160,000 Muslims attended prayers marking the Eid festival, according to the Moscow police. "A large number of migrant workers come to our mosques, there are only four of them in Moscow now of course they are overcrowded and most of our believers pray outside, in the rain, in the sleet," said Iman Rushan Abbyasov, deputy head of the council of muftis.
Full report at:
http://en.abna24.com/service/europe/archive/2015/09/01/708686/story.html
-----------
URL: https://www.newageislam.com/islamic-world-news/new-age-islam-news-bureau/pakistan-says-'almost-all'-uighur-militants-eliminated/d/104455