New Age Islam News Bureau
14 Dec 2017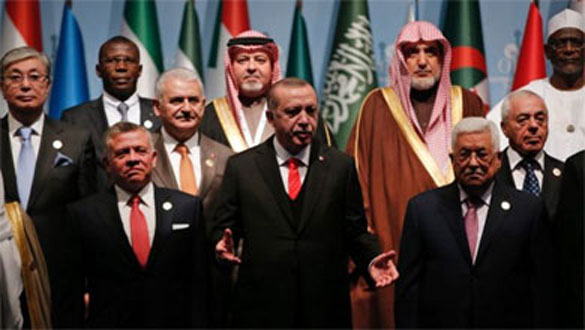 Turkish President Recep Tayyip Erdogan, centre, flanked by Jordanian King Abdullah II, left, and Palestinian President Mahmoud Abbas, right, prior to the opening session of the Organisation of Islamic Cooperation Extraordinary Summit in Istanbul, on Wednesday. Photo: Lefteris Pitarakis
-----
• Pakistan's Supreme Court Angry That Some Hindu Temples Have No Idols
• China Gathering Blood, DNA and Iris Scans For Massive Database of Millions In Muslim Province
• Muslim Leaders Declare East Jerusalem the Palestinian Capital
• King Salman: No Place for Extremists Who View Moderation as Degeneration
• Muslim Performs Last Rites of Hindu Septuagenarian in Bulandshahr
• MSF Estimates More Than 6,700 Rohingya Killed In Myanmar
Pakistan
• Pakistan's Supreme Court Angry That Some Hindu Temples Have No Idols
• Pakistan's High Court Halts Release of Ex-Taliban Spokesman
• Pakistan offers Saudi Arabia strategic pact
• US forces not conducting operations inside Pakistan
• Trump signs bill that includes $700m reimbursement for Pakistan
• KP-Fata merger delay may see return of terrorism, cautions Imran
• Ummah must overcome political differences: PM
--------
Southeast Asia
• China Gathering Blood, DNA and Iris Scans For Massive Database Of Millions In Muslim Province
• Malaysian Party Calls for Boycott of Products Linked To Israel over Jerusalem Issue
• Indonesia court rejects petition to bar consensual sex outside marriage
• Selangor Sultan Warns Against Extremism and Liberalism
• Hisham gets another brickbat over offer of troops for Jerusalem
• Muslim groups back Singapore's stand on two-state solution
--------
Mideast
• Muslim Leaders Declare East Jerusalem the Palestinian Capital
• Palestinians No Longer Accept US as Mediator, Abbas Tells Summit
• Israeli forces, Palestinian demonstrators clash in Bethlehem
• 'Turkey's Erdogan seeks to form common Muslim approach'
• Clashes Erupt Among Saudi-Led Coalition Members in Yemen
• Israel carries out series of strikes on Hamas sites in Gaza
• US source of terror, instability in Middle East: Ex-Israeli lawmaker
--------
Arab World
• King Salman: No Place for Extremists Who View Moderation As Degeneration
• Scholars Continue Islamic Peace Dialogue
• At least 23 members of one family killed in US airstrikes in Syria's Dayr al-Zawr
• Poll: 82% of Palestinians Distrust S. Arabia
• US-led air strikes kill 23 civilians in Syria
• Israeli intelligence minister wants Saudi crown prince to visit Tel Aviv
• Saudi Arabia's folly, Iran's smart diplomacy
• Western, Gulf Weapons Supplied to Syria Rebels Leaked to Islamic State
• Saudi Arabia pledges 100 million Euros to fight extremism in Africa
• Top Saudi artists delighted at cinema reopening
• Regime only wants to make Syria safe for Assad: Opposition
• Kurdish militant group re-emerges in northern Iraq under new name
--------
India
• Muslim Performs Last Rites of Hindu Septuagenarian in Bulandshahr
• Cong Slams Centre, State over Counting Of Muslim Staff in Health Dept
• Market for Malayalam Films Unfolding In Saudi
• At ICJ, Pakistan rejects India's plea for consular access to Kulbhushan Jadhav
• 'Bihar Govt Scholarship for Madrassa Pupils' Who Clear Class X and XII Examinations
--------
South Asia
• MSF Estimates More Than 6,700 Rohingya Killed In Myanmar
• Authorities In Bangladesh Say Manhattan Bombing Suspect Was 'Self-Radicalized
• Two journalists covering Rohingya crisis in Burma arrested for possessing 'secret papers'
• Taliban commander famous as Paraq arrested in Nangahrar province
• Afghan forces foil deadly blast, US drone strike kill 3 IS militants in Nangarhar
• Teachers of Afghan-Turk school likely arrested over Gülen links
• Suu Kyi award revoked in protest against her handling of violence against Rohingya
--------
North America
• US Official Accuses Turkey of Pushing Extreme Islamist Ideology
• 'New York Bomber Read Extremist's Books, Urged Wife to Do So'
• Counterterror chief: Trump's anti-Muslim rhetoric makes job more difficult
--------
Europe
• Italy Deports Man for Facebook Like of Isis Video
• Birmingham Couple Who Plotted Terrorist Knife Attack Are Jailed
• Denmark bans another Saudi 'hate preacher'
• When 'Arab Street' and Its Protests Go To Europe
• Britain First video outside Islamic centre in Belfast condemned
--------
Africa
• Tunisia's Ennahda Struggles To Shake Political Islam Identity
• Moscow seeks UNSC's nod to supply arms to Central African Republic
• Nigeria: Families of hundreds of Shi'a Muslims killed in Zaria still await justice
• Sudan: Ambassador - Al-Basher Participation in Summit Affirms Stance towards Palestinian Issue
Compiled by New Age Islam News Bureau
URL: https://www.newageislam.com/islamic-world-news/pakistan-supreme-court-angry-that/d/113568
--------
Pakistan's Supreme Court angry that some Hindu temples have no idols
Shailaja Neelakantan
Dec 13, 2017
NEW DELHI: The Pakistan supreme court is annoyed that some Hindu temples in the country's Punjab province don't have idols of the religion's gods, reported The Express Tribune.
The country's top court accused the province's administration of negligence towards members of the Hindu community from around the world.
"What impression of Pakistan would they have if they do not find idols in the temple", the court asked.
Notably, the court made these comments in an Islamic country; idolatry is a sin in Islam.
Pakistan's Supreme Court made these observations during a hearing they initiated of their own accord on the reasons for a pond drying up at the famous Katas Raj Temples in a place called Chakwal.
The pond is believed to have been created from the tears of Shiva and is regarded as sacred by Hindus. The report says the pond is drying up because of groundwater depletion, no thanks to the area's cement factories.
https://timesofindia.indiatimes.com/world/pakistan/pakistans-supreme-court-angry-that-some-hindu-temples-have-no-idols/articleshow/62050302.cms
--------
China Gathering Blood, Dna And Iris Scans For Massive Database Of Millions In Muslim Province
By Christina Zhao
12/13/17
Chinese police have started gathering blood types, DNA samples, fingerprints and iris scans from millions of people in its Muslim-majority Xinjiang province to build a massive citizen database, according to report by activist group Human Rights Watch.
The report, published Wednesday, said officials are collecting the data from citizens between the ages of 12 and 65 years old using a variety of methods. Authorities are gathering DNA and blood types through free medical checkups, and HRW said it is was unclear if patients were aware that their biometric data was being collected for the police during these physical exams.
According to the report, citizens authorities have flagged as a potential threat to the regime, and their families—named "focus personnel"—are forced to hand over their DNA regardless of age.
So far, 18.8 million citizens have participated in the medical checkups, called "Physicals for All" by the government, according to an article by a state news agency Xinhua on November 1.
"Xinjiang authorities should rename their physical exams project 'Privacy Violations for All,' as informed consent and real choice does not seem to be part of these programs," said Sophie Richardson, China director at HRW.
"The mandatory databanking of a whole population's biodata, including DNA, is a gross violation of international human rights norms, and it's even more disturbing if it is done surreptitiously, under the guise of a free health care program," she added.
The rights group is concerned about the data collection as iris scans, DNA and blood type could be used for "surveillance of persons because of ethnicity, religion, opinion or other protected exercise of rights like free speech," further adding to controls in a region some analysts have dubbed an "open air prison."
Xinjiang, a territory in northwest China, is a colossal region of deserts and mountains and is known for being home to many ethnic minority groups, including over 11 million Muslim Turkic Uighur people. Because of this, Xinjiang has long been subject to tight control and intense levels of surveillance not experienced elsewhere in China.
In April, police banned its citizens from wearing long beards or veils in public, a move that activist groups saw as a means of targeting the Muslim population in particular. Authorities also banned home schooling and use of the Uighur language in schools, as well as introducing new restrictions on downloading what it considered to be extremist materials.
The biometric collection scheme is detailed in an official document that was posed in Xinjiang's government website, with HRW making an unofficial translation is available.
http://www.newsweek.com/china-gathering-blood-dna-iris-massive-database-millions-muslim-province-746529
--------
Muslim Leaders Declare East Jerusalem the Palestinian Capital
By CARLOTTA GALL
DEC. 13, 2017
ISTANBUL — Leaders and officials of Muslim nations declared East Jerusalem the Palestinian capital on Wednesday at a summit meeting in Istanbul, producing the strongest response yet to President Trump's decision to recognize the city as Israel's capital.
The gathering of the 57-member Organization of Islamic Cooperation was held to formulate a unified response from the Muslim world to Mr. Trump's decision last week. President Recep Tayyip Erdogan of Turkey was the host; the country currently holds the chair of the I.O.C., and Mr. Erdogan has long championed the Palestinian cause.
The meeting condemned in a communiqué Mr. Trump's "unilateral" and "dangerous declaration" as an effort to change the status of Jerusalem. It said that it considered the action a violation of United Nations resolutions and legally null and void, and that it would hold the United States liable for all consequences of not retracting its decision.
It also said it took Mr. Trump's declaration as an announcement that the United States was withdrawing from its role as a sponsor of peace for the region.
Among the 30 leaders present were Palestinian President Mahmoud Abbas, King Abdullah II of Jordan, President Michel Aoun of Lebanon, President Hassan Rouhani of Iran, and the emirs of Kuwait and Qatar. Officials were present representing the full 57 members, Mr. Erdogan said.
President Nicolas Maduro of Venezuela also attended by special invitation of Mr. Erdogan.
A conservative Muslim, Mr. Erdogan has made the Palestinians' fate a leading cause of his politics, styling himself as a leader of the wider Muslim community. He criticized some Arab states for what he called their weak response to Mr. Trump's decision, suggesting they were intimidated by the United States.
Mr. Abbas on Wednesday told the gathering that Mr. Trump had committed the "greatest crime" with his declaration, and that the Palestinians would no longer accept any role of the United States in peace negotiations with Israel.
"Jerusalem is and always will be the capital of Palestine," he said, adding that the United States was giving it away as if it were an American city. "It crosses all the red lines," Mr. Abbas said.
Mr. Erdogan urged nations of the world to recognize the state of Palestine, and declared Jerusalem as its occupied capital. He warned there would be no peace in the region unless the city's status was recognized as such.
The Turkish leader also voiced some of the strongest criticism of Mr. Trump. "How can you take a decision like that on your own?" Mr. Erdogan said, addressing Mr. Trump directly through a live news briefing.
Saying he expected the Americans to "reverse their mistake," Mr. Erdogan added of Israel that "Palestine's fate cannot be left in the hands of a country that brutally kills women and children alike."
"Israel has been rewarded for all the terrorism that it did, and the award has been given by Trump, although he is alone," Mr. Erdogan said. "While we were working for peace, we got the biggest slap in our face of our times."
Calling Israel a terrorist state, he warned that "Israel will never have any legitimacy in Jerusalem."
https://www.nytimes.com/2017/12/13/world/middleeast/muslims-jerusalem-palestinians.html?mtrref=www.google.co.in&gwh=EDB51FAEAA1B5B2BCAE6F0485251BD6B&gwt=pay
--------
King Salman: No place for extremists who view moderation as degeneration
13 December 2017
King Salman bin Abdulaziz Al Saud inaugurated the second year of the seventh session of the Shura Council at the Council's headquarters in Riyadh.
The king delivered the following annual royal address:
"I am pleased to inaugurate the works of the second year of the seventh session of the Shura Council today, praying to Allah Almighty to make our works sincere and help us for the interests of the homeland and its citizens, appreciating the Council's efforts and works, wishing you all success.
The Kingdom since its foundation by late King Abdulaziz has applied Sharia, adhered to the Islamic religion and justice in all matters, and adopted the principle of Shura (consultation).
We praise Allah for all blessings, and thank Him for honoring us with the service of the Grand Holy Mosque, the Prophet's Holy Mosque, and Allah's guests of pilgrims, Umrah performers and visitors.
As the Kingdom's vision 2030 includes developmental plans and programs aiming at preparing the Kingdom for the promising future and for achieving the vision's objectives, some government agencies have been restructured and a number of decisions have been taken to serve the interests of the society, strengthen the homeland's security, combat corruption, and increase the participation of male and female citizens in the national development.
We appreciate the role of the private sector as an important partner in development, its support for the national economy, expanding in employing the homeland's male and female youths, and localizing the industry and will continue to empower the private sector and stimulate it to achieve further growth and development.
I have directed ministers and officials to facilitate procedures, provide further services of high quality for male and female citizens, expand in a number of programs affecting main needs of citizens, notably the most important one is the housing program.
Corruption, in all its kinds and forms, is a severe lesion that undermines societies and prevents their development and growth, and we are determined to confront it in a fair and firm way so that our country enjoys the renaissance and development hoped for by every citizen. In this context we ordered to form a supreme committee for public corruption issues under the chairmanship of His Royal Highness Crown Prince, and we praise Allah that those corrupted are few.
And what they have made does not prejudice the integrity of honorable citizens of this country of princes, ministers, businessmen, employees, and workers at all levels, and in their various positions of responsibility in public and private sectors, as well as residents of workers and investors, whom we are proud and wish them all success.
Your country seeks to develop its present, build its future and move forward on the track of growth, modernization, and continuous development, in a way that does not contradict our principles, adhering to moderation as a way and approach just as Allah commanded us to do so, we are proud of our values and constant fundamentals.
Our message to all is that there is no place between us for an extremist who sees moderation as degeneration and exploits our tolerant religion to achieve his goals, and there is no place between us for a degenerated one who sees our war on extremism as a means of disseminating decadence and exploits the facilitations of the religion to achieve his goals. We will hold accountable anyone who exceeds that. We are the protectors of the religion and honored by Allah Almighty with the service Islam and Muslims, praying to Allah Almighty to crown us with all success.
The Kingdom plays an effective role at regional and international organizations and enjoys a global and regional respect that enabled the timely convening of historical summits in which many leaders of the brotherly and friendly countries participated and established a joint action aimed at achieving security and stability in the region and the world.
The Kingdom has continued its pioneering and effective role in combating phenomenon of terrorism and drying up its sources.
The Kingdom called for a political solution for the crises in the region and resolve its issues, topped by the Palestinian Cause and restoration of the Palestinian people's legitimate rights, including the right to establish their independent state which East Jerusalem as its capital.
On this occasion, I would like to reiterate the condemnation of the Kingdom and its deep regret of the US decision on Jerusalem which represents a blatant bias against the historic rights of the Palestinian people in Jerusalem, which have been guaranteed by the relevant international resolutions and have been recognized and supported by the international community.
Meanwhile, the Kingdom is working with its allies to confront the tendency of interference in the countries' internal affairs to fuel sectarian strife and undermine regional security and stability.
The Kingdom seeks to consolidate the values of tolerance and coexistence along with its effort for lifting the suffering of peoples."
King Salman opened the seventh session of the Shoura Council's second year at the headquarters of the council in Riyadh.
King Salman was received by his special advisor Prince Abdullah bin Abdulaziz Al Saud, the Prince of Riyadh Faisal bin Bandar bin Abdulaziz, Crown Prince Mohammed bin Salman, Deputy Prince of Riyadh Mohammed bin Abdul Rahman bin Abdul Aziz, the Minister of Interior Prince Abdul Aziz bin Saud bin Nayef bin Abdul Aziz, the Kingdom's Mufti Chairman of the Supreme Council of Scholars and the Standing Committee for Scientific Research and Ifta Sheikh Abdulaziz bin Abdullah Al-Sheikh, the Chairman of the Shoura Council Dr. Sheikh Abdullah bin Mohammed Al-Sheikh, and senior officials of the Shoura Council and the heads of the committees.
https://english.alarabiya.net/en/News/gulf/2017/12/13/King-Salman-gives-speech-before-Saudi-Shura-Council.html
--------
Muslim Performs Last Rites Of Hindu Septuagenarian In Bulandshahr
Dec 13, 2017
In an exemplary show of communal harmony and brotherhood, a Muslim performed the last rites of a Hindu septuagenarian in village Mohammadpur Barwala in Bulandshahr on Monday.
Former village pradhan Mohammad Anad Khan's son Malahat Khan performed the ritual of 'mukhagni' of Thakur Jitendra Singh while members of Hindu and Muslim communities attended the last rites.
Anad Khan said Thakur Jitendra Singh was a resident of district Budaun who came to stay in the village in 1967 and thereafter became like a family member. He has been living with his family and he was sick since last eight months and died after a prolonged illness on Monday.
The family took his mortal remains on the bank of the Ganga where Malahat Khan performed the last rites. Another ritual of terhavi would be organised after consulting the Brahmins to decide the date as per Hindu tradition.
Village pradhan Shyamlal and former pradhan Veerpal also attended the last rites and said that the Muslim family has shown an example of communal harmony for others to emulate.
http://www.hindustantimes.com/lucknow/muslim-performs-last-rites-of-hindu-septuagenarian-in-bulandshahr/story-Z76YeG3njXaX57uBxLC9CI.html
--------
MSF estimates more than 6,700 Rohingya killed in Myanmar
December 14, 2017
At least 6,700 Rohingya were killed in the month after violence broke out in Myanmar in August, Medecins Sans Frontieres (MSF) says.
Based on surveys of refugees in Bangladesh, the number is much higher than Myanmar's official figure of 400.
MSF said it was "the clearest indication yet of the widespread violence" by Myanmar authorities.
The Myanmar military blames the violence on "terrorists" and has denied any wrongdoing.
More than 647,000 Rohingya have fled into Bangladesh since August, MSF says.
The aid group's survey found that at least 9,000 Rohingya died in Myanmar, also known as Burma, between 25 August and 24 September.
"In the most conservative estimations" at least 6,700 of those deaths have been caused by violence, including at least 730 children under the age of five, according to MSF.
Previously, the armed forces stated that around 400 people had been killed, most of them described as Muslim terrorists.
here have been plenty of detailed reports by journalists and researchers, based on interviews conducted with refugees, which make it hard to dispute that terrible human rights abuses took place at the hands of the security forces.
But many of these reports focussed on the worst cases; there are several media reports about a massacre at one village called Tula Toli. Some Rohingya I interviewed told me they had fled in fear of violence, but had not actually experienced it.
This well-researched figure by MSF suggests the operation conducted by the military was brutal enough to raise the possibility of taking a case to the International Criminal Court (ICC) for crimes against humanity.
The problem would be that Myanmar has not ratified the Rome Statute of the ICC and is not bound to co-operate with it. Bringing a case would require the approval of all five permanent members of the UN Security Council, and China has until now given its full support to the Myanmar government's handling of the crisis.
The military crackdown began on 25 August after Rohingya Arsa militants attacked more than 30 police posts.
After an internal investigation, the Myanmar army in November exonerated itself of any blame regarding the crisis.
It denied killing any civilians, burning their villages, raping women and girls, and stealing possessions.
The mostly Muslim minority are denied citizenship by Myanmar, where they are seen as immigrants from Bangladesh. The government does not use the term Rohingya but calls them Bengali Muslims.
The government's assertions contradicted evidence seen by BBC correspondents. The United Nations human rights chief has said it seems like "a textbook example of ethnic cleansing".
"What we uncovered was staggering, both in terms of the numbers of people who reported a family member died as a result of violence, and the horrific ways in which they said they were killed or severely injured," MSF Medical Director Sidney Wong said.
According to MSF:
69% of the violence-related deaths were caused by gunshots
9% were due to being burnt to death in their houses
5% were beaten to death.
Among the dead children below the age of five, MSF says more than 59% were reportedly shot, 15% burnt to death, 7% beaten to death and 2% killed by landmine blasts.
"The numbers of deaths are likely to be an underestimation as we have not surveyed all refugee settlements in Bangladesh and because the surveys don't account for the families who never made it out of Myanmar," Mr Wong said.
In November, Bangladesh signed a deal with Myanmar to return hundreds of thousands of the refugees.
MSF said the agreement was "premature" pointing out that "currently people are still fleeing" and reports of violence have come even in recent weeks.
The group also warned there was still very limited access for aid groups into Rakhine state.
The Rohingya are a stateless Muslim minority who have long experienced persecution in Myanmar.
http://www.bbc.com/news/world-asia-42348214
--------
Pakistan
Pakistan's High Court Halts Release of Ex-Taliban Spokesman
December 13, 2017
Madeeha Anwar
WASHINGTON —
Pakistan's Peshawar High Court on Wednesday ruled that Ehsanullah Ehsan, the former spokesman of U.S.-designated terrorist group Tehreek-e-Taliban Pakistan (TTP), be kept in captivity.
The ruling came after concerns that Pakistani authorities might release Ehsan as part of a deal with TTP's commander. The court asked the state to continue the investigation of Ehsan.
In a detailed response to the court, the government said it would continue to keep him under custody and investigation.
Ehsan was captured by Pakistani authorities in April. The government has reportedly been questioning him about TTP.
The Provincial Court issued its verdict following a petition filed by a resident of Peshawar who lost his son in the 2014 Army Public School massacre that claimed more than 130 lives, mostly children.
TTP claimed responsibility for the attack. Ehsan was the group's spokesman at the time.
Who is Ehsan?
Liaqat Ali, commonly known as Ehsanullah Ehsan, hails from the Mohmand Agency of the northwestern tribal region of Pakistan, which shares a border with Afghanistan.
Ehsan reportedly joined TTP during college in 2008, where his role was to be the group's mouthpiece for the Mohmand Agency. He subsequently became TTP's main spokesman.
When a faction of TTP parted ways with the terrorist organization and established Jammat-ul-Ahrar (JuA) in 2014, Ehsan became that newly created group's spokesman.
Jammat-ul-Ahrar has claimed responsibility for numerous deadly terrorist attacks in Pakistan, including a suicide bombing in Lahore Park during Easter last year that killed at least 70 people, the majority of them Christians.
JuA also claimed responsibility for a series of deadly bombings across Pakistan earlier this year.
The United States placed Jammat-ul-Ahrar on a list of specially designated global terrorist organizations last year.
Blame game
In April 2017, Pakistan's military announced the capture of Ehsan.
At the time, the military declared the arrest of Ehsan — who was allegedly operating out of the northwestern tribal region — to be a major success in the country's counterterrorism efforts.
In a confession recorded on video and released shortly after his arrest, Ehsan is heard revealing that Tehreek-e-Taliban and Jamaat-ul-Ahrar have connections with Afghan and Indian spy agencies.
Ehsan accused Afghanistan and India of supporting TTP and JuA in their terrorist attacks on Pakistani soil.
Both Kabul and New Delhi denied Ehsan's allegations and accused Islamabad of orchestrating Ehsan's confession in an effort to shift the blame of militancy to Afghanistan and India.
A senior Afghan security official told Reuters in April that Ehsan's comments are just a planned distraction by Pakistan, which is accused of providing safe havens to the Afghan Taliban on its soil.
"Pakistan has always been pushing this narrative of being a victim of terrorism, while the fact is it sponsors and supports terrorist activities in Afghanistan and India," the Afghan security official said.
"Now, Pakistan is under enormous pressure from the international community to crack down on extremists, and it is trying to evade responsibility by playing victim once again," he added.
https://www.voanews.com/a/pakistan-high-court-halts-release-of-former-taliban-spokesperson/4163194.html
--------
Pakistan offers Saudi Arabia strategic pact
Dec 14, 2017
ISLAMABAD: Minister for Defence Khurram Dastgir has proposed an all-encompassing strategic pact between Pakistan and Saudi Arabia for deepening the defence ties between the two countries.
The proposal came during his meeting with visiting Saudi Deputy Minister for Defence Mohammad bin Abdullah al Aeysh. Dastgir told the Saudi official that Pakistan and Saudi Arabia were progressing towards a comprehensive defence relationship for the 21st century.
However, he noted that despite the enduring relations between the two countries, there was no formal strategic cooperation agreement. In the same context, the minister proposed an all-encompassing strategic cooperation agreement to deepen the defence ties between the two countries. He also highlighted the extensive LoC violations from the Indian side which had resulted in numerous civilian casualties.
He conveyed Pakistan's expectation of the Saudi kingdom to play its diplomatic role to redress the situation. The Saudi deputy minister stated that the kingdom sought Pakistan's support for training Saudi armed forces, especially in the domain of counterterrorism, asymmetric warfare and mountain fighting.
Dastgir highlighted that as part of the strategic cooperation, agreements between national defence universities of both the countries might be formalised in order to expand cooperation in strategic planning.
Full report at:
https://www.pakistantoday.com.pk/2017/12/14/pakistan-offers-saudi-arabia-strategic-pact/
--------
US forces not conducting operations inside Pakistan
Dec 14, 2017
WASHINGTON: US troops in Afghanistan are targeting enemies inside Afghanistan but don't have authority to conduct operations in Pakistan, a top US military said.
Kabul US Central Command Brigadier General Lance Bunch was briefing the press through a video conference from Afghanistan on Tuesday. He was asked specifically if the US has the authority to conduct a strike in Pakistan.
"We are only targeting inside Afghanistan, inside of the combined joint operation areas in Afghanistan. And we are not, we don't have the authority nor are we conducting operations in Pakistan," Brigadier Bunch said.
Responding to a question as to what US forces were doing to disrupt the flow of militants into Pakistan, he said that the US troops were looking for an opportunity to target the enemies of Afghanistan wherever they find them.
He said earlier, the American troops could only target essentially in defence or in close proximity to Afghan forces, but now under the new authorities, the American troops were able to target militant networks and not just individual fighters.
To another question, the US general said that the role of Pakistan or India in the future with Afghanistan would be determined by the government of Afghanistan. However, he said that the US State Department was heavily engaged with both of those nations as "we look to find common ground in the future."
Giving an overview of the situation on the ground in the wake of the new US strategy in the region, Brigadier Bunch said that Afghanistan was the single largest collection of violent extremist organisations in the world for the US troops.
He said that ISIS militants were reported to be present in Nangarhar, Kunar and as per the assessment their numbers were may be in thousands. Taliban militants, he added, had pockets around the entire country.
"What I can tell you is that the new strategy highlights that this is a new war. We've now got these authorities we need, to be able to go and target the Taliban network," he added.
Full report at:
https://www.pakistantoday.com.pk/2017/12/14/us-forces-in-afghanistan-not-conducting-operations-in-pakistan/
--------
Trump signs bill that includes $700m reimbursement for Pakistan
Anwar Iqbal
December 14, 2017
WASHINGTON: US President Donald Trump has signed into law a $700 billion defence bill that includes up to $700 million to reimburse Pakistan for supporting US military operations in Afghanistan.
President Trump put his signature on this sweeping defence policy bill on Tuesday, which also authorises additional spending on missile defence programmes to counter North Korea's growing nuclear weapons threat.
The US Congress passed the National Defence Authorisation Act 2018 early last month, allowing up to $700m in Coalition Support Fund (CSF) for Pakistan as well. But half of this amount has been withheld and can only be released if the US secretary of defence certifies that Pakistan is taking demonstrable steps for curbing the Haqqani network.
Two successive US defence secretaries — Ashton Carter and James Mattis — refused to give such a certification, preventing the administration to release the funds set aside for Pakistan in the two previous budgets.
The bill, signed into law on Tuesday, includes the restriction attached by Congress and so far there's no indication that Secretary Mattis will issue the required certification for Pakistan.
The law also requires the Pentagon to monitor Washing­ton's security assistance to Pakistan and ensure that the country does not use it to support militant groups.
An earlier version of the bill asked the defence secretary to certify that Pakistan had taken steps to demonstrate its commitment to prevent the Haqqani network and Lashkar-e-Taiba from using Pakistani territory as a safe haven and for fundraising or recruiting efforts.
But when the US House of Representatives and the Senate released their joint version of the 2018 National Defence Authorisation Act (NDAA), they deleted Lashkar-e-Taiba from the list and focused only on the Haqqani network.
This was the first indication that the United States could show leniency in Pakistan's disputes with India if Islamabad agrees to help it out in Afghanistan.
The law in its present form also seeks a declaration from the US defence secretary that Pakistan is working with Afghanistan to restrict the movement of militants along the Afghan border, and has shown progress in arresting and prosecuting senior leaders and mid-level operatives of the Haqqani network.
The previous version also sought a similar declaration for Lashkar-e-Taiba, but is not there in the present law.
The NDAA 2018 also expresses concern about the alleged persecution of various political or religious groups in Pakistan, including Christians, Hindus, Ahmadis, Sindhis, Hazaras and the Baloch.
Full report at:
https://www.dawn.com/news/1376517/trump-signs-bill-that-includes-700m-reimbursement-for-pakistan
--------
KP-Fata merger delay may see return of terrorism, cautions Imran
December 14, 2017
KARACHI: Pakistan Tehreek-i-Insaf (PTI) chairman Imran Khan on Thursday warned that any delay in the merger of the Federally Administered Tribal Areas (Fata) with Khyber Pakhtunkhwa would leave a legal vacuum in the region and might allow terrorism to return.
Speaking to industry and business leaders at the Korangi Association of Trade and Industry (KATI), the PTI leader said that people of Fata had suffered a lot during the past 10 to 12 years. There was a void created by the collapse of the old tribal system which needed to be filled before the upcoming polls as delay in doing so could once again allow terrorism to take root, he added.
If Fata was merged with KP, the provincial police could be moved in immediately, he said, regretting that presently there was no law in the region which left the area prone to crime and other evils.
Referring to a point raised by the industry leaders about frequent dharnas, Mr Khan said that under a democratic set-up it was the people's right to hold peaceful protests. The PTI sit-in at D-Chowk in Islamabad would never have taken place if the government had immediately accepted their demand of opening ballot boxes of four constituencies out of the total 400 in the country, he maintained.
However, said Mr Khan, when the government ultimately accepted their demand, many irregularities were found in the balloting process and so it was necessary to save the upcoming elections from such illegal practices.
Similarly, he added, the government tried to brush aside the issue of London flats owned by the Sharifs and kept lingering on the matter so that it was forgotten but suddenly Panama Papers emerged which totally bogged down the ruling party's leaders.
Mr Khan said that he himself faced dharnas outside his house and they normally dispersed peacefully when their genuine demands were accepted.
The PTI chief also warned that the Khatm-i-Nubuwat issue was far from over because the government made amendment without putting the matter before parliament.
The legislature, he said, debated for 14 days before passing the Khatm-i-Nubuwat Bill in 1974, but the incumbent government tried to quietly bring change on such an important and sensitive matter. He was of the view that no country could progress if it failed to carry along trade and industry as at present the most important problem of the country was unemployment.
If governments kept failing to provide jobs to the youth it would be disastrous, he said, adding that the PTI would frame an economic policy with consultation of trade and industry. Corruption, he added, continued to be one of the biggest hurdles in the way of progress and prosperity of the country and the masses could never get the fruits of development if the menace of corruption was not checked.
Local government system
During his other engagements in the city, Mr Khan said that the solution of all problems of Karachi "lies in local government system which does not exist at present in the metropolis where development funds are being plundered by ministers".
The PTI after coming to power would change the style of administration and governance to turn Karachi into a modern city, he claimed.
Imran Khan, who arrived in the city on Wednesday on a two- day visit, had a hectic schedule including an address to the party workers' convention in Quaid­abad where he also inaugurated his party's membership camp.
He alleged that government funds, instead of being used for public welfare, were being "looted by the corrupt rulers".
He said that the rulers of Sindh "are not even able to lift garbage from the streets of Karachi" and added that after coming to power his party would overhaul local government system in the mega city.
Full report at:
https://www.dawn.com/news/1376529/kp-fata-merger-delay-may-see-return-of-terrorism-cautions-imran
--------
Ummah must overcome political differences: PM
DECEMBER 14, 2017
ISTANBUL: Prime Minister Shahid Khaqan Abbasi Wednesday said Muslim Ummah's response to the Palestinian issue should be a clear expression and renewal of its solidarity and unity, adding that the Ummah must also urgently overcome its political differences.
Speaking at the extraordinary OIC summit, the prime minister said unity among Muslim Ummah was the only guarantee to resist external pressure and reverse the losses and take its destinies in its own hands. In the immediate term, he said, the OIC should consider a number of options. "Diplomatically, if the UNSC was unable to respond, we should garner support in the UNGA (United Nations General Assembly," he said. Secondly, he said, OIC decisions for economic actions to change the behaviour of the occupying forces should be followed up and thirdly, ICJ's (International Court of Justice) opinion on the current move by US should also be sought. Abbasi said a sovereign homeland for the Palestinian people with Al-Quds Al-Sharif as its capital remained the only road map for the Muslim Ummah and the OIC.
"We are at the watershed moment again. The question on every Muslim mind today would be whether we can rise above our differences, stand united and give hope to our people, or once again adopt declarations which cannot be translated into effective actions," the prime minister told the gathering of heads of state and government of more than 26 Islamic countries.
He said the US decision was a blatant attempt to set in motion steps to change the historic and lawful status of the holy city. He said Pakistan urged the United States to rescind, fully comply with all applicable UN Security Council resolutions and recommit unequivocally to the two-state solution. "On behalf of the people and government of Pakistan, I wish to reiterate our strong condemnation of this decision," he said and added that the international community had the opportunity to uphold the principles of justice and the rule of law.
He said Pakistan called upon the UNSC to play its role as envisaged under the UN Charter as its credibility would be questioned if it did not live up to its primary role in maintaining international peace and security.
The prime minister said both houses of Pakistan's parliament had unanimously echoed these sentiments and "we all stand firmly behind the Palestinian people and their just struggle." Together with the OIC and the Islamic world, the prime minister said, Pakistan had always demonstrated its solidarity with the Palestinian people and their legitimate aspirations for a promised homeland. "Pakistan is proud to have piloted resolutions in the UN Security Council as Chair of OIC including resolutions 476 and 478," he added.
He said Pakistan renewed its call for establishment of a viable, independent and contiguous State of Palestine, on the basis of international parameters, the pre-1967 borders, and with Al- Quds Al-Sharif as its capital.
Abbasi said the Muslim leaders needed a serious introspection and reflected on two questions. "Firstly how we come to this pass. The fact is that we have not given concrete shape to our expressions of solidarity and unity," he said and added that it had been true not only for Palestine but for other common causes also. He said the world was a witness to a similar pattern of tragedy, both in scope and scale, adding that for seventy years, the people of Jammu and Kashmir had been subjected to illegal Indian occupation and blatant violation of their fundamental rights, including their right to self-determination. Here too, the UNSC resolutions continue to be defied and the just struggle for freedom conveniently branded as terrorism, he added. Moreover, the prime minister said, another reason for the situation the Muslim world found itself was that "We are not writing enough, producing enough. Without rectifying our political, economic, communication and technological weaknesses, we will be unable to mount a sustained defence of our brethren whether in Palestine or Kashmir."
Full report at:
https://dailytimes.com.pk/158944/ummah-must-overcome-political-differences-pm/
--------
Southeast Asia
Malaysian party calls for boycott of products linked to Israel over Jerusalem issue
By Sumisha Naidu
13 Dec 2017
KUALA LUMPUR: A Malaysian party said on Wednesday (Dec 13) it will launch a campaign to urge businesses and the public to boycott products with links to Israel, in light of the United States' recognition of Jerusalem as Israel's capital.
The Malaysian People's Economic Party (PEKIRA), which was set up to advocate for traders and entrepreneurs, said it will print and distribute flyers with a list of products to avoid after it, along with two NGOs, sent a memorandum of protest to the United States embassy in Kuala Lumpur.
"We call on Muslim businessmen across Malaysia, Muslims, don't use Israeli products for example Coca-Cola. From today, we'll boycott Coca-Cola! Don't drink it!" said PEKIRA president Mohd Ridzuan Abdullah.
Malaysians have reportedly taken part in such boycotts, after they were angered by disputes between Israel and Palestine.
According to lists circulating online of products and companies purportedly linked to Israel, Coca-Cola is said to provided support to Israel.
Debunking the reports, Coca-Cola said on its UK website that it does not transfer funds to support armed forces in Israel or "favour one country over another in any part of the world, including the Middle East".
Over the weekend, McDonald's Malaysia also issued a statement denying any links to Israel after similar boycott calls were circulating on messaging apps and social media. Muslim-majority Malaysia is a supporter of Palestine and does not have formal diplomatic ties with Israel.
In 2014, business operations at a few McDonald's outlets were affected by a boycott campaign over accusations the American fast food chain had links to Israel.
"Before, McDonald's was forced to close down (and the boycott worked)," said Mr Mohd Ridzuan. "This is what we'll do again."
Hundreds rallied outside the United States embassy last Friday in protest of US president Donald Trump's move with another rally planned for this Friday.
Malaysian Prime Minister Najib Razak is in Turkey for a special Organisation of Islamic Cooperation (OIC) meeting on this issue.
https://www.channelnewsasia.com/news/asiapacific/malaysian-party-calls-for-boycott-of-products-linked-to-israel-9495594
--------
Indonesia court rejects petition to bar consensual sex outside marriage
DECEMBER 14, 2017
JAKARTA (Reuters) - Indonesia's constitutional court on Thursday narrowly rejected a controversial petition to bar all consensual sex outside of marriage in the world's biggest Muslim-majority country.
Five of nine judges voted for the case to be thrown out, in a victory for rights activists who had feared the petition brought by a conservative group would spur moral policing and further discrimination, particularly targeting the gay community in Indonesia.
Chief justice Arief Hidayat said existing laws on adultery did not conflict with the constitution and that it was not the authority of the constitutional court to create a new policy.
"The plaintiff should submit their petition to lawmakers, and there it should be an important input in the ongoing revision of the national criminal code," Hidayat said.
"Based on that view, the constitutional court is of the opinion that the petition is not legally sound."
Indonesia's parliament is currently deliberating revisions to the national criminal code.
The Southeast Asian country has seen a rise of a hardline, politicized Islam in recent years, which until recently had stayed on the fringe of the nation's politics.
The petition put forward by the Family Love Alliance (AILA), a group of conservative academics and activists, called for the definition of adultery to apply not just to married couples but to anyone in a marriage or outside it - effectively making all sex outside of marriage a crime.
In their complaint, AILA said certain articles in the national criminal code "threaten the resilience of families and therefore of Indonesia itself."
Full report at:
https://in.reuters.com/article/indonesia-court-adultery/indonesia-court-rejects-petition-to-bar-consensual-sex-outside-marriage-idINKBN1E80G1?il=0
--------
Selangor sultan warns against extremism and liberalism
13 Dec 2017
SELANGOR ruler Sultan Sharafuddin Idris Shah today reminded all imam and mosque and surau officials in Selangor to stay away from extremist or liberal ideologies.
Sultan Sharafuddin said he had been informed that there were certain groups among Muslims who had deviated from the true teachings of Islam and considered killing other people as jihad which the religion required of them.
"These teachings and practices are very dangerous if they are allowed to spread as they can lead to killings and disunity among Muslims as has happened in some Gulf states recently.
"So I want imams and religious officers to constantly monitor these extremist activities so that they do not happen and take root in Selangor," he said.
Sultan Sharafuddin was speaking at a ceremony to present letters of appointment to members of the Selangor Islamic Religious Council (Mais) for the 2018-2020 term and a luncheon with 423 imams of royal mosques and other mosques in Selangor at Istana Alam Shah.
He also reminded the imams and mosque officials to ensure that speakers and religious teachers who hold talks in mosques and surau in the state have the required credentials so that they do not deviate from the true teachings of Islam and confuse Muslims. "I have stressed this before but there are still imams and mosque officials who do not obey me, resulting in teachings and talks which confuse Muslims held in mosques and surau in the state.
"Mais and Jais (Selangor Islamic Religious Department) as the highest religious bodies in Selangor must always be firm in taking appropriate action against those who go against my decrees and the rules which have been set," Sultan Sharafuddin said.
Commenting on Jais and the departments under it, the Selangor Sultan said they must give their undivided loyalty to him as the head of Islam in the state for as long as they served in Selangor even though their salaries and allowances are from the federal government.
"Every policy from Jakim (Malaysian Islamic Development Department) related to Islam, such as issues on halal certification, zakat (tithes), fatwas (edicts) and wakaf (endowment) to be implemented in Selangor must first be referred to Mais which advises me on Islamic affairs before the matter is brought to me for consent and before it is implemented," he said.
Full report at:
https://www.themalaysianinsight.com/s/27503/
--------
Hisham gets another brickbat over offer of troops for Jerusalem
Zam Yusa
December 14, 2017
PETALING JAYA: A defence analyst has criticised Defence Minister Hishammuddin Hussein for offering to send troops to Jerusalem, saying such careless rhetoric can undermine efforts to engage politically with the Israeli regime.
The Australia-based analyst, who declined to be named, said he was in agreement with National Patriots Association (NPA) president Brig-Gen (Rtd) Mohd Arshad Raji, who on Monday described the conflict over Jerusalem as a political issue and not a military one.
"It is best left to diplomacy to sort out this historical mess," Arshad said. "If diplomacy fails, the next course of action can be international condemnation. Blindly making a declaration to commit our troops is unwise."
"The NPA president is correct," said the analyst. "It is a political issue and diplomacy is the only way it shall be resolved.
"If Malaysia was intent on easing the suffering of the Palestinian people and standing shoulder to shoulder with the Palestinian authority or whomever it deems to be the legitimate representatives of the Palestinian people, it would lobby within the OIC (Organisation of Islamic Cooperation) to re-engage with the two-state process."
The so-called two-state solution envisions an independent Palestine and is seen to be the mainstream approach to resolving the conflict.
Hishammuddin's offer came ahead of an extraordinary OIC summit in Istanbul to discuss the implications of the United States administration's announcement that it was relocating its embassy from Tel Aviv to Jerusalem in recognition of the city as Israel's capital.
The analyst noted that the United Nations had tried to engage with the OIC and the League of Arab Nations to build upon existing agreements, including relevant UN Security Council resolutions, to advance a final accord.
"These efforts have been largely abandoned for various reasons, most notably the wars in Iraq and Syria," he said.
"The opportunity has arrived for a renewed effort. Statements such as the one made by the Malaysian defence minister undermine legitimate efforts to engage politically with Israel."
However, he said he doubted that the summit would produce a substantive communique.
Full report at:
http://www.freemalaysiatoday.com/category/nation/2017/12/14/hisham-gets-another-brickbat-over-offer-of-troops-to-jerusalem/
--------
Muslim groups back Singapore's stand on two-state solution
December 14, 2017
Any premature and unilateral action to alter Jerusalem's status will impede progress for a peaceful solution on the status of the city, said the Islamic Religious Council of Singapore (Muis).
Responding to US President Donald Trump's move to recognise Jerusalem as Israel's capital, Muis said it firmly agrees with Singapore's position on a two-state solution, with Israel and Palestine living side by side in peace and security.
Separately, the Singapore Islamic Scholars and Religious Teachers Association (Pergas) said it was disappointed and extremely concerned by Mr Trump's decision.
In a statement on Tuesday, Pergas called the move "a step backwards in efforts to maintain regional stability" - one that could attract negative retaliation and worsen the situation in Palestineand global peace.
Mr Trump also plans to shift the US Embassy to Jerusalem from Tel Aviv, which ignited a firestorm of protests worldwide, with many US allies warning of possible repercussions.
Pergas warned that Mr Trump's statement could be seen as support for Israel's "actions and policies that continue to oppress Palestinians".
His statement may also contravene the United Nations Security Council's resolution urging Israel to stop any activities related to the building of illegal settlements on Palestinian territory, it said.
Singapore's Foreign Affairs Ministry reaffirmed last week the country's longstanding and consistent support for a two-state solution.
Pergas supports the ministry's statement, and said it believes "peace can only be achieved if the oppression and violence is stopped".
It added: "Moving forward, Pergas sincerely hopes that the unfavourable responses from the global community and the prayers of the Muslim community will motivate President Trump to re-evaluate his statement."
Minister-in-charge of Muslim Affairs Yaacob Ibrahim said Pergas' statement is a "rational response".
In a Facebook post yesterday, he reiterated Singapore's stance on the matter and said: "There has been doubt, anxiety, anger and fear in the hearts of Muslims the world over. This issue is a longstanding, complex problem that will require wisdom, trust and hard work by all parties involved."
He also called on Muslims in Singapore to "not succumb to dismay and anger".
When contacted, the National Council of Churches of Singapore (NCCS) declined to comment "on an essentially political decision". The Catholic Church and Jewish Welfare Board also declined comment.
Senior Pastor Yang Tuck Yoong from Cornerstone Community Church said his church welcomes Mr Trump's decision, adding that Jerusalem is the "indivisible capital of Israel and that is really non-negotiable".
He, however, stressed that his church "will never advocate violence in any measure or form as the solution to the current situation in Israel". His church, which is a member of the NCCS, has a congregation of more than 5,000.
Dr Tan Kim Huat, the academic dean of Trinity Theological College, urged representatives from various religions to give measured statements on the sensitive issue.
He said different religions must continue to build trust with one another, citing mutual visits to theological schools as a way to do so.
At the grassroots level, community leaders such as imams and pastors must work to build trust and avoid making incendiary statements, he added.
Full report at:
http://www.straitstimes.com/world/united-states/muslim-groups-back-singapores-stand-on-two-state-solution
--------
Mideast
Palestinians no longer accept US as mediator, Abbas tells summit
13 December 2017
The Palestinian president, Mahmoud Abbas, has formally declared that Palestinians will no longer accept the US as a mediator in the Middle East peace process following Donald Trump's recognition of Jerusalem as the capital of Israel.
In his strongest public statement since Trump's announcement last week, Abbas said Palestinians would go to the United Nations security council to seek full membership of the UN while asking the world body to take control of the peace process as Washington was no longer "fit" for the task.
The meeting took place a day after the US secretary of state, Rex Tillerson, suggested that the linked – and equally contentious – move of the US embassy from Tel Aviv to Jerusalem might not actually take place during Trump's current term in office.
Abbas was speaking at a hastily convened meeting of the Organisation of Islamic Cooperation (OIC) in Istanbul, where members were called upon to recognise a Palestinian state, amid strong condemnations of both the US and Israel.
"Jerusalem is and will forever be the capital of the Palestinian state," Abbas told delegates. "We do not accept any role of the United States in the political process from now on, because it is completely biased towards Israel."
The Palestinian president's comments were echoed later in the summit's official closing statement, which declared "East Jerusalem as the capital of the state of Palestine" and invited "all countries to recognise the state of Palestine and East Jerusalem as its occupied capital".
The statement said the OIC summit viewed Trump's move "as an announcement of the US administration's withdrawal from its role as sponsor of peace" in the Middle East, describing it as legally "null and void" and "a deliberate undermining of all peace efforts" that would give impetus to "extremism and terrorism".
The summit was attended by King Abdullah of Jordan, the Lebanese president, Michel Aoun, the emirs of Qatar and Kuwait, and the Iranian president, Hassan Rouhani, who called on all Muslim nations to unite to defend the rights of Palestinians.
The Turkish president, Recep Tayyip Erdoğan, opened the meeting by denouncing the US move as a provocative "red line" for Muslims, describing Israel as an occupying and "terror" state. His remarks were echoed by other speakers.
But in a sign of cracks in the unity of Muslim countries – and reflecting the wider tensions in the region – Saudi Arabia and Egypt were represented at a relatively junior level, and took a back seat in the proceedings.
In comments pointedly aimed at Saudi Arabia, Rouhani said the only reason Trump had dared to recognise Jerusalem as the capital of Israel was because some in the region were seeking to establish ties to Israel.
Rouhani's remarks – and the prominence of countries closer to Iran at the summit – suggested there is a risk that the contentious issue of Jerusalem will be sucked into the escalating confrontation between Riyadh and Tehran.
Away from the summit, however, King Salman of Saudi Arabia echoed its language, telling the kingdom's consultative council that Palestinians had the right to establish the Israeli-annexed East Jerusalem as their capital.
"The kingdom has called for a political solution to resolve regional crises, foremost of which is the Palestinian issue and the restoration of the Palestinian people's legitimate rights, including the right to establish their independent state with East Jerusalem as its capital," the king said.
Analysts raised doubts as to whether Turkey's leadership could bridge gaps in the Muslim political community, which is divided along Shia and Sunni lines.
Despite the strength of the condemnations, the meeting appeared to have fallen short of Palestinian hopes for a display of unity.
Abbas has already said he will refuse to meet Pence in protest, and Christian Palestinian leaders have also come under pressure to boycott his visit.
Trump's announcement last week prompted an outpouring of anger in the Muslim and Arab world. Tens of thousands of people took to the streets to denounce Israel and show solidarity with the Palestinians.
Firing aimed at Israel from inside the Palestinian coastal enclave of Gaza, which began after the announcement, continued on Wednesday morning. The Israeli air force – which has killed four Palestinians in Gaza in recent strikes – retaliated, wounding several Palestinians.
https://www.theguardian.com/world/2017/dec/13/recep-tayyip-erdogan-unite-muslim-world-trump-east-jerusalem
--------
Israeli forces, Palestinian demonstrators clash in Bethlehem
Dec 13, 2017
Israeli forces have clashed with Palestinians protesting against the new US policy on Jerusalem al-Quds in the West Bank city of Bethlehem.
The Palestinians carrying national flags took to the Bethlehem streets on Wednesday, for the seventh consecutive day since US President Donald Trump's recognition of Jerusalem al-Quds as the "capital" of Israel.
The Israeli forces used tear gas to disperse the demonstrators.
Latest reports say some 40 Palestinians, among them officials from the Palestinian resistance movement Hamas, were detained by Israeli forces during raids on the West Bank cities over the past few hours.
On December 6, Trump declared that Washington was recognizing Jerusalem al-Quds as the "capital" of Israel and that he had instructed his administration to begin the process of moving the American embassy from Tel Aviv to the holy city.
The decision sparked a wave of global condemnations, demonstrations and warnings of further conflagration in the Middle East.
Full report at:
http://www.presstv.com/Detail/2017/12/13/545466/Israel-West-Bank-Bethlehem
--------
'Turkey's Erdogan seeks to form common Muslim approach'
Dec 14, 2017
By S.Ahmet Aytac
ANKARA
Many see Turkish President Recep Tayyip Erdogan as the spiritual leader of all Muslims around the world, and he is trying to develop a common language and attitude for all Muslims, an expert analyst told Anadolu Agency on Wednesday.
In an exclusive interview, Hamit Emrah Beris, a professor at Ankara's Gazi University and deputy head of Turkey's Public Order and Security Undersecretariat, says Turkey has strong historical ties with the region and stands apart from most Islamic countries.
"The most important problem in terms of Islamic societies is the distance between the rulers and the ruled. The administration of many Islamic countries with authoritarian regimes prevents the true demands of their people from being reflected in state policies," Beris said.
"In such regimes, rulers prefer to find Western allies and act in accordance with their policies, rather than listen to the voice of the community to defend their power.
"Islamic societies are mostly divided and unfortunately, they don't have the ability to appear and act together. Because most regimes have their own agendas, interests, and engagement with Western countries."
Turkey, in this respect, stands apart from most Islamic countries, he argued, due mostly to its strong historical ties with the region.
"President Erdogan is not only the leader of Turkey, he is also the spiritual leader of all Muslims around the world, in the view of many Muslim societies. Erdogan is trying to develop a common language and attitude for all Muslims but this approach is not compatible with the interests of many authoritarian governments in the region."
So establishing a European Union-style bloc of Muslim states in the near future is unlikely, he said.
Crises in the Muslim world
"The world we live in has faced many massacres, savagery, and humanitarian and political crises in the last century and unfortunately they are gradually growing. Many of these problems are experienced in the Middle East, Africa, and Southeast Asia, where many Muslims live," said Ahmet Uysal, a professor of Middle East studies at Istanbul University.
The nearly 70-year-old Israeli-Palestinian issue is once again flaring up for the Muslim world as well.
Despite widespread international opposition, U.S. President Donald Trump last week announced his decision to recognize Jerusalem as Israel's capital.
Jerusalem remains at the heart of the Israel-Palestine conflict, with Palestinians hoping that East Jerusalem -- now occupied by Israel -- might eventually serve as the capital of a future Palestinian state.
When we face these kinds of problems we turn to the Organization of Islamic Cooperation (OIC), Uysal said.
The OIC is holding an emergency summit on Dec. 13 in Istanbul to discuss recent regional developments, especially Jerusalem.
The OIC is the second-largest inter-governmental organization after the United Nations with a membership of 57 states whose population is over 1.6 billion.
The organization was founded in 1969 following after an Australian citizen was arrested for setting fire to the pulpit of the Al-Aqsa Mosque in occupied Jerusalem
On Tuesday, Turkish Foreign Minister Mevlut Cavusoglu said the OIC will send a "strong message" to the U.S. and Israel.
"The Islamic world is still under the severe control of the West and the region is fragmented. Also, the majority of these countries in the Middle East are not democratic governments.
"Therefore, rulers act in accordance with their own interests, not the priorities of the people," he said.
"Organizations such as the D-8 and the OIC generally make ineffective decisions. But maybe this time, during OIC Istanbul summit, it will change.
Full report at:
http://aa.com.tr/en/todays-headlines/turkeys-erdogan-seeks-to-form-common-muslim-approach/1003197
--------
Clashes Erupt Among Saudi-Led Coalition Members in Yemen
Dec 13, 2017
The streets of the town al-Mansoura in Aden province became the scenes of fierce clashes between the UAE forces and the militias supported by the Riyadh government.
The local residents confirmed that several districts of al-Mansoura town, including the Central Prison and al-Taseen street witnessed tough street battles.
The sources reiterated that tens of security forces affiliated to the counter-terrorism department equipped with military equipment and armored vehicles have been dispatched to the surrounding areas of al-Mansoura.
"The UAE's apache helicopters also flew above al-Mansoura streets," the sources added.
Meantime, media sources disclosed that the residents of Aden have been terrified by huge blasts and different types of weapons used in the clashes.
Saudi Arabia and its allies, including the UAE, have been striking Yemen since March 2015 to restore power to fugitive president Mansour Hadi, a close ally of Riyadh. The Saudi-led aggression has so far killed at least 15,000 Yemenis, including hundreds of women and children.
Despite Riyadh's claims that it is bombing the positions of the Ansarullah fighters, Saudi bombers are flattening residential areas and civilian infrastructures.
According to several reports, the Saudi-led air campaign against Yemen has driven the impoverished country towards humanitarian disaster, as Saudi Arabia's deadly campaign prevented the patients from travelling abroad for treatment and blocked the entry of medicine into the war-torn country.
The cholera outbreak in Yemen which began in April, has also claimed over 2,200 lives and has infected over 900,000 people, as the nation has been suffering from what the World Health Organization (WHO) describes as the "largest epidemic in the world" amid a non-stop bombing campaign led by Saudi Arabia. Also Riyadh's deadly campaign prevented the patients from traveling abroad for treatment and blocked the entry of medicine into the war-torn country.
According to reports, the cholera epidemic in Yemen, which is the subject of a Saudi Arabian war and total embargo, is the largest recorded in modern history.
The United Nations had described the current level of hunger in Yemen as "unprecedented," emphasizing that 17 million people are now food insecure in the country.
A recent survey showed that almost one third of families have gaps in their diets, and hardly ever consume foods like pulses, vegetables, fruit, dairy products or meat.
More than 3 million pregnant and nursing women and children under 5 need support to prevent or cure malnutrition.
The United Nations has warned that 8.4 million people in war-torn Yemen are "a step away from famine", as Saudi Arabia and its allies are ceaselessly pounding the impoverished country.
"The lives of millions of people, including 8.4 million Yemenis who are a step away from famine, hinge on our ability to continue our operations and to provide health, safe water, shelter and nutrition support," Jamie McGoldrick, the UN's humanitarian coordinator for Yemen, said in a statement.
"The continuing blockade of ports is limiting supplies of fuel, food and medicines, dramatically increasing the number of vulnerable people who need help," he added.
Full report at:
http://en.farsnews.com/newstext.aspx?nn=13960922000897
--------
Israel carries out series of strikes on Hamas sites in Gaza
14 December 2017
Israel carried out a series of air strikes against Hamas in Gaza early Thursday, the army said, hours after rockets were fired at the Jewish state from the Palestinian enclave.
In a statement the Israeli army said they had targeted three Hamas military facilities in different parts of the Gaza Strip, which Hamas controls. "The military facilities were used as training and weapons storage compounds," the statement said.
"This was in response to the projectiles fired at Israeli territory from the Gaza Strip earlier this evening."
A Palestinian security source said there were more than 10 strikes on the targets, which included a Hamas naval site and a military base near the Shati refugee camp in northern Gaza.
Significant damage
The source said there had been significant damage to the sites, as well as more minor damage to nearby houses, causing minor injuries. There was no initial confirmation of injuries from the ministry of health in Gaza.
The strikes came hours after Israel's missile defense system intercepted two rockets fired from Gaza. The rockets are often fired by small groups but Israel holds Gaza's rulers Hamas responsible for any attacks from the territory.
The army also announced it would close off the main goods crossing between Gaza and Israel from Thursday "due to the security events and in accordance with security assessments".
Full report at:
https://english.alarabiya.net/en/News/middle-east/2017/12/14/Israel-carries-out-series-of-strikes-on-Hamas-sites.html
--------
US source of terror, instability in Middle East: Ex-Israeli lawmaker
Dec 13, 2017
A former member of the Israeli Knesset (parliament) has described the United States as the source of terror and instability in the Middle East, stating that Washington is playing a negative role in each and every corner of the region.
"I believe the Americans play a destructive role in the entire region," Mohammad Barakeh said on Wednesday.
Speaking to Anadolu Agency, the head of the Higher Arab Monitoring Committee, who served in the Knesset from 1999 to 2015, further denounced the recent decision by US President Donald Trump to recognize Israeli-occupied Jerusalem al-Quds as the capital of the Tel Aviv regime, stating that the move was an "attack" on both the Arab and Muslim worlds.
"If the US wants to maintain an embassy in Israel, it should stay in Tel Aviv," Barakeh said.
"But it has no place in Jerusalem al-Quds, which has a Palestinian, Arab, Muslim and Christian identity," he added.
Trump announced his decision to recognize Jerusalem al-Quds as Israel's capital and relocate the US embassy in the occupied lands from Tel Aviv to Jerusalem al-Quds on December 6.
The dramatic shift in Washington's Jerusalem al-Quds policy triggered demonstrations in the occupied Palestinian territories, Iran, Turkey, Egypt, Jordan, Tunisia, Algeria, Iraq, Morocco and other Muslim countries.
On Sunday, violent clashes erupted outside the US embassy in the Lebanese capital city of Beirut during a protest against the US president's decision. Demonstrators burnt tires as well as the US and Israeli flags as they pushed to break through a barbed wire erected by security forces around the embassy complex.
Security forces used tear gas and water cannon to disperse the angry protesters.
Full report at:
http://www.presstv.com/Detail/2017/12/13/545500/US-terror-Middle-Israel-Barakeh-Jerusalem
--------
Arab World
Scholars Continue Islamic Peace Dialogue
December 14, 2017
ABU DHABI: The events of 9/11 triggered a clash of civilisations between Islam and the West, a Kazakh Minister has told participants during a panel discussion at a forum in the UAE capital.
Speaking on the second day of the Forum for Promoting Peace in Muslim Societies, Nurlan Yermekbayev, Minister for Religious Affairs and Civil Society of Kazakhstan, said, "A clash of civilisations between Islam and the West has loomed after 9/11, which produced a distorted image of Islam, caused by the use of Islamic slogans by extremists and terrorists to cover their crimes."
Yermekbayev noted that problems related to religion are not caused by Islamic thought, but by the misinterpretations of Islamic teachings, which, he said, underlines the need to shed the light on the peaceful and tolerant nature of Islam.
"The solution to Islamophobia depends on Muslims themselves and their efforts to combat extremism," he said, emphasising the need for religious moderation.
The second day of the forum included panel discussions on 'Islam and The World', 'Fear of Islam: Causes and Contexts', and were attended by senior officials, ministers of Islamic countries, and an elite of high-level scholars, decision-makers, and intellectuals.
Another speaker, Ahmad Al Ebadi, Secretary General of the Muhammadiyah Association of Scholars in Morocco, and a member of the Board of Trustees of the Forum for Promoting Peace in Muslim Societies, said that religions in general, and especially monotheism, were the greatest gift given to humanity.
"Religion allows precognition and promotes balance between good and evil, right and wrong, with the ultimate goal of achieving happiness of mankind, in this world and the next," he explained.
He added that the most notable problem is interfaith fear. "The 'budget of fear' is stupendous; global military expenditure stands at over $1.3 trillion, a sum sufficient to feed more than half of the world's population. Only 7 percent of weapons purchased are used in times of war, which means that fear is expensive; putting an end to fear will allow us to use the wasted billions of dollars towards more useful goals," Al Ebadi said.
The session was moderated by Dr. Mohammed Mokhtar Juma, Egypt's Minister of Religious Affairs and Endowments (Awqaf), and other speakers included Ahmed Ould Ahl Dawood, Minister of Islamic Affairs and Traditional Education of Mauritania, who discussed the universal and noble message of Islam, saying it extends way "beyond globalisation."
"Islam recognises that there are a plurality of religions on this earth, and gives the right to individuals to choose the path which they believe to be true. It believes that there shall be no compulsion in accepting religion, and that nations have their own particularities," he noted.
He pointed to the most important characteristics of Islam and its message, saying "the message of Islam is timeless, yet suitable for the developments of modern world. It is a humanitarian and moderate message, which seeks to achieve balance between this world and the next."
Another session featured an open dialogue between guests and the audience, and included an overview on the history of 'Shoulder to Shoulder', an organisation created in the wake of the widespread attacks against Muslims in the post 9/11 era. The session also explored ways to put an end to fear of Islam in non-Muslim societies.
Speaking on ways to combat Islamophobia through practice, one of the panelists, Catherine Osborn, President of Shoulder to Shoulder, said that the organisation is a coalition of various religions that work to combat anti-Muslim and anti-Semitic movements in the American context. "This is enacted through discussion, media and conversational reform. Unfortunately, our work has not been institutionalised by the government so we are working on building momentum together to develop the proper infrastructure for the communities that we are seeking to effectively serve," she said.
Another speaker was Rabbi David Saperstein, an American rabbi, lawyer, Jewish community leader and former US Ambassador, who said, "We treat fellow brethren to help each other and understanding each other. We collectively celebrate each other's holidays. Jews and non-Jews live together, distribute charity together, visit the sick together and visit the dead together. We find it very important to lift our teachings from one another to solidify one another. However, we have sometimes different foundational structures which requires a lot of work and education to get over some obstacle."
The fourth annual Forum, which closes today, is being held under the patronage of Sheikh Abdullah Bin Zayed Al Nahyan, Minister of Foreign Affairs and International Cooperation, with the participation of more than 700 Arab and Muslim scholars, alongside high-level intellectual and religious dignitaries representing different intellectual, religious and cultural trends, from around the world.
http://gulftoday.ae/portal/25d11009-4be3-41fd-893c-f8fc8fcde105.aspx
--------
At least 23 members of one family killed in US airstrikes in Syria's Dayr al-Zawr
Dec 13, 2017
At least 23 Syrian civilians, including women and children, have been killed in US airstrikes on the country's eastern Dayr al-Zawr province, says a UK-based monitoring group.
"At least 23 civilians, among them eight children and six women, were killed Wednesday before dawn by airstrikes carried out by the US-led coalition, targeting a village controlled by Daesh on the eastern banks of the Euphrates river," said the so-called Syrian Observatory for Human Rights.
It added that all of those killed were members of the same family and had taken shelter at the location when they were killed.
The US-led coalition has been conducting airstrikes against what are said to be Daesh targets inside Syria since September 2014 without any authorization from the Damascus government or a UN mandate.
Full report at:
http://www.presstv.com/Detail/2017/12/13/545529/syria-us-airstrikes-civilians
--------
Poll: 82% of Palestinians Distrust S. Arabia
Dec 13, 2017
The poll recently conducted by the Palestinian Center for Policy and Survey Research (PSR) showed that 75% of Palestinians don't trust the UAE to play a role in creating a buffer zone between Israel and Palestine, the Arabic-language al-Watan newspaper reported.
Also results of the poll indicated that 82% of the Palestinian people distrust Saudi Arabia and 70% distrust Egypt.
Also, 45% of respondents believed that armed resistance is the best response to US President Donald Trump's recognition of Jerusalem al-Quds as the Israeli capital and 70% want Mahmoud Abbas to resign.
Observers believe that the poll shows views of residents of the West Bank which has more population and covers a larger area compared with other Palestinian-populated areas.
According to the poll, 76% of the respondents think that the Palestinian issue is not the first issue for the Arab world.
Abdel Bari Atwan, the editor-in-chief of Rai al-Youm newspaper, said on Wednesday that Trump's decision to recognize Jerusalem al-Quds as Israel's capital isolated Washington's Arab allies, specially Saudi Arabia and Egypt, and gave an upper hand to Iran and Turkey.
"Trump's gamble which was extensively welcomed by Israeli Prime Minister Benjamin Netanyahu and the Jewish lobby isolated the most important US Arab allies, Saudi Arabia and Egypt, and enhanced the position of two non-Arab states, Iran and Turkey," Atwan wrote.
He also referred to the Commander of the Islamic Revolution Guards Corps (IRGC) Quds Force Major General Qassem Soleimani's support for the Palestinian resistance movements, and said this means that Iran has turned into the strongest ally of Palestinians and Intifada at a time when most of its Arab rivals in the Persian Gulf region are busy with normalizing ties with Israel and collaborating with Trump for Judaization of the holy Quds.
Atwan underlined General Soleimani's victories in the region against the terrorists in Syria, confrontation against the US and Israeli plot to disintegrate Iraq and liberation of Mosul and other Iraqi cities with the help of Hashd al-Shaabi (Iraqi popular forces), and said Trump's decision opened way for General Soleimani's influence in the occupied Palestinian territories.
"General Soleimani has not entered any war unless he has come out victorious," he reminded.
His remarks came after General Soleimani voiced Iran's full support for the Palestinian resistance movements.
He made the remarks during a Monday telephone conversation with commanders of Hamas' military wing, Ezzeddin al-Qassam Brigades, who had been defending the blockaded Gaza Strip against Israel's acts of aggression, and the Islamic Jihad resistance movement.
The top Iranian general also urged all resistance movements in the region to boost their readiness to defend the al-Aqsa Mosque.
Deputy Secretary-General of the Popular Front for the Liberation of Palestine Abu Ahmed Fouad welcomed General Soleimani's support for the Palestinian resistance movements.
"Major General Soleimani is a skilled person and we welcome his statement," Fouad was quoted as saying by the Arabic-language al-Mayadeen news channel on Tuesday.
He stressed that the resistance is not alone and enjoys great capabilities, adding, "One of the most important reasons for continued Intifada is existence of a united leadership in all (resistance) groups."
This came amid simmering tensions in the occupied territories of Palestine following a decision by Trump to formally recognize al-Quds (Jerusalem) as the capital of Israel.
Trump last Wednesday defied global warnings and said Washington formally recognized Jerusalem al-Quds as the "capital" of Israel and would begin the process of moving its embassy to the occupied city, breaking with decades of American policy.
Full report at:
http://en.farsnews.com/newstext.aspx?nn=13960922001433
--------
US-led air strikes kill 23 civilians in Syria
14 December 2017
Air strikes by a US-led coalition killed 23 civilians Wednesday in a village held by ISIS in Syria's eastern Deir Ezzor province, a monitor said.
"At least 23 civilians, among them eight children and six women, were killed Wednesday before dawn by air strikes carried out by the US-led coalition, targeting a village controlled by IS on the eastern banks of the Euphrates river," the Britain-based Syrian Observatory for Human Rights said.
The Observatory, which gathers eye-witness reports from the ground, said the civilians were hiding inside a house and were all members of the same extended family.
US-backed forces are currently battling to capture the last scraps of ISIS-controlled territory in the area and on Tuesday took a village adjacent to the one that was hit, the monitor said.
There was no immediate comment from the US-led coalition on the alleged incident.
Earlier Wednesday a spokesman for the coalition said fighters with its support cleared six kilometers (four miles) of territory along the eastern bank of Euphrates river over the past day.
"ISIS is weak but still a threat -- terrorists lurking in Mid-Euphrates River Valley," spokesman Ryan Dillon wrote on Twitter, using another acronym for IS.
The jihadist group has lost the vast bulk of the territory it captured across Syria and Iraq in 2014 after a string of grueling offensives.
The Iraqi government and Russia, which backs the forces of Syrian leader Bashar al-Assad, have both declared victory over the jihadists.
The US-led coalition has admitted to unintentionally killing 801 civilians in the more than 28,000 air strikes it has conducted across Syria and Iraq since its formation in 2014.
Full report at:
https://english.alarabiya.net/en/News/middle-east/2017/12/14/US-led-air-strikes-kill-23-civilians-in-Syria.html
--------
Israeli intelligence minister wants Saudi crown prince to visit Tel Aviv
Dec 14, 2017
Israeli Intelligence Minister Yisrael Katz wants Saudi Crown Prince Mohammed bin Salman to visit Tel Aviv.
Katz revealed his wish during an interview with a Saudi-run news website, said the minister's spokesman, Arye Shalicar, on Wednesday.
"He said that he asks the king to invite (Prime Minister Benjamin) Netanyahu officially to Riyadh, and he asks MBS, Mohammed bin Salman, the son, to come and visit Israel," AFP quoted Shalicar as saying.
Katz's request is aimed at bolstering regional peace and boosting security and economic cooperation, Shalicar added.
In recent years, there have been numerous reports of behind-the-scenes contacts between Riyadh and Tel Aviv, despite the fact that Saudi Arabia, along with other Arab League states, does not formally recognize the occupying entity.
In November, Israeli Energy Minister Yuval Steinitz revealed for the first time that Tel Aviv has had covert contacts with Saudi Arabia.
Furthermore, Israeli Communications Minister Ayoub Kara extended a warm invitation to Saudi Arabia's Grand Mufti Abdul Aziz Al Sheikh to visit Israel for what he said were his friendly comments about the kingdom.
The Israeli minister of military affairs has also recently extended the hand of friendship to Arab countries, calling on them to form an alliance against Iran.
Full report at:
http://www.presstv.com/Detail/2017/12/14/545533/saudi-israel-crown-prince-mbs
--------
Saudi Arabia's folly, Iran's smart diplomacy
Dec 14, 2017
Now the president, Donald Trump has adopted diplomacy of tension since the first days of his presidential campaign. On March 9, 2016, Trump said on CNN: "I think Islam hates us. There's something there that, there's a tremendous hatred there. There's a tremendous hatred. We have to get to the bottom of it. There's an unbelievable hatred of us." Trump equals radicalism to holy Islam. Similarly, during a presidential debate, Trump said Saudis were "people that push gays off buildings" and "kill women and treat women horribly," according to the Washington Post. He also pointed out that the Saudi government had ties to the Sept. 11, 2001 terrorist attacks. Trump described Saudi Arabia as "the world's biggest funder of terrorism. Saudi Arabia funnels our petrodollars, our very own money, to fund the terrorists that seek to destroy our people." And now, the U.S. diplomacy of tension ignited Lebanon under the Saudi umbrella supported by Israel.
After hitting the 100-day milestone in April, Trump set off on his first overseas trip as president in May, with his first stop in the Middle East in Saudi Arabia and Israel, and then off to Europe in Belgium and Italy. His first trip abroad was seen as an opportunity for him to reaffirm the country's leadership role in the world and convey a message of solidarity to allies and build on vital relationships. His visit to the Middle East could be seen either as a traditional convention in the White House or a new enmity start-up against the whole Middle East and Muslim world.
Then came harsh policies banning people from many Muslim-majority countries from traveling to the U.S., and a series of events followed employed and supported by the U.S, which directly or indirectly affected the existing order of disorder in the region.
After Trump's visit to Saudi Arabia to promote moderate Islam as firmly favored by Saudi Arabia, the evil seedlings of his antagonistic diplomacy toward the Muslim world began. He pushed the button by designing a chain of interconnected events, which seem to have started with Lebanese Prime Minister Saad Hariri's unexpected resignation, which was very unnatural. It seems that Saudi Arabia, like Hariri, had only two choices to lose or cooperate. It is reminiscent of Saddam Hussein's end. However, the resignation has already seriously affected the existing balance in Lebanon's domestic issues and the whole region. It demonstrates the formation of new anti-Iran and anti-Hezbollah policies. Evidence for this argument is that Representative Edward R. Royce, the chairman of the House Committee on Foreign Affairs, recently issued a veiled threat to Lebanon over Hezbollah's role in government, according to Foreign Policy. Royce called Hezbollah's presence in the government as a political party one of the great misgivings he has on Lebanon because this has increased their political and diplomatic influence. Similar were Trump's efforts to persuade U.S. Congress to approve a bill to intensify new sanction on Hezbollah and Iran's Islamic Revolution Guards Corps (IRGC), and pay compensation to the families of the 241 U.S. service members killed in the 1983 Marine barracks bombing in Beirut, as U.S. President George W. Bush did in 2008, aiming to renew accusations of Iran and Hezbollah with some other evidence.
Thus, some basic scenarios can be raised. First, all these events indicate the beginning of a cold war between Iran and Saudi Arabia. Second, a policy of threats as the sword of Damocles over Iran's head to push it back to a pre-Joint Comprehensive Plan of Action (JCPOA) atmosphere and to lessen Iran's influence in the region. Third, it is the beginning of a long-term policy regarding the Middle East, considering Trump's four-year term in office until 2020. Fourth, it is deepening the existing gap in the region through some new, emerging states, which is reminiscent of Arab nationalism and, fifth, the question arises here whether the evil United States-Saudi Arabia-Israel triangle is seeking a way to form a new political coalition in which Hezbollah has no place.
Whichever scenario one picks, there is a single message: Saudi Arabia's folly, and the West and the U.S. moving closer to their decades-long ambitions for the Middle East. However, it stimulates Iran's smart diplomacy.
On the other hand, the nature of Trump's carrot and stick diplomacy with Saudi Arabia has been unconventional and unseen, at least in previous U.S. administrations. Trump considers it necessary to not play chess like his predecessor President Barack Obama, and rather take harsher stances both in rhetoric and action. Not being able to convince and satisfy different parts of society and even his supporters on American domestic policy, according to PBS News Hour, "70 percent of Americans think civility has gotten worse since Trump took office, and independent voters (49 percent) soured on Trump's handling of the economy."
Trump's job approval rating remains stuck at historic lows. "In March, only 38 percent held a favorable view," as reported by PBS News Hour. Similarly, "61 percent of adults in the U.S. believe the country is headed in the wrong direction." The best choice for Trump was of course Saudi Arabia's folly, since Saudi Arabia has lost its credibility in Syria and Iraq and is deeply engaged in a war in Yemen. Saudi Arabia is stuck in the Yemen quagmire and has inflicted serious blows so far. "Riyadh is desperate to reach a solid achievement that could help end this costly quagmire," the World Post reported. "The Saudi army is a classic one, which enjoys no particular sophistication, and, with the war against Yemen, this country [Saudi Arabia] has had itself plunged into a quagmire," said Brig. Gen. Hossein Salami, the second-in-command of the IRGC, in an interview with al-Mayadeen in 2015. "The aerial aggression against Yemen is not going to resolve the crisis in the country," he said, adding: "The Saudi aggression is aimed at covering up Saudi Arabia's domestic problems and crises." Similarly in 2015, soon after the Saudi coalition initiated the war on Yemen, Iranian Foreign Minister Javad Zarif wrote a message to the U.N. secretary-general offering a four-point peace plan including an immediate cease-fire, humanitarian assistance, intra-Yemeni dialog and inclusive government. In his recent tweet, Zarif pointed to Iran's sustainable policy on the region and Yemeni crisis, reiterating that over two-and-a-half years and many lives later, that plan is still valid today. Iran has always suggested to the Saudis that the only way to get rid of the crises in the region is regional countries' independence and respect for national sovereignty in addition to negotiations to achieve a collective impact.
So, the ground was soon provided for Trump to kill two birds with one stone, to fool the Saudis by giving imaginary support and to make Israelis more motivated and satisfied. Then, it continued with the Qatar crisis and Hariri's controversial resignation. By choosing Lebanon as the starting point, Trump sent his overt harsh message not only to Iran and Hezbollah, but also to major countries such as Turkey. There are as many as three major players on the chessboard on one side; i.e., the U.S., Saudi Arabia and Israel, which forms an evil triangle against Iran on the other side, at least for a while. Other countries such as Turkey will be pushed into the crises, as Turkey today would like to have a more positive role and impact on regional affairs. It looks like the region's greatest rivalry between Saudi Arabia and Iran has become more toxic in the past few days and will see more in the coming days, having repercussions across the Middle East and the world in terms of security, economic and energy issues.
Arab League foreign ministers' recent harsh criticism of Iran and Hezbollah is part of this anti-Iran policy. Saudi Arabia and its Arab allies pushed for unity against Iran. Arab foreign ministers gathered in Cairo in support of the U.S.-Saudi Arabia-Israel triangle. While the Muslim world is in serious need of compatibility and interaction more than ever, at least, in recent decades, the move proves to be yet another Saudi folly.
But how does Iran employ smart diplomacy, and what is its significance? Iran has played a significant role in evolving diplomacy in the 21st century to make it far-reaching and efficient and to make diplomacy serve our country and the region in terms of national security, peace and stability as the essence of foreign policy objectives.
Through smart diplomacy, Iran has provided the grounds for building or reviving trust through the nature of its policy in the region. Iran's readiness to sit at the negotiation table with the P5+1 is clear proof of the nature of Iran's smart diplomacy. Its interactions with Russia and Turkey through the series of Astana talks are more proof. Iran has adopted smart diplomacy alongside its traditional diplomacy to further its positive engagement in the region. As such, Iran has always preferred diplomacy to tension. Diplomacy-oriented suggestions put forward by Iranian officials to Saudi officials on different occasion since Lebanese Prime Minister Rafic Hariri's assassination in 2005, the counteractive stances by the Saudis after Saad Hariri won the election on June 9, 2009, and later on that pushed the tide of developments to the Saudi side, has never received a positive response from Saudi Arabia. In a similar vein, from December 2006 to March 2007, Iran multiplied its diplomatic efforts through a series of diplomatic overture with Saudi officials to prevent the escalation of the crisis. In this regard, official visits to Lebanon by Ali Larijani, the speaker of Iranian parliament; former President Mahmoud Ahmadinejad; and Dr. Ali Akbar Velayeti, an advisor to Supreme Leader Ayatollah Ali Khamenei during Lebanese Prime Minister Tammam Salam's government, are some examples. On the other hand, because of the political structure in Lebanon, Iran has continuous relations with all political and religious personalities from both the March 8 and March 14 coalitions to strengthen its ties with all sides in Lebanon to resolve obstacles to promote cooperation. The Lebanese president has always reiterated that Iran respects Lebanon's independence and sovereignty. The latest was Velayeti's visit to Hariri in his prime ministerial office in Beirut just 24 hours before Hariri announced his resignation in Saudi Arabia.
Full report at:
https://www.dailysabah.com/op-ed/2017/12/14/saudi-arabias-folly-irans-smart-diplomacy
--------
Western, Gulf Weapons Supplied to Syria Rebels Leaked to Islamic State
December 13, 2017
Jamie Dettmer
A significant quantity of weapons supplied by Western and Gulf states to opposition factions battling the regime of President Bashar al-Assad in the Syrian conflict were transferred to the Islamic State, according to a study funded by the European Union and Germany's foreign ministry.
The leakage of the supplies "significantly augmented the quantity and quality of weapons available to IS forces -- in numbers far beyond those that would have been available to the group through battlefield capture alone," according to Weapons of the Islamic State, a 202-page study released Wednesday.
Conflict Armament Research (CAR), a Britain-based organization that monitors the movement and diversion of weapons in conflict zones, produced the study.
"The acquisition of weapons by the Islamic State group is classic blowback - 1980s Afghanistan replayed in Syria," says CAR's executive director James Bevan. He adds, "Time and again, states that seek to accomplish short-term political objectives supply weapons to groups over whom they exert little-to-no control. These weapons often gravitate to the most organized and effective rebel and insurgent forces."
CAR researchers say they had the full cooperation of national governments and manufacturers for their three-year investigation, which involved sending teams to cover an unbroken arc of territory extending from the northern Syrian city of Kobane to the south of the Iraqi capital, Baghdad. Western governments furnished lists of brokers and shippers, as well as serial numbers of the exported weapons and ammunition.
That, CAR researchers say, shows the governments' determination "to curb the supply of weapons and associated materiel to unauthorized users." The report notes the governments and manufacturers were not acting unlawfully when dispatching arms and ammunition to the Syrian insurgents, there was no international arms embargo in effect.
Armories looted
CAR field researchers analyzed more than 40,000 items recovered from IS forces between 2014 and 2017. Many of the items originated in shipments that ran into the thousands. IS seized large quantities of weapons in Syria from retreating Assad forces and were able to loot government arsenals.
And in Iraq, there was a large-scale capture of weapons by IS in 2014 as the government's security forces fell back rapidly in the face of the terror group's blitz in Northwest Iraq and Mosul.
But the fact IS often acquired weapons supplied by outside powers within weeks and months of their delivery to opposition factions is less well recognized, says CAR in its study.
Western media outlets, including VOA, did report from the frontlines from 2013 onwards that Western and Gulf-supplied weapons were being traded, transferred and sold by opposition fighters and commanders to jihadist groups such as al Qaida affiliate Jabhat al-Nusra and IS.
In 2013, a senior German diplomat told VOA his government and several other European Union governments were resisting an Anglo-French push for the West to increase the flow of weapons to Syrian rebels for fear the equipment could fall into the hands of jihadist groups.
Those fears were shared by U.S. officials. President Barack Obama refused constant appeals from the rebels and Gulf states of Saudi Arabia and Qatar to increase arms supplies dramatically. Obama also declined to give the insurgents anti-aircraft missiles, fearing the consequences if any fell into jihadist hands, officials told VOA in 2014 and 2015.
Obama officials put in place various mechanisms to try to track weapons supplied to opposition factions and with TOW missiles they would only provide re-supplies when evidence had been offered by rebel units to show how they had used the missiles. But without military observers, there was an element of trust involved. Video evidence could be doctored, officials admitted to VOA during the conflict.
According to CAR, the arms that fell into the hands had serious impact on the battlefield, and continue to pose a significant threat, especially anti-armor weapons such as the BGM-71 TOW anti-tank missiles.
The report states, "The weapon was manufactured in the EU, sold to the United States, supplied to a party in the Syrian conflict, transferred to IS forces in Iraq, and documented by a CAR field investigation team following its recovery from IS forces. The full chain of transactions occurred within two months of the weapon's dispatch from the factory."
Many countries involved
Russia and China manufactured more than 50 percent of the weapons and ammunition held by IS forces, CAR calculates. Those arms were captured from Syrian or Iraqi forces.
"Former Warsaw Pact countries that are now EU Member States manufactured a significant proportion of the remaining materiel (more than 30 percent of weapons and 20 percent of ammunition)."
CAR researchers note: "Nearly 40 percent of ... anti-armor rockets deployed by IS forces in Iraq were produced in the past four years. ... EU Member States produced nearly 20 percent of these post-2014-manufactured rockets ... a fact that sits uncomfortably with the EU's parallel efforts to degrade the group's capacity to wage war and terrorism and to mitigate the international effects of the Syrian conflict."
CAR also documented ammunition that came from Eastern European states, exported to the United States and then dispatched to Somalia. Researchers also found matching lot numbers among IS rockets documented by CAR in Iraq, Syria, and Yemen.
Identical weapons deployed by IS forces in Syria, had previously been spotted in circulation with armed groups in South Sudan, supplied illicitly by the Sudanese government.
Full report at:
https://www.voanews.com/a/western-gulf-weapons-supplied-to-syria-rebels-leaked-to-islamic-state/4163148.html
--------
Saudi Arabia pledges 100 million Euros to fight extremism in Africa
14 December 2017
Saudi Arabia announced support in the amount of 100 million Euros for the launch of a new joint force to combat terrorism in the Sahel countries.
Saudi Arabia's Minister of Foreign Affairs, Adel Al-Jubeir, made the announcement at the G5 meeting in Paris on Wednesday.
Jubeir said that the support is part of the Kingdom's active role in fighting terrorism and extremism.
The meeting was attended by delegations from the G5 countries Burkina Faso, Mali, Mauritania, Niger, Chad along with 20 other leaders from Europe and Africa, as well as the European Union and other international partners.
Full report at:
https://english.alarabiya.net/en/News/gulf/2017/12/14/Saudi-Arabia-pledge-100-million-Euros-to-fight-extremisim-in-Sahel-.html
--------
Top Saudi artists delighted at cinema reopening
14 December 2017
JEDDAH: In a historical decision to lift the ban on cinemas in the Kingdom announced on Monday, movie theaters will open for the first time in 35 years in March 2018, with 2,000 screens expected to be installed within 12 years.
The Saudi government anticipates that this decision will contribute to the diversification of the Saudi economy by creating more than 30,000 jobs.
The announcement was welcomed with enthusiasm by the public, but what does the emerging Saudi Arabian art community think of this decision?
Arab News spoke to some of the Kingdom's most prominent art personalities to determine their perspective.
Ahmed Mater, one of Saudi Arabia's most influential contemporary artists today, expressed both delight and concern over this decision: "Saudi Arabia, and the wider Middle East region, is a story-telling culture. Oral histories form an underlying net within our society, they're a big and important part of our intangible heritage. The fluidity of film suits this medium — the combination of the visual combined with the oral brings to light approaches, concepts, cultural references, and histories.
"There is already a number of Saudi filmmakers and directors such as Mahmoud Sabbagh, whose film "Barakah yoqabil Barakah" was made inside the Kingdom with an all Saudi cast, and is going on to be nominated for an Oscar for best foreign film. I hope that the decision to lift the ban creates an ecosystem of support for existing filmmakers and those to come. I also hope that it will create the opportunity for the new generation to identify with their own culture more closely, whether through engaging with Saudi-made films, or by exploring the visual culture at home. In an age where everyone has a video camera, it is really exciting to think about what lifting the ban on cinemas will do for young filmmakers from Saudi in the future. It will also be important for Saudi to create access through education to the movie industry, to ensure that a wide range of films, independent and mainstream — not just Hollywood blockbusters — are represented," Mater concluded.
Saudi director Ali Alsumayin, conveyed a sense of responsibility as a filmmaker to provide the viewer with a worthwhile movie experience: "Just now we can talk about the movie industry in Saudi where the viewers can live the full experience of movies' magic. When a person finds the time and the money to go and watch a movie in a cinema, the pressure on moviemakers is great to produce something worth the time and the money spent by the audiences."
Full report at:
http://www.arabnews.com/node/1208686/saudi-arabia
--------
Regime only wants to make Syria safe for Assad: Opposition
14 December 2017
JEDDAH: The goal of the Syrian regime's delegation is to make Syria safe for Bashar Assad, while the opposition's goal is to make the country safe for "our people to come home," Yahya Al-Aridi, opposition spokesman at the Geneva peace talks, told Arab News on Wednesday.
It followed reports that the regime delegation in Geneva is refusing to negotiate with the opposition directly and insisting on only discussing terrorism.
The opposition has been calling for the "indirect" peace talks — with UN envoy Staffan de Mistura's team shuttling between the delegations — to become direct.
Asked why the regime is avoiding direct talks, Al-Aridi said: "The regime delegation is afraid to negotiate transition because it knows that leads to freedom."
Another opposition official in Geneva, Ahmad Ramadan, told The Associated Press that the regime delegation has also refused to discuss three of the four main topics proposed by de Mistura — a new constitution, governance, elections and combating terrorism.
He said the regime is insisting only on discussing terrorism.
Al-Aridi said the regime uses terrorism as an excuse for delay. "It claims to be fighting terrorism while bombing civilians. The way to rid our country of terrorism is to make Syria stable, with a constitution that sets the people free."
On the regime's insistence that the opposition drop its demand for transition without Assad, Al-Aridi said: "The point of any negotiation is that different sides have different goals, not preconditions."
Bahia Al-Mardini, a UK-based Syrian journalist and human rights activist who fled regime persecution, told Arab News: "Many twists and turns are likely as the negotiations intensify, but we should remain optimistic about the prospect of a democratic transition for Syria.
"After years of suffering, we live in hope that breakthroughs will come and ordinary Syrian people will be set free from the regime that they have been rejecting for years," she said.
Full report at:
http://www.arabnews.com/node/1208676/middle-east
--------
Kurdish militant group re-emerges in northern Iraq under new name
14 December 2017
BAGHDAD: The people and officials of the ethnically mixed Iraqi town of Tuz Khurmatu, 170 km north of Baghdad, talk about a new group that raises white flags decorated by the head of a lion drawn in black and carries out almost daily rocket attacks on the town, its surroundings and the suburbs of the nearby province of Kirkuk.
The group sometimes launches raids on the strategic road linking Baghdad to the northern oil city of Kirkuk, intercepting trucks, looting some and burning others, residents and local security officials told Arab News.
"These are extremist groups who were oppressed and prevented (by the Kurdish authorities) from working before," Najat Hussien, the acting mayor of Tuz Khurmatu, told Arab News.
"They are Kurdish militants (and are) joined by Daesh militants who fled the neighboring areas," Hussien said. "They are sleeper cells that were waiting for the right time and place to resume their activities."
Tuz Khurmatu is one of the disputed areas between Baghdad and the Iraqi Kurdish region. The Kurdish region has taken advantage of the collapse of the Iraqi Army in the summer of 2014 to extend its control over most of the disputed areas including Tuz Khurmatu.
On Tuesday, a mortar attack hit the center of the town, killing two civilians and injuring a further dozen, security sources said.
A few days earlier, three trucks on the main Baghdad-Kirkuk way were burned after their drivers were kidnapped, sources said. Last month at least 24 people were killed when a suicide car bomb exploded in central Tuz.
The group, which residents call "the Owners of the White Flags," has emerged over the past two months after Iraqi security forces backed by the Shiite-dominated Popular Mobilization Units (PMU) drove the Kurdish forces out of almost 95 percent of the disputed areas and pushed them back into the 2003-constitutionally agreed border of the Kurdish region on Oct. 16.
Kurdish sources and residents of Tuz Khurmatu told Arab News that the group is led by Assi Al-Qawali, a Kurdish Peshmerga "volunteer" of the Kurdistan Democratic Party, one of the biggest Kurdish political parties to govern Kurdistan. Al-Qawali and his group are fighting to "liberate the Kurdish lands — occupied by the Iranian Shiite militias."
"Sheikh Mujahid Assi … is leading an armed group in Tuz Khurmatu as a part of the Kurdish popular resistance against the Shiite terrorist militias," Kurdish Peshmerga Maj. Islam Chali tweeted on Tuesday.
"The Kurdish popular resistance launched Katyusha rockets (targeting) the Shiite militias and the terrorist Shiite Turkmen Hashid in Tuz Khurmatu," Chali, tweeted hours after Tuesday's rocket attack on Tuz.
Chali and other local Kurdish sites have circulated several photographs showing Al-Qawali and his fighters, all of whom were masked except Al-Qawali.
Al-Qawali has posted photographs of himself wearing traditional Kurdish dress and carrying a Kalashnikov on his Facebook page. Other photographs show him sitting next to sophisticated machine guns.
Residents of Tuz Khurmatu contacted by Arab News said that Al-Qawali used to live in Al-Jamhouriya district until Iraqi security forces arrived. They say Al-Qawali was a poor and simple Kurd who was transporting water from a nearby river to people in Tuz by using a small tanker attached to his tractor for a fee, but has become well-known after he led the Kurdish groups that fought the Iraqi federal advance troops in October.
"We know him because he previously participated in the riots in Tuz in 2015 and 2016 and he was burning the houses of Turkmen at that time," Jankiz Tuzlu, a Turkman resident of Tuz, told Arab News.
"Also he fought the Turkmen Hashid (local troops) and attacked their headquarters in Tuz when the (Iraqi) army arrived in the town (in October)," Tuzlu said. Kurdish media have published his photo while he was taking off the flag of Kata'ib Hezbollah in Tuz."
Iraqi security and intelligence officials have ruled out the emergence of a new armed group and say intelligence reports suggest that "the Owners of White Flags" are actually the Kurdish radical group Ansar Al-Islam or "the Supporters of Islam," which settled in the villages between the mountains of Hamrin and the Iraqi-Iranian border, and Daesh militants who fled the nearby towns and cities.
"The area of Hamrin Hills is still not cleared and the villages there have not been entered by Iraqi security forces since 2003," a military officer deployed in the area, who declined to be named, told Arab News.
"Hundreds of fighters benefit from the rigidity of the region, their knowledge of it and the difficulty of deploying regular forces there to freely move about," he said. "Most of the rocket attacks are launched from behind the mountain."
A military operation is being prepared by Baghdad to clear the area, military and intelligence sources told Arab News.
Earlier this week, Iraq had declared the end of the war against Daesh and the full liberation of its territories.
Ansar Al-Islam seeks to apply 7th-century Islamic rule in Iraq. Mullah Krekar, also known as Faraj Ahmad Najm Al-Deen, reportedly founded Ansar Al-Islam in 2001 with funding and logistical support from Al-Qaeda and Osama bin Laden. The group pledged allegiance to Daesh in 2014 and fought with them under their banner.
The intelligence officer told Arab News that their initial reports indicated that was not the real leader of "the Owners of the White Flags," but a front to hide the real links and goals behind the recent attacks in the northern disputed areas.
" is a simple person who has nothing to do with leadership and radical Islamic ideas. They (Kurdish parties) use him as a facade to hide behind the group of Ansar Al-Islam and Daesh," a senior intelligence Iraqi officer, who declined to be named, told Arab News.
Full report at:
"We are totally aware of this and it's a matter of time to end it."
http://www.arabnews.com/node/1208661/middle-east
--------
India
Cong slams centre, state over counting of Muslim staff in health dept
Dec 13, 2017
State Congress' senior vice president Vishvendra Singh on Wednesday accused the centre and state governments of trying to create communal divide in the country for political mileage.
"Centre and state government are trying to make Hindu versus Muslim issue again before Lok Sabha election in 2019 and state assembly election in 2018 to come in power again," alleged Singh, while addressing a press conference in Bharatpur. Singh was referring to the government order seeking details of Muslim employees in health department of Rajasthan.
Following a centre government's direction issued on November 20, the state health department had on November 30 had released an order to the chief medical and health officer (CMHO) in districts to count all Muslim employees under their jurisdiction.
"While government needs to launch a survey and counting of well-qualified unemployed youths to offer them jobs, it is counting employees of a particular community in government department," he said, adding that the Congress opposed the move.
State health minister Kali Charan Saraf should disclose the reasons behind the move, as Muslims also belongs to the country, Singh said.
He said the BJP-led state government celebrating four-year rule Rajasthan should reveal how many jobs were offered to youths in the state, as the government committed to offer 15 lakh jobs during the election campaign.
Meanwhile, Bharatpur CMHO Gopal Ram said that Dr BL Saini, the joint director (administration) of medical and health services, has issued us a written order to count all Muslim employees working at community health centres, primary health centres and district hospital. "We have forwarded the order to all block chief medical and health officers in the district. The counting details will be sent to the authority within a week," the officer added.
http://www.hindustantimes.com/jaipur/cong-slams-centre-state-over-counting-of-muslim-staff-in-health-dept/story-wUfXqlKeCO5saUnMGendvM.html
--------
Market for Malayalam Films Unfolding In Saudi
DECEMBER 13, 2017
The kingdom plans to sanction 2,000 screens in 300 cinemas across the country by 2030
Now that Saudi Arabia has lifted the ban on cinema, Keralites, one of the largest expatriate communities in the kingdom, are excited that they will be able to watch Malayalam films, possibly the same day as new films are released in Kerala, in the Saudi cinema halls soon.
Saudi Arabia has the second largest Malayali population outside India and in Saudi cities such as Riyadh, Jeddah, Mecca, Medina, Dammam, Abha, Jizan, Yambo, and Rabak there are large communities of Malayalis. Places such as Sharafiyya in Jeddah and Batha in Riyadh are considered Malayali enclaves.
"If everything goes well, there could be exclusive Malayalam theatres in Sharafiyya and Batha," says Abu Iringattiri, the Malayalam short-story writer who has been working in Jeddah for a quarter century. "As in Dubai and Bahrain, it is possible that Malayalam films will be released in Jeddah or Riyadh too."
The scrapping of the ban on cinema could open up a market for Malayalam films in Saudi Arabia. However, Hindi cinema, which has a huge fan following among Saudis, would be the biggest gainer, Mr. Iringattiri points out.
On Monday, Saudi Culture Minister Awwad Alawwad announced in Riyadh the lifting of the 35-year-old ban on cinema. The government would sanction 2,000 screens in 300 theatres across the country by the year 2030; some of them would open within three months. The landmark step is viewed as part of the bewildering series of initiatives being taken recently to open up Saudi society, culture and economy at the instance of Crown Prince Mohammed bin Salman. The 32-year-old Prince Mohammed, who will succeed to the Saudi throne, is pushing religious reforms too in the ultra-conservative kingdom. In April last year he unveiled an ambitious plan called Saudi Vision 2030 to restructure the economy.
However, the socio-cultural reforms over the past two years have been surprising in a country where Wahhabism, a `puritanical and fundamentalist version of Islam,' has deep influence. Wahhabism is scornful of cinema, music, theatre, dance and many forms of modern cultural expressions and insists that women should wear the black, face-covering veil in public.
Two months ago, the government, in a daring challenge to the Wahhabi clerics, allowed women to drive starting from next June — a reform with long-term impact on Saudi society. Women have also been allowed to go to stadiums to watch sports events and music concerts.
Grand mosque seizure
Cinema was banned 35 years ago by the then King Khaled. "I used to see movies in Jeddah theatres before the ban," Khalid Irumpuzhi, who has been in Jeddah for 43 years, told The Hindu. Mr. Irumpzuhi remembers that it was the 1979 seizure of the Grand Mosque in Makkah by religious extremists that had led to the fundamentalist crackdown on cinema and other popular forms of entertainment.
King Khaled gave the clerics and religious police more powers.
Crown Prince Mohammed is now spearheading the change. In a recent article after interviewing Prince Mohammed, The New York Times journalist Thomas L. Friedman, noted: "The most significant reform process underway anywhere in the Middle East today is in Saudi Arabia." He continued: "…and, if it succeeds, it will not only change the character of Saudi Arabia, but the tone and tenor of Islam across the globe."
Fazal Ghafoor, president of the Muslim Education Society, says that the socio-cultural and religious reforms taking place in Saudi Arabia will have tremendous impact on Kerala's Muslim community. "The adoption of highly conservative religious practices by a section of Muslims in Kerala, including the imposing of the black, face-covering burqa on women over the past two decades is a direct influence of the Saudi practices."
Full report at:
http://www.thehindu.com/news/national/kerala/cinema-returns-to-saudi-arabia/article21599013.ece
--------
At ICJ, Pakistan rejects India's plea for consular access to Kulbhushan Jadhav
Dec 13, 2017
ISLAMABAD/THE HAGUE: Pakistan on Wednesday rejected India's plea for consular access to death row prisoner Kulbhushan Jadhav at the ICJ, claiming that New Delhi wants to get the information gathered by its "spy".
In its counter-memorial submitted to the International Court of Justice (ICJ), Pakistan said the provision of such an access under the Vienna Convention is only for legitimate visitors and not for spies, the Express Tribune reported.
Pakistan said that Jadhav is not an ordinary person as he had entered the country with the intent of spying and carrying out sabotage activities.
Jadhav, 47, was sentenced to death by a Pakistani military court on charges of espionage and terrorism in April, following which India moved the ICJ in May. The ICJ halted his execution on India's appeal pending the final verdict by it.
Citing its sources, the paper said Pakistan has stated that "the Indians have not denied that Jadhav was travelling on a passport with an assumed Muslim name."
"Lack of explanation on how a serving naval commander was operating under secondment to Indian spy agency Research and Analysis Wing (RAW) was travelling under an assumed name leads to only one conclusion that India wanted consular access to the information he had gathered," said the counter memorial submitted by Pakistan, according to the paper.
The reply encompasses the chargesheet against Jadhav+ and narrates Pakistan's stance in a comprehensive manner.
Pakistan has repeatedly denied India consular access+ to Jadhav on the ground that it was not applicable in cases related to spies.
Pakistan claims its security forces arrested Jadhav alias Hussein Mubarak Patel from restive Balochistan province on March 3 last year after he reportedly entered from Iran.
India, however, maintains that Jadhav was kidnapped from Iran where he had business interests after retiring from the Navy.
"Only a state which adheres to legitimate actions can request the court to intervene in a matter between two states," Pakistan has stated in the ICJ.
Citing its sources, the paper said Pakistan will argue that sending Jadhav for espionage, funding terrorist activities are some of the reasons that dis-entitle India from invoking the jurisdiction of the ICJ.
The international court will now decide whether to take the case forward for hearing or ask both India and Pakistan to submit more documents.
Talking to Geo News earlier, Pakistan Attorney General Ashtar Ausaf Ali had said he thinks the case would be taken up for hearing around April-May.
Last week, Pakistan granted permission to the mother and wife of Jadhav to meet him on December 25.
Full report at:
https://timesofindia.indiatimes.com/india/at-icj-pakistan-rejects-indias-plea-for-consular-access-to-kulbhushan-jadhav/articleshow/62057352.cms
--------
'Bihar Govt Scholarship for Madrassa Pupils' Who Clear Class X and XII Examinations
Dec 14, 2017
PATNA: Deputy CM Sushil Kumar Modi on Wednesday said the state government would pay scholarship to the students who clear class X and XII examinations through madrassa.
Addressing a meeting of the BJP's minority forum, SuMo said the scholarship would be given under the Mukhya Mantri Alpasankhyak Chhatra Protsahan Yojana (CM Minority Students' Incentive Policy).
The state government has also decided to provide assistance to government-recognised madrassas for basic infrastructure support like classrooms, toilets, drinking water facility, libraries and computers.
SuMo said the Waqf estates and properties would be freed from encroachments. Waqf board's office, public library and multi-purpose buildings will be constructed on such properties.
Referring to the practice of 'triple talaq', SuMo said the Centre had already declared it illegal. The state government has increased the one-time assistance given to divorced and abandoned women from Rs 10,000 to Rs 25,000 for maintenance.
The deputy CM appealed to political parties to support the Bill likely to be introduced by the Centre in the next session of Parliament to facilitate the grant of maintenance to victims of triple talaq.
Among others who addressed the meet were state BJP president Nityanand Rai, road construction department minister Nand Kishore Yadav and minority forum state president Tufail Qadri.
Full report at:
https://timesofindia.indiatimes.com/city/patna/govt-scholarship-for-madrassa-pupils/articleshow/62057756.cms
--------
South Asia
Authorities in Bangladesh say Manhattan bombing suspect was 'self-radicalized
By Vidhi Doshi
December 13, 2017
DHAKA, Bangladesh — Hours before Akayed Ullah is alleged to have stepped into a busy Manhattan subway passage, a homemade pipe bomb strapped to his body with Velcro, his wife called him from here to wake him up. The telephone conversation Monday was brief and ordinary — Jannatul Ferdous did not detect any signs that her husband was upset or angry, nor did he say anything memorable. She told him to go to work and hung up.
Soon, his image would be shown on television screens around the world. His bomb had detonated, and he was severely injured. American authorities accused him of plotting a terrorist attack. On Wednesday, he had his first brief court appearance, by way of a video link between a federal courthouse and the hospital where he is recovering.
"I always thought he was a good man," Ferdous said Wednesday, speaking through the crack of the front door of her home in Dhaka, "and I still consider him a good man. I never thought he could be involved in an incident like this."
Ullah's wife and mother-in-law, who spoke to The Washington Post from behind a door with their faces covered, said the incident in New York blindsided them. They said Ullah had shown no signs of being radicalized in phone conversations or on his recent visits to Dhaka.
"If I knew this was going to happen, we'd never have let him leave," said Mahfuza Akter, Ullah's mother-in-law.
In a news conference here Wednesday, counterterrorism chief Monirul Islam said that Ullah's attempted attack was inspired by the writings and online sermons of a Bangladeshi cleric named Jasimuddin Rahmani, the spiritual leader of Ansarullah Bangla Team (ABT), a banned Bangladeshi terrorist organization. Rahmani is serving a five-year prison term after his conviction on charges of inciting the murder of a Bangladeshi blogger.
Islam said that Ferdous and her family had, under questioning, suggested that link — implying that they did have some inkling of his radicalization.
Violent rhetoric from ABT has been blamed for a series of murders of atheist and secular bloggers and activists. In 2015, the group published a hit list of writers and activists from around the world.
Law enforcement officials in the United States said that Ullah told them he was inspired by propaganda from the Islamic State terrorist group.
In recent years, Bangladesh has been shaken by a string of terrorist attacks. In July 2016, more than 20 people were killed at the upmarket Holey Artisan Bakery during a 12-hour siege by militants. A week later, in eastern Bangladesh, four people were killed at a prayer gathering to celebrate Eid al-Fitr, the holiday that ends the holy month of Ramadan. Islamist movements have been active since the country's independence but recently have been resurgent, with militants targeting secular aspects of Bangladeshi society.
Authorities said Ullah, who has lived in the United States since 2011, was not directly linked with militant groups in Bangladesh. Islam said that his investigation so far suggested that Ullah most likely acted alone and was radicalized in the United States. He said Ullah's name had never appeared on anti-terrorism intelligence lists and that he was most probably "self-radicalized" on the Internet.
"When he came [back] here to get married, he was bearded and used to be a pious man," Islam said. "But normally, being pious does not create any suspicion."
Ullah visited Bangladesh at least twice in recent years, once to marry and again in September when he came to visit his wife and infant child.
When in Dhaka, Ullah lived with Ferdous and his in-laws in a dimly lit ground-floor apartment in a colorful building in the Hazaribagh area of the city. A leader at a nearby mosque said he vaguely recalled Ullah coming to pray but said he never had any lengthy discussions with him. Neighbors and the building's caretakers said they exchanged pleasantries but that Ullah was quiet and kept to himself.
Rahmani, of the ABT, is especially influential among Bangladeshi émigrés, according to Abdur Rob Khan, a professor of political science at North South University in Dhaka.
"They invite people for jihad, like, sacrifice yourself," he said, speaking about ABT and other radical Islamist groups that post content online. "They probably attract people in international situations in the Middle East or with some kind of antagonism to the West."
Ullah will be tried in the United States. The family said they have had no contact with him since the incident. Akter, Ullah's mother-in-law, said the family will await a verdict.
"We will accept it if he is guilty, but we will welcome him back if he is proven innocent," she said.
https://www.washingtonpost.com/world/asia_pacific/authorities-in-bangladesh-say-manhattan-bomber-wasself-radicalized/2017/12/13/b58cebb8-debf-11e7-b2e9-8c636f076c76_story.html?utm_term=.04b03f27096d
--------
Two journalists covering Rohingya crisis in Burma arrested for possessing 'secret papers'
By Marwa Eltagouri
December 13, 2017
Reuters journalists Wa Lone and Kyaw Soe Oo, who in recent months have covered the military crackdown on the Rohingya Muslim minority in Burma, were recently invited to meet two police officers over dinner in the country's largest city, Rangoon.
Their driver dropped them off at Battalion 8's compound around 8 p.m. Tuesday, and the journalists and police officers went to a nearby restaurant, according to Reuters. The driver waited.
But the journalists never returned to the car. They were instead detained at a police station on the outskirts of Rangoon, officially called Yangon. The Reuters Burma Bureau chief, Antoni Slodkowski, received just four words in a text message from Wa Lone:
"I have been arrest."
Wa Lone's phone appeared to have been turned off soon after.
"We are outraged by this blatant attack on press freedom," Reuters president and editor in chief Stephen J. Adler said in a statement. "We call for authorities to release them immediately."
The Burmese Embassy in Washington could not immediately be reached for comment.
Reuters and the Associated Press reported that Burma's Ministry of Information posted a photo on Facebook of the two journalists in handcuffs and said they had been in possession of "important secret papers" and information about the military that they obtained from the two police officers who had previously worked in the country's western Rakhine State — where rapes and killings since August have forced 600,000 Rohingya Muslims to flee to neighboring Bangladesh.
[21 Rohingya women recount rape by Myanmar armed forces]
The U.S. Embassy in Burma and the New York-based Committee to Protect Journalists are among several agencies that denounced the arrests and called for the journalists' release.
The journalists and the policemen with whom they met will be charged under the country's 1923 Official Secrets Act — a law carried over from British colonialism — and could serve up to 14 years in prison, according to the Facebook statement, Reuters reported. The post no longer appears on the Ministry of Information's Facebook page, but BBC journalist Nga Pham tweeted what she said was the image of the journalists.
#Myanmar Ministry of Information released photo of the two #Reuters reporters and a statement saying detained with them were two security police officers -Captain Yan Naing and Khin Maung Lin who are also being disciplined for passing restricted info related to the #military. pic.twitter.com/0zOKylNIVu
— Nga Pham (@ngaphambbc) December 13, 2017
small correction - Moe Yan Naing's rank is lieutenant colonel, not captain
— Nga Pham (@ngaphambbc) December 13, 2017
After their disappearance Tuesday evening, the journalists' colleagues in Rangoon filed a missing-persons report, visited three police stations and inquired with several government officials about what might have happened to the two reporters. As of Wednesday evening, they still had no information.
Wa Lone joined Reuters in 2016 and has covered the Rohingya Muslims exodus. He won an honorable mention from the Society of Publishers in Asia for his reporting on the crises, according to Reuters. He graduated from Yangon University, according to his LinkedIn page.
Kyaw Soe Oo, an ethnic Rakhine Buddhist from the state capital Sittwe, started with Reuters in September. He reported on the Aug. 25 attacks in northern Rakhine that sparked much of the flight of the Rohingya Muslims and has reported in the central part of the state as well, where local Buddhists have begun segregating Rohingua Muslims and Rakhine communities.
Rohingya Muslims are not officially recognized as a minority in Burma — also known as Myanmar — even though many have lived there for generations. Many among the predominantly Buddhist population, including Burmese officials, reject the label "Rohingya" and instead use "Bengalis" to emphasize that Rohingya Muslims migrated illegally to the country from Bangladesh.
Last month, the United States classified the violence and atrocities against the Rohingya Muslims as "ethnic cleansing." Secretary of State Rex Tillerson warned that U.S. sanctions could be forthcoming and blamed Burma's government, military and local vigilantes for the "horrendous atrocities" in Rakhine state.
Burma's military denies that atrocities have been committed, and members of other religious groups, such as Buddhists and Hindus, say that they are in fact targets of violence by Rohingya Muslims.
The U.S. Embassy said in a statement that it is "deeply concerned by the highly irregular arrests" of the two journalists.
"For a democracy to succeed, journalists need to be able to do their jobs freely," officials said. "We urge the government to explain these arrests and allow immediate access to the journalists."
The European Union delegation in Burma said in a Facebook statement: "Media freedom is the foundation of any democracy."
Two Reuters journalists have been arrested in Yangon last night. The EU Delegation is closely following their case and...
Posted by European Union in Myanmar on Wednesday, December 13, 2017
The senior Southeast Asia representative of the Committee to Protect Journalists, Shawn Crispin, called on Burma's government to "immediately, unconditionally release" the reporters.
"These arrests come amid a widening crackdown which is having a grave impact on the ability of journalists to cover a story of vital global importance," he said in a statement.
Other journalists have been arrested in Burma in recent months. In November, a judge jailed two journalists on assignment for TRT World, the English-language subsidiary of the Turkish Radio and Television Corp., who had been flying a drone near parliament without permission, according to Reuters.
Full report at:
https://www.washingtonpost.com/news/worldviews/wp/2017/12/13/two-journalists-covering-rohingya-crisis-in-burma-arrested-for-possessing-secret-papers/?utm_term=.0deecc59980f
--------
Taliban commander famous as Paraq arrested in Nangahrar province
Dec 13 2017
A local Taliban commander was arrested during an operation of the Afghan security forces in eastern Nangarhar province of Afghanistan.
According to the local government officials, the Taliban commander was arrested during an operation from Momand Dara district.
The provincial government media office in a statement confirmed that the detained Taliban commander has been identified as Hanifullah who is also famous as Paraq.
The statement further added that the security forces also confiscated three weapons and 55 flags from the detained Taliban commander.
According to the provincial government, a PKM machine gun, a Ak-47, and a pistol were among the weapons confiscated during the operation.
The detained Taliban commander is in custody of the Afghan security forces for further investigations and has confessed that he was a member of the Taliban group during the initial investigations, the statement added.
The anti-government armed militant groups including the Taliban insurgents have not commented regarding the report so far.
Nangrhar has witnessed relative calmness since the Taliban group regime was toppled down but certain districts of the province have started to witness growing insurgency activities during the recent years.
Full report at:
https://www.khaama.com/taliban-commander-famous-as-paraq-arrested-in-nangahrar-province-04039
--------
Afghan forces foil deadly blast, US drone strike kill 3 IS militants in Nangarhar
Dec 13 2017
The Afghan security forces foiled a deadly explosion in eastern Nangarhar province by discovering and defusing an Improvised Explosive Device planted on a roadside in this province.
The provincial government media office in a statement said the militants had planted an IED on a roadside Dur Baba district which was discovered and seized before the militants manage to carry out a deadly explosion.
In the meantime, the provincial government said at least three IS militants were killed in a drone strike in the vicinity of Achin district.
The statement by the provincial government further added that the airstrike was carried out in the vicinity of Bandar area of Achin.
According to Nangarhar government, some weapons and ammunition belonging to the terror group were also destroyed.
The anti-government armed militant groups have not commented regarding the report so far.
This comes as operations are underway to suppress the anti-government armed militant groups in this province.
Full report at:
https://www.khaama.com/afghan-forces-foil-deadly-blast-us-drone-strike-kill-3-is-militants-in-nangarhar-04043
--------
Teachers of Afghan-Turk school likely arrested over Gülen links
Dec 13 2017
Amid controversial arrest of Afghan-Turk high school teachers in capital Kabul, the local media outlets in Turkey have reported that the teachers have likely been arrested over the alleged links with Fethullah Gülen.
According to the local Hurriyet Daily News, the move against Afghan Turk CAG Educational NGO (ATCE), the body that runs the schools, appeared to be part of a Turkish campaign against U.S.-based Fethullah Gülen, accused of being behind last year's failed coup attempt.
"Around 7 a.m., four of our teachers traveling in two different cars were picked up by [Afghan intelligence]," said Human Erdoğan, the chairman of ATCE.
Other intelligence officials later went to the group's girls' school nearby looking for another teacher, he said.
The Afghan security institutions have not commented regarding the arrest of the school teachers so far.
This comes as the parents of the students called on the government to intervene and the security institutions must provide satisfactory information regarding the raid.
They said the security institutions must prove that the school had any links with the terror organizations for which a raid was apparently carried out.
Full report at:
https://www.khaama.com/teachers-of-afghan-turk-school-likely-arrested-over-gulen-links-04041
--------
Suu Kyi award revoked in protest against her handling of violence against Rohingya
14 December 2017
Dublin councilors on Wednesday voted to revoke an award given to Myanmar leader Aung San Suu Kyi to protest her handling of violence against Rohingya Muslims in her country, Irish media reported.
The vast majority of councilors backed the move to revoke the Freedom of the City of Dublin award, with 59 votes in favor, two against and one abstention, broadcaster RTE said.
The decision comes after more than 620,000 of Myanmar's Rohingya Muslim minority fled across the border to Bangladesh, escaping a crackdown by the army which the refugees have said involved murder, rape and arson.
Suu Kyi has faced international criticism for her apparent failure to defend the Rohingya minority; a dramatic fall from grace for the Nobel Peace laureate who spent years under house arrest in Myanmar.
Pressure on Myanmar
"The daily oppression of the Rohingya people cannot be allowed to continue and if the revoking of this honor contributes to the pressure on the Burmese (Myanmar) government to respect their fellow citizens it is to be welcomed," councilor Cieran Perry said, quoted in the Irish Independent.
The city council's decision comes a month after musician Bob Geldof returned his own freedom award at Dublin City Hall, as a protest against Suu Kyi. "I would be a hypocrite now were I to share honours with one who has become at best an accomplice to murder, complicit in ethnic cleansing and a handmaiden to genocide," Geldof had said.
The Red Cross estimates only around 300,000 Rohingya remain in Myanmar's northern Rakhine state since the mass exodus started in August, with around 300 continuing to cross the border each day.
Full report at:
https://english.alarabiya.net/en/News/world/2017/12/14/Suu-Kyi-award-revoked-in-protest-against-her-handling-of-violence-against-Rohingya.html
--------
North America
US Official Accuses Turkey of Pushing Extreme Islamist Ideology
December 13, 2017
Jeff Seldin
An already tense relationship between the United States and Turkey appears to be under more strain after a top Trump administration official accused Turkey of spreading what he called extreme Islamist ideology around the world.
President Donald Trump's national security adviser, General H.R. McMaster, said Tuesday that Turkey had joined Qatar as a prime source of funding that contributes to the spread of extremist ideology.
"We're seeing great involvement by Turkey from everywhere from western Africa to Southeast Asia," McMaster said during an appearance in Washington. "The Balkans is an area of grave concern now."
Not funding terrorists themselves
McMaster stopped short of accusing Ankara of funding actual terrorist groups. Instead, he voiced concern that Turkey was following in the footsteps of Saudi Arabia in the 1970s, and more recently Qatar, by funding groups that help create the conditions that allow terrorism to flourish.
"We didn't pay enough attention to how extremist ideologies were being advanced through madrassas and mosques, and so-called charities more broadly," he said.
Turkey's Foreign Ministry criticized McMaster's remarks Wednesday, calling them "astonishing, baseless and unacceptable."
"We expect the United States, which we continue to recognize as our friend and ally, to display the same stance to our country, to cease all forms of cooperation with terrorist groups such as YPG and provide more concrete and effective support in our ongoing determined fight against terrorism and radicalism," the ministry said in a statement.
Support for YPG
U.S. and Turkish relations have eroded in part because of Washington's support for the YPG, a Kurdish militia that has helped fight the Islamic State terror group in Syria. Ankara says the YPG is linked to the Kurdistan Workers' Party, or PKK, which is waging a Kurdish insurgency inside Turkey. Ankara, along with the European Union and United States, has designated the PKK as a terrorist organization.
Relations between Washington and Ankara also soured following a failed July 2016 coup in Turkey. Ankara accuses Muslim cleric Fethullah Gulen of involvement in the coup attempt. Gulen, who lives in self-imposed exile Pennsylvania, denies the accusation. The U.S. has refused calls for his extradition.
More recently, Trump's decision to officially recognize Jerusalem as Israel's capital has upset Turkey, with Turkish President Recep Tayyip Erdogan saying, "This could go so far as cutting our diplomatic relations with Israel. You cannot take such a step."
Russia, Iran
In the meantime, recent Turkish overtures toward Russia and Iran have not gone over well with officials in Washington, who also worry Turkey will serve as a model for Islamist groups hoping to seize power.
McMaster said Tuesday, "A lot of Islamist groups have learned from" Erdogan and his Justice and Development Party (AKP).
It is a "model of really operating through civil society," McMaster said, "then the education sector, then the police and judiciary, and then the military to consolidate power in the hands of a particular party, which is something we'd prefer not to see and is sadly contributing to the drift of Turkey away from the West."
https://www.voanews.com/a/united-states-official-accuses-turkey-pushing-extreme-islamist-ideology/4162558.html
--------
'New York bomber read extremist's books, urged wife to do so'
December 13, 2017
Dhaka, Dec 13 (PTI) The Bangladeshi-origin New York City bomber had read books by an Islamist cleric convicted for inciting the murder of an atheist blogger in the country and also "encouraged" his wife to do so to learn about religion, police said here today.
Akayed Ullah, the 27-year-old suspected bomber, had a crude pipe bomb strapped to his body. The device exploded prematurely on Monday between two subway platforms near Port Authority, injuring him and three others.
Bangladesh security officials said that they have found no evidence of a local militant link of Ullah despite his fascination to Islamist literatures.
"We have not found any link between Akayed Ullah and local militant groups or any political party. We have not found any clue of his affiliation with any militant outfit in Bangladesh," police counter-terrorism unit chief Monirul Islam told reporters here.
His wife told investigators that Ullah used to "encourage" her to read books by a convicted Islamist outfit chief Jashim Uddin Rahmani as he appeared to have been radicalised over the internet after moving to the United States, he said.
"She said he used to tell her to read the books of Jashim Uddin Rahmani to learn about religion or Islam. We are reviewing the information provided by his wife and other relatives," Islam said.
Rahmani, the leader of the outlawed Ansarullah Bangla Team (ABT), was jailed by a Bangladesh court in 2015 for five years for inciting the murder of atheist blogger Ahmed Rajib Haider in Dhaka.
His books were easily accessible on the internet until some years ago.
The ABT is a homegrown extremist group which is behind the killings of several bloggers, writers and gay rights activists in Bangladesh.
Reports suggest that US officials have found evidence that Ullah had watched Islamic State propaganda on the internet.
Islam said that though no official request has been made, Bangladesh passed on the information on Ullah to US security agencies on its own as "we have given highest priority on this issue because of our zero-tolerance policy against terrorism".
An official familiar with the investigation said Ulllah's wife was "surprised to find out what her husband did" after he exploded a pipe bomb strapped to his body which he did some 30 minutes after his routine telephonic talks with her.
Bangladesh police's counter-terrorism unit questioned her and other relatives for several hours.
Police said that Ullah, who became a US resident in 2011, visited Bangladesh three months ago and spent most of the time at home with their six-month-old son.
Ullah is suspected of trying to blow himself up at New York's main bus terminal presumably inspired by Islamic State ideals while investigators are trying to unearth what led to the bombing, and who – if anyone – might have assisted him.
His improvised explosive device, however, did not work as intended, causing minor injuries to bystanders.
Full report at:
http://www.india.com/news/agencies/new-york-bomber-read-extremists-books-urged-wife-to-do-so-2748040/
--------
Counterterror chief: Trump's anti-Muslim rhetoric makes job more difficult
December 13, 2017
Washington (CNN)Recent anti-Muslim rhetoric from President Donald Trump and administration policies such as the travel ban are making counterterrorism "more difficult," according to outgoing National Counterterrorism Center Director Nick Rasmussen.
Speaking during an on-the-record interview Wednesday, Rasmussen said, "I don't think it's arguable it's more difficult when the environment is contaminated by mutual suspicion."
"If you're increasing the amount of suspicion and distress on these communities, it places more challenges in our way," he said.
Asked "does the environment today make your job more difficult?" -- with reference to comments by the President and administration policies such as the travel ban -- Rasmussen answered "yes."
Trump's past and recent tweets and statements concerning Muslims and the travel ban played a central role during a federal appeals court hearing last week on the legality of travel ban 3.0.
Lawyers and judges discussed whether the tweets should be taken into consideration as the court examines whether the ban on travel to the US by residents of certain nations was illegally motivated by anti-Muslim animus. Special attention was paid to the President's November 29 retweets of three inflammatory videos from a British far right account rife with anti-Muslim content.
"What do we do," Judge James A. Wynn asked, when we have "multiple instances" when the President has tweeted about Muslims "before the election, during the election and just a week or so ago?"
"Do we just ignore reality?" he asked.
The White House has previously defended several of Trump's controversial comments.
Last month, White House press secretary Sarah Sanders claimed that Trump's decision to retweet anti-Muslim content from a leader of a far-right British political group served to "elevate the conversation."
Trump had sparked criticism from Britain's highest officials when he retweeted the three messages from Jayda Fransen, the deputy leader of the group, Britain First.
Full report at:
http://edition.cnn.com/2017/12/13/politics/trump-anti-muslim-rhetoric-counterterrorism/index.html
--------
Europe
Italy deports man for Facebook Like of Isis video
By Claire Toureille
December 13, 2017
The Italian Court of Cassation ruled that a Facebook Like can be interpreted as an apology for terrorism.
A 25 years old Kosovan man was deported for sharing online propaganda in late 2016, reports the Giornale di Brescia.
Gaffur Dibrani had been living in the country for 10 years before being deported. The Interior Ministry said his computer contained "documents and files of jihadist propaganda, as well as contacts with two well-known Islamists". He also had liked propaganda videos on the social network.
Dibrani distanced himself from radical Islam and denied having intentionally shared jihadist propaganda. According to the prosecution, he liked and shared anti-West material on Facebook, including a picture of his two year-old son adorned with the Isis flag. One section of footage showed an Isis fighter asking Allah to "accept him as a martyr" and calling on other men to join the fight in Syria. His lawyer said that he "[hadn't] realised what he had done".
On two occasions prior to the ruling, a Brescia court said that there was not enough evidence against Dibrani, pointing out that: "Evoking holy war does not necessarily result in the creation of organised structures aimed at carrying out terrorist acts." It also stated that he had not made a "clear reference to Isis". As a result, Dibrani walked free two weeks after his arrest.
The Brescia prosecutor appealed his local court's decision to the Court of Cassation. The Court ruled it was "self-evident," that Dibrani has openly praised Isis online, and that the Brescia court of reviews had disregarded his connections with two other suspected extremists.
The Court also ruled that there should be no distinction between someone just clicking "Like" on a propaganda video and actively sharing it. According to the Court, this constitutes the same level of offence.
A video one likes will not end up on their Facebook "wall," but it will appear on their friends' timelines, having the same effect as a share.
The Court of Cassation ruled that Dibrani be immediately deported from Italy.
Since the beginning of 2015, Italy has taken a hard stance on extremism and apology of terrorism. People acting as "remote fighters" for Isis or who recruit on behalf of the terrorists could face up to six years in jail.
http://www.ibtimes.co.uk/italy-deports-man-facebook-like-isis-video-1651420
--------
Birmingham Couple Who Plotted Terrorist Knife Attack Are Jailed
13 December 2017
A married couple from Birmingham who practised carrying out Islamic State-inspired knife attacks on a dummy in their home have been jailed for preparing acts of terrorism.
Ummar Mirza, 21, was sentenced at Woolwich crown court to 16 years in prison in London on Wednesday for preparing acts of terrorism in the UK.Madihah Taheer, 22, was jailed for 10 years after purchasing a combat knife for her husband.
The pair had long discussed carrying out an attack, exchanging messages before they were married in September 2015 in which Taheer wrote: "Can we get married already ffs. I want you to kill ppl for me. I have a list."
Mirza replied: "The day of the nikkah [marriage] I'll kill em all. Give me the list. The only thing that stops me is we are not married. I will defo ... I'm not joking."
Taheer, who has recently become a mother, was convicted of preparing an act of terror in October this year, while her husband pleaded guilty to the charge at an earlier hearing.
When police raided the couple's home in Birmingham, they found a life-like training dummy with slash marks across its forehead, throat and abdomen.
Prior to his arrest, Mirza had carried out a number of internet searches on the best knife to buy, how to commit the "perfect murder", and how to kill someone with a knife.
After acquiring a combat knife, purchased by his wife, Mirza researched targets including Jewish areas in London and Birmingham, and barracks and Territorial Army bases in Birmingham.
Two days before Mirza was arrested he had also been searching reports about a Birmingham flat being linked to the Westminster terror attack, and on the Westminster attacker Khalid Masood.
Messages between the couple produced in court showed them discussing the purchase of a training dummy, with Mirza preferring a neoprene model over a plastic one.
One message from him to Taheer said: "I know the difference in feeling. [The] same way I like hitting you. It is fun. It feels nice to hit, so to feel flesh contort under the force."
Sentencing Mirza, Judge Christopher Kinch QC said he had shown "inexorable progress" towards a lone-wolf attack, adding the 21-year-old had "moved from speculative ideas to sourcing equipment, to training and searching for possible targets".
"The harm which might have been caused is undoubtedly high," Kinch said. "I am satisfied having regard to all the material I have read that you pose a significant risk of serious harm being caused to members of the public from the commission of further specified offences."
Speaking about Taheer's case, Kinch described it as a "personal tragedy" because the October trial came when her first child was just five months old.
During the trial, the Crown Prosecution Service had argued the conversations between the couple showed that Taheer was a "willing accomplice" who knew what Mirza wanted to use the knife for, illustrating "a shared belief in violent pro-jihad, Islamic State extremism".
Also sentenced on Wednesday was Zainub Mirza, Mirza's sister, who shared Isis propaganda with the couple on social media.
The 24-year-old was sentenced to 30 months in prison, having already pleaded guilty to five counts of disseminating terrorist publications.
The court heard that Mirza's sister sent him videos relating to extremism, including some showing Isis fighters beheading hostages.
In one message, she said to her brother: "May Allah give us the ability to raise our children to fight for Allah."
Speaking after the conviction of Taheer in October, Det Ch Supt Matt Ward, the head of West Midlands counter-terrorism unit, said: "Earlier this year we received information that they were planning to carry out a terrorist act in the UK.
"We were able to establish that they were in advanced stages of preparation. We think that they had radical extreme views for some time – back to 2015. This year they have accelerated that extremism. They had purchased a training knife to carry out a practice of the attack.
Full report at:
https://www.theguardian.com/uk-news/2017/dec/13/birmingham-couple-who-plotted-terrorist-knife-attack-jailed-madihah-taheer-ummar-mirza
--------
Denmark bans another Saudi 'hate preacher'
Dec 13, 2017
Denmark's Immigration Authority has added a Saudi cleric to a blacklist of "hate preachers" banned from entering the European country.
Saudi cleric Abdullah bin Radi Almoaede Alshammary was added to the Danish list, which already included 10 other "hate preachers," Danish paper Jyllands-Posten reported Tuesday.
The country's Minister for Immigration Inger Stojberg welcomed the announcement on Tuesday.
"Hate preachers have no business being in Denmark. They travel around spreading hateful messages and try to convince others to share their rapturous views," he said. "That's why I'm glad to see that the Immigration Authority is doing a good job by continually discovering these hate preachers."
First published in May, the list comprised six names, including two Saudis, one Syrian, one Canadian, and two Americans. Other names were added in June.
In an alliance with the Riyadh government, clerics in Saudi Arabia freely preach Wahhabism — a radical strand of ideology notorious for its lack of tolerance.
That ideology is practiced by radical militant and terrorist groups in the Middle East, including Daesh, which has also managed to carry out terrorist attacks on targets in Europe and America.
Daesh began an offensive in Iraq and Syria roughly in 2014. But national armies and allied forces in both countries recently retook all the territory the terrorist group had overrun.
Full report at:
http://www.presstv.com/Detail/2017/12/13/545446/Denmark-Saudi-Arabia-hate-preacher-blacklist
--------
When 'Arab street' and its protests go to Europe
Noah Feldman
Dec 14, 2017
It's no surprise that US President Donald Trump's decision to recognise Jerusalem as Israel's capital has sparked violence in the West Bank and Beirut, or even protests in far-flung Indonesia, which is majority Muslim. But Sweden?
Yet the western Swedish city of Gothenburg, headquarters of Volvo Car AB, saw the firebombing of a synagogue last week. In the same week, demonstrators in Malmo, in Sweden's far south, called for their own "intifada" and threatened to shoot Jews.
What's going on in Sweden reflects a changed demographic and psychic reality. The "Arab street", if that abstraction ever existed, is no longer restricted to Arabic-speaking countries. Arab and other Muslim immigrants now living in Europe increasingly play just as active a role in enacting collective political opinion as their counterparts who did not leave their home countries.
Indeed, because Western European states respect civil liberties, allow peaceful protest and punish at least some kinds of violence mildly, Arabs and Muslims living in places like Sweden may have more freedom to protest - and to go overboard into violence - than their counterparts in majority-Arab or Muslim countries.
And what's happening today in Sweden can happen tomorrow throughout the rest of Europe.
The synagogue attack in Gothenburg didn't come out of nowhere, of course. It's the product of a gradual process in which Arab and Muslim immigrant and refugee communities in Sweden first grew, then developed pockets of radicalisation. Several of the Sweden-based extremists who went to join the Islamic State in Iraq and Syria mostly came from Gothenburg.
The story in Malmo is better known. There, Muslims make up a significant percentage of the population. The Malmo chant was reported as: "We have declared an intifada from Malmo. We want our freedom back. And we will shoot the Jews."
An intifada is an uprising aimed at self-determination. The Malmo demand for an intifada and freedom therefore hint at ownership - and perhaps even occupation. The protesters seem to be implying, on one possible interpretation, that they own Malmo. If that is so, that would make the Swedish police into foreign occupiers.
The invocation of the fantasy of killing Jews seems to function here, unfortunately, as a unifying intifada-related theme that connects the protest to events in Jerusalem. It's nothing new for Arab-street protesters to use anti-Israel sentiment as a vehicle to express their own, more local concerns. What's new is that it's happening in Europe.
This phenomenon is a cousin to the classic Europe-based anti-Jewish terrorism, which dates back at least to the 1982 Abu Nidal group attack on a kosher deli in Paris. That form of terrorism used Europe as a stage on which to play out Middle Eastern politics. Today's version, however, is less the product of outside agitation and more the result of the internal dynamics of a well-established Arab and Muslim population that considers itself to be at home.
Here is where Europe's respect for civil liberties and the liberal criminal justice system come into play. In autocratic or authoritarian Arab and Muslim states, anti-Israel protests are allowed when the state sees them as useful, and suppressed when it considers them counterproductive. In Sweden, however, the state has no legal authority to suppress peaceful protest, unless it turns into hate speech directed against a group.
Then, Swedish law, like the law of other Western European states (but unlike US law) allows after-the-fact punishment.
The Malmo protesters almost certainly violated Swedish law. One of their chants was: "Khaybar, Khaybar, O Jews; the army of Muhammad shall return." In rhyming Arabic, this familiar, taunting chant references the early Muslims' successful attack on the Jewish population of the Arabian town of Khaybar in 628. The returning army of Muhammad is a trope that warns of more attacks to come.
The implicit threat of anti-Jewish violence, made explicit in the separate "shoot the Jews" chant, must count as hate speech directed against a group. Yet it seems relatively unlikely that anyone will be prosecuted for the Malmo protests. It's difficult to prosecute large groups of protesters.
And in the unlikely case of convictions, punishments would likely be minimal. There is much to admire in Sweden's relatively non-punitive criminal justice system. Yet the real-world effect may be to weaken incentives against violence like the synagogue firebombing.
And that's a serious problem for Sweden as a democracy for all its citizens - Jews and Arabs alike. In general, Sweden has been exemplary in welcoming immigrants and refugees. In 2015, it allowed the largest per capita number of Syrian refugees of any European country, and the second most in absolute numbers after Germany, a far larger country.
Full report at:
http://www.straitstimes.com/opinion/when-arab-street-and-its-protests-go-to-europe
--------
Britain First video outside Islamic centre in Belfast condemned
December 13 2017
A video taken outside Belfast's Islamic Centre featuring independent councillor Jolene Bunting and the deputy leader of far-right group Britain First has been condemned as "grotesque and offensive".
In the video, posted to Britain First's Facebook page, the group's deputy leader Jayda Fransen refers to the "Islamification of the mainland" and says London "looks more like Pakistan than England".
She also refers to the Islamic Centre, located near to the Malone Road, as a "den of iniquity".
Speaking about the video, SDLP Councillor Tim Atwood said: "I condemn the grotesque and offensive comments made by Cllr Jolene Bunting and Jayden Fransen from Britain First outside the Islamic Centre last night.
"There can be no place in Belfast for abusive comments such as 'Muslims communities are trying to achieve colonisation' or 'Campaigning against dens of inequities'.
"Cllr Bunting should disassociate herself from these shameless and reckless comments. Given the increase in racist attacks, we need to need to express solidarity with all communities including our Islamic neighbours."
The video has also been slammed by Green Party councillor Georgina Milne, who has said she will be investigating whether Belfast City Council's Code of Conduct was breached.
"Belfast City Council is currently looking at an amendment to Standing Order 30 which would state that members should not impute motives or use offensive expressions in reference to any persons of sections of society that shows contempt on the basis of race, ethnicity, nationality, gender, gender identity, sexual orientation, religious belief, age or disability," the East Belfast councillor said.
"As it is, councillors are already expected to hold themselves to a higher standard of behaviour than the general public and I intend to look at whether this member has acted against our Code of Conduct with these stomach-churning comments which are tantamount to hate speech.
"I would offer my full support to Belfast Islamic Centre and the Muslim community in Belfast. I would also appeal to anybody in East Belfast who has experienced hate and harassment to reach out to me and I will do anything in my power to help."
The PSNI records hate crimes under a number of different categories, including racist, homophobic, sectarian (which includes actions between the nationalist and unionist communities), faith/religion, disability, and transphobic.
Figures released last month found between June 2016 and June 2017 there were 1,062 racist incident reported to the PSNI, outstripping the 938 incidents involving traditional religious sectarianism.
Jayda Fransen is due to appear before Belfast Magistrates' Court on Thursday on charges related to a speech made in Belfast in August in which it is alleged she used threatening and abusive language.
Full report at:
https://www.belfasttelegraph.co.uk/news/northern-ireland/britain-first-video-outside-islamic-centre-in-belfast-condemned-36405888.html
--------
Africa
Tunisia's Ennahda struggles to shake political Islam identity
Amel al-Hilali
December 13, 2017
TUNIS, Tunisia — On Nov. 22, the countries boycotting Qatar classified the Muslim Brotherhood as a terrorist organization. This has revived accusations that the Tunisian Ennahda movement still espouses political Islam despite announcing that it has changed.
In May 2016, Ennahda leader Rachid Ghannouchi declared the movement a "civil and democratic political party" that separates its political and religious activities. The declaration came on the sidelines of Ennahda's 10th national conference, a landmark in the political and ideological progression of the movement marking its shift to Islamic democracy.
This transformation, however, did not win the movement political acceptance in Tunisia, where Ennahda has been accused of duplicity in its political discourse and failing to become a civil party.
The position of Ennahda's deputy head Abdelfattah Mourou reinforced the perception that the movement has no intention of ending its role as a religious reference. On May 31, 2016, a few days after Ennahda's 10th conference, Mourou stated in an interview with Tunisian Echourouk TV, "Ennahda has not and will not change its identity, and it will stick to its Islamic reference and strategy." He also denied any existing or prior link between Ennahda and the Muslim Brotherhood.
Accusations against Ennahda of duplicity and continuing its orientation of political Islam jumped over the last couple of weeks after Saudi Arabia, the United Arab Emirates and Bahrain added 11 individuals and two entities, including the International Union of Muslim Scholars (IUMS), to their terrorist list on Nov. 22. The Doha-based IUMS is an independent Islamic organization headed by Yusuf al-Qaradawi, who is also a prominent leader of the Muslim Brotherhood.
Ennahda denounced in a statement the reported inclusion of Ghannouchi, who is also a member of the IUMS, on the terrorist list as a "desperate attempt" to distort his image. The movement also hinted at possible lawsuits against some media outlets for having promoted the news. Ennahda also denounced the inclusion of the IUMS on the terrorist list, stressing the need to protect institutions and scholars with a "history of righteousness and forgiveness."
BBC Arabic had listed Ghannouchi as one of the individuals included in the terrorist list, only to later apologize for its mistake.
Ghannouchi told Al-Monitor, "The classification of the IUMS as a terrorist organization by the Gulf countries boycotting Qatar could be considered an episode of the Gulf crisis." He expressed confidence that as the Gulf crisis is resolved, the classification will be withdrawn. "We consider that politically classifying organizations as terrorists and adding moderate figures and unions of scholars to terrorist lists is a strategy to weaken the war on terrorism."
Commenting on the Tunisian political parties that oppose the ruling coalition shared between Ennahda and Nidaa Tunis and have formed a parliamentary bloc to compete with the coalition, Ghannouchi stated, "These parties calling for the removal of Ennahda from power have no chances of success."
He pointed to the strong ties between his party and Nidaa Tunis and the success of their coalition in maintaining stability and ensuring parliamentary support for the government. He affirmed that Ennahda has become a stabilizing force in Tunisia.
Political analyst Bassel Terjman told Al-Monitor, "The Gulf countries' classification of the IUMS as a terrorist organization aims to embarrass Ennahda in Tunisia, even if the movement has repeatedly denied its relations to the organization."
Terjman added, "Since Ennahda took the reins of power, it failed to convince its opponents of the objectivity of its stances and its seriousness in cutting ties with the Muslim Brotherhood and the IUMS. Such moves would be in line with its transformation into a civil political party that has no links to political Islam."
Terjman considers Ghannouchi's attempts to succeed Qaradawi as head of the IUMS during his participation in the union's conference in Istanbul in 2014 proof of the ongoing links between the movement and the union. Terjman accused Ennahda of dishonesty. He said, "Ennahda would have been better off declaring its ties to the IUMS and its intention to reconsider them due to the union's latest terrorist blacklisting."
During an interview on al-Hiwar al-Tunsi in April 2014, Ghannouchi said there are no links between his movement and the Muslim Brotherhood, denying the claims about his candidacy to succeed Qaradawi as head of the IUMS.
Political analyst Salah al-Din al-Jourashi told Al-Monitor that since its 10th conference, Ennahda has made strides toward separating preaching and politics. He praised the movement's commitment to its promises to distance its prominent leaders from religious activity.
Jourashi considers the accusations of Ennahda's political opponents, who claim the movement's political discourse has been duplicitous, ungrounded. He added, "We cannot deny that Ennahda was part of the international organization of the Muslim Brotherhood, but the party stopped attending the Brotherhood's meetings and announced its split from them."
Sahbi Ben Fraj, a leader in the opposition party Machrou Tounes, which was behind the formation of a parliamentary bloc opposing the Nidaa Tunis and Ennahda coalition, told Al-Monitor, "Ennahda is facing major crises locally and regionally related to being acknowledged as a civil party without links to political Islam, rather than just a branch of the Muslim Brotherhood in the world."
He noted that Ghannouchi is in complete denial regarding his affiliation with the Brotherhood. Fraj said, "We call on Ennahda to split from the IUMS. During its six years of rule, it did not revisit its relations with foreign organizations and regional alliances that oppose Tunisia's state policies."
https://www.al-monitor.com/pulse/originals/2017/12/tunisia-ennahda-muslim-brotherhood-terrorist-political-islam.html
--------
Moscow seeks UNSC's nod to supply arms to Central African Republic
Dec 13, 2017
Russia has reportedly asked the United Nations Security Council (UNSC) for authorization to supply light arms and ammunition to the embattled armed forces of the Central African Republic (CAR).
A UNSC diplomat anonymously told AFP that Moscow was asking the Council for an exemption to the arms embargo imposed on the impoverished African nation in 2013, when it descended into widespread ethnic violence that mainly targeted the country's Muslim population.
According to the report, Russia has proposed to provide two battalions of 1,300 men with weapons and ammunition. The troops were recently trained by the European Union.
"Having assessed the situation in CAR, the Russian side agreed with the opinion of this country's leadership on the necessity to increase the overall strength of the armed forces of the Central African Republic," reads the request from Russia's UN mission.
Among the armaments listed on the Russian proposal are 900 pistols, 5,200 assault rifles, 140 sniper rifles, 840 Kalashnikov machine guns, 270 RPGs, and 20 anti-aircraft guns. Russia, the document shows, would also supply millions of pieces of ammunition to the CAR forces, including armor-piercing cartridges, hand grenades, and mortars.
The development came after the CAR's President Faustin-Archange Touadera asked Russian Foreign Minister Sergei Lavrov for military aid during discussions at Russia's Black Sea resort of Sochi back in October.
Russian Defense Ministry authorities paid a visit to the CAR in late November to review the newly-trained troops and discuss the military assistance.
France has reportedly been concerned by Moscow's plan, particularly over the manner of the storage of the armaments.
This is while the Russian request states, "Storage and stockpile management of weapons of the first delivery will be organized at the already existing storage facilities under armed protection."
UNSC members have until Wednesday 3:00 p.m. (2000 GMT) to consider the Russian request. If there are no objections by the members, Russia will get a green light for the shipments, due to start next week.
Full report at:
http://www.presstv.com/Detail/2017/12/13/545437/Russia-Central-African-Republic-UNSC-arms-shipment
--------
Nigeria: Families of hundreds of Shi'a Muslims killed in Zaria still await justice
13 December 2017
The Nigerian authorities must ensure justice, truth and reparation over the military's unlawful killing of more than 350 Shi'a Muslims in the northern city of Zaria in December 2015, Amnesty International said on the two-year anniversary of the massacre.
No one has been held accountable for the killings, while the families of the missing are still awaiting news of their loved ones. Amnesty International has identified and visited the location of a possible mass grave near Mando, but it is yet to be exhumed.
"The Nigerian authorities' failure to hold anyone to account for the killing of hundreds of women, men and children by soldiers in Zaria, shows the acceptance of a culture of impunity for violations for human rights in the country," said Osai Ojigho, Director of Amnesty International Nigeria.
"Our research indicates that the deaths in the clashes between members of the Islamic Movement of Nigeria (IMN) and the Nigerian military two years ago were the consequence of an excessive use of force that must be thoroughly investigated."
Between 12 and 14 December 2015, Nigerian security forces killed hundreds of civilians, some of them supporters of the IMN – including men, women and children – and arrested more than 200 following a Shi'a Muslim protest.
The exact number of those killed is not known, but it may be higher than the official figure of 347. Hundreds of IMN supporters reported missing since the killings remain unaccounted for, feared dead.
Satellite images of the Mando mass grave site taken on 2 November and 24 December 2015 show severe disruption of an area of approximately 1000 square metres, including the destruction of buildings and mosques.
"A full independent forensic investigation into this crime under international law is long overdue. Many families still do not know the fate of their loved ones who have not been seen or heard of since December 12, 2015," said Osai Ojigho.
"Nigeria's Attorney General and Minister of Justice of the Federation should order that the bodies in the mass graves are exhumed, and that those suspected to be responsible for their deaths are prosecuted in fair trials without recourse to death penalty."
The Nigerian government has failed to publicly condemn the unlawful killings that took place in Zaria.
Meanwhile, the IMN's leader, Sheik Ibraheem El Zakzaky and his wife have been unlawfully detained since the killings, despite an Abuja High Court order for their release a year ago.
"The Nigerian government cannot continue to disregard this court order and as a matter of urgency respect the rule of law by releasing them immediately." said Osai Ojigho
In April 2016, a Kaduna state government official admitted that 347 IMN members were dumped in a mass grave near Mando.
"This information should be an important lead for the government to investigate the killings and ensure all those suspected of criminal responsibility are held to account," said Osai Ojigho.
"But until now, the shocking lack of accountability for these deaths has served only to bolster a climate of impunity."
Background
The IMN is a Shi'a religious and political organization whose leader, Ibraheem Yaqub El Zakzaky, has been a proponent of Shi'a Islam in Nigeria since the 1980s. In October 2016, Kaduna state government declared IMN an unlawful organization.
According to Amnesty International's research, more than 350 IMN members were killed by security forces between 12 and 14 December 2015 in Zaria.
In July 2016, the Kaduna State Commission of Inquiry, set up to investigate the killings, presented its report to the state government indicting the Nigerian military for unlawful killings.
In December, the Kaduna state government published its white paper on the report, which rejected most of the Commission's recommendations.
Full report at:
https://www.amnesty.org/en/latest/news/2017/12/nigeria-families-of-hundreds-of-shia-muslims-killed-in-zaria-still-await-justice/
--------
Sudan: Ambassador - Al-Basher Participation in Summit Affirms Stance Towards Palestinian Issue
13 DECEMBER 2017
Istanbul — Sudan's Ambassador to Turkey, Yousef Al-Kordofani has underlined that the participation of President Al-Basher in the Emergency Islamic Summit, in Istanbul, came in response to an official invitation extended by his brother, Reccep Tayeb Erdogan, the current Chairman of the Islamic Cooperation Organization (ICO) to affirm Sudan support to the Palestinian cause and Palestinian people.
Al-Kordofani said in press statements following the arrival of Sudan delegation, that President Al-Basher's participation in the summit affirms the country's keenness to the joint Islamic action and the importance of Al-Quds.
Full report at:
http://allafrica.com/stories/201712130756.html
--------
URL: https://www.newageislam.com/islamic-world-news/pakistan-supreme-court-angry-that/d/113568
New Age Islam, Islam Online, Islamic Website, African Muslim News, Arab World News, South Asia News, Indian Muslim News, World Muslim News, Women in Islam, Islamic Feminism, Arab Women, Women In Arab, Islamophobia in America, Muslim Women in West, Islam Women and Feminism