New Age Islam News Bureau
2 March 2014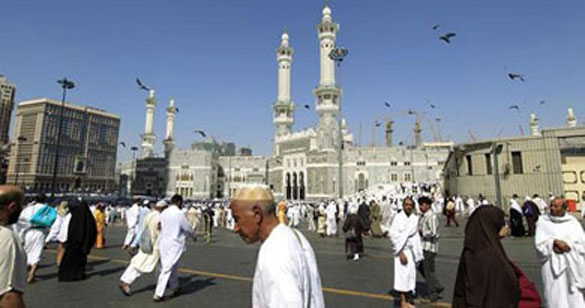 Makkah's Grand Mosque
-------------
Pakistan
• Pakistan's new security policy aims to reform Madrasas
• 10 'militants' killed in gunfight with FC troops
• Gunship helicopters kill five suspected militants in Khyber
• All political parties welcome Taliban's ceasefire statement
• Shariat court to take up 22-year-old Riba case on March 24
South Asia
• 27 dead, 109 injured in south-western China terrorist attack, suspects shot dead
• Blast in eastern Afghanistan kills 13
• Japan pledges $200 million in aid for Palestinians, to push for an independent state
• Rise in Bigotry Fuels Massacre inside Myanmar
Africa
• 51 dead in twin car bombs in Nigeria
• Gunmen disperse sit-in protest against Libya parliament
• Army shoots dead Islamist east of Algiers
• Youths in S. Sudan's Jonglei State Kill 15 Rebels, Free Tribal Chief
Arab World
• Syria airstrike kills 13 in northwest town
• Pro-Hezbollah Song Opens Musical Front in Civil War over Syria
• Sects divide Ummah, says Haram imam
• UAE Free Monthly magazine to highlight dangers of political Islam
• Six members of security forces killed in Iraq
• Top Saudi cleric calls for suing Google over anti-Islam Youtube film
• Berri assassination plot aims to incite Sunni-Shiite strife
• Saudi Arabia Offers Sophisticated Weapons to Syrian Rebels
• Kingdom to build 10 mosques in Maldives
Mideast
• 75 extremist Jews led by radical rabbi storm Al-Aqusa compound
• Turkey passes law to shut schools run by Erdogan arch-rival
• Israel 'buying' information on extremists from rebel groups
• Shutdown in Jerusalem for ultra-Orthodox protest
• Israel PM vows to resist 'pressures' on US visit
Southeast Asia
• Indonesia Islamic parties have possibility to coalesce
• No way Malaysia can imitate Brunei's move to introduce hudud, says academic
• Pakatan targets over 88% turnout in Kajang by-election to thumb noses at extremists
• Malaysians come together to pay for repairs of vandalised Christian graves
India
• MU, Bodh Gaya, VC asks minority institutions to shun dependence on govt
• India, Iran and Oman go under sea to build pipelines, change geopolitics
• 2002 Gujarat riots victims' kin to get five years age relaxation in central jobs
• India, Pak officials to discuss cross-LoC trade issues
• J&K cops say slain militants belonged to LeT
• When Karachi 'guards' helped Mumbai Police control crowds
• Five Indians among 11 foreigners killed in a deadly blast in Qatar
Europe
• Russia's role in Ukraine could stir jitters in Mideast
• UN calls for more refugee aid at Palestinian development meet
North America
• Corruption, religious freedom, and judiciary HR problems in Maldives, say US report
• US to upgrade its nuclear arsenal in Turkey - media
• US Accuses Both Sides in South Sudan of Abuses
• US, Afghan Officials Debate Country's Future Security
• US pressuring Israel to stop killing Iran nuclear scientists'
Compiled by New Age Islam News Bureau
URL: https://www.newageislam.com/islamic-world-news/new-age-islam-news-bureau/pakistan-s-new-security-policy-aims-to-reform-madrasas/d/55943
--------------
Pakistan
Pakistan's new security policy aims to reform madrassas
2014-03-02
ISLAMABAD: Pakistan plans to bring all of its madrassas, or religious schools, under its national education system within one year under a landmark security policy aimed at combating extremism.
The first "National Internal Security Policy", a copy of which was seen by AFP on Sunday, says that some of the country's 22,000 madrassas are responsible for spreading extremism.
Interior Minister Chaudhry Nisar Ali Khan presented the policy in parliament on Wednesday after a decade-long Islamist insurgency that has claimed thousands of lives and cost the economy "more than $78 billion".
On the topic of religious schools, the document says: "It is important to mention upfront that not all madrassas are a problem and therefore these must not be viewed negatively as a whole.
"However, there were problems within some madrassas which have spread extremism," it adds, noting "financing from unidentified sources" and the "publication and distribution of hate material".
The vast majority of madrassas in Pakistan fall outside government control.
There are allegations that some madrassas are also involved in preaching violence and propagating hatred toward other sects and non-Muslims.
"A large number of terrorists, either are, or have been students of madrassas where they were brainwashed to take up arms against the state," the paper said.
The 94-page policy document offers a candid and introspective look at where Pakistan has been failing in its efforts to fight terror.
The policy calls on the government "to build a national narrative on extremism and terrorism" -- opinion polls in the past have shown there is no overwhelming public consensus on tackling extremist groups.
The document also calls for the establishment of a Federal Rapid Response Force and Counter Terrorism Department within police forces in the next six months.
The Pakistani Taliban on Saturday announced a month-long ceasefire aimed at resuming stalled peace talks with the Pakistan government, but analysts voiced scepticism over the move.
Dialogue between Islamabad and the Tehreek-i-Taliban Pakistan (TTP) that began last month was suspended after the militants killed 23 soldiers.
The military responded with a series of air strikes that have left more than 100 insurgents dead.
https://www.dawn.com/news/1090547/pakistans-new-security-policy-aims-to-reform-madrassas
--------------
10 'militants' killed in gunfight with FC troops
2014-03-02
QUETTA: Ten suspected militants were killed in a gunbattle with security forces in Sui area of Dera Bugti district on Saturday.
Sources said a contingent of Frontier Corps launched a search operation in the area against the suspects involved in attacks on gas pipelines in Dera Bugti and other areas.
They said that the FC men came under fire when they reached Drainjin Nullah and Rustam Bazaar areas on the outskirts of Sui town. The troops returned fire.
"Heavy fighting between militants and security forces continued for hours in which 10 militants have been killed," Khan Wasey, spokesman for Frontier Corps Balochistan, said.
He claimed that the militants were involved in bomb attacks on gas pipelines in Dera Bugti and other parts of the province.
The spokesman said five militants were arrested during the operation and handed over to the authorities concerned for interrogation.
He said a huge quantity of arms and ammunition, including improvised explosive devices and anti-tank mines, were seized during the search of places being used by the militants as their hideouts.
Other sources based in Sui said security forces had used heavy weapons and helicopters in the operation.
The banned Baloch militant organisations claimed that security forces had carried out a massive operation in Sui and other areas of Dera Bugti district in which many people were killed.
https://www.dawn.com/news/1090527/10-militants-killed-in-gunfight-with-fc-troops
--------------
Gunship helicopters kill five suspected militants in Khyber
2014-03-02
KHYBER AGENCY: In response to the militant attack on a polio team in Jamrud which left at least 11 dead on Saturday, security forces' personnel launched a massive assault Sunday morning on militant hideouts in parts of Bara and destroyed a number of them.
Security sources confirmed that gunship helicopters struck the headquarters of Mullah Tamanche involved in the attack on polio workers.
The Ayubi Markaz of Mullah Tamanche in Bara was destroyed in the airstrikes whereas five suspected militants were killed, the sources said.
Gunship helicopters also targeted militant hideouts in Kalanga and surrounding areas and a number of them were destroyed.
The locals in the area said shelling was ongoing.
https://www.dawn.com/news/1090532/gunship-helicopters-kill-five-suspected-militants-in-khyber
--------------
All political parties welcome Taliban's ceasefire statement
Mar 2, 2014
ISLAMABAD/KARACHI/MULTAN: Almost all major political parties welcomed the Taliban statement in which the banned outfit announce a ceasefire for a month.
Jamiat Ulema-e-Islam-Fazl (JUI-F) chief Maulana Fazlur Rehman welcomed the Taliban's declaration of a ceasefire.
He termed the Taliban announcement "a wise decision" and called on Prime Minister Nawaz Sharif to convene an all-parties conference immediately.
Leader of the Opposition in the National Assembly Khursheed Shah also welcomed the TTP's announcement.
Talking to the media in Sukkur, the Pakistan People's Party (PPP) leader said that his party wanted peace in the country by any means.
He said that all options must be considered to restore peace in the country, and added that if there would be sincerity from both sides, dialogue could be successful. The ANP, MQM and the PTI also welcomed the development, saying that peace must be giving a chance. The PPP and the ANP called it a positive step.
Talking to PPI on the phone soon after the Taliban announcement on Saturday, Senator Zahid Khan, the information secretary of the ANP, said that his party believed in the philosophy of non-violence action, and had always stressed the need for holding a dialogue, which was why it welcomed the Taliban announcement. He, at the same time, said that the ANP was doubtful about the sincerity of the Taliban, so it did not think that the announcement would help improve the situation of law and order in the country.
"The announcement is a positive step but there is no guaranty that different groups of the Taliban will stop their attacks," he added.
To a question, he said that surgical strikes in North Waziristan were a reaction of the army, and the government had nothing to do with it, as it did not have the guts to take any action against the militants.
Meanwhile, PPP Sindh General Secretary Taj Haider also welcomed the Taliban's announcement and called it a positive step. To a question, he said that the announcement would be good for law and order in Sindh, particularly in Karachi, as it had proved that the Taliban were active in the province.
Responding to a question, he said that the government should now make the Taliban accept the constitution of Pakistan and completely surrender. He said that if the Taliban did so, the PPP would support the government's amnesty for them.
Haider said that if the issue could be solved through a dialogue, surgical strikes against the Taliban in North Waziristan should also be stopped during the dialogue process, as saving someone's life was better than taking it.
Over in Multan: Jamaat-e-Islami Secretary General Liaqat Baloch, terming the Taliban's offer of a ceasefire a positive development, said that it would surely help put the dialogue process on the right track.
In a statement on Saturday at the Madarass Jamiaul Aloom, he said that war was not a solution to any problem. He said that the dialogue process was the only way for the resolution of problems. Baloch also suggested holding direct talks.
He said there was an urgent need that politicians, the media, intellectuals and others should come on the same page to rid the country of all problems.
On this occasion, JI Deputy Secretary General Rao Zafar Iqbal, District Ameer Asif Mehmood Akhwani and others were also present.
http://www.dailytimes.com.pk/national/02-Mar-2014/all-political-parties-welcome-taliban-s-ceasefire-statement
--------------
Shariat court to take up 22-year-old Riba case on March 24
March 2, 2014
ISLAMABAD: The Federal Shariat Court (FSC) has decided to take up the long-pending case on Riba (usury) on March 24. The case was remanded back to the Shariat Court by the Supreme Court in 2002 to reconsider its judgment delivered in 1992, which declared interest or Riba repugnant to the injunctions of Islam.
Earlier, in 1999, hearing an appeal against the decision, the Supreme Court's Shariat Appellate Bench upheld the FSC decision and gave the then government two years to amend all the banking laws of the country and other statutes to prohibit Riba.
Later, however, the government and some banks had instituted a review petition before the Supreme Court bench, headed by Chief Justice Sheikh Riaz, against the anti-Riba ruling. The bench remanded the case in 2002 back to the FSC to reconsider the matter.
The apex court also directed the FSC to take input from contemporary jurists of the Muslim world. In its order, the bench had held: "We are of the considered view that the issues involved in these cases require to be determined after thorough and elaborate research and comparative study of the financial systems, which are prevalent in the contemporary Muslim countries."
The FSC had already commenced the preliminary proceedings of the hearing last year in 2013. It is learnt that the Shariat court has heard the point of view of two jurist consultants, Tahir Mansuri and Dr Ayub of Riphah International University, Islamabad.
In addition, the FSC had prepared a questionnaire and sent it to Dr Wahba Zuhaili (Syria), Dr Sami Ibrahim Suwailem (Saudi Arabia), Dr Ali Mohiuddin Al Qaradaghi (Qatar) and Dr Ajeel Jassem al Nashmi (Kuwait) seeking their views regarding the issue.
The FSC has already received the view of Dr Zuhaili and Dr Sami Ibrahim, but the court has not received the opinion of others as yet.
When the Shariat Court takes up the 22-year-old case on March 24, Attorney General Salman Aslam Butt will present the government's stance on the matter.
http://tribune.com.pk/story/677902/shariat-court-to-take-up-22-year-old-riba-case-on-march-24/
----------
South Asia
27 dead, 109 injured in south-western China terrorist attack, suspects shot dead
Mar 2, 2014
A number of suspects were shot dead during a "premeditated, violent terrorist attack" at a train station in south-western China in which at least 27 people died, state media said on Sunday. The official Xinhua news agency said the identities of those shot dead had yet to be confirmed. The attack happened late on Saturday in Kunming city. At least 27 people have been killed in a "violent attack" at a train station. Another 109 were injured, the report added.
An attack at a train station in south-western China was carried out by militants from China's far western region of Xinjiang, state news agency Xinhua said on Sunday.
"Evidence at the crime scene showed that the Kunming Railway Station terrorist attack was carried out by Xinjiang separatist forces," Xinhua said, citing the government of Kunming city where the attack happened.
Full report at:
http://voiceofrussia.com/news/2014_03_02/27-dead-109-injured-in-southwestern-China-terrorist-attack-at-train-station-suspects-shot-dead-6441/?slide-1
--------------
Blast in eastern Afghanistan kills 13
2014-03-02
KABUL: Officials say a car packed with explosives blew up and killed 13 people including nine insurgents in eastern Afghanistan.
Dind Mohammad Darwesh, spokesman for the governor of Logar Province, said it was probably a case of militants killed by their own weapon.
He said it appeared the car was being prepared for a terror attack but that investigations are ongoing.
He said Sunday that those killed in the blast included nine insurgents, plus two women and two children who were nearby.
Darwesh had no further details. The area is a Taliban stronghold, and dangerous for journalists to independently verify claims.
https://www.dawn.com/news/1090540/blast-in-eastern-afghanistan-kills-13
--------------
Japan pledges $200 million in aid for Palestinians, to push for an independent state
Associated Press | Jakarta | March 2, 2014
Japan pledged more than $200 million in aid on Saturday to help the Palestinian Authority, as representatives from 22 nations reiterated their support of the Palestinians' quest for their own state.
The pledge was announced by Japanese Foreign Minister Fumio Kishida at the second Conference on Cooperation among East Asian Countries for Palestinian Development, held in the Indonesian capital of Jakarta.
Kishida said the first disbursement of the aid — about $62 million — was expected later this month.
Full report at:
http://indianexpress.com/article/world/asia/palestine-japan-indonesia-palestine-state/
--------------
Rise in Bigotry Fuels Massacre Inside Myanmar
Mar 2, 2014
DU CHEE YAR TAN, Myanmar — Under the pale moon of Jan. 13, Zaw Patha watched from her bamboo house as Mohmach, 15, her eldest child, was dragged from the kiosk where he slept as guardian of the family business.
The men who abducted the boy struck him with the butt of a rifle until he fell to the dirt path, she said in an interview, gesturing with a sweep of her slender arms. Terrified, she fled into the rice fields. She assumes he is dead.
Three doors away, Zoya, dressed in a black abaya, showed the latch on her front door that she said armed men had broken as they stormed in and began beating her 14-year-old son, Mohamed. She has not seen him since.
Full report at:
http://www.nytimes.com/2014/03/02/world/asia/rise-in-bigotry-fuels-massacre-inside-myanmar.html
--------------
Africa
51 dead in twin car bombs in Nigeria
March 02, 2014
MAIDUGURI, Nigeria: Two bombs exploded at a crowded marketplace in the northeastern Nigerian city of Maiduguri on Saturday night, killing at least 51 people in the birthplace of the Boko Haram extremist network, witnesses said.
Bloodied people screaming for help were running out of buildings billowing with smoke, they said. Trader Mallam Samalia said some people were blown apart.
The second blast caught people trying to help those injured in the first explosion in the Bintu-Suga neighborhood of Ngomari suburb, he said.
It appeared to be a car bomb, from a pickup truck loaded with wood, Samalia told The Associated Press by telephone.
The Red Cross said Sunday that 51 people had been killed in the explosions.
"I'm seeing people carrying bloody bodies," he said. "There are parts of bodies littering the street."
Mechanic Yahaya Adamu said he was on his way home when he heard the blasts, two minutes apart. "There's black smoke everywhere now. I'm running home to see if my family is safe."
The police commissioner didn't immediately answer his phone to confirm the reports.
Full report at:
http://www.dailystar.com.lb/News/International/2014/Mar-02/248953-51-dead-in-twin-car-bombs-in-nigeria.ashx#ixzz2urYuSVmt
--------------
Gunmen disperse sit-in protest against Libya parliament
Mar 2, 2014
Gunmen dispersed a sit-in protest outside Libya's interim parliament overnight, firing in the air and detaining demonstrators, witnesses said on Sunday.
"Armed men came firing in the air and they set fire to a tent set up by demonstrators" in front of the General National Congress (GNC), Libya's highest political authority, protester Milad al-Arbi said.
He said they detained a number of demonstrators during the incident on Saturday night but was unable to give a figure.
On Sunday, residents blocked roads in the area to demand the release of those held, an AFP photographer said.
Full report at:
http://english.alarabiya.net/en/News/middle-east/2014/03/02/Gunmen-disperse-sit-in-demo-against-Libya-parliament-.html
--------------
Army shoots dead Islamist east of Algiers
Mar 2, 2014
The Algerian army shot dead an Islamist in a mountainous region east of the capital Algiers, the defense ministry said Sunday.
It said "a terrorist was shot dead" on Saturday in an area between Tizi-Ouzou and Boumerdes, located 120 and 50 kilometers from Algiers, respectively.
A hunting rifle and three bombs were recovered during the operation, the defense ministry said in a statement on its website.
Full report at:
http://english.alarabiya.net/en/News/africa/2014/03/02/Army-shoots-dead-Islamist-east-of-Algiers.html
--------------
Youths in S. Sudan's Jonglei State Kill 15 Rebels, Free Tribal Chief
Mar 2, 2014
Local youths in Duk County in South Sudan's Jonglei State repulsed an attack by rebel forces loyal to sacked Vice-President Riek Machar, reportedly killing several of them, before freeing a tribal chief earlier abducted by the rebels.
"They (rebels) launched a massive attack on Poktap in Duk county with aim of looting the town and nearby cattle camps," Philip Thon Leek Deng, a Duk County lawmaker, told Anadolu Agency late Saturday.
Full report at:
http://english.farsnews.com/newstext.aspx?nn=13921211000394
---------
Arab World
Syria airstrike kills 13 in northwest town
March 02, 2014
BEIRUT: Government airstrikes in a small northwestern town on the border with Turkey have killed at least 13 people, Syrian activists said Sunday.
The strikes hit residential buildings in the town of Kfar Tarakhim in the northwest province of Idlib in the afternoon on Saturday, according to the Idlib News group and the British-based Syrian Observatory for Human Rights.
One video uploaded shortly after the incident showed panicked men carrying two children away from burning rubble as black smoke concealed the sky. Another showed residents dragging the bodies of adults by their clothes, their faces toward the ground.
The videos appeared authentic and corresponded to Associated Press reporting of the event.
"There's so many wounded and dead, and very big fires," panted a shocked voice. "Martyrs on the ground."
Full report at:
http://www.dailystar.com.lb/News/Middle-East/2014/Mar-02/248948-syria-airstrike-kills-13-in-northwest-town.ashx#ixzz2urYyimIg
--------------
Pro-Hezbollah Song Opens Musical Front in Civil War Over Syria
Mar 2, 2014
NABATIYE, Lebanon — The insults and threats flow to the singer, Ali Barakat, around the clock. Men call from unknown phone numbers and say nasty things about his mother. Others send him photos of dead bodies and tell him to join them in the grave. Still others threaten to dispatch car bombs and suicide attackers.
It all started when Mr. Barakat, a 33-year-old supporter of the Lebanese militant group Hezbollah, posted online a rousing new anthem of his, calling on the group to defeat its rebel foes in a battle near the Lebanese border in a Syrian town called Yabroud.
Full report at:
http://www.nytimes.com/2014/03/02/world/middleeast/pro-hezbollah-song-opens-musical-front-in-civil-war-over-syria.html?_r=0
--------------
Sects divide Ummah, says Haram imam
Mar 2, 2014
Sheikh Saleh Al-Talib, an imam at Makkah's Grand Mosque, said that Muslim solidarity is essential for survival.
"We live in a world that only respects the strong and the united," he said during the Friday sermon. "Muslims don't want another religion to rule them, so they must unite. We are in need of brotherhood, true conduct that achieves our goals and justice to prevail in our societies. We need equality to live in a state of peace and worship."
Undoing disunity is the responsibility of the nation's leaders and intellectuals, he said.
"Nations achieve their own unity, so why is it that our nation is fragmented even though we have the resources and factors for success," he said. "Unity will not be achieved unless we have a fixed reference that unites us and creates a renaissance. This reference is represented in the Qur'an and the tradition of the Prophet (peace be upon him). We should follow in the footsteps of his companions.
Full report at:
http://www.arabnews.com/news/533566
--------------
UAE Free Monthly magazine to highlight dangers of political Islam
Mar 2, 2014
A free monthly magazine that aims to raise awareness of the dangers of political Islam is to be distributed in the UAE.
Al Mezmaah Studies and Research Centre has published the first issue of the free monthly magazine Sada El Watan (Arabic for Echoes of the Nation).
It aims to clarify the UAE's views on regional and international affairs by providing important information as well as historical reports.
Dr Salem Humaid, general manager of Al Mezmaah Studies and Research Centre, said the magazine would be distributed as a free supplement with the Al Ittihad and Al Bayan Arabic newspapers. It would also be distributed in public places.
http://www.thenational.ae/uae/education/new-magazine-to-highlight-dangers-of-political-islam#ixzz2urTedvZe
--------------
Six members of security forces killed in Iraq
Mar 2, 2014
Attacks in predominantly Sunni Arab areas north and west of Baghdad on Sunday killed six people, all members of the security forces, the latest in a year-long surge in bloodshed.
Less than two months before parliamentary elections, Iraq is mired in its worst violence since 2008, when it was emerging from a period of brutal sectarian bloodletting that killed tens of thousands of people.
The spike has been driven by widespread discontent among the minority Sunni Arab community, which complains of being marginalized and unfairly targeted with heavy-handed security measures, and by the civil war in neighboring Syria.
Full report at:
http://english.alarabiya.net/en/News/middle-east/2014/03/02/Six-members-of-security-forces-killed-in-Iraq.html
--------------
Top Saudi cleric calls for suing Google over anti-Islam Youtube film
Mar 2, 2014
Khaled al-Shaya, a top Saudi cleric, recently called on Islamic countries to ban and legislate against Google, after the internet search giant's apparent "disrespect of Islamic beliefs" in continuing to display an inflammatory video against Islam, news website CNN Arabic reported on Saturday.
Google - the parent company of video sharing site Youtube, which hosted the controversial video entitled "The Innocence of Muslims" - had "insulted the Prophet" by not removing the video, said Shaya, who serves as the assistant secretary-general of the Global Commission for Introducing the Messenger, a Riyadh-based Islamic organization.
Full report at:
http://english.alarabiya.net/en/media/digital/2014/03/01/El-Shaye-Sue-Google-over-Innocence-of-Muslims-video.html
--------------
Berri assassination plot aims to incite Sunni-Shiite strife
Mar 2, 2014
The alleged plot to assassinate Lebanon's Speaker of the House Nabih Berri aims at destabilizing the country and inciting a Sunni-Shiite strife, Asharq al-Awsat reported on Sunday.
AMAL Movement, Development and Liberation bloc, MP Ali Khreis told the daily that Berri's assassination bid aims at causing chaos in Lebanon and creating a Sunni-Shiite strife.
A security source also told al-Liwa' daily Saturday that the assassination plot of Berri comes within the plan of inciting sectarian sedition in Lebanon.
The speaker's security team was urged to boost security measures to safeguard Berri.
On Friday, media reports said that Lebanese national Mahmoud Abou Aalfa, who is affiliated to Abdulllah Azzam Brigades, confessed that the group was plotting to assassinate Berri, who is the head of the AMAL movement.
Full report at:
http://www.worldbulletin.net/todays-news/130007/berri-assassination-plot-aims-to-incite-sunni-shiite-strife
--------------
Saudi Arabia Offers Sophisticated Weapons to Syrian Rebels
Mar 2, 2014
WASHINGTON — Saudi Arabia reportedly is offering to provide Syrian rebels more sophisticated weapons, including shoulder-fired anti-aircraft missiles that can take down fighter planes and helicopter gunships.
They could be a game changer in the Syrian civil war.
Known as MANPADS or man-portable air defense systems, the shoulder-fired missiles are a highly-effective weapon.
Now, Saudi Arabia is offering to supply moderate rebels with these weapons. That could tip the balance on the battlefield.
Senior Middle East analyst David Weinberg said, "They [Saudis] see Sunnis, their compatriots being slaughtered by Shi'ites whom they perceive as heretics, and they see a religious obligation to rise to the side of their compatriots who have been struggling on the battlefield."
Full report at:
http://www.voanews.com/content/saudi-arabia-offers-sophisticated-weapons-to-syrian-rebels/1861892.html
---------
Kingdom to build 10 mosques in Maldives
Mar 2, 2014
Crown Prince Salman, deputy premier and minister of defense, has pledged to build 10 world-class mosques in Maldives, an island nation in Asia that is closely working with Saudi Arabia in the field of Islamic affairs.
"Crown Prince Salman also donated $1 million to the Maldivian Ministry of Islamic Affairs for various projects," said Sheikh Mohammed Shaheen Ali Saeed, Maldivian minister of Islamic Affairs, via phone from Male on Saturday.
Minister Saeed said "the crown prince also donated $1.5 million for financing health projects in this Asian Islamic nation."
Full report at:
http://www.arabnews.com/news/533571
--------------
Mideast
75 extremist Jews led by radical rabbi storm Al-Aqusa compound
World Bulletin/News Desk
March 2, 2014
Around 75 extremist Jewish settlers led by radical rabbi Yehuda Glick on Sunday stormed Al-Aqsa Mosque compound under the protection of the Israeli police, a Palestinian guard of the holy complex said.
"The settlers stormed the complex through Al-Magharbeh Gate, passing through the Qibali and Marawani mosques, as well as Al-Rahmeh and Qatanin gates," guard Naser Qous told Anadolu Agency.
"Scuffles between the [Jewish] extremists and Palestinian students took place during the storming," he added, noting that the setters later left through Al-Rahmeh Gate.
Qous said that Glick, chairman of the so-called Temple Mount Heritage Foundation, shouted "racist chants" against Muslims as he told the Israeli police: "Keep these vandals away!" which lad to scuffles between the settlers and the Muslim worshippers inside the holy compound.
The Al-Aqsa Foundation for Endowment and Heritage, in a statement, denounced the intrusion, saying such acts constitute "a violation of Al-Aqsa Mosque complex that aims to intimidate and scare the Palestinians."
Full report at:
http://www.worldbulletin.net/headlines/130020/jews-led-by-radical-rabbi-storm-al-aqsa-compound
----------
Turkey passes law to shut schools run by Erdogan arch-rival
Press Trust of India | Ankara | March 1, 2014
Turkey's parliament has passed a bill to close down thousands of private schools, many of which are run by an influential Muslim cleric embroiled in a bitter feud with the government.
The move is the latest blow struck in a rivalry between Prime Minister Recep Tayyip Erdogan and his former ally Fethullah Gulen which has seen the Turkish government entangled in a graft scandal and shaken to its core.
In a late-night session yesterday, lawmakers in the 550-seat house voted 226 for and 22 against the bill which sets September 1, 2015 as the deadline to shut down the network of schools.
Full report at:
http://indianexpress.com/article/world/middle-east-africa/turkey-passes-law-to-shut-schools-run-by-erdogan-arch-rival/
--------------
Israel 'buying' information on extremists from rebel groups
Mar 2, 2014
AMMAN AND BEIRUT // As fighting intensifies on Syria's southern front, details have emerged that Israel may be paying large sums of money to rebels for information on Islamist fighters near its border.
At least three rebel factions in southern Syria have been in regular contact with Israeli intelligence officials, and have each received more than one tranche of funding worth hundreds of thousands of dollars, according to a well-connected rebel commander who is familiar with operations in the zone bordering Jordan and Israel.
"When they run out of cash, they contact the Israelis," he said of fellow commanders in the area, a practice he said did not bother him.
Full report at:
http://www.thenational.ae/world/middle-east/israel-buying-information-on-extremists-from-rebel-groups#ixzz2urTktG6u
--------------
Shutdown in Jerusalem for ultra-Orthodox protest
Mar 2, 2014
Israeli police say they will be closing the main highway to Jerusalem and the city's central roads for a massive rally of ultra-Orthodox Jews.
Hundreds of thousands are expected to demonstrate Sunday evening against government plans to draft the ultra-Orthodox into the army and enforce criminal sanctions on draft dodgers.
In a rare move, police said in a statement that they are closing Jerusalem's central bus station and nearly all public buses into the city, and limiting public transportation inside Jerusalem from afternoon until night. Some schools and government ministries in the city are also closing.
Full report at:
http://english.alarabiya.net/en/News/middle-east/2014/03/02/Shutdown-in-Jerusalem-for-ultra-Orthodox-protest.html
---------
Israel PM vows to resist 'pressures' on US visit
Mar 2, 2014
Israel's prime minister pledged Sunday to resist "pressures" as he left for Washington on a visit expected to centre on peace talks with the Palestinians and the Iranian nuclear dispute.
"I am now leaving on an important trip to the US where I will meet with President Barack Obama," Prime Minister Benjamin Netanyahu's office quoted him as saying as he boarded his plane.
"We will discuss the Iranian issue and the diplomatic process... In recent years the state of Israel has been under various pressures. We have rejected them...This is what has been and what will be." Although Netanyahu would like the talks with Obama on Monday to focus on Iran's nuclear ambitions, the White House appears to have a different agenda.
The New York Times, citing senior US officials, reported earlier this week that Obama would press Netanyahu to agree on a framework for a conclusive round of peace talks with the Palestinians that is being drafted by Secretary of State John Kerry.
Full report at:
http://www.hurriyetdailynews.com/israel-pm-vows-to-resist-pressures-on-us-visit.aspx?pageID=238&nID=63080&NewsCatID=359
--------------
Southeast Asia
Indonesia Islamic parties have possibility to coalesce
Mar 2, 2014
Bengkulu (ANTARA News) - Islam-based political parties in Indonesia have the possibility to join forces in the presidential race next July, according to a political party chairman.
"It is possible for Islam-based political parties to coalesce," General Chairman of the Islam-based United Development Party (PPP) Suryadharma Ali said here on Saturday.
The PPP general chairman, who is also religious affairs minister, was here to take part in a fun-walk organized by the Inter-faith Community Forum (FKUB).
"We have to admit that there are groups in society who want a coalition of Islamic parties in the country," the religious affairs minister.
However, he still refused to comment on who might be nominated as the presidential candidate of such an Islam-based party coalition.
Full report at:
http://www.antaranews.com/en/news/92946/indonesia-islamic-parties-have-possibility-to-coalesce
-------------
No way Malaysia can imitate Brunei's move to introduce hudud, says academic
Mar 02, 2014
The Shariah capital punishment on serious crimes, or Hudud, was a product of Muslim scholars over the years based on their understanding of the Quran and Hadith, therefore it would be "presumptuous" to claim that one is divinely guided in implementing such laws, said a law professor.
Speaking on the subject on private radio station BFM, Dr Azmi Sharom, associate professor of law at Universiti Malaya, questioned the claim by the Sultan of Brunei that he received guidance from God in announcing the introduction of hudud in the state.
"Well, I think it's guidance from certain Islamic scholars in the past, but to claim that it's an actual guidance from God is a bit presumptuous.
Full report at:
http://www.themalaysianinsider.com/malaysia/article/no-way-malaysia-can-imitate-bruneis-move-to-introduce-hudud-says-academic
-------------
Pakatan targets over 88% turnout in Kajang by-election to thumb noses at extremists
Mar 02, 2014
Pakatan Rakyat is targeting an ambitious turnout of over 88% at the March 23 Kajang by-election, amid calls for voters to come out in droves as a signal that Malaysians would not be cowed by extremists.
DAP adviser Lim Kit Siang said the by-election is important for the Kajang electorate to show that moderate Malaysians want peace and harmony and condemn those trying to incite racial and religious hatred.
"I call on voters who love the country to unite on March 23.
"Let Kajang people represent the 30 million Malaysians to speak clearly, that moderates are united for peace, " he said after attending the launch of DAP's operating centre in Kajang today.
Full report at:
http://www.themalaysianinsider.com/malaysia/article/pakatan-targets-over-88-turnout-in-kajang-by-election-to-thumb-noses-at-ext
-------------
Malaysians come together to pay for repairs of vandalised Christian graves
Mar 02, 2014
Malaysians from all walks of life have chipped in more than RM9,000 to help pay for repair work on desecrated Christian graves, which were vandalised in January, in Tanjung Api in Kuantan, Pahang.
Under the initiative from the Facebook group Malaysians for Malaysia, people from various background contributed to the donation drive last month.
The group's convener Azrul Mohd Khalib said the move was part of national healing and reconciliation.
Full report at:
http://www.themalaysianinsider.com/malaysia/article/malaysians-come-together-to-pay-for-repairs-of-vandalised-christian-graves
--------------
India
MU VC asks minority institutions to shun dependence on govt
Abdul Qadir,TNN | Mar 2, 2014
GAYA: Indulging in some plain talk, Magadh University VC Prof Md Ishtiaque said it was introspection time for those managing the affairs of the minority educational institutions in the country and the state and cautioned them against expectations of continuous spoon feeding by the government and its agencies. There was no substitute for self strength and as such minority institutions, instead of looking up to the government for anything and everything must learn doing things themselves, he said.
Delivering the presidential address on Saturday afternoon at the golden jubilee celebrations of Urdu Girls School, Gaya, one of the first schools for girls belonging to the linguistic minorities in the Magadh division, the VC exhorted the organizers to learn the right lessons from the other minority groups in the country, particularly the Christians and the Sikhs. If the other minority groups cannot only survive but thrive on their own, why can institutions being run by the Muslims and Urdu lovers not achieve the same standard, asked the VC.
Full report at:
http://timesofindia.indiatimes.com/city/patna/MU-VC-asks-minority-institutions-to-shun-dependence-on-govt/articleshow/31240281.cms
---------
India, Iran and Oman go under sea to build pipelines, change geopolitics
Indrani Bagchi,TNN | Mar 1, 2014
NEW DELHI: India is contemplating energy pipelines from the Gulf again — this time running under the sea, rather than traversing Pakistan. With international sanctions on Iran fading as a result of a nuclear agreement, an energy pipeline may be the most positive regional consequence.
The new plan proposes to transport oil and natural gas through deep sea pipelines via Oman in a process where Iran, and even Turkmenistan and Azerbaijan energy can feed the pipeline for an ever-growing Indian market. Yusuf bin Alawi bin Abdullah, Oman's foreign minister, raised the possibility with Salman Khurshid during their meeting on Friday.
Full report at:
http://timesofindia.indiatimes.com/india/India-Iran-and-Oman-go-under-sea-to-build-pipelines-change-geopolitics/articleshow/31227746.cms
--------------
2002 Gujarat riots victims' kin to get five years age relaxation in central jobs
PTI | Mar 2, 2014
NEW DELHI: The central government, perhaps for the first time, has given age relaxation to children and dependents of victims of 2002 Gujarat riots in jobs of Intelligence Bureau and CISF.
In two separate advertisements, published ahead of the Lok Sabha polls, the home ministry said that the upper age limit up to five years may be relaxed for children and dependents of victims in the communal riots of 2002 in Gujarat.
The Intelligence Bureau is seeking applications to fill up 514 posts of security assistant (executive), general central service, group-c (non-gazetted/non-ministerial) to be posted across the country.
Full report at:
http://timesofindia.indiatimes.com/india/2002-Gujarat-riots-victims-kin-to-get-five-years-age-relaxation-in-central-jobs/articleshow/31267999.cms
--------------
India, Pak officials to discuss cross-LoC trade issues
PTI | Mar 2, 2014
NEW DELHI: Indian and Pakistani officials will meet on Tuesday to fine tune the mechanism for cross-Line of Control (LoC) trade in Jammu and Kashmir, including urgent redressal of issues arising out of illegal practices.
The meeting comes against the backdrop of tension along the LoC after the arrest of a driver from Pakistan-occupied- Kashmir (PoK) for allegedly smuggling 'brown sugar' worth Rs 100 crore on January 17.
That resulted in disruption of the trade between the two sides of Kashmir, which resumed only in the last week of February.
Following resumption of trade in Kashmir, the two sides had agreed to hold a Joint Working Group meeting to make a holistic review of trade along the LoC.
Full report at:
http://timesofindia.indiatimes.com/india/India-Pak-officials-to-discuss-cross-LoC-trade-issues/articleshow/31270404.cms
--------------
J&K cops say slain militants belonged to LeT
Express News Service | Srinagar | March 2, 2014
Police have identified six of the seven militants killed in the Dardpora Forest of Lalpora, Lolab in Kupwara district last week. Protests broke out in Kupwara soon after the killing. Police said the slain militants belonged to Lashkar-e-Taiba and were residents of Pakistan.
DIG of Police North Kashmir said the probe was carried out by scientific and technical methods. "The scientific and technical investigation and account of eye witnesses who were victims of the atrocities carried out by these militants in the past 5-6 months, revealed this group was operating in the Hardoona forests of Vilgam, Handwara, Lolab and Dardpora forests and was responsible for the murder of police constable in the forests of Hardoona Vilagam Handwara as well," he said.
http://indianexpress.com/article/india/india-others/jk-cops-say-slain-militants-belonged-to-let/
--------------
When Karachi 'guards' helped Mumbai Police control crowds
When Syedna Mohammed Burhanuddin, the spiritual head of the Dawoodi Bohra community, died in January, 30 volunteers from Karachi were among the 3,500 from across the world who assisted the Mumbai Police in controlling the crowds during the funeral.
They are all a part of the community's disciplinary force known as the Burhani Guards International (BGI), which has a membership of over 6,000 volunteers from different parts of the world, including the US, East Africa and Europe.
The BGI's Karachi group comprises 450 volunteers. When Syedna Burhanuddin celebrated his 100th birthday in 2011, over 100 volunteers from Karachi arrived in Mumbai. "In the last two-three years, the embassy has been more flexible with double or triple-entry Indian visas with a validity of six months to one year… Thanks to these multiple-entry visas, around 15 guards could immediately travel to India when the Syedna died," said Hasnain Jack, BGI, Karachi.
Full report at:
http://indianexpress.com/article/india/india-others/when-karachi-guards-helped-mumbai-police-control-crowds/
--------------
Five Indians among 11 foreigners killed in a deadly blast in Qatar
PTI | Mar 2, 2014
DOHA: Five Indians were among 11 expatriates killed in a deadly blast at a Turkish restaurant here in Qatar's capital.
The blast tore through the Turkish restaurant, which is attached to a mall in Doha and next to a petrol station on Thursday, killing 11 people, five of them Indians.
Qatar government has announced a probe into the explosion that also injured 35 people.
The Indian victims have been identified as Riyas Kizhakemanolil, Abdul Saleem Palangad, Zakaria Padinjare Anakandi, Venkatesh and Shaikh Babu, The Peninsula reported.
Four Nepali nationals and two people from the Philippines were also killed in the explosions.
The Indian embassy is in contact with all concerned to repatriate the bodies to their native places, Ambassador Sanjiv Arora said.
Full report at:
http://timesofindia.indiatimes.com/india/Five-Indians-among-11-foreigners-killed-in-blast-in-Qatar/articleshow/31274413.cms
---------
Europe
Russia's role in Ukraine could stir jitters in Mideast
Mar 2, 2014
On Saturday, Russia's President Vladimir Putin secured parliament's authority to take military action in crisis-stricken Ukraine, with reports from Reuters that the Russian army has already seized the coastal Crimean peninsula - a move that creates the most significant direct confrontation between Russia and the West since the Cold War.
The turbulent events this week could show how far Moscow is willing to go to protect its allies – most notably, Syria's embattled President Bashar al-Assad.
During the peak of the Ukrainian crisis in February, when protests in Kiev turned deadly, commentators made comparisons between ousted Ukrainian President Viktor Yanukovich and Assad – the former also being a staunch ally of Putin.
Full report at:
http://english.alarabiya.net/en/perspective/analysis/2014/03/02/Russia-s-role-in-Ukraine-could-stir-jitters-in-Mideast-.html
--------------
UN calls for more refugee aid at Palestinian development meet
Mar 2, 2014
Representatives of 22 nations pledged their support for Palestinian development Saturday, but the UN urged more action for refugees "in need of aid" in an "increasingly dire" situation.
The Conference on Cooperation among East Asian Countries for Palestinian Development (CEAPAD) in Jakarta ended with Japan -- one of the world's biggest donors to the Palestinian Territories -- pledging $200 million, most in financial assistance to the Palestinian Authority and for infrastructure development.
But the United Nations Relief and Works Agency for Palestine Refugees in the Near East (UNRWA) said in a statement that more attention should be paid to Palestinian refugees, describing appalling conditions in the Syrian camp Yarmouk.
Full report at:
http://english.ahram.org.eg/NewsContent/2/8/95605/World/Region/UN-calls-for-more-refugee-aid-at-Palestinian-devel.aspx
--------------
North America
Corruption, religious freedom, and judiciary HR problems in Maldives, say US report
By Ahmed Rilwan | March 1st, 2014
The US State Department has described "charges of Supreme Court interference to subvert the presidential elections process," as among the most significant human rights problems in the Maldives in its 2013 human rights report.
Also highlighted in the report were restrictions on religious freedom, and "corruption of officials in all branches of government".
The report accused much of the judiciary of being unqualified and corrupt, and noted that its rulings during last year's presidential elections had the effect of restricting the independence of the Elections Commission (EC).
Full report at:
http://minivannews.com/politics/corruption-religious-freedom-and-judiciary-biggest-human-rights-problems-in-maldives-say-us-report-78705
--------------
US to upgrade its nuclear arsenal in Turkey - media
Mar 2, 2014
National Nuclear Security Administration (NNSA) of the US Department of Energy plans to replace the existing arsenal of nuclear weapons at the Turkish base of Incirlik with upgraded bombs. Incirlik holds about 60-70 items of this type of ammunition, the Haberturk agency reports.
This version is designated B61-12, which is being developed within the framework of the 2010 NNSA project to replace the outdated version of B61.
The main improvement is a modified tail section, which enables active targeting, the function the previous B61 lacks.
Full report at:
http://voiceofrussia.com/news/2014_03_02/US-to-upgrade-its-nuclear-arsenal-in-Turkey-media-0165/
--------------
US Accuses Both Sides in South Sudan of Abuses
Mar 2, 2014
The United States has accused both sides in South Sudan's violent political conflict, which has seen thousands killed and hundreds of thousands displaced since mid-December, of engaging in human rights abuses.
The accusations came in the State Department's annual Country Reports on Human Rights Practices, which was released this week in Washington.
A power struggle within South Sudan's ruling party, the Sudan People's Liberation Movement (SPLM), turned into an armed conflict starting in the capital city, Juba, on December 15 after President Salva Kiir accused the former vice president, Riek Machar, of an attempted coup. Machar denies the accusation.
Full report at:
http://www.voanews.com/content/us-accuses-both-sides-in-south-sudan-of-abuses/1862199.html
--------------
US, Afghan Officials Debate Country's Future Security
Mar 2, 2014
WASHINGTON — There is debate over the future of U.S. - Afghan relations after U.S. combat forces withdraw later this year. In particular, there is concern over whether Afghanistan will be able to maintain security and stability if the government decides against signing a security agreement that could allow a residual U.S. force to remain in the country. U.S. and Afghan officials discussed the issue at a forum co-sponsored by VOA.
After 12 years in Afghanistan, the U.S. combat mission is coming to an end this year. The U.S. has spent hundreds of billions of dollars trying to help stabilize the country and protect civilians.
Full report at:
http://www.voanews.com/content/us-afghan-officials-debate-future-of-afghanistan-security/1861908.html
--------------
US pressuring Israel to stop killing Iran nuclear scientists'
Mar 2, 2014
The United States is reportedly pressuring Israel to stop assassinating Iranian nuclear scientists, a number of whom have been mysteriously killed in a campaign thought to be carried out by Mossad.
According to CBS News, Obama administration officials have communicated to Israeli intelligence their wish for a cessation of the targeting of scientists in order to allow diplomatic negotiations aimed at rolling back Iran's nuclear program to take their course.
While Israel has never officially acknowledged that it was behind the killings, it is widely believed that Mossad agents carried out the hits in an effort to slow down Iran's nuclear development as well as to deter the country's top scientific minds from cooperating with the government's clandestine weapons program.
Full report at:
http://www.jpost.com/Diplomacy-and-Politics/US-pressuring-Israel-to-stop-killing-Iran-nuclear-scientists-343977
----------
URL: https://www.newageislam.com/islamic-world-news/new-age-islam-news-bureau/pakistan-s-new-security-policy-aims-to-reform-madrasas/d/55943