New Age Islam News Bureau
7 May 2019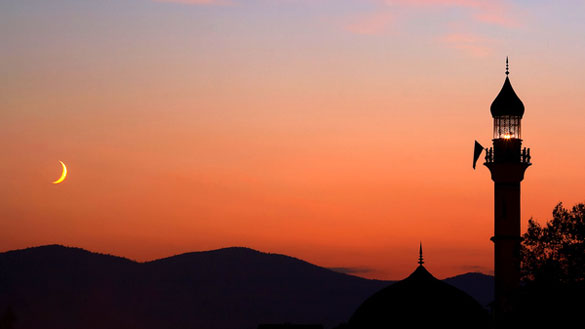 Members of the moon sighting committee gather and use telescope to see the new moon in Karachi CREDIT: REUTERS/Akhtar Soomro
---------
•
Pakistan Rows with Mullahs over Plans for Astronomers to Calculate Start of Ramadan
• Pakistan's Ahmadi Community Faces Growing Discrimination, Report Says
• Solidarity of India's Catholic Church and Islamic Organization for Sri Lanka Terror Bomb Victims
• Christian-Muslim Clashes Rock Easter Attacks Town in Sri Lanka
• Report: Lanka Plot Was Hatched In Syria In 2017
• On Muslim Brotherhood, Trump Weighs Siding with Autocrats and Roiling Middle East
• Hate Preacher, Anjem Choudary, Returns to London Home
• PAS Crossed the Line in Warning over Uighur-Like Fate, Says SIS
• US Army Keeps Sending Truckloads of Military Hardware to SDF after Declaring End of ISIL
• Gaza Laments Deadly Start to Ramadan, Amid Funerals and Debris
• African Union and UN Support Civilian-Led Sudan Transition
Pakistan
• Pakistan Rows with Mullahs over Plans for Astronomers to Calculate Start of Ramadan
• Pakistan's Ahmadi Community Faces Growing Discrimination, Report Says
• SHC Rejects Eateries' Petitions for Exemption from Ehteram-i-Ramazan Ordinance
• Lashkar-e-Taiba's grand terror plot in Sri Lanka, Bangladesh and Maldives
• Govt terms Maryam's appointment as PML-N vice president illegal
• Opposition walks out of NA, Senate over petrol price hike
• Questionnaire sent to Musharraf in high treason case
• Republican, Democrat MPs to co-chair Congressional Pakistan caucus
• Security personnel martyred, three injured in North Waziristan attack
--------
India
• Solidarity of India's Catholic Church and Islamic Organization for Sri Lanka Terror Bomb Victims
• NIA books three more terror suspects in Kerala as probe expands
• Missing Kashmiri student is in Pakistan jail, says father
• Pak army shells forward posts, hamlets along LoC in J&K's Poonch, 2 civilians injured
• 8 security personnel, 4 civilians killed during Ramzan truce last year; 23 ultras eliminated: MHA
--------
South Asia
• Christian-Muslim Clashes Rock Easter Attacks Town in Sri Lanka
• Report: Lanka Plot Was Hatched In Syria In 2017
• How ISIS Radicalized Wealthy Sri Lankan Muslims, Orchestrated Mass Slaughter
• Taliban storm checkpoint, killing 20 troops: Afghan official
• Peace deal with Afghan Taliban can have unintended consequences: report
• No IS existence in Bangladesh: Home minister
• Police discovers alcohol, weapons in detained Taliban commander's compound in Balkh
• Airstrikes target Taliban militants who were maneuvering for an offensive in Helmand
• 68 Narcotics Labs Destroyed, Nearly 200 Taliban Militants Killed, Wounded In Farah Airstrikes
• Myanmar villagers in Rakhine risk running out food amid military siege
• Talks with US in Doha stumble over troop withdrawal timetable: Afghan Taliban
--------
North America
• On Muslim Brotherhood, Trump Weighs Siding with Autocrats and Roiling Middle East
• US-Taliban peace talks paused for first day of Ramadan
• Trump pardons convicted ex-soldier who killed Iraqi prisoner
• US firm Blackwater training Daesh terrorists in Iraq, eyeing Syria: report
• Trump pardons former US soldier who killed Iraqi prisoner
• Trump backs Israel '100%' amid airstrikes on Gaza
--------
Europe
• Hate Preacher, Anjem Choudary, Returns to London Home
• Turkey decries burial of Armenian terrorist's remains
• 'Turkey's ties with different regions complementary'
• Turkish foreign minister, NATO chief meets in Ankara
• Germany fails to condemn Israeli bombings in Gaza
--------
Southeast Asia
• PAS Crossed the Line in Warning over Uighur-Like Fate, Says SIS
• From Camps to Factories: Muslim Detainees Say China Using Forced Labour
• Pakatan Protects Islam, Says Muhyiddin
--------
Arab World
• US Army Keeps Sending Truckloads of Military Hardware to SDF after Declaring End of ISIL
• Military Expert: SDF Main Loser of US-Turkey Safe Zone Plan in Syria
• Egypt's Morsi to spend 7th Ramadan behind bars: Family
• Syrian Army Makes Key Advances in Hama, Commences Military Operations in Idlib
• People Expel US-Backed SDF Militants from Raqqa
• Fighting Kills 26 in Syria's northwest: Monitor
• Over two dozen former Izadi captives of Daesh repatriated to Iraq
• Islamic coalition delegation visits Riyadh exhibit
• Bahrain court upholds death sentences and prison terms linked to terrorist cell
--------
Mideast
• Gaza Laments Deadly Start to Ramadan, Amid Funerals and Debris
• Islamic Jihad Debuts New Missile with Attack on Israel, Pledges Bigger Surprises
• Iran's President: Muslim Countries Must Stop Massacre Of Palestinians By Israel
• Iran dismisses US naval deployment as old news
• Two more Palestinian bodies found after Israeli strikes
• Turkey's election board orders rerun of Istanbul mayoral race, angers opposition
• Turkey's high election board rules in favour of re-run of Istanbul election
--------
Africa
• African Union and UN Support Civilian-Led Sudan Transition
• Libya's Haftar Defies Truce, Orders Troops to Fight during Ramadan
• Kenya: Suspected Al-Shabaab Militants in Lamu Issue Chilling Terror Threat
• Envoy Says African Union to Discuss Sudan Report in Two Weeks
• Sudan protest death toll hits 90: Doctors' committee
• UN calls for week-long humanitarian truce in Libya as tensions rise
• Libya's Haftar urges troops to 'wipe out' military opposition
Compiled by New Age Islam News Bureau
URL: https://www.newageislam.com/islamic-world-news/pakistan-rows-with-mullahs-plans/d/118528
--------
Pakistan rows with mullahs over plans for astronomers to calculate start of Ramadan
Ben Farmer
6 MAY 2019
Imran Khan's government faces a clash with religious groups after his science minister said Pakistan would use scientists to predict when the Muslim fasting month of Ramadan starts, rather rely on clerics with telescopes.
A new committee of astronomers and meteorologists would devise a 10-year calendar for the start of religious occasions that rely on a new moon, said Fawad Chaudhry.
The new committee would end annual disputes on whether the moon has been sighted he said.
Pakistan has this year again found itself split on whether or not a new moon had been sighted ushering in a month of dawn-to-dusk fasting.
The state-run moon-sighting committee declared the first day of the month should begin on Tuesday, while a notoriously dissenting cleric declared it was Monday.
The five-person committee would include scientists from Pakistan's space agency and its meteorological department, Mr Chaudhry said.
He told Dawn newspaper that: "This will end uncertainty about moon-sighting." Islamic scholars disagree on whether the moon must be physically seen for Ramadan to begin. Mr Chaudhry's plan provoked anger from the head of the moon-sighting committee, who said he already drew on scientific advice to make his annual declaration.
Mufti Munib-ur-Rehman, the chief of the central Ruet-e-Hilal Committee, accused Mr Chaudhry of being "unaware of religious matters".
Mr Rehman told Geo News: "I have previously appealed to the premier to let speak only concerned minister on religious issues."
Mr Chaudhry admitted the plan was likely to face opposition.
The calendar drawn up by the scientific committee would first have to be agreed by the federal government and he said no one would be forced to abide by it.
Muslims in Southeast Asian countries including Indonesia and Malaysia, and much of the Middle East, including Egypt, Iraq and Saudi Arabia, began their fast on Monday.
Millions more, however, in India, Pakistan and Iran, were due to mark the start of the lunar month on Tuesday based on moon sightings there.
Traditionally, countries announce if their moon-sighting council spots the Ramadan crescent the evening before fasting begins.
https://www.telegraph.co.uk/news/2019/05/06/pakistan-row-mullahs-plans-astronomers-calculate-start-ramadan/
--------
Pakistan's Ahmadi community faces growing discrimination, report says
MAY 6, 2019
ISLAMABAD (Reuters) - Pakistan's Ahmadi community faces growing institutionalised discrimination fanned by last year's election campaign by Prime Minister Imran Khan, the minority movement said in a report issued on Monday.
Ahmadis, a group that originated in British-controlled India in the 19th century who see themselves as an Islamic movement, are regarded as heretical by orthodox Muslims and forbidden from calling themselves Muslims or using Islamic symbols in their religious practices.
They face discrimination and violence over accusations their faith insults Islam and community leaders say legislative moves in 2018 and anti-Ahmadi rhetoric during the elections have entrenched legalised hate.
"Ahmadis have no religious freedoms in Pakistan and recent actions taken by the authorities mean that the situation is going to deteriorate even further and make it impossible for Ahmadis to carry on with their everyday lives," spokesman Saleem ud Din said in a statement.
Religious discrimination has long been a problem in Pakistan, a mainly Sunni Muslim state of more than 200 million people, with attacks against Shi'ites, Christians, Hindus and Sikhs in recent years.
Ahmadis have faced particular pressure since a 1974 constitutional amendment which declared them non-Muslim and a ruling a decade later by military ruler General Zia ul Haq explicitly forbidding them from calling themselves Muslim.
Two major events underlined in the report are a High Court verdict requiring citizens to declare their religion when applying for identity documents, which rights activists said specifically targeted the Ahmadi community.
The other was electioneering by Pakistan's main parties, including the prime minister's party, in which they have supported religious laws and anti-Ahmadi groups to curry favour with the religious right.
The Ahmadi community, in a statement on the report, accused Khan of fanning "the flames of religious hatred against Ahmadis".
Khan's office did not respond to request for comment.
The Ahmadis consider themselves Muslims. But their recognition of Mirza Ghulam Ahmad, who founded the sect in 1889, as a "subordinate prophet" is viewed by many Sunnis as a breach of the Islamic tenet that the Prophet Mohammad was God's last direct messenger.
The report said 62 Ahmadis were booked under discriminatory religious laws in 2017 and that more than 2,500 anti-Ahmadi news items appeared in Pakistan's Urdu-language newspapers.
In May, a mob attacked a 100-year-old Ahmadi mosque in eastern Pakistan, spurred by the words of a cleric.
"It is not just extremists who carry out hate campaigns against Ahmadis, but the political class also fans these flames too," Din added.
https://in.reuters.com/article/pakistan-ahmadis/pakistans-ahmadi-community-faces-growing-discrimination-report-says-idINKCN1SC0RB
--------
Solidarity of India's Catholic Church and Islamic organization for Sri Lanka terror bomb victims
By Robin Gomes
May 7, 2019
The Catholic Church of India and a leading Islamic organization of the country have issued a joint statement vehemently condemning the Easter Sunday suicide bomb attacks in Sri Lanka. They also plan to send an inter-faith delegation as a gesture of their condolence and solidarity with the victims.
"We, the undersigned, condemn unequivocally these dastardly acts. The persons and the groups responsible for the serials blasts are anti-human, anti-civilization and anti-God," said the statement signed by Cardinal Oswald Gracias, the President of the Catholic Bishops' Conference of India (CBCI) and Maulana Mahmood A. Madani, the General Secretary Jamiat Ulama-I-Hind, an Islamic scholars' organization.
The coordinated bombings of April 21 by a group of Sri Lankan nationals linked to the Islamic State group, targeted 3 churches and 4 hotels that killed more than 250 people, including foreigners, and injured over 500.
Describing the perpetrators of the attacks as "the incarnation of the most heinous forces on the earth," the two leaders said, "to associate them with any faith would be most sacrilegious to the faith itself".
Card. Gracias, the Archbishop of Bombay, and Madani called on all faiths to "disown and condemn such barbarous individuals and groups." "The terrorist attacks become all the more gruesome if launched under the garb of religion and holy mission," they wrote, calling on people of all faiths to "disown and condemn such barbarous individuals and groups". "It is our duty," they wrote, "to expose them and banish them from civilized society."
Noting that the attacks on religious places during religious festivals such as at Easter are perpetrated to create a divide between people of various faiths and communities, the two leaders expressed their closeness with Christians everywhere, sharing their sorrows and pains.
The CBCI and Jamiat Ulama-I-Hind also proposed to send a high-level delegation of various faiths to Sri Lanka to explore the possibilities of cooperation and also to offer their condolence to the bereaved families.
Their message with an appeal to "everyone irrespective of their religion, caste and creed to come forward to save humanity and to maintain social harmony and peace."
https://www.vaticannews.va/en/church/news/2019-05/india-gracias-madani-muslim-statement-sri-lanka-terrorist-attack.html
--------
Christian-Muslim Clashes Rock Easter Attacks Town In Sri Lanka
May 06, 2019
COLOMBO, SRI LANKA: Sri Lanka's Roman Catholic Church appealed for calm and an alcohol ban Monday after clashes between Christians and Muslims in a town scarred by the Easter suicide attacks.
Hundreds of security forces entered Negombo to impose a curfew after dozens of Muslim-owned shops, homes and vehicles were attacked.
St. Sebastian's church in the town 40 kilometres (25 miles) north of capital Colombo was one of three churches and three hotels hit by jihadist suicide bombers on April 21 killing 257 people.
"I appeal to all Catholic and Christian brothers and sisters not to hurt even a single Muslim person because they are our brothers, because they are part of our religious culture," said Cardinal Malcolm Ranjith, archbishop of Colombo.
"Therefore please avoid hurting them and try to create a better spirit of understanding and good relations between all the communities of Sri Lanka," he said in a video message to the country.
Liquor ban sought
The cardinal visited Negombo, held talks with clerics at a mosque and appealed to the government to shut bars in the Catholic-dominated town known as "Little Rome", said his spokesman Father Edmund Tilakaratne.
"As a temporary measure, the cardinal asked the government to order the ban on liquor sales in Negombo area," Tilakaratne told AFP.
In another televised appeal, Ranjith appealed to Christians, Buddhists and Muslims to show restraint.
Negombo suffered the highest death toll in the Easter Sunday attacks that were claimed by the ISIS. The bomb at St. Sebastian's killed more than 100 worshippers.
A top police officer said two arrests were made after the latest clashes and more suspects had been identified through CCTV footage.
The officer said all will be prosecuted under emergency laws approved after the Easter attacks.
"At least three people were injured in the clashes," the officer told AFP. "Although we have arrested only two suspects at the moment, many more have been identified and we will go after them."
The officer said an alcohol-fuelled dispute between two groups degenerated into the clashes.
Prime Minister Ranil Wickremesinghe said in a statement the government will compensate those who lost property in the night-time clashes.
Unverified video circulating on social media showed mobs throwing stones at Muslim businesses, destroyed furniture inside homes, shattered windows and overturned vehicles.
AFP was unable to immediately verify the footage.
A few hundred extra troops and police were deployed late Sunday as authorities imposed a night-time curfew in the town.
The government blocked access to WhatsApp, Facebook and other social media platforms for several hours to prevent what it called the spread of rumours and videos aimed at instigating unrest.
The curfew was lifted on Monday morning and social media was working again by noon Monday.
Sri Lanka's main international airport is located in the area, but police said there was no disruption.
Muslims make up around 10 percent of Buddhist-majority Sri Lanka's 21 million population and Christians about 7.6 percent.
Security for schools
Meanwhile, public schools reopened Monday for the first time since the Easter attacks, with heavily armed police and troops guarding schools.
"The attendance was poor today, but we maintain a high level of security," the top police officer said. "Most parents are adopting a wait-and-see approach and we hope attendance will be back to normal very soon."
The country has been under a state of emergency since the Easter bombings.
Security forces and police have been give sweeping powers to arrest and detain suspects.
The government has blamed the Easter bombings on a local jihadist organisation which had pledged allegiance to ISIS.
https://www.ndtv.com/world-news/sri-lanka-christian-muslim-clashes-rock-easter-attacks-affected-town-2033592
--------
Report: Lanka plot was hatched in Syria in 2017
May 7, 2019
COLOMBO: The Islamic State chose Sri Lanka to stage a massive attack on Easter Sunday to tell the world that they exist, President Maithripala Sirisena said on Monday, amid reports that the plot was hatched in Syria way back in 2017.
He said the IS chose Sri Lanka as a target because the terror group has lost the ability to confront the world's powerful nations.
"So they chose acountry that had recently established peace to make the statement that IS still exist," Sirisena told the BBC.
Meanwhile, local news outlet Sri Lanka Mirror reported that a group of terrorists who had gone to Syria to be trained by IS, had struck a deal in 2017 with the National Tawheed Jamaat to launch a fierce attack in Sri Lanka.
https://timesofindia.indiatimes.com/world/south-asia/report-lanka-plot-was-hatched-in-syria-in-2017/articleshow/69209659.cms
--------
On Muslim Brotherhood, Trump Weighs Siding With Autocrats and Roiling Middle East
May 6, 2019
WASHINGTON — President Trump was only days into office in January 2017 when he first began considering a move with the potential to ignite a firestorm in the Middle East: designating the Muslim Brotherhood, a sprawling group that reaches from Morocco to Malaysia, a terrorist organization.
Mr. Trump's hard-line national security adviser at the time, Michael T. Flynn, started a review of whether the United States should impose sweeping sanctions on millions of people across the Middle East. But only weeks later, after Mr. Flynn was fired, the proposal was quashed by Defense Secretary Jim Mattis, Secretary of State Rex W. Tillerson and Lt. Gen. H.R. McMaster, the next national security adviser.
Government lawyers had warned that the Muslim Brotherhood did not meet the legal criteria to be designated a terrorist organization. And in a volatile region where American troops were already battling Islamist extremists, the three men believed, taking on the Brotherhood was one fight too many.
Those men are now gone. So when President Abdel Fattah el-Sisi of Egypt, a strongman who views the Muslim Brotherhood as a source of political opposition, visited the White House on April 9 to renew his longstanding calls for Mr. Trump to target his foes, he found himself pushing on an open door.
The Trump administration has resurrected the proposal to brand the Muslim Brotherhood a terrorist organization, prompting a fierce debate between the government's political appointees and its career experts.
The designation would impose wide-ranging American economic and travel sanctions on companies and individuals who interact with the loose-knit Islamist movement that was founded in Egypt and is recognized as a legitimate political entity in many Muslim-majority governments.
It is the president's latest major foreign policy decision that appears to have been heavily influenced by autocratic leaders without first being fully vetted by career American government officials.
At the same time that he was meeting with Egypt's president, a senior administration official said, Mr. Trump and his son-in-law and adviser, Jared Kushner, were being prodded by leaders in Saudi Arabia and the United Arab Emirates who also revile the Muslim Brotherhood as a political opponent.
Mr. Trump spoke by telephone with Crown Prince Mohammed bin Salman of Saudi Arabia on April 9, the same day he met with Mr. el-Sisi.
Three days earlier, Mr. Trump had spoken with Crown Prince Mohammed bin Zayed of Abu Dhabi, the de facto leader of the United Arab Emirates; they talked again on April 18.
After that series of conversations, the White House also announced another reversal of American foreign policy: In a statement on April 19, Mr. Trump publicly endorsed Khalifa Hifter, an aspiring strongman in Libya, in his battle to depose the United Nations-backed government in Tripoli.
Egypt, Saudi Arabia and the United Arab Emirates all support Mr. Hifter as someone they believe will stabilize Libya, in part by keeping Islamist political parties from gaining power.
In Washington, the renewed campaign against the Muslim Brotherhood is far from assured.
A half-dozen current and former American officials and foreign diplomats familiar with the push discussed it on the condition of anonymity, several of whom said it faced legal and policy hurdles and could take weeks to resolve.
Secretary of State Mike Pompeo and John R. Bolton, the current national security adviser, were already on board with the proposed terrorist designation for the Brotherhood before Mr. el-Sisi's visit to the White House, the officials said.
Victoria Coates, the senior director of Middle East policy on the National Security Council whose team is leading an interagency process to explore the policy shift, also supports the designation. She is a historian of European art who was hired at the White House after serving as a foreign policy adviser to Senator Ted Cruz, a Texas Republican with hard-line views on Middle East issues.
It is not clear where the acting defense secretary, Patrick M. Shanahan, stands on the Brotherhood. On Friday, he told reporters that he planned to discuss the issue with Mr. Pompeo before he expresses his views.
But, Mr. Shanahan said, concerns about American troops in states where the Muslim Brotherhood is viewed favorably are "important points." The Pentagon has relied heavily on partnerships with Qatar and Turkey to fight the Islamic State or take on other military priorities in the region; both governments are the region's strongest supporters of the Muslim Brotherhood.
Opposing the terrorist designation are United States counterterrorism, intelligence and defense officials, who worry it would divert resources from demonstrated terrorist threats, including the Islamic State and Al Qaeda, and roil American relations in the Middle East.
Administration lawyers have argued strongly that federal courts would overturn the designation and that the criteria for designating a terrorist organization are not a good fit for the Muslim Brotherhood, given that its members call for a society in accordance with Islamic law and generally do not advocate for violence.
Beyond Turkey and Qatar, the Brotherhood or offshoots are also a recognized political party or represented in governments in Morocco, Mauritania, Tunisia, Jordan, Bahrain and Kuwait.
Branding it a terrorist organization would not only jeopardize diplomatic or military relations with any of those nations, but also "politicize the designation process, which would undercut the strength of actual designations against terrorist groups," said Andrew Miller, a former State Department official now at the Project on Middle East Democracy, a research group in Washington.
But some former Muslim Brotherhood members and offshoots — most notably Hamas, the Palestinian group whose stated goal is the destruction of Israel — have carried out attacks. The United States designated Hamas a terrorist organization in 1997.
And some advisers to Mr. Trump have for years viewed the Brotherhood as a radical faction that is secretly infiltrating the United States to promote extremist Islamic law. They see the proposed terrorist designation as an opportunity to finally take action against the movement.
In its frenetic first weeks, the Trump administration had weighed whether to issue the terrorist designation against both the Muslim Brotherhood and the Islamic Revolutionary Guards Corps, an arm of Iran's military. But the proposals lost steam after career government officials objected, and against a fierce public backlash to Mr. Trump's travel ban on visitors from several predominantly Muslim countries and other brazen early policies.
One former American official said the State Department has found no new evidence over the last two years that would make the Muslim Brotherhood a stronger candidate for the designation. Career diplomats and longtime foreign policy officials within the State Department do not favor making the designation, the official said.
Officials in the Obama administration had also looked at the potential for designating the Muslim Brotherhood, but found no basis for it.
The State Department controls the list of designated terrorist organizations and, as a matter of policy, Mr. Pompeo can override government lawyers and the recommendations of other agencies. The State Department declined to comment on the continuing review of the proposed Muslim Brotherhood designation.
On April 8, the day before Mr. el-Sisi visited the White House, Mr. Pompeo abruptly pushed through the terrorist designation and sanctions against the Revolutionary Guards in Iran.
A senior Trump administration official said the designation for the Revolutionary Guards had fueled the White House effort to brand the Muslim Brotherhood a terrorist organization. But, the official acknowledged, the move against the Brotherhood was an expansion of how administrations have traditionally used the terrorist designation process.
The official described the internal debate as "an extremely unglamorous process," but insisted it was a high priority for Mr. Trump that ultimately would be accomplished.
Administration officials are also considering whether a narrower designation could survive a legal challenge.
One option would be to impose the terrorist designation against only the main Muslim Brotherhood group in Egypt, since that is the one of greatest concern to Mr. el-Sisi.
But even that would be problematic, officials argued, since there have been splits in the group and defining it is not easy. And unlike the Islamic State or Al Qaeda, there is no evidence that the Egyptian group has called for, or directed, terrorist attacks against American interests.
Under another option, Mr. Trump would issue an executive order against the Muslim Brotherhood using his presidential emergency powers. It would not declare a new emergency — like the one Mr. Trump is trying to use to spend more on building barriers along the border with Mexico than Congress has authorized — but the order would be attached to an existing terrorism-related emergency.
That way, one official said, the president could declare the Muslim Brotherhood a terrorist organization without going through the State Department.
A group of Republican politicians in Washington has for years demanded that the United States government designate the Brotherhood a foreign terrorist organization.
In 2017, Mr. Cruz pushed legislation to order the State Department to examine whether both the Islamic Revolutionary Guards Corps and the Muslim Brotherhood should receive the designation.
In late 2015, Mr. Pompeo, then a congressman from Kansas, joined other Republican lawmakers on a measure to put the Muslim Brotherhood on the list of foreign terrorist groups. Critics have seized on that to accuse Mr. Pompeo of anti-Islamic views, which he has denied.
Hussein Ibish, a senior fellow at the Arab Gulf States Institute in Washington, said some Muslim Brotherhood groups in the Middle East no longer cling to the movement's dogmatic and transnational roots. He said designating the group a terrorist organization "would almost in a sense penalize them" for the reforms.
"It's very odd. It's an anachronistic idea," Mr. Ibish said. "It doesn't seem to recognize the big changes that have gone on."
David Kirkpatrick contributed reporting from London.
https://www.nytimes.com/2019/05/06/world/middleeast/muslim-brotherhood-trump.html
--------
Hate Preacher, Anjem Choudary, Returns to London Home
May 6, 2019
British hate preacher Anjem Choudary has returned to his east London home amid warnings that that the extremist group he once led is stirring back to life.
Mr Choudary, 52, was freed from prison in October after serving three years in prison for supporting ISIS but was initially ordered to stay at a probation hostel under strict conditions.
He was pictured back in his east London neighbourhood on Monday but declined to speak with a reporter from the Daily Telegraph, owing to the restrictions on his activities aimed at preventing him from influencing young British Muslims.
Other senior members of the group have also been released in the last six months after serving jail terms following a concerted campaign against the group by British authorities.
The National reported last year that Mr Choudary faced more than 20 conditions on his freedom, including a ban from contacting other extremists, with any breaches likely to see him returned to prison to serve the remainder of his sentence.
Several hundred followers of his group, Al Muhajiroun, travelled abroad to join extremist groups in countries including Iraq and Syria or remained in the UK to commit terrorist acts.
The group's followers included those responsible for the July 7, 2005, attacks on the London transport network that killed 52 people and the murder of Lee Rigby, a British soldier, who was run down and attacked by two Britons.
Anti-extremism campaigners Hope Not Hate warned in their "State of Hate report" for 2019 that "Britain's most prolific and dangerous extremist group is stirring back into life after two years of relative silence".
The group said Al Muhajiroun was starting to emerge again "albeit on a much smaller and more tentative scale" with street stalls in east London and social media appearances by some of its most prominent members.
"While Choudary himself will not be able to have any contact with any of his old Al Muhajiroun associates, his release will obviously act as a spur for others," it said, warning that younger leaders would become more active to impress Mr Choudary.
Mr Choudary, a former lawyer, was the co-founder of Al Muhajiroun with Omar Bakri Mohammed, a former Hizb ut-Tahrir activist deported from Saudi Arabia in 1985.
Prime Minister Theresa May said the authorities were well-equipped to deal with Mr Choudary after his release.
https://www.thenational.ae/world/europe/hate-preacher-returns-to-london-home-1.858090
--------
PAS crossed the line in warning over Uighur-like fate, says SIS
May 6, 2019
PETALING JAYA: Non-governmental organisation Sisters in Islam has accused PAS of crossing the line in asserting that a fate akin to the Uighur Muslim minority in China awaits Malay Muslims if non-Muslims are left to run the country.
"There is absolutely no basis for such an assertion which in fact goes against Islamic teachings of peaceful and harmonious coexistence with other cultures and religions," SIS said when commenting on an article in a news portal titled "PAS warns of Uighur-like fate if infidels run Malaysia".
The article quoted PAS central committee member Mokhtar Senik as saying in a Facebook post that Muslims in China are prohibited from fasting and practising their religion.
"Hope my fellow Muslims in Malaysia will take heed.
"That is the fate this country may face if political power is given to the kafir (infidels), no matter what kind of infidel they are," he said.
SIS said PAS' paranoia and delusion stem from political insecurity and seek to cause racial tension and distrust among Malaysians who wish to live in a diverse, inclusive and progressive country.
"This is evident by their bias and distorted interpretations of ICERD, the Rome Statute and allegations that the unfortunate demise of fireman Muhammad Adib Mohd Kassim is a sign of the erosion of Malay rights in the country," it said in a statement today.
"PAS' unfounded insistence that the Federal Constitution is under threat and that non-Muslims are out to destroy Islam in Malaysia is further proof of their deliberate attempts to use religion for their own political purposes.
"Pitting Malaysians against each other is not only detrimental to the rich racial and cultural heritage of our country, but also impedes economic progress which should be the priority of all politicians given the financial circumstance we find ourselves inheriting from the previous administration."
SIS urged PAS to stop the agenda of deliberately instilling fear and inciting racial and religious hate among Malaysians.
"Islam is a religion of peace and compassion that respects all cultures, and does not allow suspicion and discrimination simply on the basis of race," it said.
https://www.freemalaysiatoday.com/category/nation/2019/05/06/pas-crossed-the-line-in-warning-over-uighur-like-fate-says-sis/
--------
US Army Keeps Sending Truckloads of Military Hardware to SDF After Declaring End of ISIL
May 06, 2019
The pro-militant Syrian Obeservatory for Human Rights (SOHR) reported that a sum of 65 trucks carrying military equipment and logistic supplies sent by the US from Northern Iraq arrived in areas under SDF control in Hasaka in Eastern Syria on Monday.
The SOHR noted that a sum of 1,010 trucks carrying military equipment have been sent to Eastern Syria by the US during the last few months since it declared the end of the military operations against the ISIL in Eastern Euphrates by the US and its allies.
Meantime, battlefield sources in Hasaka province reported that a US military convoy comprising several military vehicles and logistic supplies as well as four covered trucks were dipatched from the same region to a US-controlled military base in Ain al-Arab (Kobani) in Northern Aleppo.
The SOHR had also revealed in April that Washington dispatched new military aid to the SDF in Eastern Euphrates after it said mission had been accomplished in the war on ISIL.
It reported that the US-led coalition had sent new military convoys, including tens of trucks carrying military aid and logistical equipment, from Iraqi Kurdistan region to areas occupied by the SDF in Eastern Euphrates.
It added that nearly 700 trucks, carrying vehicles and military and logistic equipment of the US-led coalition arrived from Iraq to Eastern Euphrates.
http://en.farsnews.com/newstext.aspx?nn=13980216000635
--------
Gaza laments deadly start to Ramadan, amid funerals and debris
6 May 2019
After two sleepless days and nights of Israeli shelling and Palestinian rocket fire, Gazans on Monday faced a first day of Ramadan overshadowed by funerals and the grim task of pulling bodies from collapsed buildings.
As dawn brought a ceasefire of uncertain duration, few Palestinians in the impoverished coastal enclave were focusing on the sundown feast that is traditionally the highlight of the day during the Muslim holy month.
At Gaza City's largest hospital, Shifa, relatives of the 21 Palestinians killed on Sunday - including 12 civilians - arrived to collect bodies for burial and prayers.
Outside, workers set about rebuilding power and phone lines devastated by the Israeli bombardment, which also razed entire tower blocks, leaving rubble strewn across the ground.
Other government employees lined up at banks to draw out money they had been unable to collect during the hostilities.
The Israeli military said its tanks and warplanes had hit 350 Hamas and Islamic Jihad targets in Gaza, including a cross-border tunnel, militant training camps and places used to store weapons.
An Israeli military spokesman said the Palestinian militant groups Hamas and Islamic Jihad had fired around 690 rockets toward Israel, killing four Israeli civilians. Calling the barrage "reckless and coordinated", the military said 240 of the rockets had been intercepted by Israel's air defenses.
In the Sheikh Zayed neighborhood of northern Gaza, residents were in shock a day after an Israeli air strike killed six people. The four apartments wrecked in the five-story building were among 600 housing units left destroyed or damaged, according to the Ministry of Housing.
"I have never seen in my life more horrifying images than I saw yesterday. I saw dismembered bodies, burnt up bodies," said 60-year-old Ziyad Hammash, who lives in the building across the street.
Sumayya Usruf, whose cousin, husband and four-month infant child were killed in an apartment in the northern Gaza Strip, said: "This is a very tough Ramadan. We will not feel festive."
As she spoke, dozens of men brought the body of the baby home for farewell. Inside the ambulance was a coffin filled with flesh and body parts.
Israel accused Gaza's ruling Hamas of trying to pressure it into easing long-standing restrictions on the movement of people and goods out of Gaza, which Israeli authorities say is necessary to stop arms reaching Hamas.
In the West Bank, Prime Minister Mohammad Shtayyeh – whose Western-backed Palestinian Authority is a bitter rival of Hamas – said it would send humanitarian aid and food to Gaza.
But in Gaza there was pessimism that the latest ceasefire would be a long-term solution.
"This round is over but I am afraid another will soon begin. We aspire to a day when nothing of this will happen," said 55-year-old Adel Mohammad-Ali at one funeral.
https://english.alarabiya.net/en/features/2019/05/06/Gaza-laments-deadly-start-to-Ramadan-amid-funerals-and-debris.html
--------
African Union and UN support civilian-led Sudan transition
7 May 2019
The African Union and the United Nations say they are supporting a civilian-led transitional government in Sudan following last month's overthrow of President Omar al-Bashir.
AU Commission Chairman Moussa Faki Mahamat told reporters after meeting Monday with UN Secretary-General Antonio Guterres there is no question of sustaining the military council that assumed power after al-Bashir's ouster, saying "it is not acceptable."
But he said military members could be part of a civilian government.
Protesters have called for a swift transition to civilian rule, and the AU initially gave the military 15 days to hand over power but extended the deadline to 60 days. Mahamat said talks are underway.
The UN-AU communique welcomes and supports "AU-led efforts to facilitate a consensual and civilian-led transition, in close coordination with the UN."
https://english.alarabiya.net/en/News/north-africa/2019/05/07/African-Union-and-UN-support-civilian-led-Sudan-transition.html
--------
Pakistan
SHC rejects eateries' petitions for exemption from Ehteram-i-Ramazan Ordinance
May 07, 2019
HYDERABAD: The Hyderabad circuit bench of the Sindh High Court announced its reserved verdict on Monday, rejecting 262 petitions that sought exemption for their hotel businesses from the operation of the Ehteram-i-Ramazan Ordinance 1981.
The division bench of Justices Mohammad Iqbal Kalhoro and Justice Faheem Ahmed Siddiqui had heard counsel of the petitioners on May 2 and reserved the order.
The court directed all district and sessions judges as well as deputy commissioners to make sure that no restaurant, hotel, beverage stall and tea shop remained open at public places except the ones for which exemption had been laid down under Section V of the ordinance.
The court dismissed all the petitions on the ground they did not fall within the ambit of the exemption and ordered that the deputy commissioners concerned should ensure that no permission was granted to a restaurant, hotel, beverage stall or any other business offering edibles, if they did not come under the said exemption.
The court said that if the petitioners considered they were entitled to benefit from Section V they might approach the DCs concerned and cautioned that the DCs could not delegate such power. He had to conduct complete inquiry before granting such permission, said the judgment.
The court said that copy of the judgment should be communicated to all DCs who would in turn circulate it to their subordinate officers for compliance and guidance.
The petitioners had sought exclusion from the operation of the ordinance on the ground that their eateries were situated at places where they could continue their business in line with the exemption laid down in the ordinance.
The court said that the public place was defined in Section II of the ordinance which included hotels, restaurants, canteen, house, room, tent, enclosures, road, lane, bridge or other place to which public had access and the places exempted from operation of the said ordinance were described in Section V.
The court disagreed with the petitioners that since their hotels and restaurants were situated at bus stops they were exempted under Section V and said that it was not the case because Section V used the word "bus stand" instead of "bus stop" which did not refer to roadside bus stops.
The court said that a bus stand also called a bus bay or bus stance was a designated parking location. The words "within the premises" used in clause (b) of Section V of the ordinance itself indicated that it did not refer to a roadside bus stop or layovers but a separately designated place wherein parking areas for vehicles, waiting areas for passengers and other amenities were provided. Similarly, it said, it was not sufficient for a canteen, restaurant or refectory to claim exemption on the basis of its nearness to a hospital.
The court said that a bare perusal of sections 3, 4 and 5 as well as preamble of the ordinance showed intention of legislature was to promulgate the law to observe sanctity of the holy month and show respect to fasting Muslims.
It was noteworthy that the prohibition imposed by the ordinance applied only during fasting hours and all the eateries were allowed to resume their activities after fasting hours. Since the place mentioned in all petitions did not fall within the exemption given under Section V of the ordinance, therefore all petitions were dismissed, said the judgment.
The court noted that perusal of different sections of the ordinance showed that it was aimed at inculcating respect and honour of the holy month in the minds and hearts of Muslims.
https://www.dawn.com/news/1480698/shc-rejects-eateries-petitions-for-exemption-from-ehteram-i-ramazan-ordinance
--------
Lashkar-e-Taiba's grand terror plot in Sri Lanka, Bangladesh and Maldives
07th May 2019
NEW DELHI: India's deep state is well versed in the art of intelligence warfare. Its human intelligence-led inputs to the Sri Lankan establishment, though unutilised, showed that they were on top of their game. India has been tracking the National Thowheed Jamaat (NTJ) for sometime now. New Delhi moved with great alacrity passing on direct actionable intelligence in the weeks and days leading up to the Easter Sunday bombings. And this happened from material accessed during interrogations of an ISIS suspect arrested in India.
The Sri Lankan government even had a warning that Catholic churches were among the possible targets. The suspect gave Indian investigators the name of a man - Zahran Hashmi - he had trained, who is associated with a Sri Lankan extremist group implicated in the bombings. The shadowy man, Zahran Hashim, was identified in a video of the purported attackers released by ISIS, which claimed responsibility for the Easter Sunday macabre massacre.
IANS met several top intelligence functionaries to piece together the emergence of Sri Lanka as the new terror central. While doing so, it unearthed a gargantuan and deep-seated Lashkar plot which goes back at least 14 years showing how LeT had invested for years in Lanka, Bangladesh, Maldives and even Malaysia as part of a larger encirclement strategy of India.
Indian intelligence has been alive to this and has used all its skill sets and ground-level inputs to mitigate the terror threat emanating from the island and other neighbouring countries. It needs to be established here that ISI C Wing and LeT are two sides of the same coin as far as jihad is concerned.
ISI has been using Idara Khidmat-e-Khalq (IKK) as a proxy to radicalise unemployed Muslim youth in Sri Lanka and coax them to join the NTJ. In parallel, India has bolstered its security apparatus in Tamil Nadu and Kerala due to the strong presence of NTJ members in these states.
The rise of IS and its vile and noxious thought process of establishing a Caliphate has found takers in Lanka, Bangladesh and the Maldives. At least 200-250 Maldivians have reportedly fought for the IS in trouble spots like Syria and these are mules who make the trek to Yemen where they are further indoctrinated and trained, then sent on wars sometimes to Mali and Chad for fighting or to the combat zone in Iraq and Syria to fight under the IS flag.
A Tokyo-based online magazine 'The Diplomat' validated this saying a December 2015 report by the Soufan Group, a private intelligence agency run by former FBI agent-turned contractor Ali Soufan, put out a count of foreign fighters who'd volunteered to fight for the Islamic State in Syria and Iraq. Four South Asian countries featured in that list - Malaysia, Pakistan, India, and the Maldives - sending an estimated 393 fighters among them. It was the island nation in the Indian Ocean that sent analysts and headlines into a tizzy with the rise of radical Islam with its bent towards Salafist tendencies. It had by far the highest per capita fighters in the sandbox.
The Indian deep state has been following Islamic militancy in Sri Lanka, a fertile breeding ground since 2004. The tipping point in the rise of Islamic fundamentalism in the emerald isle has Lashkar-e-Taiba (LeT)'s hand prints all over it. A special group headed by LeT's Muzzamil Bhat from Sialkot and his lackeys made forays into Bangladesh, the Maldives and Sri Lanka between 2005 and 2007, knowing fully well that these areas could be used to further their agenda and to encircle India.
Muzzamil Bhat is one of the planners of 26/11 and is reported to be the architect of the Chittisinghpora massacre. The entire construct of this plan to use these countries as a launchpad to train terrorists was part of his larger architecture.
The FBI in its 26/11 chargesheet named Bhat as D, a key LeT military commander, who was involved in the Chittisinghpora massacre in Jammu and Kashmir on the eve of President Bill Clinton's visit to India in March 2000.
In its second chargesheet, filed in a Chicago court, the FBI named an ISI officer, Major Iqbal, and four LeT operatives - Sajid Majeed, Abu Qahafa, Abu Alqama and the unknown Lashkar member 'D'. About 'D' the chargesheet states that after the arrest of Zaki-ur-Rehman Lakhvi in Pakistan in connection with the 26/11 attacks, he became the overall operational commander of LeT.
According to FBI, 'D', who is yet to be arrested by Pakistan, was a handler of David Coleman Headley. Headley told Indian investigators that Muzzamil was involved in the Chittisinghpora massacre. In turn, Headley also said Muzzamil was most trustworthy lieutenant of Lakhvi and apart from Chittisinghpora killings of Sikhs, he planned the Akshardham temple attack in September 2002.
According to Indian security establishment sources, Muzzamil is a Kashmiri born in 1976. He is married and his family lives in the Gujranwala town of Pakistani Punjab.
Bhat, on the other hand, is a planner and his understanding was that with Indian intelligence and security forces keeping a close vigil on southern India in those years, he reckoned that taking the training camps offshore would be a better idea. SIMI was already active in southern India, they had set up a southern chapter across the four states, while Bhatkal had become a new centrifuge.
Terror central was moving from Uttar Pradesh and Maharashtra to the southern part of India. Hence Muzzamil arrived in Sri Lanka to test the waters and quickly realised that there was traction amongst Tamil Muslims after the Tsunami, ditto in Bangladesh among the Rohingyas between 2004-2008.
But RAW which was extremely active in both Bangladesh and Sri Lanka did not allow Bhat or his henchmen to stabilise their operations.
In 2011, ably abetted and assisted by ISI officer Amir Zubair Siddiqui (Counselor in the Pakistan High Commission in Colombo), a new name popped up on the radar - Zakir Hussain - who began to actively consort with and recruit Tamil Muslims on the island. The plan was to recruit them and unleash hell on diplomatic missions in Chennai and Bangalore, but RAW once again found the scent and pursued them to cut off their feed stock of financing, explosives and weapons.
India engaged with Colombo and brought it up to speed on Siddiqui's shenanigans who was then packed off from Sri Lanka. The diplomat Amir Zubair Siddiqui's plot was to attack the US Consulate in Chennai, Israeli Consulate in Bengaluru, Eastern Naval Command HQ in Visakhapatnam and ports across the country.
Once RAW had blown his cover, NIA moved in to chargesheet Siddiqui who was then visa counselor at the Pakistan High Commission in Colombo. Siddiqui was arrested for allegedly conspiring to attack vital establishments in India and was quietly withdrawn even before the NIA's request under Mutual Assistance Legal Treaty (MLAT) reached Colombo.
The terror plot was uncovered after the NIA police personnel arrested an ISI agent Mohammed Zakir Hussain (37) through the 'Q' Branch of the Tamil Nadu police in 2013. The reason was that he was gathering details about vital installations in Tamil Nadu and sent photographs to Siddiqui. Hussain used his counterparts Sivabalan and Mohammad Salim to circulate fake currency in the state.
During questioning, Hussain also confessed that he had also used Rafeeque (29) to pump in fake Indian currency in the state.
Full report at:
http://www.newindianexpress.com/world/2019/may/07/lashkar-e-taibas-grand-terror-plot-in-sri-lanka-bangladesh-and-maldives-1973753.html
--------
Govt terms Maryam's appointment as PML-N vice president illegal
May 07, 2019
ISLAMABAD: Special Assistant to the Prime Minister on Information and Broadcasting Dr Firdous Ashiq Awan has termed the appointment of Maryam Nawaz as vice president of the Pakistan Muslim League-Nawaz (PML-N) illegal and said it portrayed the dictatorial mindset of that party.
Addressing a press conference here on Monday, she said: "Since the PML-N has matured under the influence of dictators, it still has the habit of ignoring the directives of the election commission that no convict person can be an office-bearer of a political party."
She said the announcement of positions by the PML-N leadership was like distribution of family assets among relatives, while it should have been decided by party workers.
Talking about a sudden increase in the prices of essential commodities with the advent of Ramazan, Dr Awan said it was unfortunate that businessmen were exploiting consumers.
She said keeping in mind the problems of the masses Prime Minister Imran Khan had directed the Economic Coordination Committee of the cabinet to approve a Rs2 billion Ramazan package.
The adviser said the Utility Stores Corporation (USC) had reduced the prices of 19 commodities, including pulses, rice, cooking oil and sugar, under the Ramazan package.
She said that the USC would provide a subsidy of Rs4 per kg on wheat flour, Rs5 on sugar, Rs15 on ghee, Rs10 on cooking oil, Rs20 on gram pulse, Rs15 on moong pulse, Rs10 on mash pulse, Rs25 on white gram, Rs20 on gram flour, Rs30 on dates, Rs15 on basmati rice, Rs15 on sela rice and Rs15 on broken rice, Rs15 on squashes and syrups (1,500 ml), Rs10 on squashes and syrups (800 ml), Rs50 on black tea, Rs15 on milk and 10 per cent relief on spices.
Dr Awan said the USC had been directed to ensure availability of all daily use items at its stores.
She said that the previous government had announced a Rs1.6bn Ramazan package last year, but utilised only Rs760 million, while the remaining amount lapsed due to lack of USC's capacity.
USC Managing Director Umar Lodhi said panic-buying was leading to early clearing of shelves at several outlets of the corporation.
Full report at:
https://www.dawn.com/news/1480766/govt-terms-maryams-appointment-as-pml-n-vice-president-illegal
--------
Opposition walks out of NA, Senate over petrol price hike
Syed Irfan Raza
May 07, 2019
ISLAMABAD: The opposition on Monday staged a walkout from both houses of parliament — the National Assembly and the Senate — in protest against the hike in prices of petroleum products by up to Rs9 per litre.
Pandemonium was witnessed in the National Assembly as the opposition members staged a protest, carried placards in their hands and chanted slogans against the government.
Leaders of the opposition parties also held a press conference after the assembly session was adjourned till Wednesday and warned the government that they would bring people to the streets if they [opposition leaders] were barred from raising their voice in parliament against "faulty economic policies of the government".
Pakistan Muslim League-Nawaz (PML-N) leader Rana Sanaullah stunned the National Assembly when he said Leader of the Opposition Shahbaz Sharif had not resigned from the office of Public Accounts Committee (PAC) chairman.
At the start of the session, Foreign Minister Shah Mehmood Qureshi criticised Shahbaz Sharif for 'leaving' the office of PAC chairman and said the Pakistan Peoples Party (PPP) and the PML-N were supporting him [Shahbaz Sharif] for the post of PAC chairman.
He said the opposition had earlier insisted that Mr Sharif must be made the PAC chairman despite opposition to his nomination by the government, adding that Mr Sharif had stepped down without taking into confidence other parties in the opposition, including the PPP, on his decision.
Rana Sanaullah almost took a U-turn and claimed that Mr Sharif had not so far resigned from the office of PAC chairman. "Have you received resignation of Shahbaz Sharif?" he asked Speaker Asad Qaisar.
The speaker replied in the negative and said he heard through the media that Shahbaz Sharif had left the office of PAC chairman.
Mr Sanaullah wondered how the foreign minister had come to know about Mr Sharif's resignation. "Has he [Mr Qureshi] talked to Mr Sharif over the phone about his resignation?" he asked.
He said it had been decided at recently held meeting of the PML-N parliamentary committee that Mr Sharif should not hold the office of PAC chairman because he could not given due time to the committee owing to certain reasons. The committee made the decision and sent it to PML-N president Shahbaz Sharif for a final nod. "Shahbaz Sharif has not yet decided whether he will retain the office or leave it," Mr Sanaullah said.
Minister of State for Revenue Hammad Azhar said the PML-N had gone to the International Monetary Fund 16 times during its rule and now the opposition was criticising the Pakistan Tehreek-i-Insaf government for dealing with the IMF.
Later, the opposition members staged a demonstration in the house against the recent increase in prices of petroleum products and walked out the National Assembly. They also held a press conference outside the Parliament House.
Senate walkout
The opposition also staged a walkout from the Senate after a speech by PML-N Senator Javed Abbasi who criticised the government for increasing the prices of petroleum products a day before the month of Ramazan. "In other countries prices are reduced before Christmas and Ramazan, but in Pakistan the government had made a "big increase" in petroleum prices," he regretted.
Leader of the House Senator Shibli Faraz said the opposition had no courage to listen to the answers to the allegation it had levelled against the government and walked out.
PPP chairman Bilawal Bhutto-Zardari told reporters while leaving the Parliament House that the government had compromised the country's "economic sovereignty" by appointing a serving IMF officer as governor of the State Bank of Pakistan (SBP). "Now the IMF will decide who will be the finance minster and the governor of the State Bank."
He said the national exchequer was empty when the PPP came to power after the Musharraf regime in 2008. "At that time we fought for the rights of our people and despite reservations by the IMF we provided 6.8 million jobs to the people, raised pensions and launched Benazir Income Support Programme for the welfare of the people," he added.
Mr Bhutto-Zardari said if the IMF would run the country it would take care of its own interest, and not that of people. "No law allows appointment of a serving IMF official as governor of State Bank," he added.
PPP co-chairman Asif Ali Zardari said after the NA session that he thought that "the headquarters of the IMF is being shifted to Islamabad", wondering what the people of the country would think when serving officials of the IMF were appointed SBP governor and to other key positions.
Speaking outside the Parliament House, PML-N leader Khawaja Asif said the government had made Pakistan "a colony of IMF". "Bowing his head before the IMF, Prime Minister Imran Khan has proved himself as coward like Mir Jaffar and Mir Sadiq contrary to his [Mr Khan] claim that he is following in the footsteps of Tipu Sultan," he added.
The PML-N leader said the opposition had now decided to oppose the government's "faulty economic policies" inside and outside parliament. "We will bring people to the streets against unprecedented price hike," he added.
Full report at:
https://www.dawn.com/news/1480773/opposition-walks-out-of-na-senate-over-petrol-price-hike
--------
Questionnaire sent to Musharraf in high treason case
Haseeb Bhatti
May 06, 2019
A special court in Islamabad on Monday sent a questionnaire to former military dictator retired Gen Pervez Musharraf in a case pertaining to charges of high treason against him.
The list, sent under Section 342 of the Code of Criminal Procedures (CrPC), contains 26 queries, including questions regarding the subversion of the Constitution by declaring the state of emergency in November 2007.
Among the questions asked are:
Is it true that by suspending the Constitution, you subverted the Constitution and were guilty of high treason?
Did you, as the president, declare the state of emergency on December 15, 2007?
Is it true that you had taken all the aforementioned measures without consulting the authorities concerned but in your individual capacity?
Why was this case created against you? Why did the state and its prosecution's witnesses testified against you?
Is it true that you measures have never been validated by any legal forum?
The questionnaire was dispatched after the court in the last hearing admitted Musharraf's plea for adjournment of the hearing of a high treason case against him till the end of the holy month of Ramazan.
Musharraf, who left Pakistan in 2016 to seek medical treatment but has not returned since, is facing a treason trial under Article 6 of the Constitution as well as Section 2 of the High Treason Act on a complaint moved by the federal government.
Full report at:
https://www.dawn.com/news/1480655/questionnaire-sent-to-musharraf-in-high-treason-case
--------
Republican, Democrat MPs to co-chair Congressional Pakistan caucus
May 07, 2019
HOUSTON: US lawmakers announced the Congressional Pakistan Caucus for the 116th Congress in Houston this weekend, with two co-chair, Congresswoman Sheila Jackson Lee, a Democrat, and Congressman Jim Banks, a Republican.
"This is an important development, which would enable us to work with both Republicans and Democrats to strengthen bilateral relations," said Pakistan's Ambassador Asad Majeed Khan, who also attended the event along with prominent members of the Pakistani community in Houston.
"This would also help in building strong people-to-people and parliamentary linkages between our two democracies," said the ambassador who is visiting Houston — home to one of the largest and most influential Pakistani communities in the United States.
Congresswoman Lee, an old friend of Pakistan on Capitol Hill, reiterated her continued commitment to strengthening of Pakis­tan-US ties.
"The caucus's revival for the 116th Congress is an important step forward," said Ms Lee, the founding co-chair of Pakistan caucus over the years.
"This will help expand the scope of bilateral ties geared to improving lives and livelihoods of people in both countries."
Congresswoman Lee hoped that the PTI government would also work with the Pakistani community in the US to further strengthen traditional ties between Pakistan and the US.
Congressman Jim Banks noted that a "strong and effective" caucus played an essential role in improving US ties with allied nations and hoped that the Pakistan caucus would also play this role. He also emphasised the need for a better understanding between the lawmakers of the two countries.
Ambassador Khan thanked Congresswoman Lee for her steadfast support for Pakistan over the years and for her "commitment to a stronger partnership with Pakistan". He also welcomed Jim Banks as the Republican co-chair of the Pakistan Caucus.
The ambassador hoped that the caucus would "help provide depth and breadth to our relationship". He particularly emphasised the need for enhancing economic and commercial ties that would underwrite durability of Pakistan-US relations.
Full report at:
https://www.dawn.com/news/1480741/republican-democrat-mps-to-co-chair-congressional-pakistan-caucus
--------
Security personnel martyred, three injured in North Waziristan attack
May 7, 2019
RAWALPINDI: At least one security personnel was martyred and three others injured when terrorists attacked a vehicle here on Monday.
According to details, the terrorists targeted a vehicle of the security forces in Datta Khel area of district North Waziristan of Khyber Pakhutnkhwa (KP).
The vehicle was damaged in the attack resulting in death of one security personnel and leaving three others injured.
The attackers fled the scene. The body and injured were shifted to Miranshah Hospital.
The security forces cordoned off the area after the attack and launched search operation.
https://www.pakistantoday.com.pk/2019/05/06/security-personnel-martyred-three-injured-in-north-waziristan-attack/
--------
India
NIA books three more terror suspects in Kerala as probe expands
May 06, 2019
The National Investigation Agency (NIA) probing the suspected Islamic State terror module in Kerala has booked three more persons from the state for their alleged involvement in terror activities, according to sources in the agency.
The three men are Abubacker Siddique and Ahmad Arafath from Kasargode and Mohamad Faizal, a resident of Karunagapally (Kollam).
The first two have been detained and the third is still at large, said sources in the NIA. On April 29, it had arrested a person from Palakkad, Riyas Aboobacker (29) alias Abu Dujana who wanted to be a suicide bomber.
Sources said all three were in regular touch with Aboobacker and were planning to carry out terror attacks in the state.
The agency has moved a remand plea in the NIA court in Kochi on Monday seeking five-day custody of Aboobacker. In the remand application it said Aboobacker plotted a terror attack in Kerala and was in constant touch with many leaders of terror network including Abdul Raashid Abdulla, the leader of the missing 21 people from north Kerala's Kasargode who reportedly joined the Islamic State three years ago.
It also said Aboobacker and his associates were trying hard to propagate the IS ideology in Kerala and desperate to carry out attacks in the state. During preliminary interrogation Aboobacker reportedly told the NIA that he was following speeches of Zahran Hashim, brain behind the Lankan bombings and controversial preacher Zakir Naik, for more than a year and was eager to carry out a terror attack in a tourist spot in Kerala frequented by foreigners.
He also said he was ready for a suicide attack but his friends had let him down by not providing explosives and logistic support. Following his interrogation the NIA had raided many hideouts of suspects in Kerala and Tamil Nadu and seized incriminating documents, sources said. At least 60 people from both Kerala and Tamil Nadu were under the NIA's observation.
After the Easter bombings in Sri Lanka which killed more than 250 people, intelligence agencies have increased their vigil in Kerala and Tamil Nadu. Two days ago Lankan army chief General Mahesh Senanayaka said some of the bombers who carried out attacks in his country had visited Kashmir and Kerala.
On Sunday, Jammu and Kashmir Police chief Dilbag Singh said there was no record to suggest that any of Sri Lankan suicide bombers had visited Kashmir.
https://www.hindustantimes.com/india-news/nia-books-three-more-terror-suspects-in-kerala-as-probe-expands/story-h7xx2Do0xX9sBsclroU6QI.html
--------
Missing Kashmiri student is in Pakistan jail, says father
May 7, 2019
SRINAGAR: A Kashmiri student who went missing nearly five months back from a university in Noida in Uttar Pradesh is languishing in a Pakistani jail, his family claimed on Monday. Syed Wahid, 23, went missing on December 12 from a private university in Noida.
Syed's father told police that he recently received a call from Pakistan and an inmate released from the Pakistan jail informed him that his son was lodged there. Police sources here said they are trying to verify the veracity of the claim.
https://timesofindia.indiatimes.com/india/missing-kashmiri-student-is-in-pakistan-jail-says-father/articleshow/69210015.cms
--------
Pak army shells forward posts, hamlets along LoC in J&K's Poonch, 2 civilians injured
May 6, 2019
JAMMU: Pakistan army resorted to heavy mortar shelling and small arms firing targeting forward posts and villages along the Line of Control in Jammu and Kashmir's Poonch district on Monday, resulting in injuries to two civilians, officials said.
Pakistan violated ceasefire by resorting to heavy mortar shelling and firing along the LoC in Mankote and Krishna Ghati sectors of Poonch district, they said.
Two civilians — Maqsood Ahmed and Ashiq Hussain — were injured in the shelling, officials said.
On Sunday, a colonel-rank officer was injured in Krishna Ghati sector of Poonch in Pakistani shelling, while a 25-year-old porter suffered splinter injuries when a mortar shell exploded near him in Keri sector of Rajouri district, they said.
Pakistan has violated ceasefire by 513 times along the LoC in the state in the past one-and-a-half-month.
The Pakistani side has suffered five to six times more casualties than the Indian side in retaliatory action, a senior official said.
Full report at:
https://timesofindia.indiatimes.com/india/pak-army-shells-forward-posts-hamlets-along-loc-in-jks-poonch-2-civilians-injured/articleshow/69201999.cms
--------
8 security personnel, 4 civilians killed during Ramzan truce last year; 23 ultras eliminated: MHA
May 6, 2019
Eight security forces personnel and four civilians were killed in militancy-related incidents while 23 militants were gunned down during a month-long halt in operations in Kashmir announced by the Centre in the month of Ramzan last year, the Home Ministry has said.
The Centre had in May last year directed security forces not to launch operations in Jammu and Kashmir during Ramzan to help Muslims observe the holy month in a "peaceful environment".
As many as 23 terrorists, eight security forces personnel and four civilians were killed in militancy-related incidents from May 17, 2018, to June 17, 2018, during the Ramzan truce, Director (S-JK), Ministry of Home Affairs, Sulekha said in a reply to an RTI application filed by Jammu-based activist Rohit Choudhary.
She added that 37 security personnel and 33 civilians were also injured during the period. Five terrorists were arrested during the truce period, the MHA said. PDP president and former chief minister Mehbooba Mufti had on Saturday appealed to the Centre and the militants to announce ceasefire in the state for Ramzan so that the "people get some relief".
"The month of Ramzan is starting after a couple of days and so, I appeal the government of India that ours is a Muslim-majority state and people here are facing difficulties. It is a month of prayer and so I request them (Centre) to announce a ceasefire like the last year so that crackdowns, search operations and encounters are stopped and people get some relief," she had told reporters here.
Full report at:
https://indianexpress.com/article/india/ramadan-2019-mha-ceasefire-indian-army-militancy-5713096/
--------
South Asia
How ISIS radicalized wealthy Sri Lankan Muslims, orchestrated mass slaughter
May 6, 2019
COLOMBO: The suicide bombs were packed with ball bearings, iron nails and the explosive TATP, all hallmarks of the way the Islamic State likes to commit mass murder.
One of the bombers had traveled to Syria. Another trained in Turkey. One man arrested hours after the attacks had commuted between Sri Lanka and Syria, leading investigators to identify him as a possible middleman between the Islamic State and Sri Lankan militants.
As Sri Lankan investigators reveal key details from the suicide blasts+ that killed more than 250 people in churches and hotels across the island on Easter Sunday, more evidence points to a role by the Islamic State in inspiring — and perhaps directing — the slaughter.
Even as the Islamic State has been routed from territories in Iraq and Syria where its black flag once flew with impunity, the Sri Lanka attacks show the group is still capable of orchestrating carnage through loyalists in far-flung countries.
Few outside counterterrorism experts believed Sri Lanka was in imminent danger. But many Sri Lankans knew that the Islamic State was eyeing them. And some are furious that multiple warnings went unheeded. They feel their government essentially allowed more than 250 lives to slip between the cracks. In November 2016, the justice minister told Parliament that more than two dozen Sri Lankans had recently joined the Islamic State, which he said was becoming a "grave problem."
A few months later, a group of moderate Muslims presented police officials with 11 dossiers on local Islamist extremists, including Zaharan Hashim+ , whom they identified as the "leader of ISIS team in Sri Lanka."
Officials have identified Zaharan as one of the suicide bombers and possibly the ringleader. For years, moderate Muslims had expressed concern that Zaharan was tearing at Sri Lanka's delicate fabric that spans its Muslim, Buddhist and Christian communities. They unsuccessfully urged the police to arrest him. Sri Lankan officials have blamed one another for dismissing detailed warnings about these threats. The fact that no one acted
on the information about a growing Islamic State presence, just as no one acted in the weeks before the attacks on specific intelligence about possible suicide bombings, has compounded the grief and anger.
"I'm frustrated, but more than that, I am pained," said Wijeyadasa Rajapakshe, the former justice minister, who had spoken in Parliament more than two years ago about the Islamic State's foothold. "I was carefully watching their movements. I knew the
Islamic State was preparing for an attack here. Nobody listened."
Sri Lankan officials say they are "95 percent finished" with the investigation and feel confident that they have arrested nearly all the accomplices — 140 people have been identified as suspects — and have recovered their explosives, found during several raids.
Many new details of the attacks, including some that suggest a more active role by the Islamic State than just inspiration from afar, were told to The New York Times by a senior official involved in the investigation who has also been briefed about foreign intelligence on the Islamic State. The senior official, like several others interviewed, spoke on the condition of anonymity because the investigation is continuing.
All the bombers were identified by officials as Sri Lankan. And investigators said that Achchi Mohamed Mohamadu Hassthun, seen on video footage coolly walking into St. Sebastian's Church on Easter Sunday wearing a large backpack, was the bomb maker. Investigators said that they had found bomb-making manuals on his computer and that he may have trained in Turkey.
According to the senior Sri Lankan official, Hassthun built 11 TATP bombs in a garage in a suburb south of the capital, Colombo, using ordinary household materials, including huge bottles of glue. Triacetone triperoxide, commonly known as TATP, is the explosive of choice for Islamic State bombers, including those behind the deadly attacks in Paris in November 2015.
Another bomber, Abdul Latheef Jamil, had traveled to Syria. But investigators suspect he might have been radicalized earlier in Australia, where he studied aeronautical engineering.
The authorities believe that Inshaf and Ilham Ibrahim, sons of one of Sri Lanka's wealthiest spice traders, possibly financed the whole plot. In a final voicemail to his wife, authorities said, Inshaf listed the money owed to him from various people, provided advice on which of the couple's cars to sell, and told her, "I am going to God."
Sri Lankans remain puzzled why some of their most privileged young men would do this. But the Islamic State ideology's allure to some of Sri Lanka's most well-to-do families has been known for years.
"These are not individuals from normal Muslim families," Rajapakshe told Parliament in his 2016 speech.
Rajapakshe said he had based his claims on detailed information provided by moderate Muslims and government intelligence officers. He and others said it made sense because affluent Sri Lankans had more time and resources to surf the internet and find extremist material than those who had to devote all their energies to making ends meet.
Still, Rajapakshe said, after he gave his speech, he was ridiculed as an anti-Muslim bigot.
Sri Lankan officials said the first Sri Lankans joined the Islamic State in 2013 or 2014, around the time the group declared its caliphate straddling Syria and Iraq.
Back then, Daya Ratnayake was Sri Lanka's army chief, and he said the military and intelligence establishment was paying close attention.
"We knew what was coming," he said.
He said that the military established special groups to follow radical university students and online postings. He said the government deported more than 100 radical Islamist preachers, many from Pakistan. And he was aware that Zaharan's group on Sri Lanka's eastern coast was alienating moderates and conservatives alike.
"Our message to the moderates was to keep these radicals with you, don't kick them out, don't isolate them," he said.
But that's exactly what happened. After Zaharan's followers attacked worshippers of the Sufi sect, he evaded arrest and disappeared.
In 2015, the Sri Lankan government confirmed its first case of a homegrown Islamic State fighter. Mohamed Muhsin Sharhaz Nilam, a well-respected school principal and karate instructor from central Sri Lanka, was killed in a coalition airstrike in Syria.
Around this time, Sri Lanka's politics were in upheaval. Voters threw out President Mahinda Rajapaksa, the strongman who brought Sri Lanka's decadeslong civil war to a brutal end in 2009, and elected Maithripala Sirisena, a career politician from humble roots who presented himself as a democratic reformer.
Independent analysts say that Sirisena was too quick to move Sri Lanka off its military footing and that he sidelined many good intelligence officers.
Experts who track the Islamic State's media operations said they had seen few if any specific mentions of Sri Lanka before the Easter attacks. The Islamic State had said plenty about slaughtering Christians, but its focus was the Middle East, Europe and, more recently, West Africa.
The Islamic State's claim of responsibility for the Sri Lanka attacks, and its release of a video showing Zaharan pledging allegiance to the group's leader, seemed to prove that they at least had maintained contact.
Further, to make the devastating bombs used in Sri Lanka, most experts believe that experienced Islamic State operatives must have helped.
"You need expertise to make the bomb, expertise for the detonators, expertise for the selection of the sites and how to indoctrinate people to kill themselves," said Sidney Jones, the director of the Institute for Policy Analysis of Conflict in Jakarta, Indonesia.
"All that," she said, "takes face-to-face training."
Sri Lankan investigators say they are still trying to determine how that might have happened.
Officials believe that a Sri Lankan man named Sadiq, who has been arrested, traveled to Syria several times and served as Zaharan's right-hand man. They also suspect that the Islamic State encouraged or directed the local group to attack churches.
Before the Easter attacks, there had been little Muslim-Christian strife in Sri Lanka. Adherents of both religions are small minorities compared with the country's Buddhist majority.
Investigators say that all the bombs in packs worn by the attackers were triggered by pulling a strap. Another bomb had been placed outside one of the churches, timed to explode around 90 minutes after the first explosions, for the purpose of killing the emergency teams and officials who rushed to the scene.
It failed to detonate.
https://timesofindia.indiatimes.com/world/south-asia/how-isis-radicalized-wealthy-sri-lankan-muslims-orchestrated-mass-slaughter/articleshow/69201915.cms
--------
Taliban storm checkpoint, killing 20 troops: Afghan official
AP | May 6, 2019
KABUL: An Afghan official says the Taliban stormed an army checkpoint in western Farah province, killing 20 troops.
Provincial councilman Dadullah Qaneh said on Monday that the insurgents also captured two soldiers in the attack in Gulistan district overnight. The fate of the abducted wasn't immediately known.
A Taliban spokesman, Qari Yusouf Ahmadi, claimed responsibility for the attack.
The Taliban still carry out near-daily attacks on Afghan forces even as peace efforts have accelerated to find an end to Afghanistan's nearly 18-year war.
Earlier on Sunday, the Taliban set off a suicide car bombing and stormed a police headquarters in northern Baghlan province, killing 13 policemen and setting off a six-hour gunbattle.
Full report at:
https://timesofindia.indiatimes.com/world/south-asia/taliban-storm-checkpoint-killing-20-troops-afghan-official/articleshow/69201924.cms
--------
Peace deal with Afghan Taliban can have unintended consequences: report
Anwar Iqbal
May 07, 2019
WASHINGTON: A peace deal with the Taliban can carry with it the seeds of unintended and unforeseen consequences, warns a US watchdog, in its quarterly report sent to the US Congress recently.
The office of the US Special Inspector General for Afghanistan Reconstruction (SIGAR), in its quarterly report on the status of reconstruction to Afghanistan to the Congress, notes that while a peace deal with the Taliban could end the war, it could also have long-term unintended consequences.
Read: New round of US-Taliban talks to start in Doha: Taliban
"If Taliban leaders can be persuaded to negotiate with the Afghan government, and if intra-Afghan negotiations can yield a peace agreement, then some four decades of war in Afghanistan — and the United States' longest war — might come to an end," states SIGAR in its report. "But no matter how welcome peace would be, it can carry with it the seeds of unintended and unforeseen consequences."
The report stresses the importance of planning for "the day after" any peace deal in eight areas: security, civil policing, corruption, economic growth, counternarcotics, women's rights, reintegration of ex-combatants and oversight.
Such "day after" risks "could frustrate the shared goal of a stable Afghanistan", which respects the rule of law and is "at peace with itself and its neighbours", the report warns.
Moroever, the "day after" risks, identified in the report, "could threaten US taxpayers' investment in Afghanistan, set back humanitarian and development programmes, undermine Afghan government support or even lay the grounds for new or resumed discord", SIGAR warns.
It identifies eight major threats: widespread insecurity, underdeveloped policing, endemic corruption, sluggish economic growth, illicit narcotics trade, threats to women's rights, reintegration of ex-combatants and restricted oversight.
Peace talks halted for a day
Peace talks between the US and the Taliban were suspended for the beginning of Ramazan on Monday, with the two sides still grappling over the key issue of when foreign forces might leave Afghanistan, according to AFP.
Taliban political spokesman Suhail Shaheen said the talks were taking a break for the first day of the holy month of Ramazan but would be resumed on Tuesday.
He said discussions had become bogged down over the issue of when foreign forces might withdraw in return for the Taliban security guarantees.
Full report at:
https://www.dawn.com/news/1480764/peace-deal-with-afghan-taliban-can-have-unintended-consequences-report
--------
No IS existence in Bangladesh: Home minister
May 06, 2019
Terming the claim of Islamic State (IS) presence in Bangladesh a part of an international conspiracy, Home Minister Asaduzzaman Khan today categorically said there is no existence of IS group in the country.
He came up with the remarks while speaking at a programme at Border Guard Bangladesh (BGB)-6 head office in Chuadanga to destroy drugs seized during different times.
The minister said some disgruntled elements are trying to be heroes using the name of the organisation.
He, however, said Bangladesh is on high alert after the Sri Lanka bombings.
Asaduzzaman said people will not give shelter to these militants.
He also said the government will be sympathetic to drug traders who will surrender in response to its call, warning that stern action will be taken against those will not turn up.
BGB Director General Major Gen Shafeenul Islam, southwestern region Additional DG Ainul Morshed Khan Pathan, Khulna Sector Commander Deputy DG Arshaduzzaman, Chuadanga-1 MP Solaiman Haque Joarder and Chuandanga-2 MP Hazi Ali Azgar Togor were, among others, present on the occasion.
Full report at:
https://www.thedailystar.net/country/no-islamic-state-is-existence-in-bangladesh-home-minister-1739569
--------
Police discovers alcohol, weapons in detained Taliban commander's compound in Balkh
06 May 2019
A key Taliban commander was arrested and several bottles of alcohol were confiscated along with some weapons and military kits in northern Balkh province.
The Ministry of Interior in a statement said the Taliban commander identified as Yousuf who was arrested in Nahr-e-Shahi district of Balkh province on Sunday night.
The statement further added that 11 bottles of alcohol, a Hookah, an Ak-47 rifle, an air rifle, a pistol, and other military kits and a vehicle were confiscated.
The anti-government armed militants including Taliban have not commented regarding the airstrike so far.
Balkh is among the relatively calm provinces in North of Afghanistan but the security situation in some of its remote districts has deteriorated during the recent months.
https://www.khaama.com/police-discovers-alcohol-weapons-in-detained-taliban-commanders-compound-in-balkh-03902/
--------
Airstrikes target Taliban militants who were maneuvering for an offensive in Helmand
06 May 2019
At least eight Taliban militants were killed in the airstrikes which were conducted in southern Helmand province of Afghanistan late on Sunday night.
"After Afghan Security Forces observed multiple militants maneuvering for an offensive attack and ordered multiple airstrikes, killing Eight Taliban fighters," security source said Monday.
The sources further added "Later during this operation, over 3,000 Kg of home-made explosive material was captured and destroyed in Nad Ali district."
According to military officials, this month, 28 militants have been killed in Helmand.
The anti-government armed militants including Taliban have not commented regarding the airstrikes so far.
Full report at:
https://www.khaama.com/airstrikes-target-taliban-militants-who-were-maneuvering-for-an-offensive-in-helmand-03906/
--------
68 narcotics labs destroyed, nearly 200 Taliban militants killed, wounded in Farah airstrikes
06 May 2019
Officials in the Ministry of Defense have confirmed that nearly 200 Taliban militants were killed or wounded in joint Afghan and coalition forces airstrikes which destroyed 68 narcotics labs in western Farah province of Afghanistan.
The airstrikes were carried out in the vicinity of Bakwah district of the province.
"RS+ANDSF, carried joint targeted airstrikes in Bakwah, Farah. 68 narco labs, processed daily $1 million worth of revenue for TBN terrorists, destroyed. 150 TBN killed & 40 injured," the officials said.
According to defense officials, these labs which were destroyed during the airstrikes produced, crystals meths, 6 times valuable than heroin!
The Ministry of Interior in a statement confirmed that the airstrikes were carried out in Ashin, Palwashe and Spin Karez areas of the province in close coordination with the ground forces, resulting in destruction of 68 narcotics labs and killing of 150 militants.
In the meantime, the district administrative chief of Bakwa Abdul Ghafoor has told Radio Free Europe's Afghanistan service that 45 people were killed in coalition airstrikes on narcotics laboratories in this district.
Full report at:
https://www.khaama.com/68-narcotics-labs-destroyed-nearly-200-taliban-militants-killed-wounded-in-farah-airstrikes-03905/
--------
Myanmar villagers in Rakhine risk running out food amid military siege
May 6, 2019
Villagers in Myanmar's Rakhine state risk running out food after being under military restriction for nearly a week.
Residents said the village of Kyauk Tan in Rathedaung township had been completely sealed off and food supplies were dangerously low, AFP reported on Monday.
They said the shortages stemmed from the army's "bullying" tactics. The residents also called for assistance from the international community.
On April 30, security forces stormed the village, picking out 275 men for interrogation at the local school. Two days later, the troops admitted killing six detainees and injuring eight more, claiming the men tried to attack and disarm them.
Military spokesman Brigadier General Zaw Min Tun confirmed 48 more detainees were released Monday, which would leave about 80 people still held at the school.
Than Han Than, 22, one of the newly-released people said, "They warned us there would be harsh repercussions if we travelled to other villages." Than May Khin's husband, Khin Maung Htay, was one of the men shot dead last week.
The latest killings followed the deaths in April of three other ethnic Rakhine men in army custody.
Full report at:
https://www.presstv.com/Detail/2019/05/06/595275/Myanmar-Rakhine-Kyauk-Tan-Brigadier-General-Zaw-Min-Tun-Buddhist
--------
Talks with US in Doha stumble over troop withdrawal timetable: Afghan Taliban
May 6, 2019
The Taliban militant group says peace talks with the US — which have been underway in Qatar for months — have stalled over the key issue of a timetable for American and other foreign troops to pull out of Afghanistan, a longtime Taliban demand.
A Taliban political spokesman, Suhail Shaheen, told the AFP on Sunday that the two sides have so far failed to hammer out their differences on how to put their draft agreement on the withdrawal timetable into action.
The two sides are trying "to narrow the differences and have an agreement on a timetable which is acceptable to both sides," but "that has not been achieved so far."
He also explained that nothing would move forward "in principle" until America announced a withdrawal timetable.
"If we are not able to finalize it in this round, then ... peace would be far away rather than being closer," Shaheen added.
Since last year, sixth rounds of talks have been held in Doha between the militant group and US special envoy to Afghanistan Zalmay Khalilzad and his delegation of about two dozen officials in the hope of ending an American war in Afghanistan that has dragged on for over 17 years.
The latest round began on May 1, and it is not clear if the talks were to continue Monday, which marks the first day of the holy Muslim month of Ramadan.
The negotiations have so far excluded Afghan officials. The Taliban refuse to hold talks with the government in Kabul, which the militant group views as illegitimate and a US puppet.
In February, Khalilzad claimed progress in the talks, saying that a deal was within reach by July.
Khalilzad has repeatedly said that for things to progress, the Taliban must ensure Afghanistan is never again used as a terrorist safe haven, implement a ceasefire, and speak to Afghan representatives.
The Taliban have said they will not do anything until the US announces a withdrawal timeline.
Earlier this week, the group's spokesman Zabihullah Mujahid called on the US to end the use of force in Afghanistan instead of putting pressure on the militant group to cease fire.
"Instead of such fantasies, he [Khalilzad] should drive the idea home [to the US] about ending the use of force and incurring further human and financial losses for the decaying Kabul administration," he added.
The US embassy in Kabul did not immediately comment on the Taliban's latest statement.
The Taliban's five-year rule over at least three quarters of Afghanistan came to an end following the 2001 US-led invasion, but 17 years on, Washington — having failed to end the Taliban's militancy campaign — is seeking truce with the militants.
Observers say the militant group is now negotiating from a position of strength as it has managed to strengthen its grip over the past three years, with the government in Kabul controlling just 56 percent of the country, down from 72 percent in 2015, according to a US government report released last year.
The Taliban have even continued to carry out daily attacks on Afghan security forces amid the negotiations.
Last week, thousands of tribal elders and other figures held a rare grand assembly — known as Loya Jirga — in Kabul to express their views about a peace deal with Taliban.
At the end of that meeting, Afghan President Ashraf Ghani offered Taliban a truce deal.
Full report at:
https://www.presstv.com/Detail/2019/05/06/595215/Afghanistan-Taliban-Qatar-peace-talks-US-troops-withdrawal
--------
North America
US-Taliban peace talks paused for first day of Ramadan
6 May 2019
Peace talks between the US and the Taliban were suspended for the beginning of Ramadan on Monday, with the two sides at apparent loggerheads over the key issue of when foreign forces might leave Afghanistan.
The foes have spent much of the past week in a sixth round of talks in Doha aimed at ending America's longest war, but the Taliban say negotiations have become bogged down.
In a tweet, Taliban political spokesman Suhail Shaheen said the talks were pausing for the first day of the holy month of Ramadan -- when Muslims fast during the day -- but would be resumed Tuesday.
Sultan Barakat, the director of the Center for Conflict and Humanitarian Studies in Doha, also said the talks would resume Tuesday, and that they had made "good progress".
But Shaheen told AFP late Sunday negotiations were stumbling over the fundamental question of when foreign forces would depart Afghanistan.
Before the US agrees to any withdrawal, it is demanding the Taliban put in place security guarantees, a ceasefire and other commitments including an "intra-Afghan" dialogue with the Kabul government and other Afghan representatives.
The insurgents insist they won't do any of these things until the US announces a withdrawal timeline.
At the end of a large peace summit in Kabul last week, President Ashraf Ghani offered the Taliban a ceasefire to begin on the first day of Ramadan, but the insurgents refused.
Ghani on Monday reiterated his call for the Taliban to respect demands from last week's "loya jirga" summit that saw thousands of tribal elders and Afghans meet in Kabul.
"Ramadan is a month of peace and reconciliation," Ghani said.
"I once again call on the Taliban to pay respect to this month and the demands of the people for peace and reconciliation reflected (in the Loya Jirga)."
On Sunday, at least 13 people were killed and dozens more wounded after a Taliban suicide bomber and several gunmen attacked a police headquarters in northern Afghanistan.
https://english.alarabiya.net/en/News/world/2019/05/06/US-Taliban-peace-talks-paused-for-first-day-of-Ramadan.html
--------
Trump pardons convicted ex-soldier who killed Iraqi prisoner
May 7, 2019
United States President Donald Trump has granted full pardon to a former soldier who was convicted of killing an Iraqi prisoner.
Michael Behenna, who was sentenced to 15 years for the killing of Iraqi prisoner Ali Mansur Mohamed, was pardoned on Monday, according to a White House statement.
"Mr. Behenna's case has attracted broad support from the military, Oklahoma elected officials, and the public," read the statement.
The White House said that more than two-dozen generals and admirals, along with numerous Oklahoma officials, had expressed support for Behenna, an Oklahoma native.
The statement said that Behenna had been "a model prisoner."
The move came specifically after Oklahoma Attorney General Mike Hunter petitioned the Trump administration to pardon the convicted soldier.
Behenna deployed to Iraq as an army ranger of the 101st Airborne Division at the height of the US troop surge in the country. He led an infantry platoon of 18 men.
Following a deadly roadside bomb on a three-truck convoy, which Behenna was accompanying, north of Baghdad, Mansur was apprehended as a suspected al-Qaeda militant who may have helped carry out the attack.
Mansur was interrogated by the military but ultimately freed due to lacking evidence proving he had any role in the attack.
Behenna was ordered to transport Mansur back to his village to set him free.
The US soldier, however, decided to further "interrogate" Mansur. Behenna ultimately stripped the prisoner naked, interrogated him without authorization and killed him by shooting him twice.
"I stripped him naked to intimidate him," Behenna later said about the ordeal during his trial.
"I told him I wanted more intelligence on local leaders of al-Qaeda, and that I wanted him to tell me about his stops in Saudi Arabia and Syria, and the [roadside] bomb explosion. But he kept saying, 'I don't know. I don't know.' "
Behenna killed Mansur by shooting him in the chest and head.
During court-martial, Behenna claimed that he had been protecting himself after the prisoner tried to grab his gun while being interrogated.
The Army, however, believed that the argument couldn't be valid because Behenna had already been pointing his weapon at the prisoner before Mansur could've reached for his gun.
Behenna was consequently found guilty of unpremeditated murder in a combat zone and was sentenced to 25 years in prison in 2009. The US Army Clemency and Parole Board reduced the sentence to 15 years a year later.
Five years ago, Behenna was given parole and started working in a ranch.
The US invasion of Iraq was carried out in 2003 under the pretext that the regime of Saddam possessed weapons of mass destruction (WMD). No such weapons, however, were ever found in Iraq.
More than one million Iraqis were killed as a result of the occupation and the subsequent occupation of the country, according to the California-based investigative organization Project Censored.
Full report at:
https://www.presstv.com/Detail/2019/05/07/595293/Trump-pardons-convict
--------
US firm Blackwater training Daesh terrorists in Iraq, eyeing Syria: report
May 6, 2019
The notorious US mercenary firm Blackwater has returned to Iraq, a Lebanese newspaper says, with the private company currently training defeated Daesh terrorists at a base near Baghdad.
The Arabic-language newspaper al-Akhbar reported that Blackwater and other security firms have been allowed to operate in Iraq since early 2018 under intense US pressure.
The daily cited sources close to the chargé d'affaires of the US mission in Iraq, Joey Hood, as saying that Blackwater had transferred US military equipment from Jordan to the western Anbar Province.
According to the sources, the private company is currently training Daesh terrorists at the Ein al-Assad base which President Donald Trump visited in December.
Al-Akhbar quoted field sources as saying that trucks carrying Daesh militants were transferred from the town of Baqouz, the last piece of land which the terror group held in Syria's eastern Province of Dayr al-Zawr.
Blackwater was expelled from Iraq in 2007 after its mercenaries killed 14 civilians in Baghdad's Nisour Square in a crime that marked the peak of its violations against Iraqis during the US invasion of the country.
Al-Akhbar cited a document from February 2018 obtained by BuzzFeed News that confirms its report.
The document shows that Frontier Logistics Consultancy DMCC, a UAE-based subsidiary of a Hong Kong–listed security and logistics company established by Erik Prince - the founder of Blackwater- is operating in southern Iraq.
According to the daily, Blackwater which has changed its name to escape its bad reputation is seeking to operate in Syria, referring to Prince's remarks earlier this year when he welcomed Trump's Syria pullout decision and stressed that American troops in the Arab country could be replaced with mercenaries.
Last week, the Syrian army and Iraqi Popular Mobilization Units (PMU), known as Hashd al-Sha'abi, carried out a coordinated operation with the aim of clearing the Iraq-Syria border area of remaining Daesh terrorists.
The operation came after Iraq and Syria agreed to reopen the al-Qaim border crossing. Both countries originally recaptured the al-Bukamal and al-Qaim border region from Daesh in November 2017 but continued terrorist presence had prevented a reopening of the crossing.
Syria and Iraq have both pledged to step up future security presence on the border in a bid to secure the strategic crossing. Iraq has planned to install thermal surveillance cameras and use aircraft to further reinforce security in the region.
The measures come as Iraq, Syria and Iran have sought to step up economic ties by developing a transnational railway line, along with a road route, linking the three countries.
The US, however, has been engaged in a military campaign seeking to counter the emerging regional alliance.
Daesh terrorists have also commonly used US presence in the region as a cover to attack Syrian and allied forces.
Speculations have been made about Washington's direct or indirect support for the terrorist group in the past years.
Numerous accounts have emerged alleging airlifts, weapon airdrops and aerial support for the group, especially as its strength gradually diminished in the region.
Full report at:
https://www.presstv.com/Detail/2019/05/06/595230/US-Blackwater-training-Daesh-Iraq
--------
Trump pardons former US soldier who killed Iraqi prisoner
May 07, 2019
WASHINGTON: President Donald Trump has pardoned a former US soldier convicted in 2009 of killing an Iraqi prisoner, the White House announced Monday.
Trump signed an executive grant of clemency, a full pardon, for former Army 1st Lt. Michael Behenna, of Oklahoma, press secretary Sarah Sanders said.
Behenna was convicted of unpremeditated murder in a combat zone after killing a suspected Al-Qaeda terrorist in Iraq. He was paroled in 2014 and had been scheduled to remain on parole until 2024.
A military court had sentenced Behenna to 25 years in prison. However, the Army's highest appellate court noted concern about how the trial court had handled Behenna's claim of self-defense, Sanders said. The Army Clemency and Parole Board also reduced his sentence to 15 years and paroled him as soon as he was eligible.
Behenna's case attracted broad support from the military, Oklahoma elected officials and the public, Sanders said. She added that Behenna was a model prisoner while serving his sentence, and "in light of these facts, Mr. Behenna is entirely deserving" of the pardon.
Oklahoma's two Republican senators, James Lankford and Jim Inhofe, hailed the pardon, thanking Trump for giving Behenna "a clean slate."
Behenna acknowledged during his trial that instead of taking the prisoner home as he was ordered, he took the man to a railroad culvert, stripped him, and then questioned him at gunpoint about a roadside bombing that had killed two members of Behenna's platoon.
Behenna, a native of the Oklahoma City suburb of Edmond, said the man moved toward him and he shot him because Behenna thought he would try to take his gun.
Full report at:
http://www.arabnews.com/node/1493721/middle-east
--------
Trump backs Israel '100%' amid airstrikes on Gaza
Servet Günerigök
06.05.2019
WASHINGTON
U.S. President Donald Trump on Sunday threw his support behind Israel amid ongoing airstrikes in the blockaded Gaza Strip.
"Once again, Israel faces a barrage of deadly rocket attacks by terrorist groups Hamas and Islamic Jihad. We support Israel 100% in its defense of its citizens," Trump tweeted.
Since Saturday, 25 Palestinians, including two pregnant women and two infant, were martyred and more than 100 others wounded by Israeli airstrikes.
"To the Gazan people — these terrorist acts against Israel will bring you nothing but more misery. END the violence and work towards peace - it can happen!" he said.
The escalation in the Gaza Strip started when four Palestinians were martyred, including a teenager, and 51 wounded on Friday in Israeli army attacks on Hamas-affiliated sites and a separate attack on a rally against the decade-long occupation and siege of the Gaza Strip.
The Israeli assaults were met by Palestinian resistance factions launching 600 rockets towards Israeli settlements, killing four people, according to Israel.
Full report at:
https://www.aa.com.tr/en/americas/trump-backs-israel-100-amid-airstrikes-on-gaza-/1471220
--------
Europe
Turkey decries burial of Armenian terrorist's remains
Sena Güler
06.05.2019
Turkey on Monday condemned the burial of remains of an Armenian terrorist -- who martyred Turkish officials in Los Angeles in 1973 -- in the Armenian capital Yerevan.
"We condemn in the strongest terms the burial of the remains located in Los Angeles of the Armenian terrorist Gurgen Yanikiyan, who martyred Mehmet Baydar, Consul General, and Bahadır Demir, Consul, in Los Angeles on 27 January 1973, to the Military Cemetery in Yerevan with a ceremony on 5 May 2019," Turkey's Foreign Ministry said in a statement.
"This action, which attempts to glorify a brutal terrorist as a hero, constitutes a crime of promoting terrorism and it is unacceptable under any circumstance," it added.
It also commemorated with respect all the officials who fell martyrs while serving for their country.
https://www.aa.com.tr/en/europe/turkey-decries-burial-of-armenian-terrorists-remains/1471952
--------
'Turkey's ties with different regions complementary'
Sibel Uğurlu,Sena Güler
06.05.2019
Turkey's ties with different regions and countries are not alternative to each other but complement each other, Turkish president said on Monday.
Speaking at a meeting of NATO Council and NATO Mediterranean Dialogue partners in Ankara, Recep Tayyip Erdogan recalled that 2019 was the 25th anniversary of Mediterranean Dialogue, 70th anniversary of NATO and 67th anniversary of Turkey's joining of the alliance.
"Our country will also take over the command of NATO's Very High Readiness Joint Task Force in 2021," the Turkish president said.
Erdogan said Turkey would maintain its strong position within NATO and also take the steps required by its national interests, regional security and stability.
"Turkey's ties with different regions and countries are not alternative to each other but complement each other," he underlined.
Full report at:
https://www.aa.com.tr/en/europe/turkeys-ties-with-different-regions-complementary/1471839
--------
Turkish foreign minister, NATO chief meet in Ankara
Ali Murat Alhas
06.05.2019
Turkish Foreign Minister Mevlut Cavusoglu and NATO Secretary-General Jens Stoltenberg on Monday met in capital Ankara and discussed NATO-EU relations and Turkey's purchase of S-400 air defense system.
Cavusoglu and Stoltenberg gathered at the Cankaya Palace in Ankara on the occasion of NATO's 25th Mediterranean Dialogue meeting.
In a Twitter post, Cavusoglu said: "[We] made evaluations on a wide range of issues including NATO-EU relations and Turkey's S-400 purchase. Discussed the preparations of the NATO Heads of State and Government meeting to be held in London."
Speaking at the forum, Stoltenberg said NATO was determined to improve security in the Middle East and North Africa.
Stressing that the world was becoming more complicated and interconnected, he said taking precautions against terror was better than interventions.
Stoltenberg also met with Turkish President Recep Tayyip Erdogan during his visit. "Pleased to be back in Ankara to meet with [President] Erdogan," the NATO chief wrote on Twitter ahead of his meeting with the Turkish president.
"Turkey is a highly valued ally and NATO stands in solidarity with Turkey as it faces serious security challenges," Stoltenberg went on to say.
Later speaking at a joint news conference, Cavusoglu stressed on need of cooperation to fight terrorism and irregular migration.
"We should understand that we cannot reach [desired] results by being selective in these issues," Cavusoglu said.
Touching upon Ankara's procurement of air defense system S-400 from Russia, he said NATO knows the best Turkey's need for these systems as the alliance closely follows the threats in the region.
For his part, Stoltenberg said it is Turkey's own decision to purchase S-400 air and missile defense system.
"But at the same time, I am concerned about the potential consequences of the decision to buy S-400. Because U.S. has made it clear that they will impose sanctions," he said.
Commenting on Turkey's role in NATO, he said Turkey is "an important and highly valued NATO ally".
Turkey also plays an important role in NATO's new training mission in Iraq. It is strengthening Iraq's security forces to help ensure that Daesh terror group can never return, Stoltenberg added.
"Turkey is also one of the biggest contributors to our Resolute Support Mission in Afghanistan, helping ensure the country never again becomes a safe haven for international terrorists. Turkey is also helping build stability in the Western Balkans as part of NATO's peacekeeping operation in Kosovo," he went on to say.
Full report at:
https://www.aa.com.tr/en/europe/turkish-foreign-minister-nato-chief-meet-in-ankara-/1471836
--------
Germany fails to condemn Israeli bombings in Gaza
Ayhan Şimşek
06.05.2019
BERLIN
Germany has failed to condemn Israel's excessive and disproportionate use of force against civilians over the weekend in the Gaza Strip.
Deputy government spokeswoman Ulrike Demmer told a news conference on Monday that Israel had the right to "self-defense" and to respond appropriately to rocket attacks from the Palestinian territory.
Demmer expressed hope that a ceasefire which began early Monday morning will hold.
Since Saturday, 25 Palestinians, including two pregnant women and two infants, were martyred and more than 100 others wounded by Israeli air strikes, according to medical officials.
The Israeli army targeted some 320 sites across the blockaded enclave, including a building where Anadolu Agency's office was located.
The escalation in the Gaza Strip started on Friday, after four Palestinians were martyred in Israeli army attacks. Palestinian groups responded by launching more than 600 rockets and mortars towards Israeli settlements.
Full report at:
https://www.aa.com.tr/en/europe/germany-fails-to-condemn-israeli-bombings-in-gaza-/1471544
--------
Southeast Asia
From Camps to Factories: Muslim Detainees Say China Using Forced Labour
May 07, 2019
ALMATY, Kazakhstan: As Gulzira Auelkhan toiled stitching gloves in a factory in China's troubled Xinjiang region, her managers made no secret of where her production would be sold.
"They told us openly that the gloves will be sold abroad, so we should do a good job," Auelkhan recalled of a labor stint she says was enforced by Chinese "re-education" officials.
Auelkhan, a 39-year-old Chinese citizen of Kazakh descent, says she was part of a network of mostly Muslim minorities in Xinjiang who pass from what China calls "vocational training centers" to factories where they are forced to work for far less than the local minimum wage.
China says the education centers are part of its efforts to fight terrorism and separatism in Xinjiang — a region populated by mostly Muslim minority groups — and denies any use of forced labor.
But rights groups, and former workers like Auelkhan, say the practice used against Chinese minorities is widespread and at least one foreign company has dropped its Chinese supplier over the concerns.
Auelkhan says she was transferred to the glove factory at the Jiafang industrial estate in Xinjiang's Yining county after spending 15 months in two different "re-education" facilities.
More than a million people from Muslim minorities — mostly ethnic Uighurs, but also Kazakhs like Auelkhan, Kyrgyz and Hui — are being held in internment centers across Xinjiang, according to a United Nations panel of experts.
Auelkhan has residency rights in Kazakhstan but had traveled to China to see family when she was detained and put into a re-education center.
She said life in the camps was brutal, with residents struck over the head with electrified batons for spending more than two minutes in the bathroom.
So even though they were not free to leave, it was an improvement when she and hundreds of other camp inmates were transferred to work at the factory, Auelkhan told AFP in Kazakhstan's biggest city Almaty.
"Every day we were taken to and from a dormitory three kilometers from the factory," she said, hugging the five-year-old daughter she didn't see for nearly two years.
"When we were studying at the camp they told us we would be taught a trade and work for three months," Auelkhan said.
Auelkhan said she was paid only 320 yuan ($48/42 euros) for close to two months' work before her time at the factory was curtailed in December and she was allowed to return to her family in Kazakhstan.
Xinjiang's average minimum wage ranges between 820 and 1,460 yuan per month, according to official statistics.
Beijing and officials in the region have fiercely denied any connection between the camps and under-paid labor.
A representative of the Xinjiang Autonomous Region Government Press Office told AFP by email that there was "no labor contract between Education and Training Centers and enterprises" and "no enterprise obtains labor from training centers."
But rights groups insist the connection exists and some companies have started taking notice.
In January, Badger Sportswear, a firm based in the US state of North Carolina, announced it would stop sourcing clothing from its Xinjiang supplier Hetian Taida over concerns it was using forced labor linked to the "re-education" campaign.
Auelkhan believes she was only released from forced labor because of a public campaign launched by her husband and supported by a Xinjiang-focused rights group in Almaty.
Originally, re-education officials had told her and other center residents that they would be "at (their) disposal" for at least six months, she said.
Oil-rich Kazakhstan's government is a Beijing ally that positions itself as "the buckle" in China's trillion-dollar Belt and Road trade and investment agenda, a strategy for infrastructure and development projects throughout Asia, Europe and Africa.
Kazakh diplomats have entered into a dialogue with Beijing over Xinjiang, without publicly mentioning the re-education centers or criticizing China's policies.
In December a representative of Kazakhstan's foreign ministry said during a briefing that China had allowed more than 2,000 ethnic Kazakhs to travel to Kazakhstan as "a kind gesture."
The ministry refused repeated requests from AFP to clarify the remarks, which lent hope to many in Kazakhstan that they would be able to bring Xinjiang-based relatives over the border to safety.
For most, however, this has been a crushing false dawn.
During a recent visit to the Almaty office of the Ata Jurt rights group dedicated to supporting relatives of the Xinjiang missing, AFP spoke to several Kazakhs who claim their relatives have merely swapped "re-education" for other forms of confinement.
One of them, Aibota Janibek, 34, said her sister Kunikei Janibek telephoned her from Xinjiang in January after months without contact to confirm she had been "assigned a job" by the state at a carpet factory in Shawan county.
Aibota Janibek has since lost touch with her sister, but heard from other relatives that she was transferred from the carpet factory to another position.
"A relative told me she is now at a factory that makes paper towels for airplanes," Janibek said.
http://www.arabnews.com/node/1493731/world
--------
Pakatan protects Islam, says Muhyiddin
06 May 2019
By G. Prakash
PUTRAJAYA, May 6 — Home Minister Tan Sri Muhyiddin Yassin has dismissed allegations that Islam is under threat from the Pakatan Harapan (PH) government.
He said one of the biggest challenges the ministry faced for the last one year has been handling sensitive racial issues purposely created by certain quarters, besides threats to various religions in the country.
The Parti Pribumi Bersatu Malaysia (Bersatu) president said by right, the country should not be wasting time having to face such challenges when people should have already accepted that Malaysia is a multiracial and multi-religious country.
"Racial issues has been a major concern for us. We should by now already accepted that we are all different and learn to live among many races.
"Since it has been so long we lived like this, we should by right be in a position where we have accepted this and respect each other," he said during a special interview ahead of PH's May 9 anniversary of its first year in office.
Muhyiddin said the problem arises when certain people exploit this by picking on religious issues simply to create racial tension.
He said the public needs to understand that when someone incite racial tensions, they will always have some sinister intention, be it for political gain or to simply tarnish the PH government.
Muhyiddin said law enforcement alone will not solve this problem, but the government needs the cooperation of the entire community and non-governmental organisations (NGOs) representing various faiths to come together and stand united.
"It has been over 60 years since independence and we need to accept that we live with other races though Islam is the federal religion.
"The ministry has a role to play in terms of enforcement but at the same time the community must be aware as well," he said.
Muhyiddin said allegations that Islam was threatened under PH were completely ridiculous.
"The position of Islam as a federation of religion has been enshrined in the Constitution. Allegation that the position and sanctity of the Islamic religion is under threat is not true at all."
He said police are currently investigating 53 cases of insults against Muslims. Eight individuals have also been charged with insulting Islam and Prophet Muhammad.
Muhyiddin said those involved in the Seafield Sri Maha Mariamman temple fracas and related incidents also faced the full brunt of the law.
He said the death of fireman Muhammad Adib Mohd Kassim in the incident was used to create racial tension by certain people, when the issue was between the temple committee and the developers.
"I want to remind everyone that the government is the one decided that there should be an inquest to identify the cause of death for Adib.
"Based on this inquest, all evidence pertaining to the death will be forwarded to the court during the open and transparent proceeding. For me this is the proof that the government is not hiding anything and that we have acted fairly," he said.
He urged all Malaysians to be sensitive of other religions and to have a sense of responsibility.
"We are one. There is no reason why we must quarrel among ourselves just because you are Indian and I'm Malay, or you are Chinese, I'm Malay," he said.
Working under Dr Mahathir's leadership
On a separate matter when asked how it feels to work under Prime Minister Tun Dr Mahathir Mohamad for the second time, Muhyiddin said there was no difference at all.
"What difference? there is no difference, only the time is different, but the people are the same, I don't see any big difference.
"The only difference is that this time we joined hands to bring down a kleptocracy government, where issues such as abuse of power was massive. So we were moved by the motivation to fix the country and the wrong things that was done by the previous administration," he said.
Muhyiddin said even previously when Dr Mahathir was the fourth prime minister of Malaysia, there were issues with the government but it was not that serious.
'The difference working now is the challenges that comes with fixing Malaysia Baru, many people think we are taking too much time, but they don't understand that it has only been a year and there is so much to do.
"But whatever it is we will try to sort all the problems facing the country soon," he said.
Use of social media by government agencies
Muhyiddin said the government understands that people want to see government agencies responding to issues much faster.
"I understand that this is something we lack and we are trying to improve on this part. On the part of the Home Ministry we are beefing up our social media team and will start engaging with people much more," he said.
Muhyiddin said to a certain extent, the public has started to accept the fact that the government needs more time to see through and find solutions to the problems the country faced.
"The people know we are not resting on our laurels and that it takes strong effort and political will to pull through.
"We need time over two to three years to sort of set things back in order and people will see the changes, the changes that are for the betterment of the country," he said.
Meanwhile, Muhyiddin said he has always reminded all agencies under his ministry about their responsibility.
"We are here to serve the people and serve the people to the very best that we can. I had already set a certain standard when I worked in government before in various ministries.
Full report at:
https://www.malaymail.com/news/malaysia/2019/05/06/pakatan-protects-islam-says-muhyiddin/1750274
--------
Arab World
Military Expert: SDF Main Loser of US-Turkey Safe Zone Plan in Syria
May 06, 2019
Mohammad Abbas told the Arabic-language service of Sputnik on Monday that the US plan to establish a safe zone in Northern Syria - allegedly to appease Ankara and convince it to give up its planned offensive on SDF - is, in fact, aimed at disintegrating the Arab state into several contending territories hostile to each other.
He added that Turkey moves along the US goals and plays the role of Washington's proxy by serving the plan a safe zone, and cautioned that the US is also playing the SDF through the same safe zone plan which will eventually prove detrimental to the Kurdish militia group.
Abbas said given the destructive and occupation plots of the US and Turkey in Syria that are aimed at plundering the country's wealth, the region is unlikely to experience security and stability. "The Syrian nation, including the Kurds, have come to realize that the US does not support any group for real, and always uses them as a tool to attain its goals," he said.
Turkish President Recep Tayyip Erdogan said in January that Ankara would set up a safe zone 30 kilometers deep into Northeastern Syria, a move suggested by US President Donald Trump.
He added that the two sides' teams would continue to discuss the technical aspects of the proposed measure along the Syrian border.
http://en.farsnews.com/newstext.aspx?nn=13980216000931
--------
Egypt's Morsi to spend 7th Ramadan behind bars: Family
Ali Abo Rezeg
06.05.2019
CAIRO
Former President Mohamed Morsi, Egypt's first-ever freely elected leader, is now spending his seventh Ramadan behind bars, according to Morsi's family.
A member of Egypt's now-outlawed Muslim Brotherhood group, Morsi was ousted and imprisoned in a 2013 military coup after only one year in power.
In a statement issued late Sunday, Morsi's family said that the former leader was still being kept in solitary confinement.
"The Ramadan fasting month is coming and Morsi remains isolated amid a deliberate news blackout on the conditions of his detention," the statement reads.
It goes on to assert that Morsi's son, Usama, was also set to spend his third Ramadan behind bars "for simply trying to defend his father via legal means".
The family describes the continued incarceration of Morsi -- and his son -- as "contrary to all constitutions and laws governing justice in Egypt and the world".
They also call on "the free people of the world and international rights organizations, especially the UN, to pay heed to these ongoing violations".
Asserting that the Muslim world is "living through a genuine catastrophe", the family goes on to stress that the Palestinian cause would remain "at the top of the list of critical Arab and Muslim issues".
The Egyptian authorities, for their part, have yet to comment on the Morsi family's statement.
Full report at:
https://www.aa.com.tr/en/africa/egypt-s-morsi-to-spend-7th-ramadan-behind-bars-family/1471655
--------
Syrian Army Makes Key Advances in Hama, Commences Military Operations in Idlib
May 06, 2019
The Al-Masdar News Website reported that the Syrian Army units backed by the Russian fighter jets attacked the military positions of Tahrir al-Sham al-Hay'at (the Levant Liberation Board or the Al-Nusra Front) and Jeish al-Izza terrorists in Abu al-Zohour axis in Southern Idlib and Northern Hama and engaged in heavy clashes with the militants.
Meantime, the Syrian Army units managed to take full control of the towns of al-Bani and al-Jonbara near the town of Kafar Naboudeh and the strategic hill of Tal Osman that is close to several towns.
A source near the front-lines stated that heavy clashes are taking place near the Kafr Naboudeh front; however, he also pointed out that intense firefights have broken out along the Qal'at Al-Madiq axis as well.
Meantime, the Syrian Army's artillery and missile units conducted heavy attacks on military positions and contact lines of the terrorists in al-Latamna, al-Zuka, al-Sahriyeh, al-Amiqeh, al-Havash and al-Qarqur in Northwestern Hama and the towns of al-Fatireh and Ahsam in Southern Idlib, inflicting heavy losses on the militants.
In a relevant development earlier on Monday, media sources said that Tahrir al-Sham al-Hay'at has transferred its strategic centers to the borders with Turkey as precise and continued airstrikes by the Russian and Syrian bombers have increased.
The Russian and Syrian bombers conducted over 100 air raids on important military positions of Tahrir al-Sham al-Hay'at terrorist group across Northern and Northwestern Hama over the past 24 hours, targeting their contact lines in West and Southwestern Idlib to Hama, the Arabic-language version of Russian Sputnik news agency quoted a military source in Northern Syria as saying.
The source reiterated that several military positions and arms depot of the terrorists in the towns of al-Latamna, Kafr-Zita, Qala al-Maziq, al-Hawiz, al-Hawija, al-Sormanieh and a central communications center of the militants stationed in Hama and Idlib were destroyed in the Russian and Syrian airstrikes.
Meantime, local sources in Idlib province pointed to Russian and Syrian precision airstrikes on Tahrir al-Sham's military positions in Northern Syria, and reiterated that Tahrir al-Sham terrorists have relocated their important positions from Idlib to Syria's Northern borders.
The Syrian Army's artillery units also hit the military positions of the terrorists in al-Latamna and al-Zuka towns, destroying several hideouts and military positions used for attacks by them.
Full report at:
http://en.farsnews.com/newstext.aspx?nn=13980216000648
--------
People Expel US-Backed SDF Militants From Raqqa
May 06, 2019
The people in the village of Jadideh Kahit East of al-Katameh town in Eastern Raqqa clashed with a group of Syrian Democratic Forces (SDF) who were arresting civilians in the region and expelled from the region, the sources in Raqqa said.
The sources pointed to intensified differences and tensions among civilians and Kurdish forces in Raqqa, and said two SDF militants were killed in a bomb blast carried out by unknown assailants in al-Shaher village in Eastern Raqqa.
In Deir Ezzur province, meantime, the residents of the towns of Sweidan Jazira, Geranij, al-Mavilah and al-Hasin as well as the villages of Jadid Akidat and Jadid Bekareh in Eastern and Southeastern Deir Ezzur revolted against the SDF and their plundering of oil reserves.
The civilians also called for expulsion of SDF fighters after blocking Deir Ezzur-Hasaka Road. The Kurdish fighters attacked the civilians and arrested a number of them.
In a relevant development in late April, people in several parts of Eastern Deir Ezzur staged protest rallies against the SDF, and forced the SDF militants and commanders out of the region.
Masses of people in the villages and towns of Mahimideh, al-Hisan, Safirah al-Tahtani, Safirah al-Foqani, al-Wasiah, al-Mawilah, al-Hasin, Qaribah, al-Azabah and al-Basirah in Eastern Deir Ezzur took part in anti-SDF rallies over the past two days, local sources in Eastern Deir Ezzur said.
Meantime, the Syrian army continued its military advances in other parts of Syria over past 24 hours.
Full report at:
http://en.farsnews.com/newstext.aspx?nn=13980216000606
--------
Fighting kills 26 in Syria's northwest: monitor
6 May 2019
Clashes between Syrian regime forces and militants Monday killed more than 26 fighters in the country's northwest, which has seen an escalation in shelling and air strikes, the Britain-based Syrian Observatory for Human Rights said.
Eleven pro-government fighters were among those killed in fierce fighting in the northern countryside of Hama province, the war monitor said.
Fifteen militants, including members of al-Qaeda's former Syrian branch, Hayat Tahrir al-Sham (HTS), and its ally the Turkistan Islamic Party, were also killed, the monitor said.
The fighting came as regime forces advanced on two villages and a strategic hilltop in the region, it said.
State news agency SANA said Syrian troops launched "intensive operations," targeting supply lines and areas where armed groups operate in northern Hama and neighboring Idlib.
The region held by HTS has faced intensifying bombardment in the past month, prompting a new wave of displacement.
On Monday, four civilians were killed in shelling and air strikes on Idlib and neighboring areas by the Syrian government and its ally Russia said the Observatory. An AFP photographer in Idlib saw several houses completely destroyed by recent attacks.
One man who lost his wife, his daughter-in-law, and his two grandchildren during shelling overnight prepared a pickup truck to relocate surviving members of his family. "I don't know where I'm going," he told AFP.
More than 140,000 civilians have been forced to flee attacks since February, Refugees International said on Monday.
"It is difficult to overstate the urgency of this looming humanitarian disaster if nothing is done to protect these people," the non-governmental organization said in a statement.
Full report at:
https://english.alarabiya.net/en/News/middle-east/2019/05/06/Fighting-kills-26-in-Syria-s-northwest-monitor.html
--------
Over two dozen former Izadi captives of Daesh repatriated to Iraq
May 6, 2019
More than two dozen women and children from the Izadi minority group have been repatriated to Iraq's northern province of Nineveh, after five years of captivity at the hands of the Daesh Takfiri terrorist group in neighboring Syria.
An informed source, speaking on condition of anonymity, told Arabic-language al-Mawazin news agency that officials from Izadi House, an advocacy group in the Kurdish-administered town of Amuda in northern Syria, handed over 27 women and children to their counterparts at the Izadi council in the Kurdish-populated northern Iraqi town of Sinjar on Monday.
On March 12, fighters from the Iraqi pro-government Popular Mobilization Units (PMU) reunited a dozen Izadi children with their families.
The media bureau of the volunteer forces – better known by the Arabic name Hashd al-Sha'abi –announced in a statement that the children were rescued after a delicate intelligence operation.
The statement added the children had been kidnapped by Daesh from Sinjar back in June 2014.
Four other children from the city of Tal Afar, located 63 kilometers west of Mosul, were also with the Izadis rescued from Daesh captivity.
The Paris-based NGO International Federation for Human Rights said in a report on October 25 last year that foreign militants, including many of European origins, were responsible for atrocities and acts of brutality carried out by Daesh against Izadi Kurds.
Last August, an official at the Endowments and Religious Affairs Ministry of the semi-autonomous Kurdistan Regional Government said more than 3,000 members of the Izadi minority group had remained unaccounted for ever since Daesh overran their hometowns in northern Iraq in 2014.
Khairi Bozarni said more than 2,500 Izadi Kurds had lost their lives at the hands of Daesh, while another 6,000 – mostly women and children – had been abducted.
Bozarni called on the international community as well as the central government in Baghdad to determine the fate of missing Izadis as soon as possible.
Back in August 2014, Daesh terrorists overran Sinjar, killing, raping, and enslaving large numbers of Izadi Kurds.
Full report at:
https://www.presstv.com/Detail/2019/05/06/595252/Former-Izadi-captives-of-Daesh-repatriated-to-northern-Iraq
--------
Islamic coalition delegation visits Riyadh exhibit
May 06, 2019
RIYADH: A delegation from the Islamic Military Counter Terrorism Coalition on Sunday visited the "Cities Destroyed by Terrorism" exhibition at the Riyadh National Museum.
The exhibition, which continues until May 18, virtually reconstructs Middle Eastern cities affected by terrorism, such as Mosul and Nineveh in Iraq, Aleppo and Palmyra in Syria, and Leptis in Libya.
Organized by the Saudi Culture Ministry in collaboration with the Arab World Institute in Paris, the exhibition features videos, photos and possessions of sites destroyed by terrorism in the above mentioned cities.
http://www.arabnews.com/node/1493591/saudi-arabia
--------
Bahrain court upholds death sentences and prison terms linked to terrorist cell
May 06, 2019
DUBAI: Bahrain's supreme court of appeal Monday upheld death sentences for two men convicted of forming a terrorist group that attacked security forces.
Prison terms for dozens of others on terror-related charges were also upheld, BNA state news agency reported.
The court, whose rulings are final, also stripped 47 of the defendants of their Bahraini citizenship.
The court upheld life terms for 19 convicts and sentenced 37 others to between five and 15 years in jail, the statement said.
The men were charged of forming a "terror cell" that carried out a number of attacks, killing at least two policemen and wounding several others.
They were also convicted of smuggling weapons by boat, attacking a prison and helping a number of inmates flee, and undergoing military training in Iraq and Iran.
Thirty-six of those convicted, including the two sentenced to death, are being held in jail while the rest were sentenced in absentia.
In a separate case, the Gulf state's top court upheld lengthy jail terms against 19 Shiites on charges of spying for Iran and plotting to overthrow the regime, BNA reported.
The court confirmed life terms for eight of those convicted, 15-year jail terms for nine and 10-year terms for two others, with the citizenship of 15 of them revoked.
Full report at:
http://www.arabnews.com/node/1493406/middle-east
--------
Mideast
Islamic Jihad debuts new missile with attack on Israel, pledges bigger surprises
May 6, 2019
The al-Quds Brigades, the armed wing of the Palestinian Islamic Jihad movement, has unveiled its latest domestic missile by firing it at targets in the Israeli occupied territories.
The resistance group released a video on Sunday which showcased the new missile, dubbed Badr 3, before cutting to footage of it being launched at positions in the city of Ashkelon, which is located 50 kilometers (31 miles) south of Tel Aviv.
The missile carried a 250-kilogram (551 lb) warhead, a major leap from its predecessor which had a much smaller 40-kilogram warhead.
The video shows at least four Badr 3 missiles roaring into the dark of the night on May 4 and 5. Ashkelon is 13 kilometers north of the fence between the Gaza Strip and Israel.
The al-Quds Brigades warned Israel that "what is coming next will be even greater."
Hamas targets Israeli armored vehicle
Meanwhile, Hamas' military wing, known as the Ezzedine al-Qassam Brigades, published a new video that showed an Israeli armored vehicle being targeted with a Russian-made Kornet anti-tank missile.
The attack took place on Sunday in an undisclosed location north of the Gaza Strip.
Hamas conducts first ever drone attack against Israeli military
In a separate report, Israeli media stated that a Hamas drone had fired a missile at an Israeli military convoy.
The extent of the damage and possible casualties were not immediately clear.
The Ezzedine al-Qassam Brigades said, "At this stage, with the strides made in developing better missiles, not a single point in all of the occupied Palestinian lands will be safe from the missiles of the resistance."
The attacks came in response to a series of deadly airstrikes by Israel against various targets in besieged Gaza, which began on Saturday and killed 27 Palestinians, including two pregnant women and two infants. More than 100 others were wounded in the attacks.
The upsurge in violence came after Israeli Prime Minister Benjamin Netanyahu ordered his military to continue massive strikes on the enclave.
Tensions erupted on Friday after four Palestinians were killed, two in an Israeli air raid on southern Gaza and two during the regime's live fire at anti-occupation protesters near the fence separating the besieged coastal enclave from the occupied territories.
Nearly 700 rockets were launched from Gaza in retaliation and four Israelis were killed in two days of hostilities, with more than 80 others wounded.
Trump fumes over resistance's missile prowess
Gaza's surprising ability to retaliate the Israeli aggression drew an angry response from US President Donald Trump, who personally threatened residents of the blockaded enclave with "more misery."
"Once again, Israel faces a barrage of deadly rocket attacks by terrorist groups Hamas and Islamic Jihad. We support Israel 100% in its defense of its citizens," he wrote.
"To the Gazan people — these terrorist acts against Israel will bring you nothing but more misery. END the violence and work towards peace - it can happen!" he wrote in a tweet.
Donald J. Trump
✔
@realDonaldTrump
• May 6, 2019
Once again, Israel faces a barrage of deadly rocket attacks by terrorist groups Hamas and Islamic Jihad. We support Israel 100% in its defense of its citizens....
Donald J. Trump
✔
@realDonaldTrump
....To the Gazan people — these terrorist acts against Israel will bring you nothing but more misery. END the violence and work towards peace - it can happen!
90.4K
5:43 AM - May 6, 2019
Twitter Ads info and privacy
25.7K people are talking about this
Palestinian resistance groups had previously warned Israel against testing their patience.
Hamas staged an impressive counter-attack during the latest military flare-up between the two sides in November, when it fired more than 460 rockets at the occupied lands in less than 24 hours in response to Israeli aggression.
Requiem for Iron Dome, rest of Israeli missile defenses
The missile attacks by Hamas and Islamic Jihad more than anything have proven futile the multi-billion dollar Iron Dome missile defense system that Tel Aviv has long promoted as an agile response to rockets.
While it is not yet clear how the system fared against the recent barrage of Palestinian missiles, the fact that Israel had to accept ceasefire deals both this time and back in November speaks volumes about the true potentials of the Iron Dome.
Back in November, Tel Aviv's move in accepting truce led to a huge backlash, leading Avigdor Lieberman to step down as the minister of military affairs. Hamas hailed the resignation as "an admission of defeat" by Israel and a "political victory" for the Palestinian resistance.
https://www.presstv.com/Detail/2019/05/06/595233/Gaza-Islamic-Jihad-Israel-Badr-3-missile-Quds-Brigades-Ashkelon-attack
--------
Iran's president: Muslim countries must stop massacre of Palestinians by Israel
May 6, 2019
Iran's President Hassan Rouhani says Muslim countries must take all necessary steps to mount pressure on the Zionist regime of Israel and prevent further massacre of Palestinians.
Rouhani made the remarks in a Monday phone call to Emir of Qatar Sheikh Tamim bin Hamad Al Thani, in reference to the recent bloody attacks on the besieged Gaza Strip by the Israeli regime, which have left 27 Palestinians dead and scores wounded.
Tensions erupted on Friday following the killing of four Palestinians, two in an Israeli air raid on southern Gaza and two during the regime's live fire at anti-occupation protesters near a fence separating the blockaded coastal enclave from the occupied territories.
The Israeli military claimed that its initial aerial assault had come in response to the wounding of two of its soldiers by Palestinian gunfire near the Gaza fence.
"It is necessary for the Islamic countries to prevent massacre of innocent Palestinians through their unity and mounting pressure on the Zionist regime," Iran's president said in his phone call to the Qatari emir.
Rouhani also expressed concern about the current humanitarian situation in Gaza, especially on the eve of the fasting month of Ramadan.
Elsewhere in his remarks, Iran's chief executive referred to re-imposition of unilateral sanctions by the United States on Iran, noting that the main goal of US restrictions on Iran's oil imports was to create instability in the region.
Rouhani also expressed hope that political cooperation among friendly countries would help maintain stability and security in the sensitive Persian Gulf region.
US President Donald Trump withdrew Washington in May 2018 from the landmark Iran nuclear agreement, reached between Iran and the P5+1 group of countries -- the US, Britain, France, Russia and China plus Germany -- in July 2015. He also decided to re-impose unilateral sanctions against Tehran.
The US administration also said in a statement on April 22 that, in a bid to reduce Iran's oil exports to zero, buyers of Iranian oil must stop purchases by May 1 or face sanctions. The move ended six months of waivers, which allowed Iran's eight biggest buyers -- Turkey, China, Greece, India, Italy, Japan, South Korea and Taiwan -- to continue importing limited volumes.
Noting that Iran welcomes any measures taken to restore calm and tranquility to the region, Rouhani expressed hope that regional problems would be solved through dialogue.
The Qatari emir, for his part, noted that Doha had frequently told Washington and regional states that differences must be resolved through dialogue and that Qatar is opposed to any measure that would foment insecurity in the region.
Full report at:
https://www.presstv.com/Detail/2019/05/06/595279/Rouhani-qatar-Muslim-states-Palestinians-massacre
--------
Iran dismisses US naval deployment as old news
6 May 2019
Iran on Monday dismissed as old news a US announcement it is sending a naval strike group to the Middle East in order to deliver the Islamic republic a message, Tasnim news agency reported.
US National Security Advisor John Bolton said on Sunday that the United States was deploying the USS Abraham Lincoln carrier strike group and a bomber task force as a "clear and unmistakable message" that it will retaliate against any attack on its interests or its allies' by Iran.
"Bolton's statement is a clumsy use of an out-of-date event for psychological warfare," Iran's supreme national security council spokesman Keyvan Khosravi said, quoted by Tasnim.
Full report at:
https://english.alarabiya.net/en/News/middle-east/2019/05/06/Iran-dismisses-US-naval-deployment-as-old-news.html
--------
Two more Palestinian bodies found after Israeli strikes
6 May 2019
Two bodies were discovered under rubble in the Gaza Strip on Monday following a violent escalation with Israel, the health ministry in the enclave said, raising the number of Palestinians killed to 25.
Four Israelis were also killed in the two-day escalation that appeared to have ended Monday morning with an Egyptian-brokered ceasefire. It began on Saturday with rocket fire from the Hamas-run Gaza Strip, drawing waves of Israeli retaliatory strikes.
The Gaza ministry said in a statement, the bodies of two people "were found on Monday morning in the northern Gaza Strip." It named them as Talal Abu al-Jidian, 48, and his wife Raghda Abu al-Jidian, 40.
A ministry spokesperson told AFP their bodies had been found under rubble where an Israeli strike occurred.
In total 25 Palestinians were killed in the escalation, according to the ministry.
Full report at:
https://english.alarabiya.net/en/News/middle-east/2019/05/06/Two-more-Palestinian-bodies-found-after-Israeli-strikes.html
--------
Turkey's election board orders rerun of Istanbul mayoral race, angers opposition
May 7, 2019
Turkey's top election body has scrapped the result of Istanbul's mayoral vote and called for a rerun in response to an appeal filed by the ruling party, sparking outrage from the opposition that narrowly won the post.
The Supreme Election Council (YSK) ruled on Monday seven to four in favor of the appeal by President Recep Tayyip Erdogan's ruling Justice and Development Party (AKP).
It also ordered that a fresh contest must be held in Turkey's second-largest city on 23 June.
Recep Ozel, the AKP's YSK representative, said the decision was based on unsigned results documents from the 31 March poll and the fact that some ballot box officials were not civil servants.
"With this decision, our demand for re-election has been vindicated," he said.
However, the winner of the Istanbul mayoral election, Ekrem Imamoglu of the main opposition Republican People's Party (CHP), denounced the YSK's decision as "treacherous" and vowed to fight on.
"They are trying to take back the election we won. Maybe you are upset but never lose your hope," he told thousands of his supporters in central Istanbul following Monday's ruling.
Meanwhile, the CHP announced that it was holding an emergency meeting after the election body's announcement.
"This system that overrules the will of the people and disregards the law is neither democratic, nor legitimate," tweeted CHP deputy chair Onursal Adiguzel.
"Going to the polls against the AKP is allowed, but winning is forbidden...This is downright dictatorship," he added.
Municipal elections took place across Turkey on 31 March. They marked the first ballot box test for Erdogan since he was re-elected last year under a new system of government, which gives sweeping powers to the president.
Although the AKP succeeded in securing over 51 percent of the vote nationally, it lost the race in Ankara, Izmir and Istanbul — Erdogan's home city where he had once served as mayor.
Full report at:
https://www.presstv.com/Detail/2019/05/07/595304/Turkey-Istanbul-mayor-election
--------
Turkey's high election board rules in favour of re-run of Istanbul election
May 06, 2019
ANKARA: Turkey's High Election Board on Monday scrapped Istanbul election results showing a painful defeat for President Tayyip Erdogan, responding to his AK Party's calls for a re-run of the vote in a decision that hit the lira and raised charges of conflicts of interest.
While the board, known as YSK, had not yet made a statement, the decision was announced by state-run Anadolu agency and a representative of the ruling AK Party (AKP), Recep Ozel, who said a second vote would take place on June 23.
Turkey's main opposition Republican People's Party (CHP), which in the initial vote on March 31 narrowly won the mayoralty in the country's largest city, called the ruling a "plain dictatorship."
The AKP had appealed for an election re-run after initial results and a series of recounts showed it had lost control of Istanbul for the first time in 25 years.
It was a shock loss for Erdogan who in the 1990s served as the city's mayor and had campaigned hard ahead of the nationwide local vote, his first electoral test since last year's sharp currency crisis tipped the Turkish economy into recession.
The Turkish lira weakened after Ozel, the AKP's representative on the YSK, tweeted the decision, and it was at 6.1075 against the dollar at 1730 GMT and on track for its worst day in more than a month.
The lira has tumbled some 10 percent since a week before the initial election. Suspense over the ruling had left investors worried that weeks of additional campaigning would divert funds and attention from addressing economic reforms.
It was unclear how the CHP and its supporters would respond to a re-run given suspicions over the YSK's political independence from the AKP, which in recent years has centralized power in the presidency away from the central bank, courts and other institutions.
"It is illegal to win against the AK Party," CHP Deputy Chairman Onursal Adiguzel said on Twitter. "This system that overrules the will of the people and disregards the law is neither democratic, nor legitimate. This is plain dictatorship."
The AKP also lost the mayor's office in the capital Ankara. With its nationalist MHP allies, it wanted the Istanbul results annulled and cited irregularities that affected the outcome, which put it some 13,000 votes behind CHP.
On Saturday Erdogan said "it's clear" the vote was marred by controversy and urged the YSK to "clear its name" with a re-run.
Full report at:
http://www.arabnews.com/node/1493426/middle-east
--------
Africa
Libya's Haftar defies truce, orders troops to fight during Ramadan
May 6, 2019
Over a month into the battle for Libya's capital, Tripoli, General Khalifa Haftar and his troops are determined to "uproot" their enemy and continue their offensive during the Muslim fasting month of Ramadan.
It was April 4 when forces loyal to Haftar that make up the so-called Libyan National Army (LNA) launched a deadly campaign to conquer Tripoli, where the internationally-recognized Government of National Accord (GNA) headed by Prime Minister Fayez al-Sarraj is based.
Haftar, who commands the LNA, urged his troops in a message late Sunday to teach unity government forces a "greater and bigger lesson" as the holy fasting month begins.
"Officers and soldiers in our armed forces and the auxiliary forces, I salute you in these glorious days and urge you with your strength and determination to teach the enemy a greater and bigger lesson than the previous ones, as we've always known you to do, till we uproot it from our beloved land," Haftar said in the message, read out by LNA spokesman General Ahmad al-Mesmari.
"In the event of a retreat by the enemy, troops should pursue it with speed and force, prevent it from fleeing and wipe it out" with support from LNA air forces, the message included.
Haftar further said Ramadan had not been a reason to halt previous battles against what he claimed as "terrorism" when he seized the eastern cities of Benghazi and Derna during clashes in 2017 and 2018.
"Ramadan is the month of jihad," he said. "Our battles against terrorism in Benghazi and Derna did not stop in the holy month of Ramadan but we increased our determination and strength in this holy month."
Haftar's message came just hours after the United Nations mission in Libya (UNSMIL) called for "an extendable one-week humanitarian truce" starting at 4:00 a.m. local time (0200 GMT) on Monday to coincide with the beginning of Ramadan.
As the UNSMIL issued the truce statement, artillery shelling could be heard coming from the southern outskirts of Tripoli, where the LNA has been trying to breach defenses by the GNA forces.
The UN has warned against the "continuing deterioration" of humanitarian situation in the country.
Libya has been divided between two rival governments, the House of Representatives based in the eastern city of Tobruk and the GNA in Tripoli. Haftar, 75, who enjoys the loyalty of a group of armed militia and backing from Saudi Arabia, the United Arab Emirates and Egypt, has taken upon himself to protect the government in Tobruk. Armed forces and militia loyal to the GNA have been fighting back.
US President Donald Trump, in a phone call with the military strongman last month, "recognized Field Marshal Haftar's significant role in fighting terrorism and securing Libya's oil resources," according to the White House.
The LNA has almost two-thirds of the country and all oilfields under its control, and some observers see the West's urge to court Haftar driven by their thirst for Libya's oil.
The United Nations has characterized Haftar's push on Tripoli as an attempted coup and warned of a serious upshot.
Since April 4, fighting has killed at least 432 people, wounded 2,069 and displaced more than 50,000, according to the UN.
https://www.presstv.com/Detail/2019/05/06/595254/Libya-Haftar-Tripoli-Ramadan
--------
Kenya: Suspected Al-Shabaab Militants in Lamu Issue Chilling Terror Threat
6 MAY 2019
By Nyaboga Kiage
Police officers in Lamu county are on high alert following a terror-related incident on Sunday night which has caused anxiety among the locals.
According to an intelligence report seen by Nairobi News, heavy gunshots were heard a few metres from Ishakani GSU Camp and when officers went to find out what was happening they found messages written in Arabic warning non-Muslims in the region.
"The officers noticed Arabic writings on the road which loosely translated to "Let the non-Muslims prepare for war."
TERRORISTS
Officers also found the road along the Kenyan-Somalia border blocked by suspected terrorists who fled into a bush after noticing that the police had arrived at the scene.
The incident took place just hours after suspected militants stormed a store in Mandera and made away with food.
Two weeks ago, an intelligence report issued by the police warned that suspected militants from Somalia had crossed the border into Kenya.
Full report at:
https://allafrica.com/stories/201905070020.html
--------
Envoy says African Union to discuss Sudan report in two weeks
6 May 2019
The African Union's envoy to protest-hit Sudan said Monday that a progress report on the country's political transition will be discussed by the bloc's peace and security council in two weeks.
"One week has passed and two weeks remain for this report to be presented and studied and for adequate measures to be taken", Mohamed al-Hassan Lebatt told reporters in Khartoum.
On May 1 the AU gave Sudan's military rulers another 60 days to hand over power to a civilian authority, after they missed a deadline of April 30.
The original deadline was set by the AU on April 15, some four days after president Omar al-Bashir was deposed and a military council seized control of the country.
Lebatt said the AU's peace and security council had given three weeks for the president of the bloc's commission to present an evaluation report on Sudan.
"The case of Sudan... will be gauged in light of the principles and texts of the African Union", Lebatt said.
Sudan's new military rulers and leaders of a protest movement – which has been encamped outside the army headquarters in Khartoum since before Bashir was deposed – have held several rounds of talks on the composition of a new ruling council.
Questioned by journalists about the likely success of these negotiations, Lebatt said he had "reasons to be optimistic."
But his "optimism did not deny that there are obstacles and difficulties," he added.
The discussions over a new ruling body to oversee the country's transition have hit a wall, as protest leaders and army chiefs each maintain their camps should hold a majority in any new council.
Full report at:
https://english.alarabiya.net/en/News/middle-east/2019/05/06/Envoy-says-African-Union-to-discuss-Sudan-report-in-two-weeks.html
--------
Sudan protest death toll hits 90: Doctors' committee
May 6, 2019
Ninety protesters have been killed in protest-related violence across Sudan since demonstrations against ousted president Omar al-Bashir erupted in December, a doctors' committee says.
The death toll given by the committee is higher than the official figure of 65 killed in such violence since December.
The committee linked to the Alliance of Freedom and Change -- the group leading the protests -- said the first deaths came on December 20.
That was one day after a demonstration in the central town of Atbara in response to a government decision to triple the price of bread.
It has compiled a list of 90 "martyrs" killed by security forces, the committee said.
In the latest case, a protester died Sunday of injuries suffered the previous day in clashes with soldiers and paramilitary forces in Nyala, the provincial capital of South Darfur state.
"Despite restrictions imposed by security forces and remnants of the regime that make it difficult to obtain death certificates, this is the list of martyrs collected from our reliable sources," the committee said.
Bashir was ousted by the army on April 11 after weeks of protests and as thousands of demonstrators held a sit-in outside the army complex in central Khartoum.
Full report at:
https://www.presstv.com/Detail/2019/05/06/595270/Sudan-violence-Omar-alBashir-protest-death-toll
--------
UN calls for week-long humanitarian truce in Libya as tensions rise
May 6, 2019
The UN mission in Libya has issued a statement calling on warring sides to implement a week-long humanitarian ceasefire starting from Monday, the beginning of the Muslim holy month of Ramadan in Libya.
In a statement the UN Mission in Libya (UNSMIL) urged the Government and National Accord (GNA) and forces loyal to the eastern-based renegade General Khalifa Haftar to implement a truce starting Monday morning at 0400 local time to coincide with the beginning of the Muslim holy fasting month of Ramadan.
"UNSMIL calls on all parties to deliver humanitarian aid to those in need and to ensure the freedom of movement for civilians during this truce," UNSMIL said in a statement.
There was no immediate comment from Haftar's Libyan National Army (LNA) force nor from the internationally recognized government in the capital.
Artillery shelling could be heard on Sunday coming from southern outskirts where the LNA has been trying to breach defenses by Tripoli forces. The fighting has displaced around 50,000 people, the UN has said.
Haftar: Fight harder during Ramadan
Haftar ordered his troops, who are trying to take the capital Tripoli, to chase and destroy withdrawing enemy forces, according to an audio tape published on Sunday.
On the tape published by his force's spokesman, Haftar also said that the holy Muslim fasting month of Ramadan was a month of jihad, or holy war.
Full report at:
https://www.presstv.com/Detail/2019/05/06/595208/Libya-khalifa-haftar-national-government-conflict-truce-UN
--------
Libya's Haftar urges troops to 'wipe out' military opposition
May 06, 2019
TRIPOLI: Libyan strongman Khalifa Haftar, who launched an offensive against Tripoli last month, urged his troops to inflict "an even harder" lesson on forces loyal to the country's internationally recognized government.
"Officers and soldiers of our armed forces and affiliates, I greet you during these glorious days and call on you to inflict on the enemy, with your force and determination, an even harder and bigger lesson than before," he wrote in a message to his troops.
"We know you can do it... (and) uproot it (the opposing forces) from our beloved country," Haftar's message added, read out by the self-styled Libyan National Army's spokesman General Ahmad Al-Mesmari late on Sunday.
Haftar's LNA began its offensive against the Tripoli-based Government of National Accord (GNA) on April 4.
Forces loyal to the GNA have since launched a counter-offensive, leading to a stalemate on the ground on the southern outskirts of the capital.
Haftar's message also urged his men that "in the event of retreat by the enemy, troops should pursue it with speed and force, prevent it from fleeing and wipe it out."
"Air forces should follow up" the action of troops on the ground, he added.
"Respect the lives of citizens and their goods. Carry out the orders of this letter and those of your superiors," the message went on.
Libya has been mired in chaos since the ouster and killing of Muammar Qaddafi in 2011, with Haftar supporting a rival administration in the east of the country.
The strongman's message came just a few hours after the UN mission in Libya (UNSMIL) called for "an extendable one-week humanitarian truce starting at four in the morning" on Monday, to mark the beginning of Ramadan.
Full report at:
http://www.arabnews.com/node/1493286/middle-east
--------
URL: https://www.newageislam.com/islamic-world-news/pakistan-rows-with-mullahs-plans/d/118528
New Age Islam, Islam Online, Islamic Website, African Muslim News, Arab World News, South Asia News, Indian Muslim News, World Muslim News, Women in Islam, Islamic Feminism, Arab Women, Women In Arab, Islamophobia in America, Muslim Women in West, Islam Women and Feminism