New Age Islam News Bureau
3 March 2020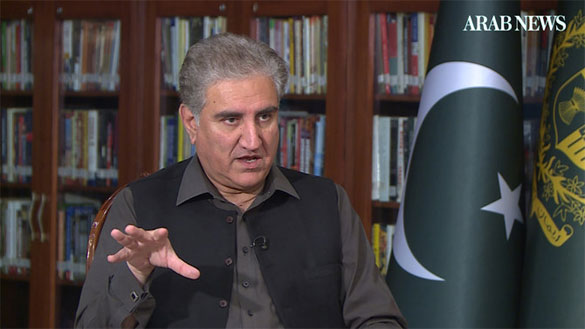 Pakistani Foreign Minister Shah Mahmood Qureshi during an interview with Arab News at the Ministry of Foreign Affairs in Islamabad on Sunday. (AN Photo)
--------
• Pakistan 'Concerned' Over Rise of Daesh In Afghanistan After US Withdrawal
• 'Sharia Fintech': Start-ups Race to Tap Indonesia Growth by Aligning With Islam
• Unified currency for Muslim Countries to Help Reduce Their Dependency on the US Dollar
• Taliban Reject Intra-Afghan Talks until Prisoners Freed
• Nearly Two Dozen UK Conservatives Suspended For Islamophobia
• Turkish State Media Airs Pro-Daesh Video, Describes Terrorists as 'Moderates'
• Kashmiri Activists, European Parliamentarians Hail Abrogation Of Article 370; Slam Pak's Narrative On India's Move
• Iran Speaks Out: Condemn Wave of Violence against Muslims in Delhi
• Iranians Caught Licking Shia Holy Shrine amid Coronavirus Outbreak Arrested
Pakistan
• Pakistan Religious Scholars Stress the Need to Work on the Life of Hazrat Muhammad (PBUH) As Per Demands of Modern Age
• Pakistan 'Concerned' Over Rise of Daesh In Afghanistan After US Withdrawal
• Bilawal doubts success of US-Taliban peace deal sans Afghan govt
• Fazl demands provincial status for tribal areas
• Qureshi: No third-party mediation between Af-Pak
• Doctor who helped CIA track Osama bin Laden launches hunger strike in Pakistan
• Saudi defence official meets PM Imran, Gen Bajwa
• OIC delegation arrives in Pakistan to assess situation at LoC
--------
Southeast Asia
• 'Sharia Fintech': Start-ups Race to Tap Indonesia Growth by Aligning With Islam
• Unified currency for Muslim Countries to Help Reduce Their Dependency on the US Dollar
• 'Malay First', Mahathir's Thirst for Power Behind UMNO's Sudden Comeback
• Want To Appeal To All Malaysians? Pundits Say New Ruling Coalition Must Look To Pluralist Agenda
• Hadi pays tribute to Dr M for ensuring peaceful transition
• Malaysia's New PM Says No 'Traitor' After Turmoil
• Report: Suhakam inquiry told Khairy had reached out to missing pastor Joshua Hilmy
• Indonesia finally admits Covid-19 infections
--------
South Asia
• Taliban Reject Intra-Afghan Talks until Prisoners Freed
• Three killed, 11 injured in blast in east Afghanistan: Police
• Truce in tatters as Taliban resume attacks
• Khalilzad to Meet With Afghan Leaders on Intra-Afghan Talks amid Growing Election Tensions
• Bangladesh police kill 7 suspected Rohingya robbers in raid
• 2 days after Doha deal, 3 people killed in eastern Afghanistan bombing
--------
Europe
• Nearly Two Dozen UK Conservatives Suspended For Islamophobia
• Brexit Leads To Rising Anti-Muslim and Anti-Migrant Prejudice in UK Politics
• Police Probe Threat on Mosque in 2019 NZ Terror Attack
• Pope Francis Tests Negative for Coronavirus: Italian Media
• Germany, France, UK offer Iran $5.6 mln package for coronavirus
• EU top officials to visit Greece's border with Turkey over migrant crisis
• WHO chief: No evidence Iran covering up severity of coronavirus crisis
• UN probe highlights Russia, Turkey roles in Syria 'war crimes'
• France condemns attack on Turkish soldiers in Syria
• Over 117,000 migrants leave Turkey to reach Europe
• New Zealand police investigate threat against Al Noor mosque in Christchurch
--------
Arab World
• Turkish State Media Airs Pro-Daesh Video, Describes Terrorists as 'Moderates'
• Iraq's Acting Prime Minister Gives up Most Duties, Calls for Snap Elections
• Two new coronavirus cases confirmed in Iraq, total 21: Health ministry
• Saudi Arabia announces first case of coronavirus
• Lebanese PM Hassan Diab: State can no longer protect citizens
• Egypt sentences officer-turned-extremist Hesham Ashmawy to death
• No confirmed coronavirus cases in Saudi Arabia, 290 tested: Health ministry
• Syria: Army Resumes Offensive in Jabal al-Zawiyeh, Recaptures 2 Towns
• Iraqi Security Expert Warns against US Suspicious Moves at Syrian Borders
• President Assad says anti-terror war not limited to Syria, Libya
• Egypt sentences notorious militant Hisham Ashmawy to death
--------
India
• Kashmiri Activists, European Parliamentarians Hail Abrogation Of Article 370; Slam Pak's Narrative On India's Move
• Deep Mistrust in Muslims, Fear of Violence, Mixed Signals from the Government Keep Dalits Away From Anti-CAA Protests
• 'I Pretended To Be Dead': How Shiv Vihar's Muslim Families Became Refugees Overnight in Delhi Riots
• Delhi Violence: SC to Hear On Wednesday Plea Seeking Firs against BJP Leaders Over Hate Speeches
• Deaths in Delhi violence a 'planned genocide': Mamata Banerjee
• India willing to share all military hardware made in the country with Bangladesh: FS Shringla
--------
Mideast
• Iran Speaks Out: Condemn Wave of Violence against Muslims in Delhi
• Iranians Caught Licking Shia Holy Shrine amid Coronavirus Outbreak Arrested
• Indicted Netanyahu Claims Victory in Israel Vote
• Member of Iran's supreme leader council to Khamenei dies of coronavirus
• One Turkish customs agent killed in rocket attack near Iranian border
• Iran Underlines Talks as Only Solution to Crisis in Idlib
• Scandal-hit Netanyahu claims victory in Israel Knesset election
• Israeli forces clash with Palestinian anti-settlement protesters
• Three civilians killed as Saudi-led militia shell Yemen's Hudaydah
• Erdogan warns 'millions' of refugees heading into Europe, Ankara will not stop them
• Kremlin cannot guarantee safety of Turkey's planes over Syria's Idlib
• US delegation visits Turkey ahead of crucial Moscow-Ankara summit
--------
Africa
• Over 1,600 Infected With Coronavirus across Middle East and North Africa
• Jordan confirms first coronavirus case: Health ministry
• Libya: Haftar militias target Tripoli's Mitiga Airport
• Mali Checkpoint Attack Kills 6 Soldiers, Injures 10
• 10 dead in gun battle between Somali troops, militia
• Kenya denies meddling in Somalia's internal affairs
• Libya: GNA forces kill 23 members of Haftar's militias
• Kenya-Somalia Border Tension Risks Strengthening Al-Shabaab
• Nigeria: Red Cross Not Involved in Negotiations with Boko Haram, ISWAP - Official
--------
North America
• UN Nuclear Watchdog Plans To Reprimand Iran For Lack Of Cooperation: Report
• Turkish Defence Minister Receives US Representatives
• UN's Libya envoy quits over job 'stress'
• US Defence Chief Says Discussed Syria With NATO Head
• US officials in Turkey to discuss escalation in Syria
• US: Hundreds gather in DC to back Turkey amid Idlib op
Compiled By New Age Islam News Bureau
URL: https://www.newageislam.com/islamic-world-news/pakistan-religious-scholars-stress-need/d/121212
--------
Pakistan Religious Scholars Stress the Need To Work On The Life Of Hazrat Muhammad (PBUH) As Per Demands Of Modern Age
March 3, 2020
LAHORE: Religious scholars have stressed the need to work on the life of Hazrat Muhammad (PBUH) as per demands of modern age.
According to a press release, they were addressing international Seerat Conference organised by Punjab University's Faculty of Islamic Studies at Sheikh Zayed Islamic Centre's here Monday.
Aligarh Muslim University Islamic Studies' Prof Dr Muhammad Yaseen Mazhar Siddiqui and Prof Dr Ubaidullah Fahad Falahi, PU Dean Faculty of Islamic Studies Prof Dr Hammad Lakhvi, Director Institute of Islamic Studies Prof Dr Muhammad Saad Siddiqui, faculty members and a large number of students were present on the occasion.
Addressing the conference, Prof Dr Hammad Lakhvi said we should elaborate the life of the Prophet (PBUH) in our way without adopting the way of Western scholars. He said there was a need to enhance our reading habits to write on the various aspects of the life of the Holy Prophet (PBUH).
Prof Dr Yasin Mazhar said some interpretations of Western scholars were based on rumours. He stressed the Islamic scholars to create awareness among people regarding economic aspects of teachings of the Holy Prophet (PBUH).
Dr Ubaidullah Fahad Falahi said there was a need to give new narrative to Islamic movements. He said the meaning of various terminologies had changed and we must interpret various issues in a correct manner. He said the Holy Prophet (PBUH) gave special rights to women.
Expats: Overseas Pakistanis Commission, Punjab Vice-Chairperson, Ch Waseem Akhtar has said that concrete steps are being taken for the timely solution of the problems of Overseas Pakistanis.
According to a handout issued here Monday, it had been decided in a meeting chaired by Special Assistant to Prime Minister on Overseas Pakistanis and Human Resource Development Zulfi Bokhari.
He said that efforts would be made for the integration of OPC Portal and Pakistan Citizen Portal in order to push for one portal across the country. This step will help in resolving the issues of overseas Pakistanis pertaining to federal departments smoothly, which is a milestone achieved for the service of overseas Pakistanis. Complaints of overseas Pakistanis will now be resolved via Pakistan Citizen Portal and the performance of Pakistan Citizen Portal is already phenomenal as we know it. He said that for the provision of assistance to overseas Pakistanis, Police Facilitation Centre/Desk shall be established in at least five major cities of Punjab. DG (BE&OE) will provide the name of the cities as per diasporas frequency, MD (OPF) will maintain liaison with Punjab Police to allot piece of land in Lahore. Directions from chief secretary Punjab shall be given to all departments to attend the monthly review meetings of Overseas Pakistanis Commission.
https://www.thenews.com.pk/print/622878-highlight-economic-aspects-of-islam
--------
Pakistan 'concerned' over rise of Daesh in Afghanistan after US withdrawal
March 02, 2020
ISLAMABAD: A deal between the Taliban and the US for American forces to withdraw from Afghanistan has sparked Pakistani concerns over the lingering presence of Daesh in the war-torn country.
The peace pact, signed in the Qatari capital Doha by US special envoy, Zalmay Khalilzad, and Taliban political chief Mullah Abdul Ghani Baradar, could pave the way toward a full pullout of foreign soldiers from Afghanistan in 14 months. In return, the Taliban have pledged to renounce violence and sever ties with militant organizations threatening the US and its allies.
However, in an interview on Sunday with Arab News after returning from the deal-signing ceremony, Pakistani Minister of Foreign Affairs Shah Mahmood Qureshi said: "There are concerns about ISIS (Daesh) and their presence; and everybody recognizes that.
"The Taliban recognize that (the Daesh threat). Iran recognizes that. Afghans recognize that. The US recognizes that, and so does Pakistan. Yes, we have to address this issue. We do not want to see the footprint of ISIS grow in Afghanistan or anywhere," he added.
The Afghan affiliate of Daesh, known as Islamic State Khorasan (ISIS-K), after an old name for the region, first appeared in eastern Afghanistan in 2014, and has since made inroads into other areas, particularly the north.
The US military estimates the group's strength at 2,000 fighters. But some Afghan officials believe the number could be higher and may be about to get a boost when US forces withdraw from America's longest-ever war.
After being ousted from power in 2001 in a US-led invasion following the Sept. 11 attacks on America which were engineered by Taliban-harbored Al-Qaeda forces, Taliban fighters have led a violent insurgency.
The Afghan conflict has been a stalemate for more than 18 years, with Taliban forces controlling or contesting more territory, yet unable to capture and hold major urban centers.
Qureshi warned that the US needed to ensure a planned withdrawal from Afghanistan as neither the country, nor the region, could afford civil war or anarchy created by a "vacuum."
Referring to the chaos that followed the US and Soviet withdrawal from Afghanistan decades ago, the minister said: "I hope we have learnt lessons from history … and the international community does not repeat the same mistakes.
"Because if you withdraw without a plan, then obviously, there will be a vacuum. And then, that vacuum will get filled in by all kinds of forces; like we saw after the Soviet (Union) withdrawal, there was a vacuum created, and after that, we saw a period of turmoil, civil war."
Qureshi added that Islamabad hoped its neighbor and arch-rival India would "desist" from using Afghan soil against Pakistani interests after the Americans left. "What we object to is not India having a bilateral relationship with Afghanistan but India using Afghan soil against Pakistan."
Pakistan has long accused India of supporting separatists in the resource rich Balochistan province, as well as militants fighting the state from the northwestern tribal areas. Both Pakistani regions share a border with Afghanistan.
Asked if India continued to use Afghan soil to destabilize Pakistan, Qureshi added: "Well, we hope that they will desist from doing that."
India denies any such interference and in turn has accused Pakistan of backing militants fighting Indian security forces in its part of the divided Kashmir region, of helping groups to launch attacks elsewhere in India, and backing the Taliban in Afghanistan.
Qureshi noted that while India had used aid and reconstruction projects as a strategy to cosy up to Afghanistan in recent years, Islamabad did not see a major role for New Delhi in the country after the withdrawal of US troops.
"India is not an immediate neighbor of Afghanistan, nor do they share their language, culture, and religion. So, in my view, their role will remain limited," he said.
On Pakistan's role in the signing of the peace deal, the foreign minister pointed out that his country had facilitated the accord by convincing the world that a "political settlement" was the only solution in Afghanistan.
In October 2019, while the Doha talks were off, Washington's chief negotiator Khalilzad, and the Taliban political delegation, held discussions in Islamabad at a meeting that was not publicly acknowledged.
Listing Pakistan's contributions to the agreement, Qureshi said: "Convincing the Taliban that there is a huge opportunity that they should seize and come to the negotiating table; convincing them to put together an authoritative delegation so that the Americans can engage with them; convincing the Americans that engaging with Taliban is important."
The next step in the peace process, the foreign minister said, was holding intra-Afghan talks.
"Obviously, the next logical step is the intra-Afghan dialogue. The mechanism (for talks). What needs to be on the agenda. How to go about it. Everything has to be discussed and sorted out among Afghans themselves. It is up to them what kind of a political roadmap they want for themselves."
But experts see challenges ahead for US negotiators as they shepherd intra-Afghan talks as well as negotiations between Afghanistan President Ashraf Ghani's government and the Taliban.
Asked about the implications of the US accepting to sign an agreement with the Taliban as the Islamic Emirates of Afghanistan and not as a movement, Qureshi said: "The Taliban insisted on that … So, that is the compromise that they (the US) made, catering to their (Taliban) demand, and also being sensitive to the NUG (Afghan National Unity Government) point of view."
The militant group has so far refused to negotiate with the Afghan government.
On Pakistan's role in the future of Afghanistan, Qureshi said Islamabad did not want to interfere in the country's internal affairs but instead wished to focus on improving trade ties.
"Pakistan wants to contribute in their (Afghanistan's) reconstruction. We feel that there is a huge potential for bilateral trade between Afghanistan and Pakistan. Because of the war, we could not fully, optimally utilize the opportunities that existed.
"Pakistan feels that through peace in Afghanistan, we can get access into the central Asian republics, and we can develop better regional connectivity, from Pakistan through Afghanistan right up to central Asian republics, and create a situation that everybody benefits from," he added.
https://www.arabnews.com/node/1635791/world
--------
'Sharia Fintech': Start-ups Race To Tap Indonesia Growth By Aligning With Islam
Fanny Potkin
MARCH 3, 2020
JAKARTA (Reuters) - Like millions of other Indonesians, Gandi Iswara had for years carried a wad of currency notes for dropping into donation boxes after prayers at mosques in suburban Jakarta.
From late last year, though, the 35-year-old engineer switched to a more convenient option: whipping out his mobile phone, firing up a digital payment app from Google-backed GoPay and tapping the QR code stickers that are now affixed to the boxes.
His digital conversion took Some time, as Iswara initially held the view that all rewards and discounts offered by e-wallets conflicted with Islam.
"At first, I thought e-wallets resulted in usury, which is forbidden by Islam. But after a while I found them convenient in daily life," he said.
Winning over conservative Muslims like Iswara in the world's most populous Muslim-majority country is both a challenge and multi-billion dollar opportunity for fintech firms that are riding its mobile internet boom and aim to sell financial services.
Of Indonesia's 270 million population, half lacks bank accounts but most now have mobile phones.
Questions about compliance with Islamic law are a significant hurdle for the adoption of digital payments and other fintech services, industry executives say.
Known as Sharia, the law strictly prohibits charging interest, or "riba", and clerics in Indonesia disagree on whether the popular cashback rebates and discounts given by digital wallets qualify. Social media videos in Indonesia on whether e-wallets are "haram" - prohibited by Islam - or incorporate "riba" rack up hundreds of thousands of views.
Indonesia's top Muslim clerical body has even issued an edict deeming virtual money acceptable, as long it met specific conditions.
To showcase the compliance of their services with Islam, fintech firms are organising forums with Islamic scholars and sponsoring religious festivals. Newer startups are tailoring services for Indonesia's growing body of "born-again" Muslims, known as the "hijrah" movement at home.
GoPay, which is part of ride-hailing firm Gojek, has partnered with the Indonesian Mosque Council since November to enable digital donations, including "zakat", or compulsory alms giving, in its 800,000 mosques, CEO Aldi Haryopratomo said. "Zakat" alone amounts to over $500 million annually in Indonesia.
"It has made it much easier for people to pay alms," said Budi, chief administrator of Jakarta's Istiqlal mosque, the largest in Southeast Asia, referring to digital payments services.
Rival LinkAja, which was formed by a consortium of Indonesia's top state-owned firms, has launched similar donation efforts. It is now readying LinkAja Sharia, which will offer a range of financial services specifically targeted at conservative Muslims and only accept money from Islamic banks.
Backed by companies including telco Telkomsel and Bank Mandiri, LinkAja is currently seeking to raise $200 million in outside financing, sources told Reuters. The company declined to comment on its funding.
BROADENING APPEAL
The scale of 'sharia-fintech' in Indonesia is small, so far, with Islamic fintech startups disbursing about 1 trillion rupiah ($73.15 million) in sharia-compliant loans in 2019, a four-fold increase from 2018, according to the Indonesia Sharia Fintech Association.
But with all forms of Islamic banking accounting for only 6% of Indonesia's $580 billion in banking assets, there is room for growth.
The sector is also getting a policy push. The country's vice vice-president, cleric Ma'ruf Amin, took over Indonesia's National Islamic Finance Committee in January and has cited the growth of Islamic fintech as a key national priority.
Some of the startups say they are finding their appeal extends beyond Muslims.
One of them is peer-to-peer lender ALAMI, created by three ex-bankers, which has disbursed over $7.5 million in sharia-compliant financing to small and medium enterprises since May, and plans to become a digital bank.
CEO Dima Djani said that although conservative Muslims are its main target, others also are choosing it as an ethical banking option.
"They see the fact we are focused on sharia principles as a sign of integrity," he told Reuters.
Muhamad Fajrin Rasyid, president of Bukalapak, one of Indonesia's top e-commerce companies which offers a sharia-compliant investing service, concurs.
"Many of our customers are from other religions," he said. "Some people tell us that sharia is not only for Muslims, it represents ethical financing."
https://www.reuters.com/article/us-indonesia-digitalpayments-islam/sharia-fintech-startups-race-to-tap-indonesia-growth-by-aligning-with-islam-idUSKBN20Q0IA
--------
Unified currency for Muslim Countries to Help Reduce Their Dependency on the US Dollar
By Mohammad Hashim Kamali
March 2, 2020
LEADERS of Malaysia, Turkey and Iran spoke at the inaugural session of the four-day summit on Dec 19, last year, themed 'The Role of Development in Achieving National Sovereignty' that was aimed at finding new solutions to problems facing the Muslim world and improving the wellbeing of the Muslims.
Foremost among the summit objectives was the proposal for Muslim countries to have a unified currency that would help reduce their dependency on the US dollar in international trade and finance. The dollarisation of global economy has granted power to the US to impose illegitimate demands, including punitive sanctions and tariffs on other nations, such as China and Iran.
Tun Dr Mahathir Mohamad, a long-time proponent of a gold-backed currency, said that the use of gold dinar and barter trade will be revisited and considered among Muslim leaders. He first mooted the idea some three decades ago at the height of the Asian Financial Crisis and again reaffirmed it at the KL Summit to agree on a common currency for trade among Muslim nations.
He explained that gold has a certain value for all countries. If one uses gold as a standard, one can call one's currency by whatever name, but it must relate to the value of gold in that country.
Iran President Hassan Rouhani called for an end to the domination of the US dollar with the suggestion of a single cryptocurrency that can be used among Muslim countries, adding that Muslim nations can create special mechanisms for banking and financial cooperation to minimise their reliance on the US.
Many commentators, including the American economist Jeffrey Sachs have long predicted the demise of the US dollar as the US share of the global economy has fallen to 15 per cent in 2019 from 21.6 per cent in 1980, based on estimates from the International Monetary Fund.
In comparison, China's economy now accounts for 19 per cent of the world economy, while the European Union, 16 per cent. Sachs predicted a shift from a dollar-based settlements system to a multi-currency settlement system involving the yuan and euro.
An agreement on a unified currency will undoubtedly be the most important outcome, if it does materialise, of the KL Summit.
If Turkey, Malaysia, Iran, Indonesia and Qatar take this initiative, it may well be taken up for consideration by the OIC (Organization of Islamic Cooperation) summit. This 'start small' approach, as Dr Mahathir put it, seems the right approach as it would be rather unwieldy to start at the wider OIC level that has 57 member states.
Opposition is expected, just as Dr Mahathir confirmed that when Malaysia mooted the idea of a common currency for Islamic nations a long time ago, the big powers stood in its way.
This is because when their currencies are used by others, it gave them added power. Then clearly if there are follow-up measures on the part of the summit participants, they must be resolute and able to withstand politically motivated opposition.
A unified currency for the Muslim world will naturally strengthen its economic resilience and standing in the world community, and ultimately help fighting poverty and degradation among Muslims.
These are indeed conducive also to the higher purposes (maqasid) of shariah, not only in respect of the protection of property (hifz al-mal) but also the protection of life (hifz al-nafs), and dignity ('ird) of individual Muslims and the Muslim community worldwide.
The KL Summit can be seen as a true reflection of maqasid al-shariah and of Islamic awakening on the part of its participants, and it merits therefore to be rigorously pursued.
Furthermore, the KL Summit was born out of a trilateral talk among Dr Mahathir, Imran Khan and President Reccep Tayyip Erdogan last September on the sidelines of the 2019 UN General Assembly session in New York.
While absent from the KL Summit, Imran Khan came on an official visit to Malaysia (Feb 3-4) to strengthen cooperation between Pakistan and Malaysia. It is reasonable to assume perhaps that Pakistan will be supportive of the unified currency proposal. No follow-up measures have yet been announced on this matter.
Since the summit participants have already made known their support for the proposal, it is now a question perhaps of determining a mechanism for its realisation.
It is proposed therefore that the summit participants set up a working group to make suitable proposals in a set period of time, say six months or a year, to show the way forward. Malaysia being the host country should perhaps start the ball rolling.
https://www.nst.com.my/opinion/columnists/2020/03/571104/unified-currency-muslim-countries
--------
Taliban reject intra-Afghan talks until prisoners freed
Mar 3, 2020
KABUL: Taliban will not take part in intra-Afghan talks until the Afghan government releases about 5,000 of their prisoners, a spokesman for the outfit said on Monday, presenting a major possible barrier to ending the war.
The statement came as a reduction of violence period came to an end, and the Taliban said a resumption of operations against Afghan government forces could now take place. Under an accord between the US and the Taliban signed on Saturday, the two sides are committed to working towards the release of combat and political prisoners as a confidence-building measure.
The agreement calls for up to 5,000 Taliban prisoners to be freed in exchange for up to 1,000 Afghan government captives by March 10. Afghan President Ashraf Ghani, not involved in the talks, has rejected that demand.
"We are fully ready for the intra-Afghan talks, but we are waiting for the release of our 5,000 prisoners," Taliban spokesman Zabihullah Mujahid said. "If our 5,000 prisoners do not get released there will be no intra-Afghan talks." The US has said that after more than 18 years of war, it hopes negotiations towards a permanent political settlement and ceasefire can start in coming days, but Western diplomats and analysts see stark challenges ahead.
Zabihullah said a deal on a reduction in violence in the seven days leading up to Saturday's pact had formally ended. "As we are receiving reports that people are enjoying the reduction in violence, we don't want to spoil their happiness, but it does not mean that we will not take our normal military activities back to the level that we were before," he said.
An explosion at a football field in Afghanistan's southeastern province of Khost killed at least three civilians and injured 11 on Monday, the interior ministry said. There was no immediate claim of responsibility.
https://timesofindia.indiatimes.com/world/south-asia/taliban-reject-intra-afghan-talks-until-prisoners-freed/articleshow/74450027.cms
--------
Nearly Two Dozen UK Conservatives Suspended For Islamophobia
March 3, 2020
The UK's ruling Conservative Party on Sunday suspended nearly two dozen of its members over allegations they had posted Islamophobic comments online.
British Prime Minister Boris Johnson pledged to carry out an independent inquiry into Islamophobia in his party during the party leadership election in 2019.
Five serving councillors are among the members suspended, the The Times reported, citing a file from rights advocacy group Hope Not Hate.
The group details a string of allegations against Conservative Party members. This is in addition to several dozen allegations of Islamophobia already under investigation by the party.
One former councillor, The Times reported, wrote that Muslims did not "deserve human rights" and showed "animal like behaviour".
And one serving councillor, from the affluent county of Hampshire, warned of a "dangerous Muslim agenda for world domination in the name of Allah".
Hope Not Hate conducted a poll of Conservative Party members that it said showed "worryingly high" levels of Islamophobia and "false perceptions about Muslims".
Nearly two thirds of members said they thought Islam was "generally a threat to Western civilisation," and nearly half believed there are areas of Britain that are off-limits to non-Muslims.
Hope Not Hate said it was calling for the party to take "immediate action" against the individuals. The group said it will "continue to demand that they take proper steps to tackle the Islamophobia crisis that has gripped the party at every level".
The group's campaigns director, Matthew McGregor, said the party needed to take its obligations to Muslim members and the wider community "much more seriously".
Responding to the report, a Conservative Party spokesperson said: "All those found to be party members have been suspended immediately, pending investigation.
"The swift action we take on not just anti-Muslim discrimination, but discrimination of any kind is testament to the seriousness with which we take such issues."
https://www.thenational.ae/world/europe/nearly-two-dozen-uk-conservatives-suspended-for-islamaphobia-1.987181
--------
Turkish state media airs pro-Daesh video, describes terrorists as 'moderates'
March 03, 2020
RIYADH: A shocking pro-Daesh video aired by an official Turkish state news agency has left several social media users and terror watch groups in disbelief.
In a number of posts on its official Arabic social media accounts, the state-owned Anadolu news agency described ISIS fighters as the "moderate faction of the Syrian opposition." All posts have been now deleted, however Arab News managed to obtain screen shots of them prior to their removal.
The main video in question shows a number of soldiers wearing the ISIS insignia, and was published under the title "Moderate Opposition Retook The Strategically Important Saraqib Town in Idlib" before ultimately being unpublished later on. The news agency then resorted to reposting the same story but without the controversial clip.
Several social media users slammed what was posted as further evidence of unwavering Turkish support and sympathy for terror groups. The fact that Anadolu is known for being closely controlled by officials close to President Erdogan's Justice and Development Party (AKP) has further supported the assumption that the deleted video reflects the actual thinking within the agency, the party and the Erdogan government.
"What more do people want to see to believe that the Erdogan regime is playing with fire! The blood on innocent is on their hands," wrote one Facebook user.
"Europe might just be feeling the danger of Erdogan now, but we have been suffering for years," said another.
Turkey's questionable actions in Syria and towards ISIS have long raised serious questions among its allies, let alone its critics.
Last December, French President Emmanuel Macron accused Turkey of working with Islamic State proxies and said Ankara's ambiguity toward the group was detrimental to its NATO allies fighting in Syria and Iraq.
"The common enemy today is the terrorist groups. I'm sorry to say, we don't have the same definition of terrorism around the table," Macron told reporters.
"When I look at Turkey they are fighting against those who fought with us shoulder to shoulder against ISIS (Daesh) and sometimes they work with ISIS proxies."
"I think any ambiguity with Turkey vis-a-vis these groups is detrimental to everybody for the situation on the ground," Macron said. "The number one (priority) is not to be ambiguous with these groups, which is why we started to discuss our relations with Turkey."
https://www.arabnews.com/node/1635976/media
--------
Kashmiri activists, European Parliamentarians hail abrogation of Article 370; slam Pak's narrative on India's move
Mar 2, 2020
GENEVA: Activists and journalists from Jammu and Kashmir and Pakistan occupied Kashmir (PoK), along with European Parliamentarians and foreign experts on Monday hailed the Indian government's decision to abrogate Article 370 of the Constitution.
The discussion in this regard took place at an event titled 'Jammu and Kashmir: Sifting facts from fiction' held at Geneva Press Club on the sidelines of the ongoing 43rd session of the United Nations Human Rights Council (UNHRC).
The discussion also focused on Pakistan's interference in Jammu and Kashmir amid its deteriorating human rights record.
Nathan Gill, Former Member of European Parliament praised the Indian government's decision to abrogate Article 370, saying that it was appropriate to fight against terrorism in the region and give equal treatment to the people in Kashmir.
"The Union Territory has seen a new dawn and people here have seen themselves as equal citizens in India", said Gill while speaking at the event.
"The way you fight against terrorism is for the people to say, 'enough is enough', and to turn against it. The abrogation of Article 370 will eventually lead to the people of Pakistan occupied Kashmir demanding more and more for their rights and for them to be reintegrated for the rest of the Indian community," he said.
Syed Tehmeena, a woman activist from Kashmir valley said at the event that the women in the region will enjoy better rights after the abrogation of Article 370.
She said, "A Kashmiri girl who will marry outside Kashmir will now not lose her property rights. A Kashmiri woman who married outside Kashmir in the past, she and her children were not having the right to own a property in Kashmir. Now they can buy a land and house, which is her right".
Tehmeena added that Pakistan has no right to interfere in the Kashmir issue, rather it should work to improve its own legislation and government system.
"Pakistan has worked to improve its film industry and theatres, whereas our theatres were forced to close by carrying out attacks", said Tehmeena.
A short documentary was also screened which showed how Pakistan invaded Kashmir and illegally occupied the region.
Another video also exposed Pakistan's drive towards spreading fake news on Kashmir since after the abrogation of Article 370 and 35A on August 5, last year. It highlighted the way Pakistan is working on giving it a communal colour by spreading fake news.
Gianna Gancia, a Member of the European Parliament highlighted the deteriorating human rights situation in Pakistan, especially the people from minority communities. She said, "India's move to introduce the Citizenship Amendment Act (CAA) will help the persecuted minority community to get citizenship in India".
Brian Toll, Former Director of the European Commission said that Kashmir is the most beautiful part of the world where people are known for their hospitality. However, it faced the worst years because of the rise in terrorism with the support of Pakistan.
Mohd. Sajjad Raja, President, JKNAP, UK, who hails from Pakistan occupied Kashmir (PoK) said that Pakistan is the occupier of Jammu and Kashmir. "Islamabad calls it 'Azad' or Free Kashmir which is total fiction."
"I am from that part of the world and there is no freedom to the people in Pakistan occupied Jammu & Kashmir. We have no constitutional, legal, religious or social rights there. All banned terror organisation are free to work in our part of Jammu and Kashmir", said Raja.
He said that the people in PoK have no human rights, which is a fact and not fiction.
Senge Sering, President, Gilgit Baltistan Studies said that Pakistan has used GB as a launchpad for terrorists "as everybody knows that Kargil war as it was initiated, orchestrated from Gilgit Baltistan."
Speaking to ANI prior to the event, Sering said that the conference was aimed at challenging and counter Pakistan's narrative on Kashmir.
"We believe that the international community should have a chance to access the reality of Jammu and Kashmir. When it comes to reality, it is about its history, demography, political situation and relation with India," he said.
https://timesofindia.indiatimes.com/india/kashmiri-activists-european-parliamentarians-hail-abrogation-of-article-370-slam-paks-narrative-on-indias-move/articleshow/74447201.cms
--------
Iran speaks out: Condemn wave of violence against Muslims in Delhi
by Shubhajit Roy
March 3, 2020
Iran became the fourth Muslim-majority country to officially react to the riots in Delhi, with Foreign Minister Javad Zarif condemning the "wave of organised violence against Indian Muslims" and urging authorities to not let "senseless thuggery" prevail.
Zarif, a diplomat-minister known for his careful choice of words, tweeted on Monday night: "Iran condemns the wave of organised violence against Indian Muslims. For centuries, Iran has been a friend of India. We urge Indian authorities to ensure the wellbeing of ALL Indians & not let senseless thuggery prevail. Path forward lies in peaceful dialogue and rule of law."
Zarif's tweet came after Indonesia, Turkey and Pakistan had spoken out against the riots over the last week. Malaysia and Bangladesh had earlier criticised the CAA and the proposed NRC.
There was no official response from the Indian side but the Ministry of External Affairs has, in the past, rejected statements by Turkey and Pakistan. In the case of Iran, India has stopped buying oil from the country under threat of sanctions from the US, but continues to work on the Chabahar port.
Javad Zarif
✔
@JZarif
Iran condemns the wave of organized violence against Indian Muslims.
For centuries, Iran has been a friend of India. We urge Indian authorities to ensure the wellbeing of ALL Indians & not let senseless thuggery prevail.
Path forward lies in peaceful dialogue and rule of law.
24.6K
10:13 PM - Mar 2, 2020
Twitter Ads info and privacy
11.7K people are talking about this
On Friday, Indonesia had conveyed its concerns over the riots to the Indian envoy in Jakarta. This was after the Indonesian Religious Affairs Ministry issued a statement condemning the "violence against Muslims".
Earlier last week, referring to the Delhi riots, Turkey's President Erdogan had claimed that "massacres" of Muslims were widespread in India. Pakistan Prime Minister Imran Khan had warned against "radicalication…of Indian Muslims", which he claimed, "will have disastrous consequences not only for the region but eventually for the world also".
Speaking out against the CAA in December, Malaysian Prime Minister Mahathir Mohamad, who was ousted from the post over the weekend, had spoken out against the amended citizenship law due to which, he said, "people are dying". India was quick to reject the comments as "factually inaccurate".
In January, more than a month after the CAA was passed, Bangladesh Prime Minister Sheikh Hasina had said that while the CAA and NRC were "internal matters" of India, the citizenship law was "not necessary".
On Monday, Foreign Secretary Harsh Vardhan Shringla met Hasina and her government's Foreign Minister A K Abdul Momen in Dhaka and said that the unrest over the law was "temporary" and the CAA will have no impact on Bangladesh.
https://indianexpress.com/article/india/iran-condemn-delhi-riot-violence-against-muslims-javad-zarif-6296352/
--------
Iranians caught licking Shia holy shrine amid coronavirus outbreak arrested
2 March 2020
Iran has arrested two individuals who were filmed licking religious shrines in the Shia holy cities of Qom and Mashhad amid the coronavirus outbreak in the country, according to state media.
Videos showing Iranians kissing and licking Shia shrines despite the risks of coronavirus have gone viral online, amid controversy over calls to close access to the shrines as the country continues to suffer from an outbreak of the deadly virus.
As of Monday, 66 in the country had died from the virus and there are 1,501 confirmed cases.
A man who was filmed licking the Imam Reza shrine in Mashhad was arrested, the semi-official Fars news agency reported on Sunday.
Another man who was filmed licking the Fatima Masumeh shrine in Qom has also been arrested, the semi-official ISNA news agency reported on Monday.
The representative of Iran's Supreme Leader Ayatollah Ali Khamenei in Qom had previously urged Iranians to visit the Fatima Masumeh shrine, calling it a "place of healing," despite the coronavirus outbreak in the city.
Iran has reported the highest number of coronavirus cases in the Middle East, many of them in Qom, home to several Shia shrines. While Saudi Arabia has suspended access to Mecca for Umrah pilgrims, Iran has not responded to increasing calls to limit access to Qom to halt the spread of coronavirus.
https://english.alarabiya.net/en/News/middle-east/2020/03/02/Iranians-caught-licking-Shia-holy-shrine-amid-coronavirus-outbreak-arrested.html
--------
Pakistan
Bilawal doubts success of US-Taliban peace deal sans Afghan govt
Amjad Mahmood
March 03, 2020
LAHORE: The Pakistan People's Party (PPP) has expressed its concern at the US-Taliban peace agreement, doubting the success of an accord struck while excluding a major stakeholder like the Afghan government.
"Only an Afghan-owned and Afghan-led process can ensure a lasting peace in Afghanistan and the region. And the PPP doubts that a process launched without taking onboard the Afghan citizens, women and parliamentarians who have been running the country and encountering terrorism," party chairman Bilawal Bhutto Zardari said at a Meet the Press programme at the Lahore Press Club on Monday.
PPP leaders, including ex-prime minister Raja Pervaiz Ashraf, Qamar Zaman Kaira, Chaudhry Manzoor, Sindh minister Nasir Shah and Munawar Anjum, were also present.
He said: "If the negotiation process is based on peace that benefits ordinary Afghan men and women and ensures their economic and social rights, then it will definitely lead to a democratic solution to the decades-long dispute in the country. But, if the process starts with a tweet of the US president in a manner that Afghan government is kept out of the loop and a direct conversation between the US government and the Taliban begins, then I doubt its success."
Welcoming the deal despite his concerns, Mr Bilawal, however, hoped it would lead to an intra-Afghan dialogue for the benefit of Afghanistan and the region.
Responding to a query, he said he was concerned that if all stakeholders, including Pakistan, were aiming at ensuring win of Donald Trump in the next US elections then there would neither be peace and stability, nor it would be in the interest of Pakistan and Afghanistan.
Rejecting the proposition that Prime Minister Imran Khan did what the PPP and PML-N failed to do during their respective terms for Afghan peace, he said Imran knew nothing in the past, nor he knew anything today or would in future. "Actually, goal posts have changed. In our tenure and during Mian Nawaz Sharif's term as well, the Haqqanis were bad boys. But, now even New York Times is writing editorial on Siraj Haqqani."
NAB: Lambasting the National Accountability Bureau (NAB), Mr Bilawal said had its chairman any moral courage, he would have resigned after the European Union report that alleged the agency was being used for political motives against the opposition.
He said everybody knew that NAB and the economy [of Pakistan] could not go together and the business community had made Army Chief Gen Qamar Javed Bajwa realise the fact.
Bilawal said the 'black law' [of NAB] must be abolished, paving the way for an institution where all and sundry could be held accountable and those found not guilty must not have to undergo the agony of a character assassination campaign.
He alleged that political revenge was at its peak in the country as the politicians who were speaking against the government were in jails.
PPP chairman said no one would believe that Nawaz Sharif was in jail or went to London (for treatment) because of corruption cases instituted against him.
Referring to political use of NAB, he regretted that even a late brother of Syed Khurshid Shah had been issued a notice by the bureau.
He said the PPP was waiting for justice in Zulfikar Ali Bhutto, Benazir Bhutto and Asif Zardari cases, hoping that the institutions supposed to give justice through their adjudication won't become builders of dams, a reference to the dam fund set up by former chief justice Saqib Nisar.
The PPP chairman said the first attack by the PTI government was on the freedom of the press. "The government financially attacked the press by not paying newspapers and electronic media their outstanding dues. And on this excuse journalists from every institution were forced out."
He regretted that censorship was on the rise in the country at a fast pace "not only for the political activists and the opposition, but also, the journalists, the cameraman, the producers, and the media owners, as well as for the children posting on Blogger, Twitter, Facebook."
Answering a question about Railways Minister Sheikh Rashid's statements, he said "talk of gutter must be left to gutter". He wondered why Imran Khan was not asking the railway minister to resign who was responsible for a record number of train accidents in the history of the country. During his opposition days Imran Khan would demand resignation of the minister after every rail accident. He said the "gutter minister" would try to divert attention of the people through his statements from the rail accidents, regretting that even Chief Justice Gulzar Chaudhry could do nothing against him (Rashid).
Saying that railway's minister was a selected one, he said the current tenure would be the last term of the selected and the masses could no more tolerate him. He said all would be amused to see the fate of 'selected' in the new government.
PPP chairman said the PTI government had no concrete plan to put before the IMF and thus it negotiated a "bad deal" with the IMF, accepting all the anti-poor terms of the world lending agency.
He said the NAB and the IMF were not the solution to Pakistan's domestic problems.
Mr Bilawal said that public confidence should be restored to increase tax net like the provincial government did in Sindh by reducing sales tax rate and managing to collect more revenue than other federating units.
https://www.dawn.com/news/1537926/bilawal-doubts-success-of-us-taliban-peace-deal-sans-afghan-govt
--------
Fazl demands provincial status for tribal areas
March 03, 2020
PESHAWAR: Jamiat Ulema-i-Islam-Fazl chief Maulana Fazlur Rehman on Monday said the government had taken the decision about the merger of the erstwhile Federally Administered Tribal Areas (Fata) with Khyber Pakhtunkhwa unilaterally without taking the region's people on board.
He asked the government to hold a referendum to know if ex-Fata's residents are happy.
The JUI-F chief was addressing the 'Qabail Tahafuz Conference' held by his party here.
JUI-F provincial chief Maulana Attaur Rehman, provincial general secretary Maulana Attaul Haq Darvesh and leader Maulana Amanullah Haqqani were also present on the occasion.
Mr Fazl said his party was still against the merger and it would continue the movement for a separate provincial status of the tribal areas.
Flays govt over rising prices of consumer goods
"The government and other state institutions did not honour the opinion of the people. We will continue the struggle for the recognition of tribal people as the main stakeholders and honouring of their opinion on the administrative status of their region. They have the right to decide their fate," he said.
The JUI-F chief said the tribal people were loyal to the soil and had always protected national interests despite suffering a lot during the last one decade.
About the Afghan Taliban-US peace agreement, he said his party had always opposed the use of force for the region's peace but no one gave attention to it.
He said the time had proved that dialogue held the solution to conflicts.
Mr Fazl appreciated the Afghan peace accord and demanded its proper implementation for sustainable peace in the region.
He described the federal government's policies a 'complete failure' and said it hadn't kept promises regarding jobs and strong economy.
The JUI-F chief said the national economy couldn't be strengthened through the distribution of hens and buffalos to the people.
Full report at:
https://www.dawn.com/news/1537987/fazl-demands-provincial-status-for-tribal-areas
--------
Qureshi: No third-party mediation between Af-Pak
Mar 2, 2020
ISLAMABAD: Pakistan has stressed on bilateralism to address any reservations that Kabul has with Islamabad, rather than involving the US, after the peace agreement concluded between the United States and Taliban in Doha on February 29.
When the US and Taliban were signing the deal, US defense secretary Mark Esper, NATO secretary general Jens Stoltenberg, and the Afghanistan President, Ashraf Ghani, inked a joint declaration in Kabul on withdrawal of US and NATO troops from Afghanistan, commitment on intra-Afghan talks, and security guarantees for Afghanistan as the peace process unfolds.
One of the clauses of the Kabul declaration says that the US was committed to facilitate discussions between Afghanistan and Pakistan to work out arrangements to ensure that neither country's security was threatened by actions from the territory of the other side.
To this, Shah Mahmood Qureshi, Pakistan's foreign minister, responded saying there was no need to involve the US while addressing issues between Islamabad and Kabul.
"They should talk directly to Pakistan. The US is planning to withdraw and we will always remain neighbors," Qureshi said in an interview to a news agency. "If I have an issue with Afghanistan, I will not ask Washington to play a role," Qureshi said.
Historically, Islamabad's relations with Kabul has been tense and full of mistrust, barring the brief interlude of the Taliban rule over Afghanistan, and the relations touched a new low after the US toppled the Taliban regime in Kabul in 2001.
The Taliban, subsequently, found sanctuaries in Pakistan's tribal districts along the border with Afghanistan.
Since 2001, Kabul and Washington have publicly accused Islamabad of harbouring Taliban leadership and providing them a haven for attacks against the US, Afghan, and the multi-national forces in Afghanistan.
Islamabad has denied these accusations and, instead, charged Afghanistan with providing anti-Pakistan militants refuge to plot attacks in Pakistan, a claim denied by Kabul.
"You know a trust deficit has existed and Pakistan has done its best to bridge that trust deficit," Qureshi said. Instead of turning to US, there are institutionalized mechanisms through which Afghanistan can raise any issue under the sun with Pakistan, Qureshi said.
Full report at:
https://timesofindia.indiatimes.com/world/pakistan/qureshi-no-third-party-mediation-between-af-pak/articleshow/74447621.cms
--------
Doctor who helped CIA track Osama bin Laden launches hunger strike in Pakistan
Mar 2, 2020
ISLAMABAD: The Pakistani doctor who helped the CIA track and kill Osama bin Laden has launched a hunger strike from his prison cell, his lawyer and family said Monday.
Shakeel Afridi has been languishing behind bars for years since his fake vaccination programme helped US agents track and kill the al-Qaida leader in 2011.
"It is to protest the injustices and inhumane attitudes being committed against him and his family," his brother Jamil Afridi told AFP after meeting with Afridi in a prison in central Punjab province.
His attorney Qamar Nadeem also confirmed the hunger strike.
Afridi was jailed for 33 years in May 2012 after he was convicted of having ties to militants, a charge he has always denied.
His sentence was later reduced by 10 years.
Some US lawmakers have branded the case as revenge for his help in the search for the al-Qaida chief.
The 2011 killing of Bin Laden caused massive embarrassment for Pakistan and particularly its powerful military.
For years Afridi has had no access to his lawyer, while his appeal against his prison sentence has stalled with scheduled court appearances repeatedly delayed.
His family has also complained of being targeted and harassed by authorities over the years.
US President Donald Trump vowed during his election campaign that he would order Pakistan to free Afridi, but since taking office has been largely silent on the issue.
The comments sparked a blistering rebuttal from Pakistan, whose interior minister at the time branded Trump "ignorant" and stated that the "government of Pakistan and not Donald Trump" would decide Afridi's fate.
Full report at:
https://timesofindia.indiatimes.com/world/pakistan/doctor-who-helped-cia-track-osama-bin-laden-launches-hunger-strike-in-pakistan/articleshow/74437168.cms
--------
Saudi defence official meets PM Imran, Gen Bajwa
March 03, 2020
ISLAMABAD: Prime Minister Imran Khan and Saudi Deputy Defence Minister Khalid Bin Salman Bin Abdulaziz Al Saud on Monday discussed bilateral relations during a meeting held here in the federal capital.
During the meeting, the premier said: "Pakistan and Saudi Arabia have a historic and brotherly relation [and] Prince Mohammad Bin Salman Al Saud's visit to the country was historic."
While exchanging views on international matters, he added that the human rights situation in occupied Kashmir was deteriorating.
PM Imran and the Saudi official also exchanged views on various international matters, including the Indian leadership's extremist statements and offensive actions, which he said were a threat to the regional peace and security.
"The violence in occupied Kashmir needs to be stopped. A peaceful solution to the issue is necessary," he said.
Earlier in the day, Khalid Bin Salman also called on Chief of Army Staff (COAS) General Qamar Javed Bajwa at the General Headquarters, the military's media wing said in a statement.
The Saudi official and COAS exchanged views on issues of mutual interest including defence and security cooperation, measures to further enhance bilateral defence collaboration including training exchange program and overall regional security situation including situation in Occupied Kashmir, the ISPR said.
They agreed that both countries shared a great history of cordial relations as well as a deep spirit of brotherhood, which was being transformed into an enduring partnership.
The visiting dignitary acknowledged the Pakistan Army's professionalism and expressed gratitude for the assistance it provided, especially towards the training of Royal Saudi Armed Forces both at Pakistan as well as at the KSA through bilateral training cooperation.
Full report at:
https://www.pakistantoday.com.pk/2020/03/02/saudi-defence-official-meets-pm-imran-gen-bajwa/
--------
OIC delegation arrives in Pakistan to assess situation at LoC
March 03, 2020
ISLAMABAD: A six-member delegation of the Organisation of Islamic Cooperation (OIC) arrived in Islamabad on Monday to visit Azad Jammu and Kashmir and the Line of Control.
In a post on Twitter, FO Spokesperson Aisha Farooqui said a team lead by OIC Secretary General's Special Envoy for Jammu and Kashmir Yousef al Dobeay will be in Pakistan from March 2-6.
She added that the delegation will visit the Line of Control to get first-hand knowledge about the loss of lives and property caused by the indiscriminate firing of Indian forces.
"OIC has extended its steadfast support to the Kashmiri people in their just struggle for the inalienable right to self-determination," she said. "Kashmiris and Pakistani people value the OIC's role promoting the cause of Kashmir at the international level."
Last year, OIC's Independent Permanent Human Rights Commission (IPHRC) condemned New Delhi for its ongoing human rights violations in Indian occupied Kashmir (IoK), and said the systematic violations have a well-defined pattern that tantamount to ethnic cleansing and genocide of Kashmiris.
The commission held an open meeting to review the worsening human rights situation in the occupied valley during its recently concluded 16th Session in Jeddah. The meeting was attended by all commission members and a large number of representatives of the OIC member and observer states.
"The Commission was appalled to note that the Indian government in an attempt to quell the Kashmiris struggle for the right to self-determination, has resorted to relentless political, economic and communication blockade in IoK," a statement said.
The body said that since August 5, the Indian government's deployment of over half a million security personnel in the disputed territory has "practically turned IoK into the biggest open prison".
The commission reiterated that India's move to abrogate Articles 35A and 370 was illegal and void. The OIC's body also stated that the move aims to change the "demographic composition of IoK" by making the occupied Muslim population a minority within their homeland.
Full report at:
https://www.pakistantoday.com.pk/2020/03/02/oic-delegation-arrives-in-pakistan-to-assess-situation-at-loc/
--------
Southeast Asia
'Malay First', Mahathir's thirst for power behind UMNO's sudden comeback
Kornelius Purba
March 3, 2020
A perfect combination of Mahathir Mohamad's political ambition and the country's "Malay First" policy was the main factor behind the comeback of the former Malaysian ruling party United Malays National Organization (UMNO) in the last few days. The Malay First factor is so sensitive that it could continue to be a divisive factor as long as people cannot find the common wisdom to overcome or minimize their differences regarding the policy.
Mahathir clearly wanted to control Malaysia for a much longer period. Though he has outlived his peers as Southeast Asia's elder statesman, he has completely lost his statesmanship. Many may regard him as an untrustworthy great-grandpa who has repeatedly betrayed his promise in the last two years to hand over his power to his archrival Anwar Ibrahim.
Instead of leaving a memorable legacy for Malaysia's future generations, Mahatir risks being remembered as a power-hungry, albeit very healthy looking, 94-year-old. Mahathir wrongly calculated his political strength and invited mockery when he lambasted the election of the new prime minister; he reportedly suspects the role of the king in his downfall.
Just a few weeks ago, Anwar appeared confident that he would soon realize his longtime ambition to become prime minister. He would have gained a higher position than his wife, Wan Azizah Wan Ismail, Mahathir's deputy for almost two years. The 72-year-old politician must now bury his dream.
When Indonesia celebrated the 20th anniversary of reformasi in 2018, many Malaysians chanted the same slogan. They were determined to follow our path in ending Soeharto's 32 years of corrupt dictatorship in May 1998. They even claimed — which was then very true — that Malaysia's reform movement was much more peaceful than Indonesia's. Less than two years on, however, things don't look so peaceful just yet.
The alleged abuse of power and mega-corruption practices by the ruling coalition leaders so disgusted citizens that they granted a historic, shocking victory to the opposition parties. They had earlier ignored the important role of many non-Malays who were sidelined in the opposition.
Malay First, which automatically also means Muslims first, has been the magical slogan of UMNO, including veteran politician Muhyiddin Yassin and has eventually led him to become the country's eighth prime minister since independence in 1958. Malays, despite their special privileges for the past 60 years, continue to be haunted by the comparative success of the Chinese and Indians.
It looks almost impossible, but Malaysians must find the courage to address the Malay First policy. Unless they are able to reach a mutual consensus it will continue to be a crucial divisive factor for the country. Ethnic Malays make up half the population while Indians and Chinese, both perceived to be relatively better off and generally more highly educated, comprise almost one third of the population. Their clout is much larger than that of the Indonesian Chinese, for instance, who are estimated to account for less than 1.5 percent of the Indonesian population.
In Indonesia it's a common understanding that the president should be Javanese, the dominant ethnic group, and a Muslim. But Indonesia is not an Islamic state and since the late BJ Habibie was a non-Javanese, options for presidential candidates look more open.
Many Malays believe that Mahathir and his ruling coalition members were too lenient toward non-Malays since he became prime minister again in 2018. Mahathir, who had been the country's longest-serving prime minister before his resignation in 2002, often expressed his dissatisfaction over the lack of economic progress of Malays, despite their abundant state privileges such as affirmative action in the economy and education.
UMNO and its smaller coalition members ruled the country for 60 years and suffered a humiliating defeat in the 2018 election, because Malaysians were outraged by the corruption of then-prime minister Najib Razak and his cronies. Now Najib and his wife are facing trial. As alleged by the prosecutors, his way of embezzling state funds was so blatant that his denials became endless jokes (we might note that Indonesian politicians are smarter in that regard).
According to Malaysia's constitution, Islam is the kingdom's official religion. Malays, who must be Muslims, are first-class citizens, while other ethnic groups including Chinese and Indians, are expected to adjust themselves to race-based politics and privileges.
Malaysia, which eventually followed its neighbor Indonesia's path toward democracy 20 years later, was very confident that its political reform would be much smoother than Indonesia's. But the fall of Mahathir shows Malaysia has to confront very tough political challenges regarding the Malay First policy.
Will the Chinese and Indians continue to accept the fact that in daily life their position is not equal to that of their Malay compatriots?
It is unlikely, and if so, the issue will continue to haunt their nation, regardless of who the nation's prime minister is.
https://www.thejakartapost.com/academia/2020/03/03/malay-first-mahathirs-thirst-for-power-behind-umnos-sudden-comeback.html
--------
Want to appeal to all Malaysians? Pundits say new ruling coalition must look to pluralist agenda
03 Mar 2020
BY JULIA CHAN
KOTA KINABALU, March 3 — Components of the new ruling coalition must find a way to work together and find a way to shed their perceived Malay Muslim-centric image and appeal to the diverse Malaysian society if they wish to keep surviving, analysts have suggested.
Several analysts polled by Malay Mail said that the pact dubbed Perikatan Nasional must regain its footing and image with voters, after taking over from the democratically-elected Pakatan Harapan (PH) government outside the general election.
"Like it or not must work together quickly. They are being blamed for toppling the PH government through backdoor, therefore they must win back the hearts and minds of multiracial Malaysians," political analyst Azizuddin Mohd Sani said.
He said it was imperative that the coalition domianted by Malay nationalist parties Parti Pribumi Bersatu Malaysia and Umno, and Islamist party PAS cast aside any "Malay-first" mentality and promote an inclusive agenda.
"We are a multiracial country. We cannot govern this country by only focusing on one race or ethnic group. It must be multiracial.
"They need to show the image which is more inclusive to multiracial agenda," he said.
Similarly, Universiti Teknologi Mara Sabah's Tony Paridi Bagang agreed that the national coalition needs to put aside any ethnic inclinations for the sake of the nation and come up with a plan for national integration.
"Ethnic relations in this country must be given priority as there are negative perceptions and fear over it," he remarked.
"They could work but they may need to fine tune especially with PAS. Bersatu may not have problem working with Umno as they are largely made up by former Umno members anyway.
"The Barisan Nasional formula of power sharing maybe put in place but with PAS now in the coalition, they need to reach the 'win-win' situation especially in compromising on political ideology," he said.
This comes as Prime Minister Tan Sri Muhyiddin Yassin promised last night to be a prime minister for all Malaysians, as the country remains divided across ethno-religious and class lines.
Following the swearing in of Muhyiddin, some social media users claimed to have seen and faced an increase of racial posts against critics of the Pagoh MP and his coalition government with Malay nationalist party Umno and Islamist party PAS.
When asked how the new pact can achieve an inclusive agenda given its minimal number of non-Malay representation, Azizuddin said it can embark on an inclusive grand policy, suggesting a grand council of advisers represented by various ethnic groups with wide range of expertise.
Despite the make-up, Azizuddin said that the parties have the potential to be sustainable given their common values.
"I don't think there have different ideologies. All are very pragmatic and nationalistic. So they can work together for the sake of power," he said.
Meanwhile, Bagang said that the coalition may be able to help its reputation by giving significant Cabinet posts to its non-Malay and non-Muslim counterparts.
"They need to bring MCA, MIC leaders in the Cabinet and if possible to give them significant posts. Besides that, Sabah and Sarawak leaders must be given strategic positions too; such as a deputy prime minister's post," he said.
Full report at:
https://www.malaymail.com/news/malaysia/2020/03/03/want-to-appeal-to-all-malaysians-pundits-say-new-ruling-coalition-must-look/1842792
--------
Hadi pays tribute to Dr M for ensuring peaceful transition
March 3, 2020
PETALING JAYA: PAS's Abdul Hadi Awang has paid tribute to Dr Mahathir Mohamad while calling on Malaysians of all races to take the middle path, just days after his party helped secure the majority to thwart the return of the Pakatan Harapan coalition.
Hadi said Mahathir had successfully steered the country during a critical time following the fall of the Barisan Nasional government in 2018.
Saying history books would remember Mahathir as "exemplary statesman", Hadi said the 94-year-old, who resigned at the start of a week-long political crisis last week, should not be blamed over the turn of events.
Hadi meanwhile urged the Malay-Muslim majority to play a greater role in fostering harmony between races.
Full report at:
https://www.freemalaysiatoday.com/category/nation/2020/03/03/hadi-pays-tribute-to-dr-m-for-ensuring-peaceful-transition/
--------
Malaysia's New PM Says No 'Traitor' After Turmoil
March 02, 2020
KUALA LUMPUR, MALAYSIA - Malaysia's new prime minister insisted Monday he was no "traitor" after taking power without an election and with support from a scandal-tainted party, following political heavyweight Mahathir Mohamad's shock resignation.
"I know there are those who are angry with me - I am not a traitor," Muhyiddin Yassin said in a televised address - his first extensive comments since being inaugurated Sunday.
"I have a clear conscience. (I am here) to save the country from being battered by continued political uncertainty."
Malaysia was plunged into turmoil after Mahathir's reformist "Pact of Hope" alliance, which stormed to a historic poll victory two years ago, collapsed and the 94-year-old resigned as premier.
Mahathir then sought to come back as prime minister but lost out to low-profile, former interior minister Muhyiddin, who has backing from a coalition dominated by the multi-racial country's ethnic Malay Muslim majority.
He was named to the job by the king, who appoints the Southeast Asian nation's premier after deciding who has most support from MPs.
But there has been widespread anger that the democratically elected government was ejected, while Mahathir insists he had enough backing to be premier and has accused Muhyiddin of betrayal.
- 'For all Malaysians' -
Muhyiddin defended his legitimacy as premier, saying he had secured majority support from MPs.
He also said he would "prioritize having a clean, corruption-free and efficient administration".
One of Muhyiddin's coalition partners is the United Malays National Organization (UMNO), the lynchpin of a graft-riddled coalition ejected from power in 2018 after six decades.
It is the party of disgraced ex-leader Najib Razak, who is accused of plundering state fund 1MDB. He and other senior UMNO figures are on trial for corruption but there are concerns the cases could be halted now the party is back in power.
Full report at:
https://www.voanews.com/east-asia-pacific/malaysias-new-pm-says-no-traitor-after-turmoil
--------
Report: Suhakam inquiry told Khairy had reached out to missing pastor Joshua Hilmy
02 Mar 2020
BY ZURAIRI AR
KUALA LUMPUR, March 2 — The Human Rights Commission of Malaysia (Suhakam) heard during its inquiry into the disappearance of activists Joshua Hilmy and his wife Ruth Hilmy today that a former minister had reached out to him advising him to flee the country.
According to the Malaysiakini, fifth witness Selvakumar Peace John Harris related that then youth and sports minister Khairy Jamaluddin had emailed the pastor, with his urging believed to be related to Joshua's baptising a Malay couple in January 2015.
"He sent an email to Joshua and urged him to leave the country. [Joshua] called me and told me about it," he reportedly told the inquiry, referring to Khairy.
Selvakumar, who was the owner of Joshua and Ruth's residence in Selangor, said he was shown a copy of the email in Penang when the pastor visited him there in May 2016.
He also claimed that Joshua and Khairy had exchanged several emails.
When Suhakam commissioner Datuk Hishamuddin Yunus asked Selvakumar whether he was referring to the former minister, the witness concurred.
When asked for Joshua's response after receiving the email, Selvakumar said Joshua felt unsafe and wanted to heed the urging.
The witness also testified that he saw Joshua baptising a Malay couple, in addition to 10 other Malay couples — a claim that led to Hishamuddin asking him whether he was sure they were Muslims. Selvakumar concurred.
Selvakumar's testimony continues tomorrow.
Joshua, who was believed to be a Malay-Muslim who converted to Christianity, and Ruth, were last seen on November 30, 2016 and subsequently reported missing on March 6 the following year.
Previously, Suhakam also conducted an inquiry into the abductions of two other activists — Pastor Raymond Koh and Amri Che Mat — and concluded that they were the victims of "enforced disappearance".
Full report at:
https://www.malaymail.com/news/malaysia/2020/03/02/report-suhakam-inquiry-told-khairy-had-reached-out-to-missing-pastor-joshua/1842744
--------
Indonesia finally admits Covid-19 infections
By JOHN MCBETH
MARCH 2, 2020
JAKARTA – Indonesia has finally recorded its first two cases of the coronavirus but for its vast Muslim population the epidemic has already had an impact where it hurts the most: depriving thousands of devotees from a once-in-a-lifetime pilgrimage to the holy city of Mecca.
Saudi Arabia, which has not yet confirmed a case of the virus, last week called a temporarily halt to the umrah (minor haj), a short notice ban that broke the hearts of pilgrims who had already arrived in Jakarta for special charter flights to the Middle East.
The stoppage came four days before President Joko Widodo announced that two coronavirus patients, both from the southern suburb of Depok, were being treated at the Sulianto Saroso infectious diseases hospital in North Jakarta.
Funded by Japanese grants and built in 1995, the institution has been an initial referral point for outbreaks of SARS, Asian influenza and diphtheria in recent years.
Although they said they respected the decision of the Saudi government to halt the umrah, Foreign Ministry officials failed in their efforts to make Indonesia an exception on the grounds that it had yet to be exposed to the virus.
Now that its status has changed, Indonesia is much less likely to be treated any differently from Muslim-majority Malaysia and both Thailand and the Philippines, which have significant Islamic minorities.
Iran leads the Middle East region with 539 cases and 43 deaths, but Saudi nationals are among patients being treated in Kuwait (45) and Bahrain (40). Another 34 virus cases have spread among the United Arab Emirates, Iraq, Oman, Qatar, Lebanon and Egypt.
Unlike the haj, timed this year between the evenings of July 28 and August 2 in the twelfth and last month of the Islamic calendar year, umrah can be performed at any time during the year, with devotees allowed to stray outside Mecca.
With the world's largest Muslim population, Indonesia had about 946,900 umrah pilgrims last year, the second highest number after Pakistan (1.59 million) among the 7.5 million foreign pilgrims.
The country's haj quota in 2019 was 231,000 out of a total of 2.3 million pilgrims worldwide, most of whom wait an average of 10 years to perform their religious duty if they are not part of Indonesia's queue-jumping wealthy elite.
Whether it is the haj or umrah, many poor Indonesians living in rural areas face an onerous task scraping together the US$2,500 to cover the cost of a once-only trip abroad and the additional funds needed to reach an international airport.
Meanwhile, Indonesia won't have to continue defending itself against skepticism about its purported lack of coronavirus cases, with Health Minister Terwan Putranto only last week being forced to deny once again that there was no official cover-up.
"We have nothing to deny and we are telling nothing but the truth," he protested. "If the number (of suspected cases) turns out to be negative, then it is a blessing from God."
Australian Prime Minister Scott Morrison had pointed out how difficult it was to accept Jakarta's reassurances given the challenge of adequately monitoring a vast archipelago with multiple entry points.
American and other diplomats met with Indonesian health officials last week to air their concern over the country's handling of the crisis and what they believed to be a lack of urgency in looking for and detecting suspected cases.
Authorities have tested less than 200 people so far, compared to thousands in countries such as Thailand, which the John Hopkins University ranks sixth in the world in epidemic preparedness and an "international leader in health security."
Indonesia is 30th overall but is 37th in the category of early detection and reporting for epidemics of potential international concern, with only two Jakarta biosafety laboratories capable of working with potentially lethal microbes.
The diplomats also expressed worries about Indonesia's readiness to handle large numbers of stricken patients, though the World Health Organization (WHO) said last month that Indonesia had a "functioning early warning system" and 100 hospitals to serve as referral centers.
Last week, 188 Indonesian crew members from the World Dream cruise liner were quarantined on an island in Jakarta Bay after being picked up in Hong Kong by a naval hospital ship. None have contracted the disease so far, according to official reports.
The government is also planning the repatriation of 78 Indonesian crewmen from the Diamond Princess cruise ship which has been quarantined for more than a fortnight off Japan. Nine of the Indonesians aboard caught the virus, but all seem to be recovering.
One patient with a suspected case of coronavirus who died in a hospital in the Central Java city of Semarang was later diagnosed to have had swine flu, which he caught on a recent visit to Madrid.
Despite Indonesia claiming that its screening is effective, at least two Chinese tourists who visited Bali in January and February later tested positive for the virus when they returned home to China.
Bali, which receives more than 1.2 million Chinese tourists a year, has been hit hard by the epidemic. It is now nearly as empty as it was after the 2002 terrorist bombings of two nightclubs that left 202 people dead, most of them foreigners.
The government has said it will waive taxes on hotels and restaurants in Bali and nine other tourist destinations for the next three months, while the state-owned oil company Pertamina is offering concession rates for jet fuel to enable airlines to pass on fare cuts.
Full report at:
https://asiatimes.com/2020/03/indonesia-finally-admits-covid-19-infections/
--------
South Asia
Three killed, 11 injured in blast in east Afghanistan: Police
Mar 2, 2020
KHOST: A bombing at a football match killed three people and injured 11 others on Monday in eastern Afghanistan, a police official told AFP, as the Taliban announced an end to a partial truce in the country.
"A motorcycle rigged with a bomb exploded during a football match," said Sayed Ahmad Babazai, police chief of eastern Khost province, giving details of the toll.
Abdul Fatah Wakman, president of the Khost Football Federation, told AFP the three people killed were brothers.
No group immediately claimed responsibility for the attack. The limited truce between the Taliban, US and Afghan forces preceded the signing of a landmark deal between the insurgents and Washington in Doha on Saturday.
But on Monday the Taliban announced they would resume attacks against Afghan forces, only a day after President Ashraf Ghani committed to continuing the partial truce at least until talks between Kabul and the Taliban kick off, supposedly on March 10.
Since the deal signing, the Taliban have been publicly celebrating their "victory" over the US.
The agreement sets out a timetable for foreign forces to quit Afghanistan within 14 months, subject to Taliban security guarantees and a pledge by the insurgents to hold talks with the Kabul government.
The dramatic reduction in attacks due to last week's partial truce offered Afghans a rare opportunity to go about their daily lives without fear of violence.
The insurgents' vow to resume attacks came a day after Ghani warned he was not committed to a key clause in the Doha deal involving the release of thousands of Taliban prisoners.
https://timesofindia.indiatimes.com/world/south-asia/three-killed-11-injured-in-blast-in-east-afghanistan-police/articleshow/74444284.cms
--------
Truce in tatters as Taliban resume attacks
March 03, 2020
KABUL: A deadly blast shattered a period of relative calm in Afghanistan on Monday and the Taliban ordered fighters to resume operations against Afghan forces just two days after signing a deal with Washington aimed at ushering in peace.
No group immediately claimed responsibility for the attack at a football ground in Khost in eastern Afghanistan, where three brothers were killed, officials said.
The blast occurred around the same time the Taliban ordered fighters to recommence attacks against Afghan army and police forces, apparently ending an official "reduction in violence" that had seen a dramatic drop in bloodshed and given Afghans a welcome taste of peace.
The partial truce between the US, the insurgents and Afghan forces lasted for the week running up to the signing of the US-Taliban accord in Doha on Saturday, and was extended over the weekend.
"The reduction in violence... has ended now and our operations will continue as normal," Taliban spokesman Zabihullah Mujahid told AFP.
"As per the (US-Taliban) agreement, our Mujahideen will not attack foreign forces but our operations will continue against the Kabul administration forces."
The Taliban's military commission circulated instructions for fighters to resume operations, according to a document that an insurgent provided to AFP.
Soon after, an Afghan army commander said that the Taliban were attacking army positions in the northwest province of Badghis. At least one soldier was killed.
President Ashraf Ghani said on Sunday he would continue the partial truce at least until talks between Afghan officials and the Taliban kick off, supposedly on March 10, though he angered the militants by rejecting a prisoner swap component in the deal.
Fawad Aman, a defence ministry spokesman, said on Monday the government was "checking to see if (the truce) had ended".
Washington has said it expected the Taliban to maintain the reduction of violence ahead of the launch of intra-Afghan talks, slated to take place in Oslo.
"The reduction in violence was a confidence builder. We're very serious about our obligations and we expect the Taliban will be serious about their obligations," US Forces-Afghanistan commander Gen Scott Miller said late on Monday.
"The United States has been very clear about our expectations — the violence must remain low."
The US has previously said it would defend Afghan partners if they come under attack.
Motorcycle attack
The Doha deal includes a commitment to swap 5,000 Taliban prisoners held by the Afghan government in return for 1,000 captives, but Ghani said the US had no authority to negotiate such an exchange.
"Ghani's stand shows that the Americans hadn't done the groundwork before signing the agreement," a Taliban source in Pakistan said.
Earlier, a Taliban spokesman ruled out intra-Afghan talks until prisoners were freed by the Afghan government.
"We are fully ready for the intra-Afghan talks, but we are waiting for the release of our 5,000 prisoners," Zabihullah Mujahid told Reuters by phone.
"If our 5,000 prisoners — 100 or 200 more or less does not matter — do not get released there will be no intra-Afghan talks."
Analyst Michael Kugelman from the Wilson Centre think-tank said he was not surprised the Taliban were on the offensive again.
"Remember, violence is leverage for the Taliban. [They]…won't easily give it up," he tweeted.
"And now it's [the militant group is] exploiting that leverage to strengthen its bargaining position going into the intra-Afghan dialogue, when (and if) it begins." According to Khost police chief Sayed Ahmad Babazai, the blast at the football match killed three people and wounded 11 others.
"A motorcycle rigged with a bomb exploded," Babazai said Abdul Fatah Wakman, president of the Khost Football Federation, said the three people killed were brothers.
Since the deal signing, the Taliban have been publicly claiming "victory" over the US.
Under the terms of the deal, foreign forces will quit Afghanistan within 14 months, subject to Taliban security guarantees and a pledge by the insurgents to hold talks with Kabul.
While supporters of the accord say it marks a critical first step toward peace, many Afghans fear it amounts to little more than a US capitulation that will ultimately see the insurgents return to power.
In the eastern province of Laghman, thousands of locals and jubilant Taliban fighters massed on Monday to celebrate what they called their "defeat of the US".
Full report at:
https://www.dawn.com/news/1537985/truce-in-tatters-as-taliban-resume-attacks
--------
Khalilzad to meet with Afghan leaders on intra-Afghan talks amid growing election tensions
03 Mar 2020
US peace envoy Zalmay Khalilzad is arriving in Kabul on Tuesday to meet with Afghan leaders on intra-Afghan talks, a source confirmed.
A reliable source speaking to Khaama Press said the U.S peace envoy is arriving in Kabul today to meet Dr. Abdullah Abdullah and Mohammad Ashraf Ghani on intra-Afghan talks.
"Abdullah Abdullah was going to introduce more governors for the northern provinces, but he has temporarily halted his decision as Khalilzad has approached to meet him with a new concept to resolve election tensions and has urged for the intra-Afghan to start as scheduled", the source said.
Ex-President, Hamid Karzai and a tribal elder Abdul Rab Rasool Sayyaf met Abdullah Abdullah on Monday, proposing him to assign a delegation to negotiate with Mohammad Ashraf Ghani on resolving the existing tensions and stepping towards the intra-Afghan talks, he said.
Karzai and Sayyaf will also approach President Ghani for assigning a negotiating team, the source further added.
This comes as both Abdullah and Ghani have urged for taking an oath ceremony on the 8th and 9th March respectively.
Full report at:
https://www.khaama.com/khalilzad-to-meet-with-afghan-leaders-on-intra-afghan-talks-amid-growing-election-tensions-6789790/
--------
Bangladesh police kill 7 suspected Rohingya robbers in raid
March 2, 2020
DHAKA: Bangladeshi police shot dead seven suspected Rohingya robbers on Monday during a shootout in southeast Bangladesh, a spokesman for a special police unit known as the Rapid Action Battalion said.
"Firearms and large amount of ammunition have been recovered from the spot. Our team is continuing search operations," said Sujoy Sarkar, a spokesman for the police anti-crime unit.
More than 730,000 Rohingya Muslims fled from their homes in Myanmar after a military-led crackdown in 2017 and sought refuge across the border in Bangladesh. Most live in camps near the resort town of Cox's Bazar.
Sarkar said police acting on a tip-off had raided the robbers' hideout near the camps. He said no more details were immediately available.
Bangladeshi police say some of the refugees are involved in various types of crime including drugs, human trafficking, and violence is a problem in the camps.
Bangladesh says the refugees must return home but there has been little progress on efforts to get a repatriation plan going with Myanmar.
Many of the refugees are reluctant to go back, citing insecurity in the western Myanmar state of Rakhine.
The Hague-based International Court of Justice ordered Myanmar in January to protect the Rohingya against further atrocities after Gambia launched a lawsuit accusing it of genocide.
Full report at:
https://www.freemalaysiatoday.com/category/world/2020/03/02/bangladesh-police-kill-7-suspected-rohingya-robbers-in-raid/
--------
2 days after Doha deal, 3 people killed in eastern Afghanistan bombing
02 March 2020
A bomb explosion has claimed the lives of at least three people and injured nearly a dozen others in eastern Afghanistan, amid an announcement by the Taliban of an end to a partial truce in the war-torn country.
Sayed Ahmad Babazai, police chief of the eastern province of Khost, said explosives were placed on a motorbike that had stopped near a football field in Nadir Shah Kot district on Monday.
"A motorcycle rigged with a bomb exploded during a football match," Babazai said.
Abdul Fatah Wakman, president of the Khost Football Federation, said the three people killed were brothers.
There was no immediate claim of responsibility for the bombing, in which at least 11 people were also wounded.
A week-long truce between the Taliban, the United States, and Afghan forces preceded the Saturday signing of a deal between the militant group and Washington in Qatar, aimed at ending the two-decade war in Afghanistan.
But on Monday, Taliban spokesman Zabihullah Mujahid said the reduction in violence against Afghan security forces was "over."
Since the deal signing, the Taliban have been publicly celebrating their "victory" over the United States.
The agreement sets out a timetable for the foreign forces to quit Afghanistan within 14 months, subject to a pledge by the militants to hold talks with the Kabul government.
President Donald Trump of the United States has long expressed eagerness to bring US soldiers back home and to end the war as he seeks re-election in 2020.
About 2,400 US soldiers have been killed in the war. Over 100,000 Afghans have also been killed or injured since 2009, when the UN Assistance Mission in Afghanistan began documenting casualties.
The militants have long demanded the withdrawal of foreign troops, calling them an "occupation" force, and blaming them for the almost two decades of war.
Full report at:
https://www.presstv.com/Detail/2020/03/02/619988/Afghanistan-Khost-blast
--------
Europe
Brexit leads to rising anti-Muslim and anti-migrant prejudice in UK politics
March 2, 2020
The Brexit debate allowed anti-Muslim prejudice and anti-migrant sentiment to creep into mainstream British politics from the far right, a report has found.
Research by the advocacy group Hope Not Hate showed that the lines between the far-right and the British political establishment have become increasingly blurred as politicians and commentators have started to use language once found only on the far right.
This led to "anti-Muslim prejudice, demeaning rhetoric on migrants and refugees, and notions of a cultural war against social liberalism increasingly being adopted", the group's annual report said.
This was partly blamed on figures from the political centre ground embracing right-wing ideas to win popular support, but also on an increasing engagement by far-right groups, with "wider cultural and identity issues".
But Hope Not Hate said the "traditional" far-right in the country was weaker now than at any time since the 1960s.
The advocacy group warned, however, that far-right terrorism is a growing threat, with perpetrators often younger and more dangerous.
"The Government's counter-extremism strategy is now outdated and needs an urgent overhaul," the report said.
"The far-right is very different from the one identified in the 2015 counter-extremism strategy.
"The authorities are not equipped to engage with the far right as an ideological battle, nor to connect offline far-right crimes with the online networks and propaganda influencing them."
Hope Not Hate warned that while the far right remains weak it could easily re-emerge if disillusionment with Prime Minister Boris Johnson's government took hold.
In September 2019, the head of British counter-terror police said right-wing extremism posed the most serious threat to UK security.
Assistant Commissioner Neil Basu said far-right terror threat was the "fastest growing problem" UK police were dealing with.
Mr Basu said as many as 10 per cent of investigations involved right-wing extremists.
https://www.thenational.ae/world/brexit/brexit-leads-to-rising-anti-muslim-and-anti-migrant-prejudice-in-uk-politics-1.987143
--------
Police probe threat on mosque in 2019 NZ terror attack
March 3, 2020
WELLINGTON: New Zealand police said Tuesday they were investigating a threat made this week against one of the Christchurch mosques where 51 Muslim worshippers were killed in a mass shooting a year ago.
Amid plans to mark the one-year anniversary of the March 15 massacre, police said the threat to Christchurch's Al Noor mosque was posted this week on encrypted messaging app Telegram.
Reports said the message showed a man in a balaclava sitting in a car outside the mosque accompanied by threatening text and a gun emoji.
"We have strong leads that we're following up and I'm confident that we will establish who this person is," Canterbury police commander superintendent John Price told Radio New Zealand, adding, "We're very close".
Al Noor was one of two mosques targeted by a self-avowed white supremacist last year in what Prime Minister Jacinda Ardern described as "an unprecedented act of terror (that) shattered our small country".
The timing of the latest threat comes at a sensitive time as planning is underway for a memorial service in Christchurch to mark the anniversary.
Details of the service at the city's Hagley Park have not yet been finalised but Ardern is set to attend after gaining international praise for her compassionate handling of the attacks.
Ardern said Tuesday that she found it hard to believe that New Zealand's Muslim community was still being subjected to such hatred.
"I will be amongst many New Zealanders who will be devastated to see that as we head towards the one-year anniversary of a most horrific terror attack on the Muslim community, that they should then be the target of this kind of activity," she told reporters.
Price said he was encouraged that a member of the public had reported the threat, saying that people were acting to stamp out such online activity when they saw it.
"That's the way we'll conquer this issue in our society, is by everyone standing up and saying this is not okay," he said.
Full report at:
https://www.freemalaysiatoday.com/category/world/2020/03/03/police-probe-threat-on-mosque-in-2019-nz-terror-attack/
--------
Pope Francis tests negative for coronavirus: Italian media
3 March 2020
Pope Francis, who canceled a Lent retreat for the first time in his papacy because he is suffering from a cold, has tested negative for coronavirus, the Italian newspaper Il Messaggero reported on Tuesday.
Vatican spokesman Matteo Bruni said he had no immediate comment on the report. The 83-year-old Roman Catholic leader, who had part of one lung removed because of an illness decades ago, also canceled most audiences last week.
https://english.alarabiya.net/en/News/middle-east/2020/03/03/Pope-Francis-tests-negative-for-coronavirus-Italian-media.html
--------
Germany, France, UK offer Iran $5.6 mln package for coronavirus
2 March 2020
Britain, Germany and France have offered a $5.6 million (5 million-euro) package to Iran to help fight coronavirus in the country, Britain's Foreign Office said on Monday.
The so-called E3 group would provide the support through the World Health Organization or other UN agencies, it said in a
statement.
The group was also sending medical material to Iran on Monday, including equipment for laboratory tests, protective body suits and gloves, the statement said.
In a related development, the United Arab Emirates Air Force carried out a coronavirus aid mission to Iran on Monday in collaboration with the World Health Organization (WHO), the UAE's official WAM news agency reported.
https://english.alarabiya.net/en/News/middle-east/2020/03/02/Germany-France-UK-offer-Iran-5-6-mln-package-for-coronavirus.html
--------
EU top officials to visit Greece's border with Turkey over migrant crisis
2 March 2020
The top three chiefs of the EU's institutions – its executive, parliament, and Council – are to visit Greece's border with Turkey in support for Athens as it confronts a building migration crisis, European Commission President Ursula von der Leyen said Monday.
Council President Charles Michel, European Parliament President David Sassoli and von der Leyen will accompany Greek Prime Minister Kyriakos Mitsotakis to the frontier on Tuesday, she told a Brussels media conference.
Greece has suspended asylum procedures to prevent thousands of migrants crossing its border from Turkey, whose President Recep Tayyip Erdogan is facilitating the flow to pressure the EU to support him as his forces escalate combat in Syria.
"I acknowledge that Turkey is in a difficult situation in regards to the refugees and migrants, but what we see now cannot be the answer and the solution," von der Leyen said.
Full report at:
https://english.alarabiya.net/en/News/world/2020/03/02/EU-top-officials-to-visit-Greece-s-border-with-Turkey-over-migrant-crisis.html
--------
WHO chief: No evidence Iran covering up severity of coronavirus crisis
02 March 2020
The World Health Organization (WHO) says the mechanisms it uses to monitor the performance of various countries in relation to their handling of the coronavirus epidemic do not show any cover-up by the Iranian government with regard to Iran's virus crisis.
Speaking in a televised interview with the CNBC news channel on Monday, Tedros Adhanom Ghebreyesus, the director general of the organization, said the WHO's fact-checking mechanisms have not found any concrete proof that Iran had been covering up the severity of the epidemic.
Asked about the media hype revolving around Iran and accusing the country of covering up the severity of the new coronavirus epidemic, the WHO chief said, "I wouldn't frame any country without any reason or without having any fact."
"There are reports that come from the media… but this is the WHO, you know, this is a technical organization and should check the facts. We cannot say what journalists say," he added.
"I say if we followed journalists' reports, whether it's well done or not, then where we end."
He concluded by saying, "That's why we have our own mechanism and from our own mechanism we haven't seen that, but if we see, then of course we should address it."
The virus that emerged in the central city of Wuhan in China's Hubei Province late last year has so far claimed more than 3,000 lives worldwide.
In Iran, it has claimed 66 lives and infected 1,501 others, 291 of whom have recovered.
Iranian medical officials have assured that the country will contain the outbreak, noting that the condition of most of the patients diagnosed with the virus has improved.
The country has mobilized all its resources to confront the disease, with the Islamic Revolution Guards Corps (IRGC) and Iran's Army being the latest to join the campaign Sunday.
Iran has, meanwhile, announced the closure of schools and universities throughout the upcoming days, and health centers have been tasked with distributing protective items, such as facemasks, among the public.
Full report at:
https://www.presstv.com/Detail/2020/03/02/619989/WHO-Iran-coronavirus-
--------
UN probe highlights Russia, Turkey roles in Syria 'war crimes'
March 02, 2020
GENEVA: Moscow has participated in war crimes connected with deadly air strikes in Syria, UN investigators said Monday, warning that Ankara could also be responsible for similar crimes against Kurds there.
The charges come as tensions soar between Turkey and Russian-backed Syrian forces following escalating clashes in the last rebel stronghold of Idlib, but predates the latest unrest.
The UN Commission of Inquiry on the rights situation in Syria said in its latest report that it had evidence that Russian planes participated in two air strikes, in Idlib and in rural Damascus last July and August, which killed more than 60 people.
The report, which covers the period from July 2019 to January 10 this year, said there was evidence to prove Russian planes took part in both attacks, and that since the attacks were not directed at military objectives they amounted to a "war crime."
The investigators also said Turkey might be held criminally liable for serious violations by its allies, the Syrian National Army rebel fighters.
Turkish troops and their Syrian proxies overran a swathe of northern Syria last October, after a military campaign against Kurdish forces resulted in tens of thousands fleeing their homes.
The UN investigators referred to allegations that Ankara-backed Syrian rebels had carried out executions, home confiscations and looting.
They highlighted in particular the case of Hevrin Khalaf, the 35-year-old leader of the Future Syria Party, who on October 12 was pulled from her car and executed along with her driver.
They had been traveling from Qamishli when members of the Syrian National Army's Brigade 123 pulled Khalaf from the car by her hair and mutilated her body before the executions.
The Commission said there were "reasonable grounds" to believe that the Syrian National Army fighters committed several war crimes, including "murder."
If it could be shown they had acted under "the effective command and control of Turkish forces" it could entail the "criminal responsibility for such commanders who knew or should have known about the crimes," it warned.
While the investigators acknowledged they had not uncovered evidence the Turkish forces gave orders leading to the violations, the report pointed out that liability could also fall on those who "failed to take all necessary and reasonable measures to prevent or repress their commission."
The investigators also referred to an air strike on a civilian convoy the same day as the Khalaf's murder and in the same region that killed 11 people and wounded 74.
And they highlighted the apparent targeting of non-military sites such as strikes near the Aluk water station that cut the water supply to 460,000 people.
Ankara has denied involvement, but the commission urged "Turkish authorities to launch (their) own investigations and make the findings public."
The UN's Syria commission, set up in 2011 shortly after the civil war began, has repeatedly accused the various sides of war crimes and in some cases crimes against humanity. Monday's report was the 19th to date.
It also indicated a range of violations by Damascus-backed forces, including targeting civilian sites such as schools and medical facilities in western Syria.
The investigators expressed alarm at the growing humanitarian tragedy at Syria's border with Turkey, where they said some 1.5 million people displaced by violence around Idlib had become stranded in desperate conditions.
"It is scandalous that the international community has not been able ... to deal with the situation," commission chair Paulo Pinheiro told reporters.
"You have children in open air with their families, without a tent, without shelter, without blankets," he said, lamenting that "children are freezing to death."
Full report at:
https://www.arabnews.com/node/1635746/world
--------
France condemns attack on Turkish soldiers in Syria
Busra Nur Bilgic Cakmak
02.03.2020
France on Monday condemned the attacks on Turkish soldiers by the Assad regime and its allies.
According to a statement by the French Foreign Ministry, French top diplomat Jean-Yves Le Drian spoke by phone to his Greek counterpart Nikos Dendias and EU foreign policy chief Josep Borrell.
Le Drian "recalled the appeal by 14 foreign ministers from European Union member countries for the immediate cessation of the hostilities by the Syrian regime and its allies in Idlib," said the statement.
He also "reiterated in the strongest terms his condemnation of this offensive by the Syrian regime and its – particularly Russian – supporters, and of the attacks on Turkish forces in the area," it added.
Last week, an attack by the Assad regime in Idlib, Syria martyred 34 Turkish soldiers, who are in the region to help local civilians.
Le Drian also voiced support for Greece over the recent influx of migrants to the country, after Turkey opened its borders for migrants to Europe.
He backed Greece's call for an extraordinary EU Foreign Affairs Council meeting on the migration issue.
The number of irregular migrants leaving Turkey for Europe has reached 117,677 on Monday, Turkish Interior Minister Suleyman Soylu said on Twitter.
Thousands of migrants flocked to Edirne's Pazarkule border crossing to Greece after Turkish officials announced Friday they would no longer try to stop irregular migrants from reaching Europe.
The Turkish move came after it repeatedly told the EU that it does not have the capacity to accommodate more than 1.7 million Syrians, who have moved near the Turkish border following incessant attacks on the Idlib de-escaltion zone by the Syrian regime, despite a 2018 deal with Russia which prohibits acts of aggression in the region.
Full report at:
https://www.aa.com.tr/en/europe/france-condemns-attack-on-turkish-soldiers-in-syria/1751992
--------
Over 117,000 migrants leave Turkey to reach Europe
Seda Sevencan
02.03.2020
The number of irregular migrants leaving Turkey for Europe has reached 117,677 on Monday, Turkish Interior Minister Suleyman Soylu said on Twitter.
The migrants are leaving Turkey through northwestern Edirne province bordering Greece and Bulgaria.
Thousands of migrants flocked to Edirne's Pazarkule border crossing to Greece after Turkish officials announced Friday they would no longer try to stop irregular migrants from reaching Europe.
It followed an attack by Syrian regime forces on Turkish troops in the Idlib de-escalation zone, which martyred 34 soldiers last week.
Turkish soldiers are working to protect local civilians under the 2018 deal with Russia which prohibits acts of aggression in the region.
Turkey already hosts some 3.7 million migrants from Syria alone, more than any other country in the world.
Full report at:
https://www.aa.com.tr/en/europe/over-117-000-migrants-leave-turkey-to-reach-europe/1751833
--------
New Zealand police investigate threat against Al Noor mosque in Christchurch
2 Mar 2020
Police in New Zealand are investigating a threat against Al Noor mosque a week before the first anniversary of the Christchurch massacre.
Police say they received a report from a member of the public early on Monday morning that a threat had been made against the mosque on encrypted messaging app Telegram, which is known as a platform used by far-right extremists. A photo had also circulated showing a masked man standing outside the mosque in central Christchurch, local media reported.
Worshippers say some in the community have become emboldened since the attacks on 15 March last year at Al Noor and Linwood mosques, which killed 51 people. It remains the country's worst terror attack in modern history.
Canterbury district commander superintendent John Price told RNZ that police were confident the identity of the person who made the threat would shortly be uncovered, and a rise in threats and activity had been anticipated in the lead-up to the one-year anniversary.
"We have strong leads that we are following up and I am confident we will establish who this person is … we are very close," said Price.
"It's the wider context of what this stands for and what ideologies are out there that's a concern for us.
"No one has the right to cause harm or make threats to other individuals or groups, it's not the way we do things in New Zealand … I want people to be held to account."
Price said New Zealanders had been very "motivated" within the last year to report threats against the Muslim community. The country's threat level for terrorism remained at medium, Price said. Increased patrols had been deployed around both mosques in the lead-up to the anniversary, with police maintaining "a visible presence in the the community".
Planning was also under way to boost security in the city as the trial date of the man accused of the shootings drew closer on 2 June.
The prime minister, Jacinda Ardern, said the threat against Al Noor had "devastated" her.
"I will be amongst many New Zealanders who will be devastated to see that as we [head] towards the one-year anniversary of a most horrific terror attack on the Muslim community, that they should then be the target of this kind of activity," Ardern said.
"That is hard for me to believe and for most New Zealanders they will feel exactly the same way."
Full report at:
https://www.theguardian.com/world/2020/mar/03/new-zealand-police-investigating-threat-against-al-noor-mosque-in-christchurch
--------
Arab World
Iraq's acting prime minister gives up most duties, calls for snap elections
02 March 2020
Iraq's acting Prime Minister Adel Abdul Mahdi says he will stop fulfilling most of his duties while calling for snap elections, a day after prime minister-designate, Mohammad Tawfiq Allawi, withdrew his candidacy after the divided parliament failed to approve his new cabinet.
In a letter to President Barham Salih on Monday, Abdul Mahdi said he would take "voluntary absence" and would not carry out most of his official duties. He asked for a deputy prime minister or minister to chair the cabinet meetings.
"I announced on February 19 that the constitutional deadline of 30 days to secure the vote of confidence in the new government from the parliament and its ministerial platform would expire on March 2. And I stated that at the end of this period, 'I will have no choice but to resort to the solutions stipulated in the constitution or the internal system of the Council of Ministers,'" Abdul Mahdi said in his letter.
The Iraqi constitution now puts the president, a Kurd, in charge as acting premier. He has 15 days to designate a new candidate but there is a bumpy road ahead as parties still remain divided along ethnic and sectarian lines.
Political turmoil began in Iraq in early October 2019, when public grievances grew, pressing the government to initiate reforms that would eliminate corruption and alleviate the economic woes.
Protests, however, soon turned violent, amid reports of foreign interference. Hundreds of people, including members of security forces, were killed.
In November, Abdul Mahdi resigned under the pressure of growing demonstrations. The parliament approved his resignation in early December, but he had retained the position ever since as caretaker prime minister.
His decision on Monday, which will further increase a persisting power vacuum, was taken after Allawi withdrew overnight, accusing legislators of obstructing his attempt to form a government.
On Sunday, only 108 lawmakers of the 329-member parliament, known as the Council of Representatives of Iraq, attended the extraordinary session, which had already been delayed twice last week, on Saturday and Thursday, over a lack of quorum.
Allawi, a 65-year-old former communications minister, was appointed as the new premier by Salih on February 1, after the parliament missed a deadline set by the president to nominate someone for the post.
Earlier, Shia cleric Moqtada Sadr, whose bloc is the largest in parliament and supports Allawi, had threatened to organize mass protests outside parliament unless the legislators backed the new cabinet in a confidence vote.
https://www.presstv.com/Detail/2020/03/02/619987/Iraq-Abdul-Mahdi-
--------
Two new coronavirus cases confirmed in Iraq, total 21: Health ministry
2 March 2020
Iraq has detected two new coronavirus patients, both of whom had recently visited Iran, the Health Ministry said on Monday, bringing the total cases recorded so far to 21.
The two new cases were detected in Baghdad and had recently returned from Iran, the ministry said in a statement. The first case was detected on Tuesday and was of an Iranian student who has since been sent back home. The other 20 are all Iraqis who had recently been in Iran.
https://english.alarabiya.net/en/News/middle-east/2020/03/02/Two-new-coronavirus-cases-confirmed-in-Iraq-total-21-Health-ministry.html
--------
Saudi Arabia announces first case of coronavirus
March 03, 2020
Saudi Arabia has announced its first case of the new coronavirus, a Saudi national returning from Iran through Bahrain, the Health Ministry said.
The ministry said on its official Twitter account on Monday that the individual, who is in quarantine in hospital, had not disclosed his visit to Iran when entering Saudi Arabia.
Iran has reported the most deaths from the coronavirus outside China, where the flu-like disease originated. Other Gulf Arab states have diagnosed the infection in several people who had visited Iran.
The official Saudi Press Agency, citing the Health Ministry, said people who had interacted with the infected man had been isolated and were being tested.
In neighbouring Bahrain, the health ministry said on Monday two more people were diagnosed with the coronavirus, a Bahraini woman and a Saudi man, both of whom it said took non-direct flights from Iran to Bahrain and were isolated upon arrival and tested.
This brings the total recorded cases in Bahrain to 49.
Saudi Arabia had since last week taken several measures to prevent the spread of the disease to the kingdom.
It imposed a ban on foreigners arriving for the Muslim umrah pilgrimage, Gulf Arab citizens visiting Mecca and Medina, home to Islam's two holiest sites, and tourists from at least 25 states where the virus has been found.
The Health Ministry said on Sunday it had prepared 25 hospitals to handle any coronavirus infections, with 2,200 beds dedicated for quarantine cases.
Pilgrimage is big business for Saudi Arabia, the birthplace of Islam, and is the backbone of plans to expand visitor numbers under an ambitious economic reform agenda.
The minor umrah pilgrimage, which can take place at any time of the year, brought 7.5 million people to Saudi Arabia in 2019, according to official figures.
Visits by pilgrims accelerate during the fasting month of Ramadan, beginning this year in late April.
Full report at:
https://www.dawn.com/news/1538058/saudi-arabia-announces-first-case-of-coronavirus
--------
Lebanese PM Hassan Diab: State can no longer protect citizens
2 March 2020
Lebanese Prime Minister Hassan Diab on Monday admitted that the state had lost the people's confidence after months of anti-government protests and an economic meltdown.
In the coming days crisis-hit Lebanon must decide whether to repay $1.2 billion in Eurobonds due on March 9 or, as is widely expected, restructure its debt, Diab said.
The government formed in January inherited a disastrous economic situation and faces an impossible balancing act between the traditional powerbrokers who voted it in and a street that wants all of its ruling elite out.
"To put it frankly, the state, in view of its current situation, is no more capable of protecting the Lebanese people and ensuring a decent life for them," Diab said.
"To be transparent, I would say that this state has lost Lebanese people's confidence," he said in a speech to Lebanon's honorary consular corps.
He said the government was holding "a ball of fire" but added he was ready to undertake the painful changes needed to rebuild confidence and sound institutions.
"We have no choice but to take the path of the Calvary, whatever the sufferings, because other options are much more dangerous," Diab said.
Lebanon's banks are almost alone in arguing against default, a move that would further deplete rock-bottom foreign reserves.
The International Monetary Fund last month dispatched an emergency mission to advise the government but the institution's role has so far only been technical.
Full report at:
https://english.alarabiya.net/en/News/middle-east/2020/03/02/Lebanese-PM-Hassan-Diab-State-can-no-longer-protect-citizens.html
--------
Egypt sentences officer-turned-extremist Hesham Ashmawy to death
2 March 2020
An Egyptian court on Monday sentenced to death 37 defendants, including one of the country's most high-profile militants, following their conviction of terrorism-related charges.
The Cairo Criminal Court said the defendants were charged with belonging to a local affiliate of ISIS spearheading an insurgency in Egypt's Sinai Peninsula.
Among those sentenced to death was Hesham Ashmawy. The militant leader is a former army officer and was captured in Libya late in 2018 by the Libyan National Army. A military court separately sentenced Ashmawy to death in November for his participation in scores of attacks on government targets.
Egypt has been fighting for years militants in the restive northern Sinai area and the vast Western Desert.
The men are among more than 200 defendants accused of carrying out more than 50 militant attacks that included killing high-ranking police officers and bombings that targeted the Egyptian capital's police headquarters. The charges include a 2013 assassination attempt on the Egyptian interior minister.
The court also sentenced 61 defendants to life in prison, and 85 others got sentences ranging from 15 to 5 years in prison.
Monday's verdict can be appealed before a higher court.
For years, Egypt's security forces considered Ashmawy the country's most-wanted militant for his intelligence value.
Egyptian authorities linked Ashmawy, who is in his 40s, to several major attacks, including devastating assaults on security forces near Egypt's porous desert border with Libya.
Before he fled to Libya, Ashmawy helped found Ansar Beit al-Maqdis, an extremist organization based in northern Sinai. His military expertise — he left the Egyptian army in 2011 — transformed the tiny group into a well-organized guerrilla band that later inflicted painful blows on security forces in Sinai.
Full report at:
https://english.alarabiya.net/en/News/middle-east/2020/03/02/Egypt-sentences-officer-turned-extremist-Hesham-Ashmawy-to-death.html
--------
No confirmed coronavirus cases in Saudi Arabia, 290 tested: Health ministry
2 March 2020
Saudi Arabia still has no confirmed cases of coronavirus after testing over 290 suspected cases, says Health Minister Tawfiq al-Rabiah in a statement on Monday.
The Kingdom is fully prepared for any potential cases, a spokesman said on Sunday.
He added that the Kingdom has prepared 25 hospitals and 8,000 beds to handle any coronavirus cases that might be detected.
Saudi Arabia announced on Thursday the temporary suspension of entry for individuals seeking to perform Umrah pilgrimage in Mecca or visiting the Prophet's Mosque in Madina, as well as tourists traveling from countries where the coronavirus poses a risk as determined by the Kingdom's health authorities.
https://english.alarabiya.net/en/News/gulf/2020/03/02/No-coronavirus-cases-recorded-in-Saudi-Arabia-Health-ministry.html
--------
Syria: Army Resumes Offensive in Jabal al-Zawiyeh, Recaptures 2 Towns
Mar 02, 2020
The Arabic-language service of Sputnik news agency reported on Monday that forces of the Syrian army's Division 25 have started surprise operations in Jabal al-Zawiyeh.
It added that the two towns of Hazarin and al-Dar al-Kabirah in the Southern parts of the strategic city of Kanasfareh were liberated after fierce clashes between the Syrian army troops and the terrorists.
Meantime, a high-ranking field source said that the Syrian army has dispatched another cargo of modern military equipment to the battlefronts in the Southern and Eastern parts of Idlib province to reinvigorate army positions against the Turkey-affiliated terrorists.
A source in the Syrian Defense Ministry said on Sunday that six Turkish combat drones had been destroyed by Syrian air defense systems.
"On March 1, 2020, Syrian air defense systems destroyed six combat unmanned aerial vehicles of the Turkish army over the Idlib de-escalation zone," the source stated.
Full report at:
https://en.farsnews.ir/newstext.aspx?nn=13981212001053
--------
Iraqi Security Expert Warns against US Suspicious Moves at Syrian Borders
Mar 02, 2020
Amir Abdol Mon'am al-Sa'edi told the Arabic-language al-Ma'aloumeh news website on Monday that the current political situation in Iraq has paved the ground for the US to make suspicious moves in bordering areas with Syria.
He warned that the US is keeping the ISIL commanders and terrorists in its jails to deploy them in the desert areas, specially Jazirat al-Hazar region and areas linking Nineveh, Saladdin and al-Anbar provinces to each other.
Al-Sa'edi warned that despite his country's call for the US pullout, the Pentagon is thinking of prolonged presence in Iraq.
In relevant remarks last month, a senior member of the Iraqi parliament's security and defense commission said that the US had transferred over 1,000 terrorists from Syria to Iraq, warning about its consequences and dangers.
"The US has transferred over 1,000 terrorists from Syria to Iraq and it wants to foment chaos and change the equations by using the ISIL card and fomenting insecurity in the Western cities of Iraq," Karim Aliwi told al-Ma'aloumeh news website.
He added that the terrorists had entered Iraq via the bordering areas of Syria along with their family members to conceal their true identities.
Full report at:
https://en.farsnews.ir/newstext.aspx?nn=13981212001000
--------
President Assad says anti-terror war not limited to Syria, Libya
02 March 2020
Syrian President Bashar al-Assad says the war against terrorism is not restricted to Syria or Libya and the endeavor will determine the fate of the region.
Assad made the comments during a meeting with a delegation from Libya's eastern Tobruk-based government on Monday.
The fight against terror by both Syrian and Libyan governments, he added, goes on in the face of impeding foreign intervention.
The Libyan delegation was co-chaired by Deputy Prime Minister Abdul-Rahman al-Ahiresh as well as Foreign Affairs and International Cooperation Minister Abdul-Hadi al-Hawaij.
Both sides agreed that what was going on in Syria and Libya, in terms of militancy, was the same.
Assad said the war of terror will determine the fate of the region in the face of schemes put into gear by some regional states that are trying to impose their will on other countries using their own tools.
Referring to intervention of the Turkish government in Syria's affairs and its onslaught against the northern parts of the Arab country, Assad emphasized that Turkish President Recep Tayyip Erdogan's regime's policies are based on using terrorism to achieve its political interests and this is a major factor fomenting instability across the region.
Both sides also discussed ways through which the two countries could activate bilateral cooperation in all sectors, on top of which would be opening diplomatic missions. Furthermore, they stressed those bilateral ties, which bind the two brotherly peoples in a way that serve the mutual interests of the two countries, should be reactivated.
On Sunday, Syrian Foreign Minister Walid al-Muallem and his Libyan counterpart, Abdul-Hadi al-Hawaij, signed a memorandum of understanding regarding the reopening of diplomatic missions in Syria and Libya, "particularly in standing in the face of Turkish interference and aggression."
Full report at:
https://www.presstv.com/Detail/2020/03/02/619969/Syria-Libya-Assad-
--------
Egypt sentences notorious militant Hisham Ashmawy to death
March 02, 2020
CAIRO: An Egyptian court Monday sentenced to death an ex-special forces officer turned Islamist militant and 36 other extremists over several terror attacks, including an assassination bid on a former interior minister.
The Cairo criminal court condemned Hisham Ashmawy and 36 co-defendants to hang on 54 charges such as leading a terror group and targeting then-interior minister Mohamed Ibrahim in a 2013 suicide car bombing, a judicial source told AFP.
Ibrahim survived the bombing near his Cairo home but some 20 policemen and civilians were wounded.
The death sentences can be appealed.
Known locally as the "Ansar Beit Al-Maqdis," after the militant outfit he led in the restive Sinai region, Ashmawy later broke with the group after it pledged allegiance to the Daesh group in November 2014.
He was already sentenced to death in November by a military court over his role in 14 attacks including the 2014 killing of 22 soldiers at a border post with Libya.
Other charges against him included forming an Al-Qaeda aligned militant group in Libya.
In October 2018, the self-styled Libyan National Army (LNA) captured Ashmawy in the eastern city of Derna and flew him back to Egypt last May.
Ashmawy — dubbed Egypt's "most wanted man" in local media — was an officer with Egypt's special forces but discharged in 2012 over extremist religious views.
Egypt has for years been fighting a hardened insurgency in North Sinai that escalated after the army's 2013 ouster of Islamist president Muhammad Mursi.
Full report at:
https://www.arabnews.com/node/1635741/middle-east
--------
India
Deep mistrust in Muslims, fear of violence, mixed signals from the government keep Dalits away from anti-CAA protests
Tarushikha Sarvesh and Abdul Hafiz Gandhi
Mar 02, 2020
Even as Muslim numbers swell in the anti-CAA-NPR-NRC demonstrations across the country, the conspicuous absence of sizeable Dalit protests anywhere in the country, given that the community is equally vulnerable to similar repercussions which the Muslim community fears is unmissable. While most narratives highlight the concerns of the Muslim community, they are comparatively silent on the complex reasons of vulnerable communities other than the Muslims for not participating in these demonstrations.
Not only the leaders from the other communities are hesitating to come and speak in these protests, but the Dalit public as a whole is finding it difficult to make sense of the urgency of protests. This warrants the necessity to fathom the sources of their confusion, worry and fear.
Although Dalit leader Chandrashekhar Azad is found addressing rallies across the country, he struggles to do the same in Uttar Pradesh. His first attempt to address a rally in the state in all these months resulted in his detention in Lucknow. Whatever little protests from other communities are coming up is mostly hosted on platforms provided by the Muslim community as leaders of these communities are not able to bring out their own community to oppose the CAA.
Azad might be touring other states interacting with Dalits and Muslims but in Aligarh's deep pockets of Dalit areas, people could not recall his name on being asked about him. He should keep this stark reality in mind and instead of focussing on the country as a whole, Azad needs to unite his community in Uttar Pradesh first. Aligarh's history of communal disturbances, riots between Dalits and Muslims and Aligarh Muslim University being the centre of Muslim education make it an appropriate site for a better understanding of the imbroglio.
The frequent snapping of the internet, fear that mischievous text messages might trigger unrest is palpable in Aligarh. The deep feeling of distrust between Muslims and Dalits only makes the atmosphere far more delicate. The Dalits are traversing the twilight zone of trust deficit vis-à-vis Muslims and are facing the brunt of uncertainty with regard to government policy to map citizens.
Although the narrative of only Muslims fearing the Citizenship Amendment Act is being built upon, there are other people who are equally apprehensive about these moves. The Dalits are apprehensive about the implications of the NPR-NRC process and expressed their fear of failing to prove their citizenship if asked to establish. The government's fluctuating stance is feeding the confusion and fear further.
Initially, people thought that like Assam, they need to submit various legacy documents but the government later on clarified that in NPR no documents would be asked. However, the statements from the government that all existing documents like Aadhaar, PAN card, passport, driving license and ration Card are not proofs of citizenship further compounded the fear among people. People are uncertain as to what sorts of documents would be required eventually.
The benefits of government schemes hardly reach these communities despite the documentation and document-making has always been a struggle for them. This time there is a crystal difference between the apprehensions of Muslims and Dalits. The fear among the Muslims stems from the sense of hostility and practices of exclusion whereas the Dalits saw the State's apathy as the major reason for their anxiety.
Such is the cynicism that has gripped the Dalit-Muslim relationship that the Dalits are doubtful of the intentions of the Muslim community and are apprehensive that they might be tricked to tag along with them. The fear of violence in the protest sites is also another reason for the Dalits staying away from these locations with the police strictly controlling the mobility of the Dalits in and around these spots. Sporadic withdrawal of internet is adding to the already existing fear of clashes.
Moreover, the Dalits have found it unconvincing the attempts made by the Muslim community to convince them that they will suffer as Brahmanism will be back as a full-fledged system due to the implementation of CAA and other demographic exercises.
It is because of the social settings and segregation of places of residence, trust deficit has increased between Dalits and Muslims. There are no attempts to have a common understanding of issues affecting them. Minimal efforts have been made to forge an alliance between the two communities on a social level. There were attempts to bring them together through political parties but these yielded no substantial results as far as trust-building is concerned.
Keeping the condition on the ground in mind, it is only natural that the sudden appeal from the Muslim community to the Dalits to join the protests have had little or no impact on them.
Tarushikha Sarvesh is an assistant professor of Sociology, Advanced Centre for Women's Studies, Aligarh Muslim University and Abdul Hafiz Gandhi is an assistant professor at Unity PG Degree and Law College, Lucknow.
https://www.firstpost.com/india/deep-mistrust-in-muslims-fear-of-violence-mixed-signals-from-the-government-keep-dalits-away-from-anti-caa-protests-8106791.html
--------
'I Pretended To Be Dead': How Shiv Vihar's Muslim Families Became Refugees Overnight in Delhi Riots
March 3, 2020
New Delhi: Even as life goes on – somewhat ashen and shaken – for those remaining in Shiv Vihar, former residents of the locality who had to flee over the course of last week to save their lives from the communal violence that broke out feel time has come to a standstill.
Cramped in Gali number 4 of Mustafabad, about 25-30 families that escaped Shiv Vihar have taken shelter among locals of the Muslim-dominated area just six kilometres away. "We ran away at 5 am on Tuesday after heavy stone-pelting and firing started on Monday at around 3 pm. They started torching shops on the ground floor," Amna Khanum, 50, says. She and her family of seven barely managed to escape the rioters after they started hurling petrol bombs in houses and setting fire to gas cylinders.
Like Amna, many have made it out within inches of being attacked, leaving behind all their valuables and documents. None of them know when they can go back home.
"I pretended to be dead"
Imran, 35, earned his living as a daily wage worker, doing odd jobs for the Al-hind Hospital in New Mustafabad. On Monday, he was on his way to work from his residence in Shiv Vihar when violence broke out. His family including a six-year-old son, five-year-old daughter, and wife were at home. "Some men approached me and asked me my name. I told them it was Imran," he said, swaying and reeking of medicines and alcohol with his head taped up. After finding out his name, Imran says the men hit him on the head with shovels and tried to asphyxiate him with a rope. "They threw me in the ditch after that because I pretended to be dead. I passed out in the naala."
Imran regained consciousness a few hours later and managed to run home to find his family cowering inside. After spending a night in fear, they were rescued by security forces on Tuesday morning. They brought him to his workplace, Al-hind. The hospital's resident doctor, Dr Meraj Ekram, confirms multiple injuries to Imran's head as well as concussions. The doctor also confirms that several patients from Shiv Vihar had received care at the institute for free since Sunday. One of the first victims he treated from the areas was an elderly priest who had been admitted with acid burns on Monday.
"Thank God my neighbour was Hindu"
Mohd Rizwan bought a house in Shiv Vihar just a year ago after locals who had lived in the area for over three decades convinced him it was safe. When they decided to leave on Monday morning itself, some of his neighbours, even Muslim ones, assured him that it was nothing. "They said this is a minor issue, that there had been peace in the locality for ages. I'm lucky I did not listen to them," the 42-year-old tells News18.
Rizwan's two-storey house has been entirely ransacked. He had thought his family would be able to return once the tension subsided, but that did not happen. One of his neighbours, a Hindu, called him on Tuesday and told him that some men were robbing jewellery from his house. "I asked him to stop them, but he said the mob was threatening to beat him too. I believed him, so that was that."
A metal trader by profession, Rizwan says that the rioters were initially planning to blow the house up with a gas cylinder but his neighbour convinced the mob not to as his house, which was adjacent to the structure, would also be wrecked. He believes all his money and savings have been looted but thanks God that his neighbour was Hindu so his house was saved from destruction.
"We kept calling the police but their phones were either busy or went unanswered," Rizwan, who is close to tears by now, adds. The CCTV camera at the mouth of Gali No. 4 is broken.
A Mustafabad local who has given his house to these "migrant" families but doesn't want to be named for fear of being targeted says that on Tuesday, the camera was broken by goons, some of whom wore what appeared to be police uniforms. At the ground floor of his house where some of the families have set up camp, women and children wail as they mourn their lost homes while men stand around outside exchanging news of friends who were killed or injured. A man walks in with medicines and causes a small stampede. A child looks around, lost.
"By the grace of God, I have enough to provide for these families for a few days, but we will need the government to step in and provide compensation," the owner of the house says.
"You can't be here"
While the families in Mustafabad yearn to get a sight of their homes, back in Shiv Vihar, Muslim families that live on the outskirts of the locality are leaving en masse. On Friday, families with packed bags, women carrying little babies in blankets, men young and old, walk out in file towards the main road. Subdued and rendered homeless, they shy away from intrusive cameras and get into parked cars or passing buses that will take them away from the riot-torn neighbourhood.
"I was going to start class X next year; don't know what will happen to my education now," a young boy who refused to be named says as he walks with his mother and sister. They are heading back to their village. The boy refuses to say where. But what about the families who have nowhere to go? Most of those displaced who spoke to News18 from Mustafabad say that they want to go back. "It is my home. I was born there, grew up there, and married there. How can they scare me out?" Rehana, a mother of three, says.
Fatima, 45, however, is not as optimistic. "When I went back to get my goats which were left behind at Shiv Vihar when we escaped, I was attacked," she says. The incident occurred on Wednesday and the men in question tore Fatima's dupatta. She was saved by a local family that told the mob she was their relative. "I could hear invisible voices screaming from rooftops, telling me to leave. 'You can't be here', they screamed. I don't think we can go back so easily," a disconsolate Fatima concludes.
Full report at:
https://www.news18.com/news/india/i-pretended-to-be-dead-how-shiv-vihars-muslim-families-became-refugees-overnight-in-delhi-riots-2523021.html
--------
Delhi violence: SC to hear on Wednesday plea seeking FIRs against BJP leaders over hate speeches
March 2, 2020
The Supreme Court will hear on Wednesday victims' petitions seeking FIRs against BJP leaders for hate speeches that allegedly resulted in communal violence that flared up in Delhi last week. The petition was filed by a few riot victims.
Asserting that he wants peace to prevail, Chief Justice SA Bobde said people think that approaching the top court can stop rioting, but it has its own limitation. "People think this can stop rioting Courts come on to the scene after the thing is done. We wish peace. But we know there are some limitations on judicial power," said Bobde. The apex court although told the petitioners that the Delhi High Court is already looking into the matter, fixed the matter for hearing on March 4.
The petition was mentioned for urgent listing by senior advocate Colin Gonsalves, appearing for the victims of the riot. Gonsalves said that the Delhi High Court has deferred for four weeks the matters related to riots in the national capital despite the fact that people are still dying due to the recent violence. The High Court, during the hearing last week, said it would not allow a repeat of the 1984 anti-Sikh riots in the capital.
The bench of Chief Justice Patel and Justice C Hari Shankar granted the Centre four weeks to file a counter-affidavit to the plea by activists Harsh Mander and Farah Naqvi on registration of FIRs against BJP leaders Kapil Mishra, Anurag Thakur, Parvesh Sahib Singh and Abhay Verma and others over their hate speeches.
Full report at:
https://indianexpress.com/article/india/delhi-violence-sc-to-hear-on-wednesday-plea-seeking-firs-against-bjp-leaders-over-hate-speeches-6295118/
--------
Deaths in Delhi violence a 'planned genocide': Mamata Banerjee
Mar 3, 2020
KOLKATA: Bengal chief minister Mamata Banerjee on Monday termed the Delhi deaths "a planned genocide" and the riots "an extension of BJP's Gujarat model" and questioned the party's authority to decide who is a traitor and who's not.
"I saw people in the BJP rally shouting 'goli maro'... This is instigation. But the law will take its course. We will not them let them go scot-free; if we leave one today, five more will be born tomorrow. Who are you to decide who is a gaddar (traitor)?" Mamata asked BJP at a Trinamool gathering in the city.
Mamata's reaction — the strongest till date — to the Delhi clashes came on Monday, a day after Union home minister Amit Shah blasted the law-and-order situation in Bengal at a BJP rally in Kolkata. "Delhi Police and the CRPF take orders from the Centre. What was the administration doing? Shah who should have sought an apology for what happened in Delhi spoke about forming a government in Bengal," Mamata said.
https://timesofindia.indiatimes.com/india/deaths-in-delhi-violence-a-planned-genocide-mamata-banerjee/articleshow/74449521.cms
--------
India willing to share all military hardware made in the country with Bangladesh: FS Shringla
Mar 2, 2020
DHAKA: India is ready to share with Bangladesh any military hardware being manufactured in the country for India's defence forces, Foreign Secretary Harsh Vardhan Shringla said on Monday as he underlined the potential for robust defence cooperation between the two neighbours.
Addressing a seminar at the Bangladesh Institute for International Studies (BIISS) here, Shringla said Bangladesh has become India's largest development partner in the world and India's largest trade partner in the region.
Over 75 separate dialogue mechanisms connect our Governments and people in an effort to build the strongest possible framework for a permanent partnership.
Shringla, a former Indian High Commissioner to Dhaka, is in Bangladesh on his first visit to the country.
He said Indo-Bangladesh partnership will reach its true potential when the two sides equally recognise that their interests converge and there is a mutuality of benefit.
"This is why we believe that our ongoing efforts to develop a robust partnership between our militaries emphasises trust of a high order. Especially since we are willing to share with you any and all military hardware being manufactured in India for use by our military, the top Indian diplomat said amidst China making efforts to sell weapons, including submarines, to Bangladesh.
Full report at:
https://timesofindia.indiatimes.com/india/india-willing-to-share-all-military-hardware-made-in-the-country-with-bangladesh-fs-shringla/articleshow/74445307.cms
--------
Mideast
Indicted Netanyahu claims victory in Israel vote
March 03, 2020
Prime Minister Benjamin Netanyahu claimed victory on Tuesday in Israel's general election, with exit polls putting the indicted premier in a strong position to form the next government.
Monday's election, Israel's third in less than a year, was called after inconclusive votes in April and September left the Jewish state in a political deadlock.
Ballots were still being counted with official tallies expected later Tuesday.
But exit polls by three networks gave Netanyahu's right-wing Likud party between 36 and 37 seats in Israel's 120-member parliament.
That would mark the party's best-ever result under Netanyahu, who first served as premier from 1996-1999 and whose current tenure began in 2009.
The estimates gave Likud and its right-wing allies, including ultra-Orthodox parties, 59 seats — two short of a majority.
Likud's main challenger, the centrist Blue and White party, was projected to win between 32 and 34 seats.
Counting its centre-left allies as well as the mainly Arab Joint List alliance, the anti-Netanyahu camp was expected to control 54 to 55 seats.
While there remains no guarantee that Netanyahu can form a coalition, he hailed Monday's election as a "giant" success.
"This is the most important victory of my life," he told a boisterous crowd of supporters in Tel Aviv.
In a statement, Likud said Netanyahu had spoken to all the heads of right-wing parties and "agreed to form a strong national government for Israel as soon as possible".
Blue and White's leader, ex-military chief Benny Gantz, admitted "disappointment" with the result.
But he stressed that regardless of the final tally Netanyahu is still due to go on trial on March 17 after being charged with bribery, fraud and breach of trust.
"In two weeks, he will be in court," Gantz said.
The president of the Israel Democracy Institute think-tank, Yohanan Plesner, said the projections showed that Netanyahu had "won a significant political mandate from the Israeli people".
But, he added, the country was heading towards "unprecedented" legal uncertainty as the probable head of government will be forced to "fight to clear his name in court".
Coalition talks
While Netanyahu will likely be tapped by President Reuven Rivlin to form a government, his path to a 61-seat majority remains unclear.
The projections indicate that the secular, nationalist Yisrael Beiteinu party won six or seven seats and may again be able to play kingmaker, the same position it was in following the April and September votes.
Party leader Avigdor Lieberman served as defence minister in a previous Netanyahu government and his support would easily put Likud over the crucial 61-seat line.
But after the September vote Lieberman said he would only join a government of national unity — ruling out cooperation with the ultra-Orthodox parties allied to Netanyahu and the Arab camp that backed Gantz.
"There is no choice but to wait for the final results and only then conduct a situation assessment," Lieberman said after the exit polls were released.
Despite again falling short of a majority, the mood in the Likud camp was celebratory.
"Finally, we won," party member Ran Carmi Buzaglo told AFP at the Tel Aviv rally, where people danced, sang and waves flags while shouting "Bibi, king of Israel," using the prime minister's nickname.
Coronavirus
The premier campaigned on his tough position towards the Palestinians and on Jewish settlements in the occupied West Bank.
In January, US President Donald Trump unveiled a controversial peace plan approving Israel's annexation of settlements and swathes of land in the West Bank, sparking Palestinian outrage.
Bolstered by US support, Netanyahu has campaigned on building thousands more homes in Jewish settlements in the Palestinian territory, even though they are considered illegal by the international community.
Reacting to the result, chief Palestinian negotiator Saeb Erekat said the exit polls showed that "settlement, annexation and apartheid had won".
Gantz, a security hawk, was also supportive of the Trump plan, sparking criticism from the left that he did not offer a real alternative to Netanyahu.
The election was being held amid the coronavirus epidemic, with two new cases confirmed Monday — raising the tally in Israel to 12.
Another 5,600 Israelis are under self-quarantine, many of whom visited countries where the virus is prevalent.
At 18 special polling stations, those under quarantine met election staff in full protective suits and masks.
Voters had to wash their hands and wear gloves before casting their ballots, presenting their ID cards to election officials separated by plastic sheets.
https://www.dawn.com/news/1538054/indicted-netanyahu-claims-victory-in-israel-vote
--------
Member of Iran's supreme leader council to Khamenei dies of coronavirus
2 March 2020
A member of a council that advises Supreme Leader Ali Khamenei has died after falling ill from the new coronavirus, Iranian state radio says.
The report Monday said Expediency Council member Mohammad Mirmohammadi had died. He was 71.
The council advises Khamenei, as well as settles disputes between the supreme leader and parliament. Iran had previously announced Mirmohammadi was ill on Sunday, the day before it announced his death.
His death comes as other top officials have contracted the virus in Iran, which has the highest death toll in the world after China, the epicenter of the outbreak.
Iranian officials hit by virus
Mirmohammadi is one of many top officials to contract the virus.
Iran's Deputy Health Minister Iraj Harirchi was reported as having coronavirus by the semi-official news agency ILNA on February 25.
On Thursday, former Justice Minister and Interior Minister Mostafa Pourmohammadi was hospitalized with coronavirus symptoms.
On Saturday, Masoumeh Aghapour Alishahi became the latest Iranian member of parliament to announce that she has been infected with coronavirus.
Full report at:
https://english.alarabiya.net/en/News/middle-east/2020/03/02/Member-of-Iran-s-supreme-leader-council-dies-of-coronavirus.html
--------
One Turkish customs agent killed in rocket attack near Iranian border
2 March 2020
Turkish security forces launched an operation to hunt attackers near the Iranian frontier on Monday after one Turkish customs agent was killed when a rocket hit an armored bus carrying customs staff.
The rocket struck the vehicle's front wheel around 0550 GMT on Monday, Interior Minister Suleyman Soylu said on Twitter.
He said "the terrorists were followed and cornered," but did not specify who the attackers were believed to be.
Turkish Trade Minister Rushar Pekcan said one of the customs agents was killed and several others wounded, including four in critical condition.
The office of the governor of Agri province said the vehicle was hit while in transit from the Dogubayazit area to a border gate at Gurbulak, causing it to skid off the road and flip over. It did not say who had carried out the attack.
The vehicle was near a parking lot for freight trucks some 3km (2 miles) from the border, hospital and security sources said.
Ambulances, security forces and search and rescue teams were sent to the area.
Some Turkish media reports said the attack was carried out by Kurdistan Workers Party (PKK) militants, who have fought an insurgency against the Turkish state since 1984. The PKK are active in southeast Turkey but less so in Agri.
Television footage showed helicopters flying over the area after the attack, while Turkey's state-owned Anadolu news agency said two combat helicopters had fired rounds on "areas where terrorists are believed to be."
Anadolu said a soldier was critically wounded when an explosive was detonated during reconnaissance operations in the area.
Full report at:
https://english.alarabiya.net/en/News/middle-east/2020/03/02/One-Turkish-customs-agent-killed-in-rocket-attack-near-Iranian-border.html
--------
Iran Underlines Talks as Only Solution to Crisis in Idlib
Mar 02, 2020
"We still consider the only solution as policy and talks and view Astana mechanism as the most important mechanism to resolve differences in Syria," Foreign Ministry Spokesman Seyed Abbas Mousavi told reporters in a video conference today.
"One of the measures we have adopted so far is contacting all engaged sides to ask them to opt for consultations in different frameworks as soon as possible," he added.
Asked about Iran's position on Turkey's bombing of positions of Iranian military advisors in Idlib, Mousavi said, "We have declared our concerns. We believe ceasefire and meetings among guarantor states is the only solution to the current situation in Idlib."
At least 34 Turkish soldiers were killed and several more injured in an airstrike by the Syrian army in Idlib late Thursday. Yet, Turkey says the attack has been conducted by Russia.
Turkey has launched vast attacks on the Syrian army and its allies in Northwestern Syria in the last few days, killing dozens, weeks after Damascus troops smashed terrorist groups, including the Al-Nusra Front, in the Northwestern provinces of Aleppo and Idlib.
After sustaining hundreds of casualties in several-day-long bombing raids that Ankara blames on Russia, the Turkish army started drone attacks on Syrian army positions in a move that is widely believed to be showing Ankara's deep fright from opening direct fire on Russian troops.
Ankara insists that the Syrian army and its allies should withdraw from the strategic regions and towns that have been captured by Damascus troops in Idlib province to let the militant groups come back in control of the region, a demand rejected by the Syrian government outright.
Following the Turkish army attacks, Iran's Military Advisory Center (MAC) in Syria called on Turkey to show wise behavior on the issue of Idlib in line with the interests of the Turkish people.
"Following the Syrian government's demand to liberate the M5 road, we cooperated with the country and a number of forces from the Islamic Revolution Guards Corps (IRGC) and Hezbollah of Lebanon in cooperation with the resistance groups provided service to the local people in liberated areas," a statement by the MAC said on Saturday.
It added that the MAC was forced to cooperate again with the Syrian army to prevent reoccupation of the M5 after the Turkey-backed armed groups attacked the Syrian army positions again.
"Since the start of our presence in Syria, the Turkish army centers have been within the range of our forces but because of the Astana and other agreements, the committees' forces and resistance groups have avoided attacks on the Turkish army centers and positions so far," the statement cautioned.
It added that foreign terrorists from Tajikistan and the Turkistani party as well as al-Nusra militants have launched extensive attacks against the Syrian army centers in the past four days, and the MAC has sent its forces to the liberated areas again to help the Syrian army.
The statement blasted the Turkish army for missile attacks against the MAC centers despite its defensive position, and said mediators have been sent to the Turkish army to stop these attacks and improper behaviour but the Turkish army has turned down mediation and killed several of the MAC forces in continued bombings.
It added that the Syrian army's artillery units reciprocated the attack, and MAC once again declared to the Turkish army that it does not intend to go into war as its top commanders insist on a diplomatic solution to the crisis between Syria and Turkey.
"Since this morning, we have ordered our forces not to target the Turkish army centers to protect the lives of the country's forces, but the Turkish army still continues artillery attacks against our positions and the Syrian army centers," the statement said.
"The MAC and the resistance forces want the Turkish forces to act wisely and in line with the interests of the Syrian and Turkish nations," it added, warning that the Turkish soldiers have been within the range of the MAC's fire for one month, but the MAC and resistance forces have refrained from targeting them.
"We want you to pressure your officials [to stop their offensive measures] in a bid to prevent the killing of the Turkish soldiers and remain committed to the agreements," the statement said, addressing the Turkish soldiers and people.
"Despite the current difficult conditions, we emphasize again that we will stand beside the Syrian nation, government and army until expelling the terrorists and safeguarding Syria's territorial integrity and urge everyone to show more care for wisdom while thinking about the dangers and consequences of continued attacks against Syria," it concluded.
Meantime, Turkey's Vatan party warned President Recep Tayyip Erdogan against the consequences of military intervention in Syria and falling into a trap laid by the US and Israel.
"If Turkey starts war against Syria, it can fall into a trap laid by the United States and Israel and lose allies," Vatan party said in a statement, warning that the military meddling in Syria would place not only Turkey, but also Erdogan himself in the trap.
The statement cautioned that engagement in clashes in Syria will isolate Turkey and make it lose allies like Syria.
Also, on Sunday, a large number of Turkish media and civil activists in a petition called on Erdogan to stop meddling and military intervention in Syria and immediately withdraw forces from the country.
A sum of 236 prominent Turkish figures, including artists, actors, poets, leaders of civil social bodies, lawyers, media workers, university professors, physicians and members of the unions, have signed the petition.
Full report at:
https://en.farsnews.ir/newstext.aspx?nn=13981212000658
--------
Scandal-hit Netanyahu claims victory in Israel Knesset election
03 March 2020
Israeli Prime Minister Benjamin Netanyahu has claimed victory in the general election after exit polls put his party ahead of its main rival with a narrow lead.
Media projections give Netanyahu's right-wing Likud party 36 or 37 seats while his main rival Benny Gantz's Blue and White managed 33 seats.
Based on the exit polls, Likud and like-minded parties combined could win 60 of Knesset's 120-seats, only one short of a majority.
The Monday election was the Israeli regime's third in less than a year. Netanyahu, who has been indicted in a corruption scandal, had failed to secure a governing majority in the elections held in April and September, last year.
Netanyahu's victory means annexation, settlements, apartheid
Meanwhile Palestinian officials and factions have slammed the vote. Saeb Erekat, a top official of the Palestine Liberation Organization said Israel's exit polls show victory for annexation and apartheid.
"From the exit polls we have just seen it's obvious that annexation, settlements, apartheid won the elections," Erekat said in a message.
"The whole election campaign was about annexation of the Jordan Valley , the Dead Sea, the settlements, Jerusalem, subjecting the Palestinian people to further and deeper to the Israeli occupation; denying them the rights of determination," he added.
Erekat said Netanyahu "has taken the wrong side of history" and his pro-conflict policies will take the region into a cycle of violence, extremism, counter-violence and bloodshed.
And seems to me that Mr. Netanyahu believes that conflict is what serves Israel's interests in the future. I believe he has taken the wrong side of History, I think if he forces Palestinians and Israelis to live by the sword that means a cycle of violence, extremism, counter-violence and bloodshed dominate this region."
The Hamas also slammed the vote saying election in the Palestinian territory has NO legitimacy and Israel will remain an occupying regime.
Full report at:
https://www.presstv.com/Detail/2020/03/03/620002/Netanyahu-likud-party-knesset-election-narrow-lead
--------
Israeli forces clash with Palestinian anti-settlement protesters
02 March 2020
Israeli forces have clashed with Palestinians attending protests against illegal settlements in the West Bank, firing tear gas at demonstrators near the town of Nablus.
The protest rallies were staged on Monday by Palestinians in the West Bank as the Israeli regime ramped up its illegal settlements in the occupied territories.
The protest was held in the mountains near the town of Nablus. The Palestinians gathered there after Israeli settlers threatened to take over the area.
Regime forces clashed with protesters and fired tear gas at them.
The protest rallies came against the backdrops of Israel's plans for constructing thousands of new settler units.
Back on Thursday, the High Planning Subcommittee of Israel's so-called Civil Administration gave the green light for construction of close to 1,800 new settler units in the illegal settlements it has built across the occupied West Bank, in a move apparently aimed at securing votes for scandal-hit Prime Minister Benjamin Netanyahu ahead of the elections held this Monday.
The United Nations has criticized Israel's plans, saying they would effectively cut the West Bank in two and isolate Palestinian neighborhoods.
Israel has become more brazen in its attempts to trample upon Palestinians' rights since the 2016 election of US President Donald Trump, who has unprecedentedly intensified Washington's support for the regime.
Under a so-called Middle East peace plan unveiled in January by the US, Israel will have sovereignty over all settlements in the occupied territories.
Full report at:
https://www.presstv.com/Detail/2020/03/02/620001/Palestinian-protesters-clash-Israel-forces-west-bank
--------
Three civilians killed as Saudi-led militia shell Yemen's Hudaydah
02 March 2020
At least three civilians have been killed when artillery shelling targeted an area in Yemen's western coastal province of Hudaydah, as Saudi Arabia and a number of its regional allies press ahead with their military aggression against the crisis-hit Arab country.
A local security source, speaking on condition of anonymity, said Saudi-led militia forces carried out heavy artillery shelling on al-Jaah area in the Bayt al-Faqih district of the province on Monday, the media bureau of Ansarullah movement reported.
موقع أنصار الله
@ansarollah2
موقع أنصار الله ..
استشهاد وإصابة خمسة مواطنين بنيران المرتزقة في الحديدةhttps://www.ansarollah.com/archives/321637
View image on Twitter
7
2:51 PM - Mar 2, 2020
Twitter Ads info and privacy
See موقع أنصار الله's other Tweets
The source added that the artillery shelling killed at least three people and critically injured two others at the scene.
Saudi forces also fired ten artillery rounds at various residential areas north of Hays district in the same Yemeni province. There were no immediate reports about possible casualties or the extent of damage available though.
The developments came as an unnamed source in the Liaison and Coordination Officers Operations Room said that during the past 24 hours forces of the Saudi-led military coalition and their mercenaries have breached more than 190 times an agreement reached between the warring sides during a round of UN-sponsored peace negotiations in Sweden in December 2018.
The source at the monitor added that the violations included seven reconnaissance flights over Kilo 16 and L50 neighborhoods, formation of two fortification lines in Jabaliyah and Kilo 16 areas, 46 counts of artillery and mortar shelling, as well as 135 shooting incidents in various regions.
موقع أنصار الله
@ansarollah2
موقع أنصار الله ..
قوى العدوان ترتكب 190 خرقا لاتفاق التهدئة في الحديدة خلال 24 ساعةhttps://www.ansarollah.com/archives/321719
View image on Twitter
1
9:28 PM - Mar 2, 2020
Twitter Ads info and privacy
See موقع أنصار الله's other Tweets
Delegates from the Ansarullah movement and representatives loyal to former Yemeni president Abd Rabbuh Mansur Hadi attended the peace negotiations in Rimbo on the outskirts of the Swedish capital Stockholm. The talks resulted in the announcement of a break-through agreement.
The document included three provisions: a ceasefire along the Hudaydah front and the redeployment of armed forces out of the city and its port; an agreement on prisoner exchange; and a statement of understanding on the southern Yemeni city of Ta'izz.
Saudi Arabia and a number of its regional allies launched the devastating campaign against Yemen in March 2015, with the goal of bringing back to power the government of Hadi and crushing the Ansarullah movement.
The US-based Armed Conflict Location and Event Data Project (ACLED), a nonprofit conflict-research organization, estimates that the war has claimed more than 100,000 lives over the past nearly five years.
Saudi Arabia and the United Arab Emirates have purchased billions of dollars' worth of weapons from the United States, France and the United Kingdom in the war on Yemen.
The Saudi-led coalition has been widely criticized for the high civilian death toll from its bombing campaign. The alliance has carried out nearly 20,500 air raids in Yemen, according to the data collected by the Yemen Data Project.
Full report at:
https://www.presstv.com/Detail/2020/03/02/619985/Three-civilians-killed-as-Saudi-led-militia-shell-Yemen%E2%80%99s-Hudaydah
--------
Erdogan warns 'millions' of refugees heading into Europe, Ankara will not stop them
02 March 2020
Turkish President Recep Tayyip Erdogan says Ankara has no plans to stop the flow of migrants into the European Union (EU), warning that "millions of refugees" will soon be moving toward Turkey's borders with the bloc.
"The period of Turkey's unilateral self-sacrifice in relation to the refugees has come to an end," Erdogan said in a televised speech on Monday, adding, "Since we have opened the borders, the number of refugees heading toward Europe has reached hundreds of thousands. This number will soon be in the millions."
The Turkish president also called on Europe to help take responsibility for the migrant crisis triggered by violence in the region.
"After we opened the doors, there were multiple calls saying 'close the doors'," he said. "I told them, 'It's done. It's finished. The doors are now open. Now, you (Europe) will have to take your share of the burden.'"
Turkey on Thursday relaxed curbs on the migrants' movement through its borders and said Ankara would no longer prevent hundreds of thousands of asylum seekers in its territory from reaching Europe despite an agreement struck with the EU in 2016, under which Ankara was committed to stop the refugee flow into Europe in exchange for financial assistance from Europe.
Ankara complains that funds promised by the EU to help it deal with the 3.7 million Syrian refugees already in the country have been slow to arrive. Turkey's government had warned in the past that it would open the floodgates if it did not receive more funding.
The massing of migrants has caused fears of a repeat of the 2015 European migrant crisis, in which more than one million people crossed into Europe, most of them fleeing conflict zones in the Middle East and North Africa.
Nearly 13,000 refugees have been blocked from entering Greece since the Turkish president said his country would allow refugees into Europe in an attempt to pressure the EU governments over the conflict in Syria across its southern border.
Erdogan also expressed hope on Monday to reach a deal on a ceasefire in Syria when he meets Russian President Vladimir Putin later in the week following intense fighting in the last bastion of terrorists in the northwestern province of Idlib.
EU: Turkey must not let migrants into Europe
Meanwhile, European Union's chief executive Ursula von der Leyen expressed sympathy on Monday with Turkey over the refugee crisis but said it was impermissible for Ankara to allow migrants on its territory to cross into Europe.
"I acknowledge that Turkey is in a difficult situation with regard to the refugees and the migrants. But what we see now cannot be an answer or solution," she told a news conference in Brussels.
Von der Leyen is to visit the Greek-Turkish border on Tuesday, and Boyko Borissov, the prime minister of Bulgaria, which also shares a border with Turkey, is scheduled to meet Erdogan in Ankara later on Monday.
Greek police clashed over the weekend with thousands of migrants seeking to enter the EU from Turkey.
Greek authorities said on Monday that they thwarted 9,877 attempts to cross the northeastern border over the past 24 hours and at least 68 people had been arrested on charges of illegal entry into the country.
Turkey using refugees to pressure EU 'unacceptable': Merkel
Later on Monday, German Chancellor Angela Merkel reacted to Erdogan's remarks, saying that it was "unacceptable" for Turkey to pressure the EU "on the backs of refugees."
"I find it completely unacceptable that... President Erdogan and his government did not bring their dissatisfaction to us at the EU, but instead duked it out on the backs of refugees," Merkel told a Berlin press conference.
Also on Monday, German government spokesman Steffen Seibert said the EU expects Turkey to uphold the 2016 agreement and prevent migrants from reaching the bloc.
"We are currently experiencing a very worrying situation at the EU's external borders with Turkey, on land and at sea. We are seeing refugees and migrants who are told by the Turkish side that the way into the EU is now open, and of course it is not," Seibert told reporters in Berlin.
"This puts these people, men, women and children, in an extremely difficult situation, and it also presents Greece with enormous challenges. The German government is aware of all this," he added. "We are convinced about the value of the agreement and we expect it to be upheld."
EU migration commissioner: 'No one can blackmail' Europe
Reacting to Erdogan's remarks later on Monday, the EU's migration commissioner warned Turkey that the European Union would not be intimidated or blackmailed over flow of refugees into its soil.
Full report at:
https://www.presstv.com/Detail/2020/03/02/619970/Turkey-Erdogan-migrants
--------
Kremlin cannot guarantee safety of Turkey's planes over Syria's Idlib
March 02, 2020
ISTANBUL: The Kremlin on Monday drew Turkey's attention to a warning from the Russian Defence Ministry that Moscow could not guarantee the safety of Turkish planes flying in Syria after Damascus said it was closing the air space over the Idlib region.
Kremlin spokesman Dmitry Peskov also confirmed that Russian President Vladimir Putin and his Turkish counterpart Tayyip Erdogan would hold talks on Syria in Moscow on Thursday.
Erdogan will visit Russia to discuss the mounting tensions in Syria, his office said earlier.
"The president is due to pay a one-day visit to Russia on March 5," the Turkish presidency said in a statement.
Turkey confirmed on Sunday that it had launched a full military operation against Russian-backed Syrian forces following increasing clashes in the last rebel stronghold of Idlib.
Ankara, which backs militants in the province, killed 19 Syrian soldiers in drone strikes on Sunday, and downed two regime planes.
But it remains determined to avoid direct clashes with Moscow, with which it shares significant defense and trade ties.
Despite being on opposing sides of the conflict, Turkey and Russia have coordinated closely in the past.
They secured a deal in Sochi in 2018 that led to Turkey establishing 12 military observation posts in Idlib to prevent a Syrian offensive and a fresh flood of refugees into Turkish territory.
But Syria and Russia look increasingly determined to regain full control of the area and an offensive launched in December has displaced close to a million civilians, and seen increasing clashes between Turkish and Syrian forces.
Full report at:
https://www.arabnews.com/node/1635626/middle-east
--------
US delegation visits Turkey ahead of crucial Moscow-Ankara summit
March 03, 2020
ANKARA: A flurry of diplomatic meetings are underway this week as violence continues in Syria's rebel-held northwestern province of Idlib.
A high-level US delegation visited Ankara on Monday and there is an expected meeting between Turkish and Russian leaders in Moscow on Thursday.
The US delegation — with Kelly Craft, the envoy to the UN, and James Jeffrey, the special representative for Syria — will visit Turkey on Monday night to hold talks on the mounting tensions in Idlib.
After having lost at least 36 Turkish soldiers to Assad regime airstrikes in Idlib, Turkey launched Operation Spring Shield on Sunday against Russian-backed Syrian forces, downing two regime planes and carrying out drone strikes that killed 19 Syrian soldiers.
Although Ankara currently avoids any direct confrontation with Moscow, they are still on the opposing sides of the conflict. Russia looks determined to back the Syrian regime to regain full control over Idlib.
Experts underline that much depends on the outcome of the US visit to Turkey and the ongoing discussions between Turkish President Recep Tayyip Erdogan with his US counterpart Donald Trump.
Samuel Ramani, a Middle East analyst at the University of Oxford, said that Turkey's meeting with the US is meant to send a message to Moscow that Washington is behind its actions in Syria.
"Turkey is hoping that it can secure something more than just rhetorical solidarity from the US and possibly could be interested in seeing if the US will offer Patriot deployments or intelligence support in Idlib," he told Arab News.
If the US offers either of these options, Ramani said, Turkey will be able to react to Russia from a position of strength.
"And in that case, Moscow will be much more likely to accept Turkey's outreach knowing that the Russian S-400 air defense system could be at risk and Turkey could be pivoting back into the US and NATO fold," he added.
Washington and Ankara are still considering Turkey's recent request for a temporary deployment of two American Patriot anti-aircraft missile systems along its southern border with Syria, Trump said on Saturday.
But with Ankara's Ankara's insistence to activate the S-400s in the spring, the deployment of the American systems is not guaranteed.
Turkey also called on the US to conduct aerial patrols near Idlib, and on its NATO allies to give air defense and intelligence support for its military maneuvres.
The US paused sharing reconnaissance with Turkey on Kurdistan Workers' Party targets in Iraq after the Turkish incursion into Syria in last October.
Experts note that if nothing substantial comes of the US-Turkish meeting, it could embolden the Russian position in the upcoming Erdogan-Putin summit in Moscow.
"Under that scenario, Russia will wait until Turkey is firmly committed to de-escalation before offering any compromises, and could even try to distract Ankara in the meantime with a parallel escalation in Libya," Ramani said.
Meanwhile, the Kremlin is playing hardball with Ankara, warning the latter that it cannot guarantee the safety of Turkish aircraft over Idlib.
"Deploying the Patriots at the Turkish-Syrian border will definitely strengthen Turkey's position in its bargain with Russia. Yet it may be not enough to change Russia's calculus in Syria, especially its approach to the Assad regime, because Russia's global credibility is at stake here," said Karol Wasilewski, a Turkey analyst at the Warsaw-based Polish Institute of International Affairs.
"Thus, I think the farthest Russia may go when it comes to its bargain with Ankara is some territorial correction to its long voice argument about the Adana Agreement. And while Ankara seems interested in de-escalation, I doubt Turkish decision-makers will accept the offer," he told Arab News.
Regarding the summit in Moscow, Erdogan hopes to achieve a cease-fire in Idlib. However, the previous cease-fires that were brokered by Turkey and Russia have been fragile and were regularly violated.
Wasilewski thinks that Ankara is clear when it comes to its objectives in Syria — they still want a political process to end the war.
Full report at:
https://www.arabnews.com/node/1635931/middle-east
--------
Africa
Over 1,600 Infected With Coronavirus across Middle East and North Africa
2 March 2020
Coronavirus continues spread across Middle East and North Africa with over 1,600 infected across the region.
The coronavirus first started spreading from Wuhan, China, earlier this year and has since infected nearly 90,000 people, with over 3,000 dead. The Middle East has been hit particularly hard as cases started spreading across the region as travelers returned from Iran, the second deadliest epicenter for the disease after China, with 66 reported dead.
Here is a chart of spread of the coronavirus in the Middle East and North Africa so far:
Click here for our dedicated coronavirus section.
How coronavirus spread from Iran
The first cases of coronavirus were recorded in UAE on January 29, 2019. However, the virus appeared to have been contained within the country, which only has 21 cases to date, and no recorded deaths.
The virus instead spread across the region in late February, following an explosion of cases in Iran which then spread to nearby Bahrain, Kuwait, and Iraq.
Iran itself has struggled to contain the virus, with several officials from the regime falling ill. On Monday, an adviser to Supreme Leader Ali Khamenei died of coronavirus.
While no cases have yet been declared in Syria, officials have begun to prepare for the virus spreading to the wartorn country.
The spread of the virus across the region has hit the economy, with Gulf stocks falling on Sunday and the aviation industry forced to cancel flights.
Saudi Arabia announced it was temporarily suspending visas for Umrah pilgrims to Mecca to prevent the spread of the virus, although the Kingdom is yet to report a confirmed case.
https://english.alarabiya.net/en/News/middle-east/2020/03/02/Over-1-100-infected-with-coronavirus-across-Middle-East-and-North-Africa.html
--------
Jordan confirms first coronavirus case: Health ministry
2 March 2020
Jordan has recorded its first coronavirus case on Monday in a person who recently traveled to Italy, the health minister said during a press conference.
Two people showing coronavirus symptoms came forward on Sunday night for testing but only one tested positive. The other person was placed in quarantine as a precautionary measure.
Three family members of the infected person are also being tested. If no additional infections are confirmed, those who were in contact with the coronavirus patient will remain in a home quarantine for 14 days, the health minister said.
He also confirmed Jordan is fully prepared for the situation and it is not possible for anyone to come in direct contact with the infected person in quarantine.
Last month, Jordan barred entry to citizens of China, Iran and South Korea and other foreign traveling from countries with a coronavirus outbreak as a precautionary measure.
https://english.alarabiya.net/en/News/middle-east/2020/03/02/Jordan-confirms-first-coronavirus-case-Jordan-News-Agency.html
--------
Libya: Haftar militias target Tripoli's Mitiga Airport
Aydogan Kalabalık
03.03.2020
TRIPOLI, Libya
Militias loyal to Libyan warlord Khalifa Haftar targeted Mitiga International Airport in the capital Tripoli on Monday.
They fired nine rockets, according to local media.
One of the rockets hit an area near the airport, causing fear and panic among passengers and employees.
The airport's administration announced on Facebook that flights have been suspended again due to the attacks.
Since the ouster of late ruler Muammar Gaddafi in 2011, two seats of power have emerged in Libya: Haftar in eastern Libya, supported mainly by Egypt and the United Arab Emirates, and the Government of National Accord (GNA) in Tripoli, which enjoys UN and international recognition.
On Jan. 12, the parties to the conflict announced a ceasefire in response to a joint call by Turkey and Russia.
But talks for a permanent ceasefire hosted by Russia on Jan. 14 proved inconclusive after Haftar left Moscow without signing a deal.
The first round of political talks on the Libya peace process started last Wednesday in Geneva.
The talks followed the completion of a second round of UN-sponsored military talks on Libya in Geneva between the warring sides that ended on Feb. 23.
The Libyan Joint Military Commission (JMC) talks were in a 5+5 format with five representatives of the GNA and five from Haftar's forces.
Full report at:
https://www.aa.com.tr/en/africa/libya-haftar-militias-target-tripolis-mitiga-airport/1752534
--------
Mali Checkpoint Attack Kills 6 Soldiers, Injures 10
James Tasamba
03.03.2020
Militants with rocket launchers attacked a checkpoint in central Mali region, killing six soldiers, authorities said Monday.
The attack on Sunday night at Mondoro also resulted in 10 injuries and material damage, the army said on Twitter.
Government spokesperson Yaya Sangare in a separate tweet said soldiers "repelled the terrorists, destroying two columns of their vehicles and motorcycles."
The army air strikes were launched overnight resulting to major losses of human lives and material of the armed terrorist group, he said, adding that a sweeping operation was still underway in the area.
One Malian soldier was killed and three others wounded in a militant attack on Feb.14.
Last November some 50 Malian soldiers were killed in a terrorist attack on a military post in northeast Mali.
Full report at:
https://www.aa.com.tr/en/africa/mali-checkpoint-attack-kills-6-soldiers-injures-10/1752440
--------
10 dead in gun battle between Somali troops, militia
Mohammed Dhaysane
02.03.2020
MOGADISHU, Somalia
At least 10 people were killed and several others wounded when a fierce fighting between the military forces and a militia took place in Somalia's southwest, an official said on Monday.
The fight began after Somali special forces attacked the militia loyal to Abdirashid Janan, fugitive former security minister in Jubaland State.
Mohamed Gedi, a military official in Gedo administrative region, told Anadolu Agency over the phone that the fighting killed 10 people -- including soldiers, militants and civilians -- from Jubaland.
Civilian houses were also damaged in the gun battle, he said.
Col. Mohamed Adow Ali, commander in Somali National Army in Gedo, confirmed the fight and accused Kenyan government of shelling civilians homes in the town.
Eyewitness, who spoke to Anadolu Agency over the phone, said the fighting was deadly and spread to several villages close to Kenya.
Full report at:
https://www.aa.com.tr/en/africa/10-dead-in-gun-battle-between-somali-troops-militia/1752251
--------
Kenya denies meddling in Somalia's internal affairs
Andrew Wasike Shimanyula
02.03.2020
NAIROBI, Kenya
Kenya on Sunday denied claims by Somalia that it has been interfering in the country's internal affairs, terming the allegations "fabricated for political expediency."
"Kenya rejects the unwarranted and invalid allegations made by the Federal Government of Somalia and takes great exception to the fabricated indictments of interfering in Somalia's internal affairs," the Foreign Affairs Ministry said Sunday in a protest note to Mogadishu, according to Kenya's Daily Nation newspaper.
In the statement, Nairobi denied all the allegations accusing Kenya of meddling in Somalia's affairs as said in a Friday statement by Somali Ambassador to the UN Abukar Dahir Osman.
"These baseless accusations are part of a growing and persistent pattern of ill intent to use Kenya as a scapegoat and tool to justify unfulfilled legitimate and social demands in Somalia and for political mileage," the Daily Nation quoted the Foreign Affairs Ministry as saying.
"Kenya will not accept to be used in that manner and encourages the Federal Government of Somalia to stop the campaign and use the energy to deliver leadership to their people."
On Friday, Somalia issued a warning accusing Kenya of interfering in its internal affairs, including encroachment in the border areas between the two countries.
Full report at:
https://www.aa.com.tr/en/africa/kenya-denies-meddling-in-somalias-internal-affairs/1751230
--------
Libya: GNA forces kill 23 members of Haftar's militias
Gulsen Topcu
02.03.2020
TRIPOLI
Libya's UN-recognized Government of National Accord (GNA) announced Sunday that it killed 23 militia members loyal to renegade Gen. Khalifa Haftar in southern Tripoli.
The GNA captured four of Haftar's forces alive while repulsing the attack, Mustafa al-Mujie, the spokesman for the GNA-led Burkan Al-Ghadab (Volcano of Rage) Operation, told Anadolu Agency.
He added that nine GNA soldiers were killed.
The internationally recognized GNA has been under attack by Haftar's forces since last April, with more than 1,000 lives lost in the violence.
In a statement Thursday, the UN mission in Libya strongly condemned the continued violations of the armistice by Haftar forces, including the repeated bombing of Mitiga International Airport.
Since the ouster of late ruler Muammar Gaddafi in 2011, two seats of power have emerged in Libya: Haftar in eastern Libya, supported mainly by Egypt and the United Arab Emirates, and the GNA in Tripoli, which enjoys UN and international recognition.
On Jan. 12, the parties to the conflict announced a ceasefire in response to a joint call by Turkey and Russia.
But talks for a permanent ceasefire hosted by Russia on Jan. 14 proved inconclusive after Haftar left Moscow without signing a deal.
The first round of political talks on the Libya peace process started last Wednesday in Geneva.
The talks followed the completion of a second round of UN-sponsored military talks on Libya in Geneva between the warring sides that ended on Feb. 23.
The Libyan Joint Military Commission (JMC) talks were in a 5+5 format with five representatives of the GNA and five from Haftar's forces.
Full report at:
https://www.aa.com.tr/en/africa/libya-gna-forces-kill-23-members-of-haftar-s-militias/1751217
--------
Kenya-Somalia Border Tension Risks Strengthening Al-Shabaab
2 MARCH 2020
By Aggrey Mutambo
Somalia was Monday fighting itself after its national forces ambushed Jubbaland regional troops allied to a fugitive minister near the border with Kenya.
Experts say the move could potentially aid Al-Shabaab militant group in spreading terror.
The fight broke out a day after 11 Kenyan parliamentarians secretly travelled to Somalia and met President Mohamed Abdullahi Farmaajo.
The eruption of violence on the border threatened to negate claims by the Kenyan MPs that they were seeking solutions against the Somalia-based militant group.
SPLIT
Fighting broke out between special troops of the Somali National Army (SNA) deployed to Gedo region to guard the border and Jubbaland forces loyal to Abdirashid Janaan, who reportedly fled prison in Mogadishu with the help of some officials in President Famrajo's government.
It occurred mostly on the Somali side but civilians fled into Kenya.
This is the opposite of what was expected after MPs from the three North Eastern counties of Wajir, Mandera and Garissa toured Mogadishu.
The MPs claimed they were knocking on any door to seek help.
But a split between those who went and those who remained behind exposed clan differences.
'NIS AWARE'
The leaders led by Mandera North MP Bashir Abdullahi said they had informed the National Intelligence Service (NIS) bosses about their trip and refuted claims that they had sneaked out.
Most of the MPs who visited Somalia are from Garre and Degodia clans.
Those left behind are mostly Ogadenis, who support Jubbaland President Ahmed Madobe, whose leadership is not recognised by Farmaajo.
Former Lagdera MP Farah Maalim denied claims that they sneaked out, suggesting that details of the trip were leaked to the media by those opposed to it.
"This narrative that the MPs' trip to Mogadishu was clandestine is hogwash. We have a government where the left hand does not know what the right hand is doing.
"The Director General of NIS, the Inspector-General and a host of other officers were aware of the trip and they even sanctioned it," he said.
FIGHT "STUPID"
On Monday, experts warned that the tension at the border risked strengthening Al-Shabaab rolling back the gains made in the fight against the militants.
The terror group has recently launched attacks in North eastern region, attacking villages, targeting teachers and police stations.
"The fighting reported in Baled Hawa is not only an unacceptable crime. It is also stupid," said Mr Adam Aw Hirsi, Jubbaland's former planning minister and former governor of Gedo region, where the fighting occurred.
"Al-Shabaab is the enemy, focus on them," he added
Mr Idd bedel Mohamed, a former Somali diplomat, said the "winner is Al-Shabaab".
"Gedo region has been most peaceful and stable region after it was liberated from the terrorist group many years ago.
Full report at:
https://allafrica.com/stories/202003030114.html
--------
Nigeria: Red Cross Not Involved in Negotiations With Boko Haram, ISWAP - Official
1 MARCH 2020
Amidst the levels of insecurity facing the country for over a decade, the International Committee of the Red Cross (ICRC), has clarified that its role in Nigeria does not involve taking part in the negotiation process between the federal government, its military and the insurgents neither does it take any side of the party, maintaining that its mandate is to bring succour to civilians in conflict.
The Communications Coordinator, ICRC Nigeria, Vincent Pouget, who spoke with PRNigeria, made these clarifications while clarifying on the processes that led to the release of some kidnapped Chibok and Dapchi girls in Borno and Yobe states respectively by the Boko Haram terrorists as well as the Islamic State in West Africa Province (ISWAP).
Mr Pouget said there was a lot of misunderstanding over the role ICRC played as the organisation was perceived to have taken part in the negotiation for the release of over a hundred students of Government Girls Technical College Dapchi and Government Girls Secondary School (GSS) Chibok.
He stated that the ICRC only provided logistics in terms of transportation after negotiations had been concluded. He also said the ICRC is independent and neutral.
He said: "Let me explain to you our role, both parties agreed on the release of the girls on their own without us being involved. The ICRC was not at all part of the negotiation process. It was when they agreed for the release that they asked ICRC to provide logistics like the transport to go from one place to another that's only what we provided.
"We have a bit problem with perception in the North-East because people thought that we have a specific connection (with insurgents), they thought we were involved in the negotiation, that's not the case.
"We do not support any fighting parties at all, the misconception that we got is that people thought we were involved in the negotiation, but that's not our mandate, we only support civilians affected by the situation," he stressed.
Mr Pouget explained that the aim of the ICRC is to alleviate and prevent the suffering of civilians in armed violence, be it a situation of armed conflicts like the one in the North East or other situations of violence such as in the North Central, or South-South such as communal clashes.
"So, in the North East, in particular, our aim is to provide succour for a civilian population that is being affected by the violence. One of our core mandates is to provide medical care," he noted.
On the achievements of the ICRC, Mr Pouget said in 2019 alone, it provided more than 745,000 people with either food items or food assistance in other ways and improved access to water for over 500,000 people including household and those living in Internally Displaced Persons (IDP) camps.
He also noted that one of ICRC's core mandate is to provide medical care and it has provided more than 506,000 consultations in Primary Health Care centres where more than 22,000 children have been born.
"Also, to highlight that in Maiduguri we have a surgical team at the state specialist hospital and in 2019, they treated over 7,700 patients. Providing surgical and medical care for civilians affected is only one area of focus for the ICRC. But, we are trying to address other needs in terms of water, shelter, food as much as we can.
"When it comes to access to water, shelter, in Maiduguri we have supported the rehabilitation of the Almajiri Water Treatment Plant that is providing water for the time being to over 90,000 people, household residents and IDPs in camps. This is being done with the Ministry of Water Resources in charge of the sustainability of the project.
"For people who have been displaced, in Monguno, Damboa, and Maiduguri, we built temporary shelters for over 34,000 people," Mr Pouget explained.
The coordinator pointed out that the ICRC's initiatives are not necessarily aimed at making people dependent on humanitarian assistance, but its target is also to build the resilience of people so that they can live independent of humanitarian aid.
"We want people to build again their resilience, that is why during the same period in 2019, we have supported over 548,000 people with productive imports, seeds, tools to support their agricultural activities and at the same time others were supported with the treatment of their animals; cattle, goats, and sheep, so that their livestock could be maintaining good health," he added.
Mr Pouget, however, regrets that access to civilians is one of the biggest challenge the ICRC is facing, because of the dynamic nature of insecurity. He also said they are sometimes constrained to render help if there is no adequate security presence in order not to endanger the already suffering civilians.
On the treatment of insurgents, Mr Pouget restated the provisions of the international humanitarian law, stressing "A wounded is wounded and it should be taken care by any party. That's part of the law of war that is respected and applied to all situations of conflict including the one faced in the North East."
Speaking further, the Red Cross Communications Coordinator commended PRNigeria as a reliable and credible source for news and information especially on defence, security and conflict issues in Nigeria.
To this end, he assured of closer collaboration and cooperation between the ICRC and PRNigeria in the area of media and public relations as it relates to the thematic areas of focus in conflict and humanitarian crises.
He said: "PRNigeria focuses on key security, defence and intelligence agencies working to manage information from these agencies for positive reportage. The medium publishes reliable and credible stories and statements.
Full report at:
https://allafrica.com/stories/202003020380.html
--------
North America
UN nuclear watchdog plans to reprimand Iran for lack of cooperation: Report
3 March 2020
The UN atomic watchdog policing Iran's nuclear deal with major powers plans to issue an imminent rebuke to Tehran for failing to provide access to one or more sites that are of interest to it, several diplomats who follow the agency said on Monday.
The International Atomic Energy Agency overseeing the landmark 2015 nuclear agreement, which lifted international sanctions against Tehran in exchange for restrictions on its nuclear activities, issues quarterly updates on Iran's atomic program to its member states.
The next of those quarterly reports is due on Tuesday but, in a first for the IAEA since the deal was put in place, the agency plans to issue a separate report on the same day, calling Iran out for its lack of cooperation in general and its failure to provide access in particular, diplomats said.
"The general message is: There's a new sheriff in town," a diplomat from a country on the IAEA's 35-nation Board of Governors said, referring to new IAEA chief Rafael Grossi of Argentina, who was elected in October with the support of countries including the United States and Brazil.
Grossi took over following the death in office of long-serving IAEA chief Yukiya Amano of Japan, who pressured Iran to provide swifter access to sites of interest to the agency, while avoiding confronting the Islamic Republic publicly, diplomats say.
Read: Iran may reverse nuclear breaches if Europe provides 'meaningful' benefits: Zarif
Under Amano, the IAEA at first resisted public pressure from Israeli Prime Minister Benjamin Netanyahu to visit a site he cited in a speech to the United Nations General Assembly in 2018, calling it a "secret atomic warehouse" mentioned in a trove of data seized by Israeli intelligence agents. Tehran has said the site is a carpet-cleaning facility.
But the IAEA inspected the site in February of last year, diplomats say, and gathered environmental samples that showed traces of uranium that Iran has yet to fully explain.
Now the agency is seeking access to one or more sites mentioned in that trove, which Israel refers to as the "atomic archive" of information on Iran's former nuclear weapons program.
A spokesman for the IAEA declined immediate comment.
US intelligence agencies and the IAEA both believe Iran had a secret nuclear weapons program that it halted long before the 2015 nuclear deal. That deal is aimed at keeping Tehran at least a year away from obtaining enough fissile material for an atom bomb if it sought one.
Iran denies ever having had a nuclear weapons program and says it would never seek to obtain an atom bomb.
It has, however, breached the deal's restrictions on its atomic activities one after the other in response to Washington's withdrawal from the deal in May 2018 and its reimposition of sanctions that have choked off the Islamic Republic's vital oil exports.
"The second report will be on Safeguards issues linked to sites that the IAEA did not get access to. We know of two cases, but we don't know whether the IAEA will put both in (the report)," said a European diplomat, adding it was unclear what recommendations the agency would make.
Other diplomats said there would be at least one site mentioned in the report, possibly two, and that there was a connection to the archive.
None of the six diplomats who said they expected a second report provided details of the site or sites the reports would likely mention.
No sudden moves
Iran's breaches of the deal's nuclear limits on items including the purity to which it enriches uranium and its stock of enriched uranium are eroding the accord, but it says they can quickly be reversed if US sanctions are lifted.
The Trump administration says its "maximum pressure" campaign will force Iran to negotiate a more sweeping deal than the strictly nuclear agreement.
Washington wants a broader deal, covering issues such as Iran's ballistic missile program and its role in Middle Eastern conflicts like those in Syria and Yemen. It also wants to ban Iran from enriching uranium altogether. Tehran says it will not negotiate unless US sanctions are lifted.
Tuesday's main IAEA quarterly report is likely to show a jump in Iran's stock of enriched uranium as Tehran continues to breach key limits of the steadily eroding nuclear deal, diplomats say.
But while Iran breached the deal's atomic restrictions in the second half of last year, it has refrained from making any large, sudden moves this year, even after the US assassination of its powerful military leader Qassem Soleimani in January, diplomats say.
The level to which it is enriching uranium, for example, remains roughly the same as in the last quarterly report, diplomats say – 4.5 percent or less, above the deal's 3.67 percent limit but still far below the 20 percent Tehran achieved before the deal and the roughly 90 percent that is weapons-grade.
https://english.alarabiya.net/en/News/world/2020/03/03/UN-nuclear-watchdog-plans-to-reprimand-Iran-for-lack-of-cooperation-Report.html
--------
Turkish Defence Minister Receives US Representatives
Hamdi Celikbas
03.03.2020
Turkish Defense Minister Hulusi Akar received a high-ranking U.S. official and the U.S. ambassador to Turkey, the Defense Ministry said Tuesday.
In a statement, the ministry said a meeting was held late Monday between delegations under the co-chairmanship of Turkey's Deputy Minister of National Defense Yunus Emre Karaosmanoglu and U.S. Special Representative for Syria James Jeffrey.
Bilateral and regional defense and security issues were discussed, especially the crisis in Idlib, Syria.
The ministry said that after the meeting, Jeffrey and U.S. ambassador to Turkey David Satterfield were received by Akar.
Idlib is home to four million civilians, including hundreds of thousands displaced in recent years by regime forces throughout the war-torn country.
In recent months, nearly 1.7 million Syrians have moved near the Turkish border due to intense attacks by forces of the Bashar al-Assad regime and its allies.
In September 2018, Turkey and Russia agreed to turn Idlib into a de-escalation zone in which acts of aggression were expressly prohibited.
But since then, more than 1,800 civilians have been killed in airstrikes and shelling by the regime and its allies.
On Sunday, Turkey announced a new offensive, Operation Spring Shield, in northwestern Syria to protect civilians from regime attacks.
It came after at least 34 Turkish soldiers were martyred and dozens injured in an Assad regime airstrike on Feb. 27 in the de-escalation zone just across Turkey's southern border.
Full report at:
https://www.aa.com.tr/en/americas/turkish-defense-minister-receives-us-representatives/1752533
--------
UN's Libya envoy quits over job 'stress'
James Reinl
02.03.2020
UNITED NATIONS
UN peace envoy to Libya Ghassan Salame has stepped down from the post, complaining of stress from the job and his failed efforts to "restrain foreign interference" into the North African oil exporter.
Salame, the Lebanese academic who represents UN secretary-general Antonio Guterres in Libya, said on Monday that he was stepping down due to ill health and the "level of stress" after nearly three years in an often-thankless job.
"I tried to unite the Libyans and restrain foreign interference," Salame told his 262,000 Twitter followers. "But for health reasons I can no longer continue with this level of stress and therefore I have asked the secretary-general to relieve me of my duties."
Libya's conflict has raged despite Salame's continued efforts to broker ceasefires — a task he says was made harder by Russia, the United Arab Emirates, Egypt, Turkey, and others sending arms, troops and other support to both sides in the conflict.
UN chief Guterres "appreciated all the work [Salame] had done at the helm of the mission in very difficult times" and for "bringing the parties together" in peace talks, his spokesman Stephane Dujarric told reporters in New York on Monday.
"The most important thing now is to work on the transition and make sure no momentum is lost."
It remains unclear who will replace the UN's envoy to Libya. Asked whether Salame had informed his boss before tweeting out his resignation missive, Dujaric said: "That was the first we heard of it."
Since the ouster of Muammar Gaddafi in 2011, two seats of power have emerged in Libya: one in the east supported by Egypt, the United Arab Emirates, Russia and others and another in the capital Tripoli, in the west, which enjoys UN recognition.
Full report at:
https://www.aa.com.tr/en/americas/un-s-libya-envoy-quits-over-job-stress-/1752281
--------
US Defence Chief Says Discussed Syria With NATO Head
Michael Hernandez
02.03.2020
WASHINGTON
U.S. Secretary of Defense Mark Esper said Monday he has discussed the situation in Syria with NATO Secretary-General Jens Stoltenberg amid increased hostilities in the country's northwest.
"Turkey obviously is engaged in combat operations over there and we will take it one step at a time," Esper told reporters at the Pentagon. "As an alliance we take this one step at a time so we are prepared for what may happen."
Idlib is currently home to four million civilians, including hundreds of thousands displaced in recent years by regime forces throughout the war-torn country.
In recent months, nearly 1.7 million Syrians have moved near the Turkish border due to intense attacks by Assad regime and its allies.
Esper further said what Turkey does on its borders regarding refugees and migrants is "its own decision to make."
"Turkey's got to make that decision," said Esper. "At the political level they need to decide what they're going to do with regard to their borders. That involves the EU and their neighboring countries, and they've got to work their way through that with them."
The Trump administration is considering additional humanitarian assistance for those within Syria, said Esper who denied the U.S. is weighing air support.
In September 2018, Turkey and Russia had agreed to turn Idlib into a de-escalation zone in which acts of aggression were expressly prohibited.
But since then more than 1,800 civilians have been killed in airstrikes and shelling by the regime and its allies.
On Sunday, Turkey announced a new offensive, Operation Spring Shield, in northwestern Syria to protect civilians from the regime attacks.
Full report at:
https://www.aa.com.tr/en/americas/us-defense-chief-says-discussed-syria-with-nato-head/1752212
--------
US officials in Turkey to discuss escalation in Syria
Beyza Binnur Donmez
02.03.2020
American delegation arrived in Ankara on Monday to hold talks on Syria with Turkish officials.
The delegation will be accompanied by Kelly Craft -- the U.S. ambassador to the UN -- and James Jeffrey -- the U.S. special envoy for Syria and also a former U.S. ambassador to Turkey -- "amid growing alarm over escalating violence in Syria," according to a media note released by U.S. mission to the UN.
"Assad-regime forces, backed by Russia and Iran, have unleashed a brutal military campaign in Idlib, killing hundreds of civilians and forcing nearly a million people to flee, constituting the largest number of displaced people since the Syrian war began nine years ago," the statement read.
During her visit, Craft will stress the "urgent need of UN-authorized cross-border access for the delivery of critical humanitarian assistance to Syrian communities and the displaced struggling without supplies and proper shelter in freezing temperatures."
The U.S. delegation is also expected to meet representatives of the UN and NGOs -- who are working to respond the growing humanitarian crisis.
Turkey on Sunday launched Operation Spring Shield after at least 34 Turkish soldiers were martyred and dozens injured in an Assad regime airstrike in Idlib, a de-escalation zone in northwestern Syria, just across Turkey's southern border.
Turkey's only target during the operation is Assad regime soldiers and elements in Idlib under the nation's right to self-defense, stressed Defense Minister Hulusi Akar.
The martyred Turkish soldiers were working to protect local civilians under a September 2018 deal with Russia, which prohibits acts of aggression in Idlib.
Full report at:
https://www.aa.com.tr/en/americas/us-officials-in-turkey-to-discuss-escalation-in-syria/1752020
--------
US: Hundreds gather in DC to back Turkey amid Idlib op
Servet Günerigök
02.03.2020
WASHINGTON
Hundreds of people from the Turkish-American community gathered outside the White House this weekend to voice their support for Turkey's efforts to end the Assad regime's violence in northwestern Syria.
The rally Saturday afternoon in Lafayette Square came after the Syrian regime launched a deadly attack late Thursday in Idlib province that martyred at least 34 Turkish troops.
Since then, Turkey has been hitting the regime's positions in Idlib through Operation Spring Shield, which began Sunday.
Children read out the names of the fallen soldiers at the beginning of the rally followed by a reading of the national anthem and recitation of versus from the Quran.
Speaking at the event, Gunay Evinch, co-chair of the Turkish American National Steering Committee (TASC), offered condolences to the families of the fallen soldiers, who he said were protecting Syrians from the Bashar al-Assad regime's displacement policy.
"That for years the world has stood by and watched the atrocities of Assad is a shame. That Russia and Iran support the Assad regime is deplorable," said Evinch.
The gathering was also attended by Nihad Awad, executive director of the Council of American-Islamic Relations (CAIR), Osama Abuirshaid, the national policy director for American Muslims for Palestine, and Rahim Shahbazi, vice president of the Azerbaijani Societies of North America.
In his speech, Awad criticized the Trump administration's "confusing" policy on Syria and said American troops were in Syria to protect oil but not civilians.
"It is very shameful that this administration [is] sending our sons and daughters to protect the oil fields but not to protect the civilian population that is mercilessly being killed, bombed and shelled by the Syrian regime," he said.
The CAIR executive also praised Turkey for hosting millions of Syrians despite the economic challenges it is going through.
"Thank you to the Turkish people and thank you to the Turkish government. You opened your borders and hearts," he said. "You sent your daughters and sons not to protect oil fields but to stand by Syrian people."
Holding up signs in support of Turkey's efforts in Idlib, the demonstrators chanted slogans like "Stop Assad's atrocities" during the gathering, which was attended by Syrian, Palestinian and Azerbaijani Americans.
Full report at:
https://www.aa.com.tr/en/americas/us-hundreds-gather-in-dc-to-back-turkey-amid-idlib-op/1751200
--------
URL: https://www.newageislam.com/islamic-world-news/pakistan-religious-scholars-stress-need/d/121212
New Age Islam, Islam Online, Islamic Website, African Muslim News, Arab World News, South Asia News, Indian Muslim News, World Muslim News, Women in Islam, Islamic Feminism, Arab Women, Women In Arab, Islamophobia in America, Muslim Women in West, Islam Women and Feminism