New Age Islam News Bureau
29 Sept 2013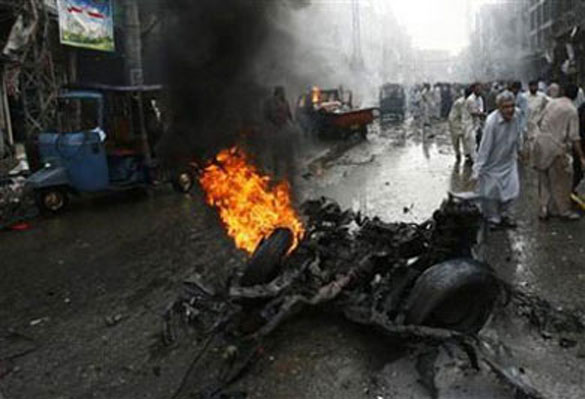 Security officials, rescue workers and residents gather at the site of a bomb attack in Peshawar September 29, 2013. REUTERS-Khuram Parvez
-------
Pakistan
• Nawaz has no authority to hold peace talks: Pakistani Taliban
• Bomb kills 36 in northwestern Pakistan city of Peshawar
• Pak Sikhs up against desecration of Guru Granth Sahib
• US drone kills three in Pakistani tribal region near Afghan border
• Taliban refuse to lay arms, accept Pakistani Constitution
• Nawaz-Singh talks must be Kashmir-centric: Hizb ul Mujahideen chief
• Balochistan CM in hot water over religion remarks
• Dawood, ISI 'setting up' TV channel in Pakistan
Africa
• 50 students feared killed as militants Attack College in Nigeria
• Suicide bombers kill 2 Malians in army camp attack: Military
• Sudan crackdown betrays Islam, says ruling party reformers
• Tunisian mediators say Islamists accept crisis plan
Arab World
• Tariq Ramadan Calls For Rethinking Education Concept in Arab and Western Worlds
• Qaradawi's Fatwas could lead to stripping of his nationality: Azhar professor
• Iraq says Iran's shift toward West is 'serious'
• Air strike kills 12 in Syrian high school: NGO
• Egypt FM proposes Mideast free of destructive weapons
• Syrian opposition chief holds first meeting with Ban Ki-moon
• Iraq Kurd opposition party consolidates position in regional vote
• Bahrain jails 50 Shiites up to 15 years: Judicial source
• No transition plan without Assad, Syrian FM says
India
• Jamaat-e-Islami to adopt 1,000 riot-hit Muzaffarnagar families
• Cong hails PM for convincing US on terror issue
• J&K India's integral part, Pak must shut terror camps: PM
• Kerala publisher arrested over jihad book
• Muzaffarnagar fall-out in Meerut: Another Panchayat, more violence
North America
• US police officers brand Sikh man 'terrorist' for failing to remove 'Kirpan'
• Nigerian pleads not guilty to US terror charges
Mideast
• Netanyahu heads to U.S. to challenge Iran's charm offensive
• Three from our group betrayed us: Turkish Prime Minister
• Iran: More needed than Obama call for full ties
• Erdogan's Family Policy Conservative, But Not Islamist
Europe
• Syria's chemical clean-up the biggest ever staged
• EU gives 10m Euros to poor Palestinian families
South Asia
• China seals border with Pak ahead of national day celebrations
• Border pact with India 'win-win' deal, Bangladeshi PM Sheikh Hasina says
• When you're vote less in the Maldives, resistance is not futile
• Xi signals greater role for China in Afghanistan
• Government supporting 'atheist' groups: Islami Andolon Bangladesh
Southeast Asia
• Moderation will help stop extremists, Najib tells UN General Assembly
• Indonesian presidential hopeful on mission to "save" teenage maid accused of murder
Compiled by New Age Islam News Bureau
URL: https://newageislam.com/islamic-world-news/pakistan-pm-no-authority-hold/d/13743
------------
Pakistan
Nawaz has no authority to hold peace talks: Pakistani Taliban
2013-09-29
KARACHI: The Pakistani Taliban militants Saturday assailed Prime Minister Nawaz Sharif for changing his mind and giving preconditions of weapon lay down for the APC-backed peace talks with them.
The comments appeared to have been sparked by an interview Sharif made with the Wall Street Journal during a trip to New York, in which he said militants must lay down their arms and follow the constitution. Previously the prime minister had not given preconditions for the talks.
The prime minister had also indicated during his meeting with US Secretary of State John Kerry that while seeking a dialogue with the Taliban, the government is also considering a more vigorous police and military action against them should the talks fail.
A spokesman for the Tehrik-i-Taliban Pakistan (TTP), while criticizing Sharif in an interview to a local news magazine, said his government was not serious about holding peace talks.
The spokesman, Shahidullah Shahid, did not explicitly reject the offer but his words gave little room for negotiations.
"By telling us that we will have to lay down arms and respect the constitution, the prime minister, Nawaz Sharif, showed that he is following the policy of America and its allies," the spokesman said.
Declining to accept the writ and authority of the PML-N government, Shahid said: "He (Nawaz Sharif) is talking about laying down arms and accepting the Constitution. If we were willing to do that, there would be no need to have any kind of dialogue."
"We will hold talks with (the government) only when it gets the authority to take decisions."
Replying to a query about proof of Sharif's 'authority,' he said there were three steps required for confidence-building; pull out the Army from FATA, release of Taliban prisoners, and end to US drone attacks in Pakistan.
"We will present our terms and conditions when we sit down for dialogue. What we have already mentioned are not conditions or preconditions, they are steps the government must take to build confidence and prove they have authority," he added.
Answering a question regarding repercussions of a full-scale military operation against the militants, he said, "The operation against us has been going on for the last 10 years already. We have become used to it. We even welcome it."
http://www.dawn.com/news/1046121/nawaz-has-no-authority-to-hold-peace-talks-pakistani-taliban
------------
Bomb kills 36 in northwestern Pakistan city of Peshawar
PTI | Sep 29, 2013
PESHAWAR: At least 36 people were killed and 70 injured in a car bomb blast here on Sunday in Pakistan's restive northwest, the third bombing since last Sunday.
The blast ripped through the historic Qissa Khawani Bazaar near Khan Raziq police station here in the provincial capital of Khyber Pakhtunkhwa province.
Bomb disposal quad personnel who rushed to the site after the explosion said 225 kgs of explosives were used in the blast.
Some reports said there were two blasts but it is yet to be confirmed or denied by the police.
The dead also included six women and four children, hospital authorities.
At least 12 are in critical condition, Lady Reading Hospital doctors said.
The police station was named after Khan Raziq, a DSP who himself was assassinated a few years ago.
The blast occurred when the police official on duty asked a driver of a car to remove it the site.
At least 19 shops and six cars were damaged in the blasts. The banned Pakistani Taliban has denied its involvement in the blast.
The blast led to fire in the market and all that was left was mangled remains of bikes, cars and burnt shops.
The explosion occurred at a time when the shops were just opening.
Meanwhile, the trading community of Qissa Khawani Bazaar has announced three days of mourning to express solidarity with the bereaved families.
This is the third blast since last Sunday when over 80 people were killed as twin suicide bombers struck at a historic church here.
On Friday, 19 people were killed when a bomb blast took place inside a bus carrying government employees.
http://timesofindia.indiatimes.com/world/pakistan/Bomb-kills-36-in-northwestern-Pakistan-city-of-Peshawar/articleshow/23251934.cms
------------
Pak Sikhs up against desecration of Guru Granth Sahib
Yudhvir Rana, TNN | Sep 29, 2013
AMRITSAR: Anxious over rising incidents of desecration of Guru Granth Sahib in various cities of Sindh province in the past five months, Sikhs of Pakistan have decided to identify miscreants responsible for such acts and persuade them to mend their ways, failing which, legal action will be initiated against violators.
Former president of Pakistan Sikh Gurdwara Parbandhak Committee (PSPGC) Bishan Singh, who is also chairman of Baba Guru Nanak Welfare Society, Pakistan, told TOI over phone from Lahore on Saturday that there were certain elements, who wanted to create rift between Sikhs and Hindus. He said that in the past few months, there had been five incidents of desecration of Sikhs holy book in Shikarpur, Pannu Aquil and Mehar towns in Sindh in the "darbars" (worship places where holy books of Hindus and Guru Granth Sahib are placed together).
Three incidents of tearing pages of Guru Granth Sahib occurred in Khatwali darbar, Samadh Ashram and Sajal Sher darbar, all in Shikarpur and one each in Guru Nanak "darbar", Mehar and Dall "darbar" in Pannu Aquil, said Bishan. A few days ago, an incident of burning of two holy books was reported in a darbar in Khairpur town of Sindh.
Bishan said that he had a meeting with Sikh sangat (community) of Peshawar in Gurdwara Bhai Joga Singh on Thursday where they decided to hold talks with the managements of those "darbars" to convince them to not hurt the Sikhs' religious sentiments by showing disrespect to Guru Granth Sahib. "If they didn't listen to us, then we will be left with no option but to take legal action against them," he warned.
Meanwhile, Bishan said that the selection of members for PSGPC had begun by the Evacuee Trust Property Board and minister of interfaith harmony. The present term of the president of PSGPC had expired in December 2012 but was given six-month extension. He said that both departments have sought names of aspirants from provinces of Punjab, Sindh, Baluchistan and Khyber Pakthunkhwa. "I am hopeful that the members would be selected and president's elections would be held before parkash utsav (birth anniversary) of Guru Nanak Dev in November."
http://timesofindia.indiatimes.com/india/Pak-Sikhs-up-against-desecration-of-Guru-Granth-Sahib/articleshow/23231956.cms
------------
US drone kills three in Pakistani tribal region near Afghan border
AFP | Sep 29, 2013,
MIRANSHAH: A US drone strike killed three militants on Sunday in a restive Pakistani tribal region near the Afghan border, officials said.
The attack took place in the Dargamandi area, seven kilometres (four miles) north of Miranshah which is the main town in the North Waziristan tribal region.
The area is a bastion of militants linked to the Taliban and Al-Qaida. "A US drone fired two missiles on a militant compound, killing three rebels," a senior security official told AFP on condition of anonymity.
Another local official confirmed the attack and casualties. However, an intelligence official in Miranshah put the toll at four.
The area targeted by the drone is said to be the stronghold of Afghanistan's Haqqani network, a guerrilla faction linked to the Taliban.
US drone attacks are deeply unpopular in Pakistan, but Washington sees them as a vital tool in the fight against militants in the lawless tribal areas along the border with Afghanistan.
The Pakistani government has repeatedly protested against drone strikes as a violation of its sovereignty.
But privately officials have been reported as saying the attacks can be useful in removing militants from the country.
http://timesofindia.indiatimes.com/world/pakistan/US-drone-kills-three-in-Pakistani-tribal-region-near-Afghan-border/articleshow/23254314.cms
---------
Taliban refuse to lay arms, accept Pakistani Constitution
September 29, 2013
ISLAMABAD - The Pakistani Taliban on Saturday refused to lay down their weapons and accept the Constitution as asked by Prime Minister Nawaz Sharif. The Tehrik-e-Taliban Pakistan (TTP) said Mr Sharif has no authority to hold talks and reiterated its demand for the army to pull out from tribal areas, release of its prisoners and an end to US drone strikes.
Full report at:
http://www.nation.com.pk/pakistan-news-newspaper-daily-english-online/national/29-Sep-2013/taliban-refuse-to-lay-arms-accept-pakistani-constitution
------------
Nawaz-Singh talks must be Kashmir-centric: Hizbul Mujahideen chief
September 29, 2013
ISLAMABAD - Prime Minister Nawaz Sharif should not get carried away by the upcoming photo opportunity with the Indian premier in New York; instead, he should press for meaningful talks on the core Kashmir issue which is the mother of all disputes between the two countries, Kashmiri Hizbul Mujahideen Chief Syed Salahuddin said on Friday.
"Please be brave as you are the leader of a strong nuclear power and don't talk to India apologetically from a position of self-imposed weakness as Pakistan will get nothing out of it," Salahuddin cautioned Premier Nawaz Sharif in an exclusive interview with The Nation from an undisclosed location.
Full report at:
http://www.nation.com.pk/pakistan-news-newspaper-daily-english-online/editors-picks/28-Sep-2013/nawaz-singh-talks-must-be-kashmir-centric
------------
Balochistan CM in hot water over religion remarks
September 29, 2013
QUETTA - Opposition leader in the Balochistan Assembly (BA) Maulana Abdul Wasay has demanded cancellation of the assembly membership of Chief Minister Dr Malik Baloch, saying he has violated the oath of his office in an interview in London.
"If the BA speaker doesn't take notice of our demand, we will move the court," he said on Saturday at a press conference, flanked by ANP leader Engineer Zamrak Khan, Sardar Abdur Rehman Kehtran and other members.
Full report at:
http://www.nation.com.pk/pakistan-news-newspaper-daily-english-online/national/29-Sep-2013/balochistan-cm-in-hot-water-over-religion-remarks
------------
Dawood, ISI 'setting up' TV channel in Pakistan
September 29, 2013
Pakistan's media scene is abuzz with the entry of a new electronic media player. Unlike most other TV channels that are owned by known media groups, the BOL channel network has a unique backer — Dawood Ibrahim.
BOL is set to launch transmission by the end of the year and is currently hiring staff aggressively. The new network proudly claims that an advertisement it ran earlier this year resulted in over 40,000 applications.
Full report at:
http://www.hindustantimes.com/India-news/NewDelhi/Dawood-ISI-setting-up-TV-channel-in-Pakistan/Article1-1128567.aspx
------------
Africa
50 students feared killed as militants attack college in Nigeria
AP | Sep 29, 2013
POTISKUM: A college provost says suspected Islamic militants gunned down students as they slept and killed as many as 50 in an early-morning attack in northeast Nigeria.
Molima Idi Mato of the Yobe state College of Agriculture told The Associated Press that the gunmen also torched classrooms in the attack at about 1am on Sunday in rural Gujba. The college is about 40 kilometres (25 miles) from the scene of similar school attacks around Damaturu town.
Full report at:
http://timesofindia.indiatimes.com/world/rest-of-world/50-students-feared-killed-as-militants-attack-college-in-Nigeria/articleshow/23261141.cms
------------
Suicide bombers kill 2 Malians in army camp attack: Military
Sep 28 2013
Bamako : Two suicide bombers let off explosives in a car in front of a military camp in the northern Malian desert city of Timbuktu on Saturday, killing two civilians, military sources said.
"Two suicide bombers on board a car exploded next to our military camp. They are both dead. There were two civilians in a horsecart who were also killed. We are in a state of high alert," a Malian soldier at the camp told AFP.
An African military source from the United Nations' MINUSMA peacekeeping mission confirmed the attack, the first suicide bombing in the mainly Tuareg and Arab northern caravan town since March.
Full report at:
http://www.indianexpress.com/story-print/1175712/
------------
Sudan crackdown betrays Islam, says ruling party reformers
29 September 2013
AFP, Khartoum
Reformers in Sudan's ruling party on Saturday told President Omar al-Bashir that a deadly crackdown on protests over fuel price hikes was a betrayal of his regime's Islamic foundations.
"The (economic) package that was implemented by the government, and the crackdown against those opposed to it, is far from mercy and justice and the right of peaceful expression," the 31 prominent reformers said in a letter to Bashir which they made public.
The lead signatory was Ghazi Salaheddine, a former presidential adviser, but the others included retired armed forces Brigadier Mohammed Ibrahim.
Full report at:
http://english.alarabiya.net/en/News/africa/2013/09/29/Sudan-crackdown-betrays-Islam-says-ruling-party-reformers-.html
------------
Tunisian mediators say Islamists accept crisis plan
September 29, 2013
The UGTT trade union confederation mediating crisis talks in Tunisia said Saturday that the ruling Islamist Ennahda party had agreed to a plan for talks on a new government.
The country's largest union confederation called on the Islamists and the secular opposition to agree on a date next week for a "national dialogue" aimed at ending a crisis sparked by the murder of a prominent oppositional MP in July.
The birthplace of the 2011 Arab Spring has been plunged into a protracted political crisis, with the secular opposition accusing the moderate Ennahda of failing to rein in radical Islamists.
Full report at:
http://english.ahram.org.eg/NewsContent/2/8/82720/World/Region/Tunisian-mediators-say-Islamists-accept-crisis-pla.aspx
--------
Arab World
Tariq Ramadan Calls For Rethinking Education Concept in Arab and Western Worlds
September 29, 2013
Manama: Contemporary pedagogy needs to be reformed in both the Arab and Western worlds, a professor of contemporary Islamic studies has said.
Addressing a public seminar on 'Education: Ethics and Goals', Tareq Ramadan, Executive Director of the Research Centre for Islamic Legislation and Ethics (CILE), criticised contemporary pedagogy in both the Arab and the Western world and highlighted the consequences of their respective weaknesses by interpreting the meaning of education, differentiating it from similar terms.
"Purposeful knowledge should be accompanied by freedom in order to maintain individual dignity," the Europe-based Islamic scholar said at the seminar held at the Qatar Faculty of Islamic Studies. "This purposeful knowledge is closely connected with the concept of legal obligation (taklif) and requires independent thought and critical thinking. It also entails assuming our individual responsibilities by first abandoning the victim attitude, in order for us to then make courageous decisions," he said in remarks e-mailed to Gulf News.
Full report at:
http://gulfnews.com/news/gulf/qatar/scholar-calls-for-rethinking-education-concept-1.1236725
------------
Qaradawi's fatwas could lead to stripping of his nationality: Azhar professor
September 29, 2013
Senior Al-Azhar scholars have lashed out at influential Muslim cleric Yusuf Al-Qaradawi for his pro-Muslim Brotherhood statements, with some calling for prosecuting him for 'high treason,' according to Ahram Daily.
Qaradawi, one of the most prominent Egyptian Sunni academics in modern history, who chairs the International Union of Muslim Scholars, has recently come under fire for backing toppled Egyptian president Mohamed Morsi and the Muslim Brotherhood, as well as his perceived sedition against Egypt's army and police.
Abbas Shoman, under-secretary of Al-Azhar - the highest institutional authority in Sunni Islam, has hit out at Qaradawi for what he has termed "hysterical" statements calling for intervention from the West following Morsi's overthrow and in response to the interim-government's recent crackdown on Islamists.
Full report at:
http://english.ahram.org.eg/NewsContent/1/64/82741/Egypt/Politics-/Qaradawis-fatwas-could-lead-to-stripping-of-his-na.aspx
------------
Iraq says Iran's shift toward West is 'serious'
AP | Sep 29, 2013
UNITED NATIONS: Iraq's foreign minister said on Saturday that the new Iranian government led by President Hassan Rouhani offers "the best chance after 34 years of animosity" to improve relations with the United States and should be taken seriously.
Hoshyar Zebari also told The Associated Press in an interview that he is working behind the scenes to try to unite disparate Syrian opposition groups ahead of a November peace conference and to promote a thaw in Tehran's relations with the United States.
Zebari said UN secretary-general Ban Ki-moon asked Iraq at their meeting on Saturday to press the opposition to come with one delegation and one position. The UN chief also told him that he heard no opposition to Iran — an ally of Syrian President Bashar Assad — participating in the upcoming Geneva peace conference.
Full report at:
http://timesofindia.indiatimes.com/world/middle-east/Iraq-says-Irans-shift-toward-West-is-serious/articleshow/23247442.cms
------------
Air strike kills 12 in Syrian high school: NGO
AP | Sep 29, 2013
BEIRUT: An activist group says government warplanes have bombed a high school in northern Syria, killing at least 12 people, most of them students.
The Britain-based Syrian Observatory for Human Rights says the regime airstrike took place on Sunday in the city of Raqqa, which is the only Syrian provincial capital under rebel control.
The Observatory said the death toll is likely to rise because many of the wounded have serious injuries.
President Bashar Assad's regime has relied heavily on its air force to strike rebel-held areas in the country's 2-year-old conflict.
http://timesofindia.indiatimes.com/world/middle-east/Air-strike-kills-12-in-Syrian-high-school-NGO/articleshow/23257788.cms
------------
Egypt FM proposes Mideast free of destructive weapons
AFP | Sep 29, 2013
UNITED NATIONS: Egypt proposed on Saturday for the Middle East, including Israel, to rid itself of all weapons of mass destruction after the UN Security Council ordered Syria to destroy its chemical arsenal.
Addressing the UN general assembly, foreign minister Nabil Fahmy called on the five permanent members of the Security Council to show support for the idea of a Middle East free of nuclear, biological and chemical weapons.
Fahmy, part of Egypt's army-installed government, proposed that all nations in the Middle East would then commit by the end of the year to ratify agreements against weapons of mass destruction.
Full report at:
http://timesofindia.indiatimes.com/world/middle-east/Egypt-foreign-minister-proposes-Mideast-free-of-destructive-weapons/articleshow/23226178.cms
------------
Syrian opposition chief holds first meeting with Ban Ki-moon
29 September 2013
U.N. Secretary General Ban Ki-moon and the head of the Syrian opposition National Coalition held their first meeting on Saturday in a bid to press for a Syria peace conference.
The meeting is likely to anger President Bashar al-Assad's government, which calls the coalition and other opposition groups "terrorists."
Coalition president Ahmad Jarba told the U.N. leader that the opposition group was ready to send a delegation to a conference, according to U.N. spokesman Martin Nesirky Agence France Presse reported.
Full report at:
http://english.alarabiya.net/en/News/middle-east/2013/09/29/Ban-Ki-moon-and-Syrian-Opposition-hold-first-meeting-for-peace-conference.html
------------
Iraq Kurd opposition party consolidates position in regional vote
29 September 2013
Reuters, Arbil
Iraqi Kurdistan's main opposition party has come in second in the autonomous region's parliamentary election, according to preliminary results on Saturday that left the shape of the government still unclear a week after the vote.
The Kurdistan Democratic Party (KDP) and the Patriotic Union of Kurdistan (PUK) share power in the previous cabinet with a combined 59 out of 111 parliamentary seats, having fought out their rivalries in a civil war during the 1990s.
But from its genesis ahead of the last election in 2009, the Gorran (Change) party has rapidly built a following among those disenchanted with corruption and the lack of transparency, particularly around revenues from the region's oil.
Full report at:
http://english.alarabiya.net/en/News/middle-east/2013/09/29/Iraq-Kurd-opposition-party-consolidates-position-in-regional-vote.html
------------
Bahrain jails 50 Shiites up to 15 years: Judicial source
September 29, 2013
A Bahraini court on Sunday sentenced 50 Shiites to up to 15 years in jail, including a prominent Iraqi cleric sentenced in absentia, for forming a clandestine opposition group, a judicial source said.
Sixteen defendants were handed 15-year terms, while four others were jailed for 10 years and the other 30 sentenced to five years behind bars, the source said.
The defendants, including Iraqi cleric Hadi al-Mudaressi, were charged with forming the "February 14 Revolution Youth Coalition", which Bahraini authorities accuse of terrorism.
http://english.ahram.org.eg/NewsContent/2/8/82742/World/Region/Bahrain-jails--Shiites-up-to--years-Judicial-sourc.aspx
------------
No transition plan without Assad, Syrian FM says
September 29, 2013
Syria's government will not accept any transition peace plan that excludes President Bashar Assad, Foreign Minister Walid al-Moallem told The Associated Press in an interview on Sept.28.
He spoke on the sidelines of the United Nations General Assembly, a day after the Security Council approved a resolution that obliges Syria's government to comply with an international plan to destroy its chemical weapons arsenal. The resolution also endorsed the outcome of the Geneva conference between the government and the opposition in June 2012, which called for the establishment of a transitional government with full executive powers.
The Syrian opposition, which has been embroiled in a bloody conflict with Assad's forces for two and a half years, has repeatedly said it will not take part in any transition government that includes the president.
Full report at:
http://www.hurriyetdailynews.com/no-transition-plan-without-assad-syrian-fm-says.aspx?pageID=238&nID=55340&NewsCatID=352
--------
India
Jamaat-e-Islami to adopt 1,000 riot-hit Muzaffarnagar families
PTI | Sep 28, 2013
NEW DELHI: Jamaat-e-Islami Hind will adopt 1,000 families, displaced from five villages of riot-hit areas of Uttar Pradesh's Muzaffarnagar, and rehabilitate them in their original homes.
"Thousands of Muzaffarnagar riot-hit displaced families are forced to live in extremely small relief camps or under open sky without shelter in miserable conditions with very poor sanitation facilities, therefore Jamaat-e-Islami Hind's relief and rehabilitation committee has decided to adopt 1,000 selected families," all India secretary Mohammad Shafi Madani said in a release here.
The organisation will try to rehabilitate the families immediately, he said.
"We are doing legal works including registering FIRs. We will strive for providing suitable compensations from the government to each victim and will also pressurize the government for proper compensation to all people who suffered any loss and damage of property and commodities.
"We will also focus on communal harmony and create a good atmosphere in the riot-hit areas and will strive for building good mutual relationships between Muslims and Hindus, and Muslims and Jats," he added.
http://timesofindia.indiatimes.com/india/Jamaat-e-Islami-to-adopt-1000-riot-hit-Muzaffarnagar-families/articleshow/23220856.cms
---------
Cong hails PM for convincing US on terror issue
PTI New Delhi, September 28, 2013
First Published: 12:25 IST(28/9/2013) | Last
A day after Rahul Gandhi caused political tremors with his denunciation of the ordinance on lawmakers and attack on government, Congress on Saturday got into damage control mode hailing Prime Minister Manmohan Singh for convincing the US on the issue of terror.
"Compliment Prime Minister for convincing US and others that LeT is a global terror threat. I hope Pakistan will take a note of that and act decisively," Congress General Secretary, Digvijaya Singh commented on micro blogging site twitter.
His comments came after US President Barack Obama promised to take up with Nawaz Sharif in a "frank" manner, the issue of continued Pakistan-based terror directed against India after talks with Prime Minister Manmohan Singh.
Full report at:
http://www.hindustantimes.com/India-news/newdelhi/Cong-hails-PM-for-convincing-US-on-terror-issue/Article1-1128237.aspx
------------
J&K India's integral part, Pak must shut terror camps: PM
Chidanand Rajghatta, TNN | Sep 29, 2013
NEW YORK: Prime Minister Manmohan Singh has a message for Pakistan as far as the Jammu and Kashmir is concerned: Forget it.
In some of the bluntest, uncompromising message ever put across by an Indian Prime Minister at the UN, Singh laid down the line in the sand — the lakshman rekha so to say — saying "There must be a clear understanding of the fact that J&K is an integral part of India and there can never, ever, be a compromise with the unity and territorial integrity of India."
The Prime Minister however said India was committed sincerely to resolving all issues with Pakistan, including the issue of Jammu and Kashmir, through bilateral dialogue on the basis of the Shimla Agreement.
Full report at:
http://timesofindia.indiatimes.com/india/JK-Indias-integral-part-Pak-must-shut-terror-camps-PM/articleshow/23226729.cms
------------
Kerala publisher arrested over jihad book
TNN | Sep 29, 2013
KOZHIKODE/HYDERABAD: The managing director of Nanma Books, Abdul Rehman, was arrested on Saturday for publishing a book whose content could allegedly fan communal hatred. Rehman, a former SIMI activist, has been remanded in judicial custody.
On September 4, police raided a bookstall at Thirurangadi in the city and seized a copy of the book 'Da'watum jihadum (Dawat and Jihad),' the Malayalam translation of the Urdu book authored by Hyderabad-based cleric Moulana Abdul Aleem Islahi. Usman Kadungott, who translated the book into Malayalam, is still at large. "Cases have been registered under sections 153 (A) and (b) of IPC against the publisher and translator," city police chief G Sparjankumar said.
Full report at:
http://timesofindia.indiatimes.com/india/Kerala-publisher-arrested-over-jihad-book/articleshow/23224730.cms
------------
Muzaffarnagar fall-out in Meerut: Another panchayat, more violence
September 29, 2013
Several people were injured in police action to disperse thousands of villagers who defied ban orders for a panchayat at Khera village near Meerut on Sunday, refreshing memories of last month's communal violence in Muzaffarnagar.
Police lobbed teargas shells and resorted to lathicharge before firing in the air to disperse the people, from at least 24 villagers, who had convened the panchayat to protest the arrest of BJP MLA from Sardhana constituency Sangeet Som, who has been booked under the National Security Act (NSA) for allegedly inciting the violence in Muzaffarnagar.
A similar 'mahapanchayat' held about a month ago had triggered the Muzaffarnagar violence in which 48 people were killed and at least 50,000 displaced.
Full report at:
http://www.hindustantimes.com/India-news/UttarPradesh/Muzaffarnagar-fall-out-in-Meerut-Another-panchayat-more-violence/Article1-1128683.aspx
------------
North America
US police officers brand Sikh man 'terrorist' for failing to remove 'kirpan'
Sep 29 2013
New York : A Sikh truck driver in the US has alleged that traffic police in Mississippi called him a "terrorist" and a county judge later humiliated him by describing his turban as "that rag."
Jagjeet Singh, 49, a trucker from California, was driving through the Mississippi State when he was pulled over for driving with a flat tyre in Pike County on January 16, according to a complaint filed by the American Civil Liberties Union (ACLU) and United Sikhs.
Police officers called Singh a "terrorist" and had him arrested for declining to remove his kirpan, a small, sacred sword of the Sikh faith, which Singh was lawfully wearing in accordance with his religious beliefs.
Full report at:
http://www.indianexpress.com/news/us-police-officers-brand-sikh-man--terrorist--for-failing-to-remove--kirpan-/1175949/
------------
Nigerian pleads not guilty to US terror charges
September 29, 2013
NEW YORK — A Nigerian man pleaded not guilty Friday to charges alleging he was directed by the Yemen-based Al-Qaeda branch to recruit English speakers to help spread extremist propaganda intended to inspire terror attacks like the Boston Marathon bombings.
Lawal Olaniyi Babafemi is charged with providing material support to Al-Qaeda in the Arabian Peninsula and with receiving firearms training from the group. He entered the not guilty plea at his first appearance in federal court in Brooklyn following his extradition from Nigeria.
Court papers describe Babafemi as an operative assigned to the Al-Qaeda group's "English-language media operations," which publishes the online magazine Inspire. The publication seeks to groom potential "lone wolf" jihadists, providing instructions on homemade bombs and suggesting targets in the United States and elsewhere.
Full report at:
http://www.saudigazette.com.sa/index.cfm?method=home.regcon&contentid=20130929181985
------------
Mideast
Netanyahu heads to U.S. to challenge Iran's charm offensive
29 September 2013
Israeli Prime Minister Benjamin Netanyahu has left for New York early Sunday in a bid to challenge Iran's diplomatic charm blitz last week.
"I intend to tell the truth in the face of the sweet talk and charm offensive of Iran" Israeli public radio quoted him as saying as he boarded the plane at Tel Aviv's Ben Gurion airport, Agence France Presse reported.
"Telling the truth at this time is essential for world peace and security and, of course, for Israel's security," he was quoted as saying by the agency.
Netanyahu earlier this week described Iranian President Hassan Rowhani's speech to the United Nations General Assembly as "cynical" and "full of hypocrisy."
The Israeli PM will meet U.S. President Barack Obama at the White House on Monday then return to New York to address the General Assembly on Tuesday, AFP reported.
Netanyahu along Western countries suspect that Iran's nuclear program is designed to build a nuclear weapon.
Full report at:
http://english.alarabiya.net/en/News/middle-east/2013/09/29/Netanyahu-heads-to-U-S-to-challenge-Iran-diplomatic-char.html
------------
Three from our group betrayed us: Turkish Prime Minister
September 29, 2013
Prime Minister Recep Tayyip Erdoğan has reproached three Justice and Development Party (AKP) deputies for voting against a law banning the closure of political parties.
"One of the 26 articles of the Constitution amendment package was an abolishment of party dissolutions. It was very interesting; the whole opposition disappeared to my left. Three people from our group betrayed us. We couldn't attain 330 [votes which was needed to directly adopt the changes]," Erdoğan said during a speech at Pamukkale University, where he was given an honorary PhD.
In 2010, the government introduced a 26-article package, all articles of which were voted on in Parliament. Each article required more than 330 votes in order to be presented to the electorate in a referendum.
Full report at:
http://www.hurriyetdailynews.com/three-from-our-group-betrayed-us-turkish-prime-minister.aspx?pageID=238&nID=55338&NewsCatID=338
------------
Iran: More needed than Obama call for full ties
September 29, 2013
Iran sought Sunday to calm hard-line worries over ground breaking exchanges with Washington, saying a single phone conversation between the American and Iran presidents is not a sign that relations with will be quickly restored. The comments by deputy foreign minister Abbas Araghchi
appeared tailored to address Iranian factions, including the powerful Revolutionary Guard, that have grown uneasy over fast-paced outreach last week between the White House and President Hassan Rouhani, which was capped by a 15-minute call with President Barack Obama.
Full report at:
http://www.hindustantimes.com/world-news/restofasia/Iran-More-needed-than-Obama-call-for-full-ties/Article1-1128699.aspx
------------
Erdogan's Family Policy Conservative, But Not Islamist
Sep 29, 2013
A universally known saying, also used in the Turkish language, suggests, "You reap what you sow." Perhaps keeping that in mind, Turkish Prime Minister Tayyip Erdogan hopes that each Turkish family will yield three children. According to a highly ranked Justice and Development Party (AKP) official, "three children" will even serve as a slogan in the upcoming local elections, during which the ruling party plans to emphasize the risk of an aging population.
The ruling AKP has proposed measures including prolonging maternity leave from 16 to 24 weeks, financial support per child, half-day working options for pregnant women, child care in companies and a guarantee of return to work. Like everything else in Turkey, these measures bear the risk of becoming front lines in the culture war. Yet it would be wise to try some objective analysis instead of pro- or anti-AKP propaganda.
http://www.al-monitor.com/pulse/originals/2013/09/erdogan-family-turkey-policy-conservative.html#ixzz2gHLwILxa
------------
Europe
Syria's chemical clean-up the biggest ever staged
AFP | Sep 29, 2013
UNITED NATIONS: International chemical weapon troubleshooters will enter war-torn Syria on Tuesday to start one of the biggest and most dangerous disarmament operations ever staged.
With more than 1,000 tonnes of sarin, mustard gas and other banned horror chemicals stocked across the country, the United Nations and the global chemical weapons watchdog have launched an urgent appeal for scarce experts to join the mission.
Applicants must be ready to face mortal risks and an impossible deadline.
UN leader Ban Ki-moon called the operation "daunting" after the UN security council voted on Friday to eliminate President Bashar al-Assad's chemical arms.
The mission by the Organization for the Prohibition of Chemical Weapons (OPCW), which polices the 1993 Chemical Weapons Convention, will run in parallel to a UN investigation into a huge sarin gas attack in Damascus in August and other suspected attacks.
Final details of a US-Russia plan to dispose of stockpiles at an estimated 45 sites have still not been agreed, UN diplomats said.
Full report at:
http://timesofindia.indiatimes.com/world/middle-east/Syrias-chemical-clean-up-the-biggest-ever-staged/articleshow/23253276.cms
--------
EU gives 10m euros to poor Palestinian families
Mohammed Mar'i
September 29, 2013
RAMALLAH – The European Union said on Friday it would provide €10 million to the Palestinian Authority (PA) to support 56,988 Palestinian families living in extreme poverty in the West Bank and Gaza Strip.
The EU representative office in Jerusalem said in a press statement, Saudi Gazette received a copy of it, that the eligible beneficiaries for the EU contribution are identified in cooperation with the Palestinian Ministry of Finance.
It added that the beneficiaries receive assistance through the Palestinian Ministry of Social Affairs national cash transfer program. The program provides a basic safety-net to the poorest and most vulnerable Palestinians in the West Bank and Gaza through cash and in-kind assistance.
http://www.saudigazette.com.sa/index.cfm?method=home.regcon&contentid=20130929181950
------------
South Asia
China seals border with Pak ahead of national day celebrations
Saibal Dasgupta, TNN | Sep 29, 2013
BEIJING: China has sealed its border with Pakistan near Khunjrab for 10 days beginning Saturday. This is part of stringent security operations ahead of the Chinese 'golden holidays' which are celebrated around the country's national day on October 1.
The decision reflects Beijing's fears about the movement of arms and terrorists connected to the Taliban, which is believed to have influenced violence in China's border region of Xinjiang. The move will affect cross-border trade because the Khunjrab section of Pakistan is an important entry point for vehicles moving from China.
Full report at:
http://timesofindia.indiatimes.com/world/china/China-seals-border-with-Pak-ahead-of-national-day-celebrations/articleshow/23238307.cms
------------
Border pact with India 'win-win' deal, Bangladeshi PM Sheikh Hasina says
PTI | Sep 29, 2013
NEW YORK: Bangladesh Prime Minister Sheikh Hasina on Sunday asked the opponents of Land Boundary Agreement in India to give up their opposition to the historic measure, saying settling the vexed issue would be a "win-win" situation for both the countries.
The issue of the agreement, which is stuck because of stiff opposition by some Indian political parties, was discussed when she met Prime Minister Manmohan Singh here on Saturday.
When asked about the issue, Hasina told PTI, "People of India, all the political parties should take some positive steps, what we expect from them."
Full report at:
http://timesofindia.indiatimes.com/india/Border-pact-with-India-win-win-deal-Bangladeshi-PM-Sheikh-Hasina-says/articleshow/23247686.cms
------------
When you're voteless in the Maldives, resistance is not futile
By Azra Naseem | September 29th, 2013
Saturday dawned as crisp, sunny and beautiful as any other day in the Maldives. The clear blue skies belied the dark cloud that descended over a majority of the country's population after the beleaguered Elections Commission announced shortly before midnight on Friday that the Supreme Court, and other allied state institutions, had left it with no choice but to call off the second round.
What the Elections Commission has been forced to call off is hope — the expectation that democracy will be restored in the Maldives on 11 November 2013.
Full report at:
http://minivannews.com/politics/comment-when-youre-voteless-in-the-maldives-resistance-is-not-futile-67118
------------
Xi signals greater role for China in Afghanistan
September 29, 2013
China has signalled its intention to play a greater diplomatic role in the lead-up to the 2014 withdrawal of U.S.-led NATO forces from Afghanistan, as the war-torn nation's President, Hamid Karzai, held talks with the top Chinese leadership.
Chinese President Xi Jinping told Mr. Karzai China was ready to deepen political, economic and security support as he described 2014 as "a key year" for the nation's future. As a sign of its intent to play a leading diplomatic role in bringing countries in the region together, Mr. Xi said China had decided to host, next year, the fourth ministerial meeting of the Istanbul Conference, which was initiated by regional countries in 2011.
Despite Mr. Xi signalling China's widening diplomatic ambitions, analysts say Beijing is, however, unlikely to significantly alter its cautious approach with regard to providing financial and security assistance in the near-term.
Full report at:
http://www.thehindu.com/news/international/world/xi-signals-greater-role-for-china-in-afghanistan/article5180096.ece
--------
Government supporting 'atheist' groups: Islami Andolon Bangladesh
September 29, 2013
Islami Andolon Bangladesh (IAB) on Saturday blamed the government for supporting the "anti-Islamist atheist groups" in the country.
Party Chairman Mufti Syed Muhammad Rezaul Karim (Charmonai Pir) said the government was supporting the anti-Islamic atheist groups, and on the other hand, working to restrain supporters of Islam.
At a press conference at the IAB office in the capital, the Charmonai Pir also demanded the immediate and unconditional release of six leaders and activists of Islami Shasontantra Chhatra Andolon, the student body of the IAB.
Full report at:
http://www.dhakatribune.com/politics/2013/sep/29/government-supporting-%E2%80%98atheist%E2%80%99-groups-iab
------------
Southeast Asia
Moderation will help stop extremists, Najib tells UN General Assembly
September 29, 2013
Prime Minister Datuk Seri Najib Razak warned the United Nations General Assembly today that extremism poses a grave threat to Muslims worldwide.
The prime minister noted that conflicts and acts of violence, particularly between Sunni and Shia, were tearing communities apart.
"I believe that peace-loving Muslims – the overwhelming majority of Muslims – should unite against the extremists who use our religion as an excuse to commit violence," he said, adding that a "battle (is) being waged for the future of Islam".
"By reaffirming our commitment to moderation – and solving the political problems that drive instability – we can seize back the centre ground. We can marginalise the extremists. And we can advance an agenda for peace, harmony and justice".
Full report at:
http://www.themalaysianinsider.com/malaysia/article/moderation-will-marginalise-extremists-najib-tells-un-general-assembly
------------
Indonesian presidential hopeful on mission to "save" teenage maid accused of murder
September 29, 2013
Hoping to leverage on a case that has captured Indonesian public imagination, presidential hopeful Prabowo Subianto will be flying to Kota Baru tomorrow with a top Malaysian lawyer for the trial of Wilfrida Soik, an Indonesian migrant worker who is facing the death sentence if found guilty of killing her Malaysian employer.
The Indonesians feel that compassion should be shown towards Wilfrida who they feel is a victim of human trafficking. Last week, Indonesian lawmakers had appealed to Putrajaya to show leniency to Wilfrida.
Prabowo has hired lawyer Tan Sri Muhammad Shafee Abdullah (pic) to help Wilfrida whose case is now in the final stages of trial.
Full report at:
http://www.themalaysianinsider.com/malaysia/article/indonesian-presidency-aspirant-on-mission-to-save-murder-suspect-wilfrida-s
------------
URL: https://newageislam.com/islamic-world-news/pakistan-pm-no-authority-hold/d/13743