New Age Islam News Bureau
27 Jun 2020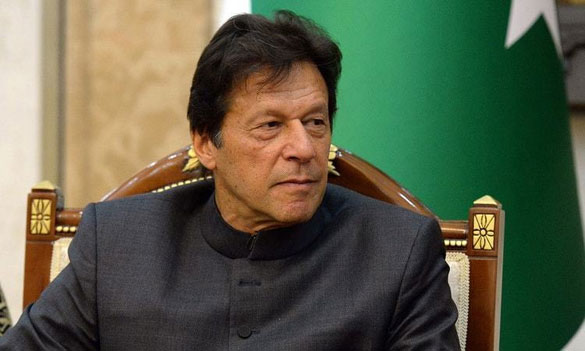 Prime Minister Imran Khan has given a verbal approval. — PM's Facebook page/File
-----------
• Maharashtra Mosque Sets Up COVID-19 Facility, Provides Free Oxygen
• India Grants Thousands Citizenship Rights in Kashmir
• 'I Have to Find the Mecca of My Heart': Muslims Grieve as Hajj Is Drastically Limited
• UN Human Rights Experts Urge India To Release Anti-CAA Protesters
• London's Muslim Community Launches Soup Kitchen at Hyatt Street Mosque
• Taliban Prisoner Issue Almost Resolved, Peace Talks Expected 'Soon'
• Shari'a Law and Dispute Resolution in the Post-COVID-19 Legal Order
• 30,000 Muslims Pray in Al-Aqsa Mosque While Sticking to Social Distancing
• Libya Is Battling Against Terrorism, Mercenaries, Turkish Colonization: LNA
-----
Pakistan
• Pakistan PM Approves Grantof Rs100 Million for Construction of Hindu Temple in Islamabad
• Pakistan's Case Not Taken Up At FATF Meeting: FO
• Pakistan's anti-graft body files corruption case against Nawaz Sharif
• Pak court sentences five al-Qaida terrorists to 16 years in jail
• Pakistan records lowest single-day spike in coronavirus cases after a month
• NA passes Rs4.2tr budgetary demands, grants
• Sexual abuse cases: Judge for use of only sterile objects to collect evidence
• PTM says ready for talks but calls for confidence-building measures
• Opposition's dream of govt dissolution won't come true: Punjab governor
--------
India
• Maharashtra Mosque Sets Up COVID-19 Facility, Provides Free Oxygen
• India Grants Thousands Citizenship Rights in Kashmir
• Kochi Mosque Asks Devotees To Bring Own Prayer Mats
• No Hizbul militant in south Kashmir's Tral now, first time since 1989: Police
• J&K Terror Outfits Recruiting Kids as Young As 14: US
• J&K: CRPF personnel, 5-year-old killed in militant attack in Anantnag's Bijbehara
• Three militants killed in Jammu and Kashmir's Pulwama district
• SC asks foreign TJ members to serve the copy of plea to Centre
• Teen injured in Pak firing along LoC in Poonch
--------
Arab world
• 'I Have to Find the Mecca of My Heart': Muslims Grieve as Hajj Is Drastically Limited
• Intel: Al-Qaeda Branch Confirms US Drone Killed Zarqawi Relative in Syria
• Coronavirus: Syria faces unprecedented hunger crisis, UN warns
• Iraqi security forces raid Iran-backed militia's headquarters south of Baghdad
• Iraq says 13 pro-Iran fighters arrested for anti-US rocket attacks: AFP
• Lebanon blames 'foreign interference' for riots, slams blocking of roads
• Iraqi leaders say raid on Kata'ib Hezbollah HQ 'dictated by US'
• Mosques in Makkah welcome worshippers for first Friday prayers after curfew lifted
--------
North America
• UN Human Rights Experts Urge India To Release Anti-CAA Protesters
• US Report Slams Pakistan On Terrorism: Here Is What It Says
• Russia Secretly Offered Afghan Terrorists Bounties to Kill Troops, US Intelligence Says
• US waging all-out sanctions war on Iran
• Soldiers' cases highlight reach of white supremacy in U.S. military
--------
Europe
• London's Muslim Community Launches Soup Kitchen at Hyatt Street Mosque
• ISIS militant sentenced to nine years in UK for inciting violence in Germany
• Belgian parliament urges sanctions against Israel
• 25 Europe-bound asylum seekers held in Turkey
• French jihadist goes on trial over IS group executions in Syria
--------
South Asia
• Taliban Prisoner Issue Almost Resolved, Peace Talks Expected 'Soon'
• Kuwait sends Bangladesh MP Shahid Islam to jail
• Gambia's justice minister who led Rohingya case resigns
• Four Rohingya left dead after gunfight with Bangladeshi police near refugee camp
• US watchdog: Afghan gov't weakened ahead of Taliban talks
--------
Southeast Asia
• Shari'a Law and Dispute Resolution in the Post-COVID-19 Legal Order
• Indonesian Muslim Scholars Worried by Europe Islamophobia
• More Indonesians Tolerant of Homosexuality, Though Vast Majority Still Say No: Pew Survey
• 'Don't Be Satisfied with Numbers': Doubts Remain as Jakarta Officials Claim Epidemic Under Control
• Singapore mosques resume Friday prayers after 15-week suspension
• Malaysia can't take any more Rohingya refugees, PM says
• Sarawak Says Only Assistant Registrars May Officiate Non-Muslim Marriages DuringRMCO
• Four Islamic State militants killed near Philippine capital
• Perak Shariah Court First to Accept E-Payment Options
--------
Mideast
• 30,000 Muslims Pray in Al-Aqsa Mosque While Sticking to Social Distancing
• UN Rights Investigator Urges EU to Punish Any Israeli Annexation In West Bank
• Hamas says armed resistance main tool to thwart Israeli annexation plan
• Iran Cautions UNSC to Avoid Making More Mistakes to Appease US
• FM Spokesman: Iran Victim of Terrorists Created, Backed by US
• Iran-backed Katai'b Hezbollah spokesman threatens Iraqi PM following overnight raids
• CBI Chief Dismisses IMF's Forecast of Iran's Economy
• Turkish opposition hits COVID-19 donation campaign's lack of transparency
• Iran Asks for Romania's Full Report on Fugitive Ex-Judge's Death
• Judiciary Official: Sanctions Price Paid by Iran for Prioritizing Human Rights
• Israel honours cyber-terrorists behind May attack on Iranian port
• Israeli warplanes conduct fresh airstrikes against positions in besieged Gaza Strip
• 2.4 million children in Yemen could go malnourished amid pandemic: UNICEF
• Yemeni forces to strike strategic targets deeper inside Saudi Arabia: Top Houthi official
• Netanyahu says Israel, UAE to cooperate on coronavirus as normalization speeds up
--------
Africa
• Libya Is Battling Against Terrorism, Mercenaries, Turkish Colonization: LNA
• Egypt, Ethiopia, Sudan to finalize Nile dam agreement in two to three weeks: Minister
• Russian, foreign mercenaries enter Sharara oil field: Libya National Oil Corporation
• Libyan marks liberation of Gharyan from Haftar
• S. Africa's top judge in hot water over Israel remarks
• Somali artists use art to spread COVID-19 awareness
• Commander in Somali al Shabaab militant group killed - state media
• Armed group abducts 10 aid workers in southwestern Niger
Compiled by New Age Islam News Bureau
URL: https://www.newageislam.com/islamic-world-news/pakistan-pm-approves-grant-rs100/d/122232
--------
Pakistan PM Approves Grant of Rs100 Million for Construction of Hindu Temple in Islamabad
Kalbe Ali
June 27, 2020
ISLAMABAD: Prime Minister Imran Khan has approved a grant of Rs100 million for the construction of the first Hindu temple in the capital.
The request for the grant of the amount was made to the prime minister by Minister for Religious Affairs Pir Noorul Haq Qadri during a meeting with the prime minister.
The meeting was also attended by a delegation of MNAs belonging to religious minorities including Lal Chand Malhi, Dr Ramesh Vankwani, Jai Prakash Ukrani, Shunila Ruth and James Thomas.
The delegation discussed the issues faced by religious minorities and lauded the efforts of civil and armed forces in crushing the terrorist networks across the country who had been targeting people of other faiths as part of their extremist agenda.
The delegation sought the support of the government for the construction of first temple in the capital. The prime minister gave verbal approval.
The minister for religious affairs told Dawn that the summary in this regard had already been sent to the PM Secretariat.
"We will pursue the matter with the PM Secretariat and it is expected that it will be signed next week," the minister said.
As per the official procedure, the copy of approval will be sent to the finance ministry for allocation of grant while construction work will be executed by Pak-PWD.
Meanwhile, Lal Chand Malhi said the Hindu population in Islamabad had reached to around 3,000, which included government employees, private sector employees, members of the business community and a large number of doctors.
"While the official formalities are underway, we have decided to continue the initial ground works including the levelling of the land and erecting the boundary wall," Mr Malhi added.
Hindu Panchayat Islamabad will manage the Shri Krishna Mandir. The Panchayat's president, Mahesh Chaudhry, said a large number of people from various parts of the country, including Balochistan and Sindh, had shifted to Islamabad, mainly due to insecurity in those areas.
"Now when we have families here, there is a need for a crematorium, a place for collective prayers and marriage ceremonies," Mr Chaudhry said, adding that "currently, we hold Holi and Diwali functions in government's community halls or marquee."
Though there will be a place for Hindus to exercise their rituals in the near future, to solemnise marriage is legally not possible in Islamabad as there are no officially notified rules and regulations regarding Hindu Marriage Law 2017, even three years after the law was enacted.
https://www.dawn.com/news/1565405/pm-approves-grant-for-construction-of-hindu-temple-in-islamabad
--------
Maharashtra mosque sets up COVID-19 facility, provides free oxygen
June 26, 2020
In a humanitarian gesture, a mosque in Bhiwandi town of adjoining Thane district has been converted by its administrators into a temporary COVID-19 facility, where oxygen is provided free of cost to patients.
The facility at Makkah Masjid in the Shanti Nagar area of the powerloom town has been set up by the local chapter of Jamaat-e-Islami Hind (JIH), Movement for Peace and Justice and the Shanti Nagar Trust, which runs the mosque.
Apart from putting up five beds equipped with oxygen cylinders, the JIH also delivers them for free to patients homes if required, an office-bearer of the JIH said, adding the makeshift facility is open to all communities.
So far, the Bhiwandi-Nizampur municipality has recorded over 1,332 COVID-19 cases and 88 casualties. It has a mortality rate of 5.26 per cent, a release stated. "Bhiwandi-Nizampur has been hit hard by the pandemic as it is a congested city.
It doesn't even have proper health infrastructure. "The situation has only worsened during the pandemic as general medical practitioners have shut their clinics fearing the virus spread," said Ausaf Ahmed Falahi, president of the JIH's Bhiwandi chapter.
As a majority of people here lack awareness about the viral disease and are unable to afford treatment, a facility like this one was the need of the hour, he said. Over 70 persons have benefited from this facility, which has two doctors, while 15 oxygen cylinders have been delivered to the homes of eight COVID-19 patients, Falahi said.
People irrespective of their religion have been availing treatment at the mosque, he added. "Makkah Masjid has been shut for prayers since the lockdown. So, we decided to use a part of the premises to help those who can't avail treatment elsewhere," said Qaiser Mirza of the Shanti Nagar Trust.
https://www.financialexpress.com/lifestyle/health/maharashtra-mosque-sets-up-covid-19-facility-provides-free-oxygen/2004725/
--------
India grants thousands citizenship rights in Kashmir
Hilal Mir
26.06.2020
SRINAGAR, Jammu and Kashmir
As many as 25,000 people have been granted domicile certificates in Muslim-majority Indian administered Jammu and Kashmir since May 18, which local politicians believe is the beginning of disturbing demographic profile of the region.
The certificate, a sort of citizenship right, entitles a person to residency and government jobs in the region, which till last year was reserved only for the local population.
Last year on Aug. 5, when India revoked the semi-autonomous status of the region, it also scrapped the local special citizenship law, guaranteed under Article 35 (A) of the Indian Constitution.
The law was barring outsiders including Indian nationals from settling and claiming government jobs, to maintain the demographic balance.
On Friday, a picture of the domicile certificate issued to Navin Kumar Choudhary, a bureaucrat originally from the Indian state of Bihar, went viral on social media.
In April this year, amid the ongoing coronavirus lockdown, the government notified domicile laws making an unspecified number of outsiders eligible for residency and jobs.
According to the new law, any person who has lived in the region for 15 years, or has studied in the region for seven years and passed his class 10 or class 12 examination is eligible for domicile certificate.
Also, children of Indian government employees who have served in the state for 10 years are eligible to settle and claim local citizenship rights. The law applies even if the children have never lived in Kashmir.
Out of 66, top bureaucrats serving in the region, 38 are outsiders belonging to other Indian states. Many other outsiders serve in various central government institutions like banks, post offices telecommunication facilities, security institutions, and universities.
Majority of new citizens in Jammu region
Kashmiri politicians across the divide have said the revocation of special citizenship rights was aimed at reversing the Muslim majority character of the region.
According to a census conducted by India in 2011, out of 12.5 million total population, Muslims comprise 68.31% and Hindus 28.43% in Jammu and Kashmir.
Speaking to Anadolu Agency on the condition of anonymity, a government official said, since May 18, when the rules were notified, 33,000 persons had applied for the domicile certificates. Out of them, 25,000 persons have been granted citizenship rights, he said.
As many as 32,000 applications were filed in 10 districts of the Hindu majority Jammu region. The highest number of 8,500 certificates has been issued in the Doda district, which has a delicate demographic balance, with Muslims comprising 53.81% and Hindus 45.76%.
As many as 6,213 domicile certificates have been issued in Rajouri district, which has 62.71% Muslim population. Authorities have distributed 6,123 citizenship certificates in Poonch, a border district comprising 90.44% Muslim population.
In the Kashmir region, which is about 96.4% Muslim population, 435 certificates have been issued so far, out of the total 720 applications.
As of now, it is not clear how many outsiders, like Choudhary, have been issued domicile certificates. The 25,000 new citizens also include Hindu refugees, who had settled in the region at the time of partition of the sub-continent in 1947. They had migrated from territories, now part of Pakistan. But due to the state's residency laws and special status they were not granted local citizenship rights.
Disputed territory
Kashmir is held by India and Pakistan in parts and claimed by both in full. A small sliver of Kashmir is also held by China.
Since they were partitioned in 1947, the two countries have fought three wars -- in 1948, 1965, and 1971. Two of them have been over Kashmir.
Some Kashmiri groups in Jammu and Kashmir have been fighting against the Indian rule for independence or unification with neighboring Pakistan.
According to several human rights organizations, thousands of people have reportedly been killed in the conflict in the region since 1989.
https://www.aa.com.tr/en/asia-pacific/india-grants-thousands-citizenship-rights-in-kashmir-/1891086
--------
'I have to find the Mecca of my heart': Muslims grieve as hajj is drastically limited
June 26, 2020
Caitlin Yoshiko Kandil
(RNS) — Shaykh Hassan Lachheb remembers first dreaming of hajj as a child, looking at small Polaroid photographs of his father at an airport in his native Morocco as he left for the holy pilgrimage to Mecca, in Saudi Arabia, one of the five obligations required of devout Muslims. Lachheb determined then to make the journey one day himself.
Lachheb, now president and co-founder of Tayseer Seminary in Knoxville, Tennessee, realized his dream many years later. For the past five years he has led groups of American Muslims on twice-a-year trips to Mecca during hajj, which takes place in the Islamic month of Dhul-Hijjah, and umrah, a non-obligatory pilgrimage performed any time of year.
"Hajj is the fullest manifestation of what Islam is," he said, "in regard to spirituality, in regard to rituals, in regard to our connection to history and how deep our history is."
But this year will be different.
Earlier this week, the Saudi government announced that international visitors would be barred from hajj this summer out of concern for the coronavirus pandemic. Only about 1,000 people living in Saudi Arabia will be allowed to participate in the weeklong ritual, which begins July 28. The gathering typically draws some two million people from around the globe.
As early as March, Lachheb said, his group realized that their trip was threatened by the spread of COVID-19. Officially cancelling the trip, however, brought sadness. The pilgrimage has been disrupted in the past by wars and pandemics, but this year marked the first time in history that the two holiest mosques in Islam, the Grand Mosque in Mecca and the Prophet's Mosque in Medina, have been closed to the public simultaneously, he said.
Seeing images of these deserted holy sites — particularly around the Kaaba, the black cube that Muslims circumambulate during hajj — was a spiritual shock. "When you see it completely empty, it's like our hearts are empty," he said.
The uncertainty in recent months about whether hajj would go on has troubled many of those who planned to go, said Khalid Latif, a chaplain at New York University who has led hajj and umrah trips for students, faculty and NYU's neighbors for the past three years. "I think you'd find some Muslims feeling some relief that they just know what's happening," he said.
But many may not be able to simple say, "next year," said Latif. In addition to the expense — his trips with NYU cost up to $10,000 per person — not everyone can easily arrange to take time from work, never mind cover care for children or parents.
Though hajj is considered an obligatory ritual for all Muslims who are healthy enough to make the trip and have the means, preservation of life supersedes all else.
For American Muslim converts, however, the hajj is more than the fulfillment of a sacred ritual. For all Muslims, hajj represents a fresh start when all past sins are forgiven, but for many Americans it's the first chance to experience a completely Muslim environment.
"We represent about 1% of the population," said James Jones, vice chair of the Islamic Seminary of America in Richardson, Texas, who embraced Islam in 1979 and went on pilgrimage in 1992. "But there, everybody's Muslim, and especially for the convert, that's the first opportunity to be in a place where everybody's Muslim.
"I don't have to worry about what I'm eating, I don't have to worry about offending anybody by saying, 'assalamu alaikum, peace be upon you,'" Jones said. "There's that sense of ease when you're around Muslims. Everybody's praying five times a day and nobody's complaining about the call to prayer."
Jones pointed out that Islam teaches that, since people are judged by their intentions, those who planned on making hajj this year will reap the same spiritual rewards as if they had gone.
For some groups, coronavirus restrictions have even come as a kind of boon. The Hajjah Project started in Los Angeles in 2016 to support local women who are making pilgrimage for the first time. In March, the group had to cancel a conference on how to plan for hajj. Instead, the project's founder, Krishna Najieb, redirected efforts to developing a "Sisters Sunday Coffee" Zoom series where women discuss Islamic spirituality.
After the killing of George Floyd, she created another series called "Eight Days of Muslimah Prayer and Action."
And instead of fundraising to help women offset the cost of pilgrimage, one of the group's core activities, Najieb said the Hajjah Project used the funds to buy headscarves for incarcerated Muslim women.
"We had always felt like the Hajjah Project could evolve to not just supporting sisters making a first-time trip to hajj, but sisters trying to do things that are good for the community using Islamic values," said Najieb, who performed hajj in 2015.
For Lachheb of Tayseer Seminary, he has also turned the absence of hajj this year into a spiritual opportunity. After the grief he initially felt, he said he has had time to reflect on the fact that closeness to God shouldn't be tied to any physical place, and that, with the right intentions, he can still perform hajj internally.
"I have to find the Kaba of my heart, I have to find the Mecca of my heart," he said.
https://religionnews.com/2020/06/26/i-have-to-find-the-mecca-of-my-heart-muslims-grieve-as-hajj-is-drastically-limited/
--------
UN human rights experts urge India to release anti-CAA protesters
Jun 27, 2020
A group of United Nations human rights experts has asked India to "immediately" release people who were arrested for protesting against the country's controversial Citizenship Amendment Act (CAA) passed last year.
"These defenders, many of them students, appear to have been arrested simply because they exercised their right to denounce and protest against the CAA," a press statement released by the Office of the United Nations High Commissioner for Human Rights said on Friday.
"[Their] arrest seems clearly designed to send a chilling message to India's vibrant civil society that criticism of government policies will not be tolerated," it said.
Prime Minister Narendra Modi's Hindu nationalist government introduced CAA late last year, laying out a path to citizenship for people from six religious minorities from Afghanistan, Bangladesh and Pakistan who arrived in India before 2015. The law excluded Muslims from the list.
The determination of rights to Indian citizenship based on religion triggered mass protests across India - some led by Muslim women - and resulted in a fierce police crackdown.
Critics say the law discriminates against Muslims and undermines India's secular constitution.
'Alarming cases'
During the nationwide protests against the CAA, deadly violence had erupted in February in capital New Delhi in which 53 people, mostly Muslims, were killed.
Several anti-CAA activists were arrested in connection with the New Delhi violence and later charged under the Unlawful Activities (Prevention) Act (UAPA), a stringent anti-terror law.
The UN human rights experts said the police also failed to act against the ruling Bharatiya Janata Party (BJP) leaders and supporters accused of "incitement to hatred and violence".
A federal minister had raised "shoot the traitors" slogans at a pro-CAA rally, while a BJP legislator from northeast Delhi - the site of February violence - had threatened to remove the protesters from the streets.
In their statement, the UN experts named 11 of those arrested, saying their cases included "serious allegations of human rights violations" and "torture and ill-treatment" in custody.
They said one of the "most alarming cases" of India's action against the CAA protesters involved pregnant student Safoora Zargar, who was jailed for more than two months.
Zargar, 27, was allegedly kept in solitary confinement, denied regular contact with family and not provided adequate medical care or diet, they said.
She was granted bail earlier this week in her sixth month of pregnancy on humanitarian grounds.
The other 10 jailed protesters named by them were Meeran Haider, Gulfisha Fatima, Asif Iqbal Tanha, Devangana Kalita, Natasha Narwal, Khalid Saifi, Shifa Ur Rehman, Kafeel Khan, Sharjeel Imam and Akhil Gogoi.
The UN experts said these arrests appeared to be "discriminatory". Indian activists have also accused the BJP government of using limited access to legal resources during the coronavirus lockdown to target political dissenters and Muslims.
"Authorities should immediately release all human rights defenders who are currently being held in pre-trial detention without sufficient evidence, often simply on the basis of speeches they made criticising the discriminatory nature of the CAA," the UN experts said.
In March, the UN Commissioner for Human Rights (UNHRC) Michelle Bachelet informed India that her office had filed an application urging the country's Supreme Court to make the UN body a third party in one of the many petitions filed by Muslim groups, opposition parties and activists challenging the CAA's constitutional validity.
In response, India said the CAA was its "internal matter" and that "no foreign party has any locus standi on issues pertaining to India's sovereignty". Meanwhile, the top court is still hearing those petitions.
https://www.aljazeera.com/news/2020/06/human-rights-experts-urge-india-release-anti-caa-protesters-200626105916987.html
--------
London's Muslim community launches soup kitchen at Hyatt Street mosque
Jun 26, 2020
Members of London's large Muslim community are joining forces to launch the city's first Muslim Soup Kitchen, a program that aims to help less fortunate Londoners.
The project launches July 4 and volunteers will serve meals every Saturday at 12:30 for about an hour, or until the food runs out, said Zeba Hashmi, one of the volunteers behind the project.
"We want to serve women and children and men, whoever is hungry, whoever needs the food," she said.
"There is a crisis in terms of poverty, in terms of families not having enough food to eat in this city. As Muslims, it's part of our faith, and it's part of other faiths as well, to help those in need."
The Muslim community has worked in the past to get food to the Salvation Army and St. Vincent de Paul Society, as well as serving food at Mission Services and the Salvation Army.
The Muslim Soup Kitchen brings together the London Muslim Mosque, the Islamic Centre of Southwestern Ontario, the Muslim Association of Canada, the north London Islamic Centre and the Hyatt Mosque.
Volunteers with all of those groups will work to serve lunch on Saturdays at the Hyatt Mosque at 282 Hyatt Street, off of Hamilton Road near Adelaide Street, to serve lunch.
In the past, volunteers with the soup kitchen served meals to the women who use My Sister's Place, but decided they wanted their efforts to include children and men as well.
Food will be provided by local restaurants, Hashmi said. Because of COVID-19 restrictions, it will be take-away.
https://www.cbc.ca/news/canada/london/london-ontario-muslim-soup-kitchen-1.5627221
--------
Taliban Prisoner Issue Almost Resolved, Peace Talks Expected 'Soon'
June 27, 2020
KABUL: Peace talks between warring Afghan factions are expected to start as soon as they iron out their main differences over the release of the "most dangerous" Taliban prisoners, officials and sources from both sides said.
Despite a major push by the United States, there has been a delay in the intra-Afghan talks as the Afghan government and some key NATO members are uncomfortable about the release of Taliban commanders accused of conducting large-scale attacks that killed civilians in recent years.
An Afghan government source said the prisoner issue had largely been resolved and they would release an alternative set of prisoners with talks expected to start mid-July.
"The Taliban agreed because it was delaying the talks," he said, adding the government had also demanded a guarantee from the Taliban that it was no longer holding any Afghan security force prisoners.
A source close to the Taliban said the group was willing to move forward so long as most of the 5,000 prisoners demanded were released.
"I don't think releasing or not releasing 200 or 300 prisoners will matter in the process, the Taliban can agree for (those) prisoners to remain in Afghan government custody," the source said.
Taliban political spokesperson Suhail Shaheen could not be reached for comment but has reiterated in recent weeks that the group expects the full terms of their February agreement with the United States, including the release of 5,000 prisoners, to be implemented before talks can start.
Pakistan, seen as a key regional player in getting the Taliban to peace talks, said it expected negotiations to begin very soon and was optimistic that sticking points, including the prisoner issue, would be resolved.
"I think we are almost there," Foreign Minister Shah Mahmood Qureshi told Reuters in an interview on Thursday. "The impediments have been addressed one by one and now there is a general agreement that this is the way forward…I'm expecting things to be begin quickly."
https://www.pakistantoday.com.pk/2020/06/26/taliban-prisoner-issue-almost-resolved-peace-talks-expected-soon/
--------
Shari'a Law and Dispute Resolution in the Post-COVID-19 Legal Order
June 26, 2020
By Damilola S. Olawuyi
Modern societies have for many years evolved efficient methods for resolving legal disputes in a peaceful manner. Litigation in courts, as well as out-of-court alternative dispute resolution (ADR) methods – such as negotiation, mediation, conciliation and arbitration – are popular avenues through which a wide range of commercial and non-commercial disputes are resolved in Qatar and beyond.
However, the ongoing COVID-19 pandemic poses complex and multifaceted challenges to justice delivery systems across the world. History teaches us that in times of global disasters and economic disruptions, such as those triggered by COVID-19, legal disputes significantly increase. These include employment disputes, breach of contract, bankruptcy, insurance claims, family disputes, supply chain disruptions, and more. In light of the impending tsunami of complex legal disputes that could arise post-COVID-19, lawyers and judicial institutions will require support so that they can effectively handle such disputes and not be overwhelmed. In addition to technological, digitalization, financial and infrastructure needs, innovative dispute management mechanisms will be required to avoid institutional gridlock.
The COVID-19 pandemic provides an opportunity to explore how Shari'a law – the principal source of law in Muslim countries – can provide additional and innovative avenues for dispute resolution. For many years, the value of Islamic ADR has been explored in the literature but has not been exhaustively tested. Islamic ADR promotes the resolution of disputes outside of courts, in accordance with the tenets and procedures of Shari'a law. Shari'a-compliant modes of resolving disputes include Muhtasib (use of an ombudsman); Sulh (negotiation, mediation/conciliation); and Tahkim (arbitration). One distinguishing feature of Islamic ADR, as compared to traditional ADR methods, is that parties agree to abide by Qur'anic injunctions and prophetic practice in determining their claims. For example, the Qur'an and Hadith prohibit the levying of interest (riba). In selecting Islamic ADR, parties therefore choose to exclude riba.
In addition to its inestimable moral, cultural and spiritual value, Islamic ADR can provide an alternative legal framework for resolving non-commercial disputes such as family disputes, property and inheritance. The same is also true of small and medium scale entrepreneurial disputes where religious tenets and principles can play a key role in timely, less acrimonious, and cost-effective resolution. In a post-COVID-19 world, Islamic ADR Tribunals can reduce the impending pressure and demand on courts and ADR institutions and allow parties to achieve final and binding resolution in a timely, accessible and cost-efficient manner.
Islamic ADR can be implemented within the framework of existing judicial institutions across the Islamic world. Among the lessons that can be gleaned from countries such as the United Kingdom, Malaysia and Indonesia, where Islamic ADR is already being implemented with varying levels of success, is that the most important first step is to develop clear and comprehensive rules and procedures that provide legal backing and support for Islamic ADR.
For example, the Asian International Arbitration Centre in Malaysia has developed Islamic Arbitration Rules (i-Arbitration Rules), which provide a comprehensive framework of Shari'a-compliant rules and procedures for resolving disputes. An equally important step for fast-tracking the adoption of Islamic ADR is to leverage the existing expertise of arbitrators, practitioners and scholars who are already well versed in the intricacies of ADR, as well as the fundamental principles of law. Such experts can guide the speedy development of tailored Islamic ADR principles and procedures that reflect the rich and diverse legal cultures and traditions across and within Muslim countries.
Higher education institutions also have crucial roles to play in developing innovative programs to train and prepare societies for the emerging legal order post-COVID 19. The College of Law at Hamad Bin Khalifa University (HBKU) is already spearheading innovation in this area. Through its Juris Doctor (J.D.) program, LL.M. in International Economic and Business Law, LL.M. in International Law and Foreign Affairs, as well as the Certificate Program "Law in Practice in Qatar", students have exceptional opportunities to acquire comparative legal skills and knowledge on the rudiments of ADR and its practical application in their home countries.
https://moderndiplomacy.eu/2020/06/26/sharia-law-and-dispute-resolution-in-the-post-covid-19-legal-order/
--------
30,000 Muslims pray in Al-Aqsa Mosque while sticking to social distancing
June 26, 2020
AMMAN, Jordan: More than 30,000 Muslims attended Friday prayers at Al-Aqsa Mosque while respecting stricter health conditions imposed by the Jerusalem Waqf Department.
Sheikh Azzam Khatib, director general of the Jordanian Waqf Department in Jerusalem, said that the stricter conditions were brought in because of the uptick in the number of confirmed coronavirus cases in Jerusalem and in other Palestinian towns.
"We issued numerous statements, videos and other announcements telling worshippers that they must bring their own prayer mat and mask and that we will implement a strict physical separation," he told Arab News.
Khatib said that the Health Ministry's announcement of 72 coronavirus cases in the Jerusalem area was very disturbing. "We were worried seeing the numbers of those contracting the virus while many events, including weddings and other public gatherings, were being held without any adherence to basic anti-COVID-19 health requirements."
He added that the Jerusalem Waqf did not want to be held responsible for the spread of the deadly disease.
"We take our responsibilities seriously and we don't want to be blamed for facilitating the spread of the virus. We also don't want to give an excuse to the Israelis to prevent worshippers from accessing the mosque again."
Khalil Assali, a member of the Jerusalem Waqf Council, said that the waqf director and staff had no choice but to strictly follow the Health Ministry's requirements.
"We noticed an increase in visits to pray in Al-Aqsa from Palestinian citizens of Israel and we have been worried about the potential of the spread of the virus, especially during the entry and exit of worshippers when they crowd around the gates and alleys," he told Arab News.
Waqf staff as well as volunteers were deployed all over the Haram Al-Sharif, which is a UNESCO World Heritage Site, to ensure strict adherence to the waqf department's orders.
Wedding parties have been banned in all governorates across the West Bank, the Palestinian government said last Tuesday, because the number of infections were rising.
"Due to the increase in the number of coronavirus infections during the past 24 hours and in order to avoid the spread of the epidemic ... With regret, the government has decided to ban wedding celebrations in all governorates in order to keep you and your community safe from any harm," it said.
The Palestinian government ended a two-month lockdown on May 25, allowing all sectors to reopen.
https://www.arabnews.com/node/1695911/middle-east
--------
Libya is battling against terrorism, mercenaries, Turkish colonization: LNA
26 June 2020
The Libyan National Army (LNA) is fighting an ongoing battle against terrorism and "Turkish Colonization" in Libya, said LNA spokesman Ahmed al-Mismari said on Thursday.
The LNA official said that the Libyan people comprehend and reject "Turkey's expansionist ambitions to extend its influence over our country and the entire Arab region, with aggressive colonial motives, and to control and plunder our wealth to address its struggling economic crisis."
For all the latest headlines follow our Google News channel online or via the app.
Al-Mismari said that Turkey was able to do this after "agents and traitors opened the way for them to capture our land and desecrate it, through direct military intervention, and by sending mercenaries and terrorist fighters from various global terrorist organizations, via the deal of shame and disgrace."
Tensions have been escalating in Libya and between the countries which back the two warring parties in it, the LNA, commanded by Khalifa Haftar, and the Government of National Accord (GNA), led by Fayez al-Serraj.
Turkey, which backs the GNA, has also been ramping up its military intervention in Libya recently. Ankara has been providing air support, weapons and allied fighters from Syria to the GNA.
In November, Turkey signed a military cooperation pact with the GNA. The two parties also signed a maritime demarcation deal, which gives Ankara exploration rights in the eastern Mediterranean.
The maritime deal was rejected as "illegal" by many Mediterranean countries such Greece and Cyprus.
In early in June, Turkish President Recep Tayyip Erdogan said that his country's support for the GNA "will increasingly continue."
On Thursday, Turkey said that the GNA demanded Haftar's forces to withdraw from Sirte and Jufra region as a pre-requisite for ceasefire talks.
Egypt's 'national security'
Turkey's intervention in Libya would give it a foothold in the natural-resources-rich Middle East, where its international ties to many countries are strained.
This is especially significant for Egypt, since it shares a long border with Libya, backs Haftar's LNA and its relationship with Turkey has been tense for years.
On Saturday, Egyptian President Abdel Fattah al-Sisi said that his country has a legitimate right to intervene in Libya and ordered the army to be prepared to carry out missions if necessary.
He said: "Any direct intervention from the Egyptian state has now acquired international legitimacy," adding that Egypt had received "direct threats" from "terrorist militias and mercenaries" supported by foreign countries.
Earlier in June, Egypt had called for a ceasefire in Libya, however, in his recent speech Sisi said that Egypt has always been reluctant to intervene in Libya but "the situation now is different."
"If some people think that they can cross the Sirte-Jufra frontline, this is a red line for us," he said.
The LNA spokesman thanked Egypt and Sisi for standing in solidarity with the people of Libya, and saluted all the Arab countries which supported Egypt's stance, which he said "reflected the strength of Arab solidarity in the face of terrorism, and colonization."
https://english.alarabiya.net/en/News/north-africa/2020/06/26/Libya-is-battling-against-terrorism-mercenaries-Turkish-colonization-LNA.html
--------
Pakistan
Pakistan's case not taken up at FATF meeting: FO
June 27, 2020
ISLAMABAD: The Foreign Office on Friday said that Pakistan's case was not taken up at the Financial Action Task Force (FATF) meeting held earlier this week and it would continue to be on its 'grey list' till October.
"The agenda of FATF's virtual plenary meeting, held on 24 June 2020, did not include Pakistan. In this virtual plenary meeting, no new decision regarding Pakistan was made," the FO said in a statement.
Therefore, the decisions taken at the FATF's plenary held in February would remain in effect, it said.
Pakistan was at the last plenary given a six-month extension (till June 2020) on the grey list for meeting the remaining requirements of its action plan with a warning that action would be taken against it if it did not show "significant and sustainable progress especially in prosecuting and penalising terrorism financing cases".
Pakistan has been on the grey list since June 2018. The grey list comprises countries being monitored by the illicit financing watchdog for weaknesses in their anti-money laundering and counter-terrorism financing regimes.
Pakistan's case was not discussed at the Paris meeting because of a decision taken by FATF on April 28 to suspend the ICRG (International Coope­ration Review Group) review process for the countries on the grey list.
Evaluation of Pakistan's progress on the FATF Action Plan would now be made in the next plenary cycle beginning in October. The next cycle would have a new president. China led FATF from Oct 2019 to June 2020.
"Pakistan remains committed to completing its FATF Action Plan and continues to make progress," the FO said.
This situation was, however, misreported by the Indian media, which claimed that the June 24 plenary kept Pakistan on the grey list for failing to check flow of money to terror groups. Indian Ministry of External Affairs (MEA) too jumped in to exploit the misrepresentation of the situation by claiming that it vindicated Delhi's stance about Pakistan not taking action against terrorist networks.
The FO said it rejects the remarks by MEA spokesperson and outrightly dismisses the "fabricated news reports" in Indian media.
Indian media reports in this regard, it said, were "patently misleading and part of the incessant smear campaign by India against Pakistan".
The FO recalled that it had repeatedly warned about India's "sinister attempts" to use FATF process for its "narrow" political gains.
"Pakistan has also been raising the issue of India's dubious credentials as an impartial and objective assessor of Pakistan's progress on the FATF Action Plan. India's efforts to misuse the technical forum of FATF for discrediting Pakistan have been noticed by FATF members and are not appreciated by the international community," it emphasised.
It called on FATF members to take note of India's malicious campaign against Pakistan and reject its attempts to politicise the FATF process.
https://www.dawn.com/news/1565473/pakistans-case-not-taken-up-at-fatf-meeting-fo
--------
Pakistan's anti-graft body files corruption case against Nawaz Sharif
Jun 27, 2020
LAHORE: Pakistan's anti-graft body has filed a corruption case against deposed prime minister Nawaz Sharif and three others for their alleged involvement in the illegal allotment of land in Punjab province about 34 years ago.
An arrest warrant has been issued against the 70-year-old three-time premier who is in London for medical treatment.
The National Accountability Bureau (NAB) has approached an anti-corruption court to declare Sharif a proclaimed offender since he did not respond to any of its summons.
The three other accused named in the case filed by the NAB are Jang/Geo media group owner Mir Shakilur Rahman, former Lahore Development Authority (LDA) director Humayun Faiz Rasool and former director (land) Mian Bashir.
In 1986, when he was the Punjab chief minister, Sharif had allegedly allotted 54-'kanal' (canal) land in Lahore to Mir Shakilur Rehman in violation of rules.
Rahman, who was arrested on March 12, is on judicial remand.
In the reference, Sharif and the two officers were accused of the misuse of authority in allotting the precious land along the canal to Rahman in violation of the rules.
Sharif had left for London in November after the Lahore High Court granted him a four-week permission to go abroad for treatment.
He had submitted an undertaking to the court to return to Pakistan, citing his record of facing the law and justice, within four weeks or as soon as he is declared healthy and fit to travel by doctors.
Last month, a fresh picture of 'ailing' Sharif having tea at a London cafe along with his family went viral on social media, sparking a debate on his health with the ruling Pakistan Tehreek-i-Insaf members demanding his return to face corruption cases.
In the picture, he was seen sitting at a roadside cafe with his granddaughters. He sported a blue shalwar kameez and a cap and apparently looked in better health.
Sharif was given bail in the Al-Azizia Mills corruption case, in which he was serving a seven-year prison sentence in Kot Lakhpat Jail.
He was also given bail in a money-laundering case to facilitate his travel abroad.
Sharif was diagnosed with "complicated coronary artery/ischemic heart disease with significant disease burden".
Full report at:
https://timesofindia.indiatimes.com/world/pakistan/pakistans-anti-graft-body-files-corruption-case-against-nawaz-sharif/articleshow/76656070.cms
--------
Pak court sentences five al-Qaida terrorists to 16 years in jail
Jun 26, 2020
ISLAMABAD: An anti-terrorism court in Pakistan's Punjab province convicted five al-Qaida militants over terrorism-related charges and sentenced then to 16 years in prison each.
The verdict was announced by the ATC in Gujranwala city on Thursday.
The court found Abdullah Umair, Ahmadur Rehman, Asim Akbar Saeed, Muhammad Yaqoob and Muhammad Yusuf guilty of terror offences and each convict was handed five years in prison for terrorism financing, seven years for keeping explosives, three years for supporting al-Qaida and one year for keeping al-Qaida literature.
The court also ordered the confiscation of the personal properties of the convicts and fined them Rs 1,80,000 (Pakistani currency) each.
The convicts, according to the spokesperson of Punjab's counter-terrorism department (CTD), were running a media cell for al-Qaida in the Indian Subcontinent (AQIS) in Gujranwala.
They were arrested in a joint operation by the CTD Punjab and spy agency Inter-Services Intelligence (ISI) in December 2019.
"The AQIS had been running its propaganda campaign online and physically from a secret location in Karachi," the spokesperson said, adding that they had shifted their set-up to Gujranwala to escape surveillance.
During investigations, CTD Punjab found that Asim Akbar Saeed, a resident of Lahore, had been associated with al-Qaida since 2005 and was in charge of the group's media cell.
In addition to online material, he ran a printing press where AQIS literature was published. The printed material was disseminated to various parts of Pakistan and Afghanistan through couriers.
Another convict, Abdullah Umair, aka Hanzala, a resident of Karachi, had joined the organisation in 2010. He was coordinating AQIS activities in Pakistan and Afghanistan. Similarly, Ahmadur Rehman of Karachi had joined AQIS in 2015 and was trained for urban ambush operations. Convict Yousaf, of Karachi, was the brother of AQIS commander Muhammad Yaqoob. He had also been trained in urban terrorist warfare.
Full report at:
https://timesofindia.indiatimes.com/world/pakistan/pak-court-sentences-five-al-qaida-terrorists-to-16-years-in-jail/articleshow/76652197.cms
--------
Pakistan records lowest single-day spike in coronavirus cases after a month
Jun 26, 2020
ISLAMABAD: Pakistan's Covid-19 patients will be around 225,000 by the end of June as compared to the estimated 300,000, a senior minister said on Friday, as the country recorded 2,775 infections, the lowest single-day spike in coronavirus cases in about a month.
Planning minister Asad Umar said the government succeeded in keeping the expected number under control after people showed responsibility.
"As a result, we are now looking at 225,000 cases by June end instead of 300,000, which we initially feared," he told the media after chairing the meeting of the National Command and Control Centre (NCOC) that reviewed the Covid-19 situation.
He said the reduction showed that success against the virus was possible through joint efforts and following the guidelines including wearing masks at public places were paying dividends.
Umar said that hotspots were identified and provinces tasked to take action and clusters were sealed in 20 cities.
"It is a reminder that if we take the right measures, God will protect us and if we don't, the situation can worsen," he said.
He said despite the pressure on hospitals, the health system was not going to collapse.
Pakistan on Friday recorded its lowest single-day spike in coronavirus cases in about a month after 2,775 people tested positive for the infection, taking the national tally to 195,745.
The highest single-day spike was recorded on June 13 with 6,825 new cases. On May 29, Pakistan recorded 2,429 cases, the lowest.
According to the data released by the ministry of national health services, 59 people died due to Covid-19 in the last 24 hours, taking the total number of fatalities to 3,962.
So far, 84,168 patients have recovered from the disease.
Sindh has recorded maximum 75,168 patients followed by Punjab with 71,987, Khyber-Pakhtunkhwa 24,303, Islamabad 11,981, Balochistan 9,946, Gilgit-Baltistan 1,398 and Pakistan-occupied Kashmir 962 patients.
The authorities conducted 1,193,017 tests including 21,041 tests during the last 24 hours.
Meanwhile, Pakistan sought the World Health Organisation's (WHO) support to develop guidelines for the upcoming Eid ul Azha when cattle markets are held across the country to sell animals for sacrifice.
Special Assistant to Prime Minister on National Health Services Zafar Mirza during a meeting held on Thursday through video link with WHO Regional Director Dr Ahmed Al-Mandhari and his team asked for help to prepare guidelines.
Mirza said Pakistan was fighting Covid-19 through a robust and coordinated national response.
The purpose of the meeting was to discuss Pakistan's response to the contagion and to explore areas where the WHO could provide technical guidance and support to help the country fight the virus.
Prime Minister Imran Khan on Thursday defended his government's handling of the coronavirus crisis, saying there has been no confusion or contradiction in the official policies since the start of the disease.
"They say again and again that there was confusion ... if there was one country whose government did not have confusion, it was ours," Khan said while addressing Parliament.
Full report at:
https://timesofindia.indiatimes.com/world/pakistan/pakistan-records-lowest-single-day-spike-in-coronavirus-cases-after-a-month/articleshow/76647579.cms
--------
NA passes Rs4.2tr budgetary demands, grants
Syed Irfan Raza
June 27, 2020
ISLAMABAD: Amid severe criticism by the opposition, the National Assembly on Friday passed budgetary demands and grants of over Rs4.2 trillion of the budget for financial year 2020-21 recently laid in the house for debate.
The opposition did not present cut motions on 96 demands, paving the way to their passage in the first phase of the session before interval, while on 94 other demands its cut motions were rejected.
The opposition members termed the budget "unrealistic" and said the government had tried to fool the people through the budget. They lamented the government's fiscal and social policies vis-à-vis taxes, performance of institutions, health and education sectors, minorities, foreign loans and their utilisation, salary and pension of government employees, exports, oil pricing, sugar crisis and food security.
They said the targets set in the budget 2020-21 would never be met because ground realities were ignored by the government during its preparation.
The opposition leaders also sought details of assets of Prime Minister Imran Khan's advisers and special assistants, besides demanding resignation of Aviation Minister Ghulam Sarwar Khan for what they called his "irresponsible" statement relating to the recent crash of PIA's aircraft in Karachi and the educational degrees of pilots of the national flag carrier.
Dr Nafeesa Shah of the Pakistan Peoples Party (PPP) demanded the aviation minister's resignation for maligning the country, PIA and its pilots and sending a wrong message to the international community.
Mohsin Ranjha of the Pakistan Muslim League-Nawaz (PML-N) sought details of assets of PM's advisers and special assistants and asked if parliamentarians could submit their assets' details to the Election Commission of Pakistan, then why PM's aides could not provide such details before parliament.
In his concluding speech, Minister for Industries Hammad Azhar responded to all the allegations of the opposition and described the current account deficit inherited from the last PML-N government as "mother of all economic ills". "The current account deficit affects GDP and caused inflation in the country," he added.
Talking about the opposition's criticism that the government had enhanced the revenue target by Rs1tr without imposing any new tax and keeping in view the economic condition of the country due to the coronavirus pandemic, the minister said the government was going well in terms of revenue collection and could have generated Rs4,800 billion, but the target was hampered by the impact of Covid-19.
Responding to another objection raised by the opposition regarding renaming of the Benazir Income Support Programme, Mr Azhar said the data of BISP was used only for one category of the Ehsaas cash distribution programme [for coronavirus-hit poor people], while fresh data was prepared for other categories.
On the National Finance Commission Award, he assured the opposition that all grievances of the provinces would be addressed. He said the country's exports and imports had declined due to the global economic crisis after the pandemic.
Talking about the "hot money" received from international donors, he said $4-5bn had been utilised for retiring interest on foreign loans and $4-5bn was still in the national foreign reserves.
Responding to an objection that the government had not reduced the prices of petroleum products as much as they should be, the minister said the government had passed on the maximum benefit of crash of international oil prices to the people of Pakistan than any other country in the world.
Earlier, PPP's Naveed Qamar asked why the rampant inflation had not come down in the country despite the fact that oil prices had declined sharply. "More than one million people of the country had already fallen below poverty line due to government's faulty economic policies even before the Covid-19 crisis," he said.
He said the rulers had been criticising the last PML-N regime for ample circular debts, but the present government had also increased it. "The government had given good news to the nation that it will clear all circular debts in one year, but they are fast increasing," he regretted.
Mr Qamar said the government always talked about minorities, but it had not allocated any funds for them in the budget. He said the government had agreed to increase salary of government employees but did not mention from where these funds would be generated. The PPP leader accused the government of placing bogus and unrealistic estimates and expenditures before the National Assembly by harming the sanctity of parliament.
PML-N leader Khurram Dastagir said the government had obtained Rs7,941bn foreign loans, but nobody knew where that amount was. He also demanded details of the funds the government had received from international donors as assistance for combating the coronavirus crisis and their usage.
MNA Ayesha Ghuas Buksh said the government had prepared the budget in line with the instructions and desires of the International Monetary Fund. "It is better to rent out the country to IMF." She said the budget was unrealistic and the government could never meet its budgetary targets. "The government is destroying the sanctity of the document," she added.
PPP leader Shahida Rehmani broke into tears while speaking on the floor of the house because of critical condition of her father and mother suffering from Covid-19. "If anything goes wrong with my parents, I will not forgive Prime Minister Imran Khan," she said while criticising the government's policy on the coronavirus pandemic.
Full report at:
https://www.dawn.com/news/1565470/na-passes-rs42tr-budgetary-demands-grants
--------
Sexual abuse cases: Judge for use of only sterile objects to collect evidence
June 27, 2020
LAHORE: The Lahore High Court has taken strong notice of use of non-sterile objects to collect evidence in sexual assault cases and issued a set of guidelines for the health authorities.
The health department shall ensure provision of sufficient quantities of Sexual Assault Evidence Collection Kits to all hospitals in Punjab, including those at the district and tehsil headquarters, said Justice Tariq Saleem Sheikh in an order about dismissal of bail petition of a suspect facing charge of sodomy.
During the course of hearing, an official of the Punjab Forensic Science Agency (PFSA) told the judge that doctors usually prepared swabs with non-sterile objects such as matchsticks, ice cream scoops, broomsticks and twigs and then used them to collect evidence from the victim. In some cases, he added, large cotton plugs were used as swabs.
These objects sometimes caused injury or infection to the victim and often jeopardised the process of DNA analysis owing to incorporation of contaminants and potential inhibitors.
Justice Sheikh observed that in a sexual assault case, the victim was the crime scene and the prime responsibility for collection of evidence from him/her rested on the medical officer.
The guidelines issued by the judge required the medical officers to use, without fail, the kits for collection of forensic evidence in all sexual assault cases.
The judge observed that only sterile standard cotton tip swabs, provided at the PFSA, or otherwise commercially available, could be used for collection of evidence from the body of a victim. "Homemade swabs and cotton balls etc should never be used for evidence collection," said the judge.
Justice Sheikh further said the medical officers shall also adhere to guidelines issued by PFSA for collection, preservation and transportation of samples. He said they shall particularly ensure they take detailed and accurate history of the incident from the victim, including (but not limited to) the assault activity, time elapsed since the assault, and post-assault activities of the victim. The DNA samples should be dispatched to the forensic laboratory without delay.
Full report at:
https://www.dawn.com/news/1565391/sexual-abuse-cases-judge-for-use-of-only-sterile-objects-to-collect-evidence
--------
PTM says ready for talks but calls for confidence-building measures
Iftikhar A. Khan
June 27, 2020
ISLAMABAD: The Pashtun Tahaffuz Movement (PTM) announced on Friday that the group accepted the government's offer for talks but stressed that the authorities should first take confidence-building measures (CBMs) to demonstrate their sincerity.
Speaking at a press conference here, PTM chief Manzoor Pashteen said the government must take steps to bridge the trust deficit, adding that it was customary for parties to take CBMs before entering into talks.
At the press conference, he was flanked by PTM-backed members of the National Assembly Mohsin Dawar and Ali Wazir.
Mr Pashteen mentioned in particular the FIRs that had been registered against PTM activists, many of whom, he claimed, had been put behind bars.
He said the PTM was ready to describe in detail to the authorities in "black and white" all the problems being faced by the Pashtun from Chaman to Swat.
He said that freedom of speech and freedom of expression were constitutional rights which could not be taken away. "If there are excesses, there will be a protest," he remarked.
In response to a question, he said Defence Minister Pervez Khattak and National Assembly Speaker Asad Qaiser had approached the PTM to formally offer a dialogue.
Speaking on the occasion, MNA Dawar claimed that the state had failed "to protect the people and provide them with fundamental human rights".
He said there were "curbs even on freedom of association and assembly". "FIRs with terrorism charges are registered when we hold a public meeting."
Mr Dawar criticised Prime Minister Imran Khan for calling the slain Al Qaeda leader Osama bin Laden a "martyr" and asked the government to explain its priorities.
He said a shift in the state's policy was a sine qua non (prerequisite) for peace and development. The country's economy was "collapsing", he claimed and said peace was essential for putting the economy back on track.
The parliamentarian asked the government to take all the stakeholders on board.
Mr Wazir was of the view that the Baloch and Pushtun had always been deceived in the name of talks.
Defence Minister Pervez Khattak had recently extended an invitation to leaders of the PTM to come to the negotiating table and discuss all the contentious issues with the government.
"We Pakhtun belong to the same province; therefore, we should collectively work for the development of Khyber Pakhtunkhwa," the minister said in a statement.
Mr Khattak said the erstwhile Federally Administered Tribal Areas (Fata) had been merged with Khyber Pakhtunkhwa in order to bring the tribal people into the national mainstream.
Full report at:
https://www.dawn.com/news/1565424/ptm-says-ready-for-talks-but-calls-for-confidence-building-measures
--------
Opposition's dream of govt dissolution won't come true: Punjab governor
June 27, 2020
LAHORE: Pakistan Muslim League-Q MNA Chaudhry Moonis Elahi on Friday called on Punjab Governor Chaudhry Muhammad Sarwar. In the meeting held at Governor House, bilateral relations of PTI and PML-Q were discussed.
During the meeting, governor said that opposition's daydreaming of dissolution of PTI government won't come true because people and allies were standing firm with the government. He said that general elections would be held in 2023. He suggested for opposition that instead of making a noise in parliament they must wait for elections.
He hoped that Punjab and federal budget would be easily passed with the help of allies. All allies are standing by PTI and no one is talking about parting ways from coalition government, Sarwar added.
He said that people had given us mandate for five years and we would complete our term. He commented on Covid-19 situation and said it was increasing day by day because society was still not taking it serious. He requested the people to observe SOPs so that health system could be saved from total collapse. He vowed that smart lockdown would be extended to areas where people were not taking corona serious.
He made it clear to the opposition that the government would not come under pressure by threats of agitation. Under the leadership of Prime Minister Imran Khan, we will get Pakistan rid of corruption, inflation and unemployment, Sarwar vowed.
Full report at:
https://www.thenews.com.pk/print/678510-opposition-s-dream-of-govt-dissolution-won-t-come-true-punjab-governor
--------
India
Kochi Mosque asks devotees to bring own prayer mats
JUNE 26, 2020
Kochi: A mosque in Kochi has urged the devotees to bring their own mats ahead of reopening for prayers on Friday.
Most of the mosques in Kochi decided to remain shut in the first week of this June despite the Centre's relaxation for reopening religious places and places of worship from June 8.
Hayatul Islam Masjid, which was shut due to the lockdown imposed due to COVID, has now decided to open from June 26 with the Friday Namaz.
The mosque authority has ensured sanitizing facilities and social distancing norms by markings in the prayer hall. They have also issued a notice saying, "Masjid will not give prayer mats to the devotees. Everyone has to bring their own mats from home."
TK Yakoob Naeemi, Imam of Hayatul Islam Masjid, said "We are going to open the mosque for namaz by following all the instructions of government and health department. We will not allow any person above 65 years and below 10 years to the masjid. We will also not allow any person who has a fever, cold and cough."
Following the protocol, we have marked the places for namaz, said Moosa MK, President of Masjid committee adding, "We have also prepared register book to register the names of the persons who come to the masjid. We have given instruction to all devotees to come with the Aadhar card."
https://www.siasat.com/kochi-mosque-asks-devotees-bring-own-prayer-mats-1914654/
--------
No Hizbul militant in south Kashmir's Tral now, first time since 1989: Police
Jun 26, 2020
SRINAGAR: The Jammu and Kashmir Police on Friday claimed that there was no presence of Hizbul Mujahideen militants in the Tral area of Pulwama district now-the first time since the outbreak of militancy in the Valley in 1989.
The police's claim came after three militants were on Friday killed in an overnight encounter with security forces in the Chewa Ular area of Tral in south Kashmir's Pulwama district.
"After today's #successful ops (operations), no presence of HM #terrorist in #Tral area. It has happened for first time since 1989," Inspector General of Police (IGP) Kashmir Vijay Kumar said in a tweet on the Kashmir zone police's official Twitter handle.
The Hizbul Mujahideen was a dominant force in Kashmir after the militancy broke out in the valley as the outfit had several thousand cadres at the peak of insurgency. Several top commanders of the outfit, including Burhan Wani and Zakir Musa, were from the Tral area.
https://timesofindia.indiatimes.com/india/no-hizbul-militant-in-south-kashmirs-tral-now-first-time-since-1989-police/articleshow/76649954.cms
--------
J&K terror outfits recruiting kids as young as 14: US
Jun 27, 2020
NEW DELHI: A US state department report on human trafficking in India has said that non-state armed groups continue to recruit and use children as young as 14 in direct hostilities against the government in J&K.
The Congressional-mandated 2020 Trafficking in Persons report of the state department, released by secretary of state Mike Pompeo on Thursday, noted that Maoist groups, particularly in Chhattisgarh and Jharkhand, forcibly recruited children as young as 12 to handle weapons and IEDs, and in some cases be human shields.
https://timesofindia.indiatimes.com/india/jk-terror-outfits-recruiting-kids-as-young-as-14-us/articleshow/76654612.cms
--------
J&K: CRPF personnel, 5-year-old killed in militant attack in Anantnag's Bijbehara
June 26, 2020
A CRPF man and a five-year-old boy were killed after militants attacked a CRPF party in South Kashmir's Bijbehara on Friday. Police sources said that the attack took place near Padshahi Bagh area of Bijbehara in Anantnag district.
A senior police officer confirmed to The Indian Express that one CRPF man and a boy sustained critical injuries in the attack and they succumbed. The militant been identified as Zahid Daas and belongs to the Jammu Kashmir Islamic State (JKIS) outfit, police said.
The area has been cordoned off by the security forces and a manhunt has been launched to nab the attackers.
A Kashmir based CRPF Spokesperson Junaid Khan told The Indian Express that one CRPF man died in the attack. "There was a deployment of CRPF in the area," he said.
https://indianexpress.com/article/india/jk-crpf-personnel-5-year-old-killed-by-militants-in-anantnags-bijbehara-6477271/
--------
Three militants killed in Jammu and Kashmir's Pulwama district
Jun 26, 2020
Security forces on Friday gunned down three militants during a gun battle in Jammu and Kashmir's Pulwama district, officials said.
Troops had launched an operation at Chewa Ullar in Tral of Pulwama District on Thursday evening after receiving information about the presence of militants in the area.
Officials said the first militant was killed early on Friday morning and two more were killed later as the operation progressed. The militants, believed to be locals, were hiding in a house which was damaged during the gun battle.
Two AK-47 assault rifles were recovered from the site, a spokesperson of the Indian Army said.
A police spokesman said that, during a search operation, the militants were given an opportunity to surrender. However, they fired indiscriminately on the joint search party, which retaliated and this led to the gun battle.
"Arms and ammunition, including two AK rifles, six AK magazines, five AK rounds, a pistol, a pistol magazine, four pistol rounds and other incriminating materials were recovered from the site. All the recovered materials have been taken into case records for further investigation and to probe their role and complicity in other terror crimes," the spokesman said.
The spokesman further said that the bodies of the three militants have been sent to Handwara for conducting the last rites after completing medico-legal formalities, including collection of DNA.
"In case any family claims the killed terrorists as their kin, they can come forward for their identification and participation in the last rites at Handwara," he said.
Full report at:
https://www.hindustantimes.com/india-news/three-militants-killed-in-j-k-s-pulwama/story-N9PovVV3ucLuxfmQu8EnkN.html
--------
SC asks foreign TJ members to serve the copy of plea to Centre
JUNE 26, 2020
New Delhi: The Supreme Court on Friday asked the foreign nationals who challenged the Ministry of Home Affairs's order blacklisting them for alleged participation in Tablighi Jamaat activities to serve the copy of their petition to the Central Government.
A bench comprising Justices A M Khanwilkar, Dinesh Maheshwari and Sanjiv Khanna said that their pleas will be heard on Monday.
Senior Advocate Salman Khurshid, appearing for the petitioners, submitted that individual orders of visa cancellation have not been served on the petitioenrs.
The foreign nationals, aggrieved by the decision of the Ministry of Home Affairs (MHA) to blacklist foreigners from different countries for their alleged involvement in 'Tablighi Jamaat Activities', have approached Supreme Court challenging the constitutionality of the move.
On April 2, the Press Information Bureau (PIB) communicated the government's decision to blacklist as many as 960 foreigners from 35 countries who were present in India. At the same time, orders were issued to Director Generals of Police (DGPs) of all States and Union Territories as well as the Commissioner of Delhi Police (CP) to register FIRs against such foreign nationals. The petitioners also inform that subsequent to this decision, on April 4, the Government further blacklisted around 2500 foreigners, present in India, from travelling to India for a period of 10 years, but there has been no press release regarding the same.
Contending that the decision has been taken unilaterally and arbitrarily, the Petitioners urge the Top Court to declare the decision as unconstitutional and thus, void.
It is emphasised that a decision of en masse blacklisting without issuing notice or giving a chance to be heard is a blatant violation of not only principles of natural justice, but also the Right to Life under Article 21.
"The impugned decision, by its very unilateral nature, infringes the principle of natural justice, particularly, audi alteram partem by blacklisting the aforementioned foreigners present in India without first granting an opportunity of being heard or notice of any form, and resultantly depriving the aggrieved foreign nationals of their right of locomotion and travelling back to the country of their citizenship."
The petitioners, all of whom have been blacklisted, submit that not only has the sudden decision led to FIRs being registered against them but has also resulted in them having to forfeit their passports to the State Administration. This, they contend, is a complete deprivation of personal liberty, without following procedure established under law.
One of the petitioners, it is informed, is in the seventh month of her pregnancy. She was quarantined in March and, after being released in May, continues to be in a facility with restricted movement, which denies her the opportunity to go home and give birth in comfortable surroundings with dignity and security.
The entire contention of the petitioners is that the Government "baselessly and arbitrarily passed a blanket ban on the aggrieved foreign nationals under the garb of alleged visa violations pursuant to alleged Tabligh activities, forcing such persons to remain in India under restricted movements…
…on a mere blanket presumption without any substantiation that they violated the conditions of their validly granted visas, under relevant sections of the Foreigners Act, 1946 and Disaster Management Act, 2005."
In furtherance of this contention, it is pointed out that the decision is based on the presumption of involvement in 'tablighi activities', but nowhere is it defined how these activities were prohibited or what led to the violation of conditions of validly granted visas.
Referring to the "General Policy Guidelines relating to Indian Visa", as made available by MHA, it is pointed out that there is no restriction on foreigners visiting religious places or attending normal religious activities. The restrictions however are regarding engaging in tabligh work or preaching religious ideologies, making religious speeches or proselytizing.
Further referring to MHA's Press Release from March 31, it is pointed out that the Government stated the following:-
"Devout Muslims from across the country and also from foreign countries visit the Markaz for religious purpose.
…This is a continuous process throughout the year.
…Since March 23, lockdown has been strictly imposed by State authorities/Police across Delhi including in and around Nizamuddin and Tabligh work came to a halt."
This, assert the petitioners, shows that Muslims from all over visit the Tablighi Jamaat Headquarters, and since March, all Tabligh work had come to a halt on account of the nationwide lockdown. Thus, it is submitted that:-
"…even as per the understanding of the MHA with regard to 'Tabligh Activities', what has been prohibited are only acts falling under the category of preaching religious ideologies, making speeches in religious places, proselytization, distribution of audio or visual display/ pamphlets pertaining to religious ideologies, however, there is neither any prohibition in visiting a religious place and attending normal religious activities nor can such an act be said to have constituted a violation of the visa conditions, thereby attracting the arbitrary and unilateral decision of en masse blacklisting of visas validly granted, depriving the fundamental right of personal liberty of all such foreigners."
The petitioners also state that the Government issued a Standard Operating Procedure (SOP) on April 2 regarding the transit of foreign nationals stranded in India amid the COVID-19 outbreak. However, as a result of a short press release on the same day, the present petitioners could not benefit from the same.
The letters subsequently sent to the DGPs and CP of Delhi "has conclusively decided that such foreigners had violated the conditions of their tourist visas by indulging in Tabligh Activities, without ascertaining whether such persons had merely attended a religious discourse or had been found to be indulging in the prohibited activities of preaching and proselytization", submit the petitioners.
Pointing out that constitutional rights against preventive detention extend to foreign nationals as well, it is urged that Article 21 of the Constitution uses the word 'person' and not 'citizen' to protect a foreigner's personal liberty, which includes free movement across the country.
With regard to the importance of the Right to life and liberty, it is asserted that:-
"…all human beings are born with some unalienable rights like life, liberty and pursuit of happiness. The importance of these natural rights can be found in the fact that these are fundamental for their proper existence and no other right can be enjoyed without the presence of right to life and liberty. Life bereft of liberty would be without honour and dignity and it would lose all significance and meaning and the life itself would not be worth living. Hence, that is why "liberty" encapsulates the quintessence of a civilized existence. The object of Article 21 is to prevent encroachment upon personal liberty in any manner."
Full report at:
https://www.siasat.com/sc-asks-foreign-tj-members-serve-copy-plea-centre-1914603/
--------
Teen injured in Pak firing along LoC in Poonch
Jun 26, 2020
JAMMU: A 17-year-old girl was injured in Pakistani firing along the Line of Control (LoC) in Jammu and Kashmir's Poonch district on Friday evening. She was grazing her cattle along the border when the ceasefire violation took place.
"Around 6 pm, Nazia Kouser (17) of Mandhaar-Mohallah-Challerri in Bandichechian sector of Poonch district was grazing her cattle ahead of a fence near the LoC, when suddenly Pakistan army fired from a forward post by a small weapon, resulting in a bullet injury to the girl," SSP Poonch Romesh Angral said.
Full report at:
https://timesofindia.indiatimes.com/india/teen-injured-in-pak-firing-along-loc-in-poonch/articleshow/76652222.cms
--------
Arab world
Intel: Al-Qaeda branch confirms US drone killed Zarqawi relative in Syria
Jun 25, 2020
An al-Qaeda branch in northwest Syria has confirmed that a US drone strike earlier this month killed one of the group's most senior leaders, a veteran Jordanian jihadi who had been the brother-in-law of Abu Musab al-Zarqawi.
Huras al-Din, an al-Qaeda branch in northwest Syria, released a statement Wednesday saying that Khaled al-Aruri, also known as Abul Qassam al-Urduni, was killed as a result of a US strike on a vehicle he was in earlier this month in Idlib province.
Aruri was headed to a meeting of local militant leaders in order to form a military cooperation body, the statement read.
Video of the vehicle appeared to show it had been struck with a non-explosive missile bearing long metal blades, possibly the RX9 Hellfire missile, which the US military and CIA have used in prior strikes to limit collateral damage. The United States took credit for the strike last week.
Why it matters: The strike is one of Washington's latest assassinations of senior jihadi leaders hiding out in an area of Syria controlled by Islamist rebels, some of whom are backed by Turkey.
Huras al-Din's statement said Aruri was the group's deputy emir for martyrdom, though others have suggested he may have been the group's de facto leader. The veteran jihadi fought in Afghanistan both before and after the Sept. 11, 2001, attacks, and fought against the US occupation of Iraq "from its first days" alongside Zarqawi, the statement read. Zarqawi was killed in a 2006 US airstrike near Baquba, Iraq.
Last week, local reports said a senior Islamic State (IS) official who had been close to that group's deceased leader, Abu Bakr al-Baghdadi, was also killed in a drone strike northwest of the Syrian city of al-Bab. A representative for US Central Command declined to comment on that strike. Baghdadi died during a US Delta Force raid on a house in northwest Syria in October.
What's next: Fighting broke out between Hayat Tahrir al-Sham and Huras al-Din earlier this week as rumors circulate in Idlib that Hayat Tahrir al-Sham may be leaking intelligence on the location of Huras al-Din leaders. Another Huras al-Din figure is believed to have been killed in a drone strike in Idlib on Wednesday.
US strikes on al-Qaeda and IS figures in northwest Syria are unlikely to let up. The State Department on Wednesday doubled its reward to $10 million for information leading to the killing or capture of Amir Muhammad Sa'id Abdal-Rahman al-Mawla, whom the US government believes is IS' current leader, publicly known by the name Abu Ibrahim al-Hashimi al-Qurayshi.
Know more: Fehim Tastekin looks at Turkey's perilous choices in Idlib province, including its commitment to Russia to get rid of hard-line groups.
https://www.al-monitor.com/pulse/originals/2020/06/al-qaeda-syria-branch-drone-strike-kill-zarqawi-relative.html?utm_source=iterable&utm_medium=email&utm_campaign=1317422_
--------
Coronavirus: Syria faces unprecedented hunger crisis, UN warns
26 June 2020
Syria faces an unprecedented hunger crisis with over 9.3 million people lacking adequate food while the country's coronavirus outbreak, though apparently controlled for now, could still accelerate, UN aid agencies said on Friday.
The World Food Program (WFP) told a briefing in Geneva that the number of people short of essential foodstuffs had risen by 1.4 million in the past six months.
Read the latest updates in our dedicated coronavirus section.
Food prices had also soared by more than 200 percent in less than a year due to the freefall in neighboring Lebanon's economy and COVID-19 lockdown measures in Syria, WFP spokeswoman Elisabeth Byrs said.
After nine years of armed conflict, more than 90 percent of Syria's population lives under the $2 per day poverty line and humanitarian needs are growing, Akjemal Magtymova, the World Health Organization (WHO)Representative in Syria, told a separate briefing.
Fewer than half of Syria's public hospitals are functional, while half of the medical workforce has fled since the conflict began, she said, with those remaining facing a "pervasive threat of kidnapping and targeted killings."
Authorities have reported 248 coronavirus infections, including nine deaths in government-held areas, while a further 5 cases and one death have been recorded by the Kurdish-led administration in the northeast, WHO figures show.
"The official numbers represent a likely underestimate of the true numbers, and that's not unique to Syria at all," said Richard Brennan, WHO's regional emergency director.
Children are neglected victims of Syria's war
After a slow start, COVID-19 outbreaks in Iraq, Egypt and Turkey accelerated and the same is expected in Syria, he said.
"What we do know in Syria is you don't have an explosive outbreak, you can't cover up, you can't miss an explosive outbreak.
The health facilities are not overwhelmed, so this is why we still have an opportunity to scale up our preparedness to blunt and mitigate the worst of the outbreak," Brennan said.
Full report at:
https://english.alarabiya.net/en/News/middle-east/2020/06/27/Coronavirus-Syria-faces-unprecedented-hunger-crisis-UN-warns.html
--------
Iraqi security forces raid Iran-backed militia's headquarters south of Baghdad
25 June 2020
Iraqi security forces raided a headquarters belonging to an Iran-backed militia south of Baghdad late on Thursday, seized rockets and detained three leaders of the group at the site, two Iraqi government officials said.
The officials said the militia group targeted was Kata'ib Hezbollah, an Iran-backed group that U.S. officials have accused of firing rockets at bases hosting US troops and other facilities in Iraq.
For all the latest headlines follow our Google News channel online or via the app.
One government official told Reuters that one of the three leaders detained in the raid was an Iranian. Iraqi special forces from the Counter Terrorism Service carried out the raid, he said.
The official added that the three detained leaders were handed over to the US military. A spokesman for the US-led coalition in Iraq did not immediately respond to a request for comment.
Iraq's new prime minister, Mustafa al-Kadhimi, has indicated he will be tough on militia groups which target US installations. The raid, which took place after midnight, is the first sign Kadhimi will follow through on his tough talk.
It took place after a number of rocket attacks near the US Embassy in Baghdad and other US military sites in the country in recent weeks.
Full report at:
https://english.alarabiya.net/en/News/middle-east/2020/06/26/Iraqi-security-forces-raid-Iran-backed-militia-s-headquarters-south-of-Baghdad.html
--------
Iraq says 13 pro-Iran fighters arrested for anti-US rocket attacks: AFP
25 June 2020
Iraqi security forces arrested more than a dozen pro-Iran fighters overnight, in their first raid against those accused of anti-US rocket attacks, Iraqi officials told AFP early Friday.
Elite fighters from the Counter-Terrorism Service raided a headquarters in southern Baghdad used by Kata'ib Hezbollah, arresting 13 of them and confiscating the rocket launchers, three officials said.
For all the latest headlines follow our Google News channel online or via the app.
"Based on intelligence information, a CTS unit raided a base used by Brigade 45, seizing three rocket launchers and arresting 13 fighters," one of the officials said.
Since October, nearly three dozen attacks have targeted American interests in Iraq, including a range of military bases, the US Embassy in Baghdad and US oil companies.
They have killed Iraqi, US and UK military personnel. and military actors in Baghdad.
https://english.alarabiya.net/en/News/middle-east/2020/06/26/Iraq-says-13-pro-Iran-fighters-arrested-for-anti-US-rocket-attacks-AFP.html
--------
Lebanon blames 'foreign interference' for riots, slams blocking of roads
27 June 2020
The Lebanese interior and municipalities minister has blamed recent violent street protests on foreign meddling and funding, vowing to sue those blocking roads during the riots.
Speaking to al-Manar TV channel on Friday, Mohammed Fahmi said Lebanese authorities are in possession of "certain and confirmed information that foreign interference and financial support are behind the acts of vandalization."
Earlier this month, a new wave of protests broke out in several Lebanese cities, with the participants calling for the government's resignation while cutting roadways with burning tires and rubbish bins.
They were angry about a rapid fall in the national currency against the US dollar and mounting economic hardship.
Protesters in Tripoli, Lebanon's second-biggest city, lit a branch of Lebanon's Central Bank on fire and clashed with security forces who tried to disperse them with tear gas.
Prime Minister Hassan Diab said at the time that the unrest was an attempt to mount a "coup" against his government and manipulate the value of the Lebanese pound.
The Lebanese currency, which had been pegged to the dollar at the rate of 1,500 for nearly 30 years, has lost 75 percent of its value since October 2019, obliterating the purchasing power of many people in the debt-ridden country.
Elsewhere in his remarks, Fahmi said that the "corruption" of those carrying out the riots had "spared us a major disaster."
"They did not spend all the sums of money that they received from the plotters to spark security incidents," he added.
The interior minister also warned that "the economic and social situation is a ticking bomb," noting, however, that security is under control.
"Attacks on citizens and public and private property are prohibited," Fahmi said. "We will file lawsuits against those who do it. Yes to freedom of expression and assembly but no to the blocking of roads.
Security forces would prevent the blocking of roads as it amounts to "a form of aggression against citizens' dignity," he pointed out.
On Friday, Diab said during a cabinet meeting that Central Bank Governor Riadh Salameh was accountable for the currency collapse.
Information Minister Manal Abdel-Samad said after the meeting that Diab had confirmed that Lebanon is going through "a major crisis" and that "the Central Bank is responsible for the exchange rate of the dollar."
Diab's government, sworn in at the start of 2020, has put together an economic reform plan and begun bailout talks with the International Monetary Fund (IMF) amid a deepening financial crisis.
Full report at:
https://www.presstv.com/Detail/2020/06/27/628345/Lebanon-riots-Mohammed-Fahmi-foreign-interference
--------
Iraqi leaders say raid on Kata'ib Hezbollah HQ 'dictated by US'
27 June 2020
Senior Iraqi leaders say the US was behind the Thursday raid on the headquarters of Kata'ib Hezbollah, which raised serious questions about Iraq's direction under the new government.
Kata'ib Hezbollah is an anti-US unit operating under Hashd al-Sha'abi - an Iraqi umbrella group also known as Popular Mobilization Forces (PMU) which includes more than 40 militia groups fighting Takfiri terrorism.
"The late Thursday night's operation against Hashd al-Sha'abi had been dictated by the United States. There are foreign interventions and bids to harm the PMU," Qais al-Khazali, leader of Asa'ib Ahl al-Haq which is part of the PMU, said in a statement released on Friday.
He advised Iraqi officials not to engage in a confrontation with Hashd al-Sha'abi as the anti-terror group represents people from all strata of the Iraqi society.
"No one can prevent the resistance fighters from battling US forces in order drive them out of Iraq if they do not withdraw through peaceful means," Khazali pointed out.
He also highlighted that no resistance faction has ever targeted Iraqi government institutions inside Baghdad's heavily fortified Green Zone.
Don't play into US hands: Nujaba official
A senior official with Harakat Hezbollah al-Nujaba also called upon Iraqi authorities not to play into the hands of US military forces, warning against further raids on PMU headquarters.
Nasr al-Shammari, the deputy secretary-general and official spokesman of the movement, touched on numerous sacrifices made by Kata'ib Hezbollah in the campaign against Daesh terrorists, saying members of the group must not be targeted.
Shammari cited efforts by certain parties in Iraq to stoke sedition in Iraq, saying the Thursday raid was "a desperate attempt" that would have "unpredictable consequences for its planners".
Iraq's Counter Terrorism Service must fight Daesh'
Meanwhile, Friday prayers leader of Najaf Sayyid Sadr al-Din al-Qabanchi denounced the raid on Kata'ib Hezbollah and detention of more than a dozen members of the anti-terror group.
Iraq's elite Counter Terrorism Service, he said, must fight Daesh and other terrorist sleeper cells instead of targeting Hashd al-Sha'abi fighters.
Qabanchi also advised the Iraqi government to address the country's problems, such as the ongoing Turkish military offensive, economic woes and the coronavirus pandemic.
Hashd al-Sha'abi is a thorn in the side of the United States which is widely believed to be managing an array of militant groups, including Daesh, to advance its Israel-centric agenda in the region.
In November 2016, the Iraqi parliament voted to integrate the PMU, which was formed shortly after the emergence of Daesh in Iraq in 2014, into the military.
On March 27, the New York Times newspaper reported that the Pentagon had ordered a secret directive, which called on US military commanders to prepare a campaign against Kata'ib Hezbollah.
In April, a member of the Iraqi parliament's security and defense committee had warned about ulterior motives behind the redeployment of US troops to various military sites across the Arab country, saying Washington was drawing up plans to target PMU and its affiliates.
Hashd al-Sha'abi fighters have played a major role in the liberation of areas held by the Daesh terrorists ever since the Takfiri group launched an offensive in the country, overrunning vast swathes in lightning attacks.
In 2009, the US State Department blacklisted Kata'ib Hezbollah and imposed sanctions on the group which has been the frequent target of American airstrikes in Iraq.
Iraqi lawmakers unanimously approved a bill on January 5, demanding the withdrawal of all foreign troops following the US assassination of Lieutenant General Qassem Soleimani, the commander of the Quds Force of Iran's Islamic Revolution Guards Corps, along with Abu Mahdi al-Muhandis, the deputy head of Iraq's PMU, and their companions.
Later on January 9, former Iraqi prime minister, Adel Abdul-Mahdi, called on the United States to dispatch a delegation to Baghdad tasked with formulating a mechanism for the move.
Full report at:
https://www.presstv.com/Detail/2020/06/27/628342/Raid-on-Kataib-Hezbollah-HQ-in-southern-Baghdad-dictated-by-US-PMU-leader
--------
Mosques in Makkah welcome worshippers for first Friday prayers after curfew lifted
June 26, 2020
MAKKAH: Worshippers performed Friday prayers in mosques in Makkah for the first time on Friday since a coronavirus curfew was completely lifted in Saudi Arabia earlier this week.
Mosques in the holy city opened 20 minutes before the call to prayer and closed 20 minutes after the prayer had ended to prevent the spread of COVID-19.
Worshippers were required to keep a distance of 2 meters from each other whilst praying, bring their own prayer mats and wear masks.
Ablution areas and toilets in mosques remain closed and children are not allowed to attend as part of preventive measures.
Medical teams have also been stationed at the main entrances to the mosques in cooperation with the Ministry of Health.
A media awareness campaign has been launched to highlight safety procedures at the holy site.
Elsewhere in the Kingdom, worshippers also flocked to perform Friday prayers at mosques amid strict health measures.
Saudi authorities reopened all mosques for prayers as part of the Kingdom's plan for a gradual return to normal life.
Full report at:
https://www.arabnews.com/node/1695826/saudi-arabia
--------
North America
US report slams Pakistan on terrorism: Here is what it says
Jun 26, 2020
NEW DELHI: Washington's annual terrorism report, 'Country Report on Terrorism 2019', said Pakistan was doing too little to counter terrorist groups, particularly those taking aim at rival India and the dreaded Haqqani network operating in Afghanistan.
Here is a look at the key observations mentioned in the report on terrorism in Pakistan —
Pakistan continued to serve as a safe haven for certain regionally-focused terrorist groups. It allowed groups targeting Afghanistan, including the Afghan Taliban and affiliated HQN, as well as groups targeting India, including LeT and its affiliated front organizations, and JeM, to operate from its territory.
Islamabad has yet to take decisive actions against Indian- and Afghanistan-focused militants who would undermine their operational capability.
Thought Pakistan undertook counter-terrorism operations against groups such as Tehrik-e-Taliban Pakistan, Jaish-e-Mohammed, Lashkar e-Tayyiba, ISIS-K, and the Balochistan Liberation Army, the country remained a safe harbour for other regionally focused terrorist groups.
Pakistan allowed groups targeting Afghanistan, including the Afghan Taliban and affiliated HQN, as well as groups targeting India, including LeT and its affiliated front organizations, and Jaish-e-Mohammed (JeM), to operate from its territory.
While Pakistani authorities indicted LeT co-founder Hafiz Saeed and 12 of his associates on December 11, they have made no effort to use domestic authorities to prosecute other terrorist leaders such as JeM founder Masood Azhar and Sajid Mir, the mastermind of LeT's 2008 Mumbai attacks, both of whom are widely believed to reside in Pakistan under the protection of the state, despite government denials.
In 2019, Pakistan made some progress toward meeting the action plan requirements for the FATF, allowing it to avoid being blacklisted, but did not complete all action plan items.
https://timesofindia.indiatimes.com/world/pakistan/us-report-slams-pakistan-on-terrorism-here-is-what-it-says/articleshow/76645391.cms
--------
Russia secretly offered Afghan terrorists bounties to kill troops, US Intelligence says
Jun 27, 2020
WASHINGTON: American intelligence officials have concluded that a Russian military intelligence unit secretly offered bounties to Taliban-linked terrorists for killing coalition forces in Afghanistan — including targeting American troops — amid the peace talks to end the long-running war there, according to officials briefed on the matter.
The United States concluded months ago that the Russian unit, which has been linked to assassination attempts and other covert operations in Europe intended to destabilize the West or take revenge on turncoats, had covertly offered rewards for successful attacks last year.
Islamic terrorists, or armed criminal elements closely associated with them, are believed to have collected some bounty money, the officials said. Twenty Americans were killed in combat in Afghanistan in 2019, but it was not clear which killings were under suspicion.
The intelligence finding was briefed to President Donald Trump, and the White House's National Security Council discussed the problem at an interagency meeting in late March, the officials said. Officials developed a menu of potential options — starting with making a diplomatic complaint to Moscow and a demand that it stop, along with an escalating series of sanctions and other possible responses, but the White House has yet to authorize any step, the officials said.
An operation to incentivize the killing of American and other NATO troops would be a significant and provocative escalation of what American and Afghan officials have said is Russian support for the Taliban, and it would be the first time the Russian spy unit was known to have orchestrated attacks on Western troops.
Any involvement with the Taliban that resulted in the deaths of American troops would also be a huge escalation of Russia's so-called hybrid war against the United States, a strategy of destabilizing adversaries through a combination of such tactics as cyberattacks, the spread of fake news, and covert and deniable military operations.
The Kremlin had not been made aware of the accusations, said Dmitry Peskov, press secretary for President Vladimir Putin of Russia. "If someone makes them, we'll respond," Peskov said. A Taliban spokesman did not respond to messages seeking comment.
Spokespeople at the National Security Council, the Pentagon, the State Department and the CIA declined to comment.
The officials familiar with the intelligence did not explain the White House delay in deciding how to respond to the intelligence about Russia.
While some of his closest advisers, like Secretary of State Mike Pompeo, have counseled more hawkish policies toward Russia, Trump has adopted an accommodating stance toward Moscow.
At a summit in Helsinki in 2018, Trump strongly suggested that he believed Putin's denial that the Kremlin interfered in the 2016 presidential election, despite broad agreement within the U.S. intelligence establishment that it did. Trump criticized a bill imposing sanctions on Russia when he signed it into law after Congress passed it by veto-proof majorities. And he has repeatedly made statements that undermined the NATO alliance as a bulwark against Russian aggression in Europe.
The officials spoke on the condition of anonymity to describe the delicate intelligence and internal deliberations. They said the intelligence has been treated as a closely held secret, but the administration expanded briefings about it this week — including sharing information about it with the British government, whose forces are among those said to have been targeted.
The intelligence assessment is said to be based at least in part on interrogations of captured Afghan militants and criminals. The officials did not describe the mechanics of the Russian operation, such as how targets were picked or how money changed hands. It is also not clear whether Russian operatives had deployed inside Afghanistan or met with their Taliban counterparts elsewhere.
The revelations came into focus inside the Trump administration at a delicate and distracted time. Although officials collected the intelligence earlier in the year, the interagency meeting at the White House took place as the coronavirus pandemic was becoming a crisis and parts of the country were shutting down.
Moreover, as Trump seeks reelection in November, he wants to strike a peace deal with the Taliban to end the Afghanistan War.
Both American and Afghan officials have previously accused Russia of providing small arms and other support to the Taliban that amounts to destabilizing activity, although Russian government officials have dismissed such claims as "idle gossip" and baseless.
"We share some interests with Russia in Afghanistan, and clearly they're acting to undermine our interests as well," Gen. John W. Nicholson Jr., commander of American forces in Afghanistan at the time, said in a 2018 interview with the BBC.
Though coalition troops suffered a spate of combat casualties last summer and early fall, only a few have since been killed. Four Americans were killed in combat in early 2020, but the Taliban have not attacked U.S. positions since a February agreement.
American troops have also sharply reduced their movement outside of military bases because of the coronavirus, reducing their exposure to attack.
While officials were said to be confident about the intelligence that Russian operatives offered and paid bounties to Afghan militants for killing Americans, they have greater uncertainty about how high in the Russian government the covert operation was authorized and what its aim may be.
Some officials have theorized that the Russians may be seeking revenge on NATO forces for a 2018 battle in Syria in which the US military killed several hundred pro-Syrian forces, including numerous Russian mercenaries, as they advanced on an American outpost. Officials have also suggested that the Russians may have been trying to derail peace talks to keep the United States bogged down in Afghanistan. But the motivation remains murky.
The officials briefed on the matter said the government had assessed the operation to be the handiwork of Unit 29155, an arm of Russia's military intelligence agency, known widely as the GRU. The unit is linked to the March 2018 nerve agent poisoning in Salisbury, England, of Sergei Skripal, a former GRU officer who had worked for British intelligence and then defected, and his daughter.
Western intelligence officials say the unit, which has operated for more than a decade, has been charged by the Kremlin with carrying out a campaign to destabilize the West through subversion, sabotage and assassination. In addition to the 2018 poisoning, the unit was behind an attempted coup in Montenegro in 2016 and the poisoning of an arms manufacturer in Bulgaria a year earlier.
American intelligence officials say the GRU was at the center of Moscow's covert efforts to interfere in the 2016 presidential election. In the months before that election, American officials say, two GRU cyberunits, known as 26165 and 74455, hacked into Democratic Party servers, and then used WikiLeaks to publish embarrassing internal communications.
In part because those efforts were aimed at helping tilt the election in Trump's favor, Trump's handling of issues related to Russia and Putin has come under particular scrutiny. The special counsel investigation found that the Trump campaign welcomed Russia's intervention and expected to benefit from it, but found insufficient evidence to establish that his associates had engaged in any criminal conspiracy with Moscow.
Operations involving Unit 29155 tend to be much more violent than those involving the cyberunits. Its officers are often decorated military veterans with years of service, in some cases dating to the Soviet Union's failed war in Afghanistan in the 1980s. Never before has the unit been accused of orchestrating attacks on Western soldiers, but officials briefed on its operations say it has been active in Afghanistan for many years.
Though Russia declared the Taliban a terrorist organization in 2003, relations between them have been warming in recent years. Taliban officials have traveled to Moscow for peace talks with other prominent Afghans, including the former president, Hamid Karzai. The talks have excluded representatives from the current Afghan government as well as anyone from the United States and at times have seemed to work at crosscurrents with U.S. efforts to bring an end to the conflict.
The disclosure comes at a time when Trump has said he would invite Putin to an expanded meeting of the Group of Seven nations, but tensions between U.S. and Russian militaries are running high.
Full report at:
https://timesofindia.indiatimes.com/world/us/russia-secretly-offered-afghan-militants-bounties-to-kill-troops-us-intelligence-says/articleshow/76656616.cms
--------
US waging all-out sanctions war on Iran
26 June 2020
By Stephen Lendman
I always agree with Foreign Minister [Mohammad Javad] Zarif. There is no question about what the US policy is, it's toward the same policy more or less, the same policy with variations on the theme against all sovereign nations who don't subordinate their sovereign rights to US interests.
Well, no nation should subordinate its sovereign rights to the interests of any other country. The US wants all of the nations operating its vassal states. Only US interest matters, not theirs.
So the nations that stand up for the rights as they should -- international law on their side -- are targeted by the US -- the phrase I like to use is, "US wages war on these countries by hot or other means." And by "the other means" includes sanctions war, state terrorism, other hostile actions and they aim, above all, at the ordinary people of these countries.
The whole idea is to make ordinary people in Iran, in China, in Russia, Venezuela, Nicaragua, you name it, Yemen, the same thing, make them suffer.
And the idea never works. The idea is if you make the ordinary people of countries that you want to target to control them, to make them suffer then they'll go against the ruling authorities and come over to support the US -- something like that. Well, it never works.
Every time the US tries this it backfires. The populations of targeted countries end up supporting the ruling authorities more than before. Why? Because they're the only ones they can turn to for help. They certainly can't get any help from a foreign government, certainly not the US.
So, the antagonism toward the US is really very widespread worldwide because of US policies. And US policies are what the scourge of imperialism is all about. Just hostile policies inflicting enormous on people worldwide, including on US people - ordinary people in America to the harm greatly by US policies.
And when elections happen, and there will be another one in the US on November 3. I won't be voting. I haven't voted for decades because I have nothing to vote for. US elections always turn out the same way. It doesn't matter which wing of the one-party state wins. The policies are the same, including ordinary Americans, including countries all around the world, US allies, and adversaries.
But the US is waging all-out sanctions war on Iran, all-out hostile policies against Iranian people, to punish them, to try to bring Iran back to the US vassal state.
Well, it hasn't worked since 1979. There isn't any indication that it will work. It's even worse. The US does the same thing to Cuba. It hasn't worked against Cuba since 1960 -- for 60 years it hasn't worked. You would think that there are people in Washington who are smart enough to think: "Well, you know if what we've done doesn't work, maybe we ought to try something different."
But they don't try anything different. They keep doing the same thing over again and keep getting the same results. Well, Einstein called it the definition of insanity. People who do the same thing repeatedly and expect a different result. They never get a different result.
Iranian people are resolute. The same thing for Cubans, Russians, Chinese, they were no part of going along with the US. They are nationals of their own country. They don't want to be dominated by any other country.
So as long as the US keeps doing this it furthers its own decline. It's a very slow process, but the US has been in decline for decades, especially in the post 9/11-period. The US is declining, and US imperialism and the US Empire will end up the same as all other empires in history, in the dustbin of history where it belongs.
Full report at:
https://www.presstv.com/Detail/2020/06/26/628334/US-waging-all-out-sanctions-war-on-Iran
--------
Soldiers' cases highlight reach of white supremacy in U.S. military
By Dan Lamothe and Souad Mekhennet
June 25, 2020
As Ohio National Guard soldiers were dispatched to help quell unrest in Washington, D.C., one was keeping a secret from his commanders: He had frequently espoused neo-Nazi views among like-minded friends.
Pfc. Shandon Simpson had participated in a white supremacist channel on the Telegram messaging app called RapeWaffen Division, according to the SITE Intelligence Group. The channel's members have touted the rape of female police officers, posted images with Confederate battle flags and swastikas and called white women who have children with men of other races "traitors."
On Twitter, Simpson tried to recruit fascists to join him in a new group, used an image of Nazi Party leader Richard Walther Darré as his profile picture and marked the 75th anniversary of Adolf Hitler's death on April 30.
"I pay respects to him as a martyr who died in Berlin completely unwilling to capitulate," Simpson tweeted, according to the Middle East Media Research Institute, which monitors extremism online. "In loving memory of a great leader of the German people. Rest in peace, führer."
Simpson is one of several service members whose actions have come under scrutiny in recent months as the U.S. military grapples with white extremism in its ranks. The military has wrestled with the problem for decades, but the issue is receiving new attention amid a broader conversation about race and discrimination prompted in part by the death of George Floyd, a black civilian who was killed in police custody last month.
Ohio Gov. Mike DeWine announced June 5 that a guard member had been suspended for expressing white supremacist views but did not identify him. Simpson is now being processed for a separation from the military, said Stephanie Beougher, an Ohio National Guard spokeswoman. It is not clear how his actions first came to the attention of authorities, or if he will face any charges.
"Racism and prejudice has no place in our organization," Beougher said in a statement. "Every member of the Ohio National Guard is held to a high standard of professionalism. Ohio knows and trusts its National Guard. Any threat to that public trust will not be tolerated."
Simpson's case has come into focus as another soldier faces serious charges. On Monday, the Justice Department charged Pvt. Ethan P. Melzer in a plot in which authorities said he worked with the extremist group Order of Nine Angles in an attempt to kill fellow American soldiers abroad.
Members of the "racially motivated violent extremist group" have espoused neo-Nazi and satanic beliefs and admiration for both Hitler and Osama bin Laden, the indictment said.
"The Order of Nine Angles' spiritual leader . . . is a notorious British neo-Nazi leader with a violent criminal history," said Joanna Mendelson, an associate director of the Anti-Defamation League. "He exemplifies a thought leader who bridges and borrows elements of white supremacy and Islamist extremist ideology into his beliefs."
Melzer, 22, of Louisville, consumed extremist propaganda online and sent messages to members of the Order of Nine Angles, or O9A, and participants of the RapeWaffen Division, the indictment said. His lawyer, Jennifer Willis, did not respond to a request for comment.
U.S. law enforcement intervened last month, charging him in an indictment that was unsealed on Monday. He told officials he intended the attack "to result in the deaths of as many of his fellow service members as possible," according to court documents.
It is not a surprise that Melzer ascribed to O9A's ideology and was a member of RapeWaffen, said Rita Katz, SITE's executive director. RapeWaffen upholds O9A "as its central philosophy" and has described itself as having links in the United States, Canada, Russia, Australia and other countries, she said.
Simpson, who did not respond to requests for comment, posted content from RapeWaffen on his Facebook page. He also promoted a complementary group, RapeKrieg, that adheres to an even more extreme version of O9A ideology, Katz said.
Simpson, who was first identified by the nonprofit website Unicorn Riot, also raised the prospect of committing violence, stating under the pseudonym "Zoltanous HN" on June 2 that "they have activated my unit and we're getting real ammunition to shoot and kill," according to a copy of that message recovered by SITE. He added "Rahowa," a term that is short for "racial holy war" in white supremacist channels, Katz said.
It is unclear if other members of RapeWaffen are U.S. service members, but more than one of them have claimed to be, Katz said. A general recommendation for O9A adherents is to join the armed forces to gain combat experience in anticipation of war, she added.
O9A was established in the 1970s as a Nazi-Satanist group in Britain with plans and has promoted extreme violence for decades, influencing neo-Nazi groups on both sides of the Atlantic, a European security official said, speaking on the condition of anonymity because of the sensitivity of the issue.
Membership estimates for O9A range from a few dozen to about 2,000, the official said. The group targets young people and sends supporters into other organizations to influence and recruit, the official said.
Another soldier, Pfc. Corwyn Storm Carver, was scrutinized last year by the Army after investigative reports raised concerns about his alleged membership in the Atomwaffen Division, an American neo-Nazi group, the official said. Social media posts discovered in the investigation showed that Carver used hashtags for O9A and posted a picture of "the Sinister Tradition," a book detailing O9A views.
An Army spokesman, Lt. Col. Emanuel L. Ortiz, said the service's investigation did not result "in charges related to terrorism or acts of violence." But Carver was administratively separated last August after serving just 28 months, an unusually short enlistment. The Army declined to explain the circumstances of his departure, citing personnel policies.
RapeWaffen's alleged founder has posted information under the username "Sinisterius" and "Sinistrovs" and repeatedly claimed that the group is a splinter of the Atomwaffen Division, an American neo-Nazi organization, said a second European security official who tracks extremist groups. The official also spoke on the condition of anonymity because of the sensitivity of the issue.
RapeWaffen highlights how O9A's ideas and imagery have become appealing in the extreme, far-right online communities that proliferate on Telegram and other parts of the Internet, the official said.
Full report at:
https://www.washingtonpost.com/national-security/soldiers-cases-highlight-reach-of-white-extremism-into-us-military/2020/06/25/0203532e-b582-11ea-9b0f-c797548c1154_story.html?utm_source=iterable&utm_medium=email&utm_campaign=1317422_
--------
Europe
ISIS militant sentenced to nine years in UK for inciting violence in Germany
26 June 2020
An ISIS militant who encouraged mass murder in Germany has been sentenced to at least nine years in prison in Britain.
Fatah Abdullah, 35, had been charged under Britain's terrorism laws with encouraging another person to plow a car into crowds, attack people with a meat cleaver and detonate bombs, "with the aim of killing and/or causing serious injury."
The incitement took place between April 9 and Dec. 11, 2018.
Abdullah, who was born in Iran but was living in the northern English city of Newcastle after receiving asylum, was arrested after a joint inestigation by British and German police.
He pleaded guilty in March to inciting terrorism overseas and engaging in conduct in preparation to assist others to commit terrorist acts.
https://english.alarabiya.net/en/News/world/2020/06/26/ISIS-militant-sentenced-to-nine-years-in-UK-for-inciting-violence-in-Germany.html
--------
Belgian parliament urges sanctions against Israel
Agnes Szucs
26.06.2020
BRUSSELS
The Belgian federal parliament adopted a resolution on Friday urging the government to prepare a list of countermeasures against Israel in case it annexes the occupied Palestinian territories.
The resolution was proposed by the Green party, and passed with 101 votes in favor and 39 abstentions.
The text calls the government to "play a leading role at European and multilateral level in order to set up a list of effective countermeasures to respond proportionately to any Israeli annexation of the occupied Palestinian territory."
The resolution acknowledges the fact that some states might veto EU sanctions. So it suggests the Belgian government to create a European coalition with like-minded countries.
The resolution is legally non-binding, but it carries a significant message from lawmakers that the government can hardly ignore.
The lawmakers were scheduled to adopt another verdict on asking for the recognition of the Palestinian state, but the vote was delayed for a week because of a last-minute amendment.
Earlier this week, more than 1,000 lawmakers from across Europe condemned the West Bank annexation plan in a joint letter.
They urged European leaders to prevent the annexation and save the prospects of a two-state solution, and expressed support for the EU foreign policy chief Josep Borrell's previous statement warning that "annexation could not pass unchallenged".
Encouraged by US President Donald Trump's so-called "Deal of the Century," Israeli Minister Benjamin Netanyahu last month announced his government would formally annex the Jordan Valley and all settlement blocs in the West Bank.
The West Bank, including East Jerusalem, is seen as occupied territory under international law, thus making all Jewish settlements there – as well as the planned annexation – illegal.
Palestinian officials have threatened to abolish bilateral agreements with Israel if it goes ahead with the annexation, which would further undermine the two-state solution.
Full report at:
https://www.aa.com.tr/en/europe/belgian-parliament-urges-sanctions-against-israel/1890912
--------
25 Europe-bound asylum seekers held in Turkey
Ilkan Toprak
26.06.2020
At least 25 asylum seekers were held in northwestern Turkey after attempting to reach Europe illegally, a security source said late Thursday.
Acting on a tipoff, provincial gendarmerie command teams in Ayvalik district of Balikesir province detained 25 Syrian nationals who were preparing to travel to the Greek island of Lesbos, said the source on condition of anonymity.
A man suspected of organizing the illegal journey was also arrested, the source added.
The asylum seekers were referred to the provincial migration office, while legal proceedings have been initiated against the suspected organizer.
Due to its geographical location and conflicts in neighboring regions, Turkey has been one of the main routes for asylum seekers seeking to start a new life in Europe.
Full report at:
https://www.aa.com.tr/en/europe/25-europe-bound-asylum-seekers-held-in-turkey/1890384
--------
French jihadist goes on trial over IS group executions in Syria
25/06/2020
A French jihadist went on trial Thursday on terror charges amid accusations that he oversaw executions in Syria as a senior figure in the Islamic State (IS) extremist group.
Tyler Vilus, 30, is facing charges of belonging to a terrorist group, heading a unit of IS group fighters and "aggravated murder" between 2013 and 2015. He faces a life sentence if convicted.
Investigators suspect him of being part of the "Al-Muhajireen" (the immigrants) brigade, a squadron that tortured and carried out summary executions, which he denies.
Vilus is also accused of supervising executions as a member of the religious police in the north-eastern Syrian town of Ash Shaddadi, close to the Iraqi border.
In a 2015 video published by the IS group's media department, a man alleged to be Vilus is two metres away as two kneeling and blindfolded prisoners – one belonging to the Free Syrian Army rebel fighters and the other a member of Bashar al-Assad's army – are executed with a bullet to the head.
In an interview with FRANCE 24, sociologist Farhad Khosrokhavar, an expert in radicalisation, described Vilus as a "charismatic personality" who became an "emir", or general, of the IS group and was heavily involved in propaganda efforts to attract people to Syria.
Vilus was arrested at an Istanbul airport with a Swiss passport in July 2015 and was subsequently deported to France.
His arrest and trial are being seen as a major coup for the French security services, as Vilus is believed to have known many French jihadists in Syria.
Vilus has admitted to being in contact with the man French secret services believe was the mastermind of the November 2015 terror attacks in Paris, Abdelhamid Abaaoud.
Vilus's mother, dubbed "Mama Jihad" in the French press, travelled three times to Syria in support of her son and was sentenced to 10 years in prison in June 2017 for her "unfailing commitment" to jihad.
Full report at:
https://www.france24.com/en/20200625-french-jihadist-goes-on-trial-over-is-group-executions-in-syria?utm_source=iterable&utm_medium=email&utm_campaign=1317422_
--------
South Asia
Kuwait sends Bangladesh MP Shahid Islam to jail
June 26, 2020
Samir Salama
Abu Dhabi: Kuwait's Public Prosecution has ordered Bangladeshi member of parliament, Mohammad Shahid Islam and another accused, taken into custody on charges of human trafficking and money laundering, to be jailed for 21 days in the central prison, Kuwait media reported.
Prosecutors also ordered the custody of a director at the manpower authority and an official at the Ministry of Interior be extended pending trial.
A businesswoman was released on KD2,000 ($6,500) bail, Al Rai newspaper reported.
Investigations revealed that the Bangladeshi lawmaker has an annual net profit of about two million dinars ($6.5 million), after all his bribes and gifts he spends in exchange for facilitating his work to bring in workers from Bangladesh.
Kuwait's Public Prosecution is continuing its marathon investigation into the case of the MP.
A source familiar with prosecutors' investigations told Al Qabas that two of the accused had been issued with a warrant of arrest, but they have so far been hidden from view.
The source said that one of them, a Kuwaiti official, had obtained a cheque worth one million dinars ($3.25 million), through his dealings with the Bangladeshi lawmaker, to employ Bangladeshi workers in government agencies. "Therefore, it is paramount for prosecutors to know the details of these transactions," the source said.
The source pointed out that the Public Prosecution seized documents and contracts from within the Bangladeshi MP's company, under pre-judgement attachment since June 6. A document showed 600,000 Kuwaiti dinars ($1.95 million) said to have been obtained by an agent of a businessman without knowing the reason and without an agreement between him and the Bangladeshi member of parliament.
The accused runs the Marafie Kuwaitia Group as managing director and CEO.
Mohammad Shahid Islam had 5 million Kuwaiti dinars ($16.25 million or Dh69.76 million) in assets in Kuwait.
Sources close to the investigation told Al Qabas that Kuwaiti authorities have imposed a freeze on the bank accounts of the Bangladeshi lawmaker and his company.
They said freezing of assets is part of a legal measure to prevent the Bangladeshi lawmaker from moving his assets beyond the jurisdiction of a court in Kuwait.
More arrest warrants likely
Sources said the number of Kuwaiti officials under investigation has risen to seven.
Earlier, witnesses said the Bangladeshi MP would act like a mafia boss, demanding 'taxes' from the poor and low-income workers, Al Rai reported.
Kuwait: Prime suspect in graft case barred from travel
"The accused's men imposed a 'royalty' on workers, at a value of 8 dinars per day," a witness said.
Witnesses give rare glimpse of Bangladeshi MP's grip on compatriot workers in Kuwait
During interrogation, Islam reportedly confessed to have provided 1.1 million dinars by cheque to an official at the Ministry of Interior, one million dinars in cash to another official, in addition to "bags" of millions of dinars in cash to a third official, Kuwaiti media reported.
Maryam Al Aqeel, the Minister for Social Affairs and Minister of State for Economic Affairs, has ordered the suspension of a senior official in the Public Manpower Authority for three months, at the request of the Public Prosecution, regarding an investigation conducted against him for his alleged involvement in human-trafficking.
Trading in work permits
Prosecutors heard testimonies from scores of Bangladeshi workers who had been brought into Kuwait by the accused, from Bangladesh, for money. The Bangladeshi MP has also been accused of trading in work visas and siphoning off money to the United States for laundering.
According to Al Qabas, the suspect is part of a three-member racket whose other members include another Bangladeshi MP, whose wife is also an MP from a seat reserved for women.
The Al Qabas report added that the trio occupied sensitive positions in three major companies that brought over 20,000 Bangladeshi workers to Kuwait in exchange for more than 50 million dinars ($163 million).
https://gulfnews.com/world/gulf/kuwait/kuwait-sends-bangladesh-mp-shahid-islam-to-jail-1.72272863
--------
Gambia's justice minister who led Rohingya case resigns
Mustapha K Darboe
26.06.2020
The Gambian justice minister who led efforts to protect human rights in his own country, as well as an international case in defense of the persecuted Rohingya minority in Myanmar, has stepped down from his government post.
Abubakarr Tambadou, who will leave office on June 30, will be replaced by lawyer Dawda Jallow, President Adama Barrow announced Thursday.
At a press conference in Gambia's capital Banjul on Friday, Tambadou said: "I led efforts to rebuild a hitherto weakened judiciary and I'm glad that we now have a respectable, robust and independent organ of state."
Tambadou is hailed inside and outside Gambia for advocating rule of law and human rights, as well as for establishing the transitional justice process to deal with human rights violations of former president Yahya Jammeh who ruled the West African country for 22 years.
Tambadou also established an inquiry to recover Jammeh's allegedly ill-gotten assets and a draft constitution more protective of human rights.
During his tenure, Tambadou pushed for Jammeh to be held accountable for past crimes. He helped the US arrest one of Jammeh's alleged henchmen, Michael Sang Correa, and made clear that if Jammeh tried to return to Gambia, he would be arrested on charges of committing atrocities.
Tambadou told journalists that his resignation was for personal reasons, but would not comment on reports that he would be appointed as UN registrar of the International Residual Mechanism for Criminal Tribunals.
The international court was established by the UN Security Council in 2010 to perform the remaining functions of the International Criminal Tribunal for the former Yugoslavia and International Criminal Tribunal for Rwanda.
"What happened in this country on 1 December 2016 was a revolution by any standards, a political revolution to match any other in world history. We removed a dictator by democratic means, through the ballot box, and peacefully," said Tambadou, referring to the country's landmark elections that voted Jammeh out of office.
"Since then, a lot has happened over the past three and a half years. On my part, I have initiated and delivered on the key pillars of our transitional justice process which has now achieved global recognition by experts as being among the best models in the world, particularly for its inclusiveness and originality."
At ICJ for Rohingya
In January this year, Tambadou led a historic court case of genocide against Myanmar at the International Court of Justice on the country's Muslim Rohingya. The case was filed by Gambia with the backing of the Organization of Islamic Cooperation.
"We didn't always agree with Tambadou, but he always listened to human rights advocates and especially to Yahya Jammeh's victims," said international rights activist and lawyer Reed Brody.
"What was particularly exceptional, though, was that Tambadou stood up for abuse victims not only in his own country but thousands of miles away in Myanmar. Gambia's bold decision to take up the cause of the downtrodden Rohingya minority by suing Myanmar for genocide at the International Court of Justice demonstrated the kind of international solidarity we don't see very often these days," he said.
The Rohingya, described by the UN as the world's most persecuted people, have faced heightened fears of attack since dozens were killed in communal violence in 2012.
Full report at:
https://www.aa.com.tr/en/africa/gambias-justice-minister-who-led-rohingya-case-resigns/1891379
--------
Four Rohingya left dead after gunfight with Bangladeshi police near refugee camp
27 June 2020
Four suspected members of a Rohingya group allegedly involved in kidnapping for ransom were killed in a gunfight with Bangladeshi police near the sprawling refugee camps where refugees from Myanmar live, officials said.
The gunfight took place Friday when a team of security officials was searching for the gang leader in a forest near the Rohingya camps at Cox's Bazar, said police Inspector Pradeep Kumar Das.
Another inspector, Morzina Akhter, said the suspects opened fire at police, sparking the gunfight that led to their deaths. Police also recovered about 40,000 drug pills and locally made guns, he said.
According to authorities and local media reports, the gang led by Abdul Hakim has kidnapped many locals for ransom and killed those whose families failed to pay. It had allegedly abducted at least seven Bangladeshis over the last two months and killed three hostages. Hakim remains at large.
While human rights groups acknowledge there are criminal elements among some of the Rohingya refugees, they have urged authorities to thoroughly investigate such cases.
In March, police fatally shot seven suspected members of a Rohingya gang allegedly involved in drug dealing and human trafficking.
Full report at:
https://english.alarabiya.net/en/News/world/2020/06/27/Four-Rohingya-left-dead-after-gunfight-with-Bangladeshi-police-near-refugee-camp.html
--------
US watchdog: Afghan gov't weakened ahead of Taliban talks
By KATHY GANNON
June 25, 2020
ISLAMABAD (AP) — A U.S. watchdog warned that "systemic" corruption within the Afghan government is weakening its bargaining position in upcoming peace negotiations with the Taliban, even as the insurgents said Thursday they were ready and had compiled their agenda for the long-awaited talks.
John Sopko, Special Inspector General for Afghan Reconstruction, said the Taliban and other militants underscored the government's corruption, using it to "undermine public support for the government, garner recruits to their cause, and weaken the government's bargaining position during future peace negotiations."
"It is the most insidious threat the Afghan government faces because it saps the support of citizens who are trying to go about their daily work, feed their families, and live free of fear and intimidation," Sopko told a monitoring group known as Integrity Watch Afghanistan on Wednesday.
Meanwhile, about 50 civil society activists in Kabul rallied on Thursday against corruption, urging the International Monetary Fund to rescind a $220 million loan given last month to the Afghan government to help mitigate the impact of the coronavirus pandemic. Afghanistan has reported over 30,000 cases, including 675 deaths, but testing is severely limited, and experts say the number of infected is likely much higher.
The protesters said the government has already wasted billions of international money. Najibullah Azad, who leads the group of lawyers, doctors and economists in the protest, said government corruption is devouring international money and thatt he feared the IMF's $220 million would disappear.
Sopko criticized Afghan President Ashraf Ghani's government, saying it only paid lip service to fighting corruption, "ticking off the boxes" rather than implementing changes and arresting some of the worst offenders.
"The private sector and particularly international investors – who care far more about their own bottom line – will not overlook Afghanistan's failure to tackle the corruption challenge," he said. "Afghanistan's leaders must come to realize that in the end, private sector investment will matter far more to their country's future than international donors, because after 19 years of war, foreign governments, including the United States, are growing weary of paying Afghanistan's bills."
International donors cover 75% of Afghanistan's operating budget and the U.S. alone pays $4 billion annually to finance Afghanistan's military and security forces.
Ghani's spokesman, Sediq Sediqqi, objected to Sopko's criticism, insisting that "the government has done a lot to tackle corruption and that has to be seen."
No date has yet been set for negotiations but Deborah Lyons, the U.N. special representative to Afghanistan told the U.N. Security Council on Thursday that she was "cautiously optimistic" the talks could start in July in Doha, Qatar, where the Taliban maintain a political office.
One of the obstacles to the start of the negotiations has been the exchange of prisoners, envisaged under a deal the Taliban signed with the United States at the end of February. That accord — and the Afghan-Taliban talks that were meant to follow — are seen as Afghanistan's best chance for peace and an opportunity for U.S. and NATO troops to leave the war-torn country after nearly two decades of fighting.
Full report at:
https://apnews.com/25fcdfc7680670c38a389f31095b060d?utm_source=iterable&utm_medium=email&utm_campaign=1317422_
--------
Southeast Asia
Indonesian Muslim scholars worried by Europe Islamophobia
June 23, 2020
Indonesian Muslim intellectuals have voiced their concerns following a recent report on mounting Islamophobia in western countries.
A report published Sunday by the Foundation for Political, Economic and Social Research (SETA), a think tank based int eh Turkish capital Ankara, outlined the discrimination and xenophobia that many Muslims face in European countries.
The European Islamophobia Report 2019 recounted many Islamophobic developments that occurred last year in both Europe and across the world.
"The elections to the European parliament and to several national parliaments saw a further rise in popularity of ultra-nationalist parties in some countries," it said, quoting the annual report of European Commission against Racism and Intolerance.
Ahmad Suaedy, a lecturer at the University of Nahdlatul Ulama Indonesia, agreed that Islamophobia was a rising tide in western countries.
"Recently, Islamophobia has not only been present in a form of employment discrimination, but also manifested in violence, physical assault, and terrorism," Suaedy told Anadolu Agency on Monday.
According to the SETA's report, the European Commission recognized that people from ethnic or racial minorities in the EU experienced higher risks of economic hardship, poorer-quality housing, residential segregation, unemployment and assault.
Suaedy said Islamophobia was also present in the Brexit victory and Donald Trump's election win across the Atlantic.
Citing the Islamophobic terrorist attack in Christchurch, New Zealand, that left 51 people dead in two mosques, he said that research had revealed that acts of "violence and terrorism" were employed more by "far-right" groups rather than Muslims and migrants.
Suaedy asserted that the rise of Islamophobia was a symptom of oligarchic populism.
"Such a phenomenon can be seen as a response to the rise of grassroots movement, like what happened when Barrack Obama won the US presidential election, that emboldened pro-Trump sentiment among white supremacists," he said.
Suaedy underlined that Islamophobia was also present in India with its controversial Citizenship Act that he said brought discrimination against Muslims by Hindus, and in Myanmar, where Buddhists have long discriminated against the Muslim Rohingya.
"This is a global [phenomenon], but each region has a specific issue," he added.
- Western media bias
SETA said in its report that the media, alongside politics, were the most influential spaces where Islamophobia could either be challenged or consolidated.
Hamid Fahmy Zarkasyi, a vice-chancellor of the Darussalam University, told Anadolu Agency on Monday that Islamophobia in Europe was triggered by images often raised by the media, particularly in the West.
"The face of Islam that is often displayed is one that is full of violence and acts of terror," he said.
Zarkasyi said though the elites in the current global society had a better understanding of Islam, their views were sometimes eclipsed due to bias in Western media.
He said there had been a mutual understanding between religious communities on each other's worship needs.
"Theologically, there isn't really a problem. It becomes a problem among non-religious communities as they don't really understand Islam," said Zarkasyi.
He said the West currently needed a greater understanding of pluralism, more than Indonesia -- a diverse country with the world's largest Muslim population.
"Indonesia has long had a good mutual understanding among religious communities," he added.
- Dialogue is solution
Ali Munhanif, the dean of the Faculty of Social and Political Sciences of Syarif Hidayatullah State Islamic University in Jakarta, said Islamophobia was a manifestation of globalization in the short term.
He said its rise suggested that the Western world -- especially the US and the EU -- were not ready for the migration of professionals and laborers that come with globalization.
"Globalization requires a willingness to have new experiences. Ironically, the West was unprepared," added Munhanif.
He also identified crises in identity as one of the causes of Islamophobia, triggered by the conflict between socialism and capitalism.
"Due to the lack of dialogue, this identity issue gave birth to violence against community, ethnicity and religion. Then, it later emerged as Islamophobia," he said.
Munhanif said he believed the West had actually known other cultures, including Islam, through colonialism.
However, the newer generation does not know other cultures besides their own, so they grow up with prejudices, he added.
"Islam and its culture are seen as a threat to the modernity they live in."
Munhanif added that dialogue between religious groups must continue if this problem is to be overcome.
"Religious dialogue is a long-term solution and it must continue in our country, as well as Western countries, to eliminate Islamophobia," he said.
Full report at:
https://www.yenisafak.com/en/news/indonesian-muslim-scholars-worried-by-europe-islamophobia-3532780
--------
More Indonesians tolerant of homosexuality, though vast majority still say no: Pew survey
Apriza Pinandita
June 26, 2020
Public acceptance of homosexuality in Indonesia has improved slightly in the past few years, a recently published study by Pew Research Center suggests, though the level remains low compared with those of other countries.
The report -- which polled 38,426 respondents across 34 countries from May to October last year -- found that only 9 percent of Indonesians agreed that homosexuality should be accepted by society, an increase from only 3 percent in 2013.
Most respondents in the world's largest Muslim-majority country disagreed, with 80 percent of them saying homosexuality should be discouraged.
The US-based think tank said it found that public opinion on the acceptance of homosexuality in each society remained sharply divided by country, region and economic development, despite major changes in laws and norms in many countries regarding same-sex marriage and the rights of lesbian, gay, bisexual and transgender (LGBT) people.
The report also suggested that attitudes on the acceptance of homosexuality were shaped by the country where the polled respondents lived, as it found that people in wealthier and more developed economies are "generally more accepting of homosexuality" than those in poorer and less-developed economies.
"Religion and its importance in people's lives also shape opinions in many countries. For example, in some countries, those who are affiliated with a religious group tend to be less accepting of homosexuality than those who are unaffiliated," Pew Research Center said in its 2019 report," Political ideology also plays a role in the acceptance of homosexuality."
In its 2015 report, Pew Research Center ranked Indonesia in third place among countries that highly regard religion, with 97 percent of people in the country saying religion was very important to them.
Although the 2019 study showed a slight improvement for Indonesia, its people's level of acceptance of homosexuality is the second-lowest among other countries surveyed.
The nation of 268 million people shared the same spot with Tunisia, where 9 percent also said homosexuality should be accepted. Nigeria is the country with the lowest level of acceptance of homosexuality at 7 percent.
Homosexuality is not illegal in Indonesia -- except in conservative Aceh with its strict Islamic laws -- however, sentiment against the LGBT community has persisted in the country over the years.
The anti-LGBT rhetoric hit a new high in 2016, with an unprecedented flood of inflammatory statements and crackdowns against the minority group. Intimidation and persecution against them still persist to this day.
Meanwhile, in the neighboring country Philippines, 73 percent of respondents agreed that homosexuality should be accepted by society, according to the study.
Countries such as the United States, Canada, the United Kingdom, Spain, France and Germany were also placed in the higher ranks with more than 70 percent acceptance for homosexuality.
Although majorities in 16 of the 34 surveyed countries in 2019 said homosexuality should be accepted, the think tank's report showed that the global divide remains.
While 94 percent of respondents in Sweden -- the country with the highest level of acceptance on the list -- agreed on acceptance of homosexuality, only 7 percent in Nigeria shared the same sentiment.
"But even with these sharp divides, views are changing in many of the countries that have been surveyed since 2002, when the Center first began asking the question of whether homosexuality should be accepted by society or not on its international surveys," the report said.
In many of the countries surveyed, there have been double-digit increases in acceptance of homosexuality between the 2002 and 2019 studies, including a 21-point increase in South Africa and a 19-point increase in South Korea.
Full report at:
https://www.thejakartapost.com/news/2020/06/26/more-indonesians-tolerant-of-homosexuality-though-vast-majority-still-say-no-pew-survey.html
--------
'Don't be satisfied with numbers': Doubts remain as Jakarta officials claim epidemic under control
Sausan Atika
June 27, 2020
Jakarta, the first epicenter of the COVID-19 epidemic in Indonesia, has reportedly brought the outbreak "under control", officials have said, in a statement that has raised eyebrows as new cases still appear in the city.
The capital of Indonesia continues to have more cases than anywhere else in the country with a total of 10,796 confirmed cases as of Friday, while the number of daily new cases always ranks among the top three provinces.
Home to about 10 million people, the city has logged 1,128, 874 and 949 new cases per week for the past three consecutive weeks until June 26, according to data from the national COVID-19 task force.
Jakarta Governor Anies Baswedan said new cases remained low thanks to the double testing that officials had been exercising since early June to shore up negative results. He also claimed Jakarta's epidemiological statistics, comprising the reproductive rate and positivity rate, were on the decline.
The three are among the city administration's main considerations for easing restrictions under the so-called "transitional phase" of large-scale social restrictions (PSBB), the governor said.
As of June 21, the COVID-19 reproductive rate in the city was 0.98, according to the city health agency.
The World Health Organization (WHO) requires a region to have, among other things, a testing capacity of below 0.1 percent of the population per week and a positivity rate of below 5 percent, before it can begin to reopen the economy.
Jakarta has tested 0.22, 0.18 and 0.13 percent for each week during the three weeks of the transitional PSBB, according to data compiled from the city's official coronavirus website, corona.jakarta.go.id. The time taken to receive test results had also reduced from more than one week in March to two days as of mid-May, Anies said.
Jakarta has had a positivity rate ranging between 3.3 and 6.2 percent for the past two weeks, according to data gleaned from the city administration's website.
"Yes, we still have cases. [The pandemic] has yet to end. However, we have those numbers relatively under control when compared to the situation in April," Anies told the Post in a recent exclusive interview.
In addition to the metrics, the governor said the capital's healthcare facilities for treating COVID-19 patients had much improved. The city health agency recorded 4,556 beds and 659 intensive care units last week, an increase from 904 beds and 80 ICUs in March.
Only around 30 to 35 percent of all the facilities were occupied, Anies said late Thursday at a zikr (Muslim prayer chant) event live-streamed on Youtube.
"The evaluation of [the transitional PSBB] is that our epidemiological numbers show we are under control, health facilities are not overwhelmed and we did not see a jump in the number of patients and [visitors] in public places," Anies said last weekend, citing occupancy rates of just 17 percent in shopping malls after reopening.
University of Indonesia (UI) epidemiologist Tri Yunis Miko Wahyono said when it came to public health, the decision to ease restrictions must account for more than just numbers, especially when the daily number of new cases was still high.
"I agree that [the reproductive rate and positivity rate] is about to decline, but it is not safe and under control yet, because it may rise again," Miko said. "Let's redefine what 'under control' means. For instance, new cases must not be above 100 per week – not per day."
He acknowledged that Jakarta had been facing a severe economic contraction, which forced the administration to reopen the economy even though, as a former epicenter, it should have been the last to reopen.
As of Friday, East Java leapfrogged Jakarta to become the new national epicenter of the disease in Indonesia, according to the official daily tally.
With the inevitability of economic repercussions, Miko called on the city to impose health protocols that were stricter than existing efforts and warned against resuming activities that made no direct contribution to the economy.
He noted the resumption of Car Free Day (CFD) on Jl. Sudirman and Jl. M.H. Thamrin on Sunday with a ban for street vendors. More than 40,000 visitors descended on the street that day.
The city administration responded midweek by shifting CFD this weekend to 32 spots for sporting activities across Jakarta in an attempt to reduce crowd numbers.
Jakarta Public Order Agency head Arifin admitted that the public was still lacking in compliance with the order to not gather in large crowds, among other basic health protocols.
Arifin said the agency had been patrolling residential neighborhoods every day over two shifts – morning and afternoon – to remind people to observe health protocols.
The agency has collected Rp 200.92 million (US$14,139) in fines from 1,150 individual violators for not wearing masks during the transition period.
Public health specialist Baequni of the Syarif Hidayatullah State Islamic University (UIN), the head of the Indonesian Public Health Expert Association's (IAKMI) Jakarta branch, demanded the city administration involve public health professionals to oversee the implementation of health protocols at the grassroots level.
He argued that inconsistent compliance with health protocols was largely due to a lack of knowledge and public awareness, which is why he believes it is important to supervise the efforts rather than merely reminding people.
"Do not be satisfied with the numbers […] The only way to adapt [to COVID-19] is by instilling a culture of public health [awareness]," he said.
Full report at:
https://www.thejakartapost.com/news/2020/06/26/dont-be-satisfied-with-numbers-doubts-remain-as-jakarta-officials-claim-epidemic-under-control.html
--------
Singapore mosques resume Friday prayers after 15-week suspension
By Massita Ahmad
June 27, 2020
SINGAPORE, June 26 – As the republic entered its second week of Phase Two of reopening today, Singapore mosques have been allowed to resume Friday prayers and daily congregational prayers, after they were suspended on March 13 to curb the COVID-19 outbreak.
A Bernama survey around the Sultan Mosque in Kampung Glam today found that a few of the staff were seen ready to receive congregants at Gate 3 of the mosque before the Zuhur prayer call (Azan Zuhur).
At the entrance was a notice that read: "Bersama Menangani COVID-19. Selamat Datang ke Masjid Sultan. Pembukaan Selamat."
The Friday congregational prayers were conducted with a maximum of 50 congregants per session at each mosque.
In today's nationwide live sermon (khutbah) titled "Gratitude and Patience" (by Ustaz Ammar Yasir Mohamed Fatris), the congregants were told: "All of us attending today's prayers would have to adhere to several safety measures.
"These are part of the new norms which we must quickly learn to adapt to, for our own safety. We understand that the majority of our community members are still unable to perform their Friday prayers, hence let us continue to stay resilient and patient in facing these tests.
"Continue your good efforts and cooperate with one another, as it is a form of your contribution to safeguard the wellbeing of others."
In announcing the resumption on June 21, Majlis Ugama Islam Singapura (MUIS) said to enable more congregants to perform the Friday prayers, two half-hour prayer sessions will be held every Friday, with an interval of about 30 minutes between the two sessions, to ensure safe crowd management.
Sermons and prayers will be shortened to a maximum of 20 minutes, it said.
MUIS has also developed an online prayer booking system to manage the demand and ensure the orderly conduct of the congregational prayers.
The system allows for the reservation of available prayer spaces for Friday prayers as well as 50 slots for each of the five daily congregational prayers immediately after the Azan (prayer call).
To enable more worshippers to perform their Friday prayers, the system will limit the number of bookings an individual can make for Friday prayers to only one reservation within a three-week window.
Private worship beyond congregational prayer sessions will continue to be available and subject to the same limit of 50 persons at any one time.
Full report at:
https://www.bernama.com/en/general/news.php?id=1854735
--------
Malaysia can't take any more Rohingya refugees, PM says
June 26, 2020
KUALA LUMPUR: Malaysia can no longer take in Rohingya Muslim refugees from Myanmar, Prime Minister Muhyiddin Yassin said on Friday, citing a struggling economy and dwindling resources as a result of the novel coronavirus pandemic.
Muslim-majority Malaysia has long been a favored destination for Rohingya seeking a better life after fleeing a 2017 military-led crackdown in Myanmar and refugee camps in Bangladesh.
But Malaysia, which does not recognize refugee status, has recently turned away boats and detained hundreds of Rohingya, amid rising anger toward foreigners who have been accused of spreading the coronavirus and taking up scarce state funds.
"We can no longer take more as our resources and capacity are already stretched, compounded by the COVID-19 pandemic," Muhyiddin said in teleconference with other leaders of the 10-member Association of South East Asian Nations (ASEAN), which includes Myanmar.
"Yet, Malaysia is unfairly expected to do more to accommodate incoming refugees."
The treatment of Rohingya has been divisive for ASEAN, with its two Muslim-majority members — Malaysia and Indonesia — criticizing Buddhist-majority Myanmar and expressing growing frustration with Rohingya arriving on boats operated by people smugglers.
Myanmar denies abuses against members of the minority in Rakhine State, in western Myanmar, but says the Rohingya are not citizens but illegal immigrants from South Asia.
Rohingya have for years boarded boats between November and April, when the seas are calm, to get to Southeast Asian countries including Malaysia, Thailand and Indonesia.
Muhyiddin urged the UN refugee agency to speed up the resettlement of Rohingya in Malaysia to third countries. The agency says there are more than 100,000 Rohingya in Malaysia though rights groups say the number is higher.
He also called for more efforts to combat the trafficking of Rohingya, who he said were increasingly at risk for exploitation, slavery and recruitment by militants.
"ASEAN must do more to help Myanmar, and Myanmar must also do more to help itself for this crisis to be put behind us," he said.
Dozens of Rohingya died and their bodies were thrown overboard from a boat that later landed on a Malaysian island this month with 269 people on board, authorities said.
Full report at:
https://www.arabnews.com/node/1695721/world
--------
Sarawak says only assistant registrars may officiate non-Muslim marriages during RMCO
27 Jun 2020
BY SULOK TAWIE
KUCHING, June 27 ― Sarawak's Unit For Other Religion (Unifor) today reiterated that only non-Islamic houses of worship and religion associations with assistant registrars of marriages are allowed to perform marriage ceremonies among non-Muslim couples during recovery movement control order (RMCO).
Unifor said the assistant registrars must be appointed under Section 28 of the Law Reform (Marriage and Divorce) Act, 1976 as a condition to perform the marriages among the non-Muslim couples.
"The number of people who attend the ceremony is limited to 20, after taking into consideration of the social distancing requirement of one metre," it said in a statement on the issuance of the standard operating procedures (SOPs) for non-Islamic houses of worships and religious associations to perform marriage or funeral ceremonies during RMCO.
It said the SOPs have been approved by the Sarawak Disaster Management Committee (SDMC), and to be effective from July 1 until further notice.
Unifor said children under-12 are not allowed to attend marriage ceremonies.
It also reminded the attendees to register names on the registration book or swipe QR Code through MySejahtera or COVIDTrace on the phone of their presence at the venues.
Unifor also reiterated that the number of people attending funeral ceremonies is limited to 50 consisting of people providing funeral services and close relatives of the deceased person.
"The visit to the cemeteries is limited to not more than 20 persons consisting of only family members," it said, pointing out that children under-12 are barred from coming.
Unifor said that individuals who are sick, having a cough or flu and with a body temperature of 37.5 degrees Celcius is not allowed to attend the marriage ceremonies or funeral services and visit the cemeteries.
It also reminded the attendees of these ceremonies that they are not allowed to eat and drink activities are not allowed.
"They must also pay serious attention to aspects of security and cleanliness at the marriage ceremonies at the houses of worships and religious association or at the funeral ceremonies and visits to the cemeteries," Unifor said.
It said family members must put on their face masks and always wash or sanitise their hands while at the cemeteries.
"They are also not allowed to shake hands with each other," Unifor said.
Full report at:
https://www.malaymail.com/news/malaysia/2020/06/27/sarawak-says-only-assistant-registrars-may-officiate-non-muslim-marriages-d/1879353
--------
Four Islamic State militants killed near Philippine capital
26 Jun 2020
MANILA (The Straits Times/ANN): Philippine security officials killed four suspected Islamic State-linked militants on Friday (June 26) in a city just south of Manila.
They were killed during a raid at around midnight on a house where they were staying inside a gated community in Don Bosco district in Paranaque city, just an hour's drive from the capital.
One of the men fired at the policemen and tried to lob a grenade that went off prematurely.
An officer was injured when his legs were hit by shrapnel.
Police reports identified those killed as Bensaudi Sali, 37, Ramin Hussin, Jamal Kalimming, and a woman in her 40s, Merhama Abdul Sawari.
"The unwanted presence of (terrorists) in Metro Manila... proves that terrorist groups know no pandemic," said General Felimon Santos Jr, the military chief.
"Not even Covid-19 could deter or prevent (them) and their cohorts from planning and looking for the opportune time to strike and kill."
Intelligence sources cited by the online news site Rappler said all four were likely a sleeper cell sent to Metro Manila by Abu Sayyaf chieftain Hatib Sawadjaan, described in previous reports as the 'acting emir' in the Philippines of the Islamic State in Iraq and Syria (Isis).
Rappler said Sawari was a "group finance and logistics facilitator".
She received remittances from Indonesian terrorist Yoga Fabrianto, who was arrested in Sabah, Malaysia, last year, it said.
Rappler said the money was meant to finance the deadly attack in January last year on a Roman Catholic cathedral on Jolo island in the Muslim province of Jolo
Sawari's husband, Sali, had purportedly been working as a security guard at a condominium, also in Paranaque. The two other suspects were security guards as well.
Sawadjaan, 60, and his small, but brutal, faction in the Abu Sayyaf group reportedly plotted the attack on the Jolo cathedral.
At least 23 people were killed and over 100 injured in the attack.
Military reports said an Indonesian couple blew themselves up minutes apart, one inside and the other outside, the cathedral.
Pro-Isis militants are said to be fanning out well beyond their enclaves in southern Philippines to tap into dense urban areas and far-flung towns and villages where they can move around unencumbered by a military drive bent on eradicating them.
Sawadjaan is the father-in-law of Malaysian militant Amin Baco.
Full report at:
https://www.thestar.com.my/aseanplus/aseanplus-news/2020/06/26/four-islamic-state-militants-killed-near-philippine-capital
--------
Perak Shariah Court first to accept e-payment options
26 Jun 2020
THE Perak Shariah Court has become the first shariah court in the country to introduce e-payment services, making it easier for the public to make payments while reducing cash transactions.
Perak Shariah Chief Judge Asa'ari Mohd Yazid said the service, which is a collaborative effort with Bank Islam Malaysia Bhd will begin on July 1 for payment of fines and case registration.
https://www.themalaysianinsight.com/s/256721
--------
Mideast
UN rights investigator urges EU to punish any Israeli annexation in West Bank
Friday, 26 June 2020
A UN rights investigator has urged the European Union to adopt measures in a bid to prevent or punish any Israeli annexation of the occupied West Bank, less than a week before the Tel Aviv regime intends to implement its much-condemned plan to annex further parts of the Palestinian territory.
In a statement on Friday, Michael Lynk, the UN special rapporteur on the situation of human rights in the Palestinian territory said the European bloc should back up its warnings against Israeli plans with "a decisive menu of counter-measures."
He was apparently pointing to possible economic, trade or other sanctions against Tel Aviv. The EU has already said that the annexation must not go unchallenged.
Israeli prime minister Benjamin Netanyahu has time and again announced that he would begin cabinet-level discussions for annexing more areas in the occupied West Bank on July 1, in accordance with US President Donald Trump's the so-called deal of the century.
Trump's scheme, unveiled in January, largely gives in to Israel's demands while creating a Palestinian state with limited control over its own security and borders, enshrining the occupied Jerusalem al-Quds as Israel's "capital" and allowing the regime to annex settlements in the West Bank and the Jordan Valley.
Lynk's statement came just three days after some 1,080 lawmakers from 25 European countries warned that the annexation plans "will be fatal to the prospects of Israeli-Palestinian peace and will challenge the most basic norms guiding international relations."
They also said called for "commensurate consequences", if Israel, which has more than 400,000 settlers in the occupied West Bank, went ahead with annexation.
On June 18, High Representative of the EU for Foreign Affairs and Security Policy Josep Borrell also warned that the annexation would have "significant consequences" for bilateral ties between the bloc and Tel Aviv.
On Wednesday, UN Secretary General Antonio Guterres, for his part, repeated his call on Israel to "abandon its annexation plans."
Elsewhere in his remarks on Friday, Lynk said that "We have reached a point where resolutions without resolve can no longer contribute to reaching the just and durable peace and human security that Palestinians and Israelis deserve."
However, it seems that the EU has not yet decided on a clear strategy on how to stop Israel's plan or how to respond in a meaningful way if annexation goes ahead.
Trump's scheme further maintains that the future Palestinian state will consist of scattered lands linked together via bridges and tunnels. It will also be demilitarized, meaning it will be subject to Israeli control for security.
Full report at:
https://www.presstv.com/Detail/2020/06/26/628329/Palestine-Israel-annexation-EU-UN-Lynk-West-Bank-Trump
--------
Hamas says armed resistance main tool to thwart Israeli annexation plan
26 June 2020
A senior official from the Palestinian resistance movement of Hamas says armed resistance is a main tool to thwart the Israeli plan of annexing parts of the occupied West Bank and the Jordan Valley.
"The Israeli annexation plans are a new crime added to the crimes of stealing Palestinian land and resources," Mousa Abu Marzouk said.
Abu Marzouk stressed that Hamas would use all means available to thwart those plan, including armed resistance as a main tool.
Hamas' military wing, the Ezzedine al-Qassam Brigades, on Thursday described the Israeli decision as a "declaration of war" on the Palestinian nation.
The Palestinian Authority has already terminated all agreements with Israel over the annexation plan, a brainchild of Israeli Prime Minister Benjamin Netanyahu, who has set July 1 as the date for the start of cabinet discussions on the annexation plan.
Netanyahu has been driven ahead by US President Donald Trump, who unveiled a "peace" plan for the Middle East in January that effectively sidelines the Palestinians altogether.
The plan, which Trump himself has described as the "deal of the century," envisions Jerusalem al-Quds as "Israel's undivided capital" and allows the Tel Aviv regime to annex settlements in the occupied West Bank and the Jordan Valley. The plan also denies Palestinian refugees the right of return to their homeland, among other controversial terms.
The Palestinians want the West Bank as part of a future independent Palestinian state with East Jerusalem al-Quds as its capital.
Palestinians protest against Israeli plan
Tens of thousands of Palestinians took part in a protest called by Hamas in the city of Khan Yunis in the besieged Gaza Strip in condemnation of the Israeli annexation plan.
Speaking at the rally, a member of Hamas' political bureau, Salah al-Bardawil, said the Israeli would be expelled from Palestinian lands.
He also denounced the normalization of ties between some Arab regimes and Tel Aviv.
Jordan and Egypt are the only two Arab states that have open diplomatic ties with Israel. However, some of the others, including Saudi Arabia, the United Arab Emirates, and Bahrain, have been tilting toward the Tel Aviv regime increasingly openly in the recent past.
Israeli forces attack anti-settlement protesters
Meanwhile, Israeli forces attacked Palestinians taking part in weekly protests against Israeli settlement construction, in Kafr Qddum, in the occupied West Bank, on Friday, leaving many protesters injured.
Full report at:
https://www.presstv.com/Detail/2020/06/26/628321/Hamas-armed-resistance-Israeli-annexation-plan
--------
Iran Cautions UNSC to Avoid Making More Mistakes to Appease US
Jun 26, 2020
"The US resolution proposing to extend Iran's arms embargo is in violation of the UNSC Resolution 2231, and it would be a devastating mistake for the Security Council," Takht Ravanchi said on Thursday.
Takht Ravanchi made the remarks at a news conference focusing on the Americans' claim to their participation in Resolution 2231 and the possibility of using the snapback mechanism to restore the relevant sanctions.
"The provisions of the draft resolution of the United States to extend the arms embargo are in conflict with the UN Security Council Resolution 2231, and should be rejected," he added.
Takht Ravanchi recalled that Russia and China, as two members with veto power of the UNSC, have expressed their full support for the JCPOA, the full implementation of this agreement and Resolution 2231, and said, "In fact, the US act will have implications for international law, as well as future cooperation with the UNSC."
"The UNSC must be aware that it is violating the resolution it has adopted and it would be a devastating mistake for the council to violate its resolution," he added.
In relevant remarks on Thursday, Takht Ravanchi tweeted that the UNSC members-states unanimously called for full implementation of the Joint Comprehensive PlAN OF Action (JCPOA).
"Yesterday, US briefed #UNSC on the extension of arms embargo on Iran and called for Council's unity," the Iranian envoy wrote on his Twitter account.
He pointed out that "@StateDept note on the briefing mentioned NOTHING about the reaction of UNSC members. Perhaps reason was their UNANIMOUS call for full implementation of #JCPOA & UNSCR 2231."
On May 11, Iran's top diplomat Mohammad Javad Zarif said Washington's attempts to approve a resolution to extend arms embargos against Tehran in violation of the nuclear deal will fail.
Full report at:
https://en.farsnews.ir/newstext.aspx?nn=13990406000097
--------
FM Spokesman: Iran Victim of Terrorists Created, Backed by US
Jun 26, 2020
"Islamic Republic of Iran strongly condemns the US annual report on terrorism due to its obvious blame game, sheer dishonesty, and double standards in the fight against terrorism," Mousavi said.
He further said that the United States as the main sponsor of state terrorism, symbolized by the Israeli occupying regime, cannot claim that it is fighting terrorism.
The spokesman added that Israel is not in a position to pass judgement in this respect, either.
A cursory look at the last few decades makes it clear that the US has created terrorist groups and even supported them, as some US officials have confessed, Mousavi stressed, adding that during the election campaign, the US President Donald Trump also openly admitted that former US administrations had created Daesh (ISIL) and other terrorist outfits.
The US' dastardly move in martyring the counter-terrorism hero Lieutenant General Qassem Soleimani is an obvious example of the terrorist crimes of the US regime, he said.
Mousavi reiterated that Iran has been the biggest victim of terrorist acts carried out with the direct and indirect support of the US, and emphasized that with more than 17,000 martyrs the country has always been at the forefront of the fight against terrorism regionally and globally.
In relevant remarks on June 24, Iran's Deputy Judiciary Chief for International and Human Rights Affairs Ali Baqeri said the US terror attack on the world's No. 1 counter-terrorism commander, martyr Lieutenant General Qassem Soleimani, came in reprisal for the defeat of US proxy terrorists in the region.
"History will testify that the Islamic Resistance Front, commanded by Iranian General Soleimani, stood against Takfiri terrorism and its supporters bravely and mightily and defended the rights of the regional people, including the Muslims, Christians, Shiites, Sunnis, Arabs, Kurds and Turkmen, but the US regime took revenge of the defeated terrorists from the resistance front by assassinating the brave Iranian General to prove once again that it always stands by terrorists against nations," Baqeri said on Wednesday.
Elsewhere, he referred to the "illegal and illegitimate" sanctions imposed by the US against Iran, stressing that they are "a clear instance of the violation of the Iranian nation's fundamental rights".
Baqeri said despite the US claims about supporting human rights in Iran, it has prevented imports of foodstuff, drugs and medical equipment by means of embargoes.
Lieutenant General Soleimani and Deputy Commander of Iraq's Popular Mobilization Forces (PMF) Abu Mahdi al-Muhandis were assassinated in a US drone strike on Baghdad International Airport in Iraq on January 3.
On January 8, the IRGC Aerospace Force started heavy ballistic missile attacks on US Ein Al-Assad airbase in Southwestern Iraq near the border with Syria and a US operated airbase in Erbil in retaliation for the US assassination of General Soleimani.
Ein Al-Assad is an airbase with a 4km runway at 188m altitude from sea levels, which is the main and the largest US airbase in Iraq. Early reports said the radar systems and missile defense shields in Ein Al-Assad failed to operate and intercept the Iranian missiles. Unofficial reports said the US army's central radar systems at Ein Al-Assad had been jammed by electronic warfare.
The second IRGC reprisal attack targeted a US military base near Erbil airport in Iraqi Kurdistan Region in the second leg of "Martyr Soleimani" reprisal operation.
Iraq said the attacks had not taken any toll from its army men stationed at these two bases. The US army had blocked entrance into Ein Al-Assad to everyone, including the Iraqi army.
It was the first direct attack on the US army ever since world war two.
The IRGC officials said none of the missiles had been intercepted.
Full report at:
https://en.farsnews.ir/newstext.aspx?nn=13990406000125
--------
Iran-backed Katai'b Hezbollah spokesman threatens Iraqi PM following overnight raids
26 June 2020
A security spokesman for an Iran-backed militia issued a statement on Friday threatening Iraqi Prime Minister Mustafa al-Kadhimi, describing him as an "American agent," following an overnight raid on the group by security forces.
The Iran-backed Kata'ib Hezbollah security spokesperson threatened al-Kadhimi with punishment, or "torture" after the raid that led to the arrest of over a dozen fighters, which sent a strong message to militias, warning against attacking Iraqi facilities.
For all the latest headlines follow our Google News channel online or via the app.
"Let this mutant know that the sword of the resistance is the sword of Ali 'peace be upon him' and [the men of the resistance] will only submit to God," Abu Ali al-Askari said in a Telegram statement. "We are waiting for you to suffer from God's torture, or by our hands."
Al-Askari also accused al-Kadhimi of attempting to distance himself from the killing of the "two martyrs," in reference to the January drone strike which killed Islamic Revolutionary Guards Corps (IRGC) commander Qassem Soleimani and deputy commander of the Popular Mobilization Forces (PMF) Abu Mahdi al-Mohandes.
Initial reports circulated that Baghdad's Green Zone was put under lockdown following the raids by Iraq's Counter-Terrorism Service (CTS) on a militia headquarters in southern Baghdad. According to Al Arabiya sources and videos, several militiamen carrying weapons took to the streets following the arrests, causing tension and fear.
Three leaders from Kata'ib Hezbollah were arrested and handed over to the US military, an Iraqi security official told Reuters. One of the leaders was Iranian, the news agency said.
But this was denied by the US Department of Defense.
"Detainees were not handed to US forces," a spokesperson for Operation Inherent Resolve (CJTF-OIR) told Al Arabiya English.
The spokesperson added that there were "no US/Coalition forces involved in these raids. We refer you to the Iraqi Security Media Cell on Twitter for any updates on the operation."
The Iraqi Security Media Cell had not posted anything on Twitter regarding the raid.
It is unclear how many fighters were exactly arrested with the PMF saying 19, while a government official told Reuters it was 23.
Thursday's raid was the first such incident since al-Kadhimi took office and pledged to crack down on militias.
During the raid, rocket launchers were confiscated as the fighters were targeted for their participation in attacks on bases hosting US troops and other facilities in Iraq.
Sajad Jiyad, a political analyst based in Baghdad, said that those detained had been or would be released, as there were no judicial warrants for their arrest, and there was no evidence they committed a crime.
Asked why the raid took place, Jiyad told Al Arabiya English, "The fact the CTS was used in the raid shows the aim was to send a message that attacks targeting Iraqi facilities such as Baghdad airport and the Green Zone will not be tolerated."
This seemed to be validated with Reuters citing that one senior PMF official said that after some negotiation, the detainees were handed over to paramilitary security forces.
Full report at:
https://english.alarabiya.net/en/News/middle-east/2020/06/26/Iran-backed-Katai-b-Hezbollah-spokesman-threatens-Iraqi-PM-following-overnight-raids.html
--------
CBI Chief Dismisses IMF's Forecast of Iran's Economy
Jun 26, 2020
"Even CBI's most negative scenarios cannot confirm the forecast of minus six percent economic growth for Iran," Hemmati said in reaction to IMF's forecast.
In its very recent forecast on world economy, IMF has said that Iran's Gross Domestic Product, GDP, will decline by about six percent in 2020.
"IMF has made a mistake as it did so last year," the CBI governor added.
On Wednesday, the IMF slashed its forecast for annual global economic growth as the coronavirus cases spike in the US and developing countries.
The IMF is now projecting global economic gross domestic product (GDP) to fall 4.9 percent in 2020, 1.9 percentage points higher than the 3-percent decline the international lender projected in April, The Hill reported.
While the IMF expects global GDP growth to rebound to 5.4 percent next year, that rate is still 6.5 percentage points below the growth level projected by the IMF in January.
The emergence of the pandemic and the shutdowns imposed to fight it will cost the global economy more than $12 trillion over the next two years, said IMF chief economist Gita Gopinath in a Wednesday article.
"The COVID-19 pandemic pushed economies into a Great Lockdown, which helped contain the virus and save lives, but also triggered the worst recession since the Great Depression," Gopinath wrote.
"Over 75 percent of countries are now reopening at the same time as the pandemic is intensifying in many emerging market and developing economies. Several countries have started to recover. However, in the absence of a medical solution, the strength of the recovery is highly uncertain and the impact on sectors and countries uneven," she added.
The IMF's dire projections come amid increasing concern about the economic blow of rising coronavirus cases across much of the US and countries with far less developed medical infrastructures.
The daily number of new COVID-19 cases in the US is the highest it has been since April as several states around the country experience spikes in cases, according to data released by Johns Hopkins University on Wednesday.
Dr. Anthony Fauci, the US government's top infectious disease expert, called the increases "disturbing" during testimony before a House committee Tuesday, urging swift action to help slow the spread and track outbreaks in US hot spots.
"Right now, the next couple of weeks are going to be critical in our ability to address those surgings that we're seeing in Florida, in Texas, in Arizona and in other states," Fauci told the House Energy and Commerce Committee.
Full report at:
The deepening anxiety about the path of pandemic also shook Wall Street on Wednesday.
https://en.farsnews.ir/newstext.aspx?nn=13990406000173
--------
Turkish opposition hits COVID-19 donation campaign's lack of transparency
June 26, 2020
JEDDAH: The recent National Solidarity Donation Campaign launched by Turkish President Recep Tayyip Erdogan came under fire by Turkish opposition parties over an alleged lack of transparency.
Alpay Antmen, a lawmaker from Mersin province representing the main opposition party, the CHP, submitted a question to the vice-president, asking how the money collected by the campaign — which totals 2.1 billion Turkish liras ($306 million) so far — was reimbursed to needy people.
However, he was advised to direct his request to the family, labor and social services minister, whose only response was advice to "check out the ministry's website," which did not provide any details about the campaign or its recipients.
Erdogan donated seven months of his salary to help fight COVID-19 on March 31, the day he launched the campaign. Cabinet members in the government and some parliamentarians also donated 5.2 million Turkish liras ($791,000) to the campaign.
The initiative was designed to provide support to low-income people facing economic hardship following lockdown measures.
"We will follow hard after this issue. They are obliged to reveal where this money was spent. It is the parliament's responsibility to be held accountable for money-related issues," Antmen told Arab News.
"The state should be managed in a serious way. When a parliamentarian asks where this money was spent, a strong presidency should be accountable for the spending. If they have concerns about disclosing this basic information, then we can assume that they have something to hide," he added.
During the COVID-19 outbreak, municipalities headed by mayors from opposition parties were prevented from organizing online donation campaigns, where funds they had collected were blocked by the Interior Ministry, over concerns that it "may create a state within state."
Fundraising campaigns launched by mayors from cities such as Istanbul and Ankara just before the presidential campaign were quickly declared illegal on April 1. It was not an April Fools' joke.
"They excluded municipalities from fundraising efforts, although they were totally accountable until the single penny of their citizens. But now they don't give us any single answer about the details of their own nationwide campaign" Antmen said.
The presidential fundraising campaign was also criticized by former prime minister Ahmet Davutoglu, who formed the Future Party last year. He said it was a waste of time and resources.
"There can be nothing more absurd than state bodies being involved in such an aid campaign. You are just taking money out of one pocket and putting it in the other," he said.
The CHP is set to launch a parliamentary probe if information about money spent under the fundraising campaign proves unsatisfactory.
Following constitutional changes made last year, opposition members of parliament lost their right to submit censure motions in these cases.
An April report by the CHP estimated pandemic-related job losses in the Turkish labor force to be around five million.
Full report at:
https://www.arabnews.com/node/1695926/middle-east
--------
Iran Asks for Romania's Full Report on Fugitive Ex-Judge's Death
Jun 26, 2020
Tehran has urged Bucharest to prepare a full report on the death of its fugitive ex-judge Gholamreza Mansouri in Romania, Esmayeeli said.
He added that Iran is pursuing the case via its foreign ministry and Interpol and has also sent several letters to Romanian Judiciary chief.
Iran will not leave the case as it had announced Mansouri as 'wanted' and he was under the surveillance of the (Romanian) police, the spokesman noted.
Unfortunately, Western countries and the US, which boisterously claim to fight money- laundering and financial corruption, provide shelter for Iranian financial criminals, he underlined.
In relevant remarks, Iran's Deputy Judiciary Chief Gholam Hossein Mohseni Ejei said Romania should account for the death of ex-judge, Gholamreza Mansouri, in the European country.
"The Romanian government should certainly be accountable. He [Mansouri] had stated his intention to return to Iran and he was under police control and the Romanian government should account for his death," Mohseni Ejei said on Wednesday.
"There are ambiguities and effort should be made to clarify them," he added.
Also on Monday, Iranian Prosecutor General Mohammad Jafar Montazeri in a letter to his Romanian counterpart Augustin Lazar called for rapid and serious investigations into Mansouri's death.
"I demand you to order serious and comprehensive investigations into the cause of Mansouri's death given the importance of this issue and finding the reality and the responsibility that relevant judiciary officials and Interpol of Romania have had to protect and monitor the suspect," Montazeri said in his letter.
He also called for identification and prosecution of individuals possibly involved in Mansouri's death.
Full report at:
https://en.farsnews.ir/newstext.aspx?nn=13990406000149
--------
Judiciary Official: Sanctions Price Paid by Iran for Prioritizing Human Rights
Jun 26, 2020
"The sanctions imposed by the US and enacted by its Western allies on the Iranian nation are the price the country is paying for prioritizing human rights," Baqeri said.
He noted that the coercive measures flagrantly violate basic rights of the ordinary Iranians.
Baqeri reiterated that the US has mounted pressure on Iran due to the latter's commitment to defending nations' rights.
In a relevant development on Tuesday, the Iranian Judiciary's High Council on Human Rights in a statement condemned the abuse of international law by the western governments against the Islamic Republic.
"The anti-human rights record of the western governments supporting the extension of Iran's Special Rapporteur on Human Rights was so thick and black that it could not be denied or forgotten," the Iranian High Council on Human Rights' statement said.
It pointed out that the reality of the political decision" of the Western governments in extending the mission of the Iranian Special Rapporteur on Human Rights would never tarnish the "clear and proud truth" of the Islamic Republic of Iran's human rights.
"The implementation of religious rulings, the rules of the constitution, and the laws and regulations in question will not be in doubt," the statement added.
Condemning any instrumental use of international capacity by Western governments, it condemned the use of special Rapporteur as a major threat to human rights.
Full report at:
https://en.farsnews.ir/newstext.aspx?nn=13990406000076
--------
Israel honours cyber-terrorists behind May attack on Iranian port
26 June 2020
The Israeli military has honored units, which had been involved in a May cyberattack against Iran's Shahid Rajaee port on the coast of the Persian Gulf near the Strait of Hormuz.
The units that took part in the terrorist operation against the Iranian port have received "certificates of appreciation" from the head of Tel Aviv's military intelligence apparatus Tamir Hayman.
The elements honored by the Israeli military include troops in the regime's Unit 8200, which is Israel's cyber spy agency.
A statement by the Israeli military claims that the cyberattack, carried out on May 9, has yielded "a unique and impressive operational achievement."
However, Iranian officials said at the time that the attack briefly knocked computers at Shahid Rajaee port terminal offline.
Mohammad Rastad, managing director of the Ports and Maritime Organization of Iran, said the terrorist attack "failed to penetrate the PMO's systems and was only able to infiltrate and damage a number of private operating systems at the ports".
According to intelligence and cybersecurity officials, cited by the Washington Post, the attack was carried out by Israeli operatives. It came after the occupying regime said it had been the target of an attempt to penetrate the computers that operate water distribution systems in Israel.
The sprawling Shahid Rajaee port facility is the newest of two major shipping terminals in the Iranian coastal city of Bandar Abbas, on the Strait of Hormuz.
Iran has been the target of US and Israeli cyber terrorism for a decade, including attempts to remotely sabotage the Islamic Republic's nuclear program.
In 2010, US and Israeli intelligence agencies unleashed a computer worm called Stuxnet on Iranian uranium-enrichment plants in an attempt to disrupt Iran's nuclear program. The Washington Post reported two years later that the US National Security Agency (NSA), its spy service CIA, and Israel's military had worked together to launch Stuxnet against Iran's nuclear facilities.
The attack was followed by Mossad's assassination of several Iranian nuclear scientists.
Full report at:
https://www.presstv.com/Detail/2020/06/26/628297/Israel-cyber-terrorism-Iran-Shahid-Rajaee-port--
--------
Israeli warplanes conduct fresh airstrikes against positions in besieged Gaza Strip
27 June 2020
Israeli warplanes have carried out fresh airstrikes against the besieged Gaza Strip, targeting a number of areas in the south and center of the Palestinian enclave.
The Israeli military said in a statement that the Friday night strikes were carried out against targets belonging to the Hamas resistance movement, a few hours after Tel Aviv claimed that two rockets were launched from the coastal sliver at southern Israel.
According to the statement, the rockets fell in open areas, with no casualties or damage caused.
It said that Israeli fighter jets, among other targets, hit "a workshop" that produces "rockets as well as infrastructure used to manufacture weapons for Hamas."
The rocket launch triggered alert sirens in several Israeli communities along the border.
Palestinian media reported that Israeli airstrikes hit targets in the southern and central areas of the Gaza Strip.
There were no immediate reports of casualties from Gazan authorities.
The Israeli regime every so often launches strikes against positions in the blockaded enclave, accusing the resistance groups there of launching rockets.
The Israeli strikes came just a day after Hamas repeated its condemnation of the Israeli regime's planned annexation of parts of the occupied West Bank and the Jordan Valley, saying the contentious decision amounts to "declaration of war" on the Palestinian nation.
Israeli prime minister Benjamin Netanyahu has time and again announced that he would begin cabinet-level discussions for annexing more areas in the occupied West Bank on July 1, in accordance with US President Donald Trump's the so-called deal of the century.
Gaza has been under Israeli siege since June 2007.
Since 2008, Israel has waged three wars against Gaza, where two million Palestinians live under a 12-year Israeli blockade. Thousands of Gazans have been killed in each of these deadly wars.
Full report at:
https://www.presstv.com/Detail/2020/06/26/628335/Palestine-Israel-airstrikes-Gaza-Strip-rocket-Hamas-Trump-annexation
--------
2.4 million children in Yemen could go malnourished amid pandemic: UNICEF
26 June 2020
The United Nations children's agency, UNICEF, has warned that the shortage of humanitarian assistance amid the coronavirus pandemic threatens to push more children in Yemen to the brink of starvation.
The UNICEF reported on Friday that the number of malnourished children in Yemen could increase to 2.4 million by the end of the year, which would be equivalent to nearly half of all Yemeni children under the age of five.
The UNICEF report "Yemen five years on: Children, conflict and COVID-19" added that as the country's "devastated health system and infrastructure overall struggles to cope with the coronavirus pandemic, the already dire situation for children is likely to deteriorate considerably."
"If we do not receive urgent funding, children will be pushed to the brink of starvation and many will die," UNICEF Yemen representative Sara Beysolow Nyanti said. "We cannot overstate the scale of this emergency."
Yemen was turned into the scene of the world's worst humanitarian crisis after Saudi Arabia and a number of its allies launched a war against the country about five years ago.
The ongoing war was meant to subdue a popular uprising that had toppled a Riyadh-friendly regime. While the Saudi-led coalition has failed to achieve that objective, it has been continuing often blind operations that kill and maim civilians, including children.
The US-based Armed Conflict Location and Event Data Project (ACLED), a nonprofit conflict-research organization, estimates that the war has claimed more than 100,000 lives over the past five years.
More than half of Yemen's hospitals and clinics have been destroyed or closed as a result of the war by the Saudi-led coalition, which is supported militarily by the UK, the US, and other Western countries.
The UNICEF report also said that nearly 7.8 million children were without access to education, adding that could put them "at risk of child labor, recruitment into armed groups and child marriage."
"UNICEF has previously said, and again repeats, that Yemen is the worst place in the world to be a child and it is not getting any better," Nyanti said.
UNICEF has received only 39% of its 461-million-dollar appeal for its humanitarian response to Yemen, and only 10% of its 53-million-dollar appeal for its COVID-19 response in the country has been funded.
Full report at:
https://www.presstv.com/Detail/2020/06/26/628309/Yemen-coronavirus-children-malnourished-starvation-UNICEF
--------
Yemeni forces to strike strategic targets deeper inside Saudi Arabia: Top Houthi official
26 June 2020
Yemen's popular Houthi Ansarullah movement has praised the latest retaliatory missile and drone strikes on strategic sites deep inside Saudi Arabia, saying Yemen's army forces and allies are planning to hit more targets in reprisal for the kingdom's war on the impoverished nation.
"A number of Yemen's strategic goals were achieved during the operation [dubbed the Fourth Deterrent Balance Operation]. Several others will soon be attained," Mohammed al-Bukhaiti, a member of Ansarullah's political bureau, said in an exclusive interview with Arabic-language al-Alam television news network on Thursday night.
He added, "What distinguishes the recent Yemeni military offensive from the previous ones is the high number of missiles used in the operation, as well as the sensitive targets struck."
"Secondly, it was carried out after the peace offer [recently made by member of Yemen's Supreme Political Council Mohammed Ali al-Houthi] to dispel Saudis' delusion that Yemen has put forward the proposal out of despair. After strikes against the sensitive sites, however, Saudi Arabian authorities and their advocates, especially the United States and Britain, realized it was not the case," Bukhaiti pointed out.
He noted that world countries now well know that Yemeni forces are capable enough to target the depths of the Saudi territory.
"Spokesman of the [Saudi-led] coalition of aggression [Colonel Turki al-Maliki] used to boast about how fast the Royal Saudi Air Forces could control Yemen's airspace in just 15 minutes. But he is now constantly talking about Yemeni missiles and strikes against Riyadh and other regions of Saudi Arabia, collecting the remains of the projectiles and putting them on public display," the senior Ansarullah official stated.
On Tuesday, Bukhaiti told Lebanon's al-Mayadeen television news network that the headquarters of the Saudi Defense Ministry, general intelligence agency as well as King Salman Air Base were among military targets hit in the recent Yemeni precision strikes on Riyadh and the southern Saudi border regions of Najran and Jizan.
The Riyadh regime, he said, was trying to cover up the losses it has suffered in the raids, adding that the military operation made Saudi Arabia and the United Arab Emirates — a key party to the coalition — change their strategies.
"The Yemeni weapons are continuously making progress, and the next strikes will be more painful and against more sensitive targets," the Ansarullah official noted.
UAE-backed STC separatists expel Hadi loyalists from Socotra
Forces affiliated with Yemen's so-called Southern Transitional Council (STC), who are backed by the United Arab Emirates, have begun expelling rival Saudi-backed militiamen linked to former Yemeni president, Abd Rabbuh Mansur Hadi from Socotra island.
The separatists fully captured the strategic Arabian Sea island on Friday following fierce clashes with Hadi loyalists, and the latter abandoned the territory, according to online news outlet Middle East Eye.
Fresh Saudi airstrikes leave five civilians dead in central Yemen
At least five civilians have been killed when Saudi military aircraft carried out airstrikes against areas in Yemen's central province of al-Bayda.
Saudi warplanes conducted aerial assaults against a pickup truck, an oil tanker and a number of cars as they were traveling along a road linking Radman and Qaniya areas late on Thursday, leaving five people dead and several others injured, unnamed local sources told Yemen's Arabic-language al-Masirah television network.
Saudi Arabia and a number of its regional allies launched a devastating war on Yemen in March 2015 in order to bring Hadi back to power and crush the Ansarullah movement.
The US-based Armed Conflict Location and Event Data Project (ACLED), a nonprofit conflict-research organization, estimates that the war has claimed more than 100,000 lives over the past five years.
Full report at:
https://www.presstv.com/Detail/2020/06/26/628299/Yemeni-forces-to-strike-more-strategic-targets-deep-inside-Saudi-Arabia
--------
Netanyahu says Israel, UAE to cooperate on coronavirus as normalization speeds up
26 June 2020
Prime minister Benjamin Netanyahu says Israel and the United Arab Emirates (UAE) are set to publicly announce cooperation over what he described as the fight against the novel coronavirus, amid attempts by a number of Arab countries to normalize diplomatic relations with the Tel Aviv regime.
Speaking at an air force graduation ceremony on Thursday, Netanyahu said the impending measure stemmed from "prolonged and intense contacts."
"This collaboration will be in the areas of research and development and technology, in areas that will improve health security throughout the region," he said.
Channel 12 news reported that Mossad chief Yossi Cohen had helped broker the new agreement.
The report said the deal may include the opening of mutual missions both in the Occupied Territories and the UAE.
Several hours later, a spokesman for the UAE's Foreign Ministry tweeted, "In light of strengthening international cooperation in the fields of research, development & technology in service of humanity, two private companies in the UAE sign(ed) an agreement with two companies in Israel to develop research technology to fight COVID-19."
The Emirati state-run news agency WAM also confirmed the move, saying, "As a result of the pandemic's spread worldwide, it is imperative to place the protection of humanity at the forefront of global action to overcome this unprecedented crisis."
The names of the companies were not immediately revealed.
Earlier this month, a cargo plane operated by Etihad Airways, a flag carrier airline of the UAE alongside Emirates, landed at Ben Gurion airport near Lod, located 20 kilometers (12 miles) southeast of Tel Aviv, purportedly carrying coronavirus-related medical supplies for the Palestinians.
But the Palestinian Authority officials rejected the shipment, and said it wasn't coordinated with them.
The new partnership between Abu Dhabi and Tel Aviv came just days before the Israeli regime intends to annex large parts of the occupied West Bank and the Jordan Valley, irrespective of growing chorus of international condemnation.
In response to Israel's decision, Palestinian President Mahmoud Abbas declared the end of all agreements signed with Israel and the United States on May 19.
On June 15, the Palestinian Islamic resistance movement, Hamas, severely censured attempts by the UAE to normalize relations with the Israeli regime, warning that such efforts amount to a "poisonous stab" in the back of the Palestinian nation.
Hamas spokesman Abdel-Latif al-Qanoo called for a unified Arab position in order to stop all forms of normalization and to end what he described as "cacophonous voices" out of the UAE, especially after it was revealed that a number of Emirati officials had participated in several meetings on normalization with the Tel Aviv regime.
Full report at:
https://www.presstv.com/Detail/2020/06/26/628288/Netanyahu-says-Israel-UAE-to-cooperate-on-coronavirus-as-normalization-speeds-up
--------
Africa
Egypt, Ethiopia, Sudan to finalize Nile dam agreement in two to three weeks: Minister
27 June 2020
Egypt, Ethiopia and Sudan will agree a deal to fill the giant Nile dam in two to three weeks, Ethiopia's water minister said on Saturday, a day after leaders from the three countries and South African President Cyril Ramaphosa, who chairs the African Union held an online summit.
"Consensus reached to finalize the #GERD agreement within 2 to 3 weeks," Seleshi Bekele, Ethiopia's Minister of Water, Irrigation and Energy said in a tweet.
https://english.alarabiya.net/en/News/north-africa/2020/06/27/Egypt-Ethiopia-Sudan-to-finalize-Nile-dam-agreement-in-two-to-three-weeks-Minister.html
--------
Russian, foreign mercenaries enter Sharara oil field: Libya National Oil Corporation
26 June 2020
Libya's National Oil Corporation (NOC) said on Friday Russian and other foreign mercenaries had entered the Sharara oilfield on Thursday to block the resumption of energy exports after a months-long blockade by eastern-based forces.
Most of Libya's main oilfields are under the control of the eastern-based Libyan National Army (LNA), which has fought alongside Russian mercenaries according to the United Nations.
The NOC, which attempted to restart production at Sharara this month after battle lines shifted, is based in Tripoli, seat of the internationally recognised Government of National Accord (GNA), which financially relies on oil exports.
https://english.alarabiya.net/en/News/north-africa/2020/06/26/Russian-foreign-mercenaries-enter-Sharara-oil-field-Libya-National-Oil-Corporation.html
--------
Libyan marks liberation of Gharyan from Haftar
Walid Abdullah
27.06.2020
TRIPOLI, Libya
The Libyan Defense Ministry said Friday that it considered the liberation of Gharyan last June "the real start for the military collapse of putschist [Khalifa] Haftar's militia."
Deputy Defense Minister Salah al-Namroush said "liberating Gharyan was a strategic shift in the battle to defend Tripoli and western Libyan cities."
"The Libyan people won't accept the return of an individual authoritarian rule even if supported by UAE [United Arab Emirates] drones and Russian Pantsir defence systems." he said on the first anniversary of the liberation of the city.
Al-Namroush hailed Gharyan residents who revolted against Haftar and refused that their city be used as "an incubator to Haftar's gangs" in southern Tripoli.
Forces of the Internationally-recognized government managed June 26, 2019 to free Gharyan, which was used as a command operations center for Haftar's aggression against Tripoli.
The government launched Operation Peace Storm in March to counter attacks on the capital and recently retook strategic locations, including the Al-Watiya airbase and Tarhuna, the final stronghold of Haftar's in western Libya.
Full report at:
https://www.aa.com.tr/en/africa/libyan-marks-liberation-of-gharyan-from-haftar/1891585
--------
S. Africa's top judge in hot water over Israel remarks
Hassan Isilow
26.06.2020
JOHANNESBURG
South Africa's ruling party on Friday expressed concern at remarks made by the country's chief Justice Mogoeng Mogoeng viewed as supporting Israel contrary to the country's position.
"We are deeply concerned with the remarks by chief Justice Mogoeng Mogoeng during an interview" with Jerusalem Post, the African National Congress (ANC) said in a statement.
In the interview, Mogoeng commented on South Africa's position on a question pertaining to Israel-Palestine conflict, and suggested the country should take a more balanced approach in the matter.
"As a citizen of our great country, we are denying ourselves a wonderful opportunity of being a game-changer in the Israeli-Palestinian situation. We know what it means to be at loggerheads, a nation at war with itself," Mogoeng was quoted as saying.
The ruling party said: "The esteemed Chief Justice entered the arena of political commentary which may make him vulnerable should he have to adjudicate a human rights matter in future."
The ANC further said it was unfortunate for the chief justice to say that "South African government policy was binding upon himself and that he was not seeking to reject it" but then clearly and openly opposed it as "a citizen."
The ruling ANC said the chief Justice had openly supported Israel's "actions condemned by the United Nations Security Council (UNSC) on numerous occasions and contemptuous behavior towards the human rights of the people of Palestine."
The party, once led by the late global iconic Nelson Mandela, said it has consistently through its resolutions supported Palestine and views the contemporary state of Israel as an Apartheid state.
"We support human rights and stand with oppressed Palestinians who include Christians of the holy land, the residents of Jerusalem and Bethlehem who are living under Israel Apartheid," the statement said.
It added that Israel's imminent annexation of Palestinian territories is nothing more than a land grab and theft.
It said the chief Justice sought to turn the matter of the rights of the people of Palestine into a religious argument which it is not.
Full report at:
https://www.aa.com.tr/en/africa/s-africa-s-top-judge-in-hot-water-over-israel-remarks/1891183
--------
Somali artists use art to spread COVID-19 awareness
Magdalene Mukami
26.06.2020
MOGADISHU, Somalia
On her balcony in a small apartment in Somalia's capital Mogadishu, Nujuum Hashi Ahmed is concentrating on a new painting that springs from the depths of her imagination.
Armed with sheer originality, she moves a paintbrush across a piece of canvas, her hands slightly stained with paint, her focus always is to bring real-life looking characters to life using her pieces of art … Today she has completed a painting of herself with boxing gloves punching the coronavirus.
The young and famous Somali painter contracted coronavirus in Mogadishu. She does not know how she caught the disease but she attributes it to her community not being serious about measures that the government has imposed to curb the spread of the infectious virus.
"I don't know how I got infected, I had to lock myself in my small apartment for a very long time which was a challenging time. During that time I made two pieces of art, the first one was of me taking care of myself with home remedies, the other drawing I did was me fighting and punching the coronavirus … literally boxing it," she told Anadolu Agency.
Nujuum is saddened by how the Somali people are dealing with COVID-19 and believes they could do more to tackle the pandemic. She has observed that people are not taking the measures put in place seriously and lack information on the disease.
"If somebody wears a face mask, everyone is looking at them saying they have the coronavirus, it is like stigmatizing them, telling them "you are wrong," yet these are people who are doing the right thing, this is something that really sickens me a lot."
"It is really depressing to see the people behaving the way they are behaving here in Mogadishu, people are really careless about this pandemic, you see the restaurants and places where people meet are still open, friends are hugging, shaking hands and walking around … You see markets are full of people buying and selling stuff … you see young people having coffee and sitting very close to each other, they are not even thinking about the problem that the disease is causing … it really disturbs me."
Since the start of the outbreak, Somalia has confirmed 2,878 coronavirus cases with 90 recorded deaths. A total of 868 people have recovered from the disease in the Horn of Africa country, according the official figures.
A COVID-19 survivor, Nujuum is using her art to spread awareness about how deadly the disease is and how to avoid it across Somalia.
The European Union has stepped in to help Somalis in different genres of art to raise awareness about the disease throughout the country. The painter believes that with so many illiterate Somalis, this is the best way for artists to tackle COVID-19.
"Art reaches many more people. In the Somali community, a majority of people do not know how to read or write, so they need art to understand how dangerous this problem is. We are sending the message to all Somalis both educated and not educated, including the ones who cannot hear but see. We will work hard to spread this message to our people."
In a statement the EU Delegation in Somalia said that it joined hands with young Somali artists to create awareness about the outbreak in the country.
Affirming their support in a statement, the EU in Somalia said that "Somali youth and artists have a crucial role to play in the Covid response, underlines the EU Ambassador Nicolas Berlanga-Martinez."
"The fight is not only a fight against Covid-19, it is also a fight against misinformation, rumors, and stigma around the disease. With their voice and talent, youth and artists can share crucial information, within their community but also among their fans, to engage with a large audience in response to the crisis. The EU recognizes this potential and seeks to amplify their voices by displaying and supporting their work."
Somali musicians have released numerous songs promoting social distancing, wearing of face masks among many other measures. Other artists across Mogadishu who spoke to Anadolu Agency lauded the move and promised to spread the message to every corner of the country.
Somalia has been described as a powder keg waiting to explode with one of the worst COVID-19 measures put in place in the African continent.
Full report at:
https://www.aa.com.tr/en/africa/somali-artists-use-art-to-spread-covid-19-awareness/1890554
--------
Commander in Somali al Shabaab militant group killed - state media
JUNE 26, 2020
MOGADISHIU (Reuters) - Somali security forces have killed a commander of the al Shabaab militant group in a military operation, state radio reported on Thursday.
Ahsraf Azmi Abu Hamdan, who was from Nepal, was a senior trainer in the Islamist group.
He was killed in an operation in the Middle Juba region in southern Somalia, state radio said. Three other fighers were also killed.
Al Shabaab has been fighting to topple Somalia's central government since 2008 to establish its own rule based on a strict interpretation of Islam's sharia law.
https://af.reuters.com/article/topNews/idAFKBN23X112-OZATP?utm_source=iterable&utm_medium=email&utm_campaign=1317422_
--------
Armed group abducts 10 aid workers in southwestern Niger
25 Jun 2020
Unidentified gunmen have abducted 10 humanitarian aid workers as they were distributing food in a village in southwestern Niger, their NGO said in a statement.
Kadidiatou Harouna, of the Action and Impact Progress (APIS), said on Thursday the assailants drove into the village in the Tillaberi region on Wednesday afternoon on a motorbike and told the victims to follow them.
She told the AFP news agency APIS, a partner of the UN World Food Programme, had worked in the volatile region near the borders with Burkina Faso and Mali "without problems" in the past year.
A German aid worker and an Italian priest were abducted in the region in 2018.
Gunmen in the area have previously stolen several vehicles of the International Committee of the Red Cross (ICRC) and Doctors Without Borders (Medecins Sans Frontieres, or MSF) in the region.
One of the MSF vehicles was used in May 2019 in a failed attack on a high-security prison near the Niger capital, Niamey, where fighters were being held, according to the authorities.
Fighters with links to al-Qaeda and the ISIL (ISIS) group have increasingly mounted attacks across the Sahel in recent years despite the presence of thousands of regional and foreign troops in the region.
The violence has hit Mali and Burkina Faso the hardest, rendering large swaths of those countries ungovernable, but it has also spilled into Niger, which shares long and porous borders with its two neighbours.
Full report at:
https://www.aljazeera.com/news/2020/06/armed-group-abducts-10-aid-workers-southwestern-niger-200625152015498.html?utm_source=iterable&utm_medium=email&utm_campaign=1317422_
--------
URL: https://www.newageislam.com/islamic-world-news/pakistan-pm-approves-grant-rs100/d/122232
New Age Islam, Islam Online, Islamic Website, African Muslim News, Arab World News, South Asia News, Indian Muslim News, World Muslim News, Women in Islam, Islamic Feminism, Arab Women, Women In Arab, Islamophobia in America, Muslim Women in West, Islam Women and Feminism