New Age Islam News Bureau
12 Apr 2017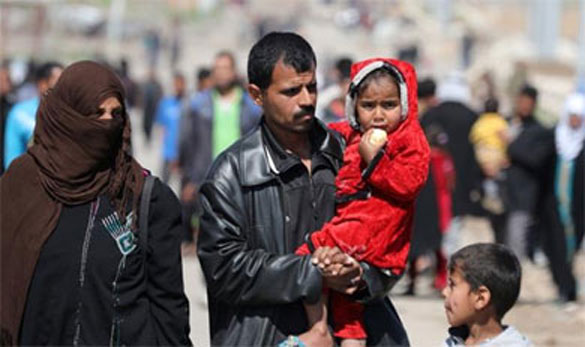 ISIL reportedly killed dozens of civilians attempting to flee Mosul last week [Andres Martinez Casares/Reuters]
----
• Pakistan Not To Be Part Of Alliance Against Any Muslim State: Asif
• Christian Kenya Wants To Become Hub For Muslim Tourism And Banking
• Muslim Personal Law Board Will End Triple Talaq In One-And-A-Half Years: VP AIMPLB
• ISIS Now Controls Less Than Seven Percent Of Iraq, Says Military
• Mantra At New Mosque In Dearborn Heights.: 'Islam For All'
Pakistan
• Pakistan Not To Be Part Of Alliance Against Any Muslim State: Asif
• Uzair Baloch Taken Into Military Custody: ISPR
• 'Spiritual Seats Meant To Guide, Not Receive Money'
• Building walls, fences won't end cross-border terrorism, says Afghan envoy
• Seven suspected Jamaat-ul-Ahrar militants arrested in Multan
• 70 more Pakistanis left in the lurch in Saudi Arabia
• Marriyum for strengthening Pak-China cultural ties
• Nisar involved in 'abduction' of friends: Zardari
• Two terrorists sent to gallows
--------
North America
• Christian Kenya Wants To Become Hub For Muslim Tourism And Banking
• US Recognises Pakistan's Sacrifices In Fight Against Terrorism: Pentagon
• US lawmakers raise doubts on sale of smart bombs to Saudi Arabia
• White House accuses Russia of Syria chemical attack 'cover up'
• Trump spokesman sparks outcry by comparing Assad to Hitler
• US MPs raise doubts on sale of smart bombs to KSA
• Age, ethnicity examined in survey on U.S. Catholics' views of Muslims
• Canadian school board centre of Muslim prayer row
--------
India
• Muslim Personal Law Board Will End Triple Talaq In One-And-A-Half Years: VP AIMPLB
• Abdul Basit's Terrorist Remark Mars Conference On Improving India-Pakistan Ties
• Jadhav case: Centre hints at Islamabad-Rawalpindi rift
• Pakistan's former prez Pervez Musharraf sees sharp rise in Indo-Pak tension
• After India saves Pak marines, Islamabad frees 63 fishermen
• Muslim Quota bill: assembly to be convened soon
--------
Arab World
• ISIS Now Controls Less Than Seven Percent Of Iraq, Says Military
• Dara'a: Army Blows Up Al-Nusra's TOW Missile Base, Kills Terrorist Commanders
• Al-Nusra Commander, Tens of Terrorists Killed, Wounded in Northern Hama
• Syria, militants set to evacuate 4 towns as part of deal: Sources
• Tillerson says no place for Assad in Syria's future
• New draft UN resolution calls for Syria gas attack probe
• Syrian Troops on March in Aleppo
• Military Source Warns of False Media Operation against Syrian Gov't
• Human Rights Official: Khan Sheikhoun Chemical Attack Orchestrated by Israel
• Homs: Army Soldiers Further Advance in Outskirts of Palmyra
• Syrian Army Wards Off ISIL Attack in Deir Ezzur
--------
Europe
• Mantra At New Mosque In Dearborn Heights.: 'Islam For All'
• Growing Risk Of 'Mass' Starvation Deaths In Africa, Yemen: UN
• Putin says expects 'fake' gas attacks to discredit Assad
• Stockholm attack suspect admits to 'terror crime'
• Mark Putin's 'explosive' revelation on US Syria raid, analyst says
• Russia ready to grant access to Syria airbase for 'gas attack' probe: Defence official
• Despite deadly attacks, Pope Francis will still go to Egypt
• Government harassment, use of force against religious groups increased sharply in Europe in 2015
--------
South Asia
• Myanmar Reiterates No Ethnic Cleansing Of Rohingya Muslims
• Haqqani Network's Coordinated Suicide Attacks Plot Foiled By Afghan Forces
• Family Meets Death Row HuJi Militant Chief Mufti Hannan
• Islamists Term Bangladesh PM's SC Idol Remark Victory
• Kandahar intelligence arrest 6 involved in major terrorist attacks
• Afghanistan aims to boost security sector with new appointments in NSC
• Senate mulls to summon security officials amid rising target killings in Kabul
• 200 US troops deployed in Helmand province of Afghanistan
--------
Southeast Asia
• A Missing Pastor And The Disappearances Chilling Malaysia
• Fix Your Own Non-Muslim Worship Places First, BN Told
• Indonesian graft investigator injured in acid attack
• Tackling Sex Re-assignment Surgery in Malaysia
• Indonesia seeks more Muslim tourists through Malaysian halal event
• Chinese official demoted for not smoking in front of Muslims
• In Indonesia, pious 'punks' promote Islam
• Europe Looks to Indonesia as Model of Peaceful Islam
--------
Mideast
• Yemeni President Says Houthis Have 'Sold Themselves' To Iran
• Palestinian Factions Vow To Break Up Badr Group In Lebanon
• Iran defence chief discusses US raid with Russia, Syria counterparts
• Iran lobbying world for Syria 'gas attack' probe
• Gaza security forces arrest suspected killer of top Hamas figure
• Blast at police HQ in Turkey was accident
• EU prolongs Iran human rights sanctions
• Five Sudanese troops fighting for Coalition killed in Yemen
--------
Africa
• Muslims And The Success Of South Africa's Religious Diversity
• Child Suicide Bombings Surge In Boko Haram Conflict: UNICEF
• UN warns of mass starvation in Africa, Yemen
• Burkina Faso: Security Alone Won't Save Burkina Faso From Extremism
• Uganda: Seventy Schools to Compete in This Year's Muslim Games
Compiled by New Age Islam News Bureau
URL: https://www.newageislam.com/islamic-world-news/pakistan-be-part-alliance-any/d/110740
--------
Pakistan not to be part of alliance against any Muslim state: Asif
April 11, 2017
ISLAMABAD: Federal Minister for Defence Khawaja Muhammad Asif on Tuesday reiterated Pakistan's resolve of not becoming part of any alliance against another Muslim state.
"Pakistan will not become part of any agreement which is against another Muslim state. We are bound to parliamentary dictate adopted in a resolution during the Yemen crisis," he said in response to a calling attention notice.
"However, we can be part of an alliance formed purely to fight against terrorism but not against any state. If an alliance is reached against any state, Pakistan shall not be part of it," he added.
Farhatullah Babar, mover of the notice, had drawn the attention of the minister towards permission granted to former Army Chief to join Saudi-led multi-nation Islamic Military Alliance to fight against terrorism and had expressed apprehensions that such an alliance could be used against another Muslim country like Yemen.
The minister dispelled the impression, stating that Pakistan had no designs against any other state and could not be part of any such alliance. "Not only Yemen but against any other Muslim state, Pakistan cannot be part of any alliance."
"We also hope that the alliance shall not be used against any Muslim state and if it happens, the government shall honour the
resolution of the Parliament not to become part of any such alliance."
He said that Pakistan possessed a respectable position among the Muslim world for being a nuclear power and having superior defence capabilities, and had always been ready to play a mediatory role among two brotherly Muslim nations whether those were Saudi Arabia and Iran, or Saudi Arabia and Yemen.
He said as far as security and integrity of Saudi Arabia and the Holy Places was concerned, Pakistan's support to Saudi Arabia was exemplary. "A specific number of our armed forces remains in Saudi Arabia all time, under a 1982 agreement and the number of deployment continues to change. Even a year back even our Navy and Air Force was also deployed in Saudi Arabia.
"We are not there for any conflict but for security and integrity of Saudi Arabia as well as the Holy Places," he added. "We also have no intention or understanding with the alliance to become part of any conflict against any other country."
He said that Pakistan had good brotherly relations with Iran, which played an important role in the success of recently held Economic Cooperation Organization summit. The Iranian President attended that conference with a large delegation, he added.
He said," It was high time to remove all barriers in progress of Muslim Ummah as due to foreign interventions many Muslim countries were facing a difficult time. We have to connect bonds of love and affection to strengthen the Muslim Ummah."
The minister said," There is no question of any involvement of Pakistan in any sect or religion based conflict rather we will continue playing our role as mediator between Muslim countries whether Iran and Saudi Arabia or any other.
"As we receive the TORs (terms of reference) of Islamic Military Alliance, we will share it with the parliament while the House will also be informed regarding issuing NOC to General Raheel Sharif and we will not bypass the House," he added. – APP
https://www.samaa.tv/pakistan/2017/04/pakistan-not-to-be-part-of-alliance-against-any-muslim-state-asif/
--------
Christian Kenya wants to become hub for Muslim tourism and banking
11/04/2017
Nairobi, Rajab 14,1438, April 11, 2017--The majority Christian nation Kenya wants to become a hub for Islamic tourism, banking and other services, experts said at
an East African Islamic Economy Summit held in Nairobi on Tuesday.
The meeting attended by bankers, investors and other experts was organized by the private sector to explore how the region can best target a market of 1.6 billion Muslims worldwide by offering goods and services in line with Islamic principles.
The Islamic economy encompasses not only a food industry with dietary requirements, but also sectors such as tourism, banking, insurance and capital markets.
Kenyan tourism official Najib Balala said the Tourism Ministry planned to publish guidelines for hotels and lodges that would seek to comply with Islamic law, or Sharia, in order to attract Muslim travellers, whose spending is expected toreach 230 billion dollars in 2020 worldwide.
Kenya has also created a team of experts to identify policies that would make the country's capital markets compliant with Sharia banking laws, said Paul Muthaura, chief executive of Kenya's Capital Markets Authority.
Some participants at the meeting, however, warned that catering to the Muslim market also implied challenges.
"It is very difficult to develop concepts that are acceptable to the governments in countries with liberal populations such as Italy," said Anna Maria Tiozzo, president of the Italian organization World Halal Development.
Tiozzo said her organization needed 10 years to push through the certification of Halal food products, with governments wary of being seen as favouring any particular religion.
http://menafn.com/1095387214/Christian-Kenya-wants-to-become-hub-for-Muslim-tourism-and-banking
--------
Muslim Personal Law Board Will End Triple Talaq In One-And-A-Half Years: VP AIMPLB
Apr 11, 2017
BIJNOR: The vice president of AIMPLB has said that the board will end the practice of triple Talaq itself in one-and-a-half years so the government should not interfere in the matter.
Kalbe Sadiq also advised the Muslims against eating beef.
Sadiq, who was here on Monday to attend a programme, was speaking to reporters at the residence of President of District Civil Bar Association.
The Shia scholar said the triple Talaq system was unfair to women, but it was a personal affair for the community and they would solve it themselves within one to one-and-a-half years. He said the government should not interfere in it.
On the issue of beef consumption, he said, in religious books, eating beef is not advised and Muslims should not have it.
Sadiq said if the government enacts laws banning cow slaughter and beef eating in the country, the Muslims would welcome it. He condemned the unlawful activities of cow vigilantes and demanded that it be stopped.
On the Ram temple issue, he said the dispute should end now and the Hindus and the Muslims should yield some ground to each other so that a compromise could be reached.
He said Muslims should not insist on making a mosque at the site where the temple would be built.
Sadiq said Muslim leaders were responsible for the poor state of the community.
He said Kashmiri youths should open their eyes and understand the nefarious designs of Pakistan. He said India should be united for it to become a prosperous country.
http://timesofindia.indiatimes.com/india/muslim-personal-law-board-will-end-triple-Talaq-in-one-and-a-half-years-vice-president/articleshow/58132634.cms
--------
ISIS Now Controls Less Than Seven Percent Of Iraq, Says Military
Apr 12, 2017
BAGHDAD - The Islamic State group now controls less than seven percent of Iraq, down from the 40 percent it held nearly three years ago, a military spokesman said Tuesday. Iraqi forces backed by US-led air strikes and other support are now battling IS inside second city Mosul, after retaking much of the other territory the jihadists had seized.
"Daesh controlled 40 percent of Iraqi land" in 2014, Brigadier General Yahya Rasool told reporters, using an Arabic acronym for IS. "As of March 31 (this year), they only held 6.8 percent of Iraqi territory," said Rasool, the spokesman of the Joint Operations Command coordinating the anti-jihadist effort.
Various members of the forces, Iraqi and foreign, battling the jihadists have disagreed in the past on figures about control of territory, but IS has been losing ground steadily for close to two years. The most brutal organisation in modern jihad shocked the world when it took over Mosul in June 2014 and then swept across much of the country's Sunni Arab heartland. Its reach in Iraq peaked in August the same year when a second offensive saw it take over areas of northern Iraq that were home to various minorities and had been under the control of forces from the country's autonomous Kurdish region's forces. Iraqi forces with the backing of the US-led coalition -- which has thousands of military personnel deployed in Iraq and carries out daily air strikes -- began a major offensive to retake Mosul in October 2016.
They retook control of the eastern side of the city, which is divided by the Tigris River, in January and have since mid-February been battling diehard jihadists holed up in their last west Mosul redoubts. The full recapture of Mosul, the de facto capital of the "caliphate" that IS proclaimed nearly three years ago, would end the jihadists' dreams of a cross-border state. Speaking at the same press conference in Baghdad on Tuesday, the spokesman for the US-led coalition vowed that Iraq would not be abandoned after the recapture of Mosul. "Once that task is accomplished, the coalition will be here to support our Iraqi partners as they eliminate IS from every corner of Iraq," Colonel John Dorrian said.
"Though the fighting is going to be very hard... this enemy is completely surrounded. They aren't going anywhere -- they will be defeated and the people of Mosul will be free," he said.
The coalition has come under criticism following an air strike in west Mosul last month that took a heavy toll on civilians, a strike it admitted may have been its own. "Every strike that we conduct, we conduct using precision-guided munitions. Every strike that we conduct is coordinated directly with the Iraqi security forces," Dorrian said.
"We are very careful. We never, ever target civilians. Never. We reject anyone who says that we do, that is not happening, we only target Daesh," he said, using an Arabic acronym for IS.
But even if IS members are targeted, the fact that they are operating in areas still home to large numbers of residents means that civilians can easily still end up the victims. IS still controls the large towns of Hawijah and Tal Afar, as well as remote areas along the border with Syria in western Iraq. In Syria itself, it also holds the city of Raqa and other areas.
http://nation.com.pk/international/12-Apr-2017/is-now-controls-less-than-seven-percent-of-iraq-says-military
--------
Mantra At New Mosque In Dearborn Heights.: 'Islam For All'
April 12, 2017
Dearborn Heights — Inside a former church on Ford Road is a room that soon will be filled with high-tech equipment to broadcast the message of Islam to the world.
The room will be stocked with computers, video cameras and other media equipment to produce online sermons, radio programs and a comprehensive website aimed at reaching Muslims here and around the English-speaking Islamic world.
The project is part of the Islamic Institute of America, a new mosque in Dearborn Heights led by Imam Hassan Al-Qazwini — one of Metro Detroit's most prominent Muslim leaders. Hundreds of people attended the first Friday prayers at the mosque last week.
Al-Qazwini, 52, led the region's most prominent mosque, the Islamic Center of America in Dearborn, until resigning nearly two years ago amid controversy. Now he has ambitious plans for a new community.
Among them: monthly interfaith seminars for non-Muslims, a social work outreach to those suffering from problems such as drug addiction and domestic violence, a youth speakers bureau to fulfill growing community requests, a Middle Eastern gift shop and numerous educational programs for youth as well as an arcade in the basement for kids.
Also envisioned by Al-Qazwini is the nation's first seminary to train Shia imams — so American-born Muslims don't have to leave the U.S. and spend years in the Middle East, like Al-Qazwini did and where his two sons are studying to be Islamic spiritual leaders.
Most important is Al-Qazwini's new mantra: "Islam for All." It's a message he intends to spread especially to non-Muslims who may be familiar with the religion only through news coverage of Islamic extremist groups and federal policies such as the Trump administration's travel ban.
"We as Muslims owe it to the American people to tell them what Islam is," Al-Qazwini said. "Islam is not a cult. It is a religion followed by over 1.6 billion people around the world. ... Yet many Americans don't know basically anything about Islam. Many Americans have not met a Muslim in their life.
"There are so many misconceptions about Islam. We are bombarded in the media outlets; we are shown images of violence and graphic images of terrorists beheading people and unfortunately that is being done in the name of Islam.
"So it is right to educate, to dispel the misconceptions, fight the propaganda and to tell people you have to discern between Islam as a peaceful religion and fringe groups that are trying to hijack the religion for their political gain."
The Islamic Institute of America joins 70 other mosques serving an estimated 300,000 Muslims in southeast Michigan, said Dawud Walid, executive director of the Council on American-Islamic Relations-Michigan. It comes as Islam is the fastest growing religion in the world, with 3.3 million followers in the U.S., according to the Pew Research Center.
Al-Qazwini, a native of Iraq, came to southeast Michigan in 1997 to be the spiritual leader of the Islamic Center of America, then a still-fledgling mosque on Joy Road in Detroit.
Some consider him to be one of the most important teachers of Islam in the region.
"He's is a father of this community," said Tanya Faraj, a Dearborn Heights resident who lives a few blocks away from the new mosque. "We grew up under him."
Under Al-Qazwini's leadership, the Islamic Center of America grew into Metro Detroit's largest Islamic community and moved into a new facility on Ford Road in 2005. But in June 2015, the imam resigned.
Al-Qazwini declined to discuss his departure, saying he wants to move forward.
Some say he left because of a clash of ideas with board members. Others say his departure was over anonymous letters that accused him of mishandling money and using donations for an orphanage and a soon-to-open hospital, both run by his father, in Iraq.
A few others suggest he left because the center's board was mostly older men who spoke primarily Arabic and Al-Qazwini wanted his work to reflect the broader Islamic community, including women, youth and English speakers.
"There are so many different sides to the story — ask 10 different people, you will get different stories," said Kassem Allie, executive administrator of the Islamic Center of America. "Anything they do that is constructive and brings some education and some resources for the congregations, we support. We are behind them and wish them well."
Imam Ibrahim Yassine, one of the new spiritual leaders at the Islamic Center of America, agrees.
"He's an imam and Islamic scholar," Yassine said. "It's his duty to guide people, to advise people, to teach people how to be good Muslims. That is his duty regardless of what happened at the Islamic Centre. Right now, the community is a big community, and it needs more work and more guidance."
Al-Qazwini attributed his outreach work to his father, Ayatollah Sayid Mortadha Al-Qazwini, whom he described as a social religious reformer who built an orphanage for 6,000 children in Iraq in 2007, and is poised to open the hospital in the holy city of Karbala, Iraq, next month.
"Religion should not be translated into simple rituals," Al-Qazwini said. "Rather, it is an all-encompassing tool that can be a powerful dynamic to change people's life for the better."
Al-Qazwini said he fled Iraq in 1971 with his parents and eight siblings when he was 7 because his father was a vocal critic of Saddam Hussein, then Iraq's ruler. He lived in Kuwait until 1980, then studied in Iran to become an imam from 1980-92. Afterward, he moved to Los Angeles to work with his father at a mosque before moving to Metro Detroit.
He has been married for 33 years and is the father of six children ranging in age from 10 to 32.
After Al-Qazwini left the Islamic Center of America in 2015, he took many followers to worship at a mosque where he had started his work, on Joy Road in Detroit.
After months of searching for a new facility, Al-Qazwini finally found a building less than four miles away from the Dearborn mosque where he once served.
Hundreds of people came to the new mosque last week for Friday prayers in the building's gymnasium. They walked through the halls, hugging each other and greeting one another in Arabic: "Peace be with you."
Among the crowd was Salam Anani, a Dearborn Heights resident.
"I am so happy and excited," Anani said. "This is going to be a new home for us. Finally, we can come to a place we can call home."
"What really matters is where you can function freely and you can work your conscience without forces pushing right and left … a truly nice place is not a place that looks beautiful, but one that truly gives you the opportunity to fly and to flourish and to do the program you really aspire to," Al-Qazwini said. "And I have found that here."
http://www.detroitnews.com/story/news/local/wayne-county/2017/04/12/mission-new-mosque-dearborn-hts-islam/100354934/
--------
Pakistan
Uzair Baloch taken into military custody: ISPR
Apr 12, 2017
Uzair was arrested by Rangers personnel outside Karachi last year in January in what the paramilitary force said was a raid.
The court had then handed him over to the police on remand. A JIT formed to probe the case in May 2016 said Uzair had allegedly worked for an Iranian intelligence agency, and had recommended that the head of the outlawed Peoples Amn Committee be tried by a military court for 'espionage'.
The JIT report signed by representatives of the Sindh police, Rangers and intelligence agencies was sent to the home department on April 29 last year for "perusal and necessary action".
According to the JIT report, a copy of which is available with Dawn, Uzair was involved in "espionage activities by providing secret information regarding army installations and officials to foreign agents (Iranian intelligence officers) which is a violation of the Official Secret Act 1923"
Entangled in controversy
The saga of Uzair's arrest is embroiled in controversies as more than a year after his arrest in Dubai by Interpol, he mysteriously surfaced in Karachi only to be caught by Sindh Rangers in their 'targeted action'.
Uzair, once known for his loyalty to the Pakistan Peoples Party (PPP) and close contacts with its certain leaders, was declared absconder in over 40 cases pending before ATCs.
Around 35 cases pertaining to murder, attempted murder and attacking the police were registered against him during the operation conducted in Lyari in 2012.
Explore: Herald In-depth ─ Lyari live
He was also declared a proclaimed offender in the triple murder of Arshad Pappu, the alleged leader of a Lyari gang, his brother Yasir Arafat and their confidant Juma Shera, who were killed in Lyari in March 2013.
A few hours after he was caught by the Rangers in early 2016, Uzair was produced before the administrative judge of the antiterrorism courts in Karachi and informed that his arrest was made "in Chakiwara" — a Lyari area that is not on the outskirts of Karachi — and of his three-month detention for inquiry.
He was held under 90-day preventive detention by the Rangers, who later handed him over to police.
While the high-profile arrest caused quite a stir in the national political scene because of Uzair's previous association with the PPP, the official version of the actual events remain shrouded in mystery.
On Dec 29, 2014, Uzair was arrested in Dubai by Interpol when he was crossing into the United Arab Emirates from Muscat by road. The Interpol move was confirmed by the Pakistani authorities and within a week they sent a Karachi police team to the UAE to get Uzair's custody but to no avail.
Later, the same team visited the Gulf state several times, met security officials there and also held meetings with Interpol but did not succeed. However, it was reported that the UAE authorities secretly handed over Uzair to Pakistani sleuths who later brought him to the country last year.
Since then, the former chief of the banned Peoples Aman Committee along with alleged Lyari gangsters — Amin Buledi, Ramzan alias Ramzani, Abdul Ghaffar alias Mama and Zubair Baloch — has been booked in five murder cases, including the killing of an SHO, and two cases of police encounters registered during the 2012 Lyari operation.
However, last week a trial court acquitted Baloch of a case pertaining to an attack he allegedly carried out on police in Lyari in 2012 due to a lack of evidence.
Despite the acquittal, he has numerous cases pending against him.
https://www.dawn.com/news/1326325/uzair-baloch-taken-into-military-custody-ispr
--------
'Spiritual Seats Meant To Guide, Not Receive Money'
April 12, 2017
LAHORE - Aalmi Chaddar Orh Tehrik chief Pir Kabir Ali Shah says people working at the spiritual seats are supposed to guide their followers, not receive donations from them. Fake spiritual leaders are bringing bad name to the genuine ones, he said while addressing the participants of Urs of Syed Faqir Muhammad Gilani Chaurahi. A large number of his followers from various parts of the country attended the Urs. Pir Kabir regretted that those associated with spiritual seats were fighting because of financial interests. He cited the example of a recent tragedy in Sargodha, in which the so-called spiritual leader killed some 20 people for the sake of money.
The ACOT chief said he had directed his followers not to donate anything to his shrine after his death. He also asked them to pledge that they would not use narcotics.
Full report at:
http://nation.com.pk/lahore/12-Apr-2017/spiritual-seats-meant-to-guide-not-receive-money
--------
Building walls, fences won't end cross-border terrorism, says Afghan envoy
Apr 12, 2017
PESHAWAR: Expressing strong opposition to the fencing of the Durand Line, Ambassador Dr Hazrat Omar Zakhilwal said here on Tuesday that it would be better for Pakistan and Afghanistan to solve the issue through dialogue instead.
He was speaking to journalists after visiting the UN Voluntary Repatriation Centre (VRC) for refugees at Chamkani.
Building a fence along the border did not serve the interest of the two neighbours, he stressed when asked about the Pakistan government's move to build a fence on its side of the border to prevent the infiltration of militants from Afghan territory. "There is a need to change policies instead of erecting walls and fences on the border to eradicate terrorism."
On March 25, Army Chief Gen Qamar Javed Bajwa announced that the fencing of the border in Bajaur and Mohmand agencies had begun. The two areas have been declared "high-threat zones" as militants frequently attack security posts in the two tribal agencies. Dr Zakhilwal said that Afghanistan would never support fencing of the border because it was in the interest of neither the two countries nor their people. "This is the 21st century and there is a need to remove walls rather than building fences on borders," he said.
Advises Islamabad to resolve the issue through dialogue instead
People of the same nation (Pakhtuns) resided on both sides of the border and the Afghan government was not in favour of increasing distances among them, he explained, adding that Pakistan would not close the border with Afghanistan in future.
While he admitted that there was tension between the two countries, he stressed that talks were under way to solve those problems.
When asked about his recent meeting with National Security Adviser retired Lt Gen Nasir Khan Janjua, the ambassador said he had met the heads of various institutions, including Gen Janjua, to improve bilateral relations.
He said he had discussed the repatriation of refugees with the adviser, and added that the situation had changed and that his government would not seek facilities or extension for refugees in Pakistan. "Instead of seeking extension we discussed the return of refugees," he said.
Dr Zakhilwal hoped that the returning refugees would bring about a positive impact on the economy and political stability of Afghanistan. He said that over 700,000 Afghans including undocumented refugees, had returned to their native lands last year. "Thousands of refugees will go to their country this year," he said.
Replying to a question, the ambassador said the large scale return of refugees had overburdened the UN agency's budget which had forced the UNHCR to deduct its cash assistance from $400 to $200 for every returning individual this year.
He said the cash assistance was increased in June 2016 to encourage refugees to return to Afghanistan under a voluntary repatriation programme. The UN agency pays $200 to every returning refugee. He urged Afghans to end their life in refuge and live with honour and dignity in their own country.
Full report at:
https://www.dawn.com/news/1326404/building-walls-fences-wont-end-cross-border-terrorism-says-afghan-envoy
--------
Seven suspected Jamaat-ul-Ahrar militants arrested in Multan
IMRAN GABOL
Apr 12, 2017
Seven suspected terrorists said to be associated with the Jamaat-ul-Ahrar were arrested in Multan on Monday by the Counter Terrorism Department (CTD), it has been learnt.
According to the CTD spokesperson, the suspected belligerents were stationed at Severra Chowk in Multan and were caught with hand grenades and heavy explosives in their possession.
The CTD had received information that the terrorists were planning to attack vital installations within the city, after which they conducted a raid near Severra Chowk, the spokesperson said.
A first information report (FIR) has been registered against the suspects and an investigation has been launched at the crime scene.
Two suspects nabbed in Gujranwala
Similarly, a raid conducted by CTD officials in Gujranwala resulted in the arrest of two suspected terrorists who belong to proscribed organisations, a CTD spokesperson confirmed.
The raid was conducted after the law enforcement agency received information that the pair was planning to attack sensitive installations within the vicinity of Sialkot.
During the raid, the CTD team recovered explosive material and detonation equipment from their possession.
After an FIR was registered against the pair, an investigation has been started into the matter.
Full report at:
https://www.dawn.com/news/1326318/seven-suspected-jamaat-ul-ahrar-militants-arrested-in-multan
--------
70 more Pakistanis left in the lurch in Saudi Arabia
April 12, 2017
ISLAMABAD - Another batch of around 70 Pakistani workers in Saudi Arabia has been left to live on the breadline after not being paid for over a year by a construction firm — "Redico-KSA".
The stranded Pakistan workers said that the situation was increasingly becoming desperate for them after they were not paid salaries and their permits (iqamas) not renewed.
The Nation has learnt that these affected Pakistani workers in Saudi Arabia have not been paid salaries by Redico for the last over a year, and their permits have not been renewed/issued for the last two years.
These stranded penniless Pakistanis, most of them labourers, were living in Jubail RC camps 2 and 14 after they found it difficult to manage their daily expenditures without salaries.
The non-renewal of 'iqamas' has made it impossible for them to work somewhere else or with other firms or owners as it was against the Saudi labour laws.
Jumma Khan, an affected employee of Redico, who hailed from Islamabad, said that they were facing the worst kind of employment exploitation. He said that they have got no assistance from the Pakistani embassy in the Kingdom despite repeated requests.
He said that when they contacted the Pakistani embassy six months back, the officials told them that the computer system of the embassy had been hacked and once it was restored, the embassy will assist them.
"It has been six months now but the embassy has done nothing for us, leaving us in the lurch in a far-off land," Khan said with trembling voice.
On March 22, Azad Jammu and Kashmir Prime Minister Raja Farooq Haider through a letter addressed to Minister for Overseas Pakistanis Pir Syed Sadaruddin Shah Rashidi also made a request to help out these trapped workers but nothing has been done in this regard.
When contacted, Foreign Office spokesman Nafees Zakaria said that there were 105 Pakistani employees in Redico, and of them, 49 have switched over to other companies.
He said that at the moment, the total number of the affected Pakistanis was 56. Zakaria confirmed that these Pakistani employees have not been paid salaries and other benefits by the firm as per the contract.
"Relatives of most of the affected Pakistanis have been paid Rs50,000 each under the prime minister scheme," Zakariya claimed. However, his claim was rejected by the affected Pakistanis, who told The Nation, that relatives of only 5 to 7 people have got an amount of Rs10000 to Rs15,000 and not Rs 50,000.
The FO spokesperson also said that these stranded Pakistanis have registered a case in local labour court, whereas the Pakistanis embassy staff was in contact with Saudi Ministry of Labour and Royal Commission as well as the administration of Redico to sort out the issue.
Full report at:
http://nation.com.pk/national/12-Apr-2017/70-more-pakistanis-left-in-the-lurch-in-saudi-arabia
--------
Marriyum for strengthening Pak-China cultural ties
April 12, 2017
ISLAMABAD - Minister of State for Information, Broadcasting and National Heritage Marriyum Aurangzeb while launching a `Film Club' with Chinese film show "Postman in the Mountains" under the auspices of Pakistan National Council of Arts here on Tuesday, said that the relations between Pakistan and China were beyond the realm of normal diplomatic ties and no diplomatic phrase could describe them in their true perspective.
She said it was an unbreakable and eternal connect between the two peoples steeped in love and indescribable emotions of affinity.
She said that her four generations have witnessed the growth of relations between the two peoples, which presently have touched dizzying heights, making all the phrases like deeper than sea, higher than Himalayas and stronger than steel most redundant and we might have to find or coin a new terminology to describe them.
She said that films were a very strong medium that could help in strengthening and reinforcing cultural ties between the two countries and give a new dimension to them.
Marriyum revealed that the Ministry of Information and Broadcasting was in the process of formulating the first ever policy for film and broadcasting production aimed at reviving the almost extinct film industry in the country.
The Minister said that since Chinese had a very developed film industry, Pakistan could learn a lot from their experience and might even go for joint production for the audience of both the countries as well as the international viewers.
The Minister said that the film and broadcasting production was not only about entertainment.
She said that they were very powerful tools for community outreach and global connectivity and also had the ability to provide and promote multiple perspectives on historical events, social mores and norms, unleashing the process of transformational change that discouraged the emergence of fissiparous and divisive tendencies in a society as well as the development of national narratives on the challenges confronted by the country.
The films by encouraging creativity can also help in harmonizing the cultural values with the new regional and global cultural trends to avoid confrontational scenarios, she added.
Marriyum said that the need for more focus on the cultural industries like film and broadcasting production and integrating their creative potential into the public policies could also nudge the development process of the country.
Full report at:
http://nation.com.pk/national/12-Apr-2017/marriyum-for-strengthening-pak-china-cultural-ties
--------
Nisar involved in 'abduction' of friends: Zardari
April 12, 2017
LAHORE:- Former president and PPP Co-Chairman Asif Ali Zardari has accused Interior Minister Chaudhry Nisar Ali Khan of playing a role in "abduction" of his friends. Talking to a private TV channel, Zardari accused the federal government of abducting his friends and close aides. The former president said that Nisar should resign if he has his hands tied. While talking about death sentence awarded to Kulbhushan Jadhav, Zardari said that Pakistan would punish Indian spies whenever caught.–Monitoring Desk
http://nation.com.pk/national/12-Apr-2017/nisar-involved-in-abduction-of-friends-zardari
--------
Two terrorists sent to gallows
April 12, 2017
SAHIWAL - Two terrorists were sent to the gallows here in High Security Prison Sahiwal Tuesday morning.
Both the terrorists were convicted on charging of attacks on security forces and involvement in terror activities. A military court had convicted both the terrorists.
Fazal Haq, resident of Mangal Banda Peer Khan, District Abbottabad, was sentence to death by military court on November 11, 2016. Another terrorist Muhammad Shahid Umer was the resident of Umra Khoon Khel Sar Kehli Banda, district Battagram and was sentenced on similar charges.
Full report at:
http://nation.com.pk/national/12-Apr-2017/two-terrorists-sent-to-gallows
--------
North America
US recognises Pakistan's sacrifices in fight against terrorism: Pentagon
ANWAR IQBAL
Apr 12, 2017
The US Department of Defence said on Tuesday that it authorised the disbursement of $550 million to Pakistan this year as recognition of the significant sacrifices the Pakistani military has made in the fight against terrorism.
The money comes from the Coalition Support Funds (CSF), which reimburses Pakistan for providing logistical, military, and other support to US operations in Afghanistan. This amount was set aside for this purpose in the US fiscal year 2016, which ended on Sept 30, and covers the services provided from January to June 2015.
"The department recognises the significant sacrifices the Pakistan military has made in the fight against terrorism, and appreciates Pakistan's continued support for transit of material to coalition forces in Afghanistan," said Adam Stump, a US Defence Department spokesman.
This disbursement uses CSF funds that are not restricted by the Secretary of Defence certification of Pakistan's actions on the Haqqani network. In the 2016 US National Defence Authorisation Act, Pakistan was slated to receive up to $900m from the CSF but the disbursement of the remaining $350m will require the secretary of defence to certify that Pakistan has taken sufficient action against the Haqqani network.
"The secretary has not yet made a decision on certification," Mr Stump said, noting that the Pakistani people had made significant sacrifices over the last three years in order to counter terrorism.
"We continue to be encouraged by Pakistan's operations in North Waziristan and elsewhere in the Federally Administered Tribal Areas. Pakistan's efforts have reduced the ability of some militant groups to use North Waziristan and Fata as a safe haven for terrorism," the US official said.
Mr Stump pointed out that it was in the interest of Pakistan to "eliminate all safe havens and reduce the operational capacity of all militant organisations, particularly Al Qaeda, Tehreek-i-Taliban Pakistan, the Afghan Taliban, including the Haqqani network, Lashkar-e-Taiba". He noted that such other militant groups were a threat to both US and Pakistani interests and to regional stability.
In 2016, the US secretary of defence declined to certify that Pakistan met the Haqqani certification requirement, resulting in the loss of $300m from the CSF for 2015.
The Department of Defence also noted that CSF authority was not security assistance, but reimbursements to key cooperating nations for logistical, military, and other support provided to US combat operations. Pakistan is the largest recipient of CSF reimbursements, receiving roughly $14 billion since 2002. CSF is just one component of America's broad and enduring partnership with Pakistan.
Earlier this month, the US Congress adopted the defence appropriation bill for 2017, which also sets aside $900m for providing economic and military assistance to Pakistan from the funds earmarked in 2016.
A recent study, authored jointly by former ambassador Hussain Haqqani and Lisa Curtis of the Heritage Foundation, suggested stopping US assistance to Pakistan, particularly to its defence establishment, to force Islamabad to follow US policy guidelines.
Ms Curtis is now a senior director for South and Central Asia at the White House National Security Council, which enables her to influence key policy decisions about Pakistan.
Last month, Congressman Ted Poe, Chairman of the House Subcommittee on Terrorism, introduced a bill in the House of Representatives, seeking to get Pakistan declared a state sponsor of terrorism. The designation would automatically stop all civilian and military assistance to Pakistan. Mr Poe and his colleagues had introduced such bills in the past as well, which were all rejected because of lack of support.
Published in Dawn, April 12th, 2017
https://www.dawn.com/news/1326390/us-recognises-pakistans-sacrifices-in-fight-against-terrorism-pentagon
--------
US lawmakers raise doubts on sale of smart bombs to Saudi Arabia
Apr 12, 2017
A group of lawmakers in the United States said on Monday they had requested more information from President Donald Trump's administration about the potential sale of precision-guided munitions to Saudi Arabia, expressing concern about civilian casualties in Riyadh's campaign in Yemen that delayed the deal last year.
Thirty mostly Democratic lawmakers signed the letter to US Secretary of State, Rex Tillerson, and Secretary of Defence, James Mattis, citing expectations that the administration plans to go ahead with the sale.
"As you know, the previous administration made the decision in December 2016 to halt a planned sale of precision-guided munitions (PGM) to Saudi Arabia due to concerns over widespread civilian casualties and significant deficiencies in RSAF's (the Saudi Air Force's) targeting capabilities," the letter, dated Friday but released on Monday, said.
"According to recent reports, however, the State Department has now reversed course and removed the suspension on these PGM sales," they said in the letter, led by Representative Ted Lieu, a Democratic member of the House Foreign Affairs Committee.
The State and Defense Departments do not comment on planned arms sales before formal notification is sent to Congress.
In December, then-President Barack Obama's administration decided to halt the sale of the systems, manufactured by Raytheon Co, that convert bombs into precision-guided munitions because of concerns about the extent of civilian casualties during Saudi Arabia's campaign in Yemen.
Full report at:
http://nation.com.pk/international/11-Apr-2017/us-lawmakers-raise-doubts-on-sale-of-smart-bombs-to-saudi-arabia
--------
White House accuses Russia of Syria chemical attack 'cover up'
Apr 12, 2017
President Donald Trump's administration accused Russia on Tuesday of trying to shield Syria's government from blame for a deadly gas attack, as Secretary of State Rex Tillerson brought a Western message to Moscow condemning its support for President Bashar al-Assad.
Trump, who has faced criticism for lacking a broader strategy to deal with the Syria crisis, insisted he has no plans to "go into" the war-torn country.
Senior White House officials, briefing reporters on condition of anonymity, said Assad's government carried out the April 4 sarin nerve gas attack on civilians in Syria's Idlib province, killing 87 people including many children, to put pressure on rebels making advances in the area.
Russia has defended the Syrian leader against U.S. allegations that his forces carried out the attack, saying there is no evidence. Russia has blamed Syrian rebels.
"It's clear that the Russians are trying to cover up what happened there," one White House official said.
White House spokesman Sean Spicer later told reporters that the facts backed up the U.S. version of events. "Russia is on an island when it comes to its support of Syria or its lack of, frankly, acknowledgment of what happened," he told reporters.
But at the same briefing Spicer drew criticism after he sought to underscore the ghastliness of the gas attack by saying, "You had someone as despicable as Hitler who didn't even sink to using chemical weapons." Nazi Germany used gas chambers to kill millions of Jews during the Holocaust.
Spicer later apologized and said he should not have made the comparison. "It was a mistake. I shouldn't have done it and I won't do it again," Spicer told CNN in an interview. "It was inappropriate and insensitive."
The White House officials said Russia has frequently offered multiple, conflicting accounts of Syrian government aggression including the incident in the village of Khan Sheikhoun to sow doubt within the international community.
The United States launched 59 cruise missiles at a Syrian airfield on Thursday to retaliate after the attack. The strikes thrust the administration of President Donald Trump, who came to power in January calling for warmer ties with Russia, into confrontation with Moscow.
Trump's ambassador to the United Nations, Nikki Haley, said on Tuesday she thought Russia knew about the chemical attack in advance. "They didn't look shocked. They didn't look surprised. They were so quick to defend. And then the evidence comes out, and we see exactly what it is and we know exactly what the environment was. Then you realize," she said on CNN.
U.S. intelligence indicates that the chemical agent in the attack was delivered by Syrian Su-22 aircraft that took off from the Shayrat airfield, according to a White House report given to reporters.
In a four-page document, the White House sought to rebut many of Moscow's claims about the circumstances of the attack. It said the Syrian planes were in the vicinity of Khan Sheikhoun about 20 minutes before the attack and left shortly afterward.
"Additionally, our information indicates personnel historically associated with Syria's chemical weapons program were at Shayrat airfield in late March making preparations for an upcoming attack in northern Syria, and they were present at the airfield on the day of the attack," the report said.
Washington wants Russia to stop supporting Assad, who has been fighting a six-year-long civil war against mostly Sunni Muslim rebels, also with the backing of Shi'ite Muslim Iran.
TILLERSON MESSAGE
Tillerson carried a message from world powers to Moscow denouncing Russian support for Assad, as the Trump administration took on America's traditional mantle as leader of a unified West.
Tillerson earlier met foreign ministers from the Group of Seven advanced economies and Middle Eastern allies in Italy. They endorsed a joint call for Russia to abandon Assad.
"It is clear to us the reign of the Assad family is coming to an end," Tillerson told reporters in Italy. "We hope that the Russian government concludes that they have aligned themselves with an unreliable partner in Bashar al-Assad."
He said Russia had failed in its role as sponsor of a 2013 deal in which Assad promised to give up chemical weapons.
Russia says the chemicals that killed civilians last week belonged to rebels, not Assad's government, and accused the United States of an illegal aggression on a false pretext.
Russian President Vladimir Putin said on Tuesday he believed Washington planned more missile strikes, and that rebels were planning to stage chemical weapons attacks to provoke them.
"We have information that a similar provocation is being prepared ... in other parts of Syria including in the southern Damascus suburbs where they are planning to again plant some substance and accuse the Syrian authorities of using" chemical weapons, Putin said.
Trump denied further plans in Syria.
"We're not going into Syria," he said in an interview with the New York Post. "Our policy is the same; it hasn't changed. We're not going into Syria."
A senior Trump administration official called Putin's remarks part of a Russian "disinformation campaign."
The United States, Britain and France have proposed a revised draft resolution to the 15-member U.N. Security Council similar to a text they circulated last week pushing Syria's government to cooperate with investigators.
Full report at:
http://nation.com.pk/international/12-Apr-2017/white-house-accuses-russia-of-syria-chemical-attack-cover-up
--------
Trump spokesman sparks outcry by comparing Assad to Hitler
Apr 12, 2017
White House spokesman Sean Spicer triggered an uproar on Tuesday by saying Adolf Hitler did not use chemical weapons. He apologized after his comments drew immediate criticism on social media and elsewhere for overlooking the fact that millions of Jews were killed in Nazi gas chambers.
Spicer made the assertion at a daily news briefing, during a discussion about the April 4 chemical weapons attack in Syria that killed 87 people. Washington has blamed the attack on the government of Syrian President Bashar al-Assad.
"You had someone as despicable as Hitler who didn't even sink to using chemical weapons," Spicer said when asked about Russia's alliance with the Syrian government.
The Nazis murdered six million Jews during World War Two. Many Jews as well as others were killed in gas chambers in European concentration camps.
When a reporter asked Spicer if he wanted to clarify his comments, he said: "I think when you come to sarin gas, there was no, he was not using the gas on his own people the same way that Assad is doing."
Later on Tuesday, Spicer apologized and said he should not have made that comparison.
"It was a mistake. I shouldn't have done it and I won't do it again," Spicer told CNN in an interview. "It was inappropriate and insensitive."
Spicer's assertion, made during the Jewish holiday of Passover, sparked instant outrage on social media and from some Holocaust memorial groups who accused him of minimizing Hitler's crimes.
"Sean Spicer now lacks the integrity to serve as White House press secretary, and President Trump must fire him at once," said Steven Goldstein, executive director of the Anne Frank Center for Mutual Respect.
Shortly after the White House briefing, Spicer emailed a statement to reporters in response to their queries, but had stopped short of offering an explicit apology.
"In no way was I trying to lessen the horrendous nature of the Holocaust. I was trying to draw a distinction of the tactic of using airplanes to drop chemical weapons on population centers. Any attack on innocent people is reprehensible and inexcusable," Spicer said in the statement.
The U.S. Holocaust Museum did not mention Spicer's comments directly, but sent out a tweet shortly after the briefing that showed graphic footage of dead bodies U.S. forces found while liberating the Buchenwald concentration camp.
The video was retweeted more than a thousand times, with many Twitter users referencing Spicer's comments.
U.S. House Democratic leader Nancy Pelosi called on Republican President Donald Trump to reject Spicer's assertion.
"Sean Spicer must be fired, and the President must immediately disavow his spokesman's statements," Pelosi said in a statement.
The White House did not immediately respond when asked to comment on Pelosi's statement.
Full report at:
http://nation.com.pk/international/12-Apr-2017/trump-spokesman-sparks-outcry-by-comparing-assad-to-hitler
--------
US MPs raise doubts on sale of smart bombs to KSA
Apr 12, 2017
WASHINGTON - A group of US lawmakers said Monday they had requested more information from President Donald Trump's administration about the potential sale of precision-guided munitions to Saudi Arabia, expressing concern about civilian casualties in Riyadh's campaign in Yemen that delayed the deal last year. Thirty mostly Democratic lawmakers signed the letter to U.S. Secretary of State, Rex Tillerson, and Secretary of Defense, James Mattis, citing expectations that the administration plans to go ahead with the sale.
"As you know, the previous administration made the decision in December 2016 to halt a planned sale of precision-guided munitions (PGM) to Saudi Arabia due to concerns over widespread civilian casualties and significant deficiencies in RSAF's (the Saudi Air Force's) targeting capabilities," the letter, dated Friday but released on Monday, said.
"According to recent reports, however, the State Department has now reversed course and removed the suspension on these PGM sales," they said in the letter, led by Representative Ted Lieu, a Democratic member of the House Foreign Affairs Committee.
Full report at:
http://nation.com.pk/international/12-Apr-2017/us-mps-raise-doubts-on-sale-of-smart-bombs-to-ksa
--------
Age, ethnicity examined in survey on U.S. Catholics' views of Muslims
April 11, 2017
WASHINGTON (CNS) — A new update to a 2016 study on Catholic perceptions of Islam finds little difference in answers from a variety of age groups and ethnicities.
The initial survey, "Danger and Dialogue: American Catholic Opinion and Portrayals of Islam," was conducted by the Center for Applied Research in the Apostolate at Georgetown University for the university's Bridge Initiative, which studies Islamophobia. The study, released last September, revealed that Catholics often have negative or limited views about Islam.
According to the data, three in 10 Catholics admit to having unfavorable views about Muslims, Catholics are less likely than the Americans in the general public to know a Muslim personally, and nearly 50 percent of Catholics can't name any similarities between Catholicism and Islam.
When CARA broke down the numbers to reveal the age and ethnicity of respondents, which were released April 3, the usual differences were missing.
"Usually when CARA looks at Catholic data, there are huge differences by age, ethnicity," said Mark Gray, senior research associate at CARA. "We don't see the same differences in this survey that we'd expect. This shows that the attitudes/beliefs are generally widespread across the population."
Jordan Denari Duffner, a research fellow at Georgetown University's Bridge Initiative, said she was particularly surprised by the findings about age because she expected young Catholics would have more exposure to Muslims and more positive attitudes toward Muslims.
She also found it striking that most Catholics are not familiar with the church's teaching on Islam, Muslims and interfaith dialogue in general and that so few Catholic have heard of "Nostra Aetate," the Second Vatican Council document on the Catholic Church's relations with non-Christian religions.
In an April 11 email to Catholic News Service, Duffner said she thinks Pope Francis and some bishops are "making a real effort to help humanize Muslims and challenge the notion that Islam should be conflated with violence," but she wondered how many Catholics are willing to hear that message.
The survey was based on a survey of 1,027 people polled between April 9-15, 2015. The full report, with the additional update, is available at online (http://bit.ly/2p2alQB).
According to the updated survey, Catholics of all ages have similar impressions of Muslims that are more negative than positive. When it comes to knowing a Muslim personally, younger Catholics aren't much different from older Catholics. One-third of younger Catholics know a Muslim personally, compared to one-fourth of Catholics over 60.
There are some differences between younger and older Catholics, pointed out in the survey. For example, younger Catholics participate in interfaith dialogue and community service with Muslims more than older Catholics and also are more likely than older Catholics to say Christians and Muslims worship the same God and share many values.
When grouped by race and ethnic backgrounds, Catholics who know Muslims personally do not have more favorable views of them, as might be expected, nor do they know more about Muslims' faith than groups who are less familiar with them.
The updated survey shows that half of black Catholics know a Muslim personally while fewer than one-third of white and Hispanic Catholics know a Muslim personally. More than one-third of multiracial Catholics know a Muslim personally and 62 percent of Catholics of "other" racial backgrounds personally know someone who is Muslim.
If the Catholic Church in the U.S. wants to see such views change, "it will require an all-hands-on-deck approach. It can't just be coming down from the bishops and it can't just be at the grass roots," said Duffner. "Catholic universities, media outlets and other institutions will have to start discussing how to foster more interfaith connections and how to simultaneously increase literacy of other religions and of the church's own teaching about other faiths," she added.
Full report at:
http://catholicphilly.com/2017/04/news/national-news/age-ethnicity-examined-in-survey-on-u-s-catholics-views-of-muslims/
--------
Canadian school board centre of Muslim prayer row
April 11, 2017
The Peel District School Board in Ontario, Canada has become the centre of debate and controversy over Muslim prayers being allowed in school, reports BBC.
The school board says the debate is settled, but those who oppose the policy continue to fight.
In March, a public meeting of one of Canada's largest public schools saw chaos during discussions over a policy of religious accommodation in school. The policy has been in place for over 15 years.
A man allegedly tore pages from a Quran and cries of "that's a hate group" and "there is no peace in Islam" were heard.
Canadian man offers $1K reward for recordings of Muslim students praying
The Peel District School Board says the debate over whether Muslims can hold Friday prayer sessions on school grounds have been settled. They further accused detractors of the policy of creating tensions through 'deliberate misinformation' and said they are "appalled by the anti-Muslim rhetoric and prejudice we have seen on social media, read in emails, and heard first-hand at our board meetings".
Opponents of the policy call the practice "unequal and unfair."
Muslim students in Ontario have observed congregational prayers for almost 20 years now – a right protected under the Ontario Human Rights Code.
But some parents and groups think allowing Muslim students to pray on school grounds is a step too far.
It is difficult to estimate how many schools across the Canadian province have on-campus prayers, but most of Peel District's 38 schools offer prayer options for Muslim students.
Mike Bayer is one of the parents behind the newly-formed group Religion Out of Public Schools (Roops).
Roops cites concerns with allowing Muslim students to pray in schools, stating it allows for segregation of students and creates an environment where there is unsolicited exposure to religion.
"The separation of church and state is fundamental," says Bayer.
With gender segregation a point of concern, the school board says it is not condoned but sometimes preferred by students. Even when students are separated by sex, they are encouraged to sit in rows along the left and right of the prayer room rather than with girls praying at the back of the room.
Roops created a petition that called for "immediate discontinuation of religious congregation and faith clubs in PDSB public schools". The petitions received over 6,300 signatures. When presented at the March meeting, the meeting grew heated.
Christina Dixon, who at the public meeting on a separate issue, recalls "there was a lot of tension in the room" that she did not understand at the time.
"I could tell there were people in the room who were upset and angry and volatile," she says.
Dixon eventually stood up to confront the "violent, bigoted voices", which was captured in a video by Syed Imam. Imam was a former student in the district and attended the meeting to show support for Friday prayers.
Bayer calls the events that evening "unfortunate". "There were some emotional people that started screaming and shouting," he says.
It is not clear how much of the opposition comes from parents and how much from anti-Islam groups like Rise Canada.
Rise Canada adviser Ron Banarjee says there is broad community support to scrap the religious accommodation policy.
Full report at:
https://tribune.com.pk/story/1380508/canadian-school-board-centre-muslim-prayer-row/
--------
India
Abdul Basit's terrorist remark mars conference on improving India-Pakistan ties
Apr 12, 2017
NEW DELHI: A conference on improving India-Pakistan ties degenerated into fisticuffs at the India International Centre here on Tuesday after after high commissioner Abdul Basit's earlier comments to Pakistan's Sama TV about Kulbhushan Jadhav being a terrorist drew in angry protesters. Controversial remarks by Congress member Saifuddin Soz further inflamed passions.
The discussion, organised by the Centre for Peace and Progress (CPP), saw the participation of, apart from Basit, Pakistan's former foreign minister Khurshid Mahmud Kasuri, Congress MP Mani Shankar Aiyar, lawyer Ram Jethmalani, Observer Research Foundation chief Sudheendra Kulkarni, among others.
However, towards the end of the discussion, as questioners began raising their voices, Basit's previous comments returned to haunt the proceedings.
Audience members, who alleged that the organisers were Pakistani apologists, objected vehemently to Basit's presence for his statement to Sama TV.
Basit had reportedly said, "First they indulge in terrorism on our land. And now that we have punished a terrorist, why (do) the protest?" It led to much pushing and shoving with two elderly women falling down and hurting themselves.
One of the protesting questioner said he was an activist, Lalit Ambardar, who said the "genocide of Kashmiri Pandits was being brushed under the carpet".
"We cannot have a dialogue with a country which kills our people. Pakistan is a terror state, and we should declare it so," Ambardar said.
http://timesofindia.indiatimes.com/india/abdul-basits-terrorist-remark-mars-conference-on-improving-india-pakistan-ties/articleshow/58137621.cms
--------
Jadhav case: Centre hints at Islamabad-Rawalpindi rift
Apr 12, 2017
NEW DELHI: A day after Pakistan announced its decision to hang Indian national Kulbhushan Jadhav, foreign minister Sushma Swaraj sought to drive home differences within the establishment in Islamabad.
"…it is extraordinary that yesterday, a decision is suddenly announced awarding death sentence in this case when previous exchanges with India itself underlines the insufficiency of evidence. To make matters even more absurd, three hours after the death sentence was announced, the Indian High Commission received an official communication from the foreign ministry of Pakistan reiterating the Pakistani proposal for conditional consular access. That tells us a lot about the farcical nature of the alleged proceedings which have led to an indefensible verdict against an innocent kidnapped Indian," Swaraj said in the Rajya Sabha on Tuesday.
There are reports in Pakistani media about differences between that country's armed forces and the civilian government on a military court's order sentencing Jadhav to death on charges of spying.
Swaraj hinted in her remarks in Parliament that Pakistan was seeking acceptance of Jadhav's role in "espionage activities" in return for consular access to the Indian High Commission.
"…earlier this year, the Pakistan government sought our assistance to obtain evidence and other materials for the investigation process. In doing so, they levelled ridiculous charges against senior Indian officials who had no connection to this issue. Thereafter, they linked providing consular access to our acceptance of their position. Nevertheless, in the hope that some forward movement could be made, our response was constructive. We pointed out that consular access to Shri Jadhav would be an essential prerequisite in order to verify the facts and understand the circumstances of his presence in Pakistan," she said.
Full report at:
http://timesofindia.indiatimes.com/india/jadhav-case-centre-hints-at-islamabad-rawalpindi-rift/articleshow/58140150.cms
--------
Pakistan's former prez Pervez Musharraf sees sharp rise in Indo-Pak tension
Omer Farooq Khan
Apr 12, 2017
Pakistan's former president Pervez Musharraf said he feared a sharp rise in tension between India and Pakistan following Kulbhushan Jadhav being sentenced to death by a military court.
"India will create a hue and cry about Jadhav's case internationally," he told a TV channel on Tuesday.
In the West, he said, death penalty is not considered a favourable form of punishment and India will use it for Jadhav's defence at global forums. "There will be a sharp rise in tension.
Full report at:
http://timesofindia.indiatimes.com/world/pakistan/pakistans-former-prez-pervez-musharraf-sees-sharp-rise-in-indo-pak-tension/articleshow/58137726.cms
--------
After India saves Pak marines, Islamabad frees 63 fishermen
Apr 12, 2017
RAJKOT: With the Indian Coast Guard (ICG) releasing two rescued Pakistani marines on Tuesday after an accident on the Indian side of the international maritime boundary line (IMBL), Pakistan Marine Security Agency (PMSA) released 63 fishermen with their seven boats, reciprocating the gesture of goodwill.
PMSA released the fishermen after ICG and Navy handed over two rescued Pakistani commandos and bodies of three others who drowned when their boat collided with one of the Indian fishing boats, 'Mahenoor', off Jakhau coast on Sunday night.
ICG has also issued an alert to Gujarat marine police regarding the Pakistani marine who went missing.
The PMSA boat, with six on board, had capsized, but the Indian sailors rescued two commandos while ICG ship 'Arinjay' recovered bodies of three others who had drowned.
The accident happened around 10 nautical miles on the Indian side of IMBL. "As a goodwill gesture, PMSA has released 10 boats with their 63 fishermen.
All boats are from Mangrol of Junagadh district and Okha. We are at Porbandar coast to receive the fishermen,'' said Manish Lodhari, secretary, National Fish Workers Forum (NFF).
Sources said a fleet of PMSA boats had reportedly rushed into Indian waters, when seven Indian boats were busy fishing about 70 nautical miles from Jhakhau coast."PMSA boats rounded up seven Indian fishing boats namely Uma Shakti, Parshu Ram, Trishul, Savan, Ashirvad, Kishan Kanahiya, Baba Jalluddin and Mahenoor," said a source.
"While escorting them to Karachi coast, one of the Indian boats broke down resulting in a collision with one of the small fast boats of PMSA. The PMSA boat with six Pak marine commandos capsized," the source said.
Sources added that the Indian fishing boat 'Mahenoor', which had broken down, was then let off by the PMSA commandos for being towed by another boat, 'Uma Shakti' to Jakhau coast, with just one crew member.
Full report at:
http://timesofindia.indiatimes.com/india/after-india-saves-pak-marines-islamabad-frees-63-fishermen/articleshow/58137652.cms
--------
Muslim Quota bill: assembly to be convened soon
12th April 2017
HYDERABAD: The stage is all set to increase reservations for Muslims in employment and education to 12 per cent in the state.
On a day of fast paced developments on Tuesday, Telangana State BC Commission submitted its report to Chief Minister K Chandrasekhar Rao.
Later, Rao decided to convene the State Cabinet meeting on Wednesday at 5 pm at Pragathi Bhavan. Next, Rao drove straight to Raj Bhavan and held discussions with Governor ESL Narasimhan on convening the special session of the Legislature. Though, the Budget session of the Legislature was over, Assembly Speaker S Madhusudhana Chary on the request of the CM did not prorogue the Assembly. The Assembly was adjourned sine die and there was no need for Governor to notify the session afresh.
According to sources, the Legislature session will be convened next week to adopt Bills on enhancement of Muslim reservations and also ST reservations to 12 per cent. The Parliament adopted GST Bill and it will come to State Legislature. During the special session of the Legislature, the Assembly and Council will adopt the Centre's GST Act.
BC Commission submits report to Chief Minister
Telangana State BC Commission, which studied the sociological conditions of the backward class communities in the state, submitted its report to the Chief Minister on Tuesday.
BC Commission chairman BS Ramulu and other members had a meeting with Rao. The Commission submitted its report about the educational and social backwardness among the BC (E) Category communities.
Muslims and Dudekula Muslims in the state are now entitled for five percent reservations in BC(E) category. The TRS government proposed to increase the Muslim reservation to 12 per cent as per the population of Muslims. Likewise, reservations for STs too will be hiked to 12 per cent from the present 6 per cent according to their population.
Full report at:
http://www.newindianexpress.com/states/telangana/2017/apr/12/muslim-quota-bill-assembly-to-be-convened-soon-1592761.html
--------
Arab World
Dara'a: Army Blows Up Al-Nusra's TOW Missile Base, Kills Terrorist Commanders
Apr 11, 2017
The army units targeted the al-Nusra's hideouts and positions near the old customs office by artillery and missile fire, destroying a TOW missile base and the militants' weapons and equipment.
They also attacked a vehicle carrying the terrorists near al-Misri square, inflicting losses on a number of militants, including Mohammad Jamal Hindawi al-Mosalemeh, the commander of Liwa al-Tawhid battalion and Rashid Abazaid, nom de guerre Abu Moslem, the military commander of Bonyan al-Marsous operations room.
Reports said on Monday that the army troops had repelled repeated attacks of al-Nusra Front on government forces' positions in the Southern city of Dara'a, inflicting major losses on the terrorists.
The army soldiers engaged in an intense battle with Al-Nusra that attacked government forces' positions in al-Manshiyeh neighborhood from Mo'awiyeh school, fending off their offensive and killing or wounding a number of them.
In the meantime, the army's artillery and missile units opened heavy fire at the movements and gathering centers of Al-Nusra in the neighborhoods of al-Bahar, al-Arbaeen garden, the road to the dam, Northeast of al-Banin school and areas near al-Yarmouk school in Dara'a city, destroying two command posts, three missile launchers, two mortar launchers, a machinegun-equipped position and killing a large number of militants.
Local sources reported, meantime, that the army ambushed a military vehicle of the terrorists on the road connecting al-Qariyeh al-Qarbi to Seida in Eastern Dara'a heading towards al-Manshiyeh neighborhood to back militants there.
Six militants were killed and five more were wounded in the ambush.
http://en.farsnews.com/newstext.aspx?nn=13960122000602
--------
Al-Nusra Commander, Tens of Terrorists Killed, Wounded in Northern Hama
Apr 11, 2017
The Syrian army units engaged in severe clashes with al-Nusra terrorists who had attacked Ma'an, al-Kabariyeh and Kawkab towns in Northern Hama and warded off their offensives.
During the clashes 20 militants were killed and wounded and others were forced to flee the scene. Also a tank and several of their military vehicles were destroyed.
A field source also reported that in addition to heavy tolls inflicted on the terrorists, a commander of Jeish al-Izza named Odai al-Khatabi was killed in clashes with the army forces in Northern Hama.
The Syrian army soldiers started a fresh round of attacks on terrorists' defense lines in Northern Hama on Monday and managed to push the militants back from several checkpoints.
The army troops, backed up by artillery fire, engaged in fierce clashes with the terrorists and took full control over the checkpoints of Kaziyeh Sha'er and al-Mabaqer West of the town of Ma'ardes along the road to the town of Taybat al-Imam.
The terrorists lost a number of fighters in the attack.
Military sources said yesterday that fresh army reinforcement troops had arrived in Hama province to reinvigorate government forces' combat capabilities in the war against terrorist groups, adding that the pro-government forces were ready to start massive operations in the Northern parts of province.
Full report at:
http://en.farsnews.com/newstext.aspx?nn=13960122000142
--------
Syria, militants set to evacuate 4 towns as part of deal: Sources
Apr 12, 2017
The Syrian government and militants are reportedly set to begin the evacuation of four towns in Idlib and Rif Dimashq as part of a deal they reached late last month.
The Shia-populated towns of Foua and Kefraya, located in the northwestern province of Idlib, have been under a militant siege, while the Sunni-majority towns of Zabadani and Madaya, situated in Rif Dimashq Province near Syria's border with Lebanon, are surrounded by pro-Damascus forces.
The so-called Syrian Observatory for Human Rights said on March 28 that the two sides had stricken the deal that envisages the transfer of 16,000 people from Foua and Kefraya in exchange for the evacuation of militants and their families from the latter two.
It later reported that reservations on either side had delayed the deal's implementation, but said on Tuesday that the warring parties were to act on the agreement within a day.
Evacuations are expected to start on Wednesday morning, according to the UK-based monitoring group.
Reuters also quoted a pro-government commander as saying on condition of anonymity that, "It has been decided that tomorrow the agreement will be carried out."
The monitor said convoys were now on the move towards the towns. Residents of the four towns have also started registering their names to move out, the Observatory said.
The agreement would also include a ceasefire covering areas south of Damascus as well as aid deliveries.
Last year, a similar accord oversaw mutual evacuations out of the towns.
According to Observatory's director Rami Abdulrahman, however, the recent deal would enable the biggest population swap of its kind.
In mid-March, the International Committee of the Red Cross (ICRC) said several aid trucks had been allowed into the four towns.
Full report at:
http://www.presstv.ir/Detail/2017/04/12/517709/Syria-Foua-Kefraya-Zabadani-Madaya
--------
Tillerson says no place for Assad in Syria's future
Apr 12, 2017
LUCCA - President Bashar al-Assad should not be part of Syria's future, US Secretary of State Rex Tillerson said Tuesday, as G7 allies rejected a call for new sanctions on Damascus and its key ally Moscow.
Washington has stepped up the pressure on Russia to rein in Assad after a suspected chemical weapons attack on a rebel-held Syrian town that killed at least 87 civilians and triggered retaliatory US missile strikes on a Syrian air base.
As G7 foreign ministers urged a diplomatic push to end the six-year conflict and create a lasting peace for a unified Syria, Tillerson said: "Our hope is Bashar al-Assad will not be part of that future."
With a growing gulf between the US and Assad's main ally Russia, the G7 ministers threw their support behind Tillerson as he headed for vital talks on the Syrian conflict in Moscow. "To be clear, our military action was a direct response to the Assad regime's barbarism," Tillerson said at the G7 meeting in Italy.
"The United States' priority in Syria and Iraq remains the defeat of ISIS," he added, referring to the so-called Islamic State (IS) group. Moscow said it was hoping to avoid confrontation and engage in "constructive cooperation" with Washington, as Tillerson headed to the Russian capital on the first visit by a senior member of President Donald Trump's administration. The G7 ministers failed to agree on whether fresh sanctions should be imposed on Damascus and Moscow. "At the moment there is no consensus on new sanctions as an effective instrument," Italy's Foreign Minister Angelino Alfano said, after his British counterpart Boris Johnson had raised the issue.
But after talks in the Tuscan city German Foreign Minister Sigmar Gabriel said: "All the G7 states want to avoid a military escalation and want a political solution without a new spiral of violence. We want to bring Russia around to supporting the political process for a peaceful resolution of the Syrian conflict."
The German diplomat said Tillerson had "all our support" for his talks in Moscow, where he will meet his counterpart Sergei Lavrov although the Kremlin has not said if there will be a meeting with President Vladimir Putin. The US has warned Damascus that further use of chemical weapons could bring fresh retaliation. US warships in the Mediterranean on Friday fired 59 Tomahawk missiles at the Shayrat air base near Homs, destroying an airfield from which Washington believes Assad's jets launched the deadly chemical attack.
The strike was the first time Washington had intervened directly against the regime of Assad, who is fighting a six-year civil war with the backing of Russia and Iran.
While Moscow has suggested that civilians were poisoned by rebel weapons, Turkish Foreign Minister Mevlut Cavusoglu said there was no doubt the Syrian "regime has chemical weapons, and it needs to be prevented from using them again".
The G7 groups Britain, Canada, France, Germany, Italy, Japan and the US. On Monday, Britain's Johnson had described Assad as "toxic" and said it was "time for Vladimir Putin to face the truth about the tyrant he is propping up".
"The United States will not passively stand by while Assad murders innocent people with chemical weapons, which are prohibited by international law and which were declared destroyed," Pentagon chief James Mattis said Monday. "The Syrian government would be ill-advised ever again to use chemical weapons."
The warning came as White House spokesman Sean Spicer appeared to lower the threshold for new US action against Assad to include barrel bombs, a crude yet hugely destructive weapon of choice for the Syrian leader.
"If you gas a baby or drop a barrel bomb onto innocent people, you will see a response from" Trump, Spicer said. But US officials later appeared to go back on Spicer's remarks. "Nothing has changed in our posture," a senior administration official said.
Trump on Monday discussed Syria in separate telephone calls with British Prime Minister Theresa May and German Chancellor Angela Merkel. Both May and Merkel "expressed support for the action of the United States and agreed with President Trump on the importance of holding Syrian President Bashar al-Assad accountable," the White House said.
Full report at:
http://nation.com.pk/international/12-Apr-2017/tillerson-says-no-place-for-assad-in-syria-s-future
--------
New draft UN resolution calls for Syria gas attack probe
Apr 12, 2017
UNITED NATIONS - Britain, France and the United States on Tuesday presented a new UN draft resolution demanding an investigation of the suspected chemical attack in Syria after the Security Council failed last week to agree on a response.
The new measure would require "full cooperation with the investigation" of the apparent attack in the rebel-held town of Khan Sheikhun, British Ambassador Matthew Rycroft said on Twitter. The Security Council last week discussed three separate draft texts but failed to agree on a way forward and there was no vote on any of the measures.
France, Britain and the United States pushed for a tough investigation and demanded that Syria provide information on its military operations, but that proposed draft faced the likelihood of a veto from Russia. "We cannot give up and we must try, in good faith, the best we can, to have a text condemning the attack, asking for a thorough investigation," French Ambassador Francois Delattre told reporters.
Delattre said France was now looking for "a good text and a good vote." A senior council diplomat said he expected a vote on the revised draft in the coming days. France, Britain and the United States have accused President Bashar al-Assad's forces of carrying out the attack that killed at least 87 civilians, including 31 children.
"It's very important that there is a full investigation so that everybody knows, everybody knows, so that the entire world knows how these horrible chemical attacks occurred and where they come from," said Delattre. As the council debated its response on Thursday, the United States fired cruise missiles at a Syrian air base that the US says was used to launch the chemical attack.
Full report at:
http://nation.com.pk/international/12-Apr-2017/new-draft-un-resolution-calls-for-syria-gas-attack-probe
--------
Syrian Troops on March in Aleppo
Apr 11, 2017
The army units engaged in fierce clashes with the terrorists in Northern Aleppo, and regained control of Kharbat al-Adnan village in the Southeastern parts of al-Tamoureh village.
The Syrian army also killed and wounded several terrorists, and destroyed their military vehicles and equipment during the operations.
Also, the Syrian Army's artillery and missile units and Air Force targeted a number of positions of the Al-Nusra Front (also known as Fatah al-Sham Front or the Levant Liberation Board) in Western, Northern and Southern Aleppo on Monday, inflicting major losses on the terrorists.
The warplanes bombed terrorists' positions in the town of Anadan in response to the militants' Grade missile attack on residential areas in the towns of Nubl and al-Zahra, killing a number of terrorists.
In the meantime, the missile and artillery units shelled the positions and movements of the terrorists in the towns of Hayan, Yaqad al-Adas, Kafr Bisin and Babis in the Northern countryside of Aleppo city.
Field sources reported meantime that the artillery units targeted terrorist groups' concentration centers in the towns of Khalseh and Zeitan in the Southern countryside of Aleppo and in other regions near the settlement of Qabtan al-Jabal in the Western countryside of Aleppo.
Full report at:
http://en.farsnews.com/newstext.aspx?nn=13960122000466
--------
Military Source Warns of False Media Operation against Syrian Gov't
Apr 11, 2017
The Arabic section of Russia's Sputnik news agency quoted rusvesna.su news as reporting that a Syrian military source has warned that based on reliable intel, the video clips are being prepared in collaboration with the White Helmets (officially known as Syria Civil Defense, is a volunteer organization that currently operates in certain parts of rebel-controlled areas in Syria) who play the role of medical personnel.
According to the source, some civilians also play the role of victims of a chemical attack.
The source added that the western newspapers would soon enter the scene to raise new allegations against Bashar al-Assad government, claiming that he is fighting civilians instead of campaign against terrorism.
Swedish Doctors for Human Rights (SWEDHR), a non governmental research organization, disclosed earlier this month that White Helmets are risking civilian lives, rather than rescuing them, for false flag operations against the Syrian government.
Full report at:
http://en.farsnews.com/newstext.aspx?nn=13960122000544
--------
Human Rights Official: Khan Sheikhoun Chemical Attack Orchestrated by Israel
Apr 11, 2017
"Israel directed the Khan Sheikhoun scenario," Abu Saeed said.
Noting that the terrorists, including Zahran Aloush, the commander of Jaysh al-Islam terrorist group affiliated to the Islamic Front, were aware of the chemical attack and its type and materials from before, he said under the conditions that the political developments are moving ahead to the benefit of Bashar al-Assad, the terrorists implemented plots to return everything to the past.
Abu Saeed also referred to the recent downing of an Israeli fighter jet by the Syrian air defense units, and said Tel Aviv never thought about it in its military calculations and it called on the US and other western states to help it and then orchestrated the Khan Sheikhoun incident.
Syrian opposition claimed last Tuesday forces loyal to President Bashar Assad had used a chemical gas on people in the Northwestern province, killing nearly 80 and injuring 200.
Assad argued his government has no chemical weapons after agreeing to have them destroyed in 2013. He also ruled out having used chemicals against own people.
Full report at:
http://en.farsnews.com/newstext.aspx?nn=13960122000347
--------
Homs: Army Soldiers Further Advance in Outskirts of Palmyra
Apr 11, 2017
The army units engaged in fierce clashes with the ISIL terrorists in Southwestern Palmyra, and won back control of several points after destroying their bases and inflicting losses and damages on militants.
Following the victories, the Syrian troops advanced towards al-Sawaneh village located in Damascus-Palmyra road.
The army forces also retook control of Syria Tel tower in Palmyra-Damascus road, and clashed with the ISIL militants in the mountains overlooking al-Sawaneh.
Other units of the army also engaged in heavy clashes with the ISIL near al-Sawame' region between Palmyra and Arak oil field, adjacent to al-Sokri region in Southeastern Palmyra, killing several militants.
Meantime, the Syrian fighter jets launched several airstrikes against ISIL positions and moves in al-Sukhneh town and the nearby areas.
The Syrian Army troops had on Friday cut off two main supply lines of the terrorists near Palmyra.
The army men stormed ISIL's position East of Palmyra and blocked ISIL's supply routes between the villages of al-Sawaneh and al-Abasiyeh and from the town of Arak to the village of al-Sawaneh.
Meantime, some Syrian news outlets said following the US missile attack on Shayrat airbase in Southwestern Homs, the ISIL stormed the government forces' positions at crossroad 24 near the town of al-Furqalas, but failed to prevail the army troops.
Well-informed military sources said earlier today that ISIL terrorists struck the Syrian Army troops' strongholds after the US navy's missile units targeted Shayrat airbase in Southwestern Homs on Thursday night.
Full report at:
http://en.farsnews.com/newstext.aspx?nn=13960122000190
--------
Syrian Army Wards Off ISIL Attack in Deir Ezzur
Apr 11, 2017
The army units attacked the ISIL bases and moves in the Western parts of al-Movazzafin and al-Jabileh regions and areas near the Regiment 137 base with heavy missile and artillery fire.
They also repulsed ISIL terrorists' attempts to enter the Eastern parts of al-Sina'ah district in Deir Ezzur.
The Syrian soldiers inflicted 15 casualties on the terrorists during the operations and smashed two of their military vehicles and several motorcycles.
In a relevant development on Monday, the Syrian air force and the army's artillery and missile units continued to hit ISIL's positions and gathering centers hard in the outskirts of the Eastern city of Deir Ezzur, inflicting tens of casualties on the terrorists.
The artillery and missile units opened heavy fire at the sites and movements of ISIL in the Regiment 137 region near the Deir Ezzur airbase and two neighborhoods of al-Sina'ah and al-Huweiqa, killing at least 14 terrorists and wounding several more.
A military source, meantime, said that several vehicles, mortar launders and machineguns of ISIL were destroyed in the army attack in al-Maqaber (cemetery) region South of Deir Ezzur.
In the meantime, the artillery units also pounded the positions of a group of ISIL terrorists in al-Roshdiyeh neighborhood, killing the entire members of the group.
Full report at:
http://en.farsnews.com/newstext.aspx?nn=13960122000315
--------
Europe
Growing risk of 'mass' starvation deaths in Africa, Yemen: UN
Apr 12, 2017
GENEVA - The United Nations warned Tuesday of a growing risk of mass deaths from starvation among people living in conflict and drought-hit areas of the Horn of Africa, Yemen and Nigeria.
An "avoidable humanitarian crisis... is fast becoming an inevitability", as the UN faces a "severe" funding shortfall to help people affected by famine, said UN refugee agency spokesman Adrian Edwards.
UNHCR's operations in famine-hit South Sudan, and in Nigeria, Somalia and Yemen, which are on the brink of famine, are funded at between just three and 11 percent, he told reporters in Geneva. As a whole, the United Nations has requested $4.4 billion to address the crisis in the four countries, but has so far received only $984 million, said UN humanitarian agency spokesman Jens Laerke said.
The current crisis risks becoming worse than the 2011 drought in the Horn of Africa that killed more than 260,000 people in Somalia alone, Edwards said. "A repeat must be avoided at all costs," he said.
More than 20 million people across Nigeria, South Sudan, Somalia and Yemen, are in areas hit by drought and are experiencing famine or are at high risk of famine, according to UN numbers. "It is of immediate urgency that more funds are committed to avert a further descent into disaster in these acute crises," Laerke said.
In conflict-ravaged South Sudan, where the UN warned in February that fighting, insecurity, lack of access to aid and the collapsing economy had left 100,000 people facing starvation, "a further one million people are now on the brink of famine," Edwards said.
And in Yemen, which is already experiencing the world's largest humanitarian crisis, 17 million people, or around 60 percent of the war-torn country's population, are going hungry. In northern Nigeria meanwhile, seven million people are currently struggling with food insecurity, with the situation particularly bad in the northeast of the country, a stronghold of Boko Haram jihadists.
The situation is also "very, very dire" in troubled Somalia, said David Hermann, who coordinates operations in the country for the International Committee of the Red Cross. "The response should happen now, because if it doesn't happen now... people are going to die from starvation," he told reporters.
Edwards said the growing food insecurity was pushing more and more people to leave their homes across the region, with food needs cited as the main factor causing displacement in most locations in Yemen and South Sudan for instance.
"In Sudan, for example, where our initial estimate was for 60,000 arrivals from South Sudan this year, we are in the process of revising the expected total upwards to 180,000," he told reporters. He said the lack of funding meant less food distributed to those who need it most: the more than four million refugees in the region, most of whom are children.
"With no money to buy food, rations... are being cut," he said, adding that in Djibouti rations have been cut by 12 percent, in Ethiopia, Tanzania and Rwanda by between 20 and 50 percent, and in Uganda by up to 75 percent. This can have dramatic consequences, he warned, since "many refugees are without full access to livelihoods and agriculture or food production and their ability to take matters into their own hands and help themselves is limited."
http://nation.com.pk/international/12-Apr-2017/growing-risk-of-mass-starvation-deaths-in-africa-yemen-un
--------
Putin says expects 'fake' gas attacks to discredit Assad
Apr 12, 2017
MOSCOW - President Vladimir Putin said on Tuesday that Russia had information that the United States was planning to launch new missile strikes on Syria, and that there were plans to fake chemicals weapons attacks there.
Putin was speaking hours before U.S. Secretary of State Rex Tillerson was due to arrive in Moscow for talks with Russia's foreign minister and days after denouncing last week's U.S. missile strike on a Syrian air base as illegal. Standing alongside Italian President Sergio Mattarella who was in Moscow for talks, Putin, when asked by a reporter if he expected more U.S. missile strikes on Syria, said: "We have information that a similar provocation is being prepared ... in other parts of Syria including in the southern Damascus suburbs where they are planning to again plant some substance and accuse the Syrian authorities of using (chemical weapons)."
He did not offer any proof for that assertion. Russia has defended the Syrian government, a staunch ally, against U.S. allegations it was behind the nerve gas attack in Syria's Idlib province last week which killed scores, saying there is no evidence to underpin such an allegation.
Putin said on Tuesday Russia would be urgently asking the global chemical weapons watchdog -- the Organisation for the Prohibition of Chemical Weapons -- to investigate the incident.
Full report at:
http://nation.com.pk/international/12-Apr-2017/putin-says-expects-fake-gas-attacks-to-discredit-assad
--------
Stockholm attack suspect admits to 'terror crime'
Apr 12, 2017
STOCKHOLM - Suspected Stockholm truck attacker Rakhmat Akilov, a 39-year-old Uzbek and jihadist sympathiser, admitted Tuesday to committing a "terrorist crime" by mowing down pedestrians on a busy street, killing four people and injuring 15 others. "Akilov confesses to a terrorist crime and accepts his custody detention," his lawyer Johan Eriksson told a custody hearing in a Stockholm district court. Arrested in a Stockholm suburb just hours after Friday's attack, Akilov appeared in a special heavily-guarded high-security courtroom. Handcuffed and wearing a thick green hoodie over his head, he kept his head bowed down. Judge Malou Lindblom ordered him to remove the hoodie and he complied, revealing dark hair with streaks of grey. Akilov, a Russian speaker, had an interpreter at his side to help him follow the proceedings. He did not address the court directly. After Eriksson's statement, the judge agreed to the prosecution's request to have the rest of the hearing held behind closed doors due to the classified nature of the information in the investigation.
Full report at:
http://nation.com.pk/international/12-Apr-2017/stockholm-attack-suspect-admits-to-terror-crime
--------
Mark Putin's 'explosive' revelation on US Syria raid, analyst says
Apr 12, 2017
The United States is trying to stop Russia from exposing its plans to launch false-flag chemical attacks amid the Syrian crisis, similar to a recent one in Idlib province, says a former US army psychological warfare officer.
"The American Pentagon realized that the Russians know the plan, the Russians have seen the plan, and are about to expose the plan which is then orchestrated by US, Turkey, Israeli Mossad as well as Saudi Arabia and their mercenaries that are operating in Syria," Scott Bennet told Press TV in an interview on Tuesday.
US warships deployed to the eastern Mediterranean launched a barrage of 59 Tomahawk missiles against Shayrat Airfield, southeast of the western Syrian city of Homs, on Friday. Without providing any evidence, Washington is alleging that the attack came in response to a chemical attack by the Syrian government in Khan Shaykhun.
Demonstrators protest US military involvement in the Syrian war in San Francisco, California, on April 7, 2017. (Photo by AFP)
Syria has categorically denied carrying out the gas attack, with the foreign ministry stressing that an Idlib airstrike had targeted a depot, where terrorists stored chemical weapons.
US confusing the issue
Russian President Vladimir Putin has also asserted that the country's intelligence agencies have proof that the chemical attack was a false-flag one.
"That's a very explosive revelation by President Putin," noted the San Francisco-based analyst. "He and the Russian intelligence services know that the US is participating, if not planning, in the false-flag chemical attacks, which are complete propaganda in order to justify action against [Syrian President Bashar] Assad."
Russian President Vladimir Putin holds a press conference in Moscow on April 11, 2017. (Photo by AFP)
Bennet made comments in regard to US claims that Russians knew ahead of time that chemical weapons would be used in the attack.
Full report at:
http://www.presstv.ir/Detail/2017/04/12/517698/US-trying-to-blur-Syria-raid-aftermath
--------
Russia ready to grant access to Syria airbase for 'gas attack' probe: Defense official
Apr 12, 2017
Russia has said it is ready to provide inspectors with access to a Syrian airbase that the opponents of the Syrian government say was used to carry out a "chemical attack."
At least 86 people died in the town of Khan Shaykhun in Syria last week in what was claimed to be a chemical attack conducted by the Syrian government. Damascus has denied the accusation, saying that a chemical weapons depot held by militants opposed to the government had been hit in a conventional Syrian airstrike.
But Western countries have been insisting that Damascus was behind the attack, with the United States naming a particular Syrian airbase as the launch pad for the alleged gas attack. The US military launched missiles against that base — the Shayrat airfield in Syria's Homs Province — on Friday, saying the strikes were carried out in retaliation for the April 5 "chemical attack."
Russia, which has been carrying out an aerial bombing campaign in Syria on behalf of Damascus, has denied that any chemical weapons were used by the Syrian government.
Iran, another Syrian ally, has proposed that an impartial investigation be launched into the accusations.
On Tuesday, Colonel General Sergey Rudskoy, the chief of the Russian General Staff's Operations Department, said Russia would grant access to international inspectors to the airfield.
"Experts are aware that it is impossible to conceal the traces of chemical weapons," Colonel General Rudskoy said.
He said the Syrian government, too, was ready to grant access to experts from the Organization for the Prohibition of Chemical Weapons (OPCW) to the army base.
The Russian military official also said the Syrian government was not in possession of any chemical weapons. He said anti-Damascus militants were suffering one defeat after another and were on the run in the territories they had occupied.
"Under such circumstances, the government of [Syrian President] Bashar Assad has no need to use chemical weapons. Moreover, the Syrian army does not have any," he said.
Colonel General Rudskoy said claims that the Assad government was behind a chemical attack were "highly questionable."
In 2013, Russia brokered a deal with the US to have the Syrian government's chemical arsenal turned over in return for a reversal of US plans to attack Syria back then. The task to remove Syrian chemical arms was carried out by the OPCW.
Rudskoy said under that deal, the Syrian government fully destroyed all of the chemical weapons it had access to.
People gather at the site of an alleged airstrike in the northern Syrian city of Idlib, April 10, 2017. (Photo by AFP)
"Out of 12 facilities used for storing and producing chemical weapons, ten were destroyed as confirmed by the OPCW experts. The Syrian government has no access to the remaining two facilities as they are located on a territory controlled by the so-called opposition," the Russian official said.
He said it remained unclear whether the chemical arms stored at those two facilities had been destroyed.
"No facts confirming production or possession of chemical agents [by the Syrian government] were found," Rudskoy emphasized, adding that "Syria has no chemical weapons" and this fact was "documented and confirmed by the OPCW representatives."
Earlier on Tuesday, Russian President Vladimir Putin described the attack on Khan Shaykhun as a "false flag" operation aimed at undermining the Syrian government and warned of a threat of similar incidents in the future, possibly targeting a Damascus suburb.
Full report at:
http://www.presstv.ir/Detail/2017/04/12/517713/Russia-Sergey-Rudskoy-Syria-airbase-access-OPCW-chemical
--------
Despite deadly attacks, Pope Francis will still go to Egypt
By Hannah Brockhaus
Vatican City, Apr 10, 2017 / 09:50 am (CNA/EWTN News).- The Vatican confirmed Monday that Pope Francis' trip to Egypt at the end of the month will go on as planned, despite terrorist attacks which killed more than 43 people during Palm Sunday celebrations in the country.
The Director of the Holy See Press Office, Greg Burke, told journalists April 10 that "the Pope's trip to Egypt proceeds as scheduled." The Pope himself also confirmed that the trip will take place, according to Franciscan Fr. Marco Tasca.
During a meeting April 10 with General Ministers of the Franciscan Order, Francis "very firmly confirmed his trip to Egypt," Fr. Tasca said, adding that he is "very informed."
Pope Francis plans to visit the Egyptian capital of Cairo April 28-29, in what is largely a bid to foster greater Catholic-Muslim dialogue, particularly on the point of ending extremist violence.
The first of Sunday's attacks, a bomb at the Coptic Christian church of Mar Gerges in the northern city of Tanta, Egypt killed 27 people and wounded at least 71 more, according to BBC News.
A second blast took place shortly after outside of a Christian church in Alexandria, killing 17 and injuring another 35. The man, a suicide bomber, had tried to storm the entrance to the church before being stopped by police, three of whom died in the blast. ISIS has claimed responsibility for both attacks.
The attack in Alexandria narrowly missed harming the Coptic Patriarch Pope Tawadros II, who was participating in Mass inside the church.
After celebrating Palm Sunday Mass April 9, Pope Francis prayed for victims of "the attack that unfortunately took place today near Cairo," voicing his closeness to Coptic Patriarch Pope Tawadros II, to and to the entire Coptic nation.
"I express my heartfelt sorrow," he said, praying that the Lord would "convert the hearts of those who sow fear, violence and death, and those who make and traffic arms."
His Holiness Pope Tawadros II is one of the religious leaders Pope Francis plans to meet with while in Cairo at the end of April. His schedule will also include a meeting with the Grand Imam of Al-Azhar, Ahmed el-Tayyeb.
The Pope will leave Rome at 10:45 am, April 28, arriving in Cairo around 2:00 pm.
After a brief welcoming ceremony and visit with Egypt's President Abdel Fattah el-Sisi, Pope Francis and the Grand Imam will each give a speech at an international conference on peace.
Full report at:
http://www.catholicnewsagency.com/news/despite-deadly-attacks-pope-francis-will-still-go-to-egypt-86145/?utm_source=newsletter&utm_medium=email&utm_campaign=email
--------
Government harassment, use of force against religious groups increased sharply in Europe in 2015
APRIL 11, 2017
BY KATAYOUN KISHI
Government harassment and use of force against members of religious groups surged around the world in 2015, according to a new Pew Research Center study on global religious restrictions. But nowhere was this trend more pronounced than in Europe, where over half of countries (53%) saw an increase from the previous year.
More specifically, governments of 38 European countries (84%) harassed religious groups in limited or widespread ways in 2015, while the governments of 24 countries in Europe (53%) used some type of force against religious groups.
The increase in Europe in 2015 occurred as a record 1.3 million migrants applied for asylum on the continent. Over half of the asylum-seekers came from the Muslim-majority countries of Syria, Afghanistan and Iraq. While many of the government incidents involved long-standing tensions between religious communities and European governments, some were focused on this new, incoming population.
In addition to recording the biggest increase in government harassment and use of force against religious groups, Europe also had the second-largest overall share of countries (89%) that exhibited these types of actions. Only the Middle East-North Africa region (95%) had more governments that harassed or used force against religious groups. Sub-Saharan Africa, the Americas and the Asia-Pacific region had lower shares of government harassment or use of force against religious groups, although over seven-in-ten countries in each region had these types of government restrictions.
This analysis defines government harassment as a government offense against a religious group or against a person due to their religious identity. Harassment can include physical coercion, singling people out with the intent to make life or religious practice more difficult, or negative public comments or characterizations by the government or government officials. Government use of force includes government actions or policies that result in damage to personal or religious property, arrests and detentions, displacement, assault, or death.
Some of the harassment by European governments in 2015 involved derogatory statements about religious groups by political leaders or parties. For instance, Hungary's prime minister, Viktor Orban, criticized the religious makeup of refugees coming into the country. In September 2015, he wrote in a German newspaper, "Those arriving have been raised in another religion, and represent a radically different culture. Most of them are not Christians, but Muslims." He later told journalists, "I think we have a right to decide that we do not want a large number of Muslim people in our country."
In Finland, the Finns Party became the second-largest party in parliament in 2015 after campaigning on an anti-immigration platform. The party promised to address the Somali and Muslim "problem" in Finland by tightening immigration policies, saying "society and taxpayers do not have the responsibility, voluntarily or otherwise, to give support to migrants' feelings of identity, culture or religious practices."
Full report at:
http://www.pewresearch.org/fact-tank/2017/04/11/government-harassment-use-of-force-against-religious-groups-increased-sharply-in-europe-in-2015/
--------
South Asia
Myanmar reiterates no ethnic cleansing of Rohingya Muslims
April 11, 2017
A senior Myanmar government official on Tuesday denied there was ethnic cleansing against Rohingya Muslims in the troubled northwestern state of Rakhine, where a military operation aimed at the minority has forced 75,000 people to flee to Bangladesh.
Attacks on Myanmar border guard posts in October last year by a Rohingya insurgent group ignited the biggest crisis of country leader Aung San Suu Kyi's year in power.
A UN report in February said Myanmar's security forces had committed mass killings and gang rapes against Rohingya during their campaign against the insurgents, which may amount to crimes against humanity.
The military has denied the accusations, saying it was engaged in a legitimate counter-insurgency operation.
Thaung Tun, a recently appointed National Security Adviser, reiterated the claim made by Nobel Peace Prize winner Suu Kyi during a recent interview when she said "ethnic cleansing is too strong an expression to use for what is happening".
"There is no ethnic cleansing of Muslim minority in Rakhine," Thaung Tun told a group of diplomats in Myanmar's largest city, Yangon. "It is a matter of people on different sides of the divide and the government is striving to overcome the situation and to close the gap."
His comments come amid several ongoing investigations into the allegations, including one mandated by Suu Kyi's government and chaired by the vice-president and former head of military intelligence, Myint Swe.
Last month, the top UN human rights body agreed to send an international fact-finding mission to investigate the allegations - a move that Myanmar has opposed.
While the UN February report stopped short of explicitly labeling the actions of the security forces as ethnic cleansing, it said the violence committed against the Rohingya "has been described in other contexts" as ethnic cleansing.
It also expressed "serious concerns" that the attacks were a result of a "purposeful policy designed by one ethnic or religious group to remove by violent and terror-inspiring means the civilian population of another ethnic or religious group from certain geographic areas".
Thaung Tun said the government needed time and space to address the issues and "where there is clear evidence of wrongdoing, we will take firm action in accordance with the law".
He added the government had initiated the process of closing down some of the camps where tens of thousands of Rohingya internally displaced people have lived since clashes with ethnic Rakhine Buddhists in 2012, but did not provide any specifics of what is likely to be an extremely complex process.
http://www.thedailystar.net/world/myanmar-reiterates-no-ethnic-cleansing-rohingya-muslims-1389661
--------
Haqqani network's coordinated suicide attacks plot foiled by Afghan forces
Apr 11 2017
The Afghan security forces foiled a series of the coordinated suicide attacks plot by the notorious Haqqani terrorist network in northern Parwan and eastern Nangarhar provinces.
The Afghan Intelligence, National Directorate of Security (NDS), said the terrorist network was looking to carry out the attacks using a Vehicle-borne Improvised Explosive Device (VBIED) and several suicide bombers on the two provinces.
A statement by NDS said a member of the Haqqani terrorist network identified as Watan Khan was appointed for the attacks from the other side of the Durand Line.
The statement further added that Khan was one of the main organizers of the suicide attacks of the Haqqani terrorist network.
Khan was deployed to Kabul so that he can coordinate a deadly attack on the provincial government compound in Parwan province, NDS added.
Haqqani network was formed in the late 1970s by Jalaluddin Haqqani. The group is allied with al-Qaida and the Afghan Taliban and cooperates with other terrorist organizations in the region.
Full report at:
http://www.khaama.com/haqqani-networks-coordinated-suicide-attacks-plot-foiled-by-afghan-forces-02545
--------
Family meets death row Huji militant chief Mufti Hannan
April 12, 2017
The family members of death row convict Mufti Abdul Hannan, chief of a faction of banned militant outfit Harkat-ul-Jihad Bangladesh (Huji), met him at Kashimpur Central Jail this morning.
Hannan's wife, two daughters and elder brother reached the jail gate around 7:00am, said Mizanur Rahman, senior jail super of Kashimpur Central Jail in Gazipur. "They met Hannan in the jail around 7:45am," he told our Gazipur correspondent.
The jail authority asked the family members of Hannan and another militant, both condemned for the 2004 grenade attack on the then UK High Commissioner Anwar Choudhury in Sylhet, to meet them at the jail yesterday.
Meanwhile, the family members of Delwar Hossain alias Ripon, the other condemned militant from the Huji, met him at Sylhet Central Jail around 2:00pm yesterday, reports our Sylhet correspondent quoting Senior Jail Super Sagir Mian.
However, the authorities of the jails have completed all preparations to execute the death row convicts after receiving an execution order from the home ministry on Monday.
Gazipur district police beefed up security in and around the Kashimpur jail yesterday.
As per the jail code, the jail authorities can execute death sentences between 21st and 28th day from the date of issuance of death warrants.
The Sylhet Divisional Speedy Trial Tribunal issued death warrants for the militants on March 22 and so today is the 22nd day.
Earlier in December last year, the Supreme Court upheld the death penalties for the Huji militants, including Mufti Hannan, for carrying out the grenade attack.
After the three condemned militants filed mercy petitions, Home Minister Asaduzzaman Khan on Sunday told reporters that the president rejected them.
Full report at:
http://www.thedailystar.net/country/family-meets-death-row-huji-chief-mufti-hannan-1390129
--------
Islamists Term Bangladesh PM's SC Idol Remark Victory
April 12, 2017
Islami Andolan Bangladesh leader SM Abdul Azid said:"PM Hasina respected and responded to our demand by saying that she did not like the idol."
Prime Minister Sheikh Hasina on Tuesday said she would talk to the chief justice reportedly about the removal of the sculpture of Lady Justice, portraying Greek goddess Themis, from the Supreme Court premises.
Afterwards, Islamist groups mainly including Hefazat-e-Islam Bangladesh termed the premier's statement a victory and hailed Hasina claiming that she too did not want the idol to exist there. The premier said that she had not liked that sculpture too.
Before the prime minister, her Special Envoy and Jatiya Party Chairman and Sholakia Eidgah Khatib Fariduddin Masuud also opposed the erection of the statue.
On April 9, a writ petition was filed with the High Court seeking removal of the statue of the Greek goddess from the entrance of the Supreme Court.
Qawmi madrasa-based Islamist platform Hefazat, which eyes Shariah law in the country, and several other radical groups including Awami Olama League and Islami Andolon Bangladesh have been campaigning against the sculpture, terming it anti-Islamic, since December last year. They demand that a sculpture of the Qur'an is installed instead.
Removal of "idols of humans and animals" and stopping floral tributes was a key demand of the Hefazat's 13-point charter introduced in 2013.
The Islamist groups' demands come at a time when the apex court issued two major verdicts – banning the use of scale as an electoral symbol and erasing the names of 20 convicted war criminals and anti-liberation people from roads and educational institutions across the country.
When asked, Hefazat Secretary General Junaid Babunagari Tuesday said they were happy that the prime minister had finally realised their demand.
Also Read: AQIS supports Hefazat on SC statue removal
Islami Andolan Bangladesh leader SM Abdul Azid said:"PM Hasina respected and responded to our demand by saying that she did not like the idol."
Hefazat's Dhaka unit leader and Islami Oikya Jote (IOJ) Secretary General Mufti Fayzullah Saadi, seconded the duo, saying that the premier being a Muslim corresponded to the religious sentiment of the Muslim-majority nation.
Bangladesh Khilafat Majlish leader Abul Hasanat Amini said: "We are really elated and it is a victory for Muslims here who cover 92% of the total population."
Earlier, Attorney General Mahbubey Alam told the Dhaka Tribune: "The demands brought up by the Islamist parties are irrational and baseless. There is no way to think that the sculpture will be removed if anyone demands so."
Full report at:
http://www.dhakatribune.com/bangladesh/court/2017/04/12/islamists-term-pms-sc-idol-remark-victory/
--------
Kandahar intelligence arrest 6 involved in major terrorist attacks
Apr 12 2017
A group of six militants involved in major terrorist attacks were arrested by the provincial intelligence directorate operatives in Kandahar.
The National Directorate of Security (NDS) in Kandahar said the militants were arrested during a special military operation after their links with the terrorists were confirmed.
A statement by Kandahar NDS said the militants were involved in major terrorist attacks in Zherai, Maiwand, and Mianshin districts.
The statement further added that the group was planning and coordinating attacks on military bases, security check posts, and logistics convoys.
The militants were also involved in the assassination of the government employees, tribal elders and other influential figures in Kandahar.
According to Kandahar NDS, the militants were kidnapping the officials and elders as well as planting roadside bombs on main roads and highways.
The identities of the detained militants have not been disclosed with NDS saying the militants have confessed to their crimes and their identities will be disclosed by the judiciary institutions once their cases are opened for trial.
Full report at:
http://www.khaama.com/kandahar-intelligence-arrest-6-involved-in-major-terrorist-attacks-02549
--------
Afghanistan aims to boost security sector with new appointments in NSC
Apr 12 2017
The Afghan government has made new appointments in the key National Security Council Office with an aim to boost the security sector as the country is facing enormous challenges with the Taliban-led insurgency and international terrorism.
National Security Adviser Mohammad Hanif Atmar said the new appointments will further expedite the operations of the office and will change it into a major security and strategic department.
He called on the newly appointed members to step up efforts in a bid to create a proper coordination among the security organizations considering the sensitive security situation of the country.
The new appointments were made based on the recommendations of the Security Council Office and approval of President Mohammad Ashraf Ghani.
The newly appointed members include Mohammad Sulaiman Kakar as deputy chief of ONSC development and public affairs, Gen. Yama Karzai as deputy chief to review the strategic threats and information, Abdul Hakim Noorzai as internal audit deputy.
Gen. Khaliq Khan Sarwari as deputy chief of ONSC for the armed forces, Gen. Bahadurshah Ahmadi as deputy chief of the armed forces and to manage and organization information, Gen. Dawran as deputy chief of the armed in the field of providing support to the Afghan Air Force.
Full report at:
http://www.khaama.com/afghanistan-aims-to-boost-security-sector-with-new-appointments-in-nsc-02548
--------
Senate mulls to summon security officials amid rising target killings in Kabul
Apr 11 2017
The lawmakers in the Upper House of the Parliament, Senate House, Meshrano Jirga, have started mulling regarding the impeachment of the security officials amid unprecedented rise in targets killings in the capital.
The Upper House speaker Fazal Hadi Muslimyar told the general session of the Senate today that the target killings, kidnappings, and armed robberies are on the rise which have been unprecedented during the recent days.
He asked the defense and security commissions of the Upper House to summon the security officials so they can brief the lawmakers regarding the upheavals.
The target killings in capital Kabul started earlier this week claiming the lives of several key security officials, including a senior army officer in the city today.
Two officials of the anti-corruption judicial center were shot dead on Monday morning as there are reports that another security official was shot dead on the same during the evening.
However, the killing of the army officer in Kabul earlier today further fuelled concerns among the officials although no individual or group has claimed responsibility behind the killings so far.
This comes as the security situation had relatively improved during the recent weeks and following a series of attacks that shocked the capital last month.
Full report at:
http://www.khaama.com/senate-mulls-to-summon-security-officials-amid-rising-target-killings-in-kabul-02547
--------
200 US troops deployed in Helmand province of Afghanistan
Apr 11 2017
At least two hundred US soldiers have been deployed in the restive Helmand province in South of Afghanistan.
Officials in the Ministry of Defense (MoD) said the soldiers have recently been deployed to train, advise, and assist the Afghan forces who are facing a resurgent Taliban.
MoD spokesman Mohammad Radmanish said the US forces are currently stationed in Bastion camp and will also assist the Afghan forces in coordinating close-air support.
Radmanish further added that the issue of the deployment of further US troops to Afghanistan is still under consideration but no decisions have been taken in this regard so far.
The deployment of 200 US forces in Helmand comes as the Afghan forces have already started a major counter-terrorism operation under the name of Khalid operations.
The Ministry of Defense (MoD) officials earlier said the Khalid operations have been launched from the two districts of Helmand, including Garamser and Nad-e-Ali and Nish district of southern Kandahar province.
The officials further added that the three districts are facing enormous security challenges and the Afghan forces will continue to maintain pressure on insurgents so that they are eventually eliminated.
Full report at:
http://www.khaama.com/200-us-troops-deployed-in-helmand-province-of-afghanistan-02546
--------
Southeast Asia
A Missing Pastor And The Disappearances Chilling Malaysia
Apr 12, 2017
It all began with the case of the missing pastor.
On the morning of 13 February, Raymond Koh was exiting a highway in the leafy suburb of Kelana Jaya just outside of the Malaysian capital, Kuala Lumpur.
A widely circulated CCTV clip appears to show what happened next. A convoy of black SUVs and motorcycles is seen swooping down on his car and boxing it in by the side of the road.
Then, several men jump out and run to Mr Koh. There is a flurry of activity, and the convoy moves off - along with his car. It is allegedly the last time anyone sees him.
At first, it appeared to be an isolated case of a possible kidnapping.
But as the weeks wore on, more reports of missing Malaysians began to surface.
Many now believe these incidents are connected in what some call an "unprecedented" spate of disappearances, which has mystified the country and raised fears of religious vigilantism.
Mr Koh's apparent abduction - an episode that takes place in just under a minute - took place in broad daylight and was witnessed by other drivers who later lodged police reports. Police are investigating the clip.
"The operation was very well planned. They knew who he was, where he was going, and probably had been tracking him," Mr Koh's son Jonathan told the BBC.
"It was very professionally executed."
'Religious elements'
Abductions are not unheard of in Malaysia, but kidnappers usually make contact quickly with victims' families for a ransom.
Two months on, however, Mr Koh's family has not heard a single word from him or his alleged abductors.
They believe it is no ordinary kidnapping, and that "religious elements" took the pastor in an act of "vigilantism or terrorism".
Mr Koh runs a non-government organisation called Harapan Komuniti (Hope Community) in Kuala Lumpur, which helps the poor, single mothers, and drug addicts.
"He's passionate, he loves people, he loves God," says the younger Mr Koh.
In 2011, Raymond Koh's organisation was investigated by Malaysia's Islamic authorities.
His group was accused of attempting to convert Muslims when they hosted a party with Muslim attendees at a church. Apostasy is an offence in Muslim-majority Malaysia.
The allegations were later dropped. But he remained a target of online rumours and even received two bullets in the post shortly afterwards, his family claims.
Such accusations have resurfaced with Mr Koh's disappearance.
Last week, it emerged that several people had lodged a police report against Mr Koh, alleging that he tried to convert Muslim youths to Christianity in January.
"He would never ask anyone to leave Islam," says his son, Jonathan Koh.
"His alleged proselytism is not an excuse for kidnapping. If he did anything wrong, he should have the right as any citizen to trial."
Malaysian police have given few updates, other than they were pursuing three angles: that Mr Koh had "personal issues", extremist groups were involved, or that he was kidnapped for ransom.
They did not respond to the BBC's request for comment.
Links to vanishings
Amid the media blitz over Mr Koh's disappearance and the video clip, stories about other missing Malaysians began to emerge.
All of these cases were recent disappearances and many remain unexplained.
Peter Chong: Social activist and former city councillor who disappeared last weekend near Kuala Lumpur. Police have since said he was seen crossing the border into Thailand.
Joshua and Ruth Hilmy: Pastor and his wife who were last seen near Kuala Lumpur in November.
Amri Che Mat: Muslim social activist allegedly snatched from his car in November, in the northern state of Perlis. His wife has denied allegations that he was spreading Shia Islam, which is banned by religious authorities.
There is no evidence these are in any way linked but in the absence of concrete information, many have come up with their own theories - including that the authorities may have had a hand in all this.
The "unprecedented mysterious" vanishings has led to "public perception and speculation... of forced disappearances", says the Malaysian Bar, using a term which usually refers to state-sponsored abductions.
"It is shocking and outrageous that a growing number of Malaysians could inexplicably disappear and not be found for days, weeks and months."
The police has not taken kindly to such rumours. Last month, the country's top police officer told citizens to "please shut up", and on Wednesday he told reporters there "was no connection".
Others have taken up the Kohs' theory and believe religious vigilante groups may be responsible.
Malaysian Muslims practise a moderate version of Sunni Islam, but in recent years the country has seen the rise of vocal Islamist groups.
Authorities have arrested dozens of suspected extremists, and last year the country saw its first attack by the so-called Islamic State.
Against this backdrop, the disappearances have unnerved many. The Malaysian Bar also said they raised "alarming doubts" about the country's security.
Mr Koh's disappearance in particular has sent a "worrying signal" to Christians, says Hermen Shastri, general secretary of the Council of Churches of Malaysia.
"It's a question on our minds, and some churches are worried it may be a trend... where those involved in activities related to the poor [are targeted by] vigilante groups," he tells the BBC.
Meanwhile, the families of the missing Malaysians can only hope and wait.
The Kohs have offered a reward for information, made repeated public appeals, and held vigils. Last week, senior Christian leaders and various heads of churches held a prayer service for Raymond Koh.
"We have been very stressed, it's been very frustrating," says Jonathan Koh.
"But we are working on leads. I still think he's alive."
http://www.bbc.com/news/world-asia-39252139
--------
Fix your own non-Muslim worship places first, BN told
BY TARRENCE TAN
April 11, 2017
KUALA LUMPUR, April 11 ― The Barisan Nasional (BN) should check and amend the controversial restrictions placed on non-Muslim places of worship in the states they govern before criticising others, Selangor legislative assembly speaker Hannah Yeoh said today.
Yeoh was responding to MCA criticism at the PKR-DAP-PAS-led Selangor government's handling of non-Muslim places of worship in the state earlier today.
"I urge BN politicians to fix the said guidelines in their respective states instead of wasting time in futile politicking," she said in a statement.
BN's Chinese party accused the Selangor DAP leadership of failing to protect the interests of non-Muslims and demanded they resign.
Yeoh ticked off MCA, especially its deputy president, saying Datuk Seri Wee Ka Siong "should have done his homework by checking the guidelines in Johor" before making his accusations.
"Or, was there a deliberate intention to mislead the public?" she asked.
Yeoh from DAP pointed out that Pahang, Terengganu and Perlis also have the same guideline as the Selangor government since 2010 and said her political bloc had carried out a study on other states including Johor, Negri Sembilan and Kedah.
Selangor came under fire after its state executive councillor Datuk Teng Chang Khim admitted to an oversight on non-Muslim places of worship to be included in the final version of the manual approved by the state executive council last year.
The new manual, which is the third edition of the guideline, includes a recommendation that non-Muslim places of worship should not be built within 50m of a home owned by Muslims and that planned new non-Muslim places of worship in areas with a multi-racial makeup require the consent of residents within a 200m radius.
Full report at:
http://www.themalaymailonline.com/malaysia/article/fix-your-own-non-muslim-worship-places-first-bn-told
--------
Indonesian graft investigator injured in acid attack
Apr 12, 2017
JAKARTA - A prominent Indonesian corruption investigator had acid thrown in his face by motorbike-riding assailants Tuesday in an attack activists believe is linked to a graft case that has implicated senior politicians. Novel Baswedan, a member of the official Corruption Eradication Commission (KPK), was being treated in hospital after the attack which happened in Jakarta as he walked home from a mosque in the early hours following morning prayers in the Muslim nation. "It is a brutal act, I strongly condemn it," said President Joko Widodo, urging the police to track down the assailants. The KPK condemned the "barbaric" attack and said they would not back down in their fight against corruption. "We believe that the fight against corruption eradication must not stop due to any sort of threats, intimidations or attacks," the body said in a statement. Presidential spokesman Johan Budi, who visited Baswedan in hospital, gave details of the attack, telling AFP the investigator had injuries on his forehead and blurred vision in his left eye.
Full report at:
http://nation.com.pk/international/12-Apr-2017/indonesian-graft-investigator-injured-in-acid-attack
--------
Tackling Sex Re-assignment Surgery in Malaysia
2017/04/12
In 1983, the National Fatwa Council of Malaysia issued a fatwa (religious ruling) prohibiting sex-reassignment surgery (SRS) among the Muslim population in Malaysia. Today, Muslim transsexuals can face charges entailing a year of imprisonment, a fine not exceeding RM1,000, or both.
Aversion to transsexuals (and by extension, transgender individuals, given that cross-dressing remains similarly forbidden) by Malaysian authorities also remains prevalent — with a JAKIM official calling the phenomenon a result of American influence, and one that is "new to Malaysia — not more than 20 years." The official also remarked of the propensity of transsexual individuals to "stop being transsexual."
Not surprisingly, Malaysia has continued to justify its stance on SRS on the grounds of religion, specifically Islam — as clearly exemplified in April 2016 when Deputy Minister Asyraf Dasuki categorically declared that "being transgender… (rejects) Allah's stipulations." This dynamic has subsequently lent to perceptions that frame aversion to sex-reassignment, and by extension issues pertinent to the transgender community, as one that runs parallel to puritanical interpretations of Islam. Evidently, however, a more concise analysis of Islamic discourse may suggest that more nuance may be necessary for understanding these currents.
Islamic jurisprudence traditionally segregates transgender individuals within two primary domains — khunsa (hermaphrodites) and mukhannis, the latter of which refers to men who experience what commonly is understood as gender dysphoria (the mismatch between gender identity and biological sex), often with desires to undergo SRS. Islamic scholars have generally conceded that individuals from the khunsa (hermaphrodite) category be permitted in undergoing the procedure to become either male or female — a consensus premised upon medical necessity. SRS however, remain proscribed for mukhannas, a rationale that stems primarily from theological rationales in which men (and women) have been framed as creations of God.
In this sense, cosmetic surgeries like SRS are understood therefore as "unnatural," prohibited modifications to the human body. Although this view has been sanctioned as the "official" stand by most Islamic scholars, discourse surrounding SRS for mukhannas remains one that is considerably debatable. In Islamic jurisprudence, fatwas posited with respect to specific issues like SRS remain based on independent reasoning (ijtihad) and analogical deductions (qiyas). Considering that SRS — given the absence of technological instruments and advancements in medical science — was practically inexistent during the advent of Islam, neither the Qur'an nor the Hadith has made specific references to the procedure.
As a result, discourse on SRS remains considerably new. Evidently, however, there have been considerable arguments made in favor of permitting SRS for mukhannas within the Islamic circle. For example, Shi'ah Imamiyyah and some Sunni jurists have sought to classify gender dysmorphia as a legitimate psychic-pathological condition, in which sex-reassignment would therefore "remedy" — therefore paralleling the permissibility of SRS for khunsas. This interpretation has been largely adopted in Iran where not only is SRS permissible, but also heavily subsidized by the state.
Indeed, with the exception of Thailand, more sex reassignment operations have been carried out in Iran than in any other country in the world. However, given that gender dysmorphia is relatively new in scientific research — and that questions as to whether the phenomenon is indeed rooted in biology remain unanswered — Islamic scholars today still remain stifled in deducing a definitive stance on sex-reassignment surgery.
It is noteworthy to highlight however that within Malaysia even non-Muslim transgender individuals — who are not within the jurisdiction of Shari'ah law — also face legal charges under Common Law surrounding violations like cross-dressing. It has also been reported that although medical institutions are, in principle, allowed to offer SRS to non-Muslims, most non-Muslim transgender individuals have "found it impossible to find doctors who will perform (the surgery)." In addition, the National Registration Department continues to proscribe transgender individuals — both Muslim and non-Muslim — from changing their sex marker on their identity cards, even after having undergone SRS outside the state.
Given the existence of such currents, it may be more appropriate to situate analyses of Islam and sex-reassignment within the lenses of Malaysian politics. Evidently, the legitimacy of the Malaysian state has long been premised upon the marriage of state identity with the Islamic faith. From a very early period on, demands to make Islam the official religion of Malaysia had been widely supported among the Malay demographic — including the leaders of UMNO who had understood that the exclusion of secular elements from the Federal Constitutions would confer great legitimacy to the regime. What manifested hence were strategies aimed at creating an image of an Islamic nation — including that which entailed the politicization of the Malaysian transgender community as "aversions" to Islam.
Full report at:
https://international.thenewslens.com/article/65679
--------
Indonesia seeks more Muslim tourists through Malaysian halal event
April 11, 2017
Indonesia, the world's largest Muslim-majority nation, is aiming to become the leading destination for halal tourism by 2019 and it hoped that by participating in Malaysia Halal Showcase (MIHAS) 2017, which ran from April 5 to 8, it can achieve its goal.
Located in the Kuala Lumpur Convention Center, the 14th MIHAS was said to be one the biggest halal events in the world, hosting 580 exhibitors from 33 countries, including China, Brazil and Japan. This year, the event was estimated to have welcomed 25,000 visitors from 67 different countries, an increase from last year's total of 22,027.
Representing Indonesia were six hotels, 19 travel agents and representatives from West Java and Karangasem, Bali. An estimated 1,000 visitors reportedly visited the Wonderful Indonesia booth, including the deputy prime minister of Malaysia, Dato' Seri Dr. Ahmad Zahid Hamidi.
"Overall, we're expecting 3.1 million Muslim tourists to visit Indonesia in 2017. Taking part at MIHAS 2017 definitely increases the awareness of Indonesia as the leading halal destination in the world and also creates business opportunities that can help contribute to the increase of Muslim tourists to Indonesia," said Tourism Ministry's Halal Tourism Department Acceleration head Riyanto Sofyan.
Moreover, Tourism Minister Arief Yahya said he believes that the country will overtake Malaysia by 2017 and Thailand by 2019 in terms of Muslim tourist arrivals.
Full report at:
http://www.thejakartapost.com/travel/2017/04/11/indonesia-seeks-more-muslim-tourists-through-malaysian-halal-event.html
--------
Chinese official demoted for not smoking in front of Muslims
April 11, 2017
BEIJING: A Chinese official who allegedly declined to smoke in front of Muslims in Xinjiang has been demoted for taking an "unstable political stance," a state-run newspaper reported Tuesday.
Xinjiang, home to China's Muslim Uighur ethnic minority, restricts religious practises — such as growing beards, wearing headscarves, and fasting during Ramadan — that are seen as symbols of "Islamic extremism".
A notice from the Hotan district government over the weekend accused Jelil Matniyaz, a village-level secretary for the ruling Communist party in the far-western region, of being afraid to smoke before religious figures.
"His behaviour of 'not daring' to smoke conforms with extreme religious thought in Xinjiang," a local official told the Global Times newspaper.
He added that a dutiful party member would choose to smoke in front of religious believers in order to demonstrate his or her commitment to secularism.
Matniyaz's failure to do so meant that instead of "leading the fight against extreme religious thought," he was "failing to confront the threat of extreme regional forces", the official said.
Matniyaz was given a "stern warning", stripped of his party secretary duties and downgraded from senior staff member to staff member.
Xinjiang has been racked for years by a series of violent attacks which Beijing blames on exiled Uighur separatist groups whom it says are aligned with foreign terrorist networks.
Rights groups have countered that unrest in the region is largely a response to repressive policies, and that tighter measures are counterproductive.
Uighurs, a traditionally Muslim group, complain of cultural and religious repression and discrimination.
Full report at:
http://www.freemalaysiatoday.com/category/world/2017/04/11/chinese-official-demoted-for-not-smoking-in-front-of-muslims/
--------
In Indonesia, pious 'punks' promote Islam
April 12, 2017
BANDUNG: "Prophet Mohammad forever," chant the young Indonesian Muslim musicians. But instead of a mosque, the men are singing at an outdoor concert with a mosh pit full of followers of the country's first Islamic punk movement.
The movement is the first of its kind in the world's largest Muslim-majority nation, and has hundreds of members in three of the country's biggest cities – Jakarta, Surabaya, and Bandung.
Sporting mohawks, leather jackets and baggy jeans, members of the "Punk Muslim" group claim that they, like the original British punk rockers, are still defined by rebellion and an anti-establishment ideology. But they express it by singing about Islamic values, freedom for Palestine, and other social issues facing the global Muslim community.
Ahmad Zaki, one of the movement's founders, believes the genre of punk is often associated with a "tendency towards misbehaviour" but he wants to change that.
"We can redirect ourselves to better, more positive things," he said.
Many of the group's members used to be street performers, and say they have changed drastically since joining the movement. They are now encouraged to form their own bands and write their own songs.
Reza Purnama, a member and a former alcoholic, says others like him are slowly quitting alcohol and their lyrics are becoming more positive.
"People aren't looking down on us anymore," he said, referring to a stigma against punks in Indonesia's largely conservative society.
Full report at:
http://www.freemalaysiatoday.com/category/world/2017/04/12/in-indonesia-pious-punks-promote-islam/
--------
Europe Looks to Indonesia as Model of Peaceful Islam
Apr 12, 2017
Jakarta. Indonesia's long tradition of peaceful coexistence among diverse religious and ethnic groups is starting to serve as a model for other countries struggling with the challenges of multiculturalism.
Nearly 85 percent of Indonesia's population of 250 million people are Muslims, but the country is notably tolerant of other religions compared to others with similar demographics.
And despite occasional conflicts, exacerbated by religious hardliners, Indonesia still promotes a peaceful understanding of Islam.
Yenny Wahid, chairwoman of the Wahid Institute, cited the growing trend of religious extremism around the globe, and explained that Indonesia has so far been largely unaffected by it.
Based on recent information Yenny gleaned during an interreligious dialogue in Denmark – facilitated by the country's embassy in Indonesia – the daughter of former Indonesian President Abdurrahman "Gus Dur" Wahid said the number of Europeans traveling to Syria to join the Islamic State (IS) far exceeds the number of Indonesians who have done the same.
According to National Counterterrorism Agency (BNPT) chief Comr. Gen. Suhardi Alius, at least 500 Indonesians have joined IS. However, that number differs slightly from that given by the Soufan Group, a United States-based private intelligence analysis firm, which claimed in 2015 that more than 700 Indonesians had already joined the radical group.
However, that number is still small when compared with a recent European Union estimate that between 5,000 and 6,000 EU citizens have traveled to Syria to join IS since 2014. Of those, 1,450 are French citizens.
Danish Ambassador Casper Clynge confirmed the EU estimate, saying at least 150 people from Denmark have joined IS since the group emerged in 2014.
"In proportion to our total population, we are the second-largest contributor [in Europe] of foreign fighters to IS, so it goes without saying that it is a major problem for Denmark and a major concern from a threat point of view," Clynge told the Jakarta Globe on April 6.
"Of course, we need to find ways of preventing people from joining IS or any other terrorist organization," he said.
Yenny added that her participation in the Danish event, as well as through other visits to France and Germany for similar events, was aimed at helping Europeans implement a model of deradicalization that incorporates Islam and shows deference to Muslims in those countries.
"There definitely is Islamophobia, but at the same time, there's evident radicalism among some Muslim communities throughout Europe," Yenny told the Jakarta Globe last week.
"[The Europeans] wanted to see how Islam, as it is practiced in Indonesia, can help deradicalize European Muslims," she said. "We are the largest Muslim-majority society in the world and our practice of Islam is very tolerant compared to other countries." Yenny said the Indonesian interpretation of Islam is notably more civilized and welcoming of other religions or ways of life when compared to some other Muslim-majority countries.
"Islam in Indonesia has certain characteristics, buffered by our civil law, which protects the rights of minority groups, provides room for women to contribute to society, is inherently tolerant and is respectful of differing cultural traditions," she said.
"I explained to my European colleagues that Indonesia practices a distinct kind of Islam."
Combating Islamophobia and Extremism
In Europe, Islamophobia is markedly on the rise, but so too is the radicalization of certain segments of the continent's numerous Muslim communities.
Yenny said this vicious cycle of distrust and animosity has created challenges for Muslims in Europe to freely express their identities without the fear of reprisal.
She said wearing the hijab or a burkini – a modest swimming attire for Muslim women – is considered an excessive show of religious zeal in some European countries, though the wearing of a Christian cross or a Jewish kippah in public raises no eyebrows.
Yenny said recent opposition to the hijab is propelled by rising Islamophobia on the continent, prejudice she believes governments must address to become more inclusive societies.
"In Indonesia, we have certain rights, which are already guaranteed [...] We may not approve of how someone dresses, but we respect their right to do so, as long as they are in line with public decency and ethics," she said.
In terms of fighting extremism, Denmark has created a so-called "deradicalization unit" that combines school administrators, local police and social workers to work together to identify unusual behavior among young people who might be on the brink of joining radical groups.
Should school teachers notice such behavior, they are advised to call a special telephone hotline. Then, local police officers and social workers approach suspects and invite them for a brief talk to identify any issues.
"It's a soft but preventive approach, instead of catching the bad guy after it's too late," Elsebeth Søndergaard Krone, deputy head of mission at the Danish Embassy, told the Jakarta Globe.
Backlash Against Indonesia's Tolerance?
The Indonesian delegation to the Danish event included prominent religious representatives of Indonesia – mostly Muslims – such as Nasaruddin Umar, grand imam of the Istiqlal Mosque in Jakarta; Nadhlatul Ulama secretary general Yahya Cholil Staquf; Muhammadiyah secretary general Abdul Mu'ti; and Jesuit priest Frans Magnis Suseno.
Stand-up comedian Sakdiyah Ma'ruf, who chooses to combat radicalism by making fun of it, was also present at the event.
Members of the delegation met with government officials, Danish religious leaders of various denominations and school teachers campaigning for a more peaceful variant of Islam in the country.
However, the Ahmadiyya society in Denmark – a branch of the international Islamic organization based in the United Kingdom – refused to accept the implementation of a variant of the Indonesian form of Islam to be implemented in that country.
During a recent public lecture at the University of Copenhagen, Ahmadiyya representatives said hardline Muslims in Indonesia discriminate against them and even label them as blasphemers.
"We were berated at the [University of Copenhagen forum] about how Indonesia has treated members of the Ahmadiyya," Yenny said. "I told them that Indonesia may allow religious freedom, but we still face challenges, including how we treat minority groups." Yenny added that Nadhlatul Ulama and Muhammadiyah leaders often advocate for Ahmadiyya members who face violent discrimination in Indonesia.
She also pointed out that prejudice is often triggered by political interests and that it was Shia Muslims, and not members of Ahmadiyya, who are forced to cope with rising levels of discrimination in Indonesia.
"Unfortunately, it is the effect of geopolitical conflict between Saudi Arabia and Iran. The Indonesian Shia community is very small and for years we didn't have problems," Yenny said. "But then it appeared out of the blue because campaign contributions to Indonesian politicians are disproportionately distributed by Saudi Wahhabist groups."
Wahhabism is an Islamic doctrine founded by 18th century religious leader Muhammad ibn Abd al-Wahhab, and it promotes an extreme interpretation of the Koran.
Shia and Ahmadiyya Muslims have coexisted for decades in Indonesia, but recent political tensions in the Middle East have soured relations between the two groups.
"For Sunni Muslims, Shia and Ahmadiyya are different in terms of aqidah [basic tenets of Islam], but there was never a need for intimidation. Clerics must keep their respective constituents on the right track. There's too much aggression now because of unnecessary provocation," Yenny said.
The disruption at the university lecture led some Indonesian figures to question whether the delegation was justified in promoting the country's unique variant of Islam to Danish leaders, but Clynge said there was no cause for concern.
"The way [the Indonesian religious leaders] responded to the criticism [by the Ahmadiyya] completely demobilized the critique against Indonesia because there was an acknowledgement that nothing is perfect. Indeed, nothing is black and white," he said.
Indonesia still has work to do to guarantee minority groups full protection under the law. Besides the Ahmadiyya's grievances, Muslim hardliners in the country tend to show animosity or even hatred towards non-Muslims who seek lawful permits for houses of worship, or who pray in public.
Clynge said although Indonesian society is not completely tolerant, the country has an impressive track record of sustaining peaceful coexistence between members of various ethnicities and religions.
"Of course, one can give many examples of intolerance, or instances where people are either verbally or even physically hurt because of their perceived differences, whether it's religion or ethnicity," Clynge said.
Full report at:
http://jakartaglobe.id/news/europe-looks-indonesia-model-peaceful-islam/
--------
Mideast
Yemeni president says Houthis have 'sold themselves' to Iran
11 April 2017
Yemeni President Abd Rabbuh Mansur Hadi said militias behind the coup in Yemen have "sold themselves to the Iranian project which wants to control Yemen and target the entire region."
Iran is sending advanced weapons and military advisers to Yemen's rebel Houthi movement, stepping up support for its ally in a civil war whose outcome could sway the balance of power in the Middle East, regional and Western sources have recently said.
A senior Iranian official told Reuters news agency last month that Major General Qassem Soleimani, commander of the Qods Force - the external arm of the Islamic Revolutionary Guard Corps - met top IRGC officials in Tehran to look at ways to "empower" the Houthis.
Meanwhile, the Saudi-led coalition sent military and logistical reinforcements to the western coast front in preparations for a battle to restore the Hudaydah port.
The coalition's reinforcements aim to support the joint forces in what has been termed as Operation Golden Spear.
Full report at:
https://english.alarabiya.net/en/News/middle-east/2017/04/11/Yemeni-president-says-Houthis-have-sold-themselves-to-Iran-.html
--------
Palestinian factions vow to break up Badr group in Lebanon
Apr 12, 2017
The leaders of Palestinian political factions in Lebanon have agreed to destroy a militant group engaged in clashes with Joint Palestinian Security Forces in the al-Hilweh refugee camp in Lebanon.
The agreement was made following a meeting of Palestinian factions in Sidon on Tuesday, during which a senior Fatah official announced that the Badr extremist group must be removed.
"Wherever the security find him, they must arrest him, present him to justice and hand him over to the Lebanese state," said Fathi Abu al-Aradat.
The Palestinian refugee camp is the home of about 61,000 Palestinians, including 6,000 who have fled the foreign-sponsored conflict in Syria. It also houses fighters and militants belonging to various armed groups.
Under a tacit deal stuck after the 1975-1990 civil war, the Lebanese army does not enter the country's 12 official Palestinian refugee camps, where the factions themselves handle security.
During the clashes between the Badr group and joint security, which erupted on Friday at least 10 people have been killed and dozens more have been injured. Schools, universities, and local businesses have also been closed.
The group's leader Bilal Badr reportedly fled the camp on Monday, and is being sought by Joint Security Forces.
Full report at:
http://www.presstv.ir/Detail/2017/04/12/517691/palestine-lebanon-refugee-camp-militants
--------
Iran defence chief discusses US raid with Russia, Syria counterparts
Apr 11, 2017
The Iranian defense minister has in separate phone calls with his Russian and Syrian opposite numbers exchanged views about the recent US airstrikes against a Syrian army air base, with the trio stressing the importance of boosting cooperation for a resolute campaign against terrorists.
"This [US] move is in contravention of all the principles of international law and was a blatant act of aggression against an independent country to revive and raise the crippled spirits of terrorists in Syria," Iranian Defense Minister Brigadier General Hossein Dehqan said in a phone call with his Russian counterpart Sergei Shoigu on Tuesday.
He added that the missile attack was also an attempt to restore the marred image of US President Donald Trump on the country's political scene and distract the public opinion away from domestic problems in the country.
He warned that the US is implementing "suspicious and dangerous" plans to make up for the terrorists' losses in the Middle East, create a consensus against the legitimate Syrian government and justify their military presence in the region.
Despite their claims, the US rulers are not fighting terrorism but are taking steps to boost the morale of terrorists and their sponsors and bombing the Syrian armed forces and nation instead of terrorists, the Iranian defense minister said.
Terrorists must understand that they cannot further continue with their criminal conduct and Washington should also know that its measures would not remain "unanswered," he added.
"The resistance front will firmly and resolutely continue with its anti-terror measures in spite of US wishes," Dehqan pointed out.
The Russian defense minister, for his part, urged the immediate reinforcement of the Syrian army and popular forces.
Shoigu expressed his country's determination to make use of its political and military capacities and furhter inflict crushing blows on terrorists and their sponsors.
US warships deployed to the eastern Mediterranean launched a barrage of 59 Tomahawk missiles against Shayrat Airfield, southeast of the western Syrian city of Homs, on Friday. Washington, without providing any evidence, alleged that the attack came in response to a chemical attack by the Syrian government.
At least 86 people were killed in the gas attack in Khan Shaykhun.
Syria has categorically denied carrying out the gas attack, with the foreign minister stressing that an Idlib airstrike had targeted a depot, where terrorists stored chemical weapons.
Full report at:
http://www.presstv.ir/Detail/2017/04/11/517673/Iran-Russia-Syria-Hossein-Dehqan-Sergei-Shoigu-Fahd-Jassem-alFreij-terrorism
--------
Iran lobbying world for Syria 'gas attack' probe
Apr 11, 2017
Through a flurry of contacts with world authorities, the Iranian Foreign Ministry has been promoting a proposal by President Hassan Rouhani for an international, impartial investigation into accusations of a chemical attack in northwestern Syria.
At least 86 people died in the town of Khan Shaykhun in Syria's Idlib Province last week in what the opponents of the Syrian government say was a chemical attack by Damascus. Syria has, however, denied the accusation, saying instead that a chemical weapons depot held and run by anti-Damascus militants had been hit in a conventional Syrian airstrike, causing the leak of the chemicals and the deaths. Russia has confirmed that account.
Meanwhile, and amid increased belligerence toward Damascus, Iran, another Syrian ally, has called for an international investigation by impartial parties. President Rouhani put forth the idea on Saturday. He has also condemned the use of chemical weapons by any party.
Iran's Foreign Minister Mohammad Javad Zarif has now been holding telephone conversations with world leaders to stress the need for a fact-finding probe.
He has most recently called United Nations Secretary-General Antonio Guterres, Italian Foreign Minister Angelino Alfan, Kuwaiti Foreign Minister Sheikh Sabah Al Khalid Al Hamad Al Sabah, and Turkish Foreign Minister Mevlut Cavusoglu.
The Iranian foreign minister has also talked to European Union foreign policy chief Federica Mogherini, as well as his Russian, Omani, Syrian, and Algerian counterparts over the matter.
Iran-Russia-Syria meeting
Amid Iranian diplomatic efforts, Russian Foreign Ministry spokeswoman Maria Zakharova said on Tuesday that foreign ministers of Iran, Russia and Syria would hold a meeting in Moscow this week to discuss the US strikes against Syria.
"A trilateral meeting between Russian Foreign Minister Sergei Lavrov, Syrian minister Walid al-Muallem and Iranian minister Mohammad Javad Zarif is planned for the end of this week," Zakharova said.
Iranian Foreign Ministry Spokesman Bahram Qassemi on Tuesday confirmed Zarif's visit.
"The [Iranian] foreign minister will travel to Moscow on Friday to participate in the trilateral meeting of foreign ministers of Iran, Russia and Syria," Qassemi said.
Using the Idlib tragedy as a pretext, US President Donald Trump on Friday ordered a missile strike on a Syrian airbase. A barrage of 59 Tomahawk missiles was launched against the Shayrat Airfield in the western Syrian Homs Province early on that same day, causing some 15 fatalities, including civilians.
The US strike was conducted without a mandate by the United Nations Security Council, and did not even have a US Congress approval. American officials have, meanwhile, threatened more attacks against the Syrian government.
The Friday strike and the threats of more attacks have been met with strong reactions from Syria's main allies Iran and Russia, both of whom have condemned the attack.
Leader of the Islamic Revolution Ayatollah Seyyed Ali Khamenei said on Sunday that the US strike was a "strategic mistake."
On Monday, President Rouhani warned that any further US strikes on Syria could push the region into a "very dangerous" situation.
Iran's President Hassan Rouhani speaks during a press conference in Tehran, April 10, 2017.
Full report at:
http://www.presstv.ir/Detail/2017/04/11/517589/Iran-Foreign-Ministry-President-Rouhani-proposal-factfinding-probe-Syria-attack
--------
Gaza security forces arrest suspected killer of top Hamas figure
Apr 11, 2017
Palestinian security forces have reportedly arrested a man suspected of assassinating Mazen Fuqahaa, a high-ranking military commander of Hamas resistance movement, in the southern part of the besieged Gaza City late last month.
The Arabic-language Palestine Alaan news agency reported that the suspect, whose identity and affiliation were not immediately known, was arrested on Monday evening. He is said to stand trial very soon.
Speaking at Fuqahaa's funeral on March 25, Mahmoud al-Zahar, a co-founder of Hamas, said the Palestinian resistance movement would hopefully get rid of the spies and mercenaries in the Gaza Strip who are serving the Israeli enemy.
"A major operation must get underway in order to identify all those responsible for the recent criminal act," he said.
Ezzedeen al-Qassam Brigades, the military wing of Hamas, denounced Fuqahaa's assassination in a statement, holding Israeli authorities fully responsible for the 38-year-old's death.
"The Israeli regime is the architect of the latest criminal act. The Israeli enemy seeks to impose its equation of terror through targeted killing of our brave resistance fighters. We will abort such attempts though. The occupier regime of al-Quds will eventually regret its conduct. They should know that if you play with fire, you get burned," the statement read.
Khalil al-Hayya, a senior Hamas official, promised retaliation for Fuqahaa's assassination.
Unknown assailants opened fire at Fuqahaa at the entrance to a residence in Tal al-Hawa neighborhood of Gaza City on March 24. They shot four bullets into the man's head before they fled the area.
Full report at:
http://www.presstv.ir/Detail/2017/04/11/517647/Gaza-security-forces-arrest-suspect-assassination-Hamas-commander-Mazen-Fuqahaa
--------
Blast at police HQ in Turkey was accident
Apr 12, 2017
DIYARBAKIR - An explosion which shook police headquarters in the southeastern Turkish city of Diyarbakir on Tuesday morning was an accident which occurred during repair work, the interior minister said. Interior Minister Suleyman Soylu said no external forces had been involved in the incident in the restive majority Kurdish city which happened during repair work on armoured vehicles at police headquarters. He said one person was seriously hurt while another was trapped under rubble. The blast, which could be heard in several areas across the city added to security jitters just days ahead of a key referendum expanding President Recep Tayyip Erdogan's powers.
Grey smoke rose from the area as ambulances rushed to the scene, with medics saying at least five people were hurt. "There was no intervention from outside. An explosion happened during repairs to vehicles," Soylu was quoted as saying by the private NTV television.
Full report at:
http://nation.com.pk/international/12-Apr-2017/blast-at-police-hq-in-turkey-was-accident
--------
EU prolongs Iran human rights sanctions
BRUSSELS - The EU prolonged sanctions against Iran over its human rights record for another year Tuesday, amid tensions over Tehran's support for Syrian President Bashar al-Assad. The sanctions include an asset freeze against 82 individuals and one entity, plus a ban on exports to Iran of equipment "which might be used for internal repression and of equipment for monitoring telecommunications". The names will be published Wednesday in the EU's Official Journal, a statement said. The European Council of member states said it decided to extend the sanctions in response "to serious human rights violations in Iran".
http://nation.com.pk/international/12-Apr-2017/eu-prolongs-iran-human-rights-sanctions
--------
Five Sudanese troops fighting for Coalition killed in Yemen
12 April 2017
The Sudanese army said on Tuesday that five of its troops have been killed while fighting for the Saudi-led Arab coalition against Shiite Huthi rebels in Yemen.
The army did not specify when the troops were killed, but Sudan has deployed hundreds of soldiers as part of the coalition that is fighting the rebels backed by Iran in a war which the United Nations says has already left around 7,700 people dead and 42,500 wounded.
Khartoum joined the Coalition led by Saudi Arabia in 2015 after breaking decades-old ties with Tehran. The Sudanese military has largely refrained from offering details of its operations within the coalition or of casualties it has suffered in the conflict so far.
Injuries reported
But in a rather rare announcement late Tuesday the army said it had lost five troops in Yemen, including an officer. "We have lost five martyrs including an officer, and 22 others have been wounded," army spokesman Brigadier Ahmed Khalifa al-Shami said in a statement.
Without offering details, he said Sudanese forces had completed on Tuesday their "first stage of duty" in Yemen and were now preparing to launch the second stage.
Full report at:
https://english.alarabiya.net/en/News/gulf/2017/04/12/Fiver-Sudanese-troops-killed-in-Yemen-fighting-for-Coalition.html
--------
Africa
Muslims and the success of South Africa's religious diversity
Apr 11, 2017
Growing up in early 90s South Africa I was not exposed to many different races, in that stifling, artificially divided environment apartheid left us with. But I was immersed in a rich religious melange that formed my understanding of community. My neighbours on my right were Hindu, on my left were Christians and opposite me were Muslims. I heard stories about Ram's love for Sita from Mrs Moodley, about Christmas from the Davids next door and about the Prophet (PBUH) at madressah. There were at least five temples, mosques and churches in my area alone (often right next to each other) and our parks were littered with white rocks that mark Shembe outdoor prayer sites. In town, outside the bustling African traditional healer's market was the Catholic Emmanuel Cathedral and right next door was the largest mosque in Durban, the Juma Musjid Mosque dating back to 1880.
While we may have been segregated by race, there were no clear rules about religion and it is perhaps one of the reasons that faith bound us to one another so strongly. Religion was not only a source of strength and comfort during apartheid, it was also a means of resistance against a system designed to divide. And yet religion, the one thing that has divided the rest of the world so starkly, has not done so here. This has perhaps been one of the most remarkable stories of post-apartheid South Africa, but the least told.
Despite being a secular state, South Africa is a deeply religious country – it has more than 60 religious affiliations and in 2016, the General Household Survey by StatsSA revealed that more than 90% of South Africans associate themselves with a religion while 36.6 % of Hindus, 52.5% of Christians and 75.6% of Muslims attend religious ceremonies at least once a week. While the number of South Africans who consider themselves religious may be lowering we still have a uniquely united approach to religion in a world that is steadily growing divided over it.
Thuli Madonsela, the former public protector who helped draw up the the South African Constitution, explained in an interview last year that respect for the right to choose one's faith and the state's respect for all faiths is how a secular democracy and a religious population work together so well in South Africa.
This is especially pertinent today in a world where Islam and its communities have come under scrutiny with non-Muslim majority countries calling for stricter control measures like the surveillance of Muslims, preventing mosque construction and supporting the introduction of Muslim identification documents. South Africa's Muslim population represent only one and a half percent of the population but it has a strong presence in the country due to an active and involved community. This community of Muslims have lived in harmony with the Christian majority in South Africa for years. It is perhaps one of only a handful of countries where this has succeeded.
One of the reasons for this is the way Islam was introduced to South Africa. Islam first arrived on our shores though slavery, which began in mid 1600s to the mid 1800s when the Dutch sent slaves and political prisoners to the Cape Colony from Indonesia and other Asian countries. The second wave of Muslims arrived from India as indentured labourers to work in sugar cane farms for the British in the late 1800s. This history of slavery is part of the reason why Muslims are so organically a part of South Africa, says Gabeba Baderoon, an academic and author of Regarding Muslims, a book that traces the role of Muslims in South Africa. "South Africa was built not only on colonial occupation and land theft but on slavery and indentured labour. Islam is intricately connected to these deep beginnings because many enslaved and indentured people were Muslims and the long history of struggle during colonialism is part of the reason that Islam is an ordinary, organic and indigenised part of our present," Baderoon tells the Huffington Post South Africa.
Khadija Patel, a Muslim journalist and editor of the Mail & Guardian, echoes similar sentiments. "Islam in not homogenous, it is many things and it has grown through an organic process that speaks to the long and difficult history of this country."
Despite their small numbers, Muslim South Africans are visible in many fields, including our politics. In 1998 former South African president Nelson Mandela reflected that: "Our country can proudly claim Muslims as brothers and sisters, compatriots, freedom fighters and leaders, revered by our nation. They have written their names on the roll of honour with blood, sweat and tears." Some Muslims, most notably Yusuf Dadoo, Ahmed Timol, Ismail Cachalia and Fathima Meer, fought in the struggle against apartheid.
But the Muslim community in South Africa has not been without its criticisms. Safiyyah Surtee, a Postgraduate researcher as the University of Johannesburg's Religion Studies, says that Muslims do have a unique situation here but she believes that a lot more can be done on an interfaith level. "Muslims need to contribute more to interfaith, respect and harmony. I often find myself the only Muslim at interfaith events."
Some within the Muslim community have been labelled racist, sexist, apathetic and unwilling to integrate into a South African community. There is a danger that they consider themselves separate from the people and government.
And most alarmingly, there is one aspect of the issues facing global Islam that has crept into an otherwise largely peaceful Muslim existence in South Africa: an undeniable strand of extremism. This may pose the biggest danger to the social cohesion South Africa enjoys with its Muslim population. While most were largely moderate Muslims, and a significant number well-integrated into society, some South African Muslims have actually joined terror groups. In 2015 a fifteen-year-old Cape Town girl was taken off a flight en route to join ISIS.
But then there are moments like anti-apartheid activist Ahmed Kathrada's state funeral which demonstrate the power of South Africa's real religious tolerance. His memorial in Cape Town was proudly hosted by the historically important St George's Cathedral, and religious leaders in attendance at the Muslim funeral included the Anglican Archbishop. This prompted former University of the Free State vice chancellor, Jonathan Jansen, to write a viral post about religious cohesion in South Africa "where Christian, Muslim, Jewish, Hindu and other faiths come together in a broad swathe of South African humanity to remember a man who fought for all of us. Where on and off the stage no one racial or ethnic or religious group dominated the event".
An active and committed community with a history in the country may be the reason why Islamophobia has had little impact in the country. Whilst there has been some protests to construction of mosques in Valhalla and most recently Atholl, these incidents are often related to the history of the area as previously white-only areas, and objections mainly came from white residents. This year the Western Cape experienced vandalism of two mosques in January; the mosques were desecrated after a public call on Facebook to burn Islamic places of worship. However there was an immediate outcry and the Christian community showed support with the local Bishop attending interfaith meetings at the mosque and publicly denouncing the acts.
Despite these incidents South African Muslims have experienced little of the current levels of fear and intimidation of global Muslim minorities and this may have something to do with the fact that Muslims have been allowed to develop their communities and thus feel settled enough to become active and contributing members of society. In 2014 The Pew Research Centre conducted a study on the perceptions of Americans towards members of different religious groups. The study revealed that whereas Jews, Catholics and Evangelical Christians were all viewed warmly, Muslims were viewed coldly. However several trends emerge from this research, an important one being that the more likely a person is to know a Muslim, the more likely he or she is to express positive feelings towards Muslims as a group.
South Africans rely on their immediate community and not on the media to formulate an understanding of Muslims and this has led to a far nuanced understanding of a currently misunderstood religion.
South African Muslims have a long and peaceful history in the country and while Islamophobia and extremism has been on the rise globally, and cannot help but affect us here, religious tolerance is still one of South Africa's strongest traits – and a story we don't tell often enough. It is a shared history of struggle, a Constitution that protects religious diversity and a remarkable tolerance for difference from many South Africans.
https://muslimvillage.com/2017/04/11/123273/muslims-success-south-africas-religious-diversity/
--------
Child suicide bombings surge in Boko Haram conflict: UNICEF
Apr 12, 2017
The use of children as suicide bombers by the insurgents of Boko Haram has surged in 2017, the United Nations Children's Fund (UNICEF) said on Wednesday.
In the countries fighting Boko Haram in the Lake Chad region - Nigeria, Niger, Cameroon and Chad - 27 children have been used in suicide attacks by the armed Islamist group in the first three months of the year, UNICEF said in a report and statement.
There were nine cases in the same period last year, and 30 children used for bombings in all of 2016, it said. Most were girls.
The Boko Haram insurgency is now in its eighth year with little sign of ending, having claimed over 20,000 lives. Its child kidnappings gained global notoriety after the abduction of more than 200 girls from the town of Chibok in Nigeria's northeast in 2014, three years ago on Friday.
Boko Haram has kidnapped thousands, often raping them, forcing them to become suicide bombers, help the militants in their conflict or marry fighters, UNICEF said.
"These children are victims, not perpetrators," said Marie-Pierre Poirier, UNICEF's regional director for West and Central Africa.
"Forcing or deceiving them into committing such horrific acts is reprehensible."
One 16-year-old girl from Chad lost her legs after being drugged and forced by Boko Haram to take part in an attempted suicide attack on a crowded market, according to UNICEF's report.
Though the girl survived, her family initially rejected her "out of fear of stigma".
Children who escape Boko Haram are often held in custody by authorities or ostracized by their communities and families.
About 370 remain in custody, a UNICEF spokeswoman told Reuters, after Nigeria's military on Monday released 593 people, including children, after clearing them of having ties with Boko Haram.
"Society's rejection of these children, and their sense of isolation and desperation, could be making them more vulnerable to promises of martyrdom through acceptance of dangerous and deadly missions," UNICEF said in its report.
Children make up 1.3 million of the 2.3 million people displaced by the conflict.
UNICEF said its response to the crisis "remains severely underfunded", hitting efforts to provide mental health and social support, reunite families and offer education, safe water and medical services.
Last year, the group received only two-fifths of the $154 million it appealed for.
Full report at:
http://nation.com.pk/international/12-Apr-2017/child-suicide-bombings-surge-in-boko-haram-conflict-unicef
--------
UN warns of mass starvation in Africa, Yemen
Apr 11, 2017
The UN's refugee agency says the risk of mass deaths from starvation is growing in parts of east Africa, Yemen and Nigeria due to a combination of conflict, drought and a shortfall in humanitarian aid funding to help beleaguered populations cope.
The United Nations High Commissioner for Refugees (UNHCR) says some 20 million people, more than one-fifth of them refugees, live in areas affected by drought.
The agency is raising its projections for displacement from South Sudan and Somalia.
Spokesman Adrian Edwards cited a "particularly pernicious combination" of factors in the areas, pointing to the "world's biggest humanitarian crisis" in Yemen, conflicts in South Sudan and Somalia, and violence and instability caused by radical group Boko Haram in Nigeria and the Lake Chad basin.
Full report at:
http://www.presstv.ir/Detail/2017/04/11/517617/UNHCR-Africa-Yemen-Starvation-Nigeria
--------
Burkina Faso: Security Alone Won't Save Burkina Faso From Extremism
11 APRIL 2017
ANALYSIS
By William Assanvo
Since 4 April 2015, the day a Romanian citizen was abducted in Tambao on Burkina Faso's north-east border with Mali and Niger, about 20 terror attacks killing 70 people have been recorded in the country, according to the Minister for Security, Simon Compaoré.
Most of the attacks occurred in the administrative Sahel region. They have been claimed or attributed to al-Qaeda in the Islamic Maghreb (AQIM)'s al-Mourabitoun brigade and two groups linked to Ansar Dine - the Katiba Macina (active in central Mali) and Katiba Khalild Ibn Walid (who initially operated in the Sikasso region, southern Mali). In late 2016, a local actor entered the fray. Known as Ansarul Islam, this group is reportedly structured around Malam Ibrahim Dicko, who is portrayed as a radical preacher.
Burkina Faso's response to the rising terror threats has been to increase security. This has yielded some results, for example the neutralisation last month of Harouna Dicko, presented as a lieutenant of Malam Ibrahim Dicko, and the arrest of several suspects. The large search operation launched on 27 March in Soum province and on the Malian side of the border, involving Burkina Faso and Malian soldiers, supported by French soldiers from Operation Barkhane, is also significant.
But is this approach enough to eliminate the threat of extremism in Burkina Faso?
Public opinion differs. Some feel the authorities haven't taken full measure of the nature of the threat; others think the government has been more reactive than proactive, or that it has simply shown a lack of power.
There are several factors, though, that contribute to the rising threat of extremism in Burkina Faso. These are the instability of neighbouring Mali, and Burkina Faso's own regional and local dynamics - the latter including socio-economic conditions and the emergence of 'radical Islam', which gave rise to the country's Ansarul Islam group.
Regional dynamics include the links between the groups operating in the border areas between Burkina Faso's Soum province and central Mali. This part of Mali is used by Ansarul Islam as a base to which it retreats to escape Burkina Faso's armed forces. All these factors must be considered when attempting to identify the root causes and conditions that have contributed to rising terrorism in Burkina Faso.
The proximity of an unstable Mali, with growing insecurity in its central region and, more importantly, attacks in areas bordering Burkina Faso throughout 2015, should have prompted the country to take measures to prevent the situation from getting worse. Burkina authorities have investigated the circumstances under which some of the attacks were organised, and identified those involved. The government has also strengthened the security and intelligence apparatus, mainly through the deployment in the country's north of elements of the Groupement des forces anti-terroristes (GFAT) anti-terrorist group, and the supply of equipment to the forces (police, gendarmerie and the army) operating in the Sahel region. Several military operations have also been carried out in key areas across the country.
But Burkina Faso, along with other states in the region, remains central to jihadist groups' strategies to establish, strengthen or expand their influence in the Sahel. In a recent interview with al-Qaeda's weekly Al-Massar magazine, Iyad Ag Ghaly (leader of the recently established Jamâ'ah Nusrah al-Islâm wal-Muslimîn in Mali) recalled that Burkina Faso was one of the movement's targets.
There is no doubt that Burkina Faso's authorities are aware of the threat, but the country needs to remain vigilant and tackle all aspects of this phenomenon.
It is difficult to establish absolute border control, but strengthening security in border areas will be key. Government action, not just in terms of security measures but also social and economic ones, is needed. The impact of declining trade exchanges that have resulted from the current insecurity must be mitigated, rampant food insecurity addressed and job opportunities created.
Full report at:
http://allafrica.com/stories/201704110539.html
--------
Uganda: Seventy Schools to Compete in This Year's Muslim Games
12 APRIL 2017
By Swaib Raul Kanyike
Kampala — In 1998, Muslim founded schools introduced the Uganda Muslim Education Association (Umea) Games to among others objectives, foster unity amongst themselves.
With 127 teams from over 70 schools taking part in this year's edition, the organizers believe they are on the right track.
This year's edition, due April 14-17, will be co-hosted by Welden High School and Nyamitanga SS in Mbarara district. Hajji Twahil Kiteezaala, the chairman Umea games, expects this year's edition to be bigger and better.
"Over the years, these games have helped us to forge unity through sportsmanship and fair play, plus inter-school coordination.
"You can see that every year, the number of participants keeps increasing," he said.
Tropical support
Table tennis and badminton have also joined the games. Yesterday, the organizers also received a shot in the arm from Tropical Bank, who offered winners' medals worth Shs6.8m.
In Mbarara, the preparations are in high gear. Abdul-Latif Masolo, the Headmaster, Welden High School, is happy with the developments thus far.
"We have sent our students on a short holiday to create room for our guests. The security of participants and supporters shall also be guaranteed. I am working closely with the District Resident Commissioner (RDC) and the Police."
Full report at:
http://allafrica.com/stories/201704120017.html
--------
URL: https://www.newageislam.com/islamic-world-news/pakistan-be-part-alliance-any/d/110740
New Age Islam, Islam Online, Islamic Website, African Muslim News, Arab World News, South Asia News, Indian Muslim News, World Muslim News, Women in Islam, Islamic Feminism, Arab Women, Women In Arab, Islamophobia in America, Muslim Women in West, Islam Women and Feminism