New Age Islam News Bureau
6 Oct 2017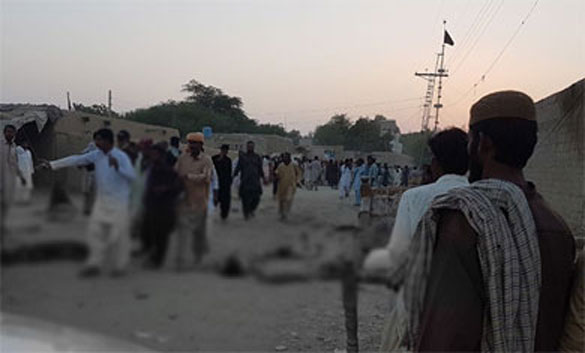 Thursdays are usually busy in terms of attendance at shrines and it is feared the death
-----
• Pakistan Military Admits ISI Has Links to Militants
• 20 Killed In Suicide Bombing Targeting Sufi Shrine in Jhal Magsi, Balochistan
• Taliban and ISIS Members Join Peace Process In East Of Afghanistan
• Russian Airstrike Kills 49 Takfiri Terrorists in Syria's Idlib
• Muslims Forego Muharram Procession to Fund Cancer Treatment of Hindu Man in Bengal
Pakistan
• Pakistan Military Admits ISI Has Links to Militants
• 20 Killed In Suicide Bombing Targeting Sufi Shrine in Jhal Magsi, Balochistan
• Pakistan Army Says Plan in Place to Integrate Militant-Linked Groups
• Rizvi blames politico-religious leaders for 'repeal' of Khatam-e-Nabuwat laws
• US can't scapegoat Pakistan for failures in Afghanistan: FO
• US hindered Pakistan's fight against terror: Asif
• 2 suspected terrorists killed in crossfire
--------
South Asia
• Taliban and ISIS Members Join Peace Process In East Of Afghanistan
• Ghani Calls On Pakistan to Intensify State-To-State Dialogue for Regional Peace
• The forbidden love between a Bangladeshi and a Rohingya
• PM: BD to move ahead despite Rohingya influx
• Ready to Fight Again: The Homeless Rohingya Still Backing Myanmar Insurgency
--------
Arab World
• Russian Airstrike Kills 49 Takfiri Terrorists in Syria's Idlib
• Iraq Claims Victory in ISIS' Last Urban Stronghold
• Saudi king, Putin clinch billion-dollar energy, arms deals
• 3 Daesh terrorists killed, 5 captured in Riyadh raids
• US consulate staffer arrested in Istanbul over links to Fethullah Gulen
• Tens of ISIL Terrorists Killed as Syrian Army Advances in Eastern Homs
• ISIL Withdraws from 5 Regions in Eastern Homs
• Syria: Gov't Troops Extend Range of Control over Eastern Homs
• Syrian Army Makes Strategic Advance towards ISIL's Key Base in Eastern Deir Ezzur
• Syria: Army Soldiers Regain Control over 9 Other Bordering Areas with Jordan
• ICRC: Syria fighting worst since Aleppo, civilian casualties mount
• Saudi Arabia dismantles ISIS cell in Riyadh
• Syria will never forget Iran's sacrifices, support: Assad
--------
India
• Muslims Forego Muharram Procession to Fund Cancer Treatment of Hindu Man in Bengal
• National Anthem a 'Must' In Madrasas, Allahabad HC Backs Yogi Adityanath Govt's Order
• Why Claims of Love Jihad Are Centred On Kerala
• India Struggles To Rein In Border Flows of Cattle and Rohingya
• Oman relaxes visa rules to attract more Indians
• India can handle Pakistan, China in two-front war, says IAF chief
• Air Force capable of striking nuclear, other targets in Pakistan: IAF Chief
• Army averts terror strike in Jammu's Akhnoor
--------
North America
• Islamic Imam Delivers Prayer before U.S. House Claiming God Is 'Experienced Through Multiple Paths'
• Isis: Las Vegas Shooter Stephen Paddock Became Muslim Six Months before Massacre
• Las Vegas shooter foiled a well-drilled counter-terrorism plan
• Minister says 800 Yazidis refugees resettled in Canada
• Trump: Iran has not lived up to spirit of nuclear deal
• US to ask NATO for 1,000 more troops for Afghanistan
--------
Europe
• In Landmark Terrorism Trial, France Confronts Roots of Homegrown Extremism
• France Offers To Mediate Between Baghdad and Kurds
• Putin, Salman hold talks behind closed doors in Moscow
--------
Mideast
• Hamas Appoints Military Chief as Deputy Leader
• Turkey: PKK militants killed at popular tourist resort
• Turkey to close borders with Iraqi Kurdistan 'soon': Erdogan
• JCPOA not renegotiable: Iran's nuclear chief
• Syria will never forget Iran's sacrifices, support: Assad
--------
Southeast Asia
• Indonesian President Urges Military to Stay Out Of Politics
• Bank Negara: Terrorists finding ways to avoid detection in money transfers
• Iran-Funded Center a Lifeline for Jakarta's Marginalized Shia Minority
• Indonesia, Jordan to Make Greater Use of Strategic Positions in Asean and Middle Eastern Markets
--------
Africa
• Is US Relying Too Heavily On African 'Partners' In War On Terror?
• Three US soldiers killed in Niger ambush
• Malawi: Sharia-Law Banking Services for All, Says Muslim Association of Malawi
Compiled by New Age Islam News Bureau
URL: https://www.newageislam.com/islamic-world-news/pakistan-military-admits-isi-links/d/112791
--------
Pakistan military admits ISI has links to militants
Oct 6, 2017
ISLAMABAD: Pakistan's military on Thursday admitted that its Inter Services Intelligence (ISI) has links to "militants", saying this does not mean it supports terrorist organisations, while also asserting that Milli Muslim League — the political wing of banned Jamaat-ud Dawa — is free to contest elections.
Milli Muslim League, which draws support from Mumbai attack mastermind Hafiz Saeed's JUD, was denied permission months ago from contesting bypolls by the Election Commission, which has so far refused to recognize it as apolitical party+ .
Answering a question about US claims of links between the ISI and militants, Maj Gen Asif Ghafoor, director general Inter-Services Public Relations, said, "There's a difference between support and having links. Name any intelligence agency which does not have links. Links can be positive, and the US defence secretary James Mattis did not say+ there was support. The narrative that I talked about is relevant here as well. We should not be a part of it. We have our own narrative."
Mattis had said on Tuesday that the US would try "one more time" to work with Pakistan in Afghanistan before President Donald Trump would turn to options to address+ Islamabad's alleged support for militant groups.
His comments likely caused concern in Islamabad, especially in light of General Joseph Dunford, chairman of the Joint Chiefs of Staff, telling the Senate Armed Services Committee, that he believed ISI directorate, had ties to militant groups. "It's clear to me that the ISI has connections with terrorist groups," General Dunford said.
Addressing a press conference in Rawalpindi, Ghafoor said Pakistan's eastern border is unsafe because of India's "inappropriate reactions". He said 222 Pakistani civilians were killed along the line of control this year in ceasefire violations, more than any other year before.
"But India has also paid a price with our response and we will continue to respond if it does not act with restraint," Ghafoor said, describing the threats from India as perpetual. "We are a peaceful country and we do not want war with them, but we will defend ourselves and have the capability to do so...
War is not the solution, so we are talking to them at all levels to stop this," he said. Ghafoor said Pakistan was facing a strategic threat on the western border as well, forcing the country to keep the Army on the border. "Our western border also meets Iran.
Our deployment is not against Iran or Afghanistan but against the Tehreek-i-Taliban Pakistan and other such non-state actors," he said. When asked why a press release was not issued after Wednesday's special corps commanders conference at Army's General Headquarters (GHQ), he said, "Silence is also an expression."
https://timesofindia.indiatimes.com/world/pakistan/pak-military-admits-isi-has-links-to-militants/articleshow/60964126.cms
--------
20 Killed In Suicide Bombing Targeting Sufi Shrine in Jhal Magsi, Balochistan
Syed Ali Shah
October 05, 2017
At least 20 people, including a police constable, were killed and more than 30 injured in a suicide bombing on Thursday at Dargah Pir Rakhel Shah in Fatehpur, a small town in the Jhal Magsi district of Balochistan, DawnNews reported.
District Chairman Jhal Magsi, Aurangzaib Magsi confirmed the death toll late in the night.
The deputy commissioner of Jhal Magsi had earlier said that the deceased include at least three children.
The medical superintendent of Gandawah Hospital, Dr Rukhsana Magsi, had earlier said 15 dead bodies were brought to the facility.
She said that another 24 injured were brought to District Headquarters Hospital Gandawah, of which 18 were shifted to Quetta and Larkana for medical treatment.
The governments of Sindh and Balochistan worked closely to rehabilitate those injured in the attack. Jhal Magsi is close to Balochistan's border with Sindh and better connected to larger cities like Jacobabad in the latter province.
The explosion, which police attributed to a suicide bomber, took place at the entrance to the dargah at a time when scores of people had gathered to pay their respects. Thursdays are usually busy in terms of attendance at shrines as the day is considered spiritually significant, but the day was also significant for the dargah as it was hosting a bi-monthly event.
District Police Officer Mohammad Iqbal said the bomber had tried to enter the shrine but a security guard stopped him, after which the attacker detonated his explosives.
Initial reports suggested that the explosion took place when the dhamaal — a devotional dance performed at shrines — was being performed after evening prayers.
Balochistan Home Minister Sarfaraz Bugti told DawnNews that "if he [the attacker] had managed to enter the dargah, the death toll would have been much higher."
Answering a question on whether the government was aware of a terrorist threat, Bugti said, "We are in a war zone. We [share] a porous border with Afghanistan. Keeping all these factors in mind, our security forces ensured a peaceful Moharram and they will continue to fight terrorism in Balochistan."
The attack happened hours after the chief of the military's media wing highlighted the army's efforts in combating terrorism across the country and brought up the role of "non-state actors" that the army believes are being sponsored by enemy spy agencies. It was the second deadly attack on a shrine in Pakistan in 2017. In February this year, a suicide bomber had killed more than 80 people and injured more than 250 in an attack targeting the busy Lal Shahbaz Qalandar shrine in Sehwan, Sindh.
The army had launched the ongoing Operation Raddul Fasaad in response to the Sehwan bombing, saying it was aiming at eliminating the "residual/latent threat of terrorism".
This was also the second attack on the Pir Rakhel Shah shrine since 2005. On March 19, 2005, at least 35 people were killed and many injured when a suicide bomber exploded himself at the shrine. The dead had included devotees from different sects who frequented the shrine seeking spiritual relief.
Pir Rakhel Shah
According to a blog maintained by the shrine's administrators, Sufi Rakhel Shah was born in 1852 AD in the district of Mirpur, Balochistan. His father, Noor Shah, claimed descent from Hazrat Ali. His eldest brother, Sufi Abdul Nabi Shah, was a disciple of Fakir Jaanullah Shah, a devotee of Sufi Innayatullah Shah.
Rakhel Shah, who is said to have been influenced by his brother's spiritual way of life, was for a time a disciple of Sufi Abdul Sattar of Dargah Jhoke Sharif, which is located in lower Sindh. After spending some time there, Rakhel Shah returned to Fatehpur to live a life of asceticism and charity.
The shrine was built in his devotion.
https://www.dawn.com/news/1361889/20-killed-in-suicide-bombing-targeting-shrine-in-jhal-magsi-balochistan
--------
Taliban and ISIS members join peace process in East of Afghanistan
Oct 05 2017
A number of the Taliban militants and insurgents belonging to the Islamic State of Iraq and Syria (ISIS) Khorasan have joined peace process in eastern Nangarhar province of Afghanistan.
Officials in the 201st Silab Corps of the Afghan National Army in the East said the militants were previously busy conducting insurgency and terrorist related activities in the southern parts of the province.
The officials further added that a total of eight insurgents renounced violence and joined peace process on Wednesday.
According to the Silab Corps officials, the militants also handed over nine assault rifles and a hand grenade to the security forces.
The anti-government armed militant groups have not commented regarding the report so far.
Nangarhar is among the relatively calm provinces in East of Afghanistan but the anti-government armed militants have increased their insurgency activities in some districts of the province during the recent years.
At least eleven militants affiliated with the Islamic State of Iraq and Syria (ISIS) Khorasan were killed in the latest airstrikes conducted by the US forces in eastern Nangarhar province of Afghanistan.
The provincial government media office in a statement said Wednesday that the airstrikes were carried out in Achin district on Tuesday.
The statement further added that the militants were targeted in Mamand Dara and Dab village areas of the district and some weapons and ammunition of the militants were also destroyed in the airstrike.
http://www.khaama.com/taliban-and-isis-members-join-peace-process-in-east-of-afghanistan-03585
--------
Russian Airstrike Kills 49 Takfiri Terrorists in Syria's Idlib
Oct 5, 2017
The Russian military says 49 Takfiri militants, including seven commanders, have been killed during an airstrike on terrorist positions in Syria's Idlib Province.
The Su-34 precision airstrike also destroyed Tahrir al-Sham's "largest underground ammunition depot" near the town of Abu ad-Duhur, which contained "over 1,000 tons of artillery shells and multiple launch rockets," RT quoted the military as saying on Thursday.
Meanwhile, Russia's Defense Ministry said Abu Mohammad al-Julani, the leader of Tahrir al-Sham, who was critically injured in another Russian airstrike in Idlib on Tuesday, has gone into coma.
Tahrir al-Sham was formed in January as a merger between Jabhat Fateh al-Sham (formerly al-Nusra Front) and several other Takfiri groups in Syria. Jabhat Fateh al-Sham is currently considered as the leader of the coalition.
Since 2015, Russia has been conducting aerial attacks against terrorist positions in Syria at a request from the Syrian government.
Backed by Russian air power, Syrian ground forces have managed to make numerous gains against terrorists on various fronts.
As part of their latest achievements, Syrian army forces have flushed Daesh Takfiri militants out of their last positions in the western-central province of Hama and seized full control over several more positions and outposts near the country's border with Jordan.
On Monday, Syrian Foreign Minister Walid al-Muallem said the main battles in Syria have almost reached the end and Damascus is writing the "final chapter" of the crisis.
http://www.presstv.ir/Detail/2017/10/05/537534/Syria-Russia-alNusra
--------
Muslims forego Muharram procession to fund cancer treatment of Hindu man in Bengal
Oct 05, 2017
Muslims in West Bengal's Kharagpur have decided to cancel Muharram procession this year and donate the money for the treatment of a Hindu neighbour, who is a cancer patient.
Samaj Sangha Club, which organises Muharram procession in Kharagpur's Puratan Bazar, will raise Rs 50,000, the amount needed for the celebration, for Abir Bhunia (35), a mobile recharge shop owner who is suffering from Hodgkin's lymphoma, a cancer of the immune system. They have already given him Rs 6,000.
Bhunia is undergoing chemotherapy at Saroj Gupta Cancer Centre in the southern fringes of Kolkata and needs Rs 12 lakh for a treatment that includes bone marrow transplantation.
"Muharram processions can be organised every year. But we have to save the life first," said Amjad Khan, secretary of Samaj Sangha.
"We have started raising money. On Friday, after the namaz we will ask the imam in the mosque to announce a donation drive for Abir. We hope to raise a bigger amount than the budget for our procession," said Khan.
An overwhelmed Bhunia is full of gratitude for his neighbours. "I don't know whether I will be cured finally. But what my neighbours did for me have touched my heart," he said.
He lost his grandmother and both parents last year, and lives with his wife, a homemaker, and they are expecting their first child.
Bhunia's neighbour Ranjan Ash pointed out that there were some community Durga Pujas in the locality, but none of them thought of "curtailing their expenditure and help the youth". "We are overwhelmed."
Mohammad Bilal, a member of the Muharram committee of Puratan Bazar, saidGod would be satisfied "if we serve the people". "He is suffering from cancer and fighting with death. We should stand by him."
As word spread of the Muslims' gesture, assistance seems to be pouring in. Pradip Sarkar, chairman of Kharagpur municipality, said they would try to help Bhunia.
Tushar Chowdhury, local councillor from Trinamool Congress, saluted the gesture.
Chowdhury also pointed out that there is a temple for goddess Sitala (worshipped in Bengal as a protector against pox) nearby, for which the Muslim community had raised money to build a gate. He also said that food items offered to the goddess are distributed to Muslims.
http://www.hindustantimes.com/kolkata/muslims-forego-muharram-procession-to-fund-cancer-treatment-of-hindu-man-in-bengal/story-bJqSBtgEQXkl5d5G66xr0H.html
--------
Pakistan
Pakistan Army Says Plan In Place To Integrate Militant-Linked Groups
Oct 6, 2017
ISLAMABAD: The Pakistani army on Thursday confirmed that a plan was in place to try to integrate militant-linked groups into the mainstream of the country's politics.
Milli Muslim League (MML), a new militant party controlled by Islamist Hafiz Saeed, backed a candidate in the September by-election for a seat vacated by ousted Prime Minister Nawaz Sharif in the eastern city of Lahore. The United States has offered a $10 million bounty for Saeed's capture.
Reuters reported last month that the foray into politics by MML and other Islamists groups followed the integration plan. Three of Sharif's confidants and a retired army general said it had been presented by Inter Services Intelligence to Sharif last year, but the then premier had rejected it.
Army spokesman Major-General Asif Ghafoor told a news conference in Islamabad the plan was aimed at developing a constructive role for them.
Asked about the MML party loyal to Hafiz Saeed, whom the United States and India accuse of masterminding the 2008 Mumbai attacks that killed 166 people, the army spokesman said it was part of "a process that has started".
"It is in my knowledge that the government has started some discussion over it, that, how do we mainstream them, so that they could do constructive contribution," Ghafoor said.
A government spokesman did not respond to calls.
HOUSE ARREST
Pakistan's interior ministry has asked the country's electoral commission not to register Saeed's party, but hasn't taken any other steps to stop it. Another militant party is campaigning for a by-election later in October.
It remains unclear whether the army or the ISI went ahead with its plan despite Sharif's rejection, or if the military and the civilian government have recently agreed on the idea.
Another Islamist designated a terrorist by the United States, Fazlur Rehman Khalil, told Reuters he too planned to form his own party soon.
Within two weeks of Sharif's ouster, the MML party was announced. It later got the backing of Saeed and his lieutenants in the by-election to secure five per cent of the vote.
The other hardline party, Tehrik-e-Labaik Pakistan, gained over six per cent of votes by riding on the back of a blasphemy killer Mumtaz Qadri whom it called a hero and a martyr.
Saeed has been under house arrest since January in the eastern city of Lahore.
MML is the political wing of Saeed's charity Jamaat-ud-Dawa, JuD. JuD and Khalil's Ansar ul-Umma organisation are both seen by the United States as fronts for militant groups the army has been accused of sponsoring against neighbours, arch-foe India and Afghanistan - a charge the army denies.
Reports of the plan to bring militant-linked groups into the political mainstream have stirred debate at home and abroad.
"Now, how to take it further - that, the time to come will tell," Ghafoor, the army spokesman' said, "For that, the government will take a decision."
https://www.ndtv.com/world-news/pakistan-army-says-plan-in-place-to-integrate-militant-linked-groups-1759250
--------
Rizvi blames politico-religious leaders for 'repeal' of Khatam-e-Nabuwat laws
Oct 6, 2017
LAHORE: The Tehreek-e-Labaik Ya Rasool Allah ( TYL) on Thursday blamed Jamiat-e-Ulema Islam chief Fazal-ur-Rehman, Jamat-e-Islami chief Siraj Ul Haq and chief of Jamiat Ahle Hadith Pakistan Sajid Mir for alleged abolition of Khatam-e-Nabuwat laws in the country through the Election Act 2017.
TYL Chairman Khadim Hussain Rizvi further said that it was their criminal negligence in the Parliament when Election Act 2017 was passed from the lower and upper houses. He also accused other religious leaders in the parliament like JUI-F's Abdul Ghafoor Haideri who is the deputy chairman of Senate, for committing the same mistake and ignoring repeal of Khatam-e-Naboowat (finality of prophethood) laws.
"Leaders of religious parties in the Parliament have history of hypocrisy vis-à-vis Khatam-e-Nabuwat laws. However, TYL will not allow anyone to make any change in these laws", Rizvi, flanked by other religious leaders and workers, told a crowded press conference at the Lahore Press Club.
He alleged that these leaders are part of an international conspiracy led by ousted prime minister Nawaz Sharif to abolish these laws. "Nawaz Sharif while living in London got go ahead from international players to repeal these laws and get his premiership restored," he accused, adding that fake pirs and fake ulema have corroborated with him.
TYL recently formed the political party Tehreek-i-Labbaik Pakistan (TLP) and a nominee of the party also contested the NA-120 by-election in Lahore as an independent candidate, whose posters and banners bore photographs of Mumtaz Qadri.
Tehreek-i-Labbaik Pakistan led by Khadim Hussain Rizvi had forced its way into the Red Zone of Islamabad to stage a protest against conviction of Mumtaz Qadri, who was later hanged for assassinating of then Punjab governor Salmaan Taseer.
Though the government has announced to restore the election act in the previous form, yet leaders of TYL said that they have planned big processions and protest rallies across the country on Friday.
Rizvi said that he and his party workers will hold protest until those responsible for making the amendment get exemplary punishment. He also suggested punishment under Islamic law for the person who tried to change the law.
To a question whether they had links with extremist and terrorist organisations, Rizvi said that they are peaceful people and there was not a single case registered against him and his party workers in any police station across the country. Answering another query, Rizvi said that he has formed a review committee which will present its report before 12pm tomorrow when the Khatam-e-Naboowat Day will be observed across the country if the government restores the election act. He said a rally will be taken out from Data Darbar to the Punjab Assembly and the government will be warned of dire consequences if it does not end its policy of liberalism and secularism.
Full report at:
https://www.pakistantoday.com.pk/2017/10/05/rizvi-blames-politico-religious-leaders-for-repeal-of-khatam-e-nabuwat-laws/
--------
US can't scapegoat Pakistan for failures in Afghanistan: FO
06-Oct-17
by Ijaz Kakakhel
ISLAMABAD: Foreign Office Spokesman Nafees Zakaria said on Thursday that the US could not scapegoat Pakistan for its failures in Afghanistan.
During the weekly briefing, the Foreign Office spokesman rejected allegations by US Joint Chiefs of Staff Chairman Gen Joseph Dunford about Pakistan's policy against terrorism, and said that the US was trying to blame Pakistan for its own failures in Afghanistan. "Pakistan has done enough to erase the footprint of terrorism from its soil through indiscriminate counter terrorism operations against all terrorist outfits. The general also mentioned about sanctuaries in the historical context," the spokesman said.
"In this regard, I will quote Hillary Clinton's statement before a Congressional hearing during 2009, in which she said: 'The people (Taliban) we are fighting today, we (the US) funded 20 years ago, to beat Soviet Union. Let's be careful about what we sow because we will harvest. We abandoned Pakistan and they had to deal with these elements (Taliban)'," the spokesman said.
The spokesperson claimed that there were no safe-havens in Pakistan. "The sanctuaries people talk about are located in the ungoverned spaces of Afghanistan. In the wake of President Trump's policy review on Afghanistan and South Asia, Pakistan, at the highest level, has clearly underlined that Pakistan should not be made a scapegoat for failures in Afghanistan," he said.
Nafees Zakaria rejected US Gen Joseph Dunford's allegations that Pakistani intelligence agencies had ties to militant groups.
To another question, the spokesperson said that India, over the years, had played the role of a spoiler in Afghanistan. "Under the garb of development assistance, India has used Afghan soil to carry out subversive activities inside Pakistan. RAW has developed a clandestine nexus with terrorist groups based in Afghanistan, like TTP, JuA and ETIM. These groups are being used to foment unrest and orchestrate terrorist attacks in Pakistan and other regional countries," he said.
"Indian-sponsored terrorist groups in Afghanistan and their directed terrorist activities inside Pakistan are no secret. There is proof of Indian use of Afghan soil against Pakistan. People from within India are on record to have admitted that the TTP, JuA and other terrorist groups in Afghanistan are Indian assets, which they use to carry out terrorist attacks in Pakistan," he said.
Zakaria added that Foreign Minister Khawaja Asif had taken up the issue of human rights violations in Occupied Kashmir during his visit to the US.
US Secretary of State Rex Tillerson, after meeting Foreign Minister Khawaja Asif on Wednesday, had said Pakistan was critical for the long-term stability of South Asia. "We want Pakistan's government to be stable, peaceful. Many of the same issues they were struggling inside Pakistan were our issues. So we think there was an opportunity to strengthen that relationship," he had said.
Pakistan's relation with the US is "extraordinarily important", he added.
The FO also accused India of being involved in "economic terrorism" and a plot to sabotage economic activity in Pakistan by attacking China-Pakistan Economic Corridor (CPEC).
"Indian occupation forces continue to violate ceasefire on Line of Control (LoC) and deliberately target civilians," the FO spokesman said, recalling that two civilians were killed and two injured in one such incident in Azad Jammu and Kashmir (AJK) on Wednesday.
Full report at:
http://dailytimes.com.pk/pakistan/06-Oct-17/us-cant-scapegoat-pakistan-for-failures-in-afghanistan-fo
--------
US hindered Pakistan's fight against terror: Asif
October 06, 2017
WASHINGTON - Foreign Minister Khawaja Asif on Thursday revealed that the United States hindered his country's fight against terrorism by forcing Jordan not to sell F16 fighter planes to Pakistan.
Speaking at the United States Institute of Peace, Asif elaborated for the last four years F16 and JF17 Thunder fighter planes had been the key weapons in the fight against terrorists.
When asked about US defence secretary's statement, Asif said "It's not acceptable when someone tells us that this is a last chance for you."
Responding to a question, Asif said it was now time for the Afghan refugees in Pakistan to return to their country. "It's US responsibility to take these refugees back and rehabilitate them in their cities because they sought refuge in Pakistan due to America's war against Soviet Union."
Asif maintained that Pakistan feels there is trust deficit in its relations with the United States. The foreign minister said "Yes, there is a trust deficit." Asif said there are problems in Pak-US ties. "We do have problems with the US. We have deficit of trust. We are trying to mend those deficits," he said.
Pakistan, he said, sees more role for Russia and China in the region. Relationship with Russia has improved in recent years. "We need and have proposed any peace solution in Afghanistan should be backed by regional powers which include the Russian Federation," he said in response to a question.
Asif said that "we are living in hell" because of the decision to participate in the US fight against the Soviet Union. While US soldiers went back chest thumping that they have defeated the Soviet Union, no one cared about what happened to Pakistan," said Asif.
He remarked about 3.5 million refugees are living in Pakistan. "We have every kind of friction, religious, ethnic, political intolerance. This is the baggage we carry from the 80s."
Over the Vegas shooting, he said that Pakistan is deeply saddened by the incident. He stressed that it should be called an act of terror. "Why call it shooting, call it terrorism. This is terrorism in all its forms and manifestations." He added, "These contradictions will be counterproductive."
He also said that "Pakistan is the only victor in the war against terrorism" as the country faced the threat head-on. "Since 2014, we have wiped them [terrorists] out," he said stressing that "our achievements are better than any other country's. It occurred due to the commitment of the 200,000 soldiers we have."
"We don't want any material help from the US, all we want is respect."
Responding to a question, he said that Pakistan is hoping for peace in Afghanistan. "Ensuring security in Afghanistan is critical for the [South Asian] region," he remarked, adding "We will be the biggest beneficiary of peace in Afghanistan."
"Burden of a 16-year-long war in Afghanistan has passed to new Afghanistan," he said, adding "for Pakistan the timeline of managing the fallout of Afghanistan instability is 30 years and still counting. This is more than half of our life as an independent country."
It is the responsibility of all parties to initiate a political process, he said, adding that Pakistan seeks "productive relations" with Afghanistan which include the elimination of safe havens in Afghanistan and border management. Pakistan feels that US and Pakistan must actively work towards peace in South Asia, he added. He also said that Pakistan requires a recognition of its sacrifices in the war against terrorism. "We will continue to work for peace and stability."
Asif also spoke about the plight of people in Kashmir during his address. "Kashmiris have faced all forms and manifestations of state-sponsored terrorism." To another query, Asif warned India against carrying out a surgical strike or targeting its nuclear installations, saying if that happens nobody should expect restraint from his country.
Referring to the statement of India's air chief marshal BS Dhanoa that the Indian armed forces are ready for a full spectrum operation, Asif said Pakistan wants to live in peace and harmony with its neighbours. But if India carries out any surgical strike in Pakistan or strikes at its nuclear installations "nobody should expect restraint from us", he warned.
Asif said the "relationship with India is at a lowest ebb at the moment". Responding to a question on India, he said, "sadly India did not respond" to Pakistani efforts to improve relationship. "What is going on in Kashmir is the biggest roadblock to normalisation to talks," Asif said.
The foreign minister asked the US not to treat his country as a "whipping boy" and said Washington has already lost the war in Afghanistan and is only trying to salvage the situation in the war-torn nation.
Asif said his meetings with secretary of state Rex Tillerson and national security advisor HR McMaster were good. "Was not bad," Asif quipped, giving a sense of his talks with top leadership of the Trump administration.
Asif in a way acknowledged that the madrasas were training ground for terrorists. "These madrasas were nurseries for American jihad in Afghanistan."
"The meeting went well with Tillerson and McMaster (meeting) was good. (It) was not bad," Asif said, noting that the two countries need to pursue contacts with each other. He favoured adopting an approach of talks and exchange of views more vigorously.
The US, he said, is focusing solely on safe haven allegations or blaming Pakistan for what they have not achieved in Afghanistan. "There are many more dimension of what is going on in Afghanistan," he said. "A corrupt government in Kabul, increasing narcotics trade, the Afghan army selling arms to the Taliban, losing terrorist and bringing Daesh (ISIS) to Afghanistan," he said. "Let's see this conflict in its entirety, in totality. Do not treat Pakistan like a whipping boy. That's not acceptable. We want to cooperate with the US," he said.
Full report at:
http://nation.com.pk/national/06-Oct-2017/us-hindered-pakistan-s-fight-against-terror-asif
--------
2 suspected terrorists killed in crossfire
October 06, 2017
MULTAN - Two suspected terrorists were killed in crossfire with the Counter-Terrorism Department in Sher Shah area in the wee hours of Thursday, sources said.
The CTD sources said that three other terrorists managed to escape the scene. Security agencies suspected that the terrorists belonged to banned outfit Lashkar-e-Jhangvi Alalmi.
Sources informed that the CTD team conducted a raid on a tip-off that some terrorists were hiding near Sher Shah embankment who were planning attacks on sensitive targets. The terrorists allegedly opened fire on the CTD team and got killed in crossfire. The CTD sources said that arms including hand grenades, explosives, maps and guns and bullets were recovered from the killed terrorists. The bodies of the alleged terrorists were shifted to Nishtar Hospital while hunt is on to catch the fleeing ones.
http://nation.com.pk/national/06-Oct-2017/2-suspected-terrorists-killed-in-crossfire
--------
South Asia
Ghani calls on Pakistan to intensify state-to-state dialogue for regional peace
Oct 05 2017
President Mohammad Ashraf Ghani once again called on Pakistan to intensify the state-to-state dialogue in a bid to help secure regional peace and stability.
Speaking during a meeting of the Senior Officials Meeting (SOM) in Kabul, President Ghai said "I call, once again on Pakistan to intensify the state-to-state dialogue with us to secure regional peace and security."
President Ghani also spoke against the moves to provide sanctuaries to the non-state malign actors, apparently gesturing towards the terror groups having safe havens on the side of the line, mainly the Haqqani terrorist network.
He called on Taliban to join peace process and said "The successful peace agreementn with Hezb-e-Islami should demonstrate to Taliban groups that we have the capacity and the political will to enter and successfully conclude an intra-Afghan dialogue."
President Ghani further added that the anti-government armed militant groups should opt for love instead of war, ballots instead of bulleets, and dialogue instead of destruction.
In his message on the first day of Eid Al-Adha last month, President Ghani said the Afghan government is fully prepared for the peace talks and negotiations with Pakistan for peace is on the agenda of the government.
He was apparently gesturing towards his previous remarks where he insisted that peace talks with Pakistan is important and should come first before holding talks with the anti-government armed militant groups.
The Afghan officials have long been criticizing Pakistan for allowing the Taliban and the notorious Haqqani terrorist network to use its soil for planning and coordinating attacks in Afghanistan, calling it as one of the major barriers in forcing the militant groups to participate in talks.
http://www.khaama.com/ghani-calls-on-pakistan-to-intensify-state-to-state-dialogue-for-regional-peace-03582
--------
The forbidden love between a Bangladeshi and a Rohingya
October 05, 2017
Foyzul Islam and Hafsa Bibi arrived in Bangladesh with little more than their 18-year-old daughter, Rafiza, after fleeing the violence engulfing their native Rakhine state in Myanmar.
Lost and afraid in the hustle and bustle of the refugee camp in Kutupalong, the family decided to try their luck elsewhere in the country. They fled to Singair in Manikganj on September 14 and took up shelter in the house of a local Muslim cleric.
But as word spread of Rohingya refugees hiding in the village, curious local people flocked to see them.
Among the inquisitive onlookers was Shoaib Hossain Jewel, a 25-year-old teacher at a madrasa in Jatrabari. Shoaib felt his heart stirring at the sight of Rafiza.
When the three Rohingya were rounded up by law enforcement and sent back to the camp in Kutupalong, little did they know that they were leaving with the heart of this lovestruck madrasa teacher.
Shoaib followed his heart to Teknaf. He searched camp after camp, spoke to hundreds of people, and finally tracked down Rafiza. He asked her parents for her hand, and in defiance of the 2014 ban on marrying Rohingyas by the government, the pair were wed.
Like every clichéd love story, theirs needed a final overwhelming obstacle to overcome. How would Shoaib sneak his Rohingya bride out of the camp, when the army had been tasked to take over administrative duties?
On September 21, a teacher coalition from Singair went to Teknaf to provide relief. Shoaib hid Rafiza under a burkha and joined the group on their way back to Manikganj on September 23.
But the thrill was not over just yet, as Shoaib and Rafiza went into hiding after returning to his village, afraid of government retribution.
Shoaib's family, although delighted by the prospect of their son getting married, remained quiet. However, a teacher who was part of the aid group that helped to liberate the couple from Kutupalong, and the local UP chairman, were not so guarded with the secret. Singair police had been alerted to this couple on the run.
This is the first known marriage between a Bangladeshi and a Rohingya after the August 2017 crisis broke out in Rakhine. The military crackdown by the Myanmar army has forced over 500,000 Rohingya to flee to Bangladesh and thousands more are feared dead in what is being called a modern-day genocide or ethnic cleansing.
Full report at:
http://www.dhakatribune.com/bangladesh/nation/2017/10/05/forbidden-love-bangladeshi-rohingya/
--------
PM: BD to move ahead despite Rohingya influx
October 06, 2017
Asserting that Bangladesh never felt scared in facing problems, Prime Minister Sheikh Hasina has said the country will surely make its great strides in development despite the inflow of tens of thousands of forcibly evicted "Myanmar nationals" into it.
The prime minister made the remarks while exchanging views with Awami League leaders based in the United Kingdom (UK) and other European countries on Thursday.
"We, the Bangali nation, fought and liberated the country at the call of Father of the Nation Bangabandhu Sheikh Mujibur Rahman… we never got scared in the face of any problem. We rather want to advance further by tackling it [problem]," she said.
Prime Minister's Press Secretary Ihsanul Karim briefed reporters after the meeting.
Hasina said discussions with Myanmar has already begun to resolve the crisis with the recent visit of its Minister of the Office of State Counsellor Kyaw Tint Swe to Bangladesh.
"But, Bangladesh extended shelter to the victims of the forced exodus on humanitarian grounds as the people of this country always believed in humanity," she said.
Hasina said: "We can't throw them [the Rohingya] out into the Bay of Bengal [and] if we could feed 16 crore people, we can also feed additional five to seven lakh people at their time of distress."
She further said: "If necessary, we'll take one meal a day and share another with these distressed people… we're not that rich but our heart is big enough and we stand for mankind."
The premier said the hapless Rohingya people who fled to Bangladesh will be shifted to an island called "Bhasan Char" from Cox's Bazar.
Hasina, who along with her younger sister Sheikh Rehana, visited the Rohingya camps in Cox's Bazar before flying to New York to attend the 72nd session of the UN General Assembly narrated the horrifying stories she heard from the fleeing women and children from Myanmar's Rakhine state.
She said the civil administration, army, navy and air force, BGB, police and her party volunteers were working hard to mitigate the sufferings of these people.
"Without waiting for any external assistance, we've made arrangement for accommodation, food and medicine," Hasina said.
She said the international community was amazed to see the generosity of accepting such a huge number of people by the Bangladesh government.
Speaking about the Padma Bridge project, she expressed her happiness over the first installation of a span on the country's biggest infrastructure project.
Hasina said vested quarters have tried to tarnish her and her family's image by bringing false allegations of corruption. "But, all the allegations were proved wrong in the Canadian Federal Court," she said.
She said Bangladesh has set up a glaring example in the world by constructing this huge bridge over such a mighty river with strong current.
On the recent flood in the country, Hasina said the deluge has caused massive damage to crops. But there is an adequate stock of food (while the government is importing rice) so that the people do not suffer, she added.
She also mentioned the "destruction and mindless atrocities perpetrated by the BNP-Jamaat clique" in 2013, 2014 and 2015.
She urged the expatriate leaders of Awami League and its associate bodies to work together for the victory of the party in the next general elections.
She also called upon them to further brighten the country's image abroad through their works.
Full report at:
http://www.dhakatribune.com/bangladesh/2017/10/06/pm-bd-move-ahead-despite-rohingya-influx/
--------
Ready to Fight Again: The Homeless Rohingya Still Backing Myanmar Insurgency
Oct 6, 2017
Cox's Bazar, Bangladesh. For 28-year-old Rohingya Muslim shopkeeper Mohammed Rashid, the evening phone call from organizers of the fledgling insurgent movement came as a surprise.
"Be ready," was the message.
A few hours later, after meeting in the darkness in an open field, he was one of 150 men who attacked a Myanmar Border Guard Police post armed with swords, homemade explosives and a few handguns. At the end of a short battle, half a dozen men he had grown up with in his village were dead.
"We had no training, no weapons," said Rashid, from the Buthidaung area of Myanmar's Rakhine state, who had joined the group just two months earlier.
Accounts from some of those, like Rashid, who took part in attacks by the Arakan Rohingya Salvation Army (ARSA) on dozens of police posts early on Aug. 25 paint a picture of a rag-tag band of hopeless, angry villagers, who were promised AK-47 rifles but ended up fighting with sticks and knives.
Hundreds joined as recently as June, according to the accounts, and membership meant little more than a knife and messages from leaders on the popular mobile messaging app Whatsapp.
Reuters interviewed half a dozen fighters and members of the group now sheltering in Bangladesh, as well as dozens of others among the more than half a million Rohingya refugees who have fled across the border to escape a Myanmar army counteroffensive that the United Nations has branded ethnic cleansing.
ARSA, which emerged in 2016, says in press releases and video messages from its leader, Ata Ullah, that it is fighting for the rights of the Rohingya, a stateless Muslim minority that has long complained of persecution in mainly Buddhist Myanmar.
Myanmar says ARSA is a ruthless Islamist extremist movement that wants to create an Islamic republic in northern Rakhine.
Despite the massive suffering inflicted on their communities in the weeks since the August attacks, most of the fighters now stuck in dirt-poor camps said they were determined to continue their fight and some refugees voiced support for the insurgency.
Other refugees Reuters spoke to criticized the insurgents for bringing more misery upon them.
Myanmar leader Aung San Suu Kyi's spokesman, Zaw Htay, said ARSA had killed many Muslims who had cooperated with the authorities and so "people have felt threatened and terrorized" into supporting it. He added that Myanmar's intelligence showed that religious scholars were prominent in recruiting followers.
ARSA denies killing civilians, and did not respond to a request for comment this week.
Analysts say the violence could galvanize ARSA members and supporters huddled in the refugee camps and among those Rohingya still in Myanmar, as people feel they have even less to lose.
"A militancy like this finds fertile ground because of the desperation of the community," said Richard Horsey, a Yangon-based analyst and former UN official. "They are willing to take suicidal steps because they don't see any other choice."
Transnational Islamist groups could also try to exploit the desperation in the camps to radicalize people, Horsey added. Al Qaeda last month called for support for the Rohingya.
Homemade Weapons and Whatsapp
Reuters could not independently verify the individual insurgents' stories, but there were broad similarities in all of their accounts.
One fighter, 35-year-old Kamal Hussain from a village in Rathedaung in Myanmar's Rakhine state, said he joined ARSA when a religious teacher stood in his village square in June, during the Muslim holy month of Ramadan, and implored a crowd of hundreds to fight.
"He said we have no choice but to attack Myanmar because our brothers and sisters are being killed day by day. I think everyone joined that day," Hussain said, as he sat under a tarpaulin in a Bangladesh refugee camp. "We should attack again and again. I would go back to fight if I had the chance."
Unlike longer-serving fighters, most new joiners had little or no training or contact with the group's leaders, who communicated using Whatsapp and delivered rudimentary homemade explosives ahead of the assaults.
A third fighter, his account supported by comments from two elders from his village interviewed separately, said he and about 60 men from Myin Hlut signed up three months ago.
The 26-year-old, who asked not to be named because he feared arrest by Bangladeshi authorities, said he was among 200 men who attacked another police checkpost in the early hours of Aug. 25.
"We had only knives and sticks, no guns," he said. "They promised us AK-47s but we got nothing. The explosives didn't work. We had two of them for the whole group, but when we threw them nothing happened."
About 40 fighters were killed, he said, but added that he would do it again if called on.
"I still support ARSA," he said. "If my leaders call me to go again and fight, I will go back."
According to two village-level commanders, there were Whatsapp groups restricted to leaders and others to members.
Bigger groups, administered from overseas, were used to build broader community support for ARSA and the Rohingya cause.
On his phone, Shoket Ullah, an uncle of the 26-year-old fighter, scrolled through messages posted in the Whatsapp group "ARSA.G1", administered through a Saudi phone number, where ARSA press releases, videos of alleged Myanmar military violence and messages of support for Rohingyas were shared.
Another Whatsapp group on Ullah's phone, "Rohingya Desh Arakan", is administered by someone using a number from Malaysia. Tens of thousands of Rohingya live in both Saudi Arabia and Malaysia.
Local Backing
Rohingya anger at Myanmar has long existed, but this is the first serious armed resistance in decades.
In the crowded Bangladeshi camps, several refugees voice support for ARSA.
"I am disappointed and regret what happened but this was pre-planned by the Myanmar government," said Shafi Rahman, a 45-year-old Burmese teacher whose village was burned to the ground the day after the attacks. "If ARSA didn't attack, they would have done this to us anyway."
Several refugees said some people had begun to sell cattle, vegetables and rice to raise funds for ARSA.
Not everyone was supportive, however. When Kamal Hussain, the fighter, argued that ARSA needed to keep fighting, his neighbors in the camp shouted him down.
"We have lost everything. Violence is not the answer," shouted one elderly man, as muddy water spilled into the tent he now calls home.
It is not obvious how fighters would regroup and rebuild after so many have fled across the border or disappeared.
Three of the fighters who spoke to Reuters said they had been surprised by the ferocity of the Myanmar military's response, and within weeks commanders had told their men to put down their weapons and abandon their villages.
Several said Whatsapp groups where regional and field commanders from ARSA, which before a rebranding this year called itself Al-Yakin, or "Faith Movement", would post updates had gone quiet.
Full report at:
http://jakartaglobe.id/international/ready-fight-homeless-rohingya-still-backing-myanmar-insurgency/
--------
Arab World
Iraq Claims Victory in ISIS' Last Urban Stronghold
By David Zucchino And Rod Nordland
OCT. 5, 2017
BAGHDAD — Iraqi forces have driven Islamic State fighters from the northern city of Hawija, the militants' final urban stronghold in Iraq, three years after they seized control of nearly a third of the country, the Iraqi government said Thursday.
Iraq's prime minister, Haider al-Abadi, said in a televised appearance in Paris, where he is on a state visit, that Hawija had been "liberated," calling it a "victory not just for Iraq but for the whole world."
The United States-led coalition confirmed the fall of Hawija, calling it "a swift and decisive victory" by the Iraqi forces.
Although fighting continues in surrounding districts, the loss of Hawija adds to a series of crushing blows for the militants in Iraq, who are left in control of only a string of desert outposts in the Euphrates River valley and the city of Qaim, on the border with Syria.
The victory is also likely to bolster the confidence of Iraqi troops, who dropped their weapons and fled by the thousands when the militants swept across northern Iraq in the summer of 2014. Iraqi forces are now fighting the militants along the Euphrates in the northern part of Anbar Province, where they have already taken several towns, according to the United States military statement.
The Islamic State, also known as ISIS, still holds substantial territory across the border in Syria, mainly along the Euphrates, but its grip there has been badly undermined by American-trained forces in recent weeks. The coalition has taken most of the Syrian city of Raqqa, which had been the capital of the Islamic State's self-proclaimed caliphate, and the Syrian government is attacking other positions closer to the Iraqi border.
Morale among militants in the Hawija area appears to be deteriorating rapidly. At least 600 men identified by Kurdish forces as Islamic State fighters have surrendered to the Kurds in Dibis, in Kirkuk Province. An additional 400 to 500 are being interrogated on suspicion of being militants. Together, they represent a substantial portion of the estimated 2,000 to 3,000 Islamic State fighters who were in the Hawija area before Iraq began military operations there on Sept. 21.
As in other battles over the past three years, Iraqi forces have been supported in Hawija by American military advisers, forward air controllers, special operations troops, airstrikes and artillery.
Col. Ryan Dillon, the spokesman for the United States-led coalition in Baghdad, said Thursday that the United States had conducted 16 airstrikes in the past week in support of the Hawija operation. The speed of what seems to have been a two-week Iraqi military sweep through Hawija suggests that the militants are no longer able to sustain effective military operations for long periods.
The battle to drive them from Mosul, Iraq's second-largest city, lasted nine months before it was liberated in July. But the next city to fall from the Islamic State, Tal Afar in late August, took only 11 days.
Iraqi commanders said in telephone interviews from the front on Thursday that militants fleeing Hawija had moved north toward the Kurdish-held district of Dibis. They said the advance of Iraq troops had been slowed by roadside bombs planted by militants.
The route taken by the Islamic State fighters to Dibis would lead them to defensive lines held by Kurdish troops known as pesh merga. Militants who surrendered to pesh merga fighters since Sunday appeared to be trying to avoid capture by Shiite Muslim militiamen, who have been accused in previous battles of executing militants as well as civilians believed to be supporting them. The Iranian-backed Shiite militias have been fighting alongside the Iraqi regulars.
Iraqis who fled Hawija crossing a river on Wednesday on their way to a camp for displaced people. Credit Ako Rasheed/Reuters
Kurdish intelligence officials in Dibis said they had heard repeated accounts from fleeing Islamic State fighters that the group's leaders in Hawija had ordered their men to drop their weapons and flee with their families to the safety of Kurdish lines.
About 7,000 family members have accompanied the 1,000 fighters identified since Sept. 21, they said. "I think in the coming days we'll even see their emirs come over," said Lt. Pishtiwan Salahi, an investigator with the Kurdish intelligence service, Asayish.
Capt. Ali Muhammad Syan, who is in charge of screening the arriving Islamic State fighters in Dibis, said he had been approached by senior militant leaders trying to negotiate deals for themselves.
Understand the world with sharp insight and commentary on the major news stories of the week.
"We tell them no way, no negotiations, turn yourselves in and we'll turn you over to the court, which will decide," he said.
"It's really a big mystery for me, though," he said. "Hawija held the toughest ISIS fighters and I never believed they would surrender in this way. It's really weird."
American officials have worried that the recent vote in the Kurdish region of Iraq to pursue independence would undermine the military coalition. Pesh merga fighters have fought alongside Iraqi government units and the mostly Shiite militias known as Hashed al-Shaabi, or popular mobilization forces, in battles against the militants the past three years.
Kurdish pesh merga forces detained Islamic State militants southwest of Kirkuk, Iraq, on Thursday. Credit Ako Rasheed/Reuters
The Kurdish independence vote has led to a bitter standoff between the Kurds and the Baghdad government, complete with Iraqi threats of military and economic reprisals. Turkey and Iran have also threatened retaliation, and both countries have conducted military maneuvers with Iraqi troops.
Mr. Abadi has made a point of saying that pesh merga forces were not involved in the Hawija operation beyond maintaining defensive blocking positions. In a televised speech on Tuesday, Mr. Abadi accused pesh merga commanders of being too slow to respond to queries or requests from Iraqi military commanders.
The objective of the Iraqi operation was to evict militants not just from the city of Hawija, with a population of about 100,000, but from the entire surrounding district, home to about 150,000.
According to United Nations estimates, up to 78,000 civilians remain in Hawija. There have been reports that some have been killed by militants and others blocked from escaping the city. Many civilians may also be too terrified by gunfire, shelling and roadside bombs to try to flee their homes.
More than 7,000 civilians escaped the city during the first 10 days of the operation, the United Nations said. Several thousand more reached Kirkuk by Sunday. An official from the Iraqi Immigration Ministry said on Thursday that more than 9,000 civilians had been taken to camps run by humanitarian groups.
Iraqi commanders in Hawija said on Thursday that the militants had blown up several government buildings, shops and homes in the Hawija city center. They said Iraqi forces were trying to reopen roads and to clear roadside bombs and booby-trapped buildings.
The commanders added that Iraqi soldiers had taken control of a bridge in the city where, in September 2015, Islamic State fighters had shot and beheaded several captured pesh merga, Iraqi Army soldiers and Shiite militia fighters.
David Zucchino reported from Baghdad, and Rod Nordland from Dibis, Iraq. Falih Hassan contributed reporting from Baghdad.
Full report at:
https://www.nytimes.com/2017/10/05/world/middleeast/iraq-hawija-isis.html
--------
Saudi king, Putin clinch billion-dollar energy, arms deals
Oct 6, 2017
MOSCOW - Saudi Arabia's King Salman, on a landmark visit to Russia, and President Vladimir Putin on Thursday signed a slew of arms and energy deals as the key US ally seeks to deepen cooperation with Moscow.
The leaders of the world's largest energy exporters discussed an extension of an OPEC agreement to cap oil output and oversaw the signing of deals which officials said were worth billions of dollars.
Saudi Arabia signed preliminary agreements to buy Russia's S-400 air defence systems and anti-tank guided missile systems and receive "cutting edge technologies," said the Sunni state's military firm, Saudi Arabian Military Industries.
The two countries also signed a series of multi-billion dollar investment deals including one to create a $1 billion fund to pursue energy projects.
"This is the first visit by a Saudi Arabian monarch in the history of our relations and that in itself is a landmark event," Putin said as he welcomed 81-year-old King Salman to Moscow in an ornate gilded Kremlin hall.
"I'm sure your visit will boost the ties between our countries," Putin added.
"We aim to strengthen our relations in the interests of peace and security, in the interests of developing the world economy," the Saudi king responded.
Saudi Foreign Minister Adel al-Jubeir told journalists that "relations between Russia and Saudi Arabia have reached a historic moment." "Today we alone as the Russian Direct Investment Fund announced deals worth $2.1 billion," said Kirill Dmitriyev, the head of the fund set up to attract investment.
Foreign Minister Sergei Lavrov said agreements came in the fields of "energy - not only traditional but also nuclear power - and also in cooperation in space exploration (and) agroindustry and infrastructure projects."
Saudi Arabia is the country that buys the most US arms and Washington and Riyadh in May announced a $110 billion deal to sell weapons to Saudi Arabia.
But Saudi, a long-standing ally of Washington, is keen to boost ties with Moscow as a major player in the Syrian conflict and a fellow oil producer with shared interests in supporting energy prices. "We are certain that further strengthening of relations will have a positive effect on strengthening stability and security in the world," his Saudi counterpart Jubeir stressed.
Fyodor Lukyanov, the Kremlin-connected chairman of the Council on Foreign and Defence Policy, said Riyadh saw closer ties with Moscow as expedient for the moment, and was "diversifying risks" by buying arms from both Moscow and the US.
"Saudi Arabia has recognised Russia as a significant player in a region that is important to it," he told AFP. "They respect Russia more now. But you shouldn't think it's forever."
The leaders of the world's largest energy exporters also discussed the OPEC agreement to cap oil output.
OPEC members have joined with Russia and other countries in cutting crude output in a pact that has helped prop up prices. "We strive to continue the positive cooperation between our countries to achieve stability on world oil markets which promotes the growth of the world's economy," Salman said.
Russia and Saudi Arabia are heavily dependent on oil exports and the global plunge of the price of crude that began in 2014 lashed both their economies.
Putin said on Wednesday it was possible to extend an OPEC deal to cap oil output "at least until the end of 2018". While Russia and Saudi Arabia are partners on the oil market, they are at loggerheads on Syria, where Moscow supports President Bashar al-Assad and Riyadh backs the opposition.
Full report at:
http://nation.com.pk/international/06-Oct-2017/saudi-king-putin-clinch-billion-dollar-energy-arms-deals
--------
3 Daesh terrorists killed, 5 captured in Riyadh raids
6 October 2017
JEDDAH: Two Daesh terrorists were shot dead and another blew himself up in three separate raids by Saudi security forces in the national capital, the Presidency of State Security said Thursday.
In a statement, the agency said five other militants were also captured and that the Daesh cell had been dismantled during the simultaneous raids on three suspected terror hideouts in preemptive operations that aimed to prevent Daesh-linked plots.
The first, in Al-Rimal neighborhood in city's north, contained a factory for making suicide belts and explosive devices. One terror suspect at the site refused to surrender to security forces and blew himself up.
The second location was an apartment in the Namar neighborhood, where an armed terrorist refused to surrender to security forces, firing shots at them, and was eventually killed. No civilian casualties were reported at the site.
Full report at:
http://www.arabnews.com/node/1172926/saudi-arabia
--------
US consulate staffer arrested in Istanbul over links to Fethullah Gulen
Oct 5, 2017
Turkish authorities have arrested a US Consulate General staffer in the country's largest city of Istanbul on charges of contacts with members of a movement led by US-based opposition cleric, Fethullah Gulen, whom the Ankara government accuses of masterminding last July's coup attempt.
The employee, identified with initials M.T., was remanded in custody by an Istanbul court late on Wednesday.
Turkey's official Anadolu news agency reported that the man worked as a contact officer at the Consulate General, and made contacts with former police chiefs Yakup Saygilı, Nazmi Ardiç, Mahir Çakallı and Mehmet Akif Üner, all linked to Gulen's movement.
The report added that M.T. had phone calls with ex-prosecutor Zekeriya Öz, who is believed to be in Europe after he fled Turkey, on a regular basis. Öz faces life sentence for attempting to overthrow the government forcefully and forming a criminal organization.
Meanwhile, the US Embassy in Ankara said it was "deeply disturbed" by the arrest of the consulate staffer, claiming that the charges against him were "baseless."
"The United States government is deeply disturbed by the arrest of a locally-employed staff member. We believe these allegations to be wholly without merit," the diplomatic mission said in a statement on Thursday.
The embassy also condemned leaks in the local press, which it said came "from Turkish government sources seemingly aimed at trying the employee in the media rather than a court of law."
"Baseless, anonymous allegations against our employees undermine and devalue this longstanding relationship" between Washington and Ankara, the statement said.
The US embassy added that the United States would "continue to engage" with Turkey to ensure its employees and US citizens are granted "due legal process."
During the July 15, 2016 botched putsch, a faction of the Turkish military declared that it had seized control of the country and the government of President Recep Tayyip Erdogan was no more in charge. The attempt was, however, suppressed a few hours later.
Ankara has since accused Gulen of having orchestrated the coup. The opposition figure is also accused of being behind a long-running campaign to topple the government via infiltrating the country's institutions, particularly the army, police and the judiciary.
Additionally, the Ankara government has outlawed Gulen's movement, branding it as the Fethullah Terrorist Organization (FETO).
Gulen has denounced the "despicable putsch" and reiterated that he had no role in it.
"Accusations against me related to the coup attempt are baseless and politically-motivated slanders," he said soon after the botched coup.
The 76-year-old cleric has also called on Ankara to end its "witch hunt" of his followers, a move he says is aimed at "weeding out anyone it deems disloyal to President Erdogan and his regime."
Turkey has frequently called on the US to extradite Gulen, but the demands have not been taken heed of.
Turkey, which remains in a state of emergency since the coup, has been engaged in suppressing the media and opposition groups suspected of having played a role in the failed coup.
Tens of thousands of people have been arrested in Turkey on suspicion of having links to Gulen and the failed coup. More than 110,000 others, including military staff, civil servants and journalists, have been sacked or suspended from work over the same accusations.
Full report at:
http://www.presstv.ir/Detail/2017/10/05/537559/US-consulate-staffer-arrested-in-Istanbul-for-espionage
--------
ISIL Withdraws from 5 Regions in Eastern Homs
Oct 05, 2017
The army units engaged in clashes with ISIL militants in Eastern Homs on Thursday, winning back control of the 5 villages of al-Kharijieh, al-Arshouneh, Tabarat al-Dibeh, al-Wazihi and al-Nashmi.
After the army advances, the engineering units started cleansing the region from mines and bombs planted by the ISIL.
In a relevant development on Wednesday, the Syrian army troops stormed ISIL's defense lines near the town of al-Sukhnah in Eastern Homs, and seized control over several heights after inflicting a heavy defeat on the terrorists.
The army units and Qalamoun Shield Forces carried out a joint offensive against ISIL in Eastern Homs and managed to take control over Mount al-Mahsah, Mount Jabil and Fat'ha al-Mahsah region.
In the meantime, the army soldiers engaged in fierce clashes with the terrorists near al-Sukhnah and the town of al-Quaryatayn, killing over 100 terrorists and capturing tens of others.
Full report at:
http://en.farsnews.com/newstext.aspx?nn=13960713000484
--------
Syria: Gov't Troops Extend Range of Control over Eastern Homs
Oct 05, 2017
The Syrian army units retook control of the three villages of Job al-Bashir, Southern al-Jarf, Northern al-Jarf and Middle al-Jarf in the Northeastern parts of Job al-Jarah region on Thursday.
Meantime, they won back control of all hills adjacent to the villages of Northern al-Qassemiyeh, Rabi'eh and Maqizal.
A field source also confirmed that the army forces could establish security in Job al-Jarah region and all roads leading to it in Eastern Homs.
Also, on Wednesday, the Syrian army troops pushed ISIL back from two more key regions in Eastern Homs, expanding the range of their advances against terrorists in the Central part of the war-hit country.
The army soldiers took control over the villages of al-Jaberiyeh and Baraqa al-Nashmeh North of the village of Um al-Rish.
Full report at:
http://en.farsnews.com/newstext.aspx?nn=13960713000235
--------
Syrian Army Makes Strategic Advance towards ISIL's Key Base in Eastern Deir Ezzur
Oct 05, 2017
The army units engaged in heavy clashes with ISIL in Eastern Deir Ezzur on Thursday, fully regaining control of the village of Baqras Tahtani.
Meantime, the Syrian fighter jets launched airstrikes on ISIL positions in the villages of Baqras Foqani, Jadid Akidat and Bu Lail as well as al-Mayadeen city in Eastern and Southeastern Deir Ezzur, inflicting heavy casualties on the terrorists.
A field source confirmed that the Syrian soldiers continue advancing towards Baqras Foqani, adding that the army is now 6km away from al-Mayadeen city.
Syrian media outlets disclosed on Wednesday that Washington and Kurds have failed to reach an agreement with ISIL terrorists on earning control over a key region in Eastern Deir Ezzur.
The Arabic-language al-Watan daily quoted Sheikh Mohammad Amlah al-Daham, the leader of al-Akidat tribe, as saying that the US and Kurdish forces entered talks with the ISIL to let them capture the town of al-Basireh following the Syrian Army troops' advances towards the town of al-Mayadeen in Southeastern Deir Ezzur.
He told al-Watan that the Kurdish forces demanded the ISIL to retreat from al-Basireh region and join the Syrian Democratic Forces (SDF) in Hasaka province.
Full report at:
http://en.farsnews.com/newstext.aspx?nn=13960713000192
--------
Syria: Army Soldiers Regain Control over 9 Other Bordering Areas with Jordan
Oct 05, 2017
The army forces retook control over the 9 bordering points of 196, 197, 198, 199, 200, 201, 202, 203 and 204.
The army soldiers' operations in the region also left a number of terrorists killed and wounded.
In a relevant development on Sunday, the Syrian army and allied forces managed to seize full control over several more positions and outposts near the country's border with Jordan.
The army units and allies forces retook control of nine border areas from Point 177 to Point 185 which were regarded as main defense lines of the terrorists in Southern Syria.
This is while the Syrian army troops came in control of Points 173, 174, 175 and 176 around 20 days ago and within the framework of their operations for imposing control over vaster regions at border areas.
The army troops also won control of al-Azan mountains and their surrounding areas measuring 150 square kilometers in the Eastern countryside of Sweida to the East of al-Zalaf dam.
A military news outlet run by the Lebanese Hezbollah resistance movement said on Saturday that the newly-recaptured positions were all situated to the southeast of the capital Damascus.
Full report at:
http://en.farsnews.com/newstext.aspx?nn=13960713000271
--------
ICRC: Syria fighting worst since Aleppo, civilian casualties mount
5 October 2017
The worst fighting since the battle for eastern Aleppo last year is raging in several regions of Syria, causing hundreds of civilian casualties, the International Committee of the Red Cross (ICRC) said on Thursday.
Up to 10 hospitals have been reportedly damaged in the past 10 days, cutting off hundreds of thousands of people from access to health care, the aid agency said in a statement voicing alarm at the situation from Raqqa to Idlib and eastern Ghouta.
"For the past two weeks, we have seen an increasingly worrying spike in military operations that correlates with high levels of civilian casualties," said Marianne Gasser, head of the ICRC's delegation in Syria. "My colleagues report harrowing stories, like a family of 13 who fled Deir al-Zor only to lose ten of its members to airstrikes and explosive devices along the way."
https://english.alarabiya.net/en/News/middle-east/2017/10/05/ICRC-Syria-fighting-worst-since-Aleppo-civilian-casualties-mount.html
--------
Saudi Arabia dismantles ISIS cell in Riyadh
5 October 2017
Saudi Arabia has dismantled an ISIS cell in the capital Riyadh, on Thursday, citing a statement from the newly-created Presidency of State Security.
Saudi security forces had killed two members of the cell, arrested five others and raided three locations.
An ISIS suicide bomber blew himself up in Al-Rimal neighborhood in Riyadh, according to the statement.
The statement also said that a gunman who had refused to surrender to the security forces had been killed.
Saudi security forces seized in the operation Kalashnikov rifles, live ammunition and chemicals used in the manufacture of explosives.
The raids targeted three sites belonging to the ISIS cell, one in the neighborhood of Al Rimal east of the city of Riyadh, where a factory to manufacture explosive belts and devices was found, reported Saudi Press Agency.
A suicide bomber detonated himself by an explosive belt when trapped in the area.
The second location is a residential apartment located in the Nimar neighborhood, west of Riyadh.
The security forces killed an armed terrorist in the apartment after he refused to surrender. The safety of all the residents and the armed forces were secured.
The third location is a stable for horses Located in the neighborhood of Al-Ghanamiya in the suburb of Al-Ha'ir, south of Riyadh.
The cell used it for meetings and planning their terrorist activities. The names of the five members of the cell will not be disclosed at the present time.
Full report at:
https://english.alarabiya.net/en/News/gulf/2017/10/05/Saudi-Arabia-says-it-dismantles-Islamic-State-cell-in-Riyadh.html
--------
Syria will never forget Iran's sacrifices, support: Assad
Oct 5, 2017
President Bashar al-Assad says his country will never forget the sacrifices of the Islamic Republic in support of the Syrian government and nation during the hard times of war.
The Syrian president made the remarks in a meeting with senior Iranian lawmaker, Alaeddin Boroujerdi, in Damascus on Thursday, noting that recent developments in the region were unfolding in favor of the "resistance axis."
"These developments have added to the strength and capabilities of the resistance axis," he told Boroujerdi who is chairman of the Iranian parliament's Committee on National Security and Foreign Policy.
The Syrian president also stressed the need for close cooperation among members of the "resistance axis" in different fields, especially economy.
Boroujerdi, for his part, congratulated Assad on the recent victories scored by the Syrian army against terrorists, hailing the Arab country as the "symbol of resistance in the face of the enemies."
"The immensity of the recent developments in Syria will certainly be further understood in the future, because the Syrian government and nation have succeeded in defeating moves by the United States, the Zionist regime and their regional allies through resistance and perseverance," the Iranian lawmaker said.
Boroujerdi also referred to President Assad's letter to Leader of the Islamic Revolution Ayatollah Seyyed Ali Khamenei last month, saying it reflected "the depth of the ties between the two countries and the positive role of the Islamic Republic of Iran in the recent victories" gained by the Syrian army.
In the letter, Assad thanked and congratulated the friendly government and people of Iran on the strategic achievements of the Syrian military in their counter-terrorism operation.
"I express my deep gratitude to the Islamic Republic of Iran over its principled positions against terrorism and its support for our people to liberate our homeland's soil from the contamination of Takfiri terrorists," Assad wrote in the letter.
Boroujerdi said the "resistance axis" was facing a common enemy, stressing the need for constant cooperation and coordination among its members.
He further expressed Tehran's readiness to help reconstruct Syria, which has been gripped by foreign-backed militancy since 2011.
Talks with FM Muallem
Boroujerdi also met with Syrian Foreign Minister Walid al-Muallem on Wednesday, and the two discussed bilateral relations, the fight against terrorism and extremism, and a controversial secession referendum in the Iraqi Kurdistan.
The two sides also expressed support for the sovereignty and unity of Iraq and warned of the negative effects of the Kurdish vote.
During the meeting, Muallem underlined the importance of the military achievements made by the Syrian army in cooperation with the country's allies, saying that Syria will continue its war on terrorism until it is totally rooted out.
Boroujerdi, for his part, called for enhancing parliamentary relations between Iran and Syria, affirming that the Islamic Republic would continue to support Damascus in its anti-terror fight until peace and stability is restored to the Arab country.
Boroujerdi meets with Syrian parliament speaker
The Iranian lawmaker also met with Speaker of the Syrian People's Assembly Hammoudeh al-Sabbagh, who highlighted the depth of bilateral relations that have strengthened during the war on Syria.
Full report at:
http://www.presstv.ir/Detail/2017/10/05/537562/Iran-Syria-Alaeddin-Boroujerdi
--------
India
National anthem a 'must' in madrasas, Allahabad HC backs Yogi Adityanath govt's order
October 4, 2017
Allahabad HC has backed the Yogi Adityanath-led Uttar Pradesh government's order to sing national anthem in madrasas. The court today said it is a mandate for every madrasa to do so.
The court's ruling said that everyone should respect the national anthem and the national flag.
Allahabad HC has also rejected the plea seeking relief for madrasas in Uttar Pradesh from singing the national anthem.
Yogi government on the occasion of Independence Day passed an order demanding a mandatory national anthem and flag hoisting in madrasas.
On Independence Day, a circular was issued by UP Madarsa Shiksha Parishad to district minority welfare officers stating that along with photographs, videos be shot of the event. They were ordered that government officials would take the videos and keep with them as a proof.
The government also asked madarsas affiliated to the Uttar Pradesh Madarsa Shiksha Parishad to pay tribute to freedom fighters and organise cultural programmes on August 15.
Many felt that the government's order was an attempt to test their 'patriotism' and found it offensive.
In the past, madrasas were directed to hoist the national flag and recite the national anthem.
At present, around 8,000 madrasas in Uttar Pradesh come under the parishad. Among these, 560 are fully aided by the state.
After the government's order, a plea seeking relief was also submitted in the court, which has now been rejected by the Allahabad court.
http://indiatoday.intoday.in/story/national-anthem-yogi-adityanath-allahabad-hc-mandatory-uttar-pradesh/1/1061439.html
--------
Why claims of Love Jihad are centred on Kerala
06th October 2017
CHENNAI: On Wednesday, Uttar Pradesh chief minister Yogi Adityanath was in Kerala to take part in the BJP's political activity in Kannur. It didn't take long for him to bring up the topic of Hindu women marrying Muslim men and converting to Islam.
In the eyes of the Hindu right wing, and indeed the Catholic right wing in Kerala, there is an organised campaign afoot, funded by shadow agencies abroad, to lure Hindu women into marriage and convert them to Islam.
Sloganeers quickly coined the phrase Love Jihad to describe the alleged phenomenon.
Kerala has been the epicentre of this controversy ever since it cropped up in 2009. It is back in the news again because of the case of a 24-year-old Hindu woman who married a Muslim man against the wishes of her parents, converted to Islam and took the name Hadiya. The parents took the case to the High Court of Kerala, which annulled the marriage back in May and restored the woman's custody to her parents, although she's not a minor.
Two days ago, on Tuesday, the Supreme Court questioned the High Court's basis for annulment of the marriage and the justification for questioning the judgement of an adult in choosing her partner in marriage.
Love jihad has been a hotly debated issue, not just in Kerala, but throughout India. However, it was in the south Indian state that most of the drama has happened. The bogey of Muslim men enticing women of other faiths into marriage and converting them to Islam has even brought together Kerala's Catholic Church and Hindu extremist organisations.
Claims of love jihad have been around for a while
While the case of Hadiya, aka Akhila, has been capturing the headlines ever since the High Court's annulment verdict in May, today, it's not been the first time that the issue made news nationally.
It was in March 2009 that the Love Jihad controversy began to stir up Kerala. A Malayalam daily sparked it all off by claiming that an Islamic organisation named "Love Jihad" was luring young women of Kerala in marrying Muslim men. Soon, Christian organisations, notably the Kerala Catholic Bishops' Conference started 'awareness campaigns' to counter it. The Vishwa Hindu Parishad (VHP) responded with its own initiatives, including the establishment of a 'Love Jihad Helpline', which reportedly received 1500 calls per month during the initial months.
In September 2009, parents of Hindu girls took their Love Jihad pleas to the Kerala High Court, which asked the state's director-general of police (DGP) to investigate if there indeed was such a campaign afoot.
Taking up that cue later that very month, the High Court in neighbouring Karnataka too ordered an investigation to ascertain whether Muslim men were practising Love Jihad.
The involvement of the judiciary and state authorities in such a divisive issue captured national and international attention. The US Embassy in India reported back to its principals in Washington on the Love Jihad controversy. "An alleged conspiracy of 'foreign-funded' Muslim men attempting to seduce, marry, and convert Hindu and Christian women, has led to state-level investigations and generated widespread suspicions in South India," the embassy remarked in a 2010 telegram -- which was leaked by Wikileaks -- to the Central Intelligence Agency (CIA).
Although the National Investigation Agency (NIA) did find that there have been conversions of women of other faiths into Islam, whether these conversions were forced or consensual is not yet clear.
The Love Jihad issue has been playing out in Kerala against the backdrop of a surge in communal clashes in the northern parts of the state, which has seen several murders and riots between left wing and Hindu right supporters. Clashes between Hindu right-wing organisations like the Aikya Vedi, Rashtriya Swayamsevak Sangh and the Popular Front of India, an Islamic organisation too are not rare. The PFI has been repeatedly charged with alleged involvement in anti-national activities, including supporting banned organisations like the Student Islamic Movement of India (SIMI).
Right-wing Hindu groups such as the RSS accuse PFI of waging a campaign to 'Islamise' Kerala. A part of that strategy, they say, is Love Jihad, the seduction of women into the Islamic faith. In August 2016, the Hindu Aikya Vedi took out a protest march to the Sathya Sarani religious study centre, an Islamic study centre, claiming that Muslim outfits are using the centre for proselytising.
Islamic State stronghold in India?
All this drama has been played out even as the National Investigation Agency has unearthed radicalisation of Keralites and recruitment of several Muslim youths by Islamic State. The fact that a large number of Keralites live and work in the Gulf countries adds to the atmosphere of suspicion.
Earlier this year, the NIA busted an Islamic State terror module in the north Kerala district of Malappuram. Months earlier, news had broken out that 21 youth left Kerala to fight for Islamic State in Afghanistan.
Due to the Gulf connection, Kerala has been subject to Wahhabi influence. Individuals based in Saudi Arabia have flushed money into northern Kerala. The funds go into the construction of mosques and madrassas that preach the Saudi brand of Islam.
The Intelligence Bureau has time and again warned the Kerala government of radicalisation in the state's northern districts.
Full report at:
http://www.newindianexpress.com/nation/2017/oct/06/why-claims-of-love-jihad-are-centred-on-kerala-1667425--1.html
--------
India Struggles To Rein In Border Flows of Cattle and Rohingya
Oct 5, 2017
NEW DELHI: Stopping Rohingya refugees from crossing India's porous eastern border with Bangladesh are straining the resources of guards battling to halt a flow of smuggled cattle in the opposite direction, security officials say.
More than half a million Muslim Rohingya, a stateless ethnic minority, have fled Myanmar for Bangladesh since violence erupted on Aug. 25, but it is not clear how many then sought to travel on to India.
Last month India ordered its border guards to use "rude and crude" methods, such as "chilli and stun grenades", to block their entry.
But that directive clashes with another task India's government has set its border guards - to keep cows, seen by many Hindus as sacred, from being smuggled into Bangladesh for slaughter, in a trade worth $600 million a year.
"It's hard to stop cows and human beings at the same time," a senior official of Border Security Force (BSF), which has about 30,000 troops patrolling the frontier with Bangladesh, said in New Delhi.
"The collective duty to seize cattle and push Rohingyas is having a negative impact on the morale of our troops," added the official, who declined to be identified because he was not authorised to speak to the media.
"We have conveyed this message to the top government officials."
He was one of four senior officials who told Reuters that Prime Minister Narendra Modi's government must decide which task should get priority.
An official of the Indian home ministry told Reuters the authorities were working to tackle the concerns of the border guards, who have been successful in blocking entry of the Rohingya.
India wants to deport about 40,000 Rohingya refugees who arrived in previous years, calling them a threat to national security, despite an outcry from rights groups.
FEWER OBSTACLES
Since the violence in Myanmar, there has been a sudden rise in the number of cattle coming from India, said traders in Bangladesh, which considers the border trade legal.
"There are fewer obstacles to getting cattle from India right now," said Rabiul Alam, secretary of the Bangladesh Meat Traders' Association, which has about 1,000 members.
In July, Supreme Court suspended a government ban on the trade of cattle for slaughter, giving a boost to its meat and leather industries, worth more than $16 billion in annual sales, and run mostly by members of the Muslim minority.
The slaughter of cows was already banned in most parts of India, but cow vigilante groups have been increasingly asserting themselves since Modi's government came to power in 2014.
Stopping the cattle smugglers is not easy.
At least 400 border guards have been injured and six killed in such operations since 2015, BSF figures show.
The guards often have to wade through fields and ponds, wielding bamboo sticks and ropes to deter smugglers and round up the cattle.
Full report at:
https://timesofindia.indiatimes.com/india/india-struggles-to-rein-in-border-flows-of-cattle-and-rohingya/articleshow/60955451.cms
--------
Oman relaxes visa rules to attract more Indians
Oct 5, 2017
MUMBAI: Oman has revised the tourist visa for people from India, China and Russia in order to attract more tourists from these countries.
Lubaina Sheerazi, India representative, ministry of tourism, Oman, said, "The outbound segment in India is on a rise with the Indian economy booming and increasingly better standards of living.
"We are certain that the recent change in policies will be favourable for the Indian travellers and Sultanate will see a positive growth in this upcoming festive and holiday season."
Oman Airports Management Company (OAMC) announced the revised terms and conditions issued by the Omani authorities on the granting of non-sponsored tourist visa for the citizens of India, China and Russia, who reside in or who hold an entry visa to one of the these countries - United States of America, Canada, Australia, United Kingdom and Schengen States to enter the Sultanate of Oman.
The statement said the visa will be granted for a period of one month for a fee of OMR 20.
According to OAMC circular the spouse and children of the visa holder would also be allowed to enter the Sultanate. The applicants, however, must also have a return ticket and confirmed hotel reservation in order to be granted the visa, it added.
"We are extremely pleased with the recent development of facilitating non-sponsored tourist visa for Indians, Chinese and Russians. With the revision in visa regulations, we are expecting that Indian arrivals across all segments will grow exponentially - especially leisure and visitors to conventions and exhibitions," Oman tourism ministry director general of tourism promotion Salim Adi Al Mamari said.
He said, Oman has gained immense popularity with mature and evolved travellers in the recent years.
Full report at:
https://timesofindia.indiatimes.com/india/oman-relaxes-visa-rules-to-attract-more-indians/articleshow/60961943.cms
--------
India can handle Pakistan, China in two-front war, says IAF chief
Rajat Pandit
Oct 6, 2017
NEW DELHI: India can handle a simultaneous two-front war if push comes to shove despite depleted air combat power due to huge delays in induction of new fighters, said the IAF chief on Thursday, in the backdrop of Pakistan keeping the western front on the boil and China not reducing force-levels on the eastern one after the troop disengagement from the Doklam stand-off.
Tackling Pakistan alone is not a problem at all, asserted Air Chief Marshal B S Dhanoa. Asked about Pakistan often brandishing its tactical nuclear weapons as an effective counter to India's conventional military superiority and the "Cold Start" strategy, he said "IAF has the capability to locate, fix and strike targets across the border."
The IAF chief also pointed to India's stated nuclear doctrine that clearly holds that an adversary's first strike -- by a strategic or even a smaller tactical nuclear weapon -- will invite massive retaliatory strikes designed to inflict unacceptable damage.
IAF also has "adequate capability" to handle China's numerically-superior air force. "It is not what they have but what they can project against us...what they can bring to Tibet," said Dhanoa, speaking in the run-up to the IAF Day on October 8.
In the event of a conflict, China can deploy over 20 fighter squadrons from its eight airbases in Tibet and other airfields to their north, but the weapon and fuel-carrying capacity of their jets will be quite limited due to the high-altitude and rarefied air there. Fully-loaded Indian Sukhoi-30MKIs, taking off from bases like Tezpur, Chabua and Hasimara, in turn, can strike high-value targets deep inside China.
The IAF chief said China had not reduced its military forces in the Chumbi Valley region, at the Sikkim-Bhutan-Tibet tri-junction, after the rival troops disengaged from the eyeball-to-eyeball confrontation at Doklam on August 28. "But I expect them to withdraw as their exercises end and winter approaches," he said, adding that "a peaceful and mature" resolution would be in the interest of the two major countries.
The IAF, of course, continues to make do with just 33 fighter squadrons despite the collusive threat from China and Pakistan. "Yes, we need a strength of 42 squadrons to carry out full-spectrum operations in a two-front scenario. But it does not mean we are not capable of fighting a two-front (war) as we speak. We have a Plan B in place," said Dhanoa.
"The possibility of a two-front war in the current geopolitical situation is low....But intentions (of enemies) can change overnight," he said, adding that IAF will achieve its authorized strength of 42 fighter squadrons only by 2032.
"The possibility of a two-front war in the current geopolitical situation is low....But intentions (of enemies) can change overnight," he said, adding that IAF will achieve its authorized strength of 42 fighter squadrons only by 2032.
Consequently, IAF is strongly pitching for acquiring another 36 Rafale fighters after it gets the first 36 jets under the mega Rs 59,000 crore contract (7.87 billion Euro) inked with France in September last year, as was first reported by TOI.
But the IAF's immediate plan is to kick off the process for setting up a single-engine fighter production facility under the defence ministry's "strategic partnership" policy as part of the "Make in India" thrust of the Modi government. "We are going for this as a top priority to make up numbers," said Dhanoa.
Full report at:
https://timesofindia.indiatimes.com/india/india-can-handle-a-simultaneous-two-front-war-says-iaf-chief/articleshow/60959893.cms
--------
Air Force capable of striking nuclear, other targets in Pakistan: IAF Chief
Oct 5, 2017
NEW DELHI: Chief of Air Staff Air Chief Marshal BS Dhanoa on Thursday said the IAF has the capability of locating and striking nuclear and other targets in Pakistan.
The comments by the chief of the Indian Air Force + came when he was asked at a news conference about global concerns over the safety of Pakistan's tactical nuclear weapons and whether IAF would be able to disarm Islamabad of its nuclear assets if necessary.
"We have a draft nuclear doctrine. It is answered in that - what happens when the enemy decides to use nuclear weapons on us. As far as IAF is concerned, it has the ability to locate, fix and strike and that is not only for tactical nuclear weapons but for other targets across the border (as well)," he said.
Dhanoa said the IAF has the capability to carry out "full spectrum" of offensive at a "short notice" to thwart any security challenge facing the country.
"The IAF is prepared to fight at short notice in full synergy with other two sister services should the need arises. IAF has the capability of sustaining operational preparedness for a prolonged period," he said, referring to overall threat perception facing the country.
Last month, Pakistan Prime Minister Shahid Khaqan Abbasi had said his country has developed short-range nuclear weapons to counter the 'Cold Start' doctrine of the Indian Army.
'Cold Start doctrine' was developed by the Indian Army for a possible war with Pakistan. This doctrine involves various branches of the Army conducting offensive operations as part of unified battle groups.
There has been global concerns over safety of nuclear weapons in Pakistan.
In August, a senior Trump administration official said the US was worried that nuclear weapons and materials in Pakistan might land up in the hands of terrorist groups or individuals.
Full report at:
https://timesofindia.indiatimes.com/india/air-force-capable-of-striking-nuclear-other-targets-in-pakistan-iaf-chief/articleshow/60958342.cms
--------
Army averts terror strike in Jammu's Akhnoor
Oct 05, 2017
The Army on Thursday averted a major terrorist strike in the strategic Akhnoor sub-division of Jammu district, 30 kms from Jammu city.
"On Wednesday night, the alertness and vigilance of Army personnel at Akhnoor helped in averting a major terrorist strike on the sensitive and soft targets in Akhnoor," said defence spokesman colonel NN Joshi.
The sentries had observed suspicious movement close to an army unit near the Akhnoor Market, he added.
Akhnoor, it may be mentioned here, has several army formations including the Crossed Swords Division.
"Thereafter, the response mechanism was activated wherein the entire area was cordoned off and deliberate search operation was conducted. During the area's sanitisation process, the security force pressed into service its dog squad that recovered one fully installed IED, two mines, army accouterments and other incriminating stores till now," said colonel Joshi.
Recoveries also included a Soviet-era map of Jammu & Kashmir, a few fake security badges, among other things.
Full report at:
http://www.hindustantimes.com/india-news/army-averts-terror-strike-in-jammu-s-akhnoor/story-edq8pULHWiNVYps4LC5z3K.html
--------
North America
Islamic Imam Delivers Prayer Before U.S. House Claiming God Is 'Experienced Through Multiple Paths'
By Heather Clark
October 5, 2017
WASHINGTON — An Islamic imam delivered a prayer on Wednesday before the U.S. House of Representatives, claiming that God is simply known by "different names" and experienced through "multiple paths."
Abdullah Antepli, the chief representative of Muslim affairs at Duke University, had been invited to deliver the invocation by Democratic Congressman David Price of North Carolina.
"The holy one, as your creation, we call you by different names, experience you through multiple paths," Antepli began. "Our human diversity is from you. As the creator of all, you made us different. Enable us to understand, appreciate and celebrate our differences."
"Teach and guide us to turn these differences into opportunities, richness and strength. Prevent us from turning them into sources of division, polarization, hate and bigotry," he continued.
Antepli also asserted in his prayer that America has made progress by being pluralistic and of many religions.
"We are far from being perfect, but came a long way in creating a multi-cultural, multi-religious and pluralistic society by making in America 'You will be judged by what you do, not by who you are' as one of our foundational promise," he said.
"The most compassionate one, help us to preserve our achievements in this regard," Antepli continued. "Do not let the destructive forces of division and exclusion erode our ideals, our firm commitment to diversity and pluralism. Empower us and these legislators to further improve the culture of inclusion and welcome to all in our nation and beyond."
He closed his prayer in "your most holy and beautiful names"—plural.
Wednesday was Antepli's second visit to the U.S. House of Representatives, as he also delivered the invocation before lawmakers in 2010. He was later asked to participate in consultations with the U.S. Department of State under then-Secretarys of State Hillary Clinton and John Kerry, according to Religion News Service.
"He's a remarkable interfaith interlocutor," Rep. Price told the outlet. "He strives for full acceptance and appreciation of other traditions, not simply wanting mere tolerance, but to really engage and talk about the substance of one's faith."
Prior to his appearance, Antepli also participated in a discussion on "Faith in Public Life" at the U.S. Capitol Visitor Center moderated by Muslim podcaster and author Rabia Chaudry.
As previously reported, the House also bowed their heads for an Islamic prayer in 2014 in being led by Imam Hamad Ahmad Chebli of the Islamic Society of Central Jersey.
"In the name of Allah, the most gracious, the most merciful," he began. "Praise be to Allah, the cherisher, the sustainer of the world, the most gracious, the most merciful master of the Day of Judgment. Thee do we worship and thine do we seek."
"Guide us to the safe path," Chebli continued. "The god of the prophets and the messenger says in the Koran [that] he does not place a responsibility on you greater than you can bear. Everyone will receive the good they have earned and vice versa."
Jesus declared in John 14:6, "I am the way, the truth and the life; no man cometh unto the Father but by Me." Isaiah 45:5 also reads, "I am the Lord, and there is none else. There is no God beside Me."
http://christiannews.net/2017/10/05/islamic-imam-delivers-prayer-before-u-s-house-claiming-god-is-experienced-through-multiple-paths/
--------
Isis: Las Vegas Shooter Stephen Paddock Became Muslim Six Months Before Massacre
BY TOM O'CONNOR
10/5/17
The Islamic State militant group (ISIS) has published a new infographic detailing how the jihadists orchestrated the deadliest mass shooting in modern U.S. history on Sunday night, despite serious doubts as to the group's involvement by authorities.
In the latest edition of ISIS's weekly Al-Naba online magazine, which was shared by its supporters Thursday on encrypted messaging app Telegram, the militant network provided more information intended to bolster its prior claims that assailant Stephen Paddock converted to Islam prior to killing 58 people and injuring hundreds more, when he opened fire on concertgoers from his 32nd floor room in the Mandalay Bay hotel in Las Vegas with nearly two dozen weapons.
The new publication now specified that Paddock, who the group dubbed Abu Abdul Barr al-Amriki, had allegedly "converted to Islam six months ago" and provided a play-by-play of Sunday's bloodshed.
"A soldier of the caliphate attacked a gathering of 22,000 Americans at a concert in the city of Las Vegas, resulting in nearly 60 killed and 600 injured, " Al-Naba states, later erroneously stating the death toll at 59, instead of the revised count of 58.
"Brother Abu Abdul Bar stationed himself in a room on the 32nd floor of a hotel overlooking the concert and opened fire continuously on the crowds using 23 firearms and more than 2,000 bullets and died, may God accept him, after running out of ammunition," it added.
In trying to piece together a motive for Paddock's shooting spree, authorities have scrutinized ISIS's claims, but have said they don't believe the militants were involved. Paddock, a frequent gambler and drinker by most accounts, has not been revealed to host any radical connections or converted to Islam at any point. While his father was revealed to have once been on the FBI's Most Wanted List, Paddock's brother said Monday he was "completely dumbfounded" by the attack.
"There is no indication that there is any link whatsoever. They claim a lot of things," a U.S. official, unauthorized to speak publicly and speaking on condition of anonymity, told Newsweek Monday.
ISIS has previously claimed responsibility for attacks only to be later denied by authorities, such as an apparent botched robbery in the Philippines. Terrorism and security analysis experts, however, such as Kronos Advisory co-founder Michael S. Smith II and The New York Times correspondent Rukmini Callimachi have pointed out that the group is rarely off and such a blatantly false narrative would be out of character for the social media savvy jihadists.
Still, ISIS has yet to provide any substantive evidence of Paddock's allegiance to the group and all of its information, save for his alleged conversion to Islam, has more or less matched readily available news reports.
ISIS, which took over nearly half of Iraq and Syria at its height in 2014, has been responsible for hundreds of deaths abroad and its elusive leader Abu Bakr al-Baghdadi apparently broke a nearly year-long public silence last week to deliver a speech that was recorded and shared by the jihadists. In it, a man purporting to be the ultraconservative Sunni Muslim cleric calls for his followers to strike targets in the West.
Full report at:
http://www.newsweek.com/isis-las-vegas-shooter-stephen-paddock-muslim-six-months-massacre-679295
--------
Las Vegas shooter foiled a well-drilled counter-terrorism plan
Oct 6, 2017
Las Vegas had spent years planning for the worst: training its police force according to an anti-terrorism protocol it adopted in 2009 to respond to mass shootings, chemical attacks, suicide bombings, and planes flying into buildings, according to city officials and security professionals.
But when it came to Sunday night's attack that killed 58 people and wounded hundreds more at an open-air concert in the city, police found themselves with few options to stop the gunman quickly, they said. It underscored the difficulty American cities face in protecting citizens from attacks that can take unpredictable forms.
Firing from the 32nd floor of a hotel near the city's world famous neon-lit Strip, at night, at a range of 500 yards with an arsenal of high-velocity semi-automatic weapons modified to shoot rapidly, gunman Stephen Paddock had pulled the city into a nightmare that left him virtually unopposed for crucial minutes, with police unable to safely return fire.
The angles, the distances, and the presence of thousands of people made it impossible, they said.
"Our officers showed incredible restraint. They can fire that distance. It's not safe to do so," said Robert Chamberlin, a member of the Las Vegas police department's counter-terrorism force. "You are firing 32 floors up, from 500 meters (yards). So the trajectory of our rounds...even if we were accurate, they're going to go up into the ceiling, up into the next floor."
"(Our officers) knew they had to close [in] so that's what they did," he said.
Paddock sprayed bullets continuously on the concert crowd of 22,000 people for about 10 minutes, starting at 10:05 p.m. PT (1:05 a.m. ET on Monday), according to Clark County Sheriff Joseph Lombardo. Police blew open Paddock's hotel room door 75 minutes after the shooting started, finding he had killed himself.
Paddock's attack was only the second major mass shooting in modern U.S. history where the gunman fired from an elevated position, according to David Shepherd, a former FBI agent who advises the Las Vegas police department on security issues.
The last one that inflicted large numbers of casualties was at the University of Texas in 1966 when a gunman in a tower killed 15 people and wounded 31 during an attack that lasted 96 minutes.
"MACTAC" PROTOCOL
In 2009, the Las Vegas police adopted a new, military-style, counter-terrorism plan and training, called MACTAC, or Multi-Assault Counter-Terrorism Action Capabilities and intended to help it deal with attacks. Officials said it was instituted as a response to the attack on Mumbai, India a year earlier in which al Qaeda-linked militants killed 166 people in a series of coordinated shootings and bombings over four days.
The protocol required every law enforcement officer from every department in the region to be trained in the same way to respond to attacks, members of the MACTAC team told Reuters in an interview this week. This training allowed security personnel from different departments to team up quickly, form small units, and – in the case of a shooting - to direct fire at the shooter's location from different angles.
On Sunday, Paddock's high perch in a hotel filled with people complicated the well-trained response – first, because it was hard to exactly pinpoint his location, and second because of the dangers to bystanders if the police fired back.
"It did cause some challenges logistically, being outgunned like that," said Lieutenant Reggie Rader, one of the MACTAC team members. He said officers did their best to get as quickly as possible to the hotel room from which Paddock was firing.
City councilmen Ricki Barlow and Steve Seroka praised the police for how they responded to Sunday's attack, but admitted the shooter proved a difficult adversary, and that being prepared for every kind of attack is hard.
"Someone shooting high down into a crowd – of course we have looked at that. But the question becomes – how do you guard against that?" said Barlow.
Seroka said that many hotels in Las Vegas are equipped with technology to detect projectiles like cigarette butts coming off balconies and to pinpoint the room, but said there are no balconies at the Mandalay Bay hotel where Paddock had set up.
Seroka, a former U.S. Air Force colonel and veteran of both Gulf Wars, lamented the length of time Paddock ultimately had to shoot at the crowd. "Nine minutes is an eternity when you are taking fire," he said.
Full report at:
http://nation.com.pk/international/06-Oct-2017/las-vegas-shooter-foiled-a-well-drilled-counter-terrorism-plan
--------
Minister says 800 Yazidis refugees resettled in Canada
6 October 2017
Nearly 800 Yazidi women and girls and others who fled persecution by ISIS in northern Iraq have been resettled in Canada, the immigration minister said Thursday.
Canada's parliament last year, with Iraqi activist Nadia Murad on hand, declared the persecution of Yazidis a genocide and said this country would take in up to 1,200.
"Today, I am proud (to say that) almost 800 Yazidi women and girls, and other survivors of ISIS have already arrived, and have begun the process of rebuilding their lives with the assistance of private sponsors and community groups all across Canada," Immigration Minister Ahmed Hussen told the House of Commons.
"I continue to be amazed by the generosity and compassion extended to this highly vulnerable group by all Canadians," he added.
Horrific abuse
Thousands of women and girls, especially from the Yazidi minority, suffered horrific abuse in ISIS-controlled areas, including rape, abduction, slavery and cruel, inhumane and degrading treatment.
Around 3,000 are believed to remain in captivity, the UN Assistance Mission to Iraq (UNAMI) and the UN rights office said in an August report.
The report also raised particular concerns over the situation of hundreds of children born from the sexual violence risked facing a lifetime of discrimination and abuse.
Full report at:
https://english.alarabiya.net/en/News/middle-east/2017/10/06/Minister-says-800-Yazidis-refugees-resettled-in-Canada.html
--------
Trump: Iran has not lived up to spirit of nuclear deal
6 October 2017
President Donald Trump said on Thursday that Iran had not lived up to the spirit of the nuclear deal agreed with world powers and suggested he would reveal his decision on whether to certify the agreement soon.
"We must not allow Iran ... to obtain nuclear weapons," Trump said during a meeting with military leaders at the White House.
"The Iranian regime supports terrorism and exports violence, bloodshed and chaos across the Middle East. That is why we must put an end to Iran's continued aggression and nuclear ambitions.
They have not lived up to the spirit of their agreement," he said.
Full report at:
https://english.alarabiya.net/en/News/world/2017/10/06/Trump-Iran-has-not-lived-up-to-spirit-of-nuclear-deal.html
--------
US to ask NATO for 1,000 more troops for Afghanistan
Oct 5, 2017
The US will ask NATO members to contribute about 1,000 extra troops to help in the battle against the Taliban militant group in Afghanistan, the new US ambassador to the military alliance says.
The additional NATO troops would add to the roughly 3,000 US forces already on their way to Afghanistan under US President Donald Trump's new strategy against the Taliban, Kay Bailey Hutchison said Thursday.
The United States already has about 8,400 troops in the country alongside another 5,000 from NATO forces.
Taliban militants have warned that they will be stepping up their attacks until the US and other NATO members fully withdraw from Afghanistan after more than a decade and half of occupation.
Back in 2014, the US-led occupying forces in Afghanistan officially announced the end of their combat operations in the country, saying they now had a mission to "train, advise, and assist" Afghan troops.
However, the Trump's administration recently permitted the deployment of an additional 3,000 troops to Afghanistan to engage with the Taliban.
Trump who had previously called for withdrawal of American troops from Afghanistan argued that his "original instinct was to pull out," but that he was convinced by his national security team to take on the Taliban militants.
The United States -- under Republican George W. Bush's presidency -- and its allies invaded Afghanistan on October 7, 2001 as part of Washington's so-called war on terror. The offensive removed the Taliban regime from power, but after 16 years, the foreign troops are still deployed to the country.
After becoming the president in 2008, President Barack Obama, a Democrat, vowed to end the Afghan war -- one of the longest conflicts in US history – but he failed to keep his promise.
US Defense Secretary Jim Mattis said Tuesday that an American withdrawal from Afghanistan would be "to our ultimate peril."
Full report at:
http://www.presstv.ir/Detail/2017/10/05/537577/US-NATO-Afghanistan
--------
Europe
In landmark terrorism trial, France confronts roots of homegrown extremism
October 5, 2017
PARIS — This was the case that started it all: The first chapter in France's struggle with homegrown Islamist violence.
In 2012, between March 11 and March 19, Mohammed Merah, a 23-year-old French citizen of Algerian origins, murdered seven people: first three French police officers, and then a rabbi and three children at a Jewish school in the southwestern city of Toulouse.
The Merah affair was a shock at the time - pointing to an attacker raised in France rather than a militant who slipped into the country to carry out previous Islamist-linked strikes for groups such as Lebanon's Hezbollah or factions that grew out of Algeria's civil war in the 1990s.
In the years since Merah's bloodshed, the episode has come reflect the elements in many other recent attacks: youth against authority, Islamist extremist against Jew and, perhaps most of all, French against French.
This week, the Merah case was brought to trial in Paris, although Merah was killed at the end of his rampage.
On the stand now are two of his alleged accomplices: Fettah Malki, 34, accused of providing Merah with a weapon, and Merah's older brother, Abdelkader Merah, 35, suspected of helping his sibling steal the scooter later used in the attacks. The elder Merah was born in France, and Malki came to France from Algeria when he was 11.
But for many, the trial is about more than seeking convictions. Its real purpose is seeking answers about the origins of a relentless wave of terrorism in France - ranging from major carnage in Paris and Nice to smaller strikes such as a knife slashing that killed two people in Marseille last Sunday.
"This trial is historic," said Patrick Klugman, a lawyer representing Samuel Sandler, the father and grandfather of Merah's Jewish victims, in opening remarks Monday.
"Merah is dead, but it is essential to understand what happened for the memory of the victims and their families," he added.
Jonathan Sandler, a rabbi, was 30 when he was killed. His sons, Gabriel and Arieh Sandler, were 5 and 3, respectively.
If convicted, Malki faces up to 20 years in prison, and Abdelkader Merah up to a life sentence. Verdicts are expected Nov. 3.
In recent years, no other country in Western Europe has been hit by the same frequency of terrorist violence. Gilles Kepel, an acclaimed French political scientist, recently observed in a best-selling book that Islamist-inspired violence "is not exclusively French," but "the French case is stronger and deeper" than those of other neighboring countries.
Since the beginning of 2015 alone, nearly 240 people have been killed in attacks linked to Islamists groups such as the Islamic State. Significantly, the majority of perpetrators have been longtime legal residents in France or French citizens. Others have had passports from other European Union countries.
Youth radicalization has been a particularly perplexing problem for authorities in France, which has Western Europe's largest Muslim population.
More French citizens have decamped to fight for the Islamic State in Iraq, Syria or other locations across the Middle East. according to terrorism experts. Of the roughly 6,000 fighters who left Europe to join the Islamic State, approximately 1,800 were French.
Merah's attack - believed linked to al-Qaida - predated the emergence of the Islamic State.
"But his actions have inspired a lot of radicalized individuals . . . He was someone who by his actions encouraged so many others to follow," said Jean-Charles Brisard, director of the Paris-based Center for the Analysis of Terrorism, a security think tank.
Notably, police records show that Merah was mentioned in social media posts by many in the immediate circle of Abdelhamid Abaaoud, the Belgian-Moroccan mastermind of the November 2015 Paris attacks, which claimed 130 lives.
For others - especially France's Jewish community,the largest in Europe - the Merah case foreshadowed the anti-Semitism often on display in a number of other terrorist attacks that followed.
In January 2015, following the attack on the offices of the satirical newspaper Charlie Hebdo, a related terrorist affiliated with the Islamic State targeted a kosher supermarket on the outskirts of Paris, killing four people.
In April 2017, Sarah Halimi, an orthodox Jewish schoolteacher, was murdered in her Paris apartment and thrown from the window. Those attacks and others spurred a spike in emigration to Israel by French Jews, although departures have recently dropped.
"This trial is also about anti-Semitism that kills and wants to put our modern societies in danger," said Francis Kalifat, the director of the Representative Council of French-Jewish Institutions, France's largest Jewish advocacy organization, in a statement.
https://www.stripes.com/news/europe/in-landmark-terrorism-trial-france-confronts-roots-of-homegrown-extremism-1.491210#.Wdcn7VSCyzc
--------
France offers to mediate between Baghdad and Kurds
5 October 2017
France offered on Thursday to mediate in a political crisis pitting Iraq's government against Kurdish regional authorities, and promised to maintain a military presence there until ISIS was defeated.
The offer by President Emmanuel Macron coincided with a visit by Iraq's Prime Minister Haider al-Abadi, his first abroad since its Kurdish-held northern regions last month voted for independence in a referendum declared illegal by Baghdad.
The Iraqi government has imposed sanctions in response to the independence vote, but Abadi said on Thursday he could understand the Kurds' "aspirations" -- provided they were expressed in accordance with the constitution -- and wanted to avoid violence.
"We do not want an armed confrontation, we don't want clashes," Abadi said, speaking alongside Macron. "But the federal authority must prevail and nobody can infringe on the federal authority."
The outcome of the referendum has raised concerns in Iraq and abroad that a conflict might break out there along ethnic lines, potentially weakening a US-backed campaign against ISIS, which still holds pockets of territory in Iraq and Syria.
Macron, whose country is the second-biggest contributor to the campaign, said French forces would remain until the militant group's defeat was "total."
"It is vital in the coming weeks and months that a dialogue begins that respects the unity, integrity and sovereignty of Iraq within the framework of the constitution and recognizing Kurdish rights," Macron added.
"France is ready, if Iraqi authorities wish, to actively contribute to the mediation launched by the United Nations."
Iraqi-Kurdish tensions were ratcheted down a notch on Wednesday when the central bank in Baghdad eased financial restrictions imposed after the vote, after receiving a pledge of cooperation from Kurdish banks, an Iraqi banking source said.
The central bank had said on Tuesday it would halt all foreign currency transfers to the region, banking and government sources told Reuters. All but four Kurdish-owned banks were on Wednesday again allowed to send and receive dollar and foreign currency transfers, the first banking source said.
Abadi, in Paris for bilateral talks, said the Iraqis and Kurds had a common interest in maintaining peace.
He had on Tuesday called for a "joint administration" of oil-rich Kirkuk and other areas claimed by both his government and the autonomous Kurdish region, provided Baghdad had ultimate authority in any such arrangement.
Kurdish Peshmerga fighters took control of Kirkuk in 2014, when Iraqi forces collapsed in the face of ISIS' advance across northern Iraq.
"I call on the Peshmerga to remain an integral part of the Iraqi forces under the authority of the federal authorities, to guarantee the security of citizens so that we can rebuild these zones," Abadi said, referring to areas taken back from ISIS militants.
Full report at:
https://english.alarabiya.net/en/News/middle-east/2017/10/05/France-offers-to-mediate-between-Baghdad-and-Kurds.html
--------
Putin, Salman hold talks behind closed doors in Moscow
Oct 6, 2017
Russian President Vladimir Putin and Saudi King Salman have held talks behind closed doors in the Russian capital of Moscow, reportedly discussing bilateral and regional issues.
The talks were held on Thursday with the participation of other Russian and Saudi officials.
"We have held detailed talks behind closed doors to talk about bilateral relations and the situation in the region," Putin said after the meeting. "That was a very meaningful, substantive and confidential conversation."
The Russian president also said he was confident the visit by Salman would give a fresh impetus to the development of bilateral ties with Riyadh. Putin also accepted an invitation by the Saudi king to Saudi Arabia.
Salman and his delegation arrived in the Russian capital for a four-day visit on Wednesday.
The Saudis have reportedly signed more than 15 cooperation agreements — with multi-billion-dollar energy and military contracts — with the Russian side. Moscow has also agreed to sell its advanced S-400 missile defense system to Riyadh.
Putin and Salman also discussed the conflict in Syria, where they support opposing sides. The Saudis have been backing the wide range of militants fighting the elected Syrian government, while Russia backs the legitimate Damascus government.
Saudi Arabia has officially been calling for an ouster of Assad, while Russia says the future of Syria and the political future of Assad should only be determined by the Syrian people.
Nevertheless, Salman claimed that Riyadh favors a political solution to the conflict in Syria, according to a report by TASS.
"A political solution must be achieved that would guarantee security, stability, unity and territorial integrity of Syria," he was quoted as saying.
Full report at:
http://www.presstv.ir/Detail/2017/10/06/537627/Russia-Putin-Saudi-Arabia-Salman-talks-Syria-oil
--------
Mideast
Hamas appoints military chief as deputy leader
Oct 6, 2017
The Palestinian Islamist movement Hamas has appointed a military official accused of organising multiple deadly attacks against Israelis, as its deputy leader, an official said on Thursday.
"Salah al-Aruri was elected deputy to Ismail Haniya (Hamas leader)," an official in the movement told AFP on condition of anonymity, after a vote of its 18-member political bureau.
Aruri, who lives in exile after having spent almost two decades in Israeli jails, is alleged to have masterminded a series of attacks against Israelis in the occupied West Bank.
In 2015, the United States Treasury issued sanctions against Aruri, along with other officials of Hamas, which is currently in negotiations with the internationally recognised Palestinian Authority about reconciliation.
Aruri was based in Syria for a number of years but is now resident in Lebanon, according to senior Hamas sources.
There was no immediate reaction from Israel, which had previously accused Turkey of sheltering Aruri, to his appointment.
Hamas, which runs the Gaza Strip and has fought three wars with Israel since 2008, is considered a terrorist organisation by the US, European Union and others.
The Jewish state accuses Hamas of the 2014 kidnapping and murder of three Israeli teens in the West Bank that was part of an escalation towards war in Gaza that summer.
The Islamist group has never officially claimed responsibility for the killings but a video posted online shows Aruri allegedly praising Hamas's military wing for the "heroic" action.
His appointment follows the election in February of another military leader, Yahya Sinwar, as Hamas's Gaza chief.
Analysts say Sinwar is technically third in command following Aruri's appointment but has strong support in the military wing.
Aruri joined Hamas in 1987 and helped establish a military wing for the movement in the West Bank, according to Hamas media.
He was jailed by Israel for 15 years after being convicted of forming military cells in the territory.
Three months after his release in 2007 he was again jailed for a further three years, before being released and deported from the Palestinian territories.
http://nation.com.pk/international/06-Oct-2017/hamas-appoints-military-chief-as-deputy-leader
--------
Turkey: PKK militants killed at popular tourist resort
Oct 5, 2017
Turkish forces have killed five suspected Kurdish militants at a popular tourist resort in western Turkey frequented by Europeans.
Police and gendarme units launched an operation on Thursday after detecting a group of seven suspected PKK militants in Turkey's Mugla province.
Special units cordoned off the forest area in Koycegiz district after five of the militants were killed in clashes.
Authorities said the operation continues to locate and capture the two remaining militants, who are suspected to be members of the outlawed Kurdistan Workers' Party (PKK).
The Koycegiz region is particularly popular with British and German tourists due to its picturesque lake and the nearby hugely popular river resort of Dalyan.
Turkey's southwest, where key tourist destinations like Izmir, Selcuk, Pamukkale, Bodrum, Antalya and Fethiye are located, are usually quiet and relatively safe.
PKK militants regularly clash with Turkish forces in the Kurdish-dominated southeast of Turkey attached to northern Iraq.
On Wednesday, Turkish fighter jets targeted five PKK terrorists who were preparing for an attack in eastern Erzincan province's Refahiye rural area, Turkish Armed Forces said in statement on Thursday.
Turkish warplanes also carried out airstrikes on PKK camps in Iraq's Metina region, destroying their hideouts, as well as arms and munition depots, it added.
The PKK has waged a bloody insurgency inside Turkey since 1984, leaving tens of thousands of people dead.
Full report at:
http://www.presstv.ir/Detail/2017/10/05/537590/Turkey-PKK-Militants-Mugla
--------
Turkey to close borders with Iraqi Kurdistan 'soon': Erdogan
Oct 5, 2017
Turkey's President Recep Tayyip Erdogan says his country will "soon" shut its border and airspace to the Iraqi Kurdistan Region in response to a controversial referendum on possible secession of the semi-autonomous region from the rest of the country.
"Flights to northern Iraq have already been suspended, the airspace and borders will also close soon," Erdogan said in a televised speech in Ankara on Thursday.
"How will you (the Iraqi Kurds) have imports and exports then? The clock is ticking against them," he added.
The non-binding Kurdish plebiscite took place on September 25, sparking strong objection from the central government in Baghdad. Iraq's neighbors and the international community also voiced concerns over the repercussions of the vote, which was only supported by Israel.
The Turkish president said the plebiscite showed the "perfect ingratitude" of the Kurdistan Regional Government (KRG) after years of its close commercial and political relations with Ankara.
Earlier on Thursday, Erdogan had told reporters that Turkey would decide jointly with Iran and the central government in Baghdad whether to cut oil exports from the Iraqi Kurdistan.
"The northern Iraqi leadership is drunk with the result of the referendum, [but] it's not aware of what it is doing or what kind of steps it's taking," he said.
On Wednesday, Erdogan held meetings with Iranian officials in Tehran.
In a joint press conference with Iranian President Hassan Rouhani, Erdogan warned that Turkey would take stronger steps in response to the Kurdish referendum.
Full report at:
http://www.presstv.ir/Detail/2017/10/05/537584/Turkey-Iraq-Kurdistan-Recep-Tayyip-Erdogan
--------
JCPOA not renegotiable: Iran's nuclear chief
Oct 5, 2017
Head of the Atomic Energy Organization of Iran (AEOI) Ali Akbar Salehi says the 2015 nuclear deal reached between Iran and six world powers is not renegotiable.
He made the remarks in Rome, where he is to address the XXth Edoardo Amaldi Conference - International Cooperation for Enhancing Nuclear Safety, Security, Safeguards and Non-Proliferation next week.
"We have emphasized repeatedly that the JCPOA is not renegotiable," he told the Islamic Republic of Iran Broadcasting (IRIB), referring to the nuclear agreement that is officially called the Joint Comprehensive Plan of Action.
"Some [parties] want the JCPOA to be renegotiated in technical dimensions, but it is not renegotiable," Salehi emphasized, noting that Russia, China and EU foreign policy chief, Federica Mogherini, had all stressed that the accord is not renegotiable.
"If the US leaves the JCPOA, and other countries follow suit, the JCPOA will definitely fall apart, but if only the US walks away, our monitoring committee on the JCPOA should make a decision in this regard," he added.
The administration of US President Donald Trump has been opposed to the JCPOA, which was negotiated by his predecessor, Barack Obama.
Trump himself has verbally attacked the deal numerous times and is reportedly planning to refuse to certify Iran's compliance at a mid-October deadline.
Most recently, the US president described the accord as "an embarrassment" and "one of the worst and most one-sided transactions the United States has ever entered into."
All the other parties to the JCPOA, however, have stressed that the agreement must be sustained, cautioning against a unilateral US withdrawal.
Full report at:
http://www.presstv.ir/Detail/2017/10/05/537573/Iran-JCPOA-Ali-Akbar-Salehi
--------
Syria will never forget Iran's sacrifices, support: Assad
Oct 5, 2017
President Bashar al-Assad says his country will never forget the sacrifices of the Islamic Republic in support of the Syrian government and nation during the hard times of war.
The Syrian president made the remarks in a meeting with senior Iranian lawmaker, Alaeddin Boroujerdi, in Damascus on Thursday, noting that recent developments in the region were unfolding in favor of the "resistance axis."
"These developments have added to the strength and capabilities of the resistance axis," he told Boroujerdi who is chairman of the Iranian parliament's Committee on National Security and Foreign Policy.
The Syrian president also stressed the need for close cooperation among members of the "resistance axis" in different fields, especially economy.
Boroujerdi, for his part, congratulated Assad on the recent victories scored by the Syrian army against terrorists, hailing the Arab country as the "symbol of resistance in the face of the enemies."
"The immensity of the recent developments in Syria will certainly be further understood in the future, because the Syrian government and nation have succeeded in defeating moves by the United States, the Zionist regime and their regional allies through resistance and perseverance," the Iranian lawmaker said.
Boroujerdi also referred to President Assad's letter to Leader of the Islamic Revolution Ayatollah Seyyed Ali Khamenei last month, saying it reflected "the depth of the ties between the two countries and the positive role of the Islamic Republic of Iran in the recent victories" gained by the Syrian army.
In the letter, Assad thanked and congratulated the friendly government and people of Iran on the strategic achievements of the Syrian military in their counter-terrorism operation.
"I express my deep gratitude to the Islamic Republic of Iran over its principled positions against terrorism and its support for our people to liberate our homeland's soil from the contamination of Takfiri terrorists," Assad wrote in the letter.
Boroujerdi said the "resistance axis" was facing a common enemy, stressing the need for constant cooperation and coordination among its members.
He further expressed Tehran's readiness to help reconstruct Syria, which has been gripped by foreign-backed militancy since 2011.
Talks with FM Muallem
Boroujerdi also met with Syrian Foreign Minister Walid al-Muallem on Wednesday, and the two discussed bilateral relations, the fight against terrorism and extremism, and a controversial secession referendum in the Iraqi Kurdistan.
The two sides also expressed support for the sovereignty and unity of Iraq and warned of the negative effects of the Kurdish vote.
During the meeting, Muallem underlined the importance of the military achievements made by the Syrian army in cooperation with the country's allies, saying that Syria will continue its war on terrorism until it is totally rooted out.
Boroujerdi, for his part, called for enhancing parliamentary relations between Iran and Syria, affirming that the Islamic Republic would continue to support Damascus in its anti-terror fight until peace and stability is restored to the Arab country.
Boroujerdi meets with Syrian parliament speaker
The Iranian lawmaker also met with Speaker of the Syrian People's Assembly Hammoudeh al-Sabbagh, who highlighted the depth of bilateral relations that have strengthened during the war on Syria.
Full report at:
http://www.presstv.ir/Detail/2017/10/05/537562/Iran-Syria-Alaeddin-Boroujerdi
--------
Southeast Asia
Indonesian president urges military to stay out of politics
Oct 6, 2017
The Indonesian military should stay out of politics and remain loyal to the government, President Joko "Jokowi" Widodo said on Thursday in an apparent rebuke over contentious statements by the country's top general.
Military chief Gen Gatot Nurmantyo has stirred controversy in the past month with warnings of a renewed communist threat to Indonesia and a claim that a non-military organisation was trying to import thousands of weapons.
In a speech to a parade marking the military's 72nd anniversary, Jokowi said the armed forces are a national institution that should stay above politics and not be fragmented by narrow interests.
The military "should always ensure its political neutrality in the current democratic era," he said.
Indonesia's army retreated from politics after the fall of dictator Suharto in 1998 ushered in democracy, but nearly two decades later, a role limited to national defence is not fully accepted among officers or the rank-and-file. The army has tried to inch back into civilian areas and resented the police's leading role in counter-terrorism.
Jokowi's predecessor as president was a former general, as was his main rival in the 2014 presidential election, Prabowo Subianto.
Nurmantyo, who local media say might harbour ambitions to run for president in 2019, last month attended an Islamic political party event where he warned that communists, a boogeyman frequently invoked by Indonesian conservatives, were a renewed threat.
Earlier in the month, the four-star general claimed that a government institution tried to import 5,000 guns "on behalf" of Jokowi. The president's top security minister, however, said that the national intelligence service had ordered several hundred rifles from a state-owned weapons company for training purposes.
Thursday's parade in the coastal West Java city of Cilegon comprised nearly 6,000 soldiers and Indonesia's most modern imported weaponry.
In a speech at the parade, Nurmantyo said soldiers are sworn to protect the Indonesian people and obey the president.
"Do not doubt our loyalty," he said.
http://nation.com.pk/international/05-Oct-2017/indonesian-president-urges-military-to-stay-out-of-politics
--------
Bank Negara: Terrorists finding ways to avoid detection in money transfers
Minderjeet Kaur
October 5, 2017
KUALA LUMPUR: Bank Negara Malaysia has warned that terrorist groups are using crypto currencies and advancements in technology to transfer money without being detected by the authorities.
Assistant governor Abu Hassan Alshari Yahaya said this was the groups' new modus operandi.
"It is a global phenomenon. They can use new payment modes and other ways to make it easier to transfer funds.
"For us in Malaysia, we have money changers and other institutions that are subject to strict regulations.
"They (terrorists) will look for new modes to avoid being scrutinised," he said after closing the 9th International Conference on Financial Crime and Terrorism Financing here.
Crypto currencies such as Bitcoin are a digital asset designed to work as a medium of digital exchange, using cryptography to secure transactions.
Abu Hassan said terrorists do not require large funds to run their activities.
"They could use technological advancements and newer payment methods to transfer money," he said, adding that they would use whatever opportunities that were available to do so.
According to Abu Hassan, Bank Negara, banks and law enforcers are aware of the problem and are strengthening their units to address the issue.
One way to do so is to establish a compliance unit, he said.
He acknowledged that there was a risk in the new methods of payment, but said by creating awareness on the issue, authorities were being proactive and would be better prepared to detect the problem.
Full report at:
http://www.freemalaysiatoday.com/category/nation/2017/10/05/bank-negara-terrorists-finding-ways-to-avoid-detection-in-money-transfers/
--------
Iran-Funded Center a Lifeline for Jakarta's Marginalized Shia Minority
October 04, 2017
BY KRITHIKA VARAGUR
JAKARTA, INDONESIA—The first month of the Islamic calendar, Muharram, is not a very big deal for most Indonesians, outside of New Year's Day. But every night of Muharram since it started on Sept. 21, hundreds of Shia Muslims have come together at a tile-clad building in South Jakarta to ceremonially mourn the death of the prophet Muhammad's grandson.
They listen to a live or streaming sermon in Bahasa Indonesia or Farsi and pray, often tearfully.
The mourning rites of Muharram are an important Shia tradition, but as Indonesia's Shia minorities face growing intolerance, they have steadily lowered their profile. So this month's nightly gatherings at the Islamic Cultural Center (ICC), which was built in 2002 with funding from Iran, are among the largest sites of Shia activity in the whole country.
Over 99 percent of Indonesian Muslims belong to the Sunni denomination, but that belies Shia cultural influence in the world's largest Muslim-majority country. (Sunni and Shia are the two major Muslim denominations, which diverged early in Islamic history over a debate on the rightful successors to the prophet.)
Shia Islam may have been the first strain to reach Indonesia, through Arab traders who reached Aceh around the 12th century, and Shia traditions like ancestor worship and feast days for saints are still observed in pockets across Indonesia, even by Sunnis.
But most of Indonesia's roughly one million Shia are concentrated in the Jakarta metro area, and the ICC is a nexus of their community.
Iranian Outpost in Indonesia
ICC, clad in blue and white ceramic tiles imported from Iran, is handily the most striking building on its drab, but busy, South Jakarta road. It's open seven days a week and has a large Indonesian-language library, decorated with photos of the Ayatollah of Iran and framed posters of Iranian tourist sites.
Ali Hussain Alatas, the ICC's secretary, is a Hadrami, Yemeni diaspora who have lived in Indonesia for centuries, often as prosperous traders. He grew up in Central Java and studied for five years in Qom, Iran, the global center of Shia scholarship.
"In Jakarta, we rarely have problems carrying out our activities, whether they are classes or religious celebrations," said Alatas, over cups of tea at the center. "We maintain good relations with Nahdlatul Ulama, Muhammadiyah, and the government. But cultural understanding has really decreased in recent years."
ICC offers classes in religion, Arabic, and Farsi, and facilitates scholarships to Iran. It has also become an inadvertent community center for Jakarta's sizable refugee community from Afghanistan, Pakistan, and Iran, many of whom have been trapped in Indonesia for years after Australia closed its maritime borders to refugees in 2014.
There were hundreds of young Afghan men and families last Thursday night at ICC, enough to spill out from the Farsi sermon to the steps outside.
Growing Intolerance
In 2012, an East Java branch of the National Ulama Council issued a fatwa against Shia Muslims, calling them deviants, and the same year, several Shia were driven out of their homes. There has been a trickle of anti-Shia violence since then, and in 2014, a "National Anti-Shia Alliance of Indonesia" was founded in Bandung, West Java.
"Our goal is to provide information to Muslims throughout Indonesia about the Shi'ite heresy… and awaken Muslims who have been affected by Shi'ite heresy to return to the true teachings of Islam according to the Qur'an," said Athian Ali Muhammad Da'i, a Javanese cleric who leads the Alliance.
When pressed for reasons why he felt Shi'ism posed a threat to Indonesia, he listed contract marriages, which he claims have created an epidemic of HIV and fatherless children in Iran, and a "culture of self-harm" during the Muharram mourning rituals, which he said were "so inhuman, even animals do not do it."
Culture Wars
Just a five-minute walk from ICC is LIPIA, the Saudi-funded university that opened in 1980 and is a major outpost of Saudi proselytization in Indonesia. This makes a narrow strip of Warung Jati Barat Road a microcosm of the Muslim world's arch-rival spheres of influence.
Iran and Saudi Arabia have been waging cultural proxy wars ever since the 1979 Iranian revolution: both are large, oil-rich theocracies with aspirations to set the agenda for the global Muslim community.
Alatas said the ICC's location was just a coincidence, but went on to denounce "Wahhabism," a sometimes derogatory term for the Saudi brand of Salafism.
"There is growing intolerance against our community, when Islamic radicalism arising from Saudi Wahhabi beliefs is the real threat," he said.
He claimed that LIPIA students sometimes come to discreetly browse the ICC library, perhaps, he said, seeking an alternative to the puritanical ideology taught at LIPIA.
Iran's imprint on modern Indonesia is negligible compared to that of Saudi Arabia, whose institutions have supported some of the nation's most prominent conservative politicians and independent figures, like Habib Rizieq Shihab, leader of the thuggish Islamic Defenders Front.
The growing popularity of Saudi Salafism has often been linked to intolerance against Shia and Ahmadiyya, another Muslim minority group, in Indonesia. But it's not quite so simple: several mainstream, so-called "moderate" Indonesian organizations like Nahdlatul Ulama embrace anti-Shia rhetoric too.
"The National Ulama Council has distributed pamphlets against Shia and Ahmadiyya," said Noorhaidi Ismail, a professor at State Islamic University of Yogyakarta. "The government has developed an anti-Shia discourse because they periodically need a common enemy. In my opinion, it is not the Salafis who are responsible for this intolerance."
Full report at:
http://pulitzercenter.org/reporting/iran-funded-center-lifeline-jakartas-marginalized-shia-minority
--------
Indonesia, Jordan to Make Greater Use of Strategic Positions in Asean and Middle Eastern Markets
Oct 6, 2017
Jakarta. Indonesia and Jordan on Wednesday (04/10) made agreements to step up counterterrorism efforts and increase economic cooperation during a meeting between foreign ministers of the two countries in Amman, Jordan, the Foreign Affairs Ministry said in a statement.
"Economic cooperation between Indonesia and Jordan must make us of the two countries' strategic positions as gateways to the Asean [Association of the Southeast Asian Nations] and Middle Eastern markets," Foreign Minister Retno Marsudi said in the statement.
In 2016, bilateral trade between Indonesia and Jordan was worth $256 million, which the Ministry said did not reflect progress from the previous year.
During the meeting, Retno and her Jordanian counterpart, Ayman Safadi, agreed they must open up access for more products to thrive in each other's market.
Retno proposed a preferential trade agreement (PTA) between the two countries to lower tariff and non-tariff barriers to trade. She also touched on the importance of increasing dialogue between Indonesian and Jordanian private sectors to increase cooperation in this field.
On efforts to combat terrorism and radicalism, Indonesia and Jordan agreed to increase cooperation in information and intelligence sharing, curbing terrorism financing, pacifying foreign terrorist fighters (FTF), deradicalization programs, interfaith dialogues and capacity-building.
Retno said negotiations on a memorandum of understanding for these partnerships should begin as soon as possible.
"Increasing capacity of security forces to combat terrorism and radicalism is very important. I invited Jordan's law enforcement authorities to visit the Jakarta Center for Law Enforcement Cooperation [JCLEC]," Retno said.
Retno also held a meeting with Jordan's King Abdullah II at the Al-Husseiniyah Palace in Amman, where they discussed the importance of tolerance and continued dialogue between countries to foster stronger cooperation and address global challenges facing the Islamic world.
The minister extended President Joko "Jokowi" Widodo's invitation for King Abdullah II to attend and speak at the upcoming Bali Democracy Forum in December.
"The King of Jordan pointedly said the issue of Palestine receives less and less attention from the international community, and will require a collective effort to push it as part of the main agenda at international level," the Ministry said in a statement.
Full report at:
http://jakartaglobe.id/news/indonesia-jordan-make-greater-use-strategic-positions-asean-middle-eastern-markets/
--------
Africa
Is US relying too heavily on African 'partners' in war on terror?
Oct 6, 2017
The American military strategy in Africa, where three U.S. Green Berets were killed this week during an ambush, relies too heavily on inexperienced military partners that could be ineffective, corrupt or even working in cahoots with known terrorist groups, experts say.
The strategy has come under fire recently after a raid earlier this year resulted in American casualties. The Trump administration has made a renewed push in the region to establish footholds of stability where radical Islamist terrorism cannot flourish.
Critics of American strategy in Africa worry that the U.S. is relying too heavily on corruptible military partners in the fight against radical Islamist groups like al-Shabab, or Boko Haram and Al Qaeda in the Maghreb (AQIM) further west in countries like Niger.
"You can watch in Mali and Somalia, the local militaries have swept through populated areas and cleared them," said Katherine Zimmerman of the American Enterprise Institute. "We've been a little bit blind to the methods that the governments have been using to fight these groups. For example, the methods that the Nigerian government used to fight Boko Haram stoked the insurgency."
The three Green Berets were part of a squad of "eight to 10" soldiers assigned to train Nigerien Armed Forces in their efforts against Al Qaeda in the Maghreb (AQIM) and other groups affiliated with ISIS.
Meanwhile, the Islamist terror group al-Shabab claimed it was tipped off ahead of time about a joint U.S. Navy SEAL-Somali Armed Forces raid on May 4. A SEAL, Senior Chief Petty Officer Kyle Milliken, was killed in the intense firefight.
While it's unclear if al-Shabab was indeed tipped off by U.S.' Somali allies ahead of the raid, experts like Zimmerman believe such incidents show a real weakness in the strategy.
"We've convinced ourselves that working by and through a partner is going to solve the problem," she told Fox News. "But in many cases, it's making the problem we're trying to solve worse."
President Trump, who was elected partly for resisting foreign entanglements requiring large numbers of American troops, has nevertheless taken notice of the growing terrorist presence on the African continent. High-ranking members of his administration have been working on a strategy since the early days of his presidency.
"Our intent is to train and assist the African armies as much as possible, let them have the lead in fighting radical Islamist terrorists," said retired four-star Army Gen. Jack Keane.
It's a high-risk strategy that is still taking shape. And while the bulk of the resources are focused on East African countries like Somalia, the U.S. military is committing troops all across the African continent. Every official who spoke with Fox News emphasized that the objective is to help African nations protect themselves.
"African solutions for African problems," said an AFRICOM spokesman.
While former President Obama began the African troop build-up, it came after his top commanders realized mistakes had been made. And, experts say, Obama resisted the recommendations from his generals when it came to figuring out how to solve the problem.
U.S. officials admitted in 2012 that the rise of Islamist groups in Africa, such as Al Qaeda in the Maghreb (AQIM), which operates in West Africa and may have been behind the fight with the Green Berets in Niger, had caught them flat-footed. In July 2012, AFRICOM's commander said that AQIM had become a "much more difficult" threat.
"We missed an opportunity to deal with AQIM when they were weak," U.S. Army Gen. Carter Ham said at the time.
The Obama Administration was divided over how to tackle the rising threat. "Do we or don't we" deploy drones, was a big part of the conversation as late as 2012, according to the Washington Post.
While Obama's National Security Adviser Ben Rhodes gradually ramped up Special Forces and drones in Africa, he kept a close lid on their ability to make tactical decisions on when and where to strike, over fear of civilian casualties.
"This was the Ben Rhodes machine. They did not trust the military to make these tactical decisions on their own in places like Somalia so it was very carefully managed," said one source with knowledge of the inner workings of the Obama White House.
Keane said Trump has given U.S. operational commanders considerable more authority.
"He has decided to leave the employment of the force up to the discretion of the commanders," he said. "Not up to Washington."
AFRICOM tells Fox News at any given time there are approximately 5,000 to 6,000 U.S. personnel on the continent. The bulk of which, 4,000 or so, are based at Camp Lemonnier in Djibouti, which is often a staging ground for operations in both Somalia and Yemen, across the Gulf of Aden.
There are at least three drone bases in Africa – Djibouti, Cameroon and Niger. There is a suspected base in Tunisia, but that has not been confirmed by the U.S. military.
While there are reports of many more bases that are either temporary or staging grounds for equipment, AFRICOM says it maintains "15 enduring locations." The Pentagon defines an enduring location as characterized "primarily by the sustained presence of allocated U.S. Forces." They span the continent. And some take issue with the idea that U.S. special operators are there in truly "advise and assist" roles, particularly because of what happened on May 4 with Milliken.
"There has been an overreliance on special operations as a force multiplier," said retired Navy SEAL Scott Taylor, now a Republican congressman in Virginia. "The Obama administration wanted to show there were no boots on the ground…but there were boots on the ground. They would say they were advisers but of course they were there. This administration has changed it a little bit but there is still this overlap. I think we have to be more discriminatory in how we use our tier one special forces."
AFRICOM insists it's doing just that, and it points to the thousands of troops deployed on the continent on missions, including U.S. Army First Lt. Soule Malame. Reached at Garoua airfield in Cameroon, where the U.S. operates surveillance drones, Malame told Fox News about how he left the West African country of Togo when he was 24 and is now back in Africa working with a unit designed to win hearts and minds.
"The message we're trying to get across here is: 'What can we do to provide security for your area? What can we do together?'" Malame said the enemy in the area is Boko Haram, the group that spurred the "Save Our Girls" movement after it kidnapped 276 young women from a Nigerian school in 2014. "They use the religion to serve themselves. They come and say Americans are bad people, not your friend. We want you to join us so you can fight them."
But Malame says the Cameroon villagers open up to him when they hear his local brand of French and learn that he, like them, is a Muslim.
"Boko Haram and Islamic State of West Africa come looking for money and looking for influence. But they will use the money not to serve God but their own purpose," he said. "I tell the villagers, they are not Muslims. Muslims will not come and tell them to kill people for no reason, and rape women, and kidnap girls. We, the Americans, are here to help them."
It's a tall order, not least because of the tyranny of distance in Africa, and compounded by the U.S.' reliance on shaky local governments to finish the job.
http://www.foxnews.com/world/2017/10/05/is-us-relying-too-heavily-on-african-partners-in-war-on-terror.html
--------
Three US soldiers killed in Niger ambush
Oct 6, 2017
NIAMEY - Three US Green Berets and an unknown number of Nigerien soldiers were killed in a clash on the Niger-Mali border, where Islamic State fighters have established a presence, officials from said Thursday.
A joint US-Niger patrol fell into an ambush on Wednesday in the Tillaberi region in the country's southwest, requiring French Mirage 2000 fighter jets to be called in for air support.
Niger's President Mahamadou Issoufou said there were many casualties in the battle, and US Africa Command said two more Special Forces troops were wounded. Another person from an unnamed country was also killed, according to the Pentagon statement, which did not specifically mention Nigerien casualties. "Our country has just been attacked once more by terrorist groups, an assault which sadly has resulted in a large number of casualties," Issoufou said in the capital Niamey.
A French military spokesman said French helicopters had evacuated wounded from the scene and added that the fighting was continuing.
"The Nigerien operation is still ongoing, from what I know," said French Colonel Patrik Steiger.
"It is in the area of the Islamic State in the Greater Sahara," he said, using the name of the militant group's regional franchise. The Pentagon said the clash took place approximately 200 kilometers (120 miles) north of Niamey. That puts the attack near the border with Mali, where armed militants are known to operate. The two wounded US soldiers were evacuated to Landstuhl Regional Medical Center in Germany where they are in "stable condition," US Africa Command said.
The report confirmed the little-known presence of US troops in the turbulent area, part of the poor and politically fragile Sahel region where militant groups are mounting an insurgency.
Africa Command said in a statement that US Forces are in Niger "to provide training and security assistance to the Nigerien Armed Forces, in their efforts to counter violent extremist organizations in the region."
Steiger said French fighter jets were sent to the scene as a show of force, but did not drop any munitions to avoid hitting the forces on the ground.
Under the name Operation Barkhane, France maintains a 4,000-man mission in the region to shore up fragile Sahel countries against militants who have carried out a wave of bloody bombings, shootings and kidnappings.
Western militaries have been actively supporting Niger forces in their effort to prevent militant groups in the Sahel from establishing a strong presence in the country.
In February and March, troops from the United States, Belgium, Australia and Canada, including US Special Forces, conducted a 17-day training operation with Nigerien troops focused on fighting extremist insurgents.
Issoufou did not put a number on how many Nigerien casualties there were in the clash.
He called for a minute's silence "to the memory of our soldiers who have fallen on the field of honour" and to the memory of "all victims of terrorism."
"Women and children pay a heavy price for terrorism, directly as innocent victims and indirectly as mothers and spouses," Issoufou said.
At the United Nations, Mali's Foreign Minister Abdoulaye Diop told a Security Council meeting on the situation in Mali that the attack on the border highlighted the need for the new Sahel force tasked with fighting Islamic militants to quickly begin its operations.
"The violent and deadly clashes that occurred yesterday on the Niger-Mali border remind us once again of the pressing need to proceed to the rapid operationalization of the G5 Sahel force," Diop told the council.
The regional force must be "rendered operational as quickly as possible in order to ensure it can withstand those who are seeking to destablise our entire region: terrorists and armed groups."
Full report at:
http://nation.com.pk/international/06-Oct-2017/three-us-soldiers-killed-in-niger-ambush
--------
Malawi: Sharia-Law Banking Services for All, Says Muslim Association of Malawi
5 OCTOBER 2017
By Nyasa Times Reporter
The Muslim Association of Malawi (MAM) has hailed the interest-free participation banking new guidelines drafted by Reserve Bank of Malawi embarcing an Islamic banking system which charges no interest, unlike conventional banks, calling them long overdue, as over 30 percent of Malawi's population of 17.5 million is Muslim.
The guidelines are built around Sharia Islamic laws which govern the way Muslims live their lives and conduct their daily business, including financial affairs.
"Sharia law lays down [guidelines] for the management of money, one of these guidelines being the absence of interest on current and savings accounts," said Sheikh Dinala Chabulika, the group's spokesman.
He said although this service will mostly appeal to Muslim customers, it is open to everyone regardless of their faith.
Participation banking "will be an alternative to. conventional banking. Muslims and non-Muslims globally are choosing to make use of Islamic banking because it is good," he said.
Mbane Ngwira, spokesperson for the cenytral bank said they drafted the guidelines which were distributed to stakeholders for comments, "which is the initial step."
"After consolidation of the comments and any other acceptable recommendations, the guidelines will be finalized and submitted to the government for vetting," Ngwira sais.
Full report at:
http://allafrica.com/stories/201710050586.html
--------
URL: https://www.newageislam.com/islamic-world-news/pakistan-military-admits-isi-links/d/112791
New Age Islam, Islam Online, Islamic Website, African Muslim News, Arab World News, South Asia News, Indian Muslim News, World Muslim News, Women in Islam, Islamic Feminism, Arab Women, Women In Arab, Islamophobia in America, Muslim Women in West, Islam Women and Feminism