New Age Islam News Bureau
21 Oct 2018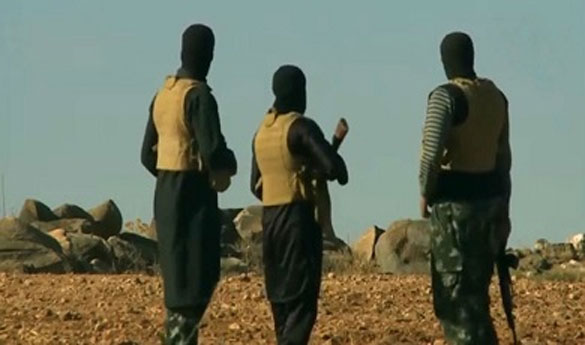 Photo: –Research says expansion of Daesh in South Asia hints at major shift from Middle East
-------
• Buddhist extremism: Meet the violent followers of a religion widely known for its pacifism
• Sabarimala protests: Rehana Fathima expelled from Muslim community
• Boko Haram kill 12 farmers in Nigeria: militia
Pakistan
• Pakistan, India under new IS threat 'Wilayat-e-Hind': study
• Islam gives message of peace, love, protection
• The resurgence of Barelvism as the new face of extremism
• Was offered seats in general elections, says Khadim Rizvi
• Pakistani security personnel killed by militants
• Pakistan's FATF grey-listing hinges around Hafiz Saeed's status
• Police, bureaucracy hurdle to 'Naya Pakistan', says PM Khan
• Pakistan envoy to Kabul denies Islamabad's support to Taliban
---------
South Asia
• Buddhist extremism: Meet the violent followers of a religion widely known for its pacifism
• Afghanistan extends election to Sunday due to chaos at polling stations
• NATO SCR says 'Impressed by the courage and determination of Afghan voters'
• Afghanistan: 15 dead in Kabul polling station suicide bombing
• Taliban bomb and rocket blitz as Afghans go to polls
---------
India
• Sabarimala protests: Rehana Fathima expelled from Muslim community
• Noted Urdu poet attacked after confronting youth for harassing girl
• MP: For years, Aqueel is lone Muslim face in House
• Delhi Minorities Commission team in Palwal to probe foreign funding of local mosque
• J&K local body elections: Independents sweep ULB polls in Muslim-dominated districts of Jammu
• J&K: 3 terrorists killed in Kulgam encounter
---------
Africa
• Boko Haram kill 12 farmers in Nigeria: militia
• Sudanese ambassador reveals details of upcoming Egypt-Sudan summit in Khartoum
• At Jordan border, Damascus seeks to revive regional trade
• Porous Kenya-Somalia border, locals facilitate Shabaab attacks
---------
Southeast Asia
• SE Asia boosts fight against 'real and present' militant threat
• Surabaya church bombers believed world ending in 2018: Report
• China: Muslim detention camps are 'humane'
• Mat Sabu: Malaysia can't cope with so many Rohingya refugees
• Anwar Ibrahim urges Malay students to master the Chinese language
---------
North America
• Coalition airstrikes kill 22 civilians in eastern Syria
• US 'saddened' over confirmed death of Saudi journalist
---------
Arab World
• Arab League welcomes Saudi investigations into Khashoggi's case
• Terrorists Send Heavy Arms to Hama, Idlib to Attack Army-Controlled Regions
• Bin Salman sought most brutal murder for Khashoggi: Ex-FBI agent
• Tens of Civilians Killed, Wounded in US Raids on Mosques in Eastern Syria
• The Saudi regime does not represent Islam
• Senior US-Backed Militia Commander Killed in Bomb Blast in Northeastern Syria
• Six Druze civilian hostages freed 3 months after abduction by Daesh in Syria
• Russian officials discuss 'finally destroying' terrorists with Syria's Assad
---------
Europe
• UK insists Khashoggi killers must be held accountable
• France 'strongly' condemns killing of Saudi journalist
• Full truth on Khashoggi's killing not told: Danish PM
• Australia's Jerusalem ploy fails to avoid by-election beating, risks Muslim backlash
• Row over Muslim scholar's invitation to preach at Anglican service
• Muslim cleric, 51, who runs Britain's largest network of sharia courts is quizzed over child rape claims
• Imam Drouiche: For fear of hard right, Europe's left wing fails to condemn Islamism
---------
Mideast
• Yemeni Army Launches Missile, Drone Strikes on UAE Operations Room
• Syrians in occupied Golan burn Israeli election ballots, protest judaization
• Iran demands Pakistan secure immediate release of abducted security forces
• Israel reopens people and goods crossings to Gaza amid calm
• Dozens of Houthis killed in strikes targeting gathering in Yemen's Hodeidah
• Palestinian protest icon goes from jail cell to VIP suite
Compiled by New Age Islam News Bureau
URL: https://www.newageislam.com/islamic-world-news/pakistan-india-under-new-threat/d/116679
---------
Pakistan, India under new IS threat 'Wilayat-e-Hind': study
BY MIAN ABRAR
Oct 21, 2018
ISLAMABAD: Pakistan, India and Bangladesh are under a new threat of the deadly terrorist organisation Islamic State (IS), also called Daesh, resulting from a major shift from the Middle East, a recent study has found.
According to a new research conducted by Abdullah Khan, the Managing Director of Pakistan Institute for Conflict and Security Studies (PICSS), 'Wilayat-e-Hind' (WeH) is the new chapter of Daesh which is quickly attracting the educated youth in India, Bangladesh and Pakistan, and promoting its extremist ideology.
The ongoing military operations in and around Pakistan's border areas with Afghanistan have provided gaps to the IS militants who have swiftly moved in either from Syria or Iraq and have presence in across the bordering areas in Afghanistan, the study found, adding that the terror group is provoked by the governments of India and Bangladesh which are known for their 'state-sponsored terrorism' against the Muslim communities.
PROSPECTS OF IS IN SOUTH ASIA:
The study titled "Prospects of Daesh's Expansion in South Asia" says that an unorganised presence of WeH militants has been identified in parts of Pakistan, India, Bangladesh and other countries of the South Asian region. The WeH operates as an Indian chapter of the IS which was formally announced in 2016.
The study highlights that the Indian citizens, especially from Kerala State, find IS more attractive than any other group and at least 54 people from Kerala have announced to join the IS during the past three years.
"Those who have joined the Wilayat-e-Hind are well-educated and most of them are engineers, doctors and MBA degree holders. Indian citizens are mostly joining Khorasan chapter of Daesh than the core group in Syria or Iraq. However, the possible launching route of Indian IS members to Afghanistan is not clear yet," the study reads.
INDIAN OPPRESSION IN KASHMIR:
The study also identifies the India-sponsored oppression in Kashmir as a key reason that more youth are joining the IS.
"Growing unrest and protracted conflict of Kashmir is going to further complicate security dynamics of the region. More Kashmiri citizens joining Kashmir militancy is going to deepen the societal divide in the Indian occupied Kashmir (IoK) which may impact the whole region," the study finds.
The ongoing torture and killings of Muslims in across India at the hands of Hindu extremist groups like RSS, VHP and others under the ongoing campaign of forced conversions — also called 'Ghar Wapis' under which oppression and rape is used as a tool to kill and force Muslims to covert towards Hinduism — is also a major factor, it said.
The maltreatment of Indian Muslims by the government and Hindu extremists will push more Indian citizens towards Daesh, the study finds.
Talking to Pakistan Today, Abdullah Khan said that the WeH Bangladesh chapter was another surprise addition where the so-called secular regime of Prime Minister Hasina Wajid was targeting religious Muslim groups under a witch-hunt drive.
The ongoing targeting of scholars linked to Jamat-e-Islami and other religious right-wing outfits has provoked educated youth to take up arms. On November 7, 2015, Dr Sajit Debnath, aka Muhammad Saifullah Ozaki, gave a lecture to the audience at the Asia Pacific Conference at Ritsumeikan University. The topic of the lecture was Womenomics in Business. But this was one of the last public appearances of Dr Sajit before he disappeared along with his family in December 2015. Dr Sajit is a PhD and was considered an expert on the Islamic finance and economic theory. Later, he announced to join the IS.
Abdullah Khan said that Daesh has successfully replaced Al-Qaeda as global champion of terror and it uses the concept of Khilafah to inspire Muslim youth from around the globe.
"The concept of Khilafah is the next level of the concept of global Jihad or ultimate goal of global Jihad. The conquering of most parts of Iraq and Syria helped IS get a global attraction. Some Pakistani and Afghan Taliban commanders and commanders of some smaller groups got in contact with ISIS," he said.
"Abdur Rauf Khadim, an Afghan Taliban Commander from southern Afghanistan and former Guantanamo detainee, Abdur Rahim Muslim Dost, were the first to join ISIS and propagate for the IS.
In January 2015, Wilayat-e-Khorasan was officially formed after pledging of the allegiance by some senior TTP commanders and commanders of at least ten smaller groups.
Abdullah Khan also sheds light over Khurasan chapter's different approach to recruit militants.
"In this part of the world, IS focused on making allies. Except for Afghan Taliban, the IS is pursuing a policy of cooperation instead of confrontation with other militant groups of the region. It found an ally in the form of Lashkar-e-Jhangvi Al-Aalami (LeJ-A)," he said, adding that Daesh was part of the five-member alliance formed against Pakistan in Paktia in 2016, including TTP, JuA, LI, LeJ-A.
Differences have developed with Lashkar-e-Islam as they are fighting at some places, but cooperation with other groups continue. He said that IS Khorasan militants have developed an arch along Pakistani border to target the local areas and are interested in waging a war from the Afghan soil.
"The arch was developed by creating bases of IS militants in Badakhshan, Nuristan, Kuner and Nangarhar provinces of Afghanistan," he added.
Khan argued that the IS terrorists had resorted to guerrilla-style attacks and they are capable of penetrating high-security zone of the Afghan capital.
"The quality of attacks and ability of IS militants to inflict heavy losses on the enemy is improving. More militants from Syria and Iraq are joining Khorasan chapter which will further enhance operational capabilities of the group," he stated.
Asked about the ideological aspects of IS terrorists, Abdullah Khan reacted that the group professes extremist views of Islam and mostly people from Deobandi and Salafi (Ahle-e-Hadith) schools of thought have joined the group in the region.
"All major organisations of Deobandi and Ahle-e-Hadith have condemned Daesh and consider it as a threat to their following. Ideologically, the group's prospects of growth are bleak, however, political issues will provide the required ground for expansion," he said.
WAY FORWARD:
Talking about the way forward, Abdullah Khan said that the solution of the key political issues of Muslims in the region need to be resolved amicably.
"Afghan peace process needs to be stepped up but should never provide Daesh a justification to market the possible deal as 'sell out of Jihad'," he said while adding that mistrust between regional security forces/intelligence agencies needs to be removed for the betterment of the region. "Islamic State should be seen as a common threat instead of using it as leverage by one state against the other," he concluded
https://www.pakistantoday.com.pk/2018/10/20/pakistan-india-under-new-is-threat-wilayat-e-hind-study/
---------
Buddhist extremism: Meet the violent followers of a religion widely known for its pacifism
Oct 21, 2018
Myanmar's "Buddhist Bin Laden" has made a return to public life, appearing at a rally in support of the military generals condemned globally for a brutal crackdown on the Muslim minority Rohingya.
Wirathu, an infamous Buddhist nationalist monk, was sanctioned in March 2017 for religious hate speech that demonised the Rohingya Muslims.
And last weekend, his rhetoric demonstrated that — at least in his mind — little had changed.
As military flag-waving demonstrators carried portraits of Senior General Min Aung Hlaing, Wirathu lambasted the United Nations, saying the day Myanmar authorities are brought before the International Criminal Court is "is the day that Wirathu holds a gun".
The court last month opened a preliminary probe into alleged state-sponsored violence against the Rohingya, including sexual violence, killings, and enforced disappearances.
An estimated 700,000 Rohingya fled over the border into Bangladesh between September and December last year, leaving behind lives built over generations in their dash for safety.
"Don't lie to the world saying that Bengalis are Rohingya because you want to promote Islamisation in Myanmar," Wirathu said, according to a report by local news magazine Frontier Myanmar.
The plight of the Rohingya has elicited global condemnation, but less attention has been paid to the Islamophobia driving their exodus.
Observers say there is a perception gap when it comes to religious extremism — with Muslims regularly being unfairly cast as terrorists while Buddhists are generally depicted and understood to be pacifists.
"The problem is far too many Westerners fail to understand that Buddhism, like any other religion, can be misused for political purposes," Phil Robertson, deputy Asia director at Human Rights Watch, told the ABC.
Buddhist nationalism has become increasingly prominent in Myanmar since the country began opening up in 2011, with growing tensions sparking roiling communal violence in Rakhine State.
Myanmar's military generals retaliated after Rohingya insurgents attacked border police, killing 12 people, by embarking on what the United Nations has called "a textbook example of ethnic cleansing" with "genocidal intent".
The military has also been accused of using social media to stoke tensions between Buddhists and Muslims, allegedly orchestrating a sophisticated anti-Muslim Facebook campaign ahead of the violence.
Dr Crouch said the military junta, which has ruled the country for nearly five decades, had reinforced the idea that Burman Buddhists were "superior".
"This is one reason among many that different ethnic and religious groups distrust the military."
And the rise of Buddhist extremism at the expense of Muslims is not contained to Myanmar.
Sri Lanka also experienced an outbreak of communal violence in March this year that saw Sinhalese mobs sweep through Kandy and other towns burning mosques and attacking Muslim businesses.
It followed the death of a Buddhist truck driver days after he was involved in an altercation with four Muslims.
The violence prompted the Government to declare a state of emergency and temporarily block social media sites it blamed for fuelling the clashes.
Both Myanmar and Sri Lanka are home to a Buddhist majority — about 90 per cent and 75 per cent of the population respectively — with a sizeable Muslim minority.
And, as in Myanmar, many Sri Lankan Buddhists feel their status is threatened by adherents of an opposing religion.
Andreas Johansson, director of the Swedish South Asian Studies Network, said the anti-Muslim sentiment mirrored post 9/11 attitudes in the West.
Meanwhile, radical monks espousing violence against Muslims have become a huge problem in the two countries that Governments have done little to address, according to Mr Robertson.
"These governments must urgently act with strong measures against Buddhists who espouse and instigate violence, recognising that failure to act means the hatreds will spread and the situation will get worse," he said.
"It's a problem that governments need to meet head on before the situation gets out of hand."
https://www.abc.net.au/news/2018-10-21/buddhist-extremism-meet-the-religions-violent-followers/10360288
---------
Sabarimala protests: Rehana Fathima expelled from Muslim community
TNN | Oct 20, 2018
ALAPPUZHA: The Kerala Muslim Jamaath Council has expelled Rehana Fatima, the woman, who reached within hailing distance of Sabarimala's sanctum sanctorum, from Muslim community.
In a press note issued here on Saturday, the council state president A Pookunju informed that the Council directed the Ernakulam Central Muslim Jamaath to expel her and her family from the membership of the Mahallu.
As per the press note, "her act hurt lakhs of Hindu devotees and it is against the rituals of the Hindu community. She also took part in 'kiss of love' agitation and acted in a film, nude. So, she has no right to use a Muslim name. The state government should register a case against her under section 153A of the IPC for creating communal hatred," Pookunju said.
He also demanded to register a case against IG S Sreejith, who helped 'anti-social elements' to enter the shrine wearing police safety jacket.
https://timesofindia.indiatimes.com/city/kochi/sabarimala-protests-rehana-fathima-expelled-from-muslim-community/articleshow/66297526.cms
---------
Boko Haram kill 12 farmers in Nigeria: militia
2018-10-20
Boko Haram jihadists on Saturday hacked 12 farmers to death as they worked on their fields in the volatile northeastern Nigerian state of Borno, civilian militia told AFP.
They came in two trucks and attacked the farmers with machetes outside Kalle, a remote village 17 km outside the state capital Maiduguri, the birthplace of the Boko Haram movement.
"They used machetes to kill their victims who were working on their farms," militia leader Babakura Kolo said. "So far, we have recovered 12 dead bodies from the fields and nearby bush."
Three people were injured in the raids.
The militants had guns but did not use them so as not to attract the attention of troops in nearby Molai village, said another militia leader Ibrahim Liman.
"When the farmers saw them pulling over close to their crop fields they all ran in different directions but the terrorists pursued them," Liman said.
It was not clear which of the two Boko Haram factions was behind the attack.
The jihadist faction loyal to Abubakar Shekau is notorious for deadly attacks on civilian targets.
The IS-affiliated faction --Islamic State West Africa Province (ISWAP) -- focus on the military and high profile targets including Western interests, although they have recently been involved in attacks on civilians.
Boko Haram has stepped up attacks on farmers and loggers in recent years, accusing them of passing information on the group to the military.
https://www.news24.com/Africa/News/boko-haram-kill-12-farmers-in-nigeria-militia-20181020
---------
Pakistan
Islam gives message of peace, love, protection
Parvez Jabri
October 20, 2018
LAHORE: Federal Minister for Religious Affairs and Interfaith harmony Noor ul Haq Qadri on Saturday said that Pakistan has safe and peaceful policy for the followers of all religions.
He was addressing an international conference on Social Responsibility and World Religions organized by Minhaj University Lahore (MUL) and Punjab Higher Education Commission (PHEC) at the university.
The conference was supported by School of Religions and Philosophy and School of Peace Counter Terrorism Studies.
He said, "Islam gives message of peace, love and protection and people of Pakistan fully support the agenda of today's conference".
Noor-ul-Haq Qadri also quoted various verses from the Holy Quran and Hadees Sharifs to highlight the significance of respecting other religions in the teachings of Islam.
The minister lauded Tahir-ul-Qadri's role for interfaith harmony.
He emphasized to change the temperaments as it was essential for forming a good society.
Plunderers will get eliminated and culprits of model town incident would reach their logical end, he added.
Earlier, Dr Herman from Australia, speaking on the occasion said that every person has great responsibility towards global peace and self understanding in this regard was very important.
Later, the minister along with Pakistan Awami Tehreek (PAT) leader Khurram Nawaz Gandapur also visited the book stall. MUL Vice Chancellor Prof Dr Muhammad Aslam Ghauri and others were also present.
https://www.brecorder.com/2018/10/20/448316/islam-gives-message-of-peace-love-protection/
---------
The resurgence of Barelvism as the new face of extremism
Zuhaib Ahmed Pirzada
OCTOBER 21, 2018
Pakistan's society has been badly spoiled by religious extremism and terrorism since its inception. Due to the extremism and terrorism, religious and social values are hammered, economy has not prospered, political freedom has been curtailed, and sadly, thousands have lost their lives. In this article, it is discussed that how it was ideologically wrong to mainstream Barelvism to counter hard-liner sects and how the rise of Barelvism is threat to peace in Pakistan.
Deobandi and Salafi extremism has been very common in Pakistan. Around 70,000 lives are lost because of their terrorism. Farhan Zahid in his article "The Potential for a new strand Islamist Extremism in Pakistan" writes that prominent among these are Deobandi organizations like Lashkar-e-Jhangvi, Harkat Ul Jihad-e-Islami, Harkat Ul Mujahideen, Jaish-e-Mohammad, Lashkar-e-Omar and Tehreek-e-Taliban Pakistan. Meanwhile, al-Qaeda, Islamic State, Wilayat-e-Khurasan, Hizb-ut Tahrir and Lashkar-e-Taiba (LeT) adhere to the Salafist tradition. On the other hand, Barelvi sub-sect is responsible for less than 1 percent of terrorist attacks in Pakistan. They have remained involved in mass mobilization against minorities, spreading hatred and extremism in society, threatening people and arousing sentiments for pro-blasphemy law.
Ideology is believed to be motivating factor for terrorism and when War on Terror started, the then President Musharraf formed the policies of counter narrative against hard-liner sects. In his policies, Sufi Islam was presented as "counter-narrative" by counter-ideology theorists and different literature was produced to show softer image of Islam. After 2008, PPP government followed the same policies of mainstreaming Barelvi sub-sect. It has been the history of Pakistan that in order to counter one group, another has been created against it and in this all when one group is politically and financial supported, chaos, conflicts, extremism, and sectarian strife occurs.
In the recent years with the resurgence of Barelvism, corporate media has exacerbated the situation by giving false binaries between Deobandism and Barelvism but it cannot be denied that the potential radicalization in Barelvi sub sect can be immense threat to peace in Pakistan if not checked.
"Barelvi Islam" or "Barelvism" is a Sunni Islamic movement and school of thought that is widely spread in South-Asia. Its roots can be traced back in 19th and 20th century. The name "Barelvi" traces its history with the Northern Indian town Bareilly where the founder of the sect, Ahmad Raza Khan Bareilly (1856-1921), was born. He was a revivalist and his teachings influenced many. Barelvis identify themselves with his teachings. Nadeem F Paracha writes, "It (Barelvism) was a reaction against the theological onslaught of the Deobandis against the traditions of the majority of Muslims, who, during the 500-year Muslim rule in India, had merged various elements of Sufism with the rituals of pre-Islamic creeds existing in India."
When Deoband School of thought started preaching their version of Islam; they criticized local shrine culture. To counter this, Ahmad Raza laid the foundation of the Ahl-e Sunnat movement and emerged as leading scholar. He declared Fatwas and refutations against Deobandis, the Ahl-e-Hadithis and Ahmadis and made arguments for shrine-based and Divine Grace through the text. Ahmad Raza was an Anti-Hindu, and it was the Barelvi sub sect which supported the cause of Pakistan's Independence. It was his teachings which gave theoretical basis for separate Muslim land. On the contrary, Deobandi Ulema espoused it.
Both the Deobandi and Barelvi have different ideological outlooks and they have countered each-others views. Historically, both are dichotomous, and have presented their approach extremely. The formation of Barelvi thought emerged out of Deobandi's contradictions. In 1906, when Ahmad Raza went for performing Hajj, he asked Ulemas of Madina and Mecca to endorse his Fatwas against Deobandis and other sects. When he returned to India, both the sub-sects started 'Fatwa War' and called each other Kafir (Infidel). Hussam al-Harmain is the book of fatwas by Ahmed Raza in which he has accused Deobandis and other sects of heresy.
Both the sects have always taken extreme positions for their religio-political gains. Ahmed Raza declared leading figures of Deoband school of thought as Kafirs, in Fatwa-i-Rizvia, which "declares Deobandis as Kafirs and he who doubts that they are Kafirs are also Kafir" In a same way, Fatwas from Deobadis against the Barelvis have been always there and it can been understood by looking at attacks on Sufi shrines, Barelvi Mosques and Madrasas.
It is commonly believed that Barelvis are pacifists, peaceful, apolitical and tolerant, but it is not completely true. Their language and literature is not apolitical and non-extremist. The myth, they are tolerant, can be busted by looking at their Fatwas against other sects. They do compete with rival sects for space and religious monopoly. Sunni Tehreek, a Karachi based Barelvi group, was involved in violent activities. Muhammad Amir Rana , the Director of the Pakistan Institute for Peace Studies (PIPS) writes. "To further complicate the intermingling of beliefs and practices, the Barelvis, who are considered to be representatives of Sufism in Pakistan, are not free from pro-militant jihadi tendencies. In the Kashmir insurgent movement during the 1990s the Barelvis were quite prominent. Some Barelvi militant groups, such al-Baraq and Tehreek-e-Jihad, are still active."
Olivier Roy in his book, "Islam and Resistance in Afghanistan" tells how Sufis allied with Talibans to take over the country. There are many examples of atrocities against minorities by Barelvis in Pakistan. Aamir Mughal writes, "The Barelvi text is full of fatwas like any other sect. When it comes to the power and domination of their sect, every group has grown the tendencies to apostatise others, which has affected the common masses,"
There can be different answers to the question that why Barelvis remained quite lesser violent than other hard-liner sects. Firstly, they were scattered and politically weaker after the independence of Pakistan. Secondly, they didn't believe in concept of Jihad like that of Deobandis. Thirdly, they didn't affiliate with Saudi's version of Islam. When the war in Afghanistan started in 1979; foreign funding from USA, KSA and other countries started flowing in Pakistan, and majority of Mujahedeen belonging to Deobandi sect participated in Afghan War. "General Zia's apparent tilt towards the Deobandi or Ahl-e-Hadith sub sects resulted in disregard for Barelvis during the Islamization process in 1977" When Deobandi sect was morally, religiously, financially and politically supported, they got powerful in Pakistan's society in 1980s and 1990s; other sects, like Barelvi felt insecure and deprived.
In 1990s, Barevlis also started practicing Jihad to be at the stage like other sects, but that was Kashmir centric, and after 2001, when war on terror started, they returned Pakistan, and Mubashir Akram says "The 'returning Mujahideen' did not sit silent, and joined the ranks of Sunni Tehreek, mostly in Karachi and Hyderabad, Sindh, and thus began the journey of Barelvi extremism that is now much more institutionalised than what it was in the past."
In 2006, Pervez Musharraf, formed the National Council for the Promotion of Sufism (NCPS) as a counter narrative against Deobandi sect. PPP carried same policy and in 2009, they established 'Sufi Advisory Council'. This time, Barelvis were being empowered, and celebrated Pakistani scholar Ayesha Siddiqa warned, "greater power not only enhanced the greed for more power but also resulted in corrupting of the Sufi order." State sponsored Sufism started filling the space which was being left by Deobandis. This time Sufis were being seen violent.
Mainstreaming the Barelvi sect to counter Deobandis' narrative was politically and socially wrong, as their historical and theological rivalry was neglected. Barelvis have historical sense of deprivation as being majority in Pakistan; they were religiously and politically sidelined, and attacks on their shrines, people, mosques and madrasas have given them sense of vendetta. In this all, when recently, Barelvism has resurged; all pre-conditions are present which threatens peace in Pakistan. Its recent example is the rise of Tehreek-i-Labaik Pakistan.
TLP was initially established to support Salman Taseer murderer, later, it changed into the political party. Within a short span of time TLP has grown up violent, after hanging of Mumtaz Qadri (Murderer of Salman Taseer), different protests and violence occurred in country. In late 2017, for 21 days, TLP ceased Islamabad, roads were blocked, many were injured and 6 people died. Resultantly, Law minister resigned. State accepted their demands.
TLP leader, Khadim Hussain Rizvi, seems to be anti-civilian-government. Umer Ali, in his article, writes that By using the Barelvi groups, over an issue as sensitive as blasphemy, the establishment might be preparing alternative assets to be deployed against their political rivals in Pakistan. Many of the political scientists believe that due to the tensions between civil-military establishment. P.M Nawaz Sharif's government was targeted. Historically Nawaz and Deobandis have good ties that is why Deobandis have also lost their power. Yet, many of the Deobandi outfits enjoy soft-corner.
Newly minted religious group, Tehreek-e-Labbaik Pakistan (TLP), has made it to power, winning its first two seats in Karachi, Sindh in the general elections 2018. TLP has also emerged as third largest party in Lahore. With 2.2 million votes, TLP had emerged as the fifth largest party in the election in terms of number of votes obtained countrywide, according to official ECP data.
The rise of far-right Barelvi group possess all the elements of violence, they have their interpretation of text, motivated and radicalized members, messengers, message, martyrs, historical sense of marginalization and sense of vendetta. They have theological rivals and spit venom of hatred and extremism. Radicalization of youth in the name of blasphemy. Different incidents of mob based violence are also observed after its rise. TLP's narrative is extremist and Pakistani society where there is fragmentation along the sectarian lines, it can be very dangerous.
When a group emerges and dominant group loses it ground, due to the greed of power and fear of losing it, violence takes place between the two. When Deobandi and Barelvi are involved in competition for their religio-political gains, there are the signs of violence and sectarian divide. In this all, those who are already marginalized minorities, they have to face the difficulties. When religion is instrumentally used, society is caught by the clutches of extremism. The consequences of Barelvi extremism can be catastrophic as observed in the past. The technology of silencing can be used against the secular voice and critical thinkers.
Full report at:
https://dailytimes.com.pk/312549/the-resurgence-of-barelvism-as-the-new-face-of-extremism/
---------
Was offered seats in general elections, says Khadim Rizvi
Oct 21, 2018
Tehreek-e-Labbaik Pakistan (TLP) chief Khadim Hussain Rizvi said that he was offered seats during the recently conducted general elections.
A video doing rounds on social media shows Rizvi making the claim.
"A number of people came to me before the elections," he says.
"They asked me 'how many seats do you want?' but I declined the offer."
"They asked me to pinpoint the seats I wanted, I responded I do not need the seats."
The General Elections were held on July 25 this year with the Pakistan Tehreek-e-Insaf (PTI) emerging victorious. The TLP failed to win any National Assembly seats but succeeded in winning two provincial assembly seats from Karachi.
https://www.pakistantoday.com.pk/2018/10/20/was-offered-seats-in-general-elections-says-khadim-rizvi/
---------
Pakistani security personnel killed by militants
Oct 20, 2018
PESHAWAR: Two Pakistani security personnel have been killed in a targeted attack carried out by the Taliban militants in the country's restive Waziristan district, officials said.
The incident took place in Walma Langar Khel area where the two personnel had gone to fetch water. The security personnel came under attack from the Taliban militants as they were returning from the area, said the official.
Tehreek-e-Taliban Pakistan has claimed the responsibility of the attack.
Waziristan has long been a sanctuary for Pakistani Taliban and other militant groups.
https://timesofindia.indiatimes.com/world/pakistan/pakistani-security-personnel-killed-by-militants/articleshow/66292513.cms
---------
Pakistan's FATF grey-listing hinges around Hafiz Saeed's status
KUNWAR KHULDUNE SHAHID
OCT 20 2018
On February 12 this year, the then President Mamnoon Hussain issued an ordinance to amend the Anti-Terrorism Act 1997, which sanctioned a nationwide ban against groups and individuals enlisted as terrorists by the United Nations. These include Hafiz Saeed, who has been the UN's "specially designated terrorist" for the past decade, and his affiliated groups.
The ordinance was passed days before the Financial Action Task Force (FATF) meeting in Paris, where Pakistan feared being moved to the grey-list for insufficient action against terror groups. This was a move reminiscent of Pakistan putting Hafiz Saeed under house arrest ahead of an FATF meeting in January last year.
To get support in what was being predicted as a US led manoeuvre to put Pakistan on the terror watch-list, Islamabad made overtures to Russia and Saudi Arabia before the FATF meet in February as well. However, following what proved to be a diplomatic farce in Paris, as the then Foreign Minister Khawaja Asif irked the US officials owing to a self-congratulatory tweet that leaked details of the meeting, the American delegate was forced to call in an unprecedented second round of voting on Pakistan.
Pakistan was formally grey-listed at the FATF plenary meeting in June, with potential blacklisting looming in case Islamabad didn't abide by the instructions released by the counterterror watchdog.
Islamabad's case in the June meeting was put forth by the caretaker setup which had taken over from the Pakistan Muslim League-Nawaz (PML-N) led government in the lead up to the July 25 elections. When a delegation from the Financial Action Taskforce's Asia Pacific Group (FATF-APG) visited Pakistan to monitor the progress, they too met with the caretaker officials since the Pakistan Tehrik-e-Insaf (PTI) government's cabinet hadn't taken oath at the time.
In August, Islamabad submitted 11 proposals in discussions with the watchdog, and underlined the actions already undertaken in a bid to avoid being blacklisted, as it aspired to get its name removed from the grey-list as well. The FATF-APG delegation was told that Islamabad is working on enhancing coordination between agencies that are monitoring money laundering –those working in Pakistan and overseas – and will increase the reporting and enforcement of counterterror actions.
During another FATF-APG team's visit to Pakistan it was formally conveyed that the watchdog isn't pleased with the procedures in place to scrutinise the potential terror activities and funding for such groups. Islamabad was also told that the despite legal framework being in place there is a lack of connectivity between agencies that are tasked with tracing the financial flows to suspected terror groups.
Most damningly, what has been a common theme throughout the FATF meetings is the status of Hafiz Saeed. Before the February meeting, Hafiz Saeed had publically announced that he would be contesting the July elections, just before he was designated as a terrorist in the country.
That, however, did not stop his affiliates from participating in the elections, as the Allaho Akbar Tehreek (AAT) contested in the July polls, with Hafiz Saeed established as the group's ideologue and his face ubiquitous in campaign banners. AAT had evolved from the Milli Muslim League (MML), whose members had contested the by-elections leading up to the July elections as independent candidates after the Election Commission of Pakistan had turned down the MML's request for an election symbol following the interior ministry's request.
Even so, AAT's participation in the election was questioned by the FATF-APG teams in August and last week, with Islamabad failing to come up with a convincing reply. This is because Hafiz Saeed's indirect participation in the elections was mandated by the all-powerful military, which designed a mainstreaming process for the jihadist groups that it has used as strategic assets to target Afghanistan and India and serve its regional interests.
It is this mainstreaming process, which has brought up the likes of Tehrik-e-Labbaik Pakistan (TLP), a radical Islamist group which took credit for the removal of Atif Mian from the PM's Economic Advisory Body last month owing to his Ahmadiyya Muslim identity, and the cancellation of the Prophet Muhammad cartoon contest in the Netherlands owing to death threats to the organisers.
The Islamist groups as a unit bagged five million votes in the July polls, which was around 10 percent of the total votes cast – twice as much as 2013. Multiple surveys have revealed that the biggest dent that these Islamist parties gave was to the PML-N vote bank, which resulted in the party being overtaken by the PTI in the July polls.
Full report at:
https://www.orfonline.org/expert-speak/pakistans-fatf-grey-listing-hinges-around-hafiz-saeeds-status-45073/
---------
Police, bureaucracy hurdle to 'Naya Pakistan', says PM Khan
Oct 21, 2018
ISLAMABAD: Prime Minister Imran Khan lashed out at the political bureaucracy and police department for creating hurdles for his government at the administrative level.
Talking to a delegation of journalists who met him in Islamabad on Saturday, he said problems were being created at the administrative level to disrupt government's functionary by the same people, who were appointed by the previous government.
He criticised segments of bureaucracy and police appointed by the previous regimes for creating hurdles for the Pakistan Tehreek-e-Insaf (PTI) government.
The prime minister elaborated that certain officers appointed by the previous government were involved in disrupting the policies of the government, however, he has the necessary patience to deal with such matters.
"I have come into power after 22 years of struggle and therefore have the patience necessary to deal with such matters," he stated.
'NO NRO':
The premier said that the opposition's hue and cry over the ongoing accountability process was an attempt to avoid arrests, adding that "they know that none of them would be able to come out clean in corruption cases".
PM Khan said that the opposition had started making noise against the National Accountability Bureau's (NAB) actions from the first session of parliament.
"The government has no direct links to NAB and corruption cases against the opposition leaders were not initiated during the three-month-old tenure of his party's government.
"If the opposition leaders think that such protests and claims will result in an NRO [National Reconciliation Ordinance] for them then they are mistaken. We are standing by our announcement of bringing back the nation's looted money and no one will be spared from accountability even if it put his government's future at stake," he added.
DEBT PROBLEM:
Explaining the debt problem faced by the country, PM Khan revealed that the foreign debt had increased to Rs 36 trillion during the tenure of the last government, adding that the country would go bankrupt if the PTI government does not borrow money in next two months.
Approaching the International Monetary Fund (IMF) for a bailout is not a problem but rather the conditions that come attached to it, Prime Minister Khan said. He, however, said that seeking an IMF bailout would be the last option for this government as other options are also being explored.
"We are getting positive messages from both Saudi Arabia and China. Both countries have already been approached for financial assistance," he added.
Commenting on increasing electricity tariff, the prime minister said that the government had no other option as the circular debt has reached Rs1,200 billion. "Devaluing rupee was the only solution in current circumstances and the time will prove that these tough decisions were taken only on temporary basis," he added.
Full report at:
https://www.pakistantoday.com.pk/2018/10/20/pm-criticises-bureaucracy-police-for-disrupting-govts-policies/
---------
Pakistan envoy to Kabul denies Islamabad's support to Taliban
Oct 21, 2018
KABUL: Pakistan Ambassador to Kabul Zahid Nasrullah Khan denied Islamabad's support to Taliban, said that his country is not supporting the group.
Although a number of Afghan political affairs analysts label Pakistan as the main supporter of Taliban but Khan said putting blames on Pakistan is ignoring problems in Afghanistan.
Talking to TOLO news, Khan said Taliban commute in the border areas between Afghanistan and Pakistan and that it does not necessarily mean that Islamabad backs the group.
"We have already more than two million Afghan refugees living there (in Pakistan). So if somebody from there has shares of views or has sympathy with Taliban, you cannot say, that you know, Pakistan is supporting him. Also, as you know that we have a 2,611km of the border and as know that more than 30,000 people crossing every day. So, we are not supporting them," said the ambassador. "To blame Pakistan is to really take your eyes off the real problems within Afghanistan."
Khan meanwhile said that he hopes that Afghanistan's Saturday elections will be held peacefully.
He said his country supports talks on Afghanistan's peace.
"The government of Pakistan wishes great success in holding a credible parliamentary election. We know that there have been many challenges, but President Ghani has remained very firm and has ensured that the elections will be held the day after Friday on 20 October," he said.
Meanwhile, Iran's Ambassador to Kabul Mohammad Reza Bahrami said Tehran supports the Afghan peace process.
Bahrami said they want a sustainable peace in Afghanistan and that the Afghan government and the Afghan people should make the decisions on the war and peace in the country.
"Count us as one of the supporters of peace in Afghanistan. We want sustainable peace and the Afghan government and stakeholders inside Afghanistan should be involved in this process and in fact be the creators of a consensus in this country. It again belongs to the Afghan government and people, but in general, we welcome any phenomena that could bring peace," said Bahrami.
This comes after US Special Representative for Afghanistan Reconciliation Zalmay Khalilzad has started talks with regional stakeholders to move forward the Afghan peace process.
Full report at:
https://www.pakistantoday.com.pk/2018/10/20/pakistan-envoy-to-kabul-denies-islamabads-support-to-taliban/
---------
South Asia
Afghanistan extends election to Sunday due to chaos at polling stations
October 20, 2018
Voting in Afghanistan's parliamentary election will be extended to Sunday in some constituencies after technical and organizational problems stopped voters casting their ballot in some polling centres on Saturday, government officials said.
Abdul Badi Sayad, chairman of Independent Election Commission said the voting process will continue till Sunday in those places where election officers or election material arrived late.
Confusion over biometric voter registration equipment, polling stations not opening on time, missing election materials and delays forcing lengthy waits angered voters on Saturday.
Earlier today, multiple explosions rocked polling centres across Kabul, as voters cast their ballots in long-delayed legislative elections.
Voters were seen fleeing a school in the north of the Afghan capital after a blast, a correspondent said, with witnesses reporting explosions at other polling centres.
Afghans began voting on Saturday in parliamentary elections overshadowed by chaotic organisation, allegations of corruption and violence that has forced a postponement of the vote in the strategic southern province of Kandahar.
The United Nations, which has been supporting the process, has urged Afghans to "use this opportunity to exercise their constitutional right to vote" and called for the election to take place in a safe and secure environment.
Officials worry that violence will keep voters away from polling stations, particularly following the assassination of the police chief of Kandahar on Thursday, which forced authorities to delay the election in the province by a week.
Taliban militants have issued a series of statements telling people not to take part in what they consider a foreign-imposed process and warning election centres may be attacked.
Thousands of police and soldiers have been deployed across the country but already nine candidates have been assassinated and hundreds of people killed and wounded in election-related attacks.
https://nation.com.pk/20-Oct-2018/afghanistan-extends-election-to-sunday-due-to-chaos-at-polling-stations
---------
NATO SCR says 'Impressed by the courage and determination of Afghan voters'
Oct 20 2018
The NATO Senior Civlian Representative in Afghanistan Cornelius Zimmermann has hailed the Afghan people for their courage and determination for the massive turnout in the long-delayed parliamentary elections amid serious security threats.
Observing the parliamentary elections in Kabul, Ambassador Cornelius Zimmermann said "I'm impressed by the courage and determination of Afghan voters shaping the future of their country."
"Tomorrow the people of Afghanistan will have the choice to cast their vote and choose their representatives for parliament. They should be able to do that freely, without fear of violence or intimidation," Ambassador Zimmermann had said ahead of the elections.
The parliamentary elections kicked off in 32 provinces of Afghanistan at around 7am local time today as large number of voters, including men and women, showed up in polling stations to cast their votes in the long-delayed parliamentary elections.
With the induction of the state-of-the-art technology or biometrics system in this parliamentary election being a new phenomenon, the conduct of the process faced some hurdles, mainly due to the lack of training and experience to properly utilize the system.
Full report at:
https://www.khaama.com/nato-scr-says-impressed-by-the-courage-and-determination-of-afghan-voters-06195/
---------
Afghanistan: 15 dead in Kabul polling station suicide bombing
Oct 21, 2018
At least 15 people were killed and 25 wounded in a bombing at a polling station in the Afghan capital Kabul on Saturday, as the country's parliamentary elections got underway.
According to reports, at least 10 civilians and 5 police officers were killed in the bombing of the polling station in the northern part of the city.
Multiple explosions reportedly hit other polling stations, resulting in dozens of injured voters.
The elections, which are already three years late, have been marred by violence and further delays. The Taliban and Daesh have been intimidating potential voters to stay at home and boycott the elections.
https://www.presstv.com/Detail/2018/10/21/577616/Afghanistan-15-dead-in-polling-station-suicide-bombing
---------
Taliban bomb and rocket blitz as Afghans go to polls
October 20, 2018
KABUL: Afghanistan's first parliamentary elections in eight years suffered from violence and chaos Saturday, with a multitude of attacks killing at least 36 people, key election workers failing to show up and many polling stations staying open hours later than scheduled to handle long lines of voters.
Problems surrounding the elections — already three years overdue — threaten to compromise the credibility of polls which an independent monitoring group said were also marred by incidences of ballot stuffing and intimidation by armed men affiliated with candidates in 19 of the country's 32 provinces. Some areas have yet to vote, including Kandahar, where the provincial police chief was gunned down Thursday.
Stakes were high in these elections for Afghans who hoped to reform Parliament, challenging the dominance of warlords and the politically corrupt and replacing them with a younger, more educated generation of politicians.
They were also high for the US, which is still seeking an exit strategy after 17 years of a war there that has cost more than $900 billion and claimed more than 2,400 US service personnel.
The ballot is regarded as crucial for the stability of Afghanistan, wracked by more than four decades of war, foreign interventions and tribal rift. The latest poll is the third for choosing a legislative body since the ouster of the Taliban in late 2001 in a US-led invasion.
Deputy Interior Minister Akhtar Mohammed Ibrahimi said 36 people were killed in 193 insurgent attacks across the country: 27 civilians, eight police officers and one Afghan soldier. He said attackers used everything from grenades to small arms fire to mortars and rocket launchers, and that security forces killed 31 insurgents.
The most serious attack on the polls was in a northern Kabul neighborhood where a suicide bomber blew himself up just as voting was about to end, killing three people and wounding another 20, many of them seriously, said Dr. Esa Hashemi, a physician at the nearby Afghan Hospital. Interior and defense ministry officials said 15 people were killed or wounded, including several police.
Polling stations also struggled with voter registration and a new biometric system that was aimed at stemming fraud, but instead created enormous confusion because many of those trained on the system did not show up for work. Also, the biometric machines were received just a month before polls and there was no time to do field testing.
Results delayed
Initial results of the vote, delayed by more than three years because of a power struggle in the government, will be released in three weeks' time. Final results will be published after two months.
Many candidates are young and educated men and women who want to replace current MPs at the house, regarded as one dominated by corrupt elements and factional members as Taliban and Daesh spread their attacks in the country.
The Taliban guerrillas had threatened to disrupt the process, conducted various attacks, including firing mortars, suicide raids and bomb blasts near some polling stations, including in at least five areas of Kabul.
"Today, we proved together that we uphold democracy with casting out ballots without fear, we honor the sacrifices of the fallen," President Ashraf Ghani told reporters after casting his vote in a highly protected school near the presidential palace in Kabul.
Cases of widespread irregularities across the country were reported by journalists, locals and even government officials.
They include late opening of sites, lack of knowledge of some election works in recording votes and use of biometric devices, aimed at reducing fraud, which is another major concern apart from security threats.
Observers and media were barred from visiting some sites. Some stations did not open at all. The country's second Chief Executive, Mohammad Mohaqiq, openly said that at least 22 stations did not open at all in only two areas in Kabul city itself.
Simar Soresh, a spokesman for the election commission, confirmed that some sites remained closed owing to "technical challenges," vowing to prolong voting hours when they open.
Many blamed the government appointed elections body for the shortcomings. The body has faced organizational problems and a rift owing to a power struggle among government leaders.
Some frustrated voters even went back home after waiting for hours for the opening of polling stations in Kabul.
In one such station, a policeman asked voters if they knew the voting process so he could let the station open. In northern Maimana, people complained that there were no biometric devices in place.
In others, voters said they could not find their names on the books where they had registered months before during the registration process. It would take at least five minutes for a voter to cast a vote.
One journalist covering the event closely described the situation as "Mismanagement and chaos across the country."
"This is just a joke, I am leaving. I came to vote despite the Taliban warning, but you see the mess and confusion and heard the blasts. It is not worth dying for this because the process is not handled properly," Zaman Khan, a bewildered voter in a central area of Kabul, told Arab News.
Irregularities everywhere
The irregularities that led to closure and caused slow voting process are seen as a further blow to the voting, which is funded by donors' money.
The government already had said it could not open some 2,000 sites because of security threats.
Scores of people, including 10 candidates, have died in a series of attacks by Taliban and Daesh in recent months.
The government delayed the holding of the polls in the historically important southern Kandahar for a week after an attack that killed its powerful police chief and intelligence head.
Bilal Sarwary, a candidate from eastern Kunar, said like some other parts of the country, there were "high irregularities" during the voting there.
"Some sites opened very late. The biometric system did not work in some sites and in others they were slow or election workers did not know how to use them," he told Arab News by phone.
Full report at:
http://www.arabnews.com/node/1391021/world
---------
India
Noted Urdu poet attacked after confronting youth for harassing girl
Oct 21, 2018
Noted Urdu poet Hashim Firozabadi was attacked with "acid" and beaten up allegedly for confronting those sexually harassing a girl, in Firozabad's Rasoolpur area on Saturday.
An official of Rasoolpur police station has confirmed the incident, and said a case has been registered against the accused. Police are also verifying if the chemical thrown at Firozabadi was acid.
"On Friday, a local complained to me about his daughter being harassed. The man said a few boys had obtained the mobile number of his daughter and were harassing her on the way to coaching classes. I suggested that he approach the police but he was unwilling. So, I called one of the accused and tried to convince him. He paid no heed," Firozabadi told Hindustan Times over the phone.
"I reached his locality on Friday night and tried to persuade him, but the accused and his brothers attacked me instead. They threw a liquid, which appeared to be acid. It caused a burning sensation and has left marks on my face and hand," he added.
Firozabadi, a resident of Rahi Nagar, has lodged an FIR against Saif, Musaif, Saqlain Sunny and Achhe.
"A case has been registered but the accused are absconding," said a senior sub inspector.
The poetry community has condemned the attack.
"It's a serious matter. It's condemnable that a poet, who had gone to help a girl facing sexual harassment, has been attacked. Firozabad police should act fast and nab the accused," Amir Akbarabadi, a noted poet from Agra, said.
https://www.hindustantimes.com/india-news/noted-urdu-poet-attacked-after-confronting-youth-for-harassing-girl/story-IBLT1TjZAqYeHKouCaQecM.html
---------
MP: For years, Aqueel is lone Muslim face in House
Oct 21, 2018
BHOPAL: Till 1980s, finding five or six Muslim MLAs in state assembly was nothing unusual. The number seemed good enough going by ratio of Muslim population in the state. There were of course 320 seats in assembly, but Muslim representation often came from areas, which are still part of Madhya Pradesh, following bifurcation of the state in 2000.
However, in 1990 election, when BJP came to power in the state for the first time, number of Muslim MLAs in the House came down to two and post-Babri demolition, no Muslim representative was elected to the Madhya Pradesh legislative assembly in 1993 state assembly election, despite Congress wresting power from the BJP.
Digvijaya Singh, who was elected the chief minister then, nominated Ibrahim Qureshi as a cabinet minister in his council of ministers, perhaps in the hope he would find a seat suitable for him in six months, but when it could not happen, Qureshi had to resign as the minister. In 1998, two Muslim MLAs were elected, including Arif Aqueel, who was elected as an independent candidate then and, in following three assembly terms-2008 and 2013- Aqueel has been the lone Muslim representative in the House, now a member of Congress party. Muslim leaders in Congress have often complained ahead of elections in the state the party does not give them enough tickets, but in a situation, when "winnability" has become lone criteria for political parties in selection of candidates, Congress doesn't 'risk' giving more than a couple of seats to Muslims in the state assembly election.
In 2013 election, other than Aqueel and Arif Masood ,who got tickets from Bhopal, Mujeeb Qureshi was the only other Muslim candidate from the Congress from Rewa constituency, a choice questioned by many in the party.
Asked about poor representation of Muslims in assembly, a Congress leader said "It's true that Congress under pressure from BJP propaganda has started distancing itself from Muslims. Congress was never a pro-Muslim party, but the BJP somehow was able to create this perception among Hindus and the Congress in place of aggressively combating the perception, became defensive and started distancing itself from Muslims at least in area of electoral representation."
He said in Bhopal, Muslim candidates can be considered for three assembly segments, but only Arif Aqueel is trusted. Besides, seats like Burhanpur, where Muslims have sizeable presence, has also been taken away from them.
Academician, Prof Zamiruddin, however, said apart from polarisation in the society, lack of social leadership among Muslims, which is acceptable to all sections of society, is responsible for their shrinking presence in political arena. "If you have able social leadership, you don't necessarily need a Muslimdominated seat to win the election because they are acceptable to all.
Full report at:
https://timesofindia.indiatimes.com/city/bhopal/mp-for-years-aqueel-is-lone-muslim-face-in-house/articleshow/66301400.cms
---------
Delhi Minorities Commission team in Palwal to probe foreign funding of local mosque
October 20, 2018
A three-member fact-finding team of Delhi Minorities Commission (DMC) on Saturday reached Palwal in neighbouring Haryana to probe the alleged funding of a local mosque by terrorist group Lashkar-e-Taiba (LeT). The team will also meet the family members of the persons arrested by the National Intelligence Agency (NIA) in connection with foreign funding of the mosque, DMC chairman Zafarul Islam Khan said.
"The fact-finding team is in Palwal to probe the allegations about the alleged foreign funding of the mosque being constructed in a village in Palwal, Haryana," he said.
It will also meet, in Hazrat Nizamuddin area, the family members of the persons arrested in this connection, he added.
The team comprises human rights activist Ovais Sultan Khan, a member of DMC's advisory committee Sardar Gurmindar Singh Matharu and a member of Sikh Gurudwara Parbandhak Committee, Amritsar, Abu Bakr Sabbaq.
In July this year, the NIA filed a case to probe the terror funding module linked to Pakistan-based terrorist Hafeez Saeed's Falah-e-Insaniyat Foundation (FIF) — a front-end organisation of LeT.
During the probe, it emerged that one Mohammad Salman was in regular touch with a Dubai-based Pakistani national, who in turn is connected with the deputy chief of FIF, the agency had said.
Full report at:
https://indianexpress.com/article/india/delhi-minorities-commission-team-in-palwal-to-probe-foreign-funding-of-local-mosque-5410521/
---------
J&K local body elections: Independents sweep ULB polls in Muslim-dominated districts of Jammu
October 20, 2018
Independent candidates got a lion's share of seats in the urban local body (ULB) polls, especially in Muslim-dominated districts of Jammu, winning 185 wards out of 521 spread across the region.
The independents have an edge over the BJP and the Congress in over a dozen municipal bodies, officials said.
They have presented a good show in all the 10 districts which registered a high voter turnout in the recently concluded ULB polls held after a gap of 13 years.
In the two municipal committees of Poonch district — 17-member Poonch and 13-member Surankote — the independent candidates won 23 seats, while the Congress and the BJP had to soothe with four and three seats, respectively, the officials said.
In the adjoining Rajouri district, independents won seven-member Kalakote municipal committee, while the BJP swept 13-member Sunderbani with 10 seats against three by independents and 13-member Noushera by winning seven against three each by the Congress and independents, they said.
The Congress won 13-member municipal committee Thanamandi by winning nine seats while four seats went to independents, the officials said, adding that 17-member Rajouri municipal committee witnessed a tough fight with the Congress, the BJP and independents getting seven, six and four seats, respectively.
In 13 wards of Kishtwar district, the officials said independents won 10 seats, while the Congress and the BJP won two and one seat, respectively.
Independents also enjoyed popular support in Doda district where they won 18 wards, out of total 37 of the three municipal committees of Doda, Bhaderwah and Thatri. The Congress got 12 and the BJP won seven wards.
In Ramban district, the Congress swept Banihal municipal committee winning all the seven wards, while Batote handed over four seats to the BJP, one to the Congress and two to independents.
In Ramban municipal committee, six seats were shared by the BJP, Congress and independents, while the election for one ward was countermanded due to the death of a BJP candidate on the polling day in the second phase on October 10.
Samba district also witnessed a record number of 27 independent candidates emerging as victorious followed by the BJP (18), the Congress (nine) and the National Panthers Party (two) in the four municipal committees of Samba, Vijaypur, Ramgarh and Bari Brahmana having a total strength of 56 wards, the officials said.
Barring Bari Brahmana where BJP had got seven seats and independents six, the rest of the municipalities have independents heading the chart.
In nearby Kathua district having one council and five municipal committees, independents won 27 of the total 80 seats. The BJP had won 34 seats and the Congress got 19 seats in the district.
In the Jammu Municipal Corporation, the BJP won by 43 seats, out of 75, while the independents emerged second with 18 seats followed by the Congress with 14.
Seven other municipal committees of Jammu district having a total strength of 79 wards saw independents winning 16 seats, leading the chart in Bishnah.
The rest of the seats were shared by the BJP (49) and the Congress (14), the officials said.
Nine independents emerged victorious in Udhampur municipal council followed by the National Panthers Party (six), the BJP (four) and the Congress (two) — much to the surprise of the saffron party which was expecting a victory of its candidates given the constituency being represented by Union Minister Jitendra Singh in Parliament.
The two other committees of Udhampur — Ramnagar and Chenani — saw the BJP winning 10 seats, National Panthers Party got five seats, independents won four seats and the Congress got one.
In Reasi district, the BJP headed the chart with 13 seats followed by independents (nine) and the Congress (four).
Full report at:
https://www.financialexpress.com/india-news/jk-local-body-elections-independents-sweep-ulb-polls-in-muslim-dominated-districts-of-jammu/1355567/
---------
J&K: 3 terrorists killed in Kulgam encounter
Oct 21, 2018
SRINAGAR: Three terrorists were killed in an encounter with security forces in Kulgam district of Jammu and Kashmir Sunday, police said.
The identity of the slain terrorists is being ascertained, a police official said.
Security forces launched a cordon and search operation in Laroo area of Kulgam district in south Kashmir following specific information about the presence of terrorists in the area, he said.
As the forces were conducting the searches, the ultras fired upon them, triggering the encounter, the official added.
https://timesofindia.indiatimes.com/india/jk-encounter-breaks-out-in-kulgam/articleshow/66300472.cms
---------
Africa
Sudanese ambassador reveals details of upcoming Egypt-Sudan summit in Khartoum
20 October 2018
Egyptian President Abdel Fattah al-Sisi is set to visit the Sudanese capital of Khartoum on Thursday to attend a summit meeting of an Egyptian-Sudanese Higher Committee between the two countries.
Ambassador Abdelmahmood Abdel Halim, Sudan's ambassador to Cairo, told Al Arabiya English that the Egyptian-Sudanese summit will be held on Thursday between Egypt's Sisi and Sudan's Omar al-Bashir to discuss bilateral relations and regional and international issues of common concern.
A preparatory meeting will be held on Tuesday, in which senior officials of the two countries are expected to agree on all details regarding the joint agreements and memorandums of understandings, and the projects to be implemented.
He added that a final pre-summit meeting will be held on Wednesday for the ministers of the two countries to agree on the files to be discussed at Thursday's summit and ways to implement them and put them in the meeting of the Supreme Committee led by the two heads of state.
The two sides discussed 20 draft agreements, MoUs and executive programs in the fields of education, higher education, agriculture, health, oil and gas, international cooperation, trade, media, immigration, judicial and legal cooperation, extradition, manpower, communications, youth, tourism and administrative development.
https://english.alarabiya.net/en/News/middle-east/2018/10/20/Sudanese-ambassador-reveals-details-of-upcoming-Egypt-Sudan-summit-in-Khartoum.html
---------
At Jordan border, Damascus seeks to revive regional trade
October 21, 2018
BEIRUT: By reopening a key land crossing with Jordan this month, the Syrian regime is inching toward a return to trade with the wider region as it looks to boost its war-ravaged economy.
The government of President Bashar Assad took back control of the Nassib border post in July from rebels as part of a military offensive that reclaimed swathes of the south of the country.
Syria's international trade has plummeted during the seven-year civil war, and its foreign reserves have been almost depleted.
The reopening of Nassib after a three-year hiatus, on October 15, is a political victory for the Damascus regime, said Sam Heller of the International Crisis Group.
It is "a step toward reintegrating with Syria's surroundings economically and recapturing the country's traditional role as a conduit for regional trade," he said.
The Nassib crossing reopens a direct land route between Syria and Jordan, but also a passage via its southern neighbor to Iraq to the east, and the Gulf to the south.
"For the Syrian government, reopening Nassib is a step toward normalization with Jordan and the broader region, and a blow to US-led attempts to isolate Damascus," Heller said.
International pressure and numerous rounds of peace talks have failed to stem the fighting in Syria, and seven years in the regime has gained the military upper hand in the conflict.
Assad's forces now control nearly two-thirds of the country, after a series of Russia-backed offensives against rebels and jihadists.
Syria faces a mammoth task to revive its battered economy.
The country's exports plummeted by more than 90 percent in the first four years of the conflict alone, from $7.9 billion to $631 million, according to a World Bank report last year.
The Syria Report, an economic weekly, said Nassib's reopening would reconnect Syria with an "important market" in the Gulf.
But, it warned, "it is unlikely Syrian exports will recover anywhere close to the 2011 levels in the short and medium terms because the country's production capacity has been largely destroyed."
For now, at least, Nassib's reopening is good news for Syrian tradesmen forced into costlier, lengthier maritime shipping since 2015.
Among them, Syrian businessman Farouk Joud was looking forward to being able to finally import goods from Jordan and the United Arab Emirates via land.
Before 2015, "it would take maximum three days for us to receive goods, but via the sea it takes a whole month," he told AFP.
Importing goods until recently has involved a circuitous maritime route from the Jordanian port of Aqaba via the Suez Canal, and up to a regime-held port in the northwest of the country.
"It costs twice as much as land transport via Nassib," Joud said.
Syrian parliament member Hadi Sharaf was equally enthusiastic about fresh opportunities for Syrian exports.
"Exporting (fruit and) vegetables will have a positive economic impact, especially for much-demanded citrus fruit to Iraq," he told AFP.
Before Syria's war broke out in 2011, neighboring Iraq was the first destination of Syria's non-oil exports.
The parliamentarian also hoped the revived trade route on Syria's southern border would swell state coffers with much-needed dollars.
Before the conflict, the Nassib crossing raked in $2 million in customs fees, Sharaf said.
Last month, Syria's Prime Minister Imad Khamis said fees at Nassib for a four-ton truck had been increased from $10 to $62.
Syria's foreign reserves have been almost depleted due to the drop in oil exports, loss of tourism revenues and sanctions, the World Bank says.
And the local currency has lost around 90 percent of its value since the start of the war.
Lebanese businessmen are also delighted, as they can now reach other countries in the region by sending lorries through Syria and its southern border crossing.
Lebanon's farmers "used to export more than 70 percent of their produce to Arab countries via this strategic crossing," said Bechara Al-Asmar, head of Lebanon's labor union.
Despite recent victories, Damascus still controls only half of the 19 crossings along Syria's lengthy borders with Lebanon, Jordan, Iraq and Turkey.
Damascus and Baghdad have said the Albukamal crossing with Iraq in eastern Syria will open soon, but did not give a specific date.
Beyond trade, there is even hope that the Nassib crossing reopening might bring some tourists back to Syria.
Full report at:
http://www.arabnews.com/node/1391256/middle-east
---------
Porous Kenya-Somalia border, locals facilitate Shabaab attacks
OCTOBER 21 2018
Seven years since Kenyan troops entered Somalia to combat Al-Shabaab militants, Mandera Town is yet to enjoy peace.
On several occasions, the militants have crossed into Mandera at will, attacked, maimed, killed and crossed back into Somalia undetected.
Government administrators on the ground blame the porous Kenya-Somalia border and unwillingness of locals to share information. But the local community accuses government officials of corruption, leading to persistent attacks.
"As government, we are doing our best to secure Mandera, including posting more security teams to different parts to respond to such incidents. We are heading somewhere," Mr Erick Oronyi, Mandera Deputy County Commissioner, said.
Setting up of military and police camps along the Kenya-Somalia border has reduced terror incidents in the county, he said.
"We have security camps in areas that never used to have them. This has closed the loopholes, helping in reducing the incidents," he said.
COMPLICIT
High radicalisation of people across the county, especially the youth, is also to blame for the attacks, said the government official.
"We have cases of local youth joining terror cells. This is proving a challenge but we are up to the task," Mr Oronyi said.
According to him, the latest attack at Arabia Boys Secondary School on October 9, 2018 had a local hand in it.
"A local was involved in providing information about the school and where the targets reside in the compound, leading to two deaths," he said.
Two non local teachers were killed in the night attack while two others escaped narrowly.
"Students reported to the school administration that things would not be usual that fateful night and a meeting of all prefects was called. I don't know what was discussed. Then that night we were attacked," Mr Elijah Nderitu, a survivor, told Sunday Nation.
POLICING
Mr Abdiaziz Abdullahi, a local, said it is difficult to identify a Shabaab member or sympathiser.
"We are all the same but with different missions and intentions, making it difficult to know who is Al-Shabaab and who is not," he said.
Mr Abdullahi added that locals fear sharing information with security officers in Mandera in case their identities are disclosed to the militants.
"After the police arrest suspects, they usually reveal the informant's identity, putting many lives in danger," he said claimed.
"The police are dishonesty in this fight and locals are keeping off," he said.
Mr Abdullahi added that locals are well-paid by Shabaab to provide information on security operations in the county. "There are intelligence people even among the security officers that inform the enemy of traps and operations," he said.
SPIES
Women are mostly used by the terrorist organisation to gather information. "It is very difficult to suspect a woman of such missions, but the truth comes to light after an attack," Ms Fatuma Adan, a businesswoman in the town, said.
On December 7, 2015, the body of Ms Isnina Mohamed, a tea vendor in Mandera, was found in a shallow grave.
The government accused her of being a cook for Al-Shabaab, but denied killing her.
A victim of a terror incident in Mandera said he sustained injuries in a retaliatory attack after he shared information with the government.
"A grenade was hauled into my house after sharing some vital information with the police. I was exposed by those I worked for. This has created a lot of fear among locals," he said, requesting not to be named for fear of victimisation.
In November 2014, the militants killed at least 64 people in Mandera within 10 days.
ATTACKS
On November 22, 2014, Al-Shabaab militants hijacked a Nairobi-bound bus, killing 28 people. And on December 2 of the same year, a quarry was surrounded by militants and 36 miners killed.
The government then announced stiff measures that included transfer of all security officers serving at home and building of a security wall along the Kenya-Somalia border.
The wall project has since been halted after only six kilometres of fencing and trench digging.
Since 2014, Al-Shabaab has carried out raids on residential areas in Mandera Town, killing people, mostly of non-Somalis.
On July 7, 2015, the militants killed 14 quarry workers at a residential plot in the town.
Mr Alex ole Nkoyo, then County Commissioner, asked quarry workers and non-Somali community members not to dwell in the same estate in large numbers.
Working in quarries at night was banned after 36 miners were executed.
BOMB
On October 6, 2016, the militants killed six people at a residential plot in the town and on 25th of the same month, a guest lodge was raided, leaving 12 dead.
On June 16, 2017, four people died and 11 others were seriously injured after a public service vehicle run over a roadside bomb.
On August 28, 2017, two KDF soldiers were killed when their armoured personnel carrier (APC) triggered off an improvised explosive device in Damasa Lafey Sub-County. Three others were injured in the explosion.
On May 5, 2018, four quarry miners were killed by suspected militants in a quarry in Shimbir Fatuma, Mandera South Sub-County.
The government has since completely closed quarrying activities in Mandera, forcing miners to leave the county. "We are still facing challenges in securing Mandera, but we have plans that will see us succeed," Mr Oronyi said.
RELATIONS
Major towns in the county are segmented into zones, manned by different security forces at night, to curb insecurity.
In a recent meeting with Interior Cabinet Secretary Fred Matiang'i, the leadership of Mandera pledged to launch peace and security campaigns to educate locals on the effects of terrorism.
"Local leaders pledged to carry out several campaigns to build relationships between security agencies and the community," Mr Oronyi said, and added that locals leaders will seek to build an information-sharing relationship.
Mandera Governor Ali Roba has since maintained that his administration will support any initiative by the national government to secure his region.
Mr Roba has survived at least six terror incidents and lost five bodyguards on May 20, 2017 in a roadside explosion.
Full report at:
https://www.nation.co.ke/counties/mandera/Why-Mandera-is-still-prone-to-Shabaab-attacks/1183298-4815032-hc8fv0/index.html
---------
Southeast Asia
SE Asia boosts fight against 'real and present' militant threat
October 20, 2018
SINGAPORE: Southeast Asian nations seeking to combat the threat of militancy have agreed to share intelligence, Singapore's defence minister said Saturday, as he warned of a "real and present" danger to the region.
More than a year after Islamic State-linked fighters seized the southern Philippine city of Marawi, the terrorist threat is as potent as ever, said Ng Eng Hen after hosting a meeting of defence ministers.
"Unfortunately even as the situation in Iraq and Syria improves, we are expecting more foreign fighters to come this way," he added.
Ng said all 18 ministers at the gathering in Singapore, from Southeast Asia and key partners outside the region, viewed "terrorism as a real and present threat".
The Southeast Asian delegates adopted an information-sharing platform called "Our Eyes" that will be used to share real-time intelligence that can immediately be acted upon, the minister added.
This came after the countries realised that they had underestimated the threat before the attack on Marawi, where the rebuilding effort could cost around US$1 billion, he said.
Proposed by Indonesia, the platform is based on an intelligence-sharing alliance set up by the United States, Britain and three other countries after World War II to monitor the former Soviet Union.
The weekend security meeting was attended by the 10-member Association of Southeast Asian Nations (Asean), as well as US Defence Secretary Jim Mattis and their counterparts from countries including China, Australia, India and Russia.
In last year's assault on Marawi, hundreds of armed militants backed by foreign IS fighters attacked and took control of the largely Muslim city in a bid to establish a base in Southeast Asia.
Philippine troops, supported by sophisticated surveillance planes from the United States, dislodged the militants after five months of heavy fighting that left more than 1,000 people dead and the city in ruins.
Militants from other Southeast Asian countries, including Indonesia and Malaysia, were involved in the fighting.
Those at the meeting "felt that this must never happen again to any city within ASEAN", Ng said.
https://www.freemalaysiatoday.com/category/world/2018/10/20/se-asia-boosts-fight-against-real-and-present-militant-threat/
---------
Surabaya church bombers believed world ending in 2018: Report
Devina Heriyanto
October 20, 2018
Dita Oepriarto, the suspected mastermind behind the Surabaya church bombings in May, believed the world would end in 2018 and was driven by his apocalyptic belief to carry out the deadly attack, according to a report released by the Institute for Policy Analysis of Conflict (IPAC).
The imminent end of the world, the report says, was a frequent theme of Dita's lectures after taking charge as the emir (leader) of Jamaah Anshar Daulah (JAD) Surabaya in mid 2017 — a year before a series of bombings in Surabaya and Sidoarjo, East Java, in May this year.
The bombings killed 25 people, including the perpetrators and their family members.
Dita was said to have believed in a hadith (a saying from Prophet Mohammad) regarding the end of days, when the stars would fall and a meteor would hit the earth, followed by a black cloud that would last for at least 40 days.
The apocalyptic event, according to the hadith, would kill everyone but those who live in the greater Syria area, where an Islamic leader called Imam Mahdi would appear after the cloud disappeared.
Other suspected Surabaya bombers, Anton Ferdianto and Tri Murtiono, are thought to have shared this belief.
The three later used their own families, including children, to carry out the attacks. They believed that, since getting to Syria was almost impossible then, the best guarantee to get to heaven was to carry out jihad in their home country.
The decision to use children in the attacks was later condemned by JAD ideologue Aman Abdurrahman, who called it "a cruel act under the pretext of jihad."
The report, released on Thursday, elaborates on the preparation of the JAD network in East Java from 2015 and future scenarios of terrorist activity in Indonesia.
The IPAC notes that Dita, Anton and Tri had started building homemade bombs in October 2017. In five months, the three produced almost 100 pipe bombs and some 64 so-called "mug bombs".
However, the relative success of the families in their terrorist activity was attributed to their "unusual ability to keep secrets rather than their technical know-how".
Full report at:
http://www.thejakartapost.com/news/2018/10/20/surabaya-church-bombers-believed-world-ending-in-2018-report.html
---------
China: Muslim detention camps are 'humane'
October 21, 2018
BEIJING—Under mounting international criticism, China has given its most extensive defense yet of its sweeping campaign to detain and indoctrinate Muslims, with a senior official this past week describing its network of camps in the far west as humane job-training centers.
Rights groups, American lawmakers and a United Nations panel have assailed the "transformation through education" camps holding Uighurs and members of other Muslim minority groups in China's far northwestern Xinjiang region.
Hundreds of thousands have been held in the camps—one estimate says 1 million—and former inmates who have fled abroad have described them as virtual prisons that engage in harsh brainwashing.
But the chairman of Xinjiang's government, Shohrat Zakir, himself an ethnic Uighur, called the camps a "humane" and lawful shield against terrorism in an interview published by China's official Xinhua news agency.
He said the facilities gave Uighurs and other Muslims courses in the Chinese language and taught them to be law-abiding citizens. They also receive training in job skills, such as making clothes, e-commerce, hairdressing and cosmetology, Zakir said.
Zakir said that "students" in the facilities were provided with free meals, air-conditioned dormitories, movie screenings and access to computer rooms.
"Xinjiang has launched a vocational education and training program according to the law," Zakir said. "Its purpose is to get rid of the environment and soil that breeds terrorism and religious extremism."
Acknowledge people being held
Zakir did not say how many Muslims had been sent to the camps, but he appeared to acknowledge for the first time that people were being held against their will in the facilities for months or years at a time.
He said the program dealt with people suspected of wrongdoing that fell short of requiring criminal convictions, and that they received "graduation certificates" only after signing agreements and meeting certain criteria.
Some detainees, he said, were being prepared for release and assignment to jobs at the end of 2018. Zakir suggested the campaign would continue for many years. The "deradicalization" program is showing results, he said, "but the duration, complexity and intensity remain acute, and we must maintain high vigilance."
Harsh experience
Omurbek Eli, a businessman who has described his time held in a camp in 2017, scoffed at Zakir's description of the indoctrination centers as "colorful" places where students play basketball, watch movies and join in singing contests.
His experience, he said, was far harsher, involving long days of marching, singing patriotic Chinese songs and memorizing Chinese laws.
"They're full of nonsense," Eli, who is originally from Xinjiang and obtained Kazakh citizenship, said by telephone. "They say that these camps are to eradicate terrorism, but inside I saw lawyers, doctors, intellectuals, even officials who had nothing to do with extremism," he said. "They call these vocational training centers, but it was really a prison."
Unapologetic defense
The publication of the interview with Zakir confirmed a shift in China's public-relations strategy over the camps, from silence to an unapologetic defense. Zakir even cited a United Nations resolution on fighting terrorism to justify them.
As criticism of the detentions grew throughout this year, the government first stayed silent. Then it gave sparing acknowledgments of the camps' existence.
Appearing before a UN panel in Geneva in August, a senior official in the Chinese delegation defended the government's measures yet denied that they amounted to mass detention.
But Zakir's comments marked the first full-throated defense of the indoctrination program, which grew out of policies launched by Xi Jinping, China's president and Communist Party chief.
Last week, the Xinjiang government issued amended rules for its "deradicalization" program that for the first time gave clear public authorization for the indoctrination camps.
Caring, happy faces
On Tuesday evening, China's main state television network, CCTV, broadcast a current affairs program in prime time that praised the camps and depicted them as caring, happy places. It showed a class of Uighur students reading out a Chinese lesson, titled "I am a law-abiding citizen."
"After a year plus of denial, the Communist Party has decided to get out in front of the story, and put forward its own view over the legality and the nature of these detention camps," James Leibold, an expert on Xinjiang at La Trobe University in Australia, said by e-mail. "The party's central leadership now seems determined to 'standardize' and 'legalize' their approach."
Zakir's comments appeared to be part of China's preparations for an international meeting that could put the camps under further scrutiny.
UN meeting
At a meeting of the UN Human Rights Council in early-November, foreign governments will have a chance to question officials from Beijing about the detention program and other intrusive security measures affecting Muslim minorities.
"This meeting is a very important occasion to raise the camp issue," Dolkun Isa, the president of the World Uyghur Congress, an exile group based in Germany, said by telephone. (Uyghur is an alternative spelling of Uighur.) "China has denied the camps, but now it's something that they just cannot hide."
Western governments have indicated that Xinjiang will be a priority at the Human Rights Council meeting in Geneva.
"We are deeply concerned by credible reports pointing to a serious deterioration of the human-rights situation" in Xinjiang, Federica Mogherini, the European Union's high representative for foreign affairs and security policy, told the European Parliament this month.
Condemn indoctrination camps
Last week, a bipartisan panel in Washington issued a report condemning the indoctrination camps. Lawmakers on the panel, including Sen. Marco Rubio, Republican-Florida, proposed legislation that would punish China for the detention program.
"In China, the government is engaged in the persecution of religious and ethnic minorities that is straight out of George Orwell," Nikki Haley, who recently announced that she was stepping down as the US ambassador to the UN, said on Monday, according to Fox News. "It is the largest internment of civilians in the world today."
But Zakir's account indicated that China would maintain that the camps have strong backing in law. Up until 2014, China was beset by a string of violent attacks and riots involving discontented Uighurs. "Now Xinjiang is not only beautiful," Zakir said, "it's also very safe and stable."
No access to camps
Still, Chinese officials have not given foreign diplomats or journalists access to the camps, nor have they said how many people they hold.
Hu Xijin, a prominent editor of Global Times, a brashly nationalist Chinese newspaper, said on Monday that he knew the number, and denied it was 1 million.
Rights groups said the existence of the camps exemplified the Communist Party's use of legal justifications as a sweeping cloak for measures that betray China's own guarantees of rights and procedural protections, as well as international law.
Full report at:
https://businessmirror.com.ph/china-muslim-detention-camps-are-humane/
---------
Mat Sabu: Malaysia can't cope with so many Rohingya refugees
21 October 2018
SINGAPORE, Oct 21 — Myanmar could regard the Rohingya ethnic issue as merely a domestic problem because Malaysia also gets the spillover effect, said Defence Minister Mohamad Sabu.
He said there were currently more than 100,000 Rohingya refugees in Malaysia and not all of them were registered with the United Nations High Commissioner for Refugees (UNCHR).
"Malaysia cannot afford to bear the burden of so many refugees," he told Bernama.
Mohamad is here since Oct 18 on an introductory visit to the republic during which he also attended the 12th Asean Defence Ministers' Meeting (ADMM) and the fifth ADMM-Plus hosted by Singapore.
During a meeting with his Myanmar counterpart, Mohamad said he expressed the need for efforts be made to allow the Rohingya refugees to be allowed to return to their homeland.
"The (Myanmar) embassy should find ways to let the Rohingya to return to their homeland safely," he added.
Malaysia, he said, also assisted Bangladesh in its handling of the Rohingya by setting up a field hospital at Cox's Bazar since two years ago for the refugees, adding that Malaysia was assisted by several countries, including saudi Arabia, the United Arab Emirates and Brunei.
Full report at:
https://www.malaymail.com/s/1685107/mat-sabu-malaysia-cant-cope-with-so-many-rohingya-refugees
---------
Anwar Ibrahim urges Malay students to master the Chinese language
21 Oct 2018
NILAI: Anwar Ibrahim called on Malay children to master the Chinese language as it was an important regional 'economic language'.
"Mastery of other languages must be supported but it does not mean I am defending the Chinese and English languages," the de facto leader of Parti Keadilan Rakyat (PKR) said at a seminar organised in conjunction with the 47th general assembly.
"The Chinese language is a strategic regional economic language at present provided it is accepted without questioning the position of the Malay language as the national language," he added.
Anwar, who is a former Muslim Youth Movement of Malaysia chief, also said the nation's development needs to be in tandem with the emphasis on humanitarian aspects in order to heighten Islamic understanding more inclusively.
He said at the moment the effort to show Islamic understanding was facing the challenges of knowledge, understanding and attitude.
"Our economic view must not be just good governance and no corruption but there must be human values.
"Because, sometimes development in terms of numbers shows stunning growth but the human dimension is marginalised," he said.
Full report at:
https://www.channelnewsasia.com/news/asia/anwar-ibrahim-urges-malay-students-to-master-the-chinese-10848902
---------
North America
Coalition airstrikes kill 22 civilians in eastern Syria
20.10.2018
At least 22 civilians have been killed in U.S.-led coalition airstrikes in eastern Syria's Deir Ez-Zor province, according to local sources on Saturday.
The sources said a coalition airstrike targeted a mosque in the town of al-Susah in eastern Deir Ez-zor during the weekly Friday prayer, killing 16 people.
Six more civilians were killed in another strike that hit a local religious institute in Hajin city in the same province, the sources added.
Hajin has been the scene of constant clashes between YPG/PKK and Daesh terrorist groups.
Since Wednesday, 65 civilians have been killed in Deir Ez-Zor province in airstrikes carried out by the U.S.-led international coalition.
On Thursday, 30 civilians, including two children, were killed in a coalition airstrike on Ammar ben Yasir mosque in Al-Susah. Thirteen more people were killed in the same town on Wednesday.
Daesh currently holds control of Hajin city, the towns of Al-Susah, Al-Shaafah as well as the villages of Al-Muhasan and Bu-Khater.
YPG/PKK maintains presence in the eastern part of the Euphrates River which runs through Deir Ez-Zor province.
With U.S. and French support, the YPG/PKK terrorist group recently launched an offensive against Deir ez-Zor's city of Hajin with a view to retaking it from Daesh.
The number of Daesh terrorists now in Hajin is estimated at some 1,000 out of an estimated 2,500 throughout the entire Deir ez-Zor province.
Syria has only just begun to emerge from a devastating conflict that began in 2011 when the Bashar al-Assad regime cracked down on demonstrators with unexpected ferocity.
https://www.aa.com.tr/en/americas/coalition-airstrikes-kill-22-civilians-in-eastern-syria/1287947
---------
US 'saddened' over confirmed death of Saudi journalist
20.10.2018
By Servet Gunerigok
WASHINGTON
The U.S. on Friday expressed "sadness" over the death of Saudi journalist Jamal Khashoggi inside Riyadh's consulate in Istanbul.
Khashoggi died after a brawl inside the consulate and 18 Saudi citizens have been arrested over the murder, said the Kingdom.
White House Spokeswoman Sarah Sanders said in a statement that the U.S. acknowledged Saudi Arabia's announcement and was "closely" following the developments.
"We will continue to closely follow the international investigations into this tragic incident and advocate for justice that is timely, transparent, and in accordance with all due process," Sanders said. "We are saddened to hear confirmation of Mr. Khashoggi's death, and we offer our deepest condolences to his family, fiancée, and friends."
Khashoggi, a columnist for The Washington Post, had gone missing since entering the Saudi Consulate in Istanbul on Oct. 2.
Full report at:
https://www.aa.com.tr/en/americas/us-saddened-over-confirmed-death-of-saudi-journalist/1287458
---------
Arab World
Arab League welcomes Saudi investigations into Khashoggi's case
21 October 2018
The General Secretariat of the Arab League welcomed the Royal Orders issued by Saudi King Salman bin Abdulaziz Al Saud, and the statement issued by the Saudi Attorney General regarding the case of the late journalist Jamal Khashoggi.
"The Arab League praised in a statement today the investigations carried out by the Kingdom so far, which indicate the keenness of the Custodian of the Two Holy Mosques to clarify the reality of events in the case and to take the necessary legal action," a statement on Saudi Press Agency read.
"The league expressed deepest condolences to the families and relatives of the Saudi journalist and reaffirmed its statement issued on 14 February on the refusal to politicize or exploit this issue by any party, including for the purpose of threatening economic sanctions or unilateral measures in any form against Saudi Arabia, which remains a key pillar of security and stability at the regional and international levels," the statement added.
https://english.alarabiya.net/en/News/middle-east/2018/10/21/Arab-League-welcomes-Saudi-investigations-into-Khashoggi-s-case.html
---------
Terrorists Send Heavy Arms to Hama, Idlib to Attack Army-Controlled Regions
Oct 20, 2018
Field sources in Northern Syria reported that Tahrir al-Sham (the Levant Liberation Board or the Al-Nusra Front) militants and other allied terrorists launched heavy artillery and mortar attacks against the army-controlled positions and towns in Northern Hama and Southeastern Idlib.
They added that the terrorists have also pounded the army points in Northern Lattakia and Sahl al-Qab region, noting that they have dispatched more heavy weapons to the region to attack the army targets.
Meantime, reports said that after heightened tensions in Hama and Idlib, the Syrian army has sent its renowned General Suheil al-Hassan, the commander of the Tiger Forces, to Abu al-Zohour airbase in Eastern Idlib.
The Syrian army will likely use the military option against the terrorists if they still avoid withdrawal from the weapons-free zone.
The Syrian army forces were put on alert in Hama and Idlib on Thursday as terrorists proved adamant to the implementation of the Sochi agreement to set up a weapons-free zone.
Field sources in Northeastern Hama reported that a large number of Syrian army troops were on alert in their positions in Northern Hama and Southern Idlib.
They added that the development came after the terrorist groups avoided implementation of the Russia-Turkey agreement to create a demilitarized zone in Northern Syria.
The report said the Syrian army troops have also attacked the moves of the terrorists in Hama and Idlib, foiling their attempts to infiltrate into the army-held areas.
Full report at:
http://en.farsnews.com/newstext.aspx?nn=13970728001008
---------
Bin Salman sought most brutal murder for Khashoggi: Ex-FBI agent
Oct 20, 2018
Saudi Crown Prince Mohammad bin Salman wanted the planned murder for outspoken journalist Jamal Khashoggi to be as brutal as it was, says a former high-profile American intelligence officer.
Ali Soufan, a former FBI agent, told German weekly Der Siegel on Saturday that the way Khashoggi was murdered in the Saudi consulate in Istanbul, Turkey, on October 2, had to be an epitome of a brutal assassination because the man behind the murder wanted to use it as a message.
"He (bin Salman) wanted it as brutal as it was to send a message. He thought he would get away with it," said Soufan in an interview published on Spiegel's website.
Soufan, who has been involved in several notable anti-terrorism operations both in the United States and around the world, said bin Salman, also known as MbS, wanted to make it understood through Khashoggi's murder that whoever opposed him would pay the costs.
"Now, we are getting into the head of dictators and authoritarians," he said, adding, "MbS wanted to send a message. And this message is: If you oppose me I will get you whoever you are, wherever you are."
Bin Salman, only in his early 30s, is believed to be eagerly seeking to accede the throne in Saudi Arabia and replace his ailing father King Salman bin Abdulaziz Al Saud. The young prince launched a sweeping crackdown against his rivals and opponents last year when he ordered the arrest of key royal figures inside a hotel in Riyadh.
Since the very early hours of Khashoggi's disappearance, many pointed the finger to bin Salman, saying the crown prince had clear motives to kill the journalist. Later revelations in the Turkish media showed that a 15-member hit squad, among them members of bin Salman's personal guard, had carried out the murder inside the Saudi consulate.
Soufan said Khashoggi had posed a direct threat to bin Salman through his writings and speeches in the West and the Saudi prince was eagerly seeking his elimination.
" ... he (Khashoggi) did not believe in MbS' reckless ways and he was vocal about his criticisms, both in person and in his Washington Post columns. Someone like Jamal is threatening to someone like MbS," said e former intelligence officer.
Soufan highlighted the fact that if bin Salman is proven guilty of Khashoggi's murder, he would lose his credibility as a young reformer for good, adding that the case will certainly impact the future relations between the United States and Saudi Arabia.
Full report at:
https://www.presstv.com/Detail/2018/10/20/577611/Saudi-crown-bin-Salman-brutal-murder-khashoggi
---------
Tens of Civilians Killed, Wounded in US Raids on Mosques in Eastern Syria
Oct 20, 2018
SANA quoted local sources as reporting that the fighter jets have bombed al-Aliyat region in the small town of al-Souseh near the town of Albu Kamal in Southeastern Deir Ezzur in the last 24 hours and killed 15 civilians, including women and children.
It further said that a sum of 37 civilians were killed and tens more were wounded in another air attack by the coalition jets on Othman Bin Afan mosque in al-Souseh.
SANA went on to say that the warplanes also targeted Amar Bin Yasser mosque in the village of Albu Daran, killing 10 civilians and wounding dozens of others.
The death toll is expected to rise as some of the injured are in critical conditions.
The Arabic-language website of Sputnik quoted a military source as saying on Thursday that 2 US-led coalition F-15 fighter jets targeted the positions of Washington-backed Syrian Democratic Forces (SDF) in Eastern Deir Ezzur.
He added that the US warplanes' target was ISIL's strongholds in areas near the town of Hajin but they attacked the SDF, killing 6 Kurdish forces and wounding 15 others.
Full report at:
http://en.farsnews.com/newstext.aspx?nn=13970728000874
---------
The Saudi regime does not represent Islam
by Khaled A Beydoun
Oct 21, 2018
The recent disappearance of Saudi journalist Jamal Khashoggi has the world's fingers pointed in the direction of the Saudi government, specifically at its de-facto leader, Crown Prince Mohammed bin Salman.
Khashoggi, a Saudi citizen living in exile in the United States because of his criticism of the Saudi regime, earned the esteem of audiences that read his political commentary in both Arabic and English. He was last seen alive entering the Saudi consulate in Istanbul on October 2, when he visited to procure documents he needed to wed his Turkish fiancee.
Speculation about bin Salman ordering his kidnapping, or state-sponsored murder, rose to the fore, dominating mainstream and social media discussions about the missing journalist's likely fate. On October 19, Saudi authorities finally admitted Khashoggi was killed inside the country's Istanbul consulate. This admission merely confirmed a conclusion most had already drawn given the regime's dismal human rights record and fierce intolerance to any criticism: The Saudi government was directly responsible for Khashoggi's disappearance and death.
And where Saudi Arabia is the subject of wrongdoing, Islam stands alongside it. Collaterally implicated and indicted as the source of the vile actions taken by a government that, since its inception as a sovereign state, has been popularly anointed as the living embodiment of the religion.
This, again, was the case with the Khashoggi affair. The unknown whereabouts of the journalist, widely regarded to be among the most courageous indigenous critics of the Saudi regime, implicated Islam in the minds of many. The "redeployment of Orientalist tropes," as articulated by law scholar Leti Volpp, surged to the surface and steered the popular discourse, driving immediate conclusions that Islam itself is "intolerant to criticism," "resistant to independent media voices," and "suppressive of dissidence."
These blanket assessments of the religion, spurred by the actions of the Saudi state, coloured conversations about Khashoggi's disappearance, and cast Islam as the source of Saudi actions. However, what is more insidious than these stereotypes is the assumption that undergirds them: specifically, that Saudi Arabia itself is the primary manifestation of Islam, and everything that it does is representative of the religion.
Saudi Arabia does not represent Islam. Despite its best efforts to promote and project itself as the symbol and "centre of Islam," the Saudi state represents a regime steered by a desperate and austere few and, namely, one Mohammed bin Salman. Home to Medina and Mecca, the two holiest sites in Islam, the regime leverages its role as ward to these cities to shroud its legitimacy with religion; and function as the gatekeeper to the 1.8 billion Muslims around the globe called to enter its bounds to complete the mandated pilgrimage to Mecca. Being home to these holy sites has been just as potent as its boundless supply of crude oil to sustain the regime, with ruling monarch after monarch strategically intertwining the heft of their petrodollars with the global promotion of Wahhabism to propel the idea that Saudi Arabia and Islam are interchangeable entities.
Let's be clear: while the bulk of the idea that Islam and Saudi Arabia are one is rooted in Orientalist ideas and portrayals of Saudi clerics, sheiks and monarchs as the very archetypes of Islam, Saudi Arabia itself has been very intentional in distilling that idea and disseminating it broadly in the Middle East, Muslim majority countries, and the West. In fact, Wahhabi thought is largely intolerant of other Islamic traditions, and holds itself out to be the only authentic mode of Islamic practice. In addition to this, strategic alliances with global powers, principally the US, have emboldened the Saudi regime to further its project of positioning itself as the political representative of Islam. For better, and far more frequently, as represented by the Khashoggi affair, for worst.
But it does not represent Islam, before and especially today. Saudi Arabia is just one nation, which enshrines an austere and primitive interpretation of Sunni Islam, Wahhabism. This tradition is only practised within the country of approximately 32 million people and other nations where the Saudi regime has spread its influence by way of direct economic and political influence, or indirectly, through the spread of terror networks. In fact, Indonesia, Pakistan and India are home to far bigger Muslim populations, and Nigeria has two-and-a-half times the number of Muslim citizens as Saudi Arabia. Beyond its spiritual and demographic shortcomings, Muslims globally are beginning to see Saudi Arabia as a blight to how Islam and Muslims are viewed, a sentiment that is especially strong in the US.
To highlight the force of the popular association of Saudi Arabia with Islam, it is common for both media pundits and lay people to conflate the whole of Islam with the aberrant tradition of Wahhabism, viewing the latter as a stand-in for a religion comprised of distinct sects, subsects, and diverse schools of thought. Again, this is in great part the work of prominent Orientalists and modern Islamophobes, but also the intended fruit of Saudi policy and propaganda, proselytization and posturing. At most, Saudi Arabia represents the insular and static canon of Wahhabism. But further investigation of its domestic and global manoeuvering even renders that position obsolete, revealing that the regime is fundamentally driven by the all-costs ambition of one crown prince and the shadowy figures backing his rise to power.
Khashoggi, who represented honesty and evenhandedness, courage and the possibility of journalistic freedom in a nation entirely devoid of it, offered the world a living counterexample of what it meant to be Saudi. He was proud of both his faith and his national origins; his work and his very being stood as an affront to the Saudi regime and the assent of its unpredictable strongman, Mohammed bin Salman.
Full report at:
https://www.aljazeera.com/indepth/opinion/saudi-regime-represent-islam-181019145130605.html
---------
Senior US-Backed Militia Commander Killed in Bomb Blast in Northeastern Syria
Oct 20, 2018
Omar Muslim, a senior SDF field commander, was killed after a bomb went off in Hazimah square North of Raqqa city.
Two aides of Muslim were also seriously injured in the blast.
In the meantime, unidentified attackers targeted the militias' "sugar company checkpoint" North of Raqqa city, a local source said, adding that the attack triggered heavy fighting that left several SDF gunmen injured.
Meanwhile, media activists pointed to the continued attacks on the SDF in Raqqa during the last week, and said that a growing wave of insecurity has covered the region.
They further said that looting people's assets and insecurity have enraged residents in Raqqa.
The Arabic-language Baladi news website affiliated to the militants reported earlier this month that SDF Commander Hamzeh Zabiyan was killed in a bomb blast near al-Omar oil field in Eastern Deir Ezzur.
It added that the bomb also killed and wounded 5 other militants who accompanied Zabiyan.
Also, other reports from Raqqa said that the SDF erected new checkpoints inside Raqqa city and put its forces on alert.
A number of SDF forces were also killed and wounded after a bomb went off in areas near the village of al-Jarniyeh in Northwestern Raqqa.
Full report at:
http://en.farsnews.com/newstext.aspx?nn=13970728000920
---------
Six Druze civilian hostages freed 3 months after abduction by Daesh in Syria
Oct 20, 2018
Two women and four children of the Druze minority have been freed from the grips of the Takfiri Daesh terrorist group some three months after they were kidnapped by the terror outfit in Syria's southern province of Sweida.
Syria's official SANA news agency, citing Sweida Governor Amer al-Ashi, reported on Saturday that a woman and a mother with her four children, all from Druze al-Shabki village, had been freed from the clutches of Takfiri terrorists thanks to the efforts exerted by the authorities concerned.
The governor also said that "upon directives of President Bashar al-Assad on hunting down terrorist organizations, our armed forces and the affiliated security apparatus tracked the remnants of terrorists in the depth of Sweida, in eastern Badiya."
Badiya refers to the vast desert stretching from central parts of the Arab country to its eastern border with Iraq, and where Daesh terrorists still hold some small and isolated territory.
On July 15, Daesh terrorists, who lost all of their urban bastions in the Arab country late last year, launched a brutal attack on the rural areas of the province, killing more than 250 people, who were members of the Druze minority. The attacks were the bloodiest ever seen in the province, as well as some of the deadliest launched by Daesh in the war-torn country.
Terrorists also abducted 36 women and children during the raid. Four of the abductees managed to escape from the grips of terrorists, but two of them lost their lives. Furthermore, one woman died in Daesh custody while another was shot dead.
Sweida, which is largely under the control of the Syrian government troops, is home to the Druze minority. The province has been relatively insulated from Syria's seven-year bloody war launched by foreign-backed militants and terror group against Damascus.
Full report at:
https://www.presstv.com/Detail/2018/10/20/577592/Syria-Daesh-Druze-hostages-Sweida
---------
Russian officials discuss 'finally destroying' terrorists with Syria's Assad
Oct 20, 2018
A senior delegation representing Russia's foreign and defense ministries has met with Syrian President Bashar al-Assad to discuss the country's situation, specifically the 'final destruction' of terrorists.
A Russian Foreign Ministry statement was released on Saturday, detailing the talks which included Russian special presidential envoy for Syria Alexander Lavrentyev, Deputy Foreign Minister Sergey Vershinin and a number of Defense Ministry officials.
"The whole range of issues relating to the development of the situation in [Syria] was substantively considered. A firm commitment was confirmed to finally destroy the terrorist presence and make steady progress towards a long-term political settlement in the interests of all Syrians," read the statement.
The discussions come amid recently heightened diplomatic activity over the fate of Syria as a delegation from the Syrian People's Assembly met with Russian officials in Moscow earlier today. Furthermore, a high-level Russian delegation met Saudi Crown Prince Mohammed bin Salman to discuss the matter four days earlier while Turkish President Recep Tayyip Erdogan is set to host Russian, German and French heads of state seeking to find a "long-lasting solution" for the war-torn country in a week.
In September, the Syrian government was about to stage a large-scale counterterrorism operation in the militant controlled Idlib province. Russia, an ally of the Syrian government, and Turkey, which sides with anti-Damascus militants, however, announced a plan to create a demilitarized zone in the province, where the outfits would be disarmed and ultimately ordered to withdraw.
Full report at:
https://www.presstv.com/Detail/2018/10/20/577596/Syria-Russia-Talks
---------
Europe
UK insists Khashoggi killers must be held accountable
Oct 20, 2018
The British government has insisted that it will consider action in response to the death of a Saudi journalist in Turkey, saying those who killed Jamal Khashoggi must be held into account.
The Home Office (the British foreign ministry) said Saturday that it was considering "next steps" after the Saudi government acknowledged Khashoggi was killed in the kingdom's consulate in Istanbul, Turkey.
"As the Foreign Secretary has said, this was a terrible act and those responsible must be held to account," said the ministry in a statement, adding, "We are considering the Saudi report and our next steps."
Britain, a close ally of the Saudi Arabian government and a major arms supplier to the kingdom, had earlier indicated that it would stop short of imposing an arms sale embargo on Riyadh over its role in the disappearance and murder of Khashoggi. Officials had said a ban on British arms sale to the Saudis would enable rivals like China and Russia to fill the gap in the weapons market.
Many rights campaigners called for an outright ban on weapons sale to Saudi Arabia, a country that has been leading a devastating war on its southern neighbor for the past three years.
The opposition Labour Party also announced earlier this week that it would slap the Saudis with arms sanctions if it was in the government.
Khashoggi, a prominent Saudi journalist who had been living in exile in the US since last year, went to Saudi consulate in Istanbul on October 2 to collect documents for his forthcoming marriage. No one saw him leaving the facility after that.
Full report at:
https://www.presstv.com/Detail/2018/10/20/577590/UK-Saudi-Arabia-Khashoggi-sanctions
---------
France 'strongly' condemns killing of Saudi journalist
20.10.2018
By Omer Aydin
PARIS
France on Saturday "strongly" condemned the killing of Saudi journalist Jamal Khashoggi.
According to a statement issued by French Foreign Ministry, the country is still looking for clarity on the issue.
Khashoggi, a columnist for The Washington Post, had gone missing since entering the Saudi Consulate in Istanbul on Oct. 2.
After days of denying to know his whereabouts, Saudi Arabia on Saturday claimed Khashoggi died during a fight inside the consulate.
"Verifying that Khashoggi was killed is the first step towards revealing the truth. Many questions are still unanswered," the statement said.
In order to get answers to the remaining questions, the statement called for a large-scale research and investigation and urged the Saudi administration to make an effort.
The statement also extended condolences to the family of the Saudi journalist.
On the day of Khashoggi's disappearance, 15 other Saudis, including several officials, arrived in Istanbul on two planes and visited the consulate while he was still inside, according to Turkish police sources. All of the identified individuals have since left Turkey.
Full report at:
https://www.aa.com.tr/en/europe/france-strongly-condemns-killing-of-saudi-journalist/1288217
---------
Full truth on Khashoggi's killing not told: Danish PM
20.10.2018
By Davut Colak
COPENHAGEN
All the facts about the murder of Saudi journalist have not yet been revealed, Danish prime minister said on Saturday.
"The fact that the Saudis last night confirmed that he died, after previously insisting he left the consulate alive, shows that we haven't been told the full truth," Lars Lokke Rasmussen told state broadcaster DR.
"And we must insist on getting that," Rasmussen added.
Jamal Khashoggi, a Saudi journalist and columnist for The Washington Post, had gone missing since entering the Saudi Consulate in Istanbul on Oct. 2.
After days of denying to know his whereabouts, Saudi Arabia on Saturday claimed Khashoggi died during a fight inside the consulate.
Saudi Press Agency reported Saturday that 18 Saudi citizens have been arrested over links to killing of Khashoggi.
On the day of Khashoggi's disappearance, 15 other Saudis, including several officials, arrived in Istanbul on two planes and visited the consulate while he was still inside, according to Turkish police sources. All of the identified individuals have since left Turkey.
Full report at:
https://www.aa.com.tr/en/europe/full-truth-on-khashoggi-s-killing-not-told-danish-pm-/1288054
---------
Australia's Jerusalem ploy fails to avoid by-election beating, risks Muslim backlash
21 Oct 2018
SYDNEY: In the kosher cafes of Sydney's east, Australia's surprise move to mull recognising Jerusalem as Israel's capital won some support but not enough votes to prevent a huge backlash against the government at a crucial weekend by-election.
The results, with about a fifth of the Wentworth electorate switching their vote away from Prime Minister Scott Morrison's government, are on track to plunge the ruling conservative coalition into political chaos and a parliamentary minority.
Its Israel gambit could unravel further.
Morrison's unexpected announcement last week that he was open to Australia moving its mission from Tel Aviv to Jerusalem, as the United States did in May, ended some 70 years staying out of one of the Middle East's thorniest issues.
It delighted Israel, infuriated Palestinians and was seen locally, where he trails in opinion polls, as a naked grab for votes in Wentworth, the most strongly Jewish electorate in the country at around 13 percent.
It is already showing signs of alienating Muslim voters the government also needs to win over in an election due within months.
"It's not the proper process," Ali Shikder, 42, said of the move over sweet milk tea at a cafe in Lakemba, in Sydney's working-class western suburbs, 18 km (11 miles) inland from the city's well-heeled east.
The Jerusalem proposal was the latest example of how out of touch the government was with the Muslim community, said Shikdar, a Bangladeshi migrant.
"We have had no say, but we have the power to say yes or no (at the ballot box) and I think it could change the way people vote," he said.
For Morrison, elevated to prime minister eight weeks ago in a party-room coup, Saturday's result is a stinging rebuke for him and the chicanery that has turned the national leadership into a revolving door.
Morrison will now likely need to negotiate with Wentworth's successful independent candidate, Kerryn Phelps, and four other independents to pass laws.
'FOR ANYONE WHO'S JEWISH'
The status of Jerusalem is one of the trickiest obstacles to a peace deal between Israel and the Palestinians. Israel regards all of the city, including the eastern sector that it annexed after the 1967 Middle East war, as its capital.
Morrison earlier this week denied the Israel proposal was a domestic policy ploy, though former prime minister Malcolm Turnbull resisted moves to shift the embassy, citing security and diplomat advice that it would undermine efforts to bring peace to the region.
Among the neighbourhoods of Sydney's eastern suburbs, dotted with synagogues and kosher delis and home to a fifth of Australia's entire Jewish population for generations, however, the proposal was popular.
"I don't care what the reason for it was, I'm proud of him," Sara Lavan, 61, told Reuters at Jesse's, a kosher bakery in the seaside of suburb Rose Bay, where a huge photograph of the Tel Aviv skyline hangs on the wall.
Across the cafe, which hosted the wife of Israel's Prime Minister for brunch during a visit last year, James Hochroth, 65, likewise lauded the decision's symbolism.
"For anyone who's Jewish and cares about being Jewish and cares about the state of Israel it's an unmitigated good for Australia to follow the U.S. and move its embassy from Tel Aviv to Jerusalem," he said.
Both had already made up the minds to vote for the Liberal Party candidate, a former ambassador to Israel, before the embassy shift was mooted.
Of another eight constituents who spoke with Reuters, none said the policy change shifted their vote, raising the possibility that Morrison has risked Australia's international reputation, and his political standing, without return.
Affluent and socially diverse, Wentworth voters were turned off by the Liberal Party infighting that saw Turnbull, a local resident, deposed and the party become more conservative on issues including fighting climate change.
'EVERYONE HERE OPPOSES IT'
The embassy proposal drew concern from neighbouring Indonesia and a sterner rebuke from 13 Arab ambassadors who met in Canberra and agreed to condemn the shift as very worrying.
Across a belt of narrowly held seats in Sydney's west, Morrison's Israel policy shift upset many Muslims who could influence the outcome of the general election due before May next year.
"Everyone here opposes it," Faisal Mohammed, 38, said while holding court with his friends, who agreed, on the outside tables of a biryiani shop in Lakemba in the afternoon sun last week.
Nahida Safar, 34, said the embassy issue had barely registered in the Lakemba cafe she runs but she was exasperated by what she saw as an unnecessarily divisive move.
"We are a multicultural country and we shouldn't be worrying about what's happening in Jerusalem. That's what I think about it," she said, over a cup of coffee.
Full report at:
https://www.channelnewsasia.com/news/asia/australia-s-jerusalem-ploy-fails-to-avoid-by-election-beating--risks-muslim-backlash-10849204
---------
Row over Muslim scholar's invitation to preach at Anglican service
20 Oct 2018
An invitation to a distinguished Muslim scholar to preach at a eucharist service in an Oxford church on Sunday has triggered complaints from traditionalists.
Monawar Hussain, who was awarded an MBE in the Queen's birthday honours last year for services to interfaith relations and the community, will deliver a sermon at the University Church of St Mary the Virgin, following a request from Oxford University's vice-chancellor, Louise Richardson.
The move has been denounced by Archbishop Cranmer, a conservative Anglican blog authored by Adrian Hilton. He said he failed to understand how an imam delivering a sermon at a eucharist service would respect "a sacred act of divine worship which is supposed to be conducted according to the rites and formularies of the Church of England".
The diocese of Oxford has received 12 complaints about the sermon as a result of Cranmer's blogpost, only three of which come from the local area.
In a statement endorsed by the university, the diocese said Hussain was "most welcome" to speak following the eucharist. It added: "Monawar is not the first person from another faith community to be invited to preach the university sermon. His presence on Sunday reflects the strong commitment of the church, university and other faith communities to interfaith engagement."
Hilton acknowledged Hussain's "manifestly sterling work in the promotion of religious and racial harmony, and good relations between persons of different faiths and racial groups".
But as Muslims do not believe Jesus was the son of God, nor in the resurrection, Hussain "will deny by his presence in the pulpit the very body and blood of Christ commemorated by the eucharist", Hilton wrote.
He suggested the C of E was now "open to people of all faiths and none, and that we can look forward to a series of heretics, blasphemers, idolaters and unbelievers" preaching from Anglican pulpits.
Hilton told the Guardian that the diocese of Oxford's statement that Hussain's would "follow" the eucharist service was "not as billed", which suggested a change of plan since his blog was published. "If he is speaking as an addition to the service, I have no problem with that, but the publicity says he is giving the sermon."
Hussain, who is Muslim tutor at Eton College and the founder of the Oxford Foundation, which promotes religious and racial harmony, said: "There are many different voices in all our traditions. Some Muslims might not be happy at my presence at the church. "So I'm not surprised [at the objections], but there are so many more Christian friends who are pleased I'll be there. We need to be building trust and working together."
Alan Wilson, the bishop of Buckingham, said objections to Hussain's sermon were "ridiculous".
The Oxford Foundation had done "pioneering work to help with community integration, both locally and nationally. [Hussain] is absolutely one of the good guys. His work has been fundamental in deepening our understanding of Islam and combating the threat of terrorism in this country. He is promoting a charitable and wise interpretation of Islam against a fundamentalism ideology," said Wilson.
"As long as it is plain who he is and what his faith affiliation is, I don't think it's reasonable to object to one of the leading faith figures in the area being invited to give an address in a Christian church."
Interfaith engagement was "a measure of the kind of society we need to be: respecting one another's differences, honouring one another as the people we are, and also communicating with each other".
In January 2017, a row erupted over the inclusion in an Anglican service at St Mary's Cathedral in Glasgow of passages from the Qur'an read in Arabic by Madinah Javed, a 19-year-old Muslim student.
Full report at:
https://www.theguardian.com/world/2018/oct/20/row-over-muslim-scholars-invitation-to-preach-at-anglican-service
---------
Muslim cleric, 51, who runs Britain's largest network of sharia courts is quizzed over child rape claims
21 October 2018
A Muslim cleric who runs Britain's largest network of sharia courts has been questioned over historic child rape allegations.
West Midlands Police are investigating claims that Sheikh Faiz-ul-Aqtab Siddiqi raped two Dutch women in the 1980s and 1990s.
He has denied the claims, which first appeared in the Dutch newspaper De Telegraaf, saying they are 'unfounded' and part of a campaign to discredit his family.
The cleric, 51, is the head of the Muslim Arbitration Tribunal, an Islamic legal service that operates a string of controversial sharia law courts across England which critics say discriminate against women.
The two women claim they were sexually abused from the ages of 11 and 12 until they turned 16. They were sent to the UK by their parents to be educated by Sheikh Siddiqi's father, a respected Muslim scholar.'
A West Midlands Police spokesman said: 'A 51-year-old man from Nuneaton has been voluntarily interviewed in relation to allegations of historical rape cases. Inquiries remain ongoing.'
Full report at:
https://www.dailymail.co.uk/news/article-6299133/Muslim-cleric-runs-Britains-largest-network-sharia-courts-quizzed-child-rape-claims.html
---------
Imam Drouiche: For fear of hard right, Europe's left wing fails to condemn Islamism
10/19/2018
Paris (AsiaNews) - Imam Hocine Drouiche, Vice-president of the French Conference of Imams and a great friend of AsiaNews, has sent us this speech, which he will present at a meeting in the European Parliament. In it, Drouiche, a scholar of the relationship between Islam and modernity, underlines how Europe is divided with regards Islam and above all the Islamist violence and fundamentalist interpretation of the Koran: the "right" demonizes Islam and as a result pushes it to an even harder extreme; the "left" - for fear of being accused of "xenophobia" - is silent on all the violence, losing an opportunity to help the Muslim world - especially young people - to do away with old Salafist schemes. In this way, he says, Europe and Islam are destined for failure.
From Libya to Yemen, through Syria, Afghanistan and Iraq, the Muslim world is shrouded in chaos. The movements deemed moderate fail to propose real solutions that build a credible way forward. Faced with the ravages of jihadism, the violation of religion and culture by Islamists, many Muslim intellectuals or Muslims cannot help but keep silence, even if the task is difficult and dangerous.
There are Islamists who oppose Daesh (the Islamic State). There are also Islamists, including some Salafists, who have engaged in an armed confrontation against the Daesh. But on the front of ideas, a similar confrontation is astonishingly lacking.
This leads to the question why do Muslims not rise up to defend their religion, when today it is used to define criminal and inhumane practices. Why are they unable to say clearly that this is not Islam?
In the absence of reforms and adaptation of Islam to modern times, the explanation is at the intellectual level, where there is no important difference between moderate and extremist. The two are inspired by the same texts. Moderates are obliged to accept extremist views in order not to be accused of apostasy or betrayal of divine right.
The two aim at the return of a dual order, which was supposedly deprived by colonizers. Nation-states, like democracy and equality between men and women, are considered to be passive phenomena, because "the absolute truth" of the Islamic invariable will never change.
All this denies any historical evolution and social or cultural progress.
There is a real refusal to separate religion and violence. Religious freedom, freedom to change one's religion or to have none are taboo, unacceptable issues in Islam and also in Islam in Europe.
An European Islam or a European Muslim is still distant [from this] because the majority of Muslims still have a mindset of conquest, invasion and Islamization of Europe. It is an imaginary of power and domination, driven by the nostalgia of wanting to reproduce the historical empires of Islam.
The will and application of Sharia is another major problem that brings together all moderate and extremist Islamists and adds to coercion, the collective imagining of the empire, the contempt for the nation-state and the conquest of Europe.
In the absence of a profound reform of Islam and of solid intellectual bases to oppose this religious extremism, young Muslims have the impression that it is Daesh - this intolerant and conflictual Islamism - that represents Islam and not the inconsistent moderates.
At present, in Europe, a Muslim can only be veiled, a Muslim must believe in jihad, and also have an immeasurable hatred for the West.
Europe could be a real hope for reform and modernization of Islam. Unfortunately, we have closed our eyes on the manipulation of fundamentalists in the peripheries (banlieues) of Europe's cities and in its Islamic institutions.
While the imams and preachers of an enlightened Islam are terrified, the fear of being racist, Islamophobic and contemptuous, silences many European thinkers.
The Muslim world, torn by endless wars, has become a true cultural, social and economic desert that one hopes to ignore when it is on our doorstep. The flow of immigration continues unabated and Muslims from wherever they may come are represented only through the Islamist prism.
Muslim extremists flourish among the Muslims of Europe. And this is good for the extreme right-wing business in Europe.
A lax Europe serves neither Islam or Europe. An extremist European only triggers a new wave of violence and hatred.
Every generation has the right to benefit from its teaching and its progress to discover new horizons beyond the truth lost by the generations that preceded it.
Europe must help European Muslim youth to free themselves from the past and violent interpretations of Islamic texts. This is why there is only one path. Only knowledge and culture can free Muslims from violence and hatred that destroy the image of their religion.
Europe must help the Muslims to free themselves from the tyranny of the Islamists, by refusing to ally itself with them. This will save Muslims and also Europe which, because of the Islamists, risks losing all that it has achieved as well as its universal values, and to the benefit of nationalists and the extremists.
Europe is at a dangerous crossroads caught between extremist Islamists and nationalists. The moderate European right is the only one that could force a sensible end to this crazy will to destroy Europe, especially after the new waves of agricultural-Asian migrants, mostly Muslims.
It is easy, comfortable, pleasant to accuse the West and the rest of humanity for our faults, illnesses and neuroses, and we live quietly without denouncing them at home. We ask to share the status of humanity, but we refuse to admit it as a universal value to our home.
We want the rest of humanity to accept our differences, but we do not accept those of others and other faiths.
Full report at:
http://www.asianews.it/news-en/Imam-Drouiche:-For-fear-of-hard-right,-Europes-left-wing-fails-to-condemn-Islamism-45247.html
---------
Mideast
Yemeni Army Launches Missile, Drone Strikes on UAE Operations Room
Oct 20, 2018
An informed military source told the Arabic-language al-Masirah news channel on Saturday that the operations were carried out after receiving precise intelligence and monitoring the UAE forces' moves on the Western coasts.
The report also said that the Yemeni army and popular committees inflicted heavy tolls and damage on the militants affiliated to the Saudi-led coalition during a military operation near Hilan region in the town of Sarwah in Ma'arib province.
There is yet no report on the precise number of casualties in the attack.
The UAE has been Saudi Arabia's main ally in the military campaign against Yemen.
The Saudi-led coalition has been striking Yemen since March 2015 to restore power to fugitive president Mansour Hadi, a close ally of Riyadh. The Saudi-led aggression has so far killed at least 17,500 Yemenis, including hundreds of women and children.
Despite Riyadh's claims that it is bombing the positions of the Ansarullah fighters, Saudi bombers are flattening residential areas and civilian infrastructures.
According to several reports, the Saudi-led air campaign against Yemen has driven the impoverished country towards humanitarian disaster, as Saudi Arabia's deadly campaign prevented the patients from travelling abroad for treatment and blocked the entry of medicine into the war-torn country.
Yemen is the world's largest humanitarian crisis with more than 22 million people in need and is seeing a spike in needs, fuelled by ongoing conflict, a collapsing economy and diminished social services and livelihoods.
A UN panel has compiled a detailed report of civilian casualties caused by the Saudi military and its allies during their war against Yemen, saying the Riyadh-led coalition has used precision-guided munitions in its raids on civilian targets.
http://en.farsnews.com/newstext.aspx?nn=13970728000576
---------
Syrians in occupied Golan burn Israeli election ballots, protest judaization
Oct 20, 2018
Syrians in the occupied Golan Heights have demonstrated and burned Israeli election ballots in a symbolic dismissal of local council elections and "a policy of judaization" administered by the Zionist regime.
The demonstrators, who described the elections as an Israeli effort to legitimize its occupation, raised Syrian flags on Friday while gathering in a central town square in Majdal Shams, the most populated of four Syrian communities in Golan, and vowed to spread demonstrations to the other communities in ongoing protests until the end of this month.
Political activist and former prisoner Bashar al-Maqt addressed the crowd, asserting that the election along with any other Israeli measure is legally void due to the illegal occupation. Maqt further called for international organizations to put an end to the racist judaization policy maintained by Tel Aviv.
Other protesters chanted in support for the integrity of the Syrian state, rejecting any compromise of their national identity.
"The Golan will remain Syrian and Arab land in the face of the occupation and its supporters," said a young protester named Emille Masoud.
Some local media outlets have brought up the symbolic significance of the burned ballots, claiming that the move is reminiscent of when Syrians in the occupied land burned Israeli identification cards handed out by occupation forces in 1982.
The protests come two weeks after Golan's Druze community organized a similar act of defiance against Israeli authority, waiving large Syrian flags and portraits of Syrian President Bashar al-Assad towards Syrian soldiers on the other side of the border.
Full report at:
https://www.presstv.com/Detail/2018/10/20/577576/Golan-Syria-Protest
---------
Iran demands Pakistan secure immediate release of abducted security forces
Oct 20, 2018
Chief of Staff of the Iranian Armed Forces Major General Mohammad Baqeri has demanded that Islamabad push for the release of a number of Iranian forces abducted in the southeastern province of Sistan and Baluchestan on the border with Pakistan.
"Based on agreements [signed] between the Armed Forces of the two countries to ensure security of common borders, we expect the Pakistani Armed Forces to adopt the necessary preparations and push for the immediate release of the abducted [Iranian] soldiers and border guards," Baqeri said in a phone call with Pakistan's Chief of Army Staff General Qamar Javed Bajwa on Friday.
In a statement issued on October 16, Iran's Islamic Revolution Guards Corps (IRGC) said terrorists had kidnapped the Iranian forces, including local Basij volunteer forces and border guards, overnight near the town of Mirjaveh on the Pakistani border.
The IRGC did not say how many were kidnapped, but IRNA quoted an unnamed official as saying that 14 people had been kidnapped in the village of Lulakdan near Mirjaveh around 4 a.m. or 5 a.m.
The so-called Jaish ul-Adl terrorist group – which is based in Pakistan – claimed responsibility on its Twitter account.
Baqeri also called on Pakistan to take "immediate and severe" action to arrest terrorists behind the Iranian forces' abduction.
The senior Iranian commander further stressed the importance of strengthening the presence of Pakistani security forces along the common borders to promote and ensure security in the border areas and prevent acts of terror.
The Pakistani general, for his part, expressed regret over the abduction of the Iranian forces and briefed his Iranian counterpart about the Pakistani army's measures to hunt down the kidnapers.
Javed Bajwa expressed hope that the measures carried out by Pakistani security forces would secure the arrest of the terrorists and the release of the Iranian forces as soon as possible.
Iran's Foreign Ministry Spokesman Bahram Qassemi said on Tuesday that Pakistan should instantly adopt all necessary measures to help release the abducted Iranian forces.
"The Pakistani government should immediately implement all necessary means and measures to free border guards of the Islamic Republic of Iran and arrest the wicked terrorists," Qassemi added.
In a letter to his Pakistani counterpart Shehryar Khan Afridi on Wednesday, Iran's Interior Minister Abdolreza Rahmani Fazli once again urged the neighboring country to spare no effort in securing the release of the abductees.
Islamabad, he added, should fully honor its obligations under bilateral security agreements, which require it to prevent attacks targeting Iranian border posts from the Pakistani side.
Iran expects Pakistan to gather intelligence, confront terrorists: Interior minister
Meanwhile, in a phone call with his Pakistani counterpart on Saturday, the Iranian interior minister said Tehran expects Islamabad to collect intelligence and confront terrorist groups.
Rahmani Fazli expressed the Iranian security forces' readiness to cooperate with Pakistan to ensure security along common borders.
Afridi, for his part, expressed regret over the abduction of the Iranian security forces and said his country would conduct all necessary measures to release them.
Full report at:
https://www.presstv.com/Detail/2018/10/20/577571/Baqeri-Qamar-Javed-Bajwa-kidnaper
---------
Israel reopens people and goods crossings to Gaza amid calm
21 October 2018
Israel ordered the country's goods and people border crossings with Gaza to be opened on Sunday, four days after shuttering them following a Palestinian rocket attack that sparked retaliatory strikes.
"The decision comes after a decrease in the violent events in Gaza over the weekend and efforts (militant Islamist Gaza rulers) Hamas made to restrain" demonstrators, a statement from Defense Minister Avigdor Lieberman office read.
On Wednesday, Lieberman had ordered the closure of the Kerem Shalom goods crossing and the Erez crossing for people, after a rocket from the Palestinian territory hit a home in southern Israel, prompting the Jewish state to strike 20 Hamas targets in Gaza.
Hamas disavowed the launch and said it was investigating the incident, as fears of a new war rose.
Near daily protests along the border since March 30 against Israel's crippling 11-year blockade of the impoverished enclave have sparked repeated clashes with the army.
On Friday, thousands again gathered for protests in northern Gaza, but demonstrators largely remained at least 100 meters from the border.
Full report at:
https://english.alarabiya.net/en/News/middle-east/2018/10/21/Israel-reopens-people-and-goods-crossings-to-Gaza-amid-calm.html
---------
Dozens of Houthis killed in strikes targeting gathering in Yemen's Hodeidah
21 October 2018
The Arab Coalition launched a targeted air raid on a meeting of Houthi militia leaders in the Yemeni province of Hodeidah on Saturday.
The raid killed about 15 Houthi leaders and wounded several others.
Coalition aircraft also launched another raid targeting military reinforcements and militia positions west of Duraihemi, south of Hodeidah, killing about 30 Houthi militiamen.
In the east of Duraihemi, there were fierce battles during which the army and the National Resistance forces attacked the militias, killing more than 30 Houthi elements and wounding seceral others.
Full report at:
https://english.alarabiya.net/en/News/gulf/2018/10/21/Dozens-of-Houthis-killed-in-strikes-targeting-militia-gathering-in-Yemen-s-Hodeidah.html
---------
Palestinian protest icon goes from jail cell to VIP suite
October 21, 2018
JERUSALEM: When Israel locked up Ahed Tamimi for slapping a soldier last year, it hoped to finally silence the teenage Palestinian activist. Instead, it created an international celebrity.
Less than three months after walking out of prison, Tamimi is on a victory tour, crisscrossing Europe and the Middle East as a superstar of the campaign against Israeli occupation. She has spoken to throngs of adoring fans, met world leaders and was even welcomed by the Real Madrid soccer club.
The VIP reception has dismayed Israeli officials and is prompting some to ask if Israel mishandled the case.
"We could have been smarter," said Yoaz Hendel, a media commentator and former spokesman for Prime Minister Benjamin Netanyahu.
Tamimi gained international attention last year when she confronted an Israeli soldier in front of her home in the West Bank village of Nabi Saleh. She kicked and slapped him, and then took a swing at a second soldier in a videotaped incident that spread quickly on social media.
Tamimi's extended family has long been on Israel's radar screen. Nabi Saleh is home to some 600 people, most of them members of the clan. For years, they have held weekly protests against the expansion of a nearby Israeli settlement, gatherings that sometimes turn to stone-throwing, prompting Israeli troops to respond with tear gas, rubber bullets or live fire.
For Israelis, the Tamimis are a group of provocateurs intent on manipulating the media to hurt the country's image. One cousin, Ahlam Tamimi, was an accomplice to a suicide bombing. Among Palestinians, they are seen as brave heroes standing up to Israel.
But neither side anticipated the fallout from last December's standoff, which occurred during one of the weekly protests.
The military said it moved in after villagers began throwing stones at troops. In the video, Tamimi and her cousin, Nour, walk toward the two soldiers. Tamimi tells the soldiers to leave, pushes and kicks them and slaps one of them.
As the cousin films the scene on her mobile phone, Tamimi's mother, Nariman, arrives. At one point, she steps between Ahed and the soldiers, but then also tries to push back the soldiers, who do not respond. Ahed Tamimi later said that she was upset because a cousin had been shot in the face by a rubber bullet fired by Israeli troops.
As the video spread, Palestinians celebrated Ahed as a hero. Cartoons, posters and murals portrayed her as a Joan of Arc-like character, confronting the Israeli military with her mane of long, dirty-blond curls flowing in the breeze.
In Israel, the incident set off its own uproar. While the army praised the soldiers for showing restraint, politicians felt the army had been humiliated and called for tough action against the young firebrand. Days later, in an overnight raid, troops entered Tamimi's house and took her and her mother away. Both were given eight-month prison sentences.
Israel has traditionally been obsessive about defending its image — making the term "hasbara," which roughly translates as public relations, part of its national lexicon. But as the country has moved toward the right under the decade-long rule of Prime Minister Benjamin Netanyahu, charm has been replaced increasingly with confrontation.
Netanyahu, an admirer of President Donald Trump, rarely speaks to the media anymore and often lashes out at reporters for what he believes is unfair coverage. Under his watch, Israel has tried to weaken liberal advocacy groups critical of his policies, detained Jewish American critics at the airport for questioning and banned people who boycott the Jewish state from entering. It attempted to expel an American woman who will be studying at an Israeli university, accusing her of being a boycott activist. She was held in detention for two weeks until Israel's Supreme Court overturned the expulsion order.
While widely supported at home, these policies risk backfiring on the international stage.
Weeks after her release from prison, Tamimi began a tour that has taken her to France, Spain, Greece, Tunisia and Jordan. At nearly every stop, she has been welcomed by cheering crowds.
"I don't like living as a celebrity. It's not an easy life to live. I'm exhausted," she said in a telephone interview from the Jordanian capital, Amman. "But what I like more is delivering the message of my people. That makes me feel proud."
She kicked off her tour on Sept. 14 in Paris, where she participated in the Communist Party's "Humanity" rally. The popular weekend festival attracts rockers, rappers and other entertainers and celebrities. On the festival's last day, she spoke to thousands of cheering supporters. She traveled to other cities around France at the invitation of the France Palestine Solidarity Association.
In Greece, she was a headliner for the 100th-anniversary celebration of the country's Communist party, KKE. Addressing a crowd of thousands, she was interrupted by several long ovations and chants of "Freedom for Palestine."
"Your support means a lot to me. It gives me a big push to return to my homeland and continue my struggle vigorously against the occupation," she told the crowd. "Free people unite to face capitalism, imperialism and colonization ... We are not victims. We are freedom fighters."
Her family was invited as official guests of Tunisian President Beji Caid Essebsi to mark the 33rd anniversary of the Israeli bombing of what was then the Palestine Liberation Organization's headquarters. At the ceremony, Essebsi gave her a statue of a silver dove with an olive branch.
Meetings with Jordan's King Abdullah II and Turkish President Recep Tayyip Erdogan are in the works, said her father, Bassem Tamimi, who has been accompanying her.
"On the Champs-Elysees in Paris, we were surrounded by hundreds of people who wanted to talk to Ahed and take pictures with her," her father said. "The same thing happened in every other city we visited."
In a sign of her mainstream appeal, Tamimi recently wrote a first-person account of her time in prison for Vogue Arabia, a Middle Eastern edition of the popular fashion magazine.
"I want to be a regular 17-year-old. I like clothes, I like makeup. I get up in the morning, check my Instagram, have breakfast and walk in the hills around the village," she wrote. "But I am not a normal teenager."
Israeli officials have remained silent throughout her tour — with one exception. Tamimi's reception at Real Madrid, where she met the legendary striker Emilio Butragueno and received a team jersey with her name on it, was too much to bear.
Foreign Ministry spokesman Emmanuel Nahshon called the team's embrace of Tamimi "shameful" in a Twitter post. "It would be morally wrong to stay silent while a person inciting to hatred and violence goes on a victory tour as if she is some kind of rock star," he said.
Israel faces a dilemma — wanting to respond but fearing criticism will attract even more attention.
Michael Oren, Israel's deputy minister for public diplomacy and a former ambassador to the United States, learned a bitter lesson when he acknowledged earlier this year leading a secret investigation into whether the Tamimis were "real" Palestinians.
He said their light features, Western clothes and long history of run-ins with Israeli forces suggested that they were actually paid provocateurs out to hurt the country's image. The investigation concluded that the family was indeed real — prompting mockery and racism accusations from the Tamimis.
Tamimi is reflective of changing Palestinian sentiment. Where an older generation of political leaders sought either armed struggle or a two-state solution with Israel, many younger Palestinians have given up on the long-stalled peace process and instead favor a single state in which Jews and Arabs live equally. Israel objects to a binational state, saying it is merely an attempt to destroy the country through a nonviolent disguise.
"Israel is unhappy because she highlights to the world both how unjust the occupation is and how absurd their legal system is," said Diana Buttu, a former legal adviser to the Palestinian Authority. "Israel instead wants subservient Palestinians who simply stay quiet in the face of the denial of freedom. Ahed shows that won't happen — including not with this generation."
Hendel, the former Israeli government spokesman, said he initially supported Israel's tough response to the slapping incident but now thinks it was an error. He said issuing a fine or punishing her parents for their daughter's actions might have generated less attention.
He acknowledged there is a broader problem for which Israel does not seem to have a good answer.
"She's powerful, part of a sophisticated machine that tries to delegitimize Israel by using photos and creating scenarios that portray Israel as Goliath and the other side as David," he said. "It is much easier to fight terrorism than to fight civilians motivated by terrorist leaders. I think Tamimi in this story is a kind of a front line for a much bigger organization, or even a process."
Tamimi could continue to frustrate the Israelis for many years to come. She completed her high school studies in prison and now hopes to study international law in Britain. She dreams of one day representing the Palestinians in institutions like the International Criminal Court.
Full report at:
http://www.arabnews.com/node/1391296/middle-east
---------
URL: https://www.newageislam.com/islamic-world-news/pakistan-india-under-new-threat/d/116679
New Age Islam, Islam Online, Islamic Website, African Muslim News, Arab World News, South Asia News, Indian Muslim News, World Muslim News, Women in Islam, Islamic Feminism, Arab Women, Women In Arab, Islamophobia in America, Muslim Women in West, Islam Women and Feminism