New Age Islam News Bureau
27 December 2020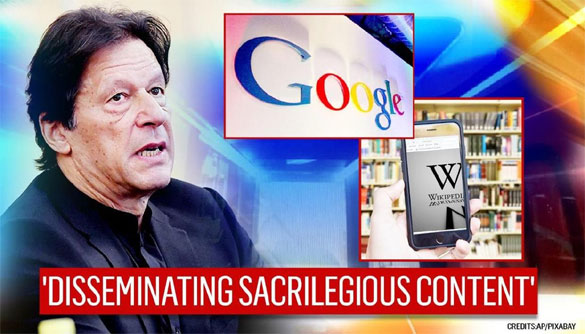 • Pakistan Has Sent Notices To Google And Wikipedia Over Content Like Caricatures Of Prophet Mohammed And An 'Unauthentic' Version Of The Quran
• Jacob's Classmates Choked, Beat And Stabbed Him For Being A Muslim
• Maldivian Religious Scholars Are In Favour Of Letting The Muslim Sri Lankan Covid Dead Buried In Their Country
• Members of the Islamic Movement in Nigeria Worship In Church To Celebrate Christmas With Christians
• 'We Are Protecting Nature, Improving Quality Of Life': Head Of Saudi Arabia's New Environmental Security Force
• First Church-Mosque Complex Inaugurated In Chechnya
• Iran: Targeting Mullahs' Judiciary in Karaj- Centre for Sentencing of Torture and Executions
• Brunei Sees Rise In Muslim Converts
Pakistan
• Pakistan Has Sent Notices To Google And Wikipedia Over Content Like Caricatures Of Prophet Mohammed And An 'Unauthentic' Version Of The Quran
• PPP, JUI-F downplay Fazl's absence from Larkana event
• IHC points to systematic regularisation of illegalities in Islamabad
• Kamal asks PM to reverse cabinet decision on census, hold LG polls
------
North America
• Jacob's Classmates Choked, Beat And Stabbed Him For Being A Muslim
• Biden warns of 'devastating consequences' in push for Trump to sign COVID relief package
• Three UN peacekeepers killed in CAR ahead of Sunday's elections
• Trump pardons of Blackwater contractors an 'insult to justice'
------
South Asia
• Maldivian Religious Scholars Are In Favour Of Letting The Muslim Sri Lankan Covid Dead Buried In Their Country
• South Korea Military To Launch Vegan Diet For Vegetarians, Muslims Next Year
• Two Afghan policemen killed as Kabul hit by bomb blasts
• Taliban Killed in ANA Retaliations
• Elections Are 'Far More Secure' in Afghanistan Than U.S: Trump
-------
Africa
• Members of the Islamic Movement in Nigeria Worship In Church To Celebrate Christmas With Christians
• Morocco Ruling Party Declares Support To PM Over Normalization Agreement With Israel
• Muslims, Christians Attend Christmas Service In Kaduna
• 11 Nigerians killed by Boko Haram in Christmas Eve attack
• Boko Haram kidnaps 40 loggers and kills three in north-east Nigeria
-------
Arab World
• 'We Are Protecting Nature, Improving Quality Of Life': Head Of Saudi Arabia's New Environmental Security Force
• KAFD Grand Mosque Wins Prestigious Int'l Architecture Award
• Custodian of the Two Holy Mosques Delegates GCC Secretary General to Invite Gulf Leaders to Attend 41st GCC Summit in Riyadh
• Shia group denies link to threats against Iraq premier
• Saudi crown prince sparks rush for vaccine as registrations jump fivefold
-------
Europe
• First Church-Mosque Complex Inaugurated In Chechnya
• Russian agents foil 'Islamic State' terror attack
• Islamophobia In Germany: Police Handcuff Muslim Woman On Pretext Of Not Wearing Mask
• Azerbaijan draws attention of UNESCO on destroyed sites; Armenians kept pigs inside mosques
--------
Mideast
• Iran: Targeting Mullahs' Judiciary in Karaj- Centre for Sentencing of Torture and Executions
• Al-Aqsa preacher call on Palestinians to unite and support Al-Aqsa Mosque
• Israel's policies toward Palestinians 'unacceptable': Erdogan
• Pope sends message to world about Yemeni children
• IDF: Our subs sail everywhere; Iran: Our response to any attack will be strong
• Why oil makes Gulf countries vulnerable to Iran
-------
Southeast Asia
• Brunei Sees Rise In Muslim Converts
• RMHTC to strengthen Russia-Malaysia collaboration, act as a springboard into Asean market
• In swipe against Anwar, Mukhriz says won't back PM appointed with help of corrupt Umno leaders
• Dialogues on issues concerning Malay/Muslim Singaporeans to be held next year
-------
India
• BJP MLA Raja Singh Accuses Srisailam MLA Of Promoting Muslims In Temple Town
• MP 'love jihad' Bill tougher, but limits who can file FIR
• Muslim Body Jamaat-e-Islami Hind Condemns Raid On Advocate Mehmood Pracha
• UP Love Jihad: Over 35 Arrests, Dozen FIRs Under New Anti-Conversion Law In A Month
Compiled by New Age Islam News Bureau
URL: https://www.newageislam.com/islamic-world-news/pakistan-sent-notices-google-wikipedia/d/123893
------
Pakistan Has Sent Notices To Google And Wikipedia Over Content Like Caricatures Of Prophet Mohammed And An 'Unauthentic' Version Of The Quran
By: Deutsche Welle | December 26, 2020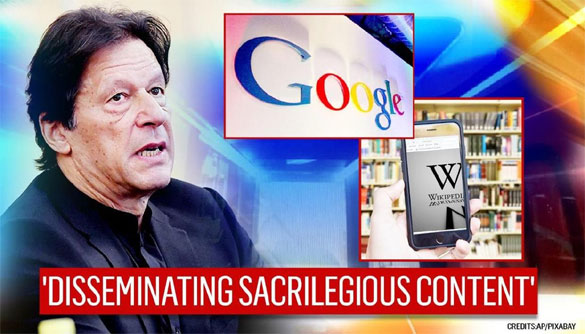 Pakistan regulators on Friday decried internet giants Google and Wikipedia for "disseminating sacrilegious content."
The Pakistan Telecommunication Authority (PTA) called for the immediate removal of "unlawful content" from Google. The regulators pointed to pages that name religious leader Mirza Masroor Ahmad as the current "Khalifa" or leader of Islam, thus contradicting dominant religious beliefs in the country. They also decried an "unauthentic version of Holy Quran" on Google Play Store.
"Complaints were also received regarding hosting of caricatures of Holy Prophet (PBUH) and dissemination of misleading, wrong, deceptive and deceitful information through articles published on Wikipedia portraying Mirza Masroor Ahmad as a Muslim," the PTA said in a statement published on its official Twitter handle.
Mirza Masroor Ahmad is honored as a Khalifa by members of the Ahmadiyya Muslim community, a persecuted minority in Pakistan.
"In case the platforms remain non-compliant, PTA shall be constrained to initiate further action under Prevention of Electronic Crimes Act 2016 (PECA) and Rules 2020," the Pakistani regulator added.
Clampdown on TikTok, Tinder, Grindr
In recent months, the government of Pakistan has sought to exercise greater control over the digital sphere by approving a draft policy which critics say opens the door to mass censorship.
The move triggered a backlash from rights groups and tech companies, with activists saying that authorities are seeking to control the digital space to prevent criticism against the government and Pakistan's powerful military.
In October this year, Pakistan banned video-sharing platform TikTok over objectionable content. Weeks earlier, the country had banned several dating apps, including Tinder and Grindr, in a bid to restrict "immoral" and "indecent" content.
https://indianexpress.com/article/world/pakistan-google-wikipedia-sacrilegious-content-7120811/
--------
Jacob's Classmates Choked, Beat And Stabbed Him For Being A Muslim
Ibrahim Hooper
December 26, 2020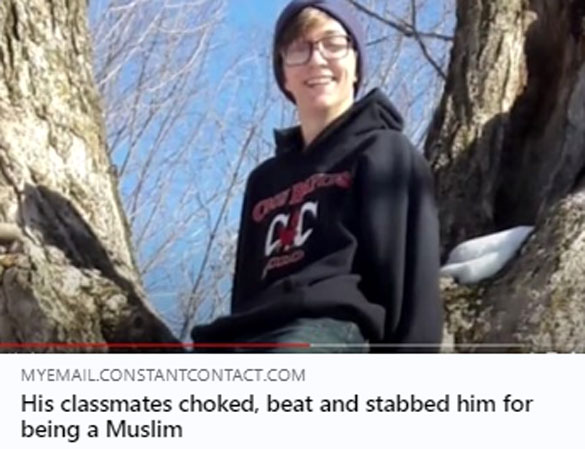 Jacob was just a child when his classmates choked, beat and stabbed him for being a Muslim. He ended up in a hospital with a concussion and covered in bruises — twice. When Jacob's mother begged school officials to intervene, they did nothing. In fact, some teachers and administrators responded by harassing Jacob more. The bullying continued until Jacob tragically died by suicide.
At our national office alone, CAIR's legal team received more than 1,500 complaints this year, and we currently represent more than 200 clients across the country.
Although the Trump administration is coming to an end, its bigoted policies and rhetoric have already had a devastating impact: a dangerous increase in hate and violence against the Muslim community and other minorities.
American Muslims call CAIR for help because they count on us to defend them from bigotry and discrimination. Can we count on your financial support so that we can continue helping these people?
https://www.cair.com/press_releases/his-classmates-choked-beat-and-stabbed-him-for-being-a-muslim/
------------
Maldivian Religious Scholars Are In Favour Of Letting The Muslim Sri Lankan Covid Dead Buried In Their Country
26 December 2020
A protestor holds a placard during a demonstration against the government policy of forced cremations of Muslims who die of the Covid-19 — 23 December 2020, Colombo, Sri Lanka. Photo: Lakruwan Wanniarachchi — AFP via Getty
-----
N Sathiya Moorthy
At a time when Muslim brethren in neighbouring Sri Lanka continues to be agitated over their government's decision not to let their Covid-19 dead buried, as is the religious custom, but only cremated, a public discourse is on in Maldives over the decision to let those Sri Lankan dead buried in the country. Going by media reports, a purported majority of Maldivian religious scholars are in favour of letting the Sri Lankan Covid dead buried in their country.
Trouble started in Sri Lanka when, in the early weeks of the pandemic, the nation's health authorities reportedly advised the government of President Gotabaya Rajapaksa not to let the Covid dead of any community buried, as contaminants could pollute underground waters and cause further escalation on land. Not only Muslims and Christians, but even a section of the majority Sinhala-Buddhist community bury their dead, but there is no hard and fast rule among them, as is the case with the other two religious' denominations.
The Sri Lankan government's decision became a hotly-contested political issue after the World Health Organisation (WHO) cleared burial as a safe procedure for disposing of Covid dead. With the result, Islamic and Christian nations across the world have been burying their dead. But the Sri Lankan government is unbending. In the light of last year's 'Easter Sunday serial blasts' involving some Muslim perpetrators, and the post-war Sinhala-Buddhist nationalists' wanton attacks on Muslim establishments and places of worship, they see a state-sponsored design to marginalise the community even more.
The Maldivian discourse on burying the Sri Lankan Covid dead assumes significance in this context, considering that the archipelago-nation is exclusively a Sunni-Islam nation, as mandated by a democratic Constitution. Questions have been raised in both countries about the wisdom of the Sri Lankan government decision, despite the WHO clearance for burial, especially after Prime Minister Mahinda Rajapaksa recently declared that they would approve Covid vaccines on the island only after WHO approval.
In the context of their government's perceived 'double-talk' on WHO approvals on Covid, Muslim community leaders in Sri Lanka apprehend further trouble for them all after the next round of decennial Census, pointing out how trouble for them started/revived after the post-war census, where their numbers had registered a substantial rise. Indications were that Muslims were inching towards becoming the nation's second largest ethnicity after the Sinhala-Buddhists over the coming decades, if not already.
In a tweet announcing Maldives President Ibrahim Solih's decision to let Sri Lankan Covid dead from the Muslim community buried in Maldives, Foreign Minister Abdulla Shahid said it was "based on the close long-standing bilateral ties. This assistance will also offer solace to our Sri Lankan Muslim brothers and sisters grieving over the burial of loved ones." Earlier, former minister and leader of the Sri Lanka Muslim Congress (SLMC), Rauff Hakeem, submitted a memorandum to Umar Razzaq, the Maldivian High Commissioner in Colombo, outlining the "stance of the country's Muslim community, which seeks to bring an end to discriminatory policies." Hakeem highlighted how Sri Lanka was the only country to deny Islamic burials and how the decision was in "sharp contrast to the recommendations of the world's leading scientific and medical communities."
However, no Muslim politician in Sri Lanka had bothered to let the predecessor government, of which they were a part of, to publicise detailed census figures, which the post-war regime of President Mahinda Rajapaksa had held back.
Today, the Maldivian discourse, thus, centres around the immediate assistance that the nation could offer to their Muslim brothers across the Ocean, and the long-term consequences of the Sri Lankan government decisions viz a vis the island's Muslim population.
The Maldivian community is also equally aware of the precarious nature of their locus standi in the matter, especially vis a vis the nation's greater dependence on Sri Lanka in economic terms, and otherwise too. Apart from the bilateral trade, on which the Maldivian economy and daily living depends, apart from the imports from India, many Maldivians have a second home in Sri Lanka. The links go back by century, and the people-to-people contact increased through the last century, especially after the tourism-centric Maldivian economic boom.
Many Maldivians have a second home in Colombo or elsewhere in Sri Lanka, especially for their children to get what tantamount to the best of school education in South Asia. It had begun with the Maldivian government of Prime Minister Ibrahim Nasir — who later became the President — who had directed the nation's Trade Office in Colombo to play guardian to school children, sent for secular education in Anglicised school.
The scheme continued vigorously, at least until the archipelago's government-run school increased in numbers and began adopting the British Cambridge scheme and curriculum, under successor Maumoon Abdul Gayoom. However, the number of Maldivian families staying in Sri Lanka, and camping in south Indian cities of Bengaluru (Karnataka State) and Thiruvananthapuram (Kerala) has only increased, as recently-affluent families became alive to the possibilities, and could also afford to maintain a business office and/or home there.
There is also a flip side to the Maldivian position on burying the Sri Lankan Covid dead, though unaired in public. Islam deems it a dishonour and sacrilege to put a knife on the dead. Hence, the bodies of Maldivian dead from accidents, murders and suicides are being air-lifted to Colombo, for the legally-required post mortem examination. For the same reason, an Indian education entrepreneur keen on opening a medical school on an uninhabited Maldivian island, for dollar-paying overseas students, with certain percentage reserved for locals, could not proceed in the matter.
Maldives also requires Sri Lankan assistance in terms of long-distance overseas travel, for both its leaders and common people. There is also a lot of cooperation between various law-enforcing agencies in the two countries, which needs to go on unhindered, in terms of curbing drug-smuggling across Oceans and nations, for which the two island-nations have become an international hub. At the height of the 'ISIS war' in Syria, then Maldivian government of jailed President Abdulla Yameen counted on Sri Lankan authorities to turn in misguided nationals who were smuggling themselves or others to the war-front, at times with their unsuspecting wife and infant children.
Participating in the social media debate on letting Sri Lankan Covid dead buried in Maldives, former President Gayoom, who is also an acknowledged religious scholar who studied theology in Al-Azhar University, Egypt, tweeted against the government decision. The government was not obligated to do so under religious tenets, he said in two tweets, adding that such a course would also 'support mistreatment' of Muslims in Sri Lanka.
From among other religious scholars who backed the government's decision, the likes of Dr Mohamed Iyaz also cited assistance to "Sri Lankan Muslim brothers who are being ill-treated" in their country, as justification. "In my opinion, I think, it is an obligation of the Maldives as an Islamic nation to assist Sri Lankan Muslims," Dr Iyaz said, as if to contesting President Gayoom's opposition to the move.
Dr Iyaz said that "Maldives should assist Muslims everywhere around the globe," and added that the move would also bring relief to the thousands of Maldivians living in Sri Lanka. Citing scriptures, he said "the best that can be done to forbid the cremation of Muslims, is by bringing their bodies to the Maldives and burying them according to the Shariah."
Dr Iyaz did not mince words when he claimed, "If that (burial of Sri Lankan Muslims in Maldives) is not arranged, Maldivians would also be cremated under the power of the Buddhists of Sri Lanka…. In Sri Lanka, Muslims are cremated because the Buddhists have power over the Muslims." It is thus in the best interest to prevent the cremation of bodies by moving the bodies of the deceased from one location to another, even if the custom states that the dead are to be buried as soon as possible, he added.
Taking what reads like a political position, Sheikh Ali Zaid, another religious scholar said that "some of the Opposition would point out the vileness of the government if they had not assisted the Muslims of Sri Lanka. Now that they are assisting, it is being disapproved." Likewise, Sheikh Ilyas Hussain, another scholar, too, has backed the government decision.
For his part, Islamic Minister Dr Ahmed Zahir said that the burial arrangement of Sri Lankan Muslims in the Maldives was a good deed and an important one at that. Other scholars too have also described the move which will go down as a benevolent page of the history books.
Independent of scholarly views and public sentiments in Maldives over burying the Sri Lankan Muslim Covid dead in their country, Colombo's decision of the kind could have medium and long-term consequences for the future, in terms of collective security of the two nations. It could also involve their common Indian neighbour. Sri Lanka and Maldives especially have to be aware of and alive to the possibilities.
In the midst of the Sri Lankan controversy, the National Security Advisors (NSA) of the three nations met in Colombo to upgrade their 'maritime security cooperation' arrangement into one on 'maritime and security cooperation,' and cleared a secretariat in Colombo to coordinate their initiatives and efforts. It is an acknowledgement of the multifaceted nature of security threats to the three nations and their shared seas, including those pertaining to internal security issues.
Threat of religious terrorism links all three of them, as has been the case in the past. In 2015, Malaysian investigators shared with their Indian counterparts a plot for three Maldivians to bomb the US and Israeli consulates in south India. In the previous year, security agencies in southern Tamil Nadu apprehended a Sri Lankan national before emplaning for Colombo, to meet with his Pakistani ISI handles, posted in the nation's Colombo Embassy.
The involvement of Maldivian radicals in the ISIS war in Syria, with some of them dying for 'the cause' and Sri Lankan Muslims involved in what the government of the day said was a home-made act of 'Easter blasts,' the stakes are too high for the Indian Ocean neighbours. In context, further provocation in Sri Lanka, which was earlier confined to Sinhala-Buddhist zealots but has since upgraded into what will be mischievously misinterpreted as a State-sponsored act, can have very serious consequences, not only for the island-nation, but also for the other two and their shared waters.
This could include avoidable future strains in bilateral and trilateral relations, as the possibility of involvement of religious terror groups from either of the other two nations cannot be ruled out, and yet with the victim-nation blaming or at least suspecting the other two of collusion. They have an example in the Sri Lankan Easter blasts, where a section of the nation's political and strategic community pointed fingers at India, when the latter could be 'blamed' only for repeatedly alerting counterparts in Colombo about the impending catastrophe.
https://www.orfonline.org/expert-speak/maldives-discourse-burying-sri-lankan-covid-dead-turns-islamic/?amp
-------------
Members of the Islamic Movement in Nigeria Worship In Church To Celebrate Christmas With Christians
BY SAHARAREPORTERS
DEC 26, 2020
Members of the Islamic Movement in Nigeria known as Shia, on Christmas Day worshipped at one of the largest churches in Nasarawa, Evangelical Reformed Church of Christ (ERCC) Grace Land, Lafia to commemorate the birth of Jesus Christ.
Leader of the Islamic group in the state, Mallam Muhammad Amin, said they were at the church to rejoice with Christians, noting that the two major religions - Christianity and Islam - believe that Jesus Christ is the true Messiah.
He said, "We are today worshipping here with our Christian brothers and sisters to strengthen the bond of unity, oneness and pray for the healing and forgiveness of our country and Nasarawa in particular."
Also speaking, Mallam Zainab Mohammed said there should be no discrimination in worshipping God hence the need for people to tolerate one another irrespective of their religious beliefs.
Senior Pastor in charge of the church, Very Reverend Habila Anthony, had earlier announced the arrival of the Shiites, saying their visit was genuine, while urging the congregation not to panic.
The pastor described the visit by the sect to the church as a sign of unity and love that both religions preach.
http://saharareporters.com/2020/12/26/nasarawa-muslims-worship-church-celebrate-christmas-christians
-----------
'We are protecting nature, improving quality of life': Head of Saudi Arabia's new environmental security force
MOHAMMED AL-SULAMI
December 26, 2020
JEDDAH: In a speech on Nov. 12, Crown Prince Mohammed bin Salman announced that the proportion of Saudi Arabia's protected areas and nature reserves has increased from 4 percent in 2016 to about 14 percent today. The crown prince's address to the Shoura Council touched on the issue of conservation, the projects that the Kingdom was implementing for environmental protection and the role of the new dedicated unit, the Special Forces for Environmental Security (SFES).
The SFES currently has 1,100 employees, but this number will grow to 10,000 in the course of the next four years to enable it to protect the environment, wildlife and biodiversity across the Kingdom and to enforce laws and regulations in conservation areas.
In an exclusive interview with Arab News, SFES Commander Brig. Gen. Saher bin Muhammad Al-Harbi confirmed that the force was already operating in several natural reserves. He made it clear that the SFES's role is not limited to protecting wildlife and biodiversity, but goes beyond that. It penalizes activities that harm the environment such as illegal poaching and logging; prevents air, water and soil pollution; and prevents activities that could harm the natural ecosystems of mountainous, land and coastal areas.
Q: How many nature reserves fall within the ambit of the SFES?
A: The SFES has been entrusted with the protection of several natural reserves. They are Imam Saud bin Abdul Aziz Royal Reserve, Imam Turki bin Abdullah Royal Reserve, King Abdul Aziz Royal Reserve, King Khalid Royal Reserve, King Salman Royal Reserve and Prince Mohammed bin Salman Royal Reserve. The SFES uses modern technologies and advanced techniques for control, protection and monitoring of the areas where it is operating.
Q. How is the SFES working to achieve the objective aimed at improving the quality of life, a key objective of the Kingdom's 2030 Vision strategy?
A. Environmental safety is one of the indicators of sustainable development and an important element of the quality of life as stipulated in the Kingdom's 2030 Vision. It will contribute to the enforcement of environmental regulations in the Kingdom in order to reduce the pressure of violations that ecological systems are facing, restore their balance, achieve their sustainability and contribute to the improvement of quality of life and establishment of a society where all its members benefit from healthy lifestyles and surroundings that allow them to live in a positive, attractive environment.
The SFES was established to take on comprehensive tasks and responsibilities and enforce environmental regulations in all the protected regions across the Kingdom. Its duties include environmental security monitoring; environmental security investigation; detaining and arresting offenders; seizing objects used for committing offenses and issuing violation tickets; referring violators to competent authorities; and providing security back-up and support.
Its duties also cover receiving and following up on complaints, taking part in environmental emergencies, and participating in environmental awareness-raising efforts in cooperation with relevant bodies. The force also contributes to the development of policies, strategies and plans related to environmental enforcement, again in partnership with the relevant bodies.
Q. Do you have a role in protecting conservation areas from activities such as alteration of topographical features, leveling of mountains or arbitrary dredging of sand for use in construction?
A. The SFES works for the protection of conservation areas against all harmful influences such as illegal poaching and logging; air, water and soil pollution; and activities that could harm the ecosystems of mountainous, land and coastal areas.
It also works to prevent any tampering with the vegetation in Makkah and Madinah regions, limit the spread of such activities, and enforce regulations against violators, while also cooperating with Public Security and other relevant bodies that have jurisdiction over these areas, to prevent their occurrence.
Q. The Kingdom's land area is vast, with diverse terrain that is home to many species. How do you intend to cover a country of this size?
A. As part of its deployment plan, the SFES intends to focus on those parts of the country that hold special significance from an environmental standpoint. It will make use of the latest modern equipment and advanced technologies to cover the vast land area that falls within its scope, including regions that have rough terrain. The SFES cooperates with other security and environmental bodies and benefits from their support in doing its job.
The SFES has responsibility for all the environmentally significant areas of the Kingdom. They include royal reserves, forests, grasslands, parks, coastal stretches, bird sanctuaries, urban areas, suburbs, industrial zones, water resources, roads and their surrounding areas, land-border areas and marine protected areas.
In addition to the SFES, allied groups are also watching over nature reserves such as the Sharaan Nature Reserve near the town of al-Ula in northwestern province of Tabuk (Photo by Fayez Nureldine / AFP)
This means that it covers a geographical area of almost 800,000 square kilometers across the Kingdom through a main center located in Riyadh, six headquarters in the regions and 21 departments in cities and provinces, encompassing all the environmentally significant regions.
Work will also be initiated to establish additional departments in the provinces in a way that ensures that all the environmentally significant regions of the Kingdom are covered. The forces will be deployed geographically in stages over a period of four years.
Q. Poaching, which has led to the extinction to many wildlife species, is a problem in the Kingdom. What are you doing to bring it under control?
A. In its areas of operations, the SFES monitors all hunting activities and areas of importance for birds, arrests poachers, issues violation tickets against them and refers them to the competent authorities for the remaining procedures to be completed. We have noticed a significant decrease in hunting in the areas where the SFES has a presence. Wild animals and birds will hopefully find safe havens, leading to the recovery and flourishing of the Kingdom's wildlife.
Q. What are the penalties for hunting with firearms? Will new environmental security violation regulations be issued?
A. Those who hunt without a license using any method are arrested and referred to the competent authorities to be meted out punishment in accordance with the relevant regulations, keeping in mind that hunting with firearms is prohibited in any situation.
As for poaching penalties, they consist of a fine of up to SR 50,000 ($13,333) or imprisonment for a period of up to 30 days, along with the confiscation of any vehicles or equipment used to commit the violation.
Regarding protection of wildlife, there exist regulations and penalties for violations, and new regulations will be issued in the near future in accordance with the environmental protection regime stipulated in Royal Decree no. m/165.
Q. There are specific hunting seasons, but what are they? How will you prevent hunting beyond these seasons?
A. The specific hunting seasons are identified by the relevant authorities of the Ministry of Environment, Water and Agriculture, while licenses are issued to those interested in hunting activities in accordance with the regulations.
The Ministry of Environment, Water and Agriculture, represented by the National Center for Wildlife Development, recently announced that hunting will be allowed between Nov. 1, 2020, and Jan. 15, 2021. It will be permitted subject to clear controls and regulations as announced by the ministry, which cover the species that can be hunted, the equipment that can be used, and the areas where hunting can happen.
The SFES will be in charge of arresting all those who violate the regulations. All forms of hunting are prohibited outside these seasons. The SFES will enforce regulations in its areas of operations through environmental security monitoring and investigation.
Q. Environmental awareness is of vital importance. What are your most plans for advancing this objective?
A. Taking part in environmental awareness-raising campaigns in cooperation with the relevant authorities is one of the most important tasks of the SFES.
It uses its media division and communication channels to increase awareness and to educate society on the importance of environmental conservation, community involvement through cooperation with the relevant public and private sectors; and participation in local and international events that promote environmental protection.
We believe that citizens and residents are partners when it comes to raising environmental awareness.
The SFES has developed programs to encourage community participation by partnering with civil society institutions and environmental associations and reaching out to the largest number of people possible. The SFES is also keen to take part in local and international festivals, exhibitions, conferences and activities related to environment and environmental security.
https://www.arabnews.com/node/1783331/saudi-arabia
-----------
First church-mosque complex inaugurated in Chechnya
Source : Taghrib News
December 27, 2020
The first church-mosque complex is inaugurated in Chechnya by head of Russia's National Guard and Ramazan Kadyrov, head of Chechen Republic.
The complex includes a church named after Holy Prince Daniil of Moscow and the mosque is named after the hero of the Soviet Union Movlid Visaitov.
Rosgvardia director Viktor Zolotov in his remarks called Russia as a land supportive of traditional values and religious institutes.
Head of Russia's National Guard added," Opening of the first worshipping complex stands for interaction and cooperation between religious and international beliefs" stressing that the interaction cannot be undermined.
Ramezan Kadyrov noted," Opening this complex shows the unity of Islam and Christianity and also solidarity of Russian nation with other nations.
Chechnya president referred to the historical importance of building the first worshipping complex in the country in line with unifying the Orthodox Church and mosque and said," Islam and Christianity call all to love and mutual respect and nobody can create hate in their relation."
Both worshipping places are identical in size each one can seat up to 200 people at a time and verses from the holy Qur'an and Bible are inscribed in the central part of the complex.
Akhmat-Khadzhi Kadyrov Regional Public Foundation has funded for construction of the unique Islam-Christianity complex.
https://en.abna24.com/news//first-church-mosque-complex-inaugurated-in-chechnya_1099894.html
-------------
Iran: Targeting Mullahs' Judiciary in Karaj- Centre for Sentencing of Torture and Executions
by (NCRI)
26th December 2020
In the early hours of Friday, December 25, 2020, in response to the inhumane act of destruction of the people's house in Ilam, the defiant youth targeted the regime's Prosecutor's Office in Karaj, a centre for the repressive sentences of execution, torture, and imprisonment in Alborz Province, and set the entrance to the site on fire.
Defiant youths also targeted the IRGC's repressive recruiting centres in Hamedan and Kish Island, setting fire to their entrance signs.
The activities of the defiant youth were greatly welcomed by the people of the region.
https://www.ncr-iran.org/en/ncri-statements/statement-iran-protest/iran-targeting-mullahs-judiciary-in-karaj-center-for-sentencing-of-torture-and-executions/
-----------
Brunei sees rise in Muslim converts
Azlan Othman
December 27, 2020
Brunei continues to see an increase in Muslim converts, with 414 people having embraced Islam since the start of this year. As of December 19, 94 of which belonged to the Iban community, statistics revealed.
On Friday, an Iban family comprising Michal anak Mang and his family converted to Islam by reciting the Syahadah at a ceremony in Kampong Sumbiling Lama, Temburong District.
The ceremony began with the recitation of Sayyidul Istighfar and Surah Al-Fatihah followed by the recitation of Syahadah by Michal, 42, who chose his Islamic name Muhammad Anshary Amrullah bin 'Abdur Rahim.
His wife Madeline anak Lusing, 37, is now known as Nur Safirah binti Abdullah Lusing while their son Sebastian Juman, 10, has taken the name Muhammad Safiyuddin bin Muhammad Anshary Amrullah.
ABOVE & BE;OW: Muhammad Jaad Jameel Junsay bin Abdullah and Keysha Marcos binti Abdullah; and Muhammad Zul Fadhli bin Abdullah Berauh, Muhammad Anshary Amrullah bin 'Abdur Rahim, Muhammad Safiyuddin bin Muhammad Anshary Amrullah and Nur Safirah binti Abdullah Lusing recite the Syahadah at separate ceremonies. PHOTOS: IZAH AZAHARI & LYNA MOHAMAD
Deputy Minister of Religious Affairs Pengiran Dato Seri Paduka Haji Bahrom bin Pengiran Haji Bahar as the guest of honour presented souvenirs to the converts.
Members of Jeep Owners Group Brunei (JOGB) also attended the ceremony and presented souvenirs and basic necessities to the new converts as well as other less fortunate converts in the Temburong District.
Astronomer and surveyor Haji Khairul Abidin bin Haji Sulaiman, as a representative of the Surveyor General at the Survey Department handed over the Qiblat marker to the new converts.
The deputy minister and delegation also took the opportunity to visit Kampong Sumbiling Lama Longhouse and mingled with the longhouse occupants, and participated in an opening ceremony of the Islamic Da'wah Centre Bookrack for the longhouse.
Meanwhile, two Filipino nationals embraced Islam after reciting the Syahadah at a conversion ceremony at The Rizqun International Hotel in Gadong, on Friday.
Dolores Marcos Mercado, 46, has chosen the Muslim name Keysha Marcos binti Abdullah, while Jaillord Rodavites Junsay, 31, is now known as Muhammad Jaad Jameel Junsay bin Abdullah.
Islamic Da'wah Centre Director Haji Abdul Rajid bin Haji Mohd Salleh presented gifts to the new converts.
https://borneobulletin.com.bn/2020/12/brunei-sees-rise-in-muslim-converts-2/
------------
Pakistan
PPP, JUI-F downplay Fazl's absence from Larkana event
Amir Wasim
27 Dec 2020
ISLAMABAD: There is a general perception among the opposition parties that after facing a revolt-like situation in Balochistan and Khy­ber Pakhtunkhwa, Jam­iat Ulema-i-Islam (JUI-F) chief Maulana Fazlur Reh­man has considered it better to skip the PPP-hosted gathering of the Pakistan Dem­ocratic Movement (PDM) leaders at Larkana on Sun­day (today) to avoid a similar situation in Sindh.
Though officially both the Pakistan Peoples Party (PPP) and the JUI-F are downplaying the absence of the Maulana from the Larkana rally on the occasion of the 13th death anniversary of former PPP chairperson Benzair Bhutto, background interviews of opposition leaders reveal the Maulana has decided to abstain from the event after getting reports that there is a group within the party's Sindh chapter which was opposed to the idea of JUI-F taking part in the public meeting due to local rivalry between the two parties.
While announcing that a five-member JUI-F delegation under Maulana Abdul Ghafoor Haideri will represent the party in Larkana, JUI-F spokesperson Aslam Ghauri categorically den­ied the media reports that the Maulana was not atten­ding the public meeting due to some differences with the PPP.
Talking to Dawn, he said the Maulana had not been able to spend time in his hometown Dera Ismail Khan for the past few months and he had already scheduled some important meetings there since the Dec 27 event was not in the original plan announced by the PDM.
Similarly, a key PPP office-bearer on condition of anonymity said the party did not know exactly why the Maulana had decided to stay away from the PDM gathering despite being the president of the 11-party alliance. He said it was after getting the sense that the Maulana was thinking to avoid the Larkana gathering that former president Asif Zardari had himself talked to the Maulana and extended invitation to him. The other leaders, he pointed out, had been invited by PPP chairman Bilawal Bhutto-Zardari.
The PPP leader said the party was thinking that the Maulana would not be able to refuse Mr Zardari's invitation due to a personal relationship between the two. However, he said, the Maulana's refusal was surprising for them.
Responding to a question, he said the Maulana might have told the actual reason to Mr Zardari for his decision, but the other party leaders were unaware of it.
Many in the PPP believe it was perhaps because of a rift within the Sindh chapter of the JUI-F that the Maulana had decided not to attend the public meeting, particularly after the recent revolt by some senior party members from Balochistan and the KP. They recalled that the JUI-F Sindh in general and Larkana in particular had always played the role of opposition and they had become more hostile after the assassination of the party's senior leader Khalid Soomro in 2014.
They said for the past many years, the JUI-F Sindh chapter had been holding protest demonstrations and rallies on the occasion of Benzair Bhutto's death anniversary to demand the arrest of the perpetuators of the terrorist attack on Mr Soomro.
Dr Khalid Soomro, who was the secretary general of the Sindh chapter of the JUI-F, was gunned down while he was offering Fajr prayers at a mosque adjacent to Madressah Haqqania in Sukkur's SITE area on Nov 29, 2014. A complete strike was observed in Larkana and Qambar-Shahdadkot districts and adjoining towns and processions were taken out in protest against the murder.
The police claim to have arrested the murderers of Mr Soomro, but the JUI-F alleges that the arrested people were only "rented killers" and the real culprits had not been identified or arrested so far.
"We are the real opposition to the PPP government in the interior Sindh and our party has never ever participated in the death anniversary function of the late Benazir Bhutto," said a JUI-F leader, requesting not to be quoted.
He said the JUI-F was opposed to the PPP's governance style in Sindh and was playing the role of the real opposition in the province. He said the JUI-F had been a part of Larkana Awami Ittehad and it was because of the party's strategy that the PPP had lost the seats in its stronghold. He said the JUI-F and the PPP were together only because of the PDM declaration.
The JUI-F leader said that recently after the death anniversary of Mr Soomro in Larkana, the local administration on the directives of the deputy commissioner removed the party flags and banners from the city over which the party lodged a strong protest. It was after the JUI-F's protest that the deputy commissioner visited the party office and apologised over the incident.
Talking to Dawn, PPP secretary general Nayyar Bokhari said he did not believe that the Maulana was not attending the public meeting due to some "local political issues." He said the two parties were united on the PDM platform despite having different ideologies for a common and bigger cause of removing the present "fake government".
He said the PPP always fielded candidates against the JUI-F chief in KP and never provided an open field for him. Similarly, he said, the JUI-F always contested elections against the PPP in Larkana.
https://www.dawn.com/news/1598071/ppp-jui-f-downplay-fazls-absence-from-larkana-event
-----------
IHC points to systematic regularisation of illegalities in Islamabad
Malik Asad
27 Dec 2020
ISLAMABAD: Regularisation of illegalities has become a norm in the federal capital and it must end "if rule of law has to be restored", observed Islamabad High Court (IHC) Chief Justice Athar Minallah in the judgement passed in a case pertaining to Punjab Senior Minister Aleem Khan's private housing society.
"It has been consistently observed and the same is the case in the petitions in hand that the Authority and public functionaries allow glaring violations of the law by looking the other way and once the damage has been done then resort is made to the policy of regularisation of the illegalities and blatant abuses of the law," the court order said.
The Capital Development Authority (CDA) recently approved the layout plan of the Banigala house of Prime Minister Imran Khan under new bylaws approved by the federal cabinet last year. The regularisation of luxury apartments of Grand Hyatt is also in final stages and the authority has given an undertaking to the Public Accounts Committee on restoring the lease of the cancelled plot to the BNP Group.
As per the court order in Aleem Khan's private housing society case, the phenomenon [of regularisation] has become so common that it seems to have assumed the status of a norm.
"Regularisation means condoning serious illegalities and abuse of enforced statutes and that too for a negligible fine. This phenomenon without doubt has been the pivotal factor for erosion of the rule of law in the capital of the country. It encourages the unscrupulous and condemns the law abiding citizens. When it is no more a rare exception, it becomes a norm and then it leads to chaos and anarchy and thus the rule of law is eroded."
The court order said the phenomenon of rewarding illegalities under the garb of 'regularisation' must end if the rule of law has to be restored. It noted that the creation of interests of bona fide purchasers is used as a ground for condoning gross illegalities.
Justice Minallah stressed the need for devising "a policy of zero tolerance for violations of the law and strict accountability of those who opt to jeopardise the constitutionally guaranteed rights of the law abiding citizens".
"The applicants who claim to be bona fide purchasers have no legal right to claim immunity for the gross violations and abuse of law committed by the company and the authority," he said.
The CDA and the federal government ought to demonstrably show a will to make the case in hand an example of restoring rule of law and making all those accountable who were responsible for abuse and violation of law, the court ruled.
In the judgement, Justice Minallah declared the Park View Society 'illegal'. The court order made it clear that the case falls under the ambit of the National Accountability Ordinance and "the public functionaries and the beneficiaries to be proceeded against for the offence of corruption and corrupt practices defined under the Accountability Ordinance 1999 commonly, the law which governs the National Accountability Bureau (NAB)".
The court declared the no-objection certificate (NOC) issued in favour of Park View City and acquisition of land by the society as illegal and referred the matter to the federal cabinet for taking appropriate action against the public functionaries.
Park View City was being developed in an inaccessible area and as per the CDA's record the permission to use the land was given to the society in June 2018 when Usman Akhtar Bajwa, additional secretary at the Prime Minister's Office, was the CDA chairman.
Later, during the tenure of Afzal Lateef, the incumbent secretary industries, as the CDA chairman, permission to use the access road was further cemented by the mutation of some areas in favour of the CDA that connected the project to the civic authority's land.
The matter was pursued by the CDA's planning wing, headed by then member planning Asad Mehbood Kayani, who later retired.
https://www.dawn.com/news/1598078/ihc-points-to-systematic-regularisation-of-illegalities-in-islamabad
------------
Kamal asks PM to reverse cabinet decision on census, hold LG polls
Azfar-ul-Ashfaque
27 Dec 2020
KARACHI: Pak Sarzameen Party chairman Syed Mustafa Kamal demanded on Saturday that Prime Minister Imran Khan reverse the federal cabinet decision to approve the controversial National Census-2017 and hold local government elections across the country on the basis of the previous census results.
He also asked the Muttahida Qaumi Movement-Pakistan to part ways with the Pakistan Tehreek-i-Insaf government and sit on opposition benches if it was really against the cabinet decision.
"The PSP will never accept this census as it is a matter of life and death for us. If our demand is not met, it means they are still not considering us as Pakistanis," he told a press conference held at the party's Pakistan House headquarters.
Accompanied by party president Anis Kaimkhani and others, Mr Kamal said it was an open secret that Karachi's total population was not counted in the sixth population census held in 2017 but despite this the PTI and the MQM-P had accepted the results of "fake and controversial" census a few days ago.
He said that the chief justice of Pakistan was on record saying that the population of Karachi was not less than 30 million. He said that the correct population of Karachi could be known by just checking the record of the National Database and Registration Authority that had issued 25 million identity cards in Karachi compared to the census figures that showed Karachi's population as 15m.
Mr Kamal once again heaped scorn on the MQM-P, saying its convener Dr Khalid Maqbool Siddiqui said that his party would go to the people to take their viewpoint whether to stay in government.
He said that the people would throw shoes at MQM-P leaders if they approached them while staying in the government. He advised the MQM-P to quit the ruling coalition, sit on the opposition benches and then go to the people to seek their opinion on the issue.
However, he said the MQM-P would never resign from the ministries in the federal cabinet and this was the only reason that it chose to write a mere dissenting note while the cabinet approved the controversial census.
He said the MQM never held a protest or gave a strike call on matters of public importance. He said the MQM talked about injustices with the city but did not mention that it "tolerated" all the oppression while enjoying ministries and power.
He alleged that Dr Siddiqui's name was mentioned in the joint investigation team report on some suspected RAW agents caught recently in Karachi that it was the MQM-P convener who took them to India. "This is the reason they would not quit ministries because they know they will be arrested as soon as they leave the government," he said.
Mr Kamal warned that a silent revolution on linguistic lines was knocking at the doors of the city but "we will not let it succeed as we are against it".
Mr Kamal said that Karachi was an unfortunate city as a military dictator had snatched the status of the country's capital from Karachi and set up an entire city to create an "artificial" capital.
He said that during the era of former prime minister Zulfikar Ali Bhutto industries and businesses, especially belonging to Urdu-speaking community, were nationalised and in the same way a gulf was created between the Sindhis and the Mohajirs through a rural-urban quota system that still existed.
He said the interior of Sindh was still under the control of landlords and feudals and Sindhis had left their ancestral homes in rural areas and migrated to the province's cities and Karachi.
He demanded a fair census for Karachi so that the Mohajirs, Sindhis, Pakhtuns, Punjabis, etc, could get their due rights as the number of National and provincial assembly seats in Karachi would be increased as per their true population.
https://www.dawn.com/news/1597967/kamal-asks-pm-to-reverse-cabinet-decision-on-census-hold-lg-polls
------------
North America
Biden warns of 'devastating consequences' in push for Trump to sign COVID relief package
Veronica Stracqualursi
December 26, 2020
President-elect Joe Biden has called on President Donald Trump to sign the bipartisan COVID-19 relief bill, warning that any further delay has "devastating consequences" for Americans.
Trump has not yet signed the joint $900 billion relief package and government spending bill that Congress passed this week, saying that the bill doesn't provide enough money in direct payments and includes "wasteful and unnecessary items," despite it largely meeting his administration's budget proposal.
Biden argued Saturday -- the day unemployment benefits for more than 12 million Americans who lost their jobs during the coronavirus pandemic are set to expire -- that the bill is "critical" and "needs to be signed into law now."
"It is the day after Christmas, and millions of families don't know if they'll be able to make ends meet because of President Donald Trump's refusal to sign an economic relief bill approved by Congress with an overwhelming and bipartisan majority," he said in a statement. "This abdication of responsibility has devastating consequences."
With the relief package left unsigned by the President, expanded jobless benefits will run out Saturday, government funding will lapse on Monday, a moratorium on evictions will expire next week, federal loans for small businesses won't be revived and direct $600 payments to certain Americans will be delayed.
Trump has not explicitly said he will veto the bill, which passed Congress Monday with big veto-proof majorities. The deal was reached only after both parties relinquished some of their key demands, with direct stimulus checks proving to be a major sticking point throughout negotiations.
Biden, who won't take office until January 20, called the bill a "first step and down payment on more action" needed early next year to "revive the economy and contain the pandemic."
"President Trump should join them, and make sure millions of Americans can put food on the table and keep a roof over their heads in this holiday season," the President-elect said.
https://www.cp24.com/world/biden-warns-of-devastating-consequences-in-push-for-trump-to-sign-covid-relief-package-1.5245677
-----------
Three UN peacekeepers killed in CAR ahead of Sunday's elections
SOURCE : AL JAZEERA
26 Dec 2020
Unidentified "armed combatants" have killed three peacekeepers from Burundi in the Central African Republic (CAR), the United Nations said on Friday, hours after a rebel coalition fighting the government called off a unilateral truce and reiterated calls for the suspension of a general election scheduled to take place on Sunday.
The attacks on UN peacekeepers and CAR troops took place in Dekoa, central Kemo prefecture, and in Bakouma, southern Mbomou prefecture, the UN said in a brief statement.
The attacks came as voters in CAR geared up for presidential and legislative elections, deemed a key test for the country's ability to recover stability after decades of political turmoil and armed conflict.
President Faustin-Archange Touadera, seeking another mandate, is the favourite to win the presidential election in a field of 17 candidates.
The country's constitutional court ruled on Saturday the presidential elections will proceed as planned on Sunday, after several opposition groups as well as a recently formed coalition of armed groups – the Coalition of Patriots for Change (CPC) – called for a vote delay.
The court has rejected several candidacies for the election, including former President Francois Bozize, who was removed in 2013 following a rebellion led by the Seleka fighters.
"We have spoken to UN officials who say 70 percent of the country is safe enough for people to come out to vote. We have spoken to the government's spokesman who said that yes, they expect a low voter turnout but they hope that this turnout won't be so slow as to discredit process."
The CPC, formed on December 19 and drawing from militia groups that together control two-thirds of the country, launched an offensive last week and threatened to march on the capital, Bangui.
The rebel alliance's progress was halted with international help: Russia and Rwanda sent troops to shore up Touadera's government, while UN mission in South Sudan also sent 300 peacekeepers to CAR on Thursday to help the country "secure the elections".
The CPC announced a brief unilateral truce on Wednesday, but called it off on Friday, saying the government had "cavalierly rejected" this "chance for peace".
Hours later, the UN's MINUSCA peacekeeping force said fighting resumed in Bakouma, about 250km (155 miles) east of Bangui. Gunmen had sought to advance down the main highways towards Bangui but were stopped, according to MINUSCA, which has more than 12,500 uniformed troops in the country.
Touadera, who has been campaigning in Bangui flanked by Russian, Rwandan and UN guards, has urged voters to come out and vote without fear on Sunday
"They are trying to come to Bangui. You Central Africans must open your eyes," he told supporters at his final campaign rally. "Help our armed forces, UN peacekeepers MINUSCA, those from Rwanda and Russia. They are giving us a hand. Don't let those armed fighters come into the city."
Speaking to Al Jazeera on Saturday, the UN resident coordinator in the country Denise Brown said the situation in Bangui is "calm".
"Distribution of the voter cards is ongoing and the electorate of this country who are registered to vote are coming in large numbers to collect their cards," she said.
"The population is determined to vote tomorrow. And we are determined, at the United Nations – with the support of the international community – to ensure that the vote goes ahead."
Jean Serge Bokassa, the son of the country's self-declared emperor, meanwhile withdrew from the race, citing security concerns. Opposition candidate and former Prime Minister Anicet-Georges Dologuele – backed by Bozize – is now Touadera's strongest challenger.
Al Jazeera's Catherine Soi said people "do not have an appetite for any kind of conflict … and want to exercise their right to vote".
"When you go outside Bangui, to the countryside, people are very afraid. We are hearing of fighting in various places, people being displaced," she added.
The Human Rights Watch (HRW) on Wednesday said at least five civilians have been killed while the UN said more than 55,000 people have fled their homes for fear of attacks.
HRW, in a statement on Wednesday, accused the CPC of creating havoc and said the groups that make up the alliance have committed war crimes over the past five years, "including deliberately killing civilians, raping women and girls, and deliberately destroying civilian property".
Meanwhile, Paul Melly, a fellow at the Africa Programme at Chatham House, said the CAR government was not likely to agree to CPC's demands and delay the vote.
"The United Nations, MINUSCA and the government have put a huge effort into organising in mobilising the electoral process," he told Al Jazeera from London, the capital of the United Kingdom.
"They got everybody registered, they have been distributing or starting to distribute voter cards … a lot of people in Bangui want to go ahead and exercise their right to vote."
https://www.aljazeera.com/news/2020/12/26/three-peacekeepers-killed-in-car-as-rebel-group-calls-off-truce
------------
Trump pardons of Blackwater contractors an 'insult to justice'
By Jihan Abdalla
25 Dec 2020
Washington, DC – It took a drawn-out and complicated legal process for four employees of a private United States security firm to be convicted in the September 2007 killings of 14 Iraqi citizens in Baghdad's Nisour Square.
US prosecutors said the heavily armed Blackwater contractors used sniper weapons, machine guns and grenade launchers to indiscriminately fire at civilians in the crowded traffic circle, causing massive carnage and the killing of two children.
But in an instant, US President Donald Trump undid those measures when he pardoned Nicholas Slatten, Paul Alvin Slough, Evan Shawn Liberty and Dustin Laurent Heard earlier this week, in a move described by lawyers and human rights defenders as a miscarriage of justice.
"This pardon is an insult to justice and an insult to the victims who waited so many years to see some measure of justice," Sarah Holewinski, Washington director at Human Rights Watch, told Al Jazeera.
The killings, which took place as the Blackwater employees escorted a US convoy of vehicles in the Iraqi capital, prompted an international outcry and raised questions about the ethics of using private security contractors in US wars abroad.
"When the US Justice Department prosecuted these men, we saw the rule of law at work. Now Trump's contempt for the rule of law is on full display," she said.
Lawyers representing the victims say more than 30 people travelled from Iraq to the US to testify in the criminal proceedings against the Blackwater contractors.
They recounted the horrors that took place that day 13 years ago, when 17 Iraqis were killed and at least 30 people were injured in what they called a massacre. The FBI charged the men with 14 deaths that they determined violated the use of deadly force.
Blackwater, now renamed Academi, was founded by Erik Prince, a staunch Trump ally and the brother of Secretary of Education Betsy DeVos. It was one of several private military firms hired to assist the US army in Iraq following its 2003 invasion and occupation of the country.
Citing an internal Department of Defense census, the Brookings Institution said almost 160,000 US private contractors were employed by numerous firms operating in Iraq in 2007 – nearly as many as the total number of US soldiers stationed there at the time.
Paul Dickinson, a litigation lawyer who represented six victims and their families in a civil lawsuit which was settled out of court in 2010, said the pardons are "a slap in the face" for the victims.
"Up until two days ago we had done the right thing for the people in Iraq who were victims of these shootings," Dickinson told Al Jazeera.
"These victims have been slapped in the face because the United States government told them that we were going to fight for them, that we were going to hold people accountable for the crimes that they committed."
Dickinson said Blackwater contractors routinely did not follow the rules of engagement in Iraq, shooting indiscriminately into cars and buildings and frequently disrespecting locals. For many Iraqis, it was difficult to differentiate between the US army and private contractors.
Ali al-Bayati, a member of Iraq's Human Rights Commission, said the pardons are hurtful to the Iraqi victims who believed in the US justice system and have undermined the US's standing in a protracted conflict.
"The president of the United States has used his authority and power in a wrongful way," he said, adding that the pardons "dealt justice a blow" and harmed "the reputation of the United States" both in Iraq and abroad.
Trump's Blackwater decision is part of a string of pardons of allies and loyalists issued during his final weeks in office. In the past week, he has pardoned nearly 50 people.
"We hope that the incoming president will change the behaviour of the United States in front of the international community and Iraq, because these actions have deeply hurt Iraq," he said.
Meanwhile, the Blackwater pardons continue to reverberate among civil and human rights advocates in the US, who say they illustrate Trump's disregard for the rule of law.
"President Trump's decision to pardon four mass murderers shows just how little respect he has for both our legal system and the sanctity of human life, especially the lives of Muslims and people of color," Nihad Awad, executive director of the Council on American-Islamic Relations (CAIR), said in a statement.
"These Blackwater mercenaries were convicted of perpetrating one of the most infamous war crimes of the American occupation of Iraq," Awad said. "Pardoning them is an unconscionable act of moral insanity."
https://www.aljazeera.com/news/2020/12/25/trump-pardons-blackwater-contractors-insult-to-justice
--------------
South Asia
South Korea Military To Launch Vegan Diet For Vegetarians, Muslims Next Year
By Yonhap
Dec 27, 2020
The military will provide vegetarian and Muslim enlistees with a vegan diet excluding any meat and ham starting next year, the defence ministry said Sunday.
From February, prospective draftees will be asked to mark if they are a vegetarian when they take physical examinations, the ministry said.
Two columns marked as "vegetarian" in both Korean and English will be available on the form.
Such personal information will be sent to the unit that the enlistees will serve in, allowing for a systematic ration program for vegetarian and Muslim soldiers.
"As soon as we identify the number of vegetarian and Muslim soldiers next year, we will develop customized menus," a military source said.
Currently, two soldiers in service have officially identified themselves as a vegetarian and a Muslim, respectively. The military currently provides them a diet without any meat.
The ministry's decision appears to reflect the trend of a growing number of vegetarians and enlistees from multicultural families.
http://www.koreaherald.com/view.php?ud=20201227000065&np=1&mp=1
------------
Two Afghan policemen killed as Kabul hit by bomb blasts
Source : Al Jazeera
December 27, 2020
Two Afghan policemen were killed when three separate "sticky bombs" exploded in Kabul, the latest violence to hit the Afghan capital in recent weeks.
The policemen were killed when the bomb attached to their vehicle exploded in a central district of Kabul on Saturday, police spokesman Ferdaws Faramarz told reporters.
A civilian was also wounded in the blast, he said.
Two security personnel were wounded in another similar bomb attack targeting a second police vehicle in a western district of Kabul, Faramarz said.
He said a third bomb also exploded in the city but caused no casualties.
In recent months, Kabul and several other provinces of Afghanistan have been rocked by deadly violence, including bombings, rocket attacks and targeted killings.
Several of these attacks, especially in Kabul, have been claimed by the ISIL (ISIS) group.
Journalists, politicians and rights activists have increasingly been targeted as violence surges in the country.
https://en.abna24.com/news//two-afghan-policemen-killed-as-kabul-hit-by-bomb-blasts_1099892.html
------------
Taliban Killed in ANA Retaliations
By Mohammad Haroon Alim
27 Dec 2020
Ministry of Defense stated on Sunday, that seven Taliban fighters were killed in Zherai district of Kandahar province.
The Taliban affiliated members were killed before the could attack ANDSF positions in the provincial district, Ministry of Defense said in a tweet.
Similarly, 4 Taliban members were killed in the Arghandab district of Zabul province on Saturday.
The Taliban attacked ANA positions and was retaliated by the Afghan defense forces.
This comes as Counter Narcotics Police of Afghanistan arrested five suspects over drug trafficking charges.
Several separate operations were conducted in Kabul, Helmand & Herat provinces.
CNPA has referred the cases to relevant authorities for further process.
https://www.khaama.com/taliban-killed-in-ana-retaliations-556655/
------------
Elections Are 'Far More Secure' in Afghanistan Than U.S: Trump
By Mohammad Haroon Alim
26 Dec 2020
President Donald Trump tweeted that elections are far more secure and better in Afghanistan than in the United States.
Trump wrote in a tweet that "A young military man working in Afghanistan told me that elections in Afghanistan are far more secure and much better run than the USA's 2020 Election. Ours, with its millions and millions of corrupt Mail-In Ballots, was the election of a third world country. Fake President!".
He claimed that besides absolute proof according to election fraud, the US Supreme court has been totally incompetent and weak.
The massive election fraud took place in the 2020 Presidential elections, but the court does not want to investigate it, he added if America will have corrupt elections, they won't have a country.
"The U.S. Supreme Court has been totally incompetent and weak on the massive Election Fraud that took place in the 2020 Presidential Election. We have absolute PROOF, but they don't want to see it – No "standing", they say. If we have corrupt elections, we have no country!"
This comes after the US electoral college confirmed Joe Biden's presidential elections a week ago, a final announcement for the presidential office to be taken by Biden.
The Democratic nominee won November's contest with 306 electoral college votes and Donald Trump could not claim the victory as he remained with 232 electoral college votes.
https://www.khaama.com/elections-are-far-more-secure-in-afghanistan-than-u-s-trump/
-----------
Africa
Morocco ruling party declares support to PM over normalization agreement with Israel
Source : Anadolu
December 26, 2020
Morocco's ruling Justice and Development Party declared Thursday support to Prime Minister Saad-Eddine El Othmani over the normalization agreement with Israel.
The Justice and Development Party released a statement on the issue for the first time since US President Donald Trump announced on Dec.10 that Israel and Morocco "have agreed to full diplomatic relations".
The statement stressed that it is important to stand behind Moroccan King Mohammed VI regarding the steps Morocco has taken to strengthen its sovereignty over the Sahara region and the country's unchangeable approach toward the Palestinian issue.
The recent normalization deal between the Morocco and Israeli occupation regime sparked outrage within the party, which had rejected any normalization with Israel since its illegal establishment.
King Mohammed VI received a joint US-Israeli delegation Tuesday that arrived in the country to finalize the normalization deal between Jerusalem and Rabat.
A joint cooperation agreement was reached between the two countries in the fields of civil aviation, technology, trade, and finance and investment.
Morocco became the fourth Arab country to normalize relations with Israeli regime in 2020 after the United Arab Emirates, Bahrain, and Sudan.
The normalization deals have drawn widespread condemnation from World countries in particular Palestinian people.
https://en.abna24.com/news//morocco-ruling-party-declares-support-to-pm-over-normalization-agreement-with-israel_1099563.html
-----------
Muslims, Christians Attend Christmas Service In Kaduna
By our Correspondents
26-12-2020
Muslim and Christian faithful yesterday attended church service in Kaduna to mark this year's Christmas.
The move, it was gathered, is designed to strengthen a cordial and harmonious relationship between members of the two religions.
The general overseer of Christ Evengelical and Life Intervention Ministry, Pastor Yohanna Buru, expressed appreciation for the large turn-out of Muslim faithful during the church service
Buru noted that the Muslims joined their Christian friends and relatives in the service to promote the good relationship all the faithful share together.
"Even the COVID-19 pandemic and economic recession did not stop them from coming. Muslims in large number visited the church and joined Christians during the Christmas service to Foster peace and unity," he said.
"We must join hands and pray to Almighty God to bring an end to corruption, banditry, terrorism, armed robbery, kidnapping and unnecessary killings of human being in the region," he stated.
This year's Christmas sermon dwelt on Religious tolerance, forgiveness, better understanding, peace, love and unity among Nigerians.
It also stressed on the need for both Muslim and Christian clerics to be more committed through prayers for peace, stability and progress in the country.
Those who attendnded the Church service included Muslims scholar, traditional rulers, peace ambassadors, stakeholders on peace building from Katsina, Kano, Sokoto, and Zamfara States.
This is coming just as LEADERSHIP Weekend checks revealed that despite initial security scare, there was no report of any terrorist attack during yesterday's Christmas celebrations.
It would be recalled that the Department of State Security (DSS) had last Tuesday alerted Nigerians to plans by some criminal elements to carry out violent attacks on public places, including key and vulnerable points, during Christmas festivities.
The secret police said the "planned dastardly acts are to be executed through the use of explosives, suicide bombing, and other dangerous weapons."
Meanwhile, the Progressives Governors Forum (PGF) yesterday appealed to Nigerians to set aside their ethno-religious and political differences and unite in order to resolve the nation's security challenges.
This was contained in a statement titled, "Merry Christmas and 59 Happy Cheers to PGF Chairman, HE Abubakar Atiku Bagudu," signed by the forum's Treasurer who is also the governor of Kogi State, Alhaji Yahaya Bello.
While wishing all Nigerians a Merry Christmas, a peaceful celebration and blessings of the season, the forum also wished its chairman, the Kebbi State Governor, Abubakar Badudu, a happy 59th birthday celebration.
The statement reads in part, "The PGF enjoins all Nigerians to unite and work together irrespective of our differences to resolve all our security challenges.
"Under the leadership of His Excellency President Muhammadu Buhari, GCFR, President of the Federal Republic of Nigeria, Forum members are confident that the nation will overcome all security challenges.
"We also wish to felicitate with our PGF Chairman, HE Abubakar Atiku Bagudu, on the occasion of his 59th birthday on December 26, 2020.
"Forum members join him, his family and people of Kebbi State to celebrate the blessed life of a unifying leader and an outstandingly progressive politician.
"Forum, our party and indeed all APC members across the country, acknowledge and commend the leadership, vision and commitment to a united prosperous Nigeria of this illustrious personality."
Meanwhile, Chief of the Air Staff (CAS), Air Marshal Sadique Abubakar has said the Nigerian Air Force (NAF) would neither relent nor rest on its oars until the security of lives and properties of Nigerians are guaranteed.
The CAS said this yesterday in Maiduguri when he had lunch with the troops of the Taskforce Operation Lafiya Dole at the NAF Base, Maiduguri, to mark this year's Christmas.
Abubakar reassured Nigerians that procurement of additional platforms such as the Super Tucano, JF-17, UAVs and other additional equipment would certainly be game changers for Nigerian Air Force operations.
To the troops, he said, "I am delighted to be here to mark the Christmas celebration with you all; being a tradition I have maintained since assumption of office. Let me state that the essence is to help fill the vacuum created by not being able to celebrate with our families because of Service exigencies.
"This occasion also fosters comradeship and gives all us the opportunity to commend ourselves for our collective efforts in the ongoing fight against insurgency.
"It is not easy to quantify your enormous contributions and sacrifices towards the war against insurgency. Christmas celebration is all about sacrifice. As such as military professionals, our sacrifices for the unity of Nigeria remain immeasurable.
"We all are aware of the enormous responsibility we bear in ensuring the indivisibility of our dear Country. My vision has been 'to reposition the Nigerian Air Force into a highly professional and discipline force through capacity building initiatives for effective, efficient and timely employment of Air power in response to Nigeria's national security imperatives".
To this end, he said the Air Force has vigorously trained the requisite manpower to have capacity to operate all the sophisticated aircraft and equipment the federal government has provided for the Force.
Abubakar said the Nigerian Air Force has continued to contribute its quota in various internal security operations across the country aimed at combating all forms of criminality, adding that an example is the involvement of the Nigerian Air Force in Operation LAFIYA DOLE in the Northeast.
He said, "Similarly, we have intensified our anti-banditry and other security operations across the country. We shall not relent nor rest on our oars until we ensure the security of lives and properties of Nigerians are guaranteed.
"Let me reassure us all that procurement of additional platforms such as the Super Tucano, JF-17, UAVs and other additional equipment would certainly be game changers for our operations. We are committed to ensuring the total elimination of insurgency, banditry and all forms of criminality in our dear country.
"Having said this, our profound gratitude goes to the President and Commander-in-Chief, President Muhammadu Buhari, who provides us with the resources we require to perform our assigned duties. We can only show our appreciation for the President's support to the Nigerian Air Force by remaining a disciplined force with the highest level of professionalism in all our activities.
"Also, I want to use this occasion to appreciate the support of memwwbers of the National Assembly especially Chairman and members of the National Assembly Committees on the Nigerian Air Force. I want to assure you that all approved resources have been judiciously utilized.
"I want to express our appreciation to the Governor of Borno State, His Excellency Professor Babagana Zulum and the good people of Borno State, for the support the NAF enjoys in providing the conducive environment for operation of our troops.
"We will continue to seek greater avenues towards ensuring a peaceful and secure environment where socio-economic activities will thrive for the common good of our people.
"Let me seize this opportunity to commend the Air Task Force Commander for his efforts at ensuring that personnel and units in the North-East remained undaunted and committed to the war efforts.
"May I use this opportunity to commend our troops who continue to do us proud through their acts of gallantry and bravery. While thanking God for His mercies in keeping us alive to see this celebration, I appreciate all your efforts, let us all continue to be vigilant while celebrating and ensure we maintain the highest level of combat readiness to guarantee security during the festive period and beyond", Abubakar.
In his remarks, Commander Air Taskforce Operation Lafiya Dole, Air Commodore Abubakar Abdulkadir, said the Christmas luncheon is one of the many gestures of the CAS aimed at raising the morale and spirits of troops serving in frontline units in the fight to restore peace and normalcy to the Northeast and Northwest regions.
He said the CAS has been providing the ATF necessary support to effectively carryout its statutory mandate in support of OP LAFIYA DOLE.
He stated: "The improved serviceability rates of our platforms from 35 percent in 2015 to over 80 percent in 2020 and the acquisition of various air platforms and weapons systems are testaments to the assiduous commitment and efforts of the present leadership of the NAF.
"In addition to the various facilities constructed here in Maiduguri, the construction of 2 blocks of accommodation for officers and another 2 blocks for airmen in presently ongoing."
Meanwhile, the Nigeria Labour Congress (NLC) has expressed confidence and hope that despite the challenges and pitfalls witnessed in 2020, the New Year, 2021, would be better for workers and Nigeria as a whole.
President of the NLC, Comrade Ayuba Wabba, in a Christmas message made available to journalists yesterday in Abuja, said the advent of coronavirus pandemic, the global socioeconomic upheavals, great dislocation, despair and distress had made this year's Christmas something to look forward to as a source of hope, inspiration and comfort.
He said, "The birth of Jesus Christ was not in the best of conditions. The Saviour had to be born in a manger because there was no decent accommodation to receive his birth. Yet, the circumstances of His birth did not stop the child from growing in wisdom, in stature and in favour with God and man and ultimately becoming the source of salvation for those who believe in Him.
"We believe that the current vicissitudes that punctuated the year 2020 will give rise to a better and brighter 2021. The Saviour did not remain in the manger."
Wabba however warned that workers would not hesitate to resist any attempt by government to make life more unbearable as was witnessed in 2020.
He noted: "Nigerians especially workers have suffered a lot of downturns and reversals this year. While wages remained constant, fuel and electricity prices have been severally and arbitrarily increased inducing a galloping inflation.
"Government must steer away from making workers' burden an ounce more grievous. This will be resisted. Workers cannot be the cannon fodder for the misgovernance of successive years."
The NLC President who commended efforts of front line workers in the face of the COVID-19 pandemic, made a passionate appeal for strict adherence to all necessary health protocols to contain the second wave of the deadly virus.
He continued: "We can mitigate against its impact if we observe all the wash our hands always with soap and running water, use hand sanitizers all the time, keep social distancing, wear mask when in public places, report any sign of COVID-19 to designated health authorities and submit to treatment once diagnosed.
"We can make the sacrifice of our fallen heroes count as we renew our commitment to stopping the unrelenting virus even as it threatens a second global wave. We honour the memory of workers who gave their lives so we live when we maintain and improve on the health protocols that can help keep us, our families, our friends, and our colleagues safe.
"The temptation to throw caution to the winds will be rife this festive season. Comrades and compatriots, I appeal that this is not the time to be complacent. COVID-19 is real. The second wave of the deadly virus is palpable. We can mitigate its impact if we observe all the necessary health protocols."
He further appealed to the international health community to develop a pro-poor vaccine that would not dig further holes in the pockets of poor countries and poor people of the world.
Meanwhile, the FCT Ministerial Task Team on Enforcement of COVID-19 Protocols yesterday cleared some recreational parks of fun seekers who trooped there to celebrate Christmas.
The News Agency of Nigeria (NAN) reports that some of the parks where fun-seekers were sent out by taskforce included the famous Millennium Park, Jabi Lake, Unity Fountain and Magic Land.
Upon arrival at the Lake, many of the violators took to their heels for fear of being arrested but the task force had to call them to sensitise them on the need to adhere to safety regulations.
The head, Media and Enlightenment of the taskforce, Mr Ikharo Attah, who addressed the fun seekers, said that the second wave of the COVID-19 pandemic seemed tougher.
According to him, the FCT Administration cannot allow people to gather in crowds, contrary to the directives of the Presidential Task Force on COVID-19 (PTF).
"We know you all want to enjoy Christmas but you can do it at home. We plead for your understanding on this matter. We don't want to hurt anybody but we have a duty to save residents from contracting the virus,'' Attah said.
While addressing journalists after shutting down the Magic Land Park by the Abuja city gate, the media head, who expressed sympathies with the residents, noted that there would be more celebrations in the future if they abide by the safety protocol.
He said, "We are truly pained doing this on this day but we have the responsibility to save lives and protect FCT residents from being infected with COVID-19.
"We see in large numbers, children who have come to these recreation centres to have the best of Christmas. They look obviously unhappy and we are feeling their pains and disappointment."
https://leadership.ng/muslims-christians-attend-christmas-service-in-kaduna/
-----------
11 Nigerians killed by Boko Haram in Christmas Eve attack
Source : AFP
December 26, 2020
Boko Haram terrorists killed at least 11 people, burnt a church and seized a priest on Christmas Eve in Nigeria's restive northeast, local sources told AFP Friday.
Militants in trucks and motorcycles stormed Pemi, a predominantly Christian village in Borno state Thursday, shooting "indiscriminately" and setting buildings on fire, said Abwaku Kabu, a militia leader.
In many parts of Nigeria, communities have resorted to armed vigilantes or militias, who work alongside the army, for self-defence.
"The terrorists killed seven people, burnt 10 homes and looted food supplies that were meant to be distributed to residents to celebrate Christmas," Kabu said.
"Four more dead bodies have been found in the nearby bushes by search and rescue volunteers," local community leader Ayuba Alamson said Friday. "This has moved the death toll to 11."
The assailants, who drove from the group's nearby Sambisa forest enclave, looted medical supplies from a hospital before setting it ablaze, the militia leader said, adding they also burnt a church and abducted a priest.
The village is located only 20 kilometres (12 miles) from Chibok, where Boko Haram kidnapped more than 200 schoolgirls six years ago.
In a separate raid on Thursday, gunmen attacked another Christian community in Garkida in the neighbouring Adamawa state, looting drug stores and food supplies before torching homes, residents told AFP.
President Muhammadu Buhari in a statement Thursday "reiterated the promise of his administration to remain unyielding in confronting the Boko Haram insurgency as well as other forms of criminality."
https://en.abna24.com/news//11-nigerians-killed-by-boko-haram-in-christmas-eve-attack_1099567.html
------------
Boko Haram kidnaps 40 loggers and kills three in north-east Nigeria
Agence France-Press
Sat 26 Dec 2020
Boko Haram jihadists have seized about 40 loggers and killed three others in north-east Nigeria near the border with Cameroon, militia sources and residents have said.
The hostages were rounded up by the insurgents on Thursday in Wulgo forest near the town of Gamboru, where they went to collect firewood, the sources said.
The jihadists have increasingly targeted loggers and farmers in the north-east, accusing them of passing information to the military and local militias.
"A group of more than 40 loggers left Shehuri on the outskirts of Gamboru on Thursday and never returned by evening as usual," said militia leader Umar Kachalla, who was involved in the search. "On Friday we mobilised men and went deep into the forest where we recovered three bodies identified to be among the loggers, without a trace of their colleagues."
The missing loggers were presumed kidnapped by the jihadists, who are known to maintain camps in the forest, said Kachalla, a view widely shared in the area.
"We believe the men were taken by Boko Haram who have been attacking loggers in the forest," said another militia member, Shehu Mada. "From all indication the three dead loggers were shot when they tried to escape as they all were shot from behind."
The area has been without telephone services for years after the destruction of masts in Boko Haram attacks, forcing people to rely on Cameroon mobile phone networks.
Gamboru loggers have suffered repeated Boko Haram attacks and abductions, especially around Wulgo forest which was a known Boko Haram hideout.
In November 2018, Boko Haram seized about 50 loggers on their way to collect firewood in the forest, after killing 49 in two previous attacks.
Military authorities had warned loggers not to venture deep into the forest to avoid the insurgents, resident Babandi Abdullahi said. People are compelled to risk going deep into the forest because nearby vegetation has been depleted by constant logging, he said.
Boko Haram and a splinter group known as ISWAP have killed 36,000 people in the north-east and forced roughly 2 million to flee since 2009, according to the United Nations.
Most recently, the group claimed responsibility for the kidnap of more than 300 schoolboys in Katsina in northern Nigeria. The boys were returned to their homes in mid-December.
https://www.theguardian.com/world/2020/dec/26/boko-haram-kidnaps-40-loggers-and-kills-three-in-north-east-nigeria
-------------
Arab World
KAFD Grand Mosque Wins Prestigious Int'l Architecture Award
SPA
2020/12/26
Riyadh, Dec 26, 2020, SPA -- King Abdullah Financial District (KAFD) Grand Mosque, in Riyadh, won the International Architecture Prize, in the Religious Buildings category, for the Year 2020.
The award is accorded by the Athenaeum Museum, in Chicago, USA, for the best international designs, annually.
A jury chose KAFD mosque due to the engineering innovation in its column-free design and its desert flower-inspired shape.
International Architecture Prize, is one of the most prestigious awards, in the architecture design sector.
The awards program was established, in 2004 by the Chicago Athenaeum of Architecture and the European Center for Architecture Art Design, to honor the best modern buildings, in terms of planning and engineering designs, and to honor innovative architects, in the field of urban planning, globally.
https://www.spa.gov.sa/viewfullstory.php?lang=en&newsid=2172494
------------
Custodian of the Two Holy Mosques Delegates GCC Secretary General to Invite Gulf Leaders to Attend 41st GCC Summit in Riyadh
Riyadh - SPA
26 Dec, 2020
The Custodian of the Two Holy Mosques King Salman bin Abdulaziz Al Saud has delegated the GCC Secretary General, Dr. Nayef Falah Al-Hajraf, to invite the leaders of the GCC states to attend the 41st GCC Summit, which will be held in Riyadh on January 5, 2021.
Dr. Al-Hajraf thanked the leaders of the GCC states for their tireless efforts to further strengthen Gulf cooperation.
Custodian of the Two Holy Mosques Invites President of United Arab Emirates to Attend 41st GCC Summit
The Custodian of the Two Holy Mosques King Salman bin Abdulaziz Al Saud has sent a message to Sheikh Khalifa bin Zayed Al Nahyan, President of the United Arab Emirates, inviting him to attend the 41st Session of the Supreme Council of the Gulf Cooperation Council (GCC), which will be held in Riyadh on January 5, 2021.
The message was received today by Sheikh Mohammed bin Rashid Al Maktoum, Vice President and Prime Minister of the United Arab Emirates and Ruler of Dubai, during his reception of the GCC Secretary General, Dr. Nayef Falah Al-Hajraf.
During the meeting, they reviewed the march of the GCC and means of advancing cooperation, coordination and solidarity between the states and peoples of the Council.
http://alriyadhdaily.com/article/a049cf913d15450482e740acacf3ff43
-----------
Shia group denies link to threats against Iraq premier
Ali Jawad
26.12.2020
A Shia militia on Saturday dismissed any link with gunmen threatening Iraqi Prime Minister Mustafa al-Kadhimi, amid tension over recent rocket attacks on the US Embassy in Baghdad.
A video went viral on social media of gunmen claiming to be members in Asa'ib Ahl al-Haq group while threatening al-Kadhimi with "punishment" in response to any attack on group leader Qais al-Khazali.
The video appeared after a group member was arrested in connection with rocket attacks on the US Embassy in Baghdad earlier this week.
A spokesman, however, said that his group has no link to the militants in the video. "The priority of Asa'ib Ahl al-Haq is to maintain the prestige of the state," the spokesman said in statements.
On Friday, al-Kadhimi pledged to confront those whom he described as the "law breakers".
Washington blames Iran-backed Shia militias for rocket attacks on foreign diplomatic missions and US and foreign forces in Iraq.
https://www.aa.com.tr/en/middle-east/shia-group-denies-link-to-threats-against-iraq-premier/2089463
----------
Saudi crown prince sparks rush for vaccine as registrations jump fivefold
RAWAN RADWAN
December 26, 2020
JEDDAH: Saudi Arabia's Crown Prince Mohammed bin Salman appears to have sparked a surge in the number of people registering for the coronavirus vaccine after receiving the inoculation on Friday.
About 500,000 people had registered for the vaccine by last Thursday following the Ministry of Health's rollout of a national inoculation plan.
But after the crown prince was photographed one day later receiving the vaccine, the numbers seeking vaccination jumped fivefold in a single hour, according to Health Minister Dr. Tawfiq Al-Rabiah.
Meanwhile, the number of active coronavirus cases in the Kingdom continues to fall, with the Kingdom yet to record a single case of the COVID-19 variant.
However, Dr. Abdullah Asiri, assistant deputy minister for preventive medicine, urged caution, warning that the virus remains a real threat.
"What we know for sure is that these mutations won't change the behavior of the virus or its ability to infect people, resulting in severe symptoms," he said.
"Without mutations, coronaviruses rarely infect people twice since the antibodies created by the human body are able to prevent a second infection for up to four or five months," he said.
In Jeddah, health workers have begun receiving coronavirus vaccinations at the King Abdul Aziz International Airport South Terminal inoculation centers as the first phase of the program focuses on front-line staff.
Daily cases in the Kingdom are holding steady below the 200 mark, with 163 new cases reported on Saturday, raising the number to 362,066 since the beginning of the pandemic.
A total of 189 new recoveries were also reported, raising the number to 353,004. The Kingdom's recovery rate is at 97.49 percent.
Eight people died due to complications caused by COVID-19 infection, raising the total number of deaths to 6,176.
https://www.arabnews.com/node/1783281/saudi-arabia
------------
Europe
Russian agents foil 'Islamic State' terror attack
John Silk
26.12.2020
Russia's Federal Security Service (FSB) said Saturday it had prevented an attack by a terrorist group with links to the Islamic State (IS) armed group.
The FSB said it had arrested four people who were set to carry out the offensive in the troubled southern republic of Dagestan.
"Members of the group planned to detonate an explosive close to an administrative building belonging to security services, followed by an armed attack against interior ministry employees in the city of Makhachkala," the FSB said in a statement.
As well as arresting four "members of the international IS terrorist group", investigators found "firearms and bladed weapons, a large amount of ammunition and an explosive device", the FSB statement continued.
The security service also uncovered mobile phones containing "exchanges with organizers located abroad."
Earlier this month, police killed two attackers targeting security forces in the republic of Chechnya, which borders Dagestan.
Six people were also killed during an October "counterterrorism" operation in Chechen capital Grozny, including two security force members.
Russia's territories in the region between the Black and Caspian Seas have been disputed for centuries.
The most recent conflict in Chechnya occurred over two wars in the 1990s and 2000s.
With the Soviet Union disintegrating, Chechen separatists declared independence. War broke out in 1994 and after two years of fighting Russian forces withdrew from the region.
Fighting resumed less than three years later resulting in a large number of casualties on both sides. Grozny was largely destroyed and the Russian military established control over the city in the spring of 2000, officially ending the war, with insurgency and hostilities continuing to varying degrees ever since.
The region has become increasingly Islamist in character in recent years. Though its influence remains limited, IS does carry out sporadic attacks against the authorities in Chechnya, Dagestan and neighboring Ingushetia.
https://www.dw.com/en/russian-agents-foil-islamic-state-terror-attack/a-56062314
-------------
Islamophobia in Germany: Police handcuff Muslim woman on pretext of not wearing mask
Source : Yeni Safak
December 26, 2020
Police in a Western German city handcuffed a woman in a Muslim headscarf in front of her toddler and put her on the ground for not wearing a mask, as seen in video that recently went viral.
According to the video taken by eyewitnesses in the city of Wuppertal, there were seven police officers outside of the building the woman left after visiting the dentist.
The video shows two police officers handcuffing the woman in front of her toddler, putting her on the ground, and pressing on her body while she screams for help.
When police tried to stop bystanders from filming, one said: "You have no right to stop me from shooting this video. The phone is mine. I can give my lawyer's number."
The video also shows a staffer from the dentist's office seeing the scene while leaving the office, saying that what the police are doing is a crime.
As bystanders in the video make their opposition to the scene clear, the police remove the woman's handcuffs and release her and leave as if nothing happened.
According to information the woman seen handcuffed in the video was born in Germany and converted to Islam.
The woman, evidently shocked by the incident, is reportedly set to file a criminal complaint against the police.
https://en.abna24.com/news//islamophobia-in-germany-police-handcuff-muslim-woman-on-pretext-of-not-wearing-mask-video_1099574.html
-------------
Azerbaijan draws attention of UNESCO on destroyed sites; Armenians kept pigs inside mosques
Source : Anadolu
December 26, 2020
Azerbaijan's President Ilham Aliyev has criticized UNESCO for turning a blind eye toward the destruction of religious and historical structures belonging to Azerbaijani people by Armenia.
He visited on Wednesday districts surrounding Nagorno-Karabakh -- an area recently liberated by the Azerbaijani army from the nearly three-decade occupation of Armenian forces -- along with first lady Mehriban Aliyeva.
Referring to the desecration of a mosque in Zangilan district, he said: "The enemy has insulted the religion and all the Muslims."
"We have repeatedly appealed to UNESCO for 30 years, repeatedly stated that our mosques have been destroyed, our historical sites have been destroyed, our historical sites have been Armenianized. Have they sent a mission here at least once? Has our request been answered at least once?" Aliyev said while visiting the mosque site.
Noting that much hue and cry has been raised in some international circles over the status of Armenian religious structures in the liberated lands, he said: "But why didn't anyone raise the issue of our national and religious heritage?"
"Is it possible to destroy mosques? Is it not a crime to demolish a mosque? How much longer will this injustice last? How long will this hypocrisy last? How long will these double standards last? How long will this Islamophobia last?"
"Unfortunately, we are still hearing that some Muslim states call Armenia a friendly country. The executioners who ruled this 'friendly country' for 20 years have done this. They came here and destroyed our mosques and insulted us. The whole world should see this," he said.
Relations between the former Soviet republics have been tense since 1991, when the Armenian military occupied Nagorno-Karabakh, also known as Upper Karabakh, a territory recognized as part of Azerbaijan, and seven adjacent regions.
https://en.abna24.com/news//azerbaijan-draws-attention-of-unesco-on-destroyed-sites-armenians-kept-pigs-inside-mosques_1099568.html
------------
Mideast
Al-Aqsa preacher call on Palestinians to unite and support Al-Aqsa Mosque
Source : Palestine Info
December 26, 2020
Thousands of citizens performed Friday prayer at the holy Al-Aqsa Mosque despite the Israeli occupation's restrictions and the deployment of military barriers to impede the access of worshipers.
Sheikh Muhammad Salim, the Friday preacher in Al-Aqsa, called on the Palestinians to protect the Al-Aqsa Mosque and never leave it at all times.
Sheikh Salim stressed the importance of gathering at and permanent attendance in Al-Aqsa Mosque.
He, meanwhile, addressed the normalizers saying, "The normalizers want the occupation of Palestine to be a normal matter. However, the Crusaders occupied the Al-Aqsa Mosque for decades and they were defeated and Al-Aqsa was free."
Al-Aqsa preacher called on the Palestinians to unite and support the Al-Aqsa Mosque.
About 30,000 worshipers performed Friday prayer in the courtyards of the holy Al-Aqsa Mosque amid strict Israeli measures at its gates and around the gates of the Old City in Occupied al-Quds (Jerusalem).
Since the early morning hours, thousands of worshipers flocked to the Al-Aqsa Mosque from Jerusalem city and the 1948 occupied Palestine and those who managed to get an entry permit from the West Bank.
https://en.abna24.com/news//al-aqsa-preacher-call-on-palestinians-to-unite-and-support-al-aqsa-mosque_1099578.html
----------
Israel's policies toward Palestinians 'unacceptable': Erdogan
Source : PressTV
December 26, 2020
Turkey's President Recep Tayyip Erdogan says Israel's policies toward Palestinians are "unacceptable" and are hindering better ties between Turkey and the Tel Aviv regime.
"The Palestine policy is our red line. It is impossible for us to accept Israel's Palestine policies. Their merciless acts there are unacceptable," Erdogan told reporters in Istanbul on Friday.
"If there were no issues at the top level [in Israel], our ties could have been very different," he said, adding, "We would have liked to bring our ties to a better point."
Earlier this month, Al-Monitor reported that Turkey had selected a new ambassador to send to Israel after two years, in a move aimed at improving Ankara's relationship with the United States.
Turkey recalled its ambassador to Tel Aviv following the killing of dozens of Palestinian protesters by Israeli forces and the inauguration of the US embassy in Jerusalem al-Quds in May 2018.
Ankara also expelled the Israeli regime's ambassador, Eitan Na'eh, and its consul in Istanbul.
Israeli-Turkish ties have remained frosty despite a 2016 normalization deal.
In June 2016, Israel and Turkey reached an agreement on the normalization of their relations six years after an Israeli raid on a Gaza-bound Turkish aid flotilla killed 10 Turkish activists in the high seas in May 2010.
Ankara had initially reacted with fury. It suspended its military ties with Israel and expelled the Israeli envoy from Ankara in September 2010 over Tel Aviv's refusal to apologize for the killings.
https://en.abna24.com/news//israel%e2%80%99s-policies-toward-palestinians-%e2%80%98unacceptable%e2%80%99-erdogan_1099565.html
------------
Pope sends message to world about Yemeni children
Source : YPA
December 26, 2020
Pope Francis on Friday highlighted the plight of children caught up in war, singling out victims in Syria, Yemen and Iraq in his Christmas message.
"On this day, when the word of God became a child, let us turn our gaze to the many, all too many, children worldwide, especially in Syria, Iraq and Yemen, who still pay the high price of war," he said.
"May their faces touch the consciences of all men and women of good will, so that the causes of conflicts can be addressed and courageous efforts can be made to build a future of peace," he said.
It is worth mentioning that thousands of children have been killed or wounded, in Saudi-led coalition raids, while hundreds of thousands of Yemeni children suffer from malnutrition diseases, as a result of the siege that has been imposing on the country by the coalition since nearly six years ago.
https://en.abna24.com/news//pope-sends-message-to-world-about-yemeni-children_1099550.html
------------
IDF: Our subs sail everywhere; Iran: Our response to any attack will be strong
By TOI STAFF
26 December 2020
After an Israel Defense Forces spokesman told a Saudi newspaper on Friday that Israeli submarines were quietly operating "everywhere," an unnamed Iranian official told Al Jazeera Saturday that "Tehran's response to any attack on national security will be strong and wide."
The anonymous source claimed that Israel "is looking for excuses to drag the region into tension that will create chaos" in the final days of US President Donald Trump's term.
And the top naval commander in the Islamic Revolutionary Guard Corps warned that Iran was ready to defend itself and was prepared for any scenario.
"Forces, systems and equipment are at the desired level of readiness to defend the water borders, the interests and security of our country," said IRGC Navy Commander Admiral Alireza Tangsiri.
Tangsiri's comments came after IDF Spokesperson Hidai Zilberman told the Saudi Arabian Elaph news outlet that Israel was tracking Iranian movements around the region, and that Israeli submarines were quietly "sailing everywhere."
Zilberman gave the interview after an Israeli submarine reportedly openly crossed the Suez Canal last week in a show of force directed at Iran. The move was approved by Egypt, according to the Kan public broadcaster, which cited Arab intelligence sources. The submarine reportedly surfaced and faced the Persian Gulf, which lies on the other side of Saudi Arabia. The intelligence sources said the move was meant to "send a message" to Iran.
Zilberman additionally said that although Israel was not aware of any specific plans by Iran to attack the Jewish state, Iranian forces could carry out an attack from Iraq or Yemen, according to a translation of the interview by the Ynet news site.
He said Israel had information indicating Iran was developing unmanned aerial vehicles and "smart missiles" in Iraq and Yemen, and that the weapons could have the ability to strike Israel.
Zilberman said Israel had attacked targets in Syria in the past year, and used 500 smart missiles, without any response from Iran or the Syrian regime. He added that Israel had no intention of letting up its pressure campaign against Iran in Syria.
The IDF has launched hundreds of strikes in Syria since the start of the civil war in 2011 against moves by Iran to establish a permanent military presence in the country and efforts to transport advanced, game-changing weapons to terrorist groups in the region, principally Hezbollah.
On Monday, IDF Chief of Staff Aviv Kohavi warned Iran against attacking Israel, saying that the Jewish state will retaliate forcefully against any aggression.
Iran has threatened to attack Israel since the assassination of its top nuclear scientist, Mohsen Fakhrizadeh, in late November, in a raid blamed on the Jewish state.
In this Sept. 18, 2016 file photo Revolutionary Guard Gen. Qassem Soleimani, center, attends a meeting with Supreme Leader Ayatollah Ali Khamenei and Revolutionary Guard commanders in Tehran, Iran. (Office of the Iranian Supreme Leader via AP)
In a strikingly similar move to the reported Israeli submarine crossing of the Suez Canal, a US nuclear submarine crossed the Strait of Hormuz on Monday as the anniversary of the killing of Iranian General Qassem Soleimani by a US drone approached.
US military officials fear an attack by Tehran to avenge the powerful Soleimani, leader of the IRGC's elite Quds force, who was assassinated on January 3, 2020, in a US drone strike near Baghdad airport in Iraq.
https://www.timesofisrael.com/idf-warns-israeli-submarines-sailing-everywhere-iran-says-will-defend-itself/
-----------
Why oil makes Gulf countries vulnerable to Iran
Nikolay Kozhanov
26 Dec 2020
The brazen attack that led to the death of Iranian scientist Mohsen Fakhrizadeh has undoubtedly angered Tehran. The Iranian authorities blamed Israel for the killing and vowed to swiftly retaliate. There have been calls within the country to attack the Israeli port of Haifa, but that is unlikely.
In its asymmetric confrontation with Israel and its foremost ally, the United States, Iran is well aware that hitting Israeli or American targets would result in an all-out war. But there are other US allies in the region who have become easier targets in recent years.
Due to certain changes in the oil market and US foreign policy priorities, Arab countries in the Gulf find themselves in a more vulnerable position today. It is for this reason that the United Arab Emirates – which recently made its alignment with Israel official – hastened to condemn the murder of the Iranian nuclear scientist.
Indeed, the UAE has a reason to fear. At the beginning of summer, the Houthis, Iran's proxies in Yemen, resumed their attacks on infrastructure in Saudi Arabia, Abu Dhabi's close ally. In June and July, they used missiles and drones to attack military installations in Riyadh and various targets in the southern provinces of Jizan, Asir and Najran.
In November, at least three attacks were carried out. On November 11, the Houthis caused minor damage to oil facilities in the Saudi Read Sea port of Jizan. On November 23, they launched a missile attack on an oil distribution facility in Jeddah. Two days later, a tanker delivering fuel to the port of Shuqaiq was hit by a mine.
These attacks on Red Sea ports were most likely intended to demonstrate the Houthis' ability to hit targets across the Arabian Peninsula, far from the territories they control. They were a warning and a reminder of the September 2019 strikes on Aramco oil infrastructure in Abqaiq and Khurais in Eastern Saudi Arabia, which temporarily reduced Saudi oil output by about 5.7 million barrels per day (bpd).
The timing was also not accidental – the Houthi attacks intensified amid heightened diplomatic activity between Riyadh, Tel Aviv and Washington. They also coincided with the speculations of a possible "farewell" moves against Iran by the outgoing Trump administration.
It is important to note that Iran has started using these "infrastructure terror" tactics since relatively recently. Up until a few years ago, the Iranian go-to retaliatory threat was closing the Strait of Hormuz to disrupt oil exports from the Gulf – something Tehran was actually neither willing nor able to do.
Given that more than 20 percent of global oil exports used to pass through the strait – including Iran's own – powerful buyers, like the US, had taken steps to secure the Gulf and prevent any major disruption of oil vessel transit. Any hostile action by Iran in the Strait of Hormuz would have risked triggering a war, which the Iranians authorities would like to avoid.
But in the past couple of years, the situation changed. First, with the events of the Arab Spring and the Houthi takeover of Sanaa in 2014, Iran gained an important foothold in Yemen, which gave it even more leverage over Gulf states. Second, by the second half of the 2010s, the US shale oil boom had not only turned the US into one of the largest hydrocarbon exporters but also led to a fairly stable oil oversupply at the global market.
As a result, political crises in the Middle East started to worry oil consumers less and less, while Washington began to reconsider its obligations to its Gulf partners. It is important to note that in 2018-2019, neither the instability of oil production in Libya nor the practical disappearance of Iran and Venezuela from the market had a lasting impact on prices. At best, these events only prevented a further decline in prices.
Even the September 2019 attacks on Saudi oil facilities had only a short-term effect, although the size of oil production loss in the market was unprecedented.
In their aftermath, the US refrained from any major response to Iran's aggressive activity. Then US Joint Chiefs of Staff chairman, General Joseph Dunford, made it clear that even an increase in the number of US troops in the Middle East and the provision of new weapons to Saudi Arabia would not fully ensure the security of its oil infrastructure.
Thus the Gulf countries not only felt they were left almost alone to fend for themselves and protect their oil production, but they also had to deal with attempts by US oil producers to take advantage of the situation and increase US market share at their expense.
Three months later, when an American contractor was killed in an attack on an Iraqi base staged by Iranian proxies, the US did not stay put. In early January 2020, a US drone strike killed Qassem Suleimani, a top commander of Iran's Islamic Revolutionary Guard Corps, near Baghdad.
This demonstrated to the Gulf that the US has "red lines" which it will not allow the Iranians to cross, but they concern the lives of American troops, not the oil infrastructure of any of its allies. In other words, an aggressive US approach to Iran does not necessarily mean US readiness to protect the Gulf countries from Tehran's retaliation.
Washington's unwillingness to expend significant military resources to protect Gulf oil has granted Tehran a certain freedom of action. This development comes at a particularly difficult time for regional oil producers.
The current oil glut linked to the 2010s shale boom and compounded by the coronavirus pandemic has significantly reduced the revenues of Gulf monarchies, forcing them to fight for market share. In this context, any disruption of oil production is particularly painful for Gulf states as it threatens an already dwindling revenue stream.
Tehran, on the other hand, is in a better position. In June, the Iranian government launched the construction of the 1,100km (620-mile) Goureh-Jask pipeline, which will allow it to bypass the Strait of Hormuz. The US sanctions also cut it off from the formal oil market which further made it immune to disruptions of oil transit in the Gulf.
Meanwhile, encouraged by Tehran, the Houthis have demonstrated their capacity to strike oil facilities and transit routes in the Red Sea. This means that even if Riyadh invests in developing oil infrastructure that will not depend on the Strait of Hormuz, this would still not make its oil exports secure.
This in effect means that the US shale boom has inadvertently given Iran the upper hand in the Gulf and undermined US and Israeli efforts to create an Arab axis against it. Today, Tehran is quite capable of exerting pressure on Arab monarchies to restrain or, at least, not to support the Americans in anti-Iranian activity. It seems the Trump administration's maximum pressure strategy against Iran has to a certain extent failed.
https://www.aljazeera.com/opinions/2020/12/26/why-oil-makes-the-gcc-countries-vulnerable-to-iran
--------------
Southeast Asia
RMHTC to strengthen Russia-Malaysia collaboration, act as a springboard into Asean market
Bernama
27 Dec 2020
KUALA LUMPUR, Dec 27 — Technology plays a vital role in developing a country economically and socially. It has the potential to drive economic growth and enhance social wealth by increasing the income levels.
For Malaysia, the high-technology industry has been the key contributor to the national economy, contributing US$90.3 billion of exports in 2018, mainly from manufacturing exports which stood at 52.8 per cent. (According to the Malaysian Industry-Government Group for High Technology – MIGHT)
In addition, Malaysia has also achieved a double-digit growth in high-technology exports for the last two years, with year-on-year growth of 17.2 per cent in 2017 and 22 per cent in 2018.
ITRAMAS Corporation Sdn Bhd chief executive officer Lee Choo Boo said the use of high technology is important and opens up opportunities to bring the country into the next level in terms of a high-income nation, as well as having high-skilled and knowledge workers.
"We see an opportunity to take Malaysia to the next level We have to differentiate ourselves from some countries in this region and I think we need to accelerate not just our technology adoption, but also the creation of new technologies and new products.
"For example, we should not depend on the conventional or basic economic sector. Of course, we are growing through infrastructure development but with the world is now talking about the fourth industrial revolution (4IR), green technology, 5G and so on, I think this is the right time for Malaysia to move forward in the area of high technology," he told Bernama in an interview recently.
ITRAMAS is a leading Malaysian engineering company in green technology and public works. It has extensive experience in implementing large-scale projects in the areas of renewable energy, energy efficiency, electronic manufacturing, and smart city solutions.
Lee said apparently, with the Covid-19 threat, the high-technology industry, especially digital technologies, becomes more significant, as digital tools and platforms become enablers to mediate the effect of the social distancing policies.
"Not just the crisis, I think high technology is critical going forward in the next 10 years. So, it is the time for us to be in the development and the process.
"Collaborating with Russia, which is a developing player in high level of technology, for example, to establish the Russian-Malaysian Hi-Tech Centre (RMHTC) will help accelerate advanced technologies in Malaysia and transform the country into a high-technology nation," he said.
The RMHTC, which aims to be the hub of Russia Hi-Tech in Asean, will be an accelerator for the Russian-Malaysian collaboration in entrepreneurship and education using Malaysia as a springboard into the rest of Asean.
The centre is to serve as a home for leading Russian Malaysian Hi-Tech Joint Ventures, a showcase of Russian Hi-Tech, a centre of Russian Science and Technology education, and a comprehensive support base for Russian technology businesses and universities in Malaysia.
The centre was officially launched virtually in Moscow, about a month ago with the official signing of the shareholders' agreement among the three shareholders, namely, ITRAMAS, Russian-based information technology (IT) and semiconductor solutions provider Tronic JSJ, and a leading Russian hi-tech non-profit organisation, the Technological Sovereignty Exports Association (ASSETS).
Lee said the RMHTC was about one and half years in the making, dating back to two years ago when he was travelling through Europe and looking at some technological components to be incorporated into ITRAMAS' smart city solutions, and bumping into some people in the United Kingdom who were working together with Russian companies.
"After some talking, we'd got interested and realised that there were many technology houses in Russia. So, I made a trip to Moscow, where I met up with the president of ASSETS and subsequently we went to Siberia. Actually, I was surprised by the level of technology that they have in Russia.
"(I feel) The Russians are not very good in terms of marketing but they do have great technologies There are opportunities for Malaysian companies not just ITRAMAS to tap into the knowhow and co-develop for this part of the world, as well as use Malaysia as a springboard to expand into the rest of Asean, so this is how it started," he explained.
Lee said coincidently, the Russian government had already taken the initiative to expand to commercialise the technologies beyond Russia.
"The centre's objective is to facilitate collaborative efforts between Malaysian and Russian educational institutions and also both Malaysian high-tech companies to develop products using core Russian technologies, or whatever we have developed over the years, as well to come out with products that will be used in Asean and to be exported.
"We hope the purpose of the centre is to facilitate the whole process of the collaboration and also to develop new technologies to produce new products," he added.
Trade Representative of the Russian Federation in Malaysia Dr Nikita Ponomarenko said the government authority always supports initiatives that would benefit the country and Russian companies.
He said the decision to create the RMHTC in Cyberjaya, Malaysia, was made in October last year during the first meeting of a joint intergovernmental Russian-Malaysian Commission on Economic, Scientific, Technical and Cultural Cooperation.
"It was based on the proposal from ASSETS to organise a centre to boost business-to-business (B2B) cooperation between the two countries.
"We support the centre's development by focusing on the most promising and breakthrough technologies and at the moment recruiting new companies (in the industrial sector) to join in," he said.
Ponomarenko said among the technologies involved are advanced digital production, industrial Internet of Things, robotics, bid data analysis, artificial intelligence, cybersecurity, systems of the distributed registry, and virtual augmented realities.
"We also plan to create technological partnerships in the areas of 3D printing and aerial drones, which we expect to be highly demanded in future.
"We believe the strategic development programmes in Malaysia such as Industry 4.0 and the 10-10 Framework of Science, Technology, Innovation and Economy (MySTIE) programme will support the centre towards becoming a hub of technology in the Asean region," he added.
The RMHTC is privately funded by ITRAMAS and Tronic and supported by the Russian Trade Representative Office in Malaysia and ASSETS.
Ponomarenko said among the positive traits which bode well for Malaysia to become a hub of technology in Asean were being a most developed country in the region, strategic geographical location, good infrastructure, government support in high technologies, and skilled workforce.
"When we think about the centre, the idea was to create products here locally for the Asean market, and also products which will be manufactured here will not be just for the Russian market but also worldwide," he said.
Asked whether the bilateral trade between Russia and Malaysia will increase following the establishment of the RMHTC, he said there may be some increase.
"But, it is not just about statistics, of course, we think there might be some increase but most of it is about bringing Russian companies to (enter into) joint ventures with local companies here, more about investment attraction, and development of this region," he said.
"As we go along we will add more areas of collaboration, so for each one of those mentioned, maybe we take about two to three years, we can use existing technologies from Russia and combine with whatever we have for commercialisation and development of the next level of products," he said.
Meanwhile, ITRAMAS International Sdn Bhd chairman Datuk Loo Took Gee said the collaboration with Russia is one area of cooperation which is much welcomed.
"We know the Malaysian government or at the level of Asean, we have collaboration with many blocks in the world, for example the EU, the US, Asean-US, Asean-EU, Asean+3 with China, Japan, Korea, and Asean-Russia. This is also one area of collaboration, so, the time has come for us to take on board or take action of the collaboration.
"Previously, I noticed there was not much collaboration between Malaysia and Russia. One possible reason for the low level of collaboration could be marketing or language problem, which we encountered. But we believe now with Dr Nikita driving this agenda and (we are) confident that we can take this level of collaboration between Malaysia and Russia to a higher level," she said.
Based on the data provided, the level of collaboration was actually concentrated in the purchase of coal in Russia, hence, Malaysia can take this matter up further in forging more collaborations in the areas of high technology, such as renewable energy (RE).
As Russia excels in high technology of this area, he said, "We would like to share this with the Malaysian medical fraternity too.
"So, going forward, we would be identifying more areas of collaborations with Russia. Probably, we are not just looking at just importing basic elements from Russia such as coal. Of course, this is a captive market for Russia as we have many coal-based power plants in Malaysia, but in terms of technology, so that we can move further with the establishment of the RMHTC," she added.
Loo hopes the centre would be a success story on the history of the Malaysian-Russian collaboration in trade and investment, especially in the area of high technology.
"Previously, it was scattered through collaboration, but now at least you can see things being focused through this centre. We really need to work hard to increase the trade level between Malaysia and Russia," she added.
Loo said the vision is to see the centre turns into a technology hub not just for Malaysia but also uses Malaysia as a springboard for Asean.
"What we hope to do is basically incubates with development among hi-tech companies and this will eventually translates into manufacturing and into other areas that can be exported," he said.
Ponomarenko hopes to see the centre becoming a fast-moving fast-growing society of businesses
https://www.malaymail.com/news/malaysia/2020/12/27/rmhtc-to-strengthen-russia-malaysia-collaboration-act-as-a-springboard-into/1935229
----------
In swipe against Anwar, Mukhriz says won't back PM appointed with help of corrupt Umno leaders
BY SYED JAYMAL ZAHIID
27 Dec 2020
KUALA LUMPUR, Dec 27 — Datuk Seri Mukhriz Mahathir said his party will oppose a prime minister installed with the support of corrupt Umno leaders, a statement seemingly aimed at the current Opposition Leader Datuk Seri Anwar Ibrahim who is bidding for the post.
Speaking before his supporters in Kedah last night, the pro-tem president of the newly-formed Parti Pejuang Tanah Air (Pejuang) had described graft as the Malays' number one foe, and backing a leader associated with a scandal-plagued outfit like Umno would betray the community.
The speech, reported by Malaysiakini this morning, was delivered amid rumours that Anwar had been actively enticing Umno lawmakers whose support he needs to secure a majority and topple the Perikatan Nasional government.
"Wherever they are, we will not be there. If they want to... allegedly sign statutory declarations (SDs) to support certain parties to become prime minister, we will not be there," he was quoted as saying.
To date, Anwar has not gone on record to deny or confirm the rumours but statements by PKR leaders, including from its secretary-general Datuk Seri Saifuddin Nasution Ismail, appeared to have given the speculation more weight.
Saifuddin had suggested recently that Anwar would soon have the numbers to form a new government, and that the SDs would be one possible route.
Umno secretary-general Tan Sri Annuar Musa had also suggested that there were efforts within the party to collect SDs to back Anwar. Former prime minister Datuk Seri Najib Razak was said to be among those who lobbied for Umno and BN to support the PKR president.
Pejuang is not a member of Pakatan Harapan, the biggest opposition bloc, and has openly stated its unwillingness to back Anwar as prime minister.
Mukhriz said last night that his party is firm against corruption and would dissociate with any parties that cooperates with Umno.
Malaysiakini reported that the Jerlun MP had also criticised DAP over the party's alleged role in helping Umno oust former Perak menteri besar, Datuk Seri Ahmad Faizal Azumu.
https://www.malaymail.com/news/malaysia/2020/12/27/in-swipe-against-anwar-mukhriz-says-wont-back-pm-appointed-with-help-of-cor/1935195
------------
Dialogues on issues concerning Malay/Muslim Singaporeans to be held next year
Hariz Baharudin
DEC 26, 2020
SINGAPORE - A series of dialogues will be held next year in which Malay/Muslim Singaporeans will have the chance to discuss with politicians the issues of concern to them, said Senior Minister of State for Manpower and Defence Zaqy Mohamad.
These dialogues fall under the Ciptasama@M³ programme, and the insights gathered from them will inform policy decisions to continue the good progress the community has been making, said Mr Zaqy on Dec 18 at a group media interview with other Malay/Muslim leaders.
"There are specific issues, concerns and aspirations of the Malay community that I think many in the community wish to express. This is one platform we find useful to engage the community better, to bring and rally them together," he added.
Introduced in 2019, Ciptasama@M³ or Co-creation@M³ is a Malay/Muslim focused programme that aims to encourage the community's participation in policymaking.
It is an initiative under the M³ collaboration by three key Malay/Muslim organisations: Mendaki, the Islamic Religious Council of Singapore (Muis) and the People's Association Malay Activity Executive Committees Council (Mesra).
The first one will be on "Seizing Opportunities in the Age of Digital Transformation". It will take place on Jan 7, with Mr Zaqy and Minister in the Prime Minister's Office Maliki Osman participating.
The second dialogue will focus on "Strengthening Malay/Muslim Families". It will be chaired by Minister of State for Home Affairs and National Development Muhammad Faishal Ibrahim as well as Parliamentary Secretary for Health Rahayu Mahzam on Jan 12.
The dialogues will be held in conjunction with the Singapore Together Emerging Stronger Conversations, in which Singaporeans share their hopes and plans for a more caring, cohesive, and resilient post-Covid-19 society by co-creating policy solutions.
Responding to how the Malay/Muslim community should approach the topic of race and religion, a topic which has surfaced frequently this past year, Mr Zaqy said that the community can express their views on the matter during the Ciptasama@M³ sessions.
During the interview last Friday, Associate Professor Faishal also said that a new framework will be set up for Muslim wedding solemnisers here to help them better develop their careers and to empower them to help strengthen marriages in the community.
This is a follow-up to the announcement M³ made last year about the Bersamamu (Malay for With You) programme, which makes it compulsory for all Muslim couples applying to register their marriages to first meet a naib kadi, or wedding solemniser, before their solemnisation ceremony.
The naib kadi will continue engaging the couple over the next two years, offering support and advice to help them lay the foundations of a strong and stable marriage.
Besides sharing advice and useful information on marriage and parenthood, they may also refer couples to programmes and services aimed at enhancing their marital relationships, or when they need professional help.
Dr Faishal said that more than 6,000 couples have participated in the programme which has received positive feedback from many couples and solemnisers, and that the government will build on its success with this new training framework.
The framework will spell out ways for these solemnisers to be either "generalists" or "specialists", said Dr Faishal, adding that more details will be provided when it is launched next month.
Statistics released by the Department of Statistics show that the number of Muslim divorces is on the rise. There were 1,697 divorces among Muslim couples last year, up from 2018's figure of 1,682 and 2017's figure of 1,637.
https://www.straitstimes.com/singapore/dialogues-on-issues-concerning-malaymuslim-singaporeans-to-be-held-next-year
-------------
India
BJP MLA Raja Singh accuses Srisailam MLA of promoting Muslims in temple town
DECCAN CHRONICLE
Dec 27, 2020,
KURNOOL: Srisailam MLA Silpa Chakrapani Reddy offered to resign if allegations of harbouring Muslims in the temple town of Srisailam are proved by Goshamahal legislator Raja Singh.
The BJP MLA from Hyderabad alleged that Srisailam temple was under the control of Muslims and all contracts and shops were monopolized by them. He alleged cows in Goshala are being killed to extract their meat.
Srisailam, one of the Shaktipeeths, and an important Jyothirlintga in India has been in the eye of controversy as the major revenue sources of commerce and business are cornered by Muslims. Raja Singh had alleged that one Razaq, who is a contractor with Srisailam temple and his wife, a Hindu, is employed as a supervisor in the temple. He said Razaq is a close aide of Silpa Chakrapani Reddy while Razaq's brother is a TDP leader. Irrespective of which party is in power, the Razaq brothers are controlling the temple with the help of political parties.
When contacted, Raja Singh told Deccan Chronicle that several cases are pending against Razaq, which include transporting mutton in flower baskets. These flowers are used for puja in the temple. He said the goshala is supervised by Razaq's wife, who is helping her husband. Cows are killed with the connivance of the supervisor and its meat was being consumed, which is prohibited in the temple town.
Rubbishing the allegations, Silpa Reddy said Muslims have been living in the temple town for ages and he became MLA only two years back. He clarified that he had nothing to do with Razaq and Singh's allegations were "baseless, malicious, mischievous," and only intended to provoke a section of the community and spreading ill-will in the community.
He claimed that he was a staunch Hindu by practice and had built temples with his own money. He challenged Singh to prove his allegations in the presence of Peetadhipathis at Srisailam after Sankranti and he was ready for any eventuality.
The goshala run by the Srisailam Bhramaramba Mallikarjuna Swamy temple has about 1,542 cows including ox. Every month at least one or two cows reportedly die due to diseases, said a temple official.
A dedicated veterinary doctor, along with 44 helpers, is working at the goshala. The official said that the goshala supervisor was shifted after allegations of killing of cows surfaced.
The official said Endowments Act clearly states that people of other religions are not allowed to live in temple towns. But the Muslims staying in Srisailam approached courts and the issue is now pending before the Supreme Court.
http://www.deccanchronicle.com/nation/politics/261220/bjp-mla-raja-singh-accuses-srisailam-mla-of-promoting-muslims-in-templ.html
-----------
MP 'love jihad' Bill tougher, but limits who can file FIR
by Iram Siddique
December 27, 2020
The Madhya Pradesh government claimed to have set into motion "the most stringent" law in the country against 'love jihad', clearing a Religion to Freedom Bill on Saturday that plans higher penalties (jail terms and fines going up to 10 years and Rs 1 lakh), as compared to the law in Uttar Pradesh, as well as maintenance to the woman concerned and the right to father's property for a child born to a couple whose marriage has been declared null and void under its provisions.
Briefing the media after a Cabinet meeting, Home Minister Narottam Mishra described the Bill as "the most stringent" against "the practice of love jihad". Apart from BJP-ruled MP and UP, the party's Himachal Pradesh government has also notified a similar legislation with the aim of "checking conversions".
In a significant departure from the UP ordinance though on registration of FIRs in such cases, the MP Bill says these can be dealt only by police personnel not less than the rank of sub-inspector, and that parents and siblings of the affected individual alone can file a complaint directly. In case a guardian or a custodian wants to register an offence, they must approach a Sessions Court authorised to deal with these matters and get a court order.
In UP, any "aggrieved person", who may have no connection with the couple involved, can register an FIR. In several cases in the state, right-wing organisations have been accused of putting pressure on families to register complaints.
Once an FIR has been registered, in both MP and UP, the burden to prove one's innocence lies on the accused. Those identified as frequent offenders can face jail terms of five to 10 years.
Chief Minister Shivraj Singh Chouhan tweeted, "We will not allow anyone to carry out religious conversion using force, threat or allurement in Madhya Pradesh. For this we have made our law of 1968 more effective to ensure none of the perpetrators go free."
Claiming to curb religious conversions using misrepresentation, allurement, force, threat, undue influence, coercion, marriage or any other "fraudulent means", the MP Bill stipulates jail terms of one to five years, with a fine of Rs 25,000, in such cases. The penalty in case of a person using "misrepresentation" or "impersonation" for religious conversion will be higher, including a jail term of three-10 years and a fine of Rs 50,000.
In contrast, the Uttar Pradesh Prohibition of Unlawful Conversion of Religion Ordinance, 2020, passed last month, stipulates that religious conversion using any of the above means, including misrepresentation and impersonation, would entail a jail term of one to five years and a fine of Rs 15,000.
The other big departure between the MP Bill and UP law is the provision for maintenance to women and right to property to children in the marriage under question, in the legislation planned by the Chouhan government. The matter of maintenance will be dealt as per Section 125 of the CrPC.
In both states, marriages proved to have been undertaken for the sole purpose of religious conversion or conducted without appropriate notice to the district administration can be declared null and void by family courts.
Return to one's original religion — the religion one is born into or that practised by one's father — will not be counted as conversion under the MP Bill. This is the same as in the UP legislation.
While both the UP law and MP Bill envisage a jail term of two to 10 years in case a person being converted is a minor, or belongs to the Scheduled Caste or Scheduled Tribe, the MP legislation talks of a penalty of Rs 50,000, against Rs 25,000 in UP.
Both the legislation talk of three- to five-year prison terms for religious organisations or individuals seen as carrying out mass conversions, but again the penalty in MP is higher (Rs 1 lakh) than UP (Rs 50,000).
In both states, organisations or priests carrying out conversions have to inform the district administration about 60 days before the date of conversion, failing which the organisation can have its registration cancelled and the priest or facilitator face a jail term. But the MP Bill stipulates a higher penalty (of Rs 50,000, and three-five years' jail term) in such cases, compared to one to five years and Rs 25,000 in UP.
The MP government held a special Cabinet meeting to clear the Bill, and it is expected to be placed before the Assembly on December 28 when the House meets for three days for the purpose of clearing the legislation. It will replace an existing Freedom to Religion Act of 1968 in the state.
https://indianexpress.com/article/india/mp-love-jihad-bill-tougher-but-limits-who-can-file-fir-7121497/
-----------
Muslim body Jamaat-e-Islami Hind condemns raid on Advocate Mehmood Pracha
27th December 2020
By Express News Service
NEW DELHI: Prominent Muslim organisation Jamaat-e-Islami Hind (JIH) on Saturday condemned the raid by the Delhi Police (Special Cell) at the office of Advocate Mehmood Pracha, who is a lawyer in several Delhi riots case. "Advocate Pracha has been fighting cases for many victims of the North East Delhi riots and those unjustly arrested for their role in the anti- CAA protests.
The raids appear to be an act of vengeance and intimidation," it said. JIH Vice President Professor Salim Engineer said that there is a visible pattern in the recent arrests by the Delhi Police. He added, "It appears as if the police want to send a message that those who take up cudgels on behalf of victims of injustice and police high-handedness will have to face inquiries, raids and arrest." Salim accused the central government of misusing various agencies to intimidate people who are opposing its policies and actions.
https://www.newindianexpress.com/thesundaystandard/2020/dec/27/muslim-bodyjamaat-e-islami-hind-condemns-raid-on-advocate-mehmood-pracha-2241564.html
-----------
UP Love Jihad: Over 35 Arrests, Dozen FIRs Under New Anti-Conversion Law In A Month
PTI
26 December 2020
Going full steam, the Uttar Pradesh police have made more than one arrest a day since the controversial anti-conversion ordinance came into effect a month ago, having apprehended about 35 people so far.
Nearly a dozen FIRs have been lodged since the Prohibition of Unlawful Conversion of Religion Ordinance, 2020, was notified on November 27.
Eight arrests were made from Etah, seven from Sitapur, four from Greater Noida, three each from Shahjahanpur and Azamgarh, two each from Moradabad, Muzaffarnagar, Bijnor and Kannauj and one each from Bareilly and Hardoi, officials said here.
The police cracked the whip following a complaint of Tikaram Rathore, the father of a 20-year-girl and resident of Sharif Nagar village in Bareilly. He alleged that Uwaish Ahmad (22) had become friends with his daughter and was trying to "coax, coerce and lure" her to convert.
Acting swiftly after being tipped off about interfaith marriages, the Lucknow Police stopped a ceremony in the state capital, asking the couple to meet the legal requirements first.
In Muzaffarnagar district, one Nadeem and an accomplice were arrested on December 6 for allegedly trying to force a married Hindu woman to convert.
Likewise, in Moradabad, two brothers, arrested earlier this month under the anti-conversion law, were released on an order of a CJM court.
Rashid and Salim were arrested on December 4 after they visited the registrar's office in Moradabad to record Rashid's marriage to a Hindu woman whose family had filed the complaint.
Shabab Khan aka Rahul (38), who is married, was picked up in Mau district on December 3 and 13 of his accomplices booked for allegedly abducting a 27-year-old woman on the eve of her wedding on November 30 with an intent to change her religion.
An FIR was lodged at Tambor police station in Sitapur district and 22-year-old Zubrail along with five of his family members and two locals was accused of kidnapping a 19-year-old girl and converting her. All, barring Zubrail, were arrested on December 5.
A 19-year-old woman lodged an FIR with Shahabad police station in Hardoi district on December 11 alleging that she was raped on the pretext of marriage and also pressured to convert by one Mohammed Azad. She also alleged that she was being sold by Azad in Delhi.
Azad was booked for rape, for flouting UP Prohibition of Unlawful Conversion of Religion Law, 2020 and for human trafficking. He was arrested on December 16.
A man was sent to jail in Bijnor on December 16 for 'love jihad', a term coined by BJP leaders and right-wing activists to describe the crime against which Chief Minister Yogi Adityanath has also spoken out.
Addressing bypoll rallies in Jaunpur and Deoria, Adityanath had used the Hindu funeral chant of 'Ram Naam Satya Hai' to threaten those who do not respect daughters and sisters.
Amid a hue and cry over the law, social activist Shantanu Sharma said, "We have no problems with the new law but its enforcement should not cause harassment to people. It should be ensured that it is not misused."
"Making a new law doesn't mean that forcible conversions will be checked easily. Ultimately, it will be the police which will enforce it. It's too early to predict whether it will succeed in its purpose or not, but it should be used carefully," he said.
Former UP Director General of Police Yashpal Singh said that when a girl flees, there is pressure for her recovery. "It (law) is good as per the social structure and with this there will be not exploitation. However, as per modern social outlook, people can feel stripped off their freedom."
High court lawyer Sandeep Chowdhury said, "The law impinges upon the fundamental right to choice and the right to change of faith. It militates against the fundamental rights to individual autonomy, privacy, human dignity and personal liberty guaranteed under Article 21 (right to life and personal liberty) of the Constitution."
He pointed out that a PIL has already been filed in the Allahabad High Court challenging the law and now it is for the court to decide.
The high court has asked the state government to respond to a petition which contended that the new law impinges upon the fundamental right to choice and the right to change of faith.
During the hearing, the high court refused to grant any interim relief and directed the state government to file a counter affidavit by January 4.
The ordinance aimed at curbing forcible or fraudulent religious conversions, including those for the sake of marriage, got the assent of UP Governor Anandiben Patel just within days of the state cabinet approving its draft.
The law provides for a jail term of up to 10 years for any violations. Under the law, which deals with different categories of offences, a marriage will be declared "null and void" if the conversion of a woman is solely for that purpose.
https://www.outlookindia.com/website/story/india-news-up-love-jihad-over-35-arrests-dozen-firs-under-new-anti-conversion-ordinance-in-a-month/368444
----------
URL: https://www.newageislam.com/islamic-world-news/pakistan-sent-notices-google-wikipedia/d/123893
New Age Islam, Islam Online, Islamic Website, African Muslim News, Arab World News, South Asia News, Indian Muslim News, World Muslim News, Women in Islam, Islamic Feminism, Arab Women, Women In Arab, Islamophobia in America, Muslim Women in West, Islam Women and Feminism