New Age Islam News Bureau
21 Jan 2017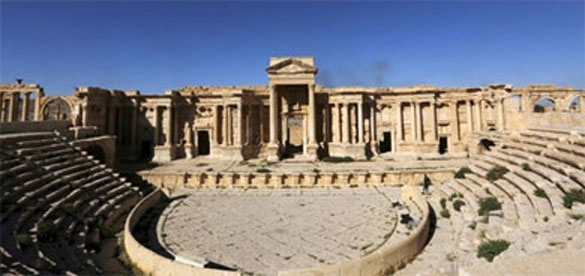 FILE PHOTO A view shows the Roman Theatre in the historical city of Palmyra, in Homs Governorate, Syria April 1, 2016. REUTERS/Omar Sanadiki/File Photo TPX IMAGES OF THE DAY
-----
• Pakistan Govt Orders Shutdown Of Rights Groups Over 'Anti-State Activities'
• IS Wreaks New Destruction In Syria's Ancient Palmyra
• Islamic State's 'Hair-Raising' Warning Against US President Donald Trump
• No Longer 'Realistic' To Exclude Assad From Syria Deal: Turkey
Pakistan
• Pakistan Govt Orders Shutdown Of Rights Groups Over 'Anti-State Activities'
• Bomb Blast In Pakistan Market Kills 20, Wounds Over 50
• Pakistan To Debate Relaxing Infamous Blasphemy Law
• Jibran Nasir Moves PEMRA Against Liaquat For Baseless Allegations Of Blasphemy
• Double-standard does not suit JI chief: Saleem
• Pakistani-Americans wary as Trump moves to White House
--------
Arab World
• IS Wreaks New Destruction In Syria's Ancient Palmyra
• Two Suicide Bombers Blow Themselves Up In Saudi Arabia after Gunfight
• Aleppo: Tens of Terrorists Killed in Air Raids in Sheikh Salman Military Base
• Homs: Over 15 ISIL Terrorists Killed in Syrian Airstrikes Near Palmyra
• Over 40 terrorists killed in airstrikes in Syria's Aleppo Province: Report
• US air strike in Syria kills more than 100 al Qaeda members
• Protests against execution of Shia activists rage on in Bahrain
• Infighting Intensifies between Nusra, Ahrar Al-Sham Terrorists in Idlib
• Syrian Gov't-Militants Take Part in Peace Talks in Wadi Al-Bardi Without UN's Role
• Syrian Army Repels ISIL's Attack on Gov't Military Positions in Hama Province
-------
North America
• Islamic State's 'Hair-Raising' Warning Against US President Donald Trump
• Obama's Last Strike 'Killed 100 Al-Qaeda Fighters'
• Trump Sworn In As 45th US President, Vows To Eradicate 'Radical Islamic Terrorism'
• Muslims Angry Over Imam's Decision To Pray At Donald Trump Inaugural Event
--------
Mideast
• No Longer 'Realistic' To Exclude Assad From Syria Deal: Turkey
• Army Soldiers, Allies Kill 18 Saudi Mercenaries In Southern Yemen
• ISIS car bomb kills 5 Turkish soldiers near Syria's al-Bab: army
• President Rouhani visits site of collapsed high-rise in downtown Tehran
• Muslim students in Europe must promote Islam: Ayatollah Khamenei
• Turkey expects Trump administration to extradite Gulen: PM
--------
South Asia
• OIC Expresses 'Grave Concern' For Rohingyas, Urges Muslim World To Help
• 4 ISIS Militants Hailing From Pakistani And Tajikistan Killed In Nangarhar
• Blast near buzkashi match kills three in Afghanistan
• Second phase of Bangladesh's largest Muslim congregation starts
• Bangladesh: Some Success In Containing Extremism
• HRW urges B'desh govt. to disband RAB
• Myanmar lashes out at Malaysia PM Najib Razak
--------
Southeast Asia
• We're Labelled 'Illuminati' by Malaysian Islamic Department Because We Choose Reason Over Dogma
• Don't Practise Selective Prosecution, Jais And Mais Told
• Indonesians love of Mecca boosts lucrative 'umrah' business
• MUI blasts members who met with Israeli president
• Police ban transgender cultural event in South Sulawesi
--------
India
• India, UAE Discuss Trade, Strategic Partnership
• Pakistan Asks India, World Bank To Inform It Of All Future Hydel Projects
• ED summons Zakir Naik under PMLA
--------
Africa
• How Somali Muslims Are Raising a 10,000-Person Anti-Hate Army
• Toll from botched Nigeria air strike rises to 90
• Car bomb in central Benghazi wounds former interior minister
• Gambia's longtime leader Jammeh agrees to step down
• Nigerian secessionists greet Trump as help against Muslim north
• Boko Haram attacks refugee camp in Nigeria
--------
Europe
• Islamic State Using Online 'Headhunters' to Recruit Young Germans
• Reform of Islamic Educational Textbooks Follows King Mohammed VI's Instructions
• Leader urges more active role for Muslim students in Europe
Compiled by New Age Islam News Bureau
URL: https://www.newageislam.com/islamic-world-news/new-age-islam-news-bureau/pakistan-govt-orders-shutdown-of-rights-groups-over-'anti-state-activities'/d/109805
--------
Pakistan Govt Orders Shutdown Of Rights Groups Over 'Anti-State Activities'
21-Jan-17
ISLAMABAD: Authorities in Punjab have ordered several human rights groups to shut down, accusing them of unspecified "anti-state activities", an official of a human rights group said.
The government has toughened its stance against local and international non-governmental organisations (INGOs) in recent years, accusing some of using their work as a cover for espionage. In 2015, it shut down Save the Children and ordered the charity to wind up its operations and ensure that expatriate staff left within 15 days. However, the government later reversed the decision.
"They are shutting up people by harassment," IA Rehman, an official of the independent Human Rights Commission of Pakistan, told a foreign news agency.
Police and security officials have ordered about a dozen non-governmental organisations (NGOs) to halt operations, mostly in Punjab, Rehman added, with groups working on women's and human rights appearing to be the main targets.
"The provincial government has given orders to district police offices that so-and-so organisation has been indulging in anti-state activities, so ban this organisation," he said.
Punjab Home Minister Rana Sanaullah did not respond to written queries about the orders. Two officials of non-governmental bodies in Punjab told the news agency that police had ordered their employees to halt work. "Yesterday, the police went to one of my colleagues in Bahawalpur and asked him to shut our office over there," said Mohammad Tehseen, director of the South Asia Partnership Pakistan, which focuses on women's rights.
The police gave him a letter issued by the Punjab Home Department alleging that his organisation was "pursuing (an) anti-state agenda". Tehseen denied the charge, and said the police would not specify any actions to support the accusation. Other organisations have received similar letters, Rehman said.
Another NGO, Women in Struggle for Empowerment, was ordered to halt work in Punjab and obtained a copy of another letter from a provincial agency accusing it of activities "detrimental to National/Strategic Security". A copy of the letter provided to the news agency by the group's director, Bushra Khaliq, cites an order from the Interior Ministry.
http://dailytimes.com.pk/islamabad/21-Jan-17/govt-orders-shutdown-of-rights-groups-over-anti-state-activities
--------
IS wreaks new destruction in Syria's ancient Palmyra
21 Jan 2017
DAMASCUS - The Islamic State group has demolished more treasured monuments in Syria's ancient Palmyra, a month after recapturing it from government forces, the country's antiquities chief said Friday.
The news is a fresh blow for the UNESCO World Heritage site, which had already been ravaged by the militant group during the nine months it held the site before being expelled in March last year.
"Local sources told us that 10 days ago Daesh destroyed the tetrapylon," a 16-columned structure that marked one end of the ancient city's colonnade, Maamoun Abdulkarim told AFP using an Arabic acronym for IS. "Yesterday (Thursday), we received satellite photographs from our colleagues at Boston University showing damage to the facade of the Roman amphitheatre," he added.
Before being forced out of Palmyra in a Russian-backed offensive in March, IS razed world-famous temples and tower tombs at the site.
The tetrapylon, built during the rule of the Roman Emperor Diocletian in the 3rd Century AD, consisted of four sets of four pillars each supporting massive stone cornices. The monument had suffered considerable damage over the centuries and only one of the 16 pillars was still standing in its original Egyptian pink granite. The rest were cement replicas erected by the antiquities department in 1963.
The Roman amphitheatre dates to the 1st Century AD and was used by IS for public executions during its occupation of the city between May 2015 and March last year. "From the first day, I was bracing myself for a terrible outcome," Abdulkarim said.
"We had already witnessed the terror of the first occupation and frankly I had never thought that the city would be occupied for a second time."
IS recaptured Palmyra late last year as Syria's government waged a fierce battle to take back all of the northern city of Aleppo from rebel forces.
The surprise fall of Palmyra, in the central province of Homs, gave IS a propaganda boost as it faced twin assaults on two of its key strongholds - Raqa in Syria and Iraq's second city Mosul. Syrian forces have battled to prevent further IS advances around Palmyra, and on Thursday fierce clashes between pro-government fighters and militants near a military airport in the region left 30 dead, a monitor said.
The Syrian Observatory for Human Rights said 12 regime forces and 18 IS militants had been killed in the fighting by the Tayfur military airport in Homs province.
Despite its progress around Palmyra, IS lost nearly a quarter of its territory in Syria and Iraq last year, the research firm IHS Markit said Thursday.
Meanwhile, a US air strike on Thursday targeting an al Qaeda training camp in Syria killed more than 100 militants, a US defense official said on Friday.
The strike took place just a day before the end of President Barack Obama's presidency and a day after more than 80 Islamic State militants were killed in US air strikes in Libya.
The official, speaking on the condition of anonymity, said the air strike was primarily carried out by a B-52 bomber and dropped 14 munitions.
The official added that the strike against the camp took place in Idlib province, west of Aleppo, and there was a high level of confidence that there were no civilian casualties.
A US-led coalition has been carrying out air strikes and supporting local forces in Syria to oust Islamic State militants. However, there is concern that the defeat of Islamic State could open the door for al Qaeda to take territory in ungoverned parts of the country.
The Syrian Observatory for Human Rights reported on Friday that an air strike killed more than 40 members of the militant group Jabhat Fateh al-Sham in northwestern Syria. It was not immediately clear if this strike was the same one the defense official was referring to.
The militant group is just one of the many forces involved in Syria's complex conflict, which began with anti-government demonstrations in March 2011 and has killed more than 310,000 people since then.
The war has drawn in foreign powers including government ally Russia and a US-led coalition battling IS and other militants.
Late Thursday, air strikes killed more than 40 militants from the former Al-Qaeda affiliate Fateh al-Sham Front in the west of Aleppo province, the Observatory said.
But the Britain-based monitor said it was not able to determine if the strikes were carried out by Russian or coalition aircraft.
Fateh al-Sham, known previously as Al-Nusra Front, is excluded from a fragile nationwide ceasefire in place in Syria since December 30.
The truce, brokered by regime ally Russia and rebel backer Turkey, is intended to pave the way for fresh peace talks in the Kazakh capital Astana beginning January 23.
The nature of the talks remains murky, and there has been little indication the two sides have shifted their positions since previous rounds of failed negotiations.
President Bashar al-Assad, speaking to Japan's TBS television in an interview released in full Friday, appeared to dismiss the possibility of a transitional government or his resignation.
Both are key demands of the opposition.
"In our constitution there's nothing called transitional government," Assad said.
"Whoever wants the president to leave, they can go to the ballot box," he added, saying the issue was "not something we discuss either with the opposition or with any other country."
"I'm not the reason of the problem."
Assad also reiterated his hope that US President-elect Donald Trump, who will be inaugurated later Friday, could be a partner going forward.
"We hope that they are genuine to forge a real and realistic alliance to fight the terrorists in the region, and that of course will include Syria first of all," he said.
http://nation.com.pk/international/21-Jan-2017/is-wreaks-new-destruction-in-syria-s-ancient-palmyra
--------
Islamic State's 'Hair-Raising' Warning Against US President Donald Trump
January 21, 2017
New Delhi, Jan 21: There was a clear message from the Donald Trump administration to the Islamic State. Defeating Islamic terrorism will be the top foreign policy goal, Trump who was sworn in as the 45th President of the United States of America said. Minutes after his message, there were violent reactions on pro-IS and al-Qaeda handles.
Rita Katz, director, SITE Intelligence Group, tweeted, "Both the AQ and IS supporters calling Trumps vow to eradicate Islamic terrorism as more fuel to the West's war against Islam."
She further tweeted that some expressing violent sentiments over Trump with IS supporters stating, IS has prepared for him what would make his hair go grey. Trump has been clear about his war against Islamic terrorism and has even said that he would bomb the s**** out of the IS. The IS is clearly in a desperate state after losing nearly a quarter of its territory in Iraq and Syria last year and more than a peak since its peak. While the shrinking of the IS in its primary base is a good news, there is also a danger of attacks rising in the European cities. The IS has been giving calls to attack cities in Europe and America. The Paris and Nice attacks are testimony to this. Statistics would show that since the declaring of the Caliphate, the IS has conducted and inspired more than 140 attacks in 29 countries other than Iraq and Syria. According to CNN, these attacks have claimed at least 2,043 lives.
http://www.oneindia.com/international/islamic-state-s-hair-raising-warning-against-us-president-2323457.html
--------
No longer 'realistic' to exclude Assad from Syria deal: Turkey
21 Jan 2017
Turkey said on Friday it was no longer "realistic" to insist on a solution to the Syria conflict without President Bashar al-Assad.
Ankara acknowledged last year that Assad is an actor in Syria but it is the first time a senior Turkish official has openly said it would be unrealistic to insist on the embattled leader's departure for any solution.
"We have to be pragmatic, realistic. The facts on the ground have changed dramatically," Deputy Prime Minister Mehmet Simsek told a panel on Syria at the World Economic Forum in Davos.
"Turkey can no longer insist on a settlement without Assad. It is not realistic."
Turkey, a vocal critic of Assad, has backed Syrian opposition militants fighting for his ouster since the complex conflict began with anti-government demonstrations in March 2011.
Turkey and Russia, which backs the Syrian regime with military support, brokered a ceasefire deal between Assad's forces and militant groups in late December, but violence has recently escalated across the country, particularly around the capital.
Turkey, together with Russia and Iran, are convening talks next week in the Kazakh capital of Astana to shore up a ceasefire in Syria.
At Davos, Simsek said there had to be "a beginning in Astana" to make sure the conflict stops.
"For now at least the fighting has stopped, it is very, very critical because that is the beginning of anything else. The process is to make sure that we translate the current lull into a more lasting ceasefire initially, and then of course talk about more mundane stuff, settling the conflict. "
http://www.dawn.com/news/1309626/no-longer-realistic-to-exclude-assad-from-syria-deal-turkey
--------
Pakistan
Bomb Blast In Pakistan Market Kills 20, Wounds Over 50
PESHAWAR: 20 people were killed and 50 were wounded when a bomb struck a market in Pakistan's tribal belt bordering Afghanistan on Saturday, Pakistani health and government officials said.
The bomb hit the crowded vegetable market in Parachinar city, the capital of Kurram tribal district on the Afghan border where officials said the death toll was expected to rise.
Government official Shahid Khan said explosion took place when the market crowded with retailers buying fruits and vegetables from a wholesale shop.
At least 20 people have been killed and 50 wounded, a senior government official in Parachinar, told Press Trust of India.
Dr. Sabir Hussain at the main hospital in Parachinar, said two wounded victims died during treatment, raising the death toll to 20 Saturday. Initially, seven people were brought dead from the vegetable market blast site and more than 50 wounded. Eleven of the critically wounded died earlier while being treated. Hussain said several of the wounded were in serious condition and being transferred to other hospitals for better care.
The blast was caused by an IED (improvised explosive device) which was hidden in a vegetable box.
Lashker-e-Jhangvi, a banned sectarian terrorist group that has attacked minority Shiites Muslims in the past, claimed responsibility for the attack. The bombing took place in a predominantly Shiite area of Kurram, which has been attacked in the past by Sunni terrorists who have hideouts there. Shiites are a minority in Pakistan.
Prime Minister Nawaz Sharif expressed grief over the latest loss of life, his office said in a statement.
Shiite leader Faqir Hussain said all the bodies were brought to a Shiite mosque.
Parachinar is the capital of Kurram tribal region which has been the scene of high terrorists activities in the past years. Army carried out massive operation against terrorists here but they still have capacity to strike.
(With inputs from AFP, PTI and AP)
Source: ndtv.com/world-news/bomb-blast-kills-7-wounds-over-60-in-pakistan-1651158
--------
Pakistan to debate relaxing infamous blasphemy law
Fri 20 Jan 2017
By Premier Journalist
A debate over the misuse of Pakistan's blasphemy law is set to begin next week.
The law, which carries a death penalty for insulting anything related to Islam and the prophet Muhammad, is often used as a way to settle personal scores against Christians.
The law's been used to hold mother of five Asia Bibi on death row since 2010. She was arrested after an argument erupted between her and a group of Muslim women when they became angry at her for drinking the same water as them.
The group accused her of insulting Muhammad - a claim which she denies.
In December, a Christian shopkeeper was arrested and charged with blasphemy after page torn from the Qu'ran was found outside his house by a rival shop owner.
The Christian shopkeeper - who is illiterate - could face a death sentence.
In a move praised by human rights campaigners, Pakistani politicians will discuss ways to install checks and balance on the rules.
But Beth Fuller from Christian persecution watchdog Open Doors told Premier that any changes might not go far enough.
Full report at:
https://www.premier.org.uk/News/World/Pakistan-to-debate-relaxing-infamous-blasphemy-law
--------
Jibran Nasir Moves PEMRA Against Liaquat For Baseless Allegations Of Blasphemy
January 21, 2017
KARACHI – Pakistan Electronic Media Authority on Friday received a complaint from human rights activist Jibran Nasir alleging famous TV presenter Amir Liaquat of running a defamatory and life threatening campaign against the activist.
Jibran in a written application before the PEMRA complaints council, Sindh region stated that Amir Liaquat started a defamatory and life threatening campaign in his show 'Aisy Nahi Chaly Ga' on Bol TV in the aftermath of missing bloggers.
According to Jibran, after the abduction of bloggers in first week of January, unsubstantiated allegations emerged over social media on January 9 linking the missing bloggers to allegedly blasphemous facebook page 'Bhensa' adding that 'Ummat' newspaper and some television anchors propagated the allegations without any evidence.
The famous activists pleaded that the families of missing bloggers Salman Haider and Waqas Goraya held a press conference in Islamabad to refute the allegations of involvement in any blasphemous activity along with a religious cleric Mufti Ismail while reaffirming their faith in religion Islam.
A copy of the application which was also sent to PEMRA chairman Absar Alam went on to state that the families of bloggers did not allege any security agency of abduction and merely reminded government of its responsibility to ensure safety of citizens.
The activist maintained that the following day, Amir Liaquat hurled baseless allegations against him and even termed him an 'Atheist' besides accusing him of running 'Anti-Pakistan' and 'Anti-Islam' agenda.
Amir did not stop here and went on to assert allegations of blasphemy against Jibran alongwith accusing him of being the admin of 'Bhensa' page. The famous television anchor also maligned another activist Sheema Karmani merely for the reason that she participated in a rally demanding release of missing bloggers.
The televangelist kept pressing his point and dragged GEO television in the controversy adding that Jibran was an agent of the particular channel urging government to arrest him on baseless allegations.He also indulged in character assassination of Maliha Lodhi, Pakistan's permanent representative to United Nations.
According to the application filed before the regulatory authority, Amir categorically concluded his show while accusing bloggers of blasphemy. He did not mention the press talk of families of bloggers as well.
Full report at:
https://en.dailypakistan.com.pk/pakistan/activist-jibran-nasir-moves-pemra-against-amir-liaquat-for-baseless-allegations-of-blasphemy/
--------
Double-standard does not suit JI chief: Saleem
21 Jan 2017
ISLAMABAD: Pakistan Muslim League (Nawaz) Senator Saleem Zia on Friday said that the politics of double-standard does not suit Chief of Jamaat-i-Islami (JI) Sirajul Haq.
Talking to media persons outside the Supreme Court after the Panamagate case hearing, he said Siraj-ul- Haq should have focused on Khyber Bank case which was being heard in the Peshawar High Court.
Sirajul Haq should clear his stance as his party has been in government with PML-N in Azad Jammu and Kashmir and with Pakistan Tehreek- e- Insaf (PTI) in Khyber Pakhtunkhwa (KP), he added.
The senator said that the JI chief should first put his own house in order as his party is in government with PTI in Khyber Pakhtunkhwa instead of wasting energy on this case.
Full report at:
http://www.pakistantoday.com.pk/2017/01/20/double-standard-does-not-suit-ji-chief-saleem/
--------
Pakistani-Americans wary as Trump moves to White House
Jan 20, 2017
[Pakistan], Jan. 20 (ANI): With United States President-elect Donald Trump set to swear-in as the 45th president of America today, Pakistani-Americans continue to remain wary of their future under the new administration. And this does not comes as a surprise as Trump has effectively declared Muslims the enemy during the presidential campaign, pushed to ban them from entering the country and suggested that the United States should start thinking seriously about profiling them. Giving a few personal accounts the Dawn reports, Darakshan Raja, an activist and co-director of the non-profit Washington Peace Center, stressed on the need to organise after the election. But she adds that Trump's 'Islamophobia', including the idea of Muslim registries, is not exactly novel. "Registries against Muslims already exist, [such as the] no-fly list, surveillance, informants [have been in place]," she said, adding, " The National Security Entry-Exit Registration System (NSEERs), which was formed by George W Bush after 9/11, is an example of a long-operating registry of Muslims.
Full report at:
http://www.sify.com/news/pakistani-americans-wary-as-trump-moves-to-white-house-news-international-rbuuMMhihbife.html
--------
Arab World
Two Suicide Bombers Blow Themselves Up In Saudi Arabia after Gunfight
21-01-17
Two suicide bombers have blown themselves up in a confrontation with security forces in Saudi Arabia's second city of Jeddah, local media reported.
Sabq, a news website affiliated with the kingdom's Interior Ministry, reported on Saturday that security officers surrounded a house in Jeddah and exchanged fire with men who then blew themselves up.
There was no immediate comment from the Saudi interior ministry.
Since 2014, Saudi security forces have grappled with sporadic attacks by followers of Islamic State of Iraq and the Levant (ISIL), which is based in Syria and Iraq, and say they have arrested hundreds of its members.
Local ISIL affiliates have carried out several deadly shootings and bombings in the kingdom. Many of the attacks have targeted security personnel and Shia-Muslim mosques.
ISIL leader Abu Bakr al-Baghdadi has called for attacks against Saudi Arabia, which is a member of a US-led coalition bombing his fighters in Syria and Iraq.
http://www.aljazeera.com/news/2017/01/suicide-bombers-blow-saudi-arabia-170121075722150.html
--------
Aleppo: Tens of Terrorists Killed in Air Raids in Sheikh Salman Military Base
Jan 20, 2017
The positions of al-Nusra Front and Nouralddeen al-Zinki in Sheikh Soleiman military base in the town of al-Ais in the Southwestern countryside of Aleppo city came under aerial bombardments, the websites close to the terrorist groups reported.
At least 50 al-Nusra and al-Zinki terrorists have been killed in the airstrikes on Sheikh Soleiman military base, they added.
Meantime, a military source said a number of ISIL terrorists were killed in the village of Khasaf in the surrounding areas of the air force academy in the Eastern countryside of Aleppo and their arms depot was also destroyed.
In a relevant development on Thursday, the Syrian army continued fierce military operations against the ISIL in the Eastern parts of Aleppo province and liberated several regions after retaking control of A'abad and al-Saffah villages.
Following heavy clashes with the ISIL terrorists and killing and wounding tens of them, the army troops regained control of Afrin and al-Shahrour villages in the Eastern parts of Aleppo province.
The Syrian fighter jets also targeted ISIL's positions in Deir Hafer and al-Bab towns and al-Amam village, inflicting casualties and damage on the terrorists.
Full report at:
http://en.farsnews.com/newstext.aspx?nn=13951101000265
--------
Homs: Over 15 ISIL Terrorists Killed in Syrian Airstrikes Near Palmyra
Jan 20, 2017
Abu Omar al-Saraqebi, a senior commander of the ISIL, was among 15 ISIL terrorists killed in the Syrian airstrikes on the Southern part of the village of Sharifeh in the Eastern countryside of Homs.
An armored vehicle of the ISIL terrorist group was also destroyed in aerial bombardments.
The Syrian air force also pounded the ISIL's gathering centers and movements in the surrounding areas of T4 airbase, destroying two tanks and several military vehicles.
Meantime, the Syrian army retook more lands South and West of the T4 airbase in Eastern Homs, including several hilltops and regions overlooking Alfo Sefat road.
The Syrian army continued its advances in the Southwestern part of Homs province today, inflicting heavy losses on the terrorists near the ancient Assyrian city of al-Quaryatayn.
The army units launched another powerful offensive near al-Quaryatayn in the Southwestern part of Homs province.
Meantime, the Syrian army backed by the Russian airstrikes stormed the Southern countryside of the T4 airbase and liberated large chunks of the territory amid their advances towards the village of Al-Baridah.
A military source in Homs reiterated that the Syrian army managed to kill as many as 25 ISIL terrorists while destroying an armored and 7 technical vehicles South of the T4 airbase.
In addition to their large-scale advance in Northern Al-Barida, the Syrian Army also cleared several sites East of the T4 pumping station and T4 village in Eastern Homs on Thursday.
In a relevant development on Thursday, the Syrian army troops and air force continued to deal a heavy blow to the ISIL and Fatah al-Sham Front (previously known as the al-Nusra Front) terrorist groups in Eastern and Northern Homs.
The army units targeted the gatherings and movements of ISIL East of the Fourth Station, Southeast of al-Tayas, Ba'ar al-Fawa'erah in Eastern Homs, killing several terrorists and destroying their military vehicles.
The army soldiers targeted a bomb-laden vehicle of ISIL on the way to Taloul al-Tayas before reaching the army's positions.
In the meantime, the army men engaged in heavy fighting with ISIL terrorists in the Eastern direction of the Fourth Station, killing a number of them and destroying their vehicles.
The warplanes and army's artillery units targeted the positions of Fatah al-Sham in the town of al-Rastan and its surroundings, in the villages of Deir Foul, al-Zafaraneh, al-Qantou and Hart al-Badu in Um Sharshouh in Northern Homs, killing a number of militants, including several commanders, and destroying several of their vehicles.
Also, the Air Force and Army's artillery and missile units targeted the concentration centers of Fatah al-Sham Front and ISIL in Northern and Eastern Homs on Wednesday, killing a number of militants and destroying their equipment.
The Syrian Army units hit ISIL's movements in areas North of the Fourth Station in the Western direction of the ancient city of Palmyra (Tadmur), killing 12 terrorists and destroying a bomb-laden vehicle.
Full report at:
http://en.farsnews.com/newstext.aspx?nn=13951101000364
--------
Over 40 terrorists killed in airstrikes in Syria's Aleppo Province: Report
Jan 20, 2017
Over 40 Takfiri terrorists from Fateh al-Sham Front have reportedly been killed in airstrikes on their camp in Aleppo Province in northwestern Syria.
The so-called Syrian Observatory for Human Rights said it cannot immediately specify who carried out the Thursday airstrikes in the western part of the province.
"Warplanes, which may have been Russian or coalition aircraft, struck a Fateh al-Sham camp in Jabal al-Sheikh Suleiman," the Britain-based group said.
The Takfiri group, formerly known as al-Nusra Front, along with Daesh, is not a party to a countrywide ceasefire deal reached between Damascus and militant groups on December 30, 2016.
Mass grave found in Aleppo
Meanwhile, the Syrian army forces have discovered a mass grave at a school in the eastern sector of Aleppo City, which was liberated from the militants late last year.
According to a letter sent by the Syrian army to United Nations Secretary-General Antonio Guterres, the victims had been executed by the Takfiri Fajr al-Islam militant group.
The letter said certain countries consider the terrorist group as moderate fighters and equip them with arms and technical support.
Twenty of the victims have been identified and investigation is underway to identify another 37 victims, the letter added.
Aleppo reconstruction
In a Friday interview with Iran's Fars News Agency, Aleppo Governor Hussein Diab said clean-up and reconstruction operation sin Aleppo have made signification progress.
He said the reconstruction process will include the entire Aleppo province with a primary focus on urban services.
Tractors start to clean up areas formerly held by Takfiri terrorists in the northern city of Aleppo on December 27, 2016. (Photo by AFP)
The operations include removing the debris, cleaning up the streets, providing security for vehicles and reopening schools after four years, Diab said.
He said 20 schools have been reopened for 5,000 students and three health centers have started providing medical services to the citizens.
Following the liberation of Aleppo in late 2016, the Syrian government adopted a plan of action meant to restore public services and security to the northwestern city.
The plan includes a range of measures such as the opening of Aleppo roads, providing water, electricity and fuel to citizens as well as assessing conditions for repair and reconstruction activities there.
Lavrov 'optimistic' on Syria peace process
On Friday, Russian Foreign Minister Sergei Lavrov expressed optimism over the prospect of peace process on Syria, saying the meeting in the Kazakh capital Astana on January 23 is as an important step toward establishing a framework for talks taking place in Geneva.
"As you know an inter-Syrian meeting between the Syrian government delegation and armed opposition will take place next week in Astana. We view this meeting as an important input into work on parameters of integral political reconciliation in the Syrian Arab Republic which will continue at larger events in Geneva in the beginning of February," he added.
Full report at:
http://www.presstv.ir/Detail/2017/01/20/506981/Syria-terrorist-Russia-peace-talks-aleppo
--------
US air strike in Syria kills more than 100 al Qaeda members
20 January 2017
A US air strike on Thursday targeting an al Qaeda camp in Syria killed more than 100 members of the militant group, a US defense official said on Friday.
The official, who was speaking on the condition of anonymity, said the air strike was primarily carried out by a B-52 bomber and dropped 14 munitions.
Full report at:
https://english.alarabiya.net/en/News/middle-east/2017/01/20/US-air-strike-in-Syria-kills-more-than-100-al-Qaeda-members.html
--------
Protests against execution of Shia activists rage on in Bahrain
Jan 20, 2017
Anti-regime protests continue across Bahrain in strong condemnation of the recent execution of three Shia Muslim activists, whom the Al Khalifah regime alleged had killed three policemen during a pro-democracy demonstration back in March 2014.
People took to the streets in several villages, including Diraz, Barbar, al-Daih and Sar, following Friday prayers to express their outrage over the executions and denounce the Al Khalifah regime's repressive measures against political dissidents.
Scores of demonstrators had also marched along streets in the Bilad al-Qadeem suburb of the capital, Manama, on Thursday evening, waving national flags and holding pictures of the executed activists.
Bahraini protesters take part in an anti-regime rally in Bilad al-Qadeem suburb of the capital, Manama, on January 19, 2017.
They chanted slogans against King Hamad bin Isa Al Khalifa as well, and demanded the downfall of the ruling dynasty.
Protesters in the village of Ma'ameer, situated about 15 kilometers south of the capital, carried a large banner in protest at the prevalent corruption in the kingdom, holding King Hamad fully responsible for the killings.
In the village of Nuwaidrat, located about ten kilometers south of Manama, the demonstrators vowed to exact revenge for the executions, and press ahead with their pro-democracy rallies.
Fire burns as firebombs are thrown at an anti-riot police vehicle in Eker village, Bahrain, on January 19, 2017.
Additionally, people blocked roads with burning tires and threw firebombs at an anti-riot police vehicle in Eker village. Regime forces fired birdshots in order to disperse the crowd.
On January 15, Bahrain executed Abbas al-Samea, 27, Sami Mushaima, 42, and Ali al-Singace, 21, by firing squad. The killings came a week after the Court of Cassation upheld death sentences against the trio after finding them guilty of killing three policemen, including an Emirati officer, in the northern village of al-Daih back in March 2014.
Even the United States, the strongest ally of the Al Khalifah regime, reprimanded Bahrain over the executions on Tuesday.
"We're concerned that these executions occurred at a time of elevated tension in Bahrain," US State Department spokesman John Kirby said.
He added, "We've also seen allegations that the individuals facing execution were victims of torture, and that the evidence used against them in court was extracted, in part, through coerced confessions."
Sayed Morteza al-Sanadi, the head of the Bahrain's opposition al-Wafa'a Islamic Party
Bahraini opposition al-Wafa'a Islamic Party announced in a statement late on Monday that it is turning to armed resistance as the only way to get legitimate public demands fulfilled in the face of the Al Khalifah regime's harsh crackdown in the country.
"We in al-Wafa'a declare that we have started a new phase. We have one hand in the streets and the other on the trigger," the party's leader, Sayed Morteza al-Sanadi, said.
"For six years we have been adhering to peaceful methods ... For six years we have been appealing to the whole world and in return we got nothing but tears," Sanadi added, vowing that al-Wafa'a "will exact punishment for the trio's blood."
Bahrain sets date for trial of prominent rights activist
Meanwhile, Bahraini judicial officials have set January 23 as the date for the trial of prominent human rights activist Nabeel Rajab, who has been behind bars over online comments deemed insulting to the ruling Al Khalifah regime and Saudi Arabia.
Rajab, the founder of the Bahrain Center for Human Rights, is accused of "spreading false news and rumors during a time of war." If found guilty, he could be jailed for 15 years.
He was arrested on June 13 last year for comments on Twitter that criticized the kingdom's role in Saudi-led military operations in Yemen, according to Human Rights Watch.
Full report at:
http://www.presstv.ir/Detail/2017/01/20/507040/Bahrain-protest-rally-execution-Shia-Muslim-activists-human-rights-campaigner-Nabeel-Rajab-trial
--------
Infighting Intensifies between Nusra, Ahrar Al-Sham Terrorists in Idlib
Jan 20, 2017
Violent infighting erupted between al-Nusra and Ahrar al-Sham terrorists in the towns of Iblin and Bara in Idlib countryside.
The violent clashes intensified after Fatah al-Sham terrorists killed a senior commander of the rival group, Khaled al-Adel, in the town of Kansafra in Zawiya mountain in Idlib's Southern countryside.
Meantime, the al-Nusra militants could defeat Ahrar al-Sham in most locations and seized control of most of Ahrar al-Sham's military positions in Zawiya mountain.
In a relevant development on Saturday, the Terrorist groups increased attacks on each other across Idlib province, while terror operations against commanders had been on the rise in recent weeks in the militant-held regions in the province.
Local sources said that senior Commander of Fatah al-Sham Front Abu Ali al-Tunisi was killed in a terrorist attack on a road to the town of Qemaynas in Southeastern Idlib.
At least 20 Turkistani terrorists were killed in an attack by rival terrorists on a building in Jabal al-Arbaeen in the town of Ariha, they added.
Ahrar al-Sham and Fatah al-Sham are accusing each other of being the main cause of disunity and insecurity in Idlib and its countryside.
Ahrar al-Sham believes that Fatah al-Sham's opposition to merging militant groups is the cause of disunity and insecurity.
Al-Omar, one of the commanders of Ahrar, said those members of ISIL that are now among Jund al-Aqsa and have made allegiance to Fatah al-Sham are in charge of insecurity and terror in Idlib.
Full report at:
http://en.farsnews.com/newstext.aspx?nn=13951101000739
--------
Syrian Gov't-Militants Take Part in Peace Talks in Wadi Al-Bardi Without UN's Role
Jan 20, 2017
The peace talks in Wadi al-Bardi started while the first group of the militants who have laid down their arms started moving from the village of Konaker in Damascus countryside towards Idlib.
In relevant remarks on Thursday, the Russian Defense Ministry announced that over 2,200 militants in Wadi al-Bardi region laid down arms and joined the nationwide peace agreement with the Syrian government.
Chief of the Main Operational Directorate of the General Staff of the Russian Armed Forces Lt-Gen. Sergei Rudskoy announced that 2,274 militants have handed over their weapons to the Syrian army and joined peace with the government.
He added that the ground has been paved for those militants that have not agreed to join the peace process to leave the region for the militant-held regions in Idlib province along with their families.
The Russian Reconciliation Center for Syria announced on Wednesday that militants in more regions laid down arms and joined the nationwide reconciliation plan across Syria.
"Representatives of militants in more regions signed peace agreements with Damascus," the Russian center said, adding, "Total number of cities, towns, regions and villages that have thus far joined peace process in Syrian now stands at 1,134."
Full report at:
http://en.farsnews.com/newstext.aspx?nn=13951101000648
--------
Syrian Army Repels ISIL's Attack on Gov't Military Positions in Hama Province
Jan 20, 2017
A large number of ISIL terrorists were killed while they were pushed back by the Syrian army in Eastern Hama.
The terrorists' military hardware and equipment were also destroyed in the clashes.
In a relevant development in the province on Thursday, the Syrian Army soldiers carried out an ambush operation against a group of militants near a key town in Hama, destroying their military grid and inflicting major casualties on the militants.
The army men carried out a surprise attack on a group of terrorists who were relocating to new positions East of Taybat al-Imam, killing or wounding a number of them and destroying their vehicles.
The army soldiers also ambushed another group of terrorists in a nearby region Northeast of Albu'eizeh.
The army troops also targeted a group of terrorists that intended to enter the village of Jadrin from the direction of Hirbnafsa village in Southern Hama, inflicting at least 29 casualties on them.
Full report at:
http://en.farsnews.com/newstext.aspx?nn=13951101000399
--------
North America
Obama's last strike 'killed 100 al-Qaeda fighters'
21 January 2017
A US strike ordered by the administration of former President Barack Obama killed more than 100 Al-Qaeda fighters at a training camp in northwestern Syria, the Pentagon said Friday.
The air strike occurred Thursday, a day before Obama left office, at a camp in Idlib province that had been operational since 2013, Pentagon spokesman Navy Captain Jeff Davis said.
"The removal of this training camp disrupts training operations and discourages hardline Islamist and Syrian opposition groups from joining or cooperating with Al-Qaeda on the battlefield," Davis said.
US plane and drone strikes have killed more than 150 Qaeda fighters since January 1, Davis said, including Mohammad Habib Boussadoun al-Tunisi, an "external operations leader" in Syria.
"These strikes, conducted in quick succession, degrade al-Qaeda's capabilities, weaken their resolve and cause confusion in their ranks," Davis said.
Full report at:
https://english.alarabiya.net/en/News/middle-east/2017/01/21/Obama-s-last-strike-killed-100-al-Qaeda-fighters-.html
--------
Trump sworn in as 45th US president, vows to eradicate 'radical Islamic terrorism'
21 Jan 2017
Donald Trump became the 45th president of United States on Friday, and placed the battle against "radical Islamic terrorism" at the heart of his foreign policy, vowing to work with allies to destroy the militant threat.
"We will reinforce old alliances and form new ones and unite the civilised world against radical Islamic terrorism, which we will eradicate completely from the face of the earth," he declared.
The 70-year-old Republican billionaire placed his left hand on a bible used by Abraham Lincoln and recited the 35-word oath spoken since George Washington, and then launched into a much-anticipated inaugural address.
"We, the citizens of America, are now joined in a great national effort to rebuild our country and restore its promise for all of our people,"
Trump told a crowd of hundreds of thousands massed on the National Mall.
"Together we will determine the course of America, and the world, for many, many years to come," he said.
"From this day forward, it's going to be only America first."
Trump's inauguration caps the improbable rise to power of the Manhattan real estate mogul, who had never before held elected office, served in the government or the armed forces.
A crowd of hundreds of thousands looked on, including outgoing president Barack Obama and Trump's defeated election opponent Hillary Clinton - who narrowly missed out on becoming America's first female president.
Meteoric political rise
When Trump descended the escalators of his glitzy New York tower in June 2015, his run for office was dismissed and even mocked.
His staff, many shunned by friends for supporting a man who has been labeled a racist and bigot by his critics, will become power players in the White House.
In the primaries, Trump dominated a crowded Republican presidential field with smash-mouth rhetoric and star power. He rode that same wave of anti-elite sentiment to victory over Clinton in the November election.
For Trump's critics, there was disbelief that a man who 19 months ago hosted "The Apprentice" is now leader of the free world.
Time-honoured traditions
At 70 years of age, Trump is the oldest man ever to begin work in the Oval Office.
He has vowed to tear up Obama's policies and re-examine decades-old alliances with Europe and in Asia. Beginning Friday, his team plans a rolling series of daily executive orders to roll back Obama's agenda.
His inauguration was notably more sparsely attended than that of Obama in 2009 and 2013.
Many will look to Trump's inaugural speech for efforts to unify a country divided by politics - and increasingly, by culture.
The most noted inaugural addresses had sought to lift Americans' gaze up from the rancor and troubles of the day toward the horizon and a better tomorrow.
Inaugural addresses - from Lincoln to John F. Kennedy - echo across American history. Phrases like "malice towards none" and "ask not what your country can do for you" have been carved into the vernacular.
Trump aides promised an address that is at once short - at around 20 minutes - and philosophical.
Earlier in the day, Trump had traced the steps of many presidents past, attending a prayer service at St. John's Church before heading to the White House, where he was greeted warmly by Obama.
"Mr President-elect, how are you?" Obama asked his successor, after having deposited a letter in the Resolute desk and left the Oval Office for the last time.
After his speech, Trump will attend a luncheon inside the Capitol, before heading back to the White House to begin the business of governing.
Vandalism erupts at anti-Trump protest
Police fired gas to disperse protesters after stones were thrown and windows broken in Washington on Friday ahead of Donald Trump's presidential inauguration.
As Trump, his supporters, former presidents and other dignitaries gathered on the National Mall for the swearing-in ceremony, opponents marched in nearby streets and were confronted by a heavy police presence.
Full report at:
http://www.dawn.com/news/1309627/trump-sworn-in-as-45th-us-president-vows-to-eradicate-radical-islamic-terrorism
--------
Muslims Angry Over Imam's Decision To Pray At Donald Trump Inaugural Event
21/01/2017
A Virginia imam's decision to take part in an interfaith ceremony for recently inaugurated President Donald Trump has sparked outrage among some American Muslims who believe Muslims should boycott the event.
CNN reported Thursday that Imam Mohamed Magid of the All Dulles Area Muslim Society Center, also known as the ADAMS Center, in Sterling, Virginia, will deliver the Muslim call to prayer at the National Prayer Service this Saturday at the Washington National Cathedral.
Magid will join 26 other faith leaders in addressing an audience that will include Trump and Vice President Mike Pence.
Ahmed Rehab, executive director at the Chicago chapter of the Council on American-Islamic Relations, wrote in a Facebook post on Friday that he was "thoroughly disappointed" by Magid's "unilateral decision" to join the prayer service, which "goes against the consensus of our community's leadership and grassroots."
Rehab wrote that while he has "lots of love and respect" for Magid and his "long track record as an open-minded, loving imam," the imam's participation in the service will give "the appearance of normalcy and normalization to a President and an administration that is showing the Muslim community and many other communities alarming animosity."
Hussam Ayloush, executive director at the Los Angeles chapter of CAIR, argued that Magid's participation would allow Trump to say he has Muslim Americans' support.
"In the face of unreluctant and unrepentant defamation and animosity toward Islam and Muslims (and many other communities) by this Trump team, a symbolic participation that does not involve any opportunity to preach or make a statement does not qualify as engaging or correcting the wrongdoers, but rather enabling them and providing them with a token cover for their bigotry," Ayloush wrote in a Facebook post.
"Such participation also undermines the courageous and principled activism of so many Muslims and allies who chose to openly challenge this president's bigotry and his promised unjust policies."
Sana Saeed, a producer and host at AJ+ who is Muslim, wrote on Facebook that while she has always been "critical of [Magid's] politics," his decision to give the call to prayer on Saturday is a "new low."
She added, "Part of me naively hopes he does some sort of protest but entirely doubt it."
Magid, the former president of the Islamic Society of North America, has earned national attention for his work to deradicalize Muslim youth. The FBI has also praised the ADAMS Center, where he is the imam, for its "leadership role in building partnerships between law enforcement and the Muslim community to enhance mutual cooperation and public safety."
DAVID PAUL MORRIS/BLOOMBERG VIA GETTY IMAGES
First lady Melania Trump, President Donald Trump, Vice President Mike Pence and second lady Karen Pence at Friday's inauguration.
In his own Facebook post, Magid defended his decision to deliver the call to prayer on Saturday.
"One of the tasks of the religious leader is to convey the truth and the values of Islam to everyone, including those in power, to advocate for what is good, and to address those who misunderstand and have misconceptions about the beauty of Islam," he wrote.
"As leaders, we must always tread the high, moral ground in all circumstances. When we are presented with a platform to share our values, we must take the opportunity."
Magid didn't immediately respond to a request for comment on Friday.
Sajid Tarar, from the group American Muslims for Trump, will also be delivering a prayer at Saturday's ceremony.
"My prayer will be telling American Muslims that you have to stand up for America, how to appreciate America," Tarar told NBC News. "The country has given us refuge, they accepted us with open arms, and we have to be a part of it."
But Tarar is considered a fringe figure among Muslim Americans. A CAIR survey in October found just 4 percent of Muslim Americans said they would vote for Trump.
What's concerning about Magid participating at Saturday's event, wrote Rehab, is that he is a "mainstream Muslim leader."
Some faith leaders have expressed anger over the National Cathedral's decision to host Saturday's prayer breakfast in the first place.
"I would not have held the inaugural prayer service, nor would I have allowed the choir to sing, because the positions Trump has taken are so inimical to the gospel," Rev. Gary Hall, former dean of the cathedral, told ThinkProgress.
Full report at:
http://www.huffingtonpost.in/entry/mohamed-magid-trump-inauguration_us_588251fde4b0e3a73568b137
--------
Mideast
Army soldiers, allies kill 18 Saudi mercenaries in southern Yemen
Jan 21, 2017
Yemeni army forces, supported by allied fighters from Popular Committees, have launched an operation against militiamen loyal to the resigned and Saudi-backed president, Abd Rabbuh Mansur Hadi, in the country's southwestern province of Ta'izz, killing more than a dozen of them.
An unnamed military source told the Arabic-language al-Masirah television network early on Saturday that 15 Saudi mercenaries were killed and 18 others sustained injuries when Yemeni forces thwarted their assault against the Dhubab district of the province, situated 346 kilometers south of the capital Sana'a.
The source added that three vehicles belonging to the Saudi mercenaries were also destroyed.
Earlier, the media bureau of the operations command in Yemen published pictures showing the aftermath of a rocket attack by Yemeni forces against a position of pro-Saudi armed men in an area of Sirwah, which lies about 120 kilometers east of Sana'a.
Four Saudi-sponsored militiamen were killed and several others injured on Friday evening, when Yemeni soldiers and Popular Committees fighters lobbed a barrage of artillery rounds at their gathering in the Thua'bat area of Salh district in Tai'zz province.
Saudi fighter jets also dropped cluster bombs on several residential buildings in Dhabuah village of Nihm district in the western-central Yemeni province of Sana'a, leaving a woman dead and five people, including three children, injured.
Fire rises after a gathering of militiamen loyal to resigned Yemeni president Abd Rabbuh Mansur Hadi is targeted by Yemeni army forces in an area of Sirwah, Yemen, on January 20, 2017.
The United Nations humanitarian coordinator for Yemen, Jamie McGoldrick, says the nearly two-year-long conflict in the impoverished Arab country has claimed the lives of 10,000 people and left 40,000 others wounded.
McGoldrick told reporters in Sana'a on Monday that the figure is based on lists of victims gathered by health facilities and the actual number might be higher.
The Saudi war on Yemen, which local sources say has killed at least 11,400 people, was launched in an unsuccessful attempt to reinstate the former government.
The Saudi war has also taken a heavy toll on the country's facilities and infrastructure, destroying many hospitals, schools and factories.
United Nations Children's Fund (UNICEF) representative in Yemen Meritxell Relano stated last week that almost 1,400 children had been killed and 2,140 injured as a result of the conflict in Yemen.
He added that some 2,000 schools had been destroyed, damaged or used for military purposes or as shelters for displaced families.
http://www.presstv.ir/Detail/2017/01/21/507058/Yemeni-forces-Saudi-mercenaries-Taizz-Nihm
--------
ISIS car bomb kills 5 Turkish soldiers near Syria's al-Bab: army
21 Jan 2017
Five Turkish soliders were killed and nine wounded on Friday in a car bomb attack by ISIS militants in the Suflaniyah area near the northern Syrian town of al-Bab, the Turkish military said in a statement.
Full report at:
http://nation.com.pk/international/20-Jan-2017/isis-car-bomb-kills-5-turkish-soldiers-near-syria-s-al-bab-army
--------
President Rouhani visits site of collapsed high-rise in downtown Tehran
Jan 21, 2017
Iranian President Hassan Rouhani has visited the site of the collapsed Plasco high-rise in downtown Tehran to inspect the ongoing search and rescue operation there.
Speaking to reporters on Saturday morning, Rouhani stressed that the search and rescue operation should continue until all those trapped under the rubble are saved.
Up to 30 people, all of them most likely firefighters, are believed trapped under the rubble of the building, which caught fire early on Thursday and came down hours later.
Rescuers have been using life detection devices to locate possible survivors, and, according to the Mehr news agency, at least four responses have been picked up, likely indicating that at least four people are still alive.
"We are very concerned for those who have been trapped under the rubble," said President Rouhani. "We hope we will have some survivors."
"This can be a lesson and a warning for all the officials to provide more safety for all citizens. This is a civil right of all people," he said.
Rouhani also expressed condolences to those who have lost loved ones in the incident and praised the firefighters and rescue teams for putting their lives at risk to rescue others.
He underlined the need to take the necessary measures to compensate business owners and workers who used to work at the building, which served as a trade center, for their material loss and the loss of their income in the run-up to the Persian New Year.
There were 600 business units and clothing production workshops in Plasco, most of which did not have insurance coverage. Nearly 3,000 people have lost their jobs as a result of the building's total destruction.
Full report at:
http://www.presstv.ir/Detail/2017/01/21/507069/Iran-Plasco-Tehran-Rouhani
--------
Muslim students in Europe must promote Islam: Ayatollah Khamenei
Jan 20, 2017
Leader of the Islamic Revolution Ayatollah Seyyed Ali Khamenei has urged Muslim students in Europe to make an impact on their surroundings and promote Islam.
"You have no excuses. What is expected from you, dear ones, is something more than scientific, religious, and ethical self-improvement," Ayatollah Khamenei said in a Friday message to the 51st annual meeting of Islamic Associations of students in Europe.
"It is expected that you make an impact on your surroundings and attract more followers to the path of God through words and deeds," the Leader added.
Full report at:
http://www.presstv.ir/Detail/2017/01/20/507034/Iran-Leader-Ayatollah-Seyyed-Ali-Khamenei-Muslims-Europe-university-students
--------
Turkey expects Trump administration to extradite Gulen: PM
Jan 21, 2017
Turkey has voiced optimism regarding bilateral relations with the US under President Donald Trump, saying it primarily expects the new US administration to extradite Turkish opposition figure Fetullah Gulen.
The Pennsylvania-based oppositionist, who is Turkish President Recep Tayyip Erdogan ally-turned- bête noire, is accused of masterminding a failed coup attempt that sought to unseat the Turkish head of state in July last year.
"We hope steps will be taken primarily to extradite [Gulen], the architect of the cowardly coup attempt," Turkish Prime Minister Binali Yildirim said on Friday, just hours before Trump's inauguration.
Turkey has on several occasions threatened that it would revisit its ties with the US if Washington failed to hand over Gulen. He has denied accusations that he had a role in the coup attempt, and the US has so far refused to extradite him to Turkey, citing a lack of substantial evidence by Turkish authorities against him.
The coup attempt has been followed by a purge of perceived perpetrators and sympathizers, in almost all state and non-state institutions. Thousands have been jailed or suspended from their jobs in the crackdown.
Yildirim said bilateral ties with the US had recently suffered from a number of "mistakes," apparently referring to the US administration's refusal to extradite Gulen. He said, however, that, "We believe this situation will be removed in the new administration," and hailed Turkey's "well-rooted" relationship with Washington.
Full report at:
http://www.presstv.ir/Detail/2017/01/21/507074/Turkey-Yildirim-US-Trump-Gulen
--------
South Asia
OIC expresses 'grave concern' for Rohingyas, urges Muslim world to help
21 Jan 2017
The Organization of Islamic Cooperation (OIC) on Thursday said it had "grave concerns" about the violence in Rakhine state that has killed and displaced thousands of Rohingya Muslims in Myanmar.
In a final communique issued after a meeting regarding the plight of the Muslim minority Rohingya community, OIC foreign ministers urged Myanmar to take decisive steps to restore calm in affected areas and protect the vulnerable group. "The Government of Myanmar should ensure that the security forces act in accordance with the rule of law and that all perpetrators of acts of violence be held accountable," it said.
It also said the government should abide by international and humanitarian law and covenants, and work to stop violence and discrimination against the Rohingya minority as attempts to deny the group its culture and identity continues.
While renewing its call for the restoration of citizenships to Rohingya that were revoked in 1982, the OIC pushed Myanmar to work to eliminate the "root causes affecting the Rohingya Muslim Minority" while urging the international community to support affected communities with humanitarian aid.
Since October, Malaysia has criticized Myanmar's government and military over ongoing violence in Rakhine -- which some officials have called an "ethnic cleansing" -- canceling two football matches scheduled to take place in Myanmar in January and requesting an immediate appointment with Myanmar State Counselor Aung San Suu Kyi.
Malaysia on Thursday urged an organization of Islamic nations to help end the persecution of Myanmar's Rohingya Muslim minority, while Indonesia offered to be a facilitator to find a solution to the crisis. Prime Minister Najib Razak told the opening of a special meeting of foreign ministers from the Organization of Islamic Cooperation that the violence against Rohingya, which has galvanized Muslims in Southeast Asia, was no longer Myanmar's internal affair as it has fueled an exodus of refugees that could destabilize the region. He warned that the violence must end otherwise militants including the Islamic State group could infiltrate and radicalize the Rohingya.
"OIC member states are well aware that terrorist organizations such as Daesh could seek to take advantage of this situation," Najib said, using the Arabic acronym for the Islamic State group.
Security forces in Buddhist-majority Myanmar are accused of widespread abuses against the Rohingya, including killings, rape and the burning of thousands of homes that have driven an estimated 65,000 refugees across the border into Bangladesh in the past three months.
Myanmar's army began the latest crackdown in Rakhine state in October after nine policemen were killed along the border with Bangladesh. The government and the army have rejected accusations of abuse, saying they have been conducting operations to clear the area of armed elements.
In Myanmar, Rohingyas face fundamental rights abuses. Myanmar's nationality law, approved in 1982, denies Rohingya citizenship. According to the law, foreigners cannot become naturalized citizens of Myanmar unless they can prove a close familial connection to the country.
Rohingyas are not recognized among the 134 official ethnicities in Myanmar because authorities see them as illegal immigrants from neighboring Bangladesh. They are subjected to forced labor, have no land rights and are heavily restricted by the government. They have no permission to leave the camps built for them, have no source of income and have to rely on the World Food Program to survive.
http://www.dailysabah.com/asia/2017/01/21/oic-expresses-grave-concern-for-rohingyas-urges-muslim-world-to-help
--------
4 ISIS militants hailing from Pakistani and Tajikistan killed in Nangarhar
Jan 20 2017
Four foreign loyalists of the Islamic State of Iraq and Syria (ISIS) terrorist group were killed in an airstrike in eastern Nangarhar province of Afghanistan.
According to the local security officials, the militants were killed in a drone strike conducted by the foreign forces.
The officials further added that the airstrike was carried out in Achin district, leaving 2 Pakistani and 2 Tajik loyalists of the terror group dead.
The officials said the two Pakistani militants are hailing from the Orakzai Agency and the airstrike did not incur any casualties to the local residents or security forces.
The anti-government armed militant groups including the loyalists of the terror group have not commented regarding the report so far.
This comes as the local officials earlier said that the loyalists of the ISIS terrorist group are mostly comprised of the Orakzai Agency residents.
Provincial governor's spokesman Ataullah Khogyani said last year that documents obtained from the dead bodies and those arrested during the operations in Achin, Kot, Haska Mina and other parts of Nangarhar, reveal that they are originally residents of Orakzai Agency.
Khogyani further added that the intelligence information gathered by the government also reveal that the ISIS loyalists are mostly comprised of Pakistani nationals.
Full report at:
http://www.khaama.com/4-isis-militants-hailing-from-pakistani-and-tajikistan-killed-in-nangarhar-02708
--------
Blast near buzkashi match kills three in Afghanistan
21 Jan 2017
MAZAR-I-SHARIF - A blast hit spectators after a game of buzkashi, or polo with a carcass, in northern Afghanistan Friday, killing at least three people in the latest spasm of violence in the wartorn country.
The explosion triggered by an improvised explosive device in Khulm district in Balk province apparently targeted an anti-Taliban militiaman attending the buzkashi match.
"An IED was detonated outside the venue of a buzkashi match, killing three people and wounding four others," Balkh deputy police chief Abdul Razaq Qaderi told AFP.
"The explosion happened just as people were leaving after the match," he said.
He added the target appeared to be Haji Zmarai, a local militiaman, who was killed along with his bodyguard and another civilian.
No group has so far claimed responsibility for the blast. But the carnage underscores growing insecurity in Afghanistan, where US-backed forces are struggling to combat a resilient Taliban insurgency as well as Al-Qaeda and Islamic State militants.
The attack comes just before the inauguration of Donald Trump as the president of the United States.
Full report at:
http://nation.com.pk/international/21-Jan-2017/blast-near-buzkashi-match-kills-three-in-afghanistan
--------
Second phase of Bangladesh's largest Muslim congregation starts
January 20, 2017
The second phase of the largest annual Muslim congregation in Bangladesh started on Friday with sermons for millions of devotees from home and abroad, seeking world peace.
The grand prayer at the three-day congregation called 'Biswa Ijtema' on the bank of the Turag river at Tongi, some 25 km from Dhaka, will be held on Sunday, seeking divine blessings and welfare of all mankind, Xinhua reported.
The first phase of the three-day 'Bishwa Ijtema', which was being held in two phases since 2011 to avoid mad rush of pilgrims, concluded with the offering of 'Akheri Munajat' (concluding prayer) on January 15.
The second phase started on Friday after Fajr (morning) prayers with religious sermons for the devotees.
Full report at:
http://www.business-standard.com/article/news-ians/second-phase-of-bangladesh-s-largest-muslim-congregation-starts-117012001148_1.html
--------
Bangladesh: Some Success In Containing Extremism
JANUARY 20, 2017
By S. Binodkumar Singh*
The Awami League (AL)-led government in Bangladesh, which came to power on January 6, 2009, has consolidated its secular commitments through 2016, reining in Islamist extremist groups and targeting the Left Wing Extremist (LWE) movement in the country.
A total of 74 Islamist terrorists were killed and another 1,227 were arrested across Bangladesh in different raids during 2016. Prominent among those killed were the 'national operations commander' of Jama'atul Mujahideen Bangladesh (JMB) Abdullah aka Noman (35); 'Dhaka regional commander' of JMB Kamal aka Hiran (30); 'military and IT trainer' of Ansarullah Bangla Team (ABT) Shariful aka Arif; Neo-JMB leader and mastermind of Gulshan attack Tamim Ahmed Chowdhury aka Shaykh Abu Ibrahim Al Hanif aka Amir (30); JMB 'military commander' for the northern region Khaled Hasan aka Badar Mama (30); Neo-JMB 'military commander' Murad aka Jahangir Alam aka Omar; and JMB 'regional commander' Tulu Mollah (33). In comparison, 31 Islamist terrorists were killed in 2015 and 22 in 2014.
Eighteen LWE-linked fatalities were recorded, all of terrorists, in 2016. These included four Purbo Banglar Communist Party (PBCP) 'regional leaders' Anwar Hossain (40), Al Amin Hossain (35), Asadul Islam Fakir (39) and Mozaffar Sana (40); one Gano Bahini 'regional leader' Amirul Islam; nine PBCP cadres; three Gono Mukti Fauj (GMF, 'People's Freedom Army') cadres; and one Biplobi Communist Party (BCP) cadre. Similarly, there were 17 LWE fatalities, all of terrorists, in 2015; and 16, all of terrorists, in 2014.
Meanwhile, a total of 14 LW extremists, including BCP 'regional leader' Badsha Mallik (45), eight PBCP cadres, four BCP cadres and one Sarbohara Party cadre, were arrested through 2016. There were 10 such arrests in 2015 and 20 in 2014.
The War Crimes (WC) Trials, which began on March 25, 2010, have thus far indicted 74 leaders, including 44 from Jamaat-e-Islami (JeI); 12 from the Muslim League (ML); five from Nezam-e-Islami (NeI); four from Bangladesh Nationalist Party (BNP); two each from the Jatiya Party (JP) and Peoples Democratic Party (PDP); four former Razakar members; and one former Al-Badr member.
Verdicts have been delivered against 51 accused, including 29 death penalties and 22 life sentences. So far, six of the 29 people who were awarded the death sentence have been hanged. 12 others are absconding and another 11 cases are currently pending with the Appellate Division of the Supreme Court. Meanwhile, out of 22 persons who were awarded life sentences, four persons have already died serving their sentence. Eleven others are absconding and another seven are lodged in various jails of the country.
Disturbingly, however, on December 8, 2016, Lieutenant Colonel Anwar Latif Khan, Additional Director General (Operations) of the Rapid Action Battalion (RAB), noted: "The terrorist organisations are facing a severe manpower shortage after they lost some high-profile terrorist leaders and trained members during special drives in the previous months. The terrorist outfits want to regain their striking power by hiring new faces, the sources said when they were asked about the recent incidents of going missing by some youths (sic)."
Further, on December 19, 2016, Mohamad Shafiqul Islam, Deputy Inspector of General (DIG), Chittagong Range, warned that "After the attack on Holey Artisan Bakery in Dhaka, the old JMB, which was the follower of Bangla Bhai (Siddique ul-Islam), has become active again. We are keeping an eye on their activities. Most of the JMB members who carried out bomb blasts in 63 Districts are out of jail. We have launched a hunt for the terrorists who were named in the charge-sheet in the bomb blasts case."
Moreover, there is the threat of increasing radicalisation, as significant numbers of youth appear to be attracted to the movements of global jihad. Research conducted by East West University, Dhaka, concluded, on November 21, 2016, that one in every 10 university students in Bangladesh supports terrorism. The study found that more than half (51.7 percent) of those students who support terrorism were from well-off families. In terms of age groups, 54.7 percent of those who share such radical ideas were aged between 18 and 25 years.
Similarly, Non-Government Organisation (NGO) Shopner Desh, which conducted a preliminary research project on the impact of militancy, disclosed, on December 20, 2016, that most rural students believe terrorist propaganda. Some 20-25 per cent of Districts in Bangladesh were at risk of terrorist activities and the tendency is significant among students of village- and rural-level educational institutes, where some 26 per cent of students have received offers to join terrorist activities, the new study revealed. The study also found that 87 per cent of rural students who received such offers think that terrorist activities are justified.
Worried about the increasing number of women taking up the extremist cause, law enforcement agencies disclosed, on December 25, 2016, that several woman terrorists were active in Bangladesh. Most of them were members of JMB, Hizb-ut-Tahrir, and Neo-JMB. Although law enforcement agency members failed to determine the number of women involved in extremist activities, recent operations in different parts of the country expose the increasing number of women terrorists in these groups. At least 20 women have been arrested on terrorism charges from different areas of the country. According to sources, the terrorist groups pair up a female and a male member, who identify themselves as husband and wife, a pattern spoken of as the 'couple module'.
Remarkably, on July 26, 2016, Prime Minister Sheikh Hasina issued a 19-point directive to the Deputy Commissioners (DCs) across the country to discharge their duties more carefully and strictly in maintaining peace, law and order and stability by eliminating militancy, terrorism and communalism, and ensuring that people are not harassed and deprived while receiving government services.
Full report at:
http://www.eurasiareview.com/20012017-bangladesh-some-success-in-containing-extremism-analysis/
--------
HRW urges B'desh govt. to disband RAB
21st January, 2017
Dhaka [Bangladesh], Jan. 21 (ANI): Following the Narayanganj seven-murder verdict in which several members of the Rapid Action Battalion (RAB) were convicted, New York-based rights body the Human Rights Watch (HRW) has urged the Bangladeshi government to take immediate steps to disband the elite force and replace it with a rights respecting force.
A Narayanganj court on Monday sentenced 26 people, including 16 former RAB members, to death for their role in the seven-murder. Besides, nine other ex-RAB members were sentenced to different prison terms, reports the Daily Star.
"While in opposition, the Awami League called for the disbanding of RAB. Before taking office in 2009, Prime Minister Sheikh Hasina said she would reform RAB. This has not happened, so it is time for the government to take immediate steps to disband RAB and replace it with a rights respecting force," said the HRW.
The rights body said that for years, RAB has been deployed by successive governments not only to fight crime, but often as an "in-house death squad, leaving a string of extrajudicial killings -- often referred to as "crossfire" deaths, torture, disappearances, and arbitrary arrests in their wake."
In a press statement on Thursday, lauding the prosecution of RAB members, the it said, "Yet it should not only happen when the victim is a ruling party member."
It added that RAB officials have been "shielded" from prosecution by successive governments, some even justifying their crimes.
Blaming the government for responsible for the situation, the rights organisation said the government has created "the climate of impunity".
Full report at:
http://www.malaysiasun.com/index.php/sid/251090867
--------
Myanmar lashes out at Malaysia PM Najib Razak
January 21, 2017
Myanmar's government lashed out at Malaysian Prime Minister Najib Razak yesterday, accusing him of using the Rohingya crisis unfolding in Rakhine state for his own "political interests".
The premier of Muslim-majority Malaysia has been a vocal critic of Myanmar since violence erupted in the north of the state in October, when the army started hunting attackers behind deadly raids on police border posts.
Since then at least 66,000 Rohingya have fled to neighbouring Bangladesh alleging security forces are carrying out a campaign of rape, torture and mass killings that Najib has said amounts to "genocide".
On Thursday he used an extraordinary meeting of the Organization of Islamic Cooperation (OIC) to call for an end to the "unspeakable cruelty" being unleashed against the Muslim minority.
His comments drew an angry response from Myanmar, which denies the allegations of abuse of the Rohingya, instead blaming "fake news" for spreading unfounded accusations.
Najib is "is using Myanmar for his own political interests, against the principles of Asean," deputy director of Myanmar's foreign ministry, Aye Aye Soe, told AFP, citing the Southeast Asian bloc.
"They criticise us without hesitation based on news reports from different places, including news from unreliable sources, without discussing the issue like a good neighbour. We are deeply sorry about this."
Full report at:
http://www.thedailystar.net/world/southeast-asia/myanmar-lashes-out-malaysia-pm-najib-razak-1348588
--------
Southeast Asia
We're Labelled 'Illuminati' by Malaysian Islamic Department Because We Choose Reason Over Dogma
January 21, 2017
KUALA LUMPUR, Jan 21 — Penang Institute has brushed off accusations trying to link it with the so-called Illuminati, claiming it was attacked because it believes in reason rather than dogma by supporting and promoting intellectual discourses on Islam and Muslims.
Following the accusation in a forum held at the Malaysian Islamic Development Department (Jakim), the think-tank said it is only right for it to organise such discourses with the Penang state fund, given the importance of Islam and Muslims in Malaysia.
"We believe in reason instead of dogmatism. We seek essences rather than forms. Hence, we organise forums on Maqasid Shariah, the higher purposes of Shariah," its Nusantara Studies head Dr Mustafa Kamal Anuar said in a statement.
"We believe Muslims' quest for a more religious way of life and the universal ideals of democracy, human rights and rule of law can converge if we focus on essences instead of forms."
It said that the second reason it was attacked is because it features Islam and Muslims from a universal rather than sectarian angle, rejecting views that Muslims should be protected by segregation, and even engage non-Muslim in bitter and zero-sum competitions.
Thirdly, the institute said it received the allegations because it believes in diversity and personal choices, hence preferring dialogues instead of monologues.
"We at Penang Institute believe that Islam is cosmopolitan and can be the civilisational basis of Malaysia's diverse society with its promise of [blessing to the universe]. We will continue to promote intellectual engagement on Islam and Muslims in our pursuit of an inclusive, rational and plural Malaysia," it said.
"We welcome our detractors to engage us in forums or through scholarly endeavours. We are only humans and stand to be corrected by advancement in knowledge.
"We however would not respond to conspiracy theorists' fantasies that seek to associate us with any imaginary villains, whether it is Martians, Hydra, or, the Illuminati whose myth is debunked even in Dan Brown's novels," Mustafa added.
In a forum against liberalism and Illuminati on Tuesday, Muslim group Muafakat claimed that liberals are targeting powerful people in the government, claiming Penang Institute received huge funds to hold programmes almost every week to purportedly attack Islam.
The forum titled "Liberalism: Agenda of the Illuminati" was organised by Muafakat, with support from Jakim and the Federal Territories Islamic Religious Council.
The Illuminati is a conspiracy theory where secret group of masterminds allegedly control world affairs and try to establish a New World Order, although there is no evidence suggesting such a group exists.
http://www.themalaymailonline.com/malaysia/article/penang-institute-were-labelled-illuminati-because-we-choose-reason-over-dog
--------
Don't practise selective prosecution, Jais and Mais told
January 20, 2017
PETALING JAYA: Don't practise selective prosecution, Selangor's Islamic authorities were told after Shah Alam MP Khalid Samad was fined for teaching Islam without credentials.
The Amanah legal bureau, in a statement today, questioned why neither the Selangor Islamic Religious Council (Mais) nor the Selangor Islamic Religious Department (Jais) had taken action against those who had clearly used religion as the background for their political speeches.
This, said Amanah's legal bureau deputy chairman Wan Anwar Wan Ibrahim, has been going on in various mosques and surau in Selangor.
"We urge Mais and Jais to take action against preachers who have ignored the rules regarding the need for credentials.
"We are confused because no arrests and no charges were filed against those preachers, unlike what has happened to Khalid."
Wan Anwar urged the religious authorities to come up with an updated list of accredited preachers that the public can refer to.
He also said both Mais and Jais should instruct the management of mosques and surau in the state to report the activities of non-accredited religious preachers.
Touching on the "injustice" against Khalid, who is also Amanah's communications director, Wan Anwar said what the lawmaker did should not be considered as an attempt to teach Islam.
"He was only sharing his experience of being in Palestine.
"We worry that the interpretation (used against Khalid) would end up infringing the freedom of speech guaranteed under Article 10 of the Federal Constitution."
Wan Anwar said the party's legal bureau was willing to help Khalid with his appeal.
Khalid was fined RM2,900 by the Shariah Court yesterday for giving a talk without valid credentials at a surau in Taman Seri Sementa, Klang, six years ago.
He was found to have contravened Section 119(1) of the Selangor Islamic Law Administration Enactment.
Full report at:
http://www.freemalaysiatoday.com/category/nation/2017/01/20/dont-practise-selective-prosecution-jais-and-mais-told/
--------
Indonesians love of Mecca boosts lucrative 'umrah' business
January 21, 2017
As the country with the world's largest Muslim population, Indonesia has seen the minor pilgrimage to Saudi Arabia, the umrah, grow into a lucrative business with seemingly endless demand. A long waiting list for the haj is among the main drivers.
For Muslims, they will surely choose haj over umrah if they can because the fifth pillar of Islam is mandatory for any Muslim so long as he or she is physically fit and financially able to do it. Meanwhile, umrah is a non-compulsory pilgrimage that can be performed throughout the year.
However, the problem is that millions of Indonesian Muslims want to perform haj, while the annual quota set by the Saudi Arabian government for Indonesia is only 231,000 people. Thus, a Muslim who applies for haj today will find his or her boarding schedule set for a decade later.
Rachmah Fitrie Inayah, 26, a housewife in Depok, West Java, found one of the greatest deals two years ago to go on umrah for just Rp 10 million (US$744.49). She said the haj was too expensive at that time, aside from the long waiting list.
The only requirement was that she had to wait at least a year, which she agreed to. "I had some extra money as I was just recently married and there was a promotional [umrah] package," she told
The Jakarta Post recently. Rachmah ended up going two years later, in February 2016, along with her husband and her parents-in-law.
The agent only asked for an extra Rp 1 million per person due to foreign exchange volatility over the two years.
This affordable umrah package, which according to the Association of Haj and Umrah Private Operators (Himpuh) made up 60 percent of the visits, is an incentive for the business to soar. An average of 650,000 Indonesians go on umrah each year, creating a business worth an estimated US$1 billion annually.
Data from the Religious Affairs Ministry shows a 63.6 percent jump in the number of umrah pilgrims to 818,000 last year, from only 500,000 in 2012.
"It [the umrah business] really depends on people's purchasing power. With weakening purchasing power, the tendency is for [tour agents] to sell it as low as Rp 16.5 million," Indonesian Himpuh secretary-general Muharram Ahmad explained.
He stated that the lowest price for umrah should be $1,650. However, currently there are no regulations from the Religious Affairs Ministry on the minimum price for an umrah package. This often leads to unfortunate incidents such as stranded pilgrims or broken promises.
Rachmah is one such unfortunate pilgrim. As she arrived in Mecca with the low-cost umrah package, some "adjustments" were stipulated. She had to stay with three random women during her stay at the hotel.
"We had one bus; we did not go to other extra cities," she said, referring to other umrah packages that usually include a tour to Istanbul, Turkey, or Cairo, Egypt.
However, she said she enjoyed it anyway because she was not as unfortunate as others. Himpuh has recorded that around 11,000 Indonesians were victims of scams between mid-October 2015 and early October 2016 and failed to go on umrah as a result. Within the past two months, at least 900 people have not been able to return home from Mecca due to ticket fraud as a result of low-cost umrah packages.
Full report at:
http://www.thejakartapost.com/news/2017/01/21/indonesians-love-of-mecca-boosts-lucrative-umrah-business.html
--------
MUI blasts members who met with Israeli president
January 21, 2017
The Indonesian Ulema Council (MUI) has sharply criticized some of its members who reportedly met with Israeli President Reuven Rivlin in the Jewish state on Wednesday.
"MUI deplores the meeting on behalf of anything. They [the members] should have understood the stance of MUI and Indonesia regarding Palestine," MUI foreign affairs chairman Muhyidin Junaidi told Tribunnews.com on Friday.
Muhyidin said the people who met with the Israelis were members of the female and family empowerment division at the MUI. He said further that their meeting with the Israeli president did not represent the views or values of the MUI.
A press statement published on the website of the Israel Foreign Affairs Ministry shows a picture of seven executive members of the MUI posing with Rivlin.
The statement, entitled "President Rivlin meets Muslim leaders from Indonesia", said Rivlin hoped the two countries would eventually cooperate with one another in the future.
The group reportedly attended the meeting following an invitation from the Israeli president.
Full report at:
http://www.thejakartapost.com/news/2017/01/21/mui-blasts-members-who-met-with-israeli-president.html
--------
Police ban transgender cultural event in South Sulawesi
January 20, 2017
Following a protest from a Muslim group, the South Sulawesi Police have banned a Bugis sports and cultural event involving waria (transgendered people) and bissu (a gender-neutral identity in Bugis tradition) that was slated to be held in Soppeng regency from Jan. 19 to 22.
About 600 waria and bissu had gathered, complete with makeup and costumes, in Gasis Soppeng field on Thursday afternoon, but the Soppeng Police forced them to cancel their planned parade, apparently because a group called the Islam Congregation Forum objected to the event, claiming it was not in line with its religious values.
Askar Mampo, aka Ria Akkari, a parade committee member, said on Friday that the police held the 600 in a 120-square-meter hall.
"We are not allowed to hold the carnival because they said we did not get the permit," she said.
She said the notification for the carnival had been sent to the police on Jan. 4. The committee had asked for approval from the Soppeng regent and the Soppeng Council and both had given it, said Askar.
However, two days before the event, the committee was summoned by the police in Makassar, who asked for several additional documents including a recommendation from the Religious Affairs Ministry. Askar said they could not get all the documents in time.
Hundreds of Soppeng residents had also been prepared to watch the event in the streets before it was canceled.
Full report at:
http://www.thejakartapost.com/news/2017/01/20/police-ban-transgender-cultural-event-in-south-sulawesi.html
--------
India
India, UAE discuss trade, strategic partnership
Jan 21, 2017
NEW DELHI: India and UAE held their first strategic dialogue Friday ahead of Abu Dhabi Crown Prince and deputy supreme commander of the armed forces of UAE Sheikh Mohamed bin Zayed Al Nahyan's visit to India next week.
Sheikh Mohamed will be the chief guest at the Republic Day celebrations on January 26.
During the meeting on Friday, according to a statement by MEA, the two sides discussed a number of issues ranging from cooperation in the areas of trade and investments to expanding the bilateral cooperation to new areas under the strategic partnership. These new areas include energy security and renewable energy, defence and security, electronics and information technology and space.
"The meeting provided a timely opportunity to prepare for the forthcoming State visit of the Crown Prince of Abu Dhabi as the Chief Guest at the Republic Day celebrations, 2017. The two sides agreed on a number of new initiatives to further strengthen the bilateral cooperation and on signing of fresh instruments of cooperation," said the statement.
Issues related to counter-terrorism were also discussed in the dialogue. Terrorism remains a focus area for the two countries even though UAE recently denied reports in the Indian electronic media that it had seized Indian fugitive Dawood Ibrahim's property worth Rs 15,000 crore.
The meeting was co-chaired by MJ Akbar, MoS for external affairs and Anwar Gargash, MoS in ministry of foreign affairs of UAE. The two sides were represented by strong delegations drawn from a number of relevant ministries and departments.
This will be the second visit of the Crown Prince of Abu Dhabi to India since February 2016.
"Following the landmark visit of Prime Minister Narendra Modi to the UAE in August 2015, the two countries have agreed to elevate the mutually beneficial relationship to a comprehensive strategic partnership," the ministry statement said.
Bilateral trade between India and the UAE stood at about $50 billion in 2015-16.
The Gulf nation is among the top investors in India in terms of foreign direct investments and was the fifth largest supplier of crude oil to India in 2015-16.
http://timesofindia.indiatimes.com/india/india-uae-discuss-trade-strategic-partnership/articleshow/56696891.cms
--------
Pakistan asks India, World Bank to inform it of all future hydel projects
Jan 20, 2017
ISLAMABAD: Pakistan on Friday asked India and the World Bank to inform it about all the dams and hydropower projects proposed to be built by India under the Indus Waters Treaty (IWT) on the western rivers, and not just the two projects under dispute currently.
The matter was discussed during an inter-ministerial meeting presided over by finance minister Ishaq Dar on Thursday.
Ministers and other representatives of the ministries of water and power, foreign affairs and law and justice, the attorney general's office and civil and military experts attended the meeting.
The meeting observed that the president of the World Bank had drawn up the lots for appointment of umpires for a court of arbitration before it had put on hold the process about two months ago.
"This meant that the World Bank was convinced and had accepted Pakistan's position," attorney general Ashtar Ausaf claimed.
Pakistan said its stance was that not only the two schemes under dispute at the moment — the Kishanganga and Ratle projects — but technical and other details of all the upcoming projects should be shared with the World Bank and Pakistan, along with their designs and locations, so that Islamabad could examine them in a manner that they did not create problems every now and then and the treaty could function smoothly, said Ausaf.
The meeting also asked a taskforce led by the attorney general to formulate a strategy for future handling of the disputed projects.
Ausaf said the chief executive officer of the bank, Kristalina I Georgieva, who is second only in hierarchy to its president, would arrive on January 26 for deliberations on the subject.
He said the senior official was inducted into the World Bank group on January 2 and her visit to Pakistan would be her first trip outside Washington, which meant that the bank was attaching great importance to Islamabad's case.
At the same time, Ausaf said, it was decided that the bank must be reminded that it had a critical role to play and that it should honour its responsibilities under the treaty.
The finance ministry said that Pakistan viewed the treaty as a useful and time-tested mechanism for sharing water with India and that Islamabad had always abided by it.
It said it was in the interest of both countries that they continue to implement the terms of the treaty. In this spirit, Pakistan would continue to fulfil its obligations under the IWT. The contrasting stances of Pakistan and India were deliberated in detail at the meeting.
The treaty, signed in 1960, gives India control over the three eastern rivers of the Indus basin — the Beas, Ravi and Sutlej — while Pakistan has the three western rivers — the Indus, Chenab and Jhelum.
Full report at:
http://timesofindia.indiatimes.com/india/pakistan-asks-india-world-bank-to-inform-it-of-all-future-hydel-projects/articleshow/56690937.cms
--------
ED summons Zakir Naik under PMLA
January 20, 2017
The Enforcement Directorate (ED) on Friday issued summons to controversial Islamic preacher Zakir Naik under the Prevention of Money Laundering Act (PMLA). The agency had on Thursday registered the case against Naik and his organisation Islamic Research Foundation (IRF).
Officials said on Friday the agency has issued the summons to Naik under the provisions of the Prevention of Money Laundering Act (PMLA) and has asked him to appear by this month-end.
Controversial Islamic Preacher Zakir Naik Likely To Be Quizzed By NIA
The agency wants to record the statement of Naik, who is abroad, and hence the summons were issued, they said. Separate summons have been issued against his organisation.
Meanwhile, ED's Mumbai zonal office has registered an ECIR, which is equivalent to an FIR, against Naik and others after taking cognizance of a case registered by NIA under the Unlawful Activities (Prevention) Act (UAPA) against them, sources said. It had already scanned some banking transaction documents and other details against Naik and IRF.
Full report at:
http://indianexpress.com/article/india/ed-summons-zakir-naik-under-pmla-4483958/
--------
Africa
How Somali Muslims Are Raising a 10,000-Person Anti-Hate Army
Jan 20, 2017
In November 2015, Asma Jama, a Somali-born woman living in the Twin Cities, Minnesota, was waiting for her pasta alfredo at Applebee's, chatting in Swahili with her family, when she was confronted by Jodie Burchard-Risch. Burchard-Risch demanded that Jama speak English or go home. Then, she smashed her beer mug in Jama's face.
The attack was shocking and made national news. This past December, Jama spoke at the sentencing hearing for Burchard-Risch, who pleaded guilty to third-degree assault and will serve six months in jail. Jama recounted the fear she lives with after the attack, saying she no longer goes anywhere alone. Still, she spoke words of kindness to the woman who showed her none. "In front of everybody here," Jama told the packed courtroom, "I forgive you. And I hope that you choose love over hate."
Minnesota is home to the nation's largest Somali population. And like so many Muslim communities throughout the United States, Minnesota Somalis are organizing to combat the Islamophobia stoked by Trump. The Minnesota Council on American-Islamic Relations (CAIR-MN) plans to activate 10,000 Minnesotans using a three-part strategy grounded in the belief that people will, when given a chance, choose respect and understanding instead of fear, following Jama's example of rejecting hate.
CAIR-MN plans to use a combination of traditional organizing tactics and new outreach efforts to communities not historically engaged in this fight.
Successfully engaging thousands of people to fight Islamophobia depends on an understanding that Jaylani Hussein, executive director of CAIR-MN, laid out to about 60 Somali and non-Somali activists in late December. "Most Americans agree there is something wrong with how we are treating American Muslims," Hussein said. "They know something is wrong, even if they cannot identify it." As Trump's presidency nears, Hussein told the room, "They know they've got to do something about it."
Muslims expect American Islamophobia to intensify under Trump, and Somali Americans expect to be on the front line.
The Somali-American community had been the target of institutionalized Islamophobia prior to the campaign and subsequent election of Donald Trump. "The Somali community in Minnesota was at the blunt end of Islamophobia before this election," says Hussein. "But it is a phenomenon that has outgrown all previous levels."
Somalis in Minnesota targeted
The U.S. Census Bureau data estimates there are 40,000 Somali-speaking residents in Minnesota. Underreporting to the U.S. Census Bureau is common, though, and by some accounts, the number of Somalis—including resettled refugees, inter-state migrants, and native U.S.-born residents—could be twice as high. While Somali Americans have planted deep roots in the state, starting thousands of businesses and non-profit organizations, opening schools and mosques around the Twin Cities metro area and beyond, tension between the state's largest Muslim population and native Minnesotans has risen in recent years.
The uncertainty and tension felt by Somalis result in part from the Somali identity inhabiting multiple American fault lines. Imam Hassan Mohamud put it bluntly: "We are Black. We are immigrants. We are Muslims."
Mohamud, Imam at the Minnesota Da'Wah Institute, spoke at a recent anti-Islamophobia meeting, where he explained how Somali Americans feel the harsh rhetoric against Muslims, the anti-refugee rhetoric in general, and racism against African Americans. The compounding effect of this racism and Islamophobia has left Somalis feeling specifically targeted.
Last April, a Minnesota man crossed the border to Grand Forks, North Dakota, where he burned down a Somali-owned restaurant. The same month, former Minnesota Sen. Norm Coleman wrote an op-ed in the Minneapolis Star Tribune intending to address the number of Twin Cities-based individuals who returned to Somalia to fight in that nation's civil war. In the piece, Coleman labeled Minnesota "ground zero" for radical Islamic terrorism and called out "a specific population—Somalis." The letter was titled "The Land of 10,000 Terrorists."
Perhaps the biggest source of concern in the Somali community—and the one that makes Somalis feel uniquely targeted by the U.S. government—is a Department of Justice program called Countering Violent Extremism (CVE). The program is meant to root out radicalization and extremism on U.S. soil, but it has led to controversy and fear among Somali Muslims. Mohamud and Hussein both agree that CVE's policy of offering money into a resource-starved population in exchange for information about activities taking place within the community has left the Somali community divided. Muslim support for CVE is rare, Hussein explained, but many are in a position where they need to choose the money over their opposition to the program.
According to Mohamud and Hussein, CVE imbeds Islamophobia into government policy. "The program's very premise is Islamophobic," Hussein points out. It targets one community, Somali Americans, and builds suspicion that any individual in that community might be a source of radical extremism. That's "the playbook of the Islamophobia network," Hussein says, and it affirms the principle that Somali Americans are a threat to America.
This was the tense landscape in Minnesota even before Donald Trump arrived at Minneapolis-St. Paul International Airport on Nov. 6, two days before his election, to address his supporters. Trump said, "A disaster is taking place in Minnesota" as a result of lax vetting in refugee resettlement, "with very large numbers of Somali refugees coming into your state without your knowledge, without your support or approval."
Trump didn't refer specifically to the stabbing at a mall in St. Cloud, Minnesota, nor to the ISIS trial in which nine men were tried for providing support to the terrorist organization. But the message that he did share was clear: The Somali community as a whole is a threat to Minnesota. "You've suffered enough," he told the crowd.
Strategy toward understanding
CAIR-MN's overall strategy to fight Islamophobia is rooted in Asma Jama's story of violence and forgiveness. She "has the literal scars (of Islamophobia) on her face," and could have retreated after her attack, says Hussein. "But she chose love instead of fear."
The first part of the strategy is to make conversations about Islam easier for everyone by "training the trainers." CAIR-MN will provide the preparation for people to accurately combat the misinformation and fear used to perpetuate Islamophobia. Then, the trainers can talk to those who might be susceptible to that fear, those who have little contact with Muslims and are unfamiliar with Islam.
Islamophobia feeds on small pieces of misinformation that build a case for fear, says Hussein. That strategy succeeds because "people make decisions based on what they feel" and not what is true about Islam or Muslims.
The second part is to share success stories of the Somali community with non-Muslim Minnesotans to challenge the ugly narratives about Islam. Much of that sharing will take place on social media, used by many Somali youth. Hussein estimates that 50–60 percent of the Somali population in Minnesota is under the age of 40. They know English, have adapted to the culture, and are one of community's best advantages in the fight against Islamophobia. The youth, Hussein says, are better able to communicate across the cultural divide—on the internet and off—without losing their own cultural identity.
Finally, CAIR-MN envisions an increase in traditional non-violent organizing tactics that raise public awareness, such as rallies and community education events. Mobilizing public events around Islamophobic incidents or targeted neighborhoods remains a crucial part in the fight against Islamophobia.
The most important element in these parts, Hussein stressed, is reaching beyond the existing participants of a conversation. Most people having conversations about Islamophobia in Minnesota are talking to people who agree with them, he points out. During Trump's presidency, the only way to progress will be to hold conversations with people who disagree. "You can no longer say these people disagree with me or voted the other way, so I am not going to have a respectful conversation with them."
Hussein would like to work with evangelical congregations, where pockets of Islamophobia can be found. Muslim outreach to evangelical Christians could "re-engineer how we communicate on this issue," he says. "Without that outreach, we're just talking to the same people we have already reached."
Resilience from experience
Some Muslims use humor as a way to assuage the fear and uncertainty. Mohamud joked about an anti-Islamophobia sticker produced by a local organization that was translated incorrectly into Somali and Arabic, before moving to a sincere plea to recognize that "not all Republicans" are Islamophobes. He related the story of former Utah Sen. Bob Bennet's dying remarks to Muslims, in which he apologized for his party's embrace of Islamophobia.
Hussein opened his meeting at CAIR-MN with similar levity, joking about the election even as the fear created by Trump's victory animated the room. There are reasons to be positive. From the election of the nation's first Somali representative, Ilhan Omar of Minneapolis, who was sworn in last week, to the overwhelming interest in fighting Islamophobia that has emerged since Election Day, Somalis are hopeful.
The Somali community in Minnesota is a big target for bigotry, and tensions are expected to get worse. But in their experiences of facing both institutional and societal Islamophobia, their resilience and optimism is evident.
http://www.yesmagazine.org/people-power/how-somali-muslims-are-raising-a-10000-person-anti-hate-army-20170120
--------
Toll from botched Nigeria air strike rises to 90
21 Jan 2017
GENEVA: A botched air strike by the Nigerian Air Force earlier this week on a camp for people displaced by the Boko Haram insurgency killed at least 90 people, the Doctors Without Borders (MSF) aid group said Friday. Most of the victims of the strike in Rann in the country's northeast on Tuesday were women and children, MSF said. Nigeria has said an air force board of inquiry will investigate the incident. Military commanders have already called the bombing a mistake, blaming it on "the fog of war", saying the intended target was militants reportedly spotted in the Kala-Balge area, of which Rann is part. -AFP
Full report at:
http://nation.com.pk/international/21-Jan-2017/toll-from-botched-nigeria-air-strike-rises-to-90
--------
Car bomb in central Benghazi wounds former interior minister
20 January 2017
A car bomb in the eastern Libyan city of Benghazi killed one person on Friday and wounded 13, including former interior minister Ashour Shuwail, security and medical officials said.
The powerful explosion outside a mosque in Benghazi's central Al-Majouri district after Friday prayers wrecked a number of cars and charred nearby buildings.
The attack came as Khalifa Haftar's self-styled Libyan National Army (LNA) appears close to forcing Islamist-led opponents from their last holdouts after a military campaign that began in 2014.
It was not clear who staged Friday's bombing, but the LNA's rivals have carried out such attacks in Benghazi in the past. In November, a similar blast wounded a prominent tribal leader who had helped the LNA negotiate the takeover of several major oil ports.
Full report at:
https://english.alarabiya.net/en/News/north-africa/2017/01/20/Car-bomb-in-central-Benghazi-wounds-former-interior-minister.html
--------
Gambia's longtime leader Jammeh agrees to step down
Jan 21, 2017
Gambia's longtime leader Yahya Jammeh has declared that he would step down as West African forces invaded his country to remove him following his refusal to cede power to president-elect Adama Barrow.
"I have decided today in good conscience to relinquish the mantle of leadership of this great nation," Jammeh said on state television on Saturday.
Jammeh, who lost the vote by a slim margin to Barrow, first accepted the defeat in December's election but then changed his mind and said there were irregularities in a recount.
He said his decision to step down was taken in the national interest, urging the Gambian people to work together as one nation.
The 51-year-old Barrow was sworn in on Thursday inside Gambia's embassy in neighboring Senegal, where he had been remaining after Jammeh refused to endorse the results of the presidential election.
Later on Thursday, military forces from regional states, unanimously approved by the United Nations Security Council, entered the country to exert pressure on Jammeh to hand power to Barrow.
Guinea's President Alpha Conde and Mauritania's President Mohamed Ould Abdel Aziz headed to Gambia's capital of Banjul on Friday to allow Jammeh one last chance to leave peacefully.
Troops from five African nations are deployed on the tiny west African nation's borders in the event Jammeh refuses to cede power.
Jammeh had seized power in a coup in 1994. His reign was denounced for torturing and killing perceived opponents to gag dissent.
Barrow will take over from Jammeh as soon as his safety can be guaranteed.
The new president hailed the "victory of the Gambian nation" and demanded loyalty from his armed forces in his swearing-in speech.
Full report at:
http://www.presstv.ir/Detail/2017/01/21/507077/Gambia-Jammeh-step-down
--------
Nigerian secessionists greet Trump as help against Muslim north
January 21, 2017
ONITSHA, Nigeria (Reuters) - Over 1,000 southern Nigerian secessionists took to the streets on Friday to express the hope that newly inaugurated U.S. President Donald Trump might help counter Muslim influence in their country.
Shouting "Biafra for Trump", protesters held up U.S. flags and pictures of Trump in Port Harcourt, a major port city in the southeast, while also brandishing the Biafran flag and warning about Muslim influence in Nigeria.
Southern Nigeria is mostly Christian while Islam is the majority faith in the north.
Trump has hardly mentioned Africa during his election campaign. But his views about curbing Muslim immigration have scored well in southern Nigeria where many complain of neglect from President Muhammadu Buhari, a Muslim from the north.
Trump took office in Washington on Friday.
"Arrests have been made - about 53 persons and counting," said Nnamdi Omoni, police spokesman for Rivers state, where the rally took place.
"They have been in processions, singing and dancing along the roads and we are doing our best to contain them because we do not want the situation to degenerate or snowball into something else," said Omoni, who denied claims by protest leaders that officers had opened fire on the rally.
George Ipob, one of the protest leaders, said that "unlike Obama, Trump is sensitive to people like us ... he being also leader of the greatest free Christian country.
"We believe in his policies and agenda against terrorism, unbridled killings of defenceless people, subjugation and suppression of people across the world by despots," said the deputy national coordiantor for the Indigenous People of Biafra, who only gave his name as George.
Full report at:
https://www.yahoo.com/news/nigerian-secessionists-greet-trump-help-against-muslim-north-212335925.html
--------
Boko Haram attacks refugee camp in Nigeria
January 20, 2017
Boko Haram extremists attack a refugee camp in Nigeria on Thursday evening, with reports suggesting the death toll could be as high as 170.
Over 100 Boko Haram fighters launched the attack as soldiers battled for hours trying to repel them, according to witnesses.
The attack comes after Nigeria's air force bombed the camp housing Boko Haram refugees multiple times on Tuesday. Nigerian officials called the attack an accident.
Medical charity Doctors Without Borders said on Friday that "around 90" people were killed in the bombing. The charity also noted that residents and community leaders said the death toll could potentially be as high as 170.
Satellite imagery from the bombing supports witness accounts saying the camp had been struck with "multiple air-dropped munitions," Human Rights Watch said on Thursday. The group has called for a compensation to be provided to the victims.
Nigeria's air force has said officials will investigate.
Full report at:
http://www.foxnews.com/world/2017/01/20/boko-haram-attacks-refugee-camp-in-nigeria.html
--------
Europe
Islamic State Using Online 'Headhunters' to Recruit Young Germans
21 Jan 2017
Berlin. Islamic State is using "headhunters" on social media and instant messaging sites to recruit disaffected young people in Germany, some as young as 13 or 14, the head of the country's domestic intelligence agency said on Thursday (19/01).
Hans-Georg Maassen also drew parallels between the militant Islamist group and past radical movements such as communism and Adolf Hitler's Nationalist Socialists that also tried to lure young people keen to rebel against their parents and society.
"On social media networks there are practically headhunters who approach young people and get them interested in this [Islamist] ideology," Maassen told foreign reporters in Berlin.
He cited the cases of a German-Moroccan girl, Safia S., 16, who is accused of stabbing a policeman at a train station in Hanover in February last year, and a 12-year-old German-Iraqi boy who tried to detonate two explosive devices in the western town of Ludwigshafen in December.
In closing arguments at Safia's trial on Thursday, prosecutors asked the judge to convict her of attempted murder, grave physical injury and support of a foreign terrorist organization, with a sentence of six years in prison. A verdict is expected on Jan. 26.
Prosecutors are also seeking a three-year sentence for Mohamad Hasan K., a 20-year-old German-Syrian accused of having known of Safia's planned attack but not informing the police.
About 20 percent of an estimated 900 people from Germany who have been recruited by IS to join the fight in Iraq and Syria are women, some as young as 13 or 14, Maassen said.
German authorities are monitoring 548 Islamists deemed to be a security risk, but German law does not allow for their arrest until they have committed a crime, Maassen said.
He said he was satisfied that police and security officials had communicated well over the case of the failed Tunisian asylum seeker Anis Amri, who killed 12 people on Dec. 19 by ramming a truck through a Berlin Christmas market.
The case sparked criticism because German authorities had identified Amri, who was imprisoned in Italy for four years, as a security risk and had investigated him for various reasons, but never took him into custody.
German Interior Minister Thomas de Maiziere said on Wednesday the cases of all those deemed a security risk in the aftermath of the Berlin attack would be reviewed.
Maassen said European intelligence agencies were also seeing the radicalization of other segments of society through social media, with growing numbers of people who were not previously politically active attracted to far-right groups.
Such people had their views reinforced in so-called "echo chambers" on the Internet, Maassen said.
"We've seen this with IS, but now we're seeing this with so-called 'good citizens' who are being radicalized, and we worry that this radicalization could be transformed into a willingness to commit violent acts."
Support for far-right groups has grown in Germany following the arrival of more than a million migrants and asylum seekers over the past two years, many of them young Muslim men fleeing conflicts in Syria, Iraq and elsewhere.
http://jakartaglobe.id/international/islamic-state-using-online-headhunters-recruit-young-germans/
--------
Reform of Islamic Educational Textbooks Follows King Mohammed VI's Instructions
January 20, 2017
In a communiqué issued by MAP, Benkirane expounded on the latest curricula reform  amid the current controversy over the disparagement of philosophy in one of the reformed textbooks.
"The Islamic Educational textbooks have been reformed by pedagogical experts and members of the Higher Scientific Council at the behest of King Mohammed VI's instructions," Benkirane was quoted by MAP as saying.
Benkirane went on to assert that "during the Council of Ministers, which King Mohammed VI chaired in February, 2016 in Laayoune, the King called on the Minister of National Educational and Vocational Training, Rachid Belmokhtar, and the Minister of Endowments and Islamic Affairs, Ahmed Taoufik, to review Moroccan textbooks to ensure they adhere the precepts of Islam and the Maliki Sunni rite, which advocates moderation, tolerance and coexistence with other religions and cultures."
According to the communiqué, "The reform of the Moroccan curricula is carried out under the auspices of the Supreme Council for Education, Training and Scientific Research and in accordance with the participation of professors, teachers, students and their parents in order to improve the quality of Morocco's educational system."
"The reform included approximately 29 textbooks. However, the controversy has stirred only over one particular textbook, due to a passage addressing philosophy. This passage tries to demonstrate a possible extremist approach by the author, and it was not intended to offend philosophy," the communiqué added.
Full report at:
https://www.moroccoworldnews.com/2017/01/206174/benkirane-reform-islamic-educational-textbooks-follows-king-mohammed-vis-instructions/
--------
Leader urges more active role for Muslim students in Europe
20 January 2017
"Being young as well as a student can each on their own, like a powerful driving force, guide human beings toward achieving the highest ideals," Leader of the Islamic Revolution, Ayatollah Ali Khamenei said in a message addressed to Muslim students in Europe on Friday. "In addition to these two qualities, you are also gifted with being present in the effective and influential system of Islamic associations."
"You are expected to improve yourselves beyond the scientific, religious and moral perspectives," he added. "You are expected to influence the world around you and step on the path of God through your words and conducts."
"This is the duty of all of us in the asymmetric warfare between the forces of Arrogance and blasphemy with the highly raised flag of Islam," he stressed.
Full report at:
http://en.mehrnews.com/news/122872/Leader-urges-more-active-role-for-Muslim-students-in-Europe
--------
URL: https://www.newageislam.com/islamic-world-news/new-age-islam-news-bureau/pakistan-govt-orders-shutdown-of-rights-groups-over-'anti-state-activities'/d/109805
New Age Islam, Islam Online, Islamic Website, African Muslim News, Arab World News, South Asia News, Indian Muslim News, World Muslim News, Womens in Islam, Islamic Feminism, Arab Women, Womens In Arab, Islamphobia in America, Muslim Women in West, Islam Women and Feminism, Moderate Islam, Moderate Muslims, Progressive Islam, Progressive Muslims, Liberal Islam