New Age Islam News Bureau
26 Jul 2018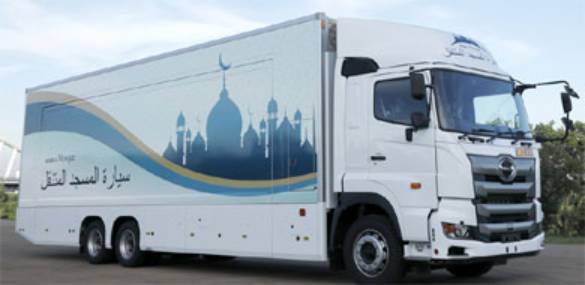 The mosque on wheels has the capacity for up to 50 people [Mobile Mosque Executive Committee via AP]
----
• Pakistan Elections: Cricket Star Imran Khan Leads in Slow Count of Pakistan Vote
• At Least 220 Dead in ISIS Suicide Attacks on Southern Syria on Wednesday
• Tokyo Company Debuts Mobile Mosque Ahead Of 2020 Olympics
• Trump Team Preparing Economic Plan as Part of Mideast Peace Proposal
• Top US Envoy Met With Taliban Officials in Qatar to Explore Ways for Peace Talks
Pakistan
• Pakistan Elections: Cricket Star Imran Khan Leads in Slow Count of Pakistan Vote
• Religious Parties Fail to Make Their Presence Felt
• 31 die in suicide bombing outside Quetta polling station
• Clashes, violence mar polling in various constituencies; at least 2 killed
• Khan supporters celebrate as Pakistan faces electoral chaos
• EU observers term polling process smooth, peaceful
• COAS tells nation to defeat enemies through vote
--------
Arab World
• At Least 220 Dead in ISIS Suicide Attacks on Southern Syria on Wednesday
• Muslim World League Joins Moroccan League in Fight against Extremism
• The Threat from Within: Erbil Attack Exposes Radicalization In Kurdistan
• White Helmets Pulled Back from Syria to Avoid Intelligence Leak
• ISIL Attacks against Sweida Launched from Al-Tanf Region
• Gaps Widening among US-Backed Militias in Northeastern Syria
• ISIL Withdraws from More Regions in Southern Syria
• Syrian Jet Shot Down by Israel to Gift Terrorists A Pause
• US Treasury sanctions eight people linked to Syria chemical weapons
• Feared no more: Iraq protesters challenge factions' reign of terror
--------
Southeast Asia
• Tokyo Company Debuts Mobile Mosque Ahead Of 2020 Olympics
• Malaysian MP Wants Policy on Shariah-Compliant Dressing
• Let's Be Friends for Islam's Sake, Najib Tells PAS
• Up to speaker to decide whether to debate shariah bill, says deputy minister
• Report: PAS veep says no to blanket ban on child marriage
• Indonesian court rejects Ahmadi blasphemy law petition
• Indonesia's Aceh is on track to cut off hands for graft
• Arrests skyrocketed in China's Muslim far west in 2017
--------
North America
• Trump Team Preparing Economic Plan as Part of Mideast Peace Proposal
• Muslim Employees at Halliburton Called 'Terrorists': Lawsuit
• A Religious Freedom Summit Can't Undo Trump's Record on Islam
• 'No Evidence' To Back IS Claim for Toronto Attack
• Trump says US ready to make a 'real deal' on Iran's nuclear program
• Man Charged With Aiding Islamic State Held without Bond
--------
South Asia
• Top US Envoy Met With Taliban Officials in Qatar to Explore Ways for Peace Talks
• Police: Suicide Attack on Afghan Intelligence Convoy Kills Five
• Two years on, Bangladesh police charge 8 over Dhaka cafe attack
• Burma's bloody persecution of Rohingyas demands a US response
• Afghan forces arrest Taliban's shadow governor for Panjshir province
• Taliban commander and his 4 comrades killed in Nangarhar night raid
--------
Africa
• Shootings on Video in Cameroon 'May Not Be Isolated Cases,' U.N. Fears
• Shekau Reportedly Ill, Reveals Why Boko Haram Is Losing Grounds against Nigerian Govt
• EU to fund new headquarters for G5 Sahel force
• Kenya: Now Muslim Cleric Wants to Sue State for Loss of Sight 27 Years On
--------
Europe
• Danish Imam Charged for Quoting Muslim Scripture Encouraging the Killing of Jews
• Turks, Greeks Pray For Victims of Wildfires
• Anti-Turkey terror groups active in Germany
--------
India
• Mangaluru Medical College Wants To Admit Only Sunni Muslim Students, Karnataka High Court Says No
• 2 Lashkar terrorists shot dead in Anantnag
--------
Mideast
• Israel Airstrike Targets Undisclosed Region In Syria
• Israel Targets Gaza Strip with Artillery Fire, Killing Three
• Three killed as Israeli strikes hit Gaza in fresh flare-up
• Turkish parliament to vote on security law to replace emergency rule
• UN Palestinian agency says to axe 250 jobs after US funding cuts
Compiled by New Age Islam News Bureau
URL: https://www.newageislam.com/islamic-world-news/pakistan-elections-cricket-star-imran/d/115946
--------
Pakistan elections: Cricket star Imran Khan leads in slow count of Pakistan vote
Jul 26, 2018
ISLAMABAD: Vote counting in an election marred by allegations of fraud and militant violence has been tediously slow, yet from the outset cricket star Imran Khan and his Tehreek-e-Insaf (PTI) party have maintained a commanding lead.
Election officials say it will be Thursday evening local time before an official count confirms Pakistan's next government. But before even half the votes were counted, Khan's leading rival, Shahbaz Sharif, who heads the Pakistan Muslim League, the party of jailed ex-prime minister Nawaz Sharif, rejected the vote, generating fears that disgruntled losers could delay the formation of the next government.
The winner will face a crumbling economy and bloodshed by militants. More than 11,000 candidates vied for 270 seats in the National Assembly, and 577 seats in four provincial assemblies.
https://timesofindia.indiatimes.com/world/pakistan/pakistan-elections-cricket-star-imran-khan-leads-in-slow-count-of-pakistan-vote/articleshow/65143521.cms
--------
At Least 220 Dead in ISIS Suicide Attacks on Southern Syria on Wednesday
25 July 2018
Attacks in the Syrian province of Sweida killed at least 220 people on Wednesday, the director of health in the south-western province told the pro-government Sham FM.
ISIS said it had carried out the seemingly coordinated attacks, which included suicide bombings, in several villages and the provincial capital, also called Sweida.
"Three bombers with explosive belts targeted Sweida city alone, while the other blasts hit villages to the north and east," said the Syrian Observatory for Human Rights.
Rami Abdel Rahman, the head of the Britain-based Observatory, said the group then followed up with further attacks in the province.
Despite pro-government forces ousting ISIS from urban centers in eastern Syria last year, surprise raids in recent months have killed dozens of regime and allied fighters.
The regime of President Bashar Al-Assad controls almost all of Sweida province.
The Britain-based Syrian Observatory for Human Rights also reported a series of suicide blasts and other attacks in the southern province.
Al-Ikhbariya said one of the attackers hit at a vegetable market in the city just after 5 a.m., a busy time for the merchants at the start of their day.
The bomber drove through the market on a motorcycle and blew himself up, the TV station said. The second attacker hit in another busy square in the city. Two other attackers blew themselves up when they were chased by authorities.
The city of Sweida has largely been spared most of the violence that Syrian cities have witnessed in the years since the conflict started in 2011.
For the southern offensive, government forces redeployed troops from Sweida province last month to attack rebels and ISIS-affiliate militants in the nearby provinces of Daraa and Quneitra.
The government is now in control of Daraa, but continues to battle the ISIS-affiliate militants in Quneitra.
https://english.alarabiya.net/en/News/middle-east/2018/07/25/Suicide-attack-hits-Syrian-city-of-Sweida-causes-fatalities.html
--------
Tokyo company debuts Mobile Mosque ahead of 2020 Olympics
July 25, 2018
A large white and blue truck pulls up outside a stadium in central Japan and slowly expands into a place of worship.
Welcome to the Mobile Mosque.
As Japan prepares to host visitors from around the world for the 2020 Summer Olympics, a Tokyo sports and cultural events company has created a mosque on wheels that its head hopes will make Muslim visitors feel at home.
Yasuharu Inoue, the CEO of Yasu Project, said the possibility that there might not be enough mosques for Muslim visitors in 2020 is alarming for a country that considers itself part of the international community. His Mobile Mosques could travel to different Olympic venues as needed.
"As an open and hospitable country, we want to share the idea of 'omotenashi' (Japanese hospitality) with Muslim people," he said in a recent interview.
The first Mobile Mosque was unveiled earlier this week outside Toyota Stadium, a J-League soccer venue in Toyota City, which is also the headquarters of the car company with the same name.
The back of the modified 25-ton truck flipped up to reveal an entrance and then the side slid out, doubling the width of the truck. The 48-square-meter (515-square-foot) room can accommodate 50 people.
Muslim guests prayed inside the mosque, which includes outdoor taps and a washing area for pre-worship cleansing. Indonesian students who were victims of the 2004 Indian Ocean tsunami also participated in the debut ceremony.
"The Mobile Mosque is very important to Muslim people such as Japanese people or tourists, Muslim tourists who visit Japan," said 14-year-old Nur Azizah. "I want to show my friends."
An estimated 100,000 to 200,000 Muslims live in Japan.
Tatsuya Sakaguchi, a Japanese guest, expressed hope that the Mobile Mosque would help open people's minds worldwide. "Looking in from the outside at the people in the mosque, they looked very happy," said Sakaguchi, the representative director of an Osaka retail company.
Inoue said the inspiration for the project came to him on a trip to Qatar four years ago.
Initially, the project organizers plan to target international sporting events both in Japan and overseas. Inoue said he hopes the project will do more than fill a gap in religious infrastructure. "Going forward, I would be so happy if people from Indonesia, Malaysia, Africa, the Middle East and, for example, refugees who are coming from Syria are able to use the mosque as a tool to promote world peace," he said.
https://indianexpress.com/article/trending/tokyo-company-debuts-mobile-mosque-ahead-of-2020-olympics-5275303/
--------
Trump team preparing economic plan as part of Mideast peace proposal
26 July 2018
A long-awaited Middle East peace plan from the Trump administration will include what the White House is calling a robust economic plan to help resolve the Israeli-Palestinian conflict, an official has said.
US President Donald Trump's envoys are also working on the most detailed set of proposals to date for the overall plan, the White House official said in a briefing with reporters on Monday.
The plan thus far has no release date. Trump had hoped to reveal it early this year but his decision to recognize Jerusalem as the capital of Israel and moving the embassy there, reversing decades of US policy, inflamed tensions in the region.
The Palestinians have said that they have lost faith in the Trump administration to act as a fair mediator and have boycotted the process since last December's Jerusalem announcement. The White House has offered few details on a peace plan that has drawn widespread skepticism even before its unveiling.
Trump's proposals are the product of shuttle diplomacy to regional capitals by senior White House adviser Jared Kushner, who is married to Trump's daughter Ivanka, and Jason Greenblatt, a lawyer who is playing a role in the negotiations.
Negotiating peace
The two envoys have asked leaders in the region to outline for each issue an outcome that they could live with and that the other side could accept, the official said. Past attempts by American presidents at negotiating peace between Israel and Palestine have fizzled based on differences over the status of Jerusalem and borders.
The Trump team has studied past efforts as a guidepost to the future, said the official, who spoke on condition of anonymity. The official said the Trump plan would be the most detailed package of solutions ever offered and that some finishing touches were being put on the main proposals and economic plans.
A rollout strategy was being developed, the official said. Trump had asked his team how the embassy announcement would affect peace negotiations. He was told it would cause some short-term disruption, but that long-term the prospects for peace would be improved, the official said.
Despite Palestinian President Mahmoud Abbas' refusal to engage on the subject, Trump's advisers expect the Palestinian leadership to read it and provide some realistic feedback and offer some proposals on how to improve it, the official said.
https://english.alarabiya.net/en/News/middle-east/2018/07/26/Report-Trump-team-preparing-economic-plan-as-part-of-Mideast-peace-proposal.html
--------
Top US envoy met with Taliban officials in Qatar to explore ways for peace talks
Jul 26 2018
A delegation of US officials led by Ambassador Alice Wells, the State Department's deputy assistant secretary for South and Central Asia, met with the Taliban officials in Qatar to explore ways for the revival of Afghan-led peace talks, it has been reported.
Sources privy of the development have told The Wall Street Journal that the top U.S. envoy for South Asia met with Taliban officials this week to discuss ways to lay the groundwork for peace talks.
The sources have further added that the aim of the discussion was to build on momentum created by a recent three-day cease-fire that offered Afghans a tantalizing taste of peace after decades of war, these people said.
"Ambassador Alice Wells, the State Department's deputy assistant secretary for South and Central Asia, led the U.S. delegation, which met with members of the Taliban's political commission in Doha, Qatar," according to the report.
The Taliban's political office in Qatar and the US Department of State has not commented regarding the meeting so far.
However, a State Department official has told the paper that "The United States is exploring all avenues to advance a peace process in close consultation with the Afghan government."
https://www.khaama.com/top-us-envoy-met-with-taliban-officials-in-qatar-to-explore-ways-for-peace-talks-05639/
--------
Pakistan
Religious parties fail to make their presence felt
July 26, 2018
LAHORE: Unlike in the by-polls held for a National Assembly constituency in the city around a year ago, religious parties and groupings failed to make their presence felt in the July 25 general election.
Both emerging religious entities, the Khadim Rizvi-led Tehreek Labbaik Pakistan (TLP) and Kashmir-Jihad fame Hafiz Saeed's political front Milli Muslim League (MML), could neither field candidates to all 14 National and 30 Punjab Assembly seats in the provincial metropolis. Muttahida Majlis Amal (MMA), the five-party religious alliance that ruled Khyber Pakhtunkhwa and Balochistan during 2002-07, also could not cover all the constituencies.
Interestingly, the extreme-right TLP has fielded two women candidates for NA seats though none of two – Sumera Noreen and Memona Hamid – ever appeared in the public to seek votes.
Using Khatme Nabuwat issue for its electioneering, the outfit managed to mobilize voters from certain pockets in NA-135 (Lahore-XIII), NA-125 (Lahore-III) and NA-132 (Lahore-X) but could not make any visible dent in the right vote of the PML-N.
Most of the TLP and MML presence was seen in the form of banners and flexes, as their polling camps and polling agents were seldom found in and around the polling stations.
In the NA-120 by-polls in September 2016 against former prime minister Nawaz Sharif's ailing wife Begum Kulsoom, both the TLP and MML had run significant election campaigns and secured 7,000 and 5,000 votes, respectively, to the astonishment of many. But these could not maintain their tempo in the general election.
A TLP leader, who requested not to be named, admits that they've learnt the hard way that contesting a by-poll is much different from going into general elections. "In a by-poll, you may gather the whole country and amass all resources in a constituency but in the general vote all your workforce and resources are scattered throughout the country."
He says that a seasoned politician from the Jamiat Ulema-i- Pakistan (JUP) had advised them to strike alliance with any major party and focusing energies on the few seats for giving a better parliamentary result but some in the main TLP leadership frowned upon the suggestion believing that they could get more through common man support on the issue of finality of prophethood.
Ghulam Mustafa, who was manning a polling camp at Minhaj University for the TLP, said that the support the outfit is getting from non-seminary people was astonishing and asserts that it would soon become a force to be reckoned with.
The MML, which could field only four candidates for 14 NA seats from Lahore, reflected even poor picture as the few camps it had set up were found empty throughout the day. It seemed voters mostly neglected the welfare work claims by the charity networks affiliated with it.
Similar was the situation of the MMA which, except for the constituencies of Liaquat Baloch (NA-130) and Manzoor Hussain Gujjar (NA-128), was not visible in the publicity match with rivals.
https://www.dawn.com/news/1422853/religious-parties-fail-to-make-their-presence-felt
--------
31 die in suicide bombing outside Quetta polling station
Saleem Shahid
July 26, 2018
QUETTA: A day after an attack in Kech district in which three soldiers and a teacher were martyred, about 31 people — six of them policemen — lost their lives and around 70 suffered injuries in a suicide bombing outside a polling station in Quetta on Wednesday.
Deputy Inspector General of Quetta police Abdul Razzaq Cheema survived the suicide attack but another police officer, Riaz Ahmed Nothani, was killed. The injured included policemen and voters.
Earlier in the deadliest attack on the election campaign, 149 people — including Balochistan Awami Party candidate Nawab Siraj Raisani — were martyred and 150 others were injured in a stunning suicide bombing in the Mastung area on July 13.
The so-called Islamic State (IS) militant group has claimed responsibility for Wednesday's suicide attack through its official propaganda agency, Amaq.
According to official sources, a large number of people had gathered in election camps set up by candidates near a polling station in Tameer-i-Nau Public College Complex at the Eastern Bypass of Quetta. The suicide bomber blew himself up when DIG Cheema reached there to inspect security measures.
Sources said that the suicide bomber who was riding a motorcycle tried to enter the college premises to target the polling station. But security forces stopped him and he rammed his motorcycle into a vehicle carrying SHO Abdul Hameed Awan of Abdul Khaliq Shaheed police station, who was injured.
The people gathered in the election camps and going into the polling station fell victim to the suicide bombing.
Two children were among the deceased.
"About 20 people died on the spot," a senior police official told Dawn.
"Initially 19 bodies and dozens of injured were brought to the hospital, 12 of whom succumbed to their injuries there," Dr Wasim Baig, spokesman for the Provincial Civil Hospital said.
He said that 35 injured were admitted to the hospital and later 12 of them, who had received critical injuries, were shifted to Karachi.
Thirty-five others, who had received minor injuries, were discharged after treatment.
"I had left the polling station after casting my vote when the powerful explosion took place," said a witness, Abid Ali. "I collapsed on the road and saw a large number of people lying around me and calling for help."
An official of the bomb disposal squad, which collected evidence from the explosion site, said around 7kg explosive material was used in the blast.
Windowpanes of the educational complex and adjoining buildings and shops were smashed.
Rescue workers and a heavy contingent of personnel of law enforcement agencies shifted the bodies and the injured to the civil hospital where emergency was declared.
Polling was suspended in the polling station as voters left it due to panic caused by the blast. However, after a few hours voting resumed when more security personnel were deployed at the polling station.
Security was beefed up at all polling stations of Quetta and in and around the city after the terrorist attack.
Meanwhile, caretaker Chief Minister of Balochistan Allauddin Marri condemned the suicide attack and said that despite the incident, voters' turnout in Quetta and other parts of Balochistan was at a record level which showed that terrorists had failed to deter people from casting their votes.
During a visit to the Election Moni­toring Cell in the office of Quetta's capital city police officer, Mr Marri expr­essed grief over the martyrdom of 31 people and said that they had sacrificed their lives for the country. He also praised the role of the security forces in maintaining law and order in the province.
IG of Balochistan Police Mohsin Butt and DIG Cheema briefed Mr Marri on security measures for polling stations and he chief minister expressed satisfaction over the arrangements.
Attack in Buleda
Tuesday's attack targeted a convoy of security personal and election staff taking poll material to Buleda of Kech district.
The convoy was waylaid on reaching the rugged mountainous area close to the Iranian border. Attackers atop a mountain opened fire on the convoy causing death of four men and injuries to 13 others, an official of the Turbat administration said.
A heavy exchange of fire ensued after the security personnel returned fire. How­ever, the attackers managed to escape.
The injured included nine security men and four civilians. More troops rushed to the site and shifted the bodies and the injured to hospital.
The deceased were identified as Sepoys Muhammad Akmal, Jahanzeb and Muhammad Imran, while the fourth victim was a schoolteacher, Saifullah, who too was going to Buleda for election duty.
Full report at:
https://www.dawn.com/news/1422870/31-die-in-suicide-bombing-outside-quetta-polling-station
--------
Clashes, violence mar polling in various constituencies; at least 2 killed
July 25, 2018
Deadly clashes and violence between activists of rival political parties were witnessed in several areas as millions of Pakistanis went to polls on Wednesday amid tight security.
Khyber Pakhtunkhwa
A clash erupted in Khyber Pakhtunkhwa's Swabi district between workers of the Awami National Party (ANP) and Pakistan Tehreek-i-Insaf (PTI), with one activist of the latter shot dead, and two others injured.
PTI and ANP workers also exchanged fire in Mardan, leaving some people injured. Police now has taken control of the situation.
A clash erupted between activists of two independent candidates' groups at a polling station in Batera area of Kohistan. There were no reports of casualties, but the polling was halted for the time being.
Seven people were taken to hospital and the polling process was stopped after a scuffle between supporters of two independent candidates in Jijal area of Kohistan.
Punjab
One man was shot dead and another was injured in NA-153 when two political groups clashed in Punjab's Khanewal district.
Several people were injured as workers of the PML-N and PTI came face-to-face in Punjab's Rajanpur district. Police has been deployed in the area to prevent violence.
DawnNewsTV reported that PTI and PML-N activists also clashed in Shahdara area of Lahore.
At least one person was injured when PML-N and PTI workers clashes in Rawalpindi's NA-61 constituency.
A clash was also reported between two political groups in Gujranwala.
Sindh
Seven people were injured after clashes between two rival political groups at a women's polling station in Khipro area of Sindh's Sanghar district. Polling was halted at a polling station following the clashes.
The dispute started between voters of the PPP and Grand Democratic Alliance (GDA) at a polling station in Yamin Hingorjo after a woman was stopped from casting the vote on technical reasons.
GDA's Abid Hingorjo who was injured in the clash is said to be in a serious condition and has been shifted to Hyderabad. Other injured include GDA's Nazar Hingorjo and Anwar Hingorjo and PPP's Anwar Marri, Mir Muhammad Marri, Ali Ahmed and Kanndo Marri; they have have been shifted to Khipro taluka hospital.
Another clash between workers of the PPP and GDA left five people injured in Chak No 1 near Golarchi town of Badin district. The polling process in the polling station falling in NA-230 and PS-74 was suspended after the clash.
Meanwhile, seven people were injured when a clash erupted between supporters of GDA candidate Shehzad Mehar and independent candidate Ameer Jatoi in Shikarpur.
Balochistan
At least two people were injured during an incident of firing at a polling station in Balochistan's Naseerabad district, DawnNewsTV reported.
Full report at:
https://www.dawn.com/news/1422589/clashes-violence-mar-polling-in-various-constituencies-at-least-2-killed
--------
Khan supporters celebrate as Pakistan faces electoral chaos
JULY 26, 2018
Pakistan woke to electoral chaos on Thursday with the outgoing ruling party denouncing "blatant rigging" in the pivotal general election and rejecting unofficial, partial results suggesting victory for former cricket champion Imran Khan.
Results were still being tallied Thursday morning, hours after Khan's supporters took to the streets to celebrate victory in an election opponent have said the powerful military rigged in his favour.
Local media said less than half the votes had been counted more than 13 hours after polls closed, an unprecedented delay that has fuelled widespread fears over the legitimacy of the exercise.
The Election Commission of Pakistan dismissed allegations of manipulation, blaming the delay on glitches in new, untested counting software.
"These elections were 100 percent fair and transparent," said Chief Election Commissioner Sardar Muhammad Raza early Thursday as the outcry grew.
Raza did not say when election authorities would be in a position to announce the results.
Late Wednesday, the Pakistan Muslim League-Nawaz (PML-N), which had been in power since 2013, rejected the results because of "outright rigging", and vowed it would use "all political and legal options for redressal of these glaring excesses".
"Today what they have done has pushed Pakistan back 30 years… People will not bear it," the party's leader Shahbaz Sharif, brother of jailed former premier Nawaz Sharif, said in a press conference.
Other major parties also alleged fraud, including the once-dominant Pakistan Peoples Party (PPP), whose chairman Bilawal Bhutto Zardari echoed the PML-N's claim that party representatives were barred from monitoring the count, tweeting that the situation was "Inexcusable & outrageous".
Local television channels were all predicting victory for Khan's Pakistan Tehreek-e-Insaf, with the partial results giving him at least 100 seats so far in the National Assembly, the lower house.
A majority of 137 seats is needed to form a government.
Neither Imran Khan nor the military, which had been accused of seeking to manipulate the vote in his favour in the months leading up to the polls, have yet commented on the situation. Both have previously denied allegations of intervention.
The controversy follows a campaign already considered by some observers to be one of the "dirtiest" in the Pakistan's history because of the allegations against the military, and marked by the increased visibility of extremist religious parties.
– 'Turmoil' –
"This is complete chaos," said political analyst Azeema Cheema, who said she was "very concerned" about what comes next.
"It depends on how the civilian disobedience is being organised. You may have spontaneous riots among political party workers. Then maybe political parties will organise sit-ins and demonstrations," she told AFP.
Michael Kugelman, an analyst at the Wilson Center in Washington, shared the concern: "No matter how you slice it, the immediate post-election climate in Pakistan will be quite tense."
"I don't see any way to prevent a period of turmoil," he told AFP.
But PTI supporters were ecstatic at the projected results.
First time voter Fahad Hussain, 21, said the party had successfully lured the country's massive youth population.
"He motivated the youth," Hussain told AFP in the capital Islamabad as he hit the streets to celebrate with friends.
Wednesday's elections, conducted under high levels of security, were meant to be a rare democratic transition from one civilian government to another in the young, nuclear-armed country which has been ruled by the military for roughly half its history.
Khan, who captained Pakistan to their World Cup cricket victory in 1992, largely campaigned on ambitious promises to tackle widespread graft while building an "Islamic welfare state".
But his bid for power was dogged by widespread accusations he is benefiting from a "silent coup" by the generals.
Khan has also increasingly catered to hardline religious groups, particularly over the inflammatory issue of blasphemy, sparking fears a win for PTI could embolden Islamist extremists.
The PML-N says it is the target of the alleged military machinations. Nawaz Sharif was ousted from power last year and jailed over a corruption conviction days before the vote, removing Khan's most dangerous rival.
Some 800,000 military and police had been deployed to provide security on election day.
Full report at:
https://dailytimes.com.pk/273459/khan-supporters-celebrate-as-pakistan-faces-electoral-chaos/
--------
EU observers term polling process smooth, peaceful
JULY 26, 2018
A delegation comprising European Union (EU) observers on Wednesday visited different polling stations of the federal capital and termed the polling process smooth and peaceful. While talking to media at polling station No 113 in F-6/2, NA-53, head of the delegation Michael Gahler said that 120 members of the team will observe 87 different constituencies, which is 32 per cent of the total constituencies of the country. He said team members will observe the electoral process in the federal capital and Punjab, Sindh and Khyber Pakhtunkhwa (KP). No member will visit Balochistan due to security reasons.
Replying to a question, Gahler said the overall assessment of the EU observers would be issued in a preliminary statement on July 27 (Friday). Talking about the security measures, he said, "What I have observed for the time being, the election process is running peacefully and security measures are good." He observed that the polling staff showed sealed and empty ballot boxes in the presence of political agents of different political parties so that they could be a witness to the transparency of the process.
Replying to a question, he said the EU observers will observe some specific points including code of conduct being followed by military, staff of the Election Commission of Pakistan, sealed ballot boxes, ballot papers, turnout, security measures and the strength of the polling staff.
About access to media to cover the polling process, he said he himself did not observe any restrictions being faced by the media. Replying to a question about accessibility of EU observers to the polling stations, Gahler said, "Credit goes to ECP for providing us complete access to observe the entire election process.
Full report at:
https://dailytimes.com.pk/273337/eu-observers-term-polling-process-smooth-peaceful/
--------
COAS tells nation to defeat enemies through vote
JULY 26, 2018
Chief of Army Staff (COAS) General Qamar Javed Bajwa and his wife cast their ballots in Rawalpindi on Wednesday, military's media wing said.
The army chief urged the nation to 'come out and vote undeterred' in order to defeat enemy forces working against Pakistan, Inter-Services Public Relations Director General Major General Asif Ghafoor tweeted. "We are target of inimical forces working against Pak. We've come a long way in our comprehensive national effort to fail them. We are united & steadfast to defeat them, and 'TODAY' through our 'VOTES'. Please come out & vote undeterred', COAS," the tweet said.
ECP dismisses PML-N's request for one-hour extension in polling time
The Election Commission of Pakistan (ECP) on Wednesday dismissed Pakistan Muslim League-Nawaz's (PML-N) request for one-hour extension in the polling time.
"We will not extend polling time anywhere in the country. Voters present in polling stations will be able to cast their votes even after 6pm," the ECP stated.
PML-N Senator Mushahid Hussain had earlier written a letter to the chief election commissioner seeking a one-hour extension in the polling time under Section 70 of the Election Act, 2017, which authorises the Election Commission of Pakistan (ECP) to extend polling hours.
"On the basis of reports that have been received from PML-N candidates from almost all constituencies of Pakistan, I would like to kindly request you to extend the polling time by at least one hour from 6pm to 7pm given that there are long lines of voters waiting in the queue, while only three to four persons are allowed to enter the polling station at a time to cast their vote," the letter read.
"This is not only causing inconvenience to voters standing in lines in the hot and humid weather but also may end up depriving people of their right to vote because of this tedious, slow and cumbersome voting procedure adopted by personnel at almost all the polling stations in Pakistan," it added.
Full report at:
https://dailytimes.com.pk/273284/coas-tells-nation-to-defeat-enemies-through-vote/
--------
Arab World
Muslim World League joins Moroccan league in fight against extremism
July 17, 2018
JEDDAH: The Muslim World League (MWL) has joined Morocco's Mohammadian League of Scholars in a joint program to encourage enlightened Islamic speech and combat extremism.
A research and data sharing agreement between the two organizations was signed during a visit by Mohammed bin Abdul Karim Al-Issa, MWL secretary-general, to the league headquarters in Rabat, where he met with Ahmed Al-Abadi, the organization's leader.
Along with information sharing, the agreement includes joint scientific research and publishing initiatives, and invitations to take part in conferences, panel discussions, cultural programs, and joint training programs and workshops.
A committee from both organizations will decide on an annual executive program to identify joint projects.
The agreement follows an international conference hosted by MWL with the Mohammadian League of Scholars under the theme "Deconstruction of Extremist Discourse."
Leading thinkers and researchers from Saudi Arabia, Morocco, the UAE, Egypt, Jordan, Iraq, Lebanon and Syria took part in the two-day conference early this month in Rabat.
The conference discussed interventions on deconstructing the extremist discourse, the intellectual ideas of extremists and their rebuttal, sectarian extremism and strategies to prevent the spread of extremism.
Earlier, Al-Issa said that cultural communication generates understanding among nations … and this leads to the alliance of civilizations.
He said extremism was a general and comprehensive concept, and to attribute it only to Islam was false since it also had intellectual, political and racial aspects.
http://www.arabnews.com/node/1340776/saudi-arabia
--------
The threat from within: Erbil attack exposes radicalization in Kurdistan
July 26, 2018
ERBIL (Kurdistan 24) – Even though the Islamic State's (IS) ability to operate in Iraq is far less than it was one year ago, academics and other observers warn that Monday's attack on the Erbil Governorate building demonstrates the continued threat of IS-style radicalism in the Kurdistan Region.
The three assailants, all of whom were killed when security forces stormed the building, were no outsiders to Kurdistan. They were all Kurds from Erbil, high school students between 16 and 18 years old.
According to Erbil's security chief, all three were linked to IS, although no group has claimed responsibility for the attack. Experts say more needs to be done to tackle Islamist ideology and prevent future such incidents in the Kurdistan Region.
Dr. Nahro Zagros, Vice President of Soran University, told Kurdistan 24 on Tuesday that the attack shows that Kurdish authorities should be doing more to curb radicalization among young Kurds.
"Especially in the deprived areas in our cities and towns, there are still people, especially youth, [who] are hijacked by extremists and brainwashed in their vicious ideology."
"This needs attention and this need to be tackled quickly," he said. "We have to defeat the ideology."
But according to Dr. David Romano, a Political Science Professor at Missouri State University, the threat is inevitable.
"The KRG has done a good job so far of curtailing radical Islam in its region. Despite this, some people will still radicalize and some incidents will still happen," he told Kurdistan 24 on the day of the attack.
"The vast majority of Kurds are Sunni Muslim," he continued, "so naturally some will be attracted to Jihadism rather than other ideologies such as secular Kurdish nationalism."
"The surprising point is not that three of the attackers today were Kurdish, but rather that more Kurds are not attracted to Jihadism - especially as the international community keeps blocking Kurdish nationalist moves towards independence or even autonomy," he added.
"If Kurdish nationalism keeps failing to achieve its promises, however, we can expect more Kurdish jihadists."
In the past, Kurdish residents have voiced concerns about the risk of IS members infiltrating groups of displaced Arabs coming to the Kurdistan Region from other parts of Iraq.
Local Kurds, however, make up the majority of participants in such attacks in the Kurdistan Region, including a remote-controlled car bomb that detonated near the US Consulate in Erbil on April 17, 2015, killing two civilians. Investigators announced that four Kurds from Erbil took part in the attack.
About 400 to 500 Kurds from different countries are thought to have joined IS, but most of them were reportedly killed in battle.
"Today's attackers were not terrorists from the outside, rather a few teenagers which two of them were under eighteen who were from mosques and schools," Soran Sewkani, an expert on Islamic groups told Kurdistan 24 after the three were killed on Monday.
"The incident that occurred in Erbil's governorate building was once again a proof that IS is not a stranger from the outside, rather an ideology amongst us."
"According to some sources," he said, "these teenagers were victims of an ideology that accomplish terrorism acts behind the holiness of mosques. This again tells us that we have a huge and extensive fight ahead of us, a long term intellectual and educational fight."
But even before IS, Kurdish Jihadism has had a 37-year turbulent history, wrote Kurdish expert Adel Bakawan in a report for the French Institute of International Relations (IFRI) released last July that read, "It emerged in the 1980s as one of the consequences of the Islamic movement in Kurdistan."
The majority of the Kurds who joined IS are young, with up to 75% of them between the ages of 14 and 29.
Local Asayish (security) has said that Monday's three attackers were students of the popular Mulla Ismael Susayi, who was reported to have been arrested just three weeks ago.
Erbil's security department announced it had issued an arrest warrant on Tuesday for a former Iraqi parliament member from the Islamic Group of Kurdistan (KIG) named Mullah Salim Shushkayi, linking him to IS. Shushkayi, who was banned from preaching at mosques in the Kurdistan Region along with three other clerics in 2016 by the Kurdistan Regional Government (KRG), has denied any connection to the group.
"There are some imams who encourage radicalism in Kurdistan," said Kurdish researcher and lecturer in sociology at Soran University Ibrahim Malazada. "A few of them joined IS and there are some of them who were accused [of] backing radicalist ideology."
"Many young Kurds joined IS from his mosque 2 years ago," he told Kurdistan 24.
Friends and family members of the Monday's attackers told Kurdistan 24 on Tuesday that all three had become radicalized in recent months and had spent most of their time at local mosques.
"There is a responsibility for the clerics," he added. "They are not explaining [to] people that extremism, for example, has no relation to Islam. The problem is that they are not taking any kind of responsibility," he added.
He explained that some circles support Salafist groups against traditional Kurdish Islamic parties. "But in some levels, they are more dangerous than political Islam," he added. "Because Jihadists are Salafists."
According to Malazada, a further complication is that some Kurdish Muslims charge that the KRG is against Islam, and because of this, more should be done on an educational and cultural level to change the mind of people.
On the same day, Kurdistan Region Prime Minister Nechirvan Barzani emphasized the importance of combating terrorists militarily and ideologically while addressing a gathering of religious leaders in Erbil.
The KRG has monitored activities in mosques for some time, but more recently, the curriculum in schools have been changed in an attempt to further address the problem.
"This was a good and brave step from the KRG to monitor religious texts in school, and from now on people are not only studying Islam in school, but also theology and other religions," said Dr. Zagros of Soran University.
But, he said, the mind of some locals also must be changed.
As an example, after social media users referred to Farhan Elya, the employee who died in Monday's attack on the Governorate building, as a "martyr," some Muslim Kurds complained because Elya was a Christian, and therefore did not deserve the title. Others condemned this reaction.
"There are different ways where people can be attracted to extremism and we have to find the source," Zagros said.
According to the research of Adel Bakawan, the third generation of Kurdish Jihadists after 2014 are radicalized through Facebook, not through Salafism, clerics, or traditional Islamic Kurdish parties, as was the case in earlier jihadist generations of the 1980s and the militant Ansar al-Islam group in the early 2000s.
"68% of the members of this Facebook generation never connected with an Islamist or secular ideology before their encounter with Daesh (IS)," read his 2017 report, which came with a warning for those who think IS or similar radical movements are defeated after losing territory.
He says that, in 2003, the Iraqi Kurds thought the battle was over after Ansar al-Islam was defeated in 2003 with US support. 10 years later, after a large number of Kurds joined IS, the threat seems to be higher.
Full report at:
http://www.kurdistan24.net/en/news/e4a0d02b-5f7c-4573-a5c1-f742ff9ed03b
--------
White Helmets Pulled Back from Syria to Avoid Intelligence Leak
Jul 25, 2018
The West and Tel Aviv had two options of either withdrawing the White Helmets from Southern Syria or killing them, the Arabic-language service of Russia Today cited a report by Expert Online.
It pointed to the failure of the White Helmets to create fake stories and a halt in financial aid to them, and said since the White Helmets had a lot of intel with them, Washington could not leave them to be given to Syrian President Bashar Assad.
The report said that killing the White Helmets was considered as one of the cheapest and most confident options which could later be blamed on the Syrian government.
"But the risks were high as few could have survived who would then run to the Syrian government to save their lives and they could have leaked vital intel during the process; hence, the western countries decided to pave the way for their escape in the shortest possible time," it added.
The terrorists' exit from Syria occurred at a time when the Syrian army took control of borders with Jordan; White Helmets had been besieged in a narrow strip in the Golan Heights.
In a relevant development on Monday, the Russian Foreign Ministry said in an official commentary on Monday that flight of workers of the White Helmets nongovernmental organization from Syria with foreign assistance shows graphically whose orders they fulfilled and whose money they existed on.
"The information available to us suggests the Westerners evacuated a big group of those pseudo-aid workers to Jordan via the Israeli territory," the commentary noted, adding that "meanwhile, it is known perfectly well that the White Helmets have been involved in the most odious provocations during the conflict in Syria", TASS reported.
"The organization concentrated its operations exclusively in the areas controlled by Islamic radicals, forging overt fakes that would be used as pretexts for charges against the Syrian authorities," the Foreign Ministry added.
The Helmets had a particular fancy for shooting the propagandistic clips, which the Western media and social networks would circulate endlessly, it noted.
"It's quite emblematic that the White Helmets preferred to flee Syria with foreign assistance, thus unmasking their essence and hypocrisy to the whole world," the commentary said, adding that "as if acting out the principle 'an uneasy conscience betrays itself', these people showed in a most graphic way whose orders they had been fulfilling and whose money they had existed on".
Moscow also called attention to the recent comments by the US Department of State official Spokesperson upon the results of a telephone conversation between Foreign Minister Sergei Lavrov and US Secretary of State Michael Pompeo.
"These comments said in gushing terms, so typical of the Americans, Russia was failing to act properly on its obligations regarding southwestern Syria," the ministry said, adding that "we'd like to say in this connection the situation is entirely opposite in reality. It was Washington that did not do anything over several months in the Southwestern de-escalation zone to separate the so-called moderate opposition units from the terrorist of the Islamic State and Jabhat al-Nusra".
"As a results of successful actions of the Syrian Armed Forces and with our assistance, law and order are returning to Southwestern Syria and conditions are arising for people's return of peaceful life there," the ministry stressed.
Israel evacuated several hundred White Helmet staff and their families from the Golan Heights region in Southern Syria to Jordan overnight on Saturday. The initial plan reportedly involved the evacuation of 800 people.
Full report at:
http://en.farsnews.com/newstext.aspx?nn=13970503000547
--------
ISIL Attacks against Sweida Launched from Al-Tanf Region
Jul 25, 2018
The Arabic-language al-Mayadeen news channel reported that the ISIL terrorists launched heavy attacks against the towns of Douma, Tarba, Shabaki, al-Sowaimareh and Rami in Northern and Northeastern Sweida from al-Tanf region after suicide attacks.
The Syrian army and popular forces repelled the terrorists' offensives preceded by suicide attacks, killing tens of militants.
Earlier reports today said that the Syrian army soldiers and popular forces engaged in fierce clashes with ISIL in the Southern province of Sweida and managed to repel their heavy attack after inflicting tens of casualties on the terrorists.
The army men, supported by popular force, exchanged heavy fire with ISIL that attacked the villages of al-Matouneh, Douma and Tima in Northeastern Sweida, fending off the terrorists' offensive.
In the meantime, residents of the village of Rami clashed with ISIL terrorists and did now allow them to enter their region.
Also, the army forces along with popular fighters fought the terrorists in Tal Basir region in Eastern Sweida and captured the region.
Meanwhile, people in the village of Shabaki and the army men laid siege on the terrorists.
Local sources reported that more than 100 civilians were killed and tens of others were wounded in ISIL's suicide attacks in a local market and in Maslakh district in Sweida city and in several villages in the city outskirt.
The sources further said that two of the suicide attackers were arrested before carrying out their attacks.
Field sources reported last month that the army sent a large convoy of military equipment to the Eastern desert of Sweida.
They added that the convoy which included several tanks, missile-launchers and vehicles equipped with heavy weapons was sent to Tal Sa'ad, the frontline of battle against the ISIL, through the village of al-Janineh in Northeastern Sweida.
Meantime, the Syrian army units engaged in fierce clashes with the ISIL terrorists in Badiyeh region of Sweida province, including al-Harmieh region.
Full report at:
http://en.farsnews.com/newstext.aspx?nn=13970503001031
--------
Gaps Widening among US-Backed Militias in Northeastern Syria
Jul 25, 2018
The sources further said that Ibrahim al-Shavakh nom de guerre Abu Teif al-Hendavi, an Arab commander of a SDF regiment in the town of Tal Abyadh in Northern Raqqa, was dismissed from his post.
The SDF members further arrested al-Shavakh, they said.
The sources further said that the SDF gunmen have captured a number of people accusing them of cooperating with the Free Army in the town of Solouk in Tal Abyadh.
In the meantime, three SDF militias were killed and several more were wounded after a bomb planted on their vehicle went off in the village of al-Mankhar East of Raqqa.
The SDF's brutalities against people in Raqqa province have enraged them, making them to take to the streets in protest.
On Tuesday, the US dispatched a convoy of military equipment and troops to its base in Northern Raqqa to clamp down popular uprising against its forces and allied militants.
A long convoy of the US military vehicles left Iraqi territories for Northern Raqqa.
The convoy included 300 trucks carrying logistic and military equipment, arms and ammunition for the US troops' base in Kharab Ashak region that is one of the most important bases of the US in Syria.
Full report at:
http://en.farsnews.com/newstext.aspx?nn=13970503000697
--------
ISIL Withdraws from More Regions in Southern Syria
Jul 25, 2018
The army soldiers, backed up by the artillery and missile units, stormed ISIL in Hawz Yarmouk in Southwestern Dara'a, driving ISIL out of Jalin housings and Libi Company.
In the meantime, other units of the army clashed fiercely with ISIL and captured the towns and villages of Saida Joulan, Khan Saida, al-Lobid and al-Maqraz.
A number of terrorists were killed and their military equipment were destroyed in the attacks.
Reports said earlier today that the army men, backed up by artillery units and the Air Force, engaged in fierce clashes with terrorists of ISIL near Seida region at border with the Israeli-occupied Golan in Quneitra and seized control over the town of al-Basah Sharqi.
In the meantime, other artillery and missile units pounded terrorists' positions and movements near the town of Tasil and Tal al-Jomou'a region in Hawz Yarmouk, destroying several bases, vehicles and a large volume of military equipment and killing a number of terrorists.
http://en.farsnews.com/newstext.aspx?nn=13970503000806
--------
Syrian Jet Shot Down by Israel to Gift Terrorists A Pause
Jul 25, 2018
The Arabic-language website of Sputnik reported that the Syrian Sukhoi fighter jet that was downed by Israeli Air Defense Units' missiles on Tuesday never entered the Israeli-occupied Golan airspace.
The unnamed analyst further told the Arabic Sputnik that Israeli air defense intentionally shot down the Syrian jet East of the de-escalation line with Israel near the town of Saida, where ISIL is active in a bid to give ISIL terrorists a chance to capture the pilot to have an advantage for some negotiations with the Damascus government over ending the military operation in ISIL-held regions in Southwestern Dara'a.
According to reports, the pilot was killed after fighter jet was shot down by the Israeli air defense.
The Syrian Army's operation is now mainly concentrated on liberating an ISIL-held triangle-like region among Syria, Jordan and Israeli occupied-Golan with an area as large as 50 sq-km.
A Syrian Air Force Sokhoi fighter jet was shot down by the Israeli Air Defense Units as it was targeting terrorist groups in South-West Syria on Tuesday, the state news agency confirmed in a report, but it also refuted Israeli Army claims that the warplane had cross the border into the Israeli-occupied Golan.
SANA reported that the Syrian Sukhoi was shot down by Israeli Air Defense while flying over terrorists-held regions in Southern Dara'a, refuting Israeli Army Spokesman Avichay Adraee's claims that the Syrian warplane had entered 2km deep into the occupied Golan that is now under the Israeli army's control.
"The Israeli enemy reaffirmed its backup for terrorist groups and downed out fighter jet that was pounding terrorists' positions and movements in Saida region near Wadi al-Yarmouk inside the Syrian airspace," SANA further quoted a military source as reporting.
The Israel Defense Forces (IDF) claimed in a statement earlier today that it has fired interceptor missiles at a Syrian Sukhoi warplane, adding that the aircraft had penetrated Israeli-controlled airspace.
"Two Patriot missiles were launched at a Sukhoi fighter plane. The plane was under (Israeli) surveillance, it penetrated about two kilometers into Israeli territory and was intercepted," the Israel Defense Forces wrote on Twitter.
Full report at:
http://en.farsnews.com/newstext.aspx?nn=13970503000777
--------
US Treasury sanctions eight people linked to Syria chemical weapons
25 July 2018
The US Treasury Department imposed sanctions on Wednesday against five groups and eight individuals linked to Syria's chemical weapons program, the department said in a statement.
The targeted groups and people were key to a network that procured electronics for the Syrian agency that develops the weapons, it said.
"Syria's horrific use of chemical weapons, including attacks against innocent women and children, remains deeply embedded in our minds," said Sigal Mandelker, Treasury undersecretary for terrorism.
Full report at:
https://english.alarabiya.net/en/News/middle-east/2018/07/25/US-Treasury-sanctions-eight-people-linked-to-Syria-chemical-weapons.html
--------
Feared no more: Iraq protesters challenge factions' reign of terror
July 25, 2018
BAGHDAD: For nearly 15 years, Shiite armed factions backed by Iran have imposed a reign of fear in southern Iraq.
They fought US-led troops after the 2003 invasion, played a leading role in the sectarian war that engulfed the country between 2006 and 2008, and were the backbone of the forces that defeated Daesh after the militants seized almost a third of Iraq in 2014.
The Shiite militias' brutality, the boldness of their fighters and their blatant defiance of the Iraqi authorities meant that no one dared challenge their rule. They have significant influence in Baghdad and the south, and continue to challenge the Iraqi government on a daily basis. Clear red lines were drawn around them, and anyone who publicly crossed those lines risked being killed.
Their rule was absolute — until now. Massive demonstrations that have swept southern Iraqi provinces for the past two weeks were angry protests against shortages of basic services such as electricity and water, and high rates of unemployment and poverty. But they have also shattered the self-assured arrogance of the pro-Iranian Shiite armed factions and challenged their influence, observers and Iraqi security officials have told Arab News.
Protesters attacked the headquarters of several militant groups, including the most powerful Shiite paramilitaries, the Badr Organization and Asaib Ahl Al-Haq. At least four people were shot dead as they tried to storm the organizations' offices in Najaf, Diwaniya and Muthanna and set them on fire.
The protests may be the first step toward removing them from the equation, thus limiting Iranian influence in Iraq by clipping the wings of the pro-Iranian political parties that use the groups as tools to strike at rivals and opponents.
"What happened in these demonstrations has really broken the prestige of these groups," a senior Iraqi national security official told Arab News. "It sent a strong social message that says there are no red lines anymore and this situation (the dominance of armed factions on the Iraqi streets) will not last for much longer.
"This was a significant shift in the Iraqi public perception. People have come to know where to direct their anger and who they have to face."
The first protesters took to the streets on July 18 in the southern oil-hub city of Basra to protest against a serious lack of electricity, a shortage of drinking water and the high rates of poverty and unemployment. This was followed by uprisings in Shiite-dominated southern provinces such as Dhi Qar, Muthanna, Amara, Karbala, Babil, Najaf, before the protests spread to the capital, Baghdad.
The mass demonstrations turned violent when protesters stormed the headquarters of several oil companies in Basra and the airport in Najaf, set fire to government buildings and tried to swarm the offices of the pro-Iranian Shiite political parties and paramilitary groups.
Iraqi security forces, which have been on high alert since the protests began, and guards at the offices opened fire to disperse the protesters. Fourteen people were killed and hundreds wounded, most of them members of the security forces.
Protesters in impoverished Amara, southwest of Baghdad, demanded the closure of all offices of Shiite armed factions and the surrender of their weapons to the state as part of their conditions to end their demonstrations.
"Regardless of the identity of the demonstrators who attacked these offices or presented their demands, the barrier of horror that surrounds these groups has been broken," said Mustafa Sa'adoun, an Iraqi analyst. "The demonstrators just told the tough guys, 'Your day is coming and you are reachable'."
Despite efforts by Iraqi Prime Minister Haider Abadi to ease tensions by increasing the hours of electricity generation and water flow, and announcing thousands of new jobs, demonstrations are expected to continue growing in Baghdad and the south.
Iraqi politicians have yet to ratify the results of the parliamentary elections held in May and form a new government.
The country has been a battleground for many international and regional powers, particularly the US and Iran, since the 2003 US-led military invasion. No new government will be formed without the approval of Washington and Tehran.
Several security sources suggested that followers of the influential Shiite cleric Muqtada Al-Sadr, whose Sairoon Alliance took first place in the preliminary results of the May elections, were involved in the protests and attacks on the offices of Asaib, Badr and other groups. However, other intelligence information indicates the involvement of other local and international interests in the unrest.
"The demonstrations have provided great cover for the regional and international powers operating in Iraq to terminate their opponents in an attempt to expand their areas of influence," said a senior intelligence official.
"The results of the elections did not satisfy many in the region, and the world, so they have been trying to influence the political forces and push them in certain directions to form the next government.
"It is a big game — much bigger than us."
The rivalries between regional and international powers and their proxies in Iraq, along with a desire to dominate the Iraqi streets to affect the chances of Abadi serving a second term as prime minister, increase the chances of further attacks on the offices of Shiite groups and their armed factions.
Full report at:
http://www.arabnews.com/node/1345501/middle-east
--------
Southeast Asia
Malaysian MP Wants Policy on Shariah-Compliant Dressing
Soo Wern Jun
July 25, 2018
KUALA LUMPUR: A PAS MP has urged the government to introduce a policy that, among others, will require employers to allow Shariah-compliant dressing for Muslim women workers.
Siti Zailah Mohd Yusoff (PAS-Rantau Panjang) said shariah-compliant dressing should apply to both public and private sectors.
"The new government must come up with clear policies that include rules that are shariah-compliant.
"This will allow Muslim women at work to practise their faith," she said when debating the royal address in the Dewan Rakyat.
She claimed that Muslim women were finding it challenging to find a work environment that would allow them to abide by Islamic teachings.
"I notice that many Muslim women at work are finding it difficult to dress in shariah-compliant attire. They want to do so but are deterred from doing so by their employers.
"This includes air stewardesses who are often 'forced' to dress in non-shariah-compliant attire.
"Some of them whom I met (when I was travelling) told me that they have no choice but not to wear a headscarf as they are not allowed to," she said.
Siti Zailah claimed that the air stewardesses she spoke to said they had to follow the rules at work as they needed to earn a living.
"I am hearing that Muslims today are finding it hard to even exercise their rights in practising the faith, where some quarters have even suggested for the Friday prayers to be done on Saturday.
"What is becoming of our children today?" she said.
Siti Zailah was previously reported as saying that women can prevent sexual crimes by not wearing short pants and skimpy dresses.
She had said that indecent dressing had become a norm among young women in Malaysia.
She had also called for the former government to consider enacting laws to prevent women from wearing indecent clothing to prevent sexual crimes.
Meanwhile, Siti Zailah also took Pakatan Harapan ministers to task for no longer being vocal about Muslim rights.
She asked if they had forgotten their fight now that they were in decision-making positions.
"Where have they gone to? What happened to these ministers who used to fight for Muslim rights?
"Is it because they now have positions (in the government), and therefore they have become silent?
"I urge them to come forward and fulfil their responsibilities and continue to defend Muslims. Do what has been ordered by God," she said.
http://www.freemalaysiatoday.com/category/nation/2018/07/25/mp-wants-policy-on-shariah-compliant-dressing/
--------
Let's be friends for Islam's sake, Najib tells PAS
Adam Abu Bakar
July 25, 2018
KLANG: Najib Razak has urged Umno and PAS to bury their past animosity and work together in the interest of Islam, as the former prime minister reaches out to the Islamist party ahead of the Sungai Kandis by-election on Aug 4.
"It is a given fact that among PAS supporters, they see Umno's commitment towards Islam is far greater than Pakatan Harapan.
"I think that's a given fact," said Najib, during a visit to the state constituency today.
Umno's Lokman Noor Adam is standing against PKR's Zawawi Mughni for the state seat which fell vacant following the death of its incumbent Mat Shuhaimi Shafie on July 2. Another candidate is independent Murthy Krishnasamy.
PAS is staying away from the by-election, saying it was to avoid splitting opposition votes. But the party has stopped short of urging its members to vote for BN.
Najib said it was important that both PAS and Umno look to the future.
"There could be some lingering feelings that we cannot overlook but hopefully people realise that what is important is not the past, it's the future.
"We must do whatever we can to uphold Islam but at the same time taking into interest the religions of the other communities," he said.
Earlier, Lokman in an interview with FMT said it was impossible for the former ruling coalition to win in Sungai Kandis without PAS' backing.
"There is no way I can win if PAS members do not help me. Impossible," he said, adding that he would meet "friends" from PAS as part of his campaign.
When asked whether Umno would approach PAS, Najib said he was leaving it to party president Ahmad Zahid Hamidi.
"I'm here just to help out whatever I can, to make sure our candidate does well in this election," he said.
Meanwhile, Najib said he was happy with the reception given to him in Sungai Kandis, despite the police raids and corruption charges against him linked to the 1MDB scandal.
Some 72% of the 50,800 voters in Sungai Kandis are Malays, while Chinese and Indians make up the rest.
Full report at:
http://www.freemalaysiatoday.com/category/nation/2018/07/25/lets-be-friends-for-islams-sake-najib-tells-pas/
--------
Up to speaker to decide whether to debate shariah bill, says deputy minister
July 26, 2018
PUTRAJAYA: The government will hold to the principle of separation of powers and will not intervene in deciding whether the Shariah Courts (Criminal Jurisdiction) (Amendment) 2016 bill or RUU 355 should be debated in Parliament again, said Deputy Minister in the Prime Minister's Department Fuziah Salleh.
She said based on the principle, the executive body could not interfere in the running of the Parliament, including in the tabling of any motion by members of the house.
She said it was the jurisdiction of the Dewan Rakyat speaker to decide on the priority of motions, whether they should be tabled or discussed.
"The regulation also requires a notice of 14 days before Parliament sits for any motion to be tabled, and for it to be tabled, it has to be included in the list of the meeting order, and so far, it is nowhere to be seen," she added.
She said this in response to the opposition's hope for it to be allowed to debate the bill.
The government would take part in debating the bill if a motion on it was tabled in Parliament, she told reporters after opening a symposium on Muslim motivators and trainers here.
Yesterday, Kelantan Islamic Development, Dakwah, Information and Regional Ties Committee chairman Mohd Nasuruddin Daud was reported as saying that the state government would discuss the matter with the federal government even though there were rumours that the RUU355 would not be debated in Parliament during this session.
In another development, Fuziah said she hoped the Malaysian Islamic Development Department would assist in enhancing the capability of the Malaysia Muslim Motivation Training group.
Full report at:
http://www.freemalaysiatoday.com/category/nation/2018/07/26/up-to-speaker-to-decide-whether-to-debate-shariah-bill-says-deputy-minister/
--------
Report: PAS veep says no to blanket ban on child marriage
26 July 2018
BY SYED JAYMAL ZAHIID
KUALA LUMPUR, July 26 — A PAS vice president is reportedly against a blanket ban on child marriage.
The Star quoted Kelantan Deputy Mentri Besar Datuk Nik Amar as saying outlawing child marriage contravenes Islam.
But Nik Amar suggested improving existing laws to ensure children are not forced to wed early.
"It is not wrong to marry young, from a religious perspective," he reportedly told reporters on the sidelines of the Kelantan legislative assembly sitting yesterday.
Nik Amar was responding to the Government's announced plan to draw up a strict standard operating procedure (SOP) for the approval of underage marriage under the Shariah court.
The announcement was made by Minister in the Prime Minister's Department Datuk Dr Mujahid Yusof Rawa's recently.
Malaysia's child marriage was brought to public attention again after news that a 41-year-old rubber tapper had married an 11-year-old broke last month.
The reports prompted public uproar and renewed calls for the government to outlaw child marriages.
Deputy Prime Minister Datuk Seri Dr Wan Azizah Wan Ismail said the newly-elected Pakatan Harapan administration aims to table a Bill that will outlaw child marriage, but highlighted the complication that may arise from the country's dual legal system.
Any matters pertaining to Islam fall under state purview, a point Nik Amar raised in his views about the issue.
"Prior approval from the state authorities needs to be sought in cases where marriages involve underage children," he was quoted as saying.
Full report at:
https://www.malaymail.com/s/1656155/report-pas-veep-says-no-to-blanket-ban-on-child-marriage
--------
Indonesian court rejects Ahmadi blasphemy law petition
July 25, 2018
Indonesia's Constitutional Court has rejected a petition from the Ahmadiyya community to strike down the country's blasphemy law, which they said is used to persecute minority groups, including them.
It was the second time the court has rejected changing the law after rights activists filed a similar petition in 2009.
Both petitions sought a review of articles 1-3 of the law, which prohibit people from publicly spreading beliefs and teachings that can be considered heresy.
Indonesia's criminal code dictates that blasphemy is punishable by up to five years in prison.
On July 23, the court rejected the Ahmadiyya petition on the grounds that the principal source for interpreting religious teachings is through a holy book, which in this case was the Quran.
"Interpretation cannot be carried out freely," Chief Justice Anwar Usman, said.
"If interpretation of religious teaching is carried out freely … it will create chaos," he said.
Ahmadiyya is an Islamic movement founded in India by Mirza Ghulam Ahmad in the late 19th century, which believes that the Prophet Mohammed was not the last prophet.
In 2005, the Indonesian Ulema Council issued a fatwa calling the group heretics.
In 2008, the government prohibited the dissemination of Ahmadiyya teachings.
Ahmadi community spokesman, Yendra Budiana, told ucanews.com the court's ruling means believers would only suffer more and more.
"The law justifies persecution against us," he said, pointing to mosque closures in recent years in Java and evictions of hundreds of Ahmadis in West Nusa Tenggara province since 2006 after being accused of having tainted Islam.
"There have not been any solutions to these problems," he said.
Ikhsan Abdullah from the Indonesian Ulema Council backed the court ruling, saying the interpretation of norms in a particular religion must be based on an interpretation acknowledged by its experts and adherents.
"It must not be based on the free interpretation of an individual who then calls on others to support it," he said.
Full report at:
https://www.ucanews.com/news/indonesian-court-rejects-ahmadi-blasphemy-law-petition/82912
--------
Indonesia's Aceh is on track to cut off hands for graft
July 26, 2018
Lawmakers in Indonesia's Aceh province have vowed to consider cutting off the hands of those convicted of corruption, in response to a public outcry following the arrest of Governor Irwandi Yusuf.
Yusuf was arrested on July 3 on suspicion of misusing special autonomy funds after he allegedly received 500 million rupiah (US$34,488) from a district head. Two businessmen that police suspect handed over the bribe were also detained in Jakarta.
Aceh is the only province in Indonesia that implements parts of Islamic Shariah, which includes highly-criticized public caning for homosexuality, adultery, sexual assault, rape, gambling and selling alcohol. More than 95 percent of its population is Muslim.
Yusuf's arrest has sparked a furor among activists and citizens calling for the Islamic criminal code — known as qanun — to be implemented against convicted officials for crimes such as graft.
Acehnese have taken to social media and held a series of public rallies, including on July 24 outside the local assembly office and the governor's office, calling on lawmakers to immediately propose such a qanun.
Asrizal Asnawi, a legislator, said they would consider the proposal, as "this demand has also been voiced by people from various circles for a long time."
"If it is really the people's aspiration and the will that comes from the grassroots, it feels right and needs to be seriously considered by parliament," he said on July 25, according to news portal detik.com.
He said Aceh's assembly has not yet seriously discussed the qanun because there are already official institutions that handle corruption, such as police, prosecutors and the Corruption Eradication Commission.
Fellow lawmaker Ghufran Zainal Abidin said he would raise the issue at a plenary meeting.
Rampant Cases
With its status as a special autonomous region as part of a 2005 agreement with Jakarta to end a three-decade struggle for independence, Aceh received an injection of funds amounting to US$3.9 billion between 2008 and 2017.
However, activists claim corruption is rampant in the province.
Last year, local NGO Aceh Transparency Society (MaTA) reported the misappropriation of US$45.2 million that the government spawned for ex-combatants, but the issue remains unresolved.
In a region where graft often goes unpunished, the arrest of Governor Yusuf by the Corruption Eradication Commission was welcome news, according to MaTA coordinator Alfian.
"Almost every corruption case never gets processed, especially if it involves high-ranking officials," he told ucanews.com.
"We have waited for a long time for the commission, which we recognize as independent, to pay attention to this region."
Last year, 67 corruption cases were reported to the Aceh courts, up from 51 cases in 2016.
Hayatuddin Tanjung, of the Anti-Corruption Movement (Gerak), described the province's corruption as "propagating, structured and systemized".
"It has threatened the rights of Acehnese to enjoy development, wealth, and proper public services," he said.
Of the 5 million population, almost 16 percent are poor, according to state agency data, which ranked Aceh the sixth poorest out of 34 provinces.
Full report at:
https://www.ucanews.com/news/indonesias-aceh-is-on-track-to-cut-off-hands-for-graft/82923
--------
Arrests skyrocketed in China's Muslim far west in 2017
25 Jul 2018
BEIJING: Arrests skyrocketed by more than 730 percent last year in China's far-western Xinjiang as the government ramped up a security crackdown in the traditionally Muslim region, activists said on Wednesday (Jul 25).
The ruling Communist Party has justified increasingly tight policing of Xinjiang by saying it faces a threat from Islamic extremism and separatism, but many Muslims in the region accuse Beijing of religious and cultural repression.
Authorities in Xinjiang arrested nearly 228,000 people on criminal charges in 2017, according to data compiled from official government sources by rights group China Human Rights Defenders (CHRD).
That's around 21 per cent of all arrests in China last year, the group said, even though the sparsely populated region has only around 1.5 per cent of China's nearly 1.4 billion population.
The dramatic increase in arrests followed the introduction of draconian new restrictions on religious practices in Xinjiang, where about half the population of around 22 million are ethnic minorities.
"Though the government does not provide the data disaggregated by ethnicity, criminal punishment would disproportionately target the Uighur Muslim group based on their percentage of the population," CHRD wrote.
The report drew on public data released by Chinese prosecutor's offices at the national and local levels.
Indictments in Xinjiang also increased at a rate "far out of proportion" to its population, amounting to a 422 per cent increase year-on-year in 2017, it said.
The increases follow significant drops in both statistics in 2016, when arrests fell by 20 per cent and indictments by 15 per cent, respectively.
China's legal system has a conviction rate of over 99.9 per cent, virtually guaranteeing any indictment will end in a conviction.
THREE FORCES
China says its policies in Xinjiang are aimed at rooting out the "three forces" of separatism, religious extremism and terrorism.
Simmering resentment exploded in deadly rioting by Uighurs in the regional capital Urumqi in 2009, and Uighurs have since been tied to mass stabbings and bombings that have left dozens dead across the country.
Civil unrest and clashes with government forces have killed hundreds more.
Last year marked a dramatic turning point in Beijing's approach to the strategic region as the government in 2017 pushed its plans to foster greater trade with Central Asia and Europe, a programme that puts a premium on security.
In March, local authorities introduced stringent new restrictions on religious practices, forbidding beards and the wearing of veils and the distribution of "extremist" religious content including everything from songs with Arabic lyrics to unofficial editions of the Quran.
Members of the Uighur diaspora say relatives have been arrested for seemingly innocuous acts such as sending Ramadan greetings to friends or downloading popular music.
Authorities are also believed to have detained hundreds of thousands of Muslims in a secretive network of extra-judicial political re-education centres, where inmates are given language and ideological training and forced to participate in military-style drills.
The local government pumped more than 58 billion yuan (US$9 billion) into security spending in 2017, nearly double the year before, according to Adrian Zenz, a China security expert at Germany's European School of Culture and Theology.
Full report at:
https://www.channelnewsasia.com/news/asia/arrests-skyrocketed-in-china-s-muslim-far-west-in-2017-10561938
--------
North America
Muslim employees at Halliburton called 'terrorists': lawsuit
by Patrick Strickland
July 26, 2018
Two Muslim men were subjected to racist and Islamaphobic harassment while working at the American multinational energy corporation Halliburton in US state of Texas, according to a federal lawsuit.
Filed earlier this month by the US Equal Employment Opportunity Commission (EEOC), the lawsuit claims that Hassan Snoubar and Mir Ali were taunted and harassed by supervisors and fellow employees.
In response to Al Jazeera's request for a comment, William Fitzgerald, a spokesperson for Halliburton, said the corporation does not comment on pending litigation.
"Halliburton is committed to fostering a diverse and inclusive work environment for our more than 55,000 employees that represent 140 nationalities in approximately 80 countries," Fitzgerald said by email.
Joel Clark, the senior trial lawyer on the three-person EEOC team, described the case as "very important".
We allege that Halliburton subjected Mr Snoubar (Syrian) and Mr Ali (Indian) to discrimination based on their national origin and religion, Muslim," he told Al Jazeera by email.
"The EEOC will prosecute these kinds of cases to prevent discrimination from happening in the workplace and to vindicate the rights of those affected by discrimination."
'Abruptly terminated'
According to the lawsuit, coworkers accused Snoubar, who is of Syrian descent, of being linked to the Islamic State of Iraq and the Levant (ISIL, also known as ISIS) and called him a "terrorist" and "camel jockey".
Snoubar began working as an operator assistant at Halliburton's facility in Kilgore, Texas in August 2012.
The lawsuit adds that Ali, who is of Indian ancestry, was also called a "terrorist", and that a supervisor regularly mocked him about having a "magic carpet".
"Snoubar's and Ali's co-workers regularly broadcast derogatory name calling over radio headsets to other workers," the lawsuit states, adding that supervisors and other employees mocked their "cultural attire" and claimed that "their 'people' engaged in bestiality".
The filing explains that Snoubar lodged a complaint with the human resources department in September 2015 over the alleged harassment and concerns for his personal safety.
Although Halliburton initially suggested that Snoubar could transfer to another facility, according to the filing, he was "abruptly terminated" before "having a reasonable opportunity to consider" the offer. Snoubar and Ali are no longer employed by Halliburton.
The lawsuit seeks punitive financial damages and compensation for "humiliation, emotional pain and suffering, stress, inconvenience and loss of enjoyment of life".
It also requests a permanent injunction barring Halliburton from discrimination based on national origin, religion and retaliation.
Broader discrimination
The lawsuit is the latest in a long string of cases alleging discrimination against US Muslims in the workplace.
According to the 2017 "Civil Rights Report", published by the Council on American Islamic Relations (CAIR), employment discrimination is persistent for American Muslims.
"From 2014 to 2016," according to the report, "employment discrimination has consistently remained in the top three types of anti-Muslim bias incidents."
CAIR documented 312 anti-Muslim bias incidents in workplaces in 2014, 230 in 2015 and 281 in 2016.
In 2015, the EEOC v Abercrombie and Fitch case went to the US Supreme Court, which said that employers are forbidden from rejecting applicants if the decision is based on a desire to avoid accommodating to a religious practice.
That case stemmed from Abercrombie and Fitch's refusal to hire Samantha Elauf, who was a teenager at the time, because her hijab did not comply with the clothing company's "look policy", which prohibited the wearing of head coverings at work.
According to a July 2017 poll by the Pew Research Center based on interviews with 1,001 Muslim respondents, 75 percent believed there was "a lot of discrimination" against the religious minority in the US.
The poll also found that 62 percent of respondents felt that Americans did not view Islam as part of US society and that 60 percent considered American media coverage of Muslims "unfair".
Following the November 2016 election of US President Donald Trump, rights groups observed a sharp uptick in hate crimes, including those targeting Muslims.
According to a separate CAIR report, the number of hate crimes against Muslims grew by 15 percent in 2017, reaching a total of 300 incidents.
https://www.aljazeera.com/news/2018/07/muslim-halliburton-employees-called-terrorists-lawsuit-180722101419755.html
--------
A religious freedom summit can't undo Trump's record on Islam
July 25, 2018
This week's State Department ministerial on international religious freedom has been a well-orchestrated, if hastily organized, event with a sense of common purpose rarely seen in the current administration.
It prominently features the work of the United States Commission on International Religious Freedom, as bipartisan a body as you'll find in Washington these days. The foreign ministers and religious leaders from around the world all concur that politics should be the furthest thing from anyone's mind when it comes to a universal value like advancing religious freedom.
Yet it doesn't take an expert to see that politics are everywhere in the United States' current approach to religious freedom.
It's plain, to begin with, that the impetus for putting on the event has much to do with President Trump's indebtedness to conservative evangelical Christians for his election. To their credit, American evangelicals have engaged religious freedom issues for some time.
But the dominance of evangelicals in this sphere carries with it costs and oversights, including excessive deference to politicians and co-religionists who have shown hostility toward Islam.
In a meeting last month, Sam Brownback, the former Kansas senator and governor who is now U.S. ambassador-at-large for international religious freedom, reportedly lobbied British Ambassador Sir Kim Darroch on behalf of an English anti-Muslim activist, Tommy Robinson, now in jail in the United Kingdom. A State Department spokesman called characterizations of Brownback's meeting with Darroch "completely false" but did not comment further.
Brownback should comment further. Americans deserve to know what the United States' interest is in a notorious bigot who has been associated with Steve Bannon, the erstwhile Trump adviser and white nativist. Brownback, who has done too little to distance himself from the anti-Muslim sentiments of the president who nominated him, should also take the opportunity to renounce positions that mar his leadership on religious freedom, including his support for Trump's travel ban.
The White House's equating of religious freedom with evangelical causes is apparent in its three recent nominations for USCIRF, which went to Christian political operative Gary Bauer; the Rev. Johnnie Moore, one of Trump's liaisons to the religious right; and Nadine Maenza, who served as an aide to former Pennsylvania Republican Sen. Rick Santorum.
Trump is not alone in handing off this issue to evangelicals. Senate Majority Leader Mitch McConnell used his USCIRF nomination to appoint Family Research Council President Tony Perkins, a longtime leader in the religious right who has made disqualifying statements about Islam.
Nobody in the capital seems to be above politics when it comes to religious freedom, of course: Senate Minority Leader Chuck Schumer appointed Gayle Manchin to USCIRF, where she serves as vice chair. She happens to be the wife of West Virginia Sen. Joe Manchin, a vulnerable Democrat facing re-election this year and being pressed by Republicans to switch parties.
But the disgusting anti-Muslim sentiments of Trump and some of his supporters besmirch the argument that religious freedom is a cornerstone diplomatic priority, and, frankly, call the whole project into question.
The question is whether the ministerial, and religious freedom itself, can rise above the politics to serve a higher purpose.
The answer is likely yes. While undoubtedly a boost for evangelicals that Trump can tout as another "win," the ministerial can only foster collaborations among the assembled government officials, civil-society representatives and faith groups and encourage them in their work ahead.
It is critical, however, for the gathering to hold the White House to account for its failures to stand up for everyone affected by religious persecution. In a thoughtful op-ed in the Globe Post, University of Vermont Professor Peter Henne says religious freedom advocates often "prize institutional access too highly."
Full report at:
https://religionnews.com/2018/07/25/a-religious-freedom-summit-cant-undo-trumps-record-on-islam/
--------
'No evidence' to back IS claim for Toronto attack
July 26, 2018
MONTREAL - Canadian authorities said Wednesday they have no evidence to substantiate a claim by the Islamic State group that the gunman who killed two people in a Toronto rampage was an IS fighter.
The group's Amaq news agency said the gunman, identified by police as 29-year-old Faisal Hussain, was an IS "soldier" responding to its calls for attacks on nationals from countries fighting the group in Iraq and Syria. "At this stage, we have no evidence to support these claims," Toronto police said in a statement.
"We will continue to explore every investigative avenue, including interviewing those who knew Mr Hussain, reviewing his online activity, and looking into his experiences with mental health," police spokeswoman Meaghan Gray said.
The attack occurred Sunday night in Toronto's Greektown area when the shooter opened fire at people on a crowded street before turning his attention to nearby restaurants.
Rushing to the scene, police exchanged fire with the gunman, who was found dead in an alleyway.
An 18-year-old woman and a 10-year-old girl were killed in the rampage, and 13 people were wounded.
Hussain's family said he had suffered since infancy from serious mental problems, which treatment and medication were unable to overcome.
In a statement, the family said Hussain had battled "severe mental health challenges, struggling with psychosis and depression his entire life."
On Wednesday, however, Amaq claimed that Hussain "carried out the attack in response to calls to target nationals of countries of the coalition" that has been fighting IS in Syria and Iraq since 2014.
A day earlier, Canada's Minister of Public Safety Ralph Goodale had said: "There is no national security connection between this individual and any other national security issue."
Hussain had no prior criminal record and had not been on the radar of Canada's security agencies, he said.
The Toronto Star reported Wednesday that Hussain worked at the same Loblaws supermarket chain as two of the shooting victims - Reese Fallon, the 18-year-old killed in the attack, and Samantha Price, who was wounded. Loblaws called it a "tragic coincidence."
It was the third time that Islamic State has claimed an attack in Canada, according to Amarnath Amarasingam, a Canadian researcher at the London-based Institute for Strategic Dialogue.
The first was in 2014 when it said two attacks against Canadian soldiers, one south of Montreal and the other in Ottawa, were "the direct result" of its call a month earlier for attacks on the West.
In 2016, it again claimed responsibility when a Canadian national, surrounded by police, detonated a bomb in a taxi in southern Ontario before being shot to death by police.
Full report at:
https://nation.com.pk/26-Jul-2018/-no-evidence-to-back-is-claim-for-toronto-attack
--------
Trump says US ready to make a 'real deal' on Iran's nuclear program
25 July 2018
US President Donald Trump on Tuesday kept open the possibility of negotiating an agreement to denuclearize Iran, two days after he rattled his saber at the nation on Twitter.
"We'll see what happens, but we're ready to make a real deal, not the deal that was done by the previous administration, which was a disaster," he said during a speech to the Veterans of Foreign Wars.
Iran on Monday dismissed Trump's angry warning that Tehran risked dire consequences "the like of which few throughout history have suffered before" if it made threats against the United States.
Trump's defense secretary, Jim Mattis, declined to directly answer a question about whether he was concerned that Trump's rhetoric might ratchet up tensions in the region, increasing the chances of miscalculation.
But Mattis, speaking at a news conference in California, listed his many concerns about Iranian actions in the Middle East, including Tehran's support for President Bashar al-Assad in Syria's civil war and for Houthi militants fighting the internationally recognized government in Yemen.
"It's time for Iran to shape up and show responsibility as a responsible nation. It cannot continue to show irresponsibility as a revolutionary organization that is intent on exporting terrorism, exporting disruption, across the region," said Mattis, a retired Marine general.
Full report at:
https://english.alarabiya.net/en/News/world/2018/07/25/Trump-says-US-ready-to-make-a-real-deal-on-Iran-s-nuclear-program.html
--------
Man Charged With Aiding Islamic State Held Without Bond
July 25, 2018
DETROIT (AP) — A 28-year-old Detroit-area man is being held without bond on a charge of providing support to the Islamic State group, which the United States has designated as terrorists.
A hearing was held Wednesday in federal court in Detroit for Ibraheem Musaibli of Dearborn.
The Detroit News reports that a detention hearing is scheduled Friday at which the government is expected to portray Musaibli as a flight risk and danger to the community.
The government says Musaibli was captured by the U.S.-backed Syrian Democratic Forces while IS was fighting in Iraq and Syria. Musaibli is accused of working for the group for three years.
Musaibli's family has said he isn't an IS fighter.
Full report at:
https://www.usnews.com/news/best-states/michigan/articles/2018-07-25/man-charged-with-aiding-islamic-state-held-without-bond
--------
South Asia
Police: Suicide attack on Afghan intelligence convoy kills five
26 July 2018
A suicide bomber blew himself up near an Afghan intelligence convoy on Thursday, killing at least five people and wounding six, police said, in the latest deadly attack in the city.
The Taliban claimed responsibility for the attack on the National Directorate of Security (NDS), which police spokesman Hashmat Stanikzai said happened at 5:00 am (0030 GMT). Most of the victims were NDS officers, Stanikzai said.
Four members of the NDS and a civilian were killed, while five NDS personnel and a civilian were wounded. The attacker was "most likely" driving a vehicle carrying explosives, Stanikzai added.
The assault comes two days after five rockets were fired on a residential area of Kabul, wounding at least three people. There was no claim of responsibility.
And on Sunday, a suicide bomber blew himself up near Kabul international airport, killing at least 23 people, including AFP driver Mohammad Akhtar. A further 107 people were wounded.
That attack was claimed by the ISIS, which said it had targeted Afghan Vice President Abdul Rashid Dostum, who returned to Kabul after more than a year in exile.
Taliban and ISIS militants have repeatedly carried out deadly attacks in the Afghan capital, turning it into one of the most dangerous places in the country.
https://english.alarabiya.net/en/News/world/2018/07/26/Police-Suicide-attack-on-Afghan-intelligence-convoy-kills-five.html
--------
Two years on, Bangladesh police charge 8 over Dhaka cafe attack
Jul 23, 2018
DHAKA: Police in Bangladesh have pressed charges against eight militants over the 2016 Dhaka cafe attack that killed 20 people, including an Indian girl, the worst terror attack in the country's history.
The chargesheet was placed before a Dhaka court this morning, more than two years after the gruesome attack on the Gulshan's Holey Artisan Bakery (cafe) in Dhaka's posh diplomatic area, claimed by the Islamic State terror group.
The delay in filing the chargesheet was attributed to the "complexities in obtaining information" as those "involved directly with the operation were killed on the spot," The Daily star quoted chief of Bangladesh's Counter Terrorism and Transnational Crime (CTTC) unit Monirul Islam as saying.
Police, however, claimed that the homegrown terror group Neo-Jamaat-ul-Mujahideen Bangladesh (Neo-JMB), which is close to the ISIS, was behind the attack.
Monirul said that police have pressed charges against eight militants over the attack, where 20 people, mostly foreigners, were killed after being taken as hostages.
He added that the six militants who directly carried out the attack were killed at the scene in the subsequent military assault while 13 others involved were later killed in different security clampdowns.
Prof Hasnat Karim, a former teacher of North South University was dropped from the chargesheet as "investigation could not relate him with the militant activity", he said.
The charges brought against the accused are based on 75 pieces of evidence and 211 witnesses to the incident.
Those made accused are: "Neo-Jama'atul Mujahideen Bangladesh" operatives Rakibul Islam Regan, Hadisur Rahman Sagor, Jahangir Hossain Rajeeb alias Rajeeb Gandhi, Aslam Hossain Rashed alias Rash, Abdus Sabur Khan alias Sohel Mahfuj, Mizanur Rahman alias Baro Mizan, and Mamunur Rashid alias Ripon and Shariful Islam Khaled, a former student of the English department at Rajshahi University.
Of them, the first six "Neo-JMB" operatives are now in jail while the two others are on the run.
Court officials, meanwhile, said a metropolitan magistrate recorded the chargesheet but the case was expected to be transferred later this week to the Anti-Terrorism Special Tribunal for its quick disposal.
Twenty people, mostly foreigners, were killed in the brutal late-night attack on July 1 after the attackers took diners and restaurant staff hostage.
The Indian girl, Tarishi Jain, was a student of the University of California in Berkeley. She was in Dhaka for vacations.
Full report at:
https://timesofindia.indiatimes.com/world/south-asia/two-years-on-bangladesh-police-charge-8-over-dhaka-cafe-attack/articleshow/65108759.cms
--------
Burma's bloody persecution of Rohingyas demands a US response
By Abdul Malik Mujahid
July 26, 2018
The Burmese military's systematic human rights abuses against their own population have pushed close to 1 million Rohingya Muslims into massive refugee camps at the Bangladesh border. Despite this abominable record, the Burmese regime reigns unchecked, free to continue terrorizing innocent people as much as it likes. This is why the United States must act now and re-impose comprehensive sanctions to apply the economic pressure that will bring this rogue regime to the bargaining table and force them to acknowledge their crimes.
In August 2017, Burmese security forces were unleashed to rampage, unchecked, through Rakhine State in western Burma. Their numerous, unconscionable crimes against the region's native, mostly defenseless Rohingya population are now undeniable. The evidence for them has been unearthed in the mass graves of innocent families, seen in the babies born to mothers systematically raped by the Burmese army, and testified to in countless stories from refugee survivors. It is also there for all to see in the sprawling refugee camps across the border in Bangladesh, where over a million people languish in stateless limbo.
Since then, the Myanmar military has continued to carry out a savage campaign of violence and expulsion against its own population. Most recently it has turned its guns on the Christian people of Kachin State. The army appears to be stepping up its offensive, with the apparent intention of repeating the successful results of its genocidal campaign against the Rohingya against the Christian minority in Kachin. As a result of such persecution, approximately 400,000 Kachin Christians have fled the country since 2003. Villages are being bombed and burnt, suffering a similar fate as the Rohingya community in Rakhine state. Over 200,000 Kachin refugees are now spread across Thailand, Malaysia, and the U.S., with 160,000 in the U.S. alone. This is happening every day, with additional reports of atrocities committed by the military against civilian, minority targets surfacing daily.
The human rights advocacy group Fortify Rights has been carrying out some of the most thorough documentation of these crimes. Their brand new report exposes, in detail, the premeditated nature of the genocidal campaign against the Rohingya. While the Burmese military continues to deny any such systematic or planned campaigns against its minority populations, these denials can no longer be taken seriously in the face of such overwhelming evidence to the contrary.
Despite these facts, and that the record of their unspeakable atrocities is obviously there for all to see in the clear light of day, the current government of Burma denies all wrongdoing, even that its army has attacked civilian targets. Such an Orwellian display of contempt for the truth would put the most duplicitous totalitarian regimes to shame.
This is an interfaith crisis because it concerns members of Christian, Muslim, Hindu, and other religious traditions who make up the increasingly threatened minorities among Burma's majority Buddhist population. The Burmese military works hand in hand with widely influential, fundamentalist monks to advance the campaign of genocide against the country's minorities. The Rohingya Muslims have borne the greatest brunt of this campaign in recent years, but the military regime is growing bolder in its transgressions, and extremist monks are growing more audacious in their pogroms. Some leading monks have even gone so far as to bless the military's actions, excusing their crimes because they are focused on the alleged enemies of Buddhism.
The convergence of military interests and extremist Buddhist ideology has created an almost unstoppable juggernaut of hateful violence in Burma. For many years the world has stood and watched the horror that is taking place there. It is past time for it to be brought to an end. It is time to remind the world that, in the immortal words of Dr. King, injustice anywhere is a threat to justice everywhere.
We at the Faith Coalition to Stop Genocide in Burma respectfully request that the government of the United States reinstate full economic sanctions against Burma. Specifically, we ask that the Executive Orders of Sept. 14, Sept. 28, and Oct. 7, 2016, and the Presidential Determination of Dec. 2, 2016, issued by President Barack Obama be rescinded. These represent grievous errors that must be corrected.
Comprehensive sanctions formerly had a major impact on sensitive sectors in the Burmese economy, including the largely military-owned jewel trade, to such a degree that they helped prompt democratic elections in 2015-2016. The sanctions targeted Burmese imports and financial institutions, and stemmed the flow of U.S. investment. They also sapped key business concerns tied to the Ministry of Defense, one of the main drivers of the country's dismal human rights record.
Beginning in 2012, these sanctions began to be rolled back in anticipation of basic democratic reforms in the country. The idea at the time was that repealing these sanctions would encourage further democratic reform by opening up the country to global trade. Clearly, this has been a grievous error. The repeal of these sanctions between 2012 and 2016 meant the military and government no longer had an incentive to follow international law or deepen democratization. The results are now here for all to see. It seems safe to conclude that the stick of sanctions, rather than the carrot of free trade, is the required approach to this case. Re-imposing full sanctions, exempting food and medicine, is the best tool available for compelling the Burmese government and military to recognize human rights, and accept a U.N.-brokered repatriation process for the Rohingya.
In the face of the apparent inability of the international community to act, the United States must step in with policies that will compel cooperation and end these crimes against humanity. Such policies are available in the form of a return to a full regime of economic sanctions against Myanmar. There is a great deal of evidence to suggest such sanctions would dramatically transform the situation for the better.
Full report at:
https://www.washingtonexaminer.com/opinion/burmas-bloody-persecution-of-rohingyas-demands-a-us-response
--------
Afghan forces arrest Taliban's shadow governor for Panjshir province
Jul 25 2018
The Afghan National Defense and security Forces have arrested the shadow governor of the Taliban group for the northern Panjshir province of Afghanistan.
Provincial Security Chief Najamullah Rezaye said the shadow governor of the Taliban for Panjshir was arrested during an operation late on Tuesday night.
He said the detained Taliban leader has been identified as Agha Mir and was arrested from the vicinity of Aabshar district of the province.
Rezaye further added that the shadow governor of Taliban was arrested during an operation launched in response to an attack by the Taliban militants on Aabshar district.
According to Rezaye, at least two civilians were killed during the attack by the Taliban militants late last night.
The anti-government armed militant groups including Taliban militants have not commented regarding the report so far.
Full report at:
https://www.khaama.com/afghan-forces-arrest-talibans-shadow-governor-for-panjshir-province-05636/
--------
Taliban commander and his 4 comrades killed in Nangarhar night raid
Jul 25 2018
At least five Taliban militants including one of their commanders were killed in a night raid conducted in eastern Nangarhar province of Afghanistan.
The provincial government media office in a statement said the raid was conducted late on Tuesday night in the vicinity of Khogyani district.
The statement further added that the Special Forces of the Afghan Intelligence, National Directorate of Security (NDS), conducted a night operation in Nakar Khel area of the district on Tuesday night, leaving a Taliban commander and his comrades dead.
Another suspected militant was also arrested during the operation on charges of having links with the anti-government armed militants, the statement said.
The security personnel and local residents did not suffer any casualty during the operation, the provincial government said, adding that some weapons and munitions were also destroyed during the operation.
Nangarhar has been among the relatively calm provinces since the fall of the Taliban regime in 2001 but the anti-government armed militants have been attempting to expand their foothold in this province during the recent years.
Full report at:
https://www.khaama.com/taliban-commander-and-his-4-comrades-killed-in-nangarhar-night-raid-05634/
--------
Africa
Shootings on Video in Cameroon 'May Not Be Isolated Cases,' U.N. Fears
By Dionne Searcey
July 25, 2018
DAKAR, Senegal — In the video, a man in a military uniform leads a woman down a dirt road, smacking her in the head several times as she holds a little girl's hand and stumbles along. Another woman trails them with an infant strapped to her back. The group is blindfolded and made to sit on the ground.
Armed uniformed men raise their weapons and fire.
"The girl is still breathing," someone says after the shooters pause, and one walks over to the limp bodies.
A uniformed man approaches the girl and fires again.
This graphic video, which has circulated on social media in recent days, appears to show soldiers in Cameroon executing two women, a child and baby on suspicion of being affiliated with Boko Haram. It has drawn outrage from human rights advocates and riled secessionist groups that have taken up arms in English-speaking areas of the country and say that they, too, have suffered abuses at the hands of the military.
On Wednesday, the United Nation's high commissioner for human rights expressed alarm at continuing violence in Cameroon, saying he was "utterly appalled" by the horrific video.
"The government of Cameroon has an obligation to investigate this atrocious crime urgently," said Zeid Ra'ad al-Hussein, the high commissioner. "I am deeply worried that these killings captured on camera may not be isolated cases."
The United States Department of State has called for an inquiry, and Cameroonian officials have said they would investigate the episode. Some officials have told various groups that four soldiers have been arrested in the shootings, but others have denied that, calling it "fake news."
Security forces in Cameroon have battled Boko Haram, the Islamist extremist group, for years in the north of the country. Now, the country faces new threats from a protest movement that has inspired an armed separatist group demanding the creation of a breakaway nation in the south. Government forces have been accused of abuses in both conflicts.
A presidential election due to be held in October — in which President Paul Biya, now in his 36th year of power, is running for re-election — is adding to tension.
Videos of abuses by security forces posted to social media have served to escalate the violence. In English-speaking areas, it has worsened significantly in recent weeks and claimed at least 425 lives, according to the United Nations agency Unicef.
Many of the clips cannot be verified. The statement from the United Nations said it had repeatedly asked to enter English-speaking areas, but the government had denied access.
The recent video appears to have been filmed in the Far North, a region where Boko Haram operates. Its timing could not be determined, but diplomats believe it to be authentic.
Such action, as horrible as it is, did not come as a surprise to some human rights activists in Cameroon who say that security forces have been acting with impunity for years, especially in the fight against Boko Haram. Amnesty International and other groups have publicized numerous abuses.
"These extrajudicial killings are part of a broader pattern," said Agbor Balla, a human rights lawyer in Cameroon.
Cameroonian defense officials said they had arrested a soldier in the rape of a woman in Bamenda, a major city in the English-speaking area. News of the arrest followed the publication of a video of the woman recounting being attacked after failing to produce identification at a military checkpoint.
Actions of both security forces and armed separatists in southern Cameroon have been condemned by human rights groups. Military forces have used deadly force on unarmed protesters, firing on some from helicopters and torching homes. Separatists have carried out kidnappings and targeted killings of police officers and local officials, and have burned schools.
Tens of thousands of civilians caught in the middle of the violence have fled — both from Boko Haram areas and from areas where armed separatists are operating.
Government officials have pledged to investigate abuses, and have made arrests in some cases. But rarely have they broadly publicized any such actions.
The United Nations may start monitoring the area remotely, its statement said.
https://www.nytimes.com/2018/07/25/world/africa/cameroon-boko-haram-video.html
--------
Shekau Reportedly Ill, Reveals Why Boko Haram Is Losing Grounds Against Nigerian Govt
July 25, 2018
By Chijioke Jannah
Boko Haram's factional leader, Abubakar Shekau, has re-emerged in a new video after a long absence that fuelled speculation about his health and ability to lead the Islamist militants.
In a 36-minute message, released to the media through Ahmad Salkida, the Nigerian journalist with very deep knowledge of Boko Haram's workings, Shekau looked unwell but made no reference to his health condition.
He, however, urged his fighters to adhere strictly to the tenets of Islam if they wish to be victorious over the "infidels".
He stated that he decided to appear in the video after numerous requests by his followers to do so.
Shekau delivered a long, incoherent speech about the group's doctrine of who is a believer and who's not, adding that the loss of ground being witnessed by his group was a consequence of the failure of members to adhere to the teachings of Islam.
He said: "Anything that befalls a Muslim, it is Muslims that caused it. There is no way infidels will triumph over the faithful except if they have strayed in the faith.
"Dear brethren, you should recognise that this war we are waging is not new; this is a war that has been raging for a long time. Therefore, anybody that fights because of Allah alone will never witness defeat."
He prayed to Allah to free their Muslim brothers in various prisons, asking: "How can we go to sleep, eat and drink if our Muslim brothers are being humiliated in prisons like Guantanamo, Nigeria, Afghanistan, Somali, Iraq, Sham and Yemen among other places?"
DAILY POST reports that the jihadist leader used to appear frequently on camera but was last seen in a 14-minute video message on February 6, in which he claimed responsibility for attacks in the northeast region.
Full report at:
http://dailypost.ng/2018/07/25/shekau-reportedly-ill-reveals-boko-haram-losing-grounds-nigerian-govt-video/
--------
EU to fund new headquarters for G5 Sahel force
25 July 2018
The EU will finance the construction of a new headquarters for the Sahel's five-nation anti-terror force in Mali, after the destruction of the former HQ in a militant attack that left three dead at the end of June, the bloc's foreign policy chief said Wednesday.
"The EU has decided to finance in full the rebuilding of a new headquarters and to continue its support in order to ensure the operational continuity of the Force's staff on the ground," Federica Mogherini said in a statement.
Two soldiers and one civilian were killed when a car bomb exploded outside the G5 Sahel force headquarters in the central Malian town of Sevare on June 29.
The suicide attack was claimed by a militant group, the Muslim Islam Support Group, the main Sahelian militant alliance linked to al-Qaeda.
The joint force was launched in 2017 by Burkina Faso, Chad, Mali, Mauritania and Niger and has received 100 million euros in financial support from the EU.
It is set to expand to 5,000 troops, divided into seven battalions: two each from the Mali and Niger, and one from Chad, Burkina Faso and Mauritania.
Full report at:
https://english.alarabiya.net/en/News/north-africa/2018/07/25/EU-to-fund-new-headquarters-for-G5-Sahel-force-.html
--------
Kenya: Now Muslim Cleric Wants to Sue State for Loss of Sight 27 Years On
26 JULY 2018
By Kazungu Samuel
One evening in 1991 as Sheikh Mohamed Khalifa addressed his supporters at Mwembe Tayari in Mombasa town, a contingent of officers from the dreaded General Service Unit descended on the crowd and arrested Sheikh Khalifa.
It was at the height of the Islamic Party of Kenya (IPK) agitation for recognition of the Muslim community which made the Moi government feel insecure.
His arrest ended in chaos forcing the Central Police Station, where he had been taken, to be shut as riot police and youths engaged in running battles.
And, 27 years later, Mr Khalifa, the organising secretary of the Council of Imams and Preachers of Kenya (CIPK), narrates the chilling experience and painful memories that changed his life for worse.
MUSLIM RIGHTS
At his Mwembe Tayari offices, he sat pensively as he narrated the events that led to loss of his eyesight. Some of his supporters, he remembers, were fatally shot. Others were paralysed and are now left to suffer in silence because of fear of being victimised.
"As Muslims, we had been marginalised for long by the Moi administration. That is when we decided to form IPK to fight for the rights of Muslims. It was before the 1992 General Election," he said.
Mr Khalifa said the push was caused by the government's decision to allow multi-party democracy.
"When we presented the party for registration, it was rejected. And Muslims were not happy. The agitation started mostly in Mombasa, which was the party's headquarters. We had national and district leaders," he said.
ANGRY SUPPORTERS
Among the leaders then was Mr Omar Mwinyi who is now the Changamwe MP, Abdulrahman Wandati, Khalid Balala and their lawyer was Taib Ali Taib. Mr Mwinyi was the IPK chairman.
"We decided to use a site at Mwembe Tayari to preach and sensitise our people on their rights. Our teachings were not about the Muslim faith only but we used the chance to educate the people on their rights," Mr Khalifa said.
One evening as he was preaching, a contingent of police officers descended on them and Mr Khalifa and eight supporters were arrested.
"Our arrest did not please our supporters and that was the beginning of chaos. Angry supporters pelted stones at the police station and it was the first time that the Central Police Station was closed," he said.
"It was chaotic and police had to fire in the air to disperse our supporters," said Mr Khalifa.
SEVERAL INJURED
He said that at night, they were taken to various police stations, including Bamburi.
"The following day, we were taken to court and again taken to remand at Shimo La Tewa Prison in Shanzu. We were released after being in remand for four days," he said.
He said that on the day he was arrested, police were targeting Sheikh Khalid Balala, a fiery preacher who was on police radar, but he did not show up when Mr Khalifa was arrested.
"They arrested Mr Balala at his house in Kisauni and took him to a Voi court, forcing us to attend his court cases in Voi. At one point when we were heading to Voi for the hearing of Mr Balala's case, GSU officers lobbed teargas at us at Mackinnon where several people were injured," he said. He said the cases were later terminated.
DEVELOPED GLAUCOMA
Mr Khalifa said he was arrested for five consecutive years because he was a critic of Mr Moi's government. "After the 1991 arrest, I was arrested again in 1992, 1993,1994 and 1995. Every time Moi was in Coast, I was put in police cells and would only be released after he left the region," he said.
He said police brutally beat up IPK supporters. Some were killed and others paralysed following the injuries inflicted by the police.
"People were shot even as they sought refuge at Kwa Shibu Mosque," he said.
"While in detention, I was taken to different police stations and in the process I developed glaucoma (an eye infection). The disease needed regular medical check-ups but I could not get because I was in detention and eventually lost his sight," he said.
SUE FOR INJUSTICE
Even though he paid a heavy price, Mr Khalifa said that their efforts paid off as the Muslim community in the country was recognised.
However, he wants to start a case against the government for the atrocities they suffered in the crackdown on IPK.
Full report at:
https://allafrica.com/stories/201807260137.html
--------
Europe
Danish Imam Charged for Quoting Muslim Scripture Encouraging the Killing of Jews
July 25, 2018
STOCKHOLM—An imam in Denmark has been charged with "approbation" of the killing of Jews after quoting and commenting on Muslim scripture that calls for it. This is the first time a defendant will be tried under the controversial so-called "imam law" that took effect in January 2017.
The imam, Mundir Abdallah, spoke at the Masjid Al-Faruq mosque in Copenhagen in March 2017 and quoted a hadith (a Muslim scripture) in which the prophet Muhammad is quoted as saying, with reference to Judgement Day, "The Hour will not begin until you fight the Jews, until a Jew will hide behind a rock or a tree, and the rock or tree will say: 'O Muslim, O slave of Allah, here is a Jew behind me; come and kill him.'"
While the new law does not make it illegal to quote scripture, prosecutor Eva Ronne said in a press release that "it is illegal if, for instance, the killing of a group of people is called for, and if the preacher at the same time makes the words his own."
Abdallah was also charged with hate speech. If found guilty, he may be fined or face up to three years in prison.
In the sermon, which was made available on Youtube, Abdallah spoke in the context of Israel and Palestine. According to the press release from the Danish prosecutor's office, he called for an Islamic Caliphate to "repair what the West has corrupted," where a united Muslim nation will "free the Al-Aqsa Mosque [in Jerusalem] from the Zionist scum," so that the aforementioned words of the prophet Muhammad would be realized. He further said that this future nation would "free Jerusalem and tear the Jewish entity out by the roots, this colonialist crusader-base."
Prosecutor Rønne said, "I think it's appropriate that the court will now have a chance to evaluate this matter."
The new law, which specifically targets religious speech, is controversial in Denmark, since some observers view it as limiting free speech, and others believe that it was written solely with Muslim preachers in mind.
Abdallah himself said in a Facebook post that his sermon could in no way be construed as inciting the killing of Jews. He writes that the Muhammad quote does not pertain to Jews in general, but Jews as military aggressors, and that it's therefore appropriate to use in the context of "the military occupation of Palestine."
"The Palestine problem is a military problem and can therefore only be solved militarily, by a military liberation of Palestine and the destruction of the Zionist occupation," Abdallah said.
Dan Rosenberg Asmussen, director of the Jewish Community in Denmark, told Kristeligt Dagblad that he was "satisfied" with charges being brought against Abdallah.
"We are aware that it's a legal gray area, analyzing Koran quotes in a contemporary context. But for us, there's never been any doubt about the intentions behind this sermon," he told the paper.
"I feel that it's deeply troubling that everyday sermons are held that encourage the killing of Jews."
Some Danish commentators have voiced criticism. Jacob Mchangama, director of the Justitia think tank, told the Politiken newspaper that the law has problems, especially the use of the word "approbation" rather than "incitement."
"You could imagine other situations, where you simply make a positive comment about something illegal, which is something you'll find every day on Facebook, and I don't think that should be a crime," he said.
The mosque where Abdallah held the sermon was previously in the media spotlight, in 2015, when it emerged that terrorist Omar El-Hussein visited it prior to killing two people and wounding five in an attack against a cultural center in Copenhagen.
https://www.theepochtimes.com/danish-imam-charged-for-quoting-muslim-scripture-encouraging-the-killing-of-jews_2603665.html
--------
Turks, Greeks pray for victims of wildfires
26 July 2018
Turks and Greeks living in Turkey's northwestern Canakkale province on Wednesday prayed for the victims of wildfires near Greece's capital.
Locals in Gokceada district gathered at a ceremony carrying banners in Turkish, Greek, and English saying "We share your pain".
On Monday, fires broke out on the east and west coasts of Greece's Attica region, home to the capital Athens, killing 81 people and injuring more than 170.
The fires have forced thousands of locals to flee to safer areas as firefighters battle the blazes.
Following the tragedy, Turkish President Recep Tayyip Erdogan spoke with Greek Premier Alexis Tsipras over the phone, expressing his "deep sorrow" and offering him help.
Erdogan conveyed his condolences to Tsipras on the loss of lives and wished a speedy recovery to the injured.
Some of the casualties occurred when people were stuck in their homes or vehicles or when they drowned in the sea while trying to escape the flames.
Full report at:
http://www.worldbulletin.net/europe/204400/turks-greeks-pray-for-victims-of-wildfires
--------
Anti-Turkey terror groups active in Germany
25 July 2018
Terrorist groups targeting Turkey have expanded their activities and increased their followers in Germany, according to a new report released by a German spy agency on Tuesday.
Members or adherents of the PKK terror group have increased to 14,500 in 2017, up from 14,000 in the previous year, domestic intelligence agency BfV said in its annual report.
"PKK continues to be the largest extremist organisation of foreigners in Germany in terms of members and efficiency," the report said.
The terrorist group raised more than €14 million ($16.4 million) in Germany, and €25 million ($29.2 million) across Europe in various campaigns last year, the spy agency estimated.
The BfV underlined that while the PKK had changed its name several times over the past years in order to give a positive impression, its organizations in Germany and Europe were still strictly controlled by the authoritarian cadres of the terrorist organization in northern Iraq.
"Even though peaceful events remain the focal aim in Europe, violence continues to be an option of the PKK ideology," the report said.
The PKK has been banned in Germany since 1993, but it has still managed to set up several covert organizations in the country, and used them for its recruitment, propaganda and fundraising activities.
Ankara has long criticized German authorities for not taking serious measures, but tolerating the activities of the PKK and other terrorist organizations that are targeting Turkey.
Full report at:
http://www.worldbulletin.net/europe/204385/uk-premier-may-downgrades-brexit-department
--------
India
Mangaluru medical college wants to admit only Sunni Muslim students, Karnataka High Court says no
Jul 26, 2018
BENGALURU: The high court on Wednesday dismissed a petition filed by Kanachur Islamic Education Trust, Mangaluru, which had sought allotment of only Sunni Muslim students to their institution for MBBS course under the management quota.
A division bench comprising Justice AS Bopanna and Justice Mohammed Nawaz observed that if such requests are allowed in other religious and linguistic minority institutions, the entire process of admission would be affected. The right of a meritorious candidate belonging to Muslim community who opts for the petitioner college cannot be denied just because he/she doesn't belong to Sunni sect, it noted.
The court pointed out that the certificate issued in September 2015 by the National Minority Commission stated that Kanachur College of Medical Sciences is a Muslim minority institution and even the undertaking in consensual agreement states that not less than 66% seats be filled by minority community students.
The trust, which runs Kanachur Institute of Medical Sciences in Mangaluru, had challenged the July 4, 2018 decision of the department of medical education, rejecting its plea to admit only Sunni Muslim students.
According to the trust, it's not only a declared religious minority institution, but also an institution managed by Sunni Muslims and has every right to choose its students. The trust had written to the government in May for making mandatory religion certificate issued by the government along with a certificate issued by Sunni Jam Iyyathul Ulama, Mangaluru, for admission to management quota seats. The college has an intake of 150 students of which 25% come under the government quota.
https://timesofindia.indiatimes.com/city/bengaluru/mluru-medical-college-wants-to-admit-only-sunni-muslim-students-hc-says-no/articleshow/65140076.cms
--------
2 Lashkar terrorists shot dead in Anantnag
Jul 25, 2018
SRINAGAR: Security forces gunned down two Lashkar-e-Taiba (LeT) terrorists in an encounter in the Lal Chowk area of Anantnag town in South Kashmir on Wednesday. This is the first time in almost two decades that Anantnag town has witnessed some terrorist activity, according to official sources.
The slain terrorists have been identified as Abid Hussain Bhat of Doda in Jammu and Bilal Ahmad Dar of Khudwani in Kulgam.
Dar was involved in a series of terror acts in the past.
After the burial of Dar at Khudwani in Kulgam district of South Kashmir, a section of the protesters clashed with security forces during which five youths were injured.
The police had to impose 'undeclared curfew' in Anantnag town and adjoining areas to avert any further clash with civilians.
Inspector general of police (IGP), Kashmir, SP Pani said the encounter that began in the morning ended by the afternoon with the killings of the two terrorists, who were believed to be from the Lashkar.
The encounter had started after a joint team of Army, SOG and CRPF laid siege to Mehmaan Mohalla in the Lal Chowk area following inputs about the presence of some terrorists in a house there.
"As the security forces advanced towards the suspect house, the terrorists hiding inside fired on them. The forces retaliated, resulting in an encounter in which the two terrorists were eliminated. No collateral damage occurred during the encounter," a police spokesman said.
Full report at:
https://timesofindia.indiatimes.com/india/2-lashkar-terrorists-shot-dead-in-anantnag/articleshow/65139424.cms
--------
Mideast
Israel airstrike targets undisclosed region in Syria
Jul 25, 2018
Israel says it has carried out an airstrike on an undisclosed region in Syria in what it claims to be a response to two rocket launches from the country.
The Israeli military released a statement on Wednesday, claiming it had targeted the rocket launcher that fired the projectiles.
The statement noted that the launcher's surrounding areas were also targeted in the attack, but there have been no immediate reports of possible casualties or the extent of damage caused due to the Israeli raid.
On Tuesday, Israeli military forces targeted a Syrian Air Force fighter jet over the Golan Heights as it was flying in Syria's airspace and conducting a series of airstrikes against the positions of foreign-sponsored Takfiri militants in the occupied territories.
Israel has been on high alert in recent days as Syrian government forces advance against foreign-backed terrorists near the Golan Heights.
The Tel Aviv regime has recently increased its airstrikes in Syria. Damascus has on multiple occasions denounced the Israeli regime's aggression and also warned about the "dangerous repercussions" of Israeli assaults on its territory.
Tel Aviv is widely believed to have been providing weapons to anti-Damascus militants as well as medical treatment to Takfiri elements wounded in Syria inside the occupied Golan Heights.
Earlier this month, Syrian air defenses repelled an Israeli attack on the country's Quneitra province.
Back on May 10, Israel conducted what it called its most intensive airstrikes on Syria in decades. According to Russia's Defense Ministry, Israel had used 28 warplanes in its airstrikes and fired 70 missiles. Both Damascus and Moscow said the Syrian army managed to shoot down over half of the missiles.
The Tel Aviv regime, at the time, claimed that its assault was in response to a barrage of 20 rockets fired from Syria at Israeli military outposts in Golan.
https://www.presstv.com/Detail/2018/07/25/569275/syria-israel-airstrike-rocket
--------
Israel targets Gaza Strip with artillery fire, killing three
Jul 25, 2018
At least three people have been killed in Israel's latest series of attacks that targeted multiple locations throughout the Gaza Strip.
Gaza's Health Ministry on Wednesday announced that another Gazan was also critically injured while Israeli forces hit the town of Beit Lahia and other locations with artillery fire.
Israel claims that the attacks were in response to gunfire which originated from the besieged coastal sliver.
The Israeli military frequently bombs the Gaza Strip, with civilians being the main target of such attacks.
On Saturday, Israeli artillery units targeted a position of the Palestinian Hamas resistance movement in the Gaza Strip only hours after it was announced that the Tel Aviv regime had reached a truce with Palestinian factions in the Palestinian enclave.
The incident came just one day after, at least four Palestinians lost their lives and nearly 120 others sustained critical injuries when Israeli military aircraft and battle tanks hit targets throughout the Gaza Strip.
Nearly 150 Palestinians have been killed by Israeli forces since the "Great March of Return" began in the Gaza Strip on March 30.
A total of 14,811 Palestinians have also sustained injuries, of whom 366 are reportedly in critical condition.
The Gaza clashes reached their peak on May 14, on the eve of the 70th anniversary of Nakba Day (Day of Catastrophe), which coincided this year with the US embassy relocation from Tel Aviv to occupied East Jerusalem al-Quds.
In early July 2014, Israel waged a war on the Gaza Strip. The 50-day military aggression, which ended on August 26, 2014, killed nearly 2,200 Palestinians, including 577 children. Over 11,100 others – including 3,374 children, 2,088 women and 410 elderly people – were also wounded in the war.
Full report at:
https://www.presstv.com/Detail/2018/07/25/569268/israel-palestine-airstrike-gaza
--------
Three killed as Israeli strikes hit Gaza in fresh flare-up
25 July 2018
Three Palestinians were killed in an Israeli strike in the Gaza Strip on Wednesday, the enclave's health ministry announced, as Israel's army said it was striking Hamas after its soldiers came under fire.
The flare-up comes five days after a United Nations-brokered ceasefire helped halt an earlier surge in violence.
The Israeli army said it was carrying out a number of strikes on military targets belonging to Hamas who control the strip.
"A short while ago, terrorists fired at (Israeli) soldiers in the southern Gaza Strip," an army statement said, without mentioning any injuries to the troops.
"In response, the IDF is currently targeting military posts of the Hamas terrorist organization."
There was no immediate comment from Hamas about the identities of the dead.
The shooting was the second such incident reported by the Israelis along the fractious border in days.
On Friday an Israeli soldier was shot dead, sparking a fierce wave of bombing that ratcheted up fears of another war.
That violence was ended late Friday by a UN-brokered ceasefire.
Full report at:
https://english.alarabiya.net/en/News/middle-east/2018/07/25/Two-killed-as-Israeli-strikes-hit-Gaza-in-fresh-flare-up-.html
--------
Turkish parliament to vote on security law to replace emergency rule
25 July 2018
Turkey's parliament is expected to hold a final vote on Wednesday on a security law giving authorities broad counter-terrorism powers following the lifting
of the two-year state of emergency imposed after a failed military coup.
Parliamentarians completed approval of the individual articles of the law late on Tuesday.
The regulations grant broader authority to local governors, extend detention periods and allow public servant dismissals if there are links to or contacts with terrorist organizations or other perceived threats to national security.
The state of emergency, declared after the failed 2016 putsch, expired on July 18 but President Tayyip Erdogan's opponents say the new executive presidency and the latest security measures give him sweeping powers to stifle dissent.
Under the presidential system, Erdogan is able to issue decrees on executive matters and appoint and remove senior civil servants, including some judges and prosecutors.
Some 160,000 people have been detained under emergency rule and nearly the same number of state employees have been dismissed, the UN human rights office said in March. Of those detained, about 77,000 have been formally charged and kept in jail during trial, the interior minister said in April.
Full report at:
https://english.alarabiya.net/en/News/middle-east/2018/07/25/Turkish-parliament-to-vote-on-security-law-to-replace-emergency-rule.html
--------
UN Palestinian agency says to axe 250 jobs after US funding cuts
25 July 2018
The United Nations agency for Palestinian refugees announced Wednesday it was cutting more than 250 jobs in the Palestinian territories after the United States held back hundreds of millions in aid.
In total, 154 employees in the occupied West Bank and 113 in the Gaza Strip will be let go, UNRWA spokesman Chris Gunness said in a statement.
More than 500 other full-time staff will be offered part-time contracts, the statement added.
The job cuts were the first since the US announced it would only provide the agency with $60 million this year, down from $360 the previous year.
Gunness's statement said the cut represented an "existential threat" to UNRWA, which had been trying to raise the money from other donors.
The agency, which provides services to more than three million Palestinian refugees across the Middle East, was seeking to "protect core services, including education, health and relief", he said.
Protests against the cuts were being held in Gaza on Wednesday.
In January, US President Donald Trump linked the cutting of Palestinian aid to the decision by president Mahmud Abbas to refuse to talk with his administration.
Full report at:
https://english.alarabiya.net/en/News/middle-east/2018/07/25/UN-Palestinian-agency-says-to-axe-250-jobs-after-US-funding-cuts.html
--------
URL: https://www.newageislam.com/islamic-world-news/pakistan-elections-cricket-star-imran/d/115946
New Age Islam, Islam Online, Islamic Website, African Muslim News, Arab World News, South Asia News, Indian Muslim News, World Muslim News, Women in Islam, Islamic Feminism, Arab Women, Women In Arab, Islamophobia in America, Muslim Women in West, Islam Women and Feminism