New Age Islam News Bureau
27 Sept 2018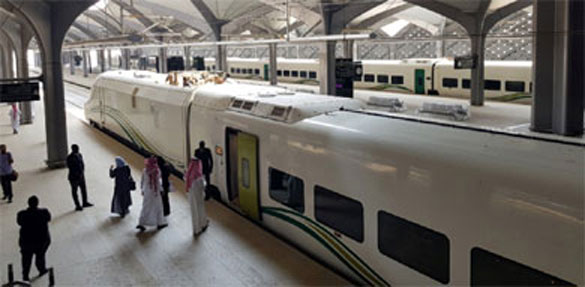 Saudi Arabia opens high-speed #train linking Islam's holiest cities · Saudi people board at the new KAEC station of the Haramain speed train at King Abdullah
------
• Pakistan Council of Islamic Ideology Backs Legislation on Triple Talaq as Punishable Offence
• Ayodhya Case: Is Namaz in Mosque Essential to Islam? Supreme Court to Decide Today
• Saudi Arabia Opens High-Speed Train Linking Islam's Holiest Cities
• UK Opposition Leader Vows To Recognise Palestine in Event of Election Victory
• Nigerian Wives, Mothers of Detainees Say Their Men Are Not Boko Haram
• Activist Warns Mujahid against Repeating 'Hate Mantra' Against Shias
Pakistan
• Pakistan Council of Islamic Ideology Backs Legislation on Triple Talaq as Punishable Offence
• Work of Sufi Poets Counted As Tool to Counter Terror
• Muslims from 15 countries to join Pakistanis to exchange thoughts
• Mengal seeks disclosure of assets held by retired judges, generals & bureaucrats
• FIA to probe social media campaign against IHC judges
• 4 terrorists killed, 2 soldiers martyred in Kalat operation: ISPR
• Three militants killed, four hostages recovered in Balochistan IBO
• NAB approves probe against Fazlur Rehman's brother
• Naturalizing Afghan refugees a pragmatic solution for security issues
• COAS vows to never let reign of terror return to Waziristan
--------
India
• Ayodhya Case: Is Namaz in Mosque Essential to Islam? Supreme Court to Decide Today
• Mob Attacks Cops When Prevented From Taking Religion Procession through Muslim Area, 10 Injured
• Terror camp hit by surgical strike active again
• NIA busts LeT-linked terror funding racket, arrests three
• India objects to Pakistan raising Kashmir in Organisation of Islamic Cooperation
• 2 Booked Under Triple Talaq Ordinance in Rajasthan, Uttar Pradesh
• Kalyan youth: Areeb never spoke of jihad or joining ISIS, says witness
• Indian religious leaders back new declaration of peace in Europe
• LeT commander behind killing of Army Major among two militants dead in Kashmir encounter
• 2 encounters between security forces, terrorists underway in J&K
--------
Arab World
• Saudi Arabia Opens High-Speed Train Linking Islam's Holiest Cities
• Saudi Arabia: UN Human Rights Report on Yemen Flawed
• Afrin Residents Fleeing Region Due to Turkish Troops, Allied Militants' Brutalities
• Syrian Army Repulses Terrorists' Attack in Hama
• ISIL Retreats from More Key Points in Deserts of Sweida
• Syrian official says S-300 defenses will give Israel pause
• Saudi regime forces raid Shia-populated Qatif, 7 injured
--------
Europe
• UK Opposition Leader Vows To Recognise Palestine in Event of Election Victory
• Muslims in Europe Facing 'Hostility in Everyday Life', Islamophobia Study Finds
• Two held in Denmark suspected of buying drones for Daesh
• UN General Assembly Day 2: Yemeni president thanks Saudi Arabia; Lebanon slams West's double standards
• Interim manager appointed at mosque where extremist preached
• Anti-islamophobia kit launched in European Parliament
--------
Africa
• Nigerian Wives, Mothers of Detainees Say Their Men Are Not Boko Haram
• Libyan Government Announces Tripoli Cease-Fire Deal
• Unknown gunmen 'kill 12' in eastern Mali
• Turkey restores historic Al-Nejashi mosque in Ethiopia
• Kenya: Imam Among 11 Arrested Over Al-Shabaab Links
• Court allows police to detain al Shabaab suspects for 30 days
• Boko Haram in nine gun trucks attack community, repelled by soldiers – Official
--------
Southeast Asia
• Activist Warns Mujahid against Repeating 'Hate Mantra' Against Shias
• Most Indonesian Muslims Opposed to Non-Muslims in Political Leadership: Survey
• Iran's Rouhani, Malaysia's Mahathir Underscore Closer Tehran-Kuala Lumpur Ties
• 'Islamic countries' coop. in fighting violence, terrorism beneficial for global stability'
• Jokowi more religious than Prabowo: Survey
• Corruption, Intolerance Threaten Indonesia's Democracy
--------
Mideast
• Rouhani: Takfiri Terrorism, ISIL Greatest Danger to Islam's Peaceful Face
• After Idlib Deal, Turkey Sets Sight On Kurdish-Held Areas
• Netanyahu says declined UNESCO anti-Semitism conference invitation
• Kuwait: Houthi militias threaten international borders with Iran missiles
• UN investigators demand probe into 'extremely alarming' situation in Yemen
• At UN speech, Turkey's Erdogan slams use of economic sanctions as 'weapons'
--------
North America
• Facebook Glitch Told User Anti-Muslim Posts Were Removed When They Were Not
• Trump Says He Wants Two-State Solution for Mideast Conflict
• Trump claims credit for stopping assault on Syria's Idlib
• Trump tells Security Council: US will ensure Iran never acquires nuclear bomb
• Trump to unveil Middle East peace plan within four months
--------
South Asia
• Taliban, ISIS Militants Suffer Heavy Casualties in Laghman, Kunar Provinces
• Network of Taliban Busted In Kabul, 9 Taliban Members Arrested: NDS
• Over dozen killed as clash erupts in N Afghanistan
• Afghanistan, Iran, China back creating terrorist database shared with Russia
• President Ghani arrives in Ghazni to review the situation of the province
• NDS forces foil militants bid to carry out explosions in Jalalabad city
Compiled by New Age Islam News Bureau
URL: https://www.newageislam.com/islamic-world-news/pakistan-council-islamic-ideology-backs/d/116504
--------
Pakistan Council of Islamic Ideology Backs Legislation on Triple Talaq As Punishable Offence
Javed Hussain
September 26, 2018
Dr Qibla Ayaz, the chairperson of the Council of Islamic Ideology (CII), on Wednesday announced the council's decision to support the declaration of 'triple talaq' as a punishable offence, and that the council would undergo consultations with various scholars soon to decide the appropriate punishment in such cases.
Addressing a press conference soon after a detailed meeting held by the council the same day, the chairperson revealed that a conference will be held soon in which scholars will provide their input on the matter.
The council also decided that to remedy the prevalent divorce rate and other such issues, a consolidated form for divorce will be prepared which will include punitive measures for cases in which divorce is declared three times in one sitting.
A draft for the consolidated form will be submitted for the federal government's review, the CII chairperson informed mediapersons, adding that work had already begun on the form and that it will be ready soon.
Dr Ayaz said that 'on-the-spot' divorce had become a widespread social issue, incidences of which are reported on a daily basis to various mosques, after which the matter is taken to court.
Members of the council during the meeting observed that in such situations, women and children are adversely affected, especially with regard to their emotional health and future education.
Also read: Triple talaq bill
It was decided that a nationwide effort will be launched by the council to consult with scholars and impress upon them the urgency of highlighting and promoting family values in Friday sermons.
Another important issue raised and discussed in great detail during the council meeting was that of under-age marriages. Dr Ayaz said that the council considers children below the age of 16 as under-aged.
He said that after consultation with religious scholars and experts on social issues, the matter will be discussed further in the council's next meeting.
The council has urged the government to start an awareness drive with the assistance of religious scholars to discourage people from supporting underage marriages. It was also recommended that educational institutes carry out similar drives to raise awareness regarding the matter.
https://www.dawn.com/news/1435142/council-of-islamic-ideology-backs-legislation-on-triple-talaq-as-punishable-offence
--------
Ayodhya Case: Is Namaz in Mosque Essential to Islam? Supreme Court to Decide Today
September 27, 2018
New Delhi: The Supreme Court will on Thursday decide if a Constitution Bench should revisit the issue of whether namaz can be offered anywhere, or whether a mosque is an essential part of Islam and is needed. The question has risen as part of the appeals in the Ramjanmabhoomi-Babri Masjid dispute.
A three-judge Bench of Chief Justice of India Dipak Misra and Justices Ashok Bhushan and S Abdul Nazeer, which is hearing appeals against the Allahabad High Court verdict of 2010, will decide the matter.
The apex court is hearing appeals against the Allahabad High Court verdict of 2010, which had ordered a three-way partition of the disputed land between Muslims, Hindus and Nirmohi Akhara (a Hindu group).
At the beginning of the case, CJI Misra had said that the appeals would be treated as purely a civil suit consisting of a land dispute and religion would not play any role in the verdict.
However, during the course of the hearings, Muslim appellants argued that a Constitution Bench should first rule on the importance of mosque in Islam.
Ismail Farooqui Case
A 1994 apex court judgment in Ismail Farooqui case had observed that "a mosque is not an essential part of the practice of the religion of Islam and namaz (prayer) by Muslims can be offered anywhere, even in open".
The Muslim appellants said that the observation has affected status of mosques in Islam and the question should be answered before the court goes into the main title dispute. Arguing for them, senior advocate Rajeev Dhavan told the court that "if congregation part of Islam is taken away, a large part of Islam goes worthless".
Allahabad High Court Judgment
In 2010, the Allahabad High Court had divided the land into three equal parts among three parties: Muslims, Hindus and Nirmohi Akhara (a Hindu group). This has since been challenged in the apex court. The Muslim parties in the case have argued that the verdict was unfair to them and the 1994 judgment was key in informing the 2010 division of the land into three parts.
Political significance
Thursday's verdict will take on political significance because if the apex court does decide to revisit the issue, the hearing in the main title dispute would get delayed. This in turn would make it very unlikely for the BJP to keep their commitment of building a temple in Ayodhya ahead of the 2019 elections.
The 16th century Babri mosque was destroyed in 1992 after lakhs of karsewaks or right-wing volunteers had demanded that it be brought down, in order to erect a temple to Lord Ram, who they said, had been born right there. The issue has been politically fraught ever since.
The construction of the Ram temple was an important part of BJP's manifesto ahead of the 2014 Lok Sabha elections and also the 2017 Uttar Pradesh Assembly elections – both of which it won.
In July, the Uttar Pradesh government had told the apex court that some Muslim groups were attempting to delay the hearing in the long-pending case, by seeking the reconsideration of the 1994 verdict observation that a mosque was not integral to Islam.
https://www.news18.com/news/india/ayodhya-case-is-mosque-essential-to-islam-supreme-court-to-decide-today-1890145.html?ref=hp_top_pos_4
--------
Saudi Arabia opens high-speed train linking Islam's holiest cities
Sep 27, 2018
Saudi Arabia's King Salman has inaugurated a £6bn high-speed rail linking the two holiest cities in Islam, part of efforts to boost tourism revenues as the country seeks to shed dependence on oil exports.
The 450-km (280-mile) Haramain Railway connecting Mecca and Medina with the Red Sea coastal city of Jeddah is one of the largest transport projects in the Middle East, targeting nearly 60 million passengers annually. Commercial operations are set to begin next week.
"The journey between the Haramain [two holy mosques] is now shorter and easier than at any time before," Transport Minister Nabil al-Amoudi told dignitaries gathered at the Jeddah station. "The project highlights the kingdom's commitment to serving Islam and Muslims."
Pilgrimage is the backbone of a plan to expand tourism under economic reforms announced two years ago by Crown Prince Mohammed bin Salman to diversify the economy. The haj, a journey every able-bodied Muslim who can afford it must perform once in a lifetime, can be a profound experience.
It is also big business for Saudi Arabia. The haj and the year-round lesser pilgrimage, umrah, generate billions of dollars in revenues from worshippers' lodging, transport, gifts, food and fees.
The new rail link was built by a Spanish-led consortium and financed by the kingdom's sovereign wealth fund, the Public Investment Fund. It halves travel time between Mecca, the spiritual heart of Islam, and Medina, its second most sacred site.
Project manager Mohammed Fallatah said the train would offer fast and reliable transportation to pilgrims as well as Saudis and foreign residents.
"The traveller will be comfortable. He can read books or magazines or enjoy watching the screens in business class, have a coffee or a light meal," he said in an interview ahead of Tuesday's ceremony.
The authorities hope the train will also stimulate growth of King Abdullah Economic City (KAEC), a massive business zone that was initiated under the previous ruler but remains relatively empty.
It will eventually link up with a new terminal at Jeddah airport, which has already started serving select domestic routes and will take over all flights by early next year.
Fatallah said further expansion could include connecting to a planned east-west train between the capital Riyadh and Jeddah.
Pilgrims comprise the bulk of Saudi Arabia's 20 million annual foreign visitors, apart from workers and business travellers. More than two million came for this year's haj and 6.5 million performed umrah in 2017.
Officials aim to increase the number of umrah and haj pilgrims to 15 million and five million respectively by 2020, and hope to double the umrah number again to 30 million by 2030.
In addition to public transit, Saudi Arabia is investing tens of billions of dollars in mega-hotels and a Grand Mosque restoration in Mecca.
The Faisalia project, running from the edge of Mecca towards the Red Sea, aims to attract visitors to coastal getaways and Islamic research centres.
Mecca governor Prince Khalid al-Faisal, a nephew of the king and one of his closest advisers, anticipates that the initiatives will contribute to social and cultural development alongside economic growth.
"We do not seek only to expand and develop. We want to expand and develop with distinction," he said in an interview.
"We want to begin from the point that others have already reached, not the point from which they began.
https://www.independent.co.uk/news/world/middle-east/saudi-arabia-high-speed-train-islam-haramain-railway-mecca-medina-jeddah-a8556641.html
--------
UK Opposition leader vows to recognise Palestine in event of election victory
Sep 27, 2018
LONDON - UK Labour leader Jeremy Corbyn on Wednesday promised to recognize Palestinian statehood as a way of making the two-state solution a reality, if his party takes over the government.
Speaking at the annual party conference in Liverpool, he lashed out at the international community for looking on as Israel violates the rights of the Palestinians.
"We support a two-state solution to the conflict ... In order to help make that two-state settlement a reality we will recognize a Palestinian state as soon as we take office," Corbyn said in his speech that was published by the party.
He stressed the opposition wanted Israel and a viable Palestinian state to co-exist but said the region was no closer to peace a quarter of a century after Oslo accords were made.
He slammed Israel for continuing occupation and expansion of illegal settlements and said Labour was united in condemning the shootings of hundreds of protesters in Gaza by Israeli troops.
The next general election is expected in 2022 but the ongoing split in the ruling Conservative party over Brexit could collapse the government of Prime Minister Theresa May, prompting a snap vote.
https://nation.com.pk/27-Sep-2018/uk-opposition-leader-vows-to-recognise-palestine-in-event-of-election-victory
--------
Nigerian Wives, Mothers of Detainees Say Their Men Are Not Boko Haram
September 26, 2018
MAIDUGURI, NIGERIA —
The sunlight is fading, but the children can still make out the lines they've drawn in the sand. With one leg hiked up, they each hop in between the lines. If you step on a line, you're out. It's a game called egalagala, similar to hopscotch.
The children play in the shadow of the corrugated tin roof of their home. As they play, their mother, who has asked to be called Bintu because she fears being harmed by Nigerian security agents, looks sad.
Two of the siblings are missing. The two older boys, Abuna and Dunoma, were taken in 2013, arrested by Nigerian soldiers.
"One night, soldiers came around 3 a.m., hitting our door and asking, 'Where are the boys? Where are the boys? Bring out your sons,'" Bintu explains.
She says soldiers had gone throughout the neighborhood that night, arresting teenage boys. She and the other mothers whose sons were taken followed the soldiers' lorry.
"They took them [the boys] to a place and they told the children to lie face down in the ground and they were beating them," she tells VOA. Abuna and Dunoma were high school students when they were arrested.
Bintu's story is not unusual.
Forced disappearances
Amnesty International has documented thousands of cases of so-called forced disappearances, people held in secret detention facilities across the country without charge or trial.
"So many families are still searching for loved ones who have not been seen for many years. In some cases, families live with the pain of not knowing whether their loved ones are alive or dead," Osai Ojigho, director of Amnesty International Nigeria, said.
"It's time the government did the right thing — and either release these detainees or charge them with a recognizable criminal offense in a fair trial without recourse to death penalty," Ojigho added.
The Nigerian military has repeatedly denied cases of forced disappearance. It began mass trials last year, however, of more than 2,300 Boko Haram suspects, and even those trials have been shrouded in secrecy.
This month, Human Rights Watch (HRW) raised concerns about the integrity of the trials, describing them as flawed and undermined by legal shortcomings.
"However, to achieve justice and deter extremist attacks, the Nigerian government's overall strategy and trial procedures need to conform with constitutional safeguards and international standards," Anietie Ewang, HRW's Nigeria researcher, said.
Hamsatu Allamin, a local activist, decided to find a way to give a voice to the mothers and wives who haven't seen their sons and husbands in years.
She decided to create a network, Knifar Movement and Djere Dole, one for wives and the other for mothers.
"This network is to seek accountability for the whereabouts of these children," Allamin says.
She says the women are, "poor, wretched people. No voices. They don't even know where to go to start asking … the struggle continues."
Allamin's aim is to get the authorities to tell these women where their loved ones are so she has equipped them with tools to speak out.
Descriptions of loss
Last year, when the group was formed, Allamin helped the women to release a campaign video that was shared on social media. In the video, some of the women describe the circumstances under which their husbands or sons were arrested.
Earlier this year, they wrote an open letter to Nigerian President Muhammadu Buhari, asking for his attention toward cases of 1,269 detained loved ones.
"Your Excellency, we know that you are very busy and have serious issues to deal with, but we don't know who to turn to anymore. That is why we respectfully ask for your assistance to intervene, so that our relatives could be released, considering the fact that they are not Boko Haram. They are innocent and were only caught up in the process," the letter read.
But Justice Wakil Alkali Gana said the "loved ones" may not be as innocent as the women are making them out to be.
"People will always say that … they're innocent, that they're rights are being abused … when you go through it, you'll see the definitely they have reason, they have reasons to be brought here," the judge told VOA.
He works at the High Court in Maiduguri where hundreds of Boko Haram-related cased have been tried.
Allamin's network now includes more than 1,300 women. Most of them live in camps for internally displaced people. In Dalori camp, one of the largest in the Maiduguri area, they share their stories once again of how a father or son was taken and what their life is like now.
A reunion
One afternoon, something surprising happened at the camp.
A young, slim man appearing to be in his early 20s walked up to a woman crouched in the entry of a tent. As soon as she saw him, she released a slow, high-pitched wail. She collapsed on the sand. When she composed herself, she and the young man, who happens to be her son, began to talk.
He told her that he had been released from the nearby Giwa military barracks. Years ago, he and his father were arrested upon suspicions of being Boko Haram members. The young man said he was released, but his father is still in detention. It was an emotional reunion. Women comforted her when she began wheezing from crying.
Back at the house the egalagala lines are still drawn, but the children have stopped playing.
Their mother, Bintu, is leafing through papers on her lap. They're important documents, all belonging to Abuna and Dunoma. There are birth certificates, old homework assignments, report cards, health records.
A few years ago, someone told her that her sons were dead. She doesn't know whether or not to believe if they are dead but with these documents, she'll keep them alive, waiting for the Nigerian government to tell her where they are.
https://www.voanews.com/a/nigerian-wives-mothers-of-detainees-say-their-men-are-not-boko-haram/4587845.html
--------
Activist warns Mujahid against repeating 'hate mantra' against Shias
September 27, 2018
PETALING JAYA: Vocal activist Dr Ahmad Farouk Musa has warned the Pakatan Harapan government against falling into the "hate mantra of the past" in dealing with the diversity of Muslims, following remarks by a minister that Shia Islam would not be tolerated.
"At a time when we are celebrating the new dawn of Malaysia, he is repeating the hate mantra of the previous regime," Farouk, who heads the Islamic Renaissance Front, told FMT.
"It now seems that nothing has changed with this new government with respect to Islam."
He said mosques in Selangor continue to invoke anti-Shia sentiments during Friday prayers and sermons.
"There are still full of hate speech. Hate against the Shias. Hate against the liberals. When is this going to end?" he asked.
The Shia Muslim community in Malaysia has come under renewed focus from Islamic authorities recently, as followers worldwide observed the Ashura last week.
The Ashura marks the death anniversary of Imam Hussein, the grandson of Prophet Muhammad and a central figure in the Shia school of thought.
It was reported that Islamic authorities in Selangor and Kuala Lumpur had stepped up monitoring to prevent Ashura gatherings by Shia Muslims, with leaflets condemning "deviant practices".
Minister in the Prime Minister's Department Mujahid Yusof Rawa, meanwhile, had indicated that a 1996 fatwa declaring Shia teachings as "deviant" remained in force, and that he would leave it to Islamic authorities on the types of action against those following the denomination.
Former deputy minister in charge of Islamic affairs, Asyraf Wajdi Dusuki, had meanwhile urged for tough action against Shia Muslims, after a group of them distributed free doughnuts to the public in Bukit Bintang, Kuala Lumpur accompanied with a poster praising Hussein.
Farouk, who has often challenged Islamic authorities, said Mujahid should not cave in to pressure from the previous "self-styled guardians of Islam".
"Shias have lived for more than 1,400 years along with their Sunni brothers. There is no reason to deny them the right to practise what they believe," he told FMT.
"In a new Malaysia, we should be able to embrace them as our brothers. This is the Muslim unity we have been talking about."
https://www.freemalaysiatoday.com/category/nation/2018/09/27/activist-warns-mujahid-against-repeating-hate-mantra-against-shias/
--------
Pakistan
Work of Sufi poets counted as tool to counter terror
September 27, 2018
GUJRAT - Renowned intellectuals at a seminar here at Hafiz Hayat Campus of the University of Gujrat (UoG) on Wednesday stressed the need for understanding and promoting the message of a famous trio of Punjabi Sufi poets to counter terrorism and extremism in the country.
The seminar titled "Therapy for Terrorism and Extremism ? Khawaja Ghulam Fareed, Baba Bulleh Shah and Shah Hussain's Poetry" was organised by Islamic Studies Department under the 'Thematic Research Grant Programme 2018' of the Higher Education Commission of Pakistan (HEC).
Federal Minister for Religious Affairs & Inter-Faith Harmony Dr Noorul Haq Qadri was the chief guest at the seminar. Registrar Dr Tahir Aqil and Chairperson Islamic Studies Department Dr Arshad Munir Leghari were in the hosts' chair. Among the guests of honour were MNA Khawaja Sheraz Mahmood, Sajjada Nasheen Kot Mithan Sharif Khawaja Moinuddin Mahboob Korija, and Chairperson Islamic Studies Department Lahore Garrison University Dr Saeed Ahmad Saeedi.
"The message of our Sufi poets is that of love, peace and harmony. The current social scenario calls for the promotion of Sufism which seeks to unite all human beings by promoting the values of cultural co-existence and tolerance," the federal minister told the seminar. He also discussed the role of Sufis and their teachings in the Pakistan movement.
Dr Saeed Ahmad Saeedi, Chairman Department of Islamic Studies of Lahore Garrison University, singled out Sufism as the solution to deal with the menace of extremism and terrorism afflicting our society. "It promotes love and negates extremism. It is the ultimate source towards building a peaceful society," Dr Saeedi said.
Prof Dr Muhammad Altaf Langrial of Bahauddin Zikrya University Multan said, "Terrorism and extremism crept into our society to fill the void caused by our total neglect of the teachings of our Sufis. Sufism is a means to strengthen the bond between God and man." Speaking on the occasion, Kh Moinuddin Mahboob Korija said that love and compassion towards other human beings is what Sufism is all about. "Today's social challenges call for the revival of Sufism and that of its message of love and compassion," he underlined.
MNA Kh Sheraz Mahmood stressed that love and caring for fellow human beings is what Sufism teaches, in total agreement with the message first conveyed by the Holy Prophet (SWWT). "A Sufi's message is not for the affluent, but for the oppressed, the downtrodden and the destitute," Kh Sheraz pointed out.
Senior faculty member Syed Hamid Farooq Bukhari of the Islamic Studies department moderated the seminar.
Saqib Faridi enthralled the audience by reciting the poetry of classical Punjbai poet Kh Ghulam Farid.
At the end of the seminar, a walk was held to mark the World Peace Day. A large number of students and faculty members from various departments participated in both the seminar and the walk.
https://nation.com.pk/27-Sep-2018/work-of-sufi-poets-counted-as-tool-to-counter-terror
--------
Muslims from 15 countries to join Pakistanis to exchange thoughts
BY MUHSEN ALI
Sep 27, 2018
Pakistan is going to host a three-day international youth gathering here from Friday (Sept 28 to 30) to establish a communication network among the young people of the Islamic world, to exchange experiences and to solve the problems faced by them in different regions.
Managed by the Turkey-based Youth Board of the Union of NGOs of the Islamic World (YOUNG UNIW), the youth gatherings are held in order to strengthen the consciousness of brotherhood and solidarity among young Muslims, to increase the consciousness of the unity, to form friendships between young ones and to form the consciousness of responsibility about the future of Islamic world.
During the gathering, the young people will try to share their thoughts about political, educational, economic and social problems. In Lahore, this will be the 14th international gathering of the Muslims youth. Al Khidmat Foundation representative Shoaib Ahmed Hashmi said that youth from 15 different countries would join their age fellows here in Pakistan.
"We were more interested to invite young people from over 40 Islamic countries. But due to short time and visas problems, we can invite and manage young Muslims from 15 countries," he said. "We will try to discuss issues of the young Muslims, to create relationship among them and promote Pakistan's rich culture and history with them," he said.
National Assembly Speaker Asad Qaiser and Punjab Assembly Speaker Chaudhry Pervaiz Elahi will join different sessions of the gathering. Shoaib Hashmi said that the distinguished guests, trainers and key speakers would also participate in the gathering besides local and foreign students and young leaders. He said different productive segments and some visits and meetings have been designed for the participants.
Senior Turkish officials including Turk ambassador would also appear in different sessions and would share their thoughts. He said that these aspiring young leaders would be exposed to a diversity of thoughts, ideas, and vision, beliefs and cultures which help them to analyse the pertinent issues faced by the youth of the world.
Full report at:
https://www.pakistantoday.com.pk/2018/09/27/muslims-from-15-countries-to-join-pakistanis-to-exchange-thoughts/
--------
Mengal seeks disclosure of assets held by retired judges, generals & bureaucrats
Amir Wasim
September 27, 2018
ISLAMABAD: President of his own faction of the Balochistan National Party (BNP) Sardar Akhtar Mengal has said that disunity among politicians has taken the country to "controlled democracy", regretting that in Pakistan "democracy (always) needs support from non-democratic forces".
Taking part in the budget debate in the National Asse­mbly here on Wednesday, he said the details of foreign assets of retired judges, army generals and bureaucrats should be made public. He also called for disclosing the details of their citizenship status so that the nation could know as to which nationality they had acqui­red after their retirement.
"You will find no retired general talking against his colleague. No bureaucrat will ever present any evidence against his colleague. But we the politicians always remain active in maligning each other," he said.
Mr Mengal, whose party is supporting the ruling Pakistan Tehreek-i-Insaf (PTI), said they would keep on witnessing rigged elections after every five years if the elected representatives did not get powers to formulate foreign policy and not bring "controlled democracy" under their control.
In his hard-hitting speech but in a soft tone, the BNP chief also demanded that the government "open" and present the agreements regarding the development of Gwadar before parliament for a debate. He said nobody knew if these projects would be carried out through investments or loans.
"If these are investments, then what will be the equity and what benefits the local people will gain? If these are loans, then who will pay them back? What is the share of the people of Gwadar in the China-Pakistan Economic Corridor (CPEC)? Why Gwadar agreements are being kept secret?" he asked.
"Every government uses the Balochistan card to safeguard its own interests. Regretfully, the rulers of Pakistan do not even know about the geography of Balochistan," he said while highlighting the sufferings of the people of the country's largest and most backward province.
He said the province was only getting 600MW electricity against its need of 1,800MW. He claimed that there was no power project under the CPEC for Balochistan. "We are declaring Gwadar an international city whereas its residents do not even have drinking water."
Mr Mengal warned against massive influx of foreigners in Gwadar, saying there was no check on their movement and activities. He alleged that Chinese were busy in extracting gold, silver and copper from the province and there was no mechanism to monitor and check the quantities of the extracted minerals. "We have closed our eyes and given everything in the hands of the Chinese," he alleged.
Earlier, Khawaja Asif of the Pakistan Muslim League-Nawaz (PML-N) castigated the PTI government for its "directionless" foreign policy, saying that Pakistan had faced "extreme embarrassment" due to a last-minute refusal by India to hold foreign level talks in the United States.
The firebrand MNA from Sialkot, who had served as foreign minister in the previous PML-N government, said the present government had fumbled on a number of occasions on the foreign policy front because of which the country had to face humiliation.
The PML-N leader also opposed the government's move to grant citizenship rights to the Afghan refugees and Bengalis living in the country. He said there was a huge socio-political impact of hosting the Afghan refugees and they were facing a difficult situation since Pakhtuns were supporting the idea of granting them nationality whereas the Baloch people were opposing it on ethnic grounds.
"We cannot offer nationalities on a wholesale basis to the people," he said, declaring Prime Minister Imran Khan's statement in this regard as "irresponsible".
Mr Asif called upon the government to devise a policy for conservation of electricity, gas and water. He also stressed the need for building small dams in the country, besides big dams.
Full report at:
https://www.dawn.com/news/1435254/mengal-seeks-disclosure-of-assets-held-by-retired-judges-generals-bureaucrats
--------
FIA to probe social media campaign against IHC judges
Munawer Azeem
September 27, 2018
ISLAMABAD: Taking serious notice of uploading of 'false and malicious material' on social media against the Islamabad High Court judges dealing with high profile cases, its acting registrar has got an FIR registered with the cybercrime wing of the Federal Investigation Agency (FIA).
Through the FIR, the FIA has been directed to 'inquire into the matter and submit a report at the earliest'.
Apparently the case has been registered in the backdrop of the ongoing social media campaign against the judges of the IHC after they granted bail to former prime minister Nawaz Sharif and his daughter Maryam Nawaz and son-in-law retired Capt Mohammad Safdar and suspended their sentences in the Avenfield reference till the disposal of their appeals.
The case has been registered by FIA under Prevention of Electronic Crimes Act 2016 sections 10(a), 11 and 20 along with PPCs 109 and 506 against unidentified persons.
During inquiry, technical analysis report has been obtained from Cybercrime Reporting Centre FIA which revealed that three Youtube videos and one Facebook account were identified through a Youtube channel.
Action was initiated over the findings and a court order from judicial magistrate has been sent to Facebook seeking subscribers details of the account holder, it stated, adding that same request was also made to Youtube and Godaddy and their reply was awaited.
Full report at:
https://www.dawn.com/news/1435227/fia-to-probe-social-media-campaign-against-ihc-judges
--------
4 terrorists killed, 2 soldiers martyred in Kalat operation: ISPR
Syed Ali Shah
September 27, 2018
Four terrorists were killed and two soldiers received martyrdom during an intelligence-based operation (IBO) conducted on a terrorist hideout in Balochistan's Kalat district on Wednesday, according to the Inter-Services Public Relations (ISPR).
The exchange of fire, which took place in the Mangochar area of Kalat, also resulted in injuries for two soldiers, the ISPR added.
The operation, the ISPR said, was conducted following intelligence reports that the terrorists were planning to do major terrorism activities in the province.
Two suicide jackets, a large quantity of explosives, other weaponry and ammunition were also recovered during the operation, per the ISPR press release.
Full report at:
https://www.dawn.com/news/1435147/4-terrorists-killed-2-soldiers-martyred-in-kalat-operation-ispr
--------
Three militants killed, four hostages recovered in Balochistan IBO
Sep 27, 2018
QUETTA: Law enforcement agencies on Wednesday conducted an intelligence-based operation (IBO) in Balochistan and killed three wanted terrorists, the Inter-Services Public Relations reported.
According to the military's media wing, the operation was conducted in Kundi and Killi Zard Ghulam Jan areas of the Kalat district.
The militants, identified as Khubaib, Shoaib and Waheed, were allegedly affiliated with the Lashkar-e-Jhangvi and Daesh terror outfits and were wanted by law enforcement agencies since 2004.
Four women and children, held hostage at the hideout, were also recovered besides arms, including three Kalashnikovs, 200 rounds of ammunition and a China gun.
Full report at:
https://www.pakistantoday.com.pk/2018/09/27/three-militants-killed-four-hostages-recovered-in-balochistan-ibo/
--------
NAB approves probe against Fazlur Rehman's brother
Sep 27, 2018
ISLAMABAD: The National Accountability Bureau (NAB) on Wednesday approved to conduct an investigation against former commissioner for Afghan refugees Ziaur Rehman, who is the brother of Jamiat Ulema-e-Islam-Fazl (JUI-F) chief Maulana Fazlur Rehman.
The decision was made after an executive board meeting of the anti-graft watchdog chaired by NAB Chairman Justice (r) Javed Iqbal.
Zia was recently removed by the PTI-led federal cabinet and an inquiry was ordered to ascertain how he received the post without being a member of the civil service.
The anti-graft watchdog has also approved investigations against other politicians, including former Balochistan Assembly speaker Jan Muhammad Jamali, ex-commissioner of Sukkur Jam Ghulam Qadir, and former Sindh minister Aijaz Hussain Jakhrani.
The investigations will also be held against former vice-chairman of Punjab Sports Board Hanif Abbasi and ex-minister Tanvir Hussain.
FOUR SEPARATE REFERENCES:
The bureau has also approved four separate references in graft and corruption cases and further investigations against several prominent personalities.
A reference will be filed against CEO of Quaid-e-Azam Hospital in Rawalpindi Shaukat Bangash who is accused of embezzlement worth Rs612 million.
Another reference will be filed against former secretary land of Karachi Ghulam Mustafa, former deputy commissioner Fazlur Rehman, and former commissioner Roshan Ali.
A separate reference will be filed against ex-DDO of Revenue Shaukat Hussain Jokhio who is accused in a land scam and illegally leasing 265 acres of government land on fabricated documents in Karachi's Bin Qasim Town of Malir.
Full report at:
https://www.pakistantoday.com.pk/2018/09/26/nab-approves-probe-against-fazlur-rehmans-brother/
--------
Naturalizing Afghan refugees a pragmatic solution for security issues
Sep 27, 2018
ISLAMABAD: Speakers at a dialogue lauded Prime Minister Imran Khan's announcement in Karachi to offer Pakistani citizenship to Afghans born and raised in Pakistan and said that the move certainly gave hope to thousands of Afghan refugees stuck in the limbo of their identity and affiliation crises and a pragmatic solution for security issues in Pakistan .
The dialogue was organised by Afghan Studies Center on this issue here on Wednesday, bringing together the youth from Pakistan and Afghanistan to discuss the vulnerabilities these Afghans face and what the process of naturalization could mean for such people.
They said that refugee crisis is one of the most critical challenges of our times as United Nations High Commissioner for Refugees' (UNHCR) statistical data shows that 71.4 million people were forcibly displaced worldwide during 2017.
Similarly, they stated that every minute, 20 people were forced to flee their homes in 2016.
PM Imran Khan noted in his speech that a lack of official documentation has pushed many refugees towards black-market labor or petty crimes and their naturalization could address many such issues. Certainly, PM Khan's decision to naturalize Afghan refugees appears to be a pragmatic solution for many of the security issues, is also long due, but above all, a strong gesture of goodwill from Pakistan.
However, as the subject is open for a debate in the parliament currently, the final decision is yet to be taken.
Dr Farhan Yousaf said that migration and refugees were also considered as one of the biggest global risks, but Pakistan continues to host one of the largest number of refugees for the last forty years. However, he said that Pakistan does not have any concrete policy for Afghan refugees.
He apprised the youth that different governments have held different stand-points, but a proper policy has never been formulated in this regard. What PM Khan's announcement has done is that it has initiated a discussion nation-wide which will hopefully lead to a concrete policy for Afghan refugees, at least, he added.
Makki Kakar, a PhD scholar conducting research on the issue, said that instead of strict border control and restrictive migration policies, naturalization could provide a human-rights based approach to address vulnerabilities of the refugees.
He stated that nevertheless, there is always a trade-off between human security and state security. Therefore, there should be a balanced approach but not at the cost of humanity.
There are about 2.7 million Afghans, including 1.5 million registered as refugees, residing in Pakistan, according to UNHCR and local officials. UN surveys suggest that of these around 60 per cent of Afghan refugees were either born in Pakistan or were minors when their parents migrated to Pakistan.
They said that war-shattered Afghanistan is therefore alien to most of these young people who are already part of the local economy and culture.
Full report at:
https://www.pakistantoday.com.pk/2018/09/26/decision-to-naturalize-afghan-refugees-a-pragmatic-solution-for-security-issues/
--------
COAS vows to never let reign of terror return to Waziristan
SEPTEMBER 27, 2018
Chief of the Army Staff (COAS) General Qamar Javed Bajwa has said that it is time for Waziristan and other new tribal districts to reap the fruits of peace, and flourish and progress.
According to a statement issued by Inter-Services Public Relations (ISPR) on Wednesday, Army Chief General Qamar Javed Bajwa visited North Waziristan tribal district.
During his visit, the COAS was briefed on security situation, border management, progress of development works and rehabilitation of TDPs in the district.
Expressing his satisfaction, the Army Chief directed the troops to remain focused on stability operations and socio-economic development to achieve enduring peace. While interacting with troops, the COAS commended officers and men for their courage, dedication and spirit of sacrifice and said that they will never allow the reign of terror to return.
https://dailytimes.com.pk/303286/coas-vows-to-never-let-reign-of-terror-return-to-waziristan/
--------
India
Mob attacks cops when prevented from taking religion procession through Muslim area, 10 Injured
Sep 26, 2018
At least 10 policemen were injured in the clashes between police and Kans Mela devotees in Uttar Pradesh's Hamirpur district on Monday when the devotees insisted on taking the procession through Muslim-dominated area instead of the designated route.
An FIR has been lodged against 200 unidentified people and 14 arrests have been made so far. The area is under tight security to maintain law and order.
Police vehicles have also been vandalised by the mob. Many policemen have reportedly suffered head injuries including an additional superintendent of police, district magistrate Hamirpur and superintendent of police were also injured.
Extra force was rushed to the spot to keep a check on the situation. Chief Minister Yogi Adityanath is taking stock of the situation." said, state police chief, OP Singh.
As per the reports the administration was asked to pass the procession Imambara Road by BJP MP Pushpendra Singh Chandel.
https://www.siasat.com/news/mob-attacks-cops-when-prevented-taking-religion-procession-through-muslim-area-10-injured-1412785/
--------
Terror camp hit by surgical strike active again
Sep 27, 2018
SRINAGAR: While Pakistan Prime Minister Imran Khan was making peace overtures to New Delhi+ , terror groups backed by his country's army were setting up eight new launch pads along the Line of Control (LoC) in Pakistan-occupied Kashmir (PoK). Approximately 250 terrorists are waiting to infiltrate into Jammu and Kashmir from 27 launch pads in PoK, top intelligence sources said.
Among the eight new launch pads are those in Lipa Valley, one of the two strategic locations which was destroyed by the Indian Army during its surgical strikes in September 2016, days after the terror attack at Uri in Kashmir.
India, after having warmed up to the idea of holding talks with Pakistan at the sidelines of the UNGA meeting in New York this week, cancelled the event after the killing of three cops by Hizbul Mujahideen in Kashmir last week.
Kashmir has been wracked by violence since the killing of Hizbul commander Burhan Wani by Indian security forces in an encounter in July 2016. Though stone-pelting and mob violence in Kashmir has been controlled considerably in the last one year, the rise in threats by Pakistan-sponsored terror groups and targeted killings of J&K policemen have coincided with the increase in infiltration attempts and ceasefire violations along the LoC and the international border.
Before Wani was killed, there were only 14 functional launch pads in PoK with just 160 terrorists camping there. But soon after Wani's elimination, an immediate rise in terror training activity was noted across the LoC. From just 160 terrorists, their number went up to around 190 to 230 terrorists with an addition of five more terror camps, making it 19, sources said. Eight more have been added since Imran's election as PM.
Of the 27 terror launch pads which are operational, Lashkar-e-Taiba is concentrated in Lipa, Chakothi, Bararkot, Shardi, Jura and Bararkot areas while Hizbul Mujahideen's camps are set up in the Forward Kahuta area of PoK.
Pakistan, sources said, has also re-established the launch pad at Lipa Valley, one of the two strategic locations where India had conducted a surgical strike in September 2016. However, the launch pad opposite the other surgical strike location, Bimbhar Gali, has not resurfaced. "The strength at Hajipur and Forward Kahuta is now negligible," said a senior intelligence officer.
The number of Lashkar-e-Taiba members who are preparing to enter India at Lipa, Chananian, Mandaukali and Naukot now stands at 25-30, according to details accessed by TOI. These camps stand right opposite India's Nowgam sector, which is between Uri and Kupwara.
"Approximately 250 terrorists are waiting to infiltrate into India. The geographical importance of these infiltration points is the breathing time needed by these militants and the support from over ground workers in Handwara and Hafrooda forest cover.
From there, their intent is to move to South Kashmir," said an intelligence officer.
Intelligence sleuths said that the recent surge in terror activities in Gurez, Jajarkotli, Sopore, and Bandipora in Kashmir is meant to destabilise the state ahead of panchayat elections and may escalate the tension between the two countries.
Full report at:
https://timesofindia.indiatimes.com/india/terror-camp-hit-by-surgical-strike-active-again/articleshow/65972881.cms
--------
NIA busts LeT-linked terror funding racket, arrests three
September 27, 2018
The National Investigation Agency (NIA) on Wednesday arrested three people from New Delhi for allegedly receiving terror funding from Lahore-based Falah-e-Insaniyat Foundation (FIF), a front-end organisation of proscribed terror group Lashkar-e-Toiba (LeT).
The agency has seized around Rs 1.5 crore and Rs 43,000 in Nepali currency from the three accused, identified as Mohammed Salman, Mohammed Salim and Abdul Rashid Wani.
"Salman, the key accused, was the one receiving the money. The other two are couriers. Salman is basically from Uttawar, in Mewat region of Haryana. He was into tour-taxi and dairy products businesses, but had incurred losses. Later, he visited Saudi for Umrah. He also visited Dubai a few years back where he met few Pakistani nationals and thereafter he had started getting funds through hawala," an NIA officer said.
Wani is from Kashmir and Salim hails from Delhi, sources said.
The arrests come just a day after the NIA carried out searches at multiple places at Daryaganj, Nizamuddin and Kucha Ghasiram areas in the national capital.
The searches were carried out after the agency had received fresh information with regard to its probe into a July 2 FIR in connection with a FIF terror-funding case.
According to the FIR, some Delhi-based individuals were receiving funds from FIF operatives based abroad and were using it to further terror activities.
"During investigation, it emerged that a Nizamuddin-based resident was in regular touch with one Dubai-based Pakistani national, who in turn is connected with the Deputy Chief of Falah-e-Insaniyat Foundation. The accused person has been receiving funds, being sent by FIF operators and his associates through hawala operators," NIA IG Alok Mittal said.
He added that the accused, along with other persons in various countries, including Pakistan, UAE, etc, were sending money through hawala to India to further their "nefarious activities and create unrest in India and carry out the terrorist activities".
Full report at:
https://indianexpress.com/article/india/nia-busts-let-linked-terror-funding-racket-arrests-three-5376315/
--------
India objects to Pakistan raising Kashmir in Organisation of Islamic Cooperation
Sep 27, 2018
New Delhi: Maintaining that the Organisation of Islamic Cooperation has no right to discuss matters related to India's internal affairs, a strong objection was raised against Pakistan's move to once again highlight Jammu and Kashmir in the international organisation with 57 member states.
OIC was founded in 1969 with the primary objective of promoting peace and harmony - especially in the Muslim-majority countries. However, it has no authority to discuss or comment on internal matters of any country - a point highlighted by India on Wednesday. "As far as OIC is concerned, we always note with regret that the matter which is very internal to Indian affairs was again discussed at OIC," said Raveesh Kumar, spokesperson of MEA. "We reject such references to a matter very internal to India."
Kumar's strong comments came shortly after Pakistan - once again - raised the Kashmir issue at OIC and accused India of committing atrocities against locals in the state. It has long been a Pakistani strategy to bring about any discussion or talk possible at international forums which revolves around Kashmir. Earlier this year - in June, Pakistan had raised Kashmir issue at OIC's Dhaka meet as well, only to be snubbed strongly by India. In the end, only one of 39 resolutions adopted at the end of that meet made any mention of Jammu and Kash
Full report at:
http://zeenews.india.com/world/india-objects-to-pakistan-raising-kashmir-in-organisation-of-islamic-cooperation-2143837.html
--------
2 booked under triple talaq ordinance in Rajasthan, Uttar Pradesh
Sep 27, 2018
At least two people have been booked in Rajasthan and Uttar Pradesh under the ordinance that was promulgated on September 19 to criminalize instant triple talaq (divorce).
The Muslim Women (Protection of Rights on Marriage) Ordinance, 2018, makes all declarations of instant talaq, including in written or electronic form, illegal. It declares the practice a cognizable offence, which can lead up to three-year imprisonment.
Police superintendent Umesh Kumar Singh said they registered a case on Tuesday under the ordinance against one Gulfam in Bijnor for allegedly pronouncing triple talaq two months after marrying one Sultanat.
A local resident, who did not wish to be named, said Gulfam had an affair with a woman before his marriage but his family was against it. "The woman arrived at his home on Sunday and threatened to commit suicide if he did not marry her."
He said Gulfam, his girlfriend, and other family members were brought to the police station to sort out the issue. The resident added that Gulfam agreed there to divorce his wife and marry his girlfriend.
Singh said they have ordered a probe into the role of the policemen at the station in the divorce and Gulfam's second alleged nikah there.
Police said this was the first case filed under the ordinance in Uttar Pradesh since it was promulgated.
In Lucknow, deputy inspector general (law and order) Praveen Kumar said instructions have been issued to book one Moharram Ali, under the ordinance for allegedly pronouncing instant divorce on Friday.
One Saleem Khan was on Wednesday booked In Rajasthan's Barmer under the ordinance for allegedly pronouncing instance talaq in writing after saying it on the phone earlier.
"We registered a case under section 3/4 of the Muslim Women (Protection on Rights of Marriage) Ordinance, 2018, against Saleem Khan and his three relatives," said Sanjana Kumari, a sub-inspector at Barmer's Balotra police station.
She said Khan has been also been booked for subjecting his wife to cruelty, criminal breach and for voluntarily causing hurt under the Indian Penal Code along with his family.
A police officer quoted Khan's wife, Salma Bano, telling them that her husband had pronounced instant talaq thrice over the phone on September 15 when she was away with her parents.
"On September 23, I was called to the police station where my husband was also present. In the presence of police, he declared talaq in written form," Bano said. HT has seen a copy of the written talaq.
Bano, a mother of three, said she has been married for 23 years.
"After 10 years of marriage, my husband and in-laws began torturing me to demand Rs 15 lakh as dowry. A few months ago, my husband left me. I came to my parents' house," Bano said.
"When (Prime Minister) Modi has brought a law to ban triple talaq in India, then how could my husband do this?" she asked.
Saleem Khan accused his wife of having an illicit relation with a man for two years. He insisted he had not pronounced instant talaq.
"I pronounced the first talaq about four months ago, second about two months ago and later third time on September 15," he said. "When I went to the police station, I was asked to give talaq in writing. I wrote talaq in the presence of police."
Full report at:
https://www.hindustantimes.com/india-news/2-booked-under-triple-talaq-ordinance-in-rajasthan-uttar-pradesh/story-rRmJgoWMCX6sBZNqIJpIrJ.html
--------
Kalyan youth: Areeb never spoke of jihad or joining ISIS, says witness
by Sadaf Modak
September 27, 2018
A key prosecution witness of the NIA against Kalyan resident Areeb Majeed, arrested in 2014 on terror charges, was declared hostile on Wednesday after he claimed that Majeed had never discussed joining the terrorist organisation ISIS with him.
The witness worked as an imam (a person who leads the prayers in a mosque) in a masjid in Kalyan in 2007. He told the court that he knew Areeb and Fahad Shaikh as they occasionally came to pray at the mosque. He said he knew Areeb's father but denied that in March 2014, he had come to meet him and discussed that Areeb was talking about jihad. "It did not happen that thereafter accused (Areeb) met me and discussed about jihad and told me that, he is going to Syria for jihad," the witness told the court. The prosecution declared him hostile and thereafter cross-examined him, confronting him with a statement he had allegedly given to the NIA in 2014. The witness denied that his statement was recorded by the NIA officer.
According to the NIA, Areeb's father, Ejaz, had approached the imam and told him that Areeb was discussing about jihad and Iraq and Syria with family members. The witness denied that he had ever said it. He also denied that he had told the NIA that Areeb's father had told him that Areeb was visiting Islamic Guidance Centre in Kalyan run by one man named Mohsin Khan, who is 'highly influenced' by Zakir Naik. He also denied that thereafter Areeb himself had come to meet him at the mosque.
"It is not true that I discussed with him about visit to IGC, his interest in jihad, ISIS and Hizrat. It is not true that, he further told me that, Muslim brothers from Iraq and Syria were in trouble and he wants to go to Syria and Iraq for joining ISIS for carrying out jihad," the witness told the court, denying the prosecution's case. He further said that it did not happen that subsequently Areeb came to him stating that he had stopped attending lectures at IGC. He also denied that Areeb's father had come to meet him again on May 26, 2014 and told him that Areeb and his friends had left the house for some unknown destination. He said he came to know from the media that he had left to join ISIS.
Full report at:
https://indianexpress.com/article/india/kalyan-youth-areeb-never-spoke-of-jihad-or-joining-isis-says-witness-5376214/
--------
Indian religious leaders back new declaration of peace in Europe
Sep 26, 2018
LONDON: Religious leaders joined those from across the world to extend their support to a new concept of the "Declaration of Friendship" to foster world peace by countering hatred and intolerance.
The contours of the Declaration was laid out by The Hague-based Peace Palace, the Carnegie Foundation and the Elijah Interfaith Institute.
Prominent religious leaders of diverse faith, including Hindu, Muslim, Buddhist, Sikh, Christian and Jewish, from around the world would sign the document at a major summit to be held at the Peace Palace in June 2020, an official statement said.
The declaration aims to counter division, hatred and intolerance between people of different religions by promoting friendship between members of diverse faiths, it said.
"We are very grateful that the Indian government also cooperates with us to make this peace initiative as broad and inclusive as possible," said Erik de Baedts, Director of the Peace Palace, in the statement.
He described the crafting of the declaration as a complicated and delicate matter, which follows a careful interactive process supported by experts from the Elijah Interfaith Institute, VU University in Amsterdam and the Carnegie Foundation, among others.
Rabbi Dr Alon Goshen-Gottstein, director of the Elijah Interfaith Institute, said: "Several of India's most prominent religious leaders are members of the Elijah Board of World Religious Leaders.
"They have also participated in the Make Friends campaign. These include Sri Sri Ravi Shankar, Amma Amritanandamayi, Yoga Guru Swami Ramdev, Swami Chidanand (Muniji) and the Ramakrishna Order."
The institute said that religious leaders from the Muslim, Buddhist, Hindu, Sikh, Christian and Jewish traditions had widely welcomed the initiative.
The idea of the Declaration came from Dutch advertising professional Mark Woerde and his team at Havas Lemz & Letsheal.org.
In 2017, Woerde had initiated a joint video appeal titled "Make Friends Across Religions" by prominent world religious leaders, with the aim of addressing social tensions.
The appeal included personal statements by Pope Francis, the Grand Mufti of Egypt, Chief Rabbi Jonathan Sacks, the Dalai Lama, Sri Sri Ravi Shankar, among others.
Woerde said: "We are very honoured to pass on the torch today to the Carnegie Foundation and the Elijah Interfaith Institute to take this initiative to the next level. I am grateful that last year's video appeal could be the trailer of something bigger and more impactful."
Full report at:
https://timesofindia.indiatimes.com/nri/other-news/indian-religious-leaders-back-new-declaration-of-peace-in-europe/articleshow/65969104.cms
--------
LeT commander behind killing of Army Major among two militants dead in Kashmir encounter
Sep 26, 2018
A top Lashkar-e-Taiba (LeT) terrorist of Pakistani origin, who was responsible for gunning down Army Major Satish Dhayia, was among two militants killed in an encounter in the apple town of Sopore in North Kashmir early on Wednesday, police said.
With these deaths, the number of ultras killed in the past 12 days in Kashmir has gone up to 18, they said.
Abu Maaz, who had been active since 2015, was killed, along with Abdul Majeed alias 'Sameer', a resident of Bomai in Sopore, they said.
Giving details, the police said that during the intervening night of Tuesday and Wednesday, a joint search operation was launched with paramilitary forces and the army following a credible intelligence input about the presence of terrorists in Nowpora area of Tujjer in Sopore.
"During the searches, hiding terrorists fired on the search party, which was retaliated leading to an encounter. In the ensuing encounter, two terrorists were eliminated," a police spokesman said.
"On the basis of materials recovered, one of the slain terrorists has been identified as Abu Maaz of Pakistani origin who had been operating as the top commander of LeT in north Kashmir," the spokesman said.
The spokesman said Maaz was involved in a series of attacks on security forces and killings of civilians. He was active in North Kashmir, particulary Sopore and Handwara. Maaz had masterminded an attack on an Army convoy in Handwara in February last year, in which 31-year-old Major Satish Dhaiya was killed.
Three terrorists — Abu Saad, Abu Maviya and Abu Darda — were killed in that encounter, but Abu Maaz had managed to escape after gunning down the Army Major. Since then, he was among the most wanted terrorists in North Kashmir.
With these two deaths, the number of militants killed in the past 12 days in Kashmir has gone up to 18. Five militants each were killed in Kulgam district of South Kashmir and Bandipore in North Kashmir during this period.
Full report at:
https://www.hindustantimes.com/india-news/let-commander-behind-killing-of-army-major-among-two-militants-dead-in-kashmir-encounter/story-dGv7uvRcikDhDkiaVsOeMJ.html
--------
2 encounters between security forces, terrorists underway in J&K
Sep 27, 2018
SRINAGAR: Two encounters broke out between terrorists and security forces on Thursday morning in Anantnag and Budgam districts of Jammu and Kashmir, a police official said.
Security forces launched a cordon and search operation in Qazigund of Anantnag district after receiving information about the presence of terrorists in the area, the official said.
The search operation turned into an encounter with terrorists when the insurgents opened fire on the security forces, he said.
In another operation in Panzan area of Budgam district, security forces were locked in a gunbattle with terrorists hiding in a village, the official said., adding that there were no reports of casualties so far.
Full report at:
https://timesofindia.indiatimes.com/india/2-encounters-between-security-forces-terrorists-underway-in-jk/articleshow/65973744.cms
--------
Arab World
Saudi Arabia: UN human rights report on Yemen flawed
September 26, 2018
JEDDAH: Saudi Arabia has strongly criticized the report of the UN High Commissioner of Human Rights for Yemen, saying it had fallen away from objectivity, rushed to conclusions and made several errors in its approach and contents.
The Kingdom's ambassador to the UN in Geneva, Dr. Abdul Aziz Al-Wasel, said that the Kingdom had written back to the UN High Commission with its criticisms.
He said in a speech to the Human Rights Council during a dialogue on the High Commissioner's report, which included the report of the international and regional expert group, that the report ignored the information provided for the Group of Experts during its meetings with agencies in the coalition for the support of legitimacy in Yemen.
Al-Wasel added that the Kingdom was surprised by the experts group's claim that it did not receive specific information from the coalition countries about the targeting procedures, although they were informed of the procedures in place during the group's visit to the coalition's command in Riyadh.
It was also surprising, Al-Wasel said, that the experts group based its conclusions on guessing and expectations and the examination of a limited number of violations, when its mandate includes all violations since September 2014.
He said that the report clearly ignored the widespread violations that occurred when Houthi militias swept Yemeni cities, took control of the capital and the state's institutions and chased the president and his government's members, and this was the basis of the current Yemeni crisis.
The ambassador added that the report also ignored the fact that the Iranian-backed Houthi militias obstructed humanitarian aid into Yemen and detained and looted many vessels carrying aid.
He also said that ballistic missiles, more than 197 of which targeted Saudi Arabian cities, represent a violation of international humanitarian law, which was not mentioned in the report along with the violations of the Houthis. Nor did the report address the main role of Houthi militias in planting naval and land mines in violation of international law.
Al-Wasel said that the coalition affirms the need for the international community to support the legitimate government in Yemen and reactivate the state's institutions.
He added that the coalition affirms its full commitment to all provisions of international humanitarian law. The coalition, he said, had developed mechanisms and measures to deal quickly and transparently with mistakes during military operations.
Meanwhile, Kuwait's permanent delegate to the UN, Ambassador Jamal Al-Ghunaim told the 39th session of the UN Human Rights Council that the report was "deeply flawed."
"[The report] seems to hurl false accusations at the Saudi-led Coalition," Al-Ghunaim said.
He said the UN experts singled out the coalition of Arab states fighting Yemen's Iran-allied Houthi militia as accountable for the human rights violations in the war-torn country.
"The Arab Coalition never ceased to cooperate with the UN specialists in Yemen to ensure that civilian casualties are averted," he said.
The Kuwaiti diplomat went on to give the Arab coalition credit for their "efforts to restore normalcy and hope to the lives of the Yemeni people."
http://www.arabnews.com/node/1378256/middle-east
--------
Afrin Residents Fleeing Region Due to Turkish Troops, Allied Militants' Brutalities
Sep 26, 2018
The sources said that local residents of Afrin have started leaving their regions towards Aleppo city and the regions that are under the control of the Syrian Democratic Forces (SDF), as measures done by the Turkish army and Ankara-backed militants have deteriorated security in the region.
The Ankara forces have continued abduction of people, blackmail, plundering people's assets and damaging civilians' businesses.
Local sources reported on Tuesday that the Ankara-backed Firqah al-Hamzah imposed $3,000 as monthly tax on the shopkeepers in the small town of Bastouleh.
They further said that the militants also set fire at the farms of those residents that refuse to pay taxes or bribe.
Full report at:
http://en.farsnews.com/newstext.aspx?nn=13970704000636
--------
Syrian Army Repulses Terrorists' Attack in Hama
Sep 26, 2018
The Syrian army forces killed in the bud the terrorists' attacks against their points in Northern Hama, inflicting heavy tolls on them on Wednesday, the sources said.
Meantime, the Syrian army troops launched missile and artillery attacks against the moves of a group of terrorists who wanted to enter the army-controlled areas in regions near the town of al-Latamineh in Northern Hama, by violating the Sochi agreement.
The army soldiers repulsed the offensive, leaving a large number of militants killed and wounded. Other terrorists fled the scene towards al-Latamineh.
Also, the terrorists stationed in Rashedin region in Aleppo province launched missile attacks against the residential areas near Zein al-Abedin great mosque in New Aleppo district, wounding a civilian and inflicting damage on properties.
In a relevant development last week, the Syrian army's artillery units pounded the military positions and movements of Tahrir al-Sham Hay'at (the Levant Liberation Board or the Al-Nusra Front) terrorists in Hama and Idlib provinces, inflicting heavy losses on them.
The artillery units opened heavy fire at Tahrir al-Sham's positions in the village of Tal Othman and its nearby regions in Northern Hama, inflicting major losses on the terrorists.
In the meantime, the army's missile units targeted the movements of a group of Kataeb al-Izzah near the village of al-Zakat, killing and wounding a number of terrorists and forcing the remaining pockets of them to retreat towards the village.
Full report at:
http://en.farsnews.com/newstext.aspx?nn=13970704000981
--------
ISIL Retreats from More Key Points in Deserts of Sweida
Sep 26, 2018
The army men stormed ISIL's strongholds in the depth of the desert of Sweida and captured several hills in the rocks.
Other units of the army drove ISIL out of more areas in Qa'a al-Banat in Toloul al-Safa.
In the meantime, field sources said that the army seized military control over Qabr Sheikh Hossein region after its advances in Western, Northwestern and Southwestern Toloul al-Safa.
The sources further said that ISIL front is on the verge of full collapse as its supplying lines in Toloul al-Safa have been cut off by the army.
On Tuesday, the army units engaged in fierce clashes with ISIL in the depth of the Eastern desert of Sweida, imposing control over more areas in the rocks in Toloul al-Safa.
In the meantime, the army's artillery and missile units pounded ISIL's strongholds and movements in Toloul al-Safa, destroying the terrorists' positions and killing a number of sniper men.
Full report at:
http://en.farsnews.com/newstext.aspx?nn=13970704000224
--------
Syrian official says S-300 defenses will give Israel pause
26 September 2018
A Syrian official says Israel should think carefully before attacking Syria again once it obtains the sophisticated S-300 defense system from Russia.
Deputy Foreign Minister Faisal Mekdad said late Tuesday that the S-300 should have been given to Syria long ago. He says Israel, "which is accustomed to launching many aggressions under different pretexts, will have to make accurate calculations if it thinks to attack Syria again."
Russia said Monday that it will supply Damascus with the defense system after last week's downing of a Russian plane by Syria forces responding to an Israeli airstrike.
Full report at:
https://english.alarabiya.net/en/News/middle-east/2018/09/26/Syrian-official-says-S-300-defenses-will-give-Israel-pause.html
--------
Saudi regime forces raid Shia-populated Qatif, 7 injured
Sep 26, 2018
At least seven people have sustained injuries when Saudi regime forces carried out an operation in the kingdom's oil-rich Eastern Province as the Riyadh regime presses ahead with its brutal clampdown against pro-democracy campaigners and political dissidents.
The Arabic-language Ahrar television network, in a post published on its official Twitter page on Wednesday, reported that Saudi troopers raided a house behind Fatah Mosque in the Kawkab neighborhood of Qatif region, located more than 420 kilometers (260 miles) east of the capital Riyadh, leaving a number of people injured.
There were reportedly elderly people among those injured.
Saudi Arabia has recently stepped up politically-motivated arrests, prosecution, and conviction of peaceful dissident writers and human rights campaigners.
Saudi officials have also intensified security measures in the kingdom's Shia-populated Eastern Province.
Eastern Province has been the scene of peaceful demonstrations since February 2011. Protesters have been demanding reforms, freedom of expression, the release of political prisoners, and an end to economic and religious discrimination against the oil-rich region.
The protests have been met with a heavy-handed crackdown by the regime. Regime forces have increased security measures across the province.
Over the past years, Riyadh has also redefined its anti-terrorism laws to also target activism.
Full report at:
https://www.presstv.com/Detail/2018/09/26/575306/Saudi-regime-forces-raid-Shiapopulated-Qatif-7-injured
--------
Europe
Muslims in Europe facing 'hostility in everyday life', Islamophobia study finds
26 September 2018
BRUSSELS - European academics and policy makers came together at the European Parliament in Brussels on Wednesday to launch what they describe as a "toolkit" to tackle Islamophobia across the continent.
The report, based on research in eight countries including the UK, France and Germany, said it had identified a "worsening environment of Islamophobia" in which Muslims faced a "new and acceptable hostility... in many spheres of everyday life".
"This is an issue that is poisoning our societies in the European Union and putting barriers between our communities," said Jean Lambert, a Green Party member of the European Parliament (MEP) representing London, during the opening of the conference in Belgium.
Long present across the continent, the report highlights how Islamophobia has been further bolstered in the past decade, tied to the rise of far-right and anti-immigration movements in many European countries, the "War on Terror" both within and outside Europe, and the refugee crisis.
Recent examples included former British foreign secretary Boris Johnson's newspaper column last month in which he compared niqab-wearing women to 'letter boxes'.
In France, a veiled student union leader was publicly chastised for a televised appearance and caricatured as a monkey by a prominent satirical outlet; in Germany, stories in the media about alleged roving bands of rapist refugees stoked panic; while several countries across Europe have passed so called "burqa bans", restricting the wearing of niqabs and Muslim veils in public spaces.
While countering such a wave of xenophobia and racism towards Muslim citizens and residents of Europe might seem like a herculean task, the authors of the "Counter Islamophobia Kit" briefing paper say it is a necessity.
"A worsening environment of Islamophobia was identified with respect to media content, political discourse and experiences of discrimination indicating the new and increasingly acceptable hostility against Muslims in many spheres of everyday life," the report warned.
European academics led by the University of Leeds, in conjunction with NGOs and activists, explored the various drivers of Islamophobia in eight European countries - the United Kingdom, France, Belgium, Germany, Czech Republic, Greece, Hungary and Portugal - as well as the efforts to foster counter-narratives to Islamophobia in each country.
"The project has revealed the vast expansiveness of Islamophobia, the fact that it permeates so many elements of our lives and of society," Amina Easat-Daas, project officer for the Counter Islamophobia Kit, told Middle East Eye.
"We want to challenge the narratives that exist, to contextualise them and emphasise their normalcy, their everyday nature, and also highlight the brilliant contributions many Muslims are making in society. "
Local variations of Islamophobia
While Islamophobia in most countries was strongly associated with the perception of Muslims constituting a "threat to security" and "a threat to local, national and European identity", local culture and history has informed the way Islamophobia has been formulated.
While there is ample documentation of France's instrumentalisation of its national conception of laïcité - secularism - to target its Muslim citizens for being visibly unsecular, in Portugal, the history of the reconquest of the Iberian Peninsula from the Moors in the Middle Ages has fed local narratives of civilisational struggle and fears of a Muslim "invasion".
In Greece, the report said, some Islamophobic discourses raised the spectre of Turkey using refugees to expand its control across the Aegean - as refugees and Muslims become conflated identities in the public psyche.
Meanwhile, in countries such as Hungary that have served as a transit point for many asylum seekers attempting to reach western Europe, the narrative of Muslim as potential terrorists remain strong, with Prime Minister Viktor Orban telling Germany's Bild newspaper: "We don't see these people as Muslim refugees. We see them as Muslim invaders."
Yet the most publicised recent "terrorism" conviction in the country involved an asylum seeker prosecuted earlier this month for throwing stones at police officers.
Even in countries like the United Kingdom, which have a long history of diversity, long-standing Muslim populations find themselves the target of hatred in the wake of attacks claimed by Islamic State group.
"The UK used to pride itself in its diversity, but that discourse is no longer there," said Arzu Merali, the head researcher for the Islamic Human Rights Commission (IHRC) in the UK, during Wednesday's conference, describing how a generalised discourse targeting Muslims in schools or streets also culminates in "targeted legislation" which solidifies "the idea of Muslims as non-citizens".
"It sounds pretty dramatic, but this is the kind of scenario we are facing in the UK today," Merali said.
"There is an urgent need to recognise Islamophobia as a form of racism," Luis Manuel Hernandez Aguilar, IHRC researcher in Germany said during Wednesday's conference, pointing to "how easily Islamophobia moves between everyday life and politics" when Islamophobia "is not officially recognised as a form of discrimination".
In Germany, Aguilar said, racist tropes have enforced the idea that "being a Muslim means being a problem".
While Easat-Daas highlighted the differences between each country in the study, she expressed concern about France's status as a "barometer" - and trailblazer - of Islamophobia in Europe.
"I worry that (France) is a potential leader, that it signposts that this is acceptable. Its laws set precedence, I worry that French policies set precedence," she told MEE. "When you see the French 'loi anti-niqab' and how that then plays out in different framings, in Belgium first, and then further and further, I'm worried that it's gaining credence and an image of legitimacy."
Countering toxic narratives
In the face of mounting hateful discourse and actions promoted by public figures, media, and ordinary citizens, sometimes with deadly consequences, the Counter Islamophobia Toolkit highlights initiatives that seek to counter prevalent toxic narratives about Islam.
The report cast some doubts on the effectiveness of reactive condemnations of attacks committed by Muslim individuals and efforts to distance them from the broader Muslim community as still falling within a narrative of "securitisation" of Muslims in all aspects of their lives, and fostering the expectation that all Muslims must condemn any negative acts committed by one of their co-religionists.
Many efforts across the continent have sought to demystify Islam to non-Muslim European citizens, such as the Parle-moi d'Islam videos explaining aspects of the religion.
Key to combating Islamophobia, the report says, is the "normalisation" of Muslims - showing them as individuals with the same lives and aspirations as others, as in the Human Library in the Czech Republic, and highlighting food, fashion and culture as points of human connection between Muslims and non-Muslims.
In some cases, approaches to fight Islamophobia might appear counter-intuitive - as in Greece, where some efforts actually leaned on prevailing Christianity in the Mediterranean country to promote "Conservative anti-nationalist narratives and Christian ecumenical ideals such as peace, hospitality and care towards the vulnerable, especially towards refugees".
Part of the efforts to counter Islamophobia, Easat-Daas said, include recognising the phenomenon as not simply exclusive to right-wing movements.
"I would argue that (Islamophobia) is not exclusive to the right wing, but rather something that you can see across the political spectrum," she said. "It shouldn't be acceptable political discourse to stigmatise or to speak on behalf of other people - which is often something we see in liberal Islamophobia."
Legal shortfalls
While the burden of fighting against Islamophobia seems to mainly fall on the shoulders of civil society in Europe as hateful discourse has become further normalised in the political and governmental sphere, the report highlights the role played by the European legal system - and its shortfalls.
"There is limited engagement of European human rights law with the best legal practices to counter Islamophobia in individual EU member states," the report reads. "As a result, the forms that both judicial intervention and legal measures, including positive measures, could take in order to effectively counter Islamophobia remain unclear."
The report goes on to criticise the European Court of Human Rights for its "rigidity" in ruling on cases of alleged state Islamophobia which it said had shifted "the burden of proof away from the state and onto the applicants who should then prove that the restrictions against their right to freedom of religion are disproportionate".
The brief nonetheless welcomed efforts by the Parliamentary Assembly of the Council of Europe in passing a number of non-binding resolutions analysing and defining Islamophobia, highlighting it as a necessary step towards tackling the problem.
The Parliamentary Assembly had been largely successful, it said in spelling out "different cultural, historical and socioeconomic elements that constitute Islamophobia".
But it said there was a "striking contrast between the nuance and complexity of those soft-law instruments and the case law of the European Court of Human Rights, where there is almost complete lack of references to Islamophobia and no distinctive legal response to the phenomenon".
Sajjad Karim, a Conservative Party MEP representing northwest England, raised the alarm on Wednesday about Islamophobia across European nations, highlighting concerns that it had begun "seeping through to the European (Union) level" and could further worsen with the eventual election of more populists to the European Parliament in 2019 - which could lead to a EU Parliament "held ransom by those extremes".
"Now we are in a fight, and in a matter of months from now... there is an issue of self-interest for every European," Karim said.
Salman Sayyid, professor of social theory and decolonial thought at the University of Leeds, said during Wednesday's conference that the fight against Islamophobia has a larger mandate than the protection of one specific religious community.
"Islamophobia is a challenge to the continuation of a particular type of European democratic project, and that's why I think it should be taken seriously, and not just in relation to the defense of Muslim communities, but in defence of the kind of world we want to live in."
https://www.middleeasteye.net/news/islamophobia-europe-uk-france-belgium-toolkit-islam-muslims-racism-670535899
--------
Two held in Denmark suspected of buying drones for Daesh
September 26, 2018
COPENHAGEN: Danish police say they have arrested two people under Denmark's anti-terror laws on suspicion of buying drones bound for the Daesh group in Syria and Iraq.
Copenhagen police and Denmark's security service carried out the arrests Wednesday. Police said the suspects are believed to be part of a network.
In a brief statement, police said a series of raids were also carried out in greater Copenhagen.
The suspects will face a judge Thursday, and prosecutors are expected to demand they be held in pre-trial detention. Prosecutors say the hearing should be held behind closed doors because of the ongoing investigation.
http://www.arabnews.com/node/1378311/world
--------
UN General Assembly Day 2: Yemeni president thanks Saudi Arabia; Lebanon slams West's double standards
September 26, 2018
UN, New York: The UN General Assembly General Debate continued into a second day on Wednesday. Highlights included Yemen and Lebanon's addresses.
YEMENI PRESIDENT ABDRABUH MANSOUR HADI
Yemen's president Abdrabuh Mansour Hadi Mansour used his UN General Assembly on Wednesday address to heap praise on Saudi Arabia for its support of his country during the ongoing civil war.
Speaking on Wednesday, Hadi said: "I want to thank Saudi Arabia — its king, its government and its people — for its continued humanitarian contribution in Yemen. It has taken a leading role in offering relief and the reconstruction of our country.
"The efforts are starting to be felt by Yemenis all over the liberated areas," he added.
Hadi slammed Iran for its "blatant intervention" in Yemen, accusing it of continually supplying weaponry, missiles and financial support for the Houthi militia.
He said that Saudi Arabian assistance had helped lessen the effects of Yemen's economic crisis, brought on by disruption brought about by the Iranian-backed Houthis, but called on the support of the international community to stop Iranian interference in Yemen and its financing of terrorism.
Hadi said: "We are not advocates of war. We support peace, harmony and stability in Yemen, but this will not happen by cajoling these gangsters, like some member states do."
LEBANESE PRESIDENT MICHEL AOUN
Meanwhile, Lebanon's president Michel Aoun used his address to berate the UN Security Council for its "ineffectiveness" due to the misuse of the veto right by some member states, accusing the international community of a double standard when dealing with the Middle East.
"Unfortunately, international political approaches to the Middle East still lack justice and there are double standards in this regard. The Palestinian question is an example of that," he said.
Full report at:
http://www.arabnews.com/node/1378496/world
--------
Interim manager appointed at mosque where extremist preached
September 26, 2018
A UK Muslim charity has had its management temporarily replaced after an inquiry found it failed to stop an extremist preaching at its mosque.
The interim manager will run the administration of the Fazal Ellahi Charitable Trust, excluding trustees, after the UK Charity Commission said it failed to comply with UK laws.
The regulator opened an inquiry on 16 April 2018 over concerns the charity's Stoke-on-Trent premises were used to condone or support terrorism. On 22 September 2017 its Imam, 40-year-old Kamran Hussain was convicted on six counts of encouragement of terrorism and two counts of encouraging support for a proscribed organisation – ISIS.
The trust ran a mosque and religious classes but was investigated over concerns it was propagating terrorism.
Hussain was sentenced to six and half years in jail after telling children as young as three that martyrdom was better than school. Often he would deliver his speeches in front an ISIS flag and laud the values of terrorist groups.
"Inshallah...we will see the black flag rise over Big Ben and Downing Street," he told a congregation.
The preacher supported the virtues of killing, martyrdom and violent jihad and endorsed the efforts of those who had undertaken such acts, West Midlands Police said at the time.
Detective Chief Superintendent Matt Ward of West Midlands Counter Terrorism Unit added "Hussain was espousing hatred and violence as well as clearly demonstrating his support for (ISIS) through the content in his sermons."
An undercover officer was sent to record Hussain's sermons where the preacher would tell worshippers the UK government funded far-right groups to attack Muslims.
"The kuffar (unbeliever) will attack you and kill you," he was reported to have told them.
"Stand up and be ready to sacrifice, be ready to stand in the face of the elements of Shaytan (Satan), be ready to spill blood and have your blood spilt."
This appointment of an interim manager to the charity is a temporary and protective power that will be reviewed at regular intervals, the regulator said.
The Charity Commission has clamped down in recent years on UK Muslim charities alleged to be pushing extremist ideologies. Since the start of 2014 it has opened more than 35 enquiries related to Muslim groups and causes, including those accused of funnelling funds to terrorist in Syria.
Full report at:
https://www.thenational.ae/world/europe/interim-manager-appointed-at-mosque-where-extremist-preached-1.774360
--------
Anti-islamophobia kit launched in European Parliament
26.09.2018
By Yusuf Hatip
BRUSSELS
In the wake of growing racism across Europe, a project to counter islamophobia was launched in the European Parliament on Wednesday.
Experts and academics from across Europe gathered at the parliament for the launch of the two-year Counter-Islamophobia Kit (CIK) project funded by the European Commission's Directorate of Justice.
They called on member states and policymakers to play a more active role in the fight against Islamophobia and strengthen legal procedures on the issue.
The project reviews dominant anti-Muslim narratives and compares counter-narratives in eight EU members states of France, Germany, Belgium, the Czech Republic, Hungary, Portugal, Greece, and the U.K.
It outlines 10 counter-narratives that must be prioritized in Europe:
- Challenging and contextualizing constructions of Muslim 'threat'
- Building inclusive nations: challenging exclusive and discriminatory national projects
- Cultural compatibility and conviviality: challenging the narrative separation of cultural and ethnic groups
- Elaborating plurality: challenging narratives of Muslim singularity
- Challenging narratives of sexism
- Building inclusive futures
- Deracializing the state: challenging institutional narratives
Full report at:
https://www.aa.com.tr/en/europe/anti-islamophobia-kit-launched-in-european-parliament/1265629
--------
Africa
Libyan government announces Tripoli cease-fire deal
September 26, 2018
TRIPOLI: Libya's internationally recognized government Wednesday announced a new cease-fire deal to end a month of fighting between rival militias south of Tripoli that has left more than 100 dead.
The agreement was signed by representatives of the capital and the town of Tarhuna, southeast of Tripoli, the interior ministry said in a statement.
The deal ratified by interior minister Abdessalem Ashour calls for the rivals to implement a UN-brokered accord, signed on September 4, to form a joint security force of police from Tripoli and Tarhuna to patrol the capital's southern suburbs.
The Government of National Accord (GNA), in a statement, welcomed the halt to fighting that already took effect on Tuesday.
The clashes which erupted on the capital's southern outskirts on August 26 have left at least 117 dead and more than 400 injured, according to a fresh casualty toll issued by the GNA.
More than 25,000 people have been displaced by the violence.
The Libyan capital has been at the center of a battle for influence between armed groups ever since dictator Muammar Qaddafi was ousted and killed in a NATO-backed uprising in 2011.
The latest feud has pitted armed groups from Tarhuna and Libya's third city Misrata against militia forces from Tripoli under the nominal control of the GNA.
http://www.arabnews.com/node/1378346/middle-east
--------
Unknown gunmen 'kill 12' in eastern Mali
Sep 26, 2018
Unknown gunmen have attacked an area torn by tribal strife in eastern Mali, killing at least 12 people, security source say.
According to the sources, the attack occurred in the remote Menaka region on Tuesday.
"Armed men on motorcycles killed at least 12 civilians," a security source was quoted by AFP as saying.
"For now, we do not know exactly who did it. I don't know if it was the result of a dispute between tribes or a terrorist act," the source added.
A former rebel group said armed men had "executed 17 civilians" from two Tuareg camps.
Some 200 people from tribes known as Fulani and Tuareg have been killed in Menaka region this year.
France launched a military operation in Mali back in January 2013, after the region was hit by unrest between local tribes and militants.
Full report at:
https://www.presstv.com/Detail/2018/09/26/575258/Mali-attack-
--------
Turkey restores historic Al-Nejashi mosque in Ethiopia
Sep 27, 2018
A Turkish body completed the restoration of an ancient mosque in Ethiopia.
Turkish Cooperation and Coordination Agency (TIKA) completed the restoration of the Al-Nejashi mosque, the tomb of the Abyssinian King Ahmed Nejashi, and 15 tombs of the companions of Prophet Muhammed.
Located in the town of Wukro, 790 kilometers (over 490 miles) north of Ethiopia's capital Addis Ababa, Al-Nejashi is said to be the first mosque in Africa. It is named after Nejashi, who hosted companions of the Prophet who escaped persecution in Mecca.
In a statement TIKA said the restoration is part of a scheme to promote common cultural values and assets abroad and to contribute to the development of inter-governmental cooperation.
As part of the project, the road that leads to the mosque was restored. The path leading to the tombs in the backyard of the mosque is called "Companions street".
"The project restored the tombs and made them fit for visitors. The design will promote tourism and as a result contribute to infrastructure such as hotels, shopping malls, restaurants and museums in the area," it added.
Al-Nejashi mosque holds an important place in Islamic history. This is where the first hijra (migration) took place by the companions of the Prophet following persecution and torture in Mecca.
On orders of the Prophet, they set out on the journey, crossed the Red Sea and reached the Horn of Africa to establish the first Muslim community of Africa.
Al-Nejashi welcomed the immigrants and guaranteed them protection. Influenced by the faith, he soon accepted Islam.
Recently, neighbors Ethiopia and Eritrea signed a peace deal after two decades of conflict and Eritrean Muslims made the mosque their meeting point.
Full report at:
https://www.worldbulletin.net/africa/turkey-restores-historic-al-nejashi-mosque-in-ethiopia-h206060.html
--------
Kenya: Imam Among 11 Arrested Over Al-Shabaab Links
26 SEPTEMBER 2018
By Mwangi Ndirangu
Police in Nanyuki, Laikipia County, have arrested 11 men on suspicion that they are linked to terror group Al-Shabaab.
Laikipia East Police Commander Kizito Mutoro said the suspects were handed over to the Anti-Terrorism Police Unit (ATPU) after they were interrogated at Nanyuki Police Station for two days.
MADRASSA
"We received information that 40 suspicious people were being taken through Madrassa classes in Kabiru, which neighbours Nanyuki military barracks, last weekend," he said.
"The suspects were being taken through sessions so as to convert to Islam. After questioning them, we eliminated 11 adults and handed 29 children to their parents."
The 11, who included the mosque's Imam, were first taken to Isiolo town by the ATPU officers as police widened their scope on clergymen who could be involved in radicalisation programmes.
58 campus students join terrorist groups
Masculinity pressures linked to Shabaab enlisting
Terror group wants to convert NYS personnel into criminals
Mr Mutoro said those found at the Kabiru Mosque were from 14 communities and that none of those arrested hails from Laikipia.
"We have to be keen since we cannot tell the reason for gathering individuals from across the country to undergo religious teachings here, "said the police boss.
He added that the arrested Imam is not registered with the Council of Imams, the body that registers Madrassa teachers.
THREE OTHERS
The arrests came about a week after two Kenya Defense Forces officers were apprehended in Nanyuki while transporting 750 bullets to Isiolo town.
A week earlier, a Muslim street preacher was arrested in Nanyuki after residents raised alarm over suspected Al-Shabaab links.
The police boss also handed the three over to the ATPU.
Mr Mutoro noted that Meru, Isiolo and Nanyuki towns are being targeted by terror groups so residents should report their suspicions.
Full report at:
https://allafrica.com/stories/201809260357.html
--------
Court allows police to detain al Shabaab suspects for 30 days
Sep. 26, 2018
The Anti Terrorism Police Unit was on Wednesday permitted by the court to detain two terror suspects for 30 days to conclude investigations.
The two are Abdul Satar and Arfan Juma.
They were arrested in Elwak, Mandera county, on September 13.
ATPU's corporal Bernard Ndirangu filed an affidavit through state counsel Kajuju Kirimi seeking to detain the two at Muthaiga police station.
Ndirangu said Satar had a student ID card for Iqra Youth Foundation Institute at the time of arrest.
He said detectives needed to establish circumstances under which the suspect was given the card.
The suspects were arrested after intelligence indicated they had left Mombasa for Somalia using a private car.
They were traced to the Elwak where they were arrested after they made a stopover to ask for directions into Somalia.
Ndirangu said detectives are pursuing two other suspects Hashim Adow who lives in Kisauni, Mombasa and Salim Aboud.
Adow is an alleged recruitment agent while Aboud was in communication with the two and was allegedly directing them to meet their recruiters for radicalisation and training.
Ndirangu said he required the 30 days to have sufficient time to submit the suspects' phones to Cyber Crime Unit for analysis.
Full report at:
https://www.the-star.co.ke/news/2018/09/26/court-allows-police-to-detain-al-shabaab-suspects-for-30-days_c1825621
--------
Boko Haram in nine gun trucks attack community, repelled by soldiers – Official
September 27, 2018
The Nigerian Army inflicted heavy casualty on Boko Haram when they attacked Garshigar community of Mobar Local Government Area in Borno on Wednesday, an official said.
Texas Chukwu, Army Director of Public Relations, disclosed this in a statement released on Thursday in Maiduguri.
Mr Chukwu stated that the insurgents, who were in nine gun trucks, were repelled by troops of 145 Battalion deployed for Operation Lafiya Dole following superior power of the vigilant troops.
He added that "preliminary battle damage assessment reveals that the overwhelming superior power of the troops devastated the insurgents, inflicting human and equipment casualty on the insurgents which forced them to withdraw in disarray."
The director said that the gallant troops regrouped after the fierce encounter and dominated the general area of Garshigar and its environs with fighting patrols.
Full report at:
https://www.premiumtimesng.com/news/headlines/286686-boko-haram-in-nine-gun-trucks-attack-community-repelled-by-soldiers-official.html
--------
Southeast Asia
Most Indonesian Muslims Opposed to Non-Muslims in Political Leadership: Survey
September 24, 2018
Jakarta. Most Indonesian Muslims do not want non-Muslims in leadership positions in government, which points to rising political intolerance in the country, a survey showed on Monday (24/09).
The survey by the Indonesian Survey Institute (LSI) focused on public perception on democracy, corruption and intolerance in the country. The LSI interviewed 1,520 respondents who were eligible to vote at the time of survey, and found that there was an increase in political intolerance among Indonesian Muslims between 2016 and 2018.
The LSI measured political intolerance by evaluating Muslim respondents' support for non-Muslim candidates running for office, including president, vice president, governors and mayors.
In 2016 for example, 48 percent of respondents said they opposed having a non-Muslim president. By 2018, this proportion increased to 59 percent. The survey had a margin of error of 2.6 percentage points and a 95 percent level of confidence.
According to LSI senior researcher Burhanuddin Muhtadi, political intolerance has consolidated after the divisive campaign during the 2017 Jakarta gubernatorial election.
"Some academics claim that the demonstrations against Ahok were the peak of radicalism [in the country], but empirical data shows something different… What we have found is that those events still have an impact even today," Burhanuddin said, referring to former Jakarta Governor Basuki Tjahaja Purnama.
Ahok, an ethnic Chinese Christian, was convicted on a charge of blasphemy and sentenced to two years' imprisonment in May last year.
A movement emerged from the Islamic opposition to Ahok in late 2016, after a doctored version of the former governor's speech, in which he made a reference to a Koranic verse about voting for non-Muslims, went viral and gave way to mass demonstrations against him, which eventually resulted in the blasphemy charge.
Burnahuddin said the demonstrations, including the so-called "212" rally in Central Jakarta in December 2016, opened the door for intolerance in Indonesia.
The LSI also measured intolerance from religious and cultural perspectives, and found that while most Muslims did not mind other religious events in their neighborhoods, 52 percent were opposed to having non-Muslims build places of worship in their areas. --------
The institute said a declining trend in religious and cultural intolerance, which had been observed since 2010, ended last year.
Tyranny of the Majority
The LSI survey also showed a high number of instances of intolerance among majority groups in any given community, whether they are Muslim or non-Muslim.
In cases where Muslims perceive themselves as the majority, they scored 54.2 on a scale of 0-100, where a higher score indicates more intolerance. In contrast, when Muslims feel they are not part of the majority, the score drops to 41.2. The LSI observed the same trend among non-Muslims, who scored 19.2 when they feel a part of the majority, but only 3.8 when not.
Burnahuddin said this indicates the problem of majority privilege.
"There is an issue in which Muslims are more intolerant, yes, but one of the drivers is the sense of being part of the majority means you must be treated better," he said.
Despite rising intolerance across the archipelago, Wahid Foundation executive director Yenny Wahid said Indonesia is not the only country where this trend can be observed.
"This trend is not exclusive to Indonesia, it's happening across the world. It shows the tyranny of the majority," Yenny said.
She emphasized the importance of remembering what unites Indonesians, and that intolerance should be resolved through collaboration, especially with next year's presidential and legislative elections just around the corner.
Yenny said the two presidential candidates' election campaigns will once again raise the issue of religion.
President Joko "Jokowi" Widodo and Gerindra Party chairman Prabowo Subianto, along with their respective running mates, Ma'ruf Amin and Sandiaga Uno, kicked off their campaigns in Jakarta on Sunday by signing a peace pledge, which seeks to curb spread of fake news and hate speech during the campaigning period.
Yenny pointed out that Indonesians are not united because of one ethnicity, religion or language, like in some countries.
"We are united by the spirit of a nation, of wanting to be independent, free from colonizers; a country that brings justice and prosperity to its people. This is what unites us, and if it starts to fade away, what will become of us? For me, this is the problem we face today," Yenny said.
https://jakartaglobe.id/news/most-indonesian-muslims-opposed-to-non-muslims-in-political-leadership-survey/
--------
Iran's Rouhani, Malaysia's Mahathir Underscore Closer Tehran-Kuala Lumpur Ties
September, 26, 2018
Speaking in a meeting with the Prime Minister of Malaysia Mahathir Bin Mohamad on Wednesday in New York on the sideline of the UN General Assembly session, Rouhani hailed the steps taken to cement relations between the two countries in different fields such as energy, joint ventures, and scientific cooperation.
"We should work to further deepen these relations in other fields, such as trade and economy, communications, railways and ports, agriculture and industry," he said.
He described Iranians living in Malaysia a great asset to develop relations between the two countries.
Referring to the illegal withdrawal of the United States from the Joint Comprehensive Plan of Action (JCPOA) and the imposition of cruel sanctions against the Iranian nation, the president pointed out, "In such a situation, friendly countries are duty-bound to stand up to the unilateralism of the US to dismantle these sanctions."
"Iran welcomes the presence of Malaysian companies to participate and invest in their projects," continued Rouhani, adding, "The will and seriousness of high ranking Iranian and Malaysian authorities for the full development of relations and cooperation are among the most valuable assets in the relations between the two countries".
He also went on to say, "The two countries can increase interaction and consultation on various regional and international issues to have more effective role in these fields".
"Today, in many Islamic countries, including Palestine and Yemen, we are witnessing great problems and disasters against human beings," the president said, referring to the need for all countries to cooperate and engage seriously in the fight against terrorism and extremism in the world, especially in the World of Islam.
Malaysia's Prime Minister Mahathir Mohammad also referred to the positive and growing ties and cooperation between the two countries in different sectors, emphasizing efforts to develop and strengthen relations between them, especially in the field of trade and investment.
The Malaysian Prime Minister described US sanctions against the Iranian nation illegal and added, "We need to pursue strategies for deepening bilateral relations so that sanctions are ineffective by developing more cooperation and interaction".
Full report at:
https://www.tasnimnews.com/en/news/2018/09/26/1838306/iran-s-rouhani-malaysia-s-mahathir-underscore-closer-tehran-kuala-lumpur-ties
--------
'Islamic countries' coop. in fighting violence, terrorism beneficial for global stability'
Sep 27, 2018
According to the official website of Iranian presidency, in a meeting with the Prime Minister of Malaysia Mahathir Bin Mohamad on Wednesday in New York, President Hassan Rouhani hailed the steps taken to cement relations between the two countries in different fields such as energy, joint ventures, and scientific cooperation.
He said "we should work to further deepen these relations in other fields, such as trade and economy, communications, railways and ports, agriculture and industry."
He described Iranians living in Malaysia a great asset to develop relations between the two countries.
Referring to the illegal withdrawal of the United States from the Joint Comprehensive Plan of Action (JCPOA) and the imposition of cruel sanctions against the Iranian nation, the president pointed out "in such a situation, friendly countries are duty-bound to stand up to the unilateralism of the US to dismantle these sanctions.
"Iran welcomes the presence of Malaysian companies to participate and invest in their projects," continued Rouhani, adding "the will and seriousness of high ranking Iranian and Malaysian authorities for the full development of relations and cooperation are among the most valuable assets in the relations between the two countries."
He also went on to say, "the two countries can increase interaction and consultation on various regional and international issues to have more effective role in these fields".
"Today, in many Islamic countries, including Palestine and Yemen, we are witnessing great problems and disasters against human beings," the president said, referring to the need for all countries to cooperate and engage seriously in the fight against terrorism and extremism in the world, especially in the World of Islam.
Malaysia's Prime Minister Mahathir Mohammad also referred to the positive and growing ties and cooperation between the two countries in different sectors, emphasizing efforts to develop and strengthen relations between them, especially in the field of trade and investment.
The Malaysian Prime Minister described US sanctions against the Iranian nation illegal and added "we need to pursue strategies for deepening bilateral relations so that sanctions are ineffective by developing more cooperation and interaction."
Full report at:
https://en.mehrnews.com/news/138112/Islamic-countries-coop-in-fighting-violence-terrorism-beneficial
--------
Jokowi more religious than Prabowo: Survey
Nurul Fitri Ramadhani
September 27, 2018
A recent survey has revealed that President Joko "Jokowi" Widodo is considered to be more religious than his challenger in the 2019 presidential election, Prabowo Subianto.
A survey commissioned by Indikator Politik Indonesia polled 1,220 respondents from Sept. 1 to 6, asking them about their views on the two presidential candidates.
In terms of personal branding, 76 percent of the respondents consider Jokowi to be religious and pious, while 58 percent say Prabowo is religious and pious.
"Jokowi has, since last year, successfully portrayed himself as a religious person. He has frequently visited ulama, kyai [religious teachers] and religious figures across the country," Indikator executive director Burhanuddin Muhtadi said on Wednesday.
Since early last year, Jokowi has made many visits to Islamic boarding schools, mostly across Java, and met with senior religious figures from various Muslim groups in different regions.
In April, Jokowi also invited representatives of the self-proclaimed 212 Rally Alumni group, which comprises groups and activists who participated in nonviolent protests in 2016 to call for the prosecution of then-Jakarta governor Basuki "Ahok" Tjahaja Purnama, an ally of Jokowi, over blasphemy.
Burhanuddin said Jokowi's running mate Ma'ruf Amin, a prominent Muslim cleric, also contributed to the newfound religious branding, though it was not the main factor.
Eighty-two percent of respondents said Ma'ruf was religious and pious, while 63 percent said the same for Prabowo's running mate, Sandiaga Uno.
Jokowi has been labeled as anti-Islam and pro-communist by hard-line groups, while Prabowo is portrayed as pro-Islam because he is a longtime ally of the Islam-based Prosperous Justice Party (PKS) and close to the Muslim conservative groups that were behind the 212 rally.
Burhanuddin said Jokowi and Prabowo represented different Muslim blocks with different perspectives.
"For example, PAN [National Mandate Party] and PKS [Prosperous Justice Party] represent modernist Muslim groups. That's why such groups throw support behind Prabowo," he said.
Indonesian Democratic Party of Struggle (PDI-P) senior politician Maruarar Sirait acknowledged that the anti-Islam image associated with Jokowi was of concern for the Jokowi camp, saying that the decision to pair Jokowi with Ma'ruf, an influential Muslim cleric, was a way to address the issue.
Full report at:
http://www.thejakartapost.com/news/2018/09/27/jokowi-more-religious-than-prabowo-survey.html
--------
Corruption, Intolerance Threaten Indonesia's Democracy
September 26, 2018
Jakarta. Indonesia's democracy is facing a crisis amid endemic corruption and rising intolerance, according to the result of a new survey, released this week.
The survey by the Indonesian Survey Institute (LSI), conducted across the country in August, focused on the public's perception of democracy, corruption and intolerance. The LSI interviewed 1,520 respondents who were eligible to vote at the time of survey, and found that an overwhelming majority supports democracy.
More than 70 percent of respondents indicated that they were satisfied with democratic progress in the country, while 83 percent said they consider democracy as the best system of governance, compared with 76 percent last year.
Although most Indonesians said they were against corruption, a handful said it was acceptable. According to the survey, 27 percent of Indonesians consider gratuities as normal, while 37 percent did not have a problem with collusion or nepotism.
"Why has our democracy stagnated? Despite the support for democracy among voters, there's also an attitude of acceptance of corruption … [they say] yes to democracy and yes to corruption – that's why our democracy cannot progress," LSI senior researcher Burhanuddin Muhtadi, said during the release of the report in Jakarta on Monday (24/09).
The LSI further found that political intolerance increased between 2016 and 2018 among Indonesian Muslims, who make up 87 percent of the country's population of around 260 million.
The institute measured political intolerance by evaluating Muslim respondents' support for non-Muslim candidates running for office. Across various leadership positions – from president and deputy president to governor and mayor – Muslims said they are opposed to having non-Muslims in such positions.
Cultural Aspect of Corruption
Indonesia Corruption Watch coordinator Adnan Topan Husodo said systemic corruption in the country often results in anti-corruption activists becoming victims.
He cited the case involving senior Corruption Eradication Commission (KPK) investigator Novel Baswedan, who was the victim of a brutal acid attack in April 2017, which resulted in him losing part of his sight. Despite an ongoing police investigation, the case remains unsolved more than a year after the incident.
"Corruption in Indonesia is a social trap. Those who oppose the practice often become victims themselves," Adnan said.
He added that Novel's case illustrates a powerful disincentive for people who want to fight against corruption.
He also noted that nearly 2,500 civil servants in the country have remained in their positions even after the courts had found them guilty of corruption. Adnan added that were even promoted.
"The current system has yet to create disincentives for corruptors. We need to think of ways to tackle this," he said.
Yenny Wahid, executive director of the Wahid Foundation, said the problem of corruption in Indonesia is rooted deeply in a culture of patronage.
She explained that the relationship between officials and members of the public extends beyond politics, and that it is often more personal, which opens the door for corruption.
"There's [also] a huge gap between the authorities and the people, and we have to make sure that our attitudes are not limited to simply respecting these officials because of their positions, but also evaluating the quality of the people in power," Yenny said.
LSI researcher Burhanuddin echoed this sentiment, saying that the cultural aspect poses a problem in the eradication of corruption in the country.
Full report at:
https://jakartaglobe.id/news/corruption-intolerance-threaten-indonesias-democracy/
--------
Mideast
Rouhani: Takfiri Terrorism, ISIL Greatest Danger To Islam's Peaceful Face
26 September 2018
In a meeting held late on Tuesday in New York with a group of leaders of American Muslim communities, Rouhani said, "you have an important role in familiarizing Muslim people, especially young people, who are under propaganda of enemies and ignorant friends, with the true culture of Islam."
Pointing out regional achievements in combating terrorists, and in particular ISIL and al-Nusra Front, president said, "today, there is more security in Syria, but there are still many problems. All we are trying to do is to restore full security to Syria so that the Syrian refugees can return to their country."
Rouhani highlighted Takfiri terrorism as the greatest danger to Islam's peaceful face, and stated, "ISIL's crime has not been just killing people; they did not only oppress the people of the region by their actions, but they also beheaded the beliefs of peoples in Islam and religion."
He added, "the future of Syria must be determined by the Syrians and by the people's vote and elections," adding that Iran's role in driving out terrorist groups from Syria has been very significant.
https://en.mehrnews.com/news/138092/Takfiri-terrorism-ISIL-greatest-danger-to-Islam-s-peaceful-face
--------
After Idlib deal, Turkey sets sight on Kurdish-held areas
Fehim Tastekin
September 26, 2018
Having struck a deal with Russia that deferred a regime offensive on Idlib, Turkish President Recep Tayyip Erdogan has again set his sights on Kurdish-controlled areas in northern Syria. In Sept. 23 speeches at gatherings organized by Turkish-American groups in New York, where he is attending the UN General Assembly summit, Erdogan raised the specter of a Turkish military intervention on the eastern side of the Euphrates River, where US-backed Kurds hold sway. "We will increase the number of secure zones inside Syria in the coming period, encompassing the east of the Euphrates," he said in one speech. Then, referring to earlier Turkish operations in the region, he told another gathering that Turkey "will take steps similar to the Euphrates Shield and Olive Branch operations in the east of the Euphrates as well."
The first area in Turkish crosshairs appears to be Tell Abyad, which lies between the Kurdish-dominated Jazeera and Kobani cantons. Another relatively easy target for Turkey is Ras al-Ayn, a region to the east of Tell Abyad that was the scene of clashes between the Kurdish People's Protection Units (YPG) and Syrian rebels sneaking via Turkey's border town of Ceylanpinar after the Kurds took control of the area in July 2012.
In Tell Abyad, the Arab population is relatively larger than the Kurds, while in Ras al-Ayn the two ethnic groups are roughly equal. In September 2012, Tell Abyad was seized by Jabhat al-Nusra, Ahrar al-Sham, the Tawhid Brigade and al-Furqan Brigades, but following a rift between the al-Qaeda-linked groups, it fell into the hands of the Islamic State in January 2014. When the YPG and its Arab allies ousted IS from Tell Abyad the following year, Turkey accused the Kurds of ethnic cleansing in Arab and Turkmen villages. A disputed report by Amnesty International included similar claims.
Later, when Ankara sought to dissuade Washington from collaborating with the YPG in the liberation of Raqqa, its alternative plan involved 10,000 fighters from the Free Syrian Army marching on Raqqa with Turkish military support on a route from Tell Abyad via Ayn Issa to Raqqa. The plan was meant to halt US support for the Kurds, but also to allow the Turkish military to cut the connection between the Kobani and Jazeera cantons.
The reason Erdogan cites for a potential new operation is to prevent "a terror corridor" in the area — a justification that has never changed since the YPG, which Ankara considers a terrorist group, seized Tell Abyad to secure a link between Kobani and Jazeera in 2015. In his remarks in New York, Erdogan reiterated the argument, saying that Turkey took control of Jarablus, al-Bab and Afrin to "not let [the region] become a terror corridor." Referring to US support for the Kurds, he added, "Unfortunately, our strategic partners are taking different steps. Unfortunately, 18,000 trucks full of weapons and ammunition have been sent to this region, in addition to 3,000 cargo planes."
An intervention in Tell Abyad could be relatively easy to sell to the Turkish public, using the arguments of thwarting the terror corridor and securing the return of Arabs and Turkmens who have been subjected to ethnic cleansing.
Beyond the rhetoric, there is some military movement on the ground. Both Syrian Kurdish sources and Turkish media outlets close to the government have reported a military buildup in the Turkish border town of Akcakale, which is facing Tell Abyad. In its coverage of Erdogan's remarks in New York, the Turkish daily Takvim reported, "Now that the Idlib issue is on a settlement course, Ankara's attention has shifted back to the east of the Euphrates. The button has been pressed in this regard. Military units along the border have been reinforced. The initial intervention, we have learned, will target Tell Abyad, Kobani, Qamishli and Ras al-Ayn." The Hawar news agency, meanwhile, reported the presence of hundreds of military vehicles and heavy weapons on the Turkish side of the border.
Salih Muslim, a prominent Syrian Kurd who until recently headed the political arm of the YPG, did not rule out a Turkish offensive. "Turkey is making a [military] buildup on the border. It wants to make some move, but the conjuncture is not favorable. Of course, it needs to get rid of [the issue of] Idlib first," he told Al-Monitor. "We cannot say whether the United States will deter [Turkey]; you have to ask them. We rely on our own strength; no one has given us assurances of protection."
How Erdogan's pressure plays out will depend largely on Russia and the United States. Though Russia had greenlit Turkey's march on Afrin, it is too early to speculate how it will view a Turkish move east of the Euphrates. Having said that, Russia's two key reasons to facilitate things for Turkey in Afrin are still valid. The first is to ensure Turkey's continued cooperation in the Astana framework. Second, the Turkish threat comes in handy for Russia in efforts to draw the Kurds away from the United States and force them into a compromise with Damascus. The only caveat for Russia here is that Turkey might become too involved in the equation, to an extent that would allow it to impose its demands. This is a reason for alarm in Damascus as well.
The lack of tangible progress in two rounds of talks between the Kurdish-led Syrian Democratic Council (SDC) and Damascus, coupled with Kurdish moves to extend the self-rule project to northeastern Syria, seems to be pushing Russia to take a more explicit position on the issue. In an important signal to that effect, Russian Foreign Minister Sergey Lavrov said Sept. 21, "The main threat to Syria's territorial integrity comes from the eastern bank of the Euphrates, where independent and autonomous entities are being created under US control. We will insist this unlawful activity should be brought to an end."
The Turkish service of Russia's Sputnik network, meanwhile, reported that the American military presence in Syria had reached 25 bases and 5,000 troops. In remarks backing up the report, Gelo Isa, a senior SDC member, told Sputnik, "The United States is increasing its military presence in Syria. It is setting up new bases and expanding [existing ones]. The United States will stay long in Syria."
The Americans are also present in the corridor that Turkey wants to dismantle, including in Deriq, Rmeilan, Kobani, Ayn Issa and Tell Abyad. In 2016, after seizing the area from Jarablus to al-Bab, Turkey had to put on the brakes at Manbij, its next target, under US pressure. After protracted negotiations, the United States acquiesced only to joint patrols with Turkey around Manbij and leaving the city to local forces.
Now Turkey is eyeing an even larger intervention. How the United States might agree to such a move remains a mystery, for it would require a major shift in its Syria policy. Without such a shift, Turkey's intervention would amount to an intervention against the American presence as well. In a sharp message that Washington is not yet done in Syria, National Security Adviser John Bolton vowed Sept. 24 that US troops would not leave the country "as long as Iranian troops are outside Iranian borders."
Full report at:
https://www.al-monitor.com/pulse/originals/2018/09/turkey-syria-russia-ankara-sets-sight-on-kurdish-areas.html
--------
Netanyahu says declined UNESCO anti-Semitism conference invitation
27 September 2018
Israeli Prime Minister Benjamin Netanyahu said he had turned down an invitation on Wednesday to a UNESCO conference on anti-Semitism during a visit to New York, over its "egregious bias" against the Jewish state.
Israel withdrew from the United Nations Educational, Scientific and Cultural Organization in 2017, accusing it of adopting anti-Israeli policies, following the lead of the United States.
"While I commend all efforts to combat anti-Semitism, I have decided not to participate in this week's UNESCO conference on anti-Semitism due to the organization's persistent and egregious bias against Israel," Netanyahu said in a statement issued by his office.
The prime minister, who is currently in New York to attend the annual United Nations General Assembly, said that UNESCO "must do more than host a conference on anti-Semitism. It must stop practicing anti-Semitism."
While not directly addressing Netanyahu's no-show at the conference, UNESCO's head said that education was the best way to combat intolerance and discrimination.
"Antisemitism undermines fundamental rights in general," the organization's director-general Audrey Azoulay said at the conference.
Full report at:
https://english.alarabiya.net/en/News/middle-east/2018/09/27/Netanyahu-says-declined-UNESCO-anti-Semitism-conference-invitation-.html
--------
Kuwait: Houthi militias threaten international borders with Iran missiles
26 September 2018
Kuwait's Foreign Minister has asked the United Nations Security Council on Wednesday to take actions to stop Houthi militias from threatening international borders.
Kuwait said that the Houthi militias use of Iranian missiles targeting Saudi territories and international waters was a threat that needed to stop.
https://english.alarabiya.net/en/News/gulf/2018/09/26/Kuwait-Houthi-militias-threaten-international-borders-with-Iran-missiles.html
--------
UN investigators demand probe into 'extremely alarming' situation in Yemen
Sep 26, 2018
War crimes investigators have called on the UN Human Rights Council to provide them with the opportunity to continue a probe into the "extremely alarming" situation in Yemen, irrespective of resistance from Saudi Arabia and a number of its allies that are involved in an atrocious military campaign against the impoverished Arab country.
The investigators, appointed by the United Nations' top human rights body last year, presented a report on Wednesday, which concluded that all sides may have committed "war crimes" in the three-year-old conflict raging across Yemen.
Kamel Jendoubi, who heads the so-called Group of Independent Eminent International and Regional Experts, insisted that "in light of the gravity of the situation and the limited time given to the mandate, additional investigations are needed."
"The situation in Yemen continues to be extremely alarming. We call upon you to keep the situation in Yemen at the top of the priorities of the Council," Jendoubi said.
He also urged diplomats to "unanimously" adopt a resolution led by a group of European countries and Canada, calling for a one-year extension.
This, Jendoubi said, was necessary "to ensure that truth is revealed and accountability is attained."
Observers argue that Saudi Arabia, which launched a devastating military campaign with a number of its regional allies against Yemen in March 2015 with the aim of bringing the government of Yemen's former president Abd Rabbuh Mansur Hadi back to power and crushing the country's popular Houthi Ansarullah movement, is actively working to quash the international probe.
Last week, Human Rights Watch criticized the Riyadh regime's "campaign to discredit and undermine a UN investigation into abuses by all Yemen's warring parties," calling it "yet another blatant attempt to avoid scrutiny of the coalition's own actions in Yemen."
Some 15,000 Yemenis have been killed and thousands more injured since the onset of the Saudi-led aggression.
Full report at:
https://www.presstv.com/Detail/2018/09/26/575295/UN-probe-war-Yemen-Saudi-Arabia-
--------
At UN speech, Turkey's Erdogan slams use of economic sanctions as 'weapons'
Sep 26, 2018
Turkish President Recep Tayyip Erdogan has used his address to the United Nations General Assembly to criticize the use of sanctions as "weapons" against countries in an implicit reference to the United States.
"None of us can remain silent to the arbitrary cancellation of commercial agreements and the use of economic sanctions as weapons," Erdogan told the 73rd session of the General Assembly in New York on Tuesday.
The Turkish leader also warned of the repercussions of "unilateral decisions" for the entire world.
"The negative effects of these twisted developments will eventually affect all countries. We must all work together to prevent damage to the world trade regime as a result of such unilateral decisions," he said.
Erdogan further underlined the need for joint cooperation "to achieve the United Nations 2030 Sustainable Development Goals" and avoid a "new economic rupture."
The remarks come amid a widening rift between Turkey and the US over Ankara's imprisonment of American pastor Andrew Brunson.
He has been accused of having links with the outlawed Kurdistan Workers' Party (PKK) and the movement of US-based opposition cleric Fetullah Gulen, which Turkey blames for the 2016 failed military coup.
The US has called for Brunson's release and taken a series of punitive measures against Turkey over the continued detainment of the evangelical Christian pastor.
The US measures, which include imposing sanctions on Turkish ministers and doubling of steel and aluminum tariffs, have led to a sharp decline in the Turkish currency. Turkey has retaliated by raising tariffs on certain US imports.
"Today, some countries are persistently trying to create chaos. We are in favor of solving our problems through conducting a constructive dialogue on equal terms," Erdogan said.
'Syria should become peaceful once again'
Elsewhere in his address, the Turkish president pointed to his country's diplomatic efforts aimed at ending the crisis in Syria.
"By means of both our support to the Geneva and Astana Processes and the safe zones,...we try to make Syria a peaceful country once again. By clearing the Jarabulus and al-Rai regions from Daesh, and Afrin region from PKK-PYD-YPG terrorist organizations, we have turned an area of 4 thousand kilometers into a safe and peaceful place for millions of Syrians," he said.
Turkey has been serving – along with Iran and Russia – as a mediator in the Astana process since January 2017.
Erdogan also called on all the parties to the Syria crisis to support a just and sustainable political solution to the conflict gripping the Arab country.
"Those who equip terrorists with tens of thousands of trucks and thousands of cargo planes loaded with arms for the sake of their tactical interests will most definitely feel sorrow in the future," he added.
The US and Turkey have also been at odds over Washington's policy of backing Kurdish militants in Syria.
'Turkey will continue to support Palestinians'
Referring to the Palestine issue, Erdogan accused the UN Security Council of standing idle amid the Israeli massacre of the Palestinian people.
"The massacres in Bosnia, Rwanda, Somalia, recently in Myanmar, and in Palestine as we speak have all taken place before the eyes of the United Nations Security Council," he said, vowing to stand by the Palestinians.
"Those who remain silent against the oppression of the Palestinians, who reduce the humanitarian assistance to them, are only increasing the courage of the oppressors," Erdogan pointed out. "Even if the whole world turns its back, we, Turkey, will continue to be on the side of the oppressed Palestinians and will protect the historical and legal status of… Jerusalem (al-Quds)," he added.
Full report at:
https://www.presstv.com/Detail/2018/09/26/575249/Turkey-Tayyip-Erdogan-sanctions
--------
North America
Facebook glitch told user anti-Muslim posts were removed when they were not
Sep 27, 2018
Facebook reportedly told a user that it had removed hate speech she reported when it had not.
According to the BBC, a Facebook user by the name of Janet (the U.K. news organization did not publish her last name for privacy reasons) had reported posts in a group with 54,000 members named "LARGEST GROUP EVER! We need 10000000 members to Make America Great Again!"
"Facebook has been promoting themselves in my Newsfeed saying they are trying to keep our democracy safe by eliminating content that is false and divisive," Janet told the BBC.
The user, who lives in Las Vegas, reported the group for anti-Muslim and anti-immigrant posts. After reporting them, Janet received a message that said: "We removed both the group and all its posts, including the one you reported."
But that was not the case.
Facebook told the BBC that it is looking into a potential glitch in its content moderation system. The error reportedly sends users a message saying content has been removed even though moderators have deemed it permissible on the social network.
"We are investigating this issue, and will share more information as soon as we can," Facebook told the BBC.
Fox News reached out to Facebook for comment on this issue.
"If they are sending me notices they removed the content and offensive groups but in reality are not, doesn't this go against what they say in public or to Congress?" Janet added.
Facebook, along with Twitter and Google, has been under intense scrutiny over the last year for its policies around content moderation and removal. Mark Zuckerberg's company has been accused of censoring conservatives, censoring liberals and not doing enough to protect the people it hires to monitor the deluge of content posted to the platform.
http://www.foxnews.com/tech/2018/09/26/facebook-glitch-told-user-anti-muslim-posts-were-removed-when-were-not.html
--------
Trump says he wants two-state solution for Mideast conflict
September 27, 2018
US President Donald Trump said on Wednesday he wanted a two-state solution to resolve the Israeli-Palestinian conflict, the clearest expression yet of his administration's support for such an outcome.
The Trump administration has in the past said it would support a two-state solution if both sides agreed to it.
Trump, in a meeting with Israeli Prime Minister Benjamin Netanyahu at the United Nations General Assembly, also said he wanted to unveil a peace plan in the next two to three months.
"I like a two-state solution. That's what I think works best ... That's my feeling," said Trump.
Netanyahu has said any future Palestinian state must be demilitarized and must recognize Israel as the state of the Jewish people - conditions that Palestinians say show he is not sincere about peacemaking.
The United States' Arab allies are strong proponents of a two-state solution.
At a news conference in New York later on Wednesday, Trump said he would be open to a one-state solution if that was the preference of the parties themselves, a position he has previously stated.
"If the Israelis and the Palestinians want one state, that's OK with me. If they want two states, that's OK with me," he said. "I'm happy if they're happy."
Doubts have mounted over whether Trump's administration can secure what he has called the "ultimate deal" since December when the US president recognized Jerusalem as Israel's capital and then moved the US Embassy there.
Trump said "it is a dream of mine" to secure an agreement before the end of his term in office, which ends in early 2021.
"I don't want to do it in my second term. We'll do other things in my second term," he said. "I think a lot of progress has been made."
Netanyahu said after meeting Trump he was "not surprised" at the US president's preference for a two-state solution for peace with the Palestinians, Israeli media reports said.
Jerusalem is one of the major issues in the Israeli-Palestinian conflict. Both sides claim it as a capital. Trump's move outraged the Palestinians, who have since boycotted Washington's peace efforts, led by Trump's son-in-law and adviser, Jared Kushner.
The Palestinians want to establish a state in the West Bank and the Gaza Strip and East Jerusalem. Israel captured those territories in the 1967 Middle East war and annexed East Jerusalem in a move not recognized internationally. It regards all of the city as its eternal and indivisible capital.
Nabil Abu Rdainah, a spokesman for Palestinian President Mahmoud Abbas, said: "The two-state solution means to us that we have a Palestinian state on the 1967 borders, with East Jerusalem as its capital. This is the only way to achieve peace."
Rdainah said the Palestinians wanted to resolve all the core issues of the Israeli-Palestinian conflict - which include borders, settlements, refugees, security and the status of Jerusalem - "according to United Nations resolutions."
Rdainah, speaking in Ramallah in the occupied West Bank, refused to be drawn further, saying Abbas would make the Palestinian position clear in his speech to the General Assembly on Thursday.
Full report at:
https://nation.com.pk/27-Sep-2018/trump-says-he-wants-two-state-solution-for-mideast-conflict
--------
Trump claims credit for stopping assault on Syria's Idlib
27 September 2018
President Donald Trump on Wednesday claimed credit for saving Syria's rebel-held province of Idlib from an assault that would have "killed millions of people" and "would have been a shame."
Trump told a news conference in New York that he gave the order "don't let it happen" to his secretary of state and national security advisor and: "It stopped."
Russia and Turkey agreed during a summit meeting in the Black Sea resort city of Sochi on September 17 to set up a buffer zone in Idlib aimed at preventing a military assault.
Syria, which has received vital military support from Russia and Iran, had said that it planned to seize Idlib, the last major rebel stronghold in the seven-year war.
The Russia-Turkey deal was agreed following warnings that an all-out military offensive would trigger a bloodbath in the province of three million people.
"Nobody's going to give me credit but that's okay," Trump said. "That's okay because the people know."
"Millions of people have been saved," he added.
Trump said he first heard of the looming assault on Idlib from a Syrian woman who warned of the planned attack during a meeting during which she expressed concern for her sister living there.
"I didn't hear of Idlib province," said Trump, who added that he later read about the planned attack in a New York Times article.
"I said that's the same story the woman told me that I found hard to believe because how would anyone do that with three million people?"
"I think millions of people would've been killed, that would have been a shame."
Trump acknowledged that there could still be "selective" targets in Syria for military action but no large-scale operation.
Iran, Russia and Syria deserve credit "for not doing it," said Trump, adding that Turkey, which backs some armed groups, was also "a big help."
Full report at:
https://english.alarabiya.net/en/News/middle-east/2018/09/27/Trump-claims-credit-for-stopping-assault-on-Syria-s-Idlib-.html
--------
Trump tells Security Council: US will ensure Iran never acquires nuclear bomb
26 September 2018
US President Donald Trump on Wednesday denounced Iran's increasingly aggressive attitude at the United Nations Security Council despite signing an agreement in 2015 to clamp down on its nuclear program.
"In the years following the signing of the agreement, Iran's aggression has only increased," Trump told the Security Council.
Trump, who withdrew from the agreement, promised that US sanctions would be "fully" in force in early November.
Full report at:
https://english.alarabiya.net/en/News/world/2018/09/26/Trump-tells-Security-Council-US-will-ensure-Iran-never-acquires-nuclear-bomb.html
--------
Trump to unveil Middle East peace plan within four months
September 26, 2018
UNITED NATIONS: US President Donald Trump said on Wednesday he wanted a two-state solution to resolve the Israeli-Palestinian conflict, for the first time since taking office.
Trump, in a meeting with Israeli Prime Minister Benjamin Netanyahu at the United Nations, also said he wanted to unveil a peace plan in the next two to three months.
"It is a dream of mine to get that done prior to the end of my first term," Trump said.
He has previously been vague on the topic, suggesting that he would support whatever the parties might agree to, including possibly a one-state resolution, which might see the Palestinian territories become part of Israel.
"I like (a) two-state solution," Trump said as he posed for photographs with Netanyahu. "That's what I think works best. That's my feeling. Now you may have a different feeling. I don't think so. But I think two-state solution works best."
The president added that his much anticipated but still unreleased Mideast peace plan could be presented in the next two to four months but was not specific as to timing, according to the Associated Press.
A senior Palestinian official rejected Trump's comments in support of a two-state solution, saying his White House's policies were destroying hopes of peace.
"Their words go against their actions and their action is absolutely clear (and) is destroying the possibility of the two-state solution," Husam Zomlot, head of the recently closed Palestinian mission in Washington, told AFP.
He added that Trump's comments alone were not enough to bring the Palestinians back to the negotiating table.
Trump has been heavily criticized by the Palestinians for a series of moves that they say show distinct bias toward Israel, starting with his recognition last year of Jerusalem as Israel's capital. The Palestinians also claim the holy city as the capital of an eventual state. Earlier this year, Trump followed up on the recognition by moving the US Embassy in Israel from Tel Aviv to Jerusalem, a step that was widely protested by Palestinians and others in the Arab world.
His administration has also slashed aid to the Palestinians by hundreds of millions of dollars and ended US support for the UN agency that helps Palestinian refugees.
Trump and his national security team have defended their position, saying that decades of attempts to forge Israeli-Palestinian peace have failed.
He said Wednesday that the embassy move would actually help peace efforts by recognizing the reality that Israel identifies Jerusalem as its capital. But, he added that Israel would have to make concessions to the Palestinians in any negotiations.
"Israel got the first chip and it's a big one," Trump said. "By taking off the table the embassy moving to Jerusalem, that was always the primary ingredient as to why deals couldn't get done. Now that's off the table. Now, that will also mean that Israel will have to do something that is good for the other side."
Netanyahu thanked Trump for his support, his decision to withdraw from the Iran nuclear deal and said US-Israel relations have never been better than under his administration. On Tuesday, Trump attacked Iran in his annual address to the UN General Assembly, accusing its leaders of corruption and spreading chaos throughout the Middle East and beyond. He also vowed to continue to impose sanctions on Iran.
Full report at:
http://www.arabnews.com/node/1378321/world
--------
South Asia
Taliban, ISIS militants suffer heavy casualties in Laghman, Kunar provinces
Sep 27 2018
The Taliban and ISIS Khurasan militants suffered heavy causalities during the airstrikes and clashes in eastern Kunar and Laghman provinces.
The 201st Silab Corps of the Afghan Military in the East in a statement said the U.S. forces carried out airstrikes using unmanned aerial vehicles, targeting the ISIS militants in Pecha Dara and Suki district.
The statement further added that 8 ISIS militants were killed during the airstrike in Karangal area of Pech Dara district and 6 others were killed in Dewa Gul area of Suki district.
In the meantime, the 201st Silab Corps said the Afghan armed forces carried out artillery strikes against the militants in Alingar district of Laghman province, leaving at least 4 militants dead and 6 others wounded.
According to 201st Silab, the artillery strikes were carried out in support of the armed forces who were ambushed by the militants in Alingar district.
The anti-government armed militant groups including Taliban and ISIS Khurasan loyalists have not commented regarding the report so far.
https://www.khaama.com/taliban-isis-militants-suffer-heavy-casualties-in-laghman-kunar-provinces-06041/
--------
Network of Taliban busted in Kabul, 9 Taliban members arrested: NDS
Sep 26 2018
The Afghan Intelligence, National Directorate of Security (NDS), says a network of the Taliban group was busted in Kabul city during the operations of the NDS forces.
According to a statement released by the National Directorate of Security (NDS), at least nine Taliban group members were also arrested during the operations of the NDS forces
The statement further added that the militants were involved in destructive activities, including roadside bombings and target killings of the officials and security personnel.
The detained individuals were also collecting information regarding the security institutions and the activities of the security personnel, NDS added in its statement.
The anti-government armed militant groups including Taliban militants have not commented regarding the report so far.
This comes as the Afghan Intelligence said last week that 26 militants having links with the Islamic State of Iraq and Syria (ISIS) terrorist group were arrested during separate operations.
Full report at:
https://www.khaama.com/network-of-taliban-busted-in-kabul-9-taliban-members-arrested-nds-06039/
--------
Over dozen killed as clash erupts in N Afghanistan
September 27, 2018
SHIBERGHAN - Over a dozen militants and security personnel have been killed as a clash erupted in Faizabad district of northern Afghanistan's Jawzjan province on Tuesday, deputy to provincial police chief Abdul Hafiz Khashi said Wednesday. The clash, according to the official, erupted late Tuesday night after pro-government militia forces attacked Taliban positions in Haider Abad area of Faizabad district late Tuesday night, killing "over a dozen Taliban fighters" on the spot.
Khashi also confirmed that only one pro-government militia lost his life in the firefight. Over a dozen others including six pro-government militia have also been injured in the fighting. The security forces would continue to chase Taliban militants in the restive area to ensure viable peace in Faizabad district and its vicinity, the official contended.
Meanwhile, up to 22 militants have been killed as the government forces have been targeting Taliban positions in Chardara district of the northern Kunduz province since Tuesday, said Abdul Hadi, the deputy to Pamir 20 Corps here on Wednesday.
The government forces, according to the official, have pounded Taliban hideouts and positions in several villages of Chardara district during which six more insurgents sustained injuries.
Without providing information on the casualties of security personnel, the official contended "No civilian has been hurt" in the ongoing operations.
Full report at:
https://nation.com.pk/27-Sep-2018/over-dozen-killed-as-clash-erupts-in-n-afghanistan
--------
Afghanistan, Iran, China back creating terrorist database shared with Russia
Sep 27, 2018
TEHRAN - Afghanistan, India, Iran and China has backed the idea of creating a terrorist groups database shared with Russia, Russian Security Council spokesman Evgeny Anoshin said on Wednesday.
According to the spokesman, the issue was addressed at the multilateral consultations on the Afghan settlement, held in Tehran and participated by the delegations of Russia, Afghanistan, India, Iran and China.
"Participants of the meeting noted the positive significance of the database of terrorist organizations created by the Russian Federal Security Service. They stressed the importance of creating a similar base for all countries participating in today's meeting," Anoshin said.
The spokesman added that the meeting's participants "supported the initiative of Iranian colleagues to create a new mechanism at the level of security councils' secretaries, exchanged views on priority tasks in the Afghan issue."
Russian Security Council Secretary Nikolai Patrushev and Afghan National Security Adviser Hamdullah Mohib discussed prospects for the Russian-Afghan cooperation in the fight against international terrorist organizations and drug trafficking.
Patrushev and Mohib met in Tehran, where they took part in multilateral consultations on the settlement of the situation in Afghanistan. "We are interested in continuing our contacts. We are ready for dialogue in various formats," Patrushev told his counterpart.
IS Syrian Scenario Can Be
Repeated in Afghanistan
Russian Security Council Secretary Nikolai Patrushev on Wednesday warned other participants of multilateral consultations on the Afghan settlement that the Syrian scenario could be repeated in Afghanistan.
"Today we can say that there is a danger of a repeat of this scenario in Afghanistan," Patrushev said, as quoted by his spokesman Evgeny Anoshin.
According to the spokesman, Patrushev noted that activities of the Islamic State terrorist group (IS, banned in Russia) had contributed to deterioration of the situation in Afghanistan, pointing out that back in 2014 nobody considered IS a serious danger to Iraq and Syria.
Militants Can Disrupt
Upcoming Presidential Vote
The high activity of armed groups in Afghanistan can disrupt the upcoming presidential and parliamentary elections in the country, Nikolai Patrushev said on Wednesday.
"The situation in Afghanistan is impacted by the upcoming presidential and parliamentary election, which are at risk of being disrupted due to the high activity of the Taliban movement, the Islamic state terrorist group and its Afghan branch, the so-called Wilayah Khorasan [both banned in Russia]," Patrushev said at multilateral consultations on the Afghan settlement, participated by the delegations of Russia, Afghanistan, India, Iran and China.
The official noted that, according to the estimates of international experts, the Afghan government controlled nearly 40 percent of the country's territory.
"The total number of the Taliban movement's militants opposing the government in Afghanistan is currently estimated at 60,000 people. According to the report of the General Staff of the Afghan National Army, there are nearly 15,000 fighters only in the areas bordering with the Central Asian states," Patrushev said.
He noted the increasing military potential of the Taliban.
"It is necessary to note the increased military potential of the Taliban, particularly, its ability to stage massive and well-prepared attacks on administrative centers of the Afghan provinces ... Taliban's military achievements demonstrate the irrelevance of [Afghan military] leadership's stake on the use of force aimed at forcing the Afghan opposition to hold talks ... One can surely say that this is happening despite the more than 17-year-long US presence in Afghanistan," Patrushev said. The Russian official added that the Taliban had unleashed a full-scale terrorist war against the Afghan authorities and civilian population.
Full report at:
https://nation.com.pk/27-Sep-2018/afghanistan-iran-china-back-creating-terrorist-database-shared-with-russia
--------
President Ghani arrives in Ghazni to review the situation of the province
Sep 27 2018
President Mohammad Ashraf Ghani arrived in southeastern Ghazni province earlier today to review the security situation of the province.
The Office of the President, ARG Palace, in a statement said President Ghani is leading a delegation of high level governmental officials during his visit to Ghazni.
The statement further added that First Lady Rula Ghani is also accompanying President Ghani during his visit to the province.
President Ghani will review the security situation of Ghazni during his visit to the province, ARG Palace added.
He would also meet with the provincial governmental and military officials, religious scholars, influential individuals, school and university lecturers and teachers, women, youths, and members of the civil society.
Full report at:
https://www.khaama.com/president-ghani-arrives-in-ghazni-to-review-the-situation-of-the-province-06042/
--------
NDS forces foil militants bid to carry out explosions in Jalalabad city
Sep 26 2018
The Afghan Intelligence, National Directorate of Security (NDS) forces have foiled the militants bid to carry out a series of explosions in Jalalabd city, the provincial capital of Nangarhar province.
The provincial government media office in a statement said the NDS forces stormed a hideout of the Taliban group in Surkh Rod district and destroyed ten Improvised Explosive Devices.
Citing the information received by the NDS forces, the provincial government further added that the militants were looking to use the Improvised Explosive Devices in a string of explosions in Jalalabd city.
The statement by the provincial government also added that operations are underway to arrest the militants involved in the attack plan.
Taliban and other militants often use IED as the weapon of their choice to target the security forces and government but in majority of such attacks ordinary civilians are targeted, besides such attacks often claims the lives of the militants as well.
The UN Assistance Mission in Afghanistan (UNAMA) in its latest report stated that 1,692 civilians were killed in the first six months of 2018.
According to UNAMA, the use of improvised explosive devices (IEDs) in attacks by Anti-Government Elements remained the leading cause of civilian casualties.
Full report at:
https://www.khaama.com/nds-forces-foil-militants-bid-to-carry-out-explosions-in-jalalabad-city-06036/
--------
URL: https://www.newageislam.com/islamic-world-news/pakistan-council-islamic-ideology-backs/d/116504
New Age Islam, Islam Online, Islamic Website, African Muslim News, Arab World News, South Asia News, Indian Muslim News, World Muslim News, Women in Islam, Islamic Feminism, Arab Women, Women In Arab, Islamophobia in America, Muslim Women in West, Islam Women and Feminism