New Age Islam News Bureau
22 Sept 2017
Chinese authorities have blocked "Islamophobic" terms used by Chinese internet users to --stigmatise Muslims to prevent bias against Islam
----
• Pakistan Army Pushed Political Role for Militant-Linked Groups
• China Bans 'Islamophobic Terms' From Social Media
• India Slams Pakistan at UN, Calls It 'Terroristan'
• Meet In Geneva Highlights 'Enforced Disappearances' In Iran
• Buddhist Protesters Block Aid to Muslim Rohingya
Pakistan
• Pakistan Army Pushed Political Role for Militant-Linked Groups
• 'Free Balochistan' Posters: Senate Suspends Pak-Swiss Friendship Group
• Police take Khair Bakhsh Marri's son into custody on his return from 18-year exile
• Pakistan: Islamabad Develops Short-Range Nukes to Counter India's 'Cold Start' Military Doctrine
• Mainstreaming terror: Extremists bag 11 per cent of votes in Lahore bypoll
• Abbasi, Trump emphasise need to continue bilateral ties
--------
Southeast Asia
• China Bans 'Islamophobic Terms' From Social Media
• Islamists Lure Youngsters in the Philippines with Promise of Paradise
• Amanah Eyes 'A Progressive Muslim Ideology' In Malaysia
• UN envoy says govt's contradiction over religious extremism worrying
• In conjunction with Maal Hijrah, Najib urges Muslims to transform thinking, way of life
• Malaysia Arrests Seven Suspected of Involvement With Abu Sayyaf Militant Group
--------
India
• India Slams Pakistan at UN, Calls It 'Terroristan'
• Kerala: 10 Months After Son Was Killed 'For Conversion', Man Embraces Islam
• Myanmar Tapped Into Communal Divide, Fear, Paved Way for Violence In Rakhine
• Curious case of Rohingya Muslim porters: Photos leave Intelligence Bureau, Raw, Indian Army in a fix
• Targeting PDP minister, terrorists kill 3 civilians; leave 30 injured in South Kashmir
• Jamiat leads protest demanding Centre drop plans to deport Rohingyas
• India announces taking up 116 high-impact projects in Afghanistan
--------
Mideast
• Meet In Geneva Highlights 'Enforced Disappearances' In Iran
• Palestinians Mark Muslim New Year at Al-Aqsa Mosque
• Turkey jails 14 lawyers representing teachers on hunger strike
• Turkey, Iran and Iraq warn of 'counter-measures' against Kurd vote
• Abbas at UN calls for end to 'apartheid' for Palestinians
• Hadi: Houthis are running an Iranian 'expansionist agenda' in the region
• Veterans, leaders urge US to withdraw from Iran deal
• Revealing the relationship of al-Qaeda's Minister of Information with Iran
• Four Yemenis killed in Saudi airstrike on Hajjah province
• Hundreds of thousands of Yemenis mark 3rd anniversary of revolution
--------
South Asia
• Buddhist Protesters Block Aid to Muslim Rohingya
• 8 Members of Pak-Based Lashkar-e-Taiba Killed In Helmand Airstrikes
• How Did A Jailed Bangladeshi Militant End Up In Delhi?
• Bangladesh PM at UNGA: Create safe zones inside Myanmar for the Rohingya
• Hekmatyar declares amnesty for those who fought with Hezb-e-Islami
• Political and military victory is within our side, Ghani tells Trump
--------
North America
• Michigan Doctor Believes US Ready for First Muslim Governor
• Trump Urges Help For Rohingya Amid Violent Crackdown
• President Erdoğan Warns US over Gülen Network Activities in Country
• Trump, Ghani agree US can help develop Afghanistan's rare earth minerals
• US, Iran meet as Trump threat looms over nuke deal
• After months of challenges and controversy, Trump's travel ban expires Sunday — and a new one may be coming
--------
Europe
• I'm not surprised there was a Terror Arrest in Newport – As a Welsh Muslim, I've Watched Wales Become a Hotbed of Extremism
• Austrian Muslims find themselves in election cross fire
• Muslims worried as Austria's party leaders put spotlight on Islam
• 'Islam in Europe' exhibition opens in Brussels after delay caused by terror attacks
• Three Swiss Muslim group members charged with making al Qaeda propaganda
--------
Arab World
• Iraq Brings All Remaining IS Territory under Attack
• ISIL Kills 13 FSA Militants in Dara'a
• Lebanese President: Sectarian division of states will increases wars
• US-backed force says 'victory near' against IS in Syria's Raqa
• Syrian Army Deploying Tochka Missile System in Fight against Terrorists
• Syrian Army Recaptures New Areas in Northwestern Deir Ezzur
• Syrian Army Regains Control of Several Areas in Eastern Homs
• Iraq launches offensive on Hawija, an ISIS-held region near Kirkuk
• UNSC warns Iraqi Kurds against independence referendum
• UN votes for resolution to probe Daesh war crimes in Iraq
• Russia to hit US-backed militants if Syrian troops targeted
• Iraqi forces liberate 11 villages from Daesh near Hawijah
--------
Africa
• Tunisia Slowly Becoming a Model for Other Muslim Nations
• At least 8 dead, 90 missing after boat sinks off Libya
• At UN Assembly, African leaders call for more support to fight terrorism in sub-Saharan Sahel
• Liberia: Religious Leaders Threaten Tougher Actions against Corrupt Members
Compiled by New Age Islam News Bureau
URL: https://www.newageislam.com/islamic-world-news/pakistan-army-pushed-political-role/d/112624
--------
Pakistan Army Pushed Political Role for Militant-Linked Groups
Sep 22, 2017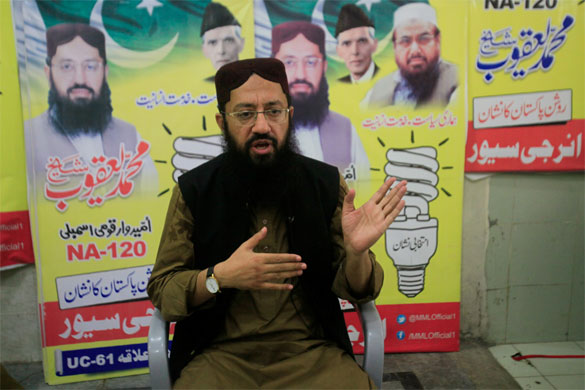 Mohammad Yaqoob Sheikh, nominated candidate of political party, Milli Muslim League (MML), gestures while talking with Reuters correspondent, during an election campaign for the National Assembly NA-120 constituency in Lahore, Pakistan September 10, 2017. Picture taken September 10, 2017. REUTERS/Mohsin Raza
-----------
LAHORE, Pakistan (Reuters) - The backing of a candidate in a by-election last weekend in Pakistan by a political party controlled by an Islamist with a $10 million U.S. bounty on his head was in line with a plan put forward by the military last year to mainstream militant groups, according to sources familiar with the proposal.
The Milli Muslim League party loyal to Hafiz Saeed - who the United States and India accuse of masterminding the 2008 Mumbai attacks that killed 166 people – won 5 percent of the votes in the contest for the seat vacated when Prime Minister Nawaz Sharif was removed from office by the Supreme Court in July.
But the foray into politics by Saeed's Islamist charity appears to be following a blueprint that Sharif himself rejected when the military proposed it in 2016, according to three government officials and a retired former general briefed on the discussions.
None of the sources interviewed for this article could say for sure if the MML's founding was the direct result of the military's plan, which was not discussed in meetings after Sharif put it on ice last year.
The MML denies its political ambitions were engineered by the military. The official army spokesman did not comment after queries were sent to his office about the mainstreaming plan and what happened to it.
Pakistan's powerful military has long been accused of fostering militant groups as proxy fighters opposing neighbouring arch-enemy India, a charge the army denies.
Three government officials and close Sharif confidants with knowledge of the discussions said the military's powerful Inter-Services Intelligence agency (ISI) presented proposals for "mainstreaming" some militant groups in a meeting last year. They said that Sharif had opposed the "mainstreaming" plan, which senior military figures and some analysts see as a way of steering ultra-religious groups away from violent jihad.
"We have to separate those elements who are peaceful from the elements who are picking up weapons," said retired Lieutenant General Amjad Shuaib, adding that such groups should be "helped out to create a political structure" to come into the mainstream.
The plan – which Shuaib told Reuters was shared with him by the then-head of the ISI - said those who were willing "should be encouraged to come into the mainstream politics of the country".
He added that in his capacity as a retired senior military officer he unofficially spoke to Hafiz Saaed and another alleged militant about the plan, and they were receptive.
Shuaib later said his comments in the interview were taken out of context and were part of a broader discussion about deradicalisation strategies. Writing in a local newspaper on Wednesday he said the report "maliciously attributed some statements to me totally out of context, just to suit its own narrative".
A spokesperson for Reuters said: "We stand by our reporting."
"PATRIOTIC PEOPLE"
Saeed's religious charity launched the Milli Muslim League party within two weeks of the court ousting Sharif over corruption allegations.
Yaqoob Sheikh, the Lahore candidate for Milli Muslim League, stood as an independent after the Electoral Commission said the party was not yet legally registered.
But Saeed's lieutenants, JUD workers and MML officials ran his campaign and portraits of Saeed adorn every poster promoting Sheikh, who came in fourth place on Sunday with Sharif's wife taking the seat as expected.
Another Islamist designated a terrorist by the United States, Fazlur Rehman Khalil, has told Reuters he too plans to soon form his own party to advocate strict Islamic law.
"God willing, we will come into the mainstream - our country right now needs patriotic people," Khalil said, vowing to turn Pakistan into a state government by strict Islamic law.
Saeed's charity and Khalil's Ansar ul-Umma organisation are both seen by the United States as fronts for militant groups the army has been accused of sponsoring. The military denies any policy of encouraging radical groups.
Still, hundreds of MML supporters, waving posters of Saeed and demanding his release from house arrest, chanted "Long live Hafiz Saeed! Long live the Pakistan army!" at political rallies during the run-up to the by-election.
"Anyone who is India's friend is a traitor, a traitor," went another campaign slogan, a reference to Sharif's attempts to improve relations with long-time foe India that was a source of tension with the military.
'Deradicalisation' Plan
Both Saeed and Khalil are proponents of a strict interpretation of Islam and have a history of supporting violence - each man was reportedly a signatory to al Qaeda leader Osama bin Laden's 1998 fatwa declaring war on the United States.
They have since established religious groups that they say are unconnected to violence, though the United States maintains those groups are fronts for funnelling money and fighters to militants targeting India.
Analyst Khaled Ahmed, who has researched Saeed's Jamaat-ud-Dawa charity and its connections to the military, says the new political party is clearly an attempt by the generals to pursue an alternative to dismantling its militant proxies.
"One thing is the army wants these guys to survive," Ahmed said. "The other thing is that they want to also balance the politicians who are more and more inclined to normalise relations with India."
The ISI began pushing the political mainstreaming plan in 2016, according to retired general Shuaib, a former director of the army's military intelligence wing that is separate from the ISI.
He said the proposal was shared with him in writing by the then-ISI chief, adding that he himself had spoken with Khalil as well as Saeed in an unofficial capacity about the plan.
"Fazlur Rehman Khalil was very positive. Hafiz Saeed was very positive," Shuaib said. "My conversation with them was just to confirm those things which I had been told by the ISI and other people."
The ISI's main press liaison did not respond to written requests for comment.
Saeed has been under house arrest since January at his house in the eastern city of Lahore. The United States has offered a $10 million reward for information leading to his conviction over the Mumbai attacks.
Then-Prime Minister Sharif, however, was strongly against the military's mainstreaming plan, according to Shuaib and the three members of Sharif's inner circle, including one who was in some of the tense meetings over the issue.
Sharif wanted to completely dismantle groups like JuD.
Disagreement on what to do about anti-India proxy fighters was a major source of rancour with the military, according to one of the close Sharif confidants.
In recent weeks several senior figures from the ruling PML-N party have publicly implied that elements of the military - which has run Pakistan for almost half its modern history and previously ousted Sharif in a 1999 coup - had a hand in the court ouster of Sharif, a charge both the army and the court reject.
A representative of the PML-N, which last month replaced him as prime minister with close ally Shahid Khaqi Abbasi, said the party was "not aware" of any mainstreaming plan being brought to the table.
https://in.reuters.com/article/pakistan-politics-militants/pakistan-army-pushed-political-role-for-militant-linked-groups-idINKCN1BW2M7
--------
China Bans 'Islamophobic Terms' From Social Media
Sep 22, 2017
BEIJING – The Chinese government has banned the use of Islamophobic terms used by netizens to stigmatise Muslims, state media reported on Thursday.
China has over 21 million Muslims mostly the Uyghurs in Xinjiang and Hui community in Ningxia province, according to unofficial accounts.
Search results for "insults against Islam" were blocked on Chinese microblogging website and one the most popular social media sites Weibo, according to Global Times.
Phrases including "green religion" and "peaceful religion," which are used to refer to Islam, were also blocked as they were often used to get around censorship of online hate speech, the Chinese daily added.
"It's necessary to timely remove radical phrases that discriminate against Islam and are biased against Muslims to prevent worsening online hatred toward the group. Those phrases severely undermine religious harmony and ethnic unity," Xiong Kunxin, a professor at Beijing's Minzu University of China was quoted as saying by the newspaper.
China which has a booming internet population surpassing over 700 million, uses massive firewalls to block any content the government and the ruling Communist Party of China (CPC), deems offending and not in the country's interest.
International social media outlets like Twitter, Facebook as well as Google are blocked by the firewalls.
Although officially atheist, China also protects its residents' rights to practice their religion. The government assisted 12,800 Muslims in making the pilgrimage to Makkah this year and closed streets for Muslims to celebrate Eidul Fitr, the report further said.
https://en.dailypakistan.com.pk/world/china-bans-islamophobic-tems-from-social-media/
--------
India slams Pakistan at UN, calls it 'Terroristan'
Sep 22, 2017
NEW DELHI: India on Friday went hammer and tongs at Pakistan for its policy of sponsoring terrorism and said the country has now become "Terroristan", or a land of "pure terror".
"Pakistan is now 'Terroristan', with a flourishing industry producing and exporting global terrorism," India said while exercising its 'right of reply' at the United Nations General Assembly.
Taking a dig at the prefix "Pak", which means "pure" in Urdu, India said Pakistan has long abandoned its aspirations to be moral and virtuous as a nation and instead, its name has become synonymous with terror.
"The quest for a land of pure has actually produced 'the land of pure terror'. In its short history, Pakistan has become a geography synonymous with terror," India's first secretary to the UN Eenam Gambhir said.
Citing the example of Hafiz Saeed, a UN-designated terrorist who has floated a political party to contest the next general election+ in Pakistan, India underscored how the neighbouring country was providing safe havens to terror leaders in its military town or protecting them with political careers.
India's statement was in response to Pakistan Prime Minister Shahid Khaqan Abbasi's maiden speech at the UNGA on Thursday, in which he had defended terrorism and once again sought to highlight the bilateral dispute of Kashmir between the two countries at an international forum.+
India pointed out that raising the Kashmir issue has been a long-established tactic of Pakistan to deflect attention from the terror outfits it harbours on its soil.
"It is extraordinary that the state which protected Osama Bin Laden and sheltered Mullah Omar+ should have the gumption to play the victim. By now, all Pakistan's neighbours are painfully familiar with these tactics to create a narrative based on distortions, deceptions and deceit," Gambhir said.
Abbasi had demanded an international investigation into the alleged atrocities in Kashmir and sending of an inquiry commission to the restive state in order to secure the punishment of those "responsible of human rights violation" and provide justice and relief to victims.
Issuing another stern warning to Pakistan to refrain from interfering in Kashmir, India said it doesn't require lessons on democracy and human rights from a "failed state" where "terrorists thrive and roam the streets with impunity."
"Pakistan must understand that the state of Jammu and Kashmir is and will always remain an integral part of India. However much it scales up cross border terrorism, it will never succeed in undermining India's territorial integrity," Gambhir said.
http://timesofindia.indiatimes.com/india/india-slams-pakistan-at-un-calls-it-terroristan/articleshow/60789448.cms
--------
Meet in Geneva highlights 'enforced disappearances' in Iran
21 September 2017
A meet organized in Geneva on Wednesday, September 20, has highlighted the cases of enforced disappearances in Iran.
It brought together representatives of ethnic minorities to discuss Iran's violations of its citizens' fundamental rights and enforced disappearance in particular, as a crime against humanity.
A statement released later said that the event – "Enforced Disappearances in Iran and the Assault on Fundamental Rights" – was organized by the Nonviolent Radical Party, Transnational and Transparty (NPRTT) in cooperation with the Unrepresented Nations and Peoples Organization (UNPO).
The event took place on the sidelines of the 36th regular session of United Nation Human Rights Council (HRC). Fernando Burges, program manager of UNPO discussed the challenges his organization faces while advocating the right of ethnic minorities with EU politicians who work with Iran.
"Whenever we are to discuss Iran we highlight the fact that Iran is a multi-ethnic country and not a Persian state. Currently 4 ethnic monitors from Iran are members of UNPO, the Ahwazi Arabs, Kurds, Azerbaijani Turks and Baluchies," he said.
Parallel security forces
Mona Silavi from Democratic Solidarity Party of Al-Ahwaz discussed the role of parallel security forces and institutions such as IRGC in escalation of enforced disappearances. Silavi added that since 2004 Iranian government has been delaying the country visit of the UN Working Group on Involuntary and Enforced Disappearance (WGEID) and Iranian government refuses to declare the fate of 520 reported victims.
In the statement, Silavi said that the actual number is estimated to be higher. However, they are not reported due to restrictions imposed on the families by the Iranian government. One of these victims is her own father Yousef Silavi disappeared in November 2009.
Evin Prison: The Iranian regime's notorious torture factory
Baban Eliassi from Democratic Party of Iranian Kurdistan (PDKI) and member of the committee for support of Kurdish political prisoners in Iranian Kurdistan highlighted the deterioration of human rights and the crackdown on the recent demonstrations in Kurdistan which were held as a sign of protest for the shooting of Kurdish "koolbars" (border carriers) by the Iranian border police.
Peshko Khosravi representative of Komala Party of Iranian Kurdistan focused particularly on the case of Ramin Hossein Panahi, one of the members of Komala party who was shot by Islamic Revolutionary Guard corps and later disappeared. Khosravi added that 20 members of Panahi's family were arrested following his disappearance.
https://english.alarabiya.net/en/News/middle-east/2017/09/21/Meet-organized-in-Geneva-to-highlight-enforced-disappearance-in-Iran.html
--------
Buddhist protesters block aid to Muslim Rohingya
Sep 22, 2017
Police in Myanmar have clashed with a mob blocking an aid shipment in Rakhine state while nine people have died in a road accident involving a Red Cross truck in Bangladesh.
Wednesday's developments hamper urgently needed relief efforts for Rohingya Muslims who have fled violence in Buddhist-majority Myanmar.
A 300-strong Buddhist mob in Rakhine's capital Sittwe gathered late on Wednesday at a jetty where a boat carrying relief goods was preparing to travel up river to Maungdaw, Reuters news agency said.
The mob forced the ICRC (International Committee of the Red Cross) to unload the aid from the boat and prevented the vessel from leaving, state-backed Global New Light of Myanmar newspaper reported on Thursday, quoting Myanmar's Information Committee.
Police officers arrived as the crowd neared the jetty, while Buddhist monks also tried to calm the mob, but people began to hurl "stones and Molotov [cocktails] at the riot police," the report said.
Eight people were detained and several police were injured before order was restored.
The ICRC confirmed the incident and said it would continue to try and deliver relief to the area.
"We will carry on, nothing has been put on hold," Graziella Leite Piccoli, ICRC spokeswoman for Asia, told AFP news agency.
Communal tensions remain high across Rakhine where raids by Rohingya fighters at the end of last month prompted a major army crackdown, driving more than 420,000 people into Bangladesh in what the UN calls a campaign of "ethnic cleansing".
Aid groups fear that tens of thousands trapped in Rakhine are desperate for support, even though humanitarian access remains difficult despite the government's promise to allow safe passage.
The crisis has prompted condemnation of the country's de-facto leader, Aung San Suu Kyi, for refusing to blame Myanmar's powerful military for the crackdown, which French President Emmanuel Macron said amounted to "genocide".
News of the clashes in Rakhine, where security forces have been accused of razing scores of Rohingya villages, emerged as a truck hired by the Red Cross and ICRC crashed in Bangladesh, killing nine people and injuring 10 others.
"It was carrying food to Rohingya refugees on the border, including those stranded in the no-man's land," Yasir Arafat, deputy police chief of Bandarban border district, told AFP.
Hundreds of thousands of Rohingya refugees have streamed into Bangladesh since the end of August, cramming into ill-equipped camps and makeshift shelters near the border town of Cox's Bazar.
Aid groups have been overwhelmed by the scope of the influx and warned of an unfolding humanitarian crisis in the camps, where they are struggling to build housing and provide food rations.
The Bangladesh government is building a massive new camp nearby to shelter 400,000 people, but the UN says it will take time before it is equipped with tents, toilets and medical facilities.
Myanmar's government has come under fire by global leaders urging the country to address the crisis and condemn the military for attacks on the Rohingya, who are widely reviled as "Bengali" immigrants in Myanmar.
But Myanmar, which has been accused of playing down the violence, is insisting the crisis was easing.
"I am happy to inform you that the situation has improved," Henry Van Thio, Myanmar's second vice president, told the UN General Assembly on Wednesday.
He said there have been no clashes since September 5 and added that his government was committed to allowing aid in.
"Humanitarian assistance is our first priority. We are committed to ensuring that aid is received by all those in need, without discrimination," he said.
There were more than one million Rohingyas in Myanmar before the current crisis, though nearly half have fled since the deadly attacks on military posts by the Arakan Rohingya Salvation Army (ARSA) fighters on August 25.
They have long been ostracised in Myanmar, where they are considered "illegal immigrants" and face severe restrictions.
http://www.aljazeera.com/news/2017/09/buddhist-protesters-block-aid-muslim-rohingya-170921062521668.html
--------
Pakistan
'Free Balochistan' posters: Senate suspends Pak-Swiss friendship group
Iftikhar A. Khan
September 22, 2017
ISLAMABAD: A day after Senate Chairman Mian Raza Rabbani called for the expulsion of the ambassador of Switzerland to Pakistan, the Senate suspended its Pakistan-Switzerland friendship group for an indefinite period.
The decision was announced by Mr Rabbani during the proceedings on Thursday as the controversy over an alleged anti-Pakistan campaign, run by the proscribed Baloch Liberation Army (BLA), continued to simmer.
Mr Rabbani said that he had spoken to the convener of the Pakistan-Switzerland friendship group and he had supported the idea of suspending the group indefinitely.
He regretted that the Swiss government had not come up with a reasonable response to the use of its soil by a terrorist outfit for its poster campaign. He said new posters from the BLA had surfaced in Switzerland.
Senator Mushahid Hussain Syed of the Pakistan Muslim League-Quaid was of the view that Pakistan's ambassador to Switzerland should be recalled. "Such behaviour by a so-called civilised country is unacceptable," he remarked.
Senator Nauman Wazir of the Pakistan Tehreek-i-Insaf observed that the Swiss authorities' actions were a matter of concern.
Senator Sirajul Haq of the Jamaat-i-Islami said that Swiss soil was regularly being used for propaganda against Pakistan. He said this went against the sovereignty of the country, and lamented that the government was not fulfilling its responsibility.
FSPC reforms
The Senate chairman also announced the formation of an eight-member special committee of the house that would be tasked with preparing a set of recommendations to reform the Federal Public Service Commission (FSPC). The decision was announced at the conclusion of the Senate's discussion on the FPSC's annual report which had been brought to the House on Aug 23. The proposal for the formation of a committee was made by Mr Syed and endorsed by other senators.
Mr Rabbani said the composition of the committee would be decided in consultation with the leader of the house and the leader of the opposition. He said there would be four members each from the treasury and opposition benches in the committee.
Retired Lt Gen Abdul Qayyum noted that the selection criterion needed to be reformed. He said it was not enough to merely judge candidates on their academic qualifications.
Senator Shibli Faraz stressed the need for addressing flaws in the selection process, and suggested that the obsolete interview procedure should be changed. He agreed that mere academic brilliance should not be considered a yardstick, and other qualities, including character, ethics and aptitude, should also be taken into account.
Senator Sirajul Haq said the relationship between the bureaucracy and the masses should not be that of a master and slaves.
Senator Mohsin Leghari said he was impressed with the quality of the printing and paper of the report, but was shocked at the content. Raising questions over the entire system of selection for civil services, he said that "when crammers come in, governance starts to fail".
https://www.dawn.com/news/1359277/free-balochistan-posters-senate-suspends-pak-swiss-friendship-group
--------
Police take Khair Bakhsh Marri's son into custody on his return from 18-year exile
Syed Ali Shah
September 22, 2017
Police arrested Nawabzada Gazeen Marri, wanted in the murder case of Justice Nawaz Marri, upon his arrival at Quetta airport on Friday, DawnNews reported.
Gazeen Marri, the son of late Baloch politician Nawab Khair Bakhsh Marri, ended his self-imposed exile and returned to Pakistan after 18 years of self-exile spent mostly in Dubai.
Meanwhile, the counsel of Gazeen Marri, Arbab Tahir Advocate, informed the media persons that there was no justification for Marri's arrest. "We have already secures protective bail from the court," he maintained.
A large number of Marri tribesmen and elders tried to reach the airport to receive Gazeen Marri, however, police stopped them at the main airport chowk prior to their entry.
"Police arrested Gazeen Marri in the murder case of Justice Nawaz Marri," a senior police official informed DawnNews.
Justice Nawaz Marri, the senior judge of Balochistan High Court, was killed in an attack on January 7, 2000, in the Zarghoon road area of Quetta.
Gazeen Marri, Hyrbayar Marri and others were nominated in the murder case of Justice Nawaz Marri.
In a telephonic conversation with media personnel on Thursday, Gazeen Marri had announced that he would arrive in the country on Friday.
Gazan Marri, a former home minister and younger brother of Nawab Changez Marri, said he would decide his future course of action after discussing the issue with other stakeholders.
"I am returning to my country after spending 18 years in exile on Sept 22," he said, adding that nobody should be afraid of his return as he was not bringing a tank or a force with him.
Strict security measures were adopted by the provincial administration at Quetta airport in view of the expected arrival of Gazeen Marri.
The law enforcers arrested Gazeen Marri before coming out of the airport.
Marri had said he was unaware of the developments in Switzerland where posters calling for an independent Balochistan were being publicly displayed. He expressed surprise and asked what objectives or gains had been achieved by these banners.
He said it had become fashionable and a business to say a few words against Pakistan and earn quick money. He said he had spent 18 years in exile and now wanted to come home and be with his people.
He explained that he had gone into exile on his father's instructions. "I made attempts to return home earlier and serve the people but was faced with roadblocks every step of the way," Marri said.
Full report at:
https://www.dawn.com/news/1359309/police-take-khair-bakhsh-marris-son-into-custody-on-his-return-from-18-year-exile
--------
Pakistan: Islamabad Develops Short-Range Nukes to Counter India's 'Cold Start' Military Doctrine
21 Sep 2017
Pakistani Prime Minister Shahid Khaqan Abbasi has threatened to use short-range nuclear weapons to counter the "Cold Start" military doctrine adopted by India's military to retaliate immediately if its Muslim-majority rival decides to attack.
Rising Kashmir explains, "The Cold Start doctrine aims to deny Pakistan justification to resort to its nuclear first-use option by inflicting rapid, fatal and limited attacks."
The animosity between nuclear-armed neighbors Pakistan and India has played out in the disputed Muslim-majority region of Kashmir in recent months despite their 2003 ceasefire agreement.
Although Pakistan, China, and India all have competing claims to Kashmir, Beijing has remained in the shadows of the ongoing confrontations between New Delhi and Islamabad.
Allies China and Pakistan consider India to be their regional rival.
A heavily militarized and mountainous border referred to as the Line of Control (LoC) divides the sections of Kashmir controlled by India and Pakistan.
"We have a very robust and very secure command-and-control system over our strategic nuclear assets, and I think time has proved that it's a process that is very secure," declared Pakistani PM Abbasi during a New York-based event organized by the Council on Foreign Relations (CFR).
"As far as tactical nuclear weapons, we do not have any fielded tactical nuclear weapons. We have developed short-range nuclear weapons as a counter to the 'Cold Start' doctrine that India has developed," added the prime minister who is in New York to attend the annual debate hosted by the United Nations General Assembly.
"Cold Start" refers to a contingency plan implemented by New Delhi that involves the deployment of military assets along India's border with its regional enemy Pakistan.
In January, India reportedly began to implement "Cold Start."
Breitbart News reported:
The Cold Start strategy would be used when India wants to perform lightning "Blitzkrieg" military operation with conventional weapons (non-nuclear) on Pakistani soil for whatever reason – such as to retaliate for a jihadist terror attack.
In its current configuration, [India] could not mount such an attack in less than a few weeks, giving Pakistan time to a nuclear counterattack, which would force India to back down in most cases.
In the Cold Start scenario, India's army would be prepared to launch an invasive attack almost immediately. The objective would be to meet the military objective within a week before Pakistan would have time to launch nuclear retaliatory strikes.
India and Pakistan have repeatedly accused one another of provocations in Kashmir.
New Delhi argues that Pakistan has been arming and training jihadists in Indian-held Kashmir fighting for independence or in favor of a merger with Pakistan, a charge that Islamabad denies.
Meanwhile, Pakistan has accused India's ruling Hindu nationalist party of cracking down on Muslim dissent in Kashmir and trying to turn the region into a Muslim-minority area, a claim that New Delhi denies.
"There is Indian aggression along the LoC, mostly to draw attention away from the genuine struggle of the Kashmiri people, who have today risen against the Indian occupation there," proclaimed the Pakistani PM during the CFR event.
"The Indian occupation forces there have committed atrocities which are really beyond belief, and we expect the world community to take notice of those atrocities. These are very serious crimes against humanity in that region," added Abbasi.
Responding to the accusations, India's U.N. diplomat Vishnu Reddy said Pakistan's support for jihadist groups poses the top threat to Kashmir's stability.
"The foremost challenge to the stability of the region is the scourge of terrorism. Pakistan's malicious attempt to hide its interference behind the facade of domestic discontent carries no credibility with the world," said the Indian official.
"Pakistan-occupied Kashmir is run by a 'deep state' and has become an epicenter of terrorism. Its (Pakistan's) human rights record in Pakistan-occupied Kashmir and Baluchistan is deplorable," also said Reddy, adding, "Pakistan has been the face of international terrorism."
Decades ago, the U.N. adopted resolutions to hold a self-determination referendum in Kashmir, but the international body has yet to fulfill that promise.
Since 1948, Pakistan has been urging the international body to implement the resolution.
Nevertheless, the U.N. has largely ignored the conflict in Kashmir, allowing the clashes between India and Pakistan to continue.
The Islamic State (ISIS/ISIL), al-Qaeda, and other jihadist groups that allegedly receive sanctuary in Pakistan have established a presence in Kashmir.
Full report at:
http://www.breitbart.com/national-security/2017/09/21/pakistan-islamabad-develops-short-range-nukes-counter-india-cold-start/
--------
Mainstreaming terror: Extremists bag 11 per cent of votes in Lahore bypoll
SANYA DHINGRA
21 September, 2017
Lahore's NA-120 bypoll saw posters of global terrorist Hafiz Saeed and hanged assassin Mumtaz Qadri on public display, causing concern in Pakistan.
The by-election for Pakistan's National Assembly constituency NA-120 in Lahore is over, and Kulsoom Nawaz Sharif has been elected to replace her disqualified husband, former prime minister Nawaz Sharif.
However, the election has left sections across Pakistan alarmed, for it saw posters of global terrorist Hafiz Saeed and executed assassin Mumtaz Qadri on public display in support of two different candidates from ultra-right religious parties. And what's even more alarming is that the candidates in question garnered over 11 percent of the total vote.
Is the Lahore bypoll an indicator that radical outfits across Pakistan will be accepted into the political mainstream?
Extremists' performance
Senior Pakistani journalist and writer Owais Tohaid is one of those greatly concerned by these developments. He said he was disturbed by the fact that the election campaign saw "posters of Hafiz Saeed and Mumtaz Qadri displayed on lampposts and walls of the constituency alongside posters of Nawaz Sharif and Imran Khan".
Hafiz Saeed's Milli Muslim League (MML), which was to make its electoral debut in the Lahore bypoll, was not recognised by the Election Commission of Pakistan.
However, it allowed the party's candidate Muhammad Yaqoob Sheikh to contest as an independent, and the MML continued to hail Yaqoob as its candidate, printing posters and flyers bearing his image alongside that of 26/11 mastermind Saeed. Yaqoob garnered 5,822 votes of the total of approximately 1.2 lakh votes polled.
Qadri's posters were used by another new party, Tehreek Labbaik Ya Rasool Allah (LYR). This is a grouping of the Barelvi sect of Islam that Qadri, who assassinated former Punjab governor Salmaan Taseer, belonged to. The candidate backed by LYR, Sheikh Azhar Hussain Rizvi, received 7,130 votes.
No need for paranoia, but concern is fair
Given that the general elections are only months away, concerns over the political discourse changing to give space to religious radicalism are gaining strength in sections of Pakistan.
MML-backed candidate Yaqoob has already announced that the party will "field candidates in every constituency of the country in next year's election".
The ability of outfits to openly campaign with posters of designated extremists like Saeed and Qadri is "dangerous", political analyst Amir Mateen said. "But the positive sign is that there is more criticism than acceptance in the country," he added. "Even the government is on the defensive, with a minister saying that we should set our house in order."
Mateen argued that it is unlikely to translate into a national trend, and those fears may be "overstated". "It is one thing to contest an election in one constituency with an independent candidate, and altogether another thing to fight a general election when your party is not registered," he explained.
Moreover, MML was fighting in a constituency where its headquarters are located, giving its candidate an advantage, Mateen added.
Political scientist and military analyst Hassan Askar Rizvi agreed that the "paranoia" was "overstated". Religious militants were in no position to win elections, he insisted. "If religious parties want to be mainstreamed, they will have to change their political thought," he said.
But even though the number of votes garnered by these extremist candidates were relatively small, they may not give an accurate understanding of the support enjoyed by radical religious parties, Tohaid said. "Tomorrow if some of them (radical parties) end up in parliament, and the state wants to rein them in, it will be called undemocratic," he said.
Full report at:
Yet, doing so is not a priority for the government, and that is a matter of concern.
https://theprint.in/2017/09/21/extremists-bag-11-percent-votes-lahore-bypoll/
--------
Abbasi, Trump emphasise need to continue bilateral ties
Anwar Iqbal | Masood Haider
September 22, 2017
UNITED NATIONS: Prime Minister Shahid Khaqan Abbasi held a brief meeting with US President Donald Trump here on Tuesday evening during which the two leaders talked about the need to continue their countries' partnership in the fight against terror.
Mr Abbasi and Mr Trump met at the reception that the latter held for world leaders attending the 72nd session of the United Nations General Assembly at Palace Hotel, New York.
Neither side talked about this meeting until Wed­nesday afternoon when the prime minister disclosed it at the US-Pakistan Business Council's luncheon.
"On the Afghanistan issue, we are working with the US government. We had a very productive meeting with Vice President (Mike) Pence yesterday," Mr Abbasi said.
"I also met President Donald Trump at his reception and we discussed the issue in brief. He was also very positive about Pakistan's role and the continuity of the Pakistan-US partnership to fight terror."
The prime minister further explained this point in his speech at the Council on Foreign Relations (CFR), New York, on Wednesday evening.
"I think the engagement will continue. And I think any misconceptions will go away. We remain a partner in the war against terror. That's the basic issue at hand here," he said. "We will continue to engage with the American efforts taken to fight the war against terror, and also to find peace in Afghanistan."
Asked if he was willing to "go to an extra mile" to accommodate President Trump's demand for Pakistan to do more, he said: "It's a relationship that goes beyond Afghanistan. It's 70 years old, and we view it in that context. And we are engaged today. We want this relationship to move forward. And I don't see any obstacles in that process," he said.
This is Mr Abbasi's maiden visit to the United States as prime minister, although he spent several years in this country, studying in California and Washington, DC. But his visit as prime minister comes at a time when the relationship between the two countries is on a downward trajectory in the wake of President Trump's new strategy for Afghanistan and South Asia, which degrades the partnership with Pakistan and seeks a greater role for India in Afghanistan.
Pakistan fears that India will use its growing influence in Afghanistan for creating troubles in the bordering areas, as it did in the past.
The prime minister confronted this issue at CFR as well, when an audience member asked what he thinks the role of India should be in Afghanistan.
"Zero. India — we don't foresee any political or military role for India in Afghanistan. I think it will just complicate the situation and it will not resolve anything."
'No American base in Pakistan'
Mr Abbasi said that Pakistan could no longer offer bases for US drones to target insurgents inside the country. "No, no. We cannot condone that. We cannot allow that. I think the sovereignty of our territory has to be respected. And this is a decision that only the parliament can make," said Mr Abbasi when the moderator, a New York Times journalist David Sanger, asked if Pakistan would allow the United States to operate drones from the Pakistani territory.
Pakistan did not have any American base on its soil, he added. "No, no," said Mr Abbasi, when Mr Sanger asked if Pakistan had US military bases. "Regular bases? None?"
Mr Sanger asked again. "None. No bases at all," Mr Abbasi said.
Ken Roth of the Human Rights Watch asked him if he, as prime minister, would speak out against the blasphemy law under which a Christian man was recently sentenced to death for a poem deemed blasphemous.
"The laws in the country are very clear, and it's only up to the parliament to amend the laws. The job of the government is to make sure that the laws are not abused and innocent people are not prosecuted or prosecuted," Mr Abbasi replied.
"The law is there. The law is in place. The law is in force. The courts can comment on the law. But until it's in force, it's the job of the government to enforce the law."
Asked how an independent candidate was allowed to display posters featuring Hafiz Saeed's photos during his election campaign for the recent NA-120 by-poll in Lahore, Mr Abbasi said Hafiz Saeed belonged to a proscribed organisation and was in house arrest.
"In the recent by-election, the candidate did use his poster, his picture as an election poster, which is illegal to do, and action will be taken against him by the election commission," he said.
The prime minister said that independent candidate only polled about four per cent of the vote. "We do not condone such activity, and we will take action where it's required."
Meanwhile, the prime minister also met Malala Yousafzai, the youngest-ever Nobel Prize laureate, and expressed support for her efforts to create better education facilities for girls and raise their status.
Full report at:
https://www.dawn.com/news/1359253/abbasi-trump-emphasise-need-to-continue-bilateral-ties
--------
Southeast Asia
Islamists lure youngsters in the Philippines with promise of paradise
Sep 22, 2017
When he saw his commander holding the severed head of one of his neighbors, teenage Islamist fighter Jalil knew it was time to escape from Marawi City.
Churches and homes had been ransacked, people had been shot or taken hostage, and now Philippines government troops, planes and helicopters were pounding the Islamic State loyalists who had taken over large parts of the town on May 23.
Six days into the occupation, 17-year-old Jalil said he came across a crowd of fellow fighters led by rebel chief Abdullah Maute, including a boy who looked about 10. They were cheering the beheading of a Christian from Jalil's neighborhood who was accused of being a spy.
"Abdullah Maute was holding a man's head, he was shouting 'Allahu akbar' (God is Greatest)," said Jalil, who spoke on condition his identity was not revealed to protect him from reprisals. "They chanted with him. At that point, I realized I had to get away. I wanted no part in this."
Jalil's story could not be independently verified. Authorities have placed him in protective custody and say he has helped identify militants fighting in Marawi.
Jalil is one of hundreds of Muslim youths lured by Islamic State followers in Mindanao, a poverty-plagued southern island of the Philippines that governments in Southeast Asia fear could become a regional stronghold for the ultra-radical group as it loses territory in Syria and Iraq.
Rommel Banlaoi, executive director of the Philippine Institute for Peace, Violence and Terrorism Research (PIPVTR), says foreign recruiters have been active in Mindanao for years but Islamic State's powerful propaganda and the rise of the local Maute clan of militants have brought a surge in followers.
"The recruitment is now happening very, very rapidly," said Banlaoi, who monitors mobilization in Mindanao via informants and police interrogation reports of militants. "They're very sophisticated. They are serious community organizers and serious recruiters."
Schools, madrassas (Islamic schools) and even day-care centers with extremist leanings have been identified as recruiting grounds.
Authorities are working with religious teachers to keep radical ideas out of mosques and off curriculums, according to army spokesman Colonel Romeo Brawner. But provincial leaders and some military officers say the efforts are weak, partly because militants have plenty of money to reel youths into their ranks.
"BACK IN SERVICE"
Jalil said his involvement began when he was 11 at a mosque in Piagapo, a rustic municipality 20 km (12 miles) from Marawi, where an imam convinced him to join 40 youngsters at a training camp in return for meals and 15,000 pesos ($294) per month.
He underwent daily weapons and combat training, and teachings from the Koran. He was expelled from the program after only three months, he said, when he revealed details about his network during a mock interrogation.
Jalil heard nothing from his recruiters for six years, but the day before the Marawi siege began, there was a knock at his door. Outside was a teenager, and behind him a pickup truck with 10 other youngsters on board.
"I knew them, they were my classmates in training," he said. "They told me 'you're now back in service.'"
The ubiquitous villages with tattered mosques, wooden homes and dirt-track roads carved into the jungles and mountains of Mindanao are fertile ground for recruiting unschooled youngsters and turning them into militants in camps far off the radar.
The army discovered one such training ground in Piagapo, after a three-day battle that killed 36 Maute fighters, among them foreigners and an imam. That was one month before the Marawi siege. [nL3N1HW00E]
Reuters spoke to two teenagers from that camp, who said they were lured by promises of money, marriage and paradise after death.
They spoke on condition their full identities be withheld because authorities were not aware of their involvement, which they said ceased when the imam was killed. Their accounts could not be independently verified.
"We were trained how to evade checkpoints. We were trained how to ambush, to move silently," said 18-year-old Abdul, who described how he and others learned to dismantle rifles, make bombs and engage in hand-to-hand combat.
Faisal, 19, said the imam held Koran classes in small jungle huts, while foreigners, whose nationalities he did not know, trained them to fight non-believers.
"The imam told us we would be rewarded with marriage to any beautiful girl we want," he said.
The government says poor and uneducated males like Abdul and Faisal are easy prey in the Autonomous Region of Muslim Mindanao (ARMM), which comprises five of Mindanao's 27 provinces.
In 2015-2016, the ARMM had the lowest secondary-school enrolment and the highest dropout rate, according to the education ministry, with just 32.4 percent of ARMM youth in school compared to the national average of 68 percent.
Nearly half of ARMM families live in poverty, under the government's monthly income threshold of 9,064 pesos ($177), according to official data, compared to the national average of 16.5 percent. In Lanao del Sur, where Marawi is located, 66.3 percent of families live in poverty.
ONLINE PROFILING
But not all targets are poor, rural and uneducated.
Urban youth and students are also on the radar of recruiters who have infiltrated schools and universities and mastered social media, both to spread propaganda and to spot candidates for radicalization among Mindanao Muslims, known as Moros.
Prime targets, said Banlaoi, are those posting on social media about economic and social exclusion, or historical injustice. A hot topic is the separatist Moro Islamic Liberation Front's (MILF) peace deal with the government, which promised to make ARMM a self-governing region called Bangsamoro (nation of Moros) but has been dogged by delays, breakdowns and mistrust.
Mohagher Iqbal, the MILF's top negotiator, said extremists exploit disillusionment with the Bangsamoro plan and promote violence by teaching only selected verses of the Koran.
"We monitor them, but because the recruitment is so secretive, we cannot manage to do everything," he told Reuters.
Banlaoi said extremists had access to technology used in the Middle East by Islamic State to track chatter on platforms like Facebook and Telegram, find suitable candidates and probe their friend networks. These recruiters included Indonesians and Malaysian militants who were "very persistent".
The government's fight is as much about winning hearts and minds among the Bangsamoro people as it is the battle for Marawi that has now ground on for nearly four months.
Militants try to sway public opinion with slick videos celebrating their triumph over "crusaders" they say are destroying Muslim homes and businesses in Marawi with artillery and air strikes.
The military says its focus groups have shown some displaced Marawi children "idolise" the militants. It has sent female soldiers to counsel children in evacuation camps and identify those already radicalized.
Jalil, the teen fighter said he was at first inspired by the rousing speeches of Abdullah Maute and his brother, Omarkhayam. But he was appalled by the bloodletting that ensued.
"I can't forget what I saw. Every street corner there were dead bodies, Christians and Muslims," he said.
On the night of the execution he witnesses, Jalil abandoned his post guarding a bridge and rode a motorcycle for 50 km (31 miles) to evade army checkpoints. He turned himself in to police two weeks later.
A former military intelligence officer who has tracked the Maute clan said the military under-estimated them as a "ragtag group". But the Mautes have demonstrated a capacity to regroup and, thanks to deep pockets and the respect they command among local youth, would probably strengthen after Marawi is retaken by "filling vacancies" left by hundreds of dead fighters.
The worst-case scenario, the officer said, was if the Maute brothers survive. "Recruitment will be massive," he said. "There are lots of students idolizing them."
http://nation.com.pk/international/21-Sep-2017/islamists-lure-youngsters-in-the-philippines-with-promise-of-paradise
--------
Amanah eyes 'a progressive Muslim ideology' in Malaysia
SEPTEMBER 22, 2017
KUALA LUMPUR — Amanah may be the smallest party in Malaysia's opposition Pakatan Harapan (PH) bloc, but its importance goes beyond its ability to bring in votes, said party president Mohamad Sabu.
Unlike its colleagues, Amanah sees itself as the bulwark against a rising tide of ultra-conservative Islam that is sweeping through Malaysia and fraying inter-communal ties.
Mr Mohamad said his party also wants to pioneer a progressive Muslim ideology that stresses good governance instead of the current stress on obedience to moral codes.
The most recent example of how Amanah chooses to walk the line between conservatism and a progressive Islam is the cancellation of the Better Beer Festival, an event showcasing craft beers from around the world.
While hard-line Islamist opposition party Parti Islam Se-Malaysia (PAS) slammed the event as a vice fest, Amanah has chosen to approach the issue on a more conciliatory tone, making references to the protection of the rights of non-Muslim Malaysians.
The authorities have since clarified that the event was cancelled over security concerns.
In an interview with The Malaysian Insight, Mr Mohamad said the hard-line and ultra conservative approach to Islam has led Malay-Muslims to fear changing their leaders even when they are corrupt and incompetent.
"One of the big problems in this country lies with people with religious authority and influence. It's not the fault of the religion itself but of religious authorities and experts on religion," he said.
"This is why for the so-called Islamists, corruption is not a big issue in Muslim countries, including Malaysia, even when corruption is a huge sin in Islam. This is what Amanah wants to change.
"Now they are playing up this issue of Malay-Muslims. That if a Malay leader is corrupt, you as a Muslim still have to defend him because you fear that non-Malays and non-Muslims will take over."
Amanah leaders have at times taken the lead in criticising hard-line Malay-Muslim jurists and scholars, including those tied to the ruling United Malays National Organisation and PAS.
Many of its leaders are qualified in Islamic studies or are familiar with its concepts, given their experience as former PAS members. Amanah is a splinter party from PAS.
Amanah politicians have also pushed back against the growing practice of takfiri, where certain Muslim personalities label other Muslims as infidels. Mr Mohamad himself and other Amanah leaders have been a victim of this, as a small number of Muslims on social media have spread messages saying that it is all right to kill him and his Amanah colleagues.
"This practice of takfiri has destroyed many Muslim countries, in Syria, Iraq, Iran, Somalia, Egypt, where Muslims are told that it is acceptable to kill people, and bomb mosques and other places of worship," he said.
"I do not want the Islamic movement here to end with takfiri being the norm, where there are edicts that you can kill people, that you are permitted to spill the blood of others.
"The Syrians and Iraqis were embroiled in this, and we in Malaysia are just at the start. Amanah is a party that can counter this practice. Otherwise we will be ensnared by it."
The party leader stated that the organisation wants to change the mindset of Muslims. "It is a larger long-term goal and I will probably not see it achieved in my lifetime, but it's something we are committed to because (good governance in Islam) is becoming a global trend," he added.
Full report at:
http://www.todayonline.com/world/asia/amanah-eyes-progressive-muslim-ideology-malaysia
--------
UN envoy says govt's contradiction over religious extremism worrying
September 22, 2017
PETALING JAYA: The UN special rapporteur in the field of cultural rights Karima Bennoune has revealed that while the Malaysian government has voiced its rejection of Islamic fundamentalism and extremism, there was concern over perceived contradictions.
In a report on her preliminary observations during a visit to Malaysia from Sept 11 to 21, Karima Bennoune reported on some of these contradictions as told to her by the different sectors of Malaysian society whom she met.
"They expressed concern that the contradiction to these stated commitments was part of the growing Islamisation of Malaysian society and polity based on an increasingly rigid and fundamentalist interpretation of Islam," Bennoune said.
"It is critical to ask what accounts for this striking discrepancy between rhetoric and lived reality recounted by many and what its consequences are for the enjoyment of cultural rights."
Bennoune said she had also heard reports of the difficulties human rights defenders and others face when they try to challenge fundamentalism, defend the diversities of Muslim culture and the promote cultural rights.
"While Malaysian civil societies are normally outspoken, several individuals declined to meet with me to discuss these particular issues reportedly out of fear of reprisals.
"Author Faisal Tehrani, six of whose books have been banned, said that booksellers are afraid to sell his other books due to the chilling effect of the bans.
"He has repeatedly received threats, has been accosted and insulted in public and so has a member of his family."
Bennoune was especially concerned over the government's consideration towards the private member's bill by PAS president Abdul Hadi Awang, that calls for enhancing the punishments that can be imposed by shariah courts.
"Such punishments pose a threat to human rights in the country and are difficult to rationalise with the government's commitment towards moderation and progressiveness," Bennoune said.
She regretted the fact that some authorities she spoke to clearly supported the enhancement.
"I was also surprised when a Kelantan state government official told me that there is only one way to be a Muslim and any other form of practice was based on ignorance."
Referring to several abduction cases reportedly targeting those of religious minorities, including Pastor Raymond Koh who has been missing since being abducted in February this year, Bennoune said it could be considered "extremist violence".
She especially deplored the fatwa against Sisters In Islam (SIS), which she said compromised their important work including protecting the rights of women.
Full report at:
http://www.freemalaysiatoday.com/category/nation/2017/09/22/un-envoy-says-govts-contradiction-over-religious-extremism-worrying/
--------
In conjunction with Maal Hijrah, Najib urges Muslims to transform thinking, way of life
September 22, 2017
KUALA LUMPUR, Sept 22 ― Muslims in this country have been urged to transform their thinking and way of life based on the true teachings of Islam in ushering the Islamic new year of Maal Hijrah.
Prime Minister Datuk Seri Najib Razak said this was because hijrah is not only about migration from one place to another.
"If we look from the perspective of globalisation, the migration includes changes from various aspects, namely, from the physical, mind, attitude, heart, environment and so on.
"These changes are able to change the living conditions in terms of economic, social, educational and living standards.
"Our country has undergone many changes and achievements from one level to another and has become better and outstanding," he said in the Maal Hijrah 1439 message last night.
The message was uploaded in his blog www.najibrazak.com.
Najib said Islam has succeeded in developing a society with its own governing system that guarantees the safety of Muslims and non-Muslims.
"A great civilisation has been established in a short period of time," he said.
Full report at:
http://www.themalaymailonline.com/malaysia/article/in-cojunction-with-maal-hijrah-najib-urges-muslims-to-transform-thinking-wa#qtpDhryDfYC7VTsp.97
--------
Malaysia Arrests Seven Suspected of Involvement With Abu Sayyaf Militant Group
Sep 22, 2017
Kuala Lumpur. Malaysia has arrested seven Philippine men suspected of involvement in activities of the Abu Sayyaf militant group, police said on Thursday (21/09), as concern grows in Southeast Asia over the possible expansion of militant Islamist activity.
The Abu Sayyaf, whose members have pledged loyalty to Islamic State, is notorious for bombings, beheadings, extortions and kidnap-for-ransom activities in the Philippines' volatile south.
The men worked as security guards for private companies in the capital, Kuala Lumpur, and the surrounding state of Selangor, Inspector-General of Police Mohamad Fuzi Harun said.
"One suspect, a 22-year-old, was an Abu Sayyaf group member involved in clashes with the military and kidnapping of hostages in the southern Philippines," he said in a statement.
An extremist faction of the Abu Sayyaf helped seize large parts of Marawi city in the southern Philippines in May, leading to a siege that has killed about 670 militants and 149 soldiers.
Reuters could not reach the men to seek comment as they are in custody. It was not immediately clear if they have lawyers to represent them.
Malaysian police said their arrests were based on information received after authorities thwarted a plan by an Abu Sayyaf member to stage an attack at the closing ceremony of the Southeast Asian Games in Kuala Lumpur last month.
All seven men arrived in Malaysia in September 2015 through the town of Sandakan in the state of Sabah on Borneo island, off the southern coast of the Philippines, before travelling to Kuala Lumpur on forged documents, Mohamad Fuzi said.
Since 2013, Muslim-majority Malaysia has detained more than 300 people with suspected links to Islamic State.
This year, Malaysia has arrested 41 foreigners classified as foreign terrorist fighters, Mohamad Fuzi added.
Full report at:
http://jakartaglobe.id/international/malaysia-arrests-seven-suspected-involvement-abu-sayyaf-militant-group/
--------
India
Kerala: 10 Months After Son Was Killed 'For Conversion', Man Embraces Islam
by Shaju Philip
September 19, 2017
Almost 10 months after Anil Kumar, alias Faisal, 30, was hacked to death in Kerala's Malappuram district, allegedly by RSS activists after he converted to Islam, his father Krishnan Nair has become a Muslim. Nair was the last in the family to embrace Islam, the police said. The family comes from Kodinji village in Malappuram district.
Soon after Faisal was killed on November 19, 2016, his mother Meenakshi had publicly dared the Sangh Parivar by converting to Islam. Two months ago, Faisal's two sisters, one brother-in-law and their five children also converted. Police sources said Nair, an upper-caste Hindu, converted into Islam two weeks ago at Maunathul Islam Sabha in Ponnani in the district. Along with his wife, daughters and grandchildren, Nair is said to be now undergoing a course for newly converts at Markazul Hidya in Manjeri, Malappuram. To read this story in Malayalam, click here.
"Except one of Faizal's brothers-in-law, Vinod, who is one of the accused in his murder, all others in the family have converted to Islam. The Muslim community considered Faisal as a martyr and ensured all support for his family members. This worked as a trigger for their conversions,'' a police official said.
Faisal, who worked as a driver in Riyadh, had converted to Islam in 2015 in the Saudi Arabian capital. In August 2016, his wife Priya (now Jesni) and three minor children also converted, which had allegedly enraged Sangh Parivar members in the region. Following Faisal's killing, 12 RSS and BJP workers were arrested, among them the victim's brother-in-law. After their interrogation, the police had said that the killers feared Faisal would have triggered more conversions in the family. They said Vinod had allegedly guided the others about Faisal's movements.
According to the police, the prime accused, Madathil Narayan, 47, is an RSS karyavahak in Tirur, Malappuram. He had been an accused in the murder of another Muslim convert, Yasir, in 1998, and was acquitted by the Supreme Court in July last year. All the accused in Faisal's murder were released on bail recently. On August 25, the second accused, K Bipin, 24, a local RSS leader, was hacked to death by a six-member gang in what the police suspect was a retaliatory attack for Faisal's murder. Another accused has escaped multiple attempts on his life, the police said.
The police have so far arrested four functionaries of Social Democratic Party of India, the political wing of radical Muslim outfit Popular Front of India, in connection with Bipin's murder. The Union Home Ministry is reported to be examining recommendations made by the NIA for a ban on Popular Front of India for its alleged links.
http://indianexpress.com/article/india/kerala-10-months-after-son-killed-for-conversion-man-embraces-islam-4850160/
--------
Myanmar tapped into communal divide, fear, paved way for violence in Rakhine
by Praveen Swami
September 22, 2017
The men reached Fakir Bazaar early in the morning, their leaders armed with guns, their faces covered with black masks, others just carrying machetes, marching in single file along a jungle path. The Hindus in the village, a community of just over a hundred living among over 2,000 Rohingya, were herded into the village square, tied together together like cattle, and marched into the forests.
Anika Dhar, one of eight witnesses, all women spared to be kept as wives or slaves, says she tried not to watch, but couldn't turn away when it was her husband's turn to be killed. "I started crying. Then, one of the men began beating me with a stick, and I was silent again."
Her story, one which is shared by both perpetrators and victims, helps understand how the road to war in Rakhine was paved with communal hate.
That Friday morning, August 25, Rakhine had been plunged into war, with the jihadist group Harakah al-Yaqin staging multiple attacks across the region. The men had overrun a police post nearby, and then retreated in search of supplies and shelter.
Read | In the shadow of brutal crackdown, signs of rising anger, Rakhine jihad
Fakir Bazaar's Hindus, al-Yaqin believed, were collaborators with the government, passing information on the jihadist group's movements and plans. Now living in Kutupalong's Hindupara, Anika Dhar says she sees the men who killed her husband every time she walks to the main road: like her, they are refugees, living just down the road in a wretched refugee camp that is home to tens of thousands of Rohingya.
Shamshul Alam lost four members of his family when the Myanmar Army set fire to homes in his village, and fired on villagers as they fled towards the forest. For days afterwards, he hid out in the forests, slowly making his way towards Bangladesh. "The army said we had been feeding and sheltering the al-Yaqin group which attacked the police stations at Boli Bazaar, Hathipara and Nakphura," he recalls. "They wanted vengeance."
Fakir Bazaar, where Anika Dhar's husband was killed, was also Alam's village. His wife, Nurul Safa, was one of the women with whom Dhar fled into Bangladesh. And he was one of the men in the group who executed her husband.
"I was with al-Yaqin when they attacked Boli Bazaar," he says, "but not because I wanted to be."
"They had come to the village and asked all the men to join them a few days before the attack. We did not have much of a choice, since they had guns."
The killing of Hindus, Alam insists, was not an event he participated in, leaving the killing to others. "I was very sad, but I remained quiet," he says. "Al-Yaqin kills anyone who speaks against it."
Hatred for Myanmar's army runs deep in the refugee camps, but more than a few voice opposition to al-Yaqin. Al-Yaqin cadre approached Kat Pa Kaung's village committee to seek men for their organisation three weeks before the attacks. The village committee, local residents say, flatly refused.
Following the strikes, Alam says, his family hid out in the forests for a week, before making his way to the Naaf river, and buying passage across it. "Everything we had has been lost," he says. "I can't even afford to give this newborn a burial if he does not survive."
Ever since communal violence tore apart Rakhine's social fabric in 2012, tensions between Hindus and Rohingya have built up, helped along by government policies. Hindus were given identity cards which allowed them to travel freely through Myanmar. The cards identified them as being of Indian descent, even though they shared the language and ethnicity of the Rohingya. The Rohingya, however, continued to hold red identity cards, confining them to Rakhine.
The Hindus, thus, had access to opportunities — higher education, business and passports to travel abroad — that the Rohingya were denied. The cards pushed Hindus closer to the state and its military, and fuelled resentment among their neighbours.
Also read | Rohingya crisis: Centre, NHRC on opposite sides of refugee question
There is no exact count of how many Hindus have been killed in the Rakhine violence: Indian diplomatic sources estimate about 80 deaths. Myanmar's government has pointed to a string of executions of Mro tribals and other minorities by jihadists in the weeks before the August 25 attacks, in an evident effort to flush out groups that might be hostile to al-Yaqin's plans.
Fear, though, was deep even before the killings. For example, more than 500 Hindu villagers fled Sikonchhori for Bangladesh immediately after the August 25 attacks, even though al-Yaqin did not kill minorities there. Even as al-Yaqin cadre tried to turn the village into a base for operations, the Hindus chose to head into the hills, fearing a massacre. "People from al-Yaqin would ask us, what have you done to be given this special treatment by the government," Bijoy Ram recalls. "They thought we were all spies."
The women from Fakir Bazaar themselves escaped with Muslim refugees. "We were held in a cowshed in Bodipara while the al-Yaqin people went to fight again," says survivor Bina Dhar, a mother of two. "Then, firing broke out, and there were helicopters overhead. The villagers decided to run into the hills, and we left with them. They brought us across the border."
Faith was not always the main faultline in the Arakan, the region from which Rakhine state takes its names. Home to Muslims since at least the 1430s, they and the Buddhist communities around them succeeded in coexisting even when anti-migrant riots rocked cities like Yangon in 1926 and 1938. Even though British census reports show that the Arakan's Muslim population rose from in 58,255 in 1871 to 178,647 in 1911, there is nothing to suggest this migration generated significant tensions.
Part of the reason for the peace might have been Arakan's fierce regional identity, rooted in wars against Burma's rulers. In 1784, the Arakan had been conquered by the Burmese, who transported much of its population.
Francis Buchanan, an East India Company official writing in 1799, recorded this account of the 1784 conquest of Arakan: he was told "the Burmans put 40,000 men to death: that wherever they found a pretty woman, they took her after killing the husband; and the young girls they took without any consideration."
Tensions, scholar Aye Win has recorded, built up between the Arakan's Muslims and Buddhists in the build-up to World War II. The background was the zamindari system, introduced by colonial Britain, which leased land once held by the Arakanese tribes to farmers from Bengal's Chittagong region.
Ethnic violence exploded as the British retreated from the region under Japanese assault in 1942-1943, and Arakanese Buddhists staged attacks against the landlords. In retaliation, the British-armed "V-Force", made up of Arakan Muslims, set up to harry the Japanese, often burned down monasteries and pagodas, and massacred Buddhist civilians.
From 1946 to independence in 1948, the Arakan descended into chaos. Even as Arakan's Buddhists fought the new nation-state, seeking independence, Zafar Kawal led a self-described mujahideen force, hoping to carve out a Muslim enclave, or "national home".
General U Ne Win's military regime sought to capitalise on these strains. Faced with economic stagnation, student protest and strains within the army, he sought to rally Myanmar's majority around its Buddhist faith. In 1974, a law stripped the Rohingya of their citizenship; in 1982, another law denied them any hope of gaining citizenship, restricting it to 135 officially identified "national races".
The toxic legacy of these laws didn't seep into one small home on the banks of the Naaf. Two days before fighting broke out in Rakhine, Mohammad Miyan left his home in Rohingyapara, near Mungdaw, and slipped across the border into Bangladesh. He hoped to track down fifteen buffaloes that had gone missing from his herd, likely stolen by cattle traders for sale in the markets of Shah Porir Dwip. Each was worth Taka 70,000: the cattle were Miyan's life's savings, from catching crab in the Naaf estuary.
Kya Ning Chowdhury, the head of Chowdhurypara, one of a handful of Rakhine Buddhist villages in Bangladesh, bought crab from Miyan for decades, laying the foundation for a relationship which has endured for decades. Miyan's family, he says, are hiding out in the hills, ever since Rohingyapara was burned down by the army. Eight local residents, he says, were shot dead in reprisals after the August 25 attacks, but his own family is safe, for now.
Chowdhury, who counts a Myanmar Army Brigadier-General among his relatives, has been trying to make arrangements to have the family brought back across the Naaf.
Full report at:
http://indianexpress.com/article/india/myanmar-tapped-into-communal-divide-fear-paved-way-for-violence-in-rakhine-rohingya-muslims-4855350/
--------
Curious Case Of Rohingya Muslim Porters: Photos Leave Intelligence Bureau, Raw, Indian Army In A Fix
September 21, 2017
Even as the Union Home Minister on Thursday made a strong pitch for deportation of 40,000 Rohingya Muslims from India, the intelligence agencies and security forces have been abuzz with 10 photos of alleged Rohingya Muslim porter guides who have been pushed in by Pakistan spy agency ISI along with six heavily armed Jaish-e-Mohammed (JeM) terrorists into Jammu and Kashmir, sometime around the end of August.
However, what is more worrisome are the pictures which are in custody of Indian Army, Central Armed Police Force and Jammu Kashmir Police.
No agency has come forward to authenticate the sensitive information.
Sources in multiple agencies including Intelligence Bureau (IB), Raw and Indian Army said that these pictures exist on paper, the same has not been authenticated and hence remain unverified.
Inspector General (IG) Muneer Khan however said that one part of the story is correct where six JeM terrorists seemed to have been infiltrated from Poonch - three of those getting killed in Pulwama District in a Fidayeen attack are identified as Abu Saad, Dawood and Al Bakr, while three from the group were killed in Satora, Tral, in August last week.
Sources said one unidentified terrorist may still be at large.
IG Kashmir Muneer Khan told India Today that so far Rohingya Muslims are found to be involved in terror activity in Kashmir Valley.
"The men in the pictures appear to be Caucasians, the grass is tall and thick, which is not how it is in the Valley or even the Poonch region."
Another high level source in intelligence agencies said that these pictures are believed to have been orchestrated.
The process of verification of the pictures is still on but it has already stirred a security threat.
There are reports of Rohingya terrorists fighting alongside Pakistani extremists in Kashmir. One of their top leaders, Chotta Burmi, was rumoured to be killed in Kashmir along with JeM commander Adil Pathan last year. But there has been no confirmation of the same till date.
Though the intelligence forces also point out threat from little-known Rohingya terror group Aqa Mul Mujahideen, blamed for the recent attacks on Myanmar border outposts with links to Pakistan-based terror organisation operated by Hafiz Saeed, Lashkar-e-Taiba (LeT), but the worry is that the terror group may have developed ties with the JeM cell in Jammu and Kashmir.
Union Minister of State for Home Affairs of India, Kiren Rijuju speaking to reporters said "There is hard evidence that there are Rohingya porters who have been used as guides."
As the matter of Rohingya Muslims escalates, security forces are on high alert to nip any infiltration bid.
The agencies are however cautious. "Prima facie there is no evidence but Pakistan cannot be trusted and will look at any possible links. Our forces have been on alert at the western border with Pakistan at the LoC and border always."
On August 8, the Home Ministry sent a notice to all states asking them to identify and start the process of deporting Rohingyas.
Full report at:
http://indiatoday.intoday.in/story/rohingya-muslim-porters-intelligence-bureau-raw-indian-army-isi/1/1053177.html
--------
Targeting PDP minister, terrorists kill 3 civilians; leave 30 injured in South Kashmir
M Saleem Pandit
Sep 22, 2017
SRINAGAR: At least three civilians including a woman were killed and 30 others injured when suspected Hizbul Mujahideen terrorists attacked the cavalcade of roads & buildings minister Naeem Akhtar in Tral, 32 km south of Srinagar on Thursday morning.
Pakistan-sponsored terror groups in Kashmir have intensified their attacks against the PDP ever since it forged an alliance with the BJP to form the government in the state. Several PDP leaders and members have been targeted in the last three years.
Akhtar, one of the closest aides of chief minister Mehbooba Mufti, had gone to Tral for inauguration of a civil works project in the town. Tral is the home town of former Hizbul Mujahideen commander Burhan Wani, who was killed in an encounter with security forces last year in July, which resulted in massive protests and violence for over four months, leaving over 80 people dead and hundreds injured.
PDP MLA of Tral Mushtaq Ahmad Shah, who was traveling in one of the cars, said the terrorists attacked the motorcade with a hand grenade and gunfire from automatic rifles. "The minister escaped unhurt but my bullet-proof car received several gunshots," Shah said.
DG police S P Vaid said, the target of the attack was the minister. The assailants, he said, managed to escape in the melee caused by the grenade attack.
Ten critically injured people, besides the officials who were accompanying the minister, were taken to Srinagar hospital, block medical officer of Tral said. The slain civilians were identified as Pinky Kaur (a Sikh woman student of Islamic University), 80-year-old Ghulam Nabi Trag and Mohammad Iqbal Khan. Tral has a substantial Sikh population.
Police said nearly 18 pedestrians including many officials were injured in the grenade attack. Six persons who sustained injuries due to grenade splinters including a woman and an engineer were shifted to SMHS in Srinagar.
Soon after the attack, local youth came to the streets raising pro-Azadi and pro-Pakistan slogans and pelted stones on the security forces deployed in the town for the minister's security. To disperse the agitating mob, security forces used tear gas shells, police claimed. More than two dozen people including one police constable sustained pellet injuries, according to BMO of Tral sub-district hospital.
However, police in a statement, denied the use of pellet guns.
R&B minister Naeem Akhtar, who is known to share a good rapport with separatists, criticized the attackers, "These people (terrorists) are importing hand grenades and using on their own people. What crime had these pedestrians committed that they were killed?" He pointed out that he was there because the government has undertaken civil works worth Rs 100 cr in Tral.
Full report at:
http://timesofindia.indiatimes.com/india/targeting-pdp-minister-terrorists-kill-3-civilians-leave-30-injured-in-south-kashmir/articleshow/60787892.cms
--------
Jamiat leads protest demanding Centre drop plans to deport Rohingyas
Sep 22, 2017
NEW DELHI: Condemning the attacks on Rohingyas in Myanmar and calling upon the Centre to show empathy towards Rohingya refugees and not deport them, Jamiat Ulama-i- Hind on Thursday led a demonstration at Jantar Mantar in the national capital.
The minority organisation has called upon the international community, especially the UN, to take action against the Myanmar government over the ongoing attacks on Rohingyas "instead of merely passing buck and statements condemining the violence". Speaking at the protest, Maulana Mahmood Madani, general secretary of Jamiat Ulama-i- Hind urged the international community to impose economic blockade against the Myanmar state like it did in the case of North Korea.
"We strongly condemn the current ethnic cleansing and genocide targeted upon Rohingya Muslims in Myanmar which has resulted in deaths of about a thousand innocent civilians, burning of their houses and properties, and forcing as many as 2,70,000 people to flee to neighbouring Bangladesh in the last three weeks," it stated in a memorandum.
The minority organisations want that an international inquiry be instituted into the recent violence in Myanmar and to grant free access to humanitarian aid groups and international media. They have also demanded that uprooted families be rehabilitated.
Jamiat Ulama-i- Hind has submitted the memorandum to the office of the secretary general of United Nations, Union minister of home affairs Rajnath Singh and the ambassador and embassy of Myanmar at New Delhi.
Full report at:
http://timesofindia.indiatimes.com/india/jamiat-leads-protest-demanding-centre-drop-plans-to-deport-rohingyas/articleshow/60787840.cms
--------
India announces taking up 116 high-impact projects in Afghanistan
Sep 21, 2017
NEW YORK: India has announced taking up 116 "high impact community developmental projects" in 31 provinces of Afghanistan, weeks after US President Donald Trump sought New Delhi's help in the economic development of the war-torn country.
A decision in this regard was taken during a meeting between External Affairs Minister Sushma Swaraj and Afghanistan President Ashraf Ghani here on the sidelines of the UN General Assembly session.
"India and Afghanistan agreed to take up 116 high impact community development projects to be implemented in 31 provinces of Afghanistan," external affairs ministry spokesperson Raveesh Kumar told reporters at a news conference here on Wedenesday.
"Over and above these high impact projects, India has also offered assistance for six new projects under granting aid assistance from India. One of them is low-cost housing for returning Afghan refugees, road connectivity, national Park and economic development," he said.
In the meeting, Kumar said Swaraj and Ghani discussed the new "development partnership" between the two countries, which was decided during the visit of Afghanistan's foreign minister Salahuddin Rabbani in New Delhi earlier this month.
The two leaders also discussed various aspect of peace and reconciliation process.
According to an Afghan presidential statement, the two sides talked over several topics of mutual and regional importance such as regional security, counter-corruption efforts and expansion of commercial ties between the two neighbours.
"They considered the new US strategy (announced by Trump last month) instrumental to the region," said a statement issued by the office of the Afghan President.
Ghani said that Chief Executive Abdullah Abdullah is scheduled to visit India soon where he would hold talks with Indian business community and investors over trading opportunities, agriculture development, human capital, water management and enhancement of the air corridor, the statement said.
Swaraj commended the efforts of the Afghan government particularly of the president with regard to regional economic cooperation.
Full report at:
http://timesofindia.indiatimes.com/india/india-announces-taking-up-116-high-impact-projects-in-afghanistan/articleshow/60783744.cms
--------
Mideast
Palestinians mark Muslim New Year at Al-Aqsa Mosque
21.09.2017
Scores of Palestinians on Thursday celebrated the Islamic New Year at East Jerusalem's Al-Aqsa Mosque amid calls to protect the holy site from continued Israeli violations.
"You are the guardians of the holy Al-Aqsa Mosque, the thorns in the side of the [Israeli] occupation," Jerusalem Grand Mufti Mohammed Hussein told worshippers gathered in the mosque compound.
"You came today despite all restrictions and obstacles," he said, "right under the noses of the aggressors who never stop trying to impose new facts on the ground."
"They [the Israelis] have no right to this place," Hussein added. "They think their brutal incursions and unjust attacks will break your will; but they will be disappointed."
"Today, you came to the Al-Aqsa Mosque in confidence and with faith, while they [the Israelis] come here in fear," he declared.
Scores of Palestinian Muslims converged on the iconic mosque Thursday morning to celebrate the Islamic New Year, singing religious anthems and distributing candy.
Palestinian public figures and political factions, for their part, urged Palestinians to mark the occasion at the mosque, while the Israeli authorities temporarily closed off the site to Jewish settlers.
For Muslims, Al-Aqsa represents the world's third holiest site after Mecca and Medina. Jews, for their part, refer to the area as the "Temple Mount", claiming it was home to a large Jewish temple in ancient times.
Israel occupied East Jerusalem, in which the Al-Aqsa is located, during the 1967 Arab-Israeli War. In 1980, it annexed the entire city, claiming it as the Jewish state's "eternal" capital in a move never recognized by the international community.
http://aa.com.tr/en/middle-east/palestinians-mark-muslim-new-year-at-al-aqsa-mosque/916063
--------
Turkey jails 14 lawyers representing teachers on hunger strike
Sep 22, 2017
A Turkish court on Thursday jailed on terror charges 14 lawyers representing two detained teachers who have been on hunger strike for six months after being sacked in a mass crackdown.
The case of Nuriye Gulmen and Semih Ozakca has become a rallying cause for critics of the purge that followed a failed bid in July 2016 to topple President Recep Tayyip Erdogan.
More than 140,000 public sector employees have been suspended or sacked under a state of emergency imposed after the attempted coup.
The pair were jailed on terror charges in May and went on trial on September 14, but were not present in court amid growing concerns over their health.
Sixteen lawyers from the Office of People's Rights (HHB) that represents them were initially detained two days before the start of the trial, raising questions over the timing.
After questioning, an Istanbul court ordered 14 of the lawyers to be imprisoned on charges of "membership of an armed terror group." Two were allowed to go free.
They are accused of links to the Revolutionary People's Liberation Party-Front (DHKP-C), an outlawed Marxist group that has carried out sporadic attacks.
The HHB is also accused of being part of the DHKP-C, with its lawyers known by the code name "sportsman" within the group.
Gulmen and Ozakca have also been charged over involvement in the DHKP-C, accusations they vehemently deny as does the HHB.
"We only have one answer, to organise ourselves even more and to step up our fight for justice," the HHB wrote on its Twitter account.
The next hearing in the trial of Gulmen, an academic and Ozakca, a former primary school teacher, will take place on September 28.
The pair are only consuming salted or sugared water, herbal teas and vitamin B1, and family members and supporters have expressed concerns over their health.
The authorities say the mass purge is needed to eradicate the influence of US-based Islamic preacher Fethullah Gulen in Turkey, whom Ankara claims ordered the coup, something he vehemently denies.
Full report at:
http://nation.com.pk/international/21-Sep-2017/turkey-jails-14-lawyers-representing-teachers-on-hunger-strike
--------
Turkey, Iran and Iraq warn of 'counter-measures' against Kurd vote
21 September 2017
Turkey, Iran and Iraq on Thursday urged Iraq's Kurdistan region to abandon a planned referendum on independence, threatening unspecified "counter-measures" if it goes ahead with the vote.
The foreign ministers of Turkey, Iran and Iraq held a rare trilateral meeting Wednesday in New York on the sidelines of the UN General Assembly, days ahead of the non-binding September 25 referendum. Ankara and Tehran fear independence for the Kurds of northern Iraq would embolden their own Kurdish minorities, and Baghdad has bitterly opposed the plebiscite.
The three states reaffirmed their commitment to Iraq's territorial integrity and emphasized their "unequivocal opposition to the referendum," in a joint statement released by the Turkish foreign ministry. They also "agreed in this regard to consider taking counter-measures in coordination," according to the statement, which did not provide any details.
The ministers called the planned vote "unconstitutional", saying it ran the risk of provoking new conflicts in the region, and would "not be beneficial" for the Kurds of Iraq. They also said the referendum would put Iraq's hard-earned gains against ISIS militants "under great risk".
A better deal
The United States also opposes the referendum, warning that it may not be able to help Iraq's Kurds negotiate a better deal with Baghdad if they go ahead with the vote.
Turkey has its own long-running conflict with separatists among its sizable Kurdish minority, and has vowed to quash any Kurdish state from emerging in war-torn Syria.
Also read: Syria Kurds say will get training from Russian forces
In New York, President Recep Tayyip Erdogan on Tuesday demanded that Iraqi Kurds call off the referendum, while hinting at consequences if they go ahead. "Steps such as demands for independence that can cause new crises and conflicts in the region must be avoided," Erdogan told the UN General Assembly.
Full report at:
https://english.alarabiya.net/en/News/middle-east/2017/09/21/Turkey-Iran-and-Iraq-warn-of-counter-measures-against-Kurd-vote-.html
--------
Abbas at UN calls for end to 'apartheid' for Palestinians
21 September 2017
Palestinian leader Mahmud Abbas on Wednesday urged the United Nations to end what he described as an "apartheid" regime imposed by Israel in the Palestinian territories.
"We are entrusted and you are entrusted to end apartheid in Palestine," Abbas told the UN General Assembly in a nearly 45-minute address. "Can the world accept an apartheid regime in the 21st century?" he asked.
Taking the podium a day after Israeli Prime Minister Benjamin Netanyahu, Abbas slammed Israel over the construction of new settlements "everywhere," saying they were putting the two-state solution in jeopardy. "There is no place left for the state of Palestine and this is not acceptable," he said.
The United Nations considers settlements illegal under international law and the Security Council in December adopted a resolution demanding an end to the expansion of the Jewish outposts on the West Bank and east Jerusalem.
Obama administration
The resolution passed after the United States under the previous administration of Barack Obama declined to use its veto and instead abstained.
The Palestinian leader vowed to push for full recognition of Palestinian statehood at the United Nations, a move that would require approval from the Security Council where the United States, Israel's key ally, holds veto power.
Full report at:
https://english.alarabiya.net/en/News/middle-east/2017/09/21/Abbas-at-UN-calls-for-end-to-apartheid-for-Palestinians.html
--------
Hadi: Houthis are running an Iranian 'expansionist agenda' in the region
22 September 2017
Yemeni President Abdrabbuh Mansour Hadi said on Thursday that the coup d'état was carrying out an Iranian"expansionist agenda" in the region.
Hadi said in a speech to the UN General Assembly that Iran is supporting the coup militias with funds, weapons and missiles.
"Sustained peace can only be possible if this state ceases interfering in our affairs, creating tensions and stoking feelings of hatred," he said.
The Houthi militias form a threat to peace and security in the region and international navigation, he added.
He pointed out that the alliance between the Houthis and the ousted Saleh imposed war on the Yemeni people and curbed the political track, stressing that the problem in Yemen is not only a political conflict, but an attempt to impose extremist beliefs.
Hadi said in his speech that the coupists looted the state funds and reserves of the Central Bank, and that the war they launched left a total destruction in all aspects of life in Yemen.
Addressing the United Nations, President President Abdrabbuh Mansour Hadi urged international pressure on Houthi rebels who control the capital Sanaa and also appealed for greater humanitarian assistance.
"We in the Yemeni government are ready to provide all facilitation so that humanitarian assistance can reach anywhere in Yemen, and also the areas under the control of the Houthis," he told the General Assembly.
Full report at:
https://english.alarabiya.net/en/News/gulf/2017/09/22/Hadi-Houthis-are-running-an-Iranian-expansionist-agenda-in-the-region.html
--------
Veterans, leaders urge US to withdraw from Iran deal
21 September 2017
American political leaders pushed for the withdrawal of the United States from the Iran nuclear agreement during an Iranian opposition rally in New York on Wednesday.
Former Trump campaign adviser and ambassador to the United Nations, Jon Bolton, praised US President Donald Trump's UN speech calling it "the best speech of his presidency", while calling for the United States to leave this "disastrous [Iran] agreement".
"I think it's very important that the United States declare as its official policy that the regime in Iran needs to change. I think the world needs to hear this with clarity," he said during the rally that was held at the same time as President Hassan Rouhani's UN General Assembly Speech.
Bolton also warned about the cooperation between Iran and North Korea.
Trump in his UNGA speech called the Iranian government an "economically depleted rogue state" whose chief export is violence. (Reuters)
"The fact is the cooperation between the regime in Tehran and Pyongyang has been close for many, many years and whatever accomplishments North Korea makes in the nuclear and ballistic missile fields, the Ayatollahs can have the next day by writing a check that's large enough," he said.
"That's where the real threat comes from, and that's what I think the world needs to understand. These are not two separate problems here, the North Korean problem and the problem of the Ayatollah's regime. They are basically the same problem. The axis of evil is not a metaphor, it's a reality".
Joe Lieberman, the former Chair of the Senate Homeland Security Committee, was more forthright in calling for "decertification" of the agreement.
"I think decertification, it's a good idea and I think the main point is that Iran - contrary to the hopes of the Obama administration - has not changed their behavior overall, " Lieberman told Al Arabiya English.
"They have complied with some details of the agreement but, they have not given inspectors access to military sites, and we don't know what they are doing there."
Experts say legal questions remain whether President Trump has the legal authority to withdraw unilaterally. Lieberman said Trump has the authority to pull out of the Iran deal because it was an agreement signed by President Obama, not a treaty ratified by the Senate.
"I think that President Trump has the right under congressional legislation and as commander-in-chief of the United States to withdraw from the agreement," Lieberman said.
Engel expressed deep concern about Iran's policies regarding ballistic missiles and support for terrorist groups. (AFP)
A senior Democratic Party Congressman on the US Congressional Committee on Foreign Affairs called for the review of Iran's commitment ahead of a declassification.
"What would be better than decertification is to make sure Iran lives up to the agreement, which Iran isn't doing, with its ballistic missile program and its support for terrorism," said Congressman Eliot Engel of New York told Al Arabiya English.
President Trump has made up his mind about the agreement though he has yet to announce it.
"I think the Trump administration needs to examine what the Iranian regime has abided by in the agreement. I don't want to create further instability in the Middle East, and I think we need to be careful," Engel told Al Arabiya English in New York.
Engel expressed deep concern about Iran's policies regarding the development of ballistic missiles and its support for regional terrorist groups.
Full report at:
https://english.alarabiya.net/en/features/2017/09/21/Veterans-leaders-urge-US-to-withdraw-from-Iran-deal.html
--------
Revealing the relationship of al-Qaeda's Minister of Information with Iran
21 September 2017
US President Donald H. Trump's speech to the UN General Assembly has re-highlighted Iran's role in sponsoring radical terrorist groups in the Middle East, especially al Qaeda.
Al Arabiya reviewed the latest issue of the "Voice of Jihad" magazine, issued in 1428/2007, revealing more about the alliance of Tehran with Osama bin Laden, and the provision of logistical support to the fighters of the organization in training, shelter and care.
The issue highlighted a new and important name who is one of the most prominent al-Qaeda ideologues in Saudi Arabia, who has not been publically named before which revealed the extent of bilateral cooperation between Tehran and al-Qaeda.
So who is this 'important' man?
The Minister of Jihad Information
Issa bin Saad al-Aoushen or as his comrades call him "the Minister of Jihad Information" or "the keyboard fighter, was killed during a security raid on the house of the leader Saleh al-Awfi in Riyadh in 2004.
Al-Aoushen joined al-Qaeda fighters in Afghanistan shortly before the September 11 attacks, after consulting with the founder of al-Qaeda in Saudi Arabia, Yusuf al-Ayeri.
From the beginning, Al-Aoushen was very active in cyber terrorism considering that he had lived through the period of the "Afghan Jihad" and the "Chechen issue" until he joined al-Qaeda in Afghanistan. The leader of al-Qaeda in the Arabian Peninsula known as Abdul Aziz appointed him as media officer for the organization's publications, following the killing of al Ayeri during security clashes in the northern city of Ha'il in June 2003.
According to the "Tawheed and Jihad" fundamentalist platform on the biography of the media spokesman for Al-Qaeda, al Aoushen also known as Abu Said Al-Qaoud stood out in the field of jihadist media as he "Believed in the importance of the role of the media in attracting supporters for the Mujahedeen. He put all of his efforts in this field, where he worked hard and persevered with Sheikh Shaheed Yousef al-Ayeri in the Studies website to advertise for the organization and recruit fighters.
After the killing of al-Ayeri, Al Aoushen supervised the Center for Islamic Research Studies website. He was also the editor-in-chief of the "Voice of Jihad" magazine, commissioned by al-Qaeda leader in Saudi Arabia Abdul-Aziz al-Muqrin.
In addition, he was the supervisor of the Al-Battar Camp, a key operative of al-Sahab's main media arm. He was also the commentator for the famous Al-Sahab edition "Badr Al-Riyadh".
Four days after the raid on the Seville cell on May 8th, 2003, one of the largest terrorist attacks in the Kingdom took place, where three residential complexes (Granada, Seville and Hamra) were blown up. The Saudi government, following investigations, released a list of 26 terrorists who are, according to the Saudi Interior Ministry, the most wanted men in Saudi Arabia. Al Aoushen, the media spokesman for the Al Qaeda was among those names.
Al Aoushen and Tehran
The bilateral relationship between al-Qaeda media spokesman and Tehran started just after the events of September 11 and on the eve of the US attack on the Taliban and Al-Qaeda in Afghanistan, taken out by al-Qaeda fighters and other radical Islamic organizations as a hideout and a blind spot to escape being tracked by the US intelligence services.
Al-Aoushen was stationed in the Zabol district, one of the districts of the Sistan and Baluchistan provinces. The coordinator in that leadership was Yusuf al-Ayeri, the guard of Osama bin Laden, who was one of five people in 1992 who traveled on Ben Laden plane from Afghanistan to Sudan, through Iran, where the plane landed for hours before completing its route.
According to his friend Majid Saeed al-Qahtani, nicknamed "Ali al-Maki" (killed in a security raid on one of the most prominent al-Qaeda cells in the province of Ras al-Qassim in 2005): "In the Iranian city of Zabol, Al Aoushen supervised the Al Qaida fighters stationed in Iran through al-Ayeri, who was the main link between bin Laden and fundamentalist leaders in the Arabian Gulf, where they all communicated via internet with al-Qaeda leaders in Iran and Pakistan."
According to the testimony of "Ali al-Maki", published in the "Voice of Jihad" magazine: "The martyr, may God have mercy on him, arrived in Iran with a group of mujahedeen. They eagerly waited for a long time to be able to enter but the road was cut off." The interesting thing about the letter of of Al-Qahtani, which was titled "Knight of the Jihadist Media", that it revealed that Al Aoushen was in charge of providing logistical support and receiving donations, as well as receiving newly recruits and those leaving Afghanistan to avoid US air strikes. This proves the extent of Iran's involvement in supporting terrorist groups and becoming a transit station for fighters who want to join al-Qaeda.
On Al Aoushen, al Maki said: "In Iran, Al Aoushen provided his brothers the Mujahedeen with so-called logistical support such as receiving donations. He also hosted the Mujahedeen brothers who are coming to jihad or those who are leaving Afghanistan. He also told me, God have mercy on him, that one day Sheikh Youssef Al Ayeri picked up the phone, as if he sensed that the brothers were eager to cross the borders and were fed up with Iran and its restrictions, so he encouraged them and explained to them the virtue of patience and Jihad in a phone communication that lasted a long time."
In the same context, the Saudi Interior Ministry announced in 2009 a list of 85 security suspects outside the Kingdom, 83 of them were Saudis and two were Yemenis. Some of them turned themselves in after securing their return and subjecting them to the regulations.
Qarawi, the founder of the Abdullah Azzam Brigades
Is the 13th suspects in the cell 32 which planned to carry out a terrorist operation in Saudi Arabia. During the cell adjudication sessions in September 2014, he revealed that he had received weapons and explosives training courses with al-Qaeda in Afghanistan. He carried over 106,000 riyals from one cell member and transferred it to Iran. He handed over a hundred thousand riyals to the coordinator of al-Qaeda in Iran, Saleh al-Qarawi, who is also listed on the list of 85, in return for the extradition of one of the wanted in Waziristan for the price of 6 thousands Riyals.
Qarawi is the founder and leader of the so-called Abdullah Azzam Brigades, which began its military activity in 2004 with limited operation and announced its formation and composition after the 2009 Gaza war. They were based in the Palestinian refugee camps in Lebanon.
Al-Qarawi went to Iran and received extensive training in electronics and its use in bombing operations. He made Iran a center of his operations and served as a mediator between the leaders of the organization and its members. He worked to unify the organization's efforts in Iraq and Lebanon. He is a deputy to al-Qaeda facilitator Yasser al-Souri and has strong links to elements of the organization based in the region who are seeking to implement terrorist attacks.
The Azzam Brigades claimed responsibility for the double attack in November 2013 near the Iranian embassy in Lebanon, which took place under the intelligence and the directions of Iran and the Syrian regime.
Al-Qarawi was traveling between Iran and specifically from his residence in Mashhad and Waziristan until he was seriously injured in the arm in the summer of 2012 and was taken prisoner by Saudi Arabia as the number 43 wanted on a list of more than 85 wanted Saudis.
Through their two factions, Saraya Zied al Jarrah and Saraya Youssef al Abiri, the Brigades carried out 9 operations, most notably an attack on an American barge which was anchored in Aqaba in August 2005.
The New York Times revealed in January 2002, special documents obtained from US intelligence officials which confirm communication between the leader of the military wing of Hezbollah Imad Mughniyah, Iran and bin Laden during the nineties.
Full report at:
https://english.alarabiya.net/en/features/2017/09/21/Revealing-the-relationship-of-al-Qaeda-s-Minister-of-Information-with-Iran.html
--------
Four Yemenis killed in Saudi airstrike on Hajjah province
Sep 21, 2017
At least four civilians have been killed and five others injured when Saudi military aircraft carried out an airstrike on Yemen's northwestern province of Hajjah as Riyadh continues with its atrocious aerial bombardment campaign against its conflict-plagued southern neighbor.
Local sources told Lebanon-based Arabic-language al-Mayadeen television news network that the fighter jets targeted a passenger car as it was traveling along a road in the Abs district of the province, located approximately 130 kilometers northwest of the capital Sana'a, on Thursday afternoon.
The development came only two days after four women and five children lost their lives when Saudi fighter jets bombarded a residential building in the Kushar district of the same Yemeni province.
Local sources, speaking on condition of anonymity, identified the victims as members of the same family.
Four Saudi soldiers slain in clashes with Ansarullah fighters
Meanwhile, Saudi Arabia's official news agency, SPA, reported that four soldiers had been killed during fierce clashes with Yemeni fighters from the Houthi Ansarullah movement in the kingdom's southwestern border regions of Najran and Jizan.
The report did not provide any information about the circumstances surrounding the deaths of the soldiers.
Saudi Arabia has been incessantly pounding Yemen since March 2015 in an attempt to crush the popular Houthi Ansarullah movement and reinstate former president Abd Rabbuh Mansur Hadi, who is a staunch ally of the Riyadh regime.
More than 12,000 people have been killed since the onset of the campaign more than two and a half years ago. Much of the Arabian Peninsula country's infrastructure, including hospitals, schools and factories, has been reduced to rubble due to the war.
The Saudi war has also triggered a deadly cholera epidemic across Yemen.
According to data provided by the World Health Organization and Yemen's Health Ministry, the country's cholera outbreak, the worst on record in terms of its rapid spread, has infected 612,703 people and killed 2,048 since it began in April, with some districts still reporting sharp rises in new cases.
Full report at:
http://www.presstv.ir/Detail/2017/09/21/535959/Yemenis-die-Saudi-warplanes-hit-passenger-car-in-Hajjah
--------
Hundreds of thousands of Yemenis mark 3rd anniversary of revolution
Sep 21, 2017
Hundreds of thousands of people have gathered in the Yemeni capital, Sana'a, to mark the third anniversary of the country's September 21 Revolution and condemn the bloody Saudi war against the nation.
The demonstrators in Thursday's mass rally reaffirmed their commitment to the government in Sana'a and the Yemeni forces defending the country against an ongoing Saudi war.
Large crowds from across the country have been flocking to Sana'a since Thursday morning to celebrate the occasion.
A convoy of UAE military forces captured by Yemeni forces during their operations was also displayed at the rally. The military equipment was being used by Saudi-led troops and pro-Riyadh militia fighting on the ground against the Yemeni army, which is backed by the Houthi Ansarullah fighters and popular groups.
In September 2014, the Ansarullah fighters took state matters in their hands in Sana'a amid the absence of an efficient government there.
Before gaining control of the capital, the Houthis had set a deadline for the political parties to put aside differences and fill the power vacuum, but the deadline was missed without any change in the impoverished country's political scene.
However, the former Saudi-backed president, Abd Rabuh Mansur Hadi, later stepped down, refusing a call by the Houthi movement to reconsider the move.
Hadi then fled to Saudi Arabia, which launched a military campaign against Yemen along with a number of its allies in March 2015 to reinstall Hadi and crush the Houthi movement.
In a speech aired on al-Masirah TV on Wednesday on the anniversary of the revolution, leader of the Ansarullah movement Abdul-Malik al-Houthi slammed the Saudi-led war against the country.
He praised the existing diversity in Yemen's social fabric and warned that the enemy, including the US, Israel and the Saudi-led coalition, seeks to use such differences to create divisions in the country and disintegrate Yemen.
Full report at:
http://www.presstv.ir/Detail/2017/09/21/535926/Yemen-revolution-Ansarallah
--------
South Asia
8 members of Pak-based Lashkar-e-Taiba killed in Helmand airstrikes
Sep 21 2017
At least eight members of the Pakistan-based Lashkar-e-Taiba group were killed in airstrikes conducted in southern Helmand province of Afghanistan.
The Ministry of Defense (MoD) in a statement confirmed the militants were killed in Nawa district of Helmand.
The statement further added that a total of eleven insurgents were killed in the airstrikes, including eight members of Lashkar-e-Taiba.
According to MoD, at least six militants also sustained injuries in the airstrikes.
The anti-government armed militant groups have not commented regarding the report so far.
The security situation in Helmand remains tense specifically the Nawa and other strategic districts where the anti-government armed militant groups have carried out numerous major attacks during the recent months with an aim to turn the province into their operational hub.
In the meantime, a report regarding the killing of Lashkar-e-Taiba militants in Helmand emerges days after the army officials in Nangarhar said at least two members of Lashkar-e-Islam were killed in a similar airstrikes.
The officials in the 201st Silab Corps of the Afghan national army in the East, said the airstrike was carried out in Bandar area of Achin district.
http://www.khaama.com/8-members-of-pak-based-lashkar-e-taiba-killed-in-helmand-airstrikes-03495
--------
How did a jailed Bangladeshi militant end up in Delhi?
September 22, 2017
Samiun was arrested in Dhaka for trying to recruit members for international militant organisations Islamic State and the Nusra Brigade
Police are clueless as to how Samiun Rahman alias Ibne Hadan, the British militant recruiter who was arrested in Dhaka three years ago, managed to get out of Bangladesh when his passport had been seized by police.
The 31-year-old British citizen of Bangladesh origin, who received bail only in April this year, was arrested by Indian law enforcement authorities in Delhi on Sunday.
Police said they were now working to find out if the militant arrested in Delhi is the same as the suspect arrested in Dhaka.
If they are the same person, police will look into how he was granted bail and left the country.
The Detective Branch of police arrested Samiun in Kamalapur, Dhaka on September 28, 2014. He was granted bail by the High Court in April.
Police believe he crossed over to India illegally, sources told the Dhaka Tribune.
Meanwhile, the Counter-Terrorism and Transnational Crimes (CTTC) unit of police, who investigate all militancy-related cases in the country, said they had not been notified of Samiun's bail.
"If a high-profile militant or suspect receives bail, we are supposed to be informed of that. But in this case, we did not receive any such information," CTTC chief Monirul Islam told the Dhaka Tribune on Thursday night.
"We are also working to confirm if the militant arrested in Delhi is the same person as the militant our law enforcement authority picked up in Dhaka in 2014," he added.
Samiun was arrested in Dhaka for trying to recruit members for international militant organisations Islamic State and the Nusra Brigade, also known as al-Nusra Front.
He came to Bangladesh on February 25, 2014 and set up base to gather fighters to send to Syria for a so-called jihad.
Before Bangladesh, he had visited Syria, Turkey and Morocco with the same mission.
He was actively trying to recruit militant operatives for Islamic State and al-Nusra Front in Sylhet, Habiganj and Dhaka districts, the Detective Branch said following his arrest.
Detectives received the information from two suspected members of banned militant outfit Jama'atul Mujahideen Bangladesh (JMB), Asif Adnan and Fazle Elahi, who had been arrested in Dhaka only four days before Samiun.
Asif and Fazle were also the first to inform the Detective Branch that Samiun, inspired by al-Qaeda chief Ayman al-Zawahiri's plan to expand the terrorist organisation's operations in South Asia, had been trying to set up an international militancy network named al-Qaeda in the Indian Sub-continent (AQIS) in Bangladesh and Myanmar.
Court sources said Samiun had petitioned a lower court for bail once before, but it was rejected.
Police also submitted charge sheet against him before a trial court.
Samiun also petitioned the High Court to quash the case against him, filed under the Anti-Terrorism Act 2009, which is currently on trial.
In India, he was allegedly setting up base in Delhi, Mizoram and Manipur to radicalise and recruit young Muslims to wage a war against India and Myanmar, reported the Times of India.
"He was setting up a base in Delhi and two northeastern states and preparing the recruits to carry out strikes in India and fight the Myanmar army," said Deputy Commissioner Pramod Kushwah of Special Cell, Delhi police.
"He was being assisted by al-Qaeda cadre in Delhi, Hazaribagh and other places in India, who are being identified."
Saimun was carrying a voter ID card carrying the name of Shumon Haq, a resident of Kishanganj, Bihar when he was arrested, Kushwah said.
Full report at:
http://www.dhakatribune.com/bangladesh/crime/2017/09/22/militant-samiun-leave-country/
--------
Bangladesh PM at UNGA: Create safe zones inside Myanmar for the Rohingya
September 22, 2017
Hasina on Thursday proposed the creation of UN-supervised 'safe zones' inside Myanmar to protect Rohingya Muslims who are fleeing a military crackdown to seek refuge in her country
Bangladesh Prime Minister Sheikh Hasina has proposed the creation of a safe zone for the Rohingya people inside Myanmar, under United Nations supervision, while speaking at the 72nd session of the United Nations General Assembly.
She also urged the UN Secretary General to send a fact-finding mission to Myanmar.
Taking the podium right after the speech of Mauritius' Prime Minister Pravind Kumar Jugnauth, the Prime Minister placed a 5-point proposal to end the Rohingya crisis in front of the General Assembly.
Sheikh Hasina called on "Myanmar to unconditionally stop the violence and the practice of ethnic cleansing in the Rakhine State immediately and forever".
In her final two points Sheikh Hasina urged for the sustainable return of all Rohingya refugees living in Bangladesh and the full implementation of the Kofi Annan Commission report.
The Prime Minister began her speech at 5.29am Bangladesh time. She opened her speech in Bangla, in lieu with the Bangla speech given by father of the nation Bangabandhu Sheikh Mujibur Rahman in 1974.
She said: "I have come here just after seeing the hungry, distressed and hopeless Rohingyas from Myanmar who took shelter in Cox's Bazar. This forcibly displaced people of Myanlnar are fleeing an 'ethnic cleansing' in their own country where they have been living for centuries."
"We are currently sheltering over 800,000 forcibly displaced Rohingyas from Myanmar. The ongoing atrocities and human rights violations in the Rakhine State of Myanmar has once again aggravated the situation at the Bangladesh-Myanmar Border," the Bangladesh Prime Minister added.
In her speech the Prime Minister remember the martyrs on the Language Movement in 1952 and the Liberation War in 1971.
"The 1971 genocide included targeted elimination of individuals on the ground of religion, race and political belief. The intellectuals were killed brutally."
Full report at:
http://www.dhakatribune.com/bangladesh/2017/09/22/bangladesh-pm-unga-create-safe-zone-inside-myanmar-rohingya/
--------
Hekmatyar declares amnesty for those who fought with Hezb-e-Islami
Sep 22 2017
The leader of Hezb-e-Islami Gulbuddin Hekmatyar declared amnesty for those who have fought against the party in the past.
In his meeting with the tribal elders of Herat and Badghis provinces in Herat province, Hekmatyar said "We pardon all those who have fought against Hezb-e-Islami and extend the hand of brotherhood and invite for the tolerance for each other as we do not the previous bitter experiences to be repeated."
Hekmatayr further added that to reach to a compromise and gather under a national axis is the only way to get rid of the ongoing situation.
According to Hekmatyar, all the parties and groups have been invited to gather under a single roof and put an end to the ongoing differences and the ongoing miserable situation.
In the meantime, Hekmatyar claimed that except Hezb-e-Islami all the other parties are operating with the motives to serve a specific ethnic group or a specific region.
He said the number of political parties have increased considerably and there is a need that smaller parties should come under the influential parties.
Full report at:
http://www.khaama.com/hekmatyar-declares-amnesty-for-those-who-fought-with-hezb-e-islami-03499
--------
Political and military victory is within our side, Ghani tells Trump
Sep 21 201
The Afghan President Mohammad Ashraf Ghani met with the US President Donald Trump earlier this evening, Afghanistan Time, in Washington as he thanked his counterpart for latest commitments and pledging the Afghan government's commitment to ensure proper utilization of the resources for the development and prosperity of the country.
Calling the new US strategy announcement a historic movement, President Ghani said "You asked very fundamental questions, you made this decision on the basis of courage and determination, we salute your courage."
President Ghani further added "Sincee the decision, there has been an immense change on the ground, I have been to six to seven of our army corps, they all greet you and the people of the United States and the American soldiers and the officers who fought shoulder to shoulder with them. It is a difference of day and night."
He said "The cloud of uncertainty has been lifted but equally important is your political commitment to a political solution at the end of this process."
"What we want to assure the American people is that there is not going to be a combat role, you have made that crystal clear and we are committed to make sure it is the Afghan people, the Afghan soldiers, the Afghan officers who will take the burden of responsibility," President Ghani added.
He said "The modest additional troops that are to be sent are to enhance the assist, support, advice mission and that is playing a very crucial role."
According to President Ghani "Victory, political and military wise is within our side and I would like to thank you for the thoroughness of the review and specially for ordering that all instruments of the American power, military, diplomatic, and economic, are brought together in a coherent plan of action to lift Afghanistan out of forty years of crisis and to make it a platform for stability and prosperity."
Full report at:
http://www.khaama.com/political-and-military-victory-is-within-our-side-ghani-tells-trump-03497
--------
North America
Michigan doctor believes US ready for first Muslim governor
by David Eggert
Sep 21, 2017
DETROIT — Perhaps no state has embraced the political outsider as much as Michigan, where a venture capitalist won the last two governor's elections and a real estate baron carried the presidential vote. Now Abdul El-Sayed is putting that affinity for newcomers to the test.
Abdul El-Sayed, a 32-year-old liberal doctor in Detroit, is mounting a surprisingly robust bid to become the nation's first Muslim governor.
Democratic leaders are stunned by the sudden emergence of the former Rhodes Scholar, who served as Detroit public health director, in the primary field after he quickly raised $1 million.
He is one of four viable Democrats and, for now, three Republicans in a race that his party considers a must-win to re-establish itself after eight years of GOP control of state government.
Michigan has one of the largest Arab populations outside the Middle East, but is it ready to elect a Muslim as chief executive? El-Sayed says yes, though he insists the election will be about his qualifications and grassroots movement.
"I think folks are looking for something fresh, new, exciting, competent. And we offer that," said the self-assured El-Sayed, who emphasizes his work rebuilding Detroit's health department after the city's bankruptcy.
Political insiders are not sure about the religious complexities but are impressed by his fundraising.
"No one expected El-Sayed to raise that kind of money — no one," said pollster Ed Sarpolus.
The governor's race in 2018 is wide open with Republican incumbent Rick Snyder, a former business executive, leaving after two terms. Before Republicans swept to power in 2010, Democrats held the governor's office and one house of the Legislature.
The diverse Democratic field includes front-runner Gretchen Whitmer, a former legislative leader who has raised $1.5 million and has secured labor union support; Shri Thanedar, an immigrant entrepreneur from India who has given his campaign $3.3 million but remains largely unknown for now; and Bill Cobbs, an African-American former Xerox executive who has not collected much money.
The leading GOP contender is state Attorney General Bill Schuette, who joined the race this week. Other Republicans running are Jim Hines, who has given $438,000 of his own money, and conservative state Sen. Patrick Colbeck.
El-Sayed, the son of Egyptian immigrants, was born in Michigan and grew up in the affluent Detroit suburb of Bloomfield Township. His father and stepmother are mechanical engineering professors who now work as college administrators.
El-Sayed has been known for his speaking ability since his days at the University of Michigan, where he gave the senior speech to fellow graduates. The commencement speaker that day, former President Bill Clinton, said he wished "every person in the world" who is pessimistic about the nation's religious divide could have heard El-Sayed, who talked about the many opportunities at hand to "change the world."
Potentially the most progressive candidate in the field, El-Sayed frequently touts government's ability to help people and cites his initiatives in Detroit to provide free glasses to schoolchildren and increase lead exposure tests.
He criticizes unauthentic "corporate, bought-out" politicians and disavows corporate PAC donations. His fundraising base is dominated by physicians, tech executives and financiers, many from out of state.
El-Sayed is hoping to benefit from an energized Democratic backlash against President Donald Trump, who narrowly carried Michigan in 2016, and from the repercussions of a lead contamination scandal in the city of Flint blamed primarily on Snyder's administration. Trump has imposed a travel ban on Muslim-majority countries and blamed "both sides" for violence between white supremacists and their opponents in Virginia.
"What better way to send Donald Trump a message than to elect a millennial Muslim guy in a state that he barely took?" said El-Sayed, a former college lacrosse player with a stocky build.
Just two Muslims serve in Congress, neither with an Arabic surname: Reps. Keith Ellison of Minnesota and Andre Carson of Indiana. El-Sayed and Deedra Abboud, a Democratic Senate candidate in Arizona, are among the first Muslims to pursue major statewide offices.
In a 2016 Pew Research Center survey, 42 percent of U.S. adults said they would be less likely to support a Muslim presidential candidate. El-Sayed, who has faced attacks on social media because of his Islamic faith, keeps his campaign office location secret for safety reasons.
While Whitmer is considered the Democratic favorite, political analysts believe El-Sayed could appeal to anti-establishment activists and backers of former Democratic presidential candidate Bernie Sanders in next summer's primary.
One voter whom El-Sayed has won over is Sonique Watson, a 26-year-old professional blogger from Detroit who said she felt "a spark" because he is approachable and seems more like a passionate public servant than a politician. She likes his focus on the Flint crisis and not cutting "costs and corners" in government.
"All Abdul has to do is speak. He caught me just speaking," Watson said.
Yet there are skeptics.
Former Gov. Jim Blanchard, a Whitmer backer, said he questions nominating a candidate without "serious experience" in office.
"There's no reason for people to fool around here and take a flyer with someone who can give a nice speech but really is not ready for the job," he said.
Jermain Jones, a 37-year-old Detroit-area political organizer, said it is impossible to overlook the impact of El-Sayed's religion in rural or blue-collar areas.
"Even the Democratic establishment I don't think is ready to push an Islamic candidate in a state like Michigan," Jones said. "Islamophobia is strong in America right now."
https://www.ncronline.org/news/politics/michigan-doctor-believes-us-ready-first-muslim-governor
--------
Trump urges help for Rohingya amid violent crackdown
September 22, 2017
US President Donald Trump has asked his national security advisers to find ways to help end violence that's driven hundreds of thousands of Rohingya Muslims from Myanmar to neighboring Bangladesh, according to United Nations Ambassador Nikki Haley.
"The president is very concerned about Burma," Haley told reporters in New York on Thursday, using Myanmar's former name. "Everybody is trying to figure out who can move the officials in Burma. You have almost half a million people who have left, and the tragedies and the abuse that's happened there is something not a lot of us can stomach."
More than 400,000 Rohingya from the Buddhist-majority nation have fled over the border to Bangladesh since Aug. 25, when militants from the Arakan Rohingya Salvation Army attacked police and army posts, killing a dozen security officials in Myanmar's eastern state of Rakhine. The military responded to those assaults with what it called "clearance operations."
Human-rights groups have accused security forces and Buddhist vigilantes of indiscriminately attacking Muslims and burning their villages, while UN Secretary-General Antonio Guterres described the violence as "ethnic cleansing." Some groups have criticized the Trump administration for not speaking out forcefully against the violence.
Secretary of State Rex Tillerson has contacted Aung San Suu Kyi, Myanmar's leader, to express the president's concern, Haley said. She said Marine General Joseph Dunford, chairman of the Joint Chiefs of Staff, has urged the country's military leaders to end the violence. On Wednesday, Vice President Mike Pence urged members of the UN Security Council to take "strong and swift" action.
Suu Kyi, a Nobel Peace Prize laureate who endured years of house arrest by a military junta during her campaign to bring civilian rule to Myanmar, has come under fire for not speaking out against the violence. She has described some Rohingya, who are considered stateless in Myanmar, as militants.
Still, Suu Kyi, who skipped the gathering of world leaders in New York for the UN General Assembly, said in a televised address this week that "we condemn all human rights violations and unlawful violence" and that her government was ready to welcome back Rohingya refugees.
Haley spoke at a news conference called by the Trump administration to boast of US accomplishments at the UN sessions. It reflected the increasingly visible role being played by the former South Carolina governor, feeding speculation she's outshining the low-key Tillerson as the Trump administration's face of public diplomacy.
Full report at:
http://www.thejakartapost.com/news/2017/09/22/trump-urges-help-for-rohingya-amid-violent-crackdown.html
--------
President Erdoğan warns US over Gülen network activities in country
Sep 22, 2017
Turkish President Recep Tayyip Erdoğan on Sept. 20 warned the United States over the Fethullahist Terrorist Organization (FETÖ), widely believed to have orchestrated the deadly coup attempt of July 15, 2016, saying they would eventually see the real face of the organization.
Erdoğan will discuss bilateral ties with his U.S. counterpart Donald Trump at a head-to-head meeting in New York City on the night of Sept. 21, according to the Turkish Presidency.
"Everyone should see and understand that there is no difference between FETÖ, ISIL [Islamic State of Iraq and the Levant] and the PKK [outlawed Kurdistan Workers' Party]. FETÖ puts its signature on many cases of fraud and irregularity in the U.S. alongside the pains it inflicted on Turkey," he said during a speech at a dinner by the TÜRKEN Foundation in New York City.
Erdoğan said activities in FETÖ schools had begun to be revealed.
"Our friends from the U.S. did not understand it [FETÖ activities] or do not want to understand. We see that. Theft in these schools is starting to slowly be revealed, being reported by the press and discussed by the public. I believe that our friends from the U.S. would see the real face of this organization in the not-so-distant future," he added.
Erdoğan also said that some groups supported the spread of FETÖ's lies due to hostility against him, the ruling Justice and Development Party (AKP) and Turkey.
"The organization continues its black propaganda activities from both the U.S. and different areas across the world at full steam. Reality is an antidote of lies. There is no darkness that can resist the reality of sunlight," he added.
Erdoğan and Trump are scheduled to meet at 10:00 p.m. in the Lotte New York Palace Hotel and make a joint statement, said sources from the presidency, who spoke on conditions of anonymity due to restrictions on speaking to the media.
Erdoğan and Trump are expected to discuss global and bilateral issues. The latter includes the extradition of U.S.-based Fetullah Gülen, leader of FETÖ and the withdrawal of a proposal on selling weapons to President Erdoğan's security guards.
Erdoğan attended the United Nation General Assembly earlier this week, delivering a speech at the general debate and holding bilateral meetings with world leaders.
Full report at:
http://www.hurriyetdailynews.com/president-erdogan-warns-us-over-gulen-network-activities-in-country.aspx?pageID=238&nID=118218&NewsCatID=338
--------
Trump, Ghani agree US can help develop Afghanistan's rare earth minerals
Sep 22, 2017
U.S. President Donald Trump and Afghanistan President Ashraf Ghani agreed at a meeting in New York on Thursday that U.S. companies could help develop Afghanistan's rare earth minerals, the White House said in a statement.
"They agreed that such initiatives would help American companies develop materials critical to national security while growing Afghanistan's economy and creating new jobs in both countries, therefore defraying some of the costs of United States assistance as Afghans become more self-reliant," the White House said.
The two leaders also expressed their commitment to fully implement Trump's new South Asia strategy to defeat terrorism, the statement said.
http://nation.com.pk/international/22-Sep-2017/trump-ghani-agree-us-can-help-develop-afghanistan-s-rare-earth-minerals
--------
US, Iran meet as Trump threat looms over nuke deal
Sep 22, 2017
UNITED NATIONS - Washington and Tehran's top diplomats confronted each other for the first time as envoys scrambled to save the Iran nuclear deal from a skeptical Donald Trump.
US Secretary of State Rex Tillerson and Iranian Foreign Minister Mohammad Javad Zarif met as signatories to the 2015 accord at an EU-hosted event on the sidelines of the UN General Assembly.
European ministers called the meeting to examine ways to save a deal that US President Trump is poised to denounce, but Tehran and Washington remain far apart.
EU foreign policy chief Federica Mogherini put the bravest possible face on the encounter, stressing that Iran and the major powers agree the deal is "delivering."
But Tillerson said the discussion had been a political one and that even if Iran is in "technical" compliance with the pact, "significant differences" remain.
Speaking to Iran's state broadcaster after the meeting, Zarif said all "members, except one country, stressed the importance of fully observing the (deal), its being non-negotiable and that all sides should remain committed to this international achievement." He condemned Washington's "verbosity, especially the very insolent remarks by the president of the country".
Iran's supreme leader on Thursday lashed out against US President Donald Trump describing the speech he delivered at the UN this week as full of "gangster and cowboy" rhetoric. "The reason behind the foolish, very ugly, insolent and disorderly speech with cowboy and gangster wording... is their anger (and) desperation," Ayatollah Ali Khamenei said in reference to Trump and the US administration.
In remarks to a top clerical body, the Assembly of Experts, carried by his website, Khamenei described Trump and the US administration as "having no brains".
Britain, China, France, Germany, Russia and the United States signed the 2015 deal with Iran in a bid to prevent it developing a nuclear weapons capability.
Tehran agreed to surrender most of its enriched uranium and accept limits to its nuclear activities in return for the lifting of international sanctions imposed over its nuclear program.
The previous US administration accepted that the deal was limited to the nuclear issue, and hailed it as a victory for Barack Obama's non-proliferation agenda.
But Trump has denounced the agreement as an "embarrassment" to the United States and has accused Iran of breaking it in "spirit" by arming militant groups and destabilizing the Middle East.
In particular, he objects to the "sunset clause" that would see Iran resume some enrichment from 2025.
Tillerson argued that the preamble to the agreement implied that it would lead to a more stable Middle East and said Iran remains a source of instability.
"Regrettably, since the agreement was confirmed we have seen anything but a more peaceful, stable region and this is a real issue," he told reporters.
"That is why we talk about Iran defaulting on these expectations, since those expectations have not been met."
Tillerson said Iran continues to prop up the "horrible" regime of Syria's Bashar al-Assad, carry out banned missile tests and harass shipping in the Gulf.
European diplomats, while sharing those concerns, are becoming exasperated by the argument - insisting the accord was designed solely to stop Iran getting the bomb.
"There is no need to renegotiate parts of the agreement because the agreement is concerning a nuclear program and as such is delivering," Mogherini said.
The European chief diplomat, who chaired the meeting, argued that it would be unwise to re-open the deal at a time when the world is facing a nuclear threat from North Korea.
"We already have one potential nuclear crisis. We definitely do not need to go into another one," she said.
There was some sympathy for the US position from France, whose President Emmanuel Macron said the deal could be expanded to ban missile tests and cut the sunset clause.
But even he insisted that the core deal not be dumped and the Joint Comprehensive Plan of Action that the deal signatories implemented last year must stay in place.
Iran has, however, ruled out renegotiating the accord.
Addressing the UN assembly a day after Trump appeared on the same podium to attack Iran, Rouhani warned the fate of the deal cannot be decided by "one or two countries."
"It will be a great pity if this agreement were to be destroyed by rogue newcomers to the world of politics. The world will have lost a great opportunity," he said. "By violating its international commitments, the new US administration only destroys its own credibility."
Despite the anger, Tillerson said his first encounter with Zarif had been "matter of fact." "There was no yelling, we didn't throw shoes at one another," the former oil executive said. "It was not an angry tone at all. It was a very, very matter of fact exchange about how we see this agreement very differently."
Trump is due to report to the US Congress on October 15 on whether or not he believes that Iran is in compliance with the nuclear deal.
If, as now appears increasingly likely, he decides that it is not, it could open the way for renewed US sanctions and perhaps the collapse of the agreement.
Trump said Wednesday he had made his decision but was not yet ready to reveal it.
Full report at:
http://nation.com.pk/international/22-Sep-2017/us-iran-meet-as-trump-threat-looms-over-nuke-deal
--------
After months of challenges and controversy, Trump's travel ban expires Sunday — and a new one may be coming
Sep 21, 2017
Days before the expiration of President Trump's much-contested travel ban, the White House is reviewing a security report that aides say could serve as the basis of a new, and perhaps broader, version.
The classified report by the Department of Homeland Security, sent to the White House last week, is a study of the available security and intelligence information in countries worldwide, not just the six Muslim-majority nations subject to Trump's order banning travel by their citizens to the United States. That order expires on Sunday.
Based on the findings, Trump could decide to keep the travel ban in place, or either limit or expand it, possibly before Sunday.
The order also stopped all refugee resettlement in the U.S. for 120 days, so that ban would continue in effect for roughly a month more. The Supreme Court in June had allowed the refugee ban to take effect, with exceptions for refugees who could show a "bona fide" connection to the U.S., along with a revised travel ban for 90 days in the six specified nations.
David Lapan, spokesman for the Department of Homeland Security, said it was "certainly possible" that more countries could come under travel restrictions.
"It's about the conditions in the countries and the quality of information, and not the political or religious factors," he said.
"You have Muslim-majority countries that are in civil war, you have Muslim-majority countries that have major terrorism problems," Lapan said. "You could have countries that were not majority-Muslim that would have the same problems."
The White House declined to comment, but Trump, writing on Twitter after the London train explosion last week, made it clear that he would like to put in place even broader travel restrictions.
"The travel ban into the United States should be far larger, tougher and more specific — but stupidly, that would not be politically correct!" he tweeted.
White House national security advisor H.R. McMaster on Sunday said a new travel ban would be a "first step in better screening" of who is trying to enter the country.
"This is something that we're looking at — how to protect the American people better," he said on ABC's "This Week."
The security report provides an opening for the administration to try once again to reset its case for the ban, which has been under sustained attack in the federal courts ever since its helter-skelter rollout in the early days of Trump's presidency.
On Jan. 27, a week after taking office, Trump signed an order banning entry to the U.S. from citizens of seven nations initially — Syria, Iran, Libya, Somalia, Sudan, Yemen and Iraq. Issued with scant notice to security agencies, the ban created confusion and protests at airports across the country before federal judges signed orders blocking its implementation.
On March 6, Trump signed a new order that dropped Iraq from the list but kept the ban in place for 90 days for the other six countries. The order instructed Homeland Security to conduct a "worldwide review" of security conditions to determine whether the U.S. could be confident that it could identify which travelers could pose a threat.
The Supreme Court allowed the order to take effect on June 26; the 90-day clock runs out on Sunday.
Lapan said it's unlikely that countries such as Syria would drop off the list. "It's hard to say that would happen because conditions in those countries wouldn't change that much," he said.
Trump himself has added to his administration's challenges in defending the ban, starting with his call during last year's campaign for a "total and complete shutdown of Muslims entering the U.S." That allowed lawyers who opposed the measures to argue that they amounted to unconstitutional religious discrimination against Muslims.
Even after the ban was rewritten, and the president's senior officials were telling reporters that the word "ban" was not accurate, Trump went on Twitter to insist it was a ban. He criticized the federal courts as well as his own Justice Department.
Full report at:
http://www.latimes.com/politics/la-na-pol-travel-ban-20170921-story.html
--------
Europe
I'm not surprised there was a terror arrest in Newport – as a Welsh Muslim, I've watched Wales become a hotbed of extremism
Sep 21, 2017
Having grown up in Cardiff (and having been born in Caerphilly), I've seen Wales change in ways that make me feel uneasy. To articulate uncomfortable truths about the place you live in is hard – but nowadays I feel it's necessary.
Wales in recent years has been home to both a growing far-right and Islamist extremism. Among the racist neo-Nazi groups is the South Wales British Movement, whose members brandish swastikas and try to recruit impressionable youngsters to their xenophobic cause.
Two far-right bands from Swansea and Merthyr Tydfil have been identified as among the most influential groups disseminating hate in Britain; one of the bands posed with KKK members while wearing a hood and lynching a "golliwog" puppet. Recently, far-right hackers gained control of a Cardiff billboard, posting images of swastikas and messages mocking Islam.
While this was going on so close to home, I watched with horror as the events at Parsons Green unfolded last week – and we then discovered that three suspects had been finding refuge in South Wales. Local MP Jessica Morden said she found it "shocking" that these people were residing here in Wales. That in itself is a problem. It should not be shocking to her. You can see it every day: under our noses, religion is being politicised and used by some extremists as a badge of honour.
In 2012, two Cardiff brothers – Gurukanth Desai and Abdul Miah – were jailed, along with Omar Latif, for plotting Mumbai-style terrorist attacks in Britain. They had plotted a Christmas bombing campaign from Cardiff with targets including the London Stock Exchange, Big Ben and Westminster Abbey. The gang was made up of men from all over the UK, but the majority were from Cardiff. That same year, a man was jailed for eight months after threatening to machine-gun police officers who stopped a meeting at a Cardiff community centre
Then there is Ruksana Begum – also from Cardiff, with a first-class degree in accountancy – who was jailed because she had two editions of Al-Qaeda's Inspire magazine on her phone. Khuram Iqbal, from Cardiff, allegedly posted a series of links to extremist videos on his Facebook and Twitter pages and called himself the "father of terrorism". And we have the recent case of the unstable Muslim convert, Lee Griffiths from Swansea, jailed for five years for having a stash of bomb-making manuals, instructions on how to carry out "lone wolf" knife attacks, and copies of the Isis magazine Rumiyah.
Perhaps most infamously we saw in 2014 Reyadd Khan and Nasser Muthana leave to fight in Syria. They became friends at a Cardiff school where Al-Manar Mosque was holding officially sanctioned sessions. In 2013, a leaked "restricted" report called the Wales Contest Plan exposed the ­growing radicalisation threat in Cardiff schools and proposed extra training in how to spot extremism for staff at schools "identified as having increased risks" of radicalism.
The Wales Extremism and Counter Terrorism Unit has previously said it is aware that locations in Ceredigion, Powys and Pembrokeshire are being used for training purposes for Islamic extremists who are radicalising youngsters. Many vulnerable young Muslims are also being recruited face-to-face at one-off meetings, often "pop-up" style events which see rooms being hired out in restaurants under the guise of a function.
With all this going on, I don't think it's "shocking" that potential terrorists have been hiding out in Wales. The engagement of the Welsh government with self-appointed, power-hungry "community leaders" has been a disaster for Wales. Yet many figures in Welsh politics are reluctant to open their eyes to this or speak out, for fear of being labelled racist or intolerant. The facts speak for themselves. Wales is a small nation, with a small Muslim population. Yet we have a big problem.
With fresher's weeks underway at the nine universities across Wales, I do wonder how many youngsters will be vulnerable to radical views and ideologies. Cult-like groups have long targeted universities, because they contain an array of dynamic young people willing to engage with new ideas.
I recently met a vibrant young woman from the South Wales valleys. Her father is white Welsh and her mother is Asian. She said to me: "Growing up, I went through so much racism: people would tell me go back where I came from… I have been chased with a knife, I've been spat on, I've had eggs thrown at me, we've had a nail hammered through our doorbell so it would keep ringing. This isn't uncommon in Wales."
She told me that this experience pushed her to embrace her Pakistani heritage and Islam, about which she previously knew nothing. She now wears a hijab.
Growing up in Wales, I never saw women in full face veils; now it is a common sight. As a feminist and somebody who believes passionately in equality, I respect the right of women to dress how they want. But the face veil is a drastic and puritanical move away from progressive values. Furthermore, it is in no way theologically prescribed: there is nothing in the Quran to say women should dress this way, but there is something making them feel like this is now the right decision to make.
How many more young people in Wales, feeling fed up and tolerated rather than accepted, are moving away from their communities and embracing the cultural customs of other countries? And how many might have done this to a more dangerous extent? I shudder to think.
Shazia Awan is an equality activist. She is launching Women Create, a social enterprise to help women and young people from disadvantaged backgrounds into enterprise and employment. She is Vice President of the Council for Voluntary Youth Services in Wales and she was the first Asian woman to address a Welsh Tory party conference.
http://www.independent.co.uk/voices/muslim-wales-newport-extremism-hotbed-terrorism-islamist-islam-radicalisation-a7959691.html
--------
Austrian Muslims find themselves in election cross fire
Sep 22, 2017
As Austrians grow more openly hostile towards Muslims, major political parties are deliberately brandishing anti-Muslim sentiments in the Catholic majority country ahead of next month's parliamentary election. A torch-lit procession of ultra-nationalists gathered recently on the outskirts of Vienna to listen to fiery speeches on the anniversary of a 17th-century victory over Muslim Ottomans.
"Today we have to defend our homeland again," thundered the leader of the Identitaren movement.
While the small extremist group is on the fringes of politics, nearly a third of Austrians told a recent survey they would not like to live next to Muslims - a higher figure than in Germany, France, Switzerland and Britain.
National newspapers warn of "spiraling refugee costs," Muslim "rapists" and impending Islamist assaults, in response to a record influx of migrants and jihadist attacks across Europe.
Despite a largely successful integration model, traditionally centrist parties are tapping into these fears to win votes in the country of 8.75 million people. Encroaching on far-right territory, the popular new leader of the conservative People's Party (OeVP), Sebastian Kurz, wants to slash migrant benefits and shut all Islamic kindergartens, which he says create "parallel societies."
His party was instrumental in prohibiting foreign funding of mosques and pushing through a ban on the Muslim full face veil, due to enter into force in October.
That paid off with the OeVP stealing top spot in opinion polls for the October 15 election. The far-right Freedom (FPOe) is now battling for second place with the Social Democrats (SPOe).
Not to be outshone, SPOe Chancellor Christian Kern kick started his campaign with a video of him chatting to disgruntled voters in a pub.
"I'm not a racist but... it's unacceptable that people wear burqas and I am afraid in my own country," an agitated woman says.
Kern nods his head, replying: "Everyone has to respect our rules."
The FPOe meanwhile claims that "Islam has no place in Austria" and has vowed to replace the integration ministry with a department for the "protection of the homeland and dominant culture".
POPULISM WINS
"When parties address the issue of Islam, it's always in a negative context," said Vienna City councilor Omar al-Rawi who previously worked as integration representative for Austria's Islamic Community, a key Muslim group.
"The populist undertone is always present. It's a shame because Austria used to be a success model for how to deal with Muslims," the 56-year-old from Baghdad told AFP.
Austria was the first European country to recognize Islam as an official religion in 1912 following its annexation of Bosnia and Herzegovina. Today Islam is the fastest-growing religion, with around 700,000 Muslims in the country -- twice as many as in 2001.
Turks make up almost half of them, followed by Bosnians, Chechens, Syrians and Afghans. There are now more Muslim than Catholic children in Vienna's state primary schools. In some classes, less than half speak German -- an issue the OeVP wants to rectify with mandatory language lessons for preschoolers.
Separately, radicalization among young Muslims is also a concern, with some 300 Austrians having joined Islamic State fighters in Syria and Iraq.
"I understand that people are more afraid of Muslims now" because of the attacks in neighboring Germany and elsewhere, said Julian Mihailov, a Bulgarian Turk who moved to Austria in 1959. "But normal Islam has nothing to do with extremists," the vegetable vendor, 47, told AFP.
Full report at:
https://www.dailysabah.com/europe/2017/09/22/austrian-muslims-find-themselves-in-election-cross-fire
--------
Muslims worried as Austria's party leaders put spotlight on Islam
21 September 2017
As Austrians grow more openly hostile towards Muslims, major political parties are deliberately brandishing Islamophobia in the Catholic majority country ahead of next month's parliamentary election.
A torch-lit procession of ultra-nationalists gathered recently on the outskirts of Vienna to listen to fiery speeches on the anniversary of a 17th-century victory over Muslim Ottomans.
"Today we have to defend our homeland again," thundered the leader of the Identitaren movement.
While the small extremist group is on the fringes of politics, nearly a third of Austrians told a recent survey they would not like to live next to Muslims -- a higher figure than in Germany, France, Switzerland and Britain.
National newspapers warn of "spiralling refugee costs", Muslim "rapists" and impending Islamist assaults, in response to a record influx of migrants and jihadist attacks across Europe.
Despite a largely successful integration model, traditionally centrist parties are tapping into these fears to win votes in the country of 8.75 million people.
Encroaching on far-right territory, the popular new leader of the conservative People's Party (ÖVP), Sebastian Kurz, wants to slash migrant benefits and shut all Islamic kindergartens, which he says create "parallel societies".
His party was instrumental in prohibiting foreign funding of mosques and pushing through a ban on the Muslim full face veil, due to enter into force in October.
That paid off with the ÖVP stealing top spot in opinion polls for the October 15th election. The far-right Freedom Party (FPÖ) is now battling for second place with the Social Democrats (SPÖ).
Not to be outshone, SPÖ Chancellor Christian Kern kickstarted his campaign with a video of him chatting to disgruntled voters in a pub.
"I'm not a racist but... it's unacceptable that people wear burqas and I am afraid in my own country," an agitated woman says.
Kern nods his head, replying: "Everyone has to respect our rules."
The FPÖ meanwhile claims that "Islam has no place in Austria" and has vowed to replace the integration ministry with a department for the "protection of the homeland and dominant culture".
'Insidious' political Islam
"When parties address the issue of Islam, it's always in a negative context," said Vienna City councillor Omar al-Rawi who previously worked as integration representative for Austria's Islamic Community, a key Muslim group.
"The populist undertone is always present. It's a shame because Austria used to be a success model for how to deal with Muslims," the 56-year-old from Baghdad told AFP.
Austria was the first European country to recognise Islam as an official religion in 1912 following its annexation of Bosnia and Herzegovina.
Today Islam is the fastest-growing religion, with around 700,000 Muslims in the country -- twice as many as in 2001.
Turks make up almost half of them, followed by Bosnians, Chechens, Syrians and Afghans.
There are now more Muslim than Catholic children in Vienna's state primary schools.
In some classes, less than half speak German -- an issue the ÖVP wants to rectify with mandatory language lessons for pre-schoolers.
Separately, radicalisation among young Muslims is also a concern, with some 300 Austrians having joined Islamic State fighters in Syria and Iraq.
"Most Muslims here are good people but the danger of insidious political Islam is real," said Austrian-Iraqi journalist Amer Albayati who heads the Liberal Muslims Initiative of Austria.
The terrorism expert in his mid-70s lives under police protection after receiving death threats from Islamists.
"The government is not acting on the problem," he told AFP.
No 'one-size' solution
At Vienna's Brunnenmarkt, a huge multicultural market, the rhetoric cuts no ice.
"I understand that people are more afraid of Muslims now" because of the attacks in neighbouring Germany and elsewhere, said Julian Mihailov, a Bulgarian Turk who moved to Austria in 1959.
"But normal Islam has nothing to do with extremists," the vegetable vendor, 47, told AFP.
Although the security concerns are real, analyst Peter Filzmaier warned against a "lumping-together" of Muslims in the election.
"There are extremely big differences depending on the country of origin," he told AFP.
First-generation Turks are more isolated than their Austrian-born children, while Somalis tend to be more hardline than Bosnians or Iranians, Filzmaier said.
"There are no one-size-fits-all solutions," he added.
For Rawi, Austria has never faced a more uncertain election.
"I think a majority of Muslims are worried about what direction the country is moving into," he said.
Full report at:
https://www.thelocal.at/20170921/muslims-worried-austria-election
--------
'Islam in Europe' exhibition opens in Brussels after delay caused by terror attacks
21 Sep, 2017
A controversial exhibition revealing the influence of Islam in Europe over the course of history has opened in Brussels after a delay caused by the Islamist terror attacks that took 32 lives in the Belgian capital last year.
The exhibition, entitled "Islam. It's Also Our History" by the Museum of Europe has been previously displayed in several European countries.
But its arrival in Brussels last week had been postponed by the authorities and organizers after the Paris attacks in November 2015 and the bombings in the Belgian capital in March 2016. The organizers also struggled to find a venue for the show as many were hesitant to host an event that was almost certain to attract controversy.
The exhibition finally opened on September 15 at the Vanderborght Building, which is owned by the Brussels city authorities.
The display uses historic and contemporary artwork, daily objects, multimedia and installations to reveal how Islam influenced Europe during the Arab rule of the Iberian Peninsula (modern Spain and Portugal), the Ottoman Empire and the Colonial Period.
But the show also addresses the current situation in Europe, which is gripped by waves of migrants from war-torn Middle Eastern and North African nations as well as the constant threat of Islamist terrorism.
"It turns out that our exhibition comes at a very relevant time in history when the meeting between Europe and Islam is witnessed by citizens from the continent in all its tragic manifestations… Should we cancel it or at least postpone it until happier circumstances? Definitely not, we believe," the organizers said on the exhibition's website.
"It is precisely because the timing is tragic that it is important to show our contemporaries the extraordinary richness of this history, which has helped to make us what we are. We should not hide what is wrong any more than relativize it, but place it a centuries-old history, which has much more to it than just this," they added.
Provocative artworks dedicated to modern relations between Islam and Europe have attracted the most attention at the show.
An installation by Danish artist Nikolaj Bendix Skyum Larsen commemorated thousands of migrants who drowned in attempts to cross the Mediterranean Sea and reach Europe on rafts and rickety boats.
The guests of the display enter a dark room, decorated by screens, which show the bottom of the sea, with rolls of fabric thrown to the floor resembling the bodies of drowned children.
Jean Ulrick Desert from Haiti created burqas, garments used by some Muslim woman to fully cover their face and body in public, in the colors the national flags of the US, UK, France and Germany to show the scale of the immigration.
Meanwhile, an installation by a US artist, Gregory Green, showing a posh Louis Vuitton case with a fake improvised explosive device inside it led to complaints by visiting Muslims
Primary school teacher Nejia Adouiri said it was "very confrontational" that the organizers "wanted to make a link between Islam and what has been happening recently worldwide."
Adouiri also objected to the bomb-laden Louis Vuitton case being placed at the end the exhibition and therefore helping to form a negative final impression of Islam for visitors.
The organizers told AP that Green's piece won't be removed due to the complaints, but added that it may be moved to another location and put in its textual content.
"Islam. It's Also Our History" exhibition is expected to run in the Belgian capital until January 21, 2018.
Three coordinated suicide bombings took place in Brussels on March 22, 2016, with explosions rocking the city's Zaventem airport and Maalbeek metro station.
Full report at:
https://www.rt.com/news/404029-belgium-islam-europe-exhibition/
--------
Three Swiss Muslim group members charged with making al Qaeda propaganda
September 21, 2017
Prosecutors said on Thursday they had charged three senior members of a Swiss Muslim group with making and promoting propaganda films for al Qaeda. The indictment targeted three committee members of the Islamic Central Council of Switzerland (ICCS), which describes itself as the country's largest Islamic organisation and says it focuses on representing the local population.
ICCS spokesman Abdel Azziz Qaasim Illi, who told Reuters he was one of the three men charged, dismissed the case as a "political show trial," and said authorities had misunderstood the video at the heart of the case.The indictment did not name the suspects, but the ICCS said in a statement the other two were its chairman, Nicolas Blancho, and its cultural production head, Naim Cherni.
The Office of the Attorney General said that the Council had made films in Syria in 2015 with a leading al Qaeda member and posted two films on YouTube that were promoted by the three committee members.
The state prosecutor said it alleged "that the accused offered the leading al-Qaeda member in question a prominent multilingual multimedia platform from which to advantageously portray and promote both himself and the ideology of al-Qaeda."
Qaasim Illi called the indictments "clearly politically motivated" and said the interview had been with a senior Saudi cleric who denied having links to al Qaeda.
"The point of the interview was to counter (Islamic State) propaganda with a credible figure from the moderate Syrian rebel spectrum. The interview itself never concerned al Qaeda," he added in an email.
The Attorney General's office said the indictments were part of criminal proceedings first launched against the Council in December 2015, after the posting of the videos. The case was launched as Switzerland was in a heightened state of alert after attacks in Paris that killed 130 people.
Full report at:
http://indianexpress.com/article/world/three-swiss-muslim-group-members-charged-with-making-al-qaeda-propaganda-4854473/
--------
Arab World
Iraq brings all remaining IS territory under attack
Sep 22, 2017
Ali Choukeir - Iraq brought all of its territory still held by the Islamic State group under attack Thursday, throwing the militants on the defensive across their self-proclaimed "caliphate" extending into neighbouring Syria.
Security forces backed by paramilitary units launched a dawn assault on a besieged IS-held pocket around the northern town of Hawija, just days after attacking the militants' only other foothold in the country.
The territory still held by IS has been dwindling fast since its defeat in Iraq's second city Mosul in July, with stronghold after stronghold coming under assault on both sides of the border with Syria.
Most of its onetime Syria bastion Raqa, long a byword for its most gruesome atrocities, is now in the hands of US-backed fighters, while elsewhere in Syria IS has suffered major losses to Russian-backed government forces.
Iraqi Prime Minister Haider al-Abadi predicted that the assault on the Hawija region would swiftly bring a new victory against the crumbling militants.
The mainly Sunni Arab enclave, which was bypassed by government forces in their advance north to Mosul last year, has been a bastion of insurgency ever since the first year of the US-led occupation in 2003.
After the defeat of IS in Mosul and the recapture of adjacent areas, Hawija and neighbouring towns form the last enclave still held by IS in Iraq apart from a section of the Euphrates Valley downstream from the border with Syria.
'Victory after victory'
"At the dawn of a new day, we announce the launch of the first stage of the liberation of Hawija, in accordance with our commitment to our people to liberate all Iraqi territory and eradicate Daesh's terrorist groups," Abadi said, using an Arabic acronym for IS.
"Greetings to all of our forces, who are waging several battles of liberation at the same time and who are winning victory after victory and this will be another, with the help of God," he said.
An AFP correspondent heard heavy shelling around the IS-held town of Sharqat where Iraqi forces have been massing in recent days.
A spokesman for Iraq's Joint Operations Command, General Yahya Rasool, said retaking Sharqat was the first goal of the offensive.
The US-led coalition fighting IS hailed the new offensive by the Iraqi security forces against the militant group, also known as ISIS. "Daesh is losing ground and failing in every battle. Soon ISIS will have no sanctuary in Iraq," said coalition spokesman Colonel Ryan Dillon.
Concern for civilians
Humanitarian organisations expressed concern for the fate of civilians caught up in the offensive.
"The 85,000 civilians still in and around Hawija, including around 40,000 children, now face a terrifying time as they worry about getting caught up in the fighting or being hit by an air strike," said International Rescue Committee acting country director Jason Kajer. "For those who decide to flee, there is a significant risk of being targeted by ISIS snipers or killed by a mine."
The Hawija area was the second after Mosul to be captured by IS in its lightning offensive through the Sunni Arab heartland north and west of Baghdad in 2014.
Its inhabitants are deeply hostile both to the Shiite-led government in Baghdad and to the Kurds who hold adjacent areas of Kirkuk province where they form the historical majority.
Preparations for the offensive against Hawija have been overshadowed by an independence referendum that Kurdish leaders plan to hold on Monday, in areas including Kirkuk, against the wishes of the federal government in Baghdad.
IS has seen the territory under its control fast diminish in recent months in the face of multiple offensives against its fighters in both Iraq and Syria.
On Tuesday, Iraqi forces launched an attack up the Euphrates Valley against the other one of IS's two remaining enclaves in Iraq.
And in Syria's eastern province of Deir Ezzor, IS faces twin assaults - one by Russian-backed government troops and the other by US-backed fighters of the Syrian Democratic Forces.
Further up the Euphrates, the SDF now controls 90 percent of the city of Raqa, the Britain-based Syrian Observatory for Human Rights war monitor said on Wednesday.
The US-led coalition supporting the SDF estimated that 65-70 percent of Raqa is now under the control of the alliance of Kurdish and Arab fighters.
The militants seized Raqa in early 2014, making it their de facto Syria capital. They are thought to have used the city to plan attacks abroad.
IS also holds pockets of territory elsewhere in Syria, notably in eastern parts of the central provinces of Homs and Hama, but it has come under attack by Russian-backed government forces there too.
http://nation.com.pk/international/22-Sep-2017/iraq-brings-all-remaining-is-territory-under-attack
--------
ISIL Kills 13 FSA Militants in Dara'a
Sep 21, 2017
At least 13 Free Syrian Army terrorists were killed by the ISIL-linked Saifullah Maslul Army in Yarmouk Basin area in Southwestern Dara'a province.
Clashes erupted between ISIL and FSA terrorists on Wednesday, however it is not clear which side initiated the fight.
The ISIL clearly won the upper-hand in the latest round of clashes, killing 13 FSA militant in several hours of clashes.
Both the Saifullah al-Maslul Army's local media wing and the more mainstream ISIL-linked Amaq news agency reported that thirteen rebels had been killed.
Over the last three months, violence between ISIL and FSA terrorists in Southwestern Dara'a has escalated significantly with both sides taking turns at first launching offensives and then defending against counterattacks.
http://en.farsnews.com/newstext.aspx?nn=13960630000633
--------
Lebanese President: Sectarian division of states will increases wars
21 September 2017
Lebanese President Michel Aoun said on Thursday that sectarian or ethnic division of countries will not solve problems, but increases extremism and wars.
Aoun said during a speech in the United Nations that the UN should focus on the fight against terrorism. Proposing the nomination of Lebanon as a permanent center for an international organization for interfaith dialogue.
Aoun said that "Israel is violating the sovereignty of Lebanese airspace permanently," pointing out that complaints have been submitted to the Security Council as a result.
Regarding the refugee issue, the Lebanese president said: "We will not allow the resettlement of refugees or displaced persons in Lebanon."
https://english.alarabiya.net/en/News/middle-east/2017/09/21/Aoun-Sectarian-division-of-states-will-increases-wars.html
--------
US-backed force says 'victory near' against IS in Syria's Raqa
Sep 22, 2017
RAQA - Syrian fighters backed by US special forces battled Thursday to clear the last remaining Islamic State group militants holed up in their crumbling stronghold of Raqa.
"Victory is near" and would be declared in coming weeks, a spokeswoman for the operation to capture Raqa told AFP in the city where US-led air strikes sent clouds of grey smoke into the air.
Across the border in Iraq, security forces were attacking all remaining territory held by the extremists, who are fighting to prevent the all-out collapse of their self-proclaimed "caliphate".
Most of Raqa, long a byword for the militants' most gruesome atrocities, is now in the hands of the US-backed Syrian Democratic Forces, supported by waves of heavy air strikes by a military coalition led by Washington.
"We control 80 percent of Raqa and the other 20 percent is in the firing line of our forces," said Jihan Sheikh Ahmed, spokeswoman for the "Wrath of the Euphrates" operation.
"We're in the final stage and will deliver victory to our people in Raqa within weeks," she told AFP.
She said the Kurdish-Arab alliance was still fighting the militants around grain silos in the north of the city and the Raqa sports stadium, where IS fighters are believed to be storing weaponry.
"But victory is near," she said.
SDF spokesman Talal Sello said the militia was battling militants in "20 percent of the city".
"That sector is not under the control of Daesh... our forces are present there," he told AFP.
In the city Thursday, an AFP correspondent heard US-led coalition warplanes carrying out air strikes around the silos. The sound of gunfire from running battles could also be heard as an AFP journalist travelled across parts of the city.
The Britain-based Syrian Observatory for Human Rights monitor said the SDF and US special forces were engaged in a "mopping up operation."
But the operation was being slowed down by large numbers of mines planted by the militants in the city, where they have been under siege for three months, it said.
Exact estimates of the percentage of the city held by the SDF vary, with the Observatory putting it at 90 percent, but the US-led coalition saying that 70 percent had been "cleared."
IS seized Raqa in early 2014, making it their de facto Syria capital. They are thought to have used the city to plan attacks abroad.
Across the border in Iraq, security forces backed by paramilitary units launched a dawn assault on a besieged IS-held pocket around the northern town of Hawija, just days after attacking the militants' only other foothold in the country.
The territory still held by IS has been dwindling fast since its defeat in Iraq's second city Mosul in July, with stronghold after stronghold coming under assault on both sides of the border with Syria.
After the defeat of IS in Mosul and the recapture of adjacent areas, Hawija and neighbouring towns form the last enclave still held by IS in Iraq apart from a section of the Euphrates Valley downstream from the border with Syria.
"Greetings to all of our forces, who are waging several battles of liberation at the same time and who are winning victory after victory and this will be another, with the help of God," Iraqi Prime Minister Haider al-Abadi said.
An AFP correspondent heard heavy shelling around the IS-held town of Sharqat where Iraqi forces have been massing in recent days.
The US-led coalition fighting IS hailed the new offensive. "Daesh is losing ground and failing in every battle. Soon ISIS will have no sanctuary in Iraq," said coalition spokesman Colonel Ryan Dillon using another acronym for IS.
Humanitarian organisations expressed concern for the fate of civilians caught up in the offensive.
"The 85,000 civilians still in and around Hawija, including around 40,000 children, now face a terrifying time as they worry about getting caught up in the fighting or being hit by an air strike," said International Rescue Committee acting country director Jason Kajer.
"For those who decide to flee, there is a significant risk of being targeted by ISIS snipers or killed by a mine."
The UN estimates up to 15,000 civilians may remain trapped in Syria's Raqa, facing "incredibly difficult conditions" including food, water and medical shortages.
IS also holds pockets of territory in Syria's eastern province of Deir Ezzor, where the extremists are facing separate offensive by Russian-backed government troops and the SDF.
In Syria they are also present in eastern parts of the central provinces of Homs and Hama and have come under attack by Russian-backed government forces there too.
Full report at:
http://nation.com.pk/international/22-Sep-2017/us-backed-force-says-victory-near-against-is-in-syria-s-raqa
--------
Syrian Army Deploying Tochka Missile System in Fight Against Terrorists
Sep 21, 2017
"Russia's Tochka-O missiles have been used in the recent military operations against terrorists in Syria," the Russian service of Sputnik news agency quoted the source as saying.
The source reiterated that using Tochka-O missiles would help the army in a variety of missions as they can destroy big, small, mobile and non-mobile targets both in near and far distances.
In a relevant development in early August, it was reported that the Syrian army was using a type of updated armored vehicles in its fight against the terrorist groups.
According to the Arabic website of Sputnik news agency, the army was using the AMB-S vehicles made by Slovakia which has been manufactured based on the BMP-1 vehicle design and can carry two crews.
The vehicle's speed is 63km/h and it is equipped with 23-mm caliber ZU-23-2 launchers.
The armored vehicle which was at first used for carrying ground troops can destroy enemy's military equipment and bomb-laden cars and target enemy forces 1.5km away.
Earlier reports also said that the Syrian Army has been using T-90 Tanks equipped with Chitora-1 Noise System to protect its forces against terrorists' guided missiles.
The Arabic-language website of Sputnik news agency reported in August that Chetora-1 Noise System, mounted on T-90 tanks, enjoys an approximate Automatic Navigating System to protect the tank against guided missiles.
The Chitora-1 system jams laser guided systems of the anti-tank missile via giving them false signals, forcing the missile to divert.
Meantime, the Wistinik Mordafi website reported that Chitora-1 Noise System has been used in the Syria war for the first time in the Middle East.
A military source confirmed in mid-July that the army's artillery units were using the long-range model of a new artillery system with an effective range 44km for targeting ISIL's defense lines in Eastern Hama.
The source said that the army was using the M-46 long-rang moveable artillery that was stronger that the other models used by the Syrian army for targeting ISIL's positions in Eastern Hama.
The 130mm caliber M-46 cannons can hit the targets from a 44km distance.
Russian media outlets reported in early July that the army was using an anti-drone electronic warfare system that might also be mounted on any type military vehicle.
Rossiyskaya Gazeta daily reported that the Syrian army's anti-aircraft units were equipped with a new model of electronic cannon that could be used for jamming remote-controlled drones.
The daily added that the electronic system could be mounted on any military vehicle and jams the control waves of the drones.
Full report at:
http://en.farsnews.com/newstext.aspx?nn=13960630000495
--------
Syrian Army Recaptures New Areas in Northwestern Deir Ezzur
Sep 21, 2017
The army units continued their fight against the ISIL Northwest of Deir Ezzur and took control of Khariteh, Tarif and Masram regions.
The Syrian troops also purged terrorism from the newly-liberated areas and fortified their military positions.
In a relevant development on Wednesday, the Syrian army troops continued to beat the ISIL back Northwest of Deir Ezzur city on Wednesday, seizing control over more territories on the Western bank of the Euphrates River.
The army men, backed up by the Syrian Air Force and artillery units, pushed ISIL back from Zaqir Shamiyeh, al-Hawi and al-Hamd regions after liberating al-Shamitiyeh region on the Western bank of the Euphrates River.
In the meantime, ISIL's counter-attacks to recapture lost lands in the region have all been repelled so far.
http://en.farsnews.com/newstext.aspx?nn=13960630000614
--------
Syrian Army Regains Control of Several Areas in Eastern Homs
Sep 21, 2017
The Syrian army engaged in fierce clashes with the ISIL terrorists in the surrounding areas of Jubb al-Jarah region East of Homs, and took control of Mazin al-Baqar village.
The army units also advanced towards the Tal Ayed al-Hassoun to the East of al-Masoudieh village in the outskirts of Jubb al-Jarah and took military control of the region.
The Syrian army troops killed a large number of terrorists and destroyed their military equipment in Eastern Homs.
In a relevant development on Wednesday, the Syrian Army troop captured five more key regions within the framework of their anti-terrorism operation in the Central parts of the country.
The army units stormed ISIL's defense lines in Eastern Homs and captured Rasm al-Tawil, Boyout al-Nazal, al-Qantarah, Zahrah al-Sat'hiyeh regions and several hills and heights overlooking the seized regions in Jubb al-Jarah.
Also, the army soldiers managed to advance towards the hills surrounding the villages of Abu Jaris and Tal al-Sha'arah and pushed ISIL away from the region.
The army's artillery and missile units, meantime, pounded ISIL's positions and movements in the region.
Full report at:
http://en.farsnews.com/newstext.aspx?nn=13960630000215
--------
Iraq launches offensive on Hawija, an ISIS-held region near Kirkuk
21 September 2017
Iraq launched an offensive on Thursday to dislodge ISIS from Hawija, an area located west of the oil city of Kirkuk. The offensive, announced by Prime Minister Haider al-Abadi, comes four days before a referendum on Kurdish independence due to be held in northern Iraq, including Kirkuk.
Abadi considers the Sept. 25 referendum "anti-constitutional" and has called on the autonomous Kurdistan Regional Government to cancel it.
Kirkuk is shaping up as a flashpoint ahead of the Kurdish independence vote as it is also home to Arab and Turkmen communities who oppose breaking away from Iraq.
Kurdish Peshmerga forces took control of Kirkuk after the Iraqi army collapsed in the face of ISIS in 2014, preventing the militants from capturing the city's oil fields. A US-led international coalition is providing air support to the Iraqi forces' offensive on Hawija, Iraqi state TV said.
Kurdish referendum
It wasn't clear if the Kurdish plan to hold the referendum in Kirkuk would be affected by the US-backed Iraqi offensive on Hawija, which is likely to cause an outflow of refugees toward the neighboring areas.
The United Nations last week said up to 85,000 people could be displaced from the Hawija region. Washington issued on Wednesday a forceful statement against the Kurdish referendum.
"The United States strongly opposes the Iraqi Kurdistan Regional Government's referendum on independence, planned for Sept. 25," said State Department spokeswoman Heather Nauert.
Full report at:
https://english.alarabiya.net/en/News/middle-east/2017/09/21/Iraq-launches-offensive-on-Hawija-an-ISIS-held-region-near-Kirkuk.html
--------
UNSC warns Iraqi Kurds against independence referendum
Sep 22, 2017
The UN Security Council has warned that a secession referendum planned to be held in Iraq's semi-autonomous Kurdistan region next week is potentially "destabilizing" and threatens the ongoing war against Daesh terrorists.
In a unanimous statement on Thursday, the 15-member council also said the referendum could hinder efforts to help those displace by violence return home.
The Security Council "expressed concern over the potentially destabilizing impact of the Kurdistan regional government's plans to unilaterally hold a referendum next week," adding that "the planned referendum is scheduled to be held while counter-ISIL (Daesh) operations -- in which Kurdish forces have played a critical role -- are ongoing."
Members of the Council asked for "dialogue and compromise" to address the differences between the Iraqi government and Kurdish authorities.
Kurdish independence ambitions are hugely controversial throughout the region and among the international community.
The three branches of the Iraqi government, including the parliament, the judiciary and the administration of Prime Minister Haider al-Abadi, have voiced strong disapproval of the plan to partition the mainland.
Yet Massoud Barzani, the leader of the semi-autonomous Kurdish Regional Government (KRG), has been adamantly pressing ahead with his plans to hold the September 25 vote, ignoring international calls to drop the bid and negotiate a deal that does not affect Iraq's integrity.
The United Nations and the US as well as regional powers like Iran and Turkey have also expressed concerns about the planned vote by the KRG, arguing that it could create further instability in the already volatile region.
The Israeli regime, however, has come out in apparent support of the controversial referendum.
Earlier in the day, the foreign ministers of Turkey, Iran and Iraq held a rare meeting Wednesday in New York on the sidelines of the UN General Assembly, days ahead of the Monday September 25 referendum.
Full report at:
http://www.presstv.ir/Detail/2017/09/22/536020/Kurdistan-UNSC-Iran-Iraq-Turkey-Kurdistan-referendum
--------
UN votes for resolution to probe Daesh war crimes in Iraq
Sep 21, 2017
The United Nations Security Council has voted for a resolution that authorizes an investigation team to collect evidence on the atrocities committed by the Daesh Takfiri terrorist group in Iraq.
The resolution, passed unanimously on Thursday, gives UN Secretary General Antonio Guterres 60 days to present to the council details on the mandate of the investigative panel that will work with their Iraqi counterparts.
The investigators will help Iraq preserve any evidence "that may amount to war crimes, crimes against humanity and genocide" committed by Daesh, according to the resolution.
Back in March, human rights lawyer Amal Clooney urged the Iraqi government to seek UN assistance to prosecute Daesh elements.
"Why is it that nothing has been done? Mass graves lie unprotected and unexhumed. Witnesses are fleeing and not one ISIS (Daesh) militant has faced trial for international crimes anywhere in the world," she said.
Iraqi Foreign Minister Ibrahim al-Jaafari sent a letter to the UN chief in August, saying that Baghdad was working on the Security Council resolution.
"The crimes committed by the Daesh terrorist organization against civilians and destruction of infrastructure and archaeological sites in Iraq are crimes against humanity, which makes it important to bring its perpetrators from Daesh terrorist gangs to justice, in accordance (with) the Iraqi law," the letter read.
Daesh unleashed a campaign of death and destruction in Iraq in 2014, seizing Mosul and declaring it as its so-called "capital" in the Middle Eastern state.
Iraqi army soldiers and allied fighters have been leading a major campaign to rid the country of the Takfiri terrorists.
The Iraqi forces fully liberated Mosul in July. They are now engaged in counter-terrorism operations elsewhere in the country.
Iraqi forces retake town in Anbar
On Thursday, Iraqi forces managed to liberate the town of Anah in the western Anbar Province.
Full report at:
http://www.presstv.ir/Detail/2017/09/21/535976/Iraq-UN-Daesh
--------
Russia to hit US-backed militants if Syrian troops targeted
Sep 21, 2017
Russia has warned that it will strike back if the positions of Syrian government forces in the Arab country come under attack by US-backed militants.
Russian Defense Ministry spokesman Major General Igor Konashenkov said Thursday that Syrian troops in Dayr al-Zawr province had been twice targeted with mortar and rocket fire from the regions where US-backed militants are based.
"A representative of US command in Al Udeid [Air Base], Qatar, was notified in severe form that attempts to attack from districts where SDF (Syrian Democratic Forces) fighters are located will be repelled," he said in a statement.
Konashenkov said if the attacks are repeated, "fire positions in these areas will be immediately suppressed with all available weapons."
Russia has been conducting air raids against Daesh and other terrorist outfits inside Syria at the Damascus government's request since September 2015.
Earlier this month, Syrian government forces broke the three-year-long Daesh siege on Dayr al-Zawr, which is currently the main Daesh base in the country after the Takfiri group's losses in Raqqah.
The Syrian army troops have captured about 100 kilometers of the west bank of the Euphrates and crossed to the eastern side of the river.
SDF militants who consist of Syrian Kurds have taken advantage of the momentum created in the army's breach of Daesh defense lines to advance on the eastern bank of the Euphrates with US support.
The convergence of the two rival operations has increased tensions in Dayr al-Zawr and raised the possibility of first major confrontation between them.
The US is helping the militants establish self-ruled zones in the territories close to the Turkish border similar to those in neighboring Iraq, far from the Syrian government control.
Konashenkov said Russia suspects the SDF is colluding with Daesh in Dayr al-Zawr rather than fighting it, citing the transfer of Takfiri elements from Raqqah to join forces against the advancing Syrian troops.
"SDF militants work to the same objectives as Daesh terrorists. Russian drones and intelligence have not recorded any confrontations between Daesh and the 'third force,' the SDF," he said.
The Russian general further said the Syrian government forces had managed to free 16 square kilometers and two villages from terrorists on the eastern side of the Euphrates on Wednesday.
He also estimated that only 25 percent of Raqqah is now held by Daesh.
Full report at:
http://www.presstv.ir/Detail/2017/09/21/535950/Syria-Russia-Dayr-Zawr
--------
Iraqi forces liberate 11 villages from Daesh near Hawijah
Sep 21, 2017
Iraqi government forces have managed to seize back nearly a dozen villages near Hawijah as they are battling Daesh Takfiri terrorists in joint operations with allied fighters from the Popular Mobilization Units to push the terrorists out of the northern town.
The commander of Hawijah liberation operation, Lieutenant General Abdul Amir Yarallah, announced in a statement on Thursday that the units of the 9th Armored Division as well as the 2nd and 11th brigades of the Popular Mobilization Units, commonly known by the Arabic name Hashd al-Sha'abi, had liberated the villages of Ain Kawa, Hoshterluk, Hasarok, Greater Sarnaj, Lesser Sarnaj, Upper Shandar, Adlah, Fatima, Mahmoud al-Sha'abi, Qouj and Kharbati, Arabic-language al-Sumaria television network reported.
Yarallah added that army forces and their allies had successfully completed the first phase of the operation to liberate Hawijah, located 240 kilometers north of the capital Baghdad, from the grip of Daesh extremists.
The territorial gains came hours after Prime Minister Haider al-Abadi announced the launch of the operation to retake Hawijah.
Hawijah is one of the four Iraqi towns still controlled by Daesh. The other three towns of al-Qa'im, located nearly 400 kilometers northwest of Baghdad near the Syrian border, Anah and Rawa are in Anbar province.
Iraqi security forces, tribal fighters retake areas in Anbar
Meanwhile, the head of Anah's municipal council, Abdel Karim al-Ani, stated that Iraqi security forces, backed by allied tribal fighters, had managed to liberate two districts in the northeast of the town.
Ani added that the forces had hoisted the Iraqi national flag over a number of buildings in the liberated areas.
Seven villages liberated northeast of Shirqat, 25 Daesh extremists slain
Separately, Hashd al- Sha'abi fighters have established full control over seven villages in the northeast of al-Shirqat town in Iraq's central province of Salahuddin.
Full report at:
http://www.presstv.ir/Detail/2017/09/21/535948/Iraqi-forces-retake-dozen-villages-near-Hawijah-Daesh
--------
Africa
Tunisia slowly becoming a model for other Muslim nations
BY FARZANA HASSAN
SEPTEMBER 21, 2017
Tunisian president Beji Caid Essebsi must be congratulated on lifting a forty-year ban on a basic human right of Tunisian women.
Last week the country's progressive president finally allowed women to marry non-Muslim men.
It was a brave move, given that most clerics opposed the president's initiative, stating it was a "flagrant violation" of Islamic precept. However, that is a puzzling conclusion considering that two of the prophet Mohammad's daughters were married to non-Muslim men.
The president supported his decision by stating that the ban violated the new constitution of Tunisia, adopted after the so-called Arab Spring.
The constitution gives women a number of theoretical rights, including the right to participate fully in the political life of the country. But discrimination remains on a number of issues, notably the right to inherit equally. That is the next step Tunisia must take toward delivering equality to Muslim women.
That may be considered a bigger hurdle in Islamic circles than Essebsi's marriage concession. Little in the holy literature makes the suggestion that the state should dictate who a woman marries, but the Quran does prescribe inheritance rights in specific detail.
What orthodox Muslims often ignore is the spirit behind these Quranic prescriptions. They were a progressive move for the time, giving limited inheritance rights to women when they had largely been considered chattel.
The spirit was one of progress from an even more hostile world for women. That principle should underpin any new laws in keeping with the reality of our times, where a woman is now often her family's sole breadwinner.
While Tunisia has made several other progressive moves on women's rights - notably by banning polygamy in 1956 - it continues to uphold these laws, which can only be seen as discriminatory in the modern world.
If gender equality is enshrined in the constitution of Tunisia, then the nation must strive to deliver it in every area of human endeavor.
It is easier for Tunisia to carve out some progress for Muslim women than for some other Islamic countries, especially Saudi Arabia, Pakistan and Afghanistan.
Tunisia is a religiously homogeneous state, with most people professing moderate Sunni Islam. It is perhaps the only state where the Islamists, who form a small minority, have sufficiently respected the political system not to impose their obscurantist version of Islam.
In Pakistan, for example, almost no progressive initiatives have been passed since the establishment of sharia rule because of the religious lobby's influence and obstinacy in repudiating liberal and humane values.
Christian Asia Bibi is still being held in prison on charges of blasphemy, rape is still considered "adultery under duress" and women still face discrimination when it comes to bearing witness in courts of law.
By contrast, Tunisia is in an advantageous position. It is a country where fundamentalist forces exist, but they have been marginalized to the point where they are ineffectual – a condition which liberals in more restrictive countries like Pakistan can only dream about.
Change will come if the clerics themselves recognize the importance of the rule of law and the principles of humane justice and society.
Meanwhile the president of Tunisia ought to be applauded for his step in delivering some equality to his nation's women. Tunisia can be a model for other Muslim countries.
http://www.torontosun.com/2017/09/21/tunisia-slowly-becoming-a-model-for-other-muslim-nations
--------
At least 8 dead, 90 missing after boat sinks off Libya
Sep 21, 2017
A ship full of asylum-seekers heading for Europe has capsized off the Libyan coast, leaving at least eight people dead and almost 90 others missing.
Eight bodies were found and 35 migrants rescued on Tuesday and Wednesday, Seddik al-Jayach, an official in Zuwara, told AFP on Thursday.
Survivors had clung onto the sinking vessel for five days before it ran aground on the Libyan coast, he said.
Survivors had told Jayach that the sunken ship had been carrying between 120 and 130 asylum-seekers, including women and children, from different African countries.
The Libyan navy said the shipwreck occurred off the coast of Sabratha, a town west of Tripoli that is a hub for asylum-seekers heading for Europe and from where the vessel had set off.
Last week, Libya's coastguard rescued more than 3,000 asylum-seekers aiming to make the perilous crossing from the Mediterranean Sea to Europe, while Italy picked up another 2,000.
The tally was the highest reported out of Libya for a one-week period since a dramatic fall in numbers in mid-July.
The European Union has reportedly given tens of millions of euros to Libyan authorities to try to stem the flow of asylum-seekers.
Officials say the funds have mainly been used to strengthen Libya's coast guard, reinforce its southern border and handle those transferred to detention centers.
The United Nations International Organization for Migration (IOM) says more than 130,000 asylum-seekers have arrived in Europe by sea since the start of 2017.
This number is less than half the number for 2016. Three-quarters of the new arrivals in 2017 landed in Italy. The rest of the asylum-seekers set foot in Greece, Cyprus and Spain.
Asylum-seekers are usually packed into flimsy rubber boats with barely enough fuel to get them to their destination.
Full report at:
http://www.presstv.ir/Detail/2017/09/21/536000/Libya-Europe-Italy-IOM-Mediteranean-EU-Refugees-Asylumseekers
--------
At UN Assembly, African leaders call for more support to fight terrorism in sub-Saharan Sahel
Sep 21, 2017
Highlighting the dangers posed by terrorism in Africa's sub-Saharan Sahel region, African leaders mounted the podium of the United Nations General Assembly today to appeal for the resources needed to make the multinational force set up to counter the scourge fully operational.
"Owing to the gravity of the situation, we must take advantage of the Secretary-General's follow-up report to reinforce the joint multinational force's mandate by providing it with the resources it needs to succeed in its mission," Burkina Faso's President Roch Marc Christian Kaboré said.
In June the UN Security Council endorsed the formation the G5 Sahel joint force, comprising Burkina Faso, Chad, Mali, Mauritania and Niger, to combat terrorism and transnational organized crime in the restive region.
"One of the major challenges is the mobilization of resources," he said, noting that the northern regions of both his own country and neighbouring Mali have been affected by terrorism and extremism and need an urgent investment programme to lessen the vulnerability of the people living there, especially women and the young.
"The struggle against terrorism can only succeed if it is based not only on a sub-regional approach but also on the dynamic of economic development for the most vulnerable areas," he explained.
Gabon's President Ali Bongo Ondimba lauded the establishment of the G5 Sahel force. "It is a question of multi-dimensional long-term battle which demands inter-State cooperation and solidarity with the victims of the atrocities," he told the Assembly.
His own country is part of a subregional anti-terrorist initiative by central African States "to combat the terrorist hydra in all its forms and whatever its motivation."
He stressed that a military response had to be accompanied by other measures, including action to reduce the funds flowing to criminal organizations.
Mr. Ondimba also called for determined action against poaching that is decimating Africa's fauna and flora, and its natural resources.
Comoros President Azali Assoumani called terrorism "his absolute negation of what is human [which] has become a scourge that we condemn and must fight together without mercy and on a planetary scale with all our forces."
Decrying the association of terrorism with Islam, he said there was no Islamic terrorism, just as there is no Christian or Jewish terrorism. "Terrorists are simply barbarians," he stressed.
"We condemn without reserve the atrocities perpetrated against minorities and communities, yesterday in Bosnia and Herzegovina, and today in Burma (Myanmar) against the Rohingya and other minorities wherever they are, whose inhuman and savage victimization is all the more shocking in that its extreme violence is directed towards the ethnic cleansing of those who have the least resources.
"I dare to hope that our Organization will know how to defend the most elementary rights of the oppressed, regardless of origin, race, sex, or belief," he added.
The leaders also addressed a host of world issues, from climate change to the Democratic People's Republic of Korea's (DPRK) nuclear programme, and from the need for expansion of the 15-member UN Security Council with permanent African representation to achieving the Sustainable Development Goals (SDGs) that seek to haul hundreds of millions of people out of poverty, hunger and social ills by 2030.
President Teodoro Obiang Nguema Mbasogo of Equatorial Guinea said his own country had suffered terrorism, piracy and attempted attacks from outside seeking to undermine its "peaceful and democratic system of Government, disrupt peace and stir up revolts for the benefit of fortune-seeking adventurers."
This had led to unjust and gratuitous accusations against the country's leaders.
He cited a whole litany of obstacles from international terrorism, extremism, xenophobia, and human trafficking to piracy, mercenary attacks, trans-border crimes and the economic crisis confronting the whole world.
Full report at:
http://www.un.org/apps/news/story.asp?NewsID=57652#.WcS8cNQjGzc
--------
Liberia: Religious Leaders Threaten Tougher Actions Against Corrupt Members
21 SEPTEMBER 2017
In apparent reaction to widely held claims in many cycles that corruption is not only a governmental menace, but cuts across all sectors of society including churches, homes, schools and other places, Liberia's religious community has threatened tougher actions against members found wanting of decency and integrity.
Leaders of the sacred order including the Liberia Council of Churches (LCC) and the National Muslim Council of Liberia (NMCL) pledged to lead by example and take responsibility to work to prevent and eradicate corruption, pledging also to take appropriate actions against their members found involved in acts of corruption.
The commitment is contained in a communiqué adopted at the end of a Liberia Anti-Corruption Commission (LACC) and Inter-Religious Council organized two-day workshop.
Held at the Cape Hotel under the theme "the Role of the Religious Community in the Fight Against Corruption," the workshop brought together about seventy five participants comprising senior religious leaders, pastors, Imams, faith-based youth organizations, women and student groups from the Liberia Council of Churches and the National Muslim Council of Liberia.
According to the Communiqué, the workshop aimed to build the capacities of religious community to partner with the LACC in the campaign to prevent and eradicate corruption by engaging state actors, communities, private sectors, schools and families from their pulpits with "spiritual messages embedded in their sermons."
As per the commitment, the religious leaders pledged to work with the Liberia Council of Churches (LCC) to reactivate the corruption free school program.
"That we will embark on a vigorous campaign to continue to create awareness and sensitization on corruption," the body said, adding "we will continue to be Prophetic and Proactive at all times without fear or favor and speak, preach and teach against corruption."
The religious leaders said they would enter into a partnership and collaboration with the LACC to carry out activities in the fight against corruption.
In order to achieve the goal, they appeal to the United States Agency for International Development (USAID) which sponsored the two-day event and other donor partners for support.
At the two-day workshop, special remarks were made by USAID, NMCL, LCC and LACC, while presentations focused on 'the Role of the Religious Community in the Fight Against Corruption, Harmful Effects of Corruption, Anti-Corruption Messages in Religious Sermons, Biblical Teachings that Kick Against Corruption among others.
The leaders recognized the greatest propensity it has to impact the society at all levels of the society and the role it has played over time in the fight against corruption.
As religious leaders, they reckoned the need to strive at "all times to live by example as the Conscience of the Nation and hold our members responsible for acts of corruption."
The LACC is one of the many anti-corruption structures erected by government to aid in the fight of corruption in line with President Ellen Johnson Sirleaf vow to make it "public enemy #1" in her 2006 inaugural address.
Full report at:
http://allafrica.com/stories/201709210690.html
--------
URL: https://www.newageislam.com/islamic-world-news/pakistan-army-pushed-political-role/d/112624
New Age Islam, Islam Online, Islamic Website, African Muslim News, Arab World News, South Asia News, Indian Muslim News, World Muslim News, Women in Islam, Islamic Feminism, Arab Women, Women In Arab, Islamophobia in America, Muslim Women in West, Islam Women and Feminism