New Age Islam News Bureau
1 Sept 2018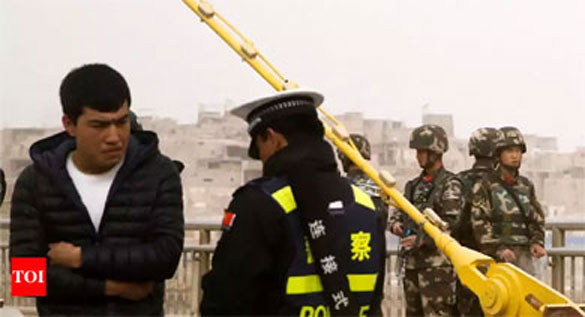 Pak, Saudi Arabia silent as China cracks down on Uighur Muslims - Times of India
-----
• Pak, Saudi Arabia Silent As China Cracks Down On Uighur Muslims
• U.N. Accuses China of Holding More Than A Million Muslims in a Secret Web of Detention Centres
• Myanmar Struggles To Digest Global Anger over Rohingya Crisis
• UP Shia Waqf Board Chief 'Excommunicated' for Rejecting Iraq Cleric's Fatwa on Ram Temple Land
• The US Is Providing Asylum to Those Who Are Hurting Muslim Sentiments: Jamaat-e-Islami Pakistan
Southeast Asia
• Pak, Saudi Arabia Silent As China Cracks Down On Uighur Muslims
• Chinese Paper Blames West For Encouraging Xinjiang Extremists
• University of Indonesia addresses radicalism on campus
--------
Europe
• U.N. Accuses China of Holding More Than A Million Muslims in a Secret Web of Detention Centres
• Long-Serving Labour Mps Gives Up Whip amid Row on Anti-Semitism
• Germany to increase Palestine aid funding to UNRWA to counter US cuts
• Germany jails man for mosque bomb attack
• French call for more Iran negotiations "bullying and excessive" -Iran foreign ministry
• Russia says Syrian army has every right to chase militants out of Idlib
• Iran rejects France's call for talks on missile program, regional policies
• Double stabbing at Amsterdam station in possible terror attack
• Daesh supporter gets 30 years for plot to kill British leader
--------
South Asia
• Myanmar Struggles To Digest Global Anger over Rohingya Crisis
• BIMSTEC Nations Call For Renewed Push against Terrorism
• Abdullah met with the Commander of NATO Joint Force Command Brunssum
• 10 militants killed, wounded in U.S. airstrike in Paktia province
• Afghan official says roadside bomb kills 5 police in east
• Myanmar Army Uses Fake Photos Of 'Muslims Killing Buddhists' In Book On Rohingya Crisis
--------
India
• UP Shia Waqf Board Chief 'Excommunicated' for Rejecting Iraq Cleric's Fatwa on Ram Temple Land
• Coimbatore: Muslim Outfit Demands Police Action against NIA
• 14 for 4: Hizb, J&K police release each other's kin
• Indian Army Releases List of Terrorists Operating in the Kashmir Valley
• Zakir Moosa, Riyaz Naikoo on new list of most wanted terrorists in Kashmir
• Uniform Civil Code not needed right now, says Law Commission
• AIMPLB not for changes in personal law
• Son of Hizbul Mujahideen chief sent to NIA custody till September 10
--------
Pakistan
• The US Is Providing Asylum to Those Who Are Hurting Muslim Sentiments: Jamaat-e-Islami Pakistan
• US Wants To Give PM Imran A Chance to Improve Pak-India Relations: Pentagon Official
• All international agreements to be reviewed: PM
• Pakistan backs Iran over US nuclear deal row
• Macron, Imran exchange views on phone
• Saudi envoy Nawaf reiterates commitment to play role in further strengthening ties with Pakistan
• Pakistan closes its Jalalabad consulate in Aghanistan amid diplomatic interventions
• District administration urges religious scholars, minorities for cooperation during Muharram
--------
Mideast
• Turkey Blacklists Syria's Tahrir Al-Sham As Idlib Operation Looms
• Israeli Forces Attack Palestinian Protesters In Gaza, Injure 240
• Heavy casualties among Houthi commanders in Yemen's Bayda
• IRGC disbands terrorist cell in southeast Iran, kills 4
• No 'third country' can mar Iran-Pakistan ties: FM Zarif
• Turkey to acquire Russia's S-400s 'in shortest time' despite US warnings
• Yemen's army imposes full control over Saada's Al-Zaher directorate
--------
North America
• Democratic Congressional Hopeful Says Trump Is Like Bin Laden
• Texas Town Considers Blocking Muslim Cemetery Construction, Now the Feds Are Investigating
• Children Found In 'Extremist Muslim' Compound to Remain In Foster Care Despite Parents' Dismissed Charges
• FBI arrests five New Mexico compound suspects' days after multiple charges were dropped
--------
Arab World
• Hayat Tahrir Al-Sham: Syria Regime's Toughest Foe in Idlib
• White Helmets Change Plan for False-Flag Chemical Attack in Idlib
• US Sends New Military Convoy to Hasaka
• More Russian Ships Head to Syria Amid Fears of US Attack
• Russia says Syria has right to chase militants out of Idlib
• Suicide bomber kills 2 Iraq policemen as clashes with security forces in Basra continue
--------
Africa
• Somalia: 3 Govt Soldiers Killed In Afgoye Alshabaab Attack
• Army kill Boko Haram terrorists, recover arms in Borno
Compiled by New Age Islam News Bureau
URL: https://www.newageislam.com/islamic-world-news/pak-saudi-arabia-silent-china/d/116260
--------
Pak, Saudi Arabia silent as China cracks down on Uighur Muslims
Aug 31, 2018
BEIJING: As calls grow in the US and Europe to pressure China to halt alleged human-rights abuses against its Muslim minority, Beijing has so far escaped any serious criticism from governments across the Islamic world.
Almost three weeks after a United Nations official cited "credible reports" that the country was holding as many as 1 million Turkic-speaking Uighurs in "re-education" camps, governments in Muslim-majority countries have issued no notable statements on the issue. The silence became more pronounced this week after a bipartisan group of US lawmakers urged sanctions against senior Chinese officials.
"We are hopeful that the State Department will seek addition opportunities to condemn these abuses while also undertaking robust diplomatic engagement with like-minded governments to further elevate this human rights crisis in international forums and multilateral institutions," lawmakers led by Senator Marco Rubio of Florida and Representative Chris Smith of New Jersey wrote Wednesday in a letter to secretary of state Michael Pompeo and treasury secretary Steven Mnuchin. They joined European Union officials who have previously expressed concern about the camps in Xinjiang.
By contrast, the leaders of Indonesia, Malaysia and Pakistan haven't released public statements on the clampdown. Neither has Saudi Arabia. Even Turkey, which has in the past offered favorable policies to Turkic-speaking groups and hosts a small Uighur population of its own, remained silent as Prime Minister Recep Tayyip Erdogan grappled with an economic crisis.
Trade ties
The split underscores how China's position as a key trading partner and aid provider to many Muslim-majority nations — as well as its longstanding policy to avoid commenting on the internal affairs of other countries — is now paying off. The alleged abuses are also occurring in one of China's most remote and heavily policed frontiers, making it hard to acquire first-hand evidence, such as photos and videos, that might sway public opinion in the Islamic world.
"China generally has friendly relations with most Muslim countries, mostly around trade," said Hassan Hassan, senior fellow at the Tahrir Institute for Middle East Policy, a Washington think tank. The Muslim world is largely unaware of the situation in Xinjiang, he added. "It's not covered almost at all in Arabic media, and even jihadis don't dwell on it as much as they do about other conflicts."
China officially denies problems in Xinjiang, a vast region the size of Alaska bordering Pakistan and Afghanistan that's home to some 10 million Uighurs. On Thursday, Beijing warned the US lawmakers not to interfere in its internal affairs.
"The policies and equal rights that Chinese minorities enjoy are far better than in the US, which has lot issues with racism and human rights protection," Chinese Foreign Ministry spokeswoman Hua Chunying told a briefing in Beijing. The lawmakers should focus on issues at home "instead of interfering in other countries' internal politics, playing judges on human rights and casting blame, or even threatening to impose unreasonable sanctions," she said.
'Strike first'
China's clampdown has been fueled by President Xi Jinping's orders to "strike first" against Islamist extremism following deadly attacks in the region involving Uighurs, and reports that some members of the minority were fighting alongside terror groups in Syria. A Communist Party-run newspaper has rebuked criticism of the crackdown, arguing that it had prevented Xinjiang from becoming another Syria.
The silence on Uighurs contrasts with outrage last year when some 700,000 Rohingya Muslims fled clearance operations by the Myanmar military, which the UN has since likened to genocide. One big difference between the two cases: Myanmar's economy is 180 times smaller than that of China, which is the top trading partner of 20 of the 57 member states of the Organization of Islamic Cooperation.
China accounts for about a tenth of Saudi Arabia's oil exports and roughly a third of Iran's, according to ship-tracking data compiled by Bloomberg. It is Malaysia's top source of foreign investment. And it has ensured the flow of more than $60 billion in loans for China-Pakistan Economic Corridor infrastructure projects.
Muslim nations "don't want to damage their relations with China, and consider China a potential ally against the West and the US, and therefore they are trying to stay silent," said Omer Kanat, chairman of the executive committee at the World Uyghur Congress, an overseas Uigher advocacy group.
Over the years, these governments have vocally opposed US slights of Muslims, including President Donald Trump's 2017 ban on travel from seven Muslim-majority countries. Iranian foreign minister Javad Zarif called it "a great gift to extremists."
An expert testifying before a United Nations human rights panel on Aug. 10 cited reports that Beijing may be holding up to one million Uighurs in re-education camps. Bloomberg reported in January on the government conducting experiments with facial recognition technology in the region.
The governments of Turkey, India, Indonesia, Pakistan, Malaysia, Kazakhstan, Saudi Arabia, and Egypt did not respond to requests to comment for this story. Multiple phone calls to the OIC for comment were not answered.
Dangerous spillover
To be sure, maintaining trade ties isn't the only motivator. Some governments are loathe to draw global attention to their own shabby human rights records. Beijing has largely refrained from involving itself in conflicts in the Muslim world.
Those nations "don't particularly respect human rights themselves, so it's hard to imagine that they would jump at an opportunity to criticize China," said David Brophy, Senior Lecturer in Modern Chinese History at the University of Sydney.
Still, it could prove increasingly difficult to maintain their silence, as China's policies in Xinjiang spill across its borders.
In Kazakhstan — a neighboring economic partner key to Xi's signature Belt and Road trade initiative — an undocumented, ethnic-Kazakh Chinese citizen recently testified to being forced to teach in a camp before escaping. Kazakh authorities, risking Beijing's anger, allowed her to remain.
The incident shows that the crackdown is starting to seep into China's foreign relations, said James Millward, a professor at Georgetown University and author of "Eurasian Crossroads: A History of Xinjiang."
"What we're seeing is the policy effects of a shift in philosophy with regard to cultural diversity and ethnic diversity in China," he said.
https://timesofindia.indiatimes.com/world/china/muslim-governments-stay-silent-as-china-cracks-down-on-uighurs/articleshow/65621983.cms
--------
U.N. Accuses China of Holding More Than A Million Muslims in a Secret Web of Detention Centres
By ROBYN DIXON
AUG 31, 2018
They are the detainees whose very existence China denies, as many as a million Uighur and other Muslim people who human rights activists say are being held in a vast web of detention camps in western China.
A United Nations committee in Geneva examining China's record on racial discrimination rebuffed Beijing's denials of the reeducation camps and called on it to acknowledge the existence of the facilities and release those who are being detained. In a report released Thursday, the committee dismissed China's justifications that it faced a terrorist problem in the Xinjiang region as nothing more than "a pretext" for detaining the minority Muslims.
A bipartisan group of 17 U.S. lawmakers, meanwhile, urged the Trump administration to sanction Chinese officials and companies allegedly involved in the detention centers.
During hearings on China's human rights record by the U.N. Committee on the Elimination of Racial Discrimination, Gay McDougall, an American human rights attorney and committee vice chairwoman, cited credible reports that more than 1 million Muslim people had been detained and said Xinjiang had been turned "into something that resembles a massive internment camp that is shrouded in secrecy."
The U.N. committee report expressed alarm over "numerous reports of detention of large numbers of ethnic Uighurs and other minority Muslims held incommunicado and often for long periods, without being charged or tried, under the pretext of countering terrorism and religious extremism."
Chinese Foreign Ministry spokeswoman Hua Chunying rejected the accusations, saying they had "no factual basis."
"As for certain counterterrorism and stability maintenance preventive measures, I think that internationally this is in general use by lots of countries," she added.
In its submission to the U.N. committee earlier this month, China said that "there are no such things as reeducation centers or counter-extremism training centers in Xinjiang," but it noted that the region faced a terrorism problem. It said the claims that a million Uighurs were being held in reeducation centers were "completely untrue."
China's response to the committee, delivered by Chinese representative Hu Lianhe, did mention what it called vocational and employment training centers, where people convicted of minor offenses were sent "to acquire employment skills and legal knowledge with a view to assisting in their rehabilitation and reintegration." The officials offered no further details, including how many people were at these centers or whether they were being held against their will.
Hu said China has jailed convicted terrorists in Xinjiang.
The U.N. committee called on China to provide detailed information on the number of people detained in the last five years in the region and the duration and grounds for their detention. It also sought information on what kind of training people received at the vocational centers, including any political content.
China should also eliminate travel restrictions affecting minority Muslims and hold government officials accountable for racial profiling of those detained, the committee said.
The 17 U.S. lawmakers, including Sen. Marco Rubio (R-Fla.) and Rep. Christopher H. Smith (R-N.J.), urged the Trump administration to sanction companies and individuals, including Chen Quanguo, the Communist Party secretary in Xinjiang who previously gained attention implementing tough security policies in Tibet.
"Muslim ethnic minorities are being subjected to arbitrary detention, torture, egregious restrictions on religious practice and culture, and a digitized surveillance system so pervasive that every aspect of daily life is monitored," the letter from the lawmakers said.
The administration has shown a willingness to sanction officials using the Global Magnitsky Act.
In December, it slapped sanctions on Gao Yan, a Chinese police official in Beijing, for denying medical care to Cao Shunli, a human rights activist who died in custody. Another alleged human rights abuser hit with sanctions is Myanmar Gen. Maung Maung Soe, who was accused of the ethnic cleansing of Rohingya people.
Originally, the Magnitsky Act of 2012 was used to impose travel bans and freeze the assets of Russian officials after Sergei Magnitsky, an attorney who exposed a Russian fraud scheme, was jailed and died in prison. But use of the act began to widen in 2016 to allow sanctions against human rights abusers.
Hua, the Chinese spokeswoman, said Thursday that China's human rights record is far better than the United States'.
"If China's policies on ethnic minority groups and the equal rights enjoyed by them are viewed without bias and prejudice, the conclusion will be drawn that China's policies and record in this regard are actually far better than the U.S.," she said.
"These U.S. lawmakers have no right to make these unwarranted accusations on ethnic minority issues against China," Hua added. "I would like to advise those U.S. lawmakers, who are paid by taxpayers' money, to focus on doing their job and serving Americans, instead of poking their noses in other countries' domestic affairs, acting as some kind of 'human rights judge' to make groundless accusations, or even threaten to impose unreasonable sanctions."
http://www.latimes.com/world/la-fg-china-uighur-20180831-story.html#
--------
Myanmar struggles to digest global anger over Rohingya crisis
August 31, 2018
Baffled, hurt or indignant, many inside Myanmar are struggling to digest a week of opprobrium heaped on their country by the UN and even Facebook over the treatment of the Rohingya, a stateless Muslim group whose plight elicits little sympathy in the Buddhist-majority nation.
Last year's military crackdown ostensibly on Rohingya militants pushed out some 700,000 of the minority in violence that horrified the world.
But in Myanmar, the army was widely cheered for its defence of the country from "Bengali" interlopers as the Rohingya are falsely cast.
A UN report on Monday pulled few punches in calling for the army chief's prosecution for genocide against the Rohingya and singled out Myanmar's democracy champion Aung San Suu Kyi for failing to speak up for the group.
Yet the public response has been muted on an issue warped by Islamophobic rhetoric and the rehashed history peddled by the military.
"We were happy to fight the military for democracy but we don't want to fight them over Rakhine," shipowner Kyaw Kyaw, 47, told AFP, from a Yangon teashop.
"I have sympathy for the victims but defending our country from terrorism is more important," he added, parroting the official line that the army "clearance operations" were justified to root out Rohingya militants.
Myanmar's evolution from military rule to a quasi-democracy in 2011 brought with it freedoms unknown for nearly half a century.
Even so, most people still rely for information on state media, Facebook or a fledgeling independent media that mostly toes the government line when it comes to the Rohingya.
There are signs that politics is again becoming taboo, as patriotism and a deep mistrust of a still-powerful army dull criticism.
At the same time, a siege mentality is building in a country that felt the glow of global support just a few years ago as its story of triumph over authoritarianism captured the headlines.
"I feel sad the world is looking down upon Myanmar people," says traditional doctor Than Sein, 50, from a neighbouring teashop table, remembering how Buddhists and Muslims used to eat at each other's houses and lamenting they no longer do so.
Suu Kyi, still a heroine domestically, articulated the mood.
"We who are living through the transition in Myanmar view it differently from those who observe it from the outside and who will remain untouched by its outcome," she said this week in a speech in Singapore.
Profile Protests
The UN's call for prosecution of the military top brass was buttressed by unprecedented action by Facebook, which pulled down the profile of army chief Min Aung Hlaing, 17 other accounts of top generals and 52 pages followed by almost 12 million people.
The social media site, hugely influential in a country that only recently came online, said the move was to prevent them from using the site to "further inflame ethnic and religious tensions".
It has come under fire for being slow to react to hate speech, which cascaded across its platform last year as the Rohingya fled to Bangladesh.
Scrambling to restore its image, Facebook has launched a PR campaign highlighting improved technology and more staff to detect incendiary posts and misinformation.
The ban seems to have elicited far more outcry than the prospect of military leaders one day being hauled before the International Criminal Court (ICC).
Some jumped to the generals' defence, adopting the army chief's photo as their profile picture, as reports surfaced that he and military supporters were already migrating to Russian social media platform VK.
"If we, the people, and the army are together, who can destroy us?" one Facebook post declared.
Even the civilian government spokesman rushed to address the issue before responding to the damning UN report, reassuring blacklisted generals that the government had not been in cahoots with the tech giant.
The effect of this ban and the recent blacklisting of Islamophobic monks and groups has been small but noticeable, says president of monitoring group "PEN Myanmar" Ma Thida.
People now know "they need to be careful if they don't want their accounts to be deleted or deactivated", she says.
Muslim journalist Aung Naing Soe, a target of racial slurs and even death threats himself, agrees there are fewer toxic posts being spread on the site.
"I think they're staying low-profile," he says. "Nobody wants to lose their Facebook account in this country."
For others, the measures smell of the censorship of old.
"Shutting down the Facebook pages of the military is the kind of stunt the junta used to pull," doctor Zune Ei says. "They closed the eyes and mouths of the people for decades."
But the generals "should face the ICC and make it clear if they did not do anything wrong," she adds.
https://nation.com.pk/31-Aug-2018/myanmar-struggles-to-digest-global-anger-over-rohingya-crisis
--------
UP Shia Waqf Board Chief 'Excommunicated' for Rejecting Iraq Cleric's Fatwa on Ram Temple Land
September 1, 2018
Lucknow: Chairman of UP Shia Waqf Board Waseem Rizvi has been "excommunicated" for not heeding to a fatwa issued by Iraq's top Shia cleric Ayatollah Ali Al-Sistani against handing over Waqf properties for the construction of a temple of shrine, a top Shia cleric said on Friday.
Rizvi's "ouster" from the Shia community, following the controversy over his offer of disputed land at Babri Masjid site for Ram Temple construction, was announced by senior Shia cleric Maulana Kalbe Jawad in Lucknow during Friday prayers.
Speaking to News18, Maulana Jawwad said Shias all around the world were "embarrassed" by Rizvi. "Shias all around the world are facing embarrassment because of the statements made by Waseem Rizvi. People like Rizvi are working against Islam either under pressure or just to please their masters. On my recent visit to Iran, people were asking me questions and I am answerable to them on the kind of things he is doing."
Maulana Jawad also said that since Waseem Rizvi is "not a Shia anymore", he must be removed from the post of Shia Waqf Board Chairman.
"After a fatwa from Ayatollah Ali Al Sistani, there is no chance of rejecting it. Anyone who opposes his fatwa has no right to be called a Shia anymore. Hence, I have asked the government to remove him from the post. We have already said that whatever the court decides will be acceptable to us, but Waseem Rizvi seems to be in a hurry. How can he donate land when he is not the owner? He is just the caretaker. He is fooling the entire nation by saying that he is donating the land. He can donate his own house if he wants, but he cannot donate land which does not belong to him," Maulana Jawad added.
Rejecting the 'excommunication, Rizvi said, "Maulana Jawad is a witness in the Babri Masjid demolition case, which is why he is trying to put pressure on the Shia Waqf Board. Nobody has the right to cast anyone out of Islam, no matter how big the cleric is."
Rizvi's decision to offer disputed land at Babri Masjid site for the construction of Ram Temple in Ayodhya had led Kanpur-based educationist Dr Mazhar Naqvi to pose a query on its legality. Sistatni's fatwa was in response to this query. Rizvi has repeatedly argued that the Babri Masjid was constructed by a Shia ruler, and hence, the Waqf property belongs to the community, free to be offered for the Ram Temple.
While rejecting the fatwa, Rizvi had said that the UP Shia Waq Board will follow the Indian Constitution and not the fatwa. "There is an international pressure on Shia Waqf Board to support the Babri Masjid litigants. This fatwa from Ayatollah Sistani is a part of that tactic. Shia Waqf Board will work as per the norms laid down by the Indian Constitution and not as per any pressure from terrorists or according to any fatwa. We are not ready to abide by the cleric's opinion. The advice was taken after misguiding him on the issue," he had said.
"Ram Temple in Ayodhya is a question of faith for Hindus and Shia Waqf Board is concerned about development of the society and the country. Hindus should get their right and Muslims should refrain from taking away anyone's right. Shia Waqf Board will maintain its stand even if all the Muslims of the world stand in our opposition," Rizvi had said.
The Uttar Pradesh Shia Waqf Board had urged the Supreme Court to act as a mediator in the Ayodhya case and has suggested that a Ram Temple be built at the disputed site and a mosque in a nearby Muslim-dominated area as a way out of the bitter court battle over the land.
The UP Shia Waqf Board had cited historical references to Mir Baqi, the person who built the Babri mosque, as being a Shia Muslim and hence the mutawali (caretaker) of the mosque was also the Shia Waqf Board.
https://www.news18.com/news/india/up-shia-waqf-board-chief-excommunicated-for-rejecting-iraq-clerics-fatwa-on-ram-temple-land-1863771.html
--------
The US Is Providing Asylum to Those Who Are Hurting Muslim Sentiments: Jamaat-e-Islami Pakistan
SEPTEMBER 1, 2018
Jamaat-e-Islami Pakistan Leader and Senator Sirajul Haq has appreciated the cancellation of the profane caricature contest in Holland and called upon the Muslim rulers and the Organisation of Islamic Council (OIC) to work out a joint line of action to prevent such sacrilege for all the times.
Addressing a large Friday congregation at Mansoora Mosque, he impressed upon Prime Minister Imran Khan to include this issue in his expected address to the United Nations General Assembly and strive for the enactment of a law at international level to safeguard the sanctity of Prophet Muhammad (PBUH) and all the prophets and messengers of Allah and to make sacrilege a cognisable offense.
He urged the government to convene an urgent meeting of the OIC to adopt a solid plan to protect the sanctity of the noble Prophet (PBUH) and for its strict implementation.
JI Chief Sirajul Haq said that some mischievous elements often hurt the sentiments of one and a half billion Muslims in the world through these heinous acts. He said this evil practice was intolerable for the believers as it was a matter of their faith.
He said that the announcement of the caricatures contest had led to worldwide protest and demonstrations by the Muslims.
He said the United States and the western world should see reason and not endanger world peace because of such satanic pursuits which might lead to a major war.
The JI chief said that the western world especially the US was patronising mischief makers who indulged in profanity of the holy Prophet (PBUH).
Taslima Nasreen of Bangladesh and Salman Rushdi were leading luxurious lives due to US patronage. He further said that the sacrilege of the noble Prophet (PBUH) could not be allowed in the name of democracy and freedom of expression and even the weakest Muslim was ready to lay down his life for the sanctity of the holy Prophet (PBUH).
https://dailytimes.com.pk/291232/the-us-is-providing-asylum-to-those-who-are-hurting-muslim-sentiments-sirajul-haq/
--------
Southeast Asia
Chinese paper blames West for encouraging Xinjiang extremists
Sep 1, 2018
SHANGHAI: Turbulence in China's restive far western region of Xinjiang has been caused by "external factors", a state-run newspaper said Saturday in an editorial responding to calls by a group of US lawmakers for sanctions on Chinese officials.
"Western accusations of Xinjiang governance seriously misled the extremists, making them believe they were launching religious Jihad and won sympathy and support from Western and international society," said the editorial in the Global Times, a tabloid published by the ruling Communist Party's People's Daily.
"Some forces have slandered China's governing efforts" in Xinjiang, the editorial said, accusing a "West-centered (value) system" of making "empty statements about human rights regardless of the purpose and effect of Xinjiang governance and the grim reality it targets."
"Such empty talk inspires extremists, which meets the purposes of some Western politicians trying to undermine the governance achievements in Xinjiang and push the region into turmoil," the editorial said.
Whether Xinjiang governance abuses human rights must be judged by whether its results safeguard the interests of the majority in the region, it continued.
On Wednesday, a bipartisan group of US lawmakers called for sanctions on Chinese officials responsible for human rights abuses against minority Muslims in China's Xinjiang region, saying it was being turned into a "high-tech police state."
On Thursday, foreign ministry spokeswoman Hua Chunying said at a regular press briefing in Beijing that the United States did "not have the right" to make "unwarranted criticism" of China's policies toward ethnic minorities.
A United Nations human rights panel this month said it had received many credible reports that 1 million ethnic Uighurs in China were held in what resembled a "massive internment camp that is shrouded in secrecy."
China has said that Xinjiang faces a serious threat from Islamist militants and separatists who plot attacks and stir up tensions between the mostly Muslim Uighur minority who call the region home and the ethnic Han Chinese majority.
Hundreds have died in unrest there in recent years.
https://timesofindia.indiatimes.com/world/china/chinese-paper-blames-west-for-encouraging-xinjiang-extremists/articleshow/65631647.cms
--------
University of Indonesia addresses radicalism on campus
August 31, 2018
In a bid to counter intolerance and radicalism that are reportedly on the rise at universities lately, a group of University of Indonesia (UI) alumni formed the Alliance for Tolerance which will, among other measures, monitor intolerant and radical activities on campus.
Alliance chairman Donny Gahral Adian said on Thursday that a number of academics of the university had shown signs of trying to insert radicalism and spread intolerance at UI. The radicalism and hatred toward "others, usually minorities," were conveyed through a small discussion forum called mentoring.
"Through the one-on-one discussion called mentoring, messages like 'don't choose a leader who has different beliefs to yours' were inserted by the mentor," Donny said, adding that mentors in the small forum were usually affiliated with political parties or Muslim groups like Hizbut Tahrir Indonesia (HTI).
Although the HTI had been disbanded, Donny said, the HTI movement lived on at UI.
The Alliance for Tolerance has set up a website at uitoleran.id, where cases of intolerance or radicalization at UI could be reported.
Donny said the reports would be followed up by a special team comprising of UI alumni and the university's rectorate. Those proven to sow or spread intolerant or radical ideas would be sanctioned in line with the university's rules.
The alumni in the alliance include Saparinah Sadli, JB Sumarlin, Albertine Minderop, Sulistyowati Irianto, Riris Sarumpaet, Ratih Ibrahim, Saras Dewi, Prita Laura, Kasandra Putranto, Ade Armando and singer Once.
Full report at:
http://www.thejakartapost.com/news/2018/08/31/university-of-indonesia-addresses-radicalism-on-campus.html
--------
Europe
Long-serving Labour MPs gives up whip amid row on anti-Semitism
Aug 30, 2018
The pressure on the leadership of Britain's Labour Party has increased as a long-serving Member of Parliament (MP) resigns his whip to protest what he sees as surging anti-Semitic sentiments within the party.
Frank Field, a Labour representative of Birkenhead in northwest England since 1979, announced Thursday that he would now sit as an independent Labour MP as he could no longer tolerate the increasing anti-Semitism in his party's leadership.
Field, 76, announced his resignation in a letter to a Labour lawmaker responsible for coordinating members' vote with the party's position.
The veteran lawmaker accused the Labour leadership of "doing nothing substantive" to address claims that the party had become anti-Semite.
"It saddens me to say that we are increasingly seen as a racist party," said Field in his letter to Labour's chief whip.
The move comes amid a deepening row within the Labour about the party's refusal to adopt a multi-national code of conduct on anti-Semitism.
Critics have used almost every opportunity to accuse Labour leader Jeremy Corbyn of anti-Semitism, citing numerous evidences he has slammed the Israeli regime's actions against the Palestinians.
Corbyn, a fervent supporter of Palestine and its right to establish a state, has sought to clarify his stances, saying being anti-Israel has nothing to do with dislike of Jews and racism.
Corbyn and the Labour have refused to change the party's code of conduct, saying a broader definition of anti-Semitism may violate the rights of Jews who are critical of Israel.
https://www.presstv.com/Detail/2018/08/30/572720/UK-Labour-Semitism-row
--------
Germany to increase Palestine aid funding to UNRWA to counter US cuts
Aug 31, 2018
Germany says it will sharply boost its funding for the UN Relief and Works Agency for Palestine Refugees in a bid to partly compensate for US aid cuts.
German Foreign Minister Heiko Maas announced on Friday his country is currently preparing to allocate a considerable amount of additional funds to the UNRWA, but refused to give any figures.
A decision by US President Donald Trump's administration to significantly decrease the country's funding for the UN agency has left the UNRWA with a $217 million deficit, which is not going to be covered by Berlin's additional contribution, as announced by Maas.
In a letter to EU foreign ministers, the German FM said his country has already offered $94 million to the UN's aid agency this year and will increase its contribution in the future, but the additional amount won't be enough to compensate for the deficit. Therefore, he noted, the EU and other states need to work out and find a "sustainable" source of finance for the UNRWA.
The decision by the government of Angela Merkel is viewed as the last in a series of assertive stances held by Berlin against the US' policies on trade, climate change, and military spending, among other issues
The US, which roughly provided one-third of the UNRWA's budget, suspended $65 million of the $125 million in aid it planned to contribute to the program back in January.
The decision forced the UNRWA's secretary-general, Pierre Krähenbühl, to start a fundraising appeal, to which Belgium was the first to respond, offering a generous $23 million.
A few months later, Qatar, Canada, Switzerland, Turkey, New Zealand, Norway, Korea, Mexico, Slovakia, India and France have also pledged $100 million in new financing to the UNRWA after an emergency donor conference held in Rome back in March.
Full report at:
https://www.presstv.com/Detail/2018/08/31/572786/Germany-aid-palestine-unrwa
--------
Germany jails man for mosque bomb attack
September 01, 2018
DRESDEN - A German man who used a homemade bomb to attack a mosque in the eastern city of Dresden was Friday sentenced to nearly 10 years in jail for what prosecutors called a xenophobic crime.
The accused, Nino Koehler, had apologised during his trial to the imam and his family. No one was hurt in the attack. The bomb damaged the door of the Fatih mosque while the family were inside on September 26, 2016.
That same evening, the accused planted another homemade pipe bomb that slightly damaged a convention centre in the city, which was days away from hosting festivities to mark 26 years since the reunification of east and west Germany.
The attacks in Dresden, the capital of Saxony state and the birthplace of the anti-Islam PEGIDA movement, shocked Germany. The city's district court found Koehler guilty of attempted murder, setting off explosives and attempted aggravated arson.
The judge sentenced him to nine years and eight months in jail.
Prosecutors him during the trial of harbouring racist and Islamophobic motives, and media reports said he had railed against "lazy Africans" and "criminal foreigners" at a past PEGIDA rally.
Koehler, who was arrested in December 2016, told the judge that he never meant to hurt anyone.
Saxony, in Germany's ex-communist east, has become a hotspot for far-right protests and hate crimes after more than a million asylum seekers arrived in Europe's biggest economy since 2015.
Full report at:
https://nation.com.pk/01-Sep-2018/germany-jails-man-for-mosque-bomb-attack
--------
French call for more Iran negotiations "bullying and excessive" -Iran foreign ministry
31 August 2018
A French call for further negotiations with Iran over its nuclear accord is "bullying and excessive," its foreign ministry said Friday, according to the Islamic Republic News Agency (IRNA).
French Foreign Minister Jean-Yves Le Drian said on Thursday that, following the US pullout from the agreement, Tehran should be ready to negotiate on its future nuclear plans, its ballistic missile arsenal and its role in wars in Syria and Yemen.
"There is no reason, need, reliability or trust for negotiations on issues that are non-negotiable," foreign ministry spokesman Bahram Qassemi also said, according to IRNA.
https://english.alarabiya.net/en/News/world/2018/08/31/French-call-for-more-Iran-negotiations-bullying-and-excessive-Iran-foreign-ministry.html
--------
Russia says Syrian army has every right to chase militants out of Idlib
Aug 31, 2018
As the Syrian armed forces are preparing to launch a full-scale offensive to retake the northern province of Idlib, Russia says the Syrian troops have the full right to go after and hunt the terrorists out of the last stronghold of militants.
Russian Foreign Minister Sergei Lavrov said on Friday the Syrian army has every right "to protect its sovereignty and to drive out, liquidate the terrorist threat on its territory."
He also noted that talks were underway to set up humanitarian corridors in the militant-held province.
"In this area, in this de-escalation zone, there must be a separation of the armed opposition, ready for dialogue with the government, from terrorists of Jabhat al-Nusra [now known as Tahrir al-Sham] and other organizations recognized as terrorist by the UN Security Council. Terrorists oppose such separation," Lavrov noted.
On Wednesday, Lavrov had described the Idlib-based militants as a "festering abscess" which must be liquidated, RIA news agency reported.
The Syrian army's large-scale operation will be aimed at retaking a province of three million population.
UN's Special Envoy to Syria Staffan de Mistura said Thursday the UN estimates put the number of terrorists remaining in Idlib province at 10,000, stressing that they must be defeated.
De Mistura admitted that the terrorists in Idlib may use chemical weapons during the Syrian army's operation, echoing a concern earlier raised by Russia, which warned the terrorists may launch the chemical attack to frame the Syrian government, giving Western powers a pretext to launch a new raid on Syria.
While the Syrian army is getting prepared for the operation, Idlib-based militants reportedly blew up two key bridges in an attempt to slow down the government's attack, the UK-based Syrian Observatory for Human Rights said Friday.
The bridges over the Orontes River linked Idlib to areas of neighboring Hama province, which is controlled by the government of President Bashar al-Assad.
"They were the two main bridges in the area, but there are others," Observatory head Rami Abdel Rahman told AFP.
Full report at:
https://www.presstv.com/Detail/2018/08/31/572795/Russia-Syria-Idlib
--------
Iran rejects France's call for talks on missile program, regional policies
Aug 31, 2018
Iran has rejected the French foreign minister's call for talks on Tehran's missile program and regional policies, saying the West has left no trust for Iran to sit for talks on non-nuclear issues.
In a statement on Friday, Foreign Ministry spokesman Bahram Qassemi said the remarks by French Foreign Minister Jean-Yves Le Drian on Iran's missile program and regional policies were "undue concerns" founded on a misunderstanding or lack of knowledge about Iran.
Le Drian told a Thursday gathering of EU foreign ministers in Vienna that Iran must respect the fundamentals of the 2015 nuclear deal and should be prepared to negotiate on its future nuclear plans, ballistic missile arsenal and alleged meddling in conflicts across the Middle East.
Iran "cannot avoid discussions, negotiations on three other major subjects that worry us — the future of Iran's nuclear commitments after 2025, the ballistic question and the fact that there is a sort of ballistic proliferation on the part of Iran… and the role Iran plays to stabilize the whole region," he said.
Qassemi said Iran had always proved that it was not afraid of talks and that it strongly believed in dialogue.
The nuclear talks revealed Iran's good faith and commitment to the principle of negotiation, and could in turn serve as a yardstick against which to measure the West's commitment to its pledges, he noted.
However, he added, the West failed to live up to its commitments after US President Donald Trump unilaterally withdrew the US from the Iran nuclear deal - the Joint Comprehensive Plan of Action (JCPOA) - while other parties stood idle and kept mum.
The comprehensive efforts by Iran and other world powers were simply foiled by the bullying and greedy behaviors of the US – an ally of France – and the Europeans' failure to stand against them, Qassemi went on to say.
"Under current circumstances … there is no reason, need, reliability or trust for holding fresh talks on any topic, let alone non-negotiable issues," he said.
The Iranian spokesman also noted that Le Drian is aware that the Europeans currently have no other way but to fulfill their pledges under the deal.
"Iran and the Iranians also have no other option but to remain distrustful until the pledges are met," he added.
He also said that the world and the French politicians well know the Islamic Republic's policies are aimed at establishing peace and security in the region as well as fighting terrorism and extremism.
Full report at:
https://www.presstv.com/Detail/2018/08/31/572767/Iran-France-missile-regional-policies-qassemi
--------
Double stabbing at Amsterdam station in possible terror attack
September 01, 2018
AMSTERDAM: Dutch police were investigating Saturday a suspected terror attack at Amsterdam's Central Station, in which two people were stabbed before the knifeman was shot by police.
The assailant was identified as an 19-year-old Afghan man with a German residency permit.
"We are seriously taking into account that there was a terrorist motive," Amsterdam police spokesman Frans Zuiderhoek told AFP.
Earlier witnesses described scenes of panic as gunshots rang out and thousands of commuters and tourists were evacuated from the rail terminals shortly after midday.
"A man in the west side tunnel of Amsterdam Central Station stabbed two other people and directly after that he was shot by the police," another police spokesman Rob van der Veen said, adding terrorism was not being ruled out by investigators.
"The two people are very badly injured, and they were brought to the hospital," he said.
"We are looking at all scenarios, also the worst scenario, which is terrorism."
One witness said he saw a young man "stumble" into his flower shop at the station with a bleeding wound to his hand.
"Shortly afterwards I heard some shots and I know something has gone badly wrong," Richard Snelders told the ANP news agency. A while later he saw another man lying on the ground nearby, he said.
"The first thing that comes up in your mind is that it's a terror attack. After all, you are at Amsterdam Central Station. There was a lot of panic," Snelders said.
Police quickly arrived at the scene with video images showing police ordering the suspect in English to "stay down" after he had been shot.
Images posted on social media showed security guards ushering passengers toward exits and paramedics arriving at the scene with stretchers.
Police spokesman Zuiderhoek said the knifeman's condition was not life-threatening, but that he had been shot in the lower body.
"At this moment he is under police custody in hospital. He is being questioned about his motive," Zuiderhoek added.
Dutch police were also in close contact with their German counterparts in regards to the suspect's background, he added.
Two platforms at the station — located in the Dutch capital's historic canal-ringed city center — had been evacuated and closed off to passengers, police said, and were reopened for rail traffic two hours later.
A special police department opened a routine probe into why police shot the man.
The Netherlands has so far been spared from the slew of terror attacks which have rocked its closest European neighbors in the past few years.
But amid a number of scares and reports that people linked to some of those attacks may have crossed briefly into the country, top Dutch security and intelligence officials have stressed that the threat level is substantial.
Police declined to speculate on the reasons for Friday's incident, but the Afghan Taliban in a statement Thursday called for attacks on Dutch troops following plans by Dutch far-right politician Geert Wilders to stage a Prophet Muhammad cartoon competition in the Dutch parliament.
Wilders, who received several death threats has since canceled the competition which has angered Muslims and sparked protests, saying he wanted to "avoid the risk of making people victims of Islamist violence."
Full report at:
http://www.arabnews.com/node/1365036/world
--------
Daesh supporter gets 30 years for plot to kill British leader
August 31, 2018
LONDON: A supporter of the Daesh group who plotted to kill British Prime Minister Theresa May received a prison sentence of at least 30 years Friday from a judge who called him "a very dangerous individual."
Naa'imur Zakariyah Rahman was convicted last month in London of planning to bomb the entry gates to the prime minister's residence at 10 Downing Street. Prosecutors said he intended to then kill the guards there and to attack May with a knife or gun.
Rahman, 21, was arrested in November after collecting a backpack he was led to think contained explosives supplied by other Daesh adherents. The fellow sympathizers with whom he had communicated were actually undercover intelligence agents.
Prior to his arrest, Rahman was referred to a government de-radicalization program, but nonetheless plotted his attack over the course of two years, according to prosecutors. They said two of Rahman's uncles had been jailed in Britain for funding terrorism, while another was killed in a drone strike in Syria.
Judge Charles Haddon-Cave sentenced Rahman to life in prison with no chance of parole for 30 years.
Haddon-Cave said Rahman believed he had obtained a real bomb that was "capable of causing casualties on a scale comparable to those caused at the Manchester Arena," where a suicide bomber at an Ariana Grande concert killed 22 people in 2017.
Full report at:
http://www.arabnews.com/node/1365006/world
--------
South Asia
BIMSTEC nations call for renewed push against terrorism
2018-08-31
The 18-point Kathmandu Declaration was issued at the end of the two-day 4th Bay of Bengal Initiative for Multi-Sectoral Technical and Economic Cooperation summit on Friday, which was attended by Prime Minister Sheikh Hasina among others.
The declaration is expected to enhance the effectiveness of BIMSTEC Secretariat by engaging it in technical and economic activities in the region.
Nepalese Prime Minister KP Sharma Oli, the current chair of BIMSTEC, gave a closing speech after handing over the chairmanship of the next BIMSTEC summit to Sri Lankan President Maithripala Sirisena.
Read 18 commitments below:
1. Recall the principles enshrined in the 1997 Bangkok Declaration and reemphasise that cooperation within BIMSTEC will be based on respect for the principles of sovereign equality, territorial integrity, political independence, non-interference in internal affairs, peaceful co-existence and mutual benefit.
2. Agree to intensify our efforts to realise the objectives and purposes of BIMSTEC as embodied in the 1997 Bangkok Declaration, and reiterate our pledge to work collectively towards making BIMSTEC a stronger, more effective and result-oriented organisation for achieving a peaceful, prosperous and sustainable Bay of Bengal Region.
3. Resolve to achieve, leveraging on BIMSTEC's unique position as a bridge linking South and Southeast Asia, an enhanced level of economic and social development in the region, and remain fully committed to consolidate and deepen cooperation among Member States towards transforming our organisation into an effective platform to promote peace, prosperity and sustainability.
4. Deplore terrorist attacks in all parts of the world including in BIMSTEC countries and strongly condemn terrorism in all its forms and manifestations wherever and by whomsoever committed and stress that there can be no justification whatsoever for any act of terrorism. Affirm that the fight against terrorism should target not only terrorists, terror organisations and networks but also identify and hold accountable States and non-State entities that encourage, support or finance terrorism, provide sanctuaries to terrorists and terror groups and falsely extol their virtues. Reiterate our strong commitment to combat terrorism and call upon all countries to devise a comprehensive approach in this regard which should include preventing financing of terrorists and terrorist actions from territories under their control, blocking recruitment and cross-border movement of terrorists, countering radicalisation, countering misuse of internet for purposes of terrorism and dismantling terrorist safe havens.
5. Repose our faith unequivocally in the principles and purposes of the Charter of the United Nations and strive to strengthen the multilateral system by reforming its rules, institutions and instruments to make it relevant to contemporary global challenges and agree to work together to present a collective voice to safeguard our collective interests for a fair, just, rule-based, equitable and transparent world order.
INSTITUTIONAL REFORM
6. Decide to task the BIMSTEC Secretariat to prepare a preliminary draft of the charter for the organisation, building on the 1997 Bangkok Declaration, defining a long-term vision and priorities for cooperation, clearly delineating roles and responsibilities of different layers of institutional structure and decision-making processes, for consideration by the BIMSTEC Permanent Working Committee (BPWC) and other higher bodies with a view to adopting it by the Fifth Summit; and agree to task the BPWC to develop the Rules of Procedure (RoP) for the BIMSTEC Mechanisms.
7. Decide to establish a BIMSTEC Permanent Working Committee to deal with administrative and financial matters of the Secretariat and the BIMSTEC Centres and Entities, as well as to prepare schedule of meetings, prioritise and rationalise the organisation's activities.
8. Direct the relevant Ministries/national agencies of our respective governments to explore the possibility of establishing a BIMSTEC Development Fund (BDF), at an appropriate time, with voluntary contributions from the Member States, which will be utilised for research and planning of BIMSTEC and financing of projects, programmes and other activities of BIMSTEC Centres and Entities as agreed upon by the Member States.
9. Agree to enhance the institutional capacity of the BIMSTEC Secretariat, including through financial and human resources, in order to enable it to coordinate, monitor and facilitate implementation of BIMSTEC activities and programmes; and initiate project proposals as agreed by the Member States as well as fulfil any other responsibility entrusted to it in an effective and efficient manner and agree to raise the numbers of Directors to seven, one from each Member State, in a staggered manner.
10. Acknowledge the importance of enhancing the visibility and stature of BIMSTEC in international fora by, inter alia, forging common positions, as appropriate, on issues of common interest and seeking group recognition in various multilateral organisations, institutions and processes.
11. Emphasise the need to accelerate progress in the core areas of cooperation and to review, restructure and rationalise the existing areas of BIMSTEC cooperation and streamline the operational modalities for activities, implementation of programmes and projects under BIMSTEC for bringing out tangible results. Welcome Thailand's concept paper on the Reprioritisation of BIMSTEC Pillars of Cooperation proposing to streamline to five pillars which will be subjected to further discussion in the BIMSTEC Permanent Working Committee.
12. Agree to take up on priority basis the legal documents and instruments that are pending for internal approval process for finalisation and ratification.
13. Commend the role of Lead Countries for the progress made in the respective sectors, as annexed to this declaration, and encourage them to accelerate their efforts to make further progress.
14. Express our appreciation for former Secretary-General Sumith Nakandala's valuable contribution in advancing the work of BIMSTEC during his tenure and welcome the appointment of M Shahidul Islam of Bangladesh as the Secretary General of BIMSTEC.
15. Convey deep appreciation to Nepal for the able stewardship of BIMSTEC from March 2014 and welcome Sri Lanka as the new Chair of BIMSTEC.
16. Reiterate the commitment to timely holding of Summit and other meetings of the BIMSTEC mechanisms to intensify the process of regional cooperation.
17. Agree to make our directives, commitments and statements of our positions on sectoral review expressed at the Annexure as part of this Declaration.
18. Express our sincere appreciation to the Government of Nepal for the warm hospitality and the excellent arrangements made for the Summit.
https://bdnews24.com/bangladesh/2018/08/31/bimstec-nations-call-for-renewed-push-against-terrorism
--------
Abdullah met with the Commander of NATO Joint Force Command Brunssum
Aug 31 2018
The Chief Executive of the Government of National Unity Abdullah Abdullah met with the Commander of the NATO Joint Force Command Brunssum General Riccardo Marchiò in Kabul.
The Office of the Chief Executive in a statement said Mr. Abdullah and Gen. Marchiò met in Sapidar Palace in Kabul on Thursday.
The statement further added that Mr. Abdullah welcomed Gen. Marchiò to Kabul as he thanked NATO for its active presence and contribution in Afghanistan to combat terrorism and support the Afghan National Defense and Security Force.
In his turn, Gen. Marchiò expressed satisfaction regarding the developments achieved by the Afghan forces and reaffirmed NATO's long term support to Afghanistan.
He also added that NATO remains committed to support, equip, and bolster the capabilities of the Afghan National Defense and Security Forces who are fighting in frontline against terrorism.
Full report at:
https://www.khaama.com/abdullah-met-with-the-commander-of-nato-joint-force-command-brunssum-05862/
--------
10 militants killed, wounded in U.S. airstrike in Paktia province
Aug 31 2018
At least ten militants were killed or wounded during an airstrike conducted by the U.S. forces in southeastern Paktia province of Afghanistan.
The 203rd Thunder Corps of the Afghan Military in the Southeast said Thursday that the latest airstrike was carried out in the vicinity of Syed Karam district.
According to a statement released by the Thunder Corps, the coalition forces targeted the militants in the vicinity of Kohsin area of the district.
The statement further added that four militants were killed and six others were wounded during the airstrike.
The anti-government armed militant groups including Taliban militants have not commented regarding the report so far.
Paktia has been among the relatively calm provinces but the security situation of the province has started to deteriorate during the recent years as reports often emerge of the militants activities including coordinated attacks on security forces.
Full report at:
https://www.khaama.com/10-militants-killed-wounded-in-u-s-airstrike-in-paktia-province-05861/
--------
Afghan official says roadside bomb kills 5 police in east
31 August 2018
Afghanistan's ISIS affiliate detonated a roadside bomb in eastern Nangarhar province killing five border police and wounding four others, a statement issued Friday by the insurgent group said.
The vehicle carrying the officers struck the mine in Achin District on Thursday, police officer Qais Saifi told The Associated Press.
Even before ISIS issued its statement claiming responsibility, Safi had suspected the group, saying it regularly plants roadside bombs to target Afghan officials and security forces.
ISIS has a strong presence in Nangarhar, where Afghan and US support troops have targeted their outposts.
Known as the ISIS in Khorasan province, an ancient name for large swaths of Afghanistan, Iran and Central Asia, the insurgent group has carried out a number of blistering attacks in recent months in Afghanistan.
It was an ISIS bomber who walked into the middle of a group of high school students earlier this month while they took their university entrance exam in the capital Kabul, killing 34. The dead were all under 20 years old and mostly Shiite Muslims.
The ISIS affiliate has warned Afghanistan's minority Shiites that they are targets. The radical ISIS views Shiites as apostates.
According to the ISIS statement, an explosive device was detonated and a police Humvee was destroyed. It said another explosive device was detonated among those troops who came to the scene killing five of them, including a squadron leader, and wounding five others.
Afghan officials reported only one explosion.
The statement also said ISIS soldiers killed a pro-government militia leader in Achin.
Elsewhere in Afghanistan, a van hit a roadside mine in northeaster Kunar province, killing three people and wounding 16 others Wednesday, said Abdul Ghani Musamim, spokesman for the provincial governor.
Full report at:
https://english.alarabiya.net/en/News/world/2018/08/31/Afghan-official-says-roadside-bomb-kills-5-police-in-east.html
--------
Myanmar army uses fake photos of 'Muslims killing Buddhists' in book on Rohingya crisis
Sep 1, 2018
Produced by Myanmar's army, a new book on the Rohingya crisis contains numerous misrepresented photographs, including one image that incorrectly claims to be members of the Muslim minority killing Buddhists.
The 177-page Myanmar Politics and the Tatmadaw: Part I features the army's narrative on the military crackdown which was recently described as genocide by United Nations investigators.
Much of the book's content is sourced from the military's "True News" information unit, which since the beginning of the crisis has distributed the army's version of events, mostly in Facebook posts.
However, an investigation by the Reuters press agency found many of the photographs contained within the publication had been completely removed from their original context.
One, which depicts a man holding a farming tool standing over two bodies, is captioned: "Bengalis killed local ethnics brutally,".
However, the photograph was actually taken in Dhaka during Bangladesh's 1971 independence war, when hundreds of thousands of Bangladeshis were killed by Pakistani troops.
The book attempts to paint Rohingya, who regard themselves as native to western Myanmar, as interlopers and illegal immigrants from Bangladesh, repeatedly referring to them as "Bengalis".
One faded black-and-white image shows a crowd of people, who appear to be on a long march with their backs bent over, apparently a depiction of Rohingya arriving in Myanmar before 1948.
"Bengalis intruded into the country after the British Colonialism occupied the lower part of Myanmar," the caption reads.
But the picture is instead a distorted version of a 1996 image of refugees fleeing genocide in Rwanda.
Another grainy photo, captioned "Bengalis entered Myanmar via the watercourse," is actually a 2015 image of Rogingya leaving Myanmar by boat in their tens of thousands for Thailand and Malaysia.
The book is on sale at bookstores across Myanmar's commercial capital Yangon.
A member of staff at Innwa, one of the biggest bookshops in the city, said the 50 copies the store ordered had sold out, but there was no plan to order more.
"Not many people came looking for it," added the bookseller, who declined to be named.
More than 700,000 Rohingya have fled Myanmar's Rakhine state into Bangladesh and other neighbouring countries amid persecution in recent years.
The UN has said it found evidence of extrajudicial killings, gang rapes and arson as the army lashed back at attacks by Arakan Rohingya Salvation Army insurgents in a "grossly disproportionate" reaction.
In the introduction to the book the writer, listed as Lieutenant Colonel Kyaw Kyaw Oo, says the text was compiled using "documentary photos" with the aim of "revealing the history of Bengalis".
Full report at:
https://www.independent.co.uk/news/world/asia/rohingya-crisis-myanmar-army-fake-photos-muslim-buddhists-book-a8517116.html
--------
India
Coimbatore: Muslim Outfit Demands Police Action against NIA
Sep 1, 2018
Coimbatore: More than 15 people from the North Coimbatore Ahlay Sunnath Jama-ath petitioned senior police officers on Friday, seeking action against the National Investigation Agency (NIA) officers, who allegedly disturbed 120 children, who were learning Arabic in a madrasa at KK Pudur, where they conducted a raid on the previous day.
NIA had on Thursday raided the house belonging to S Mohammed Rafiqul Hassan, a friend of Mubarak, the alleged mastermind behind the sensational murder of Hindu Munnani spokesperson Sasikumar in 2016. An Arabic Madarasa functions at the house now.
Mohammed Rafiqul Hassan had settled in Oman in November 2016 along with his family. His father Shajahan also settled there three months ago. The petitioners said that Shajahan was co-operating with NIA. "He is abroad on vacation. NIA is trying to damage his reputation," the petition said.TNN
https://timesofindia.indiatimes.com/city/coimbatore/muslim-outfit-demands-police-action-against-nia/articleshow/65630095.cms
--------
14 for 4: Hizb, J&K police release each other's kin
Sep 1, 2018
SRINAGAR: Hizbul Mujahideen militants on Friday released two policemen, one SPO and 11 relatives of Jammu & Kashmir police personnel taken in a rash of abductions since Wednesday that were set off by the arrests of four relatives of militants, including the father of Hizb commander Riyaz Naiko. The unofficial prisoner swap is a rare quid pro quo in Kashmir's violent past.
The Hizb let the 14 captives go after the J&K police had released the militants' arrested kin. Sources later said police had arrested other relatives of militants as well and that they, too, had been released.
The militants also disseminated on social media separate videos of all 14 persons in which they are seen appealing to state DGP S P Vaid not to harass the families of militants. "Otherwise provide security to us," Irfan Gulzar, a sub-Inspector, is heard saying in a video.
Former J&K CM and PDP chief Mehbooba Mufti condemned the abductions. "Militants and forces victimising each other's families is highly condemnable and marks a new low in our situation. Families shouldn't become casualties and made to suffer for something they have little control over," she tweeted.
Earlier in the day, NC vice-president Omar Abdullah had termed the situation as "worrying". "11 abductions! This is a very worrying reflection of the situation in the valley. What's worse is the selective outrage — people/leaders who are so vocal about alleged security force excesses are silent about these abductions," he tweeted.
Cops arrested at least 4 relatives of militants The only statement from the police was a Twitter statement confirming "some abductions" had taken place. "Some incidents of abduction have come to the notice of Police in #South Kashmir," the Jammu & Kashmir police said in a tweet.
"We are ascertaining details and circumstances. In due course it shall be placed in the public domain," the tweet added.
The police had arrested at least four relatives of militants, including Assadullah Naiko, father of Hizb commander Riyaz Naiko, who had been taken into custody on Wednesday night from his home at Beighpora in Awantipora, in south Kashmir's Pulwama district.
Riyaz Naikoo, alias Mohammad bin Qasim, is Hizb chief of operations. Ghulam Hassan and his two brothers, Zubair and Nadeem Ahmad, kin of active Hizb militant Lateef Tiger, had been arrested from their residence in Dogripora Pulwama during a Wednesday night raid.
Sources said all four persons were released on Friday.
The police personnel set free by the militants are sub-inspector Irfan Gulzar of Rahomo Pulwama and constable Shabir Ahmad Zargar of Kangan Pulwama, and Javed Ahmad Dar, special police officer at DPL, Pulwama.
Full report at:
https://timesofindia.indiatimes.com/india/14-for-4-hizb-jk-police-release-each-others-kin/articleshow/65630099.cms
--------
Indian Army Releases List of Terrorists Operating in the Kashmir Valley
September 1, 2018
Srinagar: After terrorists released the eleven relatives of policemen whom they had abducted from various places in South Kashmir on Friday, security forces released new list terrorists those of who were operating in the valley. The hit list includes top terrorists from Jaish-e-Mohammed (JeM), Hizbul Mujahideen (HM), Lashkar-e-Taiba (LeT), Al Badr, Ansar Ghazwat-ul-Hind.
Reportedly, the terrorists have freed three out of the 11 kidnapped in the past 36 hours. This came into effect after police released the father of Hizbul Mujahideen's operational commander and one of the most-wanted terrorists Riyaz Naikoo. Earlier, few sources reported that all the policemen's kin abducted were freed by the terrorists.
Hizbul Mujahideen tops the list with 7 commanders named by the security forces in their hit list, followed by LeT with 6 terrorists, Al Badr with 1, JeM with 2 and Ansar Gazwat Ul Hind with 1.
The seven District Commanders of Hizbul Mujahideen are Riyaz Naikoo Alias Mohammad Bin Qasim, Saifullah Alias Abu Musaib, Zeenat Ul Islam Alias Usmaan, Hilal Alias Abu Maaz (replaced by Altaf Kachroo), Adil Bhat Alais Abu Umair Al Hizbi and Manan Wani Alias Abu Hamza.
Full report at:
http://www.india.com/news/india/indian-army-releases-new-list-of-terrorists-operating-in-kashmir-valley-hizbul-commander-riyaz-naikoo-saifullah-among-most-wanted-3267795/
--------
Zakir Moosa, Riyaz Naikoo on new list of most wanted terrorists in Kashmir
Ashraf Wani
August 31, 2018
Security forces in Jammu and Kashmir have released a list of most-wanted terrorists active in the state. Sources say this is part of a larger strategy of the security forces to act against terror outfits. They say this is an extension of the 'Operation All Out' under which a number of top terrorists, including Burhan Wani, were killed in the past two years. The list comprise names of 17 terrorists from Hizbul Mujahideen, Lashkar-e-Toiba, Al Badar, Jaish-e-Mohammad and Ansar Gazwat-ul-Hind.
The list includes terrorists like Zakir Moosa (who is categorised as a A++ terrorist) and top Hizbul commander Riyaz Naikoo, who is believed to be active in Pulwama region of South Kashmir.
Since Thursday, terrorists have abducted at least 10 family members of policemen in Jammu and Kashmir. On Thursday morning, the National Investigation Agency arrested Syed Shakeel Ahmad, son of Hizbul Mujahideen chief Syed Salahuddin, in a terror funding case.
J&K's MOST WANTED TERRORISTS
District Commanders of Hizbul Mujahideen
1) Riyaz Naikoo Alias Mohammad Bin Qasim
Category: A++
Residence: Beighpora Pulwama
Active from: 2010
2) Saifullah Alias Abu Musaib
Category: A++
Residence: Malangpora Pulwama
Active from: 2014
District commander: Srinagar.
3) Zeenat Ul Islam Alias Usmaan
Category: A++
Residence: Sugan Shopian
Active from: 2015
District commander: Shopian.
4) Hilal Alias Abu Maaz
Category: A++
Residence: Kulgam
District commander: Kulgam
5) Ashraf Molvi
Category: A++
Residence: Bring Kokernag
District commander: Anantnag.
6) Adil Bhat Alais Abu Umair Al Hizbi
Category: A++
Residence: Malangpora Pulwama
District commander: Baramullah.
7) Manan Wani Alias Abu Hamza
Category: A++
Residence: Lolab Kupwara
District commander: Kupwara.
District commanders of Lashkar-e-Toiba
1) Firdous Alias Abu Hanzalla
Category: A++
Residence: Maspuna Pulwama
District commander: Pulwama
2) Mushtaq Mir
Category: A++
Residence: Shopian
District commander: Shopian.
3) Idress Bhat
Category: A++
Residence: Arwani Bejbahara
District commander: Anantnag
4) Azad Malik Alias Abu Zaid
Category: A++
Residence: Arwani Bejbihara
District commander: Kulgam.
5) Abu Zargam
Category: A++
Residence: Pakistan
District commander: Baramullah.
6) Saleem Billu
Category: A++
Residence: Hajin
District commander: Bandipora.
Commander of Al Badar:
1) Arjumand Gulzar alias Faisal Bhai
Category: A++
Residence: Ratnipora
District commander: Pulwama.
Commander of Jaish-e-Mohammad:
1) Zahid Bhat
Category: A++
Residence: karimabad
District commander: Pulwama
2) Shahijahan
Full report at:
https://www.indiatoday.in/india/story/zakir-moosa-riyaz-naikoo-on-new-list-of-most-wanted-terrorists-in-kashmir-1328473-2018-08-31
--------
Uniform Civil Code not needed right now, says Law Commission
Harish V Nair
New Delhi
September 1, 2018
In a setback for the BJP government at the Centre, the Law Commission on Friday said a Uniform Civil Code (UCC) is neither necessary nor desirable at this stage and rather recommended religion-wise amendments in Hindu, Muslim and Christian personal laws to end discrimination against women within the communities.
UCC was one of the key promises of BJP ahead of 2014 Lok Sabha polls. Law Ministry had in July 2016 asked the panel to study the scope and feasibility of implementing UCC in India which was being demanded by Hindutva organizations including the RSS.
"This Commission has dealt with laws that are discriminatory rather than providing a uniform civil code which is neither necessary nor desirable at this stage. Most countries are now moving towards recognition of difference, and the mere existence of difference does not imply discrimination, but is indicative of a robust democracy", said a consultation paper on reforms in family law submitted by Law Commission Chairman Justice B S Chauhan to the Law Ministry.
UCC essentially means unifying personal laws to bring one set of secular laws for all citizens of India. Presently, Constitution allows most religions- including Hindus, Muslims and Christians to regulate matters such as marriage, divorce and inheritance through their own civil code.
The government felt it is ending up in discrimination, especially of women in various religious communities. The report was based on public opinion the panel elicited through a questionnaire which received nearly a lakh responses.
While many thought UCC would coexist with personal law, others thought that it was to replace personal law. There were yet others who believed that a uniform civil code would deny freedom of religion, it said.
The report assumes significance against the backdrop of bodies like the All India Muslim Personal Law Board (AIMPLB) refusing to even debate UCC. They had even rejected the panel's questionnaire, terming it an "affront" on their personal laws and even accused the law panel of behaving like an agent of the Modi government Muslim community can draw relief from the fact that the report said since issues such as polygamy, nikah halala are sub judice before SC, any comprehensive changes on them have not been suggested at this stage.
But the report however noted that recent SC judgment outlawing the practice of triple talaq has taken a first step towards ending personal law practices that are discriminatory towards women but largely on the premise that triple talaq is also not an essential practice of Islam suggesting that bad in theology cannot be good in law.
Full report at:
https://www.indiatoday.in/mail-today/story/uniform-civil-code-not-needed-right-now-says-law-commission-1329171-2018-09-01
--------
AIMPLB not for changes in personal law
Sep 1, 2018
NEW DELHI: The All India Muslim Personal Law Board welcomed the Law Commission's assertion that a Uniform Civil Code is 'neither necessary nor desirable' at this stage, but made it clear that it was not open to changes and reforms in the personal laws as suggested by the panel, saying it will happen only through the social instruments.
Women's organisations, on the other hand, supported the Commission's suggestions for codification of family laws and the emphasis on equal rights for women in accordance with the Constitution. "The suggestion for reform and changes in personal law are a progressive step. We have been demanding for long codification of the family laws and the consultation paper also says so," Zakia Soman from Bharatiya Muslim Mahila Andolan said.
Annie Raja from National Federation of Indian Women said it is significant that the law panel has made the point that UCC is not necessary at this stage. "It is good that the Commission had highlighted the lacunae in different personal laws that need to be addressed. Having said that I would like to say that just the suggestion for reform in personal laws is not enough. The Law Commission must initiate the process for dialogue to make equality and equal rights for women a reality," Raja added.
https://timesofindia.indiatimes.com/india/aimplb-not-for-changes-in-personal-law/articleshow/65630550.cms
--------
Son of Hizbul Mujahideen chief sent to NIA custody till September 10
August 31, 2018
A Delhi court on Friday sent the second son of Hizb-ul-Mujahideen chief Syed Salahuddin to National Investigation Agency (NIA) custody till September 10. District Judge Poonam A Bamba allowed the plea of the probe agency for the custody of 48-year-old Syed Ahmed Shakeel till September 10.
The second son of the globally-wanted terrorist, Salahuddin, was arrested yesterday by the NIA in connection with a 2011 terror funding case for allegedly receiving money from his father.
Armed with a non-bailable warrant from a Delhi court, the NIA officials, accompanied by the state police and CRPF, placed 48-year-old Syed Ahmed Shakeel under arrest at Rambagh locality in Srinagar yesterday when he was on his way to Sher-e-Kashmir Institute of Medical Science, where he works as a senior laboratory assistant.
He was then brought to the national capital and produced before a duty magistrate last evening, which sent to a day's NIA custody with a direction to produce him before the concerned judge today.
Shakeel is the second son of Salahuddin who has been arrested by the NIA in connection with the case. Earlier this year, his other son, Shahid, who was working in the agricultural department of the Jammu and Kashmir government, was also arrested in the same case.
The probe agency had claimed that during investigation, the involvement of Shakeel had surfaced in raising, receiving, collecting funds from terrorist organisation through its active cadres from Saudi Arabia.
It had also claimed that Shakeel had received money through Western Union several times which were sent by absconding chargesheeted accused Aijaz Ahmad Bhat alias Aijaz Maqbool Bhat.
The probe showed that Shakeel, the eldest son of Syed Salahuddin, self-styled chief of Hizb-ul-Mujahideen terror group, had received funds from various countries from the operatives of Hizb-ul-Mujahideen.
The case, registered by the NIA in April 2011, relates to transfer of money from Pakistan to Jammu and Kashmir through hawala channels via Delhi, which the agency believed was used in funding terrorism and secessionist activities.
The NIA has so far filed two charge sheets against six people including G M Bhat, a close aide of pro-Pakistan separatist Syed Ali Shah Geelani, Mohammed Siddiq Ganai, Ghulam Jeelani Liloo and Farooq Ahmed Dagga. All four are in judicial custody.
Two others — Mohammed Maqbool Pandit and Bhat — were also charge sheeted by the NIA but they are absconding and an Interpol Red Corner notice has been issued against them.
In this case, so far, three accused persons Mohammad Sidiq Ganai, Ghulam Jeelani Liloo and Farooq Ahmed Dagga have been convicted after they pleaded guilty.
Shakeel's father Mohammed Yusuf Shah — better known as Syed Salahuddin — was declared a Specially Designated Global Terrorist by the US Department of State. Besides heading terror outfit Hizb-ul Mujahideen, he is the chairman of the United Jehad Council (UJC), a conglomerate of terrorist outfits operating in the Kashmir Valley.
The NIA had also registered two others cases related to terror funding — one in November 2011 and the other in May this year. It had filed a charge sheet against 10 people including Syed Salahuddin in the April 2011 case.
Full report at:
https://indianexpress.com/article/india/son-of-hizbul-mujahideen-chief-sent-to-nia-custody-till-september-10-5334085/
--------
Pakistan
US wants to give PM Imran a chance to improve Pak-India relations: Pentagon official
Sep 1, 2018
A United States (US) Pentagon official said that the Trump administration wants to give Prime Minister (PM) Imran Khan's government a chance to improve Pakistan-India relations.
US Department of Defence (DOD) Asian and Pacific Security Affairs Assistant Defence Secretary Randall Schriver said, "We want to give him [PM Khan] space to find the opportunities to improve things with India."
"The cut in the financial assistance provided to Pakistan is also expected to continue," he added.
He emphasised, "What I said about giving him space was really in the context of the India-Pakistan relationship."
"We would certainly like to give him space to make the right decisions on a variety of things," he remarked.
https://www.pakistantoday.com.pk/2018/08/31/us-wants-to-give-pm-imran-a-chance-to-improve-pak-india-relations-pentagon-official/
--------
All international agreements to be reviewed: PM
Syed Irfan Raza
September 01, 2018
ISLAMABAD: Prime Minister Imran Khan on Friday said his government would review all international agreements it inherited from the last Pakistan Muslim League (PML-N) government and asked critics to bear with him for three months for performance.
He stated this during a meeting with a select group of anchorpersons at the Prime Minister House. The issues that came under discussion were the accountability of ruling Pakistan Tehreek-i-Insaf (PTI) leaders, use of official helicopters by the family of Punjab Chief Minister Usman Buzdar, a verbal clash between Khawar Maneka, ex-husband of the first lady, and Pakpattan District Police Office (DPO) Rizwan Gondal, remarks by Punjab Information Minister Fayyazul Hassan Chohan against a film star, alleged misuse of Khyber Pakhtunkhwa government's official chopper by PM Khan, etc.
Since no official statement on the meeting was issued, its details were shared by the participants.
The prime minister was quoted as saying: "Give our government three months before criticising its performance." He claimed that in three months, there would be a marked difference in the way the country was currently run.
Asked if his government would wrap up all alleged controversial international agreements inked by the last government, the prime minister said he would review all such accords made by his predecessors.
Information Minister Fawad Chaudhry later told Dawn that Imran Khan had not said that he would abolish the international agreements but review all of them.
The prime minister informed the media persons about his eight-hour meeting with the military top brass at the General Headquarters in Rawalpindi and said Chief of the Army Staff Gen Qamar Javed Bajwa and the entire military establishment had assured him of their full support for the PTI-led government at the Centre.
Mr Khan also briefed the anchorpersons on his recent meeting with National Accountability Bureau chairman retired Justice Javed Iqbal and said the government wanted across-the-board accountability. Mr Khan, who is also facing a NAB case relating to misuse of the KP government's helicopter, said he had asked the NAB chief to continue the indiscriminate accountability process in the country. About the cases of other PTI leaders, the premier said he was not responsible for the past of his party's leaders and ministers and promised that he would not spare anyone of them if they were found involved in corruption.
Responding to a question about the use of official chopper for travelling from the PM House to his residence at Banigala, Mr Khan said he used the helicopter to avoid causing traffic jams because of official and security protocol of the prime minister.
He defended the appointment of Usman Buzdar as Punjab chief minister and said: "Those who are criticising him [Buzdar] today will appreciate him after three months."
He reiterated that he would turn the palatial PM House into an educational institution, saying the government's austerity campaign was under way.
About the transfer of the Pakpattan DPO after the altercation with Khawar Maneka, the prime minister backed his wife's former husband and said: "The police officers trained guns at Khawar Maneka and his family." He said he was satisfied with the Supreme Court's notice taken on the incident.
Army subservient to government
Fawad Chaudhry told media persons at a separate event that the army chief had assured the prime minister that like all other institutions the army was also subservient to the government and bound to implement all decisions to be taken by the government. The government and the army were on the same page, he added.
According to him, Imran Khan said during the meeting at the GHQ that the government alone could not meet the gigantic challenges and needed a joint strategy and efforts of all institutions to cope up with these.
Defending the prime minister in the NAB case of misuse of KP government's official helicopter, Fawad Chaudhry said Mr Khan had not misused the official chopper, but former chief minister Pervez Khattak. "Not Imran Khan but Mr Khattak was accused of misusing the official chopper. However, Mr Khattak was of the view that he used the helicopter for inspecting provincial government's projects," he asserted.
He said former prime minister Nawaz Sharif and his children had also misused PM House's two aircraft and Punjab government's helicopters for which a notice would soon be served on them. "Hassan, Hussain and Maryam Nawaz used official helicopter of the Punjab government that caused a loss of around Rs24 million. We will serve them a notice to recover the money," he maintained.
The information minister said the family of former Punjab chief minister Shahbaz Sharif had also used official helicopters for personal visits and the expenses borne by the state on these trips were higher than the losses caused by the Sharif family.
He defended Imran Khan for using the official chopper to travel between the PM House and his residence at Banigala and said it cost Rs55 per nautical mile. He opened Google in his mobile phone and showed reporters the estimates regarding the traveling cost by helicopter. "However, these expenses exclude pilot's fee and maintenance cost of the chopper," he said.
Meeting with MQM delegation
Prime Minister Imran Khan held separate meetings with Sindh Governor Imran Ismail and a delegation of the Muttahida Qaumi Movement (MQM) and discussed with them issues facing the province and Karachi.
The prime minister reiterated his commitment to ridding the citizens of Karachi of multiple problems such as water scarcity and prolonged loadshedding and poor sanitation.
The MQM delegation included federal ministers Khalid Maqbool Siddiqui and Farogh Naseem and Karachi Mayor Waseem Akhtar.
Full report at:
https://www.dawn.com/news/1430286/all-international-agreements-to-be-reviewed-pm
--------
Pakistan backs Iran over US nuclear deal row
Baqir Sajjad Syed
September 01, 2018
ISLAMABAD: As Prime Minister Imran Khan on Friday vowed to further strengthen Pakistan-Iran ties, the government expressed unequivocal support for Iran's position on its troubled nuclear deal with the West that has been abandoned by the United States and urged the other parties to the agreement to remain committed to it.
Talking to Iranian Foreign Minister Javad Zarif, who is the first foreign leader to visit Pakistan after the assumption of office by the PTI-led coalition government, PM Khan recalled the "inseparable bonds" connecting Pakistan and Iran together and said that during his government he would make all efforts "to cement these relations in various areas to the benefit of both countries".
Emphasising the importance of Pakistan and Iran in the region, PM Khan said the two countries "remained the key to growth and prosperity in the region through enhancing connectivity and promoting people to people linkages".
Iran made a special outreach to the new government in a bid to reset the ties that have suffered deep mistrust over the past decades. Iran's President Hassan Rouhani soon after Mr Khan's inauguration sent in a felicitations message.
Mr Zarif delivered an invitation to PM Khan for the upcoming Asian Cooperation Dialogue (ACD) summit in Iran, which is scheduled to be held in October 2018.
Mr Khan thanked the Iranian supreme leader's support for Kashmiris' struggle for their right to self-determination as well as for the manner in which Pakistan's Independence Day was celebrated in Iran, the PM's Office said in a statement.
Iran this year celebrated Pakistan's Independence Day in an unprecedented manner displaying large greetings hoardings along major highways in Iranian cities and electronic screens in their public transport system.
The stage for better ties was set last year when Pakistan and Iran started cooperating on border security. The improved border security situation was mentioned during Mr Zarif's meeting with his counterpart Shah Mehmood Qureshi.
"While expressing satisfaction over cooperation with regard to the Pakistan-Iran border, it was agreed to continue close consultations through various forums in this regard," the Foreign Office said.
FM Qureshi in his meeting with his Iranian counterpart expressed strong support for Iranian position on Joint Comprehensive Plan of Action, commonly known as Iranian nuclear deal from which the US has exited.
"As regards JCPOA, while supporting Iran's principled stance, Mr Qureshi expressed the hope that remaining parties to the agreement would uphold their commitments in letter and spirit. This was important given IAEA's repeated verification that Iran has strictly adhered to the terms of agreement," the FO said.
Pakistan has been a consistent supporter of Iranian position on its nuclear row with the West. Islamabad believes that all countries should have access to nuclear technology for peaceful purposes. The statement was, therefore, in line with Pakistan's longstanding position on the matter.
Both foreign ministers agreed to hold the next rounds of Bilateral Political Consultations and the Joint Economic Commission at early dates. "Useful exchange of views on strengthening cooperation in economic, trade and connectivity sectors, cultural and people to people links, took place," the FO said.
Japanese minister
The Japanese State Minister for Foreign Affairs Kazuyuki Nakane and Foreign Minister Qureshi in their meeting agreed to increasing bilateral contacts to revitalise the relationship between the two countries.
"The Foreign Minister acknowledged the position of Japan as an important development partner. While recognising the economic assistance provided by Japan, he invited Japanese investment in Special Economic Zones (SEZs) and assured facilitation to Japanese investors in all the sectors. The Foreign Minister emphasised the need to correct the balance of trade, which is currently heavily tilted in favour of Japan," the FO said about their meeting.
Full report at:
https://www.dawn.com/news/1430289/pakistan-backs-iran-over-us-nuclear-deal-row
--------
Macron, Imran exchange views on phone
September 01, 2018
ISLAMABAD: Prime Minister Imran Khan and French President Emmanuel Macron spoke over the phone on Friday, but after a drama over the scheduling of the call.
The prime minister was in a meeting with a group of journalists when President Macron first called. On being told by Foreign Secretary Tehmina Janjua about it, the prime minister asked her to get the pre-scheduled call rescheduled.
The calls between the heads of states and governments are usually scheduled well in advance. It seldom happens that the staff of a head of government or state get an unexpected call from another leader, requesting a conversation. The request for conversation is initiated by the embassy of the country whose leader wishes to speak, while explaining the proposed agenda and reasons for the call. If the receiving leader agrees then the two sides work it into their busy schedules, according to diplomatic protocols for high-level conversations.
According to a diplomatic source, the call was pre-scheduled. Foreign Office spokesman Dr Muhammad Faisal did not respond when he was asked by Dawn about the veracity of the claim.
Foreign Minister Shah Mehmood Qureshi later told a journalist that "we had sought time adjustment because the prime minister was in a meeting".
The two leaders later spoke, according to a source. Details of the conversation were not shared with the media.
Dutch foreign minister
Pakistan and the Netherlands, meanwhile, agreed to continue to work together against Islamophobia and activities that promote religious hatred.
The agreement was reached during a telephonic conversation between Foreign Minister Qureshi and his Dutch counterpart Stef Blok.
"Foreign Minister Makhdoom Shah Mehmood Qureshi noted that the timely efforts made by the two governments helped in achieving the desired result. He stressed on the need to work together to raise awareness and limiting the disturbing trend of Islamophobia, incitement to racial and religious hatred, and building bridges among civilisations," the FO said.
Earlier, anti-Islam Dutch legislator Geert Wilders, who was organising a sketch contest hurtful to Muslims, cancelled the event amid mass protests in Pakistan.
Foreign Minister Qureshi had also lodged strong protest with Mr Blok a few days back, urging him to disallow the planned activity on the premises of Dutch parliament. PM Khan also issued a video statement condemning the planned contest.
Lawmaker Wilders said he had cancelled the contest out of security concerns.
Full report at:
https://www.dawn.com/news/1430285/macron-imran-exchange-views-on-phone
--------
Saudi envoy Nawaf reiterates commitment to play role in further strengthening ties with Pakistan
Sep 1, 2018
ISLAMABAD: Ambassador of Saudi Arabia in Pakistan, Nawaf Saeed Bin Al Malkiy on Friday reiterated the commitment to play role in further strengthening the fraternal ties between the two brotherly countries.
During his visit to Pakistan Embassy, Riyadh, he also discussed with Pakistan Ambassador Khan Hasham Bin Saddique matters of mutual interest, a message received here from Riyadh said.
Both Ambassadors walked into the newly constructed Consular Hall of the Embassy. Ambassador Nawaf was briefed regarding details of available consular services and facilities.
The Ambassador appreciated the standard of the services and the ambience of the Consular Hall.
Applicants present in the Consular Hall, especially Pakistani expatriates, were jubilant to see the Saudi Ambassador among themselves. They gathered around the Ambassador Nawaf and expressed their gratitude for Royal family and people of Saudi Arabia. The Pakistani community also shared with the Ambassadors some of the problems being faced by them, most importantly high family visa fee charged by Saudi Embassy in Pakistan.
Full report at:
https://www.pakistantoday.com.pk/2018/09/01/saudi-envoy-nawaf-reiterates-commitment-to-play-role-in-further-strengthening-ties-with-pakistan/
--------
Pakistan closes its Jalalabad consulate in Aghanistan amid diplomatic interventions
Sep 1, 2018
In an environment of already strained Pakistan-Afghanistan bilateral relations, Pakistan on Friday decided to shut down closed its Jalalabad consulate in the Afghan province of Nangarhar, citing repeated interventions committed by Nagarhar Governor Hayatullah Hayat, Pakistan embassy in Kabul confirmed.
Embassy officials maintained that the intrusions are a violation of international law, particularly the Vienna Convention on Diplomatic Relations 1961.
Pursuant to that, Pakistan embassy in Kabul has also recorded its protest over the meddling with Afghan Foreign Office.
Pakistan reiterated its demand to provide adequate security to the consulate and demanded an end to the interruptions in diplomatic affairs committed at the consulate.
Earlier on August 28, Senator Dr Jehanzeb Jamaldini in Senate had said that the government has issued a statement Pakistan wishes to start the sharing of information with Afghanistan which will include knowledge about the future impact on water flow from Afghanistan but no response from the government of Afghanistan was received.
On August 17, the Afghan President Ashraf Ghani had that Pakistan gave medical treatment to Taliban insurgents who were injured in recent fighting with Afghan forces in the southeastern Ghazni city.
He had accused that militants came from the Pakistani side of the border to participate in the fighting.
Ghani had stated that Chief of Army Staff (COAS) General Qamar Javed Bajwa had assured him cross-border insurgent activity would not be allowed.
Full report at:
https://www.pakistantoday.com.pk/2018/08/31/pakistan-closes-its-jalalabad-consulate-in-aghanistan/
--------
District administration urges religious scholars, minorities for cooperation during Muharram
Zarmeena Iqbal
SEPTEMBER 1, 2018
MULTAN: In view of the upcoming month of Moharram, the security of the entire district was put on red alert to provide complete protection to the mourning and flagellation processions. The district administration formulated a comprehensive security plan for the maintenance of peace and ensurance of inter-faith harmony during the month of Moharram. This was stated by the Deputy Commissioner (DC) Multan, Mudassir Riyaz Malik while addressing the District Peace Committee at the Circuit House. The City Police Officer (CPO) Muneer Masood, Additional Deputy Commissioner General Kareem Bakhsh, religious scholars of various sects and members of Hindu and Christian communities participated in the meeting.
While addressing the meeting, the DC urged the religious scholars and members of different sects to help the district government in maintaining peace and harmony through the platform of peace committee. He said that a complete ban would be imposed on the hate-speech, wall chalking and distribution of hateful material and no one would be allowed to disrupt the peace process. He also urged the Shia and Sunni scholars to avoid provocative speeches that might spark violence and hatred among the various sects.
The DC told the participants that all the arrangements were made for fixing streetlights and removal of encroachments. All the matters related to the cleanliness and sewerage would be resolved on priority basis, he added.
The religious scholars from various sects who attended the meeting included Syed Mohammad Ali Gardezi, Farooq Khan Saeedi, Qari Abdul Ghaffar Naqshbandi, Bilal Attari and Maulana Abdul Haq. They assured cooperation to the district government for the promotion of peace, harmony and brotherhood from the pulpits of mosques and Imambargahs through their sermons. The district government also directed the citizens to cooperate with police and security personnel during the Moharran processions.
The members of Hindu and Sikh communities would also cooperate with the district government for maintenance of peace and taking care of the mourners. The Chairman All Pakistan Minority Movement (APMM), Bishop Ashir Kamran, said that the Christian brethren would set up stalls of water and juices (Sabeel) and other edibles along the procession routes and outside Imambargahs to quench the thirst of the mourners. He said that Moharram was the most appropriate occasion for the display of inter-religious harmony.
Full report at:
https://dailytimes.com.pk/291089/district-administration-urges-religious-scholars-minorities-for-cooperation-during-muharram/
--------
Mideast
Turkey blacklists Syria's Tahrir al-Sham as Idlib operation looms
31 August 2018
Turkey has designated the insurgent group Tahrir al-Sham as a terrorist organization, according to a presidential decision published on Friday, as Damascus prepares for a military assault in northwest Syria where the group holds sway.
The notice in the Official Gazette matches a decision by the United Nations in June to add Tahrir al-Sham to the list of people and organizations whose assets are to be frozen because of links to militant groups al Qaeda and ISIS.
It comes before an expected attack by the Syrian army, backed by Russia, on the northwestern Syrian region of Idlib which is home to nearly 3 million people on the border with Turkey.
Tahrir al-Sham, which includes the al Qaeda-linked group formerly known as Nusra Front, is the most powerful militant alliance in Idlib, the last stronghold outside Syrian President Bashar al-Assad's control.
Russia said on Friday the Syrian government had every right to chase terrorists out of Idlib, adding that talks were underway to set up humanitarian corridors there. Read more
Turkish Foreign Minister Mevlut Cavusoglu said last week it would be disastrous to seek a military solution in Idlib, even though there were militants there.
Ankara, which has a small military presence in Idlib, has warned an assault could unleash a fresh wave of refugees.
"It is important for all of us to neutralize these radical groups," he said. "But we have to distinguish the civilians from the terrorist groups."
UN Syria envoy Staffan de Mistura said on Thursday there was a high concentration of foreign fighters in Idlib, including an estimated 10,000 who he said belonged to Nusra Front and al Qaeda.
But he said there should be no rush to military action and called for more time for Russia, Turkey and Iran to discuss the situation in Idlib. Full story
The decision to add Tahrir al-Sham to the list of designated groups was taken by President Tayyip Erdogan. Ankara had already listed Nusra Front as a terrorist group.
Erdogan is due to meet Russian President Vladimir Putin and Iranian President Hassan Rouhani at a three-way summit in Iran on September, 7.
https://english.alarabiya.net/en/News/middle-east/2018/08/31/Turkey-blacklists-Syria-s-Tahrir-al-Sham-as-Idlib-operation-looms.html
--------
Israeli Forces Attack Palestinian Protesters in Gaza, Injure 240
Aug 31, 2018
At least 240 Palestinians have been injured in attacks by Israeli forces on a protest held in the Gaza Strip near the fence between the besieged enclave and the occupied Palestinian territories.
Ashraf al-Qedra, the spokesman of Gaza Health Ministry, reported that Israeli forces attacked Palestinians on Friday. The wounded include three medics and a journalist.
The spokesman added that 82 of the injured were transferred to hospital.
A 10-year-old boy and a female medic, Shorouk Abu Mesameh, were in critical condition.
Tensions have been running high near the fence since March 30, which marked the start of a series of protests dubbed "The Great March of Return." Palestinian protesters demand the right to return for those driven out of their homeland.
The clashes in Gaza reached their peak on May 14, the eve of the 70th anniversary of Nakba Day, or the Day of Catastrophe, which coincided this year with Washington's relocation of the US embassy from Tel Aviv to occupied Jerusalem al-Quds.
Israeli fire has taken the lives of more than 170 Palestinians since March 30.
On June 13, the United Nations General Assembly adopted a resolution, sponsored by Turkey and Algeria, condemning Israel for Palestinian civilian deaths in the Gaza Strip.
Gaza has been under Israeli siege since June 2007, causing a decline in living standards as well as unprecedented unemployment and poverty.
Full report at:
https://www.presstv.com/Detail/2018/08/31/572814/Israeli-forces-Palestinian-protesters-Gaza
--------
Heavy casualties among Houthi commanders in Yemen's Bayda
31 August 2018
A number of the Houthi militia commanders were killed during intense fighting with the Yemeni National Army in the past two days in the frontier of al-Malajim district in al-Bayda.
A Yemeni army military source said that four of the Houthi commanders were killed during the battles during the past two days, in al-Malajim.
The source revealed that those who were killed are a supervisor of the special operations of the militias in the Wahhabiya and al-Malajim, Ahmed Abdel Wahab Hadi Hussein Hataba known as Abu Yasser Hataba, from the directorate of Saqin in Saada province and Ali Ahmed Yahya Saleh Naji, known by the name Abu Fatah, who is from Amran province.
He also confirmed the death of Adham Hassan Abdullah Durjan and Adel Mohammed Naji Hamoud Durjan, commanders of the reinforcements squad, which moved to al- Bayda after being defeated in the area of Fadha.
Full report at:
https://english.alarabiya.net/en/News/gulf/2018/08/31/Heavy-casualties-among-Houthis-commanders-in-Yemen-s-Bayda.html
--------
IRGC disbands terrorist cell in southeast Iran, kills 4
Aug 31, 2018
The Quds Force of Iran's Islamic Revolution Guards Corps (IRGC) has killed four members of a terrorist group during clashes in the country's southeastern border with Pakistan.
In a statement on Friday, the IRGC's Quds Force said the clashes with terrorists occurred near the Iranian city of Saravan in Sistan-and-Baluchestan Province.
It added that the terrorist team, affiliated to the global arrogance, sought to enter the country from borders of a neighboring country with the intent of carrying out "destructive and anti-security measures."
According to the statement, three terrorists were also wounded in the clashes.
Over the past years, Iranian security forces and border guards have engaged in clashes with terror groups, many of whom cross the country's borders with Pakistan and Iraq to carry out attacks inside the country.
Iranian Intelligence Minister Mahmoud Alavi said on Monday the country's security forces have disbanded two terrorist teams in the western parts of Iran.
Full report at:
https://www.presstv.com/Detail/2018/08/31/572812/IRGC-Quds-Force-Saravan-terrorists
--------
No 'third country' can mar Iran-Pakistan ties: FM Zarif
Aug 31, 2018
Iranian Foreign Minister Mohammad Javad Zarif says Pakistan is an "important" neighboring country to Iran, stressing that no third country can negatively affect relations between the two countries.
In a meeting with Pakistani Foreign Minister Makhdoom Shah Mahmood Qureshi in Islamabad on Friday, Zarif said Tehran sets no limitation to the expansion of ties with Islamabad.
He stressed the importance of improving mutual relations at regional and international levels, saying the two countries must further strengthen cooperation in the sectors of border security and banking as well as cooperation between Iranian and Pakistani ports of Chabahar and Gwadar.
According to a statement by Ministry of Foreign Affairs of the government of Pakistan, the newly-appointed Pakistani foreign minister, for his part, said Tehran and Islamabad have potential for strengthening the already strong bilateral relationship, adding that the two sides have stood by each other in difficult moments.
It added that both sides held detailed discussions about regional and global issues, including the situation in Afghanistan and US decision to unilaterally withdraw from the historic nuclear deal Iran signed with the P5+1 group of countries in 2015.
President of the United States Donald Trump withdrew Washington in May from the landmark Iran nuclear agreement, officially known as the Joint Comprehensive Plan of Action (JCPOA), and decided to re-impose unilateral sanctions against Tehran.
Under the deal, Iran undertook to put limits on its nuclear program in exchange for the removal of nuclear-related sanctions.
The statement also noted that the top Iranian and Pakistani diplomats agreed to host the next rounds of bilateral political consultations and the joint economic commission at early dates.
It said the two sides exchanged useful views on ways to strengthen cooperation in economic, cultural, trade and connectivity sectors and agreed to continue close consultations on border security through various forums.
Qureshi supported Iran's principled stance on the JCPOA and expressed hope that the remaining parties to the agreement would uphold their commitments in letter and spirit.
He emphasized that the International Atomic Energy Agency (IAEA) has repeatedly verified that Iran had strictly adhered to the terms of the JCPOA and said Pakistan stands with Iran in this hour of need.
On Thursday, the IAEA once again reaffirmed Iran's full compliance with its commitments under the Iran nuclear deal in the second such report after the US stopped fulfilling its side of the bargain and left the multilateral agreement in violation of international law.
"Timely and proactive cooperation by Iran in providing such access facilitates implementation of the Additional Protocol and enhances confidence," it said.
Zarif, Imran Khan urge enhanced ties
In a meeting between the Iranian foreign minister and Pakistan's Prime Minister Imran Khan, the two sides stressed the importance of developing cooperation in various fields.
Zarif and Imran Khan said Muslim countries should strengthen close cooperation to solve issues related to the Muslim world and the region.
They also called for enhanced efforts to establish peace and stability in all regional countries and fight against terrorism and extremism.
The Pakistani premier said his country welcomes any opportunity to improve all-out relations with Iran, particularly in trade and economic sectors.
Zarif also emphasized that the two neighboring countries of Iran and Pakistan should boost cooperation to counter any plot aimed at spreading Islamophobia.
Iran ready for anti-terror cooperation with Pakistan: Zarif
In a meeting with Pakistan's Chief of Army Staff General Qamar Javed Bajwa, the Iranian foreign minister said the two countries must improve cooperation to boost security in border areas and expressed Tehran's readiness to cooperate with Islamabad in the fight against terrorism and extremism.
"Terrorism is a regional and global phenomenon and Iran is ready to cooperate with Pakistan in this regard," Zarif said.
The two sides also discussed ways to develop military and security cooperation and expressed hope that Tehran and Islamabad would further increase relations given their common goals, interests and border concerns.
Full report at:
https://www.presstv.com/Detail/2018/08/31/572791/Zarif-Makhdoom-Shah-Mahmood-Qureshi-Imran-Khan-Qamar-Javed-Bajwa-Islamabad
--------
Turkey to acquire Russia's S-400s 'in shortest time' despite US warnings
Aug 31, 2018
Turkey's President Recep Tayyip Erdogan says his country will procure Russia's S-400 air defense missile system "in the shortest time," paying no heed to warnings issued by the US, a NATO partner.
"Turkey needs S-400s and its deal has been done," Erdogan said at a graduation ceremony for military officers in the western city of Balikesir on Friday.
"God willing, we will buy them in the shortest time," he stressed.
On April 3, Erdogan and his Russian counterpart Vladimir Putin said in the Turkish capital Ankara that they had agreed to expedite the delivery of S-400 missile systems. The delivery had previously been scheduled for late 2019 and early 2020.
The S-400 system, whose full name is the Triumf Mobile Multiple Anti-Aircraft Missile System (AAMS), is an advanced Russian missile system designed to detect, track, and destroy planes, drones, or missiles as far as 402 kilometers away. It has previously been sold only to China and India.
Washington and NATO officials strive to prevent the sophisticated Russian-built anti-aircraft weapon system from collecting information about the US-made all-weather stealth multirole warplanes, technically known as the Lockheed Martin F-35 fighters, just as they are gaining a foothold in Europe.
US Secretary of Defense James Mattis on August 28 said his country is concerned about Turkey's intent to purchase the S-400s, adding that Washington does "not recommend" it.
Washington warned that any such acquisition would inevitably affect the prospects for Turkish military-industrial cooperation with the US.
However, Erdogan on Friday said that Ankara "needed cooperation with other countries as much as that with Europe and America."
The purchase of the Russian missile system comes amid rising tensions between Ankara and the US over the detention of Andrew Brunson, an American pastor, in Turkey over terror-related charges.
Brunson was indicted by a Turkish court on charges of having links with the Kurdistan Workers' Party (PKK) militant group and the movement of the US-based opposition cleric Fethullah Gulen. Ankara accuses Gulen of having masterminded the July 2016 coup attempt against President Recep Tayyip Erdogan.
The spat has hit trade ties between the US and Turkey hard and affected the Turkish economy. The lira has already lost about 30 percent of its value against the US dollar since the beginning of August.
Full report at:
https://www.presstv.com/Detail/2018/08/31/572783/Turkey-Erdogan-Russia-S400
--------
Yemen's army imposes full control over Saada's Al-Zaher directorate
September 01, 2018
DUBAI: Yemen's army, backed by the Arab Coalition, took full control of Al-Zaher directorate, north-west of Saada province, after a large-scale military operation, Saudi state-news agency SPA reported.
A military source told the Yemeni Ministry of Defense's official website, September 26, that the army fully liberated Al-Zaher following clashes with the Houthi militia.
According to the source, dozens of Houthis were killed, including high ranking field commanders.
Full report at:
http://www.arabnews.com/node/1365071/middle-east
--------
North America
Democratic Congressional Hopeful Says Trump Is Like Bin Laden
Aug 31, 2018
A Democratic congressional candidate has drawn an analogy between US President Donald Trump and former al-Qaeda chief Osama bin Laden, saying the two have "a tremendous amount in common."
Sean Casten, who is running for Illinois' 6th Congressional District, made the comparison during the primary in February but the audio was published on the Washington Free Beacon's website on Thursday.
Casten is said to have drawn the analogy when he was asked to address the gun violence epidemic in the country and discuss the measures he would take to fight it if he were elected.
"I don't mean to sound overly hyperbolic in this. Trump and Osama bin Laden have a tremendous amount in common," Casten can be heard saying in the audio clip.
The Democratic congressional hopeful then goes on to elaborate on what exactly he believed those similarities to be between Trump and Bin Laden, who was the al-Qaeda founder and the man allegedly responsible for the terrorist attacks that claimed thousands of lives in the US on September 11, 2001.
"Because they have both figured out how to use the bully pulpit to activate marginalized young men. It's the same pool. Every demagogue has done this — find a group of angry people and give them something to be angry at," the politician added.
Casten has not come out with a comment on the leaked audio so far but his analogy has faced criticism on behalf of Republican Party members in the state of Illinois.
The September 11 attacks, also known as the 9/11 attacks, were a series of strikes in the US which killed nearly 3,000 people and caused about $10 billion in property and infrastructure damage.
US officials assert that the attacks were carried out by al-Qaeda terrorists but many experts have raised questions about the official account, saying it was a false-flag operation and that Bin Laden was just a bogeyman for the US military-industrial complex.
They believe that rogue elements within the US government orchestrated or at least encouraged the 9/11 attacks in order to accelerate the US war machine and advance the Zionist agenda.
Casten's comments come as Trump has already been compared with terrorist groups since taking office at the White House.
Last February, American actress Whoopi Goldberg compared the Trump administration's values to those of the Taliban, when criticizing the US president's questionable record on his mistreatment of women.
Back in January, London Mayor Sadiq Khan, who is an outspoken critic of Trump, said the US president's language about Muslims was "very similar to the rhetoric used by the so-called ISIS/Daesh."
https://www.presstv.com/Detail/2018/08/31/572796/Sean-Casten-comparison-Trump-Bin-Laden
--------
Texas Town Considers Blocking Muslim Cemetery Construction, Now The Feds Are Investigating
By Ml Nestel
8/31/18
Back in May 2015, word spread like locusts that an Islamic cemetery was going to be plotted on an unincorporated swath of acreage on the fringe of a small Texas city called Farmersville.
Feelings were raw—just 30 miles away in Garland, Texas, police officers thwarted an alleged attack by killing two Muslim Americans who traveled from Arizona to open fire outside an exhibition titled "First Annual Muhammad Art Exhibit and Contest" at the Curtis Culwell Center where images of the Prophet Muhammad were on display.
Farmersville locals ate away at the agendas of various city council meetings and a town hall that year to air grievances, according to the minutes reviewed by Newsweek.
"It was ugly. But the bottom line is everybody got to have their say," Farmersville Police Chief Mike Sullivan told Newsweek of a meeting on August 4, 2015. "Some people found out about [the cemetery] and the next thing you know it's not a cemetery but an Islamic training center, then it's a mosque—the rumors surrounding this whole thing was just insane."
The Islamic Association of Collin County (IACC) based in Plano, Texas, which according to its website "offers worship, provides a variety of Islamic education and offers various services to congregants and the local community" purchased around 34 acres along U.S. Interstate 380 in 2015 and twice went through submitting the requisite plans with Farmersville's Planning and Zoning (P & Z) Commission to develop a cemetery.
The first attempt on May 28, 2015, initially was approved.
Then a month later, based on unspecified revisions that local engineers cited, the cemetery was "disapproved," records show and independently confirmed to Newsweek by IACC's legal counsel.
The second attempt to gain approval was submitted back in June of last year, citing drainage issues. The cemetery plans were put on ice a month later, according to records.
Negotiations between the city and IACC convened, but no deal was hashed out.
Last September, the Department of Justice weighed in on whether Farmersville was biased against the Muslim landowners, citing the Religious Land Use and Institutionalized Persons Act, which seeks to "protect individuals, houses of worship, and other religious institutions from discrimination in zoning and landmarking laws," according to the Department of Justice's (DOJ) website.
"The City of Farmersville has been cooperating with the United States Department of Justice (DOJ) in its investigation as to whether the City violated the Religious Land Use and Institutionalized Persons Act (RLUIPA) by its disapproval of the preliminary plat submitted for a cemetery by the Islamic Association of Collin County (IACC)..." an August 21 statement from the city reads.
With the threat of a federal lawsuit in play, the city restarted its commitment to reconsider approval of the cemetery.
The federal government's intervention is welcome news for Chief Mike Sullivan.
"It certainly appears it's going to move the ball forward," Sullivan said. "I believe the council and the city are encouraged by this and we're ready to be done with this."
"Hopefully this gets everybody off of center and they can make a decision to move forward or if not seek litigation."
Leading up to the tumultuous August 4 Town Hall, in a July 28 City Council meeting the opposition to the cemetery reached a fever pitch.
Resident Ken Roose claimed his "Great-Great-Great-Grandfather was accredited for naming Farmersville" and that there was no reason for a Muslim cemetery to exist in town because he believed it "will be disconnected from our town and no one buried there will have ties to Farmersville."
Bethlehem Baptist Church Pastor David Meeks claimed he has studied Islam "for a number of years" and impressed upon the attendees to not be duped by Muslims.
He said they "come before the public stating they are a religion of peace when in fact they are a religion of hate and destruction," according to the minutes from the meeting.
Meeks then went on to criticize the religion and implored local leaders to derail the burial ground. "Many cities will applaud Farmersville if they are resisted and then our city will benefit," he said.
That kind of brand of fear was on display when local Farmersville resident James Moss criticized the Islamic faith as "a mindset to genocide." He said they are not like the longtime residents because they "do not believe as they do."
"Instead of coming to America to start a new life, look at the current events," he said to the crowd. "What makes the Muslims want to come to Farmersville?"
Another critic of the plan was Patricia Monroe, who didn't live in town but said she attended a local church.
For Monroe, the cemetery would bring the issue of questionable burial practices; specifically, the "embalming" methods that would be practiced were questionable and warranted oversight. She submitted there was no reason for the city to "change our ways to allow Muslim ways."
Chief Sullivan said he's been opening constant mailed letters "from around the country" by concerned citizens who want Farmersville to become a watershed by not allowing the cemetery to go forward.
"They write 'You shouldn't allow this to happen!' or 'They'll take over your community!'"
However, Sullivan refuses to be swayed by hysteria.
Full report at:
https://www.newsweek.com/muslim-cemetery-farmersville-texas-islamic-association-collin-county-1099144
--------
Children found in 'extremist Muslim' compound to remain in foster care despite parents' dismissed charges
September 01, 2018
The children rescued from the "extremist Muslim" compound in New Mexico will remain in foster care even though three of the parents arrested in the case had charges of child neglect dismissed on Wednesday.
Lucas Morton, Subhannah Wahhaj and Hujrah Wahhaj were released Wednesday after prosecutors missed a case deadline and a judge dismissed all of the charges against them.
District Judge Emilio Chavez on Wednesday ruled that authorities violated the state's "10-day rule" that limits the days for an evidentiary hearing to establish probable cause.
However, despite the three defendants being released from custody, their five children will remain in foster care while health and trauma assessments are carried out, a spokesman for the State Children, Youth and Families Department said Thursday.
It was unclear whether the released parents have visitation rights.
The judge also dismissed the child abuse charges against Siraj Ibn Wahhaj and Jany Leveille, however, charges in connection to the death of a missing 3-year-old boy whose remains were discovered at the compound remained. The couple pleaded not guilty Wednesday.
Their six children also remain in foster care.
After the charges were dismissed Wednesday state politicians expressed alarm. Allegations of anti-government plotting, jihad and martyrdom at the compound stocked with guns — drawn in part from FBI interviews with children — has done little to persuade judges of any immediate threat to public safety.
U.S. Rep. Michelle Lujan Grisham, the Democratic candidate for governor, called the dismissal of neglect charges "inexcusable" and said she was "appalled at the failure to hold these defendants accountable." Republican gubernatorial hopeful Steve Pearce called for the resignation of local district attorney, who is a Democrat.
Full report at:
http://www.foxnews.com/us/2018/08/31/children-found-in-extremist-muslim-compound-to-remain-in-foster-care-despite-parents-dismissed-charges.html
--------
FBI arrests five New Mexico compound suspects days after multiple charges were dropped
September 01, 2018
The FBI announced Friday that it had arrested all five New Mexico compound suspects, days after multiple charges were dropped. The suspects were now being charged with violating federal firearms and conspiracy laws.
The announcement comes after local prosecutors dropped charges in the death of a 3-year-old boy at the compound site. Taos County District Attorney Donald Gallegos said Friday his office would now seek grand jury indictments involving the death. Gallegos said seeking indictments would allow more time to gather evidence.
"The defendants, Jany Leveille, 35, a Haitian national illegally present in the United States, Siraj Ibn Wahhaj, 40, Hujrah Wahhaj, 37, Subhanah Wahhaj, 35, and Lucas Morton, 40, are charged in a criminal complaint that was filed earlier today in the U.S. District Court for the District of New Mexico," the bureau said in a statement.
"The criminal complaint charges Jany Leveille with being an alien unlawfully in possession of firearms and ammunition in the District of New Mexico from Nov. 2017 through Aug. 2018," the bureau said. "The criminal complaint charges the other four defendants with aiding and abetting Leveille in committing the offense, and with conspiring with Leveille to commit the offense."
On Wednesday, three of the suspects were released from custody, just hours after a judge dismissed all of the charges against them.
District Judge Emilio Chavez on Wednesday dismissed charges against Lucas Morton, Subhannah Wahhaj and Hujrah Wahhaj, ruling that authorities violated the state's "10-day rule."
Child abuse charges against them were dropped because prosecutors missed the 10-day limit for an evidentiary hearing to establish probable cause.
During a separate hearing Wednesday, Judge Jeff McElroy dismissed the same charges against fellow defendants, Siraj Ibn Wahhaj and Jany Leveille.
The five suspects were arrested by authorities after an Aug. 3 raid following a monthslong inquiry into the disappearance of Abdul-ghani Wahhaj, 3. The boy, who had severe medical issues, disappeared from Georgia in December. The occupants of the compound were "most likely heavily armed and considered extremist of the Muslim belief," an official said at the time.
Taos County Sheriff's deputies discovered 11 children at the compound, who were taken into the custody of state child welfare workers. On Aug. 6, a child's remains were found on the property.
Siraj Ibn Wahhaj was allegedly training children to commit school shootings, according to prosecutors, who later alleged that the juveniles were taught how to use firearms, as well as tactical techniques, in order to kill teachers, law enforcement and other institutions they found corrupt.
Health officials confirmed earlier this month that the discovered remains were positively identified as the 3-year-old's.
The FBI said they arrested all five suspects without incident on Friday afternoon in Taos.
Leveille faces a statutory maximum penalty of 10 years of imprisonment and deportation upon completion of her sentence if convicted, according to the bureau.
If convicted of aiding and abetting Leveille, Leveille's co-defendants could each face a statutory maximum penalty of 10 years of imprisonment. If convicted on the conspiracy charge, meanwhile, the five could each face a statutory penalty of five years' imprisonment.
Full report at:
http://www.foxnews.com/us/2018/08/31/fbi-arrests-five-extremist-muslim-new-mexico-compound-suspects-days-after-multiple-charges-were-dropped.html
--------
Arab World
Hayat Tahrir Al-Sham: Syria regime's toughest foe in Idlib
September 01, 2018
BEIRUT: The Syrian regime and its Russian ally are threatening an offensive to retake the northwestern province of Idlib, Syria's last rebel bastion, where extremist group Hayat Tahrir Al-Sham holds sway.
The extremist alliance, the core of which is formed by the former Al-Qaeda branch in Syria, is likely to be the regime's toughest foe.
Here is some background.
HTS first appeared in Syria in January 2012 as the Al-Nusra Front, and Syrian President Bashar Assad and his Russian ally still refer to the extremist group by that name.
Classified as a "terrorist" group by the United States, the European Union and the United Nations, it arrived in Syria as an extension of Al-Qaeda in Iraq.
The group's current leader, a Syrian who uses the nom de guerre Abu Mohammad Al-Jolani, is a veteran of fighting in Iraq.
In 2013, the group swore allegiance to Al-Qaeda before splitting with the global extremist syndicate in July 2016 and renaming itself the Fatah Al-Sham Front.
In 2017, it dissolved that group to form the backbone of Hayat Tahrir Al-Sham.
The group mainly consists of Syrian extremists, estimated at about 30,000 fighters, according to the Syrian Observatory for Human Rights.
The extremists are "well organized and battle-hardened," said Syria expert Fabrice Balanche.
"HTS definitely retains a sizeable foreign fighter component, perhaps comprising at least 20 percent of its total fighting force," said Charles Lister, an analyst at the Middle East Institute.
The fighters are mostly from the Middle East, "but also from Russian-speaking areas, Europe and south Asia," he added.
HTS now controls nearly 60 percent of Idlib province.
It has set up a civil administration that collects customs duties at the border with Turkey and imposes taxes on traders.
The group "derives so much of its power from being the authority over how trade flows into and out of Idlib, which helps fund the group and gives it power beyond its size," said Nicholas Heras, a researcher at the Center for New American Security.
Previously, HTS had a presence in many of the country's rebel-held areas, especially near Damascus and in the south. But it has lost that territory as its fighters were evacuated to Idlib in surrender deals.
HTS has consistently been excluded from cease-fires negotiated by the United Nations or Russia.
The extremist alliance has been the target of air raids from both Moscow and the US-led anti-extremist coalition, which have killed several of its senior commanders.
Formerly associated with influential Islamist rebel groups like Ahrar Al-Sham and Nureddine Al-Zinki, HTS underwent a bloody period of power struggles in 2017 that included battles with former allies, creating resentment that persists today.
In early 2018, Ahrar Al-Sham and Nureddine Al-Zinki announced their Turkey-backed merger to counter the growing power of HTS.
They joined four other rebel factions in early August to form a new coalition — the National Liberation Front.
Separately, HTS has increased raids in recent weeks against "sleeper cells" linked to the Daesh, which has claimed responsibility for assassinations and bombings targeting HTS's leaders and fighters.
The two extremist heavyweights have also clashed in Syria's northern city of Raqqa and in eastern Deir Ezzor province.
In July 2014, Nusra's chief said the group's goal was to set up an "Islamic emirate," akin to the "caliphate" proclaimed by Daesh shortly beforehand.
On August 22 the reclusive Jolani broke a long silence to reiterate that the group was determined to repel any offensive by Damascus.
"Just thinking about surrendering to the enemy and handing over weapons is an act of treason," he said.
Russia has called for the dissolution of HTS, but neighboring Turkey is trying to negotiate a solution with the extremists to avoid a large scale offensive that would destabilize the border area, the Britain-based Observatory said.
According to Heras, the extremist alliance's "dissolution on the command of Turkey would rob it of much of its power, which would replace HTS rule with Turkish rule."
http://www.arabnews.com/node/1365021/middle-east
--------
White Helmets Change Plan for False-Flag Chemical Attack in Idlib
Aug 31, 2018
The Arabic-language al-Mayadeen news channel quoted informed sources as saying on Friday that 64 members of White Helmets, including 11 women, have been moves from Jisr al-Shughour to Idlib city.
According to the report, the White Helmets changed their plan for staging false-flag chemical attack in Jisr al-Shughour after al-Mayadeen disclosed their plot.
The new place for the false-flag operations will be Idlib city or Ma'arat al-No'eman, al-Mayadeen reported.
A Russian media outlet said on Wednesday that a large cargo of poisonous materials, smuggled by the pro-militant White Helmets into Syria, had been transferred to a warehouse of Ahrar al-Sham terrorists in Idlib province for a false-flag chemical attack.
The Arabic-language website of Sputnik quoted Head of Russian Reconciliation Center for Syria Alexi Siganokov as reporting that a number of the White Helmets Organization members had transferred a large cargo of poisonous materials to a warehouse in the town of Saraqib that is under Ahrar al-Sham's control.
It further said that the consignment was transferred on two large trucks from the village of Afas to Saraqib.
Siganokov told the Arabic Sputnik that a part of the consignment was transferred to Southern Idlib in plastic barrels, adding the barrels of poisons will be used by terrorists to stage a fake chemical attack against civilians to further accuse the gov't forces of the gas assault.
Earlier this week, al-Mayadeen had quoted well-informed sources as disclosing that more than 250 members of the pro-militants White Helmets were preparing to take part in a fake rescue operation after a false-flag chemical attack by terrorists in Idlib province.
It went on to say that the White Helmets transferred poisonous materials from Turkey to Syria via al-Hassani'yeh passageway, storing a portion of the materials in the village of Halouz near Jisr al-Shughour in Western Idlib.
Al-Mayadeen further said that vast presence of the White Helmets aid workers were detected in Jisr al-Shughour prison, where poisonous materials have been stored.
Full report at:
http://en.farsnews.com/newstext.aspx?nn=13970609000463
--------
US Sends New Military Convoy to Hasaka
Aug 31, 2018
he London-based pro-opposition Syrian Observatory for Human Rights (SOHR) reported on Friday that the US-led coalition has dispatched a large military convoy to the SDF-occupied regions in Hasaka province.
It added that the convoy which included over 150 vehicles, carrying military and logistic equipment, moved towards the town of al-Shadadi and its military airport which has been set up by the Americans in Southern Hasaka.
The report also said that over 1,450 vehicles carrying US-made military equipment were sent to the SDF-occupied regions in Syria in August.
A leading Russian newspaper had reported earlier this week that the US military forces are likely to launch missile attacks on Syrian army positions from an occupied airbase in Hasaka in a last ditch effort to delay the Damascus government's conquer over terrorist groups in Idlib in its impending operation.
Nezavisimaya Gazeta daily reported on Tuesday that the new US airbase in Hasaka province in Northeastern Syria will likely be used to launch missile attacks against the army positions.
It added that the US engineering units are equipping the military airport in the town of al-Shadadi in Hasaka for the deployment of heavy aircraft, cautioning that the air base is larger even than Russia's Humeimem military base in Lattakia.
Full report at:
http://en.farsnews.com/newstext.aspx?nn=13970609000162
--------
More Russian Ships Head to Syria Amid Fears of US Attack
Aug 31, 2018
According to Yoruk Isik of the Bosphorus Observer, the Russian chartered Ro-Ro Sparta III was seen transiting the Bosphorus Strait en route for the Syrian port city of Tartous.
Furthermore, the Russian ship was seen carrying military cargo that is likely to be transported to the Syrian Arab Army and their allies in Northwestern Syria.
Another ship was spotted leaving Russia recently; it was transporting military hardware to Syria, including BMPs, tanks, and technical vehicles.
With the Ro-Ro Sparta III heading to Syria, the Russian Navy now has more than 15 vessels in the Mediterranean, which is the largest naval buildup of this war.
http://en.farsnews.com/newstext.aspx?nn=13970609000195
--------
Russia says Syria has right to chase militants out of Idlib
31 August 2018
Russia's foreign minister said the Syrian government had every right to chase "terrorists" out of the militants-held Syrian enclave of Idlib.
He added that talks were ongoing to set up humanitarian corridors there, RIA and Interfax news agencies reported.
Sergei Lavrov said communication between Russia and the United States on Syria was happening in real time, and Russia had no plans to hide its actions there.
On Thursday and during his official visit to Moscow, Syrian's foreign minister said that government forces will "go all the way" in the northern region of Idlib and that Damascus's main targets were al-Nusra militants.
Minister Walid al-Moualem, speaking after talks with his Russian counterpart Sergie Lavrov in Moscow, also said Syria would not use chemical weapons in any offensive and that it did not have such weapons. Syria would try to avoid civilian deaths, he added. Read more
For his part, the UN's Syria peace envoy offered on Thursday to travel to Idlib to help ensure civilians can leave through a humanitarian corridor amid fears of an imminent government offensive to retake the last major region controlled by rebels. Full story
Full report at:
https://english.alarabiya.net/en/News/middle-east/2018/08/31/Russia-says-Syria-has-right-to-chase-militants-out-of-Idlib-.html
--------
Suicide bomber kills 2 Iraq policemen as clashes with security forces in Basra continue
August 31, 2018
KIRKUK/BAGHDAD: A suicide bomber has killed two Iraqi policemen near a former bastion of Daesh, days after Deash claimed a similar attack near Syria's border, a security official said Friday.
On Thursday morning a "suicide bomber wearing an explosive vest drove a booby-trapped car into a federal police checkpoint" near Hawija, north of Baghdad, one official said.
"Two policemen were killed and a third one wounded," in the attack, the official added.
Hawija is one of the last Daesh holdouts retaken by government troops a year ago and has long been a bastion of radical groups.
On Wednesday an Daesh suicide bomber blew a vehicle at a checkpoint on the outskirts of the Iraq border town of Al-Qaim, near the Syrian frontier, another of the last towns in Iraq to be recaptured from Daesh.
Also on Thursday, three members of Iraq's Hashed Al-Shaabi paramilitary force, which played a key role in fighting Daesh, were wounded in a blast near Hawija, another security official said.
There was no immediate claim of responsibility for Thursday's attacks but Daesh said it was behind Wednesday's suicide bombing.
In a purported new audio message released last week, Daesh leader Abu Bakr Al-Baghdadi called on his followers to "not give up against their enemy."
According to Hisham Al-Hashemi, an expert on radical extremist groups, about 2,000 militants Daesh are still active in Iraq, which declared victory over the extremists in December last year.
Meanwhile, hundreds of Iraqi protesters stoned and tried to break into the provincial government headquarters in the southern oil hub of Basra on Friday to press demands for better public services and an end to pervasive corruption.
Some protesters also set fire to tires outside the building and there were minor clashes with riot police who fired tear gas to try to quell the protest. No serious injuries were reported.
Protests have swept cities in the long neglected south over widespread electricity outages during the blistering hot Iraqi summer, a lack of jobs and proper government services, and entrenched graft.
Prime Minister Haider Al-Abadi suspended the electricity minister last month and said earlier this week that his government had begun punishing those responsible for poor services in Basra, Iraq's second biggest city.
Public anger is rising at a time when politicians are struggling to form a new government after an inconclusive parliamentary election in May. Iraq's top Shiite cleric Grand Ayatollah Ali Al-Sistani has expressed support for the protests.
Friday's protests were particularly concerned with the high level of salt in Basra's drinking water that residents say makes it undrinkable.
The city's infrastructure is crumbling from years of neglect and under-investment, generating widespread bitterness as locals contrast their impoverishment with the oil wealth the province provides for federal government coffers.
Hundreds of Iraqi protesters stoned and tried to break into the provincial government headquarters in the southern oil hub of Basra on Friday to press demands for better public services and an end to pervasive corruption.
Some protesters also set fire to tires outside the building and there were minor clashes with riot police who fired tear gas to try to quell the protest. No serious injuries were reported.
Protests have swept cities in the long neglected south over widespread electricity outages during the blistering hot Iraqi summer, a lack of jobs and proper government services, and entrenched graft.
Prime Minister Haider Al-Abadi suspended the electricity minister last month and said earlier this week that his government had begun punishing those responsible for poor services in Basra, Iraq's second biggest city.
Public anger is rising at a time when politicians are struggling to form a new government after an inconclusive parliamentary election in May. Iraq's top Shiite cleric Grand Ayatollah Ali Al-Sistani has expressed support for the protests.
Friday's protests were particularly concerned with the high level of salt in Basra's drinking water that residents say makes it undrinkable.
Full report at:
http://www.arabnews.com/node/1364901/middle-east
--------
Africa
Somalia: 3 Govt Soldiers Killed in Afgoye Alshabaab Attack
31 AUGUST 2018
At least three government soldiers were killed in an overnight Alshabaab attack on Afgoye town some 30km from the Somali capital Mogadishu, Radio Dalsan reports.
An official confirmed to Radio Dalsan that the militants executed a heavy attacked on government soldiers base in the town past midnight.
The goverrnment soldiers managed to repulse the attack.
At least 7 soldiers were injured in the fighting and several military vehicles destroyed.
https://allafrica.com/stories/201808310352.html
--------
Army kill Boko Haram terrorists, recover arms in Borno
August 31, 2018
The Nigerian Army said it had killed several Boko Haram insurgents and recovered weapons in an encounter that ensued at Zari village in Guzamala Local Government Area of Borno on Friday.
Colonel Onyeama Nwachukwu, Deputy Director, Public Relations, Theatre Command Operation Lafiya Dole, disclosed this in a statement in Maiduguri.
Nwachukwu said the insurgents were repelled by the troops of 2 Division Task Force Battalion deployed in the area.
He said that the insurgents were on rampage, looting the community and extorting money from the people but met with a fierce resistance by the Land troops of Operation Lafiya Dole who were closely supported from the air by troops of the Air Task Force.
He said that during the fire fight, overwhelming volume of fire was unleashed on the insurgents from both the air and ground troops, neutralising several of them and their weapons.
The Spokesman said that the village and the surrounding communities had been stabilised and normalcy restored.
He also said that the land troops had been reinforced to conduct more robust fighting patrol in the general area.
Full report at:
https://punchng.com/army-kill-boko-haram-terrorists-recover-arms-in-borno/
--------
URL: https://www.newageislam.com/islamic-world-news/pak-saudi-arabia-silent-china/d/116260
New Age Islam, Islam Online, Islamic Website, African Muslim News, Arab World News, South Asia News, Indian Muslim News, World Muslim News, Women in Islam, Islamic Feminism, Arab Women, Women In Arab, Islamophobia in America, Muslim Women in West, Islam Women and Feminism