New Age Islam News Bureau
28 Apr 2014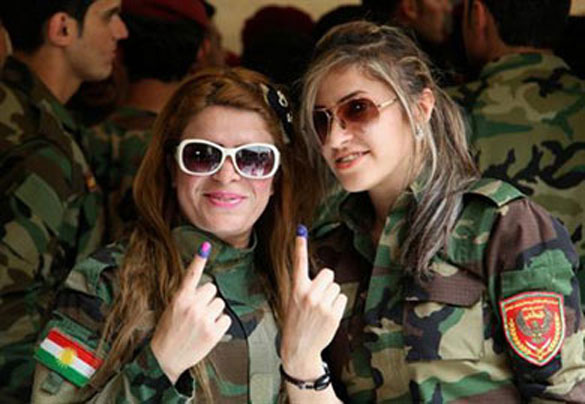 Kurdish security forces personnel show their ink-stained fingers after casting their votes at a polling station, April 28, 2014. REUTERS/Azad Lashkari
-----------
Europe
• Paedophiles to Be Treated As Terrorists in UK
• Teacher admits campaign to install Muslim staff in UK schools
• UN rights chief arrives in conflict-wracked South Sudan
• UK Probing Fatal Afghanistan Chopper Crash Claimed to be shot by Taliban
Africa
• Hospital attack kills at least 22 in Central African Republic
• Central African Republic: Bangui mosque looted after Muslim exodus
• Nigerian Muslim clerics recruiting Boko Haram
• In former Islamist stronghold, Algerian youth decry corruption
Arab World
• Before Iraq election, Shia militias unleashed in war on Sunni insurgents
I• raq attacks kill 21 as security forces cast ballots
• 21 dead in rebel fire on regime in Aleppo: activists
• Egyptian court recommends death sentence for top Brotherhood leader, 682 supporters
• Egyptian troops kill militant, arrest others in Sinai raids
• Syrian Army Regains Control over Height 724 in Latakia
• Iraq's Army, police force vote for new Parliament
• Syria's Assad to stand again for president: Speaker
North America
• To counter stereotypes, Chicago Muslims dance in 'Happy' video
• US tells Anwar 'concerned' by Malaysia sodomy ruling
• US ran 'Cuban Twitter' in Pakistan too, says report
• Barack Obama keeps focus on human rights in Malaysia
• Kerry says Israel risks becoming 'apartheid' state: Report
Pakistan
• Kurram tribe warns of blood conflict, if demands not met
• High-level security meeting decides to continue talks with TTP
• PUCM shows concern over alleged forced conversion of non-Muslims
• Army officer among 3 dead in Waziristan IED blast
• Two killed, one injured in firing along Pak-Iran border
• Blast kills three children in Pakistan's Karachi
• Taliban team contacts TTP Shura
Mideast
• Turkey calls on EU, US to object the death penalty sentences in Egypt
• Israel, Palestinians square up as peace deadline looms
• Turkey builds portable wall on border with Syria
• Livni: Israelis today don't face same dangers faced by Jews of Europe
• No peace talks unless Hamas recognizes Israel: Netanyahu
• Maariv: Israel Not Ready to Engage in War with Hezbollah
India
• Khokhar: US told Pak to get out of areas occupied during Kargil War
• Special court orders seizure of terror funds of J&K fugitive Nasir Safi Mir
• Hizb ul posters in Srinagar: 'Keep off polls or face attack'
Southeast Asia
• Respect our right to present our case in Parliament over Hudud, says PAS
• 9 suspected militants arrested in raids in Selangor and Kedah, say police
• Utusan ignores Obama's statement on equal opportunity for non-Muslims
• Rohingya in Indonesia Wait for Resettlement
South Asia
• Fatwas against registering marriages a huge challenge: Family Court chief judge
• Myanmar's Muslims continue to suffer as the world stays silent
• Pakistani rebel among 5 killed in Paktika province
• Afghan army prepared to maintain security for second round of election
• Afghan refugees' sit in protest in front of UNHCR office in Turkey
• Arrest warrant against Hefazat-e Islam Mufti Izhar ul
• War crimes evidence against Jabbar found: Investigators
Compiled by New Age Islam News Bureau
URL: https://newageislam.com/islamic-world-news/paedophiles-be-treated-terrorists-uk/d/76776
-----------
Europe
Paedophiles to Be Treated As Terrorists in UK
Apr 28, 2014
LONDON: Paedophiles in the UK downloading manuals about how to groom children for sexual abuse will be handed the same treatment as terrorists under a new crackdown on child abuse.
Prime Minister David Cameron said he wanted to close a loophole that allows sexual predators to produce and possess "manuals" giving tips on how to identify victims, groom them, and evade capture.
"It's completely unacceptable that there is a loophole in the law which allows paedophiles to write and distribute these disgusting documents," Cameron said.
"I want to ensure we do everything we can to protect children — and that's why I am making them illegal," Cameron told Sunday Times.
In future, paedophiles will face the same kind of sanctions as extremists who download guides to bomb-making.
The move came as it emerged that a paedophile teacher drugged and abused up to 60 boys as young as 10 at a private school in London.
US national William Vahey, 64, who taught history and geography at Southbank International School between 2009 and 2013, committed suicide last month as FBI agents closed in.
The new law is expected to be in force by the time of the general election next year, and could be implemented in an amendment to the Obscene Publications Act 1959, according to the newspaper.
The Terrorism Act 2000 outlawed terrorist training manuals.
It is unclear how many documents meant to assist paedophiles exist online or how often they are downloaded.
But the National Crime Agency has found examples during its investigations, which have included advice on grooming victims and evading capture.
The government measure is set to feature in the Queen's Speech, the BBC reported.
Details of how the law might be changed are yet to be announced, but it is thought ministers will amend the Obscene Publications Act 1959 to close the legal loophole, it said.
But the government may put in place measures similar to those that outlaw training manuals which could be used by terrorists, and have led to prison sentences of up two years in some cases
http://timesofindia.indiatimes.com/world/uk/Paedophiles-to-be-treated-as-terrorists-in-UK/articleshow/34300498.cms
----------
Teacher admits campaign to install Muslim staff in UK schools
PTI | Apr 28, 2014
LONDON: Amid reports that UK authorities are investigating about 25 state schools in Birmingham for their alleged radical "Islamisation", a teacher at the centre of the plot has acknowledged the existence of such a campaign to install Muslims in governing roles.
The schools are currently being probed after reports that there existed a "Trojan Horse" plot aimed at takeover of the secular state schools by religious hardliners.
The reports claim male and female students were segregated, sex education banned and extremist clerics praised in assemblies.
But one of the teachers said the controversial plot was aimed at raising the attainment levels of Muslim students after years of under-achievement.
Speaking anonymously to Channel 4 News last night, the teacher said: "This is about the proportion of representation and leadership on boards of schools that serve predominantly Muslim children.
"These teachers and leaders have a deeper understanding of the view of the population in these schools. I think the needs of Muslim children have been neglected for many, many years."
Birmingham has a large Muslim population — nearly 22 per cent, according to the 2011 census.
The "Trojan Horse" plot involves the alleged takeover of secular state schools and the removal of secular head teachers in Birmingham by radical Muslim staff and governors.
Five non-Muslim heads have left their posts in a tiny area of the northern England city over the past six months.
Britain's schools inspectorate, OFSTED, is set to publish its final inspection reports on the Operation Trojan Horse by the second week of May.
http://timesofindia.indiatimes.com/world/uk/Teacher-admits-campaign-to-install-Muslim-staff-in-UK-schools/articleshow/34335241.cms
----------
UN rights chief arrives in conflict-wracked South Sudan
April 28, 2014
The UN's top human rights official arrived in South Sudan on Monday, officials said, amid an increase in global concern over the country's civil war and a wave of atrocities.
A spokesman of the UN Mission in South Sudan (UNMISS), Joe Contreras, said High Commissioner for Human Rights Navi Pillay arrived in the capital Juba on a joint mission with Adama Dieng, the UN's special envoy for the prevention of genocide.
The two are expected to remain in the country for two days and investigate on behalf of UN chief Ban Ki-moon. They are expected to meet South Sudan's President Salva Kiir and other senior officials.
Last week the UN Security Council brandished the threat of sanctions against South Sudan government forces, loyal to President Kiir, and rebels behind former vice president Riek Machar, who are responsible for escalating abuses.
Both sides have been implicated in atrocities and war crimes including massacres, rape, attacks on UN bases sheltering civilians from ethnic violence and the recruitment of child soldiers.
Last week, the rebels were blamed for the killings of hundreds of people in the oil hub of Bentiu, and a pro-government mob killed dozens of civilians in an attack on a UN base in Bor.
Kiir's government has been fighting Machar's forces -- a mix of army defectors and ethnic militia -- since December 15.
The four-month-old war has left thousands and possibly tens of thousands of people dead, and forced over one million to flee their homes, sparking a massive humanitarian crisis.
More than 78,000 civilians are currently crammed into eight UN bases in the country, while more than a million people have been displaced within the country or have fled to neighbouring states, mainly Uganda and Ethiopia.
Violence has also taken on an ethnic dimension, pitting Kiir's Dinka tribe against militia forces from Machar's Nuer people.
http://www.hurriyetdailynews.com/un-rights-chief-arrives-in-conflict-wracked-south-sudan.aspx?pageID=238&nID=65651&NewsCatID=357
-----------
UK Probing Fatal Afghanistan Chopper Crash Claimed to be Shot by Taliban
April 28, 2014
Britain on Sunday revealed the names of five troops killed in a helicopter crash in southern Afghanistan, shortly after launching an investigation into the incident.
The Lynx helicopter crashed during a routine flight in Kandahar province on Saturday, causing the third biggest single loss of life for British troops in the country.
The Ministry of Defense (MoD) named the dead men as captain Thomas Clarke, flight lieutenant Rakesh Chauhan, warrant officer Spencer Faulkner, corporal James Walters and lance corporal Oliver Thomas.
The ministry denied claims from Taliban that they shot down the light utility helicopter, saying its initial investigations pointed towards a technical fault during the routine flight.
"The investigation is now under way, and the area of the crash has been cordoned off," an MoD spokeswoman said. "We cannot go into further details. At this stage it is not known how long the investigation might last or when investigators will deliver their report, but it will be a thorough inquiry."
Prime Minister David Cameron described the deaths as a "terrible tragedy".
The Taliban said on a recognized Twitter account that it had targeted the helicopter and the "wreckage caught fire as it smashed onto the ground, killing all invaders onboard".
http://www.almanar.com.lb/english/adetails.php?fromval=1&cid=22&frid=22&eid=148564
--------
Africa
Hospital attack kills at least 22 in Central African Republic
April 28, 2014
Bangui: At least 22 people including three staff members of medical charity Medecins Sans Frontieres have been killed during an attack by gunmen on a Central African hospital, in the latest atrocity to hit the violence-plagued country.
The brutal attack in the northwest was blamed on the mostly Muslim rebels known as the Seleka, whose coup in March last year unleashed a vicious cycle of sectarian violence.
"Armed men from the ex-Seleka and of Fula ethnicity on Saturday afternoon attacked a hospital supported by MSF in the region of Nanga Boguila, killing at least 22 people, including three Central African employees of MSF and leaving a dozen wounded," an officer from the African-led MISCA peacekeeping force told AFP on Monday.
MSF confirmed the death of its three employees, without giving further details.
The gunmen had stormed into the building as local representatives and MSF employees held a meeting, the MISCA officer said.
"The assailants first opened fire at a group of people, gunning down four of them. Then they went to the hospital where they killed 15 other people and three members of MSF.
"They took computers and several other assets, breaking down doors probably in search for cash," added the officer.
Full report at:
http://www.smh.com.au/world/hospital-attack-kills-at-least-22-in-central-african-republic-20140428-zr0z9.html#ixzz30BPQ0MaZ
-----------
Central African Republic: Bangui mosque looted after Muslim exodus
April 28, 2014
Bangui - Peacekeeping troops escorted around 1 300 Muslims out of Bangui on Sunday, triggering looting and removing one of the last pockets of Muslims from the capital of a nation torn apart by religious violence.
Foreign troops have escorted thousands of Muslims to relative safety in the north of the Central African Republic. But some leaders fear that will make permanent divisions that have led to talk of partition after 18 months of conflict.
Peacekeepers stood by as Christians, some armed with machetes and bows and arrows, swarmed into and picked apart houses in Bangui's northern PK12 neighbourhood, which had been a Muslim stronghold in the majority Christian south.
"We are leaving to save our lives," Mohamed Ali Mohamed, who was born and brought up in the area, told Reuters as fellow Muslims tied jerry cans to trucks ahead of the trip.
Some of the departing Muslims torched their cars as they could not take them in the convoy but did not want Christians to be able to use them once they had left.
Full report at:
http://www.news24.com/Africa/News/Looting-follows-evacuation-of-Muslims-from-CAR-capital-20140427
-----------
Nigerian Muslim clerics recruiting Boko Haram
April 28, 2014
"Nigerian Muslim clerics living in the border towns of Cameroon and Nigeria are recruiting Boko Haram members in their mosques, the Government of Cameroon has alleged. Worse still, government officials in the North Eastern Nigerian states of Yobe, Borno and Adamawa collaborate with the terrorists and take bribes from them, thereby, hindering the fight against the terrorists. Governors of these states also capitalise on their civilian fears to berate the army and the Federal Government. Many officials in those states are cooperating with Boko Haram in order to avoid attack. Some of these officials are covering themselves in case Boko Haram should gain power. Cameroon is also concerned about pro-Boko Haram clerics from Nigeria quietly preaching and recruiting for Boko Haram in Cameroonian mosques. Islamic conservative clergy are not unusual on either side of the border, but those who do not denounce Boko Haram are suspected of quietly recruiting young men to join the "jihad" (struggle) and fight (and often die) in Nigeria. These preachers have to recruit quietly because otherwise police in Cameroon will arrest and deport them, sometimes after a vigorous interrogation. Evidence of this recruiting is showing up when some of the recruits return from Nigeria with tales of disillusionment and adversity while with Boko Haram."
Full report at:
http://www.spyghana.com/nigerian-muslim-clerics-recruiting-boko-haram/
-----------
In former Islamist stronghold, Algerian youth decry corruption
April 28, 2014
BLIDA, Algeria // The young man in the internet cafe declined to give his name, but had no problem giving his views about the recent re-election of ailing 77-year-old President Abdelaziz Bouteflika.
"These days you're not going to end up in prison for what you say," said the 24-year-old. "But the problem is, the corrupt people aren't going to prison either!"
His views on Mr Bouteflika's fourth term were similar to many of his generation, who in these elections, as in the legislative elections of 2012, were notably absent from the voting booths.
"Maybe Bouteflika has created work for some young people, but it all goes to those who have connections, through corruption," said the young man, who did not have a job. A January 2014 report from the International Monetary Fund said that overall unemployment eased last year to 9.8 per cent though it remained high "among youth and women".
Full report at:
http://www.thenational.ae/world/algeria/in-former-islamist-stronghold-algerian-youth-decry-corruption#ixzz30BO39ohX
-----------
Arab World
Before Iraq election, Shia militias unleashed in war on Sunni insurgents
April 28, 2014
The Sunni militants who seized the riverside town of Buhriz late last month stayed for several hours. The next morning, after the Sunnis had left, Iraqi security forces and dozens of Shia militia fighters arrived and marched from home to home in search of insurgents and sympathizers in this rural community, dotted by date palms and orange groves.
According to accounts by Shia tribal leaders, two eyewitnesses and politicians, what happened next was brutal.
"There were men in civilian clothes on motorcycles shouting 'Ali is on your side'," one man said, referring to a key figure in Shia tradition. "People started fleeing their homes, leaving behind the elders and young men and those who refused to leave. The militias then stormed the houses. They pulled out the young men and summarily executed them."
The killings turned this town 35 miles northeast of Baghdad into a frontline in Iraq's gathering sectarian war.
In Buhriz and other villages and towns encircling the capital, a pitched battle is underway between the emboldened Islamic State of Iraq and the Levant, the extremist Sunni group that has led a brutal insurgency around Baghdad for more than a year, and Iraqi security forces, who in recent months have employed Shia militias as shock troops.
Full report at:
http://english.ahram.org.eg/NewsContent/2/8/99963/World/Region/Before-Iraq-election,-Shia-militias-unleashed-in-w.aspx
-----------
Iraq attacks kill 21 as security forces cast ballots
April 28, 2014
Associated Press
BAGHDAD: Militants in Iraq unleashed attacks against polling stations as soldiers and security forces cast ballots two days ahead of parliamentary selections, killing at least 21 people on Monday, officials said.
The wave of attacks was an apparent attempt to derail the balloting process and to discourage the rest of the country's 22 million registered voters from going to polls on Wednesday in the first nationwide elections since the 2011 withdrawal of U.S. forces.
The early balloting for police and soldiers is meant to free up the 1 million-strong military and security forces for Wednesday, so they can protect polling stations and voters.
More than 9,000 candidates are vying for 328 seats in parliament, which is widely expected to be won by an alliance led by Shiite Prime Minister Nouri al-Maliki, who is likely to seek a third four-year term in office.
Full report at:
http://www.dailystar.com.lb/News/Middle-East/2014/Apr-28/254656-iraq-attacks-kill-20-as-security-forces-cast-ballots.ashx#ixzz30BWSeS9v
-----------
21 dead in rebel fire on regime in Aleppo: activists
April 28, 2014
BEIRUT: At least 21 people were killed and 50 hurt on Sunday in a rebel mortar attack on regime-held districts of the Syrian city of Aleppo, a monitoring group said.
"The fire targeted regime-held neighbourhoods, including some in the Old City where the rebels are trying to advance," said the Britain-based Syrian Observatory for Human Rights.
Aleppo is divided between government and opposition control, and clashes on the ground, rebel fire and regime aerial bombardment have all increased there in recent weeks.
Rebels hold most of the eastern side of the city, but regime troops have managed to recapture much of the outskirts surrounding those areas and have been carrying out a relentless aerial campaign across opposition parts of Aleppo province for months.
Opposition forces have attacked regime barracks in the city, and tried to advance into the western Zahra neighbourhood.
Full report at:
http://www.dailystar.com.lb/News/Middle-East/2014/Apr-27/254564-21-dead-in-rebel-fire-on-regime-in-aleppo-activists.ashx#ixzz30BWa5mCD
-----------
Egyptian court recommends death sentence for top Brotherhood leader, 682 supporters
Reuters | Minya (egypt) | April 28, 2014
An Egyptian court has recommended the death sentence for the leader of the Muslim Brotherhood and 682 supporters, and handed down a final capital punishment ruling for 37 others, judicial sources said on Monday.
Seeking the death penalty for Mohamed Badie, the Brotherhood's general guide, is certain to raise tension in Egypt, which has been gripped by turmoil since the army removed the Brotherhood from power last year.
The 37 death sentences were part of a final judgement on 529 Muslim Brotherhood supporters who were sentenced to death last month. The remaining defendants were sentenced to life in jail.
Full report at:
http://indianexpress.com/article/world/middle-east-africa/egyptian-court-recommends-death-sentence-for-top-muslim-brotherhood-leader-and-682-supporters/
-----------
Egyptian troops kill militant, arrest others in Sinai raids
April 28, 2014
Egyptian troops on Sunday killed a militant fighter and arrested several of what they described as some of the most dangerous militants in the Sinai Peninsula.
Raids on the hideouts of suspected Islamist militants in the North Sinai towns of Al-Arish, Sheikh Zuweid and Rafah, killed one and netted 20 arrests, a military official confirmed.
The raids on Sunday were the latest in a broad military campaign to weed out Islamist insurgents who have expanded their activities in the border region following the ouster of Islamist president Mohamed Morsi last summer.
Army troops and police killed an Islamist militant and arrested three of the most dangerous fighters in the region, military spokesman Ahmed Ali said in a Sunday statement.
Seventeen other suspects were arrested and dozens of shacks used by insurgents were torched in the raids, the spokesman added
Full report at:
http://english.ahram.org.eg/NewsContent/1/64/99976/Egypt/Politics-/Egyptian-troops-kill-militant,-arrest-others-in-Si.aspx
-----------
Syrian Army Regains Control over Height 724 in Latakia
April 28, 2014
Syrian armySyrian Army on Monday continued operations against the armed groups across the country, killing scores of them and destroying their weapons.
In Latakia, a military source said that army units - in cooperation with the national defense forces - regained full control over Height 724 to the north of Point 45 in the northern countryside, and inflicted terrorist groups heavy losses.
In Homs countryside, national military continued operations in the old city and regained control over a building near Mar Gorgeous Church, killing a number of terrorists and injuring others.
A military source told SANA that army units confronted a group of gunmen trying to attack a military checkpoint near Akiribate roundabout in Sha'ar Mountain. More than 30 terrorists were killed and 3 cars equipped with heavy machineguns were destroyed, claiming all the terrorists inside.
Full report at:
http://www.almanar.com.lb/english/adetails.php?eid=148652&cid=23&fromval=1&frid=23&seccatid=20&s1=1
-----------
Iraq's Army, police force vote for new Parliament
Apr 28, 2014
Amid tight security, some one million Iraqi Army and police personnel have started voting for the nation's new Parliament.
The voting is held two days before the rest of Iraq's 22 million registered voters can go to the polls to elect a new Parliament, 328-member chamber, the first nationwide balloting since the withdrawal of U.S. forces in late 2011.
Voters at one central Baghdad polling station for military and police personnel went through four ID checks and search stations before they could enter the building on Monday. Inside, police dogs were used to search for explosives.
Full report at:
http://www.thehindu.com/news/international/world/iraqs-army-police-force-vote-for-new-parliament/article5955818.ece
----------
Syria's Assad to stand again for president: Speaker
April 28, 2014
Syria's President Bashar al-Assad has registered to stand in next month's presidential election, which he is widely expected to win, parliament speaker Mohammed al-Lahham said on Monday.
"I, citizen Bashar Hafez al-Assad, wish to present my candidacy for the post of president of the republic," said a letter read in parliament by Lahham.
The June 3 vote will be held despite a raging war that began after a massive government crackdown on peaceful anti-government protests that flared in March 2011.
The conflict is estimated to have killed more than 150,000 people, and large swathes of Syrian territory are now beyond the control of the government.
Assad, whose term expires on July 17, is expected to sail to victory against his competitors.
So far, six other hopefuls have announced their candidacy, most of them largely unknown.
A posting on the presidency's official Facebook page quoted Assad as calling on supporters of different candidates to express themselves through the ballot box.
Full report at:
http://english.ahram.org.eg/NewsContent/2/8/99999/World/Region/Syrias-Assad-to-stand-again-for-president-Speaker.aspx
-----------
North America
To counter stereotypes, Chicago Muslims dance in 'Happy' video
April 28, 2014
A video of Chicago area Muslims dancing and smiling to Pharrell Williams' smash hit "Happy" has struck a chord, attracting more than 50,000 views on YouTube.
Chicago resident Rayyan Najeeb, 22, created the video, which pictures a diverse group of Muslims dancing, smiling and clapping their hands to the song in Chicago and the suburbs. It was produced in part to help counter stereotypes of Muslims, he said.
"This is a video about Muslims in Chicago being happy. It [counters the] stereotype that all Muslims are miserable and angry," said Najeeb, a native of Milwaukee who has Syrian and Palestinian roots.
The video also seeks to highlight the diversity in the Chicago Muslim community.
"That was extremely important to me," said Najeeb, whose video features Muslims from the African-American, Hispanic, Arab, and other communities, and includes immigrants and U.S.-born Muslims, some wearing and some not wearing traditional Muslim attire.
Among the scenes featured on the video are a hijab-wearing woman dancing up an escalator, a bearded man swaying to the song with his baby, a woman tapping a bald man's head in time with the tune and shots of young boys and men showing their freestyle moves.
Full report at:
http://www.suntimes.com/news/metro/27053552-418/to-counter-stereotypes-chicago-muslims-dance-in-happy-video.html#.U15D1lVdU4U
-----------
US tells Anwar 'concerned' by Malaysia sodomy ruling
April 28, 2014
US National Security Adviser Susan Rice today met opposition leader Datuk Seri Anwar Ibrahim and expressed concern at a sodomy conviction against him that is widely seen as politically motivated.
Wrapping up a US visit to Malaysia led by President Barack Obama, Rice also called on the government of Prime Minister Datuk Seri Najib Razak to ensure the rule of law in the country.
"Ambassador Rice emphasised to Mr Anwar that the United States has followed his case closely, and that the decision to prosecute him and the trial have raised a number of concerns regarding the rule of law and the independence of the courts," a White House statement said after their meeting in Kuala Lumpur.
Full report at:
http://www.themalaysianinsider.com/malaysia/article/us-tells-anwar-concerned-by-malaysia-sodomy-ruling
-----------
US ran 'Cuban Twitter' in Pakistan too, says report
April 28, 2014
WASHINGTON: The United States ran a 'Cuban Twitter' like programme in Pakistan too but it closed when the project failed to generate enough funds to run itself, the US media reports.
The reports identified the programme as "Hamari Awaz," launched in Lahore by former US Secretary of State Hillary Clinton in 2009. While launching the programme, she announced that the United States would fund the first 24 million messages and then it would have to generate its own funds.
The US State Department ran the programme out of the office of Richard C. Holbrooke, President Obama's special envoy to Afghanistan and Pakistan, who died in 2010. Pakistani telecommunications companies provided the network.
An announcement distributed after the launching identified "Hamari Awaz" as "a service you can use on your cellphone to distribute news stories, to invite people to an event, to share your thoughts and opinions, to report problems that you see, to call for actions to solve those problems."
Full report at:
http://www.dawn.com/news/1102757/us-ran-cuban-twitter-in-pakistan-too-says-report
-----------
Barack Obama keeps focus on human rights in Malaysia
Associated Press | Kuala Lumpur | April 28, 2014
President Barack Obama on Sunday pressed the Malaysian government to improve its human rights record and appealed to Southeast Asia's teeming youth population to stand up for the rights of minorities and the rule of law.
Yet Obama skipped a golden chance to promote that human rights agenda, declining to meet with opposition leader Anwar Ibrahim. Instead, he directed national security adviser Susan Rice to see Anwar on Monday.
Obama said his decision was "not indicative of our lack of concern" about the former deputy prime minister who recently was convicted for the second time on sodomy charges, which the U.S. and international human rights groups contend are politically motivated.
Obama said he had raised his concerns about Malaysia's restrictions on political freedoms during meetings with Prime Minister Najib Razak.
Full report at:
http://indianexpress.com/article/world/asia/barack-obama-keeps-focus-on-human-rights-in-malaysia/2/
-----------
Kerry says Israel risks becoming 'apartheid' state: Report
April 28, 2014
U.S. Secretary of State John Kerry told a group of senior international officials that Israel risks becoming an "apartheid" state if it does not make peace soon, a U.S. news website reported.
Kerry made the controversial remarks at a closed-door meeting of the influential Trilateral Commission on April 25, The Daily Beast news website reported April 27.
The Daily Beast said a source at the gathering provided them with a recording of Kerry's remarks. "A two-state solution will be clearly underscored as the only real alternative. Because a unitary state winds up either being an apartheid state with second class citizens - or it ends up being a state that destroys the capacity of Israel to be a Jewish state," Kerry said, according to The Daily Beast.
Full report at:
http://www.hurriyetdailynews.com/kerry-says-israel-risks-becoming-apartheid-state-report.aspx?pageID=238&nID=65646&NewsCatID=359
--------
Pakistan
Kurram tribe warns of blood conflict, if demands not met
April 28, 2014
PARACHINAR- Land dispute between two tribes is taking a violent turn, and one of the tribes has left the village in protest and set up tents in the desert to press for justice by the political administration.
Addressing a press conference today, tribal elders of the affected area Malik Rehmat, Haji Mansab, Israr Hussai, Hiddayat Hussain and Manzoor Ali said that their dispute over land had been going on for last seven years with a tribe of Boshehra. During this period there had been seven armed clashes between the two tribes.
They said according to government's record they are the owners of Musa Khan village and the tribal jirga had given its verdict in their favour. They said despite this some government functionaries were bent upon giving the land to the people who have actually migrated from Afghanistan in return for heavy payments by them. They said these people have forcibly occupied their land while the political administration officials have arrested several of their male members and put them in jail. They warned of dire consequences if their land was not vacated by the political administration it would lead to a bloody conflict.
http://www.nation.com.pk/national/28-Apr-2014/kurram-tribe-warns-of-blood-conflict-if-demands-not-met
-----------
High-level security meeting decides to continue talks with TTP
April 28, 2014
ISLAMABAD: A high-level meeting chaired by Prime Minister Nawaz Sharif decided to continue dialogue with the Tehreek-i-Taliban Pakistan (TTP) shura and finalised the agenda for the next round of dialogue.
The meeting decided to hold parleys with the TTP on a formalised agenda, sources told Dawn.
The meeting was attended by Director-General Inter-Services Intelligence (ISI) Lt-Gen Zaheerul Islam and army chief General Raheel Sharif.
Interior Minister Chaudhry Nisar Ali Khan briefed the meeting on the progress made so far in the dialogue process.
"It's high time to make talks with the TTP successful or take it to some logical conclusion," Nisar told the meeting.
Full report at:
http://www.dawn.com/news/1102822/high-level-security-meeting-decides-to-continue-talks-with-ttp
-----------
PUCM shows concern over alleged forced conversion of non-Muslims
April 28, 2014
MIRPUR- Chairman, Pakistan United Christian Movement (PUCM) Albert David has appealed to the Chief Justice of Pakistan to take notice of the alleged increased forced conversion of non-Muslims in various parts of the country.
David expressed deep concern over a report released by Movement for Solidarity and Peace saying that an estimated one thousand Christian and Hindu women are forced to convert and marry Muslim men every year in the country.
In a press statement issued , the PUCM chief demanded that special measure should be taken to ensure that the motive behind a conversion was not marriage specific, all such cases should be investigated impartially and where someone has willfully converted they should be allowed to practice their preferred religion however if someone has been forced to convert and to marry, the perpetrators should be tried and sentenced according to the local laws. He also stressed on the need for a specific ordinance to stop this illegal practice, Non-Muslims parliamentarians should recognize their law making responsibilities and work towards bringing in a law in this regard.
Full report at:
http://www.nation.com.pk/national/26-Apr-2014/pucm-shows-concern-over-alleged-forced-conversion-of-non-muslims
-----------
Army officer mong 3 dead in Waziristan IED blast
April 28, 2014
ISLAMABAD/Peshawar - Three army soldiers including an officer were killed and three others sustained injuries when their vehicle was hit by an improvised explosive device (IED) in the border area of North and South Waziristan on Sunday night.
According to ISPR, three security forces personnel including an officer embraced shahadat (martyrdom) and three others sustained critical injuries due to an IED planted by terrorists on a roadside at the border of the two agencies.
Earlier in the day, Peshawar police thwarted a major terror bid by defusing 70-kilogram explosive material including suicide jackets Chamkani area of the Khyber Pakhtunkhwa capital, while a policeman was killed when unknown persons opened firing on him.
Police said that explosive material was packed in two bags and it was planted near a police check post in Chamkani area. After receiving timely information police called the bomb disposal squad to defuse the suicide jackets and other explosive material.
Full report at:
http://www.nation.com.pk/national/28-Apr-2014/army-officer-mong-3-dead-in-waziristan-ied-blast
-----------
Two killed, one injured in firing along Pak-Iran border
April 28, 2014
QUETTA- Two security personnel were killed and one was injured during an exchange of fire with drug smugglers in Balochistan's Mashkel area today, an official said.
Both sides used heavy weapons against each other. A security official, requesting anonymity, told sources that security forces tried to stop a convoy of drug smugglers in Mashkel, which was close to the Iranian border. The official said that the smugglers who were well-armed retaliated, killing two security personnel and wounding another. "The smugglers were trying to sneak into Iran, when the exchange of fire took place," he said, without disclosing the number of smugglers. He said the armed smugglers sped away in their vehicles after the incident. A search operation was launched by security forces to apprehend the men. A huge contingent of the Frontier Corps (FC) was deployed in the area to control the situation and arrest the smugglers. Mashkel is situated in the Washuk district of Balochistan province. The region is considered to be one of the major routes for drug smugglers, who use unfrequented paths along the Pakistan-Iran border to enter the neighbouring country on their way to Europe to smuggle narcotics.
http://www.nation.com.pk/national/28-Apr-2014/two-killed-one-injured-in-firing-along-pak-iran-border
-----------
Blast kills three children in Pakistan's Karachi
28 April 2014
A blast killed three boys aged between 10 and 12 at a religious seminary in the southern Pakistani city of Karachi on Monday, police said.
The attack occurred in the impoverished western district of Orangi, which has a militant presence and a history of sectarian violence.
"The explosion, which targeted a religious seminary of Sunni Muslims, killed at least three male students and wounded six others," a senior local police official, Javed Alam Odho told AFP.
He said the police were trying to ascertain whether it was a planted bomb or a hand grenade that had been thrown.
A senior doctor at the Abbasi Shaheed hospital, Parshotum Rathore, confirmed the number of deaths and said those who died in the attack were between 10 and 12-years-old.
He put the number of injured at more than 12 and said the condition of four of those hurt was critical.
Full report at:
http://english.alarabiya.net/en/News/world/2014/04/28/Blast-kills-three-children-in-Pakistan-s-Karachi.html
-----------
Taliban team contacts TTP shura
April 28, 2014
PESHAWAR: Taliban nominated negotiating committee has made a contact with Tehrik-i-Taliban Pakistan (TTP) political shura and asked it for time and venue for meeting.
This was stated by member Taliban team Professor Ibrahim, while talking to Geo News here Monday.
He said: "we are waiting for response of Taliban shura and will leave for meeting whenever TTP calls us".
Prof. Ibrahim said the government talks team had asked him for making contact with Taliban.
http://www.thenews.com.pk/article-145979-Taliban-team-contacts-TTP-shura
-----------
Mideast
Turkey calls on EU, US to object the death penalty sentences in Egypt
April 28, 2014
Turkey's Deputy Prime Minister Bülent Arınç has urged both the United States and European Union member countries to strongly voice their objections against the mass death penalty sentences delivered in Egypt for supporters of ousted Islamist President Mohamed Morsi.
"I believe Turkey has shown the required reaction, but I believe all countries, primarily the U.S. and EU member countries, should also object the death penalties," Arınç said on April 28, the day when an Egyptian judge sentenced more than 680 alleged supporters of the country's ousted Islamist president to death over acts of violence and the murder of policemen in the latest mass trial in Egypt that included the Muslim Brotherhood's spiritual leader.
"People's being sentenced to death and the fact that they are about to be executed is not only a disgrace for Egypt. It is very grave that there are countries which remain silent about this, which don't object this action and don't accuse the administration over these sentences," Arınç said, while expressing hope the Egyptian authorities will renounce this "grave wrongdoing."
Full report at:
http://www.hurriyetdailynews.com/turkey-calls-on-eu-us-to-object-the-death-penalty-sentences-in-egypt.aspx?pageID=238&nID=65653&NewsCatID=510
-----------
Israel, Palestinians square up as peace deadline looms
April 28, 2014
Israel and the Palestinians appeared determined Monday to seal their divorce as Washington's nine-month deadline for reaching a Mideast peace deal was to expire, leaving peace hopes in tatters.
After more than a year of intensive shuttle diplomacy by US Secretary of State John Kerry with the initial aim of brokering a deal by April 29, Washington's patience appeared to be growing dangerously thin as both sides moved to distance themselves from the crisis-hit talks.
Speaking to a closed meeting of senior international diplomats and officials, Kerry reportedly said that if Israel didn't seize the opportunity to make peace soon, it risked becoming an "apartheid state," a US news website reported Sunday.
Full report at:
http://english.ahram.org.eg/NewsContent/2/8/100018/World/Region/Israel,-Palestinians-square-up-as-peace-deadline-l.aspx
-----------
Turkey builds portable wall on border with Syria
April 28, 2014
A portable concrete wall is being built on the border with Syria in the southern province of Hatay as part of security measures.
The wall, which is composed of concrete 3-meter-long blocks, is being built in the border town of Reyhanlı's Kuşaklı village in an effort to prevent illegal crossings and smuggling.
The wall will reportedly be 1,200-meter-long and weigh nine tons when it is finished. The concrete blocks will able to be transferred when necessary.
The construction began two days ago and 150 concrete blocks have been placed so far.
The same kind of walls were previously used in some areas in Syria's border town Atme.
In the southeastern province of Gaziantep, another wall was built in January in order to stop people from illegally bypassing checkpoints.
Full report at:
http://www.hurriyetdailynews.com/turkey-builds-portable-wall-on-border-with-syria-.aspx?pageID=238&nID=65624&NewsCatID=341
-----------
Livni: Israelis today don't face same dangers faced by Jews of Europe
April 28, 2014
"Israeli citizens do not face the same dangers once faced by Jews in Europe," Justice Minister Tzipi Livni said Sunday night at a Holocaust Remembrance Day ceremony. Speaking at the Massuah Institute for Holocaust Studies in Kibbutz Tel Yitzhak, Livni said that though the state of Israel of 2014 is still threatened, it is also a strong and independent state.
"The Jewish people have undergone a transformation: from a yellow Star of David on the clothes of the helpless, to a Star of David etched in metal from which the IAF's fighter jets are made, as well as the IDF's tanks and ships," Livni stated.
While Livni distanced the climate faced by Israelis today from that which European Jews faced in the lead-up to the Holocaust, Prime Minister Binyamin Netanyahu in a speech at Yad Vashem, drew direct comparisons between the two, urging world leaders to learn the lessons of the1930s, in reference to the Iranian nuclear threat.
Full report at:
http://www.jpost.com/Diplomacy-and-Politics/Livni-Israelis-today-dont-face-same-dangers-faced-by-Jews-of-Europe-350615
-----------
No peace talks unless Hamas recognizes Israel: Netanyahu
April 28, 2014
Prime Minister Benjamin Netanyahu said Sunday Israel would not negotiate with a Palestinian unity government unless Hamas declares it recognizes Israel.
Netanyahu said the preferable course of action to get peace negotiations back on track would be for Palestinian president Mahmud Abbas to renounce Hamas, the Islamist movement whose charter calls for the destruction of Israel.
"Either Hamas disavows the destruction of Israel and embraces peace and denounces terror or president Abbas renounces Hamas," Netanyahu said, speaking on CNN's State of the Union.
"If one of those things happened, we could get back to the peace negotiations. I hope he renounces Hamas and gets back to the peace table, as I've just said. The ball is in his court," he said.
Full report at:
http://english.ahram.org.eg/NewsContent/2/8/99947/World/Region/No-peace-talks-unless-Hamas-recognizes-Israel-Neta.aspx
-----------
Maariv: Israel Not Ready to Engage in War with Hezbollah
April 28, 2014
Israeli Occupation Forces not ready militarily to engage in a war with Hezbollah and capabilities have distinctly decreased, the Israeli newspaper Maariv said in a report.Hezbollah
The paper quoted high-ranking Israeli army officers as saying that the Zionist entity cannot engage in a war with Hezbollah anytime soon.
The officers expressed concern over the decline in military equipment, malfunction and obstructions impeding their involvement in any upcoming military action citing that that the level of competence and efficiency had declined as military exercisers have been lessened.
Israeli soldiers complained that the Humvees used in patrols along the Lebanese border are non-armored and lack protection, the Israeli paper said. They pointed out that authorities have been stepping-down expenses on the IOF.
The soldiers expressed fear that the IDF capabilities are similar to those in 2006 and even worse.
http://www.almanar.com.lb/english/adetails.php?eid=148553&cid=31&fromval=1&frid=31&seccatid=269&s1=1
--------
India
Khokhar: US told Pak to get out of areas occupied during Kargil War
Press Trust of India | Islamabad | April 28, 2014
"India is hopping mad. Please get out of the places you have occupied," was the American message to Pakistan in the wake of the Kargil War in 1999, the country's the then envoy to the US, Riaz Khokhar, said here Sunday.
Almost 15 years after Pakistani troops intruded across the LoC sparking the border conflict, the issue came up for discussion at the Islamabad Literature Festival.
The speakers at the discussion, including former Pakistani foreign secretaries Khokhar and Tariq Osman Hyder, and journalist Nasim Zehra had an open and frank talk about different aspects of the conflict.All the three speakers agreed that the war was an "avoidable venture".
Full report at:
http://indianexpress.com/article/india/india-others/khokhar-us-told-pak-to-get-out-of-areas-occupied-during-kargil-war/
-------
Special court orders seizure of terror funds of J&K fugitive Nasir Safi Mir
Press Trust of India | New Delhi | April 28, 2014
A special money laundering court in New Delhi has ordered freezing of Rs 55 lakh cash of fugitive terrorist Nasir Safi Mir, who is said to be the financial brain behind terror and separatist groups in Jammu and Kashmir.
The seizure of the cash, under money laundering laws, was made by the Enforcement Directorate (ED) earlier this year in what is widely seen as the first major case of terror funding being successfully nailed in the country.
The Adjudicating Authority of the Prevention of Money Laundering Act (PMLA), a judicial body to decide on strict enforcement cases, has also asked the Special Cell of the Delhi Police to hand over the cash to the ED.
The Special Cell has been custodian of this cash since 2006 when Kashmir-based Mir was arrested by it in a special operation.
Full report at:
http://indianexpress.com/article/india/india-others/special-court-orders-seizure-of-terror-funds-of-jk-fugitive-nasir-safi-mir/
-----------
Hizb ul posters in Srinagar: 'Keep off polls or face attack'
April 28, 2014
Ahead of Lok Sabha elections in Srinagar, Hizbul Mujahideen posters have appeared in the old city threatening attacks on policemen and politicians, besides asking voters to stay away from polling.
"Beware. If you vote, you will bear the consequences," read the posters. Written on a Hizbul Mujahideen letterhead, the pamphlets do not name any Hizbul commander. "We are issuing a last warning to the over ground workers of PDP and NC that they should desist (from it)".
The posters warn attacks on polling stations, asking people not to this election. "We would not tolerate it that some conscienceless people will vote of these Indian agencies (mainstream political parties) or participate in their election campaigning," the posters said. "We warn such people for the last time that don't force us to spray bullets". Srinagar will go to polls on April 30.
Full report at:
http://indianexpress.com/article/india/india-others/hizbul-posters-in-srinagar-keep-off-polls-or-face-attack/
-----------
Southeast Asia
Respect our right to present our case in Parliament over hudud, says PAS
APRIL 28, 2014
PAS today appealed to all parties to respect the party's democratic right to present its case in Parliament over its plans to implement hudud in Kelantan.
Its information chief Datuk Mahfuz Omar (pic) said PAS would not force its agenda and policies on the rakyat nor implement it in a deceitful and stealthy manner.
"Whatever the party agenda and policy which the party intends to implement, it will be done in an open manner in accordance with the law and constitution," the Pokok Sena MP said, adding that PAS was willing to have a dialogue with anyone needing an explanation or who wish to share their views on the Islamic penal law.
Irrespective of whether other parties supported or opposed PAS's hudud plans, they should still respect the party's democratic right to raise the issue in Parliament.
"If the democratic process is not in favour of PAS, we will abide and are prepared to accept whatever decision," he said in a statement today following some strident criticism from its Pakatan ally, the DAP.
Full report at:
http://www.themalaysianinsider.com/malaysia/article/respect-our-right-to-present-our-case-in-parliament-over-hudud-says-pas
-----------
9 suspected militants arrested in raids in Selangor and Kedah, say police
April 28, 2014
Police arrested nine suspected militants in simultaneous raids this morning in Selangor and Kedah for allegedly planning to overthrow the government through violent means.
A Malaysian security official told The Malaysian Insider that the nine suspects, including a woman, were part of a group which had surfaced towards the end of last year.
"The group is not directly linked to Al Qaeda or Jemaah Islamiyah but they share the same ideologies. They want an Islamic state," the official said.
The Malaysian Insider understands that the arrests were made between 5am and 7am this morning in the two states.
The nine are aged between 20 and 50 years and have been detained under the Security Offences (Special Measures) Act 2012, which allows for detention without trial.
"The group had been put under surveillance since late last year after their plans came to the attention of the authorities," the official said.
Full report at:
http://www.themalaysianinsider.com/malaysia/article/9-suspected-militants-arrested-in-raids-in-selangor-and-kedah-say-police
-----------
Utusan ignores Obama's statement on equal opportunity for non-Muslims
April 28, 2014
A controversial statement made by US President Barack Obama yesterday that Malaysia must ensure non-Muslims in the country also have equal opportunities as its Muslim majority if the country wanted to continue prospering was conspicuously left out from the coverage of the president's visit in Umno mouthpiece, Utusan Malaysia, today.
Instead, the Malay-language daily higlighted the president's comments on the dangers of sidelining the Muslim minority in Myanmar. However, there is no mention that the US leader had also expressed the same concern over the fate of the non-Muslim communities in Malaysia.
Full report at:
http://www.themalaysianinsider.com/malaysia/article/utusan-ignores-obamas-statement-on-equal-opportunity-for-non-muslims
---------
Rohingya in Indonesia Wait for Resettlement
April 28, 2014
Makassar. When Mohammed and Minara Ali ran from their burning home in Sittwe, capital of Myanmar's Rakhine State, nearly two years ago, they had no idea where they were going or how they would get there.
"To save our lives, we ran away," said Mohammed. "The military were shooting at us; my father was killed by the shooting and until now, I don't know what happened to my two younger brothers."
Mohammed, 35, and his wife, Minara, 26, are Rohingya — an ethnic, Muslim minority group who have faced decades of persecution and discrimination in Myanmar. Myanmar law does not recognize them as citizens, hampering their access to health care, education and employment.
Full report at:
http://www.thejakartaglobe.com/news/rohingya-indonesia-wait-resettlement/
-----------
South Asia
Fatwas against registering marriages a huge challenge: Family Court chief judge
By Ahmed Rilwan | April 28th, 2014
Fatwas claiming that registering marriages at the court is unnecessary and un-Islamic are posing serious challenges to the Family Court, Chief Judge Hassan Saeed has said, suggesting the formation of an official state institution to issue fatwas.
"As Maldives is a 100 percent Muslim country, legally mandating some people to issue fatwas officially will encourage people to follow the law," Saeed was quoted as saying by newspaper Haveeru.
Registration of marriages was a common practice in all countries, he observed, calling on religious scholars to publicly discuss and clarify such issues.
"Is there any basis in law or Sharia to say that [registering marriages] is not an Islamic requirement? You cannot say it is okay to perform a marriage hiding inside a room with two random witnesses [to whom] you give some treat," Saeed was quoted as saying.
Full report at:
http://minivannews.com/politics/fatwas-against-registering-marriages-a-huge-challenge-family-court-chief-judge-83630
-----------
Myanmar's Muslims continue to suffer as the world stays silent
April 28, 2014
Recently I had a thought-provoking conversation with one of the Rohingya Muslims in Qatar who had recently fled Myanmar to escape the ongoing turmoil. He told me stories of members of his community being tortured and burnt to death by extremist Buddhist factions. Depressingly, the situation in Myanmar has been worsening in recent months.
In January, it was reported that 48 Rohingya Muslims had been brutally murdered in Rakhine State. As with many previous incidents, the government turned a blind eye towards this outrageous attack.
For Muslims in Rohingya, killings, tortures and starvation have became a horrific reality. The situation has been exacerbated by the recent order made by the Myanmar government to expel several aid groups including Médecins Sans Frontières/Doctors Without Borders (MSF), which had offered medical assistance to nearly 700,000 individuals in Rakhine State. MSF, which had been working in Myanmar for close to two decades, is no longer able to offer help to thousands of desperate Muslims in the country. According to Tom Andrews of United to End Genocide, a US-based activist group, the brutalities that have been taking place in Myanmar are now threatening to become the world's next genocide.
Full report at:
http://www.thenational.ae/thenationalconversation/comment/myanmars-muslims-continue-to-suffer-as-the-world-stays-silent#ixzz30BOwTBs1
-----------
Pakistani rebel among 5 killed in Paktika province
April 28, 2014
At least five militants including foreign nationals were killed following an operation in eastern Paktika province of Afghanistan.
According to the local government officials, the militants were killed during operations by Afghan Local Police (ALP) force in Sar-e-Rawza district.
Provincial security chief, Gen. Nabi Jan Mullah Khel said the operations were conducted late Saturday.
Gen. Mullah Khel further added that a Pakistani rebel along with a militant from Turkmenistan was among those killed during the operations.
He said an Afghan policeman was slightly injured during the operation but local residents did not suffer any casualties.
Paktika is among the relatively volatile provinces in eastern Afghanistan where anti-government armed militants including the Taliban militants are active in a number of its districts.
http://www.khaama.com/pakistani-rebel-among-5-killed-in-paktika-province-3616
-----------
Afghan army prepared to maintain security for second round of election
Apr 28 2014
General Sher Mohammad Karimi, Chief of the General Staff of the Afghan Army said Sunday that the Afghan army forces are prepared to maintain security if the election goes to the second round.
Gen. Karimi was speaking during the national security council meeting where the capabilities of the Afghan armed forces were discussed.
A number of high level Afghan army commanders and other defense officials had also attended the meeting.
This comes as the interior ministry of Afghanistan had earlier said that the Afghan police forces are also prepared to maintain security for the election runoff.
Full report at:
http://www.khaama.com/afghan-army-prepared-to-maintain-security-for-second-round-of-election-6035
-----------
Afghan refugees' sit in protest in front of UNHCR office in Turkey
April 28, 2014
Dozens of Afghan women, men and children gathered in front of the UNHCR office in Ankara city the capital of Turkey to protest against the performance of UNHCR in considering their cases. Protesters claim UNHCR in Turkey is not reviewing their cases on time, which cause them wait for longer than expected.
The demonstrations have entered in 11th day and protesters are staying there day and night, on rood side till their voice is heard.
Asylum seekers have set up a protest camp in the Ankara city, demanding to meet UNHCR officials to review their cases which are already rejected by UNHCR.
The main reason people leave Afghanistan is because of war and internal conflict within the country since 1978. People started to emigrate in 1978 when the Soviet Union came to the country, but in 1992 when the mujahedin came to power, it was the most devastating time in Afghan History, where they looted and killed many people and this is when a lot of people start leaving Afghanistan, either fleeing to neighboring countries (Pakistan, Iran and Russia) or those who had money emigrated to the west.
Full report at:
http://www.khaama.com/afghan-refugees-sit-in-protest-in-front-of-unhcr-office-in-turkey-6033
-----------
Arrest warrant against Hefajat-e Islam Mufti Izharul
April 28, 2014
A Chittagong court today issued arrest warrant against Hefajat-e Islam nayeb-e-ameer Mufti Izharul Islam Chowdhury in a case filed for not submitting his wealth statement before the anti-graft body.
Judge SM Mujibur Rahman of the Court of Chittagong Metropolitan Session Judge passed the order after accepting the charges brought against Izharul by Anti-Corruption Commission (ACC), said ACC public prosecutor Mahmudul Haque Mahmud.
After his investigation into the case, ACC Deputy Assistant Director HM Akhtaruzzaman submitted the charge sheet against him before another court on April 20, the ACC lawyer said.
Full report at:
http://www.thedailystar.net/arrest-warrant-against-mufti-izharul-21991
-----------
War crimes evidence against Jabbar found: Investigators
April 28, 2014
Investigators today said that they had found evidence of former Jatiya Party lawmaker Abdul Jabbar's involvement in at least five crimes against humanity during the country's 1971 War of Liberation.
The offences include murder, genocide, loot and arson, Mohammad Abdul Hannan Khan, chief of the investigation agency probing war crimes, told reporters at a press briefing at his Dhanmondi office.
Sanaul Haque, a senior member of the agency, also attended the briefing.
The agency will submit the probe report to the prosecution of the International Crimes Tribunal today or tomorrow, the investigators said on completion of their nearly one-year-long investigation on the role of the 82-year-old Jatiya Party leader during the country's war of independence.
Full report at:
http://www.thedailystar.net/war-crimes-evidence-against-jabbar-found-investigators-21975
----------
URL: https://newageislam.com/islamic-world-news/paedophiles-be-treated-terrorists-uk/d/76776