New Age Islam News Bureau
6 Apr 2015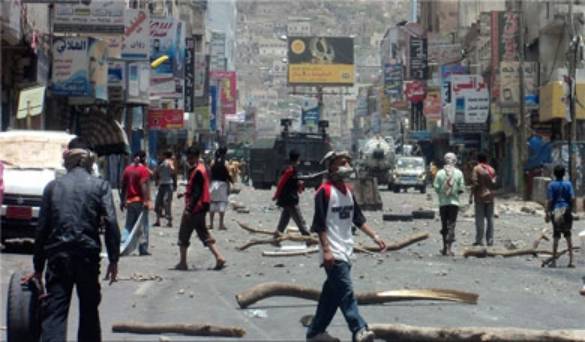 Photo: Over 53 Dead in Clashes in Yemen's Aden
------
Mideast
• Over 53 Dead in Clashes in Yemen's Aden
• Israeli Forces Attacks Palestinian Protesters
• IRGC Disbands Terrorist Network in South-eastern Iran
• Turkish university students demand Jedi, Buddhist temples amid mosque frenzy
• Turkey blocks Twitter, YouTube, Facebook over hostage photo
• Kurds accuse Turkey's Erdogan of 'constitutional dictatorship'
Arab World
• Yemen Crisis: Hezb-e-Islami Backs Saudi Arabia
• Iraqi Forces Kill, Injure 13 ISIL Terrorists in Anbar
• Saudi Regime Using Al-Qaeda Terrorists to Hold Back Ansarullah Fighters
• Army Destroys Al-Nusra Front Stronghold in Daraa
• Anonymous Outs More Than 4000 Twitter Accounts as ISIL
• Syria Rebels Exchange Women, Children For Commander: Monitor
• IS video shows jihadists destroying Iraqi artefacts
• IS blows 80-year-old church in Syria: report
• Civilians flee clashes outside Damascus
• Founder of Islamist militant group Ajnad Misr killed: Police spokesman
• Northern Iraq's displaced get own radio station
Pakistan
• Give And Take: After Saudi Requests, Pakistan Devising Its Own Wish-List
• Three Suspected Militants Killed In Karachi Shootout
• Six militants killed in Balochistan
• Sindh seeks details of banned outfits from Islamabad
• Saudi asked for warplanes, warships and soldiers: Khawaja Asif
India
• Wipro's Chairman Azim Premji Denies Endorsing RSS 'Ideology'
• Yemen crisis: Modi hails 'seamless' operation to evacuate Indians from Yemen
South Asia
• Explosion in Kabul Leaves 6 People Dead, 2 Others Wounded
• 2 JCD men held with crude bombs, explosives
• Bangladeshi Jamaat loses final appeal against hanging
Europe
• After Denying Admission to 700 Muslims, Now UK Sacks the 100 School Teachers In Extremist Probe
• Senior Muslim lawyer says British teenagers see Isis as 'pop idols'
• Britain to sack teachers and assistants for 'propagating' extreme Islamist view in classrooms
• Red Cross aid plane to Yemen held back by 'logistics problems'
Africa
• Kenyan Warplanes Pound Al-Shabaab Terrorists' Camps in Somalia
• Suicide Car Bomb near Libya's Misrata Kills Six
• Religious leaders unite in wake of Kenya university massacre
• Ugandan President calls for joint efforts to fight terrorism in East Africa
• Christian students at Kenya's Garissa University foretold massacre
Southeast Asia
• 'Editors' Hit Back Against Govt Ban on 'Radical' Websites
• Malaysia arrests 17 in suspected terror plot: Police
• Kelantan mufti: GST is part of social justice
• Police Believe Terrorist Leader Shot Dead in Central Sulawesi
North America
• Philadelphia Clerics Call Controversy Over Anti-Muslim Bus Ads a Teaching Moment
• One Direction fans furious as Bill Maher compares Zayn Malik to Boston bomber
• Obama: Iran nuclear deal 'once in a lifetime' opportunity
Compiled by New Age Islam News Bureau
URL: https://www.newageislam.com/islamic-world-news/new-age-islam-news-bureau/over-53-dead-in-clashes-in-yemen-s-aden/d/102308
-----------
Mideast
Over 53 Dead in Clashes in Yemen's Aden
Apr 06 2015
More than 53 people have been killed in heavy fighting between revolutionaries and loyalists to fugitive president Mansour Hadi in Yemen's Southern city of Aden, medical and army sources said.
According to army and medical sources, fierce clashes erupted between the Ansarullah forces and pro-Hadi militants in Aden on Monday, as the popular fighters are pressing ahead with their fight against al-Qaeda terrorists and pro-Hadi militants.
Dozens of militants lost their lives during the clashes.
The Ansarullah fighters and the army troops also made more headway in the district of Qalwa'a in Aden on Sunday, and regained full control over the area.
The clashes between the popular Ansarullah and the Saudi-backed loyalists of the fugitive president continue in the Southern parts of the country as Saudi Arabia has been striking Yemen for twelve days now to restore power to fugitive president Mansour Hadi, a close ally of Riyadh. The 12 days of the Saudi-led aggression has killed at least 887 Yemenis, including hundreds of women and children.
Hadi stepped down in January and refused to reconsider the decision despite calls by Ansarullah revolutionaries of the Houthi movement.
Despite Riyadh's claims that it is bombing the positions of the Ansarullah fighters, Saudi warplanes are flattening residential areas and civilian infrastructures.
Five Persian Gulf States -- Saudi Arabia, the United Arab Emirates (UAE), Bahrain, Qatar and Kuwait -- and Egypt that are also assisted by Israel and backed by the US declared war on Yemen in a joint statement issued on March 26.
US President Barack Obama authorized the provision of logistical and intelligence support to the military operations, National Security Council Spokesperson Bernadette Meehan said late on March 25.
She added that while US forces were not taking direct military action in Yemen, Washington was establishing a Joint Planning Cell with Saudi Arabia to coordinate US military and intelligence support.
http://english.farsnews.com/newstext.aspx?nn=13940117000999
-----------
Israeli Forces Attacks Palestinian Protesters
Apr 06 2015
The Israeli forces attacked a group of Palestinian youngsters at dawn Monday in Salfit.
Local sources said Palestinian young protesters have stood on guard to the invading Israeli soldiers, who attacked the unarmed youths with randomly-shot spates of rubber bullets and tear gas grenades, PIC reported.
The Israeli forces further summoned three Palestinians, including a father and his 12-year-old son, in Bethlehem city for interrogation.
The Israeli troops also raided and wreaked havoc on a number of Palestinian civilian homes in al-Khalil's town of Sourif.
A series of military checkpoints have been randomly pitched at the main entrances to al-Khalil city, where Palestinian vehicles have been provocatively searched, resulting in traffic congestion.
Palestinian passers-by have also reportedly been subjected to physical and verbal assaults by the Israeli soldiers deployed at the newly-pitched roadblocks.
http://english.farsnews.com/newstext.aspx?nn=13940117001037
-----------
IRGC Disbands Terrorist Network in South-eastern Iran
Apr 06 2015
The Islamic Revolution Guards Corps (IRGC) disbanded a terrorist cell in the South-eastern Sistan and Balouchestan province on Monday morning, killing all its members.
"On Monday morning, a terrorist group affiliated to the foreign spy agencies was disbanded in Qasr-e Qand and Nikshahr regions in Southeastern Iran with the decisive action of the forces deployed at the IRGC Ground Force base in the region, and all its (the terrorist group's) members were killed," the public relations department of the IRGC Ground Force's Quds base said in a statement on Monday.
The statement added that the operations were carried out after a series of reconnaissance and chase operations in recent days during which a large cache of weapons, munitions and communication tools were also discovered and seized by the IRGC forces.
In a relevant development in January, Iranian police forces disbanded a terrorist network in Sistan and Balouchestan province.
"After a number of sabotage operations in the Southern part of Sistan and Balouchestan province, 18 members of a terrorist grouplet were arrested in Eastern Iran as a result of three months of round-the-clock efforts by the police forces and the good cooperation of the people in the province," Commander of the Law Enforcement Police in Sistan and Balouchestan Hossein Rahimi told reporters.
Elaborating on the police operations which led to the capture of the terrorists, he said at first two members of the terrorist group were apprehended and their confessions led to the capture of the other members of the group.
"They confessed that they had conducted different operations against the people and the police and received money from a person an Arab state," Rahimi said.
In earlier remarks in November, Rahimi announced that his forces had arrested the terrorists who had killed two police officers in Zahedan city a year ago.
"The crime investigation detectives of the police found some clues about the involvement of a 6-stong gang of armed thieves in this case after months of extensive specialized measures and after gaining enough intelligence," he said.
Noting that the members of the gang used forged documents to travel to Pakistan and Afghanistan, the commander said that the police forces identified the culprits and arrested them in several coordinated operations in Zahedan and Chabahar cities.
Rahimi said that the gang members had confessed that they had killed the two police officers in Zahedan city on 17 June 2013, wounded two people one month earlier, murdered two individuals in Zahedan's Park Mellat, robbed the passengers of a car and wounded three people when they sprayed bullet at the people who had approached the car.
Sistan and Balouchestan province which is adjacent to Pakistan has been the scene of a number of terrorist attacks in recent years with most terrorists escaping to the Pakistani territories.
Four Iranian police officers, including a conscript, were killed in two terrorist attacks on a border post in Sistan and Balouchestan in October.
The tragic event took place in the vicinity of the city of Saravan near the border with Pakistan.
http://english.farsnews.com/newstext.aspx?nn=13940117000381
-----------
Turkish university students demand Jedi, Buddhist temples amid mosque frenzy
Apr 06 2015
Thousands of Turkish students have raised their voices in online campaigns to build Jedi and Buddhist temples at their universities, after a series of mosques were constructed on their campuses by rectors who stressed "huge demand."
The debate started last month when Mehmet Karaca, rector of Istanbul Technical University (ITÜ), announced that "a landmark mosque" would be built on the campus.
While stressing "huge demand," the rector referred to a petition on change.org that more than 185,000 people signed to demand the construction of ITÜ's first mosque.
Karaca's positive response to an online campaign encouraged university students from other religions around Turkey, as well as many others who launched satirical campaigns to point at what they claimed to be a political emphasis on "religious populism" even as many education institutions lack scientific instruments and research funds.
In one of the counter-campaigns on change.org, more than 25,000 people demanded a Buddhist temple at ITÜ.
"I can't fulfill my religious needs because the closest Buddhist temple is 2,000 kilometers away, and I can't go there during lunch break," a petitioner named Utku Gürçag Borataç said on the website.
Zeynep Özkatip, who launched the petition, complained in an interview to daily Hürriyet that the university administration did not contact her despite the "huge demand" for the proposed Buddhist temple.
"If they think that building a mosque is realistic, unlike building a Buddhist temple, for the fact that donations need to be collected for the construction, they are wrong. We have already received enough donation promises to complete the construction," she said.
Özkatip, a third-year student in ITÜ's Civil Engineering Department, also complained that she received "threats" due to the petition.
"We ironically see that those who keep talking about Islamophobia have no tolerance for other religions," she said.
At a university far, far away...
Despite the hurdles that some ITÜ students are facing in demanding a Buddhist temple, a similar campaign has been launched at another Turkish university in a province far, far away.
In one of the most popular among them, a number of Dokuz Eylül University students in the western province of Izmir have demanded a Jedi temple to be built on their campus.
"To recruit new Jedi and to bring balance to the Force, we want a Jedi temple," said the petition that received more than 3,900 signatures on change.org, referring to the famed knights of the fictional Star Wars universe.
Karaca, the rector who apparently opened the Pandora's Box at several universities, had also vowed to build a synagogue on ITÜ's campus, if there is enough demand from students.
His critics, on the other hand, say the emphasis on popular demand may potentially damage minority rights.
Turkey's government-controlled religious authority, the Diyanet, announced late last year that mosques were being built on campuses at more than 80 universities in the Muslim-majority country.
So far, the government, which is accused of pursuing a Sunni-driven agenda by the opposition, has not publicized any plans to fulfill the needs of students who belong to other sects and religions in Turkey.
Debate on democracy
The debate also stirred controversy around the question as to whether Turkish universities are administered democratically or not.
Sedat Laçiner, then-rector of Çanakkale Onsekiz Mart Univerity (ÇÖMÜ), started the construction of three mosques in one year. By the end of 2015, the total capacity of the three mosques and 53 masjids at the university is expected to exceed 15,000.
While a number of its students complain about lack of scientific instruments and research funds at ÇÖMÜ, Laçiner managed to win the election to keep his seat, thanks to a total of 253 votes.
President Recep Tayyip Erdogan, however, opted to appoint another scholar as the rector of ÇÖMÜ last month, using his constitutional authority.
Erdogan's disapproval of Laçiner was presented by a number of Turkish media outlets as an expected response to the former rector's alleged links to the movement of the U.S.-based Islamic cleric Fethullah Gülen.
Gülen is the erstwhile ally of Turkey's ruling Justice and Development Party (AKP), which also has a political Islamist background.
http://www.hurriyetdailynews.com/turkish-university-students-demand-jedi-buddhist-temples-amid-mosque-frenzy.aspx?pageID=238&nID=80634&NewsCatID=341
-----------
Turkey blocks Twitter, Youtube, Facebook over hostage photo
Apr 06 2015
Turkish authorities have blocked access to Twitter, Youtube and Facebook over the publication of photos published on the three social media platforms, showing a prosecutor who was taken hostage by militants in Istanbul last week.
A number of Turkey's leading Internet service providers practiced the ban in the afternoon April 6, an official confirmed after widespread reports of problems to have access to the social media websites.
Speaking to daily Hürriyet, Internet Service Providers Union (ESB) Secretary General Bülent Kent stressed that "the procedure continues" as all service providers are expected to practice the ban soon.
Full report at:
http://www.hurriyetdailynews.com/turkey-blocks-twitter-youtube-facebook-over-hostage-photo.aspx?pageID=238&nID=80638&NewsCatID=339
-----------
Kurds accuse Turkey's Erdogan of 'constitutional dictatorship'
Apr 06 2015
The co-chair of Turkey's main Kurdish party has accused President Recep Tayyip Erdogan of wanting to set up "a constitutional dictatorship", vowing his movement will strongly oppose moves to impose one-man rule.
Selahattin Demirtas of the People's Democratic Party (HDP) told AFP that his party hoped to turn Erdogan's political calculations "upside down" in June 7 legislative polls.
Erdogan's ruling Islamic-rooted party had been relying on Kurdish support to push through changes to the country's constitution.
Full report at:
http://english.ahram.org.eg/NewsContent/2/8/127024/World/Region/Kurds-accuse-Turkeys-Erdogan-of-constitutional-dic.aspx
-----------
Arab World
Yemen Crisis: Hezb-e-Islami backs Saudi Arabia
Apr 06 2015
Hezb-e-Islami which was a leading faction in the fight against Soviet invasion of Afghanistan and took arm against government after the fall of Taliban has announced its support from the Saudi Arabia-led coalition against Huthis in Yemen.
Hezb-e-Islami leader Gulbuddin Hikmatyar has shown readiness to play his role to assist Saudi Arabia in its campaign of preventing the Huthis from advancement in Yemen.
Turkey, Pakistan and Afghanistan have also announced their support from Saudi Arabia.
But the leaders have said that they are eager for a peaceful solution for the crisis.
Saudi Arabia is trying to gain support for its coalition formed to strike Huthis in Yemen. Saudi Arabia started boming Huthi positions in Yemen on March 25.
Hezb-e-Islami leader Gulbuddin Hikmatyar says he is ready to extend any possible support to Saudi Arabia to take part in the crisis in Yemen.
Hezb-e-Islami is held responsible for several deadly terrorist attacks in Afghanistan including one that left 15 people killed and dozens others wounded in capital Kabul in May 2013.
The attack was carried out at a convoy of foreign forces but civilians suffered the most casualties.
http://www.khaama.com/two-soldiers-martyred-26-insurgents-killed-in-separate-military-operations-3111
-----------
Iraqi Forces Kill, Injure 13 ISIL Terrorists in Anbar
Apr 06 2015
Iraqi security forces killed and injured 13 terrorists of the Islamic State of Iraq and the Levant (ISIL) group in al-Harariat area to the East of Fallujah city in Anbar province on Sunday.
A unit of the First Rapid Reaction Brigade conducted a military operation in al-Harariat area in al-Karma city, 53 km east of Fallujah city, a security source said, adding that 6 ISIL terrorists were killed, and 7 others were severely injured in the operation.
He further said that 9 explosive devices were dismantled in the operation.
http://english.farsnews.com/newstext.aspx?nn=13940116001202
--------
Saudi Regime Using Al-Qaeda Terrorists to Hold Back Ansarullah Fighters
Apr 06 2015
Saudi Arabia plans to supply al-Qaeda terrorists operating in Yemen's Hadramout province with more weapons and other tools of war, in an attempt to push back the Ansarullah fighters and force them to retreat, a military source revealed.
An unnamed source told Fars News Agency on Monday that the Saudi regime is trying to deliver more weapons and other supplies to Yemen through the Wadia crossing, seeking to reinforce al-Qaeda terrorists and weaken the popular fighters.
The Saudi plan is mainly aimed at sapping the strength of steadfast Ansarullah fighters who have so far made huge gains in their fight against the Saudi-backed terrorists wreaking havoc in the Muslim country, the source added.
Full report at:
http://english.farsnews.com/newstext.aspx?nn=13940117000427
-----------
Army Destroys Al-Nusra Front Stronghold in Daraa
Apr 06 2015
The Syrian army destroyed the strongholds of Al-Nusra Front Terrorist group in Daraa countryside.
The army units pounded the positions of Al-Nusra Front terrorists in al-Bayat village in al-Lajat mountainous area, killing tens of terrorists and injuring dozens more.
Also in the past 24 hours, the Syrian army engineering units destroyed a tunnel used by terrorists in al-Jadida neighborhood in Aleppo, killing 25 of them while trying to infiltrate the city through the same tunnel.
Elsewhere, the Syrian army killed over 200 terrorists in Idlib city in fierce clashes. It also destroyed an armored vehicle and over 15 vehicles equipped with heavy machineguns.
Meantime, the army continued its military operations in the areas of Majdalya, al-Neirub, Saraqeb, Korein, Nasibein, Maarbalit, Kifr Najd, Binnesh, Salqeen, Abud al-Dohour, Tal Salmo, al-Hamidyeh, Sarmin, Taftanaz, Baya'a, al-Jaakyeh, al-Taman'a, al-Habeit, Nahlaya, Fayloun, al-Foua road and Qaminas.
Full report at:
http://english.farsnews.com/newstext.aspx?nn=13940117000371
-----------
Anonymous Outs More Than 4000 Twitter Accounts as ISIL
Apr 06 2015
The hackitivist collective Anonymous released the handles of more than 4,300 Twitter accounts they say are being used for ISIL recruitment.
Anonymous has already unmasked thousands of websites, Twitter handles and Facebook accounts used by ISIL and their members over the last few months in their campaign against the terrorist organization. This is the latest salvo in their #OpISIS campaign, RIA Novosti reported.
"Happy Easter everyone! Here are lists of many ISIS (ISIL) accounts that have been EXPOSED by Anonymous and CrtlSec over the past few days. ISIS (ISIL), we will hunt you down, and shut down your accounts, emails, pages, websites. You can not cut off something that does not exist! Expect us!" Anonymous said in a message attached to the release.
By releasing the names, the hackers hope to put pressure on Twitter to suspend the still-active accounts.
Full report at:
http://english.farsnews.com/newstext.aspx?nn=13940117000239
-----------
Syria rebels exchange women, children for commander: Monitor
Apr 06 2015
Islamist fighters in northern Syria released two dozen women and children late on Sunday in exchange for a rebel commander held by pro-regime forces, a monitoring group said.
The Syrian Observatory for Human Rights said the 10 children and 15 women from Shiite towns in Aleppo province had been held by Islamist faction Jaish al-Mujahideen.
In a deal mediated by the Kurdish People's Protection Units (YPG), the women and children were released in exchange for Yousef Zawaa, a Jaish al-Mujahideen commander who was held by armed groups loyal to Syria's embattled regime.
Full report at:
http://english.ahram.org.eg/NewsContent/2/8/127011/World/Region/Syria-rebels-exchange-women,-children-for-commande.aspx
-----------
IS video shows jihadists destroying Iraqi artefacts
Apr 06 2015
The Islamic State group has released a video in which militants can be seen using rifles and sledgehammers to destroy artefacts at the ancient city of Hatra in Iraq.
Destruction at the UNESCO world heritage site had already been confirmed by the UN's cultural agency a month ago.
The latest, undated video was released on April 3, a day after the IS group lost the city of Tikrit to government and allied forces, its biggest military setback yet in Iraq.
"The Islamic State has sent us to these idols to break them because they are worshipped instead of God," says one of two militants speaking to the camera.
"Some apostate organisations have said that destroying such antiquities is a war crime, so we will destroy them," he said.
Full report at:
http://english.ahram.org.eg/NewsContent/2/8/126976/World/Region/IS-video-shows-jihadists-destroying-Iraqi-artefact.aspx
-----------
Northern Iraq's displaced get own radio station
Apr 06 2015
A radio station catering specifically to northern Iraq's large displaced population began broadcasting on Sunday near the Kurdish capital Arbil.
"This radio station is for all those who were forced from their homes, for all the refugees," Pascal Gollnisch said in Radio Al-Salam's inaugural broadcast.
Gollnisch is a French Catholic priest whose organisation L'Oeuvre d'Orient helps Christians in the Middle East and backed the new station.
He is part of a delegation of several French groups supporting the broadcaster, which will put out several hours of programming daily on 95.5 FM.
Full report at:
http://english.ahram.org.eg/NewsContent/2/8/126982/World/Region/Northern-Iraqs-displaced-get-own-radio-station.aspx
-----------
IS blows 80-year-old church in Syria: report
Apr 06 2015
BEIRUT: Insurgents from the self-styled Islamic State blew up an 80-year-old church in Syria's northeastern province of Hassaka on Easter Sunday, Syrian state news agency SANA said.
SANA, which did not report any casualties, said the militants had planted explosives inside the Church of the Virgin Mary in Tel Nasri, an Assyrian village in an area where Christian and Kurdish militia have been battling Islamic State.
Islamic State controls the village, the news agency said on Monday.
The militant group, which controls swathes of Syria and Iraq, espouses a fiercely purist school of Sunni Islam, deeming many other Muslims to be heretics. Its fighters have destroyed Shia and Sufi religious sites and also attacked churches.
http://www.dawn.com/news/1174288/is-blows-80-year-old-church-in-syria-report
-----------
Civilians flee clashes outside Damascus
Apr 06 2015
DAMASCUS: Around 2,000 people have been evacuated from the Yarmuk Palestinian refugee camp in Damascus after the Islamic State group seized large parts of it, a Palestinian official told AFP Sunday.
"Around 400 families, approximately 2,000 people, were able to leave the camp on Friday and Saturday via two secure roads to the Zahira district, which is under army control," said Anwar Abdul Hadi, a Palestine Liberation Organization official.
"The evacuations are continuing on Sunday and some people are now in Yalda (a district under regime control) and waiting to be taken to shelters."
State news agency SANA also reported the evacuations, saying they were carried out in coordination between the army and Palestinian factions and that the government had set up shelters for those fleeing.
Full report at:
http://www.arabnews.com/middle-east/news/728291
-----------
Founder of Islamist militant group Ajnad Misr killed: Police spokesman
Apr 06 2015
The founder of Islamist militant group Ajnad Misr (Soldiers of Egypt) and former leading member of Ansar Beit Al-Maqdis was killed in a confrontation with police forces, a spokesperson for Egypt's interior ministry said on Sunday.
Hamam Mohamed was hiding in a flat located in Giza's Haram district where he planned and prepared for attacks that targeted and killed policemen, General Hani Abdel-Latif said, according to Al-Ahram's Arabic website.
When Hamam became aware of the presence of the police forces that were about to raid his hideout, he opened fire at them before they shot and killed him, Abdel-Latif explained.
Hamam possessed an automatic firearm, a pistol, four explosive devices including one with a magnet so that it could be attached to a car, 18 incomplete explosive devices, materials used to make bombs and over EGP 76,000. He was wanted for a number of terror-related attacks.
Full report at:
http://english.ahram.org.eg/NewsContent/1/64/126984/Egypt/Politics-/Founder-of-Islamist-militant-group-Ajnad-Misr-kill.aspx
-----------
Pakistan
Give and take: After Saudi requests, Pakistan devising its own wish-list
Apr 06 2015
ISLAMABAD: After senior Saudi officials in Riyadh requested a high-powered Pakistani delegation both 'material and manpower' to tackle Houthi rebels attempting to gain control of Yemen, the government of Prime Minister Nawaz Sharif is mulling over what to ask Saudi Arabia in return.
The request was made during a two-day visit that ended on April 1. Pakistan's wish list would be shared with Saudi authorities in the next round of talks, sources privy to the development told The Express Tribune.
While the top civil-military leadership of Pakistan is said to have decided joining the regional alliance along with Turkey to support the Saudi-led Operation Decisive Storm, the Nawaz-led government is trying to work out how the country could benefit from the alliance.
Full report at:
http://tribune.com.pk/story/865185/give-and-take-after-saudi-requests-pakistan-devising-its-own-wish-list/
-----------
Three suspected militants killed in Karachi shootout
Apr 06 2015
KARACHI: Three suspected militants were killed while a Rangers official was severely injured in a exchange of fire between security forces and miscreants in Karachi, Express News reported on Monday.
Rangers claimed the suspects were associated with a Lyari gang and a political party.
According to Rangers spokesperson, the suspects were identified as Saleem alias Dollar, Nawaz alias Dada and Zubair alias Muhajir, stated a spokesperson for Rangers.
A large number of weapons including 19 SMGs, 2 LMGs, 3 MP5s were recovered from the possession of the accused after the shootout in Defence neighbourhood.
On March 11, Rangers raided Muttahida Qaumi Movement headquarters and arrested several party leaders and workers on information of convicts hiding inside the highly-guarded office.
The security personnel claimed to have seized a huge cache of weapons during the search at Nine-Zero.
http://tribune.com.pk/story/865262/three-suspected-militants-killed-in-karachi-shootout/
-----------
Six militants killed in Balochistan
Apr 06 2015
QUETTA: Six suspected militants, including two suicide bombers, were killed during a crackdown in the troubled Loralai and Sanjvi areas of Balochistan on Friday.
Frontier Corps (FC) Balochistan spokesperson said a soldier was also wounded in the exchange of fire with militants during a raid on their hideouts. Several more suspects were rounded up in search operations, he added.
"The terrorists had prepared suicide vests and improvised explosive devices in a huge quantity. The FC's timely action foiled their attempt for any subversive activity," the FC spokesperson claimed.
The terrorists killed, he said, were involved in targeted attacks on security forces, police and Balochistan Levies Force in the Loralai and Ziarat districts. They also used to kidnap people from the area.
Full report at:
http://tribune.com.pk/story/864173/six-militants-killed-in-balochistan/
---------
Sindh seeks details of banned outfits from Islamabad
Apr 06 2015
KARACHI: The Sindh government has asked Islamabad to provide it lists of the banned religious outfits, which are 're-emerging' with new nomenclature, in order to enable the provincial government to effectively curb their activities, it emerged on Sunday.
Officials said the provincial home department had requested the federal ministry of interior to provide detailed lists and other related information about the activities of the banned organisations, which had never become dormant despite having been slapped with repeated bans.
"Such organisations are not to be allowed [to hold] public gatherings or meetings. Action is being planned against such proscribed outfits which have re-emerged with new names or titles," said a senior official in the home department while speaking to Dawn.
Full report at:
http://www.dawn.com/news/1174189/sindh-seeks-details-of-banned-outfits-from-islamabad
-----------
Saudi asked for warplanes, warships and soldiers: Khawaja Asif
Apr 06 2015
ISLAMABAD: A joint sitting of the two houses of Parliament has started to consider whether Pakistan should join the Saudi-led military campaign in Yemen to quell the Houthis rebellion against President Abd Rabbuh Mansur Hadi.
On March 26, the Saudis launched an air campaign in Yemen leading to a sharp escalation in the country's violence.
The federal government had since then made efforts to evacuate hundreds of stranded nationals from the war-torn Yemen on the orders of Prime Minister Nawaz Sharif.
http://tribune.com.pk/story/865260/live-joint-session-of-parliament-on-yemen-crisis-to-begin-shortly/
-----------
India
Wipro's chairman Azim Premji denies endorsing RSS 'ideology'
Apr 06 2015
Wipro Group chairman Azim Premji, who attended an event organised by an RSS body near Delhi on Sunday, said his presence did not mean that he endorsed the view of the forum.
Addressing a session where RSS chief Mohan Bhagwat was present, Premji said some people had expressed apprehension that attending the event may appear to be endorsing the "ideology" of the Sangh.
Rejecting such speculation, the IT czar said he believed that merely speaking at a particular forum does not in any way mean that one endorses all or any of the views that are expressed in that forum.
Addressing various delegates at the event organised by 'Rashtriya Sewa Bharati', a Sangh body that supports various organisations in the field of social work, he said he respected the work they did, which was the reason for his presence.
Corporate heavyweights including GMR group chairman G M Rao and Zee group chairman Subhash Chandra were among high profile guests at the event.
Premji said if there is divergence or difference of views, they could be resolved through discussion.
Full report at:
http://indianexpress.com/article/india/india-others/wipros-azim-premji-denies-endorsing-rss-ideology/
-------
Yemen crisis: Modi hails 'seamless' operation to evacuate Indians from Yemen
Apr 06 2015
Prime Minister Narendra Modi Monday hailed the "seamless" operation by various government departments to evacuate Indians as also several non-Indians from strife-torn Yemen.
In a series of tweets, he said the evacuation efforts reflect the government's willingness to serve its people and readiness to help others in distress, which is India's ethos.
"Salute the services of our civilian & defence officials & organisations in helping evacuate our citizens from Yemen. Continue your efforts," he said.
Full report at:
http://indianexpress.com/article/india/india-others/pm-hails-seamless-operation-to-evacuate-indians-from-yemen/
-----------
South Asia
Explosion in Kabul leaves 6 people dead, 2 others wounded
Apr 06 2015
At least six people were killed following an explosion triggered by Improvised Explosive Device (IED) in Kabul province this morning.
The blast took place in Qarabagh district targeting a vehicle of the Afghan National Police (ANP) forces.
The district administrative chief Abdul Wasey Sharifi said the incident took place around 11:00 am local time.
Sharifi further added that six policemen lost their lives and two others were wounded following the explosion.
The Ministry of Interior (MoI) confirmed that two six people including four policemen and two civilians lost their lives following the explosion.
No group including the Taliban militants has so far claimed responsibility behind the incident.
Taliban militants and insurgents from the other militant groups frequently use Improvised Explosive Device (IED) as the weapon of their choice to target the security forces. The IEDs are also major contributor to civilian casualties in Afghanistan.
http://www.khaama.com/explosion-in-kabul-leaves-7-people-dead-9367
---------
2 JCD men held with crude bombs, explosives
Apr 06 2015
Police have arrested two activists of Jatiyatabadi Chhatra Dal with 27 crude bombs from the capital's Lalbagh area.
The arrestees are Bellal Hossain, 22, Al Resalaat, 24.
Lalbagh OC Miniruzzaman said: "Acting on a tip-off, police conducted a drive at a residence in Lalbagh and arrested them around 9:30am Monday."
Meanwhile, the law enforcers also recovered 6,200gm explosives, including gunpowder, potassium and sulphur from the house.
http://www.dhakatribune.com/crime/2015/apr/06/2-jcd-men-held-crude-bombs-explosives#sthash.2m1W1Hrr.dpuf
-----------
Bangladeshi Jamaat loses final appeal against hanging
Apr 06 2015
DHAKA: A Bangladeshi Jamaat-i-Islami leader lost his final appeal Monday against a death sentence for overseeing a massacre during the 1971 independence war, a move which clears the last legal hurdle to his execution.
Mohammad Kamaruzzaman, the third most senior figure in the Jamaat-i-Islami party, could now be hanged within days for the slaughter at the so-called "Village of Widows".
Any execution is likely to fuel tensions in the troubled nation.
In a brief session at the Supreme Court, Chief Justice S.K. Sinha ruled that a review petition filed by Kamaruzzaman's lawyers had been dismissed and a death sentence passed in 2013 should stand.
The 62-year-old's only chance of avoiding the gallows will be if he is granted clemency by President Abdul Hamid.
Full report at:
http://www.dawn.com/news/1174287/bangladeshi-jamaat-loses-final-appeal-against-hanging
-----------
Europe
After denying admission to 700 Muslims, now UK sacks the 100 school teachers in extremist probe
Apr 06 2015
An estimated 100 Muslim teachers and teaching assistants in the UK are likely to be sacked from schools after an investigation into their alleged extremist Islamist views.
The UK's National College for Teaching and Leadership (NCTL) which can ban teachers from classrooms, is working on possible disciplinary cases against current and former staff members who are involved in pro Islamic activities at schools in Birmingham .
According to the 'The Sunday Times', the schools which saw efforts by hardline Islamists to take control of state schools are under high alert.
Allegations under investigation include claims that an al-Qaeda style video was copied at Park View Academy and that teachers punished children by making them kneel on tiles.
More than 50 Muslims who are working as a teaching assistant in schools across Birmingham also allegedly exchanged messages in a WhatsApp group which included homophobic remarks, offensive comments about British soldiers and discussion of segregating boys and girls.
Full report at:
http://www.siasat.com/english/news/after-denying-admission-700-muslims-now-uk-sacks-100-school-teachers-extremist-probe
-----------
Senior Muslim lawyer says British teenagers see Isis as 'pop idols'
Apr 06 2015
Hundreds of British teenagers are in danger of being radicalised by Islamic State (Isis) because they see the terrorists as "pop idols", the country's leading Muslim prosecutor has said.
Nazir Afzal believes that recent departures to Syria show that "many more children" are at risk of what he terms "jihadimania" than was previously thought.
"The boys want to be like them and the girls want to be with them," he said. "That's what they used to say about the Beatles and more recently One Direction and Justin Bieber. The propaganda the terrorists put out is akin to marketing, and too many of our teenagers are falling for the image.
"They see their own lives as poor by comparison, and don't realise they are being used. The extremists treat them in a similar way to sexual groomers – they manipulate them, distance them from their friends and families, and then take them."
Afzal, who has just stepped down as head of the Crown Prosecution Service in the north-west, said he fears that "another 7/7" could happen unless Britain introduces a community-led approach to counter-terrorism.
Full report at:
http://www.theguardian.com/world/2015/apr/05/senior-muslim-lawyer-says-british-teenagers-see-isis-as-pop-idols
-----------
Britain to sack teachers and assistants for 'propagating' extreme Islamist view in classrooms
Apr 06 2015
LONDON: As many as 100 teachers and assistants from schools across Britain are all set to get the sack for trying to propagate extremist Islamist views through both the curriculum and the way schools were run.
A "Trojan Horse" plot in Birmingham was unearthed that had put schools under pressure illegally to segregate classrooms and change teaching to reflect radical Islamic beliefs.
UK's National College for Teaching and Leadership (NCTL), the teachers' watchdog had confirmed "concerted Islamic efforts" to infiltrate at least six schools in Birmingham.
Ofsted also confirmed that its investigation had confirmed that attempts had been made to "alter their character in line with the Islamic faith", including side-lining parts of the curriculum and attempting to influence the appointment of Muslim staff.
Full report at:
http://timesofindia.indiatimes.com/world/uk/Britain-to-sack-teachers-and-assistants-for-propagating-extreme-Islamist-view-in-classrooms/articleshow/46816851.cms
-----------
Red Cross aid plane to Yemen held back by 'logistics problems'
Apr 06 2015
The Red Cross said April 6 that an aid plane is ready to leave for Yemen but its departure has been held back by logistics problems inside the war-torn country.
"We have a cargo plane with medical supplies which is ready to go," Sitara Jabeen, a spokeswoman for the International Committee of the Red Cross (ICRC) told AFP.
"We have the permission for this plane but we have logistical problems for the landing. There are less and less planes landing in Yemen. We are trying to solve the logistic problems," she added.
Full report at:
http://www.hurriyetdailynews.com/red-cross-aid-plane-to-yemen-held-back-by-logistics-problems--.aspx?pageID=238&nID=80631&NewsCatID=352
---------
Africa
Kenyan Warplanes Pound Al-Shabaab Terrorists' Camps in Somalia
Apr 06 2015
Kenyan fighter jets bombed positions of al-Shabaab terrorist group in neighboring Somalia on Monday, a military source said.
A senior military official, speaking on condition of anonymity, said that the warplanes had targeted two camps in the Gedo region, used by al-Shabaab to cross into Kenya, The Guardian reported.
This was Kenya's first response to an al-Shabaab assault which left 148 people dead at Garissa University last week.
President Uhuru Kenyatta had vowed to respond to the attack "in the severest way possible".
No further details of the operation were available at this stage.
http://english.farsnews.com/newstext.aspx?nn=13940117001058
-----------
Suicide car bomb near Libya's Misrata kills six
Apr 06 2015
The official media agency for Libya's milita-backed government says a suicide car bomb killed 6 people near the western city of Misrata. It says that the dead from yesterday's bombing included a mother and her two sons, and that 21 others were injured.
A security official from Misrata, speaking on condition of anonymity because he was not authorised to speak to journalists, says that most of the wounded were militiamen guarding a gate to the city, the apparent target of the attack. Militias from Misrata serve as a key power base for Libya's Tripoli-based government. Misrata has recently sent its militias to battle Islamic State—affiliated militants who control the central Libyan city of Sirte.
Libya has two rival governments claiming legitimacy as their allied militias fight across the country.
http://www.thehindu.com/news/international/suicide-car-bomb-near-libyas-misrata/article7072949.ece
-----------
Religious leaders unite in wake of Kenya university massacre
Apr 06 2015
GARISSA, Kenya (CNN) - Easter Sunday marked the start of three days of national mourning for the victims of the Garissa University massacre.
Earlier, the families of some of the 147 people killed identified the remains of their loved ones.
At a church service in Garissa, northern Kenya, even young girls are checked for explosives or hidden weapons.
Bishop Joseph Alessandro's church has been attacked before.
"Some people tried to get out and they realized there were grenades," he said. "One was thrown from that side and the other from in front."
At Garissa University, 147 people were killed after Christians were reportedly separated from Muslims.
Full report at:
http://www.wdam.com/story/28726487/religious-leaders-unite-in-wake-of-kenya-university-massacre
-----------
Ugandan President calls for joint efforts to fight terrorism in East Africa
Apr 06 2015
The President of Uganda, Yoweri Museveni, has called on East African countries to join efforts to fight terrorist forces in the region. In a media statement released by the presidency this past weekend, Museveni strongly condemned the attack on Garissa University in Kenya by Al Shabaab saying the threat of terrorism by extremist forces is a problem for the whole region. Museveni reassured the Kenyan government that they will stand together to tackle insurgency.
"Uganda will continue to work with Kenya and all other countries of the region to move forward the frontiers of peace and eliminate terrorism from our midst."
He further extended condolences to the families of the slain students.
"Our prayers are with the families of the people who were brutally murdered in this attack as well as those who were injured".
Full report at:
https://www.the-newshub.com/politics/museveni-calls-for-joint-efforts-to-fight-terrorism-in-east-africa
-----------
Christian students at Kenya's Garissa University foretold massacre
Apr 06 2015
Kitengela, Kenya: As Stanley Muli hid in a wardrobe from attacking Somalian militants last week, he wondered why the army was taking so long to arrive.
For two hours after the attack at 5.30am on Thursday, no one came to the rescue. Muli, listening to al-Shabab fighters searching rooms and killing terrified Garissa University College students, thought bitterly about how quickly the army had arrived in November to brutally put down a student protest over the lack of university security.
"I was just praying to God that the (army) would come," the 22-year-old said. "I was just thinking 'how come they have taken so long, because the barracks are near'."
In a town long known for violent extremist attacks, the campus of mainly Christian students was an obvious target in a predominantly Muslim area within striking distance of Somalia, 145 kilometres away. Students said they felt exposed - put in harm's way by the government itself.
Full report at:
http://www.smh.com.au/world/christian-students-at-kenyas-garissa-university-foretold-massacre-20150406-1mf11b.html
-------
Southeast Asia
'Editors' Hit Back Against Govt Ban on 'Radical' Websites
Apr 06 2015
Jakarta. Administrators of Islamic websites blocked by the government last week over alleged extremist content are planning to file suit against the National Counterterrorism Agency and Communications and Information Technology Ministry.
"We can use defamation articles in the Criminal Code because our websites are ideological, so the impact [of the ban] is wide," Mahladi, editor-in-chief of Hidayatullah.com, said during a public forum organized by the Alliance of Independent Journalists (AJI) in Jakarta on Sunday.
Hidayatullah.com is among 19 websites blocked briefly by the Communications Ministry last week for allegedly spreading radical Islamist ideologies. Others include Arrahmah.com, Voa-islam.com, Dakwatuna.com, Aqlislamiccenter.com, Eramuslim.com, Kiblat.net and Daulahislam.com.
A majority were back up on Wednesday following a wave of protests accusing the policy of being "Islamophobic."
Full report at:
http://thejakartaglobe.beritasatu.com/news/editors-hit-back-govt-ban-radical-websites/
-----------
Kelantan mufti: GST is part of social justice
Apr 06 2015
KOTA BARU: The Goods and Services Tax (GST) which has been implemented by the federal government is part of social justice, according to Kelantan mufti Mohamad Shukri Mohamad.
He said certain quarters had erred in claiming that the GST was not in line with Islamic teachings and that only "zakat" (tithe) was an acceptable tax.
"They think that tithe collection is the only way to develop the country, but they seem to have forgotten one thing – that zakat is to be distributed to asnaf (group entitled to receive tithe) and cannot be used to build roads or buildings.
"So, that's why the 106th National Fatwa Conference agreed that the implementation of the GST is 'harus' (permissible)," he told reporters at his office in Balai Islam Lundang here yesterday.
Full report at:
http://www.freemalaysiatoday.com/category/nation/2015/04/06/kelantan-mufti-gst-is-part-of-social-justice/
-----------
Malaysia arrests 17 in suspected terror plot: Police
Apr 06 2015
Malaysia's police chief said on Monday that 17 people, including two who recently returned from Syria, had been arrested on suspicion of plotting terror attacks in the capital Kuala Lumpur.
Authorities in the Muslim-majority country have expressed increasing alarm over the threat of Muslim militancy in the wake of the Islamic State (IS) group's bloody jihad in Syria and Iraq.
"Seventeen people were planning terror activities in Kuala Lumpur. Two of them had recently returned from Syria," national police chief Khalid Abu Bakar said in a Twitter posting.
Khalid said the arrests took place Sunday. No other details, such as the suspects' nationalities or specifics on what they had been plotting, were mentioned.
AFP was not immediately able to reach anti-terrorism officials for comment.
Malaysia has traditionally observed a moderate form of Islam, and authorities have kept a tight lid on militancy.
Full report at:
http://english.ahram.org.eg/NewsContent/2/9/126996/World/International/Malaysia-arrests--in-suspected-terror-plot-Police.aspx
--------
Police Believe Terrorist Leader Shot Dead in Central Sulawesi
Apr 06 2015
Jakarta. One of Indonesia's most wanted terror suspects is believed to have been killed in a gun battle with police in Central Sulawesi.
Police say they strongly suspect Daeng Koro, the right-hand man of East Indonesia Mujahidin (MIT) leader Santoso, was killed during a shootout in Parigi Moutong district on Friday.
"The terrorist who was shot dead in the shootout was highly suspected to be Daeng Koro," National Police spokesman Sr. Cmr. Rikwanto said, adding police would carry out DNA testing to confirm the man's identity.
Full report at:
http://thejakartaglobe.beritasatu.com/news/a-terrorist-suspect-shot-dead-in-in-central-sulawesi/
----------
North America
Philadelphia Clerics Call Controversy Over Anti-Muslim Bus Ads a Teaching Moment
Apr 06 2015
PHILADELPHIA (CBS) — A couple of days after anti-Islam advertisements began running on Septa buses, Philadelphia's religious leaders gave a measured response to the ads.
They suggested the messages, which Septa was forced to run after losing a court ruling, are an opportunity to better acquaint people with the Muslim religion.
The black-and-white posterboard ads state that Islamic hatred of Jews is "in the Quran," to which Imam Mohammed Abdul-Aleem (top photo) replies, "I invite you to read the Quran for yourself. If someone is saying the Quran teaches hate, we want them to show us that in the Quran."
Septa was forced to run the ads after losing a court battle to AFDI, a right-wing fringe group that sued Septa after the transit agency refused to run them.
Many clergy and civic leaders have denounced the ads, but Abdul-Aleem and others gathered today at Masjidullah, in Oak Lane, to focus on salvaging some good out of them.
Rabbi Nancy Kreimer says free speech sometimes has consequences, but the best remedy is to put out a counter message.
"So keep your voices up," she said. "Let's make a lot of noise and drown out the noise of the hate with noise of love."
http://philadelphia.cbslocal.com/2015/04/03/philadelphia-clerics-call-controversy-over-anti-muslim-bus-ads-a-teaching-moment/
-----------
One Direction fans furious as Bill Maher compares Zayn Malik to Boston bomber
Apr 06 2015
Bill Maher has ignited the fury of One Direction fans after comparing former member Zayn Malik to a terrorist.
The US comedian and host of Real Time with Bill Maher sparked outrage after showing a photo of the singer, who left the boyband earlier this month, alongside another of Boston Marathon bomber Dzhokhar Tsarnaev.
"I think after everything we've been through, I at least deserved the common respect of being told face to face," Maher said of Zayn's decision to quit the group in the "New Rule" segment of his show.
"Just tell me two things, Zayn. Which one in the band were you? And where were you during the Boston Marathon?"
Full report at:
http://www.independent.co.uk/news/people/zayn-malik-compared-to-boston-marathon-bomber-in-one-direction-joke-by-bill-maher-10156664.html
-----------
Obama: Iran nuclear deal 'once in a lifetime' opportunity
Apr 06 2015
U.S. President Barack Obama defended a framework nuclear agreement with Iran as a "once-in-a-lifetime opportunity" to prevent a bomb and bring longer-term stability to the Middle East. He insisted the U.S. would stand by Israel if it were to come under attack, but acknowledged that his pursuit of diplomacy with Tehran has caused strain with the close ally.
"It's been a hard period," Mr. Obama said in an interview with New York Times columnist Thomas Friedman. He added that it is "personally difficult" for him to hear his administration accused of not looking out for Israel's interests.
"We are powerful enough to be able to test these propositions without putting ourselves at risk," he said, citing his overtures to Cuba and Myanmar as other examples of his approach.
Mr. Obama argued that successful negotiations presented the most effective way to keep Iran from obtaining a nuclear weapon, but insisted he would keep all options on the table if Tehran were to violate the terms.
Full report at:
http://www.thehindu.com/news/international/obama-iran-nuclear-deal/article7073154.ece
-----------
URL: https://www.newageislam.com/islamic-world-news/new-age-islam-news-bureau/over-53-dead-in-clashes-in-yemen-s-aden/d/102308