New Age Islam News Bureau
27 Jun 2013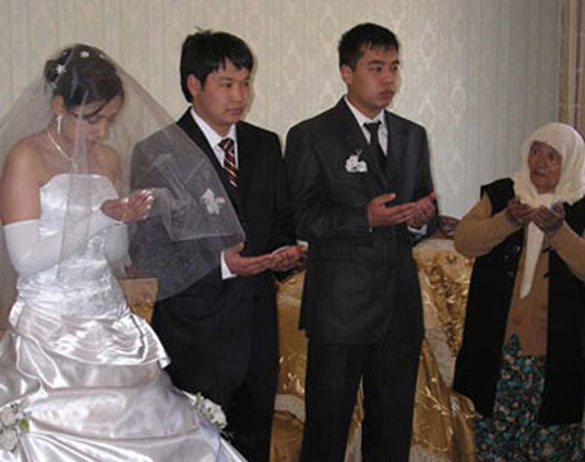 Photo: Inter-ethnic marriages more common in southern Kyrgyzstan
---------
Pakistan
• 'Our Schools Are Extremism Factories' say Academics and Activists
• 'Titanic of Muslim Ummah is sinking': MQM Chief
• Pakistan should hold talks with Taliban: Jamiat Ulema-i-Islam Chief
• Militants torch two containers in Mastung, two die in Kuchlak blast
• Bomb explosion near Quetta kills 2
• Barbaric customs: 'Honour' killing claims three lives in Swabi
• Video of kidnapped Czechs demands release of jailed Pakistani
• Pakistan to revive 'backdoor diplomacy' with India
• International Day Against Drug Abuse: 121 tonnes of narcotics destroyed
India
• Jamaat e Islami Starts "Let's Build an Islamic Household" Campaign
• Innocent, Falsely Implicated Muslim Youth Should Be Released: NCP Leader
• Muslims Express Grief over Uttarakhand Flood Tragedy, To Send Relief
• India's anti-terrorism system up to the mark, says world body
• Haryana cops to drop Persian, Urdu words from FIRs
• Reprieve for two Indians on death row in Kuwait
• IB officials under CBI scanner over Sadiq case too
• 'Release innocent Muslim youths in jail': Minorities Chairman
• Article 370 integral to J-K development: Omar Abdullah
• J&K: two intruders from PoK killed in Rajouri sector
• Asaduddin Owaisi takes exception to Israel envoy meeting DGP
Central Asia
• Inter-ethnic marriages more common in southern Kyrgyzstan
• Tajiks destroy Afghan smugglers' hide-out; repulse smugglers at border
• Tajiks find 63,000 hemp bushes in Sughd; seize 200kg drugs
Arab World
• Suicide bombing in Damascus Christian area kills 4
• Five dead in Iraq disputed territory
• Qatar's new leader criticized over cuddle with controversial cleric, Al Qaradawi
• 359 torture cases during Morsi's first year in power
• Syria accuses Saudi Arabia of being behind the uprising
• Egypt clashes over Morsi: 2 killed, 200 wounded
• Hezbollah-backed Syrian troops take control of second city in Homs
• Mursi: Political polarization in Egypt threatening democracy
• Islamists in UAE jails tortured: Rights groups
• Morsi military trials claims are false: Rights group
South Asia
• Uighur groups seek probe into Xingiang deaths
• 5 Taliban, 5 Afghan police killed in ambushes in western Afghanistan
• Mock tribunal protests custodial torture
• Police arrest GIP council member in Supreme Court Justice Sex tape scandal
Mideast
• Has Iran elected a cheater? Rowhani accused of PhD plagiarism
• Iran hands over 41 Pakistani deportees
• Iran's Khamenei says nuclear talks easy if enemy not stubborn
• Turkey seeks to tighten control over Twitter
• Israel forces arrest about 100 Palestinian laborers from Jenin
Africa
• Algeria to Unify Fatwas by creating Fatwa Authority
• Ten Killed in Clash between Somali Troops and Al-Shabaab
• Nigeria charges Hezbollah-linked Lebanese with terrorism
• International Effort Seeks to Counter Jihadists in Africa
• Nigeria Charges 3 Lebanese for Terrorism
• Sudan: Sla-Mm Rebels 'Kill Seven Sudan Troops' in North Darfur Battle
• Somalia: Top Al Shabaab Official Caught Days After Fleeing Infighting
Southeast Asia
• Terrorist cells cooking up liquid explosives
• Studies centre to unite Muslims, Malays
North America
• Canada charges former Qaeda unit leader Belmokhtar
• U.S. expects more Taliban attacks despite peace talks
• U.S. officials question Obama's decision to arm Syrian rebels
• U.S. military chief recommends bolstering Lebanon, Iraq forces
• Kerry says Syria unlike Libya, rules out military action
• Ecuador to 'responsibly' review Snowden asylum request
• US anti-Muslim bloggers banned from UK
• Man gets over 9 years jail term for hate crime against NYC cabbie
Europe
• In crisis-hit Athens, plans for a mosque reveal deep divisions
• Oxford grooming sex case: Five men jailed for life
• New French-backed Syrian radio promises independent voice
• U.N. envoy voices sectarian worry on leaving Iraq
• U.N. chemical weapons team in Turkey to investigate Syria claims
Compiled by New Age Islam News Bureau
URL: https://www.newageislam.com/islamic-world-news/new-age-islam-news-bureau/our-schools-are-extremism-factories-say-academics-and-activists/d/12321
------------
Pakistan
'Our Schools Are Extremism Factories' say Academics and Activists
June 27, 2013
LAHORE: The biases and prejudices in school textbooks are one of the main reasons for the radicalisation of young people and poor quality of education in Pakistan, said academics and civil society activists at a conference here on Wednesday.
"These are not textbooks as much as propaganda brochures which have closed off our children's minds," said Irfan Mufti of South Asia Partnership Pakistan, speaking at the conference on 'Biases in textbooks and education policy', organised by the National Commission for Justice and Peace (NCJP).
"Discrimination is a national issue and these discriminatory texts are a constant threat to our society," he said. "I believe that all the primary schools in our country are factories fuelling extremism in our children." Peter Jacob of the NCJP said that school textbooks painted non-Muslims as the enemy. "We want our teacher to tell our children that minorities or people from other religions or countries are not our enemies," he said.
"People here who used to deny that Pakistan was an extremist society no longer deny it after Gojra and the Asia Bibi and Rimsha [blasphemy] cases." Other speakers said that the best way to counter the extremism was through good teachers and good schools. "Educationists must play their role in changing minds through education. I believe our generation needs values more than anything else," said Dr Christy Munir, the principal of FC College.
"The only way we can become a progressive nation is to be an educated nation. We know that the only tool we have against extremism is education and if there is no education, there will be no peace," said Father Emmanuel Yousaf, a peace activist.
"There is a huge difference between early and current society. Everyone should respect the changes in society and one should not impose his or her beliefs on others," said Syed Nisar Safdar, a Supreme Court advocate and social activist.
The speakers said that current education and curriculum policy should be reviewed to remove discriminatory teaching materials and practices. Besides imparting knowledge, textbooks and teachers should focus on teaching students universal humanity and responsible citizenship. Religious education should be removed from public schools, or at least minority students should get an equal opportunity to study their own religion. And the role of religious minorities in the creation and development of Pakistan should be incorporated in the syllabus, the speakers said.
Around 100 people attended the event at Ambassador Hotel.
http://tribune.com.pk/story/568946/textbook-biases-our-schools-are-extremism-factories/
------------
'Titanic of Muslim Ummah is sinking': MQM Chief
Jun 27, 2013
LONDON: Muttahida Qaumi Movement (MQM) chief Altaf Hussain has regretted that the rulers have no knowledge of the ground realities, and they are still making false promises to the people. During a telephonic address to the MQM Coordination Committee members, Altaf said the 'Titanic' of the Muslims was sinking and that immediate steps should be taken before "the whole ship collapses, and eventually sinks".
He recalled the promises made to those on the Titanic, and said they were similar to those being made to the Pakistani population. "The bureaucrats and higher officials sitting on the upper decks of the ship have no idea that the ship is sinking. They are unaware of the water that has entered the lower ranks of the ship," Altaf said. He said that when the Titanic was sinking, the higher officials on the upper parts of the ship continued to indulge in their lavish lives of eating and drinking, whilst the lower parts of the ship were being destroyed. However, he said that sooner or later, the upper portion was destroyed as well, killing everyone that was onboard.
The MQM chief then gave an example of misleading information when the radio in West Pakistan stated that Pakistani armed forces were victorious on all fronts against the Indian forces in East Pakistan, while in reality, 93,000 Pakistani soldiers were laying down their arms before Indian forces at that time. "I hope they don't forget what I am saying today, terming it merely a story," he said. Altaf said that statements such as these were misleading the people, like they had been misled in the past. He said he would talk in detail about the ship's captain, those running the ship and other staff in his next address to the members of the MQM Coordination Committee.
http://www.dailytimes.com.pk/default.asp?page=2013\06\27\story_27-6-2013_pg1_3
------------
Pakistan should hold talks with Taliban: Jamiat Ulema-i-Islam Chief
AMIR WASIM
Jun 27, 2013
ISLAMABAD: Welcoming the initiation of Doha peace process, Jamiat Ulema-i-Islam (JUI-F) chief Maulana Fazl ur Rehman on Wednesday reiterated his desire that the Pakistan government should also hold talks with Taliban to bring peace and stability in the region.
"The use of force does not work all the time and in all situations," said the JUI-F chief while talking to a group of reporters after his meeting with a delegation headed by the Special Representative of United Nations (UN) Secretary General on Afghanistan Jan Kubis.
Answering a question, the JUI-F chief agreed that those who did not want to be part of the negotiations should be dealt with sternly, but at the same time called for finding out the forces obstructing talks when the national leadership had already decided and committed to holding talks with the Taliban.
He urged the international community and the US to pursue internal reconciliation to bring political stability in Afghanistan. "Internal reconciliation to bring political stability is much imperative so that after the withdrawal of the US in 2014, Afghanistan does not go back into civil war," he added. When asked about his party's alliance with the government, the JUI-F chief said the ruling Pakistan Muslim League-Nawaz (PML-N) was 100 per cent in agreement "with our priorities".
"Joining cabinet seems to be the priority of some reporters, and not that of the JUI-F," the Maulana said in a lighter tone in response to a question about the party's plan to join the federal cabinet.
The Maulana criticised the PTI-led coalition government of Khyber Pakhtunkhwa, alleging that the provincial government had appointed 14 ministers, five advisers and five special assistants with ministerial status in violation of the 18th Constitution Amendment.
Earlier, the special UN representative on Afghanistan Jan Kubis met the JUI-F chief and apprised him of the UN's efforts in the setting up of the Afghan Taliban's office in Doha (Qatar).
A statement issued by Jan Achakzai, the spokesman for Maulana Fazlur Rehman, said the UN representative had linked peace in Pakistan with peace in Afghanistan.
Mr Kubis said the UN would continue to be engaged with Pakistan and other regional countries for a lasting solution for peace and stability in Afghanistan.
He also dispelled the impression that Pakistan was being bypassed. He said the UN supported a more stable, secure and prosperous future for the people of Pakistan.
http://beta.dawn.com/news/1021117/pakistan-should-hold-talks-with-taliban-fazl
------------
Militants torch two containers in Mastung, two die in Kuchlak blast
SYED ALI SHAH
Jun 27, 2013
QUETTA: An alleged suicide bomber and a civilian were killed in a explosion in Kuchlak area of Quetta, the capital of Balochistan province on Thursday.
A police officer who requested not to be named since he was not authorised to speak to media told Dawn.com that a suspected suicide bomber was carrying a suicide jacket, when killed in a mysterious blast.
"The suicide bomber was coming to Quetta to cause maximum damage, when his own suicide jacket went off", he said.
Full report at:
http://beta.dawn.com/news/1021125/militants-torch-two-containers-in-mastung-two-die-in-kuchlak-blast
------------
Bomb explosion near Quetta kills 2
June 27, 2013
QUETTA: Two people were killed in Kachlak area near Quetta when a bomb planted in a mosque exploded, Express News reported on Thursday.
Police confirmed the incident.
One person sustained injuries in the attack and has been shifted to Quetta.
A bomb disposal squad (BDS) has been called in.
http://tribune.com.pk/story/569070/bomb-explosion-near-quetta-kills-2/
------------
Barbaric customs: 'Honour' killing claims three lives in Swabi
June 27, 2013
SWABI: In what seems to be a case of honour killing, Gul Rehan allegedly shot his daughter along with her husband and father-in-law in Chauta Lahor tehsil, Swabi in the early hours of Wednesday.
According to Chauta Lahor police official Fazal Malik, police were informed of a shootout in Bazaar Kallay at 3am. Later in the morning, Sabz Ali reported Gul Rehan, Mustafa and Yousaf, residents of Manki, allegedly barged into his house and opened fire at Rehan's daughter Shaista, Ali's brother Sadiq and father Abdur Rasheed, killing them on the spot.
Full report at:
http://tribune.com.pk/story/568741/barbaric-customshonour-killing-claims-three-lives-in-swabi/
------------
Video of kidnapped Czechs demands release of jailed Pakistani
Jun 27, 2013
PRAGUE: A video message on Wednesday purporting to show two Czech women hostages in Pakistan demanded the release of a Pakistani national jailed in the United States in return for their freedom.
Antonie Chrastecka and Hana Humpalova, both 24, were kidnapped in Pakistan in March. They speak in the video against a background of photographs of Aafia Siddiqui, a neuroscientist who was given an 86-year sentence by a US court in 2010 for shooting at FBI agents and soldiers in Afghanistan
The video showed close-ups of the two women's passports and a sign saying: "Our Demand is only: release Dr Aafia."
"We appeal to our families and our president and all Czech people and the European Union to make every effort for cooperation," Humpalova reads in the video, saying it was shot on April 16, a day after the Boston Marathon bombings.
Full report at:
http://www.dailytimes.com.pk/default.asp?page=2013\06\27\story_27-6-2013_pg7_4
--------
Pakistan to revive 'backdoor diplomacy' with India
June 27, 2013
ISLAMABAD: The federal government has decided to revive 'backdoor diplomacy' with India as part of efforts to normalise ties with its nuclear-armed neighbour.
A senior government official, who is engaged in foreign policy matters, told The Express Tribune that a retired diplomat will soon be appointed to pursue the normalisation process with India through the backchannel – which refers to negotiations which take place away from the public glare.
Full report at:
http://tribune.com.pk/story/568992/normalisation-process-govt-to-revive-backdoor-diplomacy-with-india/
------------
International Day Against Drug Abuse : 121 tonnes of narcotics destroyed
Jun 27, 2013
ISLAMABAD: Anti-Narcotics Force (ANF) has destroyed 121 tonnes narcotics at four different cities including Quetta, Karachi, Lahore and Islamabad, which includes 10.91 tonnes of heroin, 83.45 tonnes of hashish, 26.45 tonnes of opium and few other types of intoxicants and drugs. To commemorate the International Day Against Drug Abuse and Illicit Trafficking, a drug burning ceremony was organised by Anti-Narcotics Force on Wednesday.
ANF Director General Major General Malik Zafar Iqbal, high ranking officials from Law Enforcement Agencies, civil administration, diplomats of some countries, media representatives, social workers and representatives of NGOs were also present on the occasion.
Full report at:
http://www.dailytimes.com.pk/default.asp?page=2013\06\27\story_27-6-2013_pg11_6
------------
India
Jamaat E Islami Starts "Let's Build an Islamic Household" Campaign
26 Jun 201
Bhatkal: Jamat e Islami Hind (Bhatkal division) has started a new campaign to revive the Islamic ethical and practical values among the Muslim households. The campaign, which is currently underway in the state, was started in Bhatkal on Monday by Maulana Ahmed Siraj Umri Qasmi (Principal, Riyaz-ul-Uloom Hubli and TV speaker)
Addressing the audience after inaugurating the campaign, Maulana Siraj Qasmi said that only an Islamic way of house life will ensure that no family member is downtrodden or oppressed. Explaining the benefits of an Islamic way of life Maulana stressed on the importance of bringing up kids on an Islamic way. Stressing on the importance of education, Maulana Siraj said that the current education system is corrupting the children's minds and their mind set is being molded to believe that they are primates and slaves of carnal desires. The advent of internet is doing nothing but ensnaring our children in the net of immodesty and evil. To tackle this, We need to educate and bring up our children on Islamic teachings." " We need to construct schools where we can educate our children on purely Islamic basis to ensure that they are saved from the un Islamic way of education. Apart from that, home environment also plays an important role in determining the child's future. The parents should also observe Islamic rules in their lives." he added.
Full report at:
http://www.sahilonline.org/english/newsDetails.php?cid=1&nid=18920
------------
Innocent, Falsely Implicated Muslim Youth Should Be Released: NCP Leader
New Age Islam News Bureau, June 27, 2013
Mumbai (India): The former Chairman of Maharashtra Minority Commission and the General Secretary of Nationalist Congress Party, Naseem Siddiquee demanded that the innocent Muslim youth arrested under false terror charges should be released with due respect. Speaking to the media persons, he said that the investigation of the NIA had made it clear that the Muslim youth arrested were innocent and the Hindu extremist organisations were involved in the Malegaon bomb blasts. He therefore demanded that the government should form an SIT under the NIA and take action against the erring officials. He said that the ATS, the crime branch and other investigative agencies falsely implicated Muslim youth and sent them behind bars for five years where they faced torture, humiliation and stigma.
------------
Muslims Express Grief over Uttarakhand Flood Tragedy, To Send Relief
New Age Islam News Bureau, June 27, 2013
New Delhi: Jamiat-e-Ulema Hind, Rampur unit held a meeting and expressed condolence and grief over the victims of the flood tragedy in Uttarakhand. It also resolved that a meeting of the traders would be held and funds and relief would be sent to the Prime Minister's relief fund. The Chairman of the municipality of Tanda, Mahmudul Zafar Rahmani said that a delegation of Ulema had gone to Uttarakhand to take stock of the situation and was carrying out relief work there. The speakers in the meeting also praised the good work done by the senior armed personnel and army Jawans in the relief and rescue work.
In other meeting in Sambhal, Muslims held a condolence meeting and prayed for the Kedarnath flood victims. Addressing the victims, Maulana Tanweer Hussain Ashrafi said that no religion preached hatred and instead preached love and compassion. Taking a leaf out of the life of the holy prophet (pbuh), he said that he (pbuh) suffered many humiliation and persecution during the propagation of his religion but when his enemies went through bad days and natural calamity, the prophet (pbuh) provided them relief ignoring the enmity. Therefore, he said that in this time of crisis, the Muslims should come forward to help their non-Muslim brethren.
President of APCR, Hakeem Md Subhan said that the followers of Islam are broadminded and said that once there was a drought in Makkah. The prophet pbuh collected food grains and distributed them among his enemies too. He pbuh did not think that since they were his enemies, he pbuh would not help him. Therefore, every Muslim should help humanity in times of such calamities like in Kedarnath. He said that some of us were heard asking why we should bother about that but the president of Manav Vikas Jan Samiti, Farouque Jamal said that the calamity that befell on Kedarnath was a wrath of the nature and it has held a mirror to us to take lessons and think that God is perhaps not happy with us. So we should do introspection and try to mend our ways. Congress leader Maulana Md Suhail said that Kedarnath tragedy was a great loss to the nation and we should help our brethren without any bias.
------------
India's Anti-Terrorism System up To the Mark, Says World Body
New Age Islam, June 27, 2013
New Delhi: The world organisation, Financial Action Task Force (FATF) has praised India's efficacy in dealing with money laundering and supply of funds to the terrorists. In a statement released by the FATF, it said that India had removed its flaws to a great extent and was working at par with the international standards. FATF is a global organisation of countries. It formulates laws to help governments to prevent the use of banking system for money laundering and transfer of funds to terrorists and promotes and strengthens those laws. Seeing the considerable improvement of India in this regard has made FATF to strike off the list of countries under watch to see whether they were following the laws and standards set to prevent money laundering and aid to terrorists. India hopes that this decision will help it get more help and co-operation from the international bodies in taking steps to prevent the flow of illegitimate and black money.
In its report, the FATF said that it has understood that India has paid attention to the underlined flaws in its mutual report (June 2010) and so it had removed india from the list of the countries under surveillance. During the last three years, India had implemented reforms during the last three years which helped it remove the flaws in preventing terrorist funding and money laundering, the report said.
------------
Haryana cops to drop Persian, Urdu words from FIRs
Anita Singh, TNN | Jun 27, 2013
KARNAL: In an effort to simplify Daily Diary Reports and First Information Reports for the common man, Haryana police has decided to do away with archaic and difficult words and phrases from the Persian and Urdu languages.
These words and phrases have been in use in Haryana since the pre-Independence period when it was a part of the undivided Punjab.
Words like 'muddayi (complainant), muddala (accused), 'tameel' (execution), aala-e-qatal (murder weapon), taftish (investigation), daryaft (plea), hasab jabta (as per law), 'missal' (file), 'tarmeem' (amendment) and ishtgassa (petition), to name a few, baffle the complainants when they are handed their copy of the FIR.
Full report at:
http://timesofindia.indiatimes.com/india/Haryana-cops-to-drop-Persian-Urdu-words-from-FIRs/articleshow/20788821.cms
------------
Reprieve for two Indians on death row in Kuwait
ATUL ANEJA
Jun 27, 2013
Timely intervention by the Indian embassy and an agreement to pay blood money to the relatives of an alleged murder victim saved the lives of two Indians who were on death row in Kuwait, on Wednesday.
Suresh Shanmugasundaram and Kalidas Chellaiyan, hailing from Chennai, were arrested in 2008, along with a Sri Lankan national, for the murder of a Lankan woman, Sitheek Masudah. Diplomatic sources said the Indian Embassy in Kuwait had provided the accused a lawyer, but the two were convicted and awarded the death penalty in March 2009. A month later, a higher appeals court upheld the sentence.
Full report at:
http://www.thehindu.com/news/international/world/reprieve-for-two-indians-on-death-row-in-kuwait/article4853953.ece
------------
IB officials under CBI scanner over Sadiq case too
Pranab Dhal Samanta
Jun 27 2013,
New Delhi : After the Ishrat Jahan controversy, the 2003 Sadiq Jamal Mehtar fake encounter case has landed at the doorstep of the Intelligence Bureau, with the CBI recently questioning two IB officials for their alleged role in "handing over" Sadiq to the Gujarat police.
While the CBI has maintained that it would probe the IB angle in the case, the investigation had largely revolved around the Gujarat Police and those involved in the encounter. Here again, doubts were raised on the intelligence input that Sadiq may have been plotting the assassination of Gujarat Chief Minister Narendra Modi.
Full report at:
http://www.indianexpress.com/news/ib-officials-under-cbi-scanner-over-sadiq-case-too/1134520/
----------
'Release innocent Muslim youths in jail': Minorities Chairman
Abantika Ghosh
Jun 27 2013
New Delhi: Expressing concern over innocent Muslim youths in jail in connection with the 2006 Malegaon blast case and the 2010 Pune German Bakery case, National Commission of Minorities Chairman Wajahat Habibullah has written to Prime Minister Manmohan Singh, Law Minister Kapil Sibal and UPA chairperson Sonia Gandhi.
He urged them to withdraw the CBI chargesheets against the accused in the Malegaon blast case whose names don't figure in the latest NIA chargesheet. He has sought reopening of the probe into the Mumbai train blasts and the German Bakery case and urged the government to refrain from opposing the alleged accused Himayat Beg's appeal against his death sentence.
Full report at:
http://www.indianexpress.com/news/-release-innocent-muslim-youths-in-jail-/1134516/
----------
Article 370 integral to J-K development: Omar Abdullah
Jun 27 2013
Banihal : Days after senior BJP leader L K Advani raked up the demand for repeal of Article 370 that confers special status on Jammu and Kashmir, Chief Minister Omar Abdullah said on Wednesday that Article 370 is integral to the state's development.
He said that those wanting to dilute Article 370 and weaken Kashmir's link with the rest of the country would face dire consequences.
Full report at:
http://www.indianexpress.com/news/article-370-integral-to-jk-development-omar-abdullah/1134513/
----------
J&K: two intruders from PoK killed in Rajouri sector
June 27, 2013
Two intruders, apparently militants, from Pakistan were killed on Wednesday in an encounter with the army at a place 30 km from Rajouri against the backdrop of sustained firing from Pakistan-occupied Kashmir.
"Troops detected the movement of two-three intruders through surveillance equipment. The intruders, after crossing the line of control (LoC), were heading towards the fence at about 11am on Wednesday, when they were challenged and killed by our soldiers," said SN Acharya, officiating public relations officer, defence, in Jammu.
Full report at:
http://www.hindustantimes.com/India-news/jandk/J-amp-K-two-intruders-from-PoK-killed-in-Rajouri-sector/Article1-1083053.aspx
------------
Asaduddin Owaisi takes exception to Israel envoy meeting DGP
Jun 27, 2013
Majlis-e-Ittehad ul Muslimeen president and Hyderabad Member of Parliament Asaduddin Owaisi on Wednesday took exception to Israel Ambassador Alon Ushpiz meeting Andhra Pradesh Director General of Police V. Dinesh Reddy the previous day.
"Logically, the diplomat had met the police chief instead of Chief Minister N. Kiran Kumar Reddy or Governor E.S.L. Narasimhan or industrialists during his visit to Hyderabad on Tuesday" he said.
Full report at:
http://www.thehindu.com/news/national/andhra-pradesh/asad-takes-exception-to-israel-envoy-meeting-dgp/article4856635.ece
---------
Central Asia
Inter-ethnic marriages more common in southern Kyrgyzstan
Marriages demonstrate tolerance in the region.
By Bakyt Ibraimov
2013-06-26
OSH – The number of inter-ethnic couples is growing in Osh and the adjacent regions, Kyrgyz authorities say, as the marriages are gaining more and more support in society, they added.
"This positive tendency strengthens inter-ethnic relations and has a positive influence on the process of building peace after the June 2010 events [ethnic riots that killed more than 400 people in the south]," Gulmira Erkulova, chief of the Social and Cultural Development Department in the Osh mayor's office, told Central Asia Online.
To encourage inter-ethnic harmony, Osh throughout 2011 gave one-time cash awards of 100,000 KGS (about $2,000) to young couples comprising ethnic Kyrgyz and Uzbek spouses.
"[We] made payments to couples marrying for the first time and possessing a local residence permit," Erkulova said. The number of inter-ethnic marriages in Osh has been growing every year since the riots, Uriya Kurmanaliyeva, chief specialist of the Osh Office of Vital Statistics, told Central Asia Online.
Full report at:
http://centralasiaonline.com/en_GB/articles/caii/features/main/2013/06/26/feature-01
------------
Tajiks destroy Afghan smugglers' hide-out; repulse smugglers at border
2013-06-26
DUSHANBE – Tajik security forces in Shuroabad District, Khatlon Oblast, June 25 found a cave that Afghan smugglers used to store drugs, food, clothes, communications equipment and animal hides, media reported June 26, citing the State National Security Committee (GKNB).
The cave contained more than 24kg of cannabis and the hides of rare mountain sheep, RIA Novosti reported the GKNB as saying.
In a separate operation in Shuroabad District, Tajik forces recently repulsed an attempt by Afghan smugglers to enter Tajikistan, RIA Novosti added.
The smugglers escaped back into Afghanistan and Tajik forces recovered 21.5kg of cannabis from the battle site.
http://centralasiaonline.com/en_GB/articles/caii/newsbriefs/2013/06/26/newsbrief-03
------------
Tajiks find 63,000 hemp bushes in Sughd; seize 200kg drugs
2013-06-26
DUSHANBE – Tajik police carrying out the six-month-long anti-drug Operation Kuknor (Poppy)-2013 June 24 found more than 63,000 wild-growing hemp bushes in Sughd Oblast, AsiaPlus.tj reported June 25, citing the Interior Ministry (MVD).
Also, the Drug Control Agency (AKN) has seized more than 200kg of drugs in the past three days, CA-News.org reported June 26, citing the AKN.
The drugs included 50kg of hashish in Khujand and 152kg of raw opium in Gorno-Badakhshan Autonomous Oblast. Both operations were part of Operation Kuknor-2013, which runs May 20 through November 30.
http://centralasiaonline.com/en_GB/articles/caii/newsbriefs/2013/06/26/newsbrief-04
------------
Arab World
Suicide bombing in Damascus Christian area kills 4
27 June 2013
A suicide bomb attack in a Christian area in the heart of the Syrian capital on Thursday killed at least four people, state television said.
"A terrorist suicide bombing... in Damascus has left four people dead and several others wounded," the broadcaster said.
The Syrian Observatory for Human Rights confirmed the toll.
"A suicide bomber detonated his explosives near the Mariamite church," said the Britain-based watchdog, referring to an order of the Maronite church.
"According to preliminary reports, four people were killed and several others wounded," it added.
http://english.alarabiya.net/en/News/middle-east/2013/06/27/Suicide-bombing-in-Damascus-Christian-area-kills-4-.html
---------
Five dead in Iraq disputed territory
26 Jun 2013
A series of attacks killed five people in northern Iraq on Wednesday, all of them in a swathe of disputed territory where diplomats fear tensions could spill over into all-out armed conflict.
The violence struck in and around the ethnically mixed cities of Kirkuk and Tuz Khurmatu, which lie at the centre of a tract of land stretching from Iraq's eastern border with Iran to its western frontier with Syria.
Kurdistan wants to incorporate the area into its three-province autonomous region over the objections of the central government in Baghdad.
Full report at:
http://english.ahram.org.eg/NewsContent/2/8/75027/World/Region/Five-dead-in-Iraq-disputed-territory.aspx
---------
Qatar's new leader criticized over cuddle with controversial cleric, Shaikh Yousuf Al Qaradawi
26th, 2013
The old man was assisted by an aide as he walked up to the former and new emirs of Qatar to offer his congratulations on the peaceful transition at the top of the state and the hand-over of power.
The Emiri Court in Doha was filled with well-wishers, but Shaikh Yousuf Al Qaradawi was taken directly to Shaikh Hamad Bin Khalifa Al Thani and Shaikh Tamim Bin Hamad Al Thani, the outgoing emir and the new emir.
The father promptly moved forward and kissed the frail-looking man in a gesture that indicated the deep trust the two men have developed over the years. The scholar then moved to the son, 33, the youngest ruler of an Arab country. Shaikh Tamim planted a kiss on Al Qaradawi's head and then his shoulder.
Full report at:
http://www.albawaba.com/editorchoice/you-may-not-kiss-emir-qatars-new-leader-criticized-over-cuddle-controversial-cleric-502
---------
359 torture cases during Morsi's first year in power
Rana Muhammad Taha / June 26, 2013
Three-hundred and fifty-nine torture cases have been recorded since President Mohamed Morsi became president in June 2012, according to an annual report by Al-Nadeem Centre for Rehabilitation of Torture Victims.
The report was released Wednesday to mark the International Day Against Torture and provided a detailed list of torture cases in Egypt over the past year.
According to the report, 76 torture cases occurred from June to December 2012, with 28 cases in January, 62 in February, 91 in March, 49 in April and 47 cases in May.
The report also cited 217 cases of fatal torture during the last year. Among the 217, 56 occurred between June and December 2012, with 68 cases in January, 30 in February, 25 in March, 24 in April and 11 in May.
Full report at:
http://www.dailynewsegypt.com/2013/06/26/report-359-torture-cases-during-morsis-first-year-in-power/
------------
Syria accuses Saudi Arabia of being behind the uprising
26 June 2013
Syria has lashed out at Saudi leaders, accusing them of being behind the country's more than two-year armed uprising, according to statements published on Wednesday.
"The violence in Syria is being caused by Saudi arms, Saudi money and terrorists linked to Saudi Arabia," said Information Minister Omran al-Zohbi.
Zohbi also said Saudi Foreign Minister Prince Saud al-Faisal had "Syrian blood on his hands."
On Tuesday, the prince said during a joint news conference with U.S. Secretary of State John Kerry that his country would help the rebels defend themselves.
Full report at:
http://english.alarabiya.net/en/News/middle-east/2013/06/26/Syria-accuses-Saudi-Arabia-of-being-behind-the-uprising.html
------------
Egypt clashes over Morsi: 2 killed, 200 wounded
27th, 2013
At least two people were killed and 200 wounded on Wednesday after clashes between supporters and opponents of Egyptian President Mohamed Mursi, security and health officials said.
Al Arabiya's Cairo office reported that the 52-year-old man who died during the fighting in the coastal city of Mansoura, north of the Capital, is affiliated with the Muslim Brotherhood.
Witnesses heard gunfire and state television showed a man in hospital with birdshot wounds.
Violence erupted when Mursi's opponents pelted supporters of the president with garbage outside a mosque where they had gathered to stage a pro-regime march.
Full report at:
http://www.albawaba.com/news/egypt-clashes-over-morsi-2-killed-200-wounded-502500
------------
Hezbollah-backed Syrian troops take control of second city in Homs
26 June 2013
The Syrian army, backed by Hezbollah, the Lebanese Shiite group, declared victory over a second city in the central province of Homs, Al Arabiya television channel reported on Wednesday.
Tal Kalakh, three kilometers from the Lebanese border, has become the second city to fall under the control of the Syrian regime.
Earlier in June, the Syrian regime declared control of the strategic town of Qusayr, close to the border with Lebanon.
Meanwhile, pro-Syrian regime websites circulated video footage of soldiers patrolling the town in armored cars and on foot, Reuters reported.
"Terrorist groups infiltrated and terrorized the local people," Reuters quoted an army officer as saying in the video.
Full report at:
http://english.alarabiya.net/en/News/middle-east/2013/06/26/Hezbollah-backed-Syrian-troops-take-control-of-second-city-in-Homs.html
------------
Mursi: Political polarization in Egypt threatening democracy
27 June 2013
Political polarization in Egypt is threatening the country's democracy, President Mohammed Mursi said Wednesday ahead of planned mass protests on June 30 by opposition forces.
"Political polarization and conflict has reached a stage that threatens our nascent democratic experience and threatens to put the whole nation in a state of paralysis and chaos," Reuters reported Mursi as saying.
Full report at:
http://english.alarabiya.net/en/News/middle-east/2013/06/27/Mursi-Political-polarization-in-Egypt-threating-democracy-.html
------------
Islamists in UAE jails tortured: Rights groups
27 Jun 2013
Islamists detained in the United Arab Emirates for allegedly plotting to overthrow the regime have been subjected to systematic mistreatment including torture, three human rights groups said on Thursday.
Ninety-four Islamists who are members or supporters of Al-Islah group linked to the Muslim Brotherhood are on trial in the UAE and expecting a verdict on July 2 from the Court of State Security.
In a joint statement, Human Rights Watch, Amnesty International and Alkarama said they received 22 handwritten letters sent by some of the detainees citing "systematic mistreatment and torture".
Full report at:
http://english.ahram.org.eg/NewsContent/2/8/75085/World/Region/Islamists-in-UAE-jails-tortured-Rights-groups.aspx
---------
Morsi military trials claims are false: Rights group
Thursday 27 Jun 2013
The 'No to Military Trials' campaign has criticised President Morsi for claiming no civilians were tried by military courts during his first year in office.
"He claimed no civilians stood trial in military courts during his first year in office – this is untrue," campaign co-founder Mona Seif said via Twitter after the speech on Wednesday night.
Seif added that she had received calls from relatives of detainees after the speech asking her if their loved ones had been released.
Full report at:
http://english.ahram.org.eg/NewsContent/1/64/75075/Egypt/Politics-/Morsi-military-trials-claims-are-false-Rights-grou.aspx
---------
South Asia
Uighur groups seek probe into Xingiang deaths
Jun 27, 2013
Two Uighur exile groups on Thursday urged an independent investigation of the death of 27 people in China's far western region of Xinjiang.
Chinese state media said at least 27 people died after attacks on police stations, a local government building and a construction site early Wednesday in Xinjiang's Lukqun township, some 250 kilometres south-east of the regional capital, Urumqi.
Police "opened fire and shot dead 10 rioters" after the assailants had "stabbed at people and set fire to police cars," killing 17 people, reports quoted regional officials as saying.
Some state media called the attacks a "terrorist incident," but the reports gave few details of the violence, while the local and central governments made no statement on the attacks.
http://www.thehindu.com/news/international/world/uighur-groups-seek-probe-into-xingiang-deaths/article4856528.ece
------------
5 Taliban, 5 Afghan police killed in ambushes in western Afghanistan
AP | Jun 27, 2013
KABUL, Afghanistan: Authorities say Taliban fighters ambushed a national police patrol in western Afghanistan, killing a commander and four of his men.
Herat province police spokesman Abdul Raouf Ahmadi said Thursday that Taliban fighters were believed to have been killed in the overnight attack, but that it was too dark to find any bodies.
Full report at:
http://timesofindia.indiatimes.com/world/middle-east/5-Taliban-5-Afghan-police-killed-in-ambushes-in-western-Afghanistan/articleshow/20794207.cms
------------
Mock tribunal protests custodial torture
Syed Shoeb Bangladesh
Jun 27, 2013
A mock tribunal on Wednesday strongly criticised the unlawful practice of torturing detainees by law enforcers, resulting in the persecution of innocent people, and even death, in police custody.
The symbolic "tribunal against torture" was organised by Odhikar, a rights group, in association with the European Union at the BIAM auditorium in the city.
Law enforcement personnel, in clear violation of existing laws, regularly detain people and torture them to extort cash, the tribunal observed after hearing testimonies from torture victims and their relatives.
Moni Begum, from Chittagong, narrated how she was subjected to police brutality, while the relatives of three other victims, two of whom were reportedly tortured to death, testified on their behalf.
Full report at:
http://www.dhakatribune.com/bangladesh/2013/jun/27/mock-tribunal-protests-custodial-torture
------------
Police arrest GIP council member in Supreme Court Justice Sex tape scandal
By Ahmed Naish | June 27th, 2013
A council member of President Dr Mohamed Waheed's Gaumee Ihthihaad Party (GIP) and Project Advisor at the Housing Ministry, Ahmed Faiz, has been arrested and placed under remand detention for 15 days, police have confirmed.
According to local media reports, the former Maldives Broadcasting Corporation (MBC) Managing Director and Deputy CEO of the Maldives Ports Limited (MPL) was arrested on Tuesday while trying to sell a sex tape of a Supreme Court Justice.
The Criminal Court on Wednesday afternoon (June 26) granted an extension of 15 days for Faiz's detention.
Full report at:
http://minivannews.com/politics/police-arrest-gip-council-member-ahmed-faiz-in-supreme-court-judge-sex-tape-scandal-60348
---------
Mideast
Has Iran elected a cheater? Rowhani accused of PhD plagiarism
27 June 2013
Excerpts of newly-elected President Hassan Rowhani's Phd thesis, 'The flexibility of Sharia with reference to the Iranian experience', match sentences of a book written by an Iranian author, The Telegraph reported citing activists.
Parts of a book by Mohamad Hashem Kamani, the chairman of Iran's International Institute of Advanced Islamic Studies, appear in Rowhani's Glasgow Caledonian University thesis, London-based writer Behdad Morshedi said.
Full report at:
http://english.alarabiya.net/en/variety/2013/06/27/Has-Iran-elected-a-cheater-Rowhani-accused-of-PhD-plagiarism.html
---------
Iran hands over 41 Pakistani deportees
Jun 27, 2013
CHAGHAI: Iranian security forces handed over 41 Pakistani nationals to Levies force on the Pak-Iran border in Taftan, Chaghai District, late on Tuesday. According to Levies force, the Pakistani workers had been arrested by Iranian security forces because they did not have valid travelling documents. Levies force has conduced initial interrogation from the deportees and they would not be handed over to the Federal Investigation Agency (FIA) for further questioning.
http://www.dailytimes.com.pk/default.asp?page=2013\06\27\story_27-6-2013_pg7_7
-----------
Iran's Khamenei says nuclear talks easy if enemy not stubborn
26 June 2013
Reuters, Dubai
Iran's Supreme Leader Ayatollah Ali Khamenei said on Wednesday the dispute over the Islamic Republic's nuclear program could easily be resolved if the West were to stop being so stubborn.
While accusing the West of being more interested in regime change than ending the dispute, Khamenei did express a desire to resolve an issue which has led to ever tighter sanctions on Iran's oil sector and the wider economy.
"Some countries have organized a united front against Iran and are misguiding the international community and with stubbornness do not want to see the nuclear issue resolved," Khamenei's official web site quoted him as saying.
Full report at:
http://english.alarabiya.net/en/News/middle-east/2013/06/26/Iran-s-Khamenei-says-nuclear-talks-easy-if-enemy-not-stubborn.html
------------
Turkey seeks to tighten control over Twitter
27 June 2013
The Turkish government has asked Twitter to set up an office inside the country so company representatives can be reached more easily.
Both Twitter and Facebook were used to spread information during recent anti-government protests.
Several dozen tweeters were arrested following the protests, according to local media reports.
Turkish Prime Minister Recep Tayyip Erdogan has previously described Twitter as a "scourge".
On Thursday, Transport and Communications Minister Binali Yildrim said: "When information is requested, we want to see someone in Turkey who can provide this.
Full report at:
http://www.bbc.co.uk/news/technology-23079607
---------
Israel forces arrest about 100 Palestinian laborers from Jenin
June 27, 2013
RAMALLAH — The Palestinian Labor Union Wednesday said the Israeli occupation forces arrested some 100 of Palestinian laborers near the West Bank city of Jenin for unknown reasons.
The union said that some seventy Israeli military vehicles arrive at Barta'a Al-Sharqiyeh village, to the west of Jenin, and declared it a closed military zone before launching the arrest campaign. The Israeli separation wall divided Barta'a to two parts: Barta'a Al-Sharqiyeh on the Palestinian side and Barta'a Al-Gharbiyeh on the Israeli side.
Full report at:
http://www.saudigazette.com.sa/index.cfm?method=home.regcon&contentid=20130627171406
---------
Africa
Algeria to Unify Fatwas by creating Fatwa Authority
BY WALID RAMZI
Jun 27, 2013
Algiers — Algeria is considering creating an official fatwa authority to adopt formal positions on issues that divide Islamic scholars.
"This body would be a specialised fiqh authority, like what we see in the Organisation of Islamic Co-operation, at al-Azhar or in scientific bodies in the holy land," Religious Affairs Minister Bouabdallah Ghlamallah said.
Last Thursday (June 13th), Ghlamallah headed up a meeting to issue a fatwa about the government's decision to exempt from interest small bank loans given to young people.
University professors, imams and economic experts attended the meeting, which came in the wake of differences among clerics who supported and opposed the loans.
The minister said he hoped to prepare a unified fatwa for young people and those who deal with banks that provide such loans.
Full report at:
http://allafrica.com/stories/201306200747.html?viewall=1
------------
Ten Killed in Clash Between Somali Troops and Al-Shabaab
Jun 27, 2013
Somali government troops battled al-Shabaab militants outside Baidoa Tuesday (June 25th), leaving 10 people dead and 15 injured, Somalia's Garowe Online reported.
The clash erupted after al-Shabaab ambushed a government convoy moving between the town of Qansah Deere and the Bay region capital Baidoa.
"[Al-Shabaab] attacked us with rocket-propelled grenades and other artillery and two of our forces were killed and six other injured," said Somali National Army Colonel Hassan Ishaaq Omar Baidoa.
Baidoa said government forces killed many al-Shabaab militants in the battle, causing the others to flee. Al-Shabaab took responsibility for the attack on Twitter, saying they killed nine and injured a dozen.
http://allafrica.com/stories/201306270172.html
---------
Nigeria charges Hezbollah-linked Lebanese with terrorism
26 June 2013
Nigeria on Wednesday charged three Lebanese nationals allegedly linked to the militant Shiite movement Hezbollah with terrorism related offences.
Five Lebanese nationals were implicated last month after a huge cache of arms and ammunition was found in their premises in the northern city of Kano and the capital Abuja.
Three of them -- Mustapha Fawaz, aged 49, Abdallah Thahini, 48 and Talal Ahmad Roda, 51 -- were hit with a six-count charge of terrorism, while a fourth suspect was freed and the fifth was said to be on the run.
Full report at:
http://english.alarabiya.net/en/News/middle-east/2013/06/26/Nigeria-charges-Hezbollah-linked-Lebanese-with-terrorism-.html
------------
International Effort Seeks to Counter Jihadists in Africa
By ERIC SCHMITT
Jun 27, 2013
ORAN, Algeria — This fall, the United States and Niger will bring together in that West African nation police officers, customs inspectors and other authorities from a half-dozen countries in the region to hone their collective skills in securing lightly guarded borders against heavily armed traffickers and terrorists.
Denmark has already forged a partnership with Burkina Faso to combat violent extremism, and backed it up with a war chest of $22 million over five years aimed at stifling the root causes of terrorism before they can bloom.
Full report at:
http://www.nytimes.com/2013/06/27/world/africa/nations-focus-antiterrorism-efforts-on-west-and-north-africa.html
------------
Nigeria Charges 3 Lebanese for Terrorism
BY HEATHER MURDOCK, 26 JUNE 2013
After more than 40 days in jail, three Lebanese men were charged with six counts of terrorism-related crimes in a Nigerian court Wednesday. The defense argued that the first charge, membership in Hezbollah is not a crime in Nigeria, rendering the rest of the charges baseless.
The three men stood on a raised platform stoically while the charges were read into a microphone. A fourth man accused on similar charges, is "at large", according to authorities.
To each charge each man quietly replied, "not guilty."
First, they were accused of being members of Hezbollah, a Lebanese political party that has a formidable military. Hezbollah is also considered a terrorist organization in the United States and Israel.
Full report at:
http://allafrica.com/stories/201306270591.html
------------
Sudan: Sla-Mm Rebels 'Kill Seven Sudan Troops' in North Darfur Battle
26 JUNE 2013
Birka — Members of the Sudan Liberation Army-Minni Minawi (SLA-MM) claim to have killed seven soldiers of the Sudan Armed Forces (SAF) during a battle on Tuesday in North Darfur.
SLA-MM spokesman Adam Saleh Abkar said the clashes took place at 12:00pm in the Birka area, near El Fasher and Tawila. Rebels are said to have also seized four Land Cruisers mounted with Dushkas.
Full report at:
http://allafrica.com/stories/201306261027.html
------------
Somalia: Top Al Shabaab Official Caught Days After Fleeing Infighting
26 JUNE 2013
Adaado — Al Shabaab official Hassan Dahir Aweys - on the US most wanted terrorist list - has been reportedly captured in the town of Adaado on Wednesday after fleeing Al Shabaab infighting in southern Somalia, Garowe Online reports.
Local sources told GO that at first a group of armed pirates captured the Al Shabaab leader in the Himan and Heeb area in Galgudud region. The former Hizbul Islam Chief, Hassan Dahir Aweys was making his way reportedly to the pirate strongholds of Hobyo and Harardheere.
Sources continued to say that the pirates in the area handed the wanted terrorist over to the Himan and Heeb administration in the area. The administration in the area is currently holding discussions with Somali Federal Government (SFG) and other stakeholders on how to transfer Aweys.
Full report at:
http://allafrica.com/stories/201306270111.html
------------
Southeast Asia
Terrorist cells cooking up liquid explosives
Yuliasri Perdani
June 27 2013
The National Counterterrorism Agency (BNPT) revealed on Wednesday that more and more terrorists are resorting to undetectable liquid explosives like nitroglycerin.
The warning came as the government steps up security ahead of the Asia-Pacific Economic Cooperation (APEC) Summit in Bali in October. The forum will be attended by the heads of 21 Pacific rim economies, including US President Barrack Obama and China President Xi Jinping.
BNPT operation director Brig. Gen. Petrus Reinhard Golose said liquid explosives were being used by terrorist cells operating in Java, and that the agency has stepped up its efforts to hunt down bomb makers specializing in the material.
"[Terrorists] are not learning how to make bombs by merely using the Internet, because they can still make mistakes. They need mentors. This is our job [to arrest them]," Petrus said in a discussion on Wednesday.
Full report at:
http://www.thejakartapost.com/news/2013/06/27/terrorist-cells-cooking-liquid-explosives.html
------------
Studies centre to unite Muslims, Malays
JUNE 27, 2013
Barisan Nasional candidate in the 13th general election, Dr Mazlan Ismail wants the Pusat Pengajian Darul Wehdah which he has established, to be a place for the community, particularly in Permatang Pauh, to acqure knowledge regardless of their political ideology.
Mazlan who is the patron of the studies centre, said he was inspired to set up Darul Wehdah or Unity House as he believed that knowledge could unite the Malays and Muslims. He contested the Permatang Pauh parliamentary seat in the GE13 but lost to Parti Keadilan Rakyat de facto leader Datuk Seri Anwar Ibrahim.
Full report at:
http://www.themalaysianinsider.com/malaysia/article/studies-centre-to-unite-muslims-malays/
------------
North America
Canada charges former Qaeda unit leader Belmokhtar
27 June 2013
Canada lodged charges Wednesday against Mohktar Belmohktar, former head of Al-Qaeda in the Islamic Maghreb (AQIM), for his role in the kidnapping of two diplomats five years ago, a spokesman said Wednesday.
AQIM is known for May suicide bombings in Niger that killed at least 20, as well as the dramatic January seizing of a desert gas plant in neighboring Algeria in a siege that left 38 hostages dead, also in retaliation for intervention in Mali.
Back in December 2008 AQIM, snatched Canadian Robert Fowler, U.N. special envoy to Niger, and his assistant Louis Guay west of Niamey. AQIM claimed responsibility in February 2009 for the kidnapping of the Canadian diplomats, and of four European tourists snatched in January 2010.
Full report at:
http://english.alarabiya.net/en/News/world/2013/06/27/Canada-charges-former-Qaeda-unit-leader-Belmokhtar-.html
------------
U.S. expects more Taliban attacks despite peace talks
27 June 2013
The United States said Thursday that it expected the Taliban to continue to mount attacks in Afghanistan even as the rebels hold peace talks from their new office in Qatar.
Taliban gunmen and bombers using fake NATO identification attacked an entrance to the Afghan presidential palace and a nearby building known to house a CIA base on Tuesday, leaving three security guards dead.
"Frankly I anticipate that Taliban will continue to try to negotiate from a position of strength," U.S. special envoy to Afghanistan and Pakistan, James Dobbins, told reporters in New Delhi.
Full report at:
http://english.alarabiya.net/en/News/world/2013/06/27/U-S-expects-more-Taliban-attacks-despite-peace-talks.html
------------
U.S. officials question Obama's decision to arm Syrian rebels
26 June 2013
Some members of the U.S. Congress are calling into question President Barack Obama's decision to arm the Syrian rebels in light of violence against religious minorities, both at the hands of President Bashar al-Assad's regime and members of the opposition.
"Money talks. The United States should be using assistance to ensure recipient countries and entities have a plan that is implemented to protect vulnerable religious minorities," Republican Representative Christopher Smith said.
A State Department official, the leader of the U.S. Commission on International Religious Freedom, and directors of three non-governmental organizations testified about violence against Syria's religious minorities at a House Foreign Affairs Subcommittee hearing Tuesday, most agreeing that U.S. aid to the opposition should at least be conditioned on respect for the rights of minorities.
Full report at:
http://english.alarabiya.net/en/News/world/2013/06/26/U-S-officials-question-Obama-s-decision-to-arm-Syrian-rebels-.html
------------
U.S. military chief recommends bolstering Lebanon, Iraq forces
27 June 2013
The top U.S. military officer said on Wednesday he has recommended bolstering Lebanese forces grappling with the fallout from Syria's civil war by sending in military trainers and accelerating arms sales.
General Martin Dempsey also said he had recommended helping Iraq better deal with the re-emergence of al-Qaeda.
"We've made a recommendation that as we look at the challenges faced by the Lebanese Armed Forces, the Iraqi security forces with a re-emerging al-Qaeda in Iraq, and the Jordanians, that we would work with them to help them build additional capability," Dempsey told reporters at the Pentagon.
Full report at:
http://english.alarabiya.net/en/News/middle-east/2013/06/27/U-S-military-chief-recommends-bolstering-Lebanon-Iraq-forces.html
------------
Kerry says Syria unlike Libya, rules out military action
26 Jun 2013
US Secretary of State John Kerry on Wednesday ruled out a military solution for Syria, saying its conflict does not resemble Libya's while calling for a settlement based on last year's Geneva peace plan.
"This is not Libya. It is very different in many, many ways," Kerry told reporters in Kuwait City in response to a question on why there had been no military intervention in Syria as during Libya's 2011 armed uprising.
Kerry made the remarks after holding talks with Kuwaiti Foreign Minister Sheikh Sabah Khaled al-Sabah.
Full report at:
http://english.ahram.org.eg/NewsContent/2/8/75048/World/Region/Kerry-says-Syria-unlike-Libya,-rules-out-military-.aspx
------------
Ecuador to 'responsibly' review Snowden asylum request
Jun 27, 2013
Ecuador has said that it would "responsibly" review the asylum request of former CIA operative Edward Snowden and asked the US to argue its case for his extradition.
"As has been reported, Mr. Edward Snowden has requested political asylum in Ecuador. This request will be reviewed responsibly, as are the many other asylum applications that Ecuador receives each year," Efrain Baus, Charge d' affairs of the Ecuadorian Ambassador to the US, said in a statement.
Full report at:
http://www.thehindu.com/news/international/world/ecuador-to-responsibly-review-snowden-asylum-request/article4856315.ece
---------
US anti-Muslim bloggers banned from UK
27 June 2013
Two prominent US bloggers have been banned from entering the UK, the Home Office has said.
Pamela Geller and Robert Spencer co-founded anti-Muslim group Stop Islamization of America.
They were due to speak at an English Defence League march in Woolwich, where Drummer Lee Rigby was killed.
A government spokesman said individuals whose presence "is not conducive to the public good" could be excluded by the home secretary.
He added: "We condemn all those whose behaviours and views run counter to our shared values and will not stand for extremism in any form."
Full report at:
http://www.bbc.co.uk/news/uk-23064355
---------
Man gets over 9 years jail term for hate crime against NYC cabbie
PTI | Jun 27, 2013
NEW YORK: An American man has been sentenced to nine and half years in jail for stabbing a Bangladeshi taxi driver in 2010 here after asking whether he was Muslim.
Michael Enright pleaded guilty to attempted murder in the second degree as a hate crime and assault in the first degree as a hate crime, the New York Supreme Court clerk's office said.
Enright, 24, was sentenced on Tuesday.
In addition to his prison term, he must serve five years of post-release supervision, the clerk's office was quoted as saying by CNN.
Full report at:
http://timesofindia.indiatimes.com/world/us/Man-gets-over-9-years-jail-term-for-hate-crime-against-NYC-cabbie/articleshow/20798952.cms
----------
Europe
In crisis-hit Athens, plans for a mosque reveal deep divisions
27 June 2013
Reuters, Athens
Pakistani taxi driver Muhammad Zafeer says he has to look over his shoulder when he goes to pray in Athens, where racist attackers have targeted several of the many makeshift mosques set up in cramped garages or dingy warehouses.
So Greece's plan to build a state-funded mosque in the capital, more than a century in the making, comes as a relief, even if it will be housed in a disused naval base littered with weeds and rubble in a rundown neighborhood.
"This place used to be packed but these days people are scared to even go out to pray," said Zafeer, as Muslim men in long traditional robes and colorful caps prepared for Friday prayers behind the steel-grilled windows of a former factory.
"Greece has to decide if it will be democratic or if it will go back to the Middle Ages," he said with a shrug.
Full report at:
http://english.alarabiya.net/en/perspective/2013/06/27/In-crisis-hit-Athens-plans-for-a-mosque-reveal-deep-divisions.html
------------
Oxford grooming sex case: Five men jailed for life
27 June 2013
Two pairs of brothers are among five men who have been sentenced to life in jail for their part in a sadistic sex grooming ring which abused children from Oxford.
Akhtar Dogar, 32, and Anjum Dogar, 31, were jailed for life with a minimum term of 17 years at the Old Bailey.
The men, of Tawney Street, Oxford, were convicted of several counts of of rape, child prostitution and trafficking.
Full report at:
http://www.bbc.co.uk/news/uk-england-oxfordshire-23079649
---------
New French-backed Syrian radio promises independent voice
26 June 2013
Reuters, Paris
Syrian journalists backed by France launched a Paris-based radio station on Wednesday that will broadcast deep into Syria, aiming to provide what they said would be independent coverage of the civil war.
Apart from their military conflict, the Syrian government and rebels are waging a propaganda war using television, radio and the Internet. Access for international media is restricted by the Damascus authorities and by security constraints.
"For years we were in the shadow of a media dictatorship," said Lina Chawaf, programme editor at Radio Rozana, whose Arabic name means the light that beams from a small house window.
Full report at:
http://english.alarabiya.net/en/media/2013/06/26/New-French-backed-Syrian-radio-promises-independent-voice.html
------------
U.N. envoy voices sectarian worry on leaving Iraq
27 June 2013
AFP, Baghdad
The U.N.'s special envoy to Baghdad voiced worry over rising levels of violence and worsening sectarianism in Iraq in an interview with AFP, warning in particular of a deterioration in security.
Martin Kobler, who made the remarks at the conclusion of his posting to the country, said much was still to be done, with little progress in the past two years on several key political issues, including laws regulating the energy sector and the dispersal of oil income and a long-running dispute over a swathe of territory in north Iraq.
Full report at:
http://english.alarabiya.net/en/News/middle-east/2013/06/27/UN-envoy-voices-sectarian-worry-on-leaving-Iraq.html
------------
U.N. chemical weapons team in Turkey to investigate Syria claims
27 June 2013
U.N.-appointed inspectors, blocked from entering Syria, are in Turkey to gather information about possible use of chemical weapons in the civil war, officials said on Thursday.
Members of the team assembled by U.N. Secretary-General Ban Ki-moon had been on standby in Cyprus since April, unable to enter Syria as Western governments accused President Bashar al-Assad's forces of chemical weapons attacks.
They were sent to Turkey this week and its head, Swedish scientist Ake Sellstrom, was meeting Turkish Foreign Minister Ahmet Davutoglu on Thursday, a senior Turkish official told Reuters.
Full report at:
http://english.alarabiya.net/en/News/middle-east/2013/06/27/U-N-chemical-weapons-team-in-Turkey-to-investigate-Syria-claims.html
---------
URL: https://www.newageislam.com/islamic-world-news/new-age-islam-news-bureau/our-schools-are-extremism-factories-say-academics-and-activists/d/12321