New Age Islam News Bureau
22 Apr 2012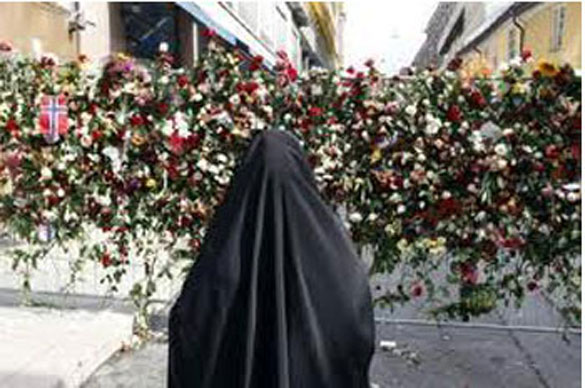 • Lahoris hold peaceful protest against Shia killings
• India: Mother arrested for honour killing in Patna
• Visit to Occupied Jerusalem by Al-Quds Haram: Prominent scholar Qaradawi
• Ethiopia Muslims Decry Ahbashism Campaign
• Pentagon Seeks to Stop Qur'an Burning
• Dhaka Expresses surprise over a news item, "Bangladesh is proud of Iran's nuclear achievements"
• North America Muslims Mark Earth Day
• The promise of Islamic finance
• American Team Don Hijab to Support Captain
• Islamic teacher: calling Welsh Muslims to support fight for Sharia law abroad
• Balochistan unrest: PTI president urges self-exiled leaders to return
• Pak civil society for strengthening CMBs: J&K Congress Chief
• After war, Iraqis tell their tales through films
• UN monitors should be from neutral countries, like BRICS: Syria
• South Sudan's oil facility 'bombed by Sudan'
• Afghanistan militants 'planning huge' attack held in Kabul
• French Red Cross official kidnapped in Yemen
• Over 140 who fled Pakistan prison back in jail
• Twin air tragedies averted in Pakistan
• It's futile for both, India and Pakistan to remain hostile
• 'Nawaz didn't suggest unilateral Siachen pullout'
• Pakistan, China vow to build on trade and investment momentum
• 'Pakistan to issue tenders for electricity import from India'
• Pakistan PM Gilani even 'loyal to graves'
• Kofi Annan: Envoy says UN Syria vote is 'pivotal moment'
• Dialogue crucial for peaceful coexistence
• Islamic banking grows 10 to 15% annually: IF chairman
• OIC broadcast forum to promote Islam on TV
• 74th death anniversary of Allama Iqbal observed
Complied by New Age Islam News Bureau
Photo: Oslo Muslims Detest Killer Painful Testimony
URL: https://www.newageislam.com/islamic-world-news/new-age-islam-news-bureau/oslo-muslims-detest-killer-painful-testimony/d/7121
------------
Oslo Muslims Detest Killer Painful Testimony
OnIslam & News Agencies
Muslims hope the attacks would send a wakeup call to the Norwegian society on the dangers of far-right, anti-Islam rhetoric.
OSLO, 22 April 2012 – Following the painful testimony of Islamophobic murderer Anders Behring Breivik, Norwegian Muslims are shocked with the horrifying account of his cold-blooded murder, saying it could serve as a wakeup call to the dangers of far-right rhetoric.
"He is evil. Pure evil. A robot," Sihen Naidja told Agence France Presse (AFP) in a trembling voice.
"Just hearing his name makes me stressed," says the 42-year-old Algerian, straightening her grey headscarf and gripping the hand of her six-year-old daughter Fatima.
Muslims Scapegoated In Oslo
Over the past week, Norwegian people have been following the trial of mass-murderer anti-Muslim Breivik, who killed at least 76 people in twin attacks on a government building and a youth training camp in Oslo last year.
As the trial started on April 16, he admitted his actions, pleading not guilty.
Last Friday, the 33-year-old spent hours detailing his massacre on the Utoya island, describing how he shot whole groups of young people with his rifle.
He said that his killings were justified to fight a Muslim invasion of Europe that is being permitted by political organizations that support a multicultural society.
"The Muslim enclaves in Europe will grow as aggressively as cancer until they one day make up a dominant power," the 33-year-old right-wing extremist told the court Tuesday.
Though rejected by mainstream Norwegians, his testimony was worrying to some Muslims who feared the repetition of these crimes.
"We are so sad to hear him. Muslims are not aggressive," insists Mohammed Naji, 50, from behind a table overflowing with electronic gadgets he is offering for sale at the bustling Groenland flea market.
Breivik "is alone," he insists, stressing that "Norway is a country of very kind people. It is so strange that this happened here."
But after the confessed killer spent days spelling out his Islamophobic ideology, Naji started to worry.
"Now I am worried. There might be somebody who wants to follow his lead."
Hassana Mazzouj, 36, has been also following the confessed killer's testimony through live reports on the Internet.
But she had to stop Friday when he began describing in detail how he hunted and shot mainly teens attending a summer camp on Utoeya island, killing 69.
"It's really frightening the way he talks about Muslims," says Mazzouj, who is originally from Morocco but who has lived in Norway since 1995.
"It is very painful following his testimony, and it is very, very frightening," she said.
Wakeup Call
Detesting the abhorrent murder, Muslims hope it would send a wakeup call to the Norwegian society on the dangers of far-right, anti-Islam rhetoric.
"I think it is good and healthy that this comes out," Basim Gozlan, who runs the Norwegian website www.Islam.no, told AFP in a telephone interview.
Gozlan said that Breivik built his ideology largely on the basis of Islam-critical writings in the media and online and rumors he has heard about violent Muslims.
"This should help show people that this kind of rhetoric can be very, very dangerous," Gozlan said.
"It is a wake-up call, and I think many people will moderate the way they talk about these things," he added.
Saber Bessid, a 31-year-old accountant originally from Tunisia, rejected Breivik's claims that he was forced to carry out his bloody attacks because he has been facing systematic censorship in Norway.
"It is okay to be against Muslims," Bessid said. "But you don't kill people."
"I won't agree with you, but there is freedom of expression in Norway. You can carry a sign saying you hate Muslims all over Oslo if you like. This is a democracy, so that is all right."
Bessid added that this hateful rhetoric resulted only in the murder of innocent people.
"The people (Breivik) killed were not Muslims, they were simply human beings. Innocent human beings," he said.
"There is just no excuse for what he has done. It is so gruesome."
Meanwhile, Bessid had warm praise for the Norwegian reaction to the attacks which brought the society together.
"All of Norway really came together after the attacks. Muslims, Christians, atheists, everybody stood together and said 'No!' to his actions and everything he stands for," he said.
"I hope God will forgive him."
http://www.onislam.net/english/news/europe/456712-oslo-muslims-detest-killer-painful-testimony.html
--------
Lahoris hold peaceful protest against Shia killings
Staff Report
LAHORE: Thousands of people from across the city held a peaceful protest at Liberty Roundabout against the killings of Shia community members, stressing that target killings in Quetta, Karachi and Gilgit-Baltistan are a conspiracy against the solidarity of Pakistan.
The protest was organised by the Shia Rabta Committee Pakistan (SRCP), and led by its Chairman Khurran Abbas Khawaja.
The protesters condemned the continuous killing of innocent people, and demanded the government protect the lives of countrymen. They said that some hidden forces wanted to provoke the Shia community through such incidents, adding that they would remain calm.
They said that they wanted a high-level probe to ascertain the facts. They termed it shameful that people from one specific sect were being targeted since long across the country, while government and the establishment acted as silent spectators.
They said that those killing innocent people in the name of Islam respected neither women nor children, and the state was keeping its eyes closed to the barbarism.
They urged the government to take decisive measures to end sectarian violence and protect religious minorities.
They said these targeted killings once again displayed the appalling degree of religious hatred in the country.
The protesters urged the government to step up security in the face of the clear threat faced by certain groups on the basis of their sect. They said that the perpetrators of such heinous acts of terrorism were neither Muslims nor Pakistanis.
http://www.dailytimes.com.pk/default.asp?page=2012%5C04%5C22%5Cstory_22-4-2012_pg13_3
--------
India: Mother arrested for honour killing in Patna
IANS
PATNA: Apr 22, 2012, In a suspected honour killing, a woman strangled to death her daughter for having married against her wishes in Patna. The mother was arrested Sunday.
Naznin Bano alias Rani, 22, a MSc (Bio-tech) student of commerce college, was found dead at her abandoned residence located on the outskirts Badi Khagaul here on Friday.
The case took a twist when Naznin's lover, Mohammad Mahfooz, Friday lodged an FIR (first information report) saying it was an honour killing.
Patna Superintendent of Police Kim Sharma said that Shamima Bano, mother of the victim, was arrested Sunday after she confessed her involvement in the murder of her daughter.
According to a police official Kamod Prasad, Naznin was first hit on the head while asleep and then strangulated.
"Prima facie, it appears that she was killed after she eloped with Mahfooz and married on April 16 against parents' wishes," said Prasad.
Mahffooz informed police that Naznin had even filed a petition before the court of additional chief judicial magistrate at Danapur on April 17, apprehending her parents might eliminate her.
Naznin and Mahffooz were studying in the same college in Khagaul, where they fell in love and decided to get married.
Police are investigating the case to ascertain role of other family members in the killing.
http://timesofindia.indiatimes.com/city/patna/Mother-arrested-for-honour-killing-in-Patna/articleshow/12824208.cms
--------
Visit to Occupied Jerusalem by Al-Quds Haram: Prominent scholar Qaradawi
OnIslam & News Agencies
DOHA, 21 April 2012 – As fury continued over the visit of Egypt's Mufti to Al-Quds (occupied Jerusalem), prominent scholar Sheikh Yusuf Al-Qaradawi denounced the visit as haram, unlawful, for normalizing ties with Israel and its military occupation of the Muslim holy city.
"I did not expect such an eminent person like Sheikh Gomaa to go against this consensus and visit Jerusalem and offer prayers in the Al-Aqsa mosque," Qaradawi, president of the International Union for Muslim Scholars (IUMS), said in a statement published on his website on Friday, April 20.
"There is a mutual agreement among Muslims and Christians that visiting Al-Quds shall remain prohibited as long as Israel continues to occupy it by force."
Gomaa visited Al-Quds on Wednesday and prayed in Al-Aqsa Mosque, Islam's third holiest shrine.
He was accompanied by Jordan's Prince Ghazi bin Mohammed, King Abdullah II's cousin and advisor on religious issues.
The two men also visited the Church of the Holy Sepulchre and the Greek Orthodox patriarchate during the visit.
Gomaa argued that his visit was "unofficial" and he entered the holy city through Jordan and the West Bank, not from the Israeli side.
Jordan's ministry of Awqaf and Islamic affairs said the visit was in accordance with a command from Prophet Muhammad (peace and blessing be upon him).
Qaradawi described the visit to Al-Quds under Israeli occupation as haram (unlawful) according to the Islamic law for cooperating with the occupants.
"We must feel as though we are banned from Al-Quds and fight for it until it is ours," Qaradawi said from Doha, Agence France Presse (AFP) reported.
He said that those "who visit legitimize an entity which plunders Palestinian lands, and are forced to cooperate with the enemy's embassy to receive a visa".
Last month, Al-Qaradawi discouraged Muslims against visiting Al-Quds while it is still under Israeli occupation.
"Such visits might also give legitimacy to the occupation and could be seen as normalization," Qaradawi said.
Unacceptable Normalization
Uproar surrounding the visit continued as Egypt's Writers' Union was reportedly discussing terminating the membership of Gomaa, Al-Ahram official newspaper reported on Saturday, April 21.
Salah Alrawy, member of the union's Board of Directors said that the union has already prepared a decree to terminate Gomaa's membership, given that he broke the national consensus on boycotting Israel by all means, which includes a travel ban to Al-Quds while it's under Israeli occupation.
Alrawy said that the union will hold an urgent meeting Monday, 23 April, to take a final decision on the matter.
Another statement issued by the Deputy Chairman of the Muslim Brotherhood Gomaa Amin affirmed that Egypt's Grand Mufti visit to occupied Al-Quds is unacceptable under any name.
"This totally unacceptable, because Jerusalem is under occupation," Amin said in a statement to Ikhwanweb.
"There is an almost unanimous consensus on banning all visits until Jerusalem is free again."
Amin added that Gomaa's visit harmed the feelings of Egyptian Muslims and Christians as well.
"The Grand Mufti has violated the emotional perspective of Muslims," he said.
"Pope Shenouda III had emphasized this ban for our Christian brothers and sisters, against visiting Jerusalem under occupation. So, it certainly is unacceptable for the Mufti to visit the Holy City at this time".
Al-Quds is home to Al-Haram Al-Sharif, which includes Islam's third holiest shrine Al-Aqsa Mosque, and represents the heart of the Arab-Israeli conflict.
Israel occupied the holy city in the 1967 war and later annexed it in a move not recognized by the international community or UN resolutions.
Since then, Israel has adopted a series of oppressive measures to force the Palestinians out of the city, including systematic demolition of their homes and building settlements.
http://www.onislam.net/english/news/global/456707-visit-to-occupied-al-quds-haram-qaradawi.html
---------
Ethiopia Muslims Decry Ahbashism Campaign
OnIslam Staff
CAIRO, 22 April 2012 – Hundreds of thousands of Ethiopian Muslims have taken to the streets to protest the government's oppression on their community and interference in their religious affairs.
"This is the first time I see Ethiopian Muslims united against their common enemy," Temam Mohammed, one of the protestors, said.
"The 'Majlis' leaders thought they can impose their evil policy on us by using force," he said, referring to the Supreme Council of Islamic Affairs.
Thousands of Muslims protested across the capital Addis Ababa following the Friday prayers to protest the government oppression of their community.
Chanting "We want our rights" and Allahu Akbar (God is Greatest), the protestors condemn government restrictions on their community.
Protestors say the government is spearheading a campaign in collaboration with the Majlis to indoctrinate Muslims with the ideology of a sect called "Ahbash".
The government of Ethiopian Premier Meles Zenawi has put the Ahbas in charge of the religious affairs of Ethiopia's Muslims.
Muslims say the government move was in violation of the constitution, which prevents the government interference in religious affairs.
Muslims also accuse the Ahbash of launching an "indoctrination program" in predominantly Muslim areas, forcing people to attend "religious training" camps or risk police interrogation and possible arrest.
"They thought they can draw a line between "Sufi" and "Salafi" and fulfill the interest of Ahbash which is a deviant business motivated sect seeking to expand its empire by dividing the people," Mohammed said.
"But we were fast enough to know their hidden agenda and strengthened the brotherly bond among the Muslim society. That is why you see this large mass coming here to demand its right."
Founded by Ethiopian-Lebanese scholar Sheikh Abdullah al-Harari, Ahbash is seen by the West as a "friendly alternative" to Wahabi ideology, which the West sees as extreme and militant.
Muslims say Ahbash imams are being brought over from Lebanon to fill the Majlis and teach Ethiopians that "Wahabis" are non-Muslims.
Silenced Muslims
The government, however, insists it was not interfering in the religious affairs of Ethiopian Muslims.
"We have no right to intervene in the churches and mosques," Premier Zenai told the parliament last week.
"We didn't impose Ahbash ideology on the mass. All what is happening is done by the leaders of Islamic Affairs council themselves.
"What we did was only teaching about our constitution. We did that because it was our duty," he said.
Zenawi also defended mass arrests of Muslims, saying it was part of efforts to combat extremism in the country.
"All those arrested by the security agents are part of the 'Salafi' school which approves that at least some 'Salafis' want to topple the state forcefully," he said.
"We know them and we follow up them. However, this doesn't mean all Salafis are Al-Qaeda members."
But Muslim religious leaders see Zenawi's statements as a tactic to silence them.
"Our request is purely about freedom of religion. We didn't ask political power," Muslim scholars said.
"He didn't address any one of the three points we requested. But he tried to show us his wisdom about "Sufi" and "Salafi" and terrorized us by bringing a nightmare of 'Al-Qaeda' to our country. He did so because he wants to keep us away from raising similar questions in the future."
http://ww2.onislam.net/english/news/africa/456710-ethiopia-muslims-decry-ahbashism-campaign.html
--------
Pentagon Seeks to Stop Qur'an Burning
OnIslam & Newspapers
The threat from Jones comes in a year that has already been disastrous for relations between Afghans and US forces.
CAIRO, 21 April 2012 – Pentagon officials are desperately attempting to dissuade controversial anti-Qur'an pastor Terry Jones from burning the holy book next week, saying his action could sour relations with Kabul and unleash huge protests against United States worldwide.
"We are aware of Pastor Terry Jones' threat to burn a Qur'an, and are monitoring the situation," Commander Bill Speaks, a Pentagon spokesman, told the Guardian.
"The last time Pastor Jones burned a Qur'an, back in March of 2011, more than 16 people died and more than 90 people were injured from the resulting protests.
"We hope Pastor Jones will take into account the safety and welfare of deployed US military personnel before engaging in such an activity again," he added.
Threatening huge anti-US protests, the controversial pastor called for another worldwide burning of the Qur'an on 5pm on Saturday April 28 if an imprisoned pastor in Iran is not released from a death sentence after converting from Islam to Christianity.
Full Report at:
http://www.onislam.net/english/news/americas/456705-pentagon-seeks-to-stop-quran-burning.html
----------
Dhaka Expresses its surprise over a news item, "Bangladesh is proud of Iran's nuclear achievements"
Diplomatic Correspondent
Dhaka has expressed its surprise over a news item published on the website of the official news agency of Islamic Republic of Iran that reads Bangladesh is proud of Iran's nuclear achievements.
The Islamic Republic News Agency (IRNA) creed a news item from Liberville in Gabon on April 20 quoting Information and Cultural Affairs Minister Abul Kalam Azad that "Bangladesh is proud of IR Iran's nuclear achievements and capabilities."
Azad reportedly made the comment in a meeting with Iran's Culture Minister Syed Mohammad Hosseini on the sideline of OIC-sponsored conference, underway in Liberville, of information ministers from the Islamic world.
IRNA also quoted Azad as saying: "The official called for the use of Islamic Republic of Iran's experiences in all fields including the fields of education, research and cultural affairs."
Iran's culture minister for his part asked for the Muslim countries' united action against the ongoing Islamophobia which aims to show a bad face of Islam, the IRNA reports.
Contacted, high officials at the ministries of information and foreign affairs expressed their strong doubt over the statement and said the IRNA must have misquoted the Bangladesh information minister.
They said Bangladesh strongly follows the United Nations rules and only supports peaceful usages of nuclear energy. So the question of supporting Iran's "controversial" nuclear achievements and capabilities does not arise at all.
The officials said they are trying to establish contact with Azad to know what actually he said and would come up with an official statement soon.
http://www.thedailystar.net/newDesign/news-details.php?nid=231175
--------
North America Muslims Mark Earth Day
By Muneeb Nasir
OnIslam Correspondent
As part of the campaign, Muslims are asked to consider their current lifestyles and to make changes
TORONTO, 20 April 2012 - Muslims across North America commemorated the Earth Day with a major campaign that saw imams deliver religious sermons to raise awareness on the environmental challenges facing humanity.
"The 'Think Green Khutbah Campaign' has been launched to challenge Muslims to become stewards of the Earth and its environment by making changes to their daily routines," Muaz Nasir, the publisher of the Canadian environmental website, Khaleafa.com and one of the organizers of the campaign, told OnIslam.net.
"We are encouraging mosques, schools, universities and Islamic Institutions in North America to devote their Friday Khutbah to celebrate the blessings, graces and beauty of all of Allah's creation and to raise awareness on the environmental challenges facing humanity," Nasir added.
An extensive online resource has been created by Khaleafa.com (www.Khaleafa.com/greenkhutbah) to support the campaign and Islamic organizations and well-known leaders are throwing their support behind the initiative.
The Islamic Society of North America (ISNA) has also urged imams to join the 'Think Green Khutbah Campaign' and asked Muslims across the continent to make small changes in their lives.
"We do not have to take drastic action, every little bit helps," ISNA states in a press release.
Full Report at:
http://www.onislam.net/english/news/americas/456709-north-america-muslims-mark-earth-day.html
---------
The promise of Islamic finance
22/04/2012
As modern finance falters due to unchecked greed and usurious practices, the traditional method of banking could bring salutary benefits to the worldwide financial system, ending some of the most damaging practices and introducing a sounder approach.
Moreover, the basic tenets of Islamic finance force us to rethink the ethical basis of modern monetary arrangements With Britain now in talks to sell part of the government's 82% stake in the Royal Bank of Scotland to Abu Dhabi sovereign-wealth funds, the Islamic world's growing financial clout is once again on display. That clout also poses a systemic challenge to the dominant way that finance is now practiced around the world.
From humble beginnings in the 1990s, Islamic finance has become a trillion-dollar industry. The market consensus is that Islamic finance has a bright future, owing to favourable demographics and rising incomes in Muslim communities.
Despite scepticism regarding accommodation between Islamic and global finance, leading banks are buying Islamic bonds and forming subsidiaries specifically to conduct Islamic finance. Special laws have been enacted in non-Muslim financial centres _ London, Singapore, and Hong Kong _ to facilitate the operation of Islamic banks and associated financial institutions.
Full Report at:
http://www.bangkokpost.com/news/local/289854/the-promise-of-islamic-finance
--------
American Team Don Hijab to Support Captain
On Islam & News Agencies
There's always light at the end of the tunnel," Khan said.
HOLLYWOOD, 21 April 2012 – Cheering up their Muslim teammate, a Floridian high school football team decided to don hijab before their season finale game to show solidarity with their Muslim captain who has been taunted repeatedly over her religious outfit.
"Everybody looked at us weird," West Broward senior Marilyn Solorzano told Sun Sentinel website on Friday, April 20.
"I understand now everything she went through and how hard it must have been.
Sports in ISLAM (Special Pages)
Hijab: What's It All About?
"We just wore it for one day, and we noticed the difference. It was hard to keep on. It kept falling and our heads got really hot. You have to give her [credit] for wearing it every day."
Donning hijab in middle school, Irum Khan, 17-year-old captain of West Broward High flag football team, endured far more than the usual pre-teenage taunting.
Early during her first years of high school, some classmates called her a terrorist and cursed at her.
She had rocks thrown at her and was physically attacked more than once.
"I got a lot of weird looks when I started wearing the hijab," said Khan, who first donned the modest clothing in fifth grade and wears long sleeves and tights under her uniform.
Full Report at:
http://www.onislam.net/english/news/americas/456708-american-team-don-hijab-to-support-captain.html
---------
Islamic teacher: calling Welsh Muslims to support fight for Sharia law abroad
by James McCarthy,
WalesOnlineApr 22 2012, An Islamic teacher whose group was at the centre of an anti-terror raid on a Cardiff community hall has come under fire for calling on Welsh Muslims to "physically" support the fight for Sharia law abroad.
Abu Hajar, of Grange town, Cardiff, is one of the leaders of the Islamic group Supporters of Tawheed, which on its website says its core belief is the "domination of the world by Islam".
The group – which according to its website also rejects democracy and freedom, describing them as "false deities" – hit the headlines in January when one man arrested during a raid on a meeting in the city's Canton Community Hall told an officer "I will chop your head off" before shouting "I'm going to shoot you with a machine gun". Mohammed Abdin, 21, was subsequently jailed for eight months for the threats.
It is understood the raids were prompted by members of the Muslim community, who feared the meeting was providing a place for radical Islamists to network.
Mr Hajar has previously said the group is simply interested in spreading the message of Islam and does not preach violence or extremism.
In a video posted last month on YouTube called "Support the Muslims of Syria", Mr Hajar said Muslims should: snub western help abroad; demand an "Islamic solution" to problems in the Middle East; and impose sharia law there.
In the 14-minute video he addresses the people of Syria, saying: "Our money is with you and, if need be and if we are able to, our Muslims will come and respond to your call physically as well.
"So we call upon the Muslims to be steadfast in this struggle, to call for Sharia, to call for an Islamic solution...to continue rising up against [these] regimes, whether that be in Tunisia, in Syria, in Egypt, even in Saudi Arabia, even in Yemen.
"The Muslims in Jordan need to rise up and we the Muslims will respond to your call."
Full Report at:
http://www.walesonline.co.uk/news/wales-news/2012/04/22/islamic-teacher-under-fire-for-calling-on-welsh-muslims-to-support-fight-for-sharia-law-abroad-91466-30802972/
----------
Balochistan unrest: PTI president urges self-exiled leaders to return
By Our Correspondent
QUETTA: April 22, 2012, The Pakistan Tehreek-e-Insaaf (PTI) President Javed Hashmi said that the people of Balochistan are compelled to escape from Pakistan if they continue to be targeted.
"Balochistan is being treated like East Pakistan as people are being whisked away from their residences," the PTI leader told reporters while addressing a news conference at Quetta Press Club on Saturday.
In his speech, the PTI President asked Baloch nationalist leaders Sardar Akhtar Mengal, Brahamdagh Bugti and people of the Marri tribe to help him attain independence not only for Balochistan but also for Pakistan. "The whole country is enslaved; not only Balochistan and we are struggling to free Pakistan from usurpers."
He said that self-exiled Baloch leaders should return and help establish Pakistan the way it was envisioned by Quaid-e-Azam Mohammad Ali Jinnah and Nawab Akbar Bugti.
He insisted that military intervention will not be acceptable at any cost in Balochistan. "Even those politicians who were struggling for the rights of Balochistan under the Constitution were killed," he said, referring to Nawab Akbar Bugti.
The people of Balochistan have lost confidence in rulers due to the atrocities committed against them.
Published in The Express Tribune, April 22nd, 2012.
http://tribune.com.pk/story/368259/balochistan-unrest-pti-president-urges-self-exiled-leaders-to-return/
---------
Pak civil society for strengthening CMBs: J&K Congress Chief
PTI
Jammu, April 22, 2012, Jammu and Kashmir Congress chief Saif-ud-Din Soz said on Saturday that the civil society in Pakistan wanted friendly ties with India and strengthening of CBMs for durable peace in the region.
"The civil society in Pakistan wants friendly relations with India and strengthening of CBMs to further normalize relations and peace in the region," he told a public rally in Kotranka area in Rajouri district.
India and Pakistan have to live together in an atmosphere of peace, friendship and cooperation, Soz said.
During his recent visit to Pakistan as part of a goodwill delegation, he said the civil society there was overwhelmingly in favour of more CBMs between two the nations.
He said the Congress party is committed fully to the empowerment of Panchayati Raj system in Jammu and Kashmir.
http://www.hindustantimes.com/Punjab/Chandigarh/Pak-civil-society-for-strengthening-CMBs-Soz/SP-Article1-844440.aspx
---------
After war, Iraqis tell their tales through films
IANS
DUBAI: Apr 22, 2012, After Saddam Hussein's long, oppressive rule and the subsequent US invasion of Iraq in 2003 that ended only last year, Iraqi and Kurdish filmmakers seem to be in a hurry to make films -- on poison gas attacks on Kurdish villages, mass graves, Iraqi bloggers and even love stories.
"Halabja - The Lost Children" begins with a young man, Ali, visiting the cemetery. He stands in front of a gravestone and says: "Until two months ago, this was my grave."
The documentary by Kurdish Syrian filmmaker Akram Hidou highlights the agony of people after Saddam's poison gas attack in 1988 on Halabja, the Kurdish city near the border with Iran. Nearly 5,000 people lost their lives, while hundreds of children went missing.
Twenty-one years after the attack, Ali returns looking for his lost family. And five families in the Kurdish city hope against hope that Ali is their missing child.
"When I met Ali, I thought no one will be better than him and his family to tell the story," Hidou said in Arabic about his film, which fetched him the Best Director's award in the Official Gulf Feature Competition of the Fifth Gulf Film Festival this week.
The film goes into the homes of people who have lost entire families. "Before March 16, 1988, Halabja was a city of poets but after that bodies lay strewn in front of every house," a man who lost all his children says in the film.
Iraq's film history began in the 1940s, filmmaker Ja'afar Abd Al-Hamid told IANS in an interview. But he adds it's obviously not been a prolific industry.
"It has made may be 100 films in 40 years, something India might produce in a month," says Ja'afar, whose film "Mesocafe" was screened at the Gulf Film Festival.
"There was a healthy movie-going culture...but political interference made it difficult. Also, with the international sanctions, Iraq wasn't allowed to import film stock. This just killed the industry. Now I think there is just one cinema hall in Baghdad," explains the director, who calls himself a Satyajit Ray fan.
"Now there is a revival," he adds.
Full Report at:
http://timesofindia.indiatimes.com/world/middle-east/After-war-Iraqis-tell-their-tales-through-films/articleshow/12821977.cms
---------
UN monitors should be from neutral countries, like BRICS: Syria
IANS
DAMASCUS: Apr 22, 2012, Syria has said it was ready to facilitate UN monitors, but stressed that a majority of them should be from "neutral countries" like BRICS, which also includes India.
Syria also stressed that while it was committed to the UN-backed peace plan, the Western powers wanted it to fail due to their own agenda.
"The Syrian government is committed to the success of the UN-Arab League envoy Kofi Annan's six-point peace plan," Syria's Information Minister Adnan Mahmoud told a group of Indian journalists visiting Syria.
"We welcome the UN observers from countries like BRICS which look at the situation objectively. Syria is committed to the Annan plan and will facilitate the UN mission," he said.
The leaders of BRICS (Brazil, Russia, India, China, South Africa) grouping of the five emerging economies, met in New Delhi March 29 and supported a Syria-led transition and underlined that issues should be resolved through dialogue without any foreign interference.
The UN Security Council unanimously approving a resolution in New York Saturday, which seeks to expand the number of UN cease-fire observers in Syria from 30 to 300.
The resolution also calls for an immediate end to the violence by both the government forces and opposition activists.
Syria had agreed to a ceasefire over a week ago, but the truce remains fragile with reports of both regime forces and opposition targeting each other in places like Homs and Hama.
Full Report at:
http://timesofindia.indiatimes.com/world/middle-east/UN-monitors-should-be-from-neutral-countries-like-BRICS-Syria/articleshow/12820975.cms
---------
South Sudan's oil facility 'bombed by Sudan'
21 April 2012
South Sudan has accused Sudan of bombing one of its oil facilities, despite recent moves to defuse the conflict between the two countries.
A number of blasts have been heard in South Sudan, with a military official telling the BBC that the Unity oil field was targeted.
The government in Khartoum has so far made no public comments on the claim.
On Friday, South Sudan said it was withdrawing its troops from the disputed Heglig oil field.
Sudan claimed it had regained the area by force.
Heglig is internationally accepted to be part of Sudanese territory - although the precise border is yet to be demarcated.
Other issues dividing the two countries are the transit fees the South should pay Sudan to use its oil pipelines and the status of the province of Abyei.
The escalating fighting and rhetoric between the two sides over the past week has led to fears of all-out war.
US President Barack Obama has urged the presidents in Khartoum and Juba to "have the courage" to return to the negotiating table and resolve their differences peacefully.
South Sudan seceded last July following a 2005 peace deal that ended a two-decade civil war in which more than 1.5 million people died.
http://www.bbc.co.uk/news/world-africa-17802909
--------
Afghanistan militants 'planning huge' attack held in Kabul
21 April 2012
The explosives were seized during a wave of insurgent attacks last week
Afghan security officials say they have foiled a huge attack in the capital Kabul, as they gave details of the seizure of 10 tonnes of explosives.
The explosives were found in a truck seized along with five militants in an operation last Sunday, a National Directorate of Security spokesman said.
The group was planning to attack crowded areas in the capital, he said.
He also gave reporters a video detailing plans for a separate attack on Vice-President Mohammed Khalili.
Describing the planned bomb attack on Kabul, the spokesman, Shafiqullah Tahiri, said the 10 tonnes of explosives were stuffed in 400 bags and hidden under piles of potatoes.
"If this amount of explosives had been used, it could have caused large-scale bloodshed," Mr Tahiri said.
He said three of the captured militants are Pakistani citizens, and two are Afghans.
Full Report at:
http://www.bbc.co.uk/news/world-asia-17796556
---------
French Red Cross official kidnapped in Yemen
21 April 2012
A French official with the International Committee of the Red Cross (ICRC) has been kidnapped by armed men in Yemen.
He was seized late on Saturday around 30km (20 miles) from the Red Sea port of Hodeida.
It is not yet clear who is responsible, but kidnappings of westerners are not uncommon in Yemen.
The ICRC said it had not heard from the kidnappers but it has issued a call for the aid worker's immediate release.
Reports say the man, who has not yet been named, was with two Yemeni drivers who were released shortly afterwards.
The Red Cross office in Sanaa said he had been working in the northern city of Saada.
Last week, al-Qaeda announced that it was holding a Saudi diplomat kidnapped at the end of March.
Abdullah al-Khalidi, a deputy consul in Aden, was abducted outside his home in the southern port city on 28 March. Al-Qaeda called for militants held in Saudi Arabian prisons to be freed in exchange for his release.
A Swiss woman working as a teacher was also kidnapped in Hodeida in March. French news agency AFP reported that she is being held by al-Qaeda after being taken to the far eastern province of Shabwa.
http://www.bbc.co.uk/news/world-middle-east-17803302
---------
Over 140 who fled Pakistan prison back in jail
IANS
Islamabad: Apr 22, 2012, As many as 143 of the 384 inmates who fled a prison in Pakistan's Khyber Pakhtunkhwa province following an audacious Taliban attack are back in jail, an official said.
Provincial Home Secretary Azam Khan told the Voice of America that out of 384 prisoners who fled, 108 have voluntarily returned while 35 had been re-arrested.
Taliban militants struck at the Bannu jail on April 15 and freed the prisoners. At least 20 high profile prisoners, including one who was involved in an attack on former Pakistani president Pervez Musharraf, were among those who escaped.
Four teams had been constituted to ensure the capture of all the escaped detainees, Dawn reported.
Adnan Rashid, a high-profile prisoner, has been welcomed back into the Taliban fold, showed a dramatic video telecast on DawnNews.
The video clip shows him talking in Pashtu with his hosts.
http://ibnlive.in.com/news/over-140-who-fled-pakistan-prison-back-in-jail/251062-56.html
----------
Twin air tragedies averted in Pakistan
PTI
KARACHI/LAHORE: Apr 22, 2012, Days after a private airliner crash left 127 people dead in Pakistan, two major tragedies were averted on Sunday when two planes developed snags, sending authorities into tizzy at Lahore and Karachi airports.
In an incident, the fuel tank of a Shaheen Air aircraft began leaking as it was about to take off from Lahore airport, forcing the pilot to apply brakes before take-off, the Express News reported.
Eyewitnesses said that as the plane was taking off, the fuel tank began leaking.
The 200 passengers on board the flight remained unhurt. They were shifted to the waiting lounge at the airport where they began protesting, demanding that they be flown in another airline, the paper said.
Earlier in the day, emergency was declared at Karachi airport when two tyres of an aircraft belonging to same airline burst during landing at a runway.
The plane, with about 100 passengers aboard, was bound to land at the Jinnah International Airport when its landing gear malfunctioned, causing the tyre to burst from the pressure.
Embers that sparked from the rims were extinguished with the help of water. All passengers and flight crew were safe, the news report said.
Following the Karachi incident, one of the major runways at Jinnah International Airport was shut down till 5pm and larger aircraft were being redirected to Nawabshah airport, however smaller aircraft continued to land on other runways.
Director General Civil Aviation Authority (CAA) Nadeem Khan Yousafzai has ordered an immediate inquiry into the incidents.
CAA spokesman Pervez George told The Express Tribune that Defence Minister Ahmed Mukhtar has directed DG CAA to thoroughly check all aircraft of private airlines.
http://timesofindia.indiatimes.com/world/pakistan/Twin-air-tragedies-averted-in-Pakistan/articleshow/12824659.cms
---------
It's futile for both, India and Pakistan to remain hostile
Lt Gen Harwant Singh
April 21, 2012
Over a 100 Pakistani soldiers and a dozen civilians lie buried under thousands of tons of snow at Gyari, near Skardu in Pakistan-occupied Kashmir. This tragedy seems to have finally brought home to the Pak military leadership the futility of being at the most forbidding place on
earth.
During April 1984, there were reports that the Pak army was geared up to occupy the Saltaro Range. Indian army realising the dangers of this move, preempted Pak army move and occupied this mountain range.
Some Indian defence analysts have tried to project the Siachen Glacier as an area of great strategic importance. To the west of it (across the Saltaro Range) is the road linking Gilgit with Tibet and to the north east is the important Karakoram Pass. To the north is the Shaksgam Valley (part of J&K) ceded to China by Pakistan. It's often contended that Siachen Glacier region would facilitate link up between Pakistan and China, across the Karakoram Pass.
Full Report at:
http://www.hindustantimes.com/News-Feed/ColumnsOthers/It-s-futile-for-both-to-remain-hostile/Article1-844203.aspx
---------
'Nawaz didn't suggest unilateral Siachen pullout'
Islamabad: April 21, 2012, The Pakistan Muslim League-Nawaz (PML-N) has retracted its stance regarding the unilateral withdrawal of troops from the Siachen Glacier and said the party chief Nawaz Sharif had proposed that Pakistan should take the lead in talks on the dispute.
"Mian sahib did not suggest a unilateral withdrawal of troops from Siachen. What we said was Pakistan should lead a dialogue with India over the issue," The Daily Times quoted PML-N leader Chaudhry Nisar Ali Khan, as saying.
He said that Sharif's statement was misinterpreted and wrongly reported in a section of the press.
Commenting on PTI chairman Imran Khan's remarks that he did not visit Siachen due to scarcity of funds, Nisar said: "There is no doubt that Khan is a poor fellow and cannot afford a visit of Gayari to express solidarity with soldiers trapped under a gigantic avalanche… He can use private jets, owned by several members of his party, for foreign and domestic visits but cannot go to Gayari."
No unilateral withdrawal from Siachen: Zardari
Meanwhile, Sharif said past mistakes by both Pakistan and India and their attitude towards each other had been hindering talks on the Siachen issue.
http://zeenews.india.com/news/world/nawaz-didn-t-suggest-unilateral-siachen-pullout_770929.html
----------
Pakistan, China vow to build on trade and investment momentum
WASHINGTON, April 21 (APP) : Pakistan and China pledged here on Saturday to further bolster their trade and investment ties, with Islamabad's Finance Minister Dr Abdul Hafeez Shaikh and his Chinese counterpart Xie Xuren reaffirming close economic cooperation in a bilateral meeting at the World Bank."Pakistan-China friendship has stood the test of time---we reaffirmed our mutual desire to carry forward the close ties ----we discussed steps to try and reduce some of the tariffs so that trade can be further liberalized between the two countries," Shaikh told APP after the meeting, which took place during the annual IMF-WB spring gathering of world finance leaders.
http://app.com.pk/en_/index.php?option=com_content&task=view&id=191441&Itemid=2
----------
'Pakistan to issue tenders for electricity import from India'
PTI
Islamabad, April 22, 2012, Pakistan will soon issue tenders for the import of 500 MW of electricity from India after the proposal is formally approved by the federal Cabinet, water and power secretary Qazi Imtiaz Ahmed has said.
The plan to import power from India is likely to be approved in the cabinet's next
meeting, Ahmed said, without giving the exact date.
The government aims to finalise modalities, tariffs and terms and conditions for the import of power as soon as possible, he said.
"We will invite power supply companies of India for the implementation of the project soon," Ahmed told The Express Tribune.
The two countries have decided to build a 45-km, 220 kV line within six months of the signing of a formal agreement on the proposal. The agreement will be valid for five years and negotiable for another five years or more.
In a separate development, a delegation from the water and power ministry is expected to visit Iran by the end of April to negotiate terms and conditions for importing another 1,000MW of electricity.
"Islamabad has asked Tehran to arrange a meeting of the Pakistani negotiating team with its Iranian counterpart by the end of April or by May 10," Ahmed said.
Iran's offer to supply 1,000MW was made some time ago, but bureaucratic obstacles had resulted in a long delay in bilateral negotiations.
Pakistan currently imports 70MW from Iran for the coastal city of Makran in Balochistan province. Iran is also preparing to export 100MW of electricity to Gwadar within the next few months.
Ahmed said an advance payment has already been made by Pakistan to Iran for this.
He also acknowledged the government's failure to produce enough power.
The water and power ministry had been unable to clear outstanding dues of Rs. 350 billion to power producing companies.
He listed two major reasons for the massive default.
"First, the federal government has not paid a subsidy amount of Rs. 150 billion so far. Secondly, our people have not been able to collect another Rs. 150 billion from major consumers," he said.
In spite of its cash crunch, the government will have to build major power projects within the next five years or the shortfall of 6,000 MW will increase.
The government has also been unable to start work on the Bhasha Dam as it has failed to raise the $11 billion required for the project.
http://www.hindustantimes.com/world-news/Pakistan/Pakistan-to-issue-tenders-for-electricity-import-from-India/Article1-844496.aspx
----------
Pakistan PM Gilani even 'loyal to graves'
Zee news Bureau
Islamabad: April 22, 2012, Affirming his loyalty to the Bhuttos, Pakistan Prime Minister Syed Yusuf Raza Gilani on Saturday announced that he would happily accept the gallows but would never shy away from completing the mission of Zulfikar Ali Bhutto and Mohtarma Shaheed Benazir Bhutto.
Gilani was addressing a rally at the ceremony of the Benazir Shaheed Bridge at a village in Chachran Sharif when he announced that he was not a traitor, but a 'Pir' and a 'Faqir'.
"If today I announce abandoning the Bhuttos, I would be regarded as a hero by those who dub me as a traitor. But I am not a traitor to Bhuttos. I am a Pir and know how to be loyal to graves," he held.
"I am being pressurised to betray the PPP, but I am loyal to the party because I am a custodian of the seat of Shaheed Zulfikar Ali Bhutto and Shaheed Benazir Bhutto and I can never do anything unconstitutional," the PM said.
He also announced that he totally respects the courts and "would not be afraid of warnings about my son's arrest". Notably, Ali Musa Gilani has been named as an accused in the Rs 7 billion scam of illegal sale of ephedrine, a controlled substance used in medicines.
http://zeenews.india.com/news/world/pakistan-pm-gilani-even-loyal-to-graves_771086.html
---------
Kofi Annan: Envoy says UN Syria vote is 'pivotal moment'
22 April 2012
UN observers visited the restive city of Homs on Saturday
Peace envoy Kofi Annan says the UN vote to deploy up to 300 observers in Syria is a "pivotal moment for the stabilisation of the country".
In a statement issued in Geneva, the UN and Arab League envoy also called on Syrian government forces to withdraw their tanks and weapons from cities.
A small UN team is currently in Syria to monitor a fragile ceasefire.
But on Sunday at least two people were killed in Douma, a suburb of the capital, Damascus, activists said.
Douma has previously been the scene of violent clashes between security forces and opposition fighters. The UK-based Syrian Observatory for Human Rights said two civilians were killed during a government attack.
Saturday's vote at the UN Security council came as monitors were allowed to visit the restive city of Homs for the first time.
The visit came amid a lull in fighting, which rebels said was because tanks had been temporarily hidden while observers were in the city.
The resolution gave the boosted observer force a mandate to monitor the situation for up to three months, but left it to UN Secretary General Ban Ki-moon to decide how and when they will be deployed.
In his statement, Mr Annan called on both opposition and government forces to put down their weapons in order to consolidate the truce.
"The government in particular must desist from the use of heavy weapons and, as it has committed, withdraw such weapons and armed units from population centres and implement fully its commitments under the six-point plan," he said.
Although overall violence has fallen since the truce was agreed by the UN and Syria more than a week ago, many violations have been reported by activists and journalists on the ground.
The Damascus authorities say they are fighting armed terrorist groups and that the ceasefire allows them to respond to attacks.
The UN estimates that government forces have killed more than 9,000 people in the uprising. Syria says foreign-backed militants have killed more than 2,600 soldiers and police.
http://www.bbc.co.uk/news/world-middle-east-17803626
---------
JEDDAH: Dialogue crucial for peaceful coexistence
By JEDDAH: IBRAHIM NAFFEE
Apr 22, 2012
Minister of Higher Education Khaled Al-Anqari underscored the significance of promoting dialogue to achieve peaceful coexistence of peoples across the world.
Describing dialogue as the 'language of the age,' the minister said it is required at all levels of human life in the modern world. Al-Anqari made the remarks while opening the 3rd Edition of the Saudi French Seminar for the Dialogue of Cultures here yesterday.
The Ministry of Higher Education, represented by the cultural attaché in Paris, organized the two-day event, in collaboration with the King Abdulaziz University (KAU).
Several prominent figures, including academics, and educational experts from the Saudi and French universities are taking part in the seminar with the theme of "Arab Islamic Thought in Europe: Reality and Role."
The high profile event was regarded as a major step in support of Custodian of the Two Holy Mosques King Abdullah's call to promote interfaith and intercultural dialogues as a means to establish world peace.
In his opening speech, Al-Anqari stressed the need to further strengthen means of mutual dialogue through curricula and cultural seminars. "There is no doubt that this edition of the seminar, with its working papers, would focus on spreading of knowledge pertaining to the Arab and Islamic culture at French and European universities, whether they are through curricula or through contributions of translators," he said.
Addressing the opening session, Abdullah Al-Turki, secretary-general of the Muslim World League (MWL), highlighted the key role being played by the Islamic organizations and centers in non-Muslim countries in promoting dialogue.
Full Report at:
http://arabnews.com/saudiarabia/article615099.ece
----------
Islamic banking grows 10 to 15% annually: IF chairman
By P.K. ABDUL GHAFOUR | ARAB NEWS STAFF
JEDDAH:Apr 22, 2012, Islamic banking and finance, with a total asset of $1.4 trillion and more than 1,000 institutions operating in many countries worldwide is all set for a big take off, says Professor Khurshid Ahmad, chairman of the Islamic Foundation UK and the Institute of Policy Studies in Pakistan and author of several books on the topic.
Speaking to Arab News after giving a lecture on "Global economic crisis and the role of Islamic Economics" at the Islamic Development Bank headquarters here, Ahmad said Islamic banking and finance makes an annual growth of 10 to 15 percent when conventional banks make less than one percent.
"According to an IMF study, the institutions that were least affected by the global financial crisis were Islamic banks because they engage mainly in asset-based financing," said Ahmad, who is a winner of King Faisal International Prize and IDB Prize.
Speaking about challenges, he emphasized the importance of Islamic banks to be shifted from a Shariah-compliant position to a Shariah-based position in order to move from a debt-based economy to a risk-sharing and equity-based participatory economy.
Full Report at:
http://arabnews.com/economy/article615047.ece
--------
OIC broadcast forum to promote Islam on TV
Rebecca Hawkes ©RapidTVNews | 22-04-2012
A new broadcast watchdog for the 57 countries belonging to the Organisation of Islamic Cooperation (OIC) is to be established to promote a positive image of the Muslim world on television.
The OIC Broadcast Regulatory Forum, which was initially proposed by Turkey and approved at the organisation's conference in Libreville in Gabon on 19 April, will be a platform "intended to promote coordination, communication and cooperation among the authorities in charge of regulating broadcasting in member-states".
The OIC says the forum will also "enhance the exchange of information, ideas and expertise on issues of common interest in the areas related to the services of the audiovisual media sector."
The forum will run in conjunction with a proposed OIC international satellite channel, which will project the voice of the Muslim world, report on Islamic issues, and defend Muslim interests within the framework of Islamic solidarity among the organisation's member states.
A draft resolution on the proposal says: "particularly in this age of globalization, where so many voices are rising which claim to speak on behalf of Islam, and where defamation campaigns have multiplied against our noble faith and its symbols, it has become more necessary than ever to give serious consideration to the idea of launching an international satellite TV station under the umbrella of the OIC."
The OIC was established in 1969 to protect and promote the interests of Muslims worldwide.
http://www.rapidtvnews.com/index.php/2012042221412/oic-broadcast-forum-to-promote-islam-on-tv.html
--------
74th death anniversary of Allama Iqbal observed
Staff Report
LAHORE: The 74th death anniversary of national poet Dr Allama Muhammad Iqbal was observed in the provincial capital on Saturday to acknowledge his services for acquiring a separate homeland for the Muslims of the Subcontinent.
Various social, political and cultural organisations arranged special programmes to pay homage to the Poet of the East, while debate competitions, seminars and conferences were arranged at schools, colleges and universities to highlight his teachings and philosophy which led Muslims to get an independent state.
Newspapers published special editions and TV channels aired different programmes to mark Allama Iqbal's death anniversary.
Allama Iqbal is recognised as national poet, and known as Muffakir-e-Pakistan, Shair-e-Mashriq and Hakeemul Ummat.
The Muslims of the Indian Subcontinent under the dynamic leadership of Quaid-e-Azam Muhammad Ali Jinnah succeeded in materialising the dream of Allama Iqbal in the form of Pakistan.
A large number of people visited Allama Iqbal's mausoleum and laid floral wreaths there to pay tribute to, and offer fateha for, the great philosopher.
http://www.dailytimes.com.pk/default.asp?page=2012%5C04%5C22%5Cstory_22-4-2012_pg13_4
---------
URL: https://www.newageislam.com/islamic-world-news/new-age-islam-news-bureau/oslo-muslims-detest-killer-painful-testimony/d/7121