New Age Islam News Bureau
17 Nov 2016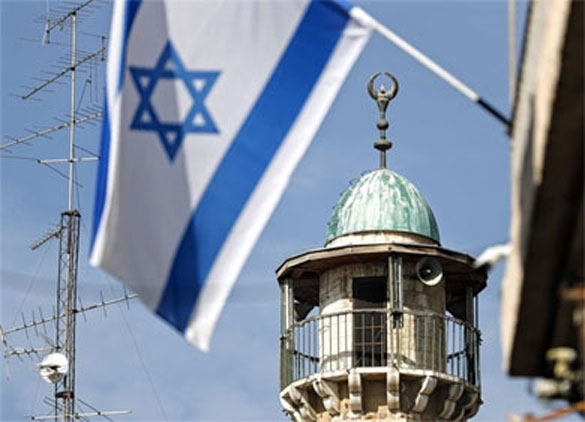 The bill was drafted in response to noise from mosques, but would in theory apply to synagogues as well (AFP)
--------
• Orthodox Jews Block Israeli Bid to Turn down Volume of Muslim Calls for Prayer
• Every Religious Person in America Must Help Our Muslim Brethren
• Misleading Info on Islam via Internet Can Confuse Muslims - Islamic Department Malaysia
• Iraq: ISIL Arrests, Transfers 2,000 Mosul Citizens to Tal Afar for Human Shield
Mideast
• Orthodox Jews Block Israeli Bid to Turn down Volume of Muslim Calls for Prayer
• Iran Warns against Israel's Bid to Erase Al-Quds Islamic Identity
• Over 50 dead in heavy Yemen fighting
• Iran refuses to attend OIC meet on Makkah attack
• Turkey's top cleric criticizes Israeli bill on Islamic call to prayer
• Yemen's Houthis say they want to end war
• Erdogan says Turkish-backed rebels close to taking Syria's al Bab
• Yemeni government says not interested in Kerry's truce announcement
• Trump win makes 'no difference' to Iran: Khamenei
• Saudi-proposed anti-Syria resolution rewarding terror sponsors: Iran
--------
North America
• Every Religious Person in America Must Help Our Muslim Brethren
• US Democrats Delay Vote As Muslim in Lead for Top Spot
• Immigration Hardliner Says Trump Plans For Wall, Muslim Registry
• Muslim-only housing plan runs into opposition in Canada
• US House approves bills on Iran, Assad supporters
--------
Southeast Asia
• Misleading Info on Islam via Internet Can Confuse Muslims - Islamic Department Malaysia
• Malaysia: Reform State Mufti's Office to Enhance Islamic Discourse
• Blasphemy charges against Ahok a triumph for Islamists in Indonesia
• Muftis moot Jawi script for Arabic names in ICs
• Philippines: Deepening Dialogue on Humanitarian Law and Islamic Law
• Jakarta governor named suspect in blasphemy case
• How Malaysia can reverse trend of increasing religious intolerance
--------
Arab World
• Iraq: ISIL Arrests, Transfers 2,000 Mosul Citizens to Tal Afar for Human Shield
• In Iraq, Syrian Kurds Long To Return Home to Fight Islamic State
• HRW: ISIS Killed 300 Ex-Policemen South Of Mosul Three Weeks Ago
• Tens of Nusra Terrorists Killed in Syrian Army Attacks in Northern Homs
• Egyptian policeman gets life sentence for killing man over cup of tea
• Syria regime bombs rebels as Aleppo food aid runs out
• Iraqi forces drive ISIS from Tal Afar airbase
• Kurdish forces won't withdraw from Iraq's liberated areas: Barzan
• Syrian Army Readying to Launch Attack on Al-Bab
• Syria: Gov't Forces Preparing for Final Phase of Aleppo Liberation Operation
• Syrian Soldiers Continue to Hit Hard Nusra Centres in Dara'a
• Protesting People Clash with Terrorists in Eastern Aleppo
--------
Europe
• Muslim Man Suffers Acid Attack Injuries by Teenagers In London
• UK Muslim Prison Population 'Doubled' In 10 Years
• BBC cancels Morocco debate on Islam and politics
• Germany falling short on Turkish extradition requests
• German far-Right extremists teaming up with gangs in America and Europe to plan attacks, intelligence chief warns
--------
India
• Donald Trump Will Clear Bill to Declare Pakistan a Terror State
• 3 Terrorists Involved In Dhaka Attack Admirers of Zakir Naik: Indian Home Ministry
• Tibet's Exiled Muslims Show Intricacies of Culture, Identity for Refugees
• India, Pakistan in list of top four countries that witnessed 50% terror attacks in 2015
• Army denies Pakistan's claim of 11 Indian soldiers killed in firing
• Maharashtra to keep vigil on local fund-raisers for Zakir Naik's IRF
--------
Pakistan
• Erdogan's Visit to Cement Pak-Turkey Ties: Shahbaz
• Imran Khan 'A Threat to National Security': PML-N Leaders
• Pakistan to 'respond befittingly' to all enemy moves
• India biggest irritant to regional peace, says Nisar
• Five tribesmen killed in Khyber attack
• JI sees youth's role in addressing Karachi problems
--------
South Asia
• Hundreds of Rohingya Flee Myanmar Army Crackdown to Bangladesh
• ISIS Claims Responsibility for Kabul Attack That Left 4 Dead, 11 Wounded
• Suicide bomber kills six in Kabul
• Airstrike kill 6 ISIS militants, leaves 2 others wounded in East of Afghanistan
• President Ghani promises public trial for kidnappers of Navid
--------
Africa
• 20 Libya Troops Killed In Clashes with Militants in Benghazi: Informed Source
• Final 3 Minnesota men sentenced in Islamic State case
• Can local muscle defeat Somalia's al-Shabab?
• Tunisia arrests four suspected of planning terrorist attacks
Compiled by New Age Islam News Bureau
URL: https://www.newageislam.com/islamic-world-news/new-age-islam-news-bureau/orthodox-jews-block-israeli-bid-to-turn-down-volume-of-muslim-calls-for-prayer/d/109125
--------
Orthodox Jews block Israeli bid to turn down volume of Muslim calls for prayer
Nov 16, 2016
A government-backed Israeli bill to limit the volume of calls to prayer at mosques has been blocked by an unlikely source -- the country's ultra-Orthodox Jews.
Prime Minister Benjamin Netanyahu had backed the controversial bill, which government watchdogs had called a threat to religious freedom.
It had been due to get its first reading in parliament this week until health minister Yaakov Litzman, a member of the ultra-Orthodox United Torah Judaism party, stepped in.
Litzman appealed the bill on Tuesday night, saying it could affect similarly loud Jewish prayers, Israeli media reported.
The bill, proposed by members of the far-right Jewish Home party, was adopted by a ministerial committee on Sunday and was due to go through three readings in parliament before becoming law.
The bill will now be put on hold until a ministerial committee holds a second vote.
The bill was drafted in response to noise from mosques, but would in theory apply to all religious institutions -- including synagogues.
"For thousands of years, the Jewish tradition has used various tools, including shofars (a ram's horn) and trumpets" for Jewish holidays, the minister said in his appeal letter, cited by the media.
"Since the technology developed, loudspeakers have been used to announce the onset of the Sabbath, at the permitted volume level, and in compliance with every law," he added, referring to the weekly Jewish day of rest.
He added that the proposed law constitutes an interference with religious practice and the status quo between religious authorities and the state.
In protest against the bill, Arab-Israeli lawmaker Talab Abu Arar chanted the Muslim call to prayer in parliament earlier this week, provoking furious protests from some Jewish members.
According to media reports, Arab MPs opposed to the bill pressured Litzman to use his power as a minister to block it, arguing a common right to religious practice for Jews and Muslims.
Around 17.5 per cent of Israelis are Arab, the vast majority of them Muslim, but they complain of discrimination and are underrepresented in high-level jobs.
http://www.hindustantimes.com/world-news/orthodox-jews-block-israeli-bid-to-turn-down-volume-of-muslim-calls-for-prayer/story-RlcyypmpgCIC1M5mQCOSoN.html
--------
Every Religious Person in America Must Help Our Muslim Brethren
Nov. 16, 2016
For many in this country, the 2016 election was a cause for sorrow and consternation. For others, it has been a moment to exalt and rejoice. The chasm between supporters of the two candidates seems as large as the nation itself. It is as though there were two distinct and irreconcilable Americas uncovered on Nov. 8. We write together although we represent very different parts of the American polity. One of us is a Mormon bishop, living in red-state Utah, who, until the President-elect was nominated, counted himself a life-long Republican. The other is a Jewish rabbi, living in true-blue New York City, and a life-long Democrat. What unites us is so much greater than the divisions implied by those descriptors.
As religious leaders who embrace the freedoms that America affords us, we both are disturbed by the rancour and rhetoric of the election campaign. Secretary Hillary Clinton had been famous for the listening tour she undertook when she ran for senator. In this campaign, however, she ignored a significant segment of the population, many of them former Democrats, and dismissed many as a "basket of deplorable." This was an insult to many Americans and was not easily forgiven.
President-elect Donald Trump, for his part, ran a campaign that countenanced xenophobia, misogyny, racism, Islamophobia and anti-Semitism. It deployed a barrage of hateful rhetoric and condoned white supremacist memes. We pray that such language is behind us now and that both sides repent of their political sins.
This elevation of party and partisanship failed America. We cannot afford to be divided in this fashion. We cannot continue to be red America versus blue America. Only as a united America can we find a way forward, together. The great religious principle that should guide us is to "love our neighbour as ourselves." So we must stand against any attempt to marginalize Muslims or any other religious minority. As a Jew and a Mormon, we know only too well the horrible consequences of such demonization of the religious other. We must remember that there were Muslims in this land even before we became a country. We must remember the indigenous religions of this country: those of the native Americans and that of the Church of Jesus Christ of the Latter Day Saints. Judaism, Christianity and Islam all share the notion that we stem from common ancestors: Adam and Eve. We are one great family of American citizens, no matter what religion, what God we worship, or how we worship.
As we think of our common ancestry, almost all of us, no matter whom we voted for, can relate to the idea that we are a "nation of immigrants." Whether ourselves, our parents, our grandparents or perhaps further back in history almost all of us have immigrant pasts. This country was made great by the labour and imaginations of immigrants. We must embrace the immigrant, most especially the refugee population, whether we want to keep stronger together or make America great again.
We literally are sickened by the poor state of health care and the crisis of gun violence. We call for a continued reform of our insurance practices so that even more Americans can have access to health care. We call for a renovation of our medical practices, putting patient care and financial efficiency before profits. And we call for a sensible gun regulation policy that respects the Second Amendment of our constitution while ending the scourge of gun violence.
We share common hopes for our nation, and for our children and grandchildren. We invite everyone to work for one America. There is a way forward. It is not the path of partisan politics. Nor can it be the path of winner takes all. Rather, it is the straight path which begins with personal righteousness, justice and equity. The biblical precept of love serves as a good touchstone to judge our actions. If we could but do for our neighbours as we wish for ourselves, we can be "one nation under God, indivisible, with liberty and justice for all."
http://time.com/4573681/religious-unity/
--------
Misleading Info on Islam via Internet Can Confuse Muslims - Islamic Department Malaysia November 17, 2016
BANGI: A deluge of misleading information on Islam via the internet can be confusing to Muslims, a symposium on new media preaching, was told Wednesday.
Islamic Development Department Malaysia (Jakim) director-general Tan Sri Othman Mustapha said psychological warfare targeting young Muslims if not tackled, could lead to religious conflicts which would be a bane to the country.
"These people are using information technology to lull young Muslims into straying from the true Islamic faith.
"The authorities and families should use applications or devices to block the sources of negative information on Islam," he said when opening the Implications of New Media Preaching Symposium, here.
Othman said information communication technology has become so powerful that the internet has taken over the role of providing information to society from television.
"Technology has given rise to new terms such as nomophobia, fomo syndrome, phone pinching or phone phubbing."
He urged Muslim scholars to improve the traditional method of preaching by utilising information communication technology and the internet as it can prove to be more effective. -- BERNAMA
http://english.astroawani.com/malaysia-news/misleading-info-islam-internet-can-confuse-muslims-jakim-122840
--------
Iraq: ISIL Arrests, Transfers 2,000 Mosul Citizens to Tal Afar for Human Shield
Nov 16, 2016
"A sum of 2,000 residents of Mosul city have been captured by the ISIL terrorist group to be used as human shield against the Iraqi forces' military advances," al-Shamri said.
He, meantime, said the ISIL has also arrested and executed 25 people in different parts of Iraq's Nineveh province and refrains from handing over their dead bodies to their families.
The ISIL will also execute people if it finds out that they have computers, telephones or other communication devices and equipment.
In a relevant development in early November, Deputy Chief of the Nineveh Provincial Council Noureddin Qablan announced that the ISIL terrorist group has arrested thousands of civilians in Tal Afar city to use them as human shield.
"A sum of 20,000 citizens of Tal Afar, specially Abata Hill (Tal Abata) and Mahlabieh districts, have been detained by the ISIL terrorist group to be used as human shields," Qablan said.
He noted that the ISIL also forced hundreds of families of Tal Afar city to leave their homes and move to al-Ba'aj region and the Syrian territories.
"The intelligence obtained from the ISIL terrorists in Tal Afar confirms that most of the ISIL terrorists of Tal Afar are foreigners and only some of them are Iraqis," Qablan added.
http://en.farsnews.com/newstext.aspx?nn=13950826001303
--------
Mideast
Iran warns against Israel's bid to erase al-Quds Islamic identity
Nov 16, 2016
Iran warns against Israel's bid to erase the Islamic identity of Jerusalem al-Quds, after Israeli lawmakers gave the initial approval to a bill that grants legal status to illegal settlement outposts in the occupied West Bank.
The first reading of the bill was passed in the Israeli parliament (Knesset) on Wednesday with 58 votes in favor and 50 against.
The measure, which would apply to an estimated 2,000 to 3,000 illegal Israeli settler units in the occupied West Bank, requires three more full parliamentary votes to become law.
Iranian Foreign Ministry Spokesman Bahram Qassemi said on Wednesday that the international community and Muslim countries needed to act against such measures, which he referred to as "provocative" and "against human rights" and which he said could endanger the Islamic identity of East Jerusalem al-Quds.
According to the legislation, Palestinian landowners would be offered compensation in exchange for the expropriation of their lands.
Meanwhile, the Israeli lawmakers are expected to approve another controversial bill aimed at limiting calls to prayer from Palestinian mosques.
On Saturday, the Israeli ministerial committee for legislation approved the bill before it goes to the Knesset, where it then must pass three rounds of voting before becoming law.
Palestinians have condemned the move as a blatant violation of freedom to worship, but Israeli Prime Minister Benjamin Netanyahu claimed on Sunday that the bill enjoyed wide support among the Israelis.
"The call to prayer is one of the rituals of Islam and is an issue of significance to Muslims," Qassemi said, adding that the proposed bill exposes Israel's six-decade-long "anti-humane, racist and cruel policies against the oppressed Palestinian people." The Iranian official went on to say that such practices are only meant to "tighten the living conditions for the Palestinians in their ancestral homeland and change the Islamic identity of East Jerusalem al-Quds."
Iran welcomes Yemen truce, dialogue
Also on Wednesday, the Iranian Foreign Ministry spokesman reaffirmed his country's support for the resumption of talks between Yemeni sides.
"The Islamic Republic of Iran has always stressed a political solution to the Yemeni crisis through dialogue between Yemen's political groups and avoiding a military approach," Qassemi said.
He said that Iran welcomes a political agreement and a full ceasefire that would restore stability and peace to the Arab country and alleviate the suffering of the Yemeni nation.
On Tuesday, US Secretary of State John Kerry said that both the Houthi Ansarullah movement and an alliance of militants loyal to Yemen's resigned president, Abd Rabbuh Mansur, had agreed to a cessation of hostilities starting on November 17.
A representative of Yemen's former government, however, denied that forces loyal to Hadi had agreed to a ceasefire.
But Yemen's Houthi Ansarullah movement has expressed its readiness to end fighting and join a national unity government in the conflict-ridden country suffering from a deadly Saudi aggression since March 2015.
"Ansarullah's position has been and still is with stopping the war and the establishment of a national unity government that incorporates all political components," Mohammed al-Bukhaiti, member of Ansarullah's Political Council, told Reuters on Wednesday. http://www.presstv.ir/Detail/2016/11/16/493915/Iran-Israel-Palestine-settlements-prayer-call-Qassemi-Yemen
--------
Over 50 dead in heavy Yemen fighting
November 17, 2016
ADEN - Heavy fighting between government forces and rebels in north and west Yemen has left 51 dead, as a new peace efforts appeared to stumble, military officials said Wednesday.
They said forces loyal to President Abedrabbo Mansour Hadi have clashed since Tuesday with Shiite Huthi rebels and allied renegade troops in the country's northwest, near the border with Saudi Arabia.
The fighting as loyalists launched an attack on three fronts to recapture the coastal town of Midi and nearby Haradh, the officials said.
Fifteen loyalists and 23 rebels were killed in the fighting, the officials said.
"Our military operations will continue until we push them out," said army Colonel Abdul Ghani al-Shubaili, whose forces had air support from a Saudi-led Arab coalition.
Elsewhere, nine rebels and four soldiers were killed in fighting on the outskirts of the flashpoint city of Taez, in southwest Yemen, military officials said.
Pro-Hadi forces have advanced towards the city's presidential residence and police headquarters, both under rebel control, witnesses said, reporting heavy fighting and loud explosions that shook the city.
Full report at:
http://nation.com.pk/international/17-Nov-2016/over-50-dead-in-heavy-yemen-fighting
--------
Iran refuses to attend OIC meet on Makkah attack
17 November 2016
Arab diplomatic sources have said that Iran refused to take part in an Organization of Islamic Cooperation (OIC) meeting summoned to discuss the Houthi militia's attempt to attack Makkah by launching a ballistic missile in October.
Asharq al-Awsat quoted the source as saying that Tehran did not reveal the reason behind its refusal but it has confirmed to the IOC that it will not participate.
Full report at:
https://english.alarabiya.net/en/News/middle-east/2016/11/17/Iran-refuses-to-attend-OIC-meet-on-Makkah-attack.html
--------
Turkey's top cleric criticizes Israeli bill on Islamic call to prayer
Nov 17, 2016
An Israeli bill calling for a ban on mosques using loudspeakers for the call to prayer has been condemned as a "rejection of Islam" by the head of Turkey's Religious Affairs Directorate (Diyanet).
Mehmet Görmez said on Nov. 16 that the proposal to impose noise limits on places of worship "amounts to a rejection of Islam and Muslims' presence in Jerusalem."
"Forbidding the call to prayer means the rejection of Muslims and Islam in Jerusalem throughout history. It is impossible to accept this," Görmez told reporters during a visit to Qatar.
Israeli Prime Minister Benjamin Netanyahu had backed the controversial bill, which watchdogs had called a threat to religious freedom.
Eventually the bill was blocked at parliament with the help of an unlikely source: The country's ultra-Orthodox Jews.
The draft had been due to get its first reading in parliament this week until Health Minister Yaakov Litzman, a member of the ultra-Orthodox United Torah Judaism party, stepped in. Late on Nov. 15, Litzman said the bill could potentially affect similarly loud Jewish prayers, Israeli media reported.
Proposed by members of the far-right Jewish Home party, the bill was adopted by a ministerial committee and was due to go through three readings in parliament before becoming law. It will now be put on hold until a ministerial committee holds a second vote.
The bill was drafted to target noise from mosques, but would in theory apply to all religious institutions - including synagogues.
"For thousands of years, the Jewish tradition has used various tools, including shofars [a ram's horn] and trumpets" for Jewish holidays, Litzman reportedly stated in his appeal letter against the bill.
Full report at:
http://www.hurriyetdailynews.com/turkeys-top-cleric-criticizes-israeli-bill-on-islamic-call-to-prayer-.aspx?pageID=517&nID=106214&NewsCatID=339
--------
Yemen's Houthis say they want to end war
Nov 17, 2016
HODEIDAH: Yemen's Houthi group said on Wednesday it was ready to stop fighting and join a national unity government, raising hopes of a resolution to a conflict that has killed more than 10,000 people.
The announcement appeared to confirm the details of a deal set out by US Secretary of State John Kerry a day earlier that he said included plans for a ceasefire starting on Thursday.
Mohammed al-Bukhaiti, a member of the political council of the Houthi's Ansarullah group, said Saudi Arabia had also agreed to end its involvement in the war — though there was no official confirmation from Riyadh.
"Ansarullah's position has been and still is with stopping the war and the establishment of a national unity government that incorporates all political components," Bukhaiti told Reuters, responding to a question on Kerry's announcement.
"The new thing is in the position of Saudi (Arabia), which has agreed in principle to stop the war as one of the parties to the conflict," Bukhaiti added.
Kerry, in what could be his last trip to the Gulf before President Barack Obama's term ends in January, said on Tuesday that officials from the Houthi group and the Saudi-led coalition meeting had agreed to a ceasefire starting on Thursday.
Underlining the complexity of the situation, Hadi's government quickly rejected the move, complaining that it had been bypassed. Copies of a UN peace plan seen by Reuters in October suggested he would be sidelined in any future government.
Full report at:
http://www.dawn.com/news/1296836/yemens-houthis-say-they-want-to-end-war
--------
Erdogan says Turkish-backed rebels close to taking Syria's al Bab
17-Nov-16
ANKARA: Turkey-backed rebels are just 2 km (1.25 miles) from the northern Syrian city of al Bab and are expected to take it from Islamic State quickly despite some resistance, Turkish President Tayyip Erdogan said on Wednesday.
The rebels said on Tuesday they had taken Qabasin, several kilometers northeast of al Bab, setting the stage for an assault on the last urban stronghold of Islamic State in the northern Aleppo countryside.
Al Bab is of particular strategic importance to Turkey because Kurdish-dominated militias have also been pursuing a drive to seize it. Ankara is determined to prevent Kurdish forces from joining up cantons they control along the Turkish border, for fear it will stoke Kurdish separatism at home.
"The Free Syrian Army (rebels), with the support of our special forces, is about 2 km away and the siege is continuing as planned," Erdogan told a news conference in Ankara before departing on an official visit to Pakistan.
"There is resistance now, but I don't think it will last much longer," he said.
Erdogan also said he was confident that the Syrian Kurdish YPG militia would withdraw east of the Euphrates River from the city of Manbij on Wednesday or Thursday, fulfilling a long-standing Turkish demand.
Turkey sent warplanes, tanks and artillery into Syria in August in support of mostly Arab and Turkmen rebels, an operation dubbed "Euphrates Shield" and meant to drive both Islamic State and Kurdish militia forces away from its border.
Full report at:
http://dailytimes.com.pk/pakistan/17-Nov-16/erdogan-says-turkish-backed-rebels-close-to-taking-syrias-al-bab
--------
Yemeni government says not interested in Kerry's truce announcement
November 16, 2016
Yemeni Foreign Minister Abdel-Malek al-Mekhlafi said on Tuesday his government was not interested in a ceasefire and unity government announcement by US Secretary of State John Kerry aimed at ending the country's nearly 20-month conflict.
"The government was not aware of nor is it interested in what Secretary Kerry announced, which represents a desire to scuttle peace efforts by trying to reach an agreement with the Houthis apart from the government," Mekhlafi wrote on his official twitter page.
Kerry had announced during a visit to Abu Dhabi on Tuesday that parties to the conflict in Yemen have agreed to a cessation of hostilities starting on Nov. 17 and that they intend to work towards setting up a unity government.
Full report at:
http://nation.com.pk/international/16-Nov-2016/yemeni-government-says-not-interested-in-kerry-s-truce-announcement
--------
Trump win makes 'no difference' to Iran: Khamenei
November 17, 2016
TEHRAN - Iran's supreme leader Ali Khamenei said Wednesday that the result of the US election made "no difference" to the Islamic republic despite president-elect Donald Trump's aggressive stance.
"We have no judgement on this election because America is the same America," he told thousands of people during a public speech in Tehran, broadcast on state television. "In the past 37 years, neither of the two parties who were in charge did us any good and their evil has always been directed toward us."
It was his first reaction to the election of Trump, who during his campaign labelled last year's nuclear deal between Iran and world powers a "disaster" and threatened to tear it up. "We neither mourn nor celebrate, because it makes no difference to us," Khamenei said.
Full report at:
http://nation.com.pk/international/17-Nov-2016/trump-win-makes-no-difference-to-iran-khamenei
--------
Saudi-proposed anti-Syria resolution rewarding terror sponsors: Iran
Nov 16, 2016
Iran's deputy representative to the United Nations has slammed a Saudi-proposed UN resolution against the Syrian government, stressing that it rewards those countries backing terrorism and extremism in the country.
Gholam-Hossein Dehqani made the remarks on Wednesday while addressing the Third Committee of the 71st session of the General Assembly.
He stressed that the draft resolution is without a doubt against the basic principles of international law and a "disservice" to the UN.
"It does nothing but rewarding violent extremism and terrorism and those who have helped them develop extreme ideologies and corresponding financial and logistical resources in the past many years," he added.
He noted that the structural weakness of the UN human rights mechanisms gives the countries that are actually exporting "violent extremism and terrorism" the opportunity to abuse the system and pass such resolutions.
"Let me, however, assure those who initiated this resolution and those who abetted them to push it through this committee, that this and similar acts won't dissuade us from our fight against violent extremism, as we are determined to clean our environment from extremists who try to sow terror in our neighborhood and export it to the entire world," he added.
Syria's Ambassador Bashar al-Ja'afari also condemned the resolution, noting that the "Saudi regime should be the last to talk about human rights."
Full report at:
http://www.presstv.ir/Detail/2016/11/16/493943/iran-saudi-arabia-un-resolution-syria
--------
North America
US Democrats Delay Vote As Muslim in Lead for Top Spot
16 November 2016
The first Muslim to potentially head a major American political party will have to wait to find out if he will lead Democrats after the group said Tuesday internal elections were moved to Nov. 30.
House Majority leader Nancy Pelosi agreed to postpone the elections after Democrats said they needed more time to evaluate the party's crushing defeat in the general elections.
Last week's election saw the party lose control of the White House and fail to wrest the Senate from the Republican majority.
House lawmaker Keith Ellison announced his bid to chair the Democratic National Committee (DNC) and is widely regarded as the front-runner to win the post.
"This election cycle, we did not motivate enough people to the ballot box," Ellison said in a statement. "We must champion the challenges of working families and give voters a reason to show up at the polls in 2018 and beyond."
The five-term House member is a staunch progressive, and has been backed by former Democratic presidential candidate Bernie Sanders to lead the party.
"It is time for the Democratic Party to make it clear that we will become a grassroots party which stands with the working families of this country and will fight for a government that works for all of us, not just the 1 percent," Sanders said in a message of support.
Ellison also has the backing of the party establishment, including Sen. Chuck Schumer, and outgoing Senate minority leader Harry Reid.
Ellison is the first Muslim-American to be elected to the House of Representatives, and co-chairs the Congressional Progressive Caucus. He also serves on the Financial Services Committee.
The top spot in the DNC has been vacant since former chair Debbie Wasserman Schultz resigned after leaked emails appeared to show her conspiring to undermine Sanders in his bid to defeat Hillary Clinton in the primary elections.
http://www.worldbulletin.net/america-canada/180240/us-democrats-delay-vote-as-muslim-in-lead-for-top-spot
--------
Immigration hardliner says Trump plans for wall, Muslim registry
Nov 17, 2016
An architect of anti-immigration efforts who says he is advising President-elect Donald Trump said the new administration could push ahead rapidly on construction of a US-Mexico border wall without seeking immediate congressional approval.
Kansas Secretary of State Kris Kobach, who helped write tough immigration laws in Arizona and elsewhere, said in an interview that Trump's policy advisers had also discussed drafting a proposal for his consideration to reinstate a registry for immigrants from Muslim countries.
Kobach, who media reports say is a key member of Trump's transition team, said he had participated in regular conference calls with about a dozen Trump immigration advisers for the past two to three months.
Trump's transition team did not respond to requests for confirmation of Kobach's role. The president-elect has not committed to following any specific recommendations from advisory groups.
Trump, who scored an upset victory last week over Democrat Hillary Clinton, made building a wall on the US-Mexico border a central issue of his campaign and has pledged to step up immigration enforcement against the country's 11 million undocumented immigrants.
He has also said he supports "extreme vetting" of Muslims entering the United States as a national security measure.
Kobach told Reuters last Friday that the immigration group had discussed drafting executive orders for the president-elect's review "so that Trump and the Department of Homeland Security hit the ground running".
To implement Trump's call for "extreme vetting" of some Muslim immigrants, Kobach said the immigration policy group could recommend the reinstatement of a national registry of immigrants and visitors who enter the United States on visas from countries where extremist organisations are active.
Kobach helped design the program, known as the National Security Entry-Exit Registration System, while serving in Republican President George W Bush's Department of Justice after the Sept 11, 2001, attacks on the United States by al Qaeda militants.
Under NSEERS, people from countries deemed "higher risk" were required to undergo interrogations and fingerprinting on entering the United States.
Some non-citizen male US residents over the age of 16 from countries with active militant threats were required to register in person at government offices and periodically check in.
NSEERS was abandoned in 2011 after it was deemed redundant by the Department of Homeland Security and criticised by civil rights groups for unfairly targeting immigrants from Muslim- majority nations.
Kobach said the immigration advisers were also looking at how the Homeland Security Department could move rapidly on border wall construction without approval from Congress by reappropriating existing funds in the current budget.
He acknowledged "that future fiscal years will require additional appropriations."
Congress, which is controlled by Trump's fellow Republicans, could object to redirecting DHS funds designated for other purposes.
Kobach has worked with allies across the United States on drafting laws and pursuing legal actions to crack down on illegal immigration.
In 2010, he helped draft an Arizona law that required state and local officials to check the immigration status of individuals stopped by police.
Parts of the law, which was fiercely opposed by Hispanic and civil rights groups, were struck down by the US Supreme Court in 2011.
Kobach was also the architect of a 2013 Kansas law requiring voters to provide proof-of-citizenship documents, such as birth certificates or U.S. passports, when registering for the first time.
Full report at:
http://www.dawn.com/news/1296715/immigration-hardliner-says-trump-plans-for-wall-muslim-registry
--------
Muslim-only housing plan runs into opposition in Canada
17 November 2016
A proposal to build homes for about 100 Muslim families in Montreal has run into fierce opposition but the man behind the project said Wednesday he will push ahead with the plan.
Nabil Warda, 68, a tax accountant and a Christian convert to Islam, said the housing idea is to provide a way for Muslims to buy homes without assuming regular mortgages because paying interest on bank loans is prohibited under some interpretations of Islamic law, the Toronto Star newspaper reported.
"A lot of Muslims have hang-ups about interest," Warda told the newspaper.
He said he does not care if the people who live in the development are practicing Muslims, reported the Canadian Broadcasting Corporation (CBC), Canada's national newscaster.
"For me, the values are: treat your brother with respect, be just, don't be unjust," Warda said. "It's not to pray five times a day."
But the creation of a Muslim-only community would go against the province's values of integration and inclusion, Quebec Premier Philippe Couillard told reporters Tuesday in Morocco, where he is attending a UN climate change conference.
"Discrimination can work in many ways, and inclusion can work in many ways," Couillard said, according to the CBC. "We are in favor of mixed housing for cultural communities as well as for religious groups. It is fundamental for us."
Full report at:
http://www.worldbulletin.net/america-canada/180289/cali-advocacy-groups-reassure-migrants-after-trump-win
--------
US House approves bills on Iran, Assad supporters
17 November 2016
The House of Representatives voted Wednesday to renew a bill that sanctions Iran and a separate piece of legislation that imposes new ones against supporters of the regime of Syrian President Bashar al-Assad.
Both bills backed were overwhelmingly approved by the by the Foreign Affairs Committee.
The bills now go to the Senate. If approved, it will be sent to the president.
The Iran Sanctions Extensions Act gives the U.S. the right to punish Iran if it violates the nuclear deal signed last year that curbs Tehran's nuclear activities in exchange of some economic sanctions relief.
The Act was first passed in 1996 but expires at the end of the year. The new bill extends the law for an additional 10 years.
"Now is not the time to ease up on the world's leading state sponsor of terrorism," said Republican lawmaker Leonard Lance, according to The Associated Press.
The second bill, titled the Caesar Syria Civilian Protection Act, aims to sanction supporters of Assad, like Russia and Iran.
The act is named after a witness who photographed bodies of imprisoned Syrian rebels after the war started in 2011. Caesar later smuggled his archive out of the country with more than 10,000 photos of tortured Syrians and shared it with the press. In 2014, he testified before Congress where he said he witnessed a "genocidal massacre".
Full report at:
http://www.worldbulletin.net/america-canada/180280/us-house-approves-bills-on-iran-assad-supporters
--------
Southeast Asia
Malaysia: Reform State Mufti's Office to Enhance Islamic Discourse
November 17, 2016
PETALING JAYA: State muftis should have international exposure in order to bring more sophistication in thought and action, says a lecturer from the International Islamic University (IIU).
IIU Asst Prof Maszlee Malik said this in calling for the office of state muftis in Malaysia to be wisely studied with a possibility of reform, due to the influence they hold on religious matters.
"The mufti has a crucial and powerful role. He is both the adviser to the rulers on religious matters and the reliable reference for common folk on religious issues.
"In many contexts, he is seen as the state's most-learned religious scholar," Maszlee said in a paper published by the Iseas Perspective under Singapore's Yusof Ishak Institute.
Naming the mufti of Perlis, Penang and Federal Territory (WP) as examples of religious leaders who were academically more qualified and more diplomatic in their public announcements, Maszlee said these men were also more willing to engage in inter-faith dialogue.
"Both the mufti of WP and Penang have held discussions at work with leaders of other faiths. Perlis mufti Mohd Asri Zainul Abidin, meanwhile, has expressed opinions that many see to be contradicting the expressed thought of mainstream religious authorities.
"This includes his thoughts on khalwat, child custodianship, and the ineffectiveness of Zakat distribution," the Visiting Fellow at the Iseas–Yusof Ishak Institute said.
Aside from reforming the office of state muftis, Maszlee also proposed for religious authorities to popularise an inclusive Islamic discourse.
"For a deeper and more lasting effect, there is a need for an inclusive Islamic discourse to be practised, and for universal values and ethics to be embraced.
"It should be quite clear to Muslims that the call of Islam is not towards the homogenisation of society into a single culture, identity or faith, but for the observation and practice of good conduct and civility so as to ensure that diversity will nurture peace and serve the common good," he wrote in the paper entitled Turning Malaysia off Inter-Faith Strife.
Towards this end, he said that any discourse should be on a neutral non-governmental and non-political platform with the participation of Muslim scholars, intellectuals and like-minded academics with a background in Islamic studies.
Full report at:
http://www.freemalaysiatoday.com/category/nation/2016/11/17/academic-reform-state-muftis-office-to-enhance-islamic-discourse/
--------
Blasphemy charges against Ahok a triumph for Islamists in Indonesia
17 November 2016
One of the most high profile blasphemy allegations may soon be brought before a court in Indonesia. Thousands of Islamists turned out in Jakarta recently to demand that Basuki 'Ahok' Tjahaja Purnama, the Governor of Jakarta, be charged with blaspheming Islam. Some protestors displayed sinister signs, demanding that he be put to death. The rally presented an immediate security concern for the Indonesian government.
But this issue is likely to drag on. The Islamic Defenders Front, a notorious radical Islamic group in Indonesia, has already filed a complaint against Ahok with the police. In a significant escalation, on 16 November police announced that the governor had been made a suspect in a blasphemy investigation and would move quickly to prepare a case for prosecutors.
The complaint relates to an event on 27 September at which Ahok made reference to a verse of the Quran, al-Maidah 51. The verse, which warns Muslims against taking Jews or Christians as allies, is often used by Islamists as a reason why Muslims should not support Ahok as a politician. Ahok is both Christian and Chinese, a double minority in Indonesia. He claims that the video that went viral online butchered his actual speech and took it out of context. Regardless, he is now being accused of blaspheming Islam.
This should come as no surprise. Prosecuting Ahok would fit within a broader trend over the past two decades in Indonesia of charging people who have allegedly blasphemed Islam.
The blasphemy law has been central to tensions between religious authority and the state in post-1998 Indonesia. From 1965 when the law was introduced up until the fall of Suharto in 1998 there were as few as 10 cases brought to the courts. Most of these appear to have been politically motivated.
But beginning with the Lia Eden case in 1997 — a woman who considered herself to be the Angel Gabriel — there has been a sharp increase in blasphemy prosecutions.
While the number of cases is not as drastic as the situation in Pakistan, there have still been over 130 people convicted for blaspheming a religion in Indonesia in the past two decades. Most of these people were convicted for blaspheming Islam. Some did hold unconventional or eccentric views, but most appear to have been harmless.
A large number of people who have been found guilty of blasphemy have been Christian. This data is skewed by one particular court case where 41 Christians were tried for blaspheming Islam.
An equally large number of people who were found guilty of blaspheming Islam ironically identify as Muslim. This is because many cases have concerned the perceived need for some Islamic religious leaders to police 'correct' Islamic teachings and exercise the authority to decide who is, or is not, a 'Muslim'.
So what might happen to Ahok? If a case is brought forward, it would first need to be heard in a District Court. Given the controversy and high profile nature of this case, there is likely to be a strong Islamist presence at the court, which could potentially result in intimidation and violence. Courtrooms have been burnt down in Indonesia before as a result of blasphemy proceedings.
If the court found against Ahok, he may have the opportunity to appeal up to the Supreme Court, although the Supreme Court has never overturned a blasphemy conviction.
It would also appear that Ahok could not challenge the constitutionality of the blasphemy law itself. There have already been two failed constitutional challenges.
Full report at:
http://www.eastasiaforum.org/2016/11/17/blasphemy-charges-against-ahok-a-triumph-for-islamists-in-indonesia/
--------
Muftis moot Jawi script for Arabic names in ICs
BY IDA LIM
November 17, 2016
KUALA LUMPUR, Nov 17 — The National Registration Department (NRD) should include the Jawi script in identity cards when Arabic names are used instead of just using the current Roman script, two muftis have said.
Penang mufti Datuk Wan Salim Wan Mohd Noor said he felt it would be a "good time" to start using Jawi script in the identity cards.
"I think it is timely because there is so much confusion, so by doing that, hopefully we can solve the problem," he told Malay Mail Online when contacted yesterday.
He was asked to weigh in on Federal Territories mufti Datuk Zulkifli Mohamad al-Bakri's proposal on Tuesday for the NRD to provide a special column for Muslim parents to write the names of their offspring in both Roman and Jawi script, as well as for the department to station qualified religious officers to advise Muslim parents on names.
The Jawi script is used to spell Malay words using the Arabic alphabet.
Wan Salim agreed with the proposal for the special column, explaining that this would help avoid mistakes in writing that would otherwise change the words' meaning and ultimately facilitate proper pronunciation of Arabic words.
"Sometimes, some Arabic letters cannot be written exactly or written rightly in Rumi, so it is better to write both in Arabic and Rumi," he said, agreeing that the Jawi script should be regarded as "final" for Arabic names.
He also proposed the use of the Library of Congress' Arabic Romanisation system — which he said was internationally-recognised for the transliteration of Arabic words into Roman script using symbols such as apostrophes; dots and lines above and below letters — in both Malaysian birth certificates and identification cards.
He said this transliteration system will help ensure Arabic names are pronounced correctly with indicators for the prolonged reading of certain parts of the words, adding: "In the Arabic system, you have to prolong (certain) letters, if you make it short, the meaning will be different".
"They should not be hasty to give names to their children, but they should consult the ulama or Muslim scholars who know better about their names, good name or bad name," he said of Muslim parents.
Perak mufti Tan Sri Harussani Zakaria similarly said the Jawi script can be used in birth certificates and identification cards when Malaysian applicants are using Arabic names.
He also said he agreed with Zulkifli's proposals for NRD to allow Arabic names to be written in both Roman and Jawi scripts and with the latter script to be taken to be conclusive.
"I support it, I agree. Many, when we write in Roman script, its sound is different and the meaning is different," he told Malay Mail Online when contacted, adding that the use of the Jawi script would help ensure Arabic names are pronounced accurately.
Harussani also suggested a return of the use of the apostrophe symbol in names such as was previously done by the late national literary icon Zainal Abidin Ahmad with his moniker Za'aba.
Officers who know Arabic can either be seconded from the Department of Islamic Development Malaysia (Jakim) or appointed directly by NRD if there are allocations for it, he said when backing the Federal Territories mufti's suggestion.
He also advised against the use of modern names without knowing their meanings, while confirming that many Muslim parents had sought the advice of his department and religious authorities when naming their children.
Some who had given names to their children that turned out to be bad names would also consult with religious bodies on suitable name changes, he said.
Like the two other mufti, Selangor mufti Datuk Seri Tamyes Abdul Wahid backed Zulkifli's proposals which he said would avert confusion in the meaning of Arabic names resulting from the use of Roman script.
Full report at:
http://www.themalaymailonline.com/malaysia/article/muftis-moot-jawi-script-for-arabic-names-in-ics
--------
Philippines: Deepening Dialogue on Humanitarian Law and Islamic Law
16 NOVEMBER 2016
A seminar that aims to highlight the common ground between international humanitarian law (IHL) and its equivalent in Islamic tradition and jurisprudence is being held today at the University of the Philippines in Quezon City.
Titled "Exploring Correspondences between International Humanitarian Law and Islamic Law Related to Armed Conflict and Their Relevance in the Southern Philippines," the seminar, organized by the National Commission on Muslim Filipinos, the UP-Institute of Islamic Studies, and the ICRC, aims to deepen dialogue among Islamic institutions and the ICRC for the common purpose of preserving the life and dignity of victims of armed violence.
"Many rules and customs to protect life and dignity in times of war have been codified in IHL. The Geneva Conventions—the main instruments of IHL—are universally accepted by all States, but many arms carriers and civilians lack knowledge of these legal rules, and feel more bound by their traditional values and religious beliefs," said Andrew Bartles-Smith, ICRC regional advisor for humanitarian affairs.
"The discussions we've held recently in Mindanao and today in Manila aim to promote understanding and knowledge of the rules of armed conflict, and to highlight correspondences between modern humanitarian law and Islam," he added.
All four seminars—three of which were successfully held in Zamboanga, Marawi, and Cotabato cities—include panel discussions on IHL and Islamic law related to armed conflict and challenges related to the observance of these rules, and how to improve respect for them.
The ICRC has reached out to Muslim scholars and dignitaries since the late 1990s to search for common ground between IHL and its equivalent in Islam. It stepped up its engagement with Islamic scholars and organizations in Southeast Asia in 2010.
Full report at:
https://www.icrc.org/en/document/philippines-deepening-dialogue-humanitarian-law-and-islamic-law
--------
Jakarta governor named suspect in blasphemy case
November 17, 2016
JAKARTA - Jakarta's Christian governor was formally named a suspect in a blasphemy investigation Wednesday, after allegations that he insulted Islam sparked a violent mass protest by the Muslims in the Indonesian capital.
Police said the allegations against Basuki Tjahaja Purnama, who is also the first member of Indonesia's ethnic Chinese minority to lead Jakarta, should go to trial and ordered him not to leave the country.
Religious groups had demanded that Purnama, known by his nickname Ahok and Jakarta's first non-Muslim leader in half a century, be prosecuted for allegedly insulting the Holy Quran while campaigning in elections for the governorship.
The governor - currently favourite to win the polls - had accused his opponents of using a Quranic verse, which suggests Muslims should not choose non-Muslims as leaders, in order to trick people into voting against him.
The blasphemy allegations sparked much anger among Muslims - both moderate and hardline - and more than 100,000 protesters took to the streets in Jakarta on November 4 demanding that Purnama be prosecuted, with the demonstration later turning violent.
After a lengthy investigation that involved questioning scores of witnesses, national police chief detective Ari Dono told reporters: "Basuki Tjahaja Purnama has been named a suspect."
National police chief Tito Karnavian conceded there were "sharply dissenting opinions" and the decision was not unanimous, but added investigators had eventually concluded the case should go to trial.
Full report at:
http://nation.com.pk/international/17-Nov-2016/jakarta-governor-named-suspect-in-blasphemy-case
--------
How Malaysia can reverse trend of increasing religious intolerance
NOVEMBER 17, 2016
A series of incidents in recent years has been undermining the religious harmony that Malaysia has thus far enjoyed. This began with the infamous "cow-head protest" in Shah Alam in August 2009 against a proposed Hindu temple that displayed unveiled disrespect and hatred towards Hindu citizens; and continued with three churches being torched in the Klang Valley in early January 2010.
This was followed by apparent retaliatory arson attacks against two suraus (prayer rooms) in Muar in late January 2010. Then came the mind-numbing act of incitement in April 2015 by 50 residents in Taman Medan over the display of a cross on a newly minted church, followed by the unfortunate Low Yat fracas, which led to the Red Shirts demonstration that further stoked racial tensions.
The mood was further affected by the conundrum over the use of "Allah", the proposal to make Islamic and Asian civilisation studies compulsory at private universities, and a parliamentary Bill being presented that sought to allow the conversion of minors to Islam based on only one parent's approval. The government eventually withdrew this controversial Bill, which would have allowed this unilateral conversion throughout Malaysia.
Public statements and actions by national Muslim leaders and state religious authorities have further exacerbated racial and religious discord.
A recent statement made by the Mufti of Pahang that called non-Muslims who disagree with the proposed Hudud Bill — which seeks a stricter enforcement of Syariah law in the state of Kelantan that may result in the amputation of limbs for certain crimes — "Kafir Harbi" (infidels) is a gross aberration to the basic values of equality, diversity, mutual respect and harmony espoused by Islam.
The emergence of these issues may be piecemeal and coincidental, but the trend threatens the very fabric of Malaysia's multi-ethnic and multi-religious make-up. Many, including Muslim lawmakers from both the government and opposition camps, have raised concerns about Muslim Malaysians imposing their religious beliefs increasingly on minorities. Some suspect this is the purposive "divide and rule" agenda of powerful parties working to rouse a siege mentality among Muslims, and believe these are borne out of the authorities' lackadaisical handling and condoning of these racial and religious incidents.
I propose three major steps that can be taken by concerned actors to limit and reverse this condition.
Over-institutionalisation of Islam
In the Constitution, religious affairs come under the purview of Malaysia's respective states, headed by the rulers. It identifies these rulers as the "Heads of Islam" within their own territory. Religious authorities (Majlis Agama Islam Negeri) at the federal and state government levels oversee Islamic religious activities and the Syariah courts.
State governments, through their religious authorities, are legally responsible for the administration of mosques in the 13 states. State governments impose Syariah law on Muslims in some cultural and social matters, and generally do not interfere with the religious practices of non-Muslim communities. However, there is ongoing debate regarding certain states incorporating elements of Syariah, such as khalwat (close physical proximity with an unrelated member of the opposite sex), into secular civil and criminal law.
The effectiveness of the state religious authorities in playing their roles and keeping their responsibilities has been increasingly questioned of late. The religious awakening among Muslims since the 1970s has raised their expectations of Muslim affairs. Some have chosen to support the religious authorities despite their flaws, while others have called for their total abolishment and for religious matters to become an individual matter.
Many educated Muslims remain critical of the religious authorities, especially in matters related to family disputes where the courts are seen as either being too male-dominated or inefficient in dispensing justice. Hence, when the Selangor religious authority made a groundbreaking decision by appointing seven female Syariah court judges, it was welcomed by many.
Full report at:
http://www.todayonline.com/world/how-malaysia-can-reverse-trend-increasing-religious-intolerance
--------
Arab World
In Iraq, Syrian Kurds long to return home to fight Islamic State
November 16, 2016
MANBIJ, SYRIA : The Kurdish YPG militia will pull its forces from the Syrian city of Manbij and withdraw east of the Euphrates River in order to participate in the campaign to liberate the Islamic State stronghold of Raqqa, it said in a statement.
U.S. special envoy Brett McGurk described the move as a "milestone", saying on Twitter that all YPG units would depart Manbij after training local units to maintain the city's security against Islamic State.
Turkey has repeatedly called for the YPG to withdraw east of the Euphrates. Ankara views the militia as a hostile force with deep links to Kurdish militants who have fought a three-decade insurgency on Turkish soil. Ankara has also said YPG fighters should not be involved in the planned Raqqa offensive.
Reuters reports : In Iraq, Syrian Kurds long to return home to fight Islamic State
BASHIQA : Days after helping to capture the Iraqi town of Bashiqa northeast of Mosul, Syrian Kurdish fighters walk proudly past the corpses of Islamic State combatants still lying in the ruins.
As they inspect the devastated streets where militants hid in ditches under metal sheets, members of the 3,300-strong Rojava Brigade exude confidence.
Fighting alongside Iraqi troops, Shi'ite militias and Iraqi Kurdish peshmerga fighters, they believe they can win the battle for Mosul, the jihadists' last big city stronghold in Iraq.
They are also confident of defeating Islamic State in the civil war back home in Syria, where they hope to return to protect their fellow Kurds.
But, in a situation that illustrates the complexities of the fight against the world's most dangerous militant group, rivalries between Kurdish groups are being played out across borders and preventing the Rojava Brigade fighting in Syria.
"We want to protect our land and our people. We can defeat the jihadists at home," Brigadier General Mohamed Rashed, the leader of the Rojava Brigade, told Reuters in Bashiqa.
But, speaking regretfully of the situation in Syria, he said: "We made several attempts to go back."
Like about 20 percent of the men under his command, Rashed once served as an officer in the Syrian army. After an uprising broke out, he fled to Iraq, leaving behind his parents and dreams of creating an independent Kurdish state.
Others also left for Iraq with the help of smugglers, then began military training with the Rojava Brigade in Iraq.
For the last two years the brigade has received training and funding from the Zeravani, a police force controlled by the Iraqi Kurdish region's interior ministry.
During that time it has joined Iraqi Kurdish forces in just about every battle against the jihadists, including the Mosul offensive, confronting highly skilled snipers, improvised explosive devices (IEDs) and suicide bombers.
KURDISH RIVALRY
Returning to Syria seems highly unlikely anytime soon.
The main obstacle, Rashed says, is the Kurdish YPG militia, which is close to the Kurdistan Workers' Party (PKK), a Marxist group that has fought a three-decade insurgency with Turkey for more autonomy.
The YPG has used the Syrian civil war to carve out an autonomous region across wide areas of northern Syria, which is known as Rojava in Kurdish. Ties between the main Syrian Kurdish groups and the Iraqi Kurdish authorities are however tense.
The head of the Kurdish-led administration in northern Syria accused the Iraqi Kurdish authorities earlier this year of imposing a siege on Rojava by closing their border, saying the Iraqi Kurds were acting in collusion with Turkey against them.
The United States regards the YPG as an ally in its fight against Islamic State, but Turkey considers it as a terrorist organization because of it has links with the PKK.
YPG spokesman Redur Xelil said he had no knowledge of the Rojava Brigade but that military groups formed outside the Syrian Kurdish area were in general not allowed to enter the territory.
"It is not permitted for any other military force formed outside Rojava or Syria to enter Rojava without the permission of the YPG and the (Kurdish) self-administration, because then there will be anarchy and this is what we absolutely cannot accept, particularly if this group does not recognize the legitimacy of the YPG and the self-administration," he said.
Both Syrian and Iraqi Kurds have been repressed by Arab governments in their own countries. Divisions among Kurds make the long-held Kurdish dream of an independent state across Syria, Iraq, Iran and Turkey even more remote.
Since 2014, when Islamic State swept through northern Iraq, 41 members of the Rojava Brigade have been killed and 200 have been wounded. Among these was a senior officer killed by an Islamic State sniper last week.
The Rojava Brigade has been helping clear jihadists from Bashiqa and other towns and villages.
Graffiti on the pockmarked walls in some parts of Bashiqa declare Islamic State leader Abu Bakr al-Baghdadi as the leader of the world's Muslims, harking back to the group's tight grip on the town until last week.
In one street, the corpse of an Islamic State fighter lays with a rusty metal rod attached to his lower leg, an apparent attempt to support a broken bone before he died.
A dirt tunnel inside one house leads to a spotless room once occupied by an Islamic State emir, or leader. It has wooden walls and an air conditioning unit.
Faisal Ayu, 40, arrived in Iraq in 2004. After he joined the Rojava Brigade and fought Islamic State, he was wounded by a suicide bomber in a car.
That did not break his resolve, and now he is eager to fight the militants back home in northern Syria. He rejects the idea of fighting YPG, saying Kurds fighting Kurds would cross a red line drawn by Kurdish President Masoud Barzani, in his capacity as commander-in-chief.
"We will wait," he said.
For now, they can only dream. "Step by step we will create Kurdistan," said Rojava fighter Safwan Hassan, 24.
http://nation.com.pk/international/16-Nov-2016/in-iraq-syrian-kurds-long-to-return-home-to-fight-islamic-state
--------
HRW: ISIS Killed 300 Ex-Policemen South Of Mosul Three Weeks Ago
17 November 2016
ISIS militants probably killed more than 300 Iraqi former police three weeks ago and buried them in a mass grave near the town of Hammam al-Alil south of Mosul, Human Rights Watch said on Thursday. A Reuters reporter visited the site of the mass grave, where residents said the militants buried victims who had been shot or beheaded. The residents said they believed up to 200 people were killed in the weeks before ISIS withdrew from the town.
Human Rights Watch said some of the former policemen were separated from a group of about 2,000 people from nearby villages and towns who were forced to march alongside the militants last month as they retreated north to Mosul and the town of Tal Afar.
Also read: Iraqi forces drive ISIS from Tal Afar airbase
It quoted a laborer who said he saw ISIS fighters drive four large trucks carrying 100 to 125 men, some of whom he recognized as former policemen, past an agricultural college close to the site which was to become the mass grave. Minutes later, he heard automatic gunfire and cries of distress, he said. The next night, on Oct. 29, a similar scene was repeated, with between 130 to 145 men, he told HRW.
Full report at:
https://english.alarabiya.net/en/News/middle-east/2016/11/17/HRW-ISIS-killed-300-former-policemen-south-of-Mosul.html
--------
Tens of Nusra Terrorists Killed in Syrian Army Attacks in Northern Homs
Nov 16, 2016
The army soldiers and National Defense Forces hit terrorists' bases and defense lines in the villages of al-Sa'an al-Aswad and Ezzeddeen, claiming the lives of nine militants.
In the meantime, other army units conducted operations against Fatah al-Sham's position in Hawsh al-Diwani, al-Sa'an al-Aswad, Hawsh Hajwa and Hawsh Jafar in Northern Homs, killing at least 15 militants dead or wounded.
A base of Fatah al-Sham in Hawsh Hajwa was targeted by army's artillery and missile units, destroying the base completely and killing all the terrorists inside the base.
Military vehicles of the terrorists were also destroyed in the missile and artillery shelling of the base.
Army attacks on Fatah al-Sham's positions in the village of Ezzeddeen in Northeastern Homs also destroyed their bases and equipment, killing several militants.
Fatah al-Sham's base in the village of Hawsh al-Zawaher was destroyed and several militants were killed in the Syrian army attacks.
Also, Commander of Ahrar al-Sham Hossein Abdul Qader Raqib and three of his forces were killed in army attack on their positions in the village of Ezzeddeen.
Also, Syrian Army soldiers and warplanes hit hard the positions of ISIL and Fatah al-Sham Front (previously known as the al-Nusra Front) in Eastern and Northern Homs on Tuesday, inflicting heavy losses on the militants.
Full report at:
http://en.farsnews.com/newstext.aspx?nn=13950826000430
--------
Egyptian policeman gets life sentence for killing man over cup of tea
November 16, 2016
An Egyptian court sentenced a policeman who killed a man over the price of a cup of tea to life in prison on Wednesday, a rare lengthy punishment for police violence in a country that rights activists say has a culture of impunity.
Public anger over allegations of police brutality has been bubbling over the past year, with several incidents spilling over into skirmishes and protests, five years after an uprising in which police officers were a major focus of discontent.
The policeman sentenced on Wednesday shot three people in a Cairo suburb after an argument over the price of a cup of tea, killing one of them and causing a riot. The sentence, issued after he was convicted of murder, can be appealed. Life sentences in Egypt normally run for 25 years.
Activists say police brutality is widespread in Egypt, enabled by a culture of impunity. The Interior Ministry says abuses are isolated and incidents are investigated.
Full report at:
http://nation.com.pk/international/16-Nov-2016/egyptian-policeman-gets-life-sentence-for-killing-man-over-cup-of-tea
--------
Syria regime bombs rebels as Aleppo food aid runs out
November 17, 2016
ALEPPO - Syrian government and Russian warplanes pounded rebel-held parts of northern Syria Wednesday, including battered second city Aleppo, where food aid rations were all-but-exhausted after months of regime siege.
The renewed bombardment has killed at least 20 people, including nine children, in Aleppo alone in the last 24 hours, and sparked anger from the United States and United Nations.
It comes as President Bashar al-Assad said in an interview that US president-elect Donald Trump could be a "natural ally" if he fights "terrorists".
Damascus considers all those who oppose Assad's government to be "terrorists" like the Islamic State group, which Trump has said should be the focus of US involvement in Syria.
Damascus and its ally Russia launched a wide-ranging assault on rebels on Tuesday, shattering a month of relative calm in the rebel-held east of devastated Aleppo.
An AFP correspondent in the east reported heavy bombardment throughout the night and into the morning.
And the Syrian Observatory for Human Rights, a Britain-based monitor, said at least 12 civilians, among them four children, had been killed in government air strikes and artillery fire in eastern Aleppo on Wednesday.
That followed the deaths of at least eight civilians in the besieged opposition-held side of the city on Tuesday, the monitor said.
The Observatory also reported ongoing strikes in Idlib province, in northwestern Syria, which is mostly controlled by a coalition of rebel groups including Al-Qaeda's former affiliate Fateh al-Sham Front.
The monitor said six people had been killed in strikes in the village of Kafr Jalis in Idlib on Tuesday night.
"The shelling targeted innocent civilians in their homes in Kafr Jalis, and there is a lot of destruction," said Yahya Arja from the White Helmets civil defence in the province.
"We worked through the night to lift the debris and remove the martyrs and surviving civilians, and now we're trying to remove the rubble blocking the roads," he told AFP.
The bombardment ended a period of relative respite, particularly in eastern Aleppo, where Moscow halted air strikes on October 18 ahead of a series of brief ceasefires.
The ceasefires were intended to encourage residents and surrendering rebels to leave the east, but few did so, expressing fear of moving into government-held territory.
Food aid stockpiled in the east is all-but-exhausted, with international organisations and their local partners saying they were distributing the final rations in recent days.
No aid has entered the eastern neighbourhoods since government troops surrounded it in mid-July.
Once Syria's economic powerhouse, Aleppo has been ravaged by the war that has killed more than 300,000 people across the country since it started in March 2011 with anti-government protests.
Assad ally Russia intervened in September last year in a bid to bolster the government, and on Tuesday announced warplanes taking off from its Admiral Kuznetsov aircraft carrier had carried out their first sorties in the country.
Defence Minister Sergei Shoigu said Russian forces were launching a "major operation" in Idlib and central Hom province, targeting IS and Fateh al-Sham Front.
But the bombardment has been criticised by both the UN and Washington, with the General Assembly's human rights committee voting overwhelmingly on Tuesday to condemn escalating attacks on civilians.
Washington said it had received reports that the latest bombing raids had damaged civilian infrastructure in rebel areas.
Full report at:
http://nation.com.pk/international/17-Nov-2016/syria-regime-bombs-rebels-as-aleppo-food-aid-runs-out
--------
Iraqi forces drive ISIS from Tal Afar airbase
16 November 2016
Iraqi Shiite militias said on Wednesday they had driven ISIS fighters from an air base west of Mosul, a victory which would threaten the group's supply route from Syria to its last major stronghold in Iraq.
"The airport of Tal Afar has been liberated," Yusif al-Kallabi, a spokesman for Popular Mobilisation, a coalition of mainly Iranian-backed militias, told Iraqi state TV.
The capture of the base, if confirmed, could be a significant development in the campaign to recapture Mosul, ISIS's de facto capital since its forces swept through Iraq in 2014 and set up a self-declared caliphate in a swathe of Syria and northern Iraq.
Tal Afar lies about 60 km (38 miles) west of Mosul on the main road to Syria. Its seizure could also alarm Turkey, which is wary of Iraqi Shi'ite involvement in the civil war in Syria.
"Tal Afar will be the starting block for the liberation of all the area...to the Syrian border and beyond the Syria border," said Hadi al-Amiri, head of Badr Organisation, Popular Mobilisation's largest component, in a video clip.
So far, Iraqi forces have dislodged ISIS militants in eastern Mosul.
Some ISIS militants have already pulled out from the base and moved to the town of Tal Afar, Jafaar Hussaini, a spokesman for Kata'ib Hezbollah, an Iranian-backed group, told Reuters.
"The battle will be finished today," he added.
Kata'ib Hezbollah is a main component in the PMUs, a coalition of mainly Shiite militias that joined the US-backed campaign on Mosul end of October.
Capturing Tal Afar would help cut ISIS's supply lines between Mosul and the territory under control of the militant group in Syria.
Full report at:
https://english.alarabiya.net/en/News/middle-east/2016/11/16/Iraqi-units-ready-to-storm-airbase-west-of-Mosul-.html
--------
Kurdish forces won't withdraw from Iraq's liberated areas: Barzan
Nov 16, 2016
The president of Iraq's semi-autonomous Kurdistan region says the Kurdish Peshmerga forces will not withdraw from the regions recaptured from Daesh terrorists in Iraq.
Speaking in the Iraqi town of Bashiqa on Wednesday, Masoud Barzani told the Kurdish Rudaw TV that the Peshmerga troops "will not retreat from areas retaken" based on an agreement with Washington and the central government in Baghdad.
The deal stipulates that "the defense lines before the Mosul operation are non-negotiable," Barzani said.
"Our only goal is to protect the security of people in these areas and for the Peshmerga to back it. We will never ever again let you be displaced and you can count on us for that," he noted in comments directed at Iraqi Kurds.
Since October 17, the Iraqi army, volunteer Shia and Sunni fighters as well as Peshmerga forces have been engaged in an offensive to liberate the northern city of Mosul, the last Daesh bastion in the country.
Elsewhere in his remarks, the Kurdish leader stressed that "almost all Kurdish areas" have been purged of Daesh elements.
Although Daesh is in retreat in Mosul and is facing defeat in Iraq, Kurdish forces should maintain their readiness to counter threats, he added.
"We cannot say Daesh is gone and let's relax now. This kind of challenge and threat will always be there. Therefore, we should… organize ourselves, upgrade our weapons, improve our training and be ready for any threat," he said.
Last week, Human Rights Watch released a report accusing Iraq's Kurdish security forces of having illegally destroyed Arab homes in northern Iraq over the past two years in what may amount to a war crime.
Full report at:
http://www.presstv.ir/Detail/2016/11/16/493928/Iraq-Kurdistan-Masoud-Barzani
--------
Syrian Army Readying to Launch Attack on Al-Bab
Nov 16, 2016
"The Syrian air force has dropped thousands of leaflets over al-Bab city and called on people to leave the city as the Syrian army and its allies are preparing to start military operations to liberate the city from ISIL control," the official told FNA.
He said that the Syrian government has also informed people in al-Bab through the social media that their city will be taken back soon.
The official said that while the Turkey-affiliated terrorists of the so-called Free Syrian Army (FSA) have reached to regions 1km from al-Bab and the Kurdish Syrian Democratic Forces (SDF) are also stationed in the Eastern parts of al-Bab, the Syrian army and its allies have deployed their forces at the air force college.
"The Syrian army and its allies will not allow the Turkey-affiliated forces to attack al-Bab," he stressed.
Last week, a military source said that the Syrian army troops are about to launch a massive operation against ISIL positions in the towns of al-Bab and Deir Hafer in the Eastern part of the province to end the Takfiri terrorists' rule in the region.
"A large number of fresh forces have been dispatched to the Eastern countryside of Aleppo to start military operation against the positions of ISIL to create a larger safe zone around Kuweires airbase," the source said.
"Thousands of army's special forces have been deployed in the Eastern countryside of Aleppo to take part in the liberation operation of al-Bab and Deir Hafer," he further added.
"After recapturing Manbij from ISIL, al-Bab an Deir Hafer have turned into the largest bases of ISIL in Aleppo province," the source said.
Experts believe that army's operations in al-Bab and Deir Hafer that are entrance gates to Raqqa province signify the government forces plan to start an attack on Raqqa soon.
The Kurdish-led Syrian Democratic Forces started a large-scale offensive on Raqqa, codenamed Angry Euphrates, a couple of days ago.
Full report at:
http://en.farsnews.com/newstext.aspx?nn=13950826001200
--------
Syria: Gov't Forces Preparing for Final Phase of Aleppo Liberation Operation
Nov 16, 2016
"As the army's 24-hour ultimatum to the terrorists to leave the city came to an end and as relative calm has prevailed over the Western and Southwestern parts of Aleppo, the army, the Lebanese Hezbollah fighters and special forces are getting ready to start attacking militants' defense line from several Eastern and Southern flanks," an army officer said.
Meantime, he appreciated the Russian help, saying, "The Russian air and naval back up will speed up the Syrian army's advances in the operation."
"Government forces are about to start their operation against the terrorists in Aleppo any moment," he added.
Local sources disclosed earlier today that civilians in the Eastern districts of Aleppo city took to the streets to oppose Jeish al-Fatah's rule in the city, calling on the militants to leave Aleppo immediately.
"Unprecedented clashes between people and terrorists have pushed the Eastern neighborhoods of Aleppo city into a new wave of tensions," sources said, adding, "People have taken part in demonstrations across the districts of Bostan al-Qasr and al-Kelaseh, calling on the terrorists to leave the city now."
"People have also attacked terrorists' food stuff warehouses, fighting with the militants for looting their food stuff from their neighborhoods," the sources added.
The sources went on to say that terrorists have arrested a number of demonstrators, hitting them badly.
Civilians in militant-held districts of Aleppo are tired of terrorist groups' measures, including suppression of people and banning food and medicine for the families who prevent their young sons from joining the terrorist groups.
Meantime, Tens of fighter jets launched airstrikes on terrorists' positions in Aleppo on Tuesday to herald the long-awaited ground operations to capture the Eastern parts of the city.
Tens of warplanes started massive air assaults on enemy targets in the Eastern parts of Aleppo on Tuesday after three weeks of lull and as Russia's Admiral Kuznetsov aircraft carrier launched combat operations in Syria, the Arabic-language al-Mayadeen news channel reported minutes ago.
The airstrikes started after several humanitarian pauses declared by the Syrian army and Russia to give a chance to the civilian population as well as the militants to leave the Eastern parts of the city through 8 corridors. Thousands of civilians left the city in the first few days, but militants blocked their exist paths, threatening to kill anyone who dares to approach the passages opened by the army. The terrorists aim to use the civilian population as a human shield.
The last such pause was declared on Monday when the army gave a 24-hour lone ultimatum to the Jeish al-Fatah coalition of terrorist groups to leave the flash point city. The deadline was not met by the militants, though.
Defense experts believe that the blitzkrieg is the first part of the long-awaited army operations in Eastern Aleppo to take back the entire city. Aleppo is halved into the government-ruled West and militant-held East. The militants rejected a guaranteed exit to relocate to Idlib or other militant-ruled territories in the hope that over 30,000 fresh forces would penetrate the city through the Southwestern front to lift the army's several-month-long siege on Eastern Aleppo.
Jeish al-Fatah lost thousands of militants in over two weeks of bloody war in Southern and Southwestern Aleppo, but failed to open a corridor for entrapped friends in the East.
The massive airstrikes in Aleppo come as Russia's Admiral Kuznetsov aircraft-carrying cruiser began combat operations in Syria today.
Russian Defense Minister Sergei Shoigu announced earlier today that Russian frigate Admiral Grigorovich launched missiles on terrorist targets in Syria.
Full report at:
http://en.farsnews.com/newstext.aspx?nn=13950826000783
--------
Syrian Soldiers Continue to Hit Hard Nusra Centers in Dara'a
Nov 16, 2016
Army soldiers targeted the positions of Fatah al-Sham terrorists in the neighborhood of al-Karak and near the site of (the empty) refugee camp in the district of Dara'a al-Balad, destroying several military vehicles.
The Army men also targeted several tanks of the terrorist groups in the Old Customs quarter in Dara'a al-Balad, destroying some of the tanks and killing their crew.
A number of terrorists were also killed or wounded in the army attack on their position near the refugee camp North of the Old Customs in Dara'a al-Balad.
The Syrian military forces also targeted a gathering of the terrorists North of Maqs al-Hajar in the town of al-Yadoudeh, killing or wounding the entire members of the group.
In relevant developments in the province on Tuesday, Syrian Army soldiers stormed the concentration centers of Fatah al-Sham Front in Dara'a city and in Northwestern part of the province, destroying their military equipment.
Full report at:
http://en.farsnews.com/newstext.aspx?nn=13950826000728
--------
Protesting People Clash with Terrorists in Eastern Aleppo
Nov 16, 2016
"Unprecedented clashes between people and terrorists have pushed the Eastern neighborhoods of Aleppo city into a new wave of tensions," sources said, adding, "People have taken part in demonstrations across the districts of Bostan al-Qasr and al-Kelaseh, calling on the terrorists to leave the city now."
"People have also attacked terrorists' food stuff warehouses, fighting with the militants for looting their food stuff from their neighborhoods," the sources added.
The sources went on to say that terrorists have arrested a number of demonstrators, hitting them badly.
Civilians in militant-held districts of Aleppo are tired of terrorist groups' measures, including suppression of people and banning food and medicine for the families who prevent their young sons from joining the terrorist groups.
The Arab media reported on Tuesday that people in militant-held neighborhoods were about to engage in street clashes with terrorists to save their lives.
The Arabic language al-Watan reported on Tuesday that the Syrian Army's deadline for the exit of terrorists from Eastern districts of Aleppo ended, but no militant or civilian left the city via the humanitarian corridors, including Bostan al-Qasr and Costello.
In addition to preventing militants' approach to the two specified corridors, Fatah al-Sham Front (the al-Qaeda-affiliated terrorist group previously known as the al-Nusra Front) threatened civilians with death if they approach the six humanitarian corridors that connect Eastern Aleppo to its Western part.
Reports from the city said terrorists blocked the exit of hundreds of residents in the Eastern districts of Aleppo, who had gathered near al-Kelaseh checkpoint, from approaching Bostan al-Qasr corridor.
Terrorists meantime arrested over 20 residents of Bostan al-Qasr neighborhood on charges of cooperation with the Syrian army, local sources told al-Watan.
Terrorists' cruelty and oppression against civilians in the Eastern districts of Aleppo has significantly increased, pushing people into escalation of uprising and clashes with the militants.
Full report at:
http://en.farsnews.com/newstext.aspx?nn=13950826000229
--------
Europe
Muslim man suffers acid attack injuries by teenagers in London
November 17, 2016
Imran Khan 37, a takeaway boss was squirted with acid by baying mob of teenage thugs in Dagenham, London, states The Mirror.
The devastated dad, was left with burning eyes and terrible burns to his neck, cheeks and his eyebrows after the brutal street attack.
The traumatised father-of-five said he's "still in shock" and real pain after a mob sprayed the liquid from a Lucozade bottle through his car window.
Khan had been jumped out of the blue by a group of up to fourteen teenage brutes in Barking, Essex, just minutes earlier as he tried to deliver a pizza.
Reliving the first blood-chilling attack, he said: "There were a group of 13 or 14 of them - they just surrounded me.
"They started swearing at me and I didn't know what to do," he said.
"They took the food off me and threw it at my face."
A shocked passer-by alerted police and the cowardly louts ran off.
But Khan was forced to return to the road to re-deliver the order from his takeaway business in nearby Dagenham.
He then drove a short distance to pick up his wife Farina Bibi, 33, from her sister's house.
But before he could even get out of his car Mr Khan was targeted by two teenage boys suspected to have been involved in the first incident at about 6pm one night last week.
One of the gutless thugs fired acid at his face as he sat helplessly in his motor before fleeing.
"My face was burning - it was horrible.
"I was in a lot of pain and couldn't even open my eyes it was that bad," said Imran.
The shell-shocked businessman screamed for help from a shopkeeper based just yards away.
The quick-thinking Good Samaritan poured a big bottle of water on panic-stricken Mr Khan's scalded face in a bid to cool him down.
"I think that's what saved me.
"The burns didn't go too deep thank goodness," he said. Khan was rushed to Queen's Hospital, Romford, and spent a night there having intensive treatment before being allowed home the next day.
Imran, of Ilford, is now treating his burns with two different types of creams and antiseptic eyedrops.
He's been referred to a scar specialist at London's Whipps Cross University Hospital but has also been left seriously shaken up by the horrifying attacks.
"It was shocking, I'm still in shock," admitted Mr Khan.
"I'm more angry than anything. They should be punished for what they've done.
"If they did this to me, what could they do to more vulnerable people?"
A Met Police spokesman said they had launched an urgent investigation and were hunting the thugs who attacked Mr Khan.
http://nation.com.pk/international/17-Nov-2016/muslim-man-suffers-acid-attack-injuries-by-teenagers-in-london
--------
UK Muslim prison population 'doubled' in 10 years
16.11.2016
LONDON
The number of Muslim prisoners in British jails has doubled over the past 10 years, a study released on Wednesday revealed.
In an open letter to Prime Minister Theresa May, opposition Labour lawmaker David Lammy -- who headed the independent probe into race and the prison system -- wrote:
"Some groups, such as the Muslim population, do not fall within one ethnic category -- but we know that the number of Muslims in our prisons has nearly doubled in the last decade."
The Lammy Review's initial findings claim Black, Asian and Minority Ethnic (BAME) communities are overrepresented in the prison population, out of proportion to their numbers in the U.K. as a whole.
Wednesday's research says around a quarter of British prisoners are from a BAME background, "compared with 13 percent of the wider population".
"Black and minority ethnic defendants are more likely to go to prison for certain types of crime," it added.
Full report at:
http://aa.com.tr/en/europe/uk-muslim-prison-population-doubled-in-10-years/686793
--------
BBC cancels Morocco debate on Islam and politics
16.11.2016
The BBC has been forced to move a debate on Islam and politics from Morocco to another country because of problems over filming permissions, the broadcaster has said.
"Global Questions, our highly respected and internationally renowned current affairs programme, had planned to travel to Casablanca in Morocco for a debate about Islam's place in politics", the BBC told journalists on Sunday. "Unfortunately, for unforeseen reasons related to permissions, we will no longer be filming this debate in Morocco but plan to take it to an alternative country," a spokesperson said.
French-language Moroccan newspaper l'Economiste said the episode would instead be filmed in Tunisia.
Full report at:
https://en.qantara.de/content/bbc-cancels-morocco-debate-on-islam-and-politics
--------
Germany falling short on Turkish extradition requests
16 November 2016
Germany is failing to meet Turkey's expectations on extraditing terrorists residing there, resulting in strained ties between the two countries.
Ankara says Berlin is reluctant to take strong action against terrorist groups, while Berlin says they are fighting all terrorist organizations.
Turkey has formally asked Germany to extradite 136 suspects, including members of the PKK and DHKP-C terror organizations, according to the Justice Ministry's International Law Department.
Among those extradition requests in 2006-2016, Germany has only accepted three and declined 110 others. The formal process continues for another 23 suspects.
Turkish authorities have urged Germany to extradite the terrorists and criticized the country for providing shelter to terrorist groups.
But German officials, including Foreign Minister Frank-Walter Steinmeier during his visit to Turkey this week, have repeatedly denied that their country had become a platform for terrorist organizations.
The PKK was banned in Germany in 1993 but has more than 14,000 active members in the country and raised more than 13 million euros ($14.3 million) in 2015, according to the annual report of German domestic intelligence agency BfV.
The country, which hosts a 3 million strong Turkish community, is also among countries where the Fetullah Terror Organization (FETO), led by U.S.-based Fetullah Gulen, has a large network with dozens of private schools, businesses, and media organizations.
Following the July 15 coup attempt in Turkey, which left 246 people martyred and some 2,200 injured, Turkey also asked Germany to extradite suspects allegedly linked to the deadly attempt.
Full report at:
http://www.worldbulletin.net/europe/180279/in-greece-obama-tries-to-reassure-nato-allies
--------
German far-Right extremists teaming up with gangs in America and Europe to plan attacks, intelligence chief warns
James Rothwell
16 NOVEMBER 2016
Far-right extremists in Germany are joining forces with like-minded groups across Europe and even the United States as they prepare to carry out more attacks, the country's intelligence chief has warned.
Hans-Georg Maassen, the head of the Verfassungsschutz, said the agency had been forced to step up its efforts to foil plots by neo-Nazi and fascist groups following a surge in extremist violence in 2015.
"This is not just purely a German phenomenon," he told Reuters, "the Right-extremist scene is networking on a European level, and in some cases, with connections in the United States."
We have seen in a series of cases that there are numerous people in the far-Right extremist scene who are ready to do anything and who have joined forces to create Right-wing terrorist cells."
He added: "We are trying to investigate these cells, if they exist, and to prevent any attacks."
Mr Maassen's remarks came after the Verfassungsschutz's annual report revealed that cases of far-Right violent acts in Germany had increased by 42 per cent to 1,408 in 2015.
The number of arson attacks on refugee centers has also surged to 75, compared to just five in the previous year.
It is feared that much of the violence is in reaction to the influx of more than one million migrants and refugees into Germany last year as part of Chancellor Angela Merkel's "open door" immigration policy.
Public support for far-Right political parties in Germany is at a record high, with the anti-Islam "Alternative for Deutschland" (Afd) group surging in the polls.
One recent study found that the Afd, which believes Islam is "incompatible" with German society, is now the country's third largest party.
The anti-immigrant movement Pegida has also risen to prominence in Germany, despite being accused by Sigmar Gabriel, the German vice-chancellor, of drawing on the "battle rhetoric" of the Nazi party.
Germany is reeling from a spate of violent terror attacks which took place earlier this year, several of which have been linked to far-Right extremism.
In July, a Munich teenager who was reportedly inspired by the far-Right Norwegian terrorist Anders Breivik gunned down 10 people and injured 36 others near a shopping centre.
Investigators found sheaths of Right-wing extremist material at the 18-year-old's home and said he was "clearly inspired" by Breivik's massacre of 77 people in 2011.
More recently, in October, a police officer was shot dead by a member of the "Reich Citizens," a group which refuses to believe in the fall of the German empire and does not recognise the modern German state.
Full report at:
http://www.telegraph.co.uk/news/2016/11/16/german-far-right-extremists-teaming-up-with-gangs-in-america-and/
--------
India
Donald Trump Will Clear Bill to Declare Pakistan a Terror State
Nov 17, 2016
NEW DELHI: US President elect will approve a Congress bill to declare Pakistan a terror state when the legislation reaches him in what would be a shot in arm for India's anti-terror narrative, said Shalabh Kumar, a key Indian-origin member of Donald Trump's advisory council and prominent businessman. "President Trump and PM Narendra Modi will undoubtedly share a good chemistry. The Indo-US partnership is expected to touch new heights under Trump Presidency.
A key step that the new president is expected to take is to give assent to the US Congress bill that has been introduced in the house to declare Pakistan a terror state when the legislation reaches him," Kumar told ET in an exclusive interaction over phone from USA days after the presidential polls.
Mounting pressure on Pakistan in the backdrop of the Uri terror attacks, two influential US Congressmen for the first time ever introduced a legislation to designate Pakistan as a terror state by the administration in Washington last September. Congressman Ted Poe, the chairman of the House Subcommittee on Terrorism, along with Congressman Dana Rohrabacher introduced the 'Pakistan State Sponsor of Terrorism Designation Act' in the House on Tuesday. The legislation calls on the US administration to provide a report on designation of Pakistan as a state sponsor of terrorism.
"The stars have aligned - Modi took the bold step to initiate demonetisation to fight black money and within hours Donald Trump became the 45th President of USA," noted an ecstatic Kumar, indicating good days ahead for the bilateral partnership. Kumar, who made a fortune as an entrepreneur after migrating to the USA in the 1960s, said the transition team of the president elect is well versed with Indian affairs. He claimed that senior members of Indian government are in touch with Trump team enabling continuity in Indo-US ties.
Dismissing fears of loss of jobs for Indian IT professionals under Trump presidency with stricter rules for H1-B visas, Kumar claimed that as US economy will grow by 4-5 % annually under Trump and will boost America's service sector. "This will increase the demand for Indian IT professionals in America. You will recall positive noises that Trump made about India during his campaign." He also predicted an increase in Indo-US trade over the next four years.
An area that is expected to receive further boost under Trump presidency is the Indo-US Defence partnership, Kumar said. However, he suggested that India must initiate further steps to encourage ease of doing business including tax reforms and favourable legal mechanism to attract American investments in India.
Kumar, who maintains close contacts with both BJP and RSS, is a member of Indian American Advisory Council of Trump and member of Asian American Advisory Council of Trump. Kumar, the owner of an electronics manufacturing company (AVG Advanced Technologies) and founder of the Republican Hindu Coalition, donated a whopping $898,000 (approximately Rs 6 crore) towards Trump's victory campaign.
http://timesofindia.indiatimes.com/india/Donald-Trump-will-clear-bill-to-declare-Pakistan-a-terror-state-says-Shalabh-Kumar/articleshow/55468136.cms
--------
3 Terrorists Involved In Dhaka Attack Admirers Of Zakir Naik: Indian Home Ministry
November 16, 2016
New Delhi: Three terrorists, involved in the July 1 terror attack in Dhaka, were admirers of Zakir Naik, founder of Islamic Research Foundation, which was banned by the government, Rajya Sabha was informed on Wednesday.
"The three terrorists involved in the attack were reportedly admirers of Zakir Naik," Minister of State for Home Hansraj Ahir said in a written reply.
The Minister said as per the available information, although the mandate of the Islamic Research Foundation (IRF) is educational and social, it is also involved in other activities.
Noticing certain violations of Foreign Contribution Regulation Act, the IRF has been placed under the prior permission category.
The government on Tuesday decided to declare the IRF, an NGO promoted by the controversial Islamic preacher as an outlawed organisation under the anti-terror law for five years for its alleged terror activities.
The decision has been taken at a meeting of the Union Cabinet presided over by Prime Minister Narendra Modi.
The Cabinet approved a proposal to declare IRF as an 'unlawful association' under the Unlawful Activities Prevention Act for five years.
The move comes after investigation by the Home Ministry found that the NGO was allegedly having dubious links with Peace TV, an international Islamic channel, accused of propagating terrorism.
Full report at:
http://www.siasat.com/news/3-terrorists-involved-dhaka-attack-admirers-zakir-naik-home-ministry-1066891/
--------
Tibet's exiled Muslims show intricacies of culture, identity for refugees
November 16, 2016
Like the colorful, intricately drawn Tibetan sand mandala, Tibet is a rich cultural and religious tapestry that includes both Buddhist and Muslim communities. The country is not a monolithic Buddhist society as it is often portrayed.
The Chinese invasion of Tibet and the resulting diplomatic battle between India and China over the status of the country's Muslim exiles in 1960 may show that, just like the ceremonial destruction of the sand mandala, the culture and identity of refugee communities can be both complex and fragile, according to a Penn State historian.
"What we are seeing now—within both Tibetan Muslim and Buddhist refugee communities—is there continues to be this identity crisis about what and who they really are," said David Atwill, associate professor of history and Asian studies. "And both groups still struggle to hold onto those identities in a challenging situation."
Soon after the Dalai Lama fled Tibet in 1959, a group of Tibetan Muslims—referred to as Khache—petitioned Chinese authorities to allow them to leave the country and also went into exile.
China initially courted the Khache and then harassed them into accepting the Chinese takeover, while India offered overtures to return to Kashmir, the mostly Muslim region of India. The Khache, as the name suggests, trace their ancestry back to a group of Muslims who emigrated from Kashmir to Tibet in the 15th century, Atwill added.
Eventually, with the Dalai Lama gone and the threat of Chinese oppression deepening, approximately 1,000 of the 5,000 Khache who lived in Lhasa, the largest city in Tibet, decided to leave the country, becoming another bargaining chip between China and India in their struggle for regional dominance.
"When the Dalai Lama and all his followers fled, they arrived in India as refugees," said Atwill. "However, because the Tibetan Muslims left as Kashmiris and Kashmiris were Indian, they arrived in India as Indian citizens."
But, even after their exile and their designation as Indian citizens, the Khache clung—and continue to cling—to their identities as Tibetans.
"When I'm interviewing Tibetan Muslims, they really feel that when they came to India, they ceased being Tibetan in the eyes of many people," said Atwill. "But, if you talk to them, they believe themselves to be Tibetan."
Although the Khache, unlike their Buddhist expatriates, were granted citizenship in India, their arrival in Kashmir was not idyllic and, in many ways, their conditions were worse than those that met the Dalai Lama and his followers, said Atwill, who published his findings in a recent issue of the Journal of Asian Studies.
"As soon as they crossed over into India, then—and remember Pakistan and India had just separated—being Muslim in India was not an ideal identity to have," said Atwill. "And that gets at the catch-22 of the situation. Their Kashmiri identity was the reason they were allowed to come into India—and they didn't want to shed that—but they did want to cling to their Tibetan identity, too."
Full report at:
http://phys.org/news/2016-11-tibet-exiled-muslims-intricacies-culture.html
--------
India, Pakistan in list of top four countries that witnessed 50% terror attacks in 2015
Nov 16, 2016,
LONDON: Nearly half of all terror attacks in 2015 occurred in four countries, including India and Pakistan, according to an annual terrorism index which also said India last year had the highest number of attacks since 2000.
The Global Terrorism Index (GTI) 2016, published by the Institute for Economics and Peace (IEP), found that 29,376 people died from terrorism in 2015, down 3,389 on the previous year and the first fall since 2010.
India was named among the four countries where nearly half of all terrorist attacks occurred in 2015, besides Pakistan, Iraq and Afghanistan.
"Improvements continued to be recorded in India, which historically has had high levels of terrorist activity. In 2015 India had the highest number of attacks since 2000, whilst paradoxically it had the second lowest number of deaths for a single year since 2000," the report says.
"75 per cent of attacks in India had no fatalities, compared to 44 per cent globally...The country had 797 attacks that resulted in 289 deaths, compared to 764 attacks with 418 deaths the previous year," the report said.
Pakistan was also named among the five countries with the highest impact from terrorism, besides Iraq, Afghanistan, Nigeria and Syria. These five countries accounted for 72 per cent of all deaths from terrorism in 2015.
"Pakistan continued to see declines in its levels of terrorism due to infighting within the largest active group, the Tehrik-i-Taliban Pakistan, as well as to the operations of the Pakistan Army in the Federally Administered Tribal Areas," the report said.
The index also shows that the IS is now officially the deadliest terrorist group in the world, overtaking Boko Haram, after claiming responsibility for 6,141 deaths through attacks in more than 250 different cities in 2015.
And the number of countries in which IS has carried out attacks more than doubled, from 13 in 2014 to 28 in 2015.
Full report at:
http://timesofindia.indiatimes.com/india/India-Pakistan-in-list-of-top-four-countries-that-witnessed-50-terror-attacks-in-2015/articleshow/55458754.cms
--------
Army denies Pakistan's claim of 11 Indian soldiers killed in firing
Nov 17, 2016
India on Thursday denied Pakistan army chief Raheel Sharif's claim that his men killed 11 Indian soldiers in cross-border firing on November 14.
"No fatal casualties due to Pak firing on 14, 15 or 16 Nov. Pak Army Chief claim of killing Indian soldiers on 14 Nov false," Indian Army's Northern Command tweeted.
According to a report in Pakistan's Dawn newspaper, Gen Sharif on Wednesday said 11 Indian troops were killed on November 14 after Pakistan army "responded to unprovoked firing".
Earlier on November 14, Pakistan said seven of its soldiers were killed in firing by Indian troops along the Line of Control (LoC) in Jammu and Kashmir.
Gen Sharif dared the Indian Army to "accept their losses", stressing that the "Pakistan army accepts and owns its casualties", the Dawn said.
He also trashed India's claims of surgical strike, saying it was limited to mere words and New Delhi had to face embarrassment over the claim, Pakistan's popular TV channel Geo News reported.
Full report at:
http://www.hindustantimes.com/india-news/army-denies-pakistan-s-claim-of-11-indian-soldiers-killed-in-firing/story-vJHWCU1TnXALFWxB0QSbsO.html
--------
Maharashtra to keep vigil on local fund-raisers for Zakir Naik's IRF
November 17, 2016
Mumbai: A day after Centre outlawed for five years Islamic Research Foundation promoted by controversial preacher Zakir Naik, Maharashtra government has decided to keep a close watch on those locals and organisations who continue to fund the NGO and would treat them as "anti-social elements".
"Banning IRF has dealt a strong blow to the organisation. Its anti-national activities can now be controlled. Though it (IRF) cannot receive funds from international organisations, there is a strong suspicion they will continue to receive funds from locals," state's Minister of State for Home, Deepak Kesarkar, told reporters here.
The Union government yesterday declared IRF as an outlawed organisation under the anti-terror law for its alleged terror activities. The decision was taken at a meeting of the Cabinet presided over by Prime Minister Narendra Modi.
Kesarkar said the state government was keeping "very close watch on local people and organisations who continue to back IRF. They will be treated as anti-social elements and will be booked accordingly."
The minister said the government wanted to send a strong message to other local organisations, which might be discreetly engaged in "anti-national" activities, that they are under the scanner and would face "serious consequences" if even a slight evidence is found against them.
He said the government was also simultaneously monitoring Naik's school here to check if it is carrying out any indoctrination activities.
IRF Educational Trust of Naik-runs Islamic International School (IIS) at Mazgaon in South Mumbai and also has a branch in Chennai.
Full report at:
http://www.siasat.com/news/maha-keep-vigil-local-fund-raisers-zakir-naiks-irf-1067043/
--------
Pakistan
Erdogan's visit to cement Pak-Turkey ties: Shahbaz
November 17, 2016
LAHORE
Chief Minister Shahbaz Sharif has warmly welcomed Turk President Recep Tayyip Erdogan on his arrival in Pakistan and said that he is deeply pleased on the visit of his dear brother Recep Tayyip Erdogan to Pakistan.
He said the visit of Turk President Recep Tayyip Erdogan to Pakistan would further strengthen relations between the two countries. He said that Turkey and Pakistan are jointly moving towards progress and prosperity and the visit of Turk President Recep Tayyip Erdogan reflects the growing friendship between the two countries.
Meanwhile, Lahore police have completed security arrangements for Turkish President Tayyip Erdogan by deploying 6,000 cops.
Lahore police will ensure foolproof security for the Turkish president in coordination with other law enforcement agencies. The Turkish presidential security team is coordinating with the senior commanders of Lahore police and other law enforcement agencies to avert any untoward incident.
All markets and shops will be closed two hours before the movement of Turkish President from the airport to Hazoori Bagh.
GREETS SIKHS: Shahbaz Sharif has felicitated Sikhs living in Pakistan and all over the world on the 548th birth anniversary of Baba Guru Nanak.
The chief minister welcomed Sikh community on its arrival in Nankana Sahib in connection with birthday celebrations of Baba Guru Nanak and said that all-out facilities were being extended to Sikh community in the performance of its religious rites. He said that government fully believed in interfaith harmony and solid measures had been taken for this purpose. He said that all religious minorities living in the country had been provided equal opportunities and brought into national mainstream. He said that minorities were playing an important role in national development.
He said that special attention was being paid to the maintenance and security of temples. He said that Dyal Singh Research & Culture Forum, Lahore, carrying out high-level research in Punjabi culture and history was rendering commendable services.
PML-N CANDIDATES: Shahbaz Sharif has felicitated Pakistan Muslim League-N candidates, winning on reserved seats of municipal corporations and district councils and said that Pakistan Muslim League-N had achieved tremendous success in different phases of local government's elections.
He said that politics of public service, honesty and transparency had won also on reserved seats while those engaged in politics of lies and baseless allegations have been badly defeated.
THEME PARK: A delegation of an international company led by its chairman called on Chief Minister Shahbaz Sharif, here Wednesday and expressed keen interest in investment in the project of Theme Park in Punjab.
The chief minister said the Punjab government wanted to give a practical shape to the project of Theme Park near Lahore as early as possible and investment by an international company in this project would be welcomed.
He said that the project of Theme Park was of vital importance as it would promote tourist activities as well as provide recreational facilities to the citizens.
Students: Shahbaz Sharif in his message on International Students' Day, has said that the purpose of celebrating this day is to highlight the importance of students and education in the society.
He said that it was the students who determine the future of a nation. He said education is essential for opening the minds of students who are a precious asset of a country. He said the Punjab government is giving top priority to provision of quality education to students and solid measures have been taken for providing academic facilities to students. He said that a programme is being implemented for providing quality education to students for securing their future.
https://www.thenews.com.pk/print/165402-Erdogans-visit-to-cement-Pak-Turkey-ties-Shahbaz
--------
Imran Khan 'a threat to national security': PML-N leaders
16 November,2016
ISLAMABAD (Dunya News) – Lashing out at Pakistan Tehreek-e-Insaf (PTI) chief Imran Khan, Pakistan Muslim League-Nawaz (PML-N) leaders declared him as threat to national security.
In a statement, Daniyal Aziz said that Imran Khan talks in the favor of departments but he doesn't respond them. He said PTI chief has to apologize from Supreme Court over his no serious attitude and should also submit reply in Election Commission of Pakistan.
"Leaders of PML-N have presented themselves for unconditional accountability", he added.
Daniyal Aziz alleged Imran Khan of teaching his party representatives about how to mislead departments.
Meanwhile, PML-N's Talal Chaudhry advised Imran Khan to not take revenge of his defeat by Pakistan. He said Khan cannot hide his tax theft by leveling accusations against others.
"We have factual evidence that can disqualify Imran Khan", he added.
On the other hand, Election Commission of Pakistan (ECP) heard case pertaining to disqualification of PTI chairman Imran Khan, PTI Secretary General Jahangir Tareen and Prime Minister's son-in-law Captain (retd) Safdar.
Full report at:
http://dunyanews.tv/en/Pakistan/361209-Imran-Khan-a-threat-to-national-security-PMLN-
--------
Pakistan to 'respond befittingly' to all enemy moves
November 17, 2016
KHAIRPUR TAMEWALI/ISLAMABAD - Prime Minister Nawaz Sharif yesterday said any attempt to harm Pakistan's security and territorial integrity will be met with a "befitting response".
"There is no doubt that the country's armed forces are battle-hardened and ready to confront any external and internal security challenges," he said in his remarks after witnessing the military exercise 'Raad ul Barq', jointly conducted by Pakistan Army and Air Force in a strategically located area in Punjab, bordering India.
Nawaz said the enemies of Pakistan had made their intentions well known against its national integrity and economic prosperity, however, he said "determination and resilience of our armed forces is a shield that counters any nefarious designs by our adversaries."
He said exercise Raad ul Barq denoted the commitment of the country's armed forces for the cause of national defence and expressed satisfaction that their enhanced capabilities made them "one of the finest fighting forces of the world".
He expressed gratitude to the servicemen. "The strength of our national defence emanates from the integration of all components of our defence structure that act as one body and an impregnable bulwark against enemy," he said.
On terrorism he said, "We will not be deterred by the perpetrators of terrorism who will find us even more determined to eradicate this evil, and we are steadfast against all anti-state activities."
The PM said Pakistan was following the policy of non-interference in other countries' internal affairs and expected the same from them to enable lasting peace in the region.
He said Kashmir remained a bone of contention between Pakistan and India and required serious efforts for its resolution in accordance with the aspirations of people of Jammu and Kashmir and resolutions of United Nations.
Nawaz said killing of Pakistani soldiers at Line of Control by Indian security forces was "another act of aggression which warrants international attention". The situation at border remained sensitive due to India's grave violation of ceasefire violation, he added.
Army Chief General Raheel Sharif said that India was hiding the casualties it suffered in skirmishes at the LoC. He said more than 45 Indian soldiers have been killed in recent weeks as result of Pakistani response to Indian ceasefire violations.
As many as 11 enemy soldiers were killed on the day Pakistan lost seven soldiers, the Chief of Army Staff (COAS) revealed while talking informally to mediapersons in Islamabad on Wednesday evening.
He said defense of the country had now become invincible due to excellent teamwork of the Army. He said Indian premier Narendra Modi had understood that aggression along the LoC was useless.
He said that India's surgical strike claim was limited only to mere words, adding India had to face embarrassment over its own claims.
The army chief further said the army had given excellent results in the defence of the country.
Replying to a question about Balochistan, the army chief said security forces had played a vital role in maintaining peace in the province.
Earlier, addressing the troops at the military exercise venue General Raheel said defence of the country was impregnable and no one could cast evil eye on it. He said Pakistan's armed forces were fully capable of giving a befitting response to any aggression.
The COAS said the armed forces knew how to tackle the threat whether it was conventional or non-conventional, vowing that a better and secured Pakistan would be given to the coming generations.
He said time was not far away when people of Pakistan would be free from this scourge. Sacrifices rendered during Operation Zarb-e-Azb would not go waste, he added.
General Raheel said the armed forces were a combination of three 'Cs' - Character, Courage and Competence.
He said comradeship was the hallmark of Pakistan Army being the only force that always commemorated its heroes, who not only received injuries, but also laid their lives in defence of the motherland.
The army chief said system of Pakistan Army was very strong for keep feeding families of martyrs. He advised all officers and men to visit families of Shuhada (martyrs) in their respective areas to tell them about achievements, courage and valour of the heroes.
General Raheel Sharif appreciated the spirit of every participating solider and officer in the joint military exercise and advised them to transfer the skill and knowledge they acquired during the event to their juniors.
He said Pakistan army had always been on the forefront in an hour of trial whether it was a natural calamity or manmade disaster, adding that it was a Standing Operating Procedure which does not need any formal order for mobilisation.
The COAS thanked journalists and media who always remained on the forefront to promote objective journalism. Later, he mingled with the troops and had informal chat with them.
Prime Minister in speech also mentioned that Pakistan had been a major target of terrorism being supported and financed mainly by external actors. "No country can tolerate such attacks on its sovereignty."
He said the sacrifices of military personnel would not go in vain as they had enabled to turn the tide in the war against terror.
Full report at:
http://nation.com.pk/national/17-Nov-2016/pakistan-to-respond-befittingly-to-all-enemy-moves
--------
India biggest irritant to regional peace, says Nisar
November 17, 2016
Islamabad - Interior Minister Nisar Ali Khan and former prime minister of United Kingdom David Cameron held a meeting in London and exchanged views on Pakistan-UK bilateral relations, the regional situation and other issues of mutual interest.
Recalling Cameron's landmark statement that "friends of Pakistan are friends of Britain and enemies of Pakistan are enemies of Britain", the interior minister said that the people of Pakistan had great respect for David Cameron whose tenure served to raise the profile and substance of Pak-UK relations taking them to new heights.
"Your support for Pakistan, its democracy and institutions and especially for the people of Pakistan will always be remembered as a true friend of the country," the spokesperson of the Interior Ministry quoted Nisar as saying.
The two leaders discussed a whole gamut of issues related to Pak-UK relations and the progress achieved so far in various areas.
The former prime minister appreciated Pakistan's efforts in promoting stability in the region and particularly in Afghanistan. He said he would continue to work for close Pak-UK relations in his personal capacity.
Cameron wished the government and the people of Pakistan well for the future.
Separately, Nisar also had a meeting with British Foreign Secretary Boris Johnson in London on Wednesday. Both sides reiterated their commitment to working hand-in-hand for promoting peace in the region and consolidating Pak-UK relations and taking them to a higher level.
The British foreign secretary also hosted a lunch for Interior Minister Chaudhry Nisar Ali Khan, who is on a three-day visit to the UK.
The minister in the meeting said that Islamabad had always given importance to its relationship with London since both Pakistan and UK shared common foreign policy goals on many fronts. He maintained that India had closed its doors for talks putting regional security at risk.
Full report at:
http://nation.com.pk/national/17-Nov-2016/india-biggest-irritant-to-regional-peace-says-nisar
--------
Five tribesmen killed in Khyber attack
November 17, 2016
KHYBER AGENCY - At least five tribesmen were shot dead and another sustained bullet injuries when unidentified armed persons opened fire at a group of residents of Tirah in Sukh, Kamr Kel area of Tehsil Bara, Khyber Agency.
The political administration official on Wednesday told that the victim were belonged to Zakha Khel tribe and were returning back from Tirah when they were attacked. The unidentified attackers were managed to escape after committing the crime.
After an incident, the bodies and the wounded were taken to the nearest health centre for medico-legal formalities.
Full report at:
http://nation.com.pk/national/17-Nov-2016/five-tribesmen-killed-in-khyber-attack
--------
JI sees youth's role in addressing Karachi problems
November 17, 2016
KARACHI - Jamaat-e-Islami (JI) Karachi Chief Engineer Hafiz Naeem-ur-Rahman has urged youngsters to play their role in the development of the city, and consider it as a part of their faith.
He expressed these views while addressing JI's youth convention, held here on Wednesday at JI's Karachi headquarters Idara Noor-e-Haq.
He urged youngsters to speed up their efforts to bring a peaceful Islamic revolution in the country. "You are the first line of revolution," Naeem said to them.
The JI leader was of the view that the national scenario in general and situation in Karachi, in particular, necessitated youth's participation in settling the issues.
He asked young people to realise their responsibilities, while keeping future of the country in view. Naeem further said that three decades of politics of divide and rule had ruined the city of lights.
Full report at:
http://nation.com.pk/karachi/17-Nov-2016/ji-sees-youth-s-role-in-addressing-karachi-problems
--------
South Asia
Hundreds of Rohingya flee Myanmar army crackdown to Bangladesh
Nov 17, 2016
DHAKA: Hundreds of Rohingya Muslims are fleeing a military crackdown in western Myanmar to Bangladesh, trying to escape an upsurge of violence that has brought the total number of dead confirmed by the army to more than 130.
Some of the Rohingya were gunned down as they tried to cross the River Naaf that separates Myanmar and Bangladesh, while others arriving by boat were pushed away by Bangladeshi border guards and may be stranded at sea, residents said.
The bloodshed is the most serious since hundreds were killed in communal clashes in the western Myanmar state of Rakhine in 2012. It has exposed the lack of oversight of the military by the seven-month-old administration of Nobel Peace Prize winner Aung San Suu Kyi.
Soldiers have poured into the area along Myanmar's frontier with Bangladesh, responding to coordinated attacks on three border posts on Oct 9 that killed nine police officers.
They have locked down the district, where the vast majority of residents are Rohingya, shutting out aid workers and independent observers.
The army has intensified its operation in the last seven days and has used choppers to reinforce, with dozens reported killed.
Aid workers, camp residents and authorities in Bangladesh estimated at least 500 Rohingya had fled Myanmar since the October attacks. The refugees are now staying in four Rohingya camps on the Bangladeshi side of the border, they say.
But on Tuesday, Bangladeshi border guards pushed back a large group of Rohingya trying to cross. "Early Tuesday, 86 Rohingya including 40 women and 25 children were pushed back by the BGB (Border Guard Bangladesh) from the Teknaf border point," said Lt Col Anwarul Azim, commanding officer of the Cox's Bazar sector in eastern Bangladesh.
"All of them tried to enter Bangladesh and came by two engine-operated boats. Now we have beefed up our patrolling and additional forces have been engaged to ensure security in the border area," he said.
Reuters sources said the Rohingya group was unlikely to have gone back to the villages in Myanmar and might be stranded at sea.
The stateless Rohingya are seen by many Myanmar Buddhists as illegal immigrants from Bangladesh.
Col. Htain Lin, Border Affairs Minister of the Rakhine state government, refused to comment on the situation. Police Major Kyaw Mya Win, from the Maungdaw police, said the people were trying to escape because they tried to attack the military. "The villagers have become insurgents, including women in the village," said Kyaw Mya Win.
The recent upsurge in violence has brought the number of suspected militants killed to 102 since Oct 9, while the security forces' toll stands at 32, according to a Reuters tally based on state media releases.
Many dead bodies
Four Rohingya from northern Rakhine contacted by Reuters by telephone on Wednesday confirmed that hundreds were trying to escape and cross the river to Bangladesh. They said some were gunned down.
"The residents told me nearly 72 people were killed near the riverbank, that the military shot into the crowd on the river bank," said a Rohingya community leader who declined to be identified.
Another man from Maungdaw said women and children from around 10 villages were trying to flee to Bangladesh and some were killed as they were trying to get into the boats.
"A lot of dead bodies were floating in the sea," said the man. He added that these people were not travelling together, but that they had separated into groups of 20 or 50 to get on to the boats.
Residents and rights advocates have accused security forces of summary executions, rape and setting fire to homes in the recent violence. The government and army reject the accusations.
Diplomats have also appealed for an independent and credible investigation, but the government has not announced any plans to carry it out, instead cautioning against a "misinformation campaign" by a "violent group based in Rakhine".
"They are using our country, our region as a base ... with the intention of disrupting the area, causing unrest, chaos in the area, they are doing this to get international attention, to pressure Myanmar," said Aye Aye Soe, director general of Myanmar's Ministry of Foreign Affairs, run by Suu Kyi.
She said the group was doing this to get financial support with the intention of "getting their political agenda through". The "extremist group" did not want peace in Rakhine, she said.
The suspected Rohingya militants have identified themselves as the previously unknown Al-Yakin Mujahidin in videos posted online. In a fresh clip, a man who has appeared in previous videos stands in front of several men prostrated on the ground with wounds on their back and bloodied legs.
"We are Rohingya and we want to restore our usurped rights," the man shouts to the camera. "We deserve our rights and we are not terrorists."
Authorities have denied independent journalists access to the area, so Reuters has been unable to independently verify either the military accounts or the accounts of the residents.
Published in Dawn, November 17th, 2016
http://www.dawn.com/news/1296830/hundreds-of-rohingya-flee-myanmar-army-crackdown-to-bangladesh
--------
ISIS claims responsibility for Kabul attack that left 4 dead, 11 wounded
Nov 17 2016
The loyalists of the Islamic State of Iraq and Syria (ISIS) terrorist group claimed responsibility behind the attack in Kabul that left at least 4 dead.
ISIS loyalists operating under the name of Khurasan province issued a statement and released the picture of the suicide bomber who carried out the attack on Wednesday morning.
The suicide bomber has been identified as Talha Al-Khurasani and the loyalists of the terror group have claimed that the target of the explosion was the operatives of the Afghan intelligence.
The incident on Wednesday took place in Pul-e-Mahmood Khan area of the city around 8:00 am local time.
The officials confirmed that 4 people were killed and 11 others were wounded in the attack.
The statement by ISIS loyalists claiming responsibility for the attack comes as the terror group has received major setbacks during the counter-terrorism operations conducted by the Afghan and US forces based in Afghanistan.
Full report at:
http://www.khaama.com/isis-claims-responsibility-for-kabul-attack-that-left-4-dead-11-wounded-02299
--------
Suicide bomber kills six in Kabul
November 17, 2016
KABUL - A suicide bomber on foot struck a government vehicle in Kabul Wednesday, killing at least six people and wounding 10 others, officials said, in an attack claimed by the Islamic State group.
The latest bombing to hit the Afghan capital came during the morning rush hour, as militants intensify nationwide attacks on the Western-backed government.
"A suicide attacker on foot targeted a vehicle belonging to security forces in downtown Kabul," interior ministry spokesman Sediq Sediqqi told AFP.
He put the death toll at six, including five civilians and one military official, with 10 wounded in the blast, which occurred close to the defence ministry.
Earlier, the interior ministry had put the death toll at four, including two security officials.
Another security official told AFP the targeted vehicle belonged to the government's VIP protection unit.
The SITE monitoring group said the Islamic State's local Khorasan province affiliate had claimed the attack in a communique claiming it had targeted Afghan intelligence officials.
Fighters from IS, which controls territory across Syria and Iraq, have been making steady inroads in Afghanistan, winning over sympathisers, recruiting followers and challenging the Taliban on their own turf, primarily in the country's east.
The assault underscores rising insecurity in the war-torn country nearly two years after US-led NATO forces formally ended their combat operations.
Full report at:
http://nation.com.pk/national/17-Nov-2016/suicide-bomber-kills-six-in-kabul
--------
Airstrike kill 6 ISIS militants, leaves 2 others wounded in East of Afghanistan
Nov 17 2016
At least 6 loyalists of the Islamic State of Iraq and Syria (ISIS) terrorist group were killed and 2 others were wounded in an airstrike in eastern Nangarhar province of Afghanistan.
The Ministry of Defense (MoD) said the airstrike was carried out in Pacher Agam district of Nangarhar.
No further details were given regarding the airstrike and it is yet not clear if the raid was conducted by the Afghan Air Force or the US forces based in Afghanistan.
Both the Afghan and US forces conducted regular strikes against the loyalists of the terror group in this province.
The increased raids, usually involving drone strikes, by the US forces followed a broader role granted by the Obama administration earlier this year.
The broader role was granted amid concerns that the loyalists of the terror group are attempting to expand foothold in the country and turn the eastern Nangarhar province into a regional operational hub for its fighters.
Full report at:
http://www.khaama.com/airstrike-kill-6-isis-militants-leaves-2-others-wounded-in-east-of-afghanistan-02302
--------
President Ghani promises public trial for kidnappers of Navid
Nov 16 2016
President Mohammad Ashraf Ghani has promised that the kidnappers of the Afghan kid Navid will be tried in open court.
The Afghan President talked with the father of Navid a day after he was released during an operation by the Afghan intelligence operatives.
Hailing the Afghan forces and the provincial governor of Farah for their efforts in securing Navid's release, President Ghani said he instructed the security and civilian authorities to take all necessary steps to safely rescue the child as soon as he became aware of his kidnapping.
President Ghani further added that the kidnappers of Navidd who are currently in the custody of the government, will be tried openly and fairly and in accordance with the enforced laws of the country.
He said the government is obliged to ensure safety of the people and their property, warning that the government will react strictly against those who are the citizens of the country.
Navid was released on Tuesday during an operation in Farah province, days after a disturbing video emerged showing the kid in a horrific situation as he was desperately seeking help for his rescue.
Full report at:
http://www.khaama.com/president-ghani-promises-public-trial-for-kidnappers-of-navid-02298
--------
Africa
20 Libya troops killed in clashes with militants in Benghazi: Informed source
Nov 16, 2016
At least 20 members of the Libyan National Army (LNA) have lost their lives over the past two days as they engaged in clashes with militants in the port city of Benghazi, an informed source says.
The unnamed hospital official said on Wednesday that the clashes also left 40 other LNA troops wounded.
The LNA, a force led by controversial Libyan General Khalifa Haftar, is loyal to the country's eastern government based in Tobruk.
The LNA troops launched a fresh offensive involving air raids and ground operations in Benghazi's Guwarsha and Ganfouda districts on Monday.
Military spokesman Fadel al-Hassi said at least seven militants were killed in Guwarsha only on Wednesday.
A car bomb also exploded close to a market at the eastern entrance to Benghazi on Tuesday, leaving 14 people injured.
Libya has been dominated by violence since a NATO military intervention followed the 2011 uprising that led to the toppling and killing of longtime dictator, Muammar Gaddafi. Rival governments were set up in Tripoli and eastern Libya back in 2014.
Last December, however, the two administrations agreed on forming the Government of National Accord (GNA) after months of UN-brokered talks. The presidential council of the GNA arrived in Tripoli in March in a bid to restore order to the oil-rich North African country.
Haftar has refused to profess allegiance to the internationally-recognized GNA and his forces have been fighting militants in Benghazi since 2014.
http://www.presstv.ir/Detail/2016/11/16/493914/Libya-Benghazi-LNA-killed
--------
Final 3 Minnesota men sentenced in Islamic State case
Nov 17, 2016
A Minnesota man described as a leader of a group of nine who plotted to travel to Syria to fight for the Islamic State group was sentenced to 35 years in prison Wednesday by a federal judge who said he didn't believe the man's tearful apologies and words of contrition.
Two other members of what U.S. District Judge Michael Davis repeatedly called a "terrorist cell" — Mohamed Farah and Abdirahman Daud, both 22 — were sentenced earlier Wednesday to 30 years in prison apiece. But Guled Omar, 22, drew the longest sentence of the nine defendants who appeared before Davis this week.
"I understand the seriousness of what I've been convicted of, and I understand that I will not be able to go home anytime soon," Omar told the judge as he awaited his sentence, which ended up being less than the 40 years prosecutors sought. "I always had energy for justice as a young man but I lost my way."
Omar's statement sent his mother in the gallery into sobbing uncontrollably while other family members left the courtroom to collect their emotions. Davis didn't buy it.
"Everything you have said here, I don't believe," Davis said.
Prosecutor Andrew Winter said Omar's tears could not be trusted.
"Only when backed into a corner, does he attempt to offer false contrition. You can't fix manipulative. You can't fix deceitful. And you can't fix Guled Omar. He has blood on his hands," Winter said.
A jury convicted Omar, Farah and Daud in June of conspiring to provide material support to a foreign terrorist organization and conspiracy to commit murder outside the U.S. Prosecutors said the plot involved of a group of friends in the state's large Somali community who inspired each other to join the militant group. Some of their friends made it to Syria, but the nine who were caught did not.
Six other defendants, who pleaded guilty instead of going to trial, were sentenced Monday and Tuesday to terms ranging from time served to 15 years, with long terms of supervised release for all. The two who cooperated with federal investigators got the lightest sentences.
An emotional Daud begged his fellow young Muslims not to be blinded as he was and fall prey to jihadist ideology.
"I'm certainly not being persecuted for my faith. I was certainly not entrapped," Daud said, hanging his head. "I was not going there to pass out medical kits or food. I was going strictly to fight and kill on behalf of the Islamic State.'
Full report at:
http://www.chicagotribune.com/news/nationworld/midwest/ct-islamic-state-minnesota-20161116-story.html
--------
Can local muscle defeat Somalia's al-Shabab?
Nov 17, 2016
The newly trained, freshly equipped Somali police officers kick up clouds of dust as they goose-step around the parade ground in time to the marching band drums.
Six hundred members of Jubaland state's police force have recently graduated, hundreds more will soon go through training and, for the time being, their efforts have brought security to the streets of Kismayo.
The port city in Somalia's southern-most state has managed to avoid the high-profile suicide car bombings and armed assaults on hotels that the capital, Mogadishu, regularly suffers.
The head of the regional security force is confident they are keeping al-Shabab out of town.
"Jubaland is one of the most peaceful places in Somalia," says Brig Gen Aden Koojaar, commander of Jubaland Forces (JLF).
"The area controlled by the Jubaland administration is a place where people sleep peacefully day and night, and there's no problem at all."
That is something of an exaggeration - high-profile figures and visiting Westerners still need an escort of at least one pick-up truck full of armed men.
And you do not have to go far out of town before al-Shabab clearly has the upper hand.
It is just 40km (25 miles) inland from Kismayo but takes more than two hours crushed in the back of a stifling armoured personnel carrier to reach the village of Abdale Birole.
Bumping along the sandy dirt road, the top gunner scans the low, thorn-scrub forest for movement, and watches the track ahead for any sign of roadside bombs.
Driving recklessly alongside is the JLF - heavily armed and packed into pickup trucks or "technicals" as they're known here - far more mobile and streetwise outriders.
Al-Shabab once controlled the whole region, including Kismayo, but this Kenyan army patrol is heading to a village recaptured from the Islamist militants just six weeks before.
The Kenyans are part of the African Union peacekeeping mission in Somalia known as Amisom.
Thousands of troops from Kenya, Ethiopia, Burundi, Djibouti and Uganda are here to help provide military muscle so Somalia can try to build a federal state.
Buying support
Despite the continuing al-Shabab insurgency and complicated clan politics, voting has finally started in the delayed elections for the lower house.
This is not one person, one vote. "Negotiated democracy" is what they call it.
Across the country around 14,000 delegates selected by clan elders are voting for 275 MPs. A presidential election will follow and an upper house is also being formed.
It has increased the number of people choosing who the lawmakers will be but it has also increased the amount of money each candidate requires to buy enough support for selection.
When the patrol arrives at its destination, the finishing touches are being put to an Amisom military camp on the edge of Abdale Birole.
"The essence of this camp was to establish a forward operating base where we could launch our operations to try and push out al-Shabab," says Amisom's Kismayo commander, Lt Col Joseph Kadero.
"If we are able to hand over this position to Somali national forces then we will be able to free our soldiers to move out to liberate more areas."
And that is a key problem facing Somalia: efforts to build a national army have so far been thwarted by clan politics and mistrust between national and regional leaders.
More than 1,000 national troops are in Kismayo, mostly unarmed and un-deployed because of politics.
It is all very well taking control of towns and territory from al-Shabab but the key challenge is keeping control - and that relies on winning popular support.
"If I tell you about this town, first there is no education," says a resident of Abdale Birole, Fatuma Mohammed Bashir.
"Secondly there is no water - we have no pumps, people are thirsty. There's no hospital. And for a settlement anywhere those three things are very important."
And she is very clear about what would happen if the local or international troops leave - as they have in other parts of Somalia.
Full report at:
http://www.bbc.com/news/world-africa-38003595
--------
Tunisia arrests four suspected of planning terrorist attacks
Nov 16, 2016
Tunisian police have arrested four people suspected of planning to carry out terrorist attacks in the capital.
Yasser Mesbah, a spokesman for the Tunisian Interior Ministry, said on Wednesday that the group was composed of three men and a girl, adding that they were "planning attacks against a commercial center and a post of the National Guard (police) in Tunis."
The spokesman said the four, who had been communicating on Facebook, were arrested in the capital's southern suburb of Ben Arous.
Tunisia has experienced violence since the 2011 uprising that ousted the country's dictator Zine El Abidine Ben Ali, who was in power for over two decades.
The country has also been affected by the growing instability in neighboring Libya, which has been in chaos since former dictator Muammar Gaddafi was toppled and later killed in 2011.
Since November 2015, Tunisia has been in a state of emergency in the wake of deadly attacks on the Bardo National Museum in Tunis and a seaside resort in Sousse, which were claimed by the Daesh Takfiri terrorists.
Full report at:
http://www.presstv.ir/Detail/2016/11/16/493931/Tunisia-Ben-Arous-terrorism
--------
URL: https://www.newageislam.com/islamic-world-news/new-age-islam-news-bureau/orthodox-jews-block-israeli-bid-to-turn-down-volume-of-muslim-calls-for-prayer/d/109125
New Age Islam, Islam Online, Islamic Website, African Muslim News, Arab World News, South Asia News, Indian Muslim News, World Muslim News, Womens in Islam, Islamic Feminism, Arab Women, Womens In Arab, Islamphobia in America, Muslim Women in West, Islam Women and Feminism, Moderate Islam, Moderate Muslims, Progressive Islam, Progressive Muslims, Liberal Islam