New Age Islam News Bureau
2 Nov 2017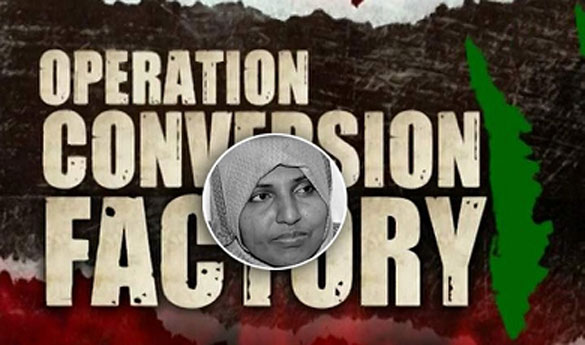 Photo: The PFI, already under NIA investigation, is accused of brainwashing Hindu women and marrying them off to Muslim men.
----------
• Terrorism, radicalisation have acquired menacing proportions in Kerala: BJP
• One in five Indonesian students support Islamic caliphate - survey
• Young boys arrested before joining ISIS ranks in East of Afghanistan
• New York suspect's Muslim neighbours express their disgust: 'We have nothing to do with this guy'
India
• Terrorism, radicalisation have acquired menacing proportions in Kerala: BJP
• Hardline preacher Zakir Naik finds refuge in Malaysia as politicised Islam grows
• Protests erupt against Muslim-Hindu marriage in Karnataka town
• One IS suspect wanted to be mujahid, other was looking for weapons: Gujarat ATS
• Narendra Modi, Donald Trump resolve to fight terrorism together, says White House
• Osama followed developments in Kashmir, Headley trial, reveal documents
• A Muslim 'Gau bhakt' on a 12,000 km padyatra to spread message of harmony
• US, India seek to pierce China terror shield
• Terrorists attack CRPF vehicle in Anantnag, 4 jawans injured
• Acting on plea alleging 'love jihad', Rajasthan HC orders FIR, probe
--------
Southeast Asia
• One in five Indonesian students support Islamic caliphate - survey
• Johor bans Islamic preachers from lecturing, following S'pore move
• The slide towards conservative Islam in Indonesia and Malaysia
• Bogor Now a Breeding Ground for Terrorism: Human Rights Group
• Indonesian Politics Must Overcome Religious Intolerance
• Seeking knowledge in STEM obligatory for Muslims, professor says
• Malaysian militant Mahmud Ahmad 'presumed dead'
• 'Future events with Mufti Menk subject to authorities' approval'
• Make formal application to extradite Naik, Waytha tells India
• Muslim Groups, Democratic Party Challenge New Law on Mass Organizations
--------
South Asia
• Young boys arrested before joining ISIS ranks in East of Afghanistan
• EU Commissioner says 40,000 lone children among Rohingya refugees
• Rohingya refugees drown as boat capsizes in rough waters off Bangladesh coast: UN
• Bangladesh Supreme Court upholds verdict in murder of Saudi diplomat
• Muslim countries push UN to speak out on Myanmar abuses
• Ismail Khan warns of massive fraud in upcoming Afghan elections
• Pakistan willing to target Haqqani network and Taliban, Tillerson says
• Putin's top adviser Nikolai Patrushev visits Afghanistan
• Myanmar accuses Bangladesh of delaying Rohingya repatriation
--------
North America
• New York suspect's Muslim neighbours express their disgust: 'We have nothing to do with this guy'
• Trump Declares Suspect 'Should Get Death Penalty'
• American Muslims must confront Islam's role in terror attacks and reclaim faith
• Join Our Discussion on Discrimination Against Muslim Americans After a Terrorist Attack
• When Its Attacker Is in Handcuffs, Islamic State Stays Mum
• Prosecutor: Marine instructor's hazing targeted Muslims
• Muslims to soon beat out Jews in U.S. population
• Jake Tapper, CNN's finest, defends 'Allahu akbar' as 'beautiful'
• CIA releases vast Bin Laden archive seized in compound
• NY attacker linked to IS, 'radicalised domestically'
--------
Europe
• Muslim father 'ordered' by judge not to impose Islam on his children
• 'People don't know who a Muslim is': Islamic Awareness Day aims for change
• Tower Hamlets rejects concerns over Muslim foster family
• Pope Francis 'saddened' by recent acts of terror around the world
• Putin arrives in Iran for talks with Tehran, Azerbaijan
• Netanyahu in UK amid Balfour celebration protests
• US to blame for possible Iran deal collapse: Russia
--------
Mideast
• Iran condemns terrorist attack in New York
• Yemen: Over 180 Militants of Saudi-Led Coalition Killed, Wounded in Sana'a Province
• CIA files shows depth of al-Qaeda's relationship with Iran
• Hamas hands over border crossings to Palestinian Authority
• Iran Blames S. Arabia for Dire Conditions of Yemeni People, Children
• Putin lauds Iran cooperation on Syria, eyes business
• Yemeni army declares liberating 20 East Sanaa sites from Houthi control
• Spokesman: US Seeking to Make Up For Defeats in Region by Sanctioning IRGC
• Israel won't celebrate a second centennial in occupied Palestine: Hamas chief
• Turkey detains philanthropist over links to US-based opposition leader
• US-led coalition defeat in Syria undeniable reality: Ayatollah Khamenei
• Russia plays leading role in safeguarding Iran nuclear deal, says Rouhani
--------
Africa
• Libya coastguard rescues nearly 300 migrants
• Suspected Islamist arrested after knife attack near Tunis parliament
• UK asks Libya to extradite brother of Manchester bomber
• Sahel 'G5' force starts anti-extremists fight
• West Africa: New Sahel Anti-Terror Force - Risks and Opportunities
--------
Pakistan
• Pakistan has dismantled many terror groups: Maleeha
• Pak-US track-II dialogue starts from Monday
• Material against Hafiz Saeed presented in camera
• Pakistan, Iran agree that war not a solution to Afghan issue
• Afghan Taliban control 54 of 407 districts: American report
• Two 'terrorists' held, explosives seized
--------
Arab World
• Deir Ezzur: Syrian Army Advances Further towards Border with Iraq
• King Salman and Crown Prince express condemnation of New York terror attack
• Turkish Forces to Set up First Military Base in Syria's Aleppo
• Gov't Forces Discover Italy-Made Landmines in Northern Syria
• Syrian Marines Relocated to Northeastern Hama to Aid in Upcoming Southern Aleppo Offensive
• Bin Laden's handwritten memoirs show Muslim Brotherhood links
• Russian strategic bombers pound Daesh positions in Syria's Dayr al-Zawr
• Israeli jets bomb Syria arms depot
• Iraqi army threatens Erbil over ignoring security pact
• Syrian opposition rejects Russia-sponsored congress
• ANALYSIS: Why Obama's mistakes in the Middle East should never be repeated
• Bahraini courts hand down prison terms to three Shia clerics
Compiled by New Age Islam News Bureau
URL: https://www.newageislam.com/islamic-world-news/operation-conversion-mafia-kerala-conversion/d/113105
--------
Operation Conversion Mafia: Kerala's conversion factories unmasked
October 31, 2017
In public, it proclaims to be a champion of diversity and equality. Kerala's Popular Front of India (PFI) has consistently denied accusations of religious conversions, hawala funding, murderous assaults and terror links.
But India Today has lifted the veil off the non-profit organisation, securing stunning confessions of its top functionaries about its mass proselytizing, illegal financing and about its ultimate goal to turn India into a theocratic Islamic state.
The PFI, already under NIA investigation, is accused of brainwashing Hindu women and marrying them off to Muslim men.
"All these allegations are baseless," claimed Zainaba A.S., the head of the group's woman wing, on Monday, responding to accusations that she "mentored" non-Muslim women into conversions.
She is suspected of playing a key role in what has come to be known as Kerala's own love-jihad case -- the marriage between Hadiya, previously known by her Hindu name as Akhila Asokan, with Shafin Jahan.
In May, the state high court annulled their matrimony after the woman's father challenged it as an act of forcible conversion for terror recruitment.
The couple's appeal is now being heard by the supreme court.
"I contacted Hadiya only after she came to (the PFI's sister organisation) Sathya Sarani for admission. Actually, she embraced Islam two years before. In 2013, she embraced Islam," insisted Zainaba on Monday. "It's no love-jihad (but) an arranged marriage."
But before Zainaba issued this denial relating to one high-profile case, she had already shared the PFI's dark secrets with India Today's undercover reporters.
Herself a member of the All India Muslim Personal Law Board, she was caught on tape how the Popular Front of India and its sister organization Sathya Sarani in Kerala's Manjeri carried out massive conversions.
"(In) That institute of ours... around 5,000 people have converted to Islam over the past 10 years now," Zainaba revealed. They, she admitted, included both Hindus and Christians.
Conversions, an emotive issue in Kerala, are banned in Arunachal Pradesh, Himachal Pradesh, Gujarat, Madhya Pradesh and Odisha if carried out through force or allurement. Recently, Jharkhand's assembly also passed an anti-conversion bill recently.
At their home in Malappuram, Zainaba and her husband, Ali, spoke candidly about their involvement in proselytising several non-Muslim women into Islam.
They didn't speak specifically about the Hadiya case though.
"We had a schoolteacher with us. She was an M.Sc. in mathematics and B.Ed," said Ali. "Now she's converted to Islam. She converted four years ago," added Zainaba.
"Did you proselytize her?" the reporter probed.
"Yes," confirmed the PFI's woman leader. "Four years ago."
The converted woman was previously called Shubha, Zainaba disclosed. "She's now Fatima." "How many non-Muslims have you proselytized?" the reporter asked.
"There are many," replied Zainaba.
She also explained the entire modus for proselytising, emphasising conversion centres have to disguised as charitable or educational establishments in order to prevent any backlash.
"We don't have to officially declare it to be a conversion centre. It's an educational institute," Zainaba admitted. "A lot of preparation goes into it. We need resources. We have to create a trust first."
She disclosed such secret centres have to have at least 15 members to qualify for registration as a trust.
"Later, we need to figure out a place for the campus. That campus should house all facilities, such as a mosque for namaz, accommodation, a well-furnished institute like this (Sathya Sarani)," Zainaba explained. "Then we have to get it registered by the government under the Societies Registration Act."
Further, Zainaba revealed how the PFI outsourced name-change certificates after converting inmates.
"There are two ways. Getting a certificate from some institutes that such and such person has embraced Islam. Then there's another system of having it notarized on a declared affidavit," she said.
In its dossier, accessed by India Today, the NIA has also accused the PFI of terror links and hawala financing, charges the group has denied vehemently.
But a founding member of the PFI, whom India Today reporters met in New Delhi under cover, admitted that the organization aimed at creating an Islamic state.
Ahmed Shareef, the PFI's founder member and the managing editor of its mouthpiece Gulf Thejas, also confessed to illegal funding.
"All over the world. That is the motive," Shareef acknowledged when asked whether the PFI and Sathya Sarani worked on a hidden motive to establish Islamic state in India as suspected. "All over the world. That is the motive."
"Islamic state is the final goal?" the reported probed.
"Final goal," Shareef replied. "All over the world. Why only India? After making India an Islamic state and then they will go to other states."
He also revealed how he raised funds for the PFI in the Middle East five years ago and sent them back home through hawala.
"At that time, (Rs) 10 lakh or something," Shareef said.
"Ten lakh? And how you sent it?" asked the reporter.
"Hawala," answered Shareef. He admitted both the PFI and Sathya Sarani received funding through mainstream as well as illegal hawala channels.
REACTION TO INDIA TODAY'S OPERATION CONVERSION FACTORY
Ravishankar Prasad says PFI should be banned and these leaders should be prosecuted.
"Your investigation shows that there is a PFI, the Popular Front of India, which is having an organised racket employing people who are owning it up on your channel that they are creating a radical group by some kind of psychological brainwashing," said law minister and BJP leader Ravi Shankar Prasad.
"These NGOs that profess that they stand for peace, profanity stand exposed today at your channel. That's a great job you have done. My greetings and congratulations to you," said Prasad.
"I have to point out that unfortunately none of the reporting that has come out in the papers, one finds that they haven't caught the the gist of the argument which thankfully your channel seems to have through this entire exercise in a very very good manner caught," said BJP spokesperson Nalin Kohli.
"These are glaring and extremely worrisome trends showing there is a well oiled machinery and psychological kidnappings as Mr Manindar Singh told the Court and as the investigation is revealing. This is not an ordinary case," said Kohli.
"Upper caste Hindus are harassing lower Caste Hindus, that's why they are converting to Islam for equality, justice and peace nowadays. ISI members were found in Madhya Pradesh. BJP should be banned for that and the parent organization RSS should be banned. Also follow the Sardar Vallabh Bhai Patel's footsteps who banned RSS once," said the media coordinator Islamic Research Foundation Ilyas Sharafuddin.
"If someone violates the law of the land he should be punished, Islam does not oppose that," said AIIA president Maulana Sajid Rashidi.
Meanwhile, NIA is monitoring India Today expose Operation Conversion Factory. The agency wants India Today to provide complete recording of investigation.
Sources say NIA will probe findings of India Today Investigation.
http://indiatoday.intoday.in/story/love-jihad-kerala-conversion-factory-islamic-state/1/1079334.html
-----------
Terrorism, radicalisation have acquired menacing proportions in Kerala: BJP
Nov 01, 2017
Terrorism and radicalisation have acquired "menacing proportions" in Kerala, the BJP said on Wednesday, adding that these issues of national security were being "sacrificed at the altar of vote bank politics".
Union minister Ravi Shankar Prasad highlighted a media sting on Popular Front of India (PFI), a Kerala-based Islamic party, and also refereed to 'love jihad' as he demanded a probe against its leaders.
He said they should be dealt more severely than Hurriyat leaders, who are being probed by the National Investigation Agency (NIA) for terror funding.
Hurriyat is an umbrella organisation of many separatist parties in Kashmir.
The sting, Prasad said, has caught PFI founding members saying that they received funding from abroad and had converted over 5,000 persons to Islam, and an Islamic state was their final goal.
"You in India are running a terrorist group with an aim of making an Islamic state by taking funds from abroad. Young sons and daughters are being radicalised for this. It is a very serious threat to the national security," he said.
The Information and Technology minister said the NIA was looking into cases of 'love jihad', adding that the agency should also investigate what the media report has highlighted.
Prasad also made a reference to an alleged case of 'love jihad' being heard by the Supreme Court, which has ordered an NIA probe into the matter, and attacked the Left-led Kerala government's contention in the court that there should be no probe in the matter.
The BJP, he maintained, was of the opinion that people can voluntarily convert but there should be no use of inducement, allurement or fear.
Due to the PFI's activities, life of common citizens of Kerala is under threat, the Union minister claimed, urging the state government to take pro-active measures in this regard.
"If the Kerala government maintains silence on the issue, we will have to say that it is sacrificing national interest at the altar of vote bank politics," he said.
He also asked Congress chief Sonia Gandhi and party vice president Rahul Gandhi to speak on the matter.
The BJP has taken up the issue of "jihadi terrorism" in Kerala in a big way. The party looks to widen its appeal in the southern state ahead of the 2019 Lok Sabha polls.
The saffron party has been traditionally weak in Kerala and could not win any seat from the state in the last Lok Sabha polls.
http://www.hindustantimes.com/india-news/terrorism-radicalisation-have-acquired-menacing-proportions-in-kerala-bjp/story-wJmetaBNnmMD5pHR7HECBL.html
--------
One in five Indonesian students support Islamic caliphate - survey
2 November 2017
JAKARTA, Nov 2 (Reuters) - Nearly 20 percent of high school and university students in Indonesia support the establishment of a caliphate in the world's largest Muslim-majority country over the current secular government, a new survey showed this week.
Indonesia has in recent years seen its long-standing reputation for religious tolerance come under scrutiny as hardline Islamic groups muscle their way into public and political life in the young democracy.
The vast majority of Indonesians practice a moderate form of Islam and the country has sizeable minorities of Hindus, Christians, and people who adhere to traditional beliefs. Religious diversity is enshrined in its constitution.
The survey by a Jakarta-based organization polled over 4,200 Muslim students, mostly in top schools and universities on Java island, home to over half the country's population.
Nearly one in four students said they were, to varying degrees, ready to wage jihad to achieve a caliphate.
"This indicates that intolerant teachings have already entered top universities and high schools," pollster Alvara, which carried out the survey, said in its report released Tuesday.
"The government and moderate Islamic organizations must start taking tangible steps to anticipate this and be present in student circles with language that is easy for them to understand," the report added.
A presidential spokesman declined to comment on the findings.
Hardline Islamic groups late last year led mass street rallies against Jakarta's former governor, a Christian, whom they believed had insulted Islam. They eventually succeeded in derailing Basuki Tjahaja Purnama's re-election bid in April this year, and he was subsequently jailed for blasphemy. The ruling was criticised globally as unjust.
Groups like the Islamic Defenders Front (FPI) call for sharia law to be imposed on the country and believe its leaders should only be Muslim.
The survey showed that the vast majority of students disagree with the establishment of an Islamic caliphate and violence.
But authorities have repeatedly warned against the creeping influence of radical Islamic thought among student organisations and in campus activities.
President Joko Widodo and his government are trying to contain the rising influence of hairline groups, especially in universities and Islamic boarding schools.
A presidential decree banning any civil organisations deemed to go against the country's secular state ideology was approved by parliament last month. Hizb-ut-Tahrir, a largely peaceful organisation that calls for the establishment of a caliphate in Indonesia, was the first group to be disbanded under the decree.
President Widodo has made several speeches at Islamic boarding schools around the country emphasizing Indonesia's diversity and the importance of national unity.
In September, Widodo called at a conference of around 3,000 university rectors for the promotion of the country's secular ideology, 'Pancasila', in education.
http://news.trust.org/item/20171102064944-60i2o/
--------
Young boys arrested before joining ISIS ranks in East of Afghanistan
Nov 02 2017
Two young boys were arrested before they manage to join the ranks of the Islamic State of Iraq and Syria (ISIS) terrorist group in eastern Nangarhar province of Afghanistan.
The provincial police commandment in a statement the two young boys were arrested during an operation of the security forces in the vicinity of Haska Mina district.
The statement further added that two boys were held as they were attempting to cross the Kota area and join the ranks of the terror group.
According to the police commandment, intelligence information was already available with the security forces regarding the plans of the terror group to attract the two young boys into their ranks.
The boys arrested during the operation have been identified as Adil and Zia-ur-Rehman who are around 14 and 16 years old, the police commandment said.
The boys are currently in the custody of the security forces for further investigations, the police commandment said, adding that they have admitted that they were travelling to join ISIS terrorist group.
According to Nangarhar police, the security forces have arrested numerous suspects having links with the terror group in Haska Mina district.
The anti-government armed militant groups have not commented regarding the reports so far.
http://www.khaama.com/young-boys-arrested-before-joining-isis-ranks-in-east-of-afghanistan-03768
--------
New York suspect's Muslim neighbours express their disgust: 'We have nothing to do with this guy'
Nov 01, 2017
Neighbours of the man suspected of having killed eight people in Lower Manhattan are outraged and disgusted by the acts of a man who many say had been seen in the area, but was otherwise not well known to the Muslim community.
Muslims living close to the Omar mosque in Paterson, New Jersey, which is located very close to the home of alleged attacker Sayfullo Saipov, said the acts of terror and violence against innocent civilians were not a facet of Islam, and were instead the product of a disturbed, criminal mind.
"They are sick people. They are not representing me, a Muslim," Mohammed Khalil, who lives just a block from the mosque, said of jihadi terrorists. "They are criminals."
Mr Saipov is suspected of having driven a rented pick-up truck down a bike path in Lower Manhattan, leaving a trail of smashed bikes and bodies in his path. Eight people have been confirmed dead by officials, and at least 11 others were injured in the attack.
The attacker is said to have exited his vehicle after crashing into a school bus near Chambers Street, the location of several schools which were letting out children for the Halloween evening. He then is said to have waved a pellet gun and a paintball gun in the air while pledging himself to Allah. He was shot by police.
Officials later named the suspect as Mr Saipov, and indicated that he had come to the United States in 2010, and has since lived in Florida and New Jersey. He was later said to have been residing in an apartment building just around the corner from the Omar mosque, in a multi-family red-brick apartment complex within throwing distance of the house of worship. The city of Paterson is located 25 miles to the north-west of New York.
But mosque officials say that Mr Saipov was not a member, even though he had been seen at prayer services previously.
"He is not associated with the mosque," Ibrahim Matari, the president of the mosque, said on Wednesday, speaking through an interpreter, on a dreary day.
Others said that they had seen Mr Saipov around and that he was friendly, though not particularly outgoing.
Khalid Hinnawi, who said he frequently prayed at the mosque, said that he had seen Mr Saipov around and that they would exchange "hellos". But, Mr Hinnawi stressed that violence was not fundamental to his community's beliefs.
"We don't have nothing to do with this guy," Mr Hinnawi said. "We are American citizens. It's not fair. It's not fair."
One neighbour of Mr Saipov's, Carlos Batista, said that he had been aware of Mr Saipov since he moved to the area a year ago, but that there was nothing out of the ordinary about him. Mr Batista, who is not Muslim, said Mr Saipov generally spent time with two to three other individuals, as well as his wife and children.
At one point, when Mr Batista said he was being loud late at night with a motorcycle, Mr Saipov had been an advocate for peace when one of those two or three other individuals got heated. He had stepped in when things looked like they were going to get physical. Other than that run-in, not much else stood out or changed.
"Same old, same old, all the time," Mr Batista said of the suspected killer's behaviour over the past year.
The community now is grappling with the aftermath of the attack, and some say their past proximity to a man they barely knew is worrisome. They're not sure what will happen now that they've been associated with such a high profile crime.
"We're scared," said a woman who works at the nearby Falafel Abou Reda restaurant, a spot located a block away from the mosque. "We're scared."
http://www.independent.co.uk/news/world/americas/new-york-attack-sayfullo-saipov-muslim-neighbours-response-new-jersey-a8032176.html
--------
India
Hardline preacher Zakir Naik finds refuge in Malaysia as politicised Islam grows
Nov 2, 2017
KUALA LUMPUR: When Zakir Naik emerged from a prominent Malaysian mosque last month fans swarmed about him, seeking selfies with the Indian Muslim televangelist whose hardline views have sparked a criminal investigation back in his home country.
Accompanied by a bodyguard, Naik was making a rare public appearance at the Putra Mosque in Malaysia's administrative capital, where the prime minister and his cabinet members often worship.
Naik, who has been banned in the UK, has been given permanent residency in Malaysia, and embraced by top government officials.
Critics see Naik's presence in Malaysia as another sign of top-level support for hardline Islam in a country with substantial minorities of Christians, Hindus and Buddhists, and which has long projected a moderate Islamic image.
Support for a more politicised Islam has grown in recent years under Prime Minister Najib Razak, especially after he lost the popular vote in the 2013 general election - the ruling coalition's worst-ever electoral performance.
Since then, his ruling party has been trying to appease an increasingly conservative ethnic Malay-Muslim base and religion has become a battleground ahead of elections the prime minister has to call by mid-2018.
Naik, a 52-year-old medical doctor, has aroused controversy with his puritan brand of Islam - recommending the death penalty for homosexuals and those who abandon Islam as their faith, according to media reports. A Youtube video shows Naik saying that if Osama bin Laden "is terrorizing America the terrorist, the biggest terrorist, I am with him".
Last week, India's counter-terrorism agency NIA prepared charges against Naik, saying he has been "promoting enmity and hatred between different religious groups in India through public speeches and lectures."
Bangladesh suspended Peace TV channel, which features Naik's preachings, after some media reports claimed bombers of a Dhaka cafe that killed 22 people last year were admirers of him. Islamic State claimed responsibility for the attack.
The Malaysian government accommodates Naik because "he remains a reasonably popular character amongst Malays, who gloss over his more controversial aspects," said Rashaad Ali, an analyst with S Rajaratnam School of International Studies (RSIS) in Singapore.
"If the government were to kick him out of the country, it causes them to lose religious credibility in the eyes of the public."
Facebook photos
At his appearance at the Putra mosque last month, a female Reuters reporter asked about the investigation in India. Naik would only say: "Sorry, it is not right for me to speak with ladies in public."
Naik did not respond to subsequent requests for comment from Reuters.
Malaysian Deputy Prime Minister Ahmad Zahid Hamidi told parliament on Tuesday that Naik, who obtained permanent residency five years ago, was not being given "preferential treatment".
"Over the time spent in this country, he has not broken any laws or regulations. As such, there is no reason from a legal standpoint to detain or arrest him," Zahid said. The government has not received any official request from India "related to terrorism allegations involving him", he added.
Zahid and the prime minister have both posted photos on Facebook of their meetings with Naik last year in Malaysia.
A group of Malaysian activists has filed suit in the High Court to deport Naik, saying he is a threat to public peace in the multi-racial society - about 40 percent of Malaysia's population is non-Muslim. The group said it was unaware Naik had been going to the Putrajaya mosque - or where he might be in Malaysia.
Officials at the Putra Mosque said Naik has been attending Friday prayers there for about a month. He has also been spotted in other mosques, hospitals and restaurants in the administrative capital in recent months, according to witnesses that Reuters spoke to.
Naik has in the past denied India's allegations. In an interview with a Kuwaiti television channel in May, he said he was being targeted by the Hindu nationalist government of Narendra Modi because of his popularity.
Malaysia's opposition Islamic Party (PAS), which has defended Naik in the past, last week urged the government to disregard any potential Indian extradition request, saying the allegations aim "to block his influence and efforts to spread religious awareness among the international community."
Nine sultans
Islamic groups have stoked controversy for trying to impose their ethos in a multi-cultural country. Malaysian authorities cancelled a planned beer festival last month, citing security concerns, and for some years now international pop stars who wish to make appearances in Malaysia face restrictions over clothing and dancing.
Islam is the official religion in Malaysia. The laws, however, are secular, though the country does have sharia courts for civil cases for Muslims.
Malaysia's nine sultans, who take turns as the mostly ceremonial monarch and are the official guardians of Islam in Malaysia, last month called for unity and religious harmony after what they described as "excessive actions" in the name of Islam. One of them harshly condemned a Muslim-only launderette.
"We are seeing this gravitation towards fundamentalism and a conservative idea of Islam because the current government doesn't want to be seen as secular anymore," said Ahmad Farouk Musa, founder of a moderate Islam think-tank, Islamic Renaissance Front (IRF).
To ensure Malay support, the government thinks it has "to have Islamic credentials just like PAS," Farouk told Reuters. said. "Islam sells."
In September, Turkish writer Mustafa Akyol was detained for giving "an unauthorised speech" in the Malaysian capital, in which he argued that governments shouldn't police religion or morality. Zahid, also the home minister, said Akyol's book "Islam Without Extremes: A Muslim Case for Liberty" has been banned as it "contravened norms of the society in Malaysia".
Farouk, who organised the speech, said he now faces charges for abetting Akyol.
https://timesofindia.indiatimes.com/india/hardline-preacher-zakir-naik-finds-refuge-in-malaysia-as-politicised-islam-grows/articleshow/61437651.cms
--------
Protests erupt against Muslim-Hindu marriage in Karnataka town
Vijaya Karnataka Web
Nov 1, 2017
BYADGI: An inter-religious union between a Muslim man and a Hindu woman has unleashed protests in Byadgi, with many alleging that the marriage is a case of 'love jihad.'
Imran Bellari of Byadagi and Hirekerura resident Madhu (name changed) started out as Facebook friends two months ago, but soon their relationship turned romantic, and they decided to get married.
On October 5, Madhu texted her parents to inform them that the couple had got married. Her parents, who are based in Bengaluru, then filed a 'missing person' complaint at Hebbagodi police station.
The next day, the couple applied to get their marriage registered at the local registrar's office, where Madhu explained that the two had been married as per Islamic tradition.
Madhu's parents and some Hindu organisations have expressed their concern about the relationship, and have demanded that the marriage be annulled.
"Our daughter has been brainwashed. In just 20 days, she has changed," said her parents.
Full report at:
https://timesofindia.indiatimes.com/india/protests-erupt-against-muslim-hindu-marriage/articleshow/61418584.cms
--------
One IS suspect wanted to be mujahid, other was looking for weapons: Gujarat ATS
November 2, 2017
A study of Facebook chats of two recently arrested suspected Islamic State (IS) operatives has revealed that while Kasim Stimberwala allegedly wanted to become a "mujahid and die as martyr", Obed Mirza was waiting for "men, money and weapons to strike", said the Gujarat Anti-Terrorism Squad (ATS) on Wednesday. "We have extracted data from the cell phones recovered from the two accused with help of forensic experts. The data say they were in touch with the Jamaica-based radical preacher Abdullah el-Faisal," investigating officer K K Patel told reporters.
The ATS had seized cell phones and laptops from the accused and those were being being examined at forensic science laboratory in Gandhinagar. A detailed forensic report is awaited. According to Patel, in one of the Facebook chats, which took place a month ago, the Jamaican preacher asked the accused what exactly they wanted to do. "Kasim told the preacher that he wanted to become a mujahid and die as martyr. When Faisal asked Obed, he responded that he was looking for men, money and weapons," Patel said.
Both the accused are currently in ATS custody and being interrogated by several security agencies. They were arrested on October 25 from Surat for allegedly plotting IS-inspired lone-wolf attack on a synagogue in Ahmedabad and Hindu shrines. Obed, 29, is a criminal lawyer while Kasim Stimberwala, 31, worked at Sardar Patel Hospital, Ankleshwar, as lab technician before he resigned.
Full report at:
http://indianexpress.com/article/india/ahmedabad/one-is-suspect-wanted-to-be-mujahid-other-was-looking-for-weapons-ats-4918173/
--------
Narendra Modi, Donald Trump resolve to fight terrorism together, says White House
November 2, 2017
Prime Minister Narendra Modi and US President Donald Trump have resolved to fight against the global scourge of terrorism together, the White House said after Modi offered his condolences to Trump over phone following the New York terror attack. Trump spoke with Modi and accepted his condolences following on Wednesday's terrorist attack in New York City that left eight people dead and about a dozen others injured, the White House said.
Modi strongly condemned terrorism, and offered thoughts and prayers for the victims and their families, a readout of the call said.
"The two leaders resolved that India and the United States will continue to fight together against the global scourge of terrorism," the White House said.
Earlier in a tweet on Wednesday, Modi had condemned the attack seen as the deadliest in New York since 9/11.
"Strongly condemn the terror attack in New York City. My thoughts are with the families of the deceased & prayers with those injured," he said.
British Prime Minister Theresa May also spoke with Trump over phone, according to the White House.
Full report at:
http://indianexpress.com/article/india/narendra-modi-donald-trump-resolve-to-fight-terrorism-together-says-white-house-4918534/
--------
Osama followed developments in Kashmir, Headley trial, reveal documents
Nov 2, 2017
WASHINGTON: Osama bin Laden closely followed developments in Kashmir and the trial of Pakistani-American terrorist David Coleman Headley in the 26/11 Mumbai attacks case, indicated the documents seized during the 2011 US raid on a Pakistani compound that killed the al-Qaida founder.
The Central Intelligence Agency on Thursday released 470,000 additional files seized in May 2011 when US Navy SEALs burst into the Abbottabad compound and shot dead Laden.
The files include Laden's son's wedding video and diaries left by the Saudi-born terrorist.
The documents revealed that Laden closely followed news related to the arrest of Lashkar-e-Taiba operative Headley and was a regular reader of some of the top Indian publications.
An article in a National daily titled 'Omar Sheikh's Pak handler Ilyas Kashmiri also handled Headley' was found from the computer of Laden in Abbottabad. The article was dated November 16, 2009.
An article 'Fears of air-borne terrorists strikes in India, UK' published in Sri Lanka Guardian was also found in a separate file on Laden's computer.
An Indian news agency story, 'al-Qaida helping Taliban to destabilise Pak Government: Gates', dated February 9, 2010, was also found on Laden's computer.
Another article found on Laden's computer was about the coded communications between Headley and his HuJI links.The news article was published by The Time of India on November 15, 2009.
Laden also saved on his computer a PTI article, titled: 'India to send magistrate to US to record Headley's statement'.
Laden highlighted in yellow some portion of the article titled 'Pak Major handled Headley's India recce', published on March 16, 2010.
The highlighted portion reads, "The dossiers also sought the custody of Pakistani terrorist, Ilyas Kashmiri. Kashmiri is the chief of the '313 Brigade' and acts as the 'military operations head' of the al- Qaida. Intercepts reveal that Kashmiri told two attackers inside Nariman House, 'Keep fighting, Brigade 313 has been deployed'."
The documents also revealed that Laden was interested in news related to Kashmir and several terrorists especially IIlyas Kashmiri.
An Economic Times story 'US asks Pakistan to find Iyas Kashmiri" dated January 7, 2010 was found among the saved documents on Laden's computer.
Full report at:
https://timesofindia.indiatimes.com/india/osama-followed-developments-in-kashmir-headley-trial-reveal-documents/articleshow/61437868.cms
--------
A Muslim 'Gau bhakt' on a 12,000 km padyatra to spread message of harmony
Nov 1, 2017
VARANASI: Amid violence and politics in the name of 'gau raksha' (cow protection), it comes as a heart-warming gesture for locals to see a Muslim youth, dressed in saffron, talking about rearing and serving cows.
Mohammed Faiz Khan from Raipur (Chhattishgarh) is on a 12,000 km foot march - 'Gau Seva Sadbhavana Padyatra' - from Leh to Kanyakumari and then to Amritsar to generate mass awareness about cow protection, cow rearing, medicinal qualities of milk and its products. Covering a distance of 2100km he reached Varanasi on October 28, and left for Mughalsarai on Wednesday. Walking at a speed of 20-25km per day he is expected to reach Amritsar in January 2019.
He said that the main objective of this yatra is to spread a message of communal harmony through the 'seva' (service) of Gau Mata (cow). "We should serve and protect the cow, which is the savior of mankind," he said adding that it is unfortunate to see violence in the name of cow protection.
"I began the journey from Leh on the occasion of 'Sindhu Darshan Utsava' on June 24," Faiz told TOI while leaving for Mughalsarai. The yatra will complete in two phases. The states including Jammu and Kashmir, Himachal Pradesh, Punjab, Uttarakhand, Uttar Pradesh, Bihar, West Bengal, Odisha, Jharkhand, Chhattisgarh, Maharashtra, Telangana, Andhra Pradesh, and Tamil Nadu are being covered in the first phase, while in the second phase from Kanyakumari to Amritsar the yatra will pass through Kerala, Karnataka, Goa, Maharashtra, Madhya Pradesh, Gujarat, Rajasthan, Haryana, Delhi, and Punjab.
Earlier, Faiz also held a series of 'Gau Kathas' at various places to highlight the importance of cow. A novel 'Ek Gai ki Atmakatha' inspired him to dedicate his life for the cause of cows, said Faiz. Instead of going to madarsa he received his primary education in Saraswati Shishu Mandir in Raipur, and he did MA in Hindi and political science. After teaching at a government college for two years he left the job and set on a journey to save cows.
Full report at:
https://timesofindia.indiatimes.com/city/varanasi/a-muslim-gau-bhakt-on-a-12000-km-padyatra-to-spread-message-of-harmony/articleshow/61409927.cms
--------
US, India seek to pierce China terror shield
Nov 2, 2017
NEW DELHI: After China put up a virtually permanent roadblock for proscribing Masood Azhar+ by the UNSC, India and US are mulling options for their next steps.
In December, Indian and US officials will meet for the first time for a dialogue on coordinating terrorist designations by both countries. The two sides will discuss options of keeping terrorists and terror groups like Jaish-e-Muhammad under pressure.
This will include discussions on the next terrorist that will be put up for sanctions by the UNSC's 1267 committee.
The new consultation mechanism was decided during the Modi-Trump summit this summer. In the joint statement that followed the summit, both sides, "committed to strengthen cooperation against terrorist threats from groups including al-Qaida, ISIS, JeM, Lashkar-e-Taiba, D-Company, and their affiliates. ... the leaders welcomed a new consultation mechanism on domestic and international terrorist designations listing proposals."
For instance, Abdul Rauf Asghar, Masood Azhar's brother, may find his name on the next list for sanctions. He was charged in the Pathankot terror attack. Azhar's second brother, Maulana Ibrahim Athar Alvi is accused of masterminding the IC-814 hijack which forced India to release Azhar from jail in return for the passengers of the jet.
India has a list of other terror leaders operating with the support of Pakistan's military-intelligence establishment, who India wants to put up on the 1267 committee.
India wants China to continue to shield Pakistan at the multilateral level — if Beijing blocks sanctions against deadly terrorists repeatedly, it could succeed in painting itself as a supporter of global terrorism. Chinese officials reportedly expressed confidence that they would not be pressured on Azhar by the US given the US needed their support on keeping an increasingly hostile North Korea in check. China's decision came even as Beijing itself demanded extra security from Pakistan for its new envoy from ETIM terrorists — many of them trained in Pakistan.
The joint statement added that India and United States would work together to "prevent terrorist travel and to disrupt global recruitment efforts by expanding intelligence-sharing and operational-level counterterrorism cooperation."
Full report at:
https://timesofindia.indiatimes.com/india/us-india-seek-to-pierce-china-terror-shield/articleshow/61428278.cms
--------
Terrorists attack CRPF vehicle in Anantnag, 4 jawans injured
Nov 2, 2017
NEW DELHI: Five CRPF jawans were injured when terrorists attacked a security vehicle in Jammu and Kashmir's Anantnag district on Thursday.
Terrorists opened fire on the vehicle of the 96 Battalion CRPF at Lazibal in Anantnag district at 8.30 am, a police official said.
He said three CRPF jawans received bullet injuries while two others were injured after getting hit by broken glass panes of the vehicle.
The injured personnel have been admitted to a hospital for treatment. A search operation has been launched to track down the assailants.
https://timesofindia.indiatimes.com/india/terrorists-attack-crpf-vehicle-in-anantnag-4-jawans-injured/articleshow/61437449.cms
--------
Acting on plea alleging 'love jihad', Rajasthan HC orders FIR, probe
by Hamza Khan
November 2, 2017
THE RAJASTHAN High Court on Wednesday directed the police to register an FIR and investigate a 22-year-old woman's alleged forcible conversion to Islam and marriage "to ascertain the correctness of the facts". The bench of Justices Gopal Krishan Vyas and Manoj Kumar Garg was hearing a habeas corpus petition filed by the woman's brother, who alleged that it was a case of "love jihad".
According to a PTI report, the bench expressed anger over the "negligence" of the police, which allegedly refused to file an FIR on her family's complaint. The court asked how the police could assume that the woman's conversion was legal, "just by way of an affidavit over a stamp paper of Rs 10". "By this way, tomorrow, even I could address myself as Gopal Mohammad," the court was quoted as saying.
"Prima facie, we are of the opinion the investigation is to be made by SHO to ascertain the correctness of the fact of conversion of the religion as well as of the 'nikahnama' which is said to be solemnised on 14.04.2017, because the sister of the petitioner was residing with the family of the petitioner who belongs to Hindu religion till 25.10.2017, then how conversion of religion from one community to another community was made in the month of April 2017," the court observed.
The court also directed the state government to file a reply clarifying the legal provisions pertaining to religious conversion in the state. It sent the woman, a resident of Jodhpur, to Nari Niketan for a week, and directed that "no person of either party" shall be allowed to meet her. In his petition, the woman's brother alleged that "on October 25, all of a sudden, she left the house". He said he went to the Pratap Nagar police station in Jodhpur, but was informed by the SHO that his sister had sent an application to Commissioner of Police, Jodhpur Metro, "in which it is stated that after conversion of religion, her marriage has been solemnised with Faiz Modi as per Muslim customs". He alleged that the police "refused to register an FIR".
While the nikahnama was dated April 14, the woman's brother said that she was living with them till October 25. "Our argument was how could there be religious conversion when there's no such law in Rajasthan," Gokulesh Bohra, counsel for the petitioner, told The Indian Express. "We questioned if an affidavit itself is enough to legalise conversion. Second, if she had converted to another religion several months ago, how come she was living under her old name at her home," said Bohra, claiming that there was a pattern of similar cases in Jodhpur. The petitioner claimed that the marriage was solemnised "under threat."
SHO Achal Singh said an FIR was lodged on Monday on the court's direction, against Faiz Modi under Sections 366 (kidnapping, abducting or inducing woman to compel her marriage, etc.), 342 (wrongful confinement) and 384 (extortion) of the IPC. "In the police complaint, the family has said that the woman told them that she was being blackmailed by the man," said Bohra.
The woman was produced before the court on Wednesday. "We have ascertained from the corpus whether she is under threat or inducement by anyone, she refused and said that she is present in the court as per her will," the court recorded. It asked the state government to file a reply in four days on "whether without any procedure or rule, conversion of religion can be changed or not" and whether the marriage of the woman "is established on the basis of self-contradictory documents on record or not."
The court also directed the state government to provide all facilities to the woman at the Nari Niketan, as well as "adequate security" to Faiz Modi's family members, and listed the matter for November 7.
Full report at:
http://indianexpress.com/article/india/acting-on-plea-alleging-love-jihad-rajasthan-hc-orders-fir-probe-hadiya-kerala-forcible-conversion-islam-4918415/
--------
Southeast Asia
Johor bans Islamic preachers from lecturing, following S'pore move
Nov 2, 2017
JOHOR BARU • Johor has banned two Islamic preachers from giving religious lectures, a day after Deputy Prime Minister Ahmad Zahid Hamidi said Malaysia would still allow the duo to preach.
Johor's decision followed Monday's move by Singapore to ban Zimbabwean Ismail Menk and Malaysian Haslin Baharim from entering the Republic for their "divisive views" when speaking about other religions.
Johor's Religious Affairs Committee chairman Abdul Mutalip Abd Rahim Sultan said the move was a decree from Johor's Sultan Ibrahim Sultan Iskandar that was issued yesterday, Malaysia's Berita Harian newspaper reported.
Singapore had barred entry to Mr Menk and Mr Haslin as their hardline teachings ran counter to the Republic's multicultural and multi-religious values.
"The content of the speeches that the two preachers have delivered previously could disrupt the harmony between the races," Mr Abdul Mutalip was quoted as saying.
"The Johor Islamic Religious Department will continue to monitor religious talks in the state in order to ensure that there are no elements or views that encourage racial disunity from being delivered," he told the paper.
Under Malaysian law, each of the 13 states has direct jurisdiction over matters of religion, water and land.
The Johor ban means the duo can still enter the state but not give public lectures.
Datuk Seri Zahid, who is also Home Minister, had said on Tuesday that the speeches of the two men had "not suggested anything that goes against our understanding of cultural and religious diversity to the point of causing social, racial and religious tensions in Malaysia".
The Sultan of Johor has recently made decrees over Islamic issues that attracted widespread media coverage in the region.
Sultan Ibrahim last month stopped a Muslim-only launderette in the state, saying: "This is not a Taleban state and as the Head of Islam in Johor, I find this action to be totally unacceptable as this is extremist in nature."
The launderette owner in Muar town in north-west Johor has now opened his shop to everyone.
The ruler later ordered Johor's Islamic religious department to stop dealing with the Malaysian Islamic Development Department (Jakim), a federal government agency, after Jakim preacher Zamihan Mat Zin indirectly criticised the Sultan over the launderette issue.
Sultan Ibrahim also gave Mr Zamihan a dressing-down. "I take him as an empty vessel without brains," the ruler said in a public speech on Oct 14. "The way he talked was arrogant and proud, as if he is the only one who is right and he mocked other races."
Singapore's Ministry of Home Affairs on Monday said the decision to bar the two preachers - who are popular in Malaysia - was made in consultation with the Islamic Religious Council of Singapore, the Singapore Tourism Board and the Maritime and Port Authority of Singapore.
It said Mr Menk is known to preach "segregationist and divisive teachings", while Mr Haslin had described non-Muslims as "deviant".
The ministry also said both men had been engaged to preach on a religious-themed cruise departing from Singapore on Nov 25 and returning on Nov 29.
http://www.straitstimes.com/asia/se-asia/johor-bans-islamic-preachers-from-lecturing-following-spore-move
--------
The slide towards conservative Islam in Indonesia and Malaysia
NOVEMBER 2, 2017
Indonesia and Malaysia are home to roughly 208 million and 18 million Muslims respectively. For years, their Muslim-majority populations did not prevent them from standing as models of democracy and tolerance. Today, the fundamentalist Islam sentiments are beginning to overshadow the existing moderate Islam thoughts and weaken the nations' democracies. Conservative Islam is a more rigid and stringent interpretation of the religion. With the slide towards conservative Islam, both countries are heading for an irreparable divide between their diverse populations.
Close ties and funding by the Saudi royal family promote conservative Islam
Over the past twenty years, Indonesia and Malaysia have slowly and steadily shifted towards traditional Islam thinking. Saudi Arabia offered financial assistance to Islamic countries with the intention of propagating Wahhabism – Arab's conservative Islam teachings. The funds were also used to build Islamic religious institutions and extend Islamic influence. During Saudi King Salman's recent tour around Asia, Malaysia received a US$7 billion deal while Indonesia discussed investments amounting to US$25 billion.
"As the world's biggest Muslim nation, Indonesia will always have a special bond with Saudi Arabia," said Indonesian President Joko Widodo. Similarly, Malaysia's former Prime Minister, Tunku Abdul Rahman was known to be a close friend of Saudi Arabia's King Faisal bin Abdulaziz. Closer ties between both governments and Saudi's royal family will continue to shift supporters of moderate Islam to conservative Islam.
The governments are deeply involved in the spread of conservative Islam
"To be Muslim is a unifying category in some contexts, for government and diplomatic purposes, but it is also a disintegrating or dividing category," said Muhamad Ali, a professor of religion at the University of California.
In Indonesia and Malaysia, religion is the root of many problems such as communal tensions, intolerance and economic inequalities. Political parties and governments are more interested in accommodating the conservative Islam teachings as it would help them secure votes in the upcoming elections. Former President Soeharto had believed in a more liberal form of Islam and repressed the Islamist groups. After he stepped down in 1998, the number of Islamist parties has been increasing. In the 2014 Indonesian elections, Islamist parties received 32% of the vote share. Instead of using repression once again, the governments may be trying to win the hearts of its people.
The Indonesian government has penalised acts deemed unlawful by Islamic law. For instance, civil servants and students are required to wear Muslim clothing. Demonstrations of Quranic reading ability are mandatory pre-requisites for university admission and application of marriage license.
As compared to Indonesia, Malaysia appears to be sliding faster towards conservative Islam. Parties like Pan-Malaysian Islamic Party (PAS) and United Malays National Organisation (UMNO) believe that an Islamist agenda is vital to prove that they are indeed the champion of Islam in Malaysia. The local police are also religious morality agents who enforce punishment on anyone who disobeys the Sharia code. A Muslim youth survey in 2011 has also shown strong agreement for harsh Islamic penalties. These harsh punishments act as a further deterrent against anti-conservative Muslims.
Fundamentalist Islam supporters may cause an economic crisis and a regressing society.
A stronger establishment of fundamentalist Islam will bear steep economic costs. There are linkages drawn between religion tensions and a decline in foreign investments. If cultural wars do break out, they will destroy religious and social harmony, and threaten to displace non-Muslim citizens. Finding common ground between the religious fundamentalists and moderates will continue to a challenge in religious countries. If the governments are not careful, they may end up as a hotspot for ISIS.
Additionally, homosexuality is not accepted by the conservatives and labelled as a sin. This intolerance shows disrespect for a person's sexual orientation. In the name of religion, hardline Muslim groups called for a boycott of Starbucks. Starbucks' support for Lesbian, Gay, Bisexual, and Transgender (LGBT) rights stands contrary to conservative Islamic beliefs. The nations' conservative ideologies and pro-Muslims legislations deprive other communities and liberal Muslims of their fundamental rights and freedom of expression.
The future of Islam in Indonesia and Malaysia
Indonesia remains a moderate Muslim nation where Islam is more relaxed and diverse. Nahdlatul Ulama (NU), the largest Indonesian Islamic organisation helps to hold the country together and advocates for universal Islam. However, in Malaysia, being Malay is synonymous with being Muslim. That makes it easier for Saudi doctrines to influence the citizens and cause disintegration.
Full report at:
http://www.aseantoday.com/2017/11/the-slide-towards-conservative-islam-in-indonesia-and-malaysia/
--------
Bogor Now a Breeding Ground for Terrorism: Human Rights Group
Nov 2, 2017
Jakarta. Evidence of intolerance and radicalism in Bogor, West Java, shows that the city has transformed into a breeding ground for terrorism, new research from Jakarta-based human rights group Setara Institute shows, which connected the renowned Bogor Agricultural University with the activities of the recently banned Hizbut Tahrir Indonesia, or HTI, organization.
"While Bogor used to serve as a transit area for radical groups, it has now transformed into an incubator area [for terrorism] […] Bogor has experienced quite a serious radicalization process," Muhammad Syaquillah, a Setara Institute researcher, told reporters during a press conference in Jakarta.
In their preliminary study on intolerance and potential for radicalism in Bogor and Depok, also in West Java, Setara Institute listed around 20 suspected Indonesian terrorists who originally come from Bogor from terrorist incidents that have occurred since 2002.
The list included Rohim, who was a suspect in the Kampung Melayu suicide bombing that took place in May, and Sunakim, who was a suspect in the 2016 attack in Thamrin, Central Jakarta.
Hari Pebrianto, a researcher at the One Justice Foundation (Yayasan Satu Keadilan) in Bogor, also touched on the fact that both Bogor and Depok are "buffer cities" where a large portion of inhabitants are residents who spend their productive hours in the capital, Jakarta.
"These empty spaces are utilized by intolerant groups to spread their ideologies, with three main identified areas where radicalization is propagated – mosques, college campuses and Islamic boarding schools," Hari said.
Bogor has also been designated as a military training area for radical groups, including Islamic State and Laskar Jihad. Setara's research attributed this location choice to logistics and access, and high support for an Islamic Caliphate among citizens its residents.
In a 2011 study – "The Face of Islamic Defenders" – Setara Institute found that 46 percent of Bogor residents expressed approval for an Islamic caliphate.
Furthermore, Bogor Agricultural University (IPB) has also served as the center of movement for the recently banned Hizbut Tahrir Indonesia (HTI), who denounced democracy and promoted the establishment of a global caliphate.
According to Setara Institute's vice chairperson, Bonar Tigor Naipospos, there is a lack of awareness among municipalities and district governments to tackle the issue of rising intolerance and spread of radicalism in their cities.
"The local governments are reinforcing intolerance, and at times even acting as the perpetrators [...] [We find that] municipalities still consider terrorism as an issue for the central government," Tigor said.
He added that there is a strong linkage between intolerance, radicalism and terrorism, and emphasized that "local governments must put an effort to tackle intolerance first and foremost."
While the findings are preliminary, the research serves as a "warning" for both the government and members of the public to think about necessary steps that must follow to put a stop to the increasing intolerance and radicalism, Tigor said.
In 2010, the Bogor administration revoked the building permit for a local church after hard-line Islamists protested the church's presence in their neighborhood.
Full report at:
http://jakartaglobe.id/news/bogor-now-a-breeding-ground-for-terrorism-setara-institute/
--------
Indonesian Politics Must Overcome Religious Intolerance
Nov 02, 2017
Following the heated Jakarta election and ahead of a series of upcoming key elections, Indonesia is witnessing a surge in identity politics sparking racial and religious tension, which is dangerous for the stability of the country, explains Finance Minister Sri Mulyani.
"In this very fierce competition, those who really want to win an election can use whatever [means] from rhetoric up to promises and create a deeper divide among people, like what you see in [the] US and many countries," stated Mulyani, on the sidelines of a joint Financial Times summit with the Asian Infrastructure Investment Bank in Hong Kong, as quoted by FT.
Following the racial and religious tensions surrounding the legal case and electoral campaigns of Basuki Tjahaja Purnama–who is of Christian-Chinese descent–many think that such hostility against minority groups have been on the rise in the last couple of years.
However, a report by National Public Radio in the United States suggests that there are long-standing cases of religious intolerance that has marred relatively peaceful Indonesia. One example is the case of Taman Yasmin Indonesia Christian Church.
Since 2003, the church has obtained all the necessary legal permits for its operation, but local Muslim citizens pressured the local government to cancel the permits. The case went all the way to the Supreme Court in 2010. But to this day, the congregation can't worship there.
More recently, however, the attitude of intolerance has spread from the social into the political realm, which peaked in the efforts by Islamist groups to unseat Jakarta governor Basuki Tjahaja Purnama after he was alleged to have made a blasphemous remark against Islam. The campaign against Ahok, as Basuki is nicknamed, was successful with Ahok going on to lose an election in April and subsequently jailed for his remarks.
While many hoped the tensions would decline after the elections and ousting of Basuki, the identity debate continues as many groups and parties have their eyes on the upcoming presidential election in 2019. Most recently, the tension was fueled by newly-inaugurated Jakarta governor Anies Baswedan.
Full report at:
http://indonesiaexpat.biz/news/indonesian-politics-must-overcome-religious-intolerance/
--------
Seeking knowledge in STEM obligatory for Muslims, professor says
November 2, 2017
KUALA LUMPUR, Nov 2 ― The Muslim community should be encouraged to seek knowledge in the field of Science, Technology, Engineering and Mathematics (STEM) which is obligatory in developing the country, said Malaysian Institute of Islamic Understanding (IKIM) director-general Prof Datuk Dr Azizan Baharuddin.
Dr Azizan said all aspects of human life were closely related to STEM but it was found that little importance had been given to these subjects in traditional Islamic religious education in the country.
"Science education is now being isolated when the development of modern science had been triggered from fundamental principles of understanding the hadith and the Quran," she said after delivering her speech at the Muzakarah Pakar seminar themed "Strengthening of STEM Education : Cultural and Value -based Approach" organised by IKIM and National STEM Movers at the institute, today.
She cited several well-known Islamic scientists such as Ibn Sina who mastered various sciences including producing influential medical books in Europe and Ibn al-Haitham a physicist who contributed greatly in the field of optics and lens production.
Full report at:
http://www.themalaymailonline.com/malaysia/article/seeking-knowledge-in-stem-obligatory-for-muslims-professor-says#UHXQ26AUSIoc0yf1.97
--------
Malaysian militant Mahmud Ahmad 'presumed dead'
NOVEMBER 1, 2017
KUALA LUMPUR— Putrajaya said on Wednesday (Nov 1) that a Malaysian militant tipped to take over as head of the Islamic State (IS) in South-east Asia is presumed dead.
This is because Mahmud Ahmad has not been seen in the southern Philippine city of Marawi, which was under a nearly five-month siege that has claimed more than 1,000 lives and left the Muslim-majority city in ruins.
He has also not been active on social media, said Malaysian defence minister Hishammuddin Hussein.
"We can't confirm (that Mahmud is really dead) until we find his body. That's a fact," said Mr Hishammuddin.
"But the fact that he has not been issuing orders on social media, the fact that he has not been seen in Marawi and actively bragging and giving orders on social media — we can assume he is dead."
The Malaysian authorities have taken DNA samples from Mahmud's family, including his son, to assist in the identification process, once his remains are found.
Philippine President Rodrigo Duterte on Oct 19 declared that Mahmud has been killed in the battle in Marawi, following the death of Isnilon Hapilon, the head of IS in the region, and his ally Omarkhayam Maute days earlier.
Hapilon, a faction leader of the Abu Sayyaf group and wanted by the United States Federal Bureau of Investigation, was killed last month along with Omarkhayam, one of two leaders of the Maute militant clan, with whom he teamed up with to try to carve out an IS "Wilaya" in the southern Philippines.
If confirmed, the death of Mahmud would be a significant blow to any effort by IS, which is on the back foot in Syria and Iraq, to establish a presence in Mindanao, a vast Philippine island where lawlessness, poverty and rebellion have prevailed for decades.
Mahmud, one of Malaysia's most wanted men, is believed to have been pivotal in funding the siege of Marawi.
Intelligence officials describe Mahmud as a financier and recruiter, who helped put together the coalition of pro-IS fighters that stormed Marawi City in May, following a foiled attempt by security forces to arrest Hapilon.
The 39-year-old Mahmud, who has a doctorate in religious studies and was a university lecturer in Kuala Lumpur, was Hapilon's second-in-command in the IS' South-east Asia "caliphate", according to a July report by Indonesia-based Institute of Policy Analysis and Conflict (IPAC).
He was the contact for foreigners wanting to join the fight in the Philippines or with IS in the Middle East, it said.
"It wasn't just Indonesians and Malaysians contacting Mahmud ... he was also the contact for Bangladeshis in Malaysia who wanted to join the fighting in Mindanao," said IPAC's director Sidney Jones.
Security experts say Mahmud studied at Pakistan's Islamabad Islamic University in the late 1990s before going to Afghanistan where he learned to make improvised explosive devices at an al Qaeda camp.
In 2000, he returned to Malaysia to get a doctorate, which earned him a post as a lecturer in the Islamic Studies faculty at the University of Malaysia in Kuala Lumpur.
Former students described Mahmud as a quiet person who kept to himself.
"He wasn't the kind of lecturer who hung out at cafes with his students as some others did," said one former student, who declined to be identified.
He was put on Malaysia's most-wanted list in April 2014 after leaving the country with several others, including his aide, a Malaysian bomb maker named Mohammad Najib Husen, to work with the Abu Sayyaf Group, notorious for violent kidnappings and beheadings in the southern Philippines.
Mahmud received funding for the Marawi operation directly from IS headquarters, through the group's South-east Asian unit led by Syrian-based Indonesian militant Bahrumsyah, the IPAC report said.
Intelligence officials said that Mahmud quickly gained the recognition of the Abu Sayaaf Group with his knowledge of weapons and IS propaganda.
Mahmud grew up in Batu Caves, a crowded Kuala Lumpur suburb, famous for a Hindu temple housed in a large complex of caverns. His wife and three children were last known to be living there.
Full report at:
http://www.todayonline.com/world/asia/malaysian-militant-mahmud-ahmad-presumed-dead
--------
'Future events with Mufti Menk subject to authorities' approval'
Nurul Azwa Aris
November 2, 2017
PETALING JAYA: The organisation in charge of events featuring Muslim preacher Ismail Menk says future events will continue as long as they are approved by the religious authorities.
Dakwah Corner Bookstore managing director Farid Abu Ahmed said this had been the case with all previous talks and forums featuring Zimbabwe's grand mufti.
His comments followed news on Oct 30 that the Singapore government had banned Ismail and Malaysian preacher Haslin Baharim from entering the city-state to participate in a religiously-themed cruise.
The decision to ban them was made in consultation with the Islamic Religious Council of Singapore, Singapore Tourism Board and Maritime and Port Authority of Singapore, the republic's home ministry said.
It added that Ismail had been known to preach "segregationist and divisive teachings", such as calling it a sin and crime for a Muslim to wish a non-Muslim "Merry Christmas" or "Happy Deepavali".
Haslin meanwhile was said to have described non-Muslims as "deviant".
The two preachers are also barred from giving lectures in Johor.
However, Farid said Singapore's allegations against Ismail were a misunderstanding which had arisen due to the short video clip of his speech which was shown in the city-state.
He added that the message Ismail had tried to deliver would have appeared different if the audience had viewed the full video.
"In the short clip, Ismail said that as Muslims, we cannot greet non-Muslims with 'Merry Christmas' and 'Happy Deepavali'.
"But if you watch the entire lecture, he did say we can greet them with seasonal or holiday greetings, but that we might as well use other words such as 'Happy Holidays'.
"He also said that we can still meet, talk and eat with non-Muslims. No problem at all. He even said that we are all brothers in humanity.
"He is a very positive and friendly speaker, as he can get along with anyone, not only Muslims," Farid told FMT.
Dakwah Corner Bookstore have organised several events featuring Ismail before this, including talks and book-signing sessions.
Full report at:
http://www.freemalaysiatoday.com/category/nation/2017/11/02/future-events-with-ismail-menk-subject-to-authorities-approval/
--------
Make formal application to extradite Naik, Waytha tells India
Vanesha Shurentheran
November 2, 2017
KUALA LUMPUR: Hindraf chairman P Waythamoorthy has urged the Indian government to make a formal request to the Malaysian government to extradite controversial preacher Dr Zakir Naik if he is indeed wanted in the country.
He said India's National Investigation Agency (NIA) had said it would extradite Naik from either Malaysia or Saudi Arabia, where he is known to be residing.
When asked if he was aware if the preacher is currently in Malaysia, Waytha said he was not sure.
"I am not sure, but I have heard that he may be residing in an apartment in Putrajaya or Cyberjaya," Waytha told FMT.
Naik was last seen on Sept 29 participating in Friday prayers at the Tuanku Mizan Zainal Abidin Mosque in Putrajaya. Photos of him among the congregation were uploaded on Facebook and spread via social media.
Separately, Waytha said he welcomed the action by India's Enforcement Directorate, which is reportedly considering becoming a party in the case filed by Waytha and 19 others demanding the deportation of Naik.
"We will welcome the Indian authorities and if they make such an application to become a party, we will not object.
"They are certainly an interested party. They can shed a lot of light on the case before the court," said the lawyer.
In March, Waytha and 19 others had filed a suit against the government for allegedly harbouring the controversial preacher.
They said he was capable of threatening national security and harmony and had encouraged terrorism in public.
They also sought a court order that Naik be considered a threat to Malaysia, and an order to stop him from coming to the country or remaining here if he is already in the country.
The Asian Age quoted an Enforcement Directorate official as saying Naik was allegedly in Malaysia in April to hold discussions with several "intellectuals".
"We are exploring legal avenues to become a party to the proceedings related to a suit in a Malaysian court asking for his deportation," the official was reported as saying.
According to sources quoted by the Asian Age, the department can request its Malaysian counterparts to represent its case in the suit to ensure Naik is brought back to the country to face the money laundering probe.
Naik's Mumbai-based lawyer Amin Solkar told the paper that he did not know whether the preacher was in Malaysia.
"If the Enforcement Directorate or any other agency serves a summons to him as per law, we can think about what steps can be taken.
"If they think he is abroad, the correct way to serve the summons to him will be through his email address. I don't know if this is being done," Amin was quoted as saying.
Naik was reported to have failed to respond to four previous Enforcement Directorate summonses served on him.
The preacher is wanted for questioning in India over money-laundering and terrorism-related crimes.
Full report at:
http://www.freemalaysiatoday.com/category/nation/2017/11/02/make-formal-application-to-extradite-naik-waytha-tells-india/
--------
Muslim Groups, Democratic Party Challenge New Law on Mass Organizations
Nov 2, 2017
Jakarta. A group of Islamic organizations urged their members on Monday (30/10) not to vote for the representatives of political parties that approved the Law on Mass Organizations, and to challenge it through legal and constitutional measures.
The hardline Guardians of the Indonesian Ulema's Fatwas (GNPF Ulama), previously known as GNPF MUI, and other Islamic organizations said in a joint statement that the government had forced the political process to approve the new that allows for the disbandment of mass organizations.
Lawmakers passed the stricter government-proposed regulation into law during a plenary session of the House of Representatives on Oct. 24.
"GNPF Ulama and Islamic organizations see the substance of the law as really not beneficial to Muslims, because it tends to limit and restrict Islamic preaching," the group said. "We urge [...] to always be aware of the potential negative impact of the law."
The group called on its followers to take legal steps to challenge the law.
The approval of the law has sparked many controversies and caused division among lawmakers.
Six of the 10 political party factions in the House decided to approve the regulation with three calling for further revisions. The Great Indonesia Movement Party (Gerindra), Prosperous Justice Party (PKS) and National Mandate Party (PAN) rejected the proposed regulation, while the Democratic Party chose the middle way.
Democratic Party chairman Susilo Bambang Yudhoyono called for a revision of the new law on Monday, threatening to reject it otherwise.
"The Democratic Party's stance is firm and clear; we agree that the presidential regulation in lieu of law must be revised. The Democratic Party will reject it if the essence of the regulation on mass organizations is not revised," Yudhoyono said, as quoted by BeritaSatu TV.
He said the party has been preparing a proposal to revise the Law on Mass Organizations.
The new law replaces the original presidential regulation issued four months ago to revoke a stipulation in the 2013 law requiring the government to take mass organizations to court before disbanding them.
Full report at:
http://jakartaglobe.id/news/muslim-groups-democratic-party-challenge-new-law-on-mass-organizations/
--------
South Asia
EU Commissioner says 40,000 lone children among Rohingya refugees
Nov 1, 2017
European Union Commissioner for Humanitarian Aid and Crisis Management Christos Stylianides says more than 40,000 unaccompanied child refugees are among Rohingya Muslims who fled Myanmar and entered Bangladesh when an upsurge in violence occurred late August.
Stylianides described the refugee crisis in the Bangladeshi border city of Cox's Bazar as "the biggest in decades."
More than 600,000 desperate Rohingya Muslims have fled the violence in Myanmar's Rakhine state and crossed into Bangladesh since late August.
"I was shocked during the visit in the camps by the magnitude of what I saw. The magnitude of the influxes in a very short time, it's completely unique," Stylianides said.
He added that the number of unaccompanied minors now stood at "over 40,000," adding, "I think this figure alone can demonstrate the scale of the problem."
Aid agencies have raised concern over the appalling humanitarian crisis in the camps where refugees have faced acute shortages of shelter, water, healthcare and sanitation.
Stylianides told reporters in Dhaka that the situation in Cox's Bazar "requires a comprehensive and a coordinated humanitarian response."
"The number of people, their needs, their trauma is beyond imagination. The number of children with acute malnutrition is also beyond imagination."
UN officials and rights activists have also expressed concern that many lone children are at risk of being trafficked.
Stylianides said, "The government of Bangladesh and Myanmar should continue to engage in dialogue."
The commissioner also slammed Myanmar for denying aid agencies and media access to Rakhine.
Myanmar's army renewed its bloody crackdown on the ethnic minority population in August. Authorities in Myanmar, led by de facto leader Aug San Suu Kyi, have been tightly controlling access to Rakhine since August, when purported attacks by Rohingya fighters prompted a brutal military response.
The crackdown, backed by radical Buddhist monks, has left scores of Rohingya villages torched and completely destroyed.
Myanmar's government denies full citizenship to Rohingya Muslims, branding them illegal immigrants from Bangladesh.
Witnesses and rights groups have reported systematic attacks, including rape, murder and arson, at the hands of the army and Buddhist mobs against the Rohingya.
http://www.presstv.com/Detail/2017/11/01/540672/EU-Commissioner-Rohingya-lone-children
--------
Rohingya refugees drown as boat capsizes in rough waters off Bangladesh coast: UN
November 01, 2017
At least four Rohingyas fleeing unrest in Myanmar drowned when a small fishing boat capsized in rough seas off the Bangladesh coast, the United Nations has reported.
"UNHCR [the Office of the UN High Commissioner for Refugees] staff and our partners rushed to the scene to provide medical support, food, blankets and clothes to the survivors, spokesperson Babar Baloch told reporters at the regular press briefing in Geneva.
According to survivors, six families " 42 people in total, many of them women and children " left on a fishing boat from Gozon Dia south of Maungdaw town in Myanmar's northern Rakhine state around 2 am Tuesday morning. They ran into rough seas and approached shore in the Imamerdail area of Ukhia sub-district in Bangladesh around 8.30 am local time when they ran into rough seas.
A 15-year-old boy died on the spot and 22 were injured, several when they hit the engine. Three were reported to have died en route to hospital, Baloch reported, adding that the remaining 19 injured were taken to UNHCR's transit centre near Kutupalong camp. "We will ensure that families are not separated in the course of the medical treatment.
Meanwhile, the UN International Organization for Migration (IOM) reported that although the number of new arrivals is now slowing, people continue to arrive in the makeshift settlements of Bangladesh's Cox's Bazar every day, bringing the total Rohingya population of the district to over 820,000.
The settlements are dangerously congested and overcrowded and the pressure on sources of clean drinking water and basic sanitation are enormous. Having walked for days without water and food, the refugees arrive to the settlements exhausted and thirsty. Many are ill, IOM stated.
"All of the spontaneous and makeshift sites where the Rohingya have sought shelter are in urgent need of water, sanitation and hygiene (WASH) support to prevent diseases and to restore basic human dignity, IOM WASH expert Antonio Torres explained. "Existing [sanitation and hygiene] facilities are not yet sufficient to cope with this number of people, he noted.
"All of the spontaneous and makeshift sites where the Rohingya have sought shelter are in urgent need of water, sanitation and hygiene (WASH) support to prevent diseases and to restore basic human dignity, Torres said. "Existing WASH facilities are not yet sufficient to cope with this number of people, he noted.
Full report at:
http://nation.com.pk/01-Nov-2017/bangladesh-coast-un
--------
Bangladesh Supreme Court upholds verdict in murder of Saudi diplomat
2 November 2017
DHAKA: Bangladesh's Supreme Court on Wednesday ruled in a Saudi Embassy official's murder case, maintaining the High Court's verdict by upholding the death penalty for one of the accused and life in prison for three others.
Saudi diplomat Khalaf Al-Ali was gunned down on March 5, 2012, near his residence in the Gulshan diplomatic zone in Dhaka. He died at a local hospital the following day.
Over four and a half months, police arrested the four accused: Saiful Islam Mamun, Al Amin, Akbar Ali and Mohammad Rafikul Islam.
Mamun was given the death sentence. Another accused, Selim Chowdhury, was released due to lack of evidence.
Attorney General Mahbub-e-Alam told Arab News: "We expected life sentences for all four accused, and at least 10 years in jail for Chowdhury. But at least we got the death sentence for one of the accused."
The defendants' lawyer Khobir Uddin Bhuya told Arab News there are still grounds "to file a review petition against the verdict."
http://www.arabnews.com/node/1186916/saudi-arabia
--------
Muslim countries push UN to speak out on Myanmar abuses
November 2, 2017
NEW YORK: Muslim countries led by Saudi Arabia want the United Nations to denounce serious rights abuses in Myanmar and demand an end to the military campaign against the Rohingya, according to a draft resolution seen by AFP on Wednesday.
In one of the worst refugee crises in decades, more than 600,000 Muslim Rohingya have fled an army crackdown in Myanmar's Rakhine state since late August.
The draft resolution introduced this week to the General Assembly's human rights committee said UN member-states were "highly alarmed" by the outbreak of violence and "further alarmed by the disproportionate use of force by the Myanmar forces" against the Rohingya.
The non-binding measure is expected to come up for a vote in the committee around November 14 and be discussed in the assembly a month later.
Drafted by the 57-member Organisation of Islamic Cooperation (OIC), the proposed resolution marks the return of Myanmar to the rights agenda at the United Nations after a one-year break.
Last year, the European Union decided against presenting a measure criticizing Myanmar's rights record for the first time in 15 years after recognizing progress under the leadership of Aung San Suu Kyi.
Together with a separate draft resolution now before the Security Council, the measure reflects growing impatience with the Myanmar authorities as the Rohingya continue to flee across the border to Bangladesh.
Diplomats, however, say China — a supporter of Myanmar's former ruling junta — is resisting a push by Britain and France for a council response to the crisis.
UN Secretary-General Antonio Guterres, who has called for an end to the attacks, is expected to press for action when he joins leaders of the Southeast Asian (ASEAN) bloc at a summit in the Philippines next week.
Myanmar's government says its operations are aimed at rooting out Rohingya militants who staged attacks on police posts in late August.
The draft resolution calls on Myanmar authorities "to end the ongoing military operations" that have "led to the systematic violations and abuse of human rights of persons belonging to the Rohingya community."
It calls on the government to allow access for aid workers to Rakhine state, ensure the return of all refugees and grant full citizenship rights to the Rohingya.
Myanmar's Rohingya have faced decades of discrimination in the Buddhist-majority country and have been denied citizenship since 1982, which has effectively rendered them stateless.
A recent report by the UN human rights office accused Myanmar of seeking to permanently expel the Rohingya by planting land mines at the border with Bangladesh where the refugees are sheltering.
Full report at:
http://www.freemalaysiatoday.com/category/world/2017/11/02/muslim-countries-push-un-to-speak-out-on-myanmar-abuses/
--------
Ismail Khan warns of massive fraud in upcoming Afghan elections
Nov 01 2017
A prominent former Jihadi leader in western Herat province of Afghanistan Ismail Khan has warned of massive elections in the upcoming elections, insisting that the people of Afghanistan has not more trust on the current government.
Speaking during a gathering in Herat in province, Khan said the current government has been imposed on the Afghan people.
Khan went on to claim that in such a situation the people of Afghanistan will not participate in the elections and the ballot boxes will be filled in favor of a particular person.
The provincial governor of northern Balkh province and chief executive of Jamiat-e-Islami Ata Mohammad Noor had also participated in the gathering.
He said efforts are underway to interfere in the upcoming elections and urged the government to take immediate steps to change the formation of the elections commission and bring necessary reforms.
Noor further added that they cannot expect transparency in the elections if the government and the elections commission continue to their work with a similar approach they have adopted now.
Full report at:
http://www.khaama.com/ismail-khan-warns-of-massive-fraud-in-upcoming-afghan-elections-03765
--------
Pakistan willing to target Haqqani network and Taliban, Tillerson says
Nov 01 2017
The US Secretary of State Rex Tillerson has said Pakistan has shown willingness to target the terrorists inside its soil, apparently gesturing towards the Haqqani terrorist and the Taliban leaders.
According to reports, Tillerson has informed regarding Islamabad's willingness to target the terrorists during his speech at the at the Senate Foreign Relations Committee.
"Pakistanis have indicated — if we provide them information they will act. We're going to have to test that, give them an opportunity to do so," Tillerson has said.
He also added that "So, we are going to enter into an effort to have greater sharing of certain intelligence information."
According to Tillerson, Pakistan did have long-standing relations with the Haqqani network and the Taliban, which might have served their purpose for stability in the past but they no longer served that purpose.
"And it's up to Pakistan I think, to think about their longer-term stability and their future by changing that relationship with these organisations," he added.
This comes as relations between Washington and Islamabad is at an all time low since the US President Donald Trump announced his administration's strategy for Afghanistan and South Asia.
Full report at:
http://www.khaama.com/pakistan-willing-to-target-haqqani-network-and-taliban-tillerson-says-03764
--------
Putin's top adviser Nikolai Patrushev visits Afghanistan
Nov 01 2017
The Russian President Vladimir Putin's top adviser Nikolai Patrushev on Tuesday visited Afghanistan and met with senior Afghan officials including President Mohammad Ashraf Ghani.
The Office of the President, ARG Palace, said the two sides discussed bilateral relations between Kabul and Moscow, menace of terror and fightش gainst terrorism, regional cooperation, economic, transit and cooperation in other sectors.
A statement by ARG Palace said Mr. Patrushev said the main purpose of his visit to Afghanistan is to expand bilateral cooperation between different institutions of the two countries.
He said Moscow is prepared to fully support Afghanistan in all sectors in a bid to eliminate the menace of terrorism threatening the region.
In his turn, President Ghani said a stable Afghanistan is for the interest of the region and the Afghan government is committed to create an environment of cooperation in the region.
He said Afghanistan is in the frontline fighting terror and besides that the Afghan government has managed to establish an environment of regional cooperation with the regional countries.
Full report at:
http://www.khaama.com/putins-top-adviser-nikolai-patrushev-visits-afghanistan-03763
--------
Myanmar accuses Bangladesh of delaying Rohingya repatriation
November 01, 2017
'They have gotten international subsidies. We are now afraid they would have another consideration as to repatriation'
Myanmar has made an outrageous claim that Bangladesh is delaying the start of the repatriation process for hundreds of thousands of Rohingya Muslim refugees, saying it feared Dhaka could be stalling until it receives millions of dollars in international aid money.
Myanmar was ready to begin the repatriation process any time, based along the lines of an agreement that covered returns of Rohingya to Myanmar in the early 1990s, Zaw Htay, a spokesman for Myanmar's de facto leader, Aung San Suu Kyi, said, reports Reuters.
He claimed Bangladesh had yet to accept those terms.
Zaw Htay linked the delay by Bangladesh to the money raised so far by the international community to help build gigantic refugee camps for the Rohingya.
"Currently they have got $400 million. Over their receipt of this amount, we are now afraid they are delaying the program of deporting the refugees," he said in comments carried in a front-page article in the state-run Global New Light of Myanmar newspaper on Wednesday.
"They have gotten international subsidies. We are now afraid they would have another consideration as to repatriation," he said.
The Bangladesh government issued a statement on Thursday saying that Myanmar had not agreed to 10 points put forward by its minister at last week's talks, including the full implementation of the recommendations of an Advisory Commission on Rakhine State, chaired by former UN Secretary General Kofi Annan, for a sustainable return of Rohingya.
Home Minister Asaduzzaman Khan Kamal told Bangladesh media on Friday that the two sides were unable to form a joint working group but said it should be set up by the time Foreign Minister Abul Hassan Mahmood Ali goes to Myanmar for talks on November 30.
Full report at:
http://www.dhakatribune.com/world/south-asia/2017/11/01/myanmars-outrageous-claims-bangladesh-delaying-rohingya-repatriation-aid/
--------
North America
Trump Declares Suspect 'Should Get Death Penalty'
By PETER BAKER
NOV. 1, 2017
WASHINGTON — President Trump touched off a sharply partisan debate over some of the most divisive issues in American life on Wednesday as he cited this week's terrorist attack in New York to advance his agenda on immigration and national security while assailing Democrats for endangering the country.
A day after an immigrant from Uzbekistan was arrested on suspicion of plowing a pickup truck along a crowded bicycle path in Manhattan, killing eight people, Mr. Trump denounced the American criminal justice system as "a joke" and "a laughingstock," adding that he was open to sending "this animal" instead to the American military prison at Guantánamo Bay, Cuba.
Shortly before midnight, the president took it a step further, posting a message on Twitter declaring that the suspect, Sayfullo Saipov, should be executed. "NYC terrorist was happy as he asked to hang ISIS flag in his hospital room," he wrote, referring to the driver's reported interest in the Islamic State extremist group. "He killed 8 people, badly injured 12. SHOULD GET DEATH PENALTY!"
Presidents are typically advised never to weigh in on pending criminal cases because such comments can be used by defense lawyers to argue that their clients cannot get a fair trial — especially when the head of the executive branch that will prosecute the charges advocates the ultimate punishment before a judge has heard a single shred of evidence at trial. But Mr. Trump has disregarded such advice in other instances, as well.
The president's vocal response to the attack framed the emerging politics of the case. While the White House deemed it unseemly to have a policy debate on gun control immediately after the massacre in Las Vegas last month, Mr. Trump was eager on Wednesday to have a policy debate on immigration. He pressed Congress to cancel a visa lottery program that allowed the driver into the country, attributing it to Senator Chuck Schumer of New York, the Democratic leader, and called Democrats "obstructionists" who "don't want to do what's right for our country."
"We have to get much tougher," the president told reporters. "We have to get much smarter. And we have to get much less politically correct. We're so politically correct that we're afraid to do anything."
A moment like this was almost inevitable since Mr. Trump took office and sought to ban visitors from select countries with Muslim majorities. The terrorist attack in New York on Tuesday was the first by a foreign-born assailant on American soil since Mr. Trump's inauguration, and few were surprised that he saw it as vindication for his tough-on-immigration approach.
It also provided fodder for him to shift the public focus away from the special counsel investigation that unveiled criminal charges against three former campaign aides this week. But in an interview with The New York Times on Wednesday, Mr. Trump adamantly denied being concerned about the indictments.
"I'm not under investigation, as you know," he said in a brief telephone call. Pointing to the indictment of his former campaign chief, Paul Manafort, the president said, "And even if you look at that, there's not even a mention of Trump in there." Noting that Mr. Manafort was charged with financial crimes stemming from his lobbying business, the president added: "It has nothing to do with us."
Mr. Trump, a lifelong New Yorker, wasted little time Wednesday morning assigning fault for the attack along the bicycle path. "The terrorist came into our country through what is called the "Diversity Visa Lottery Program," a Chuck Schumer beauty," he wrote on Twitter.
Mr. Schumer responded from the floor of the Senate, noting that after the attacks of Sept. 11, 2001, President George W. Bush brought Mr. Schumer and Hillary Clinton, then the other Democratic senator from New York, to the White House to demonstrate national unity.
"President Trump, where is your leadership?" Mr. Schumer asked. "President Trump, instead of politicizing and dividing America, which he always seems to do at times of national tragedy, should be bringing us together and focusing on the real solution — antiterrorism funding — which he proposed to cut in his most recent budget."
At a news conference updating the public about the attack, Gov. Andrew M. Cuomo of New York chided Mr. Trump for his Twitter posts, saying they "were not helpful," were not "even accurate" and "tended to point fingers and politicize the situation."
"You play into the hands of the terrorists to the extent that you disrupt and divide and frighten people in this society," said Mr. Cuomo, who is a Democrat. "And the tone now should be the exact opposite by all officials on all levels. This is about unification, this is about solidarity."
At his own public appearance later in the day, Mr. Trump took aim again at the diversity lottery visa program. "Diversity lottery — sounds nice," he added. "It's not nice. It's not good. It hasn't been good. We've been against it."
Responding to questions by reporters, he said he was open to transferring Mr. Saipov from civilian courts into the military system set up for foreign terrorists.
"I would certainly consider that," he said at the beginning of a cabinet meeting. "Send him to Gitmo, I would certainly consider that, yes."
Likewise, he vowed to toughen prosecution and punishment of terrorists without specifying how. "We need quick justice and we need strong justice, much quicker and much stronger than we have right now," Mr. Trump said. "Because what we have right now is a joke and it's a laughingstock."
His later call for the death penalty stemmed from news that Mr. Saipov expressed loyalty to the Islamic State even as he recovered from a gunshot wound by a police officer who stopped his rampage. In a criminal complaint filed on Wednesday, the F.B.I. said Mr. Saipov "requested to display ISIS's flag in his hospital room and stated that he felt good about what he had done" during an interview with law enforcement officers.
No one arrested on American soil has ever been sent to Guantánamo Bay, and no one captured on foreign soil has been sent there since 2008. Transferring the suspect from New York would raise a host of thorny constitutional and legal issues, and Mr. Trump seemed to be speaking off the top of his head since federal prosecutors later moved to process the suspect in civilian courts.
Asked later about his comment on Guantánamo, Sarah Huckabee Sanders, the White House press secretary, dismissed it as notional, saying that "he wasn't necessarily advocating for it, but he certainly would support it if he felt like that was the best move."
By the end of the day, the president came under criticism from conservative allies for not declaring Mr. Saipov an enemy combatant, which would have allowed interrogators more freedom to question him without granting him the rights of a civilian defendant. "The Trump administration missed an important opportunity to send a strong message to terrorists and make America safer," said Senator Lindsey Graham, Republican of South Carolina. "This is a huge mistake. Very sad."
The diversity visa program cited by Mr. Trump was created in 1990 by a bill supported by Mr. Schumer, passed by bipartisan votes and signed into law by a Republican president, George Bush. Mr. Schumer supported getting rid of the program as part of a comprehensive immigration plan crafted by eight lawmakers and passed by the Senate in 2013. But the plan was blocked in the House by Republicans who objected to other elements they considered amnesty for illegal immigrants.
Senator Jeff Flake, a Republican from Arizona who has broken with Mr. Trump, came to Mr. Schumer's defense on Wednesday. "Actually, the Gang of 8, including @SenSchumer, did away with the Diversity Visa Program as part of broader reforms," Mr. Flake wrote on Twitter. "I know, I was there."
The program creates a class of immigrants called "diversity immigrants" from countries with historically low rates of immigration to the United States. About 50,000 diversity visas are distributed annually, or roughly 5 percent of the total green cards issued by the United States. Nearly 14.7 million people applied last year, meaning less than 1 percent of those who seek such visas receive them.
The program has been a target of conservatives, who proposed eliminating it in legislation endorsed in August by Mr. Trump that would crack down on legal immigration. The legislation would slash legal immigration to the United States in half within a decade by sharply curtailing the ability of American citizens and legal residents to bring family members into the country.
In his remarks, Mr. Trump stressed that he wanted "merit-based" immigration, suggesting that Mr. Saipov was admitted without consideration about whether he had skills that could benefit the United States. In fact, the program requires applicants to have a high school education or be employed for at least two years in jobs approved by the State Department.
Mr. Trump, who during last year's campaign called for a complete ban on all Muslims entering the United States, has long sought to tighten the borders. He has signed several versions of the travel ban aimed mainly at predominantly Muslim countries even as courts repeatedly intervened.
Uzbekistan was not among the countries targeted for "extreme vetting" but Ms. Sanders said "that may be something that's looked at."
https://www.nytimes.com/2017/11/01/us/politics/trump-new-york-attack-schumer-visa.html
--------
American Muslims must confront Islam's role in terror attacks and reclaim faith
November 1, 2017
Tuesday's ISIS-inspired attack in New York City, the deadliest since 9/11, left 8 dead and several more injured. The perpetrator, 29-year-old Sayfullo Habibullaevic Saipov, was an Uzbekistan native who had moved to the US in 2010.
The attack comes on the heels of ISIS having major setbacks territorially in Iraq and Syria, and it is likely that we will see an uptick in similar attacks as the group attempts to save face following their failed attempts to establish a physical caliphate.
As we see this rise in homegrown, domestic terrorism, the United States' military strategy will be rendered more and more inept and ineffective. This is not a monster that can be tamed by going into the Middle East with bullets, drone strikes, or missiles. But a counter-extremism strategy that is hyper-focused on military tactics will result in limited success because it cannot penetrate the ideological layers behind the violence, and will, in the long run, serve the Islamists by providing more fuel for their narratives.
Let's be blunt, America has a radicalization problem and without us confronting it head on and calling it out we are hiding from the reality of the times we are living in. After the attacks, many American Muslim social media pundits quickly went on the defensive seeking to try to reclaim the narrative of the media's use of the term "Allahu Akbar" (Arabic for "God is Great") once the general public at-large heard that these were the words that the attacker echoed as he crashed into a school bus and exited the vehicle.
Like them, I agree that the term is used on a deeply personal level and said at least 20 times a day by me, my family and the broader American Muslim community, but quite frankly these individuals and many others have missed the point as a whole during this time of pain, hurt and death.
Prominent American Muslim commentators such as Linda Sarsour instantly took to the internet to defend the term "Allahu Akbar" and declare that we should "Prosecute the criminal not a faith." This instant sterilization of Islam that occurs almost immediately following a terror attack, while it may be well-intentioned, does more harm than good. It immediately shuts down debate and aborts any channels towards dialogue and civil society-led solutions.
As an American Muslim, I want to take active steps to reclaim the term, and reclaim my faith from the hands of those who wish for our community to adhere to a strict and narrow brand of Islam. Therefore, for me to imply that Islam, or more specifically, Islamist ideology, had nothing to do with Tuesday's attack, is to commit a grave injustice against my own faith.
The American Muslim community is diverse and not a monolith. In fact, like its Christians counterparts, Friday, the holy day for Muslims, is the most divided hour in America and demonstrates a diverse and divergent Muslim community. American Muslims have been in the US since its inception and are present in all walks of life including newspaper vendors, taxi drivers, homemakers and accountants to name a few. Various American Muslim revivalists have been making the case for an American school of Islamic thinking, including the late American Muslim revivalist Imam WD Mohammed who courageously picked up the American flag and required it to be placed in every American mosque under his leadership despite pushback from many of his fellow American Muslims.
Full report at:
http://www.nydailynews.com/opinion/muslims-confront-islam-role-terrorism-reclaim-faith-article-1.3605046
--------
Join Our Discussion on Discrimination Against Muslim Americans After a Terrorist Attack
By JOSHUA BARONE
NOV. 1, 2017
The Reader Center is a newsroom initiative that is helping The Times build deeper ties with our audience.
In Lower Manhattan on Tuesday — just blocks from the site of the Sept. 11 terrorist attacks — a driver plowed a pickup truck down a crowded bike path, killing eight people. The motorist, after crashing his truck into a school bus, jumped out and yelled "Allahu akbar," Arabic for "God is great," the authorities said. He also left a handwritten note in the vehicle that law enforcement officials said declared allegiance to the Islamic State.
What does this mean for Muslim Americans, for whom the wounds of post-Sept. 11 discrimination, profiling and media bias are still fresh? Ask Dalia Mogahed, the research director at the Institute for Social Policy and Understanding in Washington, and Aber Kawas, a Muslim American community organizer in Brooklyn.
They will join Rachel L. Swarns and John Eligon, two journalists who write about race and race relations for The New York Times, on Facebook Live on Wednesday evening to discuss concerns Muslim Americans have in the aftermath of Tuesday's attack. The conversation will also be guided by questions from our live audience on Facebook. Leave your questions in the comments, and our guests will answer some of them on camera.
When: Wednesday, Nov. 1, from 9 to 9:30 p.m. Eastern time.
Full report at:
https://www.nytimes.com/2017/11/01/reader-center/new-york-attack-muslim-americans.html
--------
When Its Attacker Is in Handcuffs, Islamic State Stays Mum
By RUKMINI CALLIMACHI
NOV. 1, 2017
In the hours before the coordinated attacks in Paris two years ago, a 10-man unit of Islamic State militants car-pooled to the city, where they shared hotel rooms before strapping on suicide belts.
Weeks later, the Islamic State released a video eulogizing them as "lions," and sharing clips of each fighter pledging allegiance to the militant group, also known as ISIS.
Each fighter, that is, except Salah Abdeslam, the only member who did not die in the attacks, and who instead went on the run. He was dragged from his hide-out in Belgium following a monthslong manhunt.
To date, analysts say, he has said little to interrogators who have pressed him for details on how the cell hatched its plan, the worst terrorist attack in French history.
His absence from the numerous releases distributed by the group — which often included photographs of his older brother, who detonated his belt in a Parisian cafe on the night of the attacks — pointed to what would become a trend.
It may help explain why the Islamic State had not, as of Wednesday night, asserted responsibility for the deadly rampage the day before in Manhattan by a truck driver who was wounded and arrested by the police, who say he is a disciple of the group.
With few exceptions, the Islamic State has not claimed attacks when a surviving recruit falls into the hands of the authorities.
"It's as if he didn't even exist," said Jean-Charles Brisard, director of the Center for the Analysis of Terrorism in Paris, regarding the omission of the 10th attacker from the group's propaganda.
The Islamic State has followed this practice regardless of whether the attacker was directly dispatched or inspired remotely through online tutorials.
Among the attacks that investigators have definitively tied to the group — and which it never claimed, despite the casualties they caused — were those at the Jewish Museum in Brussels in 2014, which left four dead, and on the Thalys train in 2015, which wounded three.
Last year, when Ahmad Khan Rahimi, who planted bombs in New Jersey and in the Chelsea neighborhood of Manhattan, was finally taken into custody, the police also found his bloodstained journal, containing references to Abu Muhammad al-Adnani, the Islamic State spokesman and the leading figure calling for attacks on the West. But ISIS did not take responsibility for Mr. Rahimi's acts.
More recently, the Islamic State never claimed a truck-ramming in Stockholm in April, even though the perpetrator was found to have been a recruiter for the group.
Nor did the group take responsibility for a vehicular attack in Edmonton, Canada, just over a month ago, carried out by a man who took the time to drape the Islamic State flag on the dashboard of his Chevrolet Malibu before using it to ram through a traffic barricade.
The constant in each of these cases is that the perpetrator was apprehended.
More than 24 hours after the arrest of the driver in the Manhattan assault, which left eight people dead, the group's media arm remained mum, even though he had left a note stating that the "Islamic State will endure forever," a reference to the group's slogan.
The lack of a claim is conspicuous in light of how much territory the group has lost in Syria and Iraq in recent months, erasing 90 percent of the caliphate it once held. Claiming responsibility for the truck rampage in New York, the worst terrorist attack in the city since Sept. 11, 2001, might be expected to project an image of strength for the group.
A New York Times tally of the more than four dozen attacks on Western targets claimed by the group since 2014 indicates that the Islamic State typically issues its claim of responsibility within 24 hours, though there have been some exceptions, including two attacks this past summer that the group claimed a month later.
It is possible that the group is simply taking its time.
Among the arguments for why the Islamic State would not claim responsibility, even when everything points to it, is a pragmatic consideration.
"It's essentially about loyalty. No one would be motivated to do an ISIS attack if they know that when they end up getting caught, someone will out them," said Raphael Gluck, an independent researcher who focuses on the group's digital footprint and has embedded himself in many of the group's online chat rooms. "It would work counter to their whole recruitment line and would serve to push off the next attack."
Amarnath Amarasingam, a senior research fellow at the Institute for Strategic Dialogue, who has interviewed Islamic State followers online as part of his work, said that members of the group explained to him that not asserting responsibility for attacks was intended to protect fighters.
"I think it's very much a matter of internal communication," he said, "a way of telling their supporters that if they are captured, they won't be sold out by the group."
Others said they see a theological justification: The Islamic State encourages recruits to die in a standoff with the police in a "martyrdom operation." When the fighter survives, the mission is incomplete, Mr. Brisard said.
This theory has been given weight by several recent attacks, including the London Bridge and the Barcelona attacks this summer, in which assailants wore what turned out to be fake suicide belts. Online tutorials teach followers how to make these look-alike vests, strapped on for the purpose of inviting law enforcement's gunfire.
That motivation may also explain why the Manhattan suspect, Sayfullo Saipov, emerged from his rented Home Depot truck armed with both a pellet gun and a paintball gun, neither powerful enough to cause significant harm, but making him look dangerous to the police.
"According to their logic, their ideology, they are supposed to die during the action," Mr. Brisard said.
He and others discounted the notion that attacks were not claimed because they were not deemed successful. The group has asserted responsibility for foiled plots, like the attacker who rammed his explosive-laden car into a police vehicle on the Champs-Élysées in Paris in June.
No one was hurt except the assailant, who had appeared on France's S-list of radicalized individuals.
Full report at:
https://www.nytimes.com/2017/11/01/world/americas/isis-manhattan-truck-attack.html?mtrref=www.google.co.in&gwh=D58DF8673AC23F4327BC3BC10CA53BBC&gwt=pay
--------
Prosecutor: Marine instructor's hazing targeted Muslims
Nov 01, 2017
CAMP LEJEUNE, N.C. — A former Marine Corps drill instructor was "drunk on power" and targeted three Muslim recruits for abuse, prosecutors said at the opening of his court-martial on charges including cruelty and maltreatment.
Gunnery Sgt. Joseph Felix punched, choked and kicked recruits at the Marine Corps' Parris Island, South Carolina, training center, prosecutors said Tuesday, according to multiple news outlets.
Felix also burned one recruit after ordering him into a commercial clothes dryer and turning it on after interrogating him about his Muslim faith, prosecutors told jurors. Felix told another Muslim recruit: "Hey, ISIS, get in the dryer," prosecutors said. "You will learn the accused is drunk on power," prosecutor Capt. Corey Weilert told the eight-person jury hearing the case at the sprawling North Carolina Marine Corps base.
After a confrontation in March 2016 when Felix slapped his face, 20-year-old Raheel Siddiqui of Taylor, Michigan, fell three stories to his death, investigators said. Siddiqui's death was declared suicide, but since then Marine Corps officials have said they uncovered widespread hazing of recruits and young drill instructors and identified up to 20 people possibly tied to misconduct.
A commanding officer at Parris Island who was fired amid allegations of misconduct after Siddiqui's death also faces a court-martial. Lt. Col. Joshua Kissoon is charged with making false statements, failing to heed an order and other charges. He will face court-martial at Marine Corps Base Quantico in Virginia, but no trial date has been set.
Mentions of Siddiqui's death is being limited by Judge Lt. Col. Michael Libretto to testimony addressing an obstruction charge facing Felix. Prosecutors say Felix told recruits not to talk about the incident outside of the unit, The Island Packet of Hilton Head, South Carolina, reported .
Felix also faces three counts of maltreatment toward Siddiqui and the two other Muslim recruits, as well as nine counts of violating an order, making a false statement and being drunk and disorderly.
Ameer Bourmeche, now a 23-year-old lance corporal at Camp Pendleton in California, said he was roused awake in the middle of the night in July 2015 by shouts of "Where's the terrorist?" He said Felix and another drill instructor, Sgt. Michael Eldridge, marched him to the barracks shower room, where Felix elbowed him in the chin. They smelled of alcohol, Bourmeche testified.
Eldridge also was charged, but he is cooperating with the prosecution and is expected to face less-severe punishment, The Washington Post reported .
Bourmeche said Felix and Eldridge ordered him to do pushups and other exercises in the shower, then told him to climb into an industrial-size clothes dryer. He said they turned on the dryer with him inside three separate times. Each time, the drill instructors asked whether he renounced Islam. The third time, Bourmeche said, he told them he was no longer a Muslim.
Defense counselor Navy Lt. Cmdr. Clay Bridges told jurors that testimony by Bourmeche and other recruits are boot camp stories that have been conflated, are contradictory and "blown out of proportion."
The trial is scheduled to last about two weeks.
Full report at:
https://www.washingtonpost.com/national/prosecutor-marine-instructors-hazing-targeted-muslims/2017/11/01/fad71ece-bf1a-11e7-9294-705f80164f6e_story.html?utm_term=.479f92a2a36a
--------
Muslims to soon beat out Jews in U.S. population
November 1, 2017
There are about 3.35 million Muslims in the United States right now, according to recent Pew Research Center's Factank figures.
But by 2050, that particular population is projected to grow — from about 1 percent of the U.S. population to about 2.1 percent. If it does, that means America will be home to more Muslims than Jews.
Just something to think about, post New York City terror attack — a terror attack that we now know was committed by a radicalized Muslim who professed allegiance to ISIS.
President Donald Trump, in a tweet, wrote: "We must not allow ISIS to return, or enter, our country after defeating them in the Middle East and elsewhere. Enough!"
And of course, all sane Americans are with him on that point.
But truth is: How do we reel back the radicalization of those Muslims in America now — of those who are yet to come?
From Pew: Of the 3.35 million Muslims in America right now, 2.05 million are adults — and "a majority of them, 58 percent, are migrants."
In other words, they weren't born here. They were let in the gate.
It's only common sense to do as Trump also tweeted, and bolster border security.
"I have just ordered Homeland Security to step up our already Extreme Vetting Program," he tweeted. "Being politically correct is fine, but not for this!"
Exactly.
Terror attacks committed in the name of Allah aren't welcome in America. That's the obvious.
But let's remember, too, our nation was founded on Judeo-Christian principles — not Islamic ones. Do we really want that to change?
"Our demographic projections," Pew wrote, "estimate that Muslims will make up 2.1 percent of the U.S. population by the year 2050, surpassing people who identify as Jewish on the basis of religion as the second-largest faith group in the country (not including people who say they have no religion). A 2013 Pew Research Center report estimated that the Muslim share of immigrants granted permanent residency status (green cards) increased from about 5 percent in 1992 to roughly 10 percent in 2012, representing about 100,000 immigrants in that year."
And once here, these Muslim families usually get busy — well, getting busy.
"Muslims have more children than members of other religious groups," Pew reported.
Muslim women, for example, have an average 2.9 children, compared to 2.2 children from women of all other faith groups. On top of that, Muslim women have children at younger ages than women of other religions, fueling Muslim population growth even further.
Between migration and birth rates, Muslims are seeing a significant jump in cultural influence in America. Don't forget the conversions — and don't forget the fact that the cultural influence often leads to political influences, as well.
Political correctness dictates that talking about Muslim population surges in the context of Islamic terror attacks is out of order — is discriminatory, stereotypical, an offense to the peaceful Muslims of the world.
But this latest terror strike in New York City should be a foot-down moment for America. How many more terror attacks should innocents suffer until the left, the amnesty-loving and Islamic apologetic left, gets it through its head — Islam and terror are tied at the hip.
Trump's temporary bans on migrants and refugees entering America from known terror hotspots in the world is common sense safety. Sending in intelligence agents to monitor mosques around the country is similarly security oriented — similarly, sensible. The time has come to cast political correctness to the wind and launch a full-frontal assault on the leftists of the country who would argue that monitoring mosques and keeping out radicals are outrageous acts of discrimination.
Full report at:
https://www.washingtontimes.com/news/2017/nov/1/muslims-soon-beat-out-jews-us-population/
--------
Jake Tapper, CNN's finest, defends 'Allahu akbar' as 'beautiful'
November 1, 2017
Jake Tapper, of CNN fame, spoke in the aftermath of the terror attack in New York City by saying — get this — that the phrase "Allahu akbar," reportedly uttered by the suspected terrorist, is actually a phrase of beauty, in the right circumstances.
Yes — and, in that vein, so was Heil Hitler, depending on the source and context of the utterance.
But this is how the media rolls. When Islam meets terror, and Allah's at the root, count on the mainstream, lamestream of the media world to find any which way possible to dig up a defense.
Breitbart picked up the televised exchange, between Tapper and CNN's crime and justice reporter, Shimon Prokupecz.
It went like this:
Tapper: Shimon's got some breaking news on this "horrific incident."
Shimon: "That's right Jake. So what we're told, I'm told by three sources now that the NYPD and the FBI are investigating this as a terrorism incident. Our understanding is that, according to witnesses … they're telling police that they heard the driver saying, yelling, 'Allahu Akbar, Allahu Akbar,' during this incident."
And Tapper's response?
"The Arabic chant, Allahu Akbar, God is great, sometimes is said under the most beautiful of circumstance and too often, we hear it being said in moments like this," he said.
Oh please, make it stop.
It's bad enough the leftists of the country can't take even the most mundane and common sense of national security protections to stave off radical Islam terror attacks — like clamping the borders, for example.
But now we've got to listen to tripe like Tapper's, that uses a terror attack — a terror attack committed by an Islamic believer in the messaging and violent means of ISIS — to propel a politically correct view of the phrase "Allahu akbar?"
Full report at:
https://www.washingtontimes.com/news/2017/nov/1/jake-tapper-cnns-finest-defends-allahu-akbar-beaut/
--------
CIA releases vast Bin Laden archive seized in compound
November 02, 2017
WASHINGTON - The Central Intelligence Agency on Wednesday released a vast archive of documents and video seized in the 2011 US raid on a Pakistani compound that killed Al-Qaeda leader Osama bin Laden.
Researchers from a Washington think tank who had prior access to the newly declassified dossier say it includes Bin Laden 's son's wedding video and diaries left by the Saudi-born militant.
"Today's release ... provides the opportunity for the American people to gain further insights into the plans and workings of this terrorist organisation," said CIA director Mike Pompeo.
The CIA has put online 470,000 additional files seized in May 2011 when US Navy SEALs burst into the Abbottabad compound and shot dead the leader of Al-Qaeda's global extremist network.
According to Thomas Joscelyn and Bill Roggio, scholars from the Foundation for Defence of Democracies who were allowed to study the trove before it was made public, it provides new insights. "These documents will go a long way to help fill in some of the blanks we still have about Al-Qaeda's leadership," Roggio said.
Full report at:
http://nation.com.pk/02-Nov-2017/cia-releases-vast-bin-laden-archive-seized-in-compound
--------
NY attacker linked to IS, 'radicalised domestically'
November 02, 2017
NEW YORK - The Uzbek who killed eight people in New York acted in the name of the Islamic State group, police confirmed Wednesday, as the US president vowed to scrap the visa program that allowed him to enter the country.
Tuesday's attack, which mowed down pedestrians and cyclists at high speed on Lower Manhattan's West Side, was the deadliest attack blamed on terrorism in America's financial capital since the September 11, 2001 hijackings.
While 29-year-old suspect Sayfullo Saipov had not previously been the subject of an FBI investigation, police confirmed he had planned the attack for weeks. Saipov, who moved to America legally in March 2010, rented a pickup truck in New Jersey without suspicion, before driving into New York, mounting a bike path and unleashing mayhem as children and their parents prepared to celebrate Halloween.
Five of the dead were Argentine friends, visiting for a school reunion. A Belgian woman was also killed. Of 12 injured, nine remain in hospital - four in a critical but stable condition. One Argentine, a German and three Belgians, were among the injured.
The suspect was shot in the abdomen by a police officer after he crashed into a school bus and exited his truck, brandishing paintball and pellet guns. He has been interviewed in hospital and remains in custody, police said.
"He did this in the name of ISIS," John Miller, the head of New York police intelligence and counter-terrorism, told a news conference.
"He appears to have followed almost exactly to a 't' the instructions that ISIS has put out in its social media channels before with instructions to their followers on how to carry out such an attack," Miller added.
Vehicle rammings have been a frequent tactic deployed by IS sympathizers in the West, including in Barcelona, London, Stockholm and in Nice, where a Tunisian suicide truck bomber killed 86 people on Bastille Day last year.
Police said it was too early to determine when Saipov may have become radicalized, but New York Governor Andrew Cuomo said it happened after he moved to the United States. He is not a US citizen but a legal permanent resident.
Trump, confronting the worst militant-inspired attack of his 10 months in office, denounced Saipov as an "animal" and charged that he had been a point of contact for up to 23 immigrants or would-be immigrants, quipping that he "would certainly consider" sending him to Guantanamo Bay.
The Republican president said that he was "starting the process of terminating" the popular green card lottery, which he said had enabled Saipov to enter the country.
"We have to do what's right to protect our citizens," the Republican president told reporters. "We will get rid of this lottery program as soon as possible."
The 1990 program awards US permanent resident visas to around 50,000 applicants around the world each year, opening the door as well for members of their wider families to follow them, so-called chain migration.
Trump has already slashed the country's annual refugee intake by more than 50 percent, tightened visa issuance around the world and attempted to ban travellers from 11 countries, most of them with Muslim-majority populations, but not Uzbekistan.
"We also have to come up with punishment that's far quicker and far greater than the punishment these animals are getting right now," the president said.
Saipov lived in Florida and Ohio, before moving to Paterson, a former industrial hub in New Jersey about 20 miles (30 kilometres) northeast of New York, where he lived with his wife and three children. The truck was rented in New Jersey.
Neighbours in the working-class, immigrant community reacted with shock and horror on Wednesday, saying that they knew little about the man who kept to himself.
"It's a very quiet neighbourhood. We leave our doors unlocked. We thought we were pretty safe, but to know that someone like that lives down the street is scary," said Kimberly Perez, 20, who lives across the street.
In New York, leaders vowed that the annual marathon would go ahead as planned on Sunday. Police said the event, which attracts more than 50,000 runners and 2.5 million spectators, would be the most protected ever.
"We will not be cowed, we will not be thrown off by anything," said Mayor Bill de Blasio.
While officials say preliminary evidence suggests Saipov acted alone and was not part of a wider plot, Cuomo has drastically stepped up security at airports, tunnels and Penn Station, which he called the busiest rail hub in the hemisphere.
Uzbekistan, a majority Muslim country that borders Afghanistan and formerly part of the Soviet Union, is a landlocked country racked with poverty, corruption and a stifling authoritarian regime.
In less than a year, three other men with Uzbek links have been blamed for a deadly nightclub shooting in Istanbul, a Saint Petersburg metro bombing and Stockholm attack.
Full report at:
http://nation.com.pk/02-Nov-2017/ny-attacker-linked-to-is-radicalised-domestically
--------
Europe
Muslim father 'ordered' by judge not to impose Islam on his children
Nov 01, 2017
A Muslim father whose three children are being cared for by a Christian foster family was told by a judge he must not "pressure" them about Islam.
The unnamed 53-year-old has two sons and a daughter aged under 16, who have been living with the foster family since 2011.
During that time, he has only seen them twice.
In 2015, he signed a court document seen by the Manchester Evening News in which he agreed not to talk about Islam.
The ban has since been softened, but only on the condition he talks about his religion in a "non-pressuring way".
The man told the paper he was the victim of bigotry, but social services said the children's wellbeing is their "primary concern".
His children were taken into care after the death of her mother. The man and wife were estranged and had a "volatile relationship," according to court documents.
Since her death, the man has been trying to get custody of his children. He has been accused of domestic violence and assaulting a social worker, claims he denies.
The document from Salford Children's Services stipulates the man agreed "not to discuss the Muslim religion" with his children during any supervised contact.
He told the Manchester Evening News he felt forced to sign the agreement, because he was desperate to see his children.
"What's happening is xenophobia and bigotry," he said. "It's Stockholm syndrome. It's parental estrangement.
"They are obviously feeding all kinds of ridiculous propaganda to my children and this is the end result."
He has been to Manchester's family court 13 times to get custody of his children.
At the last hearing, he was warned not to "pressure" the children into discussing Islam, as Salford Children's Services said they did not consider themselves Muslim.
Relaxing the conditions, District Judge Relph said: "In the light of the court's finding as to the children's previous upbringing, the local authority has made it clear that it does not propose to treat the children as belonging to the Muslim faith, although the father may supply relevant information to them about his faith or discuss his beliefs with them in a non-pressurising way during future contact."
Councillor Lisa Stone, who leads the children's and young people's services in Salford, said the council's "prime concern is children's safety and wellbeing."
She added: "We understand the distress of the father but he has had access to the courts on numerous occasions which have upheld the plans of the local authority.
"This case has been before the Local Government Ombudsman who found no fault with the council's actions."
http://www.independent.co.uk/news/uk/home-news/muslim-father-islam-children-religion-ordered-not-impose-judge-manchester-a8031806.html
--------
'People don't know who a Muslim is': Islamic Awareness Day aims for change
November 1, 2017
The Islamic Association of Saskatchewan Saskatoon (IAS) held an open house at the Saskatoon police headquarters on Wednesday.
The Islamic Awareness Day event, hosted by the IAS in partnership with the Saskatoon Police Service, was a chance for the community to learn more about Islam and the Muslim community.
"Muslims have been negatively affected by all the media," said Dr. Naeem Sader, a family physician and vice-president of the IAS. "We feel that we need to show what the goodness of the religion is. Islam has a long tradition of involving in the community, helping the poor, doing community work, being involved in government, all kinds of things.
"There are a lot of good things Muslims have done in this world and have contributed meaningfully to society. And we want to highlight some of that today."
"The purpose of the event is for people to come ask us questions, look at the displays, learn about Islam and clear any misconceptions they have about Islam," said Hanan Sidyot, a member of the IAS.
The event had presentations, displays and food representing numerous nations, including Bangladesh, Somalia and Iran. A prayer was also held.
"We are living in a very diverse community and at the same time our community is very diverse," said Ilyas Sidyot, Imam of the IAS. "This is an opportunity for the citizens of Saskatoon to come and meet and greet with us … so we can create a better understanding and we can create harmony and peace among the citizens of Saskatoon."
"We were fortunate the police came to us and said, 'Why don't we have an Islamic Awareness Day?' " said Sader. "They want to know more about Islam because they have the version of Islam that is very negative.
Full report at:
http://thestarphoenix.com/news/local-news/people-dont-know-who-a-muslim-is-islamic-awareness-day-aims-for-change
--------
Tower Hamlets rejects concerns over Muslim foster family
Nov 01, 2017
The Times alleged the Christian girl's foster carers stopped her from eating bacon, told her to learn Arabic and removed a crucifix necklace from her.
Tower Hamlets Council has rejected the allegations following an investigation.
A spokesperson for The Times said it reported concerns raised by the child's mother and a social care worker.
The child, who was put into care due to concerns about her biological mother's welfare, now lives with a grandmother.
She was placed into the Muslim foster family's care in March by the London Borough of Tower Hamlets.
'Warm and appropriate'
In August, the Times newspaper published a story claiming she had been "forced to live with a niqab-wearing foster carer".
The paper reported the girl had "sobbed and begged" not to return to the family because "they don't speak English".
She also allegedly told her biological mother that "Christmas and Easter are stupid" and "European women are stupid and alcoholic".
However, Tower Hamlets Council - which investigated the claims - said the allegations were unsubstantiated and the girl did not know what Europe was.
A spokesperson for The Times said: "The Times reported concerns about the suitability of this foster placement raised by the child's mother and a social care worker who supervised regular meetings between the girl and her birth family
"Tower Hamlets was ordered to investigate the allegations and invited by the judge to publish an 'alternative narrative' in respect of them.
"Its report today rejects the allegations but records that the mother disputes the findings."
A report by a senior social worker said the child had "expressed no negative views about Christmas, Easter or any religious festival" when questioned.
The five-year-old is currently living with her maternal grandmother, who the council said was "distressed and angered" by the "false" allegations against the foster carers.
"She has a good relationship with the carers and is grateful for the excellent care she says that they have provided to the child," the report added.
Lawyers for the child's mother agreed the social worker's findings were "an accurate representation of the outcome of the council's investigation," a Tower Hamlets spokesman added.
According to the report, the girl's grandmother wants to take the child to her country of origin, which cannot be named for legal reasons.
East London family court previously heard the girl had a "warm and appropriate" relationship with her foster carers, and missed them after she went to live with her grandmother.
Judge Khatun Sapnara said: "The local authority has satisfied itself that the foster carer has not behaved in any way which is inconsistent with their provision of warm and appropriate care for the child."
Full report at:
http://www.bbc.com/news/uk-41833590
--------
Pope Francis 'saddened' by recent acts of terror around the world
Nov 1, 2017
Pope Francis says he was "saddened" by recent terrorist attacks around the world, including in New York.
"I am saddened by the terrorist attacks in recent days in Somalia, Afghanistan and yesterday in New York," the pontiff said during his Angelus prayer in St Peter's Square on Wednesday.
He called on people to pray that God "converts the hearts of terrorists and frees the world of hatred and murderous madness, which abuses the name of God to disseminate death."
The pope further said that he was praying for the victims and their families.
At least eight people were killed and 11 others injured after a pickup truck plowed into a pedestrian and cycle path in Lower Manhattan, New York City, on Tuesday. The suspect, reportedly a 29-year-old Uzbek immigrant, was shot and injured by police.
Also on Tuesday, at least five people were killed after a bomber blew himself up in the diplomatic zone of Afghanistan's capital, Kabul.
Full report at:
http://www.presstv.com/Detail/2017/11/01/540641/Pope-Francis-terror-attacks
--------
Putin arrives in Iran for talks with Tehran, Azerbaijan
1 November 2017
Russian President Vladimir Putin began a visit to Iran on Wednesday designed to underpin closer ties between two countries at loggerheads with the United States as President Donald Trump threatens to pull out of a 2015 nuclear deal with Tehran.
Putin and his Iranian hosts are expected to discuss the nuclear deal and regional crises such as the Syrian conflict, in which Moscow and Tehran are the main backers of President Bashar al-Assad, while Washington, Turkey and most Arab states support opposition groups seeking to overthrow him.
"We are very pleased that, apart from our bilateral relations, our two countries play an important role in securing peace and stability in the region," Iranian President Hassan Rouhani told Putin in his welcoming remarks.
Russian and Iranian help has proved crucial for Assad, allowing him to win a series of military victories since 2015 and to reestablish his control over most of Syria. Moscow is now trying to build on that success with a new diplomatic push, including a meeting in the Black Sea resort of Sochi next month.
Moscow is also an important ally for Iran in its confrontation with the Trump administration, which on Oct. 13 refused to certify Tehran's two-year-old nuclear deal with six major powers that include Russia and the United States.
Russia has criticized Trump's move, which has opened a 60-day window for Congress to act to reimpose economic sanctions on Iran. These were lifted under the 2015 accord in return for Tehran curbing its nuclear program.
"This is a very important visit (by Putin) ... It shows the determination of Tehran and Moscow to deepen their strategic alliance.... which will shape the future of the Middle East," one Iranian official told Reuters, on condition of anonymity.
"Both Russia and Iran are under American pressure ... Tehran has no other choice but to rely on Moscow to ease the US pressure," said the official.
Another Iranian official said Trump's aggressive Iran policy had united Iran's faction-ridden leadership in alignment with Russia.
Full report at:
https://english.alarabiya.net/en/News/world/2017/11/01/Putin-arrives-in-Iran-for-talks-with-Tehran-Azerbaijan.html
--------
Netanyahu in UK amid Balfour celebration protests
Nov 2, 2017
Israeli Prime Minister Benjamin Netanyahu has arrived in the UK to attend the government of Prime Minister Theresa May's "proud" celebrations for the 100-year anniversary of a British document that pave the war for Israel's creation.
May was to welcome her Israeli counterpart at 10 Downing Street in London on Wednesday, a day before the centenary of the 1917 Balfour Declaration, a short 67-word document named after then British Foreign Minister Arthur James Balfour.
The British government plans to commemorate the event with a banquet in the gilded halls of London's Lancaster House mansion, which will also be attended by members of the Balfour family.
Ahead of the trip, and after May turned down numerous requests to call off the celebrations, Palestinian officials and peace activists said they had scheduled a series of protests outside UK embassies around the world to raise awareness about the plight of Palestinians living under decades-long Israeli occupation.
Netanyahu, however, said before heading to the UK, that Palestinians had to forget the past and come to terms with Israelis.
"The Palestinians say that the Balfour Declaration was a tragedy. It wasn't a tragedy. What's been tragic is their refusal to accept this 100 years later," the PM said. I hope they change their mind, because if they do, they can move forward finally to making peace between our two peoples."
This is not the first time that Netanyahu's trip to the UK prompts outcry. In 2015, an online petition against his trip to London was signed by more than 114,000 people.
The petition called for the Israeli premier "to be arrested for war crimes when he arrives in London."
May, on the other hand, was expected to say at the celebratory dinner on Thursday night that using "the actions of the Israeli" regime was a "despicable justification for questioning the very right of Israel to exist."
"Criticizing the government of Israel is never – and can never be – an excuse for hatred against the Jewish people – any more than criticizing the British government would be an excuse for hatred against the British people," she will state.
Britain's insistence on celebrating the document has drawn criticism from Palestine, which has repeatedly called on the UK government to apologize for its role in the establishment of Israel.
Palestinian officials said last week that they were planning to take legal action against the UK for triggering a chain reaction that led to the displacement of millions of Palestinians.
Iran nuclear deal
Netanyahu was slated to hold separate meetings with May and Foreign Secretary Boris Johnson to discuss the 2015 nuclear agreement between Iran and the P5+1 group of nations—the US, the UK, France, China, Russia and Germany.
Full report at:
http://www.presstv.com/Detail/2017/11/02/540701/UK-Israel-Palestine-May-netanyahubalfour-celebrations-protest
--------
US to blame for possible Iran deal collapse: Russia
Nov 1, 2017
The United States will be responsible for the possible "collapse" of the 2015 nuclear deal between Iran and the six world powers, a senior Russian diplomat says, warning Washington against undermining the landmark agreement by imposing more sanctions against the Islamic Republic.
Russian Deputy Foreign Minister Sergei Ryabkov told reporters on Wednesday that the recent anti-Iran escalation in the US Congress was threatening the deal, known as the Joint Comprehensive Plan of Action (JCPOA).
"The situation is deteriorating, as the sentiment in the US Congress is highly anti-Iranian," he said, referring to a flurry of anti-Iran bills under consideration by US lawmakers. "The responsibility for the potential collapse of the JCPOA will rest entirely on the American side."
In addition to a purely partisan Republican push to undermine the JCPOA in Congress, an overwhelming majority of US lawmakers from both sides of the aisle continues to advance a series of other legislation to put extra pressure on Tehran.
Russia censures US sanctions on IRGC
The Russian diplomat's comments came a day after the US Treasury Department introduced new sanctions against Iran's Islamic Revolution Guards Corps (IRGC) as part of US President Donald Trump's new aggressive strategy against Iran.
'Iran deal needs no amendments'
Trump unveiled his new anti-Iran approach last month by refusing to certify the Islamic Republic's commitment to the nuclear deal. He also claimed that the JCPOA had "serious flaws" that Congress needed to fix.
Ryabkov stressed that the agreement was balanced and did not need any amendments.
"No changes, amendments or corrections to the current agreement are possible, as it is a very well-measured and delicate balance of interests and compromises," Ryabkov said. "Just like other JCPOA participants, we believe that the key objective now is to fully implement what has been achieved."
Under the multilateral deal between Iran and the P5+1 group of countries—the US, the UK, France, China, Russia and Germany— Tehran agreed to limit certain parts of its peaceful nuclear program in exchange for the removal of all nuclear-related sanctions.
US trying to undermine Russia-Iran ties
Referring to Washington's extension of sanctions against Moscow and the government of Russian President Vladimir Putin, Ryabkov said Iran and Russia needed to stay together in the face of hostile actions by "ill-wishers."
US seeks to elbow Russia out of energy markets: Lavrov
"Iran is our neighbor, partner and a friendly country," he said. "Under the current circumstances, as both our countries are subject to the ongoing pressure of our ill-wishers, including the United States... it is even more important to maintain contacts and cooperation in every field."
Full report at:
http://www.presstv.com/Detail/2017/11/01/540643/US-Russia-Iran-nuclear-deal-JCPOA-Ryabkov-Trump
--------
Mideast
Iran condemns terrorist attack in New York
Nov 1, 2017
Iran has condemned the recent deadly terrorist attack in New York, offering condolences to the families of the victims.
Iranian Foreign Ministry Spokesman Bahram Qassemi condemned the incident on Wednesday, a day after a pick-up truck plowed into the people on a cycle path in Lower Manhattan.
The attack killed eight people and injured 11 others.
The suspect, reportedly a 29-year-old Uzbek immigrant, was shot and injured by police.
Qassemi said the terrorist groups' tactic of attacking and massacring defenseless civilians on the streets and public venues was indicative of the terrorists' ruthlessness and brutality.
He said such incidents reminded the Iranian people, who have themselves been victims of terrorism, of the bitter memories of the suffering they have gone through.
He said terrorism was rooted "in the policy that the United States and its allies have at certain junctures adopted in the Middle East to create, nurture, support, and exploit" terrorist groups for their own objectives and interests.
The only way to eradicate terrorism, he said, is for all countries to adopt a serious and honest approach to confronting the scourge.
http://www.presstv.com/Detail/2017/11/01/540623/Iran-Foreign-Ministry-New-York-Manhattan-terrorist-attack
--------
Yemen: Over 180 Militants of Saudi-Led Coalition Killed, Wounded in Sana'a Province
Nov 01, 2017
The sources reported that the Yemeni Army soldiers and popular committees affiliated to Yemen's Ansarullah engaged in fierce clashes with the mercenaries of the Saudi-led coalition and repelled their attack to prevail over army positions in al-Manara, al-Qarn, al-Saheh and Yam in Nahm region in Eastern Sana'a, killing and wounding over 180 mercenaries, including several commanders.
Also, a Yemeni source said that the Yemeni forces destroyed invading troops' BMP vehicles and other military equipment.
Reports said earlier today that the Saudi Air force carried out several air raids in Sa'ada and Sana'a in Northwestern and Western Yemen on Tuesday and Wednesday, killing 34 civilians and wounding several more.
The warplanes bombed Alaf bazaar in Sahar region in Sa'ada province in Northwestern Yemen this morning, killing 26 civilians and wounding 9 more.
Hospital sources reported that some of the injured are in critical conditions, guessing rise in the civilian death toll.
In the meantime, the fighter jets targeted Belad al-Rous region South of Sana'a in Western Yemen on Tuesday, killing 8 civilians and wounding 25 others.
Full report at:
http://en.farsnews.com/newstext.aspx?nn=13960810001320
--------
CIA files shows depth of al-Qaeda's relationship with Iran
2 November 2017
The recently released CIA bin Laden files provide new details concerning al Qaeda's relationship with Iran.
One never-before-seen 19-page document contains a senior militant's assessment of the group's relationship with Iran, the Foundation for Defense of Democracy's Long War Journal reported.
The author explains that Iran offered some "Saudi brothers" in al Qaeda "everything they needed," including "money, arms" and "training in Hezbollah camps in Lebanon, in exchange for striking American interests in Saudi Arabia and the Gulf."
Iranian intelligence facilitated the travel of some operatives with visas, while sheltering others.
Abu Hafs al-Mauritani, an influential ideologue prior to 9/11, helped negotiate a safe haven for his jihadi comrades inside Iran. But the author of the file, who is clearly well-connected, indicates that al Qaeda's men violated the terms of the agreement and Iran eventually cracked down on the Sunni jihadists' network, detaining some personnel.
Still, the author explains that al-Qaeda is not at war with Iran and some of their "interests intersect," especially when it comes to being an "enemy of America."
Bin Laden's files show the two sides have had heated disagreements. There has been hostility between the two. Al-Qaeda even penned a letter to Ayatollah Khamenei demanding the release of family members held in Iranian custody.
Other files show that al-Qaeda kidnapped an Iranian diplomat to exchange for its men and women. Bin Laden himself considered plans to counter Iran's influence throughout the Middle East, which he viewed as pernicious.
However, bin Laden urged caution when it came to threatening Iran. In a previously released letter, bin Laden described Iran as al-Qaeda's "main artery for funds, personnel, and communication." And despite their differences, Iran continued to provide crucial support for al-Qaeda's operations.
In a series of designations and other official statements issued since July 2011, the US Treasury and State Departments have repeatedly targeted al-Qaeda's "core facilitation pipeline" inside Iran.
Full report at:
https://english.alarabiya.net/en/News/middle-east/2017/11/02/CIA-files-shows-depth-of-al-Qaeda-s-relationship-with-Iran-.html
--------
Hamas hands over border crossings to Palestinian Authority
November 02, 2017
RAFAH - Hamas handed over control of the Gaza Strip's borders with Egypt and Israel to the Palestinian Authority on Wednesday in the first key test of a landmark reconciliation accord agreed last month.
The handover signalled that Hamas movement remained firmly committed to a deal that would eventually see it give up full control of the Gaza Strip and bring an end to a 10-year rift with rivals Fatah.
It not only handed over control of the crossings , but also completely dismantled its own checkpoint along the border with Israel, leaving only the one operated by the Palestinian Authority there, with trucks carting away furniture and material.
A ceremony was held to formalise the handover at the Rafah border with Egypt.
"There is no yellow and green. All our Palestinian people are under the Palestinian flag," said Mufeed al-Husayna, a Palestinian Authority minister, referring to the flag colours of the political parties that signed last month's reconciliation deal.
Speaking at the Rafah ceremony, Husayna said: "We began today, under the directive of the prime minister (Rami Hamdallah), to exercise our duties by receiving all the crossings ."
Palestinian and Egyptian flags were flying at the Rafah ceremony, with large pictures of Palestinian Authority president Mahmud Abbas and Egyptian leader Abdel Fattah al-Sisi.
At a separate checkpoint with Israel, an AFP photographer saw Hamas installations being dismantled and carted away. Palestinian Authority and Hamas officials were also there overseeing the handover.
Hisham Adwan, director of information at the Hamas crossings authority , told AFP that Palestinian Authority employees would have full control of the borders.
Under an Egyptian-brokered deal agreed on October 12, the Palestinian Authority is due to resume full control of the strip by December 1, with the borders the first test.
The agreement set November 1 as the deadline for handing over control of the borders.
Worsening conditions
Many issues remain to be resolved, however, particularly the fate of Hamas's 25,000-strong armed wing.
Israel, which has fought three wars with militants in Gaza since 2008, has said it will not deal with any Palestinian unity government that includes Hamas unless the movement disarms and recognises the country, among other demands.
The United States has also called on Hamas to disarm and recognise Israel.
Hamas has ruled Gaza since 2007, when the Islamists seized control in a near civil war with Abbas's Fatah, based in the occupied West Bank.
Israel has maintained a blockade on Gaza for a decade, citing the need to control Hamas and stop it from obtaining weapons or materials that could be used to make them.
Egypt has largely closed its border as well. The Rafah crossing was not open on Wednesday despite the official handover, though Hamas is hoping it will be in the coming days or weeks.
The Gaza Strip's two million residents suffer from worsening humanitarian conditions, with only a few hours of power a day and a lack of clean water.
The reconciliation agreement has raised hopes that a more regular opening of the Egyptian border could ease humanitarian suffering.
'Positive momentum'
"The return of the crossings should facilitate the lifting of the closures, while addressing Israel's legitimate security concerns, and unlock increased international support for Gaza's reconstruction, growth, stability and prosperity," Nickolay Mladenov, the United Nations special coordinator for the Middle East peace process, said in a statement.
"The positive momentum should be maintained and the Palestinian government must be fully empowered to function in Gaza."
Israel's government had not yet responded, but a statement from the Israeli body responsible for affairs in the Palestinian territories said they would meet with PA officials in the coming days to discuss the new situation.
Multiple previous pushes for reconciliation have collapsed and an incident this week threatened to undermine the latest attempt.
On Monday, seven Palestinian militants were killed when Israel said it blew up a tunnel stretching from the Gaza Strip into its territory intended for attacks.
The incident raised fears the timetable could be delayed, but both the Palestinian Authority and Hamas stressed they were committed to the agreement.
Officials from both the Palestinian Authority and Hamas accused Israel of trying to disrupt the deal. Israel's army said it was forced to act after its sovereignty was breached.
Full report at:
http://nation.com.pk/02-Nov-2017/hamas-hands-over-border-crossings-to-palestinian-authority
--------
Iran Blames S. Arabia for Dire Conditions of Yemeni People, Children
Nov 01, 2017
"Based on a report by the UN secretary-general, killing and harassment of children in Yemen continues and over 500 children have lost their lives and the Saudi-led coalition should be blamed for half of this (massacre) and the other sides, including the ISIL and al-Qaeda in the Arabian Peninsula, are responsible for the other half," Khoshrou said, addressing a UN Security Council meeting on children and armed clashes in New York on Tuesday.
Warning of the dire situation of Yemen on the verge of the third consecutive Saudi-led war, he said, "Draught and lack of access to the medical services is threatening millions of people."
"The Saudi-led coalition which is merely after military victory over Yemen instead of political reconciliation is responsible for this tragedy," Khoshrou said.
Saudi Arabia has been striking Yemen since March 2015 to restore power to fugitive president Mansour Hadi, a close ally of Riyadh. The Saudi-led aggression has so far killed at least 15,000 Yemenis, including hundreds of women and children.
Despite Riyadh's claims that it is bombing the positions of the Ansarullah fighters, Saudi bombers are flattening residential areas and civilian infrastructures.
According to several reports, the Saudi-led air campaign against Yemen has drove the impoverished country towards humanitarian disaster, as Saudi Arabia's deadly campaign prevented the patients from travelling abroad for treatment and blocked the entry of medicine into the war-torn country.
The cholera outbreak in Yemen which began in April, has also claimed 2,100 lives and has infected 700,000, as the nation has been suffering from what the World Health Organization (WHO) describes as the "largest epidemic in the world" amid a non-stop bombing campaign led by Saudi Arabia. Also Riyadh's deadly campaign prevented the patients from traveling abroad for treatment and blocked the entry of medicine into the war-torn country.
Full report at:
http://en.farsnews.com/newstext.aspx?nn=13960810000711
--------
Putin lauds Iran cooperation on Syria, eyes business
November 02, 2017
TEHRAN - Russian President Vladimir Putin met Iran 's leadership Wednesday, with the two Damascus allies pushing a peace deal on Syria and looking to boost business despite US opposition to a landmark nuclear deal.
The Kremlin strongman's first visit to Iran since 2015 comes as Moscow seeks to turn its game-changing military intervention in Syria into a concerted push to bring a halt to fighting in the country with the help of Tehran, President Bashar al-Assad's other key backer.
"We are working very productively with Iran and we manage to coordinate our positions on Syria ," Putin said after talks with Iranian counterpart Hassan Rouhani and the Islamic republic's supreme leader Ayatollah Ali Khamenei.
The Russian leader insisted that thanks to a joint push with rebel supporter Turkey, "the situation on the ground in the fight against terrorism and the negotiating process are developing very positively".
Khamenei said the "good cooperation between Tehran and Moscow in Syria shows that the two countries can realise their objectives even in difficult terrain", and insisted that all solutions to the conflict come "from inside the country".
Russia, Iran and Turkey pledged after a latest round of negotiations in Kazakhstan on Tuesday to bring the Syrian regime and its opponents together for a "congress" to push peace efforts in the Russian city of Sochi on November 18.
The three key players have organised a series of peace talks in the Kazakh capital Astana this year, agreeing on the establishment of "de-escalation" zones in various parts of the war-torn country.
Putin 's visit - which in addition involved a three-way summit with Rouhani and the leader of ex-Soviet Azerbaijan Ilham Aliyev - also followed a hike in tensions over the 2015 Iran nuclear deal after US President Donald Trump refused to certify the agreement last month.
Tehran signed the deal, which saw sanctions lifted in return for limits on Tehran's atomic programme, with six countries including Russia and the United States, and Moscow has slammed Trump's "aggressive and threatening rhetoric" against Iran .
While Putin said only that the two sides had discussed the deal, Russian companies looked to press on with taking advantage of the business opportunities that it has presented.
State oil giant Rosneft and the National Iranian Oil Company signed a roadmap agreement with an eye to developing joint projects worth up to $30 billion, Rosneft head Igor Sechin was quoting as saying by Russian news agencies.
Sechin said the two sides were looking to seal binding deals within a year to work on a "whole series of fields, oil and gas", and that eventual output could total 55 million tonnes of oil a year.
The potentially mammoth deal would boost Rosneft's push in the Middle East and aid the Kremlin's ambitions of bolstering its influence in Iran and the broader region.
Moscow and Tehran have had close political and economic relations, and in the nuclear field Russia has already built one reactor at Iran 's Bushehr plant and just started work on two new ones.
The military might of Moscow and Tehran in Syria has helped prop up Assad's forces and turn the protracted conflict in his favour with a string of key battlefield victories.
Since the start of the year, Russia has looked to cement the gains from its intervention by spearheading the peace push at talks in Kazakhstan, positioning itself as a broker between key players Iran and Turkey and largely bypassing the West.
Up until now the focus has been on quelling the violence on the ground and the three powers have established four "de-escalation zones" around rebel-held territory in the country.
The zones were initially credited for bringing about a significant reduction in bloodshed, but international aid groups say they are currently failing to curb the fighting.
Now Moscow seems keen on expanding its peace drive in search of a political settlement.
The push on Syria comes as ties between both countries and Washington have frayed still further since Trump moved into the White House in January.
Full report at:
http://nation.com.pk/02-Nov-2017/putin-lauds-iran-cooperation-on-syria-eyes-business
--------
Yemeni army declares liberating 20 East Sanaa sites from Houthi control
1 November 2017
Brigadier General Abdu Majali, the spokesperson to the Yemeni army, announced on Tuesday that 20 sites East of Sanaa have been liberated.
The sites were formerly under the control Houthi and ousted Yemeni president Ali Abdullah Saleh's militia.
Majali said that the fighting is continuuing, while militias flee their posts leaving behind many casualties and injured. Many lives were lost and equipment has been used up, he added.
In a statement published by the Yemeni official news agency, Majali said that the Saudi-led Arab coalition's air force has helped the Yemeni army to destroy crews and loaded military equipment that were en-route to the militias.
https://english.alarabiya.net/en/News/gulf/2017/11/01/Yemeni-army-declares-liberating-20-East-Sanaa-sites-from-Houthi-control-.html
--------
Spokesman: US Seeking to Make Up For Defeats in Region by Sanctioning IRGC
Nov 01, 2017
"The US plans to make up for failures in the region as its theories for disintegrating the Muslim states have failed and it has also failed to materialize the objectives that it pursued through creating and supporting the ISIL, thanks to vigilance in the region," Sharif said on Wednesday.
Noting that the US sanctions are not just against the IRGC, he said, "In his recent speech, the US president publically called the Iranian nation as terrorist and certainly these sanctions are aimed at pressuring the Iranian nation, and speaking of the Armed Forces and the IRGC (as the target of these sanctions) is nothing more than a pretext."
In relevant remarks in July, Chief of Staff of Iran's Armed Forces Major General Mohammad Hossein Baqeri warned that enlisting the Islamic Revolution Guards Corps (IRGC) as a terror organization and imposing sanctions against it will endanger the US bases in the region.
"Putting the IRGC in one single class with the terrorist groups and imposing similar sanctions against the IRGC poses a major risk to the US, its bases and forces deployed in the region," General Baqeri said, addressing an IRGC commanders' forum in the Northeastern city of Mashhad.
Full report at:
http://en.farsnews.com/newstext.aspx?nn=13960810001108
--------
Israel won't celebrate a second centennial in occupied Palestine: Hamas chief
Nov 1, 2017
The Israeli occupation of Palestine will not last for the regime to celebrate a second centennial of its creation, the Hamas leader tells an international conference on the Palestinian cause.
Delivering a speech to the international conference of resistance scholars in the Lebanese capital, Beirut, on Wednesday, Hamas chief Ismail Haniyeh said the Zionist project on the Palestinian territory had no future.
The comments come as the Israeli regime and its allies are celebrating the 100th anniversary of the UK-backed 1917 Balfour Declaration, which paved the way for the creation of the entity on Palestinian territories.
Haniyeh further slammed the declaration and said it could not distort historical and geographical realities.
The document issued in November 1917 by the then British foreign secretary Arthur Balfour said the UK government "views with favor the establishment in Palestine" of Israel.
It set the stage for the Nakba Day (the Day of Catastrophe) in 1948, when hundreds of thousands of Palestinians fled or were expelled from their homes by Israel.
Haniyeh further said the Palestinians based in the West Bank are still standing firm in pursuit of the nation's cause and would launch anti-Israel Intifadas (Uprisings) one after another, adding that the Gaza Strip has also turned into a symbol of resistance against the occupying regime.
The conference, title "True Promise: Palestine between Balfour Declaration and Divine Promise," began with a message sent by Leader of the Islamic Revolution Ayatollah Seyyed Ali Khamenei.
Experts and scholars from 60 countries are taking part in the two-day event to discuss ways to support Palestinians across the world and stand against Israel's occupation and atrocities.
Additionally, Sheikh Naim Qassem, deputy secretary general of the Lebanese resistance movement Hezbollah, addressed the conference.
He described resistance as the only choice for the Palestinian nation, expressing hope that it would ultimately defeat the Zionist enemy.
Full report at:
http://www.presstv.com/Detail/2017/11/01/540620/Israel-Palestine-Beirut-Balfour-Declaration
--------
Turkey detains philanthropist over links to US-based opposition leader
Nov 1, 2017
Turkish officials have formally arrested a philanthropist businessman and peace activist on charges of affiliation to a movement led by US-based opposition cleric Fethullah Gulen, whom the Ankara government accuses of having masterminded the failed July 2016 coup attempt.
Turkey's official Anadolu news agency reported that on Wednesday, an Istanbul court found Osman Kavala guilty of attempts to "abolish the constitutional order" and "remove the government of the Turkish Republic."
Kavala, who is the chairman of Istanbul-based Anadolu Kültür Association, was arrested at Istanbul Atatürk Airport late on October 18. He had been spending time in police custody ever since.
Kavala is the latest activist to be held in a massive Turkish government crackdown in the aftermath of last year's failed coup.
During the botched putsch, a faction of the Turkish military declared that it had seized control of the country and the government of President Recep Tayyip Erdogan was no more in charge. The attempt was, however, suppressed a few hours later.
Ankara has since accused Gulen of having orchestrated the coup. The opposition figure is also accused of being behind a long-running campaign to topple the government via infiltrating the country's institutions, particularly the army, police and the Judiciary.
Additionally, the Ankara government has outlawed his movement, and has branded it as the Fethullah Terrorist Organization (FETO).
Gulen has denounced the "despicable putsch" and reiterated that he had no role in it.
"Accusations against me related to the coup attempt are baseless and politically motivated slanders," he said.
The 76-year-old cleric has also called on Ankara to end its "witch hunt" of his followers, a move he said is aimed at "weeding out anyone it deems disloyal to President Erdogan and his regime."
Turkish officials have frequently called on their US counterparts to extradite Gulen, but their demands have not been taken heed of.
Turkey, which remains in a state of emergency since the coup, has been engaged in suppressing the media and opposition groups suspected to have played a role in the failed coup.
Tens of thousands of people have been arrested in Turkey on suspicion of having links to Gulen and the failed coup. More than 110,000 others, including military staff, civil servants and journalists have been sacked or suspended from work over the same accusations.
Full report at:
http://www.presstv.com/Detail/2017/11/01/540631/Turkey-philanthropist-Kavala-Gulen
--------
US-led coalition defeat in Syria undeniable reality: Ayatollah Khamenei
Nov 1, 2017
Leader of the Islamic Revolution Ayatollah Seyyed Ali Khamenei has hailed Iran-Russia cooperation in the fight against Takfiri terrorists in Syria, saying the defeat of the US-led coalition in the Arab country is "an undeniable reality."
"The defeat of US-led coalition supporting terrorists in Syria is an undeniable reality, but they keep hatching plots," Ayatollah Khamenei said in a meeting with Russian President Vladimir Putin in Tehran on Wednesday.
During the meeting, which lasted over an hour, the Leader stressed the solution of the Syria crisis requires continued cooperation between Tehran and Moscow.
Ayatollah Khamenei said Iran-Russia cooperation in battling Takfiri terrorists backed by certain countries has had important outcomes, making Russia an "influential" player in the developments of West Asia.
The Leader noted that the Syrian people are the ultimate decision-makers regarding their country's issues.
He noted that all issues pertaining to the Damascus government should be solved based on intra-Syrian efforts, and the Syrian government should not be "pressured" into implementing "any plans," which he said need to be as "comprehensive" as possible.
On the Iran nuclear deal, known as the Joint Comprehensive Plan of Action (JCPOA), the Leader pointed to the Russian president's emphasis on the need for compliance with any multilateral agreement and criticized the US for adopting a "rebellious" approach in this regard.
Ayatollah Khamenei stressed the need for regional countries to resolve their issues without any foreign interference, saying "Americans seek to interfere in all issues of the region and the world."
Elsewhere in his remarks, the Leader pointed to Saudi's crimes committed on a daily basis in Yemen and warned that the war could result in Riyadh getting entangled in other deeper crises.
Ayatollah Khamenei said Iran and Russia could neutralize US sanctions by ditching dollar in bilateral and multilateral trade and using their national currencies instead. The Leader said Iran and Russia should further develop cooperation particularly in economy, saying the economic capacities of the two countries are well beyond the current level.
'Iran a strategic partner'
The Russian president, for his part, described Iran as "a strategic partner" and a "great neighbor," stressing that he would welcome any potential to fully bolster and expand bilateral relations.
Putin said Iran and Russia could boost their ties in the sectors of energy, modern technology, agriculture as well as joint oil and gas projects.
Broaching the war in Syria, Putin hailed the achievements of the Iran-Russia cooperation in the war against terrorism, calling for "a suitable political process to be considered in the Arab country."
Lauding the Leader's stance on achieving shared objectives in Syria as wise and very effective, the Russian president said, "We proved to the world that we are able to resolve our region's highly important issues without [any help from] extra-regional countries."
On the Iran nuclear deal, Putin said that Russia "opposed any unilateral change in the multilateral deal."
He also said that Russia was against linking Iran's nuclear program with other issues, including those related to the country's defensive capabilities.
Separately on Wednesday, Ayatollah Khamenei met Azeri President Ilham Aliyev, during which he warned against bids by certain sides to hurt relations between Iran and Azerbaijan and called for further promotion of cooperation in different sectors.
"There are some opposed to close and brotherly relations between Iran and the Republic of Azerbaijan, and we should stand up to their temptations and acts of sabotage and boost cooperation in different sectors with double will and motivation," the Leader said.
Aliyev, for his part, strongly supported his country's relations with Iran, saying Azerbaijan would not allow any third party to harm its ties with the Islamic Republic.
Full report at:
http://www.presstv.com/Detail/2017/11/01/540638/Iran-Leader-of-Islamic-Revolution-Ayatollah-Khamenei-Russian-President-Vladimir-Putin
--------
Russia plays leading role in safeguarding Iran nuclear deal, says Rouhani
Nov 1, 2017
Iranian President Hassan Rouhani has underlined Russia's role in safeguarding the Iran nuclear deal, known as the Joint Comprehensive Plan of Action (JCPOA).
"Russia plays a significant and instrumental role in reinforcing and safeguarding the JCPOA and [ensuring] the implementation of the deal by all sides," Rouhani said during a meeting with Russian President Vladimir Putin in Tehran on Wednesday.
He highlighted the JCPOA as a multilateral agreement, saying protecting the deal would contribute to peace and stability in the region and across the world.
Touching on the issue of terrorism, Rouhani said cooperation between Tehran and Moscow has made a considerable contribution to the anti-terror campaign in the region, and underlined the need for keeping consultations and cooperation in the final stages of battling terrorism.
Rouhani said that cooperation between Tehran and Moscow was key to settling tensions, including the crisis in Syria.
"The Islamic Republic of Iran deems instability to be detrimental to all countries, and supports promotion of stability and security in the region.
Cooperation between Iran and Russia has been proven to consolidate peace and security in Syria, he said.
Describing Russia "as a strategic partner, friend and neighbor," Rouhani also called for further expansion of economic and trade ties with Moscow, adding that Tehran welcomed investment of Russia's private sectors in projects aimed at developing Iran's infrastructure, including in the energy, industries and transportation sectors.
Putin, for his part, said Iran and Russia maintained good cooperation in the fields of energy, economy, peaceful nuclear energy and transportation.
The Russian president said that Russian companies were keen to join development projects and that Moscow saw no limit to the expansion of relations with Tehran.
He also described the JCPOA as a good agreement that helps global peace and stability, and described "some countries'" refusal to remain committed to the terms of the nuclear agreement as "unacceptable".
"Unilateral dismantling of the JCPOA under any pretext is not acceptable," Putin added.
The Russian president also said that the International Atomic Energy Agency (IAEA) was the only body entrusted with verifying Iran's commitment to the deal.
Full report at:
http://www.presstv.com/Detail/2017/11/01/540661/Iran-Russia-Rouhani-Putin-nuclear-deal
--------
Africa
Libya coastguard rescues nearly 300 migrants
November 02, 2017
TRIPOLI : Libya 's coastguard has rescued nearly 300 migrants including dozens of women and children from unseaworthy boats as they tried to reach Europe, a navy official said Wednesday.
The 299 migrants , who included 40 women and 19 children, were picked up early Tuesday in Mediterranean waters off the western city of Zliten, navy spokesman General Ayub Kacem said.
The migrants , of different African nationalities, were plucked from two rubber dinghies without engines and brought back to the Tripoli naval base, he said.
They were given food and medical attention before being transferred to a detention centre, Kacem added.
Since the 2011 uprising that toppled longtime dictator Moamer Kadhafi, chaos-hit Libya has become a key point of departure for migrants heading to Europe.
Last month forces loyal to Libya 's UN-backed unity government ousted a militia controlling the trafficking from the western city of Sabratha.
The United Nations last month said Libyan authorities were holding more than 14,500 migrants who had previously been kept captive by smugglers in farms, houses and warehouses in and around the coastal city.
The UN refugee agency said more than 20,000 migrants , including pregnant women and babies, were being held either in detention centres or by traffickers in Sabratha, warning of abuse "on a shocking scale".
Nearly 150,000 migrants have crossed the Mediterranean so far this year, according to the United Nations, and at least 2,826 others have died making the journey.
Hailing mainly from sub-Saharan countries, most migrants board boats operated by people traffickers in western Libya , and make for the Italian island of Lampedusa 300 kilometres (190 miles) away.
But migrant arrivals in Italy have dropped 69 percent since July, the European country said this week, as a deal with Libya blocks boats and would-be asylum seekers use other routes into Europe.
The number landing in Italy is down by 30 percent compared with last year, Italy's interior ministry said.
Arrivals in Spain, meanwhile, have more than tripled, with over 14,000 arrivals this year.
http://nation.com.pk/02-Nov-2017/libya-coastguard-rescues-nearly-300-migrants
--------
Suspected Islamist arrested after knife attack near Tunis parliament
November 01, 2017
A suspected Islamist militant was arrested on Wednesday after wounding two policemen with a knife near the parliament in Tunis , Tunisia's Interior Ministry said, a rare incident in a country that has improved security since deadly attacks in 2015.
The assailant was known to authorities and said after the attack that he considered the police to be "tyrants", the statement said.
One of the policemen was taken to hospital for treatment after being wounded in the neck, while the other was only lightly wounded, it said.
"I saw a young man with a thick beard trying to kill a policeman. He put the knife in his neck before he was pursued by a second policeman," a witness told Reuters. "He shouted 'Allahu Akbar' (God is greatest) as he attacked the policemen."
The Interior Ministry said Wednesday's suspect had confessed that "he had adopted Takfiri thought three years ago and believes that killing security forces is a form of jihad".
"Takfiri thought" refers to a view that Muslims should proclaim other Muslims to be infidels and justify attacks against them.
A security source told Reuters the attacker was 25 and from Ettadamen - one of the largest, poorest suburbs of Tunis .
Security forces raided his house and confiscated his personal computer and other items, he added.
Large numbers of police were deployed to the Bardo square in the aftermath of the attack, a witness said. Blood could be seen on the ground in the square. Interior Minister Lotfi Brahem also visited the scene and spoke to witnesses.
The square is opposite the parliament building and close to the Bardo museum, where 21 people, mostly European tourists, were killed in an attack by three gunmen in March 2015.
Tunisia suffered two other major attacks that year, one against tourists at the beach resort of Sousse and the other against presidential guards in the capital.
The 2015 attacks severely damaged the economy of the North African country, which has a large tourism sector at its Mediterranean beaches. Since then, security has been boosted at strategic sites while authorities have cracked down on militants, dismantling dozens of cells.
Full report at:
http://nation.com.pk/01-Nov-2017/suspected-islamist-arrested-after-knife-attack-near-tunis-parliament
--------
UK asks Libya to extradite brother of Manchester bomber
2 November 2017
British police investigating the deadly concert bombing in Manchester earlier this year said Wednesday they had requested the extradition of the attacker's brother from Libya.
Salman Abedi killed 22 people when he detonated a suicide bomb after a concert by pop star Ariana Grande, Britain's worst terror attack in more than a decade.
Manchester-born to Libyan parents, Abedi is believed to have travelled to Libya in the run-up to the May 22 bombing. Greater Manchester Police said they have now gathered enough evidence to request and be granted an arrest warrant for the attacker's brother, Hashem Abedi.
"The arrest warrant relates to the murder of 22 people, the attempted murder of others who were injured and conspiracy to cause an explosion. "Hashem Abedi is currently detained in Libya and the CPS (Crown Prosecution Service) has now requested that Libyan authorities consider his extradition back to the United Kingdom.
Considering request
"We are grateful for the Libyan authorities considering this request," said the force's Russ Jackson, who is also head of counter terrorism in north-west England. In total 112 people were hospitalized following the Manchester Arena bombing, two of whom remain in hospital.
In the days following the bombing, one of the forces that supports Libya's UN-backed unity government posted a picture on its Facebook page of Hashem Abedi after detaining him.
"The father, Ramadan Abedi, has also just been arrested," said Ahmed bin Salem, a spokesman for the Deterrence Force, which acts as Government of National Accord's police.
Full report at:
https://english.alarabiya.net/en/News/north-africa/2017/11/02/UK-asks-Libya-to-extradite-brother-of-Manchester-bomber.html
--------
Sahel 'G5' force starts anti-extremists fight
Nov 1, 2017
A joint anti-extremist force linking countries in the Sahel began operations on Wednesday, the French military mission in the region, which is providing support, told AFP.
"The deployment of Malian, Nigerien and Burkinabe troops in the G5 Sahel force began this morning," said a colonel for France's Barkhane mission, speaking on condition that only his first name of Marc-Antoine was used.
Several hundred troops have been deployed in the initial operation, codenamed Hawbi, he said.
It will "provide a show of strength and demonstrate presence" in the Mali, Burkina and Niger border regions "and impede freedom of movement, which several armed groups have enjoyed for months," Marc-Antoine said.
"The ultimate goal is to boost the power of the G5 Sahel force so that it can relocate by itself in cross-border zones," said Marc-Antoine.
The world's newest joint international force, the five-nation G5 Sahel plans to number up to 5,000 military, police and civilian troops by March 2018.
The 5,000 will comprise two battalions each from Mali and Niger and one each from Burkina Faso, Chad and Mauritania.
The force has been placed under the leadership of a Malian general, Didier Dacko, although for the time being the national contingents will not be integrated.
PressTV-Mali urges UN to fight extremism in Sahel
Mali calls on the UN Security Council to support the creation of a special force to fight extremists in Sahel region.
The idea behind the force dates back to November 2015 as countries on the rim of the Sahara grappled with an escalating wave of extremist attacks.
Across the region -- vast, poor, arid and politically volatile -- thousands of people have died, many of them in suicide bombings, and tens of thousands have fled their homes.
The crisis leapt on to the front pages and TV screens in the United States last month when four US special forces troops were killed as they patrolled with Nigerien troops near the Niger-Mali border.
The G5 Sahel's activities will be initially confined to Burkina Faso, Mali and Niger, where central governments have weak control over remote areas.
The first priority will be "taking back control of border areas," targeting extremists, bandits and human traffickers are major problems, Dacko has said.
France, the G5 Sahel's most vocal backer, has 4,000 military personnel in the Barkhane force.
Its role in Hawbi will be to provide "advice and support" with air and artillery, said Marc-Antoine, speaking from a forward base in the In-Tillit region in central Mali. About a hundred French troops will be involved in this context.
Money remains a major concern for the G5 Sahel.
Estimates for the first year of operations are put at 423 million euros ($490 million), although French officials say the budget can be brought down to around 240 million euros.
Full report at:
http://www.presstv.com/Detail/2017/11/01/540668/Sahel-Extremism-Troop-Deployment-
--------
West Africa: New Sahel Anti-Terror Force - Risks and Opportunities
30 OCTOBER 2017
By Fabien Offner
Burkina Faso, Chad, Mali, Mauritania, and Niger are teaming up to take on Islamist militants with the launch of a the 5,000-strong "FC-G5S" force in the restive Sahel. But are more boots on the ground the answer?
UN Secretary-General António Guterres recently told the Security Council that supporting the nascent multinational military force was "an opportunity that cannot be missed" and that failing to back it would carry serious risks for a region where insecurity has become "extremely worrying".
The Security Council gave its blessing to the force in a resolution adopted in June. The wording was the subject of a prolonged tussle between France - the G5 force's main proponent - and the United States, which didn't believe a resolution was necessary, saw the force's mandate as too broad, and didn't want the UN to fund it. Washington succeeded in having a phrase authorising the force to use "all necessary means" to carry out its mandate removed from the final text.
In 2013 and 2014, France's Operation Serval drove back militants in Mali's northern desert from some of the towns and other sanctuaries they had taken. With attacks nevertheless continuing and having spread beyond Mali's borders, 4,000 French troops are currently deployed under the banner of Operation Barkhane across all the G5 states.
Mali is also home to the 14,000-strong MINUSMA force, one of the UN's most expensive peacekeeping missions. It has come under frequent attack by militant groups such as the Jama'a Nusrat ul-Islam wa al-Muslimin (JNIM), an al-Qaeda-linked coalition forged last March. Some 83 blue helmets have been killed in militant attacks since MINUSMA was established in July 2013.
Meanwhile, efforts by civil society groups to negotiate with some jihadist groups have come to nought, while parties to a 2015 peace agreement between Mali's government and two coalitions of domestic armed groups - a deal that excluded the jihadists - are embroiled in violent divisions among themselves. Some of these domestic groups are also responsible for attacks against the state.
These divisions have dimmed hopes of forging any kind of common front against the jihadists, and even of properly implementing the 2015 accord. The government's failure to address widespread political and economic grievance further undermines its position.
All this insecurity comes at a high price for Mali's civilians. At the end of the 2016-17 academic year, 500 schools were closed, up from 296 the previous year, while the numbers of refugees and internally displaced reached a record 140,000 and 55,000 respectively.
Acute malnutrition among children under five has reached "critical levels" in conflict-affected areas around Timbuktu and Gao, according to UNICEF. The agency predicts that 165,000 children across the country will be acutely malnourished next year.
"Repeated criminal acts" prompted the International Committee of the Red Cross to suspend its operations in the northern Kidal region in mid-October.
The primary mandate of the G5 force will be to secure the bloc's common borders and fight "terrorist" and criminal groups.
The force's headquarters were established in September in the central Malian town of Sévaré, but its financing has yet to be secured.
"Estimates still vary; nothing has been settled," said a diplomat who has followed the latest developments. "If we get to 250 million euros at the donors' conference in December, that would be very good. But even if financing is obtained in December, the force will not be operational the next day."
The G5 says it needs 423 million euros to set things up and run the force for its first year, but so far only a quarter of this sum has materialised, with the G5 and the EU both coming up with 50 million euros and France another eight million.
"Mobilising sustainable and consistent financial support over a period of several years will remain a significant challenge," conceded Guterres in his report.
Money is far from the only uncertainty: Trust between G5 member states remains shaky.
"The Burkina military believe their Malian counterparts are 'lazy' and joined the army to get an income and not to defend the country," the International Crisis Group said, for example, in its latest report on Burkina Faso.
And the security and political agendas of G5 states are not always aligned. Facing an economic and social crisis, regional powerhouse Chad, which already has troops in MINUSMA and in a separate regional force fighting Boko Haram, hopes to make the most of its involvement in the force, whose remit it would like to see expanded to include other regional threats closer to home.
Given how often existing forces in Mali, including the army, are attacked (losing weapons and vehicles in the process), deploying yet more troops in the region carries a real risk of further boosting jihadists groups' military assets.
"Malian armed movements have employed an increasing proportion of heavy weaponry from Malian government stockpiles - particularly ammunition for larger weapon systems such as rockets and artillery - as opposed to Libyan or other foreign sources," Conflict Armament Research said in a 2016 report on the Sahel.
Human Rights Watch recently reported on "killings, forced disappearances and acts of torture" committed by security forces in Mali and Burkina Faso against suspected members of jihadists groups.
Even if they are only committed by a minority of soldiers, such acts lead civilians to mistrust the armies supposed to protect them, and in some cases to join the armed groups to seek their protection instead.
"The fighters are found among the greater population, are part of them and live with them. It is not easy to identify them. That makes combat difficult, even if there are far fewer jihadist than soldiers," explained Ibrahim Maîga, a researcher with the Institute for Security Studies.
"You can't defeat these people without helping the population caught in the middle. One side accuses them of being terrorists, the other of collaborating with national or foreign armies. This is why it is imperative that the state gains more legitimacy," he added.
The G5 joint force's first operations are expected to take place in the Liptako-Gourma region, where the borders of Mali, Niger, and Burkina Faso meet. These states have been particularly affected by the attacks carried out by JNIM, Islamic State in the Greater Sahara, and Ansarul Islam against national and foreign security forces.
On 21 October, 13 gendarmes were killed when their barracks in Ayorou in Niger's Tillaberi region came under attack.
The joint force will be deployed in an environment rife with trafficking of all kinds, and with globalised jihad, and where myriad local conflicts merge with and fuel each other.
On the border between Mali and Niger, economic rivalry between Tuareg and Fulani communities has deepened since becoming militarised and politicised.
Fulani youth - too simplistically - are seen as ready recruits to jihadist groups, and Nigerien Tuareg militia are being used by the government to hunt them.
In northern Burkina Faso, Ansarul Islam built its popularity by challenging social structures widely seen as inequitable, according to the ICG.
None of the groups operating in the region has claimed responsibility for the 2 October attack in which four US and four Nigerien soliders were killed 200 kilometres north of Niamey - an attack a top US general has attributed to a local IS-affiliated group. The incident served to bring international attention to US military presence in the region, described by some media as a "shadow war" at a time when the US is in the process of moving its drone operations from Niamey to the central Niger town of Agadez. "Our American colleagues believe the [Niger] attack against their troops exposes a dilemma: Do too much and be exposed, or don't do enough," a French diplomat remarked.
Full report at:
http://allafrica.com/stories/201711010529.html
--------
Pakistan
Pakistan has dismantled many terror groups: Maleeha
November 02, 2017
NEW YORK - Brushing aside misperceptions about Pakistan not doing enough to combat terrorism, Ambassador Maleeha Lodhi has said that Islamabad's firm commitment to wipe out the scourge has brought about the destruction of many terrorist groups, including al Qaeda.
"The decimation, for example, of al Qaeda in our region is entirely due to Pakistan 's efforts, of course in cooperation with other countries, but fundamentally, it has been Pakistan 's effort, " Maleeha Lodhi, Permanent representative of Pakistan to the United Nations, said in an exclusive interview with Imapctmania, an online American magazine, which features thinkers and doers who make a cultural, social and economic impact.
Responding to a question, she said that Pakistan is a country, which has lost tens of thousands of lives, of military personnel, of law-enforcement personnel and of civilians in the fight against terrorism.
"This is such a hot button issue at the moment, and rightly so," the Pakistani envoy noted.
"Because, as an international community, we feel threatened by the men of violence, and we witness violence all over the world, therefore, it's important for people to understand Pakistan 's contribution, commitment and sacrifices in battle."
Another misconception about Pakistan , she pointed out, was that it is a very a backward country. "But this is a country, which has made extraordinary progress in terms of having the first elected female Prime Minister of any Muslim nation, the first female Speaker of Parliament, and the first female Governor of a central bank, and much before the United States," she said.
"We're a young nation, but with an ancient civilisation," Maleeha Lodhi said, while acknowledging that Pakistan needs to make greater efforts to project its profile.
"We come from a very old civilisation, and we're very proud of that," she said. "I think that's hard for us to get across sometimes, because people tend to see us as a country, which is only 70 years old rather than a civilisation with roots that go back three millennia."
In that sense Pakistan is not just a nation State but a civilisation State, she added.
She said that Pakistan was now increasingly safe and secure.
"Just go there and see for yourself ... what we, as a nation, are all about, and how our aspirations are the same as the aspirations of the American people. We aspire to the same things as you do.
"We are all part of the human family although we may be divided into nations," she said, citing a Quranic verse.
About Pakistan 's recent election to the UN Human Rights Council, Maleeha Lodhi said it reflects the country's strong commitment to upholding human rights, both nationally as well as internationally, adding, it has signed several treaties and covenants on human rights. She said that no country's human rights situation was perfect.
"There is no country in the world that can state, 'We have it all right.' It's always a work in progress. And for us too in Pakistan , but our commitment to upholding human rights in our own country is very much there. There are several areas where, obviously, we need to do more work because of the challenges. There are social attitudes that we need to deal with". "But the fact that we are in now, in the Council, is a vote of confidence in our commitment."
Noting that Maleeha also served as Pakistan 's Ambassador to the United States, twice, and as High Commissioner to Britain, the interviewer asked about what had surprised her in these "esteemed" posts.
"It has been a journey of learning," she said. "I don't think there's a single issue that surprised me, but in a way, you're surprised everyday by what you still need to learn. I came to diplomacy from journalism and academia; many of the skills that I learned were very useful for me in my third profession."
She said, " Whether you're teaching a university class, a journalist developing sources, or a diplomat trying to win hearts and minds , it requires 'people skills'.
The most fundamental aspect of which is the ability to listen to others. This skill helps us forge the kind of relationships that are necessary to move forward."
Asked about her role at the UN, Maleeha Lodhi said, "It's quintessentially a mission of ensuring that what your country seeks in the international community, in the world and its interests, are understood. And, therefore, you have to appeal to multiple audiences.
"The fundamental job of a diplomat is to win hearts and minds, and win hearts and minds for a purpose." Asked about her being the first woman in Asia to be ths editor of a national daily newspaper, and her effort to encourage more women, Maleeha Lodhi said that more widespread education was needed, certainly in Pakistan . "Education is the most empowering vehicle through which women can play a more active role."
"Fundamentally, education is the most important; it is certainly the most empowering, because it gives people a sense of independence," she said.
http://nation.com.pk/02-Nov-2017/pakistan-has-dismantled-many-terror-groups-maleeha
--------
Pak-US track-II dialogue starts from Monday
Nov 2, 2017
ISLAMABAD: The backdrops meetings and contacts between Pakistan and the US were going on in order to resume confidence and reduce misunderstandings.
In this connection, Pakistan and US track-II dialogue would be held on Monday (November 6). The sources said that this would be the fourth round of the track-II dialogue between Pakistan and the US as three rounds were held earlier in Washington.
US President Donald Trump's ongoing policy related to South Asia would be discussed in the fourth round of the dialogue. Moreover, the current situation of Afghanistan and strategic matters of both the countries would also come under discussion in the meeting.
The high officials and experts of the both the countries would participate in the dialogue process. Later, the officials will present the dialogue report to the high-ups of their respective countries.
https://www.pakistantoday.com.pk/2017/11/02/pak-us-track-ii-dialogue-starts-from-monday/
--------
Material against Hafiz Saeed presented in camera
November 02, 2017
LAHORE: Attorney-General for Pakistan Ashtar Ausaf Ali on Wednesday presented 'sensitive' documents before a judge of the Lahore High Court in his chamber to defend detention of Jamatud Dawa (JuD) chief Hafiz Muhammad Saeed.
Earlier, the AGP told the judge that the documentary material relied upon by the federal government to detain Mr Saeed was sensitive in nature and would not be appropriate to present in open court. He sought permission from the court to produce the relevant material in chamber and also requested it not to place the same on record of the case.
After Justice Syed Mazahar Ali Akbar Naqvi allowed the request the AGP shared the documents with the judge in his chamber where Advocate Dogar was also present.
Prior to the chamber's proceedings, an officer of ministry of interior told the court that the JuD chief had been detained in the light of reports and recommendations by intelligence agencies. The judge would resume hearing today (Thursday).
Challenging the detention of Hafiz Saeed, Advocate Dogar had contended that the government detained his client on the basis of mere apprehensions and hearsay. He argued that an order of preventive detention had to satisfy the requirements laid down by the Supreme Court in its many judgments but in the instant case sheer violation of laws had been committed by the government.
He said imprisonment without trial and conviction was prima facie unlawful and unconstitutional.
Full report at:
https://www.dawn.com/news/1367788/material-against-hafiz-saeed-presented-in-camera
--------
Pakistan, Iran agree that war not a solution to Afghan issue
NOVEMBER 2, 2017
ISLAMABAD: Pakistan and Iran on Wednesday underlined the need of a credible political process owned and led by Afghanistan for an internal settlement.
During the first round of informal consultations held in Islamabad at the level of director generals of the ministries of foreign affairs, the two sides said that there was no military solution to the prolonged Afghan conflict, a Pakistan's Foreign Office statement said.
In the consultations, the Pakistani delegation was led by Director General (Afghanistan) Mansoor Ahmad Khan at the Ministry of Foreign Affairs while the Iranian side was led by Director General Rasoul Eslami of the Iranian Ministry of Foreign Affairs, who is on an official visit to Islamabad for the consultations.
The ways for deepening regional economic cooperation and enhancing connectivity between the countries of the region were also discussed.
The two directors general reaffirmed their commitment and support to the efforts of Afghanistan and international community to achieving lasting peace, stability and progress in Afghanistan. Pakistan delegation stated that it attached importance to engagement with Afghanistan in political, security, economic and people-to-people interaction to strengthen mutually beneficial cooperation between the two countries.a
Full report at:
https://dailytimes.com.pk/133520/pakistan-iran-agree-war-not-solution-afghan-issue/
--------
Afghan Taliban control 54 of 407 districts: American report
NOVEMBER 2, 2017
ISLAMABAD: A latest American report says Afghan Taliban have expanded their control over the past six months and the insurgents now rule 54 districts of the country's total of 407 districts.
The Taliban have intensified their operations since they have launched their "Spring Offensive" in late April. This year's operation "Mansouri Operations" named after their chief, Mullah Akhtar Mansour, who was killed in a US drone strike in May last year.
"As of August 2017, there were 54 districts under insurgent control (13) or influence (41), an increase of nine districts over the last six months. Therefore, 13.3% of the country's total districts are now under insurgent control or influence, a more than two percentage point increase over the last six months, and a five point increase from the same period in 2016," according to a report issued on Wednesday by the Special Inspector General for Afghanistan Reconstruction (SIGAR), a monitoring agency that oversees reconstruction projects and other activities in Afghanistan.
The Afghan government's district and population control deteriorated to its lowest level since SIGAR began analyzing district control data in December 2015 and population control data in September 2016.
According to US forces in Afghanistan, approximately 56.8% of the country's 407 districts are under Afghan government control or influence as of August 24, 2017, a one point decline over the last six months and a more than six point decline from the same period last year.
Of the 407 districts of Afghanistan's 34 provinces, 231 districts were under government control (74 districts) or influence (157 districts). The number of contested districts (122) remained mostly unchanged and represents 30% of Afghanistan's districts.
It was not clear whether these districts are at risk or if neither the insurgency nor the Afghan government exercises any significant control over these areas, as the US forces in Afghanistan previously described.
The US forces reported this quarter that 3.7 million Afghans (11.4% of the population) live in districts under insurgent control or influence. This is a 700,000-person increase over the last six months.
Meanwhile, as SIGAR has reported, the Afghan national defence security force is suffering unsustainable casualty rates, Taliban insurgents and terrorist groups operate in much of the country, and large areas of Afghanistan are no-go zones for foreigners.
The report said American combat casualties are also rising as the US troop commitment increases. From January 1 through August 23, 2017, 10 US military personnel were killed in Afghanistan, and 48 were wounded.
In a significant development this quarter (Aug-Oct), the US forces classified or otherwise restricted information SIGAR has until now publicly reported.
These include important measures of Afghan forces' performance such as casualties, personnel strength, attrition, capability assessments, and operational readiness of equipment.
The Afghan government had insisted the casualty data belonged to Afghanistan and the government had requested that it be classified.
Afghan experts say that as the US military intensified air strikes and also increased ground operations, the Taliban fighters also stepped up attacks.
Ahmadullah Ahmadzai, an Afghan analyst, it seems that the Taliban have increased their attacks on the security forces as President Donald Trump focused on military option in his strategy for Afghanistan.
"Taliban now have bases in most of Afghanistan that provide space to more fighters. As they have more areas, more space under their control, they will have more manpower," Ahmadzai told Daily Times on Wednesday.
"As the US and Afghan forces will expand operations against the Taliban, the Taliban will also show their strength to dispel the impression that the Trump's strategy has affected their ability," he said.
He also referred to the last month's deadly attacks in Kabul, Ghazni, Kandahar and Paktia on the security forces, which killed nearly 200 security personnel in less than a week.
Increase in US strikes: The SIGAR has noted a sharp increase in American air strikes in Afghanistan in the last several months, which indicates US forces are taking a more active combat role.
According to NATO Resolute Support (RS), the United States has conducted 2,400 air strikes from January to September 2017, the most since 2014.
The United States Air Force (USAF) Central Command Combined Air Operations Center also reported that the United States dropped 751 munitions against the Taliban and Islamic State-Khorasan (IS-K) targets in September 2017, a record high since 2012 and a 50% increase since August.
Full report at:
https://dailytimes.com.pk/133530/afghan-taliban-control-54-407-districts-american-report/
--------
Two 'terrorists' held, explosives seized
November 02, 2017
HAFIZABAD-The law enforcing agencies claimed to have nabbed two notorious terrorists and seized some quantity of explosive material from their possession.
According to Counter-Terrorism Department Hafizabad, two alleged terrorists were found roaming in suspicious conditions near the Central Imam Bargah located in Chowk Fawara Hafizabad. The CTD personnel recovered explosive material from them. They were later identified as Niaz Wali son of Waheed Jan resident of Bajaur Agency and Muhammad Tayyab son of Abdul Sattar of Muzaffargarrh.
A case under the Anti-Terrorist Act has been registered against the accused, who were taken to undisclosed place for interrogation.
ASSAULT: The activists of Hydro Electric Labour Union have strongly condemned murderous assault on the Regional Chairman Labour Union Gujranwala, Wali-ur-Rehman and called upon the RPO to ensure early arrest of the accused. At a meeting of the labour union Hafizabad chaired by Malik Shafqat Mahmood, the meeting resolved to take protest rally and sit-in demonstration if the accused involved in the gunda gardi were not arrested.
E-Court set up at Hafizabad
E-Court has been established in the Judicial Complex which is first of its kind in the Punjab province, District and Sessions Judge Muhammad Anwar said here.
He said that after establishing linkage with the District Jail Hafizabad through skype. The judges marke attendance of under trial prisoners while sitting in the E-Court which would not only address their security issues but also save precious time and public expenses, he said.
Full report at:
http://nation.com.pk/02-Nov-2017/two-terrorists-held-explosives-seized
--------
Arab World
Deir Ezzur: Syrian Army Advances Further towards Border with Iraq
Nov 01, 2017
The army men engaged in fierce clashes with ISIL terrorists within the framework of the Valfajr 3 operation East of the newly-liberated T2 oil pumping station, advancing 11 km more towards the key town of Albu Kamal near border with Iraq.
ISIL suffered heavy casualties and its military hardware sustained major damage in the operation.
Sources reported on Tuesday that the army men hit ISIL's defense lines East of the newly-captured T2 oil pumping station and seized control over al-Shamas region only 63 km away from Albu Kamal.
In the meantime, other field sources reported that the army men repelled ISIL's heavy attack in Southwestern Deir Ezzur and managed to carry out a rapid counter-attack, pushing terrorists back from more positions with the support of the country's Air Force, deploying 50 km away from Albu Kamal.
The sources said that the army established control over T2 after advances against the terrorists on Tuesday.
http://en.farsnews.com/newstext.aspx?nn=13960810000931
--------
King Salman and Crown Prince express condemnation of New York terror attack
2 November 2017
King Salman bin Abdulaziz sent a cable of condolences on Wednesday to the US President Donald Trump on the truck-ramming attack in New York resulting in casualties and injuries.
"We have been aware of the truck-ramming attack in New York resulting in casualties and injuries. We strongly condemn this terrorist act and express our condolences to your Excellency, families of the victims and the people of the United States of America on behalf of the people and the Government of the Kingdom of Saudi Arabia. We reiterate the Kingdom of Saudi Arabia's firm stance rejecting terrorism in all its forms and manifestations, stressing the importance of international efforts to confront it," King Salman said.
Crown Prince Mohammed bin Salman, Deputy Premier and Minister of Defense, has also sent a cable of condolences to President Donald Trump on the New York attack.
Full report at:
https://english.alarabiya.net/en/News/gulf/2017/11/02/King-Salman-and-Crown-Prince-express-condemnation-of-New-York-terror-attack.html
--------
Turkish Forces to Set up First Military Base in Syria's Aleppo
Nov 01, 2017
The Arabic-language al-Watan daily reported that Turkey has completed preliminary steps for the establishment of its first military base in Jabal Sheikh Barakat near the town of Dar al-Izzah in Western Aleppo, adding that the Ankara's move is a flagrant violation of the Astana 6 Agreement.
Al-Watan further said that the Turkish military base in Aleppo will be one of the eight bases Ankara plans to build in Northern and Northwestern Syria.
The paper quoted local source as reporting that the Turkish army's bulldozers have sped up construction operation of the base in Western Aleppo.
In the meantime, sources close to Nouralddeen al-Zinki movement said that the Al-Nusra Front (Tahrir al-Sham Hay'at or the Levant Liberation Board) militants are still accompanying the Turkish army convoy that carry military equipment to Western Aleppo, adding that the Jabal Sheikh Barakat base will possibly be set up in the next few days.
The Turkish-language Yeni Safak daily reported last month that Ankara was to establish eight military base in Idlib province in line with its plan to launch military operations in the Northwestern province.
The paper added that based on intelligence, locations of four the bases were specified, adding that the first base would be set up in strategic Jabal Sheikh Barakat region that overlooks the town of Afrin and Idlib city.
It said that Taftnaz airbase in the Southeastern countryside of the town of Taftnaz and Abu Dhohour military airport were two other locations for the Turkish-run bases in Idlib province.
Full report at:
http://en.farsnews.com/newstext.aspx?nn=13960810001046
--------
Gov't Forces Discover Italy-Made Landmines in Northern Syria
Nov 01, 2017
The Arabic-language website of RT quoted the commander of engineering units as reporting that they found 30 landmines made in Italy and a number of hand-made rockets in terrorist groups' positons in the town of Um Adas and its surrounding areas.
RT further said that the region where the army men found the Italy-made landmines was occupied by the terrorists over three years ago, adding that C4 explosive material has been used in the landmines that is more powerful than TNT.
RT reported last month that 30 militants that laid down arms and applied for amnesty in Northeastern Aleppo were pardoned by the Damascus government after mediation by the Russian forces at the Russian Reconciliation Center for Syria.
The report added that the Russian Reconciliation Center for Syria provided a safe passageway for the pardoned terrorists to enter Aleppo city at the demand of the Syrian government.
http://en.farsnews.com/newstext.aspx?nn=13960810000712
--------
Syrian Marines Relocated to Northeastern Hama to Aid in Upcoming Southern Aleppo Offensive
Nov 01, 2017
The Lebanon-based AMN quoted a military source as saying on Tuesday night that the marines have been deployed to the Ithriya-Khanasser road in order to help the Qalamoun Shield forces of the 3rd Division and Republican Guard take back the Al-Nusra Front (Tahrir al-Sham Hay'at or the Levant Liberation Board) stronghold in al-Rahjan.
Once al-Rahjan is captured, the Syrian Marines will play a major role in the upcoming battle to clear the Southern part of the Aleppo.
The final preparations are being made for the Southern Aleppo offensive, as the Syrian Army and their allies, mainly Hezbollah, plan to retake the regions of Khan Touman, Tal Al-'Eis, and Al-Rashedeen.
http://en.farsnews.com/newstext.aspx?nn=13960810000632
--------
Bin Laden's handwritten memoirs show Muslim Brotherhood links
2 November 2017
The Central Intelligence Agency archived documents belonging to Osama bin Laden released Wednesday reveal bin Laden's ideological beginnings stemming from the Muslim brotherhood.
The CIA released documents and videos seized during the 2011 US raid in bin Laden's Abbottabad, Pakistan compound where he was killed.
According to researchers at American think tank, the Foundation for Defense of Democracy (FDD), who obtained the declassified documents for the first time, a video showing the wedding of bin Laden's son was present along with his private diaries as well as still images and notes written by bin Laden in his own handwriting.
"I was committed to the Muslim Brotherhood, despite their limited curriculum," Bin Laden said in one of his memoirs.
"The first time I thought of jihad, at any stage of your life," bin Laden said, was that it was in "secondary school."
"I was religious from a young age, I keep my prayers and my mother takes care of me from other aspects," he said. "There was no one guiding me like the Brotherhood was, it was just natural instinct," he said on his hand written notes.
Full report at:
https://english.alarabiya.net/en/News/middle-east/2017/11/02/Bin-Laden-s-hand-written-memoirs-show-Muslim-Brotherhood-links.html
--------
Russian strategic bombers pound Daesh positions in Syria's Dayr al-Zawr
Nov 1, 2017
A group of Russian Tupolev Tu-22M3 bombers have launched airstrikes against the positions of Daesh Takfiri terrorist group in Syria's eastern province of Dayr al-Zawr, where the country's forces are making territorial gains against the terrorists.
The Russian Defense Ministry announced in a statement that six bombers took off from a base in Russia, flew over the territory of Iran and Iraq, and launched a massive aerial assault against designated terrorist targets near the eastern Syrian city of Bukamal on the border with Iraq.
The statement added that the supersonic, long-range strategic and maritime strike bombers were covered by Sukhoi Su-30SM twin-engine, supermaneuverable fighter aircraft deployed to Hmeimim air base southeast of Syria's western port city of Latakia.
It further noted that Russian reconnaissance means have confirmed the destruction of terrorists' fortified areas, arms and ammunition depots in the airstrikes.
The development came only a day after the Black Sea Fleet's submarine Veliky Novgorod carried out a major strike with three Kalibr cruise missiles on important Daesh positions near Bukamal.
The Russian Defense Ministry said in a statement that Daesh terrorists' command posts, a fortified area where militants and armored vehicles were present, as well as a large arsenal of weapons and munitions were destroyed as a result.
The Veliky Novgorod and Kolpino submarines carried out two strikes outside the eastern Syrian city of Mayadin, located about 44 kilometers southeast of Dayr al-Zawr, on October 5, using 10 Kalibr cruise missiles.
Russian Defense Ministry spokesman Major General Igor Konashenkov said at the time that Daesh "suffered significant damage, both in manpower and hardware," in the Mayadin strike.
On September 22, a Russian submarine launched a barrage of Kalibr cruise missiles at the positions of the foreign-sponsored and Takfiri terrorists of Jabhat Fatah al-Sham -- previously known as the Nusra Front -- in Syria's Idlib and destroyed them only a few days after the extremists attacked a unit of the Russian Military Police in the crisis-hit Arab country.
Jabhat Fatah al-Sham terrorists had earlier attacked Russian troops stationed in the neighboring Hama province.
Since 2015, Russia has been conducting aerial attacks against terrorist positions in Syria at a request from the Syrian government.
Full report at:
http://www.presstv.com/Detail/2017/11/01/540644/Russia-bombers-military-Daesh-Syria-Dayr-alZawr
--------
Israeli jets bomb Syria arms depot
2 November 2017
Israel's air force bombed a weapons depot in Syria's Homs province on Wednesday, adding to a series of strikes in recent weeks, according to a monitoring group.
The Britain-based Syrian Observatory for Human Rights said it was still unclear whether the depot belonged to the Syrian government or its Lebanese ally Hezbollah.
"Israeli planes fired rockets at an arms depot in the industrial zone of Hisyah, south of the city of Homs, the observatory's director, Rami Abdel Rahman, told AFP.
Syrian television reported "an aggression" by Israel in the region, adding that the national army had "responded".
The Israeli army refused to comment on the report.
Israel has acknowledged carrying out airstrikes in Syria since the outbreak of the bloody war in the country six years ago to stop arms deliveries to Hezbollah forces.
The Syria observatory said Israel had also struck an arms depot near the Damascus airport on September 22, and this month targeted a jihadist faction linked to the Islamic State group in southern Syria, killing at least 10.
Full report at:
https://english.alarabiya.net/en/News/middle-east/2017/11/02/Israeli-jets-bomb-Syria-arms-depot-.html
--------
Iraqi army threatens Erbil over ignoring security pact
1 November 2017
The Iraqi army announced that Kurdistan region ignored security agreements that have been approved previously, giving the region a "final deadline" to implement the security pact.
In a statement issued Wednesday by the Joint Operations Command in Iraq, the army confirmed that Kurdistan's forces are structuring their defenses and moving forces throughout the negotiation period, adding that "this is a policy of stalling and treason to target our troops."
The Iraqi army stressed that the actions on Erbil's side are unacceptable, contrary to set agreements and that they will secure the border areas with Kurdistan if Erbil doesn't commit.
The Joint Operations Command praised the "high responsibility and wisdom" manifested by the Iraqi Prime Minister Commander-in-Chief of the Armed Forces Haider Abadi, sending a high-level military technical delegation to hold a series of meetings with the security delegation of Erbil and give a deadline for several days to prevent bloodshed and to ensure the protection of citizens.
However, according to the statement of the Iraqi army, Kurdistan leadership and its delegation rejected the draft agreed upon in negotiations by the federal envoy with Erbil.
The statement highlighted that it is clear that Erbil negotiators wasted time and pulled out at the last minute forcing negotiations back to square one.
"What they have (Erbil) submitted is absolutely unacceptable," the statement added.
Full report at:
https://english.alarabiya.net/en/News/middle-east/2017/11/01/Iraqi-army-threatens-Erbil-over-ignoring-security-pact.html
--------
Syrian opposition rejects Russia-sponsored congress
1 November 2017
The Syrian opposition has rejected a new, Russian-sponsored initiative to reach a political settlement to the Syrian conflict, and Turkey protested against the invitation of the Syrian Kurdish side as Moscow's peacemaking bid hit early complications on Wednesday.
Having intervened decisively in the Syrian war in 2015 in support of President Bashar al-Assad, Russia now hopes to build on the collapse of ISIS to launch a new political process towards ending the six-year-long conflict.
Damascus has said it is ready to attend the November 18 Sochi congress which is set to focus on a new constitution, saying the time is right thanks to Syrian army gains and the "terrorists' obliteration".
But officials in the anti-Assad opposition rejected the meeting and insisted any peace talks be held only under UN sponsorship in Geneva, where talks have failed to make any progress towards ending the conflict since it erupted in 2011.
The congress amounted to a meeting "between the regime and the regime", said Mohammad Alloush, a member of the opposition High Negotiations Committee and a senior official with the Jaish al-Islam rebel group.
The HNC was surprised it had been mentioned in a list of groups invited to the congress and would "issue a statement with other parties setting out the general position rejecting this conference", Alloush told Reuters.
The Turkey-based Syrian National Coalition (SNC), a political opposition group, said the congress was an attempt to circumvent "the international desire for political transition" in Syria.
"The Coalition will not participate in any negotiations with the regime outside Geneva or without UN sponsorship," SNC spokesman Ahmad Ramadan told Reuters.
Defeating militants in Syria
A Russian negotiator said on Tuesday that Syrian groups who choose to boycott the congress risked being sidelined as the political process moves ahead.
Russia has invited 33 Syrian groups and political parties to what it calls a 'Syrian Congress on National Dialogue'.
Russian President Vladimir Putin first mentioned the idea of the congress last month, saying that he believed Moscow and the Syrian government would soon finally defeat militants in Syria.
Helped by Russia's air force and an array of Iran-backed Shi'ite militias, Assad has defeated many of the Syrian militants who were fighting to topple him, leaving him militarily unassailable and the militants confined to enclaves in the west.
Damascus and its allies have also recovered swathes of central and eastern Syria from ISIS in recent months, while a separate campaign by US-backed Syrian Democratic Forces (SDF) has driven ISIS from other areas of the country.
The separate campaigns are now converging on ISIS's last strongholds in Deir al-Zor province at the Iraqi border.
Russia's decision to invite the Kurdish groups which dominate the SDF to Sochi triggered Turkish irritation on Wednesday.
Ankara, which views the dominant Syrian Kurdish groups as a national security threat, said it was unacceptable that the Kurdish YPG militia had been invited.
Turkish presidential spokesman Ibrahim Kalin said Turkish and Russian officials had discussed the issue and that he had held meetings of his own to "solve the problem on the spot."
Full report at:
https://english.alarabiya.net/en/News/middle-east/2017/11/01/Syrian-opposition-rejects-Russia-sponsored-congress.html
--------
ANALYSIS: Why Obama's mistakes in the Middle East should never be repeated
2 November 2017
For decades, the US took military action against states it deemed were a threat to it; but it has refrained from taking any military action against Iran – even though the latter's radical leadership has actively supported terrorist activities against the US and its allies.
Using proxy forces, the Iranian regime has exported terror since its creation to both the Middle East and the West, claiming many lives over the years. Although Iran is also known to be behind the deaths of many coalition soldiers in Iraq, through its supply of weapons and training to terror groups, the US and Iran have continued to cooperate with each other on the grounds of stabilising Iraq.
According to both sides, the aim of this cooperation has been to stave off an all-out civil war and unite the country behind a government of unity – none of which has been fully achieved, mainly due to Iran's meddling.
Iraq turns satellite state
In reality, Iran's interference in Iraqi affairs since the fall of Saddam Hussein has turned the state of Iraq into a virtual Iranian satellite. With the fall of ISIS as a ground force, Iranian military leaders have cleverly merged infamous Shia militias into the Iraqi armed forces, thereby effectively taking control of the country's military.
Saddam was taken down by a US coalition on concocted evidence of producing WMDs. However, Iran has got scot-free although there is indisputable evidence that it has been pursuing nuclear weapons for decades, that its leaders have directed acts of terrorism against both the West and its Gulf State neighbours, and that it has instigated foreign wars that act in the interest of its hegemonic pursuits, using both its Quds Force and foreign proxies like Hezbollah.
It isn't a case of whether military action would have been the right course to take against Iran, it comes down to the fact that other neighbouring countries have experienced the wrath of Western aggression – including Afghanistan, Iraq and Libya – while Iran has got off very lightly. Not only has the regime been treated with kid gloves, it has managed to build up its military might beyond its wildest dreams – through billions of dollars returned to it through the Iran nuclear deal.
Then with its extensively updatedwar machine and internal security apparatus becoming more powerful by the day, Iran was invited to go to war against ISIS by the Iraqi government, thereby giving it the opportunity for its complete takeover. With the Obama administration determined not to place a substantial number of boots on the ground, Iran's intervention was seen as a blessing, and through this intervention Iran has now been able to effectively annex both Iraq and Syria.
Obama's mishandling
Under the Obama administration, the US left Iraq in great haste. Similarly, Obama turned his back on Syria, when it would have made sense for him to back opposition rebels and introduce a no-fly zone in order to turn the war in rebel's favour and bring down the tyrant, Bashar al-Assad.
As the Syrian crisis worsened, Obama's partial approach towards Iran culminated in the nuclear Deal — which has only stalled the regime's progress towards building a nuclear weapon as it can always revive it at any time it wants. However, vast amount of Iran's frozen assets have been restored to it, which has made it a richer, more powerful nation, which can pursue military and missile programs.
By making a handful of insignificant gestures to the Obama administration, Iran's leaders eventually gave the US virtually nothing in return.As far as Iran is concerned, it has gained prestige across the globe, and even now that Donald Trump's administration is confronting the problem at its source, Europe continues to hang on to the deal, through which Iran will be to pursue its dream of building nuclear weapons at any time.
When the war in Syria was at its height, Assad used chemical weapons against civilians. For his part, Obama threatened Assad with a red line and with hollow threats of military action. However, Russians soon sidelined the US by forging another humiliating deal, through which Assad agreed to give up his chemical weapons and the US backed down from taking any retaliatory action against Syria.
With this deal being brokered by Syria's ally Russia, Assad agreed to "give up" his stocks of chemical weapons, as long as the US agreed not to carry out air strikes against him. He also demanded other concessions for his chemical weapons manufacturing sites.
Just as Obama left enough caveats in the deal with Iran for the latter to be able to later revive its nuclear weapons program, Assad was left with underground facilities with which he can still use to continue his chemical weapons program at a time of his choosing. Following this deal, Assad went on to pummel Syria into rubble, slaughtering hundreds of thousands of his own people, and leaving millions to flee the country. In fact, he continued to use chemical weapons on civilians.
A lopsided deal
As regards the nuclear deal, Iran entered into an agreement with the West over putting a freeze on its nuclear program, as well as on ensuring that its 9,500 centrifuges would continue to remain idle in two uranium enrichment plants. Iran agreed that it would stop enriching uranium to the 20 per cent purity (which would be close to weapons grade), and any existing stockpiles coming into that category would be converted into harmless oxide.
In lieu of its compliance, the deal provided for reducing sanctions on Iran and on certain items (like on gold and chemical exports) there's provision for suspending sanctions altogether. The deal has also made several services exempt of sanctions, and has provisions for more relief in future, even as the freeze on billions of dollars in Iran's frozen assets gets lifted.
This agreement works perfectly for Iran. With its new-found respectability among other nations, it will be able to make lucrative deals, keep up the pretence of respectability, rebuild its economy, strengthen its armed forces, and enter into trade with a multitude of nations that will eventually be willing to stand by it. At a later stage, when the Iranian leadership believes it has gained the trust of the world, it shall revive its nuclear program and the mullah's dream of creating a nuke will eventually be realised.
With Iran's wealth, prestige and power being restored through its trade deals across the world and having Russia as an ally, the ruling clerics plan to make the regime a force to reckon with on the world stage and make its hold on the Middle East irreversible in order to fulfil Khomeini's dream of knocking the US off its perch as guardian of the Middle East.
It is almost as though the West had been building up to the day when Iran would become the predominant power of the Middle East. Through the nuclear deal, the West appears to be inviting Iran to return to the international fold, with the hope that the theocratic republic would become an ally of the West rather than an enemy.
Trump travails for Iran
With all of the talk in Western media on how Iran is adhering to the nuclear deal, there is hardly a mention of the regime's murders and other crimes against its own people. Nobody mentions its system of carrying out arbitrary arrests, torture and execution, as the jury of greedy speculators decide to be one-sided in this matter.
During Obama's presidency, Iranian leaders felt they were negotiating from a position of strength over the nuclear issue. In their eyes, Barack Obama was a weak president, who being in trouble at home, with his popularity on the wane due to a litany of failed domestic policies, needed to prove himself to the American people on the world stage.
But with this deal only delaying Iran's ability to produce nuclear weapons, with much of its secretive projects now going deep into the mountainous underground bunkers, Iranian boffins are certain to be further ahead with their nuclear program than the rest of the world realises.
So with some intelligence reports suggesting the IRGC may already have a nuclear weapons capability, with nukes that can fit on the long-range missiles they are developing, the future looks bleak.
While Obama was in the White House, the Iranian regime felt America had gone soft. It also strongly believed that the US was losing its credibility as the guardian of the world. It even harboured the notion that Iran is growing in strength and once it has acquired nuclear weapons, it would attain superpower status. As a revolutionary force, it will then become unstoppable.
Full report at:
https://english.alarabiya.net/en/features/2017/11/02/ANALYSIS-Why-Obama-s-mistakes-in-the-Middle-East-should-never-be-repeated.html
--------
Bahraini courts hand down prison terms to three Shia clerics
Nov 1, 2017
Courts in Bahrain have separately handed down prison sentences between six months and one year to three Shia Muslim clerics as the ruling Al Khalifah dynasty presses ahead with its heavy-handed crackdown and persecution of the members of the religious community in the tiny Persian Gulf kingdom.
Informed sources, requesting anonymity, told Arabic-language Lualua television network on Wednesday that a Manama court sentenced Sayyed Mohieldin al-Mashaal to one year in prison on charges of "inciting hatred against the regime" and using sectarian rhetoric."
Bahraini regime forces arrested the Shia cleric on August 14 as he was travelling along the King Fahd Causeway, which connects Bahrain to Saudi Arabia. The authorities then referred him to the public prosecution.
Also on Thursday, two other Shia clerics, identified as Sheikh Adel al-Shula and Sheikh Hani al-Bazzaz, were sentenced to six months in jail.
They were also ordered to pay a fine of 100 dinars ($265.10) each.
Bahraini regime forces stormed the house of Sheikh Abdulzahra Karbabadi in the northern village of Karbabad early on April 27, and arrested the cleric and his wife.
Regime forces later raided the village of Karrana, and arrested the cleric's sister.
Thousands of anti-regime protesters have held demonstrations in Bahrain on an almost daily basis ever since a popular uprising began in the country in mid-February 2011.
They are demanding that the Al Khalifah dynasty relinquish power and allow a just system representing all Bahrainis to be established.
Manama has gone to great lengths to clamp down on any sign of dissent. On March 14, 2011, troops from Saudi Arabia and the United Arab Emirates were deployed to assist Bahrain in its crackdown.
Scores of people have lost their lives and hundreds of others sustained injuries or got arrested as a result of the Al Khalifah regime's crackdown.
On March 5, Bahrain's parliament approved the trial of civilians at military tribunals in a measure blasted by human rights campaigners as being tantamount to imposition of an undeclared martial law countrywide.
Full report at:
http://www.presstv.com/Detail/2017/11/01/540666/Bahraini-courts-hand-down-prison-terms-to-three-Shia-clerics
--------
URL: https://www.newageislam.com/islamic-world-news/operation-conversion-mafia-kerala-conversion/d/113105