New Age Islam News Bureau
04 March 2021

• Canada's Muslim Organization Urges 'Immediate' Action to Combat Islamophobia, Following Islamophobic Attacks against Muslim Women
• Macron Admits 'Torture and Murder' Of Algerian Freedom Fighter Ali Boumendjel
• Gurdeep Singh Makes History as First Sikh from KPK to Get Elected To Pakistan Senate
• Pope Francis Says He Will Visit Iraq as 'Pilgrim of Peace'
• ICC Opens Probe into War Crimes in Israeli-Held Territories
• Algeria Prepares Law to Withdraw Nationality of People Threatening State
India
• Only Love, No Jihad - Bengal Has Deep Respect for All Unions of Love Even When They Transcend Religious Borders
• 26 Assam Muslim Women on 'D-Voter' List Move SC
• J-K Police Busts Terrorist Hideout Of Hizbul Mujahideen In Awantipora
• Muslims' Share In Welfare Schemes More Than Share in Population: Yogi Adityanath
• 'Don't Agree With 'Love Jihad' Term': Dy CM as BJP in Haryana Plans Law
• Aisha suicide: Owaisi slams dowry system
• Orthodox Church bishops in Kerala meet RSS functionary
• Mirwaiz Umar Farooq released from house arrest after 19 months
--------
North America
• Canada's Muslim Organization Urges 'Immediate' Action to Combat Islamophobia, Following Islamophobic Attacks against Muslim Women
• Progressives Urge Biden to Quickly Honour Election Pledge On JCPOA, Abandon 'Max Pressure' Against Iran
• US senators offer bill to curb Biden war powers after Syria-Iraq border strike
--------
Europe
• Macron Admits 'Torture and Murder' Of Algerian Freedom Fighter Ali Boumendjel
• COVID-19 Vaccine Does Not Break Ramadan Fast, UK-Muslim Medical Experts Urge
• Pope hopes 'Fratelli tutti' in Russian will help promote fraternity
--------
Pakistan
• Gurdeep Singh Makes History as First Sikh from KPK to Get Elected To Pakistan Senate
• Hindu General Panchayat Issues 24-Hour Ultimatum To Police To Arrest Hindu Youth's Killers
• PM Imran lost right to rule, should resign now: Fazl
• Dawat-e-Islami delegation calls on PML leaders
• MNA urged to resign over child marriage
• Education official seeks action against male teachers over 'harassment' in Kohat
• PM Imran names Sadiq Sanjrani as candidate for Senate chairman's office
--------
Arab World
• Pope Francis Says He Will Visit Iraq as 'Pilgrim of Peace'
• US, Israel Don't Dare Target Hezbollah, Fear Response: Top Official
• Iraq: Cardinal Sako says 'something has already changed' in the nation
• Qatar FM has 'positive' meeting with Egyptian counterpart in Cairo
• Arab Coalition destroys ballistic missile launched by Houthis toward Saudi Arabia
• UN experts call on Saudi Arabia to free three young Shia activists
--------
Mideast
• ICC Opens Probe into War Crimes in Israeli-Held Territories
• Iranian MPs: FATF Conventions Sponsored by Supporters of Terrorism
• Deputy Minister Underlines Iran-Iraq Good Cooperation in Fight against Terrorism
• Spokesman Dismisses Blinken's "Baseless" Allegations about Iran's Role in Yemen
• UN Chief Welcomes Iran's Efforts to Establish Ceasefire in Yemen
• Iran needs to address IAEA's concerns on uranium particles: US statement
• Israel accuses Iran of 'environmental terrorism' for oil spill off its shores
• Any new nuclear deal with Iran should be 'dramatically improved': Israeli minister
• Turkish court probes pro-Kurdish party as pressure for ban grows, say officials
--------
Africa
• Algeria Prepares Law to Withdraw Nationality of People Threatening State
• Algeria bomb plot foiled, three arrested, says defence ministry
• Morocco sees Sahel extremists as magnet for local cells
• UN sends advance monitor team to check Libya ceasefire between rival factions
--------
South Asia
• Twenty Years after Invasion, US Proposes a New Afghan Government That Includes Taliban
• Bangladesh Moves More Rohingya Muslims to Remote Island despite Concerns
• Rohingya Risk Being Forgotten in Global Vaccination Drive
• Two Protestant churches targeted, attacked and ransacked
• 24 Taliban killed in Kandahar clashes: MoD
• Afghan forces free 30 prisoners from Taliban captivity
--------
Southeast Asia
• April 20 ruling on challenge against khat in vernacular schools
• Umno and Bersatu to part ways for coming Malaysian general election
Compiled by New Age Islam News Bureau
URL: https://www.newageislam.com/islamic-world-news/only-love-no-jihad-bengal/d/124456
--------
Only Love, No Jihad - Bengal Has Deep Respect for All Unions of Love Even When They Transcend Religious Borders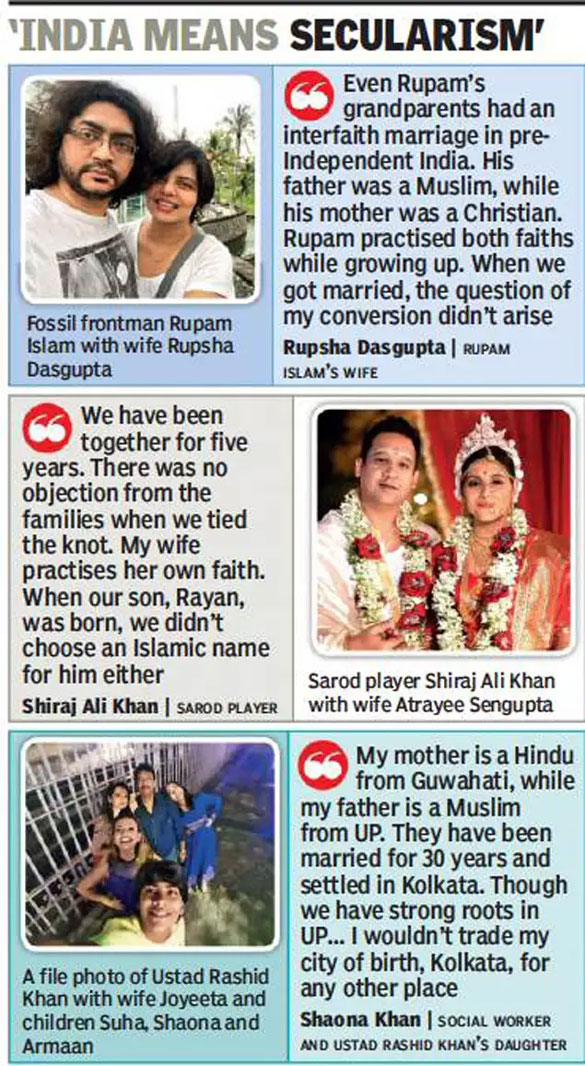 Mar 4, 2021
Kolkata: Bengal has deep respect for all unions of love even when they transcend religious borders: this was the refrain from interfaith couples in the city and their families, who took exception to Uttar Pradesh chief minister Yogi Adityanath raising the issue of "love jihad" at his Malda rally to target chief minister Mamata Banerjee.
In his speech, Adityanath claimed that "love jihad was being executed in Bengal". "We made a law in UP. But there is appeasement politics here. So, state government is unable to stop cow smuggling and love jihad—dangerous activities that will show results in time to come," he said.
Social worker Shaona Khan, who recently joined Trinamool, is the daughter of Ustad Rashid Khan and Joyeeta Basu Khan. At 21, she can't recall a single instance of love jihad being executed here. Instead, she said, this city was all about sharing love. "My mother is a Hindu from Guwahati, while my father is a Muslim from Uttar Pradesh's Badaun. They have been married for 30 years and settled in Kolkata. My two siblings and I have been born and brought up in Kolkata. Though we have strong roots in UP because of my father's family and a lovely home there, which we visit every year, I wouldn't trade my city of birth, Kolkata, for any other place," Khan said. According to her, the reason for this is Kolkata's "ecosystem" that allows breathing space to everyone. "My father is known to be a son of Bengal. I can't thank Bengal enough for providing us with so much love, security and treating us like family. I would love to be in UP and teach Yogi Adityanath a lot about love and equality towards all religions, because India means secularism," Khan added.
Sarod player Shiraj Ali Khan married Atrayee Sengupta in January 2020. The grandson of Ustad Ali Akbar Khan was strictly against the conversion of his wife to Islam. "We have been together for five years. There was no objection from the families when we tied the knot. My wife practises her own faith. When our son, Rayan, was born, we didn't choose an Islamic name for him either," he said. Sengupta regularly applies sindoor, a practice among married Hindu women. "I even have a thakurer ashon at home. There is no force on following any ritual. We do whatever we feel like," Sengupta said.
It's been 14 years since Rupsha Dasgupta married Fossils frontman Rupam Islam. Dasgupta can't connect with this extreme "Islamophobic conspiracy theory" about "love jihad". Fifty years ago, her in-laws also had an interfaith marriage. "Even Rupam's maternal grandparents had an interfaith marriage in pre-Independent India. His father was a Muslim, while his mother was a Christian. She never converted to Islam and Rupam has practised both faiths while growing up. When we got married, the question of my conversion didn't arise either," Dasgupta said. Her 88-year-old grandmother had no problems with their marriage. When their son was born, the couple named him Rup Aarohan Prometheus.
"Rupam is now an atheist. Rup says his religion is 'humanism'. Till date, Rup has had no problems. Even his school has never asked any question about his surname. Yogi Adityanath's allegations about 'love jihad' are crazy. Kolkata's culture doesn't single out people belonging to interfaith families," she added.
https://timesofindia.indiatimes.com/city/kolkata/only-love-no-jihad-say-citys-interfaith-couples/articleshow/81319034.cms
--------
Canada's Muslim Organization Urges 'Immediate' Action to Combat Islamophobia, Following Islamophobic Attacks against Muslim Women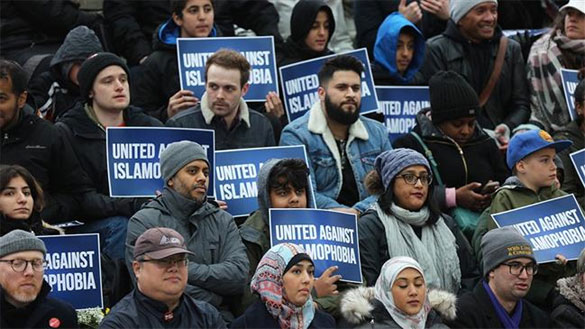 A leading Muslim organization in Canada has called for action against hate crimes in the country following a recent wave of Islamophobic attacks against Muslim women.
------
03 March 2021
A leading Muslim organization in Canada has called for action against hate crimes in the country following a recent wave of Islamophobic attacks against Muslim women.
The National Council of Canadian Muslims said in a statement on Tuesday that racism was a "real problem" in Canada, and called for the "immediate" creation of a bipartisan committee to deal with racist and Islamophobic crimes in the country.
Stressing that "tension and fear are high," the advocacy group accused Canadian authorities of turning a blind eye to the crisis.
The statement was made after a spate of recent attacks against black Muslims in Canada.
Five Somali-Canadian Muslim women have been assaulted in the city of Edmonton, Alberta, in the past ten weeks. Last year, more than 60 such crimes were reported in the city.
Local media reported on 140 Islamophobic and hate-related incidents in 2020, including death threats, in the Alberta province cities of Edmonton and Calgary.
Assam Ali, an Edmonton hospital nurse, told Global News that she has been targeted repeatedly with slurs because of her hijab and dark skin.
"Most of my visibly Muslim friends and family members have a story of some kind of Islamophobia," said Ali. "The general public hears about this through the media, while our reality is that these are our sisters and our mothers."
Last month, a man uttered racial slurs against a Muslim female at the University of Alberta, and in a separate incident, a man knocked down a female, threatened her life and tore off her burqa, a robe used by Muslim women.
There are an estimated 113,000 Muslims in Alberta.
https://www.presstv.com/Detail/2021/03/03/646443/Canadian-Muslim-organization-National-Council-Islamophobic-attacks
--------
Macron Admits 'Torture and Murder' Of Algerian Freedom Fighter Ali Boumendjel
President Emmanuel Macron
-----
03 March, 2021
French forces "tortured and murdered" Algerian freedom fighter Ali Boumendjel during his country's war for independence, President Emmanuel Macron admitted on Tuesday, officially reappraising a death that was covered up as a suicide.
Macron made the admission "in the name of France" during a meeting with Boumendjel's grandchildren.
The move comes after Macron stoked outrage in January when he refused to issue an official apology for abuses committed during the occupation of Algeria. Instead, he agreed to form a "truth commission" as recommended by a report commissioned by the government to shed light on France's colonial past.
Atrocities committed by both sides during the 1954-1962 Algerian war of independence continue to strain relations between the countries.
Boumendjel, a nationalist and lawyer, was arrested during the battle of Algiers by the French army, "placed incommunicado, tortured, and then killed on 23 March 1957," the Elysee Palace said in a statement.
"Ali Boumendjel did not commit suicide. He was tortured and then killed," Macron told Boumendjel's grandchildren, according to the statement.
It is not the first time the real cause of death was acknowledged.
In 2000, the former head of French intelligence in Algiers Paul Aussaresses confessed to ordering Boumendjel's death and disguising the murder as a suicide, according to the statement.
It added that Macron on Tuesday had also reiterated his desire to give families the opportunity to find out the truth about this chapter of history.
Last month, Boumendjel's niece Fadela Boumendjel-Chitour denounced what she called the "devastating" lie the French state had told about her uncle.
French historian Benjamin Stora, who wrote the government-commissioned report, has said there is a "never-ending memory war" between the two countries.
The report has been described by the Algerian government as "not objective" and falling "below expectations."
During his 2017 election campaign, Macron -- the first president born after the colonial period -- declared that the occupation of Algeria was a "crime against humanity."
He has since said there was "no question of showing repentance" or of "presenting an apology" for abuses committed in the North African country.
https://english.alarabiya.net/News/north-africa/2021/03/03/Macron-admits-torture-and-murder-of-Algerian-freedom-fighter-Ali-Boumendjel-
--------
Gurdeep Singh makes history as first Sikh from KPK to get elected to Pakistan Senate
March 03, 2021
Gurdeep Singh of the ruling Pakistan Tehreek-e-Insaf party on Wednesday became the first turban-clad Sikh representative from Khyber Pakhtunkhwa province in Pakistan's Senate when he defeated rival candidates on a minority seat by a huge margin in the election to the upper chamber of Parliament.
Singh secured 103 votes in the House of 145 whereas Jamiat Ulema-e Islam (Fazlur) candidate Ranjeet Singh secured just 25 votes and Asif Bhatti of the Awami National Party received 12.
The Election Commission authorities informed that five votes of minority candidates were rejected by the Presiding Officer.
Khyber Pakhtunkhwa Chief Minister Mehmud Khan had claimed that Singh would secure 102 votes whereas he obtained one more vote indicating that one Opposition member also voted in his favour.
Singh, who hails from Swat district, is the first turban-clad Sikh representative from the province in the Senate.
Hindu community leader Haroon Sarabdiyal hailed the election of Singh as Senator from the province, saying it's good omen for the minority community.
The total strength of the Pakistan Tehreek-e-Insaf party led by Prime Minister Imran Khan in the Khyber Pakhtunkhwa Assembly is 94. The extra votes were polled by the members of the parliamentary parties supporting the PTI in the province.
The members of the Senate - the upper house of parliament - are elected for six-year terms.
https://www.theweek.in/news/world/2021/03/03/gurdeep-singh-makes-history-as-first-sikh-from-kpk-to-get-elected-to-pakistan-senate.html
--------
Pope Francis says he will visit Iraq as 'pilgrim of peace'
04 March ,2021
On the eve of his trip to Iraq, Pope Francis paid tribute on Thursday to those who have suffered from years of violence, saying he came as a "pilgrim of peace".
In a video message, the 84-year-old offered his hand to "brothers and sisters of other religions", but also highlighted the heavy toll paid by Iraq's Christian communities, saying there had been "too many martyrs".
"I long to meet you, to see your faces, to visit your land, ancient and extraordinary cradle of civilization," the pope said, the day before his three-day trip.
"I come as a pilgrim, a penitent pilgrim to implore forgiveness and reconciliation from the Lord after years of war and terrorism.
"I come as a pilgrim of peace in search of fraternity, animated by the desire to pray together and to walk together, also with the brothers and sisters of other religions."
There had been "too many martyrs", he said, while survivors "have in your eyes the images of destroyed houses and desecrated churches, and in your hearts the wounds of loved ones left behind and homes abandoned".
Francis is fulfilling the dream of a predecessor, John Paul II, by visiting Iraq -- despite a rampaging coronavirus epidemic and an upsurge in violence.
The country's Christian community -- one of the world's oldest -- has fallen from 1.5 million in 2003 to just 400,000 today.
https://english.alarabiya.net/News/middle-east/2021/03/04/Pope-Francis-says-he-will-visit-Iraq-as-pilgrim-of-peace-
--------
ICC opens probe into war crimes in Israeli-held territories
March 4, 2021
THE HAGUE: The International Criminal Court opened a formal investigation on Wednesday into alleged war crimes in the Palestinian territories, in a move blasted by Israeli premier Benjamin Netanyahu as the "essence of anti-Semitism." Palestinian authorities hailed the decision by ICC chief prosecutor Fatou Bensouda as an "urgent and necessary" probe into the situation in the blockaded Gaza Strip along with the Israeli-occupied West Bank and east Jerusalem since June 2014.
The move plunges the Hague-based tribunal — which has faced frequent criticism by Israel and its ally the United States — into the midst of one of the world's most bitter conflicts and risks inflaming an already tense situation.
Bensouda said she had decided there were "admissible potential cases" on both sides, with the investigation focusing on the 2014 Gaza conflict, which left more than 2,000 people dead.
"In the end, our central concern must be for the victims of crimes, both Palestinian and Israeli, arising from the long cycle of violence and insecurity that has caused deep suffering and despair on all sides," the prosecutor said.
Gambian-born Bensouda said the formal investigation followed a "painstaking" five-year preliminary probe, and vowed it would be conducted "independently, impartially and objectively, without fear or favour." Israel has refused to sign up to the court, set up in 2002 to try the world's worst crimes, but the Palestinians have been a state party to the ICC since 2015.
ICC judges paved the way for a war crimes investigation when they ruled a month ago that the court has jurisdiction over the situation due to the Palestinians' membership.
The probe will focus on Operation Protective Edge, the military operation launched by Israel in the summer of 2014 with the stated aim of stopping rocket fire into the country by militants of Islamist movement Hamas.
Around 2,250 Palestinians were killed in the 2014 fighting, mostly civilians, and 74 Israelis, mostly soldiers.
"The state of Israel is under attack this evening," Netanyahu said in a video posted on Twitter about the ICC decision. "The international court based in The Hague reached a decision which is the essence of anti-Semitism." Israeli Foreign Minister Gabi Ashkenazi said the country would "take every step necessary to protect its civilians and soldiers from legal persecution" and said the probe could impact the stalled peace process. The Palestinian Authority hailed Wednesday's decision meanwhile.
"The crimes committed by the leaders of the Israeli occupation against the Palestinian people — which are ongoing, systematic and widespread — make this investigation necessary and urgent," Palestinian Foreign Minister Riyad Al-Maliki said in a statement. There was no immediate reaction from the United States.
The US State Department said in February it had "serious concerns" about the ICC ruling on jurisdiction, adding that Israel should not be bound by the court as it was not a member.
In 2019, Bensouda said in her initial application for the probe that there is a "reasonable basis" to believe crimes were committed by members of the Israeli Defence Forces, Israeli authorities, Hamas and Palestinian armed groups.
These include the Israeli military allegedly "intentionally launching disproportionate attacks" during the 2014 conflict and "wilful killing and wilfully causing serious injury", she said.
Hamas and Palestinian armed groups were accused of "intentionally directing attacks against civilians" and "using protected persons as shields" during the Gaza conflict.
The ICC prosecutor also said there is scope to investigate the deaths of Palestinian demonstrators from 2018 onwards.
https://www.dawn.com/news/1610578/icc-opens-probe-into-war-crimes-in-israeli-held-territories
--------
Algeria prepares law to withdraw nationality of people threatening state
04 March ,2021
Algeria plans for the first time to deprive of nationality citizens who commit acts abroad that are liable to "seriously damage the interests of the state or harm the national unity," the prime minister's office said on Wednesday.
The measure will apply to people who join, finance or glorify a terrorist organization, it said in a statement after a meeting chaired by Prime Minister Abdelaziz Djerad to discuss amendments to the nationality law and other issues.
The new provision applies also to "everyone who deals with an enemy country," the statement said.
It said the provisions of the law remain compatible with international conventions and guarantee the right to appeal, without providing more details on reasons behind the amendment.
The measure is expected to be discussed again later at a cabinet meeting chaired by President Abdelmadjid Tebboune.
https://english.alarabiya.net/News/north-africa/2021/03/04/Algeria-prepares-law-to-withdraw-nationality-of-people-threatening-state
--------
India
26 Assam Muslim women on 'D-voter' list move SC
Mar 4, 2021
NEW DELHI: Ahead of Assam assembly polls, the Supreme Court on Wednesday sought responses from the Centre, the Election Commission and the Assam government on a petition filed by 26 Muslim women from Muslim-majority Barpeta district alleging that their names have been arbitrarily placed in the 'doubtful voter' list for the last 23 years.
"The main point requires consideration," a bench of Chief Justice S A Bobde and Justices L N Rao and S R Bhat said after hearing counsel Jayshree Satpute and Tripti Poddar, who appeared for Tahmina Khatun and 25 other Muslim women. The bench asked the respondents to file their replies to the petition within four weeks.
The petitioners, 24 of whom are from Bheragaon in Barpeta district which has a Muslim population of over 70%, alleged that Tahmina, followed by 25 other women petitioners, had filed an application in 2019 under the Right to Information Act seeking a copy of the report on the basis of which they were marked as D-voters after failing to elicit any information from other authorities for years.
The electoral registration officer (ERO) responded on September 7, 2019, and told Tahmina and later the other 25 women, "As per records, the D-mark is seen to have been put in the year 1997, but no such records of putting the D-mark is available in the office. No records of putting the D-mark are available." The petitioners sought removal of D-voter status, arguing that by implication, it doubted their Indian citizenship.
The petitioners said there was no procedure or norm provided under the Constitution or any law to mark a voter as doubtful. "The implication of 'D' mark against an individual's name in the voter list is far-reaching and includes the denial of basic human rights, constitutional rights, and other statutory rights, like denial of ration and the right to vote among others," they said.
They said the electoral officers acted contrary to law by not affording any opportunity to them before marking D against their names. "In fact, the respondents have neither furnished any information about the procedure adopted to mark nor any reasons for such actions, despite multiple efforts and several visits to the offices of the respondents in this regard," they said.
Though coming from an overwhelmingly Muslim majority district, the 26 women petitioners said they and their families faced social stigma of being declared doubtful voters. However, they did not mention whether their husbands and other family members too have been placed in the D-voter list.
They said that placing them in the D-voter list had led to loss of livelihood and hindered access to government entitlements like right to food, education and healthcare apart from staring at the consequences of incarceration and being rendered stateless.
https://timesofindia.indiatimes.com/india/26-assam-muslim-women-on-d-voter-list-move-sc/articleshow/81321379.cms
--------
J-K Police busts terrorist hideout of Hizbul Mujahideen in Awantipora
03rd March 2021
AWANTIPORA: A terrorist hideout of proscribed terror outfit Hizbul Mujahideen was busted and destroyed in Awantipora, police said on Wednesday.
"Upon information of terrorist hideout in the forest area of Seer/Pastoona, Police along with 42 RR and 180 Bn CRPF launched a search operation in the said area. During search one hideout of the proscribed outfit, Hizbul Mujahideen was busted and subsequently destroyed," read a release by the Jammu and Kashmir Police.
The police said the size of the hideout is approximately 5 feetx7 feetx4 feet.
Incriminating material of proscribed outfit Hizbul Mujahideen and other materials including utensils, food items have been recovered from the hideout.
All the material has been taken into police custody for investigation purpose, police said.
A case under relevant sections of law has been registered at Tral police station.
https://www.newindianexpress.com/nation/2021/mar/03/j-k-police-busts-terrorist-hideout-of-hizbul-mujahideen-in-awantipora-2271639.html
--------
Muslims' Share In Welfare Schemes More Than Share In Population: Yogi Adityanath
MAR 04, 2021
Uttar Pradesh chief minister Yogi Adityanath said on Wednesday in the state assembly that Muslims' share in the state government's welfare schemes was many times more than their share in the state's population. He added that the state government was providing benefits of welfare schemes to all people without any discrimination.
Making an intervention during the debate on the state Budget, he alleged that the previous governments used a 'pick and choose' policy to identify beneficiaries of welfare schemes, while his government was committed to Prime Minister Narendra Modi's 'sabka saath, sabka vikas' mantra.
"The Muslim population in UP is 17-19%, but their share in the benefits of welfare schemes is 30-35%," he said, drawing attention of SP member and Leader of Opposition (LoP) Ahmad Hasan. He said there was no discrimination based on caste, creed, religion, region and language when it came to implementation of government schemes. "This is what we call the Modi model," he said.
The CM took a jibe at the Samajwadi Party and said that the kind of socialism practised by stalwarts such as Acharya Narendra Dev, Jai Prakash Narayan and Ram Manohar Lohiya is lost on SP leaders of today.
"Today's socialism has become a multiform brand—socialism of caste, socialism of family and by the time socialism comes to Shivpal Yadav, it becomes 'pragatisheel'," he said amid repeated interruptions by SP members.
https://www.hindustantimes.com/cities/lucknow-news/muslims-share-in-welfare-schemes-more-than-share-in-population-yogi-adityanath-101614833613262.html
--------
'Don't Agree With 'Love Jihad' Term': Dy CM as BJP in Haryana Plans Law
March 04, 2021
Chandigarh: As the BJP-led government in Haryana prepares to table legislation to check "love jihad", key ally and Deputy Chief Minister Dushyant Chautala is not entirely on board and he has made it clear. In an interview to NDTV, he says he does not agree with the term "love jihad", used by the rightwing to describe what they call a ruse by Muslim men to reel in Hindu women and force them to convert.
"I don't agree with this term called 'love jihad'. We will get a law specifically for checking forceful religious conversion and we will support it. If anybody converts willingly or marries to a partner of another faith, then there is no bar," Dushyant Chautala told NDTV.
The remarks come at a time Dushyant Chautala and his Jannayak Janta Party (JJP) have been at odds with the BJP over the farmer protests. Mr Chautala has backed the demand to review the central laws opposed by farmers, an important constituency for the Haryana-based party. He even threatened to resign if the farmers were not heard.
On a law to check "love jihad" - several BJP-ruled states including Uttar Pradesh, Madhya Pradesh and Karnataka have already enacted such legislation - the JJP is facing questions and apprehension in the Nuh district, where Muslims form a significant chunk.
Mr Chautala held a meeting with members of the community in Chandigarh on Wednesday. "We had organized a meeting of people from Mewat with our leader Dushyant Chautala. He addressed our concern regarding the new law to be introduced in assembly," said Mohsin Chaudhary, head of JJP's minority cell.
PromotedListen to the latest songs, only on JioSaavn.com
Four cases of interfaith relationships have been lodged in Haryana over the past three years, an RTI (Right to Information) reply has revealed. The police have moved to cancel the FIRs in two of the cases and a third ended in an acquittal. The fourth case is in court.
The RTI application was filed by PP Kapoor, a Panipat resident. The reply said a total of four cases of 'love jihad' were lodged in Ambala, Nuh and Panipat districts.
https://www.ndtv.com/india-news/dushyant-chautala-dont-agree-with-love-jihad-term-ally-as-bjp-in-haryana-plans-law-2383350
--------
Aisha suicide: Owaisi slams dowry system
Mar 4, 2021
HYDERABAD: A day after Aarif Khan was arrested for abetting the suicide of his wife Aisha Banu Makrani in Ahmedabad, Hyderabad MP Asaduddin Owaisi on Wednesday slammed the dowry system in the country and said harassing women over the social evil was not a sign of manhood.
"No matter which religion you belong to, end this greed for dowry. Harassing your wife, beating her up for dowry or any financial transaction is not manhood. The family should be ashamed for forcing the girl to take the extreme step," he said while addressing AIMIM cadre here. He spoke in detail about Aisha, 23, who committed suicide allegedly due to harassment by her husband and in-laws for dowry.
Owaisi expressed grief over the girl's suicide. "How many more women have to suffer? What kind of men are these that kill women? Is humanity dead among people? There are so many men who torture women, physically assault them, seek dowry and yet pretend to be an angel in the outside world," he said, adding that one may fool the world but can't fool Allah. He appealed to all Muslim men to be good to women and their families.
https://timesofindia.indiatimes.com/india/aisha-suicide-owaisi-slams-dowry-system/articleshow/81321705.cms
--------
Orthodox Church bishops in Kerala meet RSS functionary
Mar 4, 2021
KOCHI: Senior bishops of the Malankara Orthodox Syrian Church met joint general secretary of the RSS Manmohan Vaidya in Kochi on Wednesday.
Bishops Geevarghese Mar Yulios, the metropolitan in charge of Ahmedabad diocese, said after the meeting that the discussions were not about electoral politics but on the feud between the Orthodox and the Jacobite factions of the Malankkara church.
Mar Yulios was accompanied by Yakoob Mar Irenaios of the Kochi diocese. The duo had called on Muslim League leaders at Panakkad in January.
"The meeting was related to the nation, not politics. A verdict of the apex court of the nation has not yet been executed in Kerala. Not only that, there is a doubt now whether the state government would act against the verdict. Moreover, some people are conducting rallies and meetings to abuse the Orthodox Church. So, we are on a mission to communicate with other organisations about the truth behind the issue. The meetings with RSS as well as the League were held in this context," said Mar Yulios.
He said he was close with Vaidya since they had both worked in Gujrat.
"BJP or BJP's policies were not discussed. The synod has entrusted us to meet with various organisations to convey the truth behind the issue in the Malankara church," said Mar Yulios.
He added that some politicians, including a few MLAs have spoken against the church. "Meetings and rallies against the church have been taking place repeatedly. Speeches were made against the apex court's ruling. Some of them even targeted our venerated bishops who had passed away decades ago," said Mar Yulios.
https://timesofindia.indiatimes.com/city/kochi/orthodox-church-bishops-in-kerala-meet-rss-functionary/articleshow/81321780.cms
--------
Mirwaiz Umar Farooq released from house arrest after 19 months
Mar 4, 2021
SRINAGAR: Ahead of the auspicious Islamic occasion of Mehraj-e-Alam, which falls on March 11, moderate All Parties Hurriyat Conference (APHC) chairman Mirwaiz Umar Farooq was released from house detention on Wednesday after 19 months. He had been under house arrest since August 2019 when the Centre scrapped the special status of J&K and split the erstwhile state into two Union territories of J&K and Ladakh.
According to officials, Mirwaiz was allowed to move out of his house at Nigeen in Srinagar's Hazratbal area from Tuesday. "I am happy to learn that I am a free man now," Mirwaiz told TOI on Wednesday.
A Hurriyat spokesman, however, said the decision of the release has not been officially conveyed to Mirwaiz so far.
Mirwaiz said: "I will now undertake a campaign against drug addiction, which has started eating up our society, particularly our youths."
He said he will ensure that there is no law and order problem in the locality around Jamia Masjid in Nowhatta area of the city.
Meanwhile, PDP president Mehbooba Mufti welcomed the release of Mirwaiz from "arbitrary detention". She termed it a good news for political, social and religious wellbeing of the people of J&K.
Mehbooba tweeted, "Good to hear about Mirwaiz's release from arbitrary detention. I hope that hundreds of Kashmiri men languishing in jails in & outside J&K will also be released soon. It's time they returned home to their families."
Several mainstream politicians, including former chief ministers Farooq Abdullah, Omar Abdullah and Mehbooba herself, who were also arrested following the August 2019 move of the Centre and against whom the stringent Public Safety Act (PSA) was slapped, were released in a staggered manner earlier.
https://timesofindia.indiatimes.com/india/mirwaiz-umar-farooq-released-from-house-arrest-after-19-months/articleshow/81318028.cms
--------
North America
Progressives Urge Biden to Quickly Honour Election Pledge On JCPOA, Abandon 'Max Pressure' Against Iran
04 March 2021
A number of progressive organizations have urged the Biden administration to swiftly join a 2015 Iran nuclear agreement that was abandoned by the Trump administration in favor of the "maximum pressure" policy against Tehran, calling the policy a "dangerous failure".
Trump's so-called maximum pressure policy "led to increased suffering for the Iranian public," 32 progressive groups said in a letter to the White House on the Joint Comprehensive Plan of Action (JCPOA), commonly known as the nuclear deal.
They said the policy isolated the United States from its closest allies in Europe.
They also said they were concerned by "recent statements that could be construed to indicate that Iran must take the first steps to meet its JCPOA obligations before the United States takes its own steps."
Biden and other members of his administration criticized Trump's withdrawal from the deal before the presidential election and vowed to rejoin the deal if elected.
In recent weeks, however, the Biden administration has insisted that Iran must fully honor its nuclear undertakings under the JCPOA before the US re-enters the deal.
Tehran reduced its nuclear obligations under the nuclear pact starting a year after Washington's 2018 withdrawal, citing the remaining parties' failure to protect its interests under the internationally-endorsed deal.
Iran argues that because the US withdrawal and its subsequent sanctions were the main reason behind its nuclear commitments suspensions, it is the US that should take the first step. However, Iran also proposed a synchronized action by the two sides to return to full compliance with the JCPOA, a proposal that was rejected by Washington.
"The fact of the matter is that the United States was the first to violate the deal," the groups said.
"It is therefore reasonable to expect the United States to at the very least take concurrent steps with Iran to rejoin it," they added.
Last week, the White House officially acknowledged that the maximum pressure policy has failed, without offering a clear path out.
In remarks on Wednesday, US State Department spokesman Ned Price also admitted that Iran remained compliant with the JCPOA before the deal was ditched by Trump, and took steps away from the agreement only after the ill-judged measure.
"The IAEA, while the Iran deal, while the JCPOA was in full effect, while Iran was abiding by it, they expressed confidence that Iran was living up to its limits," Price said. "I suspect if you go and ask them (the IAEA), they will tell you that they were satisfied by Iran's compliance with the deal. Iran was complying with the deal."
Republicans still push for Trump's maximum pressure
Meanwhile, the Republicans, who lost the House of Representatives, the White House and the Senate in recent years, have been working on a range of measures to stop the Biden administration from re-entering the JCPOA, making a sharp contrast to the progressive wing of the Democratic party.
Among other things, the Republicans on Tuesday unveiled their most detailed plan to block the Biden administration from unraveling Trump's maximum pressure policy against Iran and easing the sanctions the former hawkish president slapped on Iran, according to the Washington Free Beacon.
Richard Goldberg, a senior adviser at the so-called Foundation for Defense of Democracies (FDD), said such comprehensive rejection of attempts to rejoin the JCPOA and lift US sanctions "doesn't just send a message to the Biden administration—it sends a very loud message to banks and companies around the world."
"The message: Even if President Biden manages to lift sanctions at some point, the moment Republicans take control of Congress or the White House pendulum swings back to a Republican, US sanctions will return in full force if Iran hasn't stopped its malign activities," he claimed.
https://www.presstv.com/Detail/2021/03/04/646513/us-iran-deal-biden-sanctions-jcpoa-progressive-groups-
--------
US senators offer bill to curb Biden war powers after Syria-Iraq border strike
03 March 2021
Two US senators have introduced bipartisan legislation to take back the White House's authorization for the use of military force in the Middle East, a week after President Joe Biden ordered an attack on the Iraqi-Syrian border.
Democratic Senator Tim Kaine and Republican Senator Todd Young led the Wednesday measure, which would repeal 1991 and 2002 Authorizations for the Use of Military Force (AUMF) against Iraq.
In a statement, the senators said the bill is an effort to prevent the future misuse of the expired Persian Gulf and Iraq War authorizations, but added that "repealing these authorities will not impact ongoing US operations to counter ISIS (Daesh)."
The move came a week after the administration of Joe Biden conducted its first illegal military action inside Syria to target the facilities of Iraq's Popular Mobilization Units (PMU). The attack killed one and wounded four others.
"Last week's airstrikes in Syria show that the Executive Branch, regardless of party, will continue to stretch its war powers," Kaine said. "Congress has a responsibility to not only vote to authorize new military action, but to repeal old authorizations that are no longer necessary."
The US caused considerable tension in Iraq with the assassination of top Iranian anti-terror commander Lieutenant General Qassem Soleimani and his Iraqi comrade Abu Mahdi al-Muhandis, the deputy head of the PMU, near Baghdad International Airport in January last year.
The United States' positions in Iraq have been targeted several times since the assassination, which was directly ordered by former US President Donald Trump.
Under the US Constitution, Congress, not the president, has the right to authorize war.
Young described the war authorities as "outdated", saying Congress has been operating on "autopilot" in recent decades with regard to authorizing the use of military force.
"Congress must not shy away from this debate and I look forward to working with my colleagues on the Senate Foreign Relations Committee to advance this important legislation," he added.
The bill is also cosponsored by Democratic Senators Tammy Duckworth, Chris Coons and Dick Durbin, as well as Republican Senators Mike Lee, Chuck Grassley and Rand Paul.
"For decades, administrations of both parties have kept these authorizations on the books to justify military action in the region without returning to Congress to make their best legal case for the need for such action," Duckworth said.
"I'm proud to join this bipartisan resolution that would repeal these outdated war authorities and I hope we can work in a bipartisan way to address war powers."
Other members of Congress have in recent days criticized the Biden administration for the strike conducted in the early hours of Friday, questioning the legality of the move.
"Military action - in a country where Congress has not authorized war - is unconstitutional in almost all circumstances," Democratic Congresswoman Ilhan Omar said in a statement.
Democratic Senator Bernie Sanders said US presidents for too long exercised military overreach under the guise of keeping "Americans safe".
"The president has the responsibility to keep Americans safe, but for too long administrations of both parties have interpreted their authorities in an extremely expansive way to continue war. This must end," he said in a statement.
Republican Senator Rand Paul condemned "attacking a sovereign nation." He also questioned whether the US president is authorized to strike Syria.
Last year, US Congress passed a resolution to prevent Trump from waging a war against Iran. The resolution, whose chief sponsor was Kaine, was vetoed by Trump, who described it as "very insulting".
https://www.presstv.com/Detail/2021/03/03/646506/US-senators-act-to-curb-presidential-war-power
--------
Europe
COVID-19 vaccine does not break Ramadan fast, UK-Muslim medical experts urge
Ismaeel Naar
04 March ,2021
Taking a COVID-19 vaccine will not break a Muslim's fast during Ramadan, British Islamic medical groups said after concerns were raised ahead of the holy month.
"Taking the COVID-19 vaccines currently licensed in the UK does not invalidate the fast, as per the opinion of Islamic scholars. Individuals should not delay their COVID vaccinations on the account of Ramadan," the British Islamic Medical Association said in a statement.
"Subcutaneous, subdermal, intramuscular, interosseous, or intra-articular injections for non-nutritional purposes whilst fasting does not invalidate the fast, regardless of the injected content entering the blood circulation. These routes are not classed as entry sites that would invalidate the fast. Receiving the COVID-19 vaccine as an intramuscular injection, the only route for the vaccines currently available, therefore does not invalidate the fast," the medical association added in its statement.
Ramadan is the holiest month in the Islamic calendar and is expected to run from April 12 until May 12 this year. More than 1.5 billion Muslims around the world will mark the month, during which believers abstain from eating, drinking, smoking, and having marital relations from dawn until sunset. They also try to avoid evil thoughts and deeds.
Fasting during the month of Ramadan is also one of the five pillars of Islam. It is followed by the Eid al-Fitr holiday.
The NHS Race and Health Observatory's director, Dr Habib Naqvi, told The Independent newspaper said there were some concerns for Muslims taking the vaccine during the daytime and feeling unwell after being vaccinated, with some concerns being raised about taking pain relief medication post-vaccination.
"We need to tackle and address early concerns raised by Muslim communities who may be offered their vaccinations whilst fasting and working in frontline and supporting roles. There is no reason why a first or second dose vaccine cannot be administered during Ramadan. The content is halal, and receiving it will not invalidate the Ramadan fast, as per the opinion of Islamic scholars," Naqvi told The Independent.
In December, the United Arab Emirates' Fatwa Council, the country's highest Islamic authority, issued a ruling allowing Muslims to receive coronavirus vaccines even if they contain "non-halal ingredients" such as pork gelatin.
"Coronavirus vaccination is classified under preventive medicines for individuals, as recommended by the Islamic faith, particularly in times of pandemic diseases when the healthy happen to be prone to infections due to the high risk of contracting the disease, therefore posing risk to the entire society," the council said at the time.
Spokespeople for Pfizer, Moderna and AstraZeneca have said that pork products are not part of their COVID-19 vaccines. But limited supply and preexisting deals worth millions of dollars with other companies means that some countries with large Muslim populations, such as Indonesia, will receive vaccines that have not yet been certified to be gelatin-free, according to the Associated Press.
https://english.alarabiya.net/coronavirus/2021/03/04/Coronavirus-COVID-19-vaccine-does-not-break-Ramadan-fast-UK-Muslim-medical-experts-urge
--------
Pope hopes 'Fratelli tutti' in Russian will help promote fraternity
Mar 04, 2021
By Robin Gomes
Pope Francis hopes that reflection and exchange on his encyclical, Fratelli tutti, can help dialogue grow between Christians and Muslims, not only in the Russian Federation, but everywhere in the world. The Pope expressed this wish in a message to the official presentation of the Russian translation of the encyclical at a ceremony on Wednesday at the "Pokrovskie vorota" cultural center in Moscow, Russia. Sponsored by the Spiritual Direction of Muslims of the Russian Federation, the translation is the result of the efforts of the Muslim International Forum and Medina Publishing. Archbishop Paolo Pezzi of the Catholic Archdiocese of Moscow and Apostolic Nuncio to Russia, and Archbishop Giovanni Aniello, officially presented the translation at Wednesday's event in Moscow.
Pope Francis regarded the news of the Russian translation as "a beautiful and joyful surprise". "In this way," he wrote, "it will be made available to a large number of men and women of good will who wish to confront this text."The Holy Father said he was also "delighted and impressed by the fact that it was the Muslim International Forum that edited this translation into Russian". He thinks that "reflection and dialogue on this Encyclical can be of help not only to the Russian Federation, where dialogue between Christians and Muslims is called to grow, but to the human family as a whole." "Indeed, in the globalized and interconnected world in which we live, a gesture that is made in one corner has repercussions in every other part," the Pope said in his message for the event.He expressed his confidence that "open and sincere discussion on the issues of Fratelli tutti can foster dialogue between religions". "Indeed," he continued, "fraternity comes from recognizing the one Father." "And, if we are all children of the one Father, then we can call ourselves brothers and sisters and, above all, live as such," he said. Concluding with sentiments of gratitude, the Pope said "I wish you all a fruitful study of this text and that you may benefit from it in your personal and social lives."
http://www.heraldmalaysia.com/news/pope-hopes-fratelli-tutti-in-russian-will-help-promote-fraternity/58297/1
--------
Pakistan
Hindu General Panchayat Issues 24-Hour Ultimatum To Police To Arrest Hindu Youth's Killers
March 4, 2021
SUKKUR: Leaders of Hindu General Panchayat and Chamber of Commerce Jacobabad on Wednesday gave ultimatum to police to arrest killers of Mahesh Kumar within 24 hours, else they will stage protests and observe shutter-down strike in the city.
Panchayat president Lal Chand Seetlani and chamber's head Mir Ahmed Ali Brohi flanked by the victim's father Ashok Kumar said at a joint press conference at Jacobabad Press Club that Mahesh was killed after ruthless torture and his body trussed up in a sack and set on fire at a deserted place in Dangar Mohalla a week ago.
The torched body was identified after an entire day after which the administration handed it over to heirs and a case was registered at city police station, they said.
They said that lawlessness had become order of the day in Jacobabad where incidents of robbery and theft had become almost a daily routine. A few days back, a youth, Hafiz Iftikhar Lashari, was also injured by a gang of armed robbers when he put up resistance to dacoits' attempt to snatch his motorcycle. The youth later succumbed to his injuries, they said.
They said that police had completely failed to control lawlessness and people had been left at the mercy of criminals. The incidents of crime had shot up particularly after Jacobabad deputy commissioner started demolishing houses and rendering people homeless, they said.
Later, SSP Mohammad Tariq Nawaz met Hindu leaders at Panchayat Hall and assured them that police had reached the culprits who would be caught within a few hours, but their identities could not be made public at this stage.
PSP rally against lawlessness
Activists of Pak Sarzameen Party (PSP) took out a rally in Jacobabad on Wednesday in protest against worsening law and order conditions in the city.
The rally started from the party's office and reached local press club where the participants held a sit-in and blocked road.
PSP leaders Zaheer Ahmed Jakhrani, Aslam Mugheri, Kareem Bux Pathan and others said that lawlessness reigned supreme in Jacobabad. Two men were killed mercilessly in the town within a few days. Mahesh Kumar was killed after torture and torched and Hafiz Iftikhar Lashari was injured critically and later succumbed to wounds when criminals fired at him on his refusal to let go of his motorcycle, they said.
They said that in the absence of police action, incidents of motorcycle snatching and other crimes had become a daily routine and they had deepened a sense of insecurity among citizens.
They said that criminals had become so audacious they were now killing people with impunity after committing robbery because they had apparently no fear of police catching them. They demanded Sindh IGP, Larkana DIG and other higher authorities concerned control lawlessness and take stern action against inefficient and incompetent police officials. Killers of Mahesh Kumar and Hafiz Iftikhar Lashari be arrested immediately, they said.
https://www.dawn.com/news/1610515/panchayat-issues-24-hour-ultimatum-to-police-to-arrest-hindu-youths-killers
--------
PM Imran lost right to rule, should resign now: Fazl
MANSOOR ALI
March 04, 2021
ISLAMABAD - The Jamiat Ulema-e-Islam-Fazl (JUI-F) Chief and head of Pakistan Democratic Movement (PDM) Maulana Fazlur Rehman said yesterday that Imran Khan had no other way but to resign as he had lost the right to rule the country anymore.
Addressing a media talk after a meeting with delegation of Pakistan People's Party (PPP) and Pakistan Muslim League-Nawaz (PML-N) at his residence, Maulana Fazl said that the real face of Imran Khan government was badly exposed after the historical win of Yousaf Raza Gillani.
Maulana stated that the win of Yousaf Raza Gillani had proved that parliament had shown non-confidence over Prime Minister Imran Khan as the incumbent government's candidate lost with a clear margin.
Win in election victory of democratic forces: Gillani
Maulana maintained that Imran Khan himself had wasted his vote; saying that he himself had also been wasted and had no right to rule the people of Pakistan.
Meanwhile, Chairman PPP Bilawal Bhutto Zardari said that the opposition had defeated the government through a democratic way and will always defeat the opposite sides through free, fair and democratic way.
The senior leader of PML-N Ahsan Iqbal stated that today was a historical day for democracy of Pakistan; adding that the win of Yousaf Raza Gillani had proved that no one could beat democracy and civil supremacy.
On the occasion, Yousaf Raza Gillani thanked all opposition parties and said that his win was the victory of people of Pakistan and democratic forces.
https://nation.com.pk/04-Mar-2021/pm-imran-lost-right-to-rule-should-resign-now-fazl
--------
Dawat-e-Islami delegation calls on PML leaders
March 04, 2021
LAHORE - Haji Muhammad Imran Attari, head of central Majlis-e-Shura, Dawat-e-Islami and its member Haji Ya'afoor Raza Attari, called on the President and former Prime Minister of Pakistan Muslim League, Chaudhry Shujaat Hussain and Speaker Punjab Assembly Chaudhry Parvez Elahi at their residence here. They inquired about the well-being of Ch Shujaat Hussain and Haji Imran also offered special prayers for the speedy and complete recovery of the PML leader. Ch Sabahat Elahi, Rana Khalid and Asif Polani were also present on the occasion. Haji Imran Attari and Haji Ya'afoor Raza Attari briefed Ch Shujaat Hussain on various aspects of Islamic Dawat-e-Islami. Ch Shujaat Hussain said that Dawat-e-Islami had maintained the position of preaching Islam in a very efficient manner as those extending invitation of Islam were very near to God Almighty. He said, "We have to do our own deeds. Allah has endowed man with intellect and taught him to distinguish between good and evil. Allah gives His servants the opportunity to repent of their sins and take the right path." Ch Shujat further stated: "The man does wrong thing himself and then says that Allah is the owner, black can never be white unless he himself works hard to fix it". He lauded the efforts of various sections of the Dawat-e-Islami, especially the Islamic reform of prisoners in jails. Haji Imran and Haji Ya'afoor expressed special thanks to Ch Shujaat Hussain and Ch Parvez Elahi and said that their family had always supported the Dawat-e-Islami and served it to the fullest.
He also invited the Chaudhry brothers to visit the Faizan-e-Medinah, International Center in Karachi.
https://nation.com.pk/04-Mar-2021/dawat-e-islami-delegation-calls-on-pml-leaders
--------
MNA urged to resign over child marriage
Wisal Yousafzai
March 04, 2021
PESHAWAR:
Civil Society has demand resignation of MNA Maulana Salahuddin Ayubi for getting married to a 14-year-old girl in Khyber-Pakhtunkhwa.
Members of the Pakhtunkhwa Civil Society Network (PCSN) expressed disappointment over the illegal marriage of MNA Maulana Salahuddin Ayubi with a 14-year-old girl in Chitral, Khyber Pakhtunkhwa. According to the news, the girl was a student of Government Girls High School, Jughoor, where her date of birth had been recorded as Oct 28, 2006, which showed that she had not attained the age of marriage.
With the legal age of marriage for girls being 16 except in Sindh where it is 18, Pakistan has the sixth-highest number of absolute child brides in the world (1.9 million). Child marriage prevalence rates in Pakistan remain alarmingly high, more than 21 per cent of girls in Pakistan are married before 18 and three per cent before they are 15. Across provinces, prevalence is reported to be highest in Sindh (33%), followed by Khyber Pakhtunkhwa (29%), Balochistan (22%), and Punjab (20%).
It is estimated that by ending Child and Early Age Marriage (CEAM) the country could potentially save $77 million by 2030 or lead to a $6229 million raise in earnings and productivity. It would also lead to the reduction of multi-dimensional poverty level – the number one priority for the government.
Salahuddin Ayubi was elected to National Assembly from constituency NA-263 (Kila Abdullah) as a leader of Jamiat Ulema-e-Islam (JUI-F).
Taimur Kamal, Coordinator Pakhtunkhwa Civil Society Network (PCSN) said: "MNA Salahuddin Ayubi should immediately resign as he has violated the Child Marriage Restraint Act 1929 according to which no girl below the age of 16 can be legally married in Khyber-Pakhtunkhwa or elsewhere in Pakistan"
"Girls are being bought like heads of cattle in the name of marriage and smuggled out of Chitral without inviting any attention," said Coordinator of the Child Rights Movement (CRM) Sana Ahmad.
"This is a modern shape of human trafficking. Girls are bought and transported out of Chitral by organized gangs. Oftentime wealthy people come to Chitral looking for a second wife. No one cares about these poor girls afterwards," she added.
Imran Takkar, a child rights activist, said: "We need very clear strategies to end child marriages long-term strategies, short-term, and medium-term strategies. We need to talk about the problem rooted in our culture. We cannot solve it in one, two, or five years. We need policies. We need legislation."
https://tribune.com.pk/story/2287397/mna-urged-to-resign-over-child-marriage
--------
Education official seeks action against male teachers over 'harassment' in Kohat
March 4, 2021
KOHAT: The sub-divisional education officer (female) has demanded action against three male teachers under the Harassment at Workplace Act allegedly for hurling threats at her after she refused to revise a proposal for rationalisation of female primary schoolteachers.
In a letter addressed to the district education office (male), a copy of which is also available with Dawn, Ms Asifa said she had prepared a list of rationalisation of primary schoolteachers on Jan 13, 2021, which was approved by the DEO.
She said on Jan 26, when she was in the DEO office (female), the three male teachers from different schools threatened her of consequences if she did not revise the list.
In the letter also addressed to the directorate of education, she said the teachers were putting pressure on her through their cronies in the education department and in political circles.
She also warned of filing a defamation case against them for publishing a concocted story to defame her in a local newspaper if action was not taken against them.
When contacted, district education officer (female), Rizwana Liaquat, clarified that she had no knowledge of any such case. If the victim had any grievance she should have sent a complaint directly to her.
She, however, admitted that the accused male teachers were in her office when Ms Asfia had come to her office for some work.
BIKE THIEVES ARRESTED: The Saddar police arrested a six-member gang of motorcycle thieves on Wednesday.
Addressing a press conference, DSP Nazir Hussain said over complaints of motorcycle and cattle theft DIG Kohat division Tayyab Hafeez Cheema had constituted a team under him which arrested the gang.
He said four motorcycles, cattle, and weapons were recovered from the men.
Also, district wildlife officer Abdul Samad Wazir and sub-divisional officer Shabbir Khan led a walk to mark the World Wildlife Day on Wednesday.
On the occasion, Mr Wazir said forests were a lifeline for both humans and animals and provided a clean atmosphere. He said it was their duty to protect wildlife and their breeding spaces.
Separately, a truck hit an electricity pole near the old tax office in the wee hours on Wednesday, disrupting power supply to a vast area for several hours.
https://www.dawn.com/news/1610492/education-official-seeks-action-against-male-teachers-over-harassment-in-kohat
--------
PM Imran names Sadiq Sanjrani as candidate for Senate chairman's office
March 4, 2021
Sadiq Sanjrani, the current Senate chairman, will once again contest the election for chairmanship of the upper house of parliament as the ruling party's candidate.
Minister for Information Shibli Faraz on Thursday tweeted that Prime Minister Imran Khan has announced Sanjrani for Senate chairmanship.
Earlier, sources had said many party members did not want to see Sanjrani again as Senate chairman and wanted the party leadership to nominate a genuine party activist or member for the coveted slot. Political experts have cautioned that if the PTI insisted on Sanjrani's nomination, it could face a similar situation which it faced in the election on the Senate seat from Islamabad after nominating Abdul Hafeez Shaikh against Syed Yousuf Raza Gilani.
On the other hand, they believed if the PTI did not back Sanjrani, then this act would annoy the Balochistan Awami Party, which is now the fourth largest party in the Senate and second largest party after the PTI in the ruling alliance.
Blow to the govt in Senate
The much-hyped Senate election process was completed a day earlier after which all eyes are now set on the coming election for the key offices of chairman and deputy chairman of the upper house.
After staging an upset in the Senate elections, the opposition parties have managed to retain their majority in the upper house of parliament and are now hopeful of getting the top offices of chairman and deputy chairman for which elections through secret balloting will be held on March 12.
As expected, a hung Senate emerged on 37 seats of the upper house of parliament as the opposition and the ruling alliances now have 53 and 47 members, respectively, in the (now) 100-member Senate.
Hours after the ruling coalition's candidate Finance Minister Shaikh suffered defeat at the hands of Pakistan Democratic Movement (PDM)'s joint candidate Gilani in a major upset, the government announced that Prime Minister Imran would seek a vote of confidence afresh from the National Assembly.
Rejected votes played a significant role in the upset with Gilani securing 169 votes as against 164 bagged by Shaikh, as the number of rejected votes exceeded the margin of victory.
PDM yet to officially announce candidate
Though the PDM has not formally announced its candidates for the two offices, several leaders, including PPP chairman Bilawal Bhutto-Zardari, have hinted that Gilani would be the joint candidate for the office of Senate chairman.
Besides the two top Senate offices, the opposition parties are also yet to decide the next opposition leader in the Senate as present opposition leader Raja Zafarul Haq, who is among 52 retiring senators, has not contested the election this time. Moreover, the Pakistan Muslim League-Nawaz (PML-N) is no more the largest opposition party in the house and, therefore, technically speaking, it cannot have a claim on the position of the opposition leader.
However, sources said, if the PDM decided to nominate Gilani as the candidate for the Senate chairman's office, then the PML-N or Jamiat Ulema-i-Islam-Fazl — the other two major components of the PDM — could demand nomination of their candidates for the offices of deputy chairman and opposition leader.
Sanjrani was elected to the Senate as an independent candidate in the March 3, 2018 elections for the upper house of parliament and was sworn in as Senate chairman later that month after he secured 57 votes out of the total 103 cast for the seat, defeating the PML-N's Raja Zafarul Haq.
He was the first-ever Senate chairman from Balochistan.
In July 2019, the opposition had submitted a resolution of no-confidence against Sanjrani as a first-step towards mounting pressure on the PTI-led coalition government.
However, Sanjrani survived the no-trust vote after 14 lawmakers from the opposition ditched their party leadership by either voting against their own resolution or deliberately wasting their votes.
https://www.dawn.com/news/1610648/pm-imran-names-sadiq-sanjrani-as-candidate-for-senate-chairmans-office
--------
Arab World
US, Israel don't dare target Hezbollah, fear response: Top official
04 March 2021
Hezbollah Deputy Secretary General Sheikh Naim Qassem says the United States and Israel do not dare attack the Lebanese resistance movement since they are aware that the group's firm determination to respond to any act on aggression will never change.
Speaking on Wednesday, Sheikh Qassem stressed that Hezbollah intends to remain in a defensive position and does not want to initiate a war.
"Israel must understand that the battleground is not open for it," he said, adding that any future battle will be taken to the depth of the Israeli-occupied territories.
"If Israel draws us to a confrontation, we are ready at any moment to teach it a lesson that it will never forget," the Hezbollah official said.
Currently, any American or Israeli attack on Hezbollah is unlikely, Sheikh Qassem predicted, adding, "They know that Hezbollah will respond to any act of aggression."
The Hezbollah official also said that one of the problems Lebanon is grappling with is the pressure exerted by the US on the Middle Eastern country through the imposition of various sanctions and conditions.
There are no relations between Hezbollah and Washington, no matter if Donald Trump or Joe Biden is in power in the United States, he added.
Hezbollah was established following the 1982 Israeli invasion and occupation of southern Lebanon. Since then, the popular resistance movement has grown into a powerful military force.
Lebanon fought off two Israeli wars in 2000 and 2006. On both occasions, battleground contribution by Hezbollah proved an indispensable asset, forcing the Israeli military into a retreat and shattering the myth of the occupying entity's invincibility.
Hezbollah has on many occasions expressed its full readiness for confrontation in case the Tel Aviv regime opts to launch an offensive against Lebanon.
https://www.presstv.com/Detail/2021/03/04/646530/Lebanon-Hezbollah-Naim-Qassem-US-Israel
--------
Iraq: Cardinal Sako says 'something has already changed' in the nation
Mar 04, 2021
By Stefano Leszczynski & Linda Bordoni
Pope Francis's 33rd visit abroad takes him to Iraq from March 5 to 8 . This Apostolic Journey will begin in the capital, Baghdad, where the Pope is scheduled to meet political and civil authorties and representatives of the Catholic Church. He will then travel south to the holy city of Najaf to meet the Grand Ayatollah Ali al-Sistani, a leading Iraqi Shia Muslim, as well as religious leaders and communities of other faiths.For Iraq's small Christian community, the highlight of the trip will be the Pope's visit to the north of the country, where thousands of Christians in the area were killed under the rule of so-called Islamic State between 2014 and 2017.Hundreds of thousands more were forced to flee their homes in the face of violence and persecution. Here, he will visit the cities of Erbil, Mosul and Qaraqosh to meet people who are trying to rebuild their communities and churches.The Pope will return to Rome on Monday, 8 March.Iraqi Cardinal Louis Raphaël Sako, Patriarch of Babylon of the Chaldeans, told Vatican Radio's Stefano Leszczynski that, as the entire population prepares to welcome Pope Francis, something has already changed in the nation.
Christians and Muslims alike, said Cardinal Sako, are busy preparing posters of greetings, and all media outlets are saying "Welcome Pope Francis! We are happy to welcome you!"The Cardinal recalled a recent conversation with a Muslim lady, who described this visit as "our last hope." He said, "something is changing and moving" within Iraqi society, and there is the hope the Pope's presence will serve also to help prepare a better future for all.Aside from all the logistic preparations and the cleaning up of streets and cities, Cardinal Sako remarked on how Christians are preparing their churches and other spaces for the celebrations of Masses and meetings, everywhere the Pope is scheduled to go.He underscored how one of the focuses of the journey will be on fraternity: "A spiritual fraternity," which he said will be especially highlighted when the Holy Father travels to Ur, the birthplace of Abraham.Also in the forefront, Cardinal Sako continued, is the interreligious aspect of the journey that foresees, amongst others, a meeting with the Ayatollah Al-Sistani: "It will have a big impact for Christians and Muslims."
A model of reconciliation for the Middle East?
Asked whether he thinks Iraq can become an example of reconciliation in the Middle East, the Chaldean Patriarch said: "This is our hope. Meanwhile, everyone now is ready to take the first step."Certainly, he concluded, the people of Iraq really seem to be preparing the ground as everyone, the government and all religious authorities, as well as Muslims, both Sunni and Shia - and Christians of course - together with the entire population, are enthusiastically "preparing, awaiting and expecting this visit."
http://www.heraldmalaysia.com/news/iraq-cardinal-sako-says-something-has-already-changed-in-the-nation/58298/2
--------
Qatar FM has 'positive' meeting with Egyptian counterpart in Cairo
03 March ,2021
Qatar's foreign minister met with his Egyptian counterpart in Cairo on Wednesday on the sidelines of a meeting of Arab states, Qatar's state news agency reported, two months after the end of a bitter regional dispute that placed the countries on opposing sides.
Egypt, along with Saudi Arabia, the United Arab Emirates and Bahrain, had cut ties with Qatar in 2017 over accusations that Doha supported terrorism, a charge it denies. But in January of this year, the Arab bloc agreed to restore diplomatic, trade and travel ties with Qatar.
Qatari Foreign Minister Sheikh Mohammed bin Abdulrahman al-Thani met Egyptian Foreign Minister Sameh Shoukry on the sidelines of an Arab League meeting, QNA reported.
Sheikh Mohammed was cited as saying both countries were keen on a return to warm relations and that the meeting was characterized by a positive spirit and of optimism.
Egypt's foreign ministry confirmed in a tweet the two had met.
Egyptian and Qatari delegates met in Kuwait last month for the first time since the dispute ended.
The United States, which has close ties with all states involved, has seen the rift as a threat to efforts to contain Iran and pushed for a united Gulf front.
The row also rattled Arab power politics in the region, where Gulf states have used their financial and political clout to influence events in Libya, Egypt, Syria, Iraq and Yemen.
https://english.alarabiya.net/News/gulf/2021/03/04/Qatar-FM-has-positive-meeting-with-Egyptian-counterpart-in-Cairo
--------
Arab Coalition destroys ballistic missile launched by Houthis toward Saudi Arabia
04 March ,2021
Joanne Serrieh
The Arab Coalition on Thursday destroyed a ballistic missile launched by Yemen's Iran-backed Houthi militia toward Saudi Arabia's Jazan, the official Saudi Press Agency (SPA) reported.
"The terrorist Houthi militia continues its attempts to target civilians… we are taking operational measures to protect civilians in accordance with the international humanitarian law," the Coalition said in a statement carried by SPA.
The Arab Coalition announced overnight that its forces had intercepted two explosives-laden drones launched toward Khamis Mushait, a southwestern city home to the King Khalid Air Base.
Yemen's Houthi movement regularly launches drones and missiles into Saudi Arabia, many of which Riyadh says it intercepts. Some have previously hit Abha International Airport which is about 120 kilometer (75 miles) from the border with Yemen.
In February, the Houthis claimed an attack on the Abha airport which caused a civilian plane to catch fire. The militia said the airport was a military target, according to AFP.
https://english.alarabiya.net/News/gulf/2021/03/04/Arab-Coalition-destroys-ballistic-missile-launched-by-Houthis-toward-Saudi-Arabia
--------
UN experts call on Saudi Arabia to free three young Shia activists
03 March 2021
UN human rights experts have urged Saudi Arabia to release three young Shia Muslims detained for allegedly taking part in anti-regime protests when they were minors, citing torture and unfair trials.
"We reiterate our call to the authorities to release Mr Ali al-Nimr, Mr Dawood al-Marhoon and Mr Abdullah al-Zaher or, at the very least, to retry them in accordance with international law and standards, without delay," the experts said in a Wednesday statement, calling for the charges to be dropped.
Saudi Arabia's state-backed Human Rights Commission said last month that the death sentences given to Nimr, Marhoun and Zaher have been commuted to 10 years in prison.
Ali al-Nimr is the nephew of Sheikh Nimr al-Nimr, a Saudi cleric who had called for reforms and was executed by the Riyadh regime in January 2016.
Ali was sentenced to death over his alleged role in anti-regime protests in Eastern Province in February 2012, when he was 17.
Since 2011, protesters in the province have been demanding reforms, freedom of expression, the release of political prisoners, and an end to economic and religious discrimination against the oil-rich region.
The Saudi Human Rights Commission said on February 7 that Nimr's sentence has been commuted. He has served more than nine years in jail since his arrest.
"We continue to receive allegations of torture and ill-treatment to extract confessions, and in relation to the imposition of the death penalty for crimes which do not meet the threshold of 'most serious crimes', required under international law," the experts said.
Agnes Callamard, the UN investigator on summary killings, was among the experts.
The kingdom's human rights record has come under growing scrutiny after the administration of US President Joe Biden declassified an intelligence report on Friday, assessing that "Saudi Arabia's Crown Prince Muhammad bin Salman approved an operation in Istanbul, Turkey to capture or kill Saudi journalist Jamal Khashoggi."
Khashoggi, a former advocate of the Saudi royal court who later became a critic, was killed and his body was dismembered by a hit squad inside the Saudi consulate in Istanbul on October 2, 2018. He had entered the premises to collect documents for his planned marriage with his Turkish fiancée, Hatice Cengiz.
In rare public comments on Saudi Arabia, UN human rights chief Michelle Bachelet said on Friday that people were unlawfully held in the kingdom.
Ever since bin Salman became Saudi Arabia's de facto leader in 2017, the kingdom has ramped up its crackdown on activists, bloggers, intellectuals, and others perceived as political opponents.
Muslim scholars have been executed, women's rights campaigners have been put behind bars and tortured, and freedom of expression, association, and belief continue to be denied.
https://www.presstv.com/Detail/2021/03/03/646500/UN-Saudi-Arabia-Shia-activists
--------
Mideast
Iranian MPs: FATF Conventions Sponsored by Supporters of Terrorism
2021-March-3
"Palermo and CFT have been created by main supporters of terrorism (the West) and they are not after transparency to fight against terrorism," Vali Esmayeeli told FNA on Wednesday.
He added that the main supporters of terrorism are seeking to gain more dominance over other countries, specially the freedom-seeking countries of the world, through these conventions.
Also, Representative of Iran's North Armenians at the Parliament Ara Shaverdian told FNA on Wednesday that "the FATF sponsoers are, themselves, the main sponsors of terrorism, and their explicit and implicit support for terrorist groups in the West Asian region is a testament to this claim".
He noted that financial transparency and the fight against terrorism financing are the appearance of the FATF and it will actually lead to the domination of global arrogance over the economies of countries.
The Iranian parliamentarians on Tuesday signed a statement, voicing strong opposition to the country's approval of the FATF conventions and requirements.
"A group of MPs issued a statement opposing Iran's endorsement of the FATF conventions," senior MP Qassem Sa'edi told FNA.
He added that 170 legislators have so far signed the statement, noting that the signatures are increasing.
"In this statement, the MPs explicitly have stated their opposition to Iran's endorsement of the FATF conventions," Sa'edi said.
Meantime, an informed source at Iran's Expediency Council (EC) told FNA that the Council will not declare its final decision about the FATF on its Wednesday meeting.
Iranian legislator Behrouz Mohebbi Najm-Abadi had said last Tuesday that ratification of the remaining provisions of the FATF will impede Iran's bypassing of the US sanctions.
"While our banking system is under the harshest US sanctions, the implementation of the FATF provisions will hamper our ways to circumvent these sanctions," Najm-Abadi said.
The lawmaker, who is also a member of the Parliament's Planning and Budget Commission, added, "Implementing the FATF bills will bring about serious consequences for the country."
"Presently, financial institutions based in neighboring countries, including banks, exchange offices and private companies, are helping Iran to circumvent the sanctions," Mohebbi said, warning that the implementation of the FATF bills will provide information to the US and the others sanctioning Iran and could block such economic dealings.
He stressed that approving the bills will harm many sectors, including the oil sales and the national currency value.
In relevant remarks last month, a senior Iranian legislator in open remarks to the country's officials reminded the devastating impacts of Tehran's trust in the UN nuclear watchdog which led to the leak of the Iranian scientists' information who were later assassinated, cautioning that meeting the Financial Action Task Force requirements could repeat the same bitter experience.
"We had this bitter experience in the (International Atomic Energy) Agency's inspections and now we should not repeat it with the country's financial information," Eqbal Shakeri told FNA.
He warned that the IAEA and FATF all operate under the supervision of the arrogant countries and take orders from them, adding that observing the FATF rules and regulations will produce results similar to what happened for the Iranian nuclear scientists.
The FATF placed Iran on its blacklist in February after Tehran refused to fully adopt its provisions.
The Iranian Foreign Ministry at the time denounced the move, and said the decision materialized what the US, Israel and Saudi Arabia, the three sponsors of terrorism in the Middle East, wished against Tehran.
"Unfortunately, this is also part of the politicization of international mechanisms [carried out] by the United States, Saudi Arabia, and the Zionist regime (Israel). Given their influence on these mechanisms, they are trying to politicize them," former Iranian Foreign Ministry Spokesman Seyed Abbas Mousavi said.
"Saudi Arabia, as the central bank of terrorism and the Zionist regime as a terrorist state, are providing terrorist groups and organizations around the world with the most support," he added.
However, they blacklist Iran which has the highest level of cooperation and transparency in the field of combating money laundering and financing of terrorists, he added.
Mousavi emphasized that Iran has been implementing all laws and regulations related to money laundering and financing of terrorism for more than two years, saying, "International mechanisms have advantages and disadvantages and placing Iran on FATF's blacklist came despite all efforts we have made inside the country and all regulations we have tried to observe."
Iran has been required to fulfill dozens of FATF recommendations to enhance its status from a blacklist of non-cooperative countries, while the country is under US sanctions. The country's status in FATF has no impact on toughening or easing the US sanctions.
FATF has required Iran to implement a number of moves that include endorsement of several conventions.
Palermo bill is one of the four government bills seeking to bring Iran's anti-money laundering and countering terrorism financing standards into line with those defined by the FATF.
The parliament has approved all the measures but except for the bill that updates Iran's domestic law on countering financing of terrorism. All the rest have been rejected by the Guardian Council – a watchdog that ensures laws are in line with the Constitution and Sharia.
The bills on Iran's accession to the Palermo Convention and the convention against the funding of terrorism (CFT) were rejected by the Guardian Council in November 2019 due to some flaws that violated the country's Constitution. The bills were then amended by the Iranian Parliament, waiting for the next steps in the Guardian Council.
To fulfill FATF requirements, President Hassan Rouhani's administration has proposed four bills to the parliament for approval, two of which are still undecided, including the Palermo Convention. They have been referred to the Expediency Council for final approval.
Yet, Iran has recently approved a national anti-money laundering (AML), which was a domestically-developed bill.
In its October 2019 meeting, the FATF decided to extend the deadline for Iran until February to complete reforms under the specified action plan that includes a list of 9 major moves, including the opening of its financial transactions data bank to the FATF that is headed by the US Department of the Treasury's Assistant Secretary heading the Office of Terrorist Financing and Financial Crimes Marshall Billingslea.
The Political-Defense-Security and Legal-Judicial Commissions of the EC declared last January that endorsement of the Palermo bill would run against the country's interests.
https://www.farsnews.ir/en/news/13991213000245/Iranian-MPs-FATF-Cnvenins-Spnsred-by-Spprers-f-Terrrism
--------
Deputy Minister Underlines Iran-Iraq Good Cooperation in Fight against Terrorism
2021-March-4
Zolfaqari made the remarks in a joint press conference with High Counselor of Iraqi Interior Ministry Abdulhalim Fahim al-Farhoud on Wednesday.
He said that Iran hosted an Iraqi delegation this week with high level meetings on promoting cooperation and information exchange on issues concerning security, border cooperation, fighting terrorism, organized crimes, fighting drug trafficking and facilitating civil travels between countries.
Zolfaqari also said that an agreement was drafted to be signed in a future meeting between interior ministers of Iran and Iraq.
He highlighted very good cooperation between officials from the two countries on different areas, including Arbaeen ritual which is widely commemorated by millions of Iranians traveling to Iraq during the occasion.
Although terrorism has been defeated, Iran and Iraq have still close cooperation to fight terrorism in various fields, including intelligence, education, border control, and experience exchange, Zolfaqari said.
Fahim al-Farhoud, for his part, said that he and his companions had several meetings with Iranian counterparts and good conversation on security and issues related to citizens went on in the meetings.
He also said that the Iraqi delegation visited some defense companies in Iran to get familiar with Iranian defense products and Iraq would use the products to meet its
Earlier this week, Commander of the Border Guards of the Islamic Republic of Iran Police Brigadier-General Ahmad Ali Goudarzi and his Iraqi counterpart General Hamid Abdullah Ibrahim stressed the need to expand border cooperation between the two neighbors.
Goudarzi and Ibrahim discussed the ways to strengthen and deepen border cooperation in a bid to boost border security and remove problems originated in border areas.
"The Islamic Republic of Iran has 15 neighboring countries and has the most common borders with its neighbors in the world after Russia and China, which are controlled and managed in the spirit of friendship between the regional countries," the Iranian official said.
"We hope that in this meeting we will transfer experiences to improve the border situation," he added.
Goudarzi noted, "Since the beginning of the Iranian year [March 20, 2020], about 130 tons of various drugs have been seized on the borders of the Islamic Republic of Iran."
"Iran has a 1609-kilometer border with Iraq, and this vast common border is well controlled and managed by the favorable relations and interaction between the border guards of the two countries," he said, stressing that Iran will strongly fight against the elements affiliated to the Global Arrogance, and also Takfiri and terrorist mercenaries on the borders.
"We expect Iraq to cover the border gaps and actively combat the smuggling of weapons, ammunition and anti-cultural items," Goudarzi stated.
Hamid Abdullah Ibrahim, for his part, stressed the need to transfer experiences and information between the two countries' border guards, saying, "Equipping and blocking Iraq's borders is on the agenda so that we can use these components and transfer experiences to fight terrorism, insurgent groups, smuggling weapons and ammunition, and anti-cultural items."
https://www.farsnews.ir/en/news/13991214000225/Depy-Miniser-Underlines-Iran-Ira-Gd-Cperain-in-Figh-agains-Terrrism
--------
Spokesman Dismisses Blinken's "Baseless" Allegations about Iran's Role in Yemen
2021-March-3
"The Americans cannot raise baseless allegations against others instead of accounting for their six-year-long crimes in Yemen," Khatibzadeh said on Wednesday.
"Now that the aggressors and enemies of the Yemeni people, who have been killing the innocent people of Yemen for six years, destroyed the resources and infrastructures of the great country, and made a profit from selling arms to the Saudi coalition through the blood trade in Yemen, know that their inhumane military strategy against the resistant Yemeni nation has failed, they want to rid themselves of responsibility for these crimes and divert the public opinion, while the historical memory of the Yemeni nation and the world will never forget their crimes and they will remain infamous in history," he added.
"The new US administration claims to be trying to end the war in Yemen, but we have not seen any practical action to stop the Saudi coalition's aggression and it (the US government) has continued in the wrong footsteps and positions taken by the previous administration and raise baseless allegations against others and ignoring the realities of Yemen, and their claims about establishment of peace in Yemen have not gone beyond words and they have sufficed to a few political maneuvers in this regard," Khatibzadeh said.
"The Islamic Republic of Iran's positions have been clear since the beginning of the Yemen war and we have always emphasized that there is no military solution to the crisis in Yemen, and in this regard, the four-point solution proposed by the Islamic Republic of Iran at the beginning of the war still remains a fundamental solution," he underlined.
Khatibzadeh said that Iran will continue using its full capacity to advance the UN efforts to bring peace to Yemen and supports any efforts to end aggression against the Yemeni nation.
Blinken's allegations against Iran were raised while UN Secretary-General Antonio Guterres in a phone conversation with Iranian Foreign Minister Mohammad Javad Zarif welcomed Tehran's efforts to establish ceasefire and start of political talks in Yemen.
During the phone talk on Tuesday night, Zarif and Guterres underlined the necessity for security and opening of Yemeni borders and ports to send humanitarian aid to the Yemeni people, specially in conditions of coronavirus epidemic in the war-torn country.
During the conversation, Guterres thanked Iran on the initiatives the country has taken to help launch peace in Yemen.
The two high-ranking officials had also in April 2020 discussed regional issues, specially the crisis in war-ravaged Yemen.
During a phone conversation with Zarif, the UN chief elaborated on the measures taken by the UN to hold the Yemeni ceasefire.
Guterres renewed his call for a global ceasefire, urging all parties involved to lay down arms and let war-torn nations combat the coronavirus.
Zarif, for his part, expressed Iran's support for the Persian Gulf states' issues through negotiations, stressing that, "Yemen's crisis does not have a military solution."
He added that a consistent ceasefire can be a good start for the political resolution of the ongoing situation in the country.
https://www.farsnews.ir/en/news/13991213000730/Spkesman-Dismisses-Blinken%E2%80%99s-%E2%80%9CBaseless%E2%80%9D-Allegains-ab-Iran%E2%80%99s-Rle-in
--------
UN Chief Welcomes Iran's Efforts to Establish Ceasefire in Yemen
2021-March-3
During the phone talk on Tuesday night, Zarif and Guterres underlined the necessity for security and opening of Yemeni borders and ports to send humanitarian aid to the Yemeni people, specially in conditions of coronavirus epidemic in the war-torn country.
During the conversation, Guterres thanked Iran on the initiatives the country has taken to help launch peace in Yemen.
The two high-ranking officials had also in April 2020 discussed regional issues, specially the crisis in war-ravaged Yemen.
During a phone conversation with Zarif, the UN chief elaborated on the measures taken by the UN to hold the Yemeni ceasefire.
Guterres renewed his call for a global ceasefire, urging all parties involved to lay down arms and let war-torn nations combat the coronavirus.
Zarif, for his part, expressed Iran's support for the Persian Gulf states' issues through negotiations, stressing that, "Yemen's crisis does not have a military solution."
He added that a consistent ceasefire can be a good start for the political resolution of the ongoing situation in the country.
https://www.farsnews.ir/en/news/13991213000410/UN-Chief-Welcmes-Iran%E2%80%99s-Effrs-Esablish-Ceasefire-in-Yemen
--------
Iran needs to address IAEA's concerns on uranium particles: US statement
04 March ,2021
Iran has been given a chance to address the UN nuclear watchdog's concerns on uranium particles found at undeclared, old sites and Washington will watch closely, the US told the watchdog's board on Thursday.
"Iran has now been given another opportunity by the Director General to offer up the necessary cooperation before this Board next meets," the US statement to the board said, shortly after diplomats said plans for a resolution criticizing Iran had been scrapped.
"The US, like all Board members, will calibrate our views on the Board's next steps according to whether Iran seizes the opportunity now before it to finally and credibly address the IAEA's concerns," it added.
https://english.alarabiya.net/News/middle-east/2021/03/04/Iran-needs-to-address-IAEA-s-concerns-on-uranium-particles-US-statement
--------
Israel accuses Iran of 'environmental terrorism' for oil spill off its shores
04 March ,2021
Israel accused Iran on Wednesday of being linked to a recent oil spill off its shores that caused major ecological damage, calling the incident environmental terrorism.
The spill was caused by an oil tanker that was carrying pirated cargo from Iran to Syria last month, Israeli Environmental Protection Minister Gila Gamliel said.
The vessel sailed through the Gulf and the Red Sea without radio contact, switching its tracking devices back on before passing through Egypt's Suez Canal, Gamliel told reporters.
It turned the devices off again before entering Israeli waters in the eastern Mediterranean, and dropped oil into the sea between Feb. 1-2, she said, naming the vessel as the Panama-flagged oil tanker Emerald.
"Iran is (conducting) terrorism by damaging the environment, and (when) Iran is damaging the environment it isn't just hurting the state of Israel," Gamliel said.
There was no immediate comment from Iran.
The accusation is the second in a week in which Israel has blamed its long-time enemy Iran of wrongdoing at sea.
Prime Minister Benjamin Netanyahu blamed Tehran for an explosion aboard an Israeli-owned ship in the Gulf of Oman last week, an accusation rejected by Tehran.
Tensions have risen in the Gulf region since the United States reimposed sanctions on Iran in 2018 after then-President Donald Trump withdrew Washington from a 2015 nuclear deal between Iran and major powers.
https://english.alarabiya.net/News/middle-east/2021/03/04/Israel-accuses-Iran-of-environmental-terrorism-for-oil-spill-off-its-shores
--------
Any new nuclear deal with Iran should be 'dramatically improved': Israeli minister
04 March ,2021
Any new nuclear deal between the West and Iran should be "dramatically improved" from the previous agreement, Israeli Energy Minister Yuval Steinitz said on Wednesday.
Steinitz, a close ally of Prime Minister Benjamin Netanyahu, urged US President Joe Biden to put "enormous pressure" on Iran to change its behavior and dismantle its nuclear program, which he said could affect not only the Middle East, but Europe and the US.
"All countries in the Middle East see eye to eye that this is a devastating threat that should be prevented in advance," Steinitz said at the CERAWeek by IHS Markit online conference, speaking alongside counterparts from Egypt and the United Arab Emirates.
"Iran is a big shadow," Steinitz said referring to the effect of Iran's actions over its neighbors Iraq, Lebanon, Syria and Yemen. "They are violating all their commitments... The previous agreement is far from being sufficient."
An eventual new agreement with the West over Iran's nuclear program "should be dramatically improved," he added.
https://english.alarabiya.net/News/middle-east/2021/03/04/Iran-nuclear-deal-Any-new-nuclear-deal-with-Iran-should-be-dramatically-improved-Israeli-minister
--------
Turkish court probes pro-Kurdish party as pressure for ban grows, say officials
03 March ,2021
Turkey's top appeals court has launched an enquiry into the pro-Kurdish Peoples' Democratic Party (HDP) over alleged links to militants in a step that could ultimately lead to a ban on the third biggest party in parliament, officials said on Wednesday.
The move coincided with President Tayyip Erdogan's pledge on Tuesday to strengthen freedom of expression and rights to a fair trial in an "action plan" that critics said did not address concern about an erosion of human rights in Turkey.
The HDP has faced growing pressure after Ankara said last month Kurdistan Workers Party (PKK) militants executed 13 prisoners, including Turkish military and police personnel, during an army operation to rescue them in Iraq's Gara region.
A senior member of Erdogan's ruling AK Party on Tuesday endorsed nationalist calls for the closure of the HDP, which has 56 members in the 660-seat assembly. It is accused of links to the banned PKK, which it denies.
"The judiciary has begun an enquiry," an AKP official told Reuters. "The appeals court has sprung into action. The possibility of it being closed appears pretty high."
Turkey has a long history of banning parties although they have often been able to re-form under new names. The official said measures may be taken to prevent this happening again.
A crackdown on the HDP in recent years has included the arrests of thousands of party officials and members, while dozens of its elected mayors and lawmakers have been ousted. It was defiant over the latest pressure.
"The efforts to shut us down will diminish them further and make us grow more," HDP co-leader Mithat Sancar told his party's lawmakers on Tuesday, recalling the banning of a previous pro-Kurdish party in 1994.
"After they closed the party the same political tradition grew in waves," he said. "They will see very clearly that we will emerge stronger from this tyrannical darkness."
Many HDP deputies already face bids to lift their immunity from prosecution. The party's jailed former leader is among those charged over deadly 2014 protests in Turkey calling for action to protect Kurds in Syria from ISIS.
Another official said the appeals court had sought from prosecutors copies of the indictment over the 2014 protests and details of cases against HDP deputies, and will examine whether the party is a focus for PKK activities.
A nationalist party allied to Erdogan's government repeated on Tuesday its call for the HDP's closure over links to the PKK, which Turkey, the European Union and United States designate a terrorist group.
More than 40,000 people have been killed in the conflict since the PKK launched its insurgency in mainly Kurdish southeast Turkey in 1984.
https://english.alarabiya.net/News/middle-east/2021/03/03/Turkish-court-probes-pro-Kurdish-party-as-pressure-for-ban-grows-say-officials
--------
Africa
Algeria bomb plot foiled, three arrested, says defence ministry
04 March ,2021
A bomb primed to explode in Algeria's capital was defused after three members of a "terrorist group" were arrested, the defense ministry said Wednesday.
"Security services of the national defense ministry were successful... in dismantling a network comprised of three elements supporting a terrorist group active in the Tipaza heights" near Algiers, the ministry said in a statement.
"After investigations, it was established that one of these elements... had dispatched a homemade bomb" to Eucalyptus, an area in the suburbs of the capital, the ministry added.
The explosive device would have been used to perpetrate an attack in Algiers and was found before being deactivated on Tuesday by a special army unit, the statement added.
Six extremists and three Algerian soldiers were killed in a clash in Tipaza in early January, according to authorities.
The defense ministry also on Wednesday announced the capture of a "terrorist" it named as Okbaoui Abdi, also known as Abdi Ould Barka, in southern Algeria near the border with Mali.
Algerian authorities use the term "terrorist" to describe armed Islamists who have been active in the country since the early 1990s.
Between 1992 and 2002, a civil war pitting the army against multiple Islamist and extremist groups left an estimated 200,000 people dead.
A 2005 Charter for Peace and Reconciliation was supposed to have turned the page on the conflict, but extremist groups continue to carry out sporadic operations.
Official media also said late last year that the army had foiled a planned redeployment by al-Qaeda's North Africa (AQMI), following the death of their leader.
AQIM's leader Abdelmalek Droukdel was killed in June by French forces in northern Mali, but was replaced in November by Abu Obaida Yusuf al-Annabi, a well-known AQIM veteran and Algerian national.
https://english.alarabiya.net/News/north-africa/2021/03/04/Terrorism-Algeria-bomb-plot-foiled-three-arrested-says-defense-ministry
--------
Morocco sees Sahel extremists as magnet for local cells
03 March ,2021
Extremist groups in the nearby Sahel region, which recruit and train their followers online, represent Morocco's biggest militant threat, the head of its counterterrorism agency said.
Although Morocco has had only one major attack over the past decade - the 2018 killing of two Scandinavian tourists - its location "makes it a target for the Sahel groups" said Haboub Cherkaoui.
"The terrorist threat persists as long as there are groups that recruit and train their followers online including Islamic State in the greater Sahara," he told Reuters in an interview.
Since it was set up in 2015, Cherkaoui's Central Bureau of Judicial Investigation has dismantled dozens of militant cells and arrested more than a thousand suspected extremists, he said.
The numbers point to the continued militant risk in Morocco after the rise of ISIS in Syria and Iraq last decade caused a surge in extremist activity that persists even after the group was defeated in its Middle East heartland.
ISIS refocused on the Sahel region, he said, and along with other extremist groups there has taken advantage of porous borders and trafficking networks.
Both Niger and Mali have battled militant insurgencies while Libya's civil war has created space for extremist groups to operate.
In late February, Moroccan Prime Minister Saad Dine El Otmani took part in a Sahel security summit in Ndjamena and offered support for military action against extremist groups, including through training troops.
Morocco is also concerned that some of its nationals who joined ISIS in the Middle East might have relocated to the Sahel, Cherkaoui said.
In total, 1,645 Moroccans joined extremist groups in Syria and Iraq, including 745 who died in suicide attacks or in battle. Most of the 1,645 fought for ISIS.
Of the survivors, 270 have returned to Morocco and 137 were prosecuted, said Cherkaoui, adding that 288 women and 391 minors also went to the conflict zones, following their main income provider.
Moroccan law punishes by up to 10 years those who join extremist groups abroad.
Morocco has offered intelligence that helped arrest extremists or foil attacks in France, Belgium, Italy, Spain, Germany, Burkina Faso, Sri Lanka and recently the United States, Cherkaoui said.
"Our success hinges on continued intelligence sharing with our partners," Cherkaoui said.
https://english.alarabiya.net/News/north-africa/2021/03/03/Terrorism-Morocco-sees-Sahel-extremists-as-magnet-for-local-cells
--------
UN sends advance monitor team to check Libya ceasefire between rival factions
03 March ,2021
The advance team of a UN observer mission has arrived in Libya, which after a decade of conflict and chaos plans to hold elections in December, informed sources said Wednesday.
The group of about 10 United Nations staff flew into the capital Tripoli on Tuesday, they said, to monitor a ceasefire between the country's two rival armed factions.
The unarmed observer team is also tasked with verifying the departure of thousands of mercenaries and foreign fighters who have been deployed in the oil-rich North African country and have so far shown no sign of leaving.
Libya has been torn apart by civil war since the ousting of long-time dictator Muammar Gaddafi in 2011.
The Government of National Accord (GNA) controls Tripoli and most of the west, while a rival administration led by general Khalifa Haftar who heads the Libyan National Army (LNA) controls Benghazi and the east.
The two sides reached a ceasefire in October, and UN-led talks since resulted in a new temporary administration elected in February, led by interim prime minister-designate Abdul Hamid Dbeibah.
A diplomatic source in Tunis said the advance team, made up from the UN mission in Libya and experts from UN headquarters in New York, arrived Tuesday via the neighboring country's capital Tunis.
On its five-week mission it is to travel to Sirte, a city on the Mediterranean coast halfway between the eastern and western power centers, as well as to Misrata in the west and Benghazi in the east.
A diplomatic source in New York said the team is due to submit a report to the UN Security Council on March 19 on the ceasefire and the departure of foreign troops.
According to the UN, some 20,000 mercenaries and foreign fighters were still in Libya in early December. A January 23 deadline for their withdrawal passed without any signs of them pulling out.
The Security Council in early February ordered UN Secretary General Antonio Guterres to deploy the vanguard of observers in Libya, following the October 23 ceasefire deal.
In a report late last year, Guterres himself had advocated an unarmed observer group be made up of civilians and retired military personnel from African Union, European Union and Arab League member states.
https://english.alarabiya.net/News/north-africa/2021/03/03/Libya-conflict-UN-sends-advance-monitor-team-to-check-Libya-ceasefire-between-rival-factions
--------
South Asia
Twenty Years after Invasion, US Proposes a New Afghan Government That Includes Taliban
Peoples Dispatch
04 Mar 2021
In what seems to be its latest bid to exit the crisis in Afghanistan, the US has reportedly proposed a participatory government in the country with all factions, including the Taliban, TOL news reported on Tuesday, March 2. According to the report, the US special representative for Afghanistan Zalmay Khalilzad discussed the proposal in a series of meetings with Afghan president Ashraf Ghani and other top politicians in the country recently amid the continued targeting of civilians and government forces by the Taliban.
Khalilzad was in Kabul on Monday where he met president Ghani and Abdullah Abdullah, the head of Afghanistan's High Council of National Reconciliation, to discuss the status of last year's US agreement with Taliban and also the status of intra-Afghan talks. According to TOLOnews, Abdullah Abdullah's office confirmed that it has received a draft of the plan for the participatory government.
The draft proposes the sidelining of the ongoing peace talks in Doha and initiation of discussions at an international level to decide the details of an interim government with the participation of Taliban which can later get the approval of Afghanistan's traditional assembly, the Loya Jirga.
The intra-Afghan peace talks in Doha began last year in September following the agreement signed between the Taliban and the US in February 2020 according to which the US had agreed to withdraw all its forces from the country by the end of May 2021. The Taliban had agreed to participate in an intra-Afghan talks with the government in return. However, it never committed to stopping aggression against the government forces.
The fate of the agreement between the US and Taliban is uncertain now since the electoral victory of Joe Biden whose administration has been on the defensive about the withdrawal of forces at a time when there is no tangible result in the intra-Afghan talks and no significant reduction in violence.
Though president Ghani's office has not officially commented on the proposal yet, in the past he had been critical of such proposals and gone to the extent of saying that the Taliban will not be part of any government in Afghanistan as long as he is alive.
TALIBAN'S OFFENSIVE CONTINUES
Thousands have been killed in the Afghanistan war since the US-led invasion in 2001. Though the majority of the NATO forces, part of the invasion, have now left the country, the war has not ended. The Taliban which was once the main target of the US invasion has now been identified as a partner in peace by in what looks like a way out of what former US president Donald Trump called "the endless war." Trump had cited the rising economic cost of the Afghanistan war as a justification of its withdrawal.
Meanwhile, the Taliban has continued its attempts to take over as much of the country as possible. It has capitalized on the vulnerability of successive governments in the country, most of which were established with foreign backing, and the desperation of the US to leave after more than two decades and over USD 2 trillion in costs.
The Taliban intensified its offensive against the Afghan government even as the Trump administration began negotiating with it and now controls a large part of the country's north-east and south. According to some estimates, the Taliban controls more than 20% of all Afghanistan directly or indirectly. It has also carried out several attacks on civilians and armed forces inside Kabul and other government-controlled areas while simultaneously taking part in the peace process in Doha.
The Taliban recently asked the remaining NATO forces to follow the deal signed last year with the US and leave the country by May. Afghan media also reported preparations by both Taliban and government forces for offensives in the coming months.
Even as recently as Tuesday, March 2, three women working in a media organization were gunned down by armed militants in two incidents of shooting in Jalalabad city, east of capital Kabul, when they were going home after work. Though Taliban's spokesperson denied its role in the incident, the police claimed that one of the shooters arrested at the time of the incident, was a member of the group.
This takes the toll of journalists and media personnel killed this year alone in Afghanistan to four. In the last six months, a total of 15 media workers and journalists have been killed in the country. In January, the editor-in-chief of Sada-e-Ghor (Voice of Ghor) radio station was killed in the Ghor province. The journalist group, The Afghan Journalist Safety Committee, condemned the attack and issued a statement saying that the government has failed to punish the guilty in the previous killings.
https://www.newsclick.in/20-Years-After-Invasion-US-Proposes-a-New-Afghan-Government-That-Includes-Taliban
--------
Bangladesh moves more Rohingya Muslims to remote island despite concerns
MARCH 3, 2021
DHAKA (Reuters) - Bangladesh is moving nearly 4,000 more Rohingya Muslim refugees to a remote Bay of Bengal island, officials said on Wednesday, despite complaints from rights groups concerned about the site's vulnerability to storms and flooding.
Dhaka has relocated more than 10,000 people to Bhasan Char island since early December from border camps where more than a million refugees live in ramshackle huts perched on razed hillsides.
"Today 2,254 Rohingya people arrived and tomorrow we are expecting 1,700 plus," Navy official Rashed Sattar said from the island.
Bangladesh says the relocation is voluntary, but some refugees from the first group that went there in early December spoke of being coerced.
The government has dismissed safety concerns over the island, citing the building of flood defences as well as housing for 100,000 people, hospitals and cyclone centres.
It also says overcrowding in refugee camps fuels crime, while some Rohingya said frequent violence in the camps had driven them to relocate.
Once they arrive on Bhasan Char, the Rohingya, a minority group who fled violence in Buddhist-majority Myanmar, are not allowed to leave the island, which is several hours' journey from the southern port of Chittagong.
Bangladesh has also drawn criticism for a reluctance to consult with the United Nations refugee agency and other aid bodies over the transfers.
The U.N. High Commissioner for Refugees says the agency has not been allowed to evaluate the safety and sustainability of life on the island.
"The process of relocating the Rohingya will continue... they are going there voluntarily for a better life," Mohammad Shamsud Douza, the deputy Bangladesh government official in charge of refugees, said by phone from Cox's Bazaar in southeastern Bangladesh.
"Our main priority is repatriating them to their homeland," he said.
Bangladesh has called on Myanmar to move forward the stalled process of voluntarily repatriating Rohingya refugees, as international pressure mounts on the military leaders following a coup that reduces the refugees' hopes of returning home.
"How long will we stay here under tarpaulins?," said a 39-year-old refugee who moved on Wednesday with his family. "The little hope we had of returning to our homeland was shattered after the coup."
https://www.reuters.com/article/us-bangladesh-rohingya-idUSKCN2AV2BL
--------
Rohingya Risk Being Forgotten in Global Vaccination Drive
By Simon Tran Hudes and Kyra Jasper
March 03, 2021
As developing countries around the world scramble to secure enough COVID-19 vaccines to inoculate their own citizens, vulnerable refugee populations like the Rohingya remain at especially high risk. Over 1 million Rohingya refugees have fled Myanmar from successive waves of violence against the Muslim minority ethnic group since the 1990s. Most have landed in Bangladesh, corralled into overcrowded camps around Cox's Bazar, as well as the previously uninhabited island of Bhasan Char. Others have set sail on leaky vessels to Malaysia, Indonesia, and Thailand, or made their way to India and Pakistan. While the governments of Bangladesh and Malaysia have pledged to vaccinate the refugees, they have yet to release detailed plans on how they plan to do so. This constitutes a significant risk not only to the refugees themselves, but also to the citizens of these countries.
Cox's Bazar, the region in Bangladesh where most Rohingya refugee camps are located, has so far managed to fend off the worst-case scenario. The World Health Organization (WHO) has confirmed approximately 400 cases and 10 deaths out of more than 866,000 Rohingya in the 10 square miles of Cox's Bazar. However, testing efforts have fallen short. WHO has collected only 30,000 tests in Cox's Bazar since March 2020 – only around 3 percent of the population there. Some Rohingya in the camps fear that they might be detained or possibly killed if they show COVID-19 symptoms.
Another public health risk is that the government of Bangladesh has shipped over 7,000 Rohingya, some forcibly, to Bhasan Char, an uninhabited island in the Bay of Bengal which lacks basic services, including running water. Without health infrastructure on the island, medical emergencies will require a three-hour journey from the island to the mainland. The island is also frequently battered by cyclones and prone to severe flooding, which would further exacerbate public health challenges for the Rohingya who are forced to live there.
Dhaka has initiated a draft proposal and budget to include the refugee population in its National Deployment and Vaccination Plan for COVID-19 Vaccines. The government is working closely with COVAX, a global vaccine distribution facility led by the WHO, and has set aside 5 percent of vaccines for applications like refugee access. But until those plans are finalized and publicized, it remains unclear whether the Rohingya will be prioritized for vaccines similar to Bangladeshi citizens or whether they will be last in line. Additionally, the strict lockdown the government imposed on Cox's Bazar in April decreased the humanitarian aid staff deployed there by 80 percent. This will make monitoring vaccine rollout to the refugees more difficult.
While humanitarian aid workers report that the Rohingya are generally receptive to receiving the COVID-19 vaccine when it becomes available, the reduction in staff will also impinge on their ability to contain the spread of misinformation related to the vaccine, especially as the Bangladeshi government has restricted internet and phone service within the camps. Another hurdle is that Bangladesh is receiving its vaccines from India, who was contracted to manufacture the AstraZeneca vaccine. New Delhi has long displayed an antipathy toward Rohingya, including by making frequent threats of deportation.
Poor communication between Bangladeshi government officials and Rohingya community leaders remains a serious obstacle to vaccination efforts. As Daniel Sullivan of Refugees International has reported, "engagement with the Rohingya community has been limited to poorly coordinated, last-minute information campaigns rather than genuine consultations," while the government has stalled the U.N. refugee agency's efforts to build a community representation system. Rohingya in Cox's Bazar have expressed frustration at the lack of information from government officials regarding COVID-19 safety measures and testing.
Malaysia has also made initial commitments to vaccinate "undocumented migrants," a term the government applies to the Rohingya, which it refuses to refer to them as refugees. Since 2017, more than 102,000 Rohingya have landed on Malaysia's shores. However, many are being held in migrant detention centers, effectively cutting off humanitarian aid workers' access to the Rohingya. Additionally, the Malaysian government has said it will prioritize giving the vaccine to Malaysian citizens and has not specified a time frame for when undocumented migrants would receive the vaccine.
Chances of vaccinating the over 600,000 Rohingya still in Myanmar are slim. Myanmar has never provided basic services to Rohingya populations, and has actively persecuted the group. However, over 130,000 Rohingya remain internally displaced in crowded detention camps within Rakhine State. Vaccinating them should be a priority if Myanmar wants to avoid another widespread COVID-19 outbreak. Unfortunately, the February 1 coup will complicate efforts to contain the spread of COVID-19, much more so in the remote parts of Rakhine where most of the Rohingya live.
As the United States brings the COVID-19 pandemic under control with its own robust vaccination program, it will need to begin planning now for diplomatic re-engagement in Southeast and South Asia. The United States may have a surplus of vaccines by the end of the year with the Johnson & Johnson vaccine's recent approval for emergency use and Novavax showing promising results in stage 3 trials. Washington should prioritize and plan for direct vaccine aid to countries in the region that house significant populations of Rohingya. That aid should be conditioned on those countries more explicitly integrating refugees into national vaccination strategies.
In a February phone call with Secretary of State Antony Blinken, Bangladeshi Foreign Minister A.K. Abdul Momen urged the U.S. to appoint a "special envoy" for the Rohingya, and to take the lead on Rohingya repatriation efforts. Such an office may be an opportune vehicle with which to assist Bangladesh in its Rohingya vaccination efforts.
Bangladesh deserves credit for taking in the majority of Rohingya refugees and saving many lives in the process. It must now recognize that any potential COVID-19 outbreak among the camps represents a risk for all of Bangladesh. To ensure smooth vaccine rollout, the government will need to better engage and inform Rohingya community leaders. It should also explicitly include Rohingya in its vaccination plans and commit to treating vaccination of Rohingya refugees just the same as they would Bangladeshi citizens, integrating them into any tiered rollout system based on age, job sector, health conditions, or otherwise. This exact strategy worked in Jordan, where the government has already begun vaccinating Syrian refugees in its own camps.
Governments around the region can also reduce hesitancy among the Rohingya refugee population by following Indonesia's lead and publicizing that the vaccines are safe and halal. Lastly, Bangladesh should immediately pause the relocation of Rohingya to Bhasan Char, where there is no health infrastructure, constituting a risk for widespread outbreak among the refugee population, which could lead to new mutations and outbreaks in the wider Bangladeshi population.
Simon Tran Hudes is a research associate for the Southeast Asia Program at the Center for Strategic and International Studies (CSIS) in Washington, D.C. He can be found on Twitter @simonhudes.
https://thediplomat.com/2021/03/rohingya-risk-being-forgotten-in-global-vaccination-drive/
--------
Two Protestant churches targeted, attacked and ransacked
by Sumon Corraya
03/03/2021
Bandarban (AsiaNews) – A recent attack against two churches, one of which was demolished, is causing concern among Bangladeshi Christians.
On 25 February, 10 Forest Department employees tore down the Sathirampara Seventh-day Adventist church in Ali Kadam, Bandarban district. The building was under construction. The congregation was replacing the old bamboo hut used as a church with a brick building.
The Forest Department said that the community was not authorised to build on land under its jurisdiction. Yet, the area already has four mosques, three Buddhist temples, four large markets as well as public and private schools. No problems were reported in connection with any of these structures.
Sathiram Tripura, one of the leaders of Sathirampara Church, told AsiaNews that people from two villages in the hills have been coming to his makeshift house of prayer for many years.
"Members of the community set aside the money for 15 years to build the brick church," he explained. "Not being able to finish the construction is very sad."
The demolition took place while the men of the community were working in the forest. The community includes more than a hundred people who now find themselves praying in the open air, Tripura noted.
Without a church the situation will become very difficult when the rainy season begins. However, for Forest Department official S M Kawsar, his agency did not destroy any church, it simply cleared government land.
"Construction takes a permit and Christians did not have it," he explained. "In this village, there are only three or four Christian families. There is no need for a church."
Another incident occurred a few days earlier in Aditmari, Lalmonirhat district (northern Bangladesh). A group of local Muslims attacked Emmanuel Church on 10 February, which is located in a predominantly Muslim village. The Protestant house of prayer has existed since 2003.
Local pastor Rev Lovlu S. Levy said that four people destroyed the church sign, cut trees, forced the entrance, and stole 30 chairs and two carpets worth 14,000 taka (US$ 165).
"Residents in this area are fundamentalists," he explained. "When I first went to the police they did not want to file the report of what happened; they also told me not to inform journalists of the attack."
Violence against the church appears to be the result of anti-Christian propaganda at a local Islamic meeting place (waz mahfil) where Muslim religious leaders engage in hate speech.
Rev Lovlu S. Levy also reports that anger against Christians is linked to the fact that new members have joined the community.
"Muslims are angry because we have received Christ, which is why they attack us. Now we live in fear, ten new believers have fled the village for their safety."
Bangladesh Christian Association President Nirmol Rozario condemned these two episodes of violence.
With respect to the Sathirampara Church in Bandarban district he noted that everyone has the right to practise their religion. "I call on the local authorities to ensure that Christians can soon build their own church."
As for the attack in Aditmari, "radical Muslims tried to frighten Christians. We condemn the attack and demand justice."
http://www.asianews.it/news-en/Two-Protestant-churches-targeted,-attacked-and-ransacked-52497.html
--------
24 Taliban killed in Kandahar clashes: MoD
04 Mar 2021
The Ministry of Defense in a released statement on Thursday said that at least 24 Taliban fighters were killed in Arghandab, Zherai, and Shah Walikot districts of Kandahar province.
MoD stated Afghan national defense and security forces backed by the air support, targeted "terrorists" in Arghandab, Jiri, and Shah Walikot districts of Kandahar province.
The operation resulted in 24 Taliban killed and nine others were wounded, the statement said.
According to the statement, some of the Taliban's explosive devices, weapons, and ammunition were also destroyed.
ANDSF during the operation discovered and defused 13 anti-vehicle mines planted in the mentioned districts and Maiwand district of the province to target civilians and soldiers.
This comes as 26 Taliban were killed and 3 other members of the group were wounded in a clash with the Afghan national army a day ago.
Kandahar is one of the Most insecure provinces, where the Taliban have a large influence and are active.
https://www.khaama.com/24-taliban-killed-in-kandahar-clashes-mod-45242444/
--------
Afghan forces free 30 prisoners from Taliban captivity
Shadi Khan Saif
03.03.2021
KABUL, Afghanistan
Afghan security forces freed over 30 prisoners from Taliban captivity in the western Herat province bordering Iran, authorities said on Wednesday.
"11 army soldiers, seven policemen, three Afghan Air Force personnel, seven civilian workers of development project, seven government employees, and a member of the public uprising force are released from prison," the Defense Ministry said.
It also shared pictures of the prisoners who were said to have been held in an improvised Taliban prison in the Adraskan district of Herat.
At least six Taliban insurgents were killed in the Tuesday night operation, it added.
In recent weeks, the Afghan security forces have broken into a number of such Taliban facilities in Logar, Helmand, and Baghlan provinces, releasing dozens of captives.
In a separate development, Faiz Mohammad Faiz, a pro-government religious figure, was gunned down in the capital Kabul on Wednesday amid the ongoing target assassination spree.
Kabul police spokesman Firdaus Faramarz told Anadolu Agency that the incident took place early in the morning. He said the assassin fled the scene, and investigations were launched into the incident.
Faiz was associated with Jamiat-e-Eslah (Society for Reforms), a local civil society group engaged in Islamic teaching and mobilization. Its central council head Mohammad Atif was killed last month in a bomb blast in Kabul.
No one claimed responsibility for the killing of Atif, but the government pointed the finger at the Taliban. However, the Taliban, denouncing his killing, blamed "circles within the government" for sabotaging the peace process with such assaults.
https://www.aa.com.tr/en/asia-pacific/afghan-forces-free-30-prisoners-from-taliban-captivity/2163501
--------
Southeast Asia
April 20 ruling on challenge against khat in vernacular schools
March 4, 2021
KUALA LUMPUR: The High Court here will rule on April 20 whether leave for judicial review should be given to a parent and two organisations to quash the government's decision compelling pupils in Chinese and Tamil primary schools to study khat or Jawi calligraphy.
Judge Ahmad Kamal Md Shahid fixed the date after hearing submissions from T Gunaseelan who represented R Visa Letchumy, former Chinese School Students Association president Tan Kim Sen @ Tan Boon Tak, and Persatuan Hindu Agamam Ani Malaysia chairman D Ravi.
"We submitted that at this stage, leave should be granted as long as it is shown that the applicants have an arguable case," Gunaseelan told FMT after a virtual hearing today.
Senior federal counsel Ahmad Hanir Hambaly, representing the attorney-general, submitted that leave should not be allowed as the applicants had no locus standi to bring the action and they were also out of time to file the action.
Gunaseelan, who was assisted by Keshvinjeet Singh, in his reply said the issues raised by Hanir could be addressed when the merit of the dispute was argued.
The three, who filed the application last May, said the decision to introduce khat lessons for Year Four primary school pupils at vernacular schools was made by the Pakatan Harapan government in January.
Following criticism from educational groups, the government later announced that Jawi was optional and would not be a test subject.
Tan, who filed an affidavit in support of the judicial review application, said khat, which originates from Saudi Arabia, had religious connotations.
He added that Muslims use khat to represent God as Islam prohibits the use of images.
"Khat is a revered art as it is also the best way to preserve the Quran," Tan said in the affidavit sighted by FMT.
Tan, who also referred to a number of articles written by Muslim authorities and academics, said the Islamic calligraphy would confuse Muslims if non-Muslims were allowed to use it, for example in posters for religious activities.
"Further, the use of khat in business and immoral activities from the perspective of Islam would cause discomfort to Muslims," he added.
Tan said the compulsory teaching of khat at vernacular schools was also against Articles 11 and 12 of the Federal Constitution.
"This compulsory subject for non-Muslim pupils is a way of inculcating Islamic values, and parents have the right to reject it," he said.
He added that the compulsory teaching of khat was an irrational decision as the art could not be used to draw quotations from non-Muslim religious texts.
https://www.freemalaysiatoday.com/category/nation/2021/03/04/april-20-ruling-on-challenge-against-khat-in-vernacular-schools/
--------
Umno and Bersatu to part ways for coming Malaysian general election
Shannon Teoh
March 04, 2021
KUALA LUMPUR - The largest party in Prime Minister Muhyiddin Yassin's government has told him that it will not ally itself with his Parti Pribumi Bersatu Malaysia at a general election expected soon after Malaysia's state of emergency ends in August.
Bersatu secretary-general Hamzah Zainudin said Umno president Ahmad Zahid Hamidi had written on Feb 26 to Tan Sri Muhyiddin that their pact will end as soon as Parliament is dissolved.
"The political bureau has determined that Bersatu's stand will be decided at a Supreme Council meeting this evening," Datuk Seri Hamzah, who is also the Home Minister, said in a statement on Thursday (March 4).
Umno secretary-general Ahmad Maslan confirmed the contents of Zahid's letter in a statement later, saying this was in response to an ultimatum made by Mr Muhyiddin at a Feb 15 meeting.
"Muhyiddin asked Umno to make a clear stand on the cooperation with Bersatu before any further seat negotiations for the 15th General Election," he said. "The Supreme Council met on Feb 19 to discuss the Prime Minister's request."
Umno's decision will likely mean a repeat of 2018's three-way election battle which resulted in the shock end of the once-dominant party's six-decade rule as the then Bersatu-led Pakatan Harapan (PH) swept to power.
The Umno-led Barisan Nasional (BN) disintegrated after the loss, with just four out of the original 13 components remaining in the coalition. Some of the parties that left joined Bersatu's new Perikatan Nasional (PN) in the past year.
Some studies and analyses have predicted that a three-cornered battle could result in a hung Parliament, with PH potentially the largest bloc.
On the other hand, if BN and PN were to join forces, they could win over two-thirds of Parliament, as all three major parties representing the Malay majority would be on the same team.
Parti Islam SeMalaysia (PAS) is officially a member of PN, but it also has an informal pact with Umno called Muafakat Nasional inked in 2019 to ensure Malay-Muslim interests are protected.
Umno had agreed to back Mr Muhyiddin as premier a year ago after PH collapsed, but a faction in the party led by Zahid and former premier Najib Razak have since agitated for a split amid grumbles at playing second fiddle despite being the senior party in government.
Two Umno MPs pulled support for Mr Muhyiddin in January, depriving the Premier of his already wafer-thin majority in Parliament.
But a state of emergency was swiftly declared, doing away with the need for Parliament to reconvene or polls to be held until August, or earlier should a bipartisan panel decide that the coronavirus pandemic is under control.
Federal Territories Minister Annuar Musa - one of several Umno leaders who favour cooperation with Bersatu at the next polls - has expressed doubt that the decision to cut ties was determined at the party's last leadership meeting on Feb 19.
"Doesn't this move, when an election date has yet to be set, hand Umno a disadvantage as the government, especially Bersatu, will no longer cooperate with Umno leaders who have already taken the stance to take on or reject Bersatu?" said the former BN secretary-general who was sacked from the position in January.
"What more when the party must hold leadership polls this year. The party's policy heading into the coming general election must be determined by leaders who are installed during the polls," he added, referring to the expiry in June of the three-year term held by current office bearers.
The news also comes ahead of Umno's annual general assembly on March 27, where the schism over whether to continue the alliance with Bersatu is set to take centrestage. The assembly could also decide to delay party elections by up to 18 months.
https://www.straitstimes.com/asia/se-asia/umno-and-bersatu-to-part-ways-for-coming-malaysian-general-election
--------
URL: https://www.newageislam.com/islamic-world-news/only-love-no-jihad-bengal/d/124456
New Age Islam, Islam Online, Islamic Website, African Muslim News, Arab World News, South Asia News, Indian Muslim News, World Muslim News, Women in Islam, Islamic Feminism, Arab Women, Women In Arab, Islamophobia in America, Muslim Women in West, Islam Women and Feminism