New Age Islam News Bureau
26 Apr 2017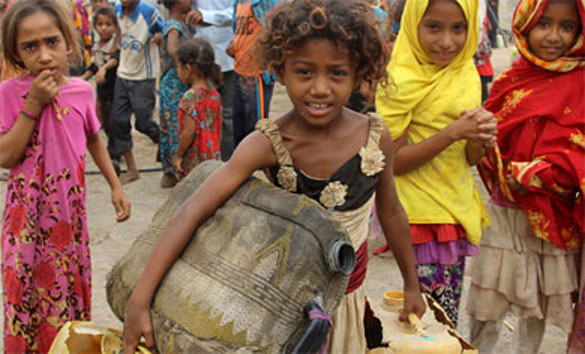 A Yemeni girl carries plastic containers as she heads to collect donated water from a truck in an impoverished coastal village on the outskirts of the Yemeni port city of Hodeidah, on April 17, 2017. (AFP)
-----
• One Step Forward, Two Steps Back: Muslim Law Board's New Code on Talaq
• Pope To Boost Muslim Ties On Security-Tight Egypt Trip
• Should France Have Its Own Version of Islam?
• Pakistan Working To Bring Iran And Saudi Arabia Closer
• 'March For Bread' Yemeni Protestors Call For Unrestricted Aid Deliveries To Hudaydah
India
• One Step Forward, Two Steps Back: Muslim Law Board's New Code on Talaq
• Muslims Arrange For Cremation Of Hindu Youth In Malda Village
• 2008 Malegaon blast Case: Bombay HC refuses bail to Prasad Purohit, says charges against him within definition of terror act
• SC gives 'future' bail to terror accused who's in jail for 16 yrs
--------
Arab World
• Pope To Boost Muslim Ties On Security-Tight Egypt Trip
• Who Speaks For Islam And Reform? Debate Heats Up In Egypt
• Iraq forces in push to retake UNESCO-listed Hatra
• Turkish strikes kill Kurdish fighters in Syria, Iraq
• More Civilians Killed in US-Led Coalition Airstrikes in North-eastern Syria
• FSA, ISIL Resume Clashes in Qalamoun
• Syrian Army at Gates of Main Terrorist Bastions in Hama
• Syrian Army on Verge of Victory in Large Energy Field in Eastern Homs
• Turkish Warplanes Target Pishmarga Bases, Residential Areas in Syria, Iraq
• Iraq forces retake large Mosul neighbourhood from ISIS
• Bahrain revokes nationality of dozens of political dissidents
--------
Europe
• Should France Have Its Own Version of Islam?
• French Mayor Fined For 'Too Many Muslim Children' Comment
• Suspects with links to Belgian airport attack arrested in Spain
• Turkey put on Europe rights watch list over post-coup crackdown
• Erdogan slams 'political' Council of Europe decision
• Group claims Russia metro terror attack
--------
Pakistan
• Pakistan Working To Bring Iran And Saudi Arabia Closer
• Four Terrorists Killed In Encounter With Rangers
• Pakistan to maintain pressure on terrorists: Dar
• IHC extends stay against extradition of US citizen
• PTI set to release Urdu translation of Panama Papers verdict
• 15 killed in Kurram as bomb hits bus
• JI launches one million petitions drive against KE
--------
Mideast
• 'March For Bread' Yemeni Protestors Call For Unrestricted Aid Deliveries To Hudaydah
• Ankara To Continue Military Operations In Iraq, Syria: Turkish President
• Iran nuclear deal under review as uncertainty grows
• Yemeni army seizes control of Gharafi in Taiz
• Iraqi Peshmerga fighters killed 'by mistake' in Turkish air raid on PKK
• Forces destroy Houthi boat attempting to breach Saudi maritime borders
• Next Iranian president must lead fight against corruption: Raeisi
• Kurds denounce deadly Turkish air raid in northern Iraq'
• Imam Khamenei: US, Israel directing belligerence against Iran, Islam
--------
North America
• Schools In San Diego Launch Efforts Against Islamophobia
• Young People Worry About Divided America, Fake News
• Ottawa man facing more charges after 2nd incident at Islamic centre
• Unanimous vote approves 1st-ever mosque in Winkler, Man.
--------
South Asia
• 28 ISIS Militants Killed In Nangarhar Airstrikes And Ground Operations
• US blasts 'unconscionable' Taliban attack in Afghanistan
• Taliban kill 8 Afghan policemen at security checkpoints
• RAB arrests New JMB IED expert in Dhaka
• Afghan acting defense minister and army chief of staff introduced
• 2 Haqqani network members killed, large cache of weapons seized in Logar
--------
Southeast Asia
• Can India and Malaysia Continue to Be Good Friends With Zakir Naik Lurking in the Background?
• Malaysian Islamic State Terrorist Posts Photo Of Severed Head, Under Pressure To Launch Local Attack
• Indonesian VP dismisses concerns about rising intolerance after Ahok defeat
--------
Africa
• Gambia: 40, 000 Copies of Holy Qur'an Distributed Among Arabic Schools, Imams, Others in NBR
• Turkish NGOs distribute humanitarian aid to Somalia
• Activist finds silence on genital mutilation case depressing, predictable
• Somalia: Mogadishu Flights Safe from Laptop Attacks - Officials
• Uganda: Sheikh Kamoga, 13 Others Choose Silence
Compiled by New Age Islam News Bureau
URL: https://www.newageislam.com/islamic-world-news/one-step-forward-two-steps/d/110919
--------
One Step Forward, Two Steps Back: Muslim Law Board's New Code on Talaq
April 26, 2017
New Delhi: All India Muslim Personal Law Board on Tuesday called for social boycott of a man pronouncing triple talaq in one sitting.
AIMPLB has also given the green signal to a divorce procedure wherein the couple can be separated after 90 days of the pronounce ment of only one talaq by the husband. The board added that once the talaq has been called out, the woman will live in seclusion for 90 days, hoping to rebuild ties with her husband. "The marriage stands severed if the husband doesn't contact her during those 90 days," the board said.
AIMPLB has now issued an eight-point code of conduct to regulate the practice of triple talaq, but has maintained an eerie silence on the issues of Nikah Halala and polygamy, issues that are being looked at by the Supreme Court.
The eight-point code of conduct is:
1. In case there are differences between a husband and a wife, both the parties should try to resolve the differences amicably. They should try to understand that there are good and bad qualities in any individual and often good qualities overpower the bad ones; hence they should try to overlook the negative traits.
2. If the above method does not work, then there should be temporary abandonment of the relationship.
3. If both the methods fail, then family members from both sides of the couple should try to mend the strained relationship.
4. If even then the relations do not improve, then the husband can pronounce talaq just once when the wife is not menstruating. After that, the couple must let a period of three months, (period of Iddat) pass. If during these three months, they solve their issues, then the husband can contact the wife again and live with her.
If during the period of Iddat, the husband does not contact the wife and their relations do not improve, the relationship would come to an end after 90 days, and they would no longer be husband and wife. But if the wife is pregnant when the talaq is pronounced, then the period of Iddat will continue till her delivery.
The man must bear the expenses of the wife during Iddat. The man must also pay the Meher (amount paid by the groom to the bride during marriage) to his wife, if it is not paid before during this time.
5. If after the expiry of 90 days, the couple reconciles, there needs to be a new nikah (wedding) along with a new meher.
6. Another way is that the husband pronounces the first talaq when the wife is not menstruating, waits for a period of one month, then pronounces talaq again. He then waits for another month and in the third month pronounces talaq for the third time. If before the third talaq, the couple mends their differences, it can stay together like a lawfully wedded couple.
7. If the wife does not intend to live with the husband then she can end the relationship through Khula.
8. Muslim society should socially boycott men who pronounce triple talaq in one sitting so that such instances slowly reduce.
The code of conduct has not played out well with many within the community. Shaista Ambar, president of All India Muslim Women Personal Law Board, "We used to hold AIMPLB regulations in high regard earlier, but it's not the case anymore. They should realise that they are not Khap Panchayats. What is this period of 90 days? It's nothing but showing food to a hungry person. None of these regulations are binding and are merely advisory. What we need now is punishment for these men who abandon women at their own whims and fancy. The code of conduct must be trashed and they should let judiciary take a call in this matter."
http://www.news18.com/news/india/one-step-forward-two-steps-back-read-muslim-law-boards-new-code-on-talaq-1383601.html
--------
Pope to boost Muslim ties on security-tight Egypt trip
April 26, 2017
by Anju Agnihotri Chaba , Manish Sahu
An alleged IS operative, Ghazi Baba, who was arrested recently from Jalandhar, was in contact with at least a dozen youths in Punjab and was trying to enlist them to form a "sleeper cell" to be used for "jihad", investigators have revealed. They added that the suspect was in contact with them through social media, including Facebook and WhatsApp. Ghazi Baba alias Muzammil alias Zeeshan was held in Jalandhar last Thursday by the UP ATS during a joint operation by police in several states. He has also reportedly confessed to having been in touch with an alleged Jaish-e-Mohammed operative Sajid before the latter was arrested by the Delhi Police in May 2016. Sajid was held on charges of planning an attack in Delhi.
"During interrogation, he revealed that he had come in contact with Sajid in 2012 on Facebook… He claimed to have distanced himself from Sajid after the latter's arrest," said an ATS official. Besides Ghazi Baba, Umar alias Nazim Shamshad, Faizan alias Mufti and Ahtesham were arrested from Mumbai, Bijnor and Bihar, respectively. Police have got eight-day remand of Faizan and Ahtesham. On Tuesday, police obtained four-day police custody of Umar and Ghazi Baba, who are presently lodged in Lucknow district jail.
"He has revealed that on February 26 this year, a meeting was held at his house in Punjab where it was decided to get money and explosives and targets across the country were discussed," the official said. A day after his arrest, a 20-year-old girl from Basti Danishmanda area of Jalandhar was taken into custody by police after she tried to commit suicide. She reportedly told the police she was Ghazi Baba's girlfriend, adding that he was planning a trip to Egypt to learn bomb-making.
http://indianexpress.com/article/india/is-suspect-was-trying-to-enlist-punjab-youths-4628436/
--------
Should France Have Its Own Version of Islam?
APR 25, 2017
With France's first round of voting complete, far-right candidate Marine Le Pen is among the final two contenders for the presidency, along with centrist Emmanuel Macron. Given how often Le Pen invoked the specter of Islamic fundamentalism throughout her campaign, one might expect French Muslims to be worried about the potential for her to win the May 7 runoff.
But Tareq Oubrou, the popular imam of Bordeaux's Grand Mosque and a prominent theologian, told me he is not concerned. Nor does he blame those elements in French society that harbor fears of Islam. The morning after the results were announced, he spoke about "legitimate fears" among the French, and seemed to put the burden on Muslims to make Islam more compatible with France and its strong flavor of state secularism, known as laïcité.
Oubrou, who was born in Morocco, is a leading advocate of progressive Islam. Beloved among France's political elite, he preaches in French as well as in Arabic, critiques the veil or headscarf, insists that Islam is compatible with French ideals at the deepest level, and shrugs off the death threats he gets from radicals.
"It's religion's job to institute reform and to respect the laws of the republic," Oubrou told me, before going on to explain how he and other imams are working to create a new French Islam. This reformed religion, complete with what he calls a "preventive theology," is meant to be, if not terrorist-proof, at least resistant to being coopted by fundamentalists. Our conversation, which I translated from the French, has been lightly edited for clarity and length.
Sigal Samuel: What do you make of the results of the first round of voting?
Tareq Oubrou: These results were expected; they weren't a big surprise. But the rise of the National Front is an indicator that French society is in crisis, an economic and identity crisis. The same questions that animate America—globalization, unemployment, terrorism—these questions play an important role in our elections today. French society is scared of Islam, is scared of terrorism, and the advance of the National Front is a sign of that fear.
Samuel: How do you feel about a potential Le Pen victory and its impact on Muslims?
Oubrou: It doesn't worry me. The National Front's main issue is with immigration, not French Muslims. And Le Pen can't change the law. French society will react. It doesn't accept racism. Just because Le Pen is in government, doesn't mean society will go along with anything.
But I don't think the National Front will govern. … It's not easy to govern when you don't have the experience and you don't have a clear plan. How do you leave Europe? How do you isolate yourself from the world? How can you definitively seal the borders? Politicians promise a lot of things, but once they gain power they realize that the reality is very complex. We saw this with Trump: He promised to withdraw from the world, but reality is catching up to him—he has to engage with the world, otherwise there's chaos.
Samuel: How would a Macron victory impact Muslims?
Oubrou: Macron didn't play off identity issues. He portrayed himself as the candidate of Europe, of open identity. He has talked about the need to fight terrorism, but rarely about Islamism. I don't know his mind, but from his declarations it seems he has no problem with Islam—the problem is terrorism.
But what counts for Muslims is what's happening in society, over and above the politicians. … The French don't understand religious practice because their own traditions are so, so secular. For them, any Muslim practice is a form of Islamism. This prejudice gets reflected by many politicians, on the right as on the left.
Samuel: Several candidates in this election suggested that the assimilation of Muslims in France is a major problem. How do you respond to that?
Oubrou: I understand it. A French person who is scared of Islam—I understand it. If I were a Frenchman who didn't know Islam, I'd also be scared, because every time they talk about Islam it's in terms of terrorism. There are legitimate fears. It's legitimate to be scared when you hear about people who kill in the name of God and in the name of Islam. You're going to ask yourself: The Muslim next to me, isn't he at risk of becoming a fundamentalist and a terrorist? So the idea circulates that every Muslim, even if he's nice, risks becoming a fundamentalist or terrorist. Prejudices circulate and fear is the response. How can you prevent that?
There are Islamic practices that haven't been adapted to French culture. The French don't understand that. And Muslims don't manage to explain why they do these practices. So ignorance leads a minority of French people to be scared. Take the question of women, for example. A certain way of practicing the religion gives the impression that Islam doesn't give women their rights. There are prejudices that sometimes get confirmed by the behavior of a certain number of Muslims. When a woman goes to the hospital in labor and refuses to be examined by a male doctor, in France they don't understand this. It's bizarre! It's enough for this to happen twice in a hospital for people to start asking themselves questions.
Samuel: So do you believe that some of the fears French society has about Muslims are legitimate?
Oubrou: It's not a question of legitimate or illegitimate. These are feelings. We're talking about fear.
Islam is poorly understood, poorly explained, and people are scared of what they don't understand. The question of the headscarf, of religious visibility in public spaces—France has a particular history with religion, and we need to take that into consideration. France has lived through wars between religions—Protestants, Catholics—in its past. French laïcité was constructed in opposition to Catholicism, which dominated society, so religious visibility in public spaces is still viewed as threatening. Muslims need to make an effort to adapt to the culture.
Samuel: Is it that Muslims need to adapt to French society or that French society needs to do more to understand Muslim practices?
Oubrou: First and foremost, it's Muslims who need to adapt. That's obvious. The woman who refuses to be examined by a male doctor—that's not Islam. The problem is that many Muslims do things in the name of Islam that have nothing to do with Islam. Or, it's one interpretation. But we should choose the more adapted interpretation.
Samuel: How do you respond to critics who suggest that by trying so hard to prove compatibility with and fidelity to the state, you're falling into the trap of Islamophobia?
Oubrou: It's not like that. You just have to be normal! If you're Muslim, even if you're in America, you have to adapt to succeed. You can't just show up to work in Middle Eastern clothing, for example.
Samuel: At a certain point, does this become a self-defeating exercise in trying to be more French than the French? Would the minority of Muslims who voted for Le Pen be an example of this?
Oubrou: No. Each one has his reasons. For example, there are second-generation French Muslims who are unemployed, and who see new Muslim workers coming in from their home country, Algeria, and taking their place. So they're against immigration, because the immigrants are taking their jobs.
Samuel: In your opinion, what should France's Muslim leaders be doing to fight radicalization?
Oubrou: We need to pay attention to the training of imams. The terrorist acts have been a shock for imams, and they are starting to take this very seriously. There's already an intense crisis of conscience: We can't let our children keep getting seduced online and elsewhere, we have to make an effort to prevent radicalization. Many imams are trying to better explain the Islamic texts that the terrorists use to recruit youth. They're mobilizing to respond to these interpretations. There's a theological response underway.
Samuel: Do you think most French people know that imams are fighting this way?
Oubrou: They have no idea. Because there's no information. Mass media only covers things that aren't working. And we all know how politicians exploit and aggravate problems so they can propose the solution.
Samuel: How are you personally working to make Islam more compatible with the secular values of France?
Oubrou: I myself am working on [an intellectual framework that I call] "the sharia of the minority"—how to adapt Islam, theologically speaking. Muslim theology in France must do the work of acculturating Islam, adapting it to French culture. It's possible to simplify Islam and preserve what's important to the Muslim tradition and respect French law and culture. There are a number of Muslims working on a theology of adaptation, to adapt Islam to the West in general and to France in particular.
I am also working on a "preventive theology"—how to elaborate a religious discourse that won't lend itself to terrorism or fundamentalism.
Samuel: Would it be fair to call your project a reformation?
Oubrou: Yes, it's a reformation. But it's always been like this: Every time Islam found itself in a new historical context, it adapted. All religions adapt. Why not Islam?
We need to take into consideration how long it takes to integrate, though. It doesn't happen in an instant. Islam is a religion that has only relatively recently established itself in France. Simply adapting the theology won't make people adapt—you need time, too.
Samuel: Do you believe that eventually this will happen, that Muslims will fully integrate into society and the rest of French society will accept them?
Oubrou: Yes, yes, yes. I'm confident. With time, there will be a solid integration.
https://www.theatlantic.com/international/archive/2017/04/muslims-france-election/524178/
--------
Pakistan Working To Bring Iran And Saudi Arabia Closer
By Polina Tikhonova
April 25, 2017
Pakistan has joining the Saudi Arabia-led "Muslim NATO" military alliance with a hope of bringing Iran and Saudi Arabia closer and achieving unity in the Islamic world. On Friday, Pakistan formally gave the green light for its former army chief, General (retd) Raheel Sharif, to command the new powerful military alliance based in Saudi Arabia. It's a move that will likely deteriorate the otherwise improving relations between Islamabad and Tehran.
Pakistan, however, has no plans to cut ties from Iran by joining the 41-nation coalition. In fact, Islamabad is doing the opposite by focusing its diplomatic efforts on convincing Iran to join the so-called "Muslim NATO." While the exchange of hostile gestures between Riyadh and Tehran shows no signs of going away, Pakistan is willing to risk its good relations with both the Saudis and Iranians to serve as a bridge to foster unity in the Islamic world.
Is Pakistan insulting Iran by joining the Muslim NATO?
The Saudi-led military coalition, known as the Islamic Military Alliance to Fight Terrorism or IMAFT, aims to fight terrorist groups in the Middle East. As Pakistan's civil and military authorities join the organization, Islamabad looks back at Iran to make sure its ties with its key Muslim neighbor aren't hurt by the decision.
Islamabad does not want its participation in the "Muslim NATO" to look like it is taking sides. Islamabad remains neutral on the long-standing conflict between Iran and Saudi Arabia, which goes back to the ideological Shia-Sunni rivalry and is constantly fueled by the geopolitical competition over Tehran's and Riyadh's superior roles in the region.
At risk of derailing relations with Iran, Pakistan is launching a diplomatic initiative to bring Tehran and Riyadh closer through their joint efforts within the "Muslim NATO" to work together against terrorism and radicalism in the region. However, Iran has so far shown reluctance to join the Saudi-led military coalition.
Pakistan's secret mission to foster unity in the Muslim world
The decision for Islamabad to join the Muslim NATO is no reckless move of the Pakistani government, as Prime Minister Nawaz Sharif assigned a special mission to Attorney General Ashtar Ausaf, according to The Express Tribune, which cited unnamed credible sources.
In March, Ausaf took a trip to Riyadh where he met with the Saudi Crown Prince. The agenda was to discuss ways of melting the ice with Iran and convincing Tehran to join the military alliance based in Saudi Arabia. Ausaf's mission goes beyond Riyadh, as the attorney general is also expected to visit Tehran this week to held a series of closed-doors meetings with Iranian officials. Their goals are to ensure that by joining the Muslim NATO, Pakistan will not hurt its ties with Iran and to try to convince the Iranians to join the coalition.
A source cited by The Express Tribune said that fostering "some kind of rapprochement" between Tehran and Riyadh is a "daunting task indeed," as the Muslim rivals disagree on a number of things, including the issue of the U.S. presence in the region.
Pakistan's 'daunting task' to bring Saudis and Iranians closer
Pakistan, whose trade with Iran is expected to skyrocket to $5 billion within the next four years in the wake of warming ties, is nonetheless hell-bent on melting the ice between Iran and Saudi Arabia, according to the source. When Sharif announced he would accept Saudi Arabia's offer to command the new military alliance, he stressed that he wanted to see other Muslim states, including Iran, Iraq and Syria, be part of the Muslim NATO. The last thing Pakistan wants right now is to be seen as taking sides in the Iran-Saudi Arabia confrontation.
Iran's reluctance to join the coalition is based on the questionable assumption that Riyadh will pursue its sectarian goals in the Middle East. For years, Iran and Saudi Arabia have engaged in a heated war of words, accusing one another of supporting proxies in Syria, Iraq and Yemen.
Pakistan doesn't want to lose its growing friendship with Iran, which has already given birth to a number of lucrative projects between them, and prior to joining the Muslim NATO, Islamabad stressed that it would leave the alliance if Saudis ever start using it to pursue their sectarian goals.
Sharif heading Muslim NATO is actually a 'good' thing for Iran
While Iran may view the retired Pakistani general's commanding of the Saudi-led military alliance as a negative thing, the same source ensures Tehran that it should be viewed as a positive thing. As long as Sharif heads the 41-nation coalition, no initiative that could hurt Pakistan's interests, which include its friendship with Iran, will be implemented by it.
The Muslim NATO is said to be focused on anti-terrorism missions in the Middle East. Since Sharif's acceptance of the Saudi offer was first reported in early January, sources close to the Pakistani commander of the military alliance have repeatedly told the media that the Muslim NATO will focus on promoting intelligence and communications between Muslim-majority countries with the goal of eradicating ISIS from the Middle East.
Pakistan, Iran and Saudi Arabia: What next? Friendship or disaster?
The new developments in relations between Pakistan, Iran and Saudi Arabia come as Islamabad and Tehran are increasing their strategic cooperation. While Pakistan's participation in the military alliance could derail its ties with Iran, Pakistani and Iranian officials seem adamant to keep their friendly relations afloat, no matter what. Earlier this year, Iranian President Hassan Rouhani took a trip to Pakistan where he met with Prime Minister Nawaz Sharif.
During the meeting, Rouhani and Sharif stressed the importance of strategic cooperation between them and pledged to improve economic, diplomatic and military ties. In 2016, Tehran and Islamabad signed six initiatives to boost bilateral cooperation in multiple areas, such as economy, security, health and commerce.
Saudi Arabia keeps a close eye on the growing ties between Iran and Pakistan, and now Iran finds itself in a very similar situation, carefully watching the rapid development in Pakistan-Saudi ties from aside.
http://www.valuewalk.com/2017/04/pakistan-brining-iran-saudi-arabia-closer/
--------
'March For Bread' Yemeni Protestors Call For Unrestricted Aid Deliveries To Hudaydah
25 April 2017
Yemeni protestors reached the Red Sea city of Hudaydah on Tuesday, ending a weeklong march from the capital to demand the Houthi-held port be declared a humanitarian zone.
Hundreds of protestors made the 225-kilometer walk, dubbed the "march for bread", to call for unrestricted aid deliveries to Yemen.
Protestors waved flags emblazoned with loaves of bread and chanted slogans demanding the port be spared in the war, which the United Nations estimates has killed more than 10,000 people and left millions struggling to find food.
"The Hudaydah port has nothing to do with war... Let them fight anywhere, but leave the port alone. The port is for our women, children, our old people," said protestor Ali Mohammed Yahya, who walked for six days from Sanaa to Hudaydah.
Rights group Amnesty International said that the city's port is a crucial access point for "lifesaving international aid".
'Funds desperately needed to avert famine'
UN chief Antonio Guterres urged countries Tuesday to pitch in to help prevent a looming famine in war-torn Yemen, warning that children especially were already dying at an alarming rate.
"Yemen today is experiencing a tragedy of immense proportions," the UN Secretary General told country representatives gathered in Geneva for an aid pledging conference.
"We are witnessing the starving and the crippling of an entire generation," he said, adding that Yemen is gripped by "the world's largest hunger crisis".
Appealing to donors, he stressed that "a famine can be prevented if we act quickly and commit to funding crucial life-saving assistance".
The conference, co-hosted by the Swiss and Swedish foreign ministers, comes after the UN in February said Yemen needed $2.1 billion of aid this year alone.
The UN had warned that unless international donors stepped up their response the war-torn country faced a "serious risk of famine".
In response to the appeal, Saudi Arabia donated $150 million and Kuwait $100 million.
The UN is seeking $2.1 billion for Yemen this year as it has received only 15 percent toward that appeal.
Yemen is reeling from conflict between Houthi militias, aligned with Iran, against a Western-backed, Arab coalition.
'Children bearing the brunt'
"On average, a child under the age of five dies of preventable causes in Yemen every 10 minutes," Guterres said.
"This means 50 children in Yemen will die during today's conference, and all those deaths could have been prevented."
Many of the children who survive "will be affected by stunting and poor health for their entire lives," he added.
Swedish Foreign Minister Margot Wallstrom noted that with two million children out of school, there is a growing risk of recruitment by armed groups, while two-thirds of girls are married off before the age of 18.
"We must act now", she said.
https://english.alarabiya.net/en/News/gulf/2017/04/25/-March-for-bread-protestors-reach-Hudaydah-port-calling-for-unrestricted-aid-deliveries.html
--------
India
Muslims arrange for cremation of Hindu youth in Malda village
April 25, 2017
Malda (WB), Apr 25 (PTI) Muslim men arranged for the cremation of a youth from an impoverished Hindu family at a Muslim-majority village observing all rituals, including chanting of the name of gods, during the youths last journey to the burning ghat in Malda district today.
Biswajit Rajak of Shekhpura village in Manikchak block died last night after a prolonged fight with liver cancer throwing his poor family into a crisis as it had neither the financial means nor manpower to perform the last rights.
The family huddled around Biswajits body thinking what to do when a few Muslim neighbours came forward and offered help.
They carried the body on a bamboo cot, as is the custom, and walked eight km in a procession to the burning ghat chanting "Ram nam satya hai" and "Bolo Hari Hari bol" all the way.
Inspired by the gesture, Malda Zilla Parishad saha-sabhadhipati (vice-chairman) Gaur Mondal himself joined the cortege.
Later, the Muslim pall-bearers said, "Hindus and Muslims are like two sons of the same mother. We have to look after one another. This will set an example before the country." PTI CORR NN MD
http://indiatoday.intoday.in/story/muslims-arrange-for-cremation-of-hindu-youth-in-malda-village/1/938137.html
--------
2008 Malegaon blast Case: Bombay HC refuses bail to Prasad Purohit, says charges against him within definition of terror act
April 26, 2017
by Ruhi Bhasin |
REJECTING THE bail application of Lieutenant Colonel Prasad Purohit, accused in the 2008 Malegaon blast case, the Bombay High Court on Tuesday said there is "reasonable grounds" to believe that accusations against him are prima facie true. "This appears to be the reason why National Investigation Agency (NIA) has also not given a clean chit to him, though it has done so in respect of some of the co-accused," the bench of Justices Ranjit More and Shalini Phansalkar-Joshi said. Purohit was arrested in November 2008 for allegedly procuring RDX to carry out the blast, and for criminal conspiracy. The court held that the charges against him are grave, inviting punishment of death or life imprisonment.
While the court did not consider provisions of the Maharashtra Control of Organised Crime Act while considering bail application or confessions recorded under the Act, it said that a case under various sections of the Unlawful Activities (Prevention) Act was applicable against Purohit. On deciding the criteria for bail application, the bench said it had considered the earlier chargesheet filed by Maharashtra ATS, and the subsequent report by NIA after re-investigation.
Referring to an apex court judgment, the High Court said even if a "fresh" probe or "re-investigation" is carried out by a different agency, the earlier investigation report is not wiped out from the record in the absence of any specific order passed by the higher court to that effect while ordering such a re-investigation.
"If one has regard to the nature of allegations against Purohit and other accused of using the bomb, or, explosive substance, with intent to threaten, or, likely to threaten, the unity, integrity, security or sovereignty of India and with intent to strike terror or likely to strike terror in the people or particular community of the people in India, like, the Muslim community, it falls within the definition of terrorist act," the court observed.
Full report at:
http://indianexpress.com/article/india/2008-malegaon-blast-case-bombay-hc-refuses-bail-to-prasad-purohit-says-charges-against-him-within-definition-of-terror-act-4628422/
--------
SC gives 'future' bail to terror accused who's in jail for 16 yrs
Apr 26, 2017
NEW DELHI: Gulzar Ahmed Wani of Srinagar has been in jail for nearly 16 years since his arrest in July, 2001, on charges of involvement in a series of terror attacks.
He has since been acquitted in 10 of the 11 cases brought against him by UP and Delhi Police. His co-accused have been granted bail in the remaining one too, but Wani continues to be behind bars as the prosecution in UP has not finished examining even half of the 96 witnesses.
Wani's plight due to the slow progress of the trial drew outrage from the Supreme Court on Tuesday.
"What a shame! He has been acquitted in 10 out of 11 serious cases slapped on him. No credible evidence has been found against him by the trial court in all these cases. The problem with police is, they keep persons in jail and do not produce evidence against them in court," said a bench of CJI J S Khehar and Justice D Y Chandrachud.
In the last case where Wani is being tried, the bench took the unprecedented step of granting him bail with effect from a future date.
"If the prosecution does not complete examination of witnesses by October 31, Wani will be released on bail on November 1, 2017 on the terms and conditions to be imposed by the trial court," it ordered.
Only one case — Sabarmati Express blast of 2000 — is pending against him and his co-accused have got bail, said Wani's counsel Mohd Irshad Hanif. Wani was acquitted in the 10th case, Agra blast of 2000, in April last year.
CJI Khehar said: "Explain why does a person require half a dozen aliases? You have six of them."
In SC's cause list, Wani is also shown as Irshad, Ashraf and Abdul Hamid. Wani's advocate Hanif said he was a bright student at Aligarh Muslim University and was pursuing a PhD in Arabic after completing his post-graduation when he was arrested.
"All these aliases have been given to him by police," he said.
Wani's plight made the CJI-headed bench turn the spotlight on UP police counsel P N Misra, who said Wani had been in jail for the last 16 years not for the Sabarmati Express blast case but for other cases.
"In this case (Sabarmati Express blast), the prosecution had examined six of the 96 witnesses in 2015.
By September last year, you had examined 20 witnesses and till now you have completed examination of 29 witnesses. The Supreme Court had requested the trial court in September last year to complete trial in six months.
When Hanif reiterated that Wani, who was 28 years old at the time of his arrest and is now 44, should be granted bail as the co-accused in the case had got relief, the bench ordered: "We consider it just and proper that one last opportunity be given to the prosecution to examine material witnesses by October 31, 2017.
Whether or not the examination is complete, Wani shall be released on bail on November 1, 2017 on such grounds as may be considered appropriate by the trial court."
Full report at:http://timesofindia.indiatimes.com/india/sc-gives-future-bail-to-terror-accused-whos-in-jail-for-16-yrs/articleshow/58370198.cms
--------
Arab World
Who speaks for Islam and reform? Debate heats up in Egypt
April 26, 2017
CAIRO – It was a startling collision of religion and politics. Egypt's president proposed a new law that would prevent Muslim men from ending their marriages simply by saying "divorce" three times. The country's top institution of Islamic clerics, Al-Azhar, bluntly rejected the idea, saying Islam gives men that right and nothing can change that.
In the months since, that confrontation escalated into a blistering feud over who speaks for Islam and how to bring reforms. Pro-government media accuse Al-Azhar of failing to modernize its teaching to counter militant thought that breeds jihadi movements and violence like the Islamic State group's recent attacks on Egypt's Christians.
This weekend, Pope Francis meets in Cairo with Al-Azhar's grand imam, Sheikh Ahmed el-Tayeb, their second meeting in a historic initiative to improve Muslim-Christian dialogue.
Al-Azhar is revered in Egypt and is prestigious across the Muslim world. A 1,000-year-old university of scholar-clerics, it teaches new generations of Sunni clerics and produces research that for many spells out what being a Muslim entails.
Although it is traditionally touted as the bastion of moderate Islamic thought, it is also conservative in instinct — wary of new ideas and debate, and fixated on maintaining authority.
It vehemently condemns militant attacks and denounces extremist thinkers as perverting Islam. But critics say it is plagued by the same sort of literalism and adherence to historic texts of interpretation that radicals thrive on and that feed intolerance and discrimination against women and minorities, including Christians.
In recent years, it has pushed for the closing of a TV show of a broadcaster who said canonical books of interpretation should be purged of ideas promoting violence and hatred for non-Muslims. In another case, Al-Azhar suspended one of its professors on allegations of "promoting atheism" after he taught from books by liberal writers.
"Our nation will never be a modern and civil state as long as Al-Azhar continues to live on its present rationale," said Mohammed Abu Hamad, a pro-government lawmaker who has recently authored a draft bill that give authorities more controls and limit the number of years its grand imam can serve.
Al-Azhar issued an angry statement last week, calling the criticism "a betrayal" and maintaining its graduates are "messengers of peace, security and good neighborliness."
The government campaign raises another worry — that President Abdel-Fattah el-Sissi is trying to impose greater control on Al-Azhar. The more Al-Azhar is seen as a branch of the Egyptian state, the less legitimacy its voice on Islam has, supporters argue. Radical jihadi sheikhs already dismiss Al-Azhar as "clerics of the sultan" willing to skew "true Islam" to meet the ruler's wishes.
Soon after taking office in 2014, el-Sissi called for the "modernizing of religious discourse," saying Muslims had to dramatically rethink how to address issues to stem Islamic militancy. He has never given specifics, but tasked Al-Azhar with leading the initiative.
Last year, he showed his displeasure with the lack of change, warning that Al-Azhar's clerics would be "held accountable by God" for not modernizing discourse. He ordered his Religious Affairs Ministry to write standardized sermons for all mosque preachers, despite Al-Azhar objections.
The unusual clash over divorce came earlier this year. Criticism accelerated, particularly after IS suicide bombers attacked two churches on April 9, killing 45 people. Some in pro-government media blamed Al-Azhar, saying it had not tackled extremism or had even fueled it.
"Al-Azhar has failed to counter terror," declared Ahmed Moussa, the most vocal of el-Sissi's supporters on television.
After the attacks, el-Sissi ordered the creation of a new state body tasked with fighting terror and addressing radicalism, seen as circumventing Al-Azhar.
Al-Azhar has pushed back with unusual vehemence. For weeks, its mouthpiece, the weekly newspaper Voice of Al-Azhar, has expressed outrage over the criticism, even blaming government failures for terror attacks.
El-Tayeb defended Al-Azhar's role, saying its clerics "stand firm against mistaken ideas that distort religion."
At its heart, Al-Azhar is an education network of hundreds of "ulema," or religious scholar-clerics, who study the Quran and the thousands of sayings of the prophet as well as the vast library of interpretations of those texts written by scholars over the centuries. From that analysis, they produce explanations, dissertations and opinions on proper belief and practice. Its college produces clerics who work in mosques around the world.
Those books of interpretation — some of them hundreds of years old and collectively known as "al-turath" or "heritage" — have become nearly unquestioned canon and are used in the Al-Azhar curriculum.
But some include deeply hard-line ideas. For example, media have pointed to books that teach that Muslims must not greet Christians on their holidays or that building churches is a sin. Others say fighting "infidels" is a duty or that those who convert from Islam to another religion should be killed, or call for oppression of homosexuals.
Ayman al-Sayyad, a writer on religious issues, said jihadi thought "is not coming from nothing," and extremists can find backing in the volumes of interpretation. "In Al-Azhar's library, you can find two books next to each other on the shelf giving opposing views on one topic, like punishment of an apostate."
Al-Azhar's leadership says the conclusions that radical clerics and terror groups reach are complete misreading — such as the permissibility of declaring other Muslims infidels, of killing civilians and of using suicide bombings as well as the duty to wage jihad against Western nations and their Mideast allies. Shariah punishments like stoning adulterers and amputations for thieves, Al-Azhar says, are not applicable in the current age.
Still, texts with those ideas get taught, sometimes uncritically, in Al-Azhar's colleges because they are seen as part of the canon alongside moderate interpretations. They are also taught at the network of elementary, middle and high schools Al-Azhar runs across Egypt, which teach religion alongside math and sciences and other topics.
Critics in pro-government media say such texts should be thrown out. But Al-Azhar has resisted what it sees as "unqualified outsiders" weighing in.
Islam Behery, a young reformist religious researcher, ran into trouble when he said on his TV program that books of heritage should be purged of ideas that fuel terrorism.
A criminal court sentenced him to a year in prison on charges of "contempt of religion," a rare punishment. He was released late last year by a presidential pardon after serving most of his sentence. Al-Azhar, though it denies being behind the complaint that led to his trial, has pushed for Behery to be taken off the air, accusing him of undermining the fundamentals of Islam.
Full report at:
http://www.foxnews.com/world/2017/04/26/who-speaks-for-islam-and-reform-debate-heats-up-in-egypt.html
--------
Iraq forces in push to retake UNESCO-listed Hatra
25 April 2017
Iraqi forces on Tuesday launched a fresh push southwest of Mosul to retake the Hatra area, which includes a UN-listed World Heritage site, a statement said.
The operation marks the latest phase of an offensive launched by the Hashed al-Shaabi (Popular Mobilisation) paramilitary forces in parallel to the main assault on Mosul begun six months ago.
The Hashed forces, dominated by Iran-backed militias, have focused their efforts on a front southwest of Mosul which aims at retaking the town of Tal Afar as well as desert areas stretching to the border with Syria.
"Hashed al-Shaabi forces launched Operation Mohammed Rasool Allah aimed at liberating Hatra and neighboring areas," the organization said in a statement.
It said that five villages had already been retaken from the ISIS group on Tuesday and that Hashed engineering units were clearing the road to Hatra of explosive devices.
Hatra, known as Al-Hadhr in Arabic, was established in the 3rd or 2nd century BC and became a religious and trading center under the Parthian empire.
Its imposing fortifications helped it withstand sieges by the forces of two Roman emperors: Trajan in 166 AD and Septimus Severus in 198.
Hatra finally succumbed to Ardashir I, the founder of the Sassanid dynasty, a few decades later, but the city remained well-preserved over the centuries that followed.
Hatra left its mark on pop culture as the location for the opening of horror film "The Exorcist", which was shot there in 1973.
The militants damaged parts of Hatra after taking over a third of Iraq in 2014, as part of a heritage destruction campaign that also saw them vandalise Mosul museum, blow up shrines and damage the ruins of the ancient city of Nimrud.
The militants see such destruction as a religiously mandated elimination of idols - but they also have no qualms about selling smaller artefacts to fund their operations.
Full report at:
https://english.alarabiya.net/en/News/middle-east/2017/04/25/Iraq-forces-in-push-to-retake-UNESCO-listed-Hatra.html
--------
Turkish strikes kill Kurdish fighters in Syria, Iraq
APRIL 26, 2017
AL-MALIKIYAH, Syria - Turkish warplanes killed more than two dozen Kurdish fighters Tuesday in strikes in Syria and Iraq, where the Kurds are key players in the battle against the Islamic State group.
Turkey said it had carried out the strikes in northeast Syria and northern Iraq against "terrorist havens", vowing to continue acting against groups it links to the outlawed Kurdistan Workers' Party (PKK). In northeast Syria, strikes targeting the Kurdish People's Protection Units (YPG) - who are leading the offensive against IS stronghold Raqa - were reported to have killed 20 fighters. In northern Iraq they killed six peshmerga fighters from the autonomous Kurdish government, usually allied with Ankara, in an apparent accident.
Baghdad condemned a "violation of international law and Iraqi sovereignty". "The Iraqi government condemns and rejects the strikes carried out by Turkish aircraft on Iraqi territory," government spokesman Saad al-Hadithi said.
The strikes underlined the complexities of the battlefields in Iraq and Syria, where twin US-backed offensives are seeking to dislodge IS from its last major urban strongholds. They could also exacerbate tensions between Ankara and its NATO ally Washington, which leads an anti-IS coalition carrying out air strikes in Syria and Iraq and sees the Kurds as instrumental in the fight against IS.
Turkey said its strikes aimed "to destroy terrorist havens targeting our country" and vowed to press the offensive "until the very last terrorist is neutralised".
An army statement said the strikes "destroyed" shelter areas, ammunition warehouses and PKK communications facilities. It said 40 PKK fighters were "neutralised" in Iraq and around 30 in Syria.
"The solution to the problem of the presence on Iraqi territory of PKK members must be coordinated with the Iraqi government," spokesman Hadithi said.
The bombardment near the Syrian city of Al-Malikiyah saw "dozens of simultaneous air strikes" overnight on YPG positions including a media centre, a monitoring group said.
The strikes killed three media officers and 15 YPG fighters, one of the highest death tolls from Turkish air raids on Kurdish militia, said Syrian Observatory for Human Rights head Rami Abdel Rahman.
YPG spokesman Redur Khalil said 20 YPG fighters were killed and 18 wounded, three critically. Two civilians were also injured.
An AFP journalist saw collapsed buildings and rescuers searching through the rubble.
Representatives of the US-led coalition visited the site of the air strikes, the YPG's political arm, the Democratic Union Party (PYD), said on Twitter. An officer wearing a patch bearing a US flag was seen at the site with YPG fighters.
Ankara has bombed the YPG in northern Syria for months, calling it a "terrorist" group because of its ties to the PKK, which has been waging a deadly insurgency against Turkey since 1984.
While the air raids on Syria appeared to hit their intended targets, the bombardment in Iraq instead killed members of Kurdish security forces typically allied with Ankara.
The peshmerga ministry in Iraq's autonomous Kurdish government said the raids killed five of its fighters and one intelligence officer.
Turkey appeared to have been targeting a minority Yazidi militia allied with the PKK and based in the northwestern region of Sinjar.
Full report at:
http://nation.com.pk/international/26-Apr-2017/turkish-strikes-kill-kurdish-fighters-in-syria-iraq
--------
More Civilians Killed in US-Led Coalition Airstrikes in North-eastern Syria
Apr 25, 2017
The warplanes targeted a vehicle carrying civilians near al-Tabaqa city in Western Raqqa, killing all the civilians on board, including several children.
Local sources reported that the victims were fleeing battlefields in al-Tabaqa city when they came under attack by the coalition fighter jets.
Relevant reports said on Sunday that the warplanes pounded a residential neighborhood in al-Tabaqa city, killing eight civilians, including five children.
Also, several civilians were injured in the attack.
On Wednesday over 10 civilians were killed and wounded in the US-led collation air raids in two different regions in Raqqa province.
The US-led coalition warplanes bombed the town of Ma'adan in the Eastern countryside of Raqqa city, killing five civilians and wounding three others.
Full report at:
http://en.farsnews.com/newstext.aspx?nn=13960205000488
--------
FSA, ISIL Resume Clashes in Qalamoun
Apr 25, 2017
The FSA militants stormed ISIL's positions in al-Mahsaa and Abu al-Shamat in order to lift the siege on their comrades in Eastern Qalamoun.
According to the Free Syrian Army's official media center, the militant group managed to capture several points, forcing the ISIL to retreat towards the al-Badiyeh (desert) region North-West of Damascus province.
In relevant developments in the province in late March, the ISIL militants were driven out of important areas in Eastern al-Qalamoun region of Damascus province after they came under attack by rival terrorist groups.
A coalition of militant groups made massive gains against the ISIL in the Eastern al-Qalamoun region.
The coordinated operation room, comprised of militant factions of Jeish al-Islam, Ahmad al-Abdo Brigade and Faylaq al-Rahman continued its advance in al-Qalamoun area after capturing several sites, including al-Afaei and al-Batra mountain chains.
Full report at:
http://en.farsnews.com/newstext.aspx?nn=13960205000522
--------
Syrian Army at Gates of Main Terrorist Bastions in Hama
Apr 25, 2017
The army men recaptured the village of Zour Al-Mahrouqah, few kilometers to the South of the town of al-Latamina near the border with Idlib, while militants withdrew from Zour Al-Mahrouqah to al-Latamina outskirts as they hope to make a stand against the Syrian Armed Forces.
As a result of the army's advance on Monday and Tuesday, Damascus forces are inching closer to al-Latamina, a Takfiri terrorist stronghold which has been under militants' control since 2012.
In the meantime, the Syrian and Russian fighter jets carried out non-stop sorties on the headquarters of the militants in the villages and towns of Kafr Zita, al-Latamina, Ma'arkabeh, Alboyzeh in Northern Hama and the town of Khan Sheikhoun in Southern Idlib.
The army soldiers have won back three main towns of Souran, Taybat al-Imam and Halfaya from terrorists in recent days.
Reports said on Monday that the army forces struck again Al-Nusra's positions in Northern Hama and captured al-Zalaqiyat region after hours of non-stop battle, killing and wounding a number of militants.
A military source said al-Zalaqiyat region was home to the terrorists' artillery and mortar units to target the army position, underlining the importance of the victory for the pro-government forces.
Full report at:
http://en.farsnews.com/newstext.aspx?nn=13960205000365
--------
Syrian Army on Verge of Victory in Large Energy Field in Eastern Homs
Apr 25, 2017
The army men engaged in fierce clashes with ISIL terrorists Northeast of Palmyra, winning control over several strategic positions near al-Sha'er gas field, killing over 25 terrorists.
A field source meantime said that the army soldiers won back Heights of 1,062-1,132-1,108-7 and 969.
The source underlined that if the army men drive ISIL out of al-Sha'er energy field they will be capable of restoring full security to the Northern countryside of Palmyra.
Relevant reports said on Monday that the army troops, backed up by the country's Air Force, warded off a heavy attack of Al-Nusra Front (also known as Fatah al-Sham Front or the Levant Liberation Board) in Northern Hama, forcing the terrorists to retreat from the battlefield.
The army soldiers engaged in fierce clashes with Al-Nusra terrorists that tried to penetrate into the pro-government forces' positions near the village of al-Qabou and managed to fend off their attack, killing and wounding a number of militants and forcing the remaining pockets of them to flee towards their positions in al-Houleh region's settlements.
Full report at:
http://en.farsnews.com/newstext.aspx?nn=13960205000389
--------
Turkish Warplanes Target Pishmarga Bases, Residential Areas in Syria, Iraq
Apr 25, 2017
The sources complained that despite the Turkish army's claim about hitting the positions of the Kurdistan Workers' Party (PKK), several rounds of heavy bombardments have been carried out on the Kurdish People's Protection Units (YPG) and residential areas in Iraq and Syria by the Turkish fighter jets.
The Turkish army announced on Tuesday that its aircraft carried out combat sorties over PKK positions in Iraq and Syria.
Based on the Turkish army, the warplanes took off from Diarbakr and bombed regions near Sinjar in Iraq and border areas in Northeastern Syria.
Local sources rejected the Turkish army claims, and said that the fighter jets did not raid PKK positions and rather bombed the positions of Pishmarga, YPG and residential areas, leaving a large number of people dead or wounded.
Also, the Turkish army soldiers and allied militants targeted heavily the positions of Kurdish fighters in five different regions in Northern Aleppo, escalating fierce clashes with the Kurds.
Artillery and mortar units and tanks of the Turkish army and Ankara-backed militants of the Euphrates Shield Operation shelled Kurdish combatants' concentration centers and defense lines in the villages of al-Shahba, al-Samouqeh, Zouyan, al-Hasiyeh and Um Hawsh in around the towns of Ezaz and Afrin in Northern Aleppo.
Full report at:
http://en.farsnews.com/newstext.aspx?nn=13960205000338
--------
Iraq forces retake large Mosul neighbourhood from ISIS
25 April 2017
Iraqi forces reook full control of one the largest neighborhoods of west Mosul Tuesday from the ISIS group after a week of intense fighting, a top commander said.
"This morning, the heroes of the Counter-Terrorism Service on the western axis succeeded in fully clearing Tenek neighborhood," Staff Lieutenant General Abdulwahab al-Saadi told AFP in Mosul.
The elite forces have been spearheading a massive offensive launched in mid-October 2016 to retake Mosul, the country's second city and the last major Iraqi bastion of the militants' now crumbling "caliphate".
The eastern side of the city, which is divided by the Tigris river, was recaptured in January, and a push on the west bank of Mosul launched the following month has made steady progress despite fierce resistance.
Tenek, on the western edge of the city, "is one of the largest neighborhoods on the western side of Mosul," said Saadi, one of the top CTS commanders in Iraq.
"It used to be one of the main strongholds for terrorist groups," he said. Saadi said the fighting in Tenek was fierce and lasted a full week.
"More than 20 car bombs were destroyed, dozens of terrorist militants were killed. Their bodies are still on the streets and inside houses," he said.
Only a few hundred ISIS fighters are believed to remain in west Mosul, most of them hunkering down in the Old City amidst several hundred thousand trapped civilians.
Iraqi forces have retaken neighborhoods to the south, west and north of the Old City, tightening the noose around ISIS before a high-risk final assault.
Full report at:
https://english.alarabiya.net/en/News/middle-east/2017/04/25/Iraq-forces-retake-large-Mosul-Neighbourhood-from-ISIS.html
--------
Bahrain revokes nationality of dozens of political dissidents
Apr 25, 2017
Bahraini courts have revoked the citizenship of dozens of people as part of the ruling Al Khalifah regime's oppressive measures and heavy-handed crackdown on political dissidents and pro-democracy campaigners in the tiny Persian Gulf kingdom.
On Tuesday, the courts sentenced three defendants to life imprisonment, while the rest were slapped with between three and ten years in jail. The activists were all found guilty of "forming a terror cell and illegally possessing explosives," Arabic-language Lualua television network reported.
The development came only two days after Bahrain's Supreme Court of Appeal sentenced three defendants to 15 years and three others to 10 years behind bars.
The seventh defendant was slapped with three years in jail.
They were all charged with "forming a terror cell and possessing explosives in the western village of Dar Kulaib."
Thousands of anti-regime protesters have held numerous demonstrations in Bahrain on an almost daily basis ever since a popular uprising began in the country on February 14, 2011.
They are demanding that the Al Khalifah dynasty relinquish power and a just system representing all Bahrainis be established.
Full report at:
http://www.presstv.ir/Detail/2017/04/25/519435/Bahrain-courts-strip-nationality-activists
--------
Europe
French mayor fined for 'too many Muslim children' comment
Apr 26, 2017
A far-right French mayor has been fined 2,000 euros for inciting hatred, after declaring that there were too many Muslim children in his local schools.
Robert Menard, mayor of the southern town of Beziers, is an ally of the anti-immigrant National Front party.
On 1 September 2016, France's first day back at school, he tweeted that he was witnessing the "great replacement".
The divisive term is used to describe the alleged eviction of France's white Christian population by migrants.
On 5 September Menard said on LCI television: "In a class in the city centre of my town, 91% of the children are Muslims. Obviously, this is a problem. There are limits to tolerance."
France's most powerful far-right mayor
Five things the French election has told us
Why is France's presidential election so important?
French law prohibits data based on people's religious beliefs or ethnicity.
Menard defended his comments, saying: "I just described the situation in my town. It is not a value judgement, it's a fact. It's what I can see."
In addition to the fine, a Paris court awarded €1,000 (£850; $1,100) in court costs to anti-racist groups that had brought the case.
The fine was higher than the €1,800 called for by the public prosecutor, who said Menard had "pointed the finger at kids, whom he describes as a weight on the national community".
Menard says he will appeal against the ruling.
Mr Menard, a fierce critic of immigration, is an independent politician who is supported by the far-right National Front (FN).
Far-right leader Marine Le Pen is due to face centrist candidate Emmanuel Macron in the second round of a presidential election on 7 May.
She has temporarily stood down as president of the National Front, in an attempt to brand herself as the "candidate of the people".
http://www.bbc.com/news/world-europe-39713267
--------
Suspects with links to Belgian airport attack arrested in Spain
25 April 2017
Spanish police said on Tuesday they had arrested nine men and raided 12 properties in Barcelona in an operation against suspected extremist militants believed to be linked to last year's attack on Brussels airport.
The operations were carried out in conjunction with Belgian and Moroccan police. At least three of those arrested were suspected of links to the Belgian suicide bombings in March of last year, which killed 31 people at the Brussels airport and on a metro train, Spain's High Court said in a statement.
The nine arrested men were Moroccan apart from one Spaniard and were aged between 30 and 40, the police said.
Most already had criminal records related to organized crime such as drug trafficking. Most had lived for more than 20 years in the northeastern region of Catalonia, although they often returned to Morocco for visits, the court said.
House searches turned up documents, computers and memory drives that will now be analyzed by authorities, as well as at least three guns and drugs including marijuana, the police and court said.
Raids of houses in Morocco connected to the men are currently underway in collaboration with Moroccan police, the police said.
Full report at:
https://english.alarabiya.net/en/News/world/2017/04/25/Spain-arrests-suspects-with-links-to-Belgian-airport-attack.html
--------
Turkey put on Europe rights watch list over post-coup crackdown
Apr 25, 2017
A leading European human rights body has put Turkey on a watchlist over the Ankara government's heavy-handed crackdown on opposition figures and political dissidents following the abortive July 15 military coup last year, rights violations and concerns about President Recep Tayyip Erdogan's increased executive powers.
On Tuesday, the 47-member Parliamentary Assembly of the Council of Europe (PACE) voted 113 in favor of the procedure against Turkey versus 45 against. The assembly called on Turkey to promptly lift the state of emergency, and free jailed lawmakers and journalists.
The vote at the Strasbourg-based assembly is set to further sour relations between Turkey and the European Union.
EU lawmakers are scheduled to debate relations with Ankara on Wednesday, and the bloc's foreign ministers will discuss the situation on Friday. EU leaders are expected to exchange viewpoints on the issue when they meet over United Kingdom's planned withdrawal from the union, commonly known as Brexit, on Saturday.
The Turkish Foreign Ministry has reacted angrily to the vote, strongly condemning it as an "unjust decision." The ministry argued that PACE's move to put it on its monitoring watchlist has left Ankara with no choice but to reconsider its relations with the body.
"Deciding to re-open the monitoring procedure on Turkey... under the guidance of malicious circles at the PACE is a disgrace to this organ, which claims to be the cradle of democracy," the Turkish Foreign Ministry said in a statement.
The statement added that xenophobia and Islamophobia are "spreading with violence" across Europe.
Turkey has been trying to join the EU since the 1960s, but the formal negotiations started in 2005. However, the process has been mired in problems, and only 16 chapters of the 35-chapter accession procedure have been opened for Ankara so far.
Relations between Ankara and the EU have further deteriorated following the botched putsch against Erdogan, which Ankara claims to have been organized by US-based opposition cleric Fethullah Gulen.
Over 240 people were killed and more than 2,100 others injured in the violence, which Gulen has strongly condemned and denied any involvement in. Tens of thousands of people, including military personnel, judges and teachers, have been suspended, dismissed or detained as part of the post-coup crackdown.
On November 24, 2016, the European Parliament adopted a non-binding motion by 479 votes to 37, with 107 abstentions, calling for "a temporary freeze of the ongoing accession negotiations with Turkey."
Turkey called on the EU to resume the negotiations in January.
Full report at:
http://www.presstv.ir/Detail/2017/04/25/519459/Europe-council-Turkey-watchlist-crackdown-coup-Erdogan-human-rights-violations
--------
Erdogan slams 'political' Council of Europe decision
26 April 2017
Turkish President Recep Tayyip Erdogan on Tuesday criticized the Parliamentary Assembly of the Council of Europe's (PACE) decision to put Turkey on a political monitoring watch list.
Ankara does not recognize the "entirely political" decision, Erdogan told Reuters news agency.
Turkey is ready to reconsider its position on joining the European Union, Erdogan said.
EU lawmakers are scheduled to hold a debate Wednesday on relations with Turkey.
Turkey remains committed to a stalled accession process to join the 28-member bloc, but Erdogan did not rule out putting the question of whether to join to a referendum.
"If they are not acting sincerely, we have to find a way out. Why should we wait any longer? We are talking about 54 years," he said.
"In 54 years, the EU has never kept a promise to Turkey, has never dealt in a genuine, sincere manner," the president said.
Erdogan said unfulfilled promises included the EU's pledge to give Turkey a total of 6 billion euros as part of a refugee response deal.
The EU contribution stands at 725 million euros, Erdogan said, as Turkey continues to spend billions of dollars hosting a three-million refugee population displaced due to the Syrian crisis.
"In Europe, things have become very serious in terms of the extent of Islamophobia. The EU is closing its doors on Turkey and Turkey is not closing its doors on anybody," Erdogan said.
The Turkish president said he wasn't against a referendum on whether to continue the accession process.
"The U.K. asked her people and they voted for Brexit," he said. "They have peace of mind, they are walking towards a new future."
Recalling a similar referendum in Norway on whether to join the bloc, Erdogan said: "The same thing can be applied for Turkey too."
The president said the EU was in a "process of dissolution".
"One or two countries cannot keep the EU alive," Erdogan said. "You need a country like Turkey, a different country symbolizing a different faith, this would make them very strong.
"But the EU member states don't seem to realize this fact. They are finding it very difficult to absorb a Muslim country like Turkey," Erdogan added.
The human rights body PACE's decision to monitor Turkey came following an investigation into the country's democratic institutions.
Erdogan stressed that the ongoing state of emergency and mass suspensions of state employees were measures against terrorist threats in the wake of the deadly July 15 coup attempt.
Ankara blames the Fetullah Terrorist Organization (FETO) for the defeated putsch, which resulted in 249 deaths. FETO is accused of infiltrating deep into state institutions.
Erdogan said France has now been enforcing a state of emergency for a year and a half since the Nov. 2015 Paris terror attacks, and Sunday's first round of the country's presidential elections was held under a state of emergency.
Turkish airstrikes against the PKK in Iraq and Syria
Turkey on Tuesday carried out a number of airstrikes against PKK targets in Sinjar, Iraq and Karacok, Syria, killing a total of 70 terrorists.
Erdogan said local governments, as well as the U.S. and Russia, had been notified in advance.
The president said it was a "source of sadness for us" that five or six Peshmerga forces were killed in the attack despite the warnings.
"The Turkish military's operation is absolutely not against Peshmerga forces," Erdogan said.
He said there were approximately 2,000 PKK members in Iraq's Sinjar, which "we cannot allow to become" a PKK base.
Full report at:
http://www.worldbulletin.net/europe/188538/erdogan-slams-political-council-of-europe-decision
--------
Group claims Russia metro terror attack
26 April 2017
A group called the Imam Shamil Battalion has claimed responsibility for a metro bombing in the Russian city of St. Petersburg that killed 16 people and says the bomber was acting on orders from al-Qaeda, according to the SITE monitoring group.
The claim on Tuesday by the little-known group was originally published by the Mauritanian news agency ANI, which is often used by West and North African jihadist groups to release statements.
The statement, posted by SITE on Tuesday, said the bomber, Akbarzhon Jalilov, had acted on instructions from al-Qaeda leader Ayman al-Zawahiri, in the April 3 attack on the metro in Russia's second biggest city.
'Following the instructions of Sheikh Ayman al-Zawahiri... the lion Akbarzhon Jalilov, one of the knights of Islam in the Imam Shamil Battalion, carried out a heroic operation... in the city of St. Petersburg, concurrent with the visit to it by the criminal (Russian President Vladimir) Putin,' it said.
t said the metro attack was revenge for Russian violence against Muslim countries, citing Syria and Libya as well as the Russian republic of Chechnya.
'To the Russian government, which apparently has not taken a lesson from its defeat in Afghanistan, we say: This operation is only the beginning, and what is to come will make you forget it, Allah permitting,' the statement read, implying there would be even more deadly attacks against Russia in the future.
Full report at:
http://www.skynews.com.au/news/world/europe/2017/04/26/group-claims-russia-metro-terror-attack.html
--------
Pakistan
Four terrorists killed in encounter with Rangers
April 26, 2017
KARACHI - At least five people, including a woman and a five-year-old child, were killed during over seven hours of encounter that took place in the downtown of the city.
The militants killed are believed to be associated with the outlawed militant organisation, Jundullah.
"The raid was conducted on a tip-off, provided by a high- profile terrorist, who had been arrested from Ittehad Town area of Baldia Town," explained a Rangers spokesperson on Tuesday. The raid was conducted on a residential building, located in street No 3 of Urdu Bazaar, at around 7:17pm on Monday evening.
On seeing the Rangers' personnel, terrorists started hurling hand grenades at them besides using other weapons. During the exchange of fire, four personnel sustained wounds," the spokesperson elaborated.
"The Rangers had timely cordoned off the building, inside which all the four terrorists, including a woman, had locked themselves in a room," the spokesperson said, and added, "One terrorist was killed while he was trying to flee while the remaining three blew themselves up during the operation that lasted till around 2:45am on Tuesday." "A five-year-old child was also killed due to the blast," he revealed.
The spokesman also claimed that sophisticated weapons, hand grenades and ammunition were also recovered from the possession of terrorists.
It has also been learnt that the terrorists had hired the apartment on rent about three months ago, and the security forces had also detained Naseeruddin, cousin of slain militant Naeemuddin, as the rent agreement was in Naseer's name. The terrorists killed were identified as Zahid Afridi aka Faheem aka Hameed, Muhammad Hafeezullah Quettawal, Mama and a female facilitator, Afshan. As per Rangers' account, they were involved in various terrorist activities, including a remote control blast on Special Security Unit's bus on March 15, 2015 that had claimed the lives of at least two policemen and had wounded fifteen others.
They also helped their detained accomplices flee from the court with hand grenades and firing.
The slain militants had also claimed the lives of around 15 to 20 members of Shia community in 2013; had carried out attack on Rangers mobile at Masjid Abu Huraira that resulted in the deaths of four Rangers soldiers; dacoity of Rs5.2 million at a bank in Nazimabad on 30 November 2011; another bank dacoity of Rs5.6 million and killing of two persons at another bank near Maripur on November 14 2008.
They had also kidnapped an ANP worker Ajab Khan on August 2014 and freed him after getting Rs10.5 million. They were also linked to the planning of an attack on Central Jail in 2015.
Go-down burnt to ashes on Hawkesbay Road
Meanwhile, tyres, worth millions of rupees, burnt into ashes here when a fire broke out at a go-down on Hawkesbay Road near Gull-Baiee intersection on Tuesday. The actual cause of the fire is yet to be ascertained while no loss of life has been reported.
According to fire brigade spokesperson, the fire broke out a tyre go-down.
Reacting to information, fire tenders of Fire Brigade Department, Karachi Port Trust and Pakistan Navy immediately reached the site and participated in the fire extinguishing operation.
Fire Brigade spokesperson said that the intense fire gutted the entire go-down rapidly.
Extra-contingents of law enforcers also reached the site to help the fire fighters.
Mauripur police officials said that although the actual cause of the fire was yet to be ascertained, the initial investigation suggested that it erupted accidentally.
Police officials said that the case would be registered when any criminal act was found during the inquiry.
The spokesperson further said that the firefighters were able to control the fire after hectic efforts of at least four hours. However, the cooling process was continuing till Tuesday evening.
http://nation.com.pk/national/26-Apr-2017/four-terrorists-killed-in-encounter-with-rangers
--------
Pakistan to maintain pressure on terrorists: Dar
April 26, 2017
ISLAMABABD - US Acting Deputy Secretary of State Tom Shannon who called on Finance Minister Muhammad Ishaq Dar at Pakistan Embassy Washington DC, conveyed the Trump Administration's commitment to engage Pakistan for a broad-based bilateral relationship and to partner with Pakistan for achieving regional peace and security in South Asia.
According to a message received here late Monday night, the finance minister, who is visiting the United States to participate in the spring meetings of the World Bank and IMF, is utilising his stay in Washington to engage the US officials for exchange of views on important bilateral matters and regional issues.
Dar conveyed to the US official that Pakistan would continue to make efforts to build on the already existing mutually beneficial elements in the bilateral relationship in the days and months ahead to further solidify the relations between the two countries during the Trump Administration.
"We would continue to work for a relationship based on mutual respect and mutuality of interests", observed Dar.
Reiterating Pakistan's strong resolve to combat terrorism and extremism in the country, the finance minister briefed the acting deputy secretary about Pakistan's sustained counter-terror operations across the country.
"We are conducting these security operations with the unwavering belief that ridding the society of the scourge of terrorists and extremists is in Pakistan's national interest. People of Pakistan are backing our security forces in their operations as a result of the national consensus achieved by the people and the institutions of Pakistan. There is no other country which has sacrificed more in human lives and material terms than Pakistan in the global fight against terrorism."
He told the US official that the economic turnaround in the country was an indication of the improved security situation as well as a result of the highly liberal economic policies pursued by the government of Pakistan. He assured the US official that the government would maintain the pressure on the elements engaged in terrorism and extremism in the country till the objectives set out in the National Action Plan for secure and prosperous Pakistan were achieved.
The finance minister welcomed the US National Security Advisor Lt-Gen McMaster's recent visit to Pakistan, terming it a strong and timely indication of the US's desire to partner with Pakistan in achieving the common objectives of peace and security in Afghanistan and the larger South Asia region.
Highlighting the concerns in Pakistan over the deteriorating security situation in Afghanistan, Dar observed that the only long-term resolution of the problems in Afghanistan was political and use of military means should only be to facilitate an Afghan-owned and Afghan-led reconciliation process.
DAR SEEKS US INVESTMENT
The present govt is committed to ensuring transparency in all sectors of the economy working closely with the international organisations like OECD etc for bringing good governance through transparency and fighting against corruption & tax evasion, Federal Finance Minister, Senator Muhammad Ishaq Dar told the US Pakistan Business Council (USPBC).
According to a message received from Pakistan Embassy in Washington DC early Tuesday morning, he was addressing the members of USPBC at US Chamber of Commerce in Washington DC.
After having achieved the macroeconomic stability, Dar said that the Pakistan government was making concrete efforts to achieve sustainable and inclusive higher growth.
He apprised the audience that international rating of Pakistan has improved significantly from negative to positive during the span of last four years.
Our Stock Market has emerged as 5th best performer in the world which clearly indicates that Pakistan has huge potential for investment, he said.
Pakistan has so far introduced 24 laws to make the environment business friendly whereas 10 more such laws are in the making.
While stating that Pakistan and the US have long history of strong bilateral relations particularly in the arena of trade, business & social development, the Minister urged the US investors to take advantage of the tremendous investment opportunities opening up in Pakistan.
Full report at:
http://nation.com.pk/national/26-Apr-2017/pakistan-to-maintain-pressure-on-terrorists-dar
--------
IHC extends stay against extradition of US citizen
April 26, 2017
ISLAMABAD: Justice Shaukat Aziz Siddiqui of the Islamabad High Court (IHC) on Tuesday extended the stay against the extradition of an American of Pakistani origin until May 9 and summoned the inquiry report of the Islamabad administration.
Talha Haroon, who has been in Adiala jail since Sept 2016, was allegedly planning to carry out terror activities in the US.
Additional deputy commissioner Abdul Sattar Essani conducted an inquiry and recommended that the suspect might be sent back to the US under section 13 of the Extradition Act 1972.
The government's counsel submitted a report of the interior ministry during the hearing of the petition filed against the extradition of Mr Haroon, which said the suspect was not a Pakistani national hence could not claim fundamental rights guaranteed under the Constitution.
The petition, filed by Haroon's father, pointed out that the accused was innocent and had the fundamental right to freedom of life guaranteed to him under Article 9 read with Article 14 of the Constitution of Pakistan.
The US Department of Justice shared the investigation conducted by the FBI which claimed that the suspect planned attacks on the New York Subway, Times Square and a concert in June last year.
Full report at:
http://www.dawn.com/news/1329322/ihc-extends-stay-against-extradition-of-us-citizen?preview
--------
PTI set to release Urdu translation of Panama Papers verdict
April 26, 2017
Pakistan Tehreek-e-Insaf (PTI) is all set to release Urdu translation of Panama Papers verdict of the Supreme Court of Pakistan.
Fawad Hussain Chaudhary, PTI spokesperson, revealed it in a tweet while answering a question about the development in the Urdu translation of the final verdict.
"Proof reading of the Urdu translation is underway and will be released in a day, InshAllah," replied Fawad Chaudhary.
On April 20th, Supreme Court gave final decision on Panama Leaks case. Two of the five-member larger bench appealed for disqualification of Prime Minister Nawaz Sharif while three others ordered to establish a Joint Investigation Team (JIT) to probe the matter further.
Full report at:
http://nation.com.pk/national/26-Apr-2017/pti-set-to-release-urdu-translation-of-panama-papers-verdict
--------
15 killed in Kurram as bomb hits bus
April 26, 2017
PESHAWAR - Fifteen people were killed Tuesday after a roadside bomb targeted a minibus in the Godar area of Kurram Agency.
Local government officials said the blast ripped through the bus as it travelled through a Shia region of the tribal area, which borders Afghanistan. The area has a long history of sectarian violence.
Five women and four children were among the 15 killed, while nine people were wounded in the explosion. The injured included four Khasadar official who were on way to perform census duty.
Jamat-ul-Ahrar, a breakaway Taliban faction, said it was behind the attack on the Shias. A spokesman for the defunct organisation, Asad Mansur said in a statement the explosive device had been intended to target the Shias and workers in the area carrying out a census.
Sources said that the passenger minibus was on way from Godar to Sadda when it was hit by the bomb near Pato Kot village.
Militants planted the remote-controlled bomb and when the passengers were coming, they detonated it," Kurram Assistant Political Agent Shahid Ali Khan said.
Soon after the incident, locals rushed to the spot and shifted the injured to Agency Headquarters Hospital in Parachinar, the main town of Kurram.
As the area do not have adequate medical facilities to treat the seriously injured, an army helicopter was used to airlift them to the Combine Military Hospital in Peshawar.
The identity of the deceased and the injured could not be ascertained immediately.
For more than a decade, Pakistan has been fighting religious and sectarian militants who have killed tens of thousands of people. Islamabad has also undertaken several large-scale offensives in the tribal regions in an effort to rout militants from the area.
Prime Minister Nawaz Sharif ordered officials to "extend maximum support" for the treatment of the injured, his office said.
Pakistan, a mainly Muslim nation of about 190 million people, is conducting a nationwide census but militants have frequently targeted officials collecting the data.
Pakistani Taliban and other Sunni militant groups also often target minority Shias whom they consider to be heretics. The Islamic State group has also claimed several recent attacks in the country.
Full report at:
http://nation.com.pk/national/26-Apr-2017/15-killed-in-kurram-as-bomb-hits-bus
--------
JI launches one million petitions drive against KE
April 26, 2017
KARACHI - Jamaat-e-Islami (JI) Karachi has launched one million petitions drive as a part of its comprehensive campaign against the K-Electric (KE).
The drive is aimed at providing the affected consumers of KE with a platform for waging a legal battle against the company. JI Karachi chief Engineer Hafiz Naeem-ur-Rehman launched the campaign on Tuesday after addressing a press conference at JI's camp outside the K-Electric's head office. Further talking about the campaign, he said that the party would approach the Supreme Court (SC) after compiling issues of one million people from across the city.
Speaking on the occasion, he reiterated that the JI will continue the campaign against the company.
He, however, made it clear that the sit-in against the KE and the government would be held outside the Governor's House as per schedule on Saturday April 29.
He clarified that the party intended to hold a peaceful sit-in. "However, the government will be responsible for the situation if the peaceful protest is disrupted," Naeem warned. To a question, he said that Sindh Governor had contacted him twice.
He further said that the party had welcomed the governor's offer of holding negotiations with the KE.
He further said that the governor was told that any meeting would be fruitless if it would be held without the presence of representatives from NEPRA and the federal government. "Furthermore, the governor was also told that dialogue would only be held with the owners of KE and not with paid employees of second category," the JI leader disclosed.
He said that the KE administrators were contemplating fleeing from the country as they had been concealing their accounts since June 2016, which was another clear violation of rules and regulations. Naeem said it was also the responsibility of Karachiites to support the party and come forward against KE for their own rights. The JI leader also said that KE's De-rated production capacity was 2093 megawatts while NTDC provided 650 and IPPs provided it with 350 megawatts of electricity. "The KE administration is imposing loadshedding despite the fact that the production capacity of the company is more than the requirement," he said, and added that Karachiites needed almost 2300 megawatts of electricity whereas the KE's production capacity and the electricity made available to the company by IPPs and the federal government is almost 3093 megawatts.
Full report at:
http://nation.com.pk/karachi/26-Apr-2017/ji-launches-one-million-petitions-drive-against-ke
--------
Mideast
Ankara to continue military operations in Iraq, Syria: Turkish president
Apr 25, 2017
Turkish President Recep Tayyip Erdogan has vehemently defended Ankara's recent deadly airstrikes in Iraq and Syria, vowing that Turkey would continue its military operations in both Arab countries "until the last terrorist is eliminated."
The Turkish leader made the remarks in an interview with Reuters in the presidential palace in Ankara on Tuesday, adding that he would not allow Iraq's northwestern Sinjar Mountains area to become a "new Qandil" for the militants of the outlawed Kurdistan Workers' Party (PKK), referring to a PKK bastion in Iraq, near the borders with Turkey and Iran.
"We are obliged to take measures. We must take steps. We shared this with the US and Russia and we are sharing it with Iraq as well," Erdogan further said.
Erdogan's comments came hours after Turkish warplanes conducted a number of overnight airstrikes against alleged positions of militants in Sinjar and northern Syria.
According to the so-called monitoring group of Syrian Observatory for Human Rights, Turkish fighter jets killed at least 18 members of the PKK-linked Kurdish People's Protection Units (YPG), the military wing of the Syrian Democratic Union Party (PYD) and a bulk of the Syrian Democratic Forces (SDF). The US-supported SDF is reportedly fighting with the Daesh Takfiri terrorist group in Syria and the US's support of the group has enraged Turkey.
The airstrikes in Sinjar area, which were purportedly aimed at positions held by the PKK-supported Yazidi Protection Units (YBS), claimed the lives of five Peshmerga forces and a police officer instead, drawing condemnations from the authorities of Iraq's semi-autonomous Kurdistan region. Iraqi Prime Minister Haider al-Abadi also lambasted the airstrikes as unacceptable.
In response, Erdogan regretted the killing of Peshmerga fighters and said that Ankara's action was "absolutely not an operation against the Peshmerga."
Since July 2015, Turkish air force has been carrying out operations against the PKK positions in the country's troubled southeastern border region as well as in northern Iraq and neighboring Syria.
In early December 2015, Turkey deployed a contingent of its troops to the Bashiqa military camp north of Mosul, claiming that the move had been earlier coordinated with Iraqi officials. Baghdad swiftly denied the claim and ever since has called on Ankara to immediately withdraw its forces from the camp. Turkey, however, has so far refused to pull out its forces from the Iraqi soil.
In August 2016, Turkey also began a major military intervention in Syria, sending tanks and warplanes across the border, claiming that its military campaign was aimed at pushing Daesh from Turkey's border with Syria and stopping the advance of Kurdish forces. Damascus denounces the operation as a breach of its sovereignty.
In late March, Ankara announced the end of its military operations in Syria but did not rule out the possibility of yet another military intervention in war-torn Syria.
http://www.presstv.ir/Detail/2017/04/25/519467/Turkey-Erdogan-Syria-Iraq-YPG-PKK-Sinjar-Daesh-airstrikes-Peshmerga-US
--------
Iran nuclear deal under review as uncertainty grows
APRIL 26, 2017
VIENNA - Iran and major powers met Tuesday in Vienna to review adherence to their 2015 nuclear deal as uncertainty grows about the landmark accord's future under US President Donald Trump.
The regular quarterly meeting heard, as Washington confirmed last week, that Iran is sticking to its side of the deal with the United States, Russia, China, Britain, France and Germany, diplomats said.
The accord saw Tehran drastically curb its nuclear activities in order to ease concerns that Iran wanted to build an atomic bomb. In return nuclear-related Western and UN sanctions were lifted.
However, Trump has ordered a review, saying last Thursday that Iran was "not living up to the spirit" of the "terrible" deal because of its actions in other areas.
This refers to Iran's support for Syrian President Bashar al-Assad, rebels in Yemen, and militias in Iraq and in Lebanon as well as Tehran's ballistic missile programme.
US State Department spokesman Mark Toner said Monday the review would examine the nuclear accord "in the larger context of Iran's role in the region and in the world, and then adjust accordingly."
Trump's Secretary of State Rex Tillerson last Wednesday expressed misgivings about the nuclear deal itself, in particular the time limits in key areas.
Iran cut the number of centrifuges that "enrich" uranium - making it suitable for power generation and at high purities for a bomb - from about 19,000 to 5,000.
Together with other restrictions and ultra-tight UN inspections, Iran pledged to stay at this level for 10 years and not to enrich uranium above low purities for 15 years.
Its uranium stockpile will also stay below 300 kilos (660 pounds) - well short of what would be needed for an atomic bomb - for 15 years.
Tillerson said the accord "fails to achieve the objective of a non-nuclear Iran" and had been a way of "buying off" Tehran "for a short period of time".
- Tehran not satisfied -
Iran is not happy either, with critics of President Hassan Rouhani - facing a tough battle for re-election next month - charging that the nuclear deal has failed to provide all the promised economic benefits.
While nuclear-related sanctions were lifted, those related to human rights or missiles remained or have been expanded, frustrating Iran's efforts to boost trade.
Last week Foreign Minister Mohammad Javad Zarif responded to Trump's comments by saying that Washington was failing to live up not just to the spirit of the nuclear deal, but its wording as well.
"So far, it has defied both," Zarif said on Twitter.
Tuesday's "Joint Commission" meeting among senior diplomats was held behind closed doors - in the same plush Vienna hotel where the deal was hammered out.
Abbas Araghchi, Iran's deputy foreign minister, said he had raised in the talks with US negotiators the "negative atmosphere that they have created by different public statements and their reviewing policy as they call it."
A European diplomat said after the talks that the meeting had been constructive. "Everyone is in waiting mode, waiting to hear more from Washington and the outcome of the Iranian election," he said.
Full report at:
http://nation.com.pk/international/26-Apr-2017/iran-nuclear-deal-under-review-as-uncertainty-grows
--------
Yemeni army seizes control of Gharafi in Taiz
25 April 2017
The Yemeni national army seized control of the area of Gharafi around Khaled bin al-Walid camp in Taiz on Monday, following violent clashes with Houthi militias and forces loyal to ousted president Ali Abdullah Saleh.
A source said Yemeni forces also seized control of al-Thubani in Mocha and liberated vast areas in the surroundings of Dar ibn Alwan in Mawza in west Taiz.
The command of the Taiz axis said clashes in the hills of al-Douwayha extended to Jabal Aqqar in Mawza, adding that 12 militias were killed and that the militias' morale has collapsed.
Full report at:
https://english.alarabiya.net/en/News/middle-east/2017/04/25/Yemeni-army-seizes-control-of-Gharafi-in-Taiz.html
--------
Iraqi Peshmerga fighters killed 'by mistake' in Turkish air raid on PKK
25 April 2017
Five Iraqi Kurdish Peshmerga fighters were killed by mistake in a Turkish air raid on a nearby position of the Kurdish Workers Party (PKK) militants on Tuesday in northern Iraq, Kurdish sources said.
The Turkish military carried out air strikes against PKK militants near Iraq's Sinjar mountains and northeastern Syria to prevent the group from sending weapons and explosives for attacks inside Turkey, it said.
The two regions have become "terror hubs", the Turkish army said, with the PKK frequently using these areas to channel militants, weapons, bombs and ammunition into Turkey.
"To destroy these terror hubs which threaten the security, unity and integrity of our country and our nation and as part of our rights based on international law, air strikes have been carried out....and terrorist targets have been struck with success," the Turkish army said in a statement.
The air bombardment was carried out around 02.00 a.m. (2300 GMT) local time, it added.
Designated a terrorist group by Turkey, the United States and the European Union, the PKK has waged a three-decade insurgency against the Turkish state for Kurdish autonomy. More than 40,000 people have been killed in the conflict.
Full report at:
https://english.alarabiya.net/en/News/middle-east/2017/04/25/Five-Iraqi-Peshmerga-fighters-killed-by-mistake-in-raid-on-PKK.html
--------
Forces destroy Houthi boat attempting to breach Saudi maritime borders
25 April 2017
Saudi Arabia's border guards were able to destroy a boat belonging to Houthi militias who tried to breach into Saudi territorial waters near Jazan.
Saudi forces said the boat was filled with explosives and without a commander and was detonated immediately.
Earlier on Monday, legitimate forces in Yemen, aided by Arab coalition forces, seized the special telecommunication towers in the Khaled bin al-Walid camp while an army battalion worked with Al-Waziiyah residents to clean the camp of landmines.
Full report at:
https://english.alarabiya.net/en/News/gulf/2017/04/25/VIDEO-Forces-destroy-Houthi-boat-attempting-to-breach-Saudi-maritime-borders.html
--------
Next Iranian president must lead fight against corruption: Raeisi
Apr 25, 2017
An Iranian presidential candidate has criticized the existence of corruption in the country, stressing that the next president as the head of the administration must be at the forefront of the campaign against the scourge.
"The [Iranian] people are concerned about the reports published about administrative corruption. How long should the people witness corruption in the country? Isn't it impossible to eliminate administrative corruption in the country?" Ebrahim Raeisi said in a stump speech in the city of Birjand, South Khorasan Province, on Tuesday.
He expressed grief over the lack of initiatives to fight corruption in the country, saying the presence of the scourge is not becoming of the Islamic administration in Iran.
Presidential candidate Seyyed Ebrahim Raeisi addresses people during a visit to the northeastern city of Birjand, South Khorasan Province, on April 25, 2017.
The presidential contender added that if elected president, he would inform the nation and Parliament of the breeding grounds for corruption within the first six months of his term and present any solutions to eliminate it, "so that the people will not witness cases of corruption in the country anymore."
Full report at:
http://www.presstv.ir/Detail/2017/04/25/519417/Iran-Birjand-South-Khorasan-Ebrahim-Raeisi-corruption-election
--------
Kurds denounce deadly Turkish air raid in northern Iraq'
Apr 25, 2017
Iraq's semi-autonomous Kurdistan region has denounced as "unacceptable" Turkey's airstrike in northern Iraq, which killed at least six Kurdish fighters.
"The death of the peshmerga is regrettable and the strike on the peshmerga by Turkish warplanes is unacceptable," the region's armed force, peshmerga, said in a statement on Tuesday.
The air raid by Turkish warplanes in Sinjar Mountains area late on Monday left five peshmerga soldiers and one police officer dead.
The Turkish army earlier said it had conducted a strike against the Kurdistan Workers' Party (PKK) militants in an alleged bid to prevent the Kurdish forces from sending weapons to Turkey.
The strike was reportedly conducted against positions held by the Yazidi Protection Units (YBS), a militia supported by the PKK, which Ankara considers a terrorist group.
Elsewhere in the statement, peshmerga called on the PKK and its affiliates to withdraw from the region, saying the attack was carried out because of their presence.
Since July 2015, the Turkish air force has been carrying out operations against PKK positions in the country's southeastern border region as well as in northern Iraq and neighboring Syria.
A shaky ceasefire between Ankara and the PKK that had stood since 2013 was declared null and void by the militants following Turkish strikes against the group.
Syria's Kurds urge US-led coalition action to halt Turkish raids
Similar Turkish airstrikes on Syria also killed at least 18 fighters from the Kurdish People's Protection Units (YPG), which has confirmed Turkey's air raid on their positions near the Syrian border town of al-Malikiyah in Hasakah province.
Reacting to the deadly raid, a commander of Kurdish forces called for the US-led coalition purportedly fighting Daesh Takfiri terror group to prevent further Turkish strikes on their forces in the area.
"We are asking the international coalition to intervene to stop these Turkish violations," the commander said, adding, "It's unthinkable that we are fighting on a front as important as (Daesh bastion) Raqqah while Turkish planes bomb us in the back," media outlets quoted the commander as saying.
Meanwhile, YPG spokesman Redur Xelil denounced the Turkish strike, saying, "The YPG will not be silent on this blatant attack, and we reserve our right to defend ourselves and take revenge for our martyrs."
Full report at:
http://www.presstv.ir/Detail/2017/04/25/519440/Turkey-Kurds-peshmerga-YPG
--------
Imam Khamenei: US, Israel directing belligerence against Iran, Islam
April 25, 2017
On the Eid al-Mab'ath, the anniversary of Muhammad's (pbuh) appointment to the Prophethood, a group of officials and ambassadors from Islamic countries met with Ayatollah Khamenei this morning April 25, 2017.
At this meeting Ayatollah Khamenei stressed: In the Islamic Republic of Iran there has been--All praise is due to God--one manifestation of the many manifestations of the Prophet's governance and it continues to be. After the establishment of the Islamic Republic, enemies of human societies--not just the enemies of Islam--began to confront Islam as something that is a source of growth for human societies.
The leader of the revolution added: today the enemies of human societies confront Islam. Why? Because, Islam is the source of growth for humankind. It is the source of the emergence of talent. It is the source of the creation of a shared and common spiritual and material civilization. Because, Islam can stop the transgressions of the oppressive modern materialistic civilization, hence they target Islam..
Ayatollah Khamenei pointed out that the enemy uses many forms of confronting Islam and stated that the formation of terrorist groups, in the name of Islam, is one of those conspiracies. "This is a conspiracy. Setting Islamic countries against one another and getting them tied into wars are other forms of hostility [they practice against Islam]," he said.
Full report at:
http://en.abna24.com/news/iran/imam-khamenei-us-israel-directing-belligerence-against-iran-islam_825887.html
--------
North America
Schools in San Diego launch efforts against Islamophobia
APRIL 26, 2017
One of the nation's largest school districts has launched a campaign against Islamophobia, drawing praise and criticism.
The San Diego Unified School District's multiyear plan includes a letter addressing Islamophobia to staff and parents of its 132,000 students. It's expected to be drafted and sent before Ramadan begins in late May. The district is also reviewing internal staff calendars to make sure Muslim holidays are recognized.
Next school year, it will review materials on Muslim culture for libraries, provide resources to teachers and engage in partnerships with the Council on American Islamic Relations. Over several years, it plans to consider high school clubs that promote American Muslim culture, create "safe spaces" for students and train staff about Muslim culture.
The plan drew little attention when the board approved it 4-0 on April 4, with one member absent. Public comments from staff and community members were uniformly positive.
"We believe this is a great first step in the direction of protecting Muslim students from the bullying that is a direct result of the growing Islamophobia in our state and nation," Hanif Mohebi, executive director of the Council on American-Islamic Relations' San Diego chapter, said after the vote. "Other school districts should follow this lead, and we will be happy to work with them to provide resources and trainings."
Pushback gradually spread on the internet and social media, with written attacks on Islam and the Council on American-Islamic Relations. A Sunday article on the far-right website Breitbart News drew hundreds of reader comments. The headline of a story on the Angry Patriot website that had 35,000 Facebook 'likes' read, "Islamic Takeover CONFIRMED - American School Surrenders to SHARIA LAW."
The school district said on its website that the plan addresses "some of the specific challenges faced by the Muslim student community" after the Muslim community expressed concern about student safety last summer. "We strongly believe students cannot learn if they are afraid, and so this initiative to combat Islamophobia is focused on eliminating the fear faced by children," it says.
The district said it is not endorsing Islam, favoring a religion or imposing Sharia law.
As for 'safe spaces,' the district says, "Schools with large Muslim communities may choose to make areas available for prayer, if that is requested by their parents and students. However, this is no more or less than we would do to accommodate Christians who want to pray at school, or members of other faiths. It is not uncommon, for example, for our schools to have a prayer club that meets before the start of school."
San Diego is the latest school district to express solidarity with Muslim students. In September, Kansas City Public Schools passed a resolution condemning violence and hate speech and expressing support for students who worship Islam. The Oakland Unified School District in California said in a board resolution in November, "The 2016 presidential election has created an atmosphere of fear among immigrants, Muslims and other vulnerable groups in Oakland."
http://nation.com.pk/international/25-Apr-2017/schools-in-san-diego-launch-efforts-against-islamophobia
--------
Young People Worry About Divided America, Fake News
April 25, 2017
Young Americans believe nearly half of the news shared on Facebook is false and President Donald Trump tweets too much. They also want to help unite America but find public service unappealing.
Those are among the findings from recent interviews with 2,600 young Americans -- aged 18 - 29 -- by Harvard University's Institute of Politics.
The poll, released Tuesday, found 81 percent of young people questioned by Harvard use Facebook.
But most consider a lot of the news on Facebook to be "untrue." Earlier this month, Facebook said it is removing accounts of people who send out "fake news" stories.
The poll also found that 68 percent of young people believe President Trump tweets too much. Only 11 percent say his tweets are "appropriate."
Mixed messages on voting, public service work
In the 2016 presidential election, only half of 18-to-29 year-olds voted, according to a report by the Brookings Institution.
But 74 percent of young people polled by Harvard say voting is one of the best ways to produce change. Still, only one in four young Americans say that public service work is appealing. Public service work is often done by government workers.
Rhea Malik is a Harvard University senior who worked on the poll. She said it might be that fewer students find public service appealing because they have less trust in America's elected officials.
Divisions in America are a problem
Another finding by Harvard researchers is that nearly 60 percent of young Americans want to do what they can to help unite and not further divide America.
On Monday, former President Barack Obama said changes in the way people use media allow them to read and listen to only those who agree with their own opinions. He said that adds to divisions in America and makes it more difficult to govern.
Some of the poll results are surprising.
Many young people have protested the use of deadly force by police against African-Americans and other minorities.
But nearly half of young Americans polled by Harvard said that ending the "anti-police atmosphere" and "empowering" law enforcement will "make America better."
What do young people think of President Trump?
Nearly half of young people told Harvard that temporarily banning visas from majority Muslim nations would make America worse. That compares to one in four young people who say that such a policy would make America better.
President Trump has issued two orders temporarily banning travel from some Muslim majority nations. Both were blocked by federal judges.
On trade, three out of five young Americans say they agree with Trump's plan to end unfair trade practices with other nations.
Who young people hang out with differs by party
The poll found that young Democratic and Republican supporters have relationships with different groups of people.
Full report at:
http://learningenglish.voanews.com/a/young-people-worry-about-divided-america-and-false-news/3825379.html
--------
Ottawa man facing more charges after 2nd incident at Islamic centre
Apr 25, 2017
An Ottawa man charged two weeks ago with vandalizing a mosque and Islamic centre has been charged after another incident at one of the buildings early Tuesday.
Ottawa police said they were called early Tuesday morning to a business in the 300 Block of Bank Street after reports that a man was threatening employees and customers.
Police said when they arrived they saw a man making threats toward people and confronted him. They say the man became "combative" and broke free from the arresting officers.
The 27-year-old was arrested further down the street, where police said in a news release "he caused mischief with intent to an Islamic Centre/Mosque."
He faces charges of resisting a peace officer, assault with intent to resist arrest, causing a disturbance, criminal harassment, two counts of mischief and two counts of failure to comply with a recognizance.
Charged in earlier incidents
The same man was charged April 14 with two counts of mischief and one count of assaulting a police officer after two incidents of vandalism.
On April 12 at least one window was smashed at the Islam Care Centre on Somerset Street West and a window at the Ottawa Mosque on Northwestern Avenue was also shattered.
Police said after that incident they received a phone call from a man who wanted to turn himself in, and that during the arrest he allegedly assaulted one of the arresting officers.
Full report at:
http://www.cbc.ca/news/canada/ottawa/ottawa-man-vandalizing-mosque-1.4085328
--------
Unanimous vote approves 1st-ever mosque in Winkler, Man.
Apr 26, 2017
The first mosque for a south-central Manitoba city has been approved after a unanimous vote by Winkler City Council.
City councillors met on Tuesday to hear from the Manitoba Islamic Association, the group behind a rezoning application for a commercial space in the community to be used as a mosque, along with anyone else interested in speaking to the issue.
Already the Muslim association has been meeting in the space they would like to rezone, a single-storey commercial building on Mountain Avenue.
"It's just a facility where they can in fact meet as a community and have their prayer sessions both for women and men separately," said Winkler mayor Martin Harder, who is in support of the mosque application.
"People who are within the community have the freedom to worship as they choose."
To start the meeting, Harder told the group of about 100 people gathered at city hall that the discussion was to be focused on zoning motion and not on religion.
While a few people brought up concerns surrounding religion anyway, the majority of people in attendance showed their support, with one woman holding up a sign that read, Vote Yes.
"Are there any guarantees that this mosque will not adopt [honour killings] or that these Shariah laws will not be put into practice in our community?" asked one man during the meeting.
"It's not just for the non-Muslim community this pertains to, probably primarily to the Muslim community, where genital mutilation is practiced under Shariah law and honour killing, as I mentioned and the list can go on and on."
Idris Elbakri, a Manitoba Islamic Association spokesperson and former president of the organization, responded to the man's comments saying the question wasn't relevant to the discussion at hand.
"I respect you ... [I hope] we have a chance to get to know each other and talk about this because sadly you're terribly misinformed," Elbakri said.
Following the discussions, there was a unanimous vote in favour of the rezoning.
Winkler, a city home to about 12,600 people, has seen a growth spurt in recent years thanks in part to immigration and the small, burgeoning Muslim community wants an official place to worship together.
Harder estimates there are between 135 and 150 Muslims in Winkler and the surrounding communities that would gather at a central mosque in town.
"I was hoping for what actually happened tonight. A lot of people came out from Winkler and the area around Winkler expressing support for the Muslim community and the right to worship freely," said Elbakri.
"The city council and the mayor set a tone of leadership and inclusion for all citizens of Winkler."
Support and solidarity: How Manitobans can help Muslim refugees
Elbakri was surprised by several comments from people on Facebook posted prior to the meeting who opposed the mosque.
"Some of it was quite negative," he said ahead of Tuesday's meeting. "We don't think that represents Winkler or Pembina Valley in any way."
However, during the meeting Elbakri was happy to answer community members' questions about the rezoning and Islam. He invited also invited people in attendance to visit the mosque.
"If people are coming from a place where they are genuinely wanting to understand than we are more than happy to engage," he said.
'What's there to fear?'
One commenter, responding to a neutral Facebook post by former mayoral candidate Wolfgang Schaefer linking to the meeting, wrote in the thread below, "We need to put our foot down and stop appeasing to this Islam."
Others compared the religion to terrorist groups and referred to the Muslim-majority countries as a horror.
Situation 'critical,' says Muslim Women's Institute, seeking donations for newly arrived refugees
"Instead of fearing each other, let's [get] to know each other," said Elbakri in response to the comments.
Full report at:
http://www.cbc.ca/news/canada/manitoba/mosque-winkler-manitoba-1.4085303
--------
South Asia
28 ISIS militants killed in Nangarhar airstrikes and ground operations
Apr 26 2017
At least twenty eight militants affiliated with the Islamic State of Iraq and Syria (ISIS) terrorist group were killed during the clearance operations in eastern Nangarhar province of Afghanistan.
The provincial government office in a statement said the operations were conducted in the restive Achin district.
The statement further added that the militants were targeted in the vicinity of Asad Khel and Ragha areas of Achin as the Afghan forces are busy conducting counter-terrorism operations under the name of Hamza operations.
Several weapons belonging to the insurgents were also destroyed during the operations, the statement said, adding that the local residents and security forces did not suffer any casualties in the operations.
Nangarhar has been witnessing persistent counter-terrorism operations since last year and currently the Afghan forces are conducting the operations under the name of Hamza operations to eliminate the presence of ISIS-K militants from its restive districts.
This comes as local officials said Monday at least 37 militants of ISIS terror group were killed during the clearance operations since Sunday.
According to the officials, at least 22 of the militants were killed in Asad Khel area, 8 others were killed in Akhundzadas village, and 7 others were killed in the vicinity of Ango Jamat area of Achin.
http://www.khaama.com/28-isis-militants-killed-in-nangarhar-airstrikes-and-ground-operations-02653
--------
US blasts 'unconscionable' Taliban attack in Afghanistan
April 26, 2017
The US State Department on Monday described last week's Taliban attack in northern Afghanistan as "unconscionable," but stressed America has no intention of giving up on the country despite more than 15 years of brutal war.
State Department spokesman Mark Toner said more than 100 Afghan soldiers were killed and more than 60 others were wounded in Friday's attack on an army base outside the northern city of Mazar-i-Sharif.
"This was an attack on the soldiers as they were returning from prayer. It was barbaric, it was unconscionable, and we condemn it fully," Toner said.
Toner noted that the Afghan defense minister and his army chief had resigned Monday in the wake of the attack.
"This in no way should convey to the Taliban or anyone else in the region that the US has any intention of walking away from its commitment to the Afghan government and the Afghan people," Toner said.
The exact toll from Friday's assault in the northern province of Balkh remained unclear, with some local officials putting the number of dead alone as high as 130.
The raid, the deadliest-ever by the Taliban on a military base, underscores their growing strength more than 15 years after they were ousted from power.
America has spent approximately $1 trillion in warfighting and reconstruction in Afghanistan since the US-led invasion in late 2001.
Despite ongoing support from NATO troops, Afghan forces continue to struggle to contain a resurgent Taliban and the country's precarious security situation feels like it is dangling by a thread.
Full report at:
http://nation.com.pk/international/25-Apr-2017/us-blasts-unconscionable-taliban-attack-in-afghanistan
--------
Taliban kill 8 Afghan policemen at security checkpoints
April 26, 2017
The Taliban overran three security checkpoints in Afghanistan's northern Takhar province, killing eight policemen and cutting off a key road and two of the region's districts, an Afghan official said on Tuesday.
According to provincial spokesman Sunatullah Timor, the attack on Monday's triggered hours of firefighting, leaving three police officers wounded. Eight of the attackers were also killed in the gun battle, he added.
The insurgents succeeded in cutting off the districts of Darqad and Khuja Bhawedin, Timor said, but the government has sent in reinforcements and launched a counter-attack.
The attack coincided with Monday's visit to Kabul by US Defence Secretary Jim Mattis to assess what has become America's longest war as the Trump administration weighs sending in more United States troops to help the Afghans fight the insurgency.
From Kabul, Mattis offered a grim assessment for Afghan forces fighting the Taliban, saying that "2017 is going to be another tough year."
Mattis also accused Russia of providing weapons to the Taliban for use against American-backed forces in Afghanistan — a charge Moscow denies.
Just last week, a Taliban raid on an Afghan base left an estimated 130 soldiers and military personnel dead.
Mattis met with Afghan President Ashraf Ghani and other senior government officials just hours after the nation's defence minister and army chief resigned over the massacre.
The attack — the biggest ever on a military base in Afghanistan — involved multiple gunmen and suicide bombers in army uniforms who penetrated the compound of the 209th Corps of the Afghan National Army in northern Balkh province on Friday, killing and wounding scores.
Also on Monday, a suicide bomber driving a minivan struck a checkpoint in eastern Khost province, killing at least four Afghan security guards.
Gen Faizullah Ghyrat, a provincial police chief in Khost, said that six other security guards were also wounded in the attack.
The guards were providing security for a US military base called Camp Chapman near the city of Khost, said Ghyrat.
Full report at:
http://nation.com.pk/international/25-Apr-2017/taliban-kill-8-afghan-policemen-at-security-checkpoints
--------
RAB arrests New JMB IED expert in Dhaka
April 26, 2017
Huge IEDs and remote controlled devices were recovered from his possession
Rapid Action Battalion has detained a top leader of New JMB, a faction of banned Islamist outfit Jama'atul Mujahideen Bangladesh, from Dhaka's Uttara area.
The detainee is Mushfiq Martin Jenny, an expert in making IEDs (Improvised Explosive Device).
"Mushfiq, who belongs to Tamim-Sarwar faction of JMB, was arrested from Uttara area with huge IEDs and remote controlled devices," RAB spokesperson Senior Assistant Director Mizanur Rahman told the Dhaka Tribune on Wednesday morning.
Full report at:
http://www.dhakatribune.com/bangladesh/crime/2017/04/26/new-jmb-ied-expert-detained-dhaka/
--------
Afghan acting defense minister and army chief of staff introduced
Apr 26 2017
The new acting defense minister and the Afghan National Army Chief of Staff were introduced a day after defense minister Abdullah Habibi and Qadam Shah Shaheem resigned from their positions.
The Ministry of Defense (MoD) officials said Tariq Shah Bahrami has been introduced as the acting Minister of Defense to replace Habibi and Mohammad Sharif Yaftali has been introduced as the new army chief of staff.
MoD spokesman Gen. Dawlat Waziri said the two new officials were formally introduced during a ceremony on Tuesday by Second Vice President Mohammad Sarwar Danish.
The ceremony was also attended by National Security Adviser Mohammad Hanif Atmar, Interior Minister Taj Mohammad Jahid, NDS Chief Masoom Stanikzai, security affairs adviser Mohammad Afzal Lodin, presidential administrative affairs deputy Haroon Chakhansuri, and other high level government officials.
President Mohammad Ashraf Ghani on Monday approved the resignation of defense minister Abdullah Habibi and Army Chief of Staff Gen. Shaeem, days after a deadly attack was carried out on the 209th Shaheen Corps of the Afghan army in northern Balkh province of Afghanistan.
A group of at least ten Taliban insurgents reportedly stormed the base by initially launching a suicide attack and allowing the remaining militants to start shooting spree.
Full report at:
http://www.khaama.com/afghan-acting-defense-minister-and-army-chief-of-staff-introduced-02652
--------
2 Haqqani network members killed, large cache of weapons seized in Logar
Apr 25 2017
At least two operatives of the Haqqani terrorist network were killed and five others were arrested during an operation in central Logar province of Afghanistan.
The Afghan Intelligence, National Directorate of Security (NDS), said the two militants were killed during a special operation conducted by the intelligence operatives that also led to the apprehension of five others.
A statement by NDS said the militants were deployed to Logar province by Haqqani network commander Jalil Muqadas to conduct insurgency activities but two of them were killed during the clashes with the intelligence operatives.
The statement by NDS further added that the detained militants have been identified as Gul Rahman who is also famous as Rahmani, Batur also famous as Nusrat, Elias also famous as Faizan, Anar Gul, and Tila Mohammad.
The militants were appointed and deployed to Logar from the other side of the Durand Line to conduct insurgency activities, NDS said, adding that several weapons and ammunition were also seized during the operation.
Full report at:
http://www.khaama.com/2-haqqani-network-members-killed-large-cache-of-weapons-seized-in-logar-02649
--------
Southeast Asia
Can India and Malaysia Continue to Be Good Friends With Zakir Naik Lurking in the Background?
BY SHARIFAH MUNIRAH ALATAS
26/04/2017
A few weeks ago, Malaysian Prime Minister Najib Abdul Razak made an official six-day visit to India, during which several avenues for cooperation were discussed. While the focus was on the close bilateral political and economic ties, both sides also agreed that there is considerable potential for collaboration as well, for instance in defence production.
Such is the goodwill between the two nations, that President Pranab Mukherjee described the "centuries old relations" as "the best ever so far". But amidst this bonhomie, we cannot and must not overlook the potentially disrupting and dangerous pontification of Indian Muslim preacher Zakir Naik.
Naik, extremely controversial in India, is seen by many in Malaysia as a troublemaker intent on driving a rift between the different races and religions in that country. Naik is a wanted fugitive in India and banned in several countries, including Canada, the UK and Bangladesh. Yet, he has found refuge in Malaysia, enjoying permanent residence status for the last five years. Several civil society groups in Malaysia, as well as many members of parliament and opposition-party officials, have expressed their embarrassment and caution that a serious diplomatic backlash is in the pipeline. However, business is as usual – India and Malaysia have managed to avoid a diplomatic quagmire.
Also read: What Was Left Unsaid During Malaysian PM Najib Razak's Visit to India
The Indian government has put Naik on its wanted list because the the National Investigation Agency (NIA) is probing money laundering charges involving the Mumbai-based Islamic Research Foundation, founded by Naik. Malaysia's home minister Ahmad Zahid Hamidi has said that his country will cooperate with India and provide assistance to the relevant authorities if there was a request for "mutual legal assistance". No doubt this sounds very ambiguous, but was necessary to state for the sake of preserving ties and keeping the diplomatic channels open. But reality suggests that Malaysia has allowed Naik to stay despite India seeking a Red Notice from the Interpol to force him to stand trial in India.
The Red Notice is the closest instrument to an international arrest warrant. When Malaysia's inspector general of police, Khalid Abu Bakar, was asked if the his force would arrest Naik under the Red Notice, he said "let them apply first". An ambiguous answer, again, as Malaysia keeps treading on eggshells, precariously trying to maintain diplomacy amidst a highly emotionally-charged situation. Even though India has requested to bring Naik back for trial amidst charges of money laundering, his sermons are considered a serious threat to internal security. For instance, he once asked: "How can we allow this [building of churches or temples in an Islamic state] when their religion is wrong and when their worshipping is wrong?"
Naik's speeches incite communal uproar. He talks of comparative religions, but with one goal in mind – to promote Islam as the ultimate end-all of religions, the philosophy of peace that has reached the highest form of concentration, overtaking Hinduism because Islam does not allow for the worship of idols.
During Razak's visit, the two prime ministers acknowledged each other's contributions to the economic development and stability of the Indo-Pacific region, and recognised each other's responsibility in the promotion of peace, development and security in the region, "based on a convergence of political and socio-economic interests and aspirations".
Enter Naik. Neither India nor Malaysia has made official statements as to how the situation will, or has, impacted bilateral relations. In Malaysia, the political and religious climate is divisive and intolerant. Things are getting worse in terms of race relations and religion, but we must not overlook the fact that the next general elections, due by August 2018, is dictating how domestic and bilateral forces are grooming the overall political climate. If viewed through this prism, one can understand why both India and Malaysia are still upholding the veneer of friendly relations, despite the issue of Naik being asked to stand trial in India for various crimes. Malaysians also appear to be tolerating others – Naik – telling them how to divide, dehumanise and demoralise each other by commenting on which political parties should govern the nation. Naik has said that the best political solution for Malaysia would be a coalition of Barisan Nasional, Malaysia's current ruling coalition, and PAS, the Islamic opposition party.
What is unfolding is the impact of domestic politics on international relations, or rather, how religious and racial politics in Malaysia is being used by federal and state governments, and opposition and civil society groups, to undermine contending sections of society ahead of the general elections. It is important to understand how domestic factors in Malaysia are influencing its foreign policy choices. Thus, the politicisation of Naik's religious message, his political role in Malaysia, and India and Malaysia's lack of an official stand on his legal position reveals what is the most plausible explanation for bilateral relations remain intact.
Sharifah Munirah Alatas is a senior lecturer, Strategic Studies and International Relations Cluster, National University of Malaysia.
https://thewire.in/128029/zakir-naik-india-malaysia-bilateral-relations/
--------
Malaysian Islamic State terrorist posts photo of severed head, under pressure to launch local attack
By Coconuts KL
Apr. 26, 2017
Last week, Malaysia's Most Wanted, Muhammad Wanndy Mohamed Jedi, a man the US has placed on the Specially Designated Global Terrorists (SDGT) list for his activities in Syria, posted a photo of a severed head to his Facebook account and deactivated said account shortly thereafter.
Wanndy has been called the Malaysian "leader" of the self-titled Islamic State. However, three days ago, reports surfaced that he was no more than a guard for his superiors. The claims were made by a local businessman whose daughter ran away to join the jihadi cause.
"His reputation on the Internet is much bigger than what he actually does in Syria," the businessman was quoted as saying. That sounds a bit familiar, a keyboard warrior who pretends to be a warrior, but more bravado than brave.
However, a quick Facebook search of his nom de guerre Abu Hamzah Al-Fateh will lead you to the image of the severed head, including comments of support from his sympathisers. When posted, Wanndy called it "the most beautiful picture I ever had" and likened the Kurdish victim to "a dog."
Perhaps he is just a guard, but a dangerous one. A man who has been accused by the SDGT of providing sources of financial support and operational assistance to the IS, as well as being involved in terrorist activities back home.
In fact, it has been reported that IS leaders are disappointed with Wanndy, claiming that his promises of bloodshed in Malaysia have come up empty. Malaysian fighters are beginning to revolt, missing the comforts of home as the IS loses more and more territory. He is desperately trying to convince 57 militants to stay, but not even cash offers will sway them.
Wanndy has been accused of encouraging the Movida bar attack last May 2016, where eight were injured watching a Euro cup match. Two men, Imam Wahyudin Karjo­no and Jonius Indie Jahali, were found guilty of bombing the venue. Shortly after the bombing, Wanndy was contacted by Oriental Daily and gave a short interview via Facebook Messenger, where he told the Chinese not to insult Islam and warned the IGP to not challenge IS's capabilities.
Full report at:
https://coconuts.co/kl/news/malaysian-terrorist-posts-photo-severed-head-pressure-launch-local-attack/
--------
Indonesian VP dismisses concerns about rising intolerance after Ahok defeat
JAKARTA: Indonesia's vice president Tuesday (Apr 25) dismissed concerns a reputation for moderate Islam had been damaged in the world's most populous Muslim-majority country after Jakarta's Christian governor was defeated in a religiously charged election.
In an interview with AFP, Jusuf Kalla insisted religion was only one factor in last week's run-off between governor Basuki Tjahaja Purnama and a Muslim former government minister.
Purnama, Jakarta's first non-Muslim governor for half a century, was favourite to win until claims he insulted Islam sparked mass protests and led to him being put on trial for blasphemy in a case viewed as politically motivated.
The vote was seen as a test of whether the moderate Islam traditionally practised in Indonesia was under threat from hardliners, who led the protests against Purnama, also Jakarta's first ethnic Chinese leader.
But Kalla dismissed fears Indonesia's pluralistic traditions were being eroded, and that radical groups were set to become increasingly influential.
"Indonesia will stay moderate," he told AFP. "Religion is influential, yes - but that it is not the only thing (in this election)."
Kalla, 74, conceded the vote was polarising, saying even his own house was divided over who should win. But he said Purnama, known for his often abrasive style, had lost more because of his "attitude".
"Of course there is the religion factor but if his attitude (was good) I think he could have won," he said. "We don't like a leader like that."
Purnama, known by his nickname Ahok, was popular for making progress in cleaning up Jakarta but often got into trouble for his hot temper and being outspoken.
The blasphemy allegations stemmed from a speech last year in which he said his rivals were tricking people into voting against him by using a Koranic verse, which some interpret as meaning Muslims should only choose Muslim leaders.
Purnama will finish his term leading Jakarta in October, when Muslim rival Anies Baswedan will take charge of the teeming metropolis of 10 million.
Full report at:
http://www.channelnewsasia.com/news/asiapacific/indonesian-vp-dismisses-concerns-about-rising-intolerance-after-8791052
--------
Africa
Gambia: 40, 000 Copies of Holy Qur'an Distributed Among Arabic Schools, Imams, Others in NBR
25 APRIL 2017
By Alhagie Babou Jallow
HabibullHudah School and Memorization Centre with support from Muslim World League Holy Quran Memorization International Organization recently distributed over 40, 000 copies of Holy Qur'an to Arabic schools, imams, mosques and individuals in the North Bank Region. The presentation ceremony was held at school ground in Samba Kala of Lower Nuimi, North Bank Region. The event also witnessed recitation of Holy Qur'an by students of the school.
Sarko Njie, the proprietor and founder of the school, underscored the importance of the donation, emphasizing that supporting the teaching and learning of Islamic education would no doubt bring about sustainable development in the area.
Njie thanked the donors for their foresight in strengthening Islamic education in the area, while calling for concerted effort by all stakeholders to inculcate good moral values among children learning the Holy Qur'an.
Saleh Salem Omar Bambairouk of Muslim World League Holy Quran Memorization International Organization based in Saudi Arabia, said his association is committed to promoting Islamic education in their bid to bring worshippers closer to Allah. He called on beneficiary institutions to be steadfast in providing quality education and positive behavioral change as mentioned in the Holy Qur'an.
Governor Ebrima K.S. Dampha lauded the donors for what he called 'complementing government's efforts' in strengthening Islamic education in the country.
Jim fatma Jobe, chief of Jokadu commended the donors for their generosity and noted that the donated copies of the Holy Qur'an would go a long way in strengthening teachings and learning of the Holy book in the area.
Cadi Modou Lamin Kah and Ebrima Sey of Supreme Islamic Council, both echoed similar sentiments.
The duo acknowledged that the books would go a long way in strengthening the human resource development in Islamic education as well as complement the efforts of The Gambia Supreme Islamic Council.
Baba Suwaneh, Cluster Monitor at the General Secretariat for Arabic and Islamic education (AMANA), under the Ministry of Basic and Secondary Education, outlined the importance of promoting bilingual system in all Madarasa schools across the country.
However, he expressed concern on low retention of students from 9% in upper basic and 1% in senior secondary schools.
Imam Alieu Jallow of Kerr Mama, hailed the management and staff of the school for propagating the teachings of Islam, saying building the capacity of students in memorization of Holy Qur'an would increase their knowledge base on Islamic education.
On behalf of the parents, Lamin Queen Jammeh of Sitanunku lauded the management and teachers for upholding firm in the attainment of quality teachings and learning and by extension to quality education in the area.
He underscored the importance of the centre, and called on parents to fulfill their responsibility in a bid to promote the learning and teachings of Holy Qur'an among children.
Jammeh equally thanked the Islamic scholars for their invaluable contribution to the iteaching of Islamic knowledge and converting non-Muslims to Islam in the area.
http://allafrica.com/stories/201704251083.html
--------
Turkish NGOs distribute humanitarian aid to Somalia
25 April 2017
Turkish humanitarian relief agencies are planning to distribute much-needed food and water aid to drought-stricken Somalia, according to the agencies' websites.
The Turkish Red Crescent is planning to dispatch some 12,000 tons of humanitarian aid to the region.
Since 2011, the organization has sent humanitarian aid to Somalia 20 times. Some 70,000 tons of aid packages have been sent to the region to date, and a shelter was set to accommodate some 30,000 destitute people as well.
The agency is also cooperating with the Qatar Red Crescent in building roads.
The foundation aims to reach 18,000 needy families in Somalia, Kenya, Ethiopia, and South Sudan, the group said in a statement Monday. The agency has already sent packages of essential food aid to thousands of drought-stricken residents of Somalia.
The Turkey Diyanet Foundation, a group affiliated to the state Religious Affairs Directorate, has handed out 1,500 packages of food aid to needy families in the Shirwac, Arra'ad, and Togdheer regions of Somaliland, an autonomous region of Somalia.
The foundation plans to send aid to more than 5,500 families in Somali cities such as Mogadishu, Garbaharrey, Bardera, Bosaso, Qardho, and Baidoa, the statement added.
The relief agency is involved in setting up wells able to store 30 tons of water in Banaadir in the southeast, Galmudug in central Somalia, and Awdal in Somaliland.
Turkish aid agency IHH last weekend distributed packages full of relief materials to almost 9,000 Somalis.
The agency also provided fresh water to some 150,000 Somalis and 5,000 food packages to 40,000 needy people across the country.
IHH Emergency Aid teams are working in Somalia to prevent deaths due to famine and disease, according to its website.
The Somali government has declared the country's looming famine a national disaster.
Full report at:
http://www.worldbulletin.net/africa/188536/20-dead-as-boat-capsizes-in-senegal
--------
Activist finds silence on genital mutilation case depressing, predictable
Apr 26, 2017
Imagine what the American left would do if conservative Republican Christians engaged in a barbaric practice to mutilate little girls, to kill off their sexual desire while leaving them fertile when they come of age.
American feminists and their allies of the left would be outraged. Op-ed writers from establishment newspapers would seethe and a few, I suspect, would draw some link to the ascension of Donald Trump and angry white men.
We'd witness a social media firestorm condemning the act, with tweets and hashtags.
But the other day, a Michigan physician was charged in a federal indictment for allegedly conspiring to perform female genital mutilation. It is a practice that predates Islam, but one that remains prevalent in many North African and some Middle Eastern predominantly Muslim countries.
In the Michigan case, the alleged victims are two 7-year-old girls.
American feminism has been mostly quiet about the girls. And the left in general has not engaged.
It is so quiet that you can't even hear crickets hiding under the leaves. But silence can often hold the truth of things.
"It's all so very sad and depressing. I find this silence extremely painful," renowned feminist and activist Ayaan Hirsi Ali told me in an interview. "It's been inculcated into them (the left) not to engage.
"The left can easily and comfortably condemn the misogyny of white men, but not of men of color, not of Muslims," Hirsi Ali said. "They are afraid of being shunned. They're afraid of being put into a basket of deplorables. So they're silent.
"And what are they being silent about? They are being silent about the mutilation of young girls."
Hirsi Ali was born in Somalia. She was subjected to genital mutilation. Now an American citizen, she runs the AHA Foundation, which is dedicated to protecting young girls from mutilations, honor killings and forced marriages. You can find more about them at their website, http://www.theahafoundation.org.
Her group estimates that in the U.S., some 500,000 women and young girls have suffered genital mutilation or are at risk of the practice. The federal case in Michigan is the first of its kind. Female genital mutilation (FGM) became illegal under a federal law in 1996, but at present, 26 states do not outlaw the practice, Hirsi Ali said.
"I come from Somalia and 98 percent of Somali girls, Egyptians, Sudanese, this happens to them," Hirsi Ali said. "In Muslim communities there is the demand that women, girls, should be virgins and a woman's sexuality is to be controlled and this is an effective and brutal way of doing that."
And what of the immigrant groups here in America?
"It's naive to think that in some communities, traditions like this are going to be left at the airport," Hirsi Ali said. "These traditions are not left at the airport."
According to the federal indictment of Dr. Jumana Nagarwala, who has denied the charges against her, the two girls were brought to Michigan by their parents from Minnesota in February.
Their genitals were mutilated in accordance with an ancient and barbaric custom known throughout Muslim Africa and parts of the Islamic Middle East, to remove sexual desire and therefore, make them fitting brides in the eyes of some.
According to the United Nations, the practice isn't confined to Muslim North Africa. Some Egyptian Christian Copts are also said to engage in it.
Dr. Nagarwala's attorney, Shannon Smith, said her client gave the material she had removed from the girls to the parents for burial, following a custom practiced by a small sect of Indian Muslims known as the Dawoodi Bohra.
"This practice does take place in a small amount of countries where Muslims reside, but not all Muslim countries," Dawud Walid, executive director of Michigan's Council on American Islamic Relations (CAIR), told me by phone.
"Whether it is Islamic or not is a moot point. Obeying the law of the land is Islamic and overtly violating the law of the land is not Islamic," said Walid. "And we obey the law."
I left repeated messages for the National Organization for Women's Michigan chapter, but they did not return my calls or emails.
Another aspect of the politics of all this is the decision by The New York Times — the arbiter of all things liberal in America — not to use the term female genital mutilation.
The Times opted for an Orwellian phrase, "genital cutting," not to spare the Victorian sensibilities of its readers, but because it is politically palatable to the left.
But the United Nations uses female genital mutilation. The World Health Organization uses female genital mutilation.
Full report at:
http://www.chicagotribune.com/news/columnists/kass/ct-genital-mutilation-kass-0426-20170425-column.html
--------
Somalia: Mogadishu Flights Safe from Laptop Attacks - Officials
21 APRIL 2017
By Harun Maruf
The United States and Britain banned passengers last month on several Middle Eastern airlines from carrying laptop and tablet computers onto the plane. Officials cited airline safety concerns as the reason, and pointed specifically to a February 2016 attack on a flight of the Somali airline Daallo, in which a passenger set off a bomb concealed in a laptop, killing himself.
Now, the Somali government said it has taken specific steps to address security at Mogadishu's international airport and has no plans to follow the U.S. and British example and ban electronics from outgoing flights.
Brigadier General Abdi Ashkir Jama, the general manager of Mogadishu's Aden Adde International Airport, tells VOA Somali that his staff has developed a rigorous security system.
"Whoever is traveling or entering the airport goes through searches, three scans, sniffer dogs; laptops must be turned on," he said. "For international flights like Turkish Airlines, it has its own security gate where further security checks are made after going through all the above procedures."
Jama and his staff also oversaw changes to the procedures of airport security staff and scanners, and they took steps to improve their skills, according to Jama.
He expressed confidence that outgoing flights will be safe. "Unless they come with up with new technical advances about explosives that we don't know of, they cannot smuggle explosives into the planes," he said.
"They" in this case refers to members of the militant group al-Shabab, which claimed responsibility for the attack on Daallo flight 159.
The explosion occurred shortly after takeoff from the Mogadishu airport, punching a hole in the plane's fuselage next to the fuel tank. Eighty of the 81 people on board the flight survived.
Officials immediately identified the only missing person from the plane, Abdullahi Abdisalam Borleh, as the person carrying the laptop that contained the bomb. Borleh was sucked through the hole created by the blast.
An investigation into the bombing found that the plotters, led by suspected mastermind Abdullahi Arays Hashi, smuggled the laptop into the airport twice before the explosion.
Officials say that on Feb. 1, 2016, airport security official Abdiweli Maow sneaked it through a gate reserved for employees. He then handed it over to the would-be bomber, Borleh, but Borleh's flight that day was canceled.
Maow and Borleh made a second attempt on the following day. This time, the laptop went through security scans, but nothing was detected.
Colonel Hassan Ali Nur Shute is chief prosecutor of the military court that prosecuted the suspects. He blames lack of skills by airport security staffers and the fact that the technique used by al-Shabab was new to them.
"They fitted the explosives in the laptop with sophistication," he said. "It was difficult for the staff to detect; they have not seen that kind of technique used before."
Shute says he knows that travelers often need in-flight access to their electronics, and passengers now can have confidence in security procedures.
"If you are a businessman, you need to work during the flight," he said. "I travel and I need to have my laptop to work, it will be uncomfortable if it's taken away from me."
Online passport suspension
Another measure taken by the Somali government after the attack was to shut down online passport services.
The flight 159 bomber, Borleh, applied for his passport online. A staffer at the Immigration and National Directorate helped process the passport on his behalf.
"At this moment under my supervision, that service is shut down," said Directorate official Colonel Mohamed Aden Kofi. "We have also stopped issuing passports to anyone who does not appear in person."
Kofi says applicants deemed suspicious are sent to the security agencies for investigation and are required to bring a letter from their traditional clan elder or chief of their neighborhood stating that they have no links with al-Shabab.
He said authorities also have new document-scanning equipment to protect against forgery.
Somalia introduced a new passport with a computer chip more than 10 years ago. So far, about 2.7 million passports have been issued, equal to a quarter of Somalia's population.
Business factor
Somali security officials say business interests were likely a factor in the Daallo Airlines attack. Two top security officials who investigated the incident told VOA Somali that individuals in the airline industry "probably pitched the idea to al-Shabab to target Turkish Airlines."
The laptop bomb exploded on a Daallo Airlines flight, but the original target was Turkish Airlines, officials confirmed. The bomber was supposed to connect to Turkish Airlines after flying to Djibouti, but the second flight was canceled.
His ticket was bought by a travel office based in Luanda, Angola, where Hashi had business connections.
Full report at:
http://allafrica.com/stories/201704260193.html
--------
Uganda: Sheikh Kamoga, 13 Others Choose Silence
26 APRIL 2017
By Anthony Wesaka, Juliet Kigongo and Mercy Naleba
Kampala — The leader of the Tabliq Sect Sheikh Yunus Kamoga and 13 other accused persons yesterday chose the option of remaining silent as a form of their defence to rebut the allegations of being behind the wave of killings of rival Muslim clerics about two years ago.
"My lords, we had a discussion with my clients/ accused persons about their rights at this stage and they have decided to remain silent... " Counsel Fred Muwema, one of the lead defense lawyers in this case, told the International Crimes Division of the High Court yesterday.
In criminal law, the accused person/s once court establishes that he/she has a case to answer, they have three options to defend themselves.
The first option is to give their defense on oath with their respective lawyers guiding them and the state prosecutors cross examining them.
The second option is to give their defense not on oath, meaning that their defense lawyers won't guide them and the State prosecutors will also not ask them any questions.
The last option is to just keep quiet and equally no questions will be asked, an option that all the 14 accused persons chose yesterday.
Explaining the implication of remaining silent, human rights lawyer Ladislaus Rwakafuuzi said court will now have to rely on the evidence of the prosecution that is on record to reach its finding of either "a guilty verdict" or "not guilty verdict".
Mr Rwakafuuzi explained that if the evidence on record is sufficient enough, then court can convict them but if it's weak, then they will be acquitted.
In further explaining this option, Mr Rwakafuuzi said sometimes it's wise for the accused person/s to remain silent because putting a defence could strengthen the prosecution's weak case instead.
"When the court ruled that there is a prema-facie case against them, it meant that there was something or an allegation that needed to be explained by them.
However, if an accused person thinks the prosecution has not made out a case against them, it's better to remain silent or else you may strengthen the prosecution's case in attempting to defend yourself," counsel Rwakafuuzi said.
This is not the first high profile case that a suspect/s chooses to remain silence and in the end court acquits them.
About seven years ago, the Mufti of Uganda Shaban Mubajje, city businessman Hassan Basajjabalaba and Dr Edris Kasenene had been accused of fraudulent disposal of Muslim properties, forgery and conspiracy to commit an offence. They choose to remain silent and then Buganda Road Court Chief Magistrate Margaret Tibulya acquitted them.
It's alleged that the 14 accused masterminded the coordinated assassinations of rival Muslim leaders resulting into the killing of Mustafa Bahiga who was gunned down at Bwebajja Mosque and Sheikh Hassan Kirya, who was gunned down at Bweyogerere, Wakiso District.
Full report at:
http://allafrica.com/stories/201704260005.html
--------
URL: https://www.newageislam.com/islamic-world-news/one-step-forward-two-steps/d/110919
New Age Islam, Islam Online, Islamic Website, African Muslim News, Arab World News, South Asia News, Indian Muslim News, World Muslim News, Women in Islam, Islamic Feminism, Arab Women, Women In Arab, Islamophobia in America, Muslim Women in West, Islam Women and Feminism