New Age Islam News Bureau
1 Nov 2014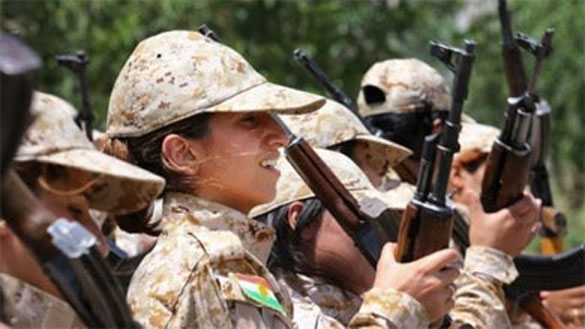 Kurdish Peshmerga fighters at a military exercise at a base near Sulaimaniya in northern Iraq
--------------
Europe
• One in Seven Young Brits Have 'Warm Feelings' Towards ISIS: Poll
• Kerry says reported US slur of Israel's Netanyahu 'damaging'
-----------
Pakistan
• 20 Militants, Six Security Personnel Killed In Orakzai Clash
• ISIS gaining strength in Pakistan: Altaf
• Minorities for Public Holidays on Religious Festivals
• Pakistan Not To Dare Violate Truce Soon: Indian Minister
• Musharraf treason case: Judgment on plea for joint trial of abettors reserved
• Levies man die, another hurt in Bajaur bomb attack
• Thousands flee army operation in NW Pakistan
------------
South Asia
• Nizami Misused the Name of Allah and Islam in 1971: ICT
• Militants launch rocket attack on US airbase in Afghanistan
• Over 36,000 NWA families return from Afghanistan
• Afghanistan remains dangerously unstable, says US report
------------
Arab World
• Bombs near Baghdad Kill 15 People
• Iraq Peshmerga Kurds Launch Operation to Free Sinjar
• Isil Terrorists Capture Syrian Gas Plant in Homs
• Syria envoy slams UN selectivity in fighting terrorism
• Iraqi Peshmerga forces leave Turkey, enter Kobani
• US deal to boost Kingdom's heritage development drive
• Saudis arrested in Yemen were plotting bombings
• Airstrikes hit Kobani ahead of entry by Kurdish forces
• Pharaonic temple found under Egypt house
-----------
India
• Drone Keeps Eye As Muslims Join Hindu Jagran in Delhi
• Muslims Rubbish Bukhari's Invite to Pakistani PM
-----------
Africa
• 18 Islamist fighters killed in Libya: Commander
• Deadly Car Bomb Attack at Nigerian Bus Stop, At Least 8 Killed
• Algeria turns 'deaf ear' to border dispute
• Boko Haram denies truce deal with Nigerian gov't
• Army chief takes power after Burkina president bows to protests
• Libyan Army recaptures 4 barracks in Benghazi
• UN chief slams renewed violence in South Sudan's north
----------
Mideast
• Iran censures Israel's desecration of al-Aqsa Mosque
• Only men over 50 pray at Aqsa mosque amid tight security
• Yemen's Houthi rebels give president ultimatum
• Hamas to fight Israel over al-Aqsa Mosque: Haniyeh
• Yemeni rebels set 10-day deadline for new govt
• Meddlesome policies pose challenge to Iran rights efforts: Official
------------
North America
• UN watchdog demands Gaza war probe, slams Israel abuses
• Canada police attack anti-austerity rally in Montreal
• US Congress to revisit Islamic State war debate after election
Compiled by New Age Islam News Bureau
URL: https://www.newageislam.com/islamic-world-news/new-age-islam-news-bureau/one-in-seven-young-brits-have-'warm-feelings'-towards-isis--poll/d/99824
------------
Europe
One in Seven Young Brits Have 'Warm Feelings' Towards ISIS: Poll
31 October 2014
One in seven young adults in the UK have "warm feelings" towards the Islamic State of Iraq and Syria (ISIS) militant group, a poll quoted by London-based newspaper The Times reported on Friday.
The pro-extremist leanings suggested by the poll - particularly among under-25-year-olds – are due to anti-political sentiments and an admiration for the bravado shown by the fighters, academics quoted by the daily said.
The poll, which asked 2,000 adults to rank several nations and extremist groups on a scale of one to ten, is the most thorough survey undertaken yet on ISIS's impact in the UK, according to The Times.
In addition to what experts believe are a core of Islamists answering favourably, the poll likely shows the feelings of many non-Muslims who disapprove of the British government.
The apparent support of ISIS among Britain's young adults can be put down to three reasons: ignorance of foreign affairs, distrust of mainstream media, and a feeling of rebellion against "the establishment," Marat Shterin, senior lecturer in sociology of religion at King's College London told The Times.
The poll "does go some way toward explaining why we have actually got five British citizens going away looking for jihad every week and we have got at least 500 over there already," said Clive Field, director of the British Religion in Numbers project at the University of Manchester.
http://english.alarabiya.net/en/News/middle-east/2014/10/31/One-in-seven-young-Brits-have-warm-feelings-towards-ISIS-poll.html
-----------
Kerry says reported US slur of Israel's Netanyahu 'damaging'
November 01, 2014
WASHINGTON: The description of Israeli Prime Minister Benjamin Netanyahu as a "chickenshit" by an anonymous US official as quoted in a US magazine this week was disgraceful and damaging, Secretary of State John Kerry said on Thursday.
Netanyahu on Wednesday condemned the comment from an unnamed official in The Atlantic, which added to tensions between his government and the Obama administration, particularly over settlement building in Israeli-annexed East Jerusalem.
"We condemn anybody who uses language such as was used in this article," Kerry told an audience at the annual Washington Ideas Forum in his first comment on the issue. "It does not reflect the president, it does not reflect me, it is disgraceful, unacceptable, damaging."
The expression "chickenshit" is used to mean a worthless coward.
"I have never heard that word around me in the White House. I don't know who these anonymous people are who keep getting quoted, but they make life much more difficult," Kerry added.
The controversy came just ahead of a White House meeting on Thursday between Susan Rice, national security adviser to President Barack Obama, and Yossi Cohen, national security adviser to Netanyahu.
Kerry dropped by the meeting, the White House said. The consultations focused on ongoing nuclear talks with Iran and the fight against Islamic State militants in Iraq and Syria.
The delegations agreed to continue to meet regularly and continue "unprecedented coordination," the White House National Security Council said on Twitter.
The US delegation reaffirmed its commitment to prevent Iran from acquiring a nuclear weapon, the White House said.
Last year, Kerry tried to broker a peace deal between Israel and the Palestinians, launching fresh talks after a three-year deadlock. The talks collapsed in April this year. "The thing about Bibi is, he's a chickenshit," the unidentified official was quoted as saying in The Atlantic.
"The good thing about Netanyahu is that he's scared to launch wars," the official said, alluding to past hints of possible Israeli military action against Iran's nuclear program. "The bad thing about him is that he won't do anything to reach an accommodation with the Palestinians or with the Sunni Arab states."
Netanyahu addressed the reported name-calling directly during remarks in parliament saying his main focus was the security and unity of Jerusalem.
"Our supreme interests, chiefly the security and unity of Jerusalem, are not the main concern of those anonymous officials who attack us and me personally, as the assault on me comes only because I defend the State of Israel," he said.
Kerry said the only way to resolve tensions between Israelis and Palestinians was to bring the sides together to negotiate a peaceful settlement. "We still believe it is doable, but it takes courage and strength," he said, "both sides have to be prepared to compromise in order to do it."
http://www.dailytimes.com.pk/region/01-Nov-2014/kerry-says-reported-us-slur-of-israel-s-netanyahu-damaging
-----------
Pakistan
20 Militants, Six Security Personnel Killed In Orakzai Clash
By Zahir Shah Sherazi
November 1, 2014
PESHAWAR: At least 20 militants and six security personnel were killed on Saturday in a clash in the northwestern tribal region of Orakzai, official sources told Dawn.
Three security personnel and a number of militants were also injured during the clash in lower Orakzai's Shirin Dara area, sources said, adding that the firefight lasted several hours.
This could not be independently verified as journalists have restricted access in the Federally Administered Tribal Areas (Fata).
Saturday's clash comes as the army is engaged in an offensive against local and foreign militants in the northwestern tribal regions of North Waziristan and Khyber.
Orakzai is one of Pakistan's seven semi-autonomous tribal regions in the area, where Pakistani Taliban and Al Qaeda-linked militants are said to have carved out strongholds.
Also read: 21 militants killed in Khyber air strikes
Security man killed in IED blast in Bajaur
A security man was killed and one other was injured in a blast caused by an improvised explosive device (IED) in the Bajaur tribal region.
The blast took place in the Kamar Sar area of Bajaur's Mamond tehsil.
As of yet, no one has claimed the attack in Bajaur, a region known to be infested with militants, including those from Al Qaeda and other armed extremist organisations.
Explore: Nine soldiers injured in Bajaur blast
http://www.dawn.com/news/1141801/20-militants-four-security-personnel-killed-in-orakzai-clash
-----------
ISIS gaining strength in Pakistan: Altaf
November 01, 2014
FARAZ ISRAR
KARACHI - Muttahida Qaumi Movement chief Altaf Hussain has said that Iraqi militant group Islamic State of Iraq and Syria (ISIS) is getting momentum in Pakistan and it is more dangerous than Taliban and Al-Qaeda.
Addressing a telephonic press conference at Khursheed Begum Secretariat on Friday, he alleged the threat of ISIS was increasing in Pakistan day-by-day and flags of Daish/ISIS were visible from south of Punjab all way till Islamabad.
He said the ISIS, which had been formed by its chief Abu Bakr al-Baghdadi by merging different militant groups, was far more dangerous than the Taliban and Al-Qaeda.
He further said several Taliban members along with six commanders had joined the ISIS whereas a large number of terrorist group members were seeking for getting the membership of the ISIS. He said he was the first one to alert Pakistan about Talibanisation in Karachi. He was alerting the nation once again about a bigger threat.
"About 10 years ago, I notified the rulers about Talibanisation in Karachi but the then president, prime minister, Sindh chief minister and governor ignored the issue and denied the phenomenon.
The Sindh CM, in his press conference, not even denied Talibanisation in Karachi but also made fun of my stance. Later the activities of Taliban in the city proved my warning true, he said.
Full report at:
http://nation.com.pk/national/01-Nov-2014/isis-gaining-strength-in-pakistan-altaf
-----------
Minorities for public holidays on religious festivals
November 1, 2014
PESHAWAR: Representatives of different organisations of minority communities have urged the government to announce public holidays on their different religious occasions and take effective steps for protection of their worship places.
The demands were raised at a seminar titled 'religious freedom and minority rights' at the Peshawar Press Club on Friday. People belonging to different communities participated in the function organised by the South Asia Partnership Pakistan.
The speakers included Haroon Sarb Diyal, Radish Singh Tony, Augustan Jacob, Sanam Ara and Shahida Shah. They demanded of the government to include religious books of the non-Muslims into the syllabus so the students could learn about their religions.
Mr Diyal said that there was no 'shamshan ghat' for cremation of Hindus' bodies in Khyber Pakhtunkhwa and Fata, and they were forced to bury them. He said that the government should conduct census of the minorities and construct residential colonies for them in different cities. He also stressed the need of giving jobs to educated youths of minorities in government departments, including the law-enforcement agencies.
Full report at:
http://www.dawn.com/news/1141774/minorities-for-public-holidays-on-religious-festivals
-----------
Pakistan not to dare violate truce soon: Indian minister
November 1, 2014
BHOPAL: Indian Home Minister Rajnath Singh claimed on Friday that Pakistan had been given a "befitting reply for violating ceasefire" and said Islamabad would not dare to disturb peace at the border anytime soon.
He said Pakistan had been given adequate response for recent "transgressions along the Line of Control and International Border" under the new leadership. "Ab shayad jaldi Pakistan himmat nahi karega," he said at a convention of Bharatiya Janata Party (BJP) workers.
Pakistani forces had killed five persons in firing and shelling on the border, the minister said. "I raised the issue with the concerned director general and asked what was happening on the border. He said we have shown them white flags as per our policy 16 times. I told him, you will not show the flag the 17th time. Following this, our forces gave a befitting reply to them," he said.
Full report at:
http://www.dawn.com/news/1141703/pakistan-not-to-dare-violate-truce-soon-indian-minister
-----------
Musharraf treason case: Judgment on plea for joint trial of abettors reserved
By Malik Asad
November 1, 2014
ISLAMABAD: The special court on Friday reserved its judgment on the application seeking joint trial of the 'abettors' along with former military ruler retired General Pervez Musharraf.
The three-judge special court, headed by Justice Faisal Arab of Sindh High Court (SHC), fixed November 21 for the announcement of the order.
"The arguments from both sides went to such a level that it requires time to pass an order," Justice Arab observed. He said before passing an order, the court would also consider the progress reports the prosecution had submitted during the course of arguments.
Concluding his arguments, Musharraf's counsel Barrister Farogh Nasim told the court that though the proclamation of November 3, 2007, was signed by his client as chief of the army staff (COAS), on December 15, 2007, he (Musharraf) revoked the emergency in his capacity as the president.
The counsel claimed that Gen Musharraf had imposed the emergency in his capacity as the president of Pakistan, adding if the emergency was imposed by the COAS, it was the responsibility of retired General Ashfaq Pervez Kayani to revoke it after assuming the charge of COAS.
Full report at:
http://www.dawn.com/news/1141771/musharraf-treason-case-judgment-on-plea-for-joint-trial-of-abettors-reserved
-----------
Levies man die, another hurt in Bajaur bomb attack
November 01, 2014
BAJAUR- A security personnel was killed and another injured in a bomb blast in Bajaur tribal region.
A roadside bomb in Kamarsar area of tehsil Mamond in Bajaur Agency exploded when the personnel of Levies force passing through the area. A personnel of Levies was killed in the incident and another injured, security sources said. The injured security man was immediately transferred to hospital for medical attendance. Police launched a search operation after the incident and detained scores of suspects.
http://nation.com.pk/national/01-Nov-2014/levies-man-die-another-hurt-in-bajaur-bomb-attack
-----------
Thousands flee army operation in NW Pakistan
Oct 31, 2014
More than 170,000 people have been forced out of their homes in Pakistan's northwestern tribal regions due to a fresh army offensive against pro-Taliban militants.
"Since October 13, 171,559 people have moved from Khyber to Peshawar and Kohat," the tribal disaster management department spokesman, Haseeb Khan, said on Friday.
He added that a small proportion of the displaced people have been selected to reside at government-run camps, while the majority of the refugees are staying with their relatives.
Earlier this month, the Pakistani military launched an operation in the mountainous and troubled Khyber Agency, where militants are said to have holed up in remote hideouts.
In June, at least 800,000 people left their homes in the crisis-hit North Waziristan after the army launched a full-scale offensive dubbed Zarb-e Azb, or "The Strike of the Prophet's Sword," against militants.
Full report at:
http://www.presstv.ir/detail/2014/10/31/384307/1000s-of-pakistanis-flee-army-offensive/
------------
South Asia
Nizami misused the name of Allah and Islam in 1971: ICT
2014-10-30
Moti ur Rahman Nizami, whose atrocities shook Bengalis fighting for freedom four decades ago, was speechless and wore a blank look after Bangladesh's first war crimes tribunal sentenced him to death.
The special court, led by Justice M Enayetur Rahim, said in the unanimous verdict that eight of the 16 charges levelled against Nizami, the incumbent Jamaat-e-Islami chief who led Pakistan occupation army's vigilante Al-Badr, had been proven.
The charges include leading the execution of intellectuals, mass killing, rape and loot during the nine months of bloodshed 43 years ago.
He has been awarded death sentence in four of the charges.
The verdict said Nizami played a key role in Razakar and Peace Committee, which were formed to assist Pakistan Army in oppressing the freedom-loving Bengalees.
The judgment quoted the Quran and Hadith to highlight Islam's views on the crimes Nizami committed.
It also quoted the Medina Charter to focus on Islamic views on communal harmony.
It said: "We are constrained to hold that Motiur Rahman Nizami being educated in Islamic education had consciously and also deliberately misused the name of the Almighty Allah and the holy religion Islam in 1971 during the Liberation War of Bangladesh in order to ruin and root out the Bengali Nation."
"The accused Moti ur Rahman Nizami being a renowned Islamic Scholar (as claimed by the defence) also violated the Quranic injunctions and prophetic traditions in forming Al-Badr Bahini, the death squad…
"And commanding, supporting, and encouraging the said Bahini in order to exterminate and kill the Bengali intellectuals and pro-liberation people and also, providing moral support and endorsing the barbaric activities of Pakistani Army," the verdict added.
It said Islami Chhatra Sangha chief Nizami branded freedom fighters as 'miscreants' and made speeches in public to the members of ICS encouraging, instigating, and persuading them to counter them.
"As a result members of Razakar and Al-Badr Bahini firmly believed that freedom fighters and pro-liberation people were not Muslims enough."
The judgment said wrong perception such as 'Pakistan is the house of Allah', 'Hindus are always enemies of Muslims', and 'Islam and Pakistan are one and indivisible' were infused into young members of the Razakar and Al-Badr.
Full report at:
http://bdnews24.com/politics/2014/10/30/nizami-misused-the-name-of-allah-and-islam-in-1971-ict
-----------
Militants launch rocket attack on US airbase in Afghanistan
Nov 1, 2014
Suspected Taliban militants have launched a rocket attack on the biggest US military base in Afghanistan.
The insurgents say they fired several rockets at Bagram airbase in the eastern province of Parwan late Friday.
Police officials on Saturday confirmed the assault, adding several Taliban prisoners inside the base were injured in the attack.
There has been no word yet on possible US casualties there.
Taliban spokesman Zabihullah Mujahid claimed responsibility for the attack, saying, "Our target was the US base, not the prison."
"But unfortunately the rockets hit the prison and a number of the prisoners were injured. The responsibility goes to the Americans because they built the prison next to the base," Mujahid said.
Full report at:
http://www.presstv.ir/detail/2014/11/01/384373/us-afghan-airbase-under-rocket-raid/
------------
Over 36,000 NWA families return from Afghanistan
November 1, 2014
PESHAWAR: Khyber Pakhtunkhwa Governor Sardar Mehtab Ahmad Khan has said that around 36,000 families of internally displaced persons of North Waziristan Agency have returned from the Khost province of Afghanistan and have been registered at the Ali Zai area of Kurram Agency.
The governor said that after the successful completion of the targeted operation, the dignified repatriation of all the IDPs was the government's top priority, marking a new beginning of progress in the tribal areas of Pakistan.
Know more: Fleeing tribesmen consider Afghanistan safer
He expressed these views while talking to a representative delegation of prominent personalities of North Waziristan Agency at the Governor House here on Friday, according to a handout.
The delegation led by former federal secretary Fareed Khan comprised former senior bureaucrats, technocrats, doctors and elders. Fata additional chief secretary Azam Khan and principal secretary to governor Dr Mohammad Fakhre Alam were also in attendance. -----------
Mr Mehtab said that the purpose of the targeted operation in North Waziristan was to wipe out all the terrorist sanctuaries and terrorist activities from the region. He said that stability and development of the country was not possible without restoration of peace and harmony in the tribal region. He said that with the support of tribal people, the whole nation was behind the armed forces for the operation.
The governor said that the government was taking care of the internally displaced persons, providing them every possible support.
Full report at:
http://www.dawn.com/news/1141785/over-36000-nwa-families-return-from-afghanistan
-----------
Afghanistan remains dangerously unstable, says US report
By Anwar Iqbal
November 1, 2014
WASHINGTON: Afghanistan remains dangerously unstable even as the United States accelerates the withdrawal of its troops from there, says a mandatory official report to Congress.
In a chapter focusing on the Afghan drug trade, the reports points out that Afghanistan's opium cultivation supports the equivalent of about 411,000 jobs, exceeding the overall size of the Afghan national security forces (ANSF). The trade in illicit drugs generates about $3 billion of revenue a year.
The report expresses concern about the capability of the Afghan forces and criticises the UN-backed International Security Assistance Force for abruptly classifying details of the country's military capabilities.
For years, office of the Special Inspector General for Afghanistan Reconstruction (SIGAR), which prepared the report, used the ISAF data as a primary metric to assess the effectiveness of the Afghan national forces.
Congress requires SIGAR to submit an annual report to justify US aid to Afghanistan. The United States has already spent $61.5 billion to build, train, equip, and sustain Afghan forces.
The report points out that Afghan security forces face high rates of attrition and combat casualties. Between September 2013 and August 2014, more than 36,000 Afghan army personnel were dropped from rolls. Between March 2012 and August 2014 more than 2,850 troops were killed in action with another 14,600 wounded.
"ISAF's classification of the report summary deprives the American people of an essential tool to measure the success or failure of the single most costly feature of the Afghanistan reconstruction effort," says John F. Sopko, Special Inspector General for Afghanistan Reconstruction.
Commenting on the SIGAR report, a US media outlet notes that it raises the "disturbing possibility that the United States is trying to paper over significant and lingering problems with the Afghan forces."
"The need to carefully monitor the development of the Afghan National Security Forces was brought painfully to light in August, when an Afghan soldier shot and killed a US Army major general—the highest-ranking US military officer to die in Afghanistan," warns Inspector General Sopko.
Full report at:
http://www.dawn.com/news/1141717/afghanistan-remains-dangerously-unstable-says-us-report
-----------
Arab World
Bombs near Baghdad kill 15 people
October 31, 2014
BAGHDAD — A series of bomb attacks struck marketplaces near Baghdad on Friday, killing at least 15 people, Iraqi officials said as security forces recaptured parts of a strategic Sunni oil town north of the capital from self-proclaimed Islamic State militants. Iraq is embroiled in its worst crisis since the 2011 withdrawal of US troops in the wake of a blitz this year by the group, which has seized a third of the country's territory. After heavy fighting overnight, Iraqi security forces backed by Shiite volunteers managed to push into the strategic oil town of Beiji on Friday, taking control of some of the town's southern districts, according to officials. Meanwhile, a bomb went off around noon at a sheep market in Baghdad's western suburb of Suweib, killing five people and wounding 13, police officials said. Another bomb struck a commercial street in the nearby Radhawniyah, another western Baghdad suburb, killing two people and wounding nine. Earlier in the day, a bomb blast near an outdoor market in the town of Madain, just south of Baghdad, killed four people and wounded 11. And in Youssifiyah police said an explosion at an outdoor market killed four people and wounded 10. — AP
http://www.saudigazette.com.sa/index.cfm?method=home.regcon&contentid=20141101222954
-----------
Iraq Peshmerga Kurds launch operation to free Sinjar
Nov 1, 2014
Iraqi Kurdish fighters, aka Peshmerga, have launched a major offensive to recapture the northern town of Sinjar from ISIL Takfiri terrorists.
"The Peshmerga launched today (Saturday) an attack from different directions to liberate Sinjar from the (ISIL) organization and are making an advance," a Kurdish official said on condition of anonymity.
The Kurdish forces targeted a number of militant positions with heavy weapons, inflicting casualties on ISIL militants, he added.
In August, the ISIL seized Sinjar, near the Syrian border, from the Peshmerga, and forced an exodus of its mostly Izadi Kurdish inhabitants.
Full report at:
http://www.presstv.ir/detail/2014/11/01/384389/iraq-kurds-launch-raid-to-free-sinjar/
-----------
ISIL terrorists capture Syrian gas plant in Homs
Nov 1, 2014
ISIL Takfri militants have taken control of a main gas plant in the Syrian province of Homs, an opposition group claims.
The Hayan gas plant in the eastern suburbs of Homs was seized by the terrorists in a bloody fighting on Friday, the so-called Syrian Observatory for Human Rights said.
Hayan is considered one of the major gas suppliers to some areas, including Damascus.
The militants have also captured most parts of the Sha'ar Gas Field following clashes with the Syrian army.
Earlier in July, the militants captured the gas field during clashes that left 350 government troops dead. It was recaptured by the army later that month.
Syria has been grappling with a foreign-backed deadly crisis since March 2011. The violence fuelled by Takfiri groups has so far claimed the lives of nearly 200,000 people, according to reports.
Full report at:
http://www.presstv.ir/detail/2014/11/01/384377/isil-captures-gas-field-in-homs/
-----------
Syria envoy slams UN selectivity in fighting terrorism
Nov 1, 2014
The Syrian envoy to the UN has criticized the world body's double standards on the fight against terrorism, stressing that terror threats cannot be dealt with through a selective approach.
In a statement issued on Thursday, Bashar al-Ja'afari slammed Turkey's approach to the Syria crisis, adding that the UN would not be able to counter terrorism while turning a blind eye to the "wrong policies" adopted by Ankara on the situation in the violence-torn Arab country.
There should be "no selectivity" in combating terrorism, said the senior Syrian diplomat after a meeting of the UN Security Council to discuss the deadly turmoil in his country.
Ja'afari added that Turkey is violating the UN Charter and the principles of international law by meddling in Syria's internal affairs and allowing Takfiri terrorists to cross the border in the neighboring Arab state.
"It can't be denied that the Turkish policy is one of the causes of increasing the violence in Syria through facilitating the flow of the ISIS (ISIL) and al-Nusra Front terrorists into the Syrian territories," he added.
Full report at:
http://www.presstv.ir/detail/2014/11/01/384344/syria-raps-un-approach-to-terror-fight/
-----------
Iraqi Peshmerga forces leave Turkey, enter Kobani
Oct 31, 2014
Iraq's Kurdish Peshmerga fighters have reportedly entered the northern Syrian border town of Kobani to join the fight against the ISIL Takfiri militants.
"We have crossed over," Reuters quoted an unnamed Peshmerga fighter as saying late on Friday.
Earlier in the day, a group of 150 fighters from Iraq's Kurdistan Regional Government headed towards Turkey's border crossing with Syria in the southern region of Morshid-pinar to reinforce Syrian Kurds fighting against the ISIL terror group.
Reports further said the Syrian Kurds, lining the road to the border, welcomed the Peshmerga fighters who waved their rifles in the air.
The Iraqi Kurdish fighters had spent the last three days in a Turkish military warehouse before heading for Kobani, also known as Ain al-Arab in Arabic.
Full report at:
http://www.presstv.ir/detail/2014/10/31/384327/iraqi-peshmerga-forces-enter-kobani/
-----------
US deal to boost Kingdom's heritage development drive
1 November 2014
Saudi Arabia plans to forge world-class institutions with the aim of training Saudi youth to develop and maintain museums, said Prince Sultan bin Salman, president of the Saudi Commission for Tourism and Antiquities (SCTA).
Prince Sultan's statement came after he signed a memorandum of understanding for cooperation in museum matters with Thomas P. Campbell, director of Metropolitan Museum of Arts in New York — the largest art museum in the Western Hemisphere.
The prince said that the MoU also covered organizing touring exhibitions and joint exhibitions, the borrowing of exhibits to be showcased in the Metropolitan Museum and the Kingdom's museums.
The prince was authorized by the Council of Ministers to sign the MoU.
High-ranking officials including Abdullah Al-Moallami, permanent Saudi representative at the UN, Joseph Westfall, US Ambassador to the Kingdom, Khaled Al-Sharif, Saudi Consul in New York, and Ali Al-Ghebban, SCTA vice-president, attended the event.
"We strive continuously to develop the King Abdullah Project for Urban Heritage, which considers the development of national museums a significant part of the Kingdom's heritage development program," the prince said in a statement after signing the MoU.
"The development of museums is important in relation to keeping pace with the aspirations of the state, the citizens who look forward to a major shift in the entire national heritage and attention to all its aspects, its preservation and the awareness of its significance as a part of the Kingdom's cultural heritage," he said.
The project is in line with Custodian of the Two Holy Mosques King Abdullah's vision and who has kindly agreed to give his name to the undertaking, said Prince Sultan.
The prince said the King Abdullah Project for Urban Heritage aims to undertake the construction of new museums in the Kingdom including large specialized museums, in addition to developing the existing museums and heritage locations.
Full report at:
http://www.arabnews.com/travel/news/653396
-----------
Saudis arrested in Yemen were plotting bombings
JEDDAH: ARAB NEWS
1 November 2014
Yemeni security forces have revealed that the five Saudi nationals who were arrested two days ago in Yemen were planning to carry out a bombing operation targeting a busy Yemeni facility where gatherings of military and civilian personnel are common. The detainees, who are all members of Al-Qaeda in Yemen, were likely targeting Houthi supporters, they said.
Although the Saudi Embassy in Yemen declined to comment on the issue, Saudi security has said that the five Saudi nationals are likely to have been involved in the recent operation against security establishments in the Saudi city of Sharoura. At least three of five individuals are from the city itself, including one with a leading role in the organization, they said.
Full report at:
http://www.arabnews.com/saudi-arabia/news/653356
'Egypt has right to build Gaza buffer zone'
WASHINGTON — Egypt has the right to use a Gaza buffer zone to boost its security, but should also be concerned about the impact on local communities, the United States said Thursday. "Certainly we believe that Egypt has the right to take steps to maintain their own security. And we understand the threat that they are facing from the Sinai," State Department spokeswoman Jen Psaki said. "We also continue to encourage them to take into account those that would be internally displaced by this," she added. Egypt began demolishing houses along its border with Gaza on Wednesday to set up a buffer zone to prevent militants sneaking into the Sinai desert, and to curb arms smuggling following a wave of deadly attacks. — AFP
http://www.saudigazette.com.sa/index.cfm?method=home.regcon&contentid=20141101222958
-----------
Airstrikes hit Kobani ahead of entry by Kurdish forces
1 November 2014
SURUC, Turkey: US-led airstrikes hit Islamic State positions around the Syrian border town of Kobani on Friday in an apparent bid to pave the way for heavily-armed Kurdish peshmerga forces to enter from neighboring Turkey.
The predominantly Kurdish town, besieged for more than 40 days, has become the focus of a global war against the insurgents, who have captured expanses of Iraq and Syria and declared an Islamic "caliphate" straddling the two.
Its fighters have slaughtered or driven away Shiite Muslims, Christians and other communities who do not share their ultra-radical brand of Sunni Islam. They executed at least 220 Iraqis in retaliation against opposition to their takeover of territory west of Baghdad this week.
The siege of Kobani — known in Arabic as Ayn Al-Arab — has turned into a test of the US-led coalition's ability to stop Islamic State's advance, with weeks of air strikes so far failing to break the insurgents' stranglehold.
Kobani's defenders, outgunned by the militants, are hoping the arrival of peshmerga forces from Iraqi Kurdistan with badly-needed weapons including cannon and truck-mounted machine-guns will help them turn the tide.
An advance guard of 10 peshmerga briefly entered Kobani on Thursday to discuss a joint strategy with leaders of the YPG, the main Syrian Kurdish armed group defending the town.
Armored vehicles came and went from a former cotton processing warehouse near the Turkish border town of Suruc on Friday, where the wider contingent of around 150 peshmerga fighters were preparing for their deployment.
Full report at:
http://www.arabnews.com/middle-east/news/653286
-----------
Pharaonic temple found under Egypt house
October 31, 2014
A group of men discovered a 3,400-year-old pharaonic temple from the reign of warrior king Thutmosis III under their house in a city south of Cairo, Egyptian officials said. Antiquities Minister Mamdouh Al-Damaty said the seven men made the find during an illegal excavation in Al-Badrashin, 40 kms (25 miles) from the capital.
The men, using diving equipment, had come across the temple in ground water after digging for nine meters (yards). A team of experts from the ministry took over the excavation work, while the seven men were detained but later released because the area was not a heritage site.
The monuments found include seven tablets, several column bases made of pink granite and a pink granite statue — remains of the temple from the time of Thutmosis III, Damaty said. "We will start an excavation project in the area to find more," he said.
Illegal excavations and smuggling of ancient artefacts have been a major headache for Egyptian authorities, especially since the 2011 uprising that toppled president Hosni Mubarak. — AFP
http://www.saudigazette.com.sa/index.cfm?method=home.regcon&contentid=20141101223003
-----------
India
Drone Keeps Eye As Muslims Join Hindu Jagran in Delhi
by Sarah Hafeez
November 1, 2014
For over a week, the mata ki chowki at Block 20, Trilokpuri, had been in the eye of a storm. A skirmish here between a group of youth had allegedly triggered the worst riots in the area in the last 30 years. Even as Trilokpuri limped back to normalcy, the jagran at the mata ki chowki concluded with kirtans and bhajans on Friday evening amid heavy police security.
Muslims in area participated in large numbers in the four-hour proceedings. BJP MP Maheish Girri also dropped by for a short while. "The jagran started at 6 pm. Everything is peaceful. A few rogue elements from outside had disturbed the peace in our locality," Ruksana, 45, a resident of Block 20, said.
Members of the Aman committee, comprising residents who have been maintaining peace and goodwill in the neighbourhood, were also present on Friday evening.
Arjun, a member-volunteer, said, "We had several meetings with police and residents. Just as Muslim residents willingly came forward to participate in the celebrations, so will Hindu residents observe Muharram, which is three days away."
Girri, who came around 7.30 pm, said, "The jagran is not just a religious ceremony. It gives out the message of peace and harmony among people of all religions. I have come here as a messenger of peace."
Meanwhile, the sole drone camera, hovering over the grounds, stole the show with most turning to look at it during the function. The camera was being used to monitor the situation on the ground.
Full report at:
http://indianexpress.com/article/cities/delhi/drone-keeps-eye-as-muslims-join-hindu-jagran-at-trilokpuri-chowki/
-----------
Muslims rubbish Bukhari's invite to Pakistani PM
Pervez Iqbal Siddiqui
Nov 1, 2014
LUCKNOW From the common man on the street to the head of Asia's most important Islamic seminary Darul Uloom Deoband (DuD), various sections of the Muslim community on Friday condemned and questioned the decision of Syed Ahmed Bukhari, shahi imam of Delhi's Jama Masjid, to overlook Prime Minister Narendra Modi and invite Pakistani PM Nawaz Sharif for the coronation of his son as the Naib imam (imam's deputy) on November 22.
"There's no scope for controversies in issues of sharia," Maulana Mufti Abul Qasim Nomani, the mohtamim of DuD, said, questioning the very need of inviting political individuals to any religious event. "We don't address political issues as we're a purely religious entity. Hence I'll prefer to say no more on this issue."
Other top clerics were more direct in their criticism. "Instances like these bring the entire Muslim community under scrutiny," said Maulana Khalid Rasheed, imam of the Lucknow Idgah and member of the executive committee of the All India Muslim Law Board, the highest body of Muslims in India on issues of sharia.
"How can anyone even think of overlooking the Indian PM and going ahead with inviting Pakistan's PM at a time when Pakistani soldiers are chopping the heads of our soldiers on the borders?"
Full report at:
http://timesofindia.indiatimes.com/india/Muslims-rubbish-Bukharis-invite-to-Pakistani-PM/articleshow/45001066.cms
-----------
Africa
18 Islamist fighters killed in Libya: Commander
November 01, 2014
An Islamist field commander says that 18 militiamen have been killed in an attack on a western Libyan town.
The commander in the coalition of Islamist militias known as the Dawn of Libya said the rival Zintan militia, backed by local tribes loyal to renegade Gen. Khalifa Hifter, launched the attack at dawn Saturday on the town of Kikla after heavy artillery strikes. He said 84 people were wounded.
Full report at:
http://www.thedailystar.net/18-islamist-fighters-killed-in-libya-commander-48389
-----------
Deadly Car Bomb Attack at Nigerian Bus Stop, At Least 8 Killed
31 Oct 2014
A car bomb has exploded at a crowded bus stop in the northeast Nigerian city of Gombe, killing at least eight people and wounding 34 others, witnesses have said.
No one immediately claimed responsibility for Friday's blast, but the armed group Boko Haram has been blamed for a string of bomb attacks in the region this year. Gombe has rarely been attacked.
"It just happened, and our men and the security agencies are on the scene dealing with the fallout," an emergency services official told the Reuters news agency. The military was not immediately available for comment.
One witness, Godfrey Anebo, said he saw emergency services pull eight people from the wreckage, all of whom appeared to be dead.
"I am not sure what the death toll will be at the end but it will shoot up very high because the bus stop was very full of commuters," Anebo said.
Multiple witnesses told the AFP news agency the men entered the station in one vehicle and then dropped bags packed with explosives between the buses which were filling up with travellers.
Full report at:
http://www.aljazeera.com/news/africa/2014/10/deadly-car-bomb-attack-at-nigerian-bus-stop-201410311237446115.html
-----------
Algeria turns 'deaf ear' to border dispute
31 Oct 2014
Marsa Ben M'hdi, Algeria - The Algeria-Morocco frontier has remained closed for the past 20 years because of political friction, with locals on each side of the border eagerly awaiting a resolution.
To the west lies Saida beach in Morocco; to the east is Marsa Ben M'hdi, also known as "Port-say", a small city on the Mediterranean coast in Algeria. Only a small sandbank separates thousands of Moroccan-Algerian families living in the borderland.
"Every week, I used to visit my aunt and my cousins, who reside in Saida. Since 1994, I have not seen them a single time," Hamouda, a former Algerian policeman who did not provide a last name, told Al Jazeera.
The border between Morocco and Algeria, which runs for about 1,600km, is one of the longest closed frontiers in the world. Algeria shut its land border with Morocco in 1994 after Rabat imposed visa regulations on Algerian visitors in the wake of a terrorist attack on the Atlas Asni Hotel in Marrakech. At the time, Morocco suspected Algiers was behind the bombing.
"Rabat expected Algiers to slap visa requirements on Moroccans, but the kingdom could not imagine that Algeria would also retaliate by closing the border crossings," Abdelaziz Rahabi, who served as the Algerian ambassador in Spain at the time, told Al Jazeera. "Algeria reacted firmly as the country was going through a rough patch. Actually, 1994 was one of the bloodiest years of the black decade [when a civil war raged between the government and armed groups]."
Since then, checkpoints, on both sides of the border, have been closed and controls tightened. The two countries marked the 20th anniversary of the closure of their common border this year by building a barbed-wire fence, starting from the beach, under the pretext of fighting both terrorism and trafficking. "It is expected to separate the entire frontier," a young guard, posted in Marsa Ben M'hdi beach, told Al Jazeera in an interview last month. So far, the fence stretches about 40km along the border.
Full report at:
http://www.aljazeera.com/news/middleeast/2014/09/algeria-turns-deaf-ear-border-dispute-2014925121752206960.html
-----------
Boko Haram denies truce deal with Nigerian gov't
Nov 1, 2014
Boko Haram Takfiri militants have denied claims by the Nigerian government about a recent truce agreement that would facilitate the release of more than 200 schoolgirls abducted by the group.
In a video released on Friday, Boko Haram leader Abubakar Shekau rejected the Nigerian administration's ceasefire announcement as false and ruled out future talks with Abuja over the issue.
"We have not made ceasefire with anyone. We did not negotiate with anyone. It's a lie," Shekau said.
On April 14, Boko Haram militants kidnapped 276 students from their secondary school in the northeastern town of Chibok in Borno state, triggering worldwide outrage. Reports say 57 of the girls managed to escape but 219 are still missing.
The Nigerian government announced on October 17 that it had secured a truce deal with Boko Haram over the release of the schoolgirls.
Full report at:
http://www.presstv.ir/detail/2014/11/01/384369/boko-haram-denies-truce-with-abuja/
-----------
Army chief takes power after Burkina president bows to protests
November 1, 2014
OUAGADOUGOU: The head of Burkina Faso's armed forces took power on Friday after President Blaise Compaore resigned amid mass demonstrations against an attempt to extend his 27-year rule in the West African country.
Compaore, who seized power in a 1987 coup, had attempted to defy popular pressure for him to step down after a day of violent protests on Thursday in which demonstrators stormed parliament and state television.
However, with hundreds of thousands of protesters packing the streets of the capital Ouagadougou for a second day on Friday and no sign of international support for him staying on, Compaore announced his resignation.
"I declare a vacancy of power with a view to allowing a transition that should end with free and transparent elections in a maximum period of 90 days," Compaore said in a written statement read on local radio and television.
A heavily armed convoy believed to be carrying Compaore was seen travelling on Friday towards the southern town of Po, near the border with Ghana, two diplomatic sources and local media said.
Crowds danced and cheered in Ougadougou's dusty streets, blowing on whistles after Compaore's statement was broadcast. The mood cooled, however, as it became plain that military chief General Honore Traore had taken over the reins of power.
Under Burkina Faso's constitution, when the president resigns the head of the National Assembly should take office, but parliament had already been dissolved by the Traore on Thursday under short-lived martial law.
SUB-SAHARAN SPRING: "Considering the urgency of saving the nation, I have decided that I will assume from this day the responsibility of the head of state," Traore told a news conference.
Full report at:
http://www.dawn.com/news/1141681/army-chief-takes-power-after-burkina-president-bows-to-protests
-----------
Libyan Army recaptures 4 barracks in Benghazi
1 November 2014
BENGHAZI: Libyan Army special forces have seized back four barracks from armed militant groups in the eastern city of Benghazi, a commander said on Friday, after two weeks of heavy fighting which has killed at least 210 people.
The army, backed by forces of a former general and other fighters, have waged an offensive against militant groups in Libya's second-largest city — part of the chaos gripping the oil producer three years after the overthrow of Muammar Qaddafi.
Special forces commander Wanis Bukhamada told Reuters his forces controlled the eastern exit road from Benghazi and four camps, including the former army headquarters which it had lost with three others to the militant in August.
The army had already said it had expelled Islamists from the airport area and the Feb. 17 camp, one of their strongholds in the port city.
"The army is controlling 80 percent of the city and is cleansing several area of members of Ansar Al-Sharia," Bukhamada said, referring to a group blamed by Washington for a 2012 attack on the US consulate that killed the American ambassador.
Full report at:
http://www.arabnews.com/middle-east/news/653276
-----------
UN chief slams renewed violence in South Sudan's north
Oct 31, 2014
The United Nations secretary general has condemned a fresh outbreak of violence in two northern towns in South Sudan's key oil-producing state of Unity.
In a statement released by Ban Ki-moon's spokesperson on Thursday, the UN chief called for an immediate end to all hostilities between South Sudan's army and rebel forces loyal to the country's former vice president, Riek Machar, in the towns of Bentiu and Rubkona.
Ban described the resumption of hostilities in South Sudan's north as a "serious violation" of earlier peace agreements between the warring sides, saying the new spate of violence "undermines the ongoing IGAD (Intergovernmental Authority on Development) efforts to find a political solution to the conflict."
The UN chief further called on the conflicting sides to "participate constructively in the ongoing political negotiations in Addis Ababa and reach urgently an agreement on inclusive and comprehensive transitional arrangements."
Ban also warned both parties of the "inviolability" of the African country's UN bases that are home to tens of thousands of displaced civilians.
Full report at:
http://www.presstv.ir/detail/2014/10/31/384240/un-chief-raps-fresh-violence-in-s-sudan/
----------
Mideast
Iran censures Israel's desecration of al-Aqsa Mosque
Nov 1, 2014
Iran condemned Israel's latest decision to temporarily close the al-Aqsa Mosque to Muslim worshippers that has made it off limits to Palestinians.
Iranian Foreign Ministry Spokeswoman Marzieh Afkham warned on Friday against the ramifications of the dangerous move and called on all Muslim and regional countries not to remain silent in the face of Tel Aviv's criminal act and to defend the al-Aqsa Mosque.
Israel closed the al-Aqsa Mosque compound on Thursday to Muslim worshippers after a 32-year-old Palestinian Moataz Hejazi on October 29 made an attempt on the life of Yehuda Glick, an American-born Israeli settler.
Full report at:
http://www.presstv.ir/detail/2014/11/01/384362/iran-raps-israels-sacrilege-of-alaqsa/
-----------
Only men over 50 pray at Aqsa mosque amid tight security
31 October 2014
JERUSALEM: Muslim men over 50 prayed at the Aqsa mosque in Jerusalem's Old City on Friday amid intense security, a day after Israel closed all access to the sacred compound for the first time in more than a decade following violence on the streets.
More than 1,000 Israeli police were deployed around the Old City's cobbled streets and the ancient gates that lead to Al Aqsa, a spokeswoman said, in addition to undercover anti-riot units and observation balloons hovering in the sky.
Palestinian President Mahmoud Abbas denounced Thursday's closure of the site as "tantamount to a declaration of war" and his political party called for a "day of rage" in protest at the move, prompting heightened security throughout the city.
Worshippers wanting to enter the ornate marble-and-stone compound, which contains the golden Dome of the Rock and Al Aqsa mosque, the third holiest shrine in Islam, queued behind blue barricades to show their identification papers to the police.
More than 4,000 people attended midday prayers, police said. There were a few isolated disturbances, including firecrackers being set off and an attempt by a group of young Palestinian men to break through the police cordon, but no serious violence.
Israeli authorities shut all access to Al Aqsa after the shooting of Yehuda Glick, a far-right religious activist who has led a campaign for Jews to be allowed to pray at the site, which they refer to as Temple Mount.
Full report at:
http://www.arabnews.com/featured/news/652941
-----------
Hamas to fight Israel over al-Aqsa Mosque: Haniyeh
Nov 1, 2014
Senior Hamas leader Ismail Haniyeh has vowed to fight Israel over the regime's latest move to close the al-Aqsa Mosque compound to Palestinian worshippers.
Haniyeh, who took part in a mass protest in Gaza on the Day of Rage on Friday, said the resistance movement would not allow the Israeli regime to do as it likes on the compound.
He warned that the temporary closure of the al-Aqsa Mosque was part of an Israeli plan to destroy the holy site.
"The Israeli enemy is entering a very dangerous phase in carrying out its tasks towards the sacred mosque," the Palestinian leader said.
"They (Israelis) plan to assign different prayer times for Jews and Arabs and think seriously about destroying the holy mosque by building underground tunnels beneath it," Haniyeh added.
He emphasized that the Palestinian people would not give up and not remain indifferent, but would fight for their holy sites.
Full report at:
http://www.presstv.ir/detail/2014/11/01/384387/hamas-to-fight-israel-over-alaqsa/
-----------
Yemeni rebels set 10-day deadline for new govt
November 1, 2014
SANAA: A Huthi rebel leader in Yemen warned President Abdrabuh Mansur Hadi on Friday to form a new government within 10 days or a "national salvation council" would take its place.
The Ansarullah rebels, also known as Huthis, took advantage of the lack of stability since president Ali Abdullah Saleh's 2011 overthrow to seize the capital Sanaa on Sept 21.
They have since extended their sphere of influence into the centre and west of the country.
Friday's warning to Hadi came as rebel leaders gathered in the capital at a meeting called by the movement's chief, Abdulmalik al-Huthi.
It was attended by Huthi supporters, the heads of allied tribes and also backers of the deposed Saleh, participants said.
Full report at:
http://www.dawn.com/news/1141712/yemeni-rebels-set-10-day-deadline-for-new-govt
-----------
Meddlesome policies pose challenge to Iran rights efforts: Official
Oct 31, 2014
Iran's extensive efforts to improve the country's human rights situation have faced serious challenges, including politically-motivated meddlesome policies, says an Iranian official.
The Islamic Republic has made significant achievements with regard to human rights situation in the recent years, said Secretary of Iran's High Council for Human Rights Mohammad Javad Larijani during an address at the 20th session of the Working Group of the Universal Periodic Review (UPR) in Geneva, Switzerland on Friday.
However, Larijani described the UN resolutions against Iran and the appointment of a UN special rapporteur on the human rights situation in the Islamic Republic as some of the challenges the country faces.
Such a biased approach is in direct contradiction to the foundational principles of human rights, the Iranian official added.
Full report at:
http://www.presstv.ir/detail/2014/10/31/384281/iran-raps-biased-human-rights-policies/
------------
North America
UN watchdog demands Gaza war probe, slams Israel abuses
31 October 2014
GENEVA: A UN human rights watchdog on Thursday urged Israel to respect the rights of Palestinians, and demanded the country probe violations committed during repeated assaults on Gaza.
With tensions soaring in East Jerusalem, and months of almost daily clashes, the UN Human Rights Committee published conclusions Thursday from its review earlier this month of Israel's human rights record.
The committee lamented continued punitive demolitions of Palestinian homes in the West Bank, excessive force by the Israel Defense Forces and decried reports of the use of torture and ill treatment of Palestinians, including children, in Israeli detention facilities.
It also slammed the "continuing confiscation and expropriation of Palestinian land and restrictions on access of Palestinians in the Occupied Palestinian Territory, including East Jerusalem."
Full report at:
http://www.arabnews.com/middle-east/news/652701
-----------
Canada police attack anti-austerity rally in Montreal
Oct 31, 2014
Police have attacked thousands of demonstrators protesting against government spending cuts in the Canadian province of Quebec.
The anti-austerity protesters gathered outside the office of Quebec's Premier Philippe Couillard in Montreal on Friday to condemn the local government's plan to cut $3 billion from the province's budget.
The Canadian police used force to disperse the anti-austerity protesters, saying the demonstration, which was dubbed "Austerity: A Horror story", was unauthorized.
The demonstration, which started at 11 a.m. and ended at around 3 p.m. local time, was organized by a coalition of student unions, including Quebec House of Labour (Centrale des syndicats du Quebec), independent teachers' federation, as well as Quebec Solidaire, a provincial political party.
Full report at:
http://www.presstv.ir/detail/2014/10/31/384321/canada-police-attack-montreal-rally/
------------
US Congress to revisit Islamic State war debate after election
November 01, 2014
WASHINGTON: When lawmakers return to Washington after Tuesday's congressional elections they will resume a debate they began with some reluctance last month on the US-led fight against Islamic State militants in Syria and Iraq.
With the US-led coalition increasing air strikes but no signs the militants have been weakened, Congress appears ready for a broader discussion on the operations than it was prepared to hold during the run-up to the election. The temporary authorization for President Barack Obama's plan to arm and train moderate Syrian rebels - one element of the campaign - expires on Dec. 11, so lawmakers will have to take up that issue when they return from recess on Nov. 12. A handful of lawmakers are also pushing for Congress to consider a broader Authorization for the Use of Military Force (AUMF), which would set out guidelines for the overall effort to halt the militants.
"We should not be asking servicemembers to go into harm's way without ensuring there is a political consensus in support of the mission," said Democratic Senator Tim Kaine, a leading advocate for an AUMF vote. Sometime in the busy session between the elections and the start of a new Congress in January, Obama will also have to ask Congress to approve more funds to pay for an extended campaign.
Full report at:
http://www.dailytimes.com.pk/region/01-Nov-2014/us-congress-to-revisit-islamic-state-war-debate-after-election
-----------
URL: https://www.newageislam.com/islamic-world-news/new-age-islam-news-bureau/one-in-seven-young-brits-have-'warm-feelings'-towards-isis--poll/d/99824