New Age Islam News Bureau
15 Nov 2018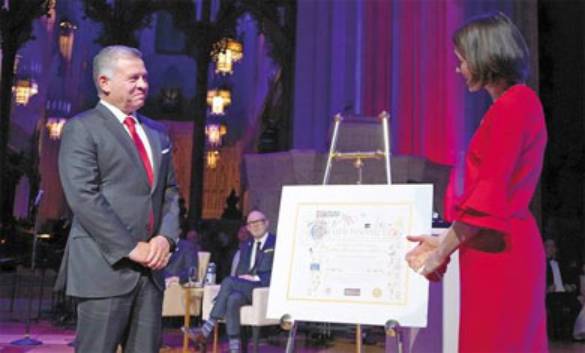 His Majesty King Abdullah receives the 2018 Templeton Prize from President of the John Templeton Foundation Heather Templeton Dill in Washington, DC, on Wednesday (Photo courtesy of Royal Court)
----
• Offering Shia Person's Funeral Prayer Gets Marriage 'Annulled', Says Pakistan Cleric
• Islam Is Religion of Holistic Vision, Not Cherry-Picking to Suit Political Agenda — Jordan King
• Saudi Arabia Trashes Reports That Palestinians Are Barred From Mecca
• After Historic Midterm Election Wins, Muslims Struggle a Little Less with Their American Identity
• ISIS Members Hailing From Turkey, Pakistan, Tajikistan Arrested In Kabul
Pakistan
• Offering Shia Person's Funeral Prayer Gets Marriage 'Annulled', Says Pakistan Cleric
• British Asylum Policy Gets 'Dictated By Pakistani Mob' In Aasia Bibi Case
• No Resumption of Peace Talks with India before 2019 Elections: Pakistan
• Panel needed to probe 'economic terrorism': minister
• PM orders setting up of National Curriculum Council
• Police to record statement of slain JUI-S leader's 'missing' secretary
--------
Africa
• Islam Is Religion of Holistic Vision, Not Cherry-Picking to Suit Political Agenda — Jordan King
• Haftar Displeasure over Qatar, Turkey on Display at Palermo
• Armed clashes renewed in Libyan capital threatening security plan
• Dozens of migrants refuse to leave container ship in Libya
• Killing of Shiites must stop in Nigeria
• Kenya: Imams Oppose Bid to Bar Caps in Passports
• Nigerian army rescues 16 hostages from Boko Haram
--------
Arab World
• Saudi Arabia Trashes Reports That Palestinians Are Barred From Mecca
• Peace, Security and Economy Top Agenda of Saudi Shoura Session
• Tens of Civilians Killed in US Air Raid on ISIL Prison in Deir Ezzur
• Lebanese Christian Civil War Foes Shake Hands, Make Up After 40 Years
• Gaza flare-up part of bin Salman's scenario to distract world from Khashoggi case: Report
• US-Backed Militia Reinvigorates Positions in Eastern Syria
• Saudi-backed militants pause Hudaydah attack
• Bahraini courts issued death sentences for 32 anti-regime activists since 2011
--------
North America
• After Historic Midterm Election Wins, Muslims Struggle a Little Less with Their American Identity
• US Mosque's Bid to Repeal Prayer Restrictions Deferred
• US envoy: Fight against ISIS in Syria may end soon, Iran still a threat
• US drone strikes killing more civilians in Yemen: Report
• US-led coalition warplanes target eastern Syrian towns with cluster bombs: Report
• John Abizaid, 'the mad Arab', could be Washington's best bet for better Saudi ties
--------
South Asia
• ISIS Members Hailing From Turkey, Pakistan, Tajikistan Arrested In Kabul
• 'Undeclared War' Between Afghanistan, Pakistan Must End: Ghani
• Tensions high as Rohingya fear looming return to Mynamar
• Spectre of violence threatens fair Bangladeshi poll
• U.S. Airstrikes Kill 5 Militants in Ghazni, 40 BM-1 Warheads Seized In Logar
• Myanmar's treatment of Rohingya Muslims Pence spurns Suu Kyi
--------
India
• 'Mainstreaming' Of Terrorists by Pakistan a Threat, PM Tells US Vice-President
• 'Andrabi Using Social Media to Collect Funds for Terror Activities'
• Rohingyas Managing IDs by Illegal Means in Telangana
• 'India Has Been and Will Remain Long-Term Partner of Afghanistan'
• Al-Ameen Mission's Incredible Achievements; 370 Students Cracked NEET-2018
• Two Hizb-ul militants arrested in Jammu and Kashmir
• Terrorist killed; DRI, Army seize huge cache of arms, ammunition in Jammu
• ASI, Local Muslims Spar over Supreme Court Order On Taj Mahal
• Muslims of Ayodhya Worried About Their Safety, Says Party to Title Suit
--------
Europe
• Paris Peace Forum Launches Annual Meeting to Fight for Multilateralism
• Palestine's Exiled Envoy: We Will Never Submit to Trump and Become a Nation of Beggars
• Iranian Migrants Steal French Boat and Sail To Britain
• Serbia's Muslim minority seeks cooperation with Turkey
--------
Mideast
• Yemeni Forces Destroy Almost 2000 Houthi Mines in Hajjah Governorate
• Internal Power Struggles Erupt In Iran Over Money Laundering, Terror Support
• Iran's president says America chose wrong path on sanctions, will be defeated
• Turkish FM: Turkey aims to deepen ties with Saudi Arabia
• Lieberman resigns as Israel's minister of military affairs in opposition to Gaza deal
• UAE welcomes 'early convening' of UN-led Yemen talks in Sweden
• Ankara's handling of EU programs for Syrian refugees under scrutiny
• Palestinian killed in Gaza despite Hamas-Israel cease-fire
• Architects, activists slam Jerusalem Old City cable car plan
• Israeli defence minister announces resignation protesting Gaza truce
--------
Southeast Asia
• Indonesian Universities Told To Nip Radicalism in Bud
• Pre-wedding courses for non-Muslims
• At least restore my PTPTN perks, Najib tells Pakatan
• Ahmadi, Sunni Muslims live in peace in Wonosobo
Compiled by New Age Islam News Bureau
URL: https://www.newageislam.com/islamic-world-news/offering-shia-persons-funeral-prayer/d/116886
--------
Offering Shia Person's Funeral Prayer Gets Marriage 'Annulled', Says Pakistan Cleric
Nov 15, 2018
A cleric in Chiniot has declared that anyone who offered the funeral prayers of a recently deceased Shia woman was no longer a Muslim and had to recite the Kalma to enter back into the fold of Islam.
According to a BBC Urdu report, the incident took place in Chak 136 of the Chiniot district some ten days ago, where the people were advised to also get their Nikah performed again.
"A local cleric, Mian Khalid Bashir, refused to lead the funeral prayers of my niece because we belong to the Shia community," the report quoted Qasim Ali, a resident of the village, as saying. Another cleric from a nearby village was then invited, he added.
"After the incident, he [Bashir] announced that the participants of the funeral prayer were no longer Muslims and would have to recite the Kalma," Qasim claimed, adding that the cleric also announced the participants' marriages had been annulled and they would have to get Nikah performed once again.
According to Qasim, the cleric also delivered a fatwa, after which all locals believed him.
"When asked how were they [participants of the funeral] supposed to get their marriages registered again, the cleric said the Nikah was already registered and only performing it was needed."
However, Qasim said, the locals were now waiting to complete their iddat [waiting period] in order to get Nikah with their "former" spouses performed.
https://www.pakistantoday.com.pk/2018/11/15/offering-shia-persons-funeral-prayer-can-get-marriages-annuled-says-cleric/
--------
Islam Is Religion of Holistic Vision, Not Cherry-Picking to Suit Political Agenda — Jordan King
Nov 15, 2018
AMMAN — His Majesty King Abdullah said that Islam is a religion of holistic vision, "not the cherry-picking of verses to suit a political agenda", stressing that all 1.8 billion Muslims around the world are working to defend Islam against the "malignant sub-minority who abuse our religion".
In his speech at a ceremony in Washington, DC, as he accepted the 2018 Templeton Prize on Wednesday, His Majesty underlined Jordan's historic privilege as the land of prophets and its role in maintaining and defending their message of peace and goodness, according to a Royal Court statement.
His Majesty said that he accepts the award on behalf of all Jordanians, because all he is being honoured for "simply carries onward what Jordanians have always done", and that is to live in mutual kindness, harmony and brotherhood.
Expressing his sorrow over the loss of life in the Kingdom in the recent flashfloods, the King added that the Jordanian families grieving for loved ones are "are highest in my mind today".
The King said that "the greater jihad" has nothing to do with the hate-filled fiction promoted by the likes of Daesh or Islamophobes who distort our religion.
"It is, instead, the personal, internal struggle to defeat the ego and the struggle we all share for a world of peace, harmony and love," he added.
He stressed that the noble commandments of loving God and one's neighbour are ones that unite many faiths around the world, including Islam, Christianity and Judaism.
"It is a profound message, calling every one of us to struggle to look beyond ourselves. And this outward insight is the source and hope of all coexistence," His Majesty said.
When we talk about coexistence, the King noted, no issue is more important than that of Jerusalem, stressing that the city is holy to more than half the world's population, and with the multi-faith heritage the Holy City holds, Jerusalem must be protected as a "unifying city of peace".
His Majesty, who has been awarded the prestigious prize in appreciation for his efforts to promote interfaith harmony, safeguard Jerusalem's Islamic and Christian holy sites and protect religious freedom, announced during the ceremony that a portion of the award's value will be donated to renovate religious sites in Jerusalem, including the Church of the Holy Sepulchre, while the remaining sum will be devoted to humanitarian, interfaith and intra-faith initiatives, in Jordan and around the world.
UN Secretary General António Guterres said that King Abdullah's promotion of peace within Islam, and between Muslims and people of other beliefs, has contributed to global peace and progress in many ways, highlighting the Amman Message of 2004 as one of His Majesty's contributions to this goal.
In remarks during the prize ceremony, Guterres also referred to the King's scholarly initiatives that aimed to foster mutual understanding and cooperation among Muslims, as well as between Muslims and Christians, such as the Royal Aal al-Bayt Institute and The Common Word initiative, launched by His Majesty in 2007.
"Faith is too often used to divide us. But it should provide pathways for people to come together in their diversity. By seeking religious harmony and understanding within Islam, and between Islam and other religions, His Majesty has courageously demonstrated that belief in a power greater than ourselves can bridge differences, create unity and contribute to peace, stability and security," the secretary general said.
Guterres also commended the King's proposal for the World Interfaith Harmony Week, which was unanimously adopted by the UN and is now observed every year around the world, as well as the King's role in guarding Muslim and Christian holy sites in Jerusalem and his efforts to fund the construction of Christian churches in Jordan and support Christians threatened by Daesh in Iraq and Syria.
As a former high commissioner for refugees, Guterres said he also has great admiration for the Kingdom and its role in hosting of millions of refugees "with a generosity that should be referred to today in a world where — unfortunately — refugees are, so many times, forgotten or even ostracized".
"King Abdullah has acted upon his responsibility to address the root causes that can undermine social cohesion and create conditions in which extremism can flourish. He has demonstrated what true leadership looks like, in our times and for our world," Guterres added.
For her part, President of the John Templeton Foundation Heather Templeton Dill said that King Abdullah is a person "shaped by temporal and political responsibilities, yet one who holds the conviction that religious belief and the free exercise of religion are among humankind's most important callings".
The president said the founder of the Templeton Foundation, Sir John Templeton, created the prize because he believed that religion is important and under-appreciated in the affairs of humankind and he wanted to honour those who were making significant contributions to human flourishing that spring from deeply held religious convictions.
"In this way, His Majesty embodies the values that inspired my grandfather to establish the Templeton Prize and the John Templeton Foundation and it is a great joy to celebrate His Majesty's contributions in this ceremony," Templeton Dill said.
The Amman Message, the Common Word and the United Nations Interfaith Harmony Week stress the moral imperative of understanding the values of peace inherent in all religions, she added.
"We at the John Templeton Foundation cannot think of a more important message of peace and reconciliation for the world to hear and embrace in the 21st century."
King Abdullah is the first political leader and head of state to receive the Templeton Prize, founded in 1972, and the second Muslim figure it recognises.
Since its launch, the prize has been awarded to 47 international figures, including scholars, philosophers, and leading reformers, such as Mother Teresa, who received the inaugural award in 1973, the Dalai Lama (2012) and Archbishop Desmond Tutu (2013).
His Majesty returned home on Wednesday after a working visit to Washington, during which he received the accolade and held several meetings over regional developments and cooperation, including with US secretary of State Mike Pompeo, UN Secretary General Antonio Guterres and World Bank Group President Jim Yong Kim.
http://www.jordantimes.com/news/local/islam-religion-holistic-vision-not-cherry-picking-suit-political-agenda-%E2%80%94-king
--------
Saudi Arabia Trashes Reports That Palestinians Are Barred From Mecca
November 15, 2018
Jakarta. Saudi Arabia has dismissed claims that Palestinians are not allowed in Mecca, and reaffirmed its support for the nation's independence.
"Reports on the prohibition of more than a million Palestinians from performing the hajj in Mecca are false and invalid, because they are taken from unreliable sources," Osama bin Mohammed al-Shuaibi, Saudi Arabia's ambassador to Indonesia, said at a press conference in Jakarta on Tuesday.
London-based news outlet Middle East Eye and Israeli newspaper Haaretz reported last week that Saudi Arabia was barring more than 1.5 million Palestinian citizens of Israel from traveling on temporary Jordanian passports to perform the Islamic pilgrimages of hajj and umrah in the holy city.
The ambassador said in allocating annual hajj quotas, Saudi Arabia applies a general rule of thumb of one person per 1,000 Muslim citizens of member states of the Organization of Islamic Cooperation, to which Palestine belongs.
Al-Shuaibi said claims in the report therefore do not make sense, considering that Palestine's population of approximately 7 million means only 7,000 of its citizens would be eligible to perform the hajj annually.
"The Palestinian issue is a collective issue … we will not leave them to fight on their own, and we will give them the support they need," he said.
The Saudi Embassy in Cairo issued a statement this week, saying that the kingdom had provided $60 million in financial to Palestine through the Saudi Fund for Development.
https://jakartaglobe.id/news/saudi-arabia-trashes-reports-that-palestinians-are-barred-from-mecca/
--------
After historic midterm election wins, Muslims struggle a little less with their American identity
Nov. 14, 2018
"Assalamu Alaikum", meaning "peace be unto you", is how I start my greetings and sermons. It's also how Congresswoman-elect Ilhan Omar started her victory speech. The Quran is the sacred scripture that I recite in my prayer. It's also the book that the first two Muslim women to ever be elected to the United States Congress will likely use to take the oath of office.
Muhammad is the name of the prophet of Islam. It's also the name of Mujtaba Mohammed, who was newly elected to the North Carolina State Senate. Palestine is where my parents came from before I was born in New Orleans. It's also where Congresswoman-elect Rashida Tlaib's parents came from before she was born in Detroit.
There is something special about seeing yourself in your leaders, especially when your community is targeted by the highest leader of the land. To be clear, Islamophobia is not unique to the Donald Trump era. Since 9/11, the Muslim community in this country has struggled to articulate how it sees itself authentic both to it's Muslim and American identities.
The burden of being Muslim in America
A little over a decade ago, Keith Ellison and Andre Carson became the first two Muslim congressmen in the history of the United States. Shortly after, Barack Hussein Obama ran for president with many trying to delegitimize him by suggesting that he was a secret Muslim. The insinuation was that he would not be loyal to the country if he were indeed a Muslim. While those attempts ultimately failed at halting his road to the presidency, they succeeded in further alienating a Muslim community that was already feeling the brunt of the collective guilt assigned to it after 9/11.
According to a 2017 report by The Institute for Social Policy and Understanding (ISPU), 60 percent of American Muslims report experiencing religious discrimination — more than any other faith group in America. In 2017, 42 percent of Muslim families with kids in grade school said their child was bullied. Tragically, 1-in-4 of the incidents involved a teacher or administrator as the bully. But hate doesn't stop at just name calling. According to the FBI, hate crimes targeting Muslims went up by 67 percent in 2015 and again by another 19 percent in 2016.
Beyond the hate crimes that compromise the safety of Muslim Americans are the paralyzing psychological messages young Muslims constantly receive. Most young Muslims were either not yet born when 9/11 took place, or are too young to remember it in any meaningful way. Yet they have been tasked with not only proving their own innocence, but their religion's innocence of terror as a whole.
That burden weighs heavily as politicians are willing to exploit irrational fears about the Muslim community to win elections and stay in power.
Muslims making history, not just witnessing it
Through my organization, the Yaqeen Institute for Islamic Research, a non-profit research organization dedicated to Muslim identity formation, I talk with young Muslims about the harmful effects of Islamophobia and how it leaves them unsure about both their national and religious identities. Most Muslim youth we talk to feel overwhelmed from the exhaustion of having to be hyper-focused on embracing their American identity to prove that they aren't foreign foes. At the same time, many are convinced that the only way to excel is to relinquish their Muslim identity, or at least obscure it from the public.
So it means something to see Ibtihaj Muhammad triumphing to become the first American Muslim woman in hijab to win an Olympic medal. Or Tahera Rahman becoming the first on-air TV reporter to wear hijab in the United States after years of privately struggling against those who told her she would never get ahead with a veil on her head. Or even a Dagestani fighter named Khabib Nurmagomedov hoisting the Ultimate Fighting Championship lightweight title in Las Vegas after being taunted because of his religion. And all of us still live a little through the legend of Muhammad Ali.
But this is different. Before she was elected, Rashida Tlaib was dragged out of a Trump rally for challenging the president. If Ilhan Omar was still a Somali refugee seeking asylum, she would have had the door shut in her face by Trump's travel ban against predominantly-Muslim countries. Now she can directly challenge the Trump administration's refugee policies from within the halls of Congress.
For many years, Muslims have watched elections be about us, without us. Candidates spoke either in favor of or against us, but we were never the candidates ourselves. That is changing, and young Muslim Americans are watching with not only a renewed sense of belonging, but with a distinctive spirit of courage.
https://www.usatoday.com/story/opinion/voices/2018/11/14/midterm-elections-muslim-candidates-islam-column/1932215002/
--------
ISIS members hailing from Turkey, Pakistan, Tajikistan arrested in Kabul
Nov 14 2018
At least three foreign members of the Islamic State of Iraq and Syria (ISIS) terrorist group have been arrested in Kabul city, the Afghan Intelligence said Wednesday.
According to a statement released by the National Directorate of Security (NDS), the detained ISIS members were looking to carry out a series of attacks in the city.
The statement further added that the detained individuals originally hail from Turkey, Tajikistan, and Pakistan.
Disclosing the identities of the detained ISIS members, NDS said Noorullah from Turkey, Noor Mohammad from Tajikistan, and Mohammad Afzal from Pakistan, who were looking to plan and coordiante attacks in Kabul city.
The National Directorate of Security also added that five Taliban group members have also been arrested from Kabul city during separate operations.
The anti-government armed militant and terrorist groups, including ISIS loyalista and Taliban militants have not commented in this regard so far.
https://www.khaama.com/isis-members-hailing-from-turkey-pakistan-tajikistan-arrested-in-kabul-02743/
--------
Pakistan
British asylum policy gets 'dictated by Pakistani mob' in Aasia Bibi case
Nov 15, 2018
The British Foreign Office had allegedly refused to grant asylum to Aasia Bibi, a Christian woman who was acquitted by the Supreme Court from blasphemy charges last month, due to fear for the safety of UK consular staff in Pakistan, The Guardian reported. Aasia Bibi is seeking asylum after threats to her life in Pakistan. Former UK foreign secretary Boris Johnson was among many members of Parliament (MPs) calling for her and her family to be granted sanctuary in Britain.
The acquittal of the 53-year-old by the Supreme Court prompted demonstrations by hardline Islamist parties in Pakistan who had campaigned for her to be hanged.
She remains in protective custody in an undisclosed location in Pakistan after Prime Minister Imran Khan agreed to allow a petition against the court's decision as part of a deal to halt the protests.
Her husband, Ashiq Masih, has appealed for help to Britain, Canada, Italy and the US but the UK high commissioner in Islamabad is reported to have warned he could not protect his staff if asylum was granted by the UK.
Tom Tugendhat, the foreign affairs select committee chair, asked the British FO Permanent Secretary Sir Simon McDonald, whether the episode "does not raise the question that either staff should be withdrawn or security increased or otherwise UK policy is effectively dictated to by a mob?".
Tugendhat took the committee into lengthy private session after McDonald said he did not wish to give evidence in public on a such a sensitive issue.
McDonald defended Britain's efforts to find a third country to take Bibi, saying this would allow UK policy objectives to be achieved without any risk to its staff.
Tugendhat said the episode represented "one of the clearest examples of free conscience being challenged today".
The senior Labour MP Mike Gapes said: "Given the clear inability of this new Pakistani government of Imran Khan to stop these mobs from intimidating and killing Christians in Pakistan, is it not time to reassess our relations with Pakistan? There are big concerns if religious minorities in Pakistan are not safe."
McDonald said Britain's relationship with Pakistan relationship was important to both countries.
He added: "If the objective is to protect life and some other country can provide some more complete safe harbour, why should the UK not be open to working with that country?"
The Pakistan foreign office confirmed on Tuesday that it had been holding talks with the Canadian foreign ministry over granting Bibi asylum.
Confirmation of talks between the two governments came after Canadian Prime Minister Justin Trudeau said on Monday his government was talking to Pakistan about the case.
"We are in discussions with the Pakistani government," Trudeau said in an interview with Agence France-Presse (AFP) in Paris, where he was attending a peace conference organised by the French President Emmanuel Macron.
https://www.pakistantoday.com.pk/2018/11/14/british-asylum-policy-gets-dicated-by-pakistani-mob-in-aasia-bibi-case/
--------
No Resumption of Peace Talks with India before 2019 Elections: Pakistan
November 15, 2018
Islamabad: Pakistan's Foreign Minister Shah Mehmood Qureshi on Wednesday said that there is no possibility of resumption of dialogue with India before the Lok Sabha elections scheduled in 2019.
Speaking to journalists after attending the Senate Standing Committee on Foreign Affairs' meeting here, Qureshi said that talks could be held with India only after the general elections in the neighbouring country.
The statement comes after Pakistan Prime Minister Imran Khan said last month that he would once again extend a hand of friendship to India after the 2019 Lok Sabha elections as he believed New Delhi rebuffed his offer of talks because Pakistan is an issue in the elections in the neighbouring country.
Khan said he had extended a hand of friendship to India, which rebuffed the move.
After assuming power in August, Khan wrote to Prime Minister Narendra Modi suggesting a meeting between the two countries' foreign ministers on the margins of the UN General Assembly in September.
India accepted the proposal but, within hours of its acceptance, terrorists killed three policemen in Jammu and Kashmir, prompting New Delhi to cancel the foreign ministers' meeting on the sidelines of the UNGA.
"He (Khan) attributed this (cancellation) to anti-Pakistan rhetoric raking in votes in India," the Express Tribune newspaper reported, citing the prime minister.
The ties between the two countries had strained after the terror attacks by Pakistan-based groups in 2016 and India's surgical strikes inside Pakistan-occupied Kashmir.
Full report at:
https://www.india.com/news/world/no-resumption-of-peace-talks-with-india-before-2019-lok-sabha-elections-pakistan-3429985/
--------
Panel needed to probe 'economic terrorism': minister
Iftikhar A. Khan
November 15, 2018
ISLAMABAD: Information Minister Fawad Chaudhry on Wednesday called for forming a parliamentary panel to probe issues linked with "economic terrorism".
Referring to the 5,000 fake bank accounts allegedly used to stash billions of dollars abroad, he said the proposed parliamentary committee would see to whom these accounts belonged to.
Speaking in the Senate, Mr Chaudhry said information received from 10 countries showed that these accounts had been used to launder Rs700 billion. He said the committee should also see as to how allocations made in successive budgets had been spent and why the government was forced to lend money to pay back loans.
The idea was endorsed in principle by Chairman Sadiq Sanjrani who promised to consult the leader of the house and the leader of the opposition in the Senate, besides discussing it with the National Assembly speaker.
The information minister regretted the remarks made against the Pakistan Tehreek-i-Insaf leadership by Pakistan Muslim League-Nawaz (PML-N) leader Mushahidullah Khan on Monday and said the language used was deplorable and the member or his party should tender an apology for it.
The Senate chairman, however, asked the minister not to vitiate the atmosphere, pointing out that the member concerned was not present in the house.
At this, Mr Chaudhry said he too was not present in the house when the PML-N leader made objectionable remarks. He wondered why he could not speak on how the country had been run by the previous governments. Referring to a case relating to illegal construction of shops on the land of Baba Farid shrine in Pakpattan, the permission for which had been granted in 1985 when PML-N supremo Nawaz Sharif was the chief minister, Mr Chaudhry said they did not even spare shrines.
The chairman once again interrupted the minister and said the matter was sub judice.
Mr Chaudhry regretted that whenever somebody talked of investigations into corruption, accountability and fake accounts, the atmosphere in the Senate was vitiated. "It is inappropriate to sweep everything under the carpet."
Things apparently calmed down afterwards, but rumpus ruled the house over the information minister's remarks in response to a calling-attention notice moved by Usman Kakar of the Pakhtunkhwa Milli Awami Party (PkMAP) and others raised the issue of slow pace of work on the Quetta airport and use of substandard material.
Mr Kakar regretted that while big airports had been constructed in Karachi, Lahore and Islamabad, the expansion work on the Quetta airport that was supposed to be completed by December last year was constantly being delayed.
Responding to the notice, Minister for Parliamentary Affairs Ali Mohammad Khan said the PkMAP remained an ally of the previous PML-N government for five years, but they never bothered to question their allies for the delay.
This infuriated the PkMAP senators who shouted at the minister not to say anything against the previous government and instead focus on the delay.
As if what Mr Khan had said was not enough, the information minister stood up again to hold responsible top opposition leaders by name. He said Zardaris, Achakzais and Fazlur Rahmans were to blame if no uplift work could be carried out in the provinces despite provision of substantial funds. "They are the ones who looted the country."
He also asked as to where the hefty amount of Rs42 trillion given to Balochistan over the last 10 years had been spent. "Mehmood Khan Achakzai had appointed his brother as governor of the province and had made the whole government his slave and is now giving us lectures," he said, adding that the opposition had no right to talk like this.
"In which capacity these people are talking as these are the people who are responsible for the backwardness of the province," he said. "There should be a committee comprising members of the Senate to probe 'economic terrorism' by Achakzais and Co."
As the minister continued to hold allies of the PML-N in Balochistan responsible for the province's backwardness, the combined opposition parties staged a walkout in protest.
Leader of the House Shibli Faraz, Senator Faisal Javed and Minister for Privatisation Mohammad Mian Soomro tried to persuade the opposition members to come back and join the proceedings, but to no avail.
When the Senate chairman reminded the information minister that it was government's responsibility to run the house smoothly, the latter retorted that the chair should also show some concern about the 'poor' the way he was giving importance to the opposition members.
"Everything is alright if we don't talk about the corruption of these protesting senators, but the moment we say something about their corruption … they start agitating. We will expose whoever is involved in plundering the national wealth no matter what," Mr Chaudhry maintained.
In what signalled his readiness to bring his old rivalry with the information minister to an end, Mushahidullah Khan went to Mr Chaudhry and shook hands with him when he was exchanging harsh words with Usman Kakar.
Full report at:
https://www.dawn.com/news/1445697/panel-needed-to-probe-economic-terrorism-minister
--------
PM orders setting up of National Curriculum Council
November 15, 2018
ISLAMABAD: Prime Minister Imran Khan on Wednesday ordered establishment of a National Curriculum Council for creating consensus among stakeholders for uniform standards of education across the country.
The prime minister took the decision during a briefing on education held at the PM Office, on a suggestion of Federal Education Minister Shafqat Mehmood.
Punjab Education Minister Murad Rass and Khyber Pakhtunkhwa Adviser on Education Ziaullah Bangash also briefed the prime minister about the future roadmap and highlighted various short- medium- and long-term measures to introduce qualitative change in the education sector.
Imran Khan appreciated the efforts being made at federal and provincial levels and said the National Education Policy Framework (NEPF) was being devised to bring uniformity in existing fragmented and apartheid-like system of education.
"The objective is to create a nation and to put in place a system which is 'fair' and 'produces Pakistanis'," he said, adding that, skill development of the youths should be especially focused so that their potential could be utilised effectively.
Earlier, Shafqat Mehmood gave a detailed presentation on the NEPF identifying various challenges vis-à-vis out of school children, education apartheid, quality of education and skill development issues.
He said the NEPF was being formulated to ensure that all children have a fair and equal opportunity to receive high quality education in order to achieve their full potential.
The minister said optimum utilisation of the existing infrastructure, employing technology solutions, improvement in non-formal education systems, attracting quality teachers and incentivising the education were some of the measures in the NEPF that would significantly help in enhancing school enrolment and addressing the issues of out-of-school children.
At a separate meeting on PM Youth Programme, Imran Khan stressed the need for devising a comprehensive programme for youths' education, employment and their participation in different sectors.
He said out of 200 million population 130m were those who were below the age of 35 years. "This big number of youths is a precious asset which can change the destiny of the country," he added.
The prime minister directed the federal government departments to follow the youth programme implemented by the KP government during the past five years.
Meanwhile, Saudi Ambassador to Pakistan Nawaf Saeed Al-Malki called on Prime Minister Imran Khan.
Full report at:
https://www.dawn.com/news/1445663/pm-orders-setting-up-of-national-curriculum-council
--------
Police to record statement of slain JUI-S leader's 'missing' secretary
Nov 15, 2018
Police have written to Syed Ahmad Shah, the secretary of slain Jamiat Ulema-e-Islam Sami's (JUI-S) chief Maulana Samiul Haq, who has reportedly been missing from his home for a few days.
Syed Ahmed Shah, who stayed with the deceased at his Bahria Town residence, was the first person to find the dead body and is considered an important witness in the case.
Law enforcement agencies have also recovered a knife from the crime scene and sent it to a laboratory for forensic analysis. They have also collected DNA samples of people considered to be close to the deceased for testing.
A bloodstained kurta has also been recovered from his room, which is not considered to be the leader's.
Police have added that while Shah is not legally considered a witness, his testimony will be recorded under section 161 of the Code of Criminal Procedure (CrPC), as the investigating officers have legal authority to summon any witness and record their written statement which can be used in court of law.
https://www.pakistantoday.com.pk/2018/11/15/police-to-record-statement-of-slain-jui-s-leaders-missing-secretary/
--------
Africa
Haftar displeasure over Qatar, Turkey on display at Palermo
14 November 2018
By the time Italian Prime Minister Giuseppe Conte expressed optimism at the end of the Palermo conference on Libya, General Khalifa Haftar of the Libyan National Army and Egyptian President Abdel Fattah Al Sisi had already left Italy two hours ago, according to LeMonde.
Earlier, there were conflicting reports about likelihood of Haftar's participation before he finally appeared along with the Italian prime minister.
His advisers said he had apologized for not attending the dinner hosted by Conte in honor of the participants.
The report quoted a spokesperson for the Libyan army as saying that Haftar was in Palermo not to participate in the summit but to meet leaders of neighboring countries.
Regarding the uncertainty till the last minute of his arrival in Palermo, as well as his willingness to stand out from the format set out by the Italians can be explained by two main reasons, according to observers of the Libyan scene.
Frustration
In the first place, Haftar expressed his frustration with some diplomatic developments in the final stretch before the Palermo summit.
According to one of his advisers, he would not have appreciated a tweet by Matteo Salvini, Italian Deputy Prime Minister, during his visit to Qatar on October 31. In his tweet, Salvini said he had "discovered a respectful and tolerant country that has repelled extremism" and "will help stabilize Libya".
However, Qatar is part of Turkey's regional axis that supports Haftar's opponents - from the 'revolutionary' camp or the movement of the Muslim Brotherhood - while the General is supported by the United Arab Emirates and Egypt.
On the other hand, the Turkish Defense Minister during trip to Tripoli on November 5, had met with Sarraj, followed by the latter's visit on November 9 to Ankara, where he met President Recep Tayyip Erdogan. These developments would also have certainly offended Haftar, according to his adviser.
Haftar wanted to express his displeasure by defying his hosts at Palermo.
https://english.alarabiya.net/en/News/north-africa/2018/11/14/Haftar-displeasure-over-Qatar-Turkey-on-display-at-Palermo.html
--------
Armed clashes renewed in Libyan capital threatening security plan
15 November 2018
Military confrontations between the Abu Salim Central Security Force, loyal to the Government of National Accord, and members of the Seventh Brigade broke out on Wednesday evening after the latter's forces advanced towards Libya's International Airport, south of the capital.
The armed clashes in Libya's Tripoli coincide with Government of National Accord's efforts to implement a plan to achieve security and end the roles of militias.
Meanwhile, the National Commission for Human Rights in Libya commented on the developments in Tripoli's airport and the surrounding area, warning that this "new escalation of violence and armed clashes poses a huge threat on the security and safety of civilians and on their property in Tripoli. This is in addition to the negative repercussions on the efforts towards achieving a social and national reconciliation."
The commission called on all armed parties to immediately stop any armed escalation and avoid more fighting and violence in compliance with the ceasefire agreement reached in September.
Full report at:
https://english.alarabiya.net/en/News/north-africa/2018/11/15/Armed-clashes-renewed-in-Libyan-capital-threatening-security-plan-.html
--------
Dozens of migrants refuse to leave container ship in Libya
November 15, 2018
MISRATA: Dozens of migrants have barricaded themselves in a container ship in the Libyan port city of Misrata for the past five days, after being picked up at sea, and refuse to disembark, saying Libya is too dangerous for them.
Loaded with cars, the ship Nivin was already bound for Misrata when it picked up 93 migrants in a foundering raft in the Mediterranean Sea late on Friday and continued toward its destination. Two of the migrants agreed to leave with the Libyan coast guard, but the others refused, saying Libya was deadly for migrants and they wanted to go to Europe.
They have been in the Misrata port ever since, with the captain and crew taking refuge on the upper decks.
One of the migrants, a man from South Sudan reached by The Associated Press on the ship, vowed on Wednesday to reach Europe or die trying. He said six commercial ships passed his group before the Nivin finally stopped.
Libya's coast guard had no immediate comment on the situation.
With just one rescue ship patrolling the Mediterranean, and European ports refusing to take in rescued migrants, commercial ships have become increasingly leery of picking up people in the sea. Repeatedly in recent months, they have found themselves caught in the middle between governments hostile to new migrants and an obligation under international maritime law to save
The man, who identified himself only by his name, Victor, fearing for his safety, said he himself had already been imprisoned repeatedly in Libya and that his own brother had died there. He had no intention of returning, he said.
"We don't want to go out in Libya," he told The Associated Press. "You can come and take my dead body outside."
Julien Raickman, who is the head of the Doctors Without Borders mission in Libya, said Europe's policy of refusing to take in rescued migrants has led to a spike in deaths. Now one in five who cross perish at sea, he said.
Raickman said the Libyan coast guard has given international organizations access to the migrants, who have food and some degree of medical care now, but no toilets or other sanitary facilities. The ship's cargo of cars was peacefully unloaded, but the migrants remained unmoved.
Full report at:
http://www.arabnews.com/node/1404931/middle-east
--------
Killing of Shiites must stop in Nigeria
November 15, 2018
On December 12, 2015, the military took the law into its hands and massacred over 347 members of the Islamic Movement of Nigeria (IMN) who allegedly blocked the convoy of the Chief of Army Staff, Lt.-Gen. Tukur Buratai. Although the military has used several lies to justify the killings, a panel set up by the Kaduna state government to investigate the killings indicted the Nigerian army for the Zaria massacre. Specifically, the panel indicted Maj. General Adeniyi Oyebade, the General Officer Commanding the Nigerian Army's 1st Devision in Kaduna for authorising the operation. The Panel only stopped short of indicting the Chief of Army Staff General Burutai who also bears responsibility for, and has defended, the killings on several occasions. Regardless, the army stands accused of grave killings of civilians and crime against humanity.
The Panel rightly pointed out that the killings are a crime against humanity and those responsible must be brought to justice. The report also blamed the leader of the Islamic Movement in Nigeria (IMN), Sheikh Ibraheem El-Zakzaky for the clash and recommended that he should be investigated and prosecuted. The government said that the action was taken to preserve peace and stability in the state.
Since then, the members of the group – this time not only in Kaduna but also in Abuja, Kano, Katsina and Jos have been protesting the government's actions and also demanding for the unconditional release of their leader, ElZakzaky, his wife and other members of the IMN who had been in detention unlawfully since their arrest in 2015 following the sect's clash with the Nigerian Army.
Sadly, the sect's members are being systematically mowed down and killed in several states for protesting the ban on their sect and the continued incarceration of their leader and members or for simply embarking on their religious processions. Some weeks ago, soldiers again opened fire on the group who were on a religious procession which began around the Suleja area of Niger State. They encountered soldiers around Zuba, a satellite area of Abuja and issues quickly escalated. Videos appeared online showing irate members of the sect throwing stones at soldiers with soldiers shooting live bullets at them as if in a war situation. Hostilities resumed again two days later, in Wuse, Abuja with security agencies shooting members of the sect protesting the killing of their members.
We note the increasing crackdown on Shia Islam in Nigeria since the ascension to the president of Mohammadu Buhari, a Sunni Muslim. In 2016, President Buhari confirmed Nigeria's membership in the Islamic Coalition against terrorism formed in 2015 by Islamic countries following the order of Saudi Arabia, the leading Sunni nation. Iran was conspicuously left out of the coalition. On the surface, it appears an innocuous move, but underneath the move is a pandering towards Saudi Arabia and other Sunni countries who have never hidden their hostility towards Shia Islam. To make matters worse, the Nigerian government condemned the Iranian-backed Shia Houthi militia resistance group fighting the Saudi-backed government of Abid Rabbo Mansur Hadi in Yemen for targeting the Holiest city of Islam, Mecca, in a ballistic missile attack – a claim hotly disputed by both the Houthis and their Iranian backers.
The reality is that the Buhari government is dragging Nigeria into a Saudi-Iran proxy war. Paradoxically, those two countries have somehow managed to keep this conflict out of their lands, and have turned other countries into proxy battlefields for political supremacy.
Full report at:
https://www.businessdayonline.com/opinion/analysis/editorial/article/killing-shiites-must-stop-nigeria/
--------
Kenya: Imams Oppose Bid to Bar Caps in Passports
14 NOVEMBER 2018
By Leonard Onyango
Muslim clergy have protested against Immigration officials, accusing them of forcing men to remove religious caps before being photographed when applying for passports.
The Imams have written a protest letter to the Immigration department over what they termed discrimination against Muslim men.
The chairman of Council of Imams and Preachers of Kenya (CIPK), Sheikh Abdallah Ateka, said the headgear, popularly known as kufis, is "religious attire which need not be removed anyhow."
"We write to you with a heavy heart to raise the red flag on the mistreatment and discrimination that Muslims are subjected to when applying for passports," said Sheikh Ateka in a letter dated November 7 to Immigration PS Gordon Kihalang'wa.
"Officers in charge of photography always demand that all Muslim applicants remove their headgear before being photographed," he said.
According to the Imams, the Immigration officials were contravening the Constitution on freedom of worship.
"Every person has the right, either individually or in a community with others, in public or private, to manifest religious belief through worship, practice or observance," says the letter which is also copied to Interior Cabinet Secretary Fred Matiang'i and Majority Leaders of both the National Assembly and Senate.
The Imams also claim that members of other faiths like the Akorino and Sikhs are treated differently and do not remove their headgear before being photographed.
Muslims believe that Prophet Muhammad used to keep his head covered and, therefore, men are advised to cover their heads in order to emulate him.
Full report at:
https://allafrica.com/stories/201811150112.html
--------
Nigerian army rescues 16 hostages from Boko Haram
14.11.2018
At least 16 hostages have been rescued from Boko Haram militant group in northeastern Nigeria, the country's military said on Wednesday.
In a statement, the Nigerian military said six women and 10 children were rescued in Ngoshe village of Borno state.
Two Boko Haram militants were killed and many others injured during the operation to rescue the kidnapped citizens.
Nigeria has been battling Boko Haram insurgency since 2009 when the group turned violent following the death of its former leader Mohamed Yusuf in police custody.
No fewer than 20,000 people have been killed, mostly civilians, while between 2-3 million have been displaced from their homes across the Lake Chad region.
https://www.aa.com.tr/en/africa/nigerian-army-rescues-16-hostages-from-boko-haram/1311286
--------
Arab World
Peace, security and economy top agenda of Saudi Shoura session
November 14, 2018
RIYADH: King Salman on Monday will deliver his inaugural address at the Shoura Council, where he will talk about a range of local and regional issues and urge lawmakers to support the government in taking the country forward.
The king's speech, which will serve as a guideline for Shoura members, will begin the deliberations of the new parliamentary year of the 150-member council.
"The king's visit to the Shoura is of utmost importance, and his speech will define domestic, regional and foreign policies," said Hoda Al-Helaissi, a member of the Shoura Council here on Wednesday.
"With the visit of King Salman to the Shoura Council to mark the beginning of the third year of the seventh term, we take a moment to reflect on the past year," Al-Helaissi said.
She said that "the past year has been a year of challenges and opportunities both within the Kingdom and abroad."
"Remarkably, as is in our nature, and as exemplified by our leadership, we have remained steadfast in our values and beliefs, committed as a country to the well-being of our citizens, not least as explained in what has now become known as Saudi Arabia's road-map for the future, Vision 2030," Al-Helaissi said.
"As the home of the Two Holy Mosques and as an important strategic player in the region, Saudi Arabia has an important role in global politics and we look forward to hearing the king's speech this coming Monday," Al-Helaissi said.
Guidelines for addressing local and regional challenges with a special reference to domestic and foreign policies will be spelled out by King Salman, she said.
"Elaborate preparations have been made to receive the king on this occasion," said Mohammed Al-Khunaizi, another member of the Shoura Council. Al-Khunaizi said that King Salman's speech will have "added political and economic significance, and it will lay out the agenda for the rest of the Shoura's term."
"The occasion marks the beginning of the new year for the council," said Al-Khunaizi, while forecasting a number of proposals, decisions, draft legislation, treaties and foreign policy matters to be discussed and debated in 2019.
He said that the king's speech may touch on subjects such as society, security, peace, stability, extremism, economy, financial reforms, regional challenges and foreign policy matters.
Al-Khunaizi noted that the role of women members of the Shoura Council had lent new dimension to the debate and deliberations of the council. He said that the current Shoura Council is composed of 150 members including 30 women members.
http://www.arabnews.com/node/1405031/saudi-arabia
--------
Tens of Civilians Killed in US Air Raid on ISIL Prison in Deir Ezzur
Nov 14, 2018
Arabic-language website, Orient, quoted local sources as reporting that the warplanes targeted an ISIL-run jail in the town of Hajin in Southeastern Deir Ezzur, destroying several residential units.
It further said that scores of civlian inmates who had been round up and jailed by the ISIL were killed in the air attack.
There is yet no report on the precise number of casualties, but a large death toll is expected as large groups of people had been locked up in the prison by the ISIL.
Local sources said on Saturday that the US warplanes carried out several combat sorties over the small towns of Hajin and al-Shafa'ah in Southeastern Deir Ezzur, adding that at least 33 civilians, mostly women and children were killed and tens more were wounded in the attack that also destroyed a number of residential units.
Full report at:
http://en.farsnews.com/newstext.aspx?nn=13970823000841
--------
Lebanese Christian civil war foes shake hands, make up after 40 years
14 November 2018
Christian rivals from the Lebanese civil war, Samir Geagea and Suleiman Frangieh, shook hands with each other on Wednesday, marking a formal reconciliation to end more than four decades of enmity.
Geagea, leader of the Lebanese Forces (LF) political party, and Frangieh, head of the Marada party, have been foes since the early days of the 1975-1990 civil war.
The two parties had armed militias during the conflict that battled against each other. The war, which drew in regional powers, included fighting between the country's main sects and rival factions within those sects.
The men, both Maronite Christians, met to reconcile at the seat of the sect's Patriarch Bechara al-Rai in Bkerki, north of Beirut. They shook hands with Rai and then with each other after several failed reconciliation attempts over the years.
Geagea has been accused of leading a raid in 1978 on the home of Frangieh's father, Tony Franjieh, a rival Maronite Christian chieftain, who was killed with his wife, daughter and others. Geagea has said he was wounded before reaching Frangieh's house, and did not take part himself.
This is the second rapprochement of recent years between civil war Maronite Christian rivals.
In January 2016 Geagea endorsed then presidential candidate Michel Aoun for the Lebanese presidency, ending his own rival candidacy for the position, which must be held by a Maronite Christian under Lebanon's sectarian power sharing system.
Geagea and Aoun, who fought each other in the 1975-90 civil war, have been on opposite sides of the political divide since Syrian forces withdrew from Lebanon in 2005.
President Aoun is a political ally of the Iran-backed Shiite group Hezbollah, whereas Geagea is a staunch opponent of the group. Frangieh is a close ally of Syrian President and Hezbollah ally Bashar al-Assad.
Tony Frangieh, Suleiman's son, said the reconciliation was a good thing for all Lebanese and was not connected to any presidential aims.
Full report at:
https://english.alarabiya.net/en/News/middle-east/2018/11/14/Lebanese-Christian-civil-war-foes-shake-hands-make-up-after-40-years.html
--------
Gaza flare-up part of bin Salman's scenario to distract world from Khashoggi case: Report
Nov 15, 2018
The recent flare-up of violence in the besieged Gaza Strip was likely Israel's contribution to a plot hatched by Saudi Crown Prince Mohammed bin Salman to divert the world's attention away from the Saudi assassination of dissident journalist Jamal Khashoggi, a report says.
The Saudi crown prince has set up an "emergency task force" to counter the increasingly damaging leaks about the murder of Khashoggi coming from Turkish authorities, the Middle East Eye cited sources inside Saudi Arabia as saying in a report originally published on Tuesday night and later updated on Wednesday.
Among a range of measures and scenarios proposed by the task force was a plan to convince Israeli Prime Minister Benjamin Netanyahu to wage a war on Gaza to divert global attention from the assassination case, the sources said.
The task force, composed of officials from the royal court, the foreign and defense ministries, and the intelligence service, advised bin Salman that a war in Gaza can distract US President Donald Trump's attention amid Turkish leaks on Khashoggi's murder, the London-based online news outlet was told.
Earlier this week, Israeli warplanes started a fresh wave of deadly air raids against residential areas throughout the Gaza Strip. But the aggression drew an angry reaction from Palestinian resistance group Hamas, which fired an intense barrage of rockets into the southern parts of the occupied territories.
The flare-up of violence broke out when the Israeli military launched a commando raid against Gaza last weekend and killed seven Hamas commanders.
Several Palestinians were killed and over 30 others were injured in the Israeli air raids. Two Israelis also died in Ashkelon, while around 20 others sustained injuries in counterattacks from Gaza.
On Tuesday, Gaza-based resistance groups agreed to an Egypt-brokered ceasefire with Israel.
The sudden escalation of tension in Gaza seemed particularly unusual as Netanyahu had earlier changed his tone on Hamas and seemed to be willing to ease the blockade on the besieged enclave.
Speaking on Sunday before the raids, Netanyahu had said that he was "doing everything" he could "to avoid an unnecessary war" in Gaza. "I am not afraid of war if it's necessary, but I want to avoid it if it's not necessary," he said.
The Israeli special forces' raids in Khan Younis also came hot on the heels of a deal between Qatar and Israel to allow funds into the blockaded strip and pay the salaries of government workers.
Also, an ongoing diplomatic crisis between Doha and Riyadh could shed light on the motives of the Israeli attacks in the wake of the reported Qatari deal. Saudi Arabia has put an economic blockade on Qatar, cutting off the country's only land border for more than a year.
The ceasefire in Gaza, which was widely described as the Israeli "recognition of its defeat at the hands of the Palestinian resistance," also led to the resignation of Avigdor Lieberman, the Israeli minister of military affairs and the head of Yisrael Beiteinu. Lieberman said all of the members of his party will quit Israel's ruling coalition in the 120-member parliament, and that means Netanyahu only holds a slender Knesset majority (61-59) seats to maintain the coalition.
Khashoggi was brutally killed in the Saudi consulate in Istanbul on 2 October, in a premeditated operation which Turkish authorities believe was carried out by a hit squad whose suspected members contained several members of bin Salman's personal bodyguards.
Full report at:
https://www.presstv.com/Detail/2018/11/15/580065/Saudi-Israel-Gaza-Khashoggi-Bin-salman
--------
US-Backed Militia Reinvigorates Positions in Eastern Syria
Nov 14, 2018
The SDF dispatched a convoy of military vehicles, equipment and fresh militias from the town of al-Tabaqa in Western Raqqa to Eastern Deir Ezzur.
In the meantime, media activists reported that the SDF's move came after the militias' brutal measure in the villages and towns of al-Sowar, Tayeb al-Fal, al-Sajar and Abu al-Nital enraged civilians.
Local sources reported that several SDF gunmen were killed or wounded after unknown raiders opened fire at them in the village of Daranj in Southeastern Deir Ezzur.
Other sources in Hasaka province reported that the SDF started arresting civilians and beating them after unidentified raiders targeted a base of the SDF near a US-run base in the town of al-Shadadi in Southern Hasaka.
On Thursday, the SDF forwarded long convoys of militants and equipment to the village of Tayb al-Fal East of Deir Ezzur province.
The SDF also sent another military convoy from its base in Hasaka province to the village of al-Takihi as well as towns of al-Shahil and Ziban in the Southeastern parts of Deir Ezzur province.
Meantime, field sources said that the SDF deployed its military equipment in five schools that they had formerly declared as military zones, and underlined that the deployment of the equipment has taken place after unrests in the region and intensified attacks by unknown assailants on SDF military positions.
The sources noted that an SDF militant has been killed by an unknown assailant in the village of al-Jameh in Southeastern Deir Ezzur, adding that a new wave of arrests has started in the town of Zabian.
Full report at:
http://en.farsnews.com/newstext.aspx?nn=13970823000681
--------
Saudi-backed militants pause Hudaydah attack
Nov 14, 2018
Saudi-backed militiamen loyal to Yemen's former President Abd Rabbuh Mansur Hadi have halted their offensive aimed at taking the strategic port city of Hudaydah from the Houthi Ansarullah fighters.
Three pro-Hadi field commanders told AFP on Wednesday that the Saudi-backed mercenaries had been "ordered" to halt the offensive until further notice. They said they would resume operations if they came under attack.
The announcement came a day after Mark Lowcock, the United Nations Under-Secretary-General for Humanitarian Affairs and Emergency Relief Coordinator urged a ceasefire around Hudaydah.
In recent days, the military coalition led by the Saudi regime and militia groups loyal to Hadi have intensified their attacks on Hudaydah, which is seen as the main entry point for food imports and aid relief needed by millions in the war-torn country.
The Hudaydah offensive has sparked concerns over its impact on the civilian population as well as on humanitarian aid operations.
Saudi Arabia and a number of its regional allies launched the devastating campaign against Yemen in March 2015, with the aim of bringing the government of Hadi back to power and crushing the Houthis.
According to a new report by the Armed Conflict Location and Event Data Project (ACLED), a nonprofit conflict-research organization, the Saudi-led war has so far claimed the lives of around 56,000 Yemenis.
On Wednesday, Yemeni forces shot down two spy drones in the skies over the kingdom's border region of Jizan.
Yemen's al-Masirah television network quoted a military source as saying that the drones were shot down east of al-Doud Mountain in Jizan.
Full report at:
https://www.presstv.com/Detail/2018/11/14/580053/Saudi-forces-halt-offensive-Hudaydah-Yemen
--------
Bahraini courts issued death sentences for 32 anti-regime activists since 2011
Nov 14, 2018
The Bahrain Center for Human Rights (BCHR) has condemned the kingdom's persistence on passing death sentences against anti-regime activists, calling the practice an "inhuman punishment" as the ruling Al Khalifah regime presses ahead with its heavy clampdown on political dissidents and pro-democracy activists in the kingdom.
The center, in a statement released on Tuesday, announced that law courts have issued death sentences against 32 opposition figures since 2011, of which three have been carried out, seven have been comminuted to life imprisonment and two others been appealed.
"All these verdicts have been pronounced following unfair trials, and therefore do not comply with the guarantees of fair trials. The BCHR has documented many cases in which those sentenced to death have been subjected to torture," the statement read.
The BCHR then called on the Manama regime to reverse all death sentences and sign the Second Optional Protocol to the International Covenant on Civil and Political Rights, which is aiming at the abolition of death penalty.
The center further noted that the Bahraini judiciary has overused death penalty in recent years, particularly with regards to freedom of opinion and expression in addition to the exercise of political rights.
Moreover, Sayed Ahmed Alwadaei of the London-based Bahrain Institute for Rights and Democracy said in a statement that it condemns the death sentences given to four dissidents on terrorism-related charges, and calls for their abolition.
"There is no justice in these rulings. Bahraini courts are now making use of confessions extracted under torture in order to sentence people to death. The revocation of citizenship has become commonplace in Bahrain, which is a flagrant violation of international law," Alwadaei pointed out.
He went on to say that death penalty remains an integral part of the Bahraini judicial system, stressing that 18 Bahraini citizens are now on death row and all of have been sentenced in political cases.
Thousands of anti-regime protesters have held demonstrations in Bahrain on an almost daily basis ever since a popular uprising began in the country in mid-February 2011.
They are demanding that the Al Khalifah regime relinquish power and allow a just system representing all Bahrainis to be established.
Manama has gone to great lengths to clamp down on any sign of dissent. On March 14, 2011, troops from Saudi Arabia and the United Arab Emirates were deployed to assist Bahrain in its crackdown.
Scores of people have lost their lives and hundreds of others sustained injuries or got arrested as a result of the Al Khalifah regime's crackdown.
On March 5, 2017, Bahrain's parliament approved the trial of civilians at military tribunals in a measure blasted by human rights campaigners as being tantamount to imposition of an undeclared martial law countrywide.
Full report at:
https://www.presstv.com/Detail/2018/11/14/580027/Bahraini-courts-issue-death-sentences-against-32-antiregime-activists-since-2011
--------
North America
US mosque's bid to repeal prayer restrictions deferred
14.11.2018
By Umar Farooq
WASHINGTON
Members of McLean Islamic Center (MIC) arrived at a hearing in northern Virginia on Wednesday for the second time to overturn earlier restrictions on worship hours and attendance, however the decision was deferred to a later date.
A public hearing was held in Fairfax County to decide whether MIC should be allowed to extend its hours of operation to allow congregants to attend the fajr (pre-dawn) prayers.
The neighboring Carrington Community Association (CCA) argued that the noise allegedly created by Muslims that congregate in the morning would be heard in nearby homes, which the CCA says is a noise violation.
However, no such complaints have been filed. The Board of Zoning Appeals (BZA) alluded that the argument is unprecedented.
"We seem to be more sensitive to the noise issue now than we have before," said zoning board member James Hart.
Since the last hearing, the Fairfax County Department of Planning and Zoning presented an amended report which would allow an extension of hours for prayer services to be held between 4 a.m. and 7 a.m. (0900GMT - 1200GMT), without any limits on cars.
The report also recommended special extensions for religious events, including the month of Ramadan, the Islamic New Year, and Eid celebrations.
The BZA decided not to approve the report and voted to defer decision until Dec. 12, citing it would allow more time to conduct further traffic and noise reports of the area surrounding the place of worship.
Restrictions on prayer services
MIC opened its current location in 2015 in the Tyson's Corner area, which currently boasts the third highest income generation in the U.S.
It is also the only Islamic area of worship within a 10 mile radius, with a congregation of around 220 worshippers.
MIC was approved a special permit as a place of worship, with certain restrictions such as not allowing full prayer services between 4 p.m. to 7 p.m. on weekdays, and only allowing ten worshippers to attend the dawn prayer.
In April, MIC called for an extension of their hours to allow them to operate at full capacity from 4 a.m. to 12:30 a.m.
The mosque argued that since they opened there have been no noise complaints during early morning hours.
"The Fajr prayer service is not party time," said Zafar Farooqi, a board member of MIC. "They're not there for idle chatter."
However, the CCA filed a complaint to the county after seeing 12 cars parked in the lot during one of the dawn prayers, violating an initial agreement of a 10-car limit.
Since the county suspended the early morning services, 261 dawn prayers have been suspended.
According to the Islamic faith, praying five times a day is mandatory, with the first prayer beginning at dawn and the last one ending in the evening.
A fight for religious rights
Members of the MIC community, along with members of other faith communities, took turns one by one to appeal to the board to repeal the restrictions places on the mosque.
"MIC plays a central role in our lives and connect us with each other," Sultan Chaudhry, President of MIC, said. "When you visit us, you will fine a quintessential American place of worship."
"As a leader of a religious community myself, I've never seen an institution asked to limit its use or its parking to such an extreme degree," said Jeff Sacks, a rabbi at the Temple Rodef Shalom.
A few members of the Carrington community, however, came forward to note that the extension of hours would cause a disturbance in the area.
"Noise is a problem, even with the current hours we are being awakened with the sharp beeping of car horns as people lock and unlock their cars," said Stephanie Buchanan, a member of the community.
Seven homeowners of the neighboring Carrington community closest to the Islamic center said, according to MIC, they were not bothered by early morning services.
https://www.aa.com.tr/en/americas/us-mosques-bid-to-repeal-prayer-restrictions-deferred/1311658
--------
US envoy: Fight against ISIS in Syria may end soon, Iran still a threat
15 November 2018
The Trump administration hopes that the US-backed fight against ISIS in its last foothold in northeastern Syria will end within months but American forces will remain to ensure the "enduring defeat" of the militant group, a top US diplomat said on Wednesday.
Ambassador James Jeffrey, the US special representative for Syria engagement, said the United States believes the way forward in Syria includes defeating ISIS, reinvigorating the political process and winding down the long-running civil war.
Toward that end, he said, the United States hopes to see the formation of a committee before the end of the year to work on a new constitution for Syria as agreed by the leaders of Russia, Germany, France and Turkey during their meeting in Istanbul in October.
He said US forces would remain in place after the coalition forces prevail over ISIS military units to ensure the group does not "regenerate itself."
"The enduring defeat means not simply smashing the last of ISIS' conventional military units holding terrain, but ensuring that ISIS doesn't immediately come back in sleeper cells, come back as an insurgent movement," Jeffrey said, using an acronym for the group.
Washington also wants the withdrawal of Iranian military forces from Syria once the underlying causes of the conflict have been resolved, he said, noting that Iran's continued military presence would represent a threat to US partners in the region.
Jeffrey said the final ground combat is along the Euphrates River and is being led by Syrian Democratic Forces assisted by US military personnel.
"The fight is continuing and we hope that it will be over in a few months and that will be the last of ISIS' terrain that it holds in a quasi-conventional way," he said.
Jeffrey said convening a committee under UN auspices to begin work on a new Syrian constitution was a "critical step" toward advancing the political process. He said the United States would hold Russia to account to use its influence to bring the government of its ally, Syrian President Bashar al-Assad, to the negotiating table.
"Our goal, which again was supported by Russia, France, Germany and Turkey and agreed in the Oct. 27 Istanbul communique, is to establish this constitutional committee by the end of the year," he said.
Jeffrey said getting Iranian forces out of Syria, where they back Assad's rule, was not a US military goal but should be an outcome of the process to end the civil war and the only way to achieve lasting peace.
Full report at:
https://english.alarabiya.net/en/News/middle-east/2018/11/15/US-envoy-Fight-against-ISIS-in-Syria-may-end-soon-Iran-still-a-threat.html
--------
US drone strikes killing more civilians in Yemen: Report
Nov 14, 2018
Civilian casualties from the years-long US drone strikes in Yemen are on the rise, a new report has warned, pointing to yet another major threat facing the Yemeni people amid a devastating war by Saudi Arabia.
US President Donald Trump has dramatically ramped-up drone attacks in the impoverished country, carrying out 176 attacks in more than two years, far more than the 154 attacks that former President Barack Obama authorized in his entire eight years in office, The Associated Press reported Wednesday.
Overall, drone attacks carried out under Trump have killed more than 300 people in 2017 and 2018, the AP found, based on accounts from family members and witnesses.
Of those, at least 30 civilians were killed in 2018 according to accounts from family members and witnesses, the report added.
Washington has on few occasions acknowledged civilian casualties while claiming that most of the attacks successfully take out the targets, which it insists are positions of the al-Qaeda in Yemen, one of the most notorious branches of the terror network.
While the US military says it won't release details or death tolls in drone strikes, some Yemeni families argue that they have lost loved ones in these attacks.
The Pentagon confirmed earlier this year that it had carried out a strike in Yemen's Shabwa province on January 26, saying it was strictly targeting al-Qaeda members.
Ever since the attack, however, many families living in the targeted areas have tried to prove their slain loved ones were not militants.
They have gathered letters from police officers, district officials, tribal leaders, school principals and many other people to certify that their relatives had nothing to do with al-Qaeda.
They have also spoke to human rights groups and the International Committee of the Red Cross, asking them to launch an investigation.
Many people have even staged demonstrations attended by over 200 people, demanding the US acknowledge the civilian deaths and compensate the victims' families.
The push has failed to prompt a response from Washington as the US has no embassy in Yemen and therefore families can't request compensation for relatives killed in drone strikes, unlike Iraq and Pakistan where a few families have succeeded in doing so.
The current situation with US drone strikes makes life harder for the people of Yemen, who have been under attack from Saudi Arabia and its regional allies for more than three years now.
Full report at:
https://www.presstv.com/Detail/2018/11/14/580051/US-drone-war-Yemen-civilian-casualties-Trump-Obama
--------
US-led coalition warplanes target eastern Syrian towns with cluster bombs: Report
Nov 14, 2018
The US-led coalition purportedly fighting the Daesh Takfiri terrorist group has reportedly carried out fresh aerial attacks against residential areas in Syria's eastern province of Dayr al-Zawr, using internationally-banned cluster bombs.
Local sources, speaking on condition of anonymity, told Syria's official news agency SANA that US-led military aircraft struck the town of Hajin in the Abu Kamal district of the province on Wednesday.
US-led jets also launched a cluster bomb raid on al-Shaafah town in the same Syrian district.
There were no immediate reports about possible casualties and the extent of damage caused.
Cluster bombs are banned under the Convention on Cluster Munitions (CCM), an international treaty that addresses the humanitarian consequences and unacceptable harm caused to civilians by cluster munitions through a categorical prohibition and a framework for action.
On Tuesday, the Syrian Ministry of Foreign Affairs and Expatriates condemned the recent airstrike by the US-led coalition against the eastern town of al-Shaafah, which left more than 60 people killed and injured, arguing that the massacre clearly points to the fact that members of the military alliance have no respect for moral values, international rules and regulations besides the lives of innocent civilians.
The ministry, in two separate letters, addressed to United Nations Secretary General Antonio Guterres and the rotating president of the UN Security Council Ma Zhaoxu, called on the Security Council to assume its responsibilities and to stop US-led aerial assaults.
It also asked the world body to recommend an international, independent and impartial mechanism to investigate the crimes being perpetrated by the US-led coalition.
The letters noted that the coalition is deliberately targeting Syria civilians and making use of internationally banned weapons, including white phosphorus bombs, in Syria.
The Syrian foreign ministry stressed that the US-led coalition airstrikes were meant to kill as many Syrian people as possible, prolong the ongoing Syrian conflict, destroy the country's infrastructure and undermine its sovereignty and territorial integrity in flagrant violation of all United Nations Security Council resolutions on Syria.
The letters concluded that the embarrassing silence of the Security Council has encouraged the US-led coalition to kill more Syrian civilians and destroy their properties.
The US-led coalition has been conducting airstrikes against what are said to be Daesh targets inside Syria since September 2014 without any authorization from the Damascus government or a UN mandate.
Full report at:
https://www.presstv.com/Detail/2018/11/14/580042/USled-coalition-yrian-towns-with-cluster-bombs-Report
--------
John Abizaid, 'the mad Arab', could be Washington's best bet for better Saudi ties
November 14, 2018
The nomination of retired General John Abizaid to be the 31st US Ambassador to Saudi Arabia has been received with a sense of optimism in Washington as an overdue step by the Trump administration to revive US influence and restore diplomacy with Riyadh.
If his nomination is confirmed, General Abizaid would be the first US envoy in Riyadh since 2016.
His attributes and extensive experience in the region are generating anticipation among US officials, who believe he may excel in his new post.
Mr Abizaid, who has fought two Gulf wars, taught at an Omani university, and wrote a thesis on Saudi Arabia at Harvard, will be a political force to reckon with in the Trump administration. The general, who hails from Lebanese descent, is fluent in Arabic and has leveraged his language skills both in war and peacemaking in the Middle East.
James B Smith, a former ambassador to Saudi Arabia (2009-2013), described General Abizaid as "an exceptional choice."
"He is talented beyond description with a wealth of knowledge of the region," Mr Smith told The National.
This knowledge, his fluency in Arabic and superior military record, earned General Abizaid the nickname "the mad Arab" while a cadet at West Point. During his 34 years of military experience fighting insurgency and guerrilla wars across Afghanistan and Iraq, General Abizaid was known to thrive in chaos.
Coming into a position that has been vacant since 2014 and in the midst of fragile Saudi-US relations over the war in Yemen and the murder of Saudi journalist Jamal Khashoggi, the retired General may feel right at home in taking on another tough Middle East assignment.
Mr Smith described his challenges as addressing "a fractured GCC over Qatar, the US role in Yemen, a Saudi transformation beset with challenges because of the Khashoggi murder as a part of a crackdown on dissent in the Kingdom and a changing US-Saudi relationship as the byproduct of this administration's transactional approach to foreign policy."
Mr Abizaid is known among those who worked with him for standing his ground and protecting the bureaucratic hierarchy in the US military and government.
"He is unlikely to tolerate [a Jared] Kushner backchannel," wrote Marc Lynch, a Middle East analyst on Twitter.
Mr Kushner, Mr Trump's adviser and son in law, used the US diplomatic void in Riyadh to manage the relationship and oversee the US President's visit to Saudi last year.
Gerald Feierstein, a former US ambassador to Yemen and now a senior director the Middle East Institute said General Abizaid's nomination will allow for real diplomatic oversight in US-Saudi relations after a two-year vacancy allowed other parties to undermine the traditional policy channels led by the State Department.
"His nomination will bring to the US-Saudi relationship the senior oversight that has been missing for the past two years," he told The National.
Marcelle Wahba, the President of the Arab Gulf States Institute and a former ambassador to the UAE, knew General Abizaid since 2003 during the Iraq war and later when he became Centcom commander and visited Abu Dhabi for military consultations.
"He is an excellent choice to represent the United States in Saudi Arabia," Ms Wahba told The National. "He knows and understands the region and is held in very high regard throughout the Arab Gulf states."
She argued that "the mix of his military expertise with intuitive diplomatic skills which I witnessed during his interactions with regional leaders on some very difficult issues during the Iraq war, will help him in the new assignment."
As far as the challenges are concerned, the former Ambassador said the first will be "to build a relationship with King Salman and the Crown Prince Mohammed bin Salman." Then it will be about managing "the relationship in the aftermath of the Jamal Khashoggi affair and the ongoing war in Yemen with a new Democratic-led house of representatives."
Full report at:
https://www.thenational.ae/world/mena/john-abizaid-the-mad-arab-could-be-washington-s-best-bet-for-better-saudi-ties-1.791904
--------
South Asia
'Undeclared war' between Afghanistan, Pakistan must end: Ghani
Nov 15, 2018
WASHINGTON: Asserting that Islamabad's support to violence has not benefitted either Pakistan or Afghanistan, Afghan President Ashraf Ghani has said that the "undeclared war" between the two neighbours must end.
Ghani said the spectre of violence needs to be removed and that Pakistan needs to support direct discussions between the Afghan government and the Taliban.
"The undeclared war between Afghanistan and Pakistan must end," he told a Washington audience through video conference from Kabul.
"We have not supported any movement against Pakistan from Afghanistan. The Afghan soil is not being used. We've exercised immense restraint and control because we seek a cooperative relationship," Ghani said in response to a question at the School of Advanced international Studies of the John Hopkins University on Monday.
Of the view that there is a need to define "what is a normal relationship" between Afghanistan and Pakistan, he said Kabul can offer a lot in the way of cooperation. "We are the key to Central Asia. How will Pakistan get to Central Asia without a stable Afghanistan?" he asked.
Ghani said Afghanistan and Pakistan need to together agree with the US and the rest of the world community on counter terrorism. These three sets of relationship, he said are the key.
"From the day that President Donald Trump announced the South Asia strategy, I extended the hand of friendship. We have engaged in several rounds of discussion," he said, adding that Afghanistan and the US have arrived at a document on what is their expectation, what needs to be done to translate commitments into reality and to help reduce the level of violence in moving forward to lasting peace.
Ghani said that he has not seen "urgency" from the new Pakistan Prime Minister Imran Khan regarding holding concrete dialogue with Afghanistan to fight terrorism or to assist in holding fruitful talks with the Taliban.
"We have not yet seen the sense of urgency. We hope that sense of urgency can be brought to the picture. We have a framework which is a Afghanistan-Pakistan agreement. The key is to move from talking to taking action," Ghani said.
"Our national interest is to keep engaging with Pakistan. We seek a stable Pakistan. We need to see substantive and measurable change. As of now that substantive and measurable change with the government of Prime Minister Imran Khan has not been seen. This is what needs to take place," said the Afghan president.
Ghani said that the Taliban is not in a winning position. "Let them disclose their casualties. Let them answer to the mothers who have lost their children. Let them answer to the wounded and let them answer to communities that because of their interference, have been deprived of education, of health, of services. Where is the positive model of the strength?" he said.
https://timesofindia.indiatimes.com/world/pakistan/undeclared-war-between-afghanistan-pakistan-must-end-ghani/articleshow/66630060.cms
--------
Tensions high as Rohingya fear looming return to Mynamar
November 14, 2018
Cox's Bazar, Nov 14 (AFP) The military's presence at vast Rohingya camps in Bangladesh has been bolstered, stoking fears among refugees as authorities prepare to return them to Myanmar despite strong UN objections, leaders of the Muslim minority said Wednesday.
Bangladesh says it will start repatriating refugees from an initial group of 2,260 from Thursday despite warnings the Rohingya face almost certain persecution in Myanmar.
Many of the million refugees in the teeming camps have expressed terror at the prospect of returning to Buddhist majority Myanmar, where UN investigators say they were targeted in a military campaign that amounted to genocide.
Bangladesh says only those who volunteer will be returned, but the UN rights chief says many refugees are panicking at the prospect of being sent back against their will.
Some families listed to return have fled, community leaders and refugees have told AFP, hiding in the hills where more than 720,000 Rohingya sought refuge from a Myanmar military crackdown launched from August last year.
They joined some 300,000 Rohingya already living in squalid camps in Bangladesh's southeast for years, having fled previous waves of violence in Rakhine state.
Additional police and soldiers were seen patrolling the camps and checking identity cards, stoking anxiety as the deadline for repatriation looms, refugee leaders told AFP.
"Everyone is tense, the situation is very bad," one community leader Abdur Rahim told AFP in Cox's Bazar, the border district hosting a small city of refugees perched on hillsides.
"There are a lot of army and police inside the camps. They are checking the ID cards of Rohingya." Nur Islam, another leader in a different part of the camps, said the military were more visible in recent days as Bangladeshi officials try and convince refugees they will be safe if they go back.
"They are trying to convince the refugees that repatriation will only occur if the Burmese government has promised they will not harm the Rohingya," he said, using an alternative name for Myanmar.
A local police chief, Abul Khaer, played down reports of additional security, saying nothing in terms of personnel had changed in recent months.
Bangladesh officials remain optimistic the large-scale refugee returns will start as planned Thursday.
They plan to send 150 people on the opening day.
UN High Commissioner for Human Rights Michelle Bachelet on Tuesday urged Dhaka to reconsider.
"With an almost complete lack of accountability – indeed with ongoing violations – returning Rohingya refugees to Myanmar at this point effectively means throwing them back into the cycle of human rights violations that this community has been suffering for decades," she said in a statement.
Full report at:
https://www.india.com/news/agencies/tensions-high-as-rohingya-fear-looming-return-to-mynamar-3428997/
--------
Specter of violence threatens fair Bangladeshi poll
November 15, 2018
The announcement of a schedule for the next general election in Bangladesh has triggered hope of a credible poll but also concern about more political violence across the Muslim-majority South Asian nation.
The chief election commissioner, K.M. Nurul Huda, said earlier this month the elections would be held on Dec. 23 and gave a deadline of Nov. 19 for the filing of nomination papers.
On Nov. 12 the commission, apparently paying heed to an appeal from opposition parties rescheduled the date for Dec. 30 and extended the other deadline to Nov. 28.
The announcement comes against the backdrop of a series of talks held between the ruling Awami League (AL) and opposition parties over unresolved issues relating to the elections.
These include who will serve in a caretaker government overseeing them, the dissolution of parliament, the release of key opposition leaders from jail, and the deployment of the military during the polls.
The talks seem to have ended without any consensus on these thorny political issues.
The 23-party opposition alliance, Jatiya Oikyafront (National United Front), led by the Bangladesh Nationalist Party (BNP), the country's second-largest political party, said on Nov. 11 it would take part in the polls despite their demands largely having been ignored by the government of Prime Minister Sheikh Hasina.
"We will take part in the election as part of our movement to restore democracy," Mirza Fakhrul Islam, the BNP's secretary-general, told journalists in Dhaka on Nov. 11.
The BNP and its allies boycotted the last general election on Jan. 5, 2014, after the AL refused to relinquish power and move aside so that a non-party government could step in to oversee the process.
The boycott helped the AL gain re-election in a landslide victory that saw it claim over half of the 300 parliamentary seats uncontested amid nationwide violence by supporters of the BNP and its hard-line ally, Jamaat-e-Islami, the country's largest Islamist political party.
In the absence of any effective opposition, the AL government has been accused by national and international rights groups of unchecked corruption.
They also see it as authoritarian and claim it has been formulating unfair policies that suppress opposition, muzzle dissent, stifle the media, and attract radical groups to appeal more to conservative Muslims.
This year doubts have been cast over whether the BNP and its allies would take part in the polls, given that former prime minister Khaleda Zia, who now serves as the chairperson of the BNP, remains in jail after being handed two lengthy prison terms in two separate graft cases.
Moreover, Zia's eldest son and heir-apparent, Tarique Rahman, who has been living in self-exile in London since 2008, was recently given a life sentence for a grenade attack at a political rally in 2004.
Tarique Rahman was sentenced in absentia for the attack in Dhaka carried out by Islamic militants with the backing of ministers and top law enforcement officials of the then-BNP-led government. Rahman was accused of being the mastermind.
Meanwhile, Jamaat, a longtime ally of the BNP, cannot contest the December polls as the Supreme Court has banned the party from running because its Islamist charter was in conflict with the country's secular constitution.
Dozens of top-ranking Jamaat leaders have also been sentenced to death or given life sentences for crimes against humanity during Bangladesh's 1971 war of independence.
Minorities at risk
Bangladesh holds parliamentary elections every five years and violence between the supporters of rival parties is commonplace. Religious groups and ethnic minorities are often targeted.
Church officials and minority leaders have expressed hope of a more fair, representative and legitimate election this year but most fear political violence and irregularities will again mar the occasion.
Some 30 million people, or just under 20 percent of the population, belongs to a religious or ethnic minority. Most minorities are seen as making up a "vote bank" for the nominally secular AL.
In previous polls from 1996 to 2014, these minority groups came under a series of attacks that left dozens killed and more injured.
"Parties held talks but they were largely fruitless. Now they are all lining up to take part in the polls but there is no guarantee they will refrain from violence. It is still unclear whether the government is enthusiastic about holding a fair election," Holy Cross Father Liton Hubert Gomes, secretary of the Catholic Bishops' Justice and Peace Commission, told ucanews.com.
He said the chosen deadline "could dampen the Christmas spirit" due to all the safety and security concerns.
"If political violence erupts, many Christians might not line up to vote," the priest said.
Govinda Chandra Pramanik, secretary of the Bangladesh Hindu Grand Alliance, said parties often look to minority groups to serve as scapegoats.
"In the past, we have seen Hindus attacked and killed not just during the polls but at various times of the year," Pramanik, a Supreme Court lawyer, told ucanews.com.
"The perpetrators come from all major parties, and there is no justice. This is because the parties want to win by any means necessary," he said.
"We've called upon people to only vote if the parties pledge to nominate Hindu candidates and ensure security for the community. Otherwise, they won't cast their ballots."
Long road to democracy
Born to be a secular and democratic country, Bangladesh endured a series of political assassinations, political changeovers, and 19 attempted military coups including two successful ones from 1975-1990.
Parliamentary democracy was restored after nearly 15 years of military rule in the early 1990s. Since then, the center-right BNP and center-left AL have alternated power.
Caretaker governments were only supposed to stay in power for a maximum of three months and these oversaw elections in 1996, 2001 and 2008.
However, the military-backed interim government that was in power for over two years leading up the 2008 polls started trying to get rid of rival politicians, and attempted to banish both Hasina and Zia from politics.
This came to be known as the "minus two" formula.
In 2011 the AL scrapped the caretaker government system following a Supreme Court ruling a year earlier which said the system was in conflict with the charter, amid strong protests from opposition blocs.
Dhaka-based political analyst Mirza Taslima Sultana said the upcoming polls will serve as a crucial litmus test for democracy in the country.
"People want the election to be a triumph of democracy, and they want to exercise their voting right to support or reject a government. With the BNP-led opposition camp joining the polls, the government will be under pressure from the public to hold a fair poll devoid of any irregularities," said Sultana, a professor of anthropology at Jahangirnagar University near Dhaka.
Full report at:
https://www.ucanews.com/news/specter-of-violence-threatens-fair-bangladeshi-poll/83853
--------
U.S. airstrikes kill 5 militants in Ghazni, 40 BM-1 warheads seized in Logar
Nov 15 2018
At least five militants were killed in an airstrike carried out by the U.S. forces in southeastern Ghazni province of Afghanistan, the Afghan Military said Wednesday.
According to a statement released by 203rd Thunder Corps, the coalition forces carried out airstrike in Kobi area of Qarabagh district in Ghazni, leaving at least five militants dead and three others wounded.
The statement further added that the 203rd Thunder Corps forces also conducted operations with the Afghan intelligence forces in Surkhab area of Mohammad Agha district in Logar and seized 40 warheads of BM-1 rockets, a motorcycle packed with explosives, and a remote control.
The Afghan forces also discovered and defused an improvised explosive device during an operation in Orgun district of Paktika province, the 203rd Thunder Corps added in its statement.
Full report at:
https://www.khaama.com/u-s-airstrikes-kill-5-militants-in-ghazni-40-bm-1-warheads-seized-in-logar-02744/
--------
Myanmar's treatment of Rohingya Muslims Pence spurns Suu Kyi
November 15, 2018
SINGAPORE: The violence which drove 700,000 Rohingya Muslims from Myanmar into Bangladesh was "without excuse", US Vice President Mike Pence told Aung San Suu Kyi in stinging comments on Wednesday.
On the sidelines of a summit in Singapore Pence piled the pressure on Myanmar's de facto leader, calling for an explanation of the jailing of two Reuters journalists over their coverage of the crisis.
Suu Kyi has seen her reputation as a rights defender shredded by her refusal to speak up for the Rohingya, a stateless group reviled in the Buddhist-majority country.
She has already had an Amnesty International honour revoked this week and faced sharp words from Malaysia's prime minister at a usually tepid meeting of Southeast Asian nations in Singapore. In direct marks as he sat next to Suu Kyi, Pence condemned the "violence and persecution" against the Rohingya as "without excuse".
Then in a front-on challenge to Myanmar's civilian leader, Pence said he was "anxious to hear about the progress" being made to hold the perpetrators accountable. A crackdown led by Myanmar's army last year sparked an exodus of the Muslim minority into neighbouring Bangladesh, taking with them accounts of atrocities -- rape, murder and arson of their villages.
UN investigators say the army's actions amounted to genocide. Suu Kyi brushed off Pence's comments. "In a way, we can say we understand our country better than any other country does," she said.
On Thursday a long-delayed -- and heavily criticised -- plan to repatriate Rohingya was set to begin, despite dire warnings their safety will be in jeopardy if forced to return to Myanmar. The process has undergone several false starts before. Myanmar does not want its Rohingya, who are officially described as "Bengali" illegal immigrants.
And the Rohingya do not want to go back without security guarantees and citizenship. But the fetid and overcrowded refugee camps in Bangladesh offer little future for the more than one million Rohingya who have fled successive waves of violence in Myanmar.
The Rohingya crisis has tarnished Myanmar's reputation among large sections of an international community which helped shape its transition from outright military rule. Suu Kyi has no power over the army, which retains autonomy over all security matters. But she has come under fire for not doing more to speak out against the generals' excesses.
She has also been criticised for her failure to speak up for two Reuters reporters jailed for seven years for breaching a colonial-era state secrets act after reporting on the extrajudicial killing of 10 Rohingya men during a military crackdown last year. Pence called their case "deeply troubling", adding the US placed a "premium ... on a free and independent press". A senior US official told reporters that Pence asked Suu Kyi directly and repeatedly to pardon the two reporters during their talks.
The official did not say how Suu Kyi responded. The sentence prompted a storm of global outcry as an assault on freedom of speech, casting doubt on the direction and depth of Myanmar reforms.
In her only direct comments on the Reuters case Suu Kyi -- herself once a political prisoner held under house arrest by the former junta -- has said the pair were jailed under a fair legal process. "They were not jailed because they were journalists" but because "the court has decided that they had broken the Official Secrets Act", she said in September.
Suu Kyi's civilian government had the power to drop the charges. Reuters has appealed the verdict and has been lobbying for the release of the pair who they say were set up by police and arrested to silence their reporting.
Full report at:
https://www.thenews.com.pk/print/393964-myanmar-s-treatment-of-rohingya-muslims-pence-spurns-suu-kyi
--------
India
'Mainstreaming' of terrorists by Pakistan a threat, PM tells US vice-president
Nov 15, 2018
NEW DELHI: Prime Minister Narendra Modi pointed out the "mainstreaming" of figures involved in the 26/11 Mumbai attacks in the recent elections in Pakistan, a clear reference to Lashkar chief Hafiz Saeed, during his interaction with US vice-president Mike Pence in Singapore on Wednesday.
Briefing journalists on the Pence meeting, foreign secretary Vijay Gokhale said, "He (Modi) did point out that the mainstreaming of people involved in the Mumbai attacks+ in a political process which has taken place in the recent elections in Pakistan should be a matter of serious concern not just to the two countries — India and the US — but to the international community."
PM Modi also reminded the US vice-president that in one way or another all the traces and all the leads in global terror attacks ultimately lead to a "single source and single place of origin", in an apparent reference to Pakistan. The foreign secretary said, "There was a sense of convergence both on bilateral issues and on global issues and we look forward to taking the relationship in coming months and in 2019".
"There was some good understanding of the areas of how we move forward in building cooperation on counter-terrorism and both countries recognised this is a challenge which we have to fight together and to fight along with the rest of the international community," Gokhale said.
India also called for an early end to negotiations for an Asian free trade agreement, the regional comprehensive economic partnership.
Modi and Pence continued their discussion on maintaining a free and open Indo-Pacific. "Spoke about our shared vision of a free and open Indo-Pacific & reaffirmed our commitment to strengthen security and counter-terrorism cooperation and coordination," Pence tweeted after the meeting.
Modi became the first head of government to address Singapore's famous FinTech festival. Pitching India as the "best" investment destination for global tech giants. He said India is experiencing a digital revolution of unprecedented speed and scale that has enabled financial inclusion of 1.3 billion Indians. "Technology is defining competitiveness and power in the new world and it is creating boundless opportunities to transform lives," Modi said.
The PM also met his Australian counterpart, Scott Morrison, Thailand PM Gen Prayut Chan-o-cha, as well as Singapore PM Lee Hsien Loong.
https://timesofindia.indiatimes.com/india/mainstreaming-of-terrorists-by-pak-a-threat-pm-tells-us-vp/articleshow/66627106.cms
--------
'Andrabi using social media to collect funds for terror activities'
Nov 15, 2018
NEW DELHI: Aasiya Andrabi, leader of Kashmir-based all-women outfit Dukhtaran-e-Millat (DEM), was collecting funds through social media to incite people of the Valley for an armed rebellion against the country with the help of Lashkar-e-Taiba (LeT) chief Hafiz Saeed, claimed a chargesheet filed by NIA on Wednesday.
The anti-terror investigation agency has charged Andrabi and her two associates — Sofi Fehmeeda and Naheeda Nasreen — under the antiterror law, Unlawful Activities Prevention Act (UAPA).
The 56-year-old separatist leader had disclosed before the investigators, as reported by TOI on August 3, that she was in regular touch with former PM of Pakistan Nawaz Sharif, his former foreign policy advisor Sartaz Aziz, Pak high commission officials in Delhi and former ISI chief Hamid Gul besides Hafiz Saeed and Hizbul chief Syed Salahuddin.
In a letter sent to Nawaz Sharif, Aasiya said "Pakistan is not doing anything for Kashmir", to which Sharif replied saying, "we are doing our best".
NIA stated in its chargesheet that Aasiya-led DEM is a terrorist organisation engaged in anti-India activities and has been inciting the general populace of Kashmir for an armed rebellion against the country with aid and assistance of Pak-based terror outfits.
Aasiya, NIA says, was using various media platforms like Twitter, Facebook, YouTube and TV channels including those in Pakistan to spread hateful messages and speeches against India. "DEM through Aasiya Andrabi and others, openly advocates secession of Jammu & Kashmir from the Union of India and its merger with Pakistan through violent means," NIA adds.
Full report at:
https://timesofindia.indiatimes.com/india/andrabi-using-social-media-to-collect-funds-for-terror-activities/articleshow/66627710.cms
--------
Rohingyas managing IDs by illegal means in Telangana
Akash Kolluru
November 15, 2018
On June 27, inspector general of police, Intelligence, Telangana wrote to the commissioner of police, Rachakonda in Telangana on how big a threat Rohingya immigrants can pose to the internal security of India.
The letter stated that Rohingya Muslim immigrants have been seen indulging in multiple illegal activities and that they can be easily "induced" and "used" by various terror outfits.
India Today TV's undercover reporter decided to investigate further into the matter.
According to the official figures of the Telangana police, 189 voter ID cards, 36 Aadhar cards, eight PAN cards, three driving licences and 10 Indian passports illegally sourced by Rohingya immigrants have been identified in the limits of the Balapur police state alone, in Telangana.
A total of 44 FIRs related to illegal Indian identity proofs sourced by Rohingya immigrants have been registered by the Telangana Police.
India Today TV investigated the modus operandi further. During the course of the same, the story of the family of Mohammed Younus, who migrated to India in 2012 came to light.
After Younus' birth certificate, that stated that he was born in India in 1993, the family sourced an education certificate for him from nearby Crescent School.
The family clubbed it with the electricity bill of a rented house, and applied for voter ID cards.
In the meantime, Younus' father, Mohammed Naseem, got the family's Aadhar cards made in the Banjara Hills centre as confessed by him to India Today TV.
Soon after this, Younus also went onto procure a PAN card and even an Indian passport.
Mohammed Saiful Islam, another Rohingya, revealed that all he required to get an Aadhar card made in J&K were Rs 1,000, two passport size photographs and his fingerprints.
Mumtaz Begum, Mohammed Saleem, Mohammed Naseem and Noor Hassan, all confessed to have illegally sourced Aadhar Cards from centres in UP, Punjab and Delhi respectively.
Full report at:
https://www.indiatoday.in/mail-today/story/rohingyas-managing-ids-by-illegal-means-in-telangana-1388793-2018-11-15
--------
'India has been and will remain long-term partner of Afghanistan'
Nov 15, 2018
WASHINGTON: Asserting that India has been and will remain a long-term partner of Afghanistan, the Afghan finance minister has said that Kabul has no secret deal with New Delhi, while hoping that it can have a similar relationship with Pakistan.
"India has been a traditional and long-term partner of Afghanistan spanning over a couple of millennia more. Culturally, commercially in so many things, we have so much common heritage, so many common elements. They have been a long-term partner. They will remain a long-term partner," Afghan finance minister Mohammad Humayon Qayoumi told a Washington audience this week.
"Afghanistan has no secret deals with India. All of the relationships that we have is based on trust, based on two countries, based on two sovereign governments, two people that have a long history," he said, responding to a question at the School of Advanced International Studies of the Johns Hopkins University.
India and Afghanistan will continue to have strong cultural, educational ties as well as commercial ties, he said.
"Our hope is that we have a similar relationship with Pakistan. But I think it's Pakistan that has to decide what they would like to do as part of it in where they would like to be," the Afghan finance minister said early this week.
Noting that Pakistan has the sixth largest population in the world, yet, he said, it has an economy smaller than Israel. So, the conflict is not in the interest of Pakistan, he said. For the betterment of the people of Pakistan, he said it would be helpful for Pakistan to have closer linkages and ties with India and Central Asia as a whole.
He said the South Asia region is ripe for being a very functioning economic ecosystem but right now it is the least integrated region of the world economically. "It's not helping anyone," Qayoumi said.
Full report at:
https://timesofindia.indiatimes.com/india/india-has-been-and-will-remain-long-term-partner-of-afghanistan/articleshow/66630483.cms
--------
Al-Ameen Mission's Incredible Achievements; 370 Students Cracked NEET-2018
NOVEMBER 14, 2018
Kolkata: It may sound incredible but it is true. A Muslim NGO in West Bengal so far produced as many as 2500 doctors , 4000 engineers and 65 civil servants. Adding one more feather in the cap, the NGO Al-Ameen Mission achieved unbelievable feat in this year's NEET, the country's biggest medical entrance exam . It may be a sort of record for a Muslim organization as 370 students of Al-Ameen Mission cracked the NEET. 319 of them got admission in MBBS courses in government colleges while 51 were admitted in private medical colleges in West Bengal.
The man behind these fantastic achievements is M. Nurul Islam who's missionary zeal and tenacity for upliftment of the community is yielding spectacular results from last three decades.
Revealing his inspiration behind the success story of his mission a soft-spoken but fully determined M. Nurul Islam told Muslim Mirror that he was inspired by Ramakrishna Mission during his college days at Kolkata. Muslims in West Bengal are considered educationally one of the most backward segments of the Indian Muslims who are numerically second largest group after the Uttar Predesh.
He said this year's NEET results are encouraging and a record for a Muslim NGO working for the socio-educational upliftment of the community.
It is worth mentioning that Murshidabad and Malda districts listed as the most backward districts in the country have cracked NEET with aplomb. Out of 370 students 111 are from Murshidabad while 82 are from Malda districts.
Giving the details of the NEET crackers of Al-Ameen Mission M.Nurul Islam said ' Out of 370 NEET crackers 289 and 81 got admission MBBS and BDS courses respectively while 282 boys and 88 girls were among the NEET crackers from Al-Ameen Mission this year'.
The main campus of Ai-Ameen Mission at village Khalatpur , in Howrah district.
Furthermore, break up shows that 119 students selected in NEET are those whose total expenses were borne by the institution from Zakat fund while 176 are those who paid only 50 percent of the total expenses in half paid category' while only 75 selected students were from the full payment category who paid 6000 rupees per month.
408 students of Al-Ameen Mission also selected to get admission in engineering courses.
There are a numbers of institutions and organizations have set up coaching facility to prepare Muslim students for NEET, JEE and other competitive examinations. However, Al-Ameen Mission's achievements are envious which has emerged as the largest NGO working for the social and educational upliftment of the minority community in all 19 districts across the West Bengal.
Full report at:
https://www.justicenews.co.in/al-ameen-missions-incredible-achievements-370-students-cracked-neet-2018/
--------
Two Hizb-ul militants arrested in Jammu and Kashmir
November 14, 2018
Security forces on Wednesday arrested two local militants of Hizb-ul Mujahideen and recovered a cache of arms and ammunition from their possession in Pulwama district of Jammu and Kashmir.
Acting on a credible input, the security forces arrested the duo at a check point at Panzgam in Awantipora area, a police spokesperson said.
"During checking, security forces recovered arms and ammunition from their possession which includes UBGL, grenades and live rounds and other incriminating material," he said.
The arrested militants have been identified as Jan Mohammad Sheikh and Nasir-ul-Islam, both affiliated with Hizb-ul Mujahideen.
Full report at:
https://www.indiatoday.in/india/story/two-hizb-ul-militants-arrested-in-jammu-and-kashmir-1388221-2018-11-14
--------
Terrorist killed; DRI, Army seize huge cache of arms, ammunition in Jammu
Nov 14, 2018
NEW DELHI: In a rare joint operation by Directorate of Revenue Intelligence (DRI) and Army at the international border in Akhnoor sector late on Tuesday night, one terrorist was killed while others managed to escape leaving behind huge cache of arms and ammunition. Intelligence that helped the operation emanated from another operation a few days ago in the same area in which DRI had seized 21 kg of high-quality Afghan variety heroin worth Rs 105 crore.
Terrorist financing in J&K has taken a new dimension with infiltrators from Pakistan being used to smuggle drugs to finance terror activities in the Valley. This is third seizure of heroin consignment by DRI in the Valley in recent days. In the other two incidents, the agency had confiscated heroin consignments from passengers travelling in private vehicles in Srinagar.
After neutralising the infiltrator at a forward location in Gigrial in the Akhnoor sector, the joint team of the Army and DRI seized an AK-56, 15 hand grenades grenade launchers, five pistols, 12 detonators of IED and 234 rounds of ammunition.
"DRI had specific information of Pakistan launching terrorists into the Indian side along with consignments of drugs, arms and ammunitions," said DRI director general D P Dash, giving details of the first of its kind operation in which Army and DRI had laid trap for three weeks at the international border.
The DRI is a premier intelligence agency responsible for busting international smuggling syndicates and preventing vital foreign exchange going out of the country through import and export frauds.
According to intelligence gathered by the DRI, terrorists have been using several other infiltration routes in Kashmir, other than the Akhnoor sector to smuggle in arms, ammunition and drugs, Dash told reporters. "But this was first time that the DRI had participated in a joint operation with the Army at firing range of the enemies at the international border in Kashmir," he added.
Full report at:
https://timesofindia.indiatimes.com/india/terrorits-killed-dri-army-seize-huge-cache-of-arms-ammunition-in-jammu/articleshow/66624461.cms
--------
ASI, local muslims spar over Supreme Court order on Taj Mahal
November 15, 2018
A grey area in the July 2018 Supreme Court order barring outsiders from offering namaz inside Taj Mahal premises on Fridays has become a bone of contention between Archaeological Survey of India (ASI) and members of Masjid Taj Mahal Intezamia Committee, which manages the mosque.
ASI contends the SC order implies that namaz can only be offered on Fridays by local residents, whereas the committee members say the order means that free entry for locals is on Fridays, while on all other days, anyone who has bought a ticket can offer namaz. The apex court had upheld a local administration's January order barring non-residents from offering Friday prayers in the mosque on security ground.
Members of the committee allege that around 10 days ago, ASI locked the vazu tank, where namazis wash hands and feet before prayers, and even asked the imam to show up only on Fridays. ASI counters the claim, saying that after the SC order, the vazu tank is opened only on Fridays, and "might have been left accidentally open that day". They added that upon realising it was open, they moved to lock it down and also prevented some people from offering namaz.
ASI officials say that "ever since they noticed people walking in to offer namaz on that day, they have ensured this doesn't happen again, as the SC order bars namaz at the mosque on any other day except Friday".
The move has invited ire of the local Muslims, who contend that they have been offering namaz inside the mosque for 400 years now and can't be stopped by the ASI. They contend that the SC order merely bars non-locals on Fridays while there is no word on not allowing namaz on other days.
A memorandum has now been submitted to the office of Vasant Swarnkar, Superintending Archeologist, ASI-Agra circle, by Syed Ibrahim Hussain Zaidi, president of the committee, saying members of the community will continue to buy tickets and offer namaz on other days as well.
Swarnkar said the memorandum has been forwarded to ASI head office in Delhi "so that they take a legal opinion and revert". "Till we hear from the headquarters, we are not going to allow namaz inside the premises on any other day except for Friday, that too, only for local residents."
Full report at:
https://indianexpress.com/article/cities/delhi/asi-muslims-taj-mahal-namaz-ban-inside-5446990/
--------
Muslims of Ayodhya worried about their safety, says party to title suit
Nov 15, 2018
A party to the Ram Janmabhoomi-Babri Masjid title dispute case in the Supreme Court on Wednesday demanded security for the Muslims in Ayodhya and his family members.
Iqbal Ansari made the statement in view of the proposed VHP rally (dharam sabha) in Ayodhya on November 25. Iqbal Ansari's father Hashim Ansari, was one of the oldest litigants in the case. Hashim Ansari passed away in 2016 and Iqbal Ansari became a party to the case after that.
"When the case (Ram Janmabhoomi-Babri Masjid) is pending in the Supreme Court, what is the point in holding the rally in Ayodhya?" Iqbal Ansari asked, talking to reporters in Ayodhya on Wednesday.
"Muslims of Ayodhya are apprehensive about their security. If the state government fails to assure the safety of the Muslim community and my family members, we will have no option but to leave Ayodhya," said Iqbal Ansari.
He also accused the VHP of trying to create December 6, 1992 like atmosphere in Ayodhya.
"Instead of gheraoing the Vidhan Sabha, the VHP is organising a rally in Ayodhya. They are trying to create a 1992-like atmosphere here. No one from the district administration has contacted us to ensure our safety and security," said Ansari.
KARNI SENA AGAIN DEMANDS PALACE AT DISPUTED SITE
The Sri Rajput Karni Sena on Wednesday reiterated its demand for construction of a palace for Lord Ram, instead of a temple, at the disputed site in Ayodhya.
Rajput Karni Sena patron Lokendra Singh Kalvi, who was in Ayodhya on Wednesday, said: "We are kshatriyas (Rajputs). All Rajputs are descendants of Lord Ram, who was also a kshatriya. Lord Ram was born in King Dashrath's palace and not in any temple," Kalvi told reporters in Ayodhya.
"So, we are demanding construction of a magnificent palace at the disputed site in Ayodhya for Lord Ram instead of Ram Mandir," said Kalvi.
Construction of a palace for Lord Ram is an old demand of the Kari Sena.
BHOOMI PUJA FOR AYODHYA STATION
BJP MP Lallu Singh presided over 'bhoomi pujan' for remodelling of Ayodhya railway station on Wednesday. The railway station will resemble the proposed Ram temple.
Full report at:
https://www.hindustantimes.com/lucknow/muslims-of-ayodhya-worried-about-their-safety-says-party-to-title-suit/story-GReDtGqOBMYwit1r8CuVpM.html
--------
Europe
Paris Peace Forum launches annual meeting to fight for multilateralism
November 14, 2018
French organisers have said that a three-day summit held in Paris under the patronage of President Emmanuel Macron will be launched as annual event to strengthen institutions and foster cooperation against malign influence.
Justin Vaisse, the chief organiser of the Forum, said the meeting point would spearhead a fightback against nationalism, authoritarianism and extremism.
Not only did the Forum chose 10 organisations that it would support and promote over the next year but it announced that a second event would be held on November 11 and 12 next year. Mr Vaisse, a prominent Parisian academic and philosopher, will chair a permanent executive committee and the president is Pascal Lamy, the former head of the World Trade Organisation.
The next call to private and public sector bodies to get involved in the sessions that pitch for support at the summit will be held in Spring 2019.
"We wanted to show that in the world where multilateralism is struggling we can still bring a solution," he said. "One of the things we were looking at achieving is political impact. We wanted to reassert the importance of institutions and regulations.
"We very much hope that by taking the stand, by trying to convince the forces that are against multilateralism, we will defend it."
One of the main features of the event was that alongside world leaders and non-government organisations was the global corporations like Facebook, Google and YouTube.
This was particularly marked in sessions dealing with religious extremism and radical groups and individuals.
In the halls of the Paris Peace Forum, talks of online radicalisation were at least as common as those on the long-standing issues of climate change and violent conflict, and the proposed solutions just as varied.
Facebook hired 200 people to exclusively focus on countering terrorism as their core responsibility as well as building the Global Internet Forum to Counter Terrorism (GIFCT) to share information with other platforms through a shared database.
YouTube developed technology to prevent re-uploads of known terrorist content using image-matching technology and set up ways of stripping the sharing and comment functions in those videos that avoid erasure by straddling the fine between what is permissible and what isn't.
It also promotes "YouTube stars" – or users with big audiences – and promotes their efforts to spread conciliatory messages.
"We are trying to get moderate voices to produce more content so that they can naturally rise to the top," Miriam Estrin, policy manager for Europe, Middle East and Africa at Google, said.
"There is no level of investment that we are not willing to bear to tackle this problem."
Critics of the big social media operators were also able to put their point of view that it was too little too late. "What is actually the budget dedicated to promoting moderate content?", Hakim El Karoui, senior fellow at the think-tank Institut La Montaigne, asked the YouTube representative during a debate on online radicalisation. "You cannot be both platforms that promote democracy and work with the enemy to undermine democracy. You have to invest real money in this."
Mr El Karoui, the author of an influential investigation into the French Muslim community, added "social networks not [working] against us because of what they do but because of what they are". "They can help us promote a different message but they are never neutral," he said..
Guillaume Buffet, the 50-year-old founder of the French start-up "Seriously", argued the first sparks of hate speech and radicalisation online should be tackled before they become a wildfire.
"I believe the best solution is to find a way to maintain the conversation open with those that could be radicalised," Buffet said. The platform he founded gives users who wish to respond to aggressive online speech the tools to do so, from how to address their online interlocutor to trusted facts and figures that can be cited to build a counter-argument.
"We are building an army of volunteers" to counter the malign influencers online, he said.
Eiman Kheir, Diaspora Policy Officer at the Africa Union, said that African terrorist organisations like Al Shabab and Boko Haram have picked up from the Islamic State and are also increasingly using social media to recruit, but that regulating content can only be one part of the solution.
"You have to have a space to discuss extremist ideas even if they are not politically correct," Ms Kheir said. "We need to open up safe spaces to have unpopular conversations."
Whatever action is taken, Mr El Karoui warned that they should not underestimate the appeal of Islamist ideology as an alternative – and not a reaction to – Western values.
"Islamism gives very concrete answers to everyday queries, like how should I behave towards my sister or towards my mother," Mr El Karoui said. "It also gives a sense to your life and your death."
Activities that seek to disengage and deradicalise must therefore promote an alternative idea of success, rather than censoring.
"We need to defend freedom of speech, and to promote our values," he said.
As Robert Azevedo, the current head of the World Trade Organisation, observed, the pillars of multilateralism were as important and as invisible as oxygen. The Forum could provide a much needed fillip.
"Take it away and you will start noticing immediately," he told a panel.
https://www.thenational.ae/world/europe/paris-peace-forum-launches-annual-meeting-to-fight-for-multilateralism-1.791787
--------
Palestine's Exiled Envoy: We Will Never Submit to Trump and Become a Nation of Beggars
November 14, 2018
There is no Palestinian official who has felt the isolation of US President Donald Trump's policies towards Ramallah in the last 18 months more than Husam Zomlot.
It was in March 2017, just two months after the American leader's inauguration, that he would be appointed as Palestinian ambassador to Washington. As months went by, his phone would fall silent.
The president slowly chipped away at the Palestinian cause, dismissing their claims for resolving the decades-long conflict with Israel and making moves in favour of Benjamin Netanyahu's hard-right government as official contact between American and Palestinian officials virtually ground to a halt.
The final blow for Mr Zomlot was in September when Washington shuttered the Palestine Liberation Organisation (PLO) office, revoked the visas of his wife and children, and sent him packing. He maintains that both he and the PLO chose to leave of their own volition.
Now, the Palestinian emissary has found a new home – a modest office block close to the glitzy embassy mansions of Knightsbridge, the diplomatic heartbeat of London – that captures their isolation. A short stroll from Hammersmith train station in the capital's West End, the office has so much space, you can almost hear the echo of your own thoughts.
Like his colleagues in the West Bank, he remains defiant, refusing to bow to the Trump administration and what he says are its attempts to turn the Palestinians into a "nation of beggars" subservient to Washington and the Israelis.
"Ever since I arrived in Washington, one of the things I was told, by senior officials in the White House, every time we discussed things and I come up with our vision and position, they would say 'these are old ideas,'" he said in an hour-long interview with The National in his new West London office. He speaks quickly and fluently, a draped Palestinian flag behind his right shoulder, to the occasional background rumble of a train pulling out of the nearby station.
"I'm afraid this term has to be taken with a grain of salt. I'm afraid this term 'old ideas' means you have to adopt new ideas. What they mean by new ideas is either full submission or redefining our rights to less than the collective self-determination of independent sovereignty."
Those 'new ideas' refer to a range of options reportedly proposed by Trump's Middle East advisers - envoy Jason Greenblatt, son-in-law Jared Kushner and US ambassador to Israel David Friedman - that the Palestinians have baulked at, such as confederacy with Jordan and Abu Dis, not Jerusalem, as the capital of a semi-autonomous Palestinian state.
In parallel to those offers, they have tried to change the reality on the ground through a series of unilateral moves the Palestinians say disqualified the US role as an impartial broker in the conflict.
Mr Trump relocated the US embassy to Jerusalem, effectively recognising the contested city as Israel's, cut all American aid to the United Nations agency for Palestinian refugees in a blow to their right of return and slashed funding for East Jerusalem hospitals that service sick Palestinians.
"At least my kids are now in school, but as a result of the US administration's decision some kids in Gaza might not have a classroom in the very near future," he says, brushing off the impact on him personally.
Washington says the moves were a reaction to Palestinian criticism and refusal to come to the negotiating table, a suggestion that he counters passionately.
"It's very dangerous to say a big part of the problem was the Palestinian leadership's inability… no, that's again blaming the besieged and the occupied," he says.
"This leadership has been transformational in their ability to start a revolution...to bring the people of Palestine together under one banner that is the PLO and...their ability to politicise and humanise our cause. They made sure nobody speaks on our behalf."
At 44, Mr Zomlot has been labelled part of a younger generation rising through the Palestinian leadership, a movement that has been dominated by the likes of Yasser Arafat and Mahmoud Abbas for decades. President Abbas is now 82-years-old and in the 14th year of his presidency.
Though Mr Zomlot has a doctorate from London's prestigious SOAS University, he had a less prosperous start to life. He was born, and spent his early days, in a refugee camp in southern Gaza, before being accepted onto the UK's prestigious Chevening scholarship that grants access to a Western education for applicants from around the world.
One might expect a rising diplomat to agree that the peace process needs an injection of youthful thinking and a jolt of energy, but Mr Zomlot's view differs.
"This is not about the who; this is more about what," he says. "Young people do not necessarily come with young ideas, sometimes young people like myself can still be holding very old and bad ideas, and sometimes old people can bring very fresh and new ideas."
Seventeen years ago Mr Zomlot, barely out of British university, was handpicked by Yasser Arafat, the charismatic Palestinian leader who died in 2004, to serve as deputy ambassador in the same mission he now heads. More recently, he has served as an adviser to Mr Abbas, a role he continues to this day.
He is fiercely defensive of their legacies. "I have worked with the first generation of the movement, I worked with all the founders of the movement," he says. "I tell you, the problem is not them." (What did he say is the problem?)
The problem, he says lies in Tel Aviv, "Netanyahu is the one breaking the backbone of the two-state solution," he said. "I hope my generation can do a fraction of what the previous generation has managed to do."
Many on the Palestinian street disagree with Mr Zomlot. Mr Abbas, their leader in the West Bank, is increasingly unpopular for his perceived inaction and inability to deliver progress on the conflict. Palestinian security forces are reviled for collaborating with the Israeli military.
But, despite the trauma of the last 18 months, the Palestinian diplomat still manages to take pride in what has become a very bleak state of affairs, "What happened in the last year was unprecedented," he says, "we were the only side in this world that said no to Mr Trump".
For Palestinians at home feeling the brunt of Trumpism, that may be their only consolation.
Given the hostility to the Trump administration to historical Palestinian demands, some have suggested they should try to wait out the presidency, Mr Zomlot says this is not going to happen.
"We cannot afford that," he said. "People are losing their lives, losing their property, losing their dignity. What we need to do is activate and strengthen something that already exists – the international order."
Full report at:
https://www.thenational.ae/world/mena/palestine-s-exiled-envoy-we-will-never-submit-to-trump-and-become-a-nation-of-beggars-1.791869
--------
Iranian migrants steal French boat and sail to Britain
13 November 2018
A group of Iranian migrants stole a fishing boat from a French port and sailed across the Channel to Britain, slipping past border officials to complete a journey attempted by thousands each year.
Seventeen migrants, including three children, reached England early Tuesday aboard the fishing boat stolen from a French port near Calais, British officials confirmed Tuesday.
Britain's Home Office, the interior ministry, said the group was intercepted at Dover harbor.
"Fourteen men and three minors, all of whom presented themselves as Iranian, were found on board," a spokesman said, adding that their asylum cases would be reviewed and that the minors had been referred to social services.
French prosecutor Pascal Marconville, who is leading the investigation into the theft, said the engine had been hotwired (started without a key) and that the migrants managed to "escape the watch" of port authorities in making their getaway.
Every year, thousands of migrants from Africa, the Middle East and Asia, many of them minors, attempt to reach Britain by stowing away on trucks crossing to England, mainly through the French port of Calais.
For many the attempt ends in failure, with French police routinely detaining migrants caught trying to climb onto trucks.
On Monday evening, French officials became suspicious after noticing a boat that was taking a "bizarre" route across the Channel, said Ingrid Parrot, spokeswoman for maritime authorities in northern France.
Officials tipped off British authorities and contacted the owner of the 12-metre (40-foot) boat, who said it had been stolen from the port of Boulogne-sur-Mer, about 35 kilometers (21 miles) west of Calais.
Parrot called the crossing "unprecedented", noting that migrants had previously used much smaller boats to try reach their journey's end, with little success.
So far this year French maritime officials have launched 23 operations either to rescue migrants at sea or to stop groups about to set sail.
On land, meanwhile, the police continue to routinely clear migrant camps around Calais, two years after dismantling the squalid "Jungle" settlement, which was home to over 7,000 people at one point.
Full report at:
https://english.alarabiya.net/en/News/world/2018/11/13/Iranian-migrants-steal-French-boat-and-sail-to-Britain.html
--------
Serbia's Muslim minority seeks cooperation with Turkey
14.11.2018
Head of Bosniak National Council (BNV) in Serbia said the representative body needs cooperation with Turkey in all fields.
Sulejman Ugljanin's remarks came during an interview with Anadolu Agency after he declared victory to continue as the head of the BNV in Serbia's Nov. 4 elections for members of the national councils of national minorities.
Ugljanin said there is a deep connection between Sandzak Bosniaks and Turkey. The Sandzak is a Muslim majority region in southern Serbia.
"There are about 3 million people of Sandzak origin living in Turkey. Our cooperation is at the highest level. We need to cooperate with Turkey, which is among the top 20 most advanced countries in the world, in all fields," said Ugljanin.
Ugljanin underlined the good relations Turkey's President Recep Tayyip Erdogan and his Serbian counterpart Aleksandar Vucic have, noting that good relations are very important for Bosniaks and they expect concrete results from these relations.
Ugljanin also said the problems of the Bosnian minority in Serbia could only be solved with the help of the international community.
He said the use of the Bosnian language in the Sandzak region was progressing slowly and that there was a problem with supplying schoolchildren with books in their own language.
"Our children were discriminated. Books were not given to them. With the support of Turkish Cooperation and Coordination Agency Presidency (TIKA) these books were received," said Ugljanin.
Ugljanin also said that children of Sandzak should be encouraged to study in Turkish universities and employed by Turkish companies in Serbia.
He said some state officials in Serbia claim the Bosniak people were "not mature enough" while addressing the international arena, and that state institutions practice "an oppressive approach" to the Sandzak region.
"No one has been punished for the death of the Bosniaks in this region. Even a simple traffic incident is charged with 10 days of detention, while the killing of Bosniaks is not even counted as a crime," said Ugljanin.
According to Ugljanin, the state of Serbia has been treating Sandzak region as "stepchild" since the 1990s, noting that there is no cooperation with state institutions at any level.
Full report at:
https://www.aa.com.tr/en/europe/serbias-muslim-minority-seeks-cooperation-with-turkey/1311430
--------
Mideast
Yemeni forces destroy almost 2000 Houthi mines in Hajjah governorate
14 November 2018
The Yemeni army has destroyed more than 2000 Houthi mines in three days only in Hayran district alone, following big advances in the fifth military area in Hajjah governorate.
Specialized Yemeni forces have been dedicated to destroying mines planted by Houthis.
On a bigger scale, Yemeni forces have been able to destroy hundreds of thousands of mines out of a million mines planted by Houthi militias in all Yemeni governorates and villages.
Houthis have been known for planting mines the moment they sense their upcoming defeat.
In the southern governorate of Dhale, dozens of Houthis were killed and injured and ten were detained, including field military leaders, in violent confrontations with the Yemeni forces.
The Yemeni army, with support from the Arab Coalition, has been fighting Houthis in the city of Damt for days, and was successful in liberating big parts of it.
In Hodeidah, Yemeni sources confirmed the death and injury of dozens of Houthis on different battle fronts, whereas the Yemeni army continued to advance towards the northern entrance of the city.
The advances come with great Houthi losses and the fleeing of dozens of militias from the front lines to the internal neighborhoods of the city.
https://english.alarabiya.net/en/News/gulf/2018/11/14/Yemeni-forces-find-almost-2000-Houthi-mines-in-Hajjah-governorate.html
--------
Internal power struggles erupt in Iran over money laundering, terror support
14 November 2018
The internal power struggles in Iran have not stopped since 1979 Islamic Revolution that toppled the Shah's regime and was monopolized by the religious establishment that controls all joints of the Iranian government.
The conflict between the wings of the reformist and militant regime has reached bloody levels against the backdrop of the Green Movement of 2009, which would have almost overthrown the hardliner conservatives loyal to Supreme Leader Ayatollah Khamenei, had the bloody crackdown by reformist not been suppressed.
Today and while Hassan Rouhani who is a moderate president with balanced relations with the moderate reformists on one hand and with the moderate conservatives on the other hand, who is at the helm of the executive power, at a time when the Islamic Republic is facing qualitative challenges in the face of harsh US sanctions, the hardliner conservatives left no chance but to ignore Rouhani and all those who sided with him.
The differences between the wings of the Iranian regime, these days revolve around two lists presented months ago in the Iranian parliament, the first list on Iran's accession to Combating the Financing of Terrorism (CFT) and in its work against counterfeiting and terrorism financing, and the second list on the country's accession to the Financial Action Task Force (FATF), an intergovernmental organization based in Paris, France, was established in 1989 and is active in the fight against money laundering. In 2001, the organization joined the fight against terrorism.
On Monday, Iranian Foreign Minister Mohammad Javad Zarif said: "Money laundering in Iran is a real issue."
He pointed out in an interview with Khabar Online, that the "economic interests" of some figures who are involved in money laundering, are in opposition to Iran's joining both "CFT" and "FATF" treaties to combat terrorism and money laundering, accusing opponents of flouting the atmosphere against these treaties.
The Iranian Shura Council approved the two lists, but the Guardian Council of the Constitution, which has major powers in Iran, rejected them. In this case, the two lists are presented to the Expediency Discernment Council of the System to decide on the matter.
The Iranian foreign minister's comments on the spread of money laundering in Iran, sparked a turmoil in the government's institutions, which prompted the National Security and Foreign Policy Parliamentary Committee today, Wednesday, to summon FM Zarif to parliament to explain himself regarding those statements.
"At the request of members of the committee, the foreign minister was invited to present evidence of alleged money laundering in Iran," Hishmatullah Fallah Beshah, head of the National Security and Foreign Policy Parliamentary Committee, told Tasnim news agency which is close to the Iran's Revolutionary Guards.
The lawmaker Beshah described Zarif's comments on money laundering in Iran as "unacceptable" and "setting a precedent" and "non-specialized" and "undocumented accusations," adding that even countries hostile to Iran did not direct such accusations against the Islamic Republic.
Beshah added that: "Facts about money laundering must be revealed regarding what Mr. Zarif said."
Iran's foreign minister had said in his controversial interview that: "Many people in Iran benefit from money laundering. Those who earn thousands of billions in money laundering are financially able to allocate tens or billions to publicize and incite the country against anti-laundering laws."
"The total budget of the Ministry of Foreign Affairs is 1,100 billion Tuman, which is less than the budget of some cultural institutions which is connected to the country's powerful apparatus, so we cannot deal with them when we are raising the issue," Zarif said.
Opponents of CFT and FATF treaties argue that ratifying them could prevent Iran from supporting pro-Lebanese militias in the region, led by Hezbollah, and some believe the elite Quds Force, the external arm of the Revolutionary Guards Corps, would come under threat due to these treaties.
On Friday, many clerics and prominent figures in power, including leaders of Iran's Revolutionary Guards and a group of parliamentarians, signed a petition against Iran's accession to the CFT and FATF treaties.
On the other hand, Iran is also under pressure from friendly countries such as Russia and China to push them to join the two treaties. It is known that Iran needs the support of the two countries while the second package of US sanctions entered into force on November 5.
Full report at:
https://english.alarabiya.net/en/features/2018/11/14/Iran-Power-struggle-over-money-laundering-and-terrorism-support.html
--------
Iran's president says America chose wrong path on sanctions, will be defeated
14 November 2018
America has chosen the wrong path in sanctioning Iran and will be defeated, Iranian President Hassan Rouhani said Wednesday, according to the Tasnim news agency.
The United States announced reinstatement of sanctions targeting Iran's oil industry last week as the administration of US President Donald Trump tries to force the Islamic Republic to curb its missile program as well as its support for proxy forces in Syria, Iraq, Lebanon and Yemen.
"The Americans will definitely be defeated in this path. The path they have chosen is wrong and incorrect," Rouhani said. "If they are being honest and they are looking for regional security, this is not the path. If they are being honest and respect the Iranian people, this is not the path."
He added, "They have made themselves more infamous in the world and in front of our people. It's clear for everyone that the incorrect and cruel sanctions of America will harm the dear and honorable people of our country."
US National Security Adviser John Bolton said Tuesday that Washington intends to step up enforcement of sanctions on the Islamic Republic and "squeeze them very hard."
President Donald Trump re-imposed sanctions after withdrew the United States from world powers' 2015 nuclear deal with Iran, reached before he took office. The other signatories - Germany, France, Britain, Russia and China remain committed to the deal. Iran has said it will stay in it only if the other
Full report at:
https://english.alarabiya.net/en/News/middle-east/2018/11/14/Iran-s-president-says-America-chose-wrong-path-on-sanctions-will-be-defeated.html
--------
Turkish FM: Turkey aims to deepen ties with Saudi Arabia
14 November 2018
Turkey aims to deepen ties with Saudi Arabia in all aspects, Foreign Minister Mevlut Cavusoglu said according to a prepared text of his speech to parliament on Wednesday.
The text of the speech also said that Turkey is cooperating closely with the United States, the European Union and other parties to curb the negative impact of US sanctions on its relations with Iran. He also said that Turkey was making efforts to get the US Congress to abandon proposed bills aimed at Ankara.
The US Senate is demanding that sales of F-35 fighter jets be banned for Turkey unless President Donald Trump confirms that Ankara does not threaten NATO to buy defense equipment from Russia or detain US citizens.
Full report at:
https://english.alarabiya.net/en/News/gulf/2018/11/14/Turkish-Foreign-Minister-Turkey-aims-to-improve-ties-with-Saudi-Arabia.html
--------
Lieberman resigns as Israel's minister of military affairs in opposition to Gaza deal
Nov 14, 2018
Israeli minister of military affairs Avigdor Lieberman has resigned from his post less than a day after Hamas and other resistance factions agreed to an Egypt-brokered ceasefire with Israel in Gaza Strip as the recent wave of Israeli aggression against the enclave had threatened to descend into full-blown war.
Announcing his decision in a news conference, the hawkish Israeli official described Tuesday's Gaza truce as "a capitulation to terror".
Lieberman added that he also vehemently objected to Israel's allowing Qatar to deliver $15 million to the financially-crippled Gaza Strip to pay the salaries of government workers and civil servants last week.
"It is no secret that there were differences between the prime minister and I," Lieberman said. "I did not agree to allow entry of Qatari money [into Gaza], and I had to allow it only after the prime minister announced it."
Lieberman, who heads Yisrael Beiteinu, will retake his Knesset seat following his resignation. Lieberman also said all of the members of his party will quit Israel's ruling coalition in the 120-member parliament. Yisrael Beiteinu's departure means Prime Minister Benjamin Netanyahu only holds a slender Knesset majority (61-59) seats to maintain the coalition.
Another key coalition partner in Netanyahu's government, Habayit Hayehudi (headed by Education Minister Naftali Bennett), said that unless the defense portfolio goes to Bennett, the party will also quit the coalition.
He also called for elections to be held as soon as possible, saying he hopes a date will be set by Sunday.
Born in the former Soviet Union, Lieberman's voter base is made up of fellow Russian-speaking immigrants, and rightists and secularists who share his hostility to Palestinians.
'Political victory for Gaza'
Hamas Spokesman Sami Abu Zuhri said in a post published on his official Twitter page that the move is an Israeli "recognition of its defeat at the hands of the Palestinian resistance."
Abu Zuhri further noted that Lieberman's resignation constitutes a "political victory for Gaza" after it managed to "stand up to the Occupation (Israel)."
Gaza-based resistance groups announced a ceasefire with Israel in a joint statement on Tuesday evening, saying they would abide by the ceasefire as long as Israel did the same.
"Egypt's efforts have been able to achieve a ceasefire between the resistance and the Zionist enemy," the statement read.
It added, "The resistance will respect this declaration as long as the Zionist enemy respects it."
The latest spate of Israeli military aggression against the Gaza Strip saw 14 Palestinian killed and several others injured in 48 hours as the Israeli airstrikes and shells reduced buildings to rubble and sent fireballs and plumes of smoke into the sky.
In early July 2014, Israel waged a war on the Gaza Strip. The 50-day military aggression, which ended on August 26, 2014, killed nearly 2,200 Palestinians, including 577 children. Over 11,100 others – including 3,374 children, 2,088 women and 410 elderly people – were also wounded in the war.
The Gaza Strip has been under an Israeli siege since June 2007. The blockade has caused a decline in the standards of living as well as unprecedented levels of unemployment and unrelenting poverty.
Tensions have been running high near the fence separating the Gaza Strip from the occupied territories ever since anti-occupation protest rallies began in the coastal enclave on March 30. More than 230 Palestinians have been killed by Israeli forces. Nearly 23,000 Palestinians have also sustained injuries.
The Gaza clashes reached their peak on May 14, on the eve of the 70th anniversary of Nakba Day (Day of Catastrophe), which coincided this year with the US embassy relocation from Tel Aviv to occupied East Jerusalem al-Quds.
On June 13, the United Nations General Assembly adopted a resolution, sponsored by Turkey and Algeria, condemning Israel for Palestinian civilian deaths in the Gaza Strip.
The resolution, which had been put forward on behalf of Arab and Muslim countries, garnered a strong majority of 120 votes in the 193-member assembly, with eight votes against and 45 abstentions.
The resolution called on UN Secretary General Antonio Guterres to make proposals within 60 days "on ways and means for ensuring the safety, protection, and well-being of the Palestinian civilian population under Israeli occupation," including "recommendations regarding an international protection mechanism."
Full report at:
https://www.presstv.com/Detail/2018/11/14/580017/Lieberman-resigns-as-Israels-minister-of-military-affairs-in-opposition-to-Gaza-deal
--------
UAE welcomes 'early convening' of UN-led Yemen talks in Sweden
November 14, 2018
JEDDAH: UAE Minister of State for Foreign Affairs, Anwar Gargash, said on Wednesday the Emirates welcomes the early convening of UN-led Yemen talks in Sweden.
The UAE along with Saudi Arabia is a leading member of the Arab Coalition supporting pro-government troops in the war against the Iran-backed Houthi militia.
The UN said it planned to reconvene peace talks in Sweden by the end of the year. The last attempt in Geneva collapsed when the Houthi delegation failed to arrive.
"We welcome early convening of UN-led talks in Sweden," Gargash, tweeted. He said the coalition would "urge all parties to take advantage of window of opportunity to restart the political process" at a UN Security Council meeting on Friday.
"We look forward to hosting (UN Yemen envoy) Martin Griffiths this week in Abu Dhabi," Gargash added.
Full report at:
http://www.arabnews.com/node/1404896/middle-east
--------
Ankara's handling of EU programs for Syrian refugees under scrutiny
November 15, 2018
ANKARA: The European Court of Auditors (ECA), a Luxembourg-based financial watchdog, emphasized in a report published on Tuesday the difficulties in properly tracking the EU funds provided to Turkey to address the needs of refugees while living outside camps.
The Facility for Refugees in Turkey is the main mechanism to financially support about 4 million Syrian refugees living in Turkey, and it is endowed with €6 billion ($6.78 billion) that will be disbursed in two installments for financing various projects addressing the urgent needs of refugees and their host communities.
The ECA criticized the transparency level of two cash-assistance humanitarian programs — valued at about €1.1 billion — where it was not possible to properly track the flow of money going to the beneficiaries from registration until payment.
Ankara reportedly declined to disclose the beneficiaries' names, and instead gave anonymous banking details.
One of these two EU-funded programs addresses Syrian children's school-related needs, and is also supported through grants from the US and Norway. The other program, the Emergency Social Safety Network, is intended to provide assistance for food and rent. In an exclusive interview with Arab News, Bettina Jakobsen, a member of the ECA and chief auditor of the report, said the Turkish authorities referred to their national legislation on data protection as a basis for not granting access to the UN partner or ECA access to beneficiary data.
"We consider that this lack of access to final beneficiaries' data de facto limited the scope of our audit and the related level of assurance we can provide," she said.
"At the time of the audit, no issue of fraud or corruption has been reported. We have not experienced any other difficulties when carrying out our audit procedures and the cooperation with the Turkish authorities was good."
In the context of the second tranche, the ECA recommends that the European Commission insist that the Turkish authorities grant full access to the beneficiaries' data.
"The commission should also scale up monitoring and reporting on the facility. In addition, the ECA is also carrying out legality and regularity audits, and considering the scale of these projects, an audit of the legality and regularity of the related payments may take place in the coming years," Jakobsen told Arab News.
During a press conference in Brussels on Tuesday, Jakobsen said the lack of access to such key information was unprecedented in her career and this was the first time the institution had faced such a refusal, leading to some "doubts."
However, Ayselin Yildiz, UNESCO Chair on International Migration at Yasar University in Izmir, said she was surprised that the European authorities are pushing Turkey not to respect data protection rights.
"Of course, the procedures of allocation and spending of the funds have to be transparent and accountable, but it does not require sharing the details of individual data with third parties," she told Arab News.
Yildiz, who has coordinated and worked on several EU-funded projects on refugees, also noted that the two cash-assistance programs in question are shuffled through UN agencies, the World Food Programme and implementing partners.
"They must have their own internal control and monitoring mechanisms. These issues had to be set well in the beginning in grant agreements and I question why this has occurred as an obstacle for cooperation two years after the launch of the program," she added.
"Beyond the trust and accountability problem between the EU and Turkish authorities, we should question if the consent of Syrian refugees has been taken on the conditions of benefiting from these funds and whether they had agreed to share their personal data, which is very sensitive for their future migration journey," Yildiz underlined.
It was not the only challenge the auditors encountered in monitoring Turkey's management of European taxpayer money going to Syrian refugees. The report also found that the interest generated on the money in the bank did not reach the refugees or return to the EU taxpayer, but was kept by the implementing partners.
However, the report also welcomed the fact that "all the humanitarian projects audited provided helpful support to the refugees, mainly through cash-based assistance, and most of them achieved their intended outputs."
The commission will consider the recommendations of the audit report while implementing the next tranche of the assistance between the end of 2018 and 2019, which will amount to €3 billion, to prevent any risk of the funds being misused.
Laura Batalla, the secretary-general of the European Parliament Turkey Forum, said the EU funding for refugees has delivered tangible and measurable results in record time, which has had a positive impact on the livelihood of Syrians living in Turkey.
"Therefore, it should be hailed as a success. The EU and Turkey should, however, take into account the recommendations made by the Court of Auditors to achieve the maximum potential of the facility. Improving transparency is essential in this regard," she said.
Full report at:
http://www.arabnews.com/node/1405136/middle-east
--------
Palestinian killed in Gaza despite Hamas-Israel cease-fire
November 14, 2018
JERUSALEM: A Palestinian was killed by Israeli fire along the shore of the northern Gaza Strip on Wednesday despite an Egyptian-brokered cease-fire after the worst escalation between Israel and Hamas since a 2014 war.
The man killed was identified as Nawaf Al-Aatar, 20, and a Gazan security source said he was fishing at the time near the border fence. An Israeli military spokesman said they were looking into the incident.
The truce may have halted violence but the political situation remained volatile and the deal provoked sharp disagreement within the Israeli government.
Israeli Defense Minister Avigdor Lieberman on Wednesday announced his resignation and called for early elections throwing the government into turmoil.
Lieberman also said his party was quitting Prime Minister Benjamin Netanyahu's coalition, leaving the premier with only a one-seat majority in Parliament.
Elections are not due until November 2019, but Lieberman's resignation increases the likelihood of an earlier vote.
The party of another Netanyahu rival, Naftali Bennett, has already announced that if he is not appointed defense minister it will also quit the coalition — a move that would trigger early elections.
Given Bennett's sometimes rocky relationship with Netanyahu, it is far from certain he will be given the powerful defense post. Yair Lapid, head of the opposition Yesh Atid Party, said "the countdown has begun" to the end of Netanyahu's term in office.
The agreement also led to protests by several hundred Israelis living near the border with Gaza who called for further action against Hamas.
Prime Minister Benjamin Netanyahu did not comment in detail on the agreement, but defended his strategy and said: "Our enemies begged for a cease-fire.
"In times of emergency, when making decisions crucial to security, the public can't always be privy to the considerations that must be hidden from the enemy," he said at a ceremony on Wednesday morning in honor of Israel's founding father David Ben-Gurion.
Hamas portrayed the cease-fire as a victory and thousands of residents of the blockaded enclave took to the streets late Tuesday to celebrate.
"The resistance has defended itself and defended its people against Israeli aggression," Hamas leader Ismail Haniya said.
The truce was announced by Gaza militant groups, including Hamas, on Tuesday.
Hamas said it would abide by the deal, which the UN also helped broker, as long as Israel did the same.
A diplomatic source familiar with the agreement said it involved returning to arrangements put in place following the 2014 war, but warned: "The situation remains very precarious and can blow up again.
"What we have seen in the past 48 hours was very dangerous and no efforts should be spared to avoid similar flare-ups."
The violence saw seven Gazans killed in 24 hours as Israeli strikes targeted militants and flattened buildings, sending fireballs and plumes of smoke into the sky.
Sirens wailed in southern Israel, as militants unleashed barrages of rocket and mortar fire, sending residents rushing to shelters.
Around 460 rockets and mortar rounds were fired at Israel, the army said.
An anti-tank missile hit a bus near the Gaza border that Hamas says was being used by Israel's army. An Israeli soldier was severely wounded.
In all, some 27 Israelis were wounded, three of them severely.
A Palestinian laborer from the occupied West Bank was killed when a rocket hit a building in the Israeli city of Ashkelon.
The violence began on Sunday with a botched Israeli special forces operation inside the Gaza Strip that turned deadly and prompted Hamas to vow revenge.
The clash that resulted from the blown operation killed seven Palestinian militants, including a local Hamas military commander, as well as an Israeli army officer.
Militants responded with the rocket barrages and anti-tank missile, prompting Israeli airstrikes across Gaza.
The Israeli army said it struck some 160 targets, including Hamas' Al-Aqsa TV station and internal security headquarters in Gaza City.
At least five of the dead in Gaza were claimed as members of various militant groups. Some 26 people were wounded, according to territory's Health Ministry.
The escalation came despite Netanyahu's decision to allow Qatar to transfer millions of dollars in aid to Gaza for salaries as well as fuel to ease a chronic electricity shortage.
The agreements had led to calmer protests along the border after months of deadly unrest.
Sunday's special forces operation and resulting clash upset those efforts, leading to questions over the timing of the covert Israeli move.
Israel said it was an intelligence-gathering operation and that those efforts must continue to defend the country.
Israel and Palestinian militants in Gaza have fought three wars since 2008, and protests and clashes along the Gaza border since March 30 have repeatedly raised fears of a fourth.
Full report at:
http://www.arabnews.com/node/1405006/middle-east
--------
Architects, activists slam Jerusalem Old City cable car plan
November 14, 2018
JERUSALEM: An Israeli plan to build a cable car to Jerusalem's historic Old City has united architects and Palestinian activists in opposition to a project they say is both an eyesore and a ploy to entrench Israeli control over the city's contested eastern sector.
Developers say the proposed project is meant to relieve snarling traffic and will ferry some 3,000 tourists an hour from the western sector directly to the Old City, in east Jerusalem. It follows a series of Israeli projects in the combustible city that have enraged the Palestinians.
The project is associated with the Elad Foundation, a group that has settled Jewish nationalists in the heart of Jerusalem's Arab neighborhoods. The final cable car station will be integrated into a future tourist center run by the organization.
http://www.arabnews.com/node/1404666/middle-east
--------
Israeli defence minister announces resignation protesting Gaza truce
14 November 2018
Israeli Defense Minister Avigdor Lieberman announced on Wednesday that he was resigning from the conservative coalition government of Prime Minister Benjamin Netanyahu in protest at a Gaza truce.
Announcing his decision, which takes effect 48 hours after he puts it in writing, Lieberman deemed Tuesday's Egyptian-mediated deal with the Palestinian group Hamas "a capitulation to terror".
"What we're doing now as a state is buying short-term quiet, with the price being severe long-term damage to national security," Lieberman said.
Lieberman also said that his party will quit the government as a result of his resignation, leaving Netanyahu with a narrow majority in parliament.
He added: "We should agree on a date for elections as early as possible," while sharply criticising the ceasefire that Prime Minister Benjamin Netanyahu has defended.
Israeli Prime Minister Benjamin Netanyahu on Wednesday defended his decision to accept a ceasefire after the worst escalation with Palestinian militants in the Gaza Strip since a 2014 war.
"In times of emergency, when making decisions crucial to security, the public can't always be privy to the considerations that must be hidden from the enemy," he said at a ceremony in honor of Israel's founding father David Ben-Gurion.
"Our enemies begged for a ceasefire and they knew very well why."
Full report at:
https://english.alarabiya.net/en/News/middle-east/2018/11/14/Israeli-defense-minister-Lieberman-announces-resignation.html
--------
Southeast Asia
Indonesian universities told to nip radicalism in bud
November 14, 2018
Indonesia's Vice President Muhammad Jusuf Kalla has appealed to universities to do more to stamp out radicalism on campuses.
This would include taking a tough line against radical preaching in campus mosques, he said.
"Indonesian Islam, of course, is a moderate form of Islam," he told a recent Association of Indonesian Campus Mosques meeting in Jakarta, adding that campus mosque should aid students in their education and not be sowing the seeds of extremism.
According to Kalla, who is also chairman of the Indonesian Mosque Council, religious fanaticism is not a problem. But it will become a problem if it leads to extremist actions.
He suggested universities create a "curriculum of sermons" for campus mosques that contain moderate teachings about Islam.
Kalla's appeal comes amid growing concern about the growth of radicalism on campuses and the use of mosques to spread it.
The National Counter Terrorism Agency in May said that seven state-run universities were fermenting radicalism, including the University of Indonesia, the country's biggest.
A study last year by the Setara Institute for Democracy and Peace revealed similar findings.
It found that hard-line groups controlled mosques on campuses and housing estates in the west Java cities of Depok and Bogor.
At the University of Indonesia, according to Setara, a group routinely holds recitations that promote war and the rejection of enemies of Islam such as communists, liberals and groups considered heretical.
Another survey by the Air Foundation and the Alvara Research Center showed that 23.5 percent of university students support Indonesia becoming an Islamic state with Shariah law.
Minister of Research, Technology and Higher Education, Mohamad Nasir, said his ministry is looking to persuade university administrators and professors to ensure mosques return to supporting the academic and spiritual formation of students.
"We do not want to impose strict rules on them, but we have asserted that it is their duty to make sure their campuses are free from radicalism," he said.
https://www.ucanews.com/news/indonesian-universities-told-to-nip-radicalism-in-bud/83858
--------
Pre-wedding courses for non-Muslims
November 14, 2018
KUALA LUMPUR: Non-Muslim couples in the country who want to get married will be required to attend pre-wedding courses similar to Islamic couples.
An NSTP survey found that most people agreed this was a good idea.
Man Yap Kew, 25, said that non-Muslim couples should attend pre-wedding courses to prepare themselves to face marriage.
"Life after marriage is very different to life as a single person, and this course can help to mentally prepare them for family life," he said.
Meanwhile, Kayshdiip Singh, 23, said that if the pre-marriage course focuses on being understanding and accepting the responsibility of marriage, it would be a good thing.
"If the essence of the course touches on religious issues it would be difficult to implement because non-Muslims often marry other races and fear that this will cause disagreement and turmoil," he said.
Shoban khan, 25, said the government needed to streamline the content and guidelines that will be used in the course.
"Previously only Muslim couples went through the course. But if it is to be applied to non-Muslims, the course should be amended to suit all races," he said.
Raj Mobin Subramanian, 23, does not agree to compulsory pre-wedding courses for non-Muslim couples.
"This will add to the preparations that need to be done before getting married and will only cause inconvenience to the couple," he said.
Earlier the media reported that non-Muslim couples in the country who intend to establish a household would be required to attend pre-wedding courses.
The movement is aimed at reduce the high rate of divorce in the country.
Full report at:
https://www.nst.com.my/news/nation/2018/11/431141/pre-wedding-courses-non-muslims
--------
At least restore my PTPTN perks, Najib tells Pakatan
14 November 2018
KUALA LUMPUR, Nov 14 — The government should return previous assistance schemes for federal student loan takers even if it will not honour its own pledge to defer repayment for low-income earners, said Datuk Seri Najib Razak.
Continuing his mockery of the Education Ministry's policy moves, the former prime minister pointed out that he had introduced incentives for National Higher Education Fund Corporation (PTPTN) borrowers that rewarded academic excellence and prompt repayment.
Borrowers who graduated with first-class honours previously had their loans converted into full scholarships, while those repaying steadily enjoyed tiered discounts depending on the level of repayment.
Najib also mooted a grace period of up to a year after graduation before repayments must begin.
"I announced all these in Barisan Nasional's (BN) Budget 2018 last year.
"If I and the BN administration could do this with a RM280 billion Budget, there is no excuse for the Pakatan Harapan government that is proud of its over RM300 billion Budget not to do so!" he wrote on Facebook.
He then invited youths and students to join him in demanding the PH administration deliver on its pledge to defer PTPTN repayments for those earning under RM4,000 monthly.
An apologetic Wan Saiful Wan Jan said last week it was not possible to honour the pledge to delay repayment for PTPTN borrowers as Malaysia's finances were not robust enough to support this.
Full report at:
https://www.malaymail.com/s/1693401/at-least-restore-my-ptptn-perks-najib-tells-pakatan
--------
Ahmadi, Sunni Muslims live in peace in Wonosobo
November 15, 2018
The atmosphere was convivial in Wonosobo, Central Java, when 18-year-old Fikri Darmawan ordered three cups of kopi joss, the city's signature coffee that contains a burning lump of charcoal, for him and his friends, Miftahul Choir and Muhammad Aldo.
The sight of the three boys hanging out together may seem ordinary, except for the fact that Fikri has been raised in an Ahmadi household, a religious minority that is often persecuted. But for Aldo and Miftahul, who are devoted Sunnis, Fikri is nothing more than their best friend.
"I have lived here since I started junior high school, and I never experienced any conflict related to my religious background here. In fact, I don't think such conflict exists here," Fikri told The Jakarta Post.
"We only argue over soccer because we support different teams," Fikri added.
Known as a transit point for tourists before they commence their trip to the popular Dieng Plateau, Wonosobo is home to people with different religious backgrounds, including the Ahmadis.
Around 6,000 live in Wonosobo, making it the city with the largest Ahmadi population in the country.
According to Maulana Nurhadi, an Ahmadi preacher and community leader, the city had welcoming the Ahmadis since they first arrived in the early 1920s.
He added that the Ahmadis were introduced to Wonosobo by Pakistanmubaligh (preacher) Mirza Wali Ahmad Baig in 1920.
Later that year, a young Ahmadi figure in Wonosobo named Sabitun, was sent to Lahore, Pakistan, to learn more about Ahmadiya. He later returned to his hometown and built a pesantren (Islamic boarding school) to spread Ahmadi teachings.
"The local administration has also been supportive of the Ahmadis. The previous regent, for example, initiated regular interfaith meetings," Maulana said, referring to former Wonosobo regent Abdul Kholiq Arif.
Meanwhile, in the neighboring regency of Banjarnegara, the Ahmadis are banned from organizing pengajian (Islamic study groups) following a protest by local Sunnis.
Ahmadiyah Congregation Indonesia (JAI) spokesperson Yendra Budiana told the Post recently that persecution against the Ahmadis often occurred after provocation by certain groups.
"Lombok is also an area where Ahmadis face persecution. However, it is also important to note that this only occurred in several areas on the island," Yendra said.
In 2005, the Indonesian Ulema Council (MUI) issued a fatwa declaring the Ahmadis heretics, though it did not recommend a full ban.
In 2008, then-president Susilo Bambang Yudhoyono's administration endorsed a joint ministerial decree that effectively restricts Ahmadiyah activities in the country.
Several regions across the country also followed suit, but Wonosobo regency instead issued a bylaw declaring "Wonosobo a human rights friendly regency", which has been attributed to its relative success in ensuring minorities' rights to practice their beliefs.
Article 28 of Bylaw No. 5/2016 stipulates that everyone has the right to follow their beliefs free of interference.
Ari Kristyanto Nugroho, who is a member of Nahdlatul Ulama (NU) the largest Muslim organization in the country, said he failed to understand why minority groups such as the Ahmadiyah needed to be restricted.
Full report at:
http://www.thejakartapost.com/news/2018/11/15/ahmadi-sunni-muslims-live-peace-wonosobo-java.html
--------
URL: https://www.newageislam.com/islamic-world-news/offering-shia-persons-funeral-prayer/d/116886
New Age Islam, Islam Online, Islamic Website, African Muslim News, Arab World News, South Asia News, Indian Muslim News, World Muslim News, Women in Islam, Islamic Feminism, Arab Women, Women In Arab, Islamophobia in America, Muslim Women in West, Islam Women and Feminism