New Age Islam News Bureau
19 Feb 2015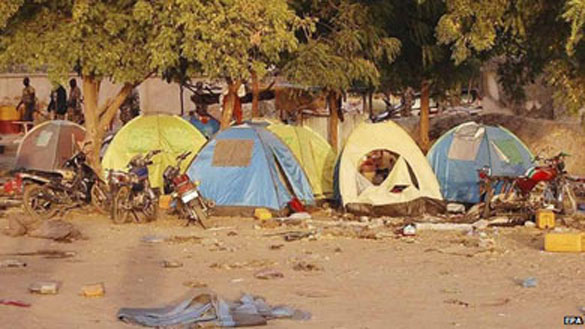 The military says that campsites used by Boko Haram militants in north-east Nigeria have been seized
------------
North America
• Obama Calls Upon Muslim Leaders to Do More to 'Reject the Narratives of Violent Extremists'
• Obama defends 'true peaceful nature of Islam'
• Barack Obama says US 'at war with those perverting Islam'
• Franklin Graham: Obama 'only knows Islam, and he has given a pass to Islam'
• Muslims to form human shield around Oslo synagogue
• Chapel Hill 'hate crime' response criticised by Muslim lawmaker
• Terror or hate? FBI probes Detroit-area stabbings where Muslim suspect reportedly asked victims' faith
• US to allow export of drones
Africa
• Nigeria kills 300 Boko Haram militants
• Arab League urges lifting arms ban on Libya for ISIL fight
• British aid worker shot dead in South Sudan
• Sudan's ongoing war and suffering
Mideast
• Ayatollah: No Muslim Offenses Against Non-Muslims in Iran Since Islamic Revolution
• US and Ankara agree to train Syria rebels in Turkey
• Iran, Iraq oppose dual policies on anti-terror campaign
• Intelligence: ISIL could hit embassies in Turkey
• Turkish lawmakers brawl over protest bill; five injured
• Muslim leader who called Israel a 'suspect' after 9/11 attends White House summit
• How Tehran is fighting ISIL
South Asia
• India-Bangladesh join hands to defeat terror
• Civilian Casualties in Afghanistan Topped 10,000 in 2014
• Bangladesh orders top Jamaat leader to hang, fuelling unrest
• Govt trying to brand BNP-led movement as terrorism
• NATO hopes Australia will stay in Afghanistan after 2016
• Two Soldiers Convicted in Fuel-Selling Scam in Afghanistan
Pakistan
• Sharif calls for action against seminaries backing terrorism
• Pakistan officials say Afghan Taliban signal readiness for peace talks
• Attacks won't ignite sectarian strife, says MWM chief
• Pakistanis Try to Nudge Taliban Along the Path to Peace Talks With Kabul
• SC unhappy over delays in case about Pakistanis stranded in Bangladesh
• Ulema condemn terror attack
• Need to work overtime to end sectarian attacks: Nisar
• Three terrorists killed in Panjgur
• Pakistan to train Iraqi military pilots
• US lauds 'deepening' Pak-Afghan cooperation
Europe
• Kareem Abdul-Jabbar: Claiming Isis represents Islam is like claiming to the Ku Klux Klan represents Christianity
• Rotterdam Muslim Mayor Urge Dialogue
• Europe court upholds religion ruling on Turkey schools
• Copenhagen attacks renew debate over Europe integration struggles
• Putin directs Muslim anger toward Cold War foes
• European Muslims face new challenges post-Charlie Hebdo
• Muslim charity chief quits after 'Zionists control Europe' event
• Dutch Muslim Mayor: I can say things my colleagues can't
Southeast Asia
• Isis a result of Israeli atrocities, Muslim governments' failure, says Dr M
• Husband-to-be coaxed teen to join Isis, says top cop – Bernama
• Najib rubbishes claim Sirul acted under orders to kill Altantuya
• Malaysia PM denies 2006 murder claim
• Debate with Bar instead of roadshow on Anwar case, minister tells Shafee
Arab World
• ISIS Attacks Near Erbil, Iraq, Repelled by Peshmerga: Kurds
• US-led coalition against IS meets in S. Arabia
• Saudi court upholds 15 years' jail for rights lawyer
• Here is the Army's declassified Iraq prison file on the leader of ISIS
• Uneasy Alliances as Fractured Iraq Battles IS Group
• Iraq army, volunteer forces liberate areas in Tikrit
• Saudi officials ask PIA to clear dues
• Qatar recalls ambassador from Egypt
India
• Lord Shiva was Muslims' first prophet, says Jamiat Ulema Mufti Muhammad Ilyas
• Muslims welcome Modi's secular stand with a little caveat
• India Muslims Complain of Police Bias
• JK govt formation: PDP plays hardball, for BJP it's a win-win situation
• Explain Who Blew Up Fishing Boat, Says Pakistan to India
Compiled by New Age Islam News Bureau
URL: https://www.newageislam.com/islamic-world-news/new-age-islam-news-bureau/obama-calls-upon-muslim-leaders-to-do-more-to-'reject-the-narratives-of-violent-extremists'/d/101601
-----------
North America
Obama Calls Upon Muslim Leaders to Do More to 'Reject the Narratives of Violent Extremists'
By Josh Feldman
February 18th, 2015
President Obama spoke quite a bit today about Islam and extremism today, and at one point said that Muslim leaders need to step up and do more to reject the words of terrorists and extremists about the narrative that "the West is at odds with Islam."
Obama acknowledged plenty of grievances the Muslim world holds, and how many nations buy into wrongheaded beliefs like "Islam is incompatible with modernity or tolerance."
The president also said that it's not just Western leaders, but Muslim leaders who need to step up and denounce the words of extremists:
"So just as leaders like myself reject the notion that terrorists like ISIL genuinely represent Islam, Muslim leaders need to do more to discredit the notion that our nations are determined to suppress Islam, that there is an inherent clash in civilizations."
He added everyone should be doing their part to "reject the narratives of violent extremists."
http://www.mediaite.com/tv/obama-calls-upon-muslim-leaders-to-do-more-to-reject-the-narratives-of-violent-extremists/
-----------
Obama defends 'true peaceful nature of Islam'
February 19, 2015
WASHINGTON - US President Barack Obama, who has convened a summit on the threat of violent extremism, on Wednesday, defended the 'true peaceful nature of Islam' in a newspaper article. He wrote in The Los Angeles Times that while the United States has 'decimated the core al Qaeda leadership' and strengthened homeland security, the root of the problem remains. 'Groups like al Qaeda and IS promote a twisted interpretation of religion that is rejected by the overwhelming majority of the world's Muslims. The world must continue to lift up the voices of Muslim clerics and scholars who teach the true peaceful nature of Islam,' Obama wrote.
'We can echo the testimonies of former extremists who know how terrorists betray Islam.' Obama notes how threats have evolved since 9/11. 'In the face of this challenge, we must stand united internationally and here at home.' Obama writes. 'We know that military force alone cannot solve this problem. Nor can we simply take out terrorists who kill innocent civilians.'
Analysts noted that he refrained from using 'Islamic terrorism' or 'Islamic extremist,' instead referring to the Islamic State as 'individuals from various religions' with 'hateful ideologies.' 'This week, we'll be joined by people of many faiths, including Muslim Americans who make extraordinary contributions to our country every day,' he added. 'It's a reminder that America is successful because we welcome people of all faiths and backgrounds.' 'Our campaign to prevent people around the world from being radicalised to violence is ultimately a battle for hearts and minds,' Obama said.
'With this week's summit, we'll show once more that - unlike terrorists who only offer misery and death - it is our free societies and diverse communities that offer the true path to opportunity, justice and dignity.' When describing the cold-blooded murder of three young Muslim students near the University of North Carolina last week, Obama explained that Americans of all religions must 'insist that no one should ever be targeted because of who they are, what they look like, or how they worship.' In his op-ed, Obama said 'we do not yet know why' the students were killed. 'We know that many Muslim Americans across our country are worried and afraid,' Obama wrote. 'Americans of all faiths and backgrounds must continue to stand united with a community in mourning.' The President stated that while the US has 'decimated the core al Qaeda leadership, strengthened homeland security and worked to prevent another large-scale attack like 9/11,' the only way groups such as ISIS can be brought to justice for barbaric killings and ruthless acts is if the world can 'stand united internationally.'
'We know that military force alone cannot solve this problem,' Obama wrote. 'Nor can we simply take out terrorists who kill innocent civilians. We also have to confront the violent extremists - the propagandists, recruiters and enablers - who may not directly engage in terrorist acts themselves, but who radicalise, recruit and incite others to do so.' Obama has asserted that the US campaign to prevent people around the world from being radicalised to violence is ultimately a battle for 'hearts and minds' and governments that deny human rights 'play into the hands' of extremists. 'Govts that deny human rights play into the hands of extremists who claim that violence is the only way to achieve change. 'Efforts to counter violent extremism will only succeed if citizens can address legitimate grievances through the democratic process and express themselves through strong civil societies,' Obama wrote.
'Those efforts must be matched by economic, educational and entrepreneurial development so people have hope for a life of dignity,' he said.
'Our campaign to prevent people around the world from being radicalised to violence is ultimately a battle for hearts and minds,' Obama added.
Obama noted that in Syria and Iraq, 'the terrorist group has slaughtered innocent civilians and murdered hostages, including Americans, and has spread its barbarism to Libya with the murder of Egyptians.'
'In recent months, we've seen deadly attacks in Ottawa, Sydney, Paris and Copenhagen. Elsewhere, the Pakistani Taliban massacred more than 100 school children and their teachers. From Somalia, Al Shabaab has launched attacks across East Africa. In Nigeria and neighbouring countries, Boko Haram kills and kidnaps men, women and children,' Obama wrote. Stating that with al Qaeda and Daesh peddling the lie that the US is at war with Islam, Obama said Americans have a role to play by upholding the pluralistic values that define the country.
'That pluralism has at times been threatened by hateful ideologies and individuals from various religions. We've seen tragic killings at a Sikh temple in Wisconsin in 2012 and at a Jewish community centre in Kansas last year,' he said.
http://nation.com.pk/international/19-Feb-2015/obama-defends-true-peaceful-nature-of-islam
-----------
Barack Obama says US 'at war with those perverting Islam'
19 February 2015
US President Barack Obama says the US is "not at war with Islam - we are at war with the people who have perverted Islam".
He was speaking to representatives from 60 nations attending a three-day event on extremism that follows attacks in Denmark and France.
Mr Obama said the world had to confront the ideologies that radicalise people.
He said those heading groups like Islamic State and al-Qaeda were not religious leaders but terrorists.
Mr Obama said associating Islamic State or al-Qaeda with Islam would be buying into the propaganda of those groups, challenging critics who have questioned him for not describing recent attacks as the work of "Islamic radicals".
Analysis: BBC's Barbara Plett Usher in Washington
The idea for the conference came from Islamist-inspired attacks in Canada and Australia, and it was announced right after the Charlie Hebdo shootings in France.
Given that context, the White House has been criticised for resolutely refusing to link violent extremism with the religion of Islam. But President Obama has forcefully held his ground, arguing that denying religious legitimacy to terrorists is an important part of countering the radicalisation of potential recruits.
Prevention is the focus of the conference. It's mobilised people from the trenches in the battle for hearts and minds to share best practices: everyone from teachers to entrepreneurs to Silicon Valley executives have been talking about community outreach to marginalised youth and counter-messaging Islamists on social media.
International delegates will also have their say. But critics say the topic may be too broad to result in any meaningful action from a conference with more than 60 nations represented. Administration officials talk about an action plan, but they've described it vaguely as a "catalyst activity" rather than a concrete outcome.
http://www.bbc.com/news/world-us-canada-31523213
-----------
Franklin Graham: Obama 'only knows Islam, and he has given a pass to Islam'
February 18, 2015
The Rev. Franklin Graham said to a Fox News audience that President Obama is seriously understating the Islam tie to recent acts of terrorism around the world — but no wonder, he "only knows Islam."
The context of the discussion was the White House's failure to use the term "radical Islam" when describing Islamic State and al Qaeda terrorists, Newsmax reported.
"His mother was married to a Muslim. His father was a Muslim," Mr. Graham said during an "On the Record with Greta Van Susteren" interview. "Then she married a man from Indonesia. He was raised in Indonesia. Went to Islamic schools. I assume she was a Muslim. So his whole life, his experiences have been surrounded by Islam. He only knows Islam. And he has given a pass to Islam."
Bluntly, Mr. Graham said that Mr. Obama, who has claimed to be a Christian, is "refusing to understand the evil that is in front of him," Newsmax reported.
But his ignoring of fact comes at peril to America, the religious leader said.
"The groups are Islamic extremists," he said. "They have already said they want the flag of Islam to fly over the White House."
http://www.washingtontimes.com/news/2015/feb/18/franklin-graham-obama-only-knows-islam-and-he-has-/
-----------
Muslims to form human shield around Oslo synagogue
19 February 2015
A group of Muslims in Norway plans to form a 'ring of peace' around a synagogue in Oslo on Saturday, The Washington Post reported on Wednesday.
The newspaper quoted a Facebook page in Norwegian language, the translated version of which is shared below:
Islam is about protecting our brothers and sisters, regardless of which religion they belong to. Islam is about rising above hate and never sinking to the same level as the haters. Islam is about defending each other. Muslims want to show that we deeply deplore all types of hatred of Jews, and that we are there to support them. We will therefore create a human ring around the synagogue on Saturday, February 21. Encourage everyone to come!
Ervin Kohn, a leader of Oslo's small Jewish community, had agreed to allowing the event on the condition that more than 30 people show up — a small gathering would make the effort look "counter-productive," Kohn said.
Full report at:
http://www.dawn.com/news/1164439/muslims-to-form-human-shield-around-oslo-synagogue
-----------
Chapel Hill 'hate crime' response criticised by Muslim lawmaker
18 February 2015
Washington's first Muslim congressman has publicly rebuked the Obama administration's terrorism strategy during a White House summit on countering violent extremism, warning that recent moves to prevent money transfers to Somalia risked radicalising its large expatriate community in the US.
Keith Ellison, who represents a Minnesota district with the highest Muslim population in the US, also criticised the response to the murder of three students in Chapel Hill, North Carolina, arguing that a failure to prosecute hate crimes fuelled the narrative that America was at war with Islam.
Ellison's remarks came on the second day of a summit characterised until now by vice-president Joe Biden's claims the US was more experienced than Europe at preventing extremism because of its history as a immigrant nation.
Full report at:
http://www.theguardian.com/us-news/2015/feb/18/ketih-ellison-muslim-chapel-hill-hate-crime
-----------
Terror or hate? FBI probes Detroit-area stabbings where Muslim suspect reportedly asked victims' faith
February 18, 2015
The FBI is probing a frightening Valentine's Day attack near Detroit, where a suspect stabbed two men after they told him they were not Muslim, to determine if the attack was a hate crime or even the work of a home-grown radical, a former Motor City FBI chief said Tuesday.
Detroit police contacted the federal law enforcement agency after Terrence Lavaron Thomas, 39, was charged with two counts of assault with intent to murder after allegedly attacking two men with a 3-inch blade at a bus stop near a shopping mall on Saturday. Both victims suffered stab wounds, and were treated and released from a hospital for non-life threatening injuries. But it was the exchange the suspect allegedly had with his victims, in which he asked if they were Muslim, that has prompted a further investigation.
Full report at:
http://www.foxnews.com/us/2015/02/18/terror-or-hate-fbi-probes-detroit-area-stabbings-where-muslim-suspect/
-----------
US to allow export of drones
19 February 2015
WASHINGTON: The United States has said that it will allow for the first time the widespread export of armed drones to some allied countries as part of its global counter-terrorism fight.
Armed drones are a cornerstone of Washington's battle against extremists in Afghanistan, Pakistan, Somalia, Syria, Iraq and Yemen, although they remain hugely controversial and opponents say they frequently kill or maim civilians.
"The United States is the world's technological leader in the development and deployment of military Unmanned Aerial Systems (UAS, or drones)," the State Department said in a statement.
Full report at:
http://www.dawn.com/news/1164513/us-to-allow-export-of-drones
-----------
Africa
Nigeria kills 300 Boko Haram militants
February 19, 2015
MAROUA, Cameroon/MAIDUGURI - N igerian forces have killed more than 300 Boko Haram fighters during an operation to recapture 11 towns and villages since the start of the week, the military said on Wednesday, as regional neighbours also pounded the militants.
"Weapons and equipment were also captured and some destroyed," defence spokesman Major-General Chris Olukolade said in a statement. "However, two soldiers lost their lives while 10 others were wounded," he added. It was not possible to independently verify the military's statement. Nigerian forces have in past been accused of overstating enemy casualties while greatly understating their own and those of civilians caught in the crossfire.
Cameroonian forces supported by Chad's air force carried out air strikes and used heavy artillery against Boko Haram in the village of Gourgouroon, on the Nigeria-Cameroon border, Cameroon army spokesman Colonel Didier Badjeck said.
Boko Haram's relentless attacks on military and civilians have killed thousands since the group launched its violent campaign for a breakaway Islamic state in mid-2009, threatening the stability of Africa's biggest economy and top oil producer as well as that of the entire region. Boko Haram was cited as a reason for postponing by six weeks a Nigerian presidential election that had been due to take place this past Saturday. In a video on Tuesday, Boko Haram leader Abubakar Shekau appeared in a video monitored by the US-based SITE Intelligence Group in which he threatened to disrupt the upcoming vote. But in the past two weeks the tide has appeared to turn against them, as neighbours Chad, Cameroon and Niger, all of whom are plagued by Boko Haram insurgents, have weighed in.
Full report at:
http://nation.com.pk/international/19-Feb-2015/nigeria-kills-300-boko-haram-militants
-----------
Arab League urges lifting arms ban on Libya for ISIL fight
Feb 18, 2015
The Arab League has called for the removal of a UN ban on arms sales to Libya citing a fight against the ISIL Takfiris in the country.
The 22-nation Arab body held an emergency meeting in the Egyptian capital Cairo on Wednesday following the decapitation of 21 Coptic Christians by the terrorists in Libya.
"The Arab League also states that the crisis in Libya needs to be solved by political means and the ban on arms sales to the Libyan armed forces should be lifted," read a statement released after the meeting.
The United Nations and the European Union imposed sanctions on the regime of the country's former dictator, Muammar Gaddafi, back in February 2011.
The ISIL has recently made an advance in Libya propagandized by a video released last week showing the beheading of 21 Egyptian Christians and an earlier announcement of the terror act in an issue of their magazine, Dabiq.
Full report at:
http://www.presstv.in/Detail/2015/02/18/398196/Arab-League-takes-on-ISIL-in-Libya-
-----------
British aid worker shot dead in South Sudan
February 19, 2015
JUBA - A British aid worker in war-torn South Sudan was shot dead late Tuesday in the capital Juba, the government said. The Briton, who was working for the US aid organisation the Carter Center, was killed by a gunman who followed him into his compound in Juba, according to presidential spokesman Ateny Wek Ateny. "It has been confirmed that a British staff member in the Carter Center was killed, a crime we condemn in the strongest terms possible," Ateny told AFP. "He was driving in his car, and when he arrived at his gate he got out of the car, then while walking he was shot," he said, adding that "police have rounded up some people to get some clues."
In London, the Foreign Office confirmed that a British national had been killed.
Aid workers have been targeted multiple times in the 14-month long war, including gunmen shooting down a UN helicopter and peacekeepers killed.
http://nation.com.pk/international/19-Feb-2015/british-aid-worker-shot-dead-in-south-sudan
-----------
Sudan's ongoing war and suffering
Ashley Hamer
19 Feb 2015
Angartu, Sudan - During the biggest escalation in hostilities since the start of the war in 2011, Sudanese government forces (SAF) came within 20km of the rebel stronghold Kauda in Sudan's South Kordofan state.
SAF shelled the front line town of Angartu and rebel Sudan People's Liberation Army-North (SPLA-North) evacuated all civilians from the area. About 4,000 people were relocated to safer rebel-held territory in the bush closer to Kauda.
A nine-day battle in early January ensued, in which SAF forces captured Angartu and were heading for Kauda, until SPLA-North troops managed to push them back.
According to rebel commander Aburass Albino Kuku, his group of 400 men outfought an SAF force of up to 2,000 soldiers.
Full report at:
http://www.aljazeera.com/indepth/inpictures/2015/02/sudan-ongoing-war-suffering-150217151936980.html
-----------
Mideast
Ayatollah: No Muslim Offenses Against Non-Muslims in Iran Since Islamic Revolution
February 19, 2015
Iran's supreme leader seized on Islamic terrorists' murder of Christians by asserting this week that since the 1979 Islamic revolution, Muslims in Iran have never committed offenses against non-Muslims.
Religious freedom activists consider the Iranian regime to be among the world's worst persecutors of Christians, Baha'i and other non-Shi'ite Muslim minorities.
"In Iran after Islamic Revolution, there is no record of an offense being done by Muslims ag[ai]nst non-Muslims," Ayatollah Ali Khamenei tweeted to his one hundred thousand Twitter followers.
He added "#ChristianLivesMatter," a hashtag that has become popular since last fall in tweets relating to Christian persecution, especially at the hands of Islamic extremists.
In related tweets, Khamenei said, "We don't forget how much Iranian Christians have taken pains to render services & some of them have martyred in Saddam's war against Iran."
"Imam Ali said there's no blame if a Muslim dies of sadness b/c [because] enemy harassed a non-Muslim living in Islamic country," went another tweet. Imam Ali, Mohammed's cousin, is regarded by Shi'ites as the prophet's true successor.
(The series of tweets also carried the hashtag #Letter4U," a reference to an open letter Khamenei wrote to "the youth in Europe and North America" late last month, urging them not to buy into anti-Islam sentiment but to investigate the religion firsthand, through studying "the Qur'an and the life of its great Prophet.")
Full report at:
http://www.cnsnews.com/news/article/patrick-goodenough/ayatollah-no-muslim-offenses-against-non-muslims-iran-islamic
-----------
US and Ankara agree to train Syria rebels in Turkey
18 Feb 2015
Turkey and the United States have reached a tentative agreement to train and equip fighters from the moderate Free Syrian Army (FSA), Turkish and US foreign ministry officials have announced.
"I can confirm that we have reached an agreement in principle with Turkey on training and equipping the Syrian opposition groups," State Department spokeswoman Jen Psaki told reporters on Tuesday.
"Negotiations have been concluded and an agreement text will be signed with the US regarding the training of the Free Syrian Army in the coming period," Turkey's foreign ministry spokesman Tanju Bilgic said on Tuesday.
"The agreement is expected to be put into practice in March," he said, adding that details of the deal will be announced "in the coming days".
Full report at:
http://www.aljazeera.com/news/2015/02/ankara-close-deal-train-fsa-turkey-150217181531857.html
-----------
Iran, Iraq oppose dual policies on anti-terror campaign
Feb 18, 2015
Iran and Iraq have warned against the danger of terrorism as the most important regional and international challenge, and expressed their opposition to double-standard policies on anti-terror campaign.
Tehran and Baghdad issued a joint statement on Wednesday at the end of a three-day visit by Iranian First Vice President Es'haq Jahangiri to Iraq upon an official invitation by the country's Prime Minister Haider al-Abadi.
According to the statement, Iran and Iraq share a common stance on the ongoing security and political developments in the region and stress the importance of regular bilateral and multilateral consultation on ways to tackle security challenges.
It added that the two countries urge the expansion of political, security, economic and trade cooperation.
Full report at:
http://www.presstv.in/Detail/2015/02/18/398194/Iran-Iraq-object-dual-antiterror-bid
------------
Intelligence: ISIL could hit embassies in Turkey
February 19 2015
The Turkish intelligence agency has issued a warning for the police and gendarmerie about Islamic State of Iraq and Levant (ISIL) members who have retreated from Kobane in northern Syria and crossed into Turkey.
The jihadist militants could be working on armed or bombing attacks in Ankara and Istanbul against the diplomatic missions of the countries involved in the U.S.-led anti-ISIL coalition, according to the National Intelligence Organization (MİT).
Kurdish forces recaptured Kobane from ISIL militants on Jan. 26 after fighting for more than four months since the initial attack in September 2014. The air support of the U.S.-led coalition forces and peshmerga crossing to Kobane through Turkey were also effective in this victory.
Full report at:
http://www.hurriyetdailynews.com/intelligence-isil-could-hit-embassies-in-turkey.aspx?pageID=238&nID=78545&NewsCatID=359
-----------
Turkish lawmakers brawl over protest bill; five injured
19 February 2015
ANKARA: The Turkish parliament descended into chaos when a furious brawl erupted as the country's ruling party sought to push through a controversial bill boosting the powers of police in protests.
Some lawmakers brandished ceremonial gavels as they chased their counterparts from other parties, in the sometimes farcical late-night fracas overnight on Tuesday to Wednesday that left five deputies injured.
Others hurled glasses at their fellow lawmakers, eyewitness Melda Onur, a female MP from the opposition CHP party, told the Hurriyet newspaper. One image posted on the Internet showed another lawmaker surrounded by plants having fallen into an ornamental flowerbed during the fracas.
Full report at:
http://www.dawn.com/news/1164522/turkish-lawmakers-brawl-over-protest-bill-five-injured
-----------
Muslim leader who called Israel a 'suspect' after 9/11 attends White House summit
February 18, 2015
A controversial U.S. Muslim leader who has been highly critical of Israel and said that the Jewish state should be on the "suspect list" in the wake of the 9/11 terror attacks participated on Tuesday in a White House summit on Countering Violent Extremism (CVE) that featured Vice President Joe Biden.
Salam Al-Marayati, founder of the Muslim Public Affairs Council (MPAC), tweeted out a photo of himself at the White House with Biden and bragged, "We joined VP @JoeBiden for a discussion at the @WhiteHouse #CVESummit which kicked off today."
Al-Marayati has been viewed as a controversial figure due to past statements characterized by his critics as anti-Israel and soft on terrorism.
Full report at:
http://www.foxnews.com/politics/2015/02/18/muslim-leader-who-called-israel-suspect-after-11-attends-white-house-summit/
-----------
How Tehran is fighting ISIL
18 Feb 2015
Tehran has much at stake in the tumult afflicting Iraq, expending substantial military and financial aid to shore up its strategic ally in Baghdad, while fortifying its own borders against fighters of the Islamic State of Iraq and the Levant (ISIL), Iranian and Iraqi analysts say.
Until the fall of Iraq's second largest city of Mosul to ISIL last June, Iranian officials, according to analysts, remained largely quiet about the extent of that aid, even as Tehran rapidly intervened to provide arms, training and aerial support to Iraqi security forces, militias and Kurdish Peshmerga fighters.
It wasn't until fall 2014, amid reports of US overtures to Iran for open cooperation in battling ISIL if a deal is struck over Tehran's contested nuclear programme, that Iran began publicly touting its heightened role in Iraq on a much larger scale.
Full report at:
http://www.aljazeera.com/news/2015/02/tehran-fighting-isil-150217115848388.html
-----------
South Asia
India-Bangladesh join hands to defeat terror
19 February 2015
In home secretary level talks concluding on Wednesday, India and Bangladesh have agreed to tread an extra mile to help each other in resolving anti-national and terror activities in their areas.
Bangladesh has assured India that it would construct border outposts along the uncharted territory of Tripura and Mizoram to check proliferation of camps of Indian insurgent groups in Chittagong area and to put a stop to unbridled human trafficking through the porous border.
"To help India weed out terror training camps of insurgent groups, Bangladesh has offered to construct 40 more border outposts in addition to the 13 that have already been constructed. The BOPs will be manned by the Border Guards Bangladesh (BGB) to ensure that IIGs camps are demolished and one of the biggest corridors for human trafficking is plugged," sources said.
Full report at:
http://www.dnaindia.com/india/report-india-bangladesh-join-hands-to-defeat-terror-2062280
-----------
Civilian Casualties in Afghanistan Topped 10,000 in 2014
Feb. 18, 2015
Increased ground fighting led to the highest civilian casualty rate in Afghanistan since record-keeping began in 2009
More civilians died in Afghanistan in 2014 than in any year since the year the United Nations began keeping records in 2009, signaling a new level of violence and ground engagements between Taliban insurgents and the embattled Kabul-based government.
The U.N. said Wednesday that it documented 10,548 civilian casualties in 2014, including almost 3,700 deaths, a 25% rise in fatalities over the year before. It was the first year casualties surpassed 10,000 since record-keeping began in 2009.
Full report at:
http://time.com/3713176/afghanistan-civillian-casualties/
-----------
Bangladesh orders top Jamaat leader to hang, fuelling unrest
19 February 2015
DHAKA: Bangladesh's war crimes tribunal ordered the execution of a senior Islamist leader Wednesday after convicting him of atrocities during the country's 1971 independence war, triggering violence outside the court.
Three Molotov cocktails thrown by suspected anti-government activists exploded outside the courthouse in central Dhaka as Abdus Subhan, a vice president of Bangladesh's largest Islamist party, Jamaat-Islami, was found guilty of murder, genocide and torture.
The verdict is expected to further inflame tensions in Bangladesh where an alliance of opposition parties, including Jamaat, is trying to topple the government of Prime Minister Sheikh Hasina.
Full report at:
http://www.dawn.com/news/1164403/bangladesh-orders-top-jamaat-leader-to-hang-fuelling-unrest
-----------
Govt trying to brand BNP-led movement as terrorism
February 19, 2015
BNP yesterday accused the government of spreading propaganda to establish the party-led ongoing agitation as a "movement of terrorists and militants".
In a statement, BNP Joint Secretary General Salahuddin Ahmed also claimed that they had already presented information before the nation that the ruling party men were involved in "all" petrol bomb attacks.
Pointing out Prime Minister Sheikh Hasina's remarks that the present situation was like the Liberation War, he said she was correct. The people fought against the ruler in 1971 and they are fighting similarly now, the BNP leader added.
Full report at:
http://www.thedailystar.net/city/govt-trying-to-brand-bnp-led-movement-as-terrorism-65521
-----------
NATO hopes Australia will stay in Afghanistan after 2016
February 19, 2015
The military head of NATO has confirmed the alliance hopes Australia will remain in Afghanistan - including militarily - beyond the current withdrawal date of the end of 2016.
NATO military committee chairman General Knud Bartels has also told Fairfax Media in a wide-ranging interview that it will take "decades" to defeat Islamic extremism in the Middle East.
"Engaging ISIL and defeating ISIL and putting in place sustainable government institutions across the whole range of the [Middle East] area will take a long time," he said, using the acronym for the Islamic State terror group.
Full report at:
http://www.smh.com.au/federal-politics/political-news/nato-hopes-australia-will-stay-in-afghanistan-after-2016-20150219-13ihny.html
-----------
Two Soldiers Convicted in Fuel-Selling Scam in Afghanistan
Feb 18, 2015
Two American soldiers in Afghanistan have been convicted on federal charges of bribery and fraud in connection with a scheme to sell fuel on the black market in the eastern part of the country.
Sgt. James Edward Norris, 41, of Fort Irwin, Calif, and Sgt. Seneca Darnell Hampton, 31, of Fort Benning, Ga., pleaded guilty last week to charges of money laundering and conspiring to bribe a public official, the Justice Department said in statement. Both soldiers will be sentenced in May.
Full report at:
http://www.military.com/daily-news/2015/02/18/two-soldiers-convicted-in-fuel-selling-scam-in-afghanistan.html
-----------
Pakistan
Sharif calls for action against seminaries backing terrorism
Saleem Shahid
19 February 2015
QUETTA: Prime Minister Nawaz Sharif has directed the provincial governments to implement the National Action Plan (NAP) and take stern action against terrorist organisations and proceed speedily on those death penalty cases in which mercy petitions have been rejected.
Presiding over a meeting of the Balochistan Apex Committee held here on Wednesday, he said religious seminaries and organisations involved in terrorist activities should be identified and proceeded against. No terrorist or militant organisation should be spared.
Also read: NAP objectives have to be met: PM
The meeting was attended by Army Chief General Raheel Sharif, Balochistan Governor Mohammad Khan Achakzai, Chief Minister Dr Abdul Malik Baloch, Defence Minister Khawaja Mohammad Asif, ISI Director General Lt Gen Rizwan Akhtar, federal ministers Khawaja Saad Rafeeq and Jam Mohammad Kamal, Commander Southern Command Lt Gen Nasser Khan Janjua, Senior Minister and PML-N's Balochistan President Sardar Sanaullah Zehri, Home Minister Mir Sarfarz Bugti, former prime minister Mir Zafarullah Jamali, Chief Secretary Saifullah Chattha, Home Secretary Mohammad Akbar Durrani, Balochistan Inspector General Mohammad Amlish Khan and Frontier Corps (Balochistan) IG Maj Gen Shair Afghan.
The prime minister stressed that terrorism must be dealt with sternly and militant and terrorist organisations which were not ready to hold peace talks with the government would have to face action.
Full report at:
http://www.dawn.com/news/1164537/sharif-calls-for-action-against-seminaries-backing-terrorism
-----------
Pakistan officials say Afghan Taliban signal readiness for peace talks
BY MEHREEN ZAHRA-MALIK AND JIBRAN AHMAD
Feb 19, 2015
Senior Pakistani army and diplomatic officials said on Thursday the leadership of the Afghan Taliban has signalled through the Pakistani military that they are willing to open peace talks, which could be held later in the day.
Sources within the Afghan Taliban said their negotiators would hold the first round of peace talks with U.S. officials in Qatar later on Thursday, although no comment was immediately available from U.S. or Qatari officials.
Previous efforts to negotiate an end to a war that began in late 2001 have proved fruitless, but the latest signals raised hopes of a much-needed boost for new Afghan President Ashraf Ghani.
"The first session will take place today in Qatar and then there would be another session on Friday. Let us see what happens as talks before did not yield any results," a senior member of the Afghan Taliban said by telephone from Qatar.
Full report at:
http://in.reuters.com/article/2015/02/19/afghanistan-pakistan-taliban-idINKBN0LN09Z20150219
-----------
Attacks won't ignite sectarian strife, says MWM chief
February 19, 2015
LAHORE - Majlis-e-Wajdatul Muslimeen (MWM) chief Allama Nasir Abbas Jaffari, disagreeing to the assessment made by some security and political circles that the ongoing attacks against leaders of the two sects and imambargahs could ignite sectarian strife, said Wednesday that there was no such threat in the country as the terrorists attacking imambargahs were members of the network under attack in Zarb-e-Azb operation.
Talking to The Nation after Rawalpindi imambargah attack, Allama Nasir Abbas Jaffari, ruling out the possibilities of sectarian warfare in the country, asked the Pak Army and political forces serious in eliminating terrorism to join hands for sending home the sitting government, which he alleged as part and parcel of the elements against whom operation Zarb-e-Azb was being carried out.
Full report at:
http://nation.com.pk/national/19-Feb-2015/attacks-won-t-ignite-sectarian-strife-says-mwm-chief
-----------
Pakistanis Try to Nudge Taliban Along the Path to Peace Talks With Kabul
By AZAM AHMED and JOSEPH GOLDSTEIN
FEB. 18, 2015
KABUL, Afghanistan — Pakistan's top military and intelligence officials have begun pressing the Taliban to sit down for face-to-face discussions with the Afghan government, potentially opening a path for direct peace talks for the first time since the start of the American-led invasion in 2001, according to Western and Afghan officials briefed on the discussions.
In meetings in Kabul this week, the Pakistani delegation, led by the nation's army chief of staff, told Afghan leaders that the Taliban appeared willing to meet for negotiations in the coming month, according to Western officials, who spoke on condition of anonymity because the talks are private.
If true, that would be a sharp reversal both for the insurgents, who have fought a deadly 13-year campaign against the government, and for the Pakistani military, which has long been accused of nurturing the Afghan Taliban as proxies.
Full report at:
http://www.nytimes.com/2015/02/19/world/pakistan-tries-to-steer-taliban-along-path-to-peace-talks-in-afghanistan.html
-----------
Ulema condemn terror attack
February 19, 2015
LAHORE - A session of scholars from Deobandi and Brelvi schools of thought was held at Jamia Qudsia near College Road Township on Wednesday in which they condemned the terrorism activities in Pakistan and also expressed their concerns over what they said the victimizing of seminaries and scholars by law and order agencies especially after the Peshawar school incident.
Full report at:
http://nation.com.pk/lahore/19-Feb-2015/ulema-condemn-terror-attack
------------
Need to work overtime to end sectarian attacks: Nisar
Anwar Iqbal
19 February 2015
WASHINGTON: Pakistan would have to work overtime to address the sectarian issue, said Interior Minister Chaudhry Nisar Ali Khan as three people were killed in yet another sectarian attack in Rawalpindi on Wednesday.
As the minister spoke at the US Institute of Peace in Washington, protesters bombarded the social media with demands for more concrete action to curb sectarian attacks.
Mr Khan said the government was already utilising all its resources to combat the militants, who were the product of the Afghan jihad.
Also read: No short-term solution to terrorism: Nisar
"They live among us, speak the language we speak, wear the same dress, and eat the same fruit. That's why it's difficult to trace them," he said. "It is also difficult to pick up their communications because they use word of mouth."
Full report at:
http://www.dawn.com/news/1164542/need-to-work-overtime-to-end-sectarian-attacks-nisar
-----------
Three terrorists killed in Panjgur
February 19, 2015
PANJGUR/ZHOB - Three terrorists and a Frontier Corps (FC) Jawan were killed in exchange of fire between militants and FC in Panjgur district of Balochistan on Wednesday.
According to FC sources, during a search operation some unidentified militants opened fire at FC personnel in which a soldier was martyred and another wounded. In retaliation, at least three suspected terrorists were killed.
In another operation, the Frontier Corps recovered five abducted PTCL employees from Kanokai area of Zhob near Pak-Afghan border. They were kidnapped from Qila Saifullah last week. The recovered employees were identified as Sajjad Baig, Muhammad Tahir, Muhammad Nabi, Asad Khan and Muhammad Abbas.
Full report at:
http://nation.com.pk/national/19-Feb-2015/three-terrorists-killed-in-panjgur
-----------
Pakistan to train Iraqi military pilots
February 19, 2015
BAGHDAD : Senate Chairman Nayyer Hussain Bukhari announced on Wednesday that his country will train Iraqi military pilots.
Bukhari said at a joint news conference with the Parliament Speaker, Salim al-Jubouri that, "What we talked about is training Iraqi pilots in Pakistan," noting that " there are many countries training its pilots in Pakistan including, Saudi Arabia and Malaysia.
" "There is terrorism in our land and on the land of Iraq also , we and they are determined to eliminate it," calling on all states to fight terrorism in any part of the world.
http://nation.com.pk/national/19-Feb-2015/pakistan-to-train-iraqi-military-pilots
--------
US lauds 'deepening' Pak-Afghan cooperation
February 19, 2015
WASHINGTON - The United States Tuesday welcomed Pakistan Army Chief Gen Raheel Sharif's visit to Kabul as representing 'deepening cooperation' between Pakistan and Afghanistan towards security in the region.
During a one-day trip, Gen Sharif met Afghan President Ashraf Ghani and Chief Executive Abdullah Abdullah.
This was Gen Sharif's third trip to Afghanistan since President Ghani's inauguration, and his second since a devastating attack on a school in Peshawar that killed 134 children and 16 adults.
Responding to a question about Gen Sharif's visit during a conference call with reporters, State Department Spokesperson Jen Psaki said, "We know that obviously there's a one-day meeting to discuss security cooperation, so certainly we think that falls into the category of efforts to deepen cooperation, which we would support.
http://nation.com.pk/national/19-Feb-2015/us-lauds-deepening-pak-afghan-cooperation
-----------
Europe
Kareem Abdul-Jabbar: Claiming Isis represents Islam is like claiming to the Ku Klux Klan represents Christianity
19 February 2015
Kareem Abdul-Jabbar has likened comparisons of Isis representing Islam as no different to describing the Ku Klux Klan as "Christian knights".
The retired NBA star, who converted from Roman Catholicism to Islam at university, appeared on US V show Morning Joe on Monday.
Asked by host Mika Brzezinski what he thought really drove the militant group, he said: "It's a play for money and power, and these people try to impose their will on people so people will listen to them, and they can be in charge. That's all it's about. They've taken on a fascist attitude and a fascist approach to everything. You do what we say or you die."
"You can make parallels to things that have happened here in America. Like the Ku Klux Klan saying they are the Christian knights," he added. "And they do not practice Christianity."
Using the First Crusade of 1095 as an example, he said that religion has always been used "as an excuse" to gain status and commit harrowing acts of violence, like beheadings and execution by burning.
Full report at:
http://www.independent.co.uk/news/people/kareem-abduljabbar-claiming-isis-represents-islam-is-like-claiming-to-the-ku-klux-klan-represents-christianity-10053572.html
-----------
Rotterdam Muslim Mayor Urge Dialogue
18 February 2015
CAIRO – Being a devout practicing Muslim himself, Rotterdam Mayor Ahmed Aboutaleb has urged Muslims to distance themselves from extremist attacks falsely linked to their religion, stressing that dialogue and education can eliminate misconceptions about Islam.
"More than ever, international tensions are having an impact on the local community. For that reason, there must be room for anger and grief," Mayor Aboutaleb said in his speech yesterday in the White House in Washington, NL Times reported on Wednesday, February 18.
"At the same time, we need to ensure that international conflicts do not degenerate into hostilities in our streets."
Full report at:
http://www.onislam.net/english/news/europe/483113-rotterdam-muslim-mayor-urge-dialogue.html
-----------
Europe court upholds religion ruling on Turkey schools
19 Feb 2015
The European Court of Human Rights (ECHR) has rejected an appeal by Turkey, upholding a September 2014 ruling that mandatory secondary school religious classes were in breach of the "right to education".
The top human rights court's decision was announced in the list of Grand Chamber's rejected referrals on Tuesday without a further statement. The judgement is now final, according to the Strasbourg-based ECHR.
The case of Mansur Yalcin and Others v Turkey was filed in February 2011, by 14 Turkish nationals of Alevi faith living in Istanbul.
Alevism is a branch of Islam mixing Shia, Sufi and Anatolian folk traditions in their practices and philosophy. Making up 15-20 percent of Turkey's 76 million population, Alevi Muslims perform rituals in their own places of worship, called cemevi, and not in mosques.
In their 2011 application, the plaintiffs said the curriculum of compulsory secondary school classes in "religion and ethics" across Turkey was based on the Sunni sect's understanding of Islam.
Full report at:
http://www.aljazeera.com/news/middleeast/2015/02/europe-court-upholds-religion-ruling-turkey-schools-150218085054274.html
-----------
Copenhagen attacks renew debate over Europe integration struggles
19 February 2015
Copenhagen (AFP) - A drab collection of four-storey buildings in a rough area of Copenhagen has become a potent symbol of Denmark's struggles with integrating Muslims in the wake of last week's attacks.
The Mjoelnerparken neighbourhood was the home of 22-year-old Omar El-Hussein, the Danish-born man of Palestinian origin who is believed to have carried out the attacks that killed two people.
It is also where 86 percent of residents have an immigrant background and 46 percent have no job -- in a country where unemployment is among the lowest in the European Union.
Like similar immigrant-heavy districts in other big European cities, young Muslim men pose a particular challenge.
Full report at:
http://news.yahoo.com/copenhagen-attacks-renew-debate-over-europe-integration-struggles-161432525.html
-----------
Putin directs Muslim anger toward Cold War foes
February 18, 2015
MOSCOW — Hundreds of thousands of Muslims vented their anger in unison, shouting "Allahu Akbar!" as their leader condemned supporters of the satirical French magazine Charlie Hebdo after militants murdered five of its cartoonists.
The protest against caricatures of the Prophet Muhammad and the policies of the U.S. and its allies was organized by the state and televised live across the country for more than an hour, but it wasn't in Iran or Pakistan. It was in Russia, where Vladimir Putin came to power vowing to "wipe out" Muslim extremists, even "in the outhouse."
Fifteen years on, Putin is now seeking to turn Muslim anger to his advantage by pushing for a united front against what he sees as a U.S.-led conspiracy to dominate the world. Putin is also trying to neutralize the threat posed by the return of Russian jihadis currently fighting for the Islamic State in Syria and Iraq, a task complicated by his growing isolation over the war in Ukraine, officials and analysts in Moscow say.
Full report at:
http://www.stripes.com/news/europe/putin-directs-muslim-anger-toward-cold-war-foes-1.330345
-----------
European Muslims face new challenges post-Charlie Hebdo
ByJosephine Engreitz
Feb. 18, 2015
In the aftermath of the attacks that left 17 dead in the offices of Charlie Hebdo, in a kosher grocery store and in the streets of Paris, relations between Muslim immigrants and European host countries have become increasingly strained. More than 40 Cornell students, faculty and guests came together to discuss the issue at an international roundtable on campus Feb. 12.
It was the first of two discussions organized by Cornell's Mario Einaudi Center for International Studies about the aftermath of the attacks. Christopher Way, director of the Cornell Institute for European Studies, moderated the discussion.
Panelist Chiara Formichi, assistant professor of Asian studies and a native of Italy, said anti-Muslim sentiments have been reflected in Italy's policy decisions post-Charlie Hebdo. A recent law in Lombardy requires religious groups to have formal agreements with the state before they can build new places of worship. "It is not immediately an anti-mosque law, but that's how it translates in practice" Formichi said.
Full report at:
http://www.news.cornell.edu/stories/2015/02/european-muslims-face-new-challenges-post-charlie-hebdo
-----------
Muslim charity chief quits after 'Zionists control Europe' event
February 18, 2015
The chief executive of a Muslim charity has stepped down as new concerns were raised about the organisation's alleged links to extremism.
Rizwan Hussain has stepped down from the east London-based Global Aid Trust (GAT) education charity, ahead of the broadcast of an undercover TV investigation which looked into whether the organisation was promoting extremism.
The Charity Commission, which has already opened a case against the GAT, has been told of footage obtained by ITV's Exposure: Charities Behaving Badly documentary.
It found an invited speaker at a GAT event seeming to make anti-Semitic remarks and offer jihadists his blessing.
In the programme the undercover reporter, posing as a volunteer, is introduced to a GAT worker called Shaffiq Shabbar who tells him of his admiration for the late hate preacher Anwar al-Awlaki, who was believed to have inspired a string of terror attacks.
-----------
Dutch Muslim Mayor: I can say things my colleagues can't
February 18, 2015
(CNN)The Moroccan-born Muslim mayor of Rotterdam, the Netherlands, told CNN's Michael Holmes on Wednesday that Europe has no place for extremists who are not willing to live within the bounds of its norms.
"You are not forced to be with us, it's a choice," Ahmed Aboutaleb said. "Work with us together to construct a 'we society.'"
"But if you want to stand out of the 'we community,' you threaten us, you go to Yemen to learn how to use a Kalashnikov and to come back to threaten the society, well you are not part of my 'we society,' you better leave."
The fight against ISIS is not only a physical war and it is not only taking place on the frontlines of Syria and Iraq -- it is also in the west, a war of ideology, on the streets of sedate European cities like Rotterdam.
Full report at:
http://edition.cnn.com/2015/02/18/world/amanpour-holmes-ahmed-aboutaleb/
-----------
Southeast Asia
Isis a result of Israeli atrocities, Muslim governments' failure, says Dr M
19 February 2015
The emergence of militant group Islamic State of Iraq and Syria (Isis) is caused by Israeli atrocities which oppress Muslims and the Muslim governments' inability to solve their problems, says Tun Dr Mahathir Mohamad.
During an interview with Sky News presenter Adam Boulton early this morning, the former prime minister said the evolution of terrorist groups such as Isis was due to their frustration over the state government's failure to defend Muslims.
"From what they see, the governments of Muslim countries have not been able to do anything about their problems, particularly over Israel, for example.
"So, people tend to take law in their own hands," he said.
Dr Mahathir, an outspoken critic of the Zionist state, added that it did not mean he supported Isis.
He acknowledged that the group's violent reactions were caused by the cruelty shown by the Israeli regime itself.
"No, it is not justifiable at all. It is all about frustration that is resulting in violence," he said when asked whether it was fair for Isis to be set up because of the Israeli establishment.
Dr Mahathir described the struggles of Isis as not in accordance with Islamic teachings but rather due to mere dissatisfaction, especially in the face of powerful countries.
"I know it is very unfortunate. But it is not the teaching of Islam. It is the expression of their frustration over something that they find themselves unable to resolve, because they are up against a powerful nation," he said.
Full report at:
http://www.themalaysianinsider.com/malaysia/article/isis-a-result-of-atrocities-in-israel-muslim-governments-failure-says-dr-m
-----------
Husband-to-be coaxed teen to join Isis, says top cop
19 February 2015
A 14-year-old female student arrested last Tuesday just before flying off to join the Islamic State in Iraq and Syria (Isis) is believed to have been influenced by her alleged husband-to-be who is a member of the group, says Tan Sri Khalid Abu Bakar.
The Inspector-General of Police confirmed that the Malaysian Isis member had coaxed the girl to join the group on the pretext of marrying her.
Investigations showed that the man had provided the money for the girl's flight ticket to Syria.
"We believe the man (mastermind) had arranged for the flight ticket and expenses for the girl to fly to Syria. The girl's story that she wanted to marry the man could have been made up," he said.
Khalid said the police were trying to find out whether any of the girl's friends had been influenced to join the militant group in Syria.
The girl, who is from a religious school in Shah Alam, was arrested at the Kuala Lumpur International Airport last Tuesday as she was about to depart for Syria through Egypt.
The girl who is from Muar, Johor, planned to get married to the man, who is studying in Egypt, before going to Syria to joining Isis. – Bernama, February 19, 2015.
http://www.themalaysianinsider.com/malaysia/article/husband-to-be-coaxed-teen-to-join-isis-says-top-cop-bernama
-----------
Najib rubbishes claim Sirul acted under orders to kill Altantuya
BY ELIZABETH ZACHARIAH
19 February 2015
Prime Minister Datuk Seri Najib Razak today rubbished claims by former police commando Sirul Azhar Omar that he was under orders to commit the murder of Altantuya Shaariibuu.
Speaking to reporters after attending the Chinese New Year open house at Wisma MCA today, Najib, who was linked to the Mongolian model previously, refused to elaborate further.
"It's total rubbish, total rubbish," he said, shaking his head.
Najib was asked to comment on Sirul's claim in a Malaysiakini report that he had orders to kill Altantuya.
On Tuesday, Sirul, who has been detained in Australia, had said he was under orders to kill Altantuya, and that the "real" murderers are still free.
"I was under orders. The important people with motive are still free," he was reported to have told Malaysiakini in an interview.
Yesterday, Sirul was reported to have said that his superior officer, then deputy superintendent Musa Safri, should have been called to give evidence in the Altantuya murder trial.
Full report at:
http://www.themalaysianinsider.com/malaysia/article/najib-rubbishes-claim-sirul-acted-under-orders-to-kill-altantuya
-----------
Malaysia PM denies 2006 murder claim
Feb 19, 2015
Malaysian Prime Minister Najib Razak has dismissed claims by a former police officer that the latter had been ordered to kill a woman linked to highly sensitive corruption allegations back in 2006.
On Thursday, the premier, who was serving as defense minister in 2006, slammed the accusations by former policeman Sirul Azhar Umar as "total rubbish."
Sirul, who fled to Australia to escape the death penalty, said he and another officer were ordered by "important people" to kill 28-year-old Altantuya Shaariibuu, a Mongolian woman who had purportedly been acting as a translator in negotiations over Malaysia's 2002 purchase of submarines from France.
"I was under orders. The important people with motive are still free," Sirul told the Malaysiakini news portal.
Full report at:
http://www.presstv.in/Detail/2015/02/19/398240/Malaysia-PM-denies-2006-murder-claim
-----------
Debate with Bar instead of roadshow on Anwar case, minister tells Shafee
BY DESMOND DAVIDSON
19 February 2015
Defacto law minister Nancy Shukri today suggested that Umno lawyer Tan Sri Muhammad Shafee Abdullah have a public debate with one of his biggest critics, the Bar Council, to end his tirade against jailed opposition leader Datuk Seri Anwar Ibrahim.
Nancy said she is personally against Shafee's decision to go on the Umno organised roadshow to explain the Federal Court's decision to uphold Anwar's conviction and five-year jail term for sodomy.
"Let the people listen to them. Do it once and for all. Then Shafee does not have to go around any more," the minister in the Prime Minister's Department told reporters at the Sarawak United People's Party (SUPP) New Year open house in Kuching.
"I would agree we (the Federal government) should not do it too much.
"It looks bad (on the government and Shafee)."
Full report at:
http://www.themalaysianinsider.com/malaysia/article/have-debate-with-bar-instead-of-roadshow-on-anwar-case-minister-tells-shafe
-----------
Arab World
ISIS Attacks Near Erbil, Iraq, Repelled by Peshmerga: Kurds
19 February 2015
ISIS launched several waves of attacks in northern Iraq late Tuesday, engaging in close-quarters combat with Kurdish forces before being repelled by reinforcements and airstrikes, officials said.
The jihadis attacked from several directions near the towns of Gewr and Makhmour, southwest of Erbil, according to the Kurdistan Region Security Council (KRSC). They were armed with mortars, rocket-propelled grenades and heavy machine guns.
The ISIS fighters were driven back by U.S.-led coalition airstrikes, and at least 30 of their number were killed including an emir known as Abu Yaqin who was leading the attacks, the KRSC said in a statement.
Full report at:
http://www.nbcnews.com/storyline/isis-terror/isis-attacks-near-erbil-iraq-repelled-peshmerga-kurds-n308026
-----------
US-led coalition against IS meets in S. Arabia
19 February 2015
RIYADH: Military chiefs from 26 nations involved in the US-led coalition battling the Islamic State group began a two-day meeting in Saudi Arabia on Wednesday, the Saudi Press Agency reported.
SPA said the meeting was aimed at giving military leaders an opportunity to exchange views about the fight against the extremist group, which controls large parts of Iraq and Syria. The head of the US military's Central Command, Gen Lloyd Austin, was taking part in the meeting and earlier met with Interior Minister and Deputy Crown Prince Mohammed bin Nayef in the Saudi capital of Riyadh.
The Arab countries of Jordan, Bahrain, the United Arab Emirates and Saudi Arabia have taken part in coalition air raids on the IS group. Qatar and Kuwait have provided bases for coalition partners. Other nations taking part include Canada, France, Germany, the UK, Australia and the Netherlands.
Full report at:
http://www.dawn.com/news/1164527/us-led-coalition-against-is-meets-in-s-arabia
-----------
Saudi court upholds 15 years' jail for rights lawyer
February 19, 2015
DUBAI - An appeals court in Saudi Arabia has upheld a 15-year jail term for a human rights lawyer who was nominated for the Nobel Peace Prize, a watchdog said Wednesday.
The Specialised Criminal Court of Appeal, which hears terrorism cases, confirmed on Sunday the latest verdict against Waleed Abulkhair, said the Gulf Center for Human Rights.
Abulkhair was convicted last July on a series of charges including "inciting public opinion" but the last five years of the sentence were initially suspended. In January another court ordered Abulkhair to serve the full 15 years of his sentence, a ruling upheld by the latest decision.
The Gulf Center for Human Rights, which has offices in Beirut and Copenhagen, said Abulkhair was transferred on February 4 from a prison in his home city of Jeddah to one in the capital Riyadh.
"It's believed that his refusal to recognise the legitimacy of the trial court, in addition to not giving an apology to the court, were the reasons behind his recent transfer," the centre said on its website.
http://nation.com.pk/international/19-Feb-2015/saudi-court-upholds-15-years-jail-for-rights-lawyer
-----------
Here is the Army's declassified Iraq prison file on the leader of ISIS
FEB 19, 2015
Relatively little is known about Abu Bakr al-Baghdadi, the leader of the jihadist group Islamic State (also known as ISIS and ISIL). However, newly declassified military documents obtained by Business Insider on Wednesday reveal several new details about the ISIS leader.
The records come from time Baghdadi spent in US Army custody in Iraq. They were released through a Freedom of Information Act request. In these files, Baghdadi was identified by his birth name, Ibrahim Awad Ibrahim Al Badry.
There have been conflicting reports about the time Baghdadi spent as a US detainee. These files identify his "capture date" as Feb. 4, 2004 and the date of his "release in place" as Dec. 8, 2004. According to the records, Baghdadi was captured in Fallujah and held at multiple prison facilities including Camp Bucca and Camp Adder.
Full report at:
http://www.businessinsider.in/Here-is-the-Armys-declassified-Iraq-prison-file-on-the-leader-of-ISIS/articleshow/46292940.cms
-----------
Uneasy Alliances as Fractured Iraq Battles IS Group
Feb 19, 2015
Shiite Arab militias have flooded into northern Iraq's Kirkuk region to help Kurdish forces battle the Islamic State group, but their uneasy alliance threatens to reignite a much older conflict over the oil-rich area pitting the largely autonomous Kurds against the Arab-led government in Baghdad.
All across Iraq, the rapid advance by the Islamic State extremists over the past year has drawn longtime rivals into reluctant alliances. The shared struggle could with time help Iraqis forge a long-elusive sense of national unity. But it also risks papering over disputes that could burst into the open if the threat subsides.
Full report at:
http://edition.cnn.com/2015/02/18/middleeast/isis-iraq-people-burned/
-----------
Iraq army, volunteer forces liberate areas in Tikrit
Feb 19, 2015
The Iraqi army and Shia volunteer forces have tightened the noose around the ISIL Takfiri militants in several areas in the restive province of Salahuddin, Press TV reports.
The Iraqi military backed by volunteer forces has been fighting against the ISIL terrorists in Salahuddin since mid-2014. The troops have also taken back most areas in the province from the Takfiri terrorists.
Full report at:
http://www.presstv.in/Detail/2015/02/19/398226/Iraq-army-volunteers-free-Tikrit-areas-
-----------
Saudi officials ask PIA to clear dues
Zulqernain Tahir
19 February 2015
LAHORE: Saudi Arabia's General Authority of Civil Aviation (Gaca) has warned that PIA's summer schedule will not be approved if its air navigation invoice of 11 million riyals is not cleared.
In a letter to the PIA management, Gaca has stressed the need for early settlement of the dues. In case of non-payment, it says, it may take serious action against PIA, including suspension of the airline's operation in Saudi Arabia.
PIA spokesman Hanif Rana told Dawn that the amount would be paid in instalments and "there will be no... suspension of the PIA operation in Saudi Arabia over the issue".
Also read: PIA accused of violating Saudi laws
Full report at:
http://www.dawn.com/news/1164532/saudi-officials-ask-pia-to-clear-dues
-----------
Qatar recalls ambassador from Egypt
Feb 19, 2015
Qatar has recalled its ambassador from Egypt "for consultation" days after Cairo launched airstrikes against ISIL positions in Libya, Doha says.
According to the QNA state news agency, the Qatari Foreign Ministry said on Thursday that Doha was recalling its envoy, Hamad Saif Al Buainain, over a statement made by an Egyptian delegate to the Arab League.
The statement by the Egyptian delegate had reportedly been made during an Arab League meeting over the Egyptian airstrikes in Libya.
According to reports, Egypt's representative to the Arab League Tariq Adel accused Qatar of supporting terrorism after Qatari representative expressed reservations over a clause in the official communique of the meeting welcoming the raids.
Full report at:
http://www.presstv.in/Detail/2015/02/19/398219/Qatar-recalls-ambassador-from-Egypt
-----------
India
Lord Shiva was Muslims' first prophet, says Jamiat Ulema Mufti Muhammad Ilyas
19 February 2015
Ayodhya: Jamiat Ulema's Mufti Muhammad Ilyas is being criticized by Muslim groups for saying Lord Shiva was Muslims' first prophet.
He also said that all Muslims were the followers of Sanatan Dharma.
"All religions are preaching the same message. We are Indians first and our message is of peace, harmony and brotherhood. The way people in China are called Chinese and in Japan are called Japanese, similarly we are called Hindustani," Ilyas said.
"India is our birthplace and roots of our religion. Lord Shiva was Muslims' first prophet. Lord Shiva and Goddess Parvati are our creators and parents which is a reality," he added.
Mufti Mukarram Ahmed, Imam of Fatehpuri Masjid, rejected Ilyas's statements.
"We don't accept what he said, it's completely wrong. It's no where written in Quran. This could be his political statement," Mukarram said.
A delegation of Jamiat Ulema visited Ayodhya on Wednesday to urge saints to participate in a conference on communal harmony on February 27 in Balrampur, Uttar Pradesh.
http://www.abplive.in/india/2015/02/19/article506324.ece/Lord-Shiva-was-Muslims-first-prophet-says-Jamiat-Ulema-Mufti-Muhammad-Ilyas
-----------
Muslims welcome Modi's secular stand with a little caveat
19 February 2015
A group of Muslims in Uttar Pradesh's Agra district on Wednesday welcomed Prime Minister Narendra Modi's remarks on communal harmony with a little caveat: he should have made the statements much earlier.
"Modi is not just the prime minister of a particular community, but he is the prime minister of 125 crore Indians. He has to work on and think about the welfare of the entire country. The statement by Modi that he will not tolerate any kind of communal violence is something that was long due from him," Bharatiya Muslim Vikas Parishad chairman Sami Agai said.
In a meeting at the famous Noori mosque in Sadarbhatti area of the city, the Muslims of Agra commended Modi for taking a bold stand against the will of the Rashtriya Swayamsevak Sangh, the ideological mentor of the ruling BJP. "But now that he (Modi) has made his stance clear, hopefully he will stick to it and not allow the RSS to govern the country through its political remote control," Agai said.
Full report at:
http://indiatoday.intoday.in/story/muslims-welcome-modi-secular-stand-with-a-little-caveat/1/419644.html
-----------
India Muslims Complain of Police Bias
By Rudabah Simrah
18 February 2015
KOLKATA – Guilty till proven innocent. This statement sums up the conditions which India Muslims find themselves in whenever any report about bombs or terror attacks reaches police.
"Since those involved in the Malda blast case were all Muslims soon police slapped terror angle to it and the all media organs enthusiastically aimed to identify the men involved in the case as Islamist terrorists," Social Media activist Mohammad Abu Bakr told OnIslam.net.
"More than three months have gone by, but police are yet to announce that the Malda blast case had no terrorist connection," Abu Bakr added.
"In sharp contrast, in the identical case of Bardhaman, within hours after the blast police highlighted that no 'terror angle' was found there."
Abu Bakr accused a big section of the Hindu-dominated police force of being biased against Muslims in terrorism-related investigations.
He was referring to an accidental explosion in which three men who were making bombs in an underground makeshift workshop in Malda district of West Bengal state were injured in October.
Full report at:
http://www.onislam.net/english/news/asia-pacific/483107-india-police-bias-adds-to-muslims-woes.html
-----------
JK govt formation: PDP plays hardball, for BJP it's a win-win situation
By Muzamil Jaleel
February 19, 2015
When the Jammu & Kashmir assembly elections threw up a fractured mandate, the PDP ignored offers of support from the Congress and the National Conference, for it was bent on a coalition only with the BJP. Two months of warmth and dozens of meetings later, the PDP leadership has sought to create an impression of playing hardball, but the deal it is showcasing makes the BJP the political victor in Kashmir.
Although leaders frequently speak of differences (without coming on record), the two parties have become close enough to vote together twice in two months. They shared three of four Rajya Sabha seats because they voted as partners, and will vote together again for 11 Legislative Council seats, of which they could share up to 10.
Full report at:
http://indianexpress.com/article/india/india-others/jk-pdp-plays-hardball-for-bjp-its-win-win/
-----------
Explain Who Blew Up Fishing Boat, Says Pakistan to India
February 18, 2015
Pakistan says India must explain what caused a Pakistani fishing boat to explode, killing four people on board on New Year's Eve, after a senior coast guard official said it was deliberately targeted. BK Loshali, Deputy Inspector General of the Coast Guard, is shown in a video released by the Indian Express newspaper saying he gave an order to attack the boat as it approached Indian waters off the Gujarat coast.
The comments contradict the government's version that the boat laden with explosives was intercepted by the coast guard because it was planning an unspecified illegal transaction and the people on board set it on fire, causing it to explode.
"I hope you remember 31st December, we blew off the Pakistani," Mr Loshali said in the video. "I was there at Gandhinagar and I told at night blow the boat off. We don't want to serve them biryani."
Full report at:
http://www.ndtv.com/india-news/explain-who-blew-up-fishing-boat-says-pakistan-to-india-740612
-----------
URL: https://www.newageislam.com/islamic-world-news/new-age-islam-news-bureau/obama-calls-upon-muslim-leaders-to-do-more-to-'reject-the-narratives-of-violent-extremists'/d/101601