New Age Islam News Bureau
16 Oct 2014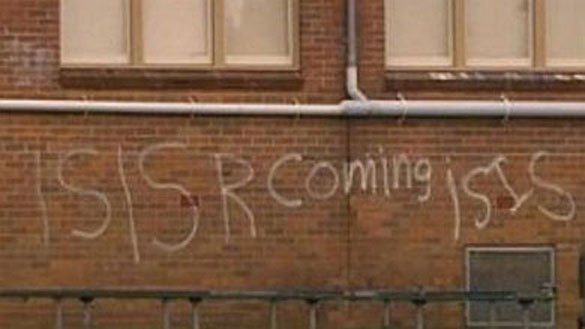 Islamic State spreads tentacles in Pakistan? Walls littered with ISIS graffiti
-------
Pakistan
• Now, Islamic State Spreads Tentacles In Pakistan? Walls Littered With ISIS Graffiti
• 21 Suspected Militants Killed As Jets Bomb Hideouts in Khyber
• Pakistan needs to 'incite' those 'fighting' in Kashmir: Musharraf
• Clouds of martial law have veered away: Jamaat-i-Islami chief
• Pakistan demands end to Indian hostility
• Imran Khan should mind his language: Information Minister
Africa
• Moroccan Man with Young French Daughters Held For Trying To Join ISIS
• Libyan Army, Residents Battle Islamist Militants in City Of Benghazi
• Gambia: Muslims Tasked to Convey Messages of Allah
• Most Nigerians Satisfied With Personal Well-Being
• US Embassy in Ethiopia warns of attacks by Al-Shabab rebels
Europe
• Self-defence class 'mistaken' for jihad training in France
• UN told 2,500 rockets containing deadly Sarin are in the hands of the jihadists
• Former UN Syria envoy slams major powers for ignoring early threat of IS
• Tajik Ministry: Over 200 Tajiks Fight in Ranks of Syrian Militants
• NUS Rejects Motion Condemning ISIS for being 'Islamophobic'
India
• Jum-B: An Old Link with Bombmaker 'Tunda', a New Terror Threat to India
• In Terror Chats, a New Leader of Indian Mujahideen Branch Called 'Bengali'
• 7 Madrasas in 4 Districts of Bengal under Lens
• Facing Protest for 'Denying' Admission to Girls, Madrasa Says Only Holding Separate Classes
• ISIS flag in Kashmir valley worries Army
• India committed to work closely with Afghanistan: President
Arab World
• Iraq minorities face extinction from ISIL onslaught: report
• Iraqi Troops Kill 4 ISIL Terrorists in Anbar Province
• Official says ISIS pushed back by Kobane airstrikes
• Hezbollah Calls for Protecting Al-Aqsa Mosque, Sanctities
• Egypt's Salafists looking for 'good' women candidates
• Lebanon: Field Sources Deny Takfiri Militants Captured Post in Brital Outskirts
• Up to 30 Brit jihadis are believed to have died fighting in Syria
• Syria harshly criticizes Turkey on buffer zones
Mideast
• Turkey will not allow citizens to fight in Kobane: PM Davutoğlu
• Iran calls for 'confidence' over nukes, extremists Islamic State group
• Al-Qaeda takes control of area in south of Yemen
• Iran says Shiite Saudi cleric's death sentence risks tensions
• Palestinians, Israelis to resume Cairo-brokered talks by end of October: Hamas
North America
• Pentagon: 'Several hundred' IS fighters killed in Kobane
• Anti-ISIL fight in Syria and Iraq gets a name: 'Inherent Resolve'
• U.S. says ISIS made 'substantial gains' in Iraq
• U.S. offers $45 mln in rewards for info on al-Qaeda leaders
South Asia
• High-ranking Taliban leader killed in Herat province
• Minister: Identifying real freedom fighters in the offing
• 2 Haqqani leaders arrested by Afghan intelligence
• Bangladesh: Heritage site grabbed and gradually demolished
Southeast Asia
• Malaysia: Ministry Senior Officer Involved In Isis Activities, Top Cop Reveals
• Malaysian Military chief warns of threat from returning Islamic militants
Compiled by New Age Islam News Bureau
URL: https://newageislam.com/islamic-world-news/now,-islamic-state-spreads-tentacles/d/99552
---------
Pakistan
Now, Islamic State Spreads Tentacles In Pakistan? Walls Littered With ISIS Graffiti
By Supriya Jha
October 16, 2014
Karachi: In a sinister development, the barbaric extremist group of Islamic State is said to have spread its blood-smeared tentacles into Pakistani soil.
According to local Pak media reports, the Islamic State has entered Pakistan's biggest city and industrial hub Karachi.
In many areas like Sohrab Goth, Gulshan-e-Maymar, Manghopir and also around Karachi, walls were seen littered with 'ISIS' inscribed in black.
According to reports, the inscriptions have been jotten down by unknown groups.
Recently, Pakistan Taliban was said to have vowed obeisance to the ISIS.
The ISIS has earlier announced its ambition to expand its Caliphate to Khorasan – a region referred to Iran, Afghanistan, and Indian sub-continent including Pakistan.
The ISIS wall chalking is a grim reminder of how vulnerable is Pakistan when it comes to falling prey to the barbaric extremism of the Islamic State. This in turn, also imperils India, which has a considerable Muslim population.
Enough to send security agencies into tizzy, reports claimed that IS flags and banners were sighted in Kashmir on June 2. More flags and banners were seen during a rally at the Idgah Maidan in Srinagar during Eid celebrations last week.
Masked men were seen waving IS flags and shouting slogans in the heart of the city.
While Pakistani-based outfits such as Lashkar-e-Toiba, Hizbul Mujahideen and Jaish-e-Mohammed are active in Kashmir, but the presence of Islamic State sympathisers is a matter of concern as reports have indicated that IS is recruiting fighters for its "holy war" via the internet.
The ISIS overran a huge chunk of territories across Iraq and Syria in June, declaring Caliphate over the occupied parts.
The US-led coalition is carrying out air strikes to rein in the ISIS advance in Iraq and Syria. However, the ISIS still continue to battle forces there in order to claim a considerable swathe of land across Turkey-Syria border.
http://zeenews.india.com/news/south-asia/now-islamic-state-spreads-tentacles-in-pakistan-walls-littered-with-isis-graffiti_1485662.html
------
21 suspected militants killed as jets bomb hideouts in Khyber
Oct 16, 2014
PESHAWAR: At least 21 militants killed and five hideouts were destroyed on Thursday as security forces carried out air strikes in parts of Tirah valley of Khyber Agency, an Inter-Services Public Relations (ISPR) statement said.
The jets targeted militants hideouts in Akakhel and Sipah area, however, this information could not be independently verified as the access of journalists is limited in the region.
Moreover, security forces sealed all the roads leading up to Khyber's Bara, where an operation is expected to begin soon. Security forces also launched a search operation in the Shakas area of Khyber.
On the other hand, anticipating a military operation more than 500 families had left their homes in Dars Jumaat, Shaddaly, Darota and Kulla areas of Akakhel in Tirah valley during the last three days, sources said.
The strikes are part of the ongoing military operation named Zarb-i-Azb, initiated on June 15 first against anti-state militants hiding in the North Waziristan Agency.
The operation was launched after the Taliban and their ethnic Uzbek allies both claimed responsibility for the attack on Karachi airport and peace talks failed between the government and Tehreek-i-Taliban Pakistan (TTP) negotiators.
Nearly a million people have fled the offensive in North Waziristan, which is aimed at wiping out longstanding militant strongholds in the area.
Khyber, where the recent strikes targeted suspected militant hideouts, is one of Pakistan's seven semi-autonomous regions governed by tribal laws and lies near the Afghan border. The Taliban and other Al Qaeda-linked groups, who stage attacks in both countries, are known to have strongholds in the zone.
http://www.dawn.com/news/1138385/21-suspected-militants-killed-as-jets-bomb-hideouts-in-khyber
---------
Pakistan needs to 'incite' those 'fighting' in Kashmir: Musharraf
PTI | Oct 16, 2014,
ISLAMABAD: In the wilderness for a long time, former military ruler General Pervez Musharraf made an anti-India rant by saying Pakistan needs to "incite" those "fighting" in Kashmir.
"We have source (in Kashmir) besides the (Pakistan) army...People in Kashmir are fighting against (India). We just need to incite them," the 71-year-old retired general, who is currently on bail in a treason case, told a TV channel.
Musharraf, who had grabbed power in 1999 soon after the Kargil conflict, said the army is ready for war (with India) and lakhs of people in Pakistan are willing to go and fight for Kashmir. India should not be under the illusion that Pakistan will not hit back, he added.
"In Kashmir, we can fight with the (Indian) army from both the front and back...We are Muslims. We will not show the other cheek when we are slapped. We can respond tit for tat," he said, while commenting on the recent firing along the Line of Control and International Border.
He said external aggression happens only when the country remains internally weak. "If we remain strong internally, no one can dare to target us."
Musharraf also said (Narendra) "Modi is anti-Muslim and anti-Pakistan. He has not changed. The problem is with us... We are running to attend his (Modi) inauguration, we should keep our dignity."
Musharraf in an interview to Pakistan news channel openly advocates fomenting terrorism in Kashmir #TerrorConfession pic.twitter.com/BVxtP1pWrH
— TIMES NOW (@timesnow) October 16, 2014
The former president also termed the Most Favoured Nation (MFN) granted to Pakistan by India as "a joke".
Musharraf, who was forced to resign in 2008 after his supporters lost, returned to Pakistan in 2013 after over four years of self-exile but faces a slew of cases.
Currently, he is on bail in four criminal cases while the treason case is going on in a special tribunal.
http://timesofindia.indiatimes.com/world/pakistan/Pakistan-needs-to-incite-those-fighting-in-Kashmir-Musharraf/articleshow/44836162.cms
---------
Clouds of martial law have veered away: Jamaat-i-Islami chief
Oct 16, 2014
LAHORE: Jamaat-i-Islami Emir Sirajul Haq has said that the clouds of martial law have veered away, but democracy in the country is still on the deathbed.
Talking to the media after a meeting with a delegation of Lahore High Court Bar Association here on Tuesday, he said the political Jirga had made sincere efforts to pull the country out of the political crisis.
Although, the deadlock existed the talks between the government and Pakistan Tehreek-i-Insaf (PTI) could resume if the former proved through its actions that it was sincere in implementing decisions already agreed upon by both the parties, he added.
Mr Haq said there was least possibility of mid-term elections, however, the government's total failure to deliver was creating a room for that.
The government, he said, was only struggling for its survival instead of providing relief to the people.
He said the government would have to take prompt steps for electoral reforms which could make the elections process transparent and minimise the chances of rigging.
The JI chief urged the government to give a tit-for-tat reply to unprovoked Indian aggression which has caused heavy casualties.
Talking to Wifaqul Madaris Secretary General Qari Mohammad Hanif Jaulandhary, Mr Haq underscored the need for unity among religious forces to foil designs of anti-Islam and secular elements to alter the ideological character of the country.
Meanwhile, JI secretary-general Liaqat Baloch said that persistent Indian shelling on the LoC and the working boundary had pushed the region towards a war and a nuclear threat.
In a statement, he said a mere reference to the Kashmir issue by Nawaz Sharif in the UN General Council meeting and the recent letter to the UN secretary-general won't help solve the issue.
The need of the hour was to revive the principled Kashmir policy and unite the nation against Indian designs and derive full support from the Kashmiri leadership on this important issue.
Mr Baloch strongly condemned the US decision of declaring Fazlur Rehman Khalil as a terrorist.
http://www.dawn.com/news/1138043/clouds-of-martial-law-have-veered-away-ji-chief
---------
Pakistan demands end to Indian hostility
Oct 16, 2014
NEW YORK – Ambassador Masood Khan – Pakistan's permanent representative to the United Nations – has demanded immediate end to unprovoked firing and shelling by the Indian forces along the Working Boundary and the Line of Control in the divided state of Jammu Kashmir.
In an interview here, he said that the restraint being exercised by Pakistan should not be considered its weakness. He reiterated Pakistan's principled stance to resolve all outstanding issues with India through dialogue. At least 12 people have been killed and 64 others injured in Indian firing along the LoC and the Working Boundary over the past two weeks.
Unprovoked Indian firing has triggered an exodus of people from the villages near the border. Clashes occur regularly along the Line of Control as well as the Working Boundary. However, the latest shelling which began over a week ago, has been unusual in its intensity and frequency.
http://www.dailytimes.com.pk/national/16-Oct-2014/pakistan-demands-end-to-indian-hostility
---------
Imran Khan should mind his language: Information Minister
Oct 16, 2014
Karachi- Sindh Information Minister, Sharjeel Inam Memon, today claimed that Pakistan Peoples Party (PPP) was going to stage a massive rally in Karachi on October 18. Addressing a press conference in Karachi, Memon said, "Bilawal will address the nation regarding October 18 tragedy and other national issues."
"We do not do politics on someone's dictation," he said.
He also condemned the PTI chief. "Khan should mind his language," Memon said. Memon strongly showed his anger against Imran Khan's recent statements.
http://nation.com.pk/karachi/15-Oct-2014/imran-khan-should-mind-his-language-sharjeel-memon
--------
Africa
Moroccan Man with Young French Daughters Held For Trying To Join ISIS
16 October 2014
A Moroccan man, with his two young French daughters in tow, was arrested in Casablanca Wednesday as he sought to join up with ISIS fighters, authorities said.
The man identified by his initials N.R., who was under police restrictions in France, was picked up at Casablanca airport, the Moroccan interior ministry said in a statement.
He was detained along with his two girls, aged two and four, and a Moroccan woman with whom he had a "traditional" marriage, said the statement, cited by the local MAPP news agency.
His legal wife, a French national, was said to have remained in France.
The arrested couple will appear in court, while no mention was made of the way the children will be handled, or whether they will be returned to France.
The man was said to have been on his way to Turkey when he was arrested.
ISIS fighters are involved in heavy fighting just across the Turkish border in Syria.
Over 2,000 Moroccan jihadists, including those with dual nationality, are currently fighting in Syria and Iraq, according to Rabat.
Moroccan authorities fear some will return and attempt to carry out attacks at home and has announced heightened security measures, notably at the borders.
http://english.alarabiya.net/en/News/africa/2014/10/16/Moroccan-man-with-daughters-held-for-trying-to-join-ISIS.html
---------
Libyan army, residents battle Islamist militants in city of Benghazi
Oct 16, 2014
Libyan army troops and armed local residents clashed with Islamist fighters in the eastern port of Benghazi on Wednesday, one day after a renegade former general who backs the government forces vowed to retake the city from the militants.
Libya's second largest city is caught up in a chaotic struggle for control between an alliance of Islamist militia groups and the army, which is backed by forces loyal to former general Khalifa Haftar.
Gunfire could be heard in several Benghazi districts from early morning, residents said. Hospital officials were not immediately available to give details of any casualties.
Fighters from one Islamist group, Ansar al-Sharia, attacked an army camp, one of the last bases still controlled by government forces since militants drove army special force units out of Benghazi months ago.
Later war planes, apparently belonging to forces allied to Haftar, could be heard bombing suspected Islamist positions, residents said. On Tuesday, Haftar had promised to "liberate" Benghazi.
Full report at:
http://english.ahram.org.eg/NewsContent/2/8/113163/World/Region/Libyan-army,-residents-battle-Islamist-militants-i.aspx
---------
Gambia: Muslims Tasked to Convey Messages of Allah
Oct 16, 2014
The founder and president of the Islamic Research Foundation (IRF), Dr. Zakir Naik has challenged Muslims in The Gambia and elsewhere around the world to convey the messages of Allah to the rest of mankind. This exercise, known as Dawah in Arabic, according to the visiting erudite scholar is the best form of jihad.
The Indian-born international orator on Islam and comparative religion was speaking Monday night in Kanilai while delivering his third lecture to thousands of Muslims and some non-Muslims at the home village of the president.
The five-hour long lecture was graced by President Sheikh Prof Alh Dr Yahya Jammeh Babili Mansa, cabinet ministers, senior government officials, chiefs, regional governors, mayors, alkalolou, women, men, young and old.
The crowd that swarmed the Kanilai multi-purpose square at the heart of the village was extensively enlightened on Islam and the Sunnah of the Holy Prophet, Muhammed (SAW). The event formed part of a series of lectures conducted by Dr. Naik in the country, and he is in the country as a special guest of The Gambian leader on the occasion of the July 22nd celebrations.
Full report at:
http://allafrica.com/stories/201410151740.html
---------
Most Nigerians Satisfied With Personal Well-Being
Oct 16, 2014
Lagos — MORE locals than ever are satisfied with their personal well being this year, a survey by the region's leading polling firm has established.
According to NOIPOlls, its Personal Well-Being Index increased by 2,3-points to stand at 45,6-points in September 2014, a peak position so far in 2014.
In addition, there was an increase in all indicators that comprise the PWBI with the highest increase observed in the Personal Security Index with 7,2-points. Furthermore, the NOIPolls Consumer Confidence Index increased slightly by 0,6-point to stand at 71,3-points in September 2014.
Full report at:
http://allafrica.com/stories/201410141313.html
---------
US Embassy in Ethiopia warns of attacks by Al-Shabab rebels
Oct 16, 2014
ADDIS ABABA: The US Embassy in Ethiopia has warned of a possible attack by Somali militant group Al-Shabab and urged its nationals to avoid large crowds and hotels and restaurants in an upscale district of the capital Addis Ababa.
The Ethiopian authorities said late last year that its security forces were on heightened alert after receiving strong evidence Al-Shabab was plotting further attacks after a botched suicide bombing in Addis Ababa.
Ethiopian troops, alongside forces from Uganda, Burundi, Kenya and Djibouti, are part of an African Union (AU) mission fighting Al-Shabab inside Somalia. Their presence has been used by the Al-Qaeda-aligned insurgents as a rallying cry for a holy war against foreign troops on Somali soil.
Full report at:
http://www.arabnews.com/world/news/644771
---------
Europe
Self-defence class 'mistaken' for jihad training in France
Oct 16, 2014
A group of men accused by police of "training for jihad" in broad daylight in a French park were merely taking a self-defence class, one of them told AFP on Wednesday.
The seven men, some with beards, raised alarm in the eastern city of Strasbourg when they were seen acting out scenes of combat with fake weapons on Tuesday.
Police were called to the scene where they checked the men's identity documents and held one of them for questioning.
A police source said Tuesday that the men had said they were "training to fight in the name of jihad".
According to a 35-year-old member of the group -- a Muslim speaking on condition of anonymity -- the man held was their self-defence teacher.
The man admitted his teacher had yelled "infidel" to police during a heated exchange, but denied that any of them had admitted they were training to join jihad in Syria.
"It was our first course, we hardly knew each other. We were doing some stretches, ran a few laps, practised body placement, punch-kick combinations," he said.
Full report at:
http://english.ahram.org.eg/NewsContent/2/9/113188/World/International/Selfdefence-class-mistaken-for-jihad-training-in-F.aspx
---------
UN told 2,500 rockets containing deadly Sarin are in the hands of the jihadists
Oct 16, 2014
ISIS controls a vast compound in Iraq containing 2,500 rusting chemical weapons rockets, according to the Iraqi government.
The site was bombed by the US during the 1991 Gulf War, but the munitions there were only partially destroyed, according to the UN - then left to Iraq to take care of.
However, Iraqi officials wrote to the United Nations this summer claiming that abandoned weapons containing the lethal nerve agent Sarin are still in the ruins of the Muthanna State Establishment, which made chemical weapons in the 1980s and early 1990s, and that this is now in the hands of the violent jihadists.
They warned that they had watched equipment there being looted on CCTV.
Militants then shut the surveillance cameras at the depot down, the New York Times reported.
Full report at:
http://www.dailymail.co.uk/news/article-2793731/will-rusting-chemical-weapons-cache-ignored-americans-fall-isis-hands-iraq-claims-2-500-rockets-containing-deadly-sarin-hands-terrorists.html#ixzz3GItHH5DE
'---------
Former UN Syria envoy slams major powers for ignoring early threat of IS
Oct 16, 2014
Lakhdar Brahimi, the former UN and Arab League special envoy to Syria, has lashed out at world powers for "ignoring" warnings he voiced early on the militant Islamic State (IS) group.
In a TV interview, Brahimi said he warned the UN Security Council last April of the threat posed by IS in Iraq, but that his warnings "had gone unheeded."
Brahimi resigned his position in May this year. One month later, IS militants seized large parts of territories in Syria and Iraq.
Talking to the BBC, Brahimi, a former Algerian diplomat, also criticised Western countries for not talking to Iran over fighting IS in Iraq.
Brahimi stated that Iran "needs to be part of any political and military initiative to stop the advance of IS militants in Iraq and Syria."
Full report at:
http://english.ahram.org.eg/NewsContent/2/8/113122/World/Region/Former-UN-Syria-envoy-slams-major-powers-for-ignor.aspx
---------
Tajik Ministry: Over 200 Tajiks Fight in Ranks of Syrian Militants
Oct 16, 2014
More than 200 Tajik nationals are taking part in the fight in Syria on the side of the foreign-backed militants, Tajikistan's Interior Minister Ramazan Rakhimzoda said.
Rakhimzoda said the republic's law enforcement agencies have arrested 19 people on charges of participating in a criminal association, recruiting, training and financing mercenaries and other crimes, Itar-Tass reported Wednesday.
"Besides, another 10 local residents were detained in Tajikistan's Sughd Region. They were trying to go to Syria via third countries to take part in combat activities against the army of (President) Bashar Assad," he stressed.
Full report at:
http://english.farsnews.com/newstext.aspx?nn=13930724000172
---------
NUS Rejects Motion Condemning ISIS for being 'Islamophobic'
Oct 16, 2014
The National Union of Students (NUS) has rejected a motion calling on the organisation to condemn the militant group Isis on the grounds that to do so would be "Islamophobic".
According to student website "The Tab" a motion was put forward to the NUS National Executive Council in September asking the student body to express solidarity with the Kurds currently fighting a bloody war against Isis and also to call for unity among Muslims.
One part of the motion, proposed by Daniel Cooper and Clifford Fleming, along with International Students Officer Shreya Paudel, who is of Kurd origin, read: "To condemn the IS and support the Kurdish forces fighting against it, while expressing no confidence or trust in the US military intervention."
Full report at:
http://www.ibtimes.co.uk/national-union-students-rejects-motion-condemning-isis-being-islamophobic-1470047
---------
India
JuM-B: An old link with bombmaker 'Tunda', a new terror threat to India
Written by Praveen Swami
October 16, 2014
Shakil Ahmed and Swapan Mondal (alias Sobhan Mondal), the two men killed in the October 2 blast in Burdwan, were allegedly bombmakers with links to the Jamaat-ul-Mujahideen Bangladesh (JuM-B), a terrorist organisation that is said to have received money from the Saradha chit fund scam.
Trinamool Congress Rajya Sabha MP Ahamed Hassan Imran, whose name has appeared in media reports, has denied terror links. Who are the JuM-B? Do they have an India connection?
Who are the Jamaat-ul Mujahideen Bangladesh?
In August 2005, 500 bombs went off in synchronised attacks in all but one of Bangladesh's 64 districts, announcing the might of a jihadi group committed to overthrowing democracy in that country, and replacing it with an Islamic state. The JuM-B also carried out a suicide bombing, targeting the bar association in Gazipur. Hundreds of JuM-B cadres were rounded up in a sweeping police crackdown, and each one of its original leaders, including its founder, Sheikh Abdul Rehman, was sentenced to death and executed. But the organisation has proved resilient, with plots being repeatedly foiled from 2008 on. In February 2014, the organisation staged a spectacular ambush on a prison van, snatching one of its top commanders sentenced to death, Rakib Hasan Russell, from custody.
Full report at:
http://indianexpress.com/article/india/india-others/jum-b-an-old-link-with-bombmaker-tunda-a-new-terror-threat-to-india/99/#sthash.ybKKRje1.dpuf
------------
In terror chats, a new leader of Indian Mujahideen branch called 'Bengali'
Oct 16, 2014
A series of Internet chats between key members of Indian Mujahideen (IM) based in India and Pakistan provided leads as early as July 2013 to the emergence of new terror modules with links to West Bengal, Assam and Bangladesh, and a branch leader identified only as "Bengali".
The transcripts of some of these chats — unearthed last year by National Investigation Agency (NIA) — reveal that the ground had been laid in 2013 to launch terror operations under the leadership of "Bengali". They also indicate that it was this operative who carried out the SMS campaign in 2012 that sparked panic among people from the northeast living in southern cities such as Bangalore.
In one conversation, on July 12, 2013, Ahmed Siddibappa alias Yasin Bhatkal (a.haddad29@yahoo.com) and Afeef Jilani Mota (muthumamu80 @yahoo.com) discuss the credentials of a new "Bengali" leader for a branch of the IM. Bhatkal was arrested in August last year from Nepal and Mota is suspected to be currently in Pakistan.
Full report at:
http://indianexpress.com/article/india/india-others/in-terror-chats-a-new-leader-of-indian-mujahideen-branch-called-bengali/99/
---------
7 madrassas in 4 districts of Bengal under lens
Dwaipayan Ghosh,TNN | Oct 16, 2014
KOLKATA: Top Jamaat-ul-Mujahideen Bangladesh (JMB) leaders from Bangladesh have been visiting the country regularly to recruit new operatives and collect funds for the organization.
While the module has 12 key members, the leadership seems to have indoctrinated at least 150 operatives. Sources say that seven madrassas spread across four districts of Bengal — including the Simulia 'training school' and another one under construction there — gave JMB the perfect platform to recruit new members.
According to NIA, the module became operational in November 2011 after Shakil Ahmed Gazi — the India operations head of JMB — managed to get a passport in Behrampore using "contacts" in government offices. By then, Shakil, a Bangladeshi, had been living with his in-laws' in Barbakpur, Nadia, for seven years. This is the same place that had come under the scanner in October last year when a man was detained with 32 genuine passports.
Top JMB operatives Sohail Mehfooz and Md Bilal kept in touch with Shakil, who was in charge of recruitment, and Yousuf Sheikh, the mentor and spiritual head of the module, say sources. NIA says Shakil visited Basirhat, about 69km from Kolkata, just two weeks before the blast, giving a whole new dimension to the probe.
Full report at:
http://timesofindia.indiatimes.com/india/7-madrassas-in-4-districts-of-Bengal-under-lens/articleshow/44831207.cms
---------
Facing protest for 'denying' admission to girls, Bihar madrasa says only holding separate classes
Oct 16, 2014
A government-aided madrasa in Bihar Sharif is facing protests for "not allowing admission to girls" in various classes in already-delayed 2014-15 session. Madrasa Azizia, affiliated to Bihar State Madarsa Education Board, provides education from Class I to Masters and is one of a few madrasas in the state which have co-education facility.
The madrasa management, however, is claiming that they are not discontinuing education to girls, but are only trying to hold separate classes for boys and girls to ensure "female safety".
Over 50 students had staged a protest outside the Islamic institution, alleging that the administration "cited Sharia for not allowing co-education".
Full report at:
http://indianexpress.com/article/india/india-others/facing-protest-for-denying-admission-to-girls-bihar-madrasa-says-only-holding-separate-classes/#sthash.aGhk7fDF.dpuf
---------
ISIS flag in Kashmir valley worries Army
TNN | Oct 16, 2014
NEW DELHI: The most senior military officer in Kashmir valley on Wednesday warned that the waving of ISIS flags in Kashmir was a matter of grave concern and the security establishment needed to take note of it at the highest level. The warning came a day after J&K chief minister Omar Abdullah dismissed the incident as "an act of some idiots".
A protester waved an ISIS flag last week after Eid prayers in Srinagar, in the second such incident in recent times. In July too, a similar incident had occurred in the valley.
General officer commanding the Srinagar-based 15 Corps, Lt Gen Subrata Saha, said ISIS (Islamic State in Iraq and Syria) had the ability to attract a large number of volunteers and it was a cause of worry. He said concerted efforts had to be made to secure the right to prosperity of the youth in the valley and high level attention was necessary to keep them away from the path of terror.
Full report at:
http://timesofindia.indiatimes.com/india/ISIS-flag-in-Kashmir-valley-worries-Army/articleshow/44831687.cms
---------
India committed to work closely with Afghanistan: President Pranab Mukherje
IANS | Oct 16, 2014
NEW DELHI: President Pranab Mukherjee said on Thursday India was "committed to working closely with Afghanistan" and wanted it to act as a bridge between south and central Asia and beyond.
Conveying his best wishes to Ashraf Ghani Ahmadzai on assuming office as the Afghan president, Mukherjee said in his message: "India remains committed to working closely with your government as you set out to rebuild a stable, progressive and prosperous Afghanistan."
"We also share your vision of an Afghanistan that is fully integrated in south Asia, acting as a bridge between south Asia and central Asia and beyond. I sincerely believe that our bilateral relationship will continue to contribute positively to peace, stability and development in our neighbourhood in the years to come," a Rashtrapati Bhavan statement quoted the President as saying.
Full report at:
http://timesofindia.indiatimes.com/india/India-committed-to-work-closely-with-Afghanistan-President-Pranab-Mukherje/articleshow/44835914.cms
---------
Arab World
Iraq minorities face extinction from ISIL onslaught: report
Oct 16, 2014
More than 12,000 civilians have been killed in Iraq so far this year, mainly by Islamic State in Iraq and the Levant (ISIL), and minorities facing ethnic cleansing are the principal victims, according to a report published on Thursday.
Minority Rights Group International (MRG) said several minority communities, including Christians, Yazidis and Turkmen, had been subjected to assassinations, kidnappings and sexual violence and were in danger of extinction in Iraq.
The civilian death toll almost doubled to 12,618 in the January-September period from 6,676 a year earlier, according to the report, which cited the Iraq Body Count database.
At least half a million people have been forced to flee their villages in Ninewa province, home to minority communities for thousands of years, according to the report, From Crisis to Catastrophe: the situation of minorities in Iraq.
Fighters of ISIL, a militant Sunni group, have seized control of large swathes of Syria and Iraq this year, attacking Shi'ite districts in Baghdad and taking over surrounding farmland where Iraqi security forces and Shi'ite militias try to push them back.
MRG executive director Mark Lattimer said the Iraqi government had shown that it was "either unable or unwilling to protect the safety of minorities."
Full report at:
http://www.hurriyetdailynews.com/iraq-minorities-face-extinction-from-isil-onslaught-report.aspx?pageID=238&nID=73059&NewsCatID=352
---------
Iraqi Troops Kill 4 ISIL Terrorists in Anbar Province
Oct 16, 2014
Iraqi government troops killed four terrorists of the Islamic State of Iraq and the Levant (ISIL) group in Baghdadi area in Heet district of Anbar province.
''The security forces succeeded in killing four terrorists and destroyed four motorbike bombs in Heet area," an informed source said Wednesday.
The ISIL Takfiri terrorists currently control parts of Syria and Iraq. They have threatened all communities, including Shiites, Sunnis, Kurds, Christians, Ezadi Kurds and others, as they continue their atrocities in Iraq.
Senior Iraqi officials have blamed Saudi Arabia, Qatar, and some Persian Gulf Arab states for the growing terrorism in their country.
The ISIL has links with Saudi intelligence and is believed to be indirectly supported by the Israeli regime.
http://english.farsnews.com/newstext.aspx?nn=13930724000403
---------
Official says ISIS pushed back by Kobane airstrikes
16 October 2014
A Kurdish official in Kobane said Thursday that U.S.-led airstrikes have successfully pushed back Islamic State insurgents from parts of the besieged Syrian town.
"The international coalition has fought ISIS more effectively during the last few days," Nassen told AFP by telephone.
"Before they (IS) were in control of 30 percent of Kobane and now they control less than 20 percent thanks to the international coalition," he said.
Nassen said Kurdish forces were "flushing out" ISIS fighters from the eastern and southeastern parts of the town on the border with Turkey, calling for more military assistance.
"We need more airstrikes, as well as weaponry and ammunition to fight them on the ground," he said.
http://english.alarabiya.net/en/News/middle-east/2014/10/16/Official-says-ISIS-pushed-back-by-Kobane-airstrikes.html
---------
Hezbollah Calls for Protecting Al-Aqsa Mosque, Sanctities
Oct 16, 2014
Hezbollah asserted that the exacerbation of the Israeli aggressions within Al-Aqsa mosque means that the Zionists move without fear or shame, destroying its gates and injuring dozens of the Palestinian worshippers who are preserving it from the criminality of the Israeli occupiers.
The party considered, in a statement, the Zionists feel comfortable for the Arab silence as well as the international complicity and work on implementing their plans which aim at destroying Al-Aqsa mosque and replacing it with their alleged temple, Al-Manar reported Wednesday.
Condemning the escalating Israeli aggressions, Hezbollah called on directing all the capacities to protect Al-Aqsa mosque and the Islamic and Christian sanctities.
http://english.farsnews.com/newstext.aspx?nn=13930724000228
---------
Egypt's salafists looking for 'good' women candidates
16 October 2014
Besides having a "good reputation," Egypt's Salafist Nour Party only accepts women who already wear the Islamic head veil as candidates for the country's upcoming parliamentary elections, its head told a local newspaper on Wednesday.
"The party has put forth a set of conditions for women's candidacy just like how it did for men, which includes good reputation, committed to wearing the hijab, and has enough professional experience," Youness Makhioun told the Arabic version of Ahram Online.
Another Nour member, Salah Abdulmaaboud, said his party has "no objections" to pushing women forward as candidates, saying a list with no women "will lose."
Full report at:
http://english.alarabiya.net/en/News/middle-east/2014/10/16/Egypt-salafist-party-looking-for-good-women-as-candidates.html
---------
Lebanon: Field Sources Deny Takfiri Militants Captured Post in Brital Outskirts
Oct 16, 2014
Field sources firmly denied that militants of the Takfiri group operating in Syria, al-Nusra Front have captured a post in the outskirts of the Eastern town of Brital.
Earlier media outlets reported that al-Nusra terrorists are advancing in the area, as they captured Ras al-Harf post in Brital outskirts, Al-Manar reported.
The reports also added that fierce clashes between the Takfiri militants and Hezbollah fighters are still going on.
Sources from ground stressed that Hezbollah fighters are well prepared and ready to fight the Takfiri threat.
They reported that the resistance fighters had ambushed a group of the terrorists, claiming the lives and wounding many of them.
http://english.farsnews.com/newstext.aspx?nn=13930724000238
----------
Up to 30 Brit jihadis are believed to have died fighting in Syria
Oct 16, 2014
Up to 30 British jihadis are believed to have died fighting in Syria, it has been reported - a far higher number than previously thought.
Some experts believe that, far from putting potential recruits off, the death toll could inspire more "depressed and lonely" Muslim youths to join Islamic State.
Researchers at the International Centre for the Study of Radicalisation at King's College London have identified 24 British deaths by monitoring jihadist accounts on social media.
But Shiraz Maher, a leading authority, believes the true total is "almost certainly higher" due to the difficulty of accessing information.
Ibrahim Kamara, 19, from Brighton, was killed last month by an American air strike in Aleppo.
Abdullah Deghayes, 18, was killed in battle in April. His father called him a martyr and said two of his other sons, Amer, 20, and Jafar, 16, were also in Syria.
Full report at:
http://www.mirror.co.uk/news/uk-news/up-30-brit-jihadis-believed-4445473#ixzz3GIo33yxM
---------
Syria harshly criticizes Turkey on buffer zones
Oct 16, 2014
Syria has categorically rejected the establishment of buffer zones in any part of its territory "under whatever pretext," rejecting any intervention of foreign forces in its land.
The war-hit country's Foreign Ministry said on Oct. 15 that Syria "will take, in consultation with its friends, all of the necessary measures to preserve its national sovereignty and territorial integrity."
The statement harshly criticized Turkish attempts to seek a buffer zone on its soil, calling it a "gross violation" of the principles, goals and Charter of the United Nations and international law.
The ministry accused the Turkish government of systematically carrying out "everything that could disrupt Syria's stability and jeopardize its sovereignty and territorial integrity."
Turkey's government, the ministry added, has provided "all forms of political, military and logistic support to the armed terrorist groups whose members have come to Syria from over 83 countries, including shelter, training, funds and arms, as well as access into Syrian territory."
Full report at:
http://www.hurriyetdailynews.com/syria-harshly-criticizes-turkey-on-buffer-zones.aspx?pageID=238&nID=73042&NewsCatID=352
---------
Mideast
Turkey will not allow citizens to fight in Kobane: PM Davutoğlu
Oct 16, 2014
Prime Minister Ahmet Davutoğlu has said Turkey will not allow its citizens to cross to border to Syria to fight against the Islamic State of Iraq and the Levant (ISIL) militants alongside Kurds in Kobane.
"We don't want our citizens to fight in Syria and we are trying to stop those who illegally cross the border," Davutoğlu told the media during a press conference at the Interior Ministry Oct. 15.
Davutoğlu also said Turkish citizens of Kurdish origin who died during fighting in Kobane, where fierce clashes have been ongoing since ISIL's first started bidding to capture the town a month ago, caused him "sorrow."
However, he slammed Selahattin Demirtaş, the co-chair of the Kurdish-leftist bloc of the Peoples' Democratic Party (HDP) for his remarks this week that "tens of thousands Kurdish youth" were ready to fight against ISIL if the Turkish-Syrian border gates into Kobane are opened.
Full report at:
http://www.hurriyetdailynews.com/turkey-will-not-allow-citizens-to-fight-in-kobane-pm-davutoglu.aspx?PageID=238&NID=73049&NewsCatID=338
---------
Iran calls for 'confidence' over nukes, extremists Islamic State group
Oct 16, 2014
Confidence-building between Iran and the West would help both nuclear talks and efforts to fight the extremist Islamic State group, Iran's parliament speaker Ali Larijani said Wednesday.
Larijani, formerly Iran's top nuclear negotiator, told a news conference in Geneva that it's necessary to build more confidence with the West in discussions over Iran's nuclear infrastructure and in their separate struggles against Islamic State fighters.
"There is not a natural, direct link between the nuclear talks and the situation in the region," he told reporters in Farsi, through his English translator. "But they can be linked because there is confidence to be built here." Walk the Talk: India voting against Iran in IAEA is not a strategic move,but a major difference…We wanted India to play its cards right: Larijani Iran says its nuclear program is for peaceful energy production but world powers worry it may be designed to develop atomic weapons. Larijani, who was visiting Geneva for the Inter-Parliamentary Union's General Assembly, spoke on the same day that U.S. Secretary of State John Kerry was meeting in Vienna with Iranian Foreign Minister Mohammad Javad Zarif to try to advance the nuclear talks and meet the target date of Nov. 24 for reaching a deal. He called their differences over the number of centrifuges "a trivial matter _ and we should not bargain over trivial matters." Iran has gained tacit acceptance of its main priority, which is recognition of its right to enrich uranium, while the U.S. and its partners have focused on limiting the number of centrifuges that Iran should be allowed to operate and the amount of material it can stockpile for enrichment. President Barack Obama's negotiators are offering the Iranians permanent relief from economic sanctions, and Larijani said a nuclear deal would help Iran to achieve regional stability. But he criticized the tactics used by the U.S.-led military coalition battling Islamic State fighters in Iraq and Syria, mainly through the use of airstrikes.
http://indianexpress.com/article/world/middle-east-africa/iran-calls-for-confidence-over-nukes-extremists-islamic-state-group/#sthash.ZesBS28P.dpuf
----------
Al-Qaeda takes control of area in south of Yemen
16 October 2014
Al-Qaeda militants seized control of Al`Adayn directorate in Yemen's southern Ibb governorate overnight on Thursday, Al Arabiya correspondent in Sanaa reported.
Earlier on Wednesday al-Qaeda militants had clashed in central Yemen with Shiite Houthi rebels expanding their control of the country. At least 12 people were killed in the clashes, according to a security official.
Militants from al-Qaeda, which is active in several provinces of Yemen, confronted the rebels who tried to expand out of Rada, which is in Baida province southeast of the capital Sanaa.
Officially known as Ansarullah, the rebels stretched their control to the shores of the Red Sea on Tuesday, seizing control of the Hudeida port city hours after a new premier was named in a bid to defuse the country's political crisis.
Full report at:
http://english.alarabiya.net/en/News/middle-east/2014/10/16/Al-Qaeda-takes-control-of-area-south-of-Yemen.html
---------
Iran says Shiite Saudi cleric's death sentence risks tensions
Oct 16, 2014
A top Iranian official warned Thursday that a death sentence passed on a prominent Shiite cleric in Saudi Arabia could escalate tensions and called for the decision to be reversed.
Nimr al-Nimr, a driving force behind demonstrations against the Sunni authorities that erupted in Saudi Arabia's oil-rich east in 2011, was convicted of sedition, according to his brother.
Iran's Deputy Foreign Minister Hossein Amir-Abdollahian said Nimr al-Nimr's conviction for sedition, if confirmed, would likely sow discord.
"If the news that a Saudi court sentenced Sheikh Nimr to death is true, it will undoubtedly hurt Muslims' feelings and provoke international reaction," he was quoted as saying by Mehr news agency.
"Such measures do not contribute to the restoration of peace and calm in the region. "
Nimr was also convicted of seeking "foreign meddling" in the country, a reference to Iran, and of "disobeying" the kingdom's rulers and taking up arms against security forces, his brother Mohammed al-Nimr wrote on Twitter.
Full report at:
http://english.ahram.org.eg/NewsContent/2/8/113223/World/Region/Iran-says-Saudi-clerics-death-sentence-risks-tensi.aspx
---------
Palestinians, Israelis to resume Cairo-brokered talks by end of October: Hamas
Oct 16, 2014
Moussa Abu Marzouk, deputy head of the Hamas politburo, has announced that Palestinian and Israeli delegations will return to Cairo for post-truce talks by the end of October.
Speaking to the Palestinian Maan news agency, Abu Marzouk said the Egyptian-sponsored indirect negotiations would involve discussions about Gaza's airport and seaport.
"These matters do not need to be negotiated, for they were stipulated in the 1993 Oslo Accords; what we will examine is re-opening the seaport and operating the airport."
Palestinian prisoners in Israeli jails would not be "present on the meeting's agenda," he added.
Abu Marzouk asserted that a swap deal would not be considered: "Hamas, at any level, has not tackled the swapping of prisoners, but definitely we will do one day."
Egypt brokered a ceasefire between the Palestinian factions and Israel in late August that ended a 50-day Israeli offensive on the Gaza Strip. The new round of Palestinian-Israeli talks will come soon after last Sunday's international conference on the reconstruction of Gaza in Cairo.
Full report at:
http://english.ahram.org.eg/NewsContent/2/8/113212/World/Region/Palestinians,-Israelis-to-resume-Cairobrokered-tal.aspx
----------
North America
Pentagon: 'Several hundred' IS fighters killed in Kobane
Oct 16, 2014
US-led airstrikes have killed "several hundred" jihadists fighters in and around Kobane, but the Islamic State group could still seize the besieged strategic Syrian town, the Pentagon said Wednesday.
"We believe that we have killed several hundred ISIL fighters in and around Kobane," Pentagon spokesman John Kirby told reporters, adding that the majority of the city's population has fled as jihadists continued to pour into the region in an attempt to take the town.
http://english.ahram.org.eg/NewsContent/2/8/113192/World/Region/Pentagon-Several-hundred-IS-fighters-killed-in-Kob.aspx
---------
Anti-ISIL fight in Syria and Iraq gets a name: 'Inherent Resolve'
Oct 16, 2014
After more than two months of air strikes, American commanders have finally decided on a name for the U.S.-led war against jihadists of the Islamic State in Iraq and the Levant (ISIL): "Operation Inherent Resolve."
The decision was taken "a few days ago" by the chiefs of all the armed services, said Colonel Ed Thomas, spokesman for the U.S. military's top officer, General Martin Dempsey.
"The operation is called 'Operation Inherent Resolve,'" Thomas told reporters Oct. 15.
The name had already been cited in previous media reports as a possible choice that was rejected by some officers.
The U.S. military's Central Command, which oversees the air campaign, said the the name was meant "to reflect the unwavering resolve and deep commitment of the U.S. and partner nations in the region and around the globe to eliminate the terrorist group ISIL."
The name also symbolized the "dedication of coalition members to work closely with our friends in the region and apply all available dimensions of national power necessary - diplomatic, informational, military, economic - to degrade and ultimately destroy" the Islamic State group, it said.
Full report at:
http://www.hurriyetdailynews.com/anti-isil-fight-in-syria-and-iraq-gets-a-name-inherent-resolve.aspx?pageID=238&nID=73046&NewsCatID=359
---------
U.S. says ISIS made 'substantial gains' in Iraq
15 October 2014
Militants of the Islamic State of Iraq and Syria (ISIS) have scored "substantial gains" in Iraq despite a continuous U.S.-led air campaign, a senior U.S. official said on Wednesday.
The group "has made substantial gains in Iraq," and it will take time to build up local forces that could defeat them in Syria and Iraq, John Allen, a retired four-star U.S. general, told reporters, according to AFP.
Although the Iraqi government and Kurdish forces succeeded in halting or pushing back ISIS in some key areas including around Mosul dam, the militant group had "tactical momentum" in other areas, Allen said.
He acknowledged the United States and its allies were most concerned with the situation in Iraq, where the U.S. army had to call in Apache helicopters last week to prevent ISIS from seizing Baghdad's international airport.
In an interview on ABC's "this week" on Sunday, Chairman of the Joint Chiefs of Staff Gen. Martin Dempsey said: "They were within 20 or 25 kilometers [of Baghdad airport] and had they overrun the Iraqi unit, it was a straight shot to the airport. So we're not going to allow that to happen; we need that airport."
Full report at:
http://english.alarabiya.net/en/News/middle-east/2014/10/15/ISIS-made-substantial-gains-in-Iraq-U-S-.html
---------
U.S. offers $45 mln in rewards for info on al-Qaeda leaders
Oct 16, 2014
The United States is putting President Barack Obama's "we will hunt down terrorists who threaten our country, wherever they are" threats last month into full sway.
The U.S. State Department released a statement Tuesday announcing bounties totaling up to $45 million for information about alleged key leaders in Al-Qaeda in the Arabian Peninsula (AQAP), Al-Qaeda's Yemen-based branch.
Up to $10 million would be rewarded to anyone with tips on the whereabouts of Nasir al-Wahishi, AQAP's top leader, described by the statement as the person "responsible for approving AQAP targets, recruiting new members, allocating resources, and directing AQAP operatives to conduct attacks."
Full report at:
http://english.alarabiya.net/en/News/middle-east/2014/10/15/U-S-offers-45-mln-in-rewards-for-info-on-Al-Qaeda-leaders-.html
---------
South Asia
High-ranking Taliban leader killed in Herat province
Oct 16, 2014
According to local authorities in western Herat province, a high-ranking Taliban leader was killed following a drone strike in Obe district.
The officials further added the airstrike was carried out by coalition forces late Wednesday night.
The Taliban leader was identified as Mullah Abdul Rahman who was involved in major terrorist related activities in Herat province, the officials said.
At least four Taliban militants were also killed following the airstrike, the officials added.
The Taliban militants group has not commented regarding the report so far.
Herat is among the relatively peaceful provinces in western Afghanistan but the anti-government armed militant groups have increased their activities in a number of its remote districts during the recent years.
http://www.khaama.com/high-ranking-taliban-leader-killed-in-herat-province-8824
---------
Minister: Identifying real freedom fighters in the offing
Oct 16, 2014
Liberation War Affairs Minister AKM Mozammel Haque yesterday said the actual freedom fighters would be picked out soon.
"The real freedom fighters will be given digital identity card after spotting them through proper investigation as early as possible. They will be considered as honourable citizens of the country while their allowance will be lifted to Tk10,000 and 25% of them will get house rent from the next fiscal year," Mozammel Haque said. The minister made the remarks while addressing a view exchange meeting with the local liberation war heroes as the chief guest after inaugurating the Panchagarh Freedom Fighters' complex in the afternoon.
Those who contributed to the 1971 liberation war from March 26 to December 16 would be enrolled to the list, said Mozammel, adding that a move would be taken to legalise the use of the title freedom fighter before their names.
Later, the minister said there will have also a step to take a 100-mark of examination in the BCS on the liberation war and later he warned of taking stern action against the education institutions which do not hoist the national flag.
http://www.dhakatribune.com/bangladesh/2014/oct/16/minister-identifying-real-freedom-fighters-offing#sthash.2kxGbdNc.dpuf
---------
2 Haqqani leaders arrested by Afghan intelligence
Oct 16, 2014
Officials say two senior leaders of the al-Qaida-linked Haqqani network have been arrested by the Afghan intelligence service in eastern Khost province.
The National Directorate of Security said in a statement Thursday that Anis Haqqani, a brother of the network's leader, and Hafiz Rashid, a senior commander of the network, were arrested in a special operation on Tuesday. It did not provide further details.
The statement said Anis Haqqani was an expert in computers and use of propaganda through social networks. He allegedly played a key role in the group's strategic decisions as a deputy to his brother, network leader Sirajuddin Haqqani.
The Pakistan-based militant group, which has ties to al-Qaeda as well as the Taliban, has carried out numerous attacks against both domestic and foreign security forces in Afghanistan.
http://english.ahram.org.eg/NewsContent/2/9/113235/World/International/-Haqqani-leaders-arrested-by-Afghan-intelligence.aspx
---------
Bangladesh: Heritage site grabbed and gradually demolished
Oct 16, 2014
Tamli Rajar Bari, a nearly 300 year old palace at Baragachi village in Poba Upazila of Rajshahi, is now in ruins as a locally influential family is gradually occupying the site.
The palace, locally known as the palace of King Tamli, is located 19 kilometres from Rajshahi city. Locals said the local Gobra Hakim family was dismantling the structure, selling the bricks and growing crops on the land.
The palatial ground is now overrun by all kinds of forage, making it difficult to get inside. It is also waterlogged. This is a real frustration for visitors who come from different areas to visit the palace.
Shamshuzzoha, a local resident, said there was a paved road connecting the palace to the main road but that was turned into a rice field by the local Gobra Hakim family.
While visiting, our correspondent found that on the southern part of the historical site radish was being cultivated on a piece of land filled with brick chips. Rita, a housewife from the neighbourhood, said that part of the house was knocked down by the current owners to turn the site into arable land.
Full report at:
http://www.dhakatribune.com/bangladesh/2014/oct/16/heritage-site-grabbed-and-gradually-demolished#sthash.7TzanJuK.dpuf
---------
Southeast Asia
Malaysia: Ministry Senior Officer Involved In Isis Activities, Top Cop Reveals
Oct 16, 2014
Police today said a government officer who was arrested together with 14 other suspects in Shah Alam two days ago over links with the Islamic State of Iraq and Syria (Isis), had received funding to carry out its activities.
The Star Online, quoting the Inspector-General of Police Tan Sri Khalid Abu Bakar, reported today that the man was a senior assistant director of the Energy, Green Technology and Water Ministry.
The man was suspected to be recruiting Malaysians to join the Middle East militant group.
The report said the funds were also for him to go to Syria.
It quoted Khalid as saying that more suspects, believed to be recruiters for Isis, would be nabbed soon.
Full report at:
http://www.themalaysianinsider.com/malaysia/article/ministry-senior-officer-involved-in-isis-activities-top-cop-reveals#sthash.wAomsuib.dpuf
---------
Malaysian Military Chief Warns Of Threat From Returning Islamic Militants
Oct 16, 2014
The recruitment of Malaysians to fight the conflict in Syria in the name of "jihad" must be checked as it poses a serious threat to the nation.
Armed Forces (ATM) chief, Gen Tan Sri Zulkifeli Mohd Zin (pic) said this was neccessary to prevent Malaysians from being influenced by militants operating in Syria and Iraq.
"After joining, they will be given military training and will possess a spirit of solidarity with people of other countries involved in the conflict.
"This is worrying us. For example, the Jemaah Islamiah (JI), Indonesia's very own Al Qaeda, was formed by those who fought the war in Afghanistan.
"After returning home, the militants will form their own group. It has been proven that Islamic State is more terrible than Al Qaeda," he said when closing a summer camp programme at Kem Desa Pahlawan in Kota Baru today.
Full report at:
http://www.themalaysianinsider.com/malaysia/article/military-chief-warns-of-threat-from-returning-islamic-militants-bernama#sthash.P6WLsZtj.dpuf
---------
URL: https://newageislam.com/islamic-world-news/now,-islamic-state-spreads-tentacles/d/99552