New Age Islam News Bureau
19 Sept 2018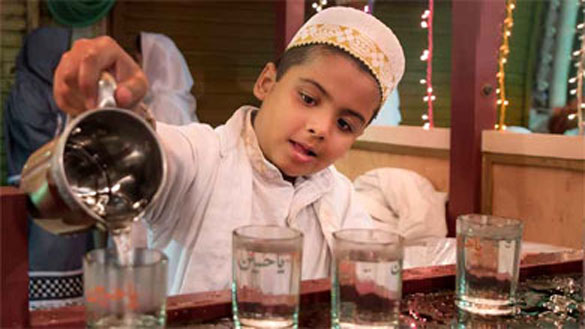 Sabeel (stall offering cold drinks and water) along the route of the Muharram procession
----
• Not Too Long Ago, Sunnis Joined Shias in Mourning Imam Hussain's Martyrdom
• Afghan Shiite Community Brace for Attacks Ahead Of Ashura Holy Day
• If Muslims Are Unwanted, Then There Is No Hindutva: RSS Chief
• Slovakia's Deplorable Move to Criminalise Islam
• Indonesia Exports Religious Take On Family Planning
• Islamophobic Graffiti Should Trigger Hate-Crime Probe, Muslim Group Says
Pakistan
• Not Too Long Ago, Sunnis Joined Shias in Mourning Imam Hussain's Martyrdom
• Minister Suggests Turning Council of Islamic Ideology into Fatwa Authority
• Minister for Human Rights Concerned Over Seizing of Muslims' Religious Freedom by EU States
• US suspension of aid not a 'life or death situation' for Pakistan, says navy chief in Washington
• Imran reaches Saudi Arabia amid reports Pakistan may seek aid
• KP govt to target terror financing
• UK home secy expresses will for coordination with Pakistan in various sectors
• NADRA Directed To Issue 27,825 Pending Cnics To Bengalis, Afghans
--------
South Asia
• Afghan Shiite Community Brace for Attacks Ahead Of Ashura Holy Day
• Afghanistan Arrests over Two Dozen Daesh Terrorists Ahead Of Ashura
• Myanmar army used 'unfathomable levels of violence' against Rohingya
• 250,000 Rohingyas Went Abroad With Bangladeshi Passports
• Bangladesh to Move Rohingya to Island from Next Month: Officials
• ICC opens preliminary probe into Myanmar crimes against Rohingya
• UN report confirms Rohingya suffered genocide
• Modi, Hasina jointly inaugurate oil pipeline, rail projects
--------
India
• If Muslims Are Unwanted, Then There Is No Hindutva: RSS Chief
• Muslim Ekta Manch Is Fanning Communal Tensions Giving Impetus to Right-Wing Groups
• India's Religious Minorities Struggle To Attain Scholarships
• At 107, Muslim Wrestler Had Started Vadodara's First Public Ganesh Fest
• Fringe outfit offers man who killed Muslim LS poll ticket
• BJP accuses Navjot Singh Sidhu of speaking like Pakistan agent
• Three more held in Hojai for Hizbul Mujahideen links
• President Ghani arrives in India leading a delegation of high level officials
--------
Europe
• Slovakia's Deplorable Move to Criminalise Islam
• UK To Announce Support for Victims of Sexual Violence in Myanmar
• EU says Turkey-Russia deal on Syria's Idlib must protect civilians
• Strawberry sabotage akin to 'terrorism': Australia PM
--------
Southeast Asia
• Indonesia Exports Religious Take On Family Planning
• Malaysia's Inaction on Child Brides a Green Light to Paedophiles, Says Lawyers for Liberty
• Power of tradition often trumps religion in Indonesia
• Indonesia keen to boost bilateral relationship with Pakistan, says Totok Prianamto
• The fallacy of 'academic freedom' in Malaysia
• New alliance could be anything but PAS-Umno cooperation, says analyst
• Najib backs Zahid over PAS courtship, but cautions against tie-up
--------
North America
• Islamophobic Graffiti Should Trigger Hate-Crime Probe, Muslim Group Says
• Trump Creates Biodefence Committee To Protect US From Bio-Terrorism
• US-made bombs killing Yemeni kids: CNN
--------
Arab World
• Syrian Rebel Official Says Idlib Deal 'Ends Assad's Dream of Total Control'
• Hezbollah Names Beirut Street after Rafiq Hariri Assassin
• Turkey-Backed Militants Continue Plundering People's Assets in Northern Syria
• Tahrir Al-Sham Captures Rival Terrorists' Positions in Northern Syria
• Israeli aerial operations in violation of Syria's sovereignty, Putin says
• Saudi Arabia greatly concerned by Rohingya plight, says KSA envoy to UN
--------
Mideast
• Fierce Battles over Past 10 Days in Yemen Result in Death of 1,300 Houthis
• Houthis Refuse UN Envoy Efforts to Start Peace Talks in Geneva
• Amnesty decries Houthi prosecution of Bahais in Yemen
• UN envoy to Yemen reports 'constructive meetings' in Sanaa
• Saudi cabinet calls for joint efforts to 'counter Iranian terrorism'
• Saudi airstrike leaves 18 Yemeni fishermen dead off Khokha coast
• Palestinian youth succumbs to wounds sustained in Israeli assault
--------
Africa
• Senior Boko Haram Leader Reportedly Killed by Allies
• Boko Haram Violence Spikes in Nigeria's Northeast
• Ahead Of the 2019 General Election Christian, Muslim Leaders Sign Peace Accord in Abuja
• Nigeria: Boko Haram Kills Abducted Midwife, Threatens to Kill Leah Sharibu
• Boko Haram: Troops kill 5 insurgents in Borno
Compiled by New Age Islam News Bureau
URL: https://www.newageislam.com/islamic-world-news/not-too-long-ago-sunnis/d/116426
--------
Not too long ago, Sunnis joined Shias in mourning Imam Hussain's martyrdom
Abdullah Malik
SEPTEMBER 19, 2018
Every year, an elderly man from a Sunni family sets up a sabeel (stall offering cold drinks and water) along the route of the first Muharram procession in predominantly Shia neighbourhood of Kocha Sardar in Peshawar's walled city.
Bahadur Khan, 55, offers glasses full of water to mourners at the sabeel in a corner of the street as he explains, "This has been a tradition in our family. My father and uncles used to do it, and now it's my turn."
He says he remembers a time when his family would also set up first aid camps along the route of the procession.
Recalling his childhood days in the 1970s, Khan says, "People from Sunni and Shia families used to participate in Muharram processions and attend majalis at imam bargahs."
Though he hopes to pass the tradition on to the younger generation, he is worried about the gradual decline in the practice, since his is now the only sabeel in the city arranged by a Sunni Muslim.
"There was a time when there used to between 25 and 30 sabeels set up by Sunni families of Peshawar.
It's a different city now," he recalls, saying that relations between the two communities started straining as a result of violent attacks on Shia imambargahs and subsequent targeted killings and suicide blasts during Muharram days.
Pointing to a nearby security check post, which is among dozens set up along the route of the Muharram procession in the city, Khan says, "I don't remember coming across any security check posts in the city. It is different now. The city looks like a fortress during Muharram."
Manawar Hussain, who hails from a Shia Muslim family of Peshawar, also has similar stories of interfaith harmony and solidarity from his childhood days in the city.
He recalls a tradition where the Sunni families of his neighbourhood used to decorate all streets and look after sanitation needs during at least one of the days during Muharram.
Hussain believes that back then sectarian identities had not hardened to the extent they have these days. He says things started changing for the worse during General Zia's rule. "Hate preachers were facilitated by the regime," he says, adding that the regime's policies set the stage for the violence that took place in the 1990s.
The tradition of Sunnis setting up sabeels and participating in Muharram processions isn't specific to Pakhtun populated areas. Similar stories of interfaith harmony and cooperation are narrated by Naeem Gujjar, a longtime resident of Rawalpindi Cantonment.
Gujjar belongs to Sunni family that still sets up a sabeel along the route of procession on 9th and 10th Muharram. "We start preparing for it several days in advance. I see it as a holy practice."
Gujjar, who identifies himself as middle-class, regrets that many other Sunni families have given up on the practice. "I don't earn alot of money but I regularly save some of my earnings to be able to set up the sabeel.
"My conscience is clear since I'm helping out my brothers in following their faith. It's a pity that people here have so much money and time to invest in activities that promote hate, and none to spare for small acts of kindness and generosity."
Like Peshawar, Rawalpindi Cantonment area has also seen a decline in the number of sabeels, from 27 during Gujjar's childhood days to a mere five now.
Syed Javed, another resident, recalls that there used to be more than 24 tazias (Muharram processions) arranged in the area by Sunni families, 'but now you will not find a single such tazia.
He says Shias and Sunnis used to mourn Hazrat Imam Hussain's martyrdom together, regretting that the Sunnis got distanced from the practice due to the acts of a minorities of extremists.
https://dailytimes.com.pk/299878/not-too-long-ago-sunnis-joined-shias-in-mourning-imam-hussains-martyrdom/
--------
Afghan Shiite community brace for attacks ahead of Ashura holy day
19th September 2018
KABUL: A series of devastating suicide attacks on Afghanistan's minority Shiite community has fuelled fears of more violence ahead of Ashura, one of the Muslim sect's holiest days, and prompted calls for civilians to arm themselves.
The religious holiday, which falls on Thursday, has become a major target for the Islamic State group since it emerged in the region in 2014 and began assaulting Shiites in overwhelmingly Sunni Afghanistan.
Sunni extremists, like IS, consider Shiites apostates, and have carried out deadly attacks on the sect across the region, massacring hundreds.
The violence has escalated in recent weeks, with more than 60 people killed in suicide bombings at a wrestling club and an education centre in a heavily Shiite-populated neighbourhood of Kabul.
Burqa-clad suicide bombers also struck a Shiite mosque in the eastern city of Gardez last month, killing at least 35 people.
IS claimed responsibility for those attacks.
"We are in constant fear, day and night," Ahmad Zia Ahmadi told AFP on Sunday as he oversaw repairs at the Maiwand wrestling club, which was badly damaged in the September 5 double bombing.
"If the government does not provide security for us, we will have to arm ourselves."
The Afghan government is frequently criticised for failing to protect Shiites, who number around three million in Afghanistan, and there are growing fears of vigilantism.
Hundreds of civilians were recruited last year to protect Shiite religious sites in Kabul and other cities ahead of Ashura, reinforced by police officers.
The move helped to reduce the number of attacks, a senior Shiite leader told AFP recently, but no such plan has been announced for this Ashura.
While hundreds of weapons distributed in 2017 were still being used to protect mosques, it was not enough, he said.
Last year "they only gave us 1,250 guns that we distributed to 14 provinces with Shiite populations", he said on the condition of anonymity.
Some mosques "are still unarmed".
Interior ministry spokesman Najib Danish told AFP that the government had a security plan for Ashura and the Islamic month of Muharram, but would not provide details.
"We will do everything to provide security for our people in Kabul," Danish said on September 10, a day before the start of Muharram.
Ashura -- the most important Shiite observance -- falls on the 10th day of Muharram, which is the mourning period for the seventh-century killing of Imam Hussein, the grandson of the Prophet Muhammad.
The faithful gather to beat their chests and lash their backs with chains until they bleed in commemoration of Hussein's death.
We know they will attack
Without faith in the government, many Shiites echo Ahmadi's fears that IS could strike anywhere, and that they can only rely on themselves for protection.
"We have been attacked in our mosques, schools, streets and gyms," Ghulam Reza told AFP at the wrestling club.
"We are thinking about arming ourselves."
On Facebook, users have been sharing the rumoured locations of planned attacks in Kabul.
"Nowhere is safe for us anymore," one user named Hossien posted.
"Our kids, religious scholars, wrestlers, and people from all walks of life are killed every day. Let's... stand up against it."
Another Facebook user wrote: "Standing in front of a mosque to protect your people is a way of fighting terrorism. When the government cannot provide security, you protect your institutions and values."
Afghanistan's intelligence agency announced Tuesday the arrest of 26 suspected IS militants who were allegedly planning to carry out attacks during Muharram and on Ashura.
Plans to divide Kabul into four security zones were announced by Afghan President Ashraf Ghani on September 8.
He also said heavier security, such as a "green zone" similar to the one where many embassies and international organisations are located in Kabul, was needed in the city's Shiite-dominated west.
But "more deliberation and consultation" were required before the proposals could be implemented, he said in a statement.
The lack of action is no surprise to Ahmadi, who is collecting donations to repair the wrestling club.
"We know the enemy will attack us," he said, as he studied bits of flesh stuck to the ceiling.
But "we don't expect the government to protect us. They can't".
http://www.newindianexpress.com/world/2018/sep/19/afghan-shiite-community-brace-for-attacks-ahead-of-ashura-holy-day-1874173.html
--------
If Muslims Are Unwanted, Then There Is No Hindutva: RSS Chief
by Lalmani Verma
September 19, 2018
Recalling the words of Sir Syed Ahmad Khan, the founder of Muhammadan Anglo-Oriental College which became the Aligarh Muslim University, RSS chief Mohan Bhagwat Tuesday nuanced the Sangh line of every Indian being a Hindu, saying "Hindu Rashtra does not mean it has no place for Muslims. The day it is said that Muslims are unwanted here, the concept of Hindutva will cease to exist".
Speaking on the second day of a three-day RSS lecture series event in New Delhi, Bhagwat said he will "respect" the sentiments of those who wish to be called "Bharatiya" and not Hindu.
He recalled Syed Ahmad Khan's speech at a function organised by the Arya Samaj community to felicitate him for becoming "the first Muslim barrister". He said Khan told the gathering "Mujhe bada dukh hua ki aapne humko apne me nahin shumaar kiya… kya hum Bharat Mata ke putra nahin hain?… arre itihaas mein badal gayi hamari puja ki padyati, aur kya badla hai? (I am very upset that you did not consider me one of your own. Am I not a son of Mother India? Nothing has changed except our ways of worship)."
Bhagwat said that this was the sentiment among people of undivided India until 1881 before it disappeared over time. "Usko wapas lana padega… usko aap, hum jaisa kehte hain usko, Hindu mat kaho… aap usko Bharatiya kaho… hum aap ke kehne ka samman karte hain (We need to return that. If you do not want to call that Hindu, as we do, call it Bharatiya. We will respect what you say)," he said.
"Hum kehte hain ki hamara Hindu Rashtra hai. Hindu Rashtra hai iska matlab isme Musalman nahin chahiye aisa bilkul nahin hai… jis din yeh kaha jayega ki yahan Musalman nahin chahiye… uss din woh Hindutva nahi rahega. Woh toh vishwa-kutumb ki baat karta hai (We say ours is a Hindu Rashtra. Hindu Rashtra does not mean it has no place for Muslims. The day it is said that Muslims are unwanted here, the concept of Hindutva will cease to exist. Hindutva believes that the world is a family)," he said.
"The image of Bharat is that we accept and welcome diversity… global dharma was nurtured here. Bharat is the trustee of all this knowledge, and has given it to the world from time to time," he said.
In another remark directed at RSS critics who fear that the Sangh and its affiliates are out to rewrite the Indian Constitution, Bhagwat said they believe the "Indian Constitution is the consensus of the country" and the RSS is committed to Constitutional provisions.
"We respect all symbols of freedom, and the Constitution is also one such symbol." He read out the Preamble to underline the RSS's commitment to the Constitution despite the words 'socialist' and 'secular' being included later.
He did, however, equate organising the society with organising Hindus. "Like an examination in which we solve the easy questions first and then pick the hard ones later… we will organise those first who admit they are Hindus… There might be people who consider us enemy… our objective is not to finish them but to take them along… that is Hindutva in the real sense," he said.
Maintaining that the Sangh keeps distance from politics — without naming the BJP, he said the RSS does not dictate a party's politics or the policies of its government — Bhagwat said it pushes for what it believes are in the interest of the country. He said the issue of illegal immigrants (ghuspaithiye) was one such matter where the RSS will never hesitate to spell out its position.
https://indianexpress.com/article/india/if-muslims-are-unwanted-then-there-is-no-hindutva-mohan-bhagwat-at-rss-event-5363529/
--------
Slovakia's Deplorable Move to Criminalise Islam
18 September, 2018
The ongoing and increasing effort to criminalise Islam throughout Europe, a continent that prides itself on being a bastion of liberal and pluralistic values, operates under many guises and covert methods, all of which have a singular purpose: To make life as difficult for Muslims as lawfully possible.
European parliaments are legalising Islamophobia at breakneck speeds, with European citizens becoming increasingly fixated on what Muslims can and cannot wear in public.
Consider that France became the first to ban the Islamic face veil in 2011, but since then only six of the 28 EU countries haven't considered banning headscarves and face veils, those six being Croatia, Cyprus, Greece, Poland, Portugal and Romania.
Countries that have passed general national laws that criminalise wearing the face veil include France, Belgium, Bulgaria, and Austria, while Denmark and Spain have enacted bans in specific public settings or sectors, according to a recent report by Open Society Foundation.
All of this is taking place as far-right political parties and movements spread throughout Europe at rate alarmingly similar to the Nazi military in the late 1930s to early 1940s.
Moreover, some European states are going even further than France, Belgium, Denmark and others in their respective efforts to stifle and repress the rights of Muslim minorities and expression of the Islamic faith.
Slovakia, for instance, recently passed a law that effectively outlaws Islam for the foreseeable future and/or forever.
The bill changed a pre-existing law that stated a religion must attain 20,000 followers (signatures) before it can be considered a state religion.
Without that legal status, a religion is deemed unlawful by the state, deeming it ineligible for government tax subsidies, while, at the same time, forbidding public houses of worship. The new law, however, doubled the threshold from 25,000 to 50,000 signatures.
Given Muslims represent only 0.4 percent of the population, Slovakia's anti-Islam law represents a solution to a problem that doesn't exist, but Slovak politicians haven't tried to conceal their motive behind this bill. In fact, they have publicly stated it's intended to outlaw all aspects of Muslim life in the country forever.
"Islamisation starts with a kebab and it's already under way in Bratislava, let's realise what we will face in five to 10 years," said Slovak National Party (SNP) chairman Andrej Danko in an interview with Reuters. "We must do everything we can so that no mosque is built in the future."
As it stands, there are roughly 5,000 Muslims in Slovakia, but not a single mosque. This law restricts the day-to-day life of Slovak Muslims in very harmful and repressive ways. Not only are they denied basic rights regarding freedom of speech and expression, but also they can't have religious leaders, perform Islamic marriages, nor can they receive funding or assistance from the government, unlike the members of 18 other registered religions in the country.
"As Muslims, we do really need to be recognised and to have a feeling that we are well accepted and well integrated by the government, by the society. We as Muslims, we are citizens. We have, beside our duties, also some rights," said Mohamad Safwan Hasna, chairman of Islamic Foundation Slovakia, in a recent interview with TRT World.
Moreover, failing to recognise Islam as a religion means schools are not allowed to teach their students about the religious faith and/or the contributions Muslims have made towards technology, medicine, philosophy and the natural sciences, which also denies students being knowledgeable about the historical presence of Muslims in Slovakia.
"There is no mention of the contribution of Arabic travel books to the reconstruction of the history of Central and Eastern Europe in the early middle Ages," observes Jozef Lenc and Monika Zavis, Slovakian authors of a recent report into Islamophobia in Slovakia.
"In Slovakia, we do not even teach anything about the Muslim communities of early Hungary (for example, around Nitra) or the contributions of the Tatars, who settled in the territory of today's Poland, Lithuania and Belarus, to the Polish army and society."
This, according to Lenc and Zavis, is creating the intellectual space for Islamophobia to thrive and proliferate, which also creates space for political entrepreneurs, particularly on the right, to exploit and mobilise a political base.
For instance, a prominent Member of Parliament, Stanislav Mizik, recently stated, "Every normal European, Christian or atheist, has to fear this satanic-paedophile creation of the devil, which is the religion of Islam."
Of course, like everywhere else, seemingly, Slovak media also helps perpetuate negative stereotypes about Muslims and disinformation about Islam, and in particular has further fueled ill feeling towards the country's tiny Muslim minority.
Read more: Love, politics and patriarchy: British Muslim women are taking back their narrative
"Most often Islam is associated with terrorism - in fact all Slovak media use the word 'jihad' as a synonym for 'terrorism,' and 'jihadists' as a synonym for 'terrorists.' This creates a societal image that all Muslims who act as jihadists are terrorists, and that terrorism in the form of jihad is a part of Islam," observe Lenc and Zavis.
This climate of anti-Muslim animus is urging Slovak politicians to expand the 2017 bill by more than quadrupling the number of signatures required to attain status as a legal religion, but even more concerning is the fact that hate crimes against Muslims in Slovakia are on the rise, like pretty much everywhere else across the continent.
At the heart of these European anti-Muslim laws is the fear of terrorism, with right-wing politicians foolishly and dangerously espousing the misguided notion that being tough on Muslims will defeat "Islamic" terrorism, despite the fact that counterterrorism academics and practitioners contend the exact opposite - that social cohesion, pluralism, equality and inclusion are the enemies of violent extremism.
Slovakia, unfortunately, is yet another example of a modern European state falling victim to the worse impulses and imaginary of fears of a more virulent and threatening far-right.
https://www.alaraby.co.uk/english/comment/2018/9/18/slovakias-deplorable-move-to-criminalise-islam
--------
Indonesia Exports Religious Take On Family Planning
September 19, 2018
The United Nations Population Fund (UNFPA), in collaboration with the National Population and Family Planning Board (BKKBN), is promoting Indonesia's approach of incorporating religious leaders in family planning campaigns abroad, describing the approach as effective in increasing the use of contraception.
Annette Sachs Robertson, a UNFPA Indonesia representative, said on Tuesday that Islamic leaders in other countries often perceived family planning and the use of contraception as unacceptable for Muslims, unlike many Indonesian religious leaders who believe family planning is part of Islamic teaching.
Robertson said religious leaders in Indonesia have also taken part in promoting maternal and infant health.
"[They told Muslim adherents] to not have children if they are too young or too old [to bear children]," she said. "And they also told people not to have children to soon or too many."
The UNFPA, in collaboration with the BKKBN, has been inviting since 2013 religious leaders from at least 20 African and Asian countries — particularly those with a large Muslim population — to Indonesia to learn about family planning from Muslim leaders.
Among the countries are Afghanistan, Niger and Nigeria — of which the contraceptive prevalence rates stood at 25, 16 and 21 percent respectively in 2017.
"Some [of the 20] countries even requested our staff, BKKBN staff and some experts to visit their countries and hold training sessions for their Muslim leaders," Robertson said.
The latest training session was set up in Mindanao, home to the majority of Muslims in the Catholic-majority Philippines, earlier this year.
UNFPA Indonesia program officer for advocacy Samidjo said Mindanao was "doing what Indonesia does in carrying out a family planning program".
For example, Indonesia has a premarriage counseling program where engaged couples receive education on health and reproduction, as well as the family planning program, while Mindanao has a post-marriage counseling program.
"Why post-marriage [counselling]? Because in Mindanao, it is prohibited for Muslim couples to meet before they are officially married," Samidjo said, adding that the counseling program was organized by the countries' religious bodies, with the Indonesian body being the Religious Affairs Office.
Both Robertson and Samidjo were speaking to The Jakarta Post on the sidelines of the inter-ministerial conference on South-South and Triangular Cooperation (SSTC), which is taking place in Bali from Tuesday to Thursday.
Indonesia and the Philippines have collaborated on Mindanao's family planning program since 2013, leading to an increase in the contraceptive prevalence rate (CPR) in Mindanao.
The CPR in Mindanao increased to 40 percent in 2017 from 30 percent in 2013, yet it is far below Indonesia's 63.6 percent.
Indonesia and the Philippines are set to sign a memorandum of understanding (MoU) on the exchange of religious leaders to help promote the family planning program in Mindanao on the last day of the SSTC meeting. The agreement will aim at extending a similar five-year pact, which will expire soon.
The BKKBN claimed success in increasing Indonesia's CPR from 61.9 percent in 2012 to 63.6 percent in 2017.
Prior to 2012, the country had made little progress, with rising conservatism frequently blamed for undermining efforts to increase the CPR, which only increased by 2 percent from 60 percent between 2002
and 2012.
The SSTC meeting, attended by at least 250 officials from 45 member states, is expected to address population and development challenges in developing countries, grouped together as the Global South.
http://www.thejakartapost.com/news/2018/09/19/indonesia-exports-religious-take-on-family-planning.html
--------
Islamophobic graffiti should trigger hate-crime probe, Muslim group says
09/18/2018
A civil liberties organization on Tuesday called for officials to conduct a hate-crime investigation after Islamophobic graffiti was found in front of a home in Homer Glen.
The graffiti was spray-painted Monday on the sidewalk in front of the home of a Muslim family who has lived in the southwest suburb for more than 20 years, according to a statement from the Chicago office of the Council on American-Islamic Relations (CAIR).
"These kinds of cowardly attacks are designed to do one thing: make people feel unwelcome and unsafe, even in the sanctity of their own homes, for no other reason than their personal choice of faith," CAIR Executive Director Ahmed Rehab said in a statement.
The Will County sheriff's office, which provides law enforcement services for the village, has not released information about the incident. A spokeswoman for the office was not immediately available for comment Tuesday evening.
The graffiti contained crosses and a message that appeared to be an attempt to mock the Islamic phrase "peace be upon him," which Muslims say when they reference the Prophet Muhammed, Rehab said. In addition, the person or people who left the message also spayed black paint over the brake lights of the family's car.
The organization said the son of the couple who live at the home reported the incident to law enforcement and the organization after it was discovered.
"We call on the sheriff's department to investigate this incident with its full resources and resolve, and to increase patrols in the area," Rehab said.
https://chicago.suntimes.com/crime/cair-chicago-hate-crime-homer-glen-graffiti-will-county-islam-muslim-prophet-muhammad/
--------
Pakistan
Minister Suggests Turning Council of Islamic Ideology into Fatwa Authority
By Sehrish Wasif
September 18, 2018
ISLAMABAD: Federal Minister for Religious Affairs Noor-ul-Haq Qadri on Tuesday suggested turning the Council of Islamic Ideology (CII) – an advisory body for presenting Islamic views on various policy issues – into a Federal Fatwa Centre.
"This move will help to discourage issuance of fatwa on every street and village of the country," Qadri said while addressing a book launching ceremony at the CII headquarters. Sharing details of the idea, he said the fatwa centre will be responsible for issuance of decree on national and international issues.
When contacted, the CII chief Dr Qibla Ayaz said the federal minister has just given a suggestion.
"The aim behind this move will be to give the CII a mandate of issuing fatwas which have national and international consequences and impact. It will help to bar and discourage local muftis to give fatwa on issues which could bring embarrassment for the country," he said.
Dr Ayaz said the CII will be given an additional responsibility for giving fatwas on issue like religious extremism, religious intolerance, three talaqs and child marriages among other things.
"The CII have members belonging to various schools of thought who are highly qualified. Therefore it is believed that their mutual advice based on new scientific research on any specific issue will help in issuing a relevant fatwa and would be in line with teachings of all sects," he said.
However the local muftis, he added, will be allowed to give fatwas on small issues like family disputes and inheritance issues.
Back in 2013, the former CII chairman Muhammad Khan Sherani issued a fatwa on behalf of the council that said the DNA tests were unacceptable as primary evidence in rape cases, but said they could be considered as supporting evidence.
https://tribune.com.pk/story/1806672/1-minister-suggests-turning-cii-fatwa-authority/
--------
Minister for Human Rights Concerned Over Seizing of Muslims' Religious Freedom by EU States
By Muhammad Irfan
September 18, 2018
ISLAMABAD – Federal Minister for Human Rights Dr Shireen Mazari expressed her concerns over the violation of basic human rights by some European states and seizing the religious freedom to practice their religion freely and in the form of abuse of Islam by some European states against their Muslim citizens.
She expressed these concerns during a meeting with a delegation of European Union headed by Jean-François Cautain, Ambassador of the European Union in Pakistan here Tuesday. The delegation was comprised of Political Councilor Frank-Olivier Roux and Human Rights Counselor Javeria Kabani and others. High officials of the Human Rights Ministry also attended the meeting.
She urged the international community to take prompt action in this regard and to play a decisive role not only in seeking an end to the violation but to restore and protect their human rights in the pursuance of the Human Rights European Convention.
Addressing the delegation, Shireen Mazari said that Muslim community has been facing the impediments to practice their religion freely adding that Muslims in some European states had been deprived of their basic human rights. We do have the serious issues in this regard and everyday Human Rights situation is becoming worse, she added.
She further showed her commitment to the effective implementation of the United Nations Conventions in pursuance to the constitution of Pakistan and international commitments. She also apprised the EU Ambassador about the steps to ensure the protection of Human Rights particularly the rights of women, children, and minorities.
The minister said we are working on three further bills including Anti Torture and Custodial Death, Rights of Persons with Disability and Prohibition of Corporal Punishment Bill, the drafts of which have been forwarded to the Law Ministry for vetting and further process to present before the Cabinet. Shireen Mazari said besides the implementation of Hindu Marriage Act, the Ministry had drawn up a new Christian divorce bill for the National Assembly.
Full report at:
https://en.dailypakistan.com.pk/pakistan/mazari-concerned-over-seizing-of-muslims-religious-freedom-by-eu-states/
--------
US suspension of aid not a 'life or death situation' for Pakistan, says navy chief in Washington
September 18, 2018
Anwar Iqbal
Pakistan Navy Chief Admiral Zafar Mahmood Abbasi on Monday said that India's sea-based nuclear weapon initiative had compelled Pakistan to take steps for maintaining strategic balance in the region.
Talking to media persons at the Pakistan Embassy in Washington, Admiral Abbasi, who is visiting US to attend an international sea-powers symposium, rejected the "myth" that Pakistan was seeking strategic depth in Afghanistan.
The navy chief said though the decision by US to suspend security assistance to Pakistan was not a favourable one, it was not a "life or death situation".
Sea-based nuclear deterrence
Abbasi defended Pakistan's decision to match India's sea-based nuclear programme while responding to several questions from the representatives of the US media.
"Sea-based nuclear weapons provide an assured second strike capability which disturbs the equation, so unless we equate that, the imbalance might induce India to start a conventional war," he said. "We have legitimate concerns and our programme is aimed at discouraging India from doing so."
In April this year, Pakistan conducted the second flight test of its Babur-III nuclear-capable submarine-launched cruise missile (SLCM). The missile was tested from a submerged platform off Pakistan's coast in the Arabian Sea and flew to strike a target at an undisclosed location.
Pakistan's Inter-Services Public Relations (ISPR) announced that the missile "incorporates advanced aerodynamics and avionics that can strike targets both at land and sea with high accuracy, at a range of 700 kilometres".
While Abbasi admitted that Pakistan had tested the Babur-III missiles to meet the Indian challenge, he dismissed a journalist's implication that Pakistan had developed this missile with China's assistance.
"It's an all indigenous programme. I will leave at that," he said.
Abbasi explained that Pakistan has an elaborate programme for ensuring the security of the assets it has developed to counter the Indian threat, "which provides all the tools, procedures and settings under a central command that runs through Strategic Plans Division".
The admiral said that in 2016 Pakistan signed an agreement with China for procuring eight submarines, which will be delivered by 2025. These are all conventional submarines and are not nuclear capable.
Pakistan not seeking strategic depth in Afghanistan
Abbasi also rejected "the myth" that Pakistan was seeking "strategic depth" in Afghanistan.
"Afghanistan is a separate, sovereign country and we respect it as that. Whatever strategic depth we have is our own," he said.
The naval chief said political changes in Pakistan will not affect its Afghan policy and the country will continue to support peace and stability in Afghanistan. Pakistan, he said, did not want large ungovernable territories in Afghanistan because it had repercussions.
"Terrorists take refuge in Afghanistan and use its territory for launching attacks into Pakistan. The most recent terrorist attacks in Pakistan were conceived, planned and executed from Afghanistan. That's why we are trying to fence our border," he said. "We are all for a political solution to the Afghan problem."
US-Taliban talks
Responding to a question about US-Taliban talks in Qatar, he said: "We welcome these talks. We hope that some sort of solution comes out of that."
"This is a good beginning that the US is engaged with the Taliban."
He said the best hope for peace in Afghanistan were the quadrilateral talks that Pakistan had arranged in Murree in 2016. However, those talks, he said, had been sabotaged by leaking the news of Mullah Omar's death.
Admiral Abbasi rejected the suggestion that Pakistan was financing the Afghan Taliban.
"The Taliban's biggest source [of money] is the drug trade and we are trying to stop that. About 30-40 per cent of this trade is carried through the maritime route," he said.
The naval chief urged that the US should share intelligence gathering with Pakistan to combat drug trafficking through sea routes.
'Pakistan is not North Korea'
The navy chief disagreed with the suggestion that Pakistan was being isolated like North Korea.
"Equating North Korea with Pakistan is not right. North Korea does not have a legitimate threat from a neighbour, which is responsible for dismembering it," he said.
Abbasi explained that North Korea was cut-off from the rest of the world as opposed to Pakistan, which works alongside international forces because Islamabad realises that a country cannot live in isolation.
US-Pakistan relations
The Pakistan navy chief said his country wanted a good relationship with the US, based on mutual respect, not security or economic assistance.
"Security assistance is not our primary consideration. We want good relations with or without security assistance. We have enough resources in Pakistan. We can work without US assistance," he said.
Admiral Abbasi noted that the US recently cancelled the programme which enabled Pakistani military officers to attend theUS defence institutions.
"We are still sending our officers to the US, funding the programme from our own resources," he maintained.
He said all three services chiefs were out of the country, visiting the US, China and Russia and the visits conveyed the message that "we want to stay engaged with the international community, with both East and West".
Abbasi said that Pakistan was looking for new and updated jet aircraft for surveillance purposes as the P3C surveillance planes that were given by the US more than 10 years ago were now outdated.
"We are ready to acquire them from any source, including the US," he said.
No Chinese base in Gwadar
Admiral Abbasi dismissed the concern that China was setting up a base at the Gwadar port, and insisting that "there's absolutely no truth to that".
"There are no plans to hand over any base to foreign navies anywhere in Pakistan," he said, emphasising that Gwadar was purely a commercial harbour and only Pakistan Navy would have a base there.
He said so far no foreign warship had entered Gwadar, but whenever that happens it would be open to all other navies including French, Royal and that of the US.
US-India maritime agreement
Abbasi said that Pakistan had noticed that the US and India had recently signed maritime agreements, but added that such deals were not "a zero-sum game".
The US, he said, will also participate in multinational maritime exercises in Pakistan in February next year, where some 50 navies from around the world — including China — will take part. A similar exercise had been held in 2017 in which 37 countries participated.
Full report at:
https://www.dawn.com/news/1433697/us-suspension-of-aid-not-a-life-or-death-situation-for-pakistan-says-navy-chief-in-washington
--------
Imran reaches Saudi Arabia amid reports Pakistan may seek aid
September 19, 2018
ISLAMABAD: Prime Min­ister Imran Khan reached Saudi Arabia on his first foreign visit after assuming office.
He is accompanied by Foreign Minister Shah Mehmood Qureshi, Finance Minister Asad Umar, Information Minister Fawad Chaudhry and Adviser on Commerce Abdul Razzak Dawood.
Upon arrival at Prince Moh­am­med bin Abdulaziz Inter­national Airport, Prime Minister Khan was received by Prince Faisal bin Salman bin Abdulaziz, Governor of Madina and Pakistan's Amb­assador to Saudi Arabia Khan Hisham bin Siddique along with other officials.
In Madina, the prime minister and his delegation visited Masjid-i-Nabawi where the doors of Prophet Muhammad's (peace be upon him) final resting place were opened for them. The delegation offered Maghreb prayers at Riyadhul Jannah.
Later, the delegation travelled to Jeddah where Prime Minister Khan is scheduled to call on King Salman and hold a bilateral meeting with Crown Prince Mohammad bin Salman bin Abdulaziz to discuss re­gional and international issues.
The Saudi King will also host a state banquet for the prime minister at the Royal Court, said an official statement.
Secretary General of the Organi­sation of Islamic Cooperation Dr Yousef bin Ahmad Al-Othaimeen will also meet Prime Minister Imran Khan.
Pakistan is a leading and active member of the organisation.
The prime minister and his delegation will arrive in Abu Dhabi on Wednesday evening.
Full report at:
https://www.dawn.com/news/1433827/imran-reaches-saudi-arabia-amid-reports-pakistan-may-seek-aid
--------
KP govt to target terror financing
Sep 19, 2018
The Counter-Terrorism Financing Unit (CTFU) has been notified by the Khyber Pakhtunkhwa (KP) government to operate under the Counter Terrorism Department (CTD), a local media outlet reported on Tuesday.
The move comes on the heels of a raid by the Federal Investigation Agency (FIA) to seal a currency market in Peshawar linked with money laundering.
In June, the Financial Action Task Force (FATF) had found 'deficiencies' in the country's ability to curb terror financing.
Pakistan had presented a plan of action consisting of 26 points the country said it would work on to avoid being placed on FATF's blacklist.
https://www.pakistantoday.com.pk/2018/09/19/kp-govt-to-target-terror-financing/
--------
UK home secy expresses will for coordination with Pakistan in various sectors
Sep 19, 2018
LAHORE: United Kingdom (UK) Home Secretary of the Sajid Javed has said that his country is keen to support and extend full cooperation to Pakistan in achieving sustainable development goals, education and health sectors.
The British home secretary expressed these views during a meeting with Punjab Chief Minister Sardar Usman Buzdar in Lahore on Tuesday.
Matters of mutual interest, promotion of bilateral cooperation in diverse sectors were discussed in the meeting.
Sajid Javed congratulated Sardar Usman Buzdar on becoming Chief Minister and extended good wishes to him.
Speaking on this occasion, the Chief Minister Punjab said Pakistan and UK are strong partners in the journey of progress and prosperity.
Full report at:
https://www.pakistantoday.com.pk/2018/09/19/uk-home-secy-expresses-will-for-coordination-with-pakistan-in-various-sectors/
--------
NADRA directed to issue 27,825 pending CNICs to Bengalis, Afghans
Sep 19, 2018
KARACHI: With the announcement of Prime Minister Imran Khan to issue identity cards to Bengalis and Afghanis who were residing as illegal immigrants up till now, the Ministry of Interior (MoI) has directed the National Database and Registration Authority (NADRA) to issue at least 27,825 pending Computerised National Identity Cards (CNICs) without verification of parents' cards, Pakistan Today learnt on Tuesday.
According to sources, the total number of pending CNICs stands at 16,772 in Karachi, Quetta 5,685, Peshawar 4,411, Sargodha 221, Islamabad 342, Lahore 243, Sukkur 144 and Multan 7.
In this regard, the NADRA (Operations) Director Ali Javed has forwarded a letter to all the Regional Head Offices (RHOs) to ensure compliance of the order and CNICs may be issued without any hindrances.
"Ministry of Interior vide para 2 (vii) of the letter under reference has decided and directed NADRA that "where the national status of parents is cleared in NADRA record, in such cases CNIC to children may be issued without any hindrance". Accordingly, all Regional Head Offices (RHOs) were directed to implement the same in letter and spirit vide letter under the reference", the letter said.
"Accordingly, RHOs confirmed the dissemination and implementations of the directions. However, during technical analysis of operational activities, it has been observed that about 27,825 cases have been marked UV wherein parents (father and mother) CNIC numbers are mentioned and their CNIC are either cleared or have never been blocked in NADRA record", the letter added.
Full report at:
https://www.pakistantoday.com.pk/2018/09/18/nadra-directed-to-issue-27825-pending-cnics-to-bengalis-afghans/
--------
South Asia
Afghanistan arrests over two dozen Daesh terrorists ahead of Ashura
Sep 18, 2018
Afghanistan's main intelligence agency says its officers have detained at least 26 Daesh Takfiri terrorists who were planning attacks on mourning processions held by Shia Muslims during the upcoming event of Ashura.
The National Directorate of Security (NDS) said in a statement on Tuesday that the militants were arrested in separate operations across the capital Kabul over the past 72 hours.
"Twenty-six members of the terrorist group including one of their group leaders, Abdullah, were detained in capital Kabul," the statement read.
NDS spokesperson Tasal Khan confirmed that the terrorists were currently under investigation for planning "attacks on Ashura ceremonies."
"These terrorists were detained over the past three days in Kabul."
People across Afghanistan prepare to hold mourning processions to mark the day of Ashura, which is the climax of mourning rituals during the lunar month of Muharram. The event commemorates the anniversary of the martyrdom of Imam Hussein, the grandson of Prophet Muhammad and third Shia Imam.
The mourning rituals peak on the 10th day, traditionally known as Ashura, when the Imam and 72 of his companions were martyred at the hands of the despot to whom they had refused to pledge allegiance.
Over the last two years, the terrorist group has carried out dozens of attacks on mosques, religious and political gatherings as well as sports clubs and education centers of the Afghan Shia community, including an attack during Ashura in 2016, in which nearly 20 people were killed.
On September 5, at least 20 people were killed and nearly 70 others injured in twin bombings inside a sports club in a mainly Shia Muslim area of western Kabul.
Repeated terror attacks against Shia Muslims have led the Afghan government to beef up security in Kabul in recent days, especially in neighborhoods that are home to the Hazara Shia community. The Hazara Shia community, the poorest of the country's ethnic groups, accounts for about 22 percent of Afghanistan's population. Its members have been targeted in several large-scale kidnappings and killings across Afghanistan in the past, prompting demonstrations and sit-ins in Kabul and elsewhere.
Human Rights Watch (HRW) said in a recent report that a certain group affiliated with Daesh had targeted voter registration centers, public gatherings, and schools, singling out Afghanistan's Shia community for attack. At the same time, people living in areas where these groups hold sway have experienced airstrikes by US and Afghan government forces that killed and injured more than 350 civilians between January and June.
The UN Assistance Mission in Afghanistan (UNAMA) said last year civilian casualties in sectarian attacks across Afghanistan, primarily against Shia mosques, had sharply risen.
The rise of Daesh in Afghanistan has triggered concerns in a country that has already been torn apart by decades of Taliban-led militancy and the 2001 invasion of the United States and its allies.
Daesh, which has been crushed in Iraq and Syria, has reportedly managed to take recruits from Taliban defectors in Afghanistan's eastern province of Nangarhar, which borders Pakistan.
https://www.presstv.com/Detail/2018/09/18/574530/Afghanistan-Daesh-terrorists-Ashura
--------
Myanmar army used 'unfathomable levels of violence' against Rohingya
September 18, 2018
GENEVA: Myanmar's army has used unfathomable levels of violence against minority Rohingya, UN investigators said on Tuesday, calling for the military to be removed from politics and top generals to be prosecuted for genocide.
In the most meticulous breakdown of the violence in Myanmar to date, a UN team of investigators presented a 444-page report laying out in horrifying detail a vast array of violations committed by the country's powerful military, especially against the Rohingya Muslims.
"It is hard to fathom the level of brutality of Tatmadaw operations, its total disregard for civilian life," head of the UN fact-finding mission Marzuki Darusman told the UN Human Rights Council, referring to the nation's military.
Myanmar's ambassador to the UN, Kyaw Moe Tun, slammed Tuesday's report as "one-sided" and "flawed."
A brutal military crackdown last year forced more than 700,000 Rohingya to flee over the border into Bangladesh amid accounts of arson, murder and rape at the hands of soldiers and vigilante mobs in the mainly Buddhist country.
Myanmar's army has denied nearly all wrongdoing, insisting its campaign was justified to root out Rohingya insurgents who staged deadly raids on border posts in August 2017.
The UN team said the military's tactics had been "consistently and grossly disproportionate to actual security threats," and said that estimates that some 10,000 people were killed in the crackdown was likely a conservative figure.
It said there were reasonable grounds to believe that the atrocities were committed with the intention of destroying the stateless Rohingya, warranting the charges of "genocide."
Saudi Arabia's ambassador to the UN, Ambassador Dr. Abdulaziz Al-Wasil, told the Human Rights Council that the Kingdom expressed regret over the "appalling violations of international humanitarian law by the armed forces against the innocent Rohingya."
The suffering of the Rohingya people is one of the issues of greatest concern to Saudi Arabia, Al-Wasil said.
A shorter version of the mission's report, published last month, had already called for Myanmar's army chief and five other top military commanders to be prosecuted in an international court for genocide.
In his presentation, Darusman provided excruciating details of massacres in Rohingya villages, pointing out that "the men were systematically killed. Children were shot, thrown into the river or onto a fire."
Women and girls meanwhile were routinely gang-raped before being locked inside burning houses.
Of those who survived, many had been severely bitten, in what appeared to be "akin to a form of branding," he said.
Darusman said the "scale, cruelty and systematic nature (of the sexual violence) reveal beyond doubt that rape is used as a tactic of war."
The UN analysis decried the army's hold on political life in Myanmar, which only recently emerged from almost a half century of total military junta rule.
The military holds a quarter of seats in parliament and controls three ministries, making its grip on power firm despite reforms beginning in 2011.
Aung San Suu Kyi's democratically-elected government remains in a delicate power balance with the generals, whose presence in parliament gives them an effective veto on constitutional changes.
"There cannot be any democratic transition in Myanmar unless the Tatmadaw relinquishes its control of the politics, of the economy and of the constitution," UN investigator Christopher Sidoti said.
"We have seen not the birth of democracy in Myanmar, regrettably, but the stillbirth."
The UN mission said Myanmar's civilian government had also helped enable the widespread rights violations in Myanmar by allowing hate speech against the Rohingya to flourish and using civilian laws to crack down on media and others speaking out against abuses.
The investigators directed specific criticism at Suu Kyi, whose global reputation has been shattered by her failure to speak up for the Rohingya against the military.
While acknowledging that the civilian authorities have little influence over military actions, the report said that their "acts and omissions" had "contributed to the commission of atrocity crimes."
Pointing to "deeply entrenched" impunity in Myanmar, the investigators said the only chance to obtain accountability was through the international justice system.
They also repeated suggestions that crimes against the Rohingya be referred to the International Criminal Court, which concluded in August that it had jurisdiction to investigate even though Myanmar is not a member of the treaty underpinning the tribunal. Myanmar has dismissed the tribunal's authority and analysts have pointed to the court's lack of enforcement powers.
The UN investigators also recommended an arms embargo and "targeted individual sanctions against those who appear to be most responsible".
Full report at:
http://www.arabnews.com/node/1373866/world
--------
250,000 Rohingyas went abroad with Bangladeshi passports
September 19th, 2018
The large number of Rohingyas with Bangladeshi passports puts into focus the administrative weaknesses that allowed the Myanmar nationals to illegally obtain passports of another country
Thousands of Rohingyas have used illegally obtained Bangladeshi passports to travel abroad for work.
Although the government holds no data on the exact number of false passports in circulation, Expatriates Welfare Minister Nurul Islam said in April that about 250,000 Rohingyas had gone abroad with Bangladeshi passports.
The minister said Bangladeshi workers are facing an "image crisis" as a result.
"The Rohingyas obtained passports by providing fake documents from local union council chairmen and other local government authorities," he said. "Many of them are involved in criminal activities abroad."
The large number of Rohingyas with Bangladeshi passports puts into focus the administrative weaknesses that allowed the Myanmar nationals to illegally obtain passports of another country.
A local broker at Cox's Bazar passport office told the Dhaka Tribune that an illegal passport costs between Tk60,000 and Tk100,000.
Mosarraf Mia* is one of the Rohingyas who managed to get one. He came from Myanmar's Rakhine State in 2001 and took shelter in Kurupalong registered camp.
He landed a job at a local restaurant within a few months. Over the next decade, he established contacts with locals and a number of government officials, finally acquiring a Bangladeshi national identity card for himself at the end of 2012.
He later obtained a Bangladeshi passport and flew to Saudi Arabia.
Mosarraf's wife, Khadiza*, fled to Bangladesh in 2002. Now, Khadiza and their two sons also have Bangladeshi NID cards – both the boys were born in Bangladesh and now go to a local school.
Khadiza's younger brother Shahidullah*, 23, has been studying at a Cox's Bazar madrasa since 2013. He said many from their village had come to Bangladesh for study.
"Many return home while some others, like me, try to obtain Bangladeshi passports and go abroad," he said.
Shahidullah's mother and two other younger brothers have been living in Balukhali Rohingya camp after fleeing Myanmar last year. They have so far avoided biometric registration at the camp.
"Once we are biometrically registered, we will not be able to obtain Bangladeshi NID cards or passports," he said.
Kajal Sowdagar*, a 45-year-old Rohingya man from Kutupalong camp, came to Bangladesh in 1991. He said getting a Bangladeshi passport was easier before 2000.
"I stayed in Saudi Arabia from 1998 to 2004," he said. "I am trying to get visa but it has become difficult now."
Another Rohingya man, Selim*, who fled from Buthiadaung's Kinisi area, told the Dhaka Tribune that he had travelled to Malaysia on a Bangladeshi passport.
"The Malaysian government sent me back after finding out that I had fake documents," the 29-year-old said. "I managed to get a Bangladeshi passport as I had good contacts with locals. I am now trying to go to another Muslim country."
How a passport is obtained illegally
Sultan Ahmed*, a local broker at Cox's Bazar passport office, described how a passport is obtained illegally.
"We first collect some genuine NID cards of local Bangladeshis who are of the same age as our clients," he said. "Then, we collect birth certificates from union councils in remote areas with the NID cards. Later, we apply for passport with the genuine NID card, the photo of the NID holder and birth certificate."
Sultan said they have contacts at the passport office. "My clients go there for biometric registration and taking photos for passports. Some passport officials help us in exchange for money but sometimes when senior officials scrutinize the documents, our clients are caught," he said.
The broker said they stay away from the passport office during the whole process.
Another broker, Sohel*, said before the introduction of Machine Readable Passports, it was very easy to illegally obtain a passport. "It is now quite hard because of the strict vigilance of the authorities," he said.
Two Rohingya women who were caught trying to obtain Bangladeshi passports illegally said a local school teacher contacted them and 10 other Rohingyas to offer them Bangladeshi birth certificates in exchange for Tk10,000 to Tk20,000 each.
At the same time, these Rohingyas also contacted another syndicate to obtain passports for Tk40,000 each. They said that there are some syndicates in the camp areas who made such offers.
A Dhaka Tribune investigation revealed that the two Rohingya women used genuine birth certificates and NID cards of two locals named Tayeba and Chenoara. They are the daughters of Rohingya man Oli Ahmad, who came to Bangladesh in 1991. The two imposters are Oli's relatives.
Cox's Bazar police and the district administration have found that more than 300 Rohingyas have obtained NID cards illegally since last October. Two passport offices in Chittagong have found over 250 cases where Rohingyas attempted to get Bangladeshi passports with forged documents this year.
The Rohingyas spread to other parts of the country when vigilance in the Chittagong region increased.
Ukhiya Upazila Nirbahi Officer Md Nikaruzzaman Chowdhury said they were conducting thorough examinations before providing anyone with any citizenship documents as the language, culture and approach of the Rohingyas are almost the same as that of the locals.
Full report at:
https://www.dhakatribune.com/bangladesh/2018/09/19/250-000-rohingyas-went-abroad-with-bangladeshi-passports
--------
Bangladesh to move Rohingya to island from next month: officials
Sep 18, 2018
DHAKA: Bangladesh will next month start moving 100,000 Rohingya refugees to a remote island, officials said Tuesday, despite warnings the silty strip is prone to violent weather.
Prime Minister Sheikh Hasina is scheduled on October 3 to officially open newly-constructed shelters for the displaced Muslims on Bhashan Char, a muddy islet that only emerged from the Bay of Bengal in 2006.
The controversial plan is already behind schedule. Officials previously said they wanted to start moving refugees from overcrowded camps near the border with Myanmar to the island in June, before the monsoon began.
The navy has fast-tracked construction of shelters and evacuation centres for 100,000 refugees and nearly three-quarters of the project is complete, a senior disaster management official told AFP.
"Initially, 50 to 60 Rohingya families will be relocated in the first phase beginning next month," said the official, Habibul Kabir Chowdhury.
Bangladesh, a low-lying riverine country vulnerable to rising sea levels, is prone to tropical cyclones, especially in the Bay of Bengal between April and November.
Hundreds of thousands have died from natural disasters in the last 50 years, mostly in coastal areas near Bhashan Char.
The island is one hour by boat from the nearest land but violent storms make the journey by sea dangerous or sometimes impossible.
The plan to relocate refugees there was revived after 700,000 Rohingya Muslims, fleeing a violent crackdown in Myanmar in
August last year, poured into southeast Bangladesh and overwhelmed existing refugee camps.
Rights groups have warned the silty strip is uninhabitable and prone to flooding and other natural disasters, and urged Bangladesh to drop the idea.
But the government pumped $280 million last November into transforming it into a habitable site.
A navy official told AFP a three-metre-high (nine feet) embankment had been erected around the entire island to make it floodresistant.
"We're ready to receive refugees," he said, asking for anonymity as he was not authorised to speak to the press.
Secretary of the disaster ministry, Shah Kamal, said the refugees would be able to access humanitarian relief on the island and receive training in skills such as fishing.
Officials say refugees will not be forced to leave existing camps in Cox's Bazar district, among the most crowded places on earth and prone to landslides, disease and other dangers.
Full report at:
https://timesofindia.indiatimes.com/world/south-asia/bangladesh-to-move-rohingya-to-island-from-next-month-officials/articleshow/65856017.cms
--------
ICC opens preliminary probe into Myanmar crimes against Rohingya
September 19, 2018
THE HAGUE - The International Criminal Court's prosecutor opened a preliminary probe on Tuesday into Myanmar's alleged crimes against Rohingya Muslims, including killings, sexual violence and forced deportations.
Prosecutor Fatou Bensouda will look at whether there is enough evidence to warrant a full investigation into Myanmar's military crackdown which has seen some 700,000 people flee into neighbouring Bangladesh.
The move comes nearly two weeks after judges ruled that even though Myanmar has not signed up to the Hague-basedICC, the court still has jurisdiction over crimes against the Rohingya because Bangladesh is a member.
"I have decided to proceed to the next phase of the process and to carry out a full-fledged preliminary examination of the situation at hand," Bensouda said in a statement.
Bensouda said the initial probe "may take into account a number of alleged coercive acts having resulted in the forced displacement of the Rohingya people, including deprivation of fundamental rights, killing, sexual violence, enforced disappearance, destruction and looting."
She said she would also consider whether other crimes would apply to the plight of the Rohingya "such as the crimes of persecution and other inhumane acts."
A preliminary examination can lead to a formal investigation by the ICC - which was set up in 2002 to investigate war crimes and crimes against humanity - and then possible indictments.
The ICC announcement came on the same day as UN investigators said that Myanmar's army had used "hard to fathom" levels of violence against the Rohingya and should be prosecuted for genocide. The UN fact-finding mission also repeated suggestions that crimes against the Rohingya be referred to the ICC.
'Avenue to justice'
Rights group Amnesty International said it was "great that the International Criminal Court has opened this important avenue to justice for the Rohingya.
"Keep the momentum going - the UN Security Council needs to refer the situation in Myanmar to the ICC to ensure it can investigate all crimes under international law," the group said on Twitter.
Myanmar's army has denied nearly all wrongdoing, insisting its campaign was justified to root out Rohingya insurgents who staged deadly raids on border posts in August 2017.
It has also "resolutely" rejected the ICC's assertion that it has jurisdiction over the crime, saying that the decision was in "manifest bad faith" and was of "dubious legal merit".
The Myanmar probe is a major advance for the ICC, which has so far largely focused on investigations into African conflicts and lacks the support of key countries including the United States, Russia, China and Israel.
The ICC recently faced threats and criticism from US National Security Advisor John Bolton over the possibility of a war crimes investigation into US actions in Afghanistan.
Bolton said the court was "already dead to us" and its judges could face US sanctions.
Full report at:
https://nation.com.pk/19-Sep-2018/icc-opens-preliminary-probe-into-myanmar-crimes-against-rohingya
--------
UN report confirms Rohingya suffered genocide
September 18, 2018
The United Nations Fact-Finding Mission found that the Myanmar military's persecution of Rohingya Muslims in Rakhine State amounted to genocide.
In a 444-page report released on Sept.18, it found that the military committed four of the five acts constituting genocide against the minority.
During a U.N. Human Rights Council session on Sept.18, Marzuki Darusman, chairman of the three-member mission, cited the massacre at Min Gyi village in western Rakhine as evidence that Myanmar's military committed the gravest crimes under international law during "clearance operations" last year.
On Aug. 30, 2017, the military accompanied by armed ethnic Rakhine opened fire and began burning houses using launchers from the village's outskirts. Soldiers opened fire directly at the large number of people fleeing toward the shore, according to the report.
"Those who remained on the shore, who numbered in the hundreds, were then rounded up. The soldiers separated women and children from the men. Soldiers then systematically killed the men," Darusman said.
The report added that soldiers then turned to the women and children, who were forced to sit near the shore. Some children were shot, some thrown into the river and others thrown onto a fire.
At least 750 villagers were killed in Min Gyi, according to 875 interviews with victims and witnesses for the report.
It added that at least 10,000 people are thought to have been killed in an operation that lasted more than two months and totally or partially destroyed more than 40 percent of the villages in northern Rakhine.
"The killing was widespread, systematic and brutal," the report says.
Darusman told the council: "We have full confidence in our findings, which are based on a solid body of credible information gathered over an intensive year of work. What we found are crimes that shock the human conscience."
The panel's report is one of the longest ever produced by the U.N.
The U.N. has said that Myanmar military chief Min Aung Hlaing and five other senior generals must be prosecuted for genocide and war crimes against Rohingya and other ethnic minorities.
It described the military's response to the attacks last August by the Arakan Rohingya Salvation Army as brutal and premeditated.
It referred to how Rohingya Muslims are denied citizenship in Myanmar and seen as unwanted Bengali refugees despite having lived in the Buddhist-majority country for many decades.
Myanmar ambassador Kyaw Moe Tun responded to the U.N. report by describing it as one-sided and lacking impartiality and objectivity. "The mission failed to reflect and acknowledge the Myanmar government's efforts and undermines the government's work," he said.
Full report at:
https://www.ucanews.com/news/un-report-confirms-rohingya-suffered-genocide/83364
--------
Modi, Hasina jointly inaugurate oil pipeline, rail projects
Sep 18, 2018
NEW DELHI/DHAKA: Indian Prime Minister Narendra Modi and his Bangladeshi counterpart Sheikh Hasina on Tuesday jointly inaugurated the construction works of a cross-border oil pipeline and two rail projects, with the former describing the two countries as members of the same family.
Hasina and Modi joined the event in the evening via video-conferencing from Dhaka and New Delhi respectively.
The 130-km India-Bangladesh Friendship Pipeline connecting Siliguri in India with Parbatipur in Bangladesh will transport petroleum products from Numaligarh Refinery in Assam. Of the total length, 125 km will be constructed in Bangladesh and 5 km in India.
"Geographically we may be neighbours, but in our hearts we are members of the same family," Modi said while addressing the programme.
"We have shown the world, what can be achieved when neighbours work together," he said, adding that there had been unprecedented progress in cooperation between the two sides in the last few years.
At the same event, the ground-breaking ceremony of two rail projects to improve Dhaka's connectivity with Tongi and Joydebpur, two towns on the outskirts of the capital city, was also held.
Officials said 48.80 km of the two new dual gauge rail lines would be constructed on the Dhaka-Tongi route while a 12.28 km new dual gauge railway double line on the Tongi-Joydevpur route.
The projects came a little over a week after both the Prime Ministers inaugurated two railway projects and an electricity project connecting the two countries on September 10.
Stating that the pipeline will further boost bilateral cooperation, Modi said that energy was the cornerstone of any country's development.
"The pipeline will help in the development of the northern Bangladesh. Though it is being done with grant-financing from India, the project will be dedicated to the people and government of Bangladesh once completed," he said.
Modi said the railway project will bring relief to road traffic in Bangladesh.
Speaking from Dhaka, Hasina said that ever since she formed her government in Bangladesh in 2009, she has been working relentlessly to deepen ties with India.
She thanked Modi for the new projects which she said will help in Bangladesh's development.
Full report at:
https://timesofindia.indiatimes.com/world/south-asia/modi-hasina-jointly-inaugurate-oil-pipeline-rail-projects/articleshow/65860111.cms
--------
India
Muslim Ekta Manch Is Fanning Communal Tensions Giving Impetus to Right-Wing Groups
Sep 19, 2018
Six days after the sealing of a mosque in Sheetla Mata colony, a Muslim group on Tuesday expressed reservations about the stand taken by the Muslim Ekta Manch.
Representatives of the Jamiat Ulama called on the commissioner and deputy commissioner of police on Tuesday afternoon and sought their intervention in resolving the matter.
Mufti Mohammed Salim Qasmi, president of the Gurugram unit of Jamiat Ulama said, "The Muslim Ekta Manch is fanning communal tensions by playing up these issues. They are politicising the matter and giving impetus to right-wing groups to become more involved."
In a letter, the Jamiat Ulama alleged that Haji Shehzad Khan, the chairperson of the group, was politicising the matter and fanning communal tensions.
The letter also referred to the recent namaz row in Wazirabad, as well as the incident of a Muslim boy having his beard cut in Khandsa. It said that these issues, too, had been settled amicably but were politicised by the Muslim Ekta Manch. The Municipal Corporation of Gurugram (MCG) had, on September 12, sealed 11 buildings, including a mosque, in Sheetla Mata colony, a week after residents had protested against the installation of a loudspeaker on the premises. Local Muslims had alleged that they were being targeted due to pressure from right-wing groups, whereas the MCG maintained that the buildings were sealed because they were located within the 300-metre radius of an Air Force ammunition depot in Sector 14, in violation of a high court order. However, Khan said, "The allegations in the letter are baseless and can be comprehensively dismissed."
Commissioner of police KK Rao and deputy commissioner Vinay Pratap Singh were not available for comment.
https://www.hindustantimes.com/gurugram/after-mosque-row-in-sheetla-mata-colony-community-speaks-out-against-muslim-ekta-manch-stand/story-NudubHMvgVUHnMNRS1djlM.html
--------
India's Religious Minorities Struggle To Attain Scholarships
September 18, 2018
As he undertakes his third semester at an engineering college, Aadil Ahmad wants to get a job soon after he finishes his course to help repay a bank loan taken out by his father for his studies.
It would have been impossible for Ahmad, the son of a mason from northern India, to study engineering if his father had not mortgaged their house for the loan.
The loan is risky and expensive in terms of interest, he said. In one year, he will complete the course and look for a job. "If the loan is not paid back in time, the bank will come for our house. My father has meager earnings of 800 rupees (US$11) a day and it isn't possible for him to repay the loan," Ahmad told ucanews.com.
Just like thousands of others, the Muslim student could not get a scholarship to help deserving students from religious minorities.
The scholarships, started by the Ministry of Minority Affairs in 2006, offer financial grants from grade one to postgraduate and doctorate levels to encourage poor parents from minority communities to educate their children.
The grants are available to deserving families from Buddhist, Christian, Muslim, Sikh, Jain and Parsi families. Most grants go to Muslim students as their community is the largest and poorest minority.
Religious minorities constitute only 18.4 percent of India's 1.2 billion people, but Muslims account for 13.4 percent or some 160 million. Christians are the second largest minority at 2.3 percent, making the other minorities negligible in terms of numbers.
The education grants are hard to come by. Bureaucratic hurdles are often too difficult to negotiate.
Ahmad's experience is a case in point. "I was first asked to get my income details and then documents pertaining to family income and background. For more than a year, I was wandering the corridors of government buildings, but nothing positive happened," he recalled.
Presentation Sister Anastasia Gill, a member of the Delhi Minorities Commission, told ucanews.com that minority students have been facing "immense hardships" in getting the government grants.
"The problem is that the government doesn't seem to be seriously pursuing it [the policy] and also there is a lack of awareness among students from minority communities about the procedure for getting a grant," Sister Gill said.
She said her commission has been holding workshops in schools and colleges to make students aware of the available scholarships.
"The government is not doing enough to ease the process. The rigorous process causes much fatigue to the applicants — they opt out in the end," she added.
In July, India's parliamentary panel stated that 4.2 million students from minority communities were denied scholarships in the 2017-18 academic year.
During the year 10,118,373 applications were considered but only 5,903,695 scholarships were granted. The government has not published religion-based data about those who gained scholarships.
The fact that huge number of students are denied "puts a big question mark on the very objective of the ministry, namely to empower minority communities, particularly Muslims," the panel said.
In August, Muslim student Zakir Pasha, the son of a rickshaw driver in Hyderabad, was denied a grant because he could not provide fingerprints for official papers. He has no hands and uses his toes to operate his computer, but officials made no exception for him.
Praveen Sharma, a social worker who runs an NGO for underprivileged minority children, said the government deliberately keeps information about scholarships under the carpet so that they do not reach the deserving.
Full report at:
https://www.ucanews.com/news/indias-religious-minorities-struggle-to-attain-scholarships/83319
--------
At 107, Muslim wrestler had started Vadodara's first public Ganesh fest
Sep 19, 2018
VADODARA: Every year during Ganesh Chaturti, the city police are on their toes to thwart communal clashes that erupt especially on the day of Visarjan. Sparks often fly when processions pass through communally sensitive areas, resulting in bad blood between the communities. This animosity may be a truth for some years now, but the fact also remains that the pioneer of sarvajanik (public) Ganpati festival in Sanskarinagari was none other than a Muslim man, that too when he was 107 years old.
Jumma Dada, a famed wrestler in the erstwhile Baroda state, had initiated Ganesh festival at his 'akhada' way back in 1901with an aim to foster the spirit of national integration and patriotism.
"Jumma Dada was inspired by freedom fighter Lokmanya Tilak to start sarvajanik Ganesh festival in the city. Tilak regularly visited Baroda to meet Maharaja Sayajirao Gaekwad III. He learnt about Jumma Dada and his activities and decided to meet him," said Rajendra Harpale, managing trustee of Prof Manekrao's Jumma Dada Vyayam Mandir.
He aimed to unite Baroda youths Jumma Dada had established the Vyayam Mandir in mid-19th century and registered it in 1880. His akhaada was very popular among boys and girls and therefore Tilak gave him the idea of organizing public Ganesh festival at the Vyayam Mandir. The idea was to bring youngsters together and instill a sense of patriotism among them along with celebrations.
Jumma Dada then installed an idol of Ganesh in the Vyayam Mandir in 1901. "The idol was made of clay and we have continued with the same looks and size till date," Harpale added.
The pamphlets produced by Harpale show how several programmes, including sword fights, wrestling, mal-khamb and physical exercises were organized during the Ganesh festival in the akhada.
Historian and art curator Chandrashekhar Patil said some temples and mandals in the city organized Ganesha festival. "But the one initiated by Jumma Dada was the first public Ganesha festival that engaged people on a mass scale to bring about unity and make them patriotic," Patil said.
Full report at:
https://timesofindia.indiatimes.com/city/vadodara/at-107-muslim-wrestler-had-started-vadodaras-first-public-ganesh-fest/articleshow/65864900.cms
--------
Fringe outfit offers man who killed Muslim LS poll ticket
Sep 19, 2018
AGRA/ JAIPUR/ LUCKNOW: Shambhu Lal Regar, the man who hacked a Muslim labourer to death in Rajsamand, Rajasthan and streamed the murder on social media, is likely to contest Lok Sabha elections from Agra. Regar, who is currently in jail in Jodhpur and on trial for the December 2017 murder, has been offered a ticket from Agra (reserved constituency) by Uttar Pradesh Navnirman Sena.
After murdering Mohd Afrazul, the labourer from Bengal, Regar had claimed he had committed the crime to save a Hindu girl from love jihad.
"After Yogi Adityanath became CM, there was no vocal Hindutva leader in Parliament. Regar will fill this void. He is not being supported by other parties because he is accused of murdering a Muslim. His method might have been wrong, but his intentions behind that act were pure. Many MPs are facing serious charges. If Shahabuddin can contest elections, Regar is innocent till proven guilty," said Amit Jani, the organisation founder.
Jani himself was arrested in 2017 for posting a picture of Taj Mahal with seven saffron flags at its pinnacle and minarets. He had also announced plans to confront stone-pelters in Kashmir, and called for ousting Kashmiris from western UP. In 2016, he had been arrested for making death threats on social media to former JNU Students' Union president Kanhaiya Kumar. In 2012, Jani had been arrested for vandalising statues of Mayawati in Lucknow.
Full report at:
https://timesofindia.indiatimes.com/india/fringe-outfit-offers-man-who-killed-muslim-ls-poll-ticket/articleshow/65864315.cms
--------
BJP accuses Navjot Singh Sidhu of speaking like Pakistan agent
September 18, 2018
The BJP Tuesday accused Congress leader Navjot Singh Sidhu of demeaning India and speaking as an agent of Pakistan by attempting to "justify" hugging Pakistani Army chief Qamar Javed Bajwa and claiming that Pakistan is willing to allow Sikh pilgrims access to a gurudwara on its territory.
At a press conference, BJP spokesperson Sambit Patra also demanded a response from Congress president Rahul Gandhi over the issue, saying Sidhu has been speaking on the matter with his permission as Punjab Chief Minister Amarinder Singh has already condemned him over his conduct in Pakistan during the swearing-in ceremony of Imran Khan recently.
He also accused Sidhu of meeting External Affairs Minister Sushma Swaraj deceptively as she had given appointment to former Union minister M S Gill with whom, Patra alleged Sidhu tagged along. The BJP spokesperson said Swaraj reprimand Sidhu in their meeting on Monday for his conduct in Pakistan.
Defence Minister Nirmala Sitharaman said Tuesday that Sidhu's gesture of hugging Pakistan's army chief impacted soldiers back home and asserted that the Punjab minister could have "avoided it".
Sidhu had courted controversy by hugging Bajwa during his visit to Pakistan for the swearing-in of Imran Khan as Prime Minister. He had claimed that he did so as Bajwa told him that the Pakistan government was working for opening of the Kartarpur corridor for Sikh pilgrims from Indian state of Punjab. Sidhu Monday met Swaraj and urged her to help initiate dialogue with Pakistan on the opening up of the Kartarpur Sahib corridor.
Full report at:
https://indianexpress.com/article/india/bjp-accuses-navjot-singh-sidhu-of-speaking-like-pakistan-agent/
--------
Three more held in Hojai for Hizbul Mujahideen links
Sep 19, 2018
GUWAHATI: In its ongoing operation to pick out every person connected with Kashmir-based Islamist terror group Hizbul Mujahideen, Assam Police on Tuesday arrested three more persons from Hojai district. This has taken the number of persons arrested since Friday to seven.
SP (Hojai) Ankur Jain said, "We are now trying to dig out the root of Hizbul Mujahideen in Assam. So far, we have arrested seven persons and each one of them is being interrogated by our SIT. We have the information and all we have to do is to join the dots."
The spate of arrests took place after UP Police and NIA alerted the state about Assam's connection with the Hizbul Mjahideen following the arrest of a trained cadre, Qamar-uz Zaman, in Kanpur last Thursday. Qamar-uz hails from Jamunamukh in Hojai district. Among the seven arrested persons is Qamar-uz's elder brother Saiful Islam. Police have also found cash worth Rs 1.6 lakh from his house and are trying to establish if this money was part of the terror funds and if the money trail originated in Kashmir or outside. The three arrested on Tuesday are Riyazuddin Bhuyan, Baharul Islam and Joynal Ahmed, all connected to Qamar-uz - the man Hizbul Mujahideen had sent to Assam last month to find new recruits.
Sahidul Alam, Shahnawaz Alam and Omar Farooq were arrested last Saturday.
The SP said, "Shahnwaz Alam so far has turned out to be one of the who's who of Hizbul Mujahideen."
Qamar-uz had left home in 2012 to work at a garment shop owned by his relative in Kashmir. In 2017, he went missing and his family lodged missing reports in Kashmir and Hojai. Sources said Sahidul was the first to be indoctrinated by Hizbul. He went on to recruit Qamar-uz and sent him for training to Kishtwar district in Jammu & Kashmir.
The state has seen the growth of a large number of radical Islamic groups over the years - both home-grown and from Bangladesh or Pakistan. In 1999, Assam Police arrested four ISI operatives - the first such instance in the country. Over the past few years, the state has witnessed the emergence of home-grown outfits like Muslim United Liberation Front of Assam, Muslim Liberation Tigers of Assam, Islamic Liberation Army of Assam and People's United Liberation Front, among others.
Full report at:
https://timesofindia.indiatimes.com/city/guwahati/three-more-held-in-hojai-for-hizbul-mujahideen-links/articleshow/65865693.cms
--------
President Ghani arrives in India leading a delegation of high level officials
Sep 19 2018
President Mohammad Ashraf Ghani arrived in New Delhi the capital city of India for the bilateral talks with the Indian officials.
The Office of the President, ARG Palace, in a statement said President Ghani is leading a delegation of high level officials during his visit to India.
The statement further added that President Ghani would meet with the Indian Prime Minister Narendra Modi during his visit to the country.
He would also participate in ceremony to be organized by the Indian Foundation and would deliver a speech, the statement added.
India has played a major role in the reconstruction of Afghanistan since the fall of the Taliban regime and has invested over $2 billion in various reconstruction and infrastructure projects.
The construction of the major Salma Dam, the new Afghan parliament building, Zaranj-Delaram highway, and some other projects are among the key investments India has done so far in the country.
Full report at:
https://www.khaama.com/president-ghani-arrives-in-india-leading-a-delegation-of-high-level-officials-05989/
--------
Europe
UK to announce support for victims of sexual violence in Myanmar
September 19, 2018
British foreign secretary Jeremy Hunt arrived in Myanmar on Wednesday for a two-day visit and announced UK funding for victims of sexual violence in the country – including Rohingyas expelled from the country during the recent campaign by the military in the Rakhine province.
Mr Hunt will hold talks with state counsellor Aung San Suu Kyi during his visit – Ms Suu Kyi was previously feted across the globe for her commitment to human rights causes but has been criticised for her lack of action on the plight of the Rohingya.
The foreign secretary Hunt will visit the Association for the Assistance of Political Prisoners to talk to human rights defenders and visit northern Rakhine, the region that has seen tens of thousands of Muslim Rohingyas flee to camps in Bangladesh such as that at Cox's Bazar.
Mr Hunt will say: "The United Nations fact-finding mission exposed terrible suffering in Burma, and in the face of such serious allegations, no country that considers itself humane can stand back and do nothing. We are determined to do all we can to provide security, dignity and justice to the victims. It will be a long journey, but it starts with their conditions right now.
"We have already provided counselling and psychological support to more than 10,000 women and deployed mid-wives to help provide care to over 53,000 women. Together with our international partners, we will increase our support for those who have been victim of these heinous acts.
Before leaving for Myanmar, the foreign secretary met with representatives of the Rohingya community who have settled in Bradford in the north of the UK where he was told about the suffering that the community had faced in Rakhine.
The foreign secretary will say that British efforts will "include additional deployment of the PSVI Team of Experts by the end of 2018, development of a code of conduct for gathering such evidence, support for an enhanced coordination mechanism, and more capacity building. We are also exploring options to increase psychosocial support."
https://www.thenational.ae/world/asia/uk-to-announce-support-for-victims-of-sexual-violence-in-myanmar-1.771699
--------
EU says Turkey-Russia deal on Syria's Idlib must protect civilians
Sep 18, 2018
BRUSSELS: A deal struck between Turkey and Russia to avoid an assault on Syria's last major rebel stronghold in Idlib province must protect civilians and ensure humanitarian access, the European Union said on Tuesday.
"We expect that the agreement which was according to reports reached on Monday by the Russian and Turkish presidents will guarantee the protection of civilian lives and infrastructure as well as guarantee unhindered and sustainable humanitarian access," spokeswoman Maja Kocijancic told reporters.
Russian president Vladimir Putin and his Turkish counterpart Recep Tayyip Erdogan - who are on opposite sides in the deadly seven-year conflict in Syria - reached the agreement on the fate of Idlib, home to three million people, in talks on Monday.
The two leaders agreed to create a 15 to 20 kilometre-wide demilitarised zone along the line of contact between rebels and regime troops by October 15, to be secured with the help of Turkish and Russian forces.
Moscow said the agreement meant that no military action would be taken against Idlib, Russian news agencies reported.
Iran, which like Russia backs Syrian president Bashar al-Assad in the conflict, hailed the accord as an example of "responsible diplomacy".
Full report at:
https://timesofindia.indiatimes.com/world/europe/eu-says-turkey-russia-deal-on-syrias-idlib-must-protect-civilians/articleshow/65858283.cms
--------
Strawberry sabotage akin to 'terrorism': Australia PM
September 19, 2018
SYDNEY: The tainting of supermarket strawberries with sewing needles is comparable to "terrorism," Australia's prime minister said Wednesday, as he demanded tougher sentencing in response to a nationwide scare.
Urging Australians to make a strawberry pavlova this weekend to help struggling farmers, Scott Morrison demanded a change in the law to put the perpetrators behind bars for 15 years.
"We're not mucking about" said Morrison, after at least 20 pieces of fruit were found to be contaminated with needles or pins. "This is not on, this is just not on in this country," he said.
Calling the perpetrator a "coward and a grub," Morrison called on parliament to quickly raise the maximum sentence for such deliberate food contamination from ten to 15 years behind bars.
That, he said, would put the crime on par with "things like possessing child pornography and financing terrorism. That's how seriously I take this."
The scare has prompted a slew of supermarket recalls, and some stores in New Zealand have temporarily banned the sale of Australian strawberries.
Farmers have been forced to pulp fruit and layoff pickers because of slower sales and lower wholesale prices.
"Just go back to buying strawberries like you used to, and take the precautions that you should," Morrison told Australians in a televised address.
"Make a pav this weekend and put strawberries on it," he suggested.
Authorities have suggested strawberries be cut up before they are eaten.
Australian police on Tuesday said they still did not know the motive behind the attacks and were still looking for suspects.
Full report at:
http://www.arabnews.com/node/1374366/world
--------
Southeast Asia
Malaysia's inaction on child brides a green light to paedophiles, says Lawyers for Liberty
18 September 2018
PETALING JAYA, Sept 18 — The authority's failure to act against the Kelantanese man who took an 11-year-old child bride in July has become an 'advertisement' to other paedophiles that they can get away with abusing minors in Malaysia, Lawyers for Liberty said today.
As another controversy erupted today over a 15-year-old girl who was taken as a second wife, Latheefa Koya, the executive director of the rights group, said paedophiles were taking advantage of the lack of decisive action in the first case.
She took Deputy Prime Minister Datuk Seri Dr Wan Azizah Wan Ismail and her Women, Family and Community Development Ministry to task, claiming that "paedophiles are now clearly using 'marriage' as a shield to prevent prosecution for rape or sexual grooming."
"This puts the children of this country, particularly Muslim children, in constant danger from perverts and paedophiles," she said in a statement.
"...the DPM must ensure that there is an immediate police investigation into whether sexual grooming contrary to the Sexual Offences Against Children Act 2017 (SOAC) has taken place," she said.
Latheefa said there is strong basis for a police probe as reports state that the 15-year-old child had known the 44 year-old man for 'several months' before marriage.
"The fact that this man later contracted a marriage under the Shariah law, does not absolve him from the crime of grooming," she said, urging police to immediately investigate the case.
This morning, another child marriage case was reported in Kelantan involving a 15-year-old girl and a man almost 30 years her senior.
It was said that the Muslim solemnisation of vows — between the man who is a member of the People's Volunteer Corp (Rela) and the 15-year-old who is a secondary school dropout — was done in July at the Masjid Kampung Laut in Tumpat, Kelantan.
The Shariah court approved the marriage between the girl, who is the youngest daughter of an impoverished couple with 13 children, and the 44-year-old man, who already has two children.
https://www.malaymail.com/s/1673850/malaysias-inaction-on-child-brides-a-welcome-sign-for-paedophiles-says-lawy
--------
Power of tradition often trumps religion in Indonesia
September 19, 2018
Sutopo Purwo Nugroho, spokesman for Indonesia's Disaster Management Agency, is usually one of the country's most popular people.
Unlike typically secretive bureaucrats, he goes out of his way to make sure the media is closely informed about the country's multitude of natural disasters.
When appropriate, he spices the serious information with occasional wisecracks, and a recent revelation that he is being treated for cancer brought a wave of sympathy.
Nugroho hasn't kept everyone happy. He recently upset the Dayak tribes of West Kalimantan, blaming them for a pall of haze over the province. They summoned him to a traditional council to tell him they took offense, in a reminder that traditions — adat — often outweigh formal religion and even the law in modern Indonesia.
The Encyclopedia Britannica defines adat as "the unwritten, traditional code governing all aspects of personal conduct from birth to death."
Adat may vary from place to place, depending on influences over the course of centuries that have impacted one defined area but not one nearby. Often, adat rules will overrule religion, requiring often athletic contortions on the part of religious authorities.
Nugroho took his telling off like a man, turning up for the Dayak council meeting. The Dayak leaders explained that the gawai he'd blamed for the haze was an annual celebration for the harvest season. And, they noted, they'd been managing forests by controlled burning for thousands of years in a pattern of shifting cultivation that recognized the stages of regeneration after fires that allowed them to nurture a sequence of crops to sustain their communities.
The concept of a harvest festival is very familiar and may be a universal concept. The vagaries of the weather are such that in many areas of the world, communities feel it sensible to express their thanks to the elements.
To some degree, such traditions have become part and parcel of established religions.
The traditional Dayak method of working with the forests is now under pressure from the law in Indonesia, with the government insisting that any lighting of fires is banned.
At the moment the law appears to be winning, not least because most Dayak communities no longer practice shifting agriculture in the manner they used to, with their traditional lands now squeezed between plantations and forestry concessions.
Nevertheless, they cling to their adat ways as a means of maintaining their culture. In a national environment in which they are a small minority, association with allies is vitally important. Many are Christians, seeing the church as a natural ally, and peak Dayak groups are active in national-level adat councils.
Then there is superstition. Many residents of developed countries retain some old superstitious beliefs, even if they may joke about them.
Walking under ladders remains difficult for many, and in Asia, the Chinese abhorrence for the number four — a symbol of death — means that most high-rise buildings have neither a fourth nor a thirteenth floor.
Such superstitions are rife in Southeast Asia. In Bali, a young student's accident on her motorbike, costing her two teeth and a number of stitches to her face, sees her father rushing to perform a ceremony — upacara — at the accident location to reduce the risk of a similar misfortune befalling anyone else.
This suggests an assumption that an evil 'spirit' was responsible for the accident — a belief that would predate religious beliefs and which is not substantiated by any Vedic scriptures that form the basis of the Hindu religion, whether in India or Bali.
Beliefs in the mystic penetrate virtually every level of society in Indonesia and other parts of Southeast Asia. Outside of the cities, many communities boast a resident wise man or woman, or dukun, who can provide advice. Usually benign, they can also be malevolent.
Amongst her close circle, Megawati Sukarnoputri, former president of Indonesia and the daughter of founding president Sukarno, makes no secret of her belief that she continues to talk to her father, who has been dead for close to 50 years. At times of political stress, she will often go off by herself to talk with him and listen to his advice on the best direction to take.
Such is the level of belief in the supernatural that some take advantage of the gullible. Fraudsters regularly trap the unsuspecting by promising to multiply their money, conveniently disappearing with the cash they promised to conduct spiritual exercises over to make it worth many times its value.
Such schemes involve large amounts of cash and put your life at risk: in one case at the end of 2017, a self-proclaimed shaman was arrested for allegedly murdering two people in Grising district, Batang regency, Central Java.
The suspect, who claimed to possess the supernatural ability to multiply money, allegedly admitted murdering the people, who had been pestering him for the money he had promised them.
Such fraudsters often cloak their deceptions in religious garb. In August 2017, Dimas Kanjeng Taat Pribadi, a spiritual leader from Probolinggo in East Java was sentenced to two years in prison for his role in money multiplication scams, after he was previously sentenced to 18 years for masterminding two murders of followers who had apparently lost faith in him. He is believed to have defrauded hundreds of people out of a total of some Rp25 billion — around US$170,000.
At the same time belief in adat and in mystic superstitions continues to be rife, Islam's austere Salafi movement is attempting to sterilize Indonesian culture from such 'primitive' influences.
Full report at:
https://www.ucanews.com/news/power-of-tradition-often-trumps-religion-in-indonesia/83340
--------
Indonesia keen to boost bilateral relationship with Pakistan, says Totok Prianamto
SEPTEMBER 19, 2018
Indonesian Consul General in Karachi Totok Prianamto on Tuesday paid an official visit to the Hyderabad Chamber of Commerce and Industry (HCCI).
Reportedly, he stated that Indonesia aimed to nurture and strengthen ties with Pakistan, particularly in the fields of economic, trade, investments and people-to-people contacts, for benefiting both countries.
"Sindh is very significant place for Indonesia in terms of trade, economy and investment, and Hyderabad, as the second largest city in the province, is strategically located on the embankments of the Indus River and situated on mid of trade route from Karachi to other cities as well," he said.
He revealed that trade between the two countries has been increasing steadily over several years.
"In 2017, trade of US $2.63 billion was recorded between Indonesia and Pakistan, an increase of 21.31 percent as compared to 2016. During the same period, Pakistan's export to Indonesia was recorded as an increase of 53.32 percent.
He further informed that in the first semester of this year, the trade between the two countries has further increased by 19.37 percent, whereas Pakistani export has been recorded as an enormous rise of 148.21 percent.
These encouraging figures of course cannot be separated from the development in Sindh, notably in the security sector.
He commended the rigorous works of the Pakistani Government and law enforcement agencies to ensure security measures in the province.
Security is highly important when it comes to bettering the business climate as better security implies that people will achieve more economic opportunities.
He also invited HCCI members to the 33rd Trade Expo Indonesia (TEI) to be held on October 24-28, 2018.
This year, the TEI is expected to attract more than 28,000 visitors. Earlier, HCCI President Muhammad Shahid, in his welcome address, said that HCCI was highly thankful to the Indonesian Consulate in Karachi for a remarkable effort for promoting trade between the two brotherly countries.
However, HCCI extended further support and cooperation in this regard and to achieve an outstanding bilateral trade of US $9 billion by the year 2019 as mentioned by His Excellency Iwan Suyhdhive Amri Ambassador of Indonesia.
HCCI aims to export mango, rice and cotton to Indonesia.
Full report at:
https://dailytimes.com.pk/299858/indonesia-keen-to-boost-bilateral-relationship-with-pakistan-says-totok-prianamto/
--------
The fallacy of 'academic freedom' in Malaysia
Tajuddin Rasdi
September 19, 2018
There are two fallacies of academic freedom currently held by activists and academics in Malaysia. The first is that there is no intellectual or academic freedom in the country. The second is that academics must be allowed "total freedom" to say what they wish in the name of the academia.
This essay is to clarify issues such as claims that the education ministry under Maszlee Malik is not living up to the expectation of non-political interference in public universities, as political interference would jeopardise the "sacred" idea of "academic freedom".
I differ on both fallacies and will explain why. I will also argue that there has always been academic freedom in Malaysian public universities. We have incompetent and opportunistic university leadership and a professorship that likes titles, cars and travelling. But we do have academic freedom.
On the second fallacy, excuse me, but academics cannot say anything they want under the sun. There are frameworks, socio-political contexts and timing to take into consideration when making important and impactful academic statements that will change society.
This may come as a surprise to many, but throughout my 27 years as an academic at a public university, there has always been academic freedom. Despite the silly Akta Universiti hanging around the neck of every academic, I have always felt free to write on most issues, from the architectural criticism of mosques, administrative buildings and campus designs to that of the Prime Minister's Office.
I began my media writing in 1999, discussing architecture and national identity as well as issues of crime and safety in housing. I worked with media outlets such as the New Straits Times, The Star and Utusan Malaysia. I was offered a column by Utusan for a year, during which I wrote purely about architecture and criticism of mosques and national monuments, arguing on why mosques are not examples of Islamic architecture and why national monuments are more Malay-centric than Malaysian.
When The Star offered me a column, I was excited. I began a different kind of writing, discussing social, religious and political issues as well as their implications on architecture and city planning. The column was a perfect excuse for me to write about politics and society under the guise of architectural academia.
When I thought it was "safe", I began writing in Malaysiakini on social and religious issues, specifically the deaths of 20 PLKN children and the cow head and Bible burning issues. I also wrote about my thoughts on education in the country.
I also wrote on many non-architectural issues in The Malaysian Insider, The Malaysian Insight and now Free Malaysia Today. Since the mainstream media was either a shameful propaganda machine like Utusan or a closet propaganda machine like The Star, I chose the rising rebellious attitude in the online world. I have had over 200 media articles and interviews over the span of 18 years.
For 15 of those years, I waited for a show-cause letter for disciplinary action, but none came. In August 2014, I wrote an article in an online news portal titled "Raising a family of true Malaysians" where I mentioned that some Chinese students had complained to me that their Malay lecturers of the Titas subject kept belittling and condemning religions other than Islam.
I was summoned to the dean's office three days later where I had a polite and cordial conversation with the dean, who explained that the university leadership did not like me smearing the university's good name. I explained that I never meant to smear the university's name. I said the best Chinese students with first-class distinctions had told me of this bigotry among our academic staff. So instead of reprimanding me, why wasn't the university launching an investigation?
Since the dean was insistent that I stop writing, and I was insistent that I would not, I asked for an optional retirement so that we could part ways. Surprisingly, I was granted immediate approval for something I had been asking about for three years.
A year after my retirement, the Titas issue that I had written about exploded in the face of that university. I could have been vindictive and added fuel to the public's rage, but I remained silent and watched as the expert leadership managed the issue through the "damage control" action of isolating a single culprit rather than an entire faculty.
The moral of the story is that there was, and still is, academic freedom. The price is that you will not be promoted to leadership positions, and you will not be in the senate or any important university committee. For me, that was a small price to pay. The vice-chancellors of public universities could appoint Lim Kit Siang to a professorship of political science, if they wanted to. They would probably get a letter of thanks from the higher education ministry. These vice-chancellors would then become ordinary professors, teaching and supervising their students and continuing with their research.
Some pensioner professors who practise "academic freedom" may find their post-pension contracts terminated. To me, if one is an excellent academic, contracts and not becoming vice-chancellor are mere peanuts as one can always find appointments elsewhere.
What exists in our public university are professors with no vision for social development, who are fully dependent on university administration, and who love titles and travelling from their research grants. Public universities have always had "academic freedom", just lousy professors and vice-chancellors who major in academic bodekisme. Neither of these so-called academics care one whit how our society develops as long as their titles, bank accounts and racial egos are safe and sound.
When I left the public university, I left as a disgraced academic in the eyes of the administration, but I was awarded a full pension, and I was thankful for that. That I left the university silently and without fanfare after 27 years of a successful career was a small price to pay. Now, after so many articles criticising Malay-Muslim institutions and academia, I have hardly any Malay friends left. Another small price to pay. I once joked that when I die, there will not be enough Malay Muslims to fill even one row for my jenazah prayer!
Now, I wish to briefly explain my position on the second fallacy that an academic should be allowed to say and write anything under the sun. Not so fast. There are three aspects that a good and concerned academic must take into consideration.
First, the academic must frame the criticism of policies or socio-religious norms in society within a certain theoretical or academic construct. Tajuddin Abdul Rahman can say anything about Malay history or Ketuanan Melayu, but an academic must frame his or her statement within the clear confines of an academic construct. I can say that the Taj Mahal is the worst example of Islamic infrastructure in history as long as I explain my academic framework of Prophet Muhammad's sunnah and the functionalist theory of Frank Llyod Wright or Louis Henry Sullivan.
Secondly, the academic must take into consideration the cultural and religious sensitivities of the time. This does not mean that he or she should not write or speak. However, the writing must be framed in a clear manner, with words and sentences phrased within the confines of academic decorum.
When confronted with the issue of non-Muslim flood victims taking shelter in a surau in Penang, I would cite the Prophet Muhammad's meeting of 60 Najran Christians in his mosque as well as the valour of the devout Christian King Najashi in protecting Muslim refugees in the early days of Islam. An academic must also know how to play to the gallery in making potentially "devastating truths", especially to the know-all attitudes of our Islamic clerics.
Thirdly, an academic funded by public money must ensure the relevance of the research and inquiry and that it will result in returns on the investment of a democratic society. Millions of ringgit have gone into so-called exotic scientific research that sees no light of day in resolving basic and fundamental issues of health, prosperity and national harmony.
Finally, I wish to add my opinion on the so-called political interference of the education ministry in public universities. What Malaysians do not know is that changing public universities into institutions of enlightened academia which will lead our nation to great awareness and critical thinking is… 20 years away! The rot is not just in leadership or professorial appointments. There is complete indifference to social development.
How many Tajuddins, Maszlees, Azmi Sharoms, Aziz Baris and Terence Gomezs are there at Malaysian public universities? Within the 1,000-strong professorial community at public universities, I count no more than 20.
Changing public universities will require nothing short of a total cultural revolution, not just an exercise in academic appointments.
I have read the blueprint of higher education in Malaysia produced by the previous administration. It is a blueprint to produce efficient slaves to many outmoded industrial practices. So there had better be political interference by the Pakatan Harapan government for the next two years at least to instil an academic culture and management attitude to initiate change. Changing a university and society is not like downloading an app. It takes longer and requires much will and patience.
In conclusion, the citizens of the new Malaysia must understand that academic freedom has always been there amid the threat of the Akta Universiti and an incompetent and unprofessional academic leadership. It has always been about the lack of a real and effective academic culture of visionary thought, open discourse and critical observations of society.
Full report at:
https://www.freemalaysiatoday.com/category/opinion/2018/09/19/the-fallacy-of-academic-freedom-in-malaysia/
--------
New alliance could be anything but PAS-Umno cooperation, says analyst
September 19, 2018
PETALING JAYA: It is unlikely that PAS and Umno will forge an alliance, says a political observer, saying both parties are still struggling to survive politically and stay relevant.
He said despite speculation that both parties are set to officially join forces, buoyed by the presence of Umno leaders at the recent PAS muktamar in Kuala Terengganu, Umno is also eyeing other opportunities in its bid to rise from the ashes following its shock defeat in the May polls.
Among those who attended the muktamar were Umno deputy president Ahmad Zahid Hamidi, Ismail Sabri Yaakob, Annuar Musa and Mahdzir Khalid.
"Zahid is also looking at opportunities for cooperation with Pakatan Harapan, notably with its component party PKR, through his good relations with Anwar Ibrahim," said Universiti Malaya's Awang Azman Awang Pawi.
Zahid had been aligned to Anwar when the latter was the number two man in Umno, before his dismissal in 1998.
Awang Azman said the same is true with PAS, which has made no secret of its attempts at wooing PH partners.
"It is open to cooperation not just with Umno, but also with PH component parties, or with other parties," he added.
He said both parties, considered the largest Malay political parties in the country but which were defeated at the federal level, were aware of the current political reality.
"They just need another party to lean on in the current political scene. It is about political survival and staying relevant," he told FMT.
PAS president Abdul Hadi Awang recently said the party was prepared to form political cooperations with all quarters.
Hadi said such cooperations could also include PH parties. The PAS leader had also not mentioned Umno specifically during his policy speech at the recent muktamar.
Zahid reportedly confirmed that Umno MPs had signed statutory declarations allowing him to negotiate with political parties outside of Barisan Nasional (BN).
Umno vice-president Mohamed Khaled Nordin has also proposed a new pact called "Pakatan Malaysia", comprising PAS, MCA, MIC, Gabungan Parti Sarawak, Gabungan Bersatu Sabah and PKR.
Awang Azman said Umno appeared desperate to form a new alliance because it had never before lost the way it did in the May 9 general election, which ended its six decades in power.
"This is why, they need a political pact that will truly have an impact, power and major influence. They want to become relevant again," he said.
He added that in any negotiation to form a coalition, Umno would hold the upper hand, due to their lion's share of the opposition seats as well as their experience in governance.
Awang Azman said the proposal by Khaled showed Umno's strategy to woo anyone that could restore the party's power.
"This is because of the belief that Pakatan Malaysia would be stronger than the pact within BN. It is fresh, energised, combined with existing experience to face a new political atmosphere," he said.
Full report at:
https://www.freemalaysiatoday.com/category/nation/2018/09/19/new-alliance-could-be-anything-but-pas-umno-cooperation-says-analyst/
--------
Najib backs Zahid over PAS courtship, but cautions against tie-up
19 September 2018
KUALA LUMPUR, Sept 19 — Datuk Seri Najib Razak offered his support to Umno president Datuk Seri Ahmad Zahid Hamidi who is trying to seal an alliance with PAS against the wishes of some party members.
The predecessor to Zahid said there was no issue working with PAS, noting that both DAP and PKR had been former allies to the Islamists.
He said Zahid should be given the time and space to shape the party's strategy and direction.
"But in my opinion, the Malay-Muslim struggle is incomplete without the inclusion of all Malaysians regardless of colour and creed," he wrote on Facebook today.
One senior party leader, Datuk Seri Mustapa Mohamed, resigned yesterday, believed to be over Zahid's move to haul the upper echelon of Umno to pay homage to PAS at the latter party's Muktamar last week.
Full report at:
https://www.malaymail.com/s/1674084/najib-backs-zahid-over-pas-courtship-but-cautions-against-tie-up
--------
North America
Trump creates biodefence committee to protect US from bio-terrorism
September 19, 2018
WASHINGTON - US President Donald Trump's new National Biodefence Strategy creates a cabinet-level steering committee that will act to protect Americans against biological weapons and other potential bio-threats, the White House said in a press release on Monday.
"The biodefence National Security Presidential Memorandum names the Secretary of Health and Human Services, Alex Azar, as the Federal lead for biodefence and establishes a Cabinet-level Biodefence Steering Committee," the release said.
US Will Not Agree to Missile Defence Limits in New Treaties With Russia
The Trump administration is determined not to agree to any restrictions on its missile defence programs in any strategic agreement it seeks to negotiate or update with Russia, two senior US officials told the US Senate Foreign Relations Committee on Tuesday.
"Yes, senator," Under Secretary of State for Arms Control and International Security Andrea Thompson said when she was asked by a member of the Foreign Relations Committee if she would refuse to agree to limiting US missile defence programs in any negotiations with Russia.
Deputy Under Secretary of Defence for Policy David Trachtenberg immediately confirmed Thompson's expressed position.
"I would agree with that statement, senator," Trachtenberg told the Foreign Relations Committee.
Trachtenberg also confirmed that the Department of Defence did not have any weapons system capable of defending against the Russian strategic nuclear arsenal and continued to rely instead on its deterrence capabilities.
US So Far Failed to Raise Russia's New Weapons in START Treaty Forum
The United States has not yet raised the subject of Russia's new strategic weapons announced by President Vladimir Putin in any formal negotiations with Moscow or requested further information on them, a senior US official said on Tuesday.
"I have not done so… The only way we've seen that has been in the open press," Under Secretary of State for Arms Control and International Security Andrea Thompson told a hearing of the US Senate Foreign Relations Committee. "We have not had the engagement on New START [New Strategic Arms Reduction Treaty] with my counterpart on the Russia side.
On March 1, Putin announced a series of new Russian weapons systems as an asymmetric response to US missile defences and the deployment of NATO forces on Russia's borders.
However, Thompson said the US government was taking its own measures to independently verify the new Russian weapons.
"What he [Putin] says is not necessarily ground truth… We still have some intelligence to gather on that… We've taken action in our own community not through the formal process… We're working with our agencies and allies to confirm [the new weapons]," Thompson said.
The US government, Thompson acknowledged, had not raised the subject of the new Russian weapons in any New Strategic Arms Reduction Treaty (START) discussions or asked whether any of the new weapons systems were allegedly in violation of the treaty.
"We've looked at it internally. We haven't taken it to our [Russian diplomatic] counterparts," Thompson said.
Any US decision on extending the New START Treaty would depend on whether it covered Russia's recently announced strategic nuclear weapons, Thompson added.
https://nation.com.pk/19-Sep-2018/trump-creates-biodefence-committee-to-protect-us-from-bio-terrorism
--------
US-made bombs killing Yemeni kids: CNN
Sep 18, 2018
A latest report has revealed that US-made bombs were frequently being used against civilians in Yemen.
The United States regional ally and major arms buyer, Saudi Arabia, was using its US-made bombs in the Saudi-led war on Yemen.
An exclusive report published by CNN on Tuesday revealed US-made bombs were used in numerous bombing attacks which led to civilian deaths in Yemen. The report titled "Made in America" states that shrapnel found in the Saudi-led attacks in Yemen "ties US bombs to a string of civilian deaths."
Last month, a CNN investigation found remnants of a US-made bomb at the scene of an airstrike that left dozens of schoolboys dead.
An independent Yemen-based reward-winning human rights group, Mwatana, has given CNN exclusive access to a trove of documents that prove US-manufactured bombs were at the scene of a string of other incidents since 2015, when the Saudi-led war on Yemen began.
In each of those bombings, civilians were either killed or faced the risk of death.
Mwatana, which reports violations committed by all sides of the Yemen conflict, used its network of trained field researchers to gather evidence at the scene of attacks.
The group then consulted its arms experts to identify the weapons used from serial numbers found on the fragments.
Mwatana was recognized last month with an award by the US-based group Human Rights First for unveiling the fact that US giant arms manufacturer Lockheed Martin had made the weapons used by Saudi-led forces in the deadly school bus attack in Yemen.
Riyadh defended the massacre of children as a "legitimate" attack.
Full report at:
https://www.presstv.com/Detail/2018/09/18/574510/US-Bombs-Yemen-Saudi--Lockheed-Martin-Mwatana-CNN
--------
Arab World
Syrian rebel official says Idlib deal 'ends Assad's dream of total control'
18 September 2018
A senior Syrian rebel official said on Tuesday a deal between Russia and Turkey to create a buffer zone in Idlib had ended Syrian President Bashar al-Assad's hopes of regaining full control of his country.
"The Idlib deal preserves lives of civilians and their direct targeting by the regime. It buries Assad's dreams of imposing his full control over Syria," Mustafa Sejari, a prominent Free Syria Army (FSA) official told Reuters.
https://english.alarabiya.net/en/News/middle-east/2018/09/18/Syrian-rebels-Idlib-deal-ends-Assad-s-dream-of-total-control-.html
--------
Hezbollah names Beirut street after Rafiq Hariri assassin
September 19, 2018
BEIRUT: Pro-Hezbollah politicians in south Beirut were accused of provocation on Tuesday for naming a street after the assassin who plotted the murder of former Lebanese Prime Minister Rafiq Hariri.
To rub salt in the wound, the street is adjacent to the city's Rafiq Hariri University Hospital. Hariri's son, Prime Minister Saad Hariri, described the decision by Ghobeiry municipality as "sedition."
Hezbollah commander and bomb-maker Mustafa Badreddine was described last week by the prosecution at the Special Tribunal for Lebanon in The Hague as "the main conspirer" in the assassination of Hariri, who died when his motorcade was blown up in central Beirut in February 2005. Badreddine himself was murdered in Damascus in 2016.
The decision to name the street after him was "unconstitutional" and "an unnecessary act of provocation," a source at the Interior Ministry told Arab News.
"There is no precedent for resorting to these methods in naming streets, especially when the name is the subject of political and sectarian dispute between the people of Lebanon and may pose a threat to security and public order."
Full report at:
http://www.arabnews.com/node/1374346/middle-east
--------
Turkey-Backed Militants Continue Plundering People's Assets in Northern Syria
Sep 18, 2018
The militants stole the entire spare parts from a warehouse in the Old Neighborhood of Afrin, and then smuggled them to an unknown place.
In the meantime, members of Sultan Murad terrorist group cut power cables near Nirouz Square in Central Afrin.
Brutalities and looting people's assets by the Ankara forces and allied militants have enraged civilians in the region.
Well-informed sources said in August that the Ankara forces stole the electrical cables of the control system of Maydanaki Dam North of Afrin, the sources said, adding that the move damaged electrical control system of the Dam.
The sources further said that the Ankara-backed militants had already stolen four of the six pumps of the dam that was supplying drinking water to the town of Afrin.
In the meantime, a former expert of Maydanaki Dam said that the Dam was on the verge of collapse after terrorists looted its electrical cables.
Full report at:
http://en.farsnews.com/newstext.aspx?nn=13970627000702
--------
Tahrir Al-Sham Captures Rival Terrorists' Positions in Northern Syria
Sep 18, 2018
Hawar News reported that Tahrir al-Sham stormed the positions of Faylaq in the village of Deir Balout in Jandaris region in Northwestern Aleppo.
Tahrir a-Sham killed the entire members of Faylaq in the position after hours of heavy fighting.
In the meantime, Tahrir al-Sham dispatched more gunmen and military equipment to the region, it said, adding that Faylaq al-Sham and Nouralddeen al-Zinki terrorists kept fighters on alert.
Local sources in al-Bab reported on Monday that heavy clashes erupted between Ahrar al-Sharqiyeh and Ahrar al-Hasaka terrorists in al-Bab.
The Ahrar al-Hasaka terrorist group has just separated from Ahrar al-Sharqiyeh.
They added that the infighting killed and wounded a number of militants on both sides.
Meantime, heavy clashes erupted between the Ankara-backed al-Shaitat and a group of civilians in Northern Syria.
Full report at:
http://en.farsnews.com/newstext.aspx?nn=13970627000459
--------
Israeli aerial operations in violation of Syria's sovereignty, Putin says
Sep 18, 2018
Russian President Vladimir Putin says the Israeli military's aerial operations in the Syrian airspace are in flagrant violation of the incumbent Damascus government's sovereignty as tensions are simmering between Moscow and Tel Aviv over the downing of the Russian Ilyushin Il-20 reconnaissance aircraft in the western Syrian province of Latakia.
"Putin pointed to the fact that the Israeli air force has been conducting operations in breach of Syria's sovereignty. In this case, Russian-Israeli agreements on the prevention of dangerous incidents were not observed. As a result, a Russian airplane came under fire from Syria's anti-aircraft systems. The President of Russia called for the Israeli side to avoid such situations from now on," the Kremlin press service quoted Putin as telling Israeli Prime Minister Benjamin Netanyahu by phone on Tuesday.
The Israeli prime minister, in return, offered his condolences over the death of 15 Russian servicemen, who were onboard the downed military plane.
"Netanyahu promised to provide detailed information on the activities of the Israeli air force over the Syrian territory on that day for the purpose of a meticulous investigation of the tragedy. The Israeli Air Force Commander (Aluf Amikam Norkin) will bring it to Moscow shortly," the Kremlin statement noted.
Russia's Defense Ministry has held Israel responsible for the downing of the Il-20 military aircraft by Syrian government anti-aircraft guns, stating that Israeli jets were attacking targets in Syria at the time of the incident and such provocations put the Russian plane in danger of being caught in cross-fire.
"The Israeli pilots used the Russian plane as cover and set it up to be targeted by the Syrian air defense forces," the Russian Defense Ministry said in a statement on Tuesday.
"We view the actions of the Israeli military as hostile. As a result of the irresponsible actions of the Israeli military, 15 Russian service personnel perished," Russian Defense Ministry spokesman Igor Konashenkov told Russia's state-run television network.
'Latest Israeli aggression on Syria meant to prop up terrorists'
Meanwhile, Syria's Ambassador to the United Nations Bashar al-Jaafari has censured the latest Israeli aggression on his country, stating that the incident is in line with the Tel Aviv regime's aggressive policies and an attempt to boost the morale of terror groups, which are taking heavy blows on the battlefield in the Arab state.
"Syria calls on UN Security Council to take firm and immediate measures to hold Israel accountable for its terrorism and crimes in violation of the Charter of the United Nations," Jaffari said at a Security Council session on the situation in Syria on Tuesday.
"We are surprised that UN Special Envoy for Syria Staffan de Mistura and the UN Under-Secretary-General for Humanitarian Affairs and Emergency Relief Coordinator Mark Lowcock did not address the repeated Israeli attacks on Syria," the Syrian diplomat pointed out.
Jaafari noted that the Syrian government is working towards a political solution to the ongoing crisis through intra-Syrian dialogue and without external interference.
He stressed that the fight against terrorism should be a priority in all the stages of the political process.
"Syria welcomes any initiative that spares the lives of Syrians and contributes to the restoration of security to any area plagued by terrorism. Syria will continue its war against terrorism until the last inch of its territory is liberated either through military operations or reconciliations," Jaafari stated.
Full report at:
https://www.presstv.com/Detail/2018/09/18/574544/Israeli-aerial-operations-in-violation-of-Syrias-sovereignty-Putin-says
--------
Saudi Arabia greatly concerned by Rohingya plight, says KSA envoy to UN
September 18, 2018
JEDDAH: Saudi Arabia is following the plight of Rohingya Muslims and other minorities in Myanmar with great concern, the Kingdom's UN ambassador told the Human Rights Council.
Dr. Abdul Aziz Al-Wasil condemned violations of international humanitarian law by Myanmar's military against Rohingya civilians in Rakhine state, and against other minorities elsewhere in the country.
The International Fact-Finding Mission on Myanmar has documented the burning of entire villages, indiscriminate killing, mass rape, child abuse, enforced disappearance, and other forms of violence against minorities that amount to genocide, he said.
Saudi Arabia recently provided $50 million to support rehabilitation programs for Rohingya related to education and health, he added.
He also reaffirmed Saudi support for the efforts of the International Commission of Inquiry on Syria.
Full report at:
http://www.arabnews.com/node/1374246/saudi-arabia
--------
Mideast
Fierce battles over past 10 days in Yemen result in death of 1,300 Houthis
18 September 2018
Yemen's army has advanced further into the mountains of Miran and reached the outskirts of where the tomb of Hussein al-Houthi lays in Jemima following violent confrontations with the Houthi militias.
Meanwhile, the army has also made advances towards Jarf Salman which is considered a holy area for the militias as well as their leader who lost more than 1,300 fighters in battles in the al-Miran mountains in Haidan in the last 10 days.
The commander of the third brigade in the Yemeni army, Brigadier Abdulkarim al-Sudai, said that army forces have made progress towards the areas of Jarf Salman, which is where the militias' leader Abdul Malik al-Houthi is based.
"As a result of the increase in the number of militiamen's deaths in Miran in the past few days, a number of cemeteries have been built to address the shortage of graves, while the militias remain concerned about the impending fall of their strongholds, and the Saudi-led coalition forces play an important and direct role in the battle," Sudai said.
Jarf Salman, which is a village in the Maraan mountains in Saada, is the headquarters of the Houthi leader, and was where Hussein al-Houthi was based before being killed on September 10 2004 by the Yemeni armed forces.
https://english.alarabiya.net/en/News/gulf/2018/09/18/Fierce-battles-over-past-10-days-in-Yemen-result-in-death-of-over1-300-Houthis.html
--------
Houthis refuse UN envoy efforts to start peace talks in Geneva
September 18, 2018
The Houthis continue to refuse efforts by the United Nations envoy to Yemen Martin Griffiths to persuade the Iran-backed militias to attend a new round of peace talks, sources in Sanaa told pan-Arab newspaper Asharq Al-Awsat.
Griffiths held talks with Houthi officials in Sanaa in an attempt to restart the peace talks in Geneva after the Houthis failed to attend the last round, held on September 6.
The sources said that the Houthis demanded that the national army halts their operation in the Hodeidah and to reopen Sanaa airport.
They also demanded that the UN allow dozens of wounded militants to travel outside of Yemen, along with the delegation and that their aircraft to not be inspected.
http://www.arabnews.com/node/1373936/middle-east
--------
Amnesty decries Houthi prosecution of Bahais in Yemen
September 18, 2018
CAIRO: An international rights group on Tuesday decried the prosecution of 24 Yemeni Bahais, including women and a teenager, by a Houthi rebel court on espionage charges.
Lynn Maalouf, Amnesty International's Middle East director of research, said the group fears the Bahais could receive the death penalty amid "flagrantly unfair proceedings."
The trial opened on Saturday and has been adjourned until Sept. 29. A lawyer following the case said the process was swift and most of the defendants were tried in absentia because only five were in custody. He spoke on condition of anonymity because of fear of retribution.
Iran banned the Baha'i religion, which was founded in 1844 by a Persian nobleman.
The Iranian-backed Houthis have occupied northern Yemen since 2014, after which the legitimate government fled the country and sought military intervention by a Saudi Arabian-led coalition. Houthis have waged an all-out campaign against all political and religious opponents and held thousands in detention, where torture is rampant.
The Houthi group's leader has targeted Bahais in public speeches describing them as "satanic" and several Bahais have been detained, tortured and held incommunicado, according to the community's UN representative.
A top figure was sentenced to death over charges of collaboration with Israel. In 2016, over 60 women, men and children participating in an educational gathering organized by Bahais were arrested as part of a mass crackdown on the religious community.
Bani Dugal, principal representative of the Baha'i International Community to the United Nations, expressed concern in a statement and said the charges were "extremely alarming and mark a severe intensification of pressure."
Full report at:
http://www.arabnews.com/node/1374266/middle-east
--------
UN envoy to Yemen reports 'constructive meetings' in Sanaa
19 September 2018
The UN's envoy to Yemen Martin Griffiths said that he carried out "constructive meetings" with the Houthi militias' leadership and the General People's Congress party in Sanaa.
Griffiths tweeted on Tuesday saying that progress was made in terms of "resuming consultations and confidence building measures."
He said that the talks included discussions about release of prisoners, the economic situation and re-opening of Sanaa airport. Griffiths added that he was heading to Riyadh on Wednesday.
This comes amid a fuel and domestic gas crisis in Sanaa, which has led to a near-stagnation of the market and the black market's revival.
Several residents have reported that hundreds of cars are queuing in long lines in front of empty gas stations waiting for the arrival of oil derivatives.
The price of a gallon of oil of 20 liters is now being sold on the black market for about 16 thousand riyals, meanwhile it was priced at 8500 royals only a few days ago. Several residents are saying that the movement of cars and transportation in Sanaa almost stopped, with the complete lack of fuel.
Full report at:
https://english.alarabiya.net/en/News/gulf/2018/09/19/UN-envoy-to-Yemen-reports-constructive-meetings-in-Sanaa.html
--------
Saudi cabinet calls for joint efforts to 'counter Iranian terrorism'
18 September 2018
Saudi Arabia's cabinet of ministers held a session on Tuesday chaired by King Salman in which they called for joint efforts in countering Iranian's terror activities in the region.
At the session, the cabinet recalled the recent resolutions passed during the 150th ordinary session of the Arab League's Council and discussed follow-up points on the crisis with Iran and ways to address its interference in the internal affairs of Arab countries.
"The Cabinet stressed that terrorism being practiced by Iran through its blatant interference in Arab affairs and its support for terrorist militias is one of the most appalling manifestations of terrorism, which needs unification and cooperation to confront and deter its tools, reiterating that the Kingdom has made efforts to combat terrorism and has not hesitated to provide all kinds of support with cooperation of the international community to eradicate this plague," a statement on Saudi Press Agency (SPA) read.
Full report at:
https://english.alarabiya.net/en/News/gulf/2018/09/18/Saudi-cabinet-calls-for-joint-efforts-to-counter-Iranian-terrorism-.html
--------
Saudi airstrike leaves 18 Yemeni fishermen dead off Khokha coast
Sep 18, 2018
More than a dozen Yemeni fishermen have lost their lives when Saudi fighter jets targeted their fishing boats off the coast of the western province of Hudaydah as the Riyadh regime presses ahead with its appalling military campaign against its crisis-hit southern neighbor.
A Yemeni security source, speaking on condition of anonymity, said Saudi warplanes struck fishing boats in waters off al-Khokha city, located 90 kilometers (56 miles) south of the provincial capital city of Hudaydah, on Tuesday evening, killing 18 people, Yemen's Houthi Ansarullah movement reported on its website.
The source added that only one fisherman survived the airstrike.
He identified some the victims as Amr Yahya Radwan, Malik al-Jibla, Mansour Yahya Radwan, Mohammad Khadem Zaid Harbi and Hussein Mohammed Ismail Manoubi, noting that they hailed from the village of al-Kadhah.
Separately, a barrage of artillery rounds and mortar shells, launched by Saudi military forces, rained down on the Razih district in Yemen's mountainous northwestern province of Sa'ada.
There were no immediate reports about possible casualties and the extent of damage caused.
Moreover, two civilians were killed and a bulldozer destroyed following a Saudi aerial attack on the al-Durayhimi district of Hudaydah province.
Later in the day, Yemeni army soldiers, backed by fighters from allied Popular Committees, fired a domestically-manufactured Badr-1 ballistic missile at the al-Mostahaddeth base in Saudi Arabia's southwestern border region of Asir. No reports of casualties were quickly available.
Saudi Arabia and a number of its regional allies launched a devastating military campaign against Yemen in March 2015, with the aim of bringing the government of former president Abd Rabbuh Mansur Hadi back to power and crushing the country's Houthi Ansarullah movement.
Some 15,000 Yemenis have been killed and thousands more injured since the onset of the Saudi-led aggression.
Full report at:
https://www.presstv.com/Detail/2018/09/18/574531/Saudi-airstrike-leaves-18-Yemeni-fishermen-dead-off-Khokha-coast
--------
Palestinian youth succumbs to wounds sustained in Israeli assault
Sep 18, 2018
A young Palestinian man has succumbed to the wounds he suffered after dozens of Israeli military forces stormed his family home during an overnight operation in the central part of the occupied West Bank.
Local sources, speaking on condition of anonymity, said some 40 Israeli soldiers raided the house in the village of Beit Rima, located nearly 30 kilometers (18.6 miles) northwest of Ramallah, early on Tuesday, brutally assaulting 24-year-old Muhammad Zaghlul Rimawi al-Khatib.
Muhammad's brother, Bashir, said Israeli forces continued to viciously beat his brother while unconscious. The troopers then dragged him outside the house and took him to an unknown location.
Bashir said Palestinian officials later contacted the family and informed them that Muhammad had died from his wounds.
There are reports that Israeli authorities have transferred Muhammad's body to Abu Kabir Forensic Center in Jaffa to conduct an autopsy and determine the cause of his death.
The occupied territories have witnessed new tensions ever since US President Donald Trump on December 6, 2017 announced Washington's recognition of Jerusalem al-Quds as Israel's "capital" and said the US would move its embassy to the city.
The dramatic decision triggered demonstrations in the occupied Palestinian territories and elsewhere in the world.
The status of Jerusalem al-Quds is the thorniest issue in the decades-long Israeli-Palestinian conflict.
The Palestinians see East Jerusalem al-Quds as the capital of their future state.
Moreover, more than 185 Palestinians have been killed by Israeli forces ever since anti-occupation protest rallies began in the Gaza Strip on March 30. Nearly 20,000 Palestinians have also sustained injuries.
The Gaza clashes reached their peak on May 14, on the eve of the 70th anniversary of Nakba Day (Day of Catastrophe), which coincided this year with the US embassy relocation from Tel Aviv to occupied East Jerusalem al-Quds.
On June 13, the United Nations General Assembly adopted a resolution, sponsored by Turkey and Algeria, condemning Israel for Palestinian civilian deaths in the Gaza Strip.
The resolution, which had been put forward on behalf of Arab and Muslim countries, garnered a strong majority of 120 votes in the 193-member assembly, with 8 votes against and 45 abstentions.
The resolution called on UN Secretary General Antonio Guterres to make proposals within 60 days "on ways and means for ensuring the safety, protection, and well-being of the Palestinian civilian population under Israeli occupation," including "recommendations regarding an international protection mechanism."
Full report at:
https://www.presstv.com/Detail/2018/09/18/574504/Palestinian-youth-succumbs-to-wounds-sustained-in-Israeli-assault
--------
Africa
Senior Boko Haram Leader Reportedly Killed by Allies
September 18, 2018
Mamman Nur, a senior figure in the Nigerian militant group Boko Haram, reportedly has been killed by some of his own colleagues.
Nur's men allegedly gunned him down Aug. 21 following an internal dispute, according to Nigerian media sources and others. News reports of the killing have trickled out in the last few days.
Gyade Abdalla, an Islamist scholar in the country's northeast region where the group is based, has served as a trusted negotiator between Boko Haram leaders, as well as Nigerian government officials. He told VOA that Nur's men believed the Boko Haram figure was too lenient.
A key point of dispute was Nur's decision to release schoolgirls kidnapped from the northeast Nigerian town of Dapchi, Abdalla said.
Boko Haram abducted 109 female students from a secondary school in Dapchi in February. Nearly all of the girls were returned safely to their homes about a month later.
Boko Haram also made headlines in April 2014 when it abducted 276 schoolgirls from a secondary school in the northeastern Nigerian town of Chibok. According to #BringBackOurGirls, the social media campaign and organization that formed after the kidnapping, 112 girls are still missing.
Nur led a faction of Boko Haram that broke away in 2014 from the militant group led by Abubakar Shekau. Nur's faction, which selected Abubakar al-Barnawi as its emir, established its operational base around Lake Chad north of Nigeria's Borno state.
The group pays allegiance to IS leader Abu Bakr al-Baghdadi. Nur also has been much more willing than other Boko Haram leaders to negotiate with the government about issues such as releasing captives.
A fluent Arabic speaker, Nur networked extensively with other Boko Haram factions operating around Lake Chad, including in Niger, Chad and Cameroon.
Abdalla suggested that Nur's death could weaken the Boko Haram faction.
With no apparent successor to Nur, it could splinter further, Abdalla said. That would give an edge to the Nigerian government if it acted quickly to dislodge the group, he added.
Malam Ibrahim Damaturu, an Islamic studies lecturer at Yobe State University, told VOA that Nur's killing was unsurprising because the entire Boko Haram organization was built on ignorance of Islam.
He said some militants joined the group to advance personal objectives, and their competing goals were bound to produce friction. He said even Muhammed Yusuf, who founded the group in 2002, had conflicts with some of the followers.
Aliyu Kontagora, a retired Nigerian army colonel now working as a security analyst in the capital, Abuja, said he believes Nur's assassination might lead to an escalation of deadly attacks in the area, as militants try to demonstrate their strength.
Boko Haram, which promotes an extreme form of Islamist fundamentalism and opposes Western-style education, is blamed for the deaths of more than 30,000 people and for the dislocation of more than 2 million.
UNICEF reported that Boko Haram, intent on destroying schools, had kidnapped more than 1,000 children in northeastern Nigeria as of April.
https://www.newdelhitimes.com/senior-boko-haram-leader-reportedly-killed-by-allies/
--------
Boko Haram violence spikes in Nigeria's northeast
19.09.2018
By Rafiu Ajakaye
LAGOS, Nigeria
In August, a report came out that appeared aligned with the official Nigerian narrative that says Boko Haram militants have been "technically defeated" in most parts of Nigeria's northeast region.
"In a survey encompassing sites in the Adamawa, Borno and Yobe states, 85 percent of respondents reported witnessing a reduction in the level of violence in their communities," the prominent West African civic group Center for Democracy and Development (CDD) said in the report.
"Nearly 90 percent said they believe the insurgency is subsiding or effectively over."
But developments in the region in the past few weeks now appear to suggest otherwise as reports emerged of militants ambushing government troops. Some have alleged a few of those reports have been promoted by the opposition for political capital.
Cited are the attacks last week in the towns of Gudumbali and Damasak, the bombing of Alau Dam which supplies water to the Borno capital Maiduguri, as well as repeated attacks in the neighboring Yobe State, or raids on different communities on the fringe of Lake Chad.
Some 21 civilians were also recently abducted in the Borno state, but were since freed by Nigerian troops.
"On a daily basis, we get reports of Boko Haram killing one or two farmers cultivating land less than 10 kilometers [a little over 6 miles] from Maiduguri without any corresponding measures," Baba Gana Imam, a community leader, told Anadolu Agency.
"These attacks [...] show that they are very much resilient and bent on proving that their forces have not been routed," added Fred Onuoha, a security analyst and professor at the political science department at the University of Nigeria in Nsukka.
Troop fatigue
Apart from the seasonal rains that make the roads inaccessible to troops while militants hit remote communities, Onuoha said there are other factors to consider for the surge.
The ransom the militants receive in exchange for releasing abductees enables them to restock key supplies like drugs, food, weapons and recruits, according to the analyst.
"Second, and as a corollary to the above, is access to sophisticated weapons likely purchased from ransom money and routinely acquired from raiding of security armory," he added.
Troop fatigue has also been fingered for the recent surge in Boko Haram attacks.
Operatives of the Special Operation forces (SOF), an elite unit of the military credited with curtailing the militants between 2014 and 2015, have recently protested the long deployment in the region, underscoring the low morale within their ranks.
"It is not unlikely that the insurgents may be taking advantage of this morale deficit to launch attacks on mostly military targets," Onuoha said.
Beegeagles, the preeminent defense website in West Africa, agreed.
"There are continuing issues with provisioning and low morale, the latter stemming from inordinately extended tours of duty. Also, the number of troops in the region is clearly inadequate to hold territory and to go on the offensive in tandem," the website administrator, who asked not to be named, told Anadolu Agency.
Militants may also be targeting military installations to access weapons and this could mean that Daesh is planning a major attack and possible territorial raid on one or two towns in rural Borno, Ryan Cummings, a pan-African security analyst based in Johannesburg, told Anadolu Agency.
He said the redeployment of Nigerian and regional military assets to other flash points may also explain the surge.
Troop surge
The Nigerian army has dismissed claims of a resurgence. Instead, its spokesman Texas Chukwu said in a statement last week that troops have continued to clear militants from their camps, resulting in massive casualties among militants.
Fears of Boko Haram overrunning communities persist nonetheless -- a possible throwback to the events of 2013 and 2014 when militants effectively established a caliphate covering a large area of land.
With a number of major roads still not safe and the inkling that the two factions of the insurgency may be papering over their differences to face a "common enemy", analysts said nobody should rule out a surge.
Said this should involve identifying potential new strengths of the Boko Haram factions in the area of funding streams, weapons upgrade and acquisition, membership strength and recruitment drive, and operational and attack patterns.
Onuoha called for heavy investments on air assets as veritable force multiplier for sustained intelligence, surveillance and reconnaissance (ISR) operations, rapid close air support for ground troops in situation of surprised attacks, and for precision pursuit and neutralizing of Boko Haram camps and highly mobile fighters.
"There must be comprehensive revaluation of the psychological state of troops, especially the SOFs, to ascertain readiness posture and addressing trauma or fatigue. This would inform the kind of treatment needed and nature of measured redeployment," said security analyst Onuoha.
Full report at:
https://www.aa.com.tr/en/africa/boko-haram-violence-spikes-in-nigerias-northeast/1258722
--------
Ahead Of The 2019 General Election Christian, Muslim Leaders Sign Peace Accord In Abuja
By SEGUN ADIO
19th September 2018
Ahead of the 2019 general election, Christian and Muslim leaders have signed a peace pact in Abuja.
The event was witnessed by representatives of the United Nations (UN) and the United States of America (USA).
Daily Sun learnt that the peace agreement between the dominant religions in Nigeria was to affirm that the country "shall remain committed to peace and harmony among Christians and Muslims, from both North and South, as the country approaches the 2019 general election."
Regardless, the Sultan of Sokoto, Alhaji Sa'ad Abubakar III, has condemned actions of religious leaders, whom he alleged no longer promote religious values, describing most of them as egocentric.
He also called for a peaceful co-existence among Muslims and Christians for sustainable growth.
Abubakar stated this during the signing of the peace agreement.
Speaking further, the spiritual leader, who is the co-chair of the Nigeria Interfaith Action Association (NIFAA) and leader of all Muslims in Nigeria, said everyone must ensure democratic sustainability.
The Sultan, who was represented by the Emir of Keffi, Dr. Shehu Usman Yamusa III, said: "Let me seize this privilege to appreciate NIFAA for being resilient in the course of peace building in Nigeria, as well as keeping faith with the principles of the UN General Assembly on international day of peace, which encourages countries of the world, with different religious faith to come together as a people and as a nation.
"The unique declaration is very timely since it is noted that most religious leaders no longer promote religious values but are being egocentric, and above all conflict entrepreneurs.
"Let me affirm that religious leaders must disseminate the language of peace under their spiritual jurisdiction, but must also note the doctrine of Karmic law, where all must account for their deeds, now or later. Of note, we must all ensure democratic sustainability, especially as the 2019 general election approaches."
Meanwhile, National President of the Christian Association of Nigeria (CAN), Supo Ayokunle, who alleged that most Nigeria leaders no longer promote peace, added that everyone must account for their deeds.
The CAN president, who was represented by the Prelate of the Methodist Church, Dr. Samuel Chukwuemeka Uche, said their anticipation for the 2019 general election and the Osun governorship election is that both elections would be peaceful.
He said as leaders, they desired peaceful elections for a stable Nigeria, where there would be justice and the rule of law.
Ayokunle said: "We must recognise our diversity. Everyone must strive for love and must be entitled to dignity within the ambit of the law.
"We need servant leaders, responsible and obedient follower-ship. Nobody should pray for Nigeria's disintegration."
The United States Ambassador to Nigeria, Stuart Syminton, who witnessed the signing of the peace pact, said no one would be a Nigerian if there is no peace.
He advised that when someone kills, he or she should be called a killer and not the other way round.
Former US Assistant Secretary of State and now a UN chief, Tom Bull, said he would take the peace declaration to the UN summit, adding that Nigerians are determined to have peace election.
Full report at:
http://sunnewsonline.com/2019-christian-muslim-leaders-sign-peace-accord-in-abuja/
--------
Nigeria: Boko Haram Kills Abducted Midwife, Threatens to Kill Leah Sharibu
18 SEPTEMBER 2018
By Timileyin Omilana
A Boko Haram splinter group loyal to the Islamic State has killed one of the health workers kidnapped from Kala-Balge, Borno State, Saifura Khorsa, a midwife with the International Committee of Red Cross.
The International Committee of the Red Cross condemned the "tragic killing" of Khorsa in a statement released on Monday.
"We are devastated by the murder of our colleague Saifura," said Eloi Fillion, the head of the ICRC delegation in Abuja.
The terrorist group also threatened to kill Hauwa Liman and Alice Ngaddah who were abducted alongside Khorsa in March 2018, as well as Leah Sharibu, the remaining Dapchi schoolgirl in Boko Haram captivity.
Leah, who has been in captivity for over 200 days, is one of the 100 schoolgirls kidnapped in Dapchi, Yobe State, by Boko Haram. But she was held back when others were released because she refused to renounce her Christian faith.
"The girls that returned said Leah said she will not deny Christ or turn to be a Muslim," Leah's father, Nathan said in an Interview.
The insurgents, however, claimed that they had contacted the government over the captives but did not get any response.
"We contacted the government through writing and also sent audio messages but the government has ignored us. So, here is a message of blood," said a spokesman of the group who did not give his name.
This may be connected to as the sect late August released a 35-second online audio of Sharibu pleading for an urgent intervention by President Muhammadu Buhari to facilitate her rescue.
"I am Leah Sharibu... I am calling on the government and people of goodwill to intervene to get me out of my current situation".
The recorded audio came months after the Nigerian government said negotiations for the rescue of the lone Christian girl were still ongoing.
The government admitted, however, that efforts to secure her release by the insurgents had been tortuous and complicated.
"The other nurse and midwife will be executed in a similar manner in one month, including Leah Sharibu," the sect threatened.
This latest threat may be part of the indications, as predicted by Ahmad Salkida, a journalist with the knowledge of Boko Haram insurgency and Lake Chad crisis, that the sect may be on the verge of launching a large-scale attack in northeast Nigeria.
"The insurgents are busy piling up arms by overrunning one military base, after another, for something "big" and what could that be," he tweeted on Saturday.
The rising regularity of Boko Haram attacks suggests that Salkida's warning should be taken seriously.
"When attention was on #ISWAP attack on Guzamala yesterday, the group staged another daring attack on a military facility in Baga, Kukawa, on the shores of the #LakeChad," Salkida said in another tweet on Sunday.
This warning is coming after Buhari in May said they have been "degraded" instead of "defeated" in what seemed to be a tacit acknowledgement of the difficulty of the task of curtailing the growth of the insurgents.
"The capacity of the insurgents has been degraded, leading to the re-establishment of the authority of government and the release of captives including, happily, 106 Chibok and 104 Dapchi girls, and over 16,000 other persons held by the Boko Haram," Buhari said in a Democracy Day speech on May 29, 2018.
Recent attacks carried out by the two factions of Boko Haram indicate that the claim of them being defeated or degraded may have come too soon.
However, while reacting to the murder and the threats the Nigerian Government pledged its commitment to rescuing all captives.
"The government of Nigeria strongly condemns this reprehensible and inhuman act. No religion permits the killing of the innocent," Garba Shehu, his senior special assistant on media and publicity said on Monday.
Full report at:
https://allafrica.com/stories/201809190018.html
--------
Boko Haram: Troops kill 5 insurgents in Borno
September 18, 2018
By Maina Maina
Troops of the 21 Special Armoured Brigade deployed in Operation LAFIYA DOLE, in a joint trans-border operation with troops of the Cameroonian Defence Forces, killed five Boko Haram terrorists in the border villages of Yabiri Kote and Bula Dadobe of Bama Local Government Area Borno State.
The joint operations, tagged: "Operation RAINBOW 15" which was conducted from Saturday 15 – Sunday 16 September 2018, came on the heels of the discovery of makeshift bases, established by the terrorists in Yabiri Kote and Bula Dadode from where they launched attacks on villages in Cameroon and Nigeria.
A statement by Bigadier General Texas Chukwu, Director Army Public Relations said, during the joint trans- border operations, the gallant troops recovered some items from the terrorists.
"The items include: 3 AK 47 rifles, Two Improvised Explosive Device ( IED) Shells, One primed Improvised Explosive Device (IED) Belt, Two motorcycles, Eight bicycles, Improvised Explosive Device (IED) Vest, and One Boko Haram flag.
"The trans-border operations have successfully cleared the insurgents from the general area of Kote Kura.
Full report at:
http://dailypost.ng/2018/09/18/boko-haram-troops-kill-5-insurgents-borno/
--------
URL: https://www.newageislam.com/islamic-world-news/not-too-long-ago-sunnis/d/116426
New Age Islam, Islam Online, Islamic Website, African Muslim News, Arab World News, South Asia News, Indian Muslim News, World Muslim News, Women in Islam, Islamic Feminism, Arab Women, Women In Arab, Islamophobia in America, Muslim Women in West, Islam Women and Feminism