New Age Islam News Bureau
23 Dec 2019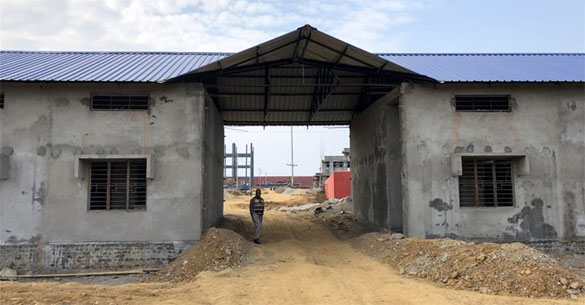 India's largest detention centre in Assam's Goalpara district is nearing completion [Tawqeer Hussain/Al Jazeera]
-----
• Not Sending Muslims to Detention Centres, Says PM Modi amid CAA Protests
• Srinagar Residents Allow Mosque to Be Razed For Civic Development
• Anti-Muslim Citizenship Law: Modi Attempts to Drag Pakistan Into Conflict
• 'The Biggest Threat Related To Islamic State Is the Return of South Asian Militants Who Volunteered To Fight'
• Organisation of Islamic Cooperation Expresses Concern over CAA
• The International Union for Muslims Scholars Urge India to Reverse Citizenship Law
• Islamic and Hindu Organizations Help Secure Christmas in NTT
• Muslims Spread Festive Cheer At Sheffield Nursing Home
• Why Are Muslims So Behind In Today's World? Erdoğan Asks Islamic Summit
Compiled By New Age Islam News Bureau
URL: https://www.newageislam.com/islamic-world-news/not-sending-muslims-detention-centres/d/120603
------
India
• Why India cannot afford to keep the Rohingya Muslims
• Students Islamic Movement of India fanned violence in Uttar Pradesh
• Anti-Muslim citizenship law: India summons Malaysian envoy over Mahathir's remarks
• OIC Voices Concerns Over Anti-Muslim Law, Babri Mosque Verdict In India
------
Pakistan
• Pak govt denies permission to Maryam Nawaz to travel abroad
• Maryam won't be allowed to travel abroad: PM aide
• PM's aide questions Sharifs' silence over Musharraf conviction
• KP seeks return of thousands of Gandhara artefacts in museums across country
• NAB summons PML-N leader to appear today in sports city case
------
South Asia
• Bangladesh Nationalist Party Slams Amit Shah; Demands Withdrawal Of His Statement
• "Worrisome": Bangladesh on Citizenship Law Protests
• Bangladeshi Arrested With Fake Aadhaar, Indian Voter Cards
• Ghani wins the preliminary election results by securing 2.3% of nation's votes
• American service member killed in Afghanistan, U.S. military says
• Afghanistan: Where the road to peace is harder than war
• Why Vietnam provides a useful benchmark for Bangladesh
• Has Bangladesh Provided an Excuse for Suu Kyi's Defence?
• In 5 years, Maharashtra deported 2 from Pakistan, 1,400 from Bangladesh for illegally staying in the State
------
Arab World
• Jobs Market 'Will Drive Saudi Education,' Says Education Minister
• Charity candles campaign to light up lives of needy Saudi children
• Saudi Press: 11th Islamic Conference of Culture Ministers
• Jeddah International Book Fair concludes
• Special needs children step up to the starting line in Jeddah
• Saudi Shoura Council chief holds talks with visiting counterpart from Indonesia
• Saudi Ministry of Health to ban hydrogenated oils by 2020
------
Europe
• Muslim Labour Activist, 16, Sent Picture of Himself Burning On Cross
• Ex-Inmate Claims Islamist Extremists Setting up Sharia Law Trials Right in British Jails - Report
• UK's Tesco halts work at China factory after SOS from 'prisoner' in Xmas card
------
Southeast Asia
• Failure of Malaysia's Muslim summit is only the tip of the iceberg
• Offering Christmas Wishes; PBNU: It's OK,in Spirit of Brotherhood
• 'Game changer' KL Summit marks end of Saudi stranglehold on Muslim world
• Sabang City Bans New Year's Celebration on Sharia Grounds
------
North America
• ISIS Student Plotting College Dean Attacks has 'ISIS Imam' as Spiritual Guide
• Reza Aslan Brings Us a TV Comedy That Aims to "De-Exotify" Muslims
• Break-in at St. Paul mosque investigated as hate crime because of 'Merry Xmas' graffiti left behind
------
Mideast
• 80,000 flee new Assad onslaught in Idlib
• Anti-corruption protest leaders snub talks with Lebanon's new prime minister
• US sanctions bring fresh trouble for Turkey
• Idlib: Have clashes rendered Turkish observation points useless?
• Cyprus police bring in boat with 34 Syrian migrants aboard
• Erdogan says Turkey cannot handle new migrant wave from Syria, warns Europe
------
Africa
• Security Tops Agenda As West African Leaders Meet In Abuja
• Leah Sharibu: Northern Christian elders beg Buhari to rescue abducted Dapchi schoolgirl
• NASS: Islamic group reacts as Gbajabiamila vows 9th Assembly will not fight Buhari govt
------
Not sending Muslims to detention centres, says PM Modi amid CAA protests
23rd December 2019
NEW DELHI: Prime Minister Narendra Modi at a rally at the Ramlila Maidan in New Delhi asserted that the Citizenship Amendment Act (CAA) and the NRC have nothing to do with Indian Muslims as he sought to assuage their concerns amid widespread protests on Sunday. Here's the full text of what the Prime Minister said.
The Prime Minister said that in the recently-concluded Parliament session, not only the Bill related to the colonies in Delhi but the second important Bill, the Citizenship Amendment Bill, has been passed, but after the passing of this Bill some political parties started spreading various rumours. I want to know from them:
When we did legitimised hundreds of illegal colonies in Delhi, did we ask anyone what is your religion or whom do you have faith in or which party do you support? — No.
When we gave free gas connections to more than eight crore families under the Ujjwala Yojana, did we ask for their religion or caste? — No.
In the last five years, our government has given houses to more than 15 million poor people. We did not ask anyone their religion.
The world's largest health assurance scheme 'Ayushman Bharat' is running in India today. This scheme has ensured that more than 50 crore poor people get free treatment up to Rs 5 lakh. Due to their political interest, Delhi government did not implement Ayushman Bharat Yojana in Delhi. Those states where this scheme has been implemented, about 70 lakh patients have received free treatment at hospitals. Among its beneficiaries are Hindus, Muslims, Sikhs and Christians. Didwe see religion in it? — No.
I want to know from the Congress, its allies and the parties which play divisive politics, that when we have not discriminated against anyone in the country under any scheme, then why such false allegations and why this conspiracy to discredit India worldwide? These people have not only tried to push Delhi but also many other cities in the country into chaos. They make statements to incite violence and hatred, but do not speak anything to establish peace. If they do not take the initiative to establish peace, it means that they are silently supporting violence.
The PM said that last week the people have seen how some opposition parties, including Delhi's ruling party, can go to any extent for their selfishness and politics. "You must have seen and heard the statements that were made, the way people were instigated and provoked. These people have conspired and tried to push not only Delhi but many other cities into chaos and fear. There have been attacks on children's school and passenger buses and trains, people's vehicles have been burnt, government property damaged and their politics tells the truth. I want to tell such people that if you want to hit stones then hit it on Modi, if you want to burn then burn the effigy of Modi, but at least don't harm any poor person's property."
"What will you get by beating up poor auto and bus drivers? What will you get by injuring the policemen at whom you are throwing stones? Do not forget that more than 33 thousand policemen in the country have sacrificed for your peace and for your safety. When a crisis comes or there is a problem, then these policemen do not ask what your religion is."
"Recently, the fire that took place in Delhi, killed many people. At that time did the police ask which is the religion of the? Then why are such lies being spread?"
He stressed that there is a need to identify those who sell lies and spread rumours. "These are two types of people. One those, whose politics is based on the vote bank for decades. Others those, who have benefited from this politics. These people used to think that the government itself is there, the country runs at their behest and the history that they tell will be accepted as truth."
Modi said that those who do vote bank politics and consider themselves to be the fate of India after being rejected by the people of this country have taken up their old objective of divide and rule.
The Citizenship Amendment Act is not for any citizen of India, whether Hindu or Muslim.
"The NRC, which has not come yet, for which the rules and regulations have not been decided yet, is being made an issue. The Congress and its workers are spreading rumours and some people have started following them. Its workers, educated Naxalites and urban Naxals living in cities, are spreading rumours that all Muslims will be sent to detention centres. I am surprised that this rumour has created panic among even the well-educated people. First read once, what is the Citizenship Amendment Act and NRC."
"Those still in confusion, I will tell them that do not believe in these rumour of detention centres being raised by the Congress and urban Naxalites. Both the Citizenship Law and the NRC will not have any effect on the Muslims of this country, whose ancestors were from India. No one is going to send the Muslims of the country to the detention centres. The rumour of sending them to detention centres is a lie. I am surprised, to what extent these people can go on lying."
While answering the opposition's "lie on the Citizenship Amendment Act", the Prime Minister said that some people are trying to show that the Citizenship Amendment Act is against the poor. They are saying that those who come will take away the rights of the poor here, while this Act will only apply to those who have been living in India for years. No new refugee will get the benefit of this law. Those who are telling such lies should also check the condition of people who came from Pakistan, Afghanistan and Bangladesh due to religious persecution.
"These are the people, mostly Dalits, who were kept as bonded laborers in Pakistan. Even today they are discriminated against in Pakistan. The atrocities with daughters there, they are forced to convert by forcibly marrying them is continuously highlighted by the media. This happens only because their faith is different, their method of worship is different."
Due to similar exploitation in Pakistan, Bangladesh and Afghanistan, they have come to India and have been living in different parts of the country among us for years. Modi said that the minorities of our three neighbouring countries, who moved to India for shelter due to atrocities, have been given some privilege in this Act.
"These privileges are according to the spirit of Mahatma Gandhi, who said that whenever Hindu and Sikh companions living in Pakistan feel that they should come to India, they are welcome. This privilege is in accordance with the promise of the then Indian government, which was made 70 years ago when crores of Indians became minority during partition."
"Today, when the NDA government, led by Bharatiya Janata Party, is fulfilling the same decades-old promise, it is being opposed. Now, they are saying that give privilege to all the citizens of Pakistan. These political parties no longer want to distinguish between illegal infiltrators and persecuted refugees due to their faith. In which country in the world do such things happen?" Modi said.
"It was Manmohan Singh who stood up in Parliament and said that we should give citizenship to those people from Bangladesh who are being oppressed due to their faith, who are moving from there to India. There was a time when former chief minister of Assam, veteran Congress leader Tarun Gogoi ji also used to write letters. In Assam, the resolution was passed that people who are being tortured in Bangladesh, who are coming here they may be helped. There was a time when Rajasthan Chief Minister Ashok Gehlot also had sympathy for such refugees. They used to demand that the situation of the Hindus and Sikhs, who came here from Pakistan should be improved, but now everything has changed.
Continuing the attack on the opposition, the PM said that today Mamata didi has reached the United Nations directly from Kolkata, but a few years ago, Mamata didi was standing in Parliament, pleading that the infiltrators from Bangladesh be stopped, only persecuted refugees be helped.
Today, the Left parties, whom the people of India have rejected, which is now at an end, its veteran leader Prakash Karat also spoke about helping those coming from Bangladesh because of religious persecution. Today, when the political parties of these people are refusing to give citizenship to the refugees who came to India due to religious persecution, their real face is also coming before the people of the country. The truth is that these people are doing only bank politics. For their vote banks, these political parties are constantly provoking people and spreading rumours.
https://www.newindianexpress.com/nation/2019/dec/23/not-sending-muslims-to-detention-centres-says-pm-modi-amid-caa-protests-2079766.html
------
Srinagar residents allow mosque to be razed for civic development
Dec 22, 2019
SRINAGAR: Residents of Qamarwari in Srinagar's Rampora area have agreed to the demolition of a 40-year-old mosque in the locality, paving the way for the construction of a long-awaited bridge over River Jhelum.
The project had been pending since 2002 due to opposition against the demolition of the mosque, Masjid Abu Turab, and several other structures, including some residential and commercial spaces in the area, officials said.
The mosque and other structures needed to be removed for building the 166m-long two-lane bridge connecting Qamarwari with Noorbagh in the city, said the officials. The bottlenecks were cleared after a series of meetings between the mosque committee executives, Qamarwari residents and Srinagar district development commissioner (DC) Shahid Iqbal Chowdhary to resolve the land acquisition issue.
Demolition work began on Saturday, 24 hours after the signing of an agreement between the DC and the managing committee of Masjid Abu Turab. The agreement included among others the DC's offer to allot a separate land for the reconstruction of the mosque within 12 months, all expenses of which will be borne by the district administration, said officials.
The resolution has enabled authorities to restart the Rs 10-crore bridge project. "The work will be resumed and completed at the earliest," said the DC. He said a plan has also been finalised for the relocation of other bottlenecks which includes a fire station and 16 residential and commercial structures. He said alongside the construction of the said bridge, the district administration would undertake flood protection and beautification works along Jhelum and repair adjacent roads and install smart lighting in the area.
This is the second time in a month that the DC's efforts have paved the way for the resumption of stalled work on vital projects. Earlier this month, he had successfully negotiated with the management of the historic Damdama Sahib Gurdwara at Zainakote, enabling resumption of expansion work on the Srinagar-Baramulla National Highway.
Despite funding of over Rs 2.5 crore through the Jammu and Kashmir Infrastructure Development Finance Corporation (JKIDFC) in 2018, covering cost escalation to complete the project, the work remained stalled because of a total of 18 bottlenecks including the presence of the mosque.
https://timesofindia.indiatimes.com/india/srinagar-residents-allow-mosque-to-be-razed-for-civic-development/articleshow/72929818.cms
------
Anti-Muslim Citizenship Law: Modi Attempts To Drag Pakistan Into Conflict
December 23, 2019
NEW DELHI/ISLAMABAD: Violent protests against India's citizenship law swept the country over the weekend and Narendra Modi government attempted to drag Pakistan into the conflict through ceasefire violations (CFVs) in Dewa sector and other areas along the Line of Control in the Indian Occupied Kashmir (IOK).
In spite of the Indian government's ban on public assembly and suspension of internet services in many parts, the nationwide death toll rose to 26 on Sunday.
Nine people died in clashes with police in Uttar Pradesh on Saturday, said state police spokesman Pravin Kumar. He said most of the victims were young people but denied police were responsible.
"Some of them died of bullet injuries, but these injuries are not because of police fire. The police have used only tear gas to scare away the agitating mob," he said. The demonstrations have been largely peaceful but protesters have also hurled rocks and torched vehicles, while heavy-handed police tactics including the storming of a Delhi university a week ago have fuelled anger.
Tens of thousands of protesters gathered late Saturday in the southern city of Hyderabad. Other protests took place on Sunday, including in Jaipur and Mumbai. Another in favour of the law was held in Bangalore.
Around a dozen vehicles were set on fire as protesters rampaged through the northern cities of Rampur, Sambhal, Muzaffarnagar, Bijnore and Kanpur, where a police station was also torched.
The law gives religious minority members -- Hindus, Sikhs, Jains, Parsis, Christians and Buddhists -- from three neighbouring countries an easier path to citizenship, but not if they are Muslim.
More than 7,500 people have either been detained under emergency laws or arrested for rioting, according to state officials, with 5,000 in Uttar Pradesh state alone where 17 people have been killed. Some 500 people have also been injured in Uttar Pradesh including 263 police, while two people were shot dead in the southern state of Karnataka and six died in Assam in the northeast last week.
In New Delhi, police charged more than a dozen people with rioting in connection with violence during a protest on Friday night in the capital's Daryaganj area.
In Assam, opponents of the legislation fear it will enable large numbers of Bengali-speaking immigrants, many of whom are Hindu, to settle there. But elsewhere, opponents say the law has made religion a test for citizenship ahead of a nationwide register that Modi wants to carry out by 2024 to remove all "infiltrators".
In most places, the demonstrations have been joined by people of all faiths, but Uttar Pradesh is a tinder-box for communal tensions between Hindus and Muslims, and authorities there have shut internet and mobile messaging services to prevent the circulation of inflammatory material.
More than 1,500 protesters have been arrested across India in the past 10 days, additionally, some 4,000 people have been detained and then released, the officials said.
The demonstrations have been largely peaceful but protesters have also hurled rocks and torched vehicles, while heavy-handed police tactics including the storming of a Delhi university a week ago have fuelled anger.
Authorities have imposed emergency laws, blocked internet access -- a common tactic in India -- and shut down shops in sensitive areas across the country in an attempt to contain the unrest.
More than 7,500 people have either been detained under emergency laws or arrested for rioting, according to state officials, with 5,000 in Uttar Pradesh state alone where 17 people have been killed.
Some 500 people have also been injured in Uttar Pradesh including 263 police, while two people were shot dead in the southern state of Karnataka and six died in Assam in the northeast last week.
Meanwhile, two US Democratic presidential candidates, Sen Elizabeth Warren and Sen Bernie Sanders, denounced the new law on Twitter.
Meanwhile, Pakistan warned the world on Sunday that while the international community was busy in Christmas preparations, Indian forces could stage a false flag operation to divert attention from its internal problems, especially deadly Indian police action against its peaceful Muslim demonstrators.
In a statement, Foreign Minister Shah Mehmood Qureshi said India might carry out a false flag operation to divert the world attention from ongoing protests against the citizenship law.
He said the United Nations Security Council had been informed about Pakistan's reservations about the Indian moves and clarified that any aggression from the archrival would be responded befittingly.
He urged the international community to take action against Indian Prime Minister Narendra Modi's nefarious plans.
The reaction came after the Inter Services Public Relations (ISPR) Director General Maj Gen Asif Ghafoor said Indian posts had been damaged and heavy casualties of Indian soldiers had been reported in response to ceasefire violations (CFV) in Dewa sector.
The DG ISPR took to Twitter and stated, "Intermittent CFVs by Indian Army continue along the Line of Control (LoC) being befittingly responded."
No major exchange of fire in Kiran or Neelum valley took place, as being propagated by the Indian media, said the post.
Qureshi said the Organisation of Islamic Cooperation (OIC) was being requested to side with Pakistan if the Indian forces staged any false flag operation.
He said the OIC as well as the world bodies were continuously being updated about the Indian ceasefire violations at the LoC and the aggressive Indian designs.
https://www.thenews.com.pk/print/587291-anti-muslim-citizenship-law-modi-attempts-to-drag-pakistan-into-conflict
------
'The biggest threat related to Islamic State is the return of South Asian militants who volunteered to fight'
December 23, 2019
Peter Chalk, a counterterrorism specialist with Rand Corporation, was in India recently to deliver a lecture. He speaks to Sanjeev Verma on the South Asian scenario:
What are the major challenges before South Asia in its fight against terrorism?
South Asia confronts a range of challenges in its fight against terrorism. Principal among these are the range of extremist groups that exist in the region, which span the spectrum of ethno-nationalist, communist, religious and sectarian movements; numerous ungoverned spaces where militants can plan, recruit and organise; the existence of state entities that have been prepared to support violent radical movements as a deliberate tenet of foreign policy; porous borders that have been extremely difficult to police; and a lack of international cooperation, especially in terms of intelligence sharing.
What is the impact of Afghanistan's opium trade?
Taliban retains monopolistic control over Afghanistan's booming opium "industry", deriving as much as 60% of its operational income from the production and trafficking of heroin, most of which is exported to Europe. As such, there is little opportunity for other groups such as al-Qaida Central (AQC) and its affiliate al-Qaida in South Asia (AQIS), Islamic State, Jaish-e-Muhammed (JeM) and Lashkar-e-Jhangvi (LeJ) to make concerted inroads into the trade to bankroll their own terrorist operations. That said, the money that Taliban has derived from opiates, estimated to be around $150 million a year, has allowed the movement to sustain a high-level insurgency which has in turn severely undermined the stability of a state that has for many years acted as a base of operations for jihadist groups, several of which have an explicit anti-India agenda.
What about the looming threat of IS in the region, specifically India, as many people have joined IS in the past?
The biggest threat related to Islamic State is the return of South Asian militants who volunteered to fight for the group in the Middle East and who are now starting to return home. These veterans have extensive combat experience that can be used for conducting high-level terrorist strikes and are now endowed with an aura of jihadist "credibility" other aspiring Islamists will doubtless be drawn to. These dangers should be a concern to several countries in the region, including India, Pakistan, Sri Lanka and Bangladesh.
Which countries have the best counterterrorism policy?
The UK, France, Canada, Australia, Singapore, and the US are all examples of countries that have developed relatively effective counterterrorist policies. Some of their unique aspects include intelligence-led policing that draws on both classified and open-source information; a heavy focus on community engagement; institution of rigorous structures of accountability and oversight to monitor and control executive agencies of the state; regular interaction with the public to explain the purpose and justification for specific actions taken in the name of national security; for the most part measured responses that do not unduly threaten the norms of liberal democracy; efforts to foster "soft" hearts and minds programmes to "de-bunk" militant ideology and propaganda; and the consolidation of formal fusion centres that allow for effective inter-agency cooperation and coordination.
How can governments keep a check on internet, social media platforms and other communication platforms used by terror groups?
I think the best approach is a multi-faceted strategy. Legislation obviously needs to be in place that allows law enforcement authorities to monitor, identify, block and remove any malignant information that is deemed to pose a national security threat. At the same time, independent monitoring agencies should be set up to ensure that these laws and regulations are only directed against extremist electronic propaganda and do not serve to undermine freedom of expression or net neutrality. In addition, efforts should be made to channel the efforts of service providers, community groups and communication experts to develop effective counter-messaging campaigns that credibly de-bunk terrorist cyber-messaging and promote awareness among the youth so they are able to make informed and educated choices of what they see and read online. Finally, filtering tools and algorithms that trace specific patterns of cyber interactions need to be fine-tuned so that preemptive digital interventions can be consistently pushed to social media users who exhibit traits that may be indicative of an early move to radicalisation.
What will be the fallout of changes to Article 370 of the Indian Constitution?
The abrogation of Article 370 was a key pledge of Prime Minister Narendra Modi on the election trail so it should come as no surprise. I think within India, at large, it has been a popular move and is seen as bringing in an outlier state back into the mainstream of the national polity. However, within Kashmir itself, I believe, it will merely stoke civil unrest or discontent by further fuelling perceptions of anti-Muslim marginalisation and this will inevitably play into the hands of jihadi outfits, such as Lashkar-e-Taiba and JeM, which will be able to leverage it for their own ideological and recruitment efforts.
https://timesofindia.indiatimes.com/blogs/the-interviews-blog/the-biggest-threat-related-to-islamic-state-is-the-return-of-south-asian-militants-who-volunteered-to-fight/
------
Organisation of Islamic Cooperation expresses concern over CAA
23 Dec 2019
RIYADH : The Organisation of Islamic Cooperation (OIC) on Sunday said it was "closely" following the recent developments "affecting" Muslims in India as it voiced concern over the Citizenship Amendment Act and the verdict in the Ayodhya case.
The OIC is a 57-member grouping of Muslim majority nations, including Pakistan. The body has usually been supportive of Pakistan and often sided with Islamabad in its disputes with India.
"The General Secretariat of the Organisation of Islamic Cooperation has been closely following recent developments affecting Muslim minority in India," the OIC said in a brief statement.
The body "expresses its concern over the recent developments pertaining to both the issue of citizenship rights and the Babri Masjid case," the statement said.
The Citizenship Amendment Bill was passed by the Parliament and signed into law by the President this month.
According to the Citizenship Amendment Act (CAA), members of Hindu, Sikh, Buddhist, Jain, Parsi and Christian communities who have come from Pakistan, Bangladesh and Afghanistan till December 31, 2014 following religious persecution there will get Indian citizenship.
The OIC urged the Indian government to ensure the safety of the Muslim minority and the protection of their religious sites.
It "reaffirms the crucial importance of upholding the principles and obligations enshrined in the Charter of the United Nations and relevant international covenants that guarantee the rights of minorities without any discrimination," the statement said.
It also cautioned that "any action, contrary to these principles and obligations, may lead to further tensions and may have serious implications on peace and security across the region."
This story has been published from a wire agency feed without modifications to the text. Only the headline has been changed.
https://www.livemint.com/news/world/organisation-of-islamic-cooperation-expresses-concern-over-caa-11577060038607.html
------
The International Union for Muslims Scholars Urge India to Reverse Citizenship Law
December 22, 2019
The International Union for Muslims Scholars (IUMS) on Sunday called on the Indian government to retreat from a controversial citizenship law, warning that the law would fuel hatred against Muslims.
In a statement, the IUMS said it was closely following the situation of Muslims in India with great concern following the passage of the citizenship law.
It said the legislation would expose Muslims to various forms of restrictions and oppression, going on to call on the UN and the Islamic world to stand up against the law.
The Citizenship Amendment Act, passed last week, grants citizenship to Hindus, Sikhs, Jains and Christians from Pakistan, Afghanistan and Bangladesh but blocks naturalization for Muslims.
Further, Muslim leaders believe that the new law would be linked to the National Register of Citizens -- an exercise, where every citizen would be asked to prove afresh Indian citizenship. They apprehend, while non-Muslims would be covered under the new law and would be citizens automatically, the country's 180 million Muslim population will be made to run helter-skelter to prove citizenship.
The IUMS said the citizenship law was the third episode in a series of decisions taken by the Indian government in recent months, which have invited the anger of Muslims.
The Muslim bloc went on to describe the law as racist as it excludes Muslims in comparison with people of other beliefs.
https://www.yenisafak.com/en/world/muslim-scholars-urge-india-to-reverse-citizenship-law-3508012
------
Islamic and Hindu Organizations Help Secure Christmas in NTT
23 December 2019
TEMPO.CO, Jakarta - The Ansor Youth Movement (GP Ansor) - affiliated with Indonesia's largest Islamic organization Nahdlatul Ulama (NU) - announced it will mobilize 500 members of its military wing 'Banser' to secure this year's Christmas and New Year's celebrations in East Nusa Tenggara (NTT).
"Joining the police and military, there will be 500 [Banser] personnel participating in the Christmas and New Year's security measure," said NTT's Ansor regional coordinator Ajhar Jowe on Monday.
The security measures will be stationed across Churches in the NTT's areas commenced today by joint-effort police and military forces. The number of Banser personnels, says Ajhar, will be adjusted to the requests from authorities.
"Together with police and other parties involved who are participating in creating a 'Peaceful Christmas'," he said.
This operation dubbed 'Peaceful Christmas' also involves the region's Parisada Hindu, a similar youth movement to GP Ansor from the Hindu community.
https://en.tempo.co/read/1286885/islamic-and-hindu-organizations-help-secure-christmas-in-ntt
------
Muslims spread festive cheer at Sheffield nursing home
Sunday, 22nd December 2019
By Dan Hayes
The An-Nasiha group from Burngreave visited Pexton Grange nursing home to give presents to celebrate the birth of the Prophet Muhammad, which this year fell in November.
Organiser, Zia Ul Islam Khan said the visit was 'a beautiful way to follow the prophet's teachings', combining looking after the elderly as well as giving out gifts.
The gifts included toiletries, board games, towels, warm socks, puzzle books, photo frames, chocolates and biscuits.
A cake was also gifted to the staff for their 'tireless' work running the home.
Joining the group on the visit was Imam Amar Hafiz of Jamia Masjid Abu Bakr from Rotherham.
Zia added the group wanted to thank everyone who supported the cause, especially Sajid from Swift pharmacy in Burngreave who arranged the visit.
https://www.thestar.co.uk/news/people/muslims-spread-festive-cheer-sheffield-nursing-home-1347915
------
Why are Muslims so behind in today's world? Erdoğan asks Islamic summit
Yasin Aktay
22 December 2019
The Islamic Summit hosted by Malaysia in Kuala Lumpur, with the theme of "The Role of Development in Achieving National Sovereignty," was attended at the presidential level by Malaysia, Turkey, Iran and Qatar, received participation from 18 countries at various levels, with as many as 450 Muslim thinkers, academics, scholars and opinion leaders from all parts of the Muslim world.
It should be noted that participation particularly by prominent opinion leaders renders this summit even more important. Though Pakistan and Indonesia, which had previously reported top-level participation in the summit, withdrew their participation upon pressure by Saudi Arabia left its mark on the event, this development, with the attendance of intellectuals and opinion leaders, confirmed general views concerning the state of the Islamic world.
President Recep Tayyip Erdoğan formulated the summit's quest around the question of how Muslims are so behind in today's world, despite the abundance of opportunities, wealth, cultural and geographical advantages. Unfortunately, there has been nobody at such a level to seek an answer to this critical question, which has been hanging over the Muslim world since the 19th century. Alongside many reasons, of course, the most important reason for this is related to the Muslims world's independence. The Islamic world that was exposed to colonial conditions post-World War I did not have the authority to pursue this question. On the contrary, all political systems were instated to render this state of Muslims permanent.
Yet today, it is their own administrators that have enslaved the Islamic world rather than the colonial countries. Though, unfortunately, as the Muslim world that comprises of a quarter of the world population is unable to form a union among itself, its weight in world economy is less than 10 percent, and weight amid political power balances is less than 2 percent. As highlighted by President Erdoğan during his speech, the income difference between the wealthiest and poorest Islamic country is over 200-fold. In Islamic countries, which possess 59 percent of global oil reserves and 58 percent of natural gas reserves, 350 million Muslims are struggling to survive under extreme poverty.
The share of Muslims in global health expenditure, despite making up a quarter of the world population, is merely 4 percent. The rate of literacy in the Islamic world stands at about 70 percent, while the same rate is 82.5 percent for the world.
Right now, 94 percent of those who die in clashes through the world are Muslim, because one-third of the weapons sold in the world are bought by Muslim countries and are generally used against each other.
All these problems depict why the Muslim world has fallen behind in today's world, and the biggest reason behind this picture is not non-Muslims, but unfortunately the own players and administrators of the Muslim world. Saudi Arabia, Iran and the UAE are the ones who can boast the lion's share for the problem of migration and refugees, one of the most pressing issues currently burdening the Islamic world. Take a look at the region producing migration in the Muslim world, and the reasons underlying these exoduses. You will see primary involvement of these three countries in all of them. These countries are also in the front line when it comes to matters such as the destabilization of the Muslim world, the lack of freedom of thought in the Islamic world, and the systematic violation of the most basic human rights. Under these circumstances, there is no need to seek who is responsible anywhere else.
Efforts are required at every level to find a solution to these problems. But first, these problems need to be defined as such. An atmosphere of dialogue to be launched between countries that accept these as problems, must truly and sincerely prioritize the answer to why the Muslim world is in such a state.
The Kuala Lumpur summit was started as one of these sincere initiatives. While Turkey has been sincerely responding to this attempt by Malaysia, it did not consider it to be an attempt against anybody in any way. On the contrary, when this initiative was first started five years ago, despite Turkey being the term president of the Organization for Islamic Cooperation (OIC), it did not consider this as an alternative pursuit against it and participated. Sincerity also requires humility. Nobody's greatness will be harmed by answering a call that is for benefit. Meanwhile, those who display arrogance in the face of such efforts will shrink in the eyes of history as well as the ummah.
Saudi Arabia, by making unprecedented and extraordinary diplomatic efforts to sabotage the Kuala Lumpur Summit, to which it was invited, instead of participating, it wrote another page in history to serve as a lesson. Had it made such negative efforts against India, the Kashmir question would have been resolved; if it made such efforts against Israel, the Palestinian issue would have been resolved; if it made such efforts against Myanmar, the Rohingya issue would have been resolved.
What could it have possibly achieved by convincing Pakistan and Indonesia to withdraw from the summit through threats to sabotage the event, which it considers as efforts to create an alternative to the OIC, of which it is the term president?
Did it not legitimize and expedite the pursuit for such an alternative?
Are Muslims now aware of the obvious problems that have also been discussed at the summit? Is there a solution aimed at these problems? For example, does it have a plan on program for union, integrity and solidarity that complies with the leadership claim it took upon itself among the Muslim world? If not, is it going to carry on its own leadership claim in the Muslim world through such plots, factions or polarization among the ummah? These questions are now inevitably going to be asked in a louder voice.
https://www.yenisafak.com/en/columns/yasinaktay/why-are-muslims-so-behind-in-todays-world-erdogan-asks-islamic-summit-2047272
------
India
Why India cannot afford to keep the Rohingya Muslims
By Vicky Nanjappa
Monday, December 23, 2019
New Delhi, Dec 23: Several Rohingya Muslims have said that they do not want to return to Myanmar. Many have made India their home, but the government says that the illegal immigrants have to return.
There are an estimated 40,000 Rohingyas who live in India and all of them had fled Myanmar following the violence that broke out there. The question is whether India can afford to keep them.
It is nothing but a ticking time bomb and amidst the huge humanitarian crisis involving the Rohingya Muslims, there is a lurking danger which India must now start taking very seriously.
The links to terror outfits, hawala transactions among others have often been quoted by our Intelligence Bureau on several occasions. A recent incident that took place in Jammu has only raised concerns about the kind of dealings that the Rohingyas are into and how they have become a front for illegal activity.
The police had in August, picked up three members of a Rohingya family for questioning after Rs 30 lakh in cash was recovered from them. The cash was found at a jhuggi in the Channi Himmat area of Jammu city. Investigations have shown that the cash belonged to Ismail and Noor Alam, who had left for Bangladesh last Monday.
The duo to whom the money belonged to had been living in Jammu for the past six years without valid documents. Investigations have also revealed that this money was parked with the Rohingya family with an intention of using for a nefarious activity. The family was unable to explain the money, but sources say that they would have eventually got orders to pass on to some terror group or a member of a drug cartel.
The writing has been on the wall and the killing of Chotta Burmi in Kashmir clearly indicated the close association that the Rohingya Muslims have with terror groups. Burmi was killed in an encounter along with a commander of the Jaish-e-Mohammad. It was Burmi who was part of the Rohingya terror group, Aqa Mul Mujahideen who once shared the dais with Lashkar-e-Tayiba chief Hafiz Saeed.
The Lashkar-e-Tayiba had decided that it would launch the Rohingyas in Jammu where there is a huge settlement. They are easy preys and all attempts have already been made to install an Islamic ideology into them. Incidents such as the one at Bodhgaya are all attempts to show solidarity with the Rohingyas and lure them into terror groups.
On the Rohingya issue, terror groups such as the Jamaat-ul Mujahideen Bangladesh, Students Islamic Movement of India and the Lashkar-e-Tayiba work in tandem. While the JuMB is tasked with ensuring that recruitments take place in camps at Hyderabad, West Bengal and Assam, the SIMI focuses on the northern cities including Delhi. The focus of the Lashkar-e-Tayiba has been primarily Jammu and it sees overall operation.
The Lashkar-e-Tayiba has been espousing this cause since 2012, when it launched the Difa-e-Musalman-e-Arakan conference in Pakistan to highlight the issue. Following this Saeed sent two of his men- Shahid Mahmood and Nadeem Awan to establish contacts with the Rohingyas. As part of this exercise, the target was the Jammu camp.
An Intelligence Bureau official tells OneIndia that this is a ticking time bomb and action has to be taken. There are several issues and the main one is that most of these persons are not documented, which makes tracking them extremely difficult. Take the case of the Jammu incident, the two persons lived in the country illegally for six years and easily slipped out without any documents. They even managed to leave behind a huge chunk of cash meant for nefarious activities, the officer further adds.
While relying on Intelligence Bureau reports, the Centre says that, "it has been found by the Central Government that many Rohingyas figured in suspected sinister designs of ISI
which has been responsible for spreading terrorism in Jammu and Kashmir and other parts of the country.
The Centre also said that the Rohingyas have also been mobilising funds through hawala channels and procuring fake and fabricated Indian identity documents for other Rohingyas and also indulging in human trafficking.
"Many of them have managed to acquire fake and fraudulently obtained Indian identity documents like PAN and voter cards," the Centre also says.
"With serious security concern already in existence, more disturbing part is that there is an organised influx of illegal immigrants from Myanmar through agents and touts facilitating illegal immigrant Rohingyas into India via Benapole-Haridaspur and Hilli (West Bengal), Sonamora (Tripura), Kolkata and Guwahati," the affidavit said and stressed that situation is seriously harming national security of the country."
The Centre also said that the number of illegal Rohingyas is around 40,000 and their continuance in India has serious national security ramifications and threats.
"India has open and porous borders with Nepal, Bhutan, Bangladesh, Pakistan, Myanmar etc and had an easily navigable sea route with Pakistan as well as Sri Lanka making it vulnerable to a continuous threat of an influx of illegal immigration and resultant problems arising there from," the Centre also said.
https://www.oneindia.com/india/why-india-cannot-afford-to-keep-the-rohingya-muslims-3001998.html
------
Students Islamic Movement of India fanned violence in Uttar Pradesh
By Vikash Aiyappa
Monday, December 23, 2019
New Delhi, Dec 23: The Uttar Pradesh government has blamed outsiders for the violence that erupted during the protests against the amended citizenship law.
Even as authorities detained a Trinamool Congress delegation, the government said that outfits such as the SIMI were behind the violence.
The government said that six persons hailing from Malda in West Bengal having links with radical Islamic groups have been arrested. These persons have a connection with the Students Islamic Movement of India, deputy chief minister, Dinesh Sharma said.
For the Students Islamic Movement of India, the protests around the new citizenship law have come as a blessing in disguise. The Intelligence Bureau has said that several members of the SIMI have entered Delhi in a bid to fuel further violence and then recruit in the name of persecution.
For the Students Islamic Movement of India, the protests around the new citizenship law have come as a blessing in disguise. The Intelligence Bureau has said that several members of the SIMI have entered Delhi in a bid to fuel further violence and then recruit in the name of persecution.
During the protests at the Jamia Millia and Seelampur, the police had found that there were several hidden mobs, which came out and incited the violence. IB sources tell OneIndia that members of the SIMI could have infiltrated into Delhi from UP and the other neighbouring states.
For the Students Islamic Movement of India, the protests around the new citizenship law have come as a blessing in disguise. The Intelligence Bureau has said that several members of the SIMI have entered Delhi in a bid to fuel further violence and then recruit in the name of persecution.
The SIMI undertook a similar campaign in the early 2000s. All its recruitment material were around the demolition of the Godhra riots and the Babri Masjid demolition. The SIMI which has been looking to re-group for long after being beaten down by the agencies has been scouting for major issues. Intelligence Bureau sources also say that this terror group will look to infiltrate into students unions, create trouble and also rope in students into its fold.
It is not just the SIMI, but naxalites too have found to be part of this agitation. Recently the National Investigation Agency booked an activist in Assam for alleged links with the naxalites. A case was registered against Akhil Gogoi, whose Krishak Mukti Sangram Samiti has been in the forefront of the agitation against the Citizenship (Amendment) Act.
Gogoi was arrested for alleged links with naxalites last week at Johrat.
The NIA in its FIR says that Gogoi and several others through their visible representation and spoken words have abetted, incited hatred and caused disaffection towards the government.
Further, it says that Gogoi and others used the passage of the CAB in Parliament as an opportunity to promote enmity between different groups on the grounds of religion, race, residence, language. Further Gogoi has been accused of committing acts prejudicial to the maintenance of harmony, using visible representations and spoken words, thus endangering the security and sovereignty of the state. These acts are prejudicial to national integration, the NIA also said.
The FIR also alleges that Gogoi's KMSS was merged with the CPI (Maoist). Further it is also alleged that Gogoi had arranged meetings between the naxals and overground workers in 2009. The FIR also names Dhirjya Konwar, Bittu Sonowal and Manas Konwar and accuses them of being part of the Maoist conspiracy.
On the other hand, the police had told people to remove objectionable content from social media platforms. There are around 60 accounts that have been identified and these persons have been told to take down objectionable content immediately.
It may be recalled that a hidden mob had swelled during the riots that took place at Seelampur on December 18. Some people were supposed to stage a protest against the amended Citizenship Act at Jafrabad at around 2 pm but people gathered between 1 pm and 1.15 pm at Seelampur point and were stopped by police, they said.
A hidden mob, without any prior information, marched to Seelampur point. It swelled to 4,000-5,000 people. They were peaceful for about 30 minutes. But after that they indulged in minor clashes," an official said.
The situation was brought under control soon and has improved, they said
In the afternoon, angry protesters demanding to scrap of the amended citizenship law torched several motorbikes, pelted stones at police personnel and damaged buses and a police booth in the Northeast Delhi area.
https://www.oneindia.com/india/students-islamic-movement-of-india-fanned-violence-in-uttar-pradesh-3001997.html
------
Anti-Muslim citizenship law: India summons Malaysian envoy over Mahathir's remarks
December 23, 2019
NEW DELHI: New Delhi has summoned Malaysia's envoy after the country's prime minister made critical comments about India's new anti-Muslim citizenship act, describing his remarks as erroneous and harmful.
The Malaysian ambassador was told that Prime Minister Mahathir Mohamad's objections to the Citizenship Amendment Act (CAA) are both "ill-informed and insensitive," an official was quoted as saying by international media.
In an earlier statement, India's Ministry of External Affairs said that the Malaysian leader had interfered in a matter "entirely internal to India," and stressed that the legislation fast-tracks naturalisation for persecuted minorities from neighbouring Muslim-majority states, and has no bearing on those who are already citizens of India.
"The prime minister of Malaysia's comment is factually inaccurate. We call upon Malaysia to refrain from commenting on internal developments in India, especially without a right understanding of the facts," the statement said.
The Malaysian leader had criticised the new law while speaking on the sidelines of a summit in Kuala Lumpur on Friday. "I am sorry to see that India, which claims to be a secular state now is taking action to deprive some Muslims of their citizenship… People are dying because of this law," he stated.
Ongoing nationwide rallies against the CAA have turned violent and have already claimed many lives. While protesters see the law as discriminatory against Muslims, the Indian government says it is only aimed at protecting persecuted minorities.
https://www.thenews.com.pk/print/587299-anti-muslim-citizenship-law-india-summons-malaysian-envoy-over-mahathir-s-remarks
------
OIC voices concerns over anti-Muslim law, Babri mosque verdict in India
December 23, 2019
Observer Report
Riyadh
The Organisation of Islamic Cooperation has expressed concern over the wave of deadly protests in India against a newly-enacted anti-Muslim citizenship law and the controversial Babri Mosque verdict.
"The General Secretariat of the Organisation of Islamic Cooperation has been closely following recent developments affecting Muslim minority in India," the world Muslim body said in a statement on Sunday.
"It expresses its concern over the recent developments pertaining to both the issue of citizenship rights and the Babri Masjid case," the statement added.
OIC in its statement reiterated call to ensure the safety of the Muslim minority and the protection of Islamic holy places in India.
"The General Secretariat reaffirms the crucial importance of upholding the principles and obligations enshrined in the Charter of the United Nations and relevant international covenants that guarantee the rights of minorities without any discrimination."
https://pakobserver.net/oic-voices-concerns-over-anti-muslim-law-babri-mosque-verdict-in-india/?utm_source=rss&utm_medium=rss&utm_campaign=oic-voices-concerns-over-anti-muslim-law-babri-mosque-verdict-in-india
------
Pakistan
Pak govt denies permission to Maryam Nawaz to travel abroad
Dec 23, 2019
ISLAMABAD: The Pakistan government has denied permission to PML-N vice-president Maryam Nawaz to travel abroad, saying those involved in any economic crime and institutional fraud could not be allowed to leave the country, according to a media report on Monday.
Maryam, the 46-year-old daughter of Pakistan's former prime minister Nawaz Sharif, was placed on the no-fly list in August 2018 in an alleged corruption case.
"The rules concerning placement of the name of persons on Exit Control List (ECL) do not allow the government to entertain her application to remove her name from the no-fly list," Babar Awan, senior lawyer and aide to the prime minister on legal affairs, was quoted as saying by the Dawn News.
Headed by Law Minister Farogh Naseem, the subcommittee of the federal cabinet that deals with ECL cases rejected Maryam's plea, as she had sought the facility for flying to London to look after her ailing father, Awan said.
Sharif, the PML-N supremo had left for London on November 19 in an air ambulance to seek medical treatment in London, a month after the three-time premier was released on bail from a seven-year prison sentence for corruption.
Referring to the ECL rules, Awan said even if a person has valid travel document to proceed to any destination outside Pakistan, the government could stop them from leaving the country for being involved in corruption and loss to government funds.
Maryam would not be allowed to proceed abroad as those involved in any economic crime, embezzlement of large government funds and institutional fraud could not get permission to leave the country, he said.
Earlier, Special Assistant to the Prime Minister on Information Firdous Ashiq Awan after the December 18 meeting of the ruling Pakistan Tehreek-i-Insaf's (PTI) core committee had also said that the government would not accept Maryam's request.
Meanwhile, the Pakistan Muslim League-Nawaz (PML-N) in a statement issued on Sunday said, the government's decision to bar Maryam from travelling abroad did not surprise anyone, considering that the PTI regime had always been desperately looking for opportunities to victimise and persecute the PML-N leadership.
"The decision of the sub-committee has no logical reason for keeping Maryam on the ECL," PML-N Information Secretary Marriyum Aurangzeb claimed.
https://timesofindia.indiatimes.com/world/pakistan/pak-govt-denies-permission-to-maryam-nawaz-to-travel-abroad/articleshow/72933499.cms
------
Maryam won't be allowed to travel abroad: PM aide
Syed Irfan Raza
December 23, 2019
ISLAMABAD: The federal government has decided not to allow Maryam Nawaz, vice president of Pakistan Muslim League-Nawaz and daughter of former premier Nawaz Sharif, to travel abroad and rejected her application in this regard.
"The rules concerning placement of the name of persons on Exit Control List [ECL] do not allow the government to entertain her application to remove her name from the no-fly list," said senior lawyer and aide to the prime minister Dr Babar Awan while talking to Dawn on Sunday.
Headed by Law Minister Farogh Naseem, the subcommittee of the federal cabinet that deals with ECL cases rejected her plea, as she had sought the facility for flying to London to look after her ailing father, Dr Awan said.
"In fact the subcommittee is part of the cabinet and a formal announcement to bar Maryam from travelling abroad will be made by the federal cabinet in its meeting [on Tuesday]," Mr Awan said.
PML-N says a petition has also been filed as party is aware of govt's 'prejudice and vengeful mindset'
The Pakistan Tehreek-i-Insaf-led government also hinted at challenging the court's decision in case the leader of the main opposition party was allowed by the judiciary to travel abroad. In a talk show of a private TV channel, federal Minister for Water Resources Faisal Vawda said that the government would challenge the decision of the court if Ms Nawaz was allowed to leave the country by any court.
The PM's aide on legal affairs while referring to the Exit from Pakistan (Control) Rules, 2010, said in terms of sub-rule (a) of the rules even if a person having valid travel document to proceed to any destination outside Pakistan, the government could stop them from leaving the country for being involved in corruption and loss to government funds.
He said Ms Nawaz would not be allowed to proceed abroad as those involved in any economic crime, embezzlement of large government funds and institutional fraud could not get permission to leave the country.
While quoting rule 2 [c] of the said ECL Rules-2010, Dr Awan said a person who had been convicted by a competent court of law for any offence should remain on such list [ECL] so long as the said order was in force and till his/her conviction attained finality.
Referring to the departure of her father Nawaz Sharif on health grounds after his conviction in a corruption case, the PM's aide claimed: "It is unfortunate that those who went abroad on the pretext of critical health condition are not getting medical treatment there, but enjoying stay in palatial houses of which they denied their ownership and had failed to prove the money trail."
Earlier, Special Assistant to the Prime Minister on Information Dr Firdous Ashiq Awan after the Dec 18 meeting of the PTI's core committee had also said that the government would not accept Maryam's request.
"The prime minister and the core committee reiterated their resolve to uphold the belief that no one is above the law and there are no holy cows," she had added.
According to her, the request by Ms Nawaz to travel abroad to meet her ailing father had been thoroughly debated in the core committee meeting. She said the core committee had observed that how a healthy and completely fit person could be allowed to leave the country just to look after her ailing father. However, she added, the government would "decide the matter based on the recommendations provided by the subcommittee".
PML-N's reaction
In a statement issued on Sunday, PML-N Information Secretary Marriyum Aurangzeb said the government's decision to bar the daughter of the ex-prime minister from travelling abroad did not surprise anyone, considering that the PTI regime had always been desperately looking for opportunities to victimise and persecute the PML-N leadership.
"The decision of the sub-committee has no logical reason for keeping Maryam on the ECL," she claimed.
The ex-minister said Ms Nawaz was granted bail on merit in both the cases against her and her sentences currently stand suspended. "Therefore, she cannot be barred from meeting her ailing father," she added.
She said the PML-N was aware of the "prejudice and vengeful mindset" of the government that was why she had also filed a request with the court to allow her to travel abroad.
"The failed government has nothing other than political victimisation of opposition leaders on the false pretext of accountability. But the people of Pakistan have figured out this strategy of the imposed PTI regime and they will not be fooled by such petty and vengeful actions," she added.
https://www.dawn.com/news/1523822/maryam-wont-be-allowed-to-travel-abroad-pm-aide
------
PM's aide questions Sharifs' silence over Musharraf conviction
December 23, 2019
SIALKOT: Special Assistant to the Prime Minister on Information and Broadcasting Dr Firdous Ashiq Awan has questioned the Sharif family's silence over the Musharraf conviction by a special court in the high treason case.
"The Nawaz Sharif government had filed the high treason case against Pervez Musharraf in 2013 but his silence after former army chief's conviction clearly suggests that the Sharifs are in politics for personal gain," she told media on Sunday.
Ms Awan claimed that the entire Sharif family was now confused what their public stand should be over this burning issue. She said the party leadership which raised the ­slogan of vote ko izzat do (give respect to vote) had now abandoned its workers.
Reacting to recent speeches of Pakistan Peoples Party chairman Bilawal Bhutto-Zardari, Ms Awan said he should first introduce democracy in his party before seeking "genuine" democracy in Pakistan.
Firdous says Modi's extremist policies have ruined India's secularism
She said those who plundered the country's wealth were now posing as people's representatives. "The PPP leadership remembers Benazir Bhutto only on her death anniversary or ahead of elections to get votes.
The PM's assistant, who was information minister during the last PPP government, bitterly criticised Mr Bhutto-Zardari for calling the PM "selected".
"How come those who have been brought into politics on recommendations can call the prime minister selected," she asked.
Commenting about the Indian citizenship bill, Ms Awan said Quaid-i-Azam Mohammad Ali Jinnah's two-nation theory stood vindicated today.
She said India under Prime Minister Narendra Modi had become an "extremist state".
According to dawn.com, she also commented on rec­ent tensions between India and Pakistan. "The people of Pakistan stand behind the army. Our media is showing the true picture of what is currently going on at the border [Line of Control]. "Our media is unveiling India's true intentions and will continue to do so."
She said that opposition continues to denounce democracy during Imran Khan's tenure as it is not the type of democracy they want. "The prime minister is not in favour of the type of democracy where you worry about the wellbeing of your own children and not that of the nation's children. Your own conduct is undemocratic. You should bring democracy to your own province."
The PM's aide said Indian premier's extremist policies had ruined its secular state status in the world, adding that Indian people had strongly rejected extremist ideology of Modi.
"India is facing internal conflicts and confrontation due to which it is diverting the world's attention by promoting disinformation and targeting the civilian population by unprovoked shelling along the Line of Control and killing innocent people," she said, adding that the Pakistan Army had responded in an effective way to Indian aggression.
https://www.dawn.com/news/1523840/pms-aide-questions-sharifs-silence-over-musharraf-conviction
------
KP seeks return of thousands of Gandhara artefacts in museums across country
Jamal Shahid
December 23, 2019
ISLAMABAD: Khyber Pakhtunkhwa is pushing the federal government to return some 3,150 ancient Gandhara artefacts currently houses in museums in Islamabad, Lahore, Karachi and Taxila.
"If the federal government obliges, Taxila Museum, the National Museum of Pakistan in Karachi and the Lahore Fort Museum, will be left almost empty," former Lahore Museum director general Salimul Haq told Dawn.
Gandhara art makes up some of the oldest and most significant collections in all major museums, he said, and was more important than artefacts from the Mughal and British periods.
"The statue of Fasting Siddharta alone is the most expensive ancient Gandhara article in Lahore Museum to give you one example," Mr Haq added.
Dr Fazal Dad Kakar, the former director general of the Department of Archaeology and Museums in Islamabad, said that Gandhara art "unites the country".
"The National Museum Karachi, Taxila Museum and Lahore Museum are home to some of the most significant Gandhara articles ever discovered," he said.
If federal govt obliges, Taxila Museum, National Museum in Karachi and Lahore Fort Museum will be almost empty, former Lahore Museum official says
These museums have thousands of Gandhara articles in stores and on display. Between 1860 and 1902, all the excavated items were kept in regional offices of Department of Archaeology in Lahore and were also shifted to Calcutta. After Sir John Marshal took over the department small and large discoveries were kept in stores in Taxila.
Dr Kakar explained that after the 18th Amendment, the ownership of items and setups on the concurrent list, such as sites and monuments, were handed over to the respective provinces.
"However, all the museums, libraries and laboratories and such institutions listed in the federal list were retained by the federal government under constitutional law," he said.
The Harappa Museum, Javed Manzil in Lahore and Sikh and Mughal galleries in the Lahore Fort are, among others, legally properties of the federal government. The National Museum in Karachi is also owned by the federal government.
There are more than 1,180 Gandhara art pieces in the National Museum of Pakistan in Karachi, and some 1,600 articles ar the Exploration and Excavation Branch in Karachi.
The Lahore Fort Museum houses around 343 Gandhara art pieces, while the Taxila Museum has a collection of more than 4,610 Gandhara period artefacts and there are more than 160 in the Islamabad Museum.
According to a source in the National History and Literary Heritage Division, the KP government has its eyes on the Fasting Siddharta in the Lahore Museum.
"It is a prized possession. Although the statue of Fasting Siddharta in Peshawar Museum is a lot more beautiful, intricate and detailed, it is in three pieces. Recently the Korean embassy asked to borrow the Fasting Siddharta statue from the Lahore Museum for an exhibition in Korea," theofficial said.
The last time the Lahore Museum loaned Fasting Siddharta was during Gen Ziaul Haq's regime, for an exhibition in the United States, the official said, adding: "Punjab has always been hesitant to loan Fasting Siddharta for displays abroad. No other statue of Buddha comes close to its elegance and magnificence."
Nonetheless, the KP Department for Sports, Youth Affairs, Tourism, Culture, Archaeology and Museums, in a letter to the Ministry of Inter Provincial Coordination, said that it is making "tremendous efforts to implement the vision of the prime minister in promoting tourism and developing cultural and archaeological assets".
In order to achieve its goals, KP has demanded that federal government hand over all the Gandhara antiquities of KP origin lying in museums of the different provinces as well as the federal government.
https://www.dawn.com/news/1523886/kp-seeks-return-of-thousands-of-gandhara-artefacts-in-museums-across-country
------
NAB summons PML-N leader to appear today in sports city case
December 23, 2019
ISLAMABAD: The National Accountability Bureau (NAB) has summoned Pakistan Muslim League-Nawaz (PML-N) leader Ahsan Iqbal on Monday for recording his statement in a multi-billion-rupee case relating to the controversial Sports City Project in Narowal.
It is the second time in two months that the anti-graft watchdog has summoned the PML-N leader to seek details of his income and expenditures.
When contacted by Dawn on Sunday, the NAB spokesman confirmed that the PML-N leader had been summoned for Monday.
The opposition leader had already replied to a questionnaire given to him by the bureau in connection with the same case. Mr Iqbal has been accused of using funds of the federal government and the Pakistan Sports Board (PSB) for a sports city being established in Narowal.
The PML-N leader had said he had submitted documents related to his income and expenditures to Rawalpindi NAB.
He claimed that he had nothing to do with the case as the project had been launched in 2009 during the Pakistan Peoples Party (PPP) government when he was not a federal minister.
He said that before Pakistan Tehreek-i-Insaf (PTI) came to power, the project of NSC was 90 per cent complete, but the present government had turned it into ruins.
"In fact NAB should take those people to task who are responsible for the destruction of a national asset [NSC]," he added.
The PML-N leader said that when he became a federal minister, the NSC project was in the doldrums and like many other stalled projects, the PML-N government revived it and took it to near completion.
He said that AstroTurf (artificial grass) was imported for the ground in the sports city. It was to be laid within six months.
"The present government stalled the project and did not place AstroTurf. As a result the artificial grass has become useless."
https://www.dawn.com/news/1523832/nab-summons-pml-n-leader-to-appear-today-in-sports-city-case
------
South Asia
Bangladesh Nationalist Party Slams Amit Shah; Demands Withdrawal Of His Statement
December 22, 2019
Bnp today criticised Indian home minister Amit shah for describing the party as a repressive one and demanded immediate withdrawal of his statement.
Amit Shah, while addressing on the much-talked-about Citizenship Amendment Act in the Indian parliament on December 9, pronounced BNP Chairperson Khaleda Zia's name and blamed her for that she carried out repression on minorities when she was in power, BNP Secretary General Mirza Fakhrul Islam Alamgir said.
Showing the lame excuse, Amit Shah also said the trend of repression on minorities in Bangladesh is still being continued and thus India has forced to pass the Citizenship Amendment Act, Fakhrul said at a press conference at party Chairperson Khaleda Zia's Gulshan office in Dhaka.
"An untrue speech was given in the Indian parliament about Bangladesh and Bangladesh Nationalist Party. We expect that the Indian government would withdraw the statement for the greater interest of people of both the countries. And, India would refrain from saying like this in future for the sake of mutual cooperation," the BNP leader said.
Coming down hard on Amit Shah, Fakhrul said the Indian home minister compared Bangladesh with Pakistan and Afghanistan randomly and showed a lame excuse in supporting of the act saying that the religious minorities in Bangladesh are being repressed as Islam is its state religion.
Through his comments, the ruling Bharatiya Janata Party President has attempted to brand Bangladesh Nationalist Party a repressive one deliberately in supporting to the controversial act, the BNP leader alleged.
"Diplomatically Bangladesh-India relation is now passing through a golden chapter. However, Amit Shah blamed the friendly neighbour for repression on Hindu, Buddhist and Cristian," Fakhrul said.
The political atmosphere in the region is being pushed towards a conflicting situation in a bid to establish a Hindu dominated state, keeping gun on the shoulders of Bangladesh and Bangladesh Nationalist Party, Fakhrul said.
"BNP strongly believes that Indian Home Minister Amit Shah and official spokesperson of the Ministry of External Affairs Raveesh Kumar's statements in this regard are untrue, unprofessional, unilateral, biased, misleading and extremally questionable," Fakhrul said.
Terming the CAA as undemocratic, discriminatory, unconstitutional and against humanity, Fakhrul said the act has been passed in the Indian parliament targeting the Muslim minority in India.
Fakhrul also blasted the government for its silent role over the National Register Citizens issue and said it is a threat to the country's people and sovereignty as well.
The Bangladesh government is claiming that the issue of NRC is Indian internal matter while Bangla speaking people are being pushed in through different bordering areas from India, the BNP expressed concern over the issue.
https://www.thedailystar.net/country/bnp-slams-amit-shah-demands-withdrawal-his-statement-1843687
------
"Worrisome": Bangladesh On Citizenship Law Protests
December 22, 2019
Dhaka, Bangladesh: The amended Citizenship Act and the National Register of Citizens (NRC) are India's "internal issues", Bangladesh Foreign Minister AK Abdul Momen has said, but voiced concern that any "uncertainty" in the country is likely to affect its neighbours.
Amid raging protests over the controversial citizenship law across India, Mr Momen hoped that the situation "cools down" and the neighbouring country "can get out of it".
According to the Citizenship Amendment Act (CAA), members of Hindu, Sikh, Buddhist, Jain, Parsi and Christian communities who have come from Pakistan, Bangladesh and Afghanistan till December 31, 2014 following religious persecution there will get Indian citizenship.
Protests are being held across India ever since a bill was introduced in Parliament earlier this month. The bill was passed by the Parliament and signed into law by the President.
The protesters claim that the legislation is "unconstitutional and divisive" as it excludes Muslims. At least 16 people have been killed in violence during anti-CAA protests in Uttar Pradesh alone since Thursday.
"The CAB (now Citizenship Amendment Act) and the NRC (National Register of Citizens) are internal issues of India. Indian government assured us again and again that these are their domestic issues, they are doing it because of legal and other reasons," Mr Momen told PTI when asked about the amended Citizenship Act and the protests against it, especially in the northeastern states.
Prime Minister Narendra Modi while talking to Prime Minister Sheikh Hasina had assured that under no circumstances it will affect Bangladesh, Mr Momen said.
The minister asserted that his country trusts India.
However, he said, "We are the No.1 friend of India. So, if there is uncertainty in India, it is likely to affect its neighbours. When there was an economic downturn in the US, it affected many countries because we live in a global world. So our fear is that if there is some uncertainty in India, it might affect its neighbours".
"That is worrisome. We hope the situation cools down and India can get out of it...It is their internal issue. It is not our issue. They should deal with it," he said.
Mr Momen had recently said Bangladesh has requested New Delhi to provide a list of Bangladeshi nationals living illegally in India, "if any", to be repatriated.
He had also cancelled his visit to India beginning December 12, hours before he was to arrive in New Delhi.
The minister had said his busy schedule coinciding with the Martyred Intellectuals Day and Victory Day and also the absence of the state minister for foreign affairs Shahriar Alam and the ministry's secretary in the country made him defer his tour.
However, diplomatic sources in New Delhi had said that Mr Momen and Home Minister Asaduzzaman Khan cancelled their visits to India over the situation arising out of the passage of the controversial Citizenship Bill in Parliament.
Mr Momen had cancelled his tour a day after he termed as "untrue" Home Minister Amit Shah's comments on persecution of religious minorities in Bangladesh.
The Foreign Ministry in New Delhi had said that Mr Momen conveyed to India about postponement of his visit due to scheduling issues, and asserted that Amit Shah referred to religious persecution in Bangladesh during the military rule and not under the current government.
Bangladesh was learnt to have been upset following roll out of the NRC in Assam around four months ago even though India conveyed to it that the issue was an internal matter of the country.
The NRC has been prepared to identify genuine Indian citizens living in Assam since March 24, 1971, or before, and identify illegal Bangladeshi migrants in the state.
Out of 3.3 crore applicants, over 19 lakh people were excluded from the final NRC published on August 30.
Sheikh Hasina had taken up the issue of NRC with PM Modi during their bilateral meeting in New York in September.
https://www.ndtv.com/india-news/caa-protests-citizenship-law-protests-bangladesh-on-citizenship-law-protests-says-worrisome-2152655
------
Bangladeshi arrested with fake Aadhaar, Indian voter cards
December 21, 2019
Amid protests against the new citizenship law and proposed nationwide NRC, a Bangladeshi man has been arrested with fake Aadhaar and Indian voter cards, Government Railway Police (GRP) said on Saturday.
Mohammad Belal, a resident of Tejpur in Sylhet district of Bangladesh, was held for travelling aboard the Amritsar-Kolkata Durgiana Express without a ticket, GRP Inspector Harinarayan Singh said.
Belal was caught during ticket checking at Dhanbad railway station on Friday, Harinarayan Singh said.
Three Bangladeshi passports, the country's currency and US dollars were also seized from Belal, the officer said.
"The accused had initially claimed that he hails from Murshidabad district of West Bengal but the TTE saw Bangladeshi passports with Belal and informed RPF personnel, who took him into custody," Singh said.
Belal had boarded the train at Lucknow and was on his way to Kolkata, from where he had plans to cross over to Bangladesh, the inspector said.
The officer said Belal's elder brother Kamaluddin is lodged in Lucknow prison.
During interrogation, the accused admitted that he is a Bangladeshi and had got the fake Aadhaar and Indian voter cards made in North 24 Parganas district of West Bengal, he said.
Belal was produced before the Special Railway Judicial Magistrate, Gaurav Khurana, who sent him to 14 days in judicial custody, Singh said.
A case of forgery has been registered against the accused, the inspector added.
https://www.indiatoday.in/india/story/bangladeshi-arrested-with-fake-aadhaar-indian-voter-cards-1630418-2019-12-21
------
Ghani wins the preliminary election results by securing 2.3% of nation's votes
Sunday, 22 Dec 2019
The Independent Election Commission of Afghanistan announced the preliminary presidential election results after a prolonged delay.
Hawa Alam Nuristani, the head of Independent Election Commission announced the preliminary election results of the Afghan presidential elections held on September 28.
According to the results announced, President Mohammad Ashraf Ghani has secured 923,868 out of 1,824,401 votes casted which makes almost 50.64%.
Ghani's main rival Abdullah Abdullah has got 720,099 votes which makes 39.52% of the total votes casted.
Gulbduddin Hekmatyar with 70,243 (3.85%), Rahmatullah Nabil with 33921 (1.86%) and Faramarz Tammana with 18,066 (0.99%) votes respectively stand on 3rd, 4th and 5th places.
The candidates have 72 hours to file complaints with the electoral complains commission after the preliminary results announcement, said Nuristani.
On the September 28, 4.55% of Afghanistan's population took risk and participated in the presidential election, casting their votes; out of which nearly 2.3% have voted to Mohammad Ashraf Ghani.
The Independent Election Commission of Afghanistan reported that the participation proportion was 31/69% gender-based.
31% women had participated in the 2019 presidential election, Hawa Alam Nuristani said.
A map published by the Election Commission indicates that Ghani has the highest votes in the 16 south and easter provinces, however his main rival Abdullah Abdullah has got the highest votes in another 18 provinces of the central and northern provinces of Afghanistan.
In the map below, the blue color indicates Abdullah Abdullah's highest votes zones and the green color shows the places Ashraf Ghani has secured highest votes from.
Candidates Reactions
President Mohammad Ashraf Ghani welcomed the elections results announced by IEC, writing a post on his Facebook wall.
President Ghani has said he will file some complaints with the electoral complaints commission soon.
The 'Stability and Convergence' electoral team released a press statement right after the results announcement, claiming the election commission has not invalidated the fraudulent votes and they do not accept the results.
Abdullah Abdullah arrived from New Delhi on Sunday evening and said he will not accept the results as the fraudulent votes have also been counted.
The electoral complaints commission to separate the fraudulent votes from genuine votes and proceed carefully to evaluate and process the complaints according to the law and procedures, Abdullah said.
Abdullah claimed victory and reassured his supporters that he will defend from their votes and rights.
According to the 'Stability and Convergence' electoral team 300,000 thousands suspicious and fraudulent votes have been counted and they demand the IECC to invalidate them.
The election will go to a second round if at least 12,000 votes of President Ghani are invalidated.
Rahmatullah Nabil, who stands in the 4th place also criticized and expressed the results were unacceptable
International Community's Reactions
John R. Bass, US Ambassador to Kabul thanked the IEC commissioners and staff for their performance.
"It's important for all Afghans to remember these results are preliminary. Many steps remain before final election results are certified, to ensure the Afghan people have confidence in the results", John Bass tweeted.
"We support the vital work of the Afghanistan's electoral complaints commission in adjudicating complaints before a final result is certified.", US Ambassador has said.
The UN Assistance Mission in Afghanistan (UNAMA) in a statement welcomed the preliminary election results and praised the Afghanistan electoral bodies.
"On 28 September 2019, the citizens of Afghanistan braved security threats to cast their votes for a better future, those voters deserve to be commended for carrying out their civic duty," Tadamichi Yamamoto, the UN Secretary-General's Special Representative for Afghanistan has said.
Now, all Afghan authorities and actors must demonstrate their commitment to safeguard and complete the election, and to protect the integrity of the final stage of the process, Yamamoto said.
Sir Nicolas Kay, the NATO Senior Civil Representative to Afghanistan has also welcomed the election results announcements and has praised the Afghanistan National Defense Forces for their support in securing presidential elections.
https://www.khaama.com/ghani-wins-the-preliminary-election-results-by-securing-2-3-of-nations-votes-809070/
------
American service member killed in Afghanistan, U.S. military says
DECEMBER 23, 2019
Kabul, Afghanistan — An American service member was killed in action in Afghanistan Monday, the U.S. military said in a statement that didn't provide any details.
The Taliban claimed a second U.S. troop and a third person were seriously injured and said it happened in Kunduz Province in northern Afghanistan.
CBS News' Ahmad Mukhtar reports the Taliban said the troop was killed in a "tactical explosion" during a U.S.-Afghan joint raid.
The Reuters news agency reported that the Taliban also claimed there were clashes at the time between their forces and U.S. and Afghan government troops.
The U.S. military statement didn't identify the troop or say where in Afghanistan the service member was killed. It stressed that in accordance with U.S. Department of Defense policy, names of service members killed in action are withheld for 24 hours, until the notification of the family is completed.
Last month, two U.S. service members were killed in Afghanistan when their helicopter crashed in eastern Logar province. The Taliban claimed responsibility, saying they downed the helicopter, causing many fatalities. The U.S. military dismissed the Taliban claim as false.
Monday's death brings the number of U.S. deaths in Afghanistan this year to 20. There have also been three non-combat deaths this year. More than 2,400 Americans have died in the nearly 18-year war.
https://www.cbsnews.com/news/afghanistan-american-service-member-killed-us-military-says-today-2019-12-23/
------
Afghanistan: Where the road to peace is harder than war
"Peace is more difficult than war," the Taliban's lead negotiator, Abbas Stanikzai, told me during an interview back in February.
By then, representatives of the militant group had already held a number of rounds of discussions with US officials in Qatar, aimed at bringing an end to the 18 year-long conflict.
Those talks were seemingly brought to an abrupt and unexpected end in September by US President Donald Trump, just as an agreement was about to be signed.
Mr Trump questioned the Taliban's commitment to peace after they launched an attack that killed 12 people, including an American soldier, as initial details of the proposals were being released.
Taliban officials were shocked by the decision, countering that US forces had also been carrying out attacks as talks had been going on.
Some welcomed the move, warning that President Trump's repeatedly stated desire to cut costs and bring the roughly 13,000 US troops home risked handing Afghanistan back to the Taliban - leaving stranded those who had struggled to improve women's rights, create a free press, and build a nascent democracy.
Nine former US ambassadors to Afghanistan wrote a statement warning of the risk of "total civil war" if troops were withdrawn before a final peace deal.
Others warned that a rare opportunity to help bring an end to the violence was being missed.
Former senior US diplomat Robin Raphel was one of a small number of figures who played a crucial role in facilitating the start of the discussions, and told the BBC it was a "terrible mistake" not to sign the deal.
Ms Raphel and other analysts believe the US could have avoided years of conflict by talking to the Taliban shortly after overthrowing them in 2001: "We should have reached out to the Taliban after we ran them out of Kabul."
What's the situation now?
In the past few weeks, the talks have restarted. Both sides seem to acknowledge that a negotiated settlement is the only solution to ending the war, but what exactly that will look like is still the focus of discussion.
Sohail Shaheen, spokesman for the Taliban's political office, told the BBC the latest round of discussions continued to focus on the existing agreement which he said had already been "finalised" prior to President Trump's suspension of the talks.
Afghan government officials have been pressing for some form of ceasefire to be included in a revised deal, as what Habiba Sarabi, a deputy chair of the High Peace Council, described as a "trust-building exercise" designed to prove the Taliban retain control of their fighters on the ground.
One proposal understood to have been made by the US is some form of a ceasefire for a 10-day period around the signing of an agreement with the Taliban, which could then also set a positive tone for the start of separate talks between the group and other Afghan political figures.
Neither the proposal nor the Taliban's reaction to it have been public. One senior member of the group said they recognised the need to create a "conducive" atmosphere for peace talks but would not elaborate further. Another source suggested the Taliban was prepared to offer a "very short" universal ceasefire, and a longer ceasefire between the militants and US forces, but which wouldn't include Afghan forces. The source added Western and Afghan officials wanted the Taliban to agree to a longer pause in fighting with government forces.
There have been suggestions that an agreement is imminent, but such predictions have been proved wrong in past.
Meanwhile, the bloodshed continues. According to the United Nations, more than 2,500 civilians were killed in the first nine months of this year. Many say they feel caught in the middle of the conflict.
At a hospital in Kandahar province earlier this year, one man tearfully gestured to his baby nephew who had suffered third degree burns after their village was attacked and asked: "Who will take responsibility for this crime? The Taliban or the government? On the Day of Judgement, which of them will dare confess to this?"
Nevertheless, the fact the two warring parties continue to sit across the table from each other is, in the wider context of America's longest war, something of an achievement.
Whilst the Taliban control or contest a significant portion of territory, they have not been able to seize and hold any urban centre. Neither side looks capable of an outright military victory and they both appear to know it.
Concern has been expressed US troops might be withdrawn even without a deal in place. American officials have said the number of troops could be reduced by around 5,000 without affecting operational capabilities, but former diplomat Robin Raphel told the BBC that "any effort to remove the rest of the troops without a deal would meet with a lot of resistance".
How did Afghanistan get here?
The peace process was kick-started by two major developments in the summer of 2018.
The first was an unprecedented ceasefire during the Muslim festival of Eid ul Fitr. Taliban fighters streamed into cities, savouring ice cream and posing for selfies with members of the security forces.
Although fighting resumed immediately afterwards, it was a brief opportunity for both sides to see their enemies in a new light - as fellow countrymen rather than adversaries.
The other was the decision by the US to drop its condition that the Taliban must first negotiate with the Afghan government, rather than American officials.
The Taliban had consistently resisted this, dismissing the "Kabul administration", as they describe them, as "puppets".
Kai Eide, a former UN special envoy to Afghanistan, told the BBC the change in US policy was a "breakthrough". It led to a series of rounds of discussions between the US Special Representative for Afghanistan Reconciliation, Zalmay Khalilzad, and the Taliban in Doha, where the group's political office is based.
But the Afghan government was clearly unhappy at their exclusion, and there seemed a fundamental disagreement in the talks.
The Taliban insisted negotiations revolve solely around their primary demand: a timetable for the withdrawal of foreign forces from Afghanistan.
In exchange they vowed not to allow international jihadist groups to operate in the country - a significant promise given the US rationale for overthrowing the Taliban was that they had hosted Al Qaeda.
But the Americans, perhaps wary of accusations they were abandoning their ally Afghan President Ashraf Ghani, initially insisted any deal would also incorporate "a comprehensive ceasefire", and the start of talks with the Afghan officials.
The Taliban said these issues would have to be dealt with after an agreement on troop withdrawal.
Again, it seemed the Americans were the ones forced to compromise.
What do the Taliban want?
Full details of the deal that was on the brink of being signed have not been made public. But from the outlines described by Mr Khalilzad, it involved the withdrawal of 5,400 US troops over 11 months, with some kind of reduction in violence in the areas they pull out from.
The Taliban would only agree that after the deal was signed, they would begin talks with a delegation of Afghan figures on the country's future, including, but not limited to, government representatives.
A ceasefire, the primary goal of most Afghans, would have been the first item of discussion of those talks, but there was no guarantee one would be declared. It was not clear if a further US troop withdrawal would explicitly depend on a ceasefire being agreed.
Taliban figures have in the past acknowledged their reluctance to agree to a pause in the fighting until all their aims are achieved, concerned that it might be difficult to motivate their foot soldiers to pick up arms having laid them down.
One Taliban source insisted if the original agreement were to be signed, it would reduce violence by 70-80% in the country, but he declined to name the specific terms in the agreement which would lead to that.
Another attack by the Taliban close to the large American military base in Bagram during the latest resumed round of talks again led the US to question the Taliban's commitment to peace and the ability of the political office to speak for fighters on the ground.
The Taliban political office's spokesman, Sohail Shaheen, retorted that they could "ask the same question from the other side," referring to continued US attacks on Taliban targets during the discussions.
Other commentators say that in private the Taliban political leadership have at times expressed frustration with the timing of some of the bombings.
The addition to the negotiating team of Anas Haqqani, brother of a deputy leader of the Taliban, Sirajuddin, who heads the powerful Haqqani Network faction, is seen by some analysts as further bolstering the links between the Taliban's political and military commands.
Anas Haqqani was released by the Afghan government in a high-profile prisoner swap last month and flown to Doha.
But despite predictions by Afghan officials that hardline elements of the Taliban, angered by the peace talks, would split off en masse to join the Islamic State, the Taliban, outwardly at least, have remained unified, boosted perhaps by the knowledge that President Trump clearly wants to begin to withdraw his forces ahead of next year's election.
Time, as they are fond of saying, is on their side.
What about the election?
Complicating the picture within Afghanistan is the dispute over the country's own presidential election.
On Sunday, three months after the vote, preliminary results were announced, with incumbent President Ashraf Ghani set to be re-elected. However, his chief rival, Abdullah Abdullah is alleging fraud.
Former UN Special Envoy Kai Eide told the BBC it was vital a stable government emerged at this "critical stage" as a lengthy, and potentially violent dispute would be "the worst possible background for real [peace] talks".
Mr Ghani had hoped the elections would give him a strong, clear mandate, which he could use as leverage in any discussions with the Taliban after they reached a deal with the US. A low turnout and contested results make that more difficult.
Those talks, between the Taliban and other Afghans about the future system of governance in the country, will be an even bigger challenge than the negotiations with the US.
One leading Afghan official who met representatives of the group earlier this year told me he believed they favoured a theocracy along the lines of the system in Iran.
For some Afghans, weary of the bloodshed, and disillusioned with what the last two decades have delivered, that would be a price worth paying for peace. For others, it would mean all the sacrifices made during those years were in vain.
Similarly for the Taliban, whose fighters have been struggling to re-establish an "Islamic Emirate," how easy would it be to transform into a purely political group working within a democratic system?
Their leaders are wary of the example of another Afghan Islamist figure, Gulbuddin Hekmatyar, who laid down arms in 2017 but has struggled to remain politically relevant.
In many ways it seems true peace, or the path to it, is more difficult than war.
https://www.bbc.com/news/world-asia-50826420
------
Why Vietnam provides a useful benchmark for Bangladesh
December 23, 2019
Mostafiz Uddin
If we were to describe the global garment and textile industry as a three-horse race, China would be out in front with two other horses fast closing in. These two horses are, of course, Bangladesh and Vietnam. Much has been written about the competition between these two countries in recent years. My personal view, which I will expand upon below, is that both countries have strengths in different areas when it comes to apparel manufacturing. For this reason, we have a great deal to gain by looking at areas we can learn from Vietnam in order to improve our competitive position and build on our existing strengths.
The most recent figures show that Bangladesh garment exports between January and September stood at USD 26.1 billion while Vietnamese exports were worth USD 24.43 billion. Taking October into account, Bangladesh exports amounted to USD 27.63 billion while Vietnam was at USD 27.10 billion.
At present, I believe Bangladesh has a number of competitive advantages over Vietnam. It has a more readily available supply of skilled and semi-skilled labour. Vietnam is certainly strong in the area of industry training but the textile industry there faces competition from other fast developing industries which, in many cases, pay higher wages.
There are two other areas where I believe Bangladesh outshines Vietnam in terms of apparel production. One is in the realm of sustainability and—a related issue—factory safety. Bangladesh has the safest garment industry in the world and, and the rewards for our massive efforts in the area of factory safety are still to be seen.
We are also, as an industry, leading the way in terms of sustainability generally, with many of our factories shifting to new, greener methods of production which use less water and energy and which are less energy-intensive. This shift has, of course, been demanded by apparel brands but our industry has shown a willingness and adaptability to respond. It has taken giant strides in this area, which are not always visible to the outside world.
But where can we learn from Vietnam? This is where I see huge opportunities. Firstly, it is worth considering that efficiency in Vietnam's apparel industry is higher than ours. Their efficiency is around 65 compared to 40 in Bangladesh. This means their export value is similar to ours despite the fact that their industry has around two million workers compared to four million in Bangladesh. This added value will only be matched by Bangladesh if we continue to invest in training and R&D, and surely this should send a clear message to policymakers in our country.
Vietnam has a major strength in high value products, and this is a direct result of the investment they made in training. Vietnam has invested in high standards of education in textiles and apparel, all aimed at implementing new industry technologies.
In Bangladesh, while we have lots of textile engineers, we need more innovators in areas such as machinery, software, digitalisation, automation, and robotisation. We cannot afford to allow Vietnam to steal a march on us on these areas.
Also worth noting is that in five to 10 years time, the low labour cost advantage of sourcing from Bangladesh will be obsolete and replaced by automation. We therefore need smart, well-educated local people who can guide us on how to adapt production lines accordingly, using the latest tech solutions.
Another area we can surely improve on is in terms of proximity of our RMG sector to the ports and associated infrastructure. Vietnam has an edge on Bangladesh in this area but it needn't be this way. Public-private sector partnerships could surely be developed to improve transport routes to Chittagong as well as the broader development of logistics infrastructure, including modernisation of the port facilities.
Finally, we have to look at how Vietnam has aggressively pursued foreign trade agreements, with the EU and Asia Pacific. Can we be doing more in terms of trade agreements? Our primary markets lie in the EU but is there an opportunity to tap into the US market—as Vietnam has so successfully done—or even the burgeoning Chinese market? Proximity brings its own challenges, but it needn't be a complete barrier to market success.
In summary, Bangladesh and Vietnam each has their own strengths and weaknesses in terms of apparel production. Some might suggest that a comparison between the two countries is a fruitless exercise but I believe it is highly insightful, for surely there is no better way to improve one's own standing than by learning from a successful competitor. To succeed long-term, our RMG sector must be on a journey of continuous improvement, and benchmarking against other leaders in the field can be an invaluable part in this process.
https://www.thedailystar.net/opinion/perspective/news/why-vietnam-provides-useful-benchmark-bangladesh-1843732
------
Has Bangladesh provided an excuse for Suu Kyi's defence?
December 23, 2019
kamal Ahmed
It was another reprehensible act of genocide denial. While defending the indefensible at the world court, the International Court of Justice, housed at the Peace Palace in the Dutch city The Hague, last week the once globally revered Peace Laureate, Aung Sun Suu Kyi, was remarkably unashamed. She and her legal team did not deny all those facts of wrongdoing mentioned in the petition filed by the Gambia including of atrocities, brutalities, forced mass-deportation, use of sexual violence, spreading hate and discrimination against an ethnic minority group, the Rohingyas. Their strategy was based on three Ds—denial, distraction and deflection.
First was denial of the intent to commit genocide. Comparisons made with other genocides were so pathetic, that inference could be drawn that the number of Rohingyas killed were not sufficient to call it a genocide. Admitting brutalities, Ms Suu Kyi said, "it cannot be ruled out that disproportionate force was used by members of the defence services in some cases in disregard of international humanitarian law." But her defence was: "surely, under the circumstances, genocidal intent cannot be the only hypothesis." She argued that the Genocide Convention came into being on the backdrop of the killing of six million Jews. In Rwanda, 70 percent Tutsis were slaughtered. Professor William Schabas of Middlesex University cited the court's verdict on the Croatia vs. Serbia case on the premise of attempting to destroy an ethnic group on whole or a part. He argued, "killing non-combatants in an armed conflict may violate right to life. But, 10,000 deaths out of a population of well-over one million might be something other than intent to physically destroy the group."
It was quite a surprise to hear professor Schabas, the author of the book "Genocide in International Law", who is better known for his analysis of the Rohingyas' plight in Myanmar dating back to 2013 in an Al Jazeera documentary, "The Hidden Genocide", defending the same genocide as an outcome of a conflict. Professor Schabas, however, justifying his service to Myanmar, later told Reuters that everyone has the right to a defence before a court. But at the hearing his defence was blaming Al Jazeera for using his words selectively. Professor Schabas was put into this embarrassing defensive position by another famous academic, professor Philip Sands of Oxford, who on behalf of the Gambia, submitted to the court that the petitioner would not object if the court in its order includes preventative measures prescribed by professor Schabas in "The Hidden Genocide".
The second element of the strategy of Myanmar was to try to distract by questioning the Gambia's locus standi, or right to move the court, by claiming it was a proxy of the Organisation of Islamic Conference, OIC and questioning about the financing of the case, suggesting something suspicious was going on.
The third and final tactic was to deflect the world's attention to Bangladesh, which so far has been giving emphasis on repatriation and not pro-actively seeking justice for genocide or preventing further genocidal acts. In the words of professor Phoebe Okowa of Queen Mary University: "Bangladesh, the country that has borne the brunt of the crisis, has also entered into a MoU with Myanmar to provide organised framework for repatriation of displaced persons." In her argument, she continued: "This is proof of the fact that Bangladesh, as Myanmar's closest neighbour, is not of the view that Muslims are at risk of imminent genocide should they return."
The Gambia vs. Myanmar hearing at the ICJ was an exceptional battle over defining the genocidal intent between leading legal experts to make 17 judges rule on whether any interim measures were necessary to protect 6 lakh Rohingyas trapped in camps built for IDPs (Internally displaced people) and secluded villages under harsh restrictions on movement, livelihood, practicing their religious faith and so on. It would be a frivolous exercise to try to narrate here the nine hours of deliberations, filled with legal jargon and references of past cases under international law. But that does not deter anyone from analysing the core issues put forward by both the parties and reflect on some crucial aspects of our policies.
As Bangladesh was not a party to the dispute under consideration by the ICJ, it did not have any opportunity to explain its position. Experts representing the Gambia kept their focus on establishing its right to institute the legal action as a signatory to the Genocide Convention and remained almost silent about Bangladesh's role. Myanmar in its concluding submission again tried to exploit the issue of inaction and the views of the directly-affected party. Christopher Staker even argued with citation (case reference) that according to the International Law Council (ILC), any state could not seek enforcement of erga omnes rights or obligations owed toward all in the same way as a directly injured state. Whether the court accepts or rejects this argument we will find it out in a few weeks. But the question of remaining silent on calling it a genocide by Bangladesh is not an ignorable one.
There's no doubt that repatriation of more than one million refugees should get priority in Bangladesh's policy towards the crisis. But it does not mean, a nation born through the most horrific genocide in our part of the world, should refrain from its moral obligation to denounce such genocidal acts and do its utmost to prevent such crimes. Myanmar's attempt to shield itself from the egregious charges using Bangladesh's affable position certainly demands some serious contemplation. Maintaining diplomatic links and negotiations do not require top level exchanges until and unless there is a breakthrough. Luckily, such a top-level exchange during the hearing was not mentioned before the court which otherwise could have caused some discomfort, especially when the Gambia referred to the US imposition of further sanctions against Myanmar's four top generals.
Another striking point to note from the trial was the outrageous claim made by Myanmar that if the ICJ were to order any interim measures sought by the Gambia, that it would adversely impact on repatriation, reconciliation and their domestic justice system. Paul Reichler, representing the Gambia, termed this so-called repatriation process a "fraud" and highlighted Myanmar's policy of hate towards the Rohingyas, citing Suu Kyi's refusal to use the ethnic identity of the victim community. The ICJ proceeding has also proven how valuable the UN Fact Finding Missions were and whose conclusions, of Myanmar's genocidal intent reflected through seven indicators, have given hope for justice to the world's most persecuted ethnic group, the Rohingyas.
https://www.thedailystar.net/opinion/human-rights/news/has-bangladesh-provided-excuse-suu-kyis-defence-1843738
------
In 5 years, Maharashtra deported 2 from Pakistan, 1,400 from Bangladesh for illegally staying in the State
Alok Deshpande
In the last five years, Maharashtra has deported 1,471 Bangladeshis and two from Pakistan for staying illegally in the State.
Raising a point of propriety in the Assembly, Atul Bhatkhalkar (BJP) claimed a number of residents from Bangladesh, Pakistan and Afghanistan were staying illegally in Mumbai and other cities in the State. Mr Bhatkhalkar said it was important to implement the provisions of the National Register of Citizens (NRC) to remove these people. He said on Friday that 12 Bangladeshis were arrested in Nalasopara alone this week.
Speaker Nana Patole then directed the Home Department to make a written submission before the winter session ends.
As per the Home Department report submitted in the House, a total of 12 citizens of Bangladesh were arrested in Palghar district's Boisar as they could not produce a valid passport.
The report further said that in the last five years, 1,471 individuals had been deported to Bangladesh for living illegally in the State. The number for Pakistanis for the same period was two.
https://www.thehindu.com/news/national/other-states/in-five-years-maharashtra-deported-two-from-pakistan-1471-from-bangladesh-for-illegally-staying-in-the-state/article30369868.ece
------
Arab World
Jobs market 'will drive Saudi education,' says education minister
December 23, 2019
RIYADH: The Saudi education system is to be realigned away from academic study and toward meeting the demands of the modern jobs market, the education minister has pledged.
Hamad Al-Asheikh said community colleges would be converted to provide vocational training linked to the requirements of employers, and the number of admissions to purely theoretical higher education courses would be cut.
"We are exploring the professions and sub-specialties that the job market is heading to, in order to develop curricula and educational fields in our universities to meet the specific needs of the market," he said.
"The ministry supports professional diplomas in universities to achieve efficient spending in the admission process, respond to the needs of the labor market, and reduce acceptance in theoretical specialties.
"For example, if the labor market has a certain profession that does not require studying for four years, and qualifying for it requires a one-year or two-year program, why should I burden the student and the community with the costs of four years?"
The minister was speaking at the University of Tabuk, where he inaugurated a clinical simulation unit for medical training and specialized skills, and an industrial innovation and robotics center.
Al-Asheikh said the innovation center, close to the NEOM giga-propject, would support development projects in the region. He noted the importance of partnerships with the private sector, especially in product innovation and diversification, to support the Kingdom's economy.
https://www.arabnews.com/node/1602796/saudi-arabia
------
Charity candles campaign to light up lives of needy Saudi children
DEEMA AL-KHUDAIR
December 22, 2019
JEDDAH: A business charity campaign is aiming to light up the lives of needy Saudi children.
Jamjoom and Chalhoub Group's "Together We Shine" initiative is targeting the sale of 10,000 candles to raise money for its health and education drive.
With corporate social responsibility becoming ever more widespread in the business world, entrepreneurs and companies are consistently doing more to help humanitarian causes.
And Jamjoom and Chalhoub Group was no exception, its corporate social responsibility executive, Raghad Abualkheer, told Arab News.
The leading retail, distribution and communication services powerhouse for renowned brands in the beauty, fashion and gift sectors, launched its candle campaign in October.
"Amal is our candle of hope, with all profits from its sale being donated to Sanad (Children's Cancer Support Association), whose mission is to help children with cancer by contributing toward their treatment," she said.
"And Noor is our candle of light, where all the profits from sales will be sponsoring Doroob scholarship programs, aimed at empowering gifted and creative children by supporting their mission toward quality education."
The campaign will run until March 2020, with the hope of selling 10,000 candles.
"Over the last five years, in collaboration with The National Home Health Care Foundation, we donated to cancer patients the profits of selling yellow daffodil flower pins in our stores. The average sales per year were 5,000 pieces.
"This year, we changed the idea to help more less-fortunate people in two sectors, education and humanitarian (children with cancer), and this is where we got the idea for the campaign," Abualkheer added.
The company wanted to raise awareness of child cancer and support treatments. "Aside from the candle being sold in Jamjoom and Chalhoub Group stores, we also communicate through our social media platforms."
"As a group, we believe that we have a responsibility to give back to the community in various ways. Participating in the 'Together We Shine' campaign is a way of bringing hope and light to the life of people and children in need.
"We are grateful to partner with Sanad Children's Cancer Support Association and the Doroob scholarship program to support their important mission," said Abualkheer.
The campaign was run in the UAE during 2018 with the group collaborating with different charity partners, and next year the plan is to implement it in Kuwait. "Every contribution can make a difference to an individual's life. We need everyone's support to make this world a better place," she added.
https://www.arabnews.com/node/1602676/saudi-arabia
------
Saudi Press: 11th Islamic Conference of Culture Ministers
2019/12/23
Riyadh, December 23, 2019, SPA -- Saudi newspapers highlighted in their editorials today a number of issues at local, regional and international arenas.
Al-Riyadh newspaper said in its editorial that the Tunisian capital witnessed the eleventh Islamic Conference of Culture Ministers that discussed means of development of the current cultural policies in the Islamic world, with the participation of delegations from 50 countries and 16 international and regional organizations. The paper said that this conference aims at gathering many ideas, concerns, and aspirations to serve Arab and Islamic culture.
Al-Bilad newspaper said in its editorial that the Saudi citizen is at the forefront of the leadership's priorities, focus, and direction for building and investing the national human wealth, foremost among which are young generations of both genders, as the most important goal and aspirational pillar of the Kingdom's vision 2030.
https://www.spa.gov.sa/viewfullstory.php?lang=en&newsid=2014116
------
Jeddah International Book Fair concludes
December 23, 2019
JEDDAH: The fifth annual Jeddah International Book Fair concluded on Saturday. The 10-day event was held under the patronage of Makkah Gov. Prince Khalid Al-Faisal.
The fair covered 30,000 sq. meters, was visited by 441,369 people, and featured more than 50 diverse activities.
Some 400 local, Arab and international publishing houses participated with 350,000 titles in various fields, while more than 200 authors signed books.
Prince Mishaal bin Majed, Jeddah governor and chairman of the fair's Supreme Organizing Committee, thanked King Salman and the crown prince for the event's success, and for entrusting Jeddah with organizing it.
Over the past five years, the fair has received more than 2.7 million visitors, and has been "keen to provide knowledge enrichment and cultural content that emanates from the cultural heritage on which the Kingdom depends as a tributary of science and knowledge," Prince Mishaal said.
He hailed the attention and care accorded by Prince Khalid to the fair since its launch, which has turned it into a beacon of culture, thought and creativity.
Prince Mishaal said the fair's success has been enabled by cooperation among various government sectors and community institutions.
"The exhibition, throughout its five editions, has provided opportunities to 1,820 local, regional and international publishing houses from 50 countries. It also saw some 1,000 authors signing their books," he said, adding that the Kingdom is keen to promote culture, authorship and publishing.
https://www.arabnews.com/node/1602791/saudi-arabia
------
Special needs children step up to the starting line in Jeddah
December 23, 2019
SALEH FAREED
JEDDAH: More than 800 children with special needs joined runners, walkers and wheelchair riders in the 8th "Let's Walk the Walk Together" race in Jeddah. The event, organized by the Help Center, highlighted the skills and abilities of people with special needs.
Volunteer groups, such as the Montaha, Snap and Sawasih teams, provided support for the athletes and 4,000 participants in the race.
Groups including the Ministry of Health, Juice Master, Jeddah Bloggers, Darj Jeddah, Masafat Club and Bliss Runners set up awareness stations on the marathon course.
Maha Al-Juffali, director of the Help Center, praised government agencies, especially the Makkah governorate, Jeddah mayoralty, the Ministry of Health, traffic police, Civil Defense and the Red Crescent, for their support.
Male runners who completed the 2,000 meter race in a record time were Hussain Al-Selafi from Tender Loving Center, Badr Ghassan from Maan Center, and Ahmed Ibrahim Moqaddam from Center Dirat Ajdady.
Female runners who completed the race in a record time were Hind Bughshan from Tender Loving Center, Safiya Ba-Aqeel from Dirat Ajdad, Marya Ba-Fakeik from Tender Loving Center, and Deemah Al-Saeedi Help Center.
Jeddah Mayor Saleh Al-Turki presented awards to the winners.
"Kafak," a book that deals with sports for people with intellectual disabilities, was also launched during the event.
https://www.arabnews.com/node/1602696/saudi-arabia
------
Saudi Shoura Council chief holds talks with visiting counterpart from Indonesia
December 23, 2019
RIYADH: Saudi Shoura Council Speaker Dr. Abdullah Al-Asheikh held talks with Bambang Soesatyo, speaker of People's Consultative Assembly of Indonesia, in Riyadh on Sunday.
Al-Asheikh stressed the importance of enhancing ties between the Saudi Shoura Council and its Indonesian counterpart. He briefed the visiting dignitaries on the mechanism of the Shoura Council.
Soesatyo lauded Saudi Arabia's development and growth. He hailed the outcome of King Salman's 2017 visit to Indonesia. He said the visit helped boost bilateral ties in various fields. During the meeting, the two sides reviewed several issues of common interests.
Later, Al-Asheikh hosted a luncheon in honor of the Indonesian delegation.
On Sunday, the speaker of the Pakistan's National Assembly, Asad Qaiser, also arrived in Riyadh on an official visit to the Kingdom,
He was received by Al-Asheikh at the King Khalid International Airport. The Pakistani official is heading a delegation of parliamentarians and a number of key officials. He is scheduled to meet senior Saudi officials.
https://www.arabnews.com/node/1602786/saudi-arabia
------
Saudi Ministry of Health to ban hydrogenated oils by 2020
FATIMA MUHAMMAD
December 22, 2019
JEDDAH: The Saudi Minister of Health Dr. Tawfiq Al-Rabiah has said that all hydrogenated oils will be banned in the Kingdom by 2020.
The minister noted that the number of cardiac centers across the country had tripled since 2016, and so had the number of heart catheterizations.
The Ministry of Health had previously warned members of the public of the health risks associated with partially hydrogenated oils, also known as "trans fats," which can lead to high cholesterol, artery blockage, hypertension and diabetes.
Hydrogenation of oils occurs by heating oil for up to eight hours below 400 degrees, removing vitamins and nutrients to increase longevity.
The Saudi Food and Drug Authority (SFDA) urged food importers and manufacturers to comply with the new requirements which will be effective in 2020 and ban the use of partially hydrogenated oils in food products.
Dr. Ruwaida Idris said hydrogenated oils are used in almost all processed foods, and many companies prefer to use them oils because of their low cost and long shelf life, despite their dangerous side-effects.
"Hydrogenated vegetable oils contain oils extracted from plants such as olives, sunflowers, and soya beans. The particles of hydrogen are added to change the chemical structure, (increasing the) useful life of the final product," she explained.
Doctors warn against the use of hydrogenated oils because they can increase the level of bad cholesterol, which can accumulate on arterial walls and cause blockages. Idris added that bad cholesterol can also cause blood clots and cardiac arrests as well as strokes.
Although many countries restrict the use of hydrogenated oil, it still can be found in canned food. Idris's advised the public to read the ingredients of canned food before purchasing it, and said restaurants should use high oleic sunflower oil, high oleic canola oil, and safflower oils instead.
Global obesity rates have tripled since 1975, especially among children and adults, while the number of diabetics has increased from 108 million in 1980 to 422 million in 2014.
https://www.arabnews.com/node/1602636/saudi-arabia
------
Europe
Muslim Labour Activist, 16, Sent Picture Of Himself Burning On Cross
Sam Courtney-GuySunday
22 Dec 2019
A Muslim teenager known for his Labour activism has told of his fear at being sent a mock-up image of himself burning on a cross. Hasan Patel, 16, has amassed a large following on Twitter for his support of Jeremy Corbyn and regularly posts screenshots of racist messages from trolls. The mock-up he uploaded on Friday features Boris Johnson's face imposed onto a Ku Klux Klan-like figure, with the message 'burn in hell you Muslim b*****d'. Hasan said: 'I know it shouldn't bother me, but I'm scared. I'm only 16.' The teenager told Metro.co.uk that he has been receiving abuse for more than a year but has received a spike of 'more violent, hateful and threatening' messages since the election. In a matter of hours after the cross-burning post Hasan posted three more screenshots in which he was barraged with racist slurs and had violence wished on him.
The latest round of abuse was stoked by an exchange Hasan posted last week in which a man told him he had lost his job as a result of Hasan exposing his racist messages. The screenshots showed an account named Honeywell 1999 calling Hasan a 'rag head dirty muslim' before grovelling to him a week later. 'I would appreciate if you could remove you [sic] post now as I have lost everything I worked hard for now,' the troll begged. Hasan reported the recent abuse to Lancashire Constabulary today but was told nothing could be done because of the cost and difficulty of tracing anonymous accounts. The force were not available to comment. 'I'm now seeking legal advice on the next steps to take because I've had enough of the abuse, especially given my age and profile,' he told Metro.co.uk. 'If we don't take action it will send a message to these callous individuals that they're allowed to continue, which would embolden the far-right.'
Hasan added: 'I feel incredibly sad and sorry for people who have such hate brewing in their soul.' He said he felt 'helpless' in the face of an 'extremely hostile' political climate, which he chalked down to 'the actions and words of certain politicians and the failure of the media as a whole in holding them to account'. Many of the anonymous accounts which sent Hasan racist messages have been deactivated. Labour Party figures have leapt to his support, with Shadow Home Secretary Diane Abbott tweeting: 'Don't let this horrible abuse get to you. 'The abuser is quite pathetic. You have your life in front of you.' Former Labour MP for Kensington Emma Dent Coad said: 'Horrific, please take any security advice offered. 'The police CAN trace anonymous twitter accounts, let's hope they do.' Hasan was previously abused online for accepting a £76,000 scholarship to Eton College. He says he was called a 'traitor, hypocrite, [and] selfish champagne socialist'.
https://metro.co.uk/2019/12/22/muslim-labour-activist-16-sent-picture-burning-cross-11945059/?ito=newsnow-feed
------
Ex-Inmate Claims Islamist Extremists Setting up Sharia Law Trials Right in British Jails - Report
23.12.2019
Jail Islamism and in-prison radicalisation have come under enhanced scrutiny as soon as it emerged the London Bridge terrorist had been formally GPS-tagged, while being officially allowed to leave prison on parole and attend the rehab conference in downtown London, where he carried out a deadly attack late last month.
In an interview with the Times, a former prisoner who was known to his former inmates under the pseudonym Jack, said Islamists had contacted him, offering him assistance in travelling to Syria. He shared a number of stories, recounting how on one occasion, one of his former inmates was beaten as punishment after he was accused of disrespecting Islam by drinking alcohol, with all the others sitting in judgment at a Sharia cell-block court.
The prisoner detailed the way he started leading a new life, having "chosen to leave that one" after his release, sharing how he received spiritual help that made him a practising and peaceful Muslim.
Justice Secretary Robert Buckland referred to the account as a "very concerning" one, contending at the same time that over the past few years "a great deal of time, effort and investment has gone into bearing down on the malign effects of extremism behind bars".
The issue came into the spotlight last month after 28-year-old Usman Khan, a convicted Category A terrorist freed on parole, went on a rampage at London Bridge, murdering two and injuring more before being killed by police.
According to Richard Walton, former head of Scotland Yard's Counter Terrorism Command, and Ian Acheson, who had previously looked into jail extremism, reforms to solve the issue had stalled.
Along the same lines, Professor Acheson's 2016 report described Islamist Jail extremism as a "growing problem" and outlined measures to counter it, irrespective of the resistance his initiatives had met with in the past.
Now, after the prisoner described his experience, Acheson ascertained that the interview had confirmed his fears that the prison and probation service "is still not capable of managing a serious threat to our national security".
Despite being deemed as a public threat, London Bridge knife attacker Usman Khan was freed far ahead of his scheduled release under strict conditions, and required to wear a GPS tag. This, however, didn't prevent him from going on a rampage inside Fishmongers' Hall, which at the time was hosting a rehab conference he had been permitted to attend. Two people were killed and six others injured in the attack, with the conference attendees and passers-by jumping in in order to push the knife out of the culprit's hands.
https://sputniknews.com/europe/201912231077730806-ex-inmate-claims-islamist-extremists-setting-up-sharia-law-trials-right-in-british-jails---report/
------
UK's Tesco halts work at China factory after SOS from 'prisoner' in Xmas card
Dec 23, 2019
LONDON: The UK-based grocery chain Tesco said it halted production at a factory in China on Sunday after a British newspaper reported the factory used forced labour to produce charity Christmas cards for the supermarket.
Tesco said it also launched an investigation of the Chinese supplier it hired to make the holiday cards, Zheijiang Yunguang Printing, after the Sunday Times raised questions about the factory's labour practices. The newspaper said the potentially problematic province of the cards came to light when a 6-year-old girl in south London found a card in her box already had a message written inside.
It read: "We are foreign prisoners in Shanghai Qinqpu prison China forced to work against our will. Please help us and notify human rights organization." The writer asked whoever received the note to contact Peter Humphrey, a former British journalist who was detained in China while working as a corporate investigator.
The London girl's father, Ben Widdicombe, said on Sunday they at first thought the message was a "prank". "On reflection, we realised it was actually potentially quite a serious thing," Widdicombe said. "So I felt a responsibility to pass it on to Peter Humphrey as the author asked me to do."
Humphrey told BBC he thinks he knows who wrote the message but won't identify the person for fear the inmate would face retribution. He said he was "pretty sure" the message was by a group of prisoners as a collective request for help.
Tesco said it was "shocked" by the discovery and would never allow prison labour in its supply chain.
https://timesofindia.indiatimes.com/world/uk/uks-tesco-halts-work-at-china-factory-after-sos-from-prisoner-in-xmas-card/articleshow/72931387.cms
------
Southeast Asia
Failure of Malaysia's Muslim summit is only the tip of the iceberg
By Mohammed Alyahya
Monday, 23 December 2019
Malaysia's attempt to unite Muslim powers in a summit held last week in Kuala Lumpur failed to attract heads of state from 53 Muslim countries.
Only three embattled heads of state – Iran, Turkey and Qatar – showed up for the micro-summit, all of whom are fighting increasingly desperate struggles to reinvent an outdated vision for Islam that is fundamentally hostile to the West and, indeed, hostile to the dreams and aspirations of their own people.
In a phone call with Malaysian Prime Minister Mahathir Mohamad on Tuesday, Saudi Arabia's King Salman stressed the importance of joint Islamic action through the Organization of Islamic Cooperation (OIC) to achieve unity in discussing issues of concern to Islamic powers.
Since the September 11, 2001 terrorist attacks on the United States, the Muslim world has seen a fundamental realignment between those nations who continue to advocate hostility to the West and those who embraced the reality of a budding post-ideological Middle East.
The fault lines are no longer – and perhaps have never been – between Islam and the West, but between a backwards-looking "political Islam" represented by Iran and its Muslim Brotherhood friends Qatar and Turkey, and Arab powers who realize the danger and obsolescence of these archaic ideologies in the face of an increasingly educated and globalized youth bulge in the Middle East.
The embattled leaders who rallied to the call of the Malaysian leader last week are concerned that the influence of political Islam is waning in the OIC, which continues to be the pre-eminent international body for Islamic power, and therefore a new body would be required to promote their obsolete revolutionary thinking.
In its report on the summit, one presenter on the Qatari-funded Al Jazeera channel attempted to make a virtue out of the fact that only three of the 56 invitees chose to attend.
"Beginning small in this initiative is helpful because when you have all the leaders in the Islamic world it can only create more divisions and create inaction, so they think that they should start small and if they have something to present, maybe they can take it to the OIC in the future," he said.
What they fail to consider is that their vision for an Islamic world is waning among the growing ranks of young people in the Middle East and North Africa. Young Arabs have become tired of conflict and revolutionary rhetoric; they can see through the gimmickry of political Islam, especially when it is used as a substitute for meaningful economic reform or to suppress productive integration with, and openness to, the world economy, from East to West.
Countries such as Saudi Arabia, the UAE, Bahrain and Egypt realize that a fundamental change in demographics and sensibilities in the Arab world have made ideological mobilization and manipulation obsolete.
Waddah Khanfar, a veteran media executive who has led several pro-Muslim Brotherhood media outlets funded by Qatar, was quoted by Al Jazeera English as saying that the OIC was dominated by Saudi Arabia and therefore "not the right mechanism to handle the crisis that the Islamic world is going through."
What he failed to point out was that their crisis is of their own making. The crisis is rooted in a redundant ideology that was born in the 1979 Iranian revolution and continues to thrive through the revolutionary ideals embraced by the Muslim Brotherhood, an extremist network hosted by Turkey and funded by Qatar.
As only three Muslim heads of state showed up to an Islamic summit that extended invitations to 56 Islamic countries, the summit ended in political failure. But that political failure is only the tip of the iceberg.
The post-ideological Middle East is already a reality. Young people embracing massive social and economic change in Saudi Arabia, and young people rejecting sectarian and economically dysfunctional systems in Iraq and Lebanon represent an irreversible paradigm shift in the region's political psyche.
https://english.alarabiya.net/en/views/2019/12/23/Failure-of-Malaysia-s-Muslim-summit-is-only-the-tip-of-the-iceberg.html
------
Offering Christmas Wishes; PBNU: It's OK,in Spirit of Brotherhood
23 December 2019
TEMPO.CO, Jakarta - The Nahdlatul Ulama Executive Board (PBNU) chairman Robikin Emhas said, non-theologically, Muslims offering Christmas wishes in the spirit of brotherhood pose no problem.
"It's enough by respecting what another religious community is practicing and letting it transpire without making a fuss about it. Let them practice what they believe, while we focus on what we believe. That is the point," said Robikin in a press release on Monday.
Furthermore, he quoted the opinion of Egyptian ulema, Syekh Yusuf Qaradawi, who determined that one's intent to offer a Christmas wish defines whether it should be done or not. He maintains that it is tolerable if it is done to respect or empathize with fellow Christians.
"Moreover, Christmas wishes are meant to express elation for the birth of the Prophet Isa. Now based on this guidance and limitations, can Christmas become a moment to further unite the nation's brotherhood? I say definitely," said the PBNU chairman.
He further elaborates that positivity toward conveying Christmas greetings does not stop with words alone, but is vast in its practice. This is why he called for an inter-religious forum that will open a dialogue to further unite Indonesia's plural population.
In terms of Christmas wishes, the PBNU chairman reminds that the limit to tolerance for Muslims remains in Holy Quran's Al-Kafirun verse; "For you is your religion, and for me is my religion."
https://en.tempo.co/read/1286831/offering-christmas-wishes-pbnu-its-okin-spirit-of-brotherhood
------
'Game changer' KL Summit marks end of Saudi stranglehold on Muslim world
Abdar Rahman Koya
December 23, 2019
KUALA LUMPUR: The recent Kuala Lumpur summit of Islamic nations attended by three important heads of state has been described as a game changer in the Muslim world's relations with Saudi Arabia, with experts predicting a domino effect that could spell the end of the oil-rich kingdom's theological and political grip on Muslim governments.
They say it is also Dr Mahathir Mohamad's move to look elsewhere for faster technology transfer that would favour Malaysia, which has long depended on expensive Western technology and the caveats that come with it in the form of multi-billion dollar arms deals.
Politically, a former Malaysian diplomat who served in the Middle East said the KL Summit had "struck at the heart of a long-held myth" that forces Muslim leaders to publicly toe Riyadh's line.
"It has essentially debunked this myth, the belief that Riyadh holds leadership over the Muslim world because it is the 'khadimul haramain'," the seasoned diplomat, who asked to remain anonymous, told FMT.
The "khadimul haramain" title, which means the Servant of the Two Holy Cities, has been used by successive Saudi monarchs, underlining the importance placed on control over Mecca and Medina – the focal points of the annual Muslim pilgrimages that see millions flocking to the two cities.
The KL Summit was held against the backdrop of Riyadh's silent campaign among its allies, resulting in a no-show by most Gulf states and only low-level delegations sent by non-Arab recipients of Saudi aid.
FMT last week quoted diplomatic sources as saying that the Saudis were incensed after Mahathir's refusal to back down amid pressure to cancel the summit, which was initially a joint effort by Malaysia, Pakistan and Turkey.
Pakistan Prime Minister Imran Khan cancelled his trip at the eleventh hour, in what well-placed sources confirmed was the result of diplomatic arm-twisting of the cash-strapped South Asian nation which has received billions of dollars in Saudi aid since Khan came to power last year.
The three heads of state who attended were among the Saudis' staunchest enemies: Turkey's Recep Tayyip Erdogan, Qatar's Sheikh Tamim bin Hamad Al Thani, and Iranian President Hassan Rouhani.
Some pro-Saudi circles in Malaysia, including those from the previous government which had openly joined in alliance with the Wahhabi state, cited this as a failure of the summit.
But seasoned Middle East watchers disagree.
London-based Palestinian academic Azzam Tamimi, a vocal Saudi critic, said the KL Summit showed that key Muslim leaders had decided to "adopt policies or positions more harmonious with the sentiments expressed by their people".
Tamimi, who heads Alhiwar TV, a pan-Arabian current affairs satellite channel critical of Saudi policies, said leaders in KL had come close to forging an alliance that counters the "Saudi-UAE-led coalition of counter revolutionary forces in the Muslim world".
This is a possible reference to the four-year-old military pact that saw bombings in support of the pro-Saudi government in Yemen, as well as the active role of Riyadh in 2013 in toppling Egypt's first democratically elected president, the late Mohamed Morsi.
"I admire the emir of Qatar for resisting the pressure exercised on his tiny nation from much bigger entities in the Middle East, including Saudi Arabia and Egypt," Tamimi told FMT.
Prominent Turkish scholar Mustafa Akyol shared this view, saying the summit had been able to break a long anti-Shia narrative directed by the Sunni world against Iran.
"Sectarianism is a major problem in the Muslim world today, and the right way to handle it is not by building a 'Sunni bloc' against Iran, as some think, but rather having no blocs at all," the US-based writer told FMT, adding however that Iran should not be spared blame either.
Akyol, who has criticised undemocratic policies by Muslim governments including Malaysia, also welcomed Mahathir's "honest" opinion that Muslims had lost respect on the global stage.
"Let me just add that this is precisely why the much-denigrated 'Muslim liberals', including my humble self, are calling for the rethinking of some crucial issues within Islamic tradition.
"We do see that with a religious teaching that doesn't respect freedom, that is bigoted and oppressive, we are only harming our religion and our societies," said Akyol, whose lectures in Malaysia came to an abrupt end with his arrest by Jawi, the Islamic authorities in Kuala Lumpur.
Domestic factors
But the KL Summit was not detached from Malaysia's noisy domestic politics.
For one, the choice of local speakers, believed to be handpicked by the Prime Minister's Office, ruffled some feathers on the back of a raging debate over whether Mahathir will hand over power to Anwar Ibrahim as promised.
Some see the conference as having sidelined Anwar, despite his efforts to maintain his Islamic image by appearing at Islamic forums worldwide.
"His absence was notable, especially as the man he has always referred to as his 'close friend', Erdogan, was in town," said a source.
Supporters cited pictures of Anwar hosting Erdogan at a private dinner while skipping a pre-summit dinner hosted by Mahathir, calling it a testament to the Turkish strongman's preference between the PKR leader and the veteran prime minister.
But a Turkish diplomat rubbished this theory.
"The dinner was not meant for ministers or heads of state. No state leader attended the dinner," she told FMT.
A PKR insider said the KL Summit "might not be Anwar's cup of tea", adding that Anwar had long surrounded himself with the "salafist lobby" linked to Saudi petro-dollars.
"For decades when he was in the government, though this has changed, Anwar chose to mingle with the Gulf governments and organisations to show that he was their man in Malaysia," said a former official of the Malaysian Muslim Youth Movement (Abim), a once-firebrand organisation which Anwar founded in the late 1970s.
"Anwar would prefer to be in the company of so-called progressive salafists, especially in the wake of the fallout between the Saudis and Qatar," he added.
But more than anything, he said, the KL Summit was essentially Mahathir's way of making a "clean break" from past pro-Saudi policies.
"He cannot continue bashing the West and still pay loyalty to the very Muslim government which greases Western military might," said the former diplomat, referring to the Saudis' hosting of US army bases.
Economic benefits
At the conclusion of the KL Summit, Mahathir praised Iran in a rare concession from the leader of a Sunni Muslim nation.
But a military insider told FMT that many had missed the "hidden clues" in Mahathir's closing speech where he referred to Iran's stockpile of engineers.
He said themes such as Muslim unity, Islamophobia and even the gold dinar were "just wall decorations", adding that Mahathir was after something bigger.
He said Mahathir was aware of Iran's advanced technology, something Western and Israeli critics of the Islamic republic also admitted to when accusing it of nuclear ambitions.
Iran has a vibrant domestic industry for its military and aviation needs, and boasts what is likely the most number of universities specialising in technological research, as well as more than 30 science and technology parks nationwide.
"Mahathir is aware of this strength, and he is 100 steps ahead of other Muslim leaders in realising its potential domestic benefits," said a military insider.
He also dismissed fears that Mahathir's "tough talk" against the US would backfire economically.
"Strategically, the US would need us no matter what in its efforts to counter China. This is why it sponsored sophisticated military equipment such as the Coastal Surveillance Radars and Unmanned Aerial Vehicles, with all maintenance and expert training provided free.
"But these do not benefit Malaysia economically. So Mahathir is actually looking for a faster technological transfer, something he feels Malaysia will not get from the West. This is where Turkey and Iran come in," the source said.
Echoing this, the former diplomat said Turkey, Iran and Qatar had strengths unlike those of any other Muslim nation.
"Turkey has diplomatic muscle in the Muslim world. How else can you host an Israeli embassy, and yet become very popular in the Muslim world?
"Qatar, meanwhile, is ready to buy more allies with its enormous wealth and investments worldwide," he added.
Zafar Bangash, who heads Canada-based Muslim world think tank Institute of Contemporary Islamic Thought, agrees.
He said the four key nations at the KL Summit had their individual strengths.
"The four carry much weight both economically (Qatar and Malaysia), as well as militarily (Turkey and Iran). This has raised hopes among Muslims that perhaps some Muslim countries are getting their act together to address some of the burning issues in earnest."
As the dust settles on the KL Summit, it is still too early to tell how the Saudis will react.
But for now, the mood has been set with the coming together of forces who are not ready to take instructions from the "khadimul haramain".
https://www.freemalaysiatoday.com/category/nation/2019/12/23/game-changer-kl-summit-marks-end-of-saudi-stranglehold-on-muslim-world/
------
Sabang City Bans New Year's Celebration on Sharia Grounds
23 December 2019
TEMPO.CO, Jakarta - The Sabang City administration in the special region of Aceh officially called for a New Year's Eve ban on sharia law grounds. This was announced in a circular by the city's mayor Nazaruddin on Sunday, December 22.
The ban was signed by the regional leaders' communication forum (forkopimda) of the Sabang Regency.
"This is one of Sabang Administration's seriousness upon upholding the Islamic sharia. We call for people to avert from celebrating the new year's eve as it is not in accordance with our customs," said Nazaruddin in Sabang on Sunday.
Further elaborating the ban, the city administration specifically bars people from participating in activities that are seen as reckless, festivities such as blowing trumpets, and fireworks. They also barred people from holding Islamic public activities such as mass-prayers as it would mislead people's understanding of Islam.
Mayor Nazaruddin also reminded that the circular applies to tourists who are visiting the City of Sabang and called for them to respect local laws and customs.
"We are not preventing tourists from visiting Sabang, we are happy to have the city be visited by tourists, but we do hope they adjust to local cultures that uphold the Islamic sharia law," he said.
https://en.tempo.co/read/1286789/sabang-city-bans-new-years-celebration-on-sharia-grounds
------
North America
ISIS Student Plotting College Dean Attacks has 'ISIS Imam' as Spiritual Guide
Mon Dec 23, 2019
Joe Kaufman
Late last month, Salman Rashid, whose family hails from Dhaka, Bangladesh, was arrested for his involvement in a conspiracy to murder the heads of two South Florida colleges. According to the FBI, Rashid, beginning this past May, sought out an individual to contact ISIS in order to carry out a revenge attack in the US for its mistreatment of Muslims. But apart from his contact, was Rashid working alone?
In November, Rashid had decided that the targets of this attack should be the deans of both Broward College and Miami Dade College, two educational institutions that had previously taken disciplinary action against Rashid. Both cases dealt with harassment of women, including stalking.
Rashid's views about the things he has been reportedly reprimanded for are found on his Facebook page, where one can view very disturbing posts dealing with two main subjects: an intense hatred of women and a violent hatred of non-Muslims and the West.
Here are some of the more flagrant ones from this year:
February: "Americans will pay Inch by Inch For everything they have done to us and used to attempt to Force Their laws on us." Also in February: "Feminists are a Cancer On Earth. If I had Authority, I Would Strip their skin from Flesh and Hang their Bodies In the Sun to Rot." March: "Patience. Our time is coming. When it does, We will show Them No Mercy just as They Didn't. Rage of A Thousand Years will Burn."
April: "I am just waiting to see how far they can go. Let them run. When I have Allah's Signal, I will burn everything as I see suitable." Also in April: "I don't even know what to say anymore at this point. These pathetic Kuffars then cry about why ISIS threw one of "these" [transsexual] abominations down from a high building and say We Muslims need 'Psychological Evaluation.'"
May: "Some Munafiqs among Muslims are acting arrogant, refusing to acknowledge the authority of those who lead this faith… They learn this kind of arrogant, disobedient, disrespectful manners from Those Kafir Americans. It is time to deal with this problem and break their bones if necessary."
September: "Americans Are Our Greatest Enemy After Israeli Yahuds. Any Muslim Who Denies This Fact Is A Munafiq Without Question… Whether Kafir or Munafiqs, I will make these Western Puppets Suffer." October: "New Rule Of Our Islamic Shari'ah. Any Woman who has a Boyfriend, Whether She Slept with that Bastard or Not is a Prostitute."
Where did Rashid get so much contempt for women, non-Muslims and America, where he resides? A big clue may come from the North Miami mosque he affiliates himself with, Masjid As Sunnah An Nabawiyyah. There, a fiery cleric named Fadi Kablawi provides sermons against non-Muslims and the West.
In January, Kablawi told the members of his congregation, "The Christian religion makes no sense… If you look at all the religions in the world, Christianity can compete for first place in stupidity." In March, he told them, "The West is wicked." In February, he told them, "Good news… Israel will not stay long."
However, what is of the most interest and the most concern is something else he told his congregation, in March. Kablawi informed them that the FBI is after him, because the agency considers him to be a member of ISIS. He implied that congregants in his audience were spying on him for the Feds. He called them "snitches" and "cowards."
Rashid's Facebook page is littered with videos of Kablawi's sermons. Rashid also regularly posts comments on Kablawi's own Facebook page, including threats.
This past February, when Kablawi wrote of his feelings towards the State of the Union address, saying, "I've never seen that many hypocrites and evil looking people in one place like I saw tonight," Rashid replied with a personal message to Kablawi, stating, "Same Sheikh. It is terrible to watch such a painful truth that the people of this country are being ruled by a bunch of fat headed liars and manipulative women with evil instincts. Alhamdulillah, We are free of their rules and regulations. If they try pushing them on us and force us to accept Kuffar laws, We will fight them with everything until They are brought to their knees."
This past March, on Kablawi's page Rashid wrote, "Americans and New Zealand government are working together to Stop the Spreading of the [New Zealand mosque] Shooting video… They don't want to show that the Muslims are the ones that are suffering as always. They want to show everything is so beautiful how happy we are living under their Democracy and so much Freedom we have under their enslavement and Oppression in their lands while making our lives miserable on a Daily basis…" When another commenter replied, "May Allah avenge us!!" Rashid replied back to him, "Not only Allah. I will avenge it myself."
Question: If the FBI is going to arrest and charge Salman Rashid with a crime, as they did, would it not be prudent to do the same to Rashid's fanatical spiritual guide, whom they already know to be part of ISIS, as revealed by Kablawi, himself?
As well, Rashid has cavorted with other radical Muslims. In a photo on his Facebook page that he posted in May 2015, Rashid is pictured partnering at an event with Abdul Rauf Khan, a Florida and national leader of the Islamic Circle of North America (ICNA). ICNA is the American affiliate of South Asian Islamist group Jamaat-e-Islami and has links to Kashmir-based terrorist groups. Khan, himself, has used social media to promote: Egypt's banned Muslim Brotherhood, anti-gay propaganda, and anti-Semitic material, including posting a link on his Facebook to a video labeling comedian talk show host Bill Maher, "Zionist Jew Bill Maher."
Was Salman Rashid working alone in his crimes or was he guided by others, like his extremist imam Fadi Kablawi, and being used as a terrorist puppet?
It is an important question to ask, as while Rashid was taken into custody, his potential handlers could be influencing others to commit similar acts.
http://www.frontpagemag.com/fpm/2019/12/isis-student-plotting-college-dean-attacks-has-joe-kaufman/
------
Reza Aslan Brings Us a TV Comedy That Aims to "De-Exotify" Muslims
Mon Dec 23, 2019
The celebrated cannibal Reza Aslan has somewhat faded from the public eye since he was fired by CNN and exhorted readers in his last book to take the advice of the oldest and most celebrated self-improvement coach, Satan: "take a lesson from Adam and Eve and eat the forbidden fruit. Do not fear God. You are God." Now, says LA Weekly, "he's an E.P. on a new Chuck Lorre CBS comedy called The United States of Al, which aims to 'de-exotify' a Muslim character for a mainstream audience."
Aslan has wanted to do this for a long time. "I'm waiting for a Muslim 'All in the Family,'" he said in 2016. "Muslims are never going to feel like a part of the American family until people start to make fun of them on TV. That's how minds have always been changed in this country." Really? After all, we all know how much Muslims love being made fun of. And can Reza Aslan give us a single other example of a group that started "to feel like a part of the American family" when people started "to make fun of them on TV"?
This is just another spurious claim of Muslim victimhood from someone who has made a tidy living in the Muslims-Are-Victims industry, Reza Aslan. And it is more muddled thinking from a spectacularly muddled thinker. Which marginalized group began to "feel like a part of the American family" because they were made fun of "All in the Family"? Right-wing racist bigots? Polish hippies who were dubbed "Meathead" by their fathers-in-law?
Aslan here probably meant not "All in the Family," but something like "The Cosby Show," which has been invoked before in the same way: Katie Couric said a few years ago that we needed a Muslim "Cosby Show," i.e., a TV show that shows Muslims as just ordinary folks, and this will supposedly melt away the alleged prejudice that Americans have toward them.
The fallacy of that reasoning lies in the fact that when "The Cosby Show" aired, there were no international black terror groups mounting terror attacks in the U.S. and around the world, and boasting of their imminent conquest of the U.S. The suspicion that Americans have of Islam comes from jihad terror and Islamic supremacism, not from racism and bigotry, and Americans know this distinction, despite the best efforts of people like Reza Aslan to obscure it and make people feel guilty for opposing jihad terror. Some slick TV show depicting funny, warm, attractive, cuddly Muslims would not end jihad terror, or blunt concern about it — it would only serve to further the idea that resisting jihad violence was somehow "bigoted."
This shouldn't come as any surprise to those who are familiar with Aslan's rancid public career. That this sinister jihad enabler was ever given a mainstream platform is a dispiriting sign of the times. His show on CNN was devoted to showing other religions as violent and hateful, and Islam as benign and peaceful. Also, Aslan is a Board member of the National Iranian American Council (NIAC). NIAC has been established in court as a lobbying group for the Islamic Republic of Iran. Said Michael Rubin: "Jamal Abdi, NIAC's policy director, now appears to push aside any pretense that NIAC is something other than Iran's lobby. Speaking at the forthcoming 'Expose AIPAC' conference, Abdi is featured on the 'Training: Constituent Lobbying for Iran' panel. Oops." Iranian freedom activist Hassan Daioleslam "documented over a two-year period that NIAC is a front group lobbying on behalf of the Iranian regime." NIAC had to pay him nearly $200,000 in legal fees after they sued him for defamation over his accusation that they were a front group for the mullahs, and lost. Yet Aslan remains on their Board.
Meanwhile, despite his increasingly obvious Islamic heterodoxy, Aslan remains popular with Muslim Brotherhood-linked groups in the U.S.: he has also spoken at events sponsored by the Muslim Students Association, a Brotherhood group, as well as at an event co-sponsored by the Los Angeles chapter of the Hamas-linked Council on American-Islamic Relations (CAIR). Doubtless they recognize that he shares their overall agenda.
Not surprisingly, after a trip to Israel he lied about being threatened by Shin Bet.
Aslan is as stupid as he is evil. It's also worth noting that despite being hailed as a great intellect, Aslan isn't actually very bright. He is, in fact, a borderline imbecile who frequently states howlingly false errors of fact, but is, never called out for them by his friends in the establishment media. He has made the ridiculous claim that the idea of resurrection "simply doesn't exist in Judaism," despite numerous passages to the contrary in the Hebrew Scriptures. He has also referred to "the reincarnation, which Christianity talks about" — although he later claimed that one was a "typo." In yet another howler he later insisted was a "typo," he claimed that the Biblical story of Noah was barely four verses long — which he then corrected to forty, but that was wrong again, as it is 89 verses long. Aslan claimed that the "founding philosophy of the Jesuits" was "the preferential option for the poor," when in reality, that phrase wasn't even coined until 1968. He called Turkey the second most populous Muslim country, when it is actually the eighth most populous Muslim country. He thinks Pope Pius XI, who issued the anti-fascist encyclical Mit Brennender Sorge, was a fascist. He thinks Marx and Freud "gave birth to the Enlightenment," when it ended in the late 18th century, before either of them were born. He claims that "the very first thing that Muhammad did was outlaw slavery," when in fact Muhammad bought slaves, took female captives as sex slaves, and owned slaves until his death. He thinks Ethiopia and Eritrea are in Central Africa.
A "renowned religious scholar" such as Reza Aslan should not make such elementary mistakes. But this is, of course, the man who writes "than" for "then"; apparently thinks the Latin word "et" is an abbreviation; and writes "clown's" for "clowns." And now he is going to lower the guard of Americans on jihad terror by presenting funny Muslims on a TV show. This should go wonderfully.
http://www.frontpagemag.com/fpm/2019/12/reza-aslan-brings-us-tv-comedy-aims-de-exotify-robert-spencer/
------
Break-in at St. Paul mosque investigated as hate crime because of 'Merry Xmas' graffiti left behind
Dec 22nd 2019
ST. PAUL — St. Paul police are treating an attempted burglary of a mosque as a hate crime, said Steve Linders, spokesman for the department.
Just after 7 a.m. Saturday, Dec. 21, police were called to a mosque at 291 McKnight Road on the report of a break-in. They found broken glass and largely illegible scrawl on whiteboards. A few words, such as "Merry Xmas" and "God," were readable.
Linders said it appeared the suspect was trying to steal laptops but fled when someone entered the building.
"We are investigating it as a hate crime," he said. "That's where we'll start. We've increased patrols in the area of the mosque and other St. Paul mosques."
No arrests have been made.
According to the Council on American-Islamic Relations, a worshipper at the Darul Iman mosque walked in on the man. CAIR showed photos of broken glass at the door and scribbling on whiteboards. It estimated damages between $5,000 and $7,000.
"Because of the religious references in the graffiti and the damage done to the mosque, we urge law enforcement authorities to investigate a possible bias motive for this incident," said CAIR spokesman Jaylani Hussein. "These types of incidents serve to increase safety concerns for the Minnesota Muslim community."
A GoFundMe page has been set up to help pay for damages.
https://www.inforum.com/news/crime-and-courts/4835430-Break-in-at-St.-Paul-mosque-investigated-as-hate-crime-because-of-%E2%80%98Merry-Xmas%E2%80%99-graffiti-left-behind
------
Mideast
80,000 flee new Assad onslaught in Idlib
December 23, 2019
ANKARA: At least 80,000 civilians have fled a renewed onslaught by Assad regime forces against the opposition-held enclave of Idlib in northwest Syria.
Eight more people, including three women and two children, were killed on Sunday when Russian fighter jets struck a convoy of cars leaving the city of Maarat Al-Numan. It followed Russian airstrikes on Saturday on a market in Saraqeb city, east of Idlib, in which at least eight died.
Idlib is nominally controlled by a militant alliance led by the former Al-Qaeda affiliate Hayat Tahrir Al-Sham, but residents said many towns and villages were now deserted.
"They have turned into ghost towns. Russia's 'scorched earth' bombing is helping the army gain ground," said Mohamad Rasheed, an activist from the area.
Western military sources said the latest bombardment was a prelude to a widescale ground offensive to take over Idlib, Syrian leader Bashar Assad's last remaining target.
But the civilian flight north toward the border with Turkey is creating a new refugee crisis for Turkish President Recep Tayyip Erdogan.
The regime offensive also calls into question the presence of 12 Turkish observation posts in northwest Syria, part of a 2017 deal with Russia and Iran to avert large-scale fighting there.
Regional analyst Halid Abdurrahman said the posts were now pointless because the regime could surround and bypass them.
Erdogan's strategy had been a high-risk one from the beginning, said Bill Park, a research fellow at King's College, London.
"Turkish forces have intruded into the territory of a sovereign state, and backed groups opposed to the Syrian regime. Damascus is bound to want to extend its own control there," he told Arab News.
"Turkey has clearly been unable or unwilling to effectively control its proxy forces, who in any case have done little to stabilize the situation. Russian and Syrian frustration with Turkey's proxies in Idlib has been evident for some time. It is possible that Ankara's forces will clash with Russian and regime forces in Afrin and northeast Syria as well."
Turkey should seek stability in Syria, rather than undermine it, he said.
https://www.arabnews.com/node/1602801/middle-east
------
Anti-corruption protest leaders snub talks with Lebanon's new prime minister
NAJIA HOUSSARI
December 23, 2019
BEIRUT: Protest leaders in Lebanon boycotted talks on Sunday with incoming prime minister Hassan Diab as demonstrators took to the streets again to demand an end to government corruption and a clear-out of the political elite.
Protesters took to the streets again on Sunday, the 67th day of the protests against Lebanon's leadership.
Demonstrators traveled by bus from Tripoli, Saida, Tyre and Nabatieh, and gathered in Martyrs' Square in the heart of Beirut under the slogan "Sunday of Determination."
Activist Mahmoud Fakih told Arab News: "Diab's office is calling on activists to meet him. Since the first day, we said that there is no leadership for the revolution and that every single protester is a leader in his own right."
He added: "Our demands are clear and do not need to be transmitted in person to the prime minister designate. We do not want to be represented in the government. We want an independent rescue government."
According to one protester, Diab said that he "wants to form a government of a limited number of ministers from independents. If a government would be formed in this way why would we reject it and obstruct its path?"
Riot police intervened to prevent any clash between rival groups of activists following the meeting, while Diab's office announced that talks with protesters would be suspended.
In Martyrs' Square, protesters erected a huge Christmas tree, ornamenting it with the demands of the revolution, and chanting: "All means all of them and Diab is one of them."
A source close to Diab told Arab News that the incoming leader will refrain from issuing media statements or giving interviews in coming weeks and will focus on forming a new government.
In his most recent statement, Diab said that he intends to form a limited government of 20 ministers that will "fight corruption, and boost economic and financial recovery."
In a Sunday sermon, Bechara Al-Rahi, the Maronite Patriarch, urged all political parties to "cooperate with the prime minister-designate and facilitate the formation of a rescue emergency government."
Lebanon has had a caretaker government since Oct. 29, when Saad Hariri resigned as prime minister after nearly two weeks of protests.
Diab, a university professor and former education minister, has been nominated to replace Hariri, and began consultations on Saturday with parliamentary blocs to discuss the shape of a future government.
He hoped to hold talks with leaders of the civil movement "to listen to their demands." However, only four junior activists turned up to the meeting. Diab faces significant hurdles, including a boycott by influential political blocs that refused to nominate him because of the backing he received from the Free Patriotic Movement, Hezbollah, the Amal party and their allies.
He is also opposed by pro-Hariri Sunnis, and protesters who view the whole political elite as corrupt. Diab said he would form a limited government of 20 ministers to "fight corruption, and boost economic and financial recovery."
Mass protests began in Lebanon on Oct. 17 and led to former Prime Minister Saad Hariri's government resigning two weeks later. Since then the country has been gripped by political deadlock amid a worsening economic and unemployment crisis.
https://www.arabnews.com/node/1602771/middle-east
------
US sanctions bring fresh trouble for Turkey
MENEKSE TOKYAY
December 23, 2019
ANKARA: The 2020 National Defense Authorization Act (NDAA), signed by US President Donald Trump on Friday, includes a measure to sanction companies involved in Russian natural gas pipelines to Europe.
The move will affect the nearly finished Nord Stream 2, which runs from Russia to Germany, and TurkStream, a Russian pipeline that traverses the Black Sea to Turkey.
Swiss-Dutch company Allseas announced on Saturday that it had suspended work on building a major natural gas pipeline from Russia to Germany in order to avoid US sanctions contained in the legislation.
Experts said that although the bill includes both Nord Stream 2 and TurkStream, the former will be much more affected.
Madalina Sisu Vicari, an expert on geopolitics and Turkey, said that despite NDAA coming into force, the sanctions from the Protecting Europe's Energy Security Act have not started, as the US has 60 days to identify "vessels that engaged in pipe-laying at depths of 100 feet or more below sea level for the construction of the Nord Stream 2 pipeline project, the TurkStream pipeline project."
The bill calls on the Trump administration to identify companies working under the project within 60 days to activate the sanctions. If a company is identified, it would then be blacklisted by the US, unless the president decided the company was decreasing its operations. The president could also waive the sanctions over national security considerations.
"While it is indisputable that the only company that falls under the law's provision is AllSeas, it is also evident that the sanctions, if implemented by Trump's administration, will not affect TurkStream because the offshore section of TurkStream is finished," Vicari told Arab News.
Gazprom announced the completion of the offshore section of TurkStream in the Black Sea on Nov. 19.
"The pipeline's offshore section was finalized ahead of schedule — its completion had been planned for December — and one of main reasons might have been attempt to avoid the sanctions targeting TurkStream.
The NDAA sanctions will come too late for TurkStream," Vicari said.
Russian Foreign Minister Sergei Lavrov recently announced that "neither Nord Stream 2 nor TurkStream will stop."
TurkStream aims at bringing Russian gas to Turkey under the Black Sea in January 2020, with Western companies involved in the production phase and offshore pipe laying.
https://www.arabnews.com/node/1602761/middle-east
------
Idlib: Have clashes rendered Turkish observation points useless?
MENEKSE TOKYAY
December 23, 2019
ANKARA: Russian-backed Assad regime forces are advancing in Syria's opposition-held province of Idlib. Dozens of civilians have been killed in the offensive, despite calls from the international community for de-escalation.
Since the beginning of December, air raids in Idlib have resulted in the forced migration of some 80,000 people toward the Turkish border, according to the UN.
Turkish President Recep Tayyip Erdogan recently downgraded that number to about 50,000 expected to cross, but added the country was already hosting 3.7 million Syrian refugees.
In September 2018, Ankara and the Kremlin had agreed to make Idlib a de-escalation zone. Currently, Turkey has 12 military observation posts in Idlib, with the post in Surman village categorized as high risk as a result of the latest clashes.
In August, regime forces also surrounded a Turkish post in the town of Morek in southern Idlib, but Ankara refused to abandon it.
"Regime forces are advancing in Idlib to encircle the observation point in Surman. There are signs that the area may fall under the regime's control, as happened before to the post in Morek," Erol Bural, a former military officer and a terrorism expert at the 21st Century Turkey Institute, said.
Some experts don't expect Turkey to break precedent and evacuate Surman, either. But one thing is clear: The observation posts have become more and more dysfunctional in a conflict zone where bombardments have persisted despite the cease-fire.
Bill Park, a visiting research fellow at King's College, London, said Turkey's stance in Idlib and elsewhere in Syria had been a high risk one from the beginning.
"Turkish forces have intruded onto the territory of a sovereign state, and backed groups opposed to the Syrian regime. Damascus is bound to want to extend its own control there," he told Arab News.
"Turkey has clearly been unable or unwilling to effectively control its proxy forces, who in any case have done little to stabilize the situation. Russian and Syrian frustration with Turkey's proxies in Idlib has been evident for some time. It is possible too that Ankara's forces will sooner or later clash with Russian and regime forces in Afrin and northeast Syria as well."
Park believes Ankara should understand the limits of its power and recognize that Moscow and Damascus will determine the outcome in Syria, and that it should seek stability in Syria, rather than undermine it.
An intensified assault on the urban center of Idlib is expected to substantially increase the number of refugees fleeing to Turkey.
UN observers announced at least 18,000 refugees had reached the border in just 24 hours after sustained bombings killed even more people, but camps along it were already at full capacity.
"Turkey is now facing an increased refugee crisis — as is Iraq and Syria itself — in the form of internally displaced people as a consequence of Turkey's actions in northeastern Syria," Park said.
Idlib is mostly under the control of a former Al-Qaeda affiliate, Hayat Tahrir Al-Sham, while the Assad regime is committed to taking back control of it.
Halid Abdurrahman, a researcher and analyst on the Middle East and North Africa, said the presence of Turkish observation posts in Idlib to monitor de-escalation in the region was now effectively pointless given that the regime was able to surround and bypass them in its assault.
In late June, one Turkish soldier was killed and three others were wounded following shelling of their observation post in Idlib region, allegedly by the regime.
The timing of the latest escalation in Idlib is also telling, just ahead of the summit between Erdogan and Russian President Vladimir Putin, scheduled for Jan. 8, 2020.
https://www.arabnews.com/node/1602746/middle-east
------
Cyprus police bring in boat with 34 Syrian migrants aboard
December 22, 2019
NICOSIA: Cyprus police officers rescued 34 Syrian migrants Sunday after spotting their boat off the Mediterranean island nation's northwestern coast.
A police patrol vessel was dispatched to escort the boat to a harbor. Police said the boat had set sail from Alanya, Turkey.
The migrants were all male and included a 17-year-old. All 34 were taken to a migrant reception center outside the Cypriot capital of Nicosia.
Police arrested a 19 year-old man who was aboard the boat on suspicion of people trafficking and abetting the illegal entry of third-country nationals.
Cyprus says it has reached its limit to accommodate an influx of migrants and has asked other European Union members to take at least 5,000 of those who reached the country.
https://www.arabnews.com/node/1602686/middle-east
------
Erdogan says Turkey cannot handle new migrant wave from Syria, warns Europe
December 22, 2019
ANKARA: Turkey cannot handle a fresh wave of migrants from Syria, President Tayyip Erdogan said on Sunday, warning that European countries will feel the impact of such an influx if violence in Syria's northwest is not stopped.
Turkey currently hosts some 3.7 million Syrian refugees, the largest refugee population in the world, and fears another wave from the Idlib region, where up to 3 million Syrians live in the last significant rebel-held swathe of territory.
Syrian and Russian forces have intensified their bombardment of targets in Idlib, which Syria's President Bashar Assad has vowed to recapture, prompting a wave of refugees toward Turkey.
Speaking at an awards ceremony in Istanbul on Sunday night, Erdogan said more than 80,000 people were currently on the move from Idlib to Turkey.
"If the violence toward the people of Idlib does not stop, this number will increase even more. In that case, Turkey will not carry such a migrant burden on its own," Erdogan said.
"The negative impact of the pressure we will be subjected to will be something that all European nations, especially Greece, will also feel," he said, adding that a repeat of the 2015 migrant crisis would become inevitable.
He also said Turkey was doing everything possible to stop Russian bombardments in Idlib, adding that a Turkish delegation would go to Moscow to discuss Syria on Monday.
Erdogan has previously threatened to "open the gates" for migrants to Europe unless Turkey got more support in hosting the refugees.
"NOT ENOUGH"
Turkey is seeking international support for plans to settle one million Syrians in part of northeast Syria that its forces and their Syrian rebel allies seized from the Kurdish YPG militia in a cross-border incursion in October.
Ankara has received little public backing for the proposal and has repeatedly slammed its allies for not supporting its plans. Turkey's offensive was also met with condemnation from allies, including the United States and European countries.
"We call on European countries to use their energy to stop the massacre in Idlib, rather than trying to corner Turkey for the legitimate steps it took in Syria," Erdogan said on Sunday, referring to the three military operations Turkey has carried out in Syria.
After a global refugee forum in Geneva last week, the United Nations refugee agency said states pledged more than $3 billion to support refugees and around 50,000 resettlement places. But, Erdogan, who attended the forum, said on Sunday that sum was not enough.
UN agencies say hundreds of people have been killed in Idlib this year after attacks on residential areas.
Russia and the Syrian army, which is loyal to President Bashar Assad, both deny allegations of indiscriminate bombing of civilian areas and say they are fighting Al-Qaeda-inspired extremist militants.
Rescue teams said six people were killed in Maarat al Numan and 11 more in nearby villages on Friday.
Earlier on Sunday, Turkey's state-run Anadolu news agency said some 205,000 people had been displaced from their homes in Idlib since November due to the attacks. It said the fleeing civilians were going toward areas in Syria that Turkey seized in its military operations, or to other parts of Idlib.
https://www.arabnews.com/node/1602641/middle-east
------
Africa
Security tops agenda as West African leaders meet in Abuja
by Eromo Egbejule
22 Dec 2019
Abuja, Nigeria - Heads of state and governments across West Africa met on Saturday in Abuja, the capital of Nigeria, for the latest round of discussions on pressing matters in the bloc, including regional integration and a concerted effort to tackling armed rebellions.
Nigeria's President Muhammadu Buhari presided over the summit of 15 member states of the Economic Community of West African States (ECOWAS), urging his fellow leaders to forge a stronger partnership in addressing the region's security challenges.
Security in the Lake Chad region and the wider Sahel was on top of the agenda at the day-long summit.
Buhari called for a minute of silence in honour of the victims of an armed attack at a military base in neighbouring Niger earlier in December.
"It was with great shock and immense pain that I received the news of the tragedy last week in the Tilabari region of Niger Republic, where more than 33 valiant soldiers and other citizens of the country were brutally massacred in yet another cowardly terrorist attack by these enemies of peace and progress," Buhari said in his address.
"As we mourn this enormous loss, our thoughts and sympathies go to the families of these heroes and the entire people of Niger Republic."
'Terrorism' remains a concern
Armed group Boko Haram's campaign began in 2009 and has displaced more than 2.2 million people across Nigeria, Chad, Niger and Cameroon since, with no signs of slowing down despite counterattacks by a joint multinational force across borders.
Boko Haram's faction, the Islamic State of West Africa Province (ISWAP), has also gone on a spree of violence, attacking military formations in those countries. The Tilabari attack was the deadliest in recent times in Niger.
In Mali and Burkina Faso, groups such as the al-Qaeda-affiliated Jama'at Nasr al-Islam wal Muslimin (JNIM) have followed suit, killing thousands of people in recent years.
There were a total of 4,776 reported fatalities in the Sahel between November 2018 and March 2019, according to the non-profit Armed Conflict Location and Event Data Project (ACLED).
In September, ECOWAS convened an extraordinary summit on terrorism in Ouagadougou, the capital of Burkina Faso. Some of the bloc's members have now called for a swift implementation of the resolutions agreed to at that summit.
"Our region has been hard hit by terrorist attacks every passing day, threatening almost all the national and regional achievements we have made," said Niger's President Mahamadou Issoufou.
"We, therefore, hope that the prompt implementation of the recommendations of our extraordinary summit on terrorism held on September 14 in Ouagadougou will enable us collectively meet this challenge, which appears to be an attack by faithless criminals, on our dignity and sovereignty."
Common currency
Also featuring on the agenda was the presidential election in Guinea Bissau and the matter of a common currency for the region.
The idea of a single ECOWAS currency and the West African monetary zone was first introduced decades ago with 2000 set as the initial launch date.
The currency, known as the Eco, is now expected to be launched in 2020.
Some of the other leaders in attendance included George Weah of Liberia and Gambia's Adama Barrow.
Akinwumi Adesina, president of the African Development Bank and former Nigerian agriculture minister, was also present at the summit.
https://www.aljazeera.com/news/2019/12/security-tops-agenda-west-african-leaders-meet-abuja-191221181251739.html
------
Leah Sharibu: Northern Christian elders beg Buhari to rescue abducted Dapchi schoolgirl
by Kess Ewubare
A group of Christian leaders in the north under the auspices of Nothern States Christian Elders Forum (NOSCEF), have asked President Muhammadu Buhari to present the missing Dapchi schoolgirl, Leah Sharibu to them as Christmas gift.
Ejoga Inalegwu, the chairman of the NOSCEF, in a statement on Sunday, December 22, said the federal government had the capacity to secure the release of Sharibu who has been in Boko Haram custody since 2018 The Nation reports.
"We plead with the President, Muhammadu Buhari, to give the Christian community of this great nation, the Christmas gift by ensuring the release of our dear child Leah Sharibu from the brutal custody of the Boko Haram" the group said.
The Christian organisation raised concerns over the dishonesty in government, noting that Nigeria as a nation had abandoned God and every godly value.
The chairman of the group also complained about the lack of credibility and violence that now characterise the Nigerian electoral system.
He noted that Christians in the north were facing injustice and discrimination because of their faith.
"Let the nation cry out against this injustice. The injustice/discrimination that Christians suffer as a way of life, in the north in all spheres, even Christians from educationally disadvantaged states of Kebbi, Zamfara, Katsina and other Northern states are denied their state quota admission to read courses of their choice, inspite of their performance, because of their faith," Inalegwu.
The cleric urged Nigerians to pray for God to bring hope and righteousness to the state of despair and hopelessness in the nation.
Meanwhile, the terrorist group, Boko Haram could carry out chemical, biological, radiological, nuclear and explosive (CBRNE) attacks in the future, the federal government says.
According to The Cable, this is contained in the 60-page document, entitled "National Security Strategy", earlier released by the office of Babagana Monguno, national security adviser (NSA).
According to the news outlet, the document emphasised the need for increased collaboration among security agencies to combat security threats in the country.
Is President Buhari Really Unable to Rescue Leah Sharibu from Boko Haram? - Street Gist | Legit TV
https://www.legit.ng/1286779-leah-sharibu-christian-elders-beg-buhari-rescue-abducted-dapchi-school-girl.html
------
NASS: Islamic group reacts as Gbajabiamila vows 9th Assembly will not fight Buhari govt
December 23, 2019
By John Owen Nwachukwu
The Muslim Rights Concern (MURIC) has warned critics to stop blackmailing the Nigerian legislature.
According to to the human rights group, harmony between the legislature and the executive can only translate to progress for the nation.
This was in reaction to the comment made by Speaker of the House of Representatives, Femi Gbajabiamila, who yesterday declared that he was not elected to fight the executive.
Gbajabiamila made the pronouncement during the Gbaja 2019 End of the Year Grassroots Empowerment Programme.
The Speaker was reacting to insinuations and criticisms of the National Assembly (NASS) which some critics have described as a rubber stamp institution under President Muhammadu Buhari.
Gbajabiamila insisted that the NASS is irrevocably committed to the protection of the interest of the Nigerian people through diligent discharge of its legislative duties.
MURIC's warning was contained in a statement signed and issued to DAILY POST on Monday by its Director, Professor Ishaq Akintola.
The statement reads in full: "We fully endorse Speaker Gbajabiamila's comment. We commend him for coming out with such a bold declaration. Harmony between the legislature and the executive can only translate to progress for the nation.
"We prefer cooperation between the legislature and the executive to hostility and incoherence. What did the Nigerian citizens gain from the endless confrontation which characterized the 8th Senate? It was fully sarakitised to the detriment of tax-payers.
"Senators in the 8th NASS abandoned their primary assignments and spent the greater part of the time following the Senate president to court sessions. Lawmakers became unrepentant lawbreakers, established comedians and professional tree-climbers.
"Opportunist inheritors among them manifested a shameless capacity to out-do Michael Jackson and to jump out of windows at the approach of examination supervisors.
"Fortunately Nigerians were not deceived. The group of deceitful lawmakers were sent packing by the electorate.
"It is not surprising, therefore, that some miscreants, unpatriotic and unscrupulous Nigerians now make it their daily pastime to accuse the current distinguished senators of being rubber stamps of the executive.
"Talk of the pot calling kettle black. It is cheap blackmail. We know those behind this dirty game. We also know their objective. They confronted the executive in their own time because they knew that the war against corruption would catch up with them since they had skeletons in their cupboards. Their intention was to bring down the government but they failed.
MURIC urges the 9th Senate to ignore critics and wailers. We appeal to the current senators to continue in the same path of full cooperation with the executive.
"They should not allow anyone to goad them into any confrontation. We voted them into the NASS to facilitate the law-making process and to promote good governance, not to constitute clogs in the wheel of progress for the executive or harbingers of pain and distress for the citizenry.
"In comparison, the 8th Senate leadership was an agent of darkness while the leadership of the 9th Senate is an agent of light. Darkness and light cannot stay together.
"The leadership of the 8th Senate plunged this country into darkness for four good years. The two senates are just incompatible. One delayed budget for seven months while the other returned the country to the old January to December budget cycle by dutifully and meticulously screening the budget and passing it without undue delay.
"Our message to the current senators is this: Distinguished Senators of the 9th Senate, you are the light of the age. Continue to lighten up our great nation by ensuring harmony between you and the executive. Posterity will not forget your positive role in bringing growth and development to our country, Nigeria.
"As we take a break, we warn fifth columnists, critics and wailers to stop blackmailing the 9th NASS. We charge current legislators to ignore detractors and to squarely face the business of lawmaking and the promotion of good governance. The difference between the 8th and the 9th NASS is like the difference between night and day. It is dawn in Nigeria."
https://dailypost.ng/2019/12/23/nass-islamic-group-reacts-as-gbajabiamila-vows-9th-assembly-will-not-fight-buhari-govt/
------
URL: https://www.newageislam.com/islamic-world-news/not-sending-muslims-detention-centres/d/120603
New Age Islam, Islam Online, Islamic Website, African Muslim News, Arab World News, South Asia News, Indian Muslim News, World Muslim News, Women in Islam, Islamic Feminism, Arab Women, Women In Arab, Islamophobia in America, Muslim Women in West, Islam Women and Feminism