New Age Islam News Bureau
07 September 2020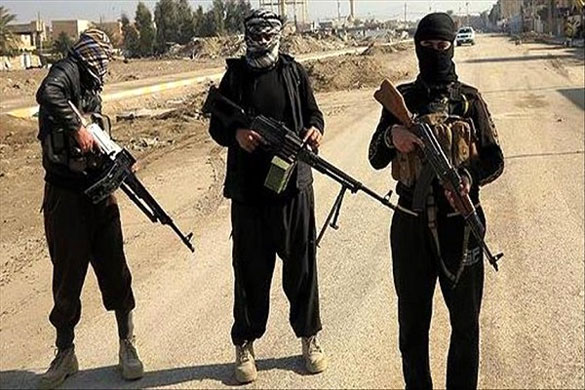 The Quran is not a significant motivating factor for young men joining Daesh, a researcher has found.
------
• Leading Canadian Jewish Group Joins Demand for Action Against Chinese Persecution of Uyghur Muslims
• Mahapanchayat Called by Fringe Outfits in Baghpat, UP, against 'Love Jihad' Postponed
• Turkey Calls Macron 'Hysterical' Over Syria, Libya, East Mediterranean
• Intra-Afghan Talks Must Preserve 'Democratic and Human Rights': EU, Canada
• Imran Khan Announces Rs 1.1 Trillion Package to Address Infrastructure Issues in Karachi
• World Assembly of Islamic Awakening: Zionists, US behind Sacrilege of Prophet Mohammad (PBUH)
Arab World
• Not Quran but 'Badass-Do-Goodery' Significant Motivating Factor for Young Men Joining Daesh: Expert
• Lebanon Says It Will 'Abolish Kafala,' To Protect the Rights of Migrant and Domestic Workers
• Saudi King Tells Trump That Kingdom Is Eager to Achieve Fair Solution to Palestinian Issue
• Saudi Imam Faces Criticism After Sermon Seen as Prelude to Normalization with Israel
• US, Israel spy services blew up Beirut port: Lebanese party
• Iraqi Parliament's Defense Commission Opposes Direct Talks with Turkey
• Street in Beirut renamed after slain Iranian general Qassem Soleimani, photos suggest
--------
North America
• Leading Canadian Jewish Group Joins Demand for Action Against Chinese Persecution of Uyghur Muslims
• US, Israel Building A Ring of Fire Around Iran: Former American Diplomat
• Healing Black-Jewish and Muslim-Jewish divides
--------
India
• Mahapanchayat Called by Fringe Outfits in Baghpat, UP, against 'Love Jihad' Postponed
• 'Pakistan, China Planning Against Us': BSF Chief to Jawans On Visit to LoC
• NIA To Send Investigative Team to Probe Kabul Gurdwara Attack
• J&K: Soldier killed; 2 others injured as Pakistan violates ceasefire
--------
Europe
• Turkey Calls Macron 'Hysterical' Over Syria, Libya, East Mediterranean
• UK Could Explore Arms Embargo as Option to Bring Iran Into Line: Defense Minister
• UN chief warns of famine risk in four conflict-struck countries, including Yemen
• Turkish defense chief to meet senior NATO official
• Palestine: Serbia moving embassy to Jerusalem illegal
--------
South Asia
• Intra-Afghan Talks Must Preserve 'Democratic and Human Rights': EU, Canada
• Rohingya tour islet marked for relocation by Bangladesh
• Afghan government troops repel Taliban offensive in Kandahar
• Narayanganj Mosque Blast: Petition Seeks Tk 50 Lakh Compensation from Titas For Each Victim's Family
--------
Pakistan
• Imran Khan Announces Rs 1.1 Trillion Package to Address Infrastructure Issues in Karachi
• Army will win hybrid war with nation's help: Bajwa
--------
Mideast
• World Assembly of Islamic Awakening: Zionists, US behind Sacrilege of Prophet Mohammad (PBUH)
• Israel, UAE foreign diplomats meet publicly for first time in Africa
• Hamas leader says group has missiles that can hit Tel Aviv
• Turkey begins military drills in north Cyprus amid tensions in eastern Mediterranean
• Palestinian-Lebanese Alliance: Hamas, Hezbollah Put Up United Front Against Israel
• Sanctions against Turkey on EU table over Greece tensions: France
• Palestinian shot, detained over alleged stabbing attack in West Bank
• Over two dozen Palestinian prisoners injured in Israeli raids in Ofer prison
• Israel to ask US for advanced weapons after F-35 jets sale to UAE: Report
• Dozen arrested as anti-Netanyahu protest turns violent in Jerusalem al-Quds
• 24 killed in clashes in northern Yemen
--------
Southeast Asia
• Dewan Negara To Debate Philippine Claim to Sabah, Says Rais Yatim
• Nearly 300 Rohingya migrants come ashore in Indonesia
• Long Umno history makes Muhyiddin credible, says analyst
--------
Africa
• Warlord Haftar Again Violates Libyan Cease-Fire
• Saudi Arabia Denounces 'Terrorist Attack' In Tunisia
• Libya's warring sides hold talks in Morocco
• Tunisian police kill three militants after officer stabbed to death
• Gunmen kill 22 people in two separate attacks in central Nigeria: Officials
• Nigeria introduces airdrop of foods for terror victims
Compiled by New Age Islam News Bureau
URL: https://www.newageislam.com/islamic-world-news/not-quran-badass-goodery-significant/d/122808
--------
Not Quran but 'Badass-Do-Goodery' Significant Motivating Factor for Young Men Joining Daesh: Expert
September 06, 2020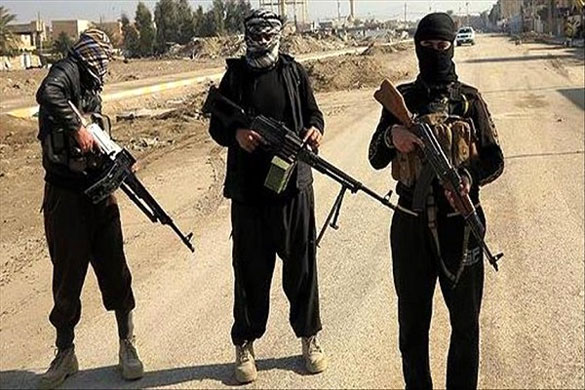 The Quran is not a significant motivating factor for young men joining Daesh, a researcher has found.
------
LONDON: The Qur'an is not a significant motivating factor for young men joining Daesh, a researcher has found.
The desire for "badass-do-goodery" is the main motivating factor, said Omar Shaukat, a former senior research fellow with the Afro-Middle East Centre in Johannesburg who interviewed young men who were considering joining Daesh at the height of its "caliphate" in 2014-15.
Knowing that most young men do not become extremists because of religious factors can play a role in rehabilitating them, he added.
Shaukat said he offered prospective Daesh recruits "a more effective strategy" for improving the lives of Muslims than becoming militant.
Would-be militants need to be offered "non-violent or non-hateful ways of being radical that would still hold up in their eyes as being effective — or at least more effective than they can achieve by associating with IS-like (Daesh-like) groups," he added.
Extremism can be "cured," but that requires rejecting the taboo of engaging with potential terrorists, as well as the legal restrictions that come with such engagement, he said.
"The cure, I would say, is civil society reaching out to these groups of people and trying to set up a dialogue," Shaukat added.
"Not taking up the militant (path) but doing more social justice work and community work. Show them that's a better and more effective strategy than becoming militant."
The South African researcher said he had persuaded potential Daesh recruits not to join the organization by convincing them that extreme and grotesque acts of violence had historically not been successful in bringing about change.
Documents leaked to the Associated Press in 2016 corroborate Shaukat's findings. They showed that new Daesh recruits were often poorly versed in Islamic teachings, with the overwhelming majority having only basic knowledge of the Qur'an and Shariah law.
https://www.arabnews.com/node/1730491/world
--------
Leading Canadian Jewish Group Joins Demand for Action Against Chinese Persecution of Uyghur Muslims
by Benjamin Kerstein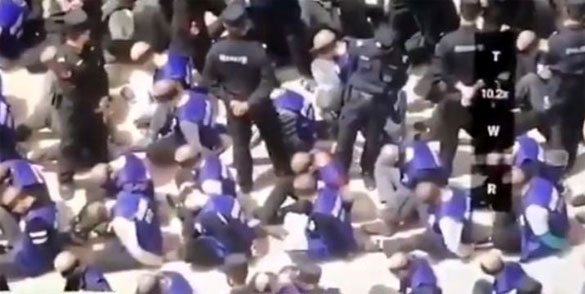 Uyghur Muslims rounded up by Chinese authorities for transport to concentration camps. Photo: Twitter.
-----
A leading Canadian Jewish group joined with leaders of the Uyghur Muslim community over the weekend to condemn China's persecution of the Uyghurs and demand that Canada and other members of the international community take action against it.
The statement, by B'nai Brith Canada, the Uyghur Rights Advocacy Project, and the World Uyghur Congress, pointedly condemned China's current policies toward the Uyghurs, a Muslim minority group in the region of Xinjiang, who have been subjected to a brutal campaign of dislocation and "reeducation" by the Chinese government in recent months.
Reports indicate that this campaign has included deportations to concentration camps, torture, unsanitary conditions, and psychological pressure techniques intended to force the Uyghurs to conform to the communist party line.
"For Jews around the world, such events have a terrible resonance and provide a moral imperative to speak out," B'nai Brith said in the statement.
Michael Mostyn, Chief Executive Officer of B'nai Brith Canada, added, "We are calling on all international human rights organizations to unequivocally condemn the mistreatment of the Uyghurs and to join us in making this issue a pivotal part of our campaigning."
"We also call on the Government of Canada to condemn China's conduct in the strongest possible terms, and to use all available means to help bring it to an end," he added.
Dolkun Isa, President of the World Uyghur Congress, said, "China is committing full-scale ethnic genocide against Uyghurs and targeting our distinct identity through vast networks of concentration camps, torture, and death chambers."
"We are very grateful that B'nai Brith Canada and the global Jewish community, victims of genocide themselves in the past century, are standing in solidarity with Uyghurs in the face of evil," he stated.
Mehmet Tohti, Executive Director of the Uyghur Rights Advocacy Project, Canada, called the persecution of the Uyghurs "a 21st century ethnic genocide."
"The silence of many nations around the world is shocking the conscience of human civilization," he asserted. "The time for verbal expression of concern is over. Now, we need action to fulfill our promise of Never Again."
The groups urged the government of Canada to pressure the Chinese government to grant the United Nations full access to Xinjiang, demand a full report on the Uyghurs' current situation, condemn Chinese persecution of minorities, and speak out on the issue in international forums.
In addition, B'nai Brith called on the Canadian government to sanction Chinese officials for their involvement in the persecution of the Uyghurs.
The group also demanded the release of Canadian citizen Huseyin Celil, who is being held captive by the Chinese government for his work on behalf of Uyghur rights.
https://www.algemeiner.com/2020/09/06/leading-canadian-jewish-group-joins-demand-for-action-against-chinese-persecution-of-uyghur-muslims/
--------
Mahapanchayat Called by Fringe Outfits in Baghpat, UP, against 'Love Jihad' Postponed
September 7, 2020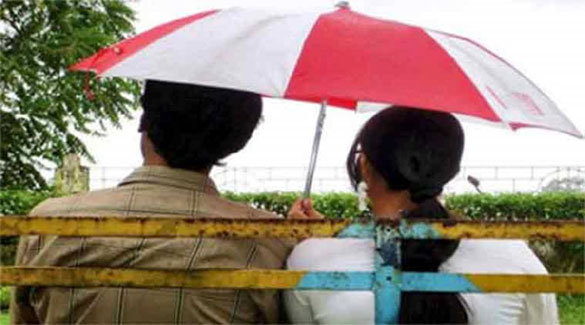 Fringe outfits in Baghpat had called for a public gathering after a Hindu woman allegedly eloped with a Muslim man in Baghpat's Khekra area earlier this year. (Representational image)
-----
A Mahapanchayat against 'love jihad' schedule to be held on Monday in Baghpat was postponed. Fringe outfits in Baghpat had called for a public gathering after a Hindu woman allegedly eloped with a Muslim man in Baghpat's Khekra area earlier this year. A demonstration was held on August 26 by the members of these outfits and local residents.
"This case happened in February when a man brainwashed a Hindu woman and took her with him. Our demand is straightforward and we want the police to recover the woman. We have been staging a protest and were supposed to hold the meeting tomorrow. Due to corona cases and assurance we are delaying it and it might be held after 10 days," said Nitin, district in-charge of Hindu Jagran Manch.
According to a senior police official, two teams have been formed to trace the whereabouts of a woman and a case under section 364 (kidnapping) has been filed in the Khekra Police Station.
This comes days after UP CM Yogi Adityanath had asked Home Department to formulate a plan to curb love jihad cases in the state.
https://indianexpress.com/article/india/up-mahapanchayat-against-love-jihad-postponed-6585932/
--------
Turkey calls Macron 'hysterical' over Syria, Libya, East Mediterranean
05 September 2020
Turkish foreign minister has called French President Emmanuel Macron "hysterical" over his meddling in foreign-backed conflicts in Libya and Syria as well as Ankara's dispute with Greece over sea boundaries in the Eastern Mediterranean.
Speaking during a press briefing in capital Ankara on Friday, Mevlut Cavusoglu emphasized that Turkey had foiled French hope for renegade military strongman Khalifa Haftar to capture the Libyan capital of Tripoli by providing military support to the internationally-recognized Government of National Accord (GNA), repelling Haftar's assault back in June.
"In Libya they (France) supported the putschist Haftar and made a grave mistake," he said, adding, "Things changed, balances shifted, Haftar was defeated and Macron became hysterical."
Ankara has blamed Paris for politically backing Haftar and his rebel forces known as Libyan National Army (LNA) against the Tripoli-based GNA, having previously given him military assistance to fight pro-government forces. Paris, however, denies this.
In June, Turkey and France nearly came to blows after a French warship attempted to inspect a Turkish vessel as part of a UN arms embargo against Libya.
"With that hysteria, he didn't know what to do. Right after that, he said our ships had harassed their ships in the eastern Mediterranean but couldn't document this and was humiliated," the Turkish minister said.
Cavusoglu also reiterated Ankara's position that France was the country provoking Greece the most in the eastern Mediterranean conflict, calling on Paris to cooperate with Turkey to accomplish regional stability.
He then stated mockingly, "There is no need for such hysterical behavior from France, it makes them look laughable. We are two NATO member countries."
Meanwhile, there was no immediate reaction to Cavusoglu's harsh criticism of Paris by Macron's Elysee office or the French foreign ministry.
France has also backed Athens in the east Mediterranean maritime dispute, taking part in joint war games with Italy, Greece and Cyprus amid conflicting Greek-Turkish claims to continental shelves in areas of exploration for oil and natural gas.
During his Friday remarks, Turkey's top diplomat also accused Greece of shunning dialog and lying after Greek Prime Minister Kyriakos Mitsotakis denied it had agreed to NATO-brokered talks aimed at de-escalating tensions in disputed waters in the eastern Mediterranean.
"Let threats go away so that the contacts can begin," Mitsotakis said earlier on Friday, prompting Cavusoglu to accuse him of "lying," saying, "Greece denied the secretary general's (remarks) but the one lying here is not the NATO secretary general, it's Greece itself. Greece showed once more than it's not in favor of dialog."
Ties between the two NATO allies have also deteriorated over conflicting policies in Syria, Libya, and they have exchanged accusations in recent weeks. Both countries are known to have backed and supplied militants waging terror in the war-ravaged Arab nations.
Meanwhile, Turkish President Recep Tayyip Erdogan last week lashed at the leaders of France and Greece.
Speaking at a ceremony commemorating Victory Day on Sunday, Erdogan called the leaders of the two European Union countries "greedy and incompetent" for challenging Ankara's energy exploration in the eastern Mediterranean. The occasion marked the defeat of the Greek army by the Turks in the Battle of Dumlupinar in 1922.
"Do Greeks accept what could happen to them because of their greedy and incompetent leaders?" asked Erdogan. "Do the French know the price they will pay because of their greedy and incompetent leaders?"
https://www.presstv.com/Detail/2020/09/05/633365/Turkey-Foreign-Minister-Mevlut-Cavusoglu-French-President-Emmanuel-Macron-Greece-Mediterranean-boundary-dispute-Syria-Libya
--------
Intra-Afghan Talks must Preserve 'Democratic and Human Rights': EU, Canada
By Mohammad Arif Sheva
07 Sep 2020
KABUL, Afghanistan – The EU Head of Mission in Kabul and the Ambassador of Canada said the upcoming Intra-Afghan talks must preserve the "democratic and human rights" of people in the country.
In a joint statement on Sunday, both representatives said achievements of the past two decades are "human rights, rule of law and democratic freedoms, including the increased respect for the rights and freedoms of women and girls" that should be considered during the peace negotiations.
"We especially urge for the full participation of women in all aspects of the negotiations," the statement said as quoted by local media.
It came at a time both the Afghan and Taliban delegation are preparing to hold Intra-Afghan talks that will determine not only the security but also the future of Afghanistan.
"There is no military solution to the conflict and the still unacceptably high level of violence is contrary to expectations of a meaningful peace process and the principles of the UN Charter," the statement read.
"We urge the Taliban to respect the desire of the citizens of Afghanistan and heed the UN Secretary-General's and the UN Security Council's unanimous call for an immediate unconditional, comprehensive, and nationwide ceasefire."
https://www.khaama.com/intra-afghan-talks-must-preserve-democratic-and-human-rights-eu-canada-2343/
--------
Imran Khan announces Rs 1.1 trillion package to address infrastructure issues in Karachi
Sep 6, 2020
KARACHI: Pakistan Prime Minister Imran Khan has unveiled a financial package worth Rs1.1 trillion to address the chronic municipal and infrastructure issues of Karachi, the country's financial hub, after record-breaking monsoon rains caused widespread devastation in the city and left at least 60 people dead. The rainfall spell which started in July and continued into August totally exposed the poor civic infrastructure including the drainage system of the city, prompting the federal government to take notice of the protests and complaints of the Karachites.
Khan, who visited Karachi on Saturday, unveiled the financial package at a joint press conference with the Sindh province Chief Minister Syed Murad Ali Shah and Governor, Imran Ismail.
While Khan's Pakistan Tehreek-e-Insaaf () party rules the centre and Punjab, Khyber Pakhtunkhwa and Baluchistan provinces, the Opposition Pakistan Peoples Party governs the southern Sindh province.
There had been a heated exchange of allegations by the ministers and Sindh government officials over who is responsible for the pathetic civic condition of Karachi.
The Prime Minister has formed a "Karachi Committee" which includes the PPP and other opposition party members and has said they will deal with Karachi's problems together.
Khan said all stakeholders will be involved in its implementation.
"The package we have brought for Karachi is historic," he said.
https://timesofindia.indiatimes.com/world/pakistan/imran-khan-announces-rs-1-1-trillion-package-to-address-infrastructure-issues-in-karachi/articleshow/77963453.cms
--------
World Assembly of Islamic Awakening: Zionists, US behind Sacrilege of Prophet Mohammad (PBUH)
Sep 06, 2020
"Charlie Hebdo's sinister insult is a continued deceitful plot and act done in recent years by the ominous triangle of the US, the international Zionism and the western front in the face of the spread of the culture and school of Islam and the implementation of Islamophobia in France," Velayati said on Sunday.
He added that forming and strengthening terrorist groups in the name of Islam, repeatedly insulting the character of the Prophet Mohammad (PBUH), tarnishing the image of Islam, making insulting videos and animations, etc. are among the insulting cultural actions along with military, political and economic measures such as terrorism, sanctions, bribery, war, compromise and deal which seek to hold Islam and Muslims back on the path of human advancement and civilization and prevent delivering of the message of peace and friendship of pure Islam to the hearts.
"The World Assembly of Islamic Awakening condemns this crime and the big insult to the great Prophet of Islam and calls on all Muslims of the world to thwart the conspiracies of the anti-Islam theorists and policymakers by carrying out such actions while maintaining vigilance and sharpness," Velayati said.
In relevant remarks on Friday, Iranian Parliament Speaker's Special Aide for International Affairs Hossein Amir-Abdollahian condemned the recent insulting moves against the Holy Quran and Prophet Muhammad (PBUH), terming them as the revival of ISIL terrorism.
"Charlie Hebdo blasphemy to Prophet Muhammad and desecration of Quran in Sweden are deemed as the resumption of Daeshi [ISIL] terrorism against Islam," Amir-Abdollahian wrote on his Twitter account.
"The abhorrent moves and extremism provocation have no room in democracy and freedom of expression; [they only] threaten the divine discourse, peace and security," he added.
https://en.farsnews.ir/newstext.aspx?nn=13990616000872
--------
Arab World
Lebanon Says It Will 'Abolish Kafala,' To Protect the Rights of Migrant and Domestic Workers
05 September 2020
Lebanon caretaker Labour Minister Lamia Yammine Douaihy said on Friday that she has issued an order abolishing the country's kafala system to ensure the rights of migrant and domestic workers are protected.
The kafala, or sponsorship, system ties workers to their employer, and under the system, migrant workers must obtain written permission to transfer employers and leave the country.
The move would allow "this group to obtain all of their contractual rights and benefit from wider social protection," Douaihy wrote in a tweet.
Human Rights Watch researcher Aya Majzoub noted that while the new unified labor contract for migrant workers is a first step, it does not abolish the kafala system.
Reforms to the system have been long sought by activists who say the current system is rife with human rights violations.
In March, activists and government officials, among others, met in Beirut to discuss reforms to the system.
More recently, the system has come under pressure as the country descends steadily into economic collapse and families who can no longer afford to support their live-in workers have thrown them out on the streets, often not returning their passports, leaving them stranded. Dozens of women have been dumped outside the Ethiopian embassy in Beirut.
"Their status in the country is regulated by the kafala system – a restrictive immigration regime of laws, regulations, and customary practices – that ties migrant workers' legal residency to their employer. Workers cannot leave or change employers without their employers' consent, placing them at risk of exploitation and abuse," read a Human Rights Watch report from July on the kafala system in Lebanon.
https://english.alarabiya.net/en/News/middle-east/2020/09/05/Lebanon-says-it-will-abolish-kafala-activists-say-new-measures-come-up-short
--------
Saudi King tells Trump that kingdom is eager to achieve fair solution to Palestinian issue
07 Sep 2020
Saudi Arabia's King Salman told US President Donald Trump in a phone call on Sunday that the kingdom was eager to achieve a fair and permanent solution to the Palestinian issue, which he said was the main starting point of the kingdom's proposed Arab Peace Initiative, the state news agency reported.
The leaders spoke by phone following a historic US brokered accord last month under which the United Arab Emirates agreed to become the third Arab state to normalise ties with Israel after Egypt and Jordan.
King Salman told Trump he appreciated US efforts to support peace and that Saudi Arabia wanted to see a fair and permanent solution to the Palestinian issue based on the Arab Peace Initiative proposed by the kingdom in 2002.
Under the proposal, Arab nations have offered Israel normalised ties in return for a statehood deal with the Palestinians and full Israeli withdrawal from territory captured in the 1967 Middle East war.
Saudi Arabia, the birthplace of Islam and site of its holiest shrines, does not recognise Israel.
However, this month the kingdom said it would allow flights between UAE and Israel, including by Israeli airliners, to use its airspace.
White House adviser and Trump son-in-law Jared Kushner has said he hopes another Arab country normalises ties with within months.
No other Arab state has said so far it is considering following the UAE.
King Salman's son, Crown Prince Mohammed bin Salman, and Kushner discussed the need for the Palestinians and the Israelis to resume negotiations and reach a lasting peace after Kushner visited the UAE last month.
The UAE-Israel deal was met by overwhelming Palestinian opposition.
https://www.dawn.com/news/1578388/saudi-king-tells-trump-that-kingdom-is-eager-to-achieve-fair-solution-to-palestinian-issue
--------
Saudi imam faces criticism after sermon seen as prelude to normalization with Israel
07 September 2020
Abdulrahman al-Sudais, the imam of the Grand Mosque of Mecca, is facing criticism over a sermon that was interpreted as a prelude to Saudi Arabia's normalization with Israel.
In a Friday sermon, Sudais spoke about dialogue and kindness to non-Muslims, clearly referencing to Jews.
His comments came less than a month after the United Arab Emirates and Israel reached a US-brokered deal to normalize relations, amid speculation other Persian Gulf Arab states, including Saudi Arabia, would follow suit.
Sudais called on worshipers to avoid "any misconceptions about correct beliefs in the heart coexisting with having healthy dealings in interpersonal exchanges and international relations".
"When the course of healthy human dialogue is neglected, parts of people's civilizations will collide, and the language that will become prevalent is one of violence, exclusion and hatred," he said.
His remarks caused a stir on social media, with many users accusing Sudais of exploiting the platform of Islam's holiest mosque to promote normalization that undermines the Palestinian cause.
His sermon also referred to the status of al-Asqa Mosque in Jerusalem al-Quds.
Sudais said al-Asqa Mosque had been "taken prisoner", adding, "This is an issue that is of utmost priority to the people of Islam and it must not be forgotten amid new struggles that appear."
"It must be kept in mind, but without exaggerations in the media or battles on the internet."
At the end of his sermon, the imam prayed to God to "rescue al-Aqsa Mosque from the clutches of the aggressors" and allow it to be "a revered location until the day of reckoning".
Justifying normalization and at the same time praying for saving al-Aqsa from the aggressors was deemed as a contradiction by social media users, many of whom accused the imam of betraying the Palestinian cause.
The Palestinian resistance movement of Hamas on Friday called on Saudi Arabia and Bahrain to stop helping the UAE implement its normalization deal with Israel, after the two countries opened their airspace to flights between Israel and the UAE.
Hamas spokesman Hazem Qassem said that backing the UAE in implementing the deal would embolden the Israeli regime to "commit more crimes."
The first direct flight between Israel and the UAE was conducted on Monday through the Saudi airspace.
Meanwhile, Saudi Arabia's King Salman told US President Donald Trump in a phone call on Sunday that the kingdom wanted to see a fair and permanent solution to the Palestinian issue based on the so-called Arab Peace Initiative.
The so-called Arab Peace Initiative, which was proposed by Saudi Arabia in 2002, calls on Israel to agree to a "two-state solution" along the 1967 lines and a "just" solution to the Palestinian refugee issue.
https://www.presstv.com/Detail/2020/09/07/633503/Saudi-imam-slammed-normalization-Israel
--------
US, Israel spy services blew up Beirut port: Lebanese party
07 September 2020
A Lebanese political party says it was the American and Israeli spy services that set off last month's hugely deadly explosion at the capital Beirut's port.
"Beirut's port was blown up by American and Israeli spy services," Najah Wakim, president of the People's Movement, told Lebanon's al-Mayadeen television network on Sunday.
"The FBI, the US's criminal investigation organization, has announced a probe into the August 4 explosion in order to hide the reality that lies behind the blast," he added.
At least 190 people died, more than 6,500 others were injured, and a substantial swathe of Beirut was destroyed in the explosion caused by some 2,700 tonnes of ammonium nitrate at the port.
"They're after hiding the truth similar to what happened in the case of former prime minister Rafiq Hariri's assassination," Wakim said. He was referring to a 2005 explosion in Beirut that killed the ex-premier and others, setting off a supposedly United Nations-backed investigation and an endless trend of questions.
Future will prove Washington's role in the tragedy, Wakim added, saying the Americans sent French President Emanuel Macron to Lebanon to prevent the implementation of an innovative Russo-Chinese intervention in the aftermath of the explosion.
Macron first visited Beirut soon after the explosion and paid another visit to the city last Tuesday, dishing out ultimatums to the Lebanese officials to implement "reforms" or face "sanctions."
The explosion has been followed by serious other upheavals in the country, including thousands-strong rallies, attempts at breaking into the parliament by the protesters, and the resignation of the entire government of former prime minister Hasan Diab.
The Lebanese resistance movement of Hezbollah that defends the country against Israel and interventionist efforts by Tel Aviv's allies, most notably the United States, has called for accountability for the explosion, while strongly urging countrywide unity and integrity.
https://www.presstv.com/Detail/2020/09/07/633509/Lebanon-United-States-Israel-spy-agencies-Beirut-explosion
--------
Iraqi Parliament's Defense Commission Opposes Direct Talks with Turkey
Sep 06, 2020
Chairman of the Security and Defense Commission Mohammadreza Al-e Haider was quoted by the Arabic-language Wa'a news agency as saying on Sunday that Turkey's insistence on violation of Iraq' sovereignty leaves the parliament with no other choice but to oppose direct talks.
"Our precondition for talks is Turkey's withdrawal from the Iraqi borderlines which is now under occupation," he added.
Al-e Haider called for an extraordinary meeting of the AL or the OIC to study the issue.
Meantime, another member of the Commission, Kate'e Najman al-Rakabi, called on the Iraqi government to file a complaint at the UN Security Council against Turkey.
Turkey resumed airstrikes on the Yazidi heartland of Sinjar in Northern Iraq on Aug. 25 after first attacking the area in mid-June. Turkish airstrikes have been going on for months in other parts of Iraq's Kurdistan region.
The Turkish drone struck an Iraqi border guard convoy in the Bradost area, North of Erbil. The strike that killed two senior officers was part of Turkish operations by land and air against the Kurdistan Workers Party (PKK) in parts of the Kurdistan Region of Iraq.
Following the incident, Iraq's Foreign Ministry summoned Turkey's Ambassador to Iraq Fatih Yildiz Aug. 12, calling the strike an act of aggression and a violation of the country's sovereignty. The Iraqi government canceled the Turkish defense minister's visit to Baghdad and other scheduled visits by Turkish officials to Iraq.
https://en.farsnews.ir/newstext.aspx?nn=13990616000917
--------
Street in Beirut renamed after slain Iranian general Qassem Soleimani, photos suggest
Yaghoub Fazeli
September 07, 2020
A street in the Hezbollah-dominated southern suburbs of the Lebanese capital Beirut has been renamed after slain Iranian general Qassem Soleimani, according to images shared on social media.
Images of a street sign in Beirut that read "Martyr Hajj Qassem Suleimani Street" emerged on Twitter on Sunday, drawing criticism from Arab and Lebanese users.
The street, previously named "Fantasy World," was renamed by the Ghobeiry municipality in Beirut's southern suburbs, an area known as "dahiyeh" that has often been described as a Hezbollah stronghold.
By law, street name changes in Lebanon must be approved by the country's interior ministry. It is unclear whether the ministry has approved the name change in this case.
Some Arab and Lebanese users have criticized the name change, interpreting it as another sign of Iran's influence in Lebanon.
"If it could, the Ghobeiry municipality would rename the capital Beirut 'Hajj Qassem Soleimani'," one Lebanon-based journalist tweeted in Arabic.
Shia Lebanese cleric Muhammad Ali al-Hussaini, who is critical of Iran and Hezbollah, described the name street name in an Arabic tweet as a "provocation" and "a blatant challenge to the feelings of the Lebanese and Arabs who know Soleimani as a terrorist who left his destructive stamp in a large number of Arab countries."
Soleimani, who headed the Quds Force, the overseas arms of Iran's Islamic Revolutionary Guard Corps (IRGC), was killed by a US airstrike at Baghdad's international airport on January 3.
https://english.alarabiya.net/en/News/middle-east/2020/09/07/Street-in-Beirut-renamed-after-slain-Iranian-general-Qassem-Soleimani-photos-suggest
--------
North America
US, Israel building a ring of fire around Iran: Former American diplomat
05 September 2020
By J. Michael Springmann
In my view, the basis for Jared Kushner's trips to the Middle East can be divided into two parts:
One, of course, is his support for Israel and his efforts to end the Palestinian problem for the Israelis by getting Arab states to disavow support for the Palestinians and to ensure that their interests -- their rulers' interests, rather -- are best served by trade and diplomatic deals with the Israelis. The Apartheid Entity has been working for years to establish relationships with the United Arab Emirates, and, apparently, from what I've seen, they've been trying to do the same thing with a number of other countries in the region. Certainly, there's been plenty of cooperation between the Israelis and the Saudis. It wasn't that long ago that the Saudis permitted EL AL overflights to India, and they permitted the overflight of the plane carrying Israeli officials and Jared Kushner along with US national security adviser Robert O'Brien, former U.S. envoy for Iran Brian Hook, and envoy for Middle Eastern affairs Avi Berkowitz to the United Arab Emirates.
But, Two, I think the major point of all this, for the which Palestinian problem is simply a cover, is that Trump is reacting to his repeated defeats in the United Nations. He is attempting to put more sanctions on Iran and trying a snapback of the weapons sanctions against Iran that are going to expire in October, just next month. So I think what they're trying to do is show Trump is opposing Iran and bypassing the United Nations, bypassing the wishes of many Americans. Although I think there are too many Americans who support Israel and its goals.
The real issue is to ring Iran with a group of hostile Arab States under the flag of Israel, with United States and Saudi Arabia support. Certainly the (Persian) Gulf Cooperation Council, set up by the Saudis back, I think, in the 1980s, comprises some of the most repressive, repulsive and medieval governments in the world. And they oppress their own people. They object to any kind of democracy. They object to giving any kind of aid and comfort to their Shia populations. And they all detest and despise Iran and will do anything to harm Iran. And Trump and Israel are working hard to present a United Front against Iran throughout the Arabian Peninsula. You've got American bases, of course, in Kuwait, and in Bahrain - the home of the Fifth Fleet, which has no business being in the Persian Gulf. So, I think you're going to see American bases or Arab bases all along the southern shore of the Persian Gulf, and they're all going to be aimed at Iran. Certainly, at Al Udeid Air Base, there's some 10,000 American servicemen and it has runways long enough for the largest American bombers like the antiquated B52. So the whole purpose, then , is to ring Iran with fire, either American fire or Israeli and Arab fire. I can't see how any Arab states can do this but then these are not Arab states. They're statelets. They are leftover from the British occupation of the region in the 19th century, and they are basically lines drawn on the map rather than real countries. Prior to discovering oil, the primary basis for their economies was pearl diving.
So, I think that you're forging alliances with countries that are divorced from their own people. Hopefully, in the future, the people will rise up against their oppressive rulers and put an end to this nonsense the American cooked up. Unfortunately, now, the program seems to be going very well and Kushner and company are bragging that they assume more Arab states will be joining the United Arab Emirates. Obviously you'll see Saudi Arabia in there. While they have been coy about what their plans, they are the controlling force in the region and they've been negotiating secretly with the Israelis for years. I think that they will eventually get control 0of the entire Peninsula, with the exception of Yemen, that the Saudis and the UAE have not yet destroyed. Unfortunately, it's a very bad future from a very bad scenario. We can only hope that the people will rise up in the Persian Gulf countries and overthrow their corrupt, incompetent, illegitimate governments, thus putting an end to this (Persian) Gulf Cooperation Council.
J. Michael Springmann is a former American diplomat, and political commentator based in Washington, DC. He had formerly worked at the US Commerce Department's International Trade Administration and as a diplomat with the US Department of State. He had been assigned to Germany, India, Saudi Arabia, and the Bureau of Intelligence and Research in Washington, DC.
He's the author of two books, Visas for Al Qaeda: CIA Handouts That Rocked the World: An Insider's View and Goodbye, Europe? Hello, Chaos?: Merkel's Migrant Bomb.
https://www.presstv.com/Detail/2020/09/05/633401/US,-Israel-attempting-to-establish-a-ring-of-fire-around-Iran
--------
Healing Black-Jewish and Muslim-Jewish divides
September 4, 2020
Ari Gordon
(RNS) — Some in our communities consider our friendship peculiar. What could an Orthodox Jewish academic from New York and an African American imam raised in North Carolina have in common?
But over the years we have built trust on a foundation of mutual respect and joint action. We visit, learn about, and teach in one another's faith communities. We stand in solidarity when the other's people are attacked. Above all, we nurture a bond of brotherhood through our shared human experience.
We have been pained to see a growing rift between African Americans and American Jews, as loud — even if not representative — voices hurl conspiratorial accusations and hateful rhetoric.
Those in our communities and without who prefer to sow seeds of division for political gain often trade on the lack of personal connections between the two communities and perceptions that are too often built upon ignorance of the other. For Jews and Muslims, meanwhile, the Israeli-Palestinian conflict presents a further challenge on the path toward Black-Jewish unity.
To counter these sources of division, we support initiatives such as #BlackJewishUnityWeek, a new collaboration of the American Jewish Committee and the National Urban League that begins Monday (Sept. 7). This partnership extends a proud history of shared struggle for civil rights to help America fulfill its promise of equal opportunities and justice for all.
But rapprochement between African Americans and Jews also carries the potential to bridge divides between Jews and African American Muslims, who make up 20% of all Muslims in the U.S. We can draw on shared religious values, a common empathy for the downtrodden, and a dire need for allies in the parallel fights against anti-Semitism and racism.
Our respective religious heritage, a pillar of identity for both groups, mandates that we embrace diversity, oppose inequity, elevate justice and encourage partnership.
The Quran teaches that from a single soul Almighty God created diverse expressions of human life — "male and female, nations and tribes" — to stimulate our curiosity to know one another and that differences in our "tongues and colors" point to God's greatness. The Talmud echoes the sentiment when it explains that humanity was created from a single person, Adam, to affirm the unity of the Creator, the equality of all, so that we might marvel in the sacred splendor of our diversity.
The holy texts of both traditions are replete with calls to justice, as when the Quran proclaims that "God's word is fulfilled in truth and justice" and when the prophet Zachariah demands "justice with truth, and mercy towards one another."
In America, great leaders of our communities manifested these values in action. Rabbi Abraham Joshua Heschel taught that "no religion is an island" and demonstrated just what he meant by marching alongside the Rev. Martin Luther King Jr. in Selma. Imam W. Deen Mohammed, the American Muslim leader who passed away in 2008, regularly preached the unity of the human family, an ideal that underpinned his rejection of racial supremacy and his decades of active interfaith cooperation with Jews and Christians.
Both of our communities know suffering, whether it be exile, genocide, slavery or discrimination. Neither of our communities' experiences as Americans or people of faith can be fully articulated without reference to oppression.
The two of us feel this heritage personally: One of us descends from enslaved Africans, torn from their homes and robbed of their humanity, mistreated, oppressed and degraded; the other from survivors of the Holocaust, their culture decimated and families exterminated by Nazi hatred and barbarism. We reject competitive victimization. Rather, our legacies of oppression call us to empathy with those in pain and to action.
Year after year the FBI reports that anti-Black violence dominates race-based hate crimes in our country. Jews remain the major target of crimes based upon victims' religion, while Muslims experienced the greatest increase in hate crimes in three of the last four years.
To push back against the rise in hate crimes, we joined the Muslim-Jewish Advisory Council (MJAC), co-convened by AJC and the Islamic Society of North America. MJAC's work to fight prejudice and bridge social divides is a tangible expression of our religious values and the lessons of oppression in action.
As American Jews and African American Muslims, we can dispense with the toxicity of mutual suspicion and reciprocal disparagement to write a new chapter of cooperation.
It is our hope that our partnership might bless this country as Imam Mohammad did in 1992, when he offered the first invocation by a Muslim before the U.S. Senate, that America "live as a prosperous nation of 'many in one' and as a people of faith taking pride in human decency, industry and service," and that "her big heart for charity, compassion, repentance, and mercy continue to beat strongly within all of us."
https://religionnews.com/2020/09/04/healing-black-jewish-and-muslim-jewish-divides/
--------
India
'Pakistan, China Planning Against Us': BSF Chief to Jawans On Visit to LoC
Ravi Krishnan Khajuria
Sep 07, 2020
On the last leg of his three-day visit to Jammu region, director general of Border Security Force Rakesh Asthana visited Line of Control (LoC) in Rajouri and Poonch sector underscoring the force being the first line of defence on the border, urging it to be wary as both "China and Pakistan are planning against us".
Though the Army has the operational command of the 744-km long LoC, the BSF has also been deployed to assist the former.
"On Sunday, the third day of his visit, Director General of Border Security Force, Rakesh Asthana visited various forward defence locations in Poonch and Rajouri sector and took stock of the situation. He was accompanied by SS Panwar, ADG (WC) and NS Jamwal, IG BSF, Jammu Frontier," said an official spokesperson.
The DG was briefed by ID Singh, DIG Rajouri and field commanders on the LoC regarding the operational preparedness and situation.
Appreciating the measures adopted by the troops while maintaining domination, the DG emphasised on meeting the security challenges more effectively.
Lauding the excellent synergy amongst all the security forces, the DG exhorted all ranks to maintain a high standard of discipline and professionalism.
He also addressed Sainik Sammelan in the BSF Paloura Camp Jammu and said that since Pakistan and China were planning against India, the BSF's role became more important in guarding the borders.
"This is a very crucial time for all, as both our neighbouring countries are planning against us. So, our role has become more important now as we are the first line of Indian defence," the spokesperson quoted the DG as saying.
He was very appreciative of the vigilant BSF jawans who guard the nation's border 24x7 defying all hostile conditions.
https://www.hindustantimes.com/india-news/pakistan-china-planning-against-us-bsf-chief-to-jawans-on-visit-to-loc/story-EYkDZLzPuEUwfBQKxq8fOO.html
--------
NIA To Send Investigative Team To Probe Kabul Gurdwara Attack
By Mohammad Haroon Alim
07 Sep 2020
India's National Investigation Agency will send a team to Kabul to investigate the Gurdwara attacks in March, which left 27 dead including an Indian citizen.
It's the first mission of this agency to probe a terror act against an Indian outside the country's soil.
India Today reported on Sunday, A team of 3 to 4 investigative members will leave for Kabul to investigate their first mission, following an amendment to the NIA which allows this agency to investigate terrorism against Indians and Indian interests abroad.
Due to security concerns, officials have not provided further detail, but reports show the team is hopeful to gain access to several prisoners involved in the attack.
The attack on Gurdwara was claimed by ISIK. The suicide attackers also involve an Indian doctor affiliated with ISIK -'Ijas Kallukettiya Purayil', whose son and wife are currently in prison in Kabul.
https://www.khaama.com/nia-sends-investigative-team-to-probe-kabul-gurdwara-attack-876654/
--------
J&K: Soldier killed; 2 others injured as Pakistan violates ceasefire
September 6, 2020
An Indian Army soldier was killed and two others were injured in firing and mortar shelling by Pakistan along the Line of Control (LoC) in north Kashmir's Kupwara district on Saturday.
The Army said it has given a "befitting response to the ceasefire violation".
According to officials, Pakistani troops opened fire on Indian positions in the Naugam sector of Kupwara on Saturday morning. This was followed by intense mortar shelling on Indian pickets.
Indian soldiers responded and a soldier was killed and two others were injured during the exchange.
"Pakistan initiated unprovoked ceasefire violation (CFV) along the LoC in Naugam sector in the morning of September 5 by firing mortars and other weapons," Defence spokesman Col Rajesh Kalia said, adding, "One soldier laid down his life in the line of duty. Two soldiers sustained injuries and have been evacuated to 92 Base Hospital (in Srinagar). Their condition in stable."
Sources said the exchange of fire and mortars was intense and rare in this sector. While there has been a surge in cross-LoC firing in Jammu's Rajouri and Poonch sectors, the Valley has relatively seen fewer such incidents.
https://indianexpress.com/article/india/jk-soldier-killed-2-others-injured-as-pakistan-violates-ceasefire-6584851/
--------
Europe
UK could explore arms embargo as option to bring Iran into line: Defense Minister
Tommy Hilton and Omar Elkatouri
06 September 2020
The UK could explore the option of extending the arms embargo on Iran as a means of bringing Tehran's destabilizing regional behavior into line, said the UK's Secretary of State for Defense Ben Wallace, despite the country voting against the US proposal to extend the embargo at the UN Security Council.
In a wide-ranging exclusive interview with Al Arabiya, Wallace discussed how the UK still believes in the 2015 Iran nuclear deal as the best way of containing Iran's threat to the region, despite the Iranians breaching the deal and the US withdrawing from it.
For all the latest headlines, follow our Google News channel online or via the app.
Although the UK voted against extending the current UN arms embargo on Iran along with Germany and France, Wallace told Al Arabiya that an arms embargo is a tool that the UK government could explore in the future.
"Whoever breaches it [the Iran nuclear deal], causes us problems so we have to try and get to a place where we bring people back into line. Returning to the arms embargo, or not lifting the arms embargo, it is one of the tool that we can all explore. For now we are trying to bring them back into compliance. The arms embargo doesn't come out for a few weeks, that is where we can make other decisions," he said.
Wallace also clarified that the UK would not have a military relationship with Iran regardless of the lifting of the arms embargo, and had not sold arms to Tehran for many years due to its support for terrorism and destabilizing activities.
"Iran's behavior in the region, supporting terrorism, it's supporting terrorism, it's supporting destabilizing activities around the region everywhere from the Lebanese Hezbollah, all the way to the Houthis in Yemen. All of that means the UK is not in any way interested in engaging with military cooperation with Iran or arms sales that are currently threatening all of our shipping in the Strait of Hormuz," he said.
The arms embargo is set to expire on October 18, 2020.
Deep, historic relations with Saudi Arabia
Wallace also said that the UK and Saudi Arabia have deep, historic relations ahead of his upcoming visit to the Kingdom.
"We have been side by side nearly a hundred years on many issues, Saudi Arabia and the United Kingdom. Our relationship is deep, it's long and it is not just about defense industrial sales and defense partnering," he told Al Arabiya.
The UK helps keep Saudi Arabia safe from attacks by Iran or the Iran-backed Houthi militia in Yemen, explained Wallace, adding that the UK would continue to sell arms to Saudi Arabia.
Wallace is set to visit the Kingdom this week, where he will meet with Saudi Arabia's deputy defense minister and a range of other defense and military officials and partners.
https://english.alarabiya.net/en/features/2020/09/06/UK-could-explore-arms-embargo-as-option-to-bring-Iran-into-line-Defense-Minister
--------
UN chief warns of famine risk in four conflict-struck countries, including Yemen
05 September 2020
UN Secretary-General Antonio Guterres warned that there is a risk of famine and widespread food insecurity in four countries affected by conflict - Congo, Yemen, northeast Nigeria and South Sudan - and the lives of millions of people are in danger.
In a note to Security Council members obtained by The Associated Press on Friday, the UN chief said the four countries rank "among the largest food crises in the world," according to the 2020 Global Report on Food Crises and recent food security analyses. But funding to help is very low, he said.
"Action is needed now," Guterres said. "Having endured years of armed conflict and related violence, the people of the Democratic Republic of the Congo, Yemen, northeast Nigeria and South Sudan are again facing the specter of heightened food insecurity and potentially famine."
For all the latest headlines follow our Google News channel online or via the app.
The UN chief said key indicators "are similarly deteriorating" in a number of other conflict-hit countries including Somalia, Burkina Faso and Afghanistan.
"The situation varies from country to country, but civilians are being killed, injured and displaced; livelihoods are destroyed; and availability of and access to food disrupted, amid growing fragility," Guterres said. "At the same time, humanitarian operations are attacked, delayed or obstructed from delivering life-saving assistance."
He said food insecurity in conflict-affected countries "is now further exacerbated by natural disasters, economic shocks and public health crises, all compounded by the COVID-19 pandemic."
UN humanitarian chief Mark Lowcock said in an interview with AP that the economic fallout from the pandemic including lock downs, border closures and restrictions on movement have all had "a big effect on food security and agricultural productivity."
And extremists have taken the opportunity "to make hay out of all this," he said.
"Everybody is very preoccupied by COVID and the virus," Lowcock said. But "it is not the virus that's creating most of the carnage. It is other things, and we need to focus on the things that will really cause the biggest loss of life."
Lowcock said many of those things are consequences of COVID-19 – the economic contraction, the declining availability of basic public services, "the insecurity into which extremist groups are occupying themselves."
He said a lot of effort has gone into things like providing personal protective equipment, public information campaigns on the virus, water and sanitation campaigns, "all of which are good things."
"But if you do those at the expense of basic humanitarian needs in these badly affected places, what you end up with is not a reduction in loss of life but an increase in loss of life," Lowcock said.
He said having four countries meet the requirement in a 2018 Security Council resolution to report to the council when the risk of conflict-induced famine and widespread food insecurity occurs is highly significant.
According to the secretary-general's note, escalating violence in volatile eastern Congo "is again driving disastrous levels of food insecurity and hunger," and the latest analysis "indicates that over 21 million people are in crisis or worse levels of acute food insecurity."
With only 22 percent of the UN humanitarian appeal currently funded, Guterres said, "core programs will need to be reduced or suspended."
In Yemen, where the international community mobilized to prevent famine two years ago, he said, "the risk is slowly returning." Escalating conflict and economic decline brought the Arab world's poorest nation to the brink of famine two years ago, and similar conditions and worsening key indicators are emerging today, he said.
A recent survey indicated that 3.2 million people in government-controlled areas are now "highly food insecure," and food prices are 140 percent higher than averages before the conflict began in 2015, Guterres said. "But with only 24 percent of humanitarian requirements funded in 2020, agencies are now forced to reduce or close core programs."
In northeast Nigeria's Borno, Adamawa and Yobe states, he said, "alarming levels of food insecurity and hunger have arisen largely as a result of the actions" of extremists affiliated with armed groups.
Guterres said estimates suggest more than 10 million people in the three states - about 80 percent of the population - need humanitarian assistance and protection, an almost 50 percent increase since last year and the highest recorded since humanitarian operations began. Yet, the UN appeal is only 33 percent funded, its lowest level, he said.
In South Sudan's Jonglei and Greater Pibor administrative area, Guterres said the situation deteriorated rapidly in the first half of 2020, "fueled by escalating violence and insecurity," Guterres said.
Fighting has been accompanied by widespread attacks on agricultural and pastoral land and the looting of livestock and food, leaving more that 1.4 million people in the area "facing crisis or worse levels of acute food insecurity, he said. In addition, at least 350,000 children suffer from severe or moderate acute malnutrition."
Guterres said the latest outlook from the Famine Early Warning Systems Network "is flagging worsening catastrophe conditions ... in areas affected by the violence."
Lowcock said "there's a paradox" because overall UN humanitarian funding is ahead of 2019, which was a record year.
"But the money is not following the greatest need," he said. "Some of our appeals are relatively well funded, but some of the places where the problems are worst are poorly funded - Nigeria, Yemen, Congo, they're all in that category."
https://english.alarabiya.net/en/News/middle-east/2020/09/05/UN-chief-warns-of-famine-risk-in-four-conflict-struck-countries-including-Yemen
--------
Turkish defense chief to meet senior NATO official
Sarp Ozer
07.09.2020
Turkey's defense minister on Monday will meet with the head of the NATO Military Committee.
Hulusi Akar and NATO's Stuart Peach will gather at the National Defense Ministry building in the capital Ankara.
The meeting comes after NATO Secretary General Jens Stoltenberg announced Friday that talks had started between Turkey and Greece to resolve tensions over the Eastern Mediterranean.
On Thursday, Stoltenberg had said that Ankara and Athens agreed to enter into technical talks at NATO to reduce the risk of incidents and accidents in the Eastern Mediterranean, which the Greek government denied later on.
Greece has disputed Turkey's current energy exploration in the region, trying to box in Turkish maritime territory based on small islands near the Turkish coast.
Turkey -- the country with the longest coastline on the Mediterranean -- has sent out drill ships to explore for energy on its continental shelf, saying that Turkey and the Turkish Republic of Northern Cyprus (TRNC) have rights in the region.
https://www.aa.com.tr/en/europe/turkish-defense-chief-to-meet-senior-nato-official/1965130
--------
Palestine: Serbia moving embassy to Jerusalem illegal
Mustafa Talha Öztürk
05.09.2020
The announcement by Serbia to move its embassy from Tel Aviv to Jerusalem is contrary to international law and UN resolutions, Palestine's ambassador to Belgrade said Friday.
Mohammed Nabhan's remarks came after Washington announced Serbia is committed to moving its embassy.
"That is, as far as it happens, contrary to international law and to
UN resolutions relating to the Palestinian question and to Jerusalem as an occupied city and that it harms the rights of the Palestinian People to exercise its state in all the territories that Israel occupied in 1967 including Jerusalem," said a statement from the embassy.
Harmful to Serbia-Palestine friendship
Nabhan said the decision would strain relations between the two countries.
"There is no doubt that this would harm the traditional friendship between Palestine and Serbia and would not serve this development," said Nabhan, adding that he is considered a friend to Serbia and the Serbian people and he is hoping friendly Serbia would distance itself from statements form Washington.
Serbian and Kosovar leaders met in a US-sponsored two-day dialogue in Washington where they reached an historic milestone -- agreeing to normalize economic ties.
Serbia and Kosovo signed separate agreements with the US in which Serbia agreed to move its embassy to Jerusalem. Kosovo and Israel agreed to normalize relations and establish diplomatic ties.
https://www.aa.com.tr/en/europe/palestine-serbia-moving-embassy-to-jerusalem-illegal/1963692
--------
South Asia
Rohingya tour islet marked for relocation by Bangladesh
SM Najmus Sakib
05.09.2020
DHAKA, Bangladesh
Bangladesh on Saturday took a group of Rohingya refugees to inspect a tiny islet near its coast, where it hopes to relocate the persecuted community despite widespread criticism of the plan.
A total of 40 Rohingya refugees were taken to Bhashan Char, an islet in the Bay of Bengal around 50 kilometers (31 miles) off Bangladesh's southwestern coast.
Accompanied by Bangladesh army and navy personnel, the Rohingya community members will remain on the islet for three days.
"They will have the chance to thoroughly inspect the island and the facilities constructed by the Bangladesh government, which include buildings that can house up to 100,000 people," said Mohammad Shamsu Douza, a top official working on refugee affairs in Bangladesh.
"The group can evaluate the living conditions and decide whether the land is suitable for relocation."
There are around 1.2 million Rohingya refugees in Bangladesh who sought shelter in the country after fleeing state persecution and genocide in neighboring Myanmar.
They have been living in one of the world's largest refugee settlements in Cox's Bazar in southeastern Bangladesh.
Dhaka has been pressing for the community to return to Myanmar but the Rohingya oppose repatriation due to persisting threats to their lives.
Prickly proposal
Bangladesh came up with a plan to relocate the community to the Bhashan Char islet, but the move has been widely criticized by rights groups and refugee agencies.
Some have said the new location will be nothing but "an open-air prison" for the Rohingya community.
The group taken to the islet on Saturday did not include any representatives from international organizations, a point that Douza refused to comment on.
However, he claimed that Bangladesh remains keen to facilitate a visit of UN agencies to the island.
A UN official told Anadolu Agency that any relocation must be voluntary and can only commence after a thorough evaluation by competent authorities.
"The UN's longstanding position remains that comprehensive technical and protection assessments to evaluate the safety and sustainability of life on Bhasan Char are essential before any relocations to the island take place, and that any relocations should be voluntary," said Mostafa Mohammad Sazzad Hossain, a UN Refugee Agency (UNHCR) communications officer in Dhaka.
"Go-and-see visits are one important part of ensuring refugees can make an informed choice about voluntary relocation to the island. The safety and protection of refugees are the most important considerations, as is the need for any relocation to be voluntary."
He said the agency remains "prepared to proceed with this onsite assessment work."
"However, the UNHCR has neither been involved in this visit nor [was it] requested to support it," Hossain said.
World's most persecuted people
According to Amnesty International, more than 750,000 Rohingya refugees, mostly women and children, fled Myanmar and crossed into Bangladesh after Myanmar forces launched a crackdown on the minority Muslim community in August 2017, pushing their number in Bangladesh above 1.2 million.
Since Aug. 25, 2017, nearly 24,000 Rohingya Muslims have been killed by Myanmar's state forces, according to a report by the Ontario International Development Agency (OIDA).
More than 34,000 Rohingya were also thrown into fires, while over 114,000 others were beaten, said the OIDA report, titled Forced Migration of Rohingya: The Untold Experience.
As many as 18,000 Rohingya women and girls were raped by Myanmar's army and police, and over 115,000 Rohingya homes were burned down, while 113,000 others were vandalized, it added.
https://www.aa.com.tr/en/asia-pacific/rohingya-tour-islet-marked-for-relocation-by-bangladesh/1964208
--------
Afghan government troops repel Taliban offensive in Kandahar
06 September 2020
Afghan security forces have repelled an overnight attack by the Taliban and killed at least 10 members of the militant group in the southern province of Kandahar.
Afghanistan's Defense Ministry said Sunday the fatalities took place in the Shah Wali Kot district of Kandahar late Saturday and that the Taliban's "attack was pushed back by the security forces."
Security forces, he said, also destroyed four Taliban motorbikes.
In recent weeks, the Taliban have staged almost daily battlefield attacks across various parts of the war-ravaged country.
Last Thursday, the militants killed four civilians during clashes with Afghan forces in the central flood-hit Parwan province. At least one Afghan soldier was reportedly killed and two others were injured in the fierce fighting in the troubled region.
The spike in violence comes as talks between the Taliban and the Afghan government have stalled again in the wake of a controversial prisoner swap.
The exchange, part of a deal between the Taliban and the United States, was considered a prelude to peace talks that were initially due to begin between the militants and Kabul in March.
Under the deal with the US, the militant group agreed to stop its attacks on foreign forces in return for the US military's withdrawal from Afghanistan and the prisoner swap with the government.
The Afghan government is a party neither to the negotiations nor to the deal, but it has been acting in accordance with its terms, including by agreeing to free Taliban prisoners.
Official data shows bombings and other assaults by the Taliban have surged 70 percent since the militant group signed the deal with the United States in February.
Washington invaded Afghanistan and toppled the Taliban-run government in 2001 on the pretext of fighting terrorism following the September 11 attacks in New York.
The militants control more lands than ever since the ouster, while many parts of the country remain plagued by militancy despite the presence of foreign troops.
https://www.presstv.com/Detail/2020/09/06/633438/Afghan-security-forces-Taliban-attack-Kandahar
--------
Narayanganj mosque blast: petition seeks Tk 50 lakh compensation from Titas for each victim's family
September 07, 2020
A writ petition was filed with the High Court today, seeking its order upon the authorities concerned of Titas Gas Ltd to give Tk 50 lakh in compensation to each family of victims, who died and suffered injuries from the Narayanganj mosque blast.
Twenty-six people have so far died and several others suffered injuries from the explosion at Pashchim Talla Baitus Salam Mosque of Narayanganj after Esha prayers on Friday.
There has been widespread allegation that the explosion was caused by gas that leaked from underground pipeline and accumulated inside the ground floor of the mosque.
Supreme Court lawyer Mar-um Khondaker submitted the writ petition this morning as a public interest litigation to the HC, praying to the government to identify the persons responsible for the negligence in repairing the gas pipeline which reportedly caused the explosion.
In the petition, she said officials of Titas Gas Ltd have reportedly sought Tk 50,000 from the mosque committee to repair the leakage of gas pipeline.
The Titas Gas Ltd did not repair the gas line as its officials were not given the money, Mar-um Khondaker told The Daily Star.
The lawyer said the HC may hold hearing on the writ petition tomorrow.
https://www.thedailystar.net/country/news/narayanganj-mosque-blast-petition-seeks-tk-50-lakh-compensation-titas-each-victims-family-1957241
--------
Pakistan
Army will win hybrid war with nation's help: Bajwa
Aamir Yasin
07 Sep 2020
RAWALPINDI: Chief of the Army Staff (COAS) Gen Qamar Javed Bajwa has warned against efforts he said being made to discredit the country and its armed forces and said that army with the cooperation of the nation will win the "fifth generation or hybrid war".
"We are facing the challenge that has been imposed on us in the form of the fifth generation or hybrid war. Its purpose is to discredit the country and its armed forces and spread chaos. We are well aware of this danger. We will surely succeed in winning this war with the cooperation of the nation, by the will of Almighty Allah," Gen Bajwa said at a ceremony held at the General Headquarters on Sunday as part of celebration of Defence and Martyrs' Day.
On the occasion, he conferred awards on military personnel for acts of gallantry during various operations.
The families of the martyrs and Ghazis, senior serving officers and soldiers attended the ceremony. As many as 40 officers were awarded Sitara-i-Imtiaz (military), 24 officers and soldiers were awarded Tamgha-i-Basalat and a soldier was awarded the United Nations Medal. The medals of the martyrs were received by their family members.
Warns against efforts to discredit armed forces; rejects any unilateral decision on Kashmir issue
The army chief warned against war. "I want to send a message to my nation and the world that Pakistan is a peace-loving country. But if war is imposed on us, we will befittingly respond to every aggression. We are always ready to defeat nefarious intentions of the enemy."
Gen Bajwa said the nation had gone through great trials during the past 20 years. There was a state of war on the eastern and western borders and there were trials like earthquakes and floods, he said, adding the nation fought a nerve-wracking war against terrorism and extremism in which thousands were killed and millions were displaced.
The COAS underlined that Pak­istani security forces had rendered many sacrifices for the establishment of peace in different parts of the world by becoming part of the United Nations peacekeeping force.
"We want peace in the whole world and especially in our region. Pakistan's key role in peace efforts in Afghanistan is a testament to that, but our neighbour India has, as always, taken an irresponsible stance," he said.
The army chief said that India by illegally abrogating the special status of illegally occupied Jammu and Kashmir had once again threatened the peace of the region.
He said there was no doubt that Kashmir was a recognised dispute and Pakistan did not accept any unilateral decision in this regard.
He said that Quaid-i-Azam Mohammad Ali Jinnah had declared Kashmir the jugular vein of Pakistan. "This is part of our faith. We will not show any flexibility in this regard."
"Pakistan's armed forces are fully equipped, vigilant and aware. And God willing, they are ready to respond immediately and with full force to any move of the enemy," he said.
The army chief said that armed forces of Pakistan in September 1965 had defeated an enemy many times greater in might than it. He said that recently
Pakistan had again demonstrated this in response to the failed air strike at Balakot and the enemy should have no doubt about it.
He said Sept 6, 1965 was an indelible chapter in the history of Pakistan. "This is the day when countless stories of unity of the nation, love of homeland, sacrifice and bravery were marked in history."
"It is not just a day for the nation but evidence to our courage and we also commemorate the martyrs of 1948, 1965, 1971, the Kargil War and the war on terror," Gen Bajwa said.
He paid tribute to the families of the martyrs and said: "I salute them. I assure them that we will never forget the sacrifice of their loved ones. Our martyrs are our heroes and the nations that forget their heroes are annihilated."
The COAS said that the entire nation was indebted to the patience and sacrifice of the families of the martyrs. "Just as the martyrs are the pride of the whole nation, so are you our pride," he added.
The army chief congratulated the officers, junior commissioned officers and soldiers who received the awards at the ceremony.
"Time has tried us many times and we have succeeded every time. Pakistan is a living reality. Our blood, our passion and our actions will bear witness to this on every front," he said.
https://www.dawn.com/news/1578234/army-will-win-hybrid-war-with-nations-help-bajwa
--------
Mideast
Israel, UAE foreign diplomats meet publicly for first time in Africa
06 September 2020
Foreign envoys of the UAE and Israel held a meeting in Nigeria on Sunday, marking the first public meeting between diplomats of the two countries in Africa.
Israeli Ambassador to Nigeria Shimon Ben-Shoshan received UAE Charge d'Affaires in Nigeria Khalifa Al Mehrizi, according to videos and photos posted to social media by the Israeli government.
Ben-Shoshan greeted Al Mehrizi with the Arabic salutation "salaam alaykum," translated as "peace be upon you" in English.
The two officials were photographed in discussion with Emirati and Israeli flags on a nearby table.
The meeting, believed to be the first time foreign diplomats of the UAE and Israel have convened publicly, follows last week's historic visit of an Israeli delegation to the UAE capital city Abu Dhabi.
Israeli and Emirati representatives from the fields of finance, health, tourism, investment, foreign policy, diplomacy, tourism, and culture met face-to-face to discuss future collaborations in the various sectors.
The first publicly confirmed in-person meeting of Israeli and Emirati officials, following the establishment of the treaty, occurred last month when UAE National Security Adviser Sheikh Tahnoun bin Zayed Al Nahyan discussed bilateral cooperation with Yossi Cohen, head of Israel's foreign intelligence, the Mossad on August 18.
The peace agreement between the two countries, announced on August 13, is expected to be officially signed in Washington in the next two weeks.
https://english.alarabiya.net/en/News/middle-east/2020/09/06/Israel-UAE-foreign-diplomats-meet-publicly-for-first-time-in-Africa
--------
Hamas leader says group has missiles that can hit Tel Aviv
September 07, 2020
BEIRUT: The leader of the Palestinian militant group Hamas on Sunday warned Israel that his organization has missiles capable of striking the city of Tel Aviv, Israel's commercial and cultural center, and areas beyond it.
Ismail Haniyeh's comments during a visit to Lebanon followed an escalation in recent weeks in which Hamas-affiliated groups fired rockets into Israel and Israeli warplanes struck areas in the Gaza Strip, which is ruled by Hamas.
Hamas announced last week that international mediators had brokered a new set of "understandings" with Israel, halting the latest round of fighting for the time being in exchange for an easing of Israeli restrictions on the Gaza Strip.
Haniyeh gave a speech in the Palestinian refugee camp of Ein el-Hilweh near the southern port city of Sidon, where he received a hero's welcome by armed men who carried him on their shoulders.
Haniyeh and a Hamas delegation met earlier with the leader of the Lebanese militant group Hezbollah, Hassan Nasrallah, during which they discussed the situation in the Middle East and the recent normalization of relations between the United Arab Emirates and Israel, a Hezbollah statement said.
"Our missiles had a range of several kilometers (miles) from the border with Gaza," Haniyeh said. "Today the resistance in Gaza has missiles that can hit Tel Aviv and beyond Tel Aviv."
Hamas rockets have reached Tel Aviv and beyond in previous rounds of fighting, but such launches are rare and considered a serious escalation by Israel. The seaside metropolis is located some 70 kilometers (45 miles) north of Gaza.
Israel and Hamas have fought three wars and several smaller battles over the last 13 years. Neither side is believed to be seeking war, but any casualties could ignite a wider conflict.
In recent weeks, groups affiliated with Hamas launched incendiary balloons into Israel, igniting farmland in a bid to pressure Israel to ease the blockade it imposed on Gaza when Hamas seized power in 2007. The group had also fired rockets into Israel in recent weeks, which was seen as a significant escalation.
Haniyeh was criticized during his visit by some in Lebanon on social media. One post sarcastically asked whether it would be better for him to threaten Israel from the West Bank, which is ruled by the Palestinian Authority and with whom Hamas has a longstanding feud. Another post said Lebanon has enough problems at the moment, and doesn't need Hamas on top of that.
Lebanon is grappling with its worst economic and financial crisis in decades, and the capital Beirut was devastated one month ago by a massive explosion, the result of nearly 3,000 tons of ammonium nitrates igniting at the port. The blast killed more than 190 and injured thousands.
https://www.arabnews.com/node/1730656/middle-east
--------
Turkey begins military drills in north Cyprus amid tensions in eastern Mediterranean
06 September 2020
Turkey's armed forces on Sunday began annual exercises in the breakaway republic of northern Cyprus – an entity recognized only by Ankara – as tensions brewed with Greece in the eastern Mediterranean.
Turkey's hunt for gas and oil reserves in waters claimed by Greece has put huge strain on the relationship between the two NATO members.
Turkish President Recep Tayyip Erdogan on Saturday raised the stakes and warned Greece: "They will either understand the language of politics and diplomacy, or on the field through bitter experiences."
For all the latest headlines follow our Google News channel online or via the app.
NATO said earlier technical talks would start to avoid incidents between the two countries' navies, but Athens said it had not agreed to the talks and Ankara accused Greece of shunning dialogue.
As the tension ran high, the Turkish military began its exercises called "Mediterranean Storm" with the Turkish Cypriot Security Command, Vice President Fuat Oktay said on Twitter.
"The security priorities of our country and the TRNC (Turkish Republic of Northern Cyprus) are indispensable," Oktay said.
The Turkish defense ministry also tweeted that the exercises, which are due to last until Thursday, continued "successfully."
Cyprus is divided between the Greek Cypriot-run south – an EU member state – and the Turkish Cypriot north.
Turkey has stationed tens of thousands of troops in the north of the island since its 1974 invasion, which followed a coup engineered by military rulers in Athens.
https://english.alarabiya.net/en/News/middle-east/2020/09/06/Turkey-begins-military-exercises-in-north-Cyprus-amid-tensions-in-eastern-Mediterrane
--------
Palestinian-Lebanese alliance: Hamas, Hezbollah put up united front against Israel
06 September 2020
Hamas Political Bureau chief and Hezbollah secretary general have agreed on further strengthening of relations and coordination between the Palestinian and Lebanese resistance movements in the face of growing threats from their common enemy, Israel.
The meeting came during a recent visit to Beirut by the Hamas official, Ismail Haniyeh, who has traveled to the Lebanese capital for the first time in 27 years for an across-the-board meeting of all Palestinian factions, the Lebanese Arabic-language online newspaper Elnashra reported on Sunday.
Haniyeh and Hezbollah chief Seyyed Hassan Nasrallah used the opportunity to address political and military developments across the Palestinian territories and Lebanon.
The two prominent resistance figures also discussed the so-called deal of the century, the growing trend of normalization between some Arab regimes and Israel as well as the international Muslim community's responsibility in the face of these threats.
The United States, Israel's biggest ally, wheeled out the controversial deal this January. The scheme ensured Tel Aviv of Washington's support for huge violations against Palestinians, including the Israeli regime's annexation of some 30 percent of the occupied West Bank.
The officials emphasized the need for the resistance front's steadiness and strength to counter these threats facing the Palestinians and the broader Muslim world.
In a statement, Hezbollah said the two resistance leaders insisted that relations between their movements must be characterized by strength and cooperation.
The groups' ties "have been founded on the principles of faith, brotherliness, Jihad (struggle on the path of God), common destiny, and expansion of [standing] cooperation and coordination mechanisms between them," it added.
Hamas missiles can raze Tel Aviv and beyond: Haniyeh
In a related development, Haniyeh said later on Sunday that Hamas is in possession of missiles, which can raze to the ground not only the Israeli capital city, but many areas of the occupied territories beyond that.
"The resistance front has missiles in the Gaza Strip with, which can raze Tel Aviv and areas beyond that to the ground," Haniyeh said while touring a Palestinian refugee camp in Lebanon.
He noted that the enemy of the Palestinian nation must know that Palestinians will neither forget, nor forgive the historical injustice done to them.
"We will never forget the right of return [to our homeland] regardless of how much sacrifice it needs [to be realized]," the Hamas leader said.
Haniyeh added that the normalization process that has begun in the region is not representative of the real position of the regional nations, noting, "Palestine still has its special place in the conscience of nations."
The movements have spearheaded resistance efforts against Israeli aggression in their respective nations.
Hamas defends the Gaza Strip against Israel. Tel Aviv has taken the Palestinian territory under incessant attacks, three all-out wars, and a crippling siege since 2007.
Hezbollah has also fought off two Israeli wars targeting Lebanon in the 2000s, each time forcing the Israeli military into a retreat.
During the trip, Haniyeh also met with Lebanese Parliament Speaker Nabih Berri and caretaker prime minister Hassan Diab.
The plenary gathering of the Palestinian factions also featured emphasis on the same points raised during Haniyeh and Nasrallah's meeting.
A final statement issued after the Palestinian event warned that the threats posed to the Palestinian nation by Tel Aviv, Washington, and the Arab regimes sought to undermine the main principles of the Palestinian cause.
The principles being targeted, the statement added, included the Palestinians' right to an independent state "on all occupied Palestinian territories" as well as Gaza, and the right of the Palestinian refugees to return to their homes.
https://www.presstv.com/Detail/2020/09/06/633434/Palestine-Lebanon-Hamas-Hezbollah-meeting-Haniyeh-Nasrallah-Israel-United-States-Arab-regimes
--------
Sanctions against Turkey on EU table over Greece tensions: France
06 September 2020
France says sanctions against Turkey are on the table during an upcoming meeting of the European Council as tensions with Greece deepen.
Foreign Minister Jean-Yves Le Drian made the comment on Sunday, adding that he and his counterparts in other member states of the European Union (EU) had already discussed "the range of reprisals we could take with regards to Turkey", whose conflict with neighboring Greece and Cyprus is ratcheting up.
Turkey and Greece, both NATO members, have been embroiled in a long-running territorial dispute in the eastern Mediterranean over the region's rich resources.
On August 10, Turkey began a military-backed hydrocarbon exploration venture in waters between Greece and Cyprus, escalating tensions in a strategic corridor.
Infuriated Greece responded with naval drills to defend its maritime territory. Siding with Athens, French frigates and fighter jets have already been deployed in the region.
There have been encounters between Turkish vessels and those of rival Greece.
Cyprus, for its part, has accused Turkey of breaching its sovereignty by drilling in the waters. All sides have deployed naval and air forces to assert their competing claims.
Le Drian, during an interview with France Inter radio, also urged Turkish President Recep Tayyip Erdogan to begin talks over its Eastern Mediterranean ambitions between now and the European Council meeting, which is scheduled to be held on September 24 and 25.
"It's up to the Turks to show that this matter... can be discussed," the French foreign minister further said. "If so, we can create a virtuous circle for all the problems on the table."
Le Drian, however, did not specify the nature of the possible sanctions against Ankara, but noted that there was an "entire series of measures."
"We are not short of options, and he knows that," he further said, referring to the Turkish president.
https://www.presstv.com/Detail/2020/09/06/633482/France-Turkey-sanctions-European-Counci-Greece-Cyprus
--------
Palestinian shot, detained over alleged stabbing attack in West Bank
06 September 2020
Israeli forces have wounded and taken into custody a Palestinian young man over an alleged stabbing attack in the occupied West Bank.
The Israeli occupation forces claimed that the Palestinian had approached a group of soldiers outside the illegal settlement of Ariel in Salfit district and attempted to stab them before running away on Sunday afternoon.
The young man was shot in the leg and arrested a short distance from the area.
The Times of Israel newspaper quoted a military source as saying in a statement that the regime forces chased after the assailant "and performed an arrest, which included gunfire, and detained him."
No Israeli soldiers were injured during the encounter in the northern West Bank.
The Israeli police fatally shot a 17-year-old Palestinian in the occupied Old City of Jerusalem al-Quds last month for his role in an alleged stabbing attack which Tel Aviv claimed had injured two.
Human rights groups have repeatedly criticized the Tel Aviv regime for its shoot-to-kill policy as a large number of the Palestinians killed at the scene of the alleged attacks did not pose serious threats to Israelis.
Israeli troops have on numerous occasions been caught on camera brutally killing Palestinians, with the videos going viral online and sparking international condemnation.
The Sunday incident comes as anger is boiling in the Middle East and elsewhere over a recent agreement between Israel and the United Arab Emirates (UAE) to normalize diplomatic relations, with Palestinian leaders describing it as a "stab in the back" by an Arab country.
Dozens of people raided the UAE embassy in the Libyan capital city of Tripoli last month to express their outrage over the normalization pact between the Persian Gulf country and Tel Aviv.
Various Palestinian factions in the occupied West Bank and the besieged Gaza Strip have roundly condemned the normalization deal between the UAE and the Tel Aviv regime.
The occupied Palestinian territories have witnessed new tensions ever since US President Donald Trump announced his decision on December 6, 2017 to recognize Jerusalem al-Quds as Israel's "capital" and relocate the US embassy in Israel from Tel Aviv to the occupied city.
https://www.presstv.com/Detail/2020/09/06/633479/Israel-stabbing-Ariel-settlement
--------
Over two dozen Palestinian prisoners injured in Israeli raids in Ofer prison
06 September 2020
At least 26 Palestinian inmates have been injured during violent raids on their cells days after a Palestinian prisoner died in an Israeli prison, local media reports say.
Palestinian Prisoner Society (PPS) said on Sunday that the Israeli prison guards raided the cells and attacked the prisoners at Ofer Prison and Detention Center near West Bank city of Ramallah.
The jail authorities also confiscated all electric appliances and their personal belongings, it added.
The Palestinian Commission of Detainees' and Ex-Detainees' Affairs said that the extremely hot and humid atmosphere inside Israeli jails has turned the lives of Palestinian prisoners into a hell.
According to the commission, the severe heat wave has aggravated the suffering of the Palestinian prisoners in the Israeli jails, especially in the desert and coastal prisons, such as Negev, Nafha, Ashkelon, Damon, and Gilboa.
The latest raids come after a 45-year-old Daoud Talaat Khatib died of heart attack at Ofer prison on Wednesday night.
Khatib, from the West Bank city of Bethlehem, was detained by Israeli occupation forces in 2001 and was sentenced to 18 years and 8 months in jail. He was scheduled to complete his prison sentence and be released on December 4.
The deceased Palestinian suffered from bad health condition during his detention and in 2017 had a heart attack, but medical negligence by the Israeli prison authorities contributed to the deterioration of his health until his death.
At least 850 Palestinian prisoners, including minors, are held in Ofer and lately there were reports of coronavirus cases among some prisoners.
Israel's policy of medical negligence
The Committee of Prisoners' Affairs estimates that at least 225 Palestinians have died in Israeli jails since 1967, when Israelis occupied the Palestinian territories.
Palestinian resistance movement Hamas recently blamed "Israel's policy of medical negligence" for the detainee's death, describing the policy as "a crime against humanity and a brazen violation of all international law and norms".
Many Palestinian inmates are kept in Israeli custody without trial or charge under the so-called Israeli policy of administrative detention.
Palestinians complain that they are subjected to assault and torture at Israeli prisons. The detainees have on many occasions resorted to open-ended hunger strikes to voice their outrage at dire prison conditions.
In recent months, several countries and international organizations have called for the release of Palestinian prisoners with health problems as well as children, women and elders in Israeli prisons.
Defense for Children International-Palestine (DCIP) has repeatedly called on the Israeli authorities to take immediate action to release all Palestinian child detainees.
There have been growing calls from regional and international rights groups, including the Europal Forum, to put pressure on the Israeli regime to provide Palestinian prisoners with enough protection against the COVID-19 pandemic.
On April 6, the secretary general of the Arab League appealed to the International Committee of the Red Cross (ICRC) to secure the release of Palestinian prisoners from the Israeli jails amid rising coronavirus cases in the occupied territories.
Ahmed Abul Gheit, in a letter addressed to Director General of ICRC Robert Mardini expressed regret that the Israeli authorities had released some settlers charged with criminal offenses, but excluded the Palestinian prisoners.
The Palestinian Foreign Ministry said in March that Tel Aviv must "take full and direct responsibility for the life and health of the prisoners" as the contagion rages around the world, including across the occupied Palestinian territories.
Israel to seize archaeological Palestinian area in occupied West Bank
The Israeli authorities have also announced measures to seize the ancient ruins of Deir Samaan, located northwest of the town of Kufr al-Dik, west of the northern West Bank city of Salfit.
Abdullah Kmail, the governor of Salfit said that the Israeli occupation authorities had published an announcement written in Hebrew declaring seizure of the site.
Deir Samaan, which dates back more than 1,600 years, is an ancient Byzantine village located on top of a hill 350 meters above sea level with archaeological buildings.
The Israeli regime has always come up with different excuses to grab Palestinian-owned land and to continue building and expanding illegal settlements in the occupied territories.
US President Donald Trump had already given Tel Aviv the green light for the land grab in his self-proclaimed "deal of the century," which was unveiled in January with the aim of re-drawing the Middle East map.
Palestinian resistance groups have pledged unity against Israel's annexation of Palestinian areas and vowed to "topple" Trump's Middle East plan.
More than 600,000 Israelis live in over 230 settlements built since the 1967 Israeli occupation of Palestinian territories of the West Bank and East Jerusalem al-Quds.
All Israeli settlements are illegal under international law. The UN Security Council has condemned Israel's settlement activities in the occupied territories in several resolutions.
https://www.presstv.com/Detail/2020/09/06/633467/Palestine-West-Bank-PPS--Israel-Ofer-jail-
--------
Israel to ask US for advanced weapons after F-35 jets sale to UAE: Report
07 September 2020
Israel will ask the United States for advanced weapons to maintain Tel Aviv's alleged "military edge" in the Middle East after it failed to block the sale of American-made F-35 stealth fighters to the United Arab Emirates, a report says.
Yedioth Ahronoth newspaper reported on Sunday that Israel's ministry of military affairs may ask the US to move forward the supply of advanced weapons systems by one year.
The New York Times reported on September 3 that Israeli prime minister Benjamin Netanyahu has privately gone along with a plan for the US administration to sell advanced weapons, in particular US-made F-35 stealth fighter jets, to the UAE despite his public opposition. Netanyahu later denied the report.
On August 31, Israeli minister of military affairs Benny Gantz said Israel will retain its alleged "military edge" in the region despite any possible deals, hinting that Tel Aviv would demand compensation for any arms deal signed between the US and the UAE.
"We also make deals with the United States, and we can also get more platforms and systems. This is not a one-sided deal."
Gantz and US Secretary of Defense Mark Esper spoke by telephone on September 4 and discussed the UAE normalization deal.
"Both leaders exchanged views on how recent developments will advance shared US-Israeli defense priorities, and committed to maintaining an open dialogue about potential avenues for cooperation," the US Department of Defense said in a statement.
Israel and the UAE on August 13 reached a deal that will lead to a full normalization of diplomatic relations between the two sides, in an agreement apparently brokered by US President Donald Trump.
The agreement sparked anger in the Middle East and elsewhere, with Palestinian leaders describing it as a "stab in the back" by an Arab country.
https://www.presstv.com/Detail/2020/09/07/633515/Israel-US-advanced-weapons-F-35-UAE
--------
Dozen arrested as anti-Netanyahu protest turns violent in Jerusalem al-Quds
06 September 2020
Israeli police have clashed with people protesting against prime minister Benjamin Netanyahu in Jerusalem al-Quds for the 11th consecutive week, arresting 12 demonstrators.
Thousands of Israelis marched Saturday night to Paris Square outside Netanyahu's official residence, demanding that he resign over corruption charges and his handling of the coronavirus crisis, which has led to soaring unemployment in the occupied territories.
Holding banners reading "Revolution" and "Get out of here," the protesters projected a sign aimed at the prime minister on a building reading in Hebrew, "Enough with you."
Scuffles were reported as policemen attempted to stop the participants from veering off-path or crossing barricades.
Police said two officers were injured as demonstrators tried to bust through a police barrier.
Shortly after midnight, the crowd was dispersed from Paris Square, with senior Jerusalem al-Quds police commander Amir Barazani reporting 12 arrests.
The centrist parliamentary faction Yesh Atid-Telem said in a statement that a group of its activists and lawmakers joined the rally against the regime.
Reports said attendance at Saturday's protest was lower than in previous weeks due to the scorching weather and the beginning of the school year.
"We got to Paris Square around 10, and we saw there wasn't the same amount as last week, we can't ignore that," said Nitzan Ron, who coordinates volunteers for Peace Now NGO. "But we still saw thousands of people show up, despite coronavirus and the end of the summer vacation."
"The future of the protests is an open question. I hope it works out, that the demonstrations will continue," Ron added.
Protesters are angry with a recent spike in virus infection cases in Israel, which stands at 128,936. The death toll has also passed 1,000 amid a hasty reopening of the economy in the occupied lands.
They carried giant submarines, in reference to a massive procurement bribery scandal. Several of Netanyahu's associates have been indicated in the so-called submarine affair.
In addition to Jerusalem al-Quds, people held similar anti-Netanyahu rallies elsewhere across the occupied lands at some 300 bridges and major intersections.
Protesters gathered outside Netanyahu's private home in Caesarea, with former army commander Major General Noam Tibon attending the event.
"The corrupted Bibi is the one responsible for the failure that Israel is experiencing. …These demonstrations will eventually send Bibi home," he said.
Parallel gatherings also took place in Hadera and the Arab cities of Taibeh and Nazareth.
https://www.presstv.com/Detail/2020/09/06/633426/Israel-Benjamin-Netanyahu-protest-Jerusalem
--------
24 killed in clashes in northern Yemen
September 07, 2020
More than 20 people were killed in clashes in Yemen's northern province of Al-Jawf late Sunday as government troops tried to reclaim positions lost months ago to the Houthi group.
Yemen's internationally recognized government has been fighting the Iran-allied insurgents since 2014, when the Houthis seized much of the north including the capital Sanaa.
A government military source said 16 Houthis and eight loyalists were killed in clashes Sunday night.
Government troops captured more than 40 rebels, the source told AFP.
Meanwhile, the insurgents advanced in the neighbouring Marib governorate, in particular the Mahliya district, after heavy fighting that also resulted in casualties.
Houthis took control of the capital of Al-Jawf earlier this year in a strategic advance that means they now threaten oil-producing Marib province.
Tens of thousands of people have been killed in the Yemen conflict, which the United Nations has described as the world's worst humanitarian crisis.
Fighting has carried on despite repeated calls for a ceasefire to help combat coronavirus, which health agencies fear could be disastrous in impoverished Yemen.
More than 1,900 cases of COVID-19 have been confirmed in the country, including 572 deaths.
https://www.arabnews.com/node/1730746/middle-east
--------
Southeast Asia
Dewan Negara to debate Philippine claim to Sabah, says Rais Yatim
Monday, 07 Sep 2020
KUALA LUMPUR, Sept 7 — The Dewan Negara has allowed for discussion this afternoon an urgent motion on the Philippine claim to Sabah, said Dewan Negara president Tan Sri Rais Yatim.
He said the motion will be debated in accordance with Standing Orders 17(3), with the proposer allowed to speak for up to 30 minutes and for the government side to reply within a similar time period.
Rais said he considered the motion and found that it fulfilled the criteria to be allowed for debate, namely that the matter is definite, urgent and of public importance. — Bernama
https://www.malaymail.com/news/malaysia/2020/09/07/dewan-negara-to-debate-philippine-claim-to-sabah-says-rais-yatim/1900901
--------
Nearly 300 Rohingya migrants come ashore in Indonesia
September 7, 2020
LHOKSEUMAWE: Nearly 300 Rohingya migrants came ashore on Indonesia's Sumatra island early Monday, authorities said, in one of the biggest such landings by the persecuted Myanmar minority in the Muslim-majority nation in years.
The migrants, including more than a dozen children, were spotted at sea by locals who helped them land near Lhokseumawe city on Sumatra's northern coast, according to Munir Cut Ali, the head of Ujong Blang village.
"We saw a boat coming ashore in Ujong Blang and so then we helped them land safely," Ali told AFP.
At least one member of the group, which included 102 men, 181 women and 14 children, was ill and had to be rushed to a local hospital for treatment, said the area's military chief Roni Mahendra.
He added that the group would need to be tested for the coronavirus.
"Later the local government will find a proper place to house them."
It was not immediately clear how long the migrants had been at sea or what type of vessel they arrived in.
The group was reported to be the largest to land in Indonesia since at least 2015.
The incident comes after about 100 Rohingya, mostly women and children, arrived in the same area in June following what they described as a perilous four-month sea journey that saw them beaten by traffickers and forced to drink their own urine to stay alive.
The members of the Muslim minority said they had set off earlier this year near a Rohingya refugee camp in Bangladesh, next to their native Myanmar.
Around a million Rohingya live in cramped and squalid refugee camps in Bangladesh, where human traffickers also run lucrative operations promising to find them sanctuary abroad.
Muslim-majority Indonesia and neighbouring Malaysia are favoured destinations for Rohingya fleeing persecution and violence in mostly Buddhist Myanmar.
In July, Malaysian authorities said some two dozen Rohingya migrants feared to have drowned off the country's coast after a treacherous boat crossing had been found alive, hiding in bushes on an island.
https://www.freemalaysiatoday.com/category/world/2020/09/07/nearly-300-rohingya-migrants-come-ashore-in-indonesia/
--------
Long Umno history makes Muhyiddin credible, says analyst
Faiz Zainudin
September 7, 2020
PETALING JAYA: Muhyiddin Yassin's public credibility as prime minister is a product of his long history in Umno, says a political analyst who takes issue with Khairy Jamaluddin's assertion that others lack Muhyiddin's charisma.
Universiti Teknologi Malaysia lecturer Azmi Hassan said Muhyiddin's standing in the eyes of the public came from his days in Umno, not from PPBM, the party he co-founded after leaving Umno.
"So it is a bit awkward when Khairy claims that there is no other leader who has enough of a status to be considered for the prime ministership. There are more people in Umno who have the right authority," said Azmi.
He said Umno had a long history of producing national leaders who rose from the grassroots, and Muhyiddin was one of them.
Last week, Khairy, a former Umno Youth leader and minister, was quoted in a news report saying that an opinion poll on public acceptance of Muhyiddin backed his view of Muhyiddin's standing.
There was no one other than Muhyiddin to head the current government, whether from Umno, PAS or PPBM. "The question of the (prime minister after the next general election) is still under discussion," Khairy had said.
But Azmi said Khairy's statement was personal. He speculated on the reasons behind Khairy's comment, saying perhaps Khairy did not want to be accused of being interested in the post himself.
"He is part of Umno and should be able to assess for himself whether there are competent leaders in Umno. Maybe Khairy said so because he does not want to be accused of being biased in favour of Umno. Maybe Khairy does not want the Perikatan Nasional government to be unstable, which is why he expressed support for Muhyiddin," Azmi said.
However, Khairy's statement could be read as a challenge to Umno leaders to prove that the party would trigger a process to produce the best candidate for the prime ministership.
Another analyst, Kamarul Zaman Yusoff of Universiti Utara Malaysia, said other Umno and PAS leaders had not been given the opportunity to lead the country and their credibility had not been tested.
"Potential national leaders from Umno and PAS lacked the opportunity to show their mettle because of Muhyiddin's performance after being appointed prime minister," Kamarul said.
Kamarul said the question of who would succeed Muhyiddin was not being discussed because of a wish to avoid politicking, although each political party would definitely have its own candidate.
https://www.freemalaysiatoday.com/category/nation/2020/09/07/long-umno-history-makes-muhyiddin-credible-says-analyst/
--------
Africa
Warlord Haftar again violates Libyan cease-fire
Mucahit Aydemir
06.09.2020
TRIPOLI, Libya
The Libyan army said Sunday that warlord Khalifa Haftar again violated a cease-fire deal and targeted the country's troops with multiple Grad missiles.
Army sources told Anadolu Agency the warlord's militia fired 10 missiles at different army posts late Saturday in violation of a cease-fire agreement brokered Aug. 21.
The attack did not cause casualties nor inflict damage on military hardware, said sources.
The army announced Aug. 27 the first breach of the cease-fire by Haftar's militia, which fired more than one dozen Grad rockets at army positions west of Sirte.
Libya has been torn by civil war since the ouster of late ruler Muammar Gaddafi in 2011.
The Government of National Accord (GNA) was founded in 2015 under a UN-led agreement, but efforts for a long-term political settlement failed due to a military offensive by forces loyal to Haftar.
The UN recognizes Fayez al-Sarraj's government as the country's legitimate authority as Tripoli has battled Haftar's militias since April 2019 in a conflict that has claimed thousands of lives.
https://www.aa.com.tr/en/africa/warlord-haftar-again-violates-libyan-cease-fire-/1964296
--------
Saudi Arabia denounces 'terrorist attack' in Tunisia
Tommy Hilton
06 September 2020
Saudi Arabia denounced the knife attack that killed a Tunisian National Guard officer and wounded another in the coastal town of Sousse in a statement published by the official Saudi Press Agency on Sunday.
Tunisian authorities announced that a National Guard patrol had been attacked in Sousse, which is 140 kilometers (80 miles) south of the capital Tunis, on Sunday.
"A patrol of two National Guard officers was attacked with a knife in the centre of Sousse," said a National Guard spokesman, Houcem Eddine Jebali, reported AFP.
"One died as a martyr and the other was wounded and is hospitalized," he said, adding that "this is a terrorist attack".
https://english.alarabiya.net/en/News/north-africa/2020/09/06/Saudi-Arabia-denounces-terrorist-attack-in-Tunisia
--------
Libya's warring sides hold talks in Morocco
06 September 2020
Delegates from Libya's rival administrations met for talks Sunday in Morocco, more than two weeks after the two sides announced a surprise ceasefire.
The meeting, held at the initiative of Morocco, which had hosted peace talks in 2015 that led to the creation of the Government of National Accord (GNA), kicked off in the coastal town of Bouznika, south of Rabat.
Dubbed "Libyan Dialogue," the talks brought together five members of the GNA and five from a parliament headquartered in the eastern Libyan city of Tobruk.
Moroccan Foreign Minister Nasser Bourita, in remarks before the meeting got underway, said his country was offering the Libyans "space" to discuss points of contention dividing them.
"The kingdom is ready to provide Libyans with a space to discuss (issues), according to their will, and will applaud them regardless of the outcome," Bourita said.
"Morocco has no agenda or initiative to submit" to the two sides, Bourita added.
A solution to Libya's crisis must be decided by the Libyans themselves under the auspices of the UN, he said, before delegates met behind closed doors.
Libya has been convulsed by political chaos and warfare for much of the period since the 2011 revolution that ousted Muammar Gaddafi.
In June, the GNA ended a 14-month LNA assault on the capital and forced it to retreat, bringing a close to months of heavy bombardment.
On August 22, the rival administrations announced separately that they would cease all hostilities and hold nationwide elections, drawing praise from world powers.
At a January summit in Berlin, the main countries involved in the Libyan conflict agreed to respect an arms embargo and to stop interfering in Libya's domestic affairs.
But on Wednesday, the interim UN envoy for Libya, Stephanie Williams, denounced what she called "blatant" ongoing violations of the arms embargo in the North African country.
According to an interim report from UN experts, "the arms embargo remains totally ineffective" and violations are "extensive, blatant and with complete disregard for the sanctions."
Williams said the UN mission UNSMIL was also receiving reports of the "large-scale presence of foreign mercenaries and operatives" in Libya, adding that this complicates chances of a future settlement.
Sunday's meeting in Morocco coincided with talks in Istanbul between Turkish President Recep Tayyip Erdogan and GNA head Fayyez al-Sarraj, the Turkish presidency said, without elaborating.
https://english.alarabiya.net/en/News/north-africa/2020/09/06/Libya-s-warring-sides-hold-talks-in-Morocco
--------
Tunisian police kill three militants after officer stabbed to death
06 September 2020
Police in Tunisia have chased and shot dead three militants after they attacked two police officers, killing one of them.
National Guard spokesman Houcem Eddine Jebali said a patrol of two National Guard officers was attacked with a knife in the center of Sousse on Sunday.
"One died as a martyr and the other was wounded and is hospitalized," he said, adding "This was a terrorist attack".
The assailants took the officers' gun and vehicle, but security forces followed them through the city's tourist area of El-Kantaoui, said Jebali. He said that in a firefight three terrorists were killed.
The attack on security forces came just two days after the government of Prime Minister Hichem Mechichi took power in the North African country.
Tunisia has been hit by a spate of militant attacks claimed by the Daesh and al-Qaeda terrorist groups since 2011, killing dozens of security personnel and foreign tourists.
An attack against security forces protecting the US Embassy in Tunis killed a Tunisian police officer and left several others wounded in March.
2015 was a particularly bloody year, with three major deadly attacks claimed by the Daesh group.
An attack at the capital's Bardo museum in March killed 21 foreign tourists and a security guard.
Just three months later, 38 foreign tourists were killed in the shooting rampage at Sousse. And that November, a bomb blast on a bus in central Tunis killed 12 presidential guards.
https://www.presstv.com/Detail/2020/09/06/633445/Tunisia-knife-attack-militans
--------
Gunmen kill 22 people in two separate attacks in central Nigeria: Officials
04 September 2020
Gunmen have killed 22 people, including 19 vigilantes, in two separate attacks in central Nigeria, officials said Friday, in the latest violence by cattle rustlers in the region.
"The criminals killed 22 people in the attacks on Dukku and Kagara towns," in Niger state on Wednesday, Kabiru Muhammad Maikundi, the state director of security told AFP.
In the first attack, dozens of assailants riding on motorcycles attacked Dukku in Rijau district to kidnap locals for ransom but local vigilantes engaged them in a gunfight, Maikundi told AFP.
"There was a gun battle in which 18 vigilantes were killed by the criminals," he said.
In a separate attack on the same day, another armed gang invaded Kagara in nearby Rafi district, breaking into a bank but failing to enter the vault, Maikundi said.
A team of policemen engaged the assailants in a "fierce battle" in which four people were killed, he said.
State police commissioner Adamu Usman confirmed the toll during a visit to Kagara on Thursday, adding that the victims included a policeman and a vigilante.
Armed gangs of cattle thieves and kidnappers regularly raid villages in central and northwestern Nigeria, killing and kidnapping people as well as looting and burning homes.
Security experts have warned that jihadist groups may have infiltrated the area.
Last month, Boko Haram, which has waged a bloody insurgency since 2009 in northeast Nigeria, released a propaganda video showing bandits from Niger state pledging allegiance to the group.
https://www.presstv.com/Detail/2020/09/04/633306/Nigeria-gunmen
--------
Nigeria introduces airdrop of foods for terror victims
Olarewaju Kola
06.09.2020
Nigeria's government on Sunday announced to deliver aid by air to civilians in remote communities northeast of the country as they are not accessible by road due to terror attacks or difficult terrains.
Minister of Humanitarian Affairs Sadiya Farouq said the Nigeria Air Force will drop foods and other relief items to several civilians.
"There have been issues of inaccessible areas where humanitarian workers cannot reach the people," she told reporters in Maiduguri, the capital city of northeastern Borno state, during the demonstration of the airdrop of foods by Nigerian Air Force.
Farouq said the government would take statistics of the hard-to-reach communities and civilian population to ensure proper airdrops of the relief.
"We are going to follow it up with air surveillance," the minister promised.
About 3 million people have been displaced in over a decade of Boko Haram terror activities in the regions. Scores of civilians are still trapped in remote communities unable to flee due to insecurity on the roads.
https://www.aa.com.tr/en/africa/nigeria-introduces-airdrop-of-foods-for-terror-victims/1964755
--------
URL: https://www.newageislam.com/islamic-world-news/not-quran-badass-goodery-significant/d/122808
New Age Islam, Islam Online, Islamic Website, African Muslim News, Arab World News, South Asia News, Indian Muslim News, World Muslim News, Women in Islam, Islamic Feminism, Arab Women, Women In Arab, Islamophobia in America, Muslim Women in West, Islam Women and Feminism