New Age Islam News Bureau
24 Jun 2018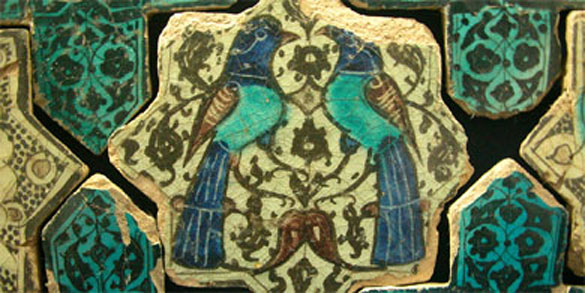 Turkish Art and Design part of the larger tradition of the Islamic ceramic art.
----
• Non-Muslims Grace Jama Masjid Event of Celebrating Communal Harmony and Heralding In Peace and Love
• British Museum's New Islamic Culture Gallery to Feature Finest Examples of Turkish, Ottoman Art
• TTP Appoints Mufti Noor Wali Mehsud as Chief after Fazlullah's Killing
• What Are Bangladesh Islamist Parties Planning For Next Election?
• King Salman Centre Rehabilitates 80 Yemeni Former Child-Soldiers
India
• Non-Muslims Grace Jama Masjid Event of Celebrating Communal Harmony and Heralding In Peace and Love
• Muslims Take out Protest March in Agra over RSS Shakhas on Waqf Land
• Government Backs Campaign against Animal Sacrifice Ahead Of Bakrid
• Century Not Out, Jamiat Still Bats for an India with a Composite Culture
• ISIS presence in J&K a myth, say intelligence officials
• Envoy denied shrine entry: Pakistan violating Vienna convention, India says
• Top Hizbul militant escapes after being trapped
• J&K: Gunbattle near Amarnath Yatra route, four ISJK militants killed
• Entry of LeT May Spur More Radical Political Discourse, Bodes Ill For India
--------
Europe
• British Museum's New Islamic Culture Gallery to Feature Finest Examples of Turkish, Ottoman Art
• Weapons found at the 'Muslim Eton', Darul Uloom
• US, allies use fake evidence to blame chemical attacks on Syria govt.: Russia
--------
Pakistan
• TTP Appoints Mufti Noor Wali Mehsud as Chief after Fazlullah's Killing
• 6 Suspected Terrorists Killed In South Waziristan Military Operation
• Banned groups use loopholes to contest Pak polls
• Protesting Sikhs stop Indian envoy from entering Hassanabdal temple
• Objections over value of Bilawal's assets rejected
• Imran starts poll campaign from native Mianwali today
• Jamaat-i-Islami chief Sirajul Haq declares assets worth Rs2.9 million
• Blast targeting police vehicle injures six, including three policemen
• Revolution can wait: Tahirul Qadri says PAT will not contest polls
--------
South Asia
• What Are Bangladesh Islamist Parties Planning For Next Election?
• Bangladesh: Rains Wreak Havoc at Rohingya Camps
• UN, World Bank chiefs to see Rohingyas in Bangladesh as pressure on Myanmar mounts
• Ghani welcomes Saudi Imams remarks against the ongoing violence in Afghanistan
• Helmand Peace March activists criticize Taliban for the silence regarding peace demands
• Murder of Herat cleric an unforgivable terrorist act: Ghani
• Taliban ambush Paktia governor's convoy in Logar province
--------
Mideast
• King Salman Centre Rehabilitates 80 Yemeni Former Child-Soldiers
• Erdogan, Rival Ince Trade Blows At Final Election Rallies on Eve of Turkey Polls
• UAE ready to back efforts for Yemen rebel pullout
• Manbij Military Council: US Not to Allow Turkish Deployment in Manbij
• Iran accuses rights lawyer Nasrin Sotouded of state security offences
• Yemeni info official: Qatar provided Houthis with all kind of support
• UN's Yemen envoy to present a peace plan to EU on Monday
• Iran border guard killed in northwest clash with militants
• Nearly 300 Turkish diplomats seek asylum in Germany after 2016 coup attempt
• Turkish police arrest 47 suspects over links to Gulen network
--------
Arab World
• Iraq Killed 45 IS Jihadists in Syria Strike
• White Helmets Plotting New Chemical Attack in Southern Syria
• Syrian Army Repels Heavy Offensive of Terrorists in Dara'a Province
• More Senior Terrorists Commanders Assassinated in Northwestern Syria
• US-Backed Militias Continue Looting People's Assets in Northeastern Syria
• Syrian Army Frees Five More Regions from Terrorists in Dara'a, Sweida
• Spokesman: US Forces, Allied Militants Attacked by Unidentified Gunmen in Syria's Al-Tanf
• Modern US-Made Weapons Sent to Militants in Southern Syria via Border with Jordan
• Iraq PM Abadi warns armed groups against stockpiling weapons
• Syrian forces make gains in Dara'a province's eastern countryside
• Iraqi PM Abadi, cleric Sadr announce alliance of their political parties
--------
Southeast Asia
• Indonesian Muslim Leader Signals Global Shifts In Meetings With Pence And Netanyahu
• Malaysian minister says call for restaurants to only hire local cooks was just a suggestion
• Community Takes Lead to Rebuild Philippine City After Siege
--------
Africa
• Five Killed In Boko Haram Bomb Attack In Nigerian Village
• One dead, 154 injured in blast at rally supporting new Ethiopian PM
• Three kidnapped Turkish engineers released in southern Libya
• Boko Haram: GOC Seeks Intelligence Sharing Amongst Security Agencies, Northeast Residents
--------
North America
• Kushner Rips Abbas, Says Mideast Peace Plan Due 'Soon'
• Muslim-American Eyes Historic Win
• Made in the USA: The American roots of virtual jihadism
Compiled by New Age Islam News Bureau
URL: https://www.newageislam.com/islamic-world-news/non-muslims-grace-jama-masjid/d/115625
--------
Non-Muslims Grace Jama Masjid Event of Celebrating Communal Harmony and Heralding In Peace and Love
Jun 24, 2018
With an objective of celebrating communal harmony and heralding in peace and love, an event was organised by Red Cross Road Jama Masjid on Parliament Street on July 22 and 23.
Non-Muslims were invited by their Muslim friends to grace the occasion, organised as part of Eid-E-Milan. "The event has helped spread warmth and affection among the communities. Such functions help people get to know each other, said Mohibbullah Nadvi, the Imam of the Masjid.
According to him, the event is an annual feature, but it is for the first time that they have put up invitation banners in order to bring in maximum people at the event.
The Imam said that due attention was given to ensure smooth conduct of the event. "We have been very careful with the food arrangements. Around eight to ten Muslim heads were there to provide proper guidance to visitors. They took them around the Masjid and detailed them the features, especially our tradition and culture," he said.
Both Muslims and non-Muslims sat together on floor mat and enjoyed a traditional feast at the function. "This is the ideal way to unite people from different segments. The event was successful and around hundred non-Muslims have already visited the Masjid," the Imam said.
To a query, the Imam said that they (read Muslims) too will only be happy to visit community events of other religions provided they get an invitation.
http://www.dnaindia.com/delhi/report-non-muslims-grace-jama-masjid-event-2628541
--------
British Museum's New Islamic Culture Gallery to Feature Finest Examples of Turkish, Ottoman Art
Jun 24, 2018
Some of the most eye-dazzling treasures from the Ottoman era will open for visitors at the world-famous British Museum in October.
In a major re-display, The Albukhary Foundation Gallery of the Islamic World will exhibit "world-class Islamic collection", which will include very fine Turkish arts from the Ottoman era as well as from a vast Islamic geography.
"The new gallery will be a comprehensive presentation of the Islamic world through art and material culture," the British Museum said in a press release to promote the new display.
It "will underscore global connections across a vast region of the world from West Africa to Southeast Asia and reflect links between the ancient and medieval as well as the modern worlds."
The new gallery will have two rooms, which "tells the story of the cultures of the Islamic World from a region that stretches from West Africa to Southeast Asia from the 7th century to the present day," Venetia Porter, British Museum curator told Anadolu Agency.
The creation of the Albukhary Foundation Gallery will provide an extraordinary opportunity to display daily life stuff such as modern games and musical instruments.
The collection includes archaeology, decorative arts, shadow puppets, book arts, textiles and contemporary art.
"We know how important the tradition of Karagoz (the general name of Turkish shadow puppet tradition) is in Turkey now but it has a very long tradition as well," Porter said.
Porter underlined that the museum was "fortunate to include shadow puppets made by Metin Ozlen," one of the most prominent Karagoz puppeteers in Turkey.
Underlining that many other examples of the Ottoman culture will be represented in the new gallery, Porter said an important Ottoman mosque lamp made in Iznik and a beautiful Ottoman banner from the period of Selim III (1761-1808) are among the objects that will be put on display.
The gallery will also have other objects from the rich Ottoman culture, including a pair of pearl-decorated wooden bath clogs, many examples of Iznik ceramic pottery and garments related to the Sultan Selim III.
"Islam has played a significant role in great civilizations as a faith, political system and culture," the British Museum said in a press release, adding that it "will feature objects that give an overview of cultural exchange in an area stretching from Nigeria to Indonesia and from the 7th century to the present day."
The new collection will also include stunning 14th century illustrated pages from one of the most celebrated oral traditions -- the Persian epic Shahnama (Book of Kings) -- which will be shown alongside monumental folios of the 16th-century Indian Mughal emperor Akbar's Hamzanama (Adventures of Hamza).
The Albukhary Foundation Gallery of the Islamic World will open its doors to the public on Oct. 18, 2018, the museum said.
The Albukhary Foundation is a non-profit organization based in Malaysia with an international presence. For the past forty years, it has been promoting goodwill through education and cultural heritage.
https://www.dailysabah.com/events/2018/06/23/british-museums-new-islamic-culture-gallery-to-feature-finest-examples-of-turkish-ottoman-art
--------
TTP appoints Mufti Noor Wali Mehsud as chief after Fazlullah's killing
June 23, 2018
The banned Tehreek-i-Taliban Pakistan (TTP) announced it had appointed a new leader on Saturday after the militant group confirmed for the first time its former chief Mullah Fazlullah was killed in a US drone strike last week.
US forces targeted Fazlullah in a counterterrorism strike on June 14 in Afghanistan's eastern Kunar province, close to the border with Pakistan.
US officials had not confirmed whether the strike was successful but Afghan President Ashraf Ghani later confirmed the killing to Caretaker Prime Minister Nasir-ul-Mulk and Chief of Army Staff Gen Qamar Javed Bajwa in phone calls.
Examine: Does Fazlullah's death matter?
In a statement sent to AFP on Saturday, TTP spokesman Mohammad Khurasani confirmed Fazlullah was killed in the US drone strike.
"It is a matter of pride that all leaders of Tehreek-i-Taliban Pakistan have been martyred by infidels," Khurasani said, referring to Fazlullah's two predecessors who were also killed in drone strikes.
The group's shura council elected Mufti Noor Wali Mehsud to replace him, he added.
The Pakistan Army has called Fazlullah's apparent death a "positive development".
Editorial: Regional ties after TTP chief's killing
He is believed to have ordered the failed 2012 assassination of Malala Yousafzai, who became a global symbol of the fight for girls' rights to schooling, and who later won the Nobel Peace Prize.
TTP was also behind the massacre of more than 150 people, including more than 100 schoolchildren, at Peshawar's Army Public School in December 2014.
The militant leader went into hiding in Afghanistan in 2009 and his death "gives relief to scores of Pakistani families who fell victims to TTP terror including the APS massacre", an Inter-Services Public Relations statement had said.
Who is the new TTP chief?
In contrast to Fazlullah's infamous brutality, the new TTP leader has a scholastic and literary background.
Mehsud, 40, studied at a number of religious seminaries in Pakistan to specialise in different fields of religious teaching. He served as a deputy to Baitullah Mehsud, who has been blamed for the 2007 assassination of former prime minister Benazir Bhutto. The new leader Mehsud earlier this year authored a book in which he described the planning of Bhutto's assassination, identifying the militants involved, including one who is still at large and believed to be hiding in South Waziristan.
Mehsud also fought against the US-backed Northern Alliance in Afghanistan and took part in TTP attacks against Pakistani security forces.
According to a Dawn report, he hails from Gorgoray area of Sararogha tehsil and belongs to Mechikhel, a sub-clan of the Mehsud tribe. He also remained a qazi (judge) of Sharia court established by Baitullah Mehsud.
"With the appointment of Mufti Noor Wali Mehsud the leadership of TTP has returned to Mehsud tribe in its home base South Waziristan as Fazlullah was from Swat," Rahimullah Yusufzai, an acclaimed journalist and expert on the Taliban, told AFP.
Mehsud's leadership could see the breakaway factions which emerged in the TTP after Fazlullah fled to Afghanistan in 2009 reunite, Yusufzai said.
https://www.dawn.com/news/1415660/ttp-appoints-mufti-noor-wali-mehsud-as-chief-after-fazlullahs-killing
--------
What Are Bangladesh Islamist Parties Planning For Next Election?
June 24th, 2018
Most Islamist parties want to be part of larger political alliances led by the AL or BNP, while some are planning to form separate alliances. This is the first of a three-part series
As the next parliamentary election is around the corner, a number of Islamist parties are planning to join alliances led by the ruling Awami League or the BNP while others are planning to form separate alliances.
Though many Islamist parties are active in the political arena, their activities are limited to the areas in which they are based. These parties want to be part of large political alliances to obtain some seats or share of power if the alliance wins the polls. However, other parties are thinking of contesting the election separately.
There are 10 registered religion-based parties in Bangladesh.
Four of them – Khelafat Majlish, Jamiat Ulema-e-Islam, Islami Oikya Jote, and Bangladesh Islamic Party – are part of the BNP-led 20-party alliance.
Talking with leaders of Islamic parties, Dhaka Tribune found that both the Awami League and BNP are trying to include several Islamist parties in their alliances before the election.
Leaders of Islamist parties are also trying to join the political alliances led by these two major parties. They are giving priority to Awami League proposals instead of those of the BNP and the Jatiya Party.
Among the Islamist parties, Islami Andolan Bangladesh is getting more priority than others as the party's performance in recent elections showed a sharp rise in its popularity among voters.
Founded more than three decades ago, Islami Andolan Bangladesh has made constant progress in local polls over the past three years.
In the recently held Khulna City Corporation polls, the party's mayoral candidate bagged more votes than that of the Jatiya Party, the sitting opposition in parliament, by securing third position with 14,363 votes.
Islami Andolon Chief Mufti Syed Muhammad Rezaul Karim said they want to establish Islamic rule in Bangladesh.
"We will form a coalition with parties that accept our proposal for an Islamic country," he said.
He further said that they also have a plan to form a coalition with like-minded parties.
Islami Andolon has organizational units in all 64 districts across the country.
Islami Oikya Jote chairman Mawlana Abdul Latif said they are trying to form a separate alliance with other Islamist parties.
"If we cannot form an alliance, then we will try to build up common understanding before the election," he said.
He further said that Islami Andolon, Khelafat Majlish, Khelafat Andolon, and other minor Islamist parties are trying to form a coalition but are yet to finalize it.
He also claimed that they are preparing to contest for seats in 300 constituencies.
Khelafat Andolon leader Mujibur Rahman Hamidi said they have no plan to join in alliances led by the Awami League or the BNP.
He said they have decided to nominate 50 candidates under the party banner in the upcoming election, scheduled to be held in December.
https://www.dhakatribune.com/bangladesh/politics/2018/06/24/what-are-islamist-parties-planning-for-next-election
--------
King Salman Centre Rehabilitates 80 Yemeni Former Child-Soldiers
23 June 2018
King Salman Humanitarian Aid and Relief Center in the Yemeni city of Marib, east of Sana'a has launched its fifth and sixth phases of the rehabilitation program for children recruited by Houthi militias and forced them into armed conflicts.
The two phases aim to rehabilitate 80 former child soldiers from different governorates of Yemen.
The project has so far rehabilitated 161 Yemeni children, as part of the Center's objectives to help 2,000 of them through a month-long integrated program consisting of psychological, parental and educational rehabilitation, which secures their return to safe and healthy living environment..
This comes as Houthi militias intensified their abduction of children in areas under their control, forcing them to participate in the conflict due to the severe shortage in their ranks following a number of defeats on different fronts.
The Yemeni Coalition for Monitoring Human Rights Violations documented 305 recruited children from January 1 to June 15.
https://english.alarabiya.net/en/features/2018/06/23/King-Salman-Center-rehabilitates-80-Yemeni-former-child-soldiers-.html
--------
India
Muslims take out protest march in Agra over RSS shakhas on Waqf land
Siraj Qureshi
June 23, 2018
Although the UP government and local administration have put an end to the RSS shakhas being held on the disputed land near the Taj Mahal in Agra following the coverage of this incident published in India Today Digital, the Muslim community is not satisfied with this action, demanding the return of the land to the Muslims.
Congress city president and Muslim leader Haji Jamiluddin told India Today that the land is being forcibly made disputed whereas it was never disputed.
Every year, the urs of Baba Naeem Shah was held at the shrine of the Sufi saint constructed on this land.
The land was also registered in the Waqf Board with a registration no of 2151.
A few times, the RSS had tried to hold its shakha there and the Muslims allowed that to happen in order to maintain communal harmony, but now the RSS wants to take over the land, claiming it to be theirs.
He said that the Muslim community will oppose any such move of the RSS and a memorandum demanding the immediate removal of the police force from the land and the handing over of the lands peaceful possession to the Muslim community was sent to the UP Chief Minister Yogi Adityanath through City Magistrate Agra.
ISLAM PREACHES BROTHERHOOD AND PEACE
UP Congress general secretary Shabbir Abbas said that if the RSS tries to capture that land again, the Muslim community will oppose that attempt with full force.
Jamit-ul-Quresh president Mohd Shareef Kale said that the Muslim community is against anyone who tries to spread communal poison in the country as Islam only preaches brotherhood and peace. But the RSS wants to take advantage of being in power at the Centre and state and oppress the Muslim community, which cannot be allowed.
Haji Manzoor, Haji Qadeer, Haji Muqeem, Humayun Qureshi, Jameel Khan, Akil Abbas, Adnan Qureshi, Nadeem Noor, Mohd Arif Advocate, Mohd Yaseen, Idrees Meo and several other Muslim community leaders participated in a protest march that ended at the Agra collectorate.
NATIONAL CONVENTION OF THE RSS
Meanwhile, senior RSS leaders in Agra told India Today that this matter will be raised in the national convention of the RSS being held on 24-25 June in Bareily and any decision taken there, will be enforced in Agra.
Talking to India Today, SSP Agra Amit Pathak said that the disputed land in Pawan Dham colony is surrounded by the police and theres complete peace in the colony. If someone tries to break the law and enter the land, he will be dealt with strict actions.
District Magistrate Agra Gaurav Dayal said that Agra is a city of love and Sulh-e-Kul, where communal harmony is second nature of the local residents.
He added that if some communal incidents take place in Agra, the echo of these incidents can be heard for a year and more in the international community due to the importance of Agra on the world tourism map.
He appealed to both the communities to stay calm and let the law take its course on deciding the title of the land.
He warned that the area was under a prohibition order currently and any attempts to break the peace will result in strong action from the administration.
https://www.indiatoday.in/india/story/muslim-protest-march-agra-rss-shakhas-waqf-land-1268030-2018-06-23
--------
Century not out, Jamiat still bats for an India with a composite culture
JUNE 23, 2018
Known for opposing the demand for Pakistan, Jamiat Ulema-e-Hind marks 100 years since inception
A century ago, a Muslim organisation was set up to pursue two broad goals: freedom for India and the restoration of the Muslim Caliphate after Turkey's defeat in the First World War.
Cut to the present, when the Jamiat Ulema-e-Hind is observing its 100th anniversary, and the organisation has emerged as a voice for Muslim causes in independent India.
It famously espoused a composite nationalism for India, opposed the Muslim League's demand for Pakistan and took part in the freedom struggle. And it was in the news in 2008 for getting the Islamic seminary Dar-ul-Uloom at Deoband to pass a fatwa declaring terrorism as un-Islamic. The Jamiat has had a close association with the famous Islamic seminary at Deoband.
However, this eminent group of "nationalist Muslims" has been struggling to come to terms with criticism from within: the recent Pasmanda Muslim claim that it did not take up the issue of caste differentiation among Indian Muslims.
"We have always stood for India's composite culture and pluralism. We fought the British right from our birth, took part in the Gandhian movement, and opposed the two-nation theory promoted by the Muslim League," says Jamiat Ulema-e-Hind secretary Maulana Niaz Ahmed Farooqui, as he reminisces about the history of the organisation.
No to two-nation theory
The Jamiat's most notable contributions included a critique of the two-nation theory in the 1930s and 1940s.
In 1938, when the idea of a separate homeland for Muslims had already been conceived, came a landmark book by Deobandi Muslim scholar Maulana Hussain Ahmad Madani, who was a leading light of the Jamiat.
Titled Muttahida-e-Qaumiyat (united/composite nationalism), the book argued that the Indian nation could not be based on religion, and that India was a single nation with a composite culture.
But Maulana Madani's book wasn't simply a critique of separatism; it was an integral part of the Jamiat worldview since its inception in 1919. And the 100-year-old organisation says it sticks to its core worldview.
Just before Partition, another Jamiat and Deoband scholar Maulana Irz ur Rehman Seohaarvi wrote Tehreek-e-Pakistan Par Ek Nazar, where he stringently criticised the demand for Pakistan from Mohammad Ali Jinnah's Muslim League as "dangerous", Aligarh Muslim University (AMU) historian Mohammad Sajjad told The Hindu.
"As late as 1945-46, when the Congress, too, had reconciled to Pakistan, the Jamiat Ulema-e-Hind never accepted the idea. This is the most notable aspect of its history," says Prof. Sajjad.
This, then, is at the heart of the Jamiat's contribution to the idea of India.
A deep divide
In The Destiny of Indian Muslims, Syed Abid Husain captures the split among Indian Muslims in the 1936-1947 period.
Two views emerged: one, that freedom should not be linked to special rights for educated and propertied Muslims and that the community should join the anti-colonial struggle; and the other that independence and transfer of power would be dangerous unless the question of special rights of Muslims was settled.
While the Muslim League veered around to the second position and drifted away from the Congress by the 1940s, the Jamiat stood with the freedom struggle. And as the Muslim League position came to dominate the AMU, the Jamiat and Aligarh were never on the same page.
Post-independence, the Jamiat worked to inject confidence among Indian Muslims, says Prof. Sajjad. They took up the cause of Urdu, the need to protect Muslim personal laws as "integral" to Muslim religio-cultural identity and worked to spread education among Muslims, running schools, colleges and madrasas.
However, a Pasmanda Muslim critique of the Jamiat's purportedly Ashraf (upper caste/class) moorings is increasingly audible, as the question of caste becomes crucial among Indian Muslims.
Saharanpur-based activist and academic Khalid Anis Ansari, a doctoral fellow working on caste movements among Indian Muslims at the University of Humanistic Studies (UvH) in Utretcht in the Netherlands, says the Jamiat, being Ashraf-dominated, has steered clear of taking a progressive line on social reform.
Not a monolith
"Be it the question of low caste Muslims or Muslim women, they have chosen to ignore their exclusion and spoken as if Indian Muslims are a monolith," he told The Hindu. "Dominated by upper caste, Muslim men from north India, the Jamiat took a conservative position on the recent debate on instant triple talaq."
Mr. Ansari claims that the differences between the Muslim League and the Jamiat were more of a strategic character, as none of them truly transcended religion but accepted its deeper centrality to life.
Full report at:
http://www.thehindu.com/news/national/century-not-out-jamiat-still-bats-for-an-india-with-a-composite-culture/article24242019.ece
--------
ISIS presence in J&K a myth, say intelligence officials
Jun 24, 2018
While the authorities in Jammu and Kashmir have started indicating that the spike in numbers of terrorists has something to do with the ISIS and have acknowledged the presence of Islamic State of Jammu and Kashmir (ISJK), the sources in central agencies are not ready to accept it.
After an encounter in Anantnag on Friday in which four militants were killed, the J&K police had claimed that they belonged to the banned ISJK. In the first official acknowledgement of IS's presence, Inspector General of J&K Police, SP Pani claimed that they were IS inspired. Director General of Police, SP Vaid also claimed that the "terrorists" were "reportedly affiliated to ISJK".
The killed militants included Dawood Ahmad Sofi alias Danish (33) from Mustafa Abad, Zainakote, who led self proclaimed "ISJK" claiming IS allegiance in the state.
However, refuting the IS tag as a smokescreen, seasoned intelligence operatives said, "We are not able to understand what has made them say this but the fact is that Kashmiri militants cannot be bracketed under the tag of ISIS or Salafi Islam. It has more to do with the misplaced notion of seeking independence from Indian tyranny that is being fuelled by Pakistan."
Incidentally, the union home ministry in its latest answers to the Parliament has also denied IS presence in J&K.
A retired intelligence official, not ready to identify himself, rejected ISJK as a red herring and said that insisting on its presence could do more damage to Kashmir than good.
"It may give security agencies the cover to launch major offensive operations but its impact in long term could be devastating. By doing so we may actually help IS in getting a foothold in Kashmir," he said.
Discounting the claims made by the ISIS, he said that this is what a fledgling outfit like ISIS would do. Spreading the myth of its presence is the best way for ISIS to advertise and recruit, he said adding that it is important that our security forces so not fall in this trap.
Full report at:
http://www.dnaindia.com/india/report-isis-presence-in-jk-a-myth-say-intelligence-officials-2628501
--------
Envoy denied shrine entry: Pakistan violating Vienna convention, India says
Jun 24, 2018
NEW DELHI/ISLAMABAD: In fresh provocation by Pakistan, Indian high commissioner Ajay Bisaria and his wife were prevented on Friday from entering Gurdwara Panja Sahib, about two hours' driving distance from Islamabad, to meet Indian pilgrims, which led India to lodge a protest.
The Bisaria couple and Indian officials were forced to return from the shrine despite having obtained all necessary permissions for the visit in advance from Pakistan's foreign ministry. This is the second time Indian officials have been prevented from meeting pilgrims + from India, the last being on April 14. Pakistan's deputy high commissioner Syed Haider Shah was summoned by the Indian foreign ministry to register a protest and India also warned Islamabad against fanning the Khalistan secessionist movement.
As on April 14, when Indian pilgrims were visiting for Baisakhi, India said its officials had been prevented from carrying out their consular duties. According to Indian officials, Pakistan prevents such meetings to allow its agencies the opportunity to try and brainwash pilgrims into supporting the Khalistan movement.
On the previous occasion, a woman had broken from the delegation to go to Lahore where she converted to Islam and married a Pakistani citizen + . A widow, she left three children behind in India. Indian officials wondered if she was spotted on social media — where she met her Pakistani husband — as an emotionally vulnerable target.
"Concerns have also been conveyed at repeated attempts by entities in Pakistan to extend support to secessionist movements in India and incite the Indian pilgrims, and Pakistani authorities (have been) asked to ensure that no such activity is carried out from Pakistani soil," said a statement by the MEA. The pilgrims were visiting Panja Sahib on the death anniversary of Maharaja Ranjit Singh.
The Pakistan foreign ministry spokesperson claimed in a tweet that Bisaria was informed about what he described as heightened pilgrim sentiments against India and that concern over the same had led the Indian high commissioner to cancel his visit. "Sikh pilgrims were protesting against their maltreatment in India and release of controversial movies," the spokesperson said.
Full report at:
https://timesofindia.indiatimes.com/india/envoy-denied-shrine-entry-pakistan-violating-vienna-convention-india-says/articleshow/64715375.cms
--------
Top Hizbul militant escapes after being trapped
M Saleem Pandit
Jun 23, 2018
SRINAGAR: One of the most wanted terrorists, Hizbul Mujahideen's Zeenat-ul-Islam, is feared to have escaped after being trapped in a house in a village in Shopian district following specific intelligence inputs.
Official sources said Zeenat, one of the 21 top terrorists on security forces' radar was trapped in the house after a security cordon was laid around the village at 7 pm. However, official sources fear that Zeenat might have escaped taking advantage of the darkness. Stone pelting by terrorists' sympathisers was also a hurdle, the sources said, adding that the operation will resume in the morning.
The forces fired tear-smoke shells to disperse the protesters.
Full report at:
https://timesofindia.indiatimes.com/india/top-hizbul-militant-escapes-after-being-trapped/articleshow/64714680.cms
--------
J&K: Gunbattle near Amarnath Yatra route, four ISJK militants killed
by Naveed Iqbal
June 23, 2018
Four militants, including the head of the banned terror outfit Islamic State-Jammu and Kashmir (ISJK), were killed in an encounter with security forces Friday in the Khiram area of Anantnag in Jammu and Kashmir. The operation, in which a policeman and a civilian were also killed, took place just six days before the start of the annual Amarnath Yatra near Sirigufwara, a village close to NH-44, through which the Yatra convoys ply after crossing into Kashmir.
In what is the first acknowledgement of possible IS presence in the region, J&K Police claimed that the militants killed in Anantnag were associated with the ISJK. The militants were "IS inspired and had a history of attacking policemen in the state," IGP, Kashmir SP Pani told The Indian Express. According to Director General of Police, SP Vaid the terrorists were "reportedly affiliated to ISJK".
Among the militants killed was Dawood Ahmad Sofi alias Danish (33) from Mustafa Abad, Zainakote, who led the group, that claimed IS allegiance in the state. Also known as Dawood Salfi, police said he was a school drop out and worked as a salesman and then as a tour operator before joining armed militancy in 2016. Another militant Eesa Fazili, who was killed along with two associates in March, was also part of the same module, sources said.
Police said one civilian, Mohammad Yousuf Rather (53) succumbed to injuries after the encounter, which also left another 13 injured. Ashiq Hussain of the J&K police's Special Operations Group was also killed in the operation. Mobile internet was suspended in Anantnag and Srinagar to avert law and order trouble.
In another encounter in Tral, at least nine security forces personnel were injured after a grenade was lobbed at forces on security duty. Five CRPF jawans and four J&K Police personnel were injured in the attack. Police sources said that "not more than two members of the group (ISJK) may be active after today's operation. There is no organisation or structure to the group." Three others killed with Sofi have been identified as Mohammad Ashraf Itoo (28), Majeed Ahmad Dar (22) and Adil Rehman Bhat (26). "Social media profiling and inputs indicate that they were inclined to Daesh ideology," police said. Two of them had B.Tech degrees from Baba Ghulam Shah Badshah University.
According to police, Dawood Sofi was involved in a number of stone pelting cases in the area prior to joining the terror outfit. "He was involved in a terror attack which resulted in the death of ASI Ghulam Mohammad and head constable Naseer Ahmad at Bagh-Ali-Mardan Khan in Zadibal and also in the killing of a policeman and snatching his rifle at Tengpora Batamaloo besides other attacks," said sources.
According to police, he was initially known to be affiliated with Tehreek-ul-Mujahideen terror outfit. Police also claimed to have recovered "incriminating material and a huge quantity of ammunition" from the site of encounter. At HMT-Zainkote protests near his house were reported, police said.
According to PTI, retired IPS officer K Vijay Kumar, appointed as advisor to Governor N N Vohra, Friday reviewed the security situation in the Valley. After assuming office, Kumar met the top police brass including DGP Vaid, the Director General of Prisons, special DG and other officers.
Based on "specific intelligence", a joint operation was launched early Friday by Army, police and CRPF in general areas of Naushera, Anantnag, according to the Army. While the search of the area was being carried out, forces came under fire from one of the houses. "One personnel of the SOG was martyred and a civilian was grievously injured in terrorist's fire, who, later succumbed to his injuries," said an Army statement.
Full report at:
https://indianexpress.com/article/india/jk-gunbattle-near-amarnath-yatra-route-four-isjk-militants-killed-5229653/
--------
Entry of LeT May Spur More Radical Political Discourse, Bodes Ill For India
Tara Kartha
Jun 23, 2018
With barely a month to go for elections in Pakistan, it is more than apparent that the exercise is likely to be even more uncertain than before for various reasons. Major national parties have been vastly reduced in stature, and redrawing of constituencies and changes in the constitution itself has complicated electoral math. Major parties will also view with concern the fact that the Lashkar-e-Taiba, armed with its national power base and enviable infrastructure, has finally entered the fray.
Hafiz Saeed, head of the Lashkar-e-Taiba/Jamaat-ud-Dawa, has long been leaning towards joining elections, pulling in not only his own group but also a host of organisations that it supports under various banners. This includes the Difa-e-Pakistan Council (Protection of Pakistan), a platform that draws in madrasa students, local religious groups and many a Pakistani politician, particularly from the PML(N), in Punjab, not to mention a former spymaster or two.
In 2012, this was the platform of choice. There are others, like the Tehrik-e-Hurmat-e-Rasool, which have the representatives of various Rabita councils on them, who spew the most venomous sectarian agendas. Then there are the student bodies affiliated loosely to the Lashkar, including the Al Muhammadia Students Pakistan, an organisation which is listed as a terrorist group by the United States, but seems to flourish anyway. Not formally linked to the Lashkar, its videos and media output gave its leanings away, particularly its poisonous tirade against Prime Minister Narendra Modi.
There are a multiplicity of other platforms, like the Tehrik-e-Tahffuz-e-Qibla-e-Awal (movement for safeguarding the first centre of prayer), which was aimed against Israel, among others. None of this even begins to cover all of the Lashkar's prospective support base. In that list should be added several colleges, schools, hospitals and other institutions like the Falah-e-Insaniyat Foundation (FIF). The FIF is also listed as a terrorist entity, but continues to wield formidable logistical and media capabilities in much of the country. While memberships of these groups often overlap, there is the underlying reality that Saeed has influence that could be the envy of major politicians.
The confidence of the terror group was apparent when it recently opened an election office for its candidate – who will stand as an independent – in Khanewal, Punjab, with all the ribbon-cutting and distribution of sweets normally seen at such functions. Nobody would have guessed that the chief guest was a designated terrorist. It now appears that some 256 candidates have been fielded by the group according to reports – 80 for National Assembly seats and 185 on Provincial Assembly elections.
The surprise here is that Talha Saeed, son of the Lashkar leader, is also going to stand for elections, despite being a designated terrorist under the US Treasury Department. Talha was linked to Jubair Ahmed of Virginia, who was later detained for his involvement in terrorist-related activity, mainly editing and uploading Lashkar videos.
Talha was thereafter designated as Lashkar's media management man and he also handled a variety of other roles, including head of the teachers department. Last year, he came to the public spotlight for a video where he is seen inciting a charged crowd who declare themselves as willing to be the next Burhan Wani, and surprisingly also Dawood Ibrahim, who is usually not associated with the group's media statements.
Another candidate is Qari Mohammed Sheikh Yaqoob, who contested from the Lahore seat last year during the by-elections that stung the reigning PML(N). At that time, the candidate went door-to-door campaigning on the ticket of the Lashkar-backed Milli Muslim League. Interestingly, his electoral USP was that "we are neither contesting against Nawaz Sharif nor Imran Khan…we are contesting against Narendra Modi and his influence over Pakistan."
His group, together with another extremist group, polled 10.4 percent of the votes. Sharif's party, fighting under the ticket of his wife Kulsoom Nawaz, won, but saw its vote share drop considerably. In upcoming elections, therefore, it is safe to say that Sheikh Yaqoob will be able to put up a fight on a platform of extreme radicalism and anti-India posturing and challenge both Nawaz Sharif and Imran Khan.
It's almost superfluous to add that Sheikh Yaqoob also has a long terrorist history. According to the US Treasury Department, apart from being a member of LeT's central advisory committee, he is also heading the Islamabad office and managing "general operations in and around the capital". So, a designated terrorist group is openly present in the country's most important city, and no security agency in Pakistan seems to know anything about it.
There are others who are also listed terrorists and are now looking for a political ticket, fighting on a platform of fighting corruption – which could win them some votes – and fighting for the ideology of Pakistan and making it a citadel of Islam. That could win them a lot of votes too. But while it is a certainty that the Lashkar will make its first political mark in this election, its performance could be eroded by several factors.
An example is the earlier Lahore bypoll. The two religious entities headed by the Lahskar supporter Milli and that of the Labbaik ya Rasulallah were at knives drawn with each other, and therefore, could not unite the anti-India vote or the extremist vote. In short, Lashkar candidates can expect to have the full might of the group behind them in elections, but would have to watch their back against their own co-religionists, each fighting the other on hugely divisive issues.
Full report at:
https://www.firstpost.com/world/pakistan-general-election-entry-of-let-may-spur-more-radical-political-discourse-bodes-ill-for-india-4578541.html
--------
Europe
Weapons Found At the 'Muslim Eton', Darul Uloom
Jun 24, 2018
The head of an Islamic boarding school dubbed the "Muslim Eton" has been forced out after bladed weapons; a toy gun and £400,000 were found on the premises.
The Department for Education (DfE) had sought a rare closure order for Darul Uloom school in Chislehurst, southeast London.
However, the school agreed in court last week to remove the head, Mustafa Musa, his son Yusuf, who was in charge of child safeguarding at the school, and the board of trustees instead.
Armed police were called to the school on May 30 after reports of a man brandishing a firearm. They arrested Yusuf Musa and found weapons and cash at his flat in the grounds. Mustafa Musa was arrested for alleged money-laundering.
https://www.thetimes.co.uk/article/weapons-found-at-the-muslim-eton-darul-uloom-255jnqs8f
--------
US, allies use fake evidence to blame chemical attacks on Syria govt.: Russia
Jun 23, 2018
Russia says the United States and its allies have relied on fabricated evidence to accuse the Syrian government of conducting chemical attacks against civilians.
"The US, Britain, France and their allies have misled international community ... relying on fabrications to accuse Syria of violating the chemical weapons ban with Russian assistance," said Maj. Gen. Igor Kirillov, the chief of the Russian military's radiation, chemical and biological protection unit, at a briefing in the capital Moscow on Friday.
He also accused the Organization for the Prohibition of Chemical Weapons (OPCW) of violating the Chemical Weapons Convention, saying "the remote nature of investigations as well as the collection, analysis and use of the documents obtained without specialists' trips to the alleged sites of chemical weapons use is in direct contradiction to the convention's provisions."
Back in April, Russian Foreign Minister Sergei Lavrov also criticized the OPCW's previous investigations conducted from long distance on alleged chemical attacks in Syria.
In the course of the liberation operation in Eastern Ghouta, which began in February, Moscow has repeatedly warned that different factions of militant outfits in the region could stage gas attacks in a bid to frame the Syrian government.
The suspected chemical weapons attack, however, hit the town of Douma in the Eastern Ghouta region in the suburban area near Damascus on April 7, reportedly killing at least 60 people and wounding more than 1,000 others.
Western countries swiftly blamed the incident on the Syrian government. Damascus rejected the accusations as "chemical fabrications" made by the terrorists themselves in a bid to halt pro-government forces' advances.
The alleged use of chemical weapons in Douma, however, triggered a missile strike by the US, Britain and France that Russia has denounced as a violation of international law.
Elsewhere in his remarks, Kirillov said the so-called civil defense group White Helmets had doctored samples and used explosive devices to make craters that looked like those left by bombs.
He added that in the images presented by them, they worked at the site of the alleged use of sarin without protective gear, which would have been impossible if the nerve agent had indeed been used there.
Kirillov also lambasted the OPCW for turning a blind eye to the discovery of a militant-run lab and its stockpiles in Eastern Ghouta that contained over 40 metric tons of chlorine and other toxic chemicals.
Russian Foreign Ministry Spokeswoman Maria Zakharova, who spoke at the same briefing, said the chemical lab featured components made in Western Europe.
"We are ready to show evidence that the equipment was taken by terrorists and militants from Western Europe," she said.
The Syrian government surrendered its stockpiles of chemical weapons in 2014 to a joint mission led by the UN and the OPCW, which oversaw the destruction of the weaponry. However, Western governments and their allies have never stopped pointing the finger at Damascus whenever an apparent chemical attack has taken place.
Full report at:
http://www.presstv.com/Detail/2018/06/23/565784/Russia-Syria-US-chemical-attacks-OPCW-Douma
--------
Pakistan
6 suspected terrorists killed in South Waziristan military operation
June 23, 2018
Six suspected terrorists were killed in an intelligence-based operation carried out by security forces in the Ladha region of South Waziristan, an Inter-Services Public Relations (ISPR) press statement said on Saturday.
The operation, carried out under the broader Operation Raddul Fassad, was initiated on intelligence reports that militants had entered the area along with returning TDPs (temporarily displaced persons).
Among those killed by the forces was a "high-value target" identified as Nanakar, who is said to be involved in the killing of locals.
Two hawaldars, Razzaq Khan and Mumtaz Hussain, were martyred in an exchange of fire that took place during the operation.
According to the ISPR press release, the suspected terrorists had been in contact with a militant network in Afghanistan's Paktika province. Weapons, ammunition and communication equipment have been recovered from them.
https://www.dawn.com/news/1415648/6-suspected-terrorists-killed-in-south-waziristan-military-operation
--------
Banned groups use loopholes to contest Pak polls
Jun 24, 2018
ISLAMABAD: Despite being an unregistered party, members of Milli Muslim League (MML), the political face of banned terrorist group Jamaat-ud-Dawah (JuD), led by mastermind of 2008 Mumbai terror attacks Hafiz Saeed, will have its candidates in the fray.
MML entered an alliance + with a dormant but registered party Allah-o-Akbar Tehreek (AAT). AAT, which has a 'chair' as its election symbol, awarded tickets to 265 MML candidates for the July 25 election for national and provincial assembly seats. MML candidates include Hafiz Saeed's son, Hafiz Talha Saeed, and son-in-law Khalid Waleed.
MML's participation in elections has exposed the gaps in the system as both Election Commission of Pakistan (ECP) and ministry of interior had denied the party registration, citing concerns about the activities of its leaders and members. Both institutions said it was the political face of banned militant groups.
AAT chairman Ihsan Bari denied any electoral alliance with any group or party and said it had awarded 300 tickets. "MML announced its support for our candidates, which now number more than 300. Another party from Karachi, Pakistan Hamdard Party, is also supporting our candidates," he said.
Political analysts said AAT is a front for the proscribed party, and will most likely propagate JuD's agenda. "AAT's election campaign will follow the controversial, extremist and anti-India agenda of Hafiz Saeed, the founder of JuD and Falah-e-Insaniat Foundation (FIF)," Nazrul Islam, a renowned journalist, told TOI.
"MML had indicated its intention to contest elections on AAT tickets but ECP had failed to take action," Nazrul Islam said, adding that it will be a test for ECP and the interim government to sort this out.
"ECP can establish its writ by delisting AAT on grounds that it had denied registration of MML," he said.
Full report at:
https://timesofindia.indiatimes.com/world/pakistan/banned-groups-use-loopholes-to-contest-pak-polls/articleshow/64714509.cms
--------
Protesting Sikhs stop Indian envoy from entering Hassanabdal temple
Amjad Iqbal
June 24, 2018
HASSANABDAL: Expressing their anger over the release of a controversial film on the life and teachings of the Sikh religion's founder Guru Nanak Dev Ji, Nanak Shah Fakir, and the verdict of the Indian supreme court on the Khalistan movement, members of the Sikh community on Saturday barred Indian High Commissioner in Pakistan Ajay Bisaria and his wife from entering Gurdwara Panja Sahib in Hassanabdal.
Charged Sikh pilgrims from India who are visiting Gurdwara Panja Sahib also refused to meet Indian diplomats.
Take a look: Pakistani diplomat visits Golden Temple in Amritsar, meets CMs
While confirming the incident, officials of the Pakistan Sikh Gurdwara Parbandhak Committee (PSGPC) and Evacuee Trust Property Board (ETPB) said Mr Bisaria and his wife wanted to prostrate at the gurdwara and meet the Sikh pilgrims visiting Pakistan. However, upon their arrival at the gurdwara, the Sikh pilgrims launched a protest.
According to the officials, the pilgrims were of the view that Sikhs from all over the world were enraged over the Indian supreme court's verdict allowing the controversial film's release. The film was released on April 13 when Sikhs were celebrating their religious festival Baisakhi.
The ETPB officials said fearing a verbal altercation at the gurdwara they requested Mr Bisaria and his wife to cancel the visit.
Also in some other countries, Sikhs have stopped Indian diplomats from entering gurdwaras in protest against the film.
Sardar Bishon Singh, a PSGPC member, said the controversial film had hurt the sentiments of the entire Sikh community.
Sardar Sahib Singh, another member of the PSGPC, said that the Indian diplomat had been stopped from entering the gurdwara to register the Sikh community's protest against film and to pressurise the Indian government to impose a ban on it. "The film is based on the life and teachings of Sikhism's founder Guru Nanak Dev which is not acceptable to the Sikh community," he added.
FO rejects India's claim
Meanwhile, the Foreign Office in Islamabad has dismissed a claim by India that its high commissioner in Islamabad was denied access to a Sikh religious place.
"Sikh pilgrims were protesting against maltreatment in India and release of controversial movies," said Foreign Office spokesman Dr Mohammad Faisal.
"Indian HC was informed about the heightened pilgrim sentiments and he agreed to cancel his visit due to this concern," he said.
The Foreign Office spokesman's response came hours after Indian officials summoned the Deputy High Commissioner of Pakistan Syed Haider Shah and accused Islamabad of denying access to the Indian high commissioner to visit Gurdwara Panja Sahib and not allowing him to meet Sikh pilgrims.
According to the Indian officials, a strong protest has been registered by the Indian High Commission in Islamabad over the incident. "It has been conveyed to Pakistan side that preventing the Indian High Commission officials from discharging its consular responsibilities is in violation of the Vienna Convention on Diplomatic Relations of 1961, and the 1974 bilateral protocol on visit to religious shrines," a statement by the Indian foreign ministry said.
Full report at:
https://www.dawn.com/news/1415736/protesting-sikhs-stop-indian-envoy-from-entering-hassanabdal-temple
--------
Objections over value of Bilawal's assets rejected
June 24, 2018
ISLAMABAD: The Pakistan Peoples Party (PPP) has explained that its chairman Bilawal Bhutto-Zardari has mentioned the cost of his assets in his nomination forms for the coming general elections as per official prices of properties and other things and not according to their current market value.
"We have noticed that a lot is being said regarding Chairman Pakistan Peoples Party (PPP) Bilawal Bhutto-Zardari's asset details. The PPP would like to clarify a few things," PPP spokesman Senator Mustafa Nawaz Khokhar said in a statement.
He explained that the PPP chairman submitted income tax returns for the last three years with all his nomination papers. All properties and businesses that have been declared by him were inherited from his family.
As for those questioning how Bilawal House Karachi is worth Rs3 million, he referred to Section 116 of the Income Tax Ordinance, 2001, which reads "All assets [whether purchased or inherited] should be valued at cost".
He pointed out that the PPP chairman inherited Bilawal House Karachi in the early 1990s and claimed that at that time it was valued at Rs3 million.
Full report at:
https://www.dawn.com/news/1415733/objections-over-value-of-bilawals-assets-rejected
--------
Imran starts poll campaign from native Mianwali today
June 24, 2018
ISLAMABAD / KARACHI: Pakistan Tehreek-i-Insaf (PTI) chairman Imran Khan will formally launch his party's election campaign at a public meeting in his native Mianwali city on Sunday (today).
In a video message released by the party's media department, Mr Khan appealed to the people of Mianwali to attend the rally at the Hockey Ground in a large number.
In a related development, an election tribunal in Karachi dismissed an application challenging the candidature of Mr Khan from NA-243 (Karachi).
Mr Khan is likely to contest the election from five constituencies of the Nat­ional Assembly in Punjab, Khyber Pakhtunkhwa and Sindh.
The PTI leader in the video message said he had decided to launch his party's election campaign from Mianwali because it were the people of this city who had helped him enter politics. He recalled that he had become a member of the National Assembly for the first time in 2002 after winning the election from Mianwali.
Mr Khan said that today the PTI had become the country's largest party and expressed the hope that it would form the government after the July 25 elections and would make a new Pakistan as dreamt by the Quaid-i-Azam and Allama Iqbal.
The PTI chief had also won the NA seat from Mianwali in the 2013 elections, but he later vacated it and decided to retain the NA-56 Rawalpindi seat.
A senior PTI leader, when contacted, said the party had not given the call to its leaders and workers to attend the Mianwali gathering and only the local leadership would be present there. He said all the other leaders of the party were busy campaigning in their respective constituencies. In fact, he said, the party had launched its full-fledged election campaign with the public meeting in Lahore in April.
In Karachi, Abdul Wahab Baloch had filed the election appeal before the tribunal against the order of the returning officer (RO) to accept the nomination papers of the PIT chief.
The tribunal headed by Justice Yousuf Ali Sayeed dismissed the appeal and upheld the order of the RO for reasons to be recorded later.
The appellant had contended that there were different signatures of Mr Khan on his nomination papers and affidavit and that he had not mentioned the sponsors of his overseas tours.
Mr Baloch, a candidate of the Justice and Democratic Party headed by former chief justice Iftikhar Mohammad Chaudhry, had alleged that there were many concealments and mis-declarations in the nomination papers of the PTI chief and that he had not disclosed the name of his daughter Tyrian Jade Khan-White.
Mr Baloch had said that Mr Khan had also failed to mention who was financially supporting his two sons and that previously he had done nothing as a member of the National Assembly.
Full report at:
https://www.dawn.com/news/1415730/imran-starts-poll-campaign-from-native-mianwali-today
--------
Jamaat-i-Islami chief Sirajul Haq declares assets worth Rs2.9 million
June 23, 2018
Jamaat-i-Islami (JI) chief Sirajul Haq has declared assets worth Rs2.9 million in his nomination papers, DawnNewsTV reported on Saturday.
Documents annexed with the senator's nomination form filed with the Election Commission of Pakistan (ECP) show that his total assets as of June 30, 2017 were Rs2,939,618.
He paid Rs138,573 by way of income tax in 2017, the documents, copies of which are available with Dawn.com, state.
His dependants listed in the affidavit attached are his wife, three sons and four daughters.
The JI emir has declared that he has five bank accounts (of which one is in his wife's and another in his son's name) holding a total of Rs1.88m.
Haq has also declared ownership of Pakistan Model School, a private school in Lower Dir; jewellery weighing 4.5 tolas (56.25g) valued at Rs240,000; and 12 kanals of land held in partnership.
According to the documents, the twice-appointed finance minister for Khyber Pakhtunkhwa does not own a car, is not a bank defaulter and does not own any foreign assets.
The form also mentions a loan made out to a Peshawar-based cloth merchant amounting to Rs1,050,000.
Full report at:
https://www.dawn.com/news/1415658/jamaat-i-islami-chief-sirajul-haq-declares-assets-worth-rs29-million
--------
Blast targeting police vehicle injures six, including three policemen
June 23, 2018
Six people, including three policemen, were injured when an explosive device went off in Balochistan's Naseerabad district late Saturday afternoon in what police believe to to be a targeted attack on a police vehicle.
The injured were rushed to District Headquarters Hospital Dera Murad Jamali, the administrative headquarters of Naseerabad district. Deputy Superintendent of Police Inayat Bugti was also among the injured.
An emergency was imposed in the hospital to treat the injured.
The vehicle was hit in the Manjo Shori area of Naseerabad district while it was on routine patrol, local police said. The sound of the explosion resonated far, triggering panic in the area.
Unknown miscreants had used a bomb planted on the vehicle's route for the attack.
Full report at:
https://www.dawn.com/news/1415651/blast-targeting-police-vehicle-injures-six-including-three-policemen
--------
Revolution can wait: Tahirul Qadri says PAT will not contest polls
Jun 24, 2018
LAHORE: Pakistan Awami Tehreek (PAT) Chairman Dr Tahirul Qadri on Saturday announced that his party would not contest the general elections scheduled to be held on July 25.
"We were never a part of this system trampling rights of the people," Qadri said while announcing his party's decision at a press conference.
When asked if PAT was boycotting elections, the PAT chief responded: "I didn't use the word boycott."
He said his party couldn't be part of a system that commits crimes in the name of democracy and that all of the PAT members would soon take back their nomination forms.
The PAT chairman said the current political system protects the corrupt and suppresses the poor. "We cannot stand in its support," he added.
Recalling the Model Town carnage, Qadri asked whether it was "democracy that happened on June 17, 2014, in Lahore".
He also appeared irked by the Pakistan Tehreek-e-Insaf's (PTI) decision to give tickets to 'electables'.
Without naming the party's chief Imran Khan, he said that the statement on electables as being essential for elections went against PTI's slogan of change.
PAT has emerged as the first political party to officially announce its non-participation in the general elections.
The Election Commission of Pakistan's (ECP) request to the Ministry of Defence for deployment of at least 350,000 armed forces personnel in the upcoming general elections has already been approved.
The core purpose of the deployment of the military will be maintaining law and order during the elections countrywide. Besides, police personnel will also be deployed inside and outside polling stations to ensure implementation of the ECP's code of conduct.
The security of printing press, printing of ballot papers and their delivery to respective polling stations will be carried out under army's supervision, ECP officials said.
Full report at:
https://www.pakistantoday.com.pk/2018/06/23/revolution-can-wait-tahirul-qadri-says-pat-will-not-take-part-in-polls/
--------
South Asia
Bangladesh: Rains wreak havoc at Rohingya camps
June 24, 2018
Rains in Bangladesh's Cox's Bazar have wreaked havoc at the Rohingya camps, leading to an increase in waterborne diseases and damaging infrastructure in the area.
Humanitarian agencies in the region are still figuring out where to relocate these refugees who are living in the areas which are at the risk of landslides.
According to the Inter-Sector Coordination Group (ISCG) weekly situation report for June 14-21, the monsoon rains brought 95mm of rainfall, Dhaka Tribune reported.
In totality, 116 shelters have been damaged in the reporting period.
Over 700 people were affected by the rains, of which 55 people were affected by landslides, 234 by floods, 425 by wind and storms, and 13 by water logging. In total, 727 people were affected, the ISCG report stated.
A total number of 3,303 shelters, 22 water points, 300 latrines and one health facility have been damaged since May 11, while 14 health facilities were temporarily closed during the downpour.
In addition, 215,000 refugees are living in areas at risk of landslides, with 42,000 in the highest risk areas.
At least 32,000 refugees were relocated by June 17. The Bangladesh government plans to further relocate 3,500 others by the end of the month.
Rohingyas are a Muslim minority ethnic group in Myanmar and are considered to be illegal immigrants.
More than 700,000 Rohingya refugees are languishing in Bangladeshi refugee camps, after fleeing a brutal Myanmar army campaign launched in August last year.
The United Nations had earlier said the scorched-earth operation, which had left hundreds of villages burned to ash in Myanmar's Rakhine state, amounted to 'ethnic cleansing'.
https://www.business-standard.com/article/news-ani/bangladesh-rains-wreak-havoc-at-rohingya-camps-118062400064_1.html
--------
UN, World Bank chiefs to see Rohingyas in Bangladesh as pressure on Myanmar mounts
2018-06-23
In a recent move, judges at the International Criminal Court gave Myanmar a deadline to respond to a prosecution request that the ICC should exercise jurisdiction over the alleged crimes.
World Bank Dhaka office spokesperson Mehrin Ahmed Mahbub told bdnews24.com that the World Bank president would be visiting Bangladesh on July 1 and 2.
The UN office in Dhaka did not discuss the Secretary General's visit when asked, but a senior official at the foreign ministry has confirmed his visit.
Both of them are expected to arrive in Dhaka on the evening of Jun 30 and are scheduled to visit Rohingya camps on Jul 2.
Finance Minister AMA Muhith had previously told reporters on Jun 18 that the two would visit Rohingya refugee camps in Cox's Bazar during the visit.
The World Bank is planning to give between $400 and $500 million in aid in phases for Rohingyas in Cox's Bazar, Muhith said.
The two will also meet with Prime Minister Sheikh Hasina, Finance Minister AMA Muhith and Foreign Minister AH Mahmood Ali, among others.
About 700,000 of the Muslim-majority Rohingya population have fled largely Buddhist Myanmar to Bangladesh after a military crackdown in August 2017 that the United Nations has called 'ethnic cleansing'.
Bangladesh is in talks with Myanmar to repatriate the refugees. The international community has called upon Myanmar to ensure an environment so that they can return voluntarily.
The UN secretary-general has asked Myanmar to address the root causes of the violence and the responsibility of the Myanmar government to provide security and assistance to those in need.
Judges at the International Criminal Court have given Myanmar a deadline to respond to a prosecution request that they consider hearing a case on the alleged deportation of Rohingya minorities to Bangladesh.
Full report at:
https://bdnews24.com/bangladesh/2018/06/23/un-world-bank-chiefs-to-see-rohingyas-in-bangladesh-as-pressure-on-myanmar-mounts
--------
Ghani welcomes Saudi Imams remarks against the ongoing violence in Afghanistan
Jun 24 2018
President Mohammad Ashraf Ghani has welcomed the remarks by the Saudi Imams against the ongoing conflict in Afghanistan.
Speaking with the provincial government and military officials of the 34 provinces via video teleconference, President Ghani welcomed the remarks by Al-Haram and Masjid Nabawi Imams for rejecting the ongoing conflict in Afghanistan as 'Haram' or illegitimate.
He said the Islamic Imams and religious scholars of the Islamic world have consolidated views and agree that the ongoing conflict in Afghanistan is illegitimate and are therefore raising their voice in a coordinated manner.
President Ghani also offered condolences and expressed grief regarding the murder of religious scholar in Herat and instructed the relevant authorities to take necessary measures to ensure the safety of the religious clerics.
In the meantime, President Ghani instructed the civilian and military leaderships across the 34 provinces to consult with different sects on provincial level to ensure services are delivered in a better way, emphasizing that the government's main aim is to achieve the satisfaction of the people.
He also hailed the officials for the better management of ceasefire and emphasized on further measures to ensure security highways, towns, and all other areas.
President Ghani also added that clearance operations are underway but emphasized that all potential threats against the people and sovereignty of the country should be eliminated.
Full report at:
https://www.khaama.com/ghani-welcomes-saudi-imams-remarks-against-the-ongoing-violence-in-afghanistan-05419/
--------
Helmand Peace March activists criticize Taliban for the silence regarding peace demands
Jun 23 2018
The activists of Helmand peace march who arrived to Kabul earlier last week have criticized the Taliban group for their silence regarding the peace efforts and the demands they have made for reconciliation.
The Helmand peace march activists issued a statement after the Taliban group failed to respond to their demands regarding peace, despite the group was given three days to respond regarding the ongoing efforts for peace.
The statement further added that the Hemand peace march is an independent movement which has risen from among the people and the activists of the movement walked all the way from Helmand to Kabul, covering almost 700 kilometers, in support of peace.
The Helmand peace march activists have repeatedly shared their demands with the parties involved in the ongoing conflict, the statement, said, adding that their demands were publicly accepted by President Mohammad Ashraf Ghani and subsequently announced the government's willingness to extend ceasefire for another one month.
However, the Taliban group has failed to respond to the demands of the nation and have slammed them in the face, the statement added
The Helmand peace march activists also added that they have reached to a conclusion that certain circles among the two sides are preventing peace efforts to succeed and are interfering in the internal affairs of the country.
Full report at:
https://www.khaama.com/helmand-peace-march-activists-criticize-taliban-for-the-silence-regarding-peace-demands-05415/
--------
Murder of Herat cleric an unforgivable terrorist act: Ghani
Jun 23 2018
President Mohammad Ashraf Ghani has strongly condemned the murder of a religious cleric in western Herat province of Afghanistan, calling it a unforgivable terrorist act.
The Office of the President, ARG Palace, in a statement said President Ghani strongly condemns the murder of religious cleric Jafar Tawakali and has called the perpetrators the enemies of Islam and humanity.
He said the killing religious clerics has no justification in any religion and is against all principles of Islam and humanity.
President Ghani said Tawakali was a prominent religious cleric who had worked tireless for preaching the Islamic teachings.
He also instructed the security institutions in Herat to thoroughly investigate the incident, identify the perpetrators and introduce to the judicial institutions.
According to the local security officials, the attack on Tawakali was carried out late on Friday in the vicinity of Herat city.
The provincial security commandment said a group of unknown armed men carried the attack and managed to flee the area after the attack.
Full report at:
https://www.khaama.com/murder-of-herat-cleric-an-unforgivable-terrorist-act-ghani-05411/
--------
Taliban ambush Paktia governor's convoy in Logar province
Jun 23 2018
The militants ambushed the vehicles convoy of Paktia governor as he was travelling in the vicinity of Logar province, the officials said.
The incident took place earlier today as the governor was on his way from capital Kabul to Paktia province, the provincial government media office said.
According to an official, a group of armed militants ambushed the convoy of the governor but the Afghan security forces and the security guards of Mr. Shamim Khan Katawazi responded effective to suppress the attack.
The statement further added that reports circulating on social media regarding the injuries inflicted on the governor during the attack are baseless and not true.
The provincial government also added that Mr. Katawazi is safe and has retuned to his work.
The anti-government armed militant groups including Taliban insurgents have not commented regarding the report so far.
Logar has been among the relatively calm provinces in central parts of the country but the security situation of the province has started to deteriorate recently.
Full report at:
https://www.khaama.com/taliban-ambush-paktia-governors-convoy-in-logar-province-05413/
--------
Mideast
Erdogan, rival Ince trade blows at final election rallies on eve of Turkey polls
Jun 23, 2018
Turkish incumbent President Recep Tayyip Erdogan and his closest rival Muharrem Ince have traded blows in mass rallies just a day before the country's most fiercely contested presidential and parliamentary elections in decades.
Around 60 million registered Turkish voters are eligible to hit the polls in landmark snap elections on Sunday, with veteran and rhetorically-gifted Erdogan seeking a first-round victory for a new mandate and a strong parliamentary majority for his ruling Justice and Development Party (AKP).
The 64-year-old Turkish leader, however, has faced the unexpected emergence of energetic Ince, a formal physics teacher and the presidential candidate of the main opposition Republican People's Party (CHP), as his main challenger in a tight presidential contest, whose winner will acquire sweeping new executive powers under a constitutional overhaul backed by Erdogan and endorsed narrowly in a controversial referendum last year.
"God willing, Turkey will start flying with this system... With this system, we will achieve what others cannot imagine," Erdogan said on Saturday, addressing tens of thousands of his supporters at a rally in Istanbul's Esenyurt district, the first of five planned for the day.
For his part, Ince, who is famous to have made fierce speeches in parliament against the AK Party, painted a gloomy picture in case that Erdogan emerged victorious in Sunday's elections, saying Turkey's currency would remain weak, prices high and the issue of some 3.5 million Syrian refugees unsolved.
"But if Ince wins, it will not just be Ince who wins... 80 million people will win! Turkey will win!" he said, addressing hundreds of thousands of his supporters who had crammed at the vast Maltepe shoreside on the Asian side of Istanbul for his final rally.
Ince boasts of holding 107 rallies in the last 51 days since his candidacy was announced, two mega meetings of them were held in Izmir and Ankara over the last two days.
"Tomorrow, we will have a completely different Turkey. Tomorrow, discrimination will come to an end," 54-year-old Ince further said at the rally, vowing a series of transformative measures from speeding up talks to join the European Union (EU) to putting an end to a hugely unpopular football fan ID card system.
He also lambasted Erdogan for the bias he allegedly supported in Turkey's state media, which has given the president and the AK Party extensive coverage while often ignoring the opposition rallies.
Ince claimed that some "five million" of his supporters were in Maltepe as he was speaking "but none of the TV channels can show" them. "Let this immorality be an example to the world."
As Ince was speaking movingly at his rally, his strong opponent was also doing the same at the other side of Istanbul.
"God willing, tomorrow evening we will be able to experience this happiness together," said Erdogan, who has dominated Turkish politics for the past 15 years, at a well-attended rally. "Are you ready to bring victory?"
He also tried to ridicule Ince, who has never held state office despite being a legislator for 16 years, for his lack of experience.
"It's one thing to be a physics teacher, it's another thing to run a country," said Erdogan, adding, "Being president needs experience. A president needs recognition from the international community."
On Wednesday night, the Turkish leader surprised many by saying that he might seek to form a coalition government if his party failed to secure a majority in the parliamentary elections, as has long been an ardent critic of coalition governments.
Erdogan believes that coalition governments, formed through parliamentary systems, are all against stability in any given country, unlike a presidential system, which boosts stability.
Back in April, Erdogan said that the elections would be brought forward to June 24, more than a year earlier than planned, arguing that his administration was facing numerous legal problems, including economic challenges and the war in Syria that could be solved only with a more powerful presidency.
So far, opinion polls on average have placed the incumbent president around 20 percentage points ahead of Ince.
Under the constitutional changes going into effect after the decisive vote, the number of legislators in parliament will increase to 600 from 550 currently.
Meanwhile, rights campaigners and international organizations have expressed doubts about the legitimacy of the elections, which would come under a renewed state of emergency in Turkey. The measure has been in place since a failed coup two years ago, allowing the government to jail or dismiss more than 200,000 people over suspected links to coup plotters.
Earlier this month, Erdogan promised that the first thing he would do after being re-elected in the elections would be to suspend the emergency law.
The emergency law has helped Erdogan and his security apparatus in cracking down on those deemed to have played a role in the coup attempt.
http://www.presstv.com/Detail/2018/06/23/565867/Turkey-Erdogan-Ince-elections
--------
UAE ready to back efforts for Yemen rebel pullout
June 24, 2018
ABU DHABI - The United Arab Emirates, whose troops have played a major role in a Yemeni government offensive against the port city of Hodeida, said Saturday that it was ready to support diplomatic efforts to secure a rebel withdrawal.
But it said the pullout must be unconditional and from the whole city not just its vital docks, the entry point for three-quarters of Yemen's imports.
"The coalition will achieve its goal, which is to free the city, including the port," UAE minister of state for foreign affairs, Anwar Gargash, tweeted, referring to a Saudi-led coalition which intervened in support of the Yemeni government in 2015.
"In the meantime, it will support all efforts to secure a peaceful and unconditional withdrawal by the rebels," he added. UAE-backed government forces launched their offensive against Hodeida on June 13 and on Wednesday overran its disused airport after deadly fighting with the rebel garrison. On Saturday, the airport continued to come under mortar fire from adjacent rebel-held neighbourhoods in the south of the city.
Government forces responded against the source of the fire.
UN envoy Martin Griffiths, who held abortive talks in the rebel-held capital Sanaa last weekend, was continuing "consultations with all sides to avoid a military confrontation in Hodeida and return rapidly to the negotiating table," his office said.
The rebels have said they are willing to share control of Hodeida's port with the United Nations but have vowed that their forces will remain in the docks and in the rest of the Red Sea city.
Full report at:
https://nation.com.pk/24-Jun-2018/uae-ready-to-back-efforts-for-yemen-rebel-pullout
--------
Manbij Military Council: US Not to Allow Turkish Deployment in Manbij
Jun 23, 2018
Hawar news reported on Friday that the commander of Manbij military council has held talks with a high-ranking delegation of the US-led coalition, including US Central Command Commander Army General Joseph Votel, Commander of the US Special Forces in Syria and Iraq Jimmy Gerrard and Under-Secretary of Defense for Policy John Rudd in Manbij.
It added that during the meeting, the American side underlined its support for the Manbij military council against the possible dangers, adding that it has long-term plans to continue the support and implemen joint plans.
According to the report, the US delegation has also stressed that it would not allow the Turkish forces to enter Manbij.
Meantime, Anadolu news agency reported on Friday that the third round of the Turkish forces' patrolling missions has started in Manbij region.
It added that the Turkish army's armored vehicles have been deployed in regions near Sajour river between Jarabulus (occupied by the Ankara-backed forces) and Manbij region in coordination with the US forces in Manbij.
The measures have been taken as Syria has strongly denounced the presence of Turkish and US troops around the Arab country's Northern town of Manbij, a day after soldiers of both countries entered the outskirts of the flashpoint town as part of a deal reached between Ankara and Washington to purportedly remove US-backed Kurdish militants from the area and "secure" the region.
"Syria expresses its strong condemnation and absolute rejection of the incursion of Turkish and American forces in the vicinity of Manbij, which comes in the context of continued Turkish and American aggression," Syria's official news agency, SANA, said, quoting an unnamed official from the country's Foreign Ministry on Wednesday.
The official added that following successive achievements against various terror groups, the Syrian people and their valiant armed forces "are more resolute and determined than ever to liberate the entire Syrian soil from any foreign elements and to preserve the sovereignty and territorial integrity" of the Arab country.
The statement came just a day after that US-led coalition and Turkish forces have begun independent but coordinated patrols along a demarcation line near the Syrian town of Manbij while planning for joint patrols in the future, citing a US Central Command press release.
Full report at:
http://en.farsnews.com/newstext.aspx?nn=13970402000908
--------
Iran accuses rights lawyer Nasrin Sotouded of state security offences
23 June 2018
Award-winning Iranian human rights lawyer Nasrin Sotoudeh faces prosecution on state security charges following her arrest in the capital last week, her husband said on Saturday.
Sotoudeh, 55, denies the charges but remains in the women's wing of Tehran's notorious Evin prison after refusing to post bail of $95,000 Reza Khandan told the ISNA news agency.
"My wife is accused of conspiracy, assembly and propaganda against the system" of rule of the Islamic republic, Khandan said.
"My wife considers the accusations against her to be baseless and made up, and the bail demand to be disproportionate," he added.
Sotoudeh, who is one of the few outspoken advocates for human rights in Iran, was detained in her Tehran home on June 13.
Her arrest has been condemned by the US State Department and human rights group Amnesty International, which both called for her immediate release.
Earlier this year, Sotoudeh represented several women arrested for protesting against the mandatory wearing of headscarves in Iran.
Tehran police said in February that 29 women had been detained for posing in public without their headscarves.
Winner of Sakharov rights award
Sotoudeh won the European Parliament's prestigious Sakharov rights award in 2012 for her work on high-profile human rights and political cases, including those on death row for offences committed as minors.
She spent three years in prison between 2010 and 2013 for "actions against national security" and spreading "propaganda against the system" and remains banned from representing political cases or leaving Iran until 2022.
Sotoudeh has defended journalists and activists including Nobel Peace laureate Shirin Ebadi and several dissidents arrested during mass protests in 2009 against the disputed re-election of hardline president Mahmoud Ahmadinejad.
She had recently spoken out against a new criminal code that allowed only a small number of lawyers -- just 20 in Tehran -- to represent individuals charged with state security offences.
During her previous spell in Evin, Sotoudeh staged two hunger strikes in protest at the conditions and over a ban on seeing her son and daughter.
Full report at:
https://english.alarabiya.net/en/News/middle-east/2018/06/23/Iran-accuses-rights-lawyer-Nasrin-Sotouded-of-state-security-offences.html
--------
Yemeni info official: Qatar provided Houthis with all kind of support
23 June 2018
Yemeni information minister councilor and head of the Yemeni Media Association, Fahad al-Sharafi, said that Qatar's position was shameful in supporting the Houthis politically, militarily, and through its media influence and that the Al Jazeera channel has now become "meaner" in handling the Yemeni file than the Houthi channel "al-Maseera".
"Qatar's, or specifically the Amiri Diwan of Qatar the Two Hamad regime, betrayal for the brotherhood, bonds, religion and relatives is not something new, it is as old as the Houthi project. The Qatari and the Iranian support for the Houthis was there since its emergence, but it was not clear until 2007 when Qatar interfered bluntly to save the Houthis who were about to become to an end. The Yemeni army at the end of what was called the fourth war, was about to destroy the last stronghold of the Houthi leadership, it made a suspicious mediation, which was accepted by the government and President Ali Abdullah Saleh to be one of the most catastrophic blunders." al-Sharafi added.
"We, the sons of Saada saw the Qatari processions getting into everywhere the Houthis are, headed by "Hamad bin Seif Buainain" Qatari diplomat and one of the most important elements of Doha intelligence. It offered them generous support, huge amounts of money, encouraged their moral with great momentum and turned over the conditions of the declared reconciliation when indicates that Houthi should return to be a good citizen and do not interfere in the authority affairs, hand over the weapons and get down from the mountains," he added.
Al-Sharafi continued saying: "on the real ground it enabled the Houthis to re-expand and buy weapons, the Qataris also had a role in buying the loyalty of a lot of the tribes Sheikhs and the politicians for the Houthi group ,providing them money which was the first main factor of the rebellion. I wrote an article about that at the beginning of June, after the decision of severing ties with Doha, which was taken by number of the Arab countries (Saudi Arabia, UAE, Egypt and Bahrain), the article was published in al-Sharq al-Awsat Newspaper titled (Qatar's story in Saada mountains), the Qatari's hostile role continued until February's 2011 uprising which was generously funded by Qatar. Qatar managed to reserve for the terrorist Houthis a place inside these protests. The Yemeni opposition parties and all the powers involved in the protests committed the fatal mistake; the so-called "spring revolutions", and mistake continued to be even lethal when it welcomed the racist terrorist Houthi militias involved in the killing of officers, army and security members for six wars in Saada. In addition to thousands of the victims of Saada's citizens and ten thousands of the forcibly displaced families. It tried giving it a desperate revolutionary cover and turn the terrorist into a revolutionist.
I believe that the Doha's government and Western parties had a role in imposing the Houthis on these political parties; whose priorities unfortunately did not include the national constants, that's why it lost a lot and did not realize that after it was too late. A lot of its leaders and members still insist and deny the crime they did. After that became the second phase of the Houthi and the Houthi terrorist element, after being a rebellious terrorist it became a national revolutionist for the opposition and then as a political partner.
The reconciliation authority gave it more weight than it deserves; in what is called the National Dialogue Conference and the deterioration process continued until the Houthis were able to topple Sana'a and besiege the President and the government.
With Qatar's involvement in the Arab-led coalition, we thought it had reconsidered its calculations and wanted to whitewash its record of the blatant betrayal and aggression by sponsoring and supporting bloody, racist terrorist militias that serve Iran's direction.
'Al Jazeera worse than Al Massera'
However it seems the Doha's government is always mistaken, once its membership in the coalition ended with a decision taken by the coalition leadership' Al Jazeera became worse than Al-Maseera and the Amiri Diwan of Qatar became Houthi more than the Houthi political office. Since the boycotting decision, the Two Hamad regime stopped pretending and supported the Houthis Politically, financially and through media publically. This file specifically needs documentation and monitoring as the declared Qatari war against the Yemeni people and the coalition countries headed by the Saudi Arbia, should not be left without responding, while it is blood, honor and rights that would not be subject to prescription.
Concerning the development in Al-Hodeida, al-Sharafi said that the UN efforts at this timing are just hindering the liberation operation of Hodeida, which a well prepared operation since months by the Joint forces army, which are supported the coalition to support legitimacy, these forces made the largest part of the liberation of Hodeida.
He added that the paths that leads to Hodeida are Mokha and al-Khawkhah not the airport nor the platform which was liberated by the army forces, which were assigned by the coalition during the past few days. These are important and strategic locations in Hodeida city itself.
He pointed out that with not doubt the Houthis tries to stick to Hodeida though it suffers weakness and collapse, but decided that the city of Hodeida would be the central battlefield as part of the war, mobilize their elements and recruit even the children and lured youth some of which were forced to fight.
I believe that the joint forces and its supporting coalition forces were capable to liberate the City and the port in a short time, but they avoid getting into populated areas and follow a well-planned plan to neutralize civilians and densely populated areas.
We would not miss here to highlight that the pretest of protecting the civilians and the exaggeration of the media, by the media, forces and international organizations complicit with Houthi (Iran's project in Yemen) is trying to stir up regional and international public opinion, claiming that it is concerned for the Hodeida's inhabitant who are going to be affected by the liberation process. This was obvious through what the Houthi is building in the inhabited districts of barricades, trenches, spreading artillery and the distribution of snipers on the roofs of houses, digging trenches and using people as a human shield. The purpose of this is to look for justifications for the forces supporting the Houthis to use in their desperate efforts to stop the liberation process.
Adding that the liberation process is going on and the plan as I previously said is accurate. The army is fighting in several fronts and besieging them to enforce them to surrender or escape. Soon we would all celebrate the liberation of this important city, whose people are impatiently waiting for the freedom.
Media situation in Yemen
Al-Sahrafi said about the media situation in Yemen, there is no doubt that the media and press sector in Yemen, were the first sectors targeted by the Houthi militias supported by Iran on the night of freeing Sana'a. The offices and properties of all governmental and civilian media, channel offices and local and international newspapers were confiscated, dozens of Journalists were arrested, most of which are still disappeared , while others were martyred either being tortured or by putting them in military areas and bomb the detention centers, then claim that it was bombed by coalition forces aircraft.
All Ministry of Information employees, the legitimate government channels and also those who work in the websites who exist in Aden, Marib, Hadhramaut and other places, are victims who were forced to leave to Sana'a and other places out of fear of being kidnapped and killed, which is considered a systematic methodology for the Houthis towards all free media and opinion writers. Thus everyone tries to expose the Houthi militia's actions and crimes, they support their kidnapped colleagues and their families by monitoring the violations committed against them and proving it, they launched campaigns for the continuous appeal for their release. However unfortunately the international organizations do not remember the human rights until it is for the Houthis interest only, to pressure the legitimacy and the coalition in order to abolish the liberation decision for the areas, which we believe are the only way to regain the country and end tyranny against all its inhabitants with all their different beliefs and loyalties; the journalist, the student, the employee, the soldier, the farmer, the teacher, the doctor, the engineer, the writer, the athlete, the military, the civilian, the sheikh, the woman and the child are all victims for this bloody project. There is no way to confront it except by force and cooperation between all the honest Yemeni people to achieve victory and regain all the areas from Hodeida to Saada.
Al-Sharafi said: "the Iranian media support for the Houthis is obvious, Iran's project in the region has an effective and intensive media support. In Yemen we were used to complaint about this, when we, the sons of Sa'adah, were the victims of this hideous project at the very beginning, while the Yemeni media was occupied with trivial internal conflicts".
Today, after the coalition had got involved after declaring "The decisive storm" with a historical decision by the decisive and determined king the Custodian of the Two Holy Mosques King Salman bin Abdulaziz Al Saud and His Crown Prince His Royal Highness Prince Mohammed bin Salman bin Abdulaziz; the establishment of the supporting legitimacy coalition, led by Saudi Arabia and the effective contribution of UAE, a stage of equity started. The coalition countries media is doing a great role in supporting Yemen, on top of the media institutions which are indulged in the media war are Al Arabiya channel, Al Hadath Channel, and the official Saudi media channels, as well as the Arabic Sky News, the official UAE media, the Egyptian, Kuwaiti, Bahraini and Sudanese media. All these countries with it armies and media are supporting the Yemeni people in a historical stance. However we still have some gaps that have its causes, most important of which is that these channels had joined that Yemeni file, without having a deep background about the conflict and the dispersion of the visions which the Yemeni citizen has. As well as the impact of the disputes and conflicts, which emerged due to the crisis of the struggle for power since the outbreak of the uprisings of the so-called Arab Spring, on how the different Yemeni parties handled the collapse of the state, exchanging accusations and shirk responsibility. The Houthi's takeover of official Yemeni media organizations such as satellite channels, news agencies and information centers resulted in a real problem. Can you imagine a legitimate government that had fought a regional war without media for more than six months. Until, with the cooperation of the brothers in Saudi Arabia, re-launch an official channel and news agency; as if this state was established from scratch is a state of war.
We do not forget the hostile role played by Al Jazeera channel and a lot the other Qatari media channels, especially after ending its membership in the coalition in June 2017 and its return to practice the old mean actions as a media supporter for the Iranian project in Yemen, in a blunt and mean way witnessed by all the Yemenis and the peoples of the region. While we are working hard, with the honest leaders in the information ministry, media institutions, the websites, online newspapers and the social media which became the (instant media), to serve our main cause in facing all the lies and the hostile forces activities in Tehran, Doha, Dehian, Geraf, and the northern district; where we believe that we are succeeding but we need a lot of effort and capabilities to achieve our goal which we believe we deserve..
Al- Sharafi mentioned that the war is about to end, saying: we would achieve the victory which we, our country and all the great free people of our nation deserve, those who fight on our side on the first Arabs Land; Yemen. It would be a victory for the Arab and Islamic nation as a whole, defending our honor, land, dignity and destiny. Demolish Iran's conspiracies and its followers along with domination and arrogance forces.
He clarified that the Yemenis position was expressed in the confrontation and struggle of all the free Yemenis from everywhere and on all fronts; in Sa'adah, Hajjah, Taiz, Al-Jawf, Al-Hodeida, Sana'a, Ma'rib, Al Bayda and Ibb and when the Houthis would get defeated in Al-Hodeida and the blessed fronts of Sa'adah would keep going forward to reach Taiz and Al Bayda, on the liberation path with huge momentum. Nihm, Sirwah and Al-Jawf fronts would keep going forward to reach Sana'a and 'Amran and Haradh and Midi fronts join the march coming from the west coast; you would the Yemenis fighting to end this crisis in days.
He asserted that Saada was the first affected governorate with Houthi project, if we measured the resistance of the governorates, we would find that Saada is Yemeni governorate that stood the longest duration rejecting to surrender to the Iranian beast. It was supporting the state and the army against the rebel, since June 2004 till the beginning of 2014. When Dammaj and Kitaf as the last two districts that fell under the control of the Houthis despite the fierce resistance. Thus Sa'adah lost a lot, the state, the community and the region disappointed Sa'adah's sons in these wars which destroyed their moral, in addition to the doubled revenge and abuse methodology the militias followed with Sa'adah' free citizens for many years. Which suppressed the spirit of the revolution, but Sa'adah's honorable citizens are a majority. The fronts now are coming from the East, West and north in order to liberate Sa'adah's governorate. On 9th of May, 2018 we held a conference for Sa'adah's tribes in order to liberate it, the conference was attended by most of the Sheikhs and the noblemen who are fighting to come back home.
Full report at:
https://english.alarabiya.net/en/News/gulf/2018/06/23/Yemeni-info-official-Qatar-provided-Houthis-with-all-kind-of-support.html
--------
UN's Yemen envoy to present a peace plan to EU on Monday
23 June 2018
The United Nations special envoy to Yemen, Martin Griffiths, is expected to present to EU foreign ministers next Monday a report on Yemen at a meeting in Luxemburg..
Official Sources confirmed to Al Arabiya news channel that the EU supports the peace plan to put an end to the Yemeni conflict, as proposed by Griffiths.
It is expected that the EU foreign ministers will stress on the priorities to avoid targeting Yemeni civilians in Hodeidah port city and hasten plans to bring all concerned parties back to the negotiating table.
Maja Kosigancic, the spokesperson for EU Foreign Affairs & Security Affairs, said: "We call on all parties involved in the conflict to resume the negotiations as we believe that there is no military solution to the conflict, and any solution to the crisis will only be through negotiation tools under the UN supervision."
The Arab Coalition's spokesman, Turki al-Malki, speaking from Brussels in a press conference, had said on Friday that the options for the coalition were numerous and could include a pre-emptive military operation.
The major European countries - France, Italy, Germany and Britain - are trying since February to convince Iran to stop backing the Houthi militias and pressure them to accept a political solution to the conflict and give up on the coup illusions.
Full report at:
https://english.alarabiya.net/en/News/gulf/2018/06/23/UN-envoy-to-Yemen-presents-a-peace-plan-to-EU-on-Monday.html
--------
Iran border guard killed in northwest clash with militants
Jun 24, 2018
An Iranian border guard has been killed in clashes with Iraq-based Kurdish militants in northwest Iran, the Fars news agency reported on Sunday.
The clashes took place near a border checkpoint about 11 km from the Iranian city of Piranshahr early Sunday, during which one of the assailants was killed and the rest fled back into the Iraqi territory.
"According to the report, Second Lieutenant Seyyed Mohammad Hashemi attained martyrdom and Private Kasra Abdolalizadeh got hit in his foot and sustained debilitating injury," Fars said.
Earlier this month, Iran officially protested to the Iraqi Kurdistan's authorities following a number of attempts by terror groups based in the semi-autonomous region to enter the country and carry out attacks.
There has been a visible rise in the assaults after the reported death of a Kurdish militant commander in northern Iraq on March 6.
The protest came after Iran's Islamic Revolution Guards Corps (IRGC) dismantled three terrorist groups in separate operations in a space of one week.
Two Iranian border guards were killed on June 5 during clashes with armed bandits near the border city of Sardasht.
The bandits are often based in a mountainous terrain from which they carry out their hit-and-run attacks.
The Turkish military has recently ramped up airstrikes in northern Iraq targeting Kurdistan Workers Party (PKK) bases in Qandil, close to the Iraq-Iran border, where high-ranking members of the militant group are thought to be located.
The government has also said Turkish troops have deployed roughly 30 km (nearly 20 miles) inside northern Iraq, not far from Qandil.
Full report at:
http://www.presstv.com/Detail/2018/06/24/565912/Iran-clashes-gunmen-northwest-West-Azerbaijan
--------
Nearly 300 Turkish diplomats seek asylum in Germany after 2016 coup attempt
Jun 23, 2018
Nearly 300 Turkish diplomats have sought asylum in Germany since the 2016 coup attempt against the government of President Recep Tayyip Erdogan.
According to data from the German Interior Ministry, 1,177 Turks with diplomatic status or official credentials, including diplomats' spouses and children, have requested asylum.
Ties between Turkey and Germany soured over a host of issues after the failed coup, with Berlin critical of Ankara's post-coup crackdown and the arrest of German citizens in Turkey.
Ankara accused the European country of harboring "terrorist" organizations opposed to Erdogan.
The two countries have also clashed over Germany's alleged support for Kurdish opponents of the Turkish government and its opposition to a controversial referendum in Turkey in April last year, which gave Erdogan new sweeping powers. German authorities at the time prevented some pro-Erdogan campaigns in the country, a move that infuriated the Turkish president.
Turkey, under a state of emergency since the coup, has been engaged in suppressing the media and opposition groups suspected to have played a role in the failed coup.
Tens of thousands of people have been arrested in Turkey on suspicion of having links to opposition cleric Fethullah Gulen and the failed coup. More than 150,000 others, including military staff, civil servants and journalists, have been sacked or suspended from work over the same accusations.
The international community and rights groups have been highly critical of the Turkish president over the massive dismissals and the crackdown.
Full report at:
http://www.presstv.com/Detail/2018/06/23/565873/Turkey-germany-assylum
--------
Turkish police arrest 47 suspects over links to Gulen network
Jun 23, 2018
Turkish police forces have arrested at least 47 people on suspicion of affiliation to a movement led by the US-based opposition cleric Fethullah Gulen, whom the Ankara government accuses of having masterminded the July 2016 coup attempt against President Recep Tayyip Erdogan.
Security officials, speaking on condition of anonymity, said the suspects were detained during an operation, which began on Tuesday and targeted 124 people, Turkish-language CNN Turk television news network reported.
During the botched putsch, a faction of the Turkish military declared that it had seized control of the country and the government of Erdogan was no more in charge. The attempt was, however, suppressed a few hours later.
Ankara has since accused Gulen of having orchestrated the coup. The opposition figure is also accused of being behind a long-running campaign to topple the government via infiltrating the country's institutions, particularly the army, police and the judiciary.
Gulen has denounced the "despicable putsch" and reiterated that he had no role in it.
"Accusations against me related to the coup attempt are baseless and politically-motivated slanders," he said in a statement.
The 77-year-old cleric has also called on Ankara to end its "witch hunt" of his followers, a move he says is aimed at "weeding out anyone it deems disloyal to President Erdogan and his regime."
Turkish officials have frequently called on their US counterparts to extradite Gulen, but their demands have not been taken heed of.
Turkey, which remains in a state of emergency since the coup, has been engaged in suppressing the media and opposition groups suspected to have played a role in the failed coup.
Tens of thousands of people have been arrested in Turkey on suspicion of having links to Gulen and the failed coup. More than 110,000 others, including military staff, civil servants and journalists, have been sacked or suspended from work over the same accusations.
Full report at:
http://www.presstv.com/Detail/2018/06/23/565866/Turkish-police-arrest-47-suspects-over-links-to-Gulen-network
--------
Arab World
Iraq killed 45 IS jihadists in Syria strike
June 24, 2018
BEIRUT/ BAGHDAD - Iraq said Saturday it had killed 45 jihadists from the Islamic State group, including senior members, in an air strike in eastern Syria, the second such operation in less than a month.
Iraqi F-16 fighter jets carried out a "successful strike targeting a meeting of Daesh (IS) leaders" on Friday in the Hajin region, in the eastern Syrian province of Deir Ezzor, a military statement said. Among those killed, it said, were a senior member of the jihadists' "ministry of war", his deputy, a local commander and a media official. There was no independent confirmation.
Three houses linked by an underground tunnel were also destroyed, it said, adding that the air strike was carried out based on "intelligence" and at the request of Prime Minister Haider al-Abadi. Hajin, about 50 kilometres (30 miles) from Iraq's border, is the largest populated hub still under IS control in Syria. Last month the Britain-based Syrian Observatory for Human Rights that monitors the Syrian war said that at least 65 senior IS members live in Hajin.
The town has been surrounded since the end of last year by the Syrian Democratic Forces, a US-backed alliance of Kurdish and Arab fighters, the monitor says.
Iraq's air force has carried out several strikes on IS-held territory in Syria since April, including one targeting "the headquarters of IS terrorist gang leaders" in Hajin on May 24.
The following day Iraq released a video showing a strike on a huge building surrounded by palm trees and a wall which then collapsed. IS declared a cross-border "caliphate" in Syria and Iraq in 2014, seizing a third of Iraq during a sweeping offensive. The jihadists have since lost much ground to separate counter-offensives by Syrian and Iraqi forces as well as US-led operations, and the jihadist presence has been confined to a few holdouts in Deir Ezzor. In December the Iraqi government declared victory over IS but the military has continued regular operations targeting mostly desert areas along the porous Syrian border.
Syrian army gains ground in rebel south
Syrian regime forces on Saturday made their first gains on the ground against rebel fighters in the southern province of Daraa after several days of intensified bombardment, a monitor said. Since Tuesday, regime troops have been ramping up shelling on opposition-held areas in Daraa's eastern countryside ahead of an apparent military offensive against rebels there. "Regime troops made their first advance in the area since the military escalation on Tuesday, seizing the villages of Al-Bustan and Al-Shumariya in the eastern part of Daraa province," said the Britain-based Syrian Observatory for Human Rights.
The shelling and clashes are currently focused on a wedge of rebel territory between Daraa's eastern countryside and the western part of the neighbouring province of Sweida.
The army seems to want to split that wedge into a northern and southern section, Observatory head Rami Abdel Rahman said, "to facilitate their operations and increase the pressure on rebel factions, allowing it to advance more quickly".
Syrian state news agency SANA also reported the advance, saying army units edged forwards against rebels in Daraa's east.
After securing the capital Damascus, Syrian troops have turned to the country's south, where rebels still hold a majority of the provinces of Daraa and Sweida.
Southern Syria is a particularly strategic zone: it borders both Jordan and the Israeli-occupied Golan Heights, and also lies close to Damascus.
https://nation.com.pk/24-Jun-2018/iraq-killed-45-is-jihadists-in-syria-strike
--------
White Helmets Plotting New Chemical Attack in Southern Syria
Jun 23, 2018
The Arabic-language Sputnik quoted field sources as reporting that the White Helmets' movements in the town of Basr al-Harir and other regions in Eastern Dara'a have been monitored.
It further said that the White Helmets are paving the ground for another fake scenario to blame the Syrian army of a chemical attack in Dara'a province.
Sputnik further said that the White Helmets have played an important role in producing fake videos of chemical attacks by the army to pave the way for military interference of the US forces and allies in Syria and to save terrorist groups.
In the meantime, the report said the terrorist groups fired tens of missiles at safe zones in Dara'a and Sweida, after the army managed to advance against terrorists in Eastern Dara'a.
The Russian Reconciliation Center in Syria reported earlier today that the first large group of Free Syrian Army militants had sided with the Syrian government forces in the Southern de-escalation zone.
"On June 22, after talks between the representatives of the Russian reconciliation center and the Syrian authorities with the militants of the Free Syrian Army in the Southern zone of de-escalation, the leader of the Tajammu al-Wiyat al-Omari (Omari Brigades) announced that his group is siding with the Syrian government," the center said in a statement, Sputnik reported.
According to the statement, the Omari Brigades leader also stressed that his group will fight against the Al-Nusra front and ISIL terrorists together with the Syrian army in the South of the country.
Full report at:
http://en.farsnews.com/newstext.aspx?nn=13970402001012
--------
Syrian Army Repels Heavy Offensive of Terrorists in Dara'a Province
Jun 23, 2018
The Russian Reconciliation Center for Syria reported that over 1,000 gunmen of Tahrir al-Sham attacked the army positions in the de-escalation zone in the Southern province of Dara'a, adding that the army men engaged in fierce clashes with the terrorists in Dama and Deir Dama regions in Northeastern Dara'a and managed to ward off the heavy attack.
The Russian Center reported earlier today that the first large group of Free Syrian Army militants had sided with the Syrian government forces in the Southern de-escalation zone.
"On June 22, after talks between the representatives of the Russian reconciliation center and the Syrian authorities with the militants of the Free Syrian Army in the Southern zone of de-escalation, the leader of the Tajammu al-Wiyat al-Omari (Omari Brigades) announced that his group is siding with the Syrian government," the center said in a statement, Sputnik reported.
According to the statement, the Omari Brigades leader also stressed that his group will fight against the Al-Nusra front and ISIL terrorists together with the Syrian army in the South of the country.
Full report at:
http://en.farsnews.com/newstext.aspx?nn=13970402001048
--------
More Senior Terrorists Commanders Assassinated in Northwestern Syria
Jun 23, 2018
Abu Khadijah Ordoni, one of the field commanders of Tahrir al-Sham Hay'at (the Levant Liberation Board or the Al-Nusra Front) was gunned down by unknown assailants in the Farms near the town of Tarmala, Southern Idlib.
Also, Tamam Qasas, a notorious commander of Ahrar al-Shamal, was assassinated after an unidentified man opened fire at him in the small town of Sarmin in Eastern Idlib.
Meanwhile, Bisher As'ad, a commander of Jeish al-Ahrar, was kidnapped by unknown gunmen in the small town of al-Neirab in Southeastern Idlib.
Field sources in Southern Idlib reported that a group of Maqawir Ahrar al-Sham, backed up by Soqour al-Sham affiliated to Syria's Tahrir Front, attacked Faylaq al-Sham's positions in Mount al-Arba'ein near the town of Ariha.
The sources further said that Bab al-Hawa Hospital has suspended its activities due to unprecedented security concerns.
Local sources reported on Friday that at least five civilians were killed and dozens more injured by a twin bomb attack that rocked Syria's Northwestern city of Idlib.
A car-bomb exploded near the city's Western entrance, Anadolu quoted the sources as saying.
Shortly afterward, a bomb-laden motorcycle exploded in the same area.
Thirty-five people were injured in the blast, many of them seriously, while a number of nearby buildings were severely damaged, he added.
Full report at:
http://en.farsnews.com/newstext.aspx?nn=13970402000918
--------
US-Backed Militias Continue Looting People's Assets in Northeastern Syria
Jun 23, 2018
The SDF embarked again on cracking down people's residential units in the villages and towns in Southeastern Hasaka, including al-Dashisha, Albu Hasoun, al-Hassan al-Ali and al-Hendisin and looted civilians' properties and assets.
In the meantime, a local sources said that US-led coalition warplanes pounded al-Dashisha and Tal al-Shayer regions in Hasaka, killing and wounding tens of people and forcing hundreds more to leave their region.
Meanwhile, the SDF claimed that its militants managed to impose full control over the villages of Jadideh and al-Zibeh in Southeastern Hasaka.
The SDF continued forced recruitment of young men in Southeastern Deir Ezzur and arrested several more in the small town of al-Shahil in Deir Ezzur.
In a relevant development on Wednesday, security units of the SDF launched arrests in al-Sabahiyeh neighborhood in the Western part of Raqqa city and managed to capture 11 young men, accusing them of distributing leaflets against the SDF in the city.
In the meantime, the SDF continued its forced conscription, recruiting a sum of 30 civilians in al-Mashlab and al-Ramileh neighborhoods in Raqqa city.
The SDF put its gunmen on alert after arresting people in Raqqa, fearing public reaction.
Full report at:
http://en.farsnews.com/newstext.aspx?nn=13970402000763
--------
Syrian Army Frees Five More Regions from Terrorists in Dara'a, Sweida
Jun 23, 2018
The army men engaged in fierce clashes with terrorists in Northwestern Sweida and Eastern Dara'a, taking control over the villages of al-Shoumereh, al-Modavara, Barqasha, al-Alali and al-Shiyahat in al-Lajah region.
In the meantime, the army's artillery and missile units pounded terrorists' movements and strongholds in the region, inflicting major losses on the militants.
Other units of the army men, meantime, killed the entire members of a terrorist group that were hidden in a school in the town of Sama.
Earlier reports said that the army men, supported by the artillery and missile units, carried out heavy attacks on terrorists' strongholds from the three flanks of the village of al-Bustan, Harran Air Defense Base and Sama al-Hanidat region in Northeastern Dara'a.
The army men managed to drive terrorists out of Deir Dama and al-Bustan settlements in al-Lajah region in Northeastern Dara'a and cut off militants' supplying lines.
In the meantime, local sources reported that the army's rapid advances in Dara'a province caused the terrorist groups to lay down their arms in the villages and towns of al-Lajah region and agree to the army's terms and conditions, calling for implementation of reconciliation plan.
Full report at:
http://en.farsnews.com/newstext.aspx?nn=13970402000829
--------
Spokesman: US Forces, Allied Militants Attacked by Unidentified Gunmen in Syria's Al-Tanf
Jun 23, 2018
The Arabic-language website of Sputnik quoted the US-led Coalition Spokesman as saying that unidentified attackers opened fire at the US forces and their allied Jeish al-Maqawir al-Thowrah in a de-escalation zone near al-Tanf in Southeastern Homs.
Sputnik further said that human casualties have not thus far been reported following that attack.
The first case of controntation between the army men and the coalition forces was registered after the Damascus forces did not allow three US armored vehicles to move towards the army positions in Southeastern Palmyra in Eastern Homs.
On Thursday night, the US Coalition bombed the Syrian Army's positions in the Southern part of the country.
The National Defense Forces (NDF) reported that the US Coalition bombed the Syrian Army's outpost in the village of Al-Halba 70km away from the historical city of Palmyra (Tadmur) in Homs province, the AMN reported.
In the meantime, a Syrian army commander told Sputnik News Agency that "the combat planes of the coalition led by the United States, attacked the army positions in Jabal Ghurab, some 150 kilometers East of Palmyra near the border with Iraq."
"One serviceman was killed and several others wounded," he added.
Full report at:
http://en.farsnews.com/newstext.aspx?nn=13970402000518
--------
Modern US-Made Weapons Sent to Militants in Southern Syria via Border with Jordan
Jun 23, 2018
Qasioun news website reported that militants in Southern Syria have been receiving a large volume of weapons, including the US-made anti-tank TOW missiles, from Jordanian territories in the last few days.
The website further said that the TOW missile can hit the target from 8km distance.
The website went on to say that the terrorist groups in Southern, Western and Eastern Dara'a have embarked on forming Operation Rooms to face the Syrian Army's imminent large-scale operation and to launch counter-attacks, adding that militants in the town of Noha in Dara'a have named their Operation Room as Vatesemou.
On Thursday night, the army's artillery and missile units launched very heavy attacks on terrorists' strongholds in Northeastern Dara'a to introduce the preliminary phase of a major operation in the Southern part of the country.
Using a variety of artillery shells and surface-to-surface missiles, the army unleashed a relentless assault last night that targeted the positions of Tahrir al-Sham Hay'at (the Levant Liberation Board or the Al-Nusra Front) in al-Lajah region.
The army could score several direct hits against the terrorists, resulting in a series of powerful explosions that could be heard from a long distance away.
Full report at:
http://en.farsnews.com/newstext.aspx?nn=13970402000679
--------
Iraq PM Abadi warns armed groups against stockpiling weapons
23 June 2018
Iraqi Prime Minister Haider al-Abadi warned on Saturday he would not allow militias to stockpile arms, two weeks after a weapons depot belonging to an armed group exploded in Baghdad.
At least 16 people were killed and around 30 injured when the cache, owned by a group close to populist cleric Moqtada Sadr, blew up in his stronghold of Sadr City on June 7.
"There are groups who have taken advantage of the war against (the ISIS group) to stock up weapons in order to threaten the state," Abadi said at a conference at Baghdad's Defense University for Military Studies.
"They wanted to be stronger than the state in order to blackmail civilians," he said. "This we will not allow."
After the June 7 blast, an anonymous police source said it had been caused by heavy weapons including rocket-propelled grenades and shells stored in a house.
They reportedly belonged to the Sadr-linked Sarayat al-Salam (the Peace Brigades).
The militia was part of the Hashed al-Shaabi paramilitary force which played a key role in the fight against the ISIS group in Iraq, in which Abadi declared victory in December.
Full report at:
https://english.alarabiya.net/en/News/middle-east/2018/06/23/Iraq-PM-Abadi-warns-armed-groups-against-stockpiling-weapons-.html
--------
Syrian forces make gains in Dara'a province's eastern countryside
Jun 24, 2018
Syrian government forces have liberated two villages in the Dara'a province's eastern countryside as they warm-up for a major offensive against militants holed up in the region.
According to the so-called Syrian Observatory for Human Rights on Saturday, the the villages of al-Bustan and al-Shumariya were liberated during Syrian forces first advance in the area.
The UK-based observatory also noted an "ongoing escalation of shelling and clashes in eastern and northeastern parts of Dara'a province."
"Intense Russian air strikes are hitting towns in Dara'a's eastern countryside for the first time since the ceasefire was agreed in southern Syria last year," claimed Observatory head Rami Abdel Rahman.
Syrian forces also heavily shelled militant-held areas in the towns of Busr al-Harir and al-Hrak in the region and also carried out several airstrikes on the militants.
Syria's official news agency, SANA, confirmed the gains, noting the government forces targeted militant held area's with "precise strikes."
Last Month, Russian Foreign Minister Sergei Lavrov said that only Syrian government forces should maintain presence on the Arab country's southern parts.
Full report at:
http://www.presstv.com/Detail/2018/06/24/565894/syria-daraa-militants-villages
--------
Iraqi PM Abadi, cleric Sadr announce alliance of their political parties
Jun 23, 2018
Iraqi Prime Minister Haider al-Abadi and cleric Moqtada al-Sadr have announced an alliance between the political parties.
"We announce a cross-sectarian, cross-ethnic alliance to speed up forming the next government and to agree on common points that guarantee the interests of the Iraqi people," said Sadr during a news conference in Najaf on Saturday.
Sadr further called for a wider alliance including all components of the country's society to form an inclusive government.
The alliance between Abadi's Victory Alliance and Sadr's Saeroon is the latest in a series of deals among Iraqi political leaders.
Abadi and Sadr both called on the leaders of other blocs to meet and "agree on the coming steps" in order to sooner form an inclusive Iraqi government.
"I affirm that this alliance is not in contrast to any other alliances either of the two lists have previously entered into with other blocs, rather, it flows in the same direction and same principles," said Abadi.
On Jun 12, Sadr and head of the country's Badr Organization Hadi al-Amiri announced a political alliance between their parties.
Sadr's Sairoon bloc won 54 out of 329 seats in the Iraqi parliament. The Fatah (Conquest) alliance, led by Badr Organization Secretary General Hadi al-Ameri, and Abadi's Nasr (Victory) coalition finished second and third with 47 and 42 seats, respectively.
The announcement came a few days after Abadi ordered the creation of a high-powered commission to look into the alleged irregularities in the parliamentary elections.
An official statement said a recent cabinet meeting chaired by the premier had named the Iraqi anti-graft chief as the head of the commission.
The statement further suggested that hackers may have manipulated the election results.
At the time, Sadr rejected calls for an election rerun, warning Iraqis about breaking out of a possible "civil war."
Over 7,000 candidates contested the 329 seats in the parliament that will choose a new president, prime minister and government in Iraq.
This is the fourth such polls since the 2003 US invasion that led to a sharp rise in sectarian tensions and ensuing terror-related violence in the Arab country.
Full report at:
http://www.presstv.com/Detail/2018/06/23/565883/iraq-abadi-sadr-alliance
--------
Southeast Asia
Indonesian Muslim leader signals global shifts in meetings with Pence and Netanyahu
By: James M. Dorsey
June 23, 2018
Yahya Staquf, a diminutive, soft-spoken leader of Nahdlatul Ulama, the world's largest Muslim movement, and Indonesian president Joko Widodo's advisor on religious affairs, has held a series of meetings in recent weeks that reflect the Muslim world's shifting attitudes towards Israel and the Palestinians and a re-alignment of socially conservative Muslim and Christian interests.
Just this month, Mr. Staquf, a staunch advocate of inter-faith dialogue and religious tolerance, met in Washington with Vice President Mike Pence, a devout evangelist Catholic who has described himself as "a Christian, a conservative, and a Republican, in that order," and in Jerusalem with Israeli Prime Minister Benyamin Netanyahu.
Messrs. Pence and Staquf were joined by Reverend Johnnie Moore, an evangelist who in May was appointed by US President Donald J. Trump as a member of the board of the US Commission on International Religious Freedom.
Mr. Staquf's discussions would likely raise eyebrows at any given moment.
But they take on added significance because they came in the wake of Mr. Trump's controversial recognition of Jerusalem as Israel's capital, stepped up US support for Israel in United Nations bodies, and in advance of a whirlwind visit to the Middle East by US peace negotiators Jared Kushner and Jason Greenblatt.
Palestinian President Mahmoud Abbas' Palestine Authority has refused to engage with the Trump administration since the US recognition of Jerusalem and Palestinian officials were unlikely to meet with Messrs. Kushner and Greenblatt during their Middle East tour that focused on a draft US plan to resolve the Israeli-Palestinian conflict.
Details of the plan, described by Mr. Trump as the 'deal of the century,' remain under wrap, but Palestinians fear that it will be heavily geared towards supporting Israeli negotiating positions.
That fear has been reinforced by the Trump administration's fiery support of Israel in the UN. The United States this month withdrew from the United Nations Human Rights Council, citing, among other reasons, the council's repeated criticism of Israel.
Whether by design or default, Mr. Staquf's meetings appeared to reinforce efforts by close US allies like Saudi Arabia, the United Arab Emirates and Egypt to stifle opposition to Mr. Trump's approach to Israeli-Palestinian peace. Turkey has been in the forefront of condemnation of US policy that resonates in Muslim public opinion, particularly in Asia.
Frustration with US and Israeli policies has undermined popular Palestinian support for a two-state solution that envisions the creation of an independent Palestinian state alongside Israel.
Hamas, the Islamist group that controls the Gaza Strip, has facilitated weeks of protests along the border between Gaza and Israel in support of the Palestinian right to return to lands within Israel's boundaries prior to the 1967 Middle East war during which Israel captured East Jerusalem, the West Bank, Gaza and the Golan Heights.
Israel has since annexed East Jerusalem and withdrawn from Gaza, which it blockades together with Egypt in a bid to undermine Hamas's rule.
At least 142 Palestinians have been killed by Israeli forces since the protests erupted in late March and some 13,000 wounded.
Mr. Netanyahu trumpeted the political significance of his meeting with Mr. Staquf in a statement following their encounter.
"Muslim states are becoming closer to Israel because of the common struggle against the Iranian regime and because of Israeli technology. … The prime minister hopes that there will be progress in our relationship with Indonesia, too," Mr. Netanyahu's office said.
Indonesia and Israel do not maintain diplomatic relations but do not stop their nationals and officials from travelling between the two countries. Mr. Staquf has insisted that he was visiting Israel in his private capacity rather than as an advisor to the Indonesian president.
Indonesia recently revoked Israeli tourist visas in protest against Israel's hard-handed tactics in Gaza. In response, Israel has threatened to ban tourist visas for Indonesians. Some 30,000 Indonesians, mostly Christian pilgrims, obtain visas to visit Israel each year.
Indonesia in May exempted Palestinian imports from custom duties in a bid to support the Palestinian economy.
Mr. Staquf insisted that his visit to Israel at the invitation of the American Jewish Congress was intended to promote Palestinian independence. "I stand here for Palestine. I stand here on the basis that we all have to honour Palestine's sovereignty as a free country," he said in a statement posted on his organization's website.
Nonetheless, Mr. Staquf did not meet Palestine Authority officials during his visit. Osama al-Qawasmi, a spokesman for Mr. Abbas' Al Fatah group, charged that his visit was "a crime against Jerusalem, against the Palestinians and Muslims in the world, and constitutes support for the criminal Israeli occupier against our fighting and resolute people."
Mr. Staquf was the second NU leader to visit Israel in the past two decades. Abdurrahman "Gus Dur" Wahid travelled several times to Israel before and after his presidency but not while he was Indonesia's head of state.
Muslim leaders, many of which have long reconciled themselves to recognition of the State of Israel's existence, have largely been reluctant to publicly engage with Israeli officials as opposed to non-Israeli Jews as long as Israel and Palestine have not made substantial progress towards peace.
Mr. Staquf like Mr. Wahid before him broke ranks by travelling to Israel, a move that sparked criticism and condemnation on Indonesian social media and from some members of parliament.
While the criticism has focussed on Mr. Staquf's visit to Israel rather than his meeting with Messrs. Pence and Moore, it is also rooted in widespread perceptions of evangelists as purveyors of rising Islamophobia and anti-immigrant sentiment.
Lost in that criticism is the fact that Saudi Crown Prince Mohammed bin Salman is being hailed by some evangelists as heralding a new era with his projection of greater religious openness in the kingdom and his unprecedented statement that both Palestinians and Israelis "have the right" to have their own land.
"You know I couldn't believe my ears actually when I was watching the news report where the crown prince of Saudi Arabia said directly, verbatim, He said this kingdom will become a kingdom for all religions. I had to watch it again and he was crystal, crystal clear.
You know as evangelicals this is a new day for us in the Middle East. Evangelicals are the baby Christians in the region… What we're seeing is a new openness to what evangelicalism is, which I think is a move of the Holy Spirit." Mr Moore said.
Mr. Staquf projected his visit to Israel as promoting the concept of rahma or compassion and mercy as the basis for a solution to the Israeli-Palestinian conflict and the forging of relations between Israel and the Muslim world.
In practice, by design or by default, it supports US and Saudi efforts to impose their will on the Palestinians and the larger Middle East that potentially could produce as many problems as they offer solutions.
In doing so, it pays tribute to Prince Mohammed's ability to project himself as an agent of change in Saudi Arabia even if the precise contours of his vision have yet to emerge.
In a twist of irony, it is a tribute by the leader of a movement that was founded almost a century ago in opposition to Wahhabism, the ultra-conservative Sunni Muslim worldview that long shaped Saudi Arabia and that Prince Mohammed is seen as disavowing.
https://therealnews.com/indonesian-muslim-leader-signals-global-shifts-in-meetings-with-pence-and-netanyahu
--------
Malaysian minister says call for restaurants to only hire local cooks was just a suggestion
JUN 23, 2018
KUALA LUMPUR (THE STAR/ASIA NEWS NETWORK) - Malaysia's Human Resources Minister M. Kulasegaran said on Saturday (June 23) the call for restaurants to only hire local cooks was just a suggestion, after some restaurant and coffee shop owners expressed their shock at the announcement.
Kulasegaran had said on Friday that all restaurants serving Malaysian food are required to recruit only locals as cooks from Jan 1.
Speaking to the Star on Saturday, Kulasegaran said that the ministry will be "reasonable" in getting food operators to hire local cooks. "We will engage with the various stakeholders before the final process," he said, adding that he had given a date for the move as there needed to be a cut off period.
Kulasegaran also clarified that the local cooks requirement is only applicable to "ordinary local food" outlets and does not apply to foreign food restaurants, high-end restaurants and five-star hotels which require specialised cooks. "We are being reasonable," he said.
He said that Kuala Lumpur already had existing by-laws that hawkers must be Malaysian. Under the Licensing of Hawkers (Federal Territory of Kuala Lumpur) By-Laws 2016, all of the city's hawkers must be Malaysian and no foreign workers can be employed.
"We just want it to be properly regulated, and have the same laws applied to all states. We want to be consistent," said Kulasegaran.
Kulasegaran added that the policy was needed to reduce the number of foreign workers in the country.
From 2002 to 2017, the Home Ministry recorded a dramatic increase of foreign workers from 1.06 million to 1.8 million. Of these, about 250,000 work in the service sector including in restaurants, an increase of 80,000 workers between 2010 and 2017.
"We want to reduce the dependency on foreign workers," he said.
The announcement was met with shock by some food owners associations.
Malaysian Muslim Restaurant Owners Association president Ayoob Khan Muhamad Yakub described the announcement as "shocking and horrific", adding that the government should discuss the matter with stakeholders before making a regulation that will affect many restaurant owners.
"It is never an easy task to hire local workers for mamak (Indian Muslim) restaurants," said Ayoob, adding that most Indian Muslim restaurants in the country hire South Indian cooks as their wages were reasonable and the culture of the workers were compatible with ours.
His comments were echoed by Original Kayu Nasi Kandar proprietor Buruhan Mohamad, who said it was "near impossible" to not have foreign cooks working at restaurants.
"We can try getting local cooks but it will take a longer time to train them with our recipes and for them to get the dishes right," he said.
The Malaysia-Singapore Coffee Shop Proprietors General Association president Ho Su Mong said many coffee shop owners would find they were unable to comply with the regulation given the short time-frame.
Full report at:
https://www.straitstimes.com/asia/se-asia/malaysian-minister-says-call-for-restaurants-to-only-hire-local-cooks-was-just-a
--------
Community Takes Lead to Rebuild Philippine City After Siege
June 24, 2018
Manila. When Tong Pacasum was allowed back into the area where his family home once stood in Marawi on the Philippine island of Mindanao, there was nothing left for him to salvage months after a bloody siege that leveled much of the city.
But Pacasum considers himself lucky: his family is safe, and they have a title to their property, which will be key as residents and authorities begin rebuilding after the country's biggest and fiercest urban battle in years.
Others among the 200,000 Maranaos - as residents of Marawi are known - are not as fortunate.
When pro-Islamic State rebels laid siege to the city in May 2017, everyone fled. Residents including Pacasum were allowed to inspect their homes and retrieve their belongings only recently.
Groundbreaking - when demolitions of all affected structures will begin - is scheduled for July, after a private developer is selected.
The process will take several months, after which construction of roads and other public facilities will begin.
The government will then give funds to residents will then be given funds to construct their homes. Rebuilding Marawi could cost more than $1 billion and will be complete by the end of 2021, officials estimate.
But the process could be delayed by questions on land ownership, said Pacasum, who helped evacuate people during the siege, and now liaises with the provincial government on rehabilitation.
"It's going to be a huge challenge, as a lot of residents don't have titles to their properties, even though they have been living there for generations," he said.
"If we don't do it right, it will cause more pain and suffering, and we have already suffered so much," said Pacasum, who has participated in consultations with other residents and officials on the plans for rebuilding.
Make or Break
Muslims as well as indigenous people have been caught in the middle of a five-decade old insurgency in Mindanao, exacerbated by loggers and mining companies eager to tap its rich resources including gold, copper and nickel, experts say.
President Rodrigo Duterte has called the island a "flashpoint for trouble" and atrocities by Islamist and communist rebels. Martial law imposed in May 2017 is in place until the end of the year.
Conflict over land was one of the major triggers of violence in Mindanao even before the siege, and could be a "make or break" issue in the rehabilitation of Marawi, according to a recent report by development organisation The Asia Foundation.
Failure to address land issues could stoke further conflict and push more people into extremism, the report said.
A solution may lie in a more participatory effort led by the community, said Ica Fernandez, a spatial planner and co-author of the report, who is part of an initiative called Open Marawi, which had made recommendations based on community feedback.
"A community-led effort is essential because of the history of Mindanao as an autonomous Muslim region," said Fernandez.
"The people have the right to self-determination, the right to decide on their future. Especially in this case, when we have to also rely on memories and emotional associations to reimagine the city, we need everyone to be involved," she said.
There is a complex system of ownership, tenure, and use of land in Marawi and in Mindanao, including practices that pre-date the Philippine nation-state.
A community-led rehabilitation is particularly relevant, as "many pre-colonial, traditional, and informal governance structures and practices around land, housing, and property" are practiced alongside laws, according to The Asia Foundation.
The government has established a Land Dispute Arbitration Committee to address concerns, and officials have said in the absence of a title, residents may present tax receipts and certificates from municipal officials.
"We will ensure all issues on land ownership are resolved," said Adoracion Navarro, an official at Marawi's regional development office.
The rehabilitation will "take into account the demographic composition of a predominantly Muslim population, the Marano culture, and existing capacities of communities," he said.
Social Tenure
More than 900 militants, 165 troops and police, and about 45 civilians were killed in the Marawi siege.
The siege forced more than 300,000 people from their homes in the once picturesque lakeside town. Some were housed in transitional housing built by the government, while others doubled up with relatives, or simply lived in tent cities.
Open Marawi has brought residents, officials and planners together to draw a blueprint for the city, Fernandez said.
Residents want better facilities, but have rejected plans for strict commercial and residential zoning - with businesses on the ground floor and residences on the upper floors - which are contrary to the traditional mixed-use structures, she said.
Importantly, Marawi's informal land market and multiple titling systems make it imperative to determine occupancy before the debris is cleared, she said.
"We have to work at block, street and parcel level to establish occupancy rather than ownership," she said.
"We need a social tenure assessment rather than a purely legal one, because there are physical, cultural, political - and security factors," she told the Thomson Reuters Foundation.
Fernandez and other experts are pushing officials to start demolitions only after documenting occupancy and ownership of land and property, as residents otherwise risk losing walls and pillars that may be the only markers of their properties.
Pacasum, who is eager to start rebuilding his home, is hopeful that the community will lead the development of a better Marawi.
As most mosques in the only designated Islamic City in the mainly Catholic Philippines were damaged by heavy machine gun fire, he converted what was left of his home into a makeshift mosque for the holy month of Ramadan.
Neighbors donated carpets and fixed lights and fans.
"Everyone is having a hard time, as everyone has to start rebuilding homes and livelihoods," he said.
Full report at:
http://jakartaglobe.id/international/community-takes-lead-rebuild-philippine-city-siege/
--------
Africa
Five killed in Boko Haram bomb attack in Nigerian village
Jun 23, 2018
At least five people have been killed and six others injured after Boko Haram Takfiri terrorists launched an attack on a village in Nigeria's northeast.
Residents said Saturday that a bomber, suspected to be a member of the Takfiri terrorist outfit, detonated his explosives among a group of residents sleeping in the open in Tungushe village, which lies six kilometers (nearly four miles) north of the provincial capital of Maiduguri, at about 12:15 a.m. (2315 GMT) on Friday.
Mustapha Muhammad, a civilian militia leader in the area, said the blast was followed by gunfire from Boko Haram militants lurking in the dark.
Tungushe resident Umara Kyari also said the attackers torched eight thatched houses and three vehicles.
The Nigerian government has insisted on several occasions that Boko Haram has technically been rooted out from its bastions in northern Nigeria. However, attacks have continued unabated in crowded places, mostly by female recruits. The attacks have targeted mosques, markets and camps housing displaced people.
On Wednesday, 15 people, including military personnel, were injured when two bombers targeted a market on the edge of a military base in Maiduguri.
On June 16, six young girls killed 43 people in bomb attacks in the town of Damboa.
Since 2009, acts of terror by Boko Haram have left at least 20,000 dead and made over 2.6 million others homeless. The group pledged allegiance to the Daesh Takfiri terrorist group in 2015.
Boko Haram, whose name roughly translates as "Western education is forbidden," has used kidnapping as a weapon of war, seizing thousands of women and young girls as well as men and young boys.
The United Nations warned late last year that areas affected by Boko Haram face humanitarian crisis. Adamawa, Borno and Yobe states in northeast Nigeria are the three states most affected.
http://www.presstv.com/Detail/2018/06/23/565839/Boko-Haram-bomb-attack-Nigeria-Borno-state
--------
One dead, 154 injured in blast at rally supporting new Ethiopian PM
Jun 23, 2018
One person has been killed and 154 others wounded in a grenade explosion at a rally attended by thousands in Ethiopia's capital Addis Ababa, the country's health minister says.
"One person has passed away at Black Lion Hospital. I would like to pass my condolences to the family and Ethiopian people," Amir Aman said on Twitter. "What happened is so sad. But it will never break our unity."
The blast occurred on Saturday after new Prime Minister Abiy Ahmed concluded addressing the crowd in the heart of the city.
In a televised address following the attack, the chief of staff to Ethiopia's prime pinister, Fitsum Arega, said the deadly blast was "an unsuccessful attempt by forces who do not want to see Ethiopia united."
Since coming into office in April, Ahmed has carried out a series of radical reforms in Africa's second-most populous country, including releasing imprisoned dissidents and acting to liberalize the nation's economy.
Ahmed succeeded Hailemariam Desalegn, who resigned in February amid a wave of anti-government protests led by the country's two largest ethnicities.
According to local press reports, he is the country's first leader from the ethnic Oromo group, which has been at the center of nearly three years of anti-government rallies against persisting marginalization that have left hundreds of people killed.
The Ethiopian government is accused of human rights violations, including torture and extrajudicial killing of political dissidents.
The attack came a day after Ethiopian opposition group Ginbot 7 announced that it would halt armed attacks in the country following the reforms declared by the new government.
"Our forces have received strict orders to refrain from any sort of armed resistance," the group said in a statement.
The development came after the Ethiopian government announced last month the release from prison of top Ginbot 7 official Andargachew Tsige.
Full report at:
http://www.presstv.com/Detail/2018/06/23/565819/Ethiopia-political-rally-Addis-Ababa-Prime-MInister-Abiy-Ahmed
--------
Three kidnapped Turkish engineers released in southern Libya
June 24, 2018
TRIPOLI: Three Turkish engineers kidnapped last year in the southern Libyan town of Ubari have been released, the UN-backed Libyan government said.
In November, an unknown armed group kidnapped four engineers, three from Turkey and one from South Africa. The engineers were working for the Turkish company Enka on a 640 MW power plant in Ubari deep in Libya's south.
The fate of the South African is not known.
"The three Turkish engineers have been released," the Tripoli-based government said in a statement, adding that they would be flown back to Turkey via Tripoli.
They were released on Saturday.
Kidnapping is rife in Libya, especially in the lawless south. Work at the Ubari plant has been going on for years and was in the final stages when the kidnapping happened.
A week after the four engineers were kidnapped the firm evacuated 93 of its staff from Libya.
Work on the power plant has stopped since that time, a blow to efforts to lure back foreign firms.
Full report at:
http://www.arabnews.com/node/1327026/middle-east
--------
Boko Haram : GOC Seeks Intelligence Sharing Amongst Security Agencies, Northeast Residents
June 24, 2018
By Francis Okoye Maiduguri
The General Officer Commanding (GOC) 7 Division of the Nigerian Army, Brigadier General Abdulmalik Bulama Biu, has solicited for synergy and intelligence sharing amongst various security agencies and residents of Borno and other states of the northeast to totally end insurgency in the region. He noted that intelligence sharing between the security agencies and the residents of the affected areas is what is required to totally defeat the terrorists who have resorted to attacking soft targets because they have been weakened, to gain relevance. Brigadier General Biu stated this yesterday in Maiduguri during his familiarisation visits to the Nigeria Police Command, the Nigeria Security and Civil Defence Corps (NSCDC), and the State Security Services (DSS). He also informed the agencies that as part of measures to end the attacks on soft targets through suicide bombing, the Army has offered a reward of N5 million to any resident of northeast who provides information leading to the exposure of any improvised explosive devices (IEDs) making factory. He said his tour to all the heads of other security agencies in the state is to strengthen the existing relationship. He quickly added that the established relationship between the Army and other security agencies in the state has robustly improved the counter insurgency operations. "I have come to assure you that the relationship between my command and other security agencies will be consolidated to surpass what I met on ground so that we can join hands to end the activities of boko haram. I deemed it fit to visit the heads of security agencies in Borno for a greater synergy. "I also find it very expedient to visit because the challenges we face in Borno can't be tackled by one agency alone because they are enormous. But we need to encourage each other and consider our service as a national call. Many have paid the supreme price, but it is our duty to ensure that the labour of our heroes past are not in vain. I have come to join you as partners to work towards the restoration of peace in Borno, Northeast and Nigeria at large." In his response, the Borno State Commissioner of Police, Mr Damian Chukwu, thanked the GOC for the visit and noted that since his assumption of office as Commissioner of Police in Borno, he is the third GOC that he has had to work with. "Just like the choice of President Muhammadu Buhari in picking Lt Gen Tukur Yusuf Buratai, a son of the soil as Chief of Army Staff which boosted the decimation of the terrorists, with you as son of the soil, the era of boko haram will soon be a thing of the past. Also responding, the commandant of NSCDC in Borno, Mr Abdullahi Ibrahim, informed the GOC of how his command took the bull by the horn and moved to Dikwa after it was liberated by the military when others were apprehensive, to restore civil order. The NSCDC boss said the major problem now was the issue of the boko haram terrorists who want to surrender, but are afraid of the military. He pointed out that many of them who want to surrender want to come out through other security agencies and not the military. He then appealed to the military to decentralise the surrender programme. In the same vein, the Borno State director of the DSS, Mr Kankiya Suleiman Husseini, described the 7 Division of the Nigerian Army as the measure instrument of the Theater. "The war has been won because insurgency is not a full blown war that will reoccur after the terrorists has been totally defeated and the duty of the DSS to the military is to provide intelligence, but intelligence is useless if not implemented. "One of the things I tell my commanders is to never waste time when there is any information from a source even at a cost. I assure you of the service cooperation and synergy in restoring peace in Borno."
https://leadership.ng/2018/06/24/boko-haram-goc-seeks-intelligence-sharing-amongst-security-agencies-northeast-residents/
--------
North America
Kushner rips Abbas, says Mideast peace plan due 'soon'
June 24, 2018
JERUSALEM: President Donald Trump's son-in-law and Mideast envoy says the administration will soon present its Israeli-Palestinian peace plan, with or without input from Palestinian President Mahmoud Abbas.
In an interview published Sunday in the Arabic language Al-Quds newspaper, Jared Kushner appealed directly to Palestinians and criticized Abbas, who has shunned the Trump team over its alleged pro-Israel bias, particularly on the fate of contested Jerusalem.
Kushner says the plan is "almost done," but offered scant details aside from the promise of economic prosperity. He made no mention of a Palestinian state arising alongside Israel.
Kushner cast doubt on Abbas' ability to make a deal, saying the Palestinian leadership is "scared we will release our peace plan and the Palestinian people will actually like it" because it would offer them a better life.
http://www.arabnews.com/node/1327061/middle-east
--------
Muslim-American Eyes Historic Win
June 23, 2018
DETROIT —
During the hottest hours, when the sun is highest in the sky and the blistering pavement could fry an egg, Rashida Tlaib is relentlessly walking door-to-door in a Detroit neighborhood in search of votes.
And she's doing so without eating any food or drinking any water during the day.
That's because Tlaib is a practicing Muslim, which means she is fasting during the holy month of Ramadan.
"I know that my faith comes up more on social media, but at the doors I don't get it as much," she told VOA during a break beneath the much needed shade of trees along the street.
Making a connection
While others would stay indoors in the air conditioning during the stifling heat wave, Tlaib views it as an opportunity to build name recognition, as she seeks to represent Michigan's 13th District in the U.S. Congress.
"People still can't pronounce my name, but they remember what I've done, and they remember that I've come to their home," she said.
Tlaib is no stranger to politics, having served in Michigan's Legislature. She is the daughter of Palestinian immigrants, but on these streets — in a predominantly African-American neighborhood — she is a local, someone who attended schools in the area.
"It's that direct connection to the neighborhood that I think people are much more excited about," said Tlaib, acknowledging that walking from house to house gives her the chance to directly connect with potential voters and to hear about their concerns and needs.
A chance at making history
She is campaigning in one of the poorest congressional districts in the state of Michigan and the country, and her religion and race rarely come up as topics of conversation when she encounters voters.
"For me, the direct door-to-door contact has been about constituent issues," she explained, adding that most people have welcomed the opportunity to speak with her. "At the doors, I think it's really how you make people feel, and I haven't faced much opposition, and I haven't seen that big push back or opposition yet."
She says few of the people she meets realize she is on the cusp of making history — again.
"I tell them I'm the first Muslim woman ever elected in the Michigan Legislature, and if I'm elected in this congressional race I'll be the first ever in Congress."
Several candidates
"Is she a shoo-in? No. Is she a possibility? Yes. She is a formidable candidate," said Osama Siblani, publisher of the Dearborn, Michigan-based Arab American News, a weekly publication serving the large Arab-American population in Southeastern Michigan.
He says Tlaib's candidacy, and two other races prominently featuring Muslim Americans in Michigan, show a new political awakening in the larger Muslim-American community nationwide, where about 100 are running for public office this year, many of them Democrats hoping to be a part of a "blue wave" in the congressional midterm elections in November.
"We were, at one time, people who were in hiding," he told VOA. "We were changing our names in this country. Despite September 11, despite the Trump era, we are moving forward, we are running for election, we are winning and we are making a significant impact in our society."
'Bigger than me'
The significance of the moment is not lost on Rashida Tlaib, who isn't just representing Muslim Americans, but also is part of a larger group of hundreds of women this year seeking public office across the country.
"Nationally, this is a pretty historic campaign," she said. "People that are supporting me, from this Muslim woman in Tampa who told me, 'Please win, because if you win, we belong.' I told her, "We've already won. You absolutely belong.' It means so much bigger than me."
But if Tlaib is to win, she'll need support outside the Arab-American community in Michigan, most of whom don't live in the district she seeks to represent and can't vote for her.
Tlaib faces several challengers seeking to replace Congressman John Conyers Jr., who resigned in December amid allegations of sexual misconduct. The winner of the August 7 Democratic primary will likely head to Congress next year because there is currently no Republican running in the November general election.
Full report at:
https://www.voanews.com/a/michigan-muslim-american-candidate-for-congress/4451370.html
--------
Made in the USA: The American roots of virtual jihadism
24/06/2018
It has become widely accepted by counterterrorism analysts and experts that in the face of battlefield defeat in Iraq and Syria, the Islamic State (ISIS) would most likely turn to "virtual jihadism" — using the internet and social media to inspire, recruit for and carry out terrorist acts throughout the world.
What is not so widely known is that the template for virtual jihadism was created by a US-based extremist movement known as Revolution Muslim (RM). The New America Foundation, a think-tank in Washington, released a study that documents the influence Revolution Muslim had over ISIS and like-minded groups.
"From Revolution Muslim to Islamic State: An Inside Look at the American Roots of ISIS's Virtual Caliphate" was researched and written by Mitchell Silber, former director of intelligence analysis for the New York City Police Department, and Jesse Morton, who co-founded RM in 2007 when he was a graduate student at New York's Columbia University.
Morton served time in US prison before undergoing a de-radicalisation process, which included treatment for bipolar illness, and publicly (and courageously) speaks out on how RM operated prior to being disbanded in 2011.
At the New America Foundation on June 4, Morton offered insights into RM's methods and accomplishments, the greatest of which, he said, was realising that the internet "could be a means of creating a globalised network… a virtual caliphate." He said: "The online echo-chamber we created was not just about the ideology… it was about putting the ideas that we were disseminating into practice."
RM advocated recreating a caliphate well before ISIS existed. "We would radicalise you online before we encouraged you to act in the field," Morton said. Silber and Morton concluded that 15 jihadist attacks around the world were perpetrated by people with links to RM.
Another important innovation by RM was using social media 2.0. That is, going beyond web pages to develop a presence on sites such as YouTube (RM had its own YouTube channel), Google Groups and Blip.tv. Morton claimed RM was "the first jihadist group in the English language and the West to access all the social media sites" as well as the first such group to publish an English-language magazine.
Silber and Morton warned in their study: "As ISIS loses territory, the threat from ISIS will increasingly resemble that posed by RM." They concluded that success against ISIS on the battlefield "must not lead to complacency" and that the urgency to "attack the ideas, the networks and the methodology" of extremist groups remains high.
Morton also warned about the dangers of Islamophobia. "Far-right extremists were our greatest amplifier," he said, because they fed into the message that the West was at war with Islam. RM posted material from Islamophobic sites to inspire and activate RM's followers.
Morton recounted that his inspiration for establishing RM came, in part, from former Iranian President Mahmoud Ahmadinejad's visit to New York in September 2007. The Iranian president, who was there to speak at the UN General Assembly, also gave a speech at Columbia University. Following the speech, Morton joined fellow pro-Ahmadinejad protesters outside and held a sign calling for the "nuking" of Israel.
RM benefited from the permissive free speech environment in the United States, under which radical messengers of any ilk are generally allowed to voice their views. However, when RM posted messages that appeared to be threatening the lives of the creators of the animated and irreverent American television show "South Park," which had portrayed the Prophet Mohammad in a bear costume, they crossed a line: Even US standards of free speech do not allow threatening lives.
RM was disbanded and Morton sentenced to prison. He noted that his first step towards personal change was "disengagement" from jihadism but pointed out that there is a difference between that and his full de-radicalisation, which followed. Disengagement, in other words, could be only a temporary state — an important insight for countries dealing with returning ISIS fighters.
RM provided the template for virtual jihadism that ISIS used to such devastating effect and likely will continue to employ and expand upon.
Silber, a major player in New York City's counterterrorism operations after the September 11, 2001, attacks, stressed the importance of using human intelligence to counter virtual jihadism: "Digital undercover officers and informants who can navigate the dark web and private communication channels of WhatsApp and Telegram, will be vital, particularly if a virtual ISIS relies more heavily upon encrypted operational instructions."
Full report at:
https://thearabweekly.com/made-usa-american-roots-virtual-jihadism
--------
URL: https://www.newageislam.com/islamic-world-news/non-muslims-grace-jama-masjid/d/115625
New Age Islam, Islam Online, Islamic Website, African Muslim News, Arab World News, South Asia News, Indian Muslim News, World Muslim News, Women in Islam, Islamic Feminism, Arab Women, Women In Arab, Islamophobia in America, Muslim Women in West, Islam Women and Feminism