New Age Islam News Bureau
21 March 2022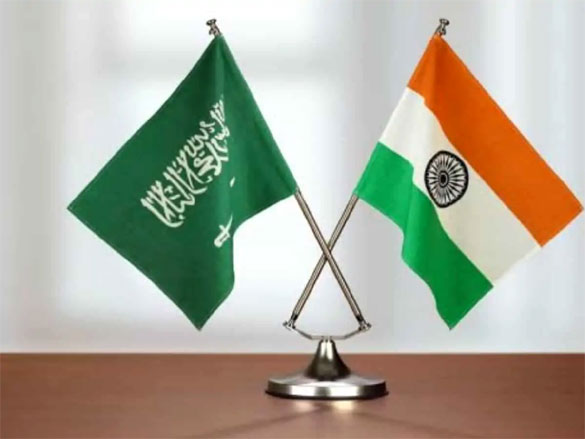 Representative Image
-----
• Indian Muslims Deprived Of Religious And Human Rights: Speakers At Indian American Muslim Council event
• Pak Opposition Rebukes Imran Khan for Using 'Religion Card' To Save His Govt
• Taliban Announced Not To Hinder People Celebrating New Year, Nowruz, In Afghanistan
• Iran Urges OIC to Use Capacities to Fight Islamophobia
India
• Under Pressure from Hindutva Groups, Karnataka Festival Bans Muslim Traders
• Hosa Marigudi Temple Auctions Stalls Only To Hindus for the Annual 'Suggi Mari Puja'
• Deoband Ulema: Teach Bhagavad Gita Only To The Willing
• India's Independent Foreign Policy Gets Pakistan PM's Applause
• No Class 12 Re-Exam for Hijab Protesters: Karnataka Govt
• Hindutva YouTuber Calls For Genocide, Sexual Assault Of Muslims
--------
North America
• US to condemn as 'genocide' Myanmar's violence against Rohingya Muslims
• Police believe attack at Mississauga mosque was motivated by hate
• US condemns Houthi attacks on Saudi Arabia, affirms support to Riyadh: White House
• US court dismisses $900M case against Palestinian Authority
--------
Pakistan
• Pakistan PM Urges Islamic Nations for Joint Islamic Effort to Engage With 'New Realities'
• Pakistan Parliament to meet on Friday to take up no-trust motion against PM Imran Khan
• Minister for Religious Affairs and Inter-Faith Harmony Requests PM Imran Khan to Ban Game Shows during Ramadan
• Accidental fire triggers powerful explosions at military depot in Pakistan's Sialkot
• Truck mafia created the Taliban, claims former secretary
• Pakistan condemns Houthi attack on Saudi energy facilities
• Group of Sikhs clashed on streets of Nankana Sahib, Pakistan
--------
South Asia
• Taliban Bans Official Afghan Tricolour Flag
• US President, Secretary of state, special envoy to Afghanistan wish happy Nowruz
• Civil activists in Kabul ask for release of Afghanistan's reserves
• Navroz festival not to be celebrated in Afghanistan under Taliban regime
• Afghanistan world's unhappiest country, even before Taliban
• Myanmar's Rohingya refugee crisis in key dates
--------
Mideast
• IRGC Navy Commander: Foreign Forces Must Leave Persian Gulf Region at Earliest
• Iran, Taliban Discuss Border Cooperation
• Iran's Khamenei Hopes for Economic Upturn In Persian New Year Speech
• Turkish envoy reiterates support for unity, prosperity of Iraq
• Turkiye condemns drone attacks on Saudi Arabia
• Houthis under fire for ruining peace efforts to end war
• Israeli PM to visit India in April
• 'Unjustified' Saudi siege on Yemen complicating conflict: Foreign ministry
• President Assad: Israel Seeks To Displace Christians across Region
• Two Israeli officers injured in alleged stabbing attack in al-Quds
--------
Africa
• Fatwa House: Reconciliation Requires Justice and Accountability
• Terrorists suspected in gunfire on Tunisia police post, no casualties reported
• Bodies of 17 migrants found off Tunisia coast
• Gunmen attack National Guard facility in central Tunisia
• Libya's electoral body says ready to hold polls once deal reached
• Sudan's Hemedti says army to hand over power to elected gov't
• Gunmen kill at least 11 Burkina Faso government troops
--------
Europe
• Russia Urges West to Address 'Iran's Legitimate Demands' In Vienna Talks
• Turkiye 'very important for the defence of NATO's eastern flank': Netherlands
• Germany to explore LNG supply options with UAE, Qatar, distancing itself from Russia
• Ukraine's Zelenskiy says Israel good place for holding talks with Russia
• Turkey: Russia, Ukraine 'close to agreement', made progress on 'critical' issues
--------
Arab World
• Houthis Unleash Barrage of Drone, Missile Strikes On Saudi Arabia
• Egypt displays recently discovered ancient tombs in Saqqara
• Saudi FM meets with special envoy for Ukraine's president in Riyadh
• Iraq War: 'Huge mistake that can't just be stricken from the record'
• No deal among Kurds on Iraq's new president: Politician
• Syrian govt. forces, locals block US convoy in oil-rich Hasakah, force it to turn back
• Kuwait's parliament speaker slams intl. double standards, demands Israel's expulsion from Inter-Parliamentary Union
--------
Southeast Asia
• Religious Affairs Minister Condemns 'Offensive' Teaser for TV Series Due to Be Screened During Ramadan
• Terengganu Islamic Council: Congregational Prayers without Physical Distancing Allowed In State from April 1
• Political instability can only end with GE15, says Johari
• 2 migrants dead, 26 missing in Indonesia boat accident
Compiled by New Age Islam News Bureau
URL: https://www.newageislam.com/islamic-world-news/muslim-officers-indian-ambassador-saudi-arabia/d/126619
--------
Non-Availability of Muslim Officers Hindering Indian Ambassador Posting in Saudi Arabia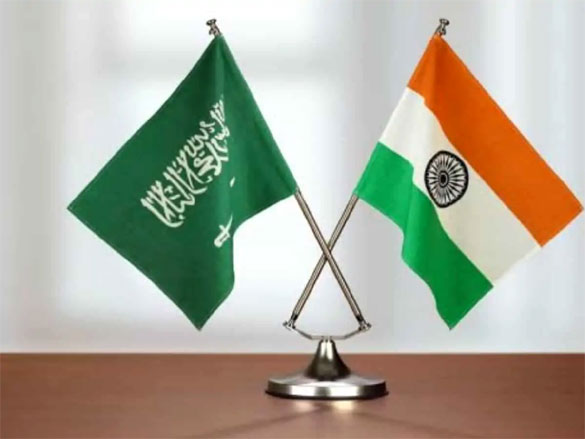 Representative Image
-----
21st March 2022
By Irfan Mohammed
Hyderabad: Time and again Muslim crisis erupted in the ministry of external affairs for choosing top diplomatic positions in Saudi Arabia. The latest transfer of Ambassador Dr. Ausaf Sayeed has again brought forth the issue of a shortage of senior-level officials from the community.
It was widely believed that Ausaf Sayeed's tenure would likely be extended till his retirement next year. However, he was transferred and posted into New Delhi.
Also, a section believes that since he was promoted to secretary level and his transfer was imminent. However, a few officials in the similar category as Dr. Ausaf Sayeed deployed as ambassadors in various important countries.
The external affairs ministry with insufficient strength of the diplomatic corps is often facing a tough time over posting high-ranking diplomats to oil rich Kingdom.
Only Muslim officers are being posted as Ambassador in Riyadh and Consul General in Jeddah from Nehru to Modi era; the cited reason is Haj pilgrimage operation. The Pakistan that sends higher number of Hajis than India, yet its ambassador has little role to play in Haj operations, similarly Russia sends largest pilgrims from Europe has no Muslim diplomat. Whereas in India traditionally sending only Muslims as Ambassador and Consul Generals.
The non-availability of Muslim officers in the ministry has been a recurring subject whenever New Delhi posts top diplomats in Saudi Arabia as Muslim officers barely constitute one percent in a pool of 800 IFS officers.
Ausaf Sayeed
Hyderabad native Dr. Ausaf Sayeed who recently finished his tenure in Saudi Arabia is the only senior diplomat of 1989 batch Muslim IFS officer in the ministry. Most NRIs described him as a master of Indo-Saudi relations.
Former PMO official and seasoned diplomat Javed Ashraf, who presently serves as Ambassador in France and had played an important role in Rafale jets deal and Anwar Haleem, ambassador in Jordan, Nagma Mohammed Mallick ambassador in Poland – all three from 1991 batch- seniors among Muslims other than Dr. Ausaf Sayeed.
Javed Ashraf, Nagma both having their tenure remain in Paris and Warsaw unlikely to be posted in Riyadh. In the past, they were among diplomats who were not keen to work in this part of the world.
However, Anwar Haleem, who worked previously in Jeddah (1999-2002), who is completing his tenure in Amman, is likely to be considered for Saudi Arabia, said sources.
Political appointment can't be ruled out
Many believe that a political appointment also can't be ruled out. During the AB Vajpayee government, Mohammed Kamaluddin Ahmed, former MP, who quit congress for denial of party ticket to contest Lok Sabha and joined BJP, was appointed as Ambassador in 2003.
The Congress government also made similar political appointments in Saudi Arabia due to lack of career diplomats.
Departing from traditional diplomacy, Narendra Modi government, known for bizarre and bold policy decisions, may also send a Non-Muslim IFS diplomat to Riyadh in keeping view of changing scenario.
The Foreign Secretary Harsh Shringla is scheduled to retire next month in April and before his retirement a major reshuffle is expected where many key appointments including ambassador to Saudi Arabia are also likely to be made.
Source: Siasat Daily
Please click the following URL to read the text of the original story:
https://www.siasat.com/muslim-crisis-hindering-again-indian-ambassador-posting-in-saudi-arabia-2293832/
--------
Indian Muslims Deprived Of Religious And Human Rights: Speakers At Indian American Muslim Council event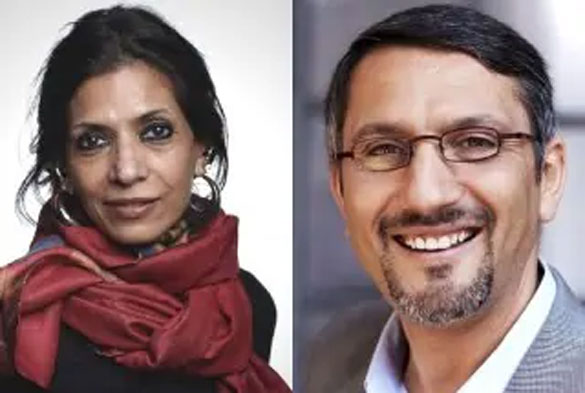 Angana Chatterji and Hatem Bazian
-----
20th March 2022
Indian American Muslim Council (IAMC), along with five other groups, raised awareness about the threat of mass violence faced by Indian Muslims on Saturday. They spoke about "egregious human rights violations" happening in the country that cannot be ignored.
The event was called "The Impending Indian Muslim Genocide and Global Islamophobia". It was organised by San Diego Coalition For Human Rights and saw noteworthy intellectuals present their case.
Attendees like anthropologist and activist Dr Angana Chatterji said, "India is subsumed in a momentous political crisis, the most daunting since 1950." Dr Chatterji also said that the BJP manifests caste oppression in the violent relationship of dominant caste privileged Hindus to Adivasis and Dalits, supports forcible conversions of Christians to Hinduism, and prohibits Muslim women's rights to wear the hijab."
"Many of us need to understand the replacement theory, which has been developed in France, but the Hindu nationalists are using the same type of argument," said Dr Hatem Bazian, Professor of Islamic Law and Theology at Zaytuna College.
The professor spoke about how Hindu nationalists say that Muslims are attempting to replace Hinduism, and said that it was similar to how conservative Americans think minorities coming into America are trying to replace the white race.
"How can I represent an India where Muslim girls and Muslim women are stripped of their head covering, which is part of their clothing, in the middle of the streets before they step into their schools and colleges?" said Dr Samina Salim, Associate Professor in the College of Pharmacy at the University of Houston. "I do not represent this India where Muslim women are raped, killed, and burned alive. I am not proud of India. This is an India I did not grow up in; this is an India that I do not identify with."
Malcolm Morgan, Public Relations Director of Muslim Leadership Council of San Diego said, "We must unite together, whether we are Muslim or not, to hold the oppressive Indian government accountable for spreading Islamophobia and inciting violence against Muslim minorities. This is not merely a case of religious rights being violated. This is an egregious human rights violation that must not be ignored."
The San Diego Coalition For Human Rights comprises of the Indian American Muslim Council (IAMC) -San Diego Chapter, the Council on American Islamic Relations (CAIR), Jewish Voice for Peace, Pillars of the Community San Diego, Muslim American Society–PACE, and the Muslim Leadership Council of San Diego.
Source: Siasat Daily
Please click the following URL to read the text of the original story:
https://www.siasat.com/indian-muslims-deprived-of-religious-and-human-rights-speakers-at-iamc-event-2293589/
--------
Pak Opposition Rebukes Imran Khan For Using 'Religion Card' To Save His Govt
Pak PM Imran Khan (ANI/ File Image)
----
Mar 21, 2022
ISLAMABAD: Amid political instability in the country, Pakistan Opposition parties on Sunday lashed out at Prime Minister Imran Khan for using "religion card" in an effort to save his government.
The Opposition parties also accused the Imran Khan government of launching a "propaganda campaign" through its social media team against the army over its "neutrality", Dawn newspaper reported.
Bilawal also lashed out at Khan for using Islam for party politics and asked him not to use the slogan of Madinah state, the Pakistani newspaper reported.
Meanwhile, opposition parties have also slammed National Assembly Speaker Asad Qaiser for not convening the assembly session within 14 days of its requisition to take up their no-confidence resolution against Khan and demanded that he should be tried under Article 6 of the Constitution, Dawn newspaper reported.
The Pakistan Army's top brass, led by General Qamar Javed Bajwa, has reportedly asked Imran Khan to resign after the conference of the Organization of the Islamic Cooperation (OIC).
Earlier, Pakistan People's Party (PPP) chairperson and Opposition leader Bilawal Bhutto Zardari hit out at the National Assembly (NA) Speaker Asad Qaisar for violating the Constitution by not convening the NA session within two weeks of requisition request by the Opposition, the Pakistani newspaper reported.
The development comes after the Pakistan National Assembly Speaker summoned a session of the National Assembly of Pakistan in Islamabad on March 25 for a no-trust motion against Imran Khan.
The Opposition parties in Pakistan are jettisoning mutual hatred to oust Imran Khan as they submitted the no-trust motion in the National Assembly secretariat on March 8. While the Imran Khan government has exuded confidence to defeat the no-trust motion, the Opposition is sure that they will oust Khan.
The resolution needs to be passed by 172 Members of the National Assembly (MNAs) and the Opposition faces the tough task to bring that number not only in the National Assembly but also ensuring that they remain inside the Assembly hall during the voting time.
Notably, if Imran Khan is voted out through the motion, it would create history as a vote of no-confidence has never been carried against the Prime Minister in Pakistan.
Source: Times Of India
Please click the following URL to read the text of the original story:
https://timesofindia.indiatimes.com/world/pakistan/pak-opposition-rebukes-imran-khan-for-using-religion-card-to-save-his-govt/articleshow/90347708.cms
--------
Taliban Announced Not To Hinder People Celebrating New Year, Nowruz, In Afghanistan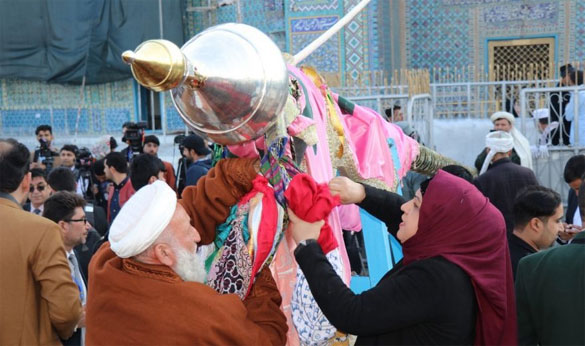 Photo: Khama Press
----
20 Mar 2022
Deputy Minister of Information and Culture and chief spokesperson of the Islamic Emirate of Afghanistan Zabiullah Mujahid said that the interim government will not officially celebrate the new solar year (Nowruz) but will not prevent people from celebrating the day.
Speaking with BBC Zabiullah Mujahid said that there is now a celebration for Nowruz in Islam so they do not celebrate the day.
Monday, March 21, 2022, marks the first day of the New Year in Afghanistan and a number of central Asian countries which is also known as Nowruz.
In the meantime, the interim government of the IEA has also cancelled the Nowruz as being an official day off. The first and the second day of New Year are official off days in Afghanistan.
People will not celebrate the day the way they would do before the change in government in Afghanistan. Most of the people have reasoned their poor economy and financial woes for not celebrating the day.
It is worth mentioning that the Taliban had banned the celebration during their first regime in the 90s as well.
Source: Khaama Press
Please click the following URL to read the text of the original story:
https://www.khaama.com/taliban-announced-not-to-hinder-people-celebrating-new-year-675876/
--------
Iran Urges OIC to Use Capacities to Fight Islamophobia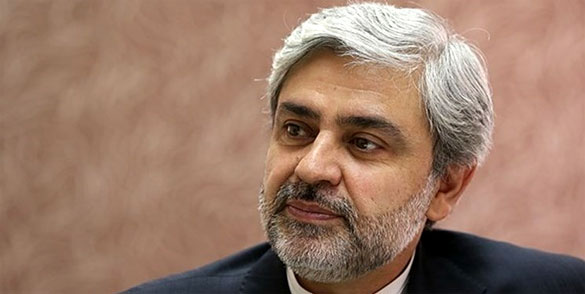 Iranian Ambassador to Pakistan Mohammad Ali Hosseini
------
2022-March-20
Hosseini made the remarks in a video message on the eve of a foreign ministerial level OIC meeting due to be held in Pakistan on March 22-23.
He noted that the OIC was founded with the aim of providing support for the Palestinian cause and the liberation of the occupied lands, adding that this hope should not fade away.
Hossini said that the regular meetings of the organization, including the upcoming meeting in Pakistan, provides a chance that should be taken to deal with the most significant issues of the Muslim World.
In relevant remarks earlier this week, Iran's Ambassador and Permanent Representative to the United Nations Majid Takht Ravanchi said that the country welcomes and supports the UN unified stance against Islamophobia in the world.
Takht Ravanchi made the remarks, addressing the UN General Assembly after the body voted in favor of a resolution naming March 15 as International Day to Combat Islamophobia.
"By marking this occasion, we can generate a better understanding of Islam and Islamic principles," the envoy said.
"The resolution proves our determination to effectively and constructively confront Islamophobia as one of the main challenges facing the international community," he added.
Takht Ravanchi urged all UN members to act on their responsibilities and legal commitments in this regard, thus contributing to the promotion of common values, peaceful coexistence, tolerance, and mutual understanding throughout the whole world.
'"Over the past decades, anti-Islam and anti-Muslim agitation have been chronically reinforced by some media outlets, politicians, influencers, and also across the academic discourses," he noted.
It is highly important for the UN members to adopt a unified stance in the face of instances of Islamophobia, such as travel ban against Muslims, hijab bans, bans on Muslim symbols, and "application of such despicable and ignorant terms such as 'Islamic terrorism", the ambassador said.
"It is our conviction that terrorism, in all its forms and representations, cannot and should not be attributed to any religion, nationality, civilization or ethnic group," he added.
Takht Ravanchi also said that the country backs the Organization of Islamic Cooperation (OIC)'s endeavors towards fighting Islamophobia.
Reports said in October that Some 67.5% of the Muslims living in the US has experienced Islamophobia at least once in their life, according to a study by the University of California, Berkeley.
Women reported more Islamophobic experience than men as the rates stood at 76.7% for Muslim women compared to 58.6% Muslim men, the Othering & Belonging Institute said in a press release.
According to the survey, two out of three Muslims were exposed to Islamophobic acts, while 33% of respondents said they had hidden their religious identities at some moments to in fear of Islamophobic acts and 88.2% stated that they avoided certain speeches and actions for fear of facing backlash.
An overwhelming 93.7% of the respondents stated that Islamophobia affects their emotional and mental health.
Nearly 45% of those aged between 18-29 were more likely than any other group to have hidden their religious identity.
"The survey, conducted two decades after the 9/11 attacks which led to a surge of hate crimes and prompted government policies targeting Muslims, provides insight into the experiences, lived realities, and psychological impacts of Islamophobia on millions of US residents," the press release read.
A total of 1,123 Muslims, roughly half women and half men, joined the survey. The participants live and/or work in the US and they are both citizens and non-citizens. Among them are Muslims of various ages, national and ethnic backgrounds, and educational levels. The survey includes over 60 questions.
Source: Fars News Agency
Please click the following URL to read the text of the original story:
https://www.farsnews.ir/en/news/14001229000241/Iran-Urges-OIC-Use-Capaciies-Figh-Islamphbia
--------
India
Under Pressure from Hindutva Groups, Karnataka Festival Bans Muslim Traders
21st March 2022
New Delhi: Under pressure from Hindutva groups, the organisers of an historic festival in Karnataka have banned Muslim shopkeepers from doing business during it.
The organising committee of the Kote Marikamba Jatra in Shivamogga has buckled to demands by Bharatiya Janata Party, Bajrang Dal and the Vishwa Hindu Parishad that no Muslim be allowed to ply his trade during the festival, The Hindu has reported.
The committee has now allotted the tender to a Hindutva group.
The Kote Marikamba Jatra festival is held once in two years and is immensely popular among revellers who join festivities irrespective of caste or religion.
The Hindu's report essays how the committee had initially allotted the tender for managing shops and collecting fees to a certain person for Rs 9.1 lakh. When Muslim traders tried to set up stalls, Hindutva workers created a ruckus, leading the original tender holder to cancel the allotment made to him.
On March 19, the committee, after a meeting with Hindutva groups, decided to offer tender to the latter so they could allot shops. The president told The Hindu that this decision was taken to ensure that the festival went smoothly and that "the committee had never taken a stand against any particular religion all these years."
Source: The Wire
Please click the following URL to read the full text of the original story:
https://thewire.in/communalism/under-pressure-from-hindutva-groups-karnataka-festival-bans-muslim-traders
--------
Hosa Marigudi Temple Auctions Stalls Only To Hindus for the Annual 'Suggi Mari Puja'
Mar 20, 2022
Udupi: Upset that Muslim traders closed their shops and business establishments on Thursday, as a protest against the high court's verdict on the hijab row, the managing committee of the Hosa Marigudi Temple at Kaup decided not to allot shops and stalls to Muslims, in an auction held on Friday. The auction was held for the annual 'Suggi Mari Puja,' an annual festival to be held in the temple on Tuesday and Wednesday.
The temple decided to allow only Hindus to participate in the auction for shops and stalls, and those who participated in the auction were reportedly directed not to sublet their shops to any Muslim traders on the temple premise, to avoid law and order problems.
On the sidelines of this development, Ramesh Hegde, president, temple management committee told TOI, "We had received representations from several organisations, including Hindu Yuva Sene, Bajrang Dal and others, that only Hindus should be allowed to put up stalls as part of the temple festival," he said.
Further, he said that after two years, the festival is being held like it used to be in the pre-Covid days. "This year we are expecting a large number of people to gather, and hence we have reduced the number of stalls to be put up. We have given permission for about 50 stalls to be put up, mainly selling 'hannukai', bangles, sweets, juice and so on, so that more devotees are accommodated, and devotees do not have to undergo hardship. Generally, the temple earns about Rs 10-15 lakh through auctioning places for nearly 200 stalls. This year the income has been reduced to about Rs 5 lakh," he said.
Source: Times Of India
Please click the following URL to read the full text of the original story:
https://timesofindia.indiatimes.com/city/mangaluru/temple-auctions-stalls-only-to-hindus/articleshow/90327664.cms
--------
Deoband Ulema: Teach Bhagavad Gita Only To The Willing
Mar 21, 2022
MUZAFFARNAGAR: Reacting to the recent decision of the Gujarat government making the 'Bhagavad Gita' a part of the school syllabus from classes 6 to 12, Ulema (scholars) at Deoband, seat of the Darul Uloom Islamic seminary, said that they found "nothing wrong" with teaching the holy book in schools but it should not be imposed on those who are not willing.
Maulana Qari Ishaq Gora, the patron of Jamiat Dawat-ul Muslameen, a social organisation based in Deoband, said that the government must first get the students' consent and teach to "only those who are willing."
"It is a good thing to read and know about the holy books of all faiths. I have read the holy book of my religion, and of other religions too. I have read the 'Gita'. But I feel that it is not appropriate to impose a religion or its holy texts on anyone."
The cleric further said that the "school is a temple of learning, not a temple to propagate the ideology of a particular religion". He added: "The Karnataka high court, in its recent observation on the issue of 'hijab', had said that the 'school will run by uniform and not by any religious practice'. So, if we go by the court, is it appropriate to include 'Gita' in the school curriculum?"
Source: Times Of India
Please click the following URL to read the full text of the original story:
https://timesofindia.indiatimes.com/city/meerut/deoband-ulemas-teach-bhagavad-gita-only-to-the-willing/articleshow/90343492.cms
--------
India's Independent Foreign Policy Gets Pakistan PM's Applause
Mar 21, 2022
ISLAMABAD: Pakistan's PM Imran Khan on Sunday praised India for having an independent foreign policy, saying the neighbouring country has always taken decisions in the best interest of its people.
Speaking at a rally in the northwestern Malakand region, Khan lauded India for the stand it took in the aftermath of Russia's invasion of Ukraine and said he believed that his country's foreign policy should also be independent of all external pressures. "The American sanctions on Moscow didn't stop India from importing oil from Russia despite close strategic ties between Delhi and Washington," Khan said, maintaining that like "our" neighbouring country, his foreign policy would also be in favour and interest of the people of Pakistan.
"I haven't bowed before anyone and will not let my nation bow either," Imran said.
He took on Shehbaz Sharif, leader of the opposition in the national assembly, for objecting to his criticism of the European Union envoys who had urged Pakistan to condemn Russia in the United Nations. Imran said the EU ambassadors had violated the protocol by asking Pakistan to condemn Russia.
Source: Times Of India
Please click the following URL to read the full text of the original story:
https://timesofindia.indiatimes.com/india/indias-independent-foreign-policy-gets-pakistan-pms-applause/articleshow/90341799.cms
--------
No Class 12 Re-Exam For Hijab Protesters: Karnataka Govt
Mar 21, 2022
BENGALURU: Hundreds of pre-university (PU) II students in Karnataka who had participated in hijab protests will not be given a second chance to appear for their practical examinations, which they boycotted in February-March. In Karnataka, Class 12 is called PU II.
Two days after hinting at a re-exam, the government on Sunday categorically ruled out that option for students who were "absent" for the practicals conducted as part of the board examinations.
"How can we even consider the possibility? If we allow the students who boycotted the practicals for not being allowed to wear hijab to the exam even after the high court gave its interim order, then another student will come citing some other reason and seek a second chance. It is impossible," primary and secondary education minister B C Nagesh said.
Source: Times Of India
Please click the following URL to read the full text of the original story:
https://timesofindia.indiatimes.com/india/no-class-12-re-exam-for-hijab-protesters-karnataka-govt/articleshow/90341186.cms
--------
Hindutva YouTuber Calls For Genocide, Sexual Assault Of Muslims
20th March 2022
Adding to the growing Islamophobic and unrest in the country, especially since the release of the movie The Kashmir Files, a video of a man inciting violence on Muslims in the country has surfaced on social media.
The man masked in saffron, calls for a mass genocide against Muslims to avenge the death of the targeted killings of Kashmiri Pandits in 1990. The man in the video (whose name is unknown) runs a YouTube channel specifically to spew hatred against the Muslim minority in the country.
"We do not want bloodshed now and again. We do not want one to cry over the other. We will kill everyone from the youngest to the oldest. If we leave the young ones they'll want to know who killed their father. They'll grow spiteful and will want revenge," says the man, calling for a genocide of Muslims in the country, in one of his videos that surfaced on Twitter.
"We Hindus do not want bloodshed. We love and want peace. Our army will murder and finish them all at once. If you are a Hindu and want to avenge (the deaths) Kashmiri Pandits, if you know a Muslim, trouble them," adds the man.
The man that hides behind the saffron scarf, sits in the backdrop of an Indian flag as he directs Hindus not to develop amity with Muslims
"Use them and abandon them in difficulty. Leave them in a labyrinth of some kind. Use them (to your benefit). Trouble them so much that they cry, leave them tormented. Create an atmosphere that forces them to leave the country. We won't let them leave nor will we let them live in the country," he adds.
The saffron-clad goon who incites Hindus to commit atrocities on Muslims discreetly also runs a page on Instagram that he uses to inflame people against the religious minority.
"Use your brains and do it discreetly. If the administration (law) gets to know they'll be forced to punish you. It is an independent country right now, so it is following the Constitution. Hence they will be forced to arrest you, so do this in secrecy," he adds.
The man also incites sexual violence against Muslim women and threatens to rape them.
"If I was in control, I would split up your six-month-olds and hand each part to a parent. I don't have power or I would rape your mother, sister, grandmother, aunt, and others," the man threatens before he begins to hurl sexist abuses at Muslim women in Hindi.
Source: Siasat Daily
Please click the following URL to read the full text of the original story:
https://www.siasat.com/hindutva-youtuber-calls-for-genocide-sexual-assault-of-muslims-2293594/
--------
North America
US to condemn as 'genocide' Myanmar's violence against Rohingya Muslims
Mar 21, 2022
US Secretary of State Antony Blinken is expected to describe as 'genocide' the violence perpetrated against the Muslim Rohingya community by the military in Myanmar.
Mr Blinken is due to speak at the Holocaust Museum in Washington on Monday, for a new exhibition called Burma's Path to Genocide on the killing and persecution of the minority community.
In December last year, during a visit to Malaysia, Mr Blinken said the US was looking "very actively" at whether the treatment of the Rohingya might "constitute genocide".
The US State Department released a report in 2018 that described violence against the Rohingya in western Rakhine state as "extreme, large-scale, widespread, and seemingly geared towards both terrorising the population and driving out the Rohingya residents".
"I'll never forget the painful stories I heard in 2017 from members of the Rohingya community in Burma and Bangladesh - stories of violence and crimes against humanity," US senator from Oregon Jeff Merkley write on Twitter on Sunday about news of the genocide designation.
"Good to see the admin take this overdue step to hold this brutal regime accountable, which I've pushed for years," he said.
About 850,000 Rohingya are languishing in camps in neighbouring Bangladesh, having fled mass killings and sexual violence, while another 600,000 members of the community remain in Rakhine where they report widespread oppression.
A legal designation of genocide - defined by the UN as acts "committed with intent to destroy, in whole or part, a national, ethnical, racial or religious group" - could be followed by further sanctions and limits on aid, among other penalties against the already-isolated junta, The New York Times reported.
The US slapped a series of sanctions on the country's leaders and, like other Western nations, has long restricted supplies of weapons to its armed forces, which even before the junta took power faced allegations of crimes against humanity for the brutal campaign against the Rohingya.
The case opened against Myanmar by The Gambia at the International Court of Justice in 2019 has been complicated by last year's coup that ousted civilian leader Aung San Suu Kyi and her government, triggering mass protests and a bloody crackdown.
The Nobel peace laureate, who faced criticism from rights groups for her involvement in the Rohingya case, is now under house arrest and on trial by the same generals she defended at The Hague.
The administration of President Barack Obama had pumped large amounts of political capital into Myanmar's transition to a fledgling democracy, offering financial help and diplomatic support.
Source: The National News
Please click the following URL to read the full text of the original story:
https://www.thenationalnews.com/world/2022/03/21/us-to-condemn-as-genocide-myanmars-violence-against-rohingya-muslims/
--------
Police believe attack at Mississauga mosque was motivated by hate
SALMAAN FAROOQUI
Mar 21, 2022
A day after a man armed with an axe and bear spray stormed Mississauga's Dar Al-Tawheed Islamic Centre, in what police believe was a hate-motivated attack, a member of the mosque said he and other congregants will not be kept from their daily prayers.
Noorani Sairally, a volunteer at Dar Al-Tawheed, was praying there on Saturday when the attack happened. He returned to the mosque on Sunday.
"The event that happened will not deter any of the congregants who were present," he said. But, he added, having his routine interrupted by an armed assailant will not be easy to forget.
"As much as I want to shake this off and go about life, there is a scar," he said. "This is one thing that is playing in my mind over and over again. It was a very traumatic and frightening event that happened."
Peel Regional Police said the attack started around 7 a.m. on Saturday, when a man walked into the mosque and discharged bear spray toward people who were praying. Members of the mosque were able to subdue the attacker until police arrived.
A 24-year-old man, Mohammad Moiz Omar, was arrested in relation to the attack. Peel police have charged him with offences that include assault with a weapon, administering a noxious substance with intent to endanger life, uttering threats and mischief to religious property. In a Saturday news release, the force said the attack was "believed to be a hate-motivated incident."
Speaking on Saturday evening, hours after the attack, Mr. Sairally said he could still feel the bear spray in his lungs and feel his eyes burn if he touched them. His first instinct, he said, was to wonder if someone was trying to repeat the 2017 mosque shooting that left six people dead in Quebec City.
When the attack started, prayer had been under way for about five minutes, he recalled. He heard a scream behind him and turned to see someone discharging bear spray at the back of the prayer group, before a young man knocked away the attacker's axe and tackled him to the ground. Others helped keep the attacker down until police arrived, Mr. Sairally said.
Many people in the mosque ran outside afterward because of the noxious effect of the bear spray, he added.
Mr. Sairally said the mosque is trying to gather all the people present during the attack to offer support to those who need it.
Peel police Superintendent Rob Higgs said the force's investigation is continuing, and the mosque said police are increasing their presence in the area.
"Violence of any kind is unacceptable in our community and we are taking this matter extremely seriously," Supt. Higgs said.
Mr. Sairally said Marco Mendicino, the federal Minister of Public Safety, and Sean Fraser, the Minister of Immigration, paid a visit to the mosque on Sunday to reassure congregants.
Members of the mosque spoke to the cabinet ministers about getting funding to improve security measures at the facility, he added.
Ibrahim Hindy, the imam at Dar Al-Tawheed, said the mosque is considering locking its doors to prevent unwanted visitors, but that doing so would be inconvenient, because it would mean excluding people who are a few minutes late to prayers.
The attack occurred two weeks before the start of Ramadan, a holy month of fasting, prayer and community dinners that is the busiest time of year for many mosques.
Prime Minister Justin Trudeau condemned the attack over the weekend and said such violence has no place in Canada.
Source: The Globe And Mail
Please click the following URL to read the full text of the original story:
https://www.theglobeandmail.com/canada/article-police-believe-attack-at-mississauga-mosque-was-motivated-by-hate/
--------
US condemns Houthi attacks on Saudi Arabia, affirms support to Riyadh: White House
20 March ,2022
The US condemned Yemen's Iran-backed Houthi militia attacks on Saudi Arabia and affirmed its support for the Kingdom's defense, National Security Advisor Jake Sullivan said on Sunday.
"We condemn the Houthi attacks over the last 48 hours against civilian infrastructure in Saudi Arabia. These attacks reportedly targeted water treatment facilities as well as oil and natural gas infrastructure. The Houthis launch these terrorist attacks with enabling by Iran, which supplies them with missile and UAV components, training, and expertise. This is done in violation of UN Security Council resolutions prohibiting the import of weapons into Yemen," Sullivan said in a statement.
He added: "Saudi Arabia and the Yemeni Government have endorsed multiple UN calls for ceasefires and de-escalation over the last year. The Houthis have rejected these calls, responding instead with new offensives in Yemen and terrorist acts, such as those launched against Saudi Arabia last night. It is time to bring this war to a close, but that can only happen if the Houthis agree to cooperate with the United Nations and its envoy working on a step-by-step a process to de-escalate the conflict."
"The United States stands fully behind those efforts, and we will continue to fully support our partners in the defense of their territory from Houthi attacks. We call on the international community to do the same."
Earlier on Sunday, the Arab Coalition announced that Saudi Arabia's Air Defense Forces had intercepted and destroyed nine drones launched by the Houthi militia towards Jazan, Khamis Mushait, Taif, Yanbu and Dhahran al-Janoub in the Kingdom.
Source: Al Arabiya
Please click the following URL to read the full text of the original story:
https://english.alarabiya.net/News/gulf/2022/03/20/US-condemns-Houthi-attacks-on-Saudi-Arabia-affirms-support-to-Riyadh-White-House
--------
US court dismisses $900M case against Palestinian Authority
Jaafar Qasem
20.03.2022
A US court in New York dismissed a case worth $900 million against the Palestinian Authority (PA) and the umbrella Palestine Liberation Organization (PLO).
The case was filed by Jewish Americans demanding compensations for the death of their relatives in attacks in the occupied West Bank.
In a statement on Sunday, the Palestinian Finance Ministry described the court ruling as a "breakthrough" in regards to dismissing cases against the PA and PLO of supporting terrorism.
"The court verdict was issued despite repeated attempts by the plaintiffs and right-wing organizations to file cases against Palestine for financial compensations worth millions of dollars," the ministry said.
According to the statement, the US court found that a recent Congress decision subjecting the PA and PLO to the jurisdiction of the US law was "unconstitutional."
Last week, a court in Manhattan also dismissed another similar case worth hundreds of millions against the PA.
Since 2002, the PA and PLO faced several cases brought to courts by Jewish families and groups claiming that their relatives were killed by Palestinians in the occupied West Bank.
Source: Anadolu Agency
Please click the following URL to read the full text of the original story:
https://www.aa.com.tr/en/americas/us-court-dismisses-900m-case-against-palestinian-authority/2540730
--------
Pakistan
Pakistan PM Urges Islamic Nations for Joint Islamic Effort To Engage With 'New Realities'
March 20, 2022
ISLAMABAD: Prime Minister Imran Khan underlined that Islamic nations must carefully navigate the "new realities" and actively shape the emerging world order to realise their individual and collective interests.
"Toward that objective, they must first promote and preserve their own sovereignty and territorial integrity by upholding principles, avoiding involvement in great power rivalries, resolving inter-Islamic disputes, and preventing foreign interference and intervention," the prime minister said in an opinion for the Arab News.
The prime minister further said that as a force for peace with justice, the Organisation of Islamic Cooperation (OIC) must continue to support the just causes of Palestine and Kashmir for self-determination and liberation from foreign occupation.
"Although these goals are daunting, I am convinced that the arc of history bends toward justice," the prime minister shared his thoughts as Pakistan is set to host the 48th session of the Council of Foreign Ministers, an OIC body, on March 22-23 in Islamabad.
He observed that the convening of the conference on the 75th anniversary of Pakistan's independence is an extraordinary display of Muslim solidarity with Pakistan.
The prime minister said the meeting was taking place at a critical moment in world history.
"Structures of the global security and economic order established in 1945 have been eroded by the repeated unilateral use of force, a new 'cold war' and growing inequalities among and within nations, exacerbated by the Covid-19 pandemic, the impact of climate change and the technology revolution," he observed.
The prime minister said the OIC is the world's second-largest intergovernmental organisation and represents the collective voice of the Islamic world.
While reiterating that Pakistan would always remain a fortress of Islam and a defender of the rights and interests of Muslims around the world, said that over the years, the organisation had proactively advanced the shared interests and objectives of the Islamic world.
"It has sought to promote international peace and security, understanding and dialogue among civilisations, cultures and religions, and to foster the noble Islamic values of peace, justice and mutual respect," he said.
He said that India's attempt to impose a Final Solution on occupied Kashmir, by robbing it of its identity, changing its demography and brutally repressing its people, would fail.
"Durable peace and stability in South Asia is contingent on pacific settlement of the Jammu and Kashmir dispute in accordance with the relevant resolutions of the UN Security Council and the wishes of the Kashmiri people," he stressed.
The prime minister said Pakistan sought friendly relations with all neighbours, including India, adding New Delhi should create the conditions conducive for a sincere and result-oriented dialogue with Pakistan and the people of Kashmir, by reversing its unilateral measures in occupied Kashmir, including demographic changes, and halting its gross and widespread violations of human rights.
After 40 years, he said there was a real opportunity to restore peace and security in Afghanistan and the region.
"We must act collectively to avert a humanitarian crisis and economic collapse in Afghanistan, and engage actively with the Afghan authorities to promote human rights, especially women's rights, encourage greater inclusivity, and develop effective strategies to eliminate the terrorist threat from the country," the prime minister added.
He said it was vital to resolve the conflicts in Syria, Libya and Yemen through accommodation and cooperation between the concerned Islamic countries, and exclude non-Muslim interference in these conflicts.
The OIC should seriously consider establishing its own peace and security architecture to promote conflict resolution through dialogue and negotiations whenever disputes arose among Muslim countries or between them and non-Muslim countries or entities, he added.
"The Muslim world as a whole is well endowed in terms of human and natural resources. We need to better coordinate with a view to exploiting complementarities and building capacities," he said, adding the joint Islamic action in the economic and commercial spheres would constitute an important step toward greater political convergence and solidarity.
The prime minister further said Islamic countries must join other developing countries to mobilise adequate resources for recovery from the pandemic and realisation of the sustainable development goals.
"This should include debt relief and restructuring, fulfilment of the 0.7 percent official development assistance target, redistribution of the unutilised $400 billion in new special drawing rights, larger lending by the multilateral development banks, massive public and private sector investment in sustainable infrastructure, and mobilisation of the promised $100 billion-plus annually in climate finance," he added.
The prime minister emphasised that they must also demand fair and equal treatment in the international finance, trade and taxation architecture.
"We must boldly arrest and reverse the outflow of billions of dollars each year from our countries to "safe havens" through corruption, fraud, tax evasion and tax avoidance," he added.
The OIC countries, the prime minister said, needed to prepare themselves for a knowledge-driven, integrated and digital global economy of the future and suggested setting up an OIC "Commission for the Future" to study the trends in science and technology, trade and finance and recommend a clear long-term strategy.
Khan said that they should promote economic cooperation with all countries and groups, with both the West and the East.
"At the same time, we should exploit the economic complementarities among the Islamic countries, utilising the Islamic Development Bank and other OIC institutions. A special expert task force could develop a plan for economic, financial, trade and technology cooperation among OIC member states," he added.
To another objective, the prime minister said that they must promote global respect for our faith, Islam, and offer protection to every Muslim everywhere.
"We must object vigorously to the defamation or denigration of Islam, our Holy Book or our Holy Prophet, peace be upon him," he reiterated.
The prime minister sad the worst manifestation of Islamophobia was the officially sanctioned campaign to transform India into an exclusively Hindu state. There was a danger of genocide against Muslims in India.
Source: Pakistan Today
Please click the following URL to read the full text of the original story:
https://www.pakistantoday.com.pk/2022/03/20/imran-urges-joint-islamic-effort-to-engage-with-new-realities/
--------
Pakistan Parliament to meet on Friday to take up no-trust motion against PM Imran Khan
MARCH 21, 2022
The PTI has 155 members in Pakistan's National Assembly and needs at least 172 lawmakers on its side to remain in the government
Pakistan's National Assembly will convene on Friday to take up a no-trust motion against embattled Prime Minister Imran Khan, who on Sunday offered an olive branch to some 24 dissident lawmakers of his party, saying he was ready to forgive them like a "compassionate father" if they returned to the party.
Around 100 lawmakers from the Pakistan Muslim League-Nawaz (PML-N) and Pakistan Peoples' Party (PPP) submitted the no-confidence motion before the National Assembly Secretariat on March 8, alleging that the Pakistan Tehreek-e-Insaaf (PTI) government led by Mr. Khan was responsible for the economic crisis and the spiralling inflation in the country.
On Sunday, the National Assembly Secretariat issued a notification, paving the way for holding the key session which the Opposition had demanded to be convened by March 21 as per the legal requirements.
"The session will convene at 11 a.m. on Friday and will be the 41st session of the current National Assembly," according to the notification issued by Speaker Asad Qaiser.
The Opposition has been demanding that the session should be summoned within 14 days but Interior Minister Sheikh Rashid said at a press conference it can be delayed due to extraordinary circumstances.
The delay in this case is due to the 48th Organisation of Islamic Cooperation (OIC) Council of Foreign Ministers on March 22 and 23 at the Parliament House.
Initially, the Opposition had threatened to stage a sit-in if the session was not called on time. However, they toned down its stance by stressing that Pakistan's political turmoil will not be allowed to affect the high-profile event in any way.
The lower house will deliberate on the Opposition's no-confidence resolution against Prime Minister Khan on March 25. Once the motion is formally taken up by the house, the voting should be held between three to seven days.
Mr. Khan, 69, is heading a coalition government and he can be removed if some of the partners decide to switch sides.
In the 342-member National Assembly, the Opposition needs 172 votes to remove Mr. Khan, the cricketer-turned-politician.
The PTI has 155 members in the House and needs at least 172 lawmakers on its side to remain in the government. The party has the support of 23 members belonging to at least six political parties.
Nearly two dozen dissident lawmakers of the ruling party recently came out in the open ahead of voting on the no-confidence motion against Prime Minister Khan, with the government accusing Opposition parties of horse-trading.
Meanwhile, Prime Minister Khan on Sunday offered an olive branch to rebel lawmakers of his party saying he was ready to forgive them like a "compassionate father" if they returned to the party fold.
"I will forgive you if you come back. We all commit mistakes. I am like a father who forgives his children and I will pardon you as well and no action will be taken against you," he said while addressing a public rally in Malakand district of Khyber-Pakhtunkhwa.
At the same time, he warned that those not heeding to his words should be ready to face a 'social boycott'.
"Return to the party's fold or face social boycott," he warned the rebel PTI lawmakers.
Before offering the olive branch, Mr. Khan accused them of selling their conscience and told the rebel lawmakers that they will be forever known as people who "sold their conscience" and it will be difficult for them to attend social events like marriages.
"Even it will be difficult for them to arrange marriages of their kids," he said.
He also blasted the Opposition that has filed a no-trust motion against him, warning them that "you are going to lose this match badly."
In another development, supporters of rival parties were protesting against or in favour of various PTI lawmakers who announced to go against Mr. Khan.
The Dawn newspaper reported that the PTI supporters gathered outside the house of rebel lawmaker Malik Ahmed Hassan Dehar in Multan to protest against him, while workers of the opposition Jamiat Ulema-i-Islam-Fazl (JUI-F) staged a rally outside the residence of another PTI dissident Noor Alam Khan in Peshawar to give moral support to him and his family.
Similar rallies were also held at other places like Lahore after Khan defended the peaceful right of his party activists against the 'turncoats'.
On Saturday, the ruling party issued show-cause notices to its dissident lawmakers for alleged defection and sought an explanation from them by March 26 as to why they may not be declared defectors and disqualified as a member of the National Assembly.
Source: The Hindu
Please click the following URL to read the full text of the original story:
https://www.thehindu.com/news/international/pakistan-parliament-to-meet-on-friday-to-take-up-no-trust-motion-against-pm-imran-khan/article65244255.ece
--------
Minister for Religious Affairs and Inter-Faith Harmony Requests PM Imran Khan to Ban Game Shows during Ramadan
Mar 20 2022
Federal Minister for Religious Affairs and Inter-faith Harmony Noor-ul-Haq Qadri on Sunday wrote a letter to Prime Minister Imran Khan, requesting to put a ban on game shows during the month of Ramadan.
In a letter shared by the Ministry of Religious Affairs and Interfaith Harmony on Twitter, Noor-ul-Haq mentioned six guiding principles of Ramadan broadcasting on the complaints issued by the public.
The letter said that the promotion of religious and professional harmony during the holy month should be the top priority of the Ramadan broadcast. It further said that "controversial issues and professional topics should be avoided."
The letter also stated that the show hosts should be equipped with the necessary knowledge, adding that the dress code of the hosts and guests should be in accordance with the holy month.
It further said that "respect for holy figures and adherents of different sects should be kept in mind." Moreover, broadcasting game shows and frivolous programmes during Sehr and Iftar should be avoided.
Source: Geo TV
Please click the following URL to read the full text of the original story:
https://www.geo.tv/latest/406418-noor-ul-haq-qadri-requests-pm-imran-khan-to-ban-game-shows-during-ramadan
--------
Accidental fire triggers powerful explosions at military depot in Pakistan's Sialkot
Mar 20, 2022
LAHORE: An accidental fire caused by shot-circuit triggered a series of powerful explosions at a military depot in Pakistan's Punjab province on Sunday morning, sparking rumours that the key army installation was targeted by terrorists.
The accidental fire broke out in ammunition shed near Sialkot garrison, some 100 kms from Lahore.
Pakistan Army's media wing - the Inter Services Public Relations (ISPR) - issued a statement, saying "due to short circuiting, accidental fire broke out in an ammunition shed near Sialkot Garrison. No loss of life. Effective and timely response contained damages and fire has been extinguished."
According to reports, a large fire and explosions rocked the military depot near the cantonment area at 6am. Fire brigade and Rescue 1122 reached the spot and extinguished the fire reportedly after several hours.
When asked about damages and any casualty or injuries in the wake of the Sialkot explosions, a spokesperson for the Rescue 1122 told PTI that only the military is authorised to talk on the matter.
Source: Times Of India
Please click the following URL to read the full text of the original story:
https://timesofindia.indiatimes.com/world/pakistan/accidental-fire-triggers-powerful-explosions-at-military-depot-in-pakistans-sialkot/articleshow/90335697.cms
--------
Truck mafia created the Taliban, claims former secretary
Irfan Aslam
March 21, 2022
People say that Pakistan created the Taliban but it's wrong though we might take a credit for it. The Taliban came into existence through the truck mafia, said former foreign secretary Najmuddin A. Shaikh.
"When they used to go to Kandahar, they had to pass eight to 10 checkpoints where they had to pay a fine. The truck mafia said to the seminary students and ordinary sepoys, who were not Taliban to give it a safe passage and requested them to provide it and they did that," he said while speaking in a session, The Imperial Ghost Wars in Afghanistan on the concluding day of the Lahore Literary Festival (LLF) on Sunday.
"Then we said, 'the Taliban are our boys' but the Taliban did not accept that and told that Naseerullah Babar had nothing to do with them."
Mr Shaikh added that Osama bin Laden went to Afghanistan in a C-31, which was only possible through the US government. "I was then the foreign secretary. I wrote to our intelligence agencies to keep a watch on him because his presence there was going to create problems for us."
He termed peace in Afghanistan essential for Pakistan because any disturbance there would multiply in Pakistan.
Former ambassador to the US Maleeha Lodhi said that for Pakistan, the US was part of an external strategy to counter India's threatening posture with Pakistan. She said the relationship has been very mercurial, problematic and turbulent and it was best when the both sides had common objectives like both sides wanted US withdrawal from Afghanistan, both sides wanted the dissemination of Al-Qaida.
"We are in a transitional phase. It is hard to see how the new relationship is going to be redefined unless there is meaningful engagement at the senior level which I am not seeing so far. Perhaps the US has other issues now in mind vis-à-vis Ukraine."
Ms Lodhi said the relationship is going to be affected by three factors, the Sino-US confrontation, India factor as Pak-India relations are not normalised and the situation of Afghanistan where Pakistan wanted a greater engagement.
Writer and journalist Zahid Hussain said US-Pakistan relations had gone through many phases in the last sixty years but a new alliance emerged after 9/11. "Before 9/11 happened, the US and Pakistan were pursuing different policies in Afghanistan but things changed after 9/11."
He said after the incident, Pakistan was important for the US to engage in Afghanistan as the mastermind of 9/11 was living there and Pakistan was deeply involved in Afghanistan before that.
"There had been a lot of political statements by political leaders that 'one call' led to Pakistan's alliance with the US which was completely wrong. Pakistan did not have a choice."
After the return of US forces from Afghanistan, the nature of relations had completely changed and they had gone back to the same situation that was before 9/11, he said.
Zahid Hussain added that there had been a lot of talk that the US had betrayed Pakistan but one thing should be clear that nations make their relations based on their national interests.
He said when Taliban ruled Afghanistan before 9/11, there were no Taliban fighting in Pakistan but now the TTP had emboldened, and its back in the former tribal areas of Pakistan which should be a concern for Pakistan.
AKBAR ZAIDI: Political economist Akbar S. Zaidi talking about his book, Making of A Muslim, said many things told about Pakistan and the Muslims of 19th century were wrong.
"I was intrigued by the idea how the idea of a Muslim is portrayed in history, social sciences by very prominent historians, including the one who was here yesterday but I can't take the name.
"There was a region in Hindustan where everything was written in Urdu and our historians, with some exceptions, don't read Urdu despite writing extensive books."
Mr Zaidi said the crux of this book was to explore what were the Muslims talking about in the 19th century, adding that he read newspapers from that era, exploring the Khuda Bakhsh Library in Patna, Aligarh Library and British Library.
He said contemporary historians claim that a Muslim nation came into being after 1857. "I refuse to accept it. There was nothing like it."
He declared there was no better word than Zillat (humiliation). "The book has many themes and there is one theme of Zillat."
The Urdu speaking elite realised that the condition they were in was utter Zillat.
"People think that the sects of Islam, Deobandi, Barelvi and Ahle Hadith, had been there since centuries. In 1867, the Deoband sect started, the Barelvis came in 1895 and Ahle Hadith originated in 1870-1875. These sects are just infants compared to the 1,400 years long history of Islam."
Source: Dawn
Please click the following URL to read the full text of the original story:
https://www.dawn.com/news/1680960/truck-mafia-created-the-taliban-claims-former-secretary
--------
Pakistan condemns Houthi attack on Saudi energy facilities
March 20, 2022
ISLAMABAD: Pakistan on Sunday strongly condemned a missile and drone attack at Saudi energy and water desalination facilities by the Houthi group, the Foreign Office said.
Drone strikes hit a petroleum products distribution terminal in the southern Jizan region, a natural gas plant and the Yasref refinery in the Red Sea port of Yanbu, the Ministry of Energy of Saudi Arabia said in a statement.
"The assault on Yasref facilities has led to a temporary reduction in the refinery's production, which will be compensated for from the inventory," it said, referring to Yanbu Aramco Sinopec Refining Company, a joint venture between Saudi Aramco and China Petrochemical Corporation (Sinopec).
Houthi military spokesperson Yahya Sarea said the group fired ballistic and winged missiles as well as drones at Aramco facilities in the capital Riyadh, Yanbu and "other areas," followed by attacks on "vital targets" in other Saudi regions.
"Pakistan reaffirms its full support and solidarity with the Kingdom of Saudi Arabia against any threats to its security and territorial integrity," a Foreign Office spokesperson said in a press statement.
The statement said such attacks not only violated international laws but also threatened the peace and security of the oil-rich kingdom and the region.
Pakistan also called for an immediate cessation of these attacks.
"The successful interception of the ballistic missile by the Royal Saudi Air Defense Force prevented loss of innocent lives and is commendable."
Saudi Arabia has struggled to extricate itself from the seven-year conflict which has killed tens of thousands and left millions of Yemenis facing starvation. Houthi attacks on Saudi Arabia have also endangered the kingdom's airports, oil facilities and caused some civilian deaths.
Source: Pakistan Today
Please click the following URL to read the full text of the original story:
https://www.pakistantoday.com.pk/2022/03/20/pakistan-condemns-houthi-attack-on-saudi-energy-facilities/
--------
Group of Sikhs clashed on streets of Nankana Sahib, Pakistan
Mar 20, 2022
AMRITSAR: Turbans were tossed on the streets of Nankana Sahib, Pakistan in a fight between the two groups of Sikhs who clashed over financial matters on Sunday.
According to sources, as many as three Sikhs were injured in the incident. One of the Sikh residents of Nankana Sahib had received head injuries while another sustained serious leg injuries.
In a video, two groups of Sikhs are seen thrashing other Sikhs. One of the Sikhs had fallen on the road while another one is seen pulling him with hair while another hitting him with a baton.
According to sources, a resident of Nankana Sahib Amarjit Singh had opened a cosmetic shop in the Shahdara area after taking a loan from other Sikhs but didn't pay back his loan.
The lenders had demanded to pay back their money several times but to no avail. On Sunday they tried to forcibly occupy the cosmetic shop which erupted the fight between the two groups, informed sources.
Sources also informed that police had arrested five persons including Amarjit Singh, Jasbir Singh, Amir Singh.
While confirming the clash between local Sikhs of Nankana Sahib, Pakistan's Sikh Member Provincial Assembly (MPA) Mohinderpal Singh said he was in the Gurdwara to bring a truce between the warring groups of Sikhs.
Source: Times Of India
Please click the following URL to read the full text of the original story:
https://timesofindia.indiatimes.com/india/group-of-sikhs-clashed-on-streets-of-nankana-sahib-pakistan/articleshow/90339689.cms
--------
South Asia
Taliban bans official Afghan tricolour flag
21 March, 2022
Kabul [Afghanistan], March 21 (ANI): The Taliban regime in Afghanistan on Sunday issued a decree banning the official tricolour flag of the internationally-recognised Afghan government (black, red, green) and replaces it with the white coloured flag of the Islamic emirate.
Under the decree, all government agencies in the country and abroad must now use the white-coloured Taliban flag with a black-ink Islamic scripture reading "There is no God but Allah, and Muhammad is His prophet," Sputnik News Agency reported.
The decree prohibits the Taliban officials to appear in public with the tricolour Afghan flag.
The development comes weeks after the Taliban ordered the residents of Khost province in Afghanistan to remove the Afghan national flag from the rooftops of their houses and their vehicles.
The Afghan people had been requesting the Taliban not to change the flag as it belongs to no leader and faction, but to the nation, Khaama press had reported.
Notably, the leaders of the Islamic Emirate has been making extensive attempts to achieve international recognition.
Taliban's acting Minister of Foreign Affairs Amir Khan Muttaqi on Friday said that the Islamic Emirate is inclusive and has fulfilled all the requirements and it should be recognized by the international community, reported Tolo News.
Last year, in August, the Taliban came to power in Afghanistan and established an interim government led by Mohammad Hasan Akhund, who had served as the foreign minister during the first Taliban rule in the late 1990s.
The new authorities have not yet been internationally recognized even though the Islamic Emirate of Afghanistan (the country's name used by the Taliban) was declared restored in December.
Source: The Print
Please click the following URL to read the full text of the original story:
https://theprint.in/world/taliban-bans-official-afghan-tricolour-flag/881358/
--------
US President, Secretary of state, special envoy to Afghanistan wish happy Nowruz
21 Mar 2022
The US president Joe Biden along with the First Lady Jill Biden celebrated Nowruz (New Solar Year) by standing beside a table on which the traditional dry fruit (Haft-Sin) was prepared at the White House.
President Biden on his official Facebook page wrote that this was the message of the new beginnings, hope, and joy of Nowruz.
"It is a celebration of the vibrant cultures and friendships of our many diaspora communities who make extraordinary contributions every day here in the United States." Reads the Facebook post.
In the meantime, US secretary of state Antonio Blinken in a video clip wished happy Nowruz for people around the world and wish them prosperity and peace.
The US special representative for Afghanistan Thomas West also joined the President and secretary of state with the Afghan people and everyone who celebrates a joyous Nowruz.
It all comes as this year's Nowruz is the worst one in the decades as the de facto authorities in Afghanistan denied to celebrate the day officially.
Source: Khaama Press
Please click the following URL to read the full text of the original story:
https://www.khaama.com/us-president-secretary-of-state-special-envoy-to-afghanistan-wish-happy-nowruz-654564775/
--------
Civil activists in Kabul ask for release of Afghanistan's reserves
20 Mar 2022
A group of civil activists in Kabul asked US president Joe Biden to unfreeze Afghanistan's assets and prevent the country's economic collapse.
The activists in a press conference on Sunday, March 20, 2022, said no Afghan was involved in 9/11 so they urge the international community especially the US to unfreeze the assets of the Afghan people.
They have also expressed concern about the private sector being in a dire economic situation as $2 billion in the total money frozen belongs to them.
Freezing the assets has stopped hundreds of projects across the country.
"Projects worth millions of dollars have been stopped. Afghans cannot even do business with the US and Asian countries. Our businessmen cannot buy things in the UEA and cannot do imports to the country." Said a participant of the conference.
Source: Khaama Press
Please click the following URL to read the full text of the original story:
https://www.khaama.com/civil-activists-in-kabul-ask-for-release-of-afghanistans-reserves-5467568/
--------
Navroz festival not to be celebrated in Afghanistan under Taliban regime
20 March, 2022
Kabul [Afghanistan], March 20 (ANI): Navroz or Nowruz which marks the Persian and Iranian New Year will not be celebrated in Afghanistan under the Taliban regime.
Nowruz, the day is dedicated to the beginning of the spring and renewal of Nature and it is celebrated on the first day of the first month of the calendar followed by Zoroastrians.
"We do not celebrate any ceremony that is not in Islam," Taliban spokesman Zabihullah Mujahid said, adding that their government would not celebrate Nowruz, as per media reports.
However, the spokesman claims that the group will not prevent people from celebrating Nowruz.
Source: The Print
Please click the following URL to read the full text of the original story:
https://theprint.in/world/navroz-festival-not-to-be-celebrated-in-afghanistan-under-taliban-regime/881320/
--------
Afghanistan world's unhappiest country, even before Taliban
20 Mar 2022
Afghanistan is the unhappiest country in the world – even before the Taliban swept to power last August. That is according to a so-called World Happiness Report released before the United Nations-designated International Day of Happiness on Sunday.
The annual report ranked Afghanistan as last among 149 countries surveyed, with a happiness rate of just 2.5. Lebanon was the world's second saddest country, with Botswana, Rwanda and Zimbabwe rounding out the bottom five.
Finland ranked first for the fourth year running with a 7.8 score, followed by Denmark and Switzerland, with Iceland and the Netherlands also in the top five.
Researchers ranked the countries after analysing data over three years. They looked at several categories, including gross domestic product (GDP) per capita, social safety nets, life expectancy, freedom to make life choices, generosity of the population, and perceptions of internal and external corruption levels.
Afghanistan stacked up poorly in all six categories, as it did before the Taliban's return to power. The country was under the United States occupation for 20 years during which Washington alone spent $145bn on development, according to reports by the US special inspector general for Afghanistan.
Still, there were signs of increasing hopelessness.
Gallup conducted a poll in 2018 and found that few Afghans they surveyed had much hope for the future. In fact, the majority said they had no hope for the future.
Afghans have faced years of war, corruption, grinding poverty and lack of jobs.
When Masoud Ahmadi, a carpenter, returned to Afghanistan from neighbouring Pakistan after the 2001 collapse of the Taliban, his hopes for the future were bright.
He dreamed of opening a small furniture workshop, maybe employing as many as 10 people. Instead, sitting in his dusty six-foot by 10-foot workshop on Saturday, he said he opens just twice a week for lack of work.
"When the money came to this country, the leadership of the government took the money and counted it as their personal money, and the people were not helped to change their life for the better," said Ahmadi.
Source: Al Jazeera
Please click the following URL to read the full text of the original story:
https://www.aljazeera.com/news/2022/3/20/afghanistan-worlds-unhappiest-country-even-before-taliban
--------
Myanmar's Rohingya refugee crisis in key dates
Mar 21, 2022
YANGON: The Myanmar military launched a ferocious crackdown against the country's Rohingya Muslim population in 2017, driving around 740,000 into neighbouring Bangladesh.
On Monday US Secretary of State Antony Blinken is due to officially announce the decision to designate that crackdown a genocide.
Here are key dates in the crisis.
On August 25, 2017, Rohingya militants stage coordinated attacks on police posts in Myanmar's Rakhine state, killing at least a dozen officers.
The army retaliates with operations in Rohingya villages ostensibly to flush out insurgents.
It says it killed 400 rebels but opponents say most of the dead were civilians.
The United Nations says at least 1,000 people lost their lives in the first two weeks of the military operations.
By September 5 more than 120,000 Rohingya have fled into Bangladesh, overwhelming its ill-equipped refugee camps.
There are already at least 200,000 Rohingya in Bangladesh from previous waves of violence.
International anger mounts against Myanmar. Soldiers are accused of razing Rohingya homes and some world leaders allege "ethnic cleansing".
In her first statement on the crisis, Myanmar's civilian leader and Nobel Peace laureate Aung San Suu Kyi pledges on September 19 to hold rights violators to account but refuses to blame the army.
Bangladesh and Myanmar on November 23 agree to start repatriating refugees.
But the UN High Commissioner for Refugees says conditions are not in place for their safe return and the process halts.
UN human rights chief Zeid Ra'ad Al Hussein on December 5 warns of possible "elements of genocide" and calls for an international investigation.
On August 25, 2018, tens of thousands of Rohingya refugees stage protests to mark the first anniversary of their exodus.
UN investigators call for the prosecution of Myanmar's army chief and five other top military commanders for genocide, crimes against humanity and war crimes.
In November an attempt to repatriate 2,260 Rohingya fails as they refuse to leave without guarantees for their safety.
On September 3, two Reuters journalists who are accused of breaching Myanmar's state secrets law while reporting on a Rohingya massacre are jailed for seven years.
They will spend more than 500 days behind bars before being released on a presidential pardon.
On July 16, 2019, Washington announces sanctions against Myanmar's army chief and three other top officers.
About 3,500 Rohingya refugees are cleared to return home but none turn up to make the journey on August 22.
On November 11 The Gambia files a lawsuit at the ICJ accusing Myanmar of genocide for its treatment of the Rohingya.
Three days later the separate Hague-based International Criminal Court (ICC) green-lights a full investigation into the persecution of the Rohingya.
In the same week, a third case is filed by rights groups in Argentina under the principle of universal jurisdiction.
On December 10 The Gambia lays out its case at the ICJ with Suu Kyi personally leading Myanmar's defence.
She refutes accusations of genocide, denying "misleading and incomplete" claims and insisting Myanmar is dealing with an "internal armed conflict".
She admits the army may have used excessive force.
Delivering its ruling on January 23, 2020, the ICJ orders Myanmar to take urgent steps to prevent alleged genocide and to report back within four months.
In February 2021 Myanmar's legal team -- minus Suu Kyi, who is under house arrest following a military coup -- argues the court has no jurisdiction over the case, and must throw it out before it moves on to substantive hearings.
Source: Times Of India
Please click the following URL to read the full text of the original story:
https://timesofindia.indiatimes.com/world/rest-of-world/myanmars-rohingya-refugee-crisis-in-key-dates/articleshow/90344929.cms
--------
Mideast
IRGC Navy Commander: Foreign Forces Must Leave Persian Gulf Region at Earliest
2022-March-20
"We have always maintained that regional countries are responsible for safeguarding security in the Persian Gulf and that foreigners must leave this region at the earliest," Rear Admiral Tangsiri said on Saturday, addressing a meeting with a number of officials and commanders of the IRGC Navy bases.
"Unity among Muslim countries of the region is indicative of stability of lasting security and regional security is a red line for us."
Rear Admiral Tangsiri emphasized that Iran will confront any sinister plot or sedition designed to harm the Islamic Republic's security.
The IRGC commander said the Iranian forces are duty-bound to fully defend national interests anywhere and anytime and to closely monitor all enemy moves with full vigilance.
He noted that enemies constantly seek to harm Iran, saying, "We should always increase our readiness and combat capability to strongly protect the Islamic Republic of Iran's territory."
He also called all the IRGC Navy's commanders and forces to monitor the enemies' moves "with open eyes" and do not overlook acts of enmity even for a moment.
Rear Admiral Tangsiri noted that the IRGC Navy's control over the Persian Gulf, the Strait of Hormuz and North of the Indian Ocean has been boosted after it received new advanced homegrown defense hardware.
The IRGC Navy on Tuesday took delivery of a series of new advanced homegrown defense hardware with special capabilities, including smart sub-surface vessels along with missiles and speedboats.
Source: Fars News Agency
Please click the following URL to read the full text of the original story:
https://www.farsnews.ir/en/news/14001229000167/IRGC-Navy-Cmmander-Freign-Frces-Ms-Leave-Persian-Glf-Regin-a-Earlies
--------
Iran, Taliban Discuss Border Cooperation
2022-March-20
During the meeting in Kabul on Saturday, the two sides discussed issues related to the cultivation and trafficking of narcotics from Afghanistan into Iran, calling for joint cooperation in the fight against drug trafficking.
Referring to some border problems between Iranian and Afghan border forces, Mortazavi asked Haqqani to resolve border misunderstandings by forming a joint border committee as soon as possible.
This issue was welcomed by the Taliban minister and it was decided to take action in the near future.
"Let no arrogant powers once again impose war and insecurity on the Muslim nations of the region after leaving the region, especially Afghanistan," Haqqani said
He reiterated that Taliban will seriously fight against the terrorist movement inside Afghanistan, and said that the Taliban will not allow anyone to threaten Afghanistan's neighbors.
In a relevant development in late December, Iranian Foreign Minister Hossein Amir Abdollahian in a meeting with Taliban's acting foreign minister Amir Khan Muttaqi in Islamabad underlined the need for the formation of an inclusive government in Afghanistan with the participation of all parties and ethnic groups.
"Iran continues to strive for the formation of an inclusive government with the participation of all ethnic groups in Afghanistan and encourages all parties to achieve this goal," Amir Abdollahian said during the meeting on the sidelines of the 17th extraordinary session of the Organization of Islamic Cooperation (OIC) Council of Foreign Ministers on Afghanistan.
He added that formation of an inclusive government will help to the establishment of political and security stability in Afghanistan.
Amir Abdollahian voiced concern about the conditions of Afghan people on the threshold the cold season, saying that the international community should support the Afghan people and "humanitarian aid should flow to this country". Meantime, a spokesman for the Taliban interim government said that during the meeting, the two sides discussed the current security and humanitarian situation in Afghanistan, as well as the political, trade and economic relations between the two countries.
Amir Abdollahian also held a separate meeting with the Palestinian foreign minister on the sidelines of the OIC conference on Sunday.
He stressed Iran's support for the Palestinian people and the liberation of the holy Quds, and condemned continued crimes by the Zionist regime in the occupied territories.
Amir Abdollahian had earlier today in an address to the OIC meeting had said that sustainable security and political and social stability in Afghanistan wilould be to the interest of all regional states.
"What has gathered us here today is the prolonged crisis of Afghanistan, the dimensions of which are expanding on a daily basis," Amir Abdollahian said.
"The Islamic Republic of Iran considers the sustainable security and political and social stability in Afghanistan to be in line with the collective interests of the entire region. We believe that sustainable security and political and social stability in Afghanistan is possible only through real collective participation and an inclusive and effective government in which all ethnicities and religions play a role," he added.
Any postponement, will give the enemies of Afghan people the chance to activate an extensive network of social criminals through spreading the terrorism of Daesh (ISIL), creating economic hardships, and critical conditions in livelihood, healthcare and the basic needs of life."
"Furthermore, the enemies of the people of Afghanistan may seize the opportunity to disperse chaos, poverty and famine after 20 years of occupation and destruction of any infrastructure and impose inefficiency on the authorities in Kabul and the people of this country."
"National reconciliation, national cohesion and inclusive participation in government and governance, alongside the good faith and benevolent contribution of the neighboring countries, as well as regional and Muslim states in the fight against terrorism, insecurity and instability in addition to providing humanitarian assistance are the most urgent requirements for supporting Afghan people and guaranteeing a bright future for them," the Iranian foreign minister said.
Source: Fars News Agency
Please click the following URL to read the full text of the original story:
https://www.farsnews.ir/en/news/14001228000663/Iran-Taliban-Discss-Brder-Cperain
--------
Iran's Khamenei hopes for economic upturn in Persian new year speech
20 March ,2022
Iran's supreme leader Ayatollah Ali Khamenei expressed on Sunday hopes for the improvement of his country's economy during a speech to mark Nowruz, the Persian New Year.
Iran's economy has suffered under stringent sanctions that were reimposed by the US in 2018 after it unilaterally pulled out of the 2015 nuclear deal between Tehran and world powers.
"These economic problems are curable and we hope that some of them will disappear this year," Khamenei said during his televised speech.
The problems "will not all disappear at once but gradually", he said.
Khamenei said the toughest problems encountered last year were due to "rising prices and inflation".
Iran has been holding direct talks in Vienna to revive the 2015 nuclear deal with Britain, China, France, Germany and Russia. The US has been participating indirectly.
Various actors have recently suggested that an agreement is close.
"One of the most important happy events of the last year was that the Americans themselves admitted that they suffered a shameful defeat in their maximum pressure policy against Iran," Khamenei said on Sunday.
Former US president Donald Trump had used the term "maximum pressure campaign" to describe his administration's policy towards Iran, including the strict sanctions regime.
Khamenei said that the Iranian New Year, which begins on Monday, will focus on production and the creation of jobs.
Source: Al Arabiya
Please click the following URL to read the full text of the original story:
https://english.alarabiya.net/News/middle-east/2022/03/20/Iran-s-Khamenei-hopes-for-economic-upturn-in-Persian-new-year-speech-
--------
Turkish envoy reiterates support for unity, prosperity of Iraq
Haydar Karaalp
20.03.2022
The Turkish ambassador to Iraq has over the past days held talks with several Iraqi officials, reiterating his country's support for the unity and prosperity of Iraq.
About his meeting with Nouri al-Maliki, a former prime minister and leader of the State of Law Coalition, in Baghdad, Ali Riza Guney tweeted on Sunday: "Our message is clear: Turkiye supports the unity, integrity and prosperity of Iraq."
Earlier, he met Ammar al-Hakim, the leader of the Shiite National Wisdom Movement; Haider al-Abadi, former prime minister and Nasr (Victory) Coalition leader.
The Turkish ambassador also visited Hadi al-Amiri, the leader of the Shiite Conquest Coalition (Fatah Alliance) three days ago, and Alaa al-Rikabi, leader of the Imtidad (Extension) Coalition.
He also met Ahmed al-Mutairi, head of the political body of Sadrist movement.
Regarding his meeting with Hamid Naeem al-Ghazi, the secretary-general of the Council of Ministers, he said they talked about bilateral cooperation opportunities in the field of trade and investment.
Turmoil in the country continues since the October 2021 general elections as negotiations among political groups have since failed to form a majority coalition.
Source: Anadolu Agency
Please click the following URL to read the full text of the original story:
https://www.aa.com.tr/en/middle-east/turkish-envoy-reiterates-support-for-unity-prosperity-of-iraq/2540758
--------
Turkiye condemns drone attacks on Saudi Arabia
Gözde Bayar
20.03.2022
Turkiye has condemned the drone and rocket attacks on multiple locations in Saudi Arabia on Sunday.
"These terror attacks that aim to disturb the peace and stability in our region and that are also in contravention of the international law are totally unacceptable. We are in solidarity with Saudi Arabia on this," the Turkish Foreign Ministry said in a statement.
Source: Anadolu Agency
Please click the following URL to read the full text of the original story:
https://www.aa.com.tr/en/middle-east/turkiye-condemns-drone-attacks-on-saudi-arabia/2540753
--------
Houthis under fire for ruining peace efforts to end war
March 20, 2022
AL-MUKALLA: The Iran-backed Houthis have been strongly criticized for striking civilian facilities in Saudi Arabia and intensifying military operations in Yemen as the UN special envoy for Yemen proposed a humanitarian truce during the holy month of Ramadan.
Yemen's government officials, human rights activists, journalists and the public have slammed the Houthis for torpedoing the current peace efforts by the UN and Gulf Cooperation Council to reach a peaceful settlement to end the war.
Last week, the Gulf bloc invited warring factions in Yemen, including the Houthis, for peace talks under its aegis in Riyadh, a step that revived hopes of finding an end to the country's aggravating humanitarian crisis.
The Houthis quickly turned down the offer, launching deadly cross-border strikes on Saudi Arabia and escalating attacks on government-controlled areas in Yemen.
Yemen's Foreign Ministry criticized the Houthis' "aggressive and terrorist behavior" and their continuing resistance to all efforts to stop hostilities in Yemen, calling the latest attacks as the militia's "response" to the GCC offer.
"[The ministry] renews the firm and supportive position of the Republic of Yemen for the sisterly Kingdom of Saudi Arabia and its solidarity in all measures it takes to confront these cowardly terrorist acts, preserve the safety of its citizens and residents and protect its vital facilities," the Foreign Ministry said in a statement carried by the official news agency SABA.
Other Yemenis argued that the escalating military operations and the cross-border attacks show that the militia is not serious about peace and is determined to thwart initiatives to end the war.
Hamdan Al-Alaly said that the Houthis refused to take part in the coming conference since they would have to face the Yemeni forces that opposed their project.
"They will find themselves small and despicable in front of all the Yemeni components that reject them," Al-Alaly said, adding that the Houthis demanded direct talks with Saudi Arabia so as to legitimize their military takeover of power.
"They are looking for regional countries' recognition of their rule by asking for talks with the coalition, not with the Yemenis."
Yemen's Minister of State Gen. Abdul Ghani Jamil said that the Houthis would do everything at their disposal to foil the peace talks in Riyadh since those talks would bring together Yemenis against their oppressive rule.
"I think the message of the Houthis tonight is crystal clear. They do not want an invitation that seeks to unify the ranks [of their opponents] under the umbrella of the older sister, Saudi Arabia," Jamil said.
Meanwhile, on the ground, fighting between the Houthis and the government flared in flashpoint sites outside the central city of Marib as the Houthis push to break months of military stalemate.
A local military official told Arab News on Sunday that the Houthis amassed huge military forces and intensified their drone and missile strikes on government-controlled areas outside the city.
"We shot down two explosives-rigged drones. They also fired a ballistic missile at a camp for displaced people in Marib city. The Houthis are preparing for a major assault," said the official, who requested anonymity, adding that army troops and allied tribal fighters pushed back the latest Houthi attacks as the coalition's warplanes hit the militia's locations and military equipment.
Source: Arab News
Please click the following URL to read the full text of the original story:
https://www.arabnews.com/node/2046356/middle-east
--------
Israeli PM to visit India in April
March 20, 2022
JERUSALEM: Israel's Prime Minister Naftali Bennett will visit India next month, in a trip marking 30 years since the countries established diplomatic ties, his office has said.
"At the invitation of the Prime Minister of India, Narendra Modi — Prime Minister Naftali Bennett will pay his first official visit to India in early April," Bennett's office said in a statement on Saturday.
It later added that the trip would take place on April 2.
"This visit will reaffirm the important connection between the countries and the leaders, and will mark the 30th anniversary of the establishment of relations between Israel and India," the statement said.
Modi visited Israel in 2017, and his Israeli counterpart Benjamin Netanyahu made a high-profile return visit a year later.
Netanyahu's trip was the first by Israeli leader to India since 2003.
While India has historically been a vocal supporter of the Palestinians, it has also increasingly purchased military hardware from Israel's highly vaunted defense industry.
Source: Arab News
Please click the following URL to read the full text of the original story:
https://www.arabnews.com/node/2046726/middle-east
--------
'Unjustified' Saudi siege on Yemen complicating conflict: Foreign ministry
21 March 2022
The Yemeni foreign ministry has slammed the ongoing Saudi siege imposed on Yemen as "unjustified", warning that it would complicate the situation in the war-wracked Arab country.
Yemen's al-Masirah television network reported early on Monday that the deputy Foreign Minister Hussein al-Azzi said the ongoing Saudi siege could lead to a more complex stage, urging "the wise people" top avoid it.
He stressed that the continuation of the blockade is "unjustified and unnecessary arbitrariness."
The siege is also "a crime" and "an ongoing offense to a neighboring nation that aspires to peace and good neighborliness."
Saudi Arabia and a number of its regional allies — including the United Arab Emirates (UAE) — launched the devastating war on Yemen in March 2015. The war was meant to eliminate Yemen's popular Houthi Ansarullah movement and reinstall a former regime. The conflict, accompanied by a tight siege, has failed to reach its goals, but has killed hundreds of thousands of Yemeni people.
Essam al-Mutawakel, a spokesman for the Yemen Petroleum Company (YPC), said earlier this month that the Arab country was experiencing the toughest crisis since the start of the Saudi aggression and siege nearly seven years ago.
Yemen's Minister of Oil and Minerals Ahmad Abdullah Dares has warned that the Saudi seizure of ships carrying petroleum products to Yemen could lead to the suspension of the service sectors and cause "a humanitarian catastrophe."
The Yemeni army and popular committees have intensified their retaliatory attacks against targets deep inside Saudi Arabia and the UAE in response to the Saudi siege.
Air traffic suspended at Jeddah airport
On Sunday, Yemeni forces targeted facilities belonging to Aramco in several Saudi cities and other strategic positions in the kingdom as part of the operation "Breaking the Siege 2".
Lebanon's El-Nashra news website cited local sources as saying that air traffic at Jeddah international airport was disrupted due to the missile attack that targeted a facility of Aramco in the Red Sea city of Jeddah.
According to the report, the attack left flights unable to land at the airport.
Earlier on Sunday, the Saudi Energy Ministry said the output of the kingdom's oil refinery in the city of Yanbu dropped temporarily after a Yemeni retaliatory attack.
'Yemen graveyard for aggressors'
Yemen's Supreme Political Council, during a session on Sunday, praised the latest retaliatory attacks carried out by the Yemeni forces and their allied fighters, especially the operations "Breaking the Siege 1 & 2".
The council reiterated that "Yemen is a graveyard for invaders", adding that member countries of the Saudi-led coalition "would pay price" for the crimes they committed against the Yemeni people.
The council also criticized the Saudi calls for peace as "not sincere", describing it as a "usual prelude to a large-scale military escalation".
The statement comes as the Saudi-based Persian Gulf Cooperation Council (GCC) invited the Ansarullah resistance movement and other Yemeni parties for talks.
Ansarullah declined to attend the talks, stressing that it would welcome talks to discuss a peaceful settlement to the ongoing conflict if the venue is a "neutral country", and that the priority is lifting "arbitrary" restrictions on Yemeni ports and Sana'a airport.
Source: Press TV
Please click the following URL to read the full text of the original story:
https://www.presstv.ir/Detail/2022/03/21/678921/Saudi-siege-Yemen-unjustified-arbitrariness
--------
President Assad: Israel seeks to displace Christians across region
21 March 2022
Syrian President Bashar al-Assad has warned that the Israeli regime is after displacing the Christian population across the region as part of its sectarian schemes.
"The displacement of Christians is a main goal for the external schemes for the region, but it is mainly an Israeli goal," he told participants of the International Ecclesiastical Conference held in Damascus on Sunday.
Explaining how this could further Israel's interests, he said, "When the countries of the region are divided into different sectarian states, each with a single color, then Israel will become part of the natural tissue."
"Therefore, maintaining the texture of the region and its diverse identity are a need that we should defend," Assad said.
Syrians adhering to the Christian faith "have never been a 'guest,' nor a 'passenger' citizen, but a true partner in work and production," he added.
Syria and Israel are technically at war due to Tel Aviv's continued occupation of the Arab country's Golan Heights.
Israel maintains a significant military presence in the territory, which it uses as one of its launchpads for attacks against the Syrian soil.
The Tel Aviv regime mostly keeps quiet about its attacks on Syrian territory, which many view as a knee-jerk reaction to the Syrian government's increasing success in confronting terrorism.
Israel has been a key supporter of terrorist groups that have opposed Assad's government since foreign-backed militancy erupted in Syria in March 2011.
Syria pavilion at Expo 2020 hosts intl. meeting
Separately, SANA said a pavilion that Syria has been running at Dubai Expo 2020, hosted an international meeting on Syrian archaeological sites.
The event was held at the invitation of the Syrian Trust for Development under the title "Restoring the Syrian heritage and reviving local communities."
The meeting took place following a visit by Assad to the United Arab Emirates, which came despite efforts by the United States and its allies to isolate Damascus either through backing anti-Syria terrorists or slapping sanctions on the Arab country.
Assad traveled to the UAE on Friday, where he met Abu Dhabi's Crown Prince Sheikh Mohammed bin Zayed Al Nahyan and Dubai's ruler Sheikh Mohammed bin Rashid Al Maktoum.
During his meeting with Assad, the UAE crown prince "stressed that Syria is a fundamental pillar of Arab security."
Source: Press TV
Please click the following URL to read the full text of the original story:
https://www.presstv.ir/Detail/2022/03/21/678911/Syria-Israel-Christians
--------
Two Israeli officers injured in alleged stabbing attack in al-Quds
20 March 2022
Two Israeli officers have been wounded in an alleged stabbing incident in the holy occupied city of al-Quds in which a young Palestinian man was seriously shot and injured.
The incident happened at Bab al-Amoud, also known as Damascus Gate, which is one of the entrances to al-Quds' Old City.
One Israeli police officer was taken to hospital with "stab wounds to his upper body," the Times of Israel reported. Another officer was treated at the scene,the report added.
The paper identified the attacker as a 23-year-old youth from the nearby JabelMukaber neighborhood, saying he was detained by Israeli forces after initially fleeing the scene.
Israeli forces closed down Bab al-Amoud after the incident.
DawoodShahab, an Islamic Jihad leader based in Gaza, said such attacks reflect the intensity of the Palestinian nation's increasing outrage at the Israeli regime's hostile policies towards Palestinian prisoners—thousands of whom are in Israeli detention.
"The occupying regime will pay the price of its bullying and impudence, and will realize that the Palestinian nation is in possession of such power and will that will further strengthen its resolve and steadfastness in the face of the policies of terrorism and animosity that are being implemented against it," he added.
Source: Press TV
Please click the following URL to read the full text of the original story:
https://www.presstv.ir/Detail/2022/03/20/678904/Israel-forces-injured-al-Quds-stabbing
--------
Africa
Fatwa House: Reconciliation requires justice and accountability
March 20, 2022
The reconciliation maintains a high status in Islamic Sharia, but it should come along with the restitution of rights and accountability, the Fatwa House said, on Friday.
Since the 2011 uprising that overthrew Muammar Gaddafi, aggravated by the emergence of a parallel government in the east in 2014, many initiatives have evolved around healing the deep social wounds left by years of repression under authoritarian rule and the post-revolution violence. The differences, however, remained on how to combine reconciliation and punishment.
In a statement, the Council of Sharia Research and Studies at the Fatwa House said it had long called for peace within the provisions of Sharia that guarantees fairness and justice for all.
"Setting out the rights of victims is essential for healing the wounds, then it is up for the injured parties to waive their rights willingly," the statement read, underscoring that reconciliation does not mean making the forbidden permissible or vice versa.
In its fatwa, the council pointed out that its decision also includes the states that allied with the "aggressors" or participated in the killing of Libyans and the destruction of their property.
"The reconciliation advocated for in the Qur'an and the Sunnah is with those who did not engage in oppression and corruption."
Addressing the displacement issue, the Fatwa House said that true reconciliation depends on establishing transitional justice; In this regard, it called on the authorities to provide the IDPs with decent places that preserve their dignity, until securing their safe return to their cities.
The council considered the brigades that raised arms in the face of the legitimate authorities in 2014 as aggressors, saying they bare the responsibility for the killings, torturing, and looting they committed.
Source: Libya Observe
Please click the following URL to read the full text of the original story:
https://www.libyaobserver.ly/news/fatwa-house-reconciliation-requires-justice-and-accountability
--------
Terrorists suspected in gunfire on Tunisia police post, no casualties reported
20 March ,2022
A firefight broke out between suspected terrorists and police near a national guard barracks early Sunday in the central Tunisian region of Kairouan, police said.
They said in a statement that gunmen in a car opened fire but were repelled by a "massive" retaliatory barrage, without any casualties reported in the exchange.
Those responsible for "this cowardly attack were probably... part of a terrorist cell," operating between Kairouan and Sousse in eastern Tunisia, that had been dismantled with arrests made, the statement said.
The attack came on Tunisia's independence day and with the country plunged in political crisis since a power grab last July by President Kais Saeid.
Following the 2011 revolution that toppled longtime president Zine El Abidine Ben Ali, Tunisia saw a surge in militant attacks across the country.
Many Tunisians also travelled to Syria or Iraq to join ISIS or other extremists.
In March 2016, 13 members of the security forces, seven civilians and at least 55 terrorists were killed as ISIS members launched a battle in the town of Ben Guerdane near the border with Libya.
Source: Al Arabiya
Please click the following URL to read the full text of the original story:
https://english.alarabiya.net/News/north-africa/2022/03/20/Terrorists-suspected-in-gunfire-on-Tunisia-police-post-no-casualties-reported
--------
Bodies of 17 migrants found off Tunisia coast
19 March ,2022
The bodies of 17 migrants who were attempting to reach Europe have been found off Tunisia's northeast coast, the civil defense said on Saturday.
The bodies washed up off Cape Bon, a peninsula on the strait of Sicily, between Friday and Saturday, spokesman Moez Triaa told AFP.
"The majority were from sub-Saharan Africa but there were also Syrians," Triaa said, without providing details on where they had set off from or the circumstances surrounding their deaths.
Tunisia and neighboring Libya are key departure points for migrants seeking to reach European shores.
In late February, nine migrants from various African countries drowned after their boat capsized off the Tunisian coast while they were trying to reach Europe.
Earlier this month, the bodies of four African migrants were found in eastern Tunisia, with authorities saying they had probably died of cold or hunger after crossing the Algerian border.
The United Nations' refugee agency UNHCR has said that around 1,300 migrants drowned or went missing in 2021 on the Central Mediterranean route, making it the world's deadliest migration pathway.
Source: Al Arabiya
Please click the following URL to read the full text of the original story:
https://english.alarabiya.net/News/north-africa/2022/03/19/Bodies-of-17-migrants-found-off-Tunisia-coast
--------
Gunmen attack National Guard facility in central Tunisia
By Najih al-Zaghdoudi
20.03.2022
KAIROUAN, Tunisia
Gunmen opened fire on a security facility in Tunisia's central Kairouan city on Sunday, the National Guard said in a statement.
The statement said the attackers had fled the scene unscathed.
No injuries or damage were reported.
There was no claim of responsibility for the attack, but local media suggested that the attackers were likely members of a terrorist cell.
The Interior Ministry has yet to comment on the report.
Tunisia is in the throes of a deep political crisis since President Kais Saied ousted the government, suspended parliament and assumed executive authority last year, in a move decried by critics as a "coup".
Source: Anadolu Agency
Please click the following URL to read the full text of the original story:
https://www.aa.com.tr/en/africa/gunmen-attack-national-guard-facility-in-central-tunisia/2540604
--------
Libya's electoral body says ready to hold polls once deal reached
Walid Abdullah
19.03.2022
TRIPOLI, Libya
Libya's electoral body said Saturday it is ready to conduct elections once a political agreement is reached.
US Ambassador Richard Norland met with Imad al-Sayeh, the head of Libya's High National Election Commission (HNEC), to discuss developments in the crisis-stricken country.
"It was encouraging to hear Dr. al-Sayeh confirm HNEC's readiness to conduct elections once a political agreement has been reached on the way ahead," an embassy statement quoted Norland as saying.
The US diplomat said the joint committee of the House of Representatives (parliament) and the High Council of State proposed by UN adviser Stephanie Williams "represents the next practical step toward this goal, and we urge all sides to support this process."
As a result of differences about electoral laws and the role of the judiciary in the electoral process, Libya could not hold presidential and parliamentary elections scheduled for Dec. 24, 2021.
On March 4, Williams called on the House of Representatives and the High Council of State, which acts as a senate, to nominate delegates for "a joint committee dedicated to developing a consensual basis."
Several Libyan lawmakers, however, came out to criticize the proposal, accusing the UN adviser of seeking to divide the country.
Opponents argue that Williams' proposal bypassed a constitutional amendment recently approved by the Libyan parliament on forming a panel to make constitutional amendments.
Source: Anadolu Agency
Please click the following URL to read the full text of the original story:
https://www.aa.com.tr/en/africa/libya-s-electoral-body-says-ready-to-hold-polls-once-deal-reached/2540128
--------
Sudan's Hemedti says army to hand over power to elected gov't
Talal Ismail
19.03.2022
KHARTOUM, Sudan
The deputy leader of Sudan's ruling Sovereign Council, Mohamed Hamdan Dagalo, on Saturday reiterated the army's commitment to hand over power to an elected government.
"We are committed to handing over power to patriots after the national accord that leads to elections," Dagalo, also known as Hemedti, told a rally in the city of Port Sudan and cited by a statement issued by the Sovereign Council.
"We will return to the barracks after the arrival of an elected government through the ballot boxes," he added.
Hemedti vowed not to hand over power to those he described as being on "payroll from the embassies."
Meanwhile, Hemedti slammed some politicians he did not name for deluding the youth that the authorities plan to sell the country's ports on the Red Sea.
"We say to these people that we are not agents to sell the resources of the Sudanese people," he added.
Hemedti's statement came in response to claims raised by political activists on social media that the military authorities in Khartoum plan to conclude a deal to sell ports on the Red Sea to Russia.
Sudan has been in turmoil since Oct. 25, 2021, when the military dismissed Prime Minister Abdalla Hamdok's transitional government and declared a state of emergency, in a move decried by political groups as a "military coup."
Source: Anadolu Agency
Please click the following URL to read the full text of the original story:
https://www.aa.com.tr/en/africa/sudan-s-hemedti-says-army-to-hand-over-power-to-elected-gov-t/2540071
--------
Gunmen kill at least 11 Burkina Faso government troops
March 21, 2022
OUAGADOUGOU: Unidentified armed attackers killed at least 11 Burkinabe soldiers and wounded eight more in Burkina Faso's Est region on Sunday, four sources in the state military told Reuters.
The region is among those hit by rising insecurity as jihadist groups with links to Al-Qaeda and Daesh seek to gain control over once peaceful territories in West Africa's Central Sahel region.
The sources did not share further details on the latest attack and there was no immediate comment from the government.
Source: Arab News
Please click the following URL to read the full text of the original story:
https://www.arabnews.com/node/2046631/world
--------
Europe
Russia urges West to address 'Iran's legitimate demands' in Vienna talks
19 March 2022
Russia has called on the Western parties to the negotiations in Vienna to work on addressing "Iran's legitimate demands" instead of blaming Moscow for the stalemate in the talks aimed at reviving the 2015 nuclear deal.
In a post on its Twitter account on Friday, the Russian Permanent Mission to the International Organizations in Vienna quoted Foreign Ministry spokeswoman Maria Zakharova as saying that the West is raising doubts about Russia's commitment to the Joint Comprehensive Plan of Action (JCPOA) rather than admitting its own mistakes.
"Doubts of #Russia's commitment to #JCPOA is a card played by those who can't admit their own mistakes. We suggest our Western colleagues focus their energy on addressing #Iran's legitimate demands regarding the draft restoration agreement," she said.
Washington left the JCPOA in 2018 and began to implement what it called the "maximum pressure" campaign of sanctions against the Islamic Republic, depriving the country of the economic benefits of the agreement, including the removal of sanctions, for which Iran had agreed to certain caps on its nuclear activities.
In the meantime, the other parties to the deal, in particular France, Britain and Germany, only paid lip service to safeguarding Iran's economic dividends as promised under the JCPOA, prompting Iran – after an entire year of "strategic patience" – to reduce its nuclear obligations in a legal move under the deal.
The talks began in the Austrian capital last April on the assumption that the US, under the Joe Biden administration, is willing to repeal the so-called maximum pressure policy pursued by former president Donald Trump.
Tehran says it won't settle for anything less than the removal of all US sanctions in a verifiable manner. It also wants guarantees that Washington would not abandon the agreement again.
Earlier this month, the talks were paused for an undetermined time despite reports suggesting that they were in final stages.
The Europeans pinned the blame on Russia for the suspension of the talks, citing Moscow's demand for guarantees that its trade with Tehran would not be affected by Western sanctions over the operation in Ukraine.
Earlier this week, Russian Foreign Minister Sergei Lavrov announced that Moscow has received guarantees from Washington it can continue its nuclear cooperation deals with Iran.
The US State Department also confirmed that the Biden administration would "not sanction Russian participation in nuclear projects that are part of resuming full implementation of the JCPOA."
Republicans push for ban on sanctions waiver on Russia
However, Republican Senator Ted Cruz told The Washington Free Beacon that he is sponsoring a bill to prohibit the administration from waiving sanctions imposed on Russia over Ukraine.
"The Biden administration is dismantling sanctions and is aching to secure a new agreement with the Iranian regime that is even weaker than the original catastrophic Obama-Iran nuclear deal," he said.
Free Beacon also reported that Republican Congressman Darrell Issa is authoring a parallel House version of the bill.
In the House of Representatives, Congressman Jim Banks announced that he has introduced "a resolution condemning the Biden admin's attempt to re-enter the failed, Obama-era Iran nuclear deal."
The Republican push against Vienna talks since April 2021 is not new, but a decision by the Biden administration earlier this week to accept last-minute Russian demands has added a new twist to the dynamics of the opposition.
Iran converts enriched uranium into cancer detection material
The International Atomic Energy Agency (IAEA) said in a statement on Friday that Iran has converted a fraction of its stockpile of enriched uranium into material crucial for detecting cancers and other diseases.
Iran, it said, had used 2.1 kilograms of its 60% enriched uranium to produce "highly enriched uranium targets" at a facility in Isfahan.
Those "targets" will be irradiated at the Tehran Research Reactor and later used to produce molybdenum-99, it added.
Source: Press TV
Please click the following URL to read the full text of the original story:
https://www.presstv.ir/Detail/2022/03/19/678811/Russia-West-Iran-Vienna-talks
--------
Turkiye 'very important for the defence of NATO's eastern flank': Netherlands
Abdullah Asiran
19.03.2022
Dutch Prime Minister Mark Rutte said Friday that Turkiye is very important for the defense of NATO's eastern flank amid Russia's war on Ukraine.
Rutte spoke at a Cabinet meeting and said he will visit Turkiye on March 22 ahead of an extraordinary NATO leaders' summit March 24, which will discuss the war.
He said contact with Turkiye should not be solely from Germany's side, adding that Berlin should also have good relations with Turkiye even if there are disagreements on some issues.
Rutte said Turkish President Recep Tayyip Erdogan is one of the few leaders who has contact with Moscow and Kyiv, therefore, he talked to Erdogan to visit Ankara in a recent telephone call.
He said his relationship with Turkiye has always remained good.
The Russia-Ukraine war, which started on Feb. 24, has drawn international condemnation, led to financial restrictions on Moscow and spurred an exodus of global firms from Russia.
At least 816 civilians have been killed and 1,333 injured in Ukraine since the beginning of the war, the UN said, while noting that figure is probably higher.
Source: Anadolu Agency
Please click the following URL to read the full text of the original story:
https://www.aa.com.tr/en/europe/turkiye-very-important-for-the-defense-of-nato-s-eastern-flank-netherlands/2539788
--------
Germany to explore LNG supply options with UAE, Qatar, distancing itself from Russia
19 March ,2022
German Economy Minister Robert Habeck said on Saturday that he will explore liquefied natural gas (LNG) supply on a trip to Qatar and the United Arab Emirates, and aims to secure a hydrogen deal, making Germany less dependent on Russia.
Russia is the largest supplier of gas to Germany, according to data on the Economy Ministry's website.
Since Russia invaded Ukraine, Habeck has launched several initiatives to lessen Germany's energy dependence on Russia, including large orders of non-Russian LNG, plans for a terminal to import LNG and slowing the nation's exit from coal.
Habeck, ahead of the weekend trip, said "the goal ... is to establish a hydrogen partnership in the medium term, that is, to flank it politically."
He will be accompanied by around 20 representatives from corporate Germany, many from the energy sector.
He also wants to discuss "short-term" LNG supply and to "give the companies that ensure the gas supply in Germany the political framework to become independent of Russian gas, topics that could not be higher on the political agenda".
Source: Al Arabiya
Please click the following URL to read the full text of the original story:
https://english.alarabiya.net/News/gulf/2022/03/19/Germany-to-explore-LNG-supply-options-with-UAE-Qatar-distancing-itself-from-Russia
--------
Ukraine's Zelenskiy says Israel good place for holding talks with Russia
March 21, 2022
KYIV: Ukrainian President Volodymyr Zelenskiy said on Sunday that Israel was undertaking many efforts to arrange top-level peace talks between his country and Russia and suggested they might take place in Jerusalem.
Zelenskiy, speaking in his daily video appeal to Ukrainians after addressing Israel's parliament by video link, said Prime Minister Naftali Bennett had been trying to act as an intermediary between Kyiv and Moscow.
"Of course, Israel has its interests, strategy to protect its citizens. We understand all of it," said Zelenskiy, seated at a desk in his trademark khaki T-shirt.
"The prime minister of Israel, Mr. Bennett is trying to find a way of holding talks. And we are grateful for this. We are grateful for his efforts, so that sooner or later we will begin to have talks with Russia, possibly in Jerusalem.
"That's the right place to find peace. If possible."
In his address to the Israeli parliament by video link Sunday, Zelenskiy questioned Israel's reluctance to sell its Iron Dome missile defense system to Ukraine.
"Everybody knows that your missile defense systems are the best... and that you can definitely help our people, save the lives of Ukrainians, of Ukrainian Jews," said Zelenskiy, who is of Jewish heritage.
In the past week, Bennett has intensified his efforts to bring the two sides together and has spoken on several occasions to both Zelenskiy and Russian President Vladimir Putin. Last week, he flew in secret to Moscow to meet the Kremlin leader.
Zelenskiy, who is Jewish, also addressed again the Russian accusation that he heads an administration that espouses "Nazism."
Switching from his usual Ukrainian to Russian in his remarks, he said: "Russian propagandists have a tough job on their hands today. For the first time, a Ukrainian president spoke to the parliament of Israel and, by video recording, to the people of Israel, a Ukrainian accused of Nazism by Moscow. "This very fact already proves that things are not as Moscow says."
Zelenskiy made his latest appeal for Israeli help as Russian and Ukrainian forces fought for the Ukrainian port city of Mariupol on Sunday, where residents are trapped with little food, water and power.
Mariupol has suffered some of the heaviest bombardments since Russia invaded Ukraine on Feb. 24. Many of its 400,000 residents remain trapped with little if any food, water and power.
Russia called on Ukrainian forces in Mariupol to lay down their arms, saying a "terrible humanitarian catastrophe" was unfolding.
It said defenders who did so were guaranteed safe passage out of the city and humanitarian corridors would be opened from 1000 Moscow time (0700 GMT) on Monday.
Ukrainian Deputy Prime Minister Iryna Vereshchuk said over 7,000 people were evacuated from Ukrainian cities through humanitarian corridors on Sunday, more than half of them from Mariupol. She said the government planned to send nearly 50 buses to Mariupol on Monday for further evacuations.
Russia and Ukraine have made agreements throughout the war on humanitarian corridors to evacuate civilians, but have accused each other of frequent violations of those.
Mariupol city council said on Telegram on Saturday that several thousand residents had been "deported" to Russia over the past week. Russian news agencies said buses had carried hundreds of refugees from Mariupol to Russia in recent days.
Source: Arab News
Please click the following URL to read the full text of the original story:
https://www.arabnews.com/node/2046656/world
--------
Turkey: Russia, Ukraine 'close to agreement', made progress on 'critical' issues
20 March 2022
Turkey's foreign minister says Russia and Ukraine have made progress on their negotiations and are close to an agreement to end the war, nearly a month after Russia launched an operation in Ukraine to demilitarize and de-Nazify the country.
"Of course, it is not an easy thing to come to terms with while the war is going on, while civilians are killed, but we would like to say that momentum is still gained," Mevlut Cavusoglu said on Sunday, according to AFP. "We see that the parties are close to an agreement."
Moscow and Kiev reported some progress in their negotiations last week, but at the same time accused each other of dragging matters out.
Cavusoglu, who traveled to Russia and Ukraine last week, said there had been "rapprochement in the positions of both sides on important subjects, critical subjects."
"We can say we are hopeful for a ceasefire if the sides do not take a step back from the current positions."
In an interview with Turkey's Hurriyet newspaper, Turkish presidential spokesman Ibrahim Kalin said the sides were negotiating six points: Ukraine's neutrality, disarmament and security guarantees, the so-called "de-Nazification," removal of obstacles to the use of the Russian language in Ukraine, the status of the breakaway Donbass region and the status of Crimea, which was annexed by Russia in 2014.
Turkey says it is ready to host a meeting between Presidents Vladimir Putin of Russia and Volodymyr Zelensky of Ukraine.
"We are working day and night for peace," Cavusoglu said on Sunday.
Ten million fled homes in Ukraine: UN
Separately, the United Nations High Commissioner for Refugees said on Sunday that ten million people – more than a quarter of the country's 37 million population – have fled their homes in Ukraine due to the war.
"Among the responsibilities of those who wage war, everywhere in the world, is the suffering inflicted on civilians who are forced to flee their homes," said Filippo Grandi.
"The war in Ukraine is so devastating that 10 million have fled either displaced inside the country, or as refugees abroad."
The UN refugee agency says more than 3,389,000 people have left the country since Russia began the operation on February 24, with some 90 percent of them being women and children. Ukrainian men aged 18 to 60 are eligible for military call-up and cannot leave.
UNICEF, the UN children's agency, has said more than 1.5 million children are among those who have left the country, warning of "real, and growing" risks of human trafficking and exploitation they face.
At least 902 civilians killed in Ukraine: UN
The UN Office of the High Commissioner for Human Rights (OHCHR) also said on Sunday that at least 902 civilians have been killed and nearly 1,500 injured in Ukraine since the conflict began. Most of the casualties were from explosive weapons such as shelling from heavy artillery and multiple-launch rocket systems, and missile and airstrikes, the office said. It added that the actual toll is thought to be considerably higher since the OHCHR has not yet been able to receive or verify casualty reports from several badly hit cities, including Mariupol.
President Putin announced the "special military operation" on February 24 aimed at the "demilitarization" of the Donetsk and Lugansk regions, largely populated by ethnic Russians, in eastern Ukraine. In 2014, the two regions – collectively known as the Donbas – declared themselves new republics, refusing to recognize Ukraine's Western-backed government.
Source: Press TV
Please click the following URL to read the full text of the original story:
https://www.presstv.ir/Detail/2022/03/20/678900/Turkey-Russia-Ukraine-close-agreement
--------
Arab World
Houthis unleash barrage of drone, missile strikes on Saudi Arabia
March 21, 2022
DUBAI: Yemen's Houthi rebels unleashed a barrage of drone and missile strikes on Saudi Arabia early Sunday that targeted a liquefied natural gas plant, water desalination plant, oil facility and power station, Saudi state-run media reported.
The attacks did not cause casualties, the Saudi-led military coalition fighting in Yemen said, but damaged civilian vehicles and homes in the area. The salvo marked the latest escalation in Houthi cross-border attacks on Saudi Arabia as peace talks remain stalled and the conflict that over seven years has laid waste to much of Yemen rages on.
Top crude exporter Saudi Arabia announced a "temporary reduction" in oil output at a facility run by energy giant Aramco on Sunday following the cross-border attacks which came as state-backed Aramco announced that its profits surged 124 per cent in 2021 to $110 billion, a big jump fueled by renewed anxieties about global supply shortages, soaring oil prices and a recovery in fuel demand from the pandemic.
Yehia Sarie, a spokesman for Yemen's Iran-backed Houthi rebels, said the group had launched a wide and large military operation into the depth of Saudi Arabia, without immediately elaborating.
The Saudi-led military coalition said it thwarted an attack on a liquefied gas plant at a petrochemicals complex in the Red Sea port of Yanbu run by Aramco.
Other aerial strikes targeted a power station in the country's southwest, a desalination facility in Al-Shaqeeq on the Red Sea coast, an Aramco terminal in the southern border town of Jizan and a gas station in the southern city of Khamis Mushait, the coalition said.
The extent of damage on Saudi infrastructure and energy facilities remained unclear. The official Saudi Press Agency posted various photos of firetrucks dousing leaping flames with water hoses, as well as wrecked cars and craters in the ground allegedly left by the drone and ballistic missile strikes.
The barrage comes days after the Saudi-based Gulf Cooperation Council said it invited Yemen's warring sides for talks in Riyadh aimed at ending the war, an offer dismissed out of hand by the Houthis, who demanded that negotiations take place in a neutral country.
Peace talks have floundered since the Houthis have tried to capture oil-rich Marib, one of the last remaining strongholds of the Saudi-backed Yemeni government in the country's north.
Yemen's brutal war erupted in 2015, after the Iran-backed Houthis seized the country's capital, Sanaa, and much of the north. Saudi Arabia and other Arab states launched a devastating air campaign to oust the Houthi threat and restore the internationally recognised government.
Source: Dawn
Please click the following URL to read the full text of the original story:
https://www.dawn.com/news/1681046/houthis-unleash-barrage-of-drone-missile-strikes-on-saudi-arabia
--------
Egypt displays recently discovered ancient tombs in Saqqara
19 March ,2022
Egypt on Saturday displayed recently discovered, well-decorated ancient tombs at a Pharaonic necropolis just outside the capital Cairo.
The five tombs, unearthed earlier this month, date back to the Old Kingdom (1570 B.C. and 1069 B.C.) and the First Intermediate Period that spanned more than a century after the collapse of the Old Kingdom, according to the Ministry of Tourism and Antiquities.
Mostafa Waziri, secretary-general of the Supreme Council of Antiquities, said Egyptian archeologists started excavating the site in September. The tombs, he said, were for senior officials including regional rulers and supervisors of the palace in ancient Egypt.
"All of those five tombs are well-painted, well-decorated. Excavations did not stop. We are planning to continue our excavations. We believe that we can find more tombs in this area," he told reporters at the site.
The tombs were found near the Step Pyramid of Djoser, in the Saqqara Necropolis, 24 kilometers (15 miles) southwest of Cairo.
Footage shared on the ministry's social media pages showed burial shafts leading to the tombs. Walls were seen decorated with hieroglyphic inscriptions and images of sacred animals and after-life items used by ancient Egyptians.
The Saqqara site is part of a sprawling necropolis at Egypt's ancient capital of Memphis that includes the famed Giza Pyramids as well as smaller pyramids at Abu Sir, Dahshur and Abu Ruwaysh. The ruins of Memphis were designated a UNESCO World Heritage site in 1970s.
In recent years, Egypt has heavily promoted new archaeological finds to international media and diplomats in the hope of attracting more tourists to the country.
The vital tourism sector, a major source of foreign currency for Egypt, suffered from years of political turmoil and violence that followed a 2011 uprising that toppled President Hosni Mubarak.
Source: Al Arabiya
Please click the following URL to read the full text of the original story:
https://english.alarabiya.net/life-style/art-and-culture/2022/03/19/Egypt-displays-recently-discovered-ancient-tombs-in-Saqqara
--------
Saudi FM meets with special envoy for Ukraine's president in Riyadh
19 March ,2022
Saudi Arabia's Minister of Foreign Affairs Prince Faisal bin Farhan discussed the crisis in Ukraine with Rustem Umerov, a special envoy for Ukraine's president, in Riyadh, state news agency (SPA) reported on Saturday.
Prince Faisal reaffirmed the Kingdom's support to efforts that contribute to de-escalating the conflict, protecting civilians and reaching a political solution.
Russia launched a multi-pronged attack on Ukraine on February 24, which President Vladimir Putin claims is a "special military operation."
But the conflict has escalated to become the largest military invasion in Europe since World War II.
Source: Al Arabiya
Please click the following URL to read the full text of the original story:
https://english.alarabiya.net/News/gulf/2022/03/19/Saudi-FM-meets-with-special-envoy-for-Ukraine-s-president-in-Riyadh
--------
Iraq War: 'Huge mistake that can't just be stricken from the record'
Darren Lyn
20.03.2022
HOUSTON, Texas, US
The US invaded Iraq on March 19, 2003, on the premise that there were weapons of mass destruction in that country.
This marks the 19th anniversary of Operation Iraqi Freedom, a moment that strikes home with Zaid al-Mahdawi, an Iraqi living in Houston who was in Baghdad when the war began.
"Most of the people in my country knew before the US invasion that (weapons of mass destruction) was a pretext, a false flag, that the US and Allied Forces used to make the ends justify the means," al-Mahdawi told Anadolu Agency.
Al-Mahdawi was a political officer for the United Nations Assistance Mission of Iraq at the time.
"There was a lot of sadness when the war began because of all that happened to our people," he said. "There was a humanitarian cost. Whole cities were destroyed. Many innocent people were killed."
The basis of the war hinged on the 16 words uttered by President George W. Bush at his State of the Union address on Jan. 8, 2003.
"The British Government has learned that Saddam Hussein recently sought significant quantities of uranium from Africa," he said, referring to the then-president of Iraq.
"The statement was based on faulty intelligence from a compromised source that was itself caught up in the politicization of intelligence to provide basis for taking action against Saddam," said Prof. Kristian Coates Ulrichsen, a fellow for Middle East studies at Rice University's Baker Institute.
"The US and Britain went to war to eliminate weapons of mass destruction which Iraq was presumed, erroneously, to have retained," Coates Ulrichsen told Anadolu Agency. "The Bush administration also believed there was a link between Saddam Hussein and Al-Qaeda, which British officials tried unsuccessfully to counter, as no such link existed."
The invasion led to the capture of Saddam in December 2003. He was handed over to a court for trial, found guilty and executed in 2006.
But political turmoil in Iraq, the US military's continued presence in the region and no trace of chemical weapons being found created a firestorm of criticism against the US, as to why they invaded Iraq in the first place.
"The Bush administration initially attributed much of the early resistance to US-led forces in Iraq to 'regime dead-enders,'" said Coates Ulrichsen, "but the fact that the war continued long after Saddam's capture and execution indicated that the insurgency had far greater depth than was at first assumed."
Nearly two decades later, Iraqis like al-Mahdawi are still frustrated and angry about a war they believe should never have happened.
"The US spent billions and billions of dollars for nothing," said al-Mahdawi. "Just because you are stronger, doesn't mean you are smarter. The US felt it knew everything but didn't want to listen to anyone else. They removed the regime, but they couldn't control the country."
Because of the false pretenses that led to the war and the fact that no chemical weapons or weapons of mass destruction were ever found, America has since been seen in a different light by the rest of the world.
"The invasion of Iraq caused immense damage to the American and British image in the Middle East," said Coates Ulrichsen, "which was comparable in the British case to the fallout from the Suez Crisis in 1956 and which took a generation to recover from."
"The Iraqi people suffered a decade of internal displacement caused by the multiple and overlapping conflicts triggered by the invasion and the insurgency and which culminated in the horror of the emergence of ISIS and its capture of large areas of Iraq between 2014 and 2017," he added.
"That war was a huge historical mistake," emphasized al-Mahdawi, "The US lost credibility and made things worse. This will have a long-term effect, with people always saying, 'Hey, Iraq, remember what the US did?'"
But there is a double-edged sword to the war that al-Mahdawi does not want to let go unnoticed or unrecognized. He moved to Houston with his family in 2015 to find a better life and live in a free country.
"The system helped me and is really great," said al-Mahdawi, who applied for American citizenship in 2022.
"(The US) has really provided me an alternative home with open arms," he said. "They don't treat me differently because I am from a different culture or have a different religion or have an accent when I speak."
Like many Iraqis and Iraqi-Americans, al-Mahdawi said the world will never forget the atrocities of the war.
"It was a huge mistake that can't just be stricken from the record," he said.
But al-Mahdawi believes lessons can be learned from history and hopes the US will not make the same mistake.
Source: Al Arabiya
Please click the following URL to read the full text of the original story:
https://www.aa.com.tr/en/middle-east/iraq-war-huge-mistake-that-can-t-just-be-stricken-from-the-record/2540588
--------
No deal among Kurds on Iraq's new president: Politician
Ali Jawad
19.03.2022
BAGHDAD
A member of the Kurdistan Democratic Party (KDP) said Saturday no consensus has been reached on the candidate for the country's presidency.
"So far, there is no agreement between the Patriotic Union of Kurdistan (PUK) and KDP," Majid Shankali told the state news agency INA.
The Kurdish politician said KDP's candidate Reber Ahmed "is the closest candidate to be elected president."
The Parliament has set March 26 as a date to elect a new president.
There are 33 candidates vying for the post, including Reber Ahmed on the KDP ticket and Barham Salih Ahmed of the PUK.
Last month, the Iraqi parliament failed to elect a new president amid a boycott of most parliamentary blocs due to differences over presidential candidates and the government formation.
The election of a president is an important step towards forming a new government following the Oct. 10 parliamentary elections.
Source: Al Arabiya
Please click the following URL to read the full text of the original story:
https://www.aa.com.tr/en/middle-east/no-deal-among-kurds-on-iraq-s-new-president-politician/2540209
--------
Syrian govt. forces, locals block US convoy in oil-rich Hasakah, force it to turn back
21 March 2022
Amid smoldering public resentment over the presence of American occupation troops in northeastern Syria, local residents of several neighboring village in the oil-rich province of Hasakah have joined forces with government troops to block a US military convoy attempting to pass through the community.
Syria's official news agency SANA reported that a US convoy of six armored vehicles was forced to turn around and head back in the direction on Sunday afternoon it came from after locals of the villages of Qabr al-Saghir and Qabr al-Gharajeneh as well as Syrian troops blocked the road and prevented its movement. No injuries were reported.
The development took place only two days after a US military convoy was forced to retreat from an area in the same Syrian province after residents of the villages of Rehiyeh al-Sawda and Tamna al-Rehiyeh in the countryside of Qamishli City blocked its way.
SANA cited local sources as saying that the convoy was made up of six military vehicles, and tried to cross into Tamna al-Rehiyeh through the Rehiyeh al-Sawda checkpoint on March 18.
The residents of the two villages, backed by the army troops, stopped the convoy from moving forward, hurling rocks at the vehicles and chanting slogans against the US occupation forces.
The US military has stationed forces and equipment in eastern and northeastern Syria, with the Pentagon claiming that the deployment is aimed at preventing the oilfields in the area from falling into the hands of the Daesh terrorists.
Damascus, however, says the unlawful deployment is meant to plunder the country's resources.
Source: Press TV
Please click the following URL to read the full text of the original story:
https://www.presstv.ir/Detail/2022/03/21/678917/Syrian-govt--forces,-locals-block-US-convoy-in-Hasakah,-force-it-to-turn-back
--------
Kuwait's parliament speaker slams intl. double standards, demands Israel's expulsion from Inter-Parliamentary Union
20 March 2022
The Speaker of the Kuwaiti National Assembly, Marzouq al-Ghanim, has condemned the international community for exercising double standards vis-à-vis the world's ongoing conflicts, calling for the expulsion of the Israeli delegation from the Inter-Parliamentary Union (IPU).
Speaking at an IPU meeting in the Indonesian capital city of Jakarta on Saturday, Ghanim noted that Kuwait is opposed to any kind of occupation, citing the fact that the Iraqi military invaded his oil-rich Persian Gulf kingdom more than thirty years ago, and fully occupied the country within two days.
"How could demands be made for expelling the Russian delegation [from the IPU] for a military campaign that started days or weeks ago, and yet not ousting Israeli delegates, whose regime has been occupying Palestine for more than 60 years?" the senior Kuwaiti legislator questioned.
"So this is a double standard that I don't think the IPU president [Duarte Pacheco] would accept," Ghanim pointed out.
Kuwait is staunchly opposed to normalizing ties with Israel, unlike some Arab countries in the region, which have signed normalization agreements with the occupying regime in recent years.
In May last year, Kuwait's National Assembly unanimously approved bills that outlaw any deals or normalization of ties with the Tel Aviv regime.
On August 18, 2020, 37 Kuwaiti lawmakers called on their government to reject a normalization deal between Israel and the United Arab Emirates (UAE).
Anti-Israeli sentiments run high in Kuwait. A poll conducted in 2019 by the Washington Institute for Near East Policy, an American think tank, showed that 85 percent of Kuwaitis oppose normalizing ties with Israel.
Back in September 2020, the United Arab Emirates and Bahrain signed normalization deals with Israel. Morocco and Sudan later signed similar agreements with the Israeli regime as well.
Source: Press TV
Please click the following URL to read the full text of the original story:
https://www.presstv.ir/Detail/2022/03/20/678874/Kuwait%E2%80%99s-parliament-speaker-slams-intl--double-standards,-demands-Israel%E2%80%99s-expulsion-from-Inter-Parliamentary-Union
--------
Southeast Asia
Religious Affairs Minister Condemns 'Offensive' Teaser for TV Series Due To Be Screened During Ramadan
March 19, 2022
PETALING JAYA: Religious affairs minister Idris Ahmad has slammed as "shocking and provocative" a teaser for a TV drama series featuring actor Zul Ariffin, due to be screened during Ramadan.
In a Facebook post today, Idris said he was disappointed with the emergence of the video.
He said he would contact the parties involved and advise them so that this matter could be settled sensibly.
"I am disappointed that such an outrageous clip was shared to promote a show which will be screened during a month when Muslims would usually do good deeds (taqwa).
"Ramadan may be tainted and I think that should be stopped.
"Entertainment is not prohibited in Islam, but it must adhere to certain rules, especially when it involves scenes showing physical proximity and interaction between men and women. Such scenes may be considered immoral.
"I don't want to restrict our entertainment industry, but I cannot allow it if it can corrupt our religion and morals. We need to advise them," he said.
The 20-second teaser, which is no longer available on the actor's Instagram page, went viral on social media yesterday.
Source: Free Malaysia Today
Please click the following URL to read the full text of the original story:
https://www.freemalaysiatoday.com/category/nation/2022/03/19/religious-affairs-minister-condemns-offensive-teaser-for-tv-series/
--------
Terengganu Islamic council: Congregational prayers without physical distancing allowed in state from April 1
20 Mar 2022
KUALA TERENGGANU, March 20 — Terengganu will allow Friday and obligatory prayers at mosques and surau to be performed without having to observe the physical distancing rule following the country's transition into the endemic phase beginning April 1.
Terengganu Islamic Religious and Malay Customs Council (Maidam) president Datuk Shaikh Harun Shaikh Ismail said children aged seven and above could perform prayers in mosques and surau, with the attendance of their parents, adding that mosque and surau committees were encouraged to set special control measures for these children.
Sheikh Harun said all religious classes and related activities would be allowed with regular capacity of congregants, however religious classes or talks that require a large number of worshippers needed to get written permission from the state Religious Affairs Department (JHEAT).
He added that activities involving the community such as 'gotong royong' and feasts following the activities were also permitted.
In addition, he said, marriage solemnisation ceremonies in mosques, surau and private premises could be hosted with an unlimited number of guests.
According to him, religious activities throughout the Ramadan month such as Terawih prayers, breaking of fast events, Quran recitation in groups, among others, are also allowed as well as Hari Raya Aidilfitri prayers that can be performed by male and female worshippers and children aged seven and above, without having to observe the physical distancing rule.
Source: Malay Mail
Please click the following URL to read the full text of the original story:
https://www.malaymail.com/news/malaysia/2022/03/20/terengganu-islamic-council-congregational-prayers-without-physical-distanci/2048484
--------
Political instability can only end with GE15, says Johari
March 20, 2022
PETALING JAYA: The 15th general election should be expedited to restore political stability so that the nation can get back on track to growth and prosperity, and people's lives can improve, said Umno Supreme Council member Johari Ghani.
Taking a statesman-like stance, Johari said political stability was more important than the question of who would be victorious in the next general election (GE15).
"Even though the government today is led by Umno leaders, we still depend on the support of the opposition. This government has no legitimacy. Umno-BN only has 42 parliamentary seats – the rest are dominated by the opposition," Johari told Mingguan Malaysia in an interview.
Due to the resultant instability, many policies could not be implemented as each opposition party had its own ideology. Also, Malaysia was losing out in both local and foreign investments due to this instability.
Although Umno vice-president Ismail Sabri Yaakob has been prime minister since last August, his Cabinet line-up includes leaders from other parties such as PAS and Bersatu who opposed Umno in the recent Melaka and Johor elections.
In addition, Johari pointed out, Ismail also signed a memorandum of understanding (MoU) with Pakatan Harapan (PH), and he was now bound by the opposition coalition's various demands.
This must change and that was why, Johari said, GE15 should be held sooner rather than later.
Asked whether he was not concerned that the opposition rather than Barisan Nasional might win in GE15, Johari answered calmly in a manner that may not go down too well with some Umno members but which would be welcomed wholeheartedly by ordinary Malaysians.
"What we are looking for is stability for the nation. It doesn't matter whether BN or the opposition wins. What we need most is for the winner to create a politically stable environment for the good of the rakyat."
However, Johari, a former second finance minister, was confident the people would recognise BN's record in ensuring political stability and national development compared to the rule of PH and Perikatan Nasional.
"When the (PH) opposition coalition won the last general election, it failed to provide the same political stability that Barisan Nasional ensured for 61 years and which had an impact on the nation's economic growth. This is because the political ideology of the component parties is very different and they quarrelled with each other," said Johari.
Political instability was also caused by politicians who switched sides and that is why special laws had to be enacted to curb the practice, he said.
"Umno-BN has also been affected by this 'hopping' culture. Many of the MPs who won under a BN ticket also jumped over to opposition parties. With the anti-hopping law to be introduced in Parliament later, it will give a clear signal to prospective MPs in GE15. They can no longer indulge in such practice," said Johari.
Regarding the Umno general assembly which ended yesterday, Johari urged all leaders to unite and work towards Umno's victory in GE15. Umno yesterday decided to hold its party elections six months after GE15.
"After GE15, we can hold elections within the party. Whoever wins the election can be given a chance to hold the highest office in the party. This is so that the party's journey is in line with government policies.
Source: Free Malaysia Today
Please click the following URL to read the full text of the original story:
https://www.freemalaysiatoday.com/category/nation/2022/03/20/political-instability-can-only-end-with-ge15-says-johari/
--------
2 migrants dead, 26 missing in Indonesia boat accident
March 20, 2022
MEDAN: At least two people are dead and 26 others are missing after a ferry carrying dozens of migrants sank off the coast of Indonesia, an official said Sunday.
The wooden fishing boat was carrying 89 on board when it departed for neighbouring Malaysia through an unguarded route.
But it sprung a leak soon after departing before being hit by strong waves and sinking.
A man and a woman were found dead while 61 others were rescued and immediately transported to hospitals for treatment. The remaining passengers are still missing.
"We have deployed our personnel to search for the 26 missing victims but our efforts haven't been fruitful so far," head of local search and rescue team Ady Pandawa told AFP on Sunday, adding that the damaged boat had been evacuated to the nearest port.
The passengers had come from across Indonesia and were seeking work in Malaysia without proper documentation, he added.
"We suspect the number of passengers exceeded the boat capacity so when the vessel was hit by strong waves, it immediately sank," he said.
Relatively affluent Malaysia is home to millions of migrants from poorer parts of Asia, many of them undocumented, working in industries including construction and agriculture.
Indonesians illegally seeking work in neighbouring Malaysia often risk dangerous sea crossings, and accidents are common due to bad weather and poor safety measures.
Source: Free Malaysia Today
Please click the following URL to read the full text of the original story:
https://www.freemalaysiatoday.com/category/highlight/2022/03/20/2-migrants-dead-26-missing-in-indonesia-boat-accident/
--------
URL: https://www.newageislam.com/islamic-world-news/muslim-officers-indian-ambassador-saudi-arabia/d/126619
New Age Islam Islam Online, Islamic Website, African Muslim News, Arab World News, South Asia News, Indian Muslim News, World Muslim News, Women in Islam, Islamic Feminism, Arab Women, Women In Arab, Islamophobia in America, Muslim Women in West, Islam Women and Feminism