New Age Islam News Bureau
23 Dec 2015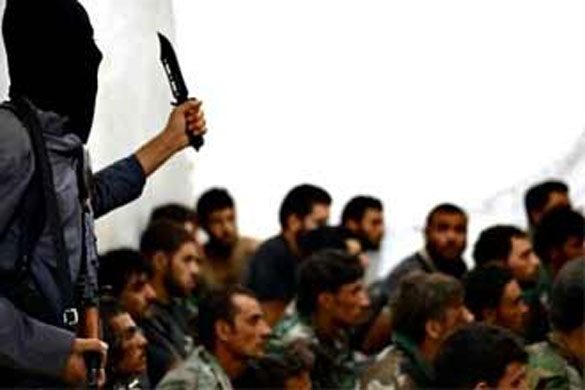 Photo: AFP relates a warning from Attorney-General George Brandis of Australia that the Islamic State has "ambitions to elevate its presence and level of activity in Indonesia, either directly or through surrogates."
----------
Southeast Asia
• No Santa Hat or Xmas Greetings: Sultan of Brunei Bans Christmas
• Islamic State Hopes to Expand 'Caliphate' into Indonesia
• Malaysia's new Islamic airline Rayani Air takes off with a prayer
• Malaysian Islamic law expert: Fatwa valid only if states gazette it
• Najib's 'saudara baru' – PM converts radio announcer to Islam
• Adenan firm on Sarawak's English policy, non-Muslim use of 'Allah'
• NSC passage through Senate proves BN doesn't care about human rights, DAP claims
----------
Arab World
• Muslim and Christian Leaders Meet in Egypt to Work for Dialogue & Peace
• Through 'Voice of the Caliphate', Daesh Threatens To Kill Journalists in Nangarhar
• ISIL Sustains Increasing Casualties under Syrian Army Attacks
• Militants in Syria's Aleppo Surrender to Government
• Egypt court jails head of Brotherhood for 10 years
• Syrian Fighter Jets Target ISIL Military Convoy East of Homs Province
• Large Numbers of Fresh Forces Join Syrian Army for Maheen Liberating Operation
• Army Completes Phase 2 of Military Operations in Aleppo
• Terrorists' Positions under Syrian Army's Massive Airstrikes, Artillery Shelling in Damascus
• Russian-Syrian Airstrikes Target ISIL's Long Columns of Oil Tankers
• 13.5 million Syrians in need of humanitarian aid
• Egypt's Sisi warns against protests on anniversary of 2011 revolt
• Anti-terror alliance 'vital, timely'
• Iraqi troops advance in battle for Islamic State-held city of Ramadi
----------
Mideast
• 207 More Saudi-Led Troops Killed in Yemen Ballistic Missile Attack
• Drone Strike Kills Four Al Qaeda Suspects In Yemen
• Yemeni Forces Hit Saudi Military Positions with over 700 Missiles, Rockets
• French Senate head, on rare Iran visit, raps US visa law
• Teargas thrown in Palestinian home by Jews
----------
Africa
• Kenyan Muslims Protect Christians in Shabaab Attack
• Nigerian Army Continues Destroying Shiites' Buildings in Zaria
• Boko Haram keeps 1m children out of school: UNICEF
• Security Council to vote on Libya peace deal
• Russia strikes on Syria 'may amount to war crimes'
• Tunisian govt extends state of emergency
----------
South Asia
• Afghanistan: 6 American Soldiers Killed in Taliban Suicide Attack
• Pakistan Says 'Radio of the Caliphate' Operates From Afghan Territory
• British troops deployed to Afghanistan's Helmand amid Taliban battle
• Afghanistan inks two accords with Azerbaijan
• Legal notice served on Khaleda for war martyrs remark
• Bangladesh is for people of all religions
----------
India
• Do Not Be Provoked, Babri Action Committee Leaders Tell Community
• Pune: One of Three Missing Youth Suspected To Have Joined IS Detained
• What is RSS' definition of 'Hindu' and 'Hindu Rashtra'? Muslim man answers
• Union Cabinet clears proposal for re-construction of dam in Afghanistan
----------
Pakistan
• Akbar Bugti's Son Files Plea Seeking Exhumation of Father's Body
• Indo-Pak Ties: Pakistan Proposes Foreign Secretary Level Talks in January
• Musharraf Says He Invoked Emergency after Consulting Gen Kayani
• No Sindh Resident Is a Terrorist, CM Tells US Ambassador
• Qadri demands army deployment in Punjab
• CJCSC reiterates help to govt in anti-terror fight
• 14 terrorists arrested in Dalbandin
• Christians honoured before Christmas
----------
North America
• U.S. Muslims Reach Out to Address Questions on Islam and Violence
• Religious Leaders Alarmed By Anti-Muslim Rhetoric
• Pakistan, India genuinely interested in improving ties: US
• Local Sacramento mosque opens doors to homeless
----------
Europe
• ISIS Creating New Type of Jihadist: Part Terrorist, Part Gangster
• France, Russia to Boost Info Exchange on ISIL
• One million refugees arrived in Europe in 2015
• Forged passports 'spark security fear in Germany'
Compiled by New Age Islam Edit Bureau
URL: https://www.newageislam.com/islamic-world-news/new-age-islam-news-bureau/no-santa-hat-xmas-greetings-sultan-brunei-bans-christmas/d/105706
----------
Southeast Asia
No Santa hat or Xmas greetings: Sultan of Brunei bans Christmas
Dec 23, 2015
Christmas may be spreading the cheer world over but in the tiny nation of Brunei in Borneo, mere mention of the festivities could land one in serious trouble.
The Sultan of Brunei has banned public celebrations of Christmas, including sending festive greetings and wearing Santa hats, in a move aimed at prohibiting propagation of any other religion other than Islam.
In the oil-rich south east Asian nation, Muslims seen celebrating Christmas and those of any denomination found organising public celebrations could face up to five years jail.
The country's non-Muslims, who comprise 32% of the 420,000 population, will however be allowed to celebrate the festival in their own communities as long as it is closed off to Muslims.
Imams have also directed communities to follow a government edict passed last year that bans celebrations that could lead Muslims astray and damage their faith.
"These enforcement measures are… intended to control the act of celebrating Christmas excessively and openly, which could damage the aqidah (beliefs) of the Muslim community," the Ministry of Religious Affairs said in a statement explaining the edict that was published in the Brunei Times.
The statement said non-Muslims disclosing or displaying Christmas celebrations violated the penal code which prohibits propagating religions other than Islam to a Muslim.
Violations include lighting candles, putting up Christmas trees, singing religious songs, sending Christmas greetings and putting up decorations, the Borneo Bulletin quoted imams as saying at a Friday sermon.
"But as Muslims … we must keep it (following other religions' celebrations) away as it could affect our Islamic faith," they said.
Before Christmas last year, officials of the Ministry of Religious Affairs visited businesses and asked owners to remove Christmas decorations and to direct staff to not sport any Christmas-themed outfits like Santa Claus hats and clothes.
Flipside
Brunei's rulers do not enforce the harsh Islamic orthodoxies of countries like Saudi Arabia.
There are no sanctions for women who do not wear headscarfs and while the sale and public consumption of alcohol is banned, foreigners are allowed to import and drink it behind closed doors.
But Brunei's Sultan Hassanal Bolkiah, one of the world's richest men, last year ordered the introduction of sharia, the strict legal code based on the injunctions of the Koran, prompting boycotts and protests at hotels he owns in the United Kingdom and the United States, including the Beverly Hills Hotel.
The laws, which include amputation of hands and feet for theft and whipping for adultery, were to be phased in over three years.
But their introduction appears to have been delayed without public explanation, according to foreign observers in Brunei.
#MyTreedom
The ban has encountered some resistance - the social media campaign #MyTreedom, which encourages Christians and other in countries such as Saudi Arabia, Iran other countries where the faith is persecuted to post images of themselves celebrating Christmas, includes several contributions from Brunei residents.
http://www.hindustantimes.com/world/no-santa-hat-or-xmas-greetings-sultan-of-brunei-bans-christmas/story-PUd6lY1dLF1i9k19g8I3OK.html
----------
Islamic State Hopes to Expand 'Caliphate' into Indonesia
by JOHN HAYWARD
22 Dec 2015
Brandis described this as part of the ISIS vision for a "distant caliphate," establishing a presence far beyond the Islamic State's home turf in Syria and Iraq.
"ISIS has a declared intention to establish caliphates beyond the Middle East, provincial caliphates in effect," he explained. "It has identified Indonesia as a location of its ambitions."
"The rise of ISIS in the Middle East is something that has destabilised the security of Australia, it's destabilised the security of Indonesia and it's destabilising the security of our friends and partners, particularly here in the region," added Australian Justice Minister Michael Keenan.
Brandis and Keenan made this assessment after a series of meetings between Indonesian and Australian officials. Over the weekend, police raids across Java resulted in nine arrests, plus the confiscation of explosive materials and an "ISIS-inspired flag." For their part, the Australians have foiled six terrorist attacks over the past year, as well as suffering casualties from attacks that could not be prevented.
Australia and Indonesia reached an agreement to increase cooperation on counter-terrorist intelligence on Monday.
Indonesia, the most populous Muslim-majority country in the world, shares the fear of many other governments that Islamic State radicals will return home from battlefield service in Iraq and Syria, armed with terrorist connections and dangerous skills.
In November, the Washington Times reported on an Army think-tank study that found "Southeast Asia, and especially Indonesia, is a routine stop for hundreds of smuggled terrorists." Southeast Asia was part of the optimum route ISIS provided to recruits looking for a way to slip into Syria.
One research team quoted in the Washington Times described Southeast Asia as a "blind spot" for anti-ISIS analysts. The number of Indonesian recruits traveling to Syria for military service with the Islamic State is said to have jumped from 50 to 500 in a single year, putting a total of 300 to 500 Indonesians in Syria "training for battle."
However, analyst Greg Fealey of the Australian National University told the UK Guardian he was "a bit skeptical" of warnings about an ISIS caliphate taking shape in Indonesia.
"We've not seen Isis sending fighters back to Indonesia or Malaysia to undertake terrorist operations… Nor has there been a statement from IS centrally, indicating they would seek to establish a caliphate in south-east Asia or Indonesia," said Fealey. He added that fighters who have returned home to Indonesia seem more interested in working with al-Qaeda and its Syrian franchise, Jabhat al-Nusra, than the Islamic State.
A report from the Jakarta-based Institute for Policy Analysis of Conflict quoted by the Guardian said that ISIS social-media efforts are "reaching new audiences," but "not necessarily changing patters of recruitment" as of yet.
This report added the interesting observation that Indonesians who return home from fighting in Syria are often "disillusioned" due to "corruption, false promises and discrimination by Arabs who treat southeast Asians as second-class citizens."
http://www.breitbart.com/national-security/2015/12/22/islamic-state-hopes-expand-caliphate-indonesia/
----------
Malaysia's new Islamic airline Rayani Air takes off with a prayer
December 23, 2015
The short domestic flight from Kuala Lumpur, Malaysia's biggest city, begins with a recital of Prophet Muhammad's supplication before his travel. The passengers — most of them Muslims — cup their hands, as a crew member murmurs a short prayer over the loudspeaker just before takeoff.
Malaysia's Rayani Air took to the skies over the weekend with a clear bailiwick. It is the country's first Islamic airline, offering flights that adhere to Islamic rules, including prayers, no serving of alcohol or meals with pork, and a strict dress code for Muslim female flight attendants.
The idea for Rayani Air grew out of much-publicized complaints by conservative Muslims who believed that two major air disasters for the national Malaysia Airlines — Flight 370 that went missing in March 2014 and Flight 17 downed a few months later over Ukraine — were caused by Allah's wrath. Their solution: Airlines must adopt strict Islamic customs to avoid divine retribution.
The reaction to the disasters, and the creation of the airline that operated its inaugural flight on Sunday, is an example of rising hard-line Islamic values in Malaysia, where Muslims account for about 60 percent of the country's 30 million people. "We are answering the call of many Malaysians who wanted an Islamic airline," Rayani's managing director, Jaafar Zamhari, told The Associated Press. "We are not talking about being a holy airline or flying to holy destinations. We just want to provide an alternative to travelers, but we are open to all races and religions." Ironically, the people who answered the call of conservative Islam and started Rayani Air are Hindus, perhaps an indication that a business opportunity knows no religious boundary. The founders of the airline, which currently flies to three domestic destinations using two Boeing 737s, are Ravi Alagendrran and his wife, Karthiyani Govindan. They used parts of their first names for the airline's name. Alagendrran or his wife couldn't be immediately reached for comments, but in remarks to local media, he had said that "anyone wishing to travel in a modest and alcohol-free environment will feel right at home." On a 55-minute flight Tuesday (delayed by two hours) from Kuala Lumpur to the northeastern city of Kota Baru, more than 100 passengers were greeted by Muslim female flight attendants wearing black headscarves, long pants and lime-green jackets. A prayer was recited before takeoff and passengers were served halal food, where animals are slaughtered according to Islamic procedures. At least one passenger said she chose the airline because of its Islamic credentials. "It's quite important for me because first of all, I am a Muslim, and second, Malaysia is an Islamic country," said Che Masnita Atikah, a 23-year-old student. "It's quite important to have this kind of airline to represent Malaysia and its image as an Islamic country." Rayani Air is the fourth Islamic airline in the world after Royal Brunei Airlines, Saudi Arabian Airlines and Iran Air. Jaafar said that male and female passengers are not segregated, and that there is no dress code for travelers. "Even if they come in shorts, they are most welcome," he said. "We respect the differences among us."
http://indianexpress.com/article/world/world-news/malaysias-new-islamic-airline-rayani-air-takes-off-with-a-prayer/
----------
Malaysian Islamic law expert: Fatwa valid only if states gazette it
Dec 23, 2015
PETALING JAYA - Muslims can only be punished under Syariah law for vaping in states where a national fatwa declaring e-cigarettes as haram or forbidden has been gazetted, says an Islamic law expert.
Assoc Prof Dr Shamrahayu A. Aziz said that a fatwa issued by the National Fatwa Committee, such as the recent one against vaping, was not legally binding but would become enforceable once endorsed by the states.
"Each state has a fatwa committee and if this committee decides to accept a fatwa, it can gazette it and then enforce it," said Dr Sham­rahayu, who is Principal Fellow at the Institute of Islamic Under­standing's Centre for the Study of Syariah, Law and Politics.
On Monday, the National Fatwa Committee declared vaping was haram, with a number of states expected to follow suit.
So far, the Federal Territories mufti has announced that e-cigarettes were forbidden to Muslims, while the Penang Fatwa Council announced a similar decision on Dec 4.
Dr Shamrahayu said the punishment for such an offence would be determined by provisions in the respective state's enactment.
While gazetted fatwa are binding, some are rarely enforced.
For example, a search on the Islamic Development Department of Malaysia (Jakim) e-fatwa online portal shows that in at least two states, Penang and Selangor, smo­king has been declared as haram, with Penang even declaring it forbidden for Muslims to sell cigarettes.
Cases of Muslims being charged in a Syariah court for smoking in these states are practically unheard of.
The Federation of Malaysian Consumer Associations deputy president Mohd Yusof Abdul Rahman welcomed the decision of the National Fatwa Council on the use of electronic cigarettes and va­ping.
Mohd Yusof hoped that state go­vernments would look into this in a proactive manner.
He added that vaping was not a solution for smokers who wanted to quit, adding that there were other alternatives to consider.
Muslim Consumers' Association of Malaysia secretary-general Datuk Dr Ma'amor Osman said the general rule in Islam was anything that was considered harmful would be haram.
He said the content in vape li­quid, e-cigarettes and cigarettes were harmful, especially to those exposed to secondhand smoke.
Dr Ma'amor also said the Government should look into the plight of vape and e-cigarette tra­ders who could suffer losses.
"There were no proper guidelines and regulations before so some could have invested a lot to start the business.
"The Government can help them out by perhaps buying the mate­rials at cost price or lower and then destroy them," he said.
http://news.asiaone.com/news/malaysia/malaysian-islamic-law-expert-fatwa-valid-only-if-states-gazette-it
----------
Najib's 'saudara baru' – PM converts radio announcer to Islam
Dec 23, 2015
Prime Minister Najib Abdul Razak's Islamic credentials may have went up a few notches after it was revealed that he had helped someone convert to Islam.
Umno Youth exco member Fathul Bari Mat Jahaya revealed this in a video uploaded onto YouTube this week.
Fathul Bari said the video was to reply to criticism that Malaysia's Islamic affairs department's procedural requirements made it difficult for someone to convert to Islam.
Fathul Bari said the process was actually so simple that even Najib could help a person to convert with minister-in-charge of Islamic affairs Jamil Khir Baharom as witness.
Fathul said the person whom Najib helped convert to Islam was a radio announcer.
"He converted to Islam and the process was quick. It involved the prime minister and the minister in the prime minister's department as the witness.
"We brought the document (showing he had converted) to the religious affairs department and the document showed that the person was converted by the prime minister of Malaysia.
"So our friend at the religious affairs department was shaking when he held the document," he quipped.
Full report at:
https://www.malaysiakini.com/news/324334
----------
Adenan firm on Sarawak's English policy, non-Muslim use of 'Allah'
December 23, 2015
KUALA LUMPUR, Dec 23 — Sarawak Chief Minister Tan Sri Adenan Satem has insisted on standing by the state's policy on adopting English as its second official language as well as the use of the Arabic word "Allah" by non-Muslims when referring to their God. According to The Star, Adenan said that Bahasa Malaysia will stay the main language in Sarawak but added that he did not see why this should stop the administration from improving English proficiency.
"Whether they agree with me in Semenanjung (peninsula) or not, I don't care," the English daily quoted him saying yesterday during a ceremony to hand over native land titles to residents in the township of Serian.
"I made English the second language in Sarawak. Of course, Bahasa Malaysia is still the main language. We agree and have no issue with that."
"But what is wrong with us also being proficient in English? It's the language of science, learning, literature, technology, business, research, communication and international relations," he added.
At the state civil service day gathering on November 18, Adenan announced the adoption of English as one of the official languages in the state government administration.
The decision was followed by criticism from Malay leaders in peninsular Malaysia, who said it would worsen the urban-rural divide and alienate those in the state's interior.
On the state policy to allow non-Muslims to use the word "Allah", Adenan noted yesterday that there were more non-Muslim Bumiputera in Sarawak than Muslims, and that he would not interfere with how they choose to practise their religion.
Full report at:
http://www.themalaymailonline.com/malaysia/article/adenan-firm-on-sarawaks-english-policy-non-muslim-use-of-allah
----------
NSC passage through Senate proves BN doesn't care about human rights, DAP claims
BY OPALYN MOK
December 23, 2015
GEORGE TOWN, Dec 23 — DAP secretary-general Lim Guan Eng insisted today that the Barisan Nasional (BN) federal government is steamrolling over human rights in the country, citing the easy passage of the controversial National Security Council (NSC) Bill 2015 through the Dewan Negara last night.
The Penang lawmaker voiced regret at the ease with which the Bill was approved and branded the BN senators irresponsible for the easy passage.
"It shows that they just talk as they like. They are not serious. They are irresponsible. They do not think human rights is important, so in short, they only know how to fool around, even on something as serious as this Bill," he said during a press conference at his office today.
Lim said the passing of the controversial Bill means it places all power in only one person, the prime minister, which is very dangerous as there should be a procedure or process to declare a certain area as a security zone.
The Penang chief minister added that the heads of state governments should be made members of the NSC, while Sabah and Sarawak should be consulted as the Bill affects their rights as states with autonomy.
"Now they can do whatever they want with this Bill. They can move anyone from Penang to Johor if they wanted. This is a blatant disregard to justice, human rights and democracy," he claimed.
Full report at:
http://www.themalaymailonline.com/malaysia/article/nsc-passage-through-senate-proves-bn-doesnt-care-about-human-rights-dap-cla
----------
Arab World
Muslim and Christian Leaders Meet in Egypt to Work for Dialogue & Peace
Recently, over 200 Muslim imams and Christian priests gathered in Cairo to celebrate at the conclusion of the three-year Together for Egypt programme and receive certificates of completion. Together for Egypt brought together priests and imams to work side by side in humanitarian and social work. The project demonstrated the capacity for leaders from very different religious backgrounds to work together for good, to make friendships with one another, and to create the foundations for future relations between the Christians and Muslims of Egypt. The goals of the project emphasise creating new stabilities in society as well as bringing about a brighter, more religiously tolerant future for Egypt.
The celebration was the culmination of Together for Egypt, and the progress and success of the project was very clear. The priests and imams sat easily with each other, listening carefully to the speeches as one. At the conclusion, the close friendships that had developed between the various priests and imams was apparent as they grouped around each other laughing, talking, telling stories, and taking photos.
Meanwhile, also in Cairo, another group of Christian and Muslim religious leaders recently met—in mid-December—to discuss intercommunity relations and the scourge of violence in the name of religion. They were part of the 12th annual Christian-Muslim dialogue meeting between the Anglican Communion and the Al-Azhar, Cairo, one of the leading centres of Islamic learning in the world. The talks began over a decade ago, when an interfaith dialogue committee between Al-Azhar and the Anglican Communion was established in an agreement signed by the Archbishop of Canterbury and the Grand Imam of Al-Azhar in January 2002 at Lambeth Palace, the official residence of the Archbishop of Canterbury in London.
The recent meeting in Cairo took place at Al-Azhar, and the participants were welcomed by the Grand Imam of Al-Azhar, Dr Ahmed Al-Tayyeb. The meeting focused on how religious leaders can combat violence done in the name of religion and extremist ideologies. The morning session of the dialogue consisted of the presentation of two papers by the representatives of Al-Azhar. The first paper focused on a selection of verses from the Qur'an which are sometimes used to support violent and extreme ideologies; the paper showed how these verses have been misinterpreted and taken out of the context of the whole. The second paper carefully analyzed the concept of citizenship and how the Qur'an affirms the oneness of the human race and denounces discrimination in its many forms. During the afternoon session, the Rev. Mark Poulson, Secretary for Inter Religious Affairs to the Archbishop of Canterbury and National Inter-Religious Advisor for the Church of England, presented a paper entitled The role of religious leaders in combating the use of violence and terrorism in the name of religion.
Full report at:
http://www.anglicannews.org/news/2015/12/imams-and-priests-celebrate-the-together-for-egypt-project.aspx
-----
Through 'Voice of the Caliphate', Daesh threatens to kill journalists in Nangarhar
Dec 23 2015
The affiliates of the Islamic State in Iraq and Syria (ISIS) which also goes by its Arabic name Daesh have threatened to kill journalists in eastern Nangarhar.
The threat has been broadcasted through the group's newly launched FM Radio 'Voice of the Caliphate' which is easily accessible in the provincial capital and the surrounding districts.
A number of Nangarhar-based journalists have told media on condition of anonymity that presenters of 'Voice of the Caliphate' were previously reporters in Nangarhar who have enough information about journalists in this province.
According to a report published by the VOA news, these journalists have said that the threat would have a negative impact on their jobs. Union of journalists in the eastern region of the country has urged all parties engaged in war not to create barricades in front of journalists as they are neutral.
Meanwhile, spokesperson for the governor of Nangarhar province says a mechanism is being worked out for the safety of the journalists. Ataullah Khogyani has said that journalists would feel immune through this mechanism.
Directorate of Communication and Information Technology in Nangarhar province has said that measures have been taken against 'Voice of the Caliphate' but due to technical difficulties they have not been able to block its signals.
This comes as NAI, an organization that supports open media in Afghanistan, and Meshrano Jirga or Upper House of Parliament has warned serious impact of 'Voice of the Caliphate' in eastern region if government fails to block its signals.
Full report at:
http://www.khaama.com/through-the-radio-voice-of-the-caliphate-daesh-threatens-to-kill-journalists-in-nangarhar-4417
----------
ISIL Sustains Increasing Casualties under Syrian Army Attacks
Dec 23, 2015
"The army destroyed ISIL gathering centers, vehicles and weapons in Maheen town, al-Hazm, Hawsh Abu Faraj, Dahret al-Dukkan, Duhour al-Khzeimiyeh and Um Kadoum hill in the Southeast part of Homs province," an informed source said Tuesday.
The source added that "tens of militants" were killed in the military operations.
Earlier reports from Homs said militants were grounded across the province as the Syrian air force continued massive airstrikes on their command posts and concentration camps.
The Syrian warplanes bombed terrorists' positions in Ein Hussein and in the vicinity of Talbiseh town in the Northern countryside of Homs.
The Syrian warplanes also launched four airstrikes on militants' concentration centers in al-Rastan city in the Northern part of Homs.
The Syrian jets also pounded terrorists' positions in al-Quaryatayn city and the town of Al-Taybah al-Gharbiyah in Homs.
The Syrian airstrikes also hit ISIL positions in the vicinity of al-Sharifa village in the countryside of Palmyra, and in the villages of Ghunaiman, Tafha and Ghziyla in the Eastern countryside of Homs, and inflicted heavy losses on the terrorists.
Also on Tuesday, the Syrian army fired artillery shells at terrorists' positions in Tal Dhahab town in the Northwestern part of Homs.
On Monday, the ISIL terrorists have withdrawn from new territories in the Northern and Northwestern parts of the strategic town of Maheen in Homs Province under the heavy attacks of the Syrian Army and its allies, provincial sources announced.
"The Syrian army, National Defense Forces (NDF) and the Lebanese Hezbollah fighters, in a fresh round of operations, broke through the first defense lines of the ISIL terrorists and forced them to retreat from al-Hadath village and the Maheen-Sadad military checkpoint," the sources said.
Full report at:
http://en.farsnews.com/newstext.aspx?nn=13941002000400
----------
Militants in Syria's Aleppo Surrender to Government
Dec 22, 2015
The sources said that at least 15 militants laid down arms and surrendered to the competent authorities in Aleppo after the army and the country's popular forces' victories across the province.
Until last year, most surrendering cases happened in Homs and Damascus provinces, but now a growing number of militants lay down arms across the country. As the army scores more wins across Syria more militants lay down arms to save their lives.
Some 116 Takfiri militants turned themselves in to the Syrian army in Homs province on Sunday.
On December 12, some 20 wanted Takfiri terrorists in Hama province gave up fight and turned themselves in to the authorities to enjoy the general amnesty issued by President Bashar Al-Assad that has been in place for the last several years.
Some 200 wanted militants from Zabadani region and Madaya in Damascus province also surrendered earlier in December.
Full report at:
http://en.farsnews.com/newstext.aspx?nn=13941001000929
----------
Egypt court jails head of Brotherhood for 10 years
Dec 23, 2015
CAIRO: An Egyptian military court on Tuesday sentenced Muslim Brotherhood leader Mohamed Badie to 10 years in prison over deadly clashes following the 2013 ouster of Islamist president Mohamed Morsi, judicial officials said.
Ninety other defendants who were tried in absentia were sentenced to life terms, which in Egypt means 25 years.
Badie and dozens of others were found guilty of participating in clashes that killed 31 people in the canal city of Suez between Aug 14 and 16, 2013.
The clashes erupted after police brutally broke up two pro-Morsi protest camps in Cairo on Aug 14 that year.
The charges in the military trial included vandalism, inciting violence, murder, assaulting military personnel and setting fire to armoured personnel carriers and two Coptic churches in Suez.
Full report at:
http://www.dawn.com/news/1228195/egypt-court-jails-head-of-brotherhood-for-10-years
----------
Syrian Fighter Jets Target ISIL Military Convoy East of Homs Province
Dec 23, 2015
"The ISIL supplying convoy, which was on the Taybeh-al Sukhneh road, was destroyed in the Syrian bombers' air attack," the army said.
"In addition to heavy damage on the vehicles, several ISIL militants accompanying the convoy were killed or wounded in the airstrike," the army added.
"The Syrian army commanders were informed by the intelligence sources that the ISIL's only supply route goes through the Eastern part of the ancient city," a source said, and added, "So in a coordinating session with the commanders of the country's air force the decision was made to intensify air raids on the supplying columns of the terrorist group in the Eastern side of Palmyra."
Reports said on Tuesday that the militants are grounded across the Homs province as the Syrian air force continues massive airstrikes on their command posts and concentration camps.
Full report at:
http://en.farsnews.com/newstext.aspx?nn=13941002000296
----------
Large Numbers of Fresh Forces Join Syrian Army for Maheen Liberating Operation
Dec 23, 2015
The sources said that several hundred of soldiers from the Syrian army's 120th Brigade of the 2nd Division arrived in the small village of Hawareen in order to reinforce their advancing comrades from the Syrian Social Nationalist Party (SSNP) and the National Defense Forces (NDF).
"Over 400 soldiers from the Syrian army arrived in the village of Hawareen in what is likely to become the second battle for the strategic town of Maheen," the sources said.
Currently, the Syrian Armed Forces are positioned just North of Hawareen , where they are presently watching the Russian Air Force devastate the ISIL terrorists' ppositions at Maheen with repeated airstrikes.
The Syrian Armed Forces are likely to begin their massive assault on Hawareen in the coming hours; however, this is primarily contingent on the weather.
Sources said on Monday that the ISIL terrorists withdrew from new territories in the Northern and Northwestern parts of the strategic town of Maheen under the heavy attacks of the Syrian Army and its allies.
"The Syrian army, the NDF and the Lebanese Hezbollah fighters, in a fresh round of operations, broke through the first defense lines of the ISIL terrorists and forced them to retreat from al-Hadath village and the Maheen-Sadad military checkpoint," the sources said.
"The ISIL withdrawal form al-Hadath and the nearby areas of Maheen town and Hawareen village occurred after hours of heavy battles, which claimed the lives of many terrorists and injured many others from both sides," the sources said.
"Recapturing of al-Hadath has paved the ground for the Syrian ground forces to push their way into the Hawareen village, which is one of the strongest defense lines of the ISIL in the region," the sources went on to say.
Full report at:
http://en.farsnews.com/newstext.aspx?nn=13941002000345
----------
Army Completes Phase 2 of Military Operations in Aleppo
Dec 22, 2015
The Syrian forces captured the strategic towns of Khan Touman, Al-Khalidiya and Al-Qarassi as well as cutting off the Aleppo-Damascus Highway at the end of this phase, it said.
According to military sources, the Syrian army and its allies have so far won back over 75% of the Southern part of Aleppo.
Sources also said the Syrian forces will now shift their attention to the Northeastern countryside of Idlib in order to begin phase 3 of this massive assault.
The primary objective of phase 3 will be the capture of the ICARDA Farms, they said.
The sources declined to mention if the focus of the army will shift back to other parts of Aleppo province in a later stage.
Full report at:
http://en.farsnews.com/newstext.aspx?nn=13941001001249
----------
Terrorists' Positions Under Syrian Army's Massive Airstrikes, Artillery Shelling in Damascus
Dec 22, 2015
Informed sources said Syrian strikers targeted militants' positions in the city of Douma in Damascus countryside.
The Syrian army has been also been firing artillery shells at the terrorists' positions in Jobar district East of Damascus.
Initial reports included unspecified numbers of casualties among the militants in tageted areas, putting the number of the dead terrorists at tens.
Earlier today, the Syrian army made great advances in al-Fosul al-Arba'a area in Darayya city in Damascus countryside and regained control of several buildings.
Full report at:
http://en.farsnews.com/newstext.aspx?nn=13941001001293
----------
Russian-Syrian Airstrikes Target ISIL's Long Columns of Oil Tankers
Dec 22, 2015
"The first convoy of the ISIL with at least eight oil tankers and some other military vehicles was targeted by the Russian and Syrian air attacks near the ancient city of Palmyra (Tadmur)," army sources said Tuesday, adding, "Almost the entire oil tankers were destroyed and tens of the militants accompanying the convoy were killed in the attack."
"The joint squadron of the Russian and Syrian bombers also targeted 14 oil tankers of the ISIL near Sukhnah in the Eastern part of Homs province, which ended in complete destruction of the convoy and the killing or wounding of its guards," the sources said.
Homs, which is a Central province and home to Palmyra, plays a pivotal role for the government forces to drive their military machine on a correct way and distribute forces across the country as best as possible, that's why the Syrian forces are operating against the terrorist groups in different parts of the province to route out militancy in the Central part of the country.
A report said on Monday that the Russian and Syrian fighter jets carried out tens of combat sorties over ISIL's defense lines across the Central Homs province, specially those near Maheen town.
"The Russian and Syrian air forces have mostly carried out their anti-terrorism combat sorties separately, but in some cases they have conducted joint operations against the militant groups' positions in Homs province," the army informed.
"The Russian bombers hit heavily the ISIL centers near the ancient city of Palmyra (Tadmur), Quaryatayn and Maheen over 20 times, inflicting very large damage on the militants' sites," the army said.
Full report at:
http://en.farsnews.com/newstext.aspx?nn=13941001000409
----------
13.5 million Syrians in need of humanitarian aid
23 December 2015
Facing a worsening humanitarian crisis in Syria, the United Nations Security Council unanimously approved a resolution Tuesday demanding that all combatants but especially the Syrian government allow the urgent delivery of desperately needed food and medicine to more than 13.5 million people.
The council expressed "outrage" at the escalating violence in Syria, grave distress at "the devastating humanitarian situation" and growing concern at the increasing impediments to the delivery of aid, especially across front lines in the conflict.
The resolution extends the authorization for cross-border aid deliveries until Jan. 10, 2017. It previously authorized deliveries through four crossings — two in Turkey, one in Iraq that has not been used, and one in Jordan.
Of the more than 13.5 million people in need of food and medical assistance inside the country, the council said 6.5 million have fled their homes, 4.5 million including Palestinian refugees are living in hard-to-reach areas, and 393,700 are trapped in besieged areas.
It expressed "grave alarm" especially for those in besieged areas where the U.N. was only able to reach 3.5 percent with health assistance and just 0.7 percent with food monthly in 2015.
The Security Council also accused ISIS which now controls about a third of Syria, the Al-Nusra Front and other al-Qaeda associates of hindering aid deliveries including to nearly half the people in hard-to-reach areas and over half the people in besieged areas "through deliberate interference and obstruction."
U.S. Ambassador Samantha Power said after Tuesday's vote that the resolution "underscores the urgent need for assistance across conflict lines." She accused the Syrian government of delaying approval for deliveries across conflict lines, where more than half the requests made in 2015 are still pending.
"Acute malnourishment and disease is prevalent, and yet nothing seems to create a sense of urgency in dealing with these requests by the U.N. on the part of the Syrian government," Power said.
Full report at:
http://english.alarabiya.net/en/News/middle-east/2015/12/23/U-N-demands-Syria-allow-aid-deliveries-to-13-5-million.html
----------
Egypt's Sisi warns against protests on anniversary of 2011 revolt
23 December 2015
Egyptian President Abdel Fattah al-Sisi warned critics on Tuesday not to hold protests on Jan. 25 to mark the anniversary of the 2011 uprising, saying a new revolt risked destroying the country.
Opposition groups including the outlawed Muslim Brotherhood, families of political prisoners, and left-wing activists are calling for mass demonstrations on Jan. 25, 2016 -- which marks five years since the start of an 18-day uprising that ended autocratic president Hosni Mubarak's 30-year grip on power.
"Why am I hearing calls for another revolution? Why do you want to ruin (Egypt)? I came by your will and your choice and not despite it," Sisi said in a speech marking the Prophet Mohammed's birthday, which this year falls on Dec. 23.
"Look around you to nearby countries, some of which I don't like to name, which have been suffering for 30 years and have not been able to come back. States that have been destroyed do not return."
As the armed forces chief in mid-2013, Sisi ousted Mohamed Mursi, a Muslim Brotherhood member and Egypt's first democratically-elected president, amid widespread unrest over his turbulent rule.
Full report at:
http://english.alarabiya.net/en/News/2015/12/23/Egypt-s-Sisi-warns-against-protests-on-anniversary-of-2011-revolt.html
----------
Anti-terror alliance 'vital, timely'
23 December 2015
RIYADH: The Kingdom signed several investment, aid and loan agreements with Tunisia in Riyadh on Tuesday, covering the military, transport and energy sectors.
The pacts were signed after Custodian of the Two Holy Mosques King Salman met with Tunisia's President Beji Caid Essebsi for talks at Al-Yamamah palace in Riyadh, according to SPA.
They discussed initiatives to boost bilateral relations, followed by officials signing a MoU and three agreements. The memorandum in the field of civil protection and civil defense was co-signed by Crown Prince Mohammed bin Naif and Tunisian Defense Minister Farhat Horchani.
A loan agreement between the Saudi Fund for Development and the Tunisian Ministry of Development, Investment and International Cooperation to finance the construction of a power station in Tunisia was co-signed by Minister of Finance Ibrahim Al-Assaf and Tunisian Minister of Finance Salim Shaker.
A cooperation agreement to regulate the transport of persons and goods by road was co-signed by Minister of Transport Abdullah Al-Muqbil and Shaker.
Meanwhile, Essebsi praised the Kingdom for forming the anti-terror alliance and said it has military, religious, political and cultural importance for Arab and Muslim countries, at a time when they are facing several challenges.
It was important because it would help silence those trying to distort the message of Islam, and those accusing Arab and Muslim countries of failing to fight terrorism, he was quoted as saying by the SPA.
Full report at:
http://www.arabnews.com/featured/news/854661
----------
Iraqi troops advance in battle for Islamic State-held city of Ramadi
Dec 22, 2015
Iraqi forces on Tuesday reported progress in the military operation to retake the city of Ramadi from the Islamic State group, saying they made the most significant incursion into the city since it fell to the militants in May.
Losing Ramadi — the capital of sprawling western Anbar province and Iraq's Sunni heartland — was a major blow to the Iraqi government. It was also the government's biggest defeat since IS militants swept through areas in the country's north and west, including Iraq's second-largest city of Mosul, in the summer of 2014.
Iraqi forces announced a counteroffensive shortly afterward Mosul fell but progress has been sluggish and clawing territory back from IS has proven more difficult than expected.
On Tuesday, Iraqi spokesman Sabah al-Numan said troops crossed the Euphrates River north of the city and its Warar tributary to the west and pushed into downtown Ramadi.
From the south, troops led by the counter-terrorism agency made progress in the Dubbat and Aramil neighbourhoods, about 3 km (less than 2 miles) from the city center, Gen Ismail al-Mahallawi, the head of operations in Anbar province, told AP.
Sporadic clashes broke out and Iraqi forces on the advance were forced to remove roadside bombs planted by the extremists, al-Numan added.
Dubbat saw heavy fighting, with one soldier killed and 14 wounded, said an official in the Anbar operations room, speaking on condition of anonymity because he was not authorized to brief the media.
Full report at:
http://www.hindustantimes.com/world/iraqi-troops-advance-in-battle-for-islamic-state-held-city-of-ramadi/story-imlK8JROVruli5uyfhaMzL.html
----------
Mideast
207 More Saudi-Led Troops Killed in Yemen Ballistic Missile Attack
Dec 22, 2015
"A Qaher-I ballistic missile of Yemen struck al-Safer military base in Ma'rib province, killing over 137 Saudi-led aggressors, including a large number of Saudi and Sudanese troops, five UAE officers, head of the operations room (in Safer military base) and foreign military experts who seemed to be American and British," a Yemeni source told FNA on Tuesday.
The source noted that bodies of the Saudi-led troops killed in Al-Safer region were completely burnt.
He added that another Yemeni missile targeted Saudi Arabia's Tawwal military base in the border region in Jizan province, killing at least 70 Saudi-led troops and injuring over 100 others.
The ballistic missiles that have recently come into service in Yemen's army have claimed a heavy toll on the Saudi side of the war. Only in the last one week, around 550 Saudi-led troops have been killed by these ballistic missiles.
Military sources announced on Tuesday that the Yemeni army and the popular forces pounded targets in Al-Khuba region in Saudi Arabia's Southern Jizan province with hundreds of home-made missiles and rockets.
"The Yemeni forces have attacked Al-Khuba region with Over 700 rockets and missiles," the Arabic-language media outlets quoted an unnamed military source as saying.
Al-Alam news outlet said the attacks were done in the last two days.
The source said that the military operations in Al-Khuba region were the first of a series of strategic steps to confront the joint aggressions by Saudi Arabia and the UAE and their coalition and the continued violation of the seven-day-long fragile ceasefire that has been trampled by tens of Saudi airstrikes.
On Monday, the Yemeni army and popular forces targeted Saudi Arabia's Aramco Oil Company in Jizan with Qaher-I ballistic missiles.
"The (Qaher-I) missile precisely hit Aramco oil company on Monday night," Yemeni Army Spokesman Brigadier General Sharaf Luqman said on Tuesday.
He reiterated that the Yemeni missile attack came in retaliation to the Saudi-led aggressors' violation of UN-sponsored ceasefire, but did not give further details about the damages caused on the Aramco Company.
On Sunday, the Saudi airstrikes continued against civilian targets in different regions of Yemen's Sa'ada province in violation of the seven-day ceasefire announced earlier.
The Saudi-led coalition fired 40 rockets on the regions of Al-Zaher and Shada in Sa'ada province concurrent with the sixth day of peace talks in Switzerland.
Warplanes from the Saudi-led coalition also pounded Ta'iz province in violation of the truce.
The Saudi warplanes also hit the Western parts of the city of Sana'a on Sunday.
Saudi Arabia's violation of the ceasefire comes while the peace negotiations were underway in Switzerland.
Ryiadh has been violating the truce ever since it came into force 6 days ago. In response, the Yemeni army and popular forces respond to Saudi Arabia's daily violations with missile fires.
On Sunday, the Yemeni army and popular forces destroyed the Saudi military positions in the province of Ma'rib with their new Qaher-I ballistic missiles, killing tens of the kingdom's forces.
Full report at:
http://en.farsnews.com/newstext.aspx?nn=13941001001421
----------
Drone strike kills four Al Qaeda suspects in Yemen
Dec 23, 2015
ADEN: A presumed United States (US) drone strike has killed four suspected members of Al Qaeda in central Yemen, a security official said on Wednesday.
The raid targeted their vehicle on Tuesday evening near the border of Baida and Shabwa provinces, the official said.
The US is the only country known to operate armed drones over Yemen.
It has kept up strikes on militants during months of fighting between pro-government forces and Shia Huthi rebels who control the capital.
Yemen, home to what the US considers Al Qaeda's most dangerous affiliate, has been convulsed by unrest since the Houthis seized Sanaa in September last year.
Al Qaeda in the Arabian Peninsula (AQAP) has exploited the turmoil to tighten its grip on parts of southeast Yemen, including Mukalla, the capital of Hadramawt province, imposing a strict form of Islamic law.
Gunmen kill army colonel and resistance chief in Yemen's Aden
Unidentified gunmen shot dead a Yemeni army colonel and a southern resistance leader in Aden on Tuesday night, a local official said, the latest in a string of assassinations in the city often carried out by militants.
The gunmen opened fire on a car carrying resistance leader Jalal al-Awbali and the unidentified colonel in the Dar Saad district of northern Aden, killing them both immediately, the official said.
Full report at:
http://www.dawn.com/news/1228293/drone-strike-kills-four-al-qaeda-suspects-in-yemen
----------
Yemeni Forces Hit Saudi Military Positions with over 700 Missiles, Rockets
Dec 22, 2015
"The Yemeni forces have attacked Al-Khuba region with Over 700 rockets and missiles," the Arabic-language media outlets quoted an unnamed military source as saying on Tuesday.
Al-Alam news outlet said the attacks were done in the last two days.
The source said that the military operations in Al-Khuba region were the first of a series of strategic steps to confront the joint aggressions by Saudi Arabia and the UAE and their coalition and the continued violation of the seven-day-long fragile ceasefire that has been trampled by tens of Saudi airstrikes.
On Monday, the Yemeni army and popular forces targeted Saudi Arabia's Aramco Oil Company in Jizan with Qaher-I ballistic missiles.
"The (Qaher-I) missile precisely hit Aramco oil company on Monday night," Yemeni Army Spokesman Brigadier General Sharaf Luqman said on Tuesday.
He reiterated that the Yemeni missile attack came in retaliation to the Saudi-led aggressors' violation of UN-sponsored ceasefire, but did not give further details about the damages caused on the Aramco Company.
On Sunday, the Saudi airstrikes continued against civilian targets in different regions of Yemen's Sa'ada province in violation of the seven-day ceasefire announced earlier.
The Saudi-led coalition fired 40 rockets on the regions of Al-Zaher and Shada in Sa'ada province concurrent with the sixth day of peace talks in Switzerland.
Warplanes from the Saudi-led coalition also pounded Ta'iz province in violation of the truce.
The Saudi warplanes also hit the Western parts of the city of Sana'a on Sunday.
Saudi Arabia's violation of the ceasefire comes while the peace negotiations were underway in Switzerland.
Ryiadh has been violating the truce ever since it came into force 6 days ago. In response, the Yemeni army and popular forces respond to Saudi Arabia's daily violations with missile fires.
On Sunday, the Yemeni army and popular forces destroyed the Saudi military positions in the province of Ma'rib with their new Qaher-I ballistic missiles, killing tens of the kingdom's forces.
The first Qaher-I missile hit Al-Tawwal border crossing in Saudi Arabia and the second missile targeted the Saudi-led special forces' military base, destroying several Apache helicopters and spying drones in Safer region of Ma'rib province.
The Saudi-led forces' drone control unit and several armored vehicles were destroyed during the Yemeni missile attack.
On Saturday, the Saudi-led Coalition Forces and pro-Hadi militias suffered another devastating blow when a Tochka ballistic missile hit their camp in Ma'rib province, and killed over 180 troops, including Saudi and UAE officers.
An ammunition depot and two Apache helicopters of the pro-Saudi aggressors were also destroyed in the Yemeni ballistic missile strikes in Southern Yemen that came in response to airstrikes on residential areas by the Saudi-led coalition warplanes on Friday and Saturday.
At least 180 Saudi and UAE military men as well as forces loyal to the former fugitive president Mansour Hadi were killed in the attack on Saudi-led forces' military camp in the Ma'rib province.
Also on Friday, the Yemeni army and popular forces conducted several retaliatory missile attacks against Saudi Arabia's Key military bases and positions in Jizan province, inflicting heavy losses on the kingdom's forces.
Yemen's Tochka ballistic missiles hit the Saudi army's gathering centers in Jizan province.
The Yemeni forces also fired a Qaher-I missile at Saudi forces' bases in Najran on Friday.
The missile attacks came in response to the violation of truce by the Saudi bomb strikes.
On Tuesday, the Yemeni missiles destroyed the command center of Saudi border guards in Asir province.
Meantime, the Yemeni missiles hit the Saudi governmental buildings in al-Rabou'a region of Asir province.
The Yemeni army also fired 52 rockets at the border regions of Alab, al-Sheibani, al-Hazar and al-Thurein in Asir province.
Full report at:
http://en.farsnews.com/newstext.aspx?nn=13941001000993
----------
French Senate head, on rare Iran visit, raps US visa law
December 23, 2015
TEHRAN - The president of the French Senate has criticised new US visa regulations that penalise Europeans who have visited Iran, saying they send the "wrong signal".
Gerard Larcher was speaking during a trip to Iran aimed at strengthening relations with France following a landmark deal to curb Tehran's nuclear programme in return for a lifting of sanctions.
The US measures "can be seen in Tehran as a sign of mistrust" and do not contribute to building confidence with Iran, he told reporters late Monday.
The US bill, passed by Congress on Friday, bars citizens from 38 countries and who are also dual nationals from Iran, Iraq, Syria and Sudan from using a visa waiver programme. It also requires people who have travelled to those four countries since 2011.
, or to a country Washington has listed as supporting terrorism, to apply for a standard visa, deeming them a risk.
Full report at:
http://nation.com.pk/international/23-Dec-2015/french-senate-head-on-rare-iran-visit-raps-us-visa-law
----------
Teargas thrown in Palestinian home by Jews
December 23, 2015
BEITILLU - Two tear gas canisters were thrown into a Palestinian home near Ramallah on Tuesday by suspected Jewish extremists, Israeli police said, but the family there at the time was not hurt.
The pre-dawn attack in the village of Beitillu came with tensions high over the detention of alleged Jewish extremists for the July firebombing of a Palestinian home that killed a toddler along with his mother and father.
Graffiti written in Hebrew near the home in Beitillu in the occupied West Bank appeared to make reference to the suspects' detention, saying "revenge" and "hello from the prisoners of Zion".
"Unknown men threw two gas canisters in the small house of a Palestinian family," Israeli police said.
They added that the family was there at the time and was not hurt, but did not provide further details. An AFP journalist at the scene hours later said the smell of tear gas remained strong in the house, with a window broken where the canisters were apparently thrown.
Israeli authorities in recent weeks have arrested a number of suspected Jewish extremists over the July 31 deadly firebombing in the West Bank village of Duma, though no one has been charged with the crime.
Their detentions have sparked anger among far-right Israelis who have protested, including outside the home of a judge, while lawyers have alleged torture of suspects by the Shin Bet domestic security agency.
The firebombing killed 18-month-old Ali Saad Dawabsha, while both of his parents later died from severe burn wounds. The couple's four-year-old son was the sole survivor from the immediate family.
Full report at:
http://nation.com.pk/international/23-Dec-2015/teargas-thrown-in-palestinian-home-by-jews
----------
Africa
Kenyan Muslims protect Christians in Shabaab attack
22 December 2015
Al Shabaab terrorists sprayed a Mandera bus with bullets on Monday, killing two people, but a passenger said he and fellow Muslims defied demands from the attackers to help identify Christians travelling with them. They told the militants "to kill them together or leave them alone", a local governor told Kenyan media.
The assailants ordered everyone off the bus, "demanding that Muslims separate from Christians, but they refused," the interior ministry said in a statement.
Another six people were wounded in the attack at Elwak, some 150 kilometres (95 miles) south of Mandera and on the Somali border.
Kenya has been hit by a string of attacks this year by the Somali-led Shebab, Al-Qaeda's East Africa branch.
Full report at:
http://www.worldbulletin.net/africa/167655/tiffany-supplier-funds-israeli-unit-accused-of-war-crimes
----------
Nigerian Army Continues Destroying Shiites' Buildings in Zaria
Dec 23, 2015
The Nigerian army attacked two religious centers of the country's Shiite community on December 12, killing hundreds of defenseless civilians there. A few hours later on December 13, the military arrested the Leader of the Islamic Movement of Nigeria, Sheikh Ibraheem Zakzaky, after raiding his house and killing three of his sons, assistants and followers.
Media reports said on December 20 that the Nigerian military has completely destroyed remnants of the Shiites' religious center in Zaria region, Kaduna state. The governor-general of Kaduna has claimed that construction of the building had not been allowed by the government.
His claims came as the governmental forces also destroyed the house of Sheikh Zakzaky which was a personal property.
Also media sources reported that the authorities have demolished a building which has recently been purchased by the Shiites.
Political activists said on Thursday that the Nigerian army forces were burying and setting fire on the corpses of those Shiite Muslims who had been killed during the recent raids in Zaria region.
Full report at:
http://en.farsnews.com/newstext.aspx?nn=13941002000269
----------
Boko Haram keeps 1m children out of school: Unicef
December 23, 2015
UNITED NATIONS - Violence and attacks against civilian populations in northeastern Nigeria and its neighbouring countries have forced "a staggering" one million children out of school in a conflict that has dealt "a huge blow for education in the region," the United Nations Children's Fund (UNICEF) reported Tuesday. "Across Nigeria, Cameroon, Chad and Niger, over 2,000 schools remain closed due to the conflict - some of them for more than a year - and hundreds have been attacked, looted or set on fire," UNICEF said. "In far north Cameroon, only one out of the 135 schools closed in 2014 has re-opened this year."
UNICEF also reported that the number of children missing out on their education due to the conflict adds to the estimated 11 million children of primary school age who were already out of school in the four countries before the onset of the crisis.
"It's a staggering number," Manuel Fontaine, UNICEF's West and Central Africa Regional Director, said.
"The conflict has been a huge blow for education in the region, and violence has kept many children out of the classroom for more than a year, putting them at risk of dropping out of school altogether," Fontaine added.
In addition, Nigeria alone, approximately 600 teachers have been killed since the start of the Boko Haram insurgency.
UNICEF said it has supported 170,000 children back into education in the safer areas of the three states most in Nigeria affected by the conflict, where the majority of schools have been able to re-open.
Full report at:
http://nation.com.pk/international/23-Dec-2015/boko-haram-keeps-1m-children-out-of-school-unicef
----------
Security Council to vote on Libya peace deal
23 December 2015
The U.N. security council on Wednesday is expected to vote on a resolution supporting a new U.N.-brokered deal to form a unity government in Libya.
Diplomats say discussions continue Tuesday. A draft of the resolution obtained by The Associated Press makes no move to lift the arms embargo that is meant to clamp down on the flow of arms to militia groups.
Oil-rich Libya slid into chaos after the 2011 toppling and killing of dictator Muammar Qaddafi and ended up split between two rival governments. The Islamic State group has recently exploited the chaos to gain territory.
Full report at:
http://english.alarabiya.net/en/News/middle-east/2015/12/23/Security-Council-to-vote-on-Libya-peace-deal.html
----------
Russia strikes on Syria 'may amount to war crimes'
23 December 2015
Russia's bombing of Syria may amount to a war crime because of the number of civilians its strikes have killed, Amnesty International said on Wednesday, presenting what it said was evidence that the air raids had violated humanitarian law.
"Russian air strikes in Syria have killed hundreds of civilians and caused massive destruction in residential areas, striking homes, a mosque and a busy market, as well as medical facilities, in...attacks that show evidence of violations of international humanitarian law," Amnesty said in a new report.
Russia started its campaign of air strikes against militants in Syria on Sept. 30, saying it wanted to help the Kremlin's main Middle East ally, Syrian President Bashar al-Assad, defeat ISIS and other militant groups.
It has repeatedly and forcefully denied targeting civilians, saying it takes great care to avoid bombing residential areas.
When asked by Reuters to comment on the Amnesty allegations, the Russian Defense Ministry said it had no immediate comment, while the Russian Foreign Ministry said it first needed to study the report before giving any official reaction.
Amnesty, whose charges echoed those of some Syrian observers, said Russian air strikes had killed at least 200 civilians and around a dozen fighters from September to November of this year.
Full report at:
http://english.alarabiya.net/en/News/middle-east/2015/12/23/Russia-strikes-on-Syria-may-amount-to-war-crimes-.html
----------
Tunisian govt extends state of emergency
23 December 2015
Tunisia's government has extended a state of emergency imposed after a November suicide bombing, from Dec. 24 to Feb. 21, the presidency said in a statement on Tuesday.
The state of emergency grants the presidency and armed forces more powers and suspends some rights. The statement said the decision to extend it was made after consultations with the prime minister and parliament speaker.
Full report at:
http://english.alarabiya.net/en/News/middle-east/2015/12/23/Tunisia-extends-state-of-emergency-.html
----------
South Asia
Afghanistan: 6 American Soldiers Killed in Taliban Suicide Attack
By Franz-Stefan Gady, December 22, 2015
Six American servicemen died and two others were wounded along with an Afghan contractor during a Taliban attack on Monday. The U.S. soldiers and Afghan National Security Forces were patrolling on foot through the village of Bajawryan near Bagram airbase in Parwan province.
According to a NATO spokesperson, the attack occurred at 1:30 pm local time on Monday when a suicide bomber rammed an explosive-laden motorcycle into the patrol.
The Taliban claimed responsibility for the attack. In a statement released on Voice of Jihad, the insurgent group claimed that at least "19 U.S. aggressors were killed in a vehicle-borne martyr attack near Bagram base in northern Parwan province in the early afternoon hours of the day." The Taliban routinely exaggerate casualty figures.
The statement claims that the attack was carried out by an insurgent named Zahidullah, "a fearless Mujahid part of the martyr unit of the Islamic Emirate [who] slammed his motorbike filled with explosives near a large number of the U.S. invading troops gathered near the Bagram base (…)"
The police chief of Parwan province said three Afghan policemen were also wounded in the attack.
U.S. Secretary of Defense Ashton Carter, who briefly visited Bagram airbase last Friday said in a statement:
It is with deep regret that I learned today that six U.S. service members died in Afghanistan Monday. We are still learning all of the details, but two other service members and a U.S. contractor were also injured. They died after a vehicle-borne improvised explosive device attack on their patrol outside Bagram Air Base. It serves as a painful reminder of the dangers our troops face every day in Afghanistan.
One of the killed U.S. servicemen has been identified as New York City police detective, Joseph Lemm, a 15-year-old veteran of the New York Police Department, who served in the U.S. National Guard.
Full report at:
http://thediplomat.com/2015/12/afghanistan-6-american-soldiers-killed-in-taliban-suicide-attack/
-----
Pakistan says 'Radio of the Caliphate' operates from Afghan territory
Dec 23 2015
Signals of the newly launched ISIS-propaganda radio 'Radio of the Caliphate' have been received in areas of Pakistan on and close to its border with Afghanistan.
According to Pakistan's The Express Tribune news, the station has traumatized locals not only in the tribal areas, but as far as the settled area of Charsadda near Mohmand Agency.
"They've been running all sorts of propaganda," a resident of Charsadda has been quoted by the media as saying. "Most of the content is a call for recruitment."
The news agency citing a senior security official, reports that the radios broadcasting messages of violence and extremism are being run from three main areas in eastern Afghanistan, two locations are Nazyan and Acheen districts of Nangarhar province and the third location is in Kunar province.
"The radio transmitter is at a height of more than 7,000 feet which makes the reception area wider," the unnamed official is quoted as saying. "That is why the transmission can be heard in areas far [and wide] even though [the stations] are operated from within Afghan territory."
In the eastern region of Afghanistan, signals of the militant radio has been received through FM radio only in Nangarhar province but this report claims that it also operates from Kunar province.
Full report at:
http://www.khaama.com/pakistan-says-radio-of-the-caliphate-operates-from-afghan-territory-4417
----------
British troops deployed to Afghanistan's Helmand amid Taliban battle
Dec 23, 2015
KABUL: British troops are being sent to south Afghanistan's Helmand province where Afghan forces are battling the Taliban for control of a strategic district, stated Britain's Ministry of Defense (MoD) on Monday.
An MoD statement announced that "a small number of UK personnel" have been deployed to Helmand "in an advisory role".
The United Kingdom currently has 450 troops in Afghanistan as part of Nato's training mission. . Fighting was still underway Tuesday in Helmand. In the Sangin district, most government buildings are now in Taliban hands. Afghan officials say the entire province is in danger of falling to the insurgents.
Helmand is a traditional stronghold of the Taliban and one of the biggest centers of opium production, which helps fund the insurgency.
Over the recent months, it has seen fierce fighting between the militants and Afghan forces. The militants are pressing their insurgency after the withdrawal of most international forces last year.
Full report at:
http://www.dawn.com/news/1228065/british-troops-deployed-to-afghanistans-helmand-amid-taliban-battle
----------
Afghanistan inks two accords with Azerbaijan
By ZABIHULLAH MOOSAKHAIL
Dec 23 2015
The visiting Afghan delegation signed two accords with Azerbaijan officials on Tuesday.
The documents include a Memorandum of Understanding (MoU) "On cooperation in the sphere of labor, social protection and employment" and an agreement "On cooperation between Azerbaijan Television and Radio Broadcasting Closed Joint-Stock Company and the National Radio Television of Afghanistan (RTA)".
The MoU was signed by Afghanistan's Minister of Foreign Affairs Salahuddin Rabbani and Azerbaijan's Minister of Labor and Social Protection of Population Salim Muslumov while the agreement of cooperation in media sector was inked by Sultan Ahmad Bahen on behalf of RTA and head of Azerbaijan's Television and Radio Broadcasting Closed Joint-Stock Company Arif Alishanov.
Full report at:
http://www.khaama.com/afghanistan-inks-two-accords-with-azerbaijan-4416
----------
Legal notice served on Khaleda for war martyrs remark
December 23, 2015
A Supreme Court lawyer today sent a legal notice to BNP Chairperson Khaleda Zia asking her to apologise before the nation for making a controversial statement about the number of martyrs during the Liberation War in 1971.
Momtajuddin Ahmed Mehedi, former secretary of Supreme Court Bar Association (SCBA), in the notice requested the BNP chief Khaleda to withdraw her statement within seven days.
Khaleda, in her first public address in more than a year on Monday, said, "There are controversies over exactly how many freedom fighters were killed in the Liberation War. There are also many books and documents on the controversies."
He said in the notice that a case will be filed against Khaleda under the criminal and civil law if she does not apologise and withdraw her statement.
In the legal notice Momtajuddin said that he is shocked at the "arrogant" statement of Khaleda.
Full report at:
http://www.thedailystar.net/politics/legal-notice-served-khaleda-war-martyrs-remark-191449
----------
Bangladesh is for people of all religions
December 23, 2015
Prime Minister Sheikh Hasina yesterday said Bangladesh would continue to move ahead overcoming all obstacles.
"We have many obstacles. We have to overcome the hurdles as we work for people's welfare. The obstacles could not slow down the pace of our work," she told Christian community members at the Gono Bhaban.
The PM was exchanging greetings with them in the evening ahead of Christmas Day. She sought cooperation from all to take the country forward.
Hasina said Bangladesh is a secular country where people of every religion would live peacefully and with fraternity. "People of every religion, creed and colour took part in the Liberation War and gave blood for the country's independence. So, Bangladesh's soil is for the people of every religion."
Full report at:
http://www.thedailystar.net/backpage/bangladesh-people-all-religions-191377
----------
India
Do Not Be Provoked, Babri Action Committee Leaders Tell Community
OMAR RASHID
December 23, 2015
The VHP has said the supply of stones would increase in the coming months.
For most Muslims in the twin cities of Ayodhya-Faizabad, the arrival of a fresh consignment of stones for the construction of a Ram Mandir has brought back a sense of caution, if not fear and insecurity.
For some, in particular, those living in proximity to the disputed structure, it triggered a faint reminder of 1992, when the Babri Masjid was demolished. Most compared it to the attempt by the Vishwa Hindu Parishad to lead an 84-Kosi Parikrama Yatra in 2013 against prohibitory orders, heightening communal tension.
To maintain communal harmony, Chief Minister Akhilesh Yadav has ordered his senior-most officials to be on vigil. The government has also sought a "confidential report" from the intelligence department about the activities of the VHP.
The unrestrained entry of the stones, however, has instilled doubts in the mind of Muslims, whose leaders are working to ensure that the community does not give in to the "provocation".
Full report at:
http://www.thehindu.com/news/national/do-not-be-provoked-muslim-leaders-tell-community/article8018880.ece
----------
Pune: One of three missing youth suspected to have joined IS detained
Dec 23, 2015
The Anti Terrorism Squad has detained a person in Pune suspecting that he was one of the three missing Mumbai youths suspected to have joined terror outfit Islamic State (IS), police said.
Officials from Pune's ATS unit detained the person, said the ATS official, adding that they would not disclose the youth's name as they weren't sure whether "he is one among the three missing youth."
ATS and the city police are probing the case of three missing youths of Malvani area in western suburb of Mumbai. The three youths were identified as Ayaz Sultan (23), Mohsin Sheikh (26) and Wajid Sheikh (25). The parents of the three men had registered a missing complaint with the Malvani police.
"We suspect that the three joined the IS and our probe is on to ascertain this," Malvani police station's senior inspector Milind Khetle said yesterday. An official of the Anti-Terrorism Squad also said they suspect that the three youths have been radicalised into joining the Islamic State, and added that the ATS is probing the matter.
Read: ATS to probe 'disappearance' of 3 youths suspected to have joined IS
While Sultan went missing on October 30, the other two have been missing since December 16, the ATS official said. According to police, Sultan left home on October 30 after telling his parents that he had to go to Pune in connection with a job offer he got from a Kuwait-based firm. Mohsin left home on December 16, saying he was going to attend a friend's wedding.
Wajid also left home the same day saying he had to get the name on his Aadhar card corrected, the police officer said. Police strongly suspect that the three men were in touch with each other as they resided in the same area and also because two of them left home on the same day. Based on statements of family members of the three youths, it appears they were highly radicalised, police said.
Full report at:
http://www.hindustantimes.com/india/pune-one-of-three-missing-youth-suspected-to-have-joined-is-detained/story-AWstNdIMHeQKEsVUp1M07M.html
----------
What is RSS' definition of 'Hindu' and 'Hindu Rashtra'? Muslim man answers
December 23, 2015
New Delhi: Ever since Rashtriya Swayamsevak Sangh (RSS) came into existence, its ideology of 'Hindu Rashtra' has been a debating point across the country, especially with the Leftists and the Congress.
And with Narendra Modi-powered Bharatiya Janata Party coming to power at the Centre, the debate has only grown intense and a desperate attempt is being made to project the 'Sangh' as an organisation trying to divide the nation on religious lines.
When a Muslim Swayamsevak of RSS was questioned about Sangh's definition of 'Hindu' and 'Hindu Rashtra', he said that a Hindu is a person who has been born and brought up in Hindustan, and 'Hindu' is not a religion, it's a way of life.
"I am a Muslim and I practice Islam, but I belong to this great nation, which has a great tradition, heritage and culture," he said.
Giving example of Syed Ahmed Bukhari, the Muslim man said, "Once the Shahi Imam of Delhi's Jama Masjid had gone to visit Indonesia to attend a Muslim conclave, where he was introduced as a great Hindu from India. Initially, the Imam got offended and questioned the person as to why did he say so. The person replied saying that 'if I address you as a Hindu, it doesn't mean that you aren't a Muslim, but as you are a part of Hindustan and anyone who comes from that great country is a Hindu'. In the end Bukhari was convinced."
Full report at:
http://zeenews.india.com/news/india/what-is-rss-definition-of-hindu-and-hindu-rashtra-muslim-man-answers_1837568.html
----------
Union Cabinet clears proposal for re-construction of dam in Afghanistan
Dec 22, 2015
NEW DELHI: A proposal to reconstruct a dam in Afghanistan with revised cost estimates of Rs 1,775.69 crore was cleared by the Centre on Tuesday.
The Union Cabinet, chaired by Prime Minister Narendra Modi approved the reconstruction and completion of Salma Dam Project in Afghanistan at the Revised Cost Estimates (RCE) of Rs 1,775.69 crore, an official statement said.
The project is scheduled to be completed by June 2016. M/s WAPCOS, a central Public Sector Unit under the Ministry of Water Resources, is executing the project.
Upon its successful completion, this project will address the energy requirements and irrigation needs of western Afghanistan, the statement said.
The foreign exchange rate variation between Indian rupee and US dollar, increase in consultancy charges due to extended period of project completion, escalation, training of Afghan personnel necessitated revision in the project cost.
Located on the upper reaches of Hari Rud River in Herat province, Salma Dam project involves construction of a 107.5 metre high earth and rock - fill dam and a 42 MW power House with three units of 14 MW each.
Full report at:
http://timesofindia.indiatimes.com/india/Union-Cabinet-clears-proposal-for-re-construction-of-dam-in-Afghanistan/articleshow/50287499.cms
----------
Pakistan
Akbar Bugti's son files plea seeking exhumation of father's body
SYED ALI SHAH — 23 12 15
QUETTA: Nawabzada Jamil Akbar Bugti, son of late Baloch nationalist leader Nawab Akbar Khan Bugti, filed an application with an anti-terrorism court (ATC) here on Wednesday, seeking to exhume the body of Akbar Bugti to ensure that it was his father who was buried after he was killed in the mountains of Dera Bugti district during a military crackdown on Aug 26, 2006.
In his application, Nawabzada Bugti asked the court to order that a DNA test be conducted of the body by an international forensics team after the exhumation.
"None of my family members were present in Dera Bugti during his burial."
Bugti said he cannot go to Dera Bugti himself to collect any evidence, and therefore demands that a DNA test be conducted of the body.
In a separate application, Nawabzada Bugti requested the court to summon the members of a parliamentary committee who had met Akbar Bugti following the violence in Dera Bugti in March 2005 in which dozens were killed.
Members of the parliamentary committee including Chaudhry Shujaat Hussain, Mushahid Hussain Syed, Sherry Rehman, Sardar Yaqub Nasir, Mir Hazar Khan Bijarani and others should be called to record their statements before the court regarding Akbar Bugti's killing, said the application.
The court accepted Nawabzada Bugti's applicatins and fixed Dec 30 as the date for next hearing.
The ATC also reserved judgement with regards to the application filed by former federal minister Aftab Ahmed Khan Sherpao and former provincial home minister Shoaib Nausherwani seeking their acquittal in the Akbar Bugti murder case.
In their application, both former ministers denied having any links with the murder of Akbar Bugti.
Baloch nationalist leader Nawab Akbar Khan Bugti was killed in August 2006 in an explosion in a cave where he had taken refuge during a military crackdown ordered by Musharraf who was president and army chief at the time.
Bugti had led an armed campaign to press for provincial autonomy and a greater share of profits from Balochistan's natural resources.
Full report at:
http://www.dawn.com/news/1228296/akbar-bugtis-son-files-plea-seeking-exhumation-of-fathers-body
-------
Indo-Pak ties: Pakistan proposes foreign secretary level talks in January
MATEEN HAIDER — 23 12 15
ISLAMABAD: Adviser to the Prime Minister on Foreign Affairs Sartaj Aziz on Wednesday proposed the middle of January 2016 for talks between the foreign secretaries of Pakistan and India, which are slated to be held in Islamabad.
"Pakistan is now waiting for India's response to the proposed dates," said Aziz.
Aziz was talking to media personnel in Islamabad.
Responding to another question regarding the recently announced Saudi-led alliance of 34 Islamic countries, the adviser to the prime minister stated that Pakistan is joining the alliance on a voluntary basis and there is nothing binding on Pakistan.
"Pakistan's possible future role will be discussed in the days to come," stated Aziz.
The adviser elaborated further and stated that as far as counter-terrorism is concerned, Pakistan fully supports the alliance against terrorism.
While answering another question regarding the stalled peace dialogue between the Afghan Taliban and the Afghan government, Aziz said that Chief of Army Staff General Raheel Sharif will soon be travelling to Kabul to meet the senior civil and military leadership of the country.
"A meeting of senior officials from Pakistan, Afghanistan, China and the US would also be held soon to discuss the modalities of resuming the stalled peace dialogue," stated Aziz.
While on the topic, Sartaj Aziz also expressed satisfaction in regards to Pak-US ties and said bi-lateral relationship has significantly improved as compared to previous years.
The adviser to the premier also touched upon Pakistan's improving ties with Russia.
"Cooperation between Pakistan and Russia has rapidly increased, and ties have improved significantly. A new chapter of Pak-Russia ties has started," said the adviser to the prime minister on foreign affairs
Breakthrough at 'Heart of Asia'
In the meeting held between Prime Minister Nawaz Sharif and India's Swaraj on the sidelines of the 'Heart of Asia' conference earlier in December, the Indian minister had confirmed that the Indian Prime Minister Narendra Modi will be visiting Pakistan next year.
Pakistan and India have also agreed to reinitiate a comprehensive dialogue process, Indian External Affairs Minister Sushma Swaraj had said during a joint press conference along with the prime minister's adviser on foreign affairs, Sartaj Aziz.
Both Swaraj and Aziz on the occasion had also condemned terrorism and resolved to cooperate in order to eliminate the menace.
The dialogue process, which will start as soon as foreign secretaries agree on a schedule, will include matters related to peace and security, Jammu and Kashmir, Siachen, Sir Creek, Wullar Barrage, Tulbul Navigation Project, economic and commercial cooperation, counter-terrorism, narcotics control and humanitarian issues, people to people exchanges and religious tourism.
Full report at:
http://www.dawn.com/news/1228303/indo-pak-ties-pakistan-proposes-foreign-secretary-level-talks-in-january
-------
Musharraf says he invoked emergency after consulting Gen Kayani
MALIK ASAD
Dec 23, 2015
ISLAMABAD: Former president retired Gen Pervez Musharraf has claimed that he invoked the Nov 3, 2007 emergency after holding consultations with former chief of army staff retired Gen Ashfaq Parvez Kayani and the senior civilian and military hierarchy.
This is the first time that Gen Musharraf has directly dragged Gen Kayani into the emergency issue since the PML-N government had filed a (high treason) complaint against him in a special court in December 2013.
In a statement recorded before the joint investigation team (JIT) of the Federal Investigation Agency, the former military ruler termed the former army chief "principal offender" in the case.
Know more: FIA seeks emergency record from ministries, GHQ
He said Gen Kayani became the chief of army staff on Nov 27, 2007, but he did not revoke the emergency. "By not revoking the same, Gen Kayani is also a principal offender," he alleged.
The former military ruler insisted that in addition to Gen Kayani he had consulted the senior military and civilian leadership, including the then prime minister Shaukat Aziz, before imposing the emergency.
Gen Musharraf alleged that "Aziz, the then law minister Zahid Hamid, who is a member of the cabinet in the present government, Justice Abdul Hameed Dogar and all the judges who had taken oath under the PCO, all senior members of the armed forces in particular General Kayani, all chief ministers, all governors, all members of the federal and provincial cabinets, all members of the federal and provincial legislative assemblies, all senior federal and provincial bureaucrats are principal offenders or aiders, abettors, collaborators and facilitators".
The former dictator disclosed that he proclaimed the emergency on the advice of the then prime minister Aziz but its summary had 'mysteriously' been removed from the official record by some 'quarters concerned'.
"After my exit from the Presidency in 2008, intentionally some vested quarters removed the said summary of Nov 3, 2007 emergency from the record." According to the statement, the summary was made public in 2013 through social media.
Gen Musharraf asserted that on March 9, 2007, when he suspended the then Chief Justice Iftikhar Mohammad Chaudhry after sending a reference against him to the Supreme Judicial Council, the latter himself insisted to meet him as he was "frequent visitor and used to meet me (Gen Musharraf), all upon his choice and insistence".
He alleged that Justice Chaudhry "in the name of judicial activism blatantly interfered with the matters of the executive and the legislature. Chief Justice Iftikhar Chaudhry had become singularly vindictive against myself after the events of March 9, 2007 when he had to face a reference before the Supreme Judicial Council that included allegations against him and his son but it was never adjudicated upon".
Gen Musharraf claimed that he accepted the restoration of Justice Chaudhry by the Supreme Court "in good faith" but the situation became worse afterwards.
He said that at that time "unfortunately, some 61 terrorists were released in view of a court verdict, and these terrorists took refuge in Karachi, Rawalpindi, Sargodha, KP and Balochistan", adding that "at many places the extremists and their relatives were challenging the writ of the government, brazenly fighting against the law-enforcement agencies".
"The then premier Aziz on Nov 3, 2007, through a letter captioned 'national security situation', apprised the magnitude of extremism, militancy and terrorism, which were going on in the country and the widespread perception of overstepping the limits of the judiciary".
Gen Musharraf claimed that Mr Aziz wanted imposition of emergency through the above mentioned letter, but "I plainly declined to do so and maintained that I could only act upon the advice of the then Prime Minister Shaukat Aziz if he were to properly send me a summary in term of the Rules of Business. As a sequel to his letter dated November 3, 2007, Prime Minister Shaukat Aziz sent me a summary directly by hand, through his staff, which was received by me (Gen Musharraf) in the President House".
Full report at:
http://www.dawn.com/news/1228255/musharraf-says-he-invoked-emergency-after-consulting-gen-kayani
----------
No Sindh resident is a terrorist, CM tells US ambassador
Dec 23, 2015
KARACHI: Sindh Chief Minis­ter Syed Qaim Ali Shah has said that with the support of the federal government and armed forces, the law and order situation in Sindh has been controlled to a great extent and now Sindh is a peaceful province.
The chief minister said this while speaking to US Ambassador David M. Hale, who called on him along with US Consul General in Karachi Brian Heath and John T. Kennedy here at CM House on Tuesday.
"We, the people of Sindh, are very much liberal and no one from the inhabitants of Sindh is involved in terrorism. All terrorists are coming here from outside, but we are actively fighting them and made remarkable achievements in this regard," the chief minister added.
He said that the federal government and the armed forces had performed their best in northern areas and the Sindh government did its best in Sindh to fight terrorism.
The chief minister said: "We need latest equipment, arms and detective gadgets and recommend the US to join us in the fight against terrorism and share its expertise, latest equipment so that we could eliminate the remaining handful terrorists from our soil."
He also invited US investors to come forward and invest in Sindh.
The US ambassador appreciated the efforts of Pakistan and Sindh governments for fighting against terrorism.
Full report at:
http://www.dawn.com/news/1228146/no-sindh-resident-is-a-terrorist-cm-tells-us-ambassador
----------
Qadri demands army deployment in Punjab
December 23, 2015
LAHORE - Pakistan Awami Tehreek (PAT) chief Dr Tahirul Qadri yesterday demanded deployment of army and Rangers to ensure law and order in Punjab.
Talking to media on his arrival at Lahore airport from Canada, he said the families of the martyrs of Model Town were awaiting Rangers in the province. He said corruption brigade in Sindh wanted to fail law enforcers in restoration of peace in Karachi and same was happening in Punjab.
The PAT leader reached Allama Iqbal International Airport from Canada via Turkey. He will attend the Minhajul Quran-sponsored International Melad Conference scheduled to be held today. Party insiders say his stay in Pakistan will be brief.
Awami Muslim League president Sheikh Rasheed also held a meeting with Dr Qadri at the PAT head-office on Tuesday evening.
A party leader present in the meeting told The Nation that both the leaders discussed overall political situation in the country.
"Both the leaders had agreement that the institutions responsible for ensuring law and order in Pakistan should not make delay to take control of the overall affairs in their hands. They agreed that the further delay would make situation more unpleasant," he said.
"Dr Qadri ensured Sheikh Rasheed that despite the latter's international engagement he was available to stay and serve Pakistan. Dr Sahib is completely fit and has no health issue now," he added.
Full report at:
http://nation.com.pk/national/23-Dec-2015/qadri-demands-army-deployment-in-punjab
----------
CJCSC reiterates help to govt in anti-terror fight
December 23, 2015
ISLAMABAD - Chairman Joint Chiefs of Staff Committee (CJCSC) General Rashad Mahmood yesterday appreciated efforts of the armed forces for securing the confidence of the people by successfully fighting terrorism.
According to the ISPR, a Joint Chiefs of Staff Committee meeting was held at the Joint Staff Headquarters, Rawalpindi, to review the progress of the ongoing military offensive in the operation Zarb-e-Azb.
General Mahmood chaired the meeting which was also attended by the services' chiefs and other senior military officers.
According to the statement, the leadership expressed satisfaction over the promptness and effectiveness with which the armed forces have taken on both internal and external challenges.
Full report at:
http://nation.com.pk/national/23-Dec-2015/cjcsc-reiterates-help-to-govt-in-anti-terror-fight
----------
14 terrorists arrested in Dalbandin
December 23, 2015
DALBANDIN - At least 14 suspected militants involved in attack on FC personnel were arrested during search operation here on Tuesday.
According to FC spokesman, on intelligence agencies information about presence of suspected terrorists in the area, the Frontier Corps conducted search operation in Bareecha area of Dalbandin in district Chaghi of Balochistan.
Full report at:
http://nation.com.pk/national/23-Dec-2015/14-terrorists-arrested-in-dalbandin
----------
Christians honoured before Christmas
December 23, 2015
LAHORE - Punjab Chief Minister Shahbaz Sharif has announced three months remission in the imprisonment of Christian prisoners on the occasion of Christmas
The remission in imprisonment will be given to Christian prisoners as is permitted by the law and will not be applicable to the prisoners involved in heinous crimes.
Addressing a function held in the honour of Christians at Model Town yesterday, the chief minister said the Christian community played a commendable role in the creation of Pakistan and its progress and prosperity.
"Services of Christian community in education, health and other sectors are appreciable and they earned a name with regard to service to ailing humanity and promotion of education.
The role of Christians in the defense of the country and provision of justice is also laudable," he added.
Federal Minister for Port and Shipping Kamran Michael, Provincial Minister for Minority Affairs Khalil Tahir Sandhu and leaders of Christian community also spoke on the occasion and appreciated the measures of Punjab government for the protection of minority rights.
The chief minister said that Christmas is a day of joys.
Observing the event of Christmas results in promotion of love, harmony and mutual relations between Muslims and Christians, he added.
Mentioning his studentship period, Shahbaz Sharif told the gathering that he studied in a missionary school and still remembers the love and anger of his teachers "especially the cane of Madam Paul".
He also sang a special song of Christmas along with children of Christian community.
Prayers were also offered for the solidarity, stability, progress and prosperity of the country during the function.
Full report at:
http://nation.com.pk/lahore/23-Dec-2015/christians-honoured-before-christmas
----------
North America
U.S. Muslims Reach Out to Address Questions on Islam and Violence
By LAURIE GOODSTEIN
DEC. 22, 2015
CHATTANOOGA, Tenn. — Bassam Issa stepped in front of a crowded classroom of students this month at Southern Adventist University, a Christian college near here, for a presentation on being Muslim in Chattanooga — recently named America's most "Bible-minded city."
Mr. Issa, a real estate developer and the president of his local mosque, was struggling with how to attack the assumption that Islam gives rise to terrorism. He knew that the association was strong: Only last July, here in Chattanooga, four Marines and a sailor were killed in a terrorist rampage by a young Muslim man who grew up in the community. Many people here now speak of that day, July 16, as "7/16," an echo of "9/11."
And just a week before Mr. Issa's visit to the college, there had been another attack, when a married Muslim couple killed 14 people and wounded 22 in San Bernardino, Calif.
"Every time something like this happens, we have national news media, local news asking us, what do we think?" Mr. Issa said.
President Obama recently challenged Muslims to speak out against extremism and build closer ties to know their non-Muslim neighbors. Aware of this, and compelled by the rise of both the Islamic State and anti-Muslim sentiment, many American Muslims here and across the country are now saying it is no longer enough to denounce terrorism and assert that Islam is a religion of peace.
Instead, no matter how exasperated they may privately feel, some Muslims are beginning to publicly confront the uncomfortable questions that non-Muslims have about Islam and violence, and trying to provide answers, both through words and through the example of how they live their lives.
Here in the classroom, Mr. Issa told students to look beyond Islam to the deeper and more universal causes of violence. "What's happening right now is not religious, even though ISIS and Al Qaeda are covered as a religious thing," he said. "In reality, it's political."
Mr. Issa also spoke this month at the downtown public library with Boyd Patterson, an assistant district attorney, who self-published a book compiling verses in the Quran that could be used by extremists to justify violence and terrorism. The two held a forthright discussion about those verses, and why most Muslims do not read them as justification for terrorism because, Mr. Issa said, they were written in a very different historical context, when Islam was an upstart faith challenging the status quo, and are primarily prescriptions for self-defense — not justifications for terrorism.
Dr. Mohsin Ali, a child psychiatrist who has worked in the area for 10 years, said he, too, had tried to tackle questions about what Islam teaches head-on, with Muslims, non-Muslims and others.
Full report at:
http://www.nytimes.com/2015/12/23/us/us-muslims-begin-to-publicly-confront-questions-on-islam-and-violence.html
----------
Religious leaders alarmed by anti-Muslim rhetoric
23 December 2015
WASHINGTON: Republican presidential front-runner Donald Trump's recent declaration that he would ban Muslims from entering the country served as a tipping point for many leaders, uniting a range of politically and theologically diverse clerics who are denouncing anti-Muslim sentiments. Citing the nation's history of religious freedom and tolerance, a group that included Catholic, Jewish, Muslim and evangelical leaders placed an ad in Monday's Washington Post saying "Muslims are our equals."
The leaders called remarks from political leaders "highly offensive," and said suggestions that a Muslim cannot be president or that Muslims should be registered and their mosques closed are unconstitutional. "As faith and community leaders that value our own freedom of religion, we state unequivocally that we love our Muslim siblings in humanity," they wrote.
The first to sign was Cardinal Theodore McCarrick, who said on Monday that many Americans are scared and are starting to say things they don't really mean.
"I'm scared of the crazy fringe. I'm troubled by it," he said. "It's not the world I want to live in."
When the country chooses to follow the fringe, McCarrick said, then it has lost its balance. "I'm 85 years old, I'm no chicken," McCarrick said. "Freedom of speech is very important, but hatred is also very important and very dangerous."
Those who signed the letter echoed a similar call from other religious leaders last week at Georgetown University, including Cardinal Donald Wuerl, the archbishop of Washington, who condemned intolerance. Vice President Joe Biden joined religious leaders on Dec. 16 to denounce the anti-Muslim rhetoric. Regionally, Muslims have seen support from religious leaders in communities like Miami, Philadelphia and Columbus, Ohio.
Monday's letter was signed by 49 religious and civic leaders.
"We are all aghast at the debate," said Chris Seiple, a longtime advocate on international religious freedom who has advised the State Department.
"Normally there's nothing that brings us together, except that we believe in inherent human dignity rooted in freedom of conscience and belief."
Seiple said that leaders were especially troubled by the last GOP debate, when Republican candidates only referred to American Muslims as those who can "help us defeat the enemy."
"It wasn't that they are citizens, that they are Americans, that they have common values," Seiple said. "They are seen as a utilitarian point of access to defeat the enemy."
The letter was co-sponsored by the Inclusive America Project of Aspen Institute's Justice & Society Program and the Shoulder-to-Shoulder Campaign, partially underwritten by businessman and former US ambassador to Denmark, John Loeb, Jr., and the George Washington Institute for Religious Freedom.
Full report at:
http://www.arabnews.com/world/news/854331
----------
Pakistan, India genuinely interested in improving ties: US
ANWAR IQBAL
Dec 23, 2015
WASHINGTON: The United States believes that India and Pakistan now seem genuinely interested in fostering greater understanding between the two countries, says the State Department.
At a news briefing, Spokesman John Kirby of the department also emphasised the need for all South Asian nations to work together to defeat terrorists.
"We continue to welcome efforts by India and Pakistan to work bilaterally to solve these very difficult, complicated issues," he said Kirby while noting that both countries were victims of terrorism.
Relations between South Asia's two nuclear-armed neighbours have started to warm up after an unscheduled meeting between their prime ministers in Paris earlier this month. A week after this meeting, Indian Minister for External Affairs Sushma Swaraj visited Islamabad where both sides agreed to resume bilateral talks after two years of nerve-wrecking tensions.
And the Indian media reported this week that Prime Minister Narendra Modi also planned to visit Pakistan next month.
"They have started to do that (working together to improve relations) and appear to be genuinely interested in fostering greater understanding between the two countries, that's welcome. And we continue to encourage that," said Mr Kirby when asked to comment on these developments.
At the briefing, an Indian journalist reminded Mr Kirby that Prime Minister Nawaz Sharif had recently directed Pakistani officials not to make negative or hateful comments against India and sought his reaction to this direction.
The US official said he had not seen Mr Sharif's statement and therefore was not qualified to comment on it but the US welcomed any effort that helped improve relations between India and Pakistan.
Full report at:
http://www.dawn.com/news/1228273/pakistan-india-genuinely-interested-in-improving-ties-us
----------
Local Sacramento mosque opens doors to homeless
23 December 2015
With winter cold now here, more than 100 of Sacramento's homeless spent the night off the streets with a hot meal after a local mosque opened its doors for those in need on December 19 according reports Fox News.
One guest excited about the shelter is Karen Shorter, who's trying to get back on her feet.
"I'm working on housing, saving up money trying to get my own place," but until then, she said she's been sleeping in a tent.
The SALAM Islamic Center teamed up with Sacramento's Winter Sanctuary and invited 150 homeless guests to eat a delicious dinner, shop for clothes, blankets, and other necessities and have a night away from the cold.
"It is part of our Islamic faith. We have to be charitable, we have to feed the needy, we have to make them feel at home," said Metwalli Amer, the Executive Director of SALAM Islamic Center.
Full report at:
http://www.worldbulletin.net/america-canada/167704/local-sacramento-mosque-opens-doors-to-homeless
----------
Europe
ISIS creating new type of jihadist: part terrorist, part gangster
December 22, 2015
BRUSSELS: The recent terrorist attacks in Paris have brought into sharper focus the rise of a new breed of jihadists, one that blurs the line between organized crime and Islamist extremism, using skills honed in lawbreaking in the service of violent radicalism.
The Islamic State is constructing an army of loyalists from Europe that includes an increasing number of street toughs and ex-cons as the nature of radicalization evolves in the era of its self-proclaimed caliphate. Rather than leave behind lives of crime, some adherents are using their illicit talents to finance recruiting rings and travel costs for foreign fighters even as their backgrounds give them potentially easier access to cash and weapons, posing a new kind of challenge to European authorities.
Before he became the notorious ringleader of last month's terrorist attacks in Paris, for instance, Abdelhamid Abaaoud, 28, was linked to a den of radicalized thieves led by a man nicknamed "Santa Claus."
The gang — including young men who would go on to fight in Syria and Iraq — robbed tourists and shoplifted, forming a petty-crime operation in the service of the Islamic State, authorities say.
The picture now emerging of the Islamic State's machinations in Europe is distinct from the development of al-Qaeda, which relied heavily in its early years on ostensibly pious recruits and wealthy foreign sponsors. In contrast, some Islamic State loyalists are using their illicit talents to finance recruiting rings and travel to strongholds, posing a new kind of challenge to authorities.
A repeat offender
Abaaoud, the son of Moroccan immigrants to Belgium, was a repeat offender who was thrown out of his home at age 16. He became radicalized and left in 2013 to fight in Syria. But even during his brief return to Belgium later that year, he was still committing thefts. He used the proceeds to help finance another trip to Syria in January 2014, this time with his 13-year-old brother, Younes, according to a senior intelligence official who debriefed an Abaaoud family member. Like other officials interviewed, he spoke on the condition of anonymity because of the ongoing terrorism investigation.
Abaaoud's terrorist network in Paris, officials say, was distinct from the Brussels petty-crime ring, which did not carry out attacks in Europe but instead recruited fighters and funded their transit to the Middle East. But several of the Paris attackers also had criminal pasts. Two of them — Brahim Abdeslam, who blew himself up on Nov. 13, and his brother, Salah Abdeslam, who is still on the run — operated a cafe in Brussels that was shut down as recently as August due to drug-related activity.
A French official familiar with the Paris investigation also said forensic testing has uncovered traces of Captagon, a blend of amphetamine and theophylline, in the remains of several of the dead assailants despite the prohibition on intoxicants in Islam. "This connection with the criminal world was not something that you could see with [Osama] bin Laden," said Mohammad-Mahmoud Ould Mohamedou, deputy director of the Geneva Center for Security Policy. "You had a certain fundamentalism within the terror."
A low breeding ground
European jails have been breeding grounds of Islamist radicals for years, particularly in Belgium and France. But recently, criminality and extremism have become even more interwoven, with recruits' illegal behavior continuing even after they are shown "the light" of radical Islam.
Full report at:
http://nation.com.pk/international/22-Dec-2015/isis-creating-new-type-of-jihadist-part-terrorist-part-gangster
----------
France, Russia to boost info exchange on ISIL
22 December 2015
Russia and France have agreed to bolster efforts to share intelligence relating to the ISIL extremist group after the two countries vowed to cooperate militarily on the issue.
"We have agreed to strengthen our exchange of military information, both on the strikes and the location of the different groups (in Syria)," French Defence Minister Jean-Yves Le Drian said following talks with Russian counterpart Sergei Shoigu.
"Our intelligence services will strengthen their already existing ties, which require increased cooperation."
Le Drian said they had identified a method to assess the state of ISIL and other "terrorist groups" following air strikes conducted by both the Russian and French air forces.
"This is not being allied, this is coordinating," Le Drian said. "The goal of these information exchanges is to assess the scope of actions that can be considered."
The two sides also agreed to share intelligence on foreign fighters having joined the ranks of extremist groups in Iraq and Syria, a figure that has more than doubled since last year to at least 27,000, according to a recent report by an intelligence consultancy.
Russia's federal security service said last week that nearly 2,900 Russians are fighting or have fought with the ISIL group in Iraq and Syria.
The Russian defence ministry said in a statement Monday night that French army chief of staff General Pierre de Villiers would visit Moscow "in the near future" to maintain military contacts between the countries.
Western nations have complained that Russia is primarily bombing Syrian rebels, including moderates, opposed to the regime of President Bashar al-Assad, rather than targeting ISIL extremists.
Full report at:
http://www.worldbulletin.net/europe/167653/france-russia-to-boost-info-exchange-on-isil
----------
One million refugees arrived in Europe in 2015
22 December 2015
Over one million refugees have arrived in Europe by sea and land this year so far, the International Organization for Migration (IOM) said on Tuesday.
According to IOM, almost 3,700 refugees died crossing the Mediterranean and 1,005,504 refugees have arrived in Europe by sea and land so far this year.
Some 971,289 people reached Europe by sea via the Mediterranean and 34,215 people reached Europe by land after crossing from Turkey into Bulgaria and Greece by land.
About 816,000 people arrived in Greece by sea and 4,000 people arrived in Greece by land.
Some 219,000 refugees and migrants arrived in Europe via the Mediterranean last year.
"Persecution, conflict and poverty have forced an unprecedented one million people to flee to Europe in 2015," the UN Refugee Agency, UNHCR and IOM said in a joint statement.
"One-in-every-two of those crossing the Mediterranean this year – half a million people – were Syrians escaping the war in their country. Afghans accounted for 20 per cent and Iraqis for seven per cent," the IOM and UNHCR revealed.
Full report at:
http://www.worldbulletin.net/europe/167667/one-million-refugees-arrived-in-europe-in-2015
----------
Forged passports 'spark security fear in Germany'
23 December 2015
About a dozen migrants may have entered Germany on forged Syrian passports like those used by two Paris suicide bombers, according to a news report Tuesday which authorities did not confirm.
Bild newspaper, citing unnamed government sources, said the passports bore the "same forgery characteristics" as those carried by two men involved in the November 13 France attacks claimed by ISIS.
The passports were stolen blanks issued by the Syrian government, but filled in by forgers with the personal details of people who then joined tens of thousands on the refugee trail to Europe, according to Bild.
The report said German authorities did not know where the "about one dozen" arrivals were now, having entered the country before November 13, and that no fingerprints had been taken of them.
Germany's Office for Migration and Refugees now only had copies of the passports, which Bild said had been issued in 2013 in Raqqa, now ISIS's de facto Syrian capital.
The German interior ministry, contacted by AFP, declined to comment on the claims "for tactical reasons", but stressed that it was aware of the risk criminals and extremists could use forged Syrian passports.
German newspaper Welt am Sonntag, citing Western intelligence sources, reported on Sunday that ISIS may have stolen "tens of thousands" of blank passports in Syria, Iraq and Libya that it could use to smuggle its fighters into Europe.
The two unidentified Stade de France attackers in Paris appear to have used fake Syrian passports to enter Europe along the migrant trail.
Germany is Europe's top destination for refugees, most of whom travel through Turkey and the Balkans, and expects more than one million arrivals this year.
Europe's biggest economic power has to date maintained an open-door policy for Syrians escaping their country's bloodshed, giving them "primary protection" -- the highest status for refugees.
Full report at:
http://english.alarabiya.net/en/News/middle-east/2015/12/23/Forged-passports-spark-security-fear-in-Germany-.html
URL: https://www.newageislam.com/islamic-world-news/new-age-islam-news-bureau/no-santa-hat-xmas-greetings-sultan-brunei-bans-christmas/d/105706
New Age Islam, Islam Online, Islamic Website, African Muslim News, Arab World News, South Asia News, Indian Muslim News, World Muslim News, Womens in Islam, Islamic Feminism, Arab Women, Womens In Arab, Islamphobia in America, Muslim Women in West, Islam Women and Feminism, Islamic World News