New Age Islam News Bureau
5 May 2020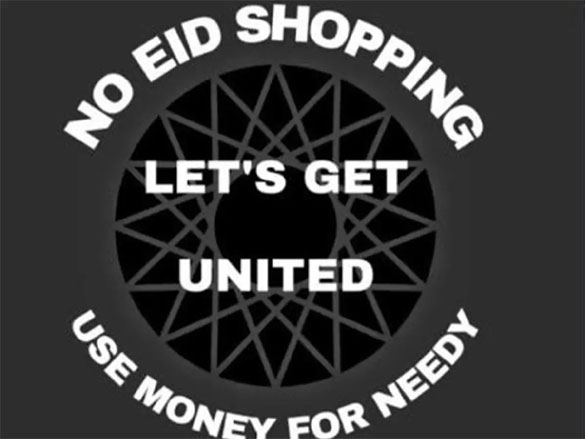 • No New Clothes on Eid, Give Money in Charity: Lucknow Muslims
• McDonald's Created a Live, Virtual Ramadan Hourglass to Show When It's OK to Break Fast
• A Community Iftar Gathers Muslims and Jews Virtually
• 76% Of Muslims In Denmark Want to Ban Criticism of Islam
• Kenyans Sneak into Somalia for Prayers as Mosques Opened
• Turkish Religious Leader Calls for Friday Islamic Prayer in Hagia Sophia
• Most Mosques Violating Coronavirus Precautions During Taraweeh: Report
• Coronavirus: UAE's Sheikha Fatima Launches Ramadan Optimism Campaign Amid Outbreak
• More Electricity Transmission Towers Damaged Due to Clashes In North Of Afghanistan
• Covid-19: PM Shares Malaysia's Six-Pronged Strategy at NAM Online Summit
----------
India
• No New Clothes on Eid, Give Money in Charity: Lucknow Muslims
• To Ensure Compliance with The Codex Standards, Small Cardamom Exports from India to Saudi Arabia Are Likely to Increase This Ramadan Season
------
North America
• McDonald's Created a Live, Virtual Ramadan Hourglass to Show When It's OK to Break Fast
• A Community Iftar Gathers Muslims and Jews Virtually
• The Washington Post Wants You to Fast for Ramadan
• 'Om Talal' Gives Saudi Students in US A Taste Of Home During Coronavirus Ramadan
• Broadcast of Muslim call to prayer offers lesson on gratitude
• The 6 wildest conspiracy theories about Osama bin Laden's death
• U.S. reacts to Iranian forces move for allegedly throwing 57 Afghans into river
-----
Europe
• 76% Of Muslims In Denmark Want to Ban Criticism of Islam
• Quilliam calls for Islamic hudood laws to be abolished
• Coronavirus video diaries - How Ramadan in lockdown has been a 'huge blessing'
• WHO Says Has No Proof From U.S On 'Speculative' Wuhan Lab Claims
• Bucks Muslims urged not to make Hajj bookings
------
Africa
• Kenyans Sneak into Somalia for Prayers as Mosques Opened
• Zimbabwe Dismisses Reports of Troops Deployment in Mozambique to Quell Islamic State Insurgency
• Mozambique: Is Cabo Delgado the latest Islamic State outpost?
• Dozens of Boko Haram, ISWAP fighters killed in Nigeria
• Herdsmen/Boko Haram more lethal than coronavirus — Anambra CAN
--------
Mideast
• Turkish Religious Leader Calls for Friday Islamic Prayer in Hagia Sophia
• Iran Mosques Reopen as Coronavirus Recoveries Approach 80,000
• Iran Regime's Treating Prisoners Alone Debunks Mullahs' Effort to Depict U.S. Sanctions for Coronavirus Epidemic
• Palestine to cancel all Israel, US deals if annexation plot goes ahead: Abbas
• Israel demolishes Palestinian agricultural structures in Jordan Valley
• Israel's Likud submits bill to Knesset to annex more Palestinian land
------
Pakistan
• Most Mosques Violating Coronavirus Precautions During Taraweeh: Report
• Creative and bold policy measures are critical for the post-Covid economy, but will Imran Khan walk the talk?
• Mosque Sirens Compete with Modern Gadgets for Worshippers
• Sindh police at risk of attacks during Ramzan
• SC dismayed at closure of businesses by provincial govts
• Sindh govt links decision on lockdown to health experts' advice
• IHC lambastes criminal justice system
• Officials empowered to conduct raids for stopping smuggling of currency, food
-----
Arab world
• Coronavirus: UAE's Sheikha Fatima Launches Ramadan Optimism Campaign Amid Outbreak
• Islamic finance gaining stronger foothold in China
• How Saudi parents help their children fast during Ramadan
• 6 Smart Apps That Will Help You Avoid Wasting Food During Ramadan
• Four Seasons Bahrain Bay brings its Ramadan menu to your home
• Syria: Islamic State uprising quelled in prison
------
South Asia
• More Electricity Transmission Towers Damaged Due to Clashes In North Of Afghanistan
• 16 killed as airstrike targets gathering convened by Red Unit commander of Taliban
• An insight into Adib Fahim's decision to distance himself from Abdullah
• Taliban's reaction to release of 300 prisoners of the group by Afghan government
-----
Southeast Asia
• Covid-19: PM Shares Malaysia's Six-Pronged Strategy at NAM Online Summit
• Malaysia criticises WHO comment against palm oil
• Mosques reopen for Friday prayers on May 29
• Mosques to follow physical distancing
• Bangkok Reopens with Stylists In Scrubs, Plastic Screens Between Diners
• COVID-19: Zoo association says 22,000 workers could lose incomes
• Foreign workers must be tested
Compiled by New Age Islam News Bureau
URL; https://www.newageislam.com/islamic-world-news/no-new-clothes-eid-give/d/121763
------
No New Clothes on Eid, Give Money in Charity: Lucknow Muslims
May 4, 2020
LUCKNOW: As a clarion call doing rounds on social media and iftar table discussions at home, several Muslims in Lucknow have decided to not spend lavishly on Eid and instead of buying new clothes, give that money as alms to those in need.
Deciding to wear their old 'best clothes' city Muslims that TOI spoke to, said that Eid which is a festival of community bonding following Ramzan--the month of good deeds and heavenly rewards, will only be that way in this health crisis, if people are helped.
On the same lines, Imam of the Aishbagh Eidgah Maulana Khalid Rasheed Farangi Mahali also appealed to fellow Muslims on Sunday asking them to spend 50% of their Eid budget towards the poor and lockdown struck.
"Eid should be simple this year and at least half of the budget we spend on Eid festivities every year, we should donate to the poor," appealed the cleric.
"Eid is a joyous occasion but if our brothers and sisters are in grief because of the pandemic, how can we celebrate it as every year? Instead of buying new clothes, my family and my friends have decided to collect that money and give it to those who are going through bad days in lockdown," said Abdul Hannan, a young student.
Abdul who belongs to a family involved in Chikankari business also said, "Though Eid is the peak time for sale of Chikan wear and the industry is suffering great loss but we have to be considerate towards those who have lost more than us in this pandemic and lockdown."
With appeals of 'No New Clothes But Best Clothes' being shared on family and community social media groups, it is being widely publicised that the money on Eid festivities should be spend on paying a child's school fee, somebody's rent, helping someone restore their business and feed a family.
"Muslims have been encouraged maximum possible charity during Ramzan apart from all year. Over and above that, this year instead of paying money as the Fitra (a fixed amount of staple food per family member or equivalent money given as charity before Eid) we will make siwaiyan and distribute to those who cannot afford to celebrate Eid," said housewife Suboohi Alvi.
Research scholar Sarah Sultan Khan believes the lockdown has come as an opportunity for people to be empathetic. "Most times we fast and start indulging in feasting. We start planning our Eid outfits. But this year has brought in a lot of realisation and empathy in people. I will have my neighbourhood tailor and the mehndi wali in mind, so I will not buy new clothes even if e-commerce sites reopen, but use that amount to reach those who really need the help," she said.
https://timesofindia.indiatimes.com/city/lucknow/no-new-clothes-on-eid-give-money-in-charity-lucknow-muslims/articleshowprint/75540108.cms
-----
McDonald's Created a Live, Virtual Ramadan Hourglass to Show When It's OK to Break Fast
By Sara Spary
9 hours ago
McDonald's in Saudi Arabia has found a clever workaround to promote the brand throughout the Islamic holy month of Ramadan, during which Muslims fast between dawn and sunset, breaking their fast after sunset at the Iftar evening meal.
The advertising of food during this time is not allowed, so Leo Burnett Saudi Arabia has created the Iftar Sand Clock, a virtual, live hourglass, which instead counts down the time until Iftar each day–when McDonald's items are next available to be sold again.
The campaign will run throughout the month of Ramadan, which this year ends May 24, and features virtual sand clocks created in the shape of a Big Mac, a McFlurry, and a portion of McDonald's fries.
https://www.adweek.com/digital/mcdonalds-created-a-live-virtual-ramadan-hourglass-to-show-when-its-ok-to-break-fast/
-----
A Community Iftar Gathers Muslims and Jews Virtually
Esther D. Kustanowitz
May 4, 2020
It was during the traditional Muslim call to prayer when Rabbi Tova Leibovic-Douglas found herself becoming emotional.
"I kept thinking about my Muslim friends who were not in one space with their family or friends for Ramadan and how beautiful and painful our world is," she said.
The rabbi was one of over 1400 participants in a massive, virtual Muslim-Jewish iftar, the evening meal that marks the end of one of the days of Ramadan.
The event's sponsor, Los Angeles-based New Ground: A Muslim-Jewish Partnership for Change, had set their 10th annual interfaith Los Angeles Community Iftar for Thursday, April 30. The annual event is an opportunity for Jewish and Muslim Angelenos to meet, pray, and talk about their respective sacred texts. It also marks the completion of MAJIC (Muslims and Jews Inspiring Change), New Ground's Muslim and Jewish program for high school students.
Michael Skloff, who wrote the melody for "I'll Be There For You" (The "Friends" Theme), performed a slowed-down version of that song on the piano.
Then came California's April 10 "Safer at Home" order. The iftar's organizers considered cancellation for "about 30 seconds," said New Ground's Associate Director Andrea Hodos, before applying themselves to the challenge of convening virtually.
"It actually felt more urgent to find the right way to get us all together in a space of connection and meaning," Hodos said. "This is who we are, and we couldn't abandon that sense of purpose in this moment."
New Ground, founded in 2006, provides leadership trainings, public programs and private lectures and discussions, with the goal of strengthening Jewish-Muslim relations in Los Angeles, where the organization has partnered with more than 35 Muslim and Jewish organizations.
"Our main objective was to create a nurturing space that would nourish ourselves and one another," Executive Director Aziza Hasan said.
The event was hosted on Facebook Live. In addition to the 1400 people who tuned in, as of Sunday, the recording of the event had 2,600 views. Hasan said that people watched from across the country.
The event was timed so that Muslim participants could break their fasts, and Muslim and Jewish participants could complete maghrib or maariv prayers, before joining. While waiting for the event to start, the Ismaili Choir performed songs in Hebrew and Arabic as it did live at last year's iftar.
Los Angeles Mayor Eric Garcetti reminded the virtually gathered that "faith will give us strength" and "love will carry us through." Rabbi Michelle Missaghieh from Temple Israel of Hollywood shared a Talmudic text about the difference between heaven and hell being how people approached each other. In heaven, she said, "they worked together so each person could get what they needed."
Activist and New Ground board member Edina Lekovic presented Quranic texts defining the righteous as, "those who feed the poor, the orphan and the captive for the love of God, seeking neither reward nor thanks. Faith and action is critical and what God is looking for."
Hodos said her favorite part of each year's Iftar is introducing arrivals to each other and having them start conversations before the event starts and at intentionally created diverse tables during the dinner program. This year, wary of "Zoom-bombing," the recent trend of unwanted guests infiltrating Zoom meetings, the team opted for Facebook Live and an approach of what Hodos called "radical welcoming and engagement" in the comments section.
"There's an advantage of being able to watch from the comfort of your own home," said New Ground alumna Marium Mohiuddin. "NewGround took a rough situation and not only did the best they could, they truly created a heartwarming experience."
"Getting a wink or a shout-out gave me the same feeling of spotting someone across the crowded room and making my way over for a hello," said Rabbi Sarah Bassin, a New Ground board member. "Sometimes these relationships in the community don't need much more than a simple expression of care. And that came across in spades over the chat."
"No, it's not the same as being in person," Maia Ferdman, who works for New Ground part-time, texted her colleagues. "But, at least for me, the weight and warmth of that community presence is now sitting here in the room, tangible and as socially 'near' as it gets."
For Hassan, the success of the event is a reminder "that we can hold one another in other ways as we grapple with fear and self-doubt."
"Intentional relationships rooted in love create a sacred space that allows us all to rise to a better version of ourselves," Hodos added. "The way through this is in reaching out past our usual boundaries to connect our communities."
https://forward.com/news/national/445532/a-community-iftar-gathers-muslims-and-jews-virtually/?utm_source=rss&utm_medium=feed&utm_campaign=Main
------
76% of Muslims in Denmark want to ban criticism of Islam
May 04, 2020
Almost eight out of ten Muslims living in Denmark want to make criticism of Islam illegal, according to a report from Denmark's Ministry of Justice released called "Freedom of Speech in Denmark".
According to Samhällsnytt, the study focused mainly on the opinions of Danes on the freedom of speech, the report also showed that 76 percent of migrants who came to Denmark from Muslim countries want to ban criticism of the religion. At the same time, only 59 percent of people in the same group would welcome a law that would prohibit the introduction of sharia law in the country.
However, putting the results of the study into a broader perspective, only 18 percent of Denmark's population, including migrants from Muslim countries, would support banning criticism of Islam.
As Voice of Europe reported, Dutch researcher Ruud Koopmans, who has been analyzing Muslim migrants living in Europe for more than 20 years, came to similar conclusions. His report from last year showed that two-thirds of Muslim migrants in Europe consider sharia law to be more important than the laws of the European country they reside in.
Other studies in the past have shown other worrying results from Denmark, with four out of 10 Muslims in the country saying that Danish laws should be at least party based on sharia law, and over 10 percent even said Denmark's laws should be solely based on sharia law.
Other countries like France have shown similar results. There, a survey showed that nearly half of Muslims support sharia law in the country.
Danes are increasingly migrating to anti-immigration parties over concerns about Denmark's changing culture. The government also instituted a ban on burqas in 2018 and a petition to ban circumcision in the country received the 50,000 signatures required for a vote in parliament.
https://rmx.news/article/article/76-of-muslims-in-denmark-want-to-ban-crititicism-of-islam
------
Kenyans Sneak Into Somalia for Prayers as Mosques Opened
4 MAY 2020
From Saudi Arabia, United Kingdom, Palestine and many other parts of the world including Kenya, mosques are unusually quiet as calls to evening prayers reverberate across the streets, urging worshippers to pray at their homes.
But as places of worship remain closed due to the coronavirus pandemic, the situation is different in Somalia as mosques remain open during this holy month of Ramadhan.
The country, which has 671 confirmed Covid-19 cases and 31 deaths, is yet to close its mosques, where large gatherings are witnessed during prayers.
Wajir has reported two Covid-19 cases, which were imported from Somalia. The two traders, who hail from Garissa, had travelled for a livestock trading trip before they were intercepted by security agencies in Diff, at the Kenya-Somalia border, on their way back to Kenya.
Kenya shares a long porous border with Somalia, making it difficult for security teams and disease surveillance teams to track all new entrants into the region.
Mandera County Commissioner Onesmus Kyatha said those found sneaking out to Somalia for the prayer would be placed under forced quarantine at their own cost and later prosecuted.
"We have information that several residents of Mandera have been crossing into Somalia to perform prayers in mosques there. We have activated our security operation, and anybody found will be arrested and prosecuted after completing a 14-day quarantine," said Mr Kyatha.
The recent surge in coronavirus cases in the neighbouring Somalia and the high number of community transmissions has put Wajir, Mandera and Garissa counties at high risk of importing the virus.
This has put State agencies on alert. In Wajir, Governor Mohamed Abdi dispatched a team of health personnel to Diff, Dadajabula and other towns to screen residents and fumigate public places.
The governor also suspended outpatient services at Wajir Referral Hospital until further notice; the facility now serves as the main isolation centre.
On Sunday, Garissa County government announced the immediate closure of Dagahley livestock market in Dadaab following confirmed reports of the virus in Wajir.
"The closure is informed by the risk level of the market since traders are known to move across the border to Somalia to get stock," Health Executive Ahmednadir Omar Sheikh said.
They include a total lockdown to prevent entry and exit of people and vehicles from the county, hiring hotels for frontline health workers treating Covid-19 cases and temporary suspension of miraa trade, which has since been lifted.
https://allafrica.com/stories/202005050038.html
------
Turkish Religious Leader Calls for Friday Islamic Prayer in Hagia Sophia
By Mihaela Lica
May 4, 2020
Hasan Türüt, the leader of the Islamic organization Diyanet Bir-Sen (Religious and Foundation Employees' Union), asked Turkish President Recep Tayyip Erdoğan to allow prayer inside Hagia Sophia the first Friday after regulators lift the ban caused by the COVID-19 pandemic.
Turkey currently has partial restrictions, with people under 20 and over 65 staying at home, small businesses and parks closed, and reduced operating hours for banks. But construction sites and factories are working at full capacity, and citizens can move freely provided they respect social distancing rules.
Occasional 48-hour curfews over the weekend have happened twice in April, and they were met with discontent by the population.
To date, Turkey is among the top ten countries in the world when it comes to coronavirus cases, with 126,045 reported infections and some 3,397 fatalities. When regulators ease the restrictions in place, Hasan Türüt hopes to hold the first Friday prayer inside Hagia Sophia, which is a museum. Still, President Erdoğan still has plans to convert it back to a mosque.
"A short time ago, they converted the Hagia Sophia from a mosque to a museum. Inshallah, after the election, we will convert it from a museum back into a mosque," the President vowed in May of 2019.
"Hagia Sophia is the means to bring about the resurrection of the world. We must all show together – with the first prayer in Hagia Sophia – that Turkey is not the old Turkey," said Hasan Türüt in justifying his call for prayer inside the iconic building.
According to Türüt, prayer inside Hagia Sophia would appease the evil caused by the use of a mosque for "other purposes than it was originally intended."
https://eu.greekreporter.com/2020/05/04/turkish-religious-leader-calls-for-friday-islamic-prayer-in-hagia-sophia/
-----
Most mosques violating coronavirus precautions during Taraweeh: report
May 05, 2020
RAWALPINDI: Following implementation of 20-point guidelines regarding safety measures against the spread of Covid-19, a report on 250 sensitive mosques and imambargahs in the Rawalpindi division has found flaws in majority of the worship places, including security deficiencies.
The government had allowed congregational prayers in mosques during Ramazan under the guidelines which had to be followed in the mosques as a part of precautionary measures against the coronavirus. But an audit team found many rules, including security measures, being violated during Taraweeh at many places.
On the other hand, the Rawalpindi district police served 460 notices on the administrations of the mosques for violating the 20-point guidelines.
A spokesman for Regional Police Officer (RPO) Sohail Habib Tajik told Dawn that rules of social distancing and use of sanitisers and wearing face masks were being observed but sometimes complaints regarding violating the guidelines were received from rural areas.
In Rawalpindi division, 250 mosques/imambargahs had been declared sensitive and categorised as A, B and C due to their vulnerability to the spread of the coronavirus. Of these, 61 are located in Rawalpindi district, 18 in Attock, 42 in Jhelum and 129 in Chakwal.
The most serious violation of rules was observed in 52 mosques where people over 50 years of age and children were present during Taraweeh prayers. Of the 52 mosques, 26 were located in Rawalpindi where the SOP regarding presence of people over 50 years of age and children were ignored.
Taraweeh were offered in 17 mosques, including 14 in Rawalpindi district, which did not have a veranda/lawn or adequate space between the main entrance gate/door and the prayer hall. In 14 mosques/imambargahs, including four located in Rawalpindi district, the lighting arrangements were found unsatisfactory.
In 79 mosques/imambargahs, including 54 in Rawalpindi district, private security guards were neither deployed nor performing duties in a satisfactory manner.
In addition, in 34 mosques, 20 located in the Rawalpindi district, police guards were either not present or found not alert at the time of checking. Body search was not carried out in 52 mosques/imambargahs, including 28 in the Rawalpindi district.
Checking through metal detectors was not carried out in 43 mosques/imambargahs and 28 of these were located in the Rawalpindi district.
https://www.dawn.com/news/1554586/most-mosques-violating-coronavirus-precautions-during-taraweeh-report
------
Coronavirus: UAE's Sheikha Fatima launches Ramadan optimism campaign amid outbreak
05 May 2020
Sheikha Fatima bint Mubarak, Supreme Chairwoman of the Family Development Foundation (FDF), on Monday launched an online Ramadan campaign to promote optimism in times of adversity as the country battles with the coronavirus outbreak.
The campaign, themed "Rejoice! What is coming is better than what is gone!" aims to promote social cohesion, as well as motivate individuals to provide psychological and social support to others, Emirates News Agency (WAM) reported.
In collaboration with the FDF, the Department of Community Development, and several other community development organizations, Sheikha Fatima – the wife of the late Sheikh Zayed and the mother of Abu Dhabi's Crown Prince Sheikh Mohammed bin Zayed – called on families and the youth in the UAE to help cultivate an environment where cohesion and creativity can thrive.
"It is significantly important under the current critical times to get closer to children and disseminate hope and positive feelings. Children tend to require more and more reassurance than others," she was quoted by WAM as saying.
"Parents should simplify the precautionary measures taken to curb the spread of COVID-19 and explain them in a simple manner to their kids to ensure they are always feeling assured and positive about the future," she added.
Sheikha Fatima praised the UAE's youth who, despite dealing with unprecedented challenges since the outbreak began, have been determined to keep learning, according to WAM.
Students across the country have been studying from home using the distance learning system since March and will continue to do so until the end of the current 2019-2020 academic year.
"The UAE has been among the forerunners who opted for the remote education system, choosing not to shut down schools. In so doing, we have been inspired by the UAE leadership's determination to provide our students with a learning-conducive environment," she said.
https://english.alarabiya.net/en/coronavirus/2020/05/05/Coronavirus-UAE-s-Sheikha-Fatima-launches-Ramadan-optimism-campaign-amid-outbreak.html
-----
More electricity transmission towers damaged due to clashes in North of Afghanistan
05 May 2020
The ongoing clashes damaged two more electricity transmission towers in northern parts of Afghanistan, days after the militants destroyed two transmission towers in capital Kabul.
Da Afghanistan Breshna Sherkat, the state-run utility firm, in a statement said the 262 transmission tower was damaged due to clashes 72km away from Pul-e Khumri city, the provincial capital of Kabul.
The statement further added that another transmission tower, Tower#265, was destroyed in clashes 25.5 away from Pul-e Khumri city, cutting the supply of electricity supply from Tajikistan.
However, Da Afghanistan Breshna Sherkat said the technical workers of the firm brought changes in the system and connected the electricity supply network with supply source being imported from Uzbekistan.
According to Da Afghanistan Breshna Sherkat, the two transmission towers were destroyed due to the clashes at around 6 and 7 pm local times on Monday.
Meanwhile, the firm expressed concerns regarding the ongoing attempts to cut the supply of power from the neighbouring countries, urging the relevant authorities to take steps against the spoilers.
https://www.khaama.com/more-electricity-transmission-towers-damaged-due-to-clashes-in-north-of-afghanistan-07785/
------
Covid-19: PM shares Malaysia's six-pronged strategy at NAM online summit
05 May 2020
PETALING JAYA: The government has put in place a six-step plan to address the impact of Covid-19 and ensure that the country emerges stronger from the ravages of the virus, says Tan Sri Muhyiddin Yassin.
The Prime Minister said the first step was to break the chain of infections by imposing the movement control order (MCO), then secondly by focusing on ensuring the resilience of the country's economy.
Muhyiddin then said that the wide-scale restart of the national economy in a controlled and orderly manner which began on May 4 was the third step in this plan.
He added that while most economic sectors were reopened, those involving close human contact and mass gatherings were still prohibited.
"This is the balancing act Malaysia is trying to achieve – between kickstarting our economy, and the importance of adhering to new standard operating procedures (SOPs) to prevent another wave of infections amongst the population.
"However, the reopening of our economic sectors must not be mistaken for a complete lifting of our MCO. It is important to note that the order is very much still in place until May 12," he said in his speech of the Online Summit Level Meeting of Non-Aligned Movement (NAM) Contact Group in Response to Covid-19 on Monday (May 4).
Muhyiddin said this would be followed by the implementation of an economic recovery strategy in facing a "new normal", then by an all-inclusive economic revitalisation and finally by a structural economic reform in facing a new global landscape post Covid-19.
"The success of these six 'Rs' I have mentioned today – resolve, resilience, restart, recovery, revitalise, and reform – will greatly depend on the strength of our people in facing this 'new normal'. Things will never be the same again, and we must try our level best to return our nations to some semblance of normalcy.
"Life must go on, but this can only be achieved if we come together globally to get the medication to treat and the vaccine to prevent this deadly novel coronavirus," he said.
"Malaysia's concern is that if we are not united, smaller nations will be sidelined when the medication and vaccine is developed by pharmaceutical giants in advanced nations.
"We must strongly condemn the declaration and application of unilateral coercive measures against NAM member states, especially while the world is facing this unprecedented pandemic.
"Malaysia believes that NAM must play a more significant role to champion access and acquisition for smaller nations in obtaining medical supplies, medications and vaccine once they are developed," he said.
Muhyiddin also welcomed the establishment of the NAM task force, which would create a common database for basic medical needs, as well as identify social and humanitarian requirements of NAM member states.
"As a movement, we represent 120 nations; 17 states and 10 global organisations as observers. Collectively, we make up nearly two-thirds of the United Nations members and are leading 55%, more than half, of the world population.
"If Covid-19 has proven anything to us as non-aligned nations, it is that this pandemic has levelled the playing field in the world. Some smaller nations are just as strong, if not better, than bigger nations in handling this novel coronavirus.
"This is the time for us as non-aligned nations to come together and prove that by staying united, cohesive and steadfast – we can prove to the world that we can overcome this pandemic and emerge as a major force in the new global order post-Covid-19," he said.
https://www.thestar.com.my/news/nation/2020/05/05/covid-19-pm-shares-malaysia039s-six-pronged-strategy-at-nam-online-summit
------
India
To Ensure Compliance with The Codex Standards, Small Cardamom Exports from India to Saudi Arabia Are Likely to Increase This Ramadan Season
May 5, 2020
Small cardamom exports to Saudi Arabia are likely to increase during the current Ramadan season with the Saudi authorities agreeing to accept the globally accepted Codex Food Standards of the United Nations, the Spices Board has said.
In the past, Indian small cardamom had a steady share of over 50% in export volume and value in the Saudi market. However, with the Saudi authorities introducing multiple checks on small cardamom consignments, there were procedural hurdles and detention of Indian export consignments.
Cotton Corporation purchases record 7.5L bales from Gujarat growers Cotton Corporation purchases record 7.5L bales from Gujarat growers Maharashtra govt withdraws decision to allow sale of BT Cotton seeds from May 1Maharashtra govt withdraws decision to allow sale of BT Cotton seeds from May 1
Diplomatic engagements by the commerce & industry ministry with the Saudi Food & Drug Administration (SFDA), spearheaded by the Spices Board and coordinated by the Indian embassy in Riyadh, have resulted in harmonisation of the standards and checks on Indian small cardamom by the Saudi authorities, in line with the globally accepted Codex Food Standards.
To ensure compliance with the Codex standards, the Spices Board has included small cardamom exports to Saudi Arabia under the mandatory sampling and testing programme. Starting May 5, export consignments of small cardamom will be tested in Spices Board's quality evaluation laboratories and only the cleared consignments will be permitted for exports to Saudi Arabia. The testing protocol, based on six pesticides against over 120 compounds initially prescribed by Saudi Arabia, will help improve the turnaround time for exports and overcome the procedural hurdles.
"Hassle-free exports to Saudi Arabia during the peak Ramadan season are expected to revitalise the Indian small cardamom sector, wherein activities at production, after harvest improvement, marketing etc, are currently affected by the Covid-19 restrictions. A surge in export demand will also help facilitate better price realisation by the cardamom-growers as well," Spices Board secretary D Sathiyan said.
https://www.financialexpress.com/market/commodities/why-small-cardamom-exports-to-saudi-arabia-likely-to-rise-this-ramadan-season/1948079/
-----
North America
The Washington Post Wants You to Fast for Ramadan
MAY 04, 2020
The far-Left anti-Trump propaganda organ masquerading as a news source and operating under the name the Washington Post on Thursday published an inspiring op-ed entitled "As American Muslims fast this Ramadan, maybe the rest of America should consider joining in." The Post's articles exhorting people to keep the Lenten fast or the Yom Kippur fast have not yet been published, but I'm sure that they will be when the appropriate times for them roll around again. Won't they?
In the meantime, I'll consider fasting for Ramadan, but I have a fairly good idea of what my conclusion will be. The article's author, the imam Omar Suleiman, "founder and president of the Yaqeen Institute for Islamic Research and an Islamic studies professor at Southern Methodist University," writes: "The end result of Ramadan for Muslims, according to the Koran, is for 'you to complete the period and glorify God for that which He has guided you, and that you may be amongst the grateful.'"
That sounds terrific, but what exactly does the Qur'an mean by glorifying God? According to the Islamic holy book, one way that Muslims can glorify God is by fighting and killing infidels (cf. 2:191. 4:89, 9:5, 9:29, 47:4, etc.). In fact, according to the prophet of Islam, there is no better way to glorify the supreme being. A hadith has a Muslim asking Muhammad: "Instruct me as to such a deed as equals Jihad (in reward)." Muhammad replied, "I do not find such a deed." (Bukhari 4.52.44) A jihad group explained: "The month of Ramadan is a month of holy war and death for Allah. It is a month for fighting the enemies of Allah and God's messenger, the Jews and their American facilitators."
Somehow that doesn't sound as appealing as Omar Suleiman made it out to be. But the good imam can't be faulted for walking through a door that the Washington Post opened. His article was published in response to a Post call: "The Opinions section is looking for stories of how the coronavirus has affected people of all walks of life. Write to us." Suleiman saw an opportunity for dawah, Islamic proselytizing, and seized it.
Still, if someone had sent in those stories about how Americans should join in the Lenten fast, or the Yom Kippur fast, would the Post have published them? Almost certainly not. Suleiman's article, however, is just one example of a general tendency: it is imperative in today's society to be solicitous to Muslims and warmly positive toward even the aspects of Islam that are oppressive. World Hijab Day, on which non-Muslim women don hijabs in solidarity with Muslim women, is now an annual event, despite the fact that the hijab is prescribed because it is assumed that women bear the responsibility to retrain the sexual impulses of men, and are often harshly punished when they fail to do so. What's more, the truly oppressed people in this case are the Muslim women who choose not to wear hijab, many of whom have been brutalized and even killed.
In a similar vein, cities in the United States, Canada, Germany and Australia have begun to allow the broadcast of the Islamic call to prayer over loudspeakers, despite the fact that it contains clear declarations of the supremacy of Islam and features the cry of "Allahu akbar" (Allah is greater) so favored by jihad terrorists worldwide. In Mississauga, Ontario, Mayor Bonnie Crombie explained that the city council's "decision today to support the symbolic broadcasting of the call to prayer during Ramadan this year will provide inspiration, familiarity and comfort to our city's Muslim community during this challenging time." Likewise in Minneapolis, Mayor Jacob Frey said: "At a time when physical distancing requires we pray apart, it's incumbent on leaders to create a sense of togetherness where we can. Adhan [the call to prayer] provides solidarity and comfort, both of which are essential during a time of crisis."
That's just wonderful, but why is only the Muslim community the recipient of these efforts to provide comfort? What have officials in Mississauga or Minneapolis or anywhere else done to comfort any other community? Why do they think it incumbent upon them to take special steps to comfort Muslims during the coronavirus pandemic? Isn't everyone unsettled and anxious?
The Washington Post's call to non-Muslims to fast for Ramadan, World Hijab Day, and the broadcasting of the call to prayer in cities of Western nations all stem from the same impulse: the intelligentsia has adopted the idea that Muslims are a special class that warrants particular consideration above and beyond that given to other citizens. Perhaps they think that in doing this, they will blunt the impetus of the jihad imperative – after all, how can anyone think it right to fight to conquer and subjugate people who have been so nice to them? The intelligentsia is, of course, in for a rude surprise.
https://pjmedia.com/culture/robert-spencer/2020/05/04/the-washington-post-wants-you-to-fast-for-ramadan-n387981
-----
'Om Talal' gives Saudi students in US a taste of home during coronavirus Ramadan
05 May 2020
LOS ANGELES: For the past four years, Mona Al-Assiri has been cooking Arabic food for Saudi students in California.
Al-Assiri, who is known affectionately by her staff and customers as Om Talal, told Arab News how they are adjusting to supplying meals during the COVID-19 lockdown.
"We cook for iftar and sahoor as well," Al-Assiri said. "The latter dishes differ from the first like mash and grouts, sambousek and soup because the food for iftar is different from that of sahoor, which is mostly rice and chicken or rice and meat."
Al-Assiri, 50, moved from Saudi Arabia to the US in 2013. Her kitchen is in Anaheim, part of Greater Los Angeles, and she sells the food to Saudi students studying at a number of different schools and colleges in the region.
As the business has grown, Al-Assiri has had her cooking praised by government officials, celebrities and even princes. But while her spirit is still strong, her business is facing a slowdown in orders.
Based in California, Saudi cook Mona Al-Assiri and her team supply iftar and sahoor meals for Saudi students studying in the area. (Screengrab)
"Because of coronavirus this year we are delivering fewer meals - between 35 and 40," Al-Assiri said. "During Ramadan in years before 2020, we didn't have enough time to meet all the requests."
"Of course we need to be cautious fearing for our safety and the safety of the students when we send them our food," she said. "When we go to the market we always wear gloves and masks and have sanitizers, and stay about a meter and a half away from others."
"My message to those fasting is that this is a month of worship and fasting and getting closer to God," said Al-Assiri. "We need to be away from envy and hate without forgetting family kinship. During coronavirus we cannot visit each other, but we can ask about each other through the phone."
https://www.arabnews.com/node/1669576/saudi-arabia
-----
Broadcast of Muslim call to prayer offers lesson on gratitude
By Amira Elghawa
May 4, 2020
Ramadan is primarily thought of as a time when Muslims simply refrain from food and drink during daylight hours. But those who are observing are also encouraged to amp up their compassion, forgiveness and gratitude.
For those of us engaged in anti-racism work, it's difficult to forgive those who promote fear, xenophobia and discrimination of any kind. After all, their attempts at spreading division in our communities is harmful, especially when targeting vulnerable people. The hate can also have devastating consequences, as we all know too well.
Then again, we might feel some compassion if we pause to reflect. What is it like to hate people for no other reason than perceived differences? Perhaps a hater has gone through some kind of traumatic experience like the one former right wing extremist Daniel Gallant describes in a video for the Extreme Dialogue project. He grew up in a transient family and watched his stepfather beat and rape his mother. "When I grew up, I was told to get people's respect, they had to fear you," he recalls.
Or maybe it's about loneliness and insecurity; research has shown that some people gravitate toward each other when they share the same dislike for specific groups. "According to social identity theory, people derive self-esteem through their associations with valued in-groups, in part by viewing members of their in-groups as superior to out-group members," note academics from the University of Oklahoma and the University of Texas at Austin in a 2006 paper published in the journal Personal Relationships.
What's easier to feel though is gratitude — not toward those who are hateful but towards those who refuse to let such attitudes dominate our civic experiences.
This month, several municipalities passed motions permitting the broadcast of the call to prayer over mosque loudspeakers for the duration of Ramadan.
https://www.thestar.com/opinion/contributors/2020/05/04/broadcast-of-muslim-call-to-prayer-offers-lesson-on-gratitude.html
-----
The 6 wildest conspiracy theories about Osama bin Laden's death
15 hours ago
In a daring, well-documented nighttime raid, 23 Navy SEALs landed in an al-Qaida compound in Abbottabad, Pakistan. They were there to kill or capture the world's most wanted man. The entire operation lasted only 40 minutes and ended with the death of Osama bin Laden.
Or did it? That's what the deep state, reptile aliens or any number of conspiracy theory boogeymen would want you to believe, sheeple. The truth is out there.
Imagine instead believing that the bin Laden raid wasn't a result of years of research, intelligence work and training. Since there were no photos released to the public, some believe the government isn't telling the whole truth about the "alleged" death of bin Laden in 2011.
The US government's reluctance to release the photos of his body and the immediate burial at sea didn't help quash these theories, either.
You don't have to go far on the Internet to find alternate theories about bin Laden's death. And if this author is mysteriously killed in the coming weeks, you can be sure one of these is true. Definitely.
https://www.businessinsider.com/wildest-conspiracy-theories-about-osama-bin-ladens-death-2020-5?IR=T
-----
U.S. reacts to Iranian forces move for allegedly throwing 57 Afghans into river
05 May 2020
The United States condemned the alleged drowning of the Afghan migrants by the border guards of Iran, calling it a 'horrifying' move.
"Iran's cruel treatment and abuse of Afghan migrants alleged in these reports is horrifying. We support calls for a thorough investigation. Those found guilty of such abuse must be held accountable," Alice Wells, the Principal Deputy Assistant Secretary Bureau of South and Central Asian Affairs, said in a Twitter post.
This comes as some of the Afghan migrants accused the Iranian forces, border guards, of throwing 57 people into a river which resulted in the killing of at least 23 of them.
Certain of the survivors of the incident have claimed that the Iranian border guards initially arrested the migrants from a bordering region and later threw them in to Harirod River.
According to reports, the incident took place earlier last week as the migrants were on their way to Iran, apparently for work opportunities.
https://www.khaama.com/u-s-reacts-to-iranian-forces-move-for-allegedly-throwing-57-afghans-into-river-07784/
-----
Europe
Quilliam calls for Islamic hudood laws to be abolished
17 hours ago
In a new report, the controversial "counter-extremism" organisation says the reforms would help defeat "ISIS, Al-Qaeda, Taliban, Jamaat-e-Islami, Muslim Brotherhood and Khomeinist ideology."
In its report, Quilliam says hudood punishments are not required by Islamic law. This goes directly against the mainstream Islamic position that the laws (which include the cutting of the hand and the death penalty) are timeless as long as they are implemented correctly and in the right context.
Mainstream Islamic scholars say that the harsh punishments are rarely implemented in a proper Islamic system, but do exist as the ultimate deterrent for the worst crimes.
Usama Hasan, co-author of the Quilliam report said: "Islamists seek to challenge democratic and secular states by arguing that these are not legitimate because they do not carry out floggings, amputations and other cruel punishments.
"Violent Islamist groups resort to the application of hudood precisely in order to prove the legitimacy of their rule. It is for this reason that unspeakably barbaric punishments were such a prominent feature of the rule of ISIS in Syria.
"However, the key theological sources which underpin the Sharia make it clear that the approach favoured by Islamists ignores certain of the higher objectives of Islamic law: the promotion of forgiveness and rehabilitation, including the waiving of punishments. The Islamist approach to corporal punishment is a distortion of the Islamic approach to criminal justice.
"Severe corporal punishment was a feature of all societies in the 7th century. It represented a necessity within a nomadic society, which could not imprison and rehabilitate criminals. However, by the 19th century, the Ottoman Caliphate had abolished such punishments, because they were considered to be neither necessary nor appropriate.
"An approach to Sharia, premised upon its fundamental objectives, both promotes human rights and the honouring of those international agreements which Muslim-majority states have signed. Islamic jurisprudence supports the evolution, modification and repeal of hudood laws in our age because these are outdated and contradict the essential Islamic principles of justice and mercy."
Since its foundation in 2007, Quilliam has campaigned for an "Islamic reformation." It has received millions in funding from the British government and conservative groups. And it has also targeted many British Muslim organisations and activists, including 5Pillars, accusing them of extremism.
https://5pillarsuk.com/2020/05/04/quilliam-calls-for-islamic-hudood-laws-to-be-abolished/
-----
Coronavirus video diaries - How Ramadan in lockdown has been a 'huge blessing'
ByRakeem Hyatt
5 MAY 2020
As Ramadan began last month, around two million Muslim communities across the globe were prepared to venture into the unexpected and adapt to unforeseen measures.
Ashwaaq Fidar, 23, from Small Heath, is a Diagnostic Radiographer and has witnessed the strain of the pandemic on the NHS at first hand.
"My highlight for this month every year is spending time at the mosque and praying along side fellow Muslims as well as celebrating together.
"Now that this isn't an option, it's made me realise how lucky we were to begin with to be able to socialise and celebrate with one another."
"Ramadan and observing fasts is very important to me because it's a time of spiritual reflection, self improvement and a chance for me to really strengthen my bond with God.
"Fasting teaches me self discipline, self control and even more empathy for people who are less fortunate than me that can not afford meals or those that don't have a roof over their heads."
"I am able to stay at home and not use my energy on running normal activities that I would have if we were not on lockdown; for example, preparing for Eid, clothing shopping, helping out my elder aunties.
"I have the time to be able to learn and read more books and watch informative lectures speeches regarding being a good Muslim and learning more about my religion.
"Now that everyone is at home, our relationship and bond has been strengthened as we would only spend this kind of time together if there was a holiday or a wedding going on.
"It has definitely been nice spending quality time with the family and observing our fast together, as well as motivating each other."
"Having the time to reflect with all this downtime has made me appreciate all the blessings of life and given me precious time to make the most of gaining the rewards of this blessed month.
"Having a toddler in tow - as opposed to in nursery - means I'm constantly kept busy, and when he's napping I'm finding ways to learn and understand my religion while reading the Quran so that I can complete it by the end of the holy month.
"This time has helped give me a new outlook to reflect on the rat race of life I'm trapped in; it's helped me see it for what it is and what I am at the core.
"The month of Ramadan has always been so important to not only me but my whole family, for as long as I can remember," said Rabia Arshad, 20.
The Warwick University student, who lives in Coventry, believes the month is about "self-discipline and self control" but whilst on lockdown it has surprisingly brought her family together.
https://www.youtube.com/watch?v=iCCHPYBqnrY
----
WHO says has no proof from U.S. on 'speculative' Wuhan lab claims
05-May-2020
The World Health Organization (WHO) said on Monday that Washington had provided no evidence to support "speculative" claims by the U.S. president that the new coronavirus originated in a Chinese lab.
"We have not received any data or specific evidence from the United States government relating to the purported origin of the virus – so from our perspective, this remains speculative," WHO emergencies director Michael Ryan told a virtual briefing.
Scientists believe the killer virus jumped from animals to humans, emerging in China late last year, possibly from a market in Wuhan selling exotic animals for meat.
But U.S. President Donald Trump, increasingly critical of China's management of the first outbreak, claims to have proof it started in a Wuhan laboratory.
And U.S. Secretary of State Mike Pompeo on Sunday said "enormous evidence" backed up that claim, which China has vehemently denied.
"Like any evidence-based organization, we would be very willing to receive any information that purports to the origin of the virus," Ryan said, stressing that this was "a very important piece of public health information for future control."
"If that data and evidence is available, then it will be for the United States government to decide whether and when it can be shared, but it is difficult for the WHO to operate in an information vacuum in that regard," he added.
The UN health agency – which has also faced scathing criticism from Trump over accusations it initially downplayed the seriousness of the outbreak to shield China – has repeatedly said the virus clearly appears to have originated naturally from an animal source.
WHO expert Maria Van Kerkhove stressed during Monday's briefing that there were some 15,000 full genome sequences of the novel coronavirus available, and "from all of the evidence that we have seen ... this virus is of natural origin."
While coronaviruses generally originate in bats, both Van Kerkhove and Ryan stressed the importance of discovering how the virus that causes COVID-19 crossed over to humans, and what animal served as an "intermediary host" along the way.
It was important to know "so that we can put in place the right public health and animal-human interface policies that will prevent this happening again," he stressed.
The WHO said last week it wanted to be invited to take part in Chinese investigations into the animal origins of the pandemic, which in a matter of months has killed nearly 250,000 people worldwide.
"We have offered, as we do with every case in every country, assistance with carrying out those investigations," Ryan said on Monday. "We can learn from Chinese scientists," he said.
But he warned that if questions about the virus origin were "projected as aggressive investigation of wrongdoing, than I believe that's much more difficult to deal with. That is a political issue.
"If we have a science-based investigation and a science-based enquiry as to what the origin species and the intermediate species are, then that will benefit everybody on the planet."
https://news.cgtn.com/news/2020-05-05/WHO-says-has-no-proof-from-U-S-on-speculative-Wuhan-lab-claims-QeHpJFrVCg/index.html
------
Bucks Muslims urged not to make Hajj bookings
4th May 2020
Each year 25,000 UK Muslims travel to Mecca every year to take part in the Hall pilgrimage, however many including those in Bucks are being asked to pause any plans.
The sacred journey is one every Muslims should make at least once in their lifetime, it they are physically and financially able to.
With countries at different stages of the outbreak and travel restrictions still in place there are concerns the Hajj may not be able to go ahead.
Saudi Authorities have suggested people delay plans to visit Mecca until there is certainty it will go ahead, the Umrah pilgrimage has already been suspended.
People with current travel bookings are being advised to avoid making any further installment payments if possible, until future travel restriction information is released.
Don't click on the links or attachments in suspicious emails, and never respond to unsolicited messages & calls that ask for your personal or financial details.#Hajj2020 #HajjAwareness #Coronavirus #Covid19 #scam #fraud
If you are booking a flight based package make sure your travel company is ATOL (Air Travel Organisers' Licensing) protected by the Civil Aviation Authority
"Each year there are a very high number of scamming incidents related to Hajj bookings so I would also encourage people to follow the advice set out by Action Fraud. I would also urge everyone to follow travel advice issued by the Government and to refrain from making Hajj bookings until further guidance is issued. Anyone who has an existing booking should avoid making additional payments where possible"
https://www.mix96.co.uk/news/local/3093654/bucks-muslims-urged-not-to-make-hajj-bookings/
------
Africa
Zimbabwe Dismisses Reports of Troops Deployment in Mozambique to Quell Islamic State Insurgency
May 05, 2020
Zimbabwe has dismissed reports that it has deployed its military in neighboring Mozambique to fight an Islamic State (IS) insurgency.
In an exclusive interview with VOA Zimbabwe Service, Information Permanent Secretary Nick Mangwana, debunked the rumor that Harare had deployed boots on the ground in Mozambique.
However, Mangwana did not completely rule out the prospect of a future deployment. "If at all at some point something will need to happen we will always fall under SADC (Southern African Development Community) and anything that would happen will happen under the auspices of SADC. But at the moment and as a nation we have no troops in Mozambique. We have not deployed any troops in Mozambique and we have no intention of bilaterally deploying troops into Mozambique."
Opposition legislator and lawyer, Innocent Gonese, told VOA that any such deployment will be unconstitutional if not brought urgently before parliament.
"We are gravely concerned and disturbed by reports that Emmerson Mnangagwa (Zimbabwean president) is reported to have deployed Zimbabwean troops to Mozambique. In terms of the law, in terms of Section 213 as read with Section 214 of our constitution, the president has authority to deploy Zimbabwean troops outside the country but it can only be for the reasons which are specified in the constitution which are namely, either on peace keeping operations under the United Nations or any other international or regional organization of which Zimbabwe is a member or to defend the territorial integrity of a foreign country or in fulfilment of an international commitment or lastly in defense of Zimbabwe's national security or national interest.
"However, the president must promptly and without delay inform parliament of such a deployment and as of now, no such information or compliance with that provision has been done in the event that our troops have actually been deployed."
What fueled the speculation is President Mnangagwa's one-day trip to Mozambique last week to meet President Filipe Nyusi in Chimmoi. Mnangagwa chairs the powerful SADC Organ on Politics, Defense and Security and Nyusi is the vice chairperson.
A communiqué released after the meeting acknowledged that instability in Mozambique was on the agenda. "The two Heads of State addressed the security situation in Cabo Delgado and parts of the Manica Provinces and Sofala where terrorists and armed groups carry out attacks, murders and destruction of public and private infrastructure and strongly condemned these acts, which seek to undermine efforts towards peace and development."
Mozambique after many years finally admitted that an ISIL-affiliated group, nicknamed Al Shabaab by the locals, is terrorizing the gas-rich northern province. In a press statement, the country's National Council of Defense that advises Nyuse on national security blamed the ISIS-linked rebels of killing 52 villagers in Cabo Delgado last month, bringing the death toll to nearly 1,000. The so-called Islamic State Central Africa Province (ISCAP) has claimed the attacks since last year.
Gonese noted that the cash-strapped Harare government cannot afford another costly war. "But of greater concern is the fact that the country is going through very difficult times even before the issue of the COVID-19 outbreak. We were already struggling to cater for the people of Zimbabwe."
Finance Minister Mthuli Ncube recently admitted in a letter addressed to International Financers that Harare was "on the brink of collapse" if it fails to secure a US$200 million to help fight the novel coronavirus pandemic. The leaked letter was released by the British-based website, Africa Confidential. Efforts to authenticate the letter were futile as calls to Ncube's mobile were not being answered.
The World Food Programme also estimates that nearly eight million Zimbabweans will need food assistance this year owing to last year's severe drought, economic downturn and devastating effects of Cyclone Idai.
Zimbabwe in the 1980's deployed more than 7,000 troops to fight alongside the Mozambique government that was battling rebels under the banner of Renamo (Mozambican National Resistance).
The Mozambican civil war ended in 1992. Zimbabwean troops were first deployed to guard the strategic Beira corridor comprising of a road, railway and oil pipeline system. The corridor connects land-locked Harare to the Beira port on the Indian Ocean. Zimbabwe though has diversified to use ports in South Africa after the end of apartheid and Tanzania.
Mozambique also played host to Zimbabwe's freedom fighters during the liberation war which intensified from 1976 until independence in 1980. Claiming national interest, the late President Robert Mugabe also deployed troops to the Democratic Republic of Congo to shore up support for the late President Laurent Kabila from 1998 to 2002. Though the financial costs of these wars have been hushed up, many economists in Harare blame them for accelerating Harare's economic crisis.
https://www.voazimbabwe.com/a/zimbabwe-troops-mozambique/5405092.html
-----
Mozambique: Is Cabo Delgado the latest Islamic State outpost?
5 May 2020
A simmering Islamist rebellion in a remote corner of Mozambique has erupted into open warfare in recent weeks, with reports of massacres, beheadings and the brief seizure of two towns in the northern province of Cabo Delgado, writes BBC Africa correspondent Andrew Harding.
The armed men walked calmly through the long grass, skirting past a large white building, seemingly untroubled by the sound of gunfire.
Most carried automatic rifles and wore variations of what appeared to be Mozambican army uniforms. A few more shots rang out in the distance and someone shouted "Allahu Akbar" - God is the greatest - as if in reply.
The video footage, shot last month on a mobile phone in Muidumbe was powerful new evidence that a murky conflict in the northern-most region of Mozambique has now moved out into the open, in spectacular and alarming fashion.
A second video, shot a few weeks earlier, showed a dead man - apparently a policeman - lying in a pool of blood. The camera then moved over to reveal another corpse, then a third lying under a black police vehicle, then a fourth body out in the open, and finally a large pile of automatic weapons in some sort of police or military store.
That footage was filmed in the strategic port of Mocimboa da Praia, which was briefly - and dramatically - seized by the militants on 24 March. Two days later, they seized another important town, Quissanga.
"Now they have guns and vehicles, so they move easily and can attack widely. And they are using soldiers' uniforms. So, people are very confused, and very afraid," said the Catholic Bishop of Pemba, Luiz Fernando Lisboa.
Those two large-scale, sophisticated military assaults are proof of a radical change in strategy for the group known locally as al-Shabab, although it has no known links to the Somali jihadi group of the same name, which is affiliated to al-Qaeda.
It has spent the past two years operating in the shadows, attacking remote villages across the province, ambushing army patrols on isolated roads, instilling terror in many rural communities, forcing perhaps 200,000 people to flee from their homes, but rarely giving any indication about its motives, its leadership, or its demands.
The video footage from both Mocimboa da Praia and Muidumbe district was quickly incorporated into the so-called Islamic State (IS) group's propaganda films, aired by the Amaq News Agency.
IS has claimed responsibility for a string of recent attacks in Mozambique and appears to be promoting its involvement there as part of a "franchise" operation that has seen it expanding its footprint in several parts of Africa.
The idea that the rebellion in Cabo Delgado is, at its core, part of a global jihadist movement, has been given credibility by the militants themselves, who publicly swore allegiance to IS last year.
But in a separate video, filmed this year and circulated widely on WhatsApp in Mozambique, a militant leader offered a much more nuanced explanation for the group's actions.
"We occupy [the towns] to show that the government of the day is unfair. It humiliates the poor and gives the profit to the bosses," said the tall, unmasked man, in khaki uniform, surrounded by other fighters.
The man spoke frequently about Islam, and his desire for an "Islamic government, not a government of unbelievers", but he also cited alleged abuses by Mozambique's military, and repeatedly complained that the government was "unfair".
Observers say the evolution of the insurgency in Mozambique is remarkably similar to Boko Haram's emergence in northern Nigeria, with a marginalised group exploiting local grievances, terrorising many communities, but also offering an alternative path for unemployed youths frustrated by a corrupt, neglectful and heavy-handed state.
"It's very significant," said Eric Morier-Genoud, a Belfast-based academic and expert on Mozambique, of the militant leader's statement.
"He explains that he's a local, from Mozambique. He responds to the argument that they're all foreigners and denies it, and he denounces the present state as unfair and illegitimate," said Mr Morier-Genoud, arguing that the fact that most of the faces in the video are unmasked reveals "a clear gain of confidence".
"For the first time, they spoke to the public," said Mozambican historian Professor Yussuf Adam, who said that the video gave further weight to the argument that the conflict in Cabo Delgado is, at heart, fuelled by local issues.
"The army, from the beginning… beat people up, took them to jail, tortured them. There's a lot of Islamophobia [in the majority Muslim province of Cabo Delgado]. They're discriminated against because they're northerners - people think they're dumb.
"The problem is that we have a youth bulge - and the young don't have jobs. If we solve… the abuse of force, corruption, and if we have a serious system of justice I'm sure we'll solve this very rapidly," said Professor Adam.
Mozambique's government initially sought to downplay the rebellion, dismissing the militants as criminals, and blocking journalists from accessing the region. But that is changing.
"We've seen a shift from the politics of denial. Most of society and politicians now accept with have an Islamist insurgency," said Mr Morier-Genoud.
Later, the government began to hire foreign security contractors - allegedly from Russia, the US and South Africa - to help the army crush the rebellion, but without any significant success.
International gas companies - poised to invest billions in the off-shore gas fields discovered along the coast of Cabo Delgado - are now getting cold feet, partly because of the rising insecurity, but also because of falling gas prices.
Many observers and analysts believe that, fundamentally, the solution to the conflict lies in good governance, and a transparent attempt to address deep-seated economic and social grievances, including fair access to land, jobs, and a share of any future gas revenues.
"And the government has to know that it is very necessary that Mozambique's natural resources must be used for the betterment of its people, not to cause corruption," he added.
https://www.bbc.com/news/world-africa-52532741
------
Dozens of Boko Haram, ISWAP fighters killed in Nigeria
an hour ago
Nigeria has killed 134 members of the Boko Haram and Islamic State of West Africa Province (ISWAP) armed groups.
John Enenche, Nigeria's defence ministry spokesman, told reporters on Monday the fighters were killed in Operation Kantana Jimlan, which was launched on May 1 in the country's northeast.
He said 78 of those killed were members of ISWAP and 56 were Boko Haram members, adding that Nigerian troops arrested 16 informants of the fighters as the country aims to eradicate both armed groups from its territory.
Boko Haram launched its fight in 2009 in northeast Nigeria but later spread to neighbouring Niger, Chad and Cameroon, prompting a military response.
More than 30,000 people have been killed and nearly three million displaced in a decade of Boko Haram's activities in Nigeria, according to the United Nations Office for the Coordination of Humanitarian Affairs.
Violence committed by Boko Haram has affected about 26 million people in the Lake Chad region and displaced 2.6 million others, according to the UN Refugee Agency.
https://www.aljazeera.com/news/2020/05/dozens-boko-haram-iswap-fighters-killed-nigeria-200505070849988.html
-----
Herdsmen/Boko Haram more lethal than coronavirus — Anambra CAN
MAY 5, 2020
The Christian Association of Nigeria, CAN, Anambra State chapter, has described herdsmen and Boko Haram killings as more dangerous than the dreaded COVID-19 pandemic.
In a statement issued yesterday in Onitsha, the state chairman of CAN, Rev. Ndubuisi John recalled that since the emergence of COVID-19 till date, Nigeria has recorded more deaths from herdsmen and insurgents than from the virus.
According to Rev. Ndubuisi, "For instance, last month in Yobe State, Nigeria lost 100 gallant combatant soldiers to Boko Haram insurgents who ambushed and battered their lives with bullets.
"Oh! what a loss to Nigerian government two weeks ago in Plateau State where herdsmen bombarded the Miango community, killing as many people as they could since they have the monopoly of guns.
"Few weeks ago at Askira Uba, a community in Borno state, the insurgents invaded and shattered the unarmed community with bullets sending many of them to their early graves.
"And also in Taraba State, herdsmen killed 25 persons. My question therefore is: where are the true elders of this great nation?
"Do you not know that some states are gradually dying out in this country? Many governors have cried out to the Federal Government, seeking for security aid. How much blood do we want to spill ?"
Also yesterday, resident doctors of Enugu State University Teaching Hospital, ESUT-TH, who withdrew their services eleven days ago, have resolved to offer skeletal services so as to help combat the growing cases of COVID-19 cases in the state.
The doctors said that even though the state government has remained adamant in their demand for commensurate pay, they will ease the industrial action, particularly as some of them were trained by the Nigeria Centre for Disease Control, NCDC, on the treatment and control of Covid-19.
A statement yesterday by the President of the Association of Resident Doctors, ARD ESUT-TH Chapter, Dr. Chima Edoga said: "The impasse between the Enugu State government and the resident doctors of ESUT Teaching Hospital has continued to linger as the government is yet to pay the doctors the approved salaries as agreed. This is despite the moves made by the National Association of Resident Doctors, NARD; the Enugu branch of Nigerian Medical Association, NMA; the Management of ESUT-TH Parklane; Medical and Dental Consultants' Association of Nigeria,MDCAN, ESUT-TH Chapter and the pleas by well-meaning residents of coal city.
"However, the striking doctors, having considered the increasing number of COVID-19 cases in Enugu which has risen to 6 active cases as at 3rd of May, 2020, have decided to ease the withdrawal of services in bid to allow doctors who have been trained by NCDC to attend to the COVID-19 cases.
"This decision by the Association of Resident Doctors,ARD, ESUT Teaching Hospital Parklane, is done in good faith and borne out of our love and respect for the good people of Enugu who have relentlessly pleaded for consideration of the ongoing COVID-19 pandemic. It is also a reflection of the Association's good intentions to promote quality healthcare for the people of Enugu which is its sole reason for the ongoing struggle."
Similarly, authorities of Anambra State Vigilante Supervisory Committee have warned those they called rumour mongers and mischief makers to stop peddling false rumour capable of causing unnecessary tension in the state when all hands should be on deck to combat the COVID-19 pandemic in its entirety.
Chairman of the committee, Chief Ikechukwu Ayo Aduba, a retired Commissioner of Police, who sounded this note of warning in a statement yesterday in Onitsha, recalled that the rumour mongers and mischief makers had gone on social media alleging that armed herdsmen had on Wednesday, April 29, overrun Ufuma community in Orumba North Local Government Area of the state and caused mayhem.
According to the statement by Aduba, a Senior Special Assistant to Governor Willie Obiano on Vigilante Matters, "the attention of Anambra State Vigilante Supervisory Committee has been drawn to a recent post on the internet that herdsmen had overrun Ufuma on Wednesday, April 29, 2020. There is no iota of truth in this malicious and mischievous lie."
In a related development, the Imo State government yesterday said it has commenced the enforcement of the covid-19 , social distancing guidelines among commercial bus/taxi operators in the state to stop the spread of the virus in Imo.
The state commissioner for Transport, Rex Anunobi, disclosed this in Owerri, after a meeting he had with the leadership of Bus/Taxi Imo Transport Association and the state chapter of the National Union of Road Transport Workers, NURTW, as captured by Anunobi's Special Adviser on Media, Ebere Uzoukwa.
To achieve this, he said that in line with the social distancing rules, commercial buses in Imo, will be allowed to carry six passengers including driver, while for taxi, four passengers including driver.
Meantime, the Enugu State government has reiterated that all precautionary measures put in place to contain the spread of the virus in the state remain in force until further notice.
The state government maintained that all land boundaries remain closed "except for medical emergencies and movement of essential goods and services", disclosing that "the presidential directive on the compulsory use of face masks or covering in public and the overnight curfew from 8pm to 6am takes effect immediately".
In a statement signed by the Commissioner for Information, Nnanyelugo Chidi Aroh, the government urged the people of the state to "strictly adhere to these restrictions and control measures, in addition to maintaining physical distancing and good personal hygiene."
"We and our allies are working to protect and promote human rights in Nigeria especially during this Covid-19 lockdown state that we will take steps in line with their mandate, to initiate criminal charges under the Anti-Torture Act 2017 against any official in the state who flogs a citizen as punishment for any offence or for any reason whatsoever and shall also hold the governor accountable at the end of his immuned tenure, under the principle of command criminal responsibility.
"We further drew the Governor's attention to the fact that "most citizens in Nigeria including in Ebonyi state, live under the poverty line and daily subsistence."
https://www.vanguardngr.com/2020/05/herdsmen-boko-haram-more-lethal-than-coronavirus-anambra-can/
-------
Mideast
Iran mosques reopen as coronavirus recoveries approach 80,000
15 hours ago
Iran has reopened mosques in parts of the country deemed at low risk from coronavirus, as it said almost 80,000 people hospitalised with the illness had recovered and been released.
Health ministry spokesman Kianoush Jahanpour said on Monday that 74 new fatalities brought to 6,277 the total number officially recorded in Iran since mid-February, when it first reported cases of COVID-19, the disease caused by the virus.
Mosques were allowed to reopen to worshippers in 132, or around a third, of Iran's administrative divisions which are considered low-risk.
Worshippers were obliged to enter mosques with masks and gloves and told they could only stay for half an hour during prayer times, said the health ministry.
Mosques were told to refrain from offering them food and drinks, provide hand sanitisers and disinfect all surfaces, it said in a statement published by ISNA news agency.
According to Jahanpour, 79,397 of those hospitalised with the disease since Iran reported its first cases in mid-February have been discharged, while 2,676 are in critical condition.
Experts and officials both in Iran and abroad have cast doubts over the country's COVID-19 figures, saying the real number of cases could be much higher than reported.
President Hassan Rouhani said Iran had "succeeded in effectively preventing the spread of this virus in many" parts of the country.
Speaking at a televised videoconference meeting of the Non-Aligned Movement, Rouhani said Iran's response to the outbreak "has in instances been evaluated to be beyond international standards."
But the US "anti-human rights" sanctions against the Islamic republic had hampered its efforts to control the virus, he added, noting that they prevented companies from selling Iran its medical needs.
US President Donald Trump withdrew from a landmark nuclear deal and reimposed unilateral sanctions on Iran in 2018, targeting key oil and banking sectors.
But international purchases of such supplies are forestalled by banks wary of conducting any business with Iran for fear of falling foul of the US sanctions.
https://www.aljazeera.com/news/2020/05/iran-mosques-reopen-coronavirus-recoveries-approach-80000-200504144211307.html
-----
Iran Regime's Treating Prisoners Alone Debunks Mullahs' Effort to Depict U.S. Sanctions for Coronavirus Epidemic
by Mohammad Sadat Khansari
4th May 2020
The high rate of infections and the dire conditions in prisons prompted a prisoner of conscience, Mr. Mohammad Nourizad, to commit suicide in prison two days ago in protest against these conditions and also against widespread arrests, including the arrest of his son. He was transferred to the hospital.
Iranian regime reportedly declined to acknowledge that any Iranian coronavirus cases had been recorded until roughly a month after the first relevant hospitalizations. The first public statement on the topic came on February 19, in response to two patient deaths. But the National Council of Resistance of Iran obtained documents showing that several suspected cases of coronavirus infection had been recognized by the National Emergency Organization in the last week of January.
This early neglect of the outbreak set the stage for a range of subsequent denials that included statements insisting no known outbreaks had occurred in Iranian prison facilities. However, these claims proved unbelievable to Iranian human rights activists and former political prisoners, who are aware of the harsh conditions that permeate most of Iran's detention facilities.
Simultaneous to its cover-up, the Iranian regime has been pursuing a campaign through its apologists abroad to depict the United States Sanction as the reason behind the coronavirus high mortality rate. Not releasing all the prisoners amid the coronavirus alone debunks this claim and campaign.
Along with not releasing all prisoners, regime's mistreatment of prisoners, such as depriving them necessary hygienic facilities and shooting those who protest or try to break free from prisons, is another sign that mullahs' are not willing to help the Iranian people and resolve the coronavirus crisis. These actions further reject any claim and notion that sanctions are preventing the regime from helping people of Iran.
Regime's oppressive approach toward prisoners resulted in multiple large-scale riots and attempted prison breaks throughout early April. Amnesty International has confirmed that at least 36 inmates were killed as a result of prison authorities' brutal response to the unrest, but local reports suggest there were many more fatalities that have yet to be confirmed. The regime also executed prisoners who were later arrested. One of them, Shayan Saeedpour was a juvenile offender who was under the legal age at the time of arrest.
The Iranian regime claimed it has issued a mass furlough. These claims were quickly rejected with a new wave of arrests of political opponents of the regime and sending them to prison amid the coronavirus epidemic.
The situation of eight political prisoners in Mashhad prison, who had asked for Khamenei's resignation is concerning. One of them, Mohammad Hossein Sepehri, was infected with COVID-19 last month.
On February 4 and April 8, Mrs. Maryam Rajavi, the President-elect of the National Council of Resistance of Iran (NCRI), strongly condemned the harsh, long-term sentences for these prisoners and urged the United Nations and Human Rights Council to take action to secure their release. Mrs. Rajavi asked the Special Rapporteur on the situation of human rights in Iran to immediately visit Mashhad prison, obtain information about the condition of prisoners, and take measures to save their lives.
Among other examples, various participants in last November's nationwide protests against the clerical regime are still being placed on trial and condemned to several-year sentences. In at least one case from mid-April, one of these protestors was sentenced to death. And the prospect of that sentence being carried out it presumably amplified by the volume of capital sentences that have already been implemented against the backdrop of the coronavirus pandemic.
On Thursday, the National Council of Resistance of Iran (NCRI) reported that Iranian regime's judiciary had accelerated its schedule of public executions as a tactic of intimidation, spurred by fear of public unrest over issues that include the regime's mishandling of the public health crisis. The NCRI noted that at least 15 hangings had been carried out on April 23 alone, with several others following in the week thereafter.
While public execution is a common practice in Iran by the regime to intimidate public, regime's authorities also have a long history of maintaining a veil of secrecy over the full extent to which capital punishment is implemented. There is no doubt that Iran has the highest per-capita rate of executions in the world, but the precise number of annual hangings is difficult to ascertain, since it depends partly on official records and partly on disclosures by fellow prisoners and other witnesses to unreported executions.
This secrecy has been highlighted anew showing that Tehran could be exploiting the chaos of the coronavirus outbreak to purge the prison system of inmates, particularly the political prisoners.
The NCRI announced on Sunday that the actual death toll is more than 38,000, and this is broadly supported by Iranian medical professionals' descriptions of an overwhelmed healthcare system. However, such descriptions have been labeled "rumor mongering" by the judiciary, and on Tuesday a spokesperson for Iran's armed forces admitted that at least 3,600 people had been arrested on that charge, which may carry a sentence of three years in prison.
https://www.ncr-iran.org/en/news/iran-regimes-treating-prisoners-alone-debunks-mullahs-effort-to-depict-u-s-sanctions-for-coronavirus-epidemic/
------
Palestine to cancel all Israel, US deals if annexation plot goes ahead: Abbas
05 May 2020
Trump's self-proclaimed "deal of the century," crafted to end the Israeli-Palestinian conflict, also calls for the creation of a Palestinian state with limited control over its own security and borders.
The scheme — drawn up in close cooperation with the Netanyahu administration — bars Palestinian refugees from returning to their homeland while enshrines Jerusalem al-Quds as "Israel's undivided capital" and allows the regime to annex settlements and the Jordan Valley.
A recent Israeli coalition government agreement reached between Netanyahu and his main rival, Benny Gantz, includes a framework for implementing the illegal annexations.
The US has expressed its readiness to recognize Israel's annexation of the occupied West Bank areas.
Recent reports, however, suggested the emergence of differences between Washington and Tel Aviv over the issue, with the US demanding that Israel make known its support for "two states for two nations" as stipulated in the deal, if it wanted the US to endorse its annexation plans.
https://www.presstv.com/Detail/2020/05/05/624633/Palestine-Israel-West-Bank-annexation
-----
Israel demolishes Palestinian agricultural structures in Jordan Valley
04 May 2020
Israel has demolished four Palestinian agricultural facilities in the northeastern part of the occupied West Bank.
The Palestine Information Center, citing local activists, reported on Monday that the demolition took place in the village of Jiftlik of the Jordan Valley.
Based on new draconian Israeli practices, Palestinian citizens who receive demolition orders are not given enough time limits to file petitions or even evacuate their property.
In recent weeks, Israel has desperately attempted to confiscate large private Palestinian lands in the Jordan Valley in preparation for completely annexing the West Bank settlements.
Since 1967, when Israel occupied the West Bank, it has sent thousands of settlers to the Jordan Valley. Some of the settlements in which they live were built almost entirely on private Palestinian land.
The Palestinian Ministry of Foreign Affairs and Expatriates has condemned the Israeli regime's plan to seize Palestinian land in the area of the Ibrahimi Mosque in the southern West Bank city of al-Khalil. The ministry, in a statement released on Monday, said Palestine will take the recent decision along with other settlement plans to the International Criminal Court.
More than 600,000 Israelis live in over 230 illegal settlements built since the 1967 Israeli occupation of the Palestinian territories of the West Bank and East Jerusalem al-Quds.
Less than a month before US President Donald Trump took office, the United Nations Security Council in December 2016 adopted Resolution 2334, calling on Israel to "immediately and completely cease all settlement activities in the occupied Palestinian territories, including East Jerusalem" al-Quds.
Palestinians reject Trump's so-called peace proposal as it awards the Israeli regime nearly all the occupied land on which it has built its illegal settlements.
Dubbed the "Deal of the Century," the blueprint effectively grants the Israeli regime a green light to annex even the most isolated settlements in the occupied Palestinian territories.
https://www.presstv.com/Detail/2020/05/04/624608/West-Bank-Jiftlik
-----
Israel's Likud submits bill to Knesset to annex more Palestinian land
04 May 2020
Israeli Prime Minister Benjamin Netanyahu's Likud Party has submitted a bill to the Knesset that calls for occupying more Palestinian territories against the backdrop of a much-condemned peace scheme proposed by President Donald Trump of the United States emboldening Israel to usurp more Palestinian land.
The bill urges imposition of Israel's "sovereignty" over the Palestinian regions of the Jordan Valley, the northern Dead Sea area and the occupied West Bank, the Palestinian Information Center reported on Monday.
"This is an area that is a political, security, and economic asset, and there are thousands of Zionist Israelis and true pioneers who are an integral part of" Israel there, Golan claimed.
Netanyahu, in several occasions, has stressed that he would start plans for annexing more areas in the West Bank on July 1, according to Trump's plan, commonly known as the "Deal of the Century."
Defying international outcry, Trump officially unveiled his the proposal for the Israeli-Palestinian conflict in January at the White House with Netanyahu on his side, while Palestinian representatives were not invited.
Trump's Middle East scheme largely meets Israel's demands while creating a Palestinian state with limited control over its own security and borders, enshrining the occupied Jerusalem al-Quds as "Israel's undivided capital" and allowing the regime to annex settlements in the West Bank and the Jordan Valley.
President Trump has reportedly told Israeli PM Netanyahu to accept his "deal of the century" as one package and not cherry-pick certain terms.
Officially known as the "Peace to Prosperity," the proposal, which further denies the right of return for Palestinian refugees to their homeland, is also in total disregard for UN Security Council resolutions and the opposition by the vast majority of the international community.
Elsewhere in her remarks, Golan said the document was "intended to rectify the existing situation and end all historical injustice. I have no doubt that there is a broad consensus in all parts of the Knesset that supports the proposal and it is time to implement it."
Citing Israel's Channel 7, the report said Economy Minister and Knesset Likud member Eli Cohen had also put some weight behind the initiative.
David Elhayani, the chairman of the Yesha Council, an umbrella organization of municipal councils of Jewish settlements in the West Bank, has applauded Golan, who received an exemption from the initial reading of the bill on Sunday.
"The proposed law would apply Israeli sovereignty in Judea and Samaria (the occupied West Bank) and the Jordan Valley without recognition of a 'Palestinian state' that endangers the future of" Israel, he said.
Furthermore, Elhayani urged all Knesset members to "stand behind the bill" and "to prevent the establishment of a Palestinian state, God forbid," claiming that the bill does not refer to Trump's peace scheme, as it claims to ensure the establishment of a "two-state" solution.
Palestinian leaders – who severed all ties with Washington in late 2017 after Trump's recognition of Jerusalem al-Quds as the "capital" of Israel proved controversial – immediately rejected the Trump 'deal,' with President Mahmoud Abbas saying it "belongs to the dustbin of history."
They view the deal as Washington's seal of approval for Israel's long-desired annexation of territories it has been illegally occupying for decades.
https://www.presstv.com/Detail/2020/05/04/624591/Likud-bill-West-Bank
-----
Pakistan
Creative and bold policy measures are critical for the post-Covid economy, but will Imran Khan walk the talk?
4 hours ago
Uzair M. Younus
The Covid-19 pandemic is perhaps the most serious socio-economic crisis Pakistan has faced since the violent upheavals of Partition in 1947. This crisis will have long-term implications for Pakistan's economy and its impact will reverberate for years, if not decades, to come.
So far, the Imran Khan-led government's economic response has been exemplary, especially if one were to compare it with stimulus measures taken by regional economies like India and Bangladesh. However, to pave the way for an economic recovery, the government needs to be bolder and more creative in its approaches.
The nature and scale of the crisis means that it is a tremendous opportunity to restructure the economic foundations of the country and chart a new path forward. This can be done by making policy choices that push the adoption of new technologies, catalyse innovation, and empower the country's citizens by boosting their skills. Doing so can help build a new economic contract between the state and its citizens.
The first measure the government should consider taking is to reduce the GST to 0% on all digital transactions for the next 12 months. Over 90% of Pakistan's annual GDP is consumption-based. Retail and wholesale trade represents a significant portion of the services sector, which is approximately 60% of GDP. Largely informal and non-compliant with the tax regime, this segment has failed to digitise and formalise itself for years. In fact, the former head of the Federal Board of Revenue failed in his attempts to force businesses to adopt cash machines and document themselves.
While the proverbial stick has not worked, the carrot may succeed in accelerating formalisation and documentation by incentivising digital transactions. This measure will do away with a regressive tax, boosting demand while forcing businesses to adopt digital transactions. A push from consumers to save taxes will mean that businesses will have no choice but to use digital tools and accept non-cash transactions. In the medium- to long-term, the data can help policymakers develop deep insights into consumer and business transaction patterns, identify big spenders who are non-compliant, and adopt a more targeted approach to promoting tax compliance. It may in fact also lead to public health benefits, given that the virus is here to stay and could be transmitted through currency notes.
Another measure that the government should seriously consider is the elimination of import and customs duties on electric kits for vehicles, particularly two- and three-wheelers. Pakistan's economy is dependent on energy imports, which drain scarce foreign exchange reserves. At the same time, there is surplus capacity in the country's power sector, and Pakistan's cities suffer from some of the worst air pollution in the world. Incentivising the up-gradation of the vehicle fleet to electric across the country can accelerate the development of a next-generation transportation and automotive industries, increase demand for power, and help clean up the air.
Given that this will be a long and painful economic recovery, tens of thousands of young graduates and millions of low-skilled workers will struggle to find jobs in the coming months. This excess labour should be absorbed by the government through two flagship programmes: the first should hire recent graduates, particularly women, in a national literacy promotion programme for a period of two years. These graduates should be sent to every district in the country to conduct literacy and training programmes for people of all ages, particularly younger adults who were not able to gain a decent education during their schooling years. The second programme should hire blue collar workers in an environmental restoration programme that seeks to clean rivers, and restore Pakistan's urban and rural environments. The PTI has already started hiring thousands of labourers to plant trees, and this programme should be expanded to other environmental restoration projects as well.
Critics will argue that these are expensive projects that the state does not have the money to pay for. But this is not the time to worry about fiscal deficits and tax collection. With both the formal and informal economy coming to a grinding halt, it is imperative that the government take bold and transformative measures to restore economic growth. In the early 2000s, policy enabled the rapid adoption of CNG kits for vehicles; adopting electric kits is no different. Lady health workers are a case study in how a government programme can engage with women at the grassroots level to improve their health outcomes — the country's polio programme relies on these workers to this day.
Imran Khan has always talked about transforming Pakistan and charting a new course forward. This pandemic has given him an opportunity to walk the talk. Creative and bold policy measures are the necessity today, and if executed with intent, they can chart a more sustainable and inclusive path forward for Pakistan and its citizens.
https://www.dawn.com/news/1554427/creative-and-bold-policy-measures-are-critical-for-the-post-covid-economy-but-will-imran-khan-walk-the-talk
-----
Mosque sirens compete with modern gadgets for worshippers
May 5, 2020
By Kashif Fareed
FAISALABAD: In old times, sirens were used to announce the times for sehri and iftar, the sound of which reached across the areas. Once people heard this, they would either break their fast or stop eating at the time of sehri.
Even in modern times, mosques keep this old tradition alive. Among them is the city's largest mosque, Sunni Rizvi, also known as Maulana Sardar Wali, located in Jhang Bazaar. The mosque is steeped in culture, being nearly 100 years old.
Even today during Ramazan, the siren goes off in the mosque as a declaration of sehri and iftar time. The new generation might be less familiar with this sound. However, in the old days when there were not many ways to be notified, like the news television channels, there was often only one mosque in seven or eight lanes. Therefore, sirens rang in different ways so that the people of the surrounding areas could be informed of timings of the fast.
Ghulam Hassan, the custodian of Jamia Masjid Sunni Rizvi, said that the purpose of ringing the siren is to inform the citizens about any emergency apart from announcing the fast timings, which is rarely needed.
"The siren is used only as a signal to begin and break the fast and is used only in Ramazan," he said. "The machinery rusts all year round but it is cleaned and repaired if needed, from time to time," Hassan added.
He maintained that the siren rung at the main mosque can be heard throughout the city. "One of the reasons for this is that its speakers are fixed on the minarets over 150 feet tall," Hassan remarked.
Whenever he has to check the siren, he climbs hundreds of steps to reach the top of the minaret from where the whole city can be seen.
He has to ring the siren daily in the month of Ramazan. He announces the end of sehri time by ringing the siren in the morning and iftar before the evening prayers.
There are 516 mosques in Faisalabad, including several where the tradition of sounding the siren regularly during Ramazan is kept alive.
Although the old tradition of ringing the siren is losing its relevance due to modern conveniences and gadgets, some people are determined that it should be kept alive as long as possible. Some elderly people still rely on the siren at sehr and iftar time.
https://tribune.com.pk/story/2214244/1-mosque-sirens-compete-modern-gadgets-worshippers/
----
Sindh police at risk of attacks during Ramzan
16 HOURS AGO
KARACHI: Sindh Inspector General of Police (IGP) Mushtaq Mahar on Monday directed police officers, posted on lockdown duties in the province, to adopt safety measures after reports of outlawed militant outfits planning attacks on law enforcement agencies during Ramzan emerged.
Following the emergence of the report, IG Mahar has issued a letter to the Additional Inspector Generals (AIGs), Deputy Inspector Generals (DIGs), Senior Superintendent of Police (SSPs), and Superintendent of Police (SPs) posted across the province, directing them to ensure safety measures.
The letter directs the officials to ensure the ban on pillion riding in letter and spirit as previously such attacks have been carried out by perpetrators riding motorcycles.
The directives further call for police personnel deputed at checkpoints to not be off-guard during Sehri and Iftaar. "At least two cops are to stand vigilant over a group during this time," it says. In addition to it, senior police brass has been directed to wear bulletproof jackets.
The letter further states that police vehicles should be parked at such a point that a hasty exit can be made in case of an emergency. A cop must be present in the vehicle at all times.
https://www.pakistantoday.com.pk/2020/05/04/sindh-police-at-risk-of-attacks-during-ramadan-report/
-----
SC dismayed at closure of businesses by provincial govts
Nasir Iqbal
May 05, 2020
ISLAMABAD: The Supreme Court on Monday expressed dismay over shutting down of business activities by the provincial governments, wondering if their decision was against the mandate of the Constitution.
Citing Fourth Schedule from the Constitution that deals with the Federal Legislative List (FLL), Chief Justice Gulzar Ahmed questioned which authority had empowered the provincial governments to encroach upon the revenue generation domain of the federation and that too without prior concurrence of the president or the federal government.
Also not satisfied with the outcome of the national coordination committee meeting, which was presided over by Prime Minister Imran Khan and attended by all the four chief ministers and other stakeholders, the Supreme Court observed that the April 14 meeting only identified certain Standard Operating Procedures (SOPs) instead of adopting a proper policy.
The five-judge bench, headed by the Chief Justice of Pakistan, expressed the hope that all the respective governments would sit together again to frame a uniform national policy.
The SC had taken up the case suo motu relating to measures taken by the federal and the provincial governments for preventing the spread of the novel coronavirus (Covid-19).
Looking at the current situation when the entire business activity and economy had come to a standstill, it seemed as if the governments had been conspiring against people, the CJP observed, adding this was total exploitation.
Attorney General Khalid Jawed Khan pleaded before the Supreme Court that currently the country was passing through an extraordinary situation and it was like the country was in a state of war. Therefore, he said, such matters at best were left at the political arena for which the most appropriate forum was parliament.
During the hearing, Justice Umar Atta Bandial observed that in all previous proceedings, the court had noted and been pointing out that there must be coordination between the Centre and the provinces, which should identify the issues and make uniform plan.
The policies and plans then were implemented through local bodies as there had always been an element of corruption if left to individuals, he observed.
The CJP was also asking for transparency and unified criteria, Justice Bandial observed, but regretted that the executive was not applying mind rather showing knee-jerk actions and posing as reactionary instead of taking pre-emptive or anticipatory measures.
He said there was hubris and arrogance without the realisation of its consequences. "Going through the language of the statements being issued, one understands who does not want to talk," he remarked.
When such type of situation emerged, the Constitution provides the formula that the governments sit and talk with each other, he said. But there was arrogance all over, Justice Bandial observed, adding the SC was concerned over the interests and fundamental rights of people. "We are here to look after and protect the rights of people."
"We can give one week to chalk out a plan or we will give some interim order," Justice Bandial observed, while emphasising on the resumption of inter-provincial trade. He remarked that as people could not travel in their own vehicles, they were moving in trucks and paying hugely for this. People couldn't come in car through highways or motorways, because they were stopped and charged by the police for this, he regretted.
He said the people were resilient as they overcame the 2005 earthquake and the 2010 floods, but they must not be put in another calamity because of someone's hubris.
The CJP observed that the executive orders were meaningless until the government would legislate and reemphasised on developing national consensus. He said the intentions of the prime minister and the president must be good, but nothing was coming out.
The court was also not happy with the Sindh government's decision to open business or trade on receiving applications saying this contravened the provisions of the constitution as well as against the fundamental rights and also lacked transparency.
During the hearing, Advocate General for Sindh Salman Talibuddin conceded that though they had invoked Pandemic Act 2014 to close down business centres and impose lockdown, the law did not override the provisions of the Constitution.
https://www.dawn.com/news/1554638/sc-dismayed-at-closure-of-businesses-by-provincial-govts
-----
Sindh govt links decision on lockdown to health experts' advice
May 05, 2020
KARACHI: As the Pakistan Tehreek-i-Insaf government in the centre builds its case to ease the lockdown restrictions after May 9 citing growing poverty as the key reason, the PPP-led Sindh government sounded firm on its stance about the curbs as it reiterated that despite a different line from Islamabad, it would take the decision about the lockdown on the advice of medical experts.
Three provincial ministers at a press conference held here also lashed out at the federal government for being "irresponsible" and backing out from its own commitments.
The fresh stance of the federal government regarding easing lockdown did not appear to convince the provincial government as the ministers almost ruled out any flexibility in the existing standard operating procedures (SOPs) for businesses and daily life.
"We don't care whether the federal government unjustifiably defames the Sindh government or the media criticises [us] baselessly... the Sindh government will adopt all precautionary measures to save people's lives," Sindh Information Minister Syed Nasir Hussain Shah told the press conference at the auditorium hall of the Sindh Assembly.
"The whole world is following the advice of medical experts and so is the Sindh government. After April 24 meeting, when an extension in the lockdown was decided in consultation with all stakeholders, it was federal minister for planning, development and special initiatives Asad Umar who had announced that the lockdown all over the country would remain intact till May 9. But, we wonder now how he is constantly trying to give an impression as if the people of Sindh are facing hardships due to the decision of the lockdown."
Accompanied by Education Minister Saeed Ghani and Agriculture Minister Ismail Rahu, Mr Shah said that not only the federal ministers and their spokespersons but also a segment of the media was also targeting the Sindh government giving an impression that the people were suffering only in Sindh owing to the lockdown while the rest of the country was open and daily life was normal.
"There are organised attempts to discredit the Sindh government on mainstream media and social media through various false allegations. Sometimes it's about alleged mismanagement in ration distribution and false statements from the business community against the provincial administration. The federal government cannot divert our attention by such tactics and we would do everything possible to save the lives of our people," he said.
He said the people were fast learning that the federal government had miserably failed to deliver and now it wanted the Sindh government to do nothing as well to escape from the public wrath. Even the welfare and relief activities done by the Sindh government were criticised by federal ministers, he said.
"On the one hand only allegations are being made regarding coronavirus pandemic and on the other hand the federal government had extended no help to do away with the constant locust attacks on crops in Sindh," said the information minister. "Sindh Chief Minister Syed Murad Ali Shah has requested the federal government more than once in this regard but no assistance has been provided so far. The federal government would do something productive only if it could get out of its habit of blaming others."
The agriculture minister said that the federal government was constantly informed about the locust attacks and it was requested to help in this regard, but to no avail.
"Millions of acres of crops in Sindh are at the risk of locust attacks and in this regard we have asked the federal government that the Sindh government is ready to pay for the fuel of the aircraft to be used for aerial spray as well as for the pesticides, but it's so unfortunate that so far we have not been provided with any aircraft," he said.
He recalled that a meeting held under the chairmanship of Prime Minister Imran Khan had promised that the spray would begin from April 1, but so far nothing happened.
He warned that if the federal government did not take this issue seriously it could be detrimental not only to Sindh but to the entire country.
"So far 35 per cent of the total area affected by locust attack is in Sindh. This is an emergency situation that needs immediate attention," he said. "We are thankful to the army which had fully supported the Sindh government in eradicating locust. We again request the federal government to immediately provide aircraft for at least three desert districts."
https://www.dawn.com/news/1554613/sindh-govt-links-decision-on-lockdown-to-health-experts-advice
-----
IHC lambastes criminal justice system
May 05, 2020
Malik Asad
ISLAMABAD: In an astonishing observation, the Islamabad High Court (IHC) has said the existing criminal justice system "fails to prevent and prosecute crime" as the system is "perpetuating miscarriages of justice and... appears to be on the brink of collapse".
Chief Justice Athar Minallah made the observation on Monday, when he acquitted the accused in seven different murder cases. In most of the cases the accused remained behind bars for about 10 years.
In its verdict, the court said: "Before parting, we feel morally and professionally obliged to record our observations regarding the alarming and abysmal state of the criminal justice system in the Islamabad Capital Territory. The case in hand is only the tip of the iceberg because in most of the cases serious crimes go unpunished.
The high court went on to say: "We have no hesitation in stating that in the current circumstances this faith [on criminal justice system] would be totally misguided. Notwithstanding and conceding the weaknesses and shortcomings of the judicial branch, it is dependent on the integrity, quality and professionalism of the other most important stakeholder, i.e. the police, the prison authorities and the prosecution.
"Whether due to corruption, complacency or sheer incompetence and lack of professionalism, the criminal justice system is definitely not serving its purpose; rather it is perpetuating miscarriages of justice and appears to have become a source of grave injustice," the order read.
"In the case in hand, incompetence, outdated and obsolete techniques used for investigating the gruesome murder and, prima facie, lack of probity and professionalism, are floating on the surface of the record," the court observed.
"Regretfully, this is not an isolated case, but a general pattern observed in most of the cases. It has been observed that, invariably, the investigating officers either appear to be complacent, compromised or totally incompetent."
The court noted that "the low-paid investigating officer does not have sufficient resources to visit the crime scene when a crime is reported, let alone transporting the sealed samples and arranging the payment of the fee to the official laboratory for conducting chemical examinations. It is not a secret that parties, invariably the victims, are asked for money because sufficient official resources for conducting investigations are not available."
Moreover, "the investigating officers are not trained nor employed or selected for this purpose. There is no independent, separate investigation branch and it appears that this is not a priority," the court's order said.
Chief Justice Minallah pointed out that the "Police Order, 2001 has been enforced in the Islamabad Capital Territory but its implementation is being resisted. It is also ironic that, despite the creation of the Islamabad Capital Territory more than three decades ago, the prosecution branch has yet to be established."
He added that "trial courts have been set up in rented shops in a commercial area where conditions are deplorable and degrading. The procedures and laws have become outdated and a cause for delays".
In such circumstances, the citizens and society also had a role to play because, for various reasons, witnesses of a crime are not willing to testify and, as an alternative, the investigating officer fabricates false evidence. The witnesses also have no hesitation in falsely deposing under oath, the order said.
All the pillars of state are equally responsible for the system's failure, the court said. "In a nutshell, the present state of the criminal justice system is not serving its purpose and appears to be on the brink of collapse. All the branches i.e. the executive, the judiciary and the legislature are equally responsible for the prevailing conditions that definitely encourage corruption and perpetuate grave miscarriages of justice."
The verdict said: "It is a glaring reality that the state has neglected this most crucial part of the governance system for the past seven decades because it is obvious that the criminal justice system was never a priority…We have no hesitation in acknowledging that the prevailing criminal justice system does not guarantee protection against miscarriages of justice. It fails to prevent and prosecute crime effectively and is vulnerable to [exploitation] by the powerful against the underprivileged."
The criminal justice system does not appear to guarantee the fundamental right to a fair trial and justice to every citizen. The system is thus a classic example of a grave violation of the constitutionally guaranteed rights of every citizen, because it fails to achieve its fundamental objective to protect the victims, punish the guilty and thus make the society safe for every citizen.
"The present abysmal state of the criminal justice system has not happened in a day, but is a reflection of the apathy, neglect and mis-governance of the past seven decades and no organ of the state can absolve itself from being responsible," the order said.
The court also directed the registrar's office to send copies of the verdict to the secretary of interior ministry and chief commissioner and inspector general (police) of the Islamabad Capital Territory.
"They are expected to submit their reports to the registrar of this court regarding measures intended to be taken in the light of our observations in the above paragraphs," the verdict added.
https://www.dawn.com/news/1554636/ihc-lambastes-criminal-justice-system
------
Officials empowered to conduct raids for stopping smuggling of currency, food
May 05, 2020
Mubarak Zeb Khan
ISLAMABAD: The government has empowered the authorised officials to conduct raids and search the premises of those who are allegedly involved
in smuggling of currency and essential food items in a bid to control illegal flow of goods and currency from the country's eastern and western borders.
These powers and other measures, including penalties, will be implemented through a presidential ordinance, Covid-19 (Prevention of Smuggling), 2020, for a period of four months, which upon its expiry will become a part of the federal budget for the year 2020-21.
The authorised officials can also seize goods as well as auction them in accordance with the prescribed procedures. The proceeds of the auction will be deposited in the government exchequer. The officials will exercise these powers within a distance of five kilometres from any international border or within the premises of all airports.
The Federal Board of Revenue will notify in the next couple of days all those departments, authority and agency, including security or law enforcement agencies, officers of which will exercise such powers. These include police, the Inter-Services Intelligence, Military Intelligence, Federal Investigation Agency, Coast Guards, Intelligence Bureau, Frontier Constabularies, Frontier Corps, Levies and Rangers.
The items that will be covered within the purview of smuggling are foreign currency, gold and silver, precious stones, sugar, onions, pulses all sorts, salt, potatoes, gur, rice, wheat, flour all sorts, chemical fertilisers all sorts, livestock, maize, edible oil, hydrogenated or otherwise, therapeutic goods — drugs or alternative medicine or medical devices or biological or other related products.
The government will give reward equivalent to 10 per cent of the amount transferred to the government exchequer to informers. The amount will be raised from auctions of goods or foreign currency deposited in the government kitty.
Any person can qualify for a reward if he/she provides information to an officer with regard to any act or acts of smuggling which results in conviction and transfer of funds to the government kitty. Officials of federal, provincial or local governments cannot avail the facility of the reward.
Under the ordinance, the government has also elaborated the role of district administrations in terms of containing smuggling. Any official of district administrations not below the rank of BPS-17 can communicate infor­­m­ation to Customs officials with regard to any contravention. The Customs officials are bound to process the information and take appropriate action.
The authorised officers can arrest a person without warrant and detain by an order in writing against those who are engaged or likely to engage in any act of transaction of smuggling or facilitate such an act or known as a habitual smuggler. The deputy commissioner will issue a detection order. The detained person can make a representation to the commissioner of the division. The maximum detection period is three months.
The people involved in the smuggling will be liable to imprisonment for a term of two years in case the value of the confiscated goods is between Rs500,000 and Rs3 million. The punishment will be for a period of three years maximum if the value of the smuggled goods is between Rs3m and Rs5m. However, imprisonment will not be less than two years.
In case the value of the smuggled goods ranges between Rs5m and Rs7.5m, the imprisonment will be a period of five years maximum. The imprisonment will not be less than two-and-a-half years.
The people involved in the smuggling will face a maximum imprisonment of 10 years if the value of the confiscated goods is between Rs7.5m and Rs10m. The imprisonment will not be less than three years.
In case the value of the smuggled goods exceeds Rs10m, the people invol­ved will face an imprisonment term not exceeding 14 years. However, imprisonment will not be less than five years.
In the same way, the people involved in smuggling of foreign currency in the range of up to $10,000 or equivalent in value (the currency of other denomination) will be liable for imprisonment for a maximum of two years. However, this provision will not apply to those people who will take out the currency from the country through notified routes under the Customs Act.
The imprisonment will be three years in case the value of a currency is from $10,000 to $20,000. The imprisonment will not be less than two years. And the imprisonment will be five years in case the value of a currency is from $20,000 to $50,000. The imprisonment will not be less than two-and-a-half years.
The imprisonment will be 10 years in case the value of a currency is from $50,000 to $100,000. The imprisonment will not be less than three years. And in case of the maximum penalty, the imprisonment will be 14 years for those who smuggle currency in the range between $100,000 and $200,000. However, imprisonment will not be less than five years.
Besides the existing Customs special court, the government will set up special courts in consultation with the Chief Justice of Pakistan. The power of special court will be accorded to any sessions judge or additional sessions judge and will specify their area of jurisdiction.
https://www.dawn.com/news/1554647/officials-empowered-to-conduct-raids-for-stopping-smuggling-of-currency-food
------
Arab world
How Saudi parents help their children fast during Ramadan
05 May 2020
ASEEL BASHRAHEEL
JEDDAH: As one of the five Islamic pillars, fasting is an important part of most Saudi and Muslim homes. Young children pick up the religious act by parents leading by example, establishing it as a habit instead of an enforced household regime.
Muslims start fasting once they hit puberty, which does not detail a certain age, as it is different per individual. As such, there is no specific age where parents can dictate their children to start fasting.
"Growing up, it's known that children mimic their parents and those around them; they mimic speech, actions, food habits and fasting is another thing they pick up on when they see their parents, and later on classmates and teachers fasting," Amal Turkistani, a mother of five, told Arab News.
Children want social acceptance from an early age, they seek praise and want to impress adults around them, Turkustani added. "They want to be treated as adults. These actions say: 'I'm not a child, I can fast just like you guys can'."
Turkistani has four daughters and one son. She said that she did not necessarily have to teach or order them to fast, they just asked questions and announced when they were ready to start.
Muslims start fasting once they reach puberty, which does not detail a certain age, as it is different per individual. As such, there is no specific age where parents can dictate their children to start fasting.
"From there, you gradually ease them into it. My son, who is 12, is very stubborn — when he was around 6, he said he wanted to fast and I told him he could try it out. We went on a one-hour per day period, then a few hours, then half a day, then gradually a full day as the years went by," Turkistani said.
Muslims only have to fast during Ramadan, it is the easiest Islamic offering to children, she said, because the commitment period is very short. Turkistani noticed that pattern in all of her children. They found it easier to fast a single month than to pray five times a day year-round.
Hanadi Al-Maghrabi, a 42-year-old mother from Jeddah, tried a similar method with her 8-year-old daughter. "I don't want to force it upon her so I leave it up to her, but when she came and asked me about fasting and how it works, I proposed she tried fasting on weekends so she wouldn't exert herself," she said.
Growing up, it's known that children mimic their parents and those around them; they mimic speech, actions, food habits and fasting is another thing they pick up on when they see their parents, and later on classmates and teachers fasting.
"My boys started gradually, and what really helped was having them fast every alternate day. Starting out, parents need to be lenient and not guilt-trip their kids into it," said Hassan, noting that a harsh approach would make children flinch away from religious practice.
Ramadan is followed by Eid Al-Fitr to celebrate the end of the fasting month, and in that respect, many children associate the festivities as a rewarding system for persevering through the month.
"Every Eid, children get money allowance (known as Eidiya) for the completion of Ramadan from members of the family, sometimes even extended family. To them, it's a reward for fasting," said Turkistani.
Children can easily be motivated throughout the day as well, with smaller reward systems during the holy month. Al-Maghrabi would leave some candy for her daughter after every iftar.
https://www.arabnews.com/node/1669621/saudi-arabia
-----
6 Smart Apps That Will Help You Avoid Wasting Food During Ramadan
May 4th, 2020
Riham Darwish
Food waste during Ramadan is an everyday concern for many people who observe the month, especially that preparing too many dishes with huge portions to end up in the trash bin a few hours after breaking the fast goes against every value Ramadan stands for.
One of the main reasons food waste witnesses a spike during the month of fasting is that people prepare their meals a few hours before breaking the fast, while hunger hits them the worst, so they tend to prepare lots of food thinking they'll be able to eat after the sunset. Yet, a few minutes after breaking the fast they realize the mistake they made and the fact that the remaining delicious food is of no use to anyone.
Additionally, Ramadan's social gatherings are another reason food consumption soars during the month, as traditions in many countries require people to present way too many dishes, so everyone is pleased with what's on the table. Due to containment measures adopted in many countries in the wake of the coronavirus pandemic though, people who celebrate Ramadan will not be able to hold such events this year, but it's still something to rethink in the coming years.
Moreover, having a limited window of time for eating every day during Ramadan means that lots of fresh foods are at risk of going bad before they are consumed. Fruits, vegetables, and fresh meats are usually among the top items to be thrown away when cleaning the fridge.
To combat all of those behaviors, consumers need to rethink their cooking habits and commit to preparing a few dishes based on how many people will be eating it.
Using this application will allow you to find quick and easy plant-based recipes you can prepare with whatever items you want to use.
This can be a really good way to use up all the fresh fruits and veggies that you're afraid will go bad very soon, while keeping a healthy diet.
Similarly, this app presents you with grocery shopping lists based on what's missing from your fridge and helps you prepare delicious meals based on what's in your fridge.
Here comes the smart tracker that will keep a record of everything you've bought, you've cooked, and everything you still have. This tool will also help you restock ingredients you need as soon as you run out of them.
A dream coming true? Here you can check the boxes for everything you have in your fridge and/or pantry, and the smart tool will present you with various recipes to make meals, snacks, or even smoothies.
The tool, available only for Android users, will track the items you have in your fridge and alert you before an item is about to go bad, including leftovers that you're saving for later.
This honest companion will only need you to enter the names of ingredients you want to use wisely so it instantly offers you tasty recipes that you can easily create. SuperCook has a huge variety of recipes, both unique and irresistible.
https://www.albawaba.com/business/6-smart-apps-will-help-you-avoid-wasting-food-during-ramadan
------
Four Seasons Bahrain Bay brings its Ramadan menu to your home
19 hours ago
Four Seasons Hotel Bahrain Bay is bringing its renowned culinary craftsmanship to customers' doorsteps with the launch of its new 'Ramadan at Home' menu and delivery service.
The at-home Iftar experience has been introduced to enable Manama residents to enjoy sumptuous flavours from the hotel's award-winning Ramadan Tent in the comfort and safety of their homes. Diners can choose from three impeccably curated set menus featuring hot and cold mezze items, soups, local delicacies, international favourites and tempting desserts. A selection of à la carte dishes are also available, providing the flexibility to cater to groups of all sizes.
Vincent Chasseignaux, director of Food and Beverage at Four Seasons Hotel Bahrain Bay, commented: "On behalf of Four Seasons, I'd like to extend warm greetings to the people of Bahrain and wish everyone a happy and blessed Ramadan. The kitchen team has created a delightful menu that will enable diners to relive our popular Ramadan Tent experience by welcoming culinary craftsmanship into their homes. We are truly grateful for this opportunity to help families share precious Ramadan moments together, and look forward to bringing the joy of the holy month to households throughout the kingdom."
From Arabic bread and Bahraini dates to traditional favourites such as lentil soup, tabouleh and kebbeh, the special menu captures the authentic flavours of Ramadan. Main courses include hamour harra, kofta halabi, lamb machbous and Moroccan lamb tagine. Diners can end their meal on a sweet note with a range of desserts including tiramisu, blueberry cheesecake and mahalabiya.
To enjoy 'Ramadan at Home' with Four Seasons Hotel Bahrain Bay, call 1711 5000. Orders can also be placed by chatting to a Four Seasons team member on WhatsApp at 323 00081, or by emailing diningreservations.bahrain@fourseasons.com.
The menu will also be available to order via Talabat soon. Orders for 10 or more guests will be entitled to a special 10 per cent discount.
http://www.tradearabia.com/news/TTN_367471.html
-----
Syria: Islamic State uprising quelled in prison
5th May 2020
US-backed Syrian Democratic Forces have reached an agreement to end an uprising of inmates from the Islamic State (IS) in a Syrian prison in the city of Hassakeh, in the north east of the country.
Previously, a two-day riot at the same Syrian prison earlier in March led to the escape of four IS inmates, who were later recaptured by the Syrian Democratic Forces. It was one of the most serious uprisings since IS was defeated.
Kurdish authorities are currently operating more than two dozen detention facilities scattered across northeastern Syria, holding about 10,000 IS fighters. Among the detainees are some 2,000 foreigners whose home countries have refused to repatriate them, including about 800 Europeans.
https://internationalinsider.org/syria-islamic-state-uprising-quelled-in-prison/
-----
South Asia
16 killed as airstrike targets gathering convened by Red Unit commander of Taliban
05 May 2020
An airstrike killed at least 16 militants in northern in Balkh province of Afghanistan, the Afghan military said Tuesday.
According to a statement released by 209th Shaheen Corps, a key Red Unit commander of Taliban, Mullah Yaqoob alias Mansoor, had convened a gathering in Koshinda district of Balkh.
The statement further added that the Afghan Air Force conducted an airstrike at around 1:10 am local time based on a tip off, killing at least 16 militants including Mullah Yaqoob.
The 209th Shaheen Corps did not disclose further information in this regard but added that further details of the strike will be disclosed later.
https://www.khaama.com/16-killed-as-airstrike-targets-gathering-convened-by-red-unit-commander-of-taliban-07783/
-----
An insight into Adib Fahim's decision to distance himself from Abdullah
05 May 2020
Adib Fahim, the former deputy intelligence chief of Afghanistan and elder son of the former vice president Mohammad Qasim Fahim, has distanced himself from Abdullah Abdullah, apparently due to an eternal feud.
Sources privy of the development said Adib distanced himself from Abdullah due to the internal political differences, mainly having links over the title of the Marshal of Afghanistan.
The sources further added that Adib decided to distance himself from Abdullah's team as he opposed with the decision to confer the title of Marshal of Afghanistan to Gen. Abdul Rashid Dostum.
Adib posted a short statement online on Monday, indirectly criticizing Abdullah for remaining short to respect an 'age-old' friendship, brotherhood and loyalty, accusing him (Abdullah) of considering political concession against historical values of 'Jihad and Resistance'.
Qasim Fahim, the former vice president of Afghanistan, who died of an illness in 2014, was conferred with the title of Marshal of Afghanistan following the fall of Taliban regime.
This comes as reports emerged earlier suggesting a crack in electoral team of Abdullah Abdullah, having links with the political differences.
The reports emerged amid ongoing efforts to end the political stalemate which intensified following the controversial conduct and announcement of presidential elections.
On the other hand, Abdullah announced last week that his team has reached to an agreement in principle to end the ongoing political tensions with President Mohammad Ashraf Ghani.
https://www.khaama.com/an-insight-into-adib-fahims-decision-to-distance-himself-from-abdullah-07782/
-----
Taliban's reaction to release of 300 prisoners of the group by Afghan government
05 May 2020
The Taliban group reacted to release of at least 300 prisoners of the group, calling the current pace of prisoners release as inadequate to help the launch of intra-Afghan talks.
"In the last 3 days, our 300 prisoners were released from the Kbl Adm. prisons which we welcome," Suhail Shaheen, a spokesperso for the political office of Taliban said in a Twitter post.
Shaheen further added "However, it is not enough—the process should be expedited so the prisoners be saved from the Coronavirus and the way be paved for an earliest inception of intra-Afghan negotiations."
The Office of the National Security Council on Monday announced that the government released the 98 Taliban prisoners from Pul-e Charkhi prison on Sunday evening.
The statement further added that the government took into consideration the health condition, age and remaining prison term of the inmates as well as the ongoing efforts aimed at supporting the peace process and countering the spread of coronavirus.
With the release of 98 more inmates, the Afghan government has so far released 748 Taliban prisoners from the jails, the Office of the National Security council added.
Javid Faisal, a spokesperson for the Office of National Security Council had earlier said the government released 98 Taliban prisoners from jail on Saturday.
https://www.khaama.com/talibans-reaction-to-release-of-300-prisoners-of-the-group-by-afghan-government-07780/
-----
Southeast Asia
Malaysia criticises WHO comment against palm oil
05 May 2020
KUALA LUMPUR: Malaysia has criticised the World Health Organisation for advising adults to avoid palm oil in their diet during the Covid-19 outbreak and use alternatives such as olive oil.
The WHO Eastern Mediterranean Regional Office said in a recent advisory during the Covid-19-outbreak that people should consume unsaturated fats found in fish, avocado, nuts, olive oil, soy, canola, sunflower and corn oils rather than saturated fats found in fatty meat, butter, palm and coconut oils, cream, cheese, ghee and lard.
"With regard to dietary fats as a major source of calories, WHO through its most recent advisory has again fallen into the same previous well of promoting certain commodity oils while brushing aside palm oil, " Kalyana Sundram, CEO of the Malaysian Palm Oil Council (MPOC), a state agency responsible for promoting the commodity, said in an MPOC opinion piece.
The MPOC article said palm oil has a natural balance of saturated and unsaturated fats to ensure the absorption of various dietary micronutrients, does not require hydrogenation - treating oils with hydrogen to increase their shelf life - and is available in large quantities.
"In countries where fat consumption is below recommendations of the WHO, as is the case in large parts of Asia and Africa, health focus is different, " the MPOC said.
"The need to provide a reliable, sustainable and affordable source of calories to ward of undernutrition (and increased susceptibility of infection) is paramount."
Kalyana said the WHO should focus on coming up with "radically different health management ideas" instead of falling back on "antiquated messages".
Palm oil is used in everything from infant formula to cookies, but demand for the vegetable oil has been hammered due to the closure of restaurants during virus-linked lockdowns in many countries.
Neighbours Malaysia and Indonesia together produce 85% of the world's palm oil, but the industry has faced intense criticism from environmentalists over mass stripping of tropical forests to grow the lucrative crop
https://www.thestar.com.my/business/business-news/2020/05/05/malaysia-criticises-who-comment-against-palm-oil
-----
Mosques reopen for Friday prayers on May 29
May 5, 2020
Azlan Othman
The temporary closure of mosques, suraus and religious halls will be extended for another 24 days until 5th of Syawal, 1441 Hijrah (May 28), said Minister of Religious Affairs Pehin Udana Khatib Dato Paduka Seri Setia Ustaz Haji Awang Badaruddin bin Pengarah Dato Paduka Haji Awang Othman.
"The decision was made at the 10th Brunei Islamic Religious Council (MUIB) Meeting last Saturday," he said at a press conference yesterday.
The minister announced that local mosques would be accessible only for the Friday prayers on the 6th of Syawal (May 29), while the re-opening of mosques for the five obligatory prayers would require further assessment.
"MUIB will consider this by taking into account advice from the Ministry of Health (MoH) and the current situation of COVID-19 in the country, while praying that no emergency situation should occur," he said.
"In making these preparations, the Mosque Affairs Department and the Islamic Da'wah Centre, with the cooperation of Radio Television Brunei, will broadcast a special video titled 'Guidelines on Performing Congregational Prayer at Mosques to Curb the COVID-19 Outbreak', which will contain instructions for public attendance at mosques."
https://borneobulletin.com.bn/mosques-reopen-for-friday-prayers-on-may-29/
-----
Mosques to follow physical distancing
May 5, 2020
Syazwani Hj Rosli
Minister of Religious Affairs Pehin Udana Khatib Dato Paduka Seri Setia Ustaz Haji Awang Badaruddin bin Pengarah Dato Paduka Haji Awang Othman, responding to a question on preventive measures to be conducted following the reopening of the mosques, said the ministry has prepared a video featuring safety measures of the Ministry of Health (MoH).
As the plan to reopen mosques, suraus and religious halls across the nation is scheduled for May 28, concerns were raised during the COVID-19 press conference at the Al-'Afiah Hall of the MoH yesterday.
According to the minister, the safety measures will not only include physical distancing and sanitising but also other measures.
"The situation after mosques reopen will be discussed to see whether we will be able to comply with the requirements of the safety measures," the minister said.
With regards to the imposition of a quota on the number of congregants in mosques, suraus and religious halls in the country, the minister said the matter will be discussed between the MoH and the Brunei Islamic Religious Council.
On contact tracing app that will soon be released by the MoH for public use prior to the reopening of mosques, suraus and religious halls, Minister of Health Dato Seri Setia Dr Haji Mohd Isham bin Haji Jaafar said the app is undergoing approval.
For the app, users will need to fill in an assessment form every day before they are issued a health code that enables them to move within the country based on three-colour ranking codes – green, yellow and red – which will monitor their movement either freely (green), with limitation (yellow) or prohibited (red). "The app will not only be used for mosque purpose but other places too such as restaurants and gyms," the minister said.
https://borneobulletin.com.bn/mosques-to-follow-physical-distancing/
-----
Bangkok reopens with stylists in scrubs, plastic screens between diners
Jorge Silva
May 5, 2020
Businesses reopening in Bangkok on Monday after weeks of near lockdown were taking intense precautions to prevent new outbreaks of the coronavirus.
A hair salon could be mistaken for a medical ward, with stylists wearing goggles and plastic face shields and scrubs-style protective gowns.
For the foreseeable future, such scenes will be normal in the city where business is just getting going again now that new coronavirus cases have sharply reduced.
At the Hanji restaurant, which serves Taiwanese-style hot pot dishes, plastic screens had been set up between tables in line with government orders to keep customers two meters apart.
"So, it might be weird in the beginning but take some time, I think people will get used to it and it will feel normal one day," he said.
"We follow all the rules that the government handed out and the Bangkok city gave out ... Whether it could prevent COVID-19, we cannot really tell," Ittinun said.
Elsewhere in Bangkok, a hair stylist at the Zahara Salon worked in protective goggles, a cloth mask and a plastic face shield as well as a gown and plastic hair cap.
"It's so nice being back at work, but now we feel as though we are doctors with what we have to wear," said stylist Ponpimon Meantaggi, 34.
Thailand in January was the first country outside China to report a case of the new coronavirus that since swept the globe, infecting 3.5 million and killing 460,000.
The Southeast Asian country has so far managed to hold its own cases down to 2,987, with a total of 54 deaths, but officials warn that reopening should be done carefully to avoid a new outbreak.
https://www.thejakartapost.com/seasia/2020/05/05/bangkok-reopens-with-stylists-in-scrubs-plastic-screens-between-diners.html
-----
COVID-19: Zoo association says 22,000 workers could lose incomes
May 5, 2020
The Indonesian Zoo Association (PKBSI) has estimated that at least 22,000 zoo workers across the archipelago may lose their livelihoods because of the COVID-19 pandemic.
PKBSI secretary-general Tony Sumampau said the estimate was based on the total number of workers employed in zoos across the country. He went on to say that some workers, including security guards, cleaning service personnel and ticketing staff, had been told to take unpaid leave.
"Those who are still working are the zookeepers, who feed the animals [in captivity]," Tony said as quoted by kompas.com on Monday.
He added the zookeepers had continued feeing about 70,000 animals from 4,300 species kept in captivity, although food stocks for these animals had also been depleting.
To cushion the impact of the COVID-19 outbreak, the association had begun an internal fund-raising initiative among members. The PKBSI had also sent a letter to President Joko "Jokowi" Widodo asking for government assistance.
The PKBSI is also running an online fund-raising campaign called Food for Animals. It is seeking funds to improve the living conditions of animals in zoos, especially those endemic to the country, such as the Sumatran tiger, Bornean orangutan and Sumatran elephant.
A survey conducted by the association last month showed that 92 percent of the association's members in Sumatra, Java, Bali, Lombok and Borneo, or 55 zoos, only had enough stock to feed their animals until mid-May.
The survey also found that only three zoos would be able to provide food for one to three months, while only two had enough for more than three months.
https://www.thejakartapost.com/news/2020/05/05/covid-19-zoo-association-says-22000-workers-could-lose-incomes.html
-----
Foreign workers must be tested
05 May 2020
By MAZWIN NIK ANIS
PUTRAJAYA: All foreign workers must go through Covid-19 tests, with the employers bearing the cost, says Senior Minister Datuk Seri Ismail Sabri Yaakob.
However, the swab tests are not compulsory for domestic workers, he said. Premises with positive cases would be sealed off immediately, he added.
Responding to the news, employers said the additional expenditure was a burden in an already difficult time and they questioned whether there was sufficient capacity to test so many people.
Ismail said the new ruling applied to foreign workers in all economic sectors, including those working in shops, restaurants, factories, construction sites, and other service-based businesses.
"Foreign workers in all sectors will have to do swab tests and the cost will have to be borne by employers. The Health Ministry has proposed for the compulsory swab tests to start in Kuala Lumpur and Selangor, " he said.
On Sunday, Federal Territories Minister Tan Sri Annuar Musa instructed developers and contractors with active project sites in Kuala Lumpur to get their workers tested for Covid-19. For foreign maids, Ismail said it was up to the employers to determine if their maids needed to undergo the swab test."We leave it to the employers' discretion as they are aware of the health status of their maids, who live with them. However, they need to immediately send the maids for tests if they show any symptoms, " he said.According to the Health Ministry, 21,271 non-citizens had been screened for Covid-19, with 811 testing positive. As of April 30, four foreigners have died in Malaysia after contracting the disease.
The Malaysian Employers Federation (MEF) said the testing requirement might be a knee-jerk reaction to the cases detected at the Jalan Ampang construction site.
Its executive director Datuk Shamsuddin Bardan said that it was unfair to conclude that foreign workers were the cause of many Covid-19 cases.
He claimed that employers had wanted to make arrangements for all workers, including foreigners, to be tested but were told that the test kits were not here yet. He pointed out that a swab test cost at least RM500 and there were 2.3 million registered foreign workers in the country. Based on these figures, he said, employers would go out of business if they had to pay for the tests.
Shamsuddin said the government should bear the cost of the tests."We understand that the government can only do 16,000 tests a day. Even if all are reserved for foreign workers, it would take almost half a year to screen all of them, " he said.
Datuk Jamarulkhan Kadir, president of Malaysian Indian Muslim Chamber of Commerce and Industry, said many small and medium enterprises were on the verge of collapse and the added burden of paying for the costs would be a big blow.
He said that while testing was a good idea and a fair concern of the government, it should be for those in the red areas such as Masjid India or Selayang.
"What's the purpose of conducting tests in, say, Penang or Perlis, which have no cases recorded in the past few weeks?" he asked.
The Malaysian Bar meanwhile said it feared that the detention of undocumented migrants would send counterproductive messages through the community.
"Such migrants may evade the authorities, or avoid and refuse to seek medical treatment, " its president Salim Bashir said.
https://www.thestar.com.my/news/nation/2020/05/05/foreign-workers-must-be-tested
-----
URL: https://www.newageislam.com/islamic-world-news/no-new-clothes-eid-give/d/121763
New Age Islam, Islam Online, Islamic Website, African Muslim News, Arab World News, South Asia News, Indian Muslim News, World Muslim News, Women in Islam, Islamic Feminism, Arab Women, Women In Arab, Islamophobia in America, Muslim Women in West, Islam Women and Feminism