New Age Islam News Bureau
21 Jul 2011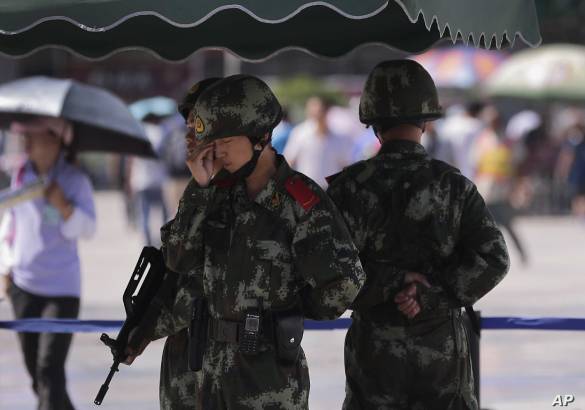 15 Killed, 14 Injured in Attack in China's Xinjiang Region | Voice of America
-----------
• Vastanvi changes mind on quitting
• Xinjiang attack killed 18; including 14 Muslim Uighurs
• Egyptian women demand greater role in govt
• Couple embraces Islam for remarriage, arrested
• Burqa ban, capitulation to xenophobes: A Council of Europe Human Rights commissioner
• Pak's first woman foreign minister challenges stereotypes at home
• Yemen terror targets kids with jihad cartoon
• Six, including a woman, killed in Karachi
• Ahmadinejad and clerics fight over head scarves
• Yemen Qaeda chief killed in fighting with army: military
• U.N.: Famine in Somalia is killing tens of thousands
• Libyan troops kill 8 rebels near strategic Brega town
• 13 reported killed by earthquake in Uzbekistan
• Bahraini poetess blames Al Khalifa family of torturing tortured protesters in jails
• Presidential Hopeful ElBaradei calls for abandoning religious slogans
• Pakistan: Crimes against women frequent in urban districts
• Harassed by women colleagues at workplace, men feel trapped: Jeddah
• Bangladeshi inhumanly punished and paraded naked for marrying a minor
• Bangladesh: Teenager strangled after rape
• RIYADH: Maid repatriated after 3-year ordeal
• Pakistan: Woman caught stealing newborn
• Violence resumes in Sana'a
• Bangladesh's highest honour for Indira Gandhi
• Obama's feeble counterterrorism efforts lambasted
• Kuwaiti FM praises role of Oxford Center for Islamic Studies
• Australian man, convert to Islam, whipped for drinking
• US Muslim Woman Gets $20,000 in Lawsuit Against Discrimination
• Execution of ex-defense minister is an insult; Iraq
• Pak victim's kin settle for Rs 8cr 'blood money'
• Islamic Resource Society commemorates Emancipation
• Saudi envoy inaugurates Al-Shifa Multispeciality Hospital in Jamia Nagar
• Disseminating the Culture of Sacrifice and Martyrdom in Islamic Society a Necessity
• Popular Front, Bhopal, India suggests formula for Muslim reservation
• Texas inmate executed for 2001 killing of an Indian in the US
• Blast destroys Nato oil tanker in Khyber
• Two Britons detained in Afghanistan
• Blast in Jaffarabad; four killed
• Concern as Sydney Opera House appears on jihad site
• Afghan security commander shot dead
• 44 Pakistanis deported from Turkey arrive
• Serbia arrests war crimes fugitive Hadzic
• 'Lobbying in Pakistan helped': Punjab Congress President
• Show proof of Indian role: Pakistani panel
• Gunbattle in Kandahar, three Afghan policemen dead
• Britain tells Pak to dismantle terror infrastructure
• ISI used hawala to put millions into Fai's purse
• Iran unveils documents on the occupation of Iran during the Second World War
• Another LeT attack will derail Indo-Pak talks: Expert
• 'ISI agent in US donated $250 to Obama'
• Al-Qaida plans animated cartoon film for recruiting children
• Kurdish nationalism rises with Arab unrest, Sudan split
• Hope for 17 Indians on Sharjah death row Amira Agarib
• New Egyptian Cabinet to be sworn in on Thursday
• Syrian Youths File Lawsuit Against al-Jazeera Satellite Channel
• Islamic info booth 'whitewashing' the truth
• Safiya Al-Amri to star in a new film
Compiled by New Age Islam News Bureau
URL: https://www.newageislam.com/islamic-world-news/no-holds-barred-mullah-war--deoband's-maulana-vastanavi-issue/d/5070
-------------
Deoband: No holds barred war of Mullahs in Maulana Vastanavi issue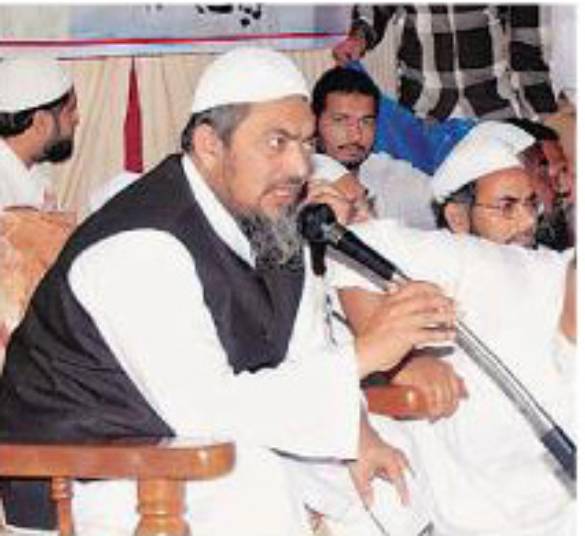 Issue Mufti Manzoor Ahmad Kanpuri gave his report without any probe in the charges against Maulana Vastanavi
Sensational disclosure before executive meeting by a member of the probe panel, Mufti Ismail of Malegaon
Saeed Hashmi, Daily Inquilab, New Delhi
Translated from Urdu by New Age Islam News Bureau
21 July 2011
Deoband: in a sensational statement before executive meeting that Maulana Ismail of Malegaon, one of the members of the three member committee probing charges against Darul Uloom Deoband Mohtamim (Vice Chancellor) Maulana Vastanvi, has disclosed: "Mufti Manzoor Ahmad of Kanpur had made his final report without probing the matter and he was expecting that I and Maulana Mohammad Ibrahim Madrasi also approve the report, but we said that we would fulfill the assigned duty honestly and we both refused to sign the report.
Mufti Ismail added that when he was in Deoband to attend the executive meeting in the last month, we were eager to probe the matter but Mufti Maznzoor Ahmad clearly refused to join us. We want to inquire with the student held responsible in the whole episode in Darul Uloom Deoband's guest room; they didn't turn up whereas they went to Mufti Manzoor Ahmad, who advised the students not to meet us. Mufti Ismail said that students are important link to the whole matter.
Answering a question Mufti Ismail said that Mufti Manzoor Ahmad has sent the report to all the members of the executive. He said that he is unable to understand the stand of students who were happy at the appointment of Maulana Vastanvi as Mohtamim (V.C.) and suddenly they have changed. Maulana Ismail added that if they accept this stand of the students then while today they are demanding change of Mohtamim and tomorrow they would demand the change of Naib-Mohtamim (Pro VC) and executive body. Maulana Ismail in conversation said that his report on all aspect is ready and he informed that he would join the meeting of executive body of Darul Uloom on 23 July as he was planning to attend the meeting on 22 July but due to Rajya Sabha election he had to postpone the plan.
-------------
Vastanvi changes mind on quitting
Jul 21 2011
NEW DELHI: Three days before Deoband's Majlis-e Shura meets to decide his fate, vice-chancellor Ghulam Mohammed Vastanvi on Wednesday made it clear that if the probe panel's report is favourable, he won't quit.
This is a U-turn from his earlier assertion on February 15, where he had promised to resign, irrespective of the report's content. With a section of the Shura stridently against his holding on to the post, the meeting of the 18-member governing council of the world's second largest Islamic seminary is likely to be a stormy one this weekend.
"When I had made that statement in February, circumstances were different and I had got the impression that my continuity wouldn't be in the best interests of Deoband as I may not be allowed to work the way I want to. That has changed now. If the report is favourable, I won't resign," Vastanvi told TOI.
However, he refuted reports, which had appeared in a section of the Urdu press that he had threatened to go to the court if the Shura pressed for his resignation. "Some of my friends may have made the statement. I will not go into a confrontation with the Shura, and will abide by its decision," he said.
What further escalates the chances of the two-day Shura meeting being anything but peaceful are indications that the report of the three-member inquiry committee is likely to be favourable to Vastanvi. The panel is believed to have taken into account that the first time anti-Vastanvi protests happened in Deoband, it was on the night he was elected in January, which predated any of his controversial "pro-Modi" statements or his alleged distribution of pictures of Hindu gods at a function.
Vastanvi drew the ire when he said Muslims should move on from the 2002 Gujarat riots and also praised the Narendra Modi administration. "It was a statement that is supported by many government surveys. But, a section of the Urdu press played it up repeatedly to malign the Mohtamim. He also never distributed statues of Hindu gods," said a source.
The committee's scope also included looking into who had engineered the student unrest, but sources say the panel members have so far not been able to talk to students on this, largely because some Shura members were opposed to the idea.
What may work in favour of Vastanvi is the TINA (there-is-no-alternative) factor. Of the other possible candidates, both senior teacher Arshad Madani and former Nayab Mohtamim (deputy VC) Qari Usman had chosen Jamiat over Deoband in the January meeting. Both present acting vice chancellor Mufti Abul Qasim Nomani and pro VC Abdul Khaliq Madrasi had expressed a disinterest for the post. That left only Vastanvi.
http://timesofindia.indiatimes.com/india/Vastanvi-changes-mind-on-quitting/articleshow/9304519.cms
-------------
Xinjiang attack killed 18, including 14 Muslim Uighur
By Keith B. Richburg
Jul 21 2011
BEIJING — A total of 18 people were killed during an assault on a Chinese police station in the restive western province of Xinjiang on Monday, including 14 Muslim Uighur attackers who were shot by police, state media said Wednesday.
In the first detailed accounting of the incident, the Xinjiang government's news Web site and Xinhua, the official Chinese news agency, said an armed policeman, a security guard and two civilian hostages — a woman and a teenage girl — were killed when the Uighurs stormed the station.
The reports said that three other civilians were injured, four attackers were captured and six hostages were freed.
However, the Germany-based exile group representing the Uighur community, the World Uighur Congress, offered a different version of events.
The group said Uighur protesters were trying to rally at the police station in support of people detained inside when the police opened fire on them. The group's spokesman, Dilxat Raxit, said by telephone that 20 Uighurs were killed, and he called for an independent investigation.
The attack, which began at noon Monday in the desert city of Hotan, near the Pakistan border, marked the most serious eruption of violence recorded in the province since ethnic rioting in July 2009 left nearly 200 people dead and scores of shops and businesses burned.
State media said the attackers in Monday's incident, described as "rioters," stormed the police station armed with axes, knives, daggers, Molotov cocktails and other explosives.
The report on the Xinjiang Web site said the attackers "beat, smashed and burned crazily," shouted slogans invoking "Allah" and hung a separatist flag on top of the station.
The Web site said the attack happened at a time when most of the police officers were absent on a mission. The security guard left behind was hacked to death, it said.
Raxit, the Uighur exile group's spokesman, sharply disputed the official accounts. He said the incident began when people gathered at Hotan's grand bazaar for a planned protest. Police broke up the rally, and 13 Uighurs were arrested. Raxit said the angry protesters then moved to the police station and a commercial office next door.
"There was violence, but it was caused by the government's crackdown," Raxit said. He said some of the dead and injured Uighurs were taken away in military vehicles to a military hospital.
After the incident, Raxit said, Chinese security forces were examining people's cellphones to make sure no video of the incident could be released on the Internet.
The Turkic-speaking Uighurs consider Xinjiang their traditional homeland, but large influxes of ethnic Han Chinese over the years have left them a minority. The Uighurs complain that they are economically disadvantaged and that Chinese security forces impose security in their communities with a heavy hand, including mass arrests.
Hou Hanmin, deputy director of the local information department, said the exile group's account was "totally fake and not true at all."
"There was not any protest or conflict that happened before the attack," she said. She said some of the surviving attackers admitted under questioning to carrying out a planned attack on the police station. She said some of the attackers were from outside Hotan.
"They shouted extremist religious slogans and hung an extremist religious flag," Hou said. "Compared with past attacks, these were more religious fanatics. It's a new characteristic."
http://www.washingtonpost.com/world/china-says-xinjiang-attack-killed-18-uighurs-dispute-account/2011/07/20/gIQAR6ViPI_story.html
-------------
Egyptian women demand greater role in govt
Jul 21 2011
As Egyptian Prime Minister Essam Sharaf reshuffles his Cabinet, trying to placate the boiling Egyptian street with a more representative government, women have started to speak up, demanding greater representation in politics.
Sharaf reshuffled 14 ministers in his Cabinet Sunday, replacing ministers of finance and foreign affairs, but retaining the controversial interior and justice ministers. Women's organizations contend that with only one woman in the new Cabinet, International Cooperation and Planning Minister Fayza Aboul-Naga, the new government is far from egalitarian. Although described by the Egyptian daily Al-Ahram as "liberal-dominated," the Tahrir Square protesters that forced the change claimed that even the new cabinet was too pro-Mubarak. The public outcry forced Sharaf to postpone the swearing in of the government on Tuesday.
"This is an intentional ignoring of women's representation," Nahed Shahata, head of programming at the Egyptian Center for Women's Rights (ECWR), a Cairo-based organization, told The Media Line. "Women stood alongside men at Tahrir Square. They were killed and injured just like men. It's not a question of gender; this is an important period of democratic transition."
Five months after President Hosni Mubarak was deposed in a popular uprising centered in Cairo's Tahrir Square, Sharaf's cabinet, appointed and controlled by the army generals of the opaque Supreme Council of the Armed Forces (SCAF), has struggled to find stable ground.
Shahata said there is no religious or educational barrier preventing women from holding leadership positions in Egypt, noting that women already serve as judges, academics and social leaders. She said it was the government's responsibility to instill notions of equality in society by appointing more women in parliament, in the new government and as governors.
The press release issued by ECWR did not explain what female ratio would be considered "fair", but Shahata said that 30 percent was a reasonable goal.
Women have been allowed to vote in Egypt since 1956, and under a bill passed in 2009, 64 seats in the People's Assembly, Egypt's lower house of Parliament, are reserved for women, out of a total of 454 seats. Before that, only nine women held seats in the Egyptian Parliament after the 2005 elections. They represented just 2 percent of the total seats.
The Muslim Brotherhood, Egypt's leading political force, has allowed women to run as parliamentary candidates, but it opposes women from running for president, arguing that the position is reserved exclusively for men under Islamic law. There are no female members in the Brotherhood's decision making organs – the Shura Council and the Guidance Office.
Nevertheless, in the presidential elections due to follow next autumn's parliamentary vote, one woman is planning to run against 19 men. Buthaina Kamel, a 49-year-old television anchor and social activist, has become popular among the masses of Tahrir for her active participation in the revolution and her outspoken stance against the military regime.
"The revolution is being stolen," she told the London-based daily A-Sharq Al-Awsat on Tuesday. "We were quiet and sat around long enough, and as a result we have moved backward," Kamel, who returned to Tahrir Square this week to continue protesting against the government, told the daily.
Unveiled, dressed in modern garb; a cigarette between her fingers, Kamel promised to launch an anti-corruption campaign. She said the rhetoric of SCAF reminded her of the Mubarak era, and contains nothing but threats and warnings from the perils of the Tahrir protesters.
Maye Kassem, a political scientist at the American University of Cairo, said the debate about female representation in politics is irrelevant, because she doesn't believe Egypt will experience democracy in the near future.
"I'm not optimistic," Kassem told The Media Line. "Transformation to democracy won't be quick. The military isn't letting go of power any time soon."
Kassem said quotas were anti-democratic, whether applied to women or to any minority group in Egypt.
"Quotas are fake," she said. "They're just another form of authoritarianism. The first Egyptian woman entered parliament in 1924, so why should there be a quota? Women should continue to work hard, just like everyone else."
http://arabnews.com/middleeast/article475313.ece
-------------
Couple embraces Islam for remarriage, arrested
Jul 21 2011
KAITHAL: Having enjoyed police hospitality while being in the safe house following court orders, a lovelorn couple is now cooling their heels in a lock-up, for solemnizing a remarriage without divorcing their respective spouses, by embracing Islam.
Surender Singh aka Salim, a resident of Patti Afgan, and his second wife Surender aka Sania Mirza, a resident of Arjun Nagar here, are currently lodged in jail after they were arrested in a cheating case lodged on a complaint by Surender Singh's first wife Mukesh Rani last month. Enquiries revealed that Salim and Sania had married last month following their extra marital affair.
They embraced Islam as they were married and had children. The two eloped to marry and returned to protection house following a court order. Meanwhile, Salim aka Surender's wife Mukesh Rani moved an application which was put before the court. The court had asked police to proceed after investigating the case. The court had also ordered cancellation of police protection for the re-married couple after conversion and asked the cops proceed on the complaint of Mukesh. Said Sirandeep Singh, SP, Kaithal, "A case has been registered against Surender (now Salim) and Surender Kaur (now Sania Mirza) on account of torturing spouses and re-marriage without divorce under the Hindu Marriage Act."
http://timesofindia.indiatimes.com/india/Couple-embraces-Islam-for-remarriage-arrested/articleshow/9305334.cms
-------------
Burqa ban, capitulation to xenophobes: A Council of Europe Human Rights
Jul 21 2011
A Council of Europe human rights commissioner has criticized European countries that have banned or are considering banning the burqa for giving into prejudices of xenophobes.
(Ahlul Bayt News Agency) - Thomas Hammarberg said that such laws run counter to European human rights standards, Hammarberg said.
Instead of liberating women, such measures would lead to women's alienation from society, he added.
Hammerberg further called on European nations to take actions against hate crimes and discrimination instead of passing laws that regulates how people should dress.
"The way the dress of a small number of women has been portrayed as a key problem requiring urgent discussion and legislation is a sad capitulation to the prejudices of the xenophobes, Hammerberg said.
"Much deeper problems of intercultural tensions and gaps have been sidetracked by the burqa and niqab discussions."
"Instead of encouraging this unfortunate discourse, political leaders and governments should take more resolute action against hate crimes and discrimination against minorities."
Hammerberg's comments came as Belgium, on July 23, will be the latest EU country to enforce a law that could fine, or even imprison, women for wearing the burqa.
France became the first country to ban the full-face veil in April.
http://abna.co/data.asp?lang=3&Id=254767
-------------
Pak's first woman foreign minister challenges stereotypes at home
Jul 21 2011
Karachi : Pakistan's newly appointed foreign minister, Hina Rabbani Khar, is young in a culture that reveres the old, female in a society that favours men and her appointment comes just days before Pakistan's latest round of talks with India.
Khar, 34, was appointed on Tuesday after serving as junior foreign minister for five months. "This will not be an easy ride because of the complex issues being faced by Pakistan and the way the foreign policy is formulated within the country, where there are many influence groups which she will have to work with," said Shaukat Tarin, who served as Pakistan's finance minister when Khar was minister of state for finance and economic affairs, said. "This will really test her maturity."
"I think that she will be a figurehead," said Ayesha Siddiqa, an expert on the Pakistani military. "It's nothing to do with her per se, it's about the government's capacity to wrangle control of foreign policy from the military. " Khar is one of a number of a rising women politicians in Pakistan: an irony in one of the most restrictive countries.
Khar is from a political family in Punjab; her father is a large feudal land-holder from Muzaffargarh. She is Pakistan's 26th foreign minister. Reportedly a keen trekker and polo-enthusiast, Khar owns Lahore's upscale Polo Lounge, an elite club where the city's wealthy and influential rub shoulders.
She holds a masters in hospitality and tourism from University of Massachusetts and worked in hotel management before turning to politics.
http://www.indianexpress.com/news/paks-first-woman-foreign-minister-challenges-stereotypes-at-home/820242/
-------------
Yemen terror targets kids with jihad cartoon
Jul 21 2011
LONDON - An al Qaeda affiliate says it plans to roll out what some have called a Disney-like animated cartoon aimed at recruiting children to the terror network.
Scenes from the proposed short film show young boys dressed in battle fatigues and participating in raids, killings and terror plots. It is the latest attempt by the terror organization to use multimedia to draw in potential recruits. Recently, a Yemen-based extremist group released an online women's magazine with makeup and chastity tips.
News of the animated film was announced by a group called Abu al-Laith al-Yemen on the Arabic-language al-Shamouk jihadist website, the London-based Quilliam Foundation reported Wednesday. Quilliam, which was formed by former jihadists and now aims to stamp out extremism, said it appears the group is affiliated with al Qaeda in the Arabian Peninsula.
"It's a Disney-like film aimed at kids that tells stories of the Prophet, stories of holy wars and anti-Western propaganda," said Noman Benotman, a former jihadist with links to al Qaeda who is now an analyst at Quilliam. "But I think it could backfire. Families will be angry that al Qaeda is directing this at their children."
Full report at:
http://www.cbsnews.com/stories/2011/07/20/501364/main20081309.shtml
-------------
Six, including a woman, killed in Karachi
Jul 21 2011
KARACHI: Six people were killed in separate incidents in different parts of the metropolis on Wednesday.
An elderly man was crushed to death by a vehicle near PAF School within the limits of Shahrah-e-Faisal police station. A man, Hanif, 62, a resident of Street No 6, Mehmoodabad, was going to his relative's house on his motorcycle (KBJ-3732) when a speeding vehicle (KBJ-3732) crushed him to death and ran away. His body was shifted to Jinnah Postgraduate Medical Centre (JPMC) for medico-legal formalities and later handed over to his family. Police have registered a case and initiated a probe into it.
Separately, a bus conductor died after falling from a bus near Korangi Girls College within the precincts of Awami Colony police station. Conductor Muslim, 21, was hanging at the gate of a bus when he lost his grip and fell down, resultantly he suffered severe injuries and died on the spot. The body was shifted to JPMC for an autopsy. A police official said the victim hailed from Sadiqabad, Punjab.
Full report at:
http://www.dailytimes.com.pk/default.asp?page=2011\07\21\story_21-7-2011_pg7_23
-------------
Ahmadinejad and clerics fight over head scarves
By Thomas Erdbrink
Jul 21 2011
TEHRAN — Every summer, Iranian police get tough on women who violate the country's strict Islamic dress code by adjusting their veils and long coats to try to cope with the rising temperatures.
But this year, amid the annual crackdown, the issue of how women wear the veil — and what the government does about it — has become part of an intensifying rift between President Mahmoud Ahmadinejad and powerful Shiite clerics.
The conservative clerics, and like-minded military commanders, complain that Ahmadinejad must do more to ensure that the dress code is strictly enforced, even, as some have said, "if blood needs to be shed." Some of them have also blamed recent violence against women on the victims themselves, arguing that they are at fault because of their failure to wear the veil properly.
Full report at:
http://www.washingtonpost.com/world/middle-east/ahmadinejad-and-clerics-fight-over-scarves/2011/07/12/gIQAhoqJPI_story.html
-------------
Yemen Qaeda chief killed in fighting with army: military
Jul 21 2011
ADEN: Ayad al-Shabwani, a leader of Yemen-based al Qaeda in the Arabian Peninsula (AQAP), has been killed in fighting with the army, a military source said on Thursday.
Shabwani was killed on Tuesday in heavy fighting that continued into Wednesday between the army and suspected al Qaeda militants near Zinjibar, the capital of Abyan province, east of the main southern city Aden, the source said.
The official Saba news agency had said earlier that "two prominent members of the al Qaeda leadership were killed … in Abyan province," naming them as Ayad al-Shabwani and Awad Mohammed Saleh al-Shabwani.
Yemen had said before that Ayad al-Shabwani was killed, along with five other leaders, in a January 15 air strike on a convoy of vehicles. Three days later, AQAP denied that either Shabwani or the five others had been killed.
Militants believed to be linked to al Qaeda took over much of Zinjibar in late May, and have been battling security forces ever since, displacing thousands of residents.
Yemen is the ancestral homeland of veteran al Qaeda leader Osama bin Laden, who was killed in a US commando raid in Pakistan on May 2.
http://www.dawn.com/2011/07/21/yemen-qaeda-chief-killed-in-fighting-with-army-military.html
-------------
U.N.: Famine in Somalia is killing tens of thousands
By Sudarsan Raghavan
Jul 21 2011
NAIROBI — Famine in parts of southern Somalia has killed tens of thousands of people, mostly children, the United Nations said Wednesday in an official declaration of what aid officials describe as the worst humanitarian crisis in the troubled country in two decades.
The famine declaration comes months after U.N. and other aid agencies began sounding the alarm about a devastating drought in the Horn of Africa, where an estimated 10 million people need help. The crisis has been aggravated by civil strife, the lowest rainfall rates in half a century and sharp increases in food prices.
"Somalia is facing its worst food security crisis in the last 20 years," Mark Bowden, the top U.N. official in charge of humanitarian aid to the country, told reporters, adding that $300 million is needed within two months to help alleviate the crisis.
Somalia has grappled with civil war and ineffective governments since 1991, when Mohamed Siad Barre's regime was toppled. Today, a weak and corrupt transitional government, backed by the United States and its allies, is in place, with little ability to address the famine. Much of its energy is focused on preventing the capital, Mogadishu, from being overtaken by the al-Shabab militia, a group linked to al-Qaeda that seeks to turn the country into an Islamic emirate.
Full report at:
http://www.washingtonpost.com/world/africa/un-famine-in-somalia-is-killing-tens-of-thousands/2011/07/20/gIQAbV3iPI_story.html
-------------
Libyan troops kill 8 rebels near strategic Brega town
Jul 21 2011
Government forces in trucks disguised with rebel flags shelled opposition positions near the strategic eastern oil town of Brega, killing eight rebel fighters and wounding dozens more, officials said.
In an audio message directed at a rally of thousands in the town of al-Aziziya, south of Tripoli, embattled ruler Muammar Gaddafi on Tuesday emphasised the importance of Libya's vast oil wealth to his regime, and called the civil war a battle "for our way of life."
Rebel forces have been pushing to seize the front-line town of Brega, which is home to an oil refinery and terminal, for nearly a week, but they say fields of land mines planted by Gaddafi's forces have slowed the advance.
The rebels are fighting in a residential area on Brega's eastern side and control about one-third of the town, spokesman Mohammed al-Rajali said.
Field commander Ahmed Maysawi said rebel forces were working to clear the mines so they can move forward while government troops are occasionally approaching in trucks disguised with rebel flags to shell rebel positions with mounted rocket launchers. Mohammed Idris, a doctor at the hospital in the nearby city of Ajdabiya, said eight rebels were killed and dozens wounded on Tuesday. That raised to at least 34 rebels killed in five days of fighting, according to Idris.
He said the rebels had taken four prisoners, and one dead Government soldier had been taken to the rebel hospital. It is unclear how many other Government soldier have been killed. The Libyan Government rarely provides information on its casualties.
http://www.dailypioneer.com/354632/Libyan-troops-kill-8-rebels-near-strategic-Brega-town.html
-------------
13 reported killed by earthquake in Uzbekistan
Jul 21 2011
ALMATY: Thirteen people were killed in a powerful earthquake that hit Uzbekistan's heavily populated Ferghana Valley region early Wednesday, emergency officials said.
A magnitude-6.2 temblor centered in neighboring Kyrgyzstan hit shortly after midnight in a mountainous area some 22 miles (35 kilometers) away from the eastern Uzbek city of Ferghana, which has a population of more than 200,000.
Uzbekistan's Emergency Services Ministry said in a statement that of the 86 people being treated for injuries, 35 have been hospitalized.
Officials said a number of residential buildings in several towns in the Ferghana Province have been damaged, but they did not specify the extent of the earthquake's impact.
Uzbek President Islam Karimov has given instructions for emergency workers to take prompt action to mitigate the fallout from the quake and provide assistance to victims, a government statement said.
Full report at:
http://timesofindia.indiatimes.com/world/rest-of-world/13-reported-killed-by-earthquake-in-Uzbekistan/articleshow/9299297.cms
-------------
Bahraini poetess blames Al Khalifa family of torturing protesters in jails
Jul 21, 2011
(Ahlul Bayt News Agency) - She said in an interview with Al-Alam news channel on Wednesday: "There is no doubt about the government's official supervision over the torture, even some members of the ruling family personally take part in torturing detainees."
Al-Qurmezi noted that some detainees have been killed under torture.
She was arrested on March 30 after being caught on film reading poems critical of Bahrain's ruling regime to a group of protesters at Pearl Square in the capital Manama.
In June, a military court sentenced the young activist to 12 months in jail, reportedly without any legal argument or her lawyer being allowed to speak.
The 20-year-old poetess was released on July 13, but her sentence has not been revoked. She is currently under house arrest.
She said that beating and electronic shocks are the most common ways of torturing in Bahrain's prisoners.
In the latest development on Wednesday, Bahraini forces once again attacked peaceful protesters in several villages and towns surrounding the capital including Nuwaidrat, Sanabis, Eker, and Sitra.
Anti-regime protesters have been holding demonstrations across the country since mid-February, calling on the Al Khalifa ruling family to relinquish power.
http://abna.co/data.asp?lang=3&Id=254769
-------------
Presidential hopeful ElBaradei calls for abandoning religious slogans
Jul 21 2011
Presidential hopeful Mohamed ElBaradei called for abandoning religious slogans in the upcoming parliamentary elections.
He added that abolishing the Muslim Brotherhood-affiliated mottoes such as "Islam is the solution" and other religious slogans is necessary.
At a meeting with members of the fledgling leftist Popular Alliance Party on Wednesday, ElBaradei said," If we brush religious slogans aside and dig deeper, we'll find out that the disagreements are not as wide as they seem."
He added that religious factions that view the adoption of democracy as a violation of Islamic Sharia must be treated as outsiders since national powers have reached a consensus in this regard.
Full report at:
http://www.almasryalyoum.com/en/node/479002
-------------
Pakistan: Crimes against women frequent in urban districts
Jul 21 2011
ISLAMABAD: As many as 29,505 FIRs were registered in 55 districts being monitored by the Free and Fair Election Network (FAFEN) during April 2011. Serious crimes such as murder and rape were frequently reported in urban districts of the country. The highest number of FIRs, 98, regarding murder were registered in Karachi while the district of Lahore reported the highest number of rape cases, 29.
Crimes against women are generally regarded as the outcome of certain socially sanctioned prejudices against women, especially in rural and largely inaccessible Tribal Areas. However, data suggests that such crimes may be prevalent in developed urban centres of the country as well. During April 2011, most crimes against women occurred in Lahore.
In order to collect crime statistics, FAFEN governance monitors visited offices of the district police officers (DPO) in 55 districts in April 2011. Of these, 23 districts were monitored in Punjab, 14 in Khyber Pakhtunkhwa, 12 in Sindh, five in Balochistan and the Islamabad Capital Territory (ICT).
Full report at:
http://www.dailytimes.com.pk/default.asp?page=2011\07\21\story_21-7-2011_pg7_16
-------------
Harassed by women colleagues at workplace, men feel trapped: Jeddah
Jul 21 2011
JEDDAH: Harassment at the workplace is usually associated with men verbally or physically intimidating female coworkers. Companies take measures to prevent harassment of women through separation or stiff punishment.
The picture changes when women harass men. Many people find this strange; they believe that sexual harassment is limited toward female employees.
Most cases of harassment against men go unreported, as men tend to enjoy it or do not feel comfortable informing the management about it. If they report it, company managers try to resolve the issue in-house. Men are also less likely than women to speak up about such cases for fear of being mocked by coworkers. Therefore, it is difficult for men to decide what steps to take if harassment happens.
Full report at:
http://arabnews.com/saudiarabia/article475321.ece
-------------
Bangladeshi inhumanly Punished and paraded naked for Marrying a Minor
Jul 21, 2011
DHAKA: Bangladeshi police said on Thursday they were investigating the case of a man forced to parade naked through his village with a brick tied to his penis as punishment for kidnapping and marrying a minor.
The punishment was meted out Saturday to the 30-year-old man by the local council in a village 30 kilometres (18 miles) south of Dhaka.
Police said he had kidnapped and then forcibly married a 12-year-old girl, who later managed to escape.
"The council chief and some village elders beat him and made him parade with a brick tied to his penis at a river ghat (steps) under the full gaze of at least 200 people," police sub-inspector Binoy Krishna Kar said.
Village courts are legal in Bangladesh but only empowered to settle disputes related to land ownership, inheritance and other minor issues. They are proscribed from handing down physical punishment.
Full report at:
http://timesofindia.indiatimes.com/world/south-asia/Bangladeshi-has-brick-tied-to-penis-as-punishment/articleshow/9312070.cms
-------------
Bangladesh: Teenager strangled after rape
Jul 21 2011
A female Madrasas student was strangulated to death after rape by a young man at Chhoto Vaijora village in Bamna Upazila in the early hours of Tuesday.
The deceased was identified as Jenny Akhter, 15, a class VIII student of Cholavanga Darus Salam Rashidia Dakhil Madrasas and daughter of ex-army man Motaleb Hawlader of the village.
Family members said Golam Jisan Hayder alias Tapu, 22, son of upazila Awami League vice-president and local UP member Golam Hayder Hemayet Mridha, used to sexually harass Jenny on her way to Madrasas since long.
At one stage, Jenny's parents stopped her studies two months back and arranged her marriage with a neighboring young man which was scheduled to be held on next Friday.
On Tuesday night, Tapu sneaked into her room late and raped her. Hearing the hue and cry, when her mother tried to rescue Jenny, Tapu beat her mercilessly.
At one stage, Tapu dragged Jenny outside the house and strangulated her to death.
http://newagebd.com/newspaper1/national/26946.html
-------------
RIYADH: Maid repatriated after 3-year ordeal
Jul 21 2011
RIYADH: An Indian maid who was virtually imprisoned for three years by her Saudi sponsor has been repatriated home safely thanks to the timely intervention of the Indian Consulate General in Jeddah.
Vishwanatha Saraswathie, 40, started working for the household in Jeddah in 2006. She hails from Ooty, one of the popular hill stations in southern India.
"The workplace became a hell when she returned to her sponsor after her biennial vacation," Consul S.D. Moorthy told Arab News on Monday.
"Saraswathie faced immense problems with the sponsor's family. She was completely confined to the house and never allowed to see even the daylight."
He added that she had not been paid for three years and was not allowed to communicate with her friends and family in India by letter or phone.
The married maid has two daughters back home and had come to the Kingdom as her husband is disabled.
Full report at:
http://arabnews.com/saudiarabia/article474281.ece
-------------
Pakistan: Woman caught stealing newborn
Jul 21 2011
ISLAMABAD, July 20: Police have arrested a woman for stealing a newborn from Pakistan Institute of Medical Sciences (Pims) and sent her to Adiala Jail on judicial remand.
Police said the woman was caught red-handed by a woman security guard at the exit gate of Mother and Child Hospital while she was leaving the hospital building in a suspicious manner.
The security guard immediately called her in-charge and senior administration officer who came there and started interrogating the woman. She told them that she had committed the crime to save her marriage as she could not bear child, her husband had warned her of divorce.
The hospital administration called her husband and Margalla police. During interrogation her husband told police that he had three children from his wife and had no idea why his wife had stolen the baby.
On the other hand, the woman said that she did have three children but from her first husband and after separation from him she tied the knot with her present husband from whom she had no child.
http://www.dawn.com/2011/07/21/woman-caught-stealing-newborn.html
-------------
Violence resumes in Sana'a
Jul 21 2011
SANA'A, July 20 — One protester was killed, five wounded by life ammunition and 65 exposed to tear gas on Monday in an attack against anti-government protesters, the first since the announcement of a transitional council on Saturday.
The youth who vowed to escalate and strengthen the "revolutionary action" marched on Monday demanding that the international community accept the transitional council. The council consists of 17 members, eight of which are from the south. The youth also called for the removal of what they call "the rest of the regime," specifically meaning President Saleh's sons and nephews.
"We went out on a march. We were in the hundreds, and the Central Security stopped us at Kintaki Bridge. But then they let us continue on our way," said Radhwan Al-Himi, one of the protesters. After the protesters passed the bridge, however, they were attacked by 'thugs'.
Protesters managed to take a photo of the alleged killer of protester Hassan Al-Hawri that was soon was distributed on social networks. Many facebook users posted Al-Hawri's picture as their own to show their support for the cause he was killed for – the end of Saleh's regime.
Full report at:
http://www.yementimes.com/defaultdet.aspx?SUB_ID=36350
-------------
Bangladesh's highest honour for Indira Gandhi
Jul 21 2011
WHEN Congress chief Sonia Gandhi receives Bangladesh's highest state award next week on behalf of Indira Gandhi for her contribution in the 1971 Liberation War, Dhaka would have taken exactly 40 years to honour India's former Prime Minister who fought world opinion to support the freedom fighters of East Pakistan.
The Sheikh Hasina- led government on Tuesday decided to present ' Bangladesh Swadhinata Sammanona' posthumously to Indira for her role in the war. She will, in fact, be the first foreigner to get Bangladesh's highest state honour.
Bangladesh President Zillur Rahman will hand over the award to Sonia during her two- day visit. The Congress chief and Hasina will also be closeted as they chart out the future of Indo- Bangla ties, which have improved significantly since Hasina's return to power following the December 2008 elections.
While Hasina cracked down on Indian insurgents on Bangladeshi soil and deported the top Ulfa leadership, India extended a Line of Credit worth $ 1 billion to boost the neighbouring country's infrastructure.
The simultaneous rule by the Congress and Awami League — parties that share strong bonds — in the two countries have further cemented ties.
During her visit, the Congress chief will also attend a conference on autism organised by Bangabandhu Sheikh Mujib Medical University.
Sonia's visit will be followed by that of Union home minister P. Chidambaram later this month.
PM Manmohan Singh will visit the country in September.
Mail Today
-------------
Obama's feeble counterterrorism efforts lambasted
By Jennifer Rubin
Jul 21 2011
The Obama administration has been roundly criticized for ignoring the ideology that animates Islamic terrorism. In fact, it has entirely excised "radical jihadism" or "Islamic fundamentalism." Now a Muslim organization is taking the Obama team to task.
A news release yesterday described the problem:
The American Islamic Leadership Coalition (AILC) issued a policy communique today noting both improvements and glaring omissions in the Obama administration's recently released National Strategy on Counterterrorism (NSCT) and recommending revisions to increase the effectiveness of the strategy. The AILC is a group of more than 25 organizations and leaders representative of the overwhelming "silent majority" of Muslims in America — who span a wide gamut of religious beliefs and adhere to diverse social and cultural practices. As Muslims dedicated to helping the U.S. government to protect our nation, AILC leaders are offering their vision of a genuine solutions-based approach against the threat of Islamist terror.
Full report at:
http://www.washingtonpost.com/blogs/right-turn/post/obamas-feeble-counterterrorism-efforts-lambasted/2011/03/29/gIQAmxJzPI_blog.html
-------------
Kuwaiti FM praises role of Oxford Center for Islamic Studies
Jul 21 2011
Deputy Premier and Foreign Minister Sheikh Dr. Mohammad Sabah Al-Salem Al-Sabah in the Oxford Center for Islamic Studies OXFORD, South East England, July 21 (KUNA) -- Kuwait's Deputy Premier and Foreign Minister Sheikh Dr. Mohammad Sabah Al-Salem Al-Sabah took part in the annual meeting of the Board of Trustees of Oxford Center for Islamic Studies here Wednesday night and told KUNA the establishment plays a key role in bolstering dialogue among religions.
Sheikh Mohammad was named member of the board in 2009, one of a host of prominent Muslim and other figures. Sheikh Mohammad noted he was pleased to attend the meeting for the third time, as the attending politicians, intellectuals, and academicians seek to find means to bolster interaction and understanding between the Muslim World and the West.
The Oxford Centre for Islamic Studies is a Recognized Independent Centre of the University of Oxford. It was established in 1985 to encourage the scholarly study of Islam and the Islamic world. The Prince of Wales, Charles, is the Patron of the Centre. The board of trustees includes Prince Turki bin Faisal bin Abdelaziz Al-Saud, as well as head of Kuwait Foundation for the Advancement of Sciences (KFAS) Dr. Ali Al-Shamlan.
Full report at:
http://www.kuna.net.kw/NewsAgenciesPublicSite/ArticleDetails.aspx?id=2181389&Language=en
-------------
Australian man, convert to Islam, whipped for drinking
Jul 21 2011
An Australian man who had converted to Islam reports that he was whipped by his new co-religionists for drinking alcohol.
The Sydney man said that several men broke into his apartment at night and lashed him with a cable, leaving his body covered with welts. He said that the attack was punishment for having gone drinking with friends.
http://www.catholicculture.org/news/headlines/index.cfm?storyid=11084
-------------
US Muslim Woman Gets $20,000 in Lawsuit Against Discrimination
Jul 21 2011
A federal jury has awarded $20,000 in compensatory damages to a Muslim woman who alleged that Abercrombie & Fitch discriminated against her because she wore a head scarf.
(Ahlul Bayt News Agency) - The six-member panel deliberated more than four hours Wednesday before deciding on damages against the clothing retailer.
The Equal Employment Opportunity Commission sued on behalf of Samantha Elauf, who alleged she was denied a job at an Abercrombie & Fitch store in Tulsa's Woodland Hills Mall because she wore a hijab. The hijab is part of her religious beliefs.
U.S. District Judge Gregory Frizzell ruled last week the store violated Elauf's civil rights when it didn't hire her.
Store officials denied any discrimination but acknowledged having a policy that bars headwear.
Abercrombie & Fitch officials couldn't be reached after hours for comment.
http://abna.co/data.asp?lang=3&Id=254857
-------------
Execution of ex-defense minister is an insult; Iraq
Jul 21 2011
Middle Coalition MP Khalid Sulaiman Al-Fahdawi said today that the execution of the ex-defense minister Sultan Hashim is "an insult" to the national military institution, as reported in a statement.
(Ahlul Bayt News Agency) - Al-Fahadawi said in a statement, that "the Iraqi army was never an army of a particular party or political regime, but a national institution that created heroes and specialists in different administrative, medical, engineering and other specializations.
"We heard the bad news that there is an intention to execute Staff General Sultan Hashim, but if he is executed, it will be an insult to the national military institution", he added.
Iraqi ministry of justice announced that it will execute Hashim and a number of ex-regime official, who were recently handed over by the U.S.
forces.
http://abna.co/data.asp?lang=3&Id=254791
-------------
Pak victim's kin settle for Rs 8cr 'blood money'
Jul 21 2011
JALANDHAR: 17 Punjabis on death row in Sharjah finally saw a ray of hope on Wednesday as family of the victim, Msiri Khan of Pakistan, accepted the Rs 8 crore 'blood money' offer. It has already received Rs 10 lakh as token payment.
This is the highest Diya ( blood money) to be paid to save an accused in UAE, and is eight times higher than the initial offer made by Dubai-based hotelier S P Singh Oberoi in court on May 19.
While the family's attorney Mohd. Ramzaan told the appellate court in Sharjah that the family was ready for a compromise and Oberoi, who has been following the case, submitted an acknowledgement of receipt of the token money signed by victim's brother Sarfraz Khan. Oberoi has been given a week's time to deposit the 'blood money' on July 27 as well as the remaining papers. The court will then give its verdict.
Oberoi said members of Indian Punjabi Society of UAE, of which he is founder member, and NGO Sarbat Da Bhalla, had worked through various channels for 10 days to bring the family around.
It is learned that intense lobbying in Pakistan by some influential families also helped in finalizing the 'blood money' deal. The hotelier said, ''The family was demanding Rs 12 crore, but some UAE-based organizations and Indian individuals made the negotiations tough by making false promises of paying huge sums of 'blood money' though they had nothing in their kitty.''
http://timesofindia.indiatimes.com/india/Pak-victims-kin-settle-for-Rs-8cr-blood-money/articleshow/9304284.cms
-------------
Islamic Resource Society commemorates Emancipation
Jul 21 2011
Dr Shaykh Hakim Quick at the 16th annual Emancipation Lecture where he gave the feature address.
As we get ready to celebrate 27 years of emancipation here in T&T, the Islamic Resource Society will stage its 17th Annual Emancipation Lecture today, at the Communications Workers Union Hall on Henry Street, Port-of-Spain. According to Kwesi Atiba, member of the society, the keynote address will be delivered by Dr Rawle Gibbons, and will focus on the announcement by the UN that 2011 is to be recognised as the International Year For People Of African Descent.
"The Islamic Resource Society recognises and pays tribute to the two major ethnic groups in T&T. For Indian Arrival Day we host an event, likewise for Emancipation Day. "The lectures given each year for Emancipation celebration usually reflect on the people of African origin in the Diaspora, from the time of enslavement to our present state," explained Atiba. He added that acknowledgement was also given to special individuals who forced the hand of the colonial masters to abolish the slave trade and slavery.
"We must pay homage to those who fought and even died....all who contributed to the freedom of the people of African origin that we can today, exercise our culture and exist in harmony with all other ethnic groups." Atiba said the event was open to the public, people of all religions, ethnic and cultural backgrounds. He said entertainment and light refreshments would be provided. "Come and enjoy an evening of learning and loving who we are as the people of African origin," he urged.
http://www2.guardian.co.tt/lifestyle/2011/07/21/islamic-resource-society-commemorates-emancipation
-------------
Saudi envoy inaugurates Al-Shifa Multispeciality Hospital in Jamia Nagar, New Delhi
Jul 21 2011
New Delhi: Mr. Faisal Bin Hassan Ahmed Trad, the Ambassador of Saudi Arabia to India, on Wednesday inaugurated the Out Patient Department (OPD) of newly constructed Al-Shifa Multispecialty Hospital at Dawat Nagar in Abul Fazl Enclave of Jamia Nagar, New Delhi.
While inaugurating the OPD Service at AL-Shifa Multispeciality Hospital, the Ambassador said that construction of such a hospital with social concern was the need of the hour and Jamaat-e-Islami Hind deserves the credit for such social service projects which are being implemented for over six decades in the length and breadth of the country. The Ambassador appreciated the initiatives taken as part of the Vision 2016 program.
The Hospital aims at providing affordable, dignified healthcare through innovation and commitment, accessible to the poorest of the poor man, said Prof. Siddique Hassan, Chairman, Vision 2016 project.
Full report at:
http://twocircles.net/2011jul20/saudi_envoy_inaugurates_alshifa_multispeciality_hospital_
-------------
Disseminating the Culture of Sacrifice and Martyrdom is One of the Islamic Societies' Necessities
Jul 21 2011
The commander of Rahiyan Noor Central Headquarters mentioned that propagating the culture of sacrifice and martyrdom is one of the significant issues for the Islamic society.
(Ahlul Bayt News Agency) - The commander of Rahiyan Noor Central Headquarters mentioned that propagating the culture of sacrifice and martyrdom is one of the significant issues for the Islamic society.
Brigadier General 'Ali Fazli' in the congress of "Martyrs Servants" in Ayeha Complex of Hashhad city added: "Promoting the culture of sacrifice and martyrdom makes us and our Islamic society secure against the conspiracies of enemies."
He pointed out to the conspiracies of enemies specially in the cultural fields and soft war against the Islamic society and he said: "Expanding the culture of sacrifice and martyrdom and holding the tours of Rahiyan Noor can play an important role for promotion of this culture and it is really necessary for our community."
Full report at:
http://abna.co/data.asp?lang=3&id=254443
-------------
Popular Front suggests formula for Muslim reservation
Jul 21 2011
Bhopal: Popular Front of India, chairman Mr. E. M. Abdul Rahiman in a letter written to Mr. Salman Khurshid, Minister for Law & Minority Affairs, has urged the Union Government to solve the issue of Muslim reservation incorporating all genuine demands that came from the Muslim community.
The letter has referred to recent reported statement by the minister that the consultation process over the subject of Muslim reservation is over and the Union Home Ministry was set to submit the final proposal after a meeting of all ministries and governmental agencies to be convened for the purpose.
The formula suggested by Popular Front of India comprises providing reservation to all Muslims all over the country, along with giving due consideration to OBC and Dalit requirements. The excerpts from the letter are as follows:
1. All Muslims in all states must be declared as either Socially and Educationally Backward Class (SEBC) or Other Backward Class (OBC);
2. An executive order must be issued by the Central Government earmarking 10 per cent reservation for Muslims and 5 per cent reservation for other religious minorities in all central appointments and admission to central educational institutions as recommended by Justice Mishra Commission;
3. While appointments and admissions are made under Muslim reservation quota, those Muslim categories that are already in the OBC list must be given preferential treatment over others;
Full report at:
http://twocircles.net/2011jul20/popular_front_suggests_formula_muslim_reservation.html?
-------------
Texas inmate executed for 2001 killing of an Indian in the US
Jul 21 2011
Houston : A 41-year-old man in the US has been executed for killing a convenience store clerk from India during a shooting spree in 2001 that he had said was retaliation for the September 11 terrorist attacks.
Mark Stroman, a Texas death row inmate, shot at least three men he mistook for Arabs in the weeks after the attacks, killing two of them.
He was convicted of killing Vasudev Patel, 49, during the attempted robbery of a convenience store near Dallas in October 2001. He was also charged in the fatal shooting of Waqar Hasan, 46, a Muslim born in Pakistan.
He was executed after the US Supreme Court yesterday rejected a last-minute appeal by one of his victims to save his life.
The lone survivor, Rais Bhuiyan, a native of Bangladesh, had sued to stop the execution, saying his religious beliefs as a Muslim told him to forgive.
Full report at:
http://www.indianexpress.com/news/texas-inmate-executed-for-killing-indian-in-us/820364/
-------------
Blast destroys Nato oil tanker in Khyber
Jul 21 2011
PESHAWAR: A Nato oil tanker was destroyed as the result of an explosion in the Khyber tribal region on Thursday, DawnNews reported.
The blast reportedly occurred inside the tanker, sources said.
The Pak-Afghan border highway was subsequently blocked after a massive traffic pile-up, which resulted in the suspension of supply, security sources told DawnNews.
The bulk of supplies and equipment required by foreign troops in Afghanistan are shipped through the Khyber tribal region.
http://www.dawn.com/2011/07/21/blast-destroys-nato-oil-tanker-in-khyber.html
-------------
Two Britons detained in Afghanistan
Jul 21 2011
LONDON: British forces have detained two British nationals in Afghanistan, authorities in London said Thursday, amid reports they were suspected of plotting against Britain or fighting with the Taliban.
"We can confirm that British forces have detained two individuals in Afghanistan who claim to be British nationals," the Ministry of Defence said in a statement.
A Foreign Office spokeswoman added: "We can confirm that two British nationals have been detained in Afghanistan."Neither ministry would say what they were suspected of doing, amid differing reports in the British media.
The Times reported that the two men, who have dual nationality, were arrested at a hotel near the Iranian border as part of a counter-terrorism raid to thwart a possible attack against British interests.
Full report at:
http://www.dawn.com/2011/07/21/two-britons-detained-in-afghanistan.html
-------------
Blast in Jaffarabad; four killed
Jul 21 2011
QUETTA: A remote controlled bomb targeted an Oil and Gas Development Corporation (OGDCL) car in Dera Allahyar, a town in Jaffarabad district, on Thursday killing four, DawnNews reported.
The people who were killed worked for the state-owned OGDCL. In the past, OGDCL interests have been targeted in the province.
There was no claim of responsibility. Both Taliban militants and Baloch separatist nationalists are blamed for violence in Balochistan.
Police said the bomb was fixed to a motorbike and parked on the roadside about 170 miles (272 kilometres) southeast of the provincial capital Quetta.
"It was a remote-controlled device which hit the oil and gas officials' vehicle," Mohammed Tariq, a senior police official, told AFP.
Balochistan has long been the scene of a low-level insurgency by nationalists who say their movement is aimed at getting a greater share of profits from natural resources like natural gas extracted from their province.
http://www.dawn.com/2011/07/21/blast-in-jaffarabad-four-killed.html
-------------
Concern as Sydney Opera House appears on jihad site
Jul 21 2011
SYDNEY: Attorney-General Robert McClelland said Thursday Australia's terror threat level would not change despite an image of Sydney's iconic Opera House appearing in an online magazine linked to al Qaeda.
The landmark building is featured in the latest edition of "Inspire", an English-language site that deals with bomb-making and terrorism.
It is reportedly put together by associates of al Qaeda in the Arabian Peninsula, a militant Islamist organisation primarily active in Yemen and Saudi Arabia.
"I have been advised this publication does not represent any change to the extent of the terrorist threat within Australia," McClelland said in a statement.
"And I am advised it has not been accompanied by any specific threat in Australia or to Australian citizens." As such, the country's National Terrorism Alert Level would remain at medium, he said, which means a terrorist attack could occur. It has been at the medium level since 2001.
Full report at:
http://www.dawn.com/2011/07/21/concern-as-sydney-opera-house-appears-on-jihad-site.html
-------------
Afghan security commander shot dead
Jul 21 2011
QUETTA, July 20: An Afghan security commander was killed in firing in Saranan area in Pishin district on Wednesday night.
Levies sources said the Afghan security commander came to Saranan to meet relatives where two people opened fire, killing him on the spot.
Soon after the incident, Levies personnel rushed to the site and arrested the attackers.
"Further investigation is in progress," Levies' officials said.
However, according to some sources, Taliban had claimed responsibility for the killing of Afghan security official.
http://www.dawn.com/2011/07/21/afghan-security-commander-shot-dead.html
-------------
44 Pakistanis deported from Turkey arrive
Jul 21 2011
RAWALPINDI, July 20: About 44 Pakistanis, who were deported by Turkish authorities for illegally entering into the country to further proceed to Europe in search of better life, arrived at Benazir Bhutto International Airport on Wednesday.
Besides, three more Pakistani illegal immigrants, deported from Hong Kong and Dubai, arrived here on Wednesday through other flights.
According to the Federal Investigation Agency`s immigration officials, upon reaching the airport, all the deportees were taken into custody by the FIA`s anti-human trafficking staff for interrogation after the registration of cases against them.
Asad Majeed, 18, who was from Mandi Bahauddin, narrating his harrowing tale said he had left his home around 20 days back and was finally captured by the police from Almas hilly area where he was trying to enter into Europe illegally.
He said he first met a local human smuggling agent, who arranged his visit visa to Iran. While proceeding to Iran, he was handed over a piece of paper inscribed with the name of Ali Butt, an agent in Istanbul who had to arrange his onward journey with a group of illegal immigrants.
Full report at:
http://www.dawn.com/2011/07/21/44-pakistanis-deported-from-turkey-arrive.html
-------------
Serbia arrests war crimes fugitive Hadzic
Jul 21 2011
BELGRADE: Serbia on Wednesday arrested Goran Hadzic, the one-time Croatian Serb rebel leader accused of mass murder and the last remaining fugitive wanted by the UN war crimes court in The Hague.
Hadzic, 52, faces 14 counts of crimes against humanity and war crimes for the murders of hundreds of people and deportation of tens of thousands Croats between 1992-1993 by troops under his command.
The European Union hailed the arrest as an "important" step forward in Serbia's bid for EU membership while Serbian President Boris Tadic said is was the end of a "difficult" chapter for Serbia in its dealings with The Hague court.
Full report at:
http://timesofindia.indiatimes.com/world/rest-of-world/Serbia-arrests-war-crimes-fugitive-Hadzic/articleshow/9298673.cms
-------------
'Lobbying in Pakistan helped'
Jul 21 2011
JALANDHAR: Dubai-based hotelier S P Singh Oberoi said Punjab Pardesh Congress Committee president Amarinder Singh prevailed upon some politicians of Pakistan to help convice the family of the victim. ''He roped in his friends in political circles of Pakistan who played a very crucial role in persuading the family to settle for blood money in place of revenge,'' he said.
''Not only did he keep his word to our boys, but he also inspired me and friends like Sukhwinder Singh Cheena and Gursharan Singh, who were most generous in contributing to save the precious lives of 17 Indians,'' he added.
Capt's Effort
This has been possible because of Capt Amarinder's efforts. After personally meeting the accused in Sharjah jail last year, he promised to bring them back to their families. He met the Sheikh of Abu Dhabi and the chief of police at Sharjah, said SP Singh Oberoi from Dubai.
http://timesofindia.indiatimes.com/india/Lobbying-in-Pakistan-helped/articleshow/9305499.cms
-------------
Show proof of Indian role: Pakistani panel
Jul 21 2011
ISLAMABAD: Balochistan is fast sliding into chaos and the situation is very precarious with the tortured bodies of 140 missing persons turning up between July 2010 and May 2011, according to the Human Rights Commission of Pakistan (HRCP). As per HRCP's conservative estimate, another 143 persons are still missing in Pakistan's largest province.
Briefing journalists here about the findings of an HRCP team which visited the violence-prone province in May, Secretary-General I.A. Rehman likened the situation in Balochistan to what prevailed in East Pakistan before 1971. He and the former HRCP chairperson, Asma Jehangir, were one in stating that security forces were trying to create the very same narrative of external forces being responsible for the violence in the resource-rich but under-developed province.
"Are you trying to suggest that all Balochis have sold out to foreign elements? Has the government tried even one person for treason," asked Ms. Jehangir. To a question on the oft-repeated charge that Indians were stirring up trouble, she shot back: "When the government makes such an allegation, we expect it to show some evidence. Unfortunately, we have not seen that. If these allegations are correct, it is all the more serious that the government is not taking up the matter."
Referring to the mainstream narrative of Balochis conducting a separatist movement, Mr. Rehman noted: "Considering what is being done to them, they are still showing a lot of patience." A particularly worrying trend the HRCP had noted since 2009, when it last conducted a fact-finding tour of the province, was the torture and murder of victims of "enforced disappearances". Most of the victims were in the 16-25 age bracket and were either students or unemployed youth.
http://www.hindu.com/2011/06/30/stories/2011063056981400.htm
-------------
Gunbattle in Kandahar, three Afghan policemen dead
Jul 21 2011
A gunbattle between Afghan police and insurgents in the city of Kandahar on Wednesday killed three policemen and wounded eight people, officials said.
A spokesman for the interior ministry said the fighting was triggered by a police operation following a tip-off about the presence of two insurgents holed up in a house in the area, including one he said was a top Taliban commander.
The commander and one other insurgent were killed along with three Afghan police in the raid, said spokesman Siddiq Siddiqi.
"Our police had intelligence about the presence of some terrorists in a house in District 1. Police besieged the house and ordered the terrorists to surrender, but they refused and started fighting," he said.
"In the fighting both terrorists including a well-known deaf Taliban commander known as Mullah Kar were killed."
Full report at:
http://www.dailypioneer.com/354665/Gunbattle-in-Kandahar-three-Afghan-policemen-dead.html
-------------
Britain tells Pak to dismantle terror infrastructure
Jul 21 2011
Britain has told Pakistan to take the killing of Osama Bin Laden near Islamabad as an opportunity to root out the entire terror set up in the country.
British Foreign Secretary William Hague informed the visiting BJP president Nitin Gadkari that Pakistani Prime Minister Syed Yusuf Raza Gilani has assured him that the leadership in Pakistan wanted to tackle terrorism in the country.
Gadkari called on Hague soon after the British Foreign Secretary's meeting with Gilani, who is in London.
Gadkari is the first Indian leader to get a British briefing about their talks with Gilani. He said Pakistan was facing problems in tackling terrorism as they were not in control of the entire territory and they were facing attacks as well.
Britain has told the Pakistani leadership that both New Delhi and Islamabad should resolve their problems and cooperate with each other in economic field.
"We don't have an answer to your bilateral issues, but we do feel economic cooperation between the two countries should be encouraged", Hague told Gadkari.
Pakistan too, should concentrate on economic growth like India if they wanted to get over the current situation and, therefore should promote economic cooperation with India, Hague told the BJP leader.
Full report at:
http://www.dailypioneer.com/354655/Britain-tells-Pak-to-dismantle-terror-infrastructure.html
-------------
ISI used hawala to put millions into Fai's purse
By Aman Sharma
Jul 21 2011
INEXPLICABLY, it took the US six long years to arrest Dr Ghulam Nabi Fai despite the FBI conceding that it had the first concrete information on his ties with the ISI way back in 2005.
Since then, the FBI mounted surveillance on Fai and intercepted his phone conversations and e- mail correspondence with his ISI handlers. However, the agency has arrested him only now, though Dr Fai was questioned first in 2007 and then in March this year. If convicted, he could face a five- year sentence.
The timing of the 62- year- old Kashmir- born US citizen's arrest is being seen in the Indian government circles as a ploy by the US to appease New Delhi, which has for long been asking it to crack down on Dr Fai and his Washington- based NGO, the Kashmiri American Council ( KAC).
Full report at: Mail Today
-------------
Iran unveils documents on the occupation of Iran during the Second World War
Jul 21 2011
Iran's President Mahmoud Ahmadinejad has attended a ceremony unveiling a five-volume book series which includes documents on the occupation of Iran during the Second World War.
(Ahlul Bayt News Agency) - IRNA quoted Ahmadinejad as saying on Wednesday that "These documents lay bare the face of plunderers."
The Iranian president called on researchers and historians to gather documents dating back to World War I despite all odds.
He highlighted the need for the Foreign Ministry to set up a committee to collect more documents regarding the country's occupation during the WWII.
He noted: "We could present one by one of these documents before international courts to lodge a case."
Full report at:
http://abna.co/data.asp?lang=3&Id=254755
-------------
Another LeT attack will derail Indo-Pak talks: Expert
Jul 21 2011
Washington : Another mass attack by the Lashkar-e-Taiba militants will derail Indo-Pak talks and can lead to India striking back against Pakistan, a noted American counter-terrorism expert has warned.
"Another mass LeT attack would at the very least derail the thaw that is taking place between the two countries and could present a situation where you have India preparing for war against Pakistan," Stephen Tankel was quoted as saying by the website of the Carnegie Endowment for International Peace.
"At the moment, it seems that the Army and the ISI are taking steps to prevent this from happening, because they don't want another major attack -- they don't want war.
"But as long as LeT exists - the capacity exists to use them for that purpose or there is the possibility that they could launch an attack without sanction if they see a peace deal on the horizon that would lead to their own demobilisation," Tankel, author of book 'Storming the World Stage: The Story of Lashkar-e-Taiba', said.
In terms of how India and Pakistan move forward, LeT will be "very much a part of that process".
Full report at:
http://www.indianexpress.com/news/another-let-attack-will-derail-indopak-talks-expert/820041/
-------------
'ISI agent in US donated $250 to Obama'
Jul 21 2011
Indiana Congressman Dan Burton, a strong pro-Pakistan Republican Party member, is the biggest single recipient of funds from a man accused of being a spy for the Pakistani government.
But Barack Obama was also one of the beneficiaries, getting a $250 donation during the 2008 presidential campaign, a media report said Wednesday.
Ghulam Nabi Fai was arrested on Tuesday by the Federal Bureau of Investigation (FBI) following a probe disclosing that Pakistani intelligence services had secretly spent millions of dollars through a front group over the past 20 years to lobby Congress and the White House to tilt their Kashmir opinion against India.
According to the Washington Post, Federal Election Commission records show that Fai and his aide Zaheer Ahmad have donated at least $30,000 to campaigns and political parties, including a $250 donation to Obama two days before the November 2008 election.
An aide for Obama's 2012 re-election campaign said the contribution would be returned, the Post said.
Full report at:
http://www.asianage.com/international/isi-agent-us-donated-250-obama-817
-------------
Al-Qaida plans animated cartoon film for recruiting children
Jul 21, 2011
LONDON: An al-Qaida affiliate says it plans to roll out what some have called a Disney-like animated cartoon aimed at recruiting children to the terror network.
Scenes from the proposed short film show young boys dressed in battle fatigues and participating in raids, killings and terror plots. It is the latest attempt by the terror organisation to use multimedia to draw in potential recruits. Recently, a Yemen-based extremist group released an online women's magazine with makeup and chastity tips.
News of the animated film was announced by a group called Abu al-Laith al-Yemen on the Arabic-language al-Shamouk jihadist website, the London-based Quilliam Foundation reported Wednesday. Quilliam, which was formed by former jihadists and now aims to stamp out extremism, said it appears the group is affiliated with al-Qaida in the Arabian Peninsula.
Full report at:
http://timesofindia.indiatimes.com/world/uk/Al-Qaida-plans-animated-cartoon-film-for-recruiting-children/articleshow/9306695.cms
-------------
Kurdish nationalism rises with Arab unrest, Sudan split
Jul 21 2011
On the day the newest African nation, South Sudan, was born, Iraqi Kurdish leader Barham Salih used his iPad to tweet his feelings to the world: "Watching history in (the) making as South Sudan goes independent." "Moral of story, right to self-determination cannot be denied by genocide."
With the emergence of a new nation in Africa and uprisings against autocracies across the Arab world, Kurds in Iraq's semi-autonomous north are speaking in louder voices about the possibility of increasing autonomy if, as some Kurds fear, Iraq's central government becomes more authoritarian.
In parts of Turkey, Syria and Iran, Kurds are also seeing new possibilities of freedom beyond governments who have historically repressed their Kurdish minorities. "There is a lot of inspiration from southern Sudan," said Salih, prime minister of Iraqi Kurdistan, where Kurdish flags and colours — red, white and green — are far more common than the red, white and black of Iraq. "But more important is the deep concern that most of us feel about the direction of the politics of Baghdad as it goes towards centralisation and authoritarianism."
Full report at:
http://www.dailytimes.com.pk/default.asp?page=2011\07\21\story_21-7-2011_pg4_8
-------------
Hope for 17 Indians on Sharjah death row
21 July 2011
SHARJAH - Seventeen Indians sentenced to death last year for allegedly killing a Pakistani, could escape capital punishment after an initial blood money and compensation agreement for $3.4 million was reached with the victim's family.
The Sharjah Court of Appeal on Wednesday adjourned hearing in the case to July 27 to finalise the amount to be paid to the family of the dead man. Wednesday's hearing was chaired by Judge Abdulla Yousuf Al Shamsi.
An Indian businessman privy to the talks, said the blood money agreed upon was Dh442,000, while compensation would total Dh2,958,000.
The Indian Consulate in Dubai confirmed the development saying a 'preliminary' understanding had been reached with the family of the deceased. ''Today, in the 15th hearing, the Sharjah Court of Appeals was informed that a preliminary understanding had been reached by the Indian community with the family of the deceased. Honourable Judge Abdullah Al Shamsi took note of this important development and ruled that the Court would now convene on July 27 to receive the pardon papers and finalise other formalities.''
According to the terms of the draft settlement, the Pakistani victim's family agreed to accept Dh3.4 million from the defendants. Lawyer Mohammed Salman from the Indian side said Dh420,000 had been paid to the family.
Full report at:
http://www.khaleejtimes.com/displayarticle.asp?xfile=data/theuae/2011/July/theuae_July541.xml&section=theuae&col=
-------------
New Egyptian Cabinet to be sworn in on Thrusday
Jul 21 2011
An official military source has stated that the new Cabinet, led by Prime Minister Essam Sharaf, will be sworn in tomorrow by Field Marshal Hussein Tantawi, head of the Supreme Council of the Armed Forces.
http://english.ahram.org.eg/NewsContent/1/64/16932/Egypt/Politics-/New-Egyptian-Cabinet-to-be-sworn-in-on-Thrusday.aspx
-------------
Syrian Youths File Lawsuit Against al-Jazeera Satellite Channel
Jul 21, 2011
A group of Syrian youths filed a lawsuit against al-Jazeera Satellite Channel, for its fabrications and incitement against Syria, which resulted in the martyrdom of civilians and army members.
(Ahlul Bayt News Agency) - Ahmad Zuhair al-Rifai, a participant, told the "Friends of mine told me that al-Jazeera broadcast news about me getting killed by the security forces in Jubar. I was taken aback by the false news, and wished al-Jazeera would stop broadcasting false news."
The conduct of the biased channels pushed the Syrian youths to organize a campaign titled "I am Syrian…I want to Sue al-Jazeera".
Omar Abdul-Latif, son of martyr Lieutenant Colonel Mazen Abdul-Latif, said "My father was martyred by armed men at Qadam neighborhood. I came here to file a lawsuit against al-Jazeera, and I'm sure that the Channel is a prime motive behind the martyrdom of my father.''
For his part, Lawyer Ammar Bilal said that the campaign brought together some Syrian citizens, including lawyers and engineers, adding that the number of participants on the Facebook page which called for a public lawsuit filed by citizens to express the pain and damage inflicted on them because of the Channel's incitement campaigns against Syria.
http://abna.co/data.asp?lang=3&Id=254854
-------------
Islamic info booth 'whitewashing' the truth
Becky Yeh
Jul 21 2011
People attending the California State Fair are being warned that an information booth on Islam is nothing more than a propaganda tool aimed at "sanitizing" the real teachings of that religion.
For the fourth year in a row, visitors to the fairgrounds in Sacramento can find the "Why Islam?" booth, offering free Qurans and brochures about the religion. The Sacramento Bee reports that hundreds have stopped at the booth, some speaking with the Muslim volunteers who say the booth encourages dialogue and religious tolerance. The president of the Sacramento Chapter of the Islamic Circle of North America, which sponsored the booth, told The Bee that the casual atmosphere aids interfaith discussion.
Joe Carey is an expert on Islam and the founder of Radical Truth.
"When you go to their tables or their booths or wherever they are at any of these sorts of events, they have all kinds of what I call 'propaganda material' and they have tracts of different topics related to Islam," he describes.
Their objective, according to Carey, is to "whitewash or sanitize what Islam really is" to the America public.
Full report at:
http://www.onenewsnow.com/Culture/Default.aspx?id=1395072
-------------
Safiya Al-Amri to star in a new film
Jul 21 2011
CAIRO: Egyptian actress Safiya Al-Amri has finished filming her new movie "Tahrir Square." The new movie focuses on the life of a young man who was shot and killed in Tahrir Square during the Egyptian revolution.
The movie will be aired in a number of international film festivals including in Dubai, San Francisco and Geneva.
http://arabnews.com/lifestyle/offbeat/article475372.ece
URL: https://www.newageislam.com/islamic-world-news/no-holds-barred-mullah-war--deoband's-maulana-vastanavi-issue/d/5070