New Age Islam News Bureau
4 Jul 2019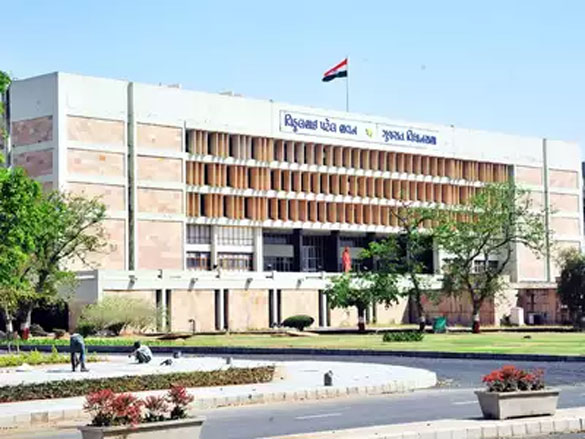 Gujrat Assembly (File Photo)
------
• Ninety Percent Applications for Religious Conversion from Hindus: Gujarat Govt
• Pak Announces Crackdown on Terror Funding, Hafiz Saeed Booked
• Top Counterterrorism Official: U.S. Must Avoid Returning To "Pre-9/11 State"
• Washington Adds Chief of Hezbollah Intelligence Unit to Terrorist List
• 16-Year-Old Boy Faces 6 Terrorism Charges In London Court
• A Taliban Attack on Children Causes Outrage, Everywhere but at Peace Talks
• Reporter on China's Treatment of Uighur Muslims: "This Is Absolute Orwellian Style Surveillance"
• US-Backed Syrian Forces Pledge to End Child Recruitment
• 'Any Amount We Want': Iran Poised To Increase Uranium Enrichment At Higher Levels
• As Turkey Admits To Arming Libya Militants, Ankara's Open Support Is Causing Conflict
• Sudan's Military Rulers and Opposition Alliance Meet for Talks in Khartoum
India
• Ninety Percent Applications for Religious Conversion From Hindus: Gujarat Govt
• Pakistani Hindus Promised a Home In India Demand Citizen Rights
• 'Wanted in India' Zakir Naik to embark on Kelantan tour
• RDX, ammonium nitrate used in Pulwama attack, says forensics
• India says its relations with Iran not influenced by any third country
• Between 2014-18, 800 terrorists were killed in J&K: Centre
• 'Talks on Kashmir can be held only at highest level': Hurriyat
• Two more youths join militant ranks in North Kashmir
--------
Pakistan
• Pak Announces Crackdown on Terror Funding, Hafiz Saeed Booked
• 12 Missing Persons Return In Balochistan over Last 9 Days
• Imran, Taliban meeting on the cards, says Haque
• Pakistan welcomes US move to declare BLA terror outfit
• Five Pak soldiers killed in blast near LoC in PoK
• Pakistna on positive trajectory of peace and development, says army chief
• Emergence of PML-N 'forward bloc': PML-Q sees no threat to its position in ruling coalition
• PM Imran says he was victimised by past govts over anti-graft stand
--------
North America
• Top Counterterrorism Official: U.S. Must Avoid Returning To "Pre-9/11 State"
• Washington Adds Chief of Hezbollah Intelligence Unit to Terrorist List
• US sanctions Hezbollah operative, updates Iranian terrorist group designation
• Jury finds Navy SEAL not guilty of murdering ISIS prisoner
• Trump calls Afghanistan "the Harvard of terrorists," says he'll leave intel assets there
• Trump warns Iran to be 'careful with threats'
• US has 'failed in plan to make Iran surrender' after scrapping nuclear deal
• Trump willing to engage Mahmoud Abbas on peace plan, says Kushner
• UN Security Council fails to condemn airstrike in Libya
--------
Europe
• 16-Year-Old Boy Faces 6 Terrorism Charges In London Court
• Magid Magid: Muslim MEP 'asked to leave European Parliament' on first day
• Germany fines Facebook for under-reporting illegal content
• Jewish-Muslim dialogue group launched in Berlin
• UK: Panel discusses concerns over 'deal of the century'
• Russia condemns Israel's 'destabilising' air strikes in Syria
--------
South Asia
• A Taliban Attack on Children Causes Outrage, Everywhere but at Peace Talks
• Bangladesh Court Sentences 9 To Death For 1994 Attack On Sheikh Hasina
• U.S. airstrikes kill 28 Taliban militants in Wardak and Ghazni provinces
• All-Afghan peace summit set for July, but on Taliban terms
• Gowher Rizvi: Rohingya crisis will become biggest security threat to South Asia
• Taliban's biggest cache of arms and munitions destroyed in Helmand province
• Karzai reacts to Donald Trump's recent remarks regarding Afghanistan
--------
Southeast Asia
• Reporter on China's Treatment of Uighur Muslims: "This Is Absolute Orwellian Style Surveillance"
• World Uyghur Council Remembers the Victims of the Urumqi Massacre on the 10 Year Anniversary
• Politics Will Determine Fate of Indonesian Islamic State Sympathizers in Syria
• Report: Watchdog Blasts Islamic Bloc at U.N. for Silence on China's Muslim Camps
'• Victims and perpetrators': Rehabilitating Indonesia's child bombers
• OIC chief pushes for enhanced cooperation with Russia
• 'Reconciliation Meeting' Between Prabowo and Jokowi Likely to Take Place Later This Month
--------
Arab World
• US-Backed Syrian Forces Pledge to End Child Recruitment
• Qatar Asked To Explain How Al Qaeda Financier Was Able To Withdraw $10,000 A Month
• Mass grave of dozens of Daesh victims found near Syria's Raqqah
• Syria hands over 100 Islamic State fighters to Iraq, says mayor
• Iraqi pro-gov't forces kill four Islamic State terrorists in Nineveh
• Blast kills three in Syria's Sweida: governor
--------
Mideast
• 'Any Amount We Want': Iran Poised To Increase Uranium Enrichment At Higher Levels
• As Turkey Admits To Arming Libya Militants, Ankara's Open Support Is Causing Conflict
• Islamic organization condemns Israeli tunnel near al-Aqsa
• Japan offers to be 'honest broker' for Palestinian-Israeli peace
• Palestinians 'let down by their leaders,' Kushner says
• Several suspected U.S. spies 'due to be' sentenced to death, Iran says
• Hezbollah Won't Stand Down in a US-Iran Conflict
• Netanyahu threatens Gaza with 'large-scale military operation'
--------
Africa
• Sudan's Military Rulers and Opposition Alliance Meet for Talks in Khartoum
• At Least 100 Civilians Killed In South Sudan Violence after Peace Deal
• Niger: Attackers kill 16 soldiers in Inates military camp attack
• Airstrike kills 44 migrants in Libyan detention center
• Sheikh Zakzaky's Step-Daughter Utterly Worried about Parents' Health Conditions
• Libyan National Army announces destroying main control room in Mitiga airbase
• UN envoy to Libya: Air strike on migrant center amounts to a war crime
• NGO calls for immediate evacuation of refugees in Libya
Compiled by New Age Islam News Bureau
URL: https://www.newageislam.com/islamic-world-news/ninety-percent-applications-religious-conversion/d/119080
--------
Ninety Percent Applications for Religious Conversion from Hindus: Gujarat Govt
Jul 3, 2019
AHMEDABAD: Details revealed by the state government in the assembly reflect that central Gujarat witnessed the most religious conversions in the state, with Anand district topping with 67 persons applying for permission for convert in the last two years.
In response to various questions, the government said 152 persons in 20 districts had applied for permission to change their faith under the Freedom of Religion Act, which mandates government permission for a citizen to convert.
The concerned district collectors granted permission for conversion in 105 cases. Of the total applications received, 127 were from Hindus wanting to convert to other religions, 16 from Muslims and 9 from Christians. The reply did not specify to which religion they wanted to convert.
The Anand district collector received 67 applications and 62 persons were granted permission. There were 61 Hindus, two Muslims and four Christians among the applicants. The second highest number of applications were in Ahmedabad district, with 28 Hindus, three Muslims and one Christian asking for permission to convert. The Ahmedabad district collector permitted 12 persons to embrace new religions.
Another central Gujarat district, Vadodara, saw 17 such applications and the authority permitted 16 persons to convert. Eight Hindus, seven Muslims and two Christians wanted to renounce their religions for a new faith. There were nine applicants in Kheda district and all succeeded. Five Hindus, one Muslim and three Christian wanted to embrace a new faith.
Against this, the tribal areas witnessed very little enthusiasm for conversions with the Dang district collector not getting any such request in the last couple of years. Dahod had two Muslims who wanted to convert and they were granted permission.
Four Hindus wanted to convert in Aravalli district, but only one got permission. The Panchmahal collector got only one application for conversion.
On central Gujarat seeing more conversions, Ghanshyam Shah, a sociologist, said, "There is a concentration of Dalit population in central Gujarat and they convert to Buddhism and Christianity." For the low number of requests for conversion in tribal areas, he believes the anti-conversion law must be playing a role.
The president of the VHP for North Gujarat, Dilip Trivedi, said, "Hindus need to be aware against religious conversion by various tactics. Christian missionaries are converting Hindus in the name of social service while the Muslims are doing so in the name of Love Jihad. Conversion to Buddhisim, Jainism or Sikh religion is not a conversion. One can change panth (sect) in Sanatan Hindu religion but converting to Islam or Christianity does major damage to the religion. Their idea of nationhood also changes with their conversion."
https://timesofindia.indiatimes.com/city/ahmedabad/central-gujarat-witnesses-most-religious-conversions/articleshow/70050106.cms
--------
Pak announces crackdown on terror funding, Hafiz Saeed booked
Jul 04, 2019
Pakistani authorities on Wednesday announced a crackdown on terror financing by the Lashkar-e-Taiba (LeT) and its front organisations, saying cases had been registered against LeT founder Hafiz Saeed and 12 of his aides.
Twenty-three cases were registered in Lahore, Gujranwala and Multan in Punjab province against the leadership of LeT, Jamaat-ud-Dawah (JuD) and Falah-e-Insaniyat Foundation (FIF) for using a network of trusts and non-profit organisations to collect funds for terrorism, a spokesman for the Counter-Terrorism Department (CTD) said.
The spokesman identified the LeT and JuD leaders booked in the cases as Hafiz Muhammad Saeed, his brother-in-law and close aide Abdul Rehman Makki, MaliK Zafar Iqbal, Ameer Hamza, Muhammad Yahya Aziz, Muhammad Naeem Sheikh, Mohsin Bilal, Abdul Raqeeb, Ahmad Daud, Muhammad Ayub, Abdullah Ubaid, Muhammad Ali, and Abdul Ghaffar. The LeT and JuD leaders were accused of collecting "funds for terrorism financing through assets/properties made and held in the names of trusts/non-profit organisations", the spokesman said.
Experts said this was probably the first time Saeed was directly named in a case registered against LeT and its front organisations for involvement in terror. The move came less than two weeks after the Financial Action Task Force (FATF) assessed Pakistan's actions to curb terror financing and concluded it had missed two sets of targets under an action plan finalised after the country was put on the watchdog's "grey list" last year. FATF also called for the prosecution of those involved in terror financing.
LeT has been banned in Pakistan since 2002 and the charities since last year.
The CTD spokesman said the action was being taken in line with the implementation of UN sanctions against designated groups and individuals and also in keeping with a directive issued by the National Security Committee following a meeting chaired by Prime Minister Imran Khan in January.
The cases, which were registered on July 1 and 2, named trusts and organisations such as Dawat ul Irshad Trust, Muaz Bin Jabal Trust, Al-Anfaal Trust, Al Hamd Trust, and Al Madina Foundation Trust.
The spokesman said: "Large-scale investigations have been launched into matters of JuD , LeT & FIF regarding their holding and use of trusts to raise funds for terrorism financing. They made these assets from funds of terrorism financing, they held and used these assets to raise more funds for further terrorism financing. Hence, they committed multiple offences of terrorism financing and money laundering under the Anti-Terrorism Act 1997. They will be prosecuted in Anti-Terrorism Courts for commission of these offences."
The assets and organisations had already been taken over by the government in compliance with UN Sanctions, the spokesman added.
There was no official reaction from Indian officials but people familiar with developments said Pakistan had resorted to similar steps in the past to ease pressure from the world community.
https://www.hindustantimes.com/india-news/counter-terror-unit-in-pak-charges-hafiz-saeed-with-terror-financing-report/story-EqBWuHAzWdstStKhmoknaM.html
--------
Top counterterrorism official: U.S. must avoid returning to "pre-9/11 state"
JULY 3, 2019
Although the U.S. has not seen a large-scale terrorism attack on its soil in almost two decades, threats from several extremist organizations persist and some trends are "ominous," says Russ Travers, the deputy director of the National Counterterrorism Center within the Office of the Director of National Intelligence.
"When I testify [before Congress] now, 'complacency' is a word that I use a lot, because I do worry that we are a bit of a victim of our own success," Travers said. "There's a bit of a fatigue factor, I think, settling in with terrorism in general."
"There are a lot of ominous trends out there," he continued. "And the key question now is going to be the extent to which we reallocate resources and attention away from terrorism."
In an interview with Intelligence Matters host and CBS News senior national security contributor Michael Morell, Travers said he was in "complete agreement" with the country's strategic shift, as described in the 2018 National Defense Strategy, from a focus on counterterrorism objectives to one on competition with Russia and China.
"We just need to be careful that we don't take our eye off the ball when it comes to terrorism," he told Morell. "We need to ensure that we don't go too far and undermine our capabilities and put us back in kind of a pre-9/11 state."
Travers pointed to the evolving threat from ISIS, which, since the collapse of its territorial caliphate earlier this year, has reconstituted a core group of leadership in other areas.
"[T]hey've known that this has been coming for a couple of years, and so they've been planning for it," Travers said. "[T]hey're operating in insurgent cells."
He estimated that just over 14,000 ISIS fighters continue to operate in Iraq and Syria – an "order of magnitude more people than ISIS had six, seven years ago at the beginning of the insurgency," he said – but that the network has spread to more than 20 countries. "The global nature of this can't be overestimated," he told Morell. "[T]his is going to be a concern for us for a very long while."
Local insurgencies throughout Africa, for instance, have "wrapped themselves in the ISIS" flag, Travers said, presenting new challenges for intelligence gathering. "It's not an area that we are particularly well-postured to do collection against," he told Morell.
And while theological differences remain between ISIS and Al-Qaeda, the two groups do occasionally cooperate in areas in West Africa – while fighting against one another in Yemen and Somalia. Of the existing Al-Qaeda offshoots, Travers said, "I think [Al-Qaeda in the Arabian Peninsula] in Yemen is probably the greatest long-term concern for us."
Counterterrorism challenges are also being compounded by technological shifts that are fundamentally changing the scope and focus of intelligence collection, Travers told Morell.
"Right now, pretty much every department and agency is going after all the data it possibly can in support of its analysis. That's probably not the most efficient way to do things," he said. "So we've got some really hard questions going forward, I think, because we are all swimming in that ever-increasing size of the haystack. And the needles themselves are getting more subtle."
https://www.cbsnews.com/news/top-counterterrorism-official-u-s-must-avoid-returning-to-pre-911-state/
--------
Washington Adds Chief of Hezbollah Intelligence Unit to Terrorist List
3 July, 2019
The United States designated on Tuesday Pakistan's Balochistan Liberation Army and Lebanese Hezbollah operative, Husain Ali Hazzima, as Specially Designated Global Terrorists (SDGTs), the State Department said in a statement.
Additionally, the US has amended the terrorist designations of Jundallah, which has started using the name Jaysh al-Adl.
According to the statement, the new measures seek to deny Hazzima, BLA and Jaysh al-Adl the resources to plan and carry out terrorist attacks.
They also expose and isolate organizations and individuals and deny them access to the US financial system.
Therefore, all of their property and interests subject to US jurisdiction are blocked, and US persons are prohibited from engaging in any transactions with them.
"Today's actions notify the US public and the international community that Hazzima and BLA have committed, or pose a significant risk of committing, acts of terrorism," the statement said.
Hazzima is the chief of Hezbollah Unit 200, the party's intelligence unit that analyzes and assesses information collected by its military members.
Hezbollah was designated as an FTO in 1997 and as an SDGT in 2001.
The BLA has carried out several terrorist attacks in the past year, including a suicide attack in August, 2018 that targeted Chinese engineers in Balochistan, a November, 2018 attack on the Chinese consulate in Karachi, and a May, 2019 attack against a luxury hotel in Gwadar.
https://aawsat.com/english/home/article/1795776/washington-adds-chief-hezbollah-intelligence-unit-terrorist-list
--------
16-year-old boy faces 6 terrorism charges in London court
2019-07-03
LONDON, July 2 (Xinhua) -- A 16-year-old boy is to face six terrorism charges at Westminster Magistrates Court in London, counter terrorism police in northeast England said Tuesday.
The teen from Durham, who cannot be named because of his age, has been charged with offences following an investigation led by Counter Terrorism Policing North East and supported by Durham Constabulary.
The boy is charged with one offence of engaging in the preparation of an act of terrorism, a charge of disseminating terrorist publications, one offence of possessing material for terrorist purposes, and three offences of collecting or possessing information useful in the preparation of an act of terrorism. He also faces one sexual offence.
Police said the boy was arrested on March 13 after an intelligence led operation into Right Wing Terrorism.
http://www.xinhuanet.com/english/2019-07/03/c_138193486.htm
--------
A Taliban Attack on Children Causes Outrage, Everywhere but at Peace Talks
By Fatima Faizi and Rod Nordland
July 2, 2019
KABUL, Afghanistan — Even by the standards of Afghanistan's long war, the Taliban attack near a school that wounded dozens of schoolchildren on Monday stood out as unusually brutal, and expressions of outrage came thick and fast from governments around the world.
But from Doha, the Qatari capital where American negotiators were meeting with Taliban officials in a seventh round of talks, now in their fourth day, there was publicly only silence on the assault.
Several of the earlier rounds of talks, which began in earnest this year, also coincided with attacks in Afghanistan, where more than 32,000 civilians have been killed in the last decade of the war, now in its 18th year. Most of those deaths have been blamed on the insurgents, a result of indiscriminate bombings and suicide attacks.
In earlier rounds this year, American negotiators had brought up the violence at the negotiating table, according to officials with knowledge of the talks, speaking on condition of anonymity because of diplomatic sensitivities. But now they have stopped doing so, the officials said, in a possible sign of just how keen negotiators have become to seal a deal that would set a timeline for an American troop withdrawal in exchange for a Taliban promise not to let terrorists operate from Afghanistan.
At most, there have been condemnations on the margins of the earlier sessions. That happened again after Monday's attack, which was apparently aimed at a government facility in Kabul, the Afghan capital, but badly damaged a nearby school, museum and television station.
A member of the Afghan security forces at the site of the bomb attack on Tuesday.
In addition to wounding 51 children and killing one, the militants also took the lives of another 39 people, most of them civilians, according to Afghan authorities. In all, 116 people were hospitalized with serious injuries, 26 of them children and six women, according to Wahidullah Mayar, the spokesman for the ministry of public health in Kabul.
The State Department condemned the attack on Tuesday, calling it "particularly barbarous" and demanding the Taliban cease attacks on civilians. But in Doha, American envoys initially gave no public statement about the Kabul attack, only repeating the State Department statement at the end of the fourth day of talks, close to midnight — two full days after the attack.
During previous negotiating sessions, American efforts to complain about Taliban violence sometimes turned into shouting matches, according to the officials. The Americans would challenge the Taliban about killing civilians, and the Taliban would accuse the Americans of doing the same by bombing villages and homes. As the Taliban mounted an offensive this spring, the Americans and the Afghan government increased attacks as well, leaving both sides blaming one another for the surge in violence.
Sediq Seddiqi, the spokesman for President Ashraf Ghani, predicted that Monday's attack would have repercussions in Doha, saying, "Not only the United States but the entire world is condemning it, obviously it will have its repercussions on the results of the ongoing talks."
There was no outward sign of that, however. The officials with knowledge of the talks said that the issue did not come up at the Doha peace talks themselves, although American negotiators raised the violence with senior Taliban officials informally on the sidelines of the talks Monday.
Afghan health workers carrying a wounded student after the attack on Monday.
The Taliban said it did not deliberately target the Uzair High School, whose 300 students, in first through 12th grade, used the lower floors of an 11-story building near a Ministry of Defense facility. Many witnesses of the attack said the insurgents entered the school so they could reach the tower's rooftop, which they used as a firing position.
Ahamadullah Darwish, 25, an English teacher at the school, described the scene after an initial explosion. "After a few minutes I thought to myself that I am the teacher, I must take over and control the children and get them out of the classroom," he said. "Many students were injured and covered in blood."
The blast was from a Taliban car bomb, which destroyed much of the school's outer wall — a tactic that drew condemnation from rights workers, who said the insurgents should not have used such an indiscriminate weapon so close to civilians.
"Schools should be havens of peace," said Henrietta Fore, the executive director of Unicef, the United Nations Children's Fund. "Violence in or around schools is never acceptable."
The top United Nations official in Kabul, Tadamichi Yamamoto, said it was clear that the attackers were aware of the school.
Monday's attack, which was apparently aimed at a government facility in Kabul, badly damaged a nearby school, museum and television station.
"The attack in Kabul took place when children were arriving at nearby schools, indicating that those who planned and launched it at that time showed a reckless disregard for the safety of innocent lives," he said.
The head teacher of the school, Aziza Sayar Amiri, 55, said students recalled the attackers telling the children to stay out of the way. The students included five of her grandchildren, one of whom was injured.
"The attacker told them, 'You are good human beings, you have nothing to do with this, get out of here. You are here to study, we won't do anything to you," she said.
According to a United Nations report on Afghanistan for 2018, 28 percent of all civilian casualties were children, a total of 927 deaths and 2,135 injuries. The agency blamed most of those on "antigovernment elements," a term that in most cases refers to the Taliban. There were 18 attacks on educational facilities in the first three months of 2019, according to a more recent, quarterly report.
Bombs were the biggest killers, the data showed. "A staggering 80 percent of conflict-related child deaths in Afghanistan are the result of explosive weapons," said Onno van Manen, country director for Save the Children. "Children's smaller bodies sustain more serious injuries than adults, particularly to the head and chest. These injuries can kill or cause life-changing disabilities."
The attack drew condemnation from human rights workers, who said the insurgents should not have used such an indiscriminate weapon so close to civilians.
Symptoms of psychological distress appeared immediately after Monday's attack. Sayed Adel, 11, bleeding from his ears, was led home by his 12-year-old brother, who was also at the school.
"Sayed Adel was so shocked and the entire night he could not sleep and didn't allow us to sleep either," said his grandmother and the head teacher, Ms. Amiri. "He kept telling us that he doesn't want to go to school anymore. He was saying that something is eating him from inside."
A fifth-grade religion teacher at the bombed school, Safiullah, 24, woke up in a hospital bed after the explosion. (Like many Afghans, he uses only one name.) "I am really worried about my students," he said. "They are just 10 and 12, they have no idea about war and peace. It is a dirty game by the Americans and the Taliban."
The Taliban said the attack was aimed at the military facility. In an unusual admission, however, the insurgents acknowledged there were civilian casualties.
"According to some reports, some civilians have been slightly wounded," Taliban spokesman Zabihullah Mujahid said. "But civilians were not the target."
Mr. Ghani's government has so far been excluded from the peace talks, although the Americans have insisted that once a deal is made the next step would be talks between the Afghan government and the Taliban.
The Afghan government used the attack on the school as evidence of Taliban bad faith. "This shows they are not committed to peace," Mr. Seddiqi said.
Mr. Darwish, the English teacher, said he is having trouble sleeping. "Yesterday all the students were screaming, 'Mom, please come and save me,' and I was hearing that again and again," Mr. Darwish said.
Correction: July 3, 2019
An earlier version of this article misattributed a quotation about the Kabul attack. It was Henrietta Fore, Unicef's executive director — not Erica Vogel, a Unicef spokeswoman — who said, "Schools should be havens of peace."
Follow Fatima Faizi and Rod Nordland on Twitter: @FatmaFaizi and @RodNordland.
Fatima Faizi reported from Kabul, Afghanistan, and Rod Nordland from New Delhi, India. Reporting was contributed by Mujib Mashal in Doha, Qatar, and Jawad Sukhanyar in Kabul.
https://www.nytimes.com/2019/07/02/world/asia/taliban-school-attack.html
--------
Reporter on China's treatment of Uighur Muslims: "This is absolute Orwellian style surveillance"
JULY 3, 2019
According to the United Nations, more than 1 million Chinese Uighur Muslims are being detained in government internment camps. China calls these prison camps in Xinjiang province "re-education" facilities meant to fight extremism and separatism in the region. The U.S. Congressional-Executive Commission on China describes it as "the largest mass incarceration of a minority population in the world today."
A new documentary by VICE News correspondent Isobel Yeung sheds light on this draconian policy instituted by the Chinese government. Yeung talked to CBS News on Wednesday about her experience in China.
"What I witnessed there is just unlike any sense of fear I have witnessed before," Yeung told CBSN. "When it comes to going into this kind of dystopian reality, people are really, really afraid to do the wrong thing or to say the wrong thing or to even think the wrong thing."
Xinjiang province is the largest province in China, home to 21.8 million people, including more than 11 million Muslims. The major languages are Chinese and Uighur and the major religion is Islam. In 2009, violent riots erupted in the area, and in the years that followed, China blamed Uighur separatists for terrorist attacks.
Since the installation of hardliner Chen Quanguo as Xinjiang party chief in 2017, a network of detention facilities sprung up in the region. Police have increasingly used new forms of surveillance, including facial recognition technology and a DNA database, to control the population. The Wall Street Journal calls Xinjiang "a laboratory for new surveillance technology." Chinese authorities recently told Radio Free Asia they "have been ordered to send almost half of area residents to re-education camps."
"Something bad has happened," a hidden Uighur man tells Yeung during a train ride in her VICE News documentary. "I can't talk about it. I can't talk about it."
"They call them 'vocation centers,'" the man tells Yeung, his voice barely above a whisper. "These places are prisons."
Yeung told CBSN that Muslim children are taken from their parents and suspected to be placed in state-run institutions, which are disguised as kindergartens but double as live-in re-education facilities.
"It seems that within these places they are indoctrinated with Communist Party propaganda and taught all-out loyalty to the Chinese Communist Party," she said.
The conditions are far worse for adult Muslims forced into the Xinjiang interment camps. A 2018 U.S. State Department Human Rights report detailed instances of torture, sexual abuse, repressive surveillance measures, forcible eating of pork and drinking of alcohol (both of which are forbidden for observant Muslims), confiscation of Qurans, and even deaths.
"This is the strictest surveillance state in the world right now," Yeung told CBSN. "Security cameras are absolutely everywhere, facial recognition everywhere, voice recognition, face scanning, iris scanning, body scanning, the phone is scanned as well to check for any content that might upset the Chinese Communist Party."
https://www.cbsnews.com/news/china-puts-uighurs-uyghyrs-muslim-children-in-prison-re-education-internment-camps-vice-news/
--------
US-Backed Syrian Forces Pledge to End Child Recruitment
By Sirwan Kajjo
July 2, 2019
A major armed group in Syria has committed to identifying and releasing young boys and girls currently within its ranks, and put in place preventative, protection and disciplinary measures related to child recruitment and use, according to the United Nations.
Syrian Democratic Forces (SDF), a Kurdish-led military alliance that has played a significant role in defeating the Islamic State (IS) terror group, signed an action plan with the U.N. to end and prevent the recruitment and use of children under the age of 18.
"It is an important day for the protection of children in Syria and it marks the beginning of a process as it demonstrates a significant commitment by the SDF to ensure that no child is recruited and used by any entity operating under its umbrella," said Virginia Gamba, the Special Representative of the U.N. Secretary-General for Children and Armed Conflict.
The People's Protection Units (YPG), the main group within the SDF, has been listed in the U.N. Secretary-General's annual report on children and armed conflict for the recruitment and use of children since 2014.
In its 2018 annual report on children in armed conflict, the U.N. found 224 cases of child recruitment by the YPG and its women's unit in 2017.
The 1949 Geneva Convention on the Protection of Civilian Persons in Time of War prohibits the use of children under the age of 15 as soldiers.
Reforming the SDF
But Kurdish military officials charge that they have been taking serious measures to address the issue of child soldiers in recent years.
"We are the only non-state group in Syria that adheres to international standards when it comes to recruitment of children and the conduct of war in general," an SDF commander who declined to be identified told VOA.
Experts said the U.S.-backed SDF is under pressure from its international patrons to reform in terms of ethnic and sectarian inclusivity.
"The SDF has a mandate to institutionalize and become a 'normal' security force, not just an umbrella coalition of militias, and this step is one of the important ways that it can achieve this goal," said Nicholas Heras, a Syria expert at the Center for a New American Security.
Turkish response
Turkey has criticized the U.N. for signing such an agreement with a group it deems as terrorist.
Turkey views the SDF as an extension of the Turkey-based Kurdistan Workers' Party (PKK), which is considered a terrorist organization by Turkey, the United States and the European Union.
"The signing of an agreement by the U.N., which should be at the forefront in the fight against terror, with a terrorist organization cannot be explained in any way," Turkey's Foreign Ministry said in a statement on Tuesday.
In March 2018, Turkish military and allied Syrian rebels took control of the SDF-held city of Afrin in northwestern Syria after a two-month-long battle against Kurdish fighters.
Ankara has also threatened to carry out attacks against Kurdish forces in northeast Syria.
But U.S. President Donald Trump said recently that he has told his Turkish counterpart Recep Tayyip Erdogan not to make such a move.
Erdogan "had 65,000 men, army, on the border and he was going to wipe out Kurds… I called him, and asked him not to do it. I guess, they [Kurds] are natural enemies of his, or Turkey's, and he has not done it. Then I said he [Erdogan] cannot do it," Trump said over the weekend during a press conference in Osaka, Japan, where he attended the G-20 summit.
https://www.voanews.com/extremism-watch/us-backed-syrian-forces-pledge-end-child-recruitment
--------
'Any amount we want': Iran poised to increase uranium enrichment at higher levels
July 3, 2019
Iran's President Hassan Rouhani issued a fresh ultimatum Wednesday over its civilian-use nuclear program, saying the country would on Sunday "take the next step" toward increasing its enrichment of uranium unless European powers are able to find a way to offset the impact of the Trump administration's sanctions on its economy.
Earlier this week, the International Atomic Energy Agency, the United Nations' nuclear watchdog, confirmed Iran passed the limit on its stockpile of low-enriched uranium by exceeding the 300kg (661 pounds) that was set in a landmark 2015 nuclear deal made with world powers. President Donald Trump has pulled the U.S. out of that agreement.
The higher-level enrichment Rouhani said will commence July 7 is still far off the levels Iran would need to produce weapons-grade nuclear materials, but it narrows the time it would take to make a nuclear bomb – something Iran says it does not want to do.
Speaking during a Cabinet meeting in Tehran on Wednesday, Rouhani warned that because of the faltering nuclear deal Iran was entitled to increase its enrichment of uranium to "any amount that we want, any amount that is required."
Under the current terms of the nuclear deal negotiated by former President Barack Obama, Iran is not allowed to enrich uranium above 3.67%, a level that is sufficient to operate its nuclear power plants, but falls below weapons-grade levels of about 90%.
"What does it mean that Iran has technically breached one of the limits of the historic anti-nuclear deal? It is not a sprint to a bomb. They are a long way away," Joseph Cirincione, president of Ploughshares Fund, a San Francisco-headquartered global security foundation, wrote on Twitter on Monday as part of a lengthy thread that explains how much enriched uranium is required to produce a nuclear bomb.
Cirincione forecasted that Iran, if it wanted to, would be about a year away. Other analysts and former officials have said it could take two years or as little as six months for the Middle Eastern country whose relationship with the U.S. has been defined by a hostage crisis in the U.S. Embassy nearly 40 years ago to produce a nuclear bomb.
Iran wants European signatories to the deal – Britain, France and Germany – to come up with a plan to stave off the impact of U.S. sanctions targeting its oil industry and top officials, including Iran's supreme leader, and caused large currency fluctuations.
"They have now breached their stockpile limit. Not good!," Trump tweeted late Tuesday. He did not say if further punitive measures are being planned.
Trump has previously warned that Iran will be met with "great and overwhelming force" if it attacks U.S. interests. His comments followed the apparent sabotage of oil tankers in the Persian Gulf and the shooting down, by Iran, of a U.S. drone off its coast.
Iran's Foreign Minister Mohammad Javad Zarif said Wednesday that his country remains committed to the nuclear deal as long as European nations keep honoring it.
But he warned that European parties needed to fully operationalize a U.S.-sanctions-circumventing financial mechanism to allow Iran to trade its goods and services internationally or Iran would further modify its relationship with the accord.
"Iran's violation of one of its consequential commitments under the deal should be seen for what it is: a calibrated response to compel the remaining signatories (Europe, Russia, and China) to counter the U.S. 'maximum pressure through sanctions' campaign, just as was its downing of an unmanned drone," write Gérard Araud, a former Ambassador of France to the United States, and Ali Vaez, a leading Iran analyst and expert on nuclear weapons at the International Crisis Group think tank, in an opinion piece published in Foreign Policy magazine this week.
"But it also should be seen as a warning shot, a signal that should economic pressure remain, Tehran is likely to up the ante and accelerate its nuclear program," they write.
The authors argue that Trump's claims Iran was cheating when the U.S. was in the nuclear deal are not true, as repeatedly verified by the UN's nuclear watchdog. They also write that Trump's assertions that coming out of the nuclear deal with Iran and aggressively renewing sanctions would lead to a better deal have not proved accurate and that the "chances of that are diminishing if they were ever realistic."
https://www.usatoday.com/story/news/world/2019/07/03/trump-iran-crisis-hassan-rouhani-issues-new-nuclear-deal-ultimatum-over-uranium-enrichment/1637045001/
--------
As Turkey admits to arming Libya militants, Ankara's open support is causing conflict
July 2, 2019
Turkey's support of fighters against eastern-based Libyan commander Field Marshal Khalifa Haftar's has been no secret, but recent statements from Ankara mark a particularly brazen step.
The Field Marshal's Libyan National Army has consistently accused Turkey of aggressively violating Libyan sovereignty and bolstering groups, including extremists, who the LNA says run Tripoli, propping up the UN-backed government.
Two weeks ago, President Recep Tayyip Erdogan, for the first time, admitted his country was supplying arms to the militias of western Libya who are fighting the LNA for Tripoli.
The Erdogan government has allegedly provided armoured vehicles and weapons, with even the Turkish president conceding it had provided drones.
Libyan militias supported by Ankara published photos purporting to show the new arsenal. Unverified videos shared online appears to show Turkish-speaking advisers showing Libyan fighters how to operate the arms.
Turkey has also been the home of Libyan rivals to the field marshal's camp, some of whom are sanctioned by the United Nations.
"Following the creation and initial success of the Justice and Construction Party – the Libyan branch of the Muslim Brotherhood, fashioned in the likeness of Erdogan's Justice and Development Party – Turkey began to see Libya as important to its attempt to boost its influence by cultivating the political Islamist groups that emerged across the region during the Arab uprisings," a report by the European Council on Foreign Relations said last week.
"After the onset of Libya's civil war in 2014, Turkey became a haven for Libyan exiles – including political Islamists – as one of the rare countries Libyans could travel to, and conduct business in, without encountering significant red tape."
On April 4 the LNA, which controls eastern Libya, launched its long-awaited assault on Tripoli, vowing to cleanse the city of the militias that have held court and run an effective cartel that has extorted the capital.
The LNA and Ankara have always been at odds but the fierce upturn in rhetoric happened after anti-Haftar forces took the strategic town of Gharyan to the south late last week.
Tensions have now reached unprecedented levels and the LNA has hit back. Over the weekend it said it would target Turkish ships operating in Libyan waters, ordered attacks on any assets owned by the Ankara government and banned flights between LNA-controlled territories and Turkey.
On Sunday night, an LNA spokesman said it had destroyed a Turkish drone from Tripoli's Mitiga airport having also made similar statements since fighting erupted in early April.
The LNA also launched an aerial torrent on western Libya after losing Gharyan.
Turkey itself has threatened the field marshal's forces after accusing it of detaining six Turkish sailors off the port of Brega. Ankara now says they have been released.
Turkey is particularly close to the city of Misrata, to the east of Tripoli.
When fighting broke out it was the battle-hardened revolutionary fighters of Misrata to the east were among those to join forces to repel the LNA and its local allies.
Ankara also has a consulate in Misrata and local officials are often pictured at high-profile events next to important political and commercial figures in the city.
Misrata's port, which counts for roughly 60 per cent of Libya's imports according to local officials in 2018, is where some of the weapons from Turkey have been allegedly been brought in.
Another intense source of ire is Turkey's harbouring of figures the LNA regard as terrorists. Among them is Salah Badi, sanctioned by the UN last year for undermining the political progress and currently engaged in the Tripoli war.
It has provided a permanent base for Abdul-Hakim Belhaj, the former Libyan Islamic Fighting Group leader, who operates openly from an office block in Istanbul.
The former Grand Mufti, Sadiq Al Ghariani, who has been banned from the UK for his radical comments, also spends long periods of time in Turkey but recently returned to western Libya.
https://www.thenational.ae/world/mena/as-turkey-admits-to-arming-libya-militants-ankara-s-open-support-is-causing-conflict-1.881758
--------
Sudan's military rulers and opposition alliance meet for talks in Khartoum
3 July 2019
Progress has been made towards an opposition demand for the release of prisoners in Sudan Late on Wednesday after talks resumed between the ruling military council and the main opposition alliance.
Both sides met a Khartoum hotel on Wednesday to restart talks over who should lead Sudan toward elections.
Negotiations between the two parties had collapsed a month ago after members of the security services raided a sit-in protest camp outside the defense ministry.
The opposition has been staging protests to demand the military give up power since April, when the armed forces toppled President Omar al-Bashir, ending his 30-year rule after months of demonstrations.
The Forces of Freedom and Change opposition alliance said it was prepared for direct talks with the ruling Transitional Military Council over who should head a sovereign council to lead Sudan toward elections.
The opposition alliance said the talks, launched in response to a call for negotiations from an Ethiopian mediator, should last three days. It also called on the government to release political prisoners.
There appeared to be progress towards that demand later on Wednesday when state TV reported that the military council had pardoned 235 detained members of the Sudan Liberation Movement, a rebel group active in the western Darfur region.
The prisoners would be released immediately unless they are wanted in connection with other legal proceedings, it said.
The two sides have agreed on proposals presented by Ethiopian and African Union mediators to solve the crisis, Mahmoud Dirir, the Ethiopian mediator, said on Tuesday.
But they still disagree over the structure of a sovereign council meant to lead the country during the transitional period, Dirir said.
https://english.alarabiya.net/en/News/middle-east/2019/07/03/Sudan-protesters-generals-resume-talks-over-civilian-rule.html
--------
India
Pakistani Hindus promised a home in India demand citizen rights
by Sonia Sarkar
Jul 04, 2019
Delhi, India - Krishna heated oil in a cracked aluminium pan, added chopped onion and coriander leaves before sprinkling in turmeric and red chilli powder.
Her nine-year-old daughter, Radha, waited for her mother to add some more vegetables, but Krishna told her: "There isn't anything else for lunch today."
Bhavchand, her husband, barely earns Rs80 ($1) a day selling fruit at a stall.
Krishna is a 30-year-old Hindu, originally from Tando Allahyar, a city in Pakistan's Sindh province.
She currently lives in a slum in Majnu-ka-tilla, 15km from Rashtrapati Bhavan, the official presidential residence in New Delhi, where on May 30 Narendra Modi was sworn in as prime minister after being reelected.
"Will Modi do something for us now?" said Krishna.
Pakistani Hindus live in India on long-term visas, which get renewed every five years, and complain of being treated as second-class citizens having arrived in the country fleeing discrimination and economic persecution.
According to a spokesperson for India's Ministry of Home Affairs (MHA), 36,000 Pakistani Hindus were granted these visas between 2011 and 2018, and there is no official data about the size of the population in total.
Avinash Rai Khanna, vice president of the ruling Bharatiya Janata Party (BJP), told Al Jazeera that "all of them are awaiting Indian citizenship," adding that he has raised the issue of their welfare at parliament several times.
The Indian government has granted citizenship to some Pakistani Hindus, but its process is arbitrary, according to interviews carried out by Al Jazeera and other local reports.
Until they receive citizenship, Pakistani Hindus continue to their stay on long-term visas.
They are mostly from underprivileged castes in the Hindu tradition - Bheels, Meghwars, Baghris and Kolhis - and worked as farmers, fruit sellers and clothes sellers in Sindh, the southern Pakistani province that is home to 95 percent of roughly 420,000 Hindus in the Muslim-majority country.
A spate of alleged forced conversions to Islam pushed them to leave Pakistan.
"Forced conversions, particularly of economically marginalised young Hindu women, is an alarming practice which seems to be continuing unabated," Brad Adams, Asia director at Human Rights Watch, told Al Jazeera.
Mohammad Faisal, Pakistan's ministry of foreign affairs spokesperson, explained that "whenever a complaint is brought to the government's notice, it is thoroughly investigated and dealt with on its merit, in line with the law."
Pakistani Hindus migrated en masse to India during Partition in 1947, and again after two Indo-Pakistan wars in 1965 and 1971.
Since then, the migration has not stopped.
With a few clothes and very little money, they flee to India either on pilgrimage or visitor visas.
"As Hindus, we wanted to safeguard our religion," said Krishna, who arrived in 2013 to participate in Maha Kumbh Mela, a Hindu festival, and never returned.
They still hold Pakistani passports but, in some cases, their passports have expired and they have not yet received Indian citizenship.
Sukhnand, a 50-year-old who sells mobile phone accessories, also arrived in 2013 for Maha Kumbh Mela and moved to the same slum in Delhi.
Modi was elected as India's prime minister the next year, running for the Hindu-nationalist BJP.
"This pro-Hindu government hasn't looked into our needs," he told Al Jazeera.
But his neighbour, 42-year-old Ram Chander, believes Modi can "save" Hindus.
"Now, Modi should consider us one of his own," he said.
Humanitarian concerns
Life in the slum, home to 525 Pakistani Hindus who are all awaiting citizenship, is miserable.
Huts made of bamboo and twigs are surrounded by rubbish. There are only two functional toilets and one bathroom for everyone and there is no electricity.
Two years ago, when there was an outbreak of dengue and Chikungunya virus here, a local NGO, the Centre for Social Development and Research Foundation, facilitated medical treatment in government hospitals. It also helped get 120 children from the slum into a state school.
Before the 2014 elections, the BJP announced a "Ghar Wapasi (Homecoming)" campaign, positioning India as a refuge for persecuted Hindus across the world.
In January this year, a bill was proposed seeking to amend the existing Citizenship Act to grant citizenship to persecuted minorities from Bangladesh, Pakistan and Afghanistan.
Currently, the home affairs ministry and district collectors oversee the process of granting citizenship.
Pakistani Hindus have been granted citizenship mostly by naturalisation, if the applicant has lived in India for the 12 months immediately preceding the date of application and for 11 out of the past 14 years.
"From 2005 until 2018, about 20,000 Pakistani Hindus living in northern states of Rajasthan and Gujarat were granted citizenship," said Hindu Singh Sodha of Rajasthan-based NGO Seemant Lok Sangathan, which advocates for their welfare. "But there are many who returned to Pakistan after waiting and converted to Islam for survival."
Expressing its concern, the BJP-led government in March issued an official report to Pakistan over the alleged abduction and conversion of two Hindu girls in Sindh, a move which was followed by a social media spat between senior ministers of the two countries.
The BJP views Pakistani Hindus as an "amorphous" population which serves their Hindu nationalist agenda, according to social scientist Shiv Visvanathan of Sonipat-based OP Jindal Global University.
"The BJP wants to be the messiah of Hindus by raising issues of conversion in Pakistan. But this arbitrary granting of citizenship reflects that they are not serious about building a consistent citizenship programme for them," he told Al Jazeera. "There isn't any humanitarian concern for their welfare either."
Proving identities
Sukhnand, the mobile phone accessories seller who arrived in 2013, alleged that BJP leaders promised them citizenship while parading him and his friends at political rallies for the Ram Janmabhoomi movement campaign, aimed at building a temple in northern India.
But citizenship never came.
Khanna denied the charges and stressed: "Once the Citizenship (Amendment) Bill is passed, there won't be any delay in granting citizenship. They would have a dignified life in India, their home."
For now, they feel unwelcome in India, neither official refugees nor citizens.
Sukhnand said locals suspect them as being "Pakistani spies", so they have put a tricolour at the entrance of their slum.
But Sodha, the activist, said citizenship alone is not a cure for everything.
Referring to the 20,000 Pakistani Hindus who have been granted citizenship, he said: "Many of them live without basic amenities. They don't have domicile certificates to avail of government benefits pertaining to medical and education facilities.
"Government officials often pose unwarranted questions such as who do they call up in Pakistan and how many times they call."
Back at Sukhnand's slum, residents assert their Hindu identity.
A piece of saffron cloth, considered sacred for Hindus, is fixed onto an iron rod so it cannot be missed by any visitors.
Men greet outsiders with an enthusiastic
"Jai Shree Ram (Hail, Lord Rama)."
"The BJP should know we are devout Hindus," said Ram Chander.
Children born in recent years are mostly named after Hindu Gods and Goddesses – Ram, Lakshmi, Durg and Shiv.
A few children have learned patriotic Hindi poems hailing Bharat Mata, or Mother India.
At the end of the recitation, they chant in chorus - "Bharat Mata Ki Jai (Hail, Mother India)," cheering for their "motherland."
"One day," said Krishna, "Modi will be convinced. Our children love India like any other Indian."
https://www.aljazeera.com/indepth/features/pakistani-hindus-india-demand-citizenship-rights-190702152117141.html
--------
'Wanted in India' Zakir Naik to embark on Kelantan tour
Jul 04, 2019
Controversial Muslim preacher Dr Zakir Naik will be embarking on a tour of Kelantan next month amid an extradition request from India.
State executive councillor Mohamed Fadzli Hassan said the programme from Aug 7 to 10 would be an indirect show of support for the Indian-born preacher and Prime Minister Dr Mahathir Mohamad's refusal to extradite him.
Zakir, who is now a Malaysian permanent resident, is wanted by Indian authorities over money laundering charges, which the preacher claims are false.
According to a Harakah Online article, Fadzli said the preacher would hold an "executive talk" with civil servants at Kota Darulnaim on Aug 8.
On the same night, he would present an intellectual discourse with university lecturers and youths at Dewan Besar Kompleks Balai Islam Lundang.
The next day, Zakir is scheduled to deliver the Friday sermon at Masjid Sultan Ismail Petra di Kubang Kerian.
Meanwhile, the preacher's wife, Farhat Naik, would attend a programme with Muslim women on Aug 9 at the Kota Bharu Municipal Council hall.
The "Dr Zakir Naik: The Kelantan Tour 2019" would culminate with a speech on uniting Muslims at Stadium Sultan Muhammad IV on the night of Aug 9.
On June 28, Foreign Minister Saifuddin Abdullah confirmed that Malaysia had received a request from India for the extradition of Zakir.
Prior to this, Zakir said he would return to India if the Supreme Court guarantees that he would not be arrested or imprisoned until he is convicted.
He was responding to the order for him to appear before India's Special Court on the Prevention of Money Laundering Act (PMLA) in Mumbai on July 31.
Full report at:
https://www.malaysiakini.com/news/482349
--------
RDX, ammonium nitrate used in Pulwama attack, says forensics
Neeraj Chauhan
Jul 04, 2019
Four and half months after the deadly attack on a Central Reserve Police Force convoy in Kashmir's district, in which 40 troopers were killed, forensic experts have finally submitted their report on the explosives used by the Jaish-e-Mohammad in the high-intensity bomb, according to two senior officials in the National Investigation Agency (NIA).
Experts of the Central Forensic Science Laboratory (CFSL) in Delhi, which functions under the Central Bureau of Investigation (CBI), has concluded that the explosive used in the February 14 suicide bombing was a mixture of "RDX" and "ammonium nitrate", which was assembled in a jerry can before it was placed in a Maruti Eeco car.
An NIA officer who asked not to be named said: "We have received the final report. It will be the most important (piece of) evidence in the charge sheet, which will be filed soon".
Based on the forensic report, the investigators believe that the RDX was mixed by JeM in the bomb to multiply the impact of the blast.
The second NIA officer, who also spoke on condition of anonymity, said the impact was so strong that everything melted. The explosion was heard by locals several kilometers away and it took forensic experts days to pick the DNA samples from the site.
Indian intelligence agencies told investigators right away that military grade RDX was used and that this explosive was provided to terror outfits by the Pakistani military. They also suggested that the explosive was brought to India in different tranches in the months leading up to the attack.
When asked about the quantity of explosive used in the bomb, the second officer said it is usually guesswork in such explosions, but that be believes 30 to 50 kg of explosives were planted in the jerry can.
Aadil Ahmad Dar, a JeM terrorist from Kashmir, carried out the suicide bombing on February 14 when he drove the car laden with high intensity explosives into the convoy.
The Indian government retaliated for the attack by launching an air strike on a JeM training camp in Pakistan's Balakot area following which the two countries came to the brink of war.
It was only after the Pulwama attack that China was forced to support India's case for declaring JeM chief Maulana Masood Azhar a UN-designated global terrorist.
Meanwhile, the government, according to a senior ministry of home affairs official, has expressed its unhappiness over forensic experts taking so much time in finalising the report in such a sensitive case.
Discussions are already underway in the government to reform the country's forensic laboratories, which are swamped by samples in thousands of criminal cases even as they cope with a massive shortage of equipment.
The NIA has arrested several JeM cadres and overground workers (OGWs) over the last four months while the mastermind – Mudassir Khan and others involved, Khalid, and Sajjad Bhat, were killed in encounters with the security forces.
Full report at:
https://www.hindustantimes.com/india-news/rdx-ammonium-nitrate-used-in-pulwama-attack-says-forensics/story-CVxjSVb269u0cMjZ18M1rJ.html
--------
India says its relations with Iran not influenced by any third country
Jul 4, 2019
India says its relations with Iran are not influenced by any third party, as the US tightens the screws on the customers of the Iranian crude oil.
"India's bilateral relations with Iran stand on their own and are not influenced by India's relations with any third country," Minister of State for External Affairs V Muraleedharan said in a written reply on Wednesday.
After six-month-long exemptions from US sanctions to buy oil from Iran ended in May, India said it will deal with the issue based on three factors: the country's energy security, commercial consideration and economic interests.
Iran's Ambassador to India Ali Chegeni on Tuesday stressed that his country can provide "affordability, accessibility and security" of energy to India.
The Iranian envoy also alluded to the possibility of using barter, rupee and European mechanisms for trade in oil with India and other countries to circumvent the US sanctions.
The remarks came days after US Secretary of State Mike Pompeo assured New Delhi that America is "doing everything" to ensure India has crude oil imports in the wake of the situation arising out of sanctions on importing oil from Iran.
The US had told India and other countries to cut oil imports from Iran to "zero" by November 4 or face sanctions. However, Washington had granted a six-month waiver from sanctions to eight countries, including India. The waivers, however, ended on May 2, when India stopped oil imports from Iran.
A senior Indian government official stressed in late May that India was opposed to the US sanctions and "is keen to resume imports, though the quantum will be limited".
India is Iran's second biggest oil buyer after China, sourcing about 10% of its supplies from the Islamic Republic.
The US decision to end sanctions waivers has angered Washington's allies.
Full report at:
https://www.presstv.com/Detail/2019/07/04/600101/Iran-China-India-oil-sanctions-US-crude-imports
--------
Between 2014-18, 800 terrorists were killed in J&K: Centre
July 3, 2019
The security forces have killed 800 terrorists since 2014, of which 249 were in 2018, the Centre told the Parliament on Wednesday.
In a written response to a question in the Lok Sabha, Minister of State in the Defence Ministry Shripad Naik said 104 terrorists were killed in 2014, 97 in 2015, 140 in 2016 and 210 in 2017.
"The security forces are combating the terrorists' activities, both along the Line of Control by eliminating the infiltration bids and in hinterland by carrying out counter-terrorist operations and responding to terrorist-initiated incidents," Naik said.
The minister said sustained operations conducted by the security forces "have resulted in (the) elimination of (a) large number of terrorists".
Replying to a separate question, Naik said firm and decisive response was given by the Army to the ceasefire violations on the India-Pakistan border.
In March, April and May, he said 267, 234, 221 cases of ceasefire violations were reported, respectively.
In a response to another question on whether the United States had approved the sale of armed drones to India, Naik said: "This is a continuous process undertaken through procurement from various indigenous as well as foreign sources. Highest priority is accorded to optimally equip the armed forces and keep them in a state of readiness."
Full report at:
https://indianexpress.com/article/india/800-terrorists-killed-in-jammu-kashmir-between-2014-18-centre-5813233/
--------
'Talks on Kashmir can be held only at highest level': Hurriyat
Jul 04, 2019
Harinder Baweja
Even as the Narendra Modi government has articulated its intent to address the festering Kashmir issue — both houses of Parliament have seen a substantive debate on this — the Hurriyat Conference has indicated its willingness for a dialogue with the Centre but with the caveat that meaningful talks can only be held at the highest political level.
"It is better to have a dialogue at the level of the home minister and prime minister, like we did during (Atal Bihari) Vajpayee's time," Hurriyat chairman Mirwaiz Umar Farooq told Hindustan Times.
When asked why the separatists were not talking to Dineshwar Sharma, the interlocutor appointed by the NDA government, the Mirwaiz said his mandate was not clear and that political talks would be more meaningful than a dialogue at the bureaucratic level. Sharma is former director of the Intelligence Bureau. The Vajpayee government had made headlines for several rounds of talks with the Hurriyat Conference in 2004, when it even granted leaders of the separatist group passports and signalled that they could simultaneously hold talks with the Pakistani establishment.
"Vajpayee realised that the Kashmir problem needs a peaceful, political engagement. Narendra Modi has won a strong mandate and he should hold talks within the ambit of humanity," Mirwaiz said, referring to Vajpayee's offer of looking at Jammu and Kashmir through the prism of "Kashmiriyat, jhamooriyat and insaniyaat."
Interestingly, home minister Amit Shah said earlier this week that the current government's Kashmir policy would be guided by these three aspects. Sharma, the government's interlocutor, has been trying to meet the senior leadership of the Hurriyat since his appointment but has only managed to meet one of its leaders, Abdul Ghani Bhat. The separatists have had no structured dialogue with him.
The possibility of a dialogue was revived after state governor, Satya Pal Malik, at a function in Srinagar last week said that the Hurriyat Conference was willing to have a dialogue. Malik's comments assumed significance because he spoke in front of two NDA ministers: Union Minister for Information & Broadcasting Prakash Javadekar and Minister of State in the PMO, Jitendra Singh.
Full report at:
https://www.hindustantimes.com/india-news/talks-on-kashmir-can-be-held-only-at-highest-level-hurriyat/story-e1G750by4FxXuilZbQIsHM.html
--------
Two more youths join militant ranks in North Kashmir
Jul 03, 2019
Two more youths have joined militant ranks in North Kashmir's Baramulla five months after the district was declared "militancy free'' following the killing of three last surviving militants in January.
On Tuesday, pictures of the two, Arif Maqbool Bhat and Uzair Amin Bhat, carrying rifles and a pistol went viral on social media. The first has joined the home-grown Hizbul Mujahideen while the second Lashkar-e-Taiba.
Full report at:
https://www.hindustantimes.com/india-news/two-more-youths-join-militant-ranks-in-north-kashmir/story-U6FK0jlaXZKR7R7YePzK4H.html
--------
Pakistan
12 missing persons return in Balochistan over last 9 days
Syed Ali Shah
July 03, 2019
As many as 12 missing persons have returned to their homes in various areas of Balochistan during the last one week, Voice for Baloch Missing Persons (VBMP) Chairman Nasrullah Baloch confirmed to DawnNewsTV on Wednesday.
The 12 missing persons returned at a time when the federal government's commission on missing persons headed by retired Justice Fazalur Rehman Bazai was hearing cases in Quetta.
During the nine consecutive hearings in Quetta, starting June 24, the commission took up 122 cases. According to sources in the provincial home department, nine missing persons — whose cases were being heard by the commission — reached home during the last nine days.
The missing persons belong to Chaghi, Khuzdar, Pishin and other parts of the province, sources said.
The commission, however, rejected two cases of missing persons due to a lack of supporting documents.
The development surfaced days after Balochistan Home Minister Mir Ziaullah Langove revealed that 200 missing persons have returned home since January across the province.
"The recovery of missing persons is our top priority since the establishment of the incumbent government in the province," Langove had said.
In August last year, following the Pakistan Tehreek-i-Insaf (PTI) government coming into power, the Balochistan National Party-Mengal (BNP-M) had signed a six-point agreement with the PTI leadership after detailed negotiations.
The six points included recovery of missing persons, implementation of the National Action Plan, implementation of six per cent quota for Balochistan in the federal government, immediate repatriation of Afghan refugees and the construction of dams in the province to resolve the acute water crisis.
https://www.dawn.com/news/1491890/12-missing-persons-return-in-balochistan-over-last-9-days
--------
Imran, Taliban meeting on the cards, says Haque
Jul 04, 2019
ISLAMABAD: Special Assistant to Prime Minister on Political Affairs Naeemul Haque on Wednesday said that PM Imran Khan would meet the Taliban leadership for a peaceful resolution to the Afghan crisis.
The Afghan government has also assented to the idea, he said while addressing a press conference here.
He said that Afghan President Ashraf Ghani's recent visit had restored the confidence between the two countries and as this newly developed relationship will proceed further, both countries can resolve the issues of refugees and smuggling amicably.
Haque also expressed his thoughts on relations with India and said, "We hope that Indian Prime Minister Narendra Modi will visit the Kartarpur corridor on the eve of 585th birth anniversary of Gurunanak in November."
Full report at:
https://www.pakistantoday.com.pk/2019/07/03/pm-imran-to-meet-taliban-leaders-for-peaceful-resolution-to-afghan-conflict-says-haq/
--------
Pakistan welcomes US move to declare BLA terror outfit
Jul 04, 2019
ISLAMABAD: Pakistan on Wednesday welcomed the United States' decision to declare the separatist group Balochistan Liberation Army (BLA) as a "global terrorist group".
Following the US announcement, the Foreign Office issued a statement which said that "BLA remains a proscribed entity in Pakistan since 2006 and in recent times has carried out several terrorist attacks in the country".
"It is hoped that this designation will ensure that BLA's space to operate is minimized," the statement read.
"It is important that the perpetrators, organizers, financiers and external sponsors including those glorifying these acts of terror against Pakistan are held accountable and brought to justice," the statement further added.
In the past, the group's actions have been dubbed as terrorism by the US Department of State and European Union too.
However, the new listing of BLA to SDGT has put sanctions on the funding and movement of the terrorists affiliated with the BLA which of late has targeted several Chinese installations and Chinese nationals working on projects linked to China-Pakistan Economic Corridor (CPEC).
BLA rose to prominence during the summer of 2000 after it claimed credit for a series of bombing attacks on state authorities. It has been claimed that Brahumdagh Bugti, the son of former Balochistan chief minister late Akbar Bugti, is one of the founders of the BLA.
Since 2004, the BLA has been in a state of war against the state. It is operating mainly in Balochistan, the largest province of Pakistan, where it carries out attacks against the military.
BLA has often been accused of being an Indian proxy and receiving funding from Research and Analysis Wing (R&AW), its spy agency, through Indian consulates in Afghanistan's Kandahar and Jalalabad.
Full report at:
https://www.pakistantoday.com.pk/2019/07/03/pakistan-welcomes-us-decision-to-designate-bla-as-terror-outfit/
--------
Five Pak soldiers killed in blast near LoC in PoK
Jul 3, 2019
ISLAMABAD: Five Pakistan army soldiers were killed and one injured in a blast that occurred a few metres from the Line of Control in Pakistan-occupied Kashmir, the military said in a statement on Wednesday.
Inter-Services Public Relations (ISPR), the Pakistan army's media wing, said the explosion took place in Chamb sector of Barnala tehsil. "The nature of the blast is being ascertained," the statement said.
"The incident is evident of state-sponsored terrorism by India violating the bilateral ceasefire agreement and international rules," the ISPR statement read.
Full report at:
https://timesofindia.indiatimes.com/world/pakistan/five-pak-soldiers-killed-in-blast-near-loc-in-pok/articleshow/70063548.cms
--------
Pakistna on positive trajectory of peace and development, says army chief
Jul 3, 2019
ISLAMABAD: Pakistan Army chief Gen Qamar Javed Bajwa on Wednesday said that the country is on positive trajectory of peace and development and shall carry forward the same towards enduring peace and prosperity.
He was addressing the 222nd Corps Commanders' Conference at General Headquarters in Rawalpindi.
"Pakistan is on positive trajectory of peace & development and shall carry forward the same towards enduring peace and prosperity," Bajwa said.
The army said Geo Strategic, regional and National Security environment including India, Afghanistan, Iran, ongoing internal security operations and actions against proscribed organisations were discussed at the conference.
Tensions between India and Pakistan worsened after the Pulwama terror attack and both the countries were almost on the brink of a war after India's military planes struck a terrorist training camp in Pakistan's Balakot on February 26 and Pakistan carried out a counter-offensive the next day.
Full report at:
https://timesofindia.indiatimes.com/world/pakistan/pakistna-on-positive-trajectory-of-peace-and-development-says-army-chief/articleshow/70063160.cms
--------
Emergence of PML-N 'forward bloc': PML-Q sees no threat to its position in ruling coalition
Waseem Ashraf Butt
July 04, 2019
He said the PML-Q would never support the idea of creating a forward bloc in the opposition parties as the party had itself been a victim of such tactics in the past when the Shahbaz Sharif government in Punjab had created a forward bloc in the Q. Such ploys had never been in the best interest of democracy and democratic norms, he added.
When asked who in the PTI had been orchestrating such moves aimed at limiting the importance of the PML-Q in Punjab, he said the elements who had previously been part of the Janoobi Punjab Suba Mahaz (South Punjab province front) that later on merged into the PTI, were actually employing these tactics as most of the lawmakers who had reportedly met with the premier were from south Punjab.
However, he said some of these assembly members had already denied being part of any forward bloc, he said and advised those who wanted to leave the PML-N to first tender their resignations and then join the PTI or any other party of their choice to contest by-elections.
To a question, he said the Q delegation led by party chief Chaudhry Shujaat Hussain that had called on the prime minister recently, did not complain about the unfulfilled promises the PTI had made to the party while forging an alliance with it.
However, he said the Q's reservations regarding the introduction of the new local govenment system in Punjab had already been conveyed to the PTI leadership as the party had not been taken into confidence in this regard.
Full report at:
https://www.dawn.com/news/1492048/emergence-of-pml-n-forward-bloc-pml-q-sees-no-threat-to-its-position-in-ruling-coalition
--------
PM Imran says he was victimised by past govts over anti-graft stand
Syed Irfan Raza
July 04, 2019
ISLAMABAD: Prime Minister Imran Khan said on Wednesday he had been politically victimised by his opponents but had proved himself Sadiq and Ameen (honest and sagacious) before the Supreme Court.
"I faced all my cases and did not escape to London," the prime minister said at a ceremony after inaugurating a new train called Sir Syed Express.
In his fiery speech, the prime minister indicated that former prime minister Nawaz Sharif had asked some countries for mediation to seek a National Reconciliation Ordinance (NRO)-like concessional deal for safe exit from the corruption cases he was facing. "I will not give them NRO even if they approach any monarch for it," Mr Khan added.
He said when he had raised the issue of corruption of former rulers that had been exposed in Panama Paper leaks, they (the then government) had politically victimised him and filed two references in the Supreme Court, 32 FIRs and six cases in the Election Commission of Pakistan against him. "But I proved myself Sadiq and Ameen before the Supreme Court," he added.
"The cases they [former rulers] are presently facing were made before I came to power, but they made cases against me because I wanted to make them accountable for their deeds," he said.
The prime minister said that the previous governments of the Pakistan Muslim League-Nawaz and Pakistan Peoples Party had increased the volume of foreign debt from Rs6,000 billion to Rs30,000bn in 10 years.
"Opposition Leader Shahbaz Sharif blames me for Pakistani rupee's devaluation," the PM said. "But if Shahbaz Sharif and Asif Zardari bring back to the country even half of their looted wealth [from abroad], the rupee will appreciate a lot against the dollar."
He said those who had been convicted in mega corruption cases and involved in money laundering would not be provided luxuries in jails and would be treated as common criminals.
Talking indirectly about jailed PML-N leader Nawaz Sharif, he said, "These convicts have big LED TVs and air conditioners in their rooms in jail."
Prime Minister Khan said the government was committed to improving lifestyle of poor and downtrodden people and therefore had allocated Rs200bn for their welfare in the budget 2019-20.
Talking about the country's railway system, he said losses of the Pakistan Railways had dropped by Rs4bn during the last 10 months. "Despite devaluation of the rupee and increase in oil prices, the railway has reduced its losses from Rs36bn to Rs32bn in 10 months," he added.
Earlier, the prime minister inaugurated Sir Syed Express, a non-stop train from Rawalpindi to Karachi. The train aims at facilitating passengers from Khyber Pukhtunkhwa, Gilgit Baltistan and Azad Kashmir who travel to Karachi and other southern cities of the country.
The new train offers various facilities including in-house television, wi-fi, cabin service, on-wheel restaurant, bedding, sound system and accessories kit. After completion of the ML-1 track, the travel time of the train will reduce to 10 hours.
Highest-ever power supply
Earlier in his tweet, Prime Minister Khan congratulated the power ministry for reaching the highest ever power supply mark of 22,550MW in the country. "I want to congratulate the power ministry as on 2nd July we reached the highest ever power supply at 22,550 MW in national grid with the system running smoothly across the country; almost 3000MW more than the max supply last summer," he tweeted.
He also appreciated the performance of the power ministry for generating additional revenue of Rs106bn in eight months (Oct 2018 - May 2019) compared to same period last year. "75 percent of this revenue increase is the result of the anti theft drive of PTI government," the PM tweeted.
Full report at:
https://www.dawn.com/news/1491998/pm-imran-says-he-was-victimised-by-past-govts-over-anti-graft-stand
--------
North America
US sanctions Hezbollah operative, updates Iranian terrorist group designation
July 2, 2019
The United States sanctioned on Tuesday a top Hezbollah operative, updated a designation of an Iranian terrorist group and designated Pakistan's Balochistan Liberation Army as a terrorist entity.
Husain Ali Hazzima is the chief of Hezbollah's intelligence unit, while the Iranian group Jundallah, which was designated in 2010 as a terrorist group, began using the new name Jaysh al-Adl and associated aliases in 2012, according to the U.S. State Department.
Jundallah has allegedly been behind numerous attacks that have killed Iranian civilians and government officials, including a suicide-bombing in February and kidnapping of Iranian security personnel in October.
The Balochistan Liberation Army has allegedly been responsible for terrorist attacks in the Pakistani province.
"Today's actions notify the U.S. public and the international community that Hazzima and BLA have committed, or poses a significant risk of committing, acts of terrorism, and that Jundallah, having adopted the new name Jaysh al-Adl, continues to engage in terrorism that threatens the national security of the United States," said the State Department in a statement. "Terrorist designations expose and isolate organizations and individuals, and deny them access to the U.S. financial system."
https://www.jns.org/us-sanctions-hezbollah-operative-updates-iranian-terrorist-group-designation/
--------
Jury finds Navy SEAL not guilty of murdering ISIS prisoner
3 July 2019
A Navy SEAL accused of killing a war prisoner under his care in Iraq in 2017 was found not guilty by a military jury in San Diego.
The jury Tuesday also found Special Operations Chief Edward Gallagher not guilty of all other counts except for the violation of posing for photographs with a dead war casualty.
Gallagher was accused of fatally stabbing an ISIS prisoner who had been wounded by an airstrike in Iraq in 2017 and other crimes.
Full report at:
https://english.alarabiya.net/en/News/world/2019/07/03/Jury-finds-Navy-SEAL-not-guilty-of-murdering-ISIS-prisoner.html
--------
Trump calls Afghanistan "the Harvard of terrorists," says he'll leave intel assets there
Jul 2, 2019
President Donald Trump wants to get out of Afghanistan. But he says he's worried that the country has become the "Harvard of terrorists" — so even if the US does end up leaving, he says he plans to keep a US intelligence presence behind to monitor the situation.
That's the biggest takeaway from Trump's interview with Fox News's Tucker Carlson, which aired Monday night.
Prompted by the death of two US soldiers in Afghanistan last week, Carlson asked the president if he had plans to remove all service members from the country nearly 20 years after America first went in to defeat al-Qaeda. Trump rattled off some usual talking points, like how he believes the US shouldn't be the world's policeman and that America has spent too much money building things like hotels and gas stations in Afghanistan.
But Trump, who remains skeptical of US intervention abroad, surprisingly said that the terrorism situation in Afghanistan is why he wouldn't fully withdraw. "I would like to just get out. The problem is it just seems to be a lab for terrorists," the president told Carlson. "I call it 'the Harvard of terrorists.'"
So what's his proposal instead? "I would leave very strong intelligence there," he said. "You have to watch."
It's unclear exactly what Trump means. He didn't specify if "strong intelligence" requires a bolstered CIA presence in Afghanistan, for example, or if he aims to devote more resources to tracking terrorists' digital communications. He also failed to mention if any troops should be left behind to protect US intelligence assets in the area.
Still, saying that the situation in Afghanistan is so tough that he can't fully bring troops home is a shocking admission for a president voted into office partly for promising to end US wars.
Don't expect a full Afghanistan withdrawal under Trump
There's no question that Afghanistan remains a violent place. On Monday, the Taliban launched an attack in Kabul, the capital, that reportedly killed about 40 people — including children — and injured at least 100 more. That kind of bloodshed is the major reason the US is currently negotiating with the Islamist insurgent group to find a solution that allows the US to leave.
Trump saying he wouldn't completely take all US personnel out of Afghanistan may hurt those talks, as the Taliban wants America out entirely, experts say.
His statement, then, seems like both a potential complication in the US-Taliban negotiations and a reversal of his position on Afghanistan.
The president fought his own administration for months when advisers told him he should send more troops to Afghanistan, mainly because he felt the US had fought too long there. He eventually relented in September 2017 and agreed to send 3,000 additional service members to the country, fewer than many of his aides wanted.
But Trump noted in the interview that military advisers have influenced his thinking. He told Carlson that he spoke with generals about whether the US could soon leave Afghanistan. And while they replied, "Yes, sir," in Trump's telling, he said they also expressed their desire to "attack them over there [rather] than attack them in our land."
That's surprising, as Trump has previously claimed that he knows a lot more than the generals do about war. He also reportedly complained to top brass during a tense 2017 meeting that the US was "losing" in Afghanistan despite him having given the military more authority to launch offensive operations in the country several months before.
But now, it seems, US military leaders are on the president's good side.
Trump has never been shy about announcing US troop withdrawals. He surprised everyone last December when he ordered all of America's few thousand fighters still in Syria to come home, despite apparently not having coordinated that decision with the rest of his administration. He soon reversed that decision and allowed roughly 400 troops to remain in the country.
Still, Trump made sure to tell Carlson that he has reduced the number of US service members in Afghanistan to about 9,000 total now.
Full report at:
https://www.vox.com/2019/7/2/20678781/trump-tucker-carlson-fox-news-afghanistan
--------
Trump warns Iran to be 'careful with threats'
4 July 2019
US President Donald Trump warned Iran Wednesday its threats could "come back to bite" after Tehran vowed to exceed the maximum uranium enrichment level allowed by the 2015 nuclear deal.
"Iran has just issued a New Warning. Rouhani says that they will Enrich Uranium to 'any amount we want' if there is no new Nuclear Deal," Trump tweeted, referring to Iran's President Hassan Rouhani. "Be careful with the threats, Iran. They can come back to bite you like nobody has been bitten before!"
Iran is acting on its May 8 threat to suspend parts of the agreement in response to Trump's reimposition of crippling sanctions after withdrawing from it in May last year.
Rouhani said Wednesday's decision to exceed the enrichment limit was in response to failure by other parties to the deal to keep up their promises and provide Iran relief from the US sanctions.
Full report at:
https://english.alarabiya.net/en/News/middle-east/2019/07/04/Trump-warns-Iran-threats-will-come-back-to-bite-you-.html
--------
US has 'failed in plan to make Iran surrender' after scrapping nuclear deal
3 July 2019
A senior Iranian parliamentary official said on Wednesday that the US has failed in its plan to make Iran surrender by withdrawing from the nuclear deal. after scrapping
"Americans imagined that by withdrawing from the nuclear deal and escalating sanctions and military threats, they could make the Islamic Republic of Iran surrender, but the people of Iran failed America's plan with their resistance," said Iran's First Deputy Parliament Speaker, Masoud Pezeshkian.
Reported by the semi-official Tasnim news agency, Pezeshkian added that the US is the cause of unrest and tension in the region.
"America and its agents in the region are the cause of all the unrest and tension," Pezeshkian said. "The only thing America's presence in the region has achieved is tension," he added.
Pezeshkian, who is attending the Second International Forum "Development of Parliamentarism" in Russia, said that "Iran and Russia must cooperate more closely than ever due to the continuation of common threats" against them.
"Americans imagined that by withdrawing from the nuclear deal and escalating sanctions and military threats, they could make the Islamic Republic of Iran surrender, but the people of Iran failed America's plan with their resistance," he said.
Pezeshkian said that the US "must leave the region," adding that the countries of the region are capable of ensuring the region's security on their own.
Full report at:
https://english.alarabiya.net/en/News/middle-east/2019/07/03/US-has-failed-in-plan-to-make-Iran-surrender-after-scrapping-nuclear-deal.html
--------
Trump willing to engage Mahmoud Abbas on peace plan, says Kushner
3 July 2019
US President Donald Trump is "very fond" of Palestinian President Mahmoud Abbas and is willing to engage him on the US peace proposal at the right time, White House senior adviser Jared Kushner said on Wednesday.
Kushner, briefing reporters on a conference call, also hinted the US peace plan might call on Palestinian refugees to permanently settle where they are rather than return to lands now in Israel.
At a workshop in Bahrain last week, Kushner unveiled a $50 billion economic plan for the Palestinian territories, Jordan, Egypt and Lebanon.
Sometime later this year, he is to outline a 50- to 60-page page plan that will offer proposals on resolving the thorny political issues between the Israelis and the Palestinians.
Palestinians have harshly criticized the economic plan.
"Our door is always open to the Palestinian leadership," Kushner said.
Full report at:
https://english.alarabiya.net/en/News/world/2019/07/03/Trump-willing-to-engage-on-peace-plan-Kushner.html
--------
UN Security Council fails to condemn airstrike in Libya
Umar Farooq
04.07.2019
WASHINGTON
The UN Security Council on Wednesday failed to condemn a recent airstrike in Libya because the U.S. would not support the statement's text, according to multiple reports.
The council met behind closed doors for two hours to discuss the attack, which took place Tuesday, on a migrant detention center in the Tajoura suburb of the country's capital, Tripoli, which killed at least 44 people and injured 130 others.
The emergency meeting was called by Peru, which holds the council presidency in July.
The U.K. reportedly circulated a statement that condemned the attack and called for a ceasefire and return to political talks.
But U.S. diplomats did not approve the statement, saying they would need word from Washington to be able to vote in favor of it, according to reports.
Libya's Government of National Accord (GNA) blamed the airstrike on commander Khalifa Haftar's forces.
UN Secretary General Antonio Guterres said he was outraged over the attack and called for an independent investigation.
The U.S. State Department condemned the attack but did not call for a ceasefire.
In early April, Haftar, who commands forces loyal to a rival government based in eastern Libya, launched a wide-ranging campaign to take the capital, but his forces have failed to achieve their primary objective, although they have captured several strategic towns and cities in the vicinity.
Libya has remained beset by turmoil since 2011 when a bloody NATO-backed uprising led to the ouster and death of long-serving President Muammar Gaddafi after more than four decades in power.
Full report at:
https://www.aa.com.tr/en/africa/un-security-council-fails-to-condemn-airstrike-in-libya/1522793
--------
Europe
Magid Magid: Muslim MEP 'asked to leave European Parliament' on first day
July 3, 2019
A British-Muslim MEP has claimed that he was asked to leave the European Parliament on his first day.
Magid Magid, who was elected after May's European elections as a Green Party representative for the Yorkshire and Humber region, said he did not know who the person was that asked him to leave.
Mr Magid said he thought the individual was a staff member.
The European Parliament said none of its staff were involved in the incident.
Mr Magid, who was wearing a black T-shirt emblazoned with the message "[expletive] fascism" at the time, said the person had asked him if he was lost.
"I know I'm visibly different. I don't have the privilege to hide my identity. I'm BLACK & my name is Magid. I don't intend to try fit in. Get used to it!" he wrote on Twitter.
The 30 year old later thanked people for the support he had received. "I obviously didn't leave. But to even be put in this position says a lot about what people think the stereotypical politician is meant to look like," he said.
A spokesperson for the European Parliament said: "We investigated the matter immediately after our attention was brought to it and can safely say that no member of Parliament staff was involved."
Mr Magid, who came to Britain in 1994 as a child refugee from Somalia, is an anti-Brexit politician who came to prominence after he became the youngest councillor to hold the role of Lord Mayor of Sheffield.
https://www.thenational.ae/world/europe/magid-magid-muslim-mep-asked-to-leave-european-parliament-on-first-day-1.882308
--------
Germany fines Facebook for under-reporting illegal content
July 2, 2019
London (CNN Business)Facebook has been fined more than $2 million in Germany for inaccurately reporting the amount of illegal content on its platform.
German authorities said Tuesday that Facebook had provided "incomplete" information in mandatory transparency reports about illegal content, such as hate speech.
The Network Enforcement Act, which took effect last year in Germany, requires social media platforms to publish reports every six months detailing the number of complaints of illegal content they have received.
Companies are also required to remove hate speech and fake news within 24 hours of it being flagged, or face penalties of up to roughly $60 million.
The German Federal Office of Justice said in a statement Tuesday that a 2018 transparency report from Facebook was "inadequate," and it issued a fine of €2 million ($2.3 million).
"The report lists only a fraction of complaints about illegal content," the regulator said, suggesting that Facebook had made it difficult for its users to find the form used to flag illegal content.
"This then created a distorted public image about the size of the illegal content and the way the social network deals with the complaints," it added.
Facebook (FB) said in a statement that it was confident its report was in accordance with the law.
"Many critics have pointed out there are a number of areas where this law lacks clarity," a Facebook spokesperson said. "We will analyze the fine notice carefully and reserve the right to appeal."
Yet Facebook does appear to have reported less illegal content than some rival social media networks.
The report that Facebook was fined over, which covers the first half of last year, disclosed 1,704 pieces of illegal content. Google's YouTube reported 144,836 pieces of content for the same time period.
Germany has tougher hate speech laws than many other countries. Hate speech, Holocaust denial and the display of certain symbols, such as the swastika, are illegal and punishable by prison.
Facebook has been trying to clean up its image after a series of scandals sparked questions over whether the company should be broken up.
Full report at:
https://edition.cnn.com/2019/07/02/tech/facebook-germany-illegal-content/index.html
--------
Jewish-Muslim dialogue group launched in Berlin
JULY 3, 2019
(JTA) — Jewish and Muslim entrepreneurs met in Berlin on Wednesday to launch an "an unconventional Jewish-Muslim dialogue."
Dubbed Shalom Aleikum: Jewish-Muslim Dialog, the project of the Central Council of Jews in Germany began with young business leaders having an open exchange on the issue of cultural identity and the job market. TV journalist Shakuntala Banerjee served as the moderator.
Central Council President Josef Schuster said the project aims to break down stereotypes and prevent anti-Semitism and Islamophobia.
Germany has seen a rise in anti-Semitic crimes. Although German officials report that the vast majority of anti-Semitic incidents are carried out by members of the far right, some Jewish leaders worry that anti-Semitic acts by Muslims are more widespread than believed and are being underreported.
It is not too soon to intervene, Schuster suggested.
"People who who speak to each other from the realities of their lives can approach each other without reservations," Schuster said in a media statement.
The nationwide project has the support of Minister of State Annette Widmann-Mauz, who heads Germany's Federal Commission for Migration, Refugees and Integration. The first year's events are funded with 1.2 million euros ($1.35 million), and will encompass various dialogue formats nationwide.
Speaking to a Protestant news service, Widmann-Mauz said the project was designed to break down barriers between Jews and Muslims, as well as prevent anti-Semitism and anti-Muslim sentiments from developing at an early stage.
She said she was appalled at the reported increases in hate crimes related to religion.
"This is not a situation that we want in our country," she said.
Full report at:
https://www.jta.org/2019/07/03/global/jewish-muslim-dialogue-group-launched-in-berlin
--------
UK: Panel discusses concerns over 'deal of the century'
Muhammad Mussa
04.07.2019
LONDON
A London panel on Wednesday discussed U.S. President Donald Trump's proposed peace plan for Palestine and Israel, also known as the 'deal of the century', and whether it is viable for a future peace in the region.
The seminar was organized by the Arab Organization for Human Rights in the U.K. and featured senior BBC journalist Bill Law, human rights and international criminal lawyer Rhys Davies and senior Labour party councilor and Palestine activist Jenny Lynn.
The session also looked at the role of Jared Kushner, Trump's son-in-law and senior advisor, in piecing together the peace deal, his relationship with Israeli Prime Minister Benjamin Netanyahu and the geopolitical significance of Saudi Arabia and the United Arab Emirates in financing the agreement.
"I'm here today to say how important it is that we respond to the call for global solidarity for the Palestinian people and that we reject this deal, which is absolutely outrageous" Lynn said.
"My view is that actually, this attempt to try to sell out the rights particularly of Palestinian refugees will not succeed".
Lynn also believes there is a lot of work being done to undermine the global Palestinian solidarity movement due to the success of the Boycott, Divestment and Sanctions (BDS) movement around the world and that more people are turning against what is happening to the Palestinian people as they are now understanding the true nature of the Israeli government.
Law believes the proposed peace plan will further weaken any prospect of a future Palestinian state and a two-state solution as it will force Palestinians to give up the little land they do possess and warned that Kushner should not be underestimated.
"The story of the 'deal of the century' is really the 'steal of the century' in that Palestinians are losing land, they are losing water and they're even losing their image" through cultural appropriation, the senior journalist said.
According to Law, no political substance of the deal has been revealed as of yet, and only the economic details of the agreement have been put forth, which is to pump billions of dollars into the Palestinian Authority and supporting states without any specific plan as to how that money would be spent and on what projects it would be used on. He said that essentially, the deal is an economic package intended to coerce the Palestinians into giving more of their land to Israel with the support of the Arab states.
"I think the point to remember about Jared Kushner is don't underestimate him. He's very good at what he does, and what he wants to do thus far is to push the Palestinians into a corner from which they can only say no" to the deal, he added.
Law also explained how Kushner has financial support and backing from the UAE and Saudi Arabia, specifically from Saudi Crown Prince Mohammed Bin Salman and Emirati Crown Prince Mohammed Bin Zayed, and why this is a difficult situation for the Palestinians as the two main regional powers are supporting a plan that will essentially strip away their rights and representation as an independent people and state.
Kushner's close relationship with Netanyahu and prominent right-wing Zionists was also analyzed as well as his past experience as a real estate agent in New York, which led Law to conclude that his plan for peace will not succeed among Palestinians as it will act as a catalyst for more illegal Israeli settlements to be built and the stripping away of more Palestinian land.
Regarding the geopolitical significance of Saudi Arabia and the UAE in supporting the agreement, Davies believes that the pledge of support from the two Gulf states is pivotal in defeating the prospect of a two-state solution and lasting peace in the region. He argued that Saudi support for the deal is in response to the growing tensions with Iran and that Bin Salman sees a common ally in Israel, as they share the same enemy.
Full report at:
https://www.aa.com.tr/en/europe/uk-panel-discusses-concerns-over-deal-of-the-century-/1522802
--------
Russia condemns Israel's 'destabilising' air strikes in Syria
Jonathan Brown
July 3, 2019
The conflict is winding down to its concluding phase, with just Idlib province in the north outside of Mr Assad's control. Russia has voiced mounting frustration over frequent Israeli air strikes in Syria, which have mostly targeted Iranian military assets and the Tehran-backed Hezbollah militant group.
Tensions between Russia and Israel peaked in September last year when Moscow blamed Israeli jets for the shooting down of an Il-20 military plane, claiming the lives of all 15 Russian personnel on board. The Israeli military expressed "sorrow" over the incident, but said the Syrian military was responsible.
A summit between top security officials from Israel, Russia and the US in Jerusalem late last month failed to bring about any concrete agreements on what the Israeli leadership has described as Iran's malign role in Syria.
Full report at:
https://www.thenational.ae/world/europe/russia-condemns-israel-s-destabilising-air-strikes-in-syria-1.882356
--------
South Asia
Bangladesh court sentences 9 to death for 1994 attack on Sheikh Hasina
July 04, 2019
DHAKA: A court in Bangladesh has sentenced nine opposition activists to death and 25 others to life in prison for an attack on a train carrying political leader Sheikh Hasina 24 years ago.
The main opposition Bangladesh Nationalist Party, led by Hasina's archrival and former Prime Minister Khaleda Zia, rejected Wednesday's verdict, calling it politically motivated.
The current prime minister and then-opposition leader, Hasina was riding a passenger train attacked at Pakshi Rail Station on Sept. 23, 1994. The attackers fired shots and hurled bombs at the train, injuring scores of people, though Hasina was unhurt.
The Paban district trial court also Wednesday sentenced 13 other people to 10 years in jail in a case filed under the Explosives Substances Act of 1908.
The prosecution and local Awami League leaders voiced satisfaction the offenders had been convicted even after the completion of the trial took 24 years.
BNP's Pabna unit office secretary Jahirul Islam said all of the convicts are leaders and activists of the party and its associate bodies.
In a statement, BNP Secretary-General Mirza Fakhrul Islam Alamgir alleged the verdict was "dictated" and "cruel" and alleged the train attack had been staged to create a political issue. "The verdict is part of the government's policy to eliminate BNP using the court," the BNP leader added.
Hasina won her fourth term and her third straight with an overwhelming victory in Bangladesh's last election in late December. Amid worry that the dominating victory would allow her to become more authoritarian, she vowed when Parliament opened that she would allow criticism from the opposition.
The main opposition alliance received only seven of the 300 seats in Parliament. Zia's party is the main partner of the alliance.
Hasina and Zia have ruled the country alternately since 1991, when democracy returned after nine years of military rule. Zia is serving two corruption sentences in cases she says are politically motivated.
At least 19 attacks or assassination attempts have been made against Hasina, the eldest daughter of the country's founder Sheikh Mujibur Rahman, who was brutally killed along with several family members in a coup by an army cabal in 1975.
http://www.arabnews.com/node/1520431/world
--------
U.S. airstrikes kill 28 Taliban militants in Wardak and Ghazni provinces
04 Jul 2019
The U.S. forces carried out a series of airstrikes in Wardak and Ghazni provinces killing at least 28 Taliban militants.
The 203rd Thunder Corps in a statement said Wednesday the U.S. forces conducted airstrikes in Maidan Shar, Jalrez adn Nerkh districts of Maidan Wardak province in the past 24 hours.
The statement further added that the airstrikes killed 28 Taliban militants in the three districts.
Furthermore, the U.S. forces conducted airstrikes in Andar district of Ghani province and killed 7 Taliban militants.
The 203rd Thunder Corps also added that the airstrikes were carried out in Rahim Khel area of Andar district.
Full report at:
https://www.khaama.com/u-s-airstrikes-kill-28-taliban-militants-in-wardak-and-ghazni-provinces-03812/
--------
All-Afghan peace summit set for July, but on Taliban terms
By Kathy Gannon and Amir Shah
July 2, 2019
ISLAMABAD — A surprise announcement by President Donald Trump seemed to accelerate the expected time frame for U.S. troop withdrawal from Afghanistan ahead of an all-Afghan peace summit planned for July 7-8 in Qatar. The gathering apparently will be held on Taliban terms as there will be no official Afghan government representation.
Trump told Fox News Channel's Tucker Carlson Tonight on Monday that nearly half of all American troops have already been pulled out.
That pullout was expected to be announced as part of a time frame being negotiated by Washington's peace envoy Zalmay Khalilzad, who is in the middle of talks with the Taliban in Qatar.
"I've wanted to pull them out. And you know, I have pulled a lot out. We were at 16,000. We're down to about 9,000, which a lot of people don't know," Trump said, according to the transcript of the interview shared with The Associated Press. "So we've reduced the force very substantially in Afghanistan, which I don't talk about very much, and that's okay," Trump added.
According to a senior U.S. defense official, however, there are still close to 14,000 U.S. troops in Afghanistan - a number that has remained fairly steady for many months.
The Taliban's spokesman in Doha, Suhail Shaheen, has said that talks with Khalilzad are focused on a timetable for withdrawal of U.S. and NATO troops from Afghanistan. In a tweet on Monday, Shaheen had said talks would come with an announcement of a timetable for withdrawal of the estimated 20,000 service personnel, including American forces.
Trump's comments Monday would seem to contradict a statement made by U.S. Secretary of State Mike Pompeo during a visit to Kabul on June 25. Pompeo said then that Washington had made no decision on a timeframe for withdrawal.
Trump also said in the Monday TV interview that he wanted to leave a strong intelligence gathering force behind in Afghanistan.
"I'll tell you the problem is, look, I would like to just get out. The problem is, (Afghanistan) just seems to be a lab for terrorists. It seems — I call it the Harvard of terrorists. ... But I would leave very strong intelligence there," he said, according to the transcript.
Meanwhile, on the upcoming all-Afghan dialogue, Germany's special representative Ambassador Markus Potzel said Tuesday that those attending "will participate only in their personal capacity and on an equal footing."
The Taliban have flatly refused to meet with Afghan President Ashraf Ghani's government, which they consider a U.S. puppet, while repeatedly offering talks with anyone who comes to the table as an ordinary Afghan. The Taliban have already twice met with prominent Afghans, including former president Hamid Karzai and even members of the government's peace council as well as opposition politicians. Those meetings have both been held in Moscow.
The announced talks come a day after the Taliban claimed responsibility for a devastating attack in the Afghan capital of Kabul that killed at least six people and wounded more than 100 others, many of them children attending two schools in the area, according to the Education Ministry.
Ghani has not responded to the announcement of next week's talks. He has previously demanded the Taliban talk directly with his government, some of whom have complained about their continuing exclusion from meetings between Taliban and the U.S. peace envoy Zalmay Khalilzad.
Khalilzad, who is currently holding a seventh round of direct talks with the Taliban in Doha, already held a battery of meetings with the Afghan president in Kabul last month. In an overnight tweet, he welcomed the announced all-Afghan talks. He tweeted that "this dialogue is an essential element of the four-part peace framework & and important step in advancing the #AfghanPeaceProcess."
Germany will co-sponsor the talks with Qatar, according to the statement issued by Potzel, who is the German special representative for Pakistan and Afghanistan.
An earlier intra-Afghan dialogue in Qatar was scuttled when the two sides couldn't agree on participants. Potzel said the invitations this time have been jointly issued by Germany and Qatar.
"Afghanistan stands at a critical moment of opportunity for progress toward peace," Potzel said in the statement. "Only Afghans themselves can decide the future of their country." He said both Qatar and Germany are hoping the talks will create trust between the warring sides.
But for ordinary Afghans battered by relentless violence there is mostly frustration.
"Peace will never come to Afghanistan," said an angry Sawab Gul, who was waiting in the Afghan capital of Kabul on Tuesday to open his partially destroyed bedding store.
At age 40, Gul said he has never seen peace in his country and holds out little hope for the current attempts at finding an end to Afghanistan's relentless wars.
Full report at:
https://www.washingtonpost.com/world/asia_pacific/all-afghan-peace-summit-agreed-upon-but-on-taliban-terms/2019/07/02/35fe908a-9c83-11e9-83e3-45fded8e8d2e_story.html?noredirect=on&utm_term=.a1360f47911b
--------
Gowher Rizvi: Rohingya crisis will become biggest security threat to South Asia
July 3rd, 2019
The adviser said Rohingyas are threatening the security of both Bangladesh and India
Prime minister's International Affairs Adviser Dr Gowher Rizvi has said the Rohingya crisis will become the biggest security threat to South Asian countries in the coming days.
"The long-running Rohingya crisis is now Bangladesh's problem, but it will be the entire world's problem tomorrow," he said while addressing the inaugural session of a seminar in Dhaka as the chief guest on Wednesday, reports BSS.
"All countries of the world should be concerned about what is happening in Myanmar," Dr Gowher Rizvi added.
The seminar, titled "Bangladesh-India Cooperation in the Changing Regional and Global Context," was arranged by the Bangladesh Institute of International and Strategic Studies (BIISS) at its auditorium.
The migration of the Rohingyas from Myanmar to Bangladesh was not the result of localized, intercommunal, or inter-sectarian conflict, according to the prime minister's international affairs adviser.
Describing the Myanmar army's atrocities against the Rohingya as "deliberate, planned, and genocidal," Dr Gowher Rizvi said Myanmar carried out the acts as it visualizes itself as a country for only Buddhist people of Chinese-origin.
He added that Myanmar has worked to systematically eliminate Muslim minorities from its soil for decades.
"They (Myanmar) changed their constitution. They have taken away the Rohingyas' citizenship. This did not happen overnight. Rather, this was a coldly planned genocide to force an exodus," he said.
Dr Gowher Rizvi added that the influx of the large number of Rohingyas through the borders of Bangladesh and India is threatening the security of both the countries.
"We have already noticed weapons coming to this region. And before long, if we are not careful and do not work together, this [the Rohingya crisis] will be the biggest cause of instability in the region," he further said.
Bilateral trade
Regarding Bangladesh-India bilateral relations, Dr Gowher Rizvi said the relationship between the two countries is very important as both want to prosper together by strengthening existing ties.
He also mentioned that Bangladesh always encourages Indian investment, and wants to be part of both the Indo-Pacific initiative and the Belt and Road Initiative. "There is no question about it. It [the Indo-Pacific initiative] is a win-win opportunity. At the same time, we cannot stay away from the Belt and Road Initiative because that is also an important opportunity for us."
Also addressing the discussion, Institute for Defense Studies and Analyses India (IDSA) Director General Ambassador Sujan R Chinoy said the existing bilateral ties between India and Bangladesh is a role model for many other countries.
Mentioning that the Indian government wants inclusive economic development not only in India but also in other countries of the region, he hoped that many Indian companies would come to Bangladesh with investment in the future.
Full report at:
https://www.dhakatribune.com/bangladesh/rohingya-crisis/2019/07/03/gowher-rizvi-rohingya-crisis-will-become-biggest-security-threat-to-south-asia
--------
Taliban's biggest cache of arms and munitions destroyed in Helmand province
03 Jul 2019
GUJRAT: The Pakistan Muslim League-Quaid do not see any threat to its importance in the Pakistan Tehreek-i-Insaf-led coalition government in Punjab as well as in the Centre due to emergence of a "forward bloc" within the opposition PML-N after a number of 'N' lawmakers reportedly called on Prime Minister Imran Khan last week.
A senior PML-Q leader requesting anonymity said the party had been calmly observing the recent developments following a meeting of some disgruntled PML-N MPAs and MNAs belonging to Punjab.
"We don't see any threat to the party's position in the coalition government, particularly in Punjab, as constitutionally a dissident member of the assembly could neither vote for the approval of finance bill, nor for the election of leader of the house against his/her party's policy, whereas such members could not even abstain [from voting], while being present in the house," said the Q leader.
He said in case a lawmaker violated his/her party policy in the house, he/she might lose the seat and face disqualification whereas the house might also have to go for another voting if the dissident's vote was declared null and void for violating the party discipline.
The Afghan Special Forces destroyed the biggest cache of arms and munitions of Taliban group during an operation in Helmand.
The Afghan Intelligence, National Directorate of Security (NDS) in a statement said the Special Forces of NDS conducted the operation Gandom Rez area of Kajaki district.
The statement further added that the operation was conducted on the compound of Taliban district shadow military chief Mohammad Khan.
Furthermore, the National Directorate of Security said the NDS Special Forces destroeyd 21 thousand kilograms of explosives during the operations.
Full report at:
https://www.khaama.com/talibans-biggest-cache-of-arms-and-munitions-destroyed-in-helmand-province-03804/
--------
Karzai reacts to Donald Trump's recent remarks regarding Afghanistan
03 Jul 2019
The former Afghan President Hamid Karzai reacted to U.S. President Donald Trump's recent statement for calling Afghanistan 'a lab for terrorists'.
Karzai said in a statement that Afghanistan is the main victim of terrorism which has grown and became formidable due to the ambiguous policies and financial support of the United States.
Furthermore, Karzai said the rise of ISIS in Afghanistan amid political and military presence of the United States is a testimony to the fact.
Meanwhile, Karzai said the growing war and violence is not a solution to the issues of the Afghanistan.
He also emphasized that the ongoing war could be ended through peace process, strengthening of peace efforts and making reconciliation process an Afghan-led and Afghan-owned process.
President Trump had earlier said that he wanted to "get out" of Afghanistan, but added he believes the country could be a hotbed of terrorist activity.
Speaking during an interview with the Fox News host Tucker Carlson, Trump said "The problem is, it just seems to be a lab for terrorists. It seems — I call it the 'Harvard of terrorists."
He also added "When you look at the World Trade Center, they were trained … They didn't come from Iraq, all right. They came from various other countries. But they all formed in Afghanistan, and it's probably because it's at the base of so many countries, but they all formed and it's rough mountains and you get a lot of — you know, you get a lot of good hiding places."
Full report at:
https://www.khaama.com/karzai-reacts-to-donald-trumps-recent-remarks-regarding-afghanistan-03805/
--------
Southeast Asia
World Uyghur Council Remembers the Victims of the Urumqi Massacre on the 10 Year Anniversary
3 July 2019
Friday, 5 July 2019, marks the 10th anniversary of the Urumqi massacre in East Turkistan. On July 5-7, 2009, thousands of Uyghur protesters were killed, forcibly disappeared or injured in a brutal reaction from the Chinese government to peaceful protests from mostly Uyghur students in Urumqi. The massacre proved to be a major turning point in the strategy of the Chinese government towards East Turkistan, to one of outright violence and oppression and a complete lack of tolerance or willingness to listen to the voices and concerns of the Uyghur people. The effects of this atrocity have remained with the Uyghur people, as hundreds of students and protestors disappeared into Chinese custody, never to be heard from again. In the 10 years since the massacre, the situation of the Uyghur people in East Turkistan has deteriorated incredibly, as over 1 million innocent Uyghurs have been detained in internment camps and the Chinese government is striving to completely erode the Uyghur identity.
The peaceful protest in 2009 began with several thousand Uyghurs — mostly students marching towards the People's square in central Urumqi at around 5:00 pm on July 5. They expressed their anger at the Chinese government's handling of Guangdong Shaoguan incident in which two Uyghurs were killed by Chinese factory workers in a dispute. Hundreds of Chinese police with shields, rifles, and clubs were already in position and moved to disperse and arrest the protesters before they reached the People's Square, indicating that the government had full knowledge of the protest beforehand and was well prepared to suppress it.
The regional government quickly instituted a communications blackout that lasted for months following the incidents that prevented the flow of information in and out of the area through the complete restriction on the internet and mobile phone use. These tactics have since been used frequently in an attempt to tightly control who is able to gain access to information, amid a general lack of access to independent media that persists year round.
Reports from Amnesty International and the Uyghur Human Rights Project, who both conducted interviews with eyewitnesses to the events, concluded that the security forces made liberal use of live ammunition during the unrest. Along with those that were killed and injured in the incident, a considerable number of arrests were also made shortly afterward. In a report released by Human Rights Watch, it was estimated that there were 43 verifiable cases of enforced disappearances of Uyghur prisoners arrested in the aftermath – a number that is likely much higher in reality. However, the Chinese government was never subjected to any punitive action by the international states nor subjected to any independent investigation into this atrocity. The lack of justice and accountability has enabled the Chinese government to
"The Chinese government was never held fully accountable by the international community for this terrible atrocity in 2009." said WUC President Dolkun Isa. "The failure to act emboldened the Chinese government to pursue even more repressive measures, now resulting in the internment of millions of innocent people in camps. The international community must learn from this and finally hold China accountable for its crimes against humanity."
The Urumqi massacre also demonstrated the Chinese government's complete intolerance and disregard for the voice and concerns of the Uyghur people. Any attempts to communicate concerns about China's repressive policies and human rights violations have been met with violent and brutal responses. The basic rights to freedom of expression and freedom of assembly have been completely denied to the Uyghur people. The Uyghur diaspora has looked on with hope and admiration for the brave protestors in Hong Kong standing up for their rights and freedoms, as such a protest would be impossible in East Turkistan. The Urumqi massacre and the current situation in East Turkistan should stand as an example of what is at risk if the Chinese government manages to pass the extradition bill and deprive Hong Kongers of their rights and freedoms.
The right to freedom of assembly and the ability peacefully voice your concerns to authorities is a key part of any heathy and free society. In remembrance of the all those who were killed, disappeared or injured exercising this basic right in Urumqi on 5-7 July 2009 and of the Uyghur people in East Turkistan are completely denied this right, Uyghurs around the world will demonstrate on 5 July 2019. Protests will be held in 22 cities in 14 countries around the world as the Uyghur community remembers of the victims of the massacre and calls on the international community to finally hold China accountable for its actions. As Uyghurs in East Turkistan have been deprived of their voice by the Chinese government, those living outside of the rule of the CCP must loudly raise their voices. We encourage anyone interested to support the Uyghur people by joining a demonstration in a city near you. The full list of participating cities and times of the protests is listed below:
https://www.uyghurcongress.org/en/wuc-urges-the-international-community-not-to-repeat-mistakes-of-the-past-on-the-10th-anniversary-of-the-urumqi-massacre/
--------
Politics Will Determine Fate of Indonesian Islamic State Sympathizers in Syria
JULY 02, 2019
Jakarta. Thousands of Islamic State sympathizers from Indonesia currently in Syria may wish they had the opportunity to vote for the right candidates in the April 17 election, as the decision whether to allow them to return now rests on a political compromise between parties in the House of Representatives.
"The decision is currently being discussed by the various factions in the legislature, because we know that this isn't only about repatriating someone with a different mindset," Commissioner General Suhardi Alius, head of the National Counterterrorism Agency (BNPT), said on Monday, as quoted by Antara.
The government has grappled with the dilemma of repatriating supporters of the international terrorist group since its defeat earlier this year. Under Indonesian law, they remain citizens because they did not swear allegiance to any recognized state.
On the other hand, returnees from Syria could bring back extremist ideas, or worse, the skills and means to carry out terror attacks in the country. About a year ago, a family of six who spent time in Syria, attacked two churches in Surabaya, East Java.
On a practical level, Indonesian Islamic State sympathizers mostly do not have official identity documents as they burned whatever they had when joining the radical group, making it difficult for the government to confirm their identity.
According to reports, there are thousands of Indonesian citizens, mostly women and children, among the families of Islamic State fighters sheltering in Al Hol camp in eastern Syria. Many of them wish for the government to arrange their return.
Full report at:
https://jakartaglobe.id/context/politics-will-determine-fate-of-indonesian-islamic-state-sympathizers-in-syria
--------
Report: Watchdog Blasts Islamic Bloc at U.N. for Silence on China's Muslim Camps
EDWIN MORA
3 Jul 2019
The executive director of a United Nations watchdog group this week reportedly took the bloc of Islamic nations at the international body's human rights council to task over its silence about China forcing hundreds of thousands of Muslim minorities, mainly ethnic Uighurs, into concentration camps in Xinjiang.
On Tuesday, CNSNews.com quoted Hillel Neuer, the executive director of the non-governmental organization (NGO) U.N. Watch, as asking, "If they truly care about Muslims, and for their religious freedoms, why has Pakistan and the Islamic group failed to introduce a single resolution" about China's crackdown on Muslims.
Neuer was reportedly addressing the 57-member Organization of Islamic Cooperation (OIC), which wields considerable influence over the U.N. Human Rights Council (HRC) in Geneva.
Referring to HRC's Islamic bloc, the watchdog chief proclaimed:
They spoke of Islamophobia and of criticism of religion. Yet if they truly care about Muslims, and for their religious freedoms, why has Pakistan and the Islamic group failed to introduce a single resolution, a single urgent session, a single commission of inquiry for one million Muslims currently being detained in camps and persecuted because of their religion – by China?
Of the 47 HRC member states, the OIC accounts for 15, or more than 30 percent, including prominent and outspoken Islamic countries like Pakistan, Egypt, and Saudi Arabia.
CNS News noted:
With Pakistan generally at the helm, the Islamic states have helped to guide the agenda, and are largely responsible for the HRC's disproportionate targeting of Israel, and a controversial push to outlaw "defamation" of religion. Communist China's treatment of ethnic Uighurs and other minority Muslims in Xinjiang, however, has drawn little public attention from the OIC.
Despite being described as an egregious human rights and religious freedom violator by the United States, China also sits on the U.N. Human Rights Council.
Rather than denouncing China for its mistreatment of their fellow Muslims in Xinjiang, the OIC praised Beijing's efforts against Muslims.
Echoing the recently voiced positions of several of its members, the OIC said in March that it "commends the efforts of the People's Republic of China in providing care to its Muslim citizens; and looks forward to further cooperation between the OIC and the People's Republic of China."
In recent months, Saudi Arabia, Pakistan, Malaysia, Indonesia, and most recently, Turkey, defended China's oppression of Muslims.
Until this week, Turkey had been the only Muslim nation to regularly stand up for the Uighurs who belong to a Turkic ethnic group.
Several news outlets have noted that Muslim-majority countries have turned a blind eye to China's abuse of predominantly Muslim Uighurs and other Islam adherents out of concern for their economic relationship with Beijing.
"China is the leading trading partner of at least 20 of the 57 OIC members. Pakistan, historically an ally of China, is a key partner in Beijing's massive infrastructure program known as the Belt-and-Road initiative [BRI]," CNS News pointed out.
China has repeatedly claimed that its detentions centers, which it describes as vocational and training facilities, are focused on combating religious extremism, terrorism, and separatism in Muslim Uighur-majority Xinjiang province. Nevertheless, China's actions have triggered condemnation across the world.
Many countries point to ample evidence that it instead is using alleged terror threats to violate the human rights of its Muslim citizens.
Full report at:
https://www.breitbart.com/national-security/2019/07/03/report-watchdog-blasts-islamic-bloc-u-n-silence-chinas-muslim-camps/
--------
'Victims and perpetrators': Rehabilitating Indonesia's child bombers
July 4, 2019
JAKARTA: Thrown off a motorbike as her parents blew themselves up, nine-year-old Mila was the sole survivor of a family suicide bombing, part of a wave of such attacks involving children that rocked Indonesia.
Orphaned and radicalised, there were concerns for her future after the Islamic State-inspired strike, but a renewed focus on rehabilitating the children of terror suspects may offer Mila, and others like her, a chance at normality.
She is among a small group who are being treated at a Jakarta safe house in a unique scheme that provides psychological and social care to the offspring of suicide bombers or children directly involved in terror plots.
The world's biggest Muslim majority nation is grappling with the growing global threat of 'family attacks' and also with how to reintegrate returning IS jihadists and their relatives as the extremist group's caliphate lies in ruins, a challenge faced by many nations including France and the United States.
"It hasn't been easy dealing with (the children) because they believed in radicalism...and that bombing was a good thing," said safe-house head Neneng Heryani, who gave AFP exclusive access to the state-run compound on the edge of Indonesia's capital.
"They were taught that jihad was essential to go to heaven and that you must kill non-believers. It was very hard to change that mindset," she added.
Social workers and psychologists are trying to re-socialise the children with counselling and an emphasis on normal daily routines which include lessons, mosque visits, and regular playtime.
For Mila – a name given by AFP to protect her identity – this treatment means helping her find a way to cope with her parents' suicide bombing and living with the knowledge they involved her in mass murder, and intended for her to die.
Other children of terror suspects, including those linked to the deadly suicide bombings in Surabaya last year, are also undergoing this dedicated treatment.
"Deploying children in such a way is indefensible and deplorable," Human Rights Watch campaigner Andreas Harsono said, adding that the 2018 incidents were the first time suicide bombers used their own kids in attacks in Indonesia.
The youngsters that survived had been subjected to years of jihadi indoctrination by their families and often shown violent propaganda, counsellors say.
Gaining their trust has not been easy but staff at the safe house believe their approach could help neutralise the years of radicalisation.
At the heart of the rehabilitation effort are lessons about Indonesia's national heroes, building trust and Pancasila, the nation's ideology which stresses unity and respect for ethnic and religious minorities in a country of some 260 million spread across thousands of islands.
"We still teach them that the Koran is the foundation for everything and that they have to believe in it. But if you violate other people's rights, then that's not okay" said social worker Sri Musfiah Handayani.
Trying to help rehabilitate the children of suicide bombers is largely uncharted territory.
"This is the first time that we know of. It's not a common phenomenon," said Sidney Jones, director of Jakarta-based Institute for Policy Analysis of Conflict (IPAC).
While children are easy prey for extremists, "that vulnerability can also provide a starting point for treatment", said Haula Noor, an expert in radicalised families at Australian National University (ANU).
"We should view these children as both victims as well as potential perpetrators" she added.
A surge in Islamist attacks in the past decade has dented Indonesia's reputation for religious tolerance.
Mila was wedged between her parents on a motorcycle as they detonated themselves at a Surabaya police post last May.
That attack came after another family – including a nine and 12-year-old girl – from the same Koran study group staged suicide bombings at several Surabaya churches, killing themselves and a dozen congregants, while injuring scores more.
Then, in March, the wife of a suspected Indonesian militant blew up herself and child at their home after an hours-long standoff with police.
The incidents have aggravated international fears that women and their children would be increasingly used, as they tend to attract less scrutiny.
"There are going to be two main trends in the future – attacks carried out by families and also by lone wolves," said Stanislaus Riyanta, a terrorism expert at the University of Indonesia.
In April, the pregnant wife of one of those involved in the Sri Lanka bombings that left nearly 260 dead, detonated her own suicide vest killing herself, her three young children, and several police officers when authorities raided their home.
When AFP visited the safe house she now calls home, Mila, dressed in a bright pink hijab, appeared bubbly as she took notes and asked questions during lessons. She had never had any type of formal schooling before.
"The progress has been very significant. Now she can interact with people," said social worker Sri Musfiah Handayani.
The children kissed the hand of an AFP reporter as they filed out, a common sign of respect in Indonesia.
While the treatment for Mila and her group is unique because it is specifically for children who have been involved in suicide bomb plots, Indonesia has broader de-radicalisation programmes which some 200 children, all related to militants, have been through.
"We need to approach them gently because they were willing to die (for the cause) so it doesn't make sense for us to use force," Suhardi Alius, head of the National Agency for Combating Terrorism told AFP.
Experts say successful rehabilitation comes down to the support they receive assimilating back into society.
Officials are working on a support plan for the safe-house kids to ensure they receive healthcare and education after their treatment.
But extended families are often wary about taking the children in – and that could be a trigger for returning to extremism later in life.
Full report at:
https://www.nst.com.my/world/2019/07/501470/victims-and-perpetrators-rehabilitating-indonesias-child-bombers
--------
OIC chief pushes for enhanced cooperation with Russia
July 03, 2019
The secretary-general of the Organization of Islamic Cooperation (OIC), Dr. Yousef Al-Othaimeen, stressed the importance of consolidating the relationship between the organization and Russia during a meeting on Wednesday in Moscow.
Following the meeting with Russian Foreign Minister Sergey Lavrov, Al-Othaimeen said: "We agreed on all issues related to both sides, and I can say that there is a joint desire to promote bilateral cooperation."
Al-Othaimeen praised Saudi Arabia for supporting the organization and the issues of the Islamic world, noting that the Moscow discussions addressed issues of common interest. He said that the two sides were ready to promote and deepen these relations.
Fighting terrorism was an international responsibility and Islam was innocent of the extremism it was being accused of, Al-Othaimeen said. Terrorism and chaos were threatening stability and peace in many Islamic countries, he added.
Lavrov said: "Al-Othaimeen is welcome in Russia. Our discussions focused on issues of common interest, especially that Russia is keen to expand these relations."
Full report at:
http://www.arabnews.com/node/1520296/saudi-arabia
--------
'Reconciliation Meeting' Between Prabowo and Jokowi Likely to Take Place Later This Month
JULY 03, 2019
Jakarta. Prabowo Subianto and President Joko "Jokowi" Widodo are set to have their long-awaited "reconciliation meeting" later this month to heal the wounds from a particularly divisive presidential election.
On Sunday, Jokowi and his running mate Ma'ruf Amin were declared the official winners of the election after the Constitutional Court threw out Prabowo's challenge.
But Prabowo and his running mate Sandiga Uno failed to attend the announcement ceremony at the General Elections Commission headquarters, leading to speculation that a reconciliation between the two fierce rivals is still off the agenda.
Now a spokesman from Prabowo's Great Indonesia Movement Party has said that the former general will sit down for a meeting with the president sometime in July.
"God willing, Prabowo will meet Jokowi this month," Gerindra spokesman Andre Rosiade said on Wednesday.
On Sunday, Sandiaga had already indicated that a meeting between the two political leaders, who also competed against each other in the 2014 presidential election, is imminent.
"They are both great statesmen. They will show the people of Indonesia that it is now time to bury the hatchet, reunite and build the country together," Andre said.
According to him, Gerindra has not decided if it will join the government coalition, as has been rumored, or remain as opposition.
"We will wait for Prabowo's decision on that issue," he said.
Prabowo may raise the issue of the arrests of his key supporters after the election at his meeting with Jokowi, according to Andre. But he is unlikely to bring up the thorny subject of power-sharing in the next five years.
Full report at:
https://jakartaglobe.id/context/reconciliation-meeting-between-prabowo-and-jokowi-likely-to-take-place-later-this-month
--------
Arab World
Qatar asked to explain how Al Qaeda financier was able to withdraw $10,000 a month
Jamie Prentis
July 1, 2019
A French senator has called on Qatar to explain why an Al Qaeda financier had access to his bank account despite an asset freeze.
Nathalie Goulet said that Khalifa Al Subaiy circumventing UN sanctions and having access to his funds at Qatar National Bank was a "collective failure" and a global security risk.
"Qatar needs to explain to the world why it has allowed such a dangerous person to continue having banking services," she wrote in an opinion piece in The Hill.
Ms Goulet urged the international community to wake up to the dangers posed by weak legislation.
Al Subaiy has been accused by the US of giving financial support to Al Qaeda leaders, including the architect of the September 11 attacks, Khalid Sheikh Mohammed.
Al Subaiy, who used to work at Qatar's Central Bank and was designated for sanctions by the UN in 2008, has been withdrawing up to $10,000 (Dh36,733) a month for "basic necessities" despite his frozen accounts, The Wall Street Journal reported last week.
The case was part of a wider problem where ISIS and Al Qaeda-linked people were able to use loopholes to withdraw money.
Countries are able to apply for exemptions so sanctioned people can afford food and rent, but some member states were criticised for failing to monitor terrorist supporters.
Ms Goulet said associates of 9/11 plotters such as Al Subaiy did not deserve leniency.
She said the bank Al Subaiy used had branches across Europe and around the world.
"It can only be assumed that Al Subaiy had, through this extensive global banking network, access to those countries in which banks he uses operate," Ms Goulet said.
"This not only makes a mockery of the United Nations, it also endangers global security," she wrote.
https://www.thenational.ae/world/gcc/qatar-asked-to-explain-how-al-qaeda-financier-was-able-to-withdraw-10-000-a-month-1.881578
--------
Mass grave of dozens of Daesh victims found near Syria's Raqqah
Jul 3, 2019
Syrian officials have discovered a mass grave containing the bodies of tens of people executed by members of the Daesh Takfiri terrorist group near the country's northwestern city of Raqqah.
Head of Raqqah Medical Association, Jamal al-Isa, told Syria's official news agency SANA on Tuesday that local authorities made the discovery in the al-Fukheikha agricultural suburb of the province, located about 455 kilometers (283 miles) northeast of the capital Damascus and there were nearly 200 corpses in the grave.
He added that some of the corpses were dressed in orange jumpsuits that were normally worn by prisoners of Daesh.
On October 31, 2018, Syrian government forces discovered a mass grave containing the bodies of more than 1,500 people, who had lost their lives when the US-led coalition purportedly fighting the Daesh terror outfit carried out airstrikes against Raqqah.
Isa told the pro-government and Arabic-language al-Watan newspaper at the time that the discovery was made in the Panorama district of the city, which served as the former de facto capital of the Daesh Takfiris.
"Every day, more crimes are being uncovered which were perpetrated by the Daesh terrorist group and the illegal US-led military alliance in Raqqah," he added.
The head of Raqqah Medical Association noted that the US-led coalition conducted blind bombardment on the northwestern Syrian city after Daesh terrorists withdrew, and destroyed 85 percent of it.
Syrian Forensic Medicine General Director Zaher Hajo told al-Watan newspaper in early January last year that Daesh Takfiris had executed 10,000 people and buried their bodies in mass graves across Raqqah.
He stressed that his colleagues had confirmed the presence of 4,000 bodies in one single grave.
Hajo went on to say that Syrian Health Minister Nizar Yazigi has ordered the formation of a committee in order to collect the remains of the victims and transfer them to a military hospital in Aleppo.
The US-sponsored and Kurdish-led militants of the so-called Syrian Democratic Forces (SDF) said on October 20, 2017 that it had "liberated" Raqqah after driving out Daesh terrorists from the city.
The so-called Syrian Observatory for Human Rights (SOHR) has, meanwhile, said that the SDF's purported operations in Raqqah have killed civilians and damaged infrastructure in the city.
Full report at:
https://www.presstv.com/Detail/2019/07/03/600060/Mass-grave-of-tens-of-Daesh-victims-found-near-Syrias-Raqqah
--------
Syria hands over 100 Islamic State fighters to Iraq, says mayor
by Mohammed Ebraheem
Jul 2, 2019
Anbar (IraqiNews.com) – Iraq has received 100 Islamic State jihadists, including senior leaders, from Syria, an Iraqi mayor said seemingly under an agreement to hand over a total of 502 fighters.
"The Syrian side has handed the Jazeerah Operations Command a total of 100 Islamic State elements, who were arrested by the Syrian army near the borderline with Iraq," the independent news website of Almaalomah quoted the mayor of Iraqi border town Al-Qaim, Ahmed al-Mahallawi, as saying on Tuesday.
"The terrorists were moved to the Ain Assad airbase in al-Baghdadi district, west of Anbar, for interrogation and judicial action," al-Mahalawi said, adding that there were senior leaders among the arrestees.
Around 800 of foreign jihadist fighters who joined Islamic State, including many Iraqis, are being held in Syria by the U.S.-backed Syrian Democratic Forces, the group said. More than 2,000 family members are also in camps, with dozens more arriving each day.
Full report at:
https://www.iraqinews.com/iraq-war/syria-hands-over-100-islamic-state-fighters-to-iraq-says-mayor/
--------
Iraqi pro-gov't forces kill four Islamic State terrorists in Nineveh
by Mohammed Ebraheem
Jul 3, 2019
Nineveh (IraqiNews.com) – An Iraqi paramilitary force said on Wednesday that its fighters killed four members of the Islamic State terrorist group in Nineveh province.
"A force of the 53rd and 40th brigades of the Popular Mobilization Forces (PMF) killed four Islamic State militants during a preemptive operation in the Sheikh Ibrahim mountain range, south of Tal Afar," Iraqi website Alghad Press quoted the paramilitary force as saying in a press statement.
Two hotbeds of the Islamic State terrorist group were also destroyed in the operation, the statement read.
Former Iraqi prime minister Haider al-Abadi announced in August 2017 that Nineveh province was fully liberated from Islamic State after the district of Tal Afar was recaptured.
The announcement came after the defeat of the jihadist group in the town of Ayadiya, where the militants had fled to from Tal Afar.
Islamic State militants seized control of much of Nineveh, including the provincial capital of Mosul, in June 2014.
Full report at:
https://www.iraqinews.com/iraq-war/iraqi-pro-govt-forces-kill-four-islamic-state-terrorists-in-nineveh/
--------
Blast kills three in Syria's Sweida: governor
JULY 4, 2019
BEIRUT (Reuters) - A rigged motorcycle exploded in Syria's Sweida city, which the government controls, killing three people and injuring seven others on Wednesday night, an official there said.
"The situation is stable after the incident, and life is going on as normal," Amer al-Eshi, the governor of Sweida province in the southwest, told Syrian state TV.
He said security forces would investigate the blast which hit a crowded street, describing it as as a "terrorist act" without giving further details.
https://www.reuters.com/article/us-syria-security-explosion/blast-kills-three-in-syrias-sweida-governor-idUSKCN1TY2OU
--------
Mideast
Islamic organization condemns Israeli tunnel near al-Aqsa
4 July 2019
An international body of Muslim nations has condemned the opening of an Israeli tunnel that runs beneath a Palestinian neighborhood in East Jerusalem.
The Organization of Islamic Cooperation on Wednesday called it a "bold and irresponsible move" that seeks "to alter the historic and legal status" of east Jerusalem. The OIC reiterated its position that East Jerusalem is occupied Palestinian territory.
Israel captured east Jerusalem in the 1967 Mideast war. Its annexation is not internationally recognized.
On Sunday, US and Israeli officials attended the opening ceremony for what they say is a 2,000-year-old underground route that led to the Jewish Temple, where Al-Aqsa Mosque is now located.
US Ambassador David Friedman symbolically sledgehammered through a wall to unveil the "pilgrimage road."
https://english.alarabiya.net/en/News/middle-east/2019/07/04/Islamic-organization-condemns-Israeli-tunnel-near-al-Aqsa.html
--------
Japan offers to be 'honest broker' for Palestinian-Israeli peace
FAISAL J. ABBAS | EDITOR-IN-CHIEF
July 03, 2019
TOKYO: While most world powers either intervene reluctantly in Middle Eastern affairs or avoid the region altogether, Japan's Foreign Minister Taro Kono is actively advocating a bigger political role for his country in the Arab world.
"We can play an honest broker in the Middle East, as we have no colonial history or negative footprint in the region," he told Arab News in a wide-ranging interview at the Japanese Foreign Ministry in Tokyo.
Indeed, regional stability is actually in his country's national interest, Kono said. "Our energy depends on imports, mostly from the Gulf region. Forty percent of the crude oil we import comes from Saudi Arabia, 80 percent of the crude oil and 20 percent of the gas we import goes through the Strait of Hormuz. So, stability and peace in the Middle East is directly connected to our economy."
However, Japanese diplomacy recently experienced at first hand the hazards of dealing with some of the region's rogue players. A Japanese tanker was attacked in the Gulf of Oman last month during a mediation visit to Tehran by Prime Minister Shinzo Abe, the first visit to Iran by a Japanese leader in over 40 years.
While the US blamed Iran for the attack, and Secretary of State Mike Pompeo described it as an "insult to Japan," Tokyo's official stance has been calm and reserved, distancing itself from the American accusations for the time being.
"Japan strongly condemns any attack on ships going through the Strait of Hormuz and we strongly condemn Houthi attacks with missiles and drones on Saudi people and Saudi facilities," Kono said.
When further probed on what Japan's reaction would be if such an incident were to occur again, he told Arab News he hoped there would be no further attacks on ships belonging to any countries.
As for the outcome of the prime minister's mediation visit, which aimed to persuade Tehran to negotiate a new nuclear deal with the US, Kono said Iran's Supreme Leader Ali Khamenei and President Hassan Rouhani had both asserted that Tehran had "no intention" to develop nuclear weapons, and that "nuclear weapons are against the teachings of Islam."
"So, if that is true, we have nothing to worry about," the minister said.
Japan also seems interested in trying to resolve another Middle Eastern issue — the lengthy and complex Israeli-Palestinian conflict.
Referring to the US-organized Peace to Prosperity workshop in Bahrain just before the G20 summit in Osaka, Kono praised senior White House adviser Jared Kushner's efforts and said Tokyo was waiting to see what the political side of his plan entailed.
"We have been communicating with Mr. Kushner and we are now reviewing his economic plan," he said. "It looks nice, and we need to see what the political side might look like. If the political side is good, I think we should all play some role to get the peace process rolling forward, and we would be very happy to be involved in this process."
Of course, the Palestinians declined to attend the Manama workshop, citing mistrust in the US agenda. When asked whether Japan, if invited, would be ready to play the role of a political mediator, Kono replied: "Yes, we will be glad to."
Japan has already been investing heavily in the West Bank, he said. "We have worked with Palestinians, Israelis and Jordanians to set up an industrial park near Jericho and it's been going very well. Also, Japan set up a framework called the CEAPAD (Conference in Cooperation among East Asian Countries for Palestinian Development) to bring Southeast Asia to this peace process. We wanted to share how we develop the Asian economy, and we want to share our experience with Palestinians and people in the region."
Kono also spoke of the growing relationship his country enjoys with Saudi Arabia. At the G20 summit in Osaka, Saudi Crown Prince Mohammed bin Salman was among the few world leaders granted an exceptional audience with the Japanese prime minister.
Kono said the talks confirmed the "progress of Japan and Saudi Arabia's Vision 2030. The Japanese government and the Japanese private sector are determined to support His Royal Highness's reform agenda in the Kingdom."
There is great potential for bilateral ties to go deeper, he said, with a diversified relationship which focused not only on the economy, but on cultural exchange and many other aspects too.
"We should have more exchange of people, and Japanese companies investing in Saudi Arabia," he said. "There are mega-projects that His Royal Highness is taking leadership on, and we hope many Japanese companies participate in these projects, as well as increase Saudi investment into Japan, and not limited to the economy; we hope to receive more Saudi students coming to study in Japanese universities and we'll be happy to send Japanese students to Saudi Arabia."
Kono has met Crown Prince Mohammed on numerous occasions, and he sees many similarities between what Vision 2030 is trying to achieve in Saudi Arabia and what Japan has already achieved.
"His Royal Highness is very much interested in keeping Saudi history and tradition but at the same time to develop the Saudi economy and society. This is similar to what Japan has been doing. We introduced Western technology and the idea of democracy, but at the same time we have kept Japanese values, traditions and the Japanese way of life.
Full report at:
http://www.arabnews.com/node/1520126/middle-east
--------
Palestinians 'let down by their leaders,' Kushner says
RAY HANANIA
July 03, 2019
CHICAGO: Senior Trump adviser Jared Kushner on Wednesday cautioned against "misunderstandings" about the purpose of the "Peace to Prosperity" conference laid out during a two-day workshop with world economic leaders last week in Bahrain.
During a 30-minute teleconference with mostly Arab world journalists, Kushner stressed that the "economic plan" was an incentive and a foundation for a "political plan" that he expects President Trump to outline later in the year. But he said the economic plan will not happen unless a political solution is found, and the economic effort could be refocused on other regions, including Africa.
He said there will be more announcements next week, but gave no date for the unveiling of the "political plan."
Describing his critics as "ignorant" and "hysterical" through their failure to address the two-state solution, Kushner urged Palestinians to engage in the process and stressed the door remains open for their participation.
"There will be no economic plan unless there is a political resolution" to the Palestinian-Israeli conflict, he said.
"We put together a plan and this plan happens in the event that there is a peace deal. So, again, this is not about let's go ahead and start investing money in this area. This is a big plan and we don't want to start until there is an actual peace understanding that is fair and viable," Kushner told journalists.
"The goal of the workshop was to lay out an economic plan for what can happen in the region in the event of a political solution. There is no plan to make these investments before achieving political progress. With regard to the economic plan, it was meant to be devoid of the politics."
Kushner called critics of the plan "ignorant" and said that regardless of Trump's fondness for Palestinian President Mahmoud Abbas, Palestinians must "come to their senses" and embrace this process. He said the Palestinian leadership has failed to take any constructive steps to make their communities safer and their people more prosperous.
"With regards to the Palestinian leadership, I'll just say this: I think they made a strategic mistake by not engaging on this. They looked very foolish by trying to fight against this … they are saying, well you can't have this without the political issues," he said.
Kushner said he has been "very explicit" that the Trump administration plans to address the "political issues" at an appropriate time later.
"We were laying out a vision for what could be if we are able to resolve the political issues. We have put out a vision of hope and prosperity for the Palestinian people and, quite frankly, the Palestinian leadership, I am not quite sure what they are selling to the people," he said.
"Their argument against it has not been one that has been substantive or even comprehendable (sic). It has been more hysterical and erratic and not terribly constructive. We believe the goal of leadership should be figure out how to keep their people safe and give their people prosperity."
Kushner said he would refuse to allow the process to be "hijacked" by critics who surround Abbas.
It is very easy to find reasons "not to resolve this," Kushner said. "There is a lot of emotion, a lot of issues that are hard to resolve. They are very uncomfortable with the way that we have approached this. And their natural response is to attack and say crazy things and, quite frankly, we don't find that to be terribly constructive."
Kushner demonstrated his strong pro-Israel bias when he said that "many Palestinians" are starting to see that it "really is not the Israelis who are responsible for their problems and their lack of opportunities, a lot of it is their leadership."
Asked during a brief Q&A afterwards why the process has failed to address the two-state solution, Kushner replied: "People who are giving that criticism, I call that uninformed criticism because they haven't listened to what we have been doing with this effort. If that is the best criticism they can come up with that means they are just ignorant because they have not listened to what we are trying to do. Those are people who are looking to find things to criticize as opposed to people who are trying to be thoughtful, opened-minded and constructive."
He said that the problem falls on the shoulders of the Arab world, not on Israel, explaining the Arab world "failed" by not absorbing the nearly 800,000 Palestinian refugees following the 1948 war, while Israel absorbed 800,000 Jewish "refugees" from Arab countries.
"Over the past two years we have made a lot of progress in terms the Middle East accepting Israel as a reality and as a real country. We believe this trend will continue. There will be a point in the future where there will be normalization with Israel and the rest of the Arab world, and when that happens it will lead to a much more stable and safer Middle East, and there will be a lot more economic potential and opportunity for all people in the region," Kushner said.
"We have continued to be thoughtful and we have continued to be meticulous … and we haven't lost sight of our goal, which is to figure out how to put forward the best set of proposals to help both the Israelis and the Palestinian people have the opportunity to live a better life."
Despite the criticism, Kushner said: "Our door is always open to the Palestinian people and to the Palestinian leadership. Whether they are willing to take that opportunity will be up to them. What we are trying to do in our role is to create an opportunity for both the Israelis and the Palestinians to potentially resolve a conflict that has been unresolved for too long."
Trump "will work hard" to try to bring a solution to the Palestinian-Israeli conflict, he said, but at some point "the Palestinian leadership will have to step up."
Kushner repeated a subtle warning he made during the conference, that many African-American leaders approached him privately and publicly asking that if the Palestinians reject the $50 billion laid out in the Peace to Prosperity plan, that the money be given to African nations to address their economic concerns.
"What we saw from this is that there is a lot of interest in the world in helping the Palestinian people. And that the constant theme we heard from the speakers was the plan is very technical, very credible, ambitious," Kushner said.
"It is achievable, but it can't be implemented without a peace deal, and it can't be implemented without good governance because without good governance people will not want to invest in the area."
Full report at:
http://www.arabnews.com/node/1520141/middle-east
--------
Several suspected U.S. spies 'due to be' sentenced to death, Iran says
July 3, 2019
By Ali Arouzi and Saphora Smith
TEHRAN, Iran — Iranian prosecutors are seeking the death penalty for several individuals accused of spying for the United States, Iran's spokesman for the judiciary announced Tuesday.
Suspected U.S. spies affiliated with the Iranian military are due to be sentenced to death because of the "severity of their crimes," Iranian judiciary spokesman Gholamhossein Esmaili said on state television.
Two other suspects who are also accused of spying for Washington but were not affiliated with the military have received "long" jail sentences, he added.
NBC News could not independently confirm the reports and the CIA said it had no comment. A State Department spokesperson said, "We cannot comment on matters of intelligence."
The announcement comes as tensions between Tehran and Washington continue to simmer. Iran's state-run news agency IRNA reported Monday that the country had breached the limit on the amount of enriched uranium it is permitted to hold under the 2015 nuclear deal. President Donald Trump, who pulled out of the nuclear deal last year, responded to Tehran's decision Monday saying Iran was "playing with fire."
Esmaili did not elaborate on when the suspected spies had been arrested or on how many there are in custody. Iran said last year that it had arrested "tens of spies" in state bodies, many of whom were dual nationals, according to Reuters.
In June, Tehran said it had executed a former contract employee of the defense ministry aerospace body on charges of spying for the CIA, according to Iran's state-run MEHR News.
Esmaili added that Iranian intelligence services had identified U.S. spies operating around the globe and had informed its allies of suspected spies in their territories.
"One example is China who upon receiving the information from us arrested and executed the spies," he added. A spokesperson for the Chinese Foreign Ministry told NBC News they had "no information" on the matter.
This is not the first time Iran has made such claims. In April, Intelligence Minister Mahmoud Alavi said Iran had identified 290 CIA agents across different countries, according to Iran's state-run Press TV.
Last year, Yahoo reported that from around 2009 to 2013, the U.S. intelligence community experienced intelligence failures originating in Iran that resulted in more than two dozen sources dying in China. NBC News could not independently confirm this report.
Full report at:
https://www.nbcnews.com/news/world/several-suspected-u-s-spies-due-be-sentenced-death-iran-n1025766
--------
Hezbollah Won't Stand Down in a US-Iran Conflict
BY NICHOLAS BLANFORD
JULY 2, 2019
On January 28, 2015, a colleague and I were driving north in Lebanon's Bekaa Valley to report on the latest developments involving the Islamic State of Iraq and al-Shams (ISIS), which was then occupying a desolate mountain range straddling the Lebanon-Syria border. Shortly before midday, we received news that Hezbollah had just launched an ambush against an Israeli military convoy on Lebanon's southeast border. We immediately did a U-turn and began heading south.
Attacks by Hezbollah in south Lebanon against Israeli forces had been rare since the end of the month-long 2006 war. But this one did not come as a surprise. Ten days earlier, a pair of Israeli combat drones had attacked a motorcade in the Golan Heights, killing six members of Hezbollah and a major general in the Islamic Revolutionary Guard Corps (IRGC). Among the Hezbollah fatalities was the son of Imad Mughniyah, Hezbollah's military commander who had been assassinated in Damascus seven years earlier.
The "rules of the game" that dictated clashes between Israel and Hezbollah allowed the former to strike the latter in Syria with relative impunity. But any Israeli attacks inside Lebanon would be met with retaliation. Nevertheless, even though the deadly drone strike occurred on Syrian territory, the deaths of an IRGC general and the son of the revered Mughniyah was too egregious a hit for Hezbollah to ignore.
As we drove further south, the phone rang again. It was a friend in Beirut who breathlessly asked if we had heard the news. "Hezbollah wiped out an entire Israeli military convoy. They are talking about at least twenty soldiers dead."
At that point, we stopped driving south and turned west toward Beirut. Twenty dead soldiers meant that Israel and Hezbollah were going to war and we needed to get back to the Lebanese capital before the inevitable Israeli air strikes destroyed bridges and cratered highways.
As it transpired, only two Israelis died, a captain and a sergeant. And, even as Hezbollah's Kornet missiles were streaking toward their target, the party's leaders were sending messages to Israel via the United Nations office in Beirut and the UN peacekeeping force in south Lebanon that the event was over. However, if the Israelis chose to counter-retaliate, then Hezbollah was ready to continue fighting.
Other than an immediate artillery bombardment of areas near the ambush site, the Israelis stayed their hand, presumably surmising that the loss of two soldiers was an acceptable price for the deaths of an IRGC general and six Hezbollah officers.
The "rules of the game" had held, but it is by such slender threads that the choice of war or peace hangs.
With more than three decades of experience battling each other among the valleys and hills of south Lebanon, Hezbollah and the Israeli military have developed an acute unspoken understanding of each other's actions and behavior. This, to a large extent, has offset the risks of accident and miscalculation from their occasional acts of brinkmanship since 2006 that could otherwise have sparked a war that neither side seeks.
A similar dynamic of brinkmanship is underway in the Persian Gulf between Hezbollah's patron, Iran, and the United States. As with Hezbollah and Israel, neither Washington nor Tehran seek an all-out war. But unlike the Hezbollah-Israel dynamic of mutual familiarity which helps mitigate against an escalation, neither Iran nor the US have clear understandings of each other's motives, agenda and behavior.
During the past year, the Trump administration has sought to implement a "maximum pressure" policy on Tehran to force compliance on a range of issues related to Iran's nuclear program, missile proliferation and strategic reach across the Middle East. But Tehran has not yielded, and has begun to push back, exploiting the nation's asymmetrical capabilities to demonstrate the inherent risks to the US and its allies in the region if the pressure campaign of sanctions and threats continues. By the same token, the Iranians are having to evaluate the intentions of a capricious American president who one moment is reversing a decision to stage an air strike against Iran, and the next is issuing a tweet threatening the "obliteration" of the country.
How this confrontation plays out in the Persian Gulf remains to be seen, but in Lebanon, many are anxiously wondering how Hezbollah could react if the tensions spill over into conflict.
On June 1, Hezbollah's Secretary-General Hassan Nasrallah warned that an attack on Iran "will mean the whole region will erupt," adding that, "Any American forces and American interests will be permissible" as a target.
While the US has a massive conventional military edge over Iran, Tehran has formidable asymmetric capabilities—some of which have been employed in recent weeks—such as the shooting down of a US surveillance drone, the sabotage attacks against several oil tankers suspected to be the work of Iran, and an uptick in missile and combat drone attacks from Yemen into Saudi Arabia. Iran also extends influence and backs allies across much of the Middle East: Houthi rebels in Yemen who have been battling a Saudi-led coalition for over four years; Shia groups affiliated with Iraq's Hashd al-Shaabi, or Popular Mobilization Committees; similar Iran-backed militias in Syria; and, most of all, Hezbollah in Lebanon.
Hezbollah is the greatest success Iran has had in exporting the Islamic revolution. It has evolved into arguably the most formidable non-state military force in the world. Hezbollah fields in excess of an estimated 30,000 trained fighters, many of whom will have gained invaluable combat experience on the bloody battlefields of Syria since 2012. Israel estimates Hezbollah's arsenal includes up to 150,000 rockets and missiles. Hezbollah is believed to have acquired advanced anti-aircraft capabilities as well as an air wing of surveillance and combat drones, and an amphibious warfare unit that is believed to be equipped with semi-submersible craft and swimmer dispersal vehicles for potential seaborne infiltrations of Israeli territory. Hezbollah also has combat units trained to breach Israeli territory in the event of another war. Small wonder, perhaps, that for the past two years Israel has classified Hezbollah as its number one threat.
Nevertheless, the scale of Hezbollah's military capabilities means that, for Iran, it is a one-shot deal. If Hezbollah was to attack Israel in support of Tehran, it would trigger a devastating war that could last weeks and wreak destruction on both Lebanon and Israel. Depending on the aftermath of such a war, there is no guarantee that Hezbollah would be able to rebuild to its pre-war capacity and continue posing a threat to Israel and, therefore, serve as a factor of deterrence for Tehran. Iran's leadership understands this and will utilize its Lebanese ally wisely.
Much depends on the scale of any conflict between Iran and the US. Short of full conflict, Hezbollah's role would likely be covert and deniable. Hezbollah cadres are already deployed in Syria, and to lesser extents in Iraq and Yemen, and are well-placed to support the Iranian war effort by providing assistance and guidance to various Iran-backed entities to attack US and allied targets across the region. However, if Tehran calculates that the scale of a US campaign poses a potential existential threat to the Islamic Republic itself, then Hezbollah could escalate its support mission to one of direct attack on Israel, irrespective of the consequences on Lebanon.
The question is often asked whether Nasrallah would have leeway to reject a call by Tehran to launch a full-scale attack against Israel, in appreciation of the destruction Lebanon will experience and the subsequent impact on his party's domestic popularity. In short, Nasrallah has no choice. On a pragmatic level, an existential threat against Iran is equally threatening to Hezbollah. A significantly weakened, or collapsed Tehran would leave Hezbollah orphaned on the western littoral of the Middle East and susceptible over time to the deepening bite of international sanctions and prey to the hostility of Sunnis in Lebanon and elsewhere in the region.
Full report at:
https://www.atlanticcouncil.org/blogs/iransource/hezbollah-won-t-stand-down-in-a-us-iran-conflict
--------
Netanyahu threatens Gaza with 'large-scale military operation'
Jul 4, 2019
Israeli Prime Minister Benjamin Netanyahu has threatened a "large-scale" military offensive against the Gaza Strip.
Netanyahu claimed Wednesday that Israel wants to "restore calm," but "same time we are preparing for a large-scale military operation, if such an action is required."
"Those are my instructions to the army," he added.
The hawkish premier made the remarks after a cabinet meeting to discuss the situation in the besieged coastal enclave. Netanyahu also held a meeting with local and regional council heads, some of whom left the meeting in protest.
"The prime minister had no intention of holding a special meeting on the Gaza envelope area as expected and as requested today," they said.
The rockets fired from Gaza in response to frequent Israeli acts of aggression have turned into a major challenge for Netanyahu, who is grappling with corruption scandals and whose failure to form an administration has plunged the regime into unprecedented political chaos.
In May, Israeli warplanes struck hundreds sites in Gaza, killing scores of Palestinian people.
Israeli aerial raids on Gaza prompted the most intense fighting between the regime and the Palestinian resistance fighters since Tel Aviv's bloody war on the blockaded enclave in 2014.
In retaliation, the Palestinian fighters fired around 700 rockets from Gaza into the occupied territories, killing four Israeli settlers and injuring at least 80 others.
Israeli media reported that Israel's so-called Iron Dome missile system intercepted only 240 of the projectiles, adding that some 35 rockets and mortar shells had struck populated areas.
Full report at:
https://www.presstv.com/Detail/2019/07/04/600105/Israel-premier-Netanyahu-Gaza-military-campaign
--------
Africa
At least 100 civilians killed in South Sudan violence after peace deal
3 July 2019
South Sudan's army and several armed groups killed more than 100 civilians in a surge in violence in a southern region of the country after the signing of a peace deal last year, a UN report said on Wednesday.
The armed forces also committed sexual violence including rape against around 100 women and girls in the same region, Central Equatoria, between September 2018 and April 2019, the report by the UN peacekeeping mission in the country found.
The violence in the Central Equatorian region is an exception to the trend of a "significant decrease in conflict-related violations and abuses" across South Sudan since the deal was signed, the report said.
Lul Ruai Koang, South Sudan's military spokesman, said he had not seen the report and declined to comment on its contents.
South Sudan gained independence from Sudan in 2011 but descended into a civil war two years later. A 2018 study found that nearly 400,000 people have died as a result of the war.
After a string of failed agreements, the two main warring parties signed a deal last September. In May, the two sides agreed to give themselves six more months to form a unity government as part of the deal.
https://english.alarabiya.net/en/News/middle-east/2019/07/03/More-than-100-civilians-killed-in-South-Sudan-violence-after-peace-deal-U-N-report.html
--------
Niger: Attackers kill 16 soldiers in Inates military camp attack
2 Jul 2019
Unidentified attackers have killed 16 soldiers in a car bomb attack on a military camp in western Niger near the border with Mali, local residents and security sources said on Tuesday.
The raid occurred on Monday afternoon near the town of Inates in the same region where an ambush by the West African branch of the Islamic State of Iraq and the Levant (ISIL, also known as ISIS) armed group killed 28 soldiers in May.
Zakari Insa, the brother of one of the soldiers killed in Monday's attack, and Souley Marou, a local villager, said that 16 soldiers had died.
Two security sources confirmed the death toll, and one of them said about a dozen vehicles had been stolen. Armed fighters have previously launched attacks using vehicles stolen in previous raids.
Niger hosts an African Union summit from July 6 to 9, less than 200km away in the capital Niamey.
In the run-up to the summit, the European Union has been training Nigerien forces to respond to armed attacks.
Volatile region
Security has deteriorated in recent months across West Africa's Sahel region, a semi-arid strip of land south of the Sahara.
Fighters loyal to Adnan Abu Waleed al-Sahrawi, the ISIL leader in the Greater Sahara, operate along Mali's border with Burkina Faso and Niger.
In 2017, they killed four members of US special forces and four Nigerien soldiers in an ambush near the village of Tongo Tongo.
The volatile region around Inates is a major base where soldiers are trained to serve in a UN peacekeeping mission in Mali.
Various armed groups operate in Niger's west and north, while Nigeria's Boko Haram is present in the southeast.
The country is part of the so-called G5 Sahel group set up to manage a coordinated response to the armed group.
France and the United States have deployed thousands of troops to the region.
The US has a big base for drones in the northern city of Agadez and Niger recently gave Washington permission to arm their drones.
Full report at:
https://www.aljazeera.com/news/2019/07/niger-gunman-kill-16-soldiers-inates-military-camp-attack-190702093249956.html
--------
Airstrike kills 44 migrants in Libyan detention center
By Rami Musa and Samy Magdy 
July 3, 2019
BENGHAZI, Libya — An airstrike hit a detention center for migrants near the Libyan capital of Tripoli early Wednesday, killing at least 44 people and wounding dozens of others in an attack that the U.N. human rights chief said could amount to a war crime. The Tripoli-based government blamed the attack on forces associated with Gen. Khalifa Hifter, whose Libyan National Army has been waging an offensive against rival militias in the capital of the war-torn North African country since April.
It refocused attention and raised questions about the European Union's policy of cooperating with the militias that hold migrants in crowded and squalid detention centers to prevent them from crossing the Mediterranean to seek better lives in Europe. Most of them were apprehended by the Libyan coast guard, which is funded and trained by the EU to stem the flow of migrants.
At the United Nations, the Security Council scheduled an emergency session for later Wednesday on the airstrike in Tripoli's Tajoura neighborhood, and Secretary-General Antonio Guterres called for an independent investigation.
Hifter's forces said they were targeting a nearby military site, not the detention center. There also were suspicions of involvement by foreign countries allied with his forces. Countries assisting Hifter include Egypt, the United Arab Emirates and Russia.
Two migrants interviewed by The Associated Press said the airstrike hit a compound that houses a weapons warehouse and an adjacent detention center holding about 150 migrants, including several Sudanese and Moroccans. The two spoke on condition of anonymity for fear of reprisal.
Online video purported to be from inside the detention center showed blood and human remains mixed with rubble and the belongings of the victims.
The U.N. gave an initial figure of 44 dead and more than 130 wounded. But the two migrants told the AP that three or four escaped harm and about 20 were wounded. They said the rest were killed, indicating the final death toll could be much higher. A Moroccan consular official said 15 Moroccans were in the center and at least three were slightly injured. The fate of the others was unclear. The official was not authorized to be publicly named according to government policy.
Prince Alfani, the Libya medical coordinator for Doctors Without Borders, visited the detention center hours before the airstrike and said it had held 126 migrants. Survivors fear for their lives, he said, urging their immediate evacuation.
Charlie Yaxley, a spokesman for the U.N. refugee agency, said the detention center's proximity to the weapons depot "made it a target for the airstrikes."
"Coordinates of this detention center were well-known to both sides of the conflict," Yaxley said. "It was known that there were 600 people living inside. So there can be no excuse for this center having been hit."
He said the agency had warned less than two months ago that anyone in the complex could be caught in the fighting and an earlier airstrike nearby had wounded two migrants. The UNHCR is sending medical teams to the site, he added.
U.N. human rights chief Michelle Bachelet said the attack "may, depending on the precise circumstances, amount to a war crime."
The attack "killed by surprise innocent people whose dire conditions forced them to be in that shelter," said U.N. envoy for Libya Ghassan Salame.
Magdalena Mughrabi, deputy Middle East and North Africa director for Amnesty International, said the attack "must be investigated as a war crime" by the International Criminal Court. The deaths are the "consequences of Libya and Europe's callous migration policies," she said.
The group said its research indicated a weapons storage warehouse was in the same compound as the detention center and some of the migrants were forced to work at the military site.
The Tripoli-based Government of National Accord, which is backed by the U.N., called for an investigation by the world body.
Libya became a major crossing point for migrants to Europe after the overthrow and death of longtime dictator Moammar Gadhafi in 2011, when the North African nation was thrown into chaos, armed militias proliferated and central authority collapsed.
At least 6,000 migrants from Eritrea, Ethiopia, Somalia, Sudan and other nations are locked in dozens of detention facilities in Libya run by militias accused of torture and other abuses. There is limited food and other supplies for the migrants, who often end up there after arduous journeys at the mercy of abusive traffickers who hold them for ransom from their families. More than 3,000 migrants are in danger because they are held in detention centers near the front lines, the U.N. refugee agency said.
"This incident underscores the urgency to provide all refugees and migrants with safe shelter until their asylum claims can be processed or they can be safely repatriated," U.N. spokesman Stephane Dujarric said.
Gen. Khaled el-Mahjoub, a spokesman for Hifter's LNA forces, denied targeting the detention center, saying it was the militia camp in the Tajoura neighborhood that was the target. He did not deny, however, that the migrant detention center was hit.
"We didn't give orders to target the shelter," he said.
Later Wednesday, LNA spokesman Ahmed al-Mesmari also denied that its forces targeted the detention center and said the U.N. should investigate. He also blamed another militia in Misrata for airstrikes south of Tripoli that killed children in what he termed "a terrorist operation."
The EU urged Libyan authorities to better protect migrants, with its top diplomat and two top policy commissioners saying the attack highlights "the dire and vulnerable situation of migrants caught up in the spiral of violence."
Although the attack could increase greater Western pressure on Hifter, Claudia Gazzini, a Libya expert at the International Crisis Group, said it was highly unlikely to change the course the fighting in and around Tripoli.
"For both Hifter-led forces and those loyal to the Tripoli-based government, this is an existential war that sees little room for compromise," she said.
She did not expect any actions other than a "verbal condemnation" of Hifter's forces if it is proven they were behind the airstrike.
Hifter, who receives support from Egypt, the UAE and Saudi Arabia, says he is determined to restore stability to the North African country. His rivals, mainly Islamists, are supported by Turkey and Qatar.
His forces control much of Libya's east and south but suffered a significant blow last week when militias allied with the Tripoli government reclaimed Gharyan, a town about 100 kilometers (62 miles) from the capital and a key LNA supply route.
On Monday, the LNA said it had begun an air campaign on rival forces in Tripoli. El-Mesmari, the LNA spokesman, said air forces had destroyed the main control room for drones at Mitiga airbase in Tripoli. Mitiga airport, the capital's only functioning airport, said earlier it had suspended civilian traffic following an airstrike.
Fathi Bashagha, interior minister of the Tripoli-based government, alleged that Hifter's foreign allies were behind the airstrike at the detention center and told the AP that they "went mad" after his forces lost Gharyan. He did not identify any countries or provide any supporting evidence. He also denied weapons were stored at the detention facility complex.
Security analyst Oded Berkowitz said the LNA has "a handful of obsolete aircraft" in poor condition. He said it has received spare parts and decommissioned aircraft from Egypt and possibly Russia.
"Egypt and the UAE have been conducting air operations on behalf of the LNA, but there are no indications that the UAE transferred aircraft to the LNA," he said.
The fighting for Tripoli has threatened to plunge Libya into another bout of violence on the scale of the conflict that ousted Gadhafi.
Full report at:
https://www.washingtonpost.com/world/africa/libyan-official-says-airstrike-kills-40-migrants-in-tripoli/2019/07/02/1cf98484-9d2b-11e9-83e3-45fded8e8d2e_story.html?noredirect=on&utm_term=.5e352fd96bea
--------
Sheikh Zakzaky's Step-Daughter Utterly Worried about Parents' Health Conditions
Jul 03, 2019
"Sheikh is suffering medical conditions in his head, neck and eyes and the situation is the same with my mother. The doctors have diagnosed lead and cadmium in his blood 20 times higher than normal levels," Badia told FNA on Wednesday.
She reminded that lead damages all organs in the body, specially the brain, liver, blood and bones, and expressed concern that high amounts of lead in the blood can lead to stroke.
Badia noted that cadmium also causes many problems in the body, including lung cancer, and said, "Sheikh and his wife are in danger."
She called for their immediate transfer to an equipped hospital outside Nigeria to be treated for all their problems, and said, "There are specialized hospitals in India to provide the treatment and medication needed for such diseases."
Sheikh Zakzaky, who is in his mid-sixties, lost his eyesight in one eye in a 2015 raid by security forces, that left more than 300 of his followers and three of his sons dead. His wife also sustained serious wounds.
He has been kept in custody along his wife and a large number of his followers ever since.
Back in 2016, Nigeria's federal high court ordered his unconditional release from jail following a trial, but the government has so far refused to set him free.
The medical team responsible to treat Sheikh Zakzaky warned of his poor health conditions due to damage to his liver.
The leader of Islamic Movement in Nigeria (IMN), who has been held in detention since December 2015 following a deadly raid by the Nigerian army troops on his residence in the country's Northern Kaduna State is unwell, the medical team warned last month.
Full report at:
https://en.farsnews.com/newstext.aspx?nn=13980412001003
--------
UN envoy to Libya: Air strike on migrant center amounts to a war crime
3 July 2019
At least 44 people were killed and more than 130 wounded in an air strike on a migrant detention center in the Libyan capital Tripoli, the UN mission to the country said on Wednesday.
UN Libya envoy Ghassan Salame condemned the attack, saying in a statement that the strike "clearly amounts to the level of a war crime."
https://english.alarabiya.net/en/News/north-africa/2019/07/03/UN-envoy-to-Libya-Air-strike-on-migrant-center-amounts-to-the-level-of-a-war-crime.html
--------
NGO calls for immediate evacuation of refugees in Libya
Fatih Hafız Mehmet
03.07.2019
A Paris-based NGO Wednesday called for urgent evacuation of refugees and migrants held in detention centers in Libya in the wake of a fresh attack killing many of them.
Prince Alfani, Libya medical coordinator of the international medical humanitarian organization Doctors Without Borders/Médecins Sans Frontières (MSF), said late Tuesday's airstrike on the Tajoura detention center in Tripoli, Libya, reportedly killed dozens of migrants and refugees.
In a written statement, Alfani called the airstrike "a horrific tragedy that could have easily been avoided," adding that the MSF teams provided medical care at the place.
"What is needed now is not empty condemnation but the urgent and immediate evacuation of all refugees and migrants held in detentions centers out of Libya," Alfani stressed.
He said there were more than 600 vulnerable men, women, and children trapped in the Tajoura detention center at the time of the attack.
"Our teams visited the center earlier yesterday and saw 126 people in the cell that was hit. Those who survived are in absolute fear for their lives," he added.
Earlier, Libya's UN-recognized Government of National Accord (GNA) accused forces loyal to East Libya-based military commander Khalifa Haftar of killing migrants staying at a shelter in the capital Tripoli.
At least 80 migrants were also reportedly wounded in the attack in an eastern suburb of Tripoli.
Libya has remained beset by turmoil since 2011 when a bloody NATO-backed uprising led to the ouster and death of long-serving President Muammar Gaddafi after more than four decades in power.
Full report at:
https://www.aa.com.tr/en/africa/ngo-calls-for-immediate-evacuation-of-refugees-in-libya/1522428
--------
URL: https://www.newageislam.com/islamic-world-news/ninety-percent-applications-religious-conversion/d/119080
New Age Islam, Islam Online, Islamic Website, African Muslim News, Arab World News, South Asia News, Indian Muslim News, World Muslim News, Women in Islam, Islamic Feminism, Arab Women, Women In Arab, Islamophobia in America, Muslim Women in West, Islam Women and Feminism