New Age Islam News Bureau
15 July 2022

Representative Image
----
• Muslims No Longer Minority, They are the Second Majority: UP BJP Leader
• Saudi Arabia to Open Airspace to All Airlines, Including From Israel
• New Leader Must Tackle Islamophobia within UK Ruling Party: Muslim Council of Britain
• Biden's Bid To Integrate Israel in Mideast 'Doomed to Fail': Hamas
India
• Plan to Kill Kanhaiya Lal Was Hatched On June 20 after Anjuman Rally in Udaipur
• Ajmer Dargah Khadim, Syed Gohar Chishty, Nabbed In Hyderabad for Beheading Slogans Prior To Kanhaiya Lal's Murder in Udaipur
• Patna SSP Draws Parallels between PFI and RSS; BJP Roiled
• Video on Hindu Deities 'Misrepresented', Says Ajmer Dargah Cleric, Apologises
• AIMPLB moves SC against pleas challenging Places of Worship Act
• Namaz inside Lucknow Mall, FIR Lodged; Video Viral
• Muslim Man from Uttar Pradesh Goes On Kanwar Yatra for 6th Time
• 'Gyanvapi Mosque Complex Not Waqf Board Property': Hindu Side in Varanasi Court
• Waseem Rizvi former Shia Waqf Board chairman announces decision to don saffron
• More Afghan Sikhs arrive in Delhi, citizenship remains a dream for many applicants
• Dawat-e-Islami's Kanpur building may be razed
--------
Pakistan
• Ulema Must Highlight Spirit of Islam: Pakistan Punjab Governor
• IMF reaches preliminary deal with Pakistan on $6bn bailout
• Terrorism FIR lodged against man for killing, 'cooking' wife in Karachi
• French Envoy Nicolas Galey Sees Mutual Desire for Fresh Start in Ties in Pakistan
• JUI-F concerned at 'unethical' activities at Bajaur dam
• Parents of APS martyrs move Peshawar High Court over govt-TTP parleys
--------
Arab World
• Over 90 Percent of Saudi Youth See US as A Strong Ally of Their Nation: Survey
• Beirut Port silos destroyed in 2020 blast may collapse: Economy minister
• Saudi minister stresses importance of cooperation with US in education
• Biden to see 'a new Iraq' at the table, PM Al-Kadhimi says
--------
Europe
• Palestinian President Abbas to meet France's Macron in Paris
• Daesh brides must return to UK: Filmmaker
• In high-profile case, Sweden hands life term to ex-Iranian official
--------
Mideast
• Palestinian president receives US President Joe Biden in Bethlehem
• Israel welcomes Saudi Arabia's decision to open air space to all carriers: Minister
• Tehran says it will have a 'harsh response' to any mistake from US or its allies
• Iran Hits Back at US over Spreading Lies about Ukraine War
• Iranian Official Warns Biden's Regional Visit to Foment War
--------
North America
• US, Israel Jointly Sign 'Jerusalem Declaration' To Deny Iran Nuclear Arms
• Biden: My Visit to Saudi Arabia Reasserts US Regional Influence
• Biden heads to Saudi Arabia amid tension on oil, Khashoggi killing
• US commits $100 million to support Palestinian hospitals
--------
Africa
• Tunisia's New Constitution 'Lacks Mechanisms to Protect Rights': HRW
• Jordan Peterson Slammed For Suggesting Sunni, Shia Muslims Should Fix 'Sectarian Divide' By Becoming Pen Pals
• Failed coup in Türkiye exposed what many in Africa did not know about FETO terror group
--------
South Asia
• Tens of Thousands Flee Fighting Between Taliban and Rebels Led By Mawlawi Mehdi
• Afghanistan Ranks Lowest in Gender-Gap Index
• Sardar Wali Saqib, Influential Salafist Scholar Killed in the Afghan Capital
• US 'Does Not Support Organized Violent Opposition to the Taliban'
--------
Southeast Asia
• Court Order to Seize Petronas Assets Unenforceable, Says Putrajaya
• PH won't win on sympathy votes and scandals, says Saifuddin
• Philippines ends stay of foreign peacekeepers in the south
• Socso suspends RM423m in PenjanaKerjaya payments over false claims
• Water resources, Muslim wills among highlights in Perak state legislative assembly sitting on July 18, says Speaker
Compiled by New Age Islam News Bureau
URL: https://newageislam.com/islamic-world-news/nikah-khwan-marriage-registrar-pakistan-/d/127488
--------
Nikah Khwan (Marriage Registrar) Should Seek Documentary Proof of Bride and Groom's Age, Pakistan Court Rules

Representative Image
----
Naeem Sahoutara
July 15, 2022
KARACHI: A session's court has ruled that a Nikah Khwan (marriage registrar) should not merely accept oral entries regarding the age of a bride and groom as he should verify an authentic official documentary proof of their age.
Additional District and Sessions Judge (East) Ilyas made this observation in a detailed order that dismissed the bail application of cleric Hafiz Ghulam Mustafa, who is facing trial for allegedly solemnising marriage of teenage Dua Zehra with Zaheer Ahmed.
Hafiz Mustafa, who is currently in judicial custody, had moved an application seeking his release from prison arguing that alleged abductee, Dua Zehra, had herself left her parents' house and went to Lahore and contracted Nikah with Zaheer.
Defence counsel Aftab Bano argued that "abductee Dua Zehra had attained the age of puberty and can contract marriage with free will."
Father of Dua Zehra files another plea for replacement of IO
However, the counsel said there was no eyewitness of their purported free-will marriage alleged to have been solemnised by her client Hafiz Mustafa to which Asghar Ali also allegedly signed as a witness.
However, the judge noted that as regards registration of Nikah, all Nikah Registrar or other persons who solemnise marriages are under legal obligation to scrutinise credentials at the time of Nikah.
"Mere submission of oral entries for the purpose of age should not be accepted unless any proof of age from parties to marriage preferable which should be in shape of some authentic document either issued by the National Database and Registration Authority in the form of National Identity Card/B-Form or School Leaving Certificate, Medical Certificate based on ossification test issued by the competent authority and Birth Certificate validly issued by the Union Council etc, is produced" the judge ruled in the order.
The court noted that in the present case it transpired that the applicant Hafiz Mustafa did not verify the necessary documents and, therefore, the witness of the Nikah, namely Asghar Ali, had also no credibility.
The judge observed that an offence committed under Section 364-A (kidnapping or abducting a person under the age of 14) of the Pakistan Penal Code is not bailable and falls within the prohibitory clause of Section 497 of the Criminal Procedure Code.
"The heinous offence is of moral turpitude which can destroy the entire psychology of a victim by putting her and her family to public shame. It is a stigma with which the family has to face with and is the most hatred crime. Such kind of gruesome offence is not against the individual only but it is also against the good conscience of the society," it said.
The judge concluded that the applicant was not entitled for concession of bail at this stage, hence bail application stand dismissed.
Meanwhile, another Sessions court on Thursday issued notices to the additional inspector general (investigation) and SSP-East (investigation) on a 'second' application seeking replacement of the investigating officer of the Dua Zehra abduction case.
Additional District and Sessions Judge (East) Muhammad Mehboob Awan also asked the police high-ups to appear on July 16 along with detailed reports/comments in this regard.
Syed Ali Mehdi Kazmi, Dua's father, had moved an application under Section 22-A and B of the criminal procedure code (CrPC) against the Addl.IG (investigation) and SSP for allegedly not entertaining his requests to change DSP Shoukat Ali Shahani as the IO of the case.
His counsel, Jibran Nasir, submitted that suspect Zaheer Ahmed had kidnapped his client's daughter from their Karachi home on April 16 and took to Lahore, adding that a medical board had declared Dua Zehra's age between 15 and 16 years, close to 15.
He submitted that the first IO of the case, Inspector Saad Ahmed Thaheem, being satisfied with Nadra documents and passport about Dua's age to be 14 years, had filed an interim charge sheet in court adding Section 3(i) of the Prevention of Trafficking in Person Act, 2018 read with Sections 3 and 4 of the Sindh Child Marriage Restraint Act, 2013.
IO Thaheem had also shown Zaheer, Shabbir Ahmed, cleric Hafiz Ghulam Mustafa and eyewitness of such marriage Asghar Ali as absconders, and prudently decided not to take any statement of the abductee recorded on face value.
The counsel said that the first IO, 'after sincere efforts', arrested the Nikah Khwan and witness, adding that he had also applied to a magistrate at Karachi for ordering an ossification test of Dua to determine her actual age, but the court declined the request.
Advocate Nasir alleged that the incumbent IO Shahani deliberately failed to appear before the Karachi's relevant judicial magistrate on June 9 to seek remand of 10 detained relatives of the groom who were arrested on June 3 for allegedly facilitating Zaheer. Subsequently, the IO left the court with no objection but to discharge them from the case under Section 63 of the CrPC against personal bonds.
He pointed out that despite prime suspect Zaheer had provided his cell number to the IO, he 'deliberately' failed to obtain the call data record (CDR) to confirm his whereabouts during the period of Dua's alleged kidnapping.
The applicant said despite the medical board had conducted fresh 'age estimation test' of Dua, the IO Shahani deliberately filed an investigation report recommending disposal of the case in "C" class by relying upon 'tentative assessment' of age of Dua.
He added that despite knowing the fact that Dua was under 16 years, the IO miserably failed to make any efforts to recover the abductee so far, adding that he also failed to arrest second witness of the underage marriage Shabbir Ahmed.
Therefore, the applicant pleaded to the court to order transfer of the case investigation from IO Shahani to an impartial and competent officer not below the rank of SP.
Source: Dawn
Please click the following URL to read the text of the original story:
https://www.dawn.com/news/1699599/nikah-Khwan-should-seek-documentary-proof-of-bride-and-grooms-age-court-rules
--------
Muslims No Longer Minority, They are the Second Majority: UP BJP Leader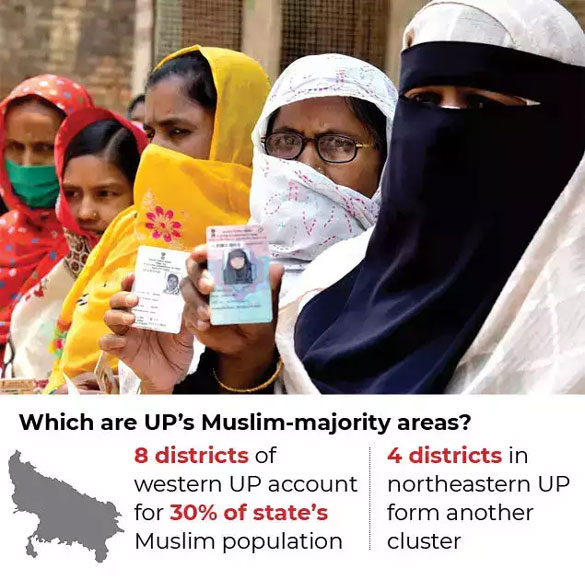 File Photo
----
Simer Chawla
Kanpur
July 14, 2022
Muslims are no longer a minority and their population has grown to 20 per cent, making them the second majority, a BJP leader from Uttar Pradesh, Simranjit Singh, wrote in his letter to Chief Minister Yogi Adityanath.
"Minority is a community which has no influence economically, socially and politically and whose population is negligible," Singh wrote.
"However, today, in many districts of the country and the state, the representatives of the community, whose number is more than 20 per cent, are providing all the facilities to the so-called minority community (which is the second majority).
At the same time, in reality, the minority, whose population is negligible (from 0.01 to 2 percent), are being deprived of the benefits of all government schemes," he said.
Simranjit Singh has also mentioned the district-wise population percentage of Muslims to show that they are no longer a minority.
Apart from this, the classes which are really negligible in number and are deprived of the benefits of government schemes, those cadres can get the benefit of welfare schemes, the leader said.
Source: India Today
Please click the following URL to read the text of the original story:
https://www.indiatoday.in/india/story/muslims-no-longer-minority-bjp-leader-questions-benefits-to-community-in-letter-to-up-cm-yogi-adityanath-1975762-2022-07-14
--------
Saudi Arabia to Open Airspace to All Airlines, Including From Israel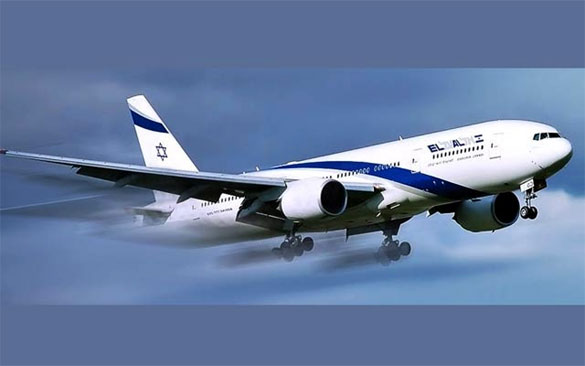 A plane of Israel's National Airline. EL AL USA/Twitter
-----
July 15, 2022
Saudi Arabia said it would open its airspace to all air carriers, paving the way for more overflights to and from Israel, in a decision welcomed by US President Joe Biden who is due to visit the kingdom on Friday.
The Saudi General Authority of Civil Aviation (GACA) said the country's airspace was now open to all carriers that meet its requirements for overflights, in line with international conventions that say there should be no discrimination between civil aircraft.
The decision will "complement the efforts aimed at consolidating the kingdom's position as a global hub connecting three continents and to enhance international air connectivity," GACA added in a statement.
Bypassing Saudi Arabian airspace had added to flight times and increased fuel burn on some services to and from Israel.
US President Joe Biden welcomed the decision, White House National Security Adviser Jake Sullivan said.
"This decision paves the way for a more integrated, stable, and secure Middle East region, which is vital for the security and prosperity of the United States and the American people, and for the security and prosperity of Israel," Sullivan said in a statement.
Earlier on Thursday, a US official told Reuters that Saudi Arabia would soon grant Israeli airlines unfettered overflight access and permit direct charter flights from Israel for Muslims participating in the annual Haj pilgrimage in Makkah.
Saudi Arabia, Islam's birthplace, does not recognise Israel and has said nothing of possible bilateral developments during Biden's visit.
Israel has also shied from drawing such links.
Despite the absence of official ties, Saudi Arabia had agreed in 2020 to allow Israel-United Arab Emirates flights to cross its territory.
Source: Dawn
Please click the following URL to read the text of the original story:
https://www.dawn.com/news/1699729/saudi-arabia-to-open-airspace-to-all-airlines-including-from-israel
--------
New Leader Must Tackle Islamophobia within UK Ruling Party: Muslim Council of Britain
The head of the Muslim Council of Britain says 'no concrete steps' have been taken to tackle the problem (Picture: Getty Images)
------
Karim El-Bar
14.07.2022
LONDON
The new British prime minister must treat "systemic" Islamophobia in the ruling Conservative Party seriously, according to the head of the UK's leading Muslim organization.
As the party searches for outgoing Premier Boris Johnson's successor, whoever wins "must represent everybody and they have to make sure that they do that fairly," said Zara Mohammed, secretary general of the Muslim Council of Britain.
"We'd like to see these new candidates actually take this issue seriously, because it is quite deep-seated," she said in an exclusive interview published by the British newspaper Metro on Thursday.
"We found over 300 cases, as well as senior members of the party themselves complaining about the problem."
She emphasized the need for "a commitment to zero tolerance on Islamophobia – a party pledge that there will be action where there are Islamophobic comments, whether that is dismissal, whether that is disciplinary."
The party leadership must make clear that such behavior is "totally unacceptable," she added.
Mohammed did not discuss any one of the five candidates left in the race for the premiership, but did call out Johnson for his "alarming radio silence" on the issue and comments comparing women who wear the burqa to "letterboxes and bank robbers."
"We've yet to see any apology on that. I think the impact that had on Muslim women was real," she said.
"We did see a spike in hate crime, particularly against Muslim women who did wear the burqa or the veil after that, and even a confidence in racists and bigots feeling that they were entitled to say such things or do things like that."
She said Muslim communities felt there was a lack of "effective outreach" by Johnson's government.
"I think is a time for us to see a leadership that is inclusive, that is willing to work with Muslim communities and all communities. We want to see that across the political spectrum, but certainly in the Conservatives with the leadership election coming up," she said.
"Can we get a politics that we can be proud of, as opposed to embarrassed of?"
The Conservative Campaign Headquarters said it could not comment until the end of the leadership race in September.
Source: Anadolu Agency
Please click the following URL to read the text of the original story:
https://www.aa.com.tr/en/europe/new-leader-must-tackle-islamophobia-within-uk-ruling-party-muslim-group/2637115
--------
Biden's Bid To Integrate Israel In Mideast 'Doomed To Fail': Hamas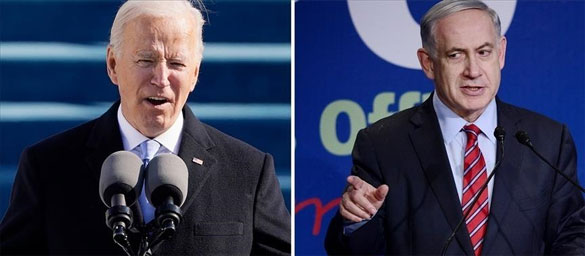 Biden and Netanyahu
----
EkipMohammad Majid
14.07.2022
GAZA CITY, Palestine
The head of Palestinian resistance group Hamas said Thursday that efforts by US President Joe Biden to integrate Israel into the Middle East region are doomed to fail.
"Attempts by the US administration to re-design the region in order to integrate the occupying entity [Israel] in the region [...] are doomed to failure," Ismail Haniyeh said in a statement.
He said Israel's integration "runs against the will of the peoples and contradicts the cultural and intellectual heritage of the region," he added.
Biden arrived in Israel on Wednesday as part of a regional tour that also includes the West Bank and Saudi Arabia.
In 2020, Israel signed US-sponsored agreements to normalize relations with the United Arab Emirates, Bahrain, Sudan, and Morocco, in a move decried by the Palestinians as a "stab in the back."
Haniyeh called for launching a "strategic dialogue" between countries of the region "to build a political alliance to protect the region against normalization, dominance, and exploitation of resources."
Source: Anadolu Agency
Please click the following URL to read the text of the original story:
https://www.aa.com.tr/en/americas/biden-s-bid-to-integrate-israel-in-mideast-doomed-to-fail-hamas/2637082
--------
Pakistan
Ulema Must Highlight Spirit of Islam: Pakistan Punjab Governor
Sumaira FH
July 15, 2022
LAHORE, (Urdu Point / Pakistan Point News - 15th Jul, 2022): Governor Punjab Mohammad Baligh-ur-Rehman has said that it is collective responsibility of the Ulema and Mashaikh to highlight spirit of islam.
Talking to a delegation of Ulema and Mashaikh Wing of Pakistan Muslim League-Nawaz (PML-N) led by Mufti Intikhaab Ahmad Noori at the Governor's House here on Thursday, he said, "Islam is a complete code of conduct which teaches us love, tolerance and equality," adding that it is the national duty of the religious scholars to play their role in highlighting the true spirit of Islam.
The delegation included General Secretary Punjab Sahibzada Hafiz Muhammad Amjad, Pir Syed Imran Shah and other religious scholars.
The governor said, "All of us should play an active role for the security and stability of the country." He said representation of Ulema from all schools of thought in the Ulema and Mashaikh wing of PML-N sends a good message.
He said that the role of scholars in the society is like a shining star who provide guidance in matters related to religion and their respect should be given priority.
Governor Punjab Muhammad Baligh-ur-Rehman said teaching of the Holy Quran will be started in all schools across the province for the first time from August and the law in this regard was passed in 2018 under PML-N government in Punjab and the federation.
Baligh-ur-Rehman said the youth is the real power of a nation and they need to be enlightened with the teachings of religion along with the formal education.
Source: Urdu Point
Please click the following URL to read the full text of the original story:
https://www.urdupoint.com/en/pakistan/ulema-must-highlight-spirit-of-islam-baligh-1536619.html
--------
IMF reaches preliminary deal with Pakistan on $6bn bailout
Jul 15, 2022
ISLAMABAD: The International Monetary Fund said Thursday it has reached a preliminary agreement with Pakistan to revive a $6 billion bailout package for this impoverished, majority Muslim nation struck by a serious economic crisis since last year.
Pakistan and the IMF originally signed the accord in 2019. But the release of a slightly over $1 billion tranche had been on hold since earlier this year. That's when the IMF expressed concern about Pakistan's compliance with the conditions of the bailout under former Prime Minister Imran Khwan. The parliament ousted Khwan in a no-confidence vote in April.
Under newly elected Prime Minister Shahbaz Sharif, the government has been in talks with the IMF since May, to avoid a default like Sri Lanka's.
"The Agreement with the Fund has set the stage to bring country out of economic difficulties," Sharif wrote on Twitter.
In recent weeks, Pakistan's government imposed additional taxes and slashed subsidies on fuel, electricity and natural gas to meet IMF's conditions. That made the government highly unpopular, but Sharif says the actions were necessary.
In a statement Thursday, the fund said it has "reached a staff-level agreement (SLA) with the Pakistan authorities." It added that the deal is "subject to approval by the IMF's Executive Board."
It said Pakistan will be eligible to receive a critical installment of about $1.17 billion.
According to the statement, the IMF will also raise the value of the bailout from $6 billion to $7 billion, subject to approval from the IMF's executive board — usually considered a formality.
Finance Minister Miftah Ismail blamed Khwan for creating a Sri Lanka-like situation in Pakistan and claimed the ousted premier had deliberately violated IMF's conditions to remain popular.
In a video message, Sharif on Thursday announced he was slashing the prices of fuel and diesel by up to 15%, a move he said was made possible by the reduction in oil prices on the international market.
Analysts say the revival of the IMF's bailout will help the government overcome the economic crisis because the release of installment of loans from the fund will encourage other international financial institutions to engage with Pakistan.
Source: Times Of India
Please click the following URL to read the full text of the original story:
https://timesofindia.indiatimes.com/world/pakistan/imf-reaches-preliminary-deal-with-pakistan-on-6bn-bailout/articleshow/92889310.cms
--------
Terrorism FIR lodged against man for killing, 'cooking' wife in Karachi
July 15, 2022
KARACHI: Police on Thursday registered a case regarding Wednesday's gruesome murder of a woman and subsequent 'cooking' of her body parts in a cauldron in Gulshan-i-Iqbal.
Investigations have been started to find out the motive behind the shocking incident. Efforts were being made to arrest the victim's husband, who had fled along with his three children after the murder, said SSP-East Syed Abdul Rahim Sherazi.
He added that the initial probe revealed that Nargis was allegedly stabbed to death by her husband Ashiq Husain over some family dispute.
He said that the Mobina Town police had registered an FIR against the husband over murder and terrorism charges on the complaint of victim's brother Syed Mushtaq Husain, a resident of Tori Bangash Colony in Orangi Town.
The complainant said that they belonged to Parachinar and his sister Nargis was married off by her father to their cousin Ashiq Husain around 22 years ago in the metropolis and the couple had six children.
He was at work when his brother informed him on Wednesday noon that their sister had allegedly been killed by her husband. He along with his family rushed to the home in Block-4 of Gulshan where police and an Edhi ambulance were already there.
The complainant said when he went inside the kitchen he saw the body was in a cauldron, which was placed on a stove with the burner turned on. They immediately turned off the burner. His 16-year-old niece, who was present there, informed them that at around 3am on Wednesday, a scuffle broke out between her parents and later on her father killed her mother.
Source: Dawn
Please click the following URL to read the full text of the original story:
https://www.dawn.com/news/1699601/terrorism-fir-lodged-against-man-for-killing-cooking-wife-in-karachi
--------
French envoy Nicolas Galey sees mutual desire for fresh start in ties in Pakistan
Baqir Sajjad Syed
July 15, 2022
ISLAMABAD: Ambassador of France Nicolas Galey says that both Pakistan and France are desirous of a fresh start in bilateral relations.
In an interview, Mr Galey, who took office earlier this year, said: "There is a mutual will to turn the page."
Relations between Pakistan and France became strained in October 2020 over President Emmanuel Macron's backing for 'blasphemous caricatures' following the murder of Samuel Paty, a high-school teacher.
Ties got particularly frayed after then prime minister Imran Khwan accused President Macron of encouraging anti-Muslim sentiments.
Ties between Pakistan and France became strained after Macron accused of backing 'anti-Muslim sentiment'
Religious group Tehreek-i-Labbaik Pakistan held violent protests demanding expulsion of the French diplomat and the matter was referred to parliament.
In April 2021, the French embassy in Islamabad advised the French nationals living in Pakistan and business companies to leave because of threats to interests of France.
Mr Galey believes that the bad patch in ties was related to "specific events" and both sides now want to get past it.
"That (episode) belongs to the past and I think everybody wishes that it belongs to the past," he said, adding that the two countries wished that it would no longer be a problem in the bilateral relations.
He recalled that the fence-mending process had begun under the PTI government and the current administration had carried it forward.
"I was received by the foreign secretary the day after my arrival (in January), I could present my credentials very quickly afterwards and all the contacts I had within the government, obviously the previous government, but that has continued with the new one," he said.
Former prime minister Imran Khwan had in one of his interviews in February said that his government had begun the process for appointing Pakistan's ambassador in Paris. The position fell vacant in 2020 summer after Ambassador Moinul Haq was transferred to China because of the caricature row.
The process was started afresh after the new government took office and reportedly the government would be announcing the appointment of the ambassador to France soon.
Federal minister Naveed Qamar visited Paris towards the end of May — just ahead of elections and signed an agreement on diversification of trade and economic relations.
In a related development, Pakistan and France had on June 27 signed an agreement for the suspension of repayment of loans amounting to $107 million under the G20 Debt Service Suspension Initiative.
In the middle of June, Army Chief Gen Qamar Bajwa made an unannounced three-day visit to Paris from June 13 to 16 for attending Eurosatory, a defence trade exhibition. He also held bilateral meetings during the visit, which Ambassador Galey confirmed.
"We were very happy to have Gen Bajwa participating in this exhibition,… he must have had some bilateral engagements on the sideline as well," he said, adding that this was, however, "not the moment where big decisions are taken".
Souring of ties because of blasphemous caricatures may have got the spotlight, but Islamabad's unhappiness with Paris started much before that — and it was over French Rafael deal with India.
Protesting over the deal, the Foreign Office had on the occasion of the delivery of first batch of jets in July 2020 had accused the West of "aiding and abetting" Indian arms build-up through "exemptions, waivers and supply of advanced equipment, technology and weapons for its narrow commercial interests". Pakistan too has defence cooperation with France, which focusses on military training, exchange and transfer of expertise.
Ambassador Galey said: "cooperation in the field of defence with Pakistan is continuing and there is absolutely no interruption or move or intention to change the current situation in this area of cooperation".
In the midst of this re-engagement, Paris, which in 2018 was the one of the major backers of the move to get Pakistan grey- listed by Financial Action Task Force, acknowledged the progress made by Islamabad on checking illicit financing.
That helped at the last FATF plenary which concluded that Pakistan had "substantially completed" the two action plans, and an on-site visit by a technical team was approved.
The French envoy said: "There were no particular French reservations in the last phase, but again it's a collective decision so those who continue to have reservations of course has fully the right to ask for more."
Getting a new deal on the GSP+ status will be a bit more complicated.
Pakistan's GSP+ status, which gives it preferential access to EU markets with zero duty on several products, is set to expire on December 31, 2023.
"There is a process of renegotiation. It's not only a rollover or continuation of the previous agreement since the principles and the basis of GSP plus have been changed. It means it's not only just to continue the previous agreement but it's to sign a new agreement," he said and noted that France wouldn't be of much help at the negotiations stage as those will be conducted by Pakistan with the European Commission and other institutions.
Source: Dawn
Please click the following URL to read the full text of the original story:
https://www.dawn.com/news/1699703/french-envoy-sees-mutual-desire-for-fresh-start-in-ties
--------
JUI-F concerned at 'unethical' activities at Bajaur dam
July 15, 2022
BAJAUR: Jamiat Ulema-i-Islam-Fazl leaders here on Thursday expressed their concern over what they called 'unethical' activities in the name of entertainment at Ragagan Dam and said these activities, including musical concerts, were against the local customs and traditions and should be stopped immediately.
Addressing a press conference, the JUI-F leaders, including its district chief Maulana Abdur Rasheed, Haji Said Badshah and Maulana Ziaullah Haqqani, alleged that the ongoing activities at Ragagan Dam were promoting obscenity among the youth.
They said that both male and female visitors were sharing boat rides at the dam besides attending musical concerts, which they said were not allowed under the local customs and traditions.
They said several transgender persons from areas outside the district were also part of the musical concerts, which was polluting the minds of visitors, mostly teenagers.
The JUI-F leaders claimed that Ragagan Dam, which was a government property, had illegally been opened by influential people apparently with the support of district administration.
Said Badshah, who is also chairman of Khar tehsil council, said that as per rules it was the right of Khar tehsil municipal administration to collect charges of activities at the dam, but the income went to the family of an influential person (a provincial minister).
The JUI-F leaders asked the authorities to take notice of the unlawful activities at the dam and stop them by Friday (today).
Meanwhile, Sikandar Zeb Khwan, son of provincial minister Anwar Zeb Khwan, denied the JUI-F leaders' claims of arranging activities at the dam, which were against the local customs and traditions.
Source: Dawn
Please click the following URL to read the full text of the original story:
https://www.dawn.com/news/1699626/jui-f-concerned-at-unethical-activities-at-bajaur-dam
--------
Parents of APS martyrs move Peshawar High Court over govt-TTP parleys
July 15, 2022
PESHAWAR: Mothers of five of the students and teachers assassinated by militants in the 2014 Peshawar Army Public School attack have moved Peshawar High Court against the ongoing negotiations between the government and proscribed Tehreek-i-Taliban Pakistan (TTP) and sought directives for the government against 'taking any step of reconciliation with the outfit without taking them into confidence'.
A bench consisting of Justice Lal Jan Khattak and Justice Abdul Shakoor issued a notice to the interior secretary asking him to respond to the petition, jointly filed by the mothers of four slain students and a woman teacher, on the next date of hearing to be fixed later.
The petitioners included Falak Naz, mother of students Noorullah and Saifullah, Shahana, mother of Asfand Khwan, Seema, mother of Aimal Khwan, and Zulaikha, mother of teacher Sadia Gul.
Advocate Ajoon Khwan, who is the father of slain student Asfand Khwan, appeared for the petitioners and contended that they were direct victims of the brutal act of killing innocent students and some of their teachers at the APS by the TTP militants, so negotiating with the outfit by the government without redressing their grievances would be a destruction of the justice system in the country.
Seek orders for govt to take them into confidence; PHC issues notice to interior secy for response to petition
The respondents in the petition are the defence ministry through its secretary, interior ministry through its secretary, federal government through law secretary, and focal person of the National Action Plan (NAP).
Mr Ajoon requested the court to issue directives to the government not to take any step of reconciliation with the TTP without taking his clients on board.
He said that the petitioners were the victim of one of the most brutal incident occurred in this country as a consequence of which minor students in large number were martyred.
The lawyer said that from time to time, families of the APS martyrs had protested and raised voice against the campus carnage not only in Peshawar but in other cities, including Islamabad, as well.
He added that the petitioners had also appeared and put forward their grievances before a one-member Judicial Commission consisting of Justice Mohammad Ibrahim Khwan, which was probing the matter on the order of the Supreme Court.
Mr Ajoon said the judicial commission had completed its probe and submitted its report to the apex court including its findings and recommendations. He added that some of the reservations of the petitioners had now been pending before the Supreme Court and they had regularly been appearing before it.
The counsel said his clients learned through print, electronic and social media that the federal government had started dialogue with the TTP and that only the Pakistan Muslim League-Nawaz, which was heading the coalition government, had exclusively started it without taking into confidence other stakeholders.
He claimed that the Pakistan Peoples Party had objected to the negotiations and had demanded a joint sitting of parliament for discussing the matter.
Mr Ajoon, however, said instead of joint sitting the government had only convened meeting of a National Assembly standing committee to satisfy its coalition partner, whereas the victims of the APS carnage were completely ignored.
Source: Dawn
Please click the following URL to read the full text of the original story:
https://www.dawn.com/news/1699632/parents-of-aps-martyrs-move-peshawar-high-court-over-govt-ttp-parleys
--------
India
Plan to Kill Kanhaiya Lal Was Hatched On June 20 after Anjuman Rally In Udaipur
Jul 15, 2022
By Shishir Gupta
Investigations into the Udaipur ISIS style beheading of tailor Kanhaiya Lal on June 28 have led the focus to a June 20 meeting of select Barelvi Muslims immediately after a rally of Anjuman Taleemul Islam in Udaipur against Nupur Sharma.
While Kanhaiya Lal killer Ghous Mohammed has told his interrogators that the decision to behead the tailor for supporting Nupur Sharma was taken in this meeting, the others present in the meeting are now denying that any such decision had been taken. According to Ghous Mohammed, it was at this meeting that he volunteered to decapitate Kanhaiya Lal with others present agreeing to provide legal, logistical, or financial support to the families of the murderers after the crime. All those who were identified by Ghous as present in the June 20 meeting have been interviewed by the investigating agencies. The killing of Kanhaiya Lal was initially planned for June 26, but the tailor did not turn up at his shop that day. The murder was executed two days later.
The Udaipur Anjuman is headed by Mujeeb Siddque, who is now being interviewed by the investigating agencies. The Anjuman is part of the Ahle-Sunnat ideology of which Barelvis are a sub-sect.
While Anjuman has become an organization of interest in the murder probe, the investigators are also focused on the Popular Front of India-Social Democratic Party of India links with savage killing. The main accused Riyaz Attari and one of the key conspirators Farhad Mohammed Sheikh alias Babla were both members of the PFI, which in turn has links with the global Muslim Brotherhood.
The national security agencies are now examining whether the PFI-Muslim Brotherhood link was used to translate Nupur Sharma's remarks into Arabic and spread through the Brotherhood network. Interestingly, the Brotherhood is active in Qatar, Kuwait, Turkey and Pakistan, the countries which raised serious objections to the remarks.
Source: Hindustan Times
Please click the following URL to read the full text of the original story:
https://www.hindustantimes.com/india-news/kanhaiya-lal-killing-was-hatched-on-june-20-after-anjuman-rally-101657866441630.html
--------
Ajmer Dargah Khadim, Syed Gohar Chishty, Nabbed In Hyderabad for Beheading Slogans Prior To Kanhaiya Lal's Murder in Udaipur
Jul 15, 2022
Hyderabad/Jaipur: Ajmer Dargah Khadim (cleric), Syed Gohar Chishty, who was on run after Ajmer police registered a case against him for delivering an allegedly provocative speech last month, was arrested from Begum Bazar in Hyderabad on Thursday. The Ajmer police, who tracked him down with help from Telangana cops, also took into custody a bangle seller, Munawar, for allegedly sheltering the cleric. The latter is a resident of Goshamahal who visited the Ajmer shrine frequently.
IG (Ajmer) Rupinder Singh told TOI that Chishty was taken to Jaipur from Hyderabad. From there he will be taken straight to Ajmer where a case was registered against him. Munawar too has been taken to Rajasthan.
Nearly a dozen police teams trailed his whereabouts in multiple cities. Chishty was booked by the Dargah police station cops in their June 25 FIR, for allegedly inciting participants to raise slogans of beheading during a gathering on June 17, 11 days prior to Kanhaiya Lal's murder in Udaipur.
On June 16, Chishty had organised a meeting wherein he exhorted others for offensive slogans.
"The meeting was held just a day before the rally in which he (Chishty) told others about slogans that were eventually heard on June 17. Therefore, he is one of the chief suspects and different teams are trailing him," said an official.
According to SHO (Dargah), Dalbeer Singh, the police have already arrested four accused in the case, identified as Fakhar Jamali, Tajim Siddiqui, Moeen, and Riyaz Hasan.
Source: Times Of India
Please click the following URL to read the full text of the original story:
https://timesofindia.indiatimes.com/city/hyderabad/ajmer-dargah-cleric-nabbed-in-hyd-for-beheading-slogans/articleshow/92885812.cms
--------
Patna SSP Draws Parallels between PFI and RSS; BJP Roiled
14th July 2022
PATNA: The BJP flew off the handle on Thursday after a senior IPS officer in Bihar sought to draw a parallel between its parent body RSS and an Islamic extremist organisation, a network of which was recently busted in the city.
Patna Senior Superintendent of Police Manavendra Singh Dhillon courted trouble for having said that PFI members arrested from Phulwari Sharif here underwent "physical training similar to what happens in RSS Shakhas' (branches)".
BJP leaders, including high-ranking ones like former Union law minister Ravi Shankar Prasad and ex-deputy CM of Bihar Sushil Kumar Modi, expressed outrage, while others questioned the police officer's soundness of mind and demanded his sacking.
"I condemn the irresponsible and despicable utterance of the SSP of Patna, my parliamentary constituency, who has sought to compare the PFI, a known terrorist organisation, to a nationalist organisation like the RSS," fumed Prasad, who represents Patna Sahib in Lok Sabha.
"I have learnt that senior officials have taken note of the reprehensible conduct of the officer. I hope proper action will be taken," added Prasad.
When approached by journalists, Additional Director General of Police (Headquarters), J S Gangwar said the SSP could have spoken out of context "Comparing one organisation with another is wrong. We will speak to him on the issue and advise him to concentrate on investigating the case," he said.
According to Dhillon, a raid was conducted in Phulwari Sharif following a tip-off about "Islamic radicalisation" inside a premise owned by a retired police official of JharKhwand, where many people, some of them from far-off Kerala and Tamil Nadu, were undergoing "normal physical training, not armed training".
Altogether 26 people have been named in the FIR out of whom three, including the owner of the house, have been arrested since Wednesday night, said the SSP, adding, recoveries from the spot include propaganda material that spoke of "turning India into an Islamic state".
He ruled out any Pakistan links of the network, but said the "terror funding" angle was being probed and though the police had recently intensified its surveillance in view of the visit of Prime Minister Narendra Modi on July 12, there were "no indications" that the group was aiming at disrupting the VIP event.
However, his offhand use of a simile triggered predictable outrage.
Sushil Kumar Modi came out with a couple of tweets asking how could the police officer be loose tongued about RSS, which has had among its members top leaders like PM Narendra Modi, Union Home Minister Amit Shah and Defence Minister Rajnath Singh.
Sushil Modi also demanded "a withdrawal of the statement and an apology" from the SSP, though stormy petrels wanted him to be booted out.
"He has evidently lost his mental balance. He must be removed from his current assignment, which requires sensitivity and a sense of responsibility," said Haribhushan Thakur Bachol, a BJP MLA.
He also alleged that PM Modi "has been targeted by Islamic terrorists whenever he has visited Bihar, starting from the 2013 serial blasts".
The prime minister, the then Gujarat CM, had addressed his maiden rally in Bihar at the Gandhi Maidan here in October 2013, while several bombs went off at the venue.
State BJP spokesman and OBC Morcha's national general secretary Nikhil Anand alleged "it is not a slip of tongue by the Patna SSP, but a statement given in confidence and in a cool manner" to show his political affinity and keep masters in good humour.
Source: New Indian Express
Please click the following URL to read the full text of the original story:
https://www.newindianexpress.com/nation/2022/jul/14/patna-ssp-draws-parallels-between-islamic-extremist-body-and-rss-bjp-roiled-2476629.html
--------
Video on Hindu Deities 'Misrepresented', Says Ajmer Dargah Cleric, Apologises
Jul 15, 2022
AJMER: An Ajmer Dargah cleric put out a video apology on Thursday after police filed a case against him for a viral clip in which he purportedly hurls a rhetorical question at suspended BJP spokesperson Nupur Sharma, seeking to know how it was feasible that there existed 33 crores Hindu gods and goddesses.
Syed Adil Chishty, son of newly elected Anjuman Moinia Fakria Khuddam Khawaja secretary Syed Sarwar Chishty, said he didn't intend to hurt the religious feelings of his "Hindu brothers and sisters". He claimed the video that went viral on June 23 had been misrepresented by circulating only a portion of what he said. Meanwhile, in Udaipur, police arrested advocate Aadil Sheikh for allegedly threatening a colleague for supporting Nupur in the row over her remarks on the Prophet.
Source: Times Of India
Please click the following URL to read the full text of the original story:
https://timesofindia.indiatimes.com/india/video-on-hindu-deities-misrepresented-says-ajmer-dargah-cleric-apologises/articleshow/92887623.cms
--------
AIMPLB moves SC against pleas challenging Places of Worship Act
14th July 2022
New Delhi: The All India Muslim Personal Law Board has moved the Supreme Court opposing challenges to the Places of Worship (Special Provisions) Act, 1991.
"The Board has sought impleadment in two Public Interest Litigation (PIL) petitions challenging the constitutional validity of the Places of Worship (Special Provisions) Act, 1991," AIMPLB General Secretary Moulana Khalid Saifullah Rahmani said in a statement.
"The assailed Petitions relate to unsettling a law about which the Supreme Court has already stated that the said law is 'the commitment of India to the equality of all religions' and further stated that the Act 'is an affirmation of the solemn duty which was cast upon the State to preserve and protect the equality of all faiths a an essential constitutional value, a norm which has the status of being a basic feature of the Constitution'," the AIMPLB has submitted in its application. according to the statement.
The application points out that considering the nature of legislation under the 1991 Act and the affirmation of the Act by the Supreme Court as being a reflection of the basic features of the Constitution, granting indulgence to petitions such as the present ones, will only create problems on the ground rather than resolving the claims of the alleged violation of fundamental rights of the litigants "who have their political agenda on priority".
Such disputes disturb the social fabric of society by polarising the people on the ground of religion particularly when the country has witnessed blood baths after the controversy erupted in respect of Babri Masjid, said AIMPLB in the statement.
Source: Siasat Daily
Please click the following URL to read the full text of the original story:
https://www.siasat.com/aimplb-moves-sc-against-pleas-challenging-places-of-worship-act-2369620/
--------
Namaz inside Lucknow Mall, FIR Lodged; Video Viral
Jul 15, 2022
LUCKNOW: The management of a newly opened mall lodged a case against unidentified persons who offered Namaz on its premises in Sushant Golf city police station area of Lucknow on Thursday.
The mall administration lodged an FIR after a video of some persons offering Namaz went viral on social media.
A controversy broke out after a video purportedly showing a group of people offering namaz at #LuluMall in #Lucknow… https://t.co/JeZrzQA0Z7
— TOI Lucknow News (@TOILucknow) 1657858965000
Police said preliminary investigations have revealed that those who offered prayers were outsiders, as none of the stores have identified them as their employees.
Lucknow Police commissioner DK Thakur said a complaint was lodged by mall public relations manager Sibtain Hussain after which an FIR was lodged. Hussain told police that the mall management does not allow its staff to hold prayers on premises.
Source: Times Of India
Please click the following URL to read the full text of the original story:
https://timesofindia.indiatimes.com/city/lucknow/lucknow-plaint-lodged-for-namaz-on-mall-premises/articleshow/92888612.cms
--------
Muslim man from Uttar Pradesh goes on kanwar yatra for 6th time
Jul 15, 2022
SHAMLI: Forty-two-year-old Wakil Malik from Shamli's Bhainswal village is all set to bring holy water from Haridwar on foot for the sixth time in his life during the kanwar yatra this year. "I took permission from the district authorities for the yatra as I could have faced opposition under the prevailing atmosphere," he told TOI on Thursday.
He added, "I am equally devoted to Islam and regularly attend jamats. However, my purpose behind bringing the kanwar is to prove that god is one and we are the ones who create differences."
'I faced mild opposition for bringing kanwar'
If my message even reaches one person, my purpose will be fulfilled," Malik said.
Malik has been a part of the yatra five times so far. This will be the last time he partakes, in accordance with his sankalp (resolution), he said. Every year, he offers holy water at the Pura Mahadev temple in Baghpat.
This time, however, was the first time that he sought permission from the Shamli district headquarters and the Gadipukhta police station. "In the initial years, I faced mild opposition for bringing kanwar, even from my family. People said I was 'betraying my religion'. However, they eventually understood my thought process. Now they are all supportive."
Source: Times Of India
Please click the following URL to read the full text of the original story:
https://timesofindia.indiatimes.com/city/meerut/muslim-man-from-uttar-pradesh-goes-on-kanwar-yatra-for-6th-time/articleshow/92887901.cms
--------
'Gyanvapi mosque complex not Waqf Board property': Hindu side in Varanasi court
14th July 2022
VARANASI: The Hindu side on Thursday argued in a district court here that the Gyanvapi mosque complex is not the property of the Waqf Board and the case over it should be heard in its entirety.
District Government Advocate Rana Sanjeev Singh said the Hindu side asserted that as per the religious belief, once an idol is established at some place, then that place is worshipped too.
The Hindu plaintiff had earlier claimed that a Shivling was found in the "wazooKhwana" (tank for ablution) of the Gyanvapi mosque during a court-mandated survey in May, a claim rejected by the Muslim side.
Singh said advocates for the Hindu plaintiff said the Muslim side has not presented any evidence stating that the Gyanvapi complex is the property of the Waqf Board.
Since the Gyanvapi complex is not the property of the board, the case deserves to be heard in its entirety, they argued.
The Hindu side will continue with its arguments on Friday.
The Hindu side on Wednesday had asserted that the Places of Worship Act, 1991 does not apply in the case and community members should be allowed to offer prayers there.
Earlier, five women had filed a petition seeking permission for daily worship of Hindu deities whose idols are located on an outer wall of the mosque but the Muslim side had urged the court to dismiss the case.
A lower court later ordered a videography survey of the complex.
The survey work was completed on May 16 and the report was presented in the court on May 19.
The Hindu side had claimed in the court that a Shivling was found during the videography survey of the Gyanvapi mosque-Shringar Gauri complex.
Source: New Indian Express
Please click the following URL to read the full text of the original story:
https://www.newindianexpress.com/nation/2022/jul/14/gyanvapi-mosque-complex-not-waqf-board-property-hindu-side-in-varanasi-court-2476568.html
--------
Waseem Rizvi former Shia Waqf Board chairman announces decision to don saffron
By Puja Awasthi
July 14, 2022
Jeetendra Narayan Singh Tyagi, formerly known as Waseem Rizvi, has announced his decision to don only saffron robes henceforth.
Rizvi is the former chairman of the Shia Waqf Board.
In December 2021, he 'converted' to Hinduism after denouncing Islam as a 'terrorist unit'. His conversion was facilitated by Yati Narsinghanand Saraswati the head priest of Ghaziabad's Dasna Devi Temple. Among many other controversies, the temple made it to the news when a 14-year-old Muslim boy was beaten up for entering its premises to drink water from a tap.
Tyagi met Champat Rai the general Secretary of Shri Ram Janmabhoomi Teerth Kshetra in Ayodhya on Thursday to apprise him of his decision to take a dip into the Saryu and give up all other forms of clothing henceforth.
Rai described Tyagi as a 'simple and good' human being and wished him success in his endeavour.
"Ayodhya is the land of sacrifice. Sri Ram, Bharat, Lakshman, Shatrughan, Janki and Dashrath embraced sacrifice and continue to live on. It is Ram's sacrifice that makes him a God", said Rai.
Bharat, Laksham and Shatrughan are the brothers of Lord Ram while Janki is a name used for his wife, Sita. King Dashrath was the father of Lord Ram.
Tyagi said, "Saffron is our identity. It is my honour to don it. Saffron provides strength and energy. My donning of saffron robes is also a warning to those who threaten to behead us".
"Today I shall give up my modern clothing in the laps of mother Saryu and will seek its (the river's) blessings. In the future I might also take sanyas", he said.
Tyagi is no stranger to controversy and has often made statements which have angered Muslims. One of his demands was that the Prime Minister shut all madrasas as they promote 'ISIS ideology'. He had also labelled the Babri Masjid a 'blot' and said it was a crime to call it a mosque. His most notorious controversy was calling for 26 verses from the Quran to be omitted as they promoted 'terrorism'.
Source: The Week
Please click the following URL to read the full text of the original story:
https://www.theweek.in/news/india/2022/07/14/waseem-rizvi-former-shia-waqf-board-chairman-announces-decision-to-don-saffron.html
--------
More Afghan Sikhs arrive in Delhi, citizenship remains a dream for many applicants
Jul 15, 2022
NEW DELHI: When 24 -year-old Gobind Singh Khalsa landed at the Indira Gandhi International Airport on Thursday with his wife and nine - month - old Sarbat Singh the sense of relief was palpable. Living in fear since the terrorist attack on the Karte Parwan Gurudwara, the main religious centre of the sikhs in Kabul, on June 18, Gobind Singh has spend the last month grappling with a strange dilemma. While he and his wife along with 109 other Afghan Sikhs got their visas after the attack their child had no visa as he was yet to be born when the list of names were sent for visa application after the Taliban takeover in Afghanistan last year.
Recognising the concern of the young couple, the India authorities issued Sarbat a temporary landing permit to be able to travel to Delhi allowing the family to start the documentation and other formalities within 72 hours of arrival to enable the child to stay in India.
In all 21 Afghan Sikhs including 3 children and one infant arrived in Delhi on Thursday. Earlier this month a group of 11 Afghan Sikhs had come. Around 130 more from the community are still stranded in Kabul with around 60 of them still waiting for their visas. Shiromani Gurdwara Parbandhak Committee (SGPC) Amritsar has has organised the transfer of both these groups of distressed Afghan Hindus and Sikhs to India in coordination with Indian World Forum and Government of India. More Afghan Sikhs are expected to come in the weeks ahead.
On arrival, Gobind Singh told TOI that things have only gotten worse since the Taliban regime took over and the terrorist attack at the Gurudwara in June was the last straw for the Sikhs who were still living there. "We were four brothers but I lost one of them in the attack in Shor Bazaar in Kabul in 2020. Now when the attack happened in June all hope was lost. We were not even stepping out of our rented house," Singh said. While one of his brother's is still in Kabul overseeing the work at the Gurudwara, he for now will be staying with his other brother who had come to India earlier and is making a living by selling clothes. Among those who have arrived in this also includes Rajinder Singh who despite the danger surrounding him ensured that the Guru Granth Saheb was was taken out safely when the terrorist attack happened at the Gurudwara in June.
As far as getting Indian citizenship goes with the rules under the controversial Citizenship Amendment Act 2019 yet to be framed to make it implementable, for the Afghan sikhs the regular process of naturalised citizenship is the one way forward. Puneet Chandhok, president of India World Forum shared that there are an estimated 30,000 Afghan Sikhs and Hindus in India and most of them are in Delhi. "However, getting citizenship is challenging and it is estimated that thousands of applications are pending based on information shared by the community members. The government of India from time to time has granted citizenship and OCI to Afghan Hindus and Sikhs but at the same time thousands of applications are pending with respective state and authorities and there is significant delay in processing of the same due to lack of internal coordination of government agencies.," he said.
Source: Times Of India
Please click the following URL to read the full text of the original story:
https://timesofindia.indiatimes.com/india/more-afghan-sikhs-arrive-in-delhi-citizenship-remains-a-dream-for-many-applicants/articleshow/92890026.cms
--------
Dawat-e-Islami's Kanpur building may be razed
Jul 15, 2022
KANPUR: The building of Dawat-eIslami (DeI), which is located in Chhote Miyan Ka Hata in Colonelganj police area of Kanpur, has come under the scanner of Kanpur Development Authority. A team of KDA on Wednesday inspected the multi-storey building for irregularities. Sources said that during spot inspection, when the KDA authorities asked for a map of the building from the occupants of the Dawat-e-Islami centre, they failed to present it to them.
The authorities thereafter warned the occupants that if they failed to present the map of the building in a day or two, action would be taken as per rules after issuance of notice. Further action can range from sealing to demolition.
To recall, an anonymous complaint was made to the Commissionerate police about the land situated at the Chhote Mian Ka Hata, Colonelganj, on which a government school used to run till last year. Six months ago the children of that school were shifted to another government primary school located nearby. In the complaint, this land was said to be of the Municipal Corporation, which was allegedly sold illegally and a multistorey building was raised illegally on it. Later, the centre of Dawate-Islami was opened in it.
Source: Times Of India
Please click the following URL to read the full text of the original story:
https://timesofindia.indiatimes.com/india/dawat-e-islamis-kanpur-building-may-be-razed/articleshow/92887648.cms
--------
Arab World
Over 90 Percent of Saudi Youth See US as A Strong Ally of Their Nation: Survey
15 July, 2022
More than nine in ten young Saudis, who form about two-thirds of Saudi Arabia's population, see the US as an ally of their nation, a survey revealed ahead of US President Joe Biden's high-profile visit to the Kingdom.
This finding from the 13th edition of the annual ASDA'A BCW Arab Youth Survey was announced on Friday ahead of the historic visit where Biden will hold meetings with Saudi Arabia's King Salman bin Abdulaziz and Crown Prince Mohammed bin Salman, along with other government officials, and which is expected to enhance the historic and strategic partnership between the two nations.
According to the survey, the perception that the US is an ally of Saudi Arabia is at its highest level in five years.
In 2020, 87 percent of Saudi youth viewed the US as a 'strong ally' or 'somewhat of an ally,' an increase in favorability over 2019 when 70 percent of Saudi youth viewed the US as an ally.
In 2018, 50 percent of Saudi youth viewed the US as an ally.
The symbolism of Biden's arrival in the Kingdom, following his first official visit to Israel, will not be lost on young Saudis, three-quarters (75 percent) of whom believe addressing the 'Palestinian-Israeli conflict' should be a top priority for the Arab world.
Despite the broadly positive perception of Biden, young Saudi men and women believe he has work to do on the Palestine-Israel question, with 93 percent insisting his administration "should have a played a more active and unbiased role in resolving the conflict." A majority of young Saudis (73 percent) are confident that the conflict is 'very likely' to 'somewhat likely' to be resolved in the next five years.
Sunil John, the founder of ASDA'A BCW, said: "The findings from our survey reflect the optimism surrounding Biden's first visit to the Kingdom as the US president. The generally warm feelings young people have towards US, and their eagerness for peace across the region, especially in resolving the Palestinian conflict, show the value to be had from a reset of US-Saudi relations to achieve a more stable and stronger Middle East geopolitical order."
Underlining the strategic role of the US in the region, over one-third (36 percent) of young Saudis believe the US has the most influence in the Arab world among non-Arab nations, compared with 43 percent of Saudi youth who say their own country is the most influential among Arab nations in the region.
Over two-thirds of young Saudis (63 percent) are also confident that their country's relations with the US will improve under Biden, while the rest (37 percent) believe relations between the two countries will remain the same.
Source: Al Arabiya
Please click the following URL to read the full text of the original story:
https://english.alarabiya.net/News/gulf/2022/07/15/Over-90-pct-of-Saudi-youth-see-US-as-a-strong-ally-of-their-nation-Survey
--------
Beirut Port silos destroyed in 2020 blast may collapse: Economy minister
14 July ,2022
The ruins of the Beirut Port silos, shredded in a massive explosion two years ago, may collapse because of a fire that ignited last week and that is still smoldering inside the structure, a Lebanese minister warned Thursday.
The fire at the silos' damaged north block was due to fermenting wheat and grains still trapped inside the building, outgoing Economy Minister Amin Salam told reporters.
Plumes of smoke rose from the silo and small flames crackled as he spoke. Firefighters observed from a distance after struggling to contain the fire earlier this week.
"We don't want to try to fix something, only to make it worse," Salam said, adding that experts are trying to find a solution.
On Aug. 4, 2020, hundreds of tons of ammonium nitrate, a highly explosive material used in fertilizers that had been improperly stored for years in the giant silos exploded.
The tall structure withstood the force, effectively shielding the western part of Beirut from the explosion that killed over 200 people, wounded more than 6,000 and badly damaged entire neighborhoods.
"There have been fires like this before, and will continue as long as there are grains fermenting inside," Salam said, calling it a "tricky and complicated situation."
Emmanuel Durand, a French civil engineer who volunteered for the government-commissioned team of experts, says the latest fire has only worsened the already poor structural strength of the north block, damaging it in an "irreversible way."
He added that he had warned the authorities in numerous reports the silos' northern block is at risk of collapsing.
"In the last eight days, basically since the current fire started, we're observing a very significant change in the rate of inclination in the north block. And it cannot be a coincidence," Durand told The Associated Press. "It's making the silo weaker and even more prone to tilting."
Last April, The Lebanese government decided to demolish the silos, but suspended the decision following protests from families of the blast's victims and survivors. They contend that the silos may contain evidence useful for the judicial probe, and that it should stand as a memorial for the tragic incident.
The Lebanese probe has revealed that senior government and security officials knew about the dangerous material stored at the port. The implicated officials subsequently brought legal challenges against the judge leading the probe, effectively leaving the investigation suspended since last December.
Kayan Tles, who lost his brother Mohammad in the port blast, told the AP the silos is "part of a crime scene" that should be preserved.
Source: Al Arabiya
Please click the following URL to read the full text of the original story:
https://english.alarabiya.net/News/middle-east/2022/07/14/Beirut-Port-silos-destroyed-in-2020-blast-may-collapse-Economy-minister
--------
Saudi minister stresses importance of cooperation with US in education
July 15, 2022
RIYADH: Saudi Arabia's Minister of Education, Hamad bin Mohammed stressed the importance of cooperation with the United States in education and scientific research, SPA reported on Friday.
This comes as part of working to achieve the goals of the Kingdom's Vision 2030 and the goals of sustainable development, the report added.
The minister said there were 20,639 Saudi students and trainees studying in American universities and other educational institutions, and the number of Saudi students graduating from the US during the past 17 years has reached more than 167,729.
"The Ministry of Education seeks to enhance the benefit of Saudi students by signing memoranda of understanding for scientific and research cooperation between Saudi universities and their American counterparts," the report said.
The minister said Saudi Arabia encouraged universities between the two countries to cooperate through joint research teams and exchange student scholarships.
Engineering, health, management, information technology, English and law are the most studied majors by Saudi students in the US.
The minister highlighted the importance of investment in education as one of the pillars of the Kingdom's Vision 2030 by attracting leading American universities to open branches in the Kingdom.
Saudi Arabia also aimed to encourage American stakeholders to invest in public and university education, and contribute to the operation of technical and vocational colleges, he said.
The Saudi ministry of education offers 318 annual scholarships to American students, and more than 167 students are currently studying in the Kingdom.
The partnership between the Kingdom's universities and American universities includes the signing of 289 agreements involving 125 for scientific and research cooperation, as well as 38 memoranda of understanding.
Source: Arab News
Please click the following URL to read the full text of the original story:
https://www.arabnews.com/node/2122816/saudi-arabia
--------
Biden to see 'a new Iraq' at the table, PM Al-Kadhimi says
July 14, 2022
LONDON: US President Joe Biden will discover a stronger and more confident Iraq during his Middle East trip this week, according to Prime Minister Mustafa Al-Kadhimi.
Writing for Foreign Policy magazine, the premier said that his country was now finding "Iraqi solutions" to "Iraq's problems," and that he would meet Biden as the leader of a more "resilient" Iraq.
Al-Kadhimi used his piece to ask the US as well as international partners to recognize and support the progress Iraq was making in a post-war, post-Daesh era.
Biden will meet with several regional leaders in the Kingdom on Saturday, including Al-Kadhimi, as part of his trip to Israel and Saudi Arabia.
In his piece, the Iraqi PM thanked the US for its assistance and support in moving the country away from "three decades of Saddam Hussein's brutal dictatorial rule," and toward a developing, multiparty and multiethnic democracy.
He praised the evolution of the Iraq-US relationship over the past two decades, which he said had moved from one based on security and the fight against terrorism, to a partnership revolving around societal and economical development in fields such as energy, climate, health, education and culture.
He also acknowledged that, following "political difficulties" arising from the latest elections in Iraq, more needed to be done to embed the democratic process in Iraqi public life.
However, Al-Kadhimi said that Iraqis had reason to be positive about their futures after the territorial defeat of Daesh, and that their country was "proactive regionally and internationally," and "no longer a passive member of the international community."
Al-Kadhimi added that Iraq was building bridges with partners in the region, including Jordan, Egypt and the members of the Gulf Cooperation Council. Growing ties are having a positive impact on Iraq's development, he said.
Source: Arab News
Please click the following URL to read the full text of the original story:
https://www.arabnews.com/node/2122421/middle-east
--------
Europe
Palestinian President Abbas to meet France's Macron in Paris
14 July ,2022
Palestinian president Mahmoud Abbas will hold talks with French President Emmanuel Macron in Paris next week focusing on the "peace process" and elections, the Palestinian foreign ministry said Thursday.
Abbas, who is due to meet Macron on July 20, will also discuss "putting pressure on Israel to provide the appropriate atmosphere for holding the Palestinian elections, specifically in the city of Jerusalem," a statement read.
Direct peace talks between Israel and the Palestinians have not been held since 2014.
Palestinian elections scheduled for last year were cancelled, with Abbas citing Israel's refusal to allow them to take place in Israeli-annexed east Jerusalem.
The announcement came after Palestinian foreign minister Riyad al-Maliki met his French counterpart Catherine Colonna.
Last week, Israel's new Prime Minister Yair Lapid headed to Paris for his first foreign trip as leader to meet Macron, who said there was "no alternative to a resumption of political dialogue between the Israelis and the Palestinians."
Source: Al Arabiya
Please click the following URL to read the full text of the original story:
https://english.alarabiya.net/News/middle-east/2022/07/14/Palestinian-president-Abbas-to-meet-France-s-Macron-in-Paris-
--------
Daesh brides must return to UK: Filmmaker
July 14, 2022
LONDON: Britain must "bring home" the brides and children of Daesh fighters who are being held in Syrian camps because they are "our problem," a filmmaker has said.
Andrew Drury, 56, who regularly visits the Kurdish-run Al-Roj camp in northeast Syria, said 22-year-old Shamima Begum, who fled Britain when she was 15 to join Daesh, should be brought home.
She attracted widespread attention in Britain and overseas after The Times released an interview with her in 2019 in which she refused to apologize for her role in supporting the so-called caliphate.
She has since apologized and committed to return to the UK, but former Home Secretary Sajid Javid removed her British citizenship.
Drury said the UK has a responsibility to repatriate British Daesh brides, such as Begum, and their children.
They must "come home" because it is unfair for Britain to allow them "to be a danger to the Syrians and the Kurds," who have "enough danger to deal with already," he added. "They are our problem and we should be dealing with our own mess."
Referring to the Daesh brides, he said: "I don't think the wider international community knows what to do with them."
Last year, Save the Children warned that the children of Daesh fighters were "wasting away" in Al-Roj and Al-Hol camps in northeast Syria.
Source: Arab News
Please click the following URL to read the full text of the original story:
https://www.arabnews.com/node/2122471/world
--------
In high-profile case, Sweden hands life term to ex-Iranian official
Syed Zafar Mehdi
14.07.2022
A Swedish court on Thursday sentenced a former Iranian official to life in prison over alleged crimes dating back to the late 1980s, a high-profile case that fueled tensions between Iran and Sweden in recent months.
Hamid Nouri, a 61-year-old former Iranian judiciary official, was convicted by a court in Stockholm of what it termed a "serious crime against international law" and "murder," alluding to the executions of members of Mujahideen e Khalq (MEK) group in 1988.
MEK group, accused by the Iranian government of plotting terrorist attacks in the country, was removed from the foreign terrorist organization (FTO) list by the US government in September 2012.
"The sentence is life imprisonment," the court said in a much-anticipated verdict. Nouri can still appeal against the sentence, which could mean a minimum of 20 to 25 years in jail.
The court said Nouri had participated "in the executions of many political prisoners in Iran in the summer of 1988" and served "the role of assistant to the deputy prosecutor" at the prison in Karaj at the time.
The Iranian Foreign Ministry quickly condemned the court verdict, accusing the Swedish government of "supporting and promoting terrorists," a reference to the MEK.
In a statement, ministry spokesman Nasser Kanaani said Iran rejects the verdict against Nouri, adding that it "lacks legal validity."
The spokesman warned that Sweden will be held responsible for any damage to bilateral relations between Tehran and Stockholm.
The Iranian official was arrested immediately upon his arrival in Sweden in November 2019, but it was only in August 2021 that the trial began in a highly political atmosphere.
While Swedish prosecutors called for a maximum penalty of a life term for Nouri, Iranian officials mounted an aggressive diplomatic campaign to seek his release.
It came almost a week after Iranian Foreign Minister Hossein Amir-Abdollahian spoke to his Swedish counterpart Ann Linde over the phone, demanding the "immediate release" of the jailed Iranian official, saying relations between the two countries "should not be affected by propaganda," referring to MEK.
At a news conference on Wednesday, Kanaani said Sweden should "provide the grounds for the release of Nouri as soon as possible."
He said the former official's detention "lacked legal basis" and blamed his incarceration on the "political hype" created by the MEK group.
On the same day, Iran's Deputy Parliament Speaker Ali Nikzad also made comments, calling on Sweden to release Nouri.
Iran's top human rights official, Kazem Gharibabadi, also wrote a letter to the United Nations High Commissioner for Human Rights Michelle Bachelet on Tuesday, asking the world body to hold the Swedish government "accountable for the illegal detention and trial" of Nouri.
Source: Anadolu Agency
Please click the following URL to read the full text of the original story:
https://www.aa.com.tr/en/europe/in-high-profile-case-sweden-hands-life-term-to-ex-iranian-official/2637056
--------
Mideast
Palestinian president receives US President Joe Biden in Bethlehem
15 July ,2022
Palestinian President Mahmoud Abbas received US President Joe Biden on Friday upon his arrival in Bethlehem.
Source: Al Arabiya
Please click the following URL to read the full text of the original story:
https://english.alarabiya.net/News/middle-east/2022/07/15/Palestinian-president-receives-US-President-Joe-Biden-in-Bethlehem
--------
Israel welcomes Saudi Arabia's decision to open air space to all carriers: Minister
15 July ,2022
Israeli Transport Minister Merav Michaeli on Friday welcomed as an "important step" Saudi Arabia's decision to lift restrictions on all carriers using its airspace.
"Israeli flights will be allowed in Saudi Arabian airspace," Michaeli said in a statement.
"This is an important step by the Kingdom of Saudi Arabia that will significantly shorten flight times and lower prices."
Source: Al Arabiya
Please click the following URL to read the full text of the original story:
https://english.alarabiya.net/News/middle-east/2022/07/15/Israel-welcomes-Saudi-Arabia-s-decision-to-open-air-space-to-all-carriers-Minister
--------
Tehran says it will have a 'harsh response' to any mistake from US or its allies
14 July ,2022
Iranian President Ebrahim Raisi said on Thursday that the Islamic Republic will have a "harsh and regrettable response" to any "mistake" committed by Washington or its allies.
US President Joe Biden and Israeli Prime Minister Yair Lapid signed a joint pledge on Thursday to deny Iran nuclear arms, a show of unity by allies long divided over diplomacy with Tehran.
"The great nation of Iran will not accept any insecurity or crisis in the region and Washington and its allies should know that any mistake will be met by a harsh and regrettable response from Iran," Raisi said during a speech.
Source: Al Arabiya
Please click the following URL to read the full text of the original story:
https://english.alarabiya.net/News/middle-east/2022/07/14/Tehran-says-it-will-have-a-harsh-response-to-any-mistake-from-US-or-its-allies
--------
Iran Hits Back at US over Spreading Lies About Ukraine War
2022-July-14
US National Security Advisor Jake Sullivan accompanied President Joe Biden to Tel Aviv "to consolidate US commitment to unconditional support for the most child-killer regime in the world," Iranian Foreign Ministry Spokesman Nasser Kana'ani wrote on Twitter.
"In the beginning of the trip, Sullivan accused Iran of supporting the killing of Ukrainians," Kana'ani added, referring to the allegation that Tehran was sending drones to Moscow to be used in the Ukraine war.
The Iranian official stated that lying and twisting the truth for evil goals are prevalent among US politicians.
On Monday, Sullivan claimed Iran was "preparing to provide Russia with up to several hundred UAVs," including combat drones.
In response to White House claims, Iranian Foreign Minister Hossein Amir Abdollahian said Tehran will not help either side in the Russia-Ukraine conflict.
"We have different kinds of cooperation with Russia, including in the defense sector. But we are not going to help either side in this conflict because we believe that it has to be stopped," he stated.
"The current problem with the conflict is that some Western countries, including the United States, have arms manufacturers who are trying to sell their products," he continued, adding that Tehran "will avoid any action that could lead to escalation" but we will work to stop the conflict.
Tehran and Moscow have been widening cooperation in economic, military and security fields in pursuit of common policies on regional and international developments. It's now nearly a decade since Russia, China and some other countries first voiced their interest in supplying Iran's drone technology after Iran downed a highly advanced RQ-170 Sentinel of the US army as it was conducting a spying flight over Iranian skies and started its mass production after reverse engineering the pilotless aircraft.
Meanwhile, Russian President Vladimir Putin will travel to Tehran on July 19 and meet with his Iranian counterparts Seyed Ebrahim Rayeesi and Recep Tayyip Erdogan of Turkey, according to the Kremlin.
Kremlin spokesman Dmitry Peskov stated on Wednesday that Putin will not discuss possible drone supply during his trip to Iran.
On February 24, President Putin stated in response to a request by the heads of the Donbass republics he had made a decision to carry out a special military operation.
Source: Fars News Agency
Please click the following URL to read the full text of the original story:
https://www.farsnews.ir/en/news/14010423000420/Iran-His-Back-a-US-ver-Spreading-Lies-Ab-Ukraine-War
--------
Iranian Official Warns Biden's Regional Visit to Foment War
2022-July-14
"The bitter fruit of this diabolical trip is sedition, war, fratricide and conspiracy," Mohammad Sadeq Fazli, an aide to Foreign Minister Hossein Amir Abdollahian, said on Wednesday.
"Biden's inauspicious visit is aimed at normalizing relations with the cancerous Israeli regime, which is the root cause of all insecurity and threats in the region," added Fazli, who is also the director general of the Middle East Department of the Ministry of Foreign Affairs.
"As God has promised, and it is a demand by Muslim nations, we will see that the Islamic resistance [front] will emerge victorious," he continued.
On Wednesday, Iranian Foreign Ministry Spokesman Nasser Kana'ani stated that Washington's presence in the region has brought nothing but destruction and insecurity.
Kana'ani stated Biden has claimed that "his trip was aimed partly to help the Middle East to establish peace, while a glance at US foreign policy shows that this is not consistent with the current American policies".
"The US government cannot shift the blame by a single memo and they should know that the violent policy in the region and supporting such a policy would draw a reaction," the spokesman added.
"The US officials cannot justify and explain the result of their bad, and destructive actions that they have applied in the region and West Asia for many years," he stressed.
The spokesman noted Biden and American officials know what the people of the region think about US interventionist policy in the region.
Kana'ani said "the Zionist regime is fake in nature and the US obeys the regime", added that the US presence in the region, including in Iraq, Afghanistan, and Syria, was illegal and has caused much damage to the people.
Biden landed in the Israeli-occupied territories on the first day of his visit to the Middle East on Wednesday.
Biden will be spending two days in Al-Quds for talks with Israeli officials before he meets Palestinian President Mahmoud Abbas on Friday in the occupied West Bank. But there is no expectation of bold announcements towards a fresh peace process, meaning the visit may merely deepen Palestinian frustration.
He will then take an unprecedented direct flight from Israel to Jeddah, Saudi Arabia – as the kingdom does not officially recognise Israel's existence – for talks with Saudi officials, including Saudi Crown Prince Mohammed bin Salman -- accused by the US intelligence community of being behind the 2018 murder of Washington Post journalist Jamal Khashoggi, and to attend a summit of Persian Gulf allies.
Source: Fars News Agency
Please click the following URL to read the full text of the original story:
https://www.farsnews.ir/en/news/14010423000304/Iranian-Official-Warns-Biden's-Reginal-Visi-Fmen-War
--------
North America
US, Israel jointly sign 'Jerusalem Declaration' to deny Iran nuclear arms
14 July ,2022
US President Joe Biden and Israeli Prime Minister Yair Lapid signed a joint pledge on Thursday to deny Iran nuclear arms, a show of unity by allies long divided over diplomacy with Tehran.
The undertaking, part of a "Jerusalem Declaration" crowning Biden's first visit to Israel as president, came a day after he told a local TV station that he was open to "last resort" use of force against Iran.
"We will not allow Iran to acquire a nuclear weapon," Biden told a news conference following the signing of the declaration.
Washington and Israel have separately made veiled statements about possible preemptive war with Iran - which denies seeking nuclear arms - for years. Whether they have the capabilities or will to deliver on this has been subject to debate, however.
Thursday's statement reaffirmed US support for Israel's regional military edge and ability "to defend itself by itself."
"The United States stresses that integral to this pledge is the commitment never to allow Iran to acquire a nuclear weapon, and that it is prepared to use all elements of its national power to ensure that outcome," the statement added.
Lapid cast this posture as a way of averting open conflict.
"The only way to stop a nuclear Iran is if Iran knows the free world will use force," he said after the signing ceremony.
Speaking alongside him, Biden described preventing a nuclear Iran as "a vital security interest for Israel and the United States and, I would add, for the rest of the world as well."
There was no immediate comment from Tehran.
In 2015, Iran signed an international deal capping its nuclear projects with bomb-making potential. In 2018, then-US President Donald Trump quit the pact, deeming it insufficient, a withdrawal welcomed by Israel.
Iran has since ramped up some nuclear activities, putting a ticking clock on world powers' bid to return to a deal in Vienna talks.
Israel now says it would support a new deal with tougher provisions. Iran has balked at submitting to further curbs.
Eyes on Saudi Arabia
Beyond enhancing the allies' sense of deterrence and mutual commitment, the statement's power-projection may also offer Biden a boost when he continues on to Saudi Arabia on Friday. Riyadh has its own Iran worries, and Biden hopes to parlay that into an Saudi-Israeli rapprochement under US auspices.
Earlier on Thursday, Biden told reporters he and Lapid had discussed "how important it was, from my perspective, for Israel to be totally integrated into the region". Lapid, in turn, deemed Biden's Saudi trip "extremely important to Israel."
Some Israeli as well as Gulf Arab officials believe the nuclear deal's sanctions relief would provide Iran with far more money to support proxy forces in Lebanon, Syria, Yemen and Iraq. They are also skeptical about whether the Biden administration will do much to counter Iran's regional activities.
A US official, asked if Thursday's declaration was about buying some time with Israel as Washington pursues negotiations with Iran, said: "If Iran wants to sign the deal that has been negotiated in Vienna, we have made very clear we're prepared to do that. And, at the same time, if they're not, we will continue to increase our sanctions pressure, we will continue to increase Iran's diplomatic isolation."
A senior Israeli official described the threat of military action as a means of avoiding war.
"(It) is a guarantee that the diplomatic, economic and legal efforts against Iran will be effective," defense Ministry director-general Amir Eshel told Israel's Kan radio. "Iran has shown everyone that when it is pressed hard it knows how to stop and change its ways."
The Jerusalem Declaration further committed the United States and Israel to cooperating on defense projects such a laser interceptors, as well as on civilian technologies.
Source: Al Arabiya
Please click the following URL to read the full text of the original story:
https://english.alarabiya.net/News/middle-east/2022/07/14/US-to-work-with-partners-to-confront-Iran-s-aggression-Jerusalem-statement
--------
Biden: My visit to Saudi Arabia reasserts US regional influence
July 15, 2022
JEDDAH: Joe Biden's visit to Saudi Arabia on Friday is aimed at reasserting America's influence in the region after a period of neglect, the US president said on Thursday.
Biden said Washington's strategic pivot away from the Middle East had been a mistake, and his trip to the Kingdom would "promote US interests."
He said: "There are so many issues at stake, I want to make clear that we can continue to lead in the region and not create a vacuum, a vacuum that is filled by China and/or Russia."
The president will arrive in Jeddah on Friday after flying directly from Tel Aviv, having capped his visit to Israel on Thursday with a joint pledge to deny Iran access to nuclear weapons.
Biden reaffirmed US support for Israel's regional military edge and ability "to defend itself by itself." An official statement said: "The US stresses that integral to this pledge is the commitment never to allow Iran to acquire a nuclear weapon, and that it is prepared to use all elements of its national power to ensure that outcome."
Biden said preventing a nuclear Iran was "a vital security interest for Israel and the US and, I would add, for the rest of the world as well." The pledge came a day after he told a local TV station that he was open to "last resort" use of force against Iran.
Israeli Prime Minister Lapid said such a threat was a way of averting open conflict. "The only way to stop a nuclear Iran is if Iran knows the free world will use force," he said.
The US president said the ball was in Iran's court over stalled talks to revive the 2015 deal to curb Tehran's nuclear program. "We are not going to wait for ever," he said.
Before flying to Jeddah on Friday, Biden will hold talks in the occupied West Bank with Palestinian President Mahmoud Abbas. On Thursday he reaffirmed Washington's policy of pressing for "a two-state solution for two people, both of whom have deep and ancient roots in this land, living side by side in peace and security."
Source: Arab News
Please click the following URL to read the full text of the original story:
https://www.arabnews.com/node/2122636/saudi-arabia
--------
Biden heads to Saudi Arabia amid tension on oil, Khashoggi killing
July 15, 2022
US President Joe Biden will discuss energy supply, human rights, and security cooperation in Saudi Arabia on Friday on a trip designed to reset the US relationship with a country he once pledged to make a "pariah" on the world stage.
Biden will hold meetings with Saudi King Salman bin Abdulaziz and Crown Prince Mohammed bin Salman along with other government officials, a senior Biden administration official told reporters.
The visit will be closely watched for body language and rhetoric.
US intelligence concluded that the Saudi prince directly approved the 2018 murder of Washington Post columnist Jamal Khashoggi, while the crown prince denies having a role in the killing.
White House advisers have declined to say whether Biden will shake hands with the prince, the kingdom's de facto ruler.
Biden will meet with a broader set of Arab leaders at a summit in the Red Sea port city of Jeddah on Saturday.
"The president's going to meet about a dozen leaders and he'll greet them as he usually does," the administration official said.
At the start of Biden's trip to the Middle East, officials said he would avoid close contact, such as shaking hands, as a precaution against Covid-19. But the president ended up engaging in hand-shaking in Israel.
Biden said on Thursday his position on Khashoggi's murder was "absolutely" clear. Biden made his "pariah" comment less than two years ago after the journalist's killing and while campaigning for president.
Biden said he would raise human rights in Saudi Arabia, but he did not say specifically if he would broach the Khashoggi murder with its leaders.
Saudi ambassador to the United States Reema bint Bandar Al Saud, writing in US magazine Politico, reiterated the kingdom's "abhorrence" of the killing, describing it as a gruesome atrocity, and said it cannot define US-Saudi ties.
She said the relationship should also not be seen in the "outdated and reductionist" oil-for-security paradigm.
"The world has changed and the existential dangers facing us all, including food and energy security and climate change, cannot be resolved without an effective US-Saudi alliance."
Energy and security interests prompted the president and his aides to decide not to isolate the kingdom, the world's top oil exporter and regional powerhouse that has been strengthening ties with Russia and China, particularly at a time of Gulf concern over perceived US disengagement from the region.
The United States is eager to see Saudi Arabia and its Opec partners pump more oil to help bring down the high cost of gasoline and ease the highest US inflation in four decades.
"The Saudis definitely are intending to boost capacity and with oil prices so high they have the wherewithal to do that, particularly as they see production constraints elsewhere in a market that is still growing," said Daniel Yergin, S&P Global vice chairman and an expert in world energy markets.
'Groundbreaking' moves
Biden will encourage peace and press for a more integrated Middle East during his trip, the administration official said. Topics would include strengthening a truce in the war in Yemen, "balance" in energy markets, and technological cooperation in 5G and 6G.
Ahead of the visit, Saudi Arabia said it would open its airspace to all air carriers, paving the way for more overflights to and from Israel, in what Biden described as a historic and important step towards building a more integrated and stable Middle East.
"Thanks to months of steady diplomacy between my administration and Saudi Arabia, it is finally a reality," Biden said in a statement.
"I will do all that I can, through direct diplomacy and leader-to-leader engagement, to keep advancing this groundbreaking process."
Biden will be the first American president to fly from Israel directly to Jeddah, a step the White House says represents a "small symbol" of warming Israeli-Saudi ties.
Two years ago, Riyadh gave a tacit nod for the United Arab Emirates and Bahrain to normalise relations with Israel.
The US-brokered deals known as the Abraham Accords established a new axis in the region, where Gulf states share Israel's concerns about Iran's nuclear and missile programmes and proxy network.
Saudi Arabia and Iran have for years vied for regional influence but launched direct talks last year in an effort to contain tensions.
The Saudi ambassador said US-Saudi efforts to ensure peace and security should focus on enhancing cooperation and "reinforcing a rules-based system" to confront the "vision of chaos promoted by Iran".
Source: Dawn
Please click the following URL to read the full text of the original story:
https://www.dawn.com/news/1699736/biden-heads-to-saudi-arabia-amid-tension-on-oil-khashoggi-killing
--------
US commits $100 million to support Palestinian hospitals
15 July ,2022
US President Joe Biden on Friday pledged an additional $100 million to support hospitals in East Jerusalem as part of a multiyear commitment aimed at helping Palestinian health services.
Biden made the pledge at the Augusta Victoria Hospital in East Jerusalem ahead of a meeting with Palestinian President Mahmoud Abbas as he wraps up the first leg of his Middle East trip before leaving for Saudi Arabia.
Source: Al Arabiya
Please click the following URL to read the full text of the original story:
https://english.alarabiya.net/News/middle-east/2022/07/15/US-commits-additional-100-million-to-support-Palestinian-hospitals
--------
Africa
Tunisia's new constitution 'lacks mechanisms to protect rights': HRW
Yosra Ounas
14.07.2022
TUNIS, Tunisia
Tunisia's proposed constitution by President Kais Saied lacks "mechanisms to protect rights," Human Rights Watch (HRW) said Thursday.
In a statement, the New York-based rights group said the constitution "enumerates many rights but eviscerates the checks and balances needed to protect them."
The draft constitution "gives far more power to the presidency than the current constitution," it warned.
Eric Goldstein, HRW's the Middle East and North Africa deputy director, said the lack of mechanisms to protect rights is "what is dangerously missing in Saied's draft constitution for Tunisia."
On July 5, the Tunisian president called on Tunisians to vote "yes" on the draft constitution during a planned referendum on July 25.
Under the new constitution, the government will answer to the president, not to the parliament. The draft also gives power to the president to dissolve the parliament which could serve for two terms of five years. The 142-article document also says that Tunisia is a republic with a presidential system.
Tunisia has been in the throes of a deep political crisis that aggravated the country's economic conditions since Saied ousted the government, suspended parliament and assumed executive authority in July 2021. He later dissolved the assembly after lawmakers held a session to revoke his measures.
Source: Anadolu Agency
Please click the following URL to read the full text of the original story:
https://www.aa.com.tr/en/africa/tunisia-s-new-constitution-lacks-mechanisms-to-protect-rights-hrw/2637078
--------
Jordan Peterson slammed for suggesting Sunni, Shia Muslims should fix 'sectarian divide' by becoming pen pals
14 July, 2022
Dr. Jordan Peterson has been slammed for suggesting Sunni and Shia Muslims mend differences by becoming pen pals.
In a video posted to his YouTube channel, the Canadian academic and self-help writer touched on Muslim issues, an area Peterson is not usually associated with, and offered advice on how to fix sectarian and religious divides.
Speaking to the camera, sometimes waving his finger, Peterson delivered a message to Muslims suggesting they need to reach out to Christians and Jews.
"Muslims, reach across the sectarian divide. Shiites, find a Sunni pen pal, communicate with someone on the other side," he tells the camera.
"Sunnis, do the same and then, maybe, tentatively, reach out to a Christian, or heaven forbid, a Jew."
In the six-and-a-half minute video, Peterson welcomed his new Muslim followers.
But his comments on sectarian differences, while considered well-meaning, were slammed as ill-informed, condescending, and crass by some.
He invited a Muslim to build an "electronic system to bring people from the Sunni and Shiite community together" and that he would promote it.
On Twitter, Muslims shared their views on Peterson's ideas of Muslim relations.
"Jordan Peterson advises Shia & Sunni Muslims to become pen pals to end sectarianism," wrote Libyan-American writer Hend Amry.
"He also asks them (me?) to consider reaching out 'tentatively' to a Christian FOR THE FIRST TIME. Then he really dares to say what no one has dared before: Muslims should even reach out to A JOO."
Academic and writer Tallha Abdulrazaq said the comments were way off the mark.
"What gibberish is Jordan Peterson talking about? 'Reach across the sectarian divide' between Sunnis & Shia. Maybe have a Christian or even *gasp* a Jewish friend! It's not only patronising, but it feeds into certain negative narratives about Muslims," he wrote.
Al Jazeera's Mehdi Hasan described it as "a patronizing, ignorant, & nauseating 'Message to Muslims' from the ridiculous Jordan Peterson".
British Muslim academic Imran Hussein wrote:"If u haven't already please do read the Quran. As u are now directly addressing Muslims it will (as in the words of Thomas Cleary) provide u a superior vantage point, from where you'll beable to see through the false stereotypes held both by Muslims & non-muslims."
Peterson said he made the video due to the growing following his books, such as best-seller 12 Rules of Life, lectures and videos have had among Muslims.
Using biblical language, he said Muslims should view "woke culture" as the real enemy.
The academic spoke with controversial Muslim scholar Hamza Yusuf about Islam and Christianity late December.
The message also appeared to ignore the demographics of the region - where Muslims, Christians, and Jews have lived together for centuries - and the inter-faith dialogue active in the region.
It comes on the back of the so-called Abraham Accords, which Peterson mentions, which saw Israel normalise relations with the UAE, Bahrain, Morocco, and Sudan, although this is commonly thought to be due to a common strategic vision for the region rather than an ecumenical effort.
Sectarian and religious differences in the region have often been linked to politics, such as the Israeli occupation of the Palestinian territories and a battle between Iran and a Saudi-led coalition for influence in the region.
Source: The New Arab
Please click the following URL to read the full text of the original story:
https://english.alaraby.co.uk/news/jordan-peterson-slammed-shia-sunni-muslim-comments
--------
Failed coup in Türkiye exposed what many in Africa did not know about FETO terror group
Hassan Isilow
15.07.2022
JOHANNESBURG
The failed 2016 coup in Türkiye exposed what many in Africa did not know about the Hizmet movement (FETO terrorist group) which had been active on the continent for years, a leading academic said Thursday.
"People in Africa could not believe that the leadership of Hizmet, which was purporting to be building mosques and schools on the continent, were actually behind the failed coup," said Mustafa Mheta, a professor at Somali University and a research fellow at the Johannesburg-based Media Review.
He spoke at the Turkish Democracy and National Unity Day commemorations at the Nelson Mandela Foundation in Johannesburg.
FETO, referred to by members as Hizmet and its US-based leader Fetullah Gulen, is accused of orchestrating the defeated coup, which killed 250 people and nearly 2,200 injured.
Speaking from the Somali capital of Mogadishu via video link, Mheta said Africans could not believe that Hizmet members, who used to spread Islam, were flying F-16 jets and bombing Türkiye on July 15, 2016.
He said Africans had believed the Hizmet movement was a genuine organization that wanted to help the needy and promote education and Islam.
"But they were actually wolves in a sheep's skin," he said. "We should call on the South African government and the African Union to expel this group from Africa" because the group has a large presence in southern Africa.
Mheta said schools run by Hizmet, which still operate in South Africa, need to be closed because they are not aware of what they are teaching to children.
Haroon Aziz said South Africa's civil society did not support the coup.
The academic said in South Africa, FETO uses educational projects to win followers.
"In South Africa, they recruit black bright African children to join their schools. They also target middle-class Indian families in South Africa to support them financially claiming they are educating poor black children," he said.
Source: Anadolu Agency
Please click the following URL to read the full text of the original story:
https://www.aa.com.tr/en/africa/failed-coup-in-turkiye-exposed-what-many-in-africa-did-not-know-about-feto-terror-group/2637255
--------
South Asia
Tens of Thousands Flee Fighting Between Taliban and Rebels Led By Mawlawi Mehdi
July 14 2022
It was a three-day walk through barren mountains to reach safety for tens of thousands of Afghans who fled the Taliban's battle against a renegade commander and his followers in the district of Balkhab.
When fighting erupted three weeks ago, civilians were shot as they fled the Taliban's battle against a rebellion led by Mawlawi Mehdi, once the only ethnic Hazara to rise to the rank of commander in the militant group. He is now in hiding.
Source: The Times UK
Please click the following URL to read the full text of the original story:
https://www.thetimes.co.uk/article/tens-of-thousands-flee-fighting-between-taliban-and-rebels-kln7k7r7s
--------
Afghanistan Ranks Lowest in Gender-Gap Index
By Arif Ahmadi
15 Jul 2022
KABUL, Afghanistan – The Global Gender Gap Index for 2022 was released by the World Economic Forum (WEF) Wednesday, where it ranks Afghanistan at 146 out of 146 countries – the lowest nation in the list.
The Global Gender Gap index benchmarks the current state and evolution of gender parity across four key dimensions: Economic Participation and Opportunity, Educational Attainment, Health and Survival, and Political Empowerment.
The report assessed gender gap around the world, "providing a basis for robust cross-country analysis. Of these, a subset of 102 countries have been represented in every edition of the index since 2006, further providing a large constant sample for time series analysis," the report reads.
"In 2022 parity increased in part because women earn slightly more on average (+2%) than in 2021, but also because men earn less (-1.8%) on average than in 2021. Twenty-eight countries have closed less than 50% of the gender gap on this indicator, with the lowest levels of parity reported in Iran (16%), Afghanistan (18%) and Algeria (18%). Overall, Sub-Saharan African and Middle East and North Africa have the lowest levels of income parity, at approximately 23% and 24%, respectively," the report reads.
But the so-called Islamic Emirate – who took over Afghanistan since last August – defied the report, saying it has included women — based on necessity — in the government bodies as part of their efforts for gender equality and women rights.
"The current government considers all rights of women in Islamic regulation," said Bilal Karimi, deputy spokesman for the Islamic Emirate. "The women are working in various fields because the government should include women, based on necessity."
However, the ever-increasing restrictions against women and education for girls in Afghanistan speaks louder itself, as world leaders – including international allies – have repeatedly urged the Taliban government to consider the rights of minorities and women in the country.
"There are a lot of restrictions including inequality," said Samara, one of the hundreds of girls who faces social restrictions since fall of the former government, as TOLOnews quoted. "The women don't have access to education and are deprived of social activities."
"If such restrictions on women continue, not only the women will be removed from the Afghan society, but this will also affect the international community," said Zarqa Yaftali, a women's rights defender.
Meanwhile, women rights activist in the country once again urged the Taliban government to consider their rights, as they could be part of a big change in governmental bodies and sectors.
"We are expecting the Islamic Emirate to take steps to ensure women's rights and include women in the government," said Mariam Maroof, a women's rights activist.
Source: Khaama Press
Please click the following URL to read the full text of the original story:
https://www.khaama.com/afghanistan-ranks-lowest-in-gender-gap-index/
--------
Sardar Wali Saqib, Influential Salafist Scholar Killed in the Afghan Capital
By Saqalain Eqbal
14 Jul 2022
Sardar Wali Saqib, a prominent religious figure and leader of Salafi scholars, was assassinated in Kabul city, according to sources.
Sources report that unknown gunmen on Wednesday evening, July 13, killed the influential Salafist scholar at his place of residence.
In the Naranjebagh area of Jalalabad district, in the heart of Nangarhar province, where many students are pursuing religious education, Sheikh Sardar Wali Saqib was the head of a religious seminary.
The incident was confirmed by the spokesman for the Kabul police, Khalid Zadran, and an investigation has reportedly been opened.
No organization has as of yet taken responsibility for the incident. Prior to this, however, the Taliban was accused of assaulting Salafi scholars in the country.
Salafism is one of the religious movements in Afghanistan and according to a report of the United Nations, Salafis are mysteriously murdered in the country's eastern provinces.
Source: Khaama Press
Please click the following URL to read the full text of the original story:
https://www.khaama.com/influential-salafist-scholar-killed-in-afghan-capital-374843/
--------
US 'Does Not Support Organized Violent Opposition to the Taliban'
July 14 2022
The US Department of State said that Washington does "not support violent opposition against the Taliban."
"We are monitoring the recent uptick in violence closely and call on all sides to exercise restraint and to engage. This is the only way that Afghanistan can confront its many challenges," a State Department spokesperson told The Foreign Desk as cited by the Long War Journal.
"We want to see the emergence of stable and sustainable political dispensation via peaceful means. We do not support organized violent opposition to the Taliban, and we would discourage other powers from doing so as well," the US State Department representative said.
Analysts said the Islamic Emirate needs to form a policy through which it can alleviate the current challenges in Afghanistan.
"Diplomatic representatives are meeting the representatives of the Islamic Emirate. We call for a policy to rescue Afghanistan from the current situation," said Ahmad Khwan Andar, a political analyst.
Meanwhile, the US Department of State in a separate statement expressed concerns over human rights abuses in Afghanistan.
"We are alarmed by human rights abuses in Afghanistan, often attributed to the Taliban, and are disturbed by the extensive restrictions on the enjoyment of human rights and fundamental freedoms by Afghan women and girls. The resolution will enable Afghan civil society to address the HRC directly during its September session," the statement said.
"The concerns and resolutions have come from the international community but they have had no effect on the rights of girls and women in Afghanistan," said Beheshta Baluch, a women's rights activist.
Meanwhile, the Islamic Emirate denied any violations of human rights in Afghanistan and said that the rights of all citizens are ensured based on Islamic Sharia.
"The Islamic Emirate is committed to all the rights which are given by Islam to the people, and all their rights are ensured," said Bilal Karimi, deputy spokesman for the Islamic Emirate.
Source: Tolo News
Please click the following URL to read the full text of the original story:
https://tolonews.com/afghanistan-178935
--------
Southeast Asia
Court order to seize Petronas assets unenforceable, says Putrajaya
July 13, 2022
PETALING JAYA: The French court order to seize the assets of two Petronas subsidiaries is not enforceable, law minister Wan Junaidi Tuanku Jaafar said.
He was commenting on reports that the assets were seized after a French arbitrator handed down an award which required Malaysia to pay descendants of the Sultan of Sulu compensation of at least RM62.59 billion.
Wan Junaidi said the government had never recognised the claim.
"Neither have we renounced our sovereignty," the minister said in a statement.
Wan Junaidi said the French Court of Appeal had on July 12 granted a stay of the award, issued by arbitrator Gonzalo Stampa.
This means that the "final award" is not enforceable in any country until a decision is made on the application by Malaysia to cancel it, Wan Junaidi said.
Earlier this week, The Financial Times reported that the seizure was part of legal efforts launched in 2017 by the heirs claiming compensation for land in Sabah which they said had been leased by their ancestor to a British trading company in 1878.
The national oil company later confirmed that Petronas Azerbaijan (Shah Deniz) and Petronas South Caucasus were served with a "saisie-arret" (notice of seizure) on Monday.
Source: Free Malaysia Today
Please click the following URL to read the full text of the original story:
https://www.freemalaysiatoday.com/category/nation/2022/07/13/court-order-to-seize-petronas-assets-unenforceable-says-putrajaya/
--------
PH won't win on sympathy votes and scandals, says Saifuddin
Anne Muhammad and Jason Thomas
July 15, 2022
SHAH ALAM: Pakatan Harapan can no longer depend on scandals like 1MDB to help the coalition win elections, said PKR secretary-general Saifuddin Nasution Ismail.
The coalition effectively used the corruption linked to the sovereign wealth fund to its advantage in the 2018 general election, with the public's anger over the scandal leading to Barisan Nasional's defeat after more than six decades in power.
However, Saifuddin said PH has to come up with strategies to face the public's most pressing problems such as the increased cost of living if it wants to taste victory in GE15.
"Our stand is that to win the election, we can no longer count on sympathy for what we perceive is persecution against our president (Anwar Ibrahim) or issues such as GST (goods and service tax) or 1MDB," he told reporters on the sidelines of the PKR Youth congress here today.
"To win, we have to provide solutions to the rakyat's problems."
He said such problems included the loss of income brought about by the Covid-19 pandemic, and stressed that there had to be a renewed emphasis on reskilling and retraining workers who lost their jobs.
Apart from strengthening the social security net, he said, cash handouts would be a key short-term measure to address the rising cost of living, as opposed to subsidies.
Saifuddin noted that despite Malaysia's farmers producing 70% of the country's rice needs, their livelihoods had not improved over the years, adding that they were "very close to poverty".
He said a key cause was the floor and ceiling price for rice, at RM1.20 and RM2.60 per kg, respectively.
"Conditions are also tougher now following the increased cost of fertiliser and pesticide due to the Russia-Ukraine war," he said.
Source: Free Malaysia Today
Please click the following URL to read the full text of the original story:
https://www.freemalaysiatoday.com/category/nation/2022/07/15/ph-cannot-win-on-sympathy-votes-scandals-anymore-says-saifuddin/
--------
Philippines ends stay of foreign peacekeepers in the south
July 15, 2022
MANILA, Philippines -- Foreign peacekeepers credited with helping ease years of bloody fighting between government forces and Muslim rebels have left the southern Philippines after officials decided to end their presence, but talks are underway to allow their possible return, officials and the rebels said Friday.
Members of the Malaysia-led International Monitoring Team, or IMT, flew out of the southern region of Mindanao on June 30 after their authority to stay as ceasefire monitors, which must be renewed each year, was not extended by the then-outgoing administration of President Rodrigo Duterte.
It remains to be seen whether new President Ferdinand Marcos Jr. will authorize the return of the peacekeepers. Decades-long Muslim and communist insurgencies are among major problems he inherited after taking office on June 30 following a landslide victory.
Deployed in 2004, the IMT initially consisted of armed peacekeeping forces from Malaysia, Brunei and Libya to help monitor the enforcement of a cease-fire agreement between the Philippine government and the Moro Islamic Liberation Front, the largest Muslim rebel group in the south, which signed a Malaysian-brokered peace deal with the government in 2014.
The European Union, Japan, Norway and Indonesia later sent either armed troops or civilian experts to join the IMT, which also helped monitor humanitarian issues and efforts to rehabilitate war-battered communities. As fighting subsided considerably through the years, the 60-member IMT was gradually reduced. The last contingent of more than 20 peacekeepers left the south two weeks ago.
In March, a Philippine government peace panel told the head of the foreign peacekeeping force, Maj. Gen. Datuk Hamdan Ismail of Malaysia, that it no longer intends to extend the mandate of the IMT, two officials told The Associated Press on condition of anonymity because they were not authorized to discuss the issue publicly.
With "practically zero skirmishes" between government forces and Moro Islamic Liberation Front rebels in recent years, "the exercise of the roles and responsibilities of the IMT has been substantially diminished," the government panel told Hamdan in a letter, a copy of which was seen by the AP.
In the past, deadly clashes wrought extensive damage to entire towns in the south and displaced tens of thousands of people.
The Department of Foreign Affairs in Manila notified the countries involved in the peacekeeping force in May of the government's decision "to no longer renew the mandate of the IMT" after June 30 "in view of significant accomplishments in the peace process." It cited the enforcement of peace agreements, including the establishment of a new Muslim autonomous region, which is now being administered by former Muslim rebel commanders under a transition period.
"All the privileges and immunities granted to members of the IMT, including authority to stay based on currently valid visas and authority to bear firearms shall likewise cease," the Department of Foreign Affairs told the countries in separate diplomatic notes, a copy of which was seen by the AP.
Philippine officials thanked Malaysia, Brunei, the EU and former member countries in the IMT for their help in restoring peace and fostering economic development in the south, home to the country's Muslim minority in the largely Roman Catholic nation.
The rebels, however, objected to the government panel's decision and said that based on signed agreements, IMT forces should stay to safeguard the ceasefire agreement in the southern Philippines until "the full decommissioning" — a euphemism for the disarming and return to normal life — of all the 40,000 combatants of the Moro Islamic Liberation Front, the two officials said.
More than 12,000 Muslim rebels have been "decommissioned" and laid down about 2,000 firearms and other weapons so far. A new group of 14,000 rebels was undergoing the process when Duterte's term ended on June 30 and Marcos Jr. took office. The rest have not been disarmed.
"The agreement is for the IMT contingent to stay here until the last MILF combatant is decommissioned or until the exit agreement is signed," rebel peace panel chairman Mohagher Iqbal said, adding that the government and the rebels should jointly decide on the peacekeepers' presence and their terms of stay.
Source: ABC News
Please click the following URL to read the full text of the original story:
https://abcnews.go.com/International/wireStory/philippines-ends-stay-foreign-peacekeepers-south-86867010
--------
Socso suspends RM423m in PenjanaKerjaya payments over false claims
July 15, 2022
KUALA LUMPUR: The Social Security Organisation (Socso) has suspended payments for the Hiring Incentive Programme (PenjanaKerjaya) amounting to RM423 million alleged following misappropriation and false claims involving employers and training providers.
Socso's chief executive officer, Azman Aziz Mohammed, said the suspension was made based on the data analysis and continuous monitoring by the agency's Anti-Fraud, Ethics and Integrity unit.
He said the investigation into the false claims was made through Ops Hire, conducted in collaboration with the Malaysian Anti-Corruption Commission (MACC) after surveillance and intelligence conducted since May last year found that certain employers had made false claims and misappropriated these funds.
"Socso is committed to giving its support and full cooperation to MACC in carrying out its investigation into the PenjanaKerjaya false claim cases involving employers and training providers under Ops Hire," he said in a statement today.
"Socso views seriously the misappropriation of funds as the government's financial assistance is meant to ease the burden of those who are really in need, according to the set requirements and procedures."
Azman said Socso had disbursed RM2.34 billion to 45,379 employers to hire 327,789 jobseekers under the PenjanaKerjaya programme.
"Socso always emphasises integrity, honesty and trust in distributing the government's financial assistance because it involves taxpayer funds.
"Hence, employers are reminded to be honest when submitting their applications for any government assistance programmes, including for PenjanaKerjaya implemented by the agency," he said.
Source: Free Malaysia Today
Please click the following URL to read the full text of the original story:
https://www.freemalaysiatoday.com/category/nation/2022/07/15/socso-suspends-rm423m-in-penjanakerjaya-payments-over-false-claims/
--------
Water resources, Muslim wills among highlights in Perak state legislative assembly sitting on July 18, says Speaker
14 Jul 2022
KUALA KANGSAR, July 14 — Issues involving water resources and Muslim wills will be the highlights in the Perak State Legislative Assembly sitting on July 18.
Speaker Datuk Mohammad Zahir Abdul Khalid said the Perak Water Resources Bill 2022 will be tabled on the first day of the sitting by Perak Mentri Besar Datuk Seri Saarani Mohamad while the winding-up session will take place the next day (July 19).
"A total of ten state assemblymen will participate in the debate session...namely five people each from the government and the opposition," he told reporters at a media conference here today.
Apart from that, he said, the Perak Islamic Economy Development Corporation (Dissolution) Bill 2022 will be tabled after the tabling of the water resources bill either on July 19 or 20.
According to Mohammad Zahir, the motion related to Muslim wills was proposed by Behrang assemblyman Aminuddin Zulkipli, as a private member's motion and seconded by Pasir Panjang assemblyman Yahaya Mat Nor.
He said the motion will be included in the sitting as it is related to the Muslim Wills Enactment of the state of Perak.
Source: Malay Mail
Please click the following URL to read the full text of the original story:
https://www.malaymail.com/news/malaysia/2022/07/14/water-resources-muslim-wills-among-highlights-in-perak-state-legislative-assembly-sitting-on-july-18-says-speaker/17477
--------
URL: https://newageislam.com/islamic-world-news/nikah-khwan-marriage-registrar-pakistan-/d/127488
New Age Islam Islam Online, Islamic Website, African Muslim News, Arab World News, South Asia News, Indian Muslim News, World Muslim News, Women in Islam, Islamic Feminism, Arab Women, Women In Arab, Islamophobia in America, Muslim Women in West, Islam Women and Feminism