New Age Islam News Bureau
23 May 2014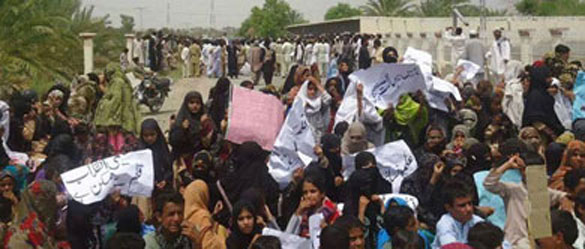 Parents, students and residents of Panjgur protest against threats to schools. — Photo by Hina Baloch
----------
Africa
• Nigerian Special Forces Locate Schoolgirls Kidnapped by Boko Haram
• Thirty Malian soldiers killed in fighting with Tuareg separatists
• Nigeria's Boko Haram kills 29 in village attack
• Shabab chief: War 'shifting to Kenya'
• Rocket attack wounds 20 in Libya's Benghazi
• S Sudan army and rebels block UN peacekeepers
• Kenya expels hundreds of Somalis
• Libya's Haftar vows hand over of Brotherhood leaders to Egypt
Arab World
• Army Kills Several Non-Syrian Rebels in Lattakia
• 22 Killed In Separate Violent Attacks across Iraq
• 21 killed as Syria rebels shell Assad election rally: monitor
• Egypt's Brotherhood Struggles to Regroup in Exile
• Syrian Army Foils Militants' Infiltration Attempts in Daraa
• Muslim cleric Al-Qaradawi urges Libyans to oppose renegade general
• OIC chief calls for visiting Al-Aqusa Mosque
• Egypt cabinet annuls Morsi's presidential pardons
• Syrian al Qaeda reach foothills of Israeli-held Golan
South Asia
• 31 Taliban militants killed, 26 others injured in Afghan operations
• Xinjiang blast: Five 'suicide attackers' behind attack
• Xinjiang attack marks dramatic shift in militant tactics: experts
• Presidential selfie spurs debate on nationalism, unity, and transitional justice
• Lack of democracy main political problem: Says former Bangladesh CEC
India
• President condemns attack on Indian consulate in Afghanistan
• Terror groups continue to enjoy much latitude in Pak: Deputy NSA
• Hizb ul chief says resolve Kashmir if Modi wants to show statesmanship
• Revive US ties, find a friend in China, and push Pak on 26/11 trial
• Fears that terror could derail ties with Pak
• Hurriyat keen to meet Sharif in Delhi
Pakistan
• North Waziristan assault intensifies; death toll crosses 80
• Private schools stay closed in Turbat, Panjgur after threats by extremists
• Pak foreign office urges Nawaz Sharif to accept Modi's invite
• Pakistan condemns attack on Indian Consulate in Herat
• Waziristan situation result of flawed strategy: Maulana Fazl ur Rehman
• Twitter Agrees to Block 'Blasphemous' Tweets in Pakistan
Southeast Asia
• Four Malaysians charged over promoting Syria terrorism
• Zaid: Assembly invasion shows Malaysia a step away from Pakistan's assassinations
• Interfaith dialogue undermined by Putrajaya's inaction on hate speech, say observers
North America
• US military chief calls on Taliban to seize the moment to negotiate peace
• U.S. Military Engagement in the Hunt for the Nigerian School Girls
• White House Contacted YouTube during Benghazi Attack, Darrell Issa Says
• US ambassador gives green-light to Libya's Haftar
Mideast
• Suicide Bomber Attacks Shi'ite Fighters in North Yemen
• Iran Cleric Says Divorce Parties Are 'Satanic'
• Israel 'seeking to take over Islamic site near Al-Aqusa'
• Egypt could be behind Mavi Marmara crisis, former Turkish envoy suggests
• Netanyahu could be open to exploring annexation plans if talks fail
Europe
• £100m drones may not fly until Britain has left Afghanistan
• NATO Steps Back Into the U.S.S.R
• UN blacklists Nigeria's Boko Haram, imposes sanctions
• 250,000 Qurans to be distributed at Brazil World Cup
Compiled by New Age Islam News Bureau
URL: https://www.newageislam.com/islamic-world-news/new-age-islam-news-bureau/nigerian-special-forces-locate-schoolgirls-kidnapped-by-boko-haram/d/87164
-------------
Africa
Nigerian Special Forces Locate Schoolgirls Kidnapped by Boko Haram
May 23, 2014
The Nigerian Special Forces may have located the three main camps of Boko Haram, where the abducted Chibok schoolgirls are reportedly being held captives by the Islamic militant group.
Reports from Nigeria claim that the Special Forces have even sighted the girls but are intentionally restraining from attacking the camp, due to safety concerns of the girls.
It is understood that the Army's 7th Division has sighted the 200-plus abducted Chibok schoolgirls, and they have the location of three camps operated by Boko Haram in the north of Kukawa at the western corridors of the Lake Chad.
"It has been a most difficult but heroic breakthrough," a senior military official told Premium Times. The daily also claims they got another senior commander from the 7th Division to confirm the development. However, the report could not be independently verified yet.
The Nigerian Special forces, the Army's 7th Division that was created to deal with the insurgency in the North East, had been on the tail of the Boko Haram militants since 26 April. However, the daily noted that the government first wants to look at a peaceful solution, without jeopardizing the lives of the innocent girls.
The Army personnel, coordinating the search, have found that Boko Haram insurgents have split the girls into batches and are currently holding them in camps in Madayi, Dogon Chuku and Meri. Reportedly, there is a fourth camp in Kangarwa, about which the Army is still collecting information.
The new development is completely in contrast with the earlier intel, which placed the girls in the Sambisa forest reserves, about 330 kilometres south of Maiduguri, where even intensive search using unmanned aerial vehicle was carried out.
The over 200 girls, who were abducted on 16 April from the residential school, have been in captivity for over a month now. In the last video released by Boko Haram, the group claimed that they had converted the girls to Islam.
The incident has gained attention from the world over, especially through the #BringBackOurGirls campaign on Twitter. The US, the UK, France and even Canada are coordinating with the Nigerian government to trace the girls.
http://www.ibtimes.co.in/nigerian-special-forces-locate-schoolgirls-kidnapped-by-boko-haram-600822
-----------
Thirty Malian soldiers killed in fighting with Tuareg separatists
23 May 2014
Mali's defense ministry said that 30 soldiers were killed in clashes with Tuareg separatists, who claimed to have seized several towns in the north of the country.
The army had launched an offensive to retake control of the separatist stronghold of Kidal after clashes erupted while Prime Minister Moussa Mara was visiting the town on Saturday.
Tuareg separatists repulsed the attempt on Wednesday and on Thursday said they had taken more northern towns without a fight after government troops either abandoned their positions and sought refuge at the camps of the U.N. peacekeeping mission, MINUSMA, or fled south, Reuters reported.
"We now control Anefis, Aguelhok, Tessalit, Menaka, Ansongo, Anderamboukane and Lere," Attaye Ag Mohamed, an official with the Tuareg National Movement for the Liberation of Azawad (MNLA), told Reuters by telephone from Kidal.
"We are going to hold our positions. We will heed the call from the international community, which has asked us to cease fire. We also note that the Malian government has called for an immediate ceasefire," Attaye said.
After the fighting, MINUSMA gave shelter to 62 government soldiers at its camp in Kidal and 290 at Aguelhok. In the last few days it has treated 20 wounded, of whom two were in a serious condition, the U.N. mission said in a statement.
"Grave violations of human rights were committed during the fighting in Kidal," it said.
The United Nations has called for a ceasefire in northern Mali, where renewed fighting between Tuareg separatists and government forces has endangered a truce deal agreed last year.
"And on the humanitarian front, our humanitarian colleagues tell us that an estimated 3,400 residents of Kidal have fled to rural areas, Algeria and Gao since fighting erupted." U.N. spokesman Stephane Dujarric told reprters.
"Some 450 people have already arrived in Gao. Humanitarian agencies are sending relief items to Gao as Kidal is inaccessible to humanitarian workers from other cities."
Ceasefire order
Mali's government issued a statement on Wednesday ordering an immediate ceasefire. It said that, while its troops initially held the upper hand, they were weakened by oordination and intelligence problems.
A parliamentarian from the region, Algabass Ag Intallah, said Malian troops had pulled out of several towns and a Malian military source said the army was withdrawing from areas where it was outnumbered.
The military failure is a setback for President Ibrahim Boubacar Keita's government and threatens to sink a struggling process to resolve the cycle of Tuareg rebellions in the north.
Mali was plunged into chaos in 2012 after Tuareg independence fighters teamed up with groups teamed up with groups linked to al Qaeda to seize the north following a coup in the capital.
When they were sidelined by the better-equipped Islamists, the separatists broke with their allies. A French-led military operation then drove the Islamists back last year.
Neighbouring Burkina Faso's foreign minister, Djibril Bassolé, who has served as a mediator in Mali, told French radio RFI: "There is a danger that the same phenomenon as in 2012 can happen again."
Rinaldo Depagne, West African programs director at the conflict prevention think tank International Crisis Group, said: "It's not only that (Keita) lost part of the north, he's lost
part of his authority in the south."
The ease with which the MNLA repelled government forces, some of whom were trained and equipped by the European Union as part of efforts to rebuild the army, has raised concerns that it may now be renewing its alliance with Islamist groups.
Four rebel soldiers died in the fighting and eight were wounded, Moussa Ag Assarid of the MLNA told Reuters.
http://english.alarabiya.net/en/News/africa/2014/05/23/Thirty-Malian-soldiers-killed-in-fighting-with-Tuareg-separatists.html
-------------
Nigeria's Boko Haram kills 29 in village attack
May 23, 2014
Suspected Boko Haram gunmen have shot dead 29 farm workers as they tilled their fields in a village in the remote northeast, a police source said on Thursday.
The source at police headquarters for Borno state, in the heart of the insurgency, said around 10 more people had been wounded in Wednesday's attack on Chukku Nguddoa, in which most of the village, including its grain store, were razed.
In the past two months, Boko Haram militants have stepped up their five-year-old campaign to carve an Islamic state out of religiously mixed Nigeria. They have relentlessly targeted civilians, especially in the northeast, whom the military seems helpless to protect.
Bomb attacks are growing more sophisticated, including two on the capital Abuja last month, and massacres of villagers in the area where Boko Haram is based are an almost daily occurrence.
Militants killed 17 people in Alagarno village on Tuesday and razed several houses to the ground..
Hours earlier, a double bomb blast in the central Nigerian city of Jos killed 118 people, according to the emergency services, while men on motorbikes had killed nine people in a raid on the nearby village of Shawa on Monday.
While authorities suspect Boko Haram of carrying out all these attacks, there have been no claims of responsibility.
Boko Haram has no direct line of communication with the Western press and its purported leader, Abubakar Shekau, claims only occasional attacks - including the abduction of more than 200 schoolgirls from a village last month - through videos circulated to local journalists.
http://english.ahram.org.eg/NewsContent/2/8/101999/World/Region/Nigerias-Boko-Haram-kills--in-village-attack.aspx
-------------
Shabab chief: War 'shifting to Kenya'
May 23, 2014
MOGADISHU — Somalia's Al-Qaeda linked Shabab vowed Thursday to move their war to neighboring Kenya, one of the top commanders said in broadcast urging fighters to launch attacks. "The war will be shifting to Kenya, if they kill a Somali girl we kill a Kenyan girl," Fuad Mohamed Khalaf, one of the Shabab's most senior commanders, said in a radio broadcast. "We are urging all the Muslims in Kenya... to fight the government of Kenya inside that country, because Kenyans killed your people including children," Khalaf said in a speech broadcast on the Shabab's Radio Andalus. Kenyan troops crossed into southern Somalia in 2011 to fight the Shebab, later joining the now 22,000-strong UN-mandated African Union force battling the insurgents.
http://www.saudigazette.com.sa/index.cfm?method=home.regcon&contentid=20140523206096
-------------
Rocket attack wounds 20 in Libya's Benghazi
23 May 2014
Twenty members of a single family were wounded when a rocket slammed into their home near an army base in Libya's second city Benghazi overnight, medical and security sources said Friday.
The family's home lies close to the headquarters of the army's special forces unit in Benghazi, which is backing a rogue general who has vowed to crush Islamists in the city, a security official said.
Another rocket hit the base but caused no casualties, the official said.
The 20 family members all suffered shrapnel wounds when the rocket hit their home in the central Abuhdima neighbourhood, Al-Huari hospital spokesman Hani al-Aribi said.
Rogue general Khalifa Haftar launched an assault on Islamists in the city last Friday in which at least 79 people were killed.
Full report at:
http://english.ahram.org.eg/NewsContent/2/8/102028/World/Region/Rocket-attack-wounds--in-Libyas-Benghazi.aspx
-------------
S Sudan army and rebels block UN peacekeepers
May 23, 2014
JUBA: Warring forces in South Sudan are continuing to block United Nations peacekeepers as the civil war that has devastated the young nation continues to rage, the UN said Thursday.
The UN mission in South Sudan (UNMISS) said both government and rebels had blocked their patrols, including in the flashpoint oil-state of Unity, one of the areas hardest hit by fighting.
"There has been several incidents of restricted or denied access for UNMISS patrols in Unity and other states," the mission said in a statement.
"Also among opposition forces we have experienced similar unacceptable impediments."
Despite heavy international pressure, a second ceasefire this month for the world's youngest nation has crumbled, in a six-month war that has already claimed thousands - possibly tens of thousands - of lives.
Full report at:
http://www.nation.com.pk/international/23-May-2014/s-sudan-army-and-rebels-block-un-peacekeepers
-------------
Kenya expels hundreds of Somalis
May 23, 2014
NAIROBI: Hundreds of Somalis have been expelled from Kenya, with 98 in the latest batch detained and sent back in a major crackdown on suspected militants, Human Rights Watch (HRW) said Friday.
The crackdown, which has seen people held in police cells or a football stadium, follows a spate of attacks in Kenya by suspected supporters of Somalia's al Qaeda-linked Shebab rebels.
A batch sent to Somalia by airplane on Tuesday was the fourth round sent home, taking the total expelled to 359, HRW said.
"Deporting people to conflict zones in Somalia shows a total disregard for their rights and their safety," said HRW's Gerry Simpson, adding that returning refugees against their will to a war zone is unlawful.
Full report at:
http://english.ahram.org.eg/NewsContent/2/8/102021/World/Region/Libyas-Haftar-vows-hand-over-of-Brotherhood-leader.aspx
-------------
Libya's Haftar vows hand over of Brotherhood leaders to Egypt
May 23, 2014
Promising to exercise security cooperation with Egypt, Libya's General Khalifa Haftar asserted his country's right to build a strong army and support its neighbour's, the Russia Today news website reported on Thursday.
Haftar, who leads what he calls the "National Army" that began to use force against Libya's Islamist militants early last week, promised to hand over to Egypt leading members of the Muslim Brotherhood currently based in Libya.
The general praised the reaction of Egypt's ex-military chief and presidential candidate Abdel-Fattah El-Sisi towards the 30 June protests which led to the ouster of Islamist president Mohamed Morsi.
Haftar lived in exile in the United States before returning home to lead ground forces in the 2011 NATO-backed uprising against Muammar Gaddafi's ousted regime.
"With forces from the navy, air force, air defence and, definitely, the ground forces, almost 70,000 soldiers have now joined our ranks," he asserted.
Full report at:
http://english.ahram.org.eg/NewsContent/2/8/102021/World/Region/Libyas-Haftar-vows-hand-over-of-Brotherhood-leader.aspx
-------------
Arab World
Army Kills Several Non-Syrian Rebels in Lattakia
MAY 23, 2014
Syrian Army stormed militants' strongholds in the countryside of Lattakia, killing large numbers of rebels, including several non-Syrians, and wounding several others.
Syrian forces targeted gatherings for rebels in the villages of Mashtal Kikha, Marj Khoukheh and Wadi Azraq in the Northern countryside of Lattakia, leaving many terrorists dead, including non-Syrian perpetrators, the state news agency reported.
Syrian brave soldiers also targeted foreign-backed militiamen's dens in al-Rawdeh, al-Khadraa, al-Dubleh, al-Shajara, al-Sakhra and Kassab., which left too many insurgent killed, including non-Syrians.
A long convoy of militants' vehicles loaded with automatic guns and ammunitions was also exploded by the Syrian soldiers in the battlefields around Lattakia.
Full report at:
http://english.farsnews.com/newstext.aspx?nn=13930302000476
-----------
22 Killed in Separate Violent Attacks across Iraq
MAY 23, 2014
Twenty-two people were killed and 24 others wounded in separate violent attacks across Iraq, police and medical sources said.
In Northern Iraq, gunmen broke into a house of a policeman in South of the city of Mosul, and shot dead the policeman, his brother and one of his relatives, before they fled the scene, a local police source told Xinhua on condition of anonymity.
In a separate incident, a car bomb went off near a police patrol in the Western part of Mosul, leaving two policemen and three passers-by wounded, the source said.
Meanwhile, gunmen opened fire on a police vehicle on a main road near the city of Baiji, some 200 km North of Baghdad, killing a police officer and a policeman, and wounding another, a local police said.
Near Baghdad, a police officer was killed and four policemen were wounded when a roadside bomb struck their patrol in Rashdiyah area, a police source said.
In Anbar province, gunmen believed to be linked to the Islamic State in Iraq and Levant (ISIL), an al-Qaeda breakaway group in Iraq, attacked a checkpoint manned jointly by policemen and members of a government-backed Sahwa paramilitary group in the provincial capital city of Ramadi, some 110 km West of Baghdad, killing two policemen and wounding two others and two Sahwa members, a provincial police source said.
Full report at:
http://english.farsnews.com/newstext.aspx?nn=13930302000286
-----------
21 killed as Syria rebels shell Assad election rally: monitor
May 23, 2014
Syrian Islamist rebels bombarded a campaign rally in support of President Bashar al-Assad's re-election in a controversial June 3 poll, killing at least 21 people, a monitoring group said.
The mortar fire hit a tent where Assad supporters had gathered in the southern city of Daraa late on Thursday and also wounded at least 30 people, the Syrian Observatory for Human Rights said.
Assad faces two little known challengers in next month's vote and is widely expected to clinch a third seven-year term in office despite the raging civil war.
The Observatory said a child was among the dead in the attack, the first of its kind on Assad supporters since campaigning got underway earlier this month.
Full report at:
http://www.hurriyetdailynews.com/21-killed-as-syria-rebels-shell-assad-election-rally-monitor.aspx?pageID=238&nID=66858&NewsCatID=352
-------------
Egypt's Brotherhood Struggles to Regroup in Exile
By REUTERS
MAY 23, 2014
DOHA/DUBAI — Exiled leaders of Egypt's Muslim Brotherhood are struggling to regroup, targeted by hostile Arab powers, cut off from senior colleagues imprisoned back home and challenged by angry young followers tempted to seek change by violence.
Gathered over the past 10 months in Qatar, Turkey, Britain and elsewhere, hundreds of activists have set about trying to isolate Egypt's army-backed government diplomatically for last year's removal of an elected Brotherhood-backed administration.
The senior figures keep busy, shuttling between London, Doha and Istanbul to strategize in countries that still tolerate the movement, the standard-bearer of mainstream Sunni political Islam since it was founded in Egypt in 1928.
But a political rebirth will be tough, even for a movement long adept at surviving repression and exile.
Former army chief Abdel Fattah al-Sisi, who deposed the Brotherhood's elected president Mohamed Mursi last year and has since led a violent crackdown against its followers, is all but certain to win Egypt's presidency in an election next week.
Full report at:
http://www.nytimes.com/reuters/2014/05/23/world/middleeast/23reuters-egypt-brotherhood-exile.html?ref=africa
-----------
Syrian Army Foils Militants' Infiltration Attempts in Daraa
MAY 23, 2014
Syrian Army thwarted the repeated attempts made by anti-government groups to infiltrate into its strongholds in Daraa countryside, killing and wounding many rebels in the battlefield.
Military sources told the Syrian Arab New Agency that the Syrian soldiers thwarted insurgents' attempts to infiltrate into a military post in the vicinity of Enkhel town in Daraa countryside and took control over a number of buildings after killing a large number of foreign-backed rebels.
Meantime, Syrian troops stormed militants' gatherings in Tall-e Mutawek and al-Na'mieh in Daraa countryside and al-Thbatieh Square in Daraa al-Balad, which resulted in the killing and wounding of too many rebels.
Full report at:
http://english.farsnews.com/newstext.aspx?nn=13930302000456
---------------
Muslim cleric Al-Qaradawi urges Libyans to oppose renegade general
World Bulletin / News Desk
May 23, 2014
Qatar-based Egyptian Muslim cleric Yusuf al-Qaradawi has called on the Libyan people to resist renegade general Khalifa Haftar as his growing strength threatens to topple the government and send the North African country into a new era of military rule.
Haftar has vowed to flush the Muslim Brotherhood and Islamist groups out of the country by launching a campaign called 'Operation Dignity' in the east. He was also behind a recent attack on the parliament building in Tripoli, in which a number of lawmakers were kidnapped, and a failed coup attempt in February.
Al-Qaradawi, who is known to be an affiliate of the Egyptian Muslim Brotherhood, called on the Libyan people to stand in defence of legitimate rule and to form a united national front against armed groups seeking to attack freedom and justice in the country. He also called on all differences to be ironed out peacefully by elected individuals in the parliament.
Having also opposed the military coup that ousted elected Egyptian president Mohamed Morsi on July 3 last year, al-Qaradawi also urged the Egyptian people to boycott the upcoming presidential elections, in which coup leader Abdal-Fattah al-Sisi is tipped to win against his only contender, Hamdeen Sabahi.
http://www.worldbulletin.net/headlines/137122/al-qaradawi-urges-libyans-to-oppose-renegade-general
-------------
OIC chief calls for visiting Al-Aqsa Mosque
World Bulletin / News Desk
May 23, 2014
Secretary-General of the Organization of Islamic Cooperation (OIC) Iyad Ameen Madani on Thursday called for visiting Al-Aqsa Mosque in an effort to confront Israeli policies aimed at Judaizing Al-Quds (occupied East Jerusalem).
Addressing a joint press conference with Palestinian Foreign Minister Riyad al-Maliki, Madani said that the OIC is committed to offering political and financial support for the Palestinian people.
He went on to call for the formation of a legal committee tasked with bringing Israel to accountability over he described as "racist" practices and violations.
"The Palestinian cause and Al-Quds are a top priority for the OIC," he said.
Madani said the OIC foreign ministers will meet in the Saudi city of Jeddah in June for talks on means of providing support for Al-Quds and the Palestinian cause in particular.
Al-Maliki, for his part, called on the pan-Islamic body to intervene to stop Israeli violations in Al-Quds and Al-Aqsa Mosque.
http://www.worldbulletin.net/headlines/137081/oic-chief-calls-for-visiting-al-aqsa-mosque
-------------
Egypt cabinet annuls Morsi's presidential pardons
May 23, 2014
The Egyptian cabinet agreed on the draft law presented by interim president Adly Mansour on Thursday afternoon to annul the pardon decrees issued by ousted president Mohamed Morsi during his time in office.
According to the draft law proposed by Mansour, pardon decrees issued by Morsi from June 2012 to 3 July 2013 – the date of his ouster – will be annulled.
Morsi, who is facing a number of trials in criminal cases, has been accused of issuing pardons to imprisoned jihadists involved in jihadist groups in Egypt.
On 26 July 2012, Morsi issued a presidential pardoning of 27 Islamists including 18 jihadists who were accused of participating in the 1996 assassination attempt on then-president Hosni Mubarak in Addis Ababa, Ethiopia.
http://english.ahram.org.eg/NewsContent/1/64/101994/Egypt/Politics-/Egypt-cabinet-annuls-Morsis-presidential-pardons.aspx
-------------
Syrian al Qaeda reach foothills of Israeli-held Golan
May 23, 2014
Atop the hill of Tel Ahmar just a few kilometres from Israeli forces on the Golan Heights, Syrian Islamist fighters hoist the al Qaeda flag and praise their mentor Osama bin Laden.
One of the men, a leader of al Qaeda's Nusra Front, compares their battlefield - a lush agricultural region where dead soldiers lie on the ground near a charred Soviet-era tank - with the struggle their comrades waged years ago in Afghanistan.
"This view reminds us of the lion of the mujahideen, Osama bin Laden, on the mountains of Tora Bora," he can be heard saying in a video posted by the group, which shows the fighters in sight of Israeli jeeps patrolling the fortified frontier.
Last month's capture of the post was followed days later by the seizure of the Syrian army's 61 Infantry Brigade base near the town of Nawa, one of the biggest rebel gains in the south during the three years of Syria's war.
Full report at:
http://english.ahram.org.eg/NewsContent/2/8/101987/World/Region/Syrian-al-Qaeda-reach-foothills-of-Israeliheld-Gol.aspx
-------------
South Asia
31 Taliban militants killed, 26 others injured in Afghan operations
May 23, 2014
At least 31 Taliban militants were killed following counter-terrorism operations conducted by Afghan national security forces in the past 24 hours.
The interior ministry of Afghanistan following a statement said at least 26 Taliban militants were also injured and 7 others were detained during the operations.
The statement further added that the operations were conducted by Afghan national police forces in cooperation with the Afghan national army and Afghan intelligence in Paktia, Ghazni, Maidan Wardak, Paktika, Zabul, Baghlan, Farah, Badghis, Khost, Nangarhar, Herat and Kisa province.
Afghan security forces confiscated various types of heavy and light weapons along with the ammunition and explosives during the operations, interior ministry said.
Afghan police forces also discovered and seized six improvised explosive device (IED) during operations in Kandahar, Zabul and Logar provinces.
Interior ministry said the improvised explosive devices (IEDs) were planted by Taliban militants to carry out insurgency attacks.
Full report at:
http://www.khaama.com/31-taliban-militants-26-others-injured-in-afghan-operations-6128
----------
Xinjiang blast: Five 'suicide attackers' behind attack
ANANTH KRISHNAN
May 23, 2014
Five assailants who drove explosives-laden vans and "blew themselves up" were behind Thursday's deadly attack on a market in China's western Xinjiang region that left at least 31 people killed and 94 injured, State media reported on Friday.
The attack, the deadliest in Xinjiang's recent history, was carried out by "five attackers" who died in the attack, the Communist Party-run Global Times reported, adding that investigations were continuing to see if any accomplices were at large.
The attackers drove at least two Sports Utility Vehicles (SUVs) into a crowded morning market in Urumqi, the provincial capital, and also hurled bombs as they ploughed through the streets, witnesses said. Authorities suspect the hand of extremist Islamist groups in the attack. The two SUVs were sporting flags with characters in the local Uighur language, a witness told the Global Times.
Full report at:
http://www.thehindu.com/news/international/world/xinjiang-blast-five-suicide-attackers-behind-attack/article6039732.ece
-------------
Xinjiang attack marks dramatic shift in militant tactics: experts
May 23, 2014
BEIJING - The bombing of a civilian market in Xinjiang represents a shift in tactics by militants towards more spectacular attacks, analysts say, to invite a disproportionate response by China and so radicalise the Muslim Uighur homeland.
At least 31 people were killed and more than 90 wounded when assailants threw explosives and ploughed two off-road vehicles through a crowd in the regional capital Urumqi on Thursday. The vast, resource-rich region which was rocked by inter-ethnic riots that killed around 200 people in 2009, is regularly hit by violent flare-ups between Chinese authorities and the mainly Muslim Uighur minority.
But the latest incident was notable for its scale, technique and explicit targeting of civilians, experts told AFP. "In the past in Xinjiang, you had individuals targeting government officials and police," said Michael Clarke, a professor at Griffith University in Brisbane who has authored a book on Beijing's policy in the region. "Now, it seems to have made the shift to a much more indiscriminate attack, the model of a classic terror attack.
Full report at:
http://www.dailytimes.com.pk/foreign/23-May-2014/xinjiang-attack-marks-dramatic-shift-in-militant-tactics-experts
-------------
Presidential selfie spurs debate on nationalism, unity, and transitional justice
By Ahmed Rilwan | May 22nd, 2014
The highlight of last night's Asian Football Confederation (AFC) Challenge Cup match between the Maldives and Kyrgyztan was not the Maldives' win by two goals, but a selfie between former Presidents Maumoon Abdul Gayoom and Mohamed Nasheed.
The picture of the rivals went viral within minutes and spurred intense social media debates on nationalism, unity and transitional justice.
Nasheed's Maldivian Democratic Party (MDP) has accused Gayoom of torture during his 30 year reign and of ousting Nasheed on February 7, 2012 in a coup.
Meanwhile, Gayoom's Progressive Party of the Maldives (PPM) accused Nasheed and the MDP of attempting to destroy Islam and sovereignty during November's presidential elections. Despite vitriolic accusations, the two presidents sat side by side last night and, accompanied by President Abdulla Yameen, reportedly only discussed sports and unity.
Full report at:
http://minivannews.com/politics/presidential-selfie-spurs-debate-on-nationalism-unity-and-transitional-justice-85460
-------------
Lack of democracy main political problem: Says former Bangladesh CEC
May 23, 2014
The lack of proper practice and democracy within the political parties is the main problem of Bangladesh's politics, former chief election commissioner ATM Shams ul Huda said yesterday.
He was speaking after a public lecture on the need for politics at the Social Sciences Building of Dhaka University, organised by the university's Political Science Association.
In his lecture, Prof Borhanuddin Khan Jahangir said most political activists from the grassroots to the top were divorced from the ideology of public welfare.
Political leaders are more focused on pursuing personal interests rather than serving the people now, said the speakers.
On the occasion, Liberation War Affairs Minister AKM Mozammel Haque claimed that Awami League's politics was less "criminal" than BNP and Jamaat-e-Islami's.
http://www.thedailystar.net/city/lack-of-democracy-main-political-problem-25296
-------------
India
President condemns attack on Indian consulate in Afghanistan
Press Trust of India | New Delhi | May 23, 2014
President Pranab Mukherjee on Friday strongly condemned the terror attack on the Indian Consulate in Herat and said such attacks will not deter India from assisting Afghanistan in its effort to reconstruct and develop the nation.
Commending the bravery shown by all Indian and Afghan staff members at the Consulate, Mukherjee expressed gratitude to the Afghan security forces for quickly responding to the situation and coming to the assistance of the Consulate and ensuring the safety of staff and officers.
He asked the Ministry of External Affairs to remain in close touch with Afghan authorities to ensure the continued safety of Indian diplomatic personnel in the country.
Full report at:
http://indianexpress.com/article/india/india-others/president-condemns-attack-on-indian-consulate-in-afghanistan/
-------------
Terror groups continue to enjoy much latitude in Pak: Deputy NSA
Express News Service | New Delhi | May 23, 2014
Nehchal Sandhu at a BSF event on Thursday. (Source: Express photo by Amit Mehra)
Deputy National Security Adviser Nehchal Sandhu said Thursday that "an array of terrorist groups who have carried out operations in several states of India continued to enjoy much latitude in Pakistan and a section of the state apparatus continued to extend support to these groups". He also said the limitations imposed on these terror groups by Pakistan also evaporated few years ago.
Nehchal said "conflict entrepreneurs" in Pakistan are working hard to create an atmosphere of "animosity" against India. Recent investigations show the India-Bangladesh border has been exploited by terrorists for clandestine movements of their colleagues and hardware, he added. The speech, at an event organised by the Border Security Force (BSF), assumes significance ahead of Narendra Modi's swearing-in ceremony where Pakistan's Prime Minister Nawaz Sharif has also been invited.
Full report at:
http://indianexpress.com/article/india/india-others/terror-groups-continue-to-enjoy-much-latitude-in-pak-deputy-nsa/
-------------
Hurriyat keen to meet Sharif in Delhi
May 23, 2014
The Hurriyat Conference leadership is keen to travel to New Delhi and meet Pakistani PM Nawaz Sharif, should the Pakistani High Commission invite it — though that again is subject to Sharidf accepting the invitation from Narendra Modi. "If the Pakistan High Commission extends the Hurriyat Conference an invitation, the leadership will travel to Delhi," Shahid ul Islam, media adviser of the Hurriyat Conference, told The Indian Express.
Hurriyat chairman Mirwaiz Umar Farooq has called the invitation to Sharif "a good beginning and an encouraging message".
From the hardline faction of Hurriyat Conference led by Syed Ali Geelani, spokesman Ayaz Akbar said: "We will wait and watch. If we are invited by the Pakistani High Commission to meet Nawaz Sharif, our executive council will meet to decide our response."
http://indianexpress.com/article/india/politics/hurriyat-keen-to-meet-sharif-in-delhi/
-------------
Revive US ties, find a friend in China, push Pak on 26/11 trial
TNN | May 23, 2014
As India's economy foundered, her global outreach became feeble.
Modi has expressed interest in restructuring both India's foreign ministry and its foreign policy. He has also stressed on making the ministry of external affairs (MEA) more focused on economic diplomacy.
Lately, India's ties with key partner countries has lacked energy. This has to be corrected. MEA's top priorities are: to help the security establishment overcome its fear about China. That would help push Chinese investment and create a partnership with the Asian giant.
India's Look East policy has petered out into a "Glance East" Policy. India's economic and strategic moorings are in Asia. Therefore, MEA will have to look at advancing Indian interests in Asia, including countries like Vietnam, Indonesia, Singapore and in Australia -countries that are also anxious about China's territorial moves.
Full report at:
http://timesofindia.indiatimes.com/india/Foreign-affairs-Revive-US-ties-find-a-friend-in-China-push-Pak-on-26/11-trial/articleshow/35494817.cms
-------------
Fears that terror could derail ties with Pak
Indrani Bagchi, TNN | May 23, 2014
NEW DELHI: In the past few years, Pakistan has pushed across a minimum of 500 militants every year across the LoC/ international border into India. Of these, at least 100 get through. And this, security sources said, despite the fact that Pakistan is stretched on its western frontier with Afghanistan.
As Narendra Modi opens up a new channel of communication with the Pakistan government, concerns of terrorism hijacking the bilateral agenda remain fairly high. The memories of Atal Bihari Vajpayee's bus journey to Lahore in February 1999 followed by the Kargil conflict in June remain fresh in everyone's minds. (Despite this, Vajpayee went on to hold the famous Agra summit with Pervez Musharraf in July 2001, which was followed by the Parliament attack by Jaish-e-Mohammed in December 2001.)
Full report at:
http://timesofindia.indiatimes.com/india/Fears-that-terror-could-derail-ties-with-Pak/articleshow/35494720.cms
-------------
Hizbul chief says resolve Kashmir if Modi wants to show statesmanship
M Saleem Pandit,TNN | May 23, 2014
SRINAGAR: Hizbul Mujahideen chief Syed Salahudin has termed Narendra Modi's invitation to Pakistan Prime Minister, Nawaz Sharif, to attend his swearing-in ceremony on May 26 as a step taken "under diplomatic compulsion".
He said Modi should accept Kashmir "a disputed territory" and work for its permanent resolution if he "wants to show statesmanship".
"The invitation extended to SAARC heads is a symbolic message that India wants better relations with its neighbours. It has no relevance on the ground unless Modi proves his sincere intentions after assuming office," he said in a statement to local news agency - KNS.
Salahudin said Sharif had also wanted Manmohan Singh to attend his inauguration in Pakistan. "So there is nothing new in this invitation. I do not think too much hopes should be pinned on this invitation as BJP manifesto says that if it came to power, it will 'recover' Azad Kashmir from Pakistan."
Full report at:
http://timesofindia.indiatimes.com/india/Hizbul-chief-says-resolve-Kashmir-if-Modi-wants-to-show-statesmanship/articleshow/35495112.cms
-------------
Pakistan
North Waziristan assault intensifies; death toll crosses 80
May 23, 2014
PESHAWAR: Four suspected militants were killed and scores of others were injured as targeted action in the North Waziristan tribal region intensified on Friday with security forces entering the Machis Camp area on the outskirts of agency headquarters Miramshah which is considered a stronghold of foreign militants, most of them Uzbeks.
The four were killed in Machis Camp whereas five suspected militants were also arrested during the targeted action.
Moreover, security forces blew up militant bases in the area while artillery and jet fighters struck another insurgent base in Sokhel Wazir.
The death toll since action began with air strikes followed by targeted on ground action crossed 80, with over 75 suspected militants and four security personnel among those killed.
Locals in and around Mir Ali and Miramshah have started moving to safety from the troubled areas but so far there has been no entry of the affected into Khyber Pakhtunkhwa, not even in the first bordering city of Bannu.
Full report at:
http://www.dawn.com/news/1108147/north-waziristan-assault-intensifies-death-toll-crosses-80
-------------
Private schools stay closed in Turbat, Panjgur after threats by extremists
May 23, 2014
QUETTA: A grand jirga will be held in Panjgur on Thursday to deliberate on the closure of private schools and English language centres after threats hurled by a religious group.
The jirga will be attended by people of all walks of life, including political and religious leaders, members of civil society, teachers, elders and women.
"The jirga will discuss the issue in detail and announce future line of action in view of threats being hurled by (a hitherto) unknown religious organisation to owners and managements of private schools," Zahir Hussain Baloch, an educationist running a private school in Panjgur, told Dawn.
All private schools and English language centres have been closed in Turbat in Panjgur because owners are receiving threats from an extremist organisation called "Tenzeem Islami-al-Furqan".
Full report at:
http://www.dawn.com/news/1107894/private-schools-stay-closed-in-turbat-panjgur-after-threats-by-extremists
-------------
Pak foreign office urges Nawaz Sharif to accept Modi's invite
IANS | May 23, 2014
ISLAMABAD: The Pakistan foreign office has urged Prime Minister Nawaz Sharif to attend the oath taking ceremony of India's new Prime Minister Narendra Modi on Monday, according to media reports on Friday.
But the government is yet to take a decision on whether or not Sharif should travel to New Delhi, Dawn online reported.
"The foreign office has made the recommendation and the decision will most likely be in (its) favour," a foreign office official said.
The leader of the opposition in the National Assembly, Khurshid Ahmed Shah, also urged Sharif to accept the invitation in the larger interest of the people of the two countries.
Foreign office spokesperson Tasneem Aslam said on Thursday that the bitterness towards Pakistan shown during the election campaign in India would subside after the formation of a new government in New Delhi.
Full report at:
http://timesofindia.indiatimes.com/world/pakistan/Pak-foreign-office-urges-Nawaz-Sharif-to-accept-Modis-invite/articleshow/35514155.cms
-------------
Pakistan condemns attack on Indian Consulate in Herat
Press Trust of India | Kabul | May 23, 2014
Pakistan on Friday condemned the attack on the Indian Consulate in Afghanistan's Herat province.
Foreign Office spokesperson Tasnim Aslam said Pakistan reiterates its condemnation of terrorism in all its forms and manifestations.
"No cause justifies targeting of diplomatic missions. It is a matter of relief that no one from the Consulate staff was hurt," she said in a statement in Islamabad.
The attack comes at a time when India has extended invitation to Pakistan Prime Minister Nawaz Sharif to attend swearing-in ceremony of its new prime minister Narendra Modi.
http://indianexpress.com/article/world/middle-east-africa/pakistan-condemns-attack-on-indian-consulate-in-herat/
--------------
Waziristan situation result of flawed strategy: Maulana Fazlur Rehman
May 23, 2014
ISLAMABAD: Chief of his own faction of the Jamiat Ulema-i-Islam (JUI-F) Maulana Fazlur Rehman has termed the present situation in North Waziristan a result of the government's "flawed strategy".
"The unfortunate situation in Waziristan is the outcome of the government's flawed talks strategy and the government will have to acknowledge that its mechanism was a failure," the JUI-F chief said in a statement issued here on Thursday.
"The people of Pakistan are in the dark whether or not a new operation has been launched and are wondering if the talks are already dead," the Maulana said while commenting on the air strikes in North Waziristan on Wednesday in which more than 60 militants had reportedly been killed.
Full report at:
http://www.dawn.com/news/1108026/waziristan-situation-result-of-flawed-strategy-fazl
-------------
Twitter Agrees to Block 'Blasphemous' Tweets in Pakistan
MAY 23, 2014
At least five times this month, a Pakistani bureaucrat who works from a colonial-era barracks in Karachi, just down the street from the former home of his country's secularist founder, Mohammed Ali Jinnah, asked Twitter to shield his compatriots from exposure to accounts, tweets or searches of the social network that he described as "blasphemous" or "unethical."
All five of those requests were honored by the company, meaning that Twitter users in Pakistan can no longer see the content that so disturbed the bureaucrat, Abdul Batin of the Pakistan Telecommunications Authority: crude drawings of the Prophet Muhammad, photographs of burning Qurans, and messages from a handful of anti-Islam bloggers and an American porn star who now attends Duke University.
Full report at:
http://www.nytimes.com/2014/05/22/world/asia/twitter-agrees-to-block-blasphemous-tweets-in-pakistan.html?ref=asia
----------
Southeast Asia
Four Malaysians charged over promoting Syria terrorism
23 May 2014
Malaysian courts on Friday charged three men and a woman from the Muslim-majority country over promoting terrorism in strife-torn Syria.
The four were among 11 Malaysians arrested since late last month in an operation to crack down on Islamic terror suspects, who using claims of humanitarian work as cover.
Two others of those arrested remain under investigation, while five will be released, according to police.
A prosecutor said the three men and a woman, all in their 20s, were charged in separate courts across the country with "promoting or supporting jihad (holy war) to go to Syria".
He declined to be named because he is not allowed to make official statements.
"It's a Malaysian-based group that is linked with international terrorist groups," he said, declining to give further details.
Full report at:
http://english.alarabiya.net/en/News/middle-east/2014/05/23/Four-Malaysians-charged-over-promoting-Syria-terrorism-.html
-------------
Zaid: Assembly invasion shows Malaysia a step away from Pakistan's assassinations
May 23, 2014
KUALA LUMPUR, May 23 — The intrusion of the Penang assembly by Umno members to demand an apology from a lawmaker shows that Malaysia has reached the intolerance in Pakistan that led to the assassination of a lawyer there, Datuk Zaid Ibrahim asserted today.
Joining others in condemning the incident that saw around 50 Umno members protesting outside the assembly before a dozen forced their way onto the grounds and into the House, the former Cabinet minister said the event was a frightening development in Malaysia.
"Those who went on a rampage recently at the Penang Legislative Assembly looking for RSN Rayer, the Seri Delima Assemblyman who dared to label Umno 'celaka', are as intolerant as the gunmen who killed Rehman in Pakistan," Zaid wrote on his blog today.
"Ostensibly there to defend the Malays and Islam, the Penang mob threw eggs and shouted obscenities."
The former lawmaker was drawing parallels with a case of religious blasphemy in Pakistan that led to the assassination of lawyer Rehman Rashi, who had been defending poet Junaid Hafeez against the charge.
Full report at:
http://www.themalaymailonline.com/malaysia/article/zaid-assembly-invasion-shows-malaysia-a-step-away-from-pakistans-assassinat#sthash.VoinKwOo.dpuf
-------------
Interfaith dialogue undermined by Putrajaya's inaction on hate speech, say observers
May 23, 2014
What is the use of interfaith dialogues, no matter their effectiveness, if Putrajaya keeps silent on hate speech that seems to be the order of the day among some segments of society, politicians and observers ask.
Civil society leaders and politicians mooting interfaith talks warned that the silence and inaction, or selective action, by authorities against those spewing hate speech, posed an even greater threat to harmony.
Their concerns are triggered by the recent spate of racial and religious tensions in the country, centred on anti-Christian and anti-Chinese sentiments.
They said although there was no great danger of ethnic clashes breaking out, there is a need for political leaders to restrain those making hate speech in the name of religion.
They also said that alongside interfaith dialogue, there was a need for a formal dialogue mechanism that brings together leaders of different faiths to discuss issues on a regular basis.
Religious tension was raised several notches over the past weeks by Ikatan Muslimin Malaysia's (Isma) Chinese-bashing statements, as well as a seminar held in Universiti Teknologi Mara (UiTM) earlier this month at which speakers demonised Christianity.
Full report at:
http://www.themalaysianinsider.com/malaysia/article/interfaith-dialogue-undermined-by-putrajayas-inaction-on-hate-speech-say-ob
----------
North America
US military chief calls on Taliban to seize the moment to negotiate peace
May 23, 2014
The US Army Joint Chiefs of Staff, General Martin Dempsey said Thursday that the Taliban group in Afghanistan should take advantage of what may be a shrinking window of opportunity to seek a negotiated end to the conflict in Afghanistan.
"I don't give military advice to the Taliban, but if I were giving them advice, I'd tell them their negotiating position is not going to improve, it's going to erode," Dempsey said.
The chairman spoke after meeting NATO military leaders in Brussels to discuss Afghanistan and the way ahead there with NATO and partner-country chiefs of defense.
"It would seem to me that the Taliban would realize that their opportunity to reconcile or reintegrate is a wasting opportunity," Dempsey quoted in a report by Pentagon's official news agency said.
Full report at:
http://www.khaama.com/us-military-chief-calls-on-taliban-to-seize-the-moment-to-negotiate-peace-6134
-------------
U.S. Military Engagement in the Hunt for the Nigerian School Girls, Its Size and Meaning
May 23, 2014
Boko Haram's kidnapping of up to three hundred school girls has thoroughly engaged U.S. public opinion over the past few weeks. American narratives of its significance range from the humanitarian to persecution of Christians to the deprivation of educational opportunity for women to a resurgence of al Qaeda.
The inadequacies of the Nigerian military and corruption within the Nigerian government have been profiled by Obama administration officials in Congressional hearings. Under these circumstances, already some in the Congress are urging that the United States must do more directly if the girls are to be rescued, and administration officials say that the United States will do whatever is necessary. "Mission creep" seems all but inevitable in a situation with so many unknowns and so little American area expertise.
There is an interagency team currently stationed in Abuja, which is consulting with the Nigerians on what assistance the U.S. could provide. A formal intelligence sharing agreement between the two countries has been signed. And U.S. military support personnel have been sent to Chad.
Full report at:
http://blogs.cfr.org/campbell/2014/05/22/u-s-military-engagement-in-the-hunt-for-the-nigerian-school-girls-its-size-and-meaning/
-------------
White House Contacted YouTube during Benghazi Attack, Darrell Issa Says
May 23, 2014
A still-classified State Department e-mail says that one of the first responses from the White House to the Benghazi attack was to contact YouTube to warn of the "ramifications" of allowing the posting of an anti-Islamic video, according to Rep. Darrell Issa, the Republican chairman of the House Oversight and Government Reform Committee.
The memo suggests that even as the attack was still underway - and before the CIA began the process of compiling talking points on its analysis of what happened - the White House believed it was in retaliation for a controversial video.
The subject line of the e-mail, which was sent at 9:11 p.m. Eastern Time on the night of the attack, is "Update on Response to actions - Libya." The e-mail was written hours before the attack was over.
Full report at:
http://news.yahoo.com/white-house-contacted-youtube-during-benghazi-attack-darrell-175322823--abc-news-politics.html
-------------
US ambassdor gives green-light to Libya's Haftar
World Bulletin / News Desk
May 23, 2014
The United States ambassador to Libya has given renegade general Khalifa Haftar the green-light to pursue his course as his growing power threatens to develop into a coup against the government.
Justifying the general's acts, which has forced the country to call new parliamentary elections for June 25, Deborah Jones said that Haftar was working to clear 'terrorists' from the North African state.
Haftar, who stands staunchly against the Libyan branch of the Muslim Brotherhood as well as other Islamist affiliates, has launched a country-wide campaign to flush out militias and even attacked the parliament building in Tripoli earlier this week, kidnapping a number of lawmakers. He also had a coup attempt blocked in February.
"It's very difficult to step up and condemn" Hafter given that his forces are "going after very specific groups … on our list of terrorists," Jones said at the Stimson Center in Washington, according to Al-Monitor. "I am not going to come out and condemn blanketly what he did," she added.
Full report at:
http://www.worldbulletin.net/headlines/137044/us-ambassdor-gives-green-light-to-libyas-haftar
-------------
Mideast
Suicide bomber attacks Shi'ite fighters in north Yemen
MAY 23, 2014
A suicide bomber drove his explosives-laden car into a checkpoint manned by Shi'ite Muslim fighters in northern Yemen on Friday, local officials and tribal sources said.
They could not immediately tell the number of the casualties but said there were killed and wounded people in the attack, which took place in al Jawf province.
Both Shi'ite Houthis and Sunni Muslim al Qaeda militants have a strong presence in the province some 140 km (90 miles) northeast of the capital Sanaa. Yemen's widespread disorder has posed a threat to oil exporting giant Saudi Arabia next door.
http://uk.reuters.com/article/2014/05/23/uk-yemen-blast-idUKKBN0E31C820140523
-----------
Iran cleric says divorce parties are 'satanic'
MAY 23, 2014
TEHRAN, Iran — A senior Iranian cleric has called divorce parties a "satanic" Western import and a "poison" for Islamic society.
Ayatollah Mohammad Emami Kashani, Tehran's Friday prayer leader, was referring to the Western phenomenon of holding parties to celebrate the dissolving of a marriage, a practice that has recently emerged in the Islamic republic.
Kashani told worshippers Friday that marriage is a sacred bond and that Western practices like divorce parties undermine family values.
Iranian media in recent days have reported on extravagant preparations for divorce parties, including black roses and cakes.
According to media reports, Iran saw a 4.6 percent rise in divorce last year. Some 20 percent of Iranian marriages now end in divorce, which is permitted but discouraged under Islamic law.
http://www.nytimes.com/aponline/2014/05/23/world/middleeast/ap-ml-iran-divorce-party.html?ref=world
-------------
Israel 'seeking to take over Islamic site near Al-Aqsa'
World Bulletin / News Desk
May 23, 2014
Israel is planning to seize an Islamic waqf (endowment) building adjacent to the Al-Aqsa mosque complex in Al-Quds (occupied East Jerusalem) in order to convert it into a Jewish temple, a Palestinian NGO warned Wednesday.
The Knesset (Israel's parliament) is holding a series of sessions to discuss the acquisition of the Al-Shahabi building, an Islamic waqf site adjacent to the so-called Western Wall, the Al-Aqsa Foundation for Endowment and Heritage, a Palestinian NGO, said in a statement.
"The latest [Knesset] session on Sunday decided to expand the spaces allowed for Jewish prayers inside the building," the statement read.
"The Al-Shahabi building is an Islamic site that lies entirely under Islamic endowment," the NGO said. "Non-Muslims have no [ownership] rights to it."
The Knesset has yet to comment on the NGO's assertions.
Earlier this year, an Israeli lawmaker proposed legislation that would revoke Jordanian oversight of Palestinian holy sites in violation of the terms of a 1994 Jordan-Israel peace treaty.
Full report at:
http://www.worldbulletin.net/world/136954/israel-seeking-to-take-over-islamic-site-near-al-aqsa-updated
-------------
Egypt could be behind Mavi Marmara crisis, former Turkish envoy suggests
May 23, 2014
One of the passengers on an aid flotilla raided by Israeli commandos four years ago is suspected of being a member of Egyptian intelligence, raising the possibilities of Cairo's involvement in the deadly incident that brought Turkish-Israeli relations to an all-time low, according to Ankara's then-envoy to Israel.
The Egyptian spy agency member might have exaggerated to Israeli forces the existence of weapons on the Mavi Marmara, Oğuz Çelikkol has said in a new book out today. Nine Turks were killed when Israeli forces landed on the ship on May 31, 2010.
"I need to mention an incident during the evacuation efforts that I still cannot explain fully," Çelikkol said in the book, "From One Minute to the Mavi Marmara."
Çelikkol received instructions from Ankara to send every Turkish national and those belonging to other nationalities who survived the attack from Israel to Turkey. However, the embassy received information that an Egyptian who boarded the plane in Israel disembarked at the last moment. Israeli officials told the embassy that the Egyptian left the plane of his own accord and was collected by an official from Egypt's embassy in Tel Aviv, preparatory to being sent to Egypt.
Full report at:
http://www.hurriyetdailynews.com/egypt-could-be-behind-mavi-marmara-crisis-former-turkish-envoy-suggests.aspx?pageID=238&nID=66837&NewsCatID=510
-------------
Netanyahu could be open to exploring annexation plans if talks fail
May 23, 2014
Prime Minister Binyamin Netanyahu dismissed the possibility of unilateral territorial withdrawals and appeared open to annexation plans for portions of the West Bank in the absence of a peace process, in an interview by Jeffrey Goldberg published Friday on BloombergView.
"The idea of taking unilateral steps is gaining ground, from the center-left to the center-right," Netanyahu said in the Goldberg interview.
"Many Israelis are asking themselves if there are certain unilateral steps that could theoretically make sense," said Netanyahu.
But Netanyahu appeared to dismissed left-wing ideas of territorial withdrawal from portions of the West Bank as one possible unilateral option.
He explained that Israel's 2005 disengagement from Gaza, a unilateral plan designed to rescue a frozen peace process, had strengthened terrorist groups bent on destroying Israel and had failed to bring peace.
Full report at:
http://www.jpost.com/Diplomacy-and-Politics/Netanyahu-emphatically-denies-reports-that-Israel-spied-on-US-353172
-------------
Europe
£100m drones may not fly until Britain has left Afghanistan
May 23, 2014
Armed drones, bought at a cost of more than £100m to support troops in Afghanistan, are not operational nearly four years after they were ordered and only six months before British forces pull out of the country, an investigation has found.
The order for five armed Reaper drones was made as an urgent requirement and announced in 2010 by David Cameron and Liam Fox, the Defence Secretary at the time, during a trip to Afghanistan.
But nearly four years on the drones have still not taken to the skies and may not play any meaningful role in the Afghan campaign, research by the Bureau of Investigative Journalism has found.
The delay has meant that British armed forces have had to cope without what Mr Fox promised would be a "significant increase in air surveillance" that would help protect front-line troops from threats such as roadside bombs.
Full report at:
http://www.independent.co.uk/news/uk/home-news/exclusive-100m-drones-may-not-fly-until-britain-has-left-afghanistan-9421136.html
-------------
NATO Steps Back Into the U.S.S.R
MAY 23, 2014
LONDON — The best line about NATO was always the simplest: If NATO is the answer, what's the question?
After the collapse of the Soviet Union, the question was unclear. But it seemed resolved on Sept. 11, 2001, when Al Qaeda attacked the United States. NATO invoked Article 5, the red line of collective defense, for the first time. NATO went "out of area," fighting Al Qaeda and the Taliban alongside the United States military.
Now, with Libya in chaos and Afghanistan winding down, NATO is having a vivid fight over its future, which is actually a vivid fight about its past. With Russian revanchism in Ukraine and the annexation of Crimea, are we back, back in the U.S.S.R.? Or as Marx said so trenchantly, is history repeating itself, not as the tragedy of the Soviet Union, but as farce?
Stated more simply: Is the confrontation a Ukraine problem or a Russia problem? Is it a blip, which can be treated like a speed bump before returning to the straight, rich road of commerce, or is it something fundamental, not so much a challenge to the postwar order as a break with it, blowing a hole in that road?
Full report at:
http://www.nytimes.com/2014/05/23/world/asia/nato-steps-back-into-the-ussr.html?_r=0
-------------
UN blacklists Nigeria's Boko Haram, imposes sanctions
May 23, 2014
The United Nations imposed sanctions on Boko Haram Thursday, blacklisting it as an Al-Qaeda-linked terrorist organization as protesters stepped up demands on Nigeria to release 200 kidnapped schoolgirls.
The terror designation, immediately welcomed by the United States, subjects Boko Haram to an arms embargo and asset freeze, though it remains unclear what practical impact it will have.
The group, which demands the creation of an Islamic state in mainly Muslim northern Nigeria, has recently escalated its campaign of attacks that have left thousands dead since 2009.
"Boko Haram are now listed on the United Nations' Al-Qaeda sanctions list," said Australian Ambassador Gary Quinlan, chair of the Al-Qaeda sanctions committee.
"We will work to try and make sure that anyone providing material assistance to Boko Haram, whether funding or arms, will in effect be stopped," he told reporters in New York.
Full report at:
http://www.hurriyetdailynews.com/un-blacklists-nigerias-boko-haram-imposes-sanctions.aspx?pageID=238&nID=66860&NewsCatID=359
-------------
250,000 Qurans to be distributed at Brazil World Cup
World Bulletin / News Desk
May 23, 2014
Kuwait's Awqaf Ministry has said it will distribute 250,000 free copies of the Holy Quran in different translations in Brazil during the 2014 FIFA World Cup this summer.
The Kuwaiti daily reported that the ministry's Quran Board, known as Al-Qabas, will foresee the distribution of Qurans in Spanish, Portuguese, English and French at hotels, stadiums and various other public places.
The competititon, which starts on June 12 and will run until July 13, will host the fans of 32 international football teams, including six largely Muslim teams: Algeria, Cameroon, Ivory Coast, Nigeria, Iran and Bosnia-Herzegovina.
A special guide book for Muslim visitors called Salaam Brazil has also been printed to help them become acquainted with halal restaurants and activities in the Latin American country with the help of the Omani authorities.
http://www.worldbulletin.net/muslim-world/137055/250000-qurans-to-be-distributed-at-brazil-world-cup
-------------
URL: https://www.newageislam.com/islamic-world-news/new-age-islam-news-bureau/nigerian-special-forces-locate-schoolgirls-kidnapped-by-boko-haram/d/87164