New Age Islam News Bureau
24 Dec 2013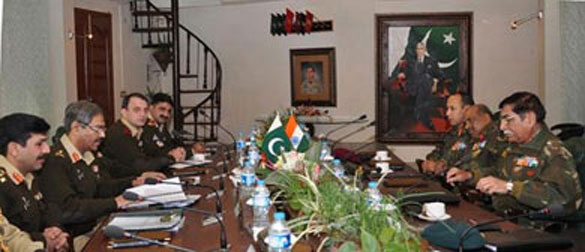 Maj. Gen. Aamer Riaz, Pakistan Army DGMO and Lt. Gen. Vinodh Bhatia, Indian Army DGMO meet at Wagha border on Tuesday. Photo Courtesy: Inter Services Public Relations
------------
Africa
• Nigeria Says 70 Killed In Battle with Islamist Group
• Joint Christmas Celebrations for Muslims and Christians in Strife-Torn Nigerian State
• Civil War Looming in S. Sudan as Army ready to Take on Rebels
• South Sudan sees 'mass ethnic killings'
• Libya, UK and US reaffirm commitment to Lockerbie probe
South Asia
• Bangladesh scholars blame Jamaat-e-Islami for creating divide in society
• AL and BNP in rare consensus over resisting Jamaat-e-Islami
• Three killed as opposition blockade in Bangladesh enters fourth day
• China defends nuclear ties with Pakistan
• A short constitutional history of the Maldives
• $40 million fund created for Bangladesh victims
Arab World
• Gulf monarchies afraid of Iran, getting ready for big war
• Aleppo bombing kills hundreds, threatening Syria talks
• Egypt PM labels Brotherhood 'terrorist' group after bomb kills 14
• Mansoura attack retaliation for dispersal of Islamist sit-ins: Egypt minister
• Assad says Syria facing major extremist offensive
• Islamic report: Sharia science proves dogs can't be kept as pets
• Egypt army says 184 'terrorists' killed in Sinai since August
Europe
• The home secretary May strips citizenship from 20 Britons fighting in Syria
• US, Qatar, Saudi Arabia and Israel oppose Iran's participation in Geneva- 2
• UN warns South Sudan over alleged crimes against humanity
• Afghanistan to decide on its own if it needs int'l troops in future – Russian Speaker
• West starting to realize it is supporting terrorists in Syria - Lavrov
• Radical Islamist cleric Abu Qatada rejects terror charges at Jordan trial
• EU mulls delaying anti-Israel document in light of ongoing peace talks
Pakistan
• Jamiat Ulema-e-Islam: operation in North Waziristan Agency to destroy peace efforts
• Clash between militants and security forces kills six in Turbat
• Blasts in Karachi kill three, injure 18
• Pakistan to 'reiterate' demand for greater role of UN observers along LoC
• Islam against fanning differences: CII chairman
• Govt in a dilemma over dialogue, operation against Taliban
India
• India, Pakistan DGMOs decide to maintain LoC ceasefire
• Muslims want Cong to pass communal violence bill
• 150 Telugus stranded in South Sudan
• Election Commission signs MoU with Yemen
Mideast
• 5 killed in clashes between Yemeni troops, southern separatists
• Israel to ease restrictions on Palestinian Christians over Christmas
• Palestinians rule out extending peace talks
• Istanbul clashes as Turkey PM Erdogan condemns 'plot'
• Yemeni parties sign deal pledging 'justice' for south
• Israeli Mossad agents trained Nelson Mandela in Ethiopia: Israeli archive
North America
• Americans' self-contradiction: most regret Afghanistan war but want US troops there
• US sends Marines to South Sudan preparing to respond to evolving crisis
• White House condemns Syrian air campaign in Aleppo
• Former U.S. Envoy Blames S. Sudan's Kiir for Violence
Southeast Asia
• Majority of Malays think 'Allah' exclusive to Muslims, says survey
• No need for appeal, Catholic Church failed to show right to use Allah, say Muslim groups
Compiled by New Age Islam News Bureau
For Details and More Headlines from All Regions, Please click, 'More'
URL: https://www.newageislam.com/islamic-world-news/new-age-islam-news-bureau/nigeria-says-70-killed-in-battle-with-islamist-group/d/34986
-----------
Africa
Nigeria Says 70 Killed In Battle with Islamist Group
December 24, 201
ABUJA: Nigeria's military said on Tuesday it had killed 50 Islamist rebels as they tried to cross the border into Cameroon, engaging them in a fierce gun battle on Monday in which 15 of their own troops and five civilians also died.
Nigerian forces have stepped up a military offensive in the volatile northeast in the past few days, after their barracks at the town of Bama came under attack from Boko Haram fighters armed with grenade launchers and anti-aircraft fire on Friday.
The military often says it has caused significant casualties on the part of the insurgents while rarely admitting them among its own troops or civilians. It is usually not possible to verify them in the remote areas where the fighting occurs.
http://www.dailystar.com.lb/News/International/2013/Dec-24/242193-nigeria-says-70-killed-in-battle-with-islamist-group.ashx#ixzz2pNyynYoB
-----------
Joint Christmas Celebrations for Muslims and Christians in Strife-Torn Nigerian State
Dec 24, 2013
Nigeria is often depicted as being split between Muslims and Christians. But in Adamawa, where a state of emergency was declared to counter an Islamist insurgency, members of both faiths celebrate Christmas together.
Phinear Padio hears the sound of the big iron gate opening. His neighbor Muhammad Sani drives into the yard they share. Padio is eager to greet him. The two meet frequently to discuss everyday life in northern Nigeria. They talk about their families and politics. But today Padio has a particular request.
"You really must celebrate Christmas with us. You are most cordially invited," Padio tells his neighbor. Sani nods. "The past two years, I wasn't in Yola over Christmas so we couldn't celebrate together. I'm glad it will work out this year," he said.
Yola is the capital of Adamawa state in north-eastern Nigeria. It is one of the three states in which a state of emergency was declared in May 2013. This is because the state is at the focus of terrorist activities by the militant Islamist sect Boko Haram. They attack villages and kill Christians or students of "western" schools.
Sharing the Christmas cookies
Muhammad Sani and his entire family are Muslim. Nevertheless, he thinks it is important to join his Christian neighbors and friends when they celebrate Christmas. "We enjoy celebrating together," Sani said. "On Christmas Day, my neighbors always give me food - cookies, chicken and rice," he added with a chuckle. "During the Muslim festivals, we also do the same and invite the Christians," he explained.
The two neighbors are no exception in Nigeria. In many parts of the country, Christians and Muslims celebrate their most important religious festivals together. In states such as Adamawa, everyday life is not dominated by unending discussions about religion.
Some observers focus on the antagonism between the two faiths, probably because of the numerous attacks carried out by Boko Haram. Recent estimates by the United Nations say that more than 1,200 people have been killed in violence linked to Boko Haram since May 2013.
Christians and Muslims under one roof
"It's a pity that people in other countries get the impression that Christians are fighting Muslims. That's not true at all, "said Muhammad Sani. "Christians and Muslims live together peacefully. Even in a family, there may be different religions."
Phinear's wife, Alice, has experienced this peaceful coexistence first-hand.
She grew up with an aunt who was a Muslim. "For us it was very normal and not a problem," she said putting up the Christmas decorations. She has already hung up a string of lights in addition to a small tapestry from Jerusalem, which her husband brought back from his last pilgrimage.
Her face beaming with delight, the 29 -year-old woman is clearly looking forward to Christmas. "They are all coming, my neighbors and my friends," she said referring to her Christmas guests. The fact that there will be more Muslims than Christians present is not something Alice finds unusual. "Here in Yola my best friends are Muslims. We talk, we eat together, we do everything together. There is no difference between us," she said.
Muhammad Sani stresses the significance of tolerance for peaceful coexistence between Muslims and Christians. "Here there is no space for radical ideas," he said. Radical elements would therefore find it difficult to recruit followers.
"The majority of residents in Adamawa belong to the Fulani ethnic group," Sani said. "There are an uncomplicated people and most of them practice Islam. But Adamawa is not like other states, there is no Sharia law," he said.
This tolerance is the reason why many Christians, especially the Ibos from the east, have chosen to live in Adamawa. "We are very liberal," Sani said.
http://allafrica.com/stories/201312240105.html?aa_source=mf-hdlns
-----------
Civil War Looming in S. Sudan as Army ready to Take on Rebels
Dec 24, 2013
The president of South Sudan, Salva Kiir, has said his country is preparing to launch a major offensive against rebel forces as civil war looms
South Sudan's army was poised for a major offensive against rebel forces, the president said on Monday, as the country slid towards civil war despite international peace efforts.
Expectations of a major upsurge in fighting came as the United Nations warned that the situation in the world's youngest nation was fast unravelling, with hundreds of thousands of civilians now at risk.
Fighting has gripped South Sudan for more than a week, after President Salva Kiir accused his former deputy Riek Machar, who was fired from the government in July, of attempting a coup.
Mr Machar denied the claim and accused Mr Kiir of carrying out a vicious purge of his rivals. Vowing to oust Mr Kiir, his forces have since seized the town of Bor, capital of the powder keg eastern Jonglei state and located just 125 miles north of Juba, as well as the town of Bentiu, capital of crucial oil-producing Unity state.
The army is "now ready to move to Bor," Mr Kiir told parliament, adding that the counter-attack to wrest back the town after it was captured on Wednesday was delayed until US had airlifted citizens out.
South Sudan army spokesman Philip Aguer said the government was on the offensive.
"The forces of Machar are still in control of the town, but we readying to take back control," he told AFP.
The comments came despite days of shuttle diplomacy by African nations and calls from the United States, Britain and the United Nations for the fighting to stop.
The UN's top humanitarian coordinator in South Sudan, Toby Lanzer, visited the besieged town of Bor on Sunday, and said the situation was rapidly deteriorating.
"It would have been have been difficult one week ago to imagine that things would have unravelled to this extent," Mr Lanzer told AFP.
"There are hundreds of thousands of South Sudanese who've fled into the bush or back to their villages to get out of harm's way," he said.
Asked which areas of the conflict-torn country he was most concerned about, Mr Lanzer said that "it would be quicker to talk about which areas I'm not worried about."
"I hope to be wrong, otherwise, hundreds of thousands will need help very soon," he said, adding he was "very concerned that a battle looms" in Bor, where he admitted that the UN peacekeepers were unlikely to be in a position to protect the estimated 15,000 civilians seeking shelter at the UN base there.
The clashes have left hundreds dead – possibly many more – and sent tens of thousands of people fleeing for protection in UN bases or to safer parts of the country, which only won independence from Sudan in 2011.
The young nation is oil-rich but deeply impoverished and awash with guns after the long war with Khartoum, and has grappled with corruption and lawlessness since independence.
There are both ethnic and political dimensions to the fighting, as troops loyal to Mr Kiir, an ethnic Dinka, battle forces backing Mr Machar, a Nuer.
Nuer gunmen stormed a UN base last week killing two Indian peacekeepers and slaughtering at least 20 Dinka civilians who had fled to the compound for shelter, and there have been reports of ethnically-motivated killings and attacks in the capital Juba and elsewhere.
Foreign governments, including in Britain, Kenya, Lebanon, Uganda and the US, have been evacuating their nationals. On Saturday four US servicemen were wounded when their aircraft came under fire in a rebel-held area.
Britain is sending its third and final military aircraft on Monday to evacuate citizens, warning those who chose to stay "may have difficulty leaving in the event of a further deterioration in security"
http://news.sudanvisiondaily.com/details.html?rsnpid=230372
-----------
South Sudan sees 'mass ethnic killings'
Dec 24, 2013
New evidence is emerging of alleged ethnic killings committed during more than a week of fighting in South Sudan.
The violence follows a power struggle between President Salva Kiir, a Dinka, and his Nuer ex-deputy Riek Machar.
A reporter in the capital, Juba, quoted witnesses as saying more than 200 people, mostly from the Nuer ethnic group, were shot by security forces.
Another man in Juba said gunmen from the majority Dinka ethnic group were shooting people in Nuer areas.
The fighting first erupted in Juba last week and has spread throughout South Sudan, with rebels supporting Mr Machar seizing the major towns of Bor and Bentiu, north of the capital.
Bentiu is the capital of the oil-producing Unity State.
Mr Kiir has accused Mr Machar, who he sacked in July, of plotting a coup. Mr Machar denies he is trying to seize power, while the government has denied it is behind any ethnic violence.
The fear is that the personal rivalry between the former allies will spark a full-scale conflict between the Nuer and Dinka groups.
'Eyewitness account'
Hannah McNeish, a journalist in Juba, told the BBC that she had interviewed a man called Simon, living at a UN camp, who said he was shot four times but managed to survive a mass killing by hiding under dead bodies.
"He tells of being rounded up with about 250 other men, driven to a police station in one of Juba's busiest suburbs. He describes an ordeal whereby over the course of two days, forces outside the windows fired into this room, killing all but 12 men," she said.
McNeish said this account had been corroborated by two other survivors at the camp.
Another man interviewed at the UN base in Juba reported that Dinka gunmen were shooting people in Nuer districts who did not speak the Dinka language.
UN humanitarian co-ordinator Toby Lanzer, who was in Bor over the weekend, told the BBC he had witnessed "some of the most horrible things that one can imagine".
The claims of atrocities have not been independently verified.
'Face the consequences'
The official death toll stands at 500, but aid agencies say the true figure is likely to be much higher.
There has also been fighting in Upper Nile State but few details have emerged.
Another 81,000 people have been displaced, the UN's humanitarian agency says, with about half seeking shelter at UN bases.
It warned many more people could be affected in more remote areas.
The UN has 7,000 soldiers deployed in South Sudan, but on Monday, Secretary General Ban Ki-moon urged the Security Council to reassign another 5,500 troops from UN missions in other African countries, including Liberia and the Democratic Republic of Congo.
He also asked for hundreds more police, three attack helicopters, three transport helicopters and one military transport plane.
He has said all reports of human rights violations and crimes against humanity will be investigated and those responsible held accountable.
Two Indian peacekeepers were killed last week in a rebel raid on a UN compound.
President Kiir has said he is willing to hold talks with Mr Machar - and that a delegation of East African foreign ministers had offered to mediate - but that his former deputy would have to come to the table without any conditions.
Mr Machar told Reuters news agency that he was open to dialogue if his political allies were released from detention.
Sudan suffered a 22-year civil war that left more than one million people dead before the South became independent in 2011.
http://www.bbc.co.uk/news/world-africa-25502457
-----------
Libya, UK and US reaffirm commitment to Lockerbie probe
Dec 24, 2013
TRIPOLI – The Libyan, UK and US governments have confirmed their commitment to ongoing investigations into the bombing of Pan Am Flight 103, which killed 270 people.
"We want all those responsible for this most brutal act of terrorism brought to justice, and to understand why it was committed," the governments said in a joint statement released on the 25th anniversary of the tragedy. "We are committed to cooperate fully in order to reveal the full facts of the case."
They said full support would be provided to the investigation team to enable them to complete their enquiries successfully.
Full report at:
http://www.saudigazette.com.sa/index.cfm?method=home.regcon&contentid=20131224190389
-----------
South Asia
Bangladesh scholars blame Jamaat-e-Islami for creating divide in society
Dec 24, 2013
Bangladesh war veterans and Islamic scholars have slammed the Jamaat-e-Islami for creating a divide within the society, and added that the party should be declared unconstitutional.
Freedom fighters and social activists blamed the party for mounting tensions between the feuding parties ahead of the national elections in the country.
A socio-cultural organisation gathered in Rajshahi on December 22 and discussed about the current political situation and the role of opposition, Bangladesh Nationalist Party (BNP) and Islamist forces.
Bangladesh will hold its national election on January 5, the Election Commission said in November, enraging the opposition, which took to the streets in protest and called for a blockade of roads, waterways and railways across the country.
Prime Minister Sheikh Hasina formed a poll-time administration last month, involving members of the ruling and opposition party to oversee the ballots, as is the usual pattern in Bangladesh to try to ensure a free and fair vote.
Full report at:
http://www.business-standard.com/article/news-ani/bangladesh-scholars-blame-jamaat-for-creating-divide-in-society-113122300674_1.html
-----------
AL and BNP in rare consensus over resisting Jamaat-e-Islami
Dec 24, 2013
Alongside the ruling party men at the human chain, leaders and activists of main opposition BNP, of whom Jamaat-e-Islami is a key political ally, condemned the attack and vowed to resist such attacks in future
When reports of Awami League and BNP men fighting are flooding the newsroom, a rare case of the two arch-rivals joining hands to protest against Jamaat has been reported from Nilphamari.
Local BNP leaders and activists joined a human chain staged by local unit Awami League in the Tupamari Bazar area in Nilphamari yesterday morning, protesting the recent Jamaat attack on noted actor and Awami League lawmaker Asaduzzaman Nur.
Local people from all walks of life joined the human chain and the following meeting organised to protest against the attack on Nur, a popular figure not only in his area but also at the national level.
Full report at:
http://www.dhakatribune.com/politics/2013/dec/24/al-and-bnp-rare-consensus-over-resisting-jamaat#sthash.zsvo05mz.dpuf
-----------
Three killed as opposition blockade in Bangladesh enters fourth day
Dec 24, 2013
Three persons were killed and a court complex here was targeted with crude bombs on Tuesday as an 83-hour nationwide blockade in Bangladesh by opposition parties demanding a caretaker poll-time regime entered its fourth day.
Violence marked the last day of the fifth spell of countrywide transport blockade, which also saw nearly 25 trucks and buses torched and several people injured.
A 20-year-old man was killed in southwestern Satkhira when clashes erupted between protesters and security forces. The two other deaths were reported from northwestern Sirajganj where two blockade supporters were killed when police opened fire as they allegedly tried to rob a truck.
Full report at:
http://www.thehindu.com/news/international/south-asia/three-killed-as-opposition-blockade-in-bangladesh-enters-fourth-day/article5497500.ece
-----------
China defends nuclear ties with Pakistan
Dec 24, 2013
China on Monday indicated it will continue providing support for civilian nuclear energy projects in Pakistan, despite concerns voiced by some countries that recent agreements have violated international guidelines governing nuclear trade.
The Foreign Ministry here said, referring to a new nuclear power project inaugurated last month in Karachi, that "relevant cooperation between China and Pakistan helps alleviate power shortage in Pakistan and serves the interests of local people".
"China will continue to help Pakistan tackle the shortage of power as its capacity allows," said spokesperson Hua Chunying.
Full report at:
http://www.thehindu.com/news/international/world/china-defends-nuclear-ties-with-pakistan/article5494383.ece
---------
A short constitutional history of the Maldives
By Minivan News | December 22nd, 2013
December 22, 2013 marks the 81st anniversary of the proclamation of the Maldives' first parliament. The following article was prepared by the People's Majlis secretariat.
The first written Constitution of the Maldives was codified in the early twentieth century, on December 22, 1932 during the thirtieth year of the reign of Sultan Mohamed Shamsudeen Iskandar III.
A thirteen member committee began work on drafting the constitution on March 22, 1931. The acting Governor of Ceylon Bernard H. Bourdill provided technical expertise in its composition. A first draft was completed on June 16, 1931.
Full report at:
http://minivannews.com/comment-2/a-short-constitutional-history-of-the-maldives-73902
-----------
$40 million fund created for Bangladesh victims
The Associated Press, Dhaka, Bangladesh
December 24 2013
A compensation fund to benefit the victims of an April factory building collapse in Bangladesh that killed more than 1,100 people is being created.
The fund, estimated at $40 million, would compensate injured workers and dependents of those of who died, according to a statement by the organizers of the fund.
Spanish retailer El Corte Ingles, UK's Bonmarche, Canada's Loblaw and the Dublin-based Primark have pledged to contribute to the fund.
Full report at:
http://www.thejakartapost.com/news/2013/12/24/40-million-fund-created-bangladesh-victims.html
-----------
Arab World
Gulf monarchies afraid of Iran, getting ready for big war
Dec 24, 2013
Arab Persian Gulf kingdoms are building a 100,000-strong collective defense force to counter an alleged threat from Iran.
In the middle of December, the Cooperation Council for the Arab States of the Gulf, which comprises Bahrain, Qatar, Kuwait, the United Arab Emirates, Oman and Saudi Arabia, unveiled plans to establish a joint military command with headquarters in Riyadh. A Saudi general is expected to be appointed the joint troops' commander. The Gulf monarchies already have a similar though smaller rapid reaction force. Its expansion indicates that political and military cooperation between the Gulf Arab nations has entered a new level, said Yelena Melkumyan, a Russian orientalist and professor at the Russian State Humanitarian University's Middle East Department.
Full report at:
http://voiceofrussia.com/2013_12_24/Gulf-monarchies-afraid-of-Iran-getting-ready-for-big-war-2697/
-----------
Aleppo bombing kills hundreds, threatening Syria talks
Dec 24, 2013
Syrian warplanes have killed more than 330 people in a nine-day bombing campaign, with the US condemning the "indiscriminate" assault and the opposition National Coalition saying it will not attend planned peace talks if it continues.
The vicious campaign has seen aircraft drop barrels of TNT on rebel-held neighbourhoods in Aleppo -- a tactic widely condemned as unlawful -- flooding hospitals with victims, according to activists, medics and others.
The Syrian Observatory for Human Rights, which relies on a network of activists and witnesses on the ground, said Monday that 331 people had been killed since December 15, including 99 children.
Full report at:
http://english.ahram.org.eg/NewsContent/2/8/89910/World/Region/Aleppo-bombing-kills-hundreds,-threatening-Syria-t.aspx
-----------
Egypt PM labels Brotherhood 'terrorist' group after bomb kills 14
Dec 24, 2013
Egypt's premier Dec. 24 declared the Muslim Brotherhood movement a "terrorist" group, after a car bomb ripped through a police building and killed at least 14 people.
Prime Minister Hazem Beblawi's condemnation of the group comes just weeks ahead of a referendum on a new constitution that is billed as the first major step toward democracy since the ouster of president Mohamed Morsi in July.
"Prime Minister Beblawi has declared the Muslim Brotherhood as a terrorist organization," state news agency MENA quoted the premier's spokesman Sherif Showky as saying.
An Egyptian court has already banned the activities of the Muslim Brotherhood, to which Morsi belongs, while the interim military-installed authorities have often accused the group of funding and training militants in the restive Sinai Peninsula.
Today's move to declare the Brotherhood a "terrorist" organisation will likely be seen as a further push by the interim authorities to isolate the movement ahead of the constitutional referendum.
Full report at:
http://www.hurriyetdailynews.com/egypt-pm-labels-brotherhood-terrorist-group-after-bomb-kills-14.aspx?pageID=238&nID=60050&NewsCatID=352
-----------
Mansoura attack retaliation for dispersal of Islamist sit-ins: Egypt minister
Dec 24, 2013
Egypt's Interior Minister Mohamed Ibrahim said Tuesday the Mansoura deadly attack came in retaliation to the violent dispersal by security forces of two Islamist protest camps in Cairo in August.
In the early hours of Tuesday, deadly bombings hit the Daqahliya Security Directorate in the Nile Delta city of Mansoura.
The blast killed 13 and injured 134 in what appears to be the worst terrorist attack since Morsi's ouster. Eight policemen, a civilian and three unidentified individuals were among the dead, Egypt's Interior Ministry said in a statement.
Ibrahim blamed the attack on the Muslim Brotherhood, saying the group sought to exact revenge from security forces, after two main Islamist protest camps were dispersed mid-August.
Full report at:
http://english.ahram.org.eg/NewsContent/1/64/89928/Egypt/Politics-/Mansoura-attack-retaliation-for-dispersal-of-Islam.aspx
-----------
Assad says Syria facing major extremist offensive
December 24, 2013
DAMASCUS : President Bashar al-Assad of Syria, which has been ravaged by conflict for almost three years, said Monday his country is being confronted by a major offensive by Islamist extremists.
"The country is facing a takfiri ideology," Assad said, using a term for Sunni Muslim extremists.
"This is terrorism without limits, an international scourge that could strike anywhere and anytime," he said, quoted by the official SANA news agency.
Assad made the remarks while receiving what SANA said was a delegation of "academics, researchers and activists" from Australia who had came to express "solidarity" with his regime.
Leading the delegates was Tim Anderson, a Sydney academic opposed to foreign intervention in Syria, according to SANA.
Full report at:
http://www.nation.com.pk/international/24-Dec-2013/assad-says-syria-facing-major-extremist-offensive
-----------
Islamic report: Sharia science proves dogs can't be kept as pets
Dec 24, 2013
Putting aside the Islamic scientific proof that the earth is flat, or that Mecca is the center of the universe, the Islamo-centric information and cultural news portal Islam Online (of Doha, Qatar) has reported on Dec. 21, 2013, that Islamic Sharia Law proves scientifically that humans should never keep dogs as pets. Of the millions of websites on the internet, Islam Online ranks as one of the more widely read information hubs available world-wide.
Their wildly popular Ask the Scholar section tackles the age old question if it's permissible for Muslims to own dogs as pets.
Full report at:
http://www.examiner.com/article/islamic-report-sharia-science-proves-dogs-can-t-be-kept-as-pets
-----------
Egypt army says 184 'terrorists' killed in Sinai
Dec 24, 2013
Egypt's army said Monday that, since August, it has killed 184 "terrorists" in North Sinai, where militants have carried out nearly daily attacks against security forces after the toppling of president Mohamed Morsi.
The military has "eliminated 184 terrorists and radicals," state news agency MENA quoted army spokesman Colonel Ahmed Ali as saying.
Alis said 203 others had been wounded and 835 were arrested.
It is impossible to verify these figures independently.
Jihadists have stepped up a campaign against security forces in the Sinai peninsula, which borders both Israel and the Gaza Strip, since the ouster of Mursi, killing more than 100 members of security forces.
Full report at:
http://english.alarabiya.net/en/News/middle-east/2013/12/24/Egypt-army-says-184-terrorists-killed-in-Sinai-.html
-----------
Europe
The home secretary May strips citizenship from 20 Britons fighting in Syria
Dec 24, 2013
The home secretary, Theresa May, has increased the use of powers to strip jihadists fighting in Syria of their British nationality, it has emerged.
Up to 240 Britons are believed to be in Syria and May has targeted 20 dual-nationals this year using "deprivation of citizenship orders", which take immediate effect.
It marks a rapid increase in the use of the powers, which had previously been deployed only 17 times in two and a half years, records uncovered by the Bureau of Investigative Journalism and published in the Independent show.
Almost all the orders made this year, which do not need judicial approval, were issued while the jihadists were overseas, it found.
The Home Office said: "Citizenship is a privilege, not a right, and the home secretary will remove British citizenship from individuals where she feels it is conducive to the public good to do so."
Full report at:
http://www.theguardian.com/politics/2013/dec/23/theresa-may-strips-citizenship-britons-syria
-----------
US, Qatar, Saudi Arabia and Israel oppose Iran's participation in Geneva-2
Dec 24, 2013
Less than a month is left before the international conference on the Syrian settlement Geneva-2. But the entry list has not yet been determined. The opposition can't decide whether to send its representatives to Switzerland and if so, then who will they be? Meanwhile, Russia and the United States cannot come to an agreement about the participation of Iran. The date and venue for the international conference on Syria have been agreed on. The meeting should begin on January 22 in the Swiss city of Montreux, 60 km from Geneva.
Damascus will be represented by a delegation headed by Minister of Foreign Affairs Walid Muallem. The members of the Syrian opposition delegation are unknown. Moreover, it is still not decided whether the opposition is going to participate in the conference at all. It was clearly told that any preliminary conditions, including the presidency of Bashar al-Assad, were unacceptable. At the same time, its presence at the negotiating table is highly desirable, Director of the Institute of Strategic Planning and Forecasting Alexander Gusev notes.
Full report at:
http://voiceofrussia.com/2013_12_24/US-Qatar-Saudi-Arabia-and-Israel-oppose-Irans-participation-in-Geneva-2-for-ideological-reasons-experts-8395/
----------
UN warns South Sudan over alleged crimes against humanity
Dec 24, 2013
United Nations chief Ban Ki-moon has warned warring factions in South Sudan that reports of crimes against humanity will be investigated, as eyewitnesses spoke of a wave of brutal ethnic killings.
The secretary general asked the Security Council to nearly double the size of the UN mission in the country, which has been hit by more than a week of escalating battles between troops loyal to President Salva Kiir and those backing his rival Riek Machar, a former vice president who was sacked in July.
UN bases in the capital Juba and across the country have been flooded with tens of thousands of civilians, many of whom have recounted an orchestrated campaign of mass killings and rape by government forces.
Full report at:
http://www.hurriyetdailynews.com/un-warns-south-sudan-over-alleged-crimes-against-humanity.aspx?pageID=238&nID=60058&NewsCatID=357
-----------
Afghanistan to decide on its own if it needs int'l troops in future – Russian Speaker
Dec 24, 2013
A new NATO mission in Afghanistan will require a UN Security Council decision, Sergei Naryshkin, Russia's State Duma Speaker has said to journalists, following his working visit to Kabul on Tuesday. "Any agreement is a sovereign right of any state, including Afghanistan," he stated answering a query about Russia's stance on talks by the Afghan leadership in relation to the possibility of extending a NATO military presence in the country.
"We understand that at the moment the presence of the International Security Assistance Force and any other foreign troops is necessary for assuring safety and stability in Afghanistan," the head of the lower chamber of parliament added.
"But at the same time we understand that when the country's national security forces increase their capability and are able to provide steady development of Afghanistan, surely, there will be no need of international forces anymore," he said, clarifying that was just the outlook.
Full report at:
http://voiceofrussia.com/news/2013_12_24/Afghanistan-to-decide-on-its-own-if-it-needs-int-l-troops-in-future-Naryshkin-7221/
----------
West starting to realize it is supporting terrorists in Syria - Lavrov
Dec 24, 2013
Western politicians have started to realize that the overthrowing of Assad's government might only lead to aiding terrorists in Syria and worsening of the crisis, thinks Russia's Foreign Minister Sergey Lavrov. He is worried though that West is trying to "flirt" with Islamic front, which could be ideologically close to such al-Qaeda-linked jihadist groups as al-Nusra.
The shift has been caused by the rise of jihadists in Syria and the threat of the country turning into a caliphate, the minister said during an interview with RT.
"The attitudes are changing in Western countries, they are becoming more realistic in their approach towards settling the Syrian crisis," said Lavrov. "The threat of terrorism in Syria, the threat of jihadists coming to power, the threat of creating a caliphate with extremist rules, the threat of violating the rights of minorities, or even depriving them of life, are the main problems." He also said "understanding that changing the regime is not the way to solve this problem" but a way to "facilitate the arrival of jihadists to power."
Full report at:
http://voiceofrussia.com/news/2013_12_24/West-starting-to-realize-it-is-supporting-terrorists-in-Syria-Lavrov-0631/
----------
Radical Islamist cleric Abu Qatada rejects terror charges at Jordan trial
Dec 24, 2013
Radical Islamist cleric Abu Qatada on Tuesday insisted he was not guilty of terrorism as his trial resumed in Jordan, accusing a presiding judge of being "dishonest."
"I am not guilty, and you are a dishonest judge," Abu Qatada, who was deported by Britain in July after a nearly decade-long legal battle, told judge Ahmad Qatarneh.
The Palestinian-born preacher was condemned to death in absentia in 1999 for conspiracy to carry out terror attacks, including on the American school in Amman, but the sentence was immediately commuted to life imprisonment with hard labour.
In 2000, he was sentenced in absentia to 15 years for plotting to attack tourists in Jordan during millennium celebrations, and videotapes of his sermons were allegedly found in the Hamburg flat of 9/11 ringleader Mohammed Atta.
Full report at:
http://voiceofrussia.com/news/2013_12_24/Abu-Qatada-rejects-terror-charges-at-Jordan-trial-0523/
-----------
EU mulls delaying anti-Israel document in light of ongoing peace talks
Dec 24, 2013
A quiet debate is taking place inside the EU about whether now is the right time to release what has become an annual indictment of Israeli policies in the territories: the non-binding report written by the EU's consuls in Jerusalem and Ramallah.
Diplomatic officials said that some inside the EU – particularly Germany – do not think that now, in the midst of the Israeli-Palestinian negotiations, is a good time to bring out a report that is consistently critical of Israel.
Though an internal document, this paper is generally "leaked" at the beginning of the year.
Another internal document that some inside the EU do not think is the right time to release, according to diplomatic officials, has to do with the situation in Gaza.
A meeting on this matter with representatives from the EU capitals deeply involved in the Middle East was held in Brussels on October 17.
Full report at:
http://www.jpost.com/Diplomacy-and-Politics/EU-mulls-delaying-anti-Israel-document-in-light-of-ongoing-peace-talks-335965
----------
Pakistan
Jamiat Ulema-e-Islam: operation in North Waziristan Agency to destroy peace efforts
December 24, 2013
ISLAMABAD - Jamiat Ulema-e-Islam (Fazl) Chief Maulana Fazl ur Rahman on Monday strongly demanded that operation in North Waziristan Agency (NWA) should be stopped immediately, as this attack is badly harming residents of the area and not the terrorists.
"In recent attacks all 65 persons died were civilians who had no links with terrorists," Maulana challenged those who are in favour of operation, adding that essential items of daily use are not available due to curfew imposed around a week before.
It is relevant to mention here that following a militant attack some days back in Miranshah on a military convoy, which had claimed lives of at least five security personnel and injured many others, the forces had reportedly imposed a curfew in the area and launched a search operation. Civilians in Miranshah had also claimed deaths of some civilians including two women.
Full report at:
http://www.nation.com.pk/editors-picks/24-Dec-2013/nwa-operation-to-destroy-peace-efforts-fazl
-----------
Clash between militants and security forces kills six in Turbat
2013-12-24
QUETTA: At least six persons, including five militants and a personnel belonging to para-military troops, were killed in an exchange of gunfire in Balochistan's volatile Turbat area on Tuesday, an official said.
Spokesman for the Frontier Corps (a para-military force), Khan Wasey told Dawn.com that workers were engaged in construction work in Turbat's Buleda area when militants attacked their machinery late on Monday adding that FC personnel deployed in the area quickly retaliated and killed five militants.
Full report at:
http://www.dawn.com/news/1076125/clash-between-militants-and-security-forces-kills-six-in-turbat
-----------
Blasts in Karachi kill three, injure 18
Dec 24, 2013
KARACHI: Twin blasts occurred in Orangi Town No 10 area killing three persons, including a teen aged girl, and wounded 18 others whereas another explosion took place near Karachi's Numaish chorwangi on minutes before the Chehlum procession was scheduled to pass the area without causing any human casualties, DawnNews reported.
A blast in Orangi Town No 10 area of the city took place minutes after the first explosion was reported in Karachi's Numaish area.
Security and rescue teams rushed to the blast site follwoing which another explosion took place.
Full report at:
http://www.dawn.com/news/1076110/blasts-in-karachi-kill-three-injure-18
-----------
Pakistan to 'reiterate' demand for greater role of UN observers along LoC
Sameer Arshad,TNN | Dec 24, 2013
LAHORE: Pakistan is likely to reiterate its demand for a 'greater role' for the UN military observers to end cross-Line of Control (LoC) tensions and to ensure better implementation of the 2003 ceasefire agreement along the 778-km long India-Pakistan border in Jammu & Kashmir.
Pakistani daily 'The Express Tribune' reported this citing unnamed officials ahead of director general of military operations (DGMO) Lt Gen Vinod Bhatia's meeting with his Pakistani counterpart, Maj Gen Amir Riaz, on the Pakistani side of the Wagah border near Lahore this week.
Full report at:
http://timesofindia.indiatimes.com/world/pakistan/Pakistan-to-reiterate-demand-for-greater-role-of-UN-observers-along-LoC/articleshow/27814129.cms
-----------
Islam against fanning differences: CII chairman
Dec 24, 2013
LAHORE: Council of Islamic Ideology (CII) Pakistan Chairman Maulana Muhammad Khan Sherani has said that Islam does not give the lesson of fanning differences for achieving nefarious motives as the Holy Quran calls all the human beings one Ummah.
According to a press release, he said this while addressing a two-day Seerat conference "Establishment of Islamic Society and its Picture in the Light of Teachings of Hazrat Muhammad (SAW)," organised by Seerat Chair of Punjab University (PU) Department of Islamic Studies in collaboration with Higher Education Commission (HEC) at Sheikh Zayed Islamic Centre.
Full report at:
http://www.thenews.com.pk/Todays-News-2-222004-Islam-against-fanning-differences:-CII-chairman
-----------
Govt in a dilemma over dialogue, operation against Taliban
December 24, 2013
LAHORE: As international powers continue to mount pressure on the Pakistan government – the question of whether to conduct a military operation against the Taliban or to pursue dialogue still looms.
The United States and other global powers fear that the Taliban can turn back to Kabul if their talks with the Pakistani government are successful. Similarly India fears that in case dialogue succeeds, Taliban will support jihadi groups operating in Kashmir to create problems for India.
Full report at:
http://tribune.com.pk/story/649838/undecided-govt-in-a-dilemma-over-dialogue-operation/
-----------
India
India, Pakistan DGMOs decide to maintain LoC ceasefire
Dec 24, 2013
India and Pakistan on Tuesday decided to strengthen existing mechanisms to maintain the truce along the LoC, months after bilateral ties nosedived over the killing of five Indian soldiers and flare-ups between the two sides on the ceasefire line.
The agreement came at a meeting of the Directors General of Military Operations (DGMOs) of the two sides, who held face-to-face talks for the first time in 14 years at the Wagah border.
"We had a cordial, constructive and fruitful meeting. We discussed the ceasefire along the Line of Control (LoC) and the existing mechanisms," DGMO Lt Gen Vinod Bhatia said after the two—hour—long talks with his Pakistani counterpart Maj Gen Aamer Riaz.
"We both decided to ensure ceasefire and strengthen the existing mechanisms."
The meeting was an outcome of talks between Prime Ministers Manmohan Singh and Nawaz Sharif in New York in September at the height of tensions triggered by the LoC flare-ups.
The premiers had decided the DGMOs should hold talks to reduce tensions but the meeting could not be scheduled till now, over which Singh had even expressed disappointment with Sharif.
Full report at:
http://www.thehindu.com/news/national/india-pakistan-dgmos-decide-to-maintain-loc-ceasefire/article5497003.ece
-----------
Muslims want Cong to pass communal violence bill
Subodh Ghildiyal,TNN | Dec 24, 2013
NEW DELHI: Muslim leaders urged Congress to pass the communal violence bill, putting a tough poser to the party that has failed to promulgate the legislation promised in its election manifesto.
The strong pitch for the legislation, with Muzaffarnagar riots as the reason, came at an interaction organized by Congress with civil society working among minorities to elicit their views on issues to be included in the 2014 manifesto. It was a bit of an irony since the bill was a key poll promise of Congress in 2009 though the UPA has failed to promulgate it.
Rahul Gandhi, it is learnt, did not give his opinion on the vexed legislation though he cited AICC general secretary Mohan Prakash as saying that "there are two views on the bill".
The Union Cabinet cleared the bill recently at the fag end of UPA-2's tenure but failed to bring it in the winter session of Parliament. BJP and some regional parties are strongly opposed to the bill.
Full report at:
http://timesofindia.indiatimes.com/india/Muslims-want-Cong-to-pass-communal-violence-bill/articleshow/27811566.cms
---------
150 Telugus stranded in South Sudan
TNN | Dec 24, 2013
VIJAYAWADA: About 150 Telugu people are said to have been stranded in the civil war-torn South Sudan. The local Telugu association is making efforts to send them across the border to Uganda.
Annadeva Nageswara Rao, a native of Jaggaiapet in Krishna district, informed his family about the plight of the people from the state caught in the civil war. Rao, who was scheduled to return to India, was thought missing after there was no communication from him. But he contacted his family giving them a sigh of relief.
Full report at:
http://timesofindia.indiatimes.com/india/150-Telugus-stranded-in-South-Sudan/articleshow/27810258.cms
-----------
Election Commission signs MoU with Yemen
Dec 24, 2013
India has offered its expertise to Yemen in election management and electoral roll preparations.
A Memorandum of Understanding (MoU) in this regard was signed between the two nations during a visit by India's Chief Election Commissioner (CEC) V.S. Sampath to Yemen.
He is currently on a visit to the country at the invitation of Judge Mohammed Hussain Al-Hakimi, President of the Supreme Commission for Elections and Referendum (SCER) of Yemen.
According to a statement released by Embassy of India in Sanaa, the CEC held talks with President of the SCER and member Judges.
Full report at:
http://www.thehindu.com/news/international/world/election-commission-signs-mou-with-yemen/article5497494.ece
-----------
Mideast
5 killed in clashes between Yemeni troops, southern separatists
World Bulletin / News Desk
Dec 24, 2013
Five people were killed on Tuesday in clashes between security forces and armed southern separatists in Yemen's Shabwah province, security and medical sources said.
The gunfight erupted in the central city of Ataq after a verbal altercation between a security force and a group of separatists, the sources said.
The ensuing violence left five people dead – four soldiers and one separatist – and six people injured, medical sources said.
Full report at:
http://www.worldbulletin.net/?aType=haber&ArticleID=125581
-----------
Israel to ease restrictions on Palestinian Christians over Christmas
Dec 24, 2013
Israel will permit 21,000 Christian residents of the West Bank and 5,000 Christians from the Gaza Strip to enter the country during the Christmas holiday, according to Israel Radio.
The announcement was made late Monday night by the Coordinator for Government Activities in the Territories, IDF Maj. Gen. Eitan Dangot, during a meeting he held with Christian leaders in east Jerusalem.
Dangot was quoted by Israel Radio as saying that the defense establishment will ease restrictions on Palestinian movement in the territories in order to enable Christians to celebrate the holiday in a way that is "fitting."
Full report at:
http://www.jpost.com/National-News/Israel-to-ease-restrictions-on-Palestinian-Christians-over-Christmas-335970
-----------
Palestinians rule out extending peace talks
December 24, 2013
RAMALLAH : Palestinian leaders have ruled out the possibility of extending peace talks with Israel beyond their nine-month timeframe, chief negotiator Saeb Erakat said on Monday. "We turn down any extension," Erakat told the official Voice of Palestine radio station, adding that some of his recent remarks about the matter had been misinterpreted. "I said that if we reach an agreement on all final status issues, we could continue to discuss the details," he said. At a dinner with journalists on Wednesday, Erakat had raised the possibility of talks being prolonged for up to a year if parties agree on key issues by the time the current talks wrap up on April 29. The US State Department welcomed his statement, while saying the nine-month schedule still remained in place.
Full report at:
http://www.nation.com.pk/international/24-Dec-2013/palestinians-rule-out-extending-peace-talks
-----------
Istanbul clashes as Turkey PM Erdogan condemns 'plot'
Dec 24, 2013
Turkish police have used tear gas against thousands of anti-government protesters in Istanbul as Prime Minister Recep Tayyip Erdogan vowed to break the hands of "plotters".
Clashes erupted between protesters and police in Kadikoy Square, in an echo of protests in the city earlier this year.
In a northern town Mr Erdogan denounced people he said were setting anti-Turkish "traps" to undermine his rule.
The sons of two cabinet ministers have been charged in a big corruption probe.
The investigation has led to charges against 24 people so far. They are suspected of involvement in bribery, in connection with urban development projects and the allocation of construction permits.
Full report at:
http://www.bbc.co.uk/news/world-europe-25491341
-----------
Yemeni parties sign deal pledging 'justice' for south
Dec 24, 2013
Yemeni political parties have signed a document pledging a "just solution" to the contentious south where secessionists are demanding autonomy, state news agency Saba reported.
The text was inked late Monday by delegates to a national dialogue between political parties and the government aimed at drafting a new constitution for Yemen and preparing for elections in February.
The southern question has been a major stumbling-block for the talks launched in March, with hardline factions of the secessionist Southern Movement boycotting the discussions.
The dialogue is part of a transitional process stipulated by a UN-backed initiative, brokered by neighbouring Gulf countries, which ended a year of Arab Spring-inspired protests against the 33-year rule of former president Ali Abdullah Saleh.
Full report at:
http://english.ahram.org.eg/NewsContent/2/8/89936/World/Region/Yemeni-parties-sign-deal-pledging-justice-for-sout.aspx
-----------
Israeli Mossad agents trained Nelson Mandela in Ethiopia: Israeli archive
Dec 23 2013
Jerusalem: Israeli Mossad agents operating in Ethiopia in 1962 unwittingly trained Nelson Mandela in hand-to-hand combat, weaponry and sabotage, according to a document released by Israel's state archives.
A letter from a Mossad official to the foreign ministry, dated October 11, 1962 titled "THE BLACK PIMPERNEL" and released to the public yesterday, recalls a conversation in which "we discussed a trainee in Ethiopia named David Mobasari, from Rhodesia".
"The aforementioned was trained by the Ethiopians in Judo, sabotage and weapons," the letter read.
"The Black Pimpernel" was the nickname given at the time to Mandela, the revered anti-apartheid hero and former ANC leader who died this month, while he was on the run from white South Africa during the liberation struggle.
Full report at:
http://www.indianexpress.com/news/israeli-mossad-agents-trained-nelson-mandela-in-ethiopia-israeli-archive/1210842/
----------
North America
Americans' self-contradiction: most regret Afghanistan war but want US troops there
Dec 24, 2013
A recent study by ABC News and the Washington Post has found that the majority of Americans say the War in Afghanistan is too costly and a mistake. Two thirds of the US citizens questioned in the poll said the 12-year war fought in Afghanistan to cleanse the country of terrorists hasn't been worth the price paid in lives and dollars. Peyton Craighill, the polling manager for the Washington Post, gave his comments on the issue in an interview with the VoR.
Is it fair to say Americans have decided that the war in Afghanistan was foolish?
At this point, yes. Opinions have turned south and they've been that way for about three years since a polling in April of 2010. It is the first time we hit majority saying that it was not worth fighting and it's been a majority since then steadily.
Let's hear the numbers.
Full report at:
http://voiceofrussia.com/2013_12_24/Americans-self-contradiction-most-regret-Afghanistan-war-but-want-US-troops-there-3479/
----------
US sends Marines to South Sudan preparing to respond to evolving crisis
Dec 24, 2013
US Department of Defense sends 150 Marines, who were stationed in Spain and Djibouti, to South Sudan in case their assistance is needed in evacuating American citizens from the country, a senior US Defense official told Fox News. This decision was made after a recent attack on American evacuation aircraft at which four soldiers were injured.
A number of US troops has already been deployed to South Sudan to provide security. Some are stationed at the permanent American military base in Djibouti. As Fox News reports, ten aircraft were also sent there including Osprey helicopters and C-130 transport planes.
US continue its bid to ease tensions in the country as Donald Booth, American special envoy for South Sudan, held a meeting Monday with South Sudan President Salva Kiir. But the meeting hasn't brought significant results.
Full report at:
http://voiceofrussia.com/news/2013_12_24/US-sends-Marines-to-South-Sudan-in-case-of-immediate-evacuation-0002/
------------
White House condemns Syrian air campaign in Aleppo
Dec 24, 2013
The White House on Monday condemned the Syrian government's aerial assault on Aleppo which is believed to have left hundreds dead, many of them civilians.
"The United States condemns the ongoing air assault by Syrian government forces on civilians, including the indiscriminate use of SCUD missiles and barrel bombs in and around Aleppo over the last week," White House press secretary Jay Carney said.
"The attacks over the weekend killed more than 300 people, many of them children. The Syrian government must respect its obligations under international humanitarian law to protect the civilian population."
Full report at:
http://www.jpost.com/Syria-Crisis/White-House-condemns-Syrian-air-campaign-in-Aleppo-335961
-----------
Former U.S. Envoy Blames S. Sudan's Kiir for Violence
Dec 24, 2013
Juba — The former United States special envoy to Sudan and South Sudan has offered an rare criticism of South Sudanese president Salva Kiir, saying he was responsible for current violence that has engulfed the country.
Princeton Lyman, in an interview with the BBC on Monday, said Kiir's reluctance to accept democratic transformation within his ruling party (SPLM) "unfortunately" resulted in the current chaos.
On 15 December, violence erupted between the Presidential Guards of the South Sudanese army in the capital, Juba as sporadic gunfire went throughout the night.
The battle, later spread to other parts of the country, with those loyal to president Kiir up against forces opposed to the current regime.
Full report at:
http://allafrica.com/stories/201312240332.html?aa_source=slideout
---------
Southeast Asia
Majority of Malays think 'Allah' exclusive to Muslims, says survey
Dec 24, 2013
The term "Allah" should not be used by non-Muslims, say 77% of Malays polled by Universiti Malaya's Centre for Democracy and Elections (UMCEDEL).
"The issue of Allah is still sensitive in the peninsula. Regardless of their political beliefs, it is obvious that Malays still think that the term 'Allah' is exclusive to Muslims," said UMCEDEL director Prof Datuk Dr Redzuan Othman.
The poll also showed that the same number of Malay respondents disagreed that Christians in Sabah and Sarawak could use the term.
The survey, conducted from December 6 to 8, covering only the peninsula also showed that a mere 11% of the Malays polled agreed to the use of the word "Allah" by non-Muslims. On October 14, 2013, a three-man panel of judges in the Court of Appeal overturned a 2009 landmark High Court judgment allowing the Catholic Church to use the word "Allah" in the Bahasa Malaysia section of its weekly Herald.
Full report at:
http://www.themalaysianinsider.com/malaysia/article/majority-of-malays-think-allah-exclusive-to-muslims-says-survey
-----------
No need for appeal, Catholic Church failed to show right to use Allah, say Muslim groups
Dec 24, 2013
Muslim groups have spoken against the Catholic Church's decision in seeking leave to appeal the Allah ruling at the Federal Court.
The Court of Appeal judges' decision was based on facts, while the church had failed to provide credible evidence on its usage of the word, they said.
The Malaysian Chinese Muslim Association said in an affidavit that the Home Minister, from 1986 to 2009, had reminded the church repeatedly that the use of Allah in place of "God" in Herald's Malay section would create animosity among Malaysians.
"The applicant (church) has failed to provide credible evidence that they have been consistently using the word for generations in replace of 'God'," said the association.
The religious councils of Malacca, Kedah and Johor have also said in an affidavit that the apex court should not waste its time to allow leave and answer the 26 questions posed by the church.
Full report at:
http://www.themalaysianinsider.com/malaysia/article/no-need-for-appeal-catholic-church-failed-to-show-right-to-use-allah-say-mu
---------
URL: https://www.newageislam.com/islamic-world-news/new-age-islam-news-bureau/nigeria-says-70-killed-in-battle-with-islamist-group/d/34986