New Age Islam News Bureau
10 Jul 2012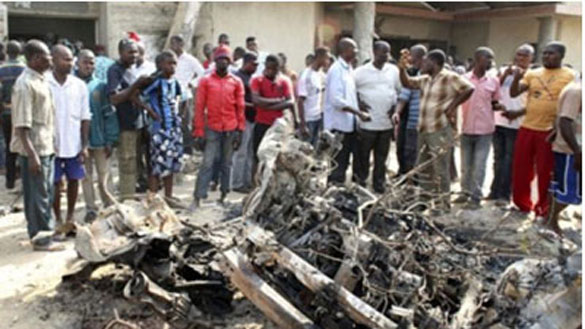 Africa
• Nigeria: Muslims Murder 52 in Christian Villages
• Despite Fairly Smooth Election, Attacks in Libya Show Unrest
• Libya awaits results of first post-Gaddafi election
• Group Claims Attacks on Nigeria Christian Villages
• Libyan preliminary results trickle in
• Al Qaeda leader released from Mauritanian jail
• 26 people killed in bus crashes in Morocco
• FNB Sharia banking credentials questioned as board quits
• South Sudan Turns 1, but Oil, Border Issues Remain
Pakistan
• Ameer Jamaat-e Islami says, US open enemy of Islam, Pakistan
• 'Militants recruit in Rawalpindi for anti-India activities'
• C.I.A. Vaccine Ruse May Have Harmed Pakistan's War on Polio
• Police claim arresting two senior Swat Taliban militants
• Pakistan to speed up NATO supply transit
• Pakistanis are second fastest growing group in US, says report
• NATO supplies issue: JUI-F to hold nationwide protest on July 13
• NAB to seek international assistance in Arsalan-Riaz case
• Rehman Malik resigns from Pak Senate
• Attack on army leaves 8 dead near Wazirabad
• Pakistan may cut deal with pirates for its 7 hostages
• 'Pak officer harboured Osama with full knowledge of Musharraf'
• Thousands of Pakistanis protest opening of NATO Supply route
• Fisherman's body arrives from Pakistan
South Asia
• Sheikh Hasina challenges World Bank
• Six US troops killed in Afghanistan
• Hillary in plea for rights of Afghan women
• Israeli court clears ex-PM Olmert of major charges
• Taliban poetry and the lone fighter
India
• Hizbul Mujahideen commander killed in Kashmir
• India thanks Pakistan for allowing AI plane to land
• Krishna set to visit Pak despite 26/ 11 mistrust
• 'False alarm' led aircraft to land in Pakistan, officials say
Mideast Asia
• Iranian FM on surprise UAE visit
• Sanctions on Iran: A prelude to war?
• Gaza rocket hits Israel: Army
• Former Israeli Premier Is Cleared of Most Corruption Charges
Arab World
• Egyptian parliament reconvenes, defying army
• Annan and Assad agree political approach for Syria
• Egypt's President Rolls the Dice for Sharia
• Annan in Tehran for Talks on Syria Peace Plan
• Homs, Qusayr battered as 31 killed in Syria: NGO
• Egypt's parliament convenes despite dissolution
• Al Qaeda front group claims Iraq attacks
• Eco-friendly mosque to come up in Dubai by 2013
• Algeria calls for regional approach to terrorism
• Egypt army says constitution must be respected
North America
• As Islamists Gain Influence, Washington Reassesses Who Its Friends Are
• Hell to pay for NATO's 'holy war'
• US asks Pakistan to stop Haqqani network from operating
• US Congress to vote on Haqqani network bill
• U.S. Antagonist in Iraq Takes a Political Gamble
• LeT now more dangerous than Al-Qaida: US expert
Europe
• Islamist cleric Abu Hamza appeals ECHR extradition ruling
• French TV defends broadcasting gunman siege tapes
• Venezuelan President slams Hillary's 'overt threats' to Russia, China
• Russia to suspend new arms to Syria
• We must force Syrians to talk: Putin
Compiled by New Age Islam News Bureau
Photo: Nigeria: Muslims Murder 52 in Christian Villages
URL: https://newageislam.com/islamic-world-news/new-age-islam-news-bureau/nigeria--muslims-murder-52-in-christian-villages/d/7876
-------------
Africa
Nigeria: Muslims Murder 52 in Christian Villages
July 10, 2012
Muslims in Nigeria blame the Christians, of course. "52 Killed in Central Nigeria Raids and Reprisals," by Ahmed Saka for the Associated Press, July 8 (thanks to Pamela Geller):
Raids and reprisal attacks have left 52 people dead in Christian villages near a Nigerian city where authorities have struggled to contain religious violence, officials said Sunday.
Assailants launched "sophisticated attacks" on several villages near Jos early Saturday, said Mustapha Salisu, spokesman for a special taskforce made up of policemen and soldiers deployed in the area to curb years of violence.
"They came in hundreds," Salisu said. "Some had (police) uniforms and some even had bulletproof vests."
He said the special taskforce fought back for hours and lost two policemen in the battle. Salisu initially said that 37 people were killed including 14 civilians and 21 assailants.
However, later in the day, Nigerian Red Cross official Andronicus Adeyemo said aid workers had counted 52 dead and more than 300 displaced people from the attacks. He did not give a breakdown....
Mark Lipdo, who runs a Christian advocacy group known as the Stefanos Foundation, gave a list of the 13 villages where he got reports of attacks. He said they were all Christian.
He blamed Muslim herdsmen of the Fulani ethnic group for the attacks. However, Nurudeen Abdullahi, Plateau State Chairman of Miyetti Allah Fulani Herdsmen Association, denied any involvement by the herdsmen.
"This a usual propaganda used on our people but we are not the ones that attacked the villages in the area," he said.
Abdullahi accused Christian farmers of attacking Muslim settlements and stealing their cows....
http://www.jihadwatch.org/2012/07/nigeria-muslims-murder-52-in-christian-villages.html
--------
Despite Fairly Smooth Election, Attacks in Libya Show Unrest
By DAVID D. KIRKPATRICK
July 10, 2012
TRIPOLI, Libya — An unexplained explosion at a mosque in the eastern city of Darnah on Monday offered a reminder that Libya's transition to a stable democracy was far from complete, even as international monitors praised the country's first election in decades as a surprisingly successful expression of the public will.
Official results of Saturday's voting for a new national congress are not likely to be released for several days. But reports from the ballot counting have already indicated broad success for a coalition of parties led by Mahmoud Jibril, a Western-educated political scientist and former official of both the overthrown government of Col. Muammar el-Qaddafi and the transitional government that followed. Voters appeared to deliver an unexpected setback to Islamist parties that hoped to replicate the gains that Islamists have made in postrevolutionary elections in neighboring Egypt and Tunisia.
All sides appeared to accept the overall pattern of the results on Monday, and there were no major allegations of electoral fraud.
Safety concerns kept observers from reaching some polling places around the country, according to Alexander Bick, the Tripoli field office director for the Carter Center. Even so, he and many other monitors called the election remarkably well administered, considering the context: Libya had not held a national election for more than 40 years, the transitional government organized the voting at the last possible moment, and there was a string of violent attacks and attempts to block the vote by protesters in eastern Libya who were angry about how seats in the congress were allocated among regions.
When attacks closed polling places in towns in the east, monitors said, the Libyan authorities managed to get out the word about alternate locations using cellphone text messages and community networks, allowing many people to cast ballots despite the damage. On Monday, monitors confirmed early reports that the turnout appeared to exceed 60 percent of eligible voters nationally, although it was said to be much lower in Bani Walid, the western city that held out the longest in support of Colonel Qaddafi.
Local authorities in Darnah said the explosion around dawn on Monday appeared to have been caused by a bomb, but the motive for the attack remained obscure. Darnah is a town known for Islamic militancy but also for drug smuggling, and it is in a part of eastern Libya where violent opposition to the election ran high. The explosion destroyed a group of shrines at the graves of companions of the Prophet Muhammad who died in the area while battling the Romans, and those of a few rebels killed in the early days of the uprising against Colonel Qaddafi who were buried in the same graveyard to honor their sacrifice. No one was injured in the explosion.
The religious nature of the site makes it an unlikely target for Islamist militants. "You can't accuse anyone at this stage," said Abdel Hakim el-Hasadi, a local political leader and former Islamist fighter.
He pointed to the shifting state of Libyan politics, with Islamists divided among themselves over how to approach electoral democracy, with others in the region divided over whether to support the new congress, and with everyone speculating about attempted sabotage by people who profited under the Qaddafi government.
"The cards are shuffled now," Mr. Hasadi said. "You don't know who is who at this point."
http://www.nytimes.com/2012/07/10/world/africa/attacks-in-libya-show-unrest-despite-fairly-smooth-election.html?ref=africa&gwh=BAC578976803D28EB0F14078911A51AB
--------
Libya awaits results of first post-Gaddafi election
July 10, 2012
TRIPOLI - Liberals appeared to have the edge on Islamists as a key figure in the revolt that ousted Moamer Gaddafi urged national unity on Monday with Libya still days away from the final results of its first free poll in decades.
Mahmud Jibril of the National Forces Alliances, expected to do well based on preliminary unofficial figures from Saturday's election for a national assembly, called for all parties to come together.
The NFA, a non-ideological coalition of technocrats, many of them educated abroad, groups more than 40 small parties headed by Jibril who played a prominent role as rebel prime minister during last year's revolt that ended Gaddafi's four-decade rule.
"We extend an honest call for a national dialogue to come all together in one coalition, under one banner... to reach a compromise, a consensus on which the constitution can be drafted and the new government can be composed," he said.
"There was no loser and winner at all. Whoever is going to win, Libya is the real winner of those elections," Jibril added.
His remarks came hours after the leader of the rival Justice and Construction Party, Mohammed Sawan, admitted the NFA had an early lead in the vote count for the capital and Libya's second-largest city of Benghazi.
UN leader Ban Ki-moon called for Libya's new leaders to govern in a spirit of "justice and reconciliation" as he hailed the country's first elections since Gaddafi's downfall.
Votes are still being tallied with preliminary results expected by Monday night or early on Tuesday, according to electoral commission officials, although observers say the count could take another four or five days.
The commission has not given a date for the final results.
The air force was tasked with transporting ballot papers to the capital for counting, which is taking longer than initially expected for security reasons, and given Libya's huge size.
NFA secretary general Faisal Krekshi said: "Early reports show that the coalition is leading the polls in the majority of constituencies."
If the results are confirmed, Libya, unlike neighbouring Tunisia and Egypt whose strongmen were also ousted in last year's Arab Spring, will buck the trend of electoral success for Islamists.
"But it is a tight race for us in the south," added Sawan, a former political prisoner and member of Libya's Muslim Brotherhood, which launched the party.
The bulk of Libya's population and registered voters are concentrated in Tripoli in the west of the oil-rich desert country and in the eastern city of Benghazi.
Libyans voted for a General National Congress, a 200-member legislative assembly which will steer the country through a transition. Turnout was above 60 percent, the electoral commission said.
Eighty seats in the incoming congress are reserved for political entities while the remainder are held for individual candidates, some of them openly allied to specific parties.
In a country with no history of political parties and no national surveys, forecasting results is virtually impossible, but early media reports seemed to back the party leaders' claims.
Al-Assima TV said the NFA was far ahead in the capital, scooping 80 percent in the district of Tripoli Centre and 90 percent in the impoverished district of Abu Slim.
Its lead, the private channel said, was also strong in the troubled east, with preliminary figures giving it 70 percent in Benghazi and 80 percent in Al-Bayda, hometown of interim leader Mustafa Abdel Jalil.
These figures were unofficial, however, and the commission warned it was best not to release numbers that could create false expectations or "confuse voters" if the results proved different.
"The first winner is the Libyan people," stressed commission chief Nuri Abbar.
Apart from acts of sabotage in the east and one death in Ajdabiya as gunmen opened fire near a polling station, the vote was held in a festive atmosphere in major cities.
On Sunday, eastern oil facilities resumed normal operations, an industry official said, after a three-day protest over the region not being granted more seats.
http://www.nation.com.pk/pakistan-news-newspaper-daily-english-online/international/10-Jul-2012/libya-awaits-results-of-first-post-gaddafi-election
--------
Group Claims Attacks on Nigeria Christian Villages
July 10, 2012
By THE ASSOCIATED PRESS
MAIDUGURI, Nigeria (AP) — A statement attributed to a radical Islamist sect in Nigeria known as Boko Haram says the group launched attacks that left at least 58 dead including two lawmakers in a region violently divided by religion.
The statement obtained Tuesday by The Associated Press said the group was responsible for the attacks in Plateau state where authorities say hundreds of assailants stormed into about a dozen villages Saturday. It said the group would continue to attack government officials and Christians. It said Christians "will not know peace again" if they do not accept Islam.
The attacks occurred in a region of Nigeria's "middle belt" where the country's mostly Muslim north meets its predominantly Christian south.
Clashes between local Muslim and Christian communities there have left hundreds dead over the last couple of years.
Boko Haram is adding a new dimension to those tensions.
http://www.nytimes.com/aponline/2012/07/10/world/africa/ap-af-nigeria-violence.html?ref=global-home
--------
Libyan preliminary results trickle in
Jul 10 2012,
Tripoli : Libya's electoral commission has begun unveiling the preliminary results of the country's historic vote after decades of dictatorship as a liberal coalition called for national unity talks.
The National Forces Alliance, widely seen as a key contender in Saturday's election for a national assembly, won a crushing victory in two western constituencies but was elbowed out by a local party and Islamists in Misrata.
The NFA, a non-ideological coalition, groups more than 60 small parties headed by Mahmud Jibril who played a prominent role as rebel prime minister during last year's revolt that ended Gaddafi's four-decade rule.
"We extend an honest call for a national dialogue to come all together in one coalition, under one banner to reach a compromise, a consensus on which the constitution can be drafted and the new government can be composed," he said.
"There was no loser and winner at all. Whoever is going to win, Libya is the real winner of those elections," Jibril added.
UN leader Ban Ki-moon called for Libya's new leaders to govern in a spirit of "justice and reconciliation" as he hailed the country's first elections since Kadhafi's downfall.
Votes are still being tallied with preliminary results rolled out district by district in a complex counting system that needs to measure the performance of individual candidates as well as those of political entities.
Full report at:
http://www.indianexpress.com/news/libyan-preliminary-results-trickle-in/972526/
--------
Al-Qaida Leader Released From Mauritanian Jail
July 10, 2012
NOUAKCHOTT, Mauritania (AP) — Abu Hafs al-Mauritani, who was a senior adviser to al-Qaida, was released from a prison in Mauritania over the weekend, his family confirmed.
Sidi Ould Walid said his brother was released after renouncing his ties to the terror network and condemning the Sept. 11, 2001 attacks. Hafs refused to be interviewed or to be filmed as he left the prison on Saturday.
On militant forums on Monday, jihadists exchanged congratulations over the release. Hafs was an adviser to Osama Bin Laden who helped form the modern al-Qaida by merging bin Laden's operation with Ayman al-Zawahri's Islamic Jihad.
Hafs spent years in custody in Iran before being extradited to Mauritania in April. Walid says his brother was interrogated multiple times and his release indicates he is no longer seen as a threat.
Full report at:
http://www.nytimes.com/aponline/2012/07/09/world/africa/ap-af-mauritania-al-qaida-release.html?ref=global-home
--------
26 people killed in bus crashes in Morocco
July 10, 2012
Reuters, Rabat
At least 26 people were killed and 40 others injured in two separate bus accidents in Morocco on Monday, official media reported.
Ten people died and 33 others were injured, five of them critically, when a passenger bus crashed near the northern city of Nador, state news agency MAP reported.
Later on Monday, 16 people died and a dozen others were injured when their bus fell into a ravine near the town of Tamanar, 530 km (330 miles) south of Rabat.
MAP did not give the nationalities of the victims.
Road accidents are common in Morocco, but have been on the rise after car ownership nearly doubled in the ten years to the end-2011.
http://www.thedailystar.net/newDesign/latest_news.php?nid=38967
--------
FNB sharia banking credentials questioned as board quits
FARANAAZ PARKER
09 JUL 2012
FNB's Islamic Finance unit has suffered a setback after its sharia board quit, bringing the unit's sharia compliance credentials into question.
The dispute between FNB and the sharia board overseeing its Islamic Finance unit has highlighted some of the difficulties of trying to accommodate two inherently different systems of banking in one financial institution.
Last week the sharia board of FNB Islamic Finance resigned citing an "untenable breakdown in trust". Board chairperson Mufti Ebrahim Desai said the board could not vouch for FNB's Islamic Finance products.
"Those products that we had endorsed will remain valid for as long as there are no changes. However, as we no longer supervise the implementation, we cannot endorse the same," he said.
Desai told the Mail & Guardian that there had been ongoing difficulties between the board and bank officials, since news emerged of wrongdoing within the unit towards the end of last year.
Full report at:
http://mg.co.za/article/2012-07-09-fnb-islamic-finance-unit
--------
South Sudan Turns 1, but Oil, Border Issues Remain
July 10, 2012
By THE ASSOCIATED PRESS
JUBA, South Sudan (AP) — Tens of thousands of South Sudanese gathered under a sweltering sun on Monday in the capital, Juba, to celebrate the first birthday of the world's youngest nation — an event marred by dire economic hardships and a near-constant threat of war.
Dance troops gave traditional performances and South Sudan's armed forces put on a parade that featured the country's fiercest pieces of weaponry: two attack helicopters. The sun was so intense that several soldiers were carried off in stretchers.
President Salva Kiir addressed the country's number one threat: a return to war with Sudan, the country the south battled for more than two decades.
"Since our independence, Khartoum has continuously violated our sovereignty through aerial bombardments and ground incursions," he said.
South Sudan's biggest success in its first year was avoiding all-out war with Sudan. But it came close. A row over the sharing of the two countries' once-unified oil industry prompted South Sudan to shut down its oil production.
Because the south's oil travels through pipelines that run through Sudan, the decision cut off a major source of Khartoum's revenue and has led to instability in that capital. But the move cost South Sudan as well. The landlocked nation derives 98 percent of its normal government budget from oil.
Oil also sparked a dangerous military confrontation between the two sides in April, when South Sudan captured the disputed town of Heglig, which is responsible for more than half of Sudan's oil production. The move was met with international condemnation.
But several of South Sudan's woes are internal. South Sudan has been beset by ethnic clashes, primarily in Jonglei state, where the United Nations estimates nearly 900 people were killed in brutal cattle raids and reprisal attacks between late December and early February.
Full report at:
http://www.nytimes.com/aponline/2012/07/09/world/africa/ap-af-south-sudan-one-year.html?ref=global-home
---------
Pakistan
Ameer Jamaat-e Islami says, US open enemy of Islam, Pakistan
10 July 2012
Staff Report
KARACHI: Ameer Jamaat-e Islami (JI) Karachi Muhammad Hussain Mehanti has said that the Difa-e-Pakistan Council had truly represented the sentiments of 180 million people of the country by producing long march. The long march again proved that it was the rulers that could sell out the country's prestige while people will never accept this move for their vested interests, he said.
In a statement issued here on Monday, Mehanti said that the US was an open enemy of Islam and Pakistan while the present government had reinforced the US by restoring NATO supply lines from the soil of Pakistan. "The US is carrying out massacre of innocent Afghans," he added.
Being an ally to the US, Pakistan had suffered colossal loss with its 35,000 civilians and 5,000 Pakistani troopers being killed yet the present government was extending full support to the perpetrators.
He said that the government had to withdraw its decision of restoring NATO supply routes from Pakistan or else the people of the country will continue taking to streets.
http://www.dailytimes.com.pk/default.asp?page=2012\07\10\story_10-7-2012_pg12_8
--------
'Militants recruit in Rawalpindi for anti-India activities'
Jul 10 2012,
Islamabad: Militant groups active in Jammu and Kashmir organised a massive gathering in the Pakistani garrison city of Rawalpindi and sought resources and recruits to continue their activities in the Indian state.
The two-day "Shuhada Conference" organised by Al-Badar Mujahideen, a breakaway faction of Hizbul Mujahideen group, at its centre at Swan Bus Adda, in Rawalpindi, concluded on Sunday. Nearly 1,000 people, including militants of Al-Badar Mujahideen and other groups involved in militancy in Jammu and Kashmir and Afghanistan, attended the meet.
Militant commanders, including Al-Badar Mujahideen chief Bakht Zameen Khan and Hizb-ul-Mujahideen chief Syed Salahuddin, addressed the meet and sought resources and recruits to continue their "jihad" in Afghanistan and Kashmir.
Leaders of Hizb-e-Islami Afghanistan and Jamaat-u-Dawa also addressed the conference. Bakht Zameen Khan said: "Some people think the Kashmir jihad has ended. It is not true". He added, "Our commanders in Kashmir and Afghanistan say they will carry out big attacks if they are provided with resources. They have the spirit but they are facing a shortage of supplies." Zameen also condemned the reopening of Nato transit routes, according to The Express Tribune.
Syed Salahuddin, who also heads the United Jihad Council, told the meet that "the American Satan has encircled Pakistan with the help of its 48 allies in Afghanistan".
http://www.indianexpress.com/news/militants-recruit-in-rawalpindi-for-antiindia-activities/972349/
--------
C.I.A. Vaccine Ruse May Have Harmed Pakistan's War on Polio
July 10, 2012
"Did the killing of Osama bin Laden have an unintended victim: the global drive to eradicate polio?" Donald G. McNeil Jr. wrote in The New York Times.
"In Pakistan, where polio has never been eliminated, the C.I.A.'s decision to send a vaccination team into the Bin Laden compound to gather information and DNA samples clearly hurt the national polio drive," Mr. McNeil Jr. wrote. "The question is: How badly?"
"After the ruse by Dr. Shakil Afridi was revealed" by a British newspaper a year ago, "angry villagers, especially in the lawless tribal areas on the Afghan border, chased off legitimate vaccinators, accusing them of being spies," he wrote.
And then, late last month, Taliban commanders in two districts banned polio vaccination teams, saying they could not operate until the United States ended its drone strikes. One cited Dr. Afridi, who is serving a 33-year sentence imposed by a tribal court, as an example of how the C.I.A. could use the campaign to cover espionage.
http://india.blogs.nytimes.com/2012/07/10/c-i-a-vaccine-ruse-may-have-harmed-pakistans-war-on-polio/?ref=asia
---------
Police claim arresting two senior Swat Taliban militants
10 July 2012
PESHAWAR: Battagram police said on Monday they arrested two senior Swat Taliban militants planning attacks on targets in the district, seizing a number of suicide vests and other lethal weapons from them. The arrests were made on Saturday and made public on Monday after initial interrogation and confirming the identity of the two militants, Battagram District Police Officer Ghulam Hussain told reporters. The arrested Swat Taliban militants were identified as Iqbal alias Qari Basit, a resident of Shangla district, and Ijazullah, a resident of Torghar district, according to the police official. Qari Basit was accused of planning a suicide attack on public meeting of the Pakistan Muslim League-Nawaz leader Amir Muqam last year in Battagram, killing several people. "Both were involved in last year's suicide attack on Amir Muqam's public meeting and also planning attacks on several other targets," DPO Ghulam Hussain said. The police officials said an anti-aircraft gun was among the seized weapons during the search of a compound nine kilometres outside Battagram. Both the wanted militants were shifted to a high-security zone for investigation. Full report at:
http://www.dailytimes.com.pk/default.asp?page=2012\07\10\story_10-7-2012_pg1_3
--------
Pakistanis are second fastest growing group in US, says report
Faiza Mirza
July 10, 2012
Pakistani-Americans have become the second fastest growing and the seventh largest group in the United States, research statistics have revealed.
The population size of Pakistani-Americans increased drastically and doubled between 2000 and 2010, according to a report published by Pew Research Centre last month, as 57 per cent of the foreign-born Pakistanis were naturalised between 2007 and 2009. The report puts the figure of Pakistanis who are legal residents of the US at 120,000, with an additional 50,000 being eligible to naturalise.
According to the report, 65 per cent of the Pakistani-Americans are foreign born. However, Pakistanis who were able to acquire the legal permanent resident status in 2010 were sponsored by their immediate family members whereas only 16 per cent entered the country on the basis of employer's sponsorship.
The research also proved that more than 80 per cent of the Pakistani-Americans do not speak English at home and that 12 per cent of the Pakistani community, despite being a former commonwealth territory, suffers from linguistic isolation.
In terms of education, 55 per cent of the Pakistan-Americans hold an undergraduate or Master's degree.
Full report at:
to USD 66,000 of Asian-Americans and USD 49,800 of an average American household.
--------
NATO supplies issue: JUI-F to hold nationwide protest on July 13
July 10, 2012
Jamiat Ulema-e-Islam (JUI-F) chief Maulana Fazlur Rehman announced on Monday that his party will hold nationwide protests against the reopening of Nato supply routes on July 13.
Addressing a media briefing after the party's central shura meeting at its provincial headquarters, Rehman said that his party will observe countrywide protests against the decision, adding that the government's decision was not in the national interest. He added that JUI-F activists will organise demonstrations and stage sit-ins across Pakistan.
The party unveiled the protest plan, as the Difa-e-Pakistan Council (DPC) and Jamaat-e-Islami were already on the road with their 'long march' from Lahore to Islamabad.
Dual nationality, contempt bills opposed
The JUI-F chief claimed that the party's shura had also decided to oppose the government's proposed dual nationality bill. "Dual nationality is a complicated issue," Rehman said, adding that the Supreme Court has highlighted it, and that constitutionally a person holding two nationalities was not allowed to become a member of parliament. He said that the proposed bill on the issue was aimed at protecting a handful of people.
Rehman further lambasted the proposal, saying that if today this restriction was removed for those holding dual nationalities, then someday an Indian citizen could also become a member of Pakistan's parliament.
http://tribune.com.pk/story/406071/nato-supplies-issue-jui-f-to-hold-nationwide-protest-on-july-13/
--------
NAB to seek international assistance in Arsalan Riaz case
July 10, 2012
ISLAMABAD: National Accountability Bureau (NAB) on Monday decided to seek assistance from international experts to investigate the graft scandal involving business tycoon Malik Riaz and the Chief Justice's son Arsalan Iftikhar, DawnNews reported.
The meeting of the investigation committee, presided by NAB's director general of financial crimes, analysed the information gathered form Riaz and the Supreme Court.
It was decided in the meeting that the committee would seek assistance from international investigation agencies. The embassies of pertinent countries would also be contacted in this regard.
The joint-meetings of the committee would be held on daily basis, the committee decided in the meeting.
http://dawn.com/2012/07/09/nab-to-seek-international-assistance-in-arsalan-riaz-case/
--------
Rehman Malik resigns from Pak Senate
Jul 10, 2012,
Rehman Malik, Pakistan's advisor to Prime Minister on interior affairs, resigned on Tuesday from the Senate.
ISLAMABAD: Rehman Malik, Pakistan's advisor to Prime Minister on interior affairs, resigned on Tuesday from the Senate over a month after the Supreme Court suspended his membership of Parliament.
Malik told reporters at the airport in Karachi that he had submitted his resignation to the chairman of the Senate or upper House of Parliament.
On June 4, the apex court suspended Malik's membership of the Senate on the ground that he had failed to provide proof of renouncing his British citizenship.
The court has suspended the membership of nine members of the national and provincial assemblies in response to petitions filed against lawmakers with dual nationality.
Malik described his move as a "personal decision" aimed at countering the impression that a bill moved in Parliament on Tuesday to allow persons with dual nationality to contest polls would primarily benefit him.
Full report at:
http://timesofindia.indiatimes.com/world/pakistan/Rehman-Malik-resigns-from-Pak-Senate/articleshow/14802408.cms
--------
Attack on army leaves 8 dead near Wazirabad
10 July 2012
ISLAMABAD/LAHORE: Gunmen killed eight security personnel at an army camp near Wazirabad on Monday, officials said, hours after a protest march of the Difa-e-Pakistan Council (DPC) passed through the area.
The encampment was attacked from a bridge over the river Chenab. Hours earlier, thousands from the DPC coalition of right-wing groups crossed the bridge on a "long march" from Lahore to Islamabad to protest against the reopening of NATO supply routes to Afghanistan.
Pakistan is battling an insurgency in its northwest tribal region, but attacks in the area of Monday's incident, in a generally peaceful Punjab, are unusual.
At least seven security personnel, including a police official, embraced martyrdom and five others were injured due to firing by unidentified assailants near Wazirabad," the military said in a statement.
However, the number of dead reached eight when one of the injured soldiers succumbed to his injuries.
A military rescue party had camped by the Chenab to look for the body of a pilot missing in a helicopter crash in May, the statement said, and the camp came under attack from a bridge.
Full report at:
http://www.dailytimes.com.pk/default.asp?page=2012\07\10\story_10-7-2012_pg1_1
--------
Pakistan may cut deal with pirates for its 7 hostages
By Salman Siddiqui
July 10, 2012
KARACHI:
Pakistan may opt to cut a deal with Somali pirates for the release of its seven nationals out of the total 22 crew held hostage on board the Malaysian Flagship MV Albedo.
The crew's fate hangs in the balance as the Pakistani side, led by the Citizens Police Liaison Committee chief Ahmed Chinoy, and Malaysian state body's Security Council officials squabble over how much money each side should pay, The Express Tribune has learnt.
The lack of trust between the two sides has come to the point where there is a disagreement even over how the money would be eventually handed over to the pirates.
Senior Malaysian officials, CPLC chief Chinoy and representatives of Somali pirates were in Dubai until last week to cut a deal which didn't materialise.
Of all 22 hostages, seven each are from Pakistan and Bangladesh, six from Sri Lanka, and one each from India and Iran. One Indian sailor has already died since the vessel was captured in November 2010.
The pirates had demanded $10 million dollar in ransom. The amount has, however, been reduced to $2.85 million since.
Pressure
Chinoy is under pressure from the families of Pakistani sailors to get their men freed first using the amount collected in Pakistan if other states involved do not agree with his terms.
When the pirates learnt that Pakistan has collected around $1million, they piled pressure on Chinoy to transfer the money. Chinoy has resisted the pressure, thus far.
Full report at:
http://tribune.com.pk/story/406061/mv-albedo-pakistan-may-cut-deal-with-pirates-for-its-7-hostages/
--------
'Pak officer harboured Osama with full knowledge of Musharraf'
Jul 09 2012,
Melbourne: A Pakistani Brigadier harboured Osama bin Laden for years with the full knowledge of Pervez
Musharraf at a time when the US was hunting for the elusive al-Qaeda chief, former ISI head Gen Ziauddin Butt has claimed.
Brigadier Ijaz Shah, a long-term close associate of former military ruler Gen Pervez Musharraf, was the "most important and all-powerful person" in his regime, General Butt said in a television interview.
"I fully believe that Ijaz Shah had kept this man (Osama
bin Laden, in Abbottabad) with the full knowledge of Pervez
Musharraf," General Butt said.
Shah was the Intelligence Bureau chief during Musharraf's rule and is believed to be the ISI handling officer of the British-born terrorist Omar Sheikh, convicted for the murder of Wall Street Journal reporter Daniel Pearl.
Butt, the former chief of directorate of Inter-Services Intelligence or ISI, alleged that Shah harboured the world's
most wanted criminal for years, at the same time that other arms of the Pakistani military and the US were hunting him.
He said the Abbottabad compound where bin Laden was killed by US special forces in a covert raid on May 2 last year was built on Brigadier Shah's orders.
But Brigadier Shah said the allegations were groundless.
"Not only do I reject it, but any sensible man in the world will reject this allegation," he said.
Full report at:
http://www.indianexpress.com/news/pak-officer-harboured-osama-with-full-knowledge-of-musharraf/972073/
--------
Thousands of Pakistanis protest opening of Nato supply route
July 10, 2012
A Pakistan national flag is mounted on the top of a fuel tanker, which was used to carry fuel for Nato forces in Afghanistan, as drivers sit nearby, at a compound in Karachi July 3, 2012. Photo: Reuters
Reuters, Islamabad
Thousands of supporters of hardline religious groups gathered in the Pakistani capital on Monday to protest their government's decision to re-open supply lines for US-led Nato troops in Afghanistan.
The protest was the largest so far against the reopening of the routes. Shops closed early in Islamabad and police set up barricades and cordoned off roads.
Pakistan suspended Nato supply routes to Afghanistan last November after a cross-border Nato air attack killed 24 Pakistani soldiers. They were re-opened last week after US Secretary of State Hillary Clinton apologised for the strike.
A survey by the Pew Research Center last month found that three out of four Pakistanis consider the US an enemy, up from 69 percent last year and 64 percent three years ago.
Relations have been hurt by a series of events - the border strike, the killing of Osama bin Laden in a unilateral US raid on Pakistani soil, and the fatal shooting of two armed Pakistanis by a CIA contractor.
The march was organised by the Defence of Pakistan Council, an alliance of religious political parties and organisations campaigning for a break in ties with the United States and India.
One of the group's main leaders is Hafiz Saeed, whom India suspects of masterminding attacks on India's financial capital Mumbai and its parliament. Saeed denies any involvement in the attacks.
http://www.thedailystar.net/newDesign/latest_news.php?nid=38968
--------
Fisherman's body arrives from Pakistan
July 10, 2012
The body of Rambahi Vala, a Gujarat fisherman who was jailed in Karachi when his trawler crossed into Pakistani waters and later died of illness, was brought to Mumbai on Monday.
His body was given to Gujarat Fisheries authorities, and then taken to his family in Gujarat in an ambulance, nearly 42 days after his demise. It was a long wait for Mr. Vala's family, who had appealed to authorities that they wanted to perform his last rites in Gujarat.
Mr. Vala, who hailed from Junagadh district in Gujarat, was employed on a trawler called Rita Sagar. Last November, the boat was taken into custody by Pakistani authorities, and the fishermen were taken to Karachi jail.
This June, Pakistan freed 315 fishermen languishing in its jail. However, Mr. Vala passed away a month before, on May 28. His post-mortem report states that he had hepatitis and suffered a heart attack. Mr. Vala was undergoing treatment at the Karachi civil hospital, where he was admitted for 20 days.
His family, however, rejected the claims of illness by Pakistan. "He had no illness, no ailment. We want the Indian government to do a post-mortem and ascertain his cause of death," Narayanbhai Lakhnotra, Mr. Vala's relative, told The Hindu on the phone from Gujarat.
Mr. Vala is survived by his wife and three sons. The family ekes out a living through farm labour.
Full report at:
http://www.thehindu.com/news/national/article3621619.ece
---------
South Asia
--------
Sheikh Hasina challenges World Bank
HAROON HABIB
July 9, 2012
In a major policy decision, Bangladesh Prime Minister Sheikh Hasina has announced that her country would itself implement the $3-billion Padma bridge project through mobilising domestic resources after the World Bank cancelled the loan deal recently.
Ms. Hasina also announced that her government would start the construction of the ambitious multi-purpose project immediately.
In a hard-hitting speech in Parliament on Sunday, she also came down on the World Bank for the "catastrophic act" of cancelling the loan agreement. Ms. Hasina, whose government was annoyed with the World Bank decision, said a country takes loan from the World Bank and repays it with interest; therefore, it is the country which will decide how to spend the money.
Outlining her plan to mobilise domestic resources for the project, she said the government would go for imposition of surcharge and issue foreign and local bonds for mobilising the fund. She said the people, including the Bangladeshi expatriates, would donate for the bridge which is both politically and economically important for the country. "Even school students are making calls over my mobile phone to tell me that they would provide money for the bridge by saving their tiffin money. And the Bangladeshis living abroad told me that they would provide fund if we start the project."
She added: "The entire country has become recharged to fulfil the dream of constructing the bridge, mentioning that the country had achieved the liberation showing the same spirit.
http://www.thehindu.com/news/international/article3621362.ece
--------
Six US troops killed in Afghanistan
10 July 2012
KABUL: All six troops killed in a weekend roadside bombing in eastern Afghanistan were Americans, NATO confirmed yesterday.
German Brig. Gen. Gunter Katz, a spokesman for the US-led coalition, disclosed their nationalities at a briefing, but said he could not provide other details about the incident because it was still under investigation. He said a seventh NATO service member killed Sunday in a separate insurgent attack in the south also was an American.
The Taleban yesterday claimed responsibility for the deaths of the six US troops — the latest caused by bombs planted by insurgents along roads, paths or mountain tracks.
Taleban spokesman Zabiullah Mujahid said in a statement the blast struck the US troops in their armored vehicle around 8 p.m. Sunday in Wardak province, just south of Kabul.
Coalition and Afghan forces are trying to secure areas of Wardak that insurgents use as gateway into the Afghan capital where they stage high profile attacks on Afghan government and NATO targets.
Wardak provincial police chief Gen. Abdul Qayum Baqizoi said that after the explosion in Jalrez district, a coalition airstrike killed a local Taleban commander and wounded three insurgents.
In another incident, Afghan suicide bombers killed two children and wounded six others when their explosive vests detonated prematurely as they went to attack police, an official said.
Full report at:
http://www.arabnews.com/six-us-troops-killed-afghanistan
--------
Hillary in plea for rights of Afghan women
July 09, 2012
TOKYO - US Secretary of State Hillary Clinton made a powerful plea Sunday for the rights of women in Afghanistan, using a global forum to insist that they must be part of the country's future growth."The United States believes strongly that no nation can achieve peace, stability and economic growth if half the population is not empowered," she told the Tokyo conference on Afghanistan.Clinton said the way forward "must include fighting corruption, improving governance, strengthening the rule of law (and providing) access to economic opportunity for all Afghans, especially for women"."All citizens need to have the chance to benefit from and contribute to Afghanistan's progress. The United States will continue to stand strongly by the women of Afghanistan." Top diplomat Clinton was addressing a world conference aiming to chart a way forward for the nation after NATO combat troops withdraw in 2014. Clinton told the meeting that the administration of US President Barack Obama would be asking Congress to agree to keep American civilian assistance to Afghanistan at or near current levels until 2017."We need to put the commitments together in order to achieve a future that is worthy of the sacrifice of the Afghan people and many nations represented around this table," Clinton said. Washington says significant progress has been made on women's rights since the US-led invasion of 2001 toppled the Taliban, with the number of girls attending schools soaring and more women gaining employment. According to figures provided by the US State Department, out of the eight million students enrolled in schools today, nearly 40 percent are girls. That contrasts sharply with 2002 when there were only 900,000 children in schools, virtually none of them girls.The US says there are now 175,000 teachers in Afghanistan, about a third of them women, thanks to $316 million spent on education initiatives.US officials said Clinton had raised the issue of women's rights with Afghan President Hamid Karzai during her brief visit to Kabul on Saturday, warning that they were a litmus test for the country's progress.Many fear the recent gains for women are now under threat as NATO troops leave and Kabul seeks peace with the insurgents.A senior US official told reporters there was a fear that women's rights may be at risk, and countries at the Tokyo conference wanted to ensure the final document "was as strong as possible on women's issues"."I certainly think in areas where insurgents are, you see women's rights being rolled back," he said, asking to remain anonymous."We are trying to set a standard. And the standard is that as you go forward... women's rights remain one of the fundamental interests of all of the countries certainly represented here today."He added that in the closing sessions of Sunday's meetings, Afghan ministers had said the message on women's rights "had been heard".
--------
Israeli court clears ex-PM Olmert of major charges
Jul 10 2012,
Jerusalem : An Israeli court has cleared former Prime Minister Ehud Olmert of the major charges in his corruption trial but has found him guilty of a lesser offense.
Olmert was found guilty of a lesser offense, and it was not clear whether that verdict could send him to jail. If that crime, breach of trust, does carry a prison term, he would become the first Israeli prime minister to serve time.
Olmert, 66, appeared claim and relieved as the verdict was delivered in the Jerusalem court.
The verdict, which capped a two-year trial, covered three separate allegations: illegally accepting funds from an American supporter, double-billing Jewish groups for trips abroad and channeling state grants to companies linked to a close friend.
The charges were filed after he became prime minister in 2006, but stemmed back to his time as mayor of Jerusalem and later as a Cabinet minister. After he was indicted in 2008, he stepped aside, and his Kadima Party lost power in the February 2009 elections that brought Benjamin Netanyahu into office.
Olmert's legal troubles are far from over. He is still facing trial in a bribery scandal surrounding a controversial Jerusalem real estate project. That case is expected to take at least another year.
http://www.indianexpress.com/news/israeli-court-clears-expm-olmert-of-major-charges/972564/
----------
Taliban poetry and the lone fighter
By Dawood Azami
9 July 2012
Given the infamous ban on music by the Taliban in Afghanistan, many might be surprised to learn that poetry and singing were actively encouraged. And as NATO forces prepare to leave, these arts are being used to reawaken the mythology of the lone warrior.
There is something of the bard in every Afghan, even Taliban fighters.
Despite the ban on music and songs while they ruled the country, the militants understood early on that poetry is cherished at the very heart of Afghan culture cutting across ethnic and language boundaries.
Epic songs and battle hymns have for centuries lent fortitude to tribal warriors.
But as international forces begin winding down their operations, the Islamist militants are redoubling efforts to take ownership of this treasured cultural tradition and use it for their own ends.
They believe poetry converted to chants will help them recruit new fighters and inspire existing ones.
Full report at:
http://www.bbc.co.uk/news/world-asia-17905361
--------
India
Hizbul Mujahideen commander killed in Kashmir
Jul 10, 2012,
SRINAGAR: Security forces Tuesday killed a senior Hizbul Mujahideen commander in Jammu and Kashmir's Ganderbal district, police here said.
Ghulam Nabi War alias 'Naba Commander', the district commander of the Hizbul Mujahideen, was killed in a gunfight with troops of 24 Rashtriya Rifles and state police in Hayan Palpora village in the district, 45 km from here, a police officer told IANS.
Another officer said the slain guerrilla had been operating in the area for six years and was on the most wanted list of security forces.
"He was a local and belonged to Akhal village in Ganderbal", the officer said.
http://timesofindia.indiatimes.com/india/Hizbul-Mujahideen-commander-killed-in-Kashmir/articleshow/14799930.cms
--------
India thanks Pakistan for allowing AI plane to land
10 July 2012
A special Air India relief plane landed at Delhi airport on Monday with 122 passengers of another flight that had to make an emergency landing in Pakistan's southern Sindh province early on Monday morning. India lauded the "good cooperation" from the Pakistani authorities for ensuring the safe return of the passengers.
India sent the Air India Airbus A-320 to pick up the passengers from Nawabshah airport in Sindh. Flight AI-940, which departed Abu Dhabi on Monday after originating from Bahrain, had to make the landing at Nawabshah airport early on Monday after the pilot noticed a hydraulic failure warning. The pilot made the emergency landing at about 2.57am (IST) in Nawabshah.
The passengers looked visibly relieved and happy to be back home. The passengers were received by Ashok Tomar, special secretary in India's external affairs ministry. Tomar lauded the "good cooperation" from the Pakistani authorities. "I just want to say that the flight with the passengers has just landed as also the original flight AI-940 with the baggage is on its way back and should be landing soon," he said.
Full report at:
http://www.khaleejtimes.com/kt-article-display-1.asp?xfile=/data/international/2012/July/international_July196.xml&section=international
--------
Krishna set to visit Pak despite 26/ 11 mistrust
By Dipanjan Roy Chaudhury
July 10, 2012
DESPITE the fact that revelations on 26/ 11 by Lashkar- e- Tayyeba ( LeT) operative Abu Jundal dominated the meeting between S. M. Krishna and his Pakistani counterpart Hina Rabbani Khar in Tokyo on Sunday, the Indian external affairs minister is planning his trip to Islamabad in the first half of September amid his tight schedule.
Krishna and Khar, during their 30- minute meeting at the Japanese capital on the sidelines of the Afghan donors' conference, discussed the Indian minister's visit to Islamabad.
It has been learnt that Krishna is planning to visit the neighbouring country in the first half of September after the meeting of foreign ministers of Ganga- Mekong countries that India will host in New Delhi in the first week of September.
While Krishna has a tight schedule in the first half of September, with incoming visits of the Prime Minister of Tajikistan and the Canadian foreign minister and also the annual meeting of all Indian heads of missions in the Capital, informed sources said the external affairs ministry was trying to work out a three- day trip to Islamabad during that time. Krishna subsequently will be away in New York for the United Nations General Assembly ( UNGA) from mid- toend September.
Full report at:
Mail Today
---------
'false alarm' led aircraft to land in Pakistan, officials say
Jul 9, 2012,
ISLAMABAD/LAHORE/NEW DELHI: An Air India relief plane has landed at New Delhi airport with 122 passengers of another flight that made an emergency landing in Pakistan's southern Sindh province early on Monday morning after its alarm light started blipping.
The Air India Airbus A320 sent to pick up the stranded passengers took off from Nawabshah airport in Sindh shortly after 3pm, Pakistani officials said.
A team of engineers flew in on the relief aircraft to repair the Air India plane that made the emergency landing at Nawabshah airport at 3.37am. A team of technical experts from Pakistan's Civil Aviation Authority assisting its Indian counterparts.
Earlier in the day, the captain of the Air India flight going from Abu Dhabi to New Delhi sought permission for an emergency landing after emergency light showed a problem with the hydraulic system while in Pakistani airspace.
The aircraft landed safely and the flight's 122 passengers and eight crew members were unharmed, civil aviation authority spokesman Pervez George said.
Though Pakistani authorities had offered to allow the passengers to disembark and use the Nawabshah airport's lounges, the captain preferred to have them remain on board, officials said. The captain asked for drinking water and this was supplied to the aircraft, they said.
Defence secretary Nargis Sethi had instructed Civil Aviation Authority chief Nadeem Khan Yousufzai to provide all possible facilities and assistance to the crew and passengers of the Air India plane at Nawabshah.
Full report at:
http://timesofindia.indiatimes.com/india/Air-India-plane-lands-in-Delhi-false-alarm-led-aircraft-to-land-in-Pakistan-officials-say/articleshow/14776785.cms?
--------
Mideast Asia
Iranian FM on surprise UAE visit
July 10, 2012
ABU DHABI - Iranian Foreign Minister Ali Akbar Salehi held talks on Monday with top Emirati officials on a surprise visit to the United Arab Emirates, the state news agency WAM reported. Salehi "discussed ways of enhancing bilateral relations" and "matters of bilateral interest" with Deputy Prime Minister Sheikh Mansur bin Zayed al-Nahayan, who also holds the presidential affairs portfolio, WAM said. Salehi's surprise visit comes amid tense relations between Iran and the UAE over three disputed islands in the Gulf — Abu Musa, the Greater Tunb and the Lesser Tunb, with each country claiming ownership of the islands.Iranian President Mahmoud Ahmadinejad triggered the fury of the UAE when he visited Abu Musa, the largest of the three islands, in April to reinforce the Tehran's claim. The head of Iran's powerful Revolutionary Guards visited them in May.The UAE claims ownership over the islands in line with a 1971 agreement signed when Britain ended its colonial-era reign over that part of the Gulf. But Iran insists the islands have always been part of its territory.The islands are strategically located in the oil-rich Gulf, permitting control over access to the waterway and Iran maintains a military base and airfield on Abu Musa.In June the United States backed the UAE's claim of ownership prompting anger in Tehran which accused Washington of interfering in Iranian domestic affairs.Iran's Arabic-language television Al-Alam, meanwhile, reported that Annan had arrived Monday in Tehran from Syria for talks with the Islamic republic's top security official and foreign minister.Annan has maintained that Iran has a key role to play in efforts to end the nearly 16-month-old deadly conflict in Syria. He also visited Tehran on April 10.
http://www.nation.com.pk/pakistan-news-newspaper-daily-english-online/international/10-Jul-2012/iranian-fm-on-surprise-uae-visit
--------
Sanctions on Iran: A prelude to war?
July 10, 2012
DANNY SCHECHTER
Being in South Africa reminds me that I am in a country that resisted foreign sanctions for years. Ironically, when an oil boycott was imposed to undermine the apartheid system, the Shah of Iran sold oil to the then ostracised nation, and South Africans became dependent on Iranian oil.
Today, it is the revolution that toppled the Shah that sells oil to South Africa. But now, Iranian oil is being sanctioned by the West, with Europe and the US leaning on the "new" South Africa to cut back on its Iranian imports or face a trade cut-off. They have no choice but to comply.
Back in the 1980s Washington refused most calls for sanctions under the argument that would hurt the people the world wanted to help, not just the regime.
That was then. Now, hurting the Iranian people who are losing jobs and suffering economically doesn't seem to factor in the current calculations as the United States and Europe escalate oil sanctions on Tehran in what many see as a prelude to an armed confrontation - if not war.
Last week, the New York Times reported, "The imposition on Sunday of new international measures aimed at cutting Iran's oil exports, its main source of income, threatens to make the distortion in the economy even worse. With the local currency, the rial, having lost 50 per cent of its value in the last year against other currencies, consumer prices here are rising fast - officially by 25 per cent annually, but even more than that, economists say."
The tightening of sanctions follows the unleashing of malicious software viruses, an escalation in threats in tandem with Israel, and sending surveillance drones into Iranian air space, one of which crashed and was captured.
Full report at:
http://www.nation.com.pk/pakistan-news-newspaper-daily-english-online/international/10-Jul-2012/sanctions-on-iran-a-prelude-to-war
--------
Gaza rocket hits Israel: Army
Jul 10 2012,
Jerusalem : Palestinian militants in Gaza fired a rocket which crashed into southern Israel without causing casualties or damage, a military spokeswoman said.
"The rocket exploded in an uninhabited zone of the Eshkol region," she said.
Meanwhile, Gaza-based Palestinians gunmen opened fire with automatic rifles last evening on cars in southern Israel without causing any injuries, police spokesman Micky Rosenfeld told AFP.
"The gunfire targetted cars in the Yad Mordechai kibbutz. There was material damage," he added.
An Army spokesman confirmed the shooting and said a building was damaged.
Later an Israeli military spokesman said a retaliatory air raid had been carried out in the Gaza Strip, without giving details.
Tensions regularly flare along the border between Israel and the Gaza Strip, with Palestinian militants firing rockets into the Jewish state and the Israeli military launching retaliatory air strikes on the Palestinian territory.
A flare-up in violence in June saw dozens of rockets fired into Israel and 15 Palestinians killed in air strikes, until a return to the tense truce.
http://www.indianexpress.com/news/gaza-rocket-hits-israel-army/972542/
--------
Former Israeli Premier Is Cleared of Most Corruption Charges
By ISABEL KERSHNER
9 July 2012
JERUSALEM – In a dramatic turnabout, Ehud Olmert, a former prime minister of Israel, was cleared on Tuesday by a Jerusalem court on two counts in a high-profile corruption case that cut short his term in office and changed the course of Israeli politics and diplomacy.
Mr. Olmert was convicted of breach of trust,a third, less serious charge, for which he will be sentenced in September, according to court documents.
The result rocked Israel and immediately raised questions about the possibility of overzealous police investigators and state prosecutors and their motives.
It was also likely to raise the question of a possible political comeback, although Mr. Olmert, who resigned as prime minister in 2008, is still embroiled in another serious corruption case in which he is charged with taking bribes in the construction of a huge residential complex while he was the mayor of Jerusalem.
Mr. Olmert's three-year term as prime minister was marked by high-wire peace talks and military actions and dogged by multiple police investigations. Intensive peace talks with the Palestinians were interrupted by a devastating three-week Israeli offensive in Gaza in the winter of 2008-2009 and elections that followed Mr. Olmert's resignation brought Benjamin Netanyahu, of the conservative Likud Party, to power. The peace process has been mostly stalled since.
Mr. Olmert has admitted to making mistakes in the years before he became prime minister but always denied criminal wrongdoing. His lawyers always maintained that he would prove his innocence in court.
Full report at:
http://www.nytimes.com/2012/07/11/world/middleeast/ehud-olmert-cleared-of-two-counts-of-corruption.html?_r=1&ref=middleeast
--------
Arab World
Egyptian parliament reconvenes, defying army
Jul 10, 2012,
CAIRO: Egypt's Islamist-led parliament reconvened on Tuesday in an open challenge to the generals who dissolved the assembly last month, stirring up tensions with the military just 10 days into Mohamed Morsi's presidency.
Morsi, the first civilian president to take office after six decades of military men in power, recalled the assembly on Sunday. The body, dominated by Morsi's Muslim Brotherhood group and other allies, was dismissed by the army in line with a court ruling issued days before Morsi's election.
Shortly before parliament speaker Saad al-Katatni opened the session, the United States urged all sides to engage in talks to safeguard the political transition in Egypt, a close US ally in the three decades under ousted Hosni Mubarak's rule.
"I invited you to convene in accordance with the decree issued by the president," said Katatni, who like Morsi hails from the Brotherhood. "I would like to confirm that the presidential decree does not violate the court order."
The dispute is part of a broader power struggle which could take years to play out. It pits the Brotherhood, which was repressed by Mubarak and his predecessors, against the generals seeking to keep their privileges and status and a wider establishment still filled with Mubarak-era officials.
The parliament was elected over the course of six weeks beginning in November, under a complex voting procedure which the court later ruled was unconstitutional, declaring the lower house void.
The then-ruling military said that meant the parliament had to be dissolved, but Morsi's supporters say it should still be allowed to work until early elections are held after a new constitution is passed.
On Monday the army defended its action to dissolve parliament and, in an apparent swipe at the president, said it was confident "all state institutions" would respect the constitution and the law.
Nevertheless, the army did not take any steps to prevent lawmakers from entering parliament.
Full report at:
http://timesofindia.indiatimes.com/world/middle-east/Egyptian-parliament-reconvenes-defying-army/articleshow/14806394.cms
---------
Annan and Assad agree political approach for Syria
July 10, 2012
DAMASCUS - International envoy Kofi Annan said he agreed with President Bashar al-Assad on Monday on a new political "approach" to end Syria's 16-month-old conflict that he would put to the rebels.
Stepping up efforts to halt the carnage which monitors say has cost more than 17,000 lives, the UN-Arab League envoy then travelled on to Iran, Syria's closest ally, in his quest to find a solution.
"We discussed the need to end the violence and ways and means of doing so. We agreed an approach which I will share with the armed opposition," Annan said after meeting Assad in Damascus.
The former UN chief said he had a "constructive" meeting with Assad, on his third such mission for talks on his six-point peace plan for Syria since his appointment in February.
"I had constructive and candid talks with President Assad," he told reporters. Syrian foreign ministry spokesman Jihad Makdissi called the meeting "constructive and good."
Pro-government Al-Watan newspaper said the talks focused on the results of the Geneva meeting at the end of June of an international contact group on Syria. They discussed means "to implement the results of the meeting... on forming a transitional government in Syria that groups government and opposition representatives without mention of Assad's departure."
World powers in Geneva agreed a plan for a transition which did not make an explicit call for Assad to quit, although the West and the opposition made clear it saw no role for him in a unity government.
Full report at:
http://www.nation.com.pk/pakistan-news-newspaper-daily-english-online/international/10-Jul-2012/annan-and-assad-agree-political-approach-for-syria
--------
Egypt's President Rolls the Dice for Sharia
Jul 10th, 2012
Egypt's President Mohammed Morsi issued a decree on Sunday calling the recently dissolved parliament back into session, thus defying the Supreme Council of the Armed Forces (SCAF) and putting the Islamists and military on a collision course. He also called for new elections to be held 60 days after a new constitution is written. Despite opposition by some members of parliament to the recall, and warnings from the military and the courts, Morsi has chosen to gamble that the protestors in the street will be on his side and that the generals fear violence more than they fear a challenge to their power.
SCAF dissolved parliament last month after the Supreme Court ruled that a third of the parliamentary elections held earlier this year were invalid due to a technicality. The generals then seized all legislative power and emasculated the powers of the presidency while taking control of the process to write a new constitution by issuing a "constitutional declaration" that sidelined the Muslim Brotherhood.
Now Morsi is gambling that his efforts to reconstitute parliament — the major power center of the Islamists — won't push the military into a violent confrontation with the Muslim Brothers and their supporters in the streets.
http://frontpagemag.com/2012/rick-moran/egypts-president-morsi-rolls-the-dice/
--------
Annan in Tehran for Talks on Syria Peace Plan
By THOMAS ERDBRINK
July 10, 2012
TEHRAN – Kofi Annan, the envoy of the United Nations and the Arab League on Syria, met with senior Iranian officials on Tuesday to seek their cooperation in trying to rescue his foundering peace plan.
The trip highlighted a growing difference in international approaches to the Syrian crisis, with Secretary of State Hillary Rodham Clinton on Monday saying that President Bashar al-Assad's "days are numbered," as Mr. Annan reached out to Mr. Assad and his regional partner Iran to try to find a compromise.
"My presence here proves that I believe Iran can play a positive role and should therefore be a part of the solution in the Syrian crisis," Mr. Annan said at a news conference with Foreign Minister Ali-Akbar Salehi. Mr. Annan, who arrived on Monday after meeting with Mr. Assad in Damascus, said that he could only speak for himself.
The United States and the European Union have objected to allowing Iran, a staunch ally of Mr. Assad, to play a role in resolving Syria's 16-month conflict. Iranian officials have been stressing that elections in 2014 will give the Syrians a chance to elect a new leader through a democratic process, although it is unclear whether the Syrian opposition would be allowed to participate.
Full report at:
http://www.nytimes.com/2012/07/11/world/middleeast/kofi-annan-meets-with-iranian-officials-on-syria-peace-plan.html?_r=1
---------
Homs, Qusayr battered as 31 killed in Syria: NGO
Monday 9 July 2012
QUSAYR, Syria: Syria's army pounded besieged rebel-held areas of Homs on Monday, monitors said, as troops also shocked Qusayr residents with a morning bombardment and 31 people were killed across the country.
The Britain-based Syrian Observatory for Human Rights said that of those killed, 16 were civilians, 11 were regime troops and four were rebels.
Qusayr in the central province of Homs near the Lebanese border, pounded continuously for three months in a bid by regime forces to wipe out the revolt there, suffered renewed shelling early on Monday.
"When they attack in the morning their objective is to cause as many casualties as possible, because they know that's when people are on the streets," an activist who identified himself as Hussein told AFP, adding that the army's goal was to "terrorize the town."
"The result is that people hate the regime more, because that's when the children are playing on the streets and the elderly are having tea at the doors of their homes," he said.
An AFP correspondent saw several members of one family being treated for wounds, including a 13-year-old boy, after a shell exploded 10 meters (yards) away from them.
The boy's T-shirt was soaked in blood as his head bled from a deep cut.
"We were on our way to my mother-in-law's house when the bombs began to fall. We tried to run but a bomb exploded right in front of us," said the boy's father, who was also wounded.
Full report at:
http://www.arabnews.com/homs-qusayr-battered-31-killed-syria-ngo
--------
Egypt's parliament convenes despite dissolution
10 July 2012
Egypt's parliament has briefly convened, despite the ruling military council ordering it to be dissolved.
The country's new President, Mohammed Mursi, had ordered the assembly to meet in defiance of the ruling.
Earlier, the council said the decision to dissolve parliament had to be upheld. The military closed parliament last month after a court ruling.
Its latest intervention is seen by some as a challenge and warning to Mr Mursi, who was sworn in only a week ago.
It could be the first confrontation between the military and the president since Mr Mursi's election.
Speaker Saad al-Katatni said by holding the assembly, MPs were not contradicting the ruling, "but looking at a mechanism for the implementation of the ruling of the respected court. There is no other agenda today," he added, before adjourning the session.
Crowds were gathering in Tahrir Square ahead of the meeting called for 10:00 (08:00 GMT) in defiance of the military's decision.
The Muslim Brotherhood - Mr Mursi's power base, which has the biggest bloc of seats in parliament - said it would participate on Tuesday "in a million-man march in support of the president's decision and reinstating parliament".
The military council said it was confident "all state institutions" would respect the law and constitution.
The BBC's Jon Leyne, in Cairo, says the political truce in Egypt appears to be over.
It is unclear how events will unfold as the situation - with the new president elected without a new constitution being drafted, and the parliament theoretically dissolved - is unprecedented, analysts say.
The interim constitutional declaration of 17 June gives the Scaf complete legislative power until a new parliament is elected and gives it a strong voice in the constitution-writing process. The decree makes the military free from civilian oversight, and gives the Scaf control of military affairs and the budget.
President
On paper, the president has authority over administrative and domestic affairs. He will appoint the cabinet - with the exception of the defence minister, which is reserved for the head of the Scaf. The president chairs the re-established National Defence Council, but the military has a majority.
Full report at:
http://www.bbc.co.uk/news/world-middle-east-18777150
--------
Al Qaeda front group claims Iraq attacks
July 10, 2012
BAGHDAD: Al Qaeda's front group in Iraq has claimed responsibility for a spate of attacks last month, including dozens on June 13, when violence across the country killed 72 people.
The Islamic State of Iraq, in a statement posted on jihadist Internet forums, said it carried out 47 attacks over several months, including 27 on June 13, which was the country's deadliest day since August 2011.
The statement on the Honein forum detailed a long list of car bombs, roadside bombs and targeted assassinations against what the ISI said were "Safavid" soldiers, police and civilians.
Sunni insurgents often invoke Iran's Safavid past, referring to the Shiite dynasty that ruled Persia between the 16th and 18th centuries and conquered part of Iraq, when denouncing the Baghdad government, which they say is controlled by Iran.
June saw a marked uptick in unrest in Iraq, with 282 people dying as a result of violence last month, according to an AFP tally. Government figures, however, said just 131 people were killed.
http://tribune.com.pk/story/406206/al-qaeda-front-group-claims-iraq-attacks/
--------
Eco-friendly mosque to come up in Dubai by 2013
10 July 2012
An eco-friendly mosque which is expected to reduce energy and water consumption by 15-19 per cent will come up in Dubai by 2013. The Awqaf and Minors Affairs Foundation said the Dh25-million mosque will be located behind Al Rowad village near the Clock Tower Roundabout in Deira.
The 45,000-square-foot mosque will be in a 105,000-square-foot area. As the largest mosque in Dubai, the facility will accommodate 3,500 worshippers.
The mosque will feature green spaces, particularly gardens on the roof for heat insulation. In addition to green building technologies such as solar panels to heat water for ablution and the Imam's house, the mosque will host recycle plants to treat water used in ablution for gardening and washroom purposes.
Equipped with the latest technologies in energy efficiency to curb wastage in air-conditioning and air purity system, the mosque will be constructed with eco-friendly materials and avoid the use of asbestos and polystyrene. It will additionally use thermal insulation, programmed and automatic thermostat, suction fans with energy recovery units, and natural light and heat-reflective colours, especially at the interfaces and roofs.
Tayeb Abdulrahman Al Rais, Secretary-General of the AMAF, said: "The construction of the mosque is in line with the UAE leadership's vision towards the conservation of resources, environment protection and the adoption of green practices. With the global call for energy conservation, it is essential for developers to take responsibility for creating buildings that comply with green standards.
Full report at:
http://www.khaleejtimes.com/kt-article-display-1.asp?xfile=data/todayevent/2012/July/todayevent_July10.xml&section=todayevent
--------
Algeria calls for regional approach to terrorism
9 July 2012
ALGIERS, Algeria: Algeria's foreign minister has asked his regional counterparts for a North Africa-wide approach to the threat of terrorist groups and criminal networks smuggling drugs and weapons.
He says the most serious threat to the region were the links between the terrorist groups and criminal networks as well as the money laundering funding their activities.
Mourad Medelci addressed Monday the opening of a foreign ministers' meeting of the Arab Maghreb Union, which includes Tunisia, Algeria, Libya, Mauritania and Morocco.
The five countries all border the Sahara where smugglers traffic in weapons and drugs and extremist groups with links to Al-Qaeda kidnap foreigners.
The decades-old AMU has achieved little concrete due to an ongoing rivalry between Morocco and Algeria, its two most powerful members.
http://www.arabnews.com/algeria-calls-regional-approach-terrorism
--------
Egypt army says constitution must be respected
July 10, 2012
CAIRO - Egypt's military on Monday said the constitution and the law must be upheld concerning the dissolution of parliament, raising tension after President Mohamed Morsi decided to reinstate the assembly.
The Supreme Council of the Armed forces (SCAF), which ruled Egypt until Morsi's election last month, underlined the "importance of the constitution in light of the latest developments," the official MENA news agency reported.
Only hours after the top court on Monday rejected a decree by Morsi to reinstate the parliament it had ruled invalid — a ruling enforced by the SCAF — the military said it was "confident that all state institutions will respect constitutional declarations."
MENA also quoted the SCAF statement as saying that it had only agreed to dissolve parliament after the Supreme Constitutional Court ruled that the "People's Assembly is invalid."
Islamists scored a crushing victory in Egyptian parliamentary elections that were held in three-stages from November last year, with the Muslim Brotherhood, Morsi's former organisation, heading the lower house.
But the military dissolved parliament last month after the top court made its controversial ruling, a day before the second round of the presidential poll that saw Morsi become Egypt's first democratically elected head of state.
Full report at:
http://www.nation.com.pk/pakistan-news-newspaper-daily-english-online/international/10-Jul-2012/egypt-army-says-constitution-must-be-respected
middleeast/2012/July/middleeast_July103.xml&section=middleeast
---------
North America
As Islamists Gain Influence, Washington Reassesses Who Its Friends Are
By SCOTT SHANE
July 10, 2012
WASHINGTON — In his first major speech last month, Mohamed Morsi, the new Egyptian president, pledged to seek the release of a notorious Egyptian terrorist from a North Carolina prison. Not long before that, a member of a designated terrorist organization, Gamaa al-Islamiyya — who also happens to be a recently elected member of the Egyptian Parliament — was welcomed to Washington as part of an official delegation sponsored by the State Department.
Obama administration officials made no public comment on Mr. Morsi's promise and struggled to explain why the Egyptian Parliament member, Hani Nour Eldin, got a visa, citing privacy rules and declining to say whether he had been granted a waiver from the ban on such visitors or whether his affiliation simply escaped notice.
Pressed by reporters after the visa quickly became a Congressional controversy, a State Department spokeswoman, Victoria J. Nuland, said Mr. Eldin had been judged to pose no threat to the United States.
"It's a new day in Egypt," she added. "It's a new day in a lot of countries across the Middle East and North Africa."
For the Obama administration, as it navigates the tumultuous effects of the Arab Spring, it's a complicated day, as well. Long-held assumptions about who is a friend of the United States and who is not have been upset, leaving many Americans confused.
"Right now, the United States is kind of in a trance when it looks at the Middle East," said Akbar Ahmed, chairman of Islamic studies at American University. "Everything has changed."
The overthrow of dictators across the Arab world and the rise of Islamists to new influence or power is forcing Washington to reassess decades-old judgments. The most important is in Egypt, where Mr. Morsi, representing the region's most powerful Islamist movement, the Muslim Brotherhood, won a close election. His move on Sunday to revive the dissolved Parliament had Western experts scrambling to understand his strategy.
Full report at:
http://www.nytimes.com/2012/07/10/world/middleeast/fast-changing-arab-world-is-upending-us-assumptions.html?hpw&gwh=90C2494DA1F28059E6E0E3AFA4B4A139
--------
Hell to pay for Nato's 'holy war'
July 10, 2012
US Secretary of State Hillary Clinton is running out of rhetorical ammunition in the US's 'holy war' against Syria. Perhaps it's the strain of launching a NATO war bypassing the UN Security Council. Perhaps it's the strain of being eaten for breakfast routinely by Russian Foreign Minister Sergei Lavrov.
Hillary has just called on "Western powers" and their Arab stooges - the NATOGCC compound [1] that passes for the "international community" - to "make it clear that Russia and China will pay a price because they are holding up progress" regarding weaponised regime change in Syria.
In non-newspeak, this means, "If you block our new war, there will be payback".
Howls of laughter in the corridors of the Kremlin and the Zhongnanhai notwithstanding, this shows how desperate the NATOGCC compound is to force regime change in Syria as a stopover in cutting off Iran's privileged connection with the Arab world. And this while Turkey's Prime Minister Recep Tayyip Erdogan - leading NATO's eastern flank - itches to attack Syria but can't find a way to sell it to Turkish public opinion. Into this incandescent context plunges WikiLeaks - releasing a batch of very embarrassing emails against the Assad system and the NATO rebels as well. A possible side effect will be to inspire waves of so-called progressives all across the West to start supporting the 'holy war' on Syria. A realistic effect will be to show how unsavory both sides - the police state Assad system and the armed opposition - really are.
CAR BOMBING TOURISM, ANYONE?
It's useful to examine what price Washington itself, not to mention its NATO subjects, could be paying for this 'holy war' branch-out fought with - who else - the same bunch of "terrorists" who until yesterday were about to destroy Western civilization and turn it into a giant Caliphate.
Full report at:
http://www.nation.com.pk/pakistan-news-newspaper-daily-english-online/international/10-Jul-2012/hell-to-pay-for-nato-s-holy-war
--------
US asks Pakistan to stop Haqqani network from operating
July 10, 2012
WASHINGTON: US State Department spokesman Patrick Ventrell, while briefing journalists in Washington said that the Haqqani network was involved in attacks on US troops in Afghanistan and that the US wants Pakistan to stop the network's activities, DawnNews reported.
The spokesman added that the same stance had been reiterated during the Tokyo meeting between the Foreign Minister of Pakistan, Hina Rabbani Khar and US Secretary of State Hillary Rodham Clinton.
http://dawn.com/2012/07/10/us-asks-pakistan-to-stop-haqqani-network-from-operating/
--------
US Congress to vote on Haqqani network bill
By Huma Imtiaz
July 9, 2012
WASHINGTON: The US Congress did not vote on a bill on Monday which called for the Secretary of State to report whether the Haqqani network meets the criteria for being designated as a terrorist network.
The Haqqani Network Terrorist Designation Act of 2011 stipulates that 30 days after the President has approved the bill, the Secretary of State has to submit a report to Congressional committees on the matter. Additionally, the bill includes that "nothing in this Act may be construed to infringe upon the sovereignty of Pakistan to combat militant or terrorist groups operating inside the boundaries of Pakistan."
The House had convened on Monday evening to discuss the bill, but the session was adjourned to Tuesday without a vote.
The text of the bill states that the Congress has found that the Haqqani Network was responsible for attacks on US-led forces in Afghanistan, as well as on the US Embassy in Kabul.
Full report at:
http://tribune.com.pk/story/405792/terrorists-us-congress-to-vote-on-haqqani-network-bill/
--------
U.S. Antagonist in Iraq Takes a Political Gamble
By TIM ARANGO
9 July 2012
NAJAF, Iraq — When Moktada al-Sadr, the populist Shiite leader and America's most unyielding enemy here, returned to Iraq early last year after three years of self-imposed exile in Iran, he did so as a triumphant kingmaker whose actions proved decisive in ending months of electoral stalemate.
Now, with the United States military gone, he has emerged as something more prosaic: a mainstream political leader looking for new paths to secure the claims to power that his movement achieved through violent opposition to the American occupation.
The first thing he has done is come home once more. With none of the fanfare of his homecoming last year — which was quickly followed by his return to Iran — Mr. Sadr says he is back in Iraq to stay, at least for now. He says he has temporarily put aside his religious studies in Iran, widely considered his patron, to attend to a political crisis here over contests for power among Iraq's Shiites, Sunnis and Kurds that has brought the government to a standstill, and to position his movement for the next elections.
Notably, Mr. Sadr has joined Sunnis and Kurds in calling for the ouster of Prime Minister Nuri Kamal al-Maliki, a fellow Shiite. He is also testing other cross-sectarian alliances by inviting Sunni and Christian candidates to run in provincial elections, scheduled for next year, under the Sadrist banner. Together, these moves could help position him as a nationalist and help him shed the baggage of the past, when his militias were linked to some of the worst sectarian violence.
Full report at:
http://www.nytimes.com/2012/07/10/world/middleeast/moktada-al-sadr-recast-as-political-insurgent-in-iraq.html?ref=middleeast&gwh=EE1DD4576ED93EFAB86D10740B73348E
--------
LeT now more dangerous than Al-Qaida: US expert
Jul 10, 2012,
WASHINGTON: Al-Qaida on the ropes, Lashkar-e-Taiba (LeT), with the help of its Pakistani backers, is now probably the most dangerous terror group in the world, according to a former CIA analyst.
The November 2008 attack by ten LeT terrorists on multiple targets in Mumbai, India was the most significant and innovative terrorist attack since 9/11, Bruce Riedel, Senior Fellow Foreign Policy at Brookings Institution, a Washington based think tank, wrote in The Daily Beast.
The Mumbai attack, he wrote, marked the maturation of LeT from a Punjabi-based Pakistani terror group targeting India exclusively to a member of the global Islamic jihad targeting the enemies of Al-Qaida: the Crusader West, Zionist Israel, and Hindu India.
The arrest of Sayeed Zabiuddin Ansari, alias Abu Jindal, one of the masterminds of the Mumbai attack, by India is a major breakthrough in the investigation of the deadliest terror attack in the world since 9/11, Riedel said.
"He is already confessing to his role and implicating Pakistan's Inter Services Intelligence (ISI) directorate directly in controlling the attack as it went down," he noted.
"If the press reports about Abu Jindal's accusations are confirmed then the ISI was involved directly in the decision to murder Americans," Riedel said.
Full report at:
http://timesofindia.indiatimes.com/world/pakistan/LeT-now-more-dangerous-than-Al-Qaida-US-expert/articleshow/14800746.cms
--------
Europe
Islamist cleric Abu Hamza appeals ECHR extradition ruling
July 10, 2012
LONDON: Muslim preacher Abu Hamza has lodged an appeal at the European Court of Human Rights against its ruling that he can be extradited from Britain to the United States, the Home Office said Monday.
onday.
Britain's interior ministry said the terror suspect had applied to have the judgement referred to the Strasbourg-based court's Grand Chamber.
On April 10, the ECHR ruled that London could extradite Abu Hamza and four others to the United States, finding that their human rights would not be violated if they were extradited.
The court allowed a three-month stay for appeal, due to expire on Tuesday.
"The Home Secretary (Theresa May) welcomed the judgement of the European Court of Human Rights on April 10 to allow the extradition of Abu Hamza and four other terrorist suspects," a Home Office spokeswoman told AFP.
"Abu Hamza has applied to have the judgement referred to the ECHR Grand Chamber. The judgment does not become final until a decision has been made on the application.
"The suspects remain in extradition custody."A spokesman for the Strasbourg-based court confirmed to AFP that Hamza's lawyers had filed a request and that it was within the deadline.
"The extradition is blocked and a jury must now decide whether the Grand Chamber of the ECHR should take up the case," he added.
Abu Hamza, the former imam of the Finsbury Park mosque in north London, is wanted in the United States on charges including setting up an al Qaeda-style training camp for militants in the northwestern US state of Oregon.
Full report at:
http://dawn.com/2012/07/10/islamist-cleric-abu-hamza-appeals-echr-extradition-ruling/
--------
French TV defends broadcasting gunman siege tapes
July 10, 2012
PARIS: French television channel TF1 defended on Monday a decision to air recordings of gunman Mohamed Merah negotiating with police that sparked fury among his victims' families and prompted an official probe.
The audio extracts of Merah, who killed seven people in March including three Jewish children, contained "very important information" that warranted broadcast, TF1's news director Catherine Nayl told AFP.
The extracts, broadcast on Sunday, revealed how police negotiated with the gunman during a 32-hour siege at an apartment in Toulouse, southwest France, where they had cornered him after his killings, she said.
"We did this with a perfect awareness of its news value," she said. "I think this document proves that, right up to the end of the raid, the negotiators were trying to detain Mohamed Merah and to detain him alive."
She said the recordings also showed that Merah "in cold blood and with absolute determination … had created a character for himself."
All this information, which is new information in the Merah case, seemed important to us to broadcast," she said. "We are journalists, our job is to inform."
In the extracts, run on TF1's early evening news programme, the 23-year-old al Qaeda-inspired gunman could be heard defying the police and declaring he was not afraid to die.
Merah was eventually killed in a shootout as a crack police unit tried to storm his apartment.
"I know that there's a chance you could kill me, that's a risk I'm taking," he said. "So there we are – know that you are up against a man who is not afraid of death."
Lawyers for relatives of the victims said the families were "outraged" by the move and would file complaints while Interior Minister Manuel Valls condemned the decision to run the extracts.
Full report at:
http://dawn.com/2012/07/10/french-tv-defends-broadcasting-gunman-siege-tapes/
---------
Venezuelan President slams Hillary's 'overt threats' to Russia, China
july 10, 2012,
Moscow: Venezuelan President Hugo Chavez has criticised US Secretary of State Hillary Clinton who he claimed threatened Russia and China while speaking at a Friends of Syria conference.
"We saw overt threats to Russia and China. (Clinton said)... they will have to pay a high price if they do not do what other countries demand. Do you understand? Obviously, this is the downright madness of those who consider selves rulers of the world," Spanish-language TV network Univision quoted Chavez as saying Monday at a press conference in Caracas.
He urged Clinton to instead look into the problems of the American people.
"There are enough problems in the US, but they (the US authorities) want to do (in Syria) what they did in Libya," Chavez said.
Foreign military troops killed thousands in Libya to kill Gaddafi, Chavez continued.
"And now they want to do the same in Syria and threaten Iran," he said.
The Venezuelan president said Cuban Leader Fidel Castro has already warned him that "there is a serious threat of nuclear war".
Clinton criticised Russia and China last week for blocking efforts to topple Syrian President Bashar al-Assad.
Full report at:
http://zeenews.india.com/news/world/chavez-slams-hillarys-overt-threats-to-russia-china_786579.html
--------
Russia to suspend new arms to Syria
July 10, 2012
Russia will not deliver fighter planes or other new weapons to Syria while the situation there remains unresolved, the deputy director of a body that supervises Moscow's arms trade was quoted as saying on Monday.
"While the situation in Syria is unstable, there will be no new deliveries of arms there," Vyacheslav Dzirkaln told journalists at the Farnborough Airshow in Britain, Russia's Interfax news agency reported.
The refusal to send more arms to Syria could signal the strongest move yet by Moscow to distance itself from Syrian President Bashar al-Assad, whom it has defended in the UN Security Council from harsher sanctions.
It could also scuttle up to $4 billion of outstanding contracts, including fighter jets and air-defence systems that were expected to be delivered this year.
A spokesman for Dzirkaln's Federal Service for Military Technical Co-operation would not confirm the deputy director's comments when contacted by telephone. Reuters was awaiting for a response to requested written questions.
In Washington, White House spokeswoman Erin Pelton said it would be a positive development if confirmed.
Full report at:
http://www.thedailystar.net/newDesign/latest_news.php?nid=38961
--------
We must force Syrians to talk: Putin
VLADIMIR RADYUHIN
10 July 2012
Russian President Vladimir Putin said that the "tragic events" in Libya must not be repeated in Syria and called for "forcing" the Syrian government and opposition groups to start a dialogue.
"The Libyan tragic events are still fresh in our mind. Such scenarios categorically cannot be allowed to repeat in other countries, such as Syria," Mr Putin said, accusing the West of resorting to "rocket-bomb democracy" and interfering in internal conflicts.
"I am convinced that we must do everything possible to force the conflicting sides [in Syria] to find a peaceful political solution to all the disputed issues," Mr Putin told an annual meeting of the Russian Ambassadors to foreign countries, on Monday.
"This is of course more difficult and sophisticated work than the crude use of outside force. But it alone can ensure long-term settlement and future stable development in the region," he said.
Full report at:
thehindu.com/news/international/article3621032.ece
URL: https://www.newageislam.com/islamic-world-news/new-age-islam-news-bureau/nigeria--islamists-murder-52-in-christian-villages/d/7876