New Age Islam News Bureau
24 September 2020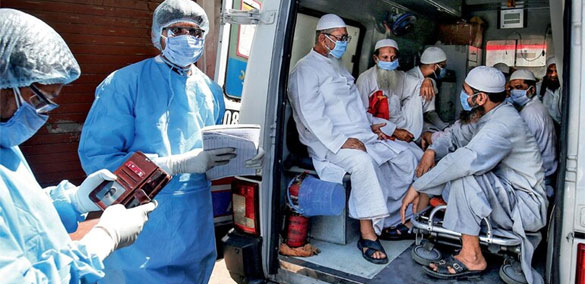 The complaint was filed against a sting operation run by the channel while drawing links to the Tablighi Jamaat incident which was largely pegged as being a conspiracy for spread of Covid-19 in India
-----
• Sudarshan TV Violated Programme Code with 'UPSC Jihad', Centre Tells SC; Show-cause Notice Issued against Channel
• Political Decisions Should Be Taken In Parliament, Not At Army HQ: Maryam Nawaz
• Hezbollah Has Destroyed Lebanon, Must Disarm: Saudi Arabia's King Salman
• Israel, UAE Ambassadors Hold First Ever Arabic Meeting
• IS Steps up Recruitment in Indonesia, Malaysia, Philippines
• Dhaka, Riyadh in Dispute over Issuing Passports for Rohingyas in Saudi Arabia
• Tech & Terrorism: Cryptocurrency Used To Finance ISIS Terror Activities
India
• News Broadcasting Standards Authority Takes Cognisance of Citizen for Justice and Peace Complaint against India Today's Communal Sting Operation on Madrasas
• Sudarshan TV Violated Programme Code with 'UPSC Jihad', Centre Tells SC; Show-cause Notice Issued against Channel
• Former Jammu & Kashmir Chief Minister Farooq Abdullah: Kashmiris Don't Feel They're Indian
• Bengal BJP Chief Says Islamic Radicalisation, Naxal Threat Rising, Asks Amit Shah to Intervene
• Terrorist killed in encounter with security forces in J-K's Awantipora
• Terrorists kill BDC chairman in Kashmir
• J&K approves re-allocation of nearly 2,000 posts for Kashmiri Pandits under PM's package
--------
Pakistan
• Political Decisions Should Be Taken In Parliament, Not At Army HQ: Maryam Nawaz
• Pakistan army, ISI had secret meeting with opposition leaders ahead of multi-party conference: Report
• Sikh scriptures entrusted to Gurdwara Sahib
• PML-N leader's call on COAS kicks up storm
• Opposition to give formal shape to 11-party alliance
--------
Arab world
• Hezbollah Has Destroyed Lebanon, Must Disarm: Saudi Arabia's King Salman
• Saudi Arabia: Any nuclear deal with Iran must preserve non-proliferation
• King Salman Targets Iran during Debut at United Nations
• Khartoum discusses Arab-Israeli peace and terrorism list with Washington
• Israel's continuous overflights in violation of UNSC resolution, Lebanon's sovereignty: UNIFIL
• Saudis warn UN of oil spot in shipping lane near decaying Yemen tanker
• Families of Missing IS Victims Beg for Answers as New Mass Graves Discovered in Northeast Syria
• Iraqi Security Forces Thwart ISIS Infiltration Attempt on Border
--------
Mideast
• Israel, UAE Ambassadors Hold First Ever Arabic Meeting
• Bahrain Crown Prince tells Netanyahu Israel deal will strengthen regional security
• Turkey's Relationship with ISIS Proves It's Deserting Its European Allies
• Prosecutor General: Martyr Soleimani's Case Closed Only by Avenging Perpetrators
• IRGC Deputy Commander: US Unable to Extend Arms Trade Ban on Iran
• Iran's President: Global Problems Insoluble without Global Interaction
• Spokesman: Iran Committed to Reinvigorate Syria's Air Defence
• NATO hails 'good progresses in Greece-Turkey Mediterranean talks
--------
Southeast Asia
• IS Steps up Recruitment in Indonesia, Malaysia, Philippines
• Malaysia Could Be World Pioneer in Islamic Fintech — MDEC
• No justice for Rohingya buried in mass graves in Malaysian jungle
--------
South Asia
• Dhaka, Riyadh in Dispute over Issuing Passports for Rohingyas in Saudi Arabia
• Afghan Violence 'Too High' Says US As Kabul-Taliban Talks Falter
• Taliban Military Commission Deputy for Badakhshan Killed
• United Nations Should Establish A Committee For Afghan Peace Process: Shavkat Mirziyoyev
• Afghan Parliament Denies Legislative Orders
• Some of freed Taliban have returned to battlefield, says top Afghan official
--------
North America
• Tech & Terrorism: Cryptocurrency Used To Finance ISIS Terror Activities
• Pakistan Must Take Sustained and Irreversible Action against Terrorism: US Lawmakers
• Taliban, Al-Qaida has Not Cut Ties: Trump Administration
• US envoy hails Pakistan's role in ending Afghan war
• US vows to maintain Israel's 'military edge' amid talk of F-35 sale to UAE
• FBI: Man arrested in San Antonio for providing support to ISIS, discussing possible terror attacks on U.S. soil
• Another country will sign a peace deal with Israel in 'next day or two': US diplomat
• US calls on Houthis to halt attacks on Saudi Arabia
--------
Europe
• Britain Turns Over Evidence to US in Islamic State 'Beatles' Case
• Turkey's Erdogan, France's Macron discuss Eastern Mediterranean tensions
• France's Macron says US maximum pressure on Iran not working
• Asio Reveals Up To 40% of Its Counter-Terrorism Cases Involve Far-Right Violent Extremism
• Erdogan discusses E.Med, migration with EU official
--------
Africa
• Eastern Libyan Forces Say They Killed ISIS Leader, Abu Moaz Al-Iraqi
• Amnesty: Migrants face 'vicious cycle of cruelty' in Libya
• Egypt's Sisi committed to ridding Libya of militia, regional interference
• Al-Shabab negotiations eyed as path to end fighting in Somalia
• Extremist violence causes food shortages in north Mozambique
Compiled by New Age Islam News Bureau
URL: https://www.newageislam.com/islamic-world-news/news-broadcasting-standards-authority-takes/d/122935
--------
News Broadcasting Standards Authority Takes Cognisance of Citizen for Justice and Peace Complaint against India Today's Communal Sting Operation on Madrasas
23 Sep 2020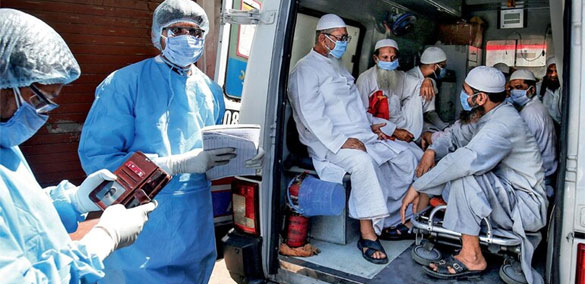 The complaint was filed against a sting operation run by the channel while drawing links to the Tablighi Jamaat incident which was largely pegged as being a conspiracy for spread of Covid-19 in India
-----
CJP has moved the News Broadcasting Standards Authority (NBSA) seeking action against India Today for running a sting operation on madrasas when the Covid-19 pandemic had started to make headway in India. The show titled Madrasa Hotpots: India Today Investigation hosted by Rahul Kanwal, was aired on India Today TV news channel on April 10, 2020.
After this program was aired, it was summarily panned and criticised widely on social media for its communal content that appeared to be aimed at spreading hatred against one particular community. The entire program was a sting operation conducted in a madrasa where minor children are housed. However, madrasas serve as hostels for poor, destitute and orphaned children. This important piece of information was conveniently skipped in the show. Instead, the show blatantly claimed that these children have been hidden in the madrasa.
The show also drew a comparison between the much talked about Tablighi Jamaat case, and stated that despite concerns about the spread of Covid-19, there are children being crammed up in rooms in madrasas. The channel seems to have taken this stand in a bid to insinuate that Muslims are still defying social distancing, thus making them appear to be a greater enemy than the coronavirus itself.
The complaint states that, "While sting operations are considered a last resort in the field of journalism, to carry it out in an institution that houses poor destitute and orphaned children, can only be deemed deplorable. While such reportage defies all principles of morality, there are laws as well as standard ethical practices in place which make this kind of journalism a punishable offence."
The complaint also draws out how the show stands to violate the code of ethics and fundamental principles of self-regulation laid out by the NBSA for its member organisations. It further points out how the channel becomes liable under the Indian Penal Code for perpetrating hate speech and for inflammatory and inciteful contents of their show.
The complaint also mentions the Bombay High Court judgment which said that the Jamaat members were made scapegoats by the government and "an attempt was made to create a picture that these foreigners were responsible for spreading Covid-19 virus in India".
The complaint further states, "We assert that this show of India Today was a part of this larger conspiracy to subdue the Muslim community in India by blaming the spread of an entire pandemic basis one singular incident, which no case been completely established in any court of law. The clear intention of media houses like India Today was to create and sell a narrative that suited their agenda, of being anti minority, and to paint them in such a negative light, that feelings of hatred and animosity are implanted in other communities against them, and the communal divide further deepens".
The NBSA has taken cognisance of the complaint on September 19 and while sending the complaint to India Today, has asked them to send a response to the same within 7 days.
https://sabrangindia.in/article/cjp-moves-nbsa-against-india-todays-communal-sting-operation-madrasas
--------
Sudarshan TV Violated Programme Code with 'UPSC Jihad', Centre Tells SC; Show-cause Notice Issued against Channel
September 23, 2020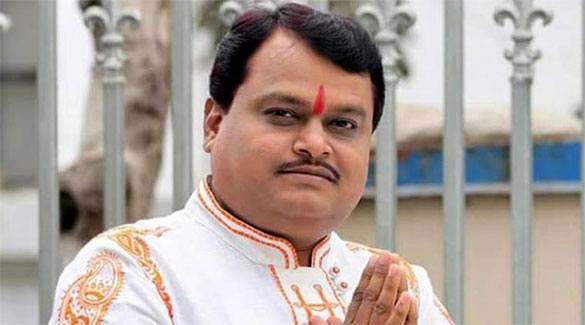 The Supreme Court had took strong objection to the content of the programme 'Bindas Bol', observing that "a particular community cannot be targeted" in the name of investigative journalism and that the "country cannot survive with such an agenda".
-----
The Centre told the Supreme Court on Wednesday that it has issued a showcause notice to Sudarshan News channel for violating the programme code for its Bindas Bol programme series that alleged Muslims have conspired to 'infiltrate' the Indian civil services. The channel has been given time till 28 September to respond to the notice, failing which an ex-parte decision may be taken by the government, Live Law reported.
The programme themed UPSC Jihad alleged that Zakat Foundation, an NGO which provides training to largely Muslims students aspiring for civil services has received funds from various terror-linked organizations.
The four-page-notice has been issued by the Ministry of Information and Broadcasting under the Cable Television Networks Regulation Act, a written submission from the channel and asking why action should not be taken against it. The next hearing in the matter is on 5 October.
The notice comes after Supreme Court, in an previous hearing in the matter, took strong note of alleged inaction of the Ministry of Information and Broadcasting and the National Broadcasting Association (NBA) in stopping the broadcast of a programme that potentially 'maligned an entire community'
A bench headed by Justice DY Chandrachud, and comprising justices Indu Malhotra and KM Joseph is hearing the matter. The bench observed that if the case wasn't heard then the all episodes would have been aired by now. It adjourned the hearing for October 5 saying the Centre shall file a report regarding the outcome of the decision taken.
The contents of the four episodes which have been telecast by now, came under scrutiny of the court which flagged many aspects, saying all investigating journalism was permissible but maligning of entire community cannot be allowed.
"This is the real issue. Whenever you show them joining civil services, you show ISIS. You want to say that Muslims joining civil services is a part of a deep-rooted conspiracy. Can the media be allowed to target a whole set of communities," the court had said during an earlier hearing in the case.
Painting all candidates as carrying out an agenda shows a kind of hatred. This is the element of concern, said the bench.
"Here free speech becomes hatred. You can't brand every member of the community. You alienate the good members too by divisive agenda," the court had said during a 21 September hearing.
The apex court, which had already imposed the pre-telecast ban on episodes of 'UPSC Jehad' on a plea raising grievances against it on grounds including hate speech, was also irked over the fact that the channel, in his affidavit, has named one English news Channel for running two shows on Hindu terror earlier.
"Why have you said about the programmes (of the English news channel)? Who asked about your opinion about the programmes," it had said.
Lawyer Vishnu Shankar Jain, appearing for Editor-in-Chief Suresh Chavhanke, had said that his affidavit contained reference of the English Channel and their programmes on Hindu terror as he was asked earlier as to why the ''UPSC Jehad'' episodes have "shown Muslim men in skull caps and wearing greens".
The bench then said: "Does this mean that every time, the judges asked questions you will shoot your mouth with your views? If that is the case then judges will stop asking questions. You are not supposed to file affidavits on all the questions which judges ask. Judges ask questions to elicit a better response."
On being told by the petitioners that the episodes have violated the programme code under cable TV rules, the top court pondered over the extent of control and curb which can be imposed by it through its orders.
On 15 September, the top court had restrained the channel from telecasting the episodes of Bindas Bol programme till further orders, saying that "the intent" of the episodes "prima facie" appeared to "vilify" the Muslim community.
https://www.firstpost.com/india/sudarshan-tv-violated-programme-code-with-upsc-jihad-centre-tells-sc-showcause-notice-issued-against-channel-8844471.html
--------
Political Decisions Should Be Taken In Parliament, Not At Army HQ: Maryam Nawaz
Sep 23, 2020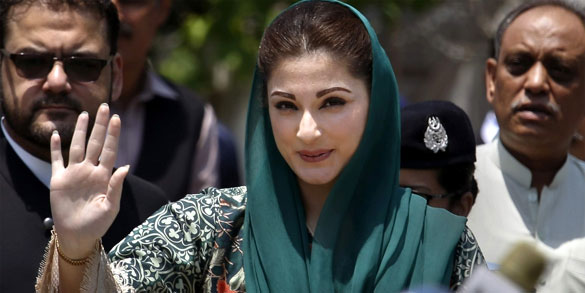 Maryam Nawaz
----
ISLAMABAD: Pakistan Muslim League-Nawaz vice president Maryam Nawaz on Wednesday said political decisions should be made in Parliament and not at the army headquarters.
The 46-year-old daughter of former premier Nawaz Sharif was responding to a question from a reporter about Army Chief Gen Qamar Bajwa and head of the ISI Lt Gen Faiz Hameed's meeting with key opposition figures at the army's General Headquarters (GHQ) in Rawalpindi last week.
Maryam, who was at the Islamabad High Court for a hearing of an appeal against her conviction in the Avenfield property reference, was talking to media at the court premises.
Replying to a question on the last week's meeting, she said, "I heard about the meeting. From what I understand it was called to discuss Gilgit-Baltistan which is a political issue...These decisions should be made in parliament, not in GHQ."
Maryam said she was not aware whether her father was aware of the meeting.
"I don't know whether he was aware or learnt of it later...But the political leadership should not be called nor should it go to discuss such issues. Whoever wishes to discuss these issues should come to the parliament," she said.
The meeting was reportedly held on September 16 before the All-Party Conference of opposition on Sunday.
The meeting was attended by about 15 opposition figures, including Sharif's younger brother Shehbaz Sharif and Pakistan Peoples Party Chairman Bilawal Bhutto-Zardari.
Railways Minister Sheikh Rashid told the media that the purpose of the meeting was to discuss the constitutional status of Gilgit-Baltistan, but other political issues were also discussed.
https://timesofindia.indiatimes.com/world/pakistan/political-decisions-should-be-taken-in-parliament-not-at-army-hq-maryam-nawaz/articleshow/78279939.cms
--------
Hezbollah Has Destroyed Lebanon, Must Disarm: Saudi Arabia's King Salman
Joseph Haboush
23 September 2020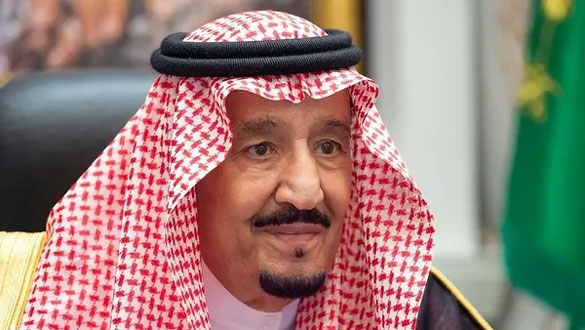 Saudi Arabia's King Salman bin Abdulaziz at a virtual cabinet meeting in Neom, Saudi Arabia, Aug. 18, 2020. (SPA)
----
Hezbollah's hegemony over Lebanon has destroyed the country's constitutional, state institutions and the only way to break out of this is for the Iran-backed group to be disarmed, Saudi Arabia's King Salman bin Abdulaziz said Wednesday.
King Salman said the catastrophic Aug. 4 Beirut blasts were a result of the "hegemony of Hezbollah, a terrorist organization affiliated with Iran."
For all the latest headlines, follow our Google News channel online or via the app.
He added that Saudi Arabia stands with the Lebanese people who are experiencing a "humanitarian catastrophe" due to Hezbollah's control over the decision-making process in Lebanon "by force of arms."
This had led to disabling state institutions and the only way for Lebanon to achieve security, stability and prosperity is for "this terrorist organization [to] be disarmed," the Saudi king said.
King Salman also criticized Iran for turning down chances for peace. He said Tehran "time and again" used its terrorist networks to intensify its expansionist activities and destabilized several countries in the region, including Saudi Arabia, Yemen and Lebanon.
"The Kingdom will not hesitate to defend its national security, nor will it abandon the fraternal people of Yemen until they regain their complete sovereignty and independence from Iranian hegemony," King Salman said.
Arab-Israeli conflict
As for the Arab-Israeli conflict, King Salman voiced Saudi Arabia's support for all efforts to advance the peace process. "Peace in the Middle East is our strategic option," he said.
A just solution must be reached where the Palestinian people have their "independent state with East Jerusalem as its capital," King Salman said.
Nevertheless, Saudi Arabia supports the efforts of the Trump administration to achieve peace in the Middle East and bring the Palestinians and Israelis back to the negotiation table, King Salman said.
https://english.alarabiya.net/en/News/middle-east/2020/09/23/Hezbollah-has-destroyed-Lebanon-must-disarm-Saudi-Arabia-s-King-Salman
--------
Israel, UAE ambassadors hold first ever Arabic meeting
Emily Judd
23 September 2020
For the first time in history, ambassadors of Israel and the United Arab Emirates held a meeting in Arabic, the native language of both officials.
Israel's ambassador to Azerbaijan George Deek and the acting Emirati ambassador to Azerbaijan met on Tuesday in the capital city of Baku.
Deek, an Israeli Arab, told Al Arabiya English that holding the meeting with his Emirati counterpart in the Arabic language demonstrated "that we are neighbors."
"The fact that we spoke in Arabic demonstrated that we are neighbors, part of the same space, and that Israel and the Arab world can, and will work together, in dialogue and mutual respect, towards promoting a world that is safer, more prosperous, and more peaceful," said Deek.
He added that the bilateral meeting was important "as a symbol of the peace between our countries, as well as for laying the grounds for Israeli-Emirati cooperation in economic, humanitarian, and cultural projects in and together with third countries such as Azerbaijan."
Israeli Arabs, also known as Arab citizens of Israel, make up nearly 20 percent of Israel's population and the majority are Palestinian or of Palestinian heritage.
Deek made history in 2018 when he became the first Arab Christian to be appointed to the role of ambassador in the country's history.
Israel has appointed Arab citizens to ambassador positions since 1995, when Ali Yahya was selected to represent the country in Finland.
Earlier this month foreign envoys of the UAE and Israel held a meeting in Nigeria, marking the first public meeting between diplomats of the two countries in Africa.
Israeli Ambassador to Nigeria Shimon Ben-Shoshan received UAE Charge d'Affaires in Nigeria Khalifa Al Mehrizi.
Ben-Shoshan greeted Al Mehrizi with the Arabic salutation "salaam alaykum," translated as "peace be upon you" in English.
The two officials were photographed in discussion with Emirati and Israeli flags on a nearby table.
The meeting on September 6, believed to be the first time foreign diplomats of the UAE and Israel have convened publicly, came one week after the historic visit of an Israeli delegation to the UAE capital city Abu Dhabi.
The two countries officially normalized relations in a ceremony at the White House on September 15.
https://english.alarabiya.net/en/News/gulf/2020/09/23/Israel-UAE-ambassadors-hold-first-ever-Arabic-meeting
--------
IS Steps Up Recruitment in Indonesia, Malaysia, Philippines
2020-09-23
The Islamic State extremist group is stepping up recruitment in Muslim-majority Indonesia and Malaysia as well as the Philippines, amid the distraction of a global pandemic, security analysts in these countries told BenarNews.
There are signs that Islamic State is trying to regroup after its territorial defeat in Syria last year through increased efforts to attract new members in Malaysia, other parts of Southeast Asia, the Middle East and North Africa, said Mizan Aslam, a counter-terrorism expert at Universiti Perlis Malaysia.
"ISIS never died," said Aslam, using another acronym for IS. "Only we said they died, but they themselves never declared it. [M]alaysians are still there [in Syria and Iraq]. Thousands of global jihadists are still there."
"With all countries focusing on health security and food security, it has given ISIS room to sneak in. This can become a real problem for Malaysia in the near future," he told BenarNews.
According to him, the group is actively recruiting and indoctrinating supporters through online platforms such as Facebook.
"Recruitment is through social media and not just Malaysia but in the global community affected by [COVID-19] lockdowns," Aslam said, adding, "People are staying home longer and going through social media non-stop, so the chances of being influenced are there. Islamic State is also seen to have doubled up their effort in dispersing propaganda materials on social media."
In neighboring Indonesia, the world's most populous Muslim-majority nation, pro-Islamic State (IS) militants are trying to expand their ranks and plot attacks, the country's counterterrorism chief said in June.
Police in Central Sulawesi province – a hotbed of extremist activity – told BenarNews in April that Indonesian militants "indeed see the pandemic as an opportunity."
Indonesian IS-affiliated groups have sworn a pledge of alliance to new IS chief Abu Ibrahim al-Hashemi al-Qurashi, whom the U.S. government calls Amir Muhammad Sa'id 'Abd-al-Rahman al-Mawla, analysts said.
Meanwhile, a senior Philippine military official told BenarNews that those involved in planning and carrying out twin attacks by female suicide bombers that killed at least 15 people and injured more than 70 on southern Jolo Island last month were members of Daulah Islamiya, the local name for IS, or Philippine groups affiliated with it, including the Abu Sayyaf Group.
There is evidence of more participation by women in the recent strike and vastly improved and accurate deployment of suicide bombers, one analyst said.
The military official said about two dozen pro-IS groups were active in predominantly Muslim southern areas in Jolo, Basilan and the Bangsamoro Autonomous Region in Muslim Mindanao.
"They are the two most prominent IS factions," the official said, referring to Abu Sayyaf and the Bangsamoro Islamic Freedom Fighters (BIFF).
"Though all fall under Daulah Islamiya in some way or form, perhaps in seeking support, and for multiplying numbers to thwart military advances on the ground. The Maute group, which made a name in Marawi, is also on this list," he said.
He also was referring to a 2017 siege by pro-IS Filipino and foreign fighters in Marawi that unleased a five-month battle, which left the southern city in ruins.
US counterterrorism chief's testimony
The analysis by Aslam and other security experts is in line with intelligence received by counterterrorism officials in the United States who say that despite U.S. and coalition efforts, Islamic State and affiliated groups are still pursuing an aggressive global strategy.
IS's last bastion in Syria fell in March 2019, and its then leader, Abu Bakr al-Baghdadi, was killed during a raid by U.S. Special Forces last October.
Since then, the U.S. and its partner countries have successfully targeted other prominent IS figures, but the group continues to persevere, Christopher Miller, director of the U.S. National Counterterrorism Center, said last week.
"Despite these successes, ISIS has repeatedly demonstrated the ability to rebound from severe losses over the past six years by relying on a dedicated cadre of veteran mid-level commanders, extensive clandestine networks, and downturns in CT [counterterrorism] pressure to persevere," Miller told a hearing of the U.S. House Homeland Security Committee.
He said that the terror group in May trumpeted attacks in Syria and Iraq under new leader al-Mawla even as it promised more such operations around the world.
Outside of the neighboring Mid-East countries, IS "continues to prioritize the expansion and reinforcement of its global enterprise, which now encompasses some 20 branches and networks," Miller added.
Since last year, these branches had launched five global campaigns that tout terror attack claims and circulate propaganda videos, he said.
'IS threat persists in Indonesia'
In June, Indonesia's new counterterrorism chief, Boy Rafli Amar, sought congressional backing for a 65 percent hike in his agency's budget, saying it needed more cash and resources as he warned that militants were looking to increase recruitment during the coronavirus pandemic.
"Radical groups are still actively carrying out recruitment propaganda both online and offline during the COVID-19 pandemic," the National Counterterrorism Agency (BNPT) chief said. "We are seeing today the rampant abuse of the cyberspace to spread the ideology of terrorism."
Analysts in the country agree.
The threat from the Islamic State persists in Indonesia, Sidney Jones, director at the Jakarta-based Institute for Policy Analysis of Conflict, or IPAC, told BenarNews.
Several pro-IS cells are active in Java, Sumatra and Sulawesi, as is the pro-IS Eastern Indonesia Mujahideen, or MIT, in the jungles of Poso, a regency in Central Sulawesi, she said.
MIT staged a series of attacks earlier this year which were "the direct result of local extremists seeing COVID-19 as an ally in the war against Islam's enemies," IPAC said in a report.
"The arrival of the virus gave the Mujahidin of Eastern Indonesia (MIT) a new hope that victory was near, and buoyed by the addition of new recruits, it began a series of attacks."
The death of al-Baghdadi and the end of the IS-proclaimed caliphate, IPAC's Jones said, didn't lead to a decrease in support for IS in Indonesia as some had hoped.
"Several of the pro-IS groups in Indonesia have renewed their bai'at [pledge of allegiance] to al-Quraishi [the new IS leader known also known as al-Mawla]," Jones said, about MIT and another pro-IS hardline group, Jamaah Ansharut Daulah.
"They understand that leadership can change in war, since most belong to groups that have undergone leadership changes themselves."
Meanwhile, a group to keep an eye on is Jamaah Ansyaarut Khalifah (JAK), which is active in the Javanese cities of Solo and Bekasi, and Palembang, a city in southern Sumatra, a senior researcher at the Center for Radicalism and Deradicalization Studies (PAKAR), told BenarNews.
"This moderate group has hardly ever engaged in violence or planned attacks but that does not mean they are harmless," PAKAR's Muhammad Taufiqurrohman said.
"They have been focused on da'wah [preaching] and recruitment, but now they are drawing up plans to send jihadists to the Philippines. In the long run, JAK is more dangerous because it is organized and has a wider network."
Officials at Indonesia's National Counterterrorism Agency (BNPT) and Ministry of Foreign Affairs declined to respond to queries for this report. Meanwhile, calls by BenarNews to Malaysia's Home Minister, the Inspector General of Police and the counterterrorism chief went unreturned.
Social media recruitment in Malaysia
In Malaysia, there is no indication that the terror threat has increased in the country but another analyst agreed that Islamic State was attempting to recruit more members there via social media.
"The absence of overt activities and arrests do not mean the IS recruitment drive has stopped. Low-profile recruitment in Malaysia remains a big headache for our police," Ahmed El Muhammady, a counterterrorism specialist at the International Islamic University of Malaysia, told BenarNews.
"There may be no increase in the terror threat but the attempt to recruit by spreading propaganda on social media during the COVID-19 lockdown is happening. IS planted the seed of its ideology globally via extensive propaganda via social media, and by doing so, it has a global reach and therefore a global following," he said.
Even before the pandemic, it appears that social media was being used as an IS recruitment tool in Malaysia, police said last year.
Sixteen suspected militants arrested by Malaysian police in September last year had been actively promoting IS and recruiting new members via social media, said Ayob Khan Mydin Pitchay, the then national police's counter-terrorism chief.
IS as dangerous as ever
In the Philippines, pro-IS militants have used the opportunity of a pandemic to bolster their ranks, while security forces have been sidetracked with other tasks in helping the government battle the highly contagious and deadly novel coronavirus disease, London-based International Alert, an NGO that advocates for conflict resolution, said in a report in April.
However, even before the pandemic hit, reports from the autonomous Bangsamoro region in the south pointed to the renewed presence of IS-affiliated groups and a general resurgence of violence perpetrated by them, Nikki C. de la Rosa, Country Manager of peacebuilding group International Alert Philippines, told BenarNews.
The Abu Sayyaf-planned twin suicide bombings in Jolo in August were a harbinger of more such deadly attacks, she warned.
"What is now certain is that this [latest] terrorist strike is a clear message that ISIS is as active, committed, and dangerous since it went underground [after the Marawi siege in 2017] and that its force of suicide bombers has not been depleted," de la Rosa said about the attacks that were carried out by two female bombers.
"The attack [in Sulu province] had the hallmarks of the kind of terrorist assaults waged by ISIS-inspired groups associated with the Abu Sayyaf Group," de la Rosa said.
She referred to two similar previous attacks in January and June last year in the Sulu province, both of which involved two suicide bombers working in tandem.
"The effective use of asynchronous bombing attacks that we see happening in Sulu may be a foretaste of even worse things to come," de la Rosa said.
What's more, the ASG appears to have expanded its operations to radicalizing women, and the involvement of female suicide bombers is "a cause for concern," she said.
"Some explanations portray this as evidence of the increasing radicalization of women and a higher level of capability of local [violent extremist] groups to prepare, provide logistics, and deploy suicide bombers."
While this may be true, de la Rosa cautioned that women's involvement shouldn't be oversimplified.
"The analysis cannot be devoid of the context – or the role played by poverty, inequality, injustice, and discrimination that is felt more intensely by women and is central to the thesis of a potentially significant gender link to violent conflict specifically among poor female-headed households in Muslim Mindanao."
https://www.benarnews.org/english/news/indonesian/SEA_ISIS-Threat-09232020163502.html
--------
Dhaka, Riyadh in dispute over issuing passports for Rohingyas in Saudi Arabia
Humayun Kabir Bhuiyan
September 23rd, 2020
Riyadh puts pressure to issue passports to 54,000 Rohingyas living in that country, threatens to send back Bangladeshis if Dhaka does not yield
Bangladesh is under renewed pressure from the Kingdom of Saudi Arabia to issue Bangladeshi passports to 54,000 Rohingyas living in that country for decades.
Riyadh has threatened Dhaka that failure to do so will result in sending back Bangladeshis from Saudi Arabia, the single largest source of remittance for Bangladesh.
However, Dhaka says Bangladesh will not bring those people, who have been living in Saudi Arabia for three or four decades, after issuing passports or travel documents as they are not citizens of the country.
Bangladeshi diplomats both in Dhaka and Saudi Arabia agree that it is a troubling and sensitive matter as Saudi Arabia, host to the largest number of expatriate Bangladeshis, is involved.
Therefore, they said that the government is handling this issue carefully and a committee, headed by the foreign secretary, is looking into the issue.
In 1980s and 1990s, the then Saudi king took many Rohingyas in after being sympathetic, witnessing the distress of the persecuted community, Foreign Minister Dr AK Abdul Momen told reporters on Wednesday.
Many of them went directly, while some may have gone through Bangladesh, he said.
"We do not know this fully," he added.
"Now, they [the Saudis] are saying that there are 54,000 Rohingyas there who have no passports and documents. They are also saying to us to issue passports for them. We have said we will issue new passports if they held passports earlier, and if they have the papers related to passports. If they are not our people, we will not take them," said the foreign minister.
When asked how Saudi Arabia can ask Bangladesh to issue passports for those who are not its citizens, he said: "This is a problem."
As his attention was drawn to Saudi threat that Bangladeshis in that country will be sent back if passports are not issued to Rohingyas, Dr Momen said: "Some people at junior level are saying that 'if you do not take them [the Rohingyas], back we will stop recruiting from your country and we will take a negative approach towards your 2.2 million people living here.'
"This has been conveyed to us from junior level. But I think it will not sustain," he added.
The minister also said: "Saudi Arabia is in a hurry. They are saying that they will not host any people without citizenship. They are telling us to address the issue quickly. They raise this issue frequently. We are continuing our talks."
Saudi govt not looking to send back all 54,000 Rohingyas
Later in the day, the foreign minister told Dhaka Tribune that Saudi Arabia does not want to send back all the 54,000 Rohingyas to Bangladesh.
Rather, he said that the kingdom just wants to ensure that these people have citizenship as, under the Saudi laws, the Rohingyas cannot be citizens of that country.
"We have asked them to provide the details. If we can be sure that those people went there using Bangladeshi passports, we will look into it," said the minister.
2020/09/unnamed-1599980876619.gif
"What they are talking about now is sending back 462 Rohingyas who are in jail. They provided us with the details and we have found that only a small number of people used Bangladeshi passports," he added.
When asked if Saudi Arabia asked Bangladesh to take back all the Rohingyas living in that country, Dr Momen replied in the negative.
This particular problem not a new one
This particular problem is not a new one, according to the diplomats.
Saudi Arabia drew the attention of Bangladesh to this matter informally between 2007 and 2009.
In 2016, the Saudi foreign minister raised the matter with the then foreign minister of Bangladesh.
Earlier in the year, the Saudi government asked Bangladesh to take back 42,000 Rohingyas, as Riyadh believed that those persecuted people travelled to the kingdom with Bangladeshi passports.
Most of the Rohingyas live near Mecca, the holiest site for the Muslims.
Saudi Arabia wrote to Bangladesh quite a few times to address the issue, to which Dhaka asked Riyadh to provide the details with respect to the matter.
Test for Bangladesh-Saudi Arabia relationship
The issue regarding the Rohingyas has all but posed a challenge for the Dhaka-Riyadh relationship that is considered to be a very important one, say the diplomats.
In recent years, the ties between the two Muslim majority countries got closer in many fields, including all-important manpower and defence.
After a closure for seven years, the kingdom reopened its labour market for Bangladeshi workers in 2015.
Both the countries signed defence agreement and Bangladesh, the third largest Muslim populated country in the world, lent its support to Saudi Arabia in Yemen war. Bangladesh also joined the Saudi Arabia-led military alliance against terror organization Islamic State.
In January, the then Bangladesh ambassador in Riyadh, Golam Moshi, conveyed to Prime Minister Sheikh Hasina that the issue in relation to Saudi desire to send back the Rohingyas is a big challenge for the relationship.
He also laid emphasis on formulation of a policy in this regard.
https://www.dhakatribune.com/bangladesh/rohingya-crisis/2020/09/23/dhaka-riyadh-in-dispute-over-issuing-passports-for-rohingyas-in-saudi-arabia
--------
Tech & Terrorism: Cryptocurrency Used To Finance ISIS Terror Activities
(New York, N.Y.) – A recent investigation by the Wall Street Journal revealed that ISIS and its affiliates worldwide are using a vast web of monetary and cryptocurrency assets to finance its terrorist activities. Despite losing its territory in Iraq and Syria, ISIS reportedly commands a deep cache of financial resources ranging "into the hundreds of millions of dollars." Their enduring financial strength is increasingly stoking fear of a resurgence and underscores the challenges the United States and its allies face in dismantling the terror group in entirety.
Speaking to the Wall Street Journal on ISIS's use of cryptocurrency, Counter Extremism Project (CEP) Senior Director Dr. Hans-Jakob Schindler characterized it as a "massive loophole," and warned that if governments do not begin intervening and further regulating cyptocurrencies, it will be "hard if not impossible to detect with certainty ultimate beneficiaries."
In April, CEP and Berlin Risk published the joint study, Cryptocurrencies as Threats to Public Security and Counter Terrorism: Risk Analysis and Regulatory Challenges, which highlighted the dangers and risks associated with terrorist groups utilizing cryptocurrency to finance extremist activities.
Funds raised by terrorists and their supporters can be used to purchase material to support terrorist attacks and to provide other financial support for the group. Operational support also includes the use of funds to support terrorist groups on an ongoing basis, including personnel costs as well as funds for general security and communication. Experience has shown that the amounts of money in the area of terrorist financing are typically very small and can easily be disregarded by regulators.
There is evidence that terrorist groups and their supporters have increasingly turned to using cryptocurrency technology. In June, CEP found that a notorious pro-ISIS website that serves as a depository for videos, official statements, photo sets, and news propaganda changed its donation requests from Bitcoin to the Monero cryptocurrency. The site stated that it was switching to Monero because it offers more privacy and safety features than Bitcoin. Additionally, last month, in an attempt to stymie the flow of terrorist financing and money laundering, the U.S. Department of Justice seized millions of dollars' worth of cryptocurrency assets from various extremist groups, including ISIS.
To read CEP's joint study with Berlin Risk, Cryptocurrencies as Threats to Public Security and Counter Terrorism: Risk Analysis and Regulatory Challenges, please click here.
--------
India
Former Jammu & Kashmir Chief Minister Farooq Abdullah: Kashmiris Don't Feel They're Indian
Sep 24, 2020
NEW DELHI: Former Jammu & Kashmir chief minister Farooq Abdullah on Wednesday said in an interview that at this moment people from Kashmir do not feel and do not want to be Indian and might even want the Chinese coming in.
Responding to a question in an interview to TV anchor and journalist Karan Thapar on the mood of people in the Valley, Abdullah said, "To be honest, I wonder whether they (government) will find someone who will call himself an Indian...You go and talk to anybody they don't want to know, not Pakistanis let me be very clear about it, but they don't feel Indian and us who have to speak, I wonder whether we will survive."
In the interview to an online news portal, Abdullah said this is the mood because people in Kashmir "can no longer trust" the government. He said it was easy for people of the Valley to go with Pakistan during partition, but they "joined Gandhi's India and not Modi's India."
He said, "Today China is advancing on the other side, many if you talk to them, they would rather have Chinese coming in. Whatever one may say, they know what Chinese have done to Muslims in their region. I am not serious, but I am honest about it. I am honestly telling you what people don't want to hear. They would rather not go to Pakistan because everything is rust."
Blaming the Centre, he claimed that if he speaks about India anywhere in the Valley, there is none to listen. He claimed there are security personnel in every street carrying AK-47. "Where is the freedom?" he asked.
https://timesofindia.indiatimes.com/india/kashmiris-dont-feel-theyre-indian-farooq/articleshow/78286995.cms
--------
Bengal BJP chief says Islamic radicalisation, Naxal threat rising, asks Amit Shah to intervene
NEELAM PANDEY
23 September, 2020
New Delhi: The West Bengal Bharatiya Janata Party (BJP) president, Dilip Ghosh, has sought union Home Minister Amit Shah's urgent intervention to "restore law and order" in the state in the wake of the recent arrest of the six alleged Al-Qaeda operatives from the state.
In a letter addressed to Shah and dated 22 September, Ghosh, who is a Lok Sabha MP from Medinipur constituency, claimed that the Trinamool Congress (TMC) government is neither capable of nor willing to provide the people of West Bengal a safe environment that is needed for the state's progress.
He has further alleged that the policies followed by the Mamata Banerjee-led government "have turned West Bengal into a fertile breeding ground for terrorism".
"Under TMC rule, West Bengal has seen the blossoming of the illegal bomb and weapon making industry, as the ruling party is dependent upon violence to maintain its position of power," Ghosh has alleged in the letter, which has been accessed by ThePrint. "This has once again enabled terrorist activities as the material needed by them are already easily available in the state… Many madrasas, which are supposed to be centres of learning, have been turned into factories of radicalisation by terror outfits. Thus, the TMC has for its petty political considerations put the security of our nation at great risk."
Ghosh has urged Shah to intervene and "establish law and order, free and fair democracy, security and peace in West Bengal".
"I would like to urge you and the Central government to take all necessary steps to create the conditions required for citizens to exercise their democratic right to vote fearlessly and thus ensure free and fair elections in West Bengal," the letter reads.
Ghosh's letter comes barely months before a crucial assembly election early next year. After losing a string of state elections, the BJP has made West Bengal a priority, making concerted efforts to pay attention to the upcoming polls that have the Mamata Banerjee-led Trinamool Congress government in a spot.
The BJP has been making steady inroads in Bengal, where it won 18 of the state's 42 Lok Sabha seats in 2019, increasing its numbers from a mere two seats in the 2014 elections. The BJP has decided to get an early start in laying the groundwork for the 2021 assembly elections.
'Restore law and order'
In his letter titled 'Rising threat to state and national security from terrorist and Maoist activity in West Bengal and consequent risk to free and fair elections', Ghosh has claimed that West Bengal government was endangering the security of the nation.
"I would first like to convey my sincere admiration for the stellar work done by you as the Union Home Minister to keep our country safe and secure," the letter states.
"Unfortunately, this environment of safety, which is crucial to our progress, is under serious threat in the state of West Bengal. What is even more concerning is that these threats are not ordinary in nature and have the potential to put the security of the entire country at risk."
Ghosh has also highlighted the recent arrests made by the National Investigation Agency (NIA) in the state.
"On the 19th of September 2020, the National Investigation Agency (NIA) arrested 6 Al-Qaeda operatives from the Murshidabad district in West Bengal. Sadly, the presence of such terrorists in West Bengal is not a one-off occurrence," he has alleged. "Over the past few years, there has been a rapid growth in the activity of notorious terror outfits like Lashkar-e-Taiba and Jamaat-ul-Mujahideen Bangladesh in the state."
Ghosh claimed that the TMC was putting the nation's security under great risk due to
petty political considerations.
"At this moment, it is not enough to remark just upon the presence of these terrorists in the state. It is equally important for us to look into the factors that have turned West Bengal into fertile breeding ground for terrorism," the letter states. "The answer lies in the policies that the ruling Trinamool Congress (TMC) has followed over the past nine years."
TMC's policy of 'overt-appeasement' & a Naxal threat
Ghosh added that the "policy of overt appeasement by the TMC to retain its vote bank has enabled radical, Islamic terror outfits to carry on their nefarious activities with little interference".
He also claimed that there is a resurgence of Maoist activities in the Jangalmahal region, adding that it is another "threat" to the law and order situation in the state. "The timing of the resurgence of the Maoists puts the role of the TMC in the spotlight," the letter states.
Ghosh also said that Maoist leader Chhatradhar Mahato was not only released by the TMC government but has also been made a ruling party office-bearer.
"The unchecked killing of BJP workers by the TMC and the rampant violence perpetrated by the TMC in the past elections clearly show that the TMC is likely to use these disruptive forces to ensure free and fair elections are not possible in West Bengal," his letter states.
https://theprint.in/politics/bengal-bjp-chief-says-islamic-radicalisation-naxal-threat-rising-asks-amit-shah-to-intervene/508859/
--------
Terrorist killed in encounter with security forces in J-K's Awantipora
Edited by Prashasti Singh
Sep 24, 2020
A terrorist was killed in an encounter at Maghama area of Tral, Awantipora in Jammu and Kashmir on Thursday.
Kashmir Zone Police said that the encounter was underway. "Police and security forces are on the job. Further details shall follow," the police said.
Earlier on September 22, an unidentified terrorist was killed by the security forces in an encounter in Chrar-i-Sharief area of Budgam. On September 17, three terrorists were killed in the Batamaloo area of Srinagar during a joint cordon and search operation by Srinagar Police and CRPF which turned into an encounter.
https://www.hindustantimes.com/india-news/terrorist-killed-in-encounter-with-security-forces-in-j-k-s-awantipora/story-pGdMxW5VM2DyaiRwSn4lON.html
--------
Terrorists kill BDC chairman in Kashmir
Sep 24, 2020
Suspected terrorists killed a Block Development Council chairman at Khag in central Kashmir's Budgam district on Wednesday evening. Officials said that unidentified gunmen attacked Bupinder Singh at a time when he was not accompanied by his personnel security officers (PSO's).
Singh later succumbed to his injuries. "Singh left his two PSOs at Khag police station and left ancestral home alone," Inspector General of Police Vijay Kumar said.
Condemning the killing, BJP state spokesperson Altaf Thakur said, "Singh was an independent chairman and was killed at Khag. Our party condemns the killing." Since June five BJP leaders including two sarpanches have been killed in different parts of Kashmir.
https://www.hindustantimes.com/india-news/terrorists-kill-bdc-chairman-in-kashmir/story-70Dzm2JQpqv9OE4JxUiVyO.html
--------
J&K approves re-allocation of nearly 2,000 posts for Kashmiri Pandits under PM's package
Sep 23, 2020
SRINAGAR: The Jammu and Kashmir Administrative Council (AC) on Wednesday approved re-allocation of nearly 2,000 posts for Kashmiri Pandits who are willing to settle in the valley under the prime minister's package for the community.
"The administrative council, which met under the chairmanship of lieutenant governor Manoj Sinha today, approved the re-allocation of 1,997 number of unfilled supernumerary posts for recruitment of registered Kashmiri migrants and non-migrant Kashmiri Pandits, who are willing to serve and settle down in Kashmir under the Prime Minister's Package," an official spokesman said.
The administrative council also approved conducting the recruitment only on the basis of written test or skill test, without viva-voce, for the selection of suitable candidates through the J&K Services Selection Board within six months of the referral of posts by the Department of Disaster Management, Relief, and Rehabilitation and Reconstruction.
"The re-allocated posts include posts of Sub Inspector Commercial Taxes and Assistant Compiler in Finance Department (997), Field Assistant, Field Supervisor (Mushroom) and Assistant Store Keeper in Agriculture, Production & Farmers Welfare Department (150), and Depot Assistant in Food, Civil Supplies & Consumer Affairs Department (300), and Class IV in Revenue Department (550)," the spokesman said.
The present re-allocation of posts is part of the 3,000 posts that were announced in 2015.
So far, only 806 selections have been made and 1,997 posts remained vacant due to various reasons.
The decision of re-allocation of the unfilled posts is aimed at accelerating the recruitment under the PM's package and the benefits of employment to Kashmiri migrants and non-migrant Kashmiri Pandits, the spokesman said.
https://timesofindia.indiatimes.com/india/jk-approves-re-allocation-of-nearly-2000-posts-for-kashmiri-pandits-under-pms-package/articleshow/78281637.cms
--------
Pakistan
Pakistan army, ISI had secret meeting with opposition leaders ahead of multi-party conference: Report
Sep 22, 2020
ISLAMABAD: Pakistan army chief General Qamar Javed Bajwa and ISI head Lt Gen Faiz Hameed held a secret meeting with the key opposition leaders just days before a multi-party conference and asked them to refrain from dragging the military's name into their political differences with Prime Minister Imran Khan, a media report said on Tuesday.
The Dawn reported that Bajwa and Hameed held the meeting on September 16 in which about 15 politicians, including Leader of the Opposition in the National Assembly Shahbaz Sharif and Pakistan Peoples Party (PPP) chairman Bilawal Bhutto Zardari, were present.
According to the ground rules set for the session, the meeting was not to be publicly disclosed, the report said.
Railways minister Sheikh Rashid, while confirming the meeting and its participants, said it was held to discuss the impending changes in the constitutional status of Gilgit-Baltistan, a move opposed by India.
However, the opposition used this opportunity to flag its concerns about other issues, especially the military's alleged interference in politics and allegations of persecution of its leaders on the pretext of accountability.
Rashid was one of the ministers who attended the meeting, the report said.
Political observers linked the timing of the meeting and its disclosure with the Opposition's multi-party conference held here on Sunday in which former prime minister Nawaz Sharif bitterly criticised the Army, saying there was "a state above the state in the country".
Criticism by other Opposition leaders, in comparison to Sharif's remarks, was relatively subtle. Sharif is currently in London for medical treatment.
Sharif, 70, the Pakistan Muslim League Nawaz (PML-N) supremo, has been living in London since November last year after the Lahore High Court granted him permission to go abroad for four weeks for treatment.
Despite the meeting with the Army chief, a 26-point declaration issued at the end of the Opposition meeting later, however, contained assertions about ending "establishment's interference in politics" and "no role of armed forces and intelligence agencies" in future elections.
Following the multi-party conference, the major Opposition parties demanded Prime Minister Khan's immediate resignation and launched an alliance to hold a countrywide protest movement to oust his government.
Gen Bajwa clearly told the participants of the meeting that the Army was not in any manner linked to the political processes and had no involvement in matters concerning election reforms and accountability, the report said.
He said the military only responds to calls for assistance by the elected civilian government and it would continue doing so irrespective of who is in the office. He also conveyed that no one would be allowed to create chaos in the country, it said.
The allegations of a political witch-hunt in the name of accountability was raised by the PML-N.
Bajwa said that the National Accountability Bureau (NAB) chief and election commissioner were picked up by political leaders represented in Parliament, therefore they needed to be careful in choosing them.
The PML-N remained mum about the participation of its leaders in the meeting while the PPP said it would issue a formal comment on the meeting on Tuesday.
However, Senator Sherry Rehman told a TV talk show that her party's chairman talked about the status of Gilgit-Baltistan and its upcoming elections.
Bilawal stressed on the need for free and fair elections in Gilgit-Baltistan due to the sensitivities attached to the region, she said.
On Monday, Gen Bajwa met Prime Minister Khan but the Prime Minister's Office did not issue any statement on the meeting.
https://timesofindia.indiatimes.com/world/pakistan/pakistan-army-isi-had-secret-meeting-with-opposition-leaders-ahead-of-multi-party-conference-report/articleshow/78254114.cms
--------
Sikh scriptures entrusted to Gurdwara Sahib
Asif Mehmood
September 24, 2020
LAHORE:
In a bid to strengthen Muslim-Sikh alliance, Mitr Sanjh Punjab, a local Sufi association, had recently agreed to transfer 110-year old copies of rare Sikh manuscripts to the administration of Gurdwara Baba Di Beri in Sialkot.
Following decision, the ancient Sikhi Saroop, which had remained in the possession of a Sufi family in Gujrat, has now been safely handed over to Granthi Sardar Jaskaran of the said Gurudwara.
According to Mitr Sanjh Punjab head Iftikhar Warraich Kalravi, the two manuscripts of Guru Granth Sahib had long been in the safekeeping of Pir Syed Munir Naqshbandi, a revered Sufi elder from Kalra Dewan Singhwala village of Gujarat.
Known to be an advocate for interfaith harmony, Naqshbandi had offered asylum at his residence to a few Sikh families trying to escape ethnic violence before partition.
"Apart from sheltering the family, he had also salvaged some of their religious scriptures and kept them from being desecrated. Among them were the two manuscripts of Guru Granth Sahib. When the Sufi elder passed away in the year 1950, he had left the scriptures in the safekeeping of his children and since then they have remained with the family," said Kakravi. Per details, Guru Granth Sahib is the central religious scripture of Sikhism.
It is regarded by the religion's followers as the final, sovereign and eternal living Guru, following the lineage of the ten human gurus of the religion.
While the Granth Sahib itself is composed by six Sikh Gurus, it also contains the poetic teachings of thirteen Hindu Bhakti movement and two Sufi Muslim poets. Yet however, although the Granth acknowledges and respects scriptures of Hinduism and Islam, it does not imply any moral reconciliations with either.
Speaking to The Express Tribune, Kalravi said that Pir Sufi Munir Naqshbandi had always campaigned for Muslim-Sikh brotherhood, while also campaigning for interfaith harmony in general.
"He was known for his kindness and this what led to the revered Sikh manuscripts coming into his possession. After over 90 years of safekeeping within the Pir's family, we have now decided that the manuscripts should now be rightfully transferred to Gurdwara Sahib. This is a great example of Muslim-Sikh friendship and will help further strengthen our relationships."
According to Granti Sardar Jashkaran Singh of Gurdwara Baba Di Beri in Sialkot, the said Gurudwara had been left in dismal state for over 70 years.
However, in 2015, the Evacuee Trust Board and Pakistan Sikh Gurdwara Management Committee restored the building, after which it once again started welcoming Sikh pilgrims and devotees from near and far.
"We are grateful to our Muslim brothers for safekeeping the manuscripts of Guru Granth Sahib for generations, and transferring it the Gurdwara where it's currently placed for the followers to bask in its wisdom."
https://tribune.com.pk/story/2265395/sikh-scriptures-entrusted-to-gurdwara-sahib
--------
PML-N leader's call on COAS kicks up storm
Baqir Sajjad Syed | Malik Asad
24 Sep 2020
ISLAMABAD: In a startling revelation that further jolted the anti-establishment image of the main opposition Pakistan Muslim League-Nawaz (PML-N), Pakistan Army on Wednesday disclosed that former Sindh governor Mohammad Zubair had twice reached out to Chief of the Army Staff Gen Qamar Javed Bajwa and discussed political and legal woes of deposed prime minister Nawaz Sharif and his daughter Maryam Nawaz in the past few weeks.
"Mr Zubair twice met the army chief, once in the last week of August and then on September 7 in the presence of director general ISI," revealed military spokesman Major General Babar Iftikhar in a TV talk show.
Both meetings, he said, were held on Mr Zubair's request.
"In those meetings he (Mr Zubair) talked about Mr Nawaz Sharif and Ms Maryam Nawaz," the director-general of Inter-Services Public Relations (ISPR) said.
The disclosure by the DG ISPR came just hours after PML-N's senior vice-president and former prime minister Shahid Khaqan Abbasi told a news conference in Lahore that none of the party members had held one-on-one meeting with the army chief in the recent past.
This is the second time this week that opposition leaders' secret contacts with the military leadership were made public. The disclosures follow Mr Nawaz's hard-hitting speech at the opposition's September 20 multiparty conference in which he had lashed out at the army, saying there was "a state above the state in the country" and the conference's communique calling for an end to "establishment's interference in politics" and "no role of armed forces and intelligence agencies" in future elections.
Earlier on Sept 21, a day after the opposition's multiparty conference, federal Railways Minister Sheikh Rashid Ahmed revealed that major opposition figures, including Leader of the Opposition Shahbaz Sharif, PML-N's parliamentary leader in National Assembly Khawaja Asif and PML-N secretary general Ahsan Iqbal, had met the COAS and the DG ISI in recent days.
The interaction was held on military's invitation for a discussion on the impending changes in the constitutional status of Gilgit-Baltistan though political issues and opposition's concerns also came up for the discussion.
Major Gen Babar said the COAS during his two meetings with PML-N leader and ex-governor Mohammad Zubair "made it clear to him that their [Sharifs] legal issues would be addressed in court, while political matters were to be dealt with the parliament".
The military spokesman added that Mr Zubair was categorically conveyed that the military should be kept out of political matters.
Also appearing on television channels afterwards and later through his official social media account on Twitter, the former governor did confirm his contacts with the military leadership while claiming that he had gone to discuss economic issues. However, he admitted, Nawaz Sharif and his daughter Maryam did come up for discussion.
"Gen Qamar Bajwa is an old friend and not only that I have met him many times as a friend but our families have also been meeting cordially over dinners etc. In my most recent meeting with him economy, politics and, of course, Nawaz Sharif and Maryam Nawaz, all came under discussion. No relief was ever requested," tweeted Mr Zubair.
Talking to one of the TV channels, Mr Zubair expressed his surprise over the DG ISPR's statement. "Such meetings are secret. I don't understand as to why the army spokesperson needs to talk on [my meeting with the army chief] it," he said.
A senior PML-N parliamentarian, speaking on the background, said he wasn't surprised to hear about the party leadership's "backchannel contacts" with the military establishment. He said it was pragmatic to have both private and public channels. The Sharifs, he said, sought the private channel through their close confidante who flaunted his personal contacts with Gen Bajwa in the party.
The Leaguer agreed with the perception that Nawaz Sharif's scathing remarks about the army at MPC could be a result of the impression he got from the contacts that there was no flexibility on the other side. "Therefore, he would have gone for the second track, the public one," he maintained.
He said it was an open secret that the party supremo's departure for London had been facilitated.
He also disclosed that Jamiat Ulema-i-Islam (Fazl) chief Maulana Fazlur Rehman, too, had met Gen Bajwa around the time of the sit-in in October 2019.
"These contacts have always been there," the PML-N leader emphasised.
Maryam Nawaz
Earlier during a brief media chat in the day after attending court hearing of her appeal against her conviction in the Avenfield Apartments reference, PML-N vice-president Maryam Nawaz said the political decisions should have been made in the parliament and not in the General Headquarters (GHQ).
In response to a question related to the recent meeting of the PML-N leaders with the army chief, she said as per her knowledge, the PML-N leaders had met the army chief to discuss the issue related to Gilgit-Baltistan.
"I believe the issue of Gilgit-Baltistan is a political matter and political decisions should have been taken within the Parliament not in the GHQ," she then asserted.
In response to another question whether the PML-N's supreme leader and his father was aware of that meeting, she replied: "I don't know [if] he was aware of it or he learnt it [after the meeting took place]. However, it is my persistent view that political leadership should never be invited or go to discuss these issues."
"Anyone who wants to discuss such issues should come to the parliament," she said.
In the Lahore presser, PML-N stalwart Shahid Khaqan Abbasi claimed that neither Khawaja Asif nor any other party leader held "one-on-one meeting" with the army chief. He said the parliamentary leaders' meeting with the army chief on the GB issue was not "secret" but not for public consumption.
Asked whether Nawaz Sharif was taken into confidence by Shahbaz Sharif or any other leader regarding PML-N leaders' meeting with the COAS, Mr Abbasi said: "It is not in my knowledge".
However, Railways Minister Sheikh Rashid while talking to a private news channel on Wednesday said the PML-N leaders had two meetings with the COAS in the last two months.
"Khawaja Asif and Ahsan Iqbal had one-on-one meetings with the army chief and ISI chief Lt-Gen Faiz Hameed," Mr Rashid emphasised.
IHC hearing
Earlier, a division bench of the Islamabad High Court comprising Justice Aamer Farooq and Justice Mohsin Akhtar Kayani heard the appeals of Maryam Nawaz and her spouse retired Captain Mohammad Safdar against their conviction in the Avenfied Apartments case.
While observing that the matter related to the proclamation of former prime minister Nawaz Sharif in the case had yet to be decided, the court deferred the proceeding on the appeals till December 9.
When the court inquired from additional attorney general Tariq Mehmood Khokhar on progress on execution of arrest warrants of the ex-premier, he replied that the Royal British Mail had delivered the notice to his son Hassan Nawaz on September 18.
Mr Khokhar said a private secretary of the Sharif's son, Waqar Ahmed, had contacted an official of Pakistani High Commission in the UK, Dildar Abro, and informed him about willingness of execution of the arrest warrants.
When the court asked about the progress on execution of the warrants through County Court London, Mr Khokhar replied that the response of the British foreign ministry was awaited.
The court adjourned the hearing till September 30.
Zulqernain Tahir from Lahore also contributed to the report
https://www.dawn.com/news/1581333/pml-n-leaders-call-on-coas-kicks-up-storm
--------
Opposition to give formal shape to 11-party alliance
Amir Wasim
24 Sep 2020
ISLAMABAD: Opposi­tion's Rehbar Committee has decided to give a "formal structural shape" to the newly-formed alliance of 11 parties which was announced at the Sept 20 multiparty conference (MPC) with the name of Pakistan Democratic Movement (PDM) by constituting its chapters at the national, provincial and district levels to launch an organised anti-government campaign.
This was disclosed by Pakistan Peoples Party (PPP) Secretary General Nayyar Bokhari during a brief chat with reporters after attending the meeting of the Rehbar Committee here on Wednesday.
This was first meeting of the Rehbar Committee after the MPC.
Mr Bokhari said that the decision to nominate office-bearers of the PDM at all levels had been left to the top leadership of the parties. He said the members of the Rehbar Committee would request the party heads to make decisions in this regard as early as possible.
Mr Bokhari said the Rehbar Committee had met in the light of the 26-point declaration announced by the opposition parties at the PPP-hosted MPC in Islamabad.
The PPP leader said all decisions taken at the PDM would be implemented and opposition parties would soon announce a schedule for its countrywide public meetings. He said the opposition was determined to hold a decisive long march on Islamabad in January 2021 as announced in the MPC, adding that they were determined to send this government packing.
After the MPC, PPP Chairman Bilawal Bhutto-Zardari had welcomed the formation of the PDM and likened it to the Alliance for the Restoration of Democracy (ARD) and the Movement for the Restoration of Democracy (MRD), the two major opposition alliances formed under the leadership of Nawabzada Nasrullah Khan to launch movements against military regimes of Gen Ziaul Haq and Gen Pervez Musharraf.
https://www.dawn.com/news/1581349/opposition-to-give-formal-shape-to-11-party-alliance
--------
Arab world
Saudi Arabia: Any nuclear deal with Iran must preserve non-proliferation
23 September 2020
Saudi Arabia said that any nuclear deal with Iran has to preserve non-proliferation and continue efforts aimed at making the Middle East a zone free of mass destruction weapons, state news agency SPA reported on Tuesday.
The agreement "has to address Iran's destabilizing behaviors and its sponsorship of terrorism in the region to prevent it from any provocative actions in the future," it said in a statement issued after weekly cabinet meeting.
In 2015 Iran signed a fragile nuclear deal with world powers but the fate of the 2015 pact has been in doubt since US President Donald Trump pulled the United States out of it and re-imposed sanctions.
Washington has threatened to use a provision in the agreement to trigger a return of all UN sanctions on Iran if the Security Council does not extend an arms embargo on Iran indefinitely.
https://english.alarabiya.net/en/News/gulf/2020/09/23/Saudi-Arabia-Any-nuclear-deal-with-Iran-must-preserve-non-proliferation
--------
King Salman targets Iran during debut at United Nations
24 Sep 2020
NEW YORK: Saudi Arabia's King Salman bin Abdulaziz took aim at Iran during his debut on Wednesday at the annual United Nations meeting of world leaders, calling for a comprehensive solution to contain Riyadh's regional rival and stop it from getting weapons of mass destruction.
He said Iran has exploited a 2015 nuclear deal with world powers "to intensify its expansionist activities, create its terrorist networks, and use terrorism," adding that this had produced nothing but "chaos, extremism, and sectarianism." "A comprehensive solution and a firm international position are required," he told the 193-member General Assembly in a video statement that was pre-recorded due to the coronavirus pandemic.
The United States quit the Iran nuclear pact in 2018, with President Donald Trump dubbing it the "worst deal ever." Washington has since imposed unilateral sanctions on Tehran and asserts that all countries also have to reinstate UN sanctions in an attempt to push the Islamic Republic to negotiate a new deal.
French President Emmanuel Macron told the UN on Tuesday that Washington's sanctions campaign against Iran had failed.
All the remaining parties to the nuclear deal, including longtime US allies, and 13 of the 15 UN Security Council members say the US claim on UN sanctions is void, and diplomats say few countries are likely to reimpose the measures.
"Our experience with the Iranian regime has taught us that partial solutions and appeasement did not stop its threats to international peace and security," King Salman said. Iran's UN mission did not immediately respond to a request for comment on the king's remarks.
Saudi Arabia and Iran are locked in several proxy wars in the region, including in Yemen where a Saudi-led coalition has been battling the Tehran-aligned Houthi movement for more than five years.
Riyadh, which backs the Trump administration's efforts to counter Iran, has blamed Iran for attacks on the kingdom's oil facilities last year, a charge Tehran denies. Iran denies arming groups in the Middle East, including the Houthis, and blames regional tensions on the United States and its Gulf allies.
Trump made only a passing reference to Iran during his UN address on Tuesday, focusing instead on attacking China. Gulf Arab states have also been alarmed by the rising influence of Iran's ally Hezbollah in Lebanon, withholding financial support to the government needed to tackle Lebanon's worst financial crisis in decades.
King Salman said a deadly blast in Beirut's port last month "occurred as a result of the hegemony of Hezbollah ... over the decision-making process in Lebanon by force of arms." Authorities have blamed the blast on a stockpile of ammonium nitrate stored at the port without safety measures. "This terrorist organisation must be disarmed," the king said.
On attempts to mediate peace between Israel and the Palestinians, the Saudi monarch said a 2002 Arab Peace Initiative is the basis for a "comprehensive and just solution" ensuring the Palestinians obtain an independent state with East Jerusalem as its capital.
"We support the efforts of the current US administration to achieve peace in the Middle East by bringing the Palestinians and the Israelis to the negotiation table to reach a fair and comprehensive agreement," he said. The king stopped short of endorsing recent US-brokered agreements by the United Arab Emirates and Bahrain to establish ties with Israel. Saudi Arabia has quietly acquiesced to the deals but has signaled it is not ready to take action itself.
https://www.dawn.com/news/1581322/king-salman-targets-iran-during-debut-at-united-nations
--------
Khartoum discusses Arab-Israeli peace and terrorism list with Washington
23 September 2020
Sudan and the United States have discussed how Khartoum could advance Arab-Israeli peace, authorities said on Wednesday, adding the talks also covered the removal of the former hardline foe of Israel from a US list of terrorism sponsors.
Meeting in the United Arab Emirates, a Sudanese delegation and US officials held talks on how peace could stabilize the region and secure a two-state solution to the Israeli-Palestinian question, the ruling sovereign council said.
For all the latest headlines follow our Google News channel online or via the app.
The UAE, a leading regional partner of the United States, and Bahrain normalized ties with Israel this month in deals brokered by Washington, the first Arab states in a quarter of acentury to break a longstanding taboo.
In August, US Secretary of State Mike Pompeo raised the issue of Sudan establishing ties with Israel during a visit. Sudanese Prime Minister Abdalla Hamdok told him at the time he had no mandate to do so.
A Sudanese team led by General Abdel-Fattah al-Burhan, head of the council, flew to the UAE on Sunday to hold talks with US officials on several issues including the removal of Sudan from a US list of state sponsors of terrorism.
Sudanese officials held "serious and frank talks" on the future of Arab-Israeli peace, which would lead to "stability in the region and preserve the right of the Palestinian people to establish their state according to the vision of a two-state solution," a council statement said after the return of the delegation.
The two sides also discussed "the role that Sudan is expected to play in achieving this peace," it said, without giving any details.
The council, made up of the military and civilians, has been in charge of Sudan since the toppling of autocrat Omar al-Bashir last year.
Ties with Israel are a sensitive issue in Sudan, which was among the hardline Arab foes of Israel under al-Bashir.
In February, Burhan met Israeli Prime Minister Benjamin Netanyahu in Uganda, a meeting condemned by Sudanese protesters.
He afterwards cast doubt on any rapid normalization of relations, though Israeli aircraft soon began overflying Sudan.
The talks also tackled lifting Sudan from the terrorism list, which hinders its ability to access foreign loans to tackle an economic crisis, the council said, without giving details.
https://english.alarabiya.net/en/News/middle-east/2020/09/23/Khartoum-discusses-Arab-Israeli-peace-and-terrorism-list-with-Washington
--------
Israel's continuous overflights in violation of UNSC resolution, Lebanon's sovereignty: UNIFIL
22 September 2020
The United Nations Interim Force in Lebanon (UNIFIL) has censured the Israeli regime's incessant military flights over Beirut and the southern sector of the Arab country, stating that such practices are in flagrant violation of a UN Security Council resolution and infringe upon Lebanon's sovereignty.
In a statement to Lebanon's state-run National News Agency on Monday, Major General Stefano Del Col, the head of the UN mission, reported a rise in the number of Israeli violations of Lebanese airspace in recent days and said he had asked Tel Aviv to stop such moves.
"The continuous overflights in the Lebanese airspace constitute a violation of UN Security Council Resolution 1701 and Lebanese sovereignty, and have previously been condemned by the Security Council," he said.
Such relentless violations, the UN official added, "lead to an escalation of tensions and can lead to incidents that threaten the cessation of hostilities between Lebanon and Israel. They also go against our goals and undermine our efforts to reduce tensions and create a stable security environment in south Lebanon."
The Lebanese army and the Hezbollah resistance movement have, in recent months, brought down several intruding Israeli spy drones.
Earlier in the day, the Lebanese army announced in a statement that Israeli military aircraft had crossed into Lebanon's skies and flown over different parts of the Arab country nine times.
The statement read that the aircraft entered Lebanon's airspace at around 00:25 a.m. local time on Monday (2125 GMT Sunday) and left at around 20:50 p.m. They hovered over southern Lebanon, Beirut and its suburbs as well as Baabda and Aliya districts.
On September 10, Lebanese military forces intercepted and targeted an Israeli unmanned aerial vehicle as it was on a reconnaissance mission in the skies over the southern part of the country.
The Lebanese army said the drone had been shot down 200 meters away from the Blue Line, which separates Lebanon from the Israeli-occupied territories.
Israel's military, however, alleged that one of its drones had fallen inside Lebanon during "operational activity" along the frontier.
Lebanon's government, the Hezbollah resistance movement and the UNIFIL have repeatedly condemned Israel's overflights, saying they are in clear violation of UN Security Council Resolution 1701 and the country's sovereignty.
The resolution, which brokered a ceasefire in the war Israel launched against Lebanon in 2006, calls on Tel Aviv to respect Beirut's sovereignty and territorial integrity.
Tensions have been running high between Israel and Hezbollah since July 20, when Tel Aviv killed Hezbollah member Ali Kamel Mohsen in an airstrike in Syria.
The Israeli military has placed its forces near the Lebanese and Syrian borders on high alert after Hezbollah promised retaliation.
Israeli forces shelled the Lebanese village of Habaria in late July to stop an alleged Hezbollah offensive, but the Lebanese movement dismissed the allegation, calling it the result of tension and confusion among Israeli forces.
Last month, a leading US news website said the recent developments have "shed light on Israel's impossible situation" along the Lebanese border.
According to Business Insider, Hezbollah has established a high level of deterrence in southern Lebanon, where as many as "150,000 rockets and missiles" are pointed at Israel.
https://www.presstv.com/Detail/2020/09/22/634722/Israel-continuous-overflights-in-violation-of-UNSC-resolution-Lebanon-sovereignty-UN
--------
Saudis warn UN of oil spot in shipping lane near decaying Yemen tanker
September 24, 2020
NEW YORK: Saudi Arabia warned the UN Security Council on Wednesday that an "oil spot" had been seen in a shipping transit area 31 miles (50 km) west of a decaying tanker that is threatening to spill 1.1 million barrels of crude oil off the coast of Yemen.
The Safer tanker has been stranded off Yemen's Red Sea oil terminal of Ras Issa for more than five years. The United Nations has warned that the Safer could spill four times as much oil as the 1989 Exxon Valdez disaster off Alaska.
In a letter to the 15-member body, reviewed by Reuters, Saudi Arabia's UN Ambassador Abdallah Al-Mouallimi wrote that experts had observed that "a pipeline attached to the vessel is suspected to have been separated from the stabilizers holding it to the bottom and is now floating on the surface of the sea."
The United Nations has been waiting for formal authorization from Yemen's Houthi movement to send a mission to the Safer tanker to conduct a technical assessment and whatever initial repairs might be feasible.
The Security Council and UN Secretary-General Antonio Guterres have both called on the Houthis to grant access.
Al-Mouallimi wrote that the tanker "has reached a critical state of degradation, and that the situation is a serious threat to all Red Sea countries, particularly Yemen and Saudi Arabia," adding "this dangerous situation must not be left unaddressed."
Yemen has been mired in conflict since the Iran-allied Houthi group ousted the government from the capital Sanaa in 2014. A Saudi-led military coalition in 2015 intervened in a bid to restore the government.
https://www.arabnews.com/node/1739231/middle-east
--------
Families of Missing IS Victims Beg for Answers as New Mass Graves Discovered in Northeast Syria
By Nisan Ahmado
September 22, 2020
As local authorities in northeastern Syria announce the discovery of new mass graves belonging to the victims of Islamic State in Raqqa, families whose loved ones disappeared during the group's control over the region hope they might finally get some answers.
The First Responders, a rescue and recovery team in northeastern Syria, earlier this month announced finding a mass grave in the western outskirt of Raqqa's Farusiya, raising the number of discovered sites to five this year.
Following the announcement and the recovery of 16 bodies from the grave, the families of the victims are calling on authorities to prioritize a speedy identification process of the remains.
"The coalition and the Syrian Democratic Forces (SDF) must support The First Responders team with technical support so they would be able to verify the identities of the bodies found in mass graves and under the rubble of buildings that were destroyed during the battle to defeat IS in the city of Raqqa," said Ensaf Nasser who has been looking for her husband since IS kidnapped him in 2014.
Nasser's husband, Foad Ahmed el-Mohamed, was a local journalist taking pictures of wounded civilians at Aisha Hospital in Deir el-Zour city when IS militants broke in and took him away. She has since relentlessly perused threads leading to the whereabouts of her husband, without much luck.
Nasser told VOA she has learned that the extremist group accused her husband of infidelity because he advocated for a secular and democratic state instead of a caliphate. He was also accused of breaking their strict Sunni codes by marrying Nasser, who was a follower of Syria's Druze sect, and naming his son after the Argentinian Marxist revolutionary Che Guevara.
"I have knocked at every door and followed every lead through official channels or personal connections, but I still have no evidence of what happened to him," Nasser said.
While still hoping to find him alive, she added that if he is found dead, she can at least find closure and honor his memory.
Islamic State kidnapped thousands of civilians, mainly activists, to hush any opposing voice as it prepared to impose its control in 2013, Human Rights Watch said in a report earlier this year. The watchdog said that many victims have vanished during IS expansion in 2014.
The Syrian Network for Human Rights has registered 8,648 cases of kidnapped people, including 319 children and 225 women. Local authorities suspect that many of the missing have likely been killed by IS and buried in graves across the mostly desert terrain of eastern Syria.
Raqqa Civil Council said it has found 28 mass graves since defeating IS's physical caliphate in 2019. The sites allegedly contain about 6,300 bodies and belong mostly to people executed by IS.
Location and recovery
The First Responders told VOA they have found some of the graves after receiving information from local residents about human remains. The team will begin exhuming the remains following an investigation and verification process.
The First Responders was established in September 2018 by Raqqa Civil Council to exhume the mass graves and as an emergency response team. In 2020 alone, the team found five mass graves and exhumed about 300 bodies.
"Once a body is found, the team will record the basic information on the date and location of the recovery, sex, apparent cause of death and any personal belongings. The recovered human body will be assigned an ID number and preserved in another location," said Osama al-Khalaf, a spokesperson for Raqqa Civil Council.
Al-Khalaf said that if a body is identified, it will be handed over to its family for a proper burial. For those not identified, local authorities have dedicated two graveyards outside Raqqa, he added.
"The work to exhume and identify the human remains is done by primitive tools like shovels, and they lack equipment to analyze the bodies' DNA," he said.
Local authorities say they need international support and technical assistance to properly identify victims and preserve the bodies as evidence of IS crimes.
Families' pleas
Activists supporting relatives of the victims say the families are growing weary over officials' reluctance to share with them any information on the fate of the discovered graves. They say families deserve to know if IS prisoners have been interrogated about the fate of the disappeared, especially as some of the detained foreign jihadists are repatriated to their countries while others flee northeast Syria.
Laila Kiki, executive director of the Syria Campaign and an advocate of the families, told VOA that local authorities are yet to establish a formal system to communicate with the victims' families. She said the authorities needed to make information-sharing a priority.
"One of the main demands of our campaign is to create a mechanism of communication between the families and the authorities on the ground. Currently, there is no two-way communication between the families and local authorities in northeastern Syria," said Kiki, adding that the international community also needed to step in to help in the process.
"It is important for the families to get the answers they need. And it is important for the international community and the U.S.-led coalition to take the demands of the families seriously and to interrogate IS fighters. IS has impacted every Syrian family, and we need answers from those involved," she said.
https://www.voanews.com/extremism-watch/families-missing-victims-beg-answers-new-mass-graves-discovered-northeast-syria?utm_source=iterable&utm_medium=email&utm_campaign=1549072_
--------
Iraqi Security Forces Thwart ISIS Infiltration Attempt on Border
22 September, 2020
The Iraqi National Security Forces thwarted an infiltration attempt of ISIS terrorists on the western border with Syria, in Nineveh.
The Security Media Cell issued a statement Monday, announcing that units of the National Security Agency received intelligence information about possible infiltrations in various spots. The intelligence teams set several ambushes and were able to arrest three terrorists, including a Syrian national.
During interrogation, they admitted to being members of the ISIS terrorist organization and that they participated in most of the battles against the Iraqi forces. Based on their confessions, the terrorists were planning to form new military detachments to carry out terrorist operations.
In addition, the intelligence agency announced that it arrested 10 terrorists in Saladin governorate, north of Baghdad.
The agency said in a statement that through continuous monitoring, its units arrested 10 wanted terrorists, in accordance with the provisions of Article 4 of the constitution, for their affiliation with ISIS in separate areas of the governorate.
The security units also coordinated with Sulaymaniyah security forces and arrested two terrorists while trying to flee to one of the neighboring countries. The units also seized a stockpile of ISIS ammunition on Makishifa island containing anti-tank missiles and missile launchers.
The recent infiltration attempts come as Iraq begins to legalize its relationship with the international coalition, in light of the increasing demands of pro-Iranian factions and its affiliated political forces for the withdrawal of US forces from the country.
Meanwhile, Diyala governorate remains one of the areas where ISIS cells, armed forces, factions, and militias are active given its demographic diversity.
Head of the parliamentary committee on immigration and displacement, Raad al-Dahlaki, believes that one of the main reasons behind the instability in the governorate is that the largest proportion of the Sunni residents had not returned to their areas.
Dahlaki indicated that militias prevent the return of the displaced to their homes, pointing out that the tribal disputes are an excuse for armed groups to gain control over the area.
The lawmaker called on the government to form a higher committee for the return of the displaced.
Security expert Fadel Abu Ragheef told Asharq Al-Awsat that ISIS has a plan to return to the forefront regardless of the losses it incurred over the past years until its defeat in 2017.
Abu Ragheef added that this organization is trying to take advantage of many factors in order to continue its operations, including the release of prisoners in Syria, and infiltration attempts on the Iraqi-Syrian border from Nineveh, which is still not fully controlled.
He believes that the terrorist organization will take advantage of anything in its favor to regain control.
https://english.aawsat.com/home/article/2522241/iraqi-security-forces-thwart-isis-infiltration-attempt-border?utm_source=iterable&utm_medium=email&utm_campaign=1549072_
--------
Mideast
Bahrain Crown Prince tells Netanyahu Israel deal will strengthen regional security
22 September 2020
Bahrain's Crown Prince Salman bin Hamad Al-Khalifa, and Israeli Prime Minister Benjamin Netanyahu spoke on the phone on Tuesday, a week after their countries signed a normalization accord.
"During the call, the Crown Prince stressed the importance of strengthening international security and peace and continuing efforts in support of peace, stability and prosperity," state news agency BNA reported.
For all the latest headlines follow our Google News channel online or via the app.
The Crown Prince also said that Bahrain signing the normalization deal with Israel "strengthens the foundations of security, stability and prosperity in region."
The two leaders reviewed developments on the regional and international stages and areas of bilateral cooperation within the framework of the deal signed September 15 in Washington at the same time as the Israel-UAE normalization agreement.
Netanyahu travelled to the US capital for a ceremony to sign the deals along with the foreign affairs chiefs of the two Gulf countries.
In Israel, the prime minister's office said in a statement that Netanyahu and Bahrain's Crown Prince had "a very friendly discussion."
"We talked of the means to rapidly boost the contents of the accord between our two countries, to transform this peace into an economic, technological, touristic peace, peace in each of these sectors," Netanyahu said, according to the statement.
Bahrain and the United Arab Emirates became the third and fourth Arab countries to normalize ties with Israel, following Jordan's 1994 peace treaty with Israel and Egypt's peace deal in 1979.
https://english.alarabiya.net/en/News/gulf/2020/09/22/Bahrain-Crown-Prince-tells-Netanyahu-Israel-deal-will-strengthen-regional-security
--------
Turkey's relationship with ISIS proves it's deserting its European allies
By MORDECHAI KEDAR
SEPTEMBER 22, 2020
With Turkey's increasingly divisive and destabilizing influence in the Middle East, the region's biggest concern for the West yet could be President Recep Tayyip Erdogan's burgeoning Islamist tendencies. In order to understand the Turkish role in the threat of ISIS, borne from the Muslim Brotherhood, it is necessary to rewind six years.
2014 marked the year when ISIS became a very real threat to the Middle East; within one year it had managed to take over a third of Iraq and half of Syria, employing 200,000 fighters in its control. ISIS quickly became successful in producing oil and selling it as an important source of income, not to mention that it was able to ensure a constant supply of weapons, ammunition, vehicles and advanced communication devices.
The question is, how was it possible for ISIS to become a functioning state so quickly? With its increasing connections to Turkey over the years, whether through its oil industry or housing wanted members of the Muslim Brotherhood, this "neighborly" relationship is one that is repeatedly examined for consequences and decisions that Turkey is instrumental in today.
Since 2002, Turkey has been ruled by Erdogan, a vocal supporter of the Muslim Brotherhood. As a movement that seeks to establish a worldwide Islamic caliphate that applies Islamic Sharia law, instead of man-made laws, the Muslim Brotherhood has been linked to many fundamental Islamist organizations, coinciding with the fact that Erdogan has neglected to launch counterterror operations to disrupt ISIS's networks or recruitment activities, since its inception. Its presence has been most felt in the following areas:
Money
In 2014, it was reported that ISIS had taken over oil fields in Iraq and Syria and produced large quantities of crude oil to sell, consolidating its grip on oil supplies in the region. They are thought to have transported the oil to Turkey in tankers, with Turkey selling the oil to other countries as if it were from Iraq and Syria, sharing some of the proceeds with ISIS. These oil exports were stopped in December 2015 following a Russian bombing of these tankers, but not before ISIS received millions from oil exports through Turkey. It seems pertinent to mention that Erdogan's family was also involved in the oil business with ISIS.
Volunteers
Thousands of Muslim volunteers who identified with the goals and methods of ISIS went to the Islamic State from Islamic countries, Europe, America, Africa, Australia and even Israel. The vast majority of them arrived legally in Turkey, and from there went on to Syria and Iraq. The Turkish authorities, aware that these volunteers were passing through Turkey, did nothing to stop it.
In June 2014, Turkish interior minister Muammar Guler even admitted that Hatay was a strategic location for the Mujahidin crossing to Syria and that logistical support for Islamist groups would be increased in this area.
Tactics
It has been widely reported that Turkey's Intelligence Agency illegally dispatched arms to Syrian jihadists. In August 2014, an ISIS commander told The Washington Post: "Most of the fighters who joined us at the beginning of the war came via Turkey, as did our equipment and supplies."
Turkey also allowed ISIS forces to use its territory to surprise their opponents with attacks from within Turkey. ISIS forces could have not entered or left Turkey freely without the consent of the Turkish government. Anti-Assad activists reported that ISIS was attacking them from inside Turkey, and a senior Egyptian official indicated in October 2014 that Turkish intelligence was passing satellite imagery and other data to ISIS.
In summary, Erdogan's reluctance to take a step back and denounce ISIS' methods of operation has, in part, led to the assumption that Turkey ceased to assist ISIS primarily because of the pressure exerted on it by Russia, the US and Europe, instead of an outright rejection of the ideology.
With the increasing parallels drawn between the Islamist extremism of Turkey and Iran, and repeated criticism directed at former US president Barack Obama for being soft on Islamist forces in the region, the US and EU in particular will have a part to play in deciding what kind of a role they assume in the Middle East.
To this day, Turkey is seen to be under the influence of the Muslim Brotherhood doctrine which underpins the continued flourishing of ISIS and shows a lack of concern for their damaging actions.
With that said, it is becoming undeniably harder for Erdogan to hide behind his NATO membership as he draws a foreign policy that has inevitably become less Western-oriented and more EU- and US-hostile – a far cry from the political reforms that were once promised for a democratic transition in Turkey. This will have consequences for the country's regional and international relations as it becomes less and less of a reliable security partner, especially if it chooses to work increasingly with those who fight against the West.
The writer is a scholar of Arabic culture and a lecturer at Bar-Ilan University.
https://www.jpost.com/opinion/turkeys-relationship-with-isis-proves-its-deserting-its-european-allies-643187?utm_source=iterable&utm_medium=email&utm_campaign=1549072_
--------
Prosecutor General: Martyr Soleimani's Case Closed Only by Avenging Perpetrators
Sep 23, 2020
"The assassination of Lieutenant General Soleimani was one of the heinous crimes of the United States," Montazeri said during a virtual meeting on Wednesday, and stressed, "The case of this terrorist act will be open until all the culprits are avenged."
"In 1980, the United States provoked Saddam to launch a military attack on Iran in a bid to defeat the nascent Islamic Republic establishment and disintegrate Iran," he said, adding, "however, under the wise leadership of the founder of the Islamic Republic Imam Khomeini, as well as the sacrifice of the Iranian youths, this conspiracy was totally defeated."
Meantime, IRGC Commander Major General Hossein Salami had also warned on Saturday that Iran is resolved to retaliate for the US assassination of former IRGC Quds Force Commander Lieutenant General Qassem Soleimani, and said that all collaborators in the terrorist act are potential targets.
"Mr. Trump, do not doubt about our revenge because it is completely destined and serious," General Salami said, addressing IRGC commanders and officials in Tehran on Saturday.
Iran will take revenge in a fair manner, he added, noting, "This is why we did not target your soldiers at Ein al Assad."
"We will target those who have had a direct or indirect role in the martyrdom of Lieutenant General Qassem Soleimani," General Salami said.
"Do you think that we will target a female ambassador in ransom for the blood of our martyr," asked Salami, referring to US media allegations that Iran had plotted to assassinate US ambassador to South Africa in revenge for the assassination of General Soleimani.
"Americans should know that we will target anyone who has had a role in the cowardly assassination of General Soleimani and this is a serious warning," he said.
"You are threatening us with an attack 1000-times greater in force, while being stranded in your internal problems, but when we targeted Ain al Asad, we were assuming that you would respond and had then made hundreds of missiles ready to destroy targets in case you would respond," General Salami said.
He underlined that the US is given a crushing retaliation if it even damages "one hair" of an Iranian national.
"These are serious warnings. We do not engage in a war of words, but we leave everything to the field of action," General Salami said.
He added that today the US has lost its past military power and has been isolated in the world.
Lieutenant General Soleimani was assassinated in a US drone strike on Baghdad International Airport in Iraq on January 3.
The airstrike also martyred Deputy Commander of Iraq's Popular Mobilization Forces (PMF) Abu Mahdi al-Muhandis. The two were martyred in an American airstrike that targeted their vehicle on the road to the airport.
Five Iranian and five Iraqi military men were martyred by the missiles fired by the US drone at Baghdad International Airport.
On January 8, the IRGC Aerospace Force started heavy ballistic missile attacks on US Ein Al-Assad airbase in Southwestern Iraq near the border with Syria and a US operated airbase in Erbil in retaliation for the US assassination of General Soleimani.
Ein Al-Assad is an airbase with a 4km runway at 188m altitude from sea levels, which is the main and the largest US airbase in Iraq. Early reports said the radar systems and missile defense shields in Ein Al-Assad failed to operate and intercept the Iranian missiles. Unofficial reports said the US army's central radar systems at Ein Al-Assad had been jammed by electronic warfare.
The second IRGC reprisal attack targeted a US military base near Erbil airport in Iraqi Kurdistan Region in the second leg of "Martyr Soleimani" reprisal operation.
Iraq said the attacks had not taken any toll from its army men stationed at these two bases. The US army had blocked entrance into Ein Al-Assad to everyone, including the Iraqi army.
It was the first direct attack on the US army ever since world war two.
The IRGC officials said none of the missiles had been intercepted.
Meantime, Iran announced in late June that it had issued arrest warrants for 36 officials of the US and other countries who have been involved in the assassination of the martyred General Soleimani.
"36 individuals who have been involved or ordered the assassination of Hajj Qassem, including the political and military officials of the US and other governments, have been identified and arrest warrants have been issued for them by the judiciary officials and red alerts have also been issued for them via the Interpol," Prosecutor-General of Tehran Ali Alqasi Mehr said.
He said that the prosecuted individuals are accused of murder and terrorist action, adding that US President Donald Trump stands at the top of the list and will be prosecuted as soon as he stands down presidency after his term ends.
https://en.farsnews.ir/newstext.aspx?nn=13990702001022
--------
IRGC Deputy Commander: US Unable to Extend Arms Trade Ban on Iran
Sep 23, 2020
"The US will not succeed to achieve its objective of imposing arms ban against Iran," Rear Admiral Fadavi said in an interview with the Arabic-language al-Mayadeen news channel on Wednesday.
He also underlined that the White House is destined to fail in forming a coalition against the Islamic Revolution.
Asked about the American forces' deployment in the Persian Gulf, Rear Admiral Fadavi said that their presence in the region "will make them easier targets" for the Iranian forces.
"If the Americans embark on a new folly, they will be faced with a power that may not be imagined," he warned.
In relevant remarks on Monday night, Deputy Commander of Iran's Army for Coordination Rear Admiral Habibollah Sayyari underlined that the military preparedness of the country's Armed Forces to respond to threats dissuades the enemies, including the US, from making any aggression for the fear of its high costs.
"If today the enemy does not dare to make an aggression against us, it is due to the fact that the Army and the Islamic Revolution Guards Corps (IRGC) are standing against the enemy united and like a fist and they enjoy such a high combat power that if any enemy wants to damage any parts of the country, it will receive a blow whose harms are higher than its benefits," Rear Admiral Sayyari said in an interview with the state TV on Monday night.
He added that the Iranian Armed Forces are always monitoring the enemy's moves and combat power in the region and beyond the region.
Rear Admiral Sayyari also underlined Iran's self-sufficiency in production of different missiles, weapons and military equipment, including tanks, personnel-carriers, fighter jets, warships and destroyers.
The high-ranking Iranian military commanders have on different occasions warned of the country's harsh response to any threat by enemies, specially the US.
In April, IRGC Commander Major General Hossein Salami warned the US forces against any act of sabotage to threatening move in the Persian Gulf.
"We tell the Americans that we are fully determined and serious in defending our national security, water borders, security of the shipping and our defense forces' security and will respond to any act of sabotage firmly," General Salami said after visiting the IRGC forces stationed on the Iranian islands in the Persian Gulf.
"We have ordered our naval units to target any vessel or combat unit of the terrorist US forces who want to threaten the security of our non-combat ships or combat vessels," he added.
https://en.farsnews.ir/newstext.aspx?nn=13990702000881
--------
Iran's President: Global Problems Insoluble without Global Interaction
Sep 23, 2020
Rouhani wrote on his Twitter page on Tuesday that all people in the world are going through tough times due to the spread of coronavirus outbreak, and added that this global problem, like other problems, can be solved just by international cooperation.
He noted that the steadfast Iranian nation instead of enjoying global cooperation in the current hard conditions, is grappling with the harshest sanctions in history imposed in blatant and gross violation of the UN Charter, global agreements and Security Council Resolution 2231.
Later and during his address to the 75th UN General Assembly meeting in a pre-recorded TV message, Rouhani blasted Washington for its hostile policies against global peace and security, and asked the UN member states to take collective action against the US warmongering attitude and violation of international rules and regulations, including UNSC Resolution 2231.
The Iranian president thanked the UN Security Council member states for fighting off the United States' law-breaking and illegal demands that he said has ended up in Washington's isolation.
"They have sold hundreds of billions of dollars of weapons to their clients turning our region into a powder keg. Yet, they try in vain to deprive Iran of its minimum defense requirements, and disregard international law and global consensus in order to extend arms restrictions against Iran in contravention of the letter of UNSCR 2231," Rouhani said.
"I should express our appreciation to the presidents of the Security Council for the months of August and September 2020, as well as to thirteen of its members—especially Russia and China—who twice said a decisive and resounding "NO" to the unlawful US attempt to exploit the Council and its Resolution 2231," he said.
"This is a victory not just for Iran, but for the global community—during the transitional international order in the post-Western world—that an aspirant of hegemony is humiliated in such self-created isolation," Rouhani continued.
The President reiterated that any US administration after the upcoming elections "will have no choice but to surrender to the resilience of the Iranian nation".
"And for the world: Today is the time to say "no" to bullying and arrogance. The era of dominance and hegemony is long over. Our nations and children deserve a better and safer world based on the rule of law."
https://en.farsnews.ir/newstext.aspx?nn=13990702000254
--------
Spokesman: Iran Committed to Reinvigorate Syria's Air Defense
Sep 22, 2020
"During a recent visit to Syria by Chief of Staff of Iran's Armed Forces (Major General Mohammad Hossein Baqeri), it was decided that the country's air defense be strengthened at the demand of the Syrian government and we declared it to the world too that we have this contract with the Syrian government and we will certainly reinvigorate Syria's air defense," General Shekarchi said.
He underlined that Iran will help any country which stands against Israel and the US, meantime, saying that the assistance will not be out of charge given the economic pressures that the country is tolerating due to the US sanctions.
General Shekarchi said that Iran has also transferred its defense experiences and technology to the Yemenis and they are now able to produce missiles, drones and weapons, but dismissed allegations that the country is supplying missiles to Yemen.
Early July, Chief of Staff of Iran's Armed Forces Major General Mohammad Hossein Baqeri and Syrian Defense Minister General Ali Abdullah Ayyoub inked a comprehensive agreement to further expand military cooperation.
The Arabic-language al-Mayadeen news website quoted General Baqeri as saying after inking the agreement that Iran "will strengthen Syria's air defense systems in line with the reinvigoration of military cooperation between the two countries".
https://en.farsnews.ir/newstext.aspx?nn=13990701000738
--------
NATO hails 'good progresses in Greece-Turkey Mediterranean talks
23 September 2020
NATO said on Wednesday there had been "good progress" in military talks between Greece and Turkey aimed at avoiding clashes in the eastern Mediterranean, the scene of a dispute over energy resources.
Alliance chief Jens Stoltenberg said military officials from the two sides had held half a dozen meetings at NATO headquarters to try to agree a "deconfliction mechanism" to prevent accidental air or sea clashes.
https://english.alarabiya.net/en/News/middle-east/2020/09/23/NATO-hails-good-progress-in-Greece-Turkey-Mediterranean-talks
--------
Southeast Asia
Malaysia could be world pioneer in Islamic fintech — MDEC
September 23, 2020
KUALA LUMPUR (Sept 23): Malaysia could become a world pioneer in Islamic financial technology (fintech) as the country is already a world leader in the Islamic finance sector.
Malaysia Digital Economy Corporation (MDEC) chairman Datuk Wira Dr Rais Hussin said Malaysia is in a strong position to harness various opportunities that Islamic fintech has to offer.
He said according to the International Monetary Fund (IMF), Islamic bank loans expanded by 8.9% year-on-year (y-o-y) in 2018, compared with the 2.5% that conventional banks generated.
Bonds remain relevant amid uncertain times
As the number of reported Covid-19 cases worldwide breaches the 26 million mark and deaths total close to 900,000 (at the point of writing), the trade-off between economic cost and reducing the spread of the pandemic through lockdowns is starting to weigh on global growth...
"This highlighted rising demand around the world for syariah-compliant financial services. Islamic finance is now entrenched in Malaysia, accounting for 32% of financing to customers.
"Yet, according to the IMF, Islamic fintech is still in its infancy in Malaysia, with just a handful of start-ups and small and medium enterprises (SMEs). Both are not as agile in accelerating its transformative potential as compared to countries such as Indonesia," he said in the "Thoughts" column at www.bernama.com.
Rais said the growth of Islamic fintech in the country would impact development in rural areas, especially among ethnic Malays.
"This will become the backbone of this community as unique financial-inclusion opportunities will ensure they can catch up and increase their contribution to Malaysia's socio-economic development," he said.
In the column, Rais also noted that on the cusp of the Fourth Industrial Revolution (IR 4.0), Malaysia is also blessed with the chance of re-engineering the human experiment using technologies that decentralise authority and de-emphasise divisions along the lines of colour, creed and country — what the Japanese have coined as "Society 5.0".
This concept is now being adopted here as "Malaysia 5.0", he said.
"In describing the next stage of the evolution of societal communities and socio-economic trends, Society 5.0 is built around the needs of a human-centred society.
"MDEC is now poised to take a leading role in catalysing the transition to Malaysia 5.0 as a new narrative of the nation. This includes introducing and using emerging technologies that are now considered as essential tools in the new Malaysia 5.0 digital economy," said Rais.
On the challenges, he noted that many of the micro-SMEs, which consist of 21% female entrepreneurs or founders of SMEs in the country, are in need of assistance as they lack business connections and Internet presence, besides having limited awareness of tools, access to funding and education.
https://www.theedgemarkets.com/article/malaysia-could-be-world-pioneer-islamic-fintech-%E2%80%94-mdec
--------
No justice for Rohingya buried in mass graves in Malaysian jungle
September 23, 2020
They perished way back in 2015 and were buried in unmarked graves in a jungle by their traffickers. Yet five years on, the Rohingya victims of rights abuses and their relatives are still awaiting justice from Malaysia's government.
That state of affairs is a blot on Malaysia's image, say international rights activists who are calling on authorities to release the findings of a government-sponsored report on mass graves that were discovered to contain the remains of Rohingya victims of human trafficking from Myanmar and Bangladesh in the village of Wang Kelian in the state of Perlis in the northern part of the country.
"Malaysian citizens and survivors of trafficking deserve access to the final report," Matthew Smith, chief executive of regional rights group Fortify Rights, said in a newly released statement. "This is a matter of truth, justice and accountability."
In 2015, Malaysian authorities discovered 139 graves and 29 small illegal detention camps for migrants in a jungle near the village, which lies on Malaysia's border with Thailand.
The exhumed remains from the graves are believed to have belonged mostly to Rohingya migrants from Myanmar and Bangladesh, and there were suspicions that authorities had been aware of the presence of the illegal detention camps and the graves, which were ascribed to cross-border trafficking syndicates.
A Royal Commission of Inquiry (RCI) was set up last year by the Malaysian government to investigate the matter, but the investigators' report has yet to be released, which is a sign that authorities have something to hide, according to Fortify Rights.
"Eyewitness testimonies in the report indicate complicity and direct involvement of state authorities in the transnational trade of Rohingya refugees, including in Malaysia," says the rights group, which was founded in Myanmar in 2013 to "ensure human rights for all," according to the group's mission statement.
It is estimated that between 2012 and 2015 transnational criminal syndicates trafficked at least 170,000 Rohingya migrants from Myanmar and Bangladesh into Malaysia at a profit of US$50-100 million each year. The graves around Wang Kelian likely contained migrants who died or were killed en route, according to rights activists.
Investigators working on Malaysia's government-sponsored inquiry called 48 witnesses, including Rohingya survivors, during 17 days of hearings in Kuala Lumpur last year. That their findings have not yet been made public means that no justice can be had for the victims of human trafficking in the country, according to activists.
"The RCI was mandated to help bring perpetrators to justice, and that hasn't happened," Smith said. "The government must act. There have been no changes in policy and not even a formal public reckoning of the crimes committed."
Malaysia, a Muslim-majority nation with a robust economy, is a popular destination for stateless Rohingya migrants and asylum seekers who were driven from their homes in Myanmar by the Burmese military into neighboring Bangladesh in 2017.
Yet in recent years Malaysia has become less welcoming to Rohingya migrants, who face hostility from locals, various forms of discrimination and frequent police crackdowns on their communities.
Numerous boats from Bangladesh carrying asylum seekers, including women and children, have been turned back by Malaysian authorities in violation of international law. Hundreds of Rohingya asylum seekers are believed to have died at sea this year alone.
At the same time, Malaysian authorities have stepped up their crackdowns on Rohingya and other migrants already in the country, rounding them up in their hundreds at a time, ostensibly to limit the spread of Covid-19 within migrant communities.
Not surprisingly, several rights groups and foreign observers have accused Malaysian authorities of dragging their feet on releasing the findings of the government-sponsored inquiry into the mass graves in Wang Kelian as part of an official cover-up.
"Despite allegations of official complicity in migrant smuggling and trafficking crimes in relation to the 2015 discovery of migrant camps and mass graves in Wang Kelian, containing bodies of suspected Rohingya and Bangladeshi victims of extortion, torture and other crimes, authorities have not brought charges against any Malaysian official or private citizen," the United States' Department of State has noted in its latest annual Trafficking in Persons report.
By refusing to release the inquiry's findings, Malaysian authorities are in violation of their international obligation "to seek and obtain all relevant information concerning the commission of the alleged violation, the fate and whereabouts of the victim and, where appropriate, the process by which the alleged violation was officially authorized," as per the guidelines of the UN special rapporteur on the promotion of truth, justice, reparation and guarantees of non-recurrence.
Fortify Rights insists that Malaysian authorities are beholden to the victims and their families to account for what really happened in Wang Kelian and who was responsible.
"The Malaysian government should fulfil the right to truth of the Wang Kelian survivors, victims and their relatives under international law and provide them and the general public with the RCI's full report," the group says.
https://www.ucanews.com/news/no-justice-for-rohingya-buried-in-mass-graves-in-malaysian-jungle/89622
--------
South Asia
Afghan violence 'too high' says US as Kabul-Taliban talks falter
Sep 22, 2020
The level of violence in Afghanistan is unacceptably high and the United States expects further setbacks during talks, the Special Representative for Afghanistan said on Tuesday, as the Afghan government and Taliban remain far apart on even the most basic issues 10 days into talks meant to end two decades of war.
"By any measure, current levels of violence are too high," US Special Envoy for Afghanistan Zalmay Khalilzad told a House of Representatives hearing.
"We know that reductions are possible," Mr Khalilzad said.
Despite the difficulties, the talks are the best hope for peace in years and come as a result of a February pact between the Taliban and the United States, allowing US forces to withdraw in exchange for Taliban promises on terrorism.
But the militant group has refused to agree to a ceasefire and the war is grinding on. At least 57 members of the security forces have been killed in recent days in clashes across Afghanistan.
With all foreign troops due to be gone by May 2021, pressure is building on the US-backed government in Kabul as it grapples with how to share power with its implacable foe or contend with a likely Taliban push for military victory.
Since the spotlight faded from the lavish September 12 opening ceremony in Doha, attended by US Secretary of State Mike Pompeo, the two sides have only confirmed that they are diametrically opposed on virtually every issue.
"While we have reasons to be hopeful, we are under no illusions about the challenges ahead ... We expect that there will be setbacks and obstacles," Mr Khalilzad said.
The United States is expected to reduce troop levels to 4,000 to 5,000 in the coming months and will look at further reductions based on conditions.
David Helvey, who is performing the duties of assistant secretary of defence for Indo-Pacific security affairs, told the subcommittee hearing focusing on national security the Pentagon was carrying out "prudent planning" to withdraw all US troops from Afghanistan by May 2021 if conditions were met.
He added that for now, Defence Secretary Mark Esper had not issued any orders to go below 4,000 troops.
https://www.thenational.ae/world/asia/afghan-violence-too-high-says-us-as-kabul-taliban-talks-falter-1.1081796?utm_source=iterable&utm_medium=email&utm_campaign=1549072_
--------
Taliban Military Commission Deputy for Badakhshan Killed
By Mohammad Arif Sheva
22 Sep 2020
BADAKHSHAN, Afghanistan – The Taliban military commission deputy for Badakhshan province is killed during a battle with Afghan Security Forces, local authorities confirmed.
Sanaullah Rohani, spokesman for the local police, said the Taliban insurgents Monday night carried attacks against security posts in Raghistan district of Badakhshan province.
Afghan forces in a defense position repulsed the attack, inflicting heavy casualties to the militants, he added.
According to Rohani, deputy of the Taliban military commission Mowlawi Attaullah, known as Ibrahim, was killed during clashes.
Taliban did not immediately comment on the incident.
https://www.khaama.com/taliban-military-commission-deputy-for-badakhshan-killed-2344/
--------
United Nations Should Establish A Committee For Afghan Peace Process: Shavkat Mirziyoyev
By Mohammad Haroon Alim
24 Sep 2020
Speaking at the UN General Assembly yesterday, Uzbek President Shavkat Mirziyoyev proposed that the organization should set up a special committee for the Afghan peace process.
Mirziyoyev told the UN General Assembly that the committee will coordinate peace efforts in Afghanistan, the committee would also facilitate political reconciliation in Afghanistan and help the peace process.
Uzbekistan is a country interested in assisting in the Afghan peace process and has previously offered to host peace talks between the Afghan government and the Taliban.
Last year, Uzbekistan hosted an important conference on peace in Afghanistan.
https://www.khaama.com/united-nations-should-establish-for-afghan-peace-committee-087889/
--------
Afghan Parliament Denies Legislative Orders
By Mohammad Haroon Alim
24 Sep 2020
The House of Representatives rejected the President's two legislative decrees amending some of the civil aviation laws and penalties by majority of votes.
WPSO organization which oversees the plenary sessions of the House of Representatives stated that the president's decrees were put to a vote in the plenary session of the House on Wednesday.
According to a press release by the Women and Peace Studies organization, the delegates rejected Presidential Legislative Decree No. 359 and Legislative Decree No. 308, amending some aspects of the Civil Aviation Law and extending Articles 350 of the Criminal Procedure Code.
On the other hand, members of parliament have expressed concern about the spread of insecurity and the escalation of violence as inter-Afghan talks began.
They called the escalation of violence unacceptable in the current situation, and said that the security situation in Balkh, Herat, Kunduz, Farah and Faryab provinces is extremely worrying.
This comes In a time, while peace negotiators are calling for cease fire and the escalation of the battles recently have taken lives of dozens of Afghan security forces.
https://www.khaama.com/afghan-parliament-rejects-2-presidential-legislative-decrees-098567/
--------
Some of freed Taliban have returned to battlefield, says top Afghan official
23 September 2020
A number of Taliban prisoners who were released by the Afghan government as a condition for peace talks have taken up arms again, top official Abdullah Abdullah said Tuesday.
Abdullah, who chairs Afghanistan's High Council for National Reconciliation and is overseeing the government's peace efforts, said discussions with the Taliban in Qatar so far have been positive.
For all the latest headlines follow our Google News channel online or via the app
However, he said some -- though not the majority -- of the 5,000 Taliban prisoners released by the government as a condition for talks had resumed the fight against Kabul.
"I do know that some have returned to the battlefield, which is a violation of the agreement that they had made," Abdullah said during an online conference with the US Council on Foreign Relations.
Abdullah said talks between the two sides had begun in Doha on a positive note, as the delegations build some familiarity with each other.
Yet the level of violence inside Afghanistan has not fallen, and he called on the United States, which launched the peace process with its own deal with the Taliban, and Pakistan, which maintains ties to the insurgents, to pressure them to agree to a ceasefire.
"Unfortunately, so far, the level of violence is very high and to a level that is not acceptable for the people," Abdullah said.
"I repeat my call to the Taliban themselves and also to all partners who have any leverage over the Taliban to press on that point."
Abdullah said he planned to visit Pakistan in the coming days for the first time since 2008.
US chief negotiator Zalmay Khalilzad said a drawdown of US troops, under the US-Taliban agreement, would halt at around 4,500 remaining in Afghanistan in November while Washington assesses whether the insurgents were living up to their pledges.
"Further withdrawals will be determined based on conditions on the ground and delivery by the Taliban on their commitments," Khalilzad told a hearing of the House oversight committee.
The US has slashed troop numbers in Afghanistan by more than half from above 12,000.
Under President Donald Trump's promise to end US involvement in wars abroad, Washington has pledged to withdraw all forces by May 2021, if the Taliban and the government can achieve a solid peace agreement.
"By any measure, the current levels of violence are too high. We know that the reductions are possible," Khalilzad said, noting short ceasefires were respected by the Taliban in the past.
https://english.alarabiya.net/en/News/world/2020/09/23/Some-of-freed-Taliban-have-returned-to-battlefield-says-top-Afghan-official
--------
North America
Pakistan must take sustained and irreversible action against terrorism: US lawmakers
Sep 23, 2020
WASHINGTON: Pakistan must take sustained and irreversible action against terrorism, and needs to demonstrate that it is prepared to live up to international commitments on weapons of mass destruction, a US diplomat, nominated to be the next envoy to Pakistan, told lawmakers on Tuesday and hoped that both Islamabad and New Delhi would take the necessary steps to reduce tensions.
During his confirmation hearing before the Senate Foreign Relations Committee, William Todd, who has been nominated by President Donald Trump as the next US ambassador to Pakistan, told the lawmakers that peace in Afghanistan is in both the countries' best interests, and effective US-Pakistani cooperation is essential to achieve that objective.
"In terms of regional dynamics, although we have a strong relationship with India, that does not need to come at the expense of Pakistan. I believe that under the right conditions, we can have a strong relationship with both countries," Todd said.
"Our hope is that both countries will take the necessary steps to reduce tensions and as President Trump has offered, we are prepared to facilitate dialogue if both sides request it," he said.
"To truly reduce regional tensions and rebuild a strong relationship with the United States, Pakistan must take sustained and irreversible action against terrorism," Todd asserted.
Senator Bob Menendez, Ranking Member of the Senate Foreign Relations Committee, said he remains deeply concerned about the prevalence of terrorist groups in Pakistan and their impact on the region.
"Progress has been made, but Pakistan must take further action to address this insidious threat, especially Lashkar-e-Toiba. For too long, this group has been able to operate in different forms over the years. If Pakistan wants us to take its counter-terrorism commitments seriously, it must completely eradicate this group," he said.
"While we hope for a forward progress with Pakistan, we must be clear-eyed about the significant challenges in the relationship, including the stubborn presence of terrorist groups in the country, tensions with India, treatment of religious minorities and concerns about Pakistan's growing nuclear stockpile," Menendez said.
Noting that Pakistan has suffered terribly itself at the hands of terrorists and has committed publicly to ensure that terrorists cannot use Pakistani territory to operate, Todd told the lawmakers that Islamabad has taken important steps toward fulfilling that commitment, but needs to continue with that work.
"If confirmed, I will work with Pakistan to advance our shared interest in eliminating terrorism from its territory and advancing security in the region," he said.
If confirmed, Todd told the senators that he will actively engage Pakistan on these issues as well as strategic stability and non-proliferation, carrying a clear message on the threat that nuclear weapons pose to the US, the region and "our allies and partners".
"Pakistan needs to demonstrate that it is prepared to live up to international commitments on weapons of mass destruction," Todd said.
Acknowledging that Pakistan played a critical role in creating the conditions that brought Afghan leaders and the Taliban to the historic start of the Afghan Peace Negotiations, he said Islamabad has an even more important role to play in supporting efforts toward a negotiated political settlement that ends 40 years of war.
"This is a moment of opportunity for Pakistan to continue to forge a new and better role in the region and if confirmed, will be one of my highest priorities," Todd said.
Menendez also expressed concerns about the plight of religious minorities in the country. He called upon the Pakistani authorities to respect the religious rights of all in the country.
Todd told the senators that his first goal will be advancing human rights, particularly freedom of religion and expression. "I was shocked and heartbroken that US citizen Tahir Naseem was killed in a Pakistani courtroom in which he was facing an accusation of blasphemy.
"I grieve with the family of Naseem and if confirmed, will engage Pakistani authorities on full accountability for the perpetrators. I am also concerned about the increasing restrictions on the civil society, including the growing harassment and disappearances of journalists without accountability, which undermines the exercise of the right of peaceful assembly and freedoms of expression and association," Todd said.
https://timesofindia.indiatimes.com/world/pakistan/pakistan-must-take-sustained-and-irreversible-action-against-terrorism-us-lawmakers/articleshow/78267130.cms
--------
Taliban, Al-Qaida has Not Cut Ties: Trump Administration
By Mohammad Arif Sheva
24 Sep 2020
The United States Special Representative for Afghanistan Reconciliation Zalmay Khalilzad indicated Tuesday the Taliban has yet to fully cut ties with al-Qaida, according to sources, which the Taliban had agreed to do as part of an agreement with the United States.
The Taliban have taken some "positive steps, but they have some distance still to go" to meet the conditions laid out in February's agreement between the US and the Taliban, Khalilzad told Congress on Tuesday, as Yahoo News reported.
The agreement is to ensure the Taliban will not use Afghanistan as a haven for any security threats against Unites States or its allies, and not cooperate with any terrorist groups such as al-Qaida.
While the US Envoy refused to go more in details, when pressure by democrats during a hearing, critique suggests contact between the Taliban and al-Qaida is continuing regardless.
As part of the agreement, President Donald Trump vowed to reduce forces still in Afghanistan to between 4,000 and 5,000 by this fall, Khalilzad said. But US will assess Taliban's commitment to the deal before pushing further to troops' withdrawal.
"This is not an agreement based on trust," he said as quoted by Yahoo News, adding the Taliban recognize that it would not be in their interest to allow any terrorists to operate in Afghanistan. "They say they have learned their lesson from the past and that they would not allow terrorists to use their territory against us."
Meanwhile, David Helvey, the Pentagon officials currently performing the duties of the assistant secretary of defense for Indo-Pacific security affairs, said Taliban do not seem to comply with their side of agreement, adding "we have works to be done there."
https://www.khaama.com/taliban-al-qaida-has-not-cut-ties-trump-administration-23423/
--------
US envoy hails Pakistan's role in ending Afghan war
24 Sep 2020
WASHINGTON: Pakistan now has an even more important role in ending the Afghan war than it did in arranging a peace deal with the Taliban, says William E. Todd, Washington's new envoy for Islamabad.
Mr Todd, who was nominated by President Donald Trump earlier this year, told his confirmation that Pakistan remained a difficult but essential US partner in South Asia, and Washington was seeking to reset its ties with Islamabad.
"This is an important time in the broader US-Pakistan relationship," he told the Senate Committee on Foreign Relations. "This is a longstanding and important, but always complicated and sometimes contentious relationship."
Acknowledging that the two allies have had differences, Mr Todd added: "Pakistan is an essential regional partner, and this is an opportune moment in our relationship to work together on shared goals."
The new US envoy said that cooperation between the two countries was also essential for bringing peace and stability to Afghanistan.
"Peace in Afghanistan is in both our countries' best interests, and effective US-Pakistani cooperation is essential to achieve that objective," he said.
Ambassador Todd referred to a speech his boss, Secretary of State Michael Pompeo, made in Islamabad in 2018, telling his hosts how to reset the relationship across a broad spectrum — economic, business, commercial.
But to do so, "we need ... to develop a peaceful resolution in Afghanistan that benefits certainly Afghanistan, but also the United States and Pakistan," Mr Pompeo said.
Recently, several senior US officials acknowledged that Pakistan played a key role in arranging a peace deal between the US and the Taliban earlier this year. Washington hopes that this deal will ultimately end the 19-year old war in Afghanistan and will allow it to withdraw its troops from the war-ravaged country.
"Today, our countries recognise that we share a common interest in a durable peace in Afghanistan," Ambassador Todd told the Senate panel.
He too recognised Pakistan's role in the Afghan peace process, noting that Islamabad "played a critical role in creating the conditions that brought Afghan leaders and the Taliban to the historic start of Afghan Peace negotiations".
But now, the Pakistanis "have an even more important role to play in supporting efforts toward a negotiated political settlement that ends 40 years of war," he added. "This is a moment of opportunity for Pakistan to continue to forge a new and better role in the region."
Ambassador Todd said if confirmed it would be one of his highest priorities to encourage Pakistan to play this role.
"In terms of regional dynamics, although we have a strong relationship with India, that does not need to come at the expense of Pakistan " he said. "I believe that under the right conditions, we can have a strong relationship with both countries."
Ambassador Todd indicated that Washington's close ties with both New Delhi and Islamabad could help reduce tensions in the region. "Our hope is that both countries will take the necessary steps to reduce tensions, and as President Trump has offered, we are prepared to facilitate dialogue if both sides request it," he said.
"To truly reduce regional tensions, and rebuild a strong relationship with the United States, Pakistan must take sustained and irreversible action against terrorism," Ambassador Todd said.
He noted that Pakistan too had suffered terribly at the hands of terrorists and had committed publicly to ensuring that terrorist did not use its territory to operate.
"Pakistan has taken important steps toward fulfilling that commitment but needs to continue that work," he said.
"I will work with Pakistan to advance our shared interest in eliminating terrorism from its territory and advancing security in the region," he added. "I will actively engage Pakistan on these issues, as well as strategic stability and non-proliferation."
Ambassador Todd said that he would be carrying a clear message from Washington on the threat that nuclear weapons posed to the United States, the region, and its allies and partners.
"Pakistan needs to demonstrate it is prepared to live up to international commitments on weapons of mass destruction."
The US envoy said that there were three other key priorities that he will focus on if confirmed."My first goal will be advancing human rights, particularly freedom of religion and expression," he said.
"I am also concerned about increasing restrictions on civil society, including the growing harassment and disappearances of journalists without accountability." His third priority is to increase bilateral trade and investment with a country which has the fifth largest population in the world.
https://www.dawn.com/news/1581337/us-envoy-hails-pakistans-role-in-ending-afghan-war
--------
US vows to maintain Israel's 'military edge' amid talk of F-35 sale to UAE
22 September 2020
US Defense Secretary Mark Esper pledged Tuesday to help maintain Israel's military superiority in the Middle East, amid its concerns over a possible US sale of F-35 fighters to the United Arab Emirates.
"A cornerstone of our defense relationship is preserving Israel's qualitative military edge in the region," Esper said as he welcomed Israeli Defense Minister Benny Gantz to the Pentagon.
For all the latest headlines, follow our Google News channel online or via the app.
"The United States is committed to that, and the Department of Defense is committed to that imperative. We will continue to support the longstanding US policy to maintain Israel's security," said Esper.
The question of whether the United States will sell the advanced fighters to the UAE cast a cloud over the White House ceremony last week for the diplomatic normalization agreements between Israel and the UAE and Bahrain.
President Donald Trump said at the time that he would have "no problem" selling F-35 warplanes to the United Arab Emirates, despite objections from Tel Aviv.
Israel has long opposed the sale of F-35s to any US allies in the region including Jordan and Egypt, both of whom already recognize Israel.
Such a sale would erode Israel's military advantage over its neighbors.
Since the 1960s the US has approached the issue on the principle that Israel should maintain a "qualitative military edge" (QME), and the concept has been formalized in legislation from Congress.
But the UAE, which sits astride the strategic Strain of Hormuz across from Iran, which is seen by Israel and the United States as a major threat, has sought for several years the advanced fighters.
At the Pentagon, Gantz stressed the importance of the US-Israel partnership in the "unstable" Middle East region, and said the relationship goes beyond "QME."
"As I always said, we have no other United States, nor do you have any other Israel," he said.
"We will continue those relations into the future. And we see those relations as a privilege, but also as a necessity, a continued necessity," Gantz said.
https://english.alarabiya.net/en/News/middle-east/2020/09/23/US-vows-to-maintain-Israel-s-military-edge-amid-talk-of-F-35-sale-to-UAE
--------
FBI: Man arrested in San Antonio for providing support to ISIS, discussing possible terror attacks on U.S. soil
September 22, 2020
SAN ANTONIO – A Gonzales County man arrested by the FBI in San Antonio this week is accused of providing support to ISIS and discussed carrying out attacks in the United States and overseas on behalf of the terrorist group, federal court records reveal.
Jaylyn Molina, who also refers to himself as "Abdur Rahim," faces a charge of conspiracy to provide material support to a designated foreign terrorist organization, according to an unsealed criminal complaint filed in San Antonio.
Molina was taken into custody Monday and is scheduled to make an appearance in federal court in San Antonio early next week, records show.
A co-defendant, Kristopher Matthews, was taken into custody in Tennessee, according to a motion to unseal records in the case filed Monday.
What they are accused of doing
A 14-page criminal complaint states that Matthews, a resident of Elgin, South Carolina, who refers to himself as "Ali Jibreel," used an encrypted messaging application last year to find an ISIS facilitator outside the U.S. to help him travel to Syria and recruit additional members who support ISIS ideology.
FBI officials became aware that Molina joined the same encrypted chat around April, and within weeks, he was using it to post manuals on how to train with an AK-47, records show.
The communication from the two men, which included ISIS propaganda videos, was being tracked by online covert employees, records show.
The criminal complaint states that the two men also used social media platforms, some public, to "radicalize and recruit other online users to join ISIS."
In a series of social media posts this spring, Molina wrote that America was his enemy and posted an extremely graphic photo collage of an American citizen being murdered by ISIS members, the criminal complaint states.
In May, Molina posted images in the encrypted chat that provided bomb-making instructions, the criminal complaint states.
That same month in the same encrypted chat, the two men discussed where attacks on U.S. soil would take place, at which point Matthews said he preferred hitting economic centers and government buildings, including CIA headquarters, the FBI and DEA headquarters, records show.
As recently as last month, Molina and Matthews told covert employees in the encrypted chat that they could use a "multi wave attack strategy" to carry out the attacks.
ISIS, or the Islamic State in Iraq and Syria, is a militant group formed more than two decades ago that at one point controlled tens of thousands of square miles of territory in Iraq and Syria.
ISIS forces had weakened in recent years, before a report published by the Pentagon in August 2019 stated there had been a "re-surging in Syria" following a reduction in U.S. forces there.
Court records indicate that Molina is a resident of Cost, Texas, a small town located about 70 miles east of San Antonio.
A spokesperson for the San Antonio Office of the FBI did not respond to a request for comment Tuesday night.
https://www.ksat.com/news/defenders/2020/09/23/fbi-man-arrested-in-san-antonio-for-providing-support-to-isis-discussing-possible-terror-attacks-on-us-soil/?utm_source=iterable&utm_medium=email&utm_campaign=1549072_
--------
Another country will sign a peace deal with Israel in 'next day or two': US diplomat
Joseph Haboush
24 Sep 2020
Another Arab country will sign a peace deal with Israel in the "next day or two," a senior US diplomat said Wednesday.
"Our plan is to bring more countries, which we will have more being announced very soon … One [country will sign] in the next day or two," US Ambassador to the United Nations Kelly Craft told Al Arabiya.
For all the latest headlines, follow our Google News channel online or via the app.
"I know others are going to be following," she added.
The United Arab Emirates announced in August a deal with Israel to establish diplomatic ties and normalize relations. Bahrain followed suit and the three countries signed the Abraham Accords at the White House on Sept. 15.
Morocco, Oman and Sudan have been reported to be among other countries looking to forge ties with Tel Aviv amid a flurry of diplomatic efforts by Washington to warm relations between the Arab region and Israel.
Craft expressed US hopes that Saudi Arabia would also sign a peace deal with Israel. "Obviously, we would welcome for Saudi Arabia to be next. But what's important is that we focus on the agreement and we do not allow the [Iranian] regime to exploit the goodwill of Bahrain, the United Arab Emirates, or Israel.
"We want to bring everyone on board in hopes that this will allow the Iranian citizens to see that people really want peace in the Middle East, and they are part of this peace," Craft said.
Iran
Craft slammed Iran for its disruptive and malign behavior in the region.
Saudi Arabia's King Salman told the UN General Assembly earlier Wednesday that his country had extended a hand to Tehran for peace but was met with more terrorist activities.
"Any time anyone extends a hand to Iran, it must be to the Iranian citizens," Craft said, adding that countries must be "very careful and cautious" because Iran exploits other countries.
https://english.alarabiya.net/en/News/middle-east/2020/09/23/Another-country-will-sign-a-peace-deal-with-Israel-in-next-day-or-two-US-diplomat
--------
US calls on Houthis to halt attacks on Saudi Arabia
September 22, 2020
RIYADH: The US on Tuesday called on Houthi militants in Yemen to stop launching attacks on Saudi Arabia.
The State Department said it was "deeply concerned" by the Iran-backed group's aggression, including attacks on Marib city.
The statement comes after the militants have increased drone and missile attacks on Saudi Arabia in recent weeks and as the UN continues to push for a political settlement to the conflict.
"The United States remains deeply concerned by the Houthis' aggression, supported by Iranian weapons shipments in violation of UN arms embargoes," State Department spokeswoman Morgan Ortagus said.
"We call on the Houthis to immediately cease their cross-border attacks against Saudi Arabia and halt their attacks on the city of Marib, where nearly a million Yemenis have sought refuge since the beginning of the war."
The strongly-worded warning also called on the Houthis to stop the "disgraceful treatment of journalists, opposition activists, and Yemeni Jews."
And it contained the latest warning over a stricken oil tanker off Yemen's coast which experts increasingly fear could explode and spark an environmental disaster.
"We call on the Houthis to cease their environmental brinkmanship and allow UN access to the Safer tanker before there is an oil spill or explosion that would bring further environmental and humanitarian calamity to Yemen, the Red Sea, and the region," Ortagus said.
The department called on nations that had made aid pledges to Yemen to follow through and send the money across.
https://www.arabnews.com/node/1738606/middle-east
--------
Europe
Britain turns over evidence to US in Islamic State 'Beatles' case
Posted by: Harshit Sabarwal
Sep 23, 2020
Britain says it has turned over to US authorities evidence against two members of an alleged terror cell known as "the Beatles," ending a drawn out legal battle to block the handover of the information.
The evidence against Shafee El Sheikh and Alexanda Kotey was given to US prosecutors after the High Court of Justice in London refused to allow El Sheikh's mother to appeal earlier rulings that paved the way for the move.
Home Secretary Priti Patel tweeted late Tuesday that "the further evidence to support the prosecution of Kotey & El Sheikh has now finally been transferred to the US. I sincerely hope that justice for the victims and their families will now be served."
El Sheikh's mother had sought to block the evidence transfer for more that two years, arguing that turning over the information would violate data protection laws because it could lead to the execution of her son.
US Attorney General Robert Barr last month promised that the two suspects wouldn't face the death penalty if they were tried in American courts.
Kotey and El Sheikh are alleged to have beheaded 27 people, including three US and two British hostages, while fighting for the so-called Islamic State group in Syria. They are believed to have been part of a four-man cell that became known as "the Beatles" because all four spoke with British accents.
Both men were raised in London before traveling to Syria to join Islamic State. British authorities revoked their citizenship because of their actions in Syria.
https://www.hindustantimes.com/world-news/britain-turns-over-evidence-to-us-in-islamic-state-beatles-case/story-DC2i4braGgojMYeSImBLPO.html
--------
Turkey's Erdogan, France's Macron discuss Eastern Mediterranean tensions
23 September 2020
Turkish President Tayyip Erdogan and France's Emmanuel Macron said on Tuesday they had held their first conversation in months following a standoff between the two NATO allies over mounting tensions in the Eastern Mediterranean.
In a statement after a call between the two leaders, the Turkish presidency said Erdogan emphasized the need for using diplomatic opportunities to de-escalate the situation and achieve sustainable negotiations.
The French foreign ministry said following the call, which lasted over an hour, that it hoped a dialogue between Turkey and Greece could continue, and said Macron had called for a similar approach with Cyprus.
"He (Macron) urged Turkey to fully respect the sovereignty of European Union member states as well as international law, and to refrain from any further unilateral action which could provoke tensions," the French foreign office said, adding that Macron and Erdogan had agreed to keep in contact.
Relations between the EU and Turkey are badly strained on a number of issues, including exploration for hydrocarbons in the Eastern Mediterranean, where Ankara has been at loggerheads with EU member states Cyprus and Greece.
https://english.alarabiya.net/en/News/middle-east/2020/09/23/Turkey-s-Erdogan-France-s-Macron-discuss-Eastern-Mediterranean-tensions
--------
France's Macron says US maximum pressure on Iran not working
22 September 2020
The United States' maximum pressure campaign on Iran has so far failed, France's president said on Tuesday, and he dismissed US efforts to restore UN sanctions against Tehran because Washington had left the 2015 nuclear deal.
"The maximum pressure strategy, which has been under way for several years, has not at this stage made it possible to end Iran's destabilizing activities or to ensure that it will not be able to acquire nuclear weapons," Emmanuel Macron said in a speech to the United Nations General Assembly.
For all the latest headlines follow our Google News channel online or via the app.
"This is why France, along with its German and British partners, will maintain its demand for the full implementation of the 2015 Vienna Agreement and will not accept the violations committed by Iran."
https://english.alarabiya.net/en/News/middle-east/2020/09/22/France-s-Macron-says-US-maximum-pressure-on-Iran-not-working
--------
Asio reveals up to 40% of its counter-terrorism cases involve far-right violent extremism
Paul Karp
22 Sep 2020
Far-right violent extremism constitutes up to 40% of the Australian domestic spy agency's counter-terrorism caseload, up from 10-15% before 2016, a senior official has said.
The Australian Security Intelligence Organisation's extraordinary increase in focus on the far right in Australia was revealed by its deputy director general of intelligence service delivery, Heather Cook, at a parliamentary inquiry on Tuesday.
Cook also warned the Covid-19 pandemic had created both a greater opportunity for far-right extremists to recruit online and a powerful anti-government message for those that resent lockdowns to combat the pandemic.
In the wake of the Christchurch massacre, Asio has been blunt about the risk from far-right terrorism, labelling it an "enduring threat" that is "real and growing".
Asio's quantification of its concern at a parliamentary joint committee on intelligence and security will play into Labor's critique that the government has not done enough to combat the threat, failing to proscribe any rightwing extremist groups.
Cook told the committee she would not give "specific numbers" of people under investigation but said "rightwing violent extremism … occupies approximately between 30 and 40% of Asio's current caseload in counter-terrorism work … an increase from 10 to 15% prior to 2016".
It's previously been reported that rightwing extremists made up a third of Asio's domestic investigations.
But Asio believes that "some of the circumstances of Covid-19 have contributed to an increase in radicalisation, in particular because of the amount of time individuals are spending in isolation, working from home, or not in school", Cook said on Tuesday.
With more people working remotely and spending increased time online it is "much easier to find like-minded individuals" with exposure to "a much wider variety of chat groups and areas where these views can coalesce".
"It's not dissimilar to the way Isil used propaganda to manipulate social media to recruit the young and vulnerable," the deputy director general said. "We are seeing a similar phenomenon of the extreme rightwing milieu [using technology] to good effect [to recruit]. We are seeing more individuals that appear to be attracted to this ideology."
Cook said "anti-government sentiment around the world" was a contributing factor, with some joining groups as part of a backlash against "lockdown and protective measures to protect populations against Covid".
"Speculation about the origins of Covid itself is increasing some … racist views as well," she said.
Cook said violent rightwing extremism covered those individuals who supported violence to execute their ideological beliefs.
She said there was a difference between holding offensive beliefs – which people were entitled to do – and acting on them. "Our concern kicks in where those beliefs are also supported by a belief violent action is appropriate to support them."
Labor's deputy chair, Anthony Byrne, described the evidence regarding the extent of far-right violent extremism as "astonishing" and "very disturbing", asking for a further private briefing from Asio. The Liberal chair, Andrew Hastie, agreed to the request.
The committee is conducting an inquiry into declared area provisions, which criminalised travel to the al-Raqqa province in Syria and Mosul district, Ninewa province in Iraq when they were under the effective control of Isil.
Asio earlier this year advised that despite its increasing focus on the far right the principal source of the terrorist threat remained Sunni Islamist extremism.
Earlier in September, Labor's shadow home affairs minister, Kristina Keneally, called on tech companies to "disrupt and deter" people attempting to search for rightwing extremist content.
In a speech to the Australian Strategic Policy Institute's 2020 counter-terrorism dialogue, Keneally said Australia should join its Five Eyes allies in proscribing some far-right groups as terrorist organisations.
Keneally also targeted the home affairs minister, Peter Dutton, for his handling of rightwing extremism and noted that some Australian parliamentarians have joined and promoted rightwing social media platforms.
In response to Asio warnings about rightwing extremism in February, Dutton complained that "leftwing terrorism" should also be dealt with, later clarifying that he applied that label to Islamic terrorism and "anybody in between".
"You can use leftwing to describe everybody from the left to the right," he told the ABC in February.
https://www.theguardian.com/australia-news/2020/sep/22/asio-reveals-up-to-40-of-its-counter-terrorism-cases-involve-far-right-violent-extremism?utm_source=iterable&utm_medium=email&utm_campaign=1549072_
--------
Erdogan discusses E.Med, migration with EU official
Zafer Fatih Beyaz
23.09.2020
The Turkish president on Wednesday held a video conference with the head of the EU Commission to discuss Turkish-EU relations and regional developments, according to the country's Communications Directorate.
President Recep Tayyip Erdogan told Ursula von der Leyen that maximalist claims by Greece and the Greek Cypriot administration were at the core of tensions in the Eastern Mediterranean, with both ignoring the rights of Turkey and the Turkish Republic of Northern Cyprus (TRNC).
Stressing that Turkey has always called for dialogue since tensions erupted recently in the Eastern Mediterranean, Erdogan said his country is ready for exploratory talks with the Greek side and expressed hope that Greece would not miss an opportunity for diplomacy once again.
He went on to say that steps towards renewing the 2016 migration deal between Ankara and the Brussels, as well as updating the customs union between them and ensuring visa liberalization for Turkish nationals traveling to EU countries would help improve bilateral ties.
Erdogan also reiterated his call for fair burden-sharing on the issue of migration, urging the EU to investigate violations by Greece and the European Border and Coast Guard Agency (Frontex) that have been pushing back migrant boats.
Greece, with France's support, has disputed Turkey's energy exploration, trying to box in Turkish maritime territory based on small islands near the Turkish coast.
Turkey, the country with the longest coastline on the Mediterranean, has sent drillships with a military escort to explore for energy on its continental shelf, saying that Turkey and the Turkish Republic of Northern Cyprus have rights in the region.
To reduce tensions, Turkey has called for dialogue to ensure fair sharing of the region's resources.
https://www.aa.com.tr/en/europe/erdogan-discusses-emed-migration-with-eu-official/1983399
--------
Africa
Eastern Libyan Forces Say They Killed ISIS Leader, Abu Moaz Al-Iraqi
23 September 2020
Eastern Libyan forces said on Wednesday they killed the leader of ISIS group in North Africa during a raid in the southern desert city of Sebha earlier this month.
The Libyan National Army (LNA) spokesman Ahmed al-Masmari said Abu Moaz al-Iraqi was among nine militants killed during the raid but was only identified afterwards.
For all the latest headlines follow our Google News channel online or via the app.
ISIS in Libya was formed by al Qaeda militants who took advantage of the chaos after the 2011 uprising against Muammar Gaddafi to seize territory and launch attacks.
The group took control of the central coastal city of Sirte in early 2015 and established a presence in the vast southern desert as well as active affiliates or cells in major cities.
However, it was driven from Sirte in late 2016 and its influence since then has been limited to occasional attacks including one on National Oil Corporation's headquarters in 2018 and another at the Foreign Ministry in 2019, both in Tripoli.
Masmari said Abu Moaz al-Iraqi, also known as Abu Abdullah al-Iraqi, had entered Libya in 2014 and became the group's leader in 2015 when his predecessor was killed.
ISIS global threat has reduced in recent years after its self-proclaimed "caliphate" in Iraq and Syria was militarily defeated and much of its leadership killed. However, it remains capable of inspiring attacks around the world, security experts say.
The LNA controls eastern and much of southern Libya and has for years been in conflict with the Government of National Accord (GNA) in Tripoli.
https://english.alarabiya.net/en/News/north-africa/2020/09/24/Eastern-Libyan-forces-say-they-killed-ISIS-leader
--------
Amnesty: Migrants face 'vicious cycle of cruelty' in Libya
September 24, 2020
CAIRO: Amnesty International said Thursday that thousands of Europe-bound migrants who were intercepted and returned to Libyan shores this year were forcefully disappeared after being taken out of unofficial detention centers run by militias allied with the UN-supported government in the capital, Tripoli.
In its latest report, the group also said that rival authorities in eastern Libya forcibly expelled several thousand migrants "without due process or the opportunity to challenge their deportation."
Libya, which descended into chaos following the 2011 uprising that toppled and killed longtime dictator Muammar Qaddafi, has emerged as a major transit point for African and Arab migrants fleeing war and poverty to Europe.
Most migrants make the perilous journey in ill-equipped and unsafe rubber boats. In recent years, the European Union has partnered with Libya's coast guard and other Libyan forces to stop the flow of migrants and thousands have been intercepted at sea and returned to Libya.
Officials in Libya's east and west did not respond to repeated phone calls seeking comment.
Amnesty said about 8,500 migrants, including women and children, were intercepted and brought back to Libya between Jan. 1 and Sep. 14. Since 2016, an estimated 60,000 men, women and children have been captured at sea and taken to Libya where they disembarked, it said.
"The EU and its member states continue to implement policies trapping tens of thousands of men, women and children in a vicious cycle of abuse, showing a callous disregard for people's lives and dignity," said Diana Eltahawy, Amnesty's deputy regional director.
Thousands have been subjected to enforced disappearances in 2020, after being taken to unofficial detention centers in western Libya, including to the so-called Tobacco Factory in Tripoli, run by a government-allied militia, Amnesty said.
There, the migrants and refuges face a "constant risk" of being abducted by militias, armed groups and traffickers.
They are "trapped in a vicious cycle of cruelty with little to no hope of finding safe and legal pathways out," the report said. "Some are tortured or raped until their families pay ransoms to secure their release. Others die in custody as a result of violence, torture, starvation or medical neglect."
Eltahawy urged the EU to "completely reconsider" its cooperation with Libyan authorities and make "any further support conditional on immediate action to stop horrific abuses against refugees and migrants."
In 2020, eastern Libya authorities forcibly expelled over 5,000 refugees and migrants, citing their alleged carrying of "contagious diseases" among reasons cited for the deportations.
Amnesty cited an incident, without saying when it happened, in which eastern Libyan forces blocked a bus from entering the southeastern city of Kufra unless three Chadian nationals got off. They were ordered to take a COVID-19 test and left in the desert outside the city, while other passengers, all of them Libyans, were allowed to enter without further checks or testing.
https://www.arabnews.com/node/1739241/middle-east
--------
Egypt's Sisi committed to ridding Libya of militia, regional interference
SEPTEMBER 23, 2020
NEW YORK (Reuters) - Egypt is committed to helping Libyans "rid their country of armed militias and terrorist organizations, and put an end to the blatant interference of some regional parties," Egyptian President Abdel Fattah al-Sisi told the United Nations General Assembly on Tuesday.
Libya descended into chaos after the NATO-backed overthrow of leader Muammar Gaddafi in 2011. Since 2014, it has been split, with an internationally recognized government controlling the capital, Tripoli, and the northwest, while military leader Khalifa Haftar in Benghazi rules the east.
Haftar is supported by the United Arab Emirates, Egypt and Russia, while the government is backed by Turkey.
https://www.reuters.com/article/uk-un-assembly-egypt/egypts-sisi-committed-to-ridding-libya-of-militia-regional-interference-idUKKCN26D2XL?utm_source=iterable&utm_medium=email&utm_campaign=1549072_
--------
Al-Shabab negotiations eyed as path to end fighting in Somalia
By Ben Wolfgang
September 22, 2020
Unprecedented diplomacy gave the Trump administration a path out of Afghanistan, and questions have been raised about whether a similar playbook could work for the seemingly endless U.S. military mission in Somalia.
Most analysts and military insiders say the U.S. air campaign against the al Qaeda affiliate al-Shabab, which has expanded steadily throughout President Trump's nearly four years in office, can contain the group but not fully defeat it. With al-Shabab estimated to control as much as 25% of Somali territory, and with a central government in Mogadishu ill-equipped to handle the resilient terrorist group on its own, debate is growing in foreign policy circles about whether the U.S. should shift its focus to negotiations rather than a war with no end date and murky metrics for progress.
The question has grown more urgent with serious setbacks in recent years for al Qaeda and the Islamic State group. Al-Shabab's ability to hold its own in the field is proving an inspiration to jihadi movements in Africa and around the world.
The State Department stresses that "reconciliation" among all stakeholders in Somalia is key to peace in the historically dysfunctional country. Officials in the administration have routinely conceded that military action alone isn't the answer. The administration's approach, officials said, encourages cooperation between the federal government in Mogadishu and the country's five member states, which wield considerable power and influence outside the capital.
It's unclear whether the administration has seriously considered putting its own diplomatic weight behind negotiations with al-Shabab in the same way it did with the Taliban in Afghanistan. A U.S.-led deal there has led to a major drawdown of American forces and brought the Taliban and the Afghan government together for a face-to-face dialogue last week in Qatar.
Foreign policy analysts are clearly divided about whether such a tack could work in Somalia. Some argue that talking to al-Shabab would amount to negotiating with terrorists and that the group wants to target Americans abroad.
"Al-Shabab's leadership sees itself as playing an active role in the global jihad by pursuing those attack capabilities, unlike the Taliban. That is one key difference," said Katherine Zimmerman, a resident fellow at the American Enterprise Institute who studies terrorist groups in Africa.
"Al-Shabab will not recognize the Somali government and, like the core al Qaeda in Afghanistan, might see any peace deal as progress toward installing Islamist rule," she said. "Al-Shabab is al Qaeda. Any deal with it would be giving al Qaeda a safe haven and helping it achieve its objective of transforming how Muslims live their lives."
Indeed, the situations in Somalia and Afghanistan have clear differences. While the Taliban gave safe haven to al Qaeda in the years leading up to the Sept. 11, 2001, attacks, the insurgent movement has told the U.S. that it will break ties with extremist terrorist outfits and will not allow them to find refuge in Afghanistan.
The Taliban's top priority always has been regaining political power inside Afghanistan. Although it has mounted attacks that have killed Americans and routinely battles Afghan security forces, it has not shown an inclination to wage war outside the country's borders.
No exit
But there is one key similarity: Like the nearly two decades of war in Afghanistan, U.S. involvement in Somalia has no apparent exit and seemingly no path to a definitive victory.
So far this year, the U.S. has conducted at least 46 airstrikes against al-Shabab and is on pace to break last year's record number of 51. Despite the expanding U.S. military presence, along with efforts to train and advise Somali government forces, al-Shabab has proved itself capable of carrying out major attacks, including several this year that have killed or wounded Americans.
The U.S. air assaults and ground operations by Somali and African Union forces have not stopped al-Shabab's ability to carry out those attacks. Some scholars say the U.S. must fundamentally rethink its approach.
"In the unlikely event that the federal government or al-Shabab do somehow gain a significant upper hand militarily, there is no avoiding a negotiated settlement of some sort with the other's supporters," Paul D. Williams, a professor in the Elliott School of International Affairs at the George Washington University who studies Somalia extensively, said in a recent piece for the website War on the Rocks.
"It would certainly be better for Somali civilians if such negotiation happens sooner rather than later. The alternative is that they continue to bear the brunt of this deadly war," he said. "Moving forward, therefore, Washington should focus on increasing its diplomatic muscle to encourage these two sets of negotiations. This is preferable to both the main alternatives: continuing the business-as-usual approach of the last decade or abruptly disengaging militarily before the Somali security forces are able to stabilize the country."
The argument for negotiation is bolstered by the lack of public or political appetite in the U.S. for a ground war in Somalia, which would likely be necessary to convincingly defeat al-Shabab. In the absence of that, Mr. Williams said, the U.S. first should press for a lasting deal between the federal government and its member states.
Then, he said, the U.S. should back formal peace talks between the Somali government and al-Shabab.
The State Department clearly believes that diplomacy is as important to Somalia's long-term future as military action, though there are questions about whether the U.S. would involve itself directly or pressure the Somali government to more aggressively seek a negotiated peace.
"The United States has long maintained there is no exclusive military solution to the challenges al-Shabab poses to security and stability in Somalia," a State Department official said in a statement. "We fully support Somali-led efforts to defeat al-Shabab and other terrorists' influences using a rights-respecting comprehensive approach, including through defection; reconciliation; reintegration; economic development; and improved, effective governance.
"We continue to focus on the importance of strengthening relations between the federal government of Somalia and the federal member states, a Somali consensus on a credible elections model that can be implemented in a timely fashion, increased efforts to provide livelihoods for communities and to facilitate significant investment for development as key elements that must be advanced simultaneously with military actions against al-Shabab for long-term peace, stability and development in Somalia," the official said.
https://www.washingtontimes.com/news/2020/sep/22/al-shabab-negotiations-eyed-way-end-somalia-fighti/?utm_source=iterable&utm_medium=email&utm_campaign=1549072_
--------
Extremist violence causes food shortages in north Mozambique
September 22, 2020
By ANDREW MELDRUM
JOHANNESBURG (AP) — The escalating extremist insurgency in northern Mozambique has displaced 310,000 people, creating an urgent humanitarian crisis, the World Food Program said Tuesday.
The rebels have recently stepped up attacks in Mozambique's northern Cabo Delgado province, seizing the strategic port of Mocimboa da Praia, which they have held for six weeks. Clashes between the extremist fighters, aligned with the Islamic State group, and government forces have caused massive numbers of local residents to flee their homes and fields.
The conflict has killed more than 1,500 people since it began in 2017 and the increased violence this year has caused widespread upheaval across the area.
"We are deeply concerned about the unfolding humanitarian situation in Cabo Delgado where conflict and violence have left people without access to food and livelihoods," Antonella D'Aprile, the World Food Program's representative for Mozambique, said Tuesday.
"The growing insecurity and poor infrastructure have meant that reaching out to people in need has become harder and now with COVID-19 the crisis becomes even more complex," she said.
The threat of hunger has grown in Mozambique's north as entire communities have lost access to food and income, warns WFP. Crisis levels of food insecurity are expected to continue into next year, according to the region's Famine Early Warning Network.
Cabo Delgado province already had Mozambique's second-highest rate of chronic malnutrition with more than half of children under 5 chronically malnourished and any additional shocks could rapidly worsen the situation, especially for women and children, said WFP.
"The situation is extremely volatile and dangerous, but we managed to locate large numbers of the displaced and distribute food to about 200,000 people last month. We hope to reach close to 300,000 people this month," Lola Castro, WFP's director for southern Africa told The Associated Press. "Families have lost everything and need food urgently."
Many communities have fled to small islands along Mozambique's Indian Ocean coast and others have gone to remote inland areas. WFP is working with Mozambique's government and other aid agencies to get food and supplies the displaced using boats and trucks and soon it hopes that airplanes and helicopters will be available, said Castro.
Such a large-scale emergency operation was not in the budget and WFP is appealing to its donors for funds to keep delivering food to the hungry.
"We need $4.7 million per month to feed the most vulnerable," said Castro. "We need the funds to purchase food for distribution."
Access and communication have been cut off to the area surrounding the rebel-held port of Mocimboa da Praia and surrounding towns, including Palma, she said. United Nations security teams are trying to open communications with the rebels in order to negotiate access to hungry communities, she said.
Atrocities have been committed by both the rebels and government forces, according to human rights groups, but WFP's workers and operations have not been targeted.
Amnesty International has released videos in the past month that appear to show government troops torturing and killing several people in northern Mozambique. One video showed troops shooting a woman in the back more than 30 times and another showed a uniformed man killing a civilian by cutting his throat. The government denied the videos are genuine, Amnesty insisted that its analysis of the videos shows that government troops carried out the violent abuses.
Although hundreds of thousands of people have fled their homes, there are not massive camps of displaced people. Instead, many of the displaced have been taken in by local residents in safer areas, said Castro.
"We are seeing poor families opening their homes and their meager resources to help the displaced," said Castro. "It is quite remarkable how these people, who have so little themselves, can offer such hospitality. Everybody is sharing what little food they have. When we see such generosity, it is a responsibility for us to help them all."
https://apnews.com/ce45f6f58f34fed91101862124a4a8b2?utm_source=iterable&utm_medium=email&utm_campaign=1549072_
--------
URL: https://www.newageislam.com/islamic-world-news/news-broadcasting-standards-authority-takes/d/122935
New Age Islam, Islam Online, Islamic Website, African Muslim News, Arab World News, South Asia News, Indian Muslim News, World Muslim News, Women in Islam, Islamic Feminism, Arab Women, Women In Arab, Islamophobia in America, Muslim Women in West, Islam Women and Feminism