New Age Islam News Bureau
8 Nov 2013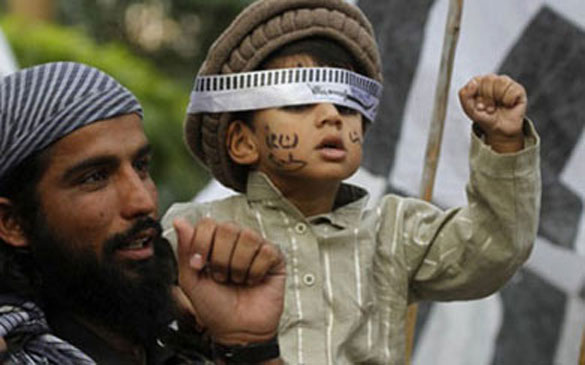 Difaa-e-Pakistan council's protest in Karachi photo: Athar khan/express
-----------
Pakistan
• New Taliban Chief Could Push Pakistan to Military Action
• Hakimullah not a martyr, declares Sunni Ittehad Council
• Religious parties protest against US drone strikes in Pakistan
• Baitullah targeted on Pakistan's request: Husain Haqqani
• TTP to launch wave of revenge attacks in Pakistan
• No more peace talks, 'Mullah Radio' tells Pakistan
• Fazlullah's appointment backed by Mullah Omar: report
• Rabbani presents 11-point plan for talks with Taliban
• MQM senator terms Karachi operation a failure
• Lay down arms, help your country: PM's plea to Baloch rebels
• Nawaz decides not to review US-Pakistan ties
Arab World
• Saudi King Needs Wahhabi Muslim Support to Modernise Country
• Saudis seek Pakistan's help to train Syrian rebels: magazine
• Double bombing kills 5 Sunni worshippers in Iraq
• Iraq reels under bomb attacks, 30 killed
• Scrapping of Egypt's Shura Council finds some political support
• Syrian army closes in on Aleppo after dawn attack
• Mohammed Morsi 'steadfast' in jail, says wife after visit
Southeast Asia
• Child Sex Predators Increasingly Turn to Social Media throughout Southeast Asia
• Circulars on religious issues a must for schools, say education groups
• Mother and child reunion possible after court order in Islam conversion case
South Asia
• Kids in Bangladesh being used in violent political movements
• Maldivians convey "1000 Thanks" to the Elections Commission
• Afghan Roadside Bombing Kills Eight
• President Waheed commutes sentences of 35 convicts
• Syrian refugees show up Maldives' immigration failings
North America
• Kerry warns of third intifada, Israel's isolation, if peace talks break down
• Guantanamo prisoner's secret diaries leaked
• White House announces easing of Iran sanctions
• Gitmo inmates, lawyers communication made easy
• John Kerry to join Iran nuclear talks as hopes of deal rise
India
• CPM state secretary trains guns on the Jama'at-e-Islami
• Housing ads on web portal say 'Muslims not allowed', taken off
• India in bid to ensure Maldives poll on Saturday
Europe
• Anti-Semitism 'on the rise' say Europe's Jews
• Warrant for Burqa terror suspect Mohammed Ahmed Mohamed
• 'Mi6 Was Not Prepared For 9/11 but Did Not Resort to Torture'
• Syrian opposition refuses Moscow talks: Russia
• ISAF in Afghanistan: Murder case, new torture evidence, possible war crimes
• Hundreds of Britons fighting in Syria - MI5 chief
• Quizzed by MPs, UK spooks say Qaida lapping up Snowden leaks
Mideast
• Gaza militants take 'jihadist' fight to Syria
• Turkey 'stopped helping' al-Qaeda near Syria border: Report
• Security forces close two Jerusalem charities, linking them to Hamas
• Netanyahu warns Kerry: Israel not bound by any deal between Iran and West
• Palestinians say Israel 'only suspect' in Yasser's Arafat death
Africa
• Kenya tells Somalis to avoid rebel sites, hints at new strikes
• Nigerian lawmakers approve state of emergency extension
• Rwanda genocide suspect appeals Danish extradition
• Rival Libyan militias clash in Tripoli killing two
Compiled by New Age Islam News Bureau
URL: https://www.newageislam.com/islamic-world-news/new-age-islam-news-bureau/new-taliban-chief-could-push-pakistan-to-military-action/d/14357
-----------
Pakistan
New Taliban Chief Could Push Pakistan to Military Action
November 08, 2013
Islamabad. The Pakistani Taliban's appointment of a new hard-line leader opposed to peace talks and with a long history of attacks against the military could push the army into launching a fresh offensive, analysts said Friday.
The election of Maulana Fazlullah, notorious for leading the militants' brutal two-year rule in Pakistan's north-western Swat valley, is like a "red rag to a bull," one analyst said.
It could also raise tensions with Kabul at a critical juncture as US-led forces withdraw from Afghanistan after 12 years of war.
While Kabul has long accused Islamabad of supporting the Afghan Taliban, Fazlullah has orchestrated cross-border attacks from his hideout in eastern Afghanistan, and Pakistan suspects its neighbour's intelligence services of supporting him.
Fazlullah, nicknamed Mullah Radio for his fiery sermons over the airwaves denouncing polio vaccination campaigns and female education, is renowned as an uncompromising commander.
Pakistani intelligence believes he is linked to the failed attempt to kill schoolgirl education activist Malala Yousafzai, who was shot in Swat in October 2012.
He was appointed chief of the Tehreek-e-Taliban Pakistan (TTP) on Thursday; nearly a week after a US drone strike killed his predecessor Hakimullah Mehsud.
Islamabad reacted angrily to the killing of Mehsud, with the interior minister saying Washington had "sabotaged" peace talks.
It is not clear what progress, if any, had been made towards meaningful dialogue — but the process lies in tatters after Fazlullah's election.
On Thursday, the militants dismissed the idea of peace talks with the government as a "waste of time", and said they would never negotiate until Sharia law was imposed across the country.
Defence analyst Talat Masood, a retired general, said the TTP's choice of Fazlullah, whose men have carried out bloody and humiliating attacks against the army, was like a "red rag to a bull".
"This leaves no margin for negotiation and they will have to resort to a military operation and will have to be fully prepared to prevent terrorist actions in the country," Masood told AFP.
"He is enemy number one of the military."
In September, political parties backed the government's proposal for talks to try to end the TTP's six–year insurgency, which has killed thousands.
Fazlullah's men responded by killing two senior army officers, including a major general, in a roadside bomb — a galling blow to the pride of the military, which remains the most powerful institution in Pakistan.
Fazlullah rubbed salt in the wounds by issuing a video message to claim the attack and to reveal the intended target was General Ashfaq Kayani, the army's supreme commander.
In 2009 a major military operation ended Fazlullah's rule in Swat. Later that year another offensive cleared militant hideouts in South Waziristan, one of the seven tribal areas along the Afghan border seen as a haven for Taliban and Al Qaeda militants.
Washington has pushed for a similar offensive in North Waziristan, which has borne the brunt of the US drone campaign targeting suspected militants, but none has yet taken place.
A senior security source told AFP a military operation would "become inevitable" if, as seems likely, dialogue does not proceed, and warned of worsening relations with Kabul.
"The government and the military top brass in almost all previous rounds of meetings with their Afghan interlocutors have been pointing out Fazlullah's presence on Afghan soil and his activities against the Pakistani state," the source said.
Kayani is to retire on November 29 and his replacement as army chief has yet to be announced. The security official said Fazlullah's appointment would have a bearing on the decision.
"The priority will now be to have a person on this post, who has expertise in counter insurgency and related matters," the official said.
http://tribune.com.pk/story/629058/red-rag-to-a-bull-new-ttp-chief-could-push-army-to-military-action/
-----------
Hakimullah not a martyr, declares Sunni Ittehad Council
November 8, 2013.
LAHORE: Sunni Ittehad Council (SIC) on Friday denounced the title of 'martyr' for the Tehreek-e-Taliban Pakistan's slain commander Hakimullah Mehsud, saying this went against the teachings of Islam, Express News reported.
The Council, which is a political coalition of numerous religious groups hailing from the 'Sunni' tradition of Islam, issued two fatwas based on the opinion of around 30 'Muftis' on Friday.
SIC Chairman Hamid Raza Rizvi announced that the collective opinion from all Muftis said calling a man responsible for the loss of so many lives, a 'martyr' went against the teachings of Quran and Sunnah.
Earlier this week, Chairman Jamaat-e-Islami Munawwar Hasan and the JUI-F chief Maulana Fazlur Rehman had remarked that TTP chief Hakimullah Mehsud was a 'martyr', considering the circumstances of his death.
Rehman had gone to the extent of saying anyone at all killed by the US would be a martyr, in his opinion.
The SIC disapproved of this comment and in a second fatwa, also thumbed down the idea of justifying killings in the name of revenge for drone attacks.
The Council maintained that the inhuman drone attacks represented the worst violation of laws, morals and basic tenets of humanity, but killing innocent people as a way of 'avenging' them was unacceptable.
Chairman Hamid Raza also asked Rehman to take his words back.
http://tribune.com.pk/story/629092/hakimullah-not-a-martyr-declares-sunni-ittehad-council/
--------
Religious parties protest against US drone strikes in Pakistan
November 8, 2013
PESHAWAR: Activists from right-wing religious parties led protests in many parts of Pakistan on Friday to denounce a US drone strike that killed the commander of the militant Tehreek-e-Taliban Pakistan (TTP) last week.
Pakistan last week reacted angrily to the drone attack that killed the TTP chief Hakimullah Mehsud in the North Waziristan tribal area.
The government said the strike had destroyed efforts to begin talks to end the TTP's bloody six-year insurgency that has left thousands of soldiers, police and civilians dead.
The interior minister had accused Washington of sabotaging peace efforts. Former cricketer Imran Khan, head of the Pakistan Tehreek-e-Insaf (PTI) which is in power in the Khyber-Pakhtunkhwa province, called for a blockade of Nato convoys to Afghanistan.
Around 1,200 supporters of the Jamaat-i-Islami (JI) religious party staged a protest sit-in on Friday, blocking a NATO supply route in Peshawar, police and an AFP reporter said.
Mohammad Ismail, a senior police officer in Peshawar said the road would reopen soon.
"It is temporary due to the protest rally, supplies will re-open on Saturday," Ismail told AFP.
Pakistan is a key transit route for the US-led mission in landlocked Afghanistan, particularly as NATO forces withdraw by the end of next year. Many of the trucks now are actually removing NATO equipment after 12 years of war.
"Block NATO supply, stop drone attack," read one banner at the rally. Protesters carrying placards and party flags were shouting anti-US slogans, an AFP reporter said.
Lahore Protest
In Pakistan's cultural capital Lahore, more than 200 activists of Jamaat-ud-Dawa (JuD), a charity organisation led by Hafiz Saeed who carries a bounty on his head by the United States, gathered outside the press club and chanted slogans against the US.
Karachi Protest
JuD also held a small protest rally in Karachi, the port city from where Nato and US goods and equipment are loaded on to, and off trucks for Afghanistan.
"America does not want a peaceful Pakistan, it is against peace talks, government should shoot down US drones," Shabeer Ahmad Khan, a JI leader told the gathering in Peshawar.
Khan has set a November 20 deadline for the halting of drone strikes and threatened to block Nato convoys in north-western Khyber Pakhtunkhwa, where PTI leads the coalition government.
But it is not clear how he would carry out such a blockade as authority over highways lies with the federal government.
Islamabad condemns drone strikes as a violation of sovereignty, and Prime Minister Nawaz Sharif urged President Barack Obama to end them during White House talks last week.
But analysts say Sharif's ability to issue demands to Washington are constrained by the fact the US last month agreed to release around $1.6 billion in aid.
In addition, Pakistan has just embarked on a new $6.7 billion International Monetary Fund (IMF) loan package with support from Washington.
Mehsud's death last Friday was the third major blow struck against the TTP by the US this year, following the killing of number two Wali ur Rehman in a drone strike in May and the capture of another senior lieutenant in Afghanistan last month.
On Thursday, the TTP named its new leader as hard-line cleric Maulana Fazlullah, known for leading the Taliban's bloody two-year rule in Swat Valley and for links to the shooting of schoolgirl activist Malala Yousafzai.
http://tribune.com.pk/story/629093/religious-parties-protest-against-us-drone-strikes-in-pakistan/
--------
Baitullah targeted on Pakistan's request: Husain Haqqani
ANWAR IQBAL
2013-11-08
WASHINGTON: Although publicly Pakistan condemns drone strikes, privately it has often asked the United States to use the weapons to eliminate Tehrik-i-Taliban Pakistan (TTP) leaders, says Islamabad's former ambassador in the US capital, Husain Haqqani.
Baitullah Mehsud, former TTP chief who was killed in a drone strike in 2009, was among those targeted following such requests, he says.
In his latest book "Magnificent Delusions," Mr Haqqani also claims that in 2009 US President Barack Obama secretly offered to nudge India towards negotiations on Kashmir if Pakistan stopped supporting Lashkar-i-Taiba and the Afghan Taliban.
Full report at:
http://www.dawn.com/news/1054988/baitullah-targeted-on-pakistans-request-husain-haqqani
-----------
TTP to launch wave of revenge attacks in Pakistan
REUTERS
2013-11-08
DERA ISMAIL KHAN: The Tehrik-i-Taliban Pakistan (TTP) announced on Friday they would orchestrate a wave of revenge attacks against the government after naming hardline commander Mullah Fazlullah as their new leader.
The rise of Fazlullah, who is known for his ruthless reputation and rejection of peace talks, by the Taliban shura (leadership council) a day earlier, follows the killing of the outlawed outfit's previous leader Hakimullah Mehsud in a US drone strike on Nov 1.
"We will target security forces, government installations, political leaders and police," Asmatullah Shaheen, head of the shura and caretaker leader of the TTP, told Reuters by telephone from an undisclosed location.
Full report at:
http://www.dawn.com/news/1054991/ttp-to-launch-wave-of-revenge-attacks-in-pakistan
-----------
No more peace talks, 'Mullah Radio' tells Pakistan
November 08, 2013
(Reuters) - The Pakistani Taliban rejected the idea of peace talks with the government after electing hard-line commander Mullah Fazlullah, whose men shot schoolgirl Malala Yousafzai last year, as their new leader on Thursday.
The rise of Fazlullah, known for his fierce Islamist views, by the Taliban Shura council follows the Killing of Hakimullah Mehsud, the previous leader or Ameer, in a U.S. drone strike on November 1.
Full report at:
http://in.reuters.com/article/2013/11/07/pakistan-taliban-mullah-fazlullah-idINDEE9A609L20131107
-----------
Fazlullah's appointment backed by Mullah Omar: report
November 08, 2013
ISLAMABAD: The selection of Mullah Fazlullah as the chief of the Tehrik-i-Taliban Pakistan (TTP) could not have been possible without the backing of Mullah Mohammad Omar, chief of the Afghan Taliban, a report published in the Friday edition of The News International quoted sources as saying.
Hailing from the Swat district of Khyber Pakhtunkhwa, Fazlullah is the first non-Mehsud chief of the TTP, unlike Baitullah and Hakimullah Mehsud who hailed from the Waziristan region of the Federally Administered Tribal Areas (Fata). Sources quoted in the story said the reason behind the decision was to avoid a possible split within the banned militant organisation.
An interesting point of note is that the official announcement of Fazlullah's appointment as the new chief was made over the telephone by TTP spokesman Shahidullah Shahid from Afghanistan.
Full report at:
http://www.dawn.com/news/1054992/fazlullahs-appointment-backed-by-mullah-omar-report
-----------
Rabbani presents 11-point plan for talks with Taliban
2013-11-08
ISLAMABAD: PPP leader Raza Rabbani presented on Thursday an 11-point plan to the PML-N government for steering the nation out of the current complicated situation relating to talks with the Taliban.
He came up with the plan as opposition continued their protest and held a parallel Senate session outside the Parliament House.
The session presided over by PPP Senator Ahmed Hassan continued for more than 90 minutes despite rain.
Senators delivered fiery speeches against the government and adopted two resolutions. The first resolution criticised the government for not paying attention to earthquake-hit areas and people and the issue of missing persons in Balochistan and the second condemned US drone attacks, presence of foreigners in Fata and the undemocratic attitude of people in the government.
Full report at:
http://www.dawn.com/news/1054900/rabbani-presents-11-point-plan-for-talks-with-taliban
-----------
MQM senator terms Karachi operation a failure
AMIR WASIM
2013-11-05
ISLAMABAD: The Muttahida Qaumi Movement has described the ongoing operation in Karachi as a failure and alleged that incidents of target killings, kidnappings and bank robberies in the city have increased in the recent past.
"Everyone knows how successful the operation is. Target killings and kidnappings for ransom are still taking place in the city. There has been an increase in the number of bank robberies," MQM's Parliamentary Leader Tahir Hussain Mashhadi said while speaking on a point of order in the Senate on Monday.
Full report at:
http://www.dawn.com/news/1054238/mqm-senator-terms-karachi-operation-a-failure
-----------
Lay down arms, help your country: PM's plea to Baloch rebels
November 8, 2013
AWARAN: Prime Minister Nawaz Sharif asked Baloch rebels to lay down their arms and to work towards the betterment of the country, Express News reported on Thursday.
On his visit to disaster-stricken Awaran, Nawaz said that nothing is to be gained from fighting with the rebels, adding that they are "our brothers" and there should be no motivation to take revenge from them.
Full report at:
http://tribune.com.pk/story/629070/lay-down-arms-help-your-country-pms-plea-to-baloch-rebels/
--------
Nawaz decides not to review US-Pakistan ties
Nov 08 2013
It would be business as usual with U.S., say sources
Prime Minister Nawaz Sharif has ruled out reviewing all aspects of Pakistan's relations with U.S. after Interior minister Chaudhry Nisar Ali Khan's outburst last week blaming the U.S. for sabotaging peace talks by targeting Tehreek-e-Taliban Pakistan (TTP) leader Hakimullah Mehsud.
Full report at:
http://www.thehindu.com/news/international/south-asia/nawaz-decides-not-to-review-uspakistan-ties/article5327295.ece
-----------
Arab World
Saudi King Needs Wahhabi Muslim Support to Modernise Country
November 08, 2013
Abdulrahman al-Moshaigeh remembers leaving his mud-brick house and walking on unpaved roads to what was then the only elementary school serving Buraidah. "There's no comparison," says the former member of King Abdullah's advisory Shoura Council. Since his birth in 1945, many changes have swept his hometown, the capital of Qassim province in Saudi Arabia's conservative heartland. "Now we have more than 150 elementary schools for boys, and it's difficult to find a girl not in school," al-Moshaigeh says.
Even in a country where women are barred from driving cars and shops close at prayer time, Qassim has the reputation for being conservative, strictly adhering to the austere interpretation of Wahhabi Islam practiced in the Arab world's biggest economy. Few cars are on the streets of Buraidah during prayer time, a noticeable difference from the Saudi capital of Riyadh, and all shops are shuttered. The city of 614,000 has a small-town feel, even with significant roadwork and construction under way. There are no women walking alone on the streets, which would be a breach of the city's conservative code, and most men wear Saudi national dress—a white robe and checkered red-and-white head scarf.
Full report at:
http://www.businessweek.com/articles/2013-11-07/saudi-king-needs-wahhabi-muslim-support-to-modernize-country
-----------
Saudis seek Pakistan's help to train Syrian rebels: magazine
MASOOD HAIDER
2013-11-08
NEW YORK, Nov 7: Saudi Arabia, after having lost faith in the Obama administration's efforts to oust Syrian President Bashar al Assad's government, has decided to begin a major effort with Pakistan to train Syrian rebel forces, Foreign Policy magazine said on Thursday.
The magazine said Pakistan's role is so far relatively small, though another source with knowledge of Saudi thinking said that a plan was currently being debated to give Pakistan responsibility for training two rebel brigades, or around 5,000 to 10,000 fighters. Carnegie Middle East Centre fellow Yezid Sayigh first noted the use of Pakistani instructors, writing that the Saudis were planning to build a Syrian rebel army of roughly 40,000 to 50,000 soldiers.
Full report at:
http://www.dawn.com/news/1054970/saudis-seek-pakistans-help-to-train-syrian-rebels-magazine
----------
Double bombing kills 5 Sunni worshippers in Iraq
November 08, 2013
BAGHDAD: Iraqi officials say two bomb explosions near a Sunni mosque in Baghdad have killed five worshippers and wounded 15.
Police say the first bomb went off after Friday prayers as worshippers were leaving the Ali Bin Abi Talib mosque in Baghdad's western Shurta district.
Seconds later, a second bomb exploded among worshippers trying to flee the scene of the attack.
Full report at:
http://www.dailystar.com.lb/News/Middle-East/2013/Nov-08/237211-double-bombing-kills-5-sunni-worshippers-in-iraq.ashx#ixzz2k76I7uLe
----------
Iraq reels under bomb attacks, 30 killed
November 08, 2013
Baghdad: A series of attacks in Iraq, including a double suicide car bombing targeting a military base, killed 30 people across the country, officials said.
The deadliest attack took place when the two suicide bombers drove their explosive-laden cars into a military base in the town of Tarmiyah late yesterday, killing at least 19 soldiers and wounding 41, authorities said.
Soldiers guarding the base opened fire on the first car bomber as he approached, but he still was able to detonate his explosives against a gate protecting the facility, police said.
Two minutes later, the second suicide bomber rammed his car through the gate and exploded when he reached a crowd of soldiers who gathered after the earlier blast, police said.
Full report at:
http://zeenews.india.com/news/world/iraq-reels-under-bomb-attacks-30-killed_888572.html
----------
Scrapping of Egypt's Shura Council finds some political support
8 November 2013
The removal of the upper house of parliament from Egypt's draft constitution to create a single chamber parliamentary system has found some support from politicians.
After a laborious five-hour meeting, members of the committee responsible for amending Egypt's constitution agreed to scrap the legislative body by a vote of 23 to 19, effectively ending its existence if the amended constitution passes an upcoming national referendum.
"Terminating the council's existence is a good thing and reflects the people's will," head of the Egyptian Socialist Party, Ahmed Bahaa El-Din Shaaban, told Al-Ahram's Arabic news website.
Full report at:
http://english.ahram.org.eg/NewsContent/1/64/85907/Egypt/Politics-/Scrapping-of-Egypt%E2%80%99s-Shura-Council-finds-some-poli.aspx
-----------
Syrian army closes in on Aleppo after dawn attack
November 08, 2013
(Reuters) - Forces loyal to President Bashar al-Assad backed by a dawn barrage of artillery fire and airstrikes drove Syrian rebels from a strategic military base near the disputed northern city of Aleppo on Friday, a local photographer said.
The advance into Base 80, a large military position which rebels have held since February, will help Assad's forces move towards rebel-held areas of Aleppo city and follows a string of successful offensives this month.
A photographer who supplies pictures to Reuters arrived at the scene about 1 km (0.6 miles) from the base at dawn and said he saw around two dozen airstrikes and artillery hit insurgent positions.
Full report at:
http://in.reuters.com/article/2013/11/08/syria-crisis-aleppo-idINDEE9A70AA20131108
----------
Mohammed Morsi 'steadfast' in jail, says wife after visit
8 Nov 2013
The wife of deposed Egyptian President Mohammed Morsi, has visited him in jail and says he is "steadfast".
Naglaa Ali was one of several relatives to visit Mr Morsi on Wednesday in the Borg al-Arab prison near Alexandria.
Mr Morsi, an Islamist who was Egypt's first democratically elected president, is on trial on charges of inciting the killing of protesters during clashes in Cairo last year.
The military ousted him in July. The trial has been adjourned until January.
Fourteen officials from the Muslim Brotherhood, to which Mr Morsi belongs, are also being tried.
Full report at:
http://www.bbc.co.uk/news/world-middle-east-24861490
--------
Southeast Asia
Child Sex Predators Increasingly Turn to Social Media throughout Southeast Asia
November 08, 2013
A recent study has found the growth of information and communication technology, including online chat rooms and other forms of social media, is bringing a new, more widespread dimension to child sex exploitation throughout Southeast Asia.
"Almost every child who has been a victim of internet sexual abuse said they met with somebody through social media," said Sudaryanto, Indonesia manager of Terres des Hommes, an international child rights organization, in a press conference on Thursday.
Chat applications such as Blackberry Messenger are also often used in the hunt for customers, Sudaryanto added.
Indonesia is particularly vulnerable, Sudaryanto said.
"The potential for sexual abuse through the internet in Indonesia is very big because internet use in Indonesia continues to grow."
Full report at:
http://www.thejakartaglobe.com/news/child-sex-predators-increasingly-turn-to-social-media-new-research-finds/
-----------
Circulars on religious issues a must for schools, say education groups
November 08, 2013
Two education groups disagreed today with Education Minister II Datuk Seri Idris Jusoh's (pic, right) remark that government circulars were not needed to address racial issues in schools.
"Circulars are always issued to schools on important matters to keep things in check.
"This is a standard operating procedure. If not endorsed by the ministry, people will go on doing whatever they wish without taking into consideration the sensitivities of others," Hashim Adnan, president of the National Union of Teaching Profession, told The Malaysian Insider.
Full report at:
http://www.themalaysianinsider.com/malaysia/article/circulars-on-religious-issues-a-must-for-schools-say-education-groups
-----------
Mother and child reunion possible after court order in Islam conversion case
November 08, 2013
A kindergarten teacher who has been separated from her youngest daughter for four years over a Muslim conversion case will get to see her soon following a court order compelling the father to bring the girl to court on November 22.
The Ipoh High Court ordered Muhammad Riduan Abdullah, the estranged husband of kindergarten teacher, M. Indira Gandhi, to be present in court together with Prasana Diksa, if it wanted his application to stay the conversion of the couple's three children to Islam to be heard.
Full report at:
http://www.themalaysianinsider.com/malaysia/article/mother-and-child-reunion-possible-after-court-order-in-islam-conversion-cas
-----------
South Asia
Kids in Bangladesh being used in violent political movements
November 08, 2013
The use of children in violent political movements in the northern districts of Thakurgaon and Panchagarh has become a cause of concern for the parents and locals.
Children are often kept in the front lines of processions and gatherings, and instigated to involve in picketing and clashes with sticks and brick-bats during political programmes like Hartals and blockades, said witnesses.
During a visit to different places in Thakurgaon and Panchagarh districts on Tuesday and Wednesday (November 5 and 6), this correspondent saw stick wielding children aged between 6/7 to 14/15 picketing at different intersections during the 60-hour-long countrywide hartal enforced by BNP-Jamaat led 18-party alliance.
Full report at:
http://www.thedailystar.net/beta2/news/kids-being-used-in-violent-political-movements/
-----------
Maldivians convey "1000 Thanks" to the Elections Commission
By Mariyath Mohamed | November 7th, 2013
Elections Commission (EC) President Fuwad Thowfeek, member Ali Mohamed Manik and Secretary General Asim Abdul Sattar have met with a group of young Maldivians who presented the commission with a memento to express gratitude for their repeated efforts to conduct a presidential election this year.
The poster, titled "1000 Thanks", was a mosaic of photos of several hundred citizens holding messages of support for the EC.
Upon receiving the token of thanks, Thowfeek stated that the commission's team "is very happy to know that we are not alone in this work, and that we have the support of so many people."
Full report at:
http://minivannews.com/politics/maldivians-convey-%E2%80%9C1000-thanks%E2%80%9D-to-the-elections-commission-71033
-----------
Afghan Roadside Bombing Kills Eight
November 08, 2013
At least eight civilians -- mostly women and children -- were killed on November 8 when their vehicle struck a roadside bomb in southern Afghanistan.
Police said the incident took place on the outskirts of Qalat city, the capital of Zabul Province.
Five women, two children, and an elderly man were killed. They were believed to be from the same family.
Full report at:
http://www.rferl.org/content/afghan-roadside-bombing/25161939.html
-----------
President Waheed commutes sentences of 35 convicts
By Ahmed Naish | November 8th, 2013
President Dr Mohamed Waheed has commuted the sentences of 35 convicts under authority granted by the Clemency Act of 2009 and approved a lump sum payment of three months' wages for cabinet ministers.
President Waheed exercised the executive power on the last official working day of his administration before the end of the current presidential term on Monday, November 11.
The President's Office revealed in a statement that Waheed had commuted the sentences of persons banished, serving jail sentences or under house arrest "with conditions."
Details of the convicts, the conditions and the reduced sentences were not disclosed.
President Waheed considered "age, illness, nature of medical treatment, time and circumstance, behaviour and conduct, or a compassionate view," the President's Office stated.
Full report at:
http://minivannews.com/politics/president-waheed-commutes-sentences-of-35-convicts-approves-lump-sum-payment-for-ministers-71080
-----------
Syrian refugees show up Maldives' immigration failings
By Daniel Bosley | November 7th, 2013
Rising numbers of refugees seeking to use the Maldives as a transit point has laid bare the country's need to review its immigration procedures, says the Human Rights Commission of Maldives (HRCM).
"The government needs to bring policies into line with human rights conventions," said HRCM member Jeehan Mahmood.
"The current procedures do not ensure the refugee's safety – this is not correct, this is not right. The government needs to review and re-visit procedures to ensure its actions to not violate human rights."
Full report at:
http://minivannews.com/politics/syrian-refugees-show-up-maldives-immigration-failings-71012
---------
North America
Kerry warns of third intifada, Israel's isolation, if peace talks break down
November 08, 2013
US Secretary of State John Kerry painted a very bleak picture of what would be the result of a break-down in the current Israeli-Palestinian talks, warning on Thursday of a third intifada and international isolation of Israel
Kerry's warnings came in an unusual joint interview with Channel 2's Udi Segal and Maher Shalabi of Palestine TV.
"The alternative to getting back to the talks is the potential of chaos," Kerry said. "Does Israel want a third intifada?"
The Secretary of State's warnings of a third intifada came two days after a poll conducted by the Arab World For Research & Development showed that only 29% of West Bank and Gaza Palestinians said they would support a third intifada, though 60% believe one is possible.
Full report at:
http://www.jpost.com/Middle-East/Kerry-extends-his-stay-in-Mideast-says-significant-progress-made-in-some-areas-of-peace-talks-330912
-----------
Guantanamo prisoner's secret diaries leaked
November 08, 2013
Al Jazeera America published Thursday part of the secret personal diaries of one of Guantanamo's most high-profile prisoners, with records of meetings with Al-Qaeda's chieftains. The six volumes of Abu Zubaydah's diaries, which span more than a decade from his student years to just before
his March 2002 capture, were a key element of the George W. Bush administration's justification of its "war on terror."
US officials often use the accounts to justify holding prisoners at Guantanamo without charge or trial, but they had never before been made public.
Full report at:
http://www.hindustantimes.com/world-news/guantanamo-prisoner-s-secret-diaries-leaked/article1-1148584.aspx
--------
White House announces easing of Iran sanctions
World Bulletin / News Desk
November 08, 2013
White House Press Secretary Jay Carney said Thursday that the P5 plus one is prepared to offer sanctions relief to Iran during negotiations currently underway in Geneva.
"In exchange for concrete, verifiable measures to address the P5 plus one's concerns, during the first step, the P5 plus one would consider limited, targeted and reversible relief that does not affect our core sanctions architecture," Carney said.
Full report at:
http://www.worldbulletin.net/?aType=haber&ArticleID=122383
-----------
Gitmo inmates, lawyers communication made easy
November 08, 2013
WASHINGTON : The military judge in the September 11 trial ordered the US government Wednesday to hand over correspondence on Guantanamo prison conditions and lifted restrictions on lawyers' communications with detainees. The judge, Colonel James Pohl, will review years of reports by the International Committee of the Red Cross, the only human rights group to access the US naval base in Cuba since it opened in 2002, according to one of two rulings revealed by defense lawyers.
Full report at:
http://www.nation.com.pk/pakistan-news-newspaper-daily-english-online/international/08-Nov-2013/gitmo-inmates-lawyers-communication-made-easy
-----------
John Kerry to join Iran nuclear talks as hopes of deal rise
Reuters | Nov 8, 2013
GENEVA: US secretary of state John Kerry will join nuclear talks between major powers and Iran in Geneva on Friday in an attempt to nail down a long-elusive accord to start resolving a decade-old standoff over Tehran's atomic aims.
Kerry, on a Middle East tour, will fly to the Swiss city at the invitation of European Union foreign policy chief Catherine Ashton in "an effort to help narrow differences" in the negotiations, a senior State Department official said.
Full report at:
http://timesofindia.indiatimes.com/world/middle-east/John-Kerry-to-join-Iran-nuclear-talks-as-hopes-of-deal-rise/articleshow/25427770.cms
-----------
India
CPM state secretary trains guns on the Jama'at-e-Islami
November 08, 2013
In yet another scathing outburst on Jama'at-e-Islami, CPM state secretary Pinarayi Vijayan alleged that Jama'at-e-Islami and RSS were the two sides of the same coin.
Delivering the keynote address at the launch of 'Mukhyadhara' (Main Stream), a mouth-piece of the party, here on Thursday, he said, "Jama'at-e-Islami is a threat to the society as it is working towards the establishment of an Islamic theocratic State just as the RSS is trying for a Hindu theocratic state."
Pinarayi further said that they did not consider Jama'at-e-Islami as a serious contender in the coming election and did not consider any of their intimidations serious. "Jama'at-e-Islami in Kerala is the same as launched by Abul Ala Maududi in Lahore. Though we see a friendly face of the organisation on the outside, they are following Maududi's ideology of an Islamic nation. While RSS stands for a Hindutva, Jama'at-e-Islami's efforts are to create an Islamic country. Both are equally dangerous to the society," said Pinarayi.
Full report at:
http://newindianexpress.com/states/kerala/Pinarayi-Vijayan-trains-guns-on-the-Jamaat-e-Islami/2013/11/08/article1879078.ece
-----------
Housing ads on web portal say 'Muslims not allowed', taken off
Nov 08 2013
Mumbai: In a clear case of religious discrimination, a private real estate agency had placed advertisements for properties in a web portal that carried a rider — "Muslims not allowed" — with them. The advertisements, reportedly put up sometime last week, were pulled out Thursday morning.
The advertisements placed by a Wadala-based agency, M/S Jacinta Estates, on popular real estate website 99acres.com said "no Muslim allowed" to buy or rent a property in Dadar. Another advertisement was that of 500-square feet flat put up for rent at Mira Road in Thane. Both advertisements were first modified and later removed from the website.
Full report at:
http://www.indianexpress.com/news/housing-ads-on-web-portal-say--muslims-not-allowed--taken-off/1192170/
--------
India in bid to ensure Maldives poll on Saturday
Indrani Bagchi, TNN | Nov 8, 2013
NEW DELHI: India is racing against the clock to stitch an agreement on holding elections in Maldives on Saturday. Any further delay would throw Maldives off the cliff into a constitutional vacuum. India sent Harsh Shringla, joint secretary in the ministry of external affairs, to Male this week to persuade the main protagonists - Mohammed Nasheed, Mohammed Waheed, Abdulla Yameen and Gasim Ibrahim.
The UN too has sent its senior assistant secretary general for political affairs, Oscar Fernandez-Taranco.
UN secretary general Ban Ki-moon has asked Maldives to hold a re-run soon so that a new president can be sworn in before the constitutional deadline.
Full report at:
http://timesofindia.indiatimes.com/india/India-in-bid-to-ensure-Maldives-poll-on-Saturday/articleshow/25404435.cms
-----------
Europe
Anti-Semitism 'on the rise' say Europe's Jews
November 08, 2013
Many Jews in Europe say anti-Semitism is increasing, particularly on the internet, according to a survey by the EU's Fundamental Rights Agency (FRA).
The survey of 5,847 Jewish people said 66% of those who responded considered anti-Semitism to be a problem.
Three out of four respondents, 76%, believed anti-Semitism had increased over the past five years.
The survey was carried out in 2012 in eight countries which are home to about 90% of the EU's Jewish population.
Respondents in Belgium, France, Germany, Hungary, Italy, Latvia, Sweden and the United Kingdom were asked to give "their opinions and perceptions on anti-Semitic trends and anti-Semitism as a problem in everyday".
Full report at:
http://www.bbc.co.uk/news/world-europe-24857207
--------
Warrant for burka terror suspect Mohammed Ahmed Mohamed
November 08, 2013
An arrest warrant has been issued for terror suspect Mohammed Ahmed Mohamed after he failed to appear in court.
An Old Bailey judge issued the warrant for the 27-year-old, who absconded a week ago in London wearing a burka.
He is facing charges over 20 alleged breaches of a terrorism prevention order, which restricts his movements.
Meanwhile, the government may seek to block his High Court claim for damages over allegations UK authorities were complicit in his torture in Somalia.
Last Friday, CCTV footage captured Mr Mohamed entering a mosque in west London in a jacket and trousers, and then leaving with his face and body covered by the burka.
'Unauthorised meeting'
Full report at:
http://www.bbc.co.uk/news/uk-24868258
--------
'Mi6 Was Not Prepared For 9/11 but Did Not Resort to Torture'
November 08, 2013
Spy agencies were not prepared for a terror attack on the scale of 9/11
Britain's intelligence agencies were not prepared for a terror attack on the scale of 9/11, the head of MI6 admitted.
Sir John Sawyer said the agencies lacked the staff and resources to deal with the fallout of the atrocity and had to work with foreign partners as a result.
But he rejected allegations that intelligence agencies have been complicit in torture or have mistreated individuals.
Full report at:
http://www.dailymail.co.uk/news/article-2489957/Britains-spy-chiefs-grilled-MPs-television-time.html#ixzz2k5ynOpuv
-----------
Syrian opposition refuses Moscow talks: Russia
2013-11-08
MOSCOW: Syria's main Western-backed opposition group is refusing to participate in talks in Moscow, Russia's Foreign Ministry said on Friday.
Ministry spokesman Alexander Lukashevich said the Syrian National Coalition was ''blocking and refusing to participate'' in the talks, which would focus on resolving the humanitarian crisis in Syria.
Deputy Foreign Minister Mikhail Bogdanov earlier said the opposition had ''responded positively'' to the proposal.
Full report at:
http://www.dawn.com/news/1055016/syrian-opposition-refuses-moscow-talks-russia
-----------
ISAF in Afghanistan: Murder case, new torture evidence, possible war crimes
November 08, 2013
A murder case against Royal Marines in the UK and evidence of American-enabled torture by Afghan National Army personnel and war crimes by US Special Forces contribute to the latest snapshot of the darkest aspects of war-torn Afghanistan.
A Rolling Stone investigative report published Wednesday alleges US Special Forces may have been responsible for the murders of up to 18 Afghans, including 10 deaths of villagers in the Wardak province west of Kabul.
Full report at:
http://rt.com/news/afghanistan-torture-murder-evidence-397/
-----------
Hundreds of Britons fighting in Syria - MI5 chief
November 08, 2013
The number of British Islamists who have gone to Syria to fight in the war there is in the "low hundreds", a senior UK intelligence official says.
Andrew Parker, head of domestic intelligence service MI5, told a parliamentary hearing the conflict was attracting al-Qaeda UK sympathisers.
Their interaction with militant groups abroad was a "very important strand of the threat" the UK faced, he said.
Full report at:
http://www.bbc.co.uk/news/world-middle-east-24856553
-----------
Quizzed by MPs, UK spooks say Qaida lapping up Snowden leaks
AP | Nov 8, 2013
LONDON: Al-Qaida and other British intelligence targets are having a field day with the leaks from former NSA contractor Edward Snowden, UK spy chiefs told lawmakers on Thursday in a strong condemnation of the American's spying revelations.
Iain Lobban, chief of the eavesdropping agency GCHQ, said his spies have picked up "near-daily discussion" of the unauthorized disclosures among his agency's targets. His colleague John Sawers, the chief of MI6, was even more explicit. "It's clear that our adversaries are rubbing their hands in glee," he told lawmakers. "Al-Qaida is lapping it up."
Full report at:
http://timesofindia.indiatimes.com/world/uk/Quizzed-by-MPs-UK-spooks-say-Qaida-lapping-up-Snowden-leaks/articleshow/25400024.cms
-----------
Mideast
Gaza militants take 'jihadist' fight to Syria
By Christophe DANSETTE
November 08, 2013
Frustrated by the relative calm in Gaza since a 2012 ceasefire between Israel and Hamas, more than two dozen Palestinian jihadists are believed to have joined rebels fighting against the Damascus regime in Syria.
In July this year, Fahd al-Habash, a 28-year-old from Gaza, was killed fighting in Syria.
A few days earlier, he had recorded a video in which he told his family to "rejoice" at his death.
"My message to my family, if they hear I've been killed, is: be happy and rejoice, knowing I did what I had hoped to do," Fahid said in the video, which was posted on YouTube.
His fellow Salafists have since hung a banner in front of his family home in the Hamas-run Gaza Strip to honour someone they consider a martyr.
Full report at:
http://www.france24.com/en/20131106-syria-becoming-new-battleground-gaza-jihadists-palestinians?ns_campaign=editorial&ns_source=RSS_public&ns_mchannel=RSS&ns_fee=0&ns_linkname=20131106_syria_becoming_new_battleground_gaza_jihadists
-----------
Turkey 'stopped helping' al-Qaeda near Syria border: Report
November 08, 2013
Turkey has recently ceased aiding al-Qaeda-linked groups near the Syrian border, Democratic Union Party (PYD) leader Saleh Muslim has said, according to daily Taraf.
The PYD, which is known as the outlawed Kurdistan Workers' Party's (PKK) wing in Syria, is fighting in northern Syrian towns against al-Qaeda-affiliated jihadist groups, in particular the al-Nusra Front and the Islamic State of Iraq and the Levant (ISIS).
Full report at:
http://www.hurriyetdailynews.com/turkey-stopped-helping-al-qaeda-near-syria-border-report-.aspx?pageID=238&nID=57581&NewsCatID=352
-----------
Security forces close two Jerusalem charities, linking them to Hamas
November 08, 2013
Israeli security forces on Thursday closed two offices in East Jerusalem they say served as a base for Hamas operations in the city.
The Shin Bet security service said the offices belonged to Al-Quds Development and Amara al-Aqsa (Al-Aqsa Properties), charities based in the northern Israeli cities of Umm al-Fahm and Nazareth.
The Shin Bet said in a statement that agents and the Israel Police had closed "two Jerusalem offices, from which the Hamas terror organization had been conducting actions."
Full report at:
http://www.haaretz.com/news/diplomacy-defense/1.556919
-----------
Netanyahu warns Kerry: Israel not bound by any deal between Iran and West
November 08, 2013
Israel does not see itself bound by an agreement between Tehran and the six world powers over Iran's nuclear program, Prime Minister Benjamin Netanyahu told U.S. Secretary of State John Kerry Friday morning.
In a tense meeting with Kerry ahead of his departure to Geneva to join negotiations between the P5+1 and Iran, Netanyahu said that that Israel does not see itself committed to any deal between Iran and world powers.
Kerry called off making a statement before the meeting in an attempt to avoid a public confrontation. But Netanyahu decided to go ahead with a statement on his own and slammed a possible agreement between Iran and the six world powers.
Full report at:
http://www.haaretz.com/news/diplomacy-defense/.premium-1.557001
-------
Palestinians say Israel 'only suspect' in Yasser's Arafat death
Reuters | Nov 8, 2013
Israel is the only suspect in the 2004 death of Yasser Arafat, the chief Palestinian investigator in the case alleged Friday, a day after Swiss scientists said the Palestinian leader was probably poisoned by radioactive polonium.
The investigator, Tawfik Tirawi, said the probe would continue, but did not say what more the Palestinians could do to try to solve the mystery.
Arafat's widow, Suha, has called on the Palestinians to seek an international investigation or legal action, but Mr Tirawi said such a decision is up to the Palestinian leadership. Arafat's successor, President Mahmoud Abbas, has so far not commented on the substance of the Swiss team's findings.
Full report at:
http://www.thehindu.com/news/international/world/israel-only-suspect-in-arafat-death/article5329565.ece
---------
Africa
Kenya tells Somalis to avoid rebel sites, hints at new strikes
8 November 2013
The Kenyan army warned residents in Somalia's southern regions to stay clear of rebel militant camps and road blocks, hinting that new attacks against Islamist militants were imminent.
Last week, Kenya launched air strikes and a drone attack against al Shabaab rebels after the group claimed responsibility for a raid by gunmen on a Nairobi shopping mall in September that killed at least 67 people.
"We ask good people of Somalia in areas of Gedo, Mid Juba and Lower Juba to stay far from al Shabaab bases/camps/roadblocks," army spokesman Major Emmanuel Chirchir said on social media.
Full report at:
http://english.ahram.org.eg/NewsContent/2/9/85892/World/International/Kenya-tells-Somalis-to-avoid-rebel-sites,-hints-at.aspx
-----------
Nigerian lawmakers approve state of emergency extension
8 November 2013
Nigerian lawmakers on Thursday approved a request by the country's president to prolong emergency rule in the restive northeast by a further six months to try to quell a bloody Islamist insurgency.
Senators in the upper house of parliament voted unanimously in favour of Goodluck Jonathan's request and agreed "to extend the state of emergency in Adamawa, Borno and Yobe states on the same terms and conditions", the approved motion read.
http://english.ahram.org.eg/NewsContent/2/9/85871/World/International/Nigerian-lawmakers-approve-state-of-emergency-exte.aspx
----------
Rwanda genocide suspect appeals Danish extradition
8 November 2013
A Rwandan sought by Kigali for his alleged role in the 1994 genocide will contest a Danish extradition ruling in the European Court of Human Rights, his lawyer said Thursday.
Emmanuel Mbarushimana, 51, appealed the Wednesday decision by Denmark's Supreme Court to extradite him to Rwanda on the grounds that he won't get a fair trial there, his lawyer Bjoern Elmqvist said.
"He wanted to bring in witnesses in Denmark, who could tell the court that the actual conditions (in Rwanda) don't live up to the legislation," Elmqvist said.
Full report at:
http://english.ahram.org.eg/NewsContent/2/9/85876/World/International/Rwanda-genocide-suspect-appeals-Danish-extradition.aspx
-----------
Rival Libyan militias clash in Tripoli killing two
November 08, 2013
TRIPOLI: Two people were killed and 29 others wounded in deadly clashes between rival Libyan militias in Tripoli sparked by the death of one of their leaders, the health ministry said Friday.
Libya has been plagued by deadly unrest since NATO-backed rebels toppled the regime of now slain veteran dictator Moammar Gadhafi in 2011.
Libya's new authorities have pained to impose law and order as many of the ex-rebels have banded into militias and carved their own fiefdoms in a country awash with weapons looted from Gadhafi's arsenal.
Full report at:
http://www.dailystar.com.lb/News/Middle-East/2013/Nov-08/237214-rival-libyan-militias-clash-in-tripoli-killing-two.ashx#ixzz2k76yueUB
----------
URL: https://www.newageislam.com/islamic-world-news/new-age-islam-news-bureau/new-taliban-chief-could-push-pakistan-to-military-action/d/14357