New Age Islam News Bureau
26 Feb 2012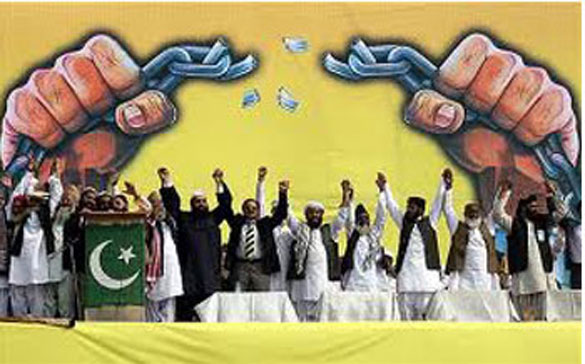 • Activists decry violence against Kashmiri Christians, seek help
• Saudi Arabia, The Hidden Uprising
• US apology fails to appease angry Afghans
• Foreign 'hands' attacking Islam, region, says Saudi King
• Afghan police officer sought over Kabul NATO killings
• Gujarat Riots 2002: Indian-American Muslims mourn victims, demand justice
• Qur'an burning is a political, not a theological, issue
• Official: Suicide car bomber targets major church in restive central Nigeria, killing 3
• Governments spar, but people of Pakistan, India want to connect
• US preacher demands Obama act on Muslim war against Christians
• Delhi, Dhaka on trade train
• As Syria prepares to vote on new constitution, some still support Assad
• Kingdom will work with G20 for global recovery
• Afghan scene is turning volatile
• Pakistan demolishes Osama bin Laden's compound
• Pakistan PM asks all Afghan warring groups to join peace
• No threat to Pakistan, its defence in strong hands: Gilani
• Despicable actions in Iran and Afghanistan: A double feature
• Group to protest at Iranian embassy in Ottawa over jailed Canadian resident Saeed Malekpour
• Hillary Clinton Urges Patience With Pace of Change in Tunisia
• Syrian Conflict Poses the Risk of Wider Strife
• 'New Order Threatens Racial Amity In India'
Complied by New Age Islam News Bureau
Photo: Leaders of Difa-e-Pakistan (Defence of Pakistan) Council attend an anti-US rally in Karachi Photo: EPA
URL: https://www.newageislam.com/islamic-world-news/new-age-islam-news-bureau/new-pakistan-extremist-movement-leaves-government-powerless-to-act-as-it-chants---death-to-america--/d/6729
-------------
New Pakistan extremist movement leaves government powerless to act as it chants 'Death to America'
By Rob Crilly,
Islamabad, 26 Feb 2012, It was the kind of gathering that, had it been held in Pakistan's tribal heartlands, might well have invited an American drone or missile strike.
A who's who of Pakistan's jihadi movements, leaders who were central to the rise of the Taliban or with links to terrorist groups, gathered on a platform to heap scorn on the country's leaders and excoriate the United States.
At their head was Sami ul Haq, known as the spiritual father of the Taliban because of his position as director of a madrassah in northwestern Pakistan that counts key militant leaders among its alumni.
Sitting alongside him was Fazlur Rehman Khalil, who was once leader of Harkat-ul-Mujahideen a banned Islamist group with links to al-Qaeda. He was among the signatories to Osama bin Laden's 1998 fatwa that declared war against the West.
Hafiz Abdur Rehman Makki, the deputy leader of Jamaat-ud-Dawa, a UN blacklisted group believed to be a front for Lashkar-e-Taibi, blamed for the 2008 attacks on Mumbai, was also among the speakers, who roused an angry audience to chants of "Death to America".
"We will fight to the last drop of our blood. Pakistan cannot be taken for granted," bellowed Abdullah Gul, son of a former head of the country's powerful ISI intelligence agency - itself often accused of assisting the Taliban.
Yet this meeting was not in the badlands of Waziristan, nor even in the Islamist-minded cities of Quetta or Peshawar, but in Pakistan's capital, barely two miles from the country's parliament and the US embassy at whose diplomats much of the rhetoric was directed.
And the audience was not a handful of tribal hotheads but about 5,000 people, young and old, all united in hatred of the West.
It was the most visible example yet of the rapidly-growing movement, little noticed outside Pakistan, that now threatens the country's fragile democracy and aims to end all co-operation with the West.
The Defence of Pakistan Council (DPC), which has been holding rallies around the country since it was founded three months ago, is alarming Pakistani moderates and western diplomats who fear a possible Islamist takeover of the nuclear-armed country.
Yet the government seems powerless to prevent it: constrained both by the limits of the law, since most of the banned groups have renamed themselves to evade restrictions, and by fears of a political backlash if it intervenes.
But that cannot erase their history. "It seems extraordinary that they are allowed to address crowds right in Islamabad like that," said a Western observer. "But this is Pakistan and it is politically awkward to take a stand against them."
Key figures in the DPC's creation are two men whose fathers were once the president of Pakistan and his intelligence agency chief - and who, more than 30 years ago, funnelled arms and cash to the Mujahideen fighting Soviet occupation in Afghanistan. Their campaign was so successful it brought down a superpower.
Muhammad Ijaz-Ul-Haq, the son of General Zia-Ul-Haq who ruled Pakistan until his death in an air crash in 1988, and Abdullah Gul, the son of General Hamid Gul, now have another superpower in their sights, as they head the campaign to oust the US from Pakistan.
The group is now discussing plans to field its own candidates in the general election that could come later this year - at which the country's moderate and western-leaning government could be thrown out.
Speaker after speaker at the rally in Islamabad demanded an end to CIA drone strikes and promised violence against Nato supply trucks if the government were to end a blockade imposed after US aircraft killed 24 Pakistani soldiers in November.
In his own address, Abdullah Gul roused the crowd to a frenzy, reminding them they were close to both the capital's diplomatic enclave and to the Red Mosque, an iconic site for militants since it was stormed in 2007 by security forces ending a siege.
Standing before a sea of black and white flags, the symbol of his Jamaat-ud-Dawa group, Hafiz Abdur Rehman Makki declared: "Both the US and our spy agencies know how many Jihadis have been trained during the past decade and who will defend the country in case the military fails in its job."
Hafeez Saeed, the founder of the outlawed Lashkar-e-Taibi group, was asked to stay away, but he has addressed previous rallies. Also absent was Malik Ishaq, head of the sectarian terrorist group Lashkar-e-Jhangvi, who was released from arrest last year and appeared at a rally in Multan last month.
Many Pakistanis detect the hand of the army behind the movement, flexing its muscles and challenging the stuttering civilian administration of President Asif Ali Zardari, which is already under fire from the courts.
The coalition could not have emerged at a worse time as Mr Zardari's Western-leaning government has come close to collapse several times in the past year and US involvement in Pakistan - supposed to be an ally in the battle against terrorism - has become deeply unpopular.
Rows over the apparent impunity with which American diplomats have broken laws and the incursion of special forces to kill Osama bin Laden, undetected by the Pakistani military, have only increased the appetite for a break in ties with the US. There is also strong support for the group's second goal, an end to warming relations with India.
Central to the group is General Gul himself, long a campaigner against what he regards as US meddling in the region.
He was picked by General Zia to head the Inter-Services Intelligence agency in 1987 as the war against the Soviet Union was taking a decisive turn, with US weapons and cash delivered to the resistance movement by Pakistan.
Despite retiring in 1989 he is frequently named as one of the former generals used by Pakistan to liaise with militants, a claim which he denies.
Instead, he said the DPC was only interested in protecting Pakistan from manipulation by the US as it disengages militarily from Afghanistan - and from being blamed for harbouring the Taliban fighters that have forced the US withdrawal.
"As the endgame approaches they are going to play havoc with Pakistan. They are already targeting and unleashing propaganda. They want to paint us as the source of trouble, just as they say Cambodia was to Vietnam," he told The Sunday Telegraph.
As evidence he pointed to the Nato air strike in November. "Now they want to come and kill us," he said. "That means they are actually advancing towards Pakistan with very vicious motives."
Mr Ijaz tried to play down such talk. "We are not saying we will attack America, although 'Down With America' is one of our slogans," he said. "We want an honourable existence for ourselves as a country. We want to define the sovereignty of Pakistan and we don't want people interfering in our internal affairs."
The US State Department has expressed alarm that such figures are coalescing in an anti-American alliance.
"The US Government is concerned about the recent public appearances of Jamaat-ud-Dawa leader Hafeez Saeed, including at a recent rally in Karachi," it said. "Lashkar-e-Taiba, and its front group Jamaat-ud-Dawa, is internationally sanctioned because of its associations with al-Qaeda."
But with suspicions that the army is protecting or even encouraging the growing movement, Pakistan's civilian rulers seem impotent to intervene as the self-proclaimed defenders of the country continue their noisy campaign.
http://www.telegraph.co.uk/news/worldnews/asia/pakistan/9106142/New-Pakistan-extremist-movement-leaves-government-powerless-to-act-as-it-chants-Death-to-America.html
------------
Activists decry violence against Kashmiri Christians, seek help
Ashley D'Mello, TNN
MUMBAI: Feb 26, 2012,,Former Bombay High Court judge and human rights activist Michael Saldhana has called upon the Union government to step in and protect the rights of Christians in Jammu & Kashmir.
Speaking at a joint press conference with Joseph Dias of the Catholic Secular Forum (CSF), Saldhana decried the rising violence against minorities in J&K . The press meet was attended by Kashmiri lawyer Iftikar Bazmi and two Kashmiri Christians, who had covered their faces fearing retaliation by militant groups. "First, it was Kashmiri Pandits who were being attacked. Later , Sikhs became targets of violence and now Christians are being attacked," said Bazmi, who pointed out that small groups in the valley are behind the violence and do not have the support of the state's majority Muslim population.
"In November 2006, Bashir Ahmed Tantray, who had accepted the Christian faith, was shot dead by Islamist extremists in Baramullah district," said Bazmi. "In September 2010,the All Saints'Church was burnt for the second time. The same year, a mob torched a school and a church in Tanmarg district," he added.
"These militant groups are not getting any money from the Indian government or groups. So, who is funding them? Obviously, they are getting help from outside the country," Bazmi said.
Dias said there seemed to be a race on between politicians to be more Islamic in the valley. "Religious fanatics are now asking Christian families to convert to Islam," he said and pointed out the case of pastor Rev C M Khanna who is being harassed under false charges.
Dias said that there were only a few hundred Christians in Kashmir but some politicians have been claiming that the valley has thousands owing to conversions . "There are a few who have embraced Christianity, but they did not do so due to force," he said. "The Centre and the state government must ensure the safety of Rev Khanna and dozens of families whose lives and property are in danger. The affected persons should be rehabilitated, given government jobs and loans to restart their lives."
http://timesofindia.indiatimes.com/city/mumbai/Activists-decry-violence-against-Kashmiri-Christians-seek-help/articleshow/12039437.cms
------------
Saudi Arabia, The Hidden Uprising
February 25, 2012
Saudi journalist named Hamza Kashgari made the mistake of opening a Twitter account. Several tweets that he posted are liable to cost him his life. What aroused the anger of the masses and the fury of the palace are the comments he made about religious "values" of Islam and its prophet Mohammed.
Saudi sheikhs, self-appointed defenders of God and guardians of the prophet, convened and discussed the burning issue. After a "profound discussion" they decided that the journalist's tweets were words of "heresy" and that he must be tried according to the laws of Islam practiced in the kingdom. In such cases, as we know, the accused can expect the death penalty.
The issue was even placed on the table of the Saudi king himself. He ordered the arrest of the journalist, who tried to get to New Zealand. Kashgari was arrested at a stopover at the airport of the Malaysian capital. The many protests to the Malaysian government against the arrest made by international organizations were to no avail. Malaysia handed Kashgari over to Saudi security people, who flew him back to Saudi Arabia.
An prominent activist says the Saudi monarchy is abusing and torturing people in the country's Eastern Province who are justified in their pursuit of self-determination.
Press TV has conducted an interview with Syed Ali Wasif, president of the Society for International Reforms & Research, to further discuss the issue.
The following is a transcription of the interview.
Press TV: Religious dignitaries as well as other influential people have called on the monarchy to stop the violence. How likely is it that the monarchy will listen to this plea?
Ali Wasif: Well, it's very unlikely. It's next to impossible because this is a matter of habitual control of the government there in Saudi Arabia. Looking at the history of the Saudi regime, Saudi monarchy, this seems nearly impossible.
Basically an absolute monarchy, they do not care about the civil rights and liberties, about human rights, about democracy, all those norms which are contrary to the democratic and well accepted norms in Western society especially in the United States.
This case of Saudi Arabia and the restive eastern province, actually you can equate that case to East Timor, the case to Pakistan-Balochistan, the case to Bosnia-Herzegovina and a recent case to South Sudan. They all had similar problems.
In fact, south Sudan was a case in point where you had similar problems where you demanded the right to self-determination. They were crushed according to UN and Western sources, the EU and the United States, that they were being persecuted.
So is the case with eastern Saudi Arabia. Same is the case with east Timor.
The United Nations intervened in South Sudan. The United Nations intervened in Bosnia and they gave them the right of self-determination. So what about east Saudi Arabia? Why not a right to self-determination to those people who are being crushed, being suppressed and are being denied of their basic rights?
The entire oil resources of Saudi Arabia, the entire earning of Saudi Arabia is dependent upon the oil of the eastern province. And these are the people who are being deprived of the basic necessities of life. These are flagrant violations of human rights and other international legal norms, civil rights and liberties and, of course, Western values.
So where is the Congress of the United States and the European Union to [give] the right of the self-determination to the eastern province of Saudi Arabia? Why don't they intervene in this case? Where are the United Nations Security Council and the United Nations General Assembly?
Where is the [judge] of the Spanish human rights court, and the Belgium human rights to indict the Saudi Interior Minister Nayef [bin Abdul Aziz] and other Saudi princes, those involved in atrocities against those oppressed people of the eastern part of Saudi Arabia?
They should be indicted and controlled with international legal norms just as the Spanish court indicted the Chilean dictator Augusto Pinochet in 1998, and he was put behind bars.
Same was the case with the Israeli former leaders indicted by the Belgium court of human rights for human rights violations.
So where is the Belgium court of human rights, where is the Spanish court of human rights, the European court of human rights and the American Congress which looks for people… looking for their rights and they support them? Now what is the problem with them for supporting the eastern part of Saudi Arabia?
This is a case in point under international legal norms, a case in point for a right to self-determination. The Eastern province of Saudi Arabia should be equated with East Timor of Indonesia, with South Sudan and with Bosnia-Herzegovina…
Press TV: It baffles the mind, does it not, as to how much courage it takes for these people to come out on the streets in countries like Saudi Arabia where police brutality and torture is the status quo. Taking that into account, how significant is the holding of any demonstrations inside Saudi Arabia however small or large?
Ali Wasif: Well, I think that is totally dependent upon the people and the leadership there who are on the streets. It is very significant for the people to remain on the streets, to defy the absolute monarchy which is in contradiction with the Islamic principles, Sharia law, and in contradiction with the European law with international principles and human rights norms.
Whatever they are doing is totally under the umbrella of international legal norms. They should remain on the streets and they should demand their rights, their right to self-determination and the right to demand their own government and human rights and civil rights there.
http://www.livetradingnews.com/saudi-arabia-the-hidden-uprising-63806.htm
----------
US apology fails to appease angry Afghans
By DEB RIECHMANN | AP
KABUL: Feb 25, 2012, A gunman killed two American military advisers with shots to the back of the head Saturday inside a heavily guarded ministry building, and NATO ordered military workers out of Afghan ministries as protests raged for a fifth day over the burning of copies of the Qur'an at a US army base.
The Taleban claimed responsibility for the Interior Ministry attack, saying it was retaliation for the Qur'an burnings, after the US servicemen — a lieutenant colonel and a major — were found dead on the floor of an office that only people who know a numerical combination can get into, Afghan and Western officials said.
The top commander of US and NATO forces recalled all international military personnel from the ministries, an unprecedented action in the decade-long war that highlights the growing friction between Afghans and their foreign partners at a critical juncture in the war.
The US-led coalition is trying to mentor and strengthen Afghan security forces so they can lead the fight against the Taleban and foreign troops can go home. That mission, however, requires a measure of trust at a time when anti-Western sentiment is at an all-time high.
Afghan Defense Minister Gen. Abdul Rahim Wardak called US Defense Secretary Leon Panetta to apologize for the shooting and offer his condolences, Pentagon press secretary George Little said in a statement released in Washington.
This act is unacceptable and the United States condemns it in the strongest possible terms," Little said.
Security is tight in the capital, which is covered in snow, and foreigners working at the US Embassy and at international organizations have been banned from leaving their compounds.
US officials said they were searching for the assailant, who has not been identified by name or nationality.
The two American service members were found by another foreigner who went into the room, according to the Afghan official, who spoke to The Associated Press on condition of anonymity because he was not authorized to disclose details about the shootings. They were shot in the back of the head, according to Western officials, who spoke on condition of anonymity because they were not authorized to disclose the information. Authorities were poring over security camera video for clues, the Afghan official said.
Taleban spokesman Zabiullah Mujahid identified the shooter as one of their sympathizers, Abdul Rahman. He said an accomplice inside the ministry helped Rahman get inside the compound to kill the Americans in retaliation for the Qur'an burnings.
After the attack, Rahman informed us by telephone that he was able to kill four high-ranking American advisers," Mujahid said. The Taleban often inflate death tolls and sometimes claim responsibility for killings they did not conduct.
Little, the Pentagon press secretary, said Wardak indicated that President Hamid Karzai was assembling religious leaders and other senior Afghan officials to take urgent steps to protect coalition forces.
US Gen. John Allen, the top commander of US and NATO forces in Afghanistan, met with Afghan Interior Minister Bismullah Khan Mohammadi, who offered both his condolences to the families of the victims and his apologies, Little said.
Afghanistan's interior and defense ministers are expected in Washington next week.
Allen said he recalled all NATO personnel from the ministries "for obvious force protection reasons" but also said the alliance remains committed to its partnership with the Afghan government. NATO forces have advisers embedded in many Afghan ministries. The advisers are helping to develop the ministries so that Afghans can take the lead by the end of 2014, when foreign combat forces are to transfer control of security to Afghan security forces.
At least 28 people have been killed and hundreds wounded since Tuesday, when it first emerged that Qur'ans and other religious materials had been thrown into a fire pit used to burn garbage at Bagram Air Field, a large US base north of Kabul.
President Barack Obama and other US officials have apologized for what they said was a mistake, but their regrets have not quelled the deadly protests.
An Afghan soldier turned his gun on foreign troops, killing two American soldiers, during one riot outside a US base in Nangarhar province on Thursday. It was the latest in a rising number of incidents where Afghan soldiers or policemen, or gunmen wearing their uniforms, have killed NATO forces. Last month, France suspended its training program and threatened to withdraw its forces from Afghanistan a year ahead of schedule after an Afghan soldier shot and killed four French soldiers on a base in the east.
Karzai has said that the Afghan people have a right to protest the Qur'an burnings, but he urged them to demonstrate peacefully and refrain from destroying property. In a statement on Saturday, Karzai urged Afghan security forces to be patient with the protesters.
Hundreds of demonstrators staged peaceful protests in Afghanistan, but ones in Laghman, Kunduz and Logar provinces turned violent.
The culprits of the burning of the holy Qur'an should be arrested and hanged to death in public," said Mohammad Karim, one of 1,000 protesters who burned tires and threw stones at Afghan police in Mohammad Agha district of Logar province, south of Kabul. "We don't accept it when they say 'We apologize. We apologize.' We don't want Americans here at all."
Laghman provincial police chief Abdul Rahman Sarjang said about 1,000 protesters threw stones at Afghan security forces, smashed windows of government buildings and tried to attack the nearby governor's house in the provincial capital of Mehterlam.
In Kunduz, the capital of Kunduz province in northeastern Afghanistan, more than 1,000 protesters threw rocks at government buildings and a UN office, said Sarwer Hussaini, a spokesman for the provincial police. He said the police fired into the air to try to disperse the crowd. Dr. Saad Mukhtar, health department director in Kunduz, said at least three protesters died and 50 others were injured in the melee.
In a statement, the UN mission in Afghanistan said the UN had deep respect for the Islamic faith and understood why Muslims were upset about the desecration of their holy book, but urged the demonstrators to exercise self-restraint and not let militants use the protests to foment violence.
http://arabnews.com/world/article579636.ece
-----------
Foreign 'hands' attacking Islam, region, says Saudi King
Bikya Masr Staff
CAIRO: 25 February 2012, Foreign and unnamed hands are targeting Islam, the Islamic world and Arabs in the recent events in the region, Saudi Arabia's King Abdullah said.
The king, who was giving a televised address Friday night to a conference of prominent Saudis, did not name any country in particular.
But Saudi officials have used similar terms in recent weeks to suggest a connection with Iran, a Shia country at odds with Sunni Saudi Arabia.
There were hands that are known to you all behind what has happened in the Arab world, regrettably targeting Islam and the Arabs," he said.
Sunni Saudi Arabia is wary of the wave of Arab Spring uprisings, particularly in nearby Bahrain, where a Shiite majority is demanding greater rights from its Sunni rulers.
owever, the king said that the kingdom strongly backs the uprising in Syria and supports all action against Syria's President Bashar Assad.
It is not the first time leaders in the region have referred to unnamed hands being behind events on the ground. In Egypt, the military junta has numerous times accused "invisible hands" of being behind the violent clashes in the country in recent months.
http://bikyamasr.com/58561/foreign-hands-attacking-islam-region-says-saudi-king/
-----------
Afghan police officer sought over Kabul NATO killings
26 February 2012
The shooting took place inside one of the highest security buildings in Kabul
Afghanistan's interior ministry has said one of its own employees is suspected of the killing of two senior US Nato officers inside the ministry.
Officials earlier named police intelligence officer Abdul Saboor from Parwan province as the main suspect behind Saturday's attack.
Nato withdrew all its personnel from Afghan ministries after the shooting.
The crisis comes amid deadly protests in the country over the burnings of copies of the Koran by US soldiers.
At least 29 people, including another two US soldiers, have been killed in the past five days, and further violence was reported on Sunday.
A grenade was thrown into a Nato base in northern Kunduz province during a protest, killing a US soldier, Afghan officials said.
Nato said there was an explosion outside one of its bases, and that more information would be released "as appropriate."
Some 4,000 people took to the streets in Aybal, northern Samangan province, attacking a police station and a US base.
Provincial governor Khairullah Anooash told the BBC several protesters had been hurt, one critically. Other officials said one person had died.
At a news conference in Kabul earlier on Sunday, Afghan President Hamid Karzai appealed for calm.
He said the protests had proved that Afghans were prepared to die for their religion but that they could not allow "enemies of peace" to misuse the strong sentiment.
The suspect, if guilty, would have been the ideal assassin. He was above suspicion and a trusted insider. He worked in the interior ministry, had access to top security intelligence briefings and also has a walkie-talkie on a secure channel. He would have known the most sensitive information that was passing through the ministry. According to officials, he even knew those who were killed on Saturday.
President Karzai said he was going to discuss the issue with US President Barack Obama and also called for the American soldiers who burned the Koran to be punished, but did not say what that punishment would be.
It is only today that President Karzai has come out publicly and called for calm. Many feel he should have done days ago. We now wait to see whether it has had an impact. But the critical damage done by yesterday's killings remain - the Nato military advisers are out of all the government ministries where they had been trying to assist and train Afghan officials. We're not sure how long that will continue.
He also condemned the killings of the two US officers but said it was still not clear who was responsible.
Security clearance
The identities of the dead Nato officers have not been confirmed, but they are believed to have been an American colonel and major.
Reports said the gunman opened fire in a secure room in the ministry - one of the highest security buildings in the capital - at close range.
Nato spokesman Brig Gen Carsten Jacobsen said it was "concerning" that no clear picture had emerged of what happened.
"The interest is as big on the side of the Afghans in the Ministry of the Interior as it is on our side to quickly find out the real circumstances behind this incident," he said.
In a statement, the interior ministry said: "An employee has been identified as a suspect and he has now fled. The interior ministry is trying to arrest the suspected individual."
The ministry did not give a name, but other officials said Mr Saboor, 25, was being sought.
He had served in several Afghan ministries and had worked at the interior ministry for some time, with responsibilities for security arrangements and access to top level intelligence briefings and secure radio communication channels.
His family home in the Salang valley area of Parwan province, north-east Afghanistan, was raided overnight and his relatives in Kabul detained, said officials.
There have been angry protests across the country over the Koran desecration
"The fact that he is missing and we assume he fled, makes Abdul Saboor the main suspect for us in this case," said senior interior ministry officials.
One senior Afghan general told the BBC: ''The virus of infiltration has spread like a cancer and it needs an operation. Curing it has not helped."
Nato's commander in Afghanistan Gen John Allen said the attack had been carried out by "a coward whose actions will not go unanswered".
He said that for "obvious force protection reasons" all International Security Assistance Force (Isaf) personnel were being withdrawn from ministries in and around Kabul.
The BBC's Bilal Sarwary in Kabul says the withdrawal will paralyse important areas, such as technical support, intelligence sharing and many ongoing security operations.
It disconnects the co-ordination of the Afghan government with Isaf, says our correspondent, and could not have come at a worse time, with attacks taking place on police and army positions across several provinces.
At least 29 people, including two US soldiers, have died across the country in protest over the Koran burning.
US personnel apparently inadvertently put the books, which reports say had been confiscated from terror suspects, into a rubbish incinerator at Bagram air base, near Kabul.
Muslims consider the Koran the literal word of God and treat each book with deep reverence.
US President Barack Obama has apologised to Mr Karzai for the incident, saying the religious material had been "inadvertently mishandled".
http://www.bbc.co.uk/news/world-asia-17169823
------------
Gujarat Riots 2002: Indian-American Muslims mourn victims, demand justice
By TCN News, 25 February 2012
Washington DC: On the eve of the tenth anniversary of the horrible genocide of Muslims in Gujarat in February 2002, the Association of Indian Muslims of America, Washington DC, an NGO of Indian-American Muslims has lamented the prolonged delay in the Indian government's action against the perpetrators of that horrible crime.
In these ten years the mainstream media, a large number of NGOs and the Supreme Court in India have often stated that plenty of testimonies including eye-witness accounts from a variety of citizens in Gujarat support the often stated fact that the then government of the state of Gujarat and chief minister Narendra Modi were responsible for that murderous mayhem. Yet for ten long years the Indian government has refused to institute either an official government enquiry or legal proceedings against the known culprits," the AIMA said in a statement.
Gujarat is a state from where many illustrious advocates of justice and non-violence including Mahatma Gandhi have risen and have preached the message of peace. Yet in the same state the mass crime occurred in which over two thousand innocent Muslims were killed and the houses of about 100,000 Muslims were destroyed, rendering them homeless.
The genocide against Muslims of Gujarat is a dirty stain on the face of secular and democratic India. "Today we Indian Muslims who live in North America mourn the hapless victims of that gory violence and once again appeal to the President and Prime Minister of India to institute legal action against the criminals and bring them to justice," said AIMA.
http://twocircles.net/2012feb25/gujarat_riots_2002_indianamerican_muslims_mourn_victims_demand_justice.html?utm_source=feedburner&utm_medium=email&utm_campaign=Feed%3A+Twocirclesnet-IndianMuslim+%28TwoCircles.net+-+Indian+Muslim+News%29
-----------
Qur'an burning is a political, not a theological, issue
By Haroon Siddiqui
Sorry, it was a mistake, an inadvertent one due to ignorance, not malice, really. We apologize, profusely. It won't happen again, ever. We will punish the people responsible for it, promise.
That's been the line from Barack Obama, Defence Secretary Leon Panetta and the American commander of NATO forces in Afghanistan General John Allen to calm the furor caused by the burning of the Qur'an near an American military base north of Kabul.
The crime is not the burning per se. The first burning of the holy book was done officially during the seventh century reign of Islam's third caliph Uthman.
According to Muslim tradition, the Qur'an was revealed to the Prophet Muhammad (570-632) by Archangel Gabriel over two decades. Not being literate, he dictated the received words to scribes who wrote it on bark, bones, stones, hides and date palm leaves. His successors saw the need to compile one correct version. That done, Uthman ordered the parchments burnt.
Supervised burning remains a prescribed way of disposing of old copies or print-runs with typos, the others being burying or, lately, shredding and recycling.
So, why the outcry again over Qur'an burning? For several reasons.
To Muslims, the Qur'an, the words of God, and the Messenger who conveyed them are not abstract matters.
Such is their devotion to the holy book that they are rarely far from it, physically or in spirit. They give it pride of place in homes. Most kiss it before and after every reading. They instinctively reach for it on both happy and sad occasions, for blessings or comfort. Many commit all its 86,430 Arabic words to memory — a feat with no parallel in other religions or in the secular realm.
As for the love of Muhammad, it runs like blood in the veins of his community, in the famous verse of the great Indian philosopher/poet Sir Muhammad Iqbal (1877-1938).
To desecrate the Scripture or to insult the Prophet is to scar the soul of a Muslim. This is especially so when done by non-Muslims whose motives are suspect and who may, in fact, be acting out of malice, like the Florida pastor who burnt a copy of the Qur'an last year.
In 2008, George W. Bush apologized after a U.S. serviceman in Iraq shot a Qur'an in target practice. In 2005, a military investigation confirmed four cases of the desecration of the Qur'an at Guantanamo Bay, as a tool of punishment against prisoners.
This is what seems to have transpired in Afghanistan as well. The Qur'ans came from a detention facility, where the detainees were deemed to have been using the books to send secret messages. Even if they were, why couldn't the books have been removed rather than consigned to trash?
Gen. Allen has ordered every NATO soldier to immediately undergo a sensitivity session in "the proper handling of religious materials." Shocking, isn't it, that after a decade in Afghanistan, foreigners still don't have a clue about what is or is not acceptable to the locals and, more pragmatically, what might backfire on the mission?
Cultural illiteracy continues to hobble Americans. Their nighttime raids violate one of the most dearly-held Afghan traditions, that of the privacy of their homes, especially women. Equally offensive is to have dogs sniff at their possessions, especially food and clothing.
There has also been the desecration of the dead, in violation of the Geneva Conventions. In 2010, some Americans posed with corpses of Afghan civilians gunned down by rogue soldiers. This year, a video emerged of Marines in combat gear urinating on three Afghan corpses.
Afghans also know that some of the scandalous tactics of Abu Ghraib prison in Iraq were used in Afghan detention camps.
There's the desecration of Islam as part of the cultural warfare on Muslims in the post-9/11 period.
The 2006 Danish cartoons were designed to defame Muhammad, as per the self-admission of their creators.
That same year, Pope Benedict made demonstrably false assertions about the Qur'an and Muhammad, statements he later apologized for, in language not all that different from what we've heard in the last few days. His Holiness was sorry, he had not meant to utter those unholy words, had not meant to offend anyone, etc.
It is not an accident that the biggest and most violent protests against perceived anti-Islamic insults occur in Afghanistan. Afghans see themselves under foreign occupation, a sentiment duly exploited by the Taliban. This would not have been the case if the NATO mission had ended when it should have, about 10 years ago, or at least not been botched as badly as it has been.
http://www.thestar.com/opinion/editorialopinion/article/1136661--qur-an-burning-is-a-political-not-a-theological-issue
-----------
Official: Suicide car bomber targets major church in restive central Nigeria, killing 3
By Associated Press,
JOS, Nigeria February 26,, 2012, A suicide car bomber detonated his explosives outside a major church Sunday, killing three people and wounding 38 others in a restive central Nigerian city that has seen hundreds die in religious and ethnic violence.
The explosion struck the main headquarters of the Church of Christ in Nigeria during its early morning service, Plateau state spokesman Pam Ayuba said. The attack killed a woman, and a father and his child near the explosion, Ayuba said.
The bomber apparently ran down the woman while racing his car toward the church compound, said Mark Lipdo, a coordinator for a Christian group called the Stefanos Foundation. The blast left shattered glass all over the church compound, as an angry crowd of youths began smashing the windows of cars passing by the scene, witnesses said.
Emergency officials took 38 people to hospitals for treatment, said Yushau Shuaib, a spokesman with Nigeria's National Emergency Management Agency.
Police officials in the city could not be immediately reached for comment. A military spokesman for the area said officials would brief journalists late Sunday.
No group immediately claimed responsibility for the attack, though a radical Islamist sect known as Boko Haram has launched increasingly bloody attacks across Nigeria, including attacks on churches. A Christmas Day bombing of a Catholic church that left at least 44 dead was claimed by the sect in Madalla, a town just outside the country's capital of Abuja.
The group also claimed responsibility for bomb attacks on Christmas Eve that struck Jos, killing as many as 80 people.
Jos and surrounding Plateau state have been torn apart in recent years by violence pitting its different ethnic groups and major religions — Christianity and Islam — against each other. Human Rights Watch says at least 1,000 people were killed in communal clashes around Jos in 2010.
The violence, though fractured across religious lines, often has more to do with local politics, economics and rights to grazing lands.
The government of Plateau state is controlled by Christian politicians who have blocked Muslims from being legally recognized as citizens. That has locked many out of prized government jobs in a region where the tourism industry and tin mining have collapsed in recent decades.
Meanwhile, authorities said Saturday that suspected sect gunmen killed two police officers in separate attacks in Kaduna and Maiduguri, areas previously targeted by the sect.
http://www.washingtonpost.com/world/africa/official-suicide-car-bomber-targets-major-church-during-service-in-restive-central-nigeria/2012/02/26/gIQA2dADbR_story.html
------------
Governments spar, but people of Pakistan, India want to connect
Karachi, Feb 26, 2012, (IANS)
It was around 11 pm. Being hungry, I was looking for food at the Port Grand food street, a newly developed food and entertainment complex along the seaside of Pakistan's commercial capital.
The complex, spread over 13 acres, has nearly 50 outlets that serve popular Pakistani dishes -- the aroma is alluring with pot roast beef fillet, kebabs, tandoori chicken, naan, and delicacies prepared with Basmati rice and much more.
I was looking for some vegetarian food but unfortunately, there was none at the complex, developed with an investment of around Rs.1 billion. Not on menus at least. But that is where the warmth of the people of Pakistan stood out!
When a restaurant owner discovered I was from India, he said: "Just give me 15 minutes. I will get some vegetarian food for you." Although there was no vegetarian food listed on his restaurant's menu, he served me a delicious meal, within the promised time.
This kind of hospitality was amply visible during the recent Pakistan visit by an Indian team led by Commerce Minister Anand Sharma. Be it Lahore, Karachi or Islamabad, people were hospitable, going out of their way to make their Indian guests feel at home.
When you move around Lahore, Karachi or Islamabad, the look and feel is no different from Indian cities. Karachi looks like Mumbai. Lahore resembles old Delhi, with the famous Anarkali Bazaar looking no different from Chandni Chowk.
The people -- it is difficult to say whether they are from India or Pakistan.
"We look similar. Our language is almost the same. Our cultures are similar. Then why is so much distrust and hostility? When will things change?" wondered one shopkeeper at Anarkali Bazaar in Lahore.
"We want to re-discover our roots. Our grandparents were from Delhi. We want to visit there. But it's very difficult. I am unable to get a visa to travel to India," added Israr Hussain, a restaurant owner at Fort Road in Lahore.
"I am really impressed by the Pakistani hospitality; however, a lot needs to be done to improve trade and business relations. Businesspersons should be allowed to move freely," said Sunil Kant Munjal, chairman, Hero Corporate Services.
Despite the cultural and geographical proximity, people-to-people contact between the two countries is very low. And citing security reasons, both the countries also don't allow roaming facilities on mobile phones. Visa regulations are amongst the strictest.
According to the World Bank, South Asia is the least-integrated region -- only seven percent of international phone calls are regional against 71 percent for East Asia. Intra-region trade is below two percent of gross domestic product, against 20 percent for East Asia.
When we consider the figures between India and Pakistan, the two largest and influential countries in the South Asian region, it is far more dismal. Only 0.5 percent of India's $750 billion foreign trade is with Pakistan and there is no bilateral investment.
For Full Report:
http://www.deccanherald.com/content/230178/governments-spar-people-pakistan-india.html
------------
US preacher demands Obama act on Muslim war against Christians
Joseph Mayton
CAIRO: 25 February 2012, American preacher Franklin Graham called on US President Barack Obama to act on the "war on Christians" in the Islamic world being conducted by Muslims.
Graham, the son of famous evangelist Billy Graham, made the comments in response to the ongoing case against a 34-year Iranian pastor who is threatened with execution for his conversion to Christianity when he was 19-years-old.
There's millions of Muslims out there that don't agree with this they're wonderful people, Greta — but they're under the system of Sharia law [that] they can't get out from under because the law — the Quran — demands if a person leaves Islam, they are to be killed," Graham told Fox News' Greta Van Susteren.
They're given a chance to recant . . . but if they don't recant, if they don't denounce their faith, like this man was told to renounce his faith in Jesus Christ, but he refused to do it. And so therefore, they're going to hang him.
According to the court records, what we can determine, he never was a Muslim his parents were Muslim and he [became] a Christian — I think it was at age 19 — and what they have charged him on is apostasy under Islamic law," Graham said. "But since he hadn't been a Muslim, they are going hang him anyway because his parents were Muslim."
The Fox News host then said that Obama and the US administration is unlikely they could do much to intervene in the pastor's situation. Graham, however, disagreed.
The president could call for a prayer meeting at the White House. He could make a statement. We apologized to the Afghans because a Qur'an was mistakenly burned . . . and he apologizes to the Afghans after an Afghan soldier killed two Americans," Graham said. "But why doesn't he speak out? He could. He could use the power of the White House to call pastors together at the White House and have a prayer meeting for this guy, but he hasn't done it."
The statements haven't gone over well in Egypt, where Christians continue to struggle to ensure full citizenship in the country.
Farid Zaky, a 22-year-old university student and Coptic Christian, told Bikyamasr.com that "these statements are just missing the point and the reality. The entire Islamic world is not Iran and there is not a war against Christians."
He continued to say that Graham only listens to certain voices and those people who give a wrong impression of Egypt and Muslims. We have problems, but we are working them out and getting dialogue going."
http://bikyamasr.com/58591/us-preacher-demands-obama-act-on-muslim-war-against-christians/
-----------
Delhi, Dhaka on trade train
Sidhartha & Surojit Gupta, TNN , Feb 25, 2012
Kotak Mahindra Bank is the latest Indian firm to line up to be part of the growing India-Bangladesh trade and investment story. The private sector lender has sought permission from the authorities across the border to set up a joint venture with Abdul Mehtab Ahmed, a local businessman.
A Kotak Mahindra spokesperson told ToI that the move is in line with the bank's growth strategy. But any banking analyst would tell you that banks typically follow companies to meet their funding requirements. What they leverage is their existing ties.
With over 100 Indian companies already in Bangladesh, it is not surprising that the country is on the banking radar. From Bharti Airtel, which has invested close to $1 billion, to the AV Birla Group, Arvind Mills and Sun Pharma and even smaller players who make fans, plastic products and garments, several Indian players are sensing an opportunity across the border.
After all, trade ties have improved, which is evident in better trade numbers. In the first six months of the current financial year trade has increased to around $1.7 billion from $1.56 billion in April-September 2011. Although exports from India have increased marginally to $1.4 billion, imports have gone up 85% to $290 million from around $160 million a year ago. The target is to increase trade to $1 billion this year.
"The terms of trade are still tilted in India's favour but we expect this to improve significantly in the coming years," says an official.
Within this it is textiles and raw jute imports that have seen a steep rise. Raw jute imports from Bangladesh rose over 500% to $54 million, while readymade garment imports rose nearly three-fold from $8 million in the first half of 2010-11 to $22 million during April-September 2011. Import of made-ups of textiles also increased to $27 million.
India had offered tariff concessions as well as dutyfree import quotas to Bangladesh to boost trade ties. Numbers indicate that cotton fabric and yarn exports from India rose around 22% to $350 million, indicating that ties with garment makers across the border were improving.
The concessions given on export of textiles are beginning to have an impact and there is already a clamour for protection from Bangladesh, which is now among the largest textiles exporters. Indian officials, however, dismissed suggestions that import of textiles from Bangladesh were affecting the local industry, saying the local market was worth nearly $35 billion (Rs 1.82 lakh crore).
But officials from both sides recognize that there are several bottlenecks, starting with the pile-up of trucks at the border.
Anyone who has visited the Petrapole or the Akhaura border with Bangladesh would tell you that a long queue of trucks on either side of the border is a common sight.
"India has worked on improving the border but we need to upgrade the customs facility. There are very few officers to clear the consignments," says a Bangladesh government official. There are other irritants too such as the absence of money changers at the border.
For Full Report:
http://timesofindia.indiatimes.com/Delhi-Dhaka-on-trade-train/articleshow/12027901.cms
----------
As Syria prepares to vote on new constitution, some still support Assad
By Alice Fordham,
BEIRUT February 25, 2012, Syrians are set to vote Sunday in a referendum on a proposed new constitution, part of a process of purported political reform that President Bashar al-Assad's opponents have derided as cosmetic and irrelevant in the face of violence by government security forces and a growing armed insurrection.
Despite the 11-month-old uprising and calls for Assad's departure by the United States, European countries and many Arab nations, however, numerous observers report that the president maintains substantial support in Syria.
A significant portion of the population is likely to vote in favor of the draft constitution, in a show of support for Assad, said Fawaz A. Gerges, director of the Middle East Center at the London School of Economics.
I think one of the major mistakes that many of us have made is that we have underestimated the power base of Assad," Gerges said. "I think he has at least 30 percent solid support."
Among members of the president's minority Alawite Muslim sect, Assad's influence remains strong, Gerges noted, in many cases because of a fear of violent retribution at the hands of the largely Sunni opposition if the president were to be ousted. A report by a U.N.-appointed commission last week documented instances of the armed opposition groups known as the Free Syrian Army torturing and executing members of the mostly Alawite pro-government "shabiha" gangs and killing their relatives in revenge for shabiha attacks.
Assad has cultivated good relationships with some tribal leaders within the Kurdish ethnic minority, Gerges added, as well as with leaders of the Druze religious group, who, despite influential Lebanese Druze leader Walid Jumblatt's support for the opposition, fear they, too, could be victimized under a new and more religious regime.
For Full Report:
http://www.washingtonpost.com/world/middle_east/as-syria-prepares-to-vote-on-new-constitution-some-still-support-assad/2012/02/25/gIQAve7wZR_story.html
-----------
Kingdom will work with G20 for global recovery
By MD RASOOLDEEN
Feb 25, 2012
Saudi Arabia will work with the G20 countries and international financial and monetary institutions to find the most effective ways to help the global economy recover, Shoura Council Chairman Abdullah Al-Asheikh said in Riyadh on Saturday.
Al-Asheikh was opening the third G20 Speakers Consultation meeting.
The chairman was speaking on behalf of Custodian of the Two Holy Mosques King Abdullah at the meeting, where all member countries were represented.
Describing the meeting as one of the most important international gatherings, Al-Asheik said the world is undergoing developments at various levels, especially the global economic crisis, requiring concerted international efforts to find appropriate solutions to reduce its negative effects.
He said there was need to focus on ways of resolving sovereign debt dilemmas and aggravation, fluctuations in exchange rates and increasing unemployment rates.
There is a close link between the environment and development which led to the emergence of the concept of sustainable development. Sustainable development is the process of development and exploitation of resources, without prejudice to future generations' capabilities. It requires attention to environmental protection to achieve sustainable development. And energy plays an important role in building mutual relations between global economies; energy is the base engine for any economic growth and sustainable development."
He added that it is important to facilitate international cooperation to create markets for energy that enjoy transparency and stability, and serve the interests of both producer and consumer with the need to support research and investments aimed at the diversification of energy sources and reduce environmental impacts.
The Kingdom will spare no effort in this area to work with the international community to stabilize energy markets and support the dialogue of producers and consumers for the sustainability of global economic growth."
For Full Report:
http://arabnews.com/saudiarabia/article579692.ece
----------
Afghan scene is turning volatile
Zaglul Ahmed Chowdhury, February 26 2012
Some signs have been discernible in direct and indirect contacts among the warring parties of the Afghan tangle, raising hopes, very scant though, about a negotiated settlement of the long-drawn war. But an unexpected issue seems to have queered the pitch of such a relatively favourable environment. The burning of the holy Quran at a NATO army base in Afghanistan has drawn sharp reactions in the embattled country and protests to the incident are spreading fast to several other nations. Even as the United States president Barack Obama sought to assuage the feelings caused by the incident by offering apology, there appears to be little let-up in the angry demonstrations that are continuing unabated. The development has come at a wrong time of the Afghan crisis since efforts have otherwise been intensifying for a solution of the tangle, even though the task is quite complex and the war is also very much there with full fury.
The copies of the holy Quran were burnt at an US base at Bagram, north of capital Kabul, and anger and commotion, centering the potentially dangerous incident, tend to spread like a wild fire in the whole of Afghanistan. Eight persons, including two American soldiers, have been killed in the skirmishes with the protestors and security forces while the demonstrations spread to several other countries in the Muslim world. Afghans in thousands, chanting "Death to America" and "Long live Islam," marched towards the presidential palace in Kabul while president Obama lost no time in offering his apology to president Hamid Karzai on the unfortunate incident which he said was not deliberate. The movement of all Westerners all over Afghanistan has been restricted, amid enforcement of strict security to help avoid public wrath. Evidently, the situation stemming from this incident is adding new complexities to the seemingly intractable Afghan tangle.
In recent times, some interesting reports have appeared in the media, centering the Afghan war. On one hand, "Taleban" leader Mollah Omar is in contact with the United States over the crisis while Pakistan is encouraging Afghan Talebans for, at least, some backstage negotiations with the Kabul regime for a possible settlement of the tangle. Additionally, the election year in the US is also likely to produce some unexpected developments on the crisis as the strongest nation in the world is less keen about keeping itself engrossed in an unending conflict in Afghanistan, albeit it is also in no mood to capitulate in any form. All these indicate some kind of a new picture emerging in the year, 2012, but much depends on the pattern of the developments that are being talked about in the changing scenario. The "Quran burning issue" has come at a critical time in the war-torn country.
For Full Report:
http://www.thefinancialexpress-bd.com/more.php?news_id=121376&date=2012-02-26
----------
Pakistan demolishes Osama bin Laden's compound
PTI
Islamabad: 26/02/12, The compound in the garrison town of Abbottabad where Osama bin Laden was killed by US special forces last year was demolished by Pakistani authorities late on Saturday amidst tight security, local residents said.
Heavy machinery and cranes were moved to the compound, located about 800 yards from the elite Pakistan Military Academy, this evening as security agencies closed all roads leading to the house in Bilal Town, local residents told the media.
Powerful spotlights were put up and a large number of security personnel, including army soldiers, were deployed in the area before the demolition began at around 9 pm.
"Osama compound at Bilal Town in Abbottabad city has been dismantled," state-run Radio Pakistan announced on Twitter.
The private Geo News channel reported that authorities first tore down the room on third floor where the world's most wanted man was gunned down by US Navy Seals.
Local residents and reporters said authorities had directed people living in houses near the compound not to go out on their rooftops.
Dunya News channel aired grainy footage of a section of a balcony of the three-storey building being demolished.
The Pakistani military had taken control of the compound shortly after the al Qaeda chief was killed in a pre-dawn raid by US troops on May 2 last year.
There were rumours on at least two occasions in the past that the compound would be demolished so that it did not become a shrine for jihadists.
The media was given limited access to the compound after it was briefly handed over to local police by the army for a few days in May last year. However, soldiers were redeployed at the site and people were barred from approaching it.
Pakistani intelligence agencies had thoroughly searched the compound before giving American officials limited access to it last year.
Media reports had said that the CIA maintained a safe house for a small team of spies who conducted extensive surveillance on the compound over a period of months.
In the past, Pakistani security agencies had demolished Jamia Hafsa, a seminary affiliated to the radical Lal Masjid in Islamabad, after a military operation in the mosque in 2007.
The walls of bin Laden's compound were higher and thicker than those of every house in Bilal Town.
The compound consisted of three portions ? a big open area for farming, a built up structure and a lawn on the north side that was smaller than the farming area.
There was no other compound of the same size in the area. The land for the compound was bought by Arshad Khan, one of two Al Qaida couriers killed with bin Laden.
The house's gas and electricity connections too were in his name. Arshad Khan and his brother Tariq Khan were tribesmen and belonged to the Wazir tribe of South Waziristan Agency bordering Afghanistan.
Noor Mohammad, the contractor who built the compound in 2005, said Arshad Khan had paid him Rs 750,000 for the project.
http://daily.bhaskar.com/article/WOR-TOP-pakistan-demolishes-osama-bin-ladens-compound-2908313.html
-----------
Pakistan PM asks all Afghan warring groups to join peace
(AFP)
ISLAMABAD, February 26, 02 2012 Pakistani Prime Minister Yousuf Raza Gilani said Saturday he had appealed to all Afghan warring groups including the Haqqani militant network to join national reconciliation.
The Haqqani network is known to have carried out some of the deadly attacks in Afghanistan, including a September 13 siege of the US embassy in Kabul.
The group was founded by Jalaluddin Haqqani, a former mujaheddin fighter during the Soviet occupation of Afghanistan in the 1980s.
He has now handed over leadership to his son, Sirajuddin Haqqani, who is wanted by the US.
Some US and Afghan officials have accused Pakistani intelligence of helping the Haqqani network.
Gilani on Friday called on the Afghan Taliban and other insurgent groups including the Hezb-i-Islami of hardline militant leader Gulbuddin Hekmatyar to take part in a peace process to end 10 years of war in Afghanistan.
At a news conference at his official residence late Saturday he said he made the appeal in "good faith" following his talks with Afghan President Hamid Karzai in Islamabad last week.
Asked if his appeal included Haqqani network, he said: "We have appealed to all Afghans, across the board, they should all join peace and reconciliation process."
"We want peace in Afghanistan and we want stability in the region."
He said Karzai wanted Pakistan to use its "good offices" in facilitating the process in Afghanistan, as US-led combat troops prepare to leave by 2014.
Taliban representatives have begun contacts with US officials in the Gulf state of Qatar designed to build confidence and pave the way for a prisoner exchange, but the militia has publicly refused to talk to Karzai's government.
Pakistan says it will do anything required by Kabul to support an Afghan-led peace process, but there is a wide degree of scepticism in Afghanistan and the United States about the sincerity of the former Taliban ally.
http://www.google.com/hostednews/afp/article/ALeqM5isV1-4nwjCV-JercunQFoX3aVLZw?docId=CNG.2ff270d6401d539b5e8cb3a161e0d59f.c41
---------
No threat to Pakistan, its defence in strong hands: Gilani
By: APP February 25, 2012,
Prime Minister Syed Yusuf Raza Gilani Saturday said there is no threat to Pakistan as it is strong, stable and powerful country and its defence is in strong hands. Talking to newsmen here at Prime Minister House, he said, "There is no threat to Pakistan, no danger to Pakistan as it is a stable and strong country."The Prime Minister said Pakistan is a responsible state and an important member of the international community. Replying to a question on Balochistan issue, the Prime Minister said a committee has been constituted to contact political leadership of the country to convene All Parties Conference on the issue. Gilani said he will meet with the Governor and Chief Minister of Balochistan very soon to consult with them to engage all the stakeholders in the consultations for the improvement in Balochistan. He said the government has already initiated "Aghaz-e-Haqqoq-e-Balochistan" which is a first step to ensure the rights of the people.
http://www.nation.com.pk/pakistan-news-newspaper-daily-english-online/islamabad/25-Feb-2012/no-threat-to-pakistan-its-defence-in-strong-hands-gilani
-----------
Despicable actions in Iran and Afghanistan: A double feature
SAN DIEGO, February 25, 2012―While a 34 year old Christian pastor awaits execution in Iran for the "crime" of converting to Christianity from Islam, other Muslims demonstrate their holiness in Afghanistan.
After all, only a devout follower of God would kill those mean and nasty Americans for an accidental burning of Koran copies. Never mind that America liberated Afghanistan from an oppressive Taliban rule. Speaking of Taliban, they responded rather predictably to President Obama's apology, offered to Afghanistan's president and people:
The error was inadvertent," Obama wrote in a letter to his Afghan counterpart Hamid Karzai, according to Karzai's office. "I assure you that we will take the appropriate steps to avoid any recurrence, to include holding accountable those responsible" (ABC News, February, 23, 2012)
These beautiful, heartfelt words did not exactly bring a tear to the eye of the Taliban:
We should not be satisfied with mere protests and empty slogans but the military bases of the invaders, their military convoys and their troops should become a target of our courageous attacks," spokesman Zabihullah Mujahid said in a statement directed to Taliban fighters and the "zealous and faithful people of Afghanistan.
Kill them, beat them, take them as prisoners and teach them such a lesson that they never summon the courage to abuse the Holy Qur'an again," he said" (CNS News, February 24, 2012).
And so, Obama's apology is working about as well as his diplomatic gestures toward Iranian President Ahmadinejad, who was asked nicely to stop developing a nuclear bomb. Just as Iran's smiling public servant seems more interested in extinguishing Jews than extinguishing nuclear development, the Taliban and other Afghani citizens find their own way to express appreciation for Obama's olive branch.
Such thankfulness expresses itself with guns, bricks, and flag burnings. In all fairness, they are not the first to showcase their gratitude in a somewhat eccentric fashion. Palestinians thanked Israel for the Gaza Strip by burning down Jewish synagogues and firing missiles into Israel. Missiles, synagogue burnings, flag burnings, and dead American soldiers do not concern radical Muslims.
Burning a book by accident? That concerns them!
For Full Report:
http://communities.washingtontimes.com/neighborhood/forbidden-table-talk/2012/feb/25/despicable-actions-iran-and-afghanistan-double-fea/
------------
Group to protest at Iranian embassy in Ottawa over jailed Canadian resident Saeed Malekpour
By Sheila Dabu Nonato
OTTAWA, Feb 25, 2012, A group of Canadian activists hopes to put pressure on the Iranian government to commute the death sentence of a Canadian resident, who is being held in Iran's notorious Evin prison, by staging a protest in Ottawa on Sunday.
Maryam Nayeb Yazdi, a Toronto-based human rights activist, told Postmedia News that the protest is necessary because Saeed Malekpour is at risk of being executed at any time.
Malekpour, a 36-year-old web programmer, was arrested in 2008 while visiting family in Iran. He is charged with "corrupting the Earth" and "insulting and desecrating Islam" after a program he developed for uploading photos online had been used to post pornographic image without his knowledge.
Malekpour was sentenced to death on Oct. 19 of last year, by the Revolutionary Court, a sentence that recently was confirmed by Iran's Supreme Court.
Related
avid Frum: The Iranian leadership's precarious grasp on power
Senators call for release of Canadian resident condemned to death in Iran
ittle hope for release of Canadian resident facing Iranian death sentence: expert
The group Free Saeed Malekpour will be leading the event in front of the Iranian Embassy in the nation's capital. Among the groups scheduled to participate are: Muslims for Progressive Values Canada, Raging Grannies and Amnesty International.
A group of supporters gathered Saturday afternoon in front of the Islamic Republic of Iran offices in Washington, D.C.
Yazdi said prisoners have been executed without the knowledge of their lawyers or family, she said, with the news being delivered to them afterward.
In March 2010, Malekpour wrote an open letter recounting torture through beatings, electrocution, threat of rape and forced confessions while he was held for more than a year in solitary confinement in Evin prison.
According to Amnesty International, Malekpour did not have legal representation for much of his detention.
Iranian state television aired Malekpour's confession. However, in a March 2010 open letter, Malekpour said this "confession" was extracted after "prolonged torture following orders by Revolutionary Guard interrogators," Amnesty said in a statement.
Yazdi said the group Free Saeed Malekpour is in touch with Malekpour's lawyers in Iran who provide updates on his case and condition.
For Full Report:
http://news.nationalpost.com/2012/02/25/group-to-protest-at-iranian-embassy-in-ottawa-over-jailed-canadian-resident-saeed-malekpour/
-----------
Hillary Clinton Urges Patience With Pace of Change in Tunisia
By Nicole Gaouette - Feb 25, 2012
U.S. Secretary of State Hillary Clinton urged patience with the pace of change in Tunisia and warned that the needs of young people in North Africa and the Middle East must be met by providing economic opportunity.
Clinton's second visit in a year to Tunisia, where the Arab Spring protests first began more than a year ago, marked the second phase of U.S. support for the movements that have toppled long-entrenched leaders here as well as in Libya, Yemen and Egypt.
In meetings with Tunisia's president, prime minister and young people, Clinton emphasized the Obama administration's message that economic opportunity must be a priority if those revolutions are to succeed. The breakdown of economic systems and a lack of opportunity is "a recipe for frustration and instability that can be exploited by extremists and criminals around the world," Clinton said.
We are making progress politically but more needs to be done economically," Clinton told students in Tunis. "Young people around the world are bearing the brunt of the global economic crisis -- but you also can help lead the recovery."
The U.S. has announced several trade, investment and entrepreneurship programs, as well as expanded English language training, as part of an aid package to help support the Arab Spring. One program involved sending business leaders to Tunisia, Algeria and Morocco last year to advise young entrepreneurs.
Clinton was in Tunisia for a 'Friends of Syria' meeting to seek ways to oust President Bashar al-Assad, whose forces have killed more than 8,500 people, according to the Arab Organization for Human Rights. She will visit Algeria and Morocco today and tomorrow for talks with leaders.
Youth Bulge
Clinton noted the youth bulge of more than 3 billion people worldwide under 30 years old, 90 percent of them in the developing world. She cited estimates that North African and Middle Eastern countries will have to create 50 million jobs over the next decade to meet the demands of young people.
Just as you led the way in the revolution here in Tunisia, so too must young people lead the way in building vibrant economies," said Clinton.
She also urged the students gathered at Baron d'Erlanger Palace, a center dedicated to musical conservation and Tunisia's musical heritage, to be the "guardians of your democracy."
The Islamist parties that won elections in Tunisia have promised to embrace freedom of religion and full rights for women," Clinton said. "Tunisians will have to hold them to their word."
Clinton urged the crowd to show that Islam and democracy are compatible. That means not just talking about tolerance and pluralism, it means living it," Clinton said.
Distrust of U.S.
Asked by one audience member about deep distrust of the U.S. and its intentions among young people of the U.S., Clinton said she and President Barack Obama are aware and "regret" it.
The United States has spent an enormous amount of blood and treasure trying to secure other people's freedoms," Clinton said in making the case for her country's commitment to the Arab Spring. She mentioned U.S. support for democracy movements across the world, including in the Soviet Union and Indonesia, another Muslim democracy.
Noting that her questioner was a lawyer, Clinton told him she used to practice law as well. "I think we can make a very strong case and that's one of the reasons I'm here to do it in person," she said.
http://www.bloomberg.com/news/2012-02-25/hillary-clinton-urges-patience-with-pace-of-change-in-tunisia.html
------------
Syrian Conflict Poses the Risk of Wider Strife
By STEVEN ERLANGER
PARIS February 25, 2012, More than a year after it began, the Arab awakening has had its seasons. After a world-shaking spring, then on through summer, autumn and winter, one country after another — Tunisia, Egypt, Libya, Yemen — has toppled autocrats, with varying amounts of blood. Some governments have stamped out revolts, like Bahrain. Others have tried modest reforms, like Morocco, or idled on the sidelines (think Algeria and Saudi Arabia).
Now it is nearly spring again, and there is Syria.
As the dead pile up and diplomacy fails to stem the violence, it is clear that this conflict is unique in significant ways, difficult to predict and far riskier to the world. Unlike Libya, Syria is of strategic importance, sitting at the center of ethnic, religious and regional rivalries that give it the potential to become a whirlpool that draws in powers, great and small, in the region and beyond.
Syria is almost the only country where the so-called Arab Spring could change the geostrategic concept of the region," said Olivier Roy, a French historian of the Middle East. He offered as a counterexample Egypt and Tunisia, where new leaders seemed to be keeping similar alliances and geopolitical positions. "But in Syria," Mr. Roy said, "if the regime is toppled, we have a totally new landscape."
Many consider the conflict another inevitable revolution that will eventually overthrow President Bashar al-Assad. But in the months since Syrians revolted — and as Mr. Assad has unleashed his army against them — the country has already become a proxy fight for larger powers in the region and beyond.
For decades, Syria was the linchpin of the old security order in the Middle East. It allowed the Russians and Iranians to extend their influence even as successive Assad governments provided predictability for Washington and a stable border for Israel, despite support for Hezbollah in Lebanon and Hamas in the Palestinian territories.
But the burgeoning civil war in Syria has upset that paradigm, placing the Russians and Americans and their respective allies on opposite sides. It is a conflict that has sharply escalated sectarian tensions between Shiites and Sunnis and between Iran and Saudi Arabia and the Persian Gulf nations. And it has left Israel hopeful that an enemy will fall, but deeply concerned about who might take control of his arsenal.
For Full Report:
http://www.nytimes.com/2012/02/26/world/middleeast/syrian-conflict-poses-risk-of-regional-strife.html?_r=1&ref=global-home
---------
'New Order Threatens Racial Amity In India'
'Expats In Kuwait Fortunate'
KUWAIT CITY, Feb 25, 2012: Ever since 9/11 the political and social climate in India has grown much vitiated and become pointedly anti-Muslim, says noted Indian journalist, Ajit Sahi, who was in Kuwait Friday to attend the third anniversary of Youth India, Kuwait.
Ajit Sahi works for the weekly news magazine Tehelka that was at the center of several earthshaking exposes in India through sting operations, Sahi himself whipped up a storm unearthing a spate of false cases targeting people from the minority community from investigations he conducted in 11 states in his country.
As the key note speaker at the event organized at the Integrated School in Abassiya, Sahi said he did his investigation into the treatment of Muslims in the wake of the global war against terror three years ago.
Sahi spent four months doing a detailed study of the imprisonments of alleged terrorist suspects in states including Tamil Nadu, Andhra Pradesh, Maharasthra, Madhya Pradesh, Gujarat and New Delhi.
I found that in the name of counter terrorism the police in these states were targeting young and old Muslim men, keeping them in jail for years and years on fabricated cases."
Sahi rubbished the oft-traded allegations of terrorism against student organizations like SIMI and other outfits. He chased the SIMI Tribunal's trail and succeeded in exposing what he claimed to be a big lie.
Sahi noted that he is not a Muslim, and that as a true Hindu he felt duty-bound to fight against the injustices meted out to his Muslim brothers in India.
He added that Indian expatriates living in a multi-cultural society like Kuwait, where people from more than 120 countries live in harmony and friendship, are fortunate. Because this harmony is at a premium in India, though it's a multi-cultural society.'
Sahi painted a grim picture of the socio-political fabric of India, accusing the mainstream media there of clouding the truth.
For Full Report:
http://www.arabtimesonline.com/NewsDetails/tabid/96/smid/414/ArticleID/180072/reftab/36/Default.aspx
---------
URL: https://www.newageislam.com/islamic-world-news/new-age-islam-news-bureau/new-pakistan-extremist-movement-leaves-government-powerless-to-act-as-it-chants---death-to-america--/d/6729