New Age Islam News Bureau
29 Nov 2019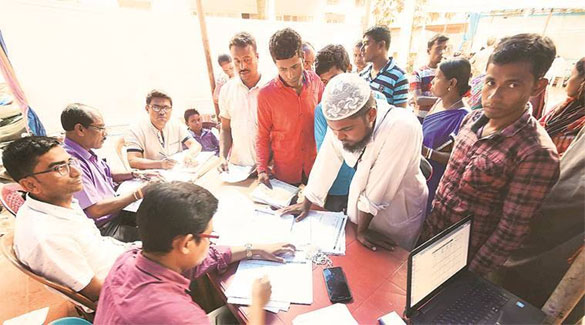 At Assam's Nagaon district in July, when the NRC exercise was in full swing. (Archive)
-----
• New NRC in Assam: 'How Many Times Do We Prove Citizenship?' Isn't It Better You Kill Us All Rather Than This Non-Stop Harassment?
• Muslims Say No Problem with Shiv Sena in Leading Role
• Pak Court Gives Musharraf Till Dec 5 To Record Statement In Treason Case, But Says Not Bound By HC
• Tiktok Owner, Huawei Are Helping China's Campaign to Repress Uighur Muslims, Report Finds
• Indonesia's Ma'ruf Amin to Fight Radicalisation That Has Spread from 'Play Groups To Government'
• Indian Christian Gets UAE Pioneer Award for Building a Mosque
• No Retirement from Allah's Worship, Says Cleric
• Australian Tax Rules Complicate Islamic Finance
• 'No One Wants To Be the Next Folau': Christians, Muslims and Jews Join To Champion Religious Freedom
• Is Hamas The True Beneficiary Of The Israel-Islamic Jihad Escalation?
• Putin Expects Russia-Islamic World Forum To Boost Mutual Trust
Compiled By New Age Islam News Bureau
URL: https://www.newageislam.com/islamic-world-news/new-nrc-assam-how-many/d/120394
-------
India
• Data on Hindu Bengalis not included in NRC soon: Himanta Biswa Sarma
• West Bengal bypolls: Verdict against NRC, says Mamata, even BJP rivals agree
• Telangana Wakf Board To Initiate Prayers In Abandoned Mosques
• Muslim Karsevak Manch hands over 'chaadar' to head priest of makeshift Ram temple
• Aligarh Muslim University student among two arrested by police on charges of attempt to murder
------
Pakistan
• Family of Nabeel Hoodbhoy demands justice
• Africa to be new focus of foreign policy: Imran
• PM Imran Khan insists on extension to Gen Bajwa's tenure
• Senate panel for law on permission to foreigners to buy land
------
South Asia
• No. of Muslims, mosques on the rise in Japan amid some misconceptions, prejudice
• Former Maldives President, Yameen, Sentenced To 5 Years In Prison
• Taliban threatens US with jihad, seizes more land in Afghanistan after failed peace talks
• Special Forces destroy Taliban tunnels; kill 7 militants in Kandahar raids
• Prominent Taliban commanders among 17 killed, wounded in failed attack on Darqad district
• Premature car bomb explosion damages 10 houses, injures 13 civilians in Sar-e Pul
------
Southeast Asia
• Muslim Preacher Zakir Naik Sues Malaysian MP over Comments On Tamil Tigers-Linked Arrests
• Malaysia's CIMB Islamic to provide up to 100 mln ringgit financing for SMEs to meet halal certification
• Malaysia's Maybank Islamic banking third-quarter net profit up by 4.65%
• CIMB Islamic provides RM100 mln financing for SMEs to achieve halal status
• Extra taxes on TNB like daylight robbery of the people, says Najib
• Judges can consider bail for terror-related charges, court rules
• Philippine migrants stay in Sabah for jobs and safety
------
Arab World
• Why More Non-Muslims Are Opting For Islamic Banking in UAE
• Iraq Deploys Forces to Protect Holy Shia Shrines in Najaf
• Saudi aid agency reveals plan to support health sector in Yemen
• Iraqi security agencies blamed for stoking deadly riots throughout country
• Iraq Protests: 45 Protesters Shot Dead In 24 Hours as Violence Spirals
• Iraqi forces kill 13 protesters, deploy military to stem unrest
• Saudi Arabia, UAE plan joint visit visas to boost tourism
• Arab envoy calls for end to Lebanon deadlock
• Gamers on the march as global giant makes Saudi debut
• Saudi Shoura delegation attends Cyprus forum
• Islamic finance becoming a global force: Report
• SG of Islamic Military Coalition for Fighting Terror meets with a US military students delegation
• Egyptian court jails 44 defendants in 2013 Al-Fath Mosque violence retrial
• Custodian of Two Holy Mosques condoles French President on victims of the collision of two French helicopters in Mali
------
Africa
• Nigeria: Establish Shari'ah Courts in South-West, Muslims Tell Governors
• UNILAG Okays 30 Imams For Mosque Leadership, Management
• Islamic group sends message of ex-govs, federal lawmakers, others
• Islamic State says behind French army helicopter crash
------
Australia and New Zealand
• New Gun Laws Should Not Be Linked To Christchurch Mosque Attacks - Muslim Group
• Forty years on, New Zealand apologises for Antarctic plane disaster
• 3 Islamic State-inspired militants sentenced for Christmas 2016 plot in Australia
------
North America
• Afghan Peace Talks May Produce Positive Outcome In The 'Near Term': Top U.S. General
• Brooklyn man arrested on terrorism charges, shared ISIS propaganda, bomb-making materials: feds
• Bolivia to renew Israel ties after rupture under Morales
• Three women accuse Gordon Sondland of sexual misconduct: report
• Donald Trump visits Afghanistan and says he reopened talks with the Taliban
• Islamic State group affiliate claims French crash in Mali
------
Mideast
• Arab League Says Ready to Help Solve Lebanon Crisis
• President Erdogan Decries Divide In The Muslim World
• Esther Iverem: Israel Creates Terror Atmosphere for Palestinians, Arab-Israelis
• Envoy: Wednesday Attack on Najaf Consulate Aimed at Darkening Iran-Iraq Ties
• Top Commander: Iranian Navy Source of Stability in Persian Gulf
• Turkey 'may stall NATO defense plan over Syria dispute'
• France warns Turkey over Syria military action ahead of talks with European leaders
• Israel demolishes homes of alleged Palestinian killers
• Israel's drone industry becomes global force
• Iranian Speaker's Advisor: Triangle of US, Saudi Arabia, Israel Targeting Iraq's Democracy
------
Europe
• Bloomberg should never apologize for NYPD's 'Muslim mapping' work
• In Albania, a race to save lives on ground that keeps shaking
• Crusaders rugby team reveal their new logo after Christchurch mosque terror attacks forced them to change their brand
• Mosque vandal jailed for five 'hate attacks'
• One killed, 3 injured during incident in Georgia's Muslim-populated Pankisi gorge
• Johnson accused of racial stereotyping with view on Nigerians
------
New NRC in Assam: 'How Many Times Do We Prove Citizenship?' Isn't It Better You Kill Us All Rather Than This Non-Stop Harassment?
November 29, 2019
Written by Abhishek Saha
ON AUGUST 6, as he was returning from a National Register of Citizens (NRC) hearing, Hanif Ali, a farmer, had an accident and died. Ali and 14 other members of his family, including an infant, had been given a day to appear for the hearing, held at a centre 450 km from their Achalpara village in central Assam.
When the final NRC list came out on August 31, the family took solace in the fact that all of them were in it.
However, last week, the state government said it was considering a fresh NRC. The ruling BJP has been raising questions over the NRC list that came out on August 31, particularly the exclusion of a large number of Hindus from it.
His despair evident, Ali's 25-year-old nephew Monirul Islam, who runs a grocery store in Achalpara, says, "I was in the vehicle with my uncle. People like us put in our everything to participate in the NRC process and its multiple steps… How many times do we have to prove our Indian citizenship? Isn't it better you kill us all rather than this non-stop harassment?"
A science teacher at Majortop Government High Secondary School near Achalpara, 37-year-old Samsul Hoque was a witness to the NRC process from both sides. Hoque worked as a Field Level Officer with the NRC authorities, and later struggled to get one of his five sisters, Abida Sidiqa (34), included in the list. Around 30 members of his extended family attended hearings during the "claims and objection" round in Rangia and Amingaon, around 100 km and 60 km away respectively, while another seven had hearings in Golaghat, 350 km away.
If the NRC is done again, Hoque says, there will be "heart attacks". Talking about the stress on the illiterate and poor, he says, "Apart from the financial burden, there is the matter of prestige. We are genuine Indians, and yet, again and again, we are asked to prove our citizenship."
With no word yet on what happens to the people who are not in the NRC, the family is simultaneously preparing for Sidiqa's appeal at a Foreigners' Tribunal (FT). However, official 'rejection orders' required to go to an FT are yet to be released by the NRC authorities. "Our lawyer charges Rs 1,000 for official certified copy of a document, say the Voters' List of 1966. Our community leaders have told us to keep ready certified copies of all relevant documents," Hoque says.
Amrit Lal Das of Bongaigaon town in lower Assam, who is also preparing for a long fight to get his and his four brothers' names in the NRC, questions the futility of the earlier NRC exercise, that had stretched over years. "If another NRC is done in Assam with people submitting the same document to the same officials, it will mean wastage of around Rs 1,600 crore of public money. Also, this would mean disregard for the tribulations of those who participated in it. Many took loans, sold jewellery and lost working days to attend hearings."
Das, who is associated with an organisation representing Bengali Hindus, says the errors due to which genuine citizens were excluded in the NRC should be addressed.
Guwahati-based advocate Aman Wadud, who has been fighting cases of the excluded, points out that the previous NRC had been a court-monitored process. "I know of many cases in which the NRC process caused immense pain to poor, illiterate people. Implementing it in Assam all over again is an outrageous idea. The Supreme Court monitored the NRC process, the BJP government executed it on the ground. Then how can the state government request the Centre that the NRC be rejected?"
On the other end are people like Manoj Das, 40, a businessman dealing in automobile parts in Assam's Hojai town. His 70-year-old mother, Kamala Das, is not in the NRC. "Many of our people (Bengali Hindus) were wrongfully excluded. Even if we have to go through the NRC process again, we must do it without complaining because only then can genuine citizens like my mother be included," he says.
The Bengali Hindus (who are a large support base for the BJP in Assam) are also counting on the Centre getting the Citizenship (Amendment) Bill passed in Parliament before the new NRC. The Bill makes citizenship easier for refugees from other countries fleeing religious persecution (barring Muslims).
Mintulal Namashudra (48), of Udharbond near Silchar in Assam's Bengali-majority Barak Valley region, hopes this Bill will help his wife and him get included in the NRC — provided they can prove "religious persecution". Amrit Lal Das of Bongaigaon points to the incongruity of people who had been seeking to be included in the NRC opting for CAB. "How can genuine citizens be treated as 'refugees'?" he wonders.
https://indianexpress.com/article/india/new-nrc-how-many-times-do-we-prove-citizenship-6142063/
------
Muslims say no problem with Shiv Sena in leading role
Nov 29, 2019
MUMBAI: Muslim community leaders, religious scholars and commentators welcomed the Maha Vikas Aghadi government led by Uddhav Thackeray on Thursday and hoped that the Shiv Sena would work for inclusive growth and not follow a hardcore Hindutva policy.
"Unlike BJP, Shiv Sena is not guided by the RSS and is more concerned about the welfare of the Maharashtrians. Now that it is in power and Uddhav Thackeray is the state's CM, the party will not follow any divisive agenda and will work for everyone," said former MLA Sohail Lokhandwala, who had supported Yamini Jadhav, the Sena candidate in Byculla, and asked the community to vote for her.
Many felt the Shiv Sena would reach out to Muslims. "Shiv Sena has regional aspirations. It is true in the past, especially during the 1992-93 riots some Shiv Sainiks actively participated in anti-Muslim riots, but they are not pathologically anti-minorities. Once in power, it will not allow anything to be done which defames its government," said political scientist Zaheer Ali.
https://timesofindia.indiatimes.com/city/mumbai/muslims-say-no-problem-with-shiv-sena-in-leading-role/articleshow/72286903.cms
------
Pak court gives Musharraf till Dec 5 to record statement in treason case, but says not bound by HC
Nov 29, 2019
ISLAMABAD: A special court trying former military ruler General Pervez Musharraf for high treason granted him on Thursday time till December 5 to record his statement but noted that it was not bound to follow the high court's order against announcing the verdict.
During Thursday's hearing, a three-member bench of the special court, headed by Peshawar high court Chief Justice Waqar Ahmed Seth, told representatives of the interior ministry that the HC had granted the government time till December 5 to appoint a prosecution team. "After December 5, we will not give you further time," Seth said, adding that they would hear the case on a daily basis after that date.
The special court had ruled on November 19 that it would announce its verdict on November 28. But last Monday the incumbent Pakistan Tehreek-i-Insaf (PTI) government had come to Musharraf's rescue and had filed a petition in the Islamabad HC seeking deferment of the announcement of the verdict in the high treason case. On Wednesday, the Islamabad high court had accepted the government's request.
The judge said Musharraf could record his statement any time prior to the next hearing and warned that the court would not accept any application after the hearing. "We are not bound to implement the high court's decision. We are bound only by the Supreme Court's orders," the bench said before adjourning proceedings until December 5.
The treason case against Musharraf was filed by the previous Pakistan Muslim League-Nawaz (PML-N) government in December 2013, under Article 6 of Pakistan's Constitution, over his imposition of emergency in the country in November 2007. He was indicted in the case in March 2014.
Musharraf had left Pakistan for UAE on medical grounds in May 2016 and has not returned to the country since then to face the court.
According to Article 6, any person who abrogates or subverts or suspends or holds in abeyance, or attempts or conspires to abrogate or subvert or suspend or hold in abeyance, the constitution by use of force or show of force or by any other unconstitutional means shall be guilty of high treason. And a person found guilty of high treason shall be punishable with death or imprisonment for life.
https://timesofindia.indiatimes.com/world/pakistan/pak-court-gives-musharraf-till-dec-5-to-record-statement-in-treason-case-but-says-not-bound-by-hc/articleshow/72286090.cms
------
TikTok owner, Huawei are helping China's campaign to repress Uighur Muslims, report finds
November 29, 2019
BEIJING — Chinese tech giants including ByteDance, TikTok's parent company, and Huawei Technologies are working closely with the Communist Party to censor and surveil Uighur Muslims in China's western region of Xinjiang, according to a report published Thursday.
New evidence of links between the security apparatus and China's biggest tech companies come just days after TikTok shut down the account of an American teenager who'd sought to highlight China's human rights abuses in Xinjiang during what began as a make up video.
After widespread condemnation for censoring an American, TikTok backtracked and reactivated 17-year-old New Jersey high school junior Feroza Aziz's account.
In a detailed new report, experts at the Australian Strategic Policy Institute's International Cyber Policy Centre concluded that many Chinese tech companies "are engaged in deeply unethical behavior in Xinjiang, where their work directly supports and enables mass human rights abuses."
"Some of these companies lead the world in cutting-edge technology development, particularly in the AI and surveillance sectors," Fergus Ryan, Danielle Cave and Vicky Xiuzhong Xu write in the report. "But this technology development is focused on servicing authoritarian needs, and as these companies go global (an expansion often funded by [Chinese] loans and aid) this technology is going global as well."
This should give Western policymakers pause, they said.
Many Western policymakers have become increasingly concerned about the potentially nefarious capabilities of Chinese technology.
Some members of Congress have asked American intelligence services to determine whether the TikTok, a short-video app that has exploded in popularity among young people, poses national security risks. Meanwhile, the Trump administration has blacklisted Huawei, concerned that the Chinese government will have access to information that passes through its new 5G technology.
These concerns relate to the use of the technology abroad, but the ASPI report says China's powerful security apparatus is already harnessing the power of the country's innovations to further its aims at home.
This is most evident in the western region of Xinjiang, where at least a million Muslims have been detained in re-education camps designed to wring their culture and religion from them and make them assimilate with the country's Han majority.
Testimony from numerous people to have escaped China and troves of leaked documents all show that the camps are not the vocational training centers that the Chinese government says they are.
ByteDance did not respond to request for comment on the report's findings Thursday afternoon.
https://www.stripes.com/news/pacific/tiktok-owner-huawei-are-helping-china-s-campaign-to-repress-uighur-muslims-report-finds-1.609131
------
Indonesia's Ma'ruf Amin to fight radicalisation that has spread from 'play groups to government'
29 Nov, 2019
Indonesian [1] Vice-President Ma'ruf Amin, 76, has been appointed by President Joko Widodo [2] to lead the government's campaign against the spread of radical ideologies, which the senior cleric said had "reached unimaginable places from preschool play groups to government institutions".
"The challenge is getting bigger because radicalism has a growing influence on society, not just among civil servants but also students. We even received reports that it has already found its way to the PAUD [preschool play groups]," Ma'ruf [3] said in a recent interview with BeritaSatu TV.
Indonesia is grappling with a rise in radicalism along with the threat of terrorism, with recent attacks carried out by the country's largest Isis [4] affiliate, Jamaah Ansharut Daulah [5] (JAD).
Efforts to stem the rising tide of extremist ideology have taken on an added urgency following the discovery that two policewomen [6] and one worker at state-owned PT Krakatau Steel were among dozens of terror suspects arrested in recent months.
Religious radicalism has spread to "many fields" including the civil service, state-owned enterprises, police and military, said Parliamentarian Yaqut Cholil Qoumas from the Nation Awakening Party (PKB), the political party of Nahdlatul Ulama (NU), the country's largest Muslim organisation.
"The wrong understanding of religion leads people to use religion as a norm to make enemies out of people who are different from them. They regard this country as the devil, an infidel and not ruled in accordance with sharia law," said Yaqut.
Indonesia has a secular constitution despite being the world's most populous Muslim nation, with more than 90 per cent of its 260 million people being Muslims.
"The spread of this [radicalism] is carried out by people who are obsessed with an Islamic caliphate in Indonesia," Yaqut said.
The spread of radical teachings began around 15 years ago when groups such as Hizbut Tahrir Indonesia (HTI), Muslim Brotherhood, Wahabbis and Salafis entered the country, said Benny Mamoto, head of research for Police Study and Terrorism at the University of Indonesia.
HTI, which campaigns for a caliphate through non-violent means, was banned by the government in 2017.
"They [radical groups] entered into all layers of society including education. During the entire 10-year administration of the previous government, former president Susilo Bambang Yudhoyono did not take any preventive steps or pressure these groups and so they grew big," said Mamoto.
Mamoto is a former police general who investigated some of the country's biggest terror attacks, including the 2002 Bali bombings [9], which killed 202 people, including 11 Hong Kong residents.
Left unchecked, the radical teachings penetrated preschools, primary, secondary and high schools.
"Many lecturers and teachers are exposed to radicalism to the point where they recruit university students as well as their parents," said Mamoto.
Many graduates of those schools are now working in the civil service, military and police force "where they recruit their juniors as well as their families", said Mamoto.
"An example of the impact of radicalisation within the civil service is how some civil servants promoted their ideology by infiltrating religious studies with books that teach about the caliphate," said Mamoto.
Two weeks ago, the Religious Affairs Ministry announced plans to replace 167 Islamic textbooks [10] deemed to contain extremist or intolerant material in schools by the end of the year.
Ma'ruf said the Bureaucratic Reform Ministry will get involved in filtering out state employees with radical views.
"We will handle this issue comprehensively from the upstream to the downstream. We want to make sure that the societies are immune to the influence of radicalism and terrorism," Ma'ruf said.
Twelve ministries and state institutions have teamed up to launch an online portal called aduanasn.id for complaints against "radical" or intolerant civil servants.
Human rights groups have expressed concerns that this portal could be abused by people seeking to settle scores with their colleagues. But according to Mamoto, all reports will be scrutinised and investigated.
"Action will only be taken if violations are proven. Complaints are not accepted just like that," said Mamoto.
Robi Sugara, a lecturer and counterterrorism analyst at Syarif Hidayatullah Islamic University, said the most difficult challenge is to bring radicalised civil servants back to a mindset that is "friendly" to the nation, and they need to be screened "quickly".
Sugara said it was very important for students to develop "critical thinking" so that they do not simply accept whatever they are told.
Ma'ruf, the chairman of the Indonesian Ulema Council [13], the country's top body for Islamic scholars, is known for his conservative views and was several years ago a key prosecution witness against a former Jakarta governor in a blasphemy trial.
Basuki Tjahaja Purnama [14], an ethnic Chinese and a Christian, was sent to jail for insulting Islam and Ma'ruf, during the election campaign earlier this year, said he regretted testifying against Purnama but "was forced to do it".
Analysts believe Ma'ruf has the right credentials to create a counter-narrative to the violence and radical ideology espoused by militants and pro-caliphate groups in the country.
"It is hoped that his programme will be more effective, especially in countering the narrative that uses Islam," said Mamoto.
Firman Fadilah, head of Centre of Terrorism and Radical Studies agreed. "VP Ma'ruf Amin, I believe, understands about terrorism and radical terrorism, what's more, he will be helped by expert staff."
https://www.scmp.com/print/week-asia/politics/article/3039821/indonesia-appoints-vice-president-and-muslim-cleric-maruf-amin
------
Indian Christian gets UAE Pioneer Award for building a mosque
by Nirmala Carvalho
Saji Cheriyan built a mosque named after Mary for poor Muslim workers. Dubai Sheikh praised him for offering last year's Iftar. For his wife, "God has blessed us so much".
Mumbai (AsiaNews) – The United Arab Emirates (UAE) has bestowed its 2019 UAE Pioneers Award to Saji Cheriyan, a Christian businessman from Kerala who built a mosque for Muslim workers.
The winner was recognised, among others things, for promoting the values ??of a tolerant society and cohesion in the UAE.
UAE Prime Minister and Dubai Emir Sheikh Mohammed Bin Rashid Al Maktoum personally handed over the prize to the Kerala businessman in a ceremony held on Tuesday.
In accepting it, Mr Cheriyan said: "I thank this country and its leaders profusely. I am so happy that I could do something in return for this country that gave me so much in my life."
"This is something beyond my imagination. This is beyond what I could ever achieve," he told Gulf News.
His wife Elsy, has been his inspiration and devoted companion. "This is definitely the proudest moment in our lives. When we did all this, we never expected anything in return," she explained.
"God," she added, "has given this in return to us. God has blessed us so much and chose my husband for this great honour. We feel really blessed."
A father of two and an Orthodox Christian, Saji Cheriyan hails from Kayamkulam, a city in Kerala (southern India). He moved to the UAE in pursuit of business opportunities in 2003.
In 2017 he began the construction of the mosque in the East Ville residential complex, near the Al Hayl industrial zone, ?? in Fujairah, one of the UAE's seven emirates.
The building was completed in 2018 at a cost of 1.3 million dirhams (US1,520), right for Ramadan, a holy month of prayer and fasting for Muslims. It has a capacity for 250 people inside and 700 in the outdoor courtyard.
Cheriyan named the mosque Maryam Umm Eisa (Mary, Mother of Jesus), after another mosque was named after Mary in 2017.
During the award ceremony, Dubai's ruler praised him also for offering Iftar[*] to Muslims. "I was so happy His Highness knew about that also. I told him I had managed to provide 28,000 iftar meals during last Ramadan."
The Sheikh also asked him why he, a Christian, built the mosque. Cheriyan "told him that I saw several poor workers having to take taxi to go to the nearest mosque and I built one to help them."
http://www.asianews.it/news-en/Indian-Christian-gets-UAE-Pioneer-Award-for-building-a-mosque-48674.html
------
No Retirement From Allah's Worship, Says Cleric
By Saheed Salawu
Nov 29, 2019
THERE is no limit to the worship of God and performance of virtuous, good deeds, especially on account of old age as Almighty Allah requires His obedient servants to remain conscious of Him up to the moment they draw their last breath.
These were words of the acting Chief Imam of Ansar-Ud-Deen Society of Nigeria (ADS) in Afin Akoko, Ondo State, Sheikh Hamidu Fasasi, during the eighth edition of the annual Maulud Nabiyy instituted by a centenarian and the head of the ulama of Afin Akoko Muslim community, Alhaji Kilani Aderibigbe Balogun.
Sheikh Fasasi described Alhaji Kilani Balogun as a role model and a highly religious man who, despite his old age, had never relented in using his wealth and strength for the propagation of Islam.
The cleric urged other elderly persons to take a cue from the exemplary lifestyle of the centenarian.
In a goodwill message, royal father of the day, the Olubaka of Okaland, Oba Yusuf Adeleye, who was represented by the National Organising Secretary of the ADS, Alhaji Ibrahim Kilani, commended Alhaji Kilani Balogun for handing down such a worthwhile legacy for his children and members of the younger generation.
In a remark, Alhaji Kilani Balogun, noted that he conceived the idea to institute the Maulud Nabiyy ceremony eight years ago.
https://tribuneonlineng.com/no-retirement-from-allahs-worship-says-cleric/
------
Australian tax rules complicate Islamic finance
Nov 29 2019
Australia could be a regional leader in Islamic finance but tax issues are holding the sector back domestically, advocates say.
The worldwide Islamic finance industry is estimated to be worth US$3.5 trillion (NZ$5.5 trillion) by 2024, according to a report launched in Australia on the state of the global Islamic economy.
Because the Koran forbids charging interest, financial transactions in the Muslim world have to be structured differently, with assets typically transferred to the financier so they can receive profit instead.
That's more difficult in Australia because stamp duty means such transactions are effectively double-taxed, said Andrew Johnston, the head of Islamic finance at law firm Sparke Helmore.
"That's the biggest issue, having the same treatment under law, because otherwise it becomes unprofitable - if you're someone pay stamp duty twice, Australians won't pay that, and understandably, because it's a lot of money," Johnston said.
"It makes the cost prohibitive."
Johnston credited National Australia Bank as being the only major bank to have a specific Islamic-focused financing team.
Talal Yassine, the managing director of the Australian superannuation and Islamic investment services firm Crescent Wealth, said that Australia needed to seize the opportunity of being so close to the world's leading Islamic economy, Malaysia.
"Sydney should be the gateway to the Asia Pacific for Islamic finance. We are a Western country that can be a partner to Malaysia, be an entry point for the Americans and British and everybody else," he said.
"We have a massive opportunity waiting to happen."
He said Australia's financial industry should follow the lead of the agricultural industry, which he said decades ago made the decision to dominate halal exports.
"Every farmer that runs sheep, meat, they are experts on Islamic halal, they know more about it than most people in the Middle East who eats it, because their businesses relies on it," Yassine said.
The report said that Australia exported US$5.3 billion worth of food and beverages to Islamic economy in 2018, with meat and live animals accounting for US$2.1 billion of that.
It said with 500,000 domestic Muslims and around 565,000 Muslim tourists, Australia ranks 17th in the US$2.2 trillion global Islamic economy.
Australian Muslims spent US$5.3 billion on the lifestyle sector in 2018, including US$1.94 billion on media and recreation and US$1.74 billion on food, the report said.
"You have a growing Muslim middle class whose needs need to be addressed by institutions like Crescent Wealth and (Islamic mortgage firm) MCCCA," said Ibn Arabi El Goni, head of product with Dubai-based DinarStandard, which produced the report.
https://www.stuff.co.nz/business/world/117807498/australian-tax-rules-complicate-islamic-finance
------
'No one wants to be the next Folau': Christians, Muslims and Jews join to champion religious freedom
By Alexandra Smith
November 29, 2019
A conservative Christian group that targeted "godless" Labor seats in the federal election has joined with Muslim, Jewish and Scientologist groups to ensure no one "becomes the next Israel Folau".
The Australian Christian Alliance will hold its first religious freedom forum in western Sydney on Saturday, with key note speakers including NSW Labor MPs and One Nation's Mark Latham.
The group's president, Con Kafataris, said a range of religious groups had come together because "no one wants to be the next Israel Folau".
"No one wants to be sacked for quoting their scriptures," Dr Kafataris said.
The forum follows the alliance's campaign during the federal election, where it worked with Muslims in Labor-held seats to "stop the godless from making sweeping changes" to religious freedoms.
Dr Kafataris said he expected hundreds of people to turn up to the forum in Fairfield, and he had been told many groups would be represented, including Scientologists and Mandaeans.
He said large faith groups such as Catholics would also stand beside Muslims and Jews to push for religious freedom.
"This forum is not about what divides us, but what unites us," Dr Kafataris said.
"This will bring together people who are not usually on the same page when it comes to their beliefs but they are united when it comes to religious freedom."
Dr Kafataris and another of the group's founders Vic Meli held rallies before the federal election targeting Labor seats that had a high no vote in the same-sex marriage survey.
The group's first rally was held in the western Sydney seat of McMahon, held by shadow health spokesman Chris Bowen. McMahon had Australia's third highest no vote at 64.9 per cent.
They also targeted Chifley, held Labor's by Ed Husic, where 58.7 per cent of people voted no.
State Labor MP for Prospect, Hugh McDermott, will give a speech at Saturday's forum.
"I talk about how many people in western Sydney have fled their countries because of religious persecution and given how multicultural western Sydney is, how important it is to support religious freedom," Mr McDermott said.
His colleague, Labor MP for Fairfield Guy Zangari, will also address the forum.
Mr McDermott, Mr Zangari and Mr Latham are members of NSW Parliament's newly formed Friends of Religious Freedom group which has about 30 MP members.
Mr Latham, One Nation's NSW leader and upper house MP, plans to introduce a private member's bill to parliament on religious freedom that would prevent future cases such as the banning of Folau from rugby union over his anti-gay social media posts.
Mr Latham released a draft in September for consultation and plans to introduce his bill next year after the federal government votes on its bill, which is likely to follow a Senate inquiry.
His bill provides for a $44,000 fine for sacking a worker for their religious beliefs.
"The purpose of the bill is to extend anti-discrimination protections in NSW beyond existing categories of citizenship (gender, sexuality, race, disability, etc.) to people of religious faith," Mr Latham said in a statement on his website.
https://www.watoday.com.au/politics/nsw/no-one-wants-to-be-the-next-folau-christians-muslims-and-jews-join-to-champion-religious-freedom-20191129-p53fhz.html
------
Is Hamas the true beneficiary of the Israel-Islamic Jihad escalation?
By BENJAMIN WEIL
NOVEMBER 28, 2019
On the morning of November 12, 2019, the Israel Air Force conducted a surgical airstrike against Bahaa Abu al-Ata, a senior terrorist in Gaza who belonged to Islamic Jihad. Based on Israeli intelligence, al-Ata was preparing an immediate terrorist attack on Israeli civilians and IDF troops. He was also responsible for hundreds of other terrorist attacks against Israeli civilians.
Islamic Jihad retaliated by launching over 450 rockets toward 110 communities in Israel, tethering Israelis to their bomb shelters at night and preventing more than one million kids from going to school. Israel responded to the jihadist aggression by targeting Islamic Jihad rocket launchers, missile factories, rocket storage-spaces and terrorists.
It took 48 hours of back-and-forth fire until Egypt mediated a ceasefire between Israel and Islamic Jihad. A number of Islamic Jihad violations of the ceasefire were recorded but at the moment of writing these words, things seem to be quiet, order is restored.
I found it interesting to see how Israel reacted to the rockets from Gaza this time, as opposed to how it acted in the past. In the past, Israel had held Hamas accountable for any terrorist activity originating from Gaza. Hence, when an attack occurred, Israel reserved the right to target not only the terrorist organization behind the attack, but also Hamas's infrastructure as well. The thought was that Hamas would help restrain any aggression towards Israel so that it doesn't get hurt by Israeli strikes.
This time around, however, Israel made sure to target only infrastructure and terrorists belonging to Islamic Jihad. The Israelis thought that by doing so, Hamas would have no reason to participate in this round of fighting, thereby preventing the situation from escalating. Israel's strategy may have achieved its goals, but at the same time, it has created the unforeseen consequence of strengthening Hamas, which might very well hurt Israel in the long term.
For Hamas, as the governors of the Gaza Strip, it would have made sense to take control of the situation in Gaza, either by forcing all parties to stop attacking Israel, or by leading the attacks on Israel. Both Islamic Jihad and Hamas are heavily funded by the Iranians. The natural move for Hamas – whose very purpose is the ultimate destruction of Israel – would have been to join their comrades in fighting the Jewish state.
Instead, Hamas's approach in this latest round of violence was uniquely interesting. They took a step back and decided not to decide. Hamas was criticized by many Palestinians for leaving their brothers to fight alone, but in the long run it might have granted Hamas more power and control in the Strip.
WHAT WERE Hamas's considerations and how do they benefit from not participating in the escalation between Israel and Islamic Jihad? Hamas had several reasons not to join the battle. For starters, because Israel decided not hold Hamas accountable for the rockets that were launched from the Gaza Strip, it meant that Israel made sure to target only Islamic Jihad and not Hamas. As a result, the Hamas political leadership had less internal pressure to react from their military branch, the Izzadin al-Qassam Brigades.
While Islamic Jihad terrorists were taking cover from Israeli surgical strikes, Hamas had the luxury of sitting on the sidelines and learning about the Israel Air Force's new tactics, strategies and weapons – helping Hamas prepare for future conflicts with the IDF. Although Hamas probably hasn't learned much more than what it had already known about the IAF, in time of war, any new shred of intelligence and information can be pivotal and crucial.
In previous rounds, Hamas operatives were busy hiding from Israeli missiles. It was therefore more challenging for them to collect live data and intelligence on the tactics, weapons, and devices the IAF operates. Unfortunately, Hamas will emerge from this better prepared to fight in the next round against Israel.
Based on recent history, it is a matter of time until that happens.
The decision by Hamas to not participate in this latest round against Israel has political implications too. It was clear to all that Islamic Jihad, without the help of Hamas, took a hard hit from the Israelis and needed to reach a ceasefire quickly so the IDF would not wipe them out. The smaller terrorist organizations operating in the Gaza Strip now understand that without Hamas, they are powerless and close to useless in their fight against Israel. Hamas is the final word and the authority in Gaza.
Lastly, the public perception of Hamas, and to a certain extent the international one too, has slightly changed after this recent escalation. Sitting on the sidelines as Israel and Islamic Jihad go head-to-head, Hamas looked like the grown-up watching two children fight.
Unfortunately, the restraint of Hamas was a pivotal point in its maturing as an organization. Theoretically, Hamas could have been held accountable for their role in creating the climate for these attacks, in ways other than missile attacks against them. These might have included – with American and Egyptian help – financial pressure or applying pressure to change the culture of incitement and incentivization to commit acts of terrorism. The combination of not being held accountable and of having leveraged the luxury of sitting on the side has been an advantage for Hamas. Regretfully, Hamas will undoubtedly be able to reap the fruit in the next round against Israel.
The writer is the former international adviser to Israeli security cabinet member and Energy Minister Dr. Yuval Steinitz. He currently serves as the director of the project for Israel's national security for the Endowment for Middle East Truth (EMET), an unabashedly pro-Israel and pro-American think tank and policy institute in Washington, DC.
https://www.jpost.com/Opinion/Is-Hamas-the-true-beneficiary-of-the-Israel-Islamic-Jihad-escalation-609335
------
Putin expects Russia-Islamic World forum to boost mutual trust
29 NOV
UFA, November 29. /TASS/. A meeting of the Russia-Islamic World Strategic Vision Group will help boost trust-based relations between Moscow and members of the Organization of Islamic Cooperation (OIC), Russian President Vladimir Putin said in a message to the meeting's participants, which was read out by President of Tatarstan Rustam Minnikhanov.
"I expect that you will hold substantive discussions, and your ideas and initiatives will help boost trust and mutual understanding between our countries and people," the message reads.
According to the Russian president, the meeting's participants will particularly exchange views on ways to enhance dialogue between religions. Putin pointed out that Russia and OIC countries were committed to the primacy of international law and democratic world order, and were also determined to ensure global peace and security.
"The important thing is that Russia and the organization's members coordinate their efforts to combat global threats and challenges, resolve regional conflicts and various humanitarian issues," the message adds.
https://tass.com/politics/1094017
------
India
Data on Hindu Bengalis not included in NRC soon: Himanta Biswa Sarma
Written by Abhishek Saha
November 29, 2019
The Assam government will soon present before the Assembly data on Hindu Bengalis who have been excluded from the final NRC, and who would be eligible to apply for citizenship once the the Citizenship (Amendment) Bill is passed in Parliament, Assam minister and senior BJP leader Himanta Biswa Sarma said on the sidelines of the first day of winter session on Thursday.
Members belonging to opposition Congress and AIUDF, whose demands for an adjournment motion to discuss the citizenship amendment Bill (CAB) and the NRC was turned down by the Speaker, staged a walkout to protest the Bill and BJP's demand for scrapping the recently completed NRC and seeking a fresh one.
Sarma told reporters in Assamese: "We want CAB in Assam. According to statistics I have, people whose names have been excluded [from final NRC], if these people are kept on being excluded, many Assembly constituencies might go to the hands of other people. So, in the interest of Assamese people, we need CAB."
Sarma said, "We could not give the data (on those excluded) earlier because the NRC was not done. Now we have the data. We have district-wise data of how many people can apply in which district…how many lakhs have been excluded, and how many Bengali Hindus will appeal…. This entire data will be presented in Assembly in the ongoing session."
The Bill proposes to amend Citizenship Act, 1955, by relaxing eligibility rules for immigrants fleeing religious persecution — belonging to six minority (non-Muslim) religions, Hindus, Sikhs, Buddhists, Jains, Parsis and Christians, from Afghanistan, Bangladesh or Pakistan — in getting Indian citizenship.
Explained: Why BJP is unhappy with Assam NRC, and wants Citizenship Bill first
In Assam, if the Bill is passed, the immediate implication will be that Bengali Hindus excluded from NRC would be eligible for citizenship — provided they declare themselves as fleeing religious persecution from Bangladesh — and Bengali Muslims would be treated as 'foreigners'.
The Citizenship (Amendment) Bill is a contentious issue in the Northeast, with influential sociopolitical groups and political parties holding it as a threat to interests of indigenous communities of the region. There have been many protests against Bill in the region. In fact, demonstrations are going on even in the run-up to the Bill being placed before Parliament.
"Who said this NRC should not be scrapped? AIUDF and some Congress MLAs. The fact that they are saying this itself implies that this NRC was in someone's favour," Sarma said. He said there should be a single NRC for the entire country, with the same cut-off date for Assam as the country.
Also Read | West Bengal bypolls: Verdict against NRC, says Mamata, even BJP rivals agree
He also said Home Minister Amit Shah will hold meetings with all social groups, chief ministers and representatives of political parties, including state Congress units, of the Northeast on CAB on November 29-30.
https://indianexpress.com/article/india/data-on-hindu-bengalis-not-included-in-nrc-soon-himanta-biswa-sarma-6141754/
------
West Bengal bypolls: Verdict against NRC, says Mamata, even BJP rivals agree
Written by Ravik Bhattacharya, Santanu Chowdhury
November 29, 2019
THE RULING Trinamool Congress (TMC) on Thursday won all the three Assembly bypolls, wresting Kharagpur Sadar and Kaliaganj from the BJP and Congress respectively and retaining Karimpur. Calling it a mandate against NRC, Chief Minister Mamata Banerjee said it was a vote against the BJP's "arrogance".
The BJP emerged second in all the three constituencies, including Kharagpur Sadar which was seen as its stronghold. The seat was earlier held by state BJP president Dilip Ghosh, before he was elected to the Lok Sabha from Medinipur, which includes Kharagpur Sadar assembly segment.
In the Lok Sabha polls earlier this year, the BJP had recorded a lead of around 46,000 votes in Kharagpur Sadar assembly segment, and around 57,000 votes in Kaliaganj, which is part of the Raiganj Lok Sabha seat represented by the BJP's Debasree Chaudhuri.
Two of the BJP candidates blamed a "scare" over NRC, and said the party had failed to explain the issue to the people.
In Kharagpur Sadar, TMC candidate Pradip Sarkar defeated BJP's Prem Chandra Jha by a margin of 20,853 votes. In 2016, Ghosh had won this seat by a margin of 6,309 votes.
In Kaliaganj, TMC's Tapan Deb Singha defeated the BJP's Kamal Chandra Sarkar by 2,414 votes. In Karimpur, TMC's Bimalendu Sinha Roy defeated BJP's Joy Prakash Majumder by 23,910 votes.
The Left-Congress alliance candidates came a distant third in all the three seats, including Kaliaganj, which was won by Congress in 2016 and 2011.
"We got Hindu votes, Rajbonshi votes, minority votes, Adivasi votes and all others. Even in Kharagpur, we got non-Bengali votes. People have lived here for generations… They want to live peacefully. So many years after independence, if you ask someone to prove citizenship, is it right? Suddenly, if someone says you have no place here… NRC is one of the main reasons why people rejected the BJP. The BJP always uses divisive politics and created panic in the name of NRC," said Chief Minister and TMC chief Mamata Banerjee.
"In 21 years, since the formation of our party, we have never won Kharagpur Sadar or Kaliaganj. In the Lok Sabha polls, the EVMs were manipulated… Still, we had to overcome huge leads in Kharagpur and Kaliaganj. We doubled our lead in Karimpur. This is a vote against the BJP's arrogance and desperation to come to power," she said. "The BJP is talking about coming to power in 2021. Let them first suffer this jolt in 2019," she said.
"It is indeed a scare over NRC. We failed to reach out to people and make them understand the issue. People are scared of the NRC… All minority votes went to the TMC. They got a large section of Rajbonshi and Hindu votes too because of the NRC scare," said Kamal Chandra Sarkar, BJP candidate from Kaliaganj.
"NRC scare was a factor. TMC went door-to-door, spreading misinformation about NRC. Another factor was that the Left votes went to the TMC," said Joy Prakash Majumder, BJP candidate from Karimpur.
"We have to evaluate whether the NRC was the issue. In the Lok Sabha elections, it was not a factor. The TMC was able to mislead people on the NRC issue in some areas. Generally, the ruling party wins the bypolls. Let Mamata Banerjee be satisfied with three seats. We will see what happens in 2021. Then, it will be Modi all over Bengal," said Dilip Ghosh, state BJP president. In the Lok Sabha polls, the BJP had won 18 seats in West Bengal, up from two in 2014, while the TMC got 22 seats, down from 34 in 2014.
"We went to the people and apologised. During the panchayat polls in Kaliaganj and some other areas, there were some excesses by a section of party leaders. We told people that we don't support such party leaders. People have trusted us," said Suvendu Adhikari, State Transport Minister, who, along with State Forest Minister Rajib Banerjee and MP Mahua Moitra, was among those who led the TMC's bypoll campaign.
In Kharagpur Sadar (West Midnapore district) and Karimpur (Nadia district), bypolls were held as their MLAs — BJP's Dilip Ghosh and TMC's Mahua Moitra respectively — contested and won the Lok Sabha polls, while Kaliaganj (Uttar Dinajpur district) MLA Pramatha Nath Ray (Congress) died earlier this year.
https://indianexpress.com/article/india/west-bengal-bypolls-verdict-against-nrc-says-mamata-even-bjp-rivals-agree-6142059/
------
Telangana Wakf Board To Initiate Prayers In Abandoned Mosques
Nov 29, 2019
Hyderabad: The Wakf Board has taken the initiative to restore prayers in mosques that have been abandoned and those under the control of the department of heritage, Telangana.
On Thursday, chairman of the Wakf Board Mohammed Saleem, MLA from Karwan, Kausar Mohiuddin, and deputy director of the Heritage department, B. Narayana, visited a few of these mosques, including two mosques situated in the premises of the Golf Course.
They first visited the Masjid Shaik situated in Shaikpet, which is under the control of the Department of Heritage, Telangana and closed for many years. It wears a wild and ugly look. Thorny bushes can be spotted in every corner of the Masjid's premises. The Board employees removed the bushes and cleaned the area.
Initially, some local people raised objection to the cleaning of the premises, but on the intervention of the Wakf Board chairman, they left the place.
The Masjid e Tayaba in the vicinity of Qutub Shahi Tombs was also visited. This mosque comes under the Archaeological Survey of India (ASI) and the management of the Masjid was not allowed to carry out repair work by ASI authorities.
MLA Kausar Mohiuddin requested the Board to refer the issue to officials of the ASI and get permission to erect a shade in front of the mosque for the convenience of musallis.
They also visited the Golf Course premises in Naya Quila area of Golconda Fort, where there are two mosques — the Masjid Mustafa Khan and Masjid Mulla Qayali. Locals are not allowed to perform prayers in both mosques.
According to information provided to Kareem Ansari of Yugantar Organisation, the ASI stated that eight mosques existed in the Golconda Fort.
Surprisingly, all of these mosques are abandoned and prayers are not performed in them.
Speaking to the media, the chairman of the Wakf Board Mr Saleem said, "We have requested the officials of the Heritage Department to maintain the mosques which are under their control and open these mosques for the local Muslims and tourists. We will also interact with the authorities of the ASI for restoration of prayers in the mosques situated in the vicinity of the Golconda Fort. The Wakf Board is ready to provide funds for preservation and restoration of the structures of these mosques and will also maintain these mosques."
Mr Saleem said he will ask the management of the Golf Course to provide access to the two mosques under their control.
https://www.deccanchronicle.com/nation/current-affairs/291119/hyderabad-wakf-board-to-initiate-prayers-in-abandoned-mosques.html
------
Muslim Karsevak Manch hands over 'chaadar' to head priest of makeshift Ram temple
Nov 28, 2019
Muslim Karsevak Manch president Kunwar Mohammad Azam Khan on Thursday met Satyendra Das, head priest of the makeshift Ram Mandir in Ayodhya, and handed over a 'green chaadar' with Lord Ram written on it.
The 60-feet chaadar is an offering to Lord Ram from the Muslim Karsevak Manch, which has been a vocal supporter of Ram temple in Ayodhya.
Earlier, Khan was associated with the Rashtriya Swayamsevak Sangh-backed Muslim Rashtrya Manch (MRM). He parted ways with the organisation because of a difference of opinion over a solution to the Ayodhya dispute.
https://www.hindustantimes.com/lucknow/muslim-karsevak-manch-hands-over-chaadar-to-head-priest-of-makeshift-ram-temple/story-JWP0jcV0481HJJLLhp2stJ.html
------
Aligarh Muslim University student among two arrested by police on charges of attempt to murder
Nov 28, 2019
AGRA: A student of Aligarh Muslim University (AMU), Abdullah, was arrested on Thursday along with his accomplice on charges of attempt to murder, in connection with the shooting of a student, who was injured in an attack earlier this week.
Abdullah has also been debarred by the university administration for next 5 years for his alleged involvement in the said incident.
According to police, the murderous attack took place on Monday night, when Abdullah, a first year student of Diploma Engineering in AMU, had gone to meet his senior, Rizvan at RM hostel of the varsity. Rizwan, who was debarred by the university for three years in 2018 after being caught cheating in an examination, was called by Abdullah at the hostel's gate and the conversation between them led to a heated argument.
Subsequently, Abdullah's accomplice, Sablu, shot at Rizvan. Police said, Rizvan sustained bullet injury and fell on the ground. The guard of the hostel immediately ran towards the accused but they opened fire at him also and fled from there. During interrogation, Abdullah told police that Rizvan had told his mother about his habit of intoxication and he wanted him to teach a lesson for it.
According to SP city, Abhishek, the duo were arrested from Lal Diggi area and they both have a criminal record. He said, the weapon used for shooting Rizwan was also recovered from their possession.
The SP said, around ten criminal cases, under various sections of IPC, are registered against Sablu at police stations in Aligarh. He told TOI that Abdullah was also booked by the police last month for allegedly stabbing and injuring a Polytechnic student, Arshad Iqbal.
When contacted, Proctor of the university, Afifullah Khan, said that the administration has taken action against the day scholar student Abdullah as per rules and regulations of the university. He said, such kind of behaviour will not be tolerated in the varsity.
Meanwhile, another student, Mohammad Umar Farukh, a research scholar in commerce department, was suspended by the university administration for his alleged involvement in hooliganism and rampage that resulted in the damage of the SP city's car last month. The SP had visited the campus following an alleged suicide by varsity student in his hostel room on October 16.
https://timesofindia.indiatimes.com/city/agra/aligarh-muslim-university-student-among-two-arrested-by-police-on-charges-of-attempt-to-murder/articleshow/72281048.cms
------
Pakistan
Family of Nabeel Hoodbhoy demands justice
November 29, 2019
KARACHI: The family of a young man who was gunned down by police near the Cantonment Railway Station last week on Thursday demanded a high-level inquiry into the incident and urged the chief justice of Pakistan to take up the case on priority.
The mother and sister of Nabeel Hoodbhoy along with their lawyer spoke at a press conference at the Karachi Press Club in which they expressed their dissatisfaction over the pace of the inquiry into the murder case.
"My son was a British citizen; yet, I have not sought help from the United Kingdom. We want justice [for] Nabeel in the same manner as the world deals with such brutal murders," said Nabeel's mother.
She said her son was a sportsman who was gunned down by the police with impunity.
"Yet, we see no one in the senior authorities who have shown real interest in punishing the killers."
She said Nabeel's killing was not a one-off incident since "the police have gone wild particularly in district South where similar incidents have been reported previously".
She said that no law permitted the police to open fire on unarmed citizens.
"The policemen who shot at my son ran away; and they were even not bothered enough to shift my seriously wounded son to hospital."
She said despite lapse of around a week since the incident, there was no tangible progress by the police in solving the case.
Though the family was not impressed with the performance of the police vis-à-vis the case, Nabeel's mother placed her hope in the institutions meant to provide justice to the people.
"No one is safe here in Pakistan as there is no one who can ask our guards as to why they have turned killers. Police are not doing anything; still, we have hope in the institutions in according justice to us."
She said as things stood so far no one related to the incident had been suspended.
She appealed to Prime Minister Imran Khan to play his part in giving justice to her son.
"The prime minister should wake up to this. I want an eye for an eye. I don't want to see another mother lose her son in the same fashion and by the same killers.
"I have lost my only son. I want justice for him and not just an apology from anyone. I want justice in a manner that conforms to the standards of justice."
She demanded the Sindh chief minister to order a high-level committee to investigate the murder case.
Nabeel's sister said her brother was a law-abiding Pakistani and had committed no crime to pay such a heavy cost.
"I beg for justice [for] Nabeel."
https://www.dawn.com/news/1519383/family-of-nabeel-hoodbhoy-demands-justice
------
Africa to be new focus of foreign policy: Imran
Baqir Sajjad Syed
November 29, 2019
ISLAMABAD: Prime Minister Imran Khan on Thursday said that promotion of relations with countries in Africa would be the new focus of Pakistan's foreign policy operations.
Mr Khan was speaking at the concluding session of Africa-focused Envoys Conference at the Foreign Office. The conference was held to deliberate on measures for strengthening relations with African countries and diversifying and deepening political, economic, security and socio-cultural ties.
One of the conclusions of the conference was that Pakistan needed to have a robust engagement with Africa.
The prime minister regretted that ties with African countries did not get priority in Pakistan's external relations in the past because of lack of innovation and creativity in running the foreign policy.
Citing examples of China and Turkey, he said that Pakistan now needed to concentrate on Africa. He said Pakistani diplomats were capable, but for bringing back focus on Africa, they needed vision and the urge to take these ties forward.
Says government is striving to have better ties with all countries
Africa is the second largest continent of the world with 20 per cent of the world's land mass and 54 sovereign states, with 1.2 billion people and the largest youth population on the globe. Most of the African countries are witnessing stable growth. The region has a collective GDP of over $2.3 trillion and an import market of around $500bn.
"We believe that there is a tremendous opportunity for Pakistani goods and services in view of growing middle-class consumer market there," PM Khan said.
He also recalled the transformation in Pakistan's foreign policy during his government. He said Pakistan unlike in the past was now playing the role of a conciliator instead of taking sides in conflicts.
He said his government was striving to have better relations with all other countries. He reminded how his government maintained a better balance in ties between Iran and Saudi Arabia, while further strengthening relations with Turkey.
The prime minister said his government was pursuing an independent foreign policy and now no one would be able to use Pakistan for fighting their own wars. He regretted that governments in the past engaged in transactional relations — fighting for others in return for aid. "This hurt us a lot," he maintained, adding: "We promised what we could not deliver; they wanted us to win war for them. That's why there was persistent pressure to do more. It hurt Pakistan's esteem."
Expressing disappointment over recent political activities, Mr Khan said they took away the limelight from occupied Kashmir.
Talking about the case in the Supreme Court challenging Army Chief Gen Qamar Bajwa's extension, the prime minister said the current level of harmony between institutions was unprecedented.
APP adds: Meanwhile, Princess Sarah Zeid of Jordan, the World Food Programme's Special Adviser on Mother and Child Nutrition, called on Prime Minister Imran Khan at the PM House on Thursday.
During the meeting, the prime minister said that his government was fully committed to addressing the issue of malnutrition in Pakistan.
He apprised Princess Sarah of the steps taken by the government under Ehsaas and other poverty alleviation programmes concerning women empowerment.
https://www.dawn.com/news/1519460/africa-to-be-new-focus-of-foreign-policy-imran
------
PM Imran Khan insists on extension to Gen Bajwa's tenure
Fakhar Durrani
November 29, 2019
ISLAMABAD: Chief of the Army Staff (COAS) General Qamar Javed Bajwa does not want an extension, rather it is Prime Minister Imran Khan who insisted for his tenure extension, said renowned analyst Gen (retd) Amjad Shoaib. "I am sure top brass of Pakistan Army must have discussed this issue — conditional extension. Last time I talked to Army Chief General Bajwa, he informed me that he doesn't want to get extension but Imran Khan's government insisted for the tenure extension", commented Gen (retd) Amjad Shoaib.
The six-month conditional extension in tenure of Chief of Army Staff General Qamar Javed Bajwa will cause uncertainty for the army's command, believes Gen (retd) Amjed Shoaib. However, two other retired generals including a former secretary defence totally disagreed with what Gen Amjad said.
Former defence secretary Lt Gen (retd) Asif Yasin Malik says Army is a disciplined institution and the six-month extension will have no impact on the command of Pakistan Army. Major Gen (retd) Ejaz Awan also believes that army has its mechanism and the conditional extension in the tenure of Gen Bajwa doesn't affect the chain of command.
Talking to The News, Gen (R) Amjad Shoaib said the Supreme Court's judgment regarding six-month extension in General Qamar Javed Bajwa's tenure is not ideal as it will cause uncertainty in the command of Pakistan Army.
"It is not clear whether the government has the required strength to get the legislation about army chief's extension approved from parliament or not. This vagueness will prevail further if the government fails to get the required legislation approved from both the National Assembly and the Senate. This is a damaging situation because the lower command in the army will be looking into it if the Chief of Army Staff gets further extension or not," commented Gen Amjad Shoaib.
"Currently the system is under chaos, it is up to General Bajwa now what he decides. Whether he thinks about the institution of Pakistan Army or he wants to bring reforms in the system first and then leaves," said Gen (R) Amjed.
The Thursday's judgement on Gen Bajwa's extension in tenure has addressed the legal lacuna because there was no mention of 'extension' in the Constitution and Army Act. The Supreme Court of Pakistan has identified this lacuna and recommended Parliament to do necessary legislation and address this issue once and all. However, timing of the decisions is not ideal. Had this verdict been announced a couple of weeks ago, things would have been different, he said.
Former defence secretary Gen (R) Asif Yasin Malik while talking to The News said the court's judgment will have no impact on the Army as an institution. However, the debate generated on media and social media due to incompetence of government and questions raised in the court has created some issues.
"No one is indispensable. Pakistan Army is a professional and thoroughly disciplined institution. The Army obeys the command of its chief even if he is made only for one day. This doesn't matter whether Gen Bajwa has been given six-month extension or three years. "What matters for me is the debate which was generated because of the incompetence of the government", commented Gen Asif Yasin Malik.
He said the Corps Commander Conference is the forum where all the matters related to Pakistan Army are discussed in detail. The debate generated on national and social media about extension might have been discussed on limited forum under the chair of Chief of Army Staff. He shrugged off any possibility of negativity within the ranks of Army due to extension and said the armed forces obey the orders of their command and there is no such concept.
Major Gen (R) Ejaz Awan while talking to The News said he totally disagrees with Gen Amjed Shoaib's remarks. There is no concept of uncertainty in the command of Pakistan Army. The Supreme Court of Pakistan's decision has pointed out a gap in the Constitution and Army Act, which will be filled through legislation.
"As a soldier I have reservations over the way the case was heard in the Supreme Court. This is an absolute failure of the government and the office of Attorney General, which cannot convince the court to hold an in-camera hearing of this case. Owing to their failure and incompetence, questions were raised on the institution of Pakistan Army. The institution of armed forces was chastened because of the incompetence of the Attorney General. The government particularly Attorney General wasn't even prepared how to present the case because of which the whole matter turned into laughing stock", commented Gen Ejaz.
"It is now up to the politician how they build consensus to do legislation on such an important issue. However, everyone has to be vigilant because this is a very delicate matter (legislation of army chief's extension). The prime minister and chief of army staff have a bigger role in terms of building consensus for the legislation", said Gen Ejaz Awan.
He said he has strong reservations over Sheikh Rashid's statement about a PML-N deal with certain quarters. This kind of third class politics should not come into way of such an important legislation. The government will have to show maturity while dealing with the political parties to do legislation on this matter, he commented.
https://www.thenews.com.pk/print/575985-pm-insists-on-extension-to-gen-bajwa-s-tenure
------
Senate panel for law on permission to foreigners to buy land
Mumtaz Alvi
November 29, 2019
ISLAMABAD: The Senate Standing Committee on Law and Justice Thursday called for an independent law on permission to foreigner to buy land anywhere in Pakistan.
The committee met here at the Parliament House and its Chairman Senator Muhammad Javed Abbasi presided over deliberations. It had lively discussion on the bill, introduced by JI's Mushtaq Ahmad for insertion of Article 253A regarding permission to foreigners to purchase land in any part of Pakistan. The committee members were of the view that this should be brought as an independent law and not as a constitutional amendment so that the constitutional amendment was not disturbed.
The committee members sought information as to what was the current mechanism of granting permission to foreign nationals or foreign companies and it was subsequently decided to call Secretary Interior, provincial Boards of Revenue, Board of Investment and SECP to next meeting to discuss whether it falls under federal or provincial domain and how many foreigners currently have land in Pakistan.
The meeting was attended, among others, by Senators Musadik Malik, Mushtaq Ahmed, Dr GhousNiazi, Mushahidullah Khan, Sana Jamali, Mian Ateeq Sheikh and officials from the ministries of Law and Justice, National Health Services and Regulations and State Life Insurance Corporation.
While discussing 'The Transplantation of Human Organs and Tissues (Amendment) Bill, 2018, introduced by Senator Mian Muhammad Ateeq Sheikh, the committee was told by Nadra that a chip could be installed in the National Identity Card which will be indicative of the fact that the owner has expressed his or her will to donate organs.
However, the committee members asked Nadra to come up in the next meeting with a simpler mechanism which is easier to comprehend by the general people. This bill was reported by the Standing Committee on National Health Services, Regulation and Coordination and has also received approval of Council of Islamic Ideology and Federal Shariat Court.
Regarding the matter of sit-in of the employees of the State Life Insurance Corporation for their demands, the committee heard the General Manager of the Corporation and decided to call the Ministry of Commerce and SECP to discuss the matter.
https://www.thenews.com.pk/print/575994-senate-panel-for-law-on-permission-to-foreigners-to-buy-land
------
South Asia
No. of Muslims, mosques on the rise in Japan amid some misconceptions, prejudice
November 29, 2019
TOKYO -- Recent years have seen increasing numbers of students and workers coming to Japan from Islamic nations, and mosques are being established in regions across the country.
According to an investigation by Hirofumi Tanada, a professor of Asian social theory at Waseda University's Faculty of Human Sciences, at the end of 2018 there were 105 mosques in 36 of Japan's 47 prefectures. Rather than just being places for worship, they serve a number of community functions, including offering a chance for followers to socialize and for education. But as more mosques are established, questions over how they can successfully coexist with Japanese society have emerged.
Just past midday every Friday, the sound of prayer, "Allahu akbar," echoes from the Islamic Research Center Japan, located on the fourth floor of a building in the outskirts of Yawata, Kyoto Prefecture, western Japan. Between 50 and 100 local Muslim residents are gathered at the center.
Ramzan Mirza, 53, who runs a trading company nearby, bought the building 10 years ago and opened it as a mosque eight years later. He came to Japan from Bangladesh some three decades ago. The area has many firms related to the used car business, and gradually more people from Muslim-majority countries have gathered here. "My company's business had stabilized, so I decided I wanted to make a space that could be helpful to Muslims here," he said.
Muhammad Ali, 37, came from Bangladesh to Japan six years ago to work in the used car trade. He said, "I can only go back to my country once a year. It's lonely being so far away from my wife and young children, but I feel calmer being able to come to this place near my home."
Khalid Sultan, 30, works in the same industry. Originally from Syria, he came to Japan seven years ago with his younger brother, 25, to flee the country's civil war. The majority of his immediate family and relatives now live in Turkey. "It's sad but I can't go back to my country. But, if I can meet my friends here, that problem goes away," he said with a smile.
Before this mosque opened, nearby Muslims had to ride connecting trains for almost two hours to get to the Kobe Muslim Mosque, in the city of Kobe in the western Japan prefecture of Hyogo. Mirza has plans to register the Yawata mosque as a religious corporation, and also aims to make it a center for Islamic research in a partnership with Japanese university staff.
Muslims are required by their faith to pray fives times a day, in the direction of the holy city of Mecca. The Friday prayer is considered a particularly significant part of believers' duties to the faith, and followers are encouraged to offer the prayer at a mosque.
Japan's first mosque was the Kobe Muslim Mosque, established in 1935 by Turkish and Indian residents of the country. According to professor Tanada's research, there were just three mosques in Japan at the end of the 1980s.
But in the latter half of the decade, many people from Muslim-majority countries including Iran, Pakistan, Bangladesh and others came to Japan as laborers. Many worked in the construction business and other sectors that were booming during the bubble economy. Next, there was an influx of trainees and other workers from Indonesia, and the 1990s and 2000s saw a concomitant rise in the number of mosques.
In that time, the number of trainees and study abroad students from Muslim-majority regions increased further, as did the population of long-term Muslim residents. In 2014 there were 80 mosques, jumping to 105 by the end of 2018.
In the past they were found primarily in areas with a large concentration of manufacturing plants, such as the region in and around Tokyo, the Chukyo metropolitan area around Nagoya in Aichi Prefecture, central Japan, and western Japan's Kansai area where Osaka and Kyoto are located. But recently, there has been a marked uptick in moves among students from Muslim-majority countries at regional universities, especially those in prefectural capitals, to start new mosques.
Professor Tanada estimates that there are around 200,000 Muslims living in Japan. Among them, around 43,000 are believed to be Japanese nationals, including those who converted for marriage to a Muslim partner.
Japan's largest mosque, Tokyo Camii in the capital's Shibuya Ward, sees 700 to 800 people arrive at its doors for Friday prayers. The worshippers are from a range of places, such as Southeast Asia, the Arab world, and African nations.
Some people cannot enter the packed building, instead rolling out a sheet or prayer mat in front of it. The mosque has classes for the Quran and Arabic, to which some are regular attendees. Japanese Muslim Shigeru Shimoyama, the 70-year-old public relations head at the mosque, said, "Believers come from all around the Kanto region, as do tourists from Islamic countries. For the faithful, this is like a place of sanctuary."
But the mosque is highly sensitive to the way it is perceived by its neighbors. During Friday prayers and other days when large events take place, the street leading into the mosque is often filled with people during admission and exit times, and many cars are parked on nearby streets.
Shimoyama said that this summer, there were many worshippers out in the street, leading to traffic snarls. A woman riding her bicycle who lives nearby reportedly said, "This is why I hate Islam."
"Even now there is prejudice toward Islam. To be accepted by the community, we are paying special attention to issues around how trash is disposed of, noise in the streets, parking cars on streets and other things," Shimoyama said. At times, the mosque also invites its neighbors to culinary events and other occasions.
With the number of mosques rising in regions across Japan, disputes have also emerged even before the centers are established. The Kanazawa Masjid, a mosque in Kanazawa, Ishikawa Prefecture, central Japan, primarily set up by study abroad students at Kanazawa University, was met with opposition by a neighborhood association when plans for it emerged in 2012.
Looking back on that discussion, 61-year-old Ken Muroi, then head of the association, said, "There was no prejudice toward the faith itself, but at the time there were many incidents involving Muslims taking place abroad. So, some residents aired opinions like, 'I'm worried there'll be trouble her if a mosque is built,' and, 'I want them to build it elsewhere.'"
Others reportedly said that they were worried about property values dropping in the area if the mosque was built, and one family apparently even moved away in protest.
After half a year of talks, the neighborhood association drew up a document asking the mosque to keep noise to a minimum, to control nighttime entry and exit to the property, and to be thorough in their management of fires and locking up. The mosque agreed to the requests.
It also asked for the withdrawal of plans to give the mosque's exterior an Islamic aesthetic in favor of a standard residential look, which the mosque also acceded to.
It was completed in August 2014. The mosque has since joined the neighborhood association as an entity, and young Muslims have also taken part in efforts to clean up the local area and shovel snow. In short, it is now a part of community life.
Seiji Matsui, 46, a Japanese Muslim serving as the Ishikawa Muslim Society's deputy chair, who has dealt with negotiations with residents, said, "Before it (the mosque) was built, people even asked me if it had any connection with al-Qaida. By engaging with them directly and being patient in my explanations, I was able to get them to understand."
(Japanese original by Ken Uzuka, Integrated Digital News Center)
https://mainichi.jp/english/articles/20191128/p2a/00m/0fe/014000c
------
Former Maldives President, Yameen, Sentenced To 5 Years In Prison
November 28, 2019
A court in the Maldives has found the country's former president guilty of money laundering and sentenced him to five years in prison.
The five-member Criminal Court has also ordered Yameen Abdul Gayoom to pay a $5 million fine. In its ruling Thursday, the court found Yameen was guilty of laundering $1 million in state money for personal gain.
Yameen led the Indian Ocean archipelago state from 2013 to 2018. During that time he was accused of corruption, muzzling the media and persecuting political opponents. He lost last year's election to current President Ibrahim Mohamed Solih.
https://indianexpress.com/article/world/former-maldives-president-sentenced-to-5-years-in-prison-6141296/
------
Taliban threatens US with jihad, seizes more land in Afghanistan after failed peace talks
November 28, 2019
Taliban threatens US with jihad, seizes more land in Afghanistan after failed peace talks The Taliban has taken over another district in Afghanistan, the second in two weeks, saying that the US will "regret" abandoning key peace talks that stalled after Donald Trump called off a much-awaited meeting with the group.
Yangi Qala, a district in Afghanistan's northern province of Takhar, fell into the hands of Taliban fighters on Tuesday after government troops retreated over fear of greater casualties, local authorities told the media. They sent reinforcements in order to drive the Taliban out of the area, that dozens of militants were killed.
But the seizure of the district, which lies close to the border of Russia's military ally Tajikistan, comes days after the Taliban made another advance by capturing the Anar Darah neighborhood in western Afghanistan.
The news follows a recent decision by Trump to cancel a meeting with Taliban representatives at Camp David, asking the group if they are ready for the next few decades of war. The US president said he canceled the meeting after the Taliban claimed responsibility for attacks in Kabul which killed 12 people, including one US soldier, earlier in the week.
On its part, the Taliban warned that the US will suffer heavy losses for ditching the key talks, yet the takeovers seem to be a continuation of their stick-and-carrot tactics.
Later on Tuesday, Taliban spokesman Zabihullah Mujahid reiterated the threat, saying that Washington will regret not getting back to the table. The Islamist group, he said, will resume jihad and fighting to end the foreign occupation of Afghanistan.
In recent years, US negotiators held several rounds of low-key talks with the militants in their political office in Doha, Qatar, providing some opening for a possible truce. But it remains to be seen if it could be reached at all, given that the Taliban frequently target local and foreign forces, sometimes taking control of important cities and locations.
Initially decimated in the post-9/11 US airstrikes and the subsequent Western intervention, the Taliban made a resurgence and hit back, gradually expanding influence in the east, west and south of the country.
Now, they control more swathes of land in Afghanistan than at any point since 2001. An interactive map by the Long War journal shows the sizeable amount of territory the Taliban hold or contest.
As the talks stalled and fighting continued, top US officials voiced pessimism over the Afghan exit strategy. Secretary of State Mike Pompeo acknowledged this week that the peace process is dead "for the time being," adding that Washington is looking for "significant commitments" from the militant group.
https://dentondaily.com/taliban-threatens-us-with-jihad-seizes-more-land-in-afghanistan-after-failed-peace-talks/
------
Special Forces destroy Taliban tunnels, kill 7 militants in Kandahar raids
Thursday, 28 Nov 2019
The Special Forces killed 7 Taliban militants during separate raids in southern Kandahar province, the Afghan military said.
According to a statement released by 205th Atal Corps, the Special Forces conducted the raids in Sur Baghal, Qabr-e Malai and Deh Maiwand Villages of Maiwand district.
The statement further added that the Special Forces also destroyed 13 fighting positions, 8 tunnels and 2 compounds of the group during the operations.
The Special Forces also discovered and defused 13 improvised explosive devices during the same operations, the 205th Atal Corps added in its statement.
The Taliban group has not commented regarding the operations so far.
https://www.khaama.com/special-forces-destroy-taliban-tunnels-kill-7-militants-in-kandahar-raids-04417/
------
Prominent Taliban commanders among 17 killed, wounded in failed attack on Darqad district
Thursday, 28 Nov 2019
The Afghan forces repulsed a major Taliban attack on Darqad district of Takhar province in the North-east, killing or wounding at least 17 militants including two key commanders of the group.
The Ministry of Defense in a statement said the Taliban militants launched a coordinated attack on Qara Tapa area of Darqad district late on Wednesday night.
The statement further added that the Afghan forces effectively responded the attack, killing at least 11 militants including Qari Qadir and Qahrman, the two key commanders of the group.
The security forces also killed 6 Red Unit militants of the group and wounded 6 others during the clash.
Meanwhile, the Defense Ministry said an Afghan soldier also lost his life during the clash and 6 others sustained injuries.
The Taliban group has not commented regarding the clash so far.
https://www.khaama.com/prominent-taliban-commanders-among-17-killed-wounded-in-failed-attack-on-darqad-district-04416/
------
Premature car bomb explosion damages 10 houses, injures 13 civilians in Sar-e Pul
Thursday, 28 Nov 2019
A Taliban car bomb went off prematurely in a residential area in northern Sar-e Pul province of Afghanistan which damaged 10 houses and injured 13 civilians, the Afghan military said.
According to a statement released by 209th Shaheen Corps in the North, the Taliban militants were looking to carry out a car bomb attack using a Jeep vehicle packed with explosives.
However, the Afghan forces identified the car bomb before the militants could drive it to the provincial capital where they wanted to detonate it.
The statement further added that a clash broke out after along Sayad district highway after the Afghan forces traced the car bomb which went off prematurely.
The explosion damaged ten houses and injured at least 13 residents of the area, the 209th Shaheen Corps added in its statement.
The Taliban group has not commented in this regard so far.
https://www.khaama.com/premature-car-bomb-explosion-damages-10-houses-injures-13-civilians-in-sar-e-pul-04415/
------
Southeast Asia
Muslim preacher Zakir Naik sues Malaysian MP over comments on Tamil Tigers-linked arrests
Tashny Sukumaran
28 Nov, 2019
Controversial Muslim televangelist Zakir Naik, who set up shop in Malaysia while criminal investigations continue in his home country India, has taken legal action against a local member of parliament over alleged defamation following remarks the politician made about recent arrests under a draconian counterterrorism law.
MP Charles Santiago, a member of the Democratic Action Party (DAP), which is part of Malaysia's ruling coalition, on Tuesday offered his opinions on the arrests last month of more than 10 ethnic Indians for alleged links to a Sri Lankan militant group commonly known as the Tamil Tigers, an organisation considered inactive for the last 10 years.
Discussing the issue at a forum, the lawmaker suggested the arrests were linked to political criticism of Zakir, who has made headlines for his puritan brand of Islam – recommending the death penalty for homosexuals and those who abandon the faith. In Britain, the preacher has been banned from entering the country.
Santiago said the arrests appeared to be a "warning" to Malaysia's Indian community, as well as a tool to punish those who had criticised Zakir for causing racial disharmony.
The MP confirmed he had been served a notice of demand for defamation by Zakir's lawyers, who said Santiago's remarks had damaged the preacher's reputation.
Santiago's lawyers meanwhile maintain that the politician, "as an MP, is questioning the authorities in relation to the process of investigation".
Despite his hardline views, Zakir has been given permanent residency in multicultural Malaysia and embraced by top government officials, leading critics to suggest his presence implied top-level support for hardline Islam in a country that has long projected a moderate Islamic image and has a substantial Christian, Hindu and Buddhist minority population.
Prime Minister Mahathir Mohamad, whose 18-month-old Pakatan Harapan coalition is struggling to capture the majority Malay-Muslim vote bank, said in September that no other country wanted Zakir, who is facing criminal charges of money laundering and instigating terrorism in his homeland and is banned from several nations for propagating anti-Semitic hate speech.
Zakir became a topic of national discussion in August after he suggested Malaysia's ethnic Indian community was "loyal" to Indian Prime Minister Narendra Modi, who was re-elected in May following a divisive campaign in which he was accused of being anti-Muslim. Among Zakir's sharpest critics have been leading members of the DAP, a key component of Pakatan Harapan, which formed a government in May last year.
Santiago said the DAP had become "collateral damage" in the coalition's bid to win Malay-Muslim votes against an opposition that used racial and religious rhetoric to bolster support.
Although several cabinet ministers had initially lambasted the preacher for his remarks, top politicians from other coalition parties later walked back their statements and urged Malaysians to "forgive" Zakir. Political observers described this as an attempt to appease the increasingly conservative ethnic Malay-Muslim community, which makes up more than 60 per cent of the population.
Santiago is just one of a number of politicians the preacher has sued or threatened to sue, including Penang state Deputy Chief Minister II P. Ramasamy, Minister of Human Resources M. Kulasegaran and assemblyman Satees Muniandy – DAP leaders who have also been in the news for criticising the Tigers-linked arrests.
Last month Malaysian media reported that a group of 12 men – including two DAP assemblymen – were being investigated for suspected ties to the Tigers under Malaysia's Security Offences (Special Measures) Act, which allows for 28 days of detention without any judicial oversight.
Santiago, along with other DAP members, questioned why his party colleagues had been arrested given that "even in Sri Lanka, the movement does not exist". He called the Tigers, officially the Liberation Tigers of Tamil Eelam, "freedom fighters".
Founded in Sri Lanka in 1976, the group fought for an independent Tamil state in the country's 26-year civil war, which was sparked by ethnopolitical tensions between the majority Sinhalese population and minority Sri Lankan Tamils. Malaysia is home to a sizeable ethnic Sri Lankan Tamil minority, mostly brought over during the British colonial era.
https://www.scmp.com/print/week-asia/politics/article/3039812/muslim-preacher-zakir-naik-sues-malaysian-mp-over-comments-tamil
------
Malaysia's CIMB Islamic to provide up to 100 mln ringgit financing for SMEs to meet halal certification
BY STAFF WRITER
29 NOV 2019
Malaysia's CIMB Islamic will allocate up to 100 million ringgit ($23.96 million) in financing for companies that want to become halal-certified, targeting the 90% of local SMEs that do not have halal certification.
Malaysia's deputy entrepreneur development minister said in August that 8,120 companies received halal certification in 2018, and that nine out of ten were without halal certification.
Targetting this 90%, CIMB Islamic said in a statement on Thursday (Nov 28) the financing is aimed at businesses to "become compatible with the requirements of halal certification whether by getting their premises, operations or supply chain to be in line with those requirements."
"The 100 million ringgit financing support is part of CIMB's 15 billion ringgit commitment to finance SMEs, announced earlier this year," said CIMB Islamic CEO Ahmad Shahriman Mohd Sharif.
CIMB said in April it would put aside 15 billion ringgit for 100,000 SMEs in the next two years.
Prior to this, in February it announced its CIMB-ASEAN Halal Corridor network to help Malaysian businesses scale globally. It started with a partnership with local halal cosmetics company SimplySiti.
CIMB Islamic posted 47.9% increase in profit before tax for the third-quarter as its overall Group saw its own PBT drop by 10.06%.
The Islamic business earned 388.24 million ringgit ($92.95 million) in profit before tax for the three months ending September 30 compared to 262.51 million ringgit for the same period last year.
Gross financing for the Islamic subsidiary was 76.9 billion ringgit, accounting for 21.3% of the Group's total loans.
https://www.salaamgateway.com/story/malaysias-cimb-islamic-to-provide-up-to-100-mln-ringgit-financing-for-smes-to-meet-halal-certificati
------
Malaysia's Maybank Islamic banking third-quarter net profit up by 4.65%
28 NOV 2019
Malaysia's Maybank posted 4.65% increase in net profit for its Islamic banking business for the third-quarter compared to the same three months last year.
Maybank reported 634.47 million ringgit ($152 million) in profit after tax and zakat for its Islamic banking business for July-September versus 606.26 million ringgit for the corresponding quarter in 2018, it reported in a filing with Bursa Malaysia on Thursday (Nov 28).
This percentage growth is higher than for its overall Group's net profit, which nudged up 1.7% to 2.04 billion ringgit compared to 2.01 billion ringgit.
Income from its Islamic Banking Scheme rose by 6.47% to 1.49 billion ringgit ($357 million).
Shariah-compliant assets grew by 6.58% to 240.88 billion ringgit ($57.73 billion) at the end of September from 226.01 billion ringgit at December 31.
This accounted for 28.54% of the Group's total assets, which increased by a lower 4.58%.
Shariah-compliant net financing reached 186.52 billion ringgit, a growth of 7.01% from the end of 2018.
74.22%, or 207.25 billion ringgit, of total financing of 279.22 billion ringgit used murabahah contracts.
On the liabilities side, customer deposits rose by 12.52% to 166.29 billion ringgit for the nine months ending September 30.
However, investment accounts dropped to 20.14 billion ringgit from 23.57 billion ringgit.
Overall, Maybank Group made a net profit of 2.04 billion ringgit, a nudge up of 1.7% compared to the third-quarter of 2018.
Maybank is Malaysia's biggest bank by assets.
It said it expects its financial performance for 2019 to be "satisfactory".
($1 = 4.173 Malaysian ringgit)
https://www.salaamgateway.com/story/malaysias-maybank-islamic-banking-third-quarter-net-profit-up-by-465
------
CIMB Islamic provides RM100 mln financing for SMEs to achieve halal status
28/11/2019
KUALA LUMPUR, Nov 28 -- CIMB Islamic Bank Bhd has allocated RM100 million financial support for small and medium enterprises (SMEs) looking to grow their business in the global halal market.
The bank said its latest proposition HalalBizReady, would provide financing packages that help businesses become compatible with the requirements of halal certification whether by getting their premises, operations or supply chain to be in line with those requirements.
"CIMB HalalBizReady is an empowering proposition to help businesses expand beyond Malaysia to access the US$2.2 trillion global halal market," said chief executive officer Ahmad Shahriman Mohd Shariff in a statement today.
He said the RM100 million financing support was part of CIMB's RM15 billion commitment to finance SMEs, announced earlier this year.
"This reflects our commitment to growing Islamic banking assets, with 82 per cent of CIMB's SME financing growth in 2019 year-to-date attributable to Shariah-compliant businesses.
"ASEAN alone has 242 million Muslims, providing a huge demand pool that is accessible to these businesses through CIMB's strong regional network and membership of the CIMB Trade Club," he said.
CIMB Trade Club is an exclusive digital e-commerce ecosystem participated by 14 global banks whose network spans over 50 countries, and is aimed at empowering member companies to promote their businesses and expand their markets globally.
HalalBizReady is part of CIMB's refreshed SME proposition's suite of solutions that comprises three main pillars including SME Transact, SME Financing and collaborations via industry SME Partners.
Apart from business financing, the package also gives customers access to a wider global and regional market via the CIMB Trade Club platform, and access to the expertise of CIMB's halal-based strategic partnerships which aim to facilitate businesses to become Halal ready for further growth.
http://www.bernama.com/en/business/news.php?id=1794395
------
Extra taxes on TNB like daylight robbery of the people, says Najib
November 29, 2019
PETALING JAYA: Former prime minister Najib Razak today hit out at the Pakatan Harapan government over additional taxes of RM3.98 billion charged to Tenaga Nasional Bhd (TNB), asking how the utility group could be accused of not paying enough and comparing it to "daylight robbery" of the people.
Responding to news that the Inland Revenue Board (LHDN) had issued TNB notices of additional assessments for 2015 to 2017, he said TNB would have to pay billions each year as a listed company.
"TNB's profit for the whole of 2018 was only RM3.72 billion. This means TNB does not need to profit in 2019 after paying the additional taxes worth RM3.98 billion.
"If they don't profit, TNB doesn't pay any dividends. Who are the dividends paid to? It's paid to their shareholders who are mostly people's funds like Amanah Saham Nasional, Amanah Saham Bumiputera, Tabung Haji, the Employees Provident Fund and the Amanah unit," he said in a Facebook post.
He added that the decision by the finance minister to impose the additional taxes was like stealing the people's money.
It was reported by The Edge that TNB's shares dropped 1.75% earlier today after it received the notices from LHDN.
https://www.freemalaysiatoday.com/category/nation/2019/11/29/extra-taxes-on-tnb-like-daylight-robbery-of-the-people-says-najib/?utm_source=FMT+Media+Sdn.+Bhd.&utm_campaign=bbe50e68cf-RSS_EMAIL_CAMPAIGN&utm_medium=email&utm_term=0_dfafd0994c-bbe50e68cf-228005497
------
Judges can consider bail for terror-related charges, court rules
November 29, 2019
KUALA LUMPUR: The High Court here today ruled that judges can consider bail applications even if the accused is charged with a terrorism-related offence.
Judge Mohd Nazlan Mohd Ghazali said the judiciary, an independent arm of the government, exists to check any excesses by the legislature and executive.
"The principle of separation of powers is a hallmark of a modern state," he said in allowing the constitutional challenge brought by Melaka executive councillor G Saminathan, who was charged alongside 11 others with supporting the Liberation Tigers of Tamil Eelam (LTTE) group.
He also said that Section 13 of the Security Offences (Special Measures) Act 2012 or Sosma is ultra vires Articles 8 and 121 of the Federal Constitution.
"Section 13 is unconstitutional because it divests from the courts the judicial discretionary power to evaluate whether to grant or refuse bail applications," Nazlan said in his broad judgment delivered before a packed courtroom.
"Accordingly, my answer to the first question on whether Section 13 of Sosma is ultra vires Article 121 (1) of the constitution is in the affirmative."
Nazlan also said Section 13 prohibits the granting of bail to a person charged with an offence under Chapter 6A of the Penal Code for terrorism-related charges.
Saminathan was charged with offences under Section 130J for giving support to a terrorist group and 130JB for possessing items associated with a terrorist group.
Sosma was enacted by Parliament in accordance with Article 149 of the Federal Constitution.
This article permits the promulgation of any act of Parliament that is designed to stop or prevent any threat of action which is, among others, prejudicial to public order or the security of the federation.
It also states that any such law is valid despite being inconsistent with any of the provisions of Articles 5, 9, 10 and 13 on fundamental rights.
Nazlan said the Federal Court had made clear in the case of Semenyih Jaya that under Article 121 (1), the judicial power of the courts resides only in the judiciary. He also said the High Court was bound by that ruling.
"The power to adjudicate in civil or criminal matters brought to the courts are exclusive to the courts.
"Judicial power is central to the doctrine of the separation of powers between the executive, the legislature and the judiciary which is a fundamental feature in the basic structure of the constitution," he added.
He said the apex court in the recent case of Alma Nudo Atenza v PP held that the separation of powers between the legislature, the executive and the judiciary was a hallmark of a modern democratic state.
"Any usurpation of judicial power by any other arm of the government infringes on the sanctity of the doctrine of the separation of powers, violates the basic structure of the constitution, and is therefore unconstitutional," he said.
He said judicial power includes the authority to grant or refuse bail to an accused person.
"This is also well in accordance with the presumption of innocence and the objective of bail, which is to ensure the attendance of an accused at trial," he said, adding that Section 13 cannot impose a restriction on the courts.
Nazlan said it was for the court hearing an application for bail to make that determination with regard to the facts and circumstances of the case, in the exercise of the court's discretionary power.
Saminathan, taxi driver V Balamurugan, dispatch rider S Teeran, and scrap metal dealer A Kalaimughilan were charged with knowingly giving support to the LTTE group on Facebook.
On Nov 1, Sessions Court judge Rozina Ayob allowed Saminathan's application to refer to the High Court whether they can be offered bail despite being charged with possessing links to LTTE.
Another eight men were charged with similar offences before two other Sessions Court judges, with their lawyers raising the constitutionality of Section 13 as well.
Sangeet Kaur Deo, who represented Saminathan, told reporters she would make an application for Rozina to hear the bail consideration soon.
https://www.freemalaysiatoday.com/category/nation/2019/11/29/judges-can-consider-bail-for-terror-related-charges-court-rules/?utm_source=FMT+Media+Sdn.+Bhd.&utm_campaign=bbe50e68cf-RSS_EMAIL_CAMPAIGN&utm_medium=email&utm_term=0_dfafd0994c-bbe50e68cf-228005497
------
Philippine migrants stay in Sabah for jobs and safety
Jason Santos
November 29, 2019
KOTA KINABALU: Physical safety and the availability of jobs are the main reasons refugees who fled the southern Philippines in the 1970s as well as their descendants have chosen to remain in Sabah.
Many of them work in the so-called "dangerous, dirty and difficult" sectors, but according to Universiti Malaysia Sabah lecturer Lee Kuok Tiun, they are safe from harm and they make good money.
Lee was commenting on Deputy Home Minister Azis Jamman's statement that many of the children and grandchildren of those holding refugee identification papers wished to remain in Sabah.
The document the original refugees hold, called IMM13, contains a condition that they must return to their country once peace prevails there, but they are allowed to raise families and work in Sabah.
Azis said efforts had been made to repatriate the descendants of IMM13 holders, but he added that they told the Philippines embassy they wanted to remain in Sabah.
He also said the Philippines government would not accept them as citizens.
They have thus become stateless persons.
Employers like to hire them because they are willing to work long hours for low wages.
According to Sabah Housing and Real Estate Developers Association president Chew Shang Hai, 95% of the unskilled labour in the construction industry are foreign workers.
In the plantation sector, foreigners account for 77% of the workforce, according to Malaysian Palm Oil Board figures for 2017.
Sabah Employers' Association president Yap Cheen Boon said local industries would suffer if they were repatriated. It would cause both a manpower shortage and a reduction of the market because immigrants were consumers too, he added.
A coffee shop owner in Kota Kinabalu, who gave his name as Michael, told FMT some migrant workers were willing to work more than 12 hours a day. He pays them RM800 a month and gives them free food and living quarters.
"Some coffee shop owners will give their workers the minimum wage of RM1,100, but then they charge them rental for the rooms they provide," Michael said.
This was why, he added, some of them preferred to live in squatter areas.
An IMM13 holder, a woman of 40 who identified herself as Habsah, told FMT life in her native Mindanao was tough but she was saving money to return there to start a business. She works in a coffee shop.
"Only by starting your own business can you survive in the southern Philippines," she said.
Habsah was a child when she came to Sabah with her parents, who are now dead.
She said her six younger brothers and sisters, all born in Sabah, were working as construction workers and in restaurants around Kota Kinabalu.
She said she visited Mindanao in 2010 and met her relatives. However, she added, her siblings knew no one in Mindanao.
https://www.freemalaysiatoday.com/category/nation/2019/11/29/philippine-migrants-stay-in-sabah-for-jobs-and-safety/?utm_source=FMT+Media+Sdn.+Bhd.&utm_campaign=bbe50e68cf-RSS_EMAIL_CAMPAIGN&utm_medium=email&utm_term=0_dfafd0994c-bbe50e68cf-228005497
------
Arab World
Why more non-Muslims are opting for Islamic banking in UAE
November 29, 2019
Islamic banking continues to maintain its appeal not just among the Muslim residents but also among the non-Muslims in the UAE, according to Islamic Banking Index 2019 released on Wednesday.
"Islamic banking is on the rise in the UAE as three out of five respondents now have at least one Shari'a-compliant product — 60 per cent — up from 55 per cent in 2018. The use of conventional banking products has rallied by two percentage points since 2018, but has fallen overall by five percentage points since 2015, while Islamic products have grown by 13 percentage points during the same period," said Wasim Saifi, deputy CEO for consumer banking and wealth management at Emirates Islamic bank, which conducted the survey in conjunction with YouGov.
The survey found that better rates and pricing, and better customer service were among the key factors influencing shift to Islamic banking among non-Muslim respondents. The survey found that that the penetration among non-Muslims grew from 40 per cent in 2018 to 45 per cent this year while penetration in conventional banking increased by just one per cent to 72 per cent.
It found that the use of Shariah-compliant products has increased faster since 2015 for non-Muslims than Muslims, from 31 per cent to 45 per cent.
The survey found that Islamic banking penetration reached its highest level since the inception of the index five years ago. The number of respondents who say they would subscribe to an Islamic banking product in the next six months has remained consistent since 2018 at 80 per cent.
"Interest by non-Muslim customers surveyed, in Islamic products, has seen a significant increase in all areas since 2018.
—(Courtesy: Khaleej Times)
https://pakobserver.net/why-more-non-muslims-are-opting-for-islamic-banking-in-uae/?utm_source=rss&utm_medium=rss&utm_campaign=why-more-non-muslims-are-opting-for-islamic-banking-in-uae
------
Iraq Deploys Forces to Protect Holy Shia Shrines in Najaf
28/11/2019
ERBIL - Iraq has reportedly dispatched forces to prevent any possible attacks by the angry protesters on the holy Shia shrines in Najaf city.
The deployment comes as the demonstrators on Wednesday burned down the Iranian consulate building in Najaf, with the security forces attempting to disperse them with tear gas and live ammunition.
According to a report by Sky News, tanks and armored vehicles were deployed to Najaf on Thursday to protect the holy Shia sites.
Protesters in Iraq have been determined to stay on the streets until their demands, including reforms against corruption, more job opportunities, and efficient public services, are met by the federal government, while over 300 people have so far been killed and more than 16,000 others were injured.
Earlier the day, Iraqi powerful Shia cleric Muqtada al-Sadr argued that this would be the end of Iraq if PM Adil Abdul Mahdi does not resign. He called for the continuation of demonstrations in a peaceful way.
http://www.basnews.com/index.php/en/news/iraq/564244
------
Saudi aid agency reveals plan to support health sector in Yemen
RASHID HASSAN
November 29, 2019
RIYADH: The King Salman Humanitarian Aid and Relief Center (KSRelief) has revealed a plan to support the health sector in Yemen, in coordination with Yemen's High Relief Committee.
"Since the current humanitarian crisis began in Yemen, KSRelief has been providing support throughout the country, including extensive aid to the Taiz governorate," the KSRelief media center told Arab News.
"Iranian-backed Houthi militias have inflicted great damage to the country's infrastructure, including the health care sector. To address this issue, KSRelief in coordination with Yemen's High Relief Committee, representing Yemen's Ministry of Public Health and Population, has developed a strategic plan to support both the public and private health sectors," the center said. "Our goal is to deliver health care services to all Yemenis. We aim to reduce the spread of epidemic diseases, supply medical facilities with equipment, supplies, medicines and intravenous (IV) fluids."
According to KSRelief, it provides dialysis solutions and other medications necessary for treating chronic diseases to Yemen.
"An 80-ton convoy of five aid trucks from KSRelief carrying 300 different kinds of medicines, IV fluids, dialysis solutions and medical supplies has reached Taiz to strengthen the capacity of the governorate's health care services," it said.
KSRelief provides urgent treatment for wounded and injured Yemenis in their country, and those for whom treatment is not possible in Yemen are transferred to Saudi Arabia and other countries in the region.
The center has implemented numerous health projects in Taiz, including support for Al-Thawra Hospital, which the center has provided with equipment, supplies and medicines. The first phase of support to the hospital's orthopedic department alone amounted to $3.15 million.
When a recent shipment of dialysis solutions was stolen by the Houthi militias, KSRelief acted quickly to provide Al-Thawra Hospital with a replacement shipment. KSRelief also provided support to the Al-Jomhory Hospital and other regional health centers in Taiz.
KSRelief's support for dialysis centers throughout Yemen is continuing as a second phase of support provides six month's worth of medical supplies. Fuel is also being distributed to 95 health facilities across Yemen in cooperation with the World Health Organization (WHO).
KSRelief's projects cover many areas of the medical sector including primary healthcare and maternal and pediatric healthcare programs implemented in collaboration with UNICEF. It has also provided treatment to Yemeni patients suffering from eye diseases. The first phase of the latter project is now complete and the second is underway, the center said.
KSRelief has also provided Al-Thawra Hospital with an oxygen generation plant in a project carried out in collaboration with WHO, run an immunization program for children under the age of five implemented with UNICEF, and a country-wide cholera treatment and prevention program was implemented jointly with WHO and UNICEF.
KSRelief also extended support to the Artificial Limbs Centers in Taiz, Aden, Mukalla and Sana'a in cooperation with the International Committee of the Red Cross (ICRC), and is currently preparing a new Artificial Limbs Center in Taiz.
"KSRelief is keen to ensure that healthcare services are available throughout Yemen, and continues to enable the provision of comprehensive, impartial healthcare services to all in need, in coordination with its local and international partners," said the media center.
https://www.arabnews.com/node/1591171/saudi-arabia
------
Iraqi security agencies blamed for stoking deadly riots throughout country
29 November 2019
BAGHDAD: A number of Iraqi security agencies were on Thursday blamed for stoking riots in Baghdad and the provinces which have left hundreds of protesters dead and injured.
Iraqi security and military leaders told Arab News that the agencies were deeply involved in "most" of the violence and vandalism witnessed throughout the country, including the burning of the Iranian consulate in Najaf, in a bid to sway opinion against demonstrators and justify their deadly suppression of protests.
Baghdad and nine southern Shiite-dominated provinces have seen major anti-government demonstrations since the beginning of October. Around 400 protesters have been killed and more than 17,000 wounded, mostly in the capital, after Iraqi forces used live ammunition and tear gas against them.
Demonstrations began peacefully, but the burning and destruction of private and public properties in Baghdad and the provinces has increased in recent weeks. The torching of the Iranian consulate in the southern holy city of Najaf on Wednesday evening, was the last major incident to take place.
Najaf is the largest Shiite stronghold in the world, where the shrine of Imam Ali bin Abi Talib, the cousin of the Prophet Muhammad and the most sacred imam for Shiites, is located.
The consulate burning was followed by a flood of statements issued by Iranian-backed armed factions carrying veiled threats to demonstrators over the safety of the supreme religious authority Grand Ayatollah Ali Al-Sistani, who has lived in Najaf for decades. Some factions were believed to have sent their fighters to the city under the pretext of securing the life of Al-Sistani.
Al-Sistani is the leader of the world's Shiites and most Iraqis, even non-Shiites, have regarded him as their spiritual father and the safety valve to prevent infighting among the Iraqi people since 2003. He is the only person whose domestic and international powers, including Iran and America, fear his reaction.
Threatening Al-Sistani's life or harming the imam's shrine would turn Iraqis against demonstrators and give Iraq's government and its allies the green light to crack down on protesters without paying attention to any domestic or international pressure.
Security and military leaders told Arab News that most of the arson, vandalism and violence "was orchestrated and implemented" by a number of security agencies associated with the Iraqi Interior Ministry and the Popular Mobilization Security Directorate.
The Popular Mobilization is the umbrella government that covers armed factions including Iranian-backed ones and volunteers who have fought Daesh alongside the Iraqi government over the past years.
"The aim is to bring down the legitimacy of the demonstrations and end the (public) sympathy for the demonstrators," a senior national security official told Arab News. "What is needed is to sustain the momentum of the demonstrations and turn them into a threat, so that all people ask for an end to them at any cost.
"Even what happened in Najaf (the burning of the Iranian consulate) was planned. All the burning and the accompanying violence were planned."
A senior military commander involved in securing Najaf told Arab News that intelligence indicated that the burning of the consulate was "fabricated" and that "the government partners close to the neighbor (Iran) carried out the burning."
Military commanders and observers said the selection of Najaf to be the site of the sabotage was not "arbitrary" and reflected the impatience of the armed factions linked to Iran, and their "desperate" attempts to end the demonstrations as soon as possible and pressure Al-Sistani to stop supporting the protesters.
"They (pro-Iran armed factions) have run out of patience. They are trying to provoke people against the demonstrators by proving that their (people) religious symbols in Najaf are in danger," a security analyst said. "If they prove that Najaf is under threat, then they have a pretext to get involved directly to crackdown on the demonstrators.
"Also, erupting the fight inside Najaf would twist Sistani's arm and force him to give up his support to the demonstrators and stop protecting them. It is a powerful Iranian message to threat Sistani by telling him that they will start killing people in his name."
A senior federal police officer involved in securing demonstration squares in Baghdad told Arab News: "Most of the arson and vandalism ... (in Baghdad) was carried out by members of the intelligence agency of the Ministry of Interior."
https://www.arabnews.com/node/1591076/middle-east
------
Iraq protests: 45 protesters shot dead in 24 hours as violence spirals
November 29, 2019
Security forces shot dead 40 anti-government protesters in over 24 hours amid spiraling violence in the capital and Iraq's south, security and medical officials said, one day after an Iranian consulate was torched.
Iran condemned the burning of its consulate in the holy city of Najaf as violence continued into the night across southern Iraq, where security forces had killed 36 protesters and wounded 245 since Wednesday evening, the officials said. Another four protesters were shot dead in the capital. The officials spoke on condition of anonymity in line with regulations.
Police and military forces were deployed across key oil-rich provinces to re-open roads closed off by demonstrations.
The escalating violence and heavy response against demonstrators by a largely Iran-backed government threatened to intensify tensions, especially if efforts to implement electoral and anti-corruption reforms fail to placate protesters.
Crisis committees were created to enhance coordination between Prime Minister Adil Abdul-Mahdi and governors in provinces affected by the protests "for the importance of controlling security and enforcing the law," said a statement from the joint operations command.
Security forces shot four protesters dead in Baghdad and wounded 22 when they tried to cross the important Ahrar Bridge leading to the nearby Green Zone, the heavily fortified seat of Iraq's government. Protesters occupy parts of the Jumhuriya, Sinak and Ahrar bridges, all of which lead to or near the fortified area.
In Najaf, five protesters were fatally shot and 32 wounded when security forces opened fire to prevent them from torching a central mosque named after the father of a prominent political leader, officials said.
The unrest in Iraq began on Oct. 1, when thousands took to the streets in Baghdad and the predominantly Shiite south. (File Photo)
The deaths came after a day after protesters burned the Iranian consulate in Najaf. It was one of the worst attacks targeting Iranian interests in the country since the anti-government protests erupted two months ago.
The unrest in Iraq began on Oct. 1, when thousands took to the streets in Baghdad and the predominantly Shiite south. The largely leaderless movement accuses the government of being hopelessly corrupt and has also decried Iran's growing influence in Iraqi state affairs.
At least 350 people have been killed by security forces, which routinely use live ammunition and tear gas to disperse crowds.
Iran has called for a "responsible, strong and effective" response to the burning of its consulate, Abbas Mousavi, a Foreign Ministry spokesman, said in statements to Iran's official IRNA news agency.
Iraq's Ministry of Foreign Affairs condemned the attack, saying it was perpetrated by "people outside of the genuine protesters" seeking to harm relations between the countries.
Amnesty International denounced the violence, calling it a bloodbath that "must stop now." (AP Photo)
One demonstrator was killed and 35 wounded when police fired live ammunition in a failed effort to prevent protesters entering the consulate building. Once inside, the demonstrators removed the Iranian flag and replaced it with an Iraqi one, said a police official who spoke on condition of anonymity in line with regulations.
A curfew was imposed in Najaf after the attack on the consulate. Security forces were heavily deployed around main government buildings and religious institutions Thursday morning.
Najaf province is the headquarters of the country's Shiite religious authority headed by Grand Ayatollah Ali al-Sistani. He has been largely supportive of protester demands, siding with them by repeatedly calling on political parties to implement serious reforms.
Influential Shiite cleric Muqtada al-Sadr called on Iraq's government to resign "immediately to stop the bloodletting," while imploring protesters to maintain the peace.
"If the government does not resign, this will be the beginning of the end of Iraq," he warned.
Al-Sadr, who has supported the protests, also categorically denied that his supporters were involved in the attack on the Iranian consulate in Najaf.
At least 350 people have been killed by security forces, which routinely use live ammunition and tear gas to disperse crowds. (AP Photo)
In addition to using sit-ins and burning tires to close main avenues, protesters have lately targeted Iraqi economic interests in the south by blocking key ports and roads to oil fields.
In the oil-rich city of Nasiriyah, 31 protesters were killed overnight and 215 wounded by security forces who fired to drive them away them from key bridges, security and medical officials said Thursday. Demonstrators had been blocking Nasr and Zaitoun bridges leading to the city center for several days. Security forces moved in late Wednesday to open the main thoroughfare.
By Thursday afternoon, special forces were transferred from neighboring Najaf and Diwanieh provinces to Nasiriyah to contain the violence, security officials said.
Amnesty International denounced the violence, calling it a bloodbath that "must stop now."
"The scenes from Nasiriyah this morning more closely resemble a warzone than city streets and bridges. This brutal onslaught is just the latest in a long series of deadly events where Iraqi security forces meted out appalling violence against largely peaceful protesters," said Lynn Maalouf, Middle East research director for the rights groups.
In Basra, security forces were deployed in the city's main roads to prevent protesters from staging sit-ins on important avenues.
Basra's streets were open as of Thursday morning, but highways leading to the two main Gulf commodities ports in Umm Qasr and Khor al-Zubair remained closed. Schools and official public institutions were also closed.
Separately, the U.S. Embassy denounced a recent decision by Iraq's media regulator to suspend nine television channels, calling for the Communications and Media Commission to reverse its decision. The embassy's Thursday statement also condemned attacks and harassment against journalists.
Local channel Dijla TV had its license suspended Tuesday for its coverage of the protests, and its office was closed and equipment confiscated, according an official from one of the channels under threat. Other channels have been asked by the regulatory commission to sign a pledge "agreeing to adhere to its rules," said the official, who requested anonymity out of fear of reprisal.
The Islamic State extremist group, meanwhile, claimed responsibility for Tuesday's coordinated bombings in three Baghdad neighborhoods that killed five people. The bombings, which occurred far from Tahrir square where demonstrators are camped, was the first apparent coordinated attack since anti-government protests began.
https://indianexpress.com/article/world/iraq-protests-40-protesters-shot-dead-in-24-hours-as-violence-spirals-6142107/
------
Iraqi forces kill 13 protesters, deploy military to stem unrest
By Deutsche Welle
November 28, 2019
Iraqi security forces shot dead at least 13 protesters and wounded another 22 in the southern city of Nasiriyah early Thursday, in the latest bloody crackdown against nearly two months of anti-government protests.
Security forces fired on protesters blocking two bridges in Nasiriyah before dawn, just days after protesters set fire to two government buildings and the home of a lawmaker in the city.
The violence in Nasiriyah came a day after protesters in the Shiite holy city of Najaf torched the Iranian consulate in anger at Tehran's political and military meddling in its neighbor. At least one protester was killed and 35 injured when security forces opened fire to prevent them from entering the building.
The Iraqi military said Thursday joint military-civilian "crisis cells" have been established to "impose security and restore order" in the predominately Shiite southern provinces. It said military commanders have been appointed to direct and control security and assist governors.
The capital Baghdad and southern Iraq have been gripped by the largest grassroots protests against the entire political class and rampant corruption since the US-led invasion that toppled Saddam Hussein in 2003.
More than 350 people have been killed and thousands wounded in demonstrations that have crossed the country's sectarian lines.
The demonstrations are the biggest threat to the Shiite-dominated ruling class in the post-Saddam era. Protesters are mostly unemployed and disenfranchise Shiite youth seeking the departure of those claiming to represent them.
https://indianexpress.com/article/world/iraq-protest-military-unrest-nasiriyah-6141073/
------
Saudi Arabia, UAE plan joint visit visas to boost tourism
November 29, 2019
JEDDAH: Saudi Arabia and the UAE on Thursday signed a raft of agreements which included a deal to issue joint visit visas for residents of both countries in a bid to boost tourism.
According to the UAE's official news agency WAM, the accord, among six initiatives highlighted during Crown Prince Mohammed bin Salman's visit to the UAE, was part of a cooperation deal between the Saudi Commission for Tourism and National Heritage (SCTH) and the UAE's Ministry of Economy.
The agreement will allow for the speeding up of the flow of traffic at ports of entry between the two countries.
A separate joint strategy for food security was also inked, aimed at tackling food challenges not only in Saudi Arabia and the UAE but throughout the region.
Enhancing cybersecurity and supporting the provision of reliable cyberspace for each country was another initiative agreed upon to find ways of preventing cyberattacks on the two nations.
On an economic level, it was agreed to issue an experimental digital currency strictly targeted for banks, with the aim of better understanding the implications of blockchain technology and facilitating cross-border payments.
The two countries will also develop a new mega-crude refinery with a capacity of 1.2 million barrels per day, integrated with a modern petrochemical complex at an initial cost of $70 billion (SR262 billion) in the state of Maharashtra in western India, to secure the supply of at least 600,000 barrels per day of Saudi crude oil.
A Saudi-Emirati Youth Council is also to be established to strengthen the partnership between youth in both countries, exchange ideas, and coordinate efforts to promote young talent.
Meanwhile, the two sides also signed four new memoranda of understanding (MoUs) in the health, culture, space and food security fields.
The first MoU was penned between the Saudi Ministry of Health and its UAE counterpart, and was followed by a cultural agreement signed between Noura bint Mohammed Al-Kaabi, the UAE's minister of culture and knowledge development, and Prince Badr bin Abdullah bin Farhan Al-Saud, the Saudi minister of culture.
A third MoU was inked in the field of space between Dr. Ahmad bin Abdullah Humaid Belhoul Al-Falasi, minister of state for higher education and advanced skills and chairman of the UAE Space Agency, and Mohammed Al-Tuwaijri, Saudi minister of economy and planning.
The fourth accord on food security was agreed between Mariam Hareb Al-Mheiri, minister of state for food security, and Al-Tuwaijri.
During the Saudi crown prince's stay, he visited the headquarters of Expo 2020 Dubai along with Dubai's Crown Prince Sheikh Mohammed bin Rashid Al-Maktoum.
The mega event, which features the participation of 192 countries, is scheduled to take place in the city under the theme of "Connecting Minds, Creating the Future" from Oct. 20, 2020, to April 10, 2021.
https://www.arabnews.com/node/1591141/saudi-arabia
------
Arab envoy calls for end to Lebanon deadlock
29 November 2019
NAJIA HOUSSARI
BEIRUT: The Arab League told Lebanese leaders on Thursday that it is ready to help the country out of its political and economic crisis.
Hossam Zaki, the league's assistant secretary-general, delivered his message of solidarity after a meeting with President Michel Aoun, Parliament Speaker Nabih Berri and caretaker Prime Minister Saad Hariri.
The envoy's comments came as widespread protests over government inefficiency and alleged corruption among the Lebanese leadership entered their 43rd day.
Zaki described Lebanon as "an important founding country in the Arab system" and said developments in the country "are of concern to Arabs as they have always had repercussions, some of which are regional."
However, he warned that "the biggest burden of assistance lies on the Lebanese themselves, and external parties support attempts to find a solution to the crises."
Zaki said: "Everyone knows that the movement of the street, with the acknowledgment of all Lebanese politicians and leaders, is right in its demands. We understand this, but the movement also comes at an economic cost that increases the seriousness of the situation.
"The issue of forming a government must be solved despite its difficulty because it is essential for Lebanon to avoid any negative impact on its economic situation and civil peace."
Earlier Aoun claimed that insufficient aid had been provided to displaced Syrians in Lebanon, leaving the country to pick up the bill.
"So far, Lebanon has suffered losses of more than $25 billion, in addition to the unemployment that has afflicted Lebanese workers," he said.
As the government crisis deepens, there is no sign that Aoun will set a date for parliamentary talks to assign a replacement for Hariri.
Hezbollah on Thursday backed a call by Berri for a caretaker government to be established. His parliamentary bloc believes that "constitutional obligations require the outgoing government to shoulder its legal responsibility toward citizens in light of rising prices and currency deterioration."
Meanwhile, gas station operators in Lebanon went on strike after fuel importers refused to accept purchases in Lebanese currency.
Banks also refused to issue US dollars to customers.
Charles Jabbour, head of the Lebanese Forces' communications and media department, told Arab News: "In light of the economic collapse in Lebanon, an economic and political alert is needed to face the crisis. This cannot be done through the government's classic methods. It is not possible to form a national unity government or a political government. Lebanon needs a technocratic government that creates a positive shock abroad and generates revenue. Anything else would be stalling and taking the country to further collapse."
Lebanon's worsening economic situation was highlighted by Ibrahim Kanaan, the finance and budget committee chairman, who said after a meeting to discuss the 2020 draft budget that state revenues after the protests started "are almost nonexistent."
"The draft budget prepared before the current crisis did not include any tax or add any fees. It includes a charge of $5,000 billion to the Banque du Liban (central bank) and the banking sector," he said.
"The deficit is exacerbated in trade and payments balances due to suspension of overseas transfers and the erosion of deposits," he added.
https://www.arabnews.com/node/1591086/middle-east
------
Gamers on the march as global giant makes Saudi debut
HALA TASHKANDI
November 29, 2019
RIYADH: Saudi Arabia's growing army of video game players has received a further boost with world-leading games festival Insomnia making its Saudi debut as part of Riyadh Season.
The four-day gaming expo will run until Nov. 30 at the Riyadh Expo Center in the city's Front.
Insomnia Gaming, the UK's biggest video games festival, said that the electronic sports (e-sports) market in the Middle East and North Africa region is growing by about 25 percent every year, the fastest rate in the world.
In 2018, Insomnia signed a multi-year agreement to bring the festival to the region, starting with Cairo, then Dubai and now Riyadh.
Azzam Al-Omran, Riyadh's Front Zone manager, said that Saudi Arabia "is a great location for Insomnia to break ground."
"The gaming industry in Saudi Arabia keeps getting bigger and bigger," he told Arab News.
"There is a local precedent for gaming events in the country, with past events such as Gamers' Day and Gamers' Con. So it was easy for us to localize the event, bringing some of the best players in the world."
Casual and professional gamers can enjoy a variety of activities that appeal to gamers of all ages.
Major e-sports companies have set up booths where players can test out the latest tech and see the latest developments in the sport.
Some of the year's most popular tournament games, such as PlayerUnknown's Battlegrounds, Fortnite, Overwatch, and Call of Duty: Modern Warfare are also available.
Younger audiences can sample the latest additions to the Pokemon franchise, Pokemon Let's Go! and Pokemon Sword and Shield, seated comfortably under a giant inflatable Pikachu as they enjoy the game on Nintendo's latest console offering, the Nintendo Switch.
The event features a series of competitions, with all of the available player-versus-player games getting their own tournaments.
Prizes range from SR9,374 ($2,500) to SR33,750, and registration is open to anyone with a ticket.
The expo's featured guests include members of the FaZe Clan, one of the world's biggest names in e-sports.
The team will be available for meet-and-greets, and will give out tournament prizes.
Insomnia also offers other types of entertainment, and is sponsoring two cosplay contests — one for professionals aged 16 and above, and the other for amateurs aged 12 and above.
The gaming festival also features a stage with shows, dance performances, skits and tributes to famous video games, BMX bike and skateboard performances and a lip sync battle.
Tickets to Insomnia are available on the official festival website.
The expo is open daily from 4 p.m. to midnight.
https://www.arabnews.com/node/1591131/saudi-arabia
------
Saudi Shoura delegation attends Cyprus forum
November 29, 2019
NICOSIA: A Saudi Shoura Council delegation headed by Deputy Speaker Abdullah bin Salim Al-Mutani joined councils from Kuwait, Oman, Egypt and Palestine at the 13th Conference of Presidents of Parliaments of Small European States in Cyprus.
The forum highlighted the role of small European countries in developing relations with Arab countries and the Middle East, and the importance of parliamentary diplomacy in developing legislative frameworks.
Al-Mutani met Cypriot President Nikos Anastasiades on the sidelines of the conference.
Anastasiades praised the bilateral relations between Cyprus and Saudi Arabia, and said his recent visit to the Kingdom resulted in a number of agreements and memoranda of understanding.
He condemned recent acts of sabotage on the Saudi oil facilities, saying that such terrorist acts threaten global energy supplies.
The meeting was attended by Saudi Ambassador to Cyprus Khalid bin Mohammed Al-Sharif.
https://www.arabnews.com/node/1591191/saudi-arabia
------
Islamic finance becoming a global force: Report
November 29, 2019
With global assets of currently more than $2.4tn and a forecast of 7.7% compounded growth per year to reach $3.8tn by 2023, Islamic finance is becoming "a force to be reckoned with," the newly released State of the Global Islamic Economy Report 2019/20, compiled by research and advisory firm DinarStandard in partnership with the Malaysia Digital Economy Corp, notes.
It states that the industry was successfully building upon its Shariah-based principles of ethical and sustainable finance and banking to attract new clients, both Muslims and non-Muslims who are looking for more ethical ways to bank and finance projects. This process continually widens the sector's asset base.
In regional terms, Southeast Asia and nations of the Gulf Co-operation Council keep leading the industry, while West and South Asia, particularly Jordan and Pakistan, are catching up and are now among the top 10 nations for Islamic finance development in the world, according to the Islamic finance development indicator, which is part of the report and takes into account the sector's quantitative development, knowledge, governance, corporate social responsibility and awareness of Islamic finance.
The strong role of Islamic finance in Malaysia, which keeps leading the world's Islamic finance development indicator index, was underlined in 2017 as Islamic financing overtook conventional loans as the growth driver for the domestic banking system, with a 71% increase last year.
Malaysia's top scoring in the indicator index is further attributed to its strength to build an Islamic finance ecosystem as part of the country's key economic growth areas and the continuous focus on the halal economy.
Indonesia, in turn, jumped six notches from ten to four on the development index, an exponential improvement which can be mainly attributed to the establishment of the 2019-2024 Shariah economy master plan under the government of President Joko Widodo.
The report also points out that traditional Islamic finance hubs continue to grow, including in the UK, which has the largest Islamic finance industry in the OECD, while there is emerging competition from newer players including Australia and a number of Sub-Saharan African states, including Kenya and Uganda, as well as Muslim-majority Central Asian countries such as Tajikistan and Uzbekistan which are currently working on implementing new regulations to develop the sector.
A central matter is the growing importance of financial technology in the entire global financial industry and the readiness for adoption, the report continues. While Islamic finance has not kept pace with the conventional banking sector's adoption of fintech, change is happening through the development of digital banking and other fintech solutions and processes, including blockchain technology implemented by the Islamic Development Bank to develop Shariah-compliant products in order to support financial inclusion.The report also identifies opportunities for Islamic finance which are not yet completely realised. Among them is Islamic insurance, or takaful, a sector where the development of new financial products based on murabhahah and waqf would promise further growth.
Another big opportunity remains Islamic trade finance. With global trade being a $12.3tn-industry as per 2017 figures, representing 75% of global trade, total trade within the 57 member countries of the Organization of Islamic Co-operation stood at $250bn in that year. However, the Islamic trade finance industry as such was only at an estimated $186bn, reflecting substantial room for growth which could be achieved by developing standard documentation for Islamic trade finance deals and trade hubs in key regions offering progressive trade finance solutions.
A challenge remains the lack of talent in the industry which results in a competency gap, namely in Shariah expertise, innovation and product development, as well as technical Islamic finance knowledge, owing to too few specialised educational institutions in a number of Islamic countries. While this has held the industry back thus far, the increase in education initiatives has been promising, the report concludes.
—(Courtesy: Gulf Times)
https://pakobserver.net/islamic-finance-becoming-a-global-force-report/?utm_source=rss&utm_medium=rss&utm_campaign=islamic-finance-becoming-a-global-force-report
------
SG of Islamic Military Coalition for Fighting Terror meets with a US military students delegation
2019/11/28
Riyadh, Nov. 28, 2019, SPA -- Acting Secretary General of the Islamic Military Coalition for Fighting Terror (IMCFT) Major General Pilot Mohammed bin Saeed Al-Moghaidi met in Riyadh today with a US military students delegation, affiliated to Virginia military college; West Point military college and Citadel military college, accompanied by a number of senior officials of the National Council for U.S.-Arab Relations, led by the council's CEO Dr. John D. Anthony.
During the meeting, Al-Moghaidi welcomed the strategic partnership binding the IMCFT with the United States and lauded the continuing coordination efforts to combat terror and extremist thought.
The IMCFT consists of 41 member countries.
https://www.spa.gov.sa/viewfullstory.php?lang=en&newsid=2004473
------
Egyptian court jails 44 defendants in 2013 Al-Fath Mosque violence retrial
Thursday 28 Nov 2019
A Cairo criminal court on the terrorism circuit on Thursday sentenced 44 defendants to jail terms ranging between three and ten years, in a retrial on charges related to the Al-Fath Mosque clashes in Cairo in August 2013.
The court sentenced four defendants to ten-year terms, five to seven years, 32 to five years, and three to three years.
Four other defendants were acquitted of the charges.
The convicted defendants were charged with murder, attempted murder, desecrating and vandalising the mosque, endangering the public, destruction of public property, obstructing traffic, and possession of firearms and ammunition on 16 and 17 August 2013 the mosque in central Cairo, in relation to events that occurred in the aftermath of the ouster of president Mohamed Morsi.
In September 2017, a Cairo criminal court sentenced 22 of the defendants in the case to life in prison.
The court also sentenced 21 others to life in prison in absentia.
http://english.ahram.org.eg/NewsContent/1/64/356800/Egypt/Politics-/Egyptian-court-jails--defendants-in--AlFath-Mosque.aspx
------
Custodian of Two Holy Mosques condoles French President on victims of the collision of two French helicopters in Mali
2019/11/28
Riyadh, Nov. 28, 2019, SPA -- The Custodian of the Two Holy Mosques King Salman bin Abdulaziz Al Saud has sent a cable of condolence and sympathy to President Emmanuel Macron of France on the victims of the collision of two French helicopters in the Republic of Mali.
In his cable, the monarch said: "We have been informed of the news of the collision of two helicopters in the Republic of Mali, resulting in the killing a number of crews".
In his own name and on behalf of the people and government of the Kingdom of Saudi Arabia, the monarch shared pain and sorrow for this unfortunate accident with the French President and the friendly French people, expressing to the President, families of the victims and the French people, his sincere consolation and that of the people and government of the Kingdom of Saudi Arabia.
https://www.spa.gov.sa/viewfullstory.php?lang=en&newsid=2004432
------
Africa
Nigeria: Establish Shari'ah Courts in South-West, Muslims Tell Governors
25 NOVEMBER 2019
Ibadan — Muslims in the South-west region under the auspices of Muslim Ummah of South West Nigeria (MUSWEN) have called on Governors Seyi Makinde (Oyo), Gboyega Oyetola (Osun), Dapo Abiodun (Ogun), Rotimi Akeredolu (Ondo), Kayode Fayemi (Ekiti) and Babajide Sanwo-Olu (Lagos) to establish Shari'ah Courts in the region.
The Muslims said the creation of the Shari'ah Courts in the six states of the region became necessary in order to cater for the yearnings of Muslims who are in the majority.
MUSWEN made the demand yesterday in a communiqué signed by the duo of Alhaji Ishaq Kunle Sanni and Prof. Wole Abbas at the end of 4th MUSWEN General Assembly held in Ibadan themed: "Muslim Unity and Contemporary Political Challenges in Nigeria" and made available to THISDAY.
Sanni, who doubled as Chairman of the event and Abbas who is the Chairman, 4th General Assembly in the communiqué, maintained that the Shari'ah Courts when established would replace Shari'ah panels being operated presently by Muslim organisations in the region.
The organisation also insisted that institution of Hijab was sacrosanct in Islam and could not be compromised for Muslim girls and women in any part of the country, frowning at what it termed as a political lopsidedness against Muslims in the South-west and at the federal level.
The communiqué also announced the appointment of Prof. Muslih Yahya, a retired Professor of Arabic and Islamic Studies from University of Jos as the new Executive Secretary, following the expiration of the tenure of the pioneer Executive Secretary, Prof. Dawud Noibi.
The communiqué read in part: "That Shari'ah Courts should be established by governments in the South-western Nigeria in catering for the yearnings of Muslims who are in the majority to replace Shari'ah Panels being operated presently by Muslim organisations. To ensure proper administration of justice, MUSWEN advocates urgent judicial reform, taking a cue from the principle of Islamic Judicial System.
"That there have been some modest improvements in the state of the nation under the present administration. That the federal government should intensify efforts to diversify the economy of the nation. That Muslims in the country should go about demanding for their rights in accordance with the law.
"That institution of Hijab is sacrosanct in Islam and cannot be compromised for Muslim girls and women in any part of the country. That MUSWEN acknowledges the harmonious activities of the indefatigable President-General of the Nigerian Supreme Council for Islamic Affairs (NSCIA) and Sultan of Sokoto, His Eminence, Dr. Muhammad Sa'ad Abubakar CFR, mni and urges all Muslim Organisations in the South-west to cooperate with him in his efforts at piloting the affairs of Nigerian Muslim Ummah.
"That MUSWEN should champion the provision of qualitative education to teeming Muslim youths in order to reduce poverty and other acts of insecurity in the country.
"That the Ummah mourned the exit of its immediate past President, Dr. Sakariyau Babalola, and prayed Allah to forgive his shortcomings and repose his soul in eternal bliss, Aamin. The Ummah also appreciates its outgoing pioneer Executive Secretary, Prof. Dawud Noibi (OBE) who delivered a valedictory speech, for piloting the affairs of MUSWEN since inception to its current state.
"That material wealth should not be the criterion of eligibility for political office. That the Ummah frowns at political lopsidedness against the Muslims in the South-west and at the federal level. That Muslims in all political positions regardless of their party affiliation should unite to support matters relating to Islam as well as of national interest.
"That MUSWEN further reiterates its commitment to Hijab struggle not only in the South-west but throughout the country as provided for, under freedom of religion in the constitution of the Federal Republic of Nigeria. That the issue of Hijab controversy at the International School, University of Ibadan should be legitimately pursued and that the Ummah should do so within the ambits of the law.
"That following expiration of the tenure of the pioneer Executive Secretary of MUSWEN, Professor Dawud Noibi, the General Assembly ratified the appointment of Professor Muslih Yahya, a retired Professor of Arabic and Islamic Studies from University of Jos to become the new Executive Secretary effective from the date of the General Assembly.
"That the death of MUSWEN's immediate past President, Dr. S. O. Babalola calls for the appointment of a new President and other principal officers. The General Assembly gave the task to the Central Working Committee (CWC) to make recommendations to fill the vacant positions within six months."
https://allafrica.com/stories/201911250205.html
------
UNILAG Okays 30 Imams For Mosque Leadership, Management
By Saheed Salawu
Nov 29, 2019
THIRTY students of the Department of Religious Studies of the University of Lagos, last weekend, received diploma certificates in Mosque Leadership and Management with the vice chancellor, Professor Oluwatoyin Ogundipe, urging them to be good ambassadors of the institution and Islam.
Ogundipe, during the graduation ceremony, called on the graduands to positively change the society through their sermons and mosque leadership.
The vice chancellor, who was represented by the Dean, Faculty of Education, Professor Monday Ubangha, congratulated the new imams and implored them to impact positively on the larger society.
"I urge you to be good ambassadors of the University of Lagos and Islam. You are carrying the certificate of the school and you are enjoined to be good representatives of the school at all times," he said.
The coordinator of the programme, the acting head of the Department of Religious Studies, Dr Ismail Musa said: "Today, 30 students have been successfully exposed to various learning experiences, including practical demonstrations in tafsir (exegesis of the Holy Qur'an) and khutbah (sermon) delivery.
The programme was conceived as a platform for the professional training of imams and different categories of serving or intending officials of mosques.
"The feedback we obtain from the beneficiaries in terms of significant changes in their orientation and understanding of their enormous responsibilities is both impressive and encouraging. Our colleagues in the academia have also been appraising the programme since its inception," Dr Musa said.
The don, who is also the Chief Imam of the institution, said two universities had already indicated interest in adopting similar programmes based on the success story at the University of Lagos.
"We are prepared to offer mentoring services to whoever decides to build capacity of imams to be able to meet the needs of the 2lst century. We are keen on improving the quality of the programme through the identification of further needs of participants and responding to them adequately.
"One critical area of challenge is securing sponsorship for numerous qualified participants who are cannot afford the cost of the programme. I take this opportunity to call on stakeholders to recognise the need to support the programme by funding our scholarship schemes on a sustainable basis.
"Some of them have demonstrated brilliance in specific areas of their training. We have decided to recognise them today," Dr Musa stated.
Imam Gbenle AbdulWasiy emerged as the best graduating student with a cumulative GPA of 4.64. He also clinched the best prize in Arabic Grammar and Khutbah presentation, best in Principle of Mosque Management and Best in Professional Research. He was closely followed by Imam Mojeed Yahya Kolawole with CGPA of 4.21.
Delivering a lecture at the event, Mudeer of Daru-Dawah Wal-Irshad Arabic and Islamic Centre, Isolo, Sheikh Ridwani Zuglool, urged the graduands to continue to seek knowledge and keep abreast of developments in the country so as to be able to treat issues of interest in their sermons.
The chairman on the occasion, Dr Fatai Lawal, described the programme as laudable and one way of promoting peace and unity in the country.
He congratulated the graduands and urged them to make the mosque a friendly environment where people will be encouraged to seek knowledge.
In the same vein, the chairman of the Human Resources Development Centre of UNILAG, Professor Wakeel Isola, stated that the success of the programme would provide a solution path to the plethora of socio-economic problems confronting the nation as the new religious leaders would positively impact on the society.
Also, Professor M. A. Bidmus urged the new imams to further their knowledge as, according to Prophet Muhammad, knowledge is to be sought from the cradle to the grave.
He added that the mosque was designed for sustainability and the institution had provided the expertise with which they could sustain mosques in their respective areas.
Other personalities who presented goodwill messages were the Baba Adinni of Lagos and chairman of the Lagos Central Mosque Council, Sheikh AbdulHafeez Abou and head of imams, Imam Tijani Gbajabiamila, who also represented the Grand Chief Imam of Lagos State at the occasion.
https://tribuneonlineng.com/unilag-okays-30-imams-for-mosque-leadership-management/
------
Islamic group sends message of ex-govs, federal lawmakers, others
November 29, 2019
By Wale Odunsi
Muslim Rights Concern (MURIC) has reacted to the Zamfara State House of Assembly's decision to scrap payment of pensions and other allowances to all former governors, deputies, speakers and deputy speakers.
It called on former and serving elected officials to stop collecting outrageous benefits and urged federal lawmakers to enact a similar bill that will stop former public office holders from duplicating payments of pension and allowances in any form.
The director, Professor Ishaq Akintola, in a statement on Friday called for a total and comprehensive abolition of all arbitrary payments to past political office holders in the country.
Noting that Zamfara lawmakers have taken a bold step towards stopping profligacy in governance, MURIC advised lawmakers in other states to emulate Zamfara lawmakers. In particular, we charge members of the National Assembly (NASS) to lead this action.
It said: "There are several past governors in Senate who are earning mouth-watering allowances from the red chamber and still earning pension and allowances from their states as former governors.
"This is atrocious, selfish and greedy. How can Nigeria come out of its financial mess if our leaders continue to behave like this?
"MURIC throws this challenge to all former this and former that. The challenge goes to those who are currently in Senate and the House of Representatives. We want to know those who are ready to identify with the poor masses.
"We remind our lawmakers and holders of public offices, past and present, that if the Nigerian system is so loose that they feel so comfortable, the system of heaven is different. Islamic eschatological tenets affirm that all of them will render account one day before the King of Kings and Master of all masters."
https://dailypost.ng/2019/11/29/islamic-group-sends-message-of-ex-govs-federal-lawmakers-others/
------
Islamic State says behind French army helicopter crash
29.11.2019
James Tasamba
Islamic State claimed Thursday that its West African branch was responsible for a helicopter collision in northern Mali this week in which more than a dozen French soldiers were killed, said the U.S.-based SITE Intelligence Group, which monitors extremist content online.
The Islamic State in West Africa Province (ISWAP) said the helicopters collided after one of them retreated under fire from ISWAP fighters, according to SITE.
Thirteen French soldiers were killed in the incident Monday, French media reported.
French President Emmanuel Macron issued a statement, saying he "salutes with the greatest respect the memory of these soldiers -- six officers, six non-commissioned officers and one corporal who died for France in the hard fight against terrorism in the Sahel."
The soldiers were part of France's anti-terror mission in West Africa.
Since August 2014, France has deployed around 4,500 troops as part of the anti-insurgent Operation Barkhane in five West African countries: Burkina Faso, Mali, Mauritania, Niger and Chad.
It aids in the fight against militant groups in the Sahel region, especially in Mali.
Macron said Thursday he had ordered his military to assess its operations against militants in West Africa and all options are open following the deaths of its 13 soldiers in a combat mission.
"France is acting in the Sahel on everyone's behalf," French media quoted him as saying at a news conference with NATO General-Secretary Jens Stoltenberg.
"Our mission there is important. Nevertheless, the situation we face compels me today to examine all our strategic options."
https://www.aa.com.tr/en/africa/islamic-state-says-behind-french-army-helicopter-crash/1658685
------
Australia and New Zealand
New gun laws should not be linked to Christchurch Mosque attacks - Muslim group
Andrew McRae
The Islamic Womens' National Council wants the proposed second tranche of new gun legislation to stand or fall on its own merits without using the Christchurch attacks to justify it.
The group was one of those who spoke to the Parliamentary select committee reviewing the Arms Legislation Bill in Hamilton on Thursday.
The council said while the first piece of legislation banning semi-automatics was directly relevant in the deaths of the 51 people in the two mosques on 15 March, the new proposals and any other gun law changes in the future should not be tied to the Muslim community or to those who died on the day.
It said doing so would drive a wedge between the Muslim community and others, and would put Muslims at higher risk.
Its national co-ordinator Anjum Rahman said Muslims were still being targeted.
"Many people since 15th of March from a range of communities have been given heil Hitler signs. We saw a pregnant Muslim woman in a hijab last week beaten, in a restaurant, in a public place, with cameras rolling."
"If we [added] guns to the mix what might that violence have looked like?"
She said the public should have the ability to report threats against them.
"And those reports should be checked against the (gun) registry and firearms licences. If it is illegal to say offline, then it is illegal online and must be dealt with. A genuine and legitimate firearms owner would not be making these threats."
Ms Rahman acknowledged that while most gun owners were law-abiding, the greater good needed to apply.
"We know these laws will impact them in terms of more onerous requirements. We are asking that they think of the greater good, that some individual inconveniences could lead to a prevention of trauma and harm and that we are asking you as a government to ensure that the inconvenience be as minimal as possible while meeting the objectives of this bill."
The Waikato Mongrel Mob Kingdom said the new legislation was being rushed, was ill thought out and racist in its intent.
Spokesperson Louise Hutchinson said firearms prohibition orders (FPOs) would impinge on Maori customary rights, which she said were protected under the Treaty of Waitangi 1840, the Declaration of Independence of New Zealand 1835, Te Ture Whenua Maori Act 1993 and the United Nations Declaration of Indigenous Rights.
She said it allowed for Maori to gather as iwi, hapu or whanau at any given time, and brought into question what happened if someone under a prohibition order was mixing with family members with a legitimate firearm.
"Excluding a person under an FPO from engaging with his or her whanau or extended whanau is a blatant breach of Maori customary rights and indeed human rights."
A number of gun owners were given five-minute slots to let the committee know how they felt and all were opposed to gun law changes, stating they were not fit for purpose.
https://www.rnz.co.nz/news/national/404406/new-gun-laws-should-not-be-linked-to-christchurch-mosque-attacks-muslim-group
------
Forty years on, New Zealand apologises for Antarctic plane disaster
November 28, 2019
New Zealand Prime Minister Jacinda Ardern apologised on Thursday for the then-government's handling of a plane crash in Antarctica 40 years ago that took the lives of 257 people in the country's worst peacetime disaster.
On 28 November 1979, Air New Zealand flight 901 was on a sightseeing tour from Auckland when it crashed into the side of Mount Erebus, a 3,794 metre (12,448 ft) volcano near the US Antarctic research base of McMurdo Station.
Most of the 237 passengers and 20 crew killed were New Zealanders but other nationalities included Americans, Canadians, Japanese and Australians.
Originally the crash was blamed on the pilots, but following a public outcry, a Royal Commission of Inquiry was set up to investigate the disaster. It concluded the main cause of the accident was the state-owned airline's actions in reprogramming the aircraft's navigation system without advising the aircrew.
The Commission head, former justice Peter Mahon, controversially also said witnesses from Air New Zealand had conspired to give false evidence, famously describing the airline's defence as "an orchestrated litany of lies".
This led to his report being criticised by both Air New Zealand and the government.
The actions of the then government and the airline caused more pain and grief to the victims' families, Prime Minister Ardern said at a memorial service at the Government House in Auckland on Thursday.
"After forty years, on behalf of today's government, the time has come to apologise for the actions of an airline then in full state ownership; which ultimately caused the loss of the aircraft and the loss of those you loved," Ardern said in her speech.
"The pilots were not responsible for this tragedy, and I stand here today to state that again," she added.
Ardern acknowledged the findings of the Royal Commission were not accepted by the government of the day, and it was only nearly 20 years later the report was even presented in parliament.
In 2009, Air New Zealand apologised to the families of the victims for mistakes made by the airline in the aftermath of the crash, and on Thursday Air New Zealand Chairman Therese Walsh also expressed regret.
"I apologise on behalf of an airline which 40 years ago failed in its duty of care to its passengers and staff," said Walsh.
https://indianexpress.com/article/world/new-zealand-jacinda-ardern-antarctica-plane-crash-6141457/
------
3 Islamic State-inspired militants sentenced for Christmas 2016 plot in Australia
By Jack Durschlag
Three men, who were inspired by the Islamic State group, were given lengthy sentences Friday for plotting a Christmas 2016 attack in Australia's second largest city, a published report said.
The men, Ahmed Mohamed, Abdullah Chaarani and Hamza Abbas, were preparing a mass attack involving explosives and knives at Federation Square, a popular downtown restaurant and entertainment precinct in Melbourne, The Associated Press reported.
Justice Christopher Beale, seated at the Supreme Court of Victoria, said Chaarani, 29, and Mohamed, 27, must serve at least 28 years and six months in prison for their parts in the plot.
Meanwhile, Hamza Abbas, 24, who was involved in the conspiracy for a shorter period, was jailed for 22 years with a non-parole period of 16 years and six months, the AP reported.
"The stupidity of that belief was only matched by its malevolence," he added.
Self-confessed ringleader Ibrahim Abbas was sentenced last year to 24 years in prison. He served as a prosecution witness against his brother Hamza Abbas and co-conspirators Mohamed and Chaarani, the AP reported.
Last month, at a plea hearing before Beale, Mohamed and Chaarani claimed they had renounced Islamic State and had worked toward deradicalization since being arrested on Dec. 22, 2016, the report said.
At Friday's sentencing, Beale accepted the three men were on the path to rehabilitation.
This is the second terrorism conviction for Mohamed and Chaarani, who are already serving 22-year prison terms for firebombing a Shiite mosque in Melbourne just weeks before the planned Christmas attack.
The Associated Press contributed to this report.
https://www.foxnews.com/world/islamic-state-militants-sentenced-australia-plot
------
North America
Afghan peace talks may produce positive outcome in the 'near term': Top U.S. General
Thursday, 28 Nov 2019
A top U.S. General has said the Afghan talks may produce a positive outcome in the 'near term' as efforts are underway to revive negotiations which the U.S. President Donald Trump in September.
Army General Mark Milley, the chairman of the Joint Chiefs of Staff made the remarks after arriving in Afghanistan on Wednesday, according to Reuters.
"I think the chances of a positive outcome through negotiations is higher than I have seen, and I've been deeply involved in Afghanistan for 18 years," he said.
Gen. Milley further added "With a bit of luck, we'll have successful negotiations in the near term, not too distant future."
He also added that work remained to actually see a positive outcome. "A lot of time in situations like this, two steps forward one step back."
This comes as the Taliban group released two western professors and 10 Afghan soldiers nearly ten days ago after the Afghan government released three senior Haqqani Network leaders including Anas Haqqani.
The exchange of prisoners raised hopes for the revival of peace talks and intra-Afghan negotiations to find a peaceful solution to end the conflict in Afghanistan.
"We join families of Kevin King & Tim Weeks in celebrating their release from Taliban captivity. Thanks to President Ghani for his courageous support," The U.S. President Donald Trump said in a Twitter post after the release of prisoners.
He added "Let's hope this leads to more good things on the peace front like a ceasefire that will help end this long war. Proud of my team!"
President Trump called off peace talks with Taliban following a series of deadly Taliban attacks which killed several people including an American soldier in the month of September.
https://www.khaama.com/afghan-peace-talks-may-produce-positive-outcome-in-the-near-term-top-u-s-general-04414/
------
Brooklyn man arrested on terrorism charges, shared ISIS propaganda, bomb-making materials: feds
By MOLLY CRANE-NEWMAN
NOV 27, 2019
A Brooklyn man was arrested on terrorism charges Wednesday, authorities said.
Alleged ISIS member Zachary Clark, 40, is accused of encouraging U.S.-based members of the terrorist organization to carry out knife attacks in New York City and publishing detailed bomb-making instructions online, federal prosecutors said.
"The thought of plunging a sharp object into another person's flesh" is "never an excuse for abandoning jihad," Clark wrote in one encrypted chatroom.
"Knives, though certainly not the only weapon for inflicting harm upon the kuffar (non-believers), are widely available in every land and thus readily accessible."
Clark's arraignment at federal court in Manhattan was pending Wednesday.
"Today's arrest in Brooklyn is a reminder that New York City remains a top terrorism target in the United States," Police Commissioner James O'Neill said in a statement.
This is a developing story. Please check back for updates.
https://www.nydailynews.com/new-york/manhattan/ny-brooklyn-man-isis-bomb-20191127-apfvk35zdrf6rllfhzffjkpc74-story.html
------
Bolivia to renew Israel ties after rupture under Morales
November 29, 2019
Bolivia said Thursday it will restore diplomatic ties with Israel, a decade after then-President Evo Morales severed relations because of an Israeli military offensive in Gaza.
The renewal of ties with Israel was announced by interim Foreign Minister Karen Longaric as part of an overhaul of Bolivia's foreign policy following Morales' resignation this month.
Many Israeli tourists visited Bolivia before Morales cut off relations with Israel, and the hope is that they will return, Longaric said.
Israel's foreign minister, Israel Katz, welcomed the Bolivian announcement.
He said Israel's Foreign Ministry had worked for a lengthy period to restore relations.
The ouster of Bolivia's former "hostile" president, Morales, and replacement with a "friendly government" had also made it possible, Katz said.
Bolivia's interim government has also named Walter Oscar Serrate Cuellar as the new ambassador to the United States after an 11-year diplomatic rupture.
Morales, who espoused socialism, claimed victory in an Oct. 20 presidential election. But opposition protesters alleged fraud and the military turned on Morales, forcing him to resign and seek asylum in Mexico.
https://indianexpress.com/article/world/bolivia-to-renew-israel-ties-after-rupture-under-morales-6142131/
------
Three women accuse Gordon Sondland of sexual misconduct: report
November 29, 2019
Written by Neil Vigdor and Alex Traub
Three women have accused Gordon Sondland, the US ambassador to the European Union, of making unwanted sexual advances toward them years before his recent turn as a star witness at the impeachment proceedings against President Donald Trump, according to a news report.
The women shared their accounts with ProPublica and Portland Monthly, which published them online Wednesday in a joint investigative project between the nonprofit news organization and the Oregon magazine.
The publication of the allegations came exactly one week after Sondland appeared before Congress and gave what was widely viewed as damaging testimony about Trump's dealings with Ukraine and a "quid pro quo." Sondland, 62, a businessman and hotelier, contributed $1 million to Trump's inaugural committee.
The report identified the three women as Jana Solis, Natalie Sept and Nicole Vogel, who is the owner of Portland Monthly. The magazine said that Vogel was not involved in editorial decisions and that the magazine's editorial team decided independently to pursue the story.
Sept confirmed in an email Wednesday night that her account in the report was accurate. The two other women could not immediately be reached for comment, but all three told the magazine that Sondland had retaliated against them after they rejected his advances.
In an email to The New York Times on Wednesday night, Sept said that she had been "haunted by this experience — especially since seeing Sondland's confirmation as ambassador."
"I never met either of the other two women, yet each of our stories contained corroborative elements, which were recounted in the ProPublica and Portland Monthly story," she said. "I'm coming forward now so other women can tell their stories, and be believed."
Sondland disputed the women's allegations and questioned their timing in a statement posted on his personal website, saying that they were at odds with his character.
"These untrue claims of unwanted touching and kissing are concocted and, I believe, coordinated for political purposes," Sondland said. "They have no basis in fact, and I categorically deny them."
Vogel, 51, told the magazine that she approached Sondland in 2003 about investing in a magazine startup that would cover Portland's art, culture and food scenes. After dining at a local restaurant with Sondland, she said, he invited her to a nearby hotel owned by his company and tried to forcibly kiss her after asking for a hug.
Despite the episode, Vogel told the magazine, she kept a lunch meeting with Sondland, who she said put his hand on her mid-thigh as they drove to the restaurant. Later, she said, Sondland substantially changed the terms of his pledge to invest in her publication.
Gordon Sondland, Gordon Sondland sexual misconduct, who is Gordon Sondland, Gordon Sondland testimony, trump impeachment inquiry, world news, indian express
Gordon Sondland disputed the women's allegations. (AP Photo: Pablo Martinez Monsivais)
Solis, 58, told the magazine that Sondland exposed himself to her during a 2008 visit to his home in Portland, where she said he had invited her to evaluate his art collection. She accused Sondland of forcibly kissing her and climbing on top of her when she visited his penthouse apartment on another occasion, which she said caused her to fall over the back of the couch as she tried to get away from him.
Sept, 35, said Sondland tried to forcibly kiss her after a 2010 networking dinner meeting with him, which she told the magazine she had hoped would lead to a job with the state film commission.
Jim McCarthy, a spokesman for Sondland, challenged the independence of the Portland Monthly's reporting in a statement posted on Sondland's personal website addressing each of the women's accounts.
He called it "an outlandish conflict of interest" because of Vogel's position with the magazine.
The magazine said it started reporting the story in October, around the time that Sondland gave a closed-door deposition to the House Intelligence Committee in which he said there was no quid pro quo by Trump seeking to tie foreign aid for Ukraine to an investigation into the son of former Vice President Joe Biden.
Sondland later changed his testimony to say that Trump had ordered him and other top administration officials to work with Rudy Giuliani, Trump's personal lawyer, to dredge up unflattering information on Trump's political rivals from the former Soviet republic. Trump then said that he didn't know Sondland very well.
https://indianexpress.com/article/world/three-women-accuse-gordon-sondland-of-sexual-misconduct-report-6142121/
------
Donald Trump visits Afghanistan and says he reopened talks with the Taliban
November 29, 2019
President Donald Trump serves food to troops during a Thanksgiving visit to Bagram Air Field in Kabul, Afghanistan on Thursday, Nov. 28, 2019. (The New York Times: Erin Schaff)
Written by Michael Crowley
President Donald Trump paid an unannounced Thanksgiving visit to US troops in Afghanistan on Thursday and declared that he had reopened peace negotiations with the Taliban less than three months after scuttling talks in hopes of ending 18 years of war.
"The Taliban wants to make a deal, and we're meeting with them," Trump said during a meeting with Afghanistan's president, Ashraf Ghani, at the main base for US forces north of Kabul.
"We're going to stay until such time as we have a deal, or we have total victory, and they want to make a deal very badly," Trump added even as he reaffirmed his desire to reduce the US military presence to 8,600 troops, down from about 12,000 to 13,000.
Trump's sudden announcement on peace talks came at a critical moment in the United States' long, drawn-out military venture in Afghanistan, a time when the country is mired in turmoil over disputed election results and Americans at home are increasingly tired of an operation that began shortly after the Sept. 11 attacks.
The scope and prospects of any renewed negotiations remained unclear, and White House officials gave few details beyond Trump's sudden revelation. On the flight to Afghanistan, Stephanie Grisham, the White House press secretary, had insisted that the secret trip was "truly about Thanksgiving and supporting the troops" and "nothing about the peace process" with the Taliban.
The Taliban made no official comment immediately after the late-night visit and Ghani said little afterward about any peace talks.
But while the Afghan government has long demanded that the Taliban agree to a cease-fire, no evidence has emerged that the group was willing to grant one. Instead, it has said it would discuss the possibility in negotiations with Afghanistan's political leaders over the future of the country once the Americans agree to leave.
The president carried out the traditional role of feeding turkey and mashed potatoes to troops in fatigues, then dined, mingled and posed for photographs before delivering remarks celebrating the US military before about 1,500 troops in an aircraft hangar.
But his visit also had an important political dimension. Trump, who angrily called off talks with the Taliban in September just as the sides appeared close to an accord, is searching for foreign policy achievements he can celebrate on the campaign trail over the next year.
https://indianexpress.com/article/world/donald-trump-visits-afghanistan-and-says-he-reopened-talks-with-the-taliban-6142102/
------
Islamic State group affiliate claims French crash in Mali
November 28, 2019
PARIS — An Islamic State group affiliate claimed responsibility Thursday for a helicopter collision that killed 13 French soldiers earlier this week in Mali, while France said it will reassess its military operation in West and Central Africa after its deadliest toll in nearly four decades.
The Islamic State in the Greater Sahara statement, with no evidence, came almost three days after the low-flying helicopters collided on a moonless night while pursuing extremists near the border with Niger. An investigation has begun into the cause of the crash and the flight data recorders have been found.
French military spokesman Col. Frederic Barbry said the military would not comment on the claim. Shortly after the crash, Army Chief of Staff Gen. Francois Lecointre said the helicopters had been supporting French forces on the ground pursuing fighters with the IS affiliate.
A national memorial ceremony will take place Monday in Paris.
French President Emmanuel Macron told reporters that "our mission there is important, yet what we are now living in the Sahel leads us to look into all strategic options." He said the government and military will work on the issue in the coming weeks.
Macron this week defended France's largest overseas military mission, which involves 4,500 troops, saying it is aimed at enhancing France's own security and providing support to African countries.
The helicopter collision drew global attention to an emerging front for IS-linked groups as IS loses strength in its core area in Syria and Iraq. Counterterror officials have worried about the risk of fighters fleeing that region for Africa's sprawling Sahel, the arid strip south of the Sahara Desert.
Before his death this year, IS leader Abu Bakr al-Baghdadi congratulated "brothers" in Mali and neighboring Burkina Faso for pledging allegiance.
Extremist groups have been using forested areas along the poorly defended border areas of Mali, Niger and Burkina Faso to find refuge while spreading south into more populated areas. Nearly half a million people have fled their homes this year alone in once-peaceful Burkina Faso.
France has been outspoken on the need for more global support for counterterror operations in the Sahel, especially funding for the five-nation G5 Sahel counterterror force that was created two years ago.
France intervened in Mali in 2013 after extremists seized control of major towns in the north and implemented a harsh version of Islamic law. They were forced back into the desert, where they have regrouped.
A new surge in extremist attacks in Mali has killed well over 100 local troops in the past two months, with IS often claiming responsibility. The extremists loot military posts and profit from mining operations.
Public frustration in Mali over the insecurity has been directed at the French military presence as well.
The crash was France's highest military toll since 1983, when 58 paratroopers were killed in a truck bombing in Lebanon.
https://www.stripes.com/news/africa/islamic-state-group-affiliate-claims-french-crash-in-mali-1.609090
------
Mideast
Arab League Says Ready to Help Solve Lebanon Crisis
Thursday, 28 November, 2019
The Arab League expressed its willingness to help Lebanon solve its political stalemate, after weeks of mass protests and amid the country´s worst financial crisis in decades.
The office of Lebanon´s president, Michel Aoun, said he discussed the situation Thursday with the visiting Arab League assistant secretary-general, Hossam Zaki.
Lebanon´s prime minister, Saad Hariri, resigned late last month in response to nationwide protests that erupted on Oct. 17. They´re targeting the country´s entire political class.
Protesters have resorted to road closures and other tactics in an effort to pressure politicians into responding to their demands for a new government.
Aoun has not set a date for binding consultations with heads of parliamentary blocs to name a new premier.
Political factions remain deadlocked over the new Cabinet´s composition.
https://m.aawsat.com/english/home/article/2012161/arab-league-says-ready-help-solve-lebanon-crisis
------
President Erdogan decries divide in the Muslim world
28.11.2019
Turkish President Recep Tayyip Erdogan lamented divisions based on sectarianism in the Muslim world and called for unity. Addressing the sixth Religious Council meeting of the Presidency of Religious Affairs (DIB) in the capital Ankara on Thursday, Erdogan also criticized Muslim countries "seeking answers in the West."
"The fault lines among Muslims are further sharpened by the highlighting of differences in races, languages, sects and temperament," said Erdogan, who has pursued closer relations for Turkey with Muslim countries during his tenure as prime minister and president.
Noting that the Turkish nation never discriminates between the Rashidun Caliphs, referring to the 30-year reign of the first four caliphs following the death of the Prophet Muhammad, Erdogan said that Shiism and Sunnism are reflected as separate religions by some people.
Mentioning that sectarian and interest-oriented approaches have prevented Muslims from finding common ground, Erdogan stressed that an understanding that sees self-interests above the interests of the ummah has nothing to offer to Muslims.
"Unfortunately, the Islamic ummah lost the grounds of coming together, doing common business and producing common solutions to their problems. Even today, we see this deficiency in many of our issues, including Jerusalem, Palestine, anti-Islamism, anti-terrorism, justice and human rights," he said, referring to the importance of consultation.
Touching on Turkey's effort toward the interests of Muslims, Erdogan said Turkey takes actions against attacks on things sacred to Muslims and to ensure that the Islamic world takes a common position as well as fights for gaining self-confidence among Muslims.
"Muslims look for solutions in the Western capitals for their problems, instead of reaching out to their Muslim brothers and sisters for help," he lamented.
https://www.dailysabah.com/politics/2019/11/28/president-erdogan-decries-divide-in-the-muslim-world
------
Esther Iverem: Israel Creates Terror Atmosphere for Palestinians, Arab-Israelis
Fri Nov 29, 2019
TEHRAN (FNA)- Eshter Iverem, independent author and journalist, says the Israeli regime by its policies such as the Nation State Law and demolition of Palestinians homes makes people feel unsafe, to keep them under its control.
Speaking in an exclusive interview with FNA, Iverem said, "It is disappointing that the international bodies like the United Nations have not been able to rein in Israel in terms of its blatant war crimes against the Arab communities […] Every time an international court or other international bodies condemn Israel, Israel and the United States ignore it."
Esther Iverem is an artist, author and independent journalist. She is also a radio producer and host. Before working as an independent writer and artist, she was a staff writer for The Washington Post, New York Newsday and the New York Times.
Below is the full text of the interview:
Q: How does the Israeli regime, which is not accepted by many people in the occupied lands, impose control over people?
A: Israel's policy is to make an atmosphere to make the people feel unsafe. If you look at policies such as Nation State Law, the demolition of Palestinians homes, the violation of religious spaces and the murder of people on the fence line in Gaza, you see an atmosphere of terror is created for Palestinians and even Arab-Israelis. When you have a system which demolishes home and disfranchises people from their rights and properties, it means this policy continues to exist.
Q: How can people stop the regime's spreading terror atmosphere?
A: Unless the people inside the occupied lands are educated and provided with more information about the brutality of the regime, the regime continues to make them feel unsafe and commit genocide against Palestinians. The Jewish people also have to come to this understanding that the Arabs and Muslims are no aliens to that land, and they have the right to feel safe. It is disappointing that the international bodies like the United Nations have not been able to rein in Israel in terms of its blatant war crimes against the Arab communities. What is happening on the fence line with Gaza, demolition of homes, violation of voting rights, all of them are violation of international laws; but, Every time an international court or other international bodies condemn Israel, Israel and the United States ignore it. If such crimes take place in the countries which the United States has in its regime change list, the United States will be up in arms talking about the violations of the human rights, but it ignores the violations of human rights by the Israeli regime.
Q: Considering such moves by the Israeli regime, do you believe it can be called democratic?
A: Israeli is a neo-fascist entity and surveillance is a part of their wrongs. The regime uses that to marginalize people, especially at a voting season to decrease the number of people from Arab communities who would go out to vote against the regime in power. There is the same story in the United States, where people from the Republican Party and affiliated with Trump's Administration try to prevent African Americans and other people of color from voting. The US Administration has exported this attitude to the Israeli regime. This indicates the regime can never be democratic.
https://en.farsnews.com/newstext.aspx?nn=13980829000740
------
Envoy: Wednesday Attack on Najaf Consulate Aimed at Darkening Iran-Iraq Ties
Thu Nov 28, 2019
TEHRAN (FNA)- Iranian Ambassador to Iraq Iraj Masjedi said that the strikers at the country's consulate in Najaf planned to destroy relations between Tehran and Baghdad, stressing that the two nations' bonds are too strong to be undermined by such moves.
"Last night, a number of hooligans attacked Iran's mission in Najaf and after confronting with security forces and harming some of them, entered the consulate and set the place on fire," Masjedi said on Thursday.
"All our diplomats are now sound and safe," he said, adding that however "heavy damages have been inflicted on the consulate building and it cannot be used anymore".
"The purpose of those behind this incident is to destroy relations between Iran and Iraq," Masjedi stressed.
"They are foreign mercenaries who are encouraged by TV channels of enemies; they seek nothing but to hamper brotherly relations between Iran and Iraq," said the envoy, noting, "This is not what the Iraqi people and government want."
Staff at the Iranian consulate were evacuated safely before the attack in the holy city. Local authorities imposed a curfew following the incident, state media reported.
According to local media, 47 Iraqi security staff have been injured during the attack. The Saudi-led media Al-Arabiya, activities of which is illegal in Iraq, has broadcast the attack in a live report from its beginning which raises the probability of a pre-planned attack.
A total of 100 demonstrators were injured during the clashes between security forces and demonstrators near the Iranian consulate in Najaf.
Sumeria News channel reported protesters had set roadblocks on Karbala-Najaf highway by accumulating used tires of cars or trucks.
The Iranian foreign ministry condemned the Wednesday attack against the country's consulate in the holy city of Najaf, stressing the need for the Iraqi government to protect the diplomatic missions and punish the rioters.
Foreign Ministry Spokesman Seyed Abbas Mousavi reminded the Iraqi government that it is in charge of providing security of diplomatic sites in that country, adding that Iran has conveyed its protest at the incident to Baghdad via the Iraqi ambassador to Tehran.
https://en.farsnews.com/newstext.aspx?nn=13980907000655
------
Top Commander: Iranian Navy Source of Stability in Persian Gulf
Thu Nov 28, 2019
TEHRAN (FNA)- Chief of Staff of the Iranian Armed Forces Major General Mohammad Hossein Baqeri underlined the important role played by the country's Naval forces in the establishment of security and stability in the Persian Gulf.
General Baqeri said on Thursday that the deterrence power of the Iranian Navy brings stability and security to the Persian Gulf, Strait of Hormuz, and Sea of Oman.
He congratulated the National Navy Day in Iran, saying that forty years after the 1979 Islamic Revolution, friends and foes admit that the main source of the stability and security of the Persian Gulf, Strait of Hormuz, and Sea of Oman is the active presence of the Iranian Navy.
Undoubtedly, the power of the Iranian Navy at the international waters in fact is the fruit of the will of all personnel of the Navy, General Baqeri said.
He added that the Iranian Navy is powerful enough to give a crashing response to the enemies and all ill-wishers.
The Iranian Navy transferred its main headquarters from the capital city of Tehran to the port city of Bandar Abbas, on the shores of the Persian Gulf waters.
Rear Admiral Khanzadi inaugurated the new headquarters in Bandar Abbas last Thursday.
He said that the plan to move the Navy's headquarters started some years ago with the guidance of the Islamic Revolution Leader Ayatollah Khamenei so that the force would be closer to operational zones.
"A significant part of Navy HQ elements will be transferred (to Bandar Abbas) and the naval forces will be led with an increased focus," he said.
Rear Admiral Khanzadi said that this transfer "will increase the speed of operations and will allow the Navy to have more focus on waters".
He noted that the measure will have various cultural, social, and economic effects in the region and will turn into a great capacity for the people of Hormozgan province.
Capacities of the Navy will be accessible to local people which is a great development, Rear Admiral Khanzadi said.
The Iranian Navy has in recent years along with the Islamic Revolution Guards Corps (IRGC) Navy strengthened its capabilities and was equipped with different home-made weapons.
https://en.farsnews.com/newstext.aspx?nn=13980907000673
------
Turkey 'may stall NATO defense plan over Syria dispute'
MENEKSE TOKYAY
November 29, 2019
ANKARA: Ankara is reportedly blocking the approval of a NATO defense plan for the alliance's eastern flank until it gets the green light over its security concerns in Syria.
Ahead of NATO's 70th anniversary summit in London next week, Turkey has allegedly asked for more political support in its fight against the Syrian Kurdish YPG militia in northern Syria in return for backing NATO's latest defense plan for the Baltics and Poland, according to a Reuters report.
Turkey's NATO envoy has reportedly been instructed to stall the plan until the alliance formally recognizes the YPG as terrorists. Ankara considers YPG an offshoot of the outlawed Kurdistan Workers' Party (PKK) — listed by the US, EU and Turkey as a terror group.
The military plan, aimed at defending Estonia, Latvia, Lithuania and Poland against aggression from Russia, can only be approved unanimously by all 29 member states. Turkey's strategic location on the eastern flank of the alliance makes its approval even more critical because of its proximity to the Middle East and Russia.
According to NATO's founding treaty, an attack against one ally is considered an attack against all, and will trigger the alliance's military strategies for collective defense.
Karol Wasilewski, an analyst at the Warsaw-based Polish Institute of International Affairs, said that the move is unlikely to make Central European countries sympathetic toward Turkey.
"Secondly, this may be interpreted as a another sign that Turkey is unwilling to contribute to the deterrence policy against Russia and it wants to remain neutral, yet the stakes are located in a different sphere — Turkey wants to get help when it comes to the safe zone in Syria," he told Arab News.
"Turkey will be less and less trusted in NATO and might be seen as Russia's Trojan horse within the alliance," Wasilewski said.
The latest move is seen as a tactic by the Turkish side to break its international isolation on its cross-border military operation into Syria. But it is unclear whether this will pay off or whether this is a new sign of division within NATO if no compromise is reached.
The alliance is going through a difficult period. NATO has been the focal point of criticism by US President Donald Trump due to the allies' spending on defense, while French President Emmanuel Macron recently argued that the alliance was experiencing "brain death."
According to Wasilewski, the matter is highly problematic in Poland since up till now Polish decision-makers could argue that Turkey had done nothing that ran counter to Polish interests. The two countries have diplomatic relations dating back more than 600 years.
"And now it wouldn't stick anymore," he said, adding that in Europe this will most probably be seen as Turkey's endeavor to transfer domestic problems to NATO.
For Madalina Sisu Vicari, an expert on geopolitics and Turkey, if the report is true then by holding up the upgraded plan of defense for Poland and the Baltic states, Turkey is attempting to build leverage that could enable it to achieve two objectives. The first is noninterference in its Syrian military operation from other NATO members, especially from those who have criticized it (France, Germany); the second is legitimization of the operation as Ankara seeks to obtain NATO's acknowledgement of the YPG as "terrorists."
"Whether Ankara will achieve both objectives, and to what extent, is hard to say now, but nevertheless it may get minimization of the public criticism expressed so far by some NATO members, especially European ones, who are mostly concerned and affected by the Syrian operation," she told Arab News.
Macron, President Recep Tayyip Erdogan, German Chancellor Angela Merkel and British Prime Minister Boris Johnson are expected to meet on the sidelines of the NATO summit next week to discuss the latest developments in Syria.
https://www.arabnews.com/node/1591111/middle-east
------
France warns Turkey over Syria military action ahead of talks with European leaders
29 November 2019
MENEKSE TOKYAY ANKARA: French President Emmanuel Macron on Thursday issued a stern warning to Turkey over its military action in Syria ahead of a crunch meeting on the issue with European leaders next week.
Speaking prior to talks between Turkey, Germany, France and the UK, due to take place on the sidelines of the Dec. 3-4 NATO summit, Macron said: "Turkey cannot expect solidarity from NATO allies and at the same time launch an offensive in Syria."
Macron's comment came during a press conference with NATO chief Jens Stoltenberg in Paris and follows his claim earlier this month that the alliance was experiencing "brain death" over its ability to ensure collective defense.
It also comes in the wake of Turkey's reported willingness to offer its support for NATO's defense plan for the Baltics and Poland on condition of the organization's formal recognition of the Syrian Kurdish YPG militia as a terror group.
At a time of high tensions in the NATO alliance over Turkey's offensive in Syria last month, the four-way meeting in London will bring Turkish President Recep Tayyip Erdogan, German Chancellor Angela Merkel, British Prime Minister Boris Johnson and Macron around the table.
Turkey's military incursion into northeastern Syria, the return of Syrian refugees, the establishment of a planned 30-km-deep safe zone and the subsequent political process, are subjects expected to rank high on the agenda for discussion.
Marc Pierini, the EU's former ambassador to Syria and Turkey and currently a visiting scholar at Carnegie Europe, said that Ankara's recent initiatives in Syria and its stated position over rebels and refugees had run counter to European stances and interests.
At a time of high tensions in the NATO alliance, the four-way meeting in London will bring leaders from Turkey, Germany, France and the UK around the table.
"The meeting in London will be one opportunity to clarify positions. But the issue is bigger than just three EU countries," he told Arab News.
During an interview with the French magazine Paris Match on Thursday, Syrian President Bashar Assad said that the presence of French forces in Syria was an occupation, and he called on the French government to respect international law.
"The support provided to terrorists is still continued by Turkey, the US, Britain and France," Assad said.
Ozgur Unluhisarcikli, the Ankara office director of think tank the German Marshall Fund of the US, said that despite stark differences on certain issues, Turkey and Europe still needed to work together on key matters such as migration and the return of foreign fighters.
"The quadripartite platform will be an opportunity to voice mutual concerns but also renew their commitment to cooperate on these issues. As a general rule, talking is better than not talking, particularly for allies with mutual interests but diverging views," he added.
Last month, Erdogan accused Western governments, especially NATO and the EU, of "siding with terrorists" over their NATO ally.
Although the Turkish incursion into Syria was paused with two separate cease-fires with Moscow and Washington, Ankara has warned it would resume its operation if the Syrian Kurdish YPG militia did not entirely withdraw from the agreed zone along Turkish border.
In the meantime, Turkey will deport 11 Daesh suspects to France in early December as part of a 2014 agreement between the two countries. Accordingly, French nationals who are arrested by Turkish authorities are deported back to France in coordination with French authorities.
https://www.arabnews.com/node/1591101/middle-east
------
Israel demolishes homes of alleged Palestinian killers
November 29, 2019
HEBRON: Israel on Thursday demolished the West Bank homes of four Palestinians accused of a deadly attack, sparking clashes with stone-throwing protesters, the army and an AFP journalist said.
The houses in the village of Beit Kahil near Hebron in the occupied West Bank were home to men who were "part of the squad that carried out the stabbing attack" which killed an off-duty soldier in August, the army said.
Clashes broke out during the demolitions, the army said, with Palestinians hurling "rocks and burnt tires at troops."
"In response, troops used riot dispersal means."
Residents stared at piles of concrete after bulldozers reduced one house to rubble, an AFP photographer said.
After the demolitions one Palestinian died in a car accident at a junction near Hebron.
Palestinian official news agency Wafa said his car was hit by an Israeli military bulldozer, but the army said he drove into the stationary vehicle.
"A Palestinian vehicle deviated off the road and hit the (Israeli military) vehicle, which had stopped on the side of the road," an army spokeswoman told AFP, without confirming the death.
Wafa named the dead man as Mohammed Al-Nawajaa, saying his son was also injured in the incident.
In August, off-duty soldier Israeli Dvir Sorek was ambushed and killed, and his body was dumped near a settlement in the West Bank. He had been studying at a Jewish seminary in the settlement.
Israel routinely demolishes the homes of those accused of carrying out attacks.
It argues that such measures act as a deterrent, but critics say it amounts to collective punishment.
Meanwhile, Palestinian protests along the Gaza-Israel border have been canceled for the third week, organizers said on Thursday, amid declining turnout and fears of a fresh conflict in the Gaza Strip.
A statement by the organizing committee said it had decided to postpone this Friday's marches to "avoid giving an opportunity to the Zionist enemy (Israel)" and due to "the very dangerous security conditions" after a deadly flareup in Gaza earlier this month.
It argued that Israeli Prime Minister Benjamin Netanyahu was looking for an opportunity to divert attention after being indicted on corruption charges and a new conflict with Gaza could help him do so.
The protests, which began in March 2018 and are backed by Gaza's Islamist rulers Hamas, initially attracted tens of thousands of people weekly, but numbers have declined dramatically.
The rallies were canceled the two previous weeks after a flare-up between Israel and a Islamic Jihad (IJ) militant group in Gaza.
Israel assassinated a senior IJ leader in the strip on Nov. 12, sparking a two-day flareup in which 35 Palestinians were killed. No Israelis died.
Since the protests began in March 2018 at least 346 Palestinians have been killed by Israeli fire in Gaza, more than half during the border demonstrations.
Protesters are calling for Israel to lift its decade-long blockade of Gaza as well as for a return to their ancestral homes now inside Israel.
Israel has fought three wars with Hamas and allied groups in Gaza since 2008.
https://www.arabnews.com/node/1591091/middle-east
------
Israel's drone industry becomes global force
28/11/2019
In a fierce battle for market share against world superpowers China and the United States, Israel's drone industry likes to say it has a secret weapon -- military experience.
Unmanned aerial vehicles (UAVs) are used daily by Israel's military in and around its borders, whether dropping tear-gas canisters on Palestinian demonstrators, monitoring Hezbollah positions in Lebanon or striking Islamic Jihad bases in Gaza.
The senior echelons of the country's industry are populated by former military and intelligence officials, many of whom became founders or engineers in local startups.
Israel's first rudimentary drone dates back to 1969: it was a remote-controlled plane with an attached camera to spy on neighbouring rival Egypt.
Drones became more common, though not much more technically advanced, during the war in Lebanon from 1978.
But half a century later, tiny Israel is now a global force in the multibillion-dollar UAV industry, competing against China and the US.
It trades on its unique selling point: enemies at its borders and therefore plenty of opportunities to test and fine-tune its UAVs.
Ronen Nadir was a military commander specialising in missile development before establishing his company, BlueBird Aero Systems.
It sells combat drones across the globe, including the WanderB VTol that takes off and lands vertically like a helicopter, but has wings to improve speed.
These drones can take off and land in a town, a jungle or the deck of a boat.
"You will not believe it, but it took only four and a half months" from the first concept, scribbled on paper, "until this UAV was demonstrated to the first customer," Nadir said.
Hundreds have been sold since October 2018, he added.
- Real-time feedback -
"When an American company develops a mini-UAV and then it is used by the Marines in Iraq or Afghanistan, it takes a few years from the development of the system until it is used on the battlefield," Nadir said.
"In Israel all the people (in the industry) are ex-army soldiers, officers. The engineers who work on the development of the systems are actually operating the UAVs in the (military) reserves, in actual service. Then they come back to the office with actual and real-time feedback."
Development cycles are therefore short, he said, ensuring that Israel is at the "cutting edge" of the industry.
One study often cited by local authorities put Israel as the world's largest exporter of drones, but it dates to 2013.
Since then, the US has vastly increased exports of its Global Hawk, a higher cost and performance drone, as well as the Predator. These have sold particularly in European markets, pushing the country ahead of its ally Israel.
China, which offers cheaper, lower-quality solutions, is perhaps also ahead of Israel now, often selling to countries the Jewish state has no relations with, said Philip Finnegan, director of corporate analysis at the American firm Teal Group.
"The difficulty with ranking Israeli companies in the market is that they are very secretive over what they are selling and to who, as are the Chinese," he said.
Teal estimates the global drone market to be worth around $12 billion in 2019, with that expected number to double in a decade.
"They (Israel) are certainly in the top three, if not the top two."
- 'A stage ahead' -
At a recent conference for Israeli drones at Airport City, an industrial zone close to the airport in Tel Aviv, a discreet guest sneaked in: Nadav Argaman, head of the Shin Bet internal intelligence services.
His message was clear: "We buy Israeli technologies before anything else."
The technology, he said, helped allow Israeli civilians to live "comfortable daily lives, without knowing what happens under the surface" -– or in this case above it.
"In order to be alive we have always to be a stage ahead, including in drones," said Zohar Dvir, the former deputy police chief reported to have inspired the Adam Sandler film "You Don't Mess with the Zohan".
Today Dvir is a board member at Gold Drone, which specialises in agricultural drones.
Even here, military expertise comes in handy.
"The biggest place for opportunity now is agriculture," said Ben Alfi from BWR Robotics, which specialises in agricultural drones.
He says drones play an increasingly pivotal role in revolutionising agricultural practice, whether it be spraying, harvesting or pollination.
When it comes to "cost-effective, efficient" engineering, he said, "Israel is the best".
Though not, he cautioned, in creating more traditional vehicles.
"The last vehicle we tried to make was 40 years ago," he said, referring to the infamously bad Israeli-made Sussita cars from the 1960s.
"It was made out of fibreglass and could be eaten by a camel."
https://www.france24.com/en/20191128-israel-s-drone-industry-becomes-global-force
------
Iranian Speaker's Advisor: Triangle of US, Saudi Arabia, Israel Targeting Iraq's Democracy
Thu Nov 28, 2019
TEHRAN (FNA)- Senior Advisor to the Iranian Parliament Speaker Hossein Amir Abdollahian warned that Washington, Riyadh and Tel Aviv have hatched plots to take democracy and independence from Iraq.
Amir Abdollahian made the remarks on his twitter page on Thursday, reacting to the recent unrests in Iraq.
"The triangle formed by the US, Saudi Arabia and Israel regime is now targeting democracy, independence and sovereignty in Iraq," he added.
"The ISIL disguised in the clothes of Iraqi people and under the full support of embassies of the US and Saudi Arabia in Baghdad is set to disrespect [the holy cities of] Karbala and Najaf," Amir Abdollahian wrote.
"For no doubt, enemies' tricks will backfire on themselves," he underlined.
In relevant remarks on Saturday, the leader of Iraq's Asaib Ahl al-Haq group, which is part of the country's Popular Mobilization Forces or Hashd al-Sha'abi, said Washington and Tel Aviv were members of "a third party" behind many deaths during the recent unrest.
Qais al-Khazali told Dijlah TV, an Amman-based Iraqi satellite television channel, that the committee set up to investigate the violence is merely an administrative body, and thus cannot identify the "third party" responsible for the killing of demonstrators.
He stressed that "Israel and US have a great role in the third party".
Also, on Wednesday, a senior Iraqi legislator claimed that the UAE and Kuwait, supported by the US, had sent huge sums to their affiliates in Iraq in a bid to derail protest rallies in the country and overthrow its government.
"The Persian Gulf littoral states and the US have sent money to Iraq to support the organizers of the protest rallies," Mohammad al-Baldawi, a representative of al-Fatah coalition in the Iraqi parliament, told the Arabic-language Baghdad al-Youm news website on Wednesday.
"These countries are behind the operations to kill the activists and demonstrators and they aim to topple the Iraqi government," he added.
Al-Baldawi noted that certain Persian Gulf Arab littoral states, spearheaded by the UAE and Kuwait, and supported by the US send huge amounts of money to the political figures and mercenaries in Iraq to shift the course of demonstrations towards their objectives through stirring chaos in the country.
https://en.farsnews.com/newstext.aspx?nn=13980907000331
------
Europe
Bloomberg should never apologize for NYPD's 'Muslim mapping' work
November 28, 2019
Predictably, Michael Bloomberg is facing calls for him to renounce yet more of his mayoral legacy. The latest: Activists want a mea culpa for the NYPD's "Muslim mapping" project.
By rights, Bloomy should boast about cops' anti-terror work on his watch. But the Democratic primaries are all about appeasing the party's ideological extremes.
Bloomberg needs to "disavow this program," insists Muslim Advocates chief Farhana Khera. He should "see the error of his ways and apologize," says Ahmed Mohamed of the Council on American-Islamic Relations (an unindicted co-conspirator in the Holy Land Foundation terror-financing case). Columns at The Atlantic and Daily Beast also blasted the program.
Bloomberg became mayor soon after 9/11, when the jihadi threat was a huge worry. His NYPD innovated on a host of fronts to successfully prevent new terror attacks; surveillance programs contributed heavily to that success.
Critics claim Muslims were "victims," yet how? Basically, cops (mainly Muslims themselves) merely went to Muslim areas to become more familiar with them and gain background info for future investigations or leads on possible attacks.
Despite three lawsuits, no court ever found fault with the program, and the NYPD never admitted to any wrongdoing, even in settlements pushed by Mayor Bill de Blasio after he won on a cop-bashing platform.
In one case, a judge found plaintiffs failed to show "they were targeted solely because of their religion." The "more likely explanation for the surveillance was to locate budding terrorist conspiracies," he said. And even if plaintiffs could show "injury," it couldn't be "fairly" traced to the city.
Years after 9/11, Police Commissioner Bill Bratton scrapped the program, finding other ways to achieve the same goals. But the NYPD under Bloomberg and Commissioner Ray Kelly kept New York safe at a critical time — without crossing any lines.
It's cause to be proud, not sorry.
https://nypost.com/2019/11/28/bloomberg-should-never-apologize-for-nypds-muslim-mapping-work/
------
In Albania, a race to save lives on ground that keeps shaking
November 29, 2019
Written by Marc Santora
With each piece of rubble pulled off the twisted pile of steel and concrete that used to be a four-story home, Luca Martino and his rescue dog, Foglia, were called into action.
"If there is room for air to come to the outside, the dog can smell it," Martino, a rescue worker from Italy, said during a break Thursday. "If someone is alive, Foglia will bark."
On this day, the dog had not barked.
It was slow, arduous work, repeated at numerous sites in Albania in the aftermath of a 6.4-magnitude earthquake that struck Tuesday, leaving at least 47 people dead. And in this Adriatic coast city, where many buildings were leveled and many more were dangerously damaged, the rescuers knew that hopes were fading.
"There is still time," Martino said. Nine members of the Lala family had been in the home when it collapsed. Four had died, one had already been rescued, but four remained beneath the rubble.
But as precious minutes ticked by, the work came to a sudden halt. The earth was shaking again. The site needed to be cleared. Across the city, people poured out of their homes and businesses — again.
Officially, this time it was a 5.1-magnitude quake, but in a city where nerves are already frayed and poorly constructed buildings pose a threat even when the earth is not moving, the number hardly mattered. The helpless feeling was the same.
Later that day, the rescuers working with Martino pulled one more body out of the wreckage, leaving three still missing beneath the rubble.
At the city's main hospital, engineers urgently looked over structural blueprints and rushed visitors out of the administration headquarters, saying it was not safe. When the earth shook around noon, people in the emergency room briefly fled to wait out the shaking.
Jadranka Mihaljevic, head of engineering at the seismology department of Montenegro's Institute for Hydrometeorology and Seismology, said the magnitude of the aftershocks was not unexpected.
"This is a big earthquake, and it's not surprising, at least not in our region," she said.
Driving through the city, which was founded in the seventh century B.C. but where many buildings were hastily thrown up during the country's wild and often lawless transition to democracy in the 1990s, felt like touring an urban battlefield.
The buildings bore deep cracks and homes were flattened. On corner after corner, red-and-white tape marked a place that was deemed unsafe to walk or stay.
The official death toll climbed as the authorities slowly shifted from rescue operations to recovery efforts. Officials said 680 people had sought medical attention, including 35 who remained hospitalized, and one who was airlifted to Italy.
Several thousand people whose homes were destroyed were being sheltered in hotels and other locations. But tens of thousands more were living in places that might be structurally unsound.
"Nothing is safe," said Haki Kaja, 73, who had been standing a block from where a newer six-story apartment complex had collapsed, killing several people. "What we fear the most are these buildings that were constructed in the 1990s without proper engineers."
Beyond immediate survival, the government is focused on finding lodging for people left homeless, but Endri Fuga, a spokesman for Prime Minister Edi Rama, said he understood the concerns of those who worried about the safety of their buildings.
"This is something we have never dealt with before," he said, adding that when the last major quake hit in 1979, there was only a fraction of the current development.
The government has too few people to inspect all the damaged buildings, he said, and is asking for international help.
"And what we are getting is tremor after tremor, making it even more difficult," he said.
In one of Europe's poorest countries, where corruption and crime remain endemic, the earthquake comes at a politically volatile moment.
Since February, protesters have taken to the streets in often violent demonstrations, calling for the resignation of Rama's government. In May, several thousand demonstrators converged on the main government building in Tirana, the capital, and hurled gasoline bombs and fireworks. Police responded with tear gas.
At the same time, the country's future has been clouded by the recent decision by the European Union to delay any discussion on the country's admission to the bloc of nations.
Rama has warned that the delay threatened to upend stability in the Balkans, especially if Albanian nationalists see it as a moment to push for the country to form a union with Kosovo, whose 2008 declaration of independence from Serbia is not recognized by Serbia.
But for the moment, the earthquake seems to have brought unity to a region better known for fragmentation. Serbia and Greece, two countries with historic political differences with Albania, were among the first to send rescue crews, followed quickly by other neighboring nations.
Those teams, joined with Albanian emergency workers who were going on three days of working with little rest, rescued 48 people trapped in the debris, most of them in the first 24 hours.
Their heroic efforts, however, did not change the suffering of those who lost everything.
The scene at Tirana's main trauma hospital was one of agony. Relatives pleaded for their loved ones to be airlifted out of the country for treatment, even as some of those recovering from injuries remained unaware of the extent of their loss.
"My sister thinks her daughter and her husband are in the hospital," said Drita Cakoni. "She is asking to see her daughter. But her daughter is dead. So is her husband. She has lost everything."
Because her sister's heart is weak, the doctors asked Cakoni not to say anything for at least a few weeks.
On the radio, there were appeals from frightened citizens who feared that their homes could collapse. One elderly woman described how her family had been spending their nights in their car, afraid that the complex in the small town of Golem, in Kavaja municipality, would not stand much longer.
"There have been no inspections," she told a broadcaster.
Along with very real concerns and the ongoing danger brought by aftershocks, the government was also contending with false stories stirring fear on social media.
Rama issued a warning to those spreading lies on social media.
"I will be forced to intervene to close them down up until the end of this emergency situation if they continue to publish fake news causing panic," he said.
After an earlier earthquake in September, a Facebook page posted a false warning that another quake was imminent, sending tens of thousands of people in the capital into a frenzy, causing them to leave their homes and drive to open spaces.
People hardly needed fake news to be put on edge. The past three days have done the job.
Most people here are familiar with a slogan from Communist times: "The earthquakes rocked the mountains but not the Albanian heart." Thursday marked the anniversary of Albania's independence from Ottoman rule in 1912, but the flags strung up on the streets of Durres for the celebration were lowered to half-staff and the day was declared one of mourning.
But even as hopes of finding more survivors dimmed, at least one family got some good news along with the bad.
Altin Celshima, 40, escaped his home with his family, but when he got to a hotel where his nephew and his nephew's grandparents were staying, he found the seven-story building had collapsed.
"It was terrible, like a living hell," he said.
The grandparents were located within six hours — the grandmother still alive, the grandfather struck dead by a falling beam. But it wasn't until some panicked 20 hours after the quake, with help from Albanian and Greek rescuers, that the nephew was finally pulled out, alive.
"It was a miracle he survived," Celshima said.
https://indianexpress.com/article/world/in-albania-a-race-to-save-lives-on-ground-that-keeps-shaking-6142126/
------
Crusaders rugby team reveal their new logo after Christchurch mosque terror attacks forced them to change their brand
29 November 2019
The Crusaders will keep their contentious name but the Super Rugby team has overhauled its logo after a review of the Christchurch mosque shootings.
The champion Kiwi franchise undertook an extensive and costly branding review, launched in June following the March 15 shootings in which 51 people lost their lives.
Critics of the team's name and logo said it was linked too closely with the medieval 'crusades', a war between Christians and Muslims that spanned hundreds of years.
Crusaders bosses announced on Friday that the name wouldn't change but that the 25-year-old logo - of a medieval knight and sword - would be replaced by a Maori motif.
A joint statement between the Crusaders and NZ Rugby said their final decision was made after canvassing a broad range of the community and rugby stakeholders.
'While the main focus of the brand review was not the club's name, it did consider whether alternative name options would more accurately reflect the club's identity and story,' the statement said.
'Ultimately, it was decided that no name better represented the club's commitment to living its values - crusading for social improvement and inclusiveness, and crusading with heart for our community and for each other - than 'Crusaders' did.'
The team will play under a 'holding brand' in 2020, with the new red and black logo to be introduced in 2021.
Crusaders chief executive Colin Mansbridge has repeatedly stressed the terrorist attack and the team should not be linked although the franchise had moved to quickly distance itself from the medieval definition of the name.
The issue sparked considerable debate in New Zealand, with the Muslim community having said it would support any change to the team's name, although it had been reluctant to force the issue.
The team's horses, which have traditionally performed pre-game laps of the ground for home games ridden by 'knights', will remain but the riders will wear a different garb.
Coach Scott Robertson's team recovered from the shock of the shootings to go on and win a third straight title in July. It was their 10th crown, seven more than any other team.
https://www.dailymail.co.uk/news/article-7737383/Crusaders-rugby-team-reveal-new-logo-Christchurch-mosque-terror-attacks.html
------
Mosque vandal jailed for five 'hate attacks'
by Matthew Cooper
November 29, 2019
A VANDAL who attacked five mosques with a sledgehammer and golf club in a religiously aggravated wrecking spree has been jailed for almost four years.
Arman Rezazadeh sparked a major hate crime inquiry supported by anti-terror police on March 21 by causing at least £11,500 worth of damage to the buildings in north Birmingham.
He was sentenced to three years and nine months after Judge Michael Chambers QC said the attacks had prompted 'horror and terror'.
Rezazadeh, 34, had been drinking to celebrate the Iranian new year before arming himself and smashing windows and doors at the five facilities.
He handed himself in and initially confessed. After it became clear he had serious mental health issues, he was not arrested and instead was committed into the care of a hospital.
However, passing sentence at Birmingham crown court, Judge Chambers said his illness was self-induced by cannabis use and that his crimes had offended against the city's history of religious tolerance.
He added: 'You were motivated by your religious hatred, you being of the Shia faith and the mosques being Sunni Muslim mosques.
'The harm in this case has been extremely substantial — the impact on the local and wider Muslim community has been huge. This is on any view a religious hate crime.'
Rezazadeh, of Handsworth, pleaded guilty last month to five counts of religiously aggravated criminal damage.
https://www.metro.news/mosque-vandal-jailed-for-five-hate-attacks/1813875/
------
One killed, 3 injured during incident in Georgia's Muslim-populated Pankisi gorge
27 Nov 2019
Tbilisi,Georgia
One individual has been killed and three others injured during an armed incident in the village of Sakobiani, Georgia's Muslim-populated Pankisi Gorge earlier today.
Locals say that the incident took place between the Mutoshvili and Kavtarashvili families.
The deceased is Visuri Mutoshvili, netgazeti reports.
The injured men are now at Telavi hospital, in eastern Georgia.
Several locals told the media that an incident that took place several months ago led to the confrontation earlier today, while others cite the controversies related to building a hydropower plant in Pankisi as the reason of the conflict.
They say that one family supported the construction of the hydro power plant, while another opposed it.
Launching the construction of Khadori 3 hydro power plant in the village of Birkiani, Pankisi gorge sparked rallies and a confrontation between locals and police back in April 2019.
https://agenda.ge/en/news/2019/3228
------
Johnson accused of racial stereotyping with view on Nigerians
Thu 28 Nov 2019
Boris Johnson has been accused of pushing racial stereotypes over a newly-unearthed column written during his time as editor of the Spectator in which he said young people had "an almost Nigerian interest in money".
The prime minister has been under pressure in recent months over a series of comments he made during his career as a columnist, writer and editor, including referring to black people as "piccaninnies" with "watermelon smiles" and arguing Islam has caused the Muslim world to be "literally centuries behind" the west.
In another column which has come to light, Johnson blamed single mothers for "producing a generation of ill-raised, ignorant, aggressive and illegitimate children", saying that social housing was an enticement for them to become pregnant.
The new columns emerged after the chancellor, Sajid Javid, refused seven times to say whether he would use the terms "bank robber" or "letterbox" to describe Muslim women who wear a burqa, as Johnson did last year.
The Conservative party leader wrote in a diary piece for the Independent on Sunday in October 1999 that Tony Blair had made people feel good about getting rich.
He added: "All the young people I know – ie those under 30 – are just as avaricious as we flinty Thatcherite yuppies of the 1980s in fact, they have an almost Nigerian interest in money and gadgets of all kinds."
Weyman Bennett, the co-convenor of Stand Up to Racism, described Johnson's words as "deeply racist and offensive". He told the Guardian: "This can be added to the 'piccaninnies' and 'watermelon smiles', the abject refusal to properly apologise and change his behaviour around racism.
"Boris Johnson is unfit to be a prime minister that represents the entire United Kingdom. He had demonstrated this by lying and falsely representing black, Asian and different communities inside this country.
"This is deeply offensive and unforgivable and should not be ignored and he should be held to account."
In the column on single mothers, published in the Spectator in 1995, Johnson wrote that "uppity and irresponsible women" had a "natural desire to have babies" and that ways must be found to ensure they married.
Arguing that social housing available to single mothers was "an enticement", Johnson said "no government – and certainly no Labour government – will have the courage to make the cuts in the safety net of the viciousness required to provide anything like such a deterrent".
Labour said the comments followed a pattern of sexist and misogynistic words and behaviour by Johnson. Shami Chakrabarti, the shadow attorney general, said: "These unearthed comments further reveal Boris Johnson's contempt for women and families, as he hypocritically attacks what he appallingly describes as 'illegitimate' children."
In the past 24 hours both major parties have been criticised for their handling of race issues. The Muslim Council of Britain accused the Conservative party of "denial, dismissal and deceit" over the issue of Islamophobia on Tuesday, saying the party had a "blind spot for this type of racism". On Wednesday Johnson apologised for Islamophobia within the Conservative party.
The Labour leader Jeremy Corbyn has also struggled to move on from an intervention by the chief rabbi, Ephraim Mirvis, who said the party had not done enough to tackle antisemitism.
• This article was amended on 28 November 2019. The original version suggested Johnson accused the Labour government in 1995 of lacking the courage to cut social housing available to single mothers. He actually said "no government – and certainly no Labour government" would have the courage to make such a cut. This has been corrected.
https://www.theguardian.com/politics/2019/nov/28/johnson-accused-of-racial-stereotyping-with-view-on-nigerians
------
URL: https://www.newageislam.com/islamic-world-news/new-nrc-assam-how-many/d/120394
New Age Islam, Islam Online, Islamic Website, African Muslim News, Arab World News, South Asia News, Indian Muslim News, World Muslim News, Women in Islam, Islamic Feminism, Arab Women, Women In Arab, Islamophobia in America, Muslim Women in West, Islam Women and Feminism