New Age Islam News Bureau
6 Oct 2012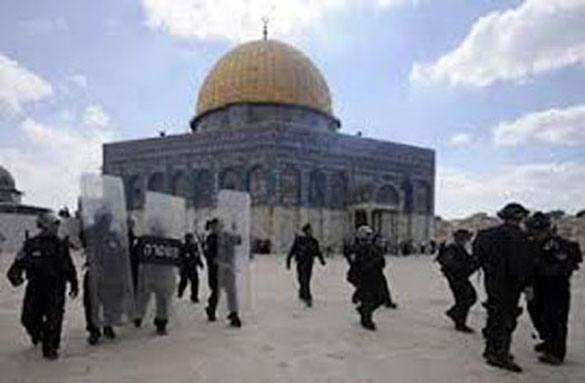 Mideast Asia
• New Clashes at Site in Jerusalem Holy to Both Muslims and Jews
• Turkey returns fire after new Syrian shelling: Report
• Turkey warns Syria more strikes would be fatal mistake
• Turkish ex-president re-buried after remains tested for poison
• Netanyahu may dissolve parliament in mid-October
• Turkey Detains 2 in Connection With Killings in Libya
Arab World
• Islamic Leaders Urge Muslims to Engage Other Faiths: International Islamic University Malaysia
• Rebels Say West's Inaction Is Pushing Syrians to Extremism
• Egypt Hard-line Islamist Party Heals Rift, for Now
• Sadin, Kaaba key keeper keeping tradition alive
• Syrian warplanes pound Homs, activists say
• Thousands in Syria call for 'weapons, not words'
• Syrian rebels down helicopter gunship: NGO
• Al Qaeda local wing claims responsibility for Iraq bombings
• In biggest protest, Jordanian Muslims demand change
• Iraq: Roadside Bombs Kill 5 Including Soldier
• Syrian Forces Attack Rebel Stronghold near Palace
• Arab World Institute honours poet Al-Juraifani
North America
• St. Louis Digital Billboards to Educate Public about Prophet Muhammad
• Washington rejected US embassy's request for plane in Libya
• Haqqani ties to Afghan insider attacks possible: US
• After violent protests worldwide, American Muslims take peaceful approach
• US defence chief Leon Panetta says Hamid Karzai should thank allies
• CAIR Director to Take Part in Multi faith Service for Burned Ohio Mosque
• Suspected arsonist faces charges over mosque burning
• US, Pakistan discuss steps to deal with improvised explosive devices threats
• U.S. waived counter-terror conditions for aid to Pakistan
• First movie on Bin Laden killing soon
India
• India Inc to Kashmir: Forget past, make up for lost time
• Haryana khap seeks to build India-Pak ties
• Indian sailors taken hostage by Somali pirates appeal for release
Pakistan
• Try temple vandals under anti-terror laws, government watchdog suggests
• Destroyed by terrorists, three schools see light of day
• Pakistani city with Guru Nanak link to get holy tag
• Girl accuses Frontier Corps of abducting her father, Baloch
• 'Had my mother been alive, I would have never converted'
• Two NATO containers torched in Mastung
• UN body's visit gave positive message to world: Khar
• Police, Hindu community give contradicting statements over minority persecution
• Pak Parliamentary Panel Slams Interior Ministry for Delay in Visa Pact with India
• PPP announces rally in Hyderabad to retort nationalists
• Ansar Burney comes looking for kin of girl in Pakistan jail
• Police arrest 7 terrorists, foil plot to storm Karachi central jail
• Pro-minority mullah kidnapped
• Ex-Pak PM Gilani named as accused in ephedrine scandal
• Imran says Waziristan people to provide security; March crosses Rikhi
• Floods killed 422 people, destroyed 275,000 houses: NDMA
• 'Disparities in education levels and class cause marriages to fall apart'
• Pakistan happy to accept Dr Aafia if she serves sentence here: Malik
• LeJ's Karachi chief and six others arrested in search operation
• Imran Khan leads US drone protest in Pakistan
Europe
• Nazism to 'Salafism': Islamists Threaten Germany
• Abu Hamza extradited to US after UK ruling
• Five terrorism suspects extradited from UK to US
• 15 arrested in UK for bid to kill Lt Gen Brar
• Russia extends Tajik base lease to curb militant threat
• French Police Kill One in Raid Linked to Jewish Market Attack
• Germany: Man Charged as Spy for Syria
Africa
• Radical Islamist Killed Three in Bomb Attacks on Nigeria Beer Gardens
• Ethiopia Muslims protest against interference, to boycott vote
• Nigeria graft watchdog jails 2 for demanding bribes
• Maghreb leaders reassure Europe over Arab Spring
South Asia
• Bangladesh youth delegation to visit India
• Attack in Ramu premeditated: PM Sheikh Hasina
• Bangladeshi Lutfur Rahman among 100 leading British
• 2 Bangladeshis win bronze
Southeast Asia
• Malaysian Couple Charged With Beating, Scalding and Exploiting Indonesian Maid
• Indonesia: Firebrand cleric transferred to another Prison
• Philippines defies church to push family planning
Compiled by New Age Islam News Bureau
Photo: New Clashes at Site in Jerusalem Holy to Both Muslims and Jews
URL: https://www.newageislam.com/islamic-world-news/new-age-islam-news-bureau/new-clashes-at-site-in-jerusalem-holy-to-both-muslims-and-jews/d/8901
-----------
Mideast Asia
New Clashes at Site in Jerusalem Holy to Both Muslims and Jews
By JODI RUDOREN
October 6, 2012
JERUSALEM — Two Israeli police officers were slightly injured in a clash at a holy site in Jerusalem that erupted during a demonstration after Friday Prayer, and one Arab protester was arrested.
The protest occurred several days after a Jewish hard-liner was accused of breaking the ban against Jews praying at the fiercely contested site, called the Temple Mount by Jews and the Noble Sanctuary by Muslims.
Hundreds of Muslims emerged from Al Aksa Mosque on Friday chanting slogans against Jewish extremists and throwing stones at police officers, according to witnesses and the authorities. Micky Rosenfeld, a police spokesman, said officers "dispersed the rioters with stun grenades," though journalists on the scene said tear gas was also deployed.
Mr. Rosenfeld said that one man, an Arab citizen of Israel, was arrested on suspicion of attempting to stab a police officer, and that the police expected to make further "arrests in the coming days of those who were involved in the disturbances."
Religious Jews revere the site as the location of their ancient temples; for Muslims, it is the third holiest site in the world. The second Palestinian intifada, or uprising, was set off in 2000 by a visit to the site by Ariel Sharon, then the Likud Party leader.
Since Israel captured East Jerusalem during the 1967 war, the compound has been operated by the Waqf, the Muslim religious endowment, with security provided by Israel. Jews are allowed to visit the site, except on Fridays, but not to pray there.
The friction on Friday appears to have been tied a visit there on Tuesday by about 500 Jews. During that visit, Moshe Feiglin, a right-wing activist who frequently visits the site, was arrested after he laid on the ground, against police orders, Mr. Rosenfeld said.
On Wednesday, five Israeli Arabs were arrested on suspicion of attempting to attack visiting Jews, Mr. Rosenfeld said; one Jew was also arrested that day for not following police orders to leave as the Arabs approached.
Khaled Abu Aker and Isabel Kershner contributed reporting.
http://www.nytimes.com/2012/10/06/world/middleeast/new-clashes-at-site-in-jerusalem-
-----------
Turkey returns fire after new Syrian shelling: Report
Oct 6, 2012
ANKARA: The Turkish army early on Saturday returned fire after a new round of shelling from Syria hit the border province of Hatay, the Anatolia news agency reported.
No casualties were reported, the agency said.
The incident on Saturday happened in the small Turkish village of Guvecci, near the border with Syria, when a mortar fell in a rural area. It came from across the border in Syria in a region where fighting has taken place between rebels and the Syrian army, Anatolia said.
The latest exchange came three days after Syrian shelling killed five Turkish nationals in another border town, Akcakale, triggering retaliatory fire and ratcheting up the tense relations between the neighbours.
http://timesofindia.indiatimes.com/world/europe/Turkey-returns-fire-after-new-Syrian-shelling-Report/articleshow/16697191.cms
-----------
Turkey warns Syria more strikes would be fatal mistake
Oct 06 2012
Istanbul : Turkey's prime minister said on Friday his country did not want war but warned Syria not to make a "fatal mistake" by testing its resolve, and its army retaliated for a third day running after more mortar rounds from Syria landed on its soil.
In a belligerent speech to a crowd in Istanbul, Turkish Prime Minister Tayyip Erdogan warned Syrian President Bashar al-Assad that Turkey would not shy away from war if provoked.
The speech followed a Syrian mortar barrage on a town in southeast Turkey that killed five people on Wednesday.
Full report at:
http://www.indianexpress.com/news/turkey-warns-syria-more-strikes-would-be-fatal-mistake/1012866/
-----------
Turkish ex-president re-buried after remains tested for poison
October 6, 2012
ISTANBUL: Forensic tests on the exhumed body of former Turkish President Turgut Ozal have yielded useful material for an investigation into allegations he was murdered, a government minister said.
The remains of Ozal, who led Turkey out of military rule in the 1980s and drove far-reaching economic reform, were reburied on Friday after two days of tests. Ozal died in an Ankara hospital of heart failure while in office in April 1993 at the age of 65. Relatives and associates voiced suspicions he had been poisoned.
Full report at:
http://www.dailytimes.com.pk/default.asp?page=2012\10\06\story_6-10-2012_pg4_6
-----------
Netanyahu may dissolve parliament in mid-October
October 6, 2012
JERUSALEM: Israeli Prime Minister Benjamin Netanyahu will decide before parliament reconvenes on October 15 on whether to seek a snap election, a government official said on Friday.
Citing growing friction among Netanyahu's allies, including disputes with Defence Minister Ehud Barak, Israeli media has said elections might be held in February, eight months ahead of schedule. The official, who spoke on condition of anonymity, said Netanyahu would make a decision before the middle of the month on whether to dissolve the reconvened parliament or get ministers to agree to austerity measures for next year's budget. "If it's possible to agree to another responsible budget he (Netanyahu) prefers that. But if due to the political situation this proves not to be feasible, then he will choose an early election," the official said.
Full report at:
http://www.dailytimes.com.pk/default.asp?page=2012\10\06\story_6-10-2012_pg4_2
-----------
Turkey Detains 2 in Connection With Killings in Libya
By SCOTT SHANE and TIM ARANGO
October 6, 2012
WASHINGTON — American officials confirmed Turkish news reports on Friday that two Tunisian men had been detained in Turkey in connection with the killing of Ambassador J. Christopher Stevens and three other Americans in the attack on a United States diplomatic post in Libya on Sept. 11.
But the officials said they were awaiting more information from the Turkish authorities, and it remained unclear whether the two were considered to be suspects or witnesses in the violent attack in Benghazi, which fell on the 11th anniversary of the 2001 terrorist attacks.
Kanal D, a private Turkish television network, said the two were stopped at Ataturk Airport in Istanbul on Wednesday as they tried to enter the country using false passports.
Full report at:
http://www.nytimes.com/2012/10/06/world/europe/turkey-detains-2-tunisians-in-
-------
Arab World
Islamic Leaders Urge Muslims to Engage Other Faiths: International Islamic University Malaysia
6 October 2012
Muslims have all the potential to engage in dialogue with other faith communities and they should do it effectively in order to bring about communal harmony and strengthen global peace and stability, said Professor Zaleha Kamaruddin, rector of International Islamic University Malaysia (IIUM).
She made her remarks yesterday while addressing an international symposium on the significance of Custodian of the Two Holy Mosques King Abdullah's Interreligious and Intercultural Dialogue Initiative. The initiative was organized by the Madinah Islamic University in association with IIUM.
Kamaruddin commended King Abdullah's initiative, saying it would remove misconceptions among the followers of different faiths and culture and promote peaceful coexistence among them.
"Islam is a peaceful religion and it was sent as a blessing to all mankind. We Muslims should address other faith communities with respect and open dialogue with them." Dr. Bachir Soualhi, director of international promotion and scholarships at IIUM and one of the organizers, said the symposium called for enhancing ways to strengthen King Abdullah's dialogue initiative by establishing more TV channels and websites and holding more seminars and conferences.
"Since this initiative has come from the holy land, it will receive the support of all Muslims and will have a big impact." Soualhi stressed the need for popularizing the initiative.
"All religions call for peace and tolerance. The problem is with the followers of these religions who have misunderstood their religious teachings of tolerance, the problem comes from followers who have misunderstood the teachings. So the dialogue message should reach the grassroots level," he added.
The symposium also called for greater cooperation and coordination among the various interfaith and intercultural initiatives launched by different countries including Turkey, Egypt and the US.
"All these forums have a common agenda and work in a coordinated manner to have greater impact," Soualhi said.
He said the symposium was timely as it was held at a time when Muslims were protesting against an anti-Islam film and cartoons that abused Prophet Muhammad (peace be upon him). It has resulted in the death of about 60 people. The participants discussed this issue in detail and stressed that Muslims should be taught how to respond to provocations in a rational manner.
Soualhi commended the Madinah Islamic University for selecting Malaysia for the conference.
"Malaysia is one of the most peaceful nations in the world. One nation and one Malaysia is its slogan. It is a model for communal harmony," he said, adding that the country offers a good platform for interfaith dialogue.
Data Seri Jamil Khir bin Baharom, a minister at the prime minister's department, opened the symposium.
"Bringing people of different civilizations and cultures together on common grounds of mutual understanding and appreciation is a noble objective that we should all champion and spare no effort to realize," Baharom said.
"We have to find ways and means of educating people of different civilizations and cultures on the urgency and importance of dialogue for better understanding and cooperation."
The Malaysian minister said the symposium would contribute to building strong foundations for a greater understanding among the diverse civilizations, cultures and people.
"This peaceful and productive coexistence is not implausible as their roots and foundations lay at the heart of all religions," the minister added. "I shall vehemently stress that Muslims need to champion the mission of mercy to mankind and pull together their efforts and resources to set a global role model to all mankind."
"We need to work together for a global impact that will advance the cause of brotherly and sincere dialogue between the followers of religions and civilizations.
Dr. Muhammad Al-Oqla, president of the Madinah Islamic University, said the king's initiative was aimed at overcoming the obstacles of mistrust and conflict that threaten world peace and stability. It also works on building bridges of communication and love among civilizations to ensure understanding and cooperation among nations.
Dr. Abdul-Aziz Berghout, deputy rector of IIUM hoped that the recommendations and resolutions of the symposium would further activate the king's initiative. More than 400 delegates took part in the symposium, which saw presentations by nine keynote speakers. The symposium was successful in discussing the principles and framework for dialogue.
Dr. Yousuf Rahath, who is doing a post-doctoral research at IIUM commended King Abdullah's dialogue initiative saying it would play a significant role in bringing different faith communities closer at this time of anti-Islam and anti-Muslim campaigns.
"It should be popularized by using all possible means to have a greater impact. This dialogue idea should not remain in the academic level," he added.
http://www.arabnews.com/islamic-leaders-urge-muslims-engage-other-faiths
----------
Rebels Say West's Inaction Is Pushing Syrians to Extremism
By C. J. CHIVERS
October 6, 2012
SAMAS, Syria — Majed al-Muhammad, the commander of a Syrian antigovernment fighting group, slammed his hand on his desk. "Doesn't America have satellites?" he asked, almost shouting. "Can't it see what is happening?"
A retired Syrian Army medic, Mr. Muhammad had reached the rank of sergeant major in the military he now fights against. He said he had never been a member of a party, and loathed jihadists and terrorists.
But he offered a warning to the West now commonly heard among fighters seeking the overthrow of President Bashar al-Assad: The Syrian people are being radicalized by a combination of a grinding conflict and their belief that they have been abandoned by a watching world.
Full report at:
http://www.nytimes.com/2012/10/06/world/middleeast/rebels-say-wests-inaction-is-
-----------
Egypt Hard-line Islamist Party Heals Rift, for Now
October 6, 2012
CAIRO (AP) — Spokesmen for a party representing Egypt's ultraconservative Islamists say a leadership dispute that threatened to break up the group, the country's second-largest political bloc, has been resolved.
The Al-Nour Party rocketed out of nowhere after Egypt's 2011 uprising to take 25 percent of the seats in last year's parliamentary elections, just behind the Muslim Brotherhood. But a schism erupted last month when some political leaders tried to shake off the control of clerics.
Full report at:
http://www.nytimes.com/aponline/2012/10/06/world/middleeast/ap-ml-egypt-islamist-
-----------
Sadin, Kaaba key keeper keeping tradition alive
6 October 2012
Since Prophet Muhammad (peace be upon him) handed over the key to the Kaaba to Othman bin Talha, the prophet's companion's lineage sons have been inheriting it and the title Sadin of the Kaaba until today.
The Sadin is the keeper of the Kaaba's key.
"Sadins are originally members of the Al-Shaibi family whose history can be traced to pre-Islamic period," said Sadin Nizar Al-Shaibi.
The family's history in key keeping goes back to the days of Prophet Ibrahim, peace be upon him, according to Al-Shaibi.
Full report at:
http://www.arabnews.com/sadin-kaaba-key-keeper-keeping-tradition-alive
---------
Syrian warplanes pound Homs, activists say
Oct 5, 2012
BEIRUT: Syrian warplanes and artillery pounded the central city of Homs on Friday, subjecting the rebel stronghold to its heaviest bombardment in months, activists said.
The reported tank and mortar shelling as well as airstrikes come alongside a push by government force on another front, the embattled northern city of Aleppo.
The stepped-up pace of government attacks on Syrian cities suggests that the Damascus regime's forces have not been distracted by escalating tensions with its northern neighbour, Turkey. Ankara's parliament on Thursday authorized cross-border military operations after a Syrian shell killed five civilians on Turkish territory the day before.
Full report at:
http://timesofindia.indiatimes.com/world/middle-east/Syrian-warplanes-pound-Homs-activists-say/articleshow/16686423.cms
-----------
Thousands in Syria call for 'weapons, not words'
October 05, 2012
Thousands of people demonstrated across Syria on Friday despite ongoing violence, calling for the arming of the rebel Free Syrian Army and condemning the international community's inaction, monitors reported.
In Hama city, protests were held in several districts despite the
deployment of security forces, who arrested 20 demonstrators, the Syrian Observatory for Human Rights said.
Full report at:
http://www.hindustantimes.com/world-news/RestOfAsia/Thousands-in-Syria-call-for-weapons-not-words/Article1-940374.aspx
-----------
Syrian rebels down helicopter gunship: NGO
October 05, 2012
Syrian rebels downed a helicopter gunship on Friday in eastern Damascus province, home to some of the rebel Free Syrian Army's fiercest and best organised battalions, a monitoring group said.
"It emerged that the rebels downed a helicopter gunship over the town of Saqba in the
Eastern Ghuta area," said the Syrian Observatory for Human Rights.
Full report at:
http://www.hindustantimes.com/world-news/RestOfAsia/Syrian-rebels-down-helicopter-gunship-NGO/Article1-940391.aspx
-----------
Al Qaeda local wing claims responsibility for Iraq bombings
October 6, 2012
ABU DHABI: Al Qaeda's Iraqi wing, the Islamic State of Iraq, claimed responsibility on Friday for coordinated bomb attacks that killed more than 32 people across the country last Sunday.
In a message posted on a website used by terror groups around the world, the group said it had launched the attacks on several targets as part of its campaign against the government.
Al Qaeda's local wing said it aimed to hit government offices and security and military centres as part of a response to what the Iraqi government was doing to its Sunni brothers in prisons, without being specific.
Full report at:
http://www.dailytimes.com.pk/default.asp?page=2012\10\06\story_6-10-2012_pg7_4
-----------
In biggest protest, Jordanian Muslims demand change
October 6, 2012
AMMAN: Thousands of Jordanian Muslims marched on Friday in the largest demonstration since Arab Spring-inspired protests erupted last year, calling on King Abdullah to accelerate democratic reforms.
At least 15,000 protesters from across the country flocked to the main street leading to the Husseini mosque in downtown Amman after Friday prayers and chanted: "Listen Abdullah, our demands are legitimate" and "People want to reform the regime".
Hundreds of young bearded men also chanted: "We are free men, not slaves" and "Freedom...Freedom", while others carried placards or banners denouncing corruption and the pervasive role of the security apparatus in daily life.
Full report at:
http://www.dailytimes.com.pk/default.asp?page=2012\10\06\story_6-10-2012_pg7_12
-----------
Iraq: Roadside Bombs Kill 5 Including Soldier
October 6, 2012
BAGHDAD (AP) — Iraqi authorities say roadside bombs have killed five people in and near Baghdad.
Police officials say that the first explosion went off around noon on Saturday, targeting an Iraqi army patrol in the Sunni town of Taji just north of the capital, killing one soldier and wounding three others.
Full report at:
http://www.nytimes.com/aponline/2012/10/06/world/middleeast/ap-ml-iraq.html?hp&gwh=EBA0B10B8EF3C235CA85B9F5EA04A655
-----------
Syrian Forces Attack Rebel Stronghold Near Palace
By ANNE BARNARD
October 6, 2012
BEIRUT, Lebanon — A large armored contingent of Syria's elite Republican Guard stormed a western Damascus suburb near the presidential palace on Friday, residents and antigovernment activists said, bringing intense combat with insurgents unusually close to the doorstep of the embattled Syrian leadership.
Hundreds of residents fled the fighting, which followed days of shelling by government forces after a three-month truce collapsed. Home to hundreds of Guard members and their families, the suburb extends to within a mile of the palace, the residence of President Bashar al-Assad, which overlooks the capital.
Full report at:
http://www.nytimes.com/2012/10/07/world/middleeast/syria.html?ref=world&gwh=61112935CF53881EB74EAE445FED9369
-----------
Arab World Institute honours poet Al-Juraifani
6 October 2012
The Arab World Institute in Paris today is honouring Saudi poet Ibrahim Al-Juraifani as part of a ceremony the institute is holding to celebrate its 25th anniversary.
Saudi Ambassador to France Mohammed bin Ismail Al Al-Sheikh and the Saudi delegate to the UNESCO Ziyad Al-Durais were expected to attend the ceremony.
President of United Writers of Tunisia Muhammad Badawi, Lebanese journalist Gorge Raji and Egyptian writer Osama Al-Khaleel are also expected to attend.
Participants will present critical working papers on Al-Juraifani's works during the ceremony, which will also include several cultural activities, critical discussions, recitation of poems, short music shows and an art exhibition of a number of artists who produced more than 20 paintings based on Al-Juraifani's poems. They are Nawal Al-Ajmi from Kuwait, Ukadi Matar from Bahrain and Pascal Masoud and Ahlam Abbas from Lebanon.
Full report at:
http://www.arabnews.com/arab-world-institute-honors-poet-al-juraifani
-------
North America
St. Louis Digital Billboards to Educate Public About Prophet Muhammad
10/5/12
(ST. LOUIS, MO, 10/5/12) -- The St. Louis chapter of the Council on American-Islamic Relations (CAIR-St. Louis) has launched a digital billboard campaign to educate residents of Missouri and Southern Illinois about the legacy of Islam's Prophet Muhammad.
CAIR's billboard campaign was prompted by clips an anti-Islam film published on the Internet that sparked violent protests in the Middle East and across the Muslim world. The billboards are designed to direct the public to accurate and balanced information about the Prophet Muhammad.
Through its educational campaign, CAIR-St. Louis will distribute 1,000 complimentary copies of the award-winning PBS documentary "Muhammad: Legacy of a Prophet." The billboards will include the number (636) 686-0650 and an email (legacy@cair-stlouis.com) at which anyone can call or email to ask questions about Islam or the Prophet Muhammad or to order the DVD.
"The violent reaction to the anti-Islam film that has spread across the world is not what the Prophet Muhammad, peace be upon him, taught or would have wanted," said CAIR-St. Louis Executive Director Faizan Syed. "He was insulted in his life much worse than in this film and he reacted by forgiving others. Through this campaign we hope to show the true legacy of this great man and to clear up myths and misconceptions that many people unfortunately hold today."
"We want our fellow Americans to know that the Prophet Muhammad (peace be upon him) was a man who stood for justice, mercy and compassion, and taught Muslims to do the same," said Mufti Asif Umar, Imam at the Islamic Foundation of Greater St. Louis. "It is personally troubling to me to see his honor being slandered in this recent video. However our reaction as American Muslims is to invite our neighbors to learn about his legacy and take this as an opportunity for positive outreach."
CAIR-St. Louis is a chapter of America's largest Muslim civil liberties and advocacy organization. Its mission is to enhance the understanding of Islam, encourage dialogue, protect civil liberties, empower American Muslims, and build coalitions that promote justice and mutual understanding.
-----------
Washington rejected US embassy's request for plane in Libya
October 6, 2012
WASHINGTON: State Department officials in May denied a request from the US Embassy in Tripoli to allow a security team to continue using an official US DC-3 aircraft, suggesting they could charter a plane instead, an unclassified email obtained by Reuters shows.
The email dated May 3, carrying the subject line "Termination of Tripoli DC-3 Support", was copied to Christopher Stevens, the US ambassador to Libya who was killed with three other Americans in an attack on the Benghazi mission on September 11 this year.
Full report at:
http://www.dailytimes.com.pk/default.asp?page=2012\10\06\story_6-10-2012_pg7_3
-----------
Haqqani ties to Afghan insider attacks possible: US
October 6, 2012
KABUL: The Haqqani insurgent network, allegedly based in Pakistan and with ties to Al Qaeda, is suspected of being a driving force behind a significant number of the "insider" attacks by Afghan forces that have killed or wounded more than 130 US and allied troops this year, American officials say.
Until now, officials had said the attacks seemed to stem either from personal grievances against the allies or from Taliban infiltration. The Taliban have publicly claimed to be orchestrating the campaign to subvert the so-called US-Afghan alliance.
Full report at:
http://dawn.com/2012/10/06/haqqani-ties-to-afghan-insider-attacks-possible-us/
-----------
After violent protests worldwide, American Muslims take peaceful approach
Sadef Ali Kully
October 6, 2012
Following the release of a low-quality, poorly made video, which was disrespected the Holy Prophet (pbuh), Muslims, mostly in Libya, Egypt, Pakistan, Iran, Indonesia went on a protesting spree. Most of the protests were violent. In Libya, a protest which led to an attack that allegedly killed US Ambassador Chris Stevens and then later after some more Muslim countries expressed their outrage, back in Pakistan; tyres were burned, people were beaten, and a few killed.
Full report at:
http://dawn.com/2012/10/05/after-violent-protests-worldwide-american-muslims-take-peaceful-approach/
-----------
US defense chief Leon Panetta says Hamid Karzai should thank allies
Oct 6, 2012
LIMA: Defense secretary Leon Panetta lashed back at Afghan President Hamid Karzai on Friday, saying Afghanistan's leader should say thank you now and then to the allied military forces fighting and dying in his country, rather than criticizing them.
Panetta was responding to Karzai's complaints Thursday that the US is failing to go after militants based in Pakistan, and instead is concentrating on the insurgents in Afghanistan.
"We have made progress in Afghanistan because there are men and women in uniform who have been willing to fight and die for Afghanistan's sovereignty," Panetta snapped, as he spoke with reporters traveling with him to South America.
Full report at:
http://timesofindia.indiatimes.com/world/us/US-defense-chief-Leon-Panetta-says-Hamid-Karzai-should-thank-allies/articleshow/16694245.cms
-----------
CAIR Director to Take Part in Multifaith Service for Burned Ohio Mosque
10/5/12
(WASHINGTON, D.C., 10/5/12) – On Sunday, October 7, CAIR National Executive Director Nihad Awad will take part in a multifaith prayer service in support of the Islamic Center of Greater Toledo, which was damaged in an arson attack on September 30.
-----------
Suspected arsonist faces charges over mosque burning
By David Ariosto
October 4th, 2012
(CNN) – Authorities transported a man suspected of igniting a blaze in a suburban Toledo mosque back to Ohio, after he is believed to have traveled to Indiana following the attack - the latest in a series of actions eliciting fear in Muslim communities.
Randolph T. Linn was arrested Tuesday in the northern Indiana city of Fort Wayne, less than 15 miles west of the Ohio border, after he allegedly set fire to the mosque's second-floor prayer room, police said Thursday.
Full report at:
http://religion.blogs.cnn.com/2012/10/04/suspected-arsonist-faces-charges-over-mosque-burning/
-----------
US, Pakistan discuss steps to deal with improvised explosive devices threats
Oct 6, 2012
WASHINGTON: The US and Pakistan have agreed to work together for improving their efforts to combat the threat posed by improvised explosive devices (IEDs) in the Af-Pak region.
During a meeting of the US and Pakistan Convene Law Enforcement and Counterterrorism Working Group yesterday, the two countries discussed means to disrupt illicit networks that supply the components and financing for IEDs in Pakistan and Afghanistan.
Full report at:
http://timesofindia.indiatimes.com/world/us/US-Pakistan-discuss-steps-to-deal-with- ---------
---------
U.S. waived counter-terror conditions for aid to Pakistan, new official report states
PRAVEEN SWAMI
Oct 06 2012
The decision was made consistent with U.S. national security interests, says State Department
The U.S. State Department has waived legal requirements that made the multi-billion dollar aid to Pakistan contingent on its cooperation in counter-terrorism, ending nuclear proliferation and building democratic institutions, a newly released report from the Congressional Research Service has revealed.
"In mid-August 2012," its authors Susan Epstein and Alan Kronstadt said, "the State Department quietly notified Congress of its intention to cite U.S. national security provisions in waiving two certification requirements that placed conditions on U.S. assistance to Pakistan."
Full report at:
http://www.thehindu.com/news/international/us-waived-counterterror-conditions-for-aid-to-pakistan-new-official-report-states/article3969662.ece
---------
First movie on Bin Laden killing soon
Oct 06 2012
The first movie depicting raid by U.S. special forces to kill world's most wanted terrorist, Osama bin Laden, will hit the American television airways on November 4, 48 hours before the presidential polls.
Titled Seal Team Six, the movie made by National Geographic Channel is all set for opening on November 4, more than a month before the theatrical opening of the much awaited film by Oscar-winning director Kathryn Bigelow Zero Dark Thirty.
Full report at:
http://www.thehindu.com/arts/cinema/first-movie-on-bin-laden-killing-soon/article3969733.ece
---------
India
India Inc to Kashmir: Forget past, make up for lost time
Randeep Singh Nandal
Oct 6, 2012
SRINAGAR: Congress general secretary Rahul Gandhi, India Inc honchos Ratan Tata, Kumaramangalam Birla, Deepak Parekh, Rajiv Bajaj, Ashok Reddy and CM Omar Abdullah, all in one frame. As a line-up it doesn't get better. But talking to the great and good of Srinagar, India Inc did some plain speaking. For Kashmir to progress, it needs to forget the past and move in sync with the rest of the country.
"I often hear about the difficulties faced by Kashmiris, except there are parts of the country where people face even greater problems than in Kashmir. This is your state and you need to forget the past and try and make up for the time lost," said one CEO. This sentiment set the tone. There were no big announcements of investment.
Full report at:
http://timesofindia.indiatimes.com/india/India-Inc-to-Kashmir-Forget-past-make-up-for-lost-time/articleshow/16692066.cms
-----------
Haryana khap seeks to build India-Pak ties
Oct 6, 2012
ROHTAK: Having got a bad name for their unlawful social diktats, Haryana's khap panchayats, as kangaroo courts are known in villages across the state, are now working to change their image and work towards improvement of India-Pakistan ties.
The Gulia khap, which is active in 24 villages of the Jhajjar region, about 40 km from the national capital, is going to felicitate six human and civil rights activists of Pakistan in collaboration with the group Sailor Relief Fund (SRF) for their "outstanding efforts" in the social sector at the International Sadhbhawana Samaroh.
Full report at:
http://timesofindia.indiatimes.com/india/Haryana-khap-seeks-to-build-India-Pak-ties/articleshow/16693531.cms
-----------
Indian sailors taken hostage by Somali pirates appeal for release
Oct 6, 2012
NEW DELHI: A group of sailors taken hostage by Somali pirates nearly two years ago have appealed to the government to get them released from captivity.
The video appeal by the sailors, who were earlier kept hostage by the pirates onboard merchant vessel MV Asphalt Venture, has surfaced on the internet.
In the appeal, chief engineer Bahadur Singh said their health was deteriorating. "We are fed up. We are mentally tensed all the time. Our health is not good. Please save us," he said.
Full report at:
http://timesofindia.indiatimes.com/india/Indian-sailors-taken-hostage-by-Somali-pirates-appeal-for-release/articleshow/16697309.cms
--------
Pakistan
Try temple vandals under anti-terror laws, government watchdog suggests
By Hafeez Tunio
October 6, 2012
KARACHI: Given the state of minorities in the country, the mood emerging from the echelons of power comes as a relief for many. The National Assembly's standing committee on human rights has recommended the Sindh government register terrorism cases against anyone who attacks a minority place of worship.
This was among the many other suggestions made during the meeting presided over by the committee chairperson, Riaz Fatyana, at the Sindh Assembly's committee room on Friday.
Recently, a church and a temple were ransacked by vandals protesting against an anti-Islam film. While the attacks drew widespread criticism, not much followed up on the ground.
Digital cameras linked to police stations must be installed around the places of worship so that vandals can be traced, the committee recommended to the provincial home and police departments.
Full report at:
http://tribune.com.pk/story/447692/try-temple-vandals-under-anti-terror-laws-government-watchdog-suggests/
-----------
Destroyed by terrorists, three schools see light of day
October 6, 2012
SWAT: Three schools that were destroyed by terrorists were inaugurated in Swat by Provincial Reconstruction, Rehabilitation & Settlement Authority (PaRRSA) Director General Shahzad Khan Bangash on Tuesday. The schools have been set up with a partnership of USAID and PaRRSA.
The newly constructed schools: Government Secondary School Alamganj, Government Primary School Sheen and Government Primary and Middle School Charbagh are equipped with furniture, libraries, computer labs and science laboratories.
Full report at:
http://tribune.com.pk/story/447659/new-beginnings-destroyed-by-terrorists-three-schools-see-light-of-day/
-----------
Pakistani city with Guru Nanak link to get holy tag
Oct 6, 2012
AMRITSAR: In yet another step to improve Indo-Pak ties, Islamabad has started finalising modalities to declare the historical town of Hasan Abdal, a pilgrim centre for Sikhs, as holy city.
Legend has it that the town was visited by Guru Nanak and his hand print is visible on a rock where Gurdwara Panja Sahib was built. The gurdwara is frequented by Sikhs from around the globe throughout the year.
Full report at:
http://timesofindia.indiatimes.com/india/Pakistani-city-with-Guru-Nanak-link-to-get-holy-tag/articleshow/16693291.cms
-----------
Girl accuses Frontier Corps of abducting her father, Baloch
6 October 2012
QUETTA: Narrating the tale of her father's enforced disappearance; the daughter of Munshi Nabi Bakhsh Baloch accused the Frontier Corps (FC) of picking him up from a check post located in Jusak village in Kachhi, in July this year.
Addressing a press conference at a hunger strike camp, set up by relatives of missing persons outside the Quetta Press Club, she said her 80-year-old father was returning from his native village Turbat, Kech when their bus was intercepted by the FC as it approached a check post.
Full report at:
http://tribune.com.pk/story/447761/missing-persons-girl-accuses-fc-of-abducting-her-father-before-30-witnesses/
-----------
'Had my mother been alive, I would have never converted'
By Rabia Ali
October 6, 2012
KARACHI: For the Hindu boy, whose conversion to Islam was beamed into millions of homes across Pakistan, leading to the talk show host's downfall and an international controversy, the motivation was more secular than initially thought.
"I wanted to escape from the atmosphere at home," said Abdullah while talking with The Express Tribune two months after the scandal. "I never wanted to come on the media." He consoles himself by reasoning that people would have found out eventually – the television show just made it easier.
Full report at:
http://tribune.com.pk/story/447693/life-after-hinduism-had-my-mother-been-alive-i-would-have-never-converted/
-----------
Two NATO containers torched in Mastung
October 6, 2012
QUETTA: Two empty NATO containers were set ablaze in Matsung district, some 40 kilometres from the provincial capital on Friday. According to police, the NATO containers were en route to Karachi from Chaman, after unloading goods in Afghanistan, when unidentified armed men riding a motorbike intercepted them on the RCD Highway at gunpoint and set them on fire. However, the drivers of oil tankers remained safe, sources said. Police rushed to the site soon after the incident and cordoned off the area. The attackers managed to flee the scene. Police have registered a case and started investigation.
http://www.dailytimes.com.pk/default.asp?page=2012\10\06\story_6-10-2012_pg7_8
-----------
UN body's visit gave positive message to world: Khar
October 6, 2012
ISLAMABAD: Foreign Minister Hina Rabbani Khar on Friday said the visit of the United Nations Working Group on Enforced or Involuntary Disappearances gave a positive message to the world that the state is not involved in the abduction of missing persons.
She was briefing the Senate's Standing Committee on Foreign, Kashmir and Gilgit-Baltistan Affairs on the UN body's visit.
The committee met at the Parliament House under the chairmanship of Senator Haji Adeel to discuss the visit of the UN body and details about new visa agreement signed between India and Pakistan.
Full report at:
http://www.dailytimes.com.pk/default.asp?page=2012\10\06\story_6-10-2012_pg7_20
-----------
Police, Hindu community give contradicting statements over minority persecution
By Hafeez Tunio
October 5, 2012
KARACHI: The police and representatives of the Hindu community gave contradicting statements over the issue of minority persecution in Pakistan during a meeting of the National Assembly's Standing Committee on Human Rights held on Friday.
During the meeting presided over by Committee Chairman Riaz Fatyana, the police maintained that minorities in Pakistan get equal rights and there was no Hindu migration from Sindh, while representatives from the Hindu community thought otherwise.
Full report at:
http://tribune.com.pk/story/447442/police-hindu-community-give-contradicting-statements-over-minority-persecution/
-----------
Pak Parliamentary Panel Slams Interior Ministry for Delay in Visa Pact with India
Oct 6, 2012
ISLAMABAD: A Pakistani parliamentary panel on Friday criticized the interior ministry for the delay in implementing a new visa agreement with India, with members passing a resolution calling on the cabinet to ratify the pact at the earliest.
Foreign secretary Jalil Abbas Jillani informed the foreign affairs committee of the Senate or the upper house of the Pakistani parliament that the ratification of the visa agreement by the cabinet was pending due to the interior ministry's delay in completing certain formalities.
http://timesofindia.indiatimes.com/world/pakistan/Panel-slams-Pak-for-delay-in-visa-pact/articleshow/16693197.cms
-----------
PPP announces rally in Hyderabad to retort nationalists
October 6, 2012
KARACHI: Responding to protests lodged by the nationalist parties in the aftermath of newly passed Sindh People's Local Government Ordinance (SPLGO), Pakistan People's Party (PPP) on wee hours of Saturday announced to hold a rally in Hyderabad on October 15, DawnNews reported.
The decision was taken by the party's core committee in its meeting held here under the chairmanship of President Asif Ali Zardari.
Full report at:
http://dawn.com/2012/10/06/ppp-announces-rally-in-hyderabad-to-retort-nationalists/
-----------
Ansar Burney comes looking for kin of girl in Pakistan jail
Oct 6, 2012
AMRITSAR: Pakistan rights activist and former federal minister for human rights Ansar Burney will arrive in India on October 12 to trace the relatives of 21 years old deaf and dumb girl, Geeta, who was found by police at Lahore railway station about 13 years ago.
It was believed that she had mistakenly boarded Samjhauta Express and reached Pakistan. While talking to TOI on Friday, Burney, who had been instrumental in release of many Indian prisoners from Pak jails, said that he would bring along pictures and video of Geeta alias Guddi.
Full report at:
http://timesofindia.indiatimes.com/india/Ansar-Burney-comes-looking-for-kin-of-girl-in-Pakistan-jail/articleshow/16693427.cms
-----------
Police arrest 7 terrorists, foil plot to storm Karachi central jail
Oct 5, 2012
KARACHI: A bid to storm the central jail here has been foiled with the police arresting seven members of a banned militant outfit that were plotting the raid.
Senior officials of the Criminal Investigation Department (CID) said on Friday that seven activists of the banned militant outfit Lashkar-e-Jhangvi have been arrested and have revealed the plan to attack the central jail.
Full report at:
http://timesofindia.indiatimes.com/world/pakistan/Police-arrest-7-terrorists-foil-plot-to-storm-Karachi-central-jail/articleshow/16688197.cms
-----------
Pro-minority mullah kidnapped
Imtiaz Ahmad
October 06, 2012
In a disturbing development in the Rimsha Masih case, the cleric who publicly defended the 14-year-old Christian girl against charges of blasphemy and protested her innocence was kidnapped on Thursday and released after being warned of dire consequences. Maulana Tahir Mahmood Ashrafi,
the chairman of the Ulema and Mashaikh Council, was kidnapped from Islamabad's high security diplomatic enclave. Police say it was a routine kidnapping but some say it was a militant group giving Ashrafi a message not to support religious minorities.
Full report at:
http://www.hindustantimes.com/world-news/Pakistan/Pro-minority-mullah-kidnapped/Article1-940495.aspx
-----------
Ex-Pak PM Gilani named as accused in ephedrine scandal
Oct 06 2012
Islamabad : Former Pakistani Prime Minister Yousaf Raza Gilani has reportedly been named as an accused in a ephedrine quota scandal.
A fresh chargesheet submitted by the anti-narcotics force said that Gilani himself had approved a quota of 1,000-kilogrammes of ephedrine for Dr Javed Siddiqi, a former member of the National Assembly.
Full report at:
http://www.indianexpress.com/news/expak-pm-gilani-named-as-accused-in-ephedrine-scandal/1012926/
-----------
Imran says Waziristan people to provide security; march crosses Rikhi
October 6, 2012
ISLAMABAD: Over 1,000 people who had on Saturday departed from Rawalpindi and Islamabad under the leadership of Pakistan Tehrik-i-Insaf (PTI) chief Imran Khan for the peace march toward South Waziristan crossed the Balkasar interchange, Talagang and Rikhi and were nearing Mianwali. Moreover, the Khyber Pakhtunkhwa government had decided to provide security to the march until its stay in Tank.
Earlier today, the march had left Islamabad for the anti-drone march towards the northwestern tribal region.
Full report at:
http://dawn.com/2012/10/06/people-of-south-waziristan-to-provide-security-to-peace-rally-imran/
-----------
Floods killed 422 people, destroyed 275,000 houses: NDMA
October 6, 2012
ISLAMABAD: A total of 275,000 houses and shops were destroyed and at least 422 people killed in the recent floods in various parts of the country, said National Disaster Management Authority (NDMA) chairman Zafar Iqbal Qadir.
Speaking to a private news channel, he said that out of a total of 275,000 houses and shops destroyed, 235,831 were in Sindh, 25,442 in Punjab, 8,626 in Balochistan, 4,392 in Khyber Pakhtunkhwa, 1,243 in Azad Kashmir and 70 in Gilgit-Baltistan.
Full report at:
http://dawn.com/2012/10/06/floods-killed-422-people-destroyed-275000-houses-ndma/
-----------
'Disparities in education levels and class cause marriages to fall apart'
October 6, 2012
KARACHI: Though between 5,000 and 6,000 divorces occur in Karachi each month, there are very few books out there which can help those who have been through the painful process pick up the pieces and move on with their lives. Advocate Muhammad Rais Khan's fifth book, 'Talaq ke Baad' tries to fill this void.
The launch of the book was held on Thursday at the Arts Council. The book, written in Urdu, describes the concept of marriage, the types of nikah and divorce as well as their various kinds. It also addresses the rights of both partners and the problems which may crop up after divorce.
Full report at:
http://tribune.com.pk/story/447658/divorce-101-disparities-in-education-levels-and-class-cause-marriages-to-fall-apart/
-----------
Pakistan happy to accept Dr Aafia if she serves sentence here: Malik
By Huma Imtiaz / APP
October 6, 2012
WASHINGTON: Interior Minister Rehman Malik has said that Pakistan would be happy to accept Dr Aafia Siddiqui if she could carry out the rest of her conviction in Pakistan.
In a press conference at the Embassy of Pakistan, Malik said that he had raised the issue of Dr Aafia Siddiqui in his meeting with FBI Director Robert Mueller.
He said that Dr Siddiqui has an ailing mother and two children who were separated from her. When asked about the response he received from the FBI Director, Malik said that he has been given the understanding that this matter will be considered sympathetically.
Full report at:
http://tribune.com.pk/story/447778/us-concerned-over-americans-participating-in-ptis-peace-march/
-----------
LeJ's Karachi chief and six others arrested in search operation
October 6, 2012
KARACHI: The Crime Investigation Department's Anti-Extremist Cell spent a busy Friday morning arresting the chief of the Lashkar-e-Jhangvi's (LeJ) Karachi chapter and six of his accomplices, said the department's DIG Kamran Fazal at a press conference. "These people [the suspects] are responsible for the recent sectarian violence in the city. They have targeted many lawyers, political workers and policemen." He also claims to have thwarted two terrorist plots and seized around 125 kilogrammes of explosives, seven suicide jackets, seven rocket launchers, two Kalashnikovs, four TT pistols, three 9mm pistols from the suspects.
Full report at:
http://tribune.com.pk/story/447681/lejs-karachi-chief-and-six-others-arrested-in-search-operation/
---------
Imran Khan leads US drone protest in Pakistan
Oct 6, 2012
ISLAMABAD: Pakistan cricket star turned politician Imran Khan leads Western peace activists and local loyalists on a highly publicised rally to Pakistan's tribal belt Saturday in protest against US drone strikes.
Khan and his Tehreek-e-Insaaf (PTI) or Movement for Justice party, along with British and American activists, plan to drive en masse more than 200 miles (320 kilometres) from the capital Islamabad to South Waziristan.
Full report at:
http://timesofindia.indiatimes.com/world/pakistan/Imran-Khan-leads-US-drone-protest-in-Pakistan/articleshow/16695323.cms
-----------
Europe
Nazism to 'Salafism': Islamists Threaten Germany
CBN News Terrorism Analyst
September 02, 2012
MUNICH - From Nazism to communism, Germany has seen its share of radical ideologies over the years. Now the nation faces a new threat: Salafism.
It's an extreme brand of Islam that preaches hatred of Christians and Jews. As CBN News discovered recently, Salafism is growing in Western Europe's most populous country.
The Salafist Movement
In June, 1,000 police fanned out across Germany. They targeted the homes, schools, and mosques of Salafi Muslims.
Salafis model themselves after Islam's prophet, Mohammed, and his followers and strictly follow Islamic sharia law.
Full report at:
http://www.cbn.com/cbnnews/world/2012/August/Nazism-to-Salafism-Islamists-Threaten-Germany/
-----------
Abu Hamza extradited to US after UK ruling
Oct 6, 2012
LONDON: Radical preacher Abu Hamza al-Masri and four other terror suspects were extradited from the UK after Britain's high court ruled they had no more grounds for appeal in their years long battles to avoid facing charges in the United States.
Scotland Yard said on Friday the suspects had been brought to an air force base in eastern England from Long Lartin Prison, where two planes provided by US authorities were waiting to fly them to America. The aircraft took off shortly before midnight, Scotland Yard said.
The extraditions came just hours after a ruling at the High Court, where Judges John Thomas and Duncan Ouseley rejected last-ditch applications by al-Masri, Khaled al-Fawwaz, Babar Ahmad, Adel Abdul Bary and Syed Talha Ahsan, who have been battling extradition for between eight and 14 years.
Full report at:
http://timesofindia.indiatimes.com/world/uk/Abu-Hamza-extradited-to-US-after-UK-ruling/articleshow/16695674.cms
-----------
Five terrorism suspects extradited from UK to US
Oct 6, 2012
NEW YORK: Two men extradited from Britain have pleaded not guilty in a Connecticut court to federal charges that they provided terrorists in Afghanistan and Chechnya with cash, recruits and equipment.
Babar Hamad and Syed Talha Ahsan appeared in federal district court in New Haven on Saturday. They are jailed until trial.
Full report at:
http://timesofindia.indiatimes.com/world/us/Five-terrorism-suspects-extradited-from-UK-to-US/articleshow/16700246.cms
------------
15 arrested in UK for bid to kill Lt Gen Brar
Oct 6, 2012
LONDON: The British police have arrested 15 people suspected to be directly or indirectly involved in the assassination attempt on Lt Gen (retd) Kuldeep Singh Brar who had led the Indian security forces into the Golden Temple in 1984 to flush out pro-Khalistan militants. Eight of the suspects were detained on Friday; four were picked on Thursday evening; and another three were arrested on suspicion of having facilitated the illegal entry of the conspirators into the UK. All are being questioned in police stations in London.
Significantly, while the case was being treated as "an attempt to murder", officers of Scotland Yard's counter terrorism command were deployed to carry out the arrests, signalling that the detectives were treating the case as much as one of terrorism as of homicide.
Full report at:
http://timesofindia.indiatimes.com/world/uk/15-arrested-in-UK-for-bid-to-kill-Lt-Gen-Brar/articleshow/16693409.cms
-----------
Russia extends Tajik base lease to curb militant threat
October 6, 2012
DUSHANBE: Russia extended its military presence in Tajikistan for 30 years on Friday in a deal to secure the southern fringes of its former Soviet empire after NATO troops leave Afghanistan.
The countries' defence ministers signed an agreement prolonging Russia's lease on a military base in the former Soviet republic until 2042 during a visit by President Vladimir Putin. In return, Russia will admit more Tajik labourers to earn cash crucial to the Central Asian state's fragile economy.
Full report at:
http://www.dailytimes.com.pk/default.asp?page=2012\10\06\story_6-10-2012_pg14_1
-----------
French Police Kill One in Raid Linked to Jewish Market Attack
October 6, 2012
STRASBOURG (Reuters) - French police shot dead a suspect during an anti-terrorism raid in the northeastern city of Strasbourg on Saturday that was part of an investigation into a grenade attack last month on a Jewish market, judicial and security sources said.
Elite police units carried out simultaneous operations in the Paris region, in Strasbourg and the Mediterranean cities of Nice and Cannes in the early hours of Saturday, the sources told Reuters. One man was arrested in the Paris region.
Full report at:
http://www.nytimes.com/reuters/2012/10/06/world/europe/06reuters-france-
-----------
Germany: Man Charged as Spy for Syria
By VICTOR HOMOLA
October 6, 2012
A 48-year-old man with dual German-Lebanese citizenship has been charged with spying for the Syrian intelligence service from 2007 until his arrest in February, the federal prosecutor's office said Friday. The suspect, who was identified only as Mahmoud El A., is accused of spying on Syrian opposition members living in Germany, according to prosecutors. After antigovernment protests began in Syria in early 2011, the suspect intensified his contacts with his intelligence agency handler in Berlin, reporting on gatherings of exiled opponents of the Syrian government and taking photographs of demonstrators, prosecutors said.
http://www.nytimes.com/2012/10/06/world/europe/germany-man-charged-as-spy-for-syria.html?ref=middleeast&_r=0&gwh=77695BA5EFA33D8088DFB5B4BE5C4DAE
---------
Africa
Radical Islamist Killed Three in Bomb Attacks on Nigeria Beer Gardens
October 6, 2012
JALINGO, Nigeria (AP) — Authorities say three people have been killed in two separate bomb attacks on informal beer gardens in Nigeria amid attacks by a radical Islamist sect.
Taraba State police spokesman Amos Olaoye said Friday an explosive device went off at a drinking spot in a busy neighborhood in the central city of Jalingo at about 8 p.m. Thursday, killing two. On Friday night, an emergency management official says another bomb exploded, killing a woman and wounding her children.
Full report at:
http://www.nytimes.com/aponline/2012/10/06/world/africa/ap-af-nigeria-
-----------
Ethiopia Muslims protest against interference, to boycott vote
AMAN SETHI
Oct 06 2012
As the last utterances of Friday prayers faded from the loudspeakers of the Al-Anawar Mosque, more than a thousand Muslim men and women rose to their feet and marched through the Mercato open market in the Ethiopian capital.
"Let our voices be heard," shouted the protesters, as they waved yellow flags fashioned out of bits of paper and plastic, "Free our leaders… There can be no election with threats."
This Sunday, Muslim community will vote for leadership of the Ethiopian Islamic Affairs Supreme Council but the protesters are threatening to boycott it as they fear it will be skewed by the government to install a set of pliable leaders; an allegation denied by the Ethiopian government.
Full report at:
http://www.thehindu.com/news/international/ethiopia-muslims-protest-against-interference-to-boycott-vote/article3969420.ece
---------
Nigeria graft watchdog jails 2 for demanding bribes
October 6, 2012
LAGOS: Two officers at the body which investigates corruption in Nigeria have themselves been jailed for five years for demanding a $640 bribe from a local government official, the watchdog said on Friday. The Economic and Financial Crimes Commission (EFCC) said the two had been found guilty of "conspiracy and obtaining money under false pretence" for demanding the bribe from the chairman of Bama local council in northeast Nigeria to terminate a case against him in 2010. It added that they were not investigators, so did not even have the authority to do that. "They were alleged to have asked Kachalla to send them the money in order to bribe other investigators of the Commission to destroy a petition written to the EFCC, which indicted him for alleged mismanagement of public funds," the EFCC said on its website. Since its inception in 2003 under former President Olusegun Obasanjo, the EFCC has convicted dozens of people for crimes ranging from smuggling to embezzlement, recovering millions of dollars in one of the world's most corrupt countries.
http://www.dailytimes.com.pk/default.asp?page=2012\10\06\story_6-10-2012_pg4_4
-----------
Maghreb leaders reassure Europe over Arab Spring
October 6, 2012
VALLETTA: North African leaders sought to reassure Europe at a summit in Malta on Friday that the upheaval in their countries would ultimately generate more stability and investment opportunities.
Transitions in North Africa "are not a threat for Europe," Tunisian President Moncef Marzouki, who came to power last year after long-time ruler Zine El Abidine Ben Ali fled and the country held its first democratic vote.
"Don't be afraid of Salafi Islamic groups," Marzouki said following a wave of anti-Western protests across the Muslim world over a US video offensive to Islam and satirical cartoons published in France.
Full report at:
http://dawn.com/2012/10/05/maghreb-leaders-reassure-europe-over-arab-spring/
-----------
South Asia
Bangladesh youth delegation to visit India
Oct 6, 2012
NEW DELHI: A 100-Member Bangladeshi youth delegation will be in India on an eight-day visit starting on Saturday on the invitation of ministry of youth affairs and sports.
The itinerary involves interaction with local youth, visits to academic, tourist, industrial and cultural sites.
"It also has elements of educational values and interactive session in different areas ranging from infrastructure development, eco-tourism to information technology.
Full report at:
http://timesofindia.indiatimes.com/india/Bangladesh-youth-delegation-to-visit-India/articleshow/16696509.cms
-----------
Attack in Ramu premeditated: PM Sheikh Hasina
October 6, 2012
Prime Minister Sheikh Hasina on Saturday said the violent attack on Buddhist monasteries and houses at Ramu in Cox's Bazar centring an anti-Islam photo on Facebook was a premeditated act.
She told this to the Buddhists while addressing a meeting with 'Coordination Committee of Bangladeshi Buddhists' in the morning at her official residence Gono Bhaban.
The premier said those, who were behind the attack, will be punished after identifying them from the video footages collected after the violence.
"The way in which the attack was conducted, it's clear that it was done in a pre-planned way," she said.
Full report at:
http://www.thedailystar.net/newDesign/latest_news.php?nid=41414
-----------
Bangladeshi Lutfur Rahman among 100 leading British
October 6, 2012
Bangladesh origin British citizen Lutfur Rahman has been named as one of the most influential people in the United Kingdom, in a list published by The Telegraph.
Lutfur is the first elected mayor of Tower Hamlets - the London borough having the largest number of Bangladeshi people as an ethnic community. He is one of the 13 directly elected mayors in the UK.
Full report at:
http://www.thedailystar.net/newDesign/latest_news.php?nid=41415
-----------
2 Bangladeshis win bronze
October 6, 2012
Two Bangladeshi students bagged bronze medals in the 24th International Olympiad in Informatics (IOI) hosted by Italy in Lake Garda from September 23 to 30.
The worldwide competition's tasks are of algorithmic nature with contestants of high school level having to show basic IT skills such as problem analysis, design of algorithms and data structures, programming and testing.
Out of 600 points, Dhananjoy Biswas, a student of Chittagong College, scored 219, securing the 89th position, while Bristy Sikder scored 169, securing the 143rd position.
Full report at:
http://www.thedailystar.net/newDesign/news-details.php?nid=252668
---------
Southeast Asia
Malaysian Couple Charged With Beating, Scalding and Exploiting Indonesian Maid
October 06, 2012
Kuala Lumpur. A Malaysian couple has been charged with beating, scalding and exploiting their Indonesian maid in the latest abuse case despite new rules to better protect maids.
Prosecutor Chuah Shyue Chien says 28-year-old Mohamad Shukur Suradi and his wife, 27-year-old Daeng Norulasyikin Bachok, pleaded not guilty on Friday to causing grievous harm to their 21-year-old maid, Marsini. He says they used a knife, a golf club, a clothes hanger and a belt to hit Marsini and scalded her with hot oil and water at their home in southern Johor state.
Chuah says they also were charged with exploiting Marsini by making her work long hours and work against her will.
He said on Saturday that they face up to 35 years in jail and whipping if convicted for both offenses.
http://www.thejakartaglobe.com/home/malaysian-couple-charged-with-beating-scalding-and-exploiting-indonesian-maid/548618
---------
Indonesia: Firebrand cleric transferred to another Prison
Agus Maryono
October 06 2012
Firebrand cleric Abu Bakar Baasyir, who is serving a nine-year prison sentence for terrorism, was transferred to Nusakambangan Penitentiary on Nusakambangan Island in Cilacap, Central Java, from the National Police's detective unit detention center in Jakarta on Friday night.
Baasyir, who was heavily guarded by the Densus 88 counterterrorism personnel, arrived in Cilacap on Saturday morning.
Full report at:
http://www.thejakartapost.com/news/2012/10/06/baasyir-transferred-nusakambangan-penitentiary.html
---------
Philippines defies church to push family planning
Oct 06 2012
Manila: Philippine President Benigno Aquino is squaring off against his country's powerful Catholic church in a bid to give people free access to the means to limit the size of their families.
The predominately Catholic country has one of Asia's fastest-growing populations together with significant levels of chronic poverty. While neighbors have accelerated towards prosperity, the Philippines has lagged.
Economists say high population growth is a primary factor for that, but the church disagrees. It says population growth is not a cause of poverty and that people need jobs, not contraception.
Full report at:
http://www.indianexpress.com/news/philippines-defies-church-to-push-family-planning/1012868/
-----------
URL: https://www.newageislam.com/islamic-world-news/new-age-islam-news-bureau/new-clashes-at-site-in-jerusalem-holy-to-both-muslims-and-jews/d/8901