New Age Islam News Bureau
28 Jan 2017
• New Book Claims Halal Is 'Invented Tradition', Not A Pillar of Islam
• 60 Daesh Terrorists Killed In Clashes with Iraqi Forces
• Turkish Aerial Attacks Kill Nearly 60 PKK Militants in Northern Iraq
• Shabaab Attacks Kenyan Army Base in Somalia, Kills 66 Soldiers
• Madrasa Students Form Map of India during Republic Day Event
Europe
• New Book Claims Halal Is 'Invented Tradition', Not A Pillar of Islam
• From Colonial Algeria to Modern Day Europe, the Muslim Veil Remains An Ideological Battleground
• A Year Ago Britain's Parliament Debated Banning Trump, Now He'll Be a Guest of the Queen
--------
Arab World
• 60 Daesh Terrorists Killed In Clashes with Iraqi Forces
• Is US 'Terror Tag' Likely For Muslim Brotherhood?
• Syria: Nusra Suffers Heavy Death Toll in Clashes with Rival Terrorists in Idlib, Aleppo
• Russian Attack Planes, Helicopters Return to ISIL-Held Palmyra to Retake City
• Russian, Turkish Warplanes Pound ISIL's Positions in Al-Bab
• Several Civilians Killed, Wounded in US-Led Coalition Airstrikes in North-eastern Syria
• Syria: Several Students Wounded in ISIL's Mortar Attack in Deir Ezzur
• Trump's Mideast immigration ban excludes GCC, Egypt
• ISIL's Position in Sweida Hit Hard in Syrian Army Attack
--------
Mideast
• Turkish Aerial Attacks Kill Nearly 60 PKK Militants in Northern Iraq
• Turkey to Reconsider EU Deal after Greek Refusal to Return Coup Suspects
• Saudis Attacked Yemen to Prove Servitude To US Masters: Houthi Leader
• Israeli police grill Netanyahu for a third time
• Yemen army clashes with Houthis in Mokha
• Saudi intercepts ballistic missile launched from Yemen
--------
Africa
• Shabaab Attacks Kenyan Army Base in Somalia, Kills 66 Soldiers
• It's Time for Kenya to Rethink War against Al-Shabaab
• 'He's my only child' – mother of Boko Haram militant struggles without her son
--------
India
• Madrasa Students Form Map of India during Republic Day Event
• 'IS Recruiter' Used Invisible Internet Project To Communicate With His Handler, Says NIA
• India-UAE ties: Abu Dhabi positions itself as the Sunni alternative
• Supreme Court Rejects India-Wide Ban on Cow Slaughter
--------
Pakistan
• Islamophobia: Is Pakistan also a contributor?
• Pakistan TV Host Banned by Media Regulator Over Comments About Activists
• COAS approves troop deployment for census
• JI seeks rights for Bengali-speaking people
• Police arrests five suspects from various areas of Karachi
• Two 'TTP militants' killed in encounter
--------
North America
• Terrorism by Muslims Makes Up One-Third Of 1 Percent of All Murders in the US
• South Asian Lawyers Group Condemn Trump's Orders on Muslim Ban
• UN Chief Says Populism Has Triggered Rise In Anti-Muslim Hatred And Intolerance
• Donald Trump vows 'new vetting' to weed out Islamic terrorists
• US will prioritize Christian refugees: Trump
--------
South Asia
• 10 ISIS and Lashkar-e-Islam militants killed in Nangarhar
• Afghan nation will never forget Indian nation's cooperation: Atmar
• Taliban Chief Replaces 24 'Shadow' Officials
• Marriage an Uncertain Path to Citizenship for Rohingya Refugees in Bangladesh
• Afghan and Pakistani border guards clash in Spin Boldak
--------
Southeast Asia
• Philippine President Pleads With Rebels to Rebuff Islamic State Advances
• Indonesians Targeted and Criminalized For Indecency and Immorality
• How to Distinguish Jokowi"s Campaign from Indonesia's Foreign Policy
Compiled by New Age Islam News Bureau
URL: https://www.newageislam.com/islamic-world-news/new-age-islam-news-bureau/new-book-claims-halal-is-'invented-tradition',-not-a-pillar-of-islam/d/109875
--------
New Book Claims Halal Is 'Invented Tradition', Not A Pillar of Islam
2017-01-27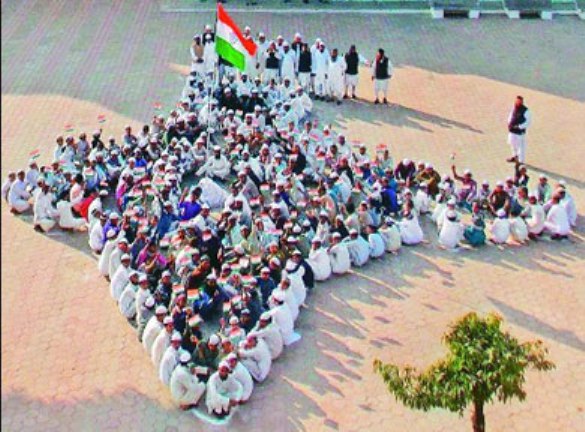 At Madarsa Riyazul Uloom The students formed a map of India.
The Halal market hasn't stopped growing since the 1980s. But according to anthropologist Florence Bergeaud-Blackler, author of the new book "The Halal Market or The Invention of a Tradition", buying Halal is not a religious obligation.
Food, clothing cosmetics, banks… The Halal certification label is everywhere. But is it a religious obligation? Not according to Bergeaud-Blackler.
Although the Koran and Sunnah (the teachings and practices of the Prophet Mohammed) explicitly prohibit pork, blood and alcohol, they don't impose any rules dictating behaviour.
There is, however, a condition regarding the proper slaughter of animals, which should be killed "…during the hunt, or bled out either at the throat or sternum," Bergeaud-Blackler writes in her book.
The halal market is an "invented tradition" that first appeared in the early 1980s, she explains, furthering a theory previously developed by British historian Eric Hobsbawm.
"Eating halal is presented today as an obligatory practice for Muslims, even though the term didn't exist in the Muslim world before it was exported by developed countries," she told FRANCE 24.
According to Bergeaud-Blackler, who has studied Halal for the past 20 years, the market has flourished especially in non-Muslim countries partly because of immigration.
"There's a recent poll by the Montaigne Institute that shows 40 percent of France's Muslim population thinks eating Halal is a pillar of Islam, which is false," she said.
In reality, the Halal food industry is a product of the "random convergence of neo-fundamentalism and neo-liberalism" during the early 1980s, Bergeaud-Blackler explained.
"At the time, these two ideologies were dominant on the international scene. Their convergence would change the theological definition of Halal from 'recommended' to 'required', which is a hallmark of fundamentalism," she said.
The rise of Halal can be traced back to post-revolution Iran in 1979, when the Ayatollah Khomeini banned food imports, in particular meat, from non-Muslim countries. The supreme leader was later forced to reconsider his position, however, after an embargo led to food shortages.
Khomeini decided that if Iran had to start importing meat from the West again, it would insist on the "Islamisation" of the slaughtering process. Although protocols were established for the Halal food industry, they were never made official by religious leaders.
"The market is facilitated by the existence of laws in secular countries that recognise religious slaughter, which was initially established for the Jewish diaspora," Bergeaud-Blackler said.
Other Muslim countries, such as the Gulf States, Malaysia and Turkey, soon followed in Iran's footsteps, leading to an increasingly complex and expansive set of rules. And thus the Muslim consumer was born.
A coveted market in France
The Halal market has become the figurative goose that lays the golden egg in France, which is home to around 4 to 5 million Muslims – one of the largest populations in Europe.
It has an estimated value of between €5.5 billion and €7 billion per year, according to the Solis Agency, which specialises in ethno-religious market research.
Because there is no law regulating Halal meat, an increasing number of organisations have emerged offering to certify products, which must be slaughtered and blessed by a slaughter man accredited by one of three mosques in either Paris, its southern suburb of Evry, or the southwestern city of Lyon. The only issue is that anyone can open a certification business, regardless of whether they have religious approval.
"Producers are required to hire a slaughterman accredited by one of the three mosques, but are under no obligation to use a Halal certification agency," Bergeaud-Blackler writes in her book. "There's nothing keeping them from labelling their own products as certified Halal."
Although the Halal market has been rocked by numerous scandals over the years – including falsely labelled products or traces of pork found in merguez sausages – its success is undiminished in France.
If anything, more and more people are buying Halal, and singing its praises. The industry's growing popularity has raised fears, however, that it might be used by religious extremists such as Salafists or the Muslim Brotherhood movement to promote their interpretation of Islam.
Threat of religious extremism
Eating exclusively Halal not only runs the risk of cutting consumers off from public spaces, but also other forms of social interaction, according to Bergeaud-Blackler.
"Dividing a space in two between what is allowed and what is forbidden creates social anxiety and leads to avoidance," she writes. "When you eat exclusively halal, you might not invite someone who doesn't eat halal to your house out of fear he or she might offer to host you in return. It's all the more true that these acts of avoidance are accompanied by a rhetoric rejecting food. The confusion between halal and purity is worrying."
Bergeaud-Blackler also warned against what she calls "umnique" Halal (a term derived from the Arabic word for community, Ummah), or Halal food that is made for Muslims, by Muslims.
Until 2005, non-Muslims were free to make Halal products as long as they respected international norms and rules. Since then, the Gulf States and Turkey have accused the West of seizing control of Halal production standards, and have launched a sort of "techno-religious one-upmanship".
"They believe they should be in control of halal production standards, from how it is financed to how it is consumed, thereby ushering in a global Islamic economy that includes all Muslim countries, as well as [immigrant Muslim communities]," she said.
For some, the act of buying and consuming halal products is akin to conforming to the precepts of the Prophet. In other words, it's a whole new way to reach eternal paradise.
http://www.france24.com/en/20170127-france-new-book-claims-halal-market-invented-tradition-not-pillar-islam
--------
60 Daesh terrorists killed in clashes with Iraqi forces
Jan 28, 2017
Sixty Takfiri Daesh terrorists have been killed during clashes with Iraqi forces in two Iraqi provinces.
According to Abdulamir Rashid Yarallah, the commander of the liberation operation for the city of Mosul, Iraqi airstrikes killed 42 Daesh terrorists, who were waiting in ambush in the villages of Kheybarat and A'alabyeh as well as in the al-Mahlabyeh district in western Mosul, in Iraqi Nineveh Province.
Fierce clashes between Iraqi forces and Daesh terrorists in the eastern areas of Salahuddin Province also killed 18 Takfiris and injured 21 others.
Meanwhile, a US-led coalition airstrike against a Daesh camp in the town of Qa'em in western Anbar Province reportedly killed 16 terrorists and destroyed the camp.
Displaced Iraqis return to their villages south of the city of Mosul, January 25, 2017. (Photo by AFP)
Life is gradually returning to normal in the liberated parts of the strategic city of Mosul. Overrun by Daesh in June 2014, the city has been the target of Iraqi military operations since late last year to dislodge the terrorists.
After retaking the al-Milayeen and al-Binaa al-Jahiz areas, the Iraqi army announced in a statement on Sunday that all districts of eastern Mosul had been cleared of Daesh militants.
Meanwhile, almost 5,200 people have returned to their homes in the eastern parts of Mosul over the past two days, an Iraqi relief worker said Friday.
"Some 5,200 people have departed the Al-Khazir and Hassan Sham camps [east of Mosul] and returned to the city's liberated eastern neighborhoods," International Red Crescent (IRC) official Iyad Rafid told Anadolu.
Relief workers have stepped up humanitarian efforts inside Mosul's liberated east.
Zaki Yakoub, the director of the IRC's branch in Nineveh Province, said, "IRC teams have distributed more than 800 food packages among residents of Mosul's eastern al-Mithaq district."
According to Iraq's minister of displacement and migration, Jassim al-Jaff, between 200,000 and 250,000 people are expected to flee western Mosul as clashes intensify between the Iraqi forces and Daesh. The United Nations estimates that some 750,000 civilians are trapped in the area.
Iraqi army soldiers and allied fighters are gearing up for a phase of operations against Daesh in western Mosul.
http://www.presstv.ir/Detail/2017/01/28/508072/Iraq-Mosul-Daesh-Nineveh-Salaheddin
--------
Turkish aerial attacks kill nearly 60 PKK militants in northern Iraq
Jan 27, 2017
Nearly five dozen members of the Kurdistan Workers' Party (PKK) have been killed when Turkish military aircraft carried out a string of aerial attacks against the militants' positions in Iraq's semi-autonomous Kurdistan region.
The Turkish General Staff announced in a statement on Friday that at least 57 PKK terrorists were killed and scores of others injured between January 13 and 14 as Turkish warplanes bombarded their hideouts in the Metina area.
On January 16, four Turkish police officers were killed and two others injured in a roadside bomb explosion that targeted their patrol vehicle in Turkey's southeastern and Kurdish-populated province of Diyarbakir.
A security source, speaking on condition of anonymity, said PKK militants detonated the bomb near an excavation site in the Sur district of the province, situated 676 kilometers east of the capital, Ankara, as a police vehicle was passing by.
A total of 110 PKK militants were killed and 42 others captured during clashes with Turkish security forces in December last year, according to figures compiled by Turkey's official Anadolu news agency.
Another 18 Kurdish militants surrendered themselves to authorities.Fifty-five members of the security personnel were killed, and 10 civilians lost their lives during the mentioned period.
Furthermore, 1,146 PKK suspects were arrested, out of whom 604 were taken into custody.
A shaky ceasefire between the PKK, which has been calling for an autonomous Kurdish region since 1984, and the Turkish government collapsed in July 2015. Attacks on Turkish security forces have soared ever since.
Over the past few months, Turkish ground and air forces have been carrying out operations against the PKK positions in the country's troubled southeastern border region as well as northern Iraq and Syria.
http://www.presstv.ir/Detail/2017/01/27/508022/Turkish-jets-airstrikes-PKK-positions-Kurdistan-Iraq
--------
Shabaab attacks Kenyan army base in Somalia, kills 66 soldiers
January 28, 2017
MOGADISHU - The militant group al Shabaab said its fighters killed dozens of Kenyan troops when they attacked a remote military base in Somalia on Friday, while Kenya's army dismissed the report and said "scores" of militants were killed.
A spokesman for al Shabaab, which often launches attacks on troops of the African Union's AMISOM force, said its fighters killed at least 66 Kenyans at the base in the southern town of Kulbiyow, near the Kenyan border.
Al Shabaab said it lost fighters but did not give numbers. Kenyan military spokesman Lieutenant Colonel Paul Njuguna denied the claim that al Shabaab had killed dozens of soldiers but did not give any casualty figures.
In a statement, he said al Shabaab attackers used a vehicle packed with explosives to try to blast their way into the camp of the Kenya Defence Forces (KDF). "KDF soldiers repulsed the terrorists, killing scores," he said. Njuguna said the attack was launched around dawn on Friday.
In January 2016, al Shabaab said it had killed more than 100 Kenyan soldiers in El Adde, a Somali camp near the border with Kenya. The military never gave details of casualties, but Kenya media reports suggested a toll of that magnitude.
Sheikh Abdiasis Abu Musab, al Shabaab's military operation spokesman, had told Reuters al Shabaab fighters rammed two suicide car bombs into the base and seized it. "We are pursuing the Kenyan soldiers who ran away into the woods," he said.
Al Shabaab, whose assessment of casualties often differs markedly from official versions, typically rams the entrance to a target site with a car or truck bomb so fighters can storm in.
The militant group, which once ruled much of Somalia, wants to topple the Western-backed government in Mogadishu and drive out the peacekeeping force made up of soldiers from Kenya, Djibouti, Uganda, Ethiopia and other African countries.
Al Shabaab has been fighting for years to impose its own interpretation of Islam on Somalia.
African Union and Somali troops have driven its fighters from major urban strongholds and ports, including the capital Mogadishu in 2011, but they have often struggled to defend smaller, more remote areas from attacks. "Fighters have taken control of the base and the overall Kolbiyow area after massacring the Kenyan infidels," the statement said.
Shabaab frequently overstates the death toll from its attacks while Kenya commonly underplays its losses.
In January last year a Kenyan base at El-Adde was attacked and overrun by Shabaab fighters who claimed to have killed over 100 Kenyan soldiers. The government refused to give its own toll.
The Shabaab, which once controlled much of Somalia, is fighting to overthrow the internationally-backed government in Mogadishu.
It launches regular attacks on government, military and civilian targets and has carried out a series of deadly assaults against foreign soldiers deployed in Somalia. The African Union Mission in Somalia (AMISOM) is a 22,000-strong force comprising soldiers from Burundi, Djibouti, Ethiopia, Kenya and Uganda.
Over the last two years Shabaab has rampaged through bases manned by Burundian soldiers in Lego, Ugandan troops in Janale and the Kenyans in El-Adde, inflicting high casualties and stealing military equipment each time.
The Kolbiyow raid is the second major attack this week in Somalia, coming three days after 28 people were killed when Shabaab bombers and fighters attacked a hotel in the capital.
Somalia is due to hold a presidential vote in early February, signalling the end of a drawn-out electoral process in which a new parliament has also been selected.
Political infighting and ongoing insecurity scuppered plans for a universal vote in 2016, with lawmakers elected by specially selected delegates.
Somalia has not had an effective central government since the 1991 overthrow of president Siad Barre's military regime, which ushered in more than two decades of anarchy and conflict in a country deeply divided along clan lines.
http://nation.com.pk/international/28-Jan-2017/shabaab-attacks-kenyan-army-base-in-somalia-kills-66-soldiers
--------
Madrasa Students Form Map of India during Republic Day Event
January 27, 2017
This photograph was taken at Madarsa Riyazul Uloom in Indore.
During the Republic Day function, national flag was hoisted.
The students formed a map of India.
The photograph was published in many newspapers in Indore, Western MP.
The madrasa is located in Khajrana in Indore. This particular photo was published on the front page of Prabhat Kiran.
http://www.anindianmuslim.com/2017/01/imaginative-madarsa-students-form-map.html
--------
Europe
From colonial Algeria to modern day Europe, the Muslim veil remains an ideological battleground
Jan 28 2017
When the German chancellor, Angela Merkel, proposed a ban on the burqa and niqab at a conference of her political party in December 2016, she was following the lead of a number of countries in Europe which already have such legislation in place.
In France and Belgium a woman wearing a full-face veil can be jailed for up to seven days. In January 2017, there were also reports that Morocco had banned the production and sale of the burqa.
Merkel, who has faced criticism over her refugee policy, turned towards a ban on the Muslim veil as proof of her harder stance on integration in Germany.
The politicisation of the veil – whether it covers the full face (burqa), leaves the eyes open (niqab) or covers head and neck only (hijab, al-amira, khimar) – has a long history in European politics. And it often becomes a battleground for different ideologies at times of crisis.
Fantasies of unveiling
Throughout the 19th century, the Muslim veil functioned as an object of fascination for European travellers to the Middle East, despite the fact that Christians and Druzes – a religious sect with origins in 11th-century Egypt – would also veil. European photographers in the region produced eroticised representations of women lifting their veils and exposing their naked bodies. Reproduced as postcards, these images circulated across the Mediterranean, constructing the image of a Muslim woman whose erotic powers could be unleashed once the veil was lifted.
But in the 1950s, the veil played an important role during the Algerian war of independence against French colonial rule. Frantz Fanon, a Martinique-born psychiatrist and anti-colonial intellectual, described the French colonial doctrine in Algeria as follows:
"If we want to destroy the structure of Algerian society, its capacity for resistance, we must first of all conquer the women; we must go and find them behind the veil where they hide themselves and in the houses where the men keep them out of sight."
Fanon was a member of the Algerian National Liberation Front who considered women's ill-treatment by the French army to embody the whole country's situation. For him, it was impossible for the colonial power to conquer Algeria without winning over its women to European "norms".
In 1958, during the Algerian war of independence, mass "unveiling" ceremonies were staged across Algeria. The wives of French military officers unveiled some Algerian women to show that they were now siding with their French "sisters". These spectacles formed part of an emancipation campaign aimed at demonstrating how Muslim women had been won over to European values and away from the independence struggle. They were also staged at a moment of political turmoil in mainland France, which was struggling politically and financially to maintain its colony in North Africa.
The unveilings were publicised and presented to the government in Paris as spontaneous acts. But the French leader Charles de Gaulle remained sceptical of the French settlers' claims, and historians would later find that some of the women who participated in these ceremonies never even wore the veil before. Others were pressured by the army to participate.
A form of resistance
Following the staged unveilings, many Algerian women began wearing the veil. They wanted to make clear that they would define the terms of their emancipation – rather than being forcefully liberated by the French colonisers.
The unveilings had come a year after the end of the Battle of Algiers during which female freedom fighters began to carry explosives underneath the traditional white haik, a form of dress which dates back to Ottoman Algeria. But once this technique was detected by the army, the female fighters unveiled and chose European dress instead. This meant they could pass through French checkpoints unnoticed, allowing them to smuggle bombs – a scene depicted in Gillo Pontecorvo's celebrated 1966 film Battle of Algiers. Almost 40 years later, the film was shown at the Pentagon following the invasion of Iraq, in order to scrutinise "terrorist" strategies.
After the collapse of French Algeria in 1962, many Algerian women in urban areas stopped wearing the veil, but with the rise of Islamic radicalism in the country which led to a civil war in the 1990s, veiling became mandatory.
Mobilisation of the veil against Western systems of thought and values also occurred in the 1970s in Egypt when college-educated women returned to wearing the veil. Among the reasons cited for their choice was a rejection of Western consumerism and materialism, in favour of modesty and minimalism.
A screen on which to project anxiety
The veil offers a visible, public marker that can be mobilised to emphasise various political and social agendas. Under colonial rule, the veil became a sign that demarcated those who did not belong to the European system of thought. It continues to do so, and has become mobilised within political debates at times of crisis – for example in Germany by Merkel facing the rise of the far-right Alternative for Germany party.
According to Gabriele Boos-Niazy, the co-chair of Germany's Association for Muslim Women, there are no more than a hundred women in Germany who wear the full-face veil. In a country of 80m citizens, this forms 0.000125%. The focus on banning the full-face veil is not rational but ideological, with Muslim women's dress now embodying a range of wider fears around terrorism, Islam and immigration. The Muslim veil has become a screen onto which Europe's anxieties and political struggles are being projected.
Europeans have a history of portraying the veil as foreign to the continent's mentality – and this shows no sign of abating. Yet, considering the way Muslim women have used the veil as a way of resistance in the past, they are likely to do it again in the future.
Katarzyna Falecka, PhD student: History of Art, UCL. This article first appeared on The Conversation (theconversation.com)
http://www.independent.co.uk/news/world/politics/from-colonial-algeria-to-modern-day-europe-the-muslim-veil-remains-an-ideological-battleground-a7544786.html
--------
A year ago Britain's Parliament debated banning Trump, now he'll be a guest of the queen
January 27, 2017
LONDON -- Last January, British members of Parliament spent three hours debating whether to ban Donald Trump, then a Republican U.S. presidential candidate, from visiting the United Kingdom.
The grounds for the proposed ban? His verbal assaults on immigrants, Muslims, women and others qualified him as a hate preacher, lawmakers argued.
Spawned by a public petition gone viral, the debate was non-partisan. Members of virtually every party in Parliament stood to denounce the candidate over his proposed Muslim ban and his insistence that some cities in the U.K. are "no-go areas" because of large immigrant populations.
Full report at:
http://www.nola.com/politics/index.ssf/2017/01/trump_guest_of_the_queen_engla.html
--------
Arab World
Is US 'terror tag' likely for Muslim Brotherhood?
27 January 2017
A debate is under way in the Trump administration about whether the United States should declare the Muslim Brotherhood a terrorist organization and subject it to US sanctions, according to US officials and people close to President Donald Trump's transition team.
A faction led by Michael Flynn, Trump's National Security Advisor, wants to add the Brotherhood to the State Department and US Treasury lists of foreign terrorist organizations, the sources said. "I know it has been discussed. I'm in favor of it," said a Trump transition advisor, who declined to be named because of the sensitivity of the issue.
The advisor said Flynn's team discussed adding the group to the US list of terrorist groups but said it was ultimately unclear when or even if the administration ultimately would go ahead with such a move.
Also read: What remains of Egypt's January 25 revolution?
Other Trump advisors, as well as many veteran national security, diplomatic, law enforcement and intelligence officials argue the Brotherhood has evolved peacefully in some countries, according to officials and people close to Trump's entourage. The Muslim Brotherhood in Egypt, the country's oldest Islamist movement, was designated as a terrorist organization in that country in 2013.
It is not clear which faction within the US administration has the upper hand, and Senator Ted Cruz and Representative Mario Diaz-Balart this month introduced legislation to add the Brotherhood to the terrorist list. There was no immediate comment from the White House.
Mixed record
Trump's nominee for Secretary of State, Rex Tillerson, described the Brotherhood an "an agent of radical Islam", during his Senate confirmation hearing.
US criminal law prohibits people in the United States from knowingly providing "material support" to designated terrorist organizations, and members of such groups are banned from entering the United States. Some conservative and anti-Muslim activists have argued for years that the Brotherhood has been a breeding ground for terrorists.
Some branches of the Brotherhood, including the Palestinian group Hamas, have engaged in anti-government violence and provoked violent government reactions. Ayman al-Zawahiri, the leader of al-Qaeda, was once a member of the Egyptian Muslim Brotherhood.
Also read: Trump, Sisi discuss fighting terrorism in first phone call
Sisi and Trump spoke by phone this week and the two leaders discussed ways to boost the fight against terrorism and extremism. A US official who declined to be identified told Reuters there had been discussions at the State Department which looked at intelligence and information on the group in which it was thought "it would be difficult to justify legally, in terms of the Egyptian Muslim Brotherhood, to meet the criteria".
"It's one thing to say one group's ideology has been used to influence a terrorist organization and another thing to say that this group is a terrorist organization," said the US official.
A British government review into Egypt's outlawed Muslim Brotherhood published in December 2015 concluded that membership of or links to the political group should be considered a possible indicator of extremism but stopped short of recommending that it should be banned.
https://english.alarabiya.net/en/News/middle-east/2017/01/27/Will-Trump-designate-Muslim-Brotherhood-as-terror-group-.html
--------
Syria: Nusra Suffers Heavy Death Toll in Clashes with Rival Terrorists in Idlib, Aleppo
Jan 27, 2017
Nusra fighters engaged in heavy fighting with Soqour al-Sham and Ahrar al-Sham near the town of Ahsam in Idlib to capture the town.
Fierce clashes are reported between Jeish al-Mojaheddeen and Soqour al-Sham with al-Nusra terrorists.
Nusra has reportedly suffered a total number of 35 casualties in the clashes with rival militants in Aleppo and Idlib so far.
In the meantime, reports also said that militants of Jondullah in the town of Sarmada in Idlib joined Ahrar al-Sham to fight against the al-Nusra Front.
In relevant developments in Northern and Northwestern Syrian on Thursday, intense infighting continued among the terrorist groups in Syria with al-Nusra launching heavy attacks on Idlib's Central Jail in the Western parts of the city.
The al-Nusra Front intensified its attacks against other militants and was attempting to take control of Hayyan town in Northern Aleppo by surrounding Faylaq al-Sham and Jabha al-Shamiya terrorists' positions in the region.
Meantime, a field commander of al-Nusra Front, namely Taha al-Khatib, along with 5 members of the terrorist group were killed in clashes with Soqour al-Sham militants in Jabal al-Zawiya region in Southern Idlib.
Full report at:
http://en.farsnews.com/newstext.aspx?nn=13951108000656
--------
Russian Attack Planes, Helicopters Return to ISIL-Held Palmyra to Retake City
Jan 27, 2017
The Russian newspaper Izvestia reported that Ka-52 Alligator advanced combat helicopters and Su-25 Rook attack aircraft have joined in efforts to liberate the Syrian city of Palmyra from ISIL terrorists.
The goal is to significantly strengthen the fire impact on terrorist positions, the newspaper said, referring to an interaction between a Ka-52 and a Su-35 as a combination of intelligence capabilities and high strike power.
"It is designed to compensate for the lack of Syrian artillery strike capabilities, as well as to provide effective support to government forces advancing on Palmyra," Izvestia said.
Vladimir Popov, the deputy chief of the Russian magazine Aviapanorama, told Sputnik that interaction between the Ka-52 and the Su-25 is one of the tactics that can be used to improve the efficiency of helicopter and aircraft strike systems.
"Using its state-of-the-art sighting and navigation equipment, the Ka-52s will transmit more accurate information about the (enemy) targets due to be bombed by the Su-25s," Popov said.
According to him, the super precise fire impact on ISIL's positions in Palmyra will play an important role in saving the rest of the historic monuments in this ancient city.
Full report at:
http://en.farsnews.com/newstext.aspx?nn=13951108000716
--------
Russian, Turkish Warplanes Pound ISIL's Positions in Al-Bab
Jan 27, 2017
"On January 26, 2017, the Russian Aerospace Force and the Turkish Air Force conducted one more air operation to incapacitate the ISIL's grouping in the town of al-Bab," a spokesperson for the Russian Defense Ministry said.
"The operation was authorized by the Syrian government," he said. "Russia used Sukhoi-24M frontline bombers and Sukhoi-35S fighter jets, while Turkey used F-16 and F-16 multirole fighters."
The airstrikes destroyed three command points and communications centers, as well as several fortified strongpoints of the militants.
Also in relevant developments, a Turkish soldier was killed and five others were wounded in clashes with the ISIL terrorist group in Northern Syria's al-Bab, the Turkish Armed Forces (TSK) said Thursday.
The TSK said that the clashes broke out in Kabr al-Mukri region and the wounded soldiers were brought to Kilis State Hospital across the border for medical treatment, Daily Sabah reported.
Turkey launched Operation Euphrates Shield On Aug. 24, 2016 claiming that is was exercising its rights of self-defense, however the Syrian government have rejected the Ankara claim as intervention in Syria.
Ankara has already vowed that Operation Euphrates Shield will continue in Manbij and Afrin, which are both held by the PKK militants after al-Bab is liberated.
Earlier this month, the Russian General Staff said that Russian and Turkish military aircraft conducted their first joint operation in Syria.
The Turkish Air Force and the Russian Aerospace Forces carried out their joint operation against ISIL near Al-Bab in the Aleppo province, Sputnik reported.
"Nine strike aircraft of the Russian Aerospace Forces, including four Su-24M, four Su-25 and one Su-34 bomber, as well as eight Turkish Air Force's jets four F-16 and dour F-4 aircraft are involved in the aerial campaign agreed with Syrian authorities," Lt. Gen. Sergei Rudskoy, the chief of the Russian General Staff Main Operational Directorate, said at a news briefing in Moscow.
A total of 35 targets were destroyed by Russian and Turkish military jets, Rudskoy said.
Full report at:
http://en.farsnews.com/newstext.aspx?nn=13951108000378
--------
Several Civilians Killed, Wounded in US-Led Coalition Airstrikes in North-eastern Syria
Jan 27, 2017
Three civilians were killed and several more were wounded in the coalition air attacks on an oil refinery in the village of Hanideh, SOHR said.
In the meantime, seven civilians were killed and six others were wounded in the attacks of the Turkish army's artillery units in the town of al-Bab in Eastern Aleppo.
Local sources said earlier this month that at least 4 civilians, including a woman, were killed and 8 more were wounded in the US-led coalition air raids on a village West of Raqqa city in Northeastern Syria.
The sources said that the civilians were killed and wounded in the coalition fighter jets' heavy bombardment on al-Khatounieh village.
Full report at:
http://en.farsnews.com/newstext.aspx?nn=13951108000694
--------
Syria: Several Students Wounded in ISIL's Mortar Attack in Deir Ezzur
Jan 27, 2017
The sources said that ISIL's mortar units targeted the University of al-Furat in the government-controlled districts of the Eastern city of Deir Ezzur, injuring several students.
On Thursday, the Russian and Syrian fighter jets continued joint operations against the ISIL terrorists and killed and wounded dozens of militants by targeting their gathering centers in Deir Ezzur.
The Syrian air force bombed the ISIL positions in Deir Ezzur which destroyed the terrorist group's al-Rakaz base near Kaziya Sukr in Salehiya Hatla region, inflicting 15 losses on the militants inside.
Also, the Syrian airplanes launched repeated attacks against the ISIL bases and moves at Setta Illa Rob street and near al-Tamwin square as well as al-Konamat, al-Maqaber and Jabal al-Tharda districts and al-Baliqiya, Marat and Khasham villages near Deir Ezzur city which killed tens of militants and blew up several military vehicles.
Full report at:
http://en.farsnews.com/newstext.aspx?nn=13951108000303
--------
Trump's Mideast immigration ban excludes GCC, Egypt
27 January 2017
US President Donald Trump's proposed ban on immigrants from Muslim-majority nations has caused controversy worldwide.
The ban would suspend all entry of immigrants from Muslim countries to the US. However, the ban only affects seven states in the Middle East, according to Bloomberg News,
Trump's proposed list bans immigrants from Iraq, Iran, Libya, Somalia, Sudan, Syria and Yemen, yet excludes Egypt, Turkey, Saudi Arabia and the UAE.
Full report at:
https://english.alarabiya.net/en/News/middle-east/2017/01/27/Trump-s-Mideast-immigration-ban-excludes-GCC-Egypt.html
--------
ISIL's Position in Sweida Hit Hard in Syrian Army Attack
Jan 27, 2017
The army men targeted ISIL's position in the village of al-Qaser, leaving the entire members of a group of ISIL dead or wounded and their weapons and ammunition destroyed.
Earlier this month, the army's missile and artillery units targeted and destroyed ISIL's strategic military base and operations room in Sweida province.
Several field commanders of the ISIL were stationed in the terrorist group's operation room in the Northern part of Sweida province.
Over 45 ISIL terrorists, including senior commanders, were killed and wounded in the army's missile and artillery attacks.
Full report at:
http://en.farsnews.com/newstext.aspx?nn=13951108000236
--------
Mideast
Turkey to reconsider EU deal after Greek refusal to return coup suspects
Jan 27, 2017
Turkey says it has decided to reconsider its controversial refugee deal with the European Union in a row with Greece over the repatriation of eight coup suspects.
The government in Ankara may consider canceling the refugee readmission agreement with Athens in the wake of the refusal of the Greek Supreme Court to return the eight suspects allegedly linked to the failed coup of July 2016 in Turkey, Foreign Minister Mevlut Cavusoglu said on Friday.
"We are now considering what we are going to do," the Turkish foreign minister stated.
The "necessary steps" Ankara would take, Cavusoglu added, include "the cancelation of this readmission agreement."
Cavusoglu was referring to the agreement signed in March that halted the influx of refugees, particularly from Syria, into Europe as part of a major accord to stem the refugee flow into the EU.
In the controversial deal, Turkey agreed to take back any asylum seekers who land in Greece.
Brussels, in return, pledged to give Ankara some cash and allow Turkey to become an EU member state. However, despite a stop in the refugee flow, the EU did not fulfill its part, prompting Turkish officials to repeatedly threaten to scrap the deal.
http://www.presstv.ir/Detail/2017/01/27/507986/Turkey-EU-deal-after-Greek-refusal-to-return-coup-suspects
--------
Saudis attacked Yemen to prove servitude to US masters: Houthi leader
Jan 27, 2017
The leader of Yemen's Houthi Ansarullah movement, Abdul-Malik Badreddin al-Houthi, says Al Saud launched the ongoing atrocious and devastating aerial bombardment campaign against its southern neighbor in order to assert its servitude to the United States. Addressing a group of Yemenis in the capital, Sana'a, on Friday, Houthi stressed the need for popular mobilization in the face of Saudi Arabia's acts of aggression, and warned against any capitulation and surrender to enemies, Arabic-language al-Masirah television network reported.
He described the Yemeni nation's resistance against the Riyadh regime's incessant attacks as deeply rooted in religious orders and meant to safeguard national sovereignty, esteem and freedom.
The Ansarullah leader said Saudi Arabia opted to take part in hostilities against the impoverished country of Yemen following the death of King Abdullah bin Abdulaziz Al Saud to prove its dependence on US statesmen.
Houthi said Washington has offered the Al Saud regime generous diplomatic support for its aggression against Yemen, and is even closely monitoring the attacks.
He called on Yemenis from all walks of life to resist against the relentless Saudi aggression irrespective of economic woes, airstrikes and destruction of critical infrastructure.
Latest deadly airstrikes
The remarks came on the same day that six children and three women lost their lives and several other civilians sustained injuries when Saudi fighter jets carried out aerial attacks in al-Wazi'iyah district of Tai'zz province.
Four other women were also killed in Saudi airstrikes against a residential building in the Yakhtal area of the Red Sea port city of Mokha, situated 346 kilometers south of Sana'a.
Saudi warplanes also struck the mountainous Jabal Yam area in the Nihm district of Yemen's western-central province of Sana'a, though no report of casualties was immediately available.
Full report at:
http://www.presstv.ir/Detail/2017/01/27/508012/Yemen-Houthi-Ansarullah-movement-Saudi-Arabia-war-servitude-US
--------
Israeli police grill Netanyahu for a third time
January 28, 2017
JERUSALEM - Israeli police on Friday grilled Prime Minister Benjamin Netanyahu at his Jerusalem residence in a third round of questioning over corruption suspicions, local media said.
Public radio said he was questioned for about four hours and was expected to be interviewed for a fourth time "in the middle of next week." The police spokesman could not be reached for comment.
The radio and other media said the questioning had been expected to focus on suspicions of unlawfully receiving gifts from a wealthy supporter and over an alleged bid to strike a deal with an Israeli press baron.
Police reportedly suspect that over several years Israeli businessman and Hollywood producer Arnon Milchan, a longtime friend of Netanyahu, sent him boxes of expensive cigars with a value of tens of thousands of dollars.
Milchan also allegedly gave Netanyahu's wife Sara pink champagne priced at about $100 a bottle.
"It is permissible to accept gifts from friends," the prime minister said on Wednesday in answer to questions in parliament. "No crime was committed."
Also being probed is a suspicion that the premier sought a secret deal with Amnon Moses, publisher of Israel's top-selling newspaper Yediot Aharonot. The discussed deal, which is not believed to have been finalised, would have seen Netanyahu receive positive coverage in return for helping curb Yedioth's competitor, the pro-Netanyahu freesheet Israel Hayom. Netanyahu says he has committed no offence and was the target of a campaign by political opponents.
"Hypocrisy is running rampant and the clear aim is to bring down the Likud government with me at its head and to that end all means are legitimate," Netanyahu told the lawmakers.
Netanyahu's Likud party heads a coalition government seen as the most right-wing in Israel's history.
Full report at:
http://nation.com.pk/international/28-Jan-2017/israeli-police-grill-netanyahu-for-a-third-time
--------
Yemen army clashes with Houthis in Mokha
27 January 2017
The Yemeni army repulsed an offensive by Houthis east Mokha amid militias' futile attempts to retake the city, meanwhile, heavy clashes between the warring factions continue in different fronts Friday.
Furthermore, Apache helicopters pounded militia reinforcements on the highway links al Haidiya Taiz and Mokha, as the coalition fighter jets bombard militias' bunkers and strongholds east al Mokha city.
According to military sources, militants inflicted heavy human losses after the government army repelled an attack on its posts in the strategic Han Mountain in Hazran.
Furthermore, coalition jets struck three militia positions north-east and south the capital, Sana'a.
Separately, four explosive experts were killed while rigging a mosque with explosives in Shabwa Province.
Full report at:
https://english.alarabiya.net/en/News/gulf/2017/01/27/Yemen-army-clashes-with-Houthis-in-Mokha.html
--------
Saudi intercepts ballistic missile launched from Yemen
27 January 2017
Saudi Arabia's Aerial Defense Forces intercepted a ballistic missile launched by militias in Yemen targeting Najran.
The Saudi forces then carried out air strikes on the launch area, identified by the military operations room.
Full report at:
https://english.alarabiya.net/en/News/gulf/2017/01/27/Saudi-intercepts-ballistic-missile-launched-form-Yemen.html
--------
Africa
It's time for Kenya to rethink war against al-Shabaab
JANUARY 27 2017
Friday's al-Shabaab attack of Kenya's military camp in Kulbiyow in southern Somalia has reignited debate about the wisdom of the continued stay of the soldiers in that country. Details of the casualties may not be clear thus far – although the terrorist group claimed Kenya suffered heavy casualties – but the prime question is: how safe are our troops in Somalia? For how long will we keep the soldiers out there?
Last year, al-Shabaab overran the Kenyan Defence Force's camp in el-Ade and killed more than 100 soldiers. Full details of the fatalities have not been made known to Kenyans. Families are still grieving; more so for those who never got to know what became of their relatives.
When Kenya joined the African Union Mission in Somalia some six years ago, the understanding was that it was to be a short assignment and that terrorists would be vanquished and the soldiers return to carry on with their usual operations. But this was not to be. It has proved a rather vexed undertaking, claiming many lives and with no end in sight.
For Kenya, the incursion into Somalia was well-justified. We had suffered major terror attacks right within our borders that claimed many lives and therefore it became imperative that we took the battle right to the doorstep of the aggressor. Al-Shabaab had to be exterminated to bring peace and security in Somalia and in turn, Kenya and the region.
After many years in the war-torn country and the rising cases of killings of our soldiers it is time to step back and review our mission and strategy in Somalia. But this does not mean surrender. In fact, we cannot give in and allow the forces of violence to reign supreme. But as strategists argue, retreat is a tactical means of winning a war. It is not lost that the initial enthusiasm especially among the international community to support the war has ebbed. The government must rethink the strategies for fighting al-Shabaab without putting our soldiers in harm's way.
http://www.nation.co.ke/oped/Editorial/time-kenya-rethink-war-shabaab/440804-3789988-bv5ob8z/
--------
'He's my only child' – mother of Boko Haram militant struggles without her son
January 27, 2017
More than a year after she was taken from Boko Haram by the Nigerian army, Falta still has mixed feelings about her freedom.
While she does not miss life in the Sambisa forest – a vast former game reserve in northeast Nigeria and the jihadists' final stronghold – Falta is worried about her son, Mamman Nur, who is believed to be one of Boko Haram's leading commanders.
Nur was the suspected mastermind behind a suicide bomb on U.N. headquarters in the capital Abuja in August 2011 that killed 23 people. Nigeria's state security service has offered a $160,000 bounty for information leading to his capture.
The question of whether Boko Haram still has a base in the Sambisa is disputed, with President Muhammadu Buhari last month saying their last enclave in the forest was captured, before a man purporting to be the militants' leader denied the claim.
Falta, a frail grandmother who describes herself as an "old woman", recalled how her son insisted that his entire family move to the Sambisa for their safety following clashes between Boko Haram and the army in their hometown of Banki.
With no-one else to look after her, Falta said she had no choice but to go with her son, his three wives and his children to the base from which the militant group has waged a bloody seven-year campaign to create an Islamic state in the northeast.
"He is my only remaining child … his father died when he was a child," said Falta, who had been a farmer in Banki.
Despite her doubts, life in the Sambisa was comfortable for Falta. Vans arrived regularly with food and clothes, a hospital staffed with doctors and nurses tended to the ill, and Falta had her own room in a house she shared with her son and his wives.
"I was happy to have my grandchildren around me," she said.
NOWHERE TO GO
Falta lived with her son for more than four years before she and his wives were captured by the Nigerian military in a 2015 raid on the Sambisa forest that took place while Nur was away.
Sitting on a mat in the government safe house, Falta said she had repeatedly tried to talk her son out of joining the Islamist militant group, which has killed some 15,000 people and forced more than two million to flee their homes since 2009.
"But he did not listen to me," Falta said, explaining that she does not know when or why her son joined the jihadists. "I gave birth to him, but I did not give birth to his lifestyle."
"After he moved to the Sambisa, I decided it was no longer any use talking … I could see he was already deeply involved."
President Buhari in December said Boko Haram's last enclave in the forest had been captured in the "final crushing" of the group, yet the Thomson Reuters Foundation has been unable to independently verify that the area was captured.
Days after Buhari's announcement, a man purporting to be the leader of Boko Haram, Abubakar Shekau, denied the claim in a video seen by Reuters, which could not be verified as genuine.
Full report at:
http://www.premiumtimesng.com/news/top-news/221769-hes-child-mother-boko-haram-militant-struggles-without-son.html
--------
India
'IS recruiter' used invisible internet project to communicate with his handler, says NIA
January 28, 2017
IN A FIRST, the investigations into the alleged Kerala Islamic State (IS) module has revealed that their ring leader Abdul Rashid used invisible internet project or darknet to communicate with his handler. The National Investigation Agency (NIA) suspects that Kerala-based Rashid—who had allegedly fled to Afghanistan last year along with 20 others to fight alongside the globally banned outfit IS — used the masked internet service to talk to Shafi Armar alias Yusuf, who has been identified as his handler.
The NIA has stumbled upon this information while investigating a complaint filed by one Abdul Majeed. The latter had approached the agency with a complaint that his son Ashfaque had fled India to join IS after being radicalised by four people, including Rashid. Three others namely Arshi Qureshi, Rizwan Khan, and Mohammad Haneef have already been arrested, and are currently in judicial custody.
While Qureshi was a guest manager of the now banned Islamic Research Foundation (IRF), Khan was a volunteer with a Mazgaon-based NGO, Al Birr Foundation. Haneef, on the other hand, was an imam based out of Kerala.
"We interrogated Rashid's brother in the case. It was then that he revealed Rashid had been using darknet for communication purposes. The brother, however, asserted that Rashid had refused to share any more details regarding the technology he had been using. Since it is difficult to track the digital footprint in the case of darknet, we haven't been able to retrieve much from the articles seized from his home," said an official.
A darknet is a computer network with restricted access. It is mainly used for illegal peer-to-peer communication.
In its chargesheet that the agency is likely to file in the said case next month, the NIA will state that Ashfaque was slowly drawn into the IS fold through sustained indoctrination. This included showing him videos of the execution carried out by IS, the articles in IS's mouth piece Dabiq, and also videos of IS caliphate Abu Bakr Al-Baghdadi.
Sources, however, said they hadnot found evidence to link controversial televangelist and IRF's founder Zakir Naik. "While Ashfaque was a regular at the IRF office in Dongri we have not found any evidence to link Naik to the case," said a source. "While the four accused radicalised Ashfaque, there is no common link connecting them," he added further.
The agency has also recorded the statement of MM Akbar, renowned Islamic preacher and founder of Peace International School in Kochi in connection with the case.
Rashid used to teach at the school. In his statement , Akbar has told the agency that he expelled Rashid after learning that he was conducting 'jihadi' training. The probe has also ascertained that Ashfaque funded his travels to Sri Lanka in February and also to Afghanistan in June last year.
"While Majeed had claimed that Qureshi had funded Ashfaque's travel to Sri Lanka to attend a course on 'learning Quran' however during the investigation we found that Ashfaque who managed their family's motel at Central Mumbai saved Rs 10,000 every month for personal expenses. Through his savings he funded his Sri Lanka and Afghanistan trips," added the official
The NIA has also recovered over 500 applications from Khan's Kalyan home. Most of these applications pertain to conversion. "Khan who worked as a volunteer with Al Birr Foundation helped in documentation work for seekers converting to Islam. While we have recovered a heap of documents from his home, a chunk of it is related to conversion. He operated out of the Esplanade Court in South Mumbai where he used to help seekers make affidavits necessary to convert their religion," revealed an official.
http://indianexpress.com/article/india/is-recruiter-used-invisible-internet-project-to-communicate-with-his-handler-says-nia-4495074/
--------
India-UAE ties: Abu Dhabi positions itself as the Sunni alternative
Jan 28, 2017
In spring 2015, the Abu Dhabi royal family urged Prime Minister Narendra Modi to consider a state visit to the United Arab Emirates. New Delhi was unenthusiastic. India's economic stakes in the UAE were weighed against the Emiratis close relationship with Pakistan. Dubai's status as a home-away-from-home for Dawood Ibrahim rankled.
Abu Dhabi indicated it was prepared to talk about counterterrorism, including Pakistan. New Delhi was pleasantly surprised to find the Emiratis were serious: the infamous days when it was one of three countries to recognise the Taliban regime were over.
Modi flew to the UAE in August that year. Crown prince Sheikh Mohammed bin Zayed's coming as Republic Day chief guest this year sealed the new Delhi-Abu Dhabi relationship.
Read I India-UAE to increase trade by 60%, to come up with action plan by June
There are several reasons why the UAE has suddenly discovered India.
Foremost is Abu Dhabi's sense that its years of acquiescence to Saudi Arabian and Pakistani promotion of Sunni extremism is now threatening to engulf the entire region. In a speech to the UN last year, UAE foreign minister Sheikh Abdullah bin Zayed warned of the dangers "organisations, most notably Daesh, Al Qaeda, Hezbollah" which "exploit religion for political purposes" posed to the region.
The UAE has quietly supported the creation of moderate Islamic institutions such as the Muslim Council of Elders, the Global Forum for Prompting Peace in Muslim Societies and the Sawab and Hedayah Centres. Last year, notes James Dorsey of the Middle East Institute in Singapore, the Emirati underwrote a clerics conference in Russia which, when defining true schools of Sunni thinking, pointedly excluded Saudi-backed Wahhabism, Salafists and Deobandi school.
King's College Gulf expert, David B Rogers, goes as far as to say the UAE has become an advocate of its own brand of secularism, one in which "the decisions of ruling elites are informed and shaped, rather than mandated and sanctioned, by Islam".
The UAE has positioned itself as a fourth force in political divisions that presently wrack the Sunni world. It has distanced itself from the Wahhabism promoted by Saudi Arabia. It strongly opposes the anti-monarchical conservativism of the Muslim Brotherhood. And keeps aloof from Turkey and Qatar, which have supported radical Salafi groups including, at times, the Islamic State.
Read I President Pranab Mukherjee thanks UAE for embracing Indians, helping them flourish
This has automatically devalued the importance of Pakistan for the UAE. The Pakistan Army's decision to refuse to join UAE-Saudi military efforts to support Sunni forces in Yemen's civil war accelerated this shift. But more fundamental was a sense that if secularised Islam was the UAE's future, India made more sense than its western neighbour.
The India gambit also fits Abu Dhabi's economic vision.
With the US effectively energy independent and China's double-digit growth years behind it, the fastest growing major market for oil and gas these past several months has been India. This has been noticed by Abu Dhabi, the only one of the Emirates with oil and gas wealth. Offering to have its main sovereign wealth fund, the Abu Dhabi Investment Authority, put $ 80 billion into India's infrastructure builds both an economic bond and helps promote a future market.
Abu Dhabi also has two other economic goals in mind. One is to develop capacities in technology sectors such as renewable energy and software, with the idea of diversifying from hydrocarbons. Again Indian corporations are obvious partners in such efforts. Pakistan stands nowhere.
Read I The Abu Dhabi crown prince as the R-Day guest suggests India's renewed West Asia focus
The other goal is to evolve Dubai into a genuine global financial hub. "The Abu Dhabi royal family see the Dubai family as a bunch of buccaneers who allowed all sorts of riff-raff to settle down in Dubai," explained one Western diplomat. The vision is to make Dubai more like Singapore. Again, India makes sense, Pakistan not.
Finally, Abu Dhabi and many other Gulf states are concerned at the region's lack of a geopolitical anchor. The US is seen as unpredictable and disinterested in the region. Newly-elected President Donald Trump's expressed dislike for both Iran and Saudi Arabia only continues, in cruder form, the Obama administration's policy of staying as far removed from the Gulf as possible.
The Saudis and Emiratis were further troubled when the Obama administration, concerned at outsized civilian casualties in Yemen, blocked the sale of bombs and missiles to their respective air forces. Which is one reason Abu Dhabi has begun exploring the possibility of buying Indian-made arms.
Full report at:
http://www.hindustantimes.com/world-news/abu-dhabi-positions-itself-as-the-sunni-alternative/story-LxY6SU5oH9zLeKXp8TzQAK.html
--------
Supreme court rejects India-wide ban on cow slaughter
January 27, 2017
New Delhi // India's top court on Friday rejected a petition seeking a nationwide ban on cow slaughter, a measure that would have effectively banned beef consumption in the nation of 1.25 billion.
Cows are revered in the Hindu scriptures as the "mother" of civilisation and many worshippers consider the slaughter of cows or eating beef as blasphemy. But millions from India's huge minority populations – including Muslims, Christians and lower caste Hindus – eat beef, which is not widely available and is banned altogether in some states.
Just eight of India's 29 states permit the consumption of beef or the slaughter of cows.
"One state may ban slaughter, the other may not," the court said in rejecting a petition filed by an activist.
"We will not interfere in state laws."
Several radical religious groups, and the Hindu nationalist Bharatiya Janata Party (BJP) of prime minister Narendra Modi, have long campaigned for a nationwide ban on cow slaughter.
The BJP won national elections in 2014 with a large majority, pledging in part to ban cow slaughter. But so far the government in Delhi has failed to convince the states to pass such sweeping measures.
Some BJP-ruled states have in recent years pushed through tougher penalties for cow slaughter or possessing or eating beef, including 10-year jail terms.
Since the BJP's national ascent to power Hindu vigilantes have carried out string of attacks on minorities over the issue, resulting in the deaths of at least 10 people.
In 2014, a 50-year-old Muslim man accused of slaughtering a cow and consuming its meat was murdered by a mob at his home near New Delhi.
Full report at:
http://www.thenational.ae/world/south-asia/supreme-court-rejects-india-wide-ban-on-cow-slaughter
--------
Pakistan
Islamophobia: Is Pakistan also a contributor?
dullah Khalid
27-Jan-17
I am regular to Friday prayers but less seen in mosque otherwise. Like doing charity and have a sound profile when it comes to Ramadan's fasts. I try to halt myself from obscenities and illegal substances hence adhering to cultural and religious bounding. Koran is my guidance towards harmony. I am not a saint and label myself as a sinner but as a Muslim I feel the responsibility to do much better for whole mankind.
My above résumé is an average reflection of more than 1.5 billion Muslims across the world. We don't hear these attributes of Muslims in western media and neither do Islamophobia-struck critics take these into consideration while judging Islam as a violent faith. What has gone so wrong that Islamophobia from being just a word is now a vast mindset? Has Pakistan, a country founded in name of Islam, also credited to its heaving?
9/11
Right after 9/11, a wave of loath against Islam and inevitably Pakistan hit with a substantiating damage. Four words i.e. Pakistan, Islam, Jihad and Terrorists became synonyms. World powers started to see the once Asian tiger with raging eyes. George Bush on one hand famously advocated Islam by saying "Islam is peace", while on other started gearing up to drop bombs on Afghanistan and Iraq, whilst in search of bombs. The repercussions even after 13 years are immense economically, culturally and dare I say geographically. Anti-Islam believe it is Pakistan who has been overtly hiding and financing terrorists due to its robust Islamic association.
Point to ponder: Since the start of war on terror after 9/11 attacks, Pakistan has lost more than 60 billion dollars and 37,000+ lives.
Blasphemy law and killings
As an independent Islamic state it's not a privy that *Shariat* courts are a part of Pakistan's judicial system. Since 2001, more than 10 prominent cases have been referred to *Shariat* courts. Decisions range from imprisonment, fine and death penalty. However, there have been non-judicial killings in the name of 'blasphemy' by natives. Notable victims are Punjab's governor Salmaan Taseer, Christian couple in Kot Radha Kishan and a 70-year-old British in Lahore's jail. Blasphemy laws in Pakistan are under a lot of debate internationally and are blamed for the above stated killings.
Point to ponder: Not a single beheading has taken place under blasphemy charge by government itself.
Suicide Bombings
According to a survey, since year 1995, 432 suicide bombers have killed more than 23,000 people in Pakistan. 107 suicide bombings have been conducted by different known militant groups and 325 by unknown entities. Ayaan Hirsi Ali, author and ex-Muslim said, "Violence is inherent in Islam — it's a destructive, nihilistic cult of death. It legitimates murder."
A petition was filed against her and she lost her honorary degree from Brandeis due to this account.
Point to ponder: To counter this large turnout of suicide bombings, not only in Pakistan, many clerics have issued fatwa against the hideous act. Including the 600 paged fatwa by luminary cleric Dr Tahirul Qadri. PEW also reported a survey in which 89% Pakistanis believed that 'suicide bombing is never justified'
Sectarian violence
Sectarian violence in Pakistan has been on a steep incline since 2000. In alone 2006, 41 sectarian natured attacks took place. These ranged from bombings to target killings. Mostly against Shia and Ahmedis, these assaults were, and still are, always execrated by state and civil society. Foreign funding and Islamisation by Zia regime are the consistent blames opted by all governments to get off the hook of controversies.
Point to Ponder: Veteran atheist, Late Professor Hitchens, while debating Tariq Ramadan, Professor of Contemporary Islamic Studies at Oxford University, proposed Islamic countries to have "Godless constitution like USA" to nullify sectarian violence. Ramadan poised the argument in start by reminding "the problem is not the book. The problem is the reader."
Female rights and Veil
Secularists and especially European voices are very critical about Pakistani women rights. After Mukhatara Mai and Malala Yusafzai's struggle was appreciated, media and activists became more bothered about Pakistan's gender equality gap (ranked second to last in world) and questioned the 'conservative' treatment. Accusing that female Muslims are forced to take veil in rural areas, male dominance doesn't allow them to get educated and family pressure results in their early marriage.
Point to ponder: Pakistan has elected a female prime minister twice since independence and has allocated 60 reserved seats for females in National Assembly.
Islam teaches tolerance through Prophet Muhammad's (PBUH) robust commitment towards peace even after Quraish's adventurism, forgiveness by Win of Mecca, leadership skills from exemplary caliphates and faith in Allah, among many, while remembering Karbala. This is exactly what Pakistani Muslims of 21st century also strive to learn from and combat the above stated challenges.
http://dailytimes.com.pk/blog/27-Jan-17/islamophobia-is-pakistan-also-a-contributor
--------
Pakistan TV Host Banned by Media Regulator Over Comments About Activists
By QASIM NAUMAN
Jan 27, 2017
Pakistan's media regulator has banned Aamir Liaquat Husain, one of the country's best known TV hosts, over alleged hate speech and incitement to violence, after he made comments on his show that activists warned could threaten their safety.
The Pakistan Electronic Media Regulatory Authority said Thursday Mr. Husain "willfully and repeatedly" made derogatory remarks and accused various people of being "anti-state and anti-Islam." Mr. Husain, who hosts a regular show on the Bol News channel, had accused activists who went missing earlier this month–and their supporters–of blasphemy and anti-Pakistan activities.
Mr. Husain, who is also executive president at Bol News, denied the charges in a broadcast Thursday night. "I say with responsibility and love, whatever I said was according to the 1973 Constitution of Pakistan and the Quran," he said.
At least four liberal activists known for their vocal criticism of the country's security policies and opposition to religious extremists disappeared in Pakistan earlier this month. No law enforcement or intelligence agency, or militant group, has said the activists are in their custody. Pakistan's government has said it is conducting a thorough investigation.
Mr. Husain's broadcasts over the past two weeks echoed an online campaign, conducted through several hardline Pakistani social media accounts, which accuses the missing activists of being blasphemers and traitors to Pakistan, charges denied by their supporters.
Blasphemy is illegal in Muslim-majority Pakistan, and carries a maximum death penalty under the law. While the state has never executed anyone convicted of blasphemy against Islam or its holy figures, vigilantes and mobs have killed dozens in recent years over allegations.
The accusations this month against the missing activists endanger their lives as well as the lives of their families and supporters, fellow activists said. Last year, two Pakistani TV hosts were banned for what the regulator described as "irresponsible" discussions on blasphemy.
Pakistani human rights activist and lawyer Jibran Nasir filed a police case against Mr. Husain Wednesday, accusing him of hate speech and incitement to violence. Mr. Husain and Bol News officials couldn't be reached for comment Friday.
Mr. Husain shot to fame in the early 2000s as an eloquent televangelist, first hosting an Islamic show and then branching out into variety shows that dominated ratings.
The ban this week on Mr. Husain isn't his first brush with controversy. In 2008, he was criticized for saying members of the Ahmadiyya minority community deserved to be killed for being apostates.
On his current show on Bol News, Mr. Husain has regularly accused other media executives, TV channels, and activists of being traitors and agents of India, Pakistan's neighbor and rival.
Thursday night, defying the regulator's ban on his show, Mr. Husain appeared on Bol News, claiming Pakistan's media regulator had banned him to please its "Indian masters", as a "present" to Indian Prime Minister Narendra Modi on India's Republic Day. He said he was unfairly accused of hate speech, and intends to start legal action against the ban, as well as those running a "campaign of propaganda and hate" against him.
Pakistan's media regulator had warned that the transmission of Bol News will be suspended if it doesn't comply with the ban.
Full report at:
http://blogs.wsj.com/indiarealtime/2017/01/27/pakistan-tv-host-banned-by-media-regulator-over-comments-about-activists/
--------
COAS approves troop deployment for census
28-Jan-17
ISLAMABAD: Chief of Army Staff (COAS) General Qamar Javed Bajwa has approved the plan to assist the federal government in holding the sixth population and housing census, and for this purpose 200,000 army troops will take part in the process, Inter-Services Public Relations (ISPR) Director General Major General Asif Ghafoor said in a statement on Friday.
Security sources told Daily Times that the federal and provincial governments had requested the army chief for the deployment of army troops during the census process starting from March 15.
Sources said that the army would assist the government in the conduct of census, while other operations like Zarb-e-Azb and the Karachi operation would also continue. The census process will be completed in phases, and the Pakistan Bureau of Statistics has finalised all arrangements in this regard. The Ministry of Finance has also released Rs 15 billion to meet the expenses.
Full report at:
http://dailytimes.com.pk/islamabad/28-Jan-17/coas-approves-troop-deployment-for-census
--------
JI seeks rights for Bengali-speaking people
January 28, 2017
KARACHI - Jamaat-e-Islami (JI) Karachi chief Hafiz Naeem-ur-Rehman has demanded that the government reactivate the blocked computerised identity cards of Bengali-speaking Pakistanis.
Addressing a protest demonstration against blockage of CNICs of Bengali-speakers in Pakistan under the aegis of Pak Muslim Alliance on Friday, the JI leader said the government should restore basic rights of Bengali-speaking citizens.
He said it was a matter of concern that Bengali-speaking people were facing economic constraints in fisheries and other sectors.
On the occasion, he thanked the Supreme Court of Pakistan (SCP) for taking up the matter. The top court has taken suo motu notice of the issue.
The JI leader lambasted the NADRA authorities for their inefficiency and said the ruling elite talked about enlightenment but in fact they were pursuing agenda of their Western masters. He said that besides Bengali-speaking citizens, Baloch, Pashto and Urdu-speaking communities were also being targeted.
Naeem said that Bengali-speaking people were patriotic citizens of Pakistan. He said that people were being hanged in Bangladesh for their love for Pakistan.
Full report at:
http://nation.com.pk/karachi/28-Jan-2017/ji-seeks-rights-for-bengali-speaking-people
--------
Police arrests five suspects from various areas of Karachi
January 27, 2017
KARACHI : Police has arrested atleast five suspects from various areas of Karachi on Friday.
Ittehad Town police carried out raids in surroundings of Baldia Town and detained three drug dealers Toha Khan, Meezan Saeed Tariq and Wajid Khan.
More than 2kg charas was recovered from the possession of the suspects.
Meanwhile, Site-A police apprehended two street criminals Imran and Arif and confiscated weapons from them.
On the other hand, a bullet riddled body of a man Allah Rakha was found from the jurisdiction of Ferozabad police station.
The fourth body recovered a day before from Link road has been identified as Tanveer Magheeri who was the resident of Sarjani.
Full report at:
http://nation.com.pk/karachi/27-Jan-2017/police-arrests-five-suspects-from-various-areas-of-karachi
--------
Two 'TTP militants' killed in encounter
January 27, 2017
KARACHI - Law enforcement agencies claimed on Thursday to have gunned down two militants associated with the Tehrik-e-Taliban Pakistan (TTP) in an encounter in Gadap Town.
Heavy contingents of Sindh Rangers carried out an intelligence-based operation in the Gadap Town area of District Malir. During the operation militants associated with the TTP resorted to firing to evade arrest. In the ensuing encounter, two alleged militants were killed. Those killed were identified as Faroor Jamal aka Wajid Toor associated with the Jamil aka Jamze Group of the TTP. Safaid Khan aka Nasir was associated with the TTP, Swat.
The Rangers spokesperson said the militants were experts in bomb-making. They had carried out several attacks on important installations. The Rangers claimed to have recovered a huge cache of weapons and explosives from the hideout of the militants. Meanwhile, security agencies carried out a raid in the Liaquatabad locality and arrested Fayyaz aka Papu, the man in-charge of Unit-157 and member of the Muttahia Qaumi Movement.
Sources privy to the matter said that a heavy contingent of security personnel carried out the raid and arrested Fayyaz. Security personnel shifted him to an unknown location for investigation. No security agency has claimed his arrest.
Sources said that Fayyaz was associated with MQM London.
On the other hand, Iqbal Market police arrested two alleged street criminals and claimed to have recovered weapons and looted valuables from them. Police said that accused Sameer Ahmed and Zubair Saleem were involved in several cases of street crime. Police intercepted both accused during a routine patrol. Police said that personnel had been deployed at specific points to intercept criminals keeping in view the increasing complains of street crime in the locality. Police have registered a case and started investigation. Separately, the Rangers claimed to have arrested three persons associated with the militant wing of a political party and recovered weapons from their possession on Thursday.
Full report at:
http://nation.com.pk/karachi/27-Jan-2017/two-ttp-militants-killed-in-encounter
--------
North America
Terrorism by Muslims makes up one-third of 1 percent of all murders in the US
Jan 27, 2017
So much of President Trump's approach to terrorism is centered on the idea that Muslims, specifically, are dangerous. It's the thinking behind the plans he floated during the campaign to ban Muslims from entering the United States and to potentially set up a "registry" of Muslims living in the country.
These are extraordinary measures, ones that directly undermine basic American commitments to religious tolerance and liberal values. They imply that Muslim Americans pose a unique threat to the US, and that violence committed by extremists from that community is taking enormous numbers of American lives.
But that is just not true. A new study from Duke University sociologist Charles Kurzman, which tallies up the data on terrorist attacks committed by Muslim Americans, shows why.
The study found that only 46 Muslim Americans (defined as "Muslims who lived in the US for an extended period") were linked to violent extremism at home or abroad in 2016. The total Muslim American population is 3.3 million.
Of those 46, only 24 were actually implicated in a concrete terrorist plot (the others did things like attempting to travel to Syria to join ISIS). Those plots claimed 54 lives, the vast majority of which (49) came in a single attack — the Pulse nightclub shooting in Orlando.
The study isn't making an apples-to-apples comparison; the more directly relevant statistic would look at whether or not Muslim Americans kill more US citizens here than any other specific political or religious group (other research has looked at that question). But Kurzman's work vividly underscores a simple fact: Muslim Americans, in both raw terms and as a percentage of size of their total community, commit very small numbers of killings.
By contrast, roughly 11,000 Americans were killed in gun homicides in 2016 — yet Trump has never said anything about creating a registry of gun owners.
"It is flatly untrue that America is deeply threatened by violent extremism by Muslim-Americans," David Schanzer, director of the Triangle Center on Terrorism and Homeland Security, said in a statement accompanying the study's release. "Attacks by Muslims accounted for only one third of one percent of all murders in America last year."
Trump's crackdown on Muslim rights is not a serious counterterrorism proposal
Kurzman has been conducting a version of this study every year for the past eight years, in order to get a comprehensive sense of whether jihadist movements are successfully recruiting among Muslim Americans. He found a small increase in extremist activity 2015, in the wake of ISIS's stunning military victories the prior year, which declined in 2016.
Overall, for as long as Kurzman has done the study, the number of actual terrorist attacks committed by Muslim Americans has been exceptionally small.
"The 54 fatalities caused by Muslim-American extremists in 2016 brought the total since 9/11 to 123," Kurzman writes. "More than 240,000 Americans were murdered over the same period."
This year, Kurzman did something new. In light of news of a draft executive order that would indefinitely suspend entry to the US from seven Muslim-majority countries — Iraq, Iran, Libya, Somali, Sudan, Syria, and Yemen — Kurzman tried to figure out whether immigration from these countries, specifically, posed an special terrorist threat.
It didn't. Muslim Americans with a background from these countries were not well-represented among the (very small) ranks of Muslim American terrorists.
"Since 9/11, only 23 percent of Muslim-Americans involved with violent extremist plots had family backgrounds in these seven countries," Kurzman writes. "There have been no fatalities in the United States caused by extremists with family backgrounds in these countries."
Immigrants of all kinds were actually underrepresented in the ranks of Muslims attracted to extremism. The following charts show the percentage of Muslim Americans from different backgrounds, on the left, and the percentage of Muslim Americans attracted to extremism from each of these backgrounds, on the right. Immigrants are clearly underrepresented:
The only overrepresented group, you'll note, are converts — people from non-Muslim backgrounds. Many of these people are likely attracted to extremism rather than Islam per se, as you can see by looking at the rates of violent extremism among non-Muslim groups.
"Between 2001 and 2015, more Americans were killed by homegrown right-wing extremists than by Islamist terrorists," my colleague Jennifer Williams writes. "Adopting extremist views and committing horrendous acts of violence in the name of some 'righteous' cause, be it religion or politics or just plain old hatred, isn't something that only Muslims, or Arabs, or immigrants do."
http://www.vox.com/world/2017/1/27/14412420/terrorism-muslims-america-islam-trump
--------
South Asian lawyers group condemn Trump's orders on Muslim ban
January 28, 2017
Washington, Jan 28 (PTI) Top South Asian lawyers' bodies have condemned US President Donald Trump's executive order to stop refugees entering America and halt immigration process from Muslim-majority countries.
"These orders, which are based on the misguided idea that certain ethnic populations are more prone to violence, are incompatible with American values, and will not make our communities safer or our nation stronger, " South Asian Bar Association of North America (SABA) and National Asian Pacific American Bar Association (NAPABA) said in a joint statement.
It said the order halts refugee admissions from all countries for at least 120 days, indefinitely halts the admission of Syrian refugees, and lowers the number of refugee admissions to the United States.
It also grants states and localities the ability to stop refugees from settling in their jurisdiction, and suspends all entry of individuals from certain Muslim-majority countries.
"Criminalising and stigmatising a group of people simply for their religious beliefs, what they look like and where they come from, violates the American spirit of equality, fairness and innocence until proven guilty," said SABA president Vichal Kumar.
"The carve out in the executive actions for religious minorities challenges any assertion that these orders do not directly target Muslims," he said.
"An outright ban of an entire group is an overbroad and unjustified response to a threat that is based solely on conjecture and unsupported by facts. These actions will leave a legacy of creating deeper mistrust of our communities," he added.
"We must recognise the humanitarian needs of refugee populations and we must refuse to act based on fear and intolerance," said NAPABA president Cyndie Chang.
"Policies that discriminate against members of the Muslim community go against our values as Americans. President Trump's anti-immigrant executive orders open the door to a de facto 'Muslim ban,' and roll back efforts to create safe and supportive communities," Chang said.
Full report at:
http://www.india.com/news/world/south-asian-lawyers-group-condemn-trumps-orders-on-muslim-ban-1789932/
--------
UN chief says populism has triggered rise in anti-Muslim hatred and intolerance
Jan 28, 2017
The rise of populism has triggered an increase in anti-Semitism, racism, xenophobia, anti-Muslim hatred and other forms of intolerance, UN Secretary-General Antonio Guterres has said.
The new UN chief told several hundred people, including Holocaust survivors, at the UN's annual commemoration of the Holocaust that "a 'new normal' of public discourse is taking hold, in which prejudice is given a free pass and the door is opened to even more extreme hatred."
Guterres, who as Portugal's prime minister spurred Parliament in 1996 to revoke a 16th century letter expelling all Jews from the country, said people like him who grew up after World War II never imagined they would see rising attacks on Jews in Europe.
But "anti-Semitism is alive and kicking," he said. "Irrationality and intolerance are back."
Some people still deny the Holocaust despite the facts, Guterres said, and there is a new trend of Holocaust revisionism "with the rewriting of history and even the honouring of disgraced officials from those days."
He warned that "hate speech and anti-Semitic imagery are proliferating across the internet and social media", and violent extremist groups are using anti-Semitic appeals "to rouse their forces and recruit new followers."
Guterres said growing intolerance in many forms is being "triggered by populism".
He called the stereotyping of Muslims "deeply troubling," and said he is "extremely concerned at the discrimination faced by minorities, refugees and migrants across the world."
The secretary-general said the UN must promote tolerance, strengthen its human rights operation, push for justice for perpetrators of grave crimes, and invest in education and youth.
Full report at:
http://www.hindustantimes.com/world-news/un-chief-says-populism-has-triggered-a-rise-in-racism-anti-muslim-hatred/story-fTUsBnqUBPRcXiYpNHheGK.html
--------
Donald Trump vows 'new vetting' to weed out Islamic terrorists
Jan 28, 2017
WASHINGTON: US President Donald Trump signed a sweeping new executive order Friday to suspend refugee arrivals and impose tough new controls on travelers from seven Muslim countries.
Making good on one of his most controversial campaign promises, and to the horror of human rights groups, Trump said he was making America safe from "radical Islamic terrorists."
"This is big stuff," he declared at the Pentagon, after signing an order entitled: "Protection of the nation from foreign terrorist entry into the United States."
"I'm establishing new vetting measures to keep radical Islamic terrorists out of the United States of America. Don't want them here," Trump said at the Pentagon.
"We only want to admit those into our country who will support our country and love deeply our people," he said.
Trump's decree suspends the entire US refugee resettlement program for at least 120 days+ while tough new vetting rules are established.
These new protocols will "ensure that those approved for refugee admission do not pose a threat to the security and welfare of the United States."
In addition, it specifically bars Syrian refugees from the United States indefinitely, or until the president himself decides that they no longer pose a threat.
Meanwhile, no visas will be issued for 90 days to migrants or visitors from seven mainly-Muslim countries: Iran, Iraq, Libya, Somalia, Sudan, Syria and Yemen.
During the suspensions of the refugee and visa programs, new rules will be devised for what Trump as called the "extreme vetting" of applicants' backgrounds.
Some exceptions will be made for members of "religious minorities," which — in the countries targeted by the decree — would imply favorable treatment for Christians.
Civil liberties groups and many counterterror experts condemned the measures, declaring it inhumane to lump the victims of conflict in with the extremists who threaten them.
"'Extreme vetting' is just a euphemism for discriminating against Muslims," said Anthony Romero, executive director of the American Civil Liberties Union.
Romero argued that, by choosing countries with Muslim majorities for tougher treatment, Trump's order breaches the US Constitution's ban on religious discrimination.
Ahmed Rehab, director of the Chicago chapter of the Council on American-Islamic Relations, said his group would mount legal challenges to fight the order "tooth and nail."
"It is targeting people based on their faith and national origin, and not on their character or their criminality," he said.
Malala Yousafzai, the Pakistani activist and Nobel peace laureate who was shot in the head by the Taliban in 2012, said she was "heartbroken."
She urged Trump not to abandon the world's "most defenseless children and families."
But the measure will be popular with Trump's nationalist base, and stops short of a threat made during last year's campaign to halt all Muslim travel to the United States.
Trump's supporters defend the measures as necessary to prevent supporters of al-Qaida or the Islamic State group from infiltrating the US homeland disguised as refugees.
And the State Department, which with the Department of Homeland Security will have to implement the measures, said it was ready to put them into immediate effect.
"We will announce any changes affecting travelers to the United States as soon as that information is available," spokesman Mark Toner said.
"We take seriously our responsibility to safeguard the American public while remaining committed to assisting the world's most vulnerable people."
Trump, who met with the Joint Chiefs of Staff at the Pentagon, has the authority to determine how many refugees are accepted annually, and he can suspend the program at any time. Refugee processing was suspended in the immediate aftermath of the Sept. 11 attacks and restarted months later.
During the past budget year, the US accepted 84,995 refugees, including 12,587 people from Syria. President Barack Obama had set the refugee limit for this budget year at 110,000.
Full report at:
http://timesofindia.indiatimes.com/world/us/donald-trump-vows-new-vetting-to-weed-out-islamic-radicals/articleshow/56823986.cms
--------
US will prioritize Christian refugees: Trump
JANUARY 28, 2017
US President Donald Trump said persecuted Christians will be given priority over other refugees seeking to enter the U.S., saying they have been "horribly treated".
Speaking with the Christian Broadcasting Network on Friday, Mr. Trump said that it had been "impossible, or at least very tough" for Syrian Christians to enter the U.S., CNN reported.
"If you were a Muslim you could come in, but if you were a Christian, it was almost impossible and the reason that was so unfair —— everybody was persecuted, in all fairness —— but they were chopping off the heads of everybody but more so the Christians. And I thought it was very, very unfair. So we are going to help them."
Mr. Trump did not name a reason or offer any evidence about why the agencies that vet refugees, including the Department of Homeland Security and the State Department, would have prioritized Muslim refugees over Christians.
According to a report by the non-partisan Pew Research Center, however, 99 per cent of the nearly 12,600 Syrians granted refugee status last year were Muslims. Less than 1 per cent were Christian. Syria's population is 87 per cent Muslim and 10 per cent Christian, according to the CIA World Fact Book.
Also on Friday, Mr. Trump signed an executive order freezing refugee applications from seven Muslim-majority countries in the Middle East and Africa, including Syria. It's unclear how his pledge to help persecuted Christians from those countries will accord with that plan.
The US admitted a record number of 38,901 Muslim refugees in 2016, according to a study conducted by Pew. But nearly the same number of Christians, 37,521 were also admitted.
Many religious groups have denounced Mr. Trump's proposed ban on refugees from Muslim-majority countries.
Full report at:
http://www.thehindu.com/news/international/US-will-prioritize-Christian-refugees-Trump/article17107587.ece
--------
South Asia
10 ISIS and Lashkar-e-Islam militants killed in Nangarhar
Jan 28 2017
At least 10 militants belonging to the loyalists of the Islamic State of Iraq and Syria (ISIS) terrorist group and Lashkar-e-Islam were killed in separate operations in eastern Nangarhar province of Afghanistan.
The provincial police commandment in a statement said at least 2 ISIS loyalists and 5 Lashkar-e-Islam militants were killed in a US drone strike in Achin district on Friday.
The statement further added that a commander of the group identified as Qazi Shahid was also among those killed.
At least 3 ISIS militants were killed during a clash with the security forces in Haska Mina district, the statement said, adding that the clash broke out after the ISIS militants ambushed the Afghan forces in Ghalani area.
The anti-government armed militant groups including the ISIS loyalists have not commented regarding the report so far.
Both the Afghan and US forces conducted regular strikes against the loyalists of the terror group in this province.
The increased raids, usually involving drone strikes, by the US forces followed a broader role granted by the Obama administration earlier last year.
The broader role was granted amid concerns that the loyalists of the terror group are attempting to expand foothold in the country and turn the eastern Nangarhar province into a regional operational hub for its fighters.
http://www.khaama.com/10-isis-and-lashkar-e-islam-militants-killed-in-nangarhar-02749
--------
Afghan nation will never forget Indian nation's cooperation: Atmar
Jan 26 2017
The Afghan nation will never forget the aid and cooperation delivered by the Indian people and government, Afghan National Security Adviser (NSA) Mohammad Hanif Atmar said Thursday.
In his statement released on the occasion of the Republic Day in India, Atmar said "On this auspicious occasion and important day, let me convey my best wishes and happiest moments for the government and people of India."
Atmar further added "This day reminds us our strong commitment for an evergreen friendship, cooperation, countering terrorism and getting rid of extremism."
"It makes us remember the hardships and sorrows the Great Mahatma Gandhi has tolerated for the sovereignty of this great nation," he said, adding that "We all have to follow him, for peace, for prosperity, for the welfare of our people and for the harmony of whole mankind."
According to Atmar "Afghanistan and India for centuries have very strong relations. We have shared historical, cultural, political and social values."
"The people and government of Afghanistan will never forget the aids and cooperation of Indian Nation and Government in different sectors," Atmar added.
He also said "We are really thankful for all this and we will firmly stand united and committed against our enemies."
India has remained one of the key donors for the reconstruction of Afghanistan following the fall of the Taliban regime in 2001.
Full report at:
http://www.khaama.com/afghan-nation-will-never-forget-indian-nations-cooperation-atmar-02739
--------
Taliban chief replaces 24 'shadow' officials
January 28, 2017
Kabul : The leader of the Afghan Taliban recently replaced "shadow" governors in 16 of the country's 34 provinces, as he sought to consolidate his influence over the insurgency, senior figures in the movement said this week.
A list seen by Reuters, and confirmed by the militant movement's main spokesman, names another eight provincial-level officials, including one whose job will be to offer technical support for major attacks on urban areas.
Mullah Haibatullah Akhundzada took over the movement fighting to topple the Kabul government in May last year, after his predecessor, Mullah Akhtar Mansour, was killed in southwestern Pakistan by a missile fired from a US drone.
The Afghan Taliban has been weakened in the past by internal divisions and defections to rival groups like Islamic State, and, while senior militant sources said some new appointments would strengthen Akhundzada, there was no change in Helmand.
The southern province, much of it under Taliban control, provides the group with much of its funding through opium. Several Taliban sources said Akhundzada did not wield the same influence over Helmand that Mansour once did.
"Mullah Haibatullah is trying to consolidate his position and power, but is apparently moving forward extremely carefully," said a senior Taliban figure and ex-minister now based along the Pakistan-Afghanistan border.
The Taliban ruled Afghanistan between 1996 and 2001, imposing a harsh interpretation of Islamic law before being ousted by a US-led military campaign.
The list of 24 was verified by official spokesman Zabihullah Mujahid and two other Taliban figures in Qatar and Afghanistan.
Some of the titles reflect the Taliban's hierarchical organization, such as "director of technical/weapons funding and support", a job that went to a commander Alladin Agha, formerly in charge of training camps for fighters.
"Agha will be providing technical support to carry out spectacular attacks within cities," said another Taliban official, an envoy living outside Afghanistan.
However, there are no changes to the Rahbari Shura, a central leadership council, or in Helmand province, where the Taliban control large swathes of territory.
The Taliban envoy said relations between Haibatullah and Helmand shadow governor Manan Akhond were tense.
Full report at:
http://nation.com.pk/international/28-Jan-2017/taliban-chief-replaces-24-shadow-officials
--------
Marriage an Uncertain Path to Citizenship for Rohingya Refugees in Bangladesh
2017-01-27
Lacking adequate food, shelter and sanitation, many Rohingya Muslim refugees who fled into Bangladesh from Myanmar are marrying local men in the hope of achieving citizenship and basic services.
Such marriages are illegal, and often involve polygamy, child marriage or abandonment, BenarNews, an RFA-affiliated online news service, learned during a recent visit to Rohingya refugee camps in southeastern Bangladesh.
Yet both sides see potential advantages – at least at first.
Sultan Ahmed, a 29-year-old resident of Teknaf sub-district in Cox's Bazar, recently married Samuda Begum, 16, who entered Bangladesh from Myanmar seven or eight years ago and lives in the Muchhni Rohingya camp.
"My first wife has no problem; I have married again as a hobby," Sultan, a father of three, told BenarNews. "I live with my first wife; I often go to Samuda and give her some money for daily expenses."
After crossing the border three years ago to escape violence and hunger in Myanmar, Nazu Begum, now 25, married a Bangladeshi man who has since abandoned her.
"I got married with a man from Noakhali with the hope of getting citizenship. Life had been peaceful. But my husband left Teknaf after the birth of two children," said Nazu, who lives in Kochubunia, a village just across the border from the Maungdaw district of Myanmar.
Her husband's care for his family "withered away" after his work as a mason in Teknaf dried up, Nazu said. Like Samuda, she remains stateless.
But Nazu, who works as a maid at hotels and homes, has no plans to return to Myanmar. "I will educate my children here and settle here," Nazu told BenarNews.
'Our first choice'
U.N. officials say some 65,000 Rohingya Muslims have entered Bangladesh since October 2016, fleeing a brutal military crackdown launched on the minority community in Myanmar's western Rakhine state after Rohingya militants attacked border guard posts, killing nine officers.
Many women said they fled to Bangladesh with their children after security forces either killed or took away their husbands. In addition, 17 of 54 women BenarNews interviewed in the camps said they had been raped before crossing the border.
But life in Bangladesh is also full of hardship.
Prior to the latest influx, about 35,000 refugees lived in Cox's Bazar in two UN-registered refugee camps, and 300,000 more in vast settlements immediately adjacent, where many homes are constructed of bamboo and plastic, and roughly 5,000 people have access to a single water source and latrine, a BenarNews correspondent witnessed.
Bangladesh has refused to grant the Rohingya refugee status because it considers them citizens of Myanmar, while Myanmar considers the Rohingya illegal immigrants from Bangladesh and has denied then citizenship and access to basic services for decades.
Rohingyas are eager for citizenship as a way to escape the camps, gain civic rights and remain in Bangladesh. Families are willing to accept polygamy or much older men for their daughters because they believe the marriage will secure their future in Bangladesh.
"There is no education opportunity (in the camps); (we) have to share a small room with many children. So, the children are arranged marriage as soon as they reach adulthood. Bangladeshi boys and girls are our first choice," Nur Mohammad, a resident of Leda camp, told BenarNews.
'Nobody abides by the law'
Yet the path to citizenship is far from guaranteed.
Marriages with non-citizens cannot be registered in Bangladesh. And since the marriage is not registered, authorities cannot take legal actions against men who marry Rohingya women.
"Marrying a Rohingya is an offense, but nobody abides by the law. A Rohingya couple thinks they can stay here legally if one of their children is married with a Bangladeshi national," Mohammad Ali, a former lawmaker from Teknaf, told BenarNews.
"So, they do not hesitate to settle marriage of a young girl with an aged Bangladeshi man. Such condition is making way for the local men to marry again; this has become a social blight," Ali said Ali.
Full report at:
http://www.rfa.org/english/news/myanmar/rohingya-marriage-01272017085033.html
--------
Afghan and Pakistani border guards clash in Spin Boldak
Jan 27 2017
The Afghan and Pakistani security forces exchanged fire in Spin Boldak district located close to Durand Line, the local officials said.
The incident took place late on Thursday after the Afghan border guards opened fire on a number of militants who were trying to enter the district from the other side of the line.
Provincial police spokesman Zia Durani confirmed that a border policeman lost his life and two others were wounded during the clash.
He said the Pakistani border guards opened fire on the Afghan police forces after the militants came under fire.
According to Durani, the militants and Pakistani militia forces have likely suffered casualties during the clash but there are no reports regarding the number.
The militant groups and Pakistani authorities have not commented regarding the incident to so far.
Incidents involving cross-border attacks mainly by the militants are not rare as the porous areas along the Durand Line are normally frequented by the Afghan militants as well as the foreign insurgents including the Pakistani Taliban insurgents.
Full report at:
http://www.khaama.com/afghan-and-pakistani-border-guards-clash-in-spin-boldak-02740
--------
Southeast Asia
Philippine President Pleads With Rebels to Rebuff Islamic State Advances
Jan 27, 2017
MANILA: Philippine President Rodrigo Duterte on Friday pleaded with the country's Muslim separatist groups to deny sanctuary to militants with links to Islamic State, warning a war would ensue that would put civilians in danger.
His appeal comes a day after his defence minister said foreign intelligence reports showed a leader of the Abu Sayyaf rebel group was getting instructions from Islamic State to expand in the Philippines, in the strongest sign yet of links to the Middle Eastern militants.
Duterte said he could no longer contain the extremist "contamination" and urged two Muslim separatist rebels groups - the Moro Islamic Liberation Front and the Moro National Liberation Front - to rebuff Islamic State's advances.
"I am earnestly asking, I am pleading to the MNLF and the MILF, do not provide sanctuary to the terrorists in your areas," he told troops at a military camp in Mindanao, his home region.
"Because if that happens, then we will be forced to go after them within your territory, and that could mean trouble for all of us. I don't want that to happen.
"The government is going after them, they have done wrong, they killed a lot of innocent people."
The south of the predominately Christian Philippines has for decades been a hotbed of Muslim insurgency but Duterte is worried some smaller groups and splinter factions that have pledged allegiance to Islamic State could host IS fighters being driven out of Iraq and Syria.
They include the Maute group in Lanao del Sur province and the Abu Sayyaf in the Sulu Archipelago near Malaysia.
Abu Sayyaf, which means "bearer of the sword", is notorious for piracy and kidnapping and for beheading foreign hostages for whom ransoms are not paid.
It has used the Islamic State flag in hostage videos posted online.
http://timesofindia.indiatimes.com/world/south-asia/duterte-pleads-with-philippine-rebels-to-rebuff-islamic-state-advances/articleshow/56814559.cms
--------
Indonesians Targeted And Criminalized For Indecency and Immorality
01/27/2017
In 2000, the Central Government of Indonesia granted provinces the right to self govern and have autonomy from the Central Government to establish independent legislative councils and enact local laws, known as regional regulations.
A new report by OutRight Action International, Creeping Criminalisation, maps Indonesia's national laws and the departure of regional regulations from national laws in eight provinces. It finds that regional regulations violate human rights of women, and of lesbian, gay, bisexual, transgender and intersex (LGBTI) people and do not coincide with national level legislation and even the Constitution. The regional regulations, passed by province, district or city-level governments, are heavily influenced by the encroachment of fundamentalist interpretations of Islam, specifically, Wahhabi Islam that is exported and financially resourced by Saudi Arabia.
Moral Sexual Panic
One year ago in January 2016, an unexpected wave of state sponsored homophobia proliferated across Indonesia's capital and spread across the country. The campaign began as an effort to ban lesbian, gay, bisexual and transgender (LGBT) organizations from Indonesian campuses, but escalated rapidly. Government officials and fundamentalist organizations began an all out attack on LGBT people, proclaiming LGBT people as morally depraved and mentally ill, condemning LGBT groups as a national security threat, a proxy war worse than a nuclear attack, and propagating LGBT people as a danger to children.
Media fuelled the growing moral sexual panic. Prominent politicians used media to spread anti-LGBT messages, such as calling for a ban on LGBT people or urging "rehabilitation" for LGBT communities. These messages soon prompted vigilantism in different provinces across Indonesia. For instance, in the city of Bandung in West Java, Muslim religious vigilantes raided neighborhoods and targeted women with shared housing arrangements, accusing them of lesbianism, although women sharing housing is a common practice, In the province of Yogyakarta, Front Jihad Islam, a violent fundamentalist group, forced a Muslim religious school for waria (transwomen) to permanently shut down. Often viewed as fundamentalist thugs, the group asserted that waria should stop reciting the Quran and "repent their sinful ways." They organized other violent confrontations during peaceful LGBT gatherings.
Although many Indonesians and LGBTI activists internationally were shocked by the organized manner in which the 2016 campaign was carried out, it is in fact part of the alarming and dangerous trend that has been underway for over ten years. This is evidenced by discriminatory legislation that has slowly proliferated across the country, criminalizing LGBTI people and women on subjective accusations of "individual sin," destabilizing social harmony.
One impact of the discriminatory regulations is the view that relationships (heterosexual and same sex) outside of marriage are considered adultery and/or prostitution, deemed indecent, immoral, and as disrupting public order. Definitions of these terms are broad and subject to arbitrary interpretation. For instance, findings in Creeping Criminalisation show that religious leaders, religious officials, and community leaders deciding on criminality and punishment, often base their decisions on personal bias instead of the law. They act as moral police, using the legislation to impose their own interpretations of Islam on practicing Muslims. Punishments include jail terms and fines, in some instances coupled with public shaming, and in the province of Aceh, caning.
Supposedly A Moderate Muslim Country
Indonesia is the largest Muslim country in the world and is considered a moderate Muslim country. The imposition of Wahhabi Islam onto Indonesians sharply contrasts with the moderate interpretation of Islam that most Indonesians practice.
Women's rights, LGBT rights, and human rights activists decry the dangerous and harmful trend of religious fundamentalism creeping into the country and say that it is transforming Indonesia into an ultra conservative Islamic state. Wahhabism has displaced local Indonesian Muslim practices and traditions, negatively impacting women's dress styles, space for women's autonomy, space for Islamic discourse, and tolerance for LGBT individuals. In fact, religious leaders who advocate Wahhabism silence questioning and debate on these issues even by practicing Muslims, shrinking religious freedom and freedom of opinion and expression.
Since the anti-LGBT campaign started, an anti-LGBT bill, which previously had limited support among Parliamentarians, has gained traction. Some activists in the country fear it could pass, and if it does, consenting Indonesians in same sex relationships will, for the first time, be federally criminalized for being lesbian, gay or bisexual.
In addition, a conservative Muslim family values group has asked the Constitutional Court to include adult consenting same sex relations as a punishable offense under the Criminal Code, Indonesia's equivalent to the Penal Code. It currently does not prohibit homosexuality and lesbianism.
If these measures succeed, the national laws will no longer serve as the higher standard for regional regulations.
Full report at:
http://www.huffingtonpost.com/entry/indonesians-targeted-and-criminalized-for-indecency_us_588bbffde4b0de286b257316
--------
How to Distinguish Jokowi"s Campaign from Indonesia"s Foreign Policy
28 January 2017
JAKARTA, NETRALNEWS.COM - Indonesia has decided that its foreign policy in 2017 will focus on intensifying interactions with other countries to protect the nations interests, security, ideological objectives, and economic prosperity. To this end, the country continues to participate in implementing world order based on freedom, lasting peace, and social justice.
Creating a peaceful world is also one of the national goals outlined in the Preamble of the 1945 Constitution of the Republic of Indonesia. It demonstrates that Indonesia prioritizes the importance of its active participation in international associations through multilateral cooperation, friendship, and partnership.
As creating world peace gains greater attention of the Indonesian government, the country remains committed to fighting for Palestinian independence. It has also become one of the priorities of Indonesias foreign policy in 2017.
Indonesia will seek greater support for Palestinian independence through a two-state solution, Foreign Affairs Minister Retno Marsudi stated."Indonesia will never waver from its commitment to supporting the Palestinian struggle for independence," she noted in the 2017 Annual Press Statement of the Foreign Affairs Minister in early January.
With regard to the efforts, Indonesia supports the International Conference initiated by France and has attended the Paris meeting in June 2016 and will attend the next meeting in January 2017.
In demonstrating strong support for the Palestinian people, the Indonesian government has achieved a diplomatic breakthrough by establishing an honorary consulate in Ramallah and is planning to open a House of Indonesia in Palestine.
Indonesia also initiated the Extraordinary Summit of Palestine and Al-Quds Al-Sharif in Jakarta in March 2016 and endorsed the Jakarta Declaration that supports Palestinian independence through various concrete measures and breakthroughs.
Besides emphasizing unwavering support for Palestinian independence, Minister Marsudi highlighted other priority areas in the foreign policy for 2017: strengthening the Association of Southeast Asian Nations (ASEANs) unity and centrality as well as its contribution in the region, fostering peace and stability in the East Asian region by accelerating negotiations on the Code of Conduct, building Indian Oceans regional architecture, and optimizing support for Indonesias candidacy as a non-permanent member of the United Nations Security Council (UNSC) for 2019-2020.
Speaking in connection with candidacy in the UNSC, Minister Marsudi affirmed that Indonesia is determined to delivering concrete contribution towards global peace in accordance with the nations constitutional mandate.
Furthermore, Indonesia should establish a proactive foreign policy with Islamic countries to promote peace and justice, Executive Director of the Centre for Strategic and International Studies Philips J. Vermonte urged.
"We have agreed in our Constitution that we would uphold moderate Islam, in which we live in harmony with other religions," he stated during a public lecture "Indonesia Foreign Policy: Review and Outlook 2017" held on Tuesday.
In promoting peace across Islamic nations, Indonesia must continue to uphold the constitutional principle as a country that is not solely based on one religion although majority of the Indonesian population embraces Islam. "It must be reflected in our foreign policy too."
Meanwhile, founder of the Foreign Policy Community of Indonesia Dino Patti Djalal has urged Indonesia to act prudently while responding to changes in global geopolitics.
"Due to major geopolitical changes in the world, the relationships and partnerships among major powers will also change. This will have an impact on Indonesia, such as hurdles in relations between the US and Russia, Russia and China, the ASEAN and China, and the US and EU. Hence, we must reposition ourselves cleverly, so that we are not affected badly," he stated.
Another challenge looming large over Indonesia is the political changes in the ASEAN resulting from the dispute in the South China Sea. "Indonesia continues to promote regional unity among ASEAN countries."
It is important for the ASEAN to work at the grassroots level to reinforce regional unity and economic growth. As the biggest country in the ASEAN region, Indonesia can promote closer unity and integrity among member countries to avoid regional turmoil.
Djalal also pointed out that protection of Indonesian citizens abroad and diaspora issues remain a priority for the Indonesian government in 2017.
He stated that the Indonesian government was paying greater attention to international and critical issues and domestic and global developments, such as political issues, climate change, geopolitical changes, democracy, drug executions, terrorism eradication, humanitarian issues, maritime collaboration, and peacekeeping issues.
In addition, the nation will continue its approach of quiet diplomacy to address various sensitive issues in the regional and global arena, Deputy for Government Policy Support, Secretariat of the Vice President of Indonesia Dewi Fortuna Anwar noted. "We will witness more quiet diplomacy, but it will get the job done, as we do not want to fail by engaging in excessive discourse," she emphasized.
The practice of quiet diplomacy, aimed at mainly strengthening people-to-people relations and preventing conflicts, is in line with the governance style of President Joko Widodo (Jokowi) who prefers to work without making much noise.
Indonesian diplomatic measures are mostly undertaken in a constructive manner as was witnessed during Foreign Minister Retno Marsudis recent visit to Myanmar to provide humanitarian aid and to conduct several meetings, one of them being with the UN in an attempt to help resolve the conflict that has affected the Rohingya people in Rakhine State.
Full report at:
http://www.en.netralnews.com/news/opinion/read/785/how.to.distinguish.jokowi.s.campaign.from.indonesia.s.foreign.policy
--------
URL: https://www.newageislam.com/islamic-world-news/new-age-islam-news-bureau/new-book-claims-halal-is-'invented-tradition',-not-a-pillar-of-islam/d/109875
New Age Islam, Islam Online, Islamic Website, African Muslim News, Arab World News, South Asia News, Indian Muslim News, World Muslim News, Womens in Islam, Islamic Feminism, Arab Women, Womens In Arab, Islamphobia in America, Muslim Women in West, Islam Women and Feminism, Moderate Islam, Moderate Muslims, Progressive Islam, Progressive Muslims, Liberal Islam