New Age Islam News Bureau
21 November 2021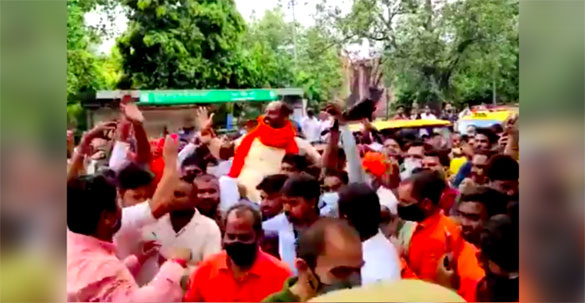 Pinky Chaudhury, the leader of the Hindu Raksha Dal which has been filing complaints of 'Thook Jihad' of late, surrendering to the police following the Jantar Mantar hate rally Photo: Twitter video screengrab
-----
• Never-Say-Die Attitude Of The Hate-Mongers: 'Thook Jihad' (Spit Jihad) Weapon from Hindutva's Arsenal Of Islamophobia Revived After A Year
• Islamophobia Awareness Month Calls For Change On UK Anti-Muslim Hate
• Adil al-Kalbani, Former Mecca Imam Appears In Saudi Combat Games Promo; Sparks Outrage
• Jailed Kazakh Islamic State Widow 'Optimistic' About Future
• Saif Al-Islam Gaddafi Stresses Need for Libyans to Participate in Elections
India
• 'No Plans to Allow Namaz': Gurudwara Chief Does U-Turn under Right-wing Pressure
• Due to Gurupurb Muslims Themselves Refused, Final Decision On Namaz Next Week: Gurgaon Gurudwara
• How The Legacy Of Bhopal's Muslim Rulers Is Being Erased By Dislocating Experiences Of Mutual Solidarities
------
Europe
• Chief Imam of the Moscow Cathedral Mosque says Muslims Seek To Open Prayer Rooms In Subways, Malls
• PM Johnson: UK "Must Try to Engage" with Islamic Emirate
• Britain's expected ban on Hamas puts spotlight on Muslim Brotherhood activities
------
Arab world
• Organization Of Islamic Cooperation Body Holding Meeting To Address Human Rights Issues
• Prophet's Holy Mosque Open For Prayers Without An Appointment Or Permit: Officials
• Thousands Of Residency, Labour, Border Violators Arrested Across Saudi Arabia
• Saudi specialists help transform clever ideas into commercial successes
• Revolutionary type 2 diabetes pill introduced in Saudi Arabia
• Saudi aid agency continues relief work in Pakistan, Yemen, Jordan
------
North America
• Muslim charitable funds not a source for fighting climate change
• A Peaceful, Happy Holiday Season For US Muslims, Too
• US teen cleared of protester deaths says self-defence 'not illegal'
------
Africa
• Muhammadu Buhari Should Declare Boko Haram, Others As Terrorist Organisations
• Religious intolerance: 'Boko Haram, ISWAP, bandits killing Christians' – CAN chides US govt
• Nigerian Shia cleric: Takfir Main Challenge on Path of Muslim Unity
-----
Mideast
• Turkish President Erdogan's Islamist Supremacy Threatens Christian Minorities In Turkey
• United Nations Passes Resolution In Favour Of Palestinians' Sovereignty Over Their Natural Resources
• Arsenal accused of ending footballer Elneny's contract over supporting Palestine
• 45.000 of Palestinians perform Friday prayer at Aqsa Mosque
• Iranians boo Khamenei at protest and disavow Hamas in Gaza
------
South Asia
• Beijing's Brutal Clampdown On Muslim Uighurs: Filmed By Brave Activist Guan Guan, Who Documented Slogans Including 'Reform Through Labour'
• United Kingdom must engage with Taliban in Afghanistan: Boris Johnson
• UAE reopens its embassy in Kabul
• Nearly 3,000 drug addicts taken to hospitals in Kabul: Taliban
• Taliban intends to pay three months salaries of government employees
• President, PM pay tribute to martyred armed forces members
------
Southeast Asia
• Annuar Musa Downplays Sexual Harassment In Entertainment Industry, Says No Need To Magnify Issues
• Ahmad Zahid: BN open to talks with other parties to form Melaka govt if it falls short of majority
• Friday Prayers Held In Brunei After 3-Month Hiatus
------
Pakistan
• International Expo Of Islamic Arts Opens In Pakistan With Iran's Participation
• Panchayat Accused Of Delaying Construction On Hindu Cremation Ground Plot In Islamabad
• New legislation tightens establishment's grip on parliament, says Fazl
• Right to use of force should only rest with the state: experts
Compiled by New Age Islam News Bureau
URL: https://www.newageislam.com/islamic-world-news/thook-jihad-hate-islamophobia-hindutva/d/125810
--------
Never-Say-Die Attitude Of The Hate-Mongers: 'Thook Jihad' (Spit Jihad) Weapon from Hindutva's Arsenal Of Islamophobia Revived After A Year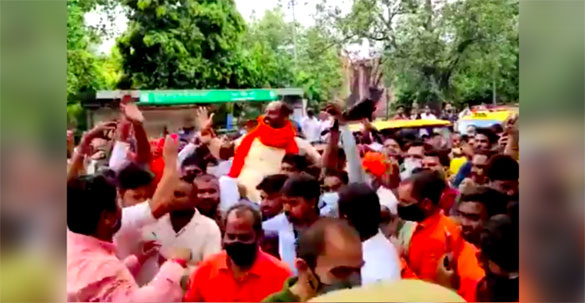 Pinky Chaudhury, the leader of the Hindu Raksha Dal which has been filing complaints of 'Thook Jihad' of late, surrendering to the police following the Jantar Mantar hate rally Photo: Twitter video screengrab
-----
Alishan Jafri
20-11-2021
On November 15, 2021, a seven-second video of a Muslim eatery worker from Loni, Ghaziabad, was widely circulated on social media. It was shared by members of the Bharatiya Janata Party and right-wing media handles like Kreately, who used it as 'proof' of something called #ThookJihad ('thook' is literally 'spit').
The next day, Aman Chopra, anchor of the news channel News18, held a debate based on this video in which he made blatantly Islamophobic statements and talked about 'Riwaz-E-Thook' (a purported 'tradition of spitting'), suggesting a sinister conspiracy by Muslim street food workers against Hindus via the contamination of food.
Strangely, on November 18, the show and the tweets were quietly taken off YouTube and Twitter by the anchor and the news channel. Since independent fact-checkers and the news website News laundry have already done a detailed takedown of the show, which is filled with anti-Muslim hatred and misinformation, the focus of this report is only on that seven-second video and the Hindu Raksha Dal (HRD) men who shot it.
The video shows a skullcap-wearing worker at a 'Muslim hotel' baking chapatis in a tandoor and alleged that this worker had spat on the chapatis. Amit Prajapati, state chief of the HRD, told The Wire, "This is not a communal conflict. The food at the eatery is eaten by both Muslims and Hindus. We do not want people to fall prey to any disease during this epidemic (sic). When a worker of the Hindu Raksha Dal passed by, he saw this person repeatedly spitting in rotis and made a video of him. Later, when our workers went to the hotel at about 5 pm, he misbehaved with them, so we called the police. The police took him into custody."
Sumit Sood, the HRD worker who uploaded the video of the incident, said in the video: "This is for those Hindus who come and eat with these pigs [Muslims]. You come and eat their spit daily. The more you boycott these mullahs, the better. To all my brothers [this is a message] to not eat with these pigs. They feed you filth."
In the background of the video is the eatery in question, which appears to have been vandalised. The Muslim man in the video is now in jail, based on a criminal complaint filed by Sood and other members of the HRD.
Strangely, this is not the first time that a member of the HRD has passed by street-side eatery in the area and spotted a Muslim man spitting on rotis.
This video, posted by members of the HRD in October shows a mob chanting 'Jai Shri Ram' outside a shop near Bhatia Chowk and pushing a man, perhaps a worker, after a Muslim man purportedly committed 'thook jihad'. The first information report (FIR) filed by Sisodiya alleged that two other eateries in the neighbourhood were part of the 'thook jihad' conspiracy. Coincidentally, News18 had also shared this video, describing how the HRD workers' protest led to the arrest of a man named Tamizuddin.
Pinky Chaudhury, chief of the HRD, along with Sood had posted this video on their social media handles a month before Sood found himself in the same circumstances with another Muslim man in the town.
Both the videos say that when men related to the HRD saw a Muslim chapati-maker commit what they call 'thook jihad' and intervened, Muslim men allegedly abused and attacked them, leading the Hindutva men to call the police.
"Jai Shri Ram to all my brothers. I have been saying this (sic) for a long time that no Hindu should eat at Muslim eateries because they want to defile our faith…Boycott these people with a Jihadi mind-set," Chaudhury wrote on Facebook, sharing a News18 report on the incident.
On Tuesday, November 16, a large 'Hanuman Chalisa protest' was organised by members of the HRD near the Shiv Mandir in the area to stop meat eateries from "hurting Hindu sentiments".
"The people working there misbehave with the devotees and throw leftovers of chicken, so we have demanded that the administration close the shops," Prajapati told The Wire.
Sood called upon Hindus to attend the reading in large numbers to send a strong message to vidharmis (a derogatory term for Muslims and Christians, meaning traitors of the Hindu religion). Last month, The Wire had covered the group's vigilante drive to shut down meat shops in Bulandshahr during Navratri, a campaign endorsed by Sisodiya, the complainant in the Tamizuddin case.
Interestingly, one of the panellists on Chopra's November 15 TV debate was former Delhi BJP spokesperson Ashwini Upadhyay, who had been arrested in August, 2021 in connection with the Jantar Mantar hate rally in which calls to economically cripple and kill Muslims were made.
"In thook jihadiyon ko ya toh maa baap sikha rahe hai ya koi school mein jaa rahe hai (These thook jihadis are either being taught all this by their parents or at their schools)," Upadhyay said on the show. He even suggested that Muslim men may be mixing other body fluids in the food they prepare, Newslaundry reported.
The men who happened to be present at the two different spots in less than a month in Ghaziabad's Loni where 'thook jihad' was committed are all HRD workers. Their leader, Chaudhury, had been arrested along with Upadhyay after the Jantar Mantar hate rally in August. The other accused in the hate rally case have also been involved in a sustained campaign to boycott Muslims for the last two years.
The Wire has covered the boycott campaign extensively. In June, 2021, a Muslim man was assaulted in Uttam Nagar by an armed mob allegedly chanting Jai Shri Ram during protests by the same group against rehdi (street vendor) jihad and fruit jihad. Hindutva supporters had organised a Hanuman Chalisa protest against Muslim fruit sellers there as well.
At the Jantar Mantar rally, open calls had been made to target Muslim businesses and pamphlets against the community were circulated. "No matter who comes to power, we will not allow Muslims to rise. We are in the process of awakening our youth. We will get mullahs out of graves and finish them from their roots. Wait for April 2, you will see we will create a situation where Muslims have to either convert to Hinduism or they will be sent to Pakistan," Chaudhury had said at the Jantar Mantar rally.
Chaudhury also claimed responsibility for the attack on JNU students on January 5, 2020. On several occasions, he threatened genocidal violence against Muslims. He had announced a bounty on the head of Amanatullah Khan, a member of the Delhi legislative assembly from the Aam Aadmi Party. He admitted on live TV that it was his men who had raised genocidal slogans at the August 8 Jantar Mantar protest. Meanwhile, he spewed more hate against Islam, the Quran and Muslims on the shows that hosted him. In the Jantar Mantar case, he only surrendered to the police 20 days after absconding, on September 1.
In 2020, one Naushad was arrested for 'thook jihad' by the Uttar Pradesh police in Meerut on the complaint of Hindu Jagran Manch leader Sachin Sirohi. Naushad had first been assaulted by members of the group and then arrested under the National Security Act (NSA). Later, the NSA charges were dropped and he was released on bail. However, all chapati shops refused to hire him, fearing a backlash. Naushad has always denied spitting in the food, but he spent three months in jail. In 2020, following the Tablighi Jamaat episode, many Muslims were targeted and accused of spreading the COVID-19 virus.
Just like his colleagues of the HRD who keep stumbling upon instances of 'thook jihad', Sirohi and his men claim the ability to spot 'love jihad' as they walk the streets. On one occasion, they found "a love jihadi harassing a Hindu woman" while they were walking down a street. The man was assaulted and the woman was forced to hit him with her shoes while the vigilantes filmed the act. Later, the woman filed a police complaint against the Hindutva men for the violence.
On November 19, Jeet Vashisht, another member of the Hindu Jagran Manch, uploaded a video of himself harassing and manhandling a worker at a Muslim biryani stall. In the video, he accused the worker of urinating in the food, a charge the man repeatedly denied. Later in the video, he accused another man of food contamination and threatened to call the police on the biryani stall. Last month, The Wire had covered Vashisht and his group forcibly shutting down meat shops and non-vegetarian eateries during a vigilante drive on Navratri.
On condition of anonymity, a worker at a popular non-vegetarian eatery in Delhi told The Wire, "Nobody spits in the food or chapatis. Sometimes a cook blows extra dry flour on the bread so that it can be stuck properly inside the tandoor. These videos are false stories meant to spread hatred."
A roti shop owner in Lucknow said, "I don't want to explain anything. You can come and record a video to know the process. This is a laughable accusation."
A tweet posted by the Ghaziabad police said about the November 15 incident: "A social media video of a man spitting on roti before putting it in the tandoor has gone viral." The tweet included a video of a police officer saying: "During the investigation, it was found out that the video was of the Muslim hotel which is located near the Bathlana flyover in the Loni police station area. The suspect was apprehended and will be questioned further. Police will take appropriate legal action to ensure that no one's feelings are hurt in the future."
Retired Indian Police Service officer and author N.C. Asthana told The Wire that similar allegations of contamination of various food items had been raised in the past also, especially since the pandemic began and not one of them had been found to be true or successfully prosecuted, thereby proving that the rumours and the visuals were spread with the purpose of disturbing communal harmony.
"That this bogey has been raised again proves the never-say-die attitude of the hate-mongers. The nation cannot allow this sort of absurdly malicious vigilantism," Asthana said.
He questioned how the police can ascertain and attribute the motive of promoting enmity between two communities on just the basis of a complainant's version of the story.
"Can a video clip which is a few seconds long and does not show the impugned act clearly be held to be credible information for the purpose of registering a case? If someone merely did as much as to sneeze and was caught on camera sneezing, it could again be alleged that he purposefully did not clean his hands to promote enmity. Obviously, there is no end to this sort of stupidity," he added.
Source: The Wire
Please click the following URL to read the text of the original story:
https://thewire.in/communalism/thook-jihad-is-the-latest-weapon-in-hindutvas-arsenal-of-islamophobia
------
Islamophobia Awareness Month Calls For Change On UK Anti-Muslim Hate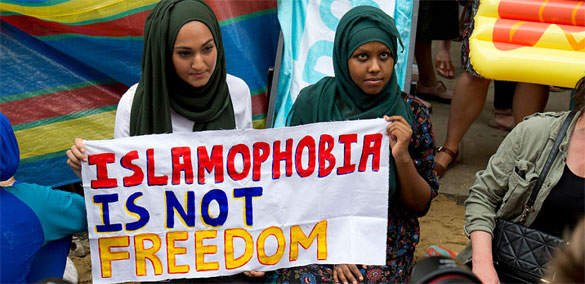 Women are common targets of Islamophobic hate [JUSTIN TALLIS/AFP via Getty Images-file photo]
------
Nick McAlpin
20 November, 2021
Islamophobia Awareness Month (IAM) is aiming to combat the deepening crisis of anti-Muslim hate in the UK this November. The annual campaign, which the NGO Muslim Engagement and Development (MEND) cofounded nine years ago, has made Time for Change its 2021 theme, seeking concrete improvements.
Events this year include reading groups, talks and exhibitions hosted by Muslim organisations, plus companies, local councils, university students' unions and more.
It comes amid serious racism and Islamophobia allegations made in Parliament on Tuesday by former Yorkshire County Cricket Club spin bowler Azeem Rafiq, 30, rocking the game and the nation.
"So, I'm coming back from school. I must be about 11," said East London Mosque (ELM) programmes chief Sufia Alam, now 49, recounting a violent Islamophobic attack from her Yorkshire childhood.
"One of my fellow students, he was from a couple of years above us… He called me the P-word… and spat on my face," said Alam, who also leads the Maryam Centre – the women's wing at ELM, which is Britain's largest mosque.
The UK's Home Office last month found 45 percent of religious hate crime in England and Wales was aimed at Muslims during the year ending March 2021.
MEND CEO Azhar Qayum said: "Close to 50 percent of… religiously motivated hate crime directed at, you know, 4.8 percent of the population is quite a serious thing."
He raised the 2013 Birmingham stabbing murder of Mohammed Saleem, 82, by a man who subsequently placed bombs close to three mosques.
There was also the 2017 terror attack in Finsbury Park, London, where far-right extremist Darren Osborne used a van to "mow down worshippers" outside the Muslim Welfare House Mosque, killing one and wounding nine others, Qayum noted.
Qayum explained discrimination is key, citing a 2017 BBC experiment that found a prospective employee called "Mohamed" was three times less likely to secure a job interview than one named "Adam".
He said employers are being asked to consider "name-blind applications" and ways of creating a more "Muslim-friendly environment", for example, through flexible hours during Ramadan, when Muslims fast from sunrise to sunset.
"I think it's really important because if we look at even the research I've done, you can see there's a[n] intersectionality between ethnicity, race," he said.
"I did some research with people who were not Muslim, they were perceived to be Muslim – Sikhs, Hindus, even Jewish people… they all suffered Islamophobic hate crimes because of who they were perceived to be. So, this idea that race and ethnicity can't be linked is kind of a misnomer."
Qayum said Muslims should be protected by race relations law – as Sikhs and Jews are – and demonstrated how Muslims are treated as a racial group.
"You might have a white woman who becomes Muslim. And the day before she becomes Muslim, or starts wearing her hijab, she will have all of the privileges that come with being white.
"But donning that hijab will remove so much of that privilege that she will be treated very similarly to any other Muslim woman and will then start receiving similar types of prejudice in a very racialised way."
He continued: "She's no longer seen as white, but [is] now seen as part of the Other by [the]… minority of people who perpetrate this type of… prejudice."
Despite the All-Party Parliamentary Group on British Muslims putting the principle of Islamophobia being a type of racism forward in its 2019 definition, the UK Government has so far failed to either adopt this or set out an official understanding of its own.
"What is the aftercare? How long does the process take? Is the victim constantly contacted? And what happens to the perpetrator, you know, in… terms of the sentencing?" Awan asked.
He noted the punishments given for Islamophobia appear lenient, and said conspiracy theories – especially given coronavirus – plus false media stereotypes, for instance of Muslims as terror supporters, are key drivers of anti-Muslim bigotry.
ELM's Alam said Islam became a target for bigots following the 11 September terror attacks in 2001. She also raised visibility as a concern.
This makes women more susceptible to abuse, for instance when hijabs are pulled down. Anxious this may happen to them, some university students involved in a 2017 community listening effort reported wearing additional pins on their hijabs, Alam said.
"You're a woman – you get discriminated [against] in that way. And then you're a Muslim, and you're a visible Muslim, and you're brown or Black or Asian or [a] migrant," Alam explained, describing this perspective as "intersectionality".
"You're not a jihadi bride, are you?" a journalist attending the mosque once asked a white woman convert to Islam, making her cry, Alam said.
The Maryam Centre leader explained: "Now, she's a white woman with a hijab on and she's… getting that as well. So, it is the fear of Islam isn't it, as well? It's not just the colour of the skin."
Many women won't report the bigotry they face, she said. The barriers they face include fear surrounding the media's reaction, not wanting to endure the legal process and sexist victim blaming from other Muslims.
"Muslims are not just demonised, but [there are] policies that are openly quite racist and quite openly targeting them, for example. Whether it's at airports and ports, whether it's in schools and [the] education system. And I think, again, the trigger to all of this is quite often linking people's ethnicity and their faith to terrorism."
He said policies including the UK Government's Prevent Strategy, a widely criticised counterextremism effort, "haven't helped because they've demonised, scapegoated and stigmatised, alienated a whole community".
There are "trigger events", like terrorism and grooming scandals that some attempt to link with Islam. These cause upticks in online prejudice, Awan said, which in turn seeps into offline reality.
Cricket's Azeem Rafiq testified about the Islamophobia and other racism he says he's experienced in the sport to the House of Commons' Digital, Culture, Media and Sport select committee this month.
He said he'd been "pinned down" and "red wine got poured down [his] throat" at his local club when he was 15. Consuming alcohol is forbidden in Islam.
Rafiq, who debuted for Yorkshire's men's team aged 17 in 2008, also alleged: "Pretty early on, me and other people from [an] Asian background… [had] comments such as, 'You lot sit over there, near the toilets', 'elephant washers'".
"It was so great seeing that the select committee asked those questions, had those reactions, and it was like, it's almost validating the pain that we went through as well," Alam explained.
Source: English.Alaraby
Please click the following URL to read the text of the original story:
https://english.alaraby.co.uk/features/islamophobia-awareness-month-fights-uk-anti-muslim-hate
-----
Adil al-Kalbani, Former Mecca Imam Appears In Saudi Combat Games Promo; Sparks Outrage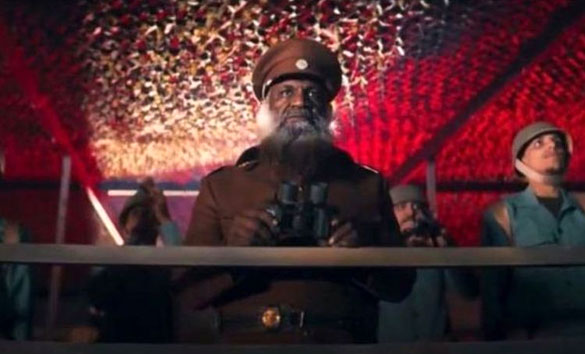 Al Kalbani appeared in a military uniform as he led a battle in a promotional clip for the famous virtual game "Field Combat", which will be one of the activities of the Riyadh season.
-----
The New Arab Staff
20 November, 2021
A former imam of the Grand Mosque in Mecca has been widely criticised after appearing in a promotional video clip for a combat game event as part of the Riyadh Season 2021.
Adil al-Kalbani appeared in a video posted to Twitter on Thursday by Saudi Arabia's Entertainment Authority chief, Turki Al Sheikh, promoting the "adventurous" 'Combat Field' event, which will run until 16 March next year.
The 62-year-old appeared dressed in military uniform and leading a battle in the video, which has gathered over 5 million views in less than 24 hours.
Many social media users slammed the cleric's participation in the video, calling him a "clown" and accusing him of supporting "corruption".
"I am not against entertainment... but I am against randomness, stupidity and the lack of separation between religion and public life," one twitter user said.
While others held that "righteous" individuals would not "accept such actions in support of the people of falsehood and corruption".
There were also those who didn't understand the controversy, with one Twitter user saying "[the uproar] made me feel like he committed blasphemy".
In response to the video shared by Al-Sheikh, Al-Kalbani joked: "Do you think I can go to Hollywood?", to which the authority chair responded he could "do anything".
Source: english.alaraby
Please click the following URL to read the text of the original story:
https://english.alaraby.co.uk/news/outrage-after-former-mecca-imam-appears-saudi-games-promo
------
Jailed Kazakh Islamic State Widow 'Optimistic' About Future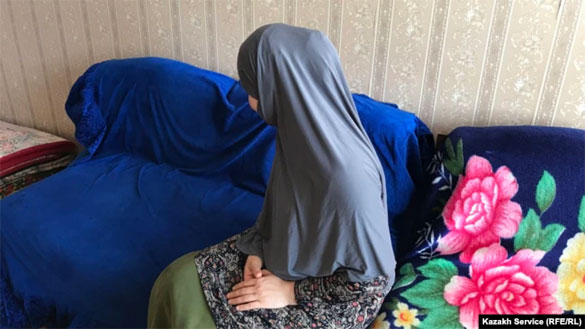 "The reaction from society [toward me] was mostly positive," says Sabinella Ayazbaeva. "For example, I never heard anyone call me a terrorist. But some of my old friends are afraid of being in touch with me again."
-----
By Yelena Veber
November 20, 2021
QARAGHANDY, Kazakhstan -- Aigerim dreams of becoming a nurse, learning a new language, helping her parents financially and -- most importantly -- raising her three children.
But those dreams have been put on hold for six years until the 28-year-old Kazakh widow completes her prison term for being affiliated with the Islamic State (IS) terrorist group.
Aigerim, who didn't want to give her full name, is among some 600 family members of Kazakh IS fighters that the government in Nur-Sultan has repatriated from Syria since 2019.
But Aigerim was separated from her children soon after their return from the Al-Hawl refugee camp in May 2019, she told RFE/RL at a women's prison in the Qaraghandy region.
"Unlike the other returnees, we were not placed in the special rehabilitation center for IS families," Aigerim said. "After a health checkup I was sent for interrogation, but at that point I still didn't know that I was going to face a trial."
Aigerim was convicted of membership in a terrorist organization and for recruiting others to the group among other terrorism-related charges. She was then sentenced to seven and a half years in prison.
"I accept that I'm guilty," Aigerim said. "But what I did was out of my ignorance. I trusted things I heard from some people on the Internet. I acknowledge my mistakes."
Aigerim said she developed an interest in Islam at the age of 14 and began wearing the hijab while attending a local mosque. Aigerim's mother disapproved of her new lifestyle but her father was supportive.
At 16, Aigerim met a religiously conservative young man and married him in an Islamic ceremony at the mosque. The couple had two children and Aigerim dropped out of school.
Aigerim's husband forced her to wear the all-covering niqab and forced her to cut off her relationship with her parents, calling them infidels, she recalled.
They parted ways in 2014 and just months later, Aigerim met an Uzbek man on social media. The man proposed to her and said he would provide a secure life for Aigerim and her children.
Aigerim's new husband told her they should live in the so-called caliphate in IS-controlled parts of Syria. Aigerim admits going to Syria on her own free will.
"He said the situation is good there, it's a Muslim country, everything is halal, and I agreed to go," Aigerim said. "We crossed the [Turkish-Syrian] border easily, along with many other families, all foreigners. It was in 2015."
In Syria, Aigerim found out that her husband had long been working for IS recruiting new members from Central Asia for the terrorist group.
Aigerim didn't say whether it bothered her but she recalls being angry when she found out that her husband had another wife whom he planned to relocate to Syria, too.
Feeling "isolated and lonely," Aigerim said she asked her sister in Kazakhstan to join her in Syria. Her sister was detained by Kazakh security services before she was able to leave Kazakhstan. Asking her sister to come to Syria would lead to Aigerim being charged with "recruiting" IS members.
Aigerim says she left her husband in Syria and divorced him through an IS court while pregnant with his child. IS moved her to a dormitory for widows and single women where she gave birth to her third child.
Aigerim eventually married another man who was an IS fighter from Turkey. She described him as disillusioned and someone who regretted joining IS and planned to escape. But he was killed in an air strike in 2019 when the IS was on the brink of collapse.
Aigerim and her children spent several more months in Syria, experiencing hunger and illnesses before they were detained by Kurdish forces and placed in the camp at Al-Hawl.
Aigerim now spends most of her time reading in the prison library. She has also enrolled in a school in prison to complete her education.
As part of a deradicalization program for returnees from Syria, Aigerim attends regular meetings with theologists, psychologists, and other specialists assigned by the government.
She writes to her parents and children, and makes plans for a better future for the family. Aigerim is optimistic about her future, which she says will involve working and studying.
Kazakhstan has repatriated 607 women and children from Syria and a further 14 children from Iraq. The Central Asian country says it will try to bring home the remaining Kazakh citizens that are still in Syrian camps. Their exact number is unknown.
The mainly-Muslim nation has been praised for its efforts to rehabilitate the women and children traumatized by there IS experiences and help them reintegrate into society.
There are misgivings among many Kazakhs who see IS family members as a potential security threat and disapprove of the government's decision to bring them back.
Source: Rferl
Please click the following URL to read the text of the original story:
https://www.rferl.org/a/kazakhstan-islamic-state-isis-widow/31571058.html
------
Saif Al-Islam Gaddafi Stresses Need for Libyans to Participate in Elections
By Ahmad El-Assasy
November 21, 2021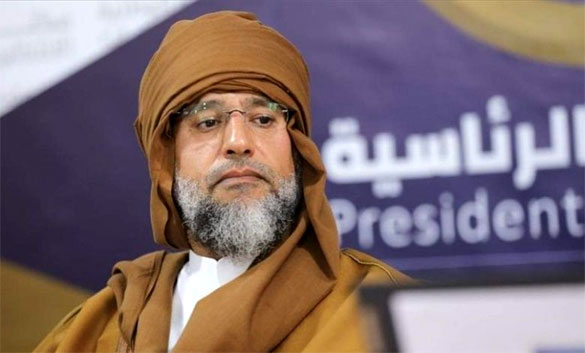 Saif Al-Islam Gaddafi
-----
On Saturday, the candidate for the presidential elections, Saif Al-Islam Gaddafi, renewed a call on Libyans to receive their electoral cards.
In a post on his Facebook account, Gaddafi added that, "in order for Libya to restore its national sovereignty and free will, preserve its unity, and move towards building and making up for its losses, hurry up to receive your electoral cards and do not miss the opportunity."
Last Wednesday, Saif Al-Islam Gaddafi, son of long-time leader Moammar Gaddafi, called on citizens to turn up to the elections "with responsibility necessitated by the gravity of the stage." He urged them to head to the offices of the High National Election Commission (HNEC) to receive their electoral cards, to be able to participate in the upcoming elections.
In a speech addressed to the Libyan people, he said: "Libya stands at the gates of a historic station, and in front of a fateful entitlement that will help us get out of the crisis experienced by the country." He confirmed that Libya is in urgent need of close cooperation between its people, and stressed the need for popular participation for the success of the elections.
"I extend this invitation to all of you who share the dream of saving Libya from the yoke of war and chaos and restoring stability, peace, prosperity, fraternal coexistence, and communal harmony. I call on you and all those who believe in the comprehensive national reconciliation project to turn to the electoral process with the responsibility required by the gravity of the stage, starting with heading to the HNEC offices in your regions and cities to receive your electoral cards, without which you will not be able to participate and take decisions," he added.
"Your electoral cards are available at the present time in the HNEC offices. It is your passport to pass to the polls towards participating in independent national decision-making, to enhance the legitimacy of the new political institutions that you will elect to advance our country, rehabilitate and rebuild it, and take the decisions it needs to return it to its first place among countries. I hope that your response will be broad and your interaction positive and aware of the nation's interest and your love for it," he concluded.
Source: Libyare View
Please click the following URL to read the text of the original story:
https://libyareview.com/18911/saif-al-islam-gaddafi-stresses-need-for-libyans-to-participate-in-elections/
-----
India
'No Plans to Allow Namaz': Gurudwara Chief Does U-Turn under Rightwing Pressure
The Wire Staff
21-11-2021
New Delhi: A day after it was reported that the Sikh community in Gurgaon had offered space to Muslims in Gurdwaras so that they can offer Namaz amidst pitched rightwing opposition in certain areas, Indian Express has reported that Muslims chose not to do so out of consideration for the fact that the Gurdwara had allegedly come under pressure from rightwing groups.
Ahead of the prayers on Friday, November 19, Sherdil Singh Sidhu, who heads the Gurudwara Sri Guru Singh Sabha at Gurugram's Sabzi Mandi had said that five Gurdwaras at Sadar Bazar, Sector 39, Sector 46, Model Town and Jacobpura had been offered to members of the Muslim community for Namaz.
Source: The Wire
Please click the following URL to read the full text of the original story:
https://thewire.in/communalism/no-plans-to-allow-namaz-gurdwara-chief-does-u-turn-as-muslim-groups-cite-rightwing-pressure
------
Due to Gurupurb Muslims Themselves Refused, Final Decision On Namaz Next Week: Gurgaon Gurudwara
November 20, 2021
Gurgaon: A day after the Gurudwara Singh Sabha Committee of Gurgaon announced that it was opening its doors to Muslims for them to offer Friday Namaz at its premises, Friday prayers by Muslims were not offered at any Gurdwara in the Millennium City.
The Gurudwara committee in a statement on Friday stated that due to the Gurupurab celebrations, Muslims themselves refused to offer Friday Namaz to avoid any conflict.
Source: NDTV
Please click the following URL to read the full text of the original story:
https://www.ndtv.com/gurgaon-news/muslims-themselves-refused-final-decision-on-namaz-next-week-gurgaon-gurdwara-2618093
----------
How The Legacy Of Bhopal's Muslim Rulers Is Being Erased By Dislocating Experiences Of Mutual Solidarities
by Anshu Saluja
November 21, 2021
Acts of naming and renaming have become important to political calculations, with cities, localities and landmarks being renamed in recent times. Allahabad has been changed to Prayagraj and Faizabad gave way to Ayodhya. This trend is not limited to a single state. Recently, on a visit to Bhopal, the Prime Minister inaugurated the refurbished Habibganj Railway Station and "dedicated it to the nation". It was also renamed as Rani Kamlapati Station, after a Gond queen who reigned in the area in the 18th century. While floating this new name, the BJP leadership has been quick to proclaim her as "the last Hindu ruler of Bhopal".
This is not an isolated attempt to rewrite Bhopal's history along communal lines, and efface the role and legacy of its Muslim rulers. Local leaders, including MLAs and municipal corporators, have made repeated attempts to rename Bhopal as Bhojpal, after Bhoj, a Parmar king who ruled over the Malwa region in the 11th century, whom they regard as the original founder of the city. In these narratives, the exploits of figures such as Bhoj and Kamlapati are privileged, while the developments that took place under Dost Muhammad Khan, who founded the state of Bhopal in the 18th century, and his successors are pushed aside.
Source: Indian Express
Please click the following URL to read the full text of the original story:
https://indianexpress.com/article/opinion/columns/habibganj-railway-station-bhopal-muslim-rulers-7631933/
-----
Europe
Chief Imam of the Moscow Cathedral Mosque says Muslims Seek To Open Prayer Rooms In Subways, Malls
November 21, 2021
Chief Imam of the Moscow Cathedral Mosque says Muslims in the Russian capital seek to open prayer rooms in subway stations and shopping centres.
These rooms will help Muslims perform their daily prayers without causing any inconvenience to others, said Ildar Alyautdinov, Arabic service of Sputnik reported.
Source: En.abna24
Please click the following URL to read the full text of the original story:
https://en.abna24.com/news//russian-muslims-seek-to-open-prayer-rooms-in-subways-malls_1200633.html
------
PM Johnson: UK "Must Try to Engage" with Islamic Emirate
By Giti Rahimi
20-11-2021
UK Prime Minister Boris Johnson says that Britain must engage with the current Afghan government to tackle the existing crisis in the country.
"Afghanistan looks like hell on earth" she said. MP Champion asked Johnson "how and when" will aid that has been pledged by the UK be provided to the people of Afghanistan.
Source: Tolo News
Please click the following URL to read the full text of the original story:
https://tolonews.com/afghanistan-175538
------
Britain's expected ban on Hamas puts spotlight on Muslim Brotherhood activities
20/11/2021
LONDON--Britain's decision to ban the Hamas movement raises the question of whether there is an intent in London to re-examine the overall role of the Muslim Brotherhood organisation to which the militant Palestinian group belongs, analysts say.
The United Kingdom is considered to be a historic incubator and key centre for Brotherhood advocacy and political and media activism.
Source: The Arab Weekly
Please click the following URL to read the full text of the original story:
https://thearabweekly.com/britains-expected-ban-hamas-puts-spotlight-muslim-brotherhood-activities
-----
Arab world
Organization of Islamic Cooperation body holding meeting to address human rights issues
SPA
November 21, 2021
JEDDAH: The Independent Permanent Human Rights Commission of the Organization of Islamic Cooperation is hosting its 18th ordinary session in Jeddah on Sunday.
The five-day session will be attended by representatives of both member and observer states of the organization, including national human rights institutions, and specialists from international and regional organizations.
Source: Arab News
Please click the following URL to read the full text of the original story:
https://www.arabnews.com/node/1972076/saudi-arabia
-----
Prophet's Holy Mosque open for prayers without an appointment or permit: Officials
Ismaeel Naar,
20 November ,2021
Officials in Saudi Arabia have announced that permits and appointments are no longer needed for visitors wishing to pray at the Prophet's Holy Mosque in Medina, according to the Kingdom's Ministry of Hajj and Umrah.
Source: english.alaraby
Please click the following URL to read the full text of the original story:
https://english.alarabiya.net/News/gulf/2021/11/20/Prophet-s-Holy-Mosque-open-for-prayer-without-an-appointment-or-permit-Officials
-----
Thosands of residency, labor, border violators arrested across Saudi Arabia
SPA
November 21, 2021
RIYADH: Saudi authorities arrested almost 14,000 people in one week for breaching residency, work, and border security regulations, an official report has revealed.
Source: Arab News
Please click the following URL to read the full text of the original story:
https://www.arabnews.com/node/1972081/saudi-arabia
------
Saudi specialists help transform clever ideas into commercial successes
AMEERA ABID
November 21, 2021
JEDDAH: Six Saudis with big ideas aim to help innovators and entrepreneurs bridge the gap between initial concept and the commercialization of products in Saudi Arabia, with the goal of transforming the sector in the Kingdom.
Sarah Algheithy, Hussam Al-Nammary, Sami Barnawi, Sadeq Alnemer, Ismail Alrawi and Ali Alsudairi founded Sustainable Innovations in 2017. The business focuses on solving problems for clients by offering holistic in-house solutions. Their shared passion for the work, along with their technical, mechanical and business expertise, provided the foundation for their company to create its own products and provide start-to-finish product development services.
Source: Arab News
Please click the following URL to read the full text of the original story:
https://www.arabnews.com/node/1972051/saudi-arabia
-----
Revolutionary type 2 diabetes pill introduced in Saudi Arabia
NADA HAMEED
November 20, 2021
JEDDAH: In Saudi Arabia, one in five people are diagnosed with the chronic progressive disease type 2 diabetes. This figure is double the global rate, meaning that the disease represents a serious public health issue for the Kingdom.
If ignored, the disease can cause serious medical complications. The usual treatment for controlling blood sugar is regular insulin injections.
Source: Arab News
Please click the following URL to read the full text of the original story:
https://www.arabnews.com/node/1972001/saudi-arabia
-----
Saudi aid agency continues relief work in Pakistan, Yemen, Jordan
SPA
November 20, 2021
BALOCHISTAN: The King Salman Humanitarian Aid and Relief Center recently distributed 3,926 winter bags to those affected by the earthquake in the Harnai district of Pakistan's Balochistan province, benefiting 25,578 people.
With one of the largest humanitarian aid budgets in the world, KSrelief has been working in 76 countries, and after Yemen, Palestine, Syria and Somalia, Pakistan is the biggest beneficiary of the organization's humanitarian operations.
In Yemen, KSrelief is aiding people in the Aden, Marib, Al-Jawf, Al-Mahra and Hadramaut governorates by delivering tons of food and equipment in 22 trucks in one week.
Source: Arab News
Please click the following URL to read the full text of the original story:
https://www.arabnews.com/node/1971991/saudi-arabia
-----
North America
Muslim charitable funds not a source for fighting climate change
Rafat Khan
Nov. 20, 2021
While it is true that Zakat, a kind of charity in which 2.5 per cent of one's annual income is given to those in need, a vast majority of the Muslim population living in their countries are very poor, and there is no compulsion for them to give Zakat.
They are the recipients of Zakat.
Source: Rferl
Please click the following URL to read the full text of the original story:
https://www.thestar.com/opinion/letters_to_the_editors/2021/11/20/muslim-charitable-funds-not-a-source-for-fighting-climate-change.html
------
A Peaceful, Happy Holiday Season For US Muslims, Too
By Arab News
November 20, 2021
The US holiday season is defined by tradition, gratitude and family. It is a period to reflect on the blessings of life, celebrate communally with our neighbours, and spread the gifts of love and charity. No other time of year reminds us so strongly of our common faith and common fate.
But I am deeply concerned as Thanksgiving arrives over the next few days, with Chanukah and Christmas following soon after. For an already scarred America faces an extremist threat.
Source: Eurasiare View
Please click the following URL to read the full text of the original story:
https://www.eurasiareview.com/20112021-a-peaceful-happy-holiday-season-for-us-muslims-too-oped/
------
US teen cleared of protester deaths says self-defence 'not illegal'
By AFP
21-11-2021
WASHINGTON — Kyle Rittenhouse, the US teen acquitted after fatally shooting two men during protests and riots against police brutality in Wisconsin last year, said self-defense is "not illegal" after being cleared, as the verdict reverberated across America.
On Friday, a jury found the 18-year-old Rittenhouse not guilty of reckless and intentional homicide and other charges stemming from the August 2020 shootings in Kenosha, Wisconsin.
Source: Times Of Israel
Please click the following URL to read the full text of the original story:
https://www.timesofisrael.com/us-teen-cleared-of-protester-deaths-says-self-defense-not-illegal/
-------
Africa
Muhammadu Buhari Should Declare Boko Haram, Others As Terrorist Organisations
Author Babatope Okeowo Akure
November 21, 2021
The President and General Overseer of United Apostolic Church of Christ, Dr. James Bayo Owoyemi, has asked President Muhammadu Buhari to declare Boko Haram and bandits terrorising the Northern part of the country as terrorist organisations.
Owoyemi, who was in Akure, the Ondo State capital for the annual convention of the Church, said any organisation responsible for the killing of innocent people and displacing millions of Nigerians are terrorists, even if the Federal government has not declared them as such.
Source: New Telegraphng
Please click the following URL to read the full text of the original story:
https://www.newtelegraphng.com/fg-should-declare-boko-haram-others-as-terrorist-organisations-cleric/
------
Religious intolerance: 'Boko Haram, ISWAP, bandits killing Christians' – CAN chides US govt
By Wale Odunsi
November 21, 2021
The Christian Association of Nigeria (CAN) has asked the United States Government to provide the data used to delist Nigeria from 'Countries of Particular Concern' regarding freedom of religion.
Source: Daily Post
Please click the following URL to read the full text of the original story:
https://dailypost.ng/2021/11/21/religious-intolerance-boko-haram-iswap-bandits-killing-christians-can-chides-us-govt/
------
Nigerian Shia cleric: Takfir Main Challenge on Path of Muslim Unity
November 20, 2021
Sheikh Mohammad Saleh al-Thani, the secretary general of the Rasool Azam (PBUH) Foundation in Kano, Nigeria, underlined the significance of unity in the Islamic world.
He said those who invite Muslims to get united act very judiciously and prudently because discord in today's world is the biggest threat to all Islamic denominations.
Source: En.abna24.
Please click the following URL to read the full text of the original story:
https://en.abna24.com/news//nigerian-shia-cleric-takfir-main-challenge-on-path-of-muslim-unity_1200275.html
-----
Mideast
Turkish President Erdogan's Islamist Supremacy Threatens Christian Minorities In Turkey
Nov 20 2021
Turkish President Recep Tayyip Erdoğan's move to convert the Hagia Sophia cathedral into a mosque is part of his goal of dismantling Atatürk's secularist legacy and reasserting Islam's supremacy over Christianity in Turkey, Anne-Christine Hoff, an assistant professor of English at Jarvis Christian College in Hawkins, Texas, wrote in an article for Middle East Forum.
Built in 537 CE by the Byzantine Emperor Justinian I as an Orthodox Christian cathedral, the Hagia Sophia was hugely significant for Eastern Christendom and has maintained its importance for the Greek-Orthodox Church. It was converted into a mosque following the Ottoman conquest of Istanbul in 1453.
"The Hagia Sophia is a symbol for the Islamic world and the symbol of Istanbul's conquest," Hoff cited the head of the Anatolia Youth Association as saying. "Without it, the conquest is incomplete, [and] we have failed to honour Sultan Mehmet's trust."
Source: Ahvalnews
Please click the following URL to read the full text of the original story:
https://ahvalnews.com/turkey-christians/erdogans-islamist-supremacy-threatens-christian-minorities-turkey-mef
-----
United Nations passes resolution in favor of Palestinians' sovereignty over their natural resources
November 20, 2021
The United Nations has overwhelmingly adopted a resolution, which grants Palestinians permanent sovereignty over their natural resources in the Israeli-occupied territories, including al-Quds.
On Thursday, the Economic and Financial Committee of the UN General Assembly, also known as the Second Committee, endorsed a draft resolution entitled "Permanent Sovereignty of the Palestinian People in the Occupied Palestinian Territory, including East al-Quds, and of the Arab population in the occupied Syrian Golan over their natural resources" by 157-7 votes, with 14 abstentions, Palestinian news agency Wafa reported.
Source : En.abna24
Please click the following URL to read the full text of the original story:
https://en.abna24.com/news//united-nations-passes-resolution-in-favor-of-palestinians%e2%80%99-sovereignty-over-their-natural-resources_1200274.html
-----
Arsenal accused of ending footballer Elneny's contract over supporting Palestine
November 21, 2021
UK's Arsenal has been accused by fans of footballer Mohamed Elneny of terminating his contract over his support for Palestine.
Rai Al-Youm reported on Friday that the stated reason for the termination of Elneny's contract was that his team's coach, Mikel Arteta, no longer wanted him on the team.
Source: Abna24
Please click the following URL to read the full text of the original story:
https://en.abna24.com/news//arsenal-accused-of-ending-footballer-elneny%e2%80%99s-contract-over-supporting-palestine_1200626.html
------
45.000 of Palestinians perform Friday prayer at Aqsa Mosque
November 20, 2021
Thousands of Palestinians from 1948 Occupied Palestine, al-Quds (Jerusalem) and the West Bank performed the Friday prayer at the holy Aqsa Mosque in Occupied al-Quds.
Source : En.abna24
Please click the following URL to read the full text of the original story:
https://en.abna24.com/news//45-000-of-palestinians-perform-friday-prayer-at-aqsa-mosque_1200276.html
-----
Iranians boo Khamenei at protest and disavow Hamas in Gaza
By BENJAMIN WEINTHAL
NOVEMBER 21, 2021
The massive protest unfolding in the Iranian city of Isfahan on Friday against worsening economic conditions and water shortages contained boos against the country's Supreme Leader Ali Khamenei and opposition to Iran's pro-Palestinian policies in the Hamas-controlled Gaza Strip.
The London-based news organization Iran International showed video footage of Iranians expressing disgust with the rule of Khamenei and the clerics who govern over the theocratic state.
Source: Jpost.com
Please click the following URL to read the full text of the original story:
https://www.jpost.com/middle-east/iran-news/iranians-boo-khamenei-at-protest-and-disavow-hamas-in-gaza-685557
------
South Asia
Beijing's Brutal Clampdown On Muslim Uighurs: Filmed By Brave Activist Guan Guan, Who Documented Slogans Including 'Reform Through Labour'
By IAN BIRELL
20 November 2021
As he strolled along the street in the Chinese city of Urumqi, trying his best to look like a tourist, Guan Guan's heart was in his mouth. He knew this was not a place often visited by holidaymakers – and a camera hidden on his backpack was secretly filming the Communist regime's internment camps.
The brave young man was on a covert mission: to expose to the world the hideous network of re-education camps, detention centres and prisons at the centre of Beijing's brutal clampdown on Muslim minorities, especially the Uighurs, in Xinjiang province.
He knew that if caught by police, he would face terrible punishment for daring to reveal fresh evidence about the regime's genocidal atrocities – which include holding an estimated two million people in such horrifying centres.
Guan had cycled around the region two years ago and heard about the camps, along with the banning of Uighur language in schools and use of slave labour. After discovering foreign journalists were barred from carrying out investigations, he decided to return to document the repression.
Source: Daily Mail
Please click the following URL to read the full text of the original story:
https://www.dailymail.co.uk/news/article-10225133/Prisons-centre-Beijings-clampdown-Muslim-minorities-Xinjiang-caught-video.html
------
United Kingdom must engage with Taliban in Afghanistan: Boris Johnson
By Najibullah Lalzoy
21 Nov 2021
United Kingdom's Prime Minister Boris Johnson has said that his country must engage with Islamic Emirate of Afghanistan to tackle current humanitarian situation in the country.
Responding question of UK lawmaker in parliament, Boris Johnson said that they have no other option but to engage with the Taliban in order to assist the overcoming of crisis in Afghanistan.
Source: Korea Herald
Please click the following URL to read the full text of the original story:
https://www.khaama.com/united-kingdom-must-engage-with-taliban-in-afghanistan-boris-johnson-6856856/
------
UAE reopens its embassy in Kabul
By Najibullah Lalzoy
21 Nov 2021
Islamic Emirate of Afghanistan said that UAE reopened its embassy in Kabul on Saturday, November 20 after almost all embassies closed following the collapse of the previous Afghan government.
A spokesman of the Taliban Ahmadullah Wasiq said that the reopening of the UAE's embassy is a step forward for positive changes and added that it will further strengthen bilateral relations.
Source: khaama Press
Please click the following URL to read the full text of the original story:
https://www.khaama.com/afghanistans-assets-must-be-unfrozen-pakistans-un-envoy-8757865/
--------
Nearly 3,000 drug addicts taken to hospitals in Kabul: Taliban
By Najibullah Lalzoy
20 Nov 2021
Islamic Emirate of Afghanistan has announced that they have taken up to 2,718 drug addicts to the hospitals of Kabul where they will get treatment.
Source: khaama Press
Please click the following URL to read the full text of the original story:
https://www.khaama.com/nearly-3000-drug-addicts-taken-to-hospitals-in-kabul-taliban-8586/
-------
Taliban intends to pay three months salaries of government employees
By Najibullah Lalzoy
20 Nov 2021
Islamic Emirate of Afghanistan has announced on Saturday, November 20 that the salaries of the past three months of all government employees will be paid.
Source: khaama Press
Please click the following URL to read the full text of the original story:
https://www.khaama.com/taliban-intends-to-pay-three-months-salaries-of-government-employees-457457/
------
President, PM pay tribute to martyred armed forces members
UNB, Dhaka
November 21, 2021
President Mohammad Abdul Hamid and Prime Minister Sheikh Hasina today paid homage to the martyred members of the armed forces on the occasion of Armed Forces Day 2021.
The President, who is also the Supreme Commander of the Armed Forces, and the Prime Minister separately placed wreaths at the altar of Shikha Anirban (flame eternal) at Dhaka Cantonment in the morning.
Source: The Daily Star
Please click the following URL to read the full text of the original story:
https://www.thedailystar.net/news/bangladesh/news/president-pm-pay-tribute-martyred-armed-forces-members-2235016
-------
Southeast Asia
Annuar Musa downplays sexual harassment in entertainment industry, says no need to magnify issues
BY SHAHRIN AIZAT NOORSHAHRIZAM
21 Nov 2021
KUALA LUMPUR, Nov 21 — Communication and Multimedia Minister Tan Sri Annuar Musa said making issues bigger than it seems to be was unnecessary on sexual harassment in entertainment industry.
According to Mingguan Malaysia, he said that industry players should prioritise positive things over isolated issues that allegedly occurred.
Source: Malay Mail
Please click the following URL to read the full text of the original story:
https://www.malaymail.com/news/malaysia/2021/11/21/annuar-musa-downplays-sexual-harassment-in-entertainment-industry-says-no-n/2022498
-------
Ahmad Zahid: BN open to talks with other parties to form Melaka govt if it falls short of majority
BY BEN TAN
20 Nov 2021
MELAKA, Nov 20 ― Barisan Nasional (BN) chairman Datuk Seri Ahmad Zahid Hamidi said the coalition is willing to negotiate with other parties to form the new Melaka state government, if it cannot do so on its own.
"At the same time, discussions must be rooted in a mutual understanding that Melaka's political stability comes first," said Ahmad Zahid during his visit to the BN Command Centre in Ayer Keroh here today.
Source: Malay Mail
Please click the following URL to read the full text of the original story:
https://www.malaymail.com/news/malaysia/2021/11/20/ahmad-zahid-bn-open-to-talks-with-other-parties-to-form-melaka-govt-if-it-f/2022399
------
Friday Prayers held in Brunei after 3-month hiatus
November 20, 2021
Muslims in Brunei returned to mosque to hold Friday prayers yesterday after some three months.
Muslims returned to mosques for the first Friday prayers in over three months yesterday, while continuing to observe social distancing and other guidelines from the Ministry of Health (MoH).
Source: En.abna24
Please click the following URL to read the full text of the original story:
https://en.abna24.com/news//friday-prayers-held-in-brunei-after-3-month-hiatus_1200273.html
------
Pakistan
International expo of Islamic Arts opens in Pakistan with Iran's participation
Journalist ID: 2053
Nov 20, 2021
The International Exhibition jointly hosted by the Alhamra Arts Council and Cultural Center of Iran opened with the presence of cultural representatives from Iran, Turkey, and Pakistani officials.
Jafar Ronas, Director of Iranian Culture Center, Olash Ortadas, the cultural representative of Turkey, and Pakistani officials and officials of artistic and cultural institutions attended the opening ceremony of the exhibition.
Source: En.Irna
Please click the following URL to read the full text of the original story:
https://en.irna.ir/news/84548591/International-expo-of-Islamic-Arts-opens-in-Pakistan-with-Iran-s
-------
Panchayat Accused Of Delaying Construction On Hindu Cremation Ground Plot In Islamabad
Kalbe Ali
November 21, 2021
ISLAMABAD: After outcry on social media on the cancellation of a plot meant for the Hindu cremation ground and community centre, the Capital Development Authority (CDA) revised its statement in the Islamabad High Court (IHC), saying only those plots had been cancelled which were lying idle and that construction work was underway on the land allotted to the Hindu community.
On the other hand, the Islamabad Hindu Panchayat (IHP) has failed to build a boundary wall around the H-9 cremation ground even though the CDA issued permission for it almost a year ago.
Source: Dawn
Please click the following URL to read the full text of the original story:
https://www.dawn.com/news/1659243/panchayat-accused-of-delaying-construction-on-h-9-plot-in-islamabad
-----
New legislation tightens establishment's grip on parliament, says Fazl
Bureau Report
November 21, 2021
PESHAWAR: President of the opposition Pakistan Democratic Movement Maulana Fazlur Rehman on Saturday said the establishment had tightened its grip on parliament through new legislation by a joint session of the National Assembly and Senate.
"We don't want a state institution like the army to be discussed in public meetings, but it depends on your [establishment's] actions," he said.
Source: Dawn
Please click the following URL to read the full text of the original story:
https://www.dawn.com/news/1659261/new-legislation-tightens-establishments-grip-on-parliament-says-fazl
------
Right to use of force should only rest with the state: experts
Ikram Junaidi
November 21, 2021
ISLAMABAD: The right to use of force should only rest with the state and ensuring rule of law, civic education, equality of citizens and youth and women's engagement are vital to end extremism and terrorism in the country.
These views were expressed by experts in a two-day regional consultation on 'Promoting soft approaches in countering terrorism and extremism in Pakistan' organised by Pakistan Institute for Peace Studies (PIPS) at a local hotel.
Source: Dawn
Please click the following URL to read the full text of the original story:
https://www.dawn.com/news/1659232/right-to-use-of-force-should-only-rest-with-the-state-experts
-----------
URL: https://www.newageislam.com/islamic-world-news/thook-jihad-hate-islamophobia-hindutva/d/125810
New Age Islam, Islam Online, Islamic Website, African Muslim News, Arab World News, South Asia News, Indian Muslim News, World Muslim News, Women in Islam, Islamic Feminism, Arab Women, Women In Arab, Islamophobia in America, Muslim Women in West, Islam Women and Feminism